The God I Serve Quotes
Collection of top 62 famous quotes about The God I Serve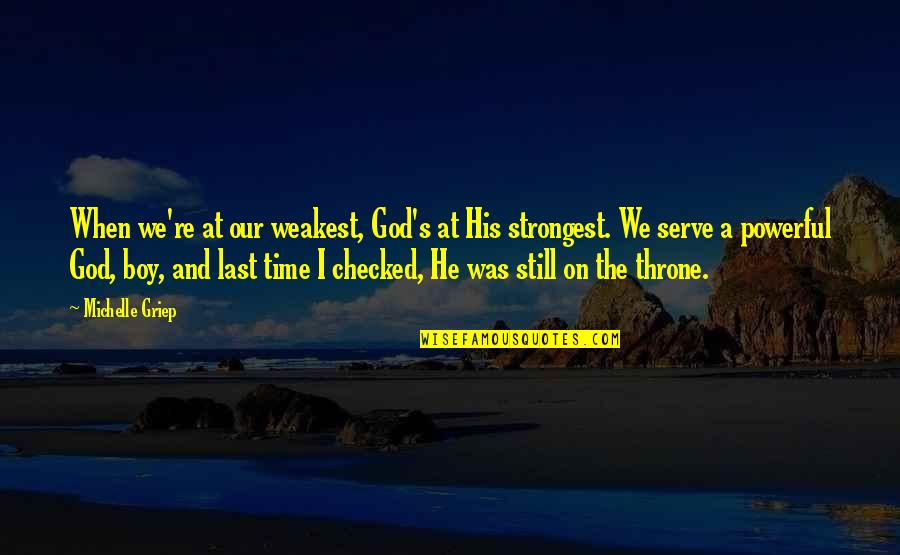 When we're at our weakest, God's at His strongest. We serve a powerful God, boy, and last time I checked, He was still on the throne.
—
Michelle Griep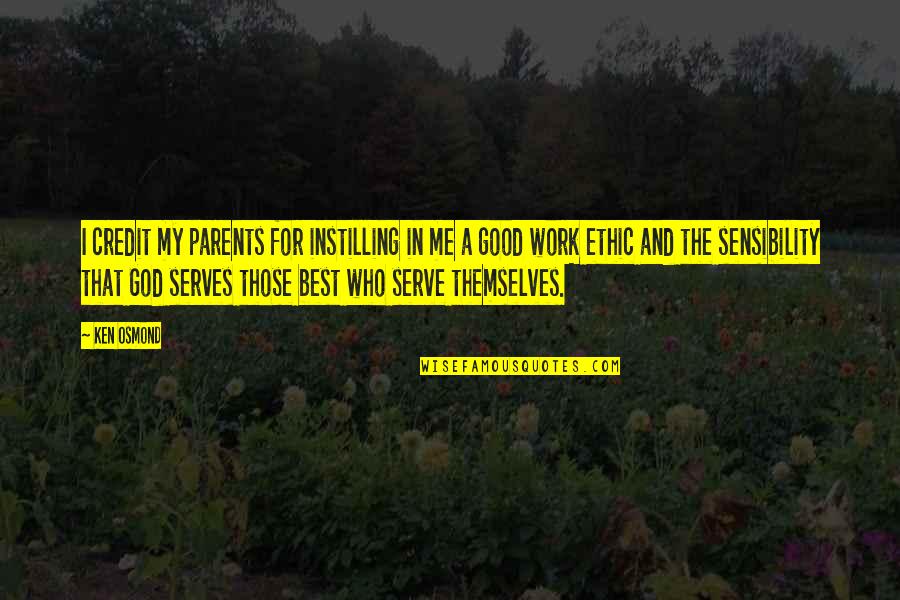 I credit my parents for instilling in me a good work ethic and the sensibility that God serves those best who serve themselves.
—
Ken Osmond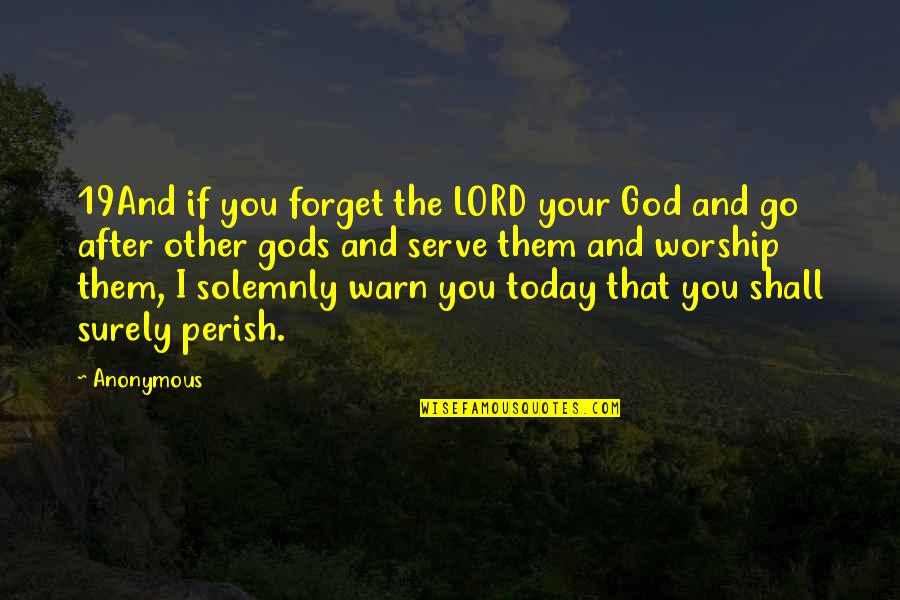 19And if you forget the LORD your God and go after other gods and serve them and worship them, I solemnly warn you today that you shall surely perish.
—
Anonymous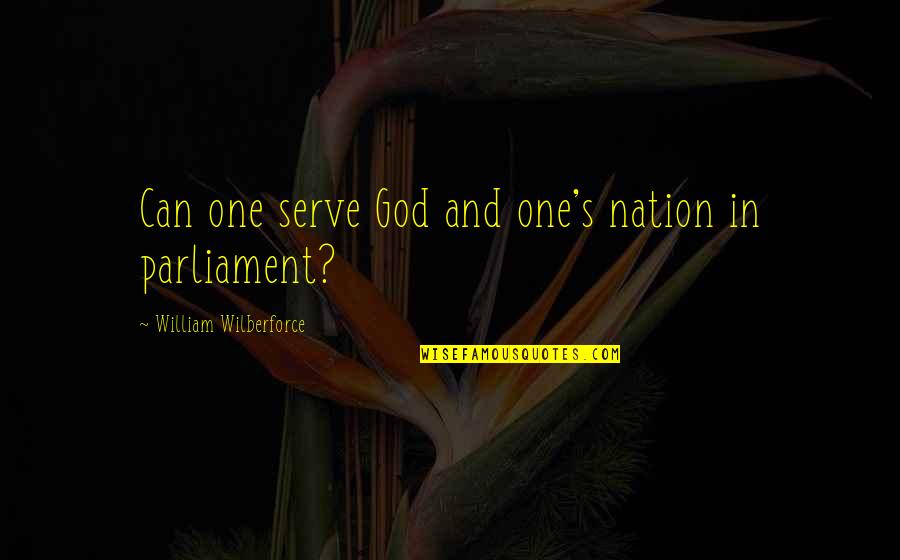 Can one serve God and one's nation in parliament?
—
William Wilberforce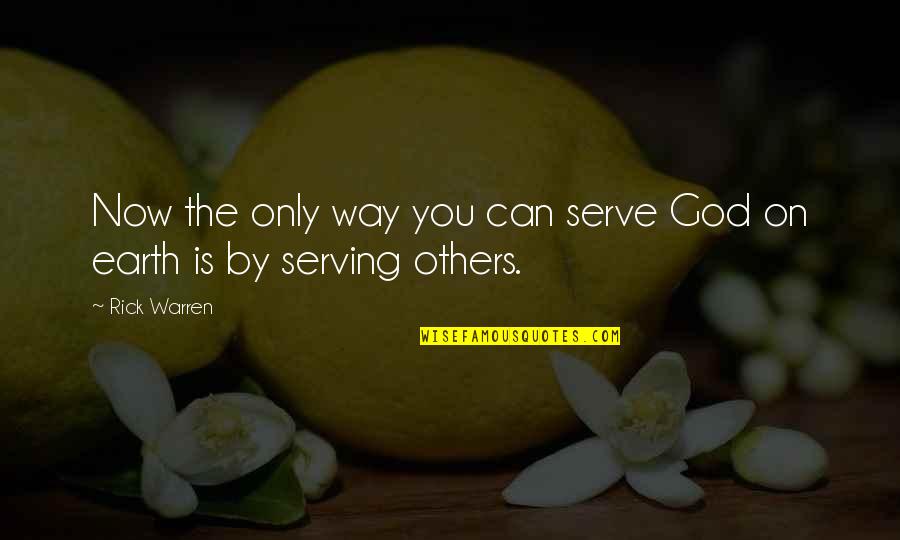 Now the only way you can serve God on earth is by serving others.
—
Rick Warren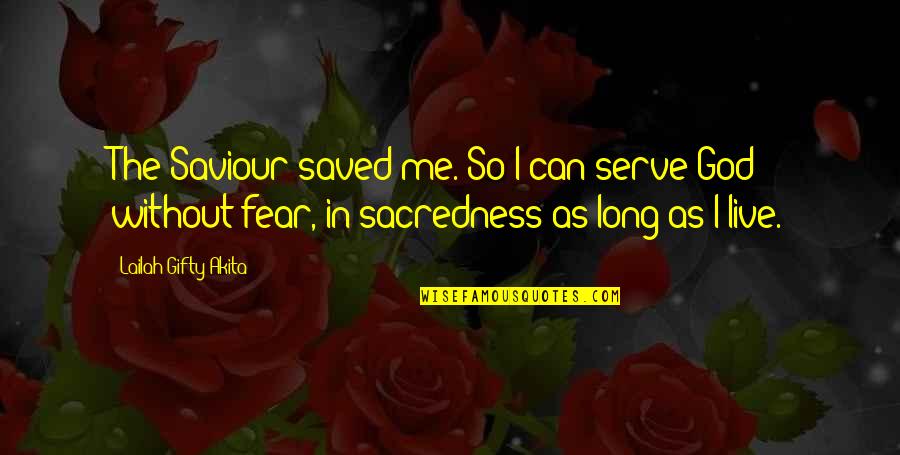 The Saviour saved me. So I can serve God without fear, in sacredness as long as I live.
—
Lailah Gifty Akita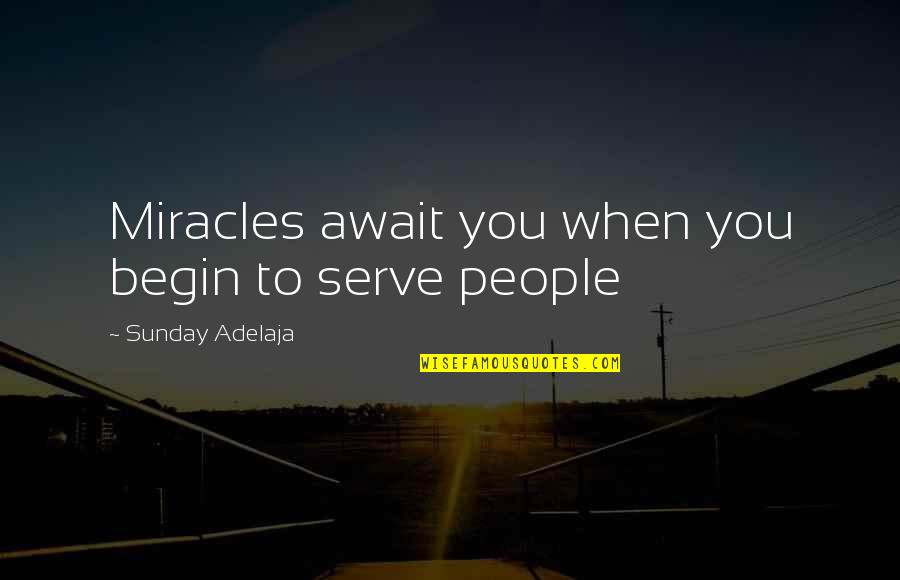 Miracles await you when you begin to serve people
—
Sunday Adelaja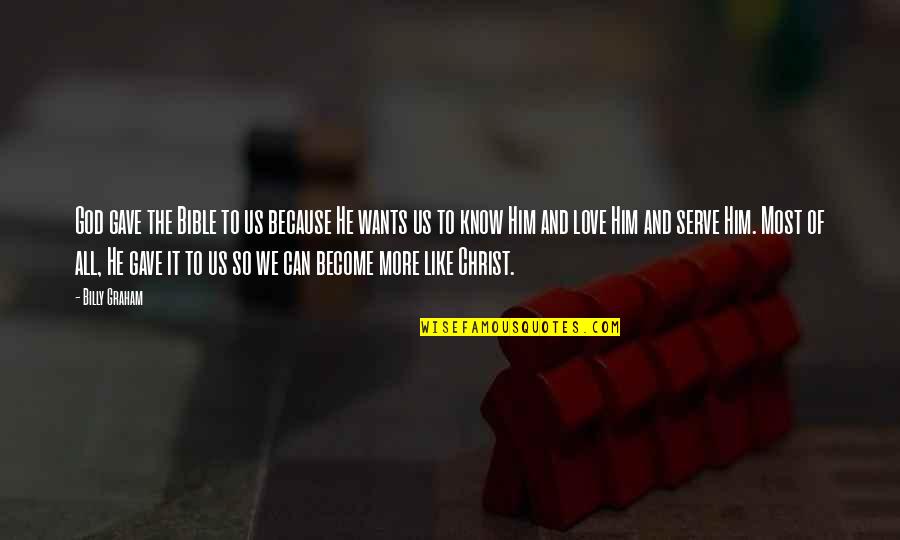 God gave the Bible to us because He wants us to know Him and love Him and serve Him. Most of all, He gave it to us so we can become more like Christ.
—
Billy Graham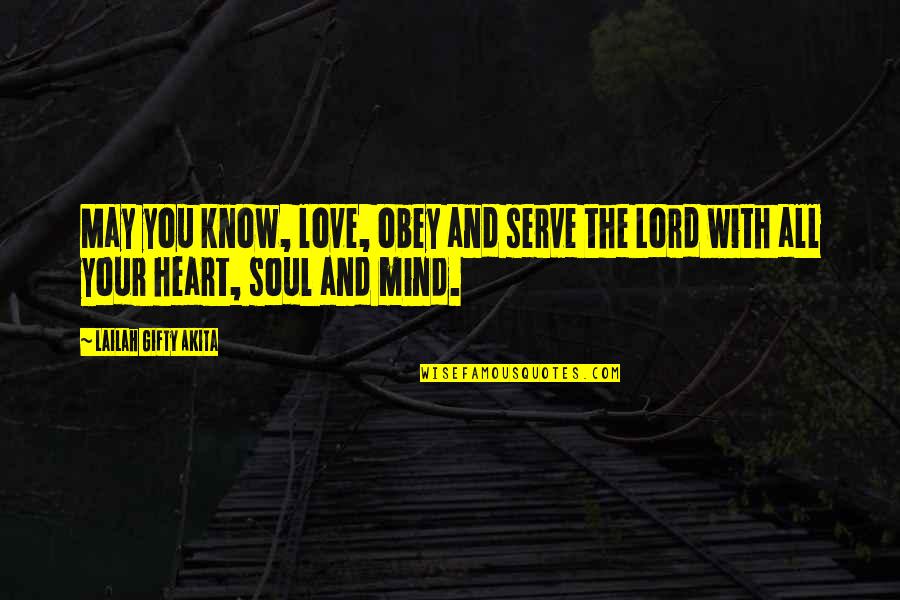 May you know, love, obey and serve the Lord with all your heart, soul and mind.
—
Lailah Gifty Akita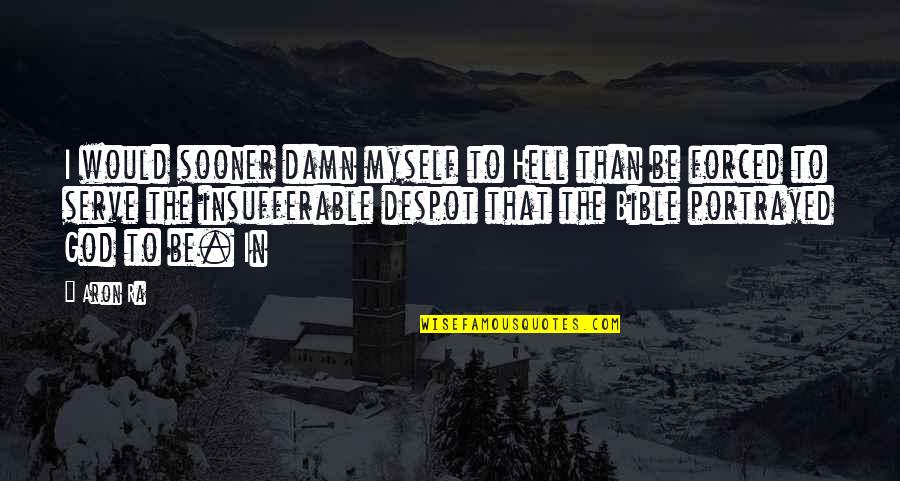 I would sooner damn myself to Hell than be forced to serve the insufferable despot that the Bible portrayed God to be. In
—
Aron Ra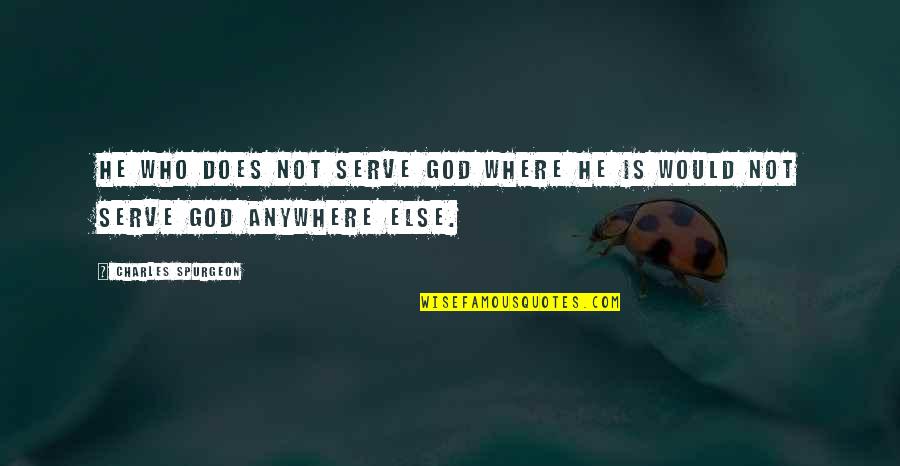 He who does not serve God where he is would not serve God anywhere else.
—
Charles Spurgeon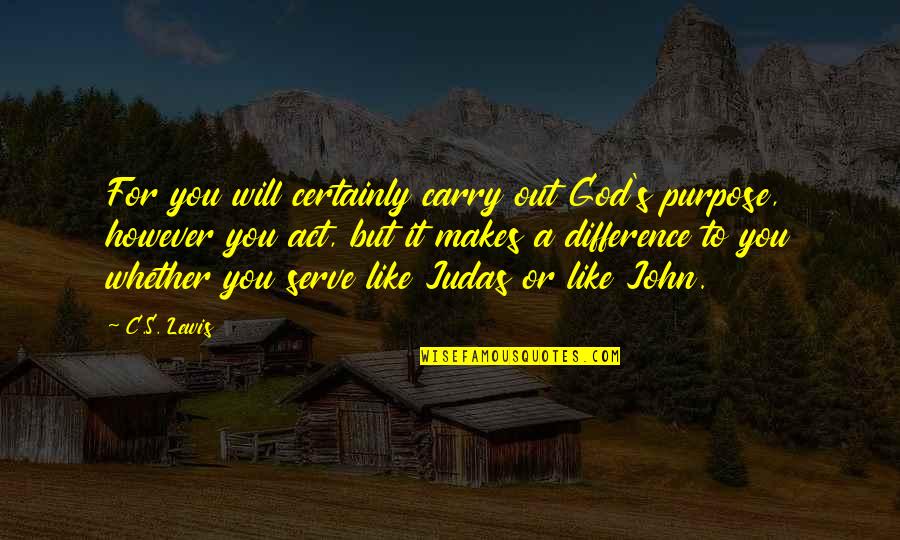 For you will certainly carry out God's purpose, however you act, but it makes a difference to you whether you serve like Judas or like John.
—
C.S. Lewis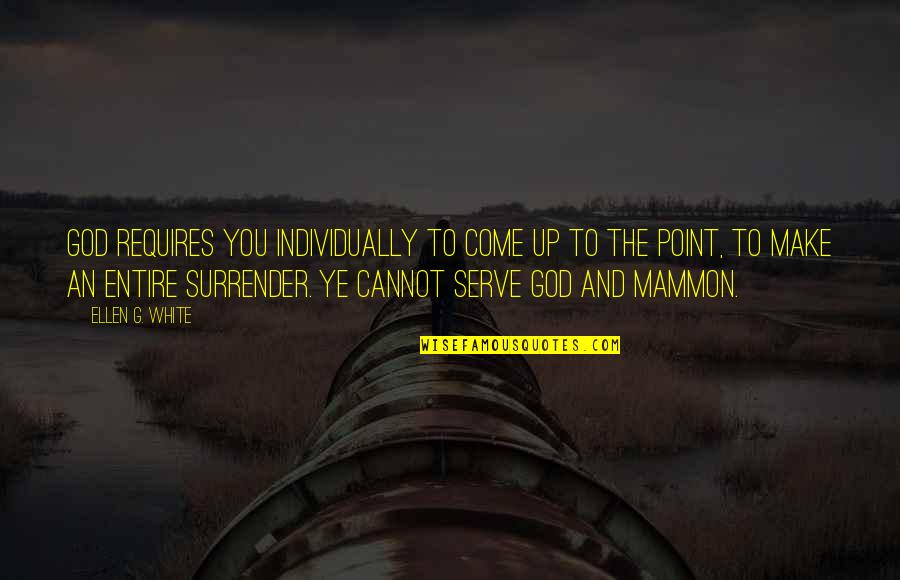 God requires you individually to come up to the point, to make an entire surrender. Ye cannot serve God and mammon.
—
Ellen G. White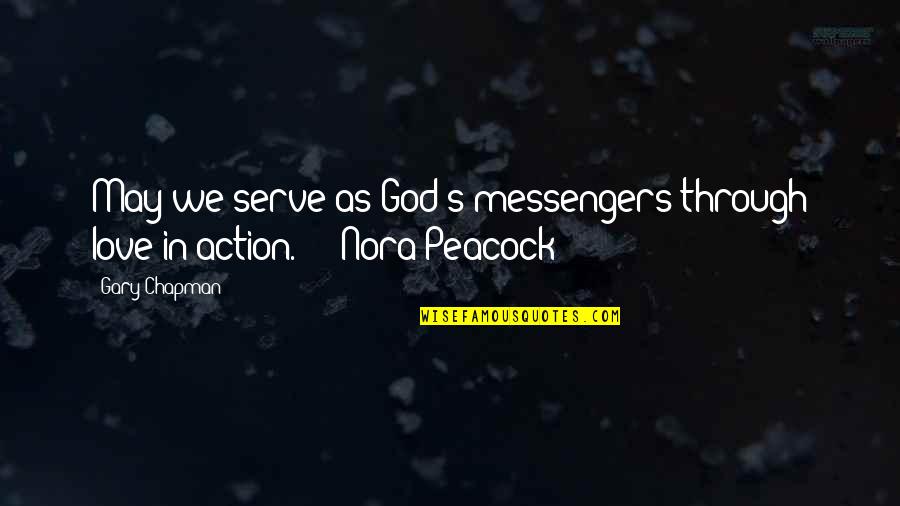 May we serve as God's messengers through love in action. - Nora Peacock - —
Gary Chapman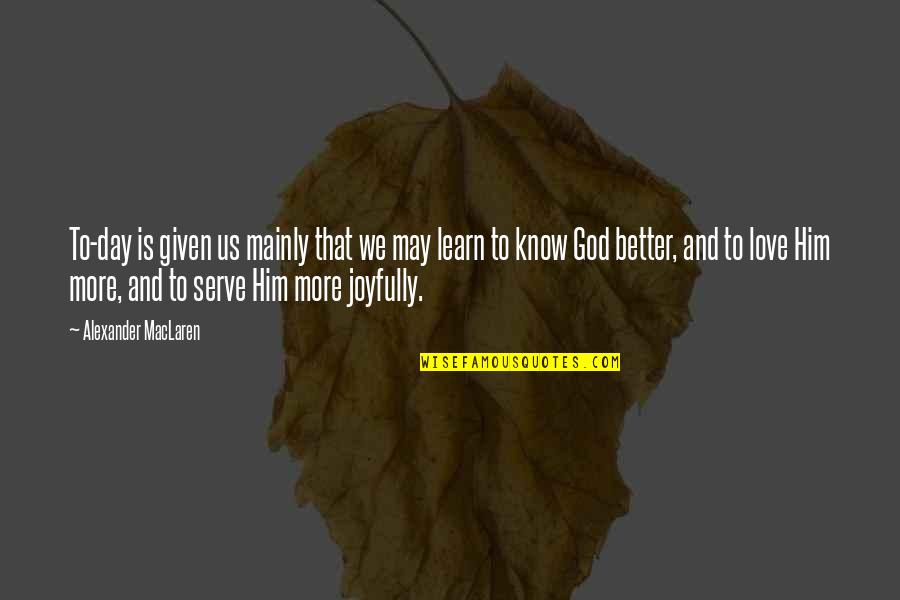 To-day is given us mainly that we may learn to know God better, and to love Him more, and to serve Him more joyfully. —
Alexander MacLaren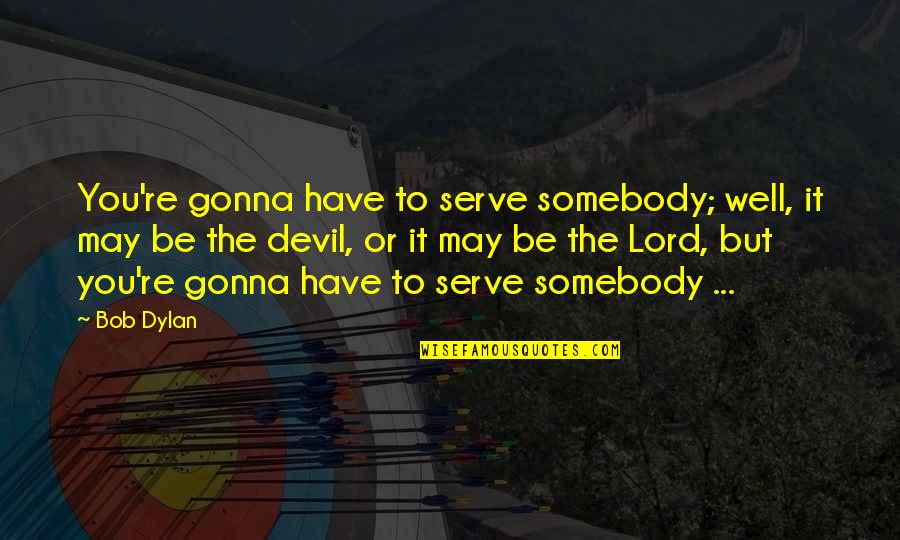 You're gonna have to serve somebody; well, it may be the devil, or it may be the Lord, but you're gonna have to serve somebody ... —
Bob Dylan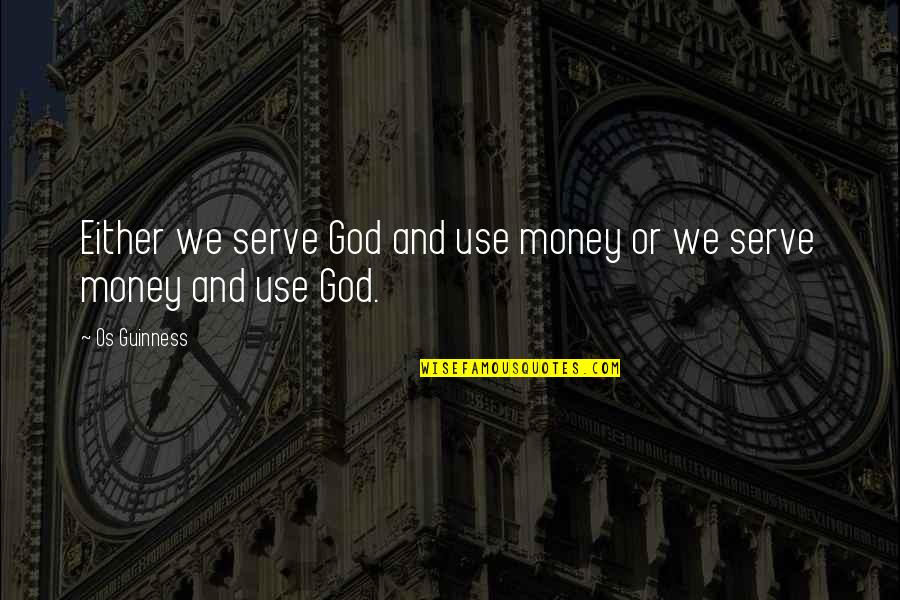 Either we serve God and use money or we serve money and use God. —
Os Guinness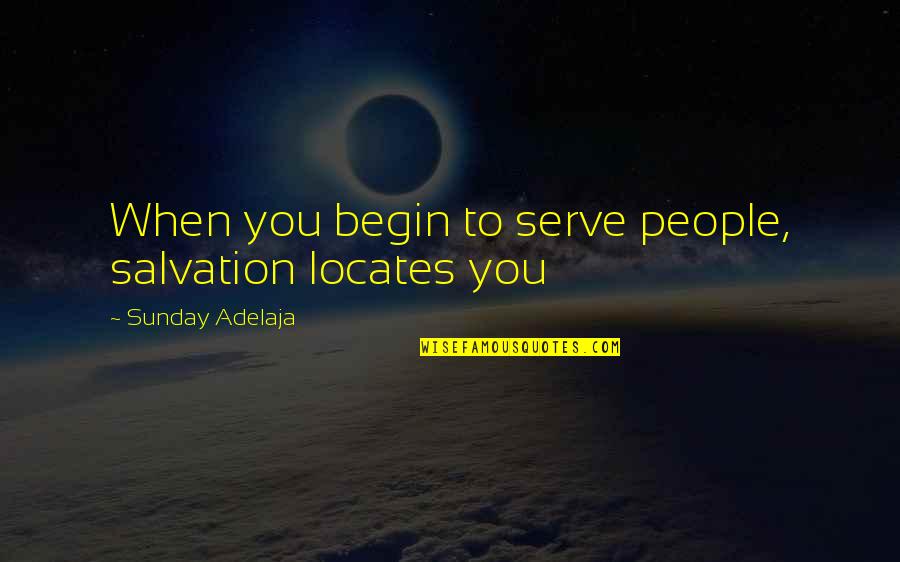 When you begin to serve people, salvation locates you —
Sunday Adelaja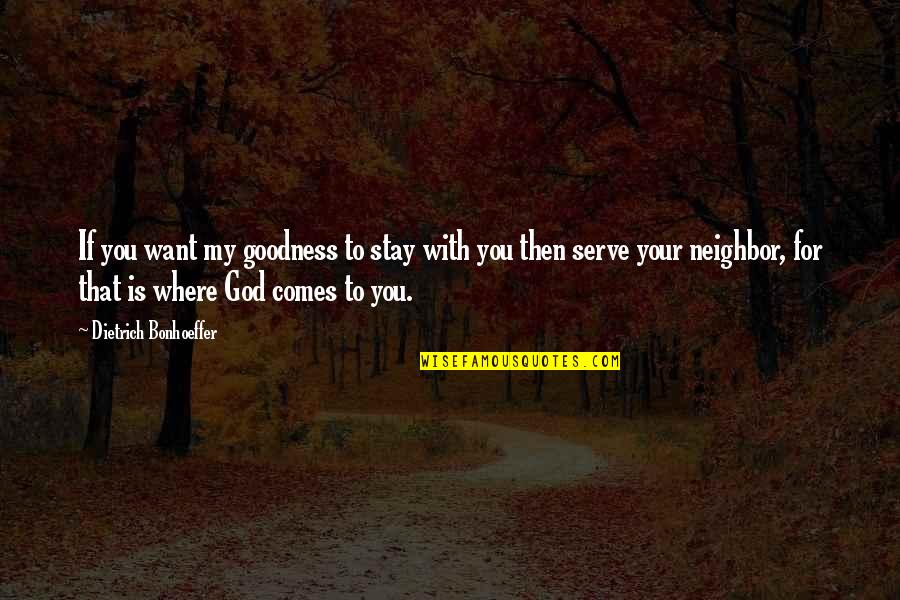 If you want my goodness to stay with you then serve your neighbor, for that is where God comes to you. —
Dietrich Bonhoeffer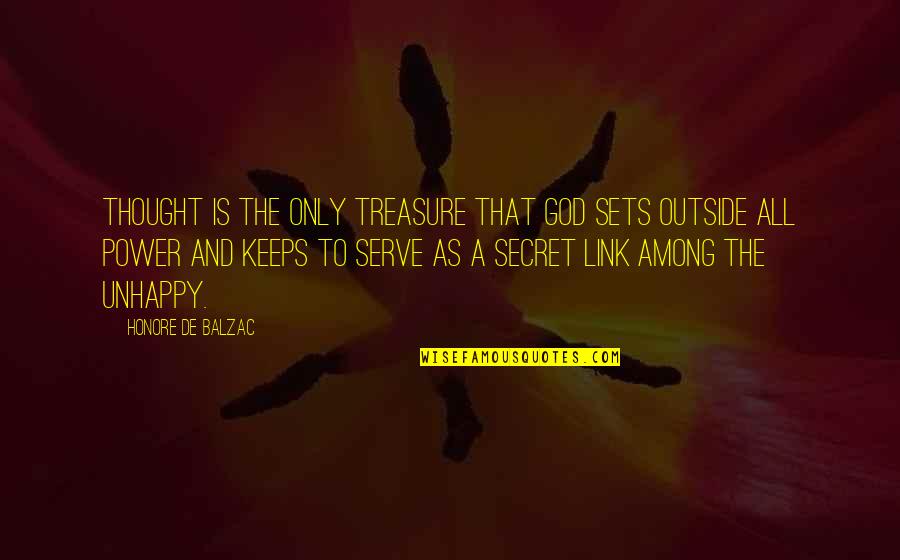 Thought is the only treasure that God sets outside all power and keeps to serve as a secret link among the unhappy. —
Honore De Balzac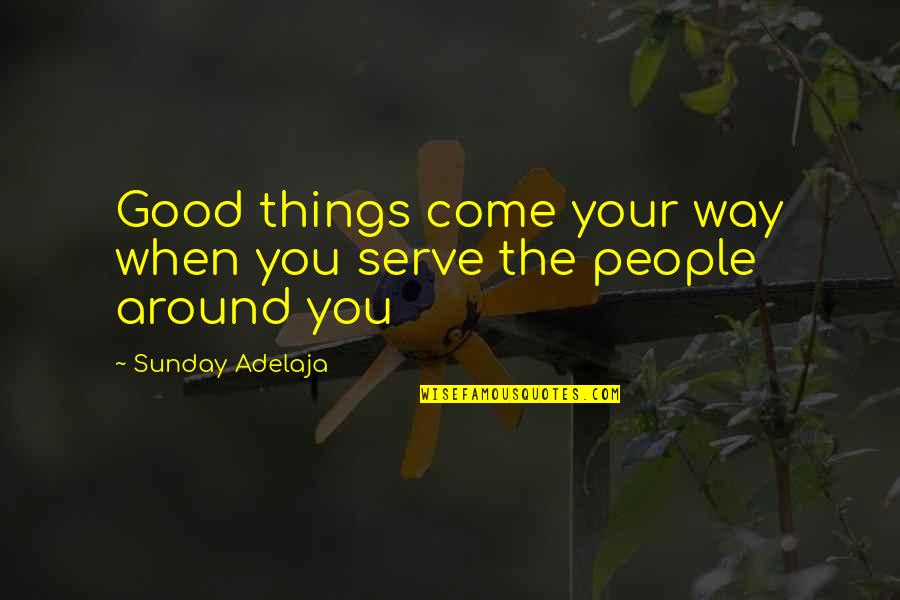 Good things come your way when you serve the people around you —
Sunday Adelaja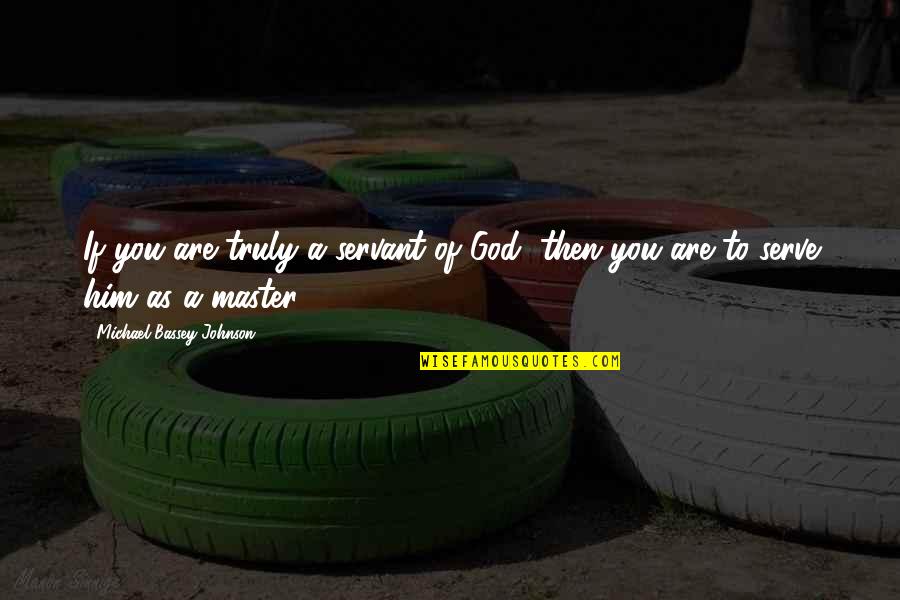 If you are truly a servant of God, then you are to serve him as a master. —
Michael Bassey Johnson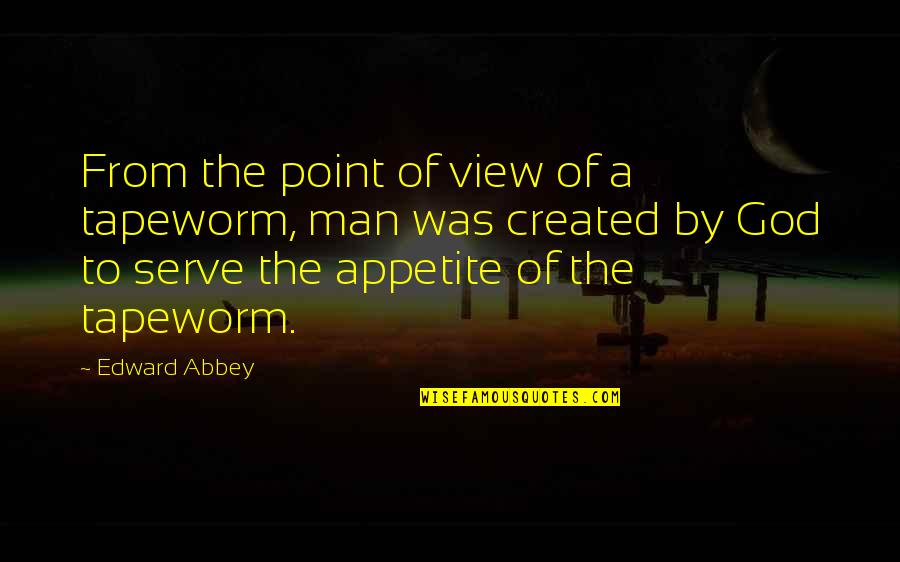 From the point of view of a tapeworm, man was created by God to serve the appetite of the tapeworm. —
Edward Abbey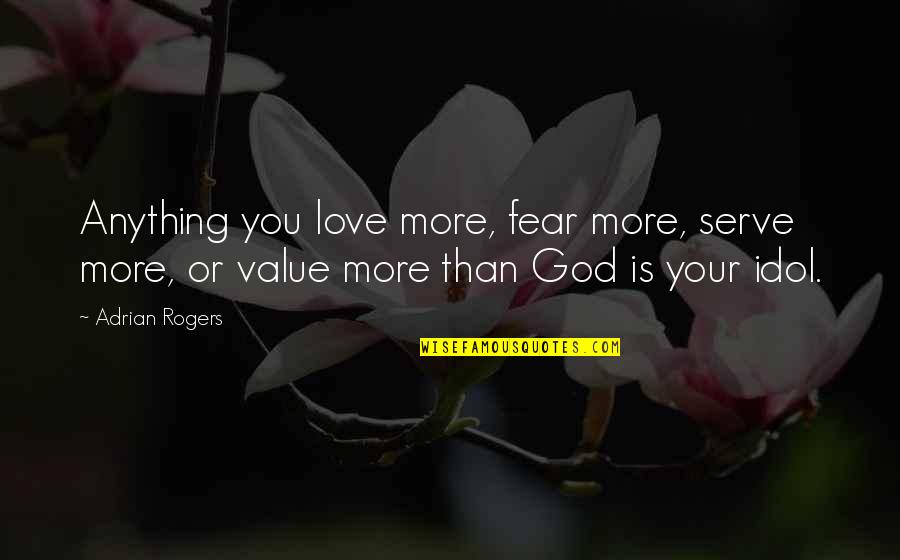 Anything you love more, fear more, serve more, or value more than God is your idol. —
Adrian Rogers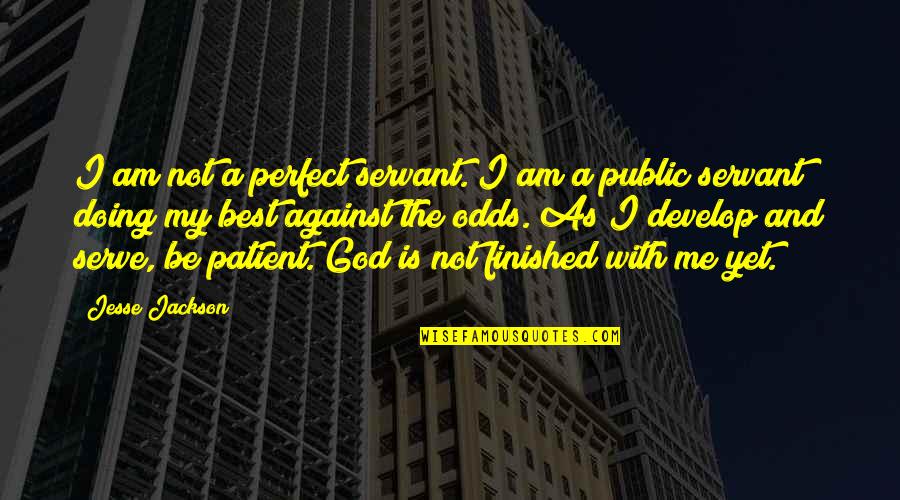 I am not a perfect servant. I am a public servant doing my best against the odds. As I develop and serve, be patient. God is not finished with me yet. —
Jesse Jackson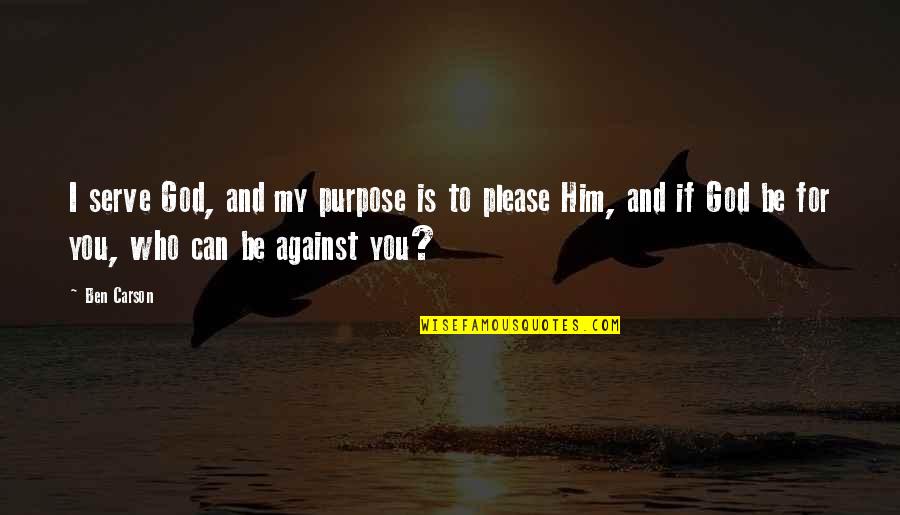 I serve God, and my purpose is to please Him, and if God be for you, who can be against you? —
Ben Carson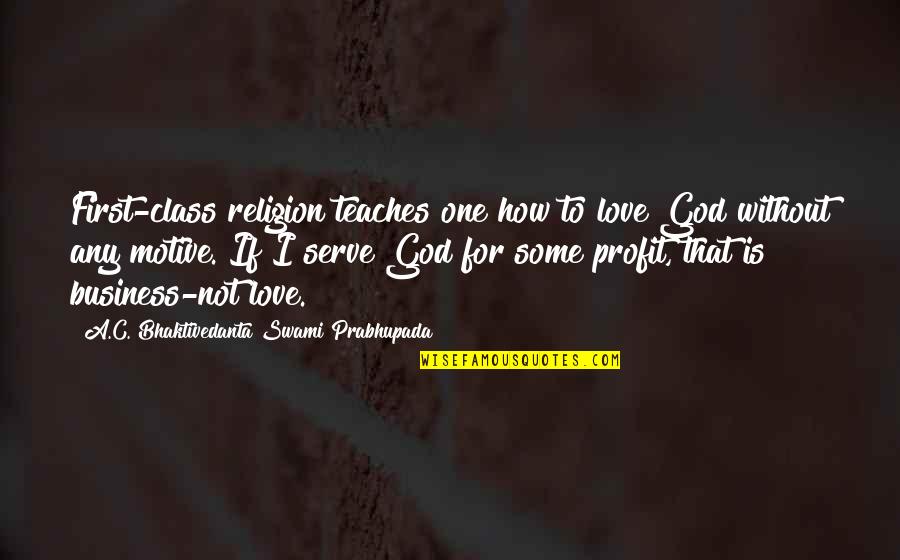 First-class religion teaches one how to love God without any motive. If I serve God for some profit, that is business-not love. —
A.C. Bhaktivedanta Swami Prabhupada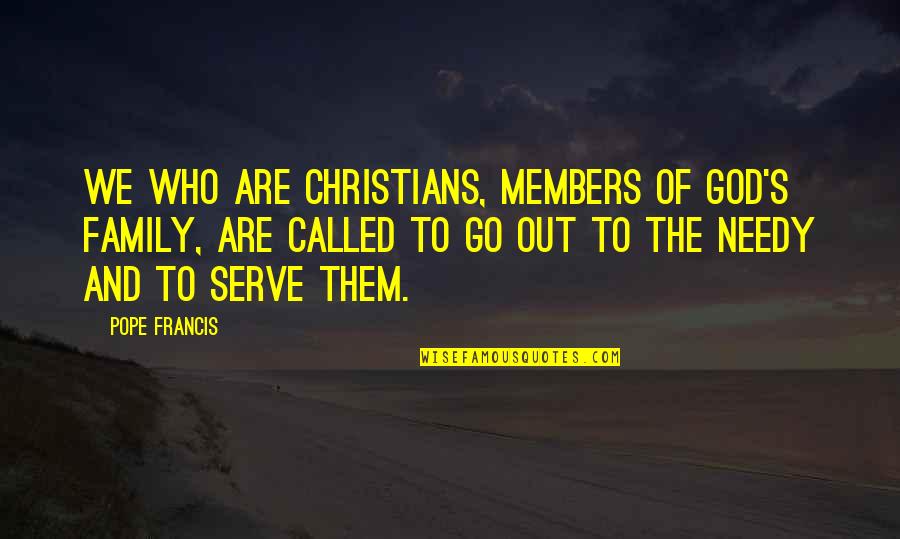 We who are Christians, members of God's family, are called to go out to the needy and to serve them. —
Pope Francis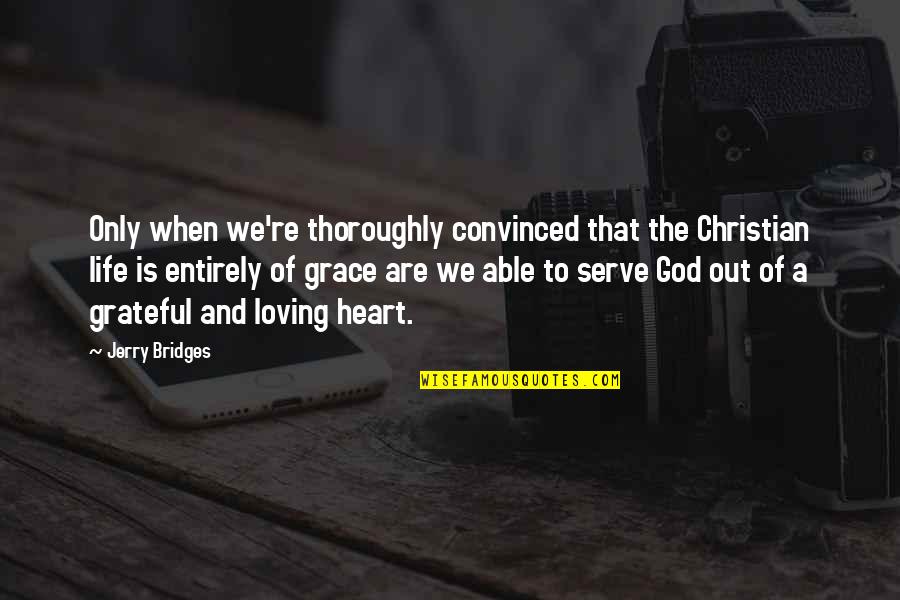 Only when we're thoroughly convinced that the Christian life is entirely of grace are we able to serve God out of a grateful and loving heart. —
Jerry Bridges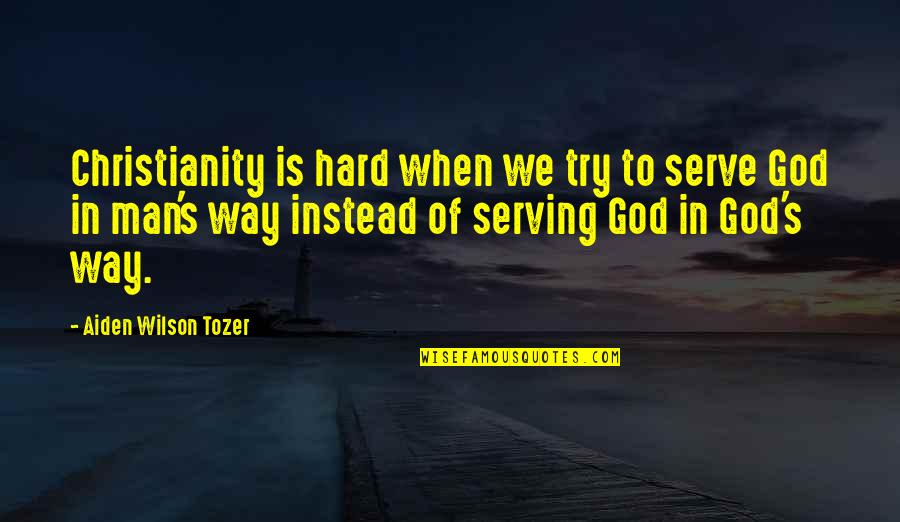 Christianity is hard when we try to serve God in man's way instead of serving God in God's way. —
Aiden Wilson Tozer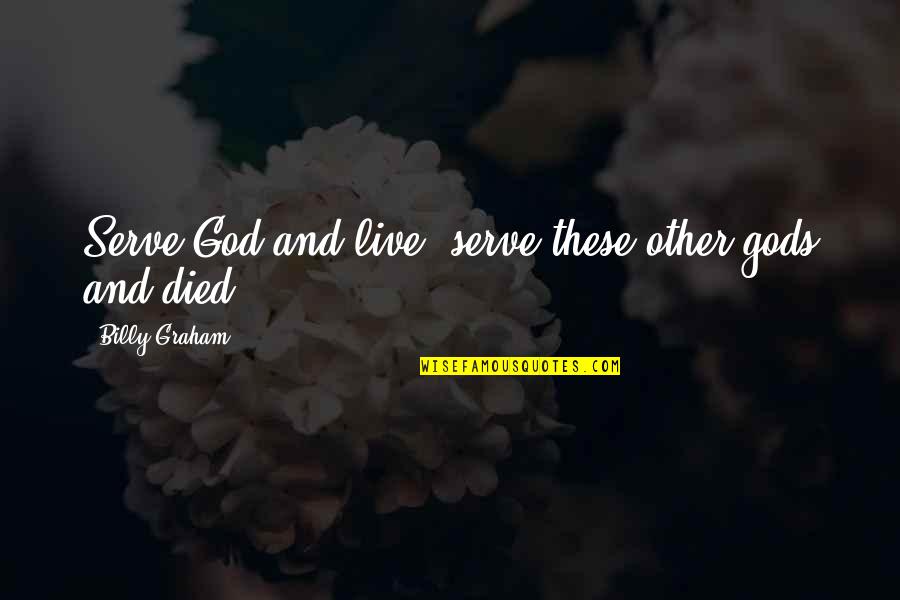 Serve God and live; serve these other gods and died. —
Billy Graham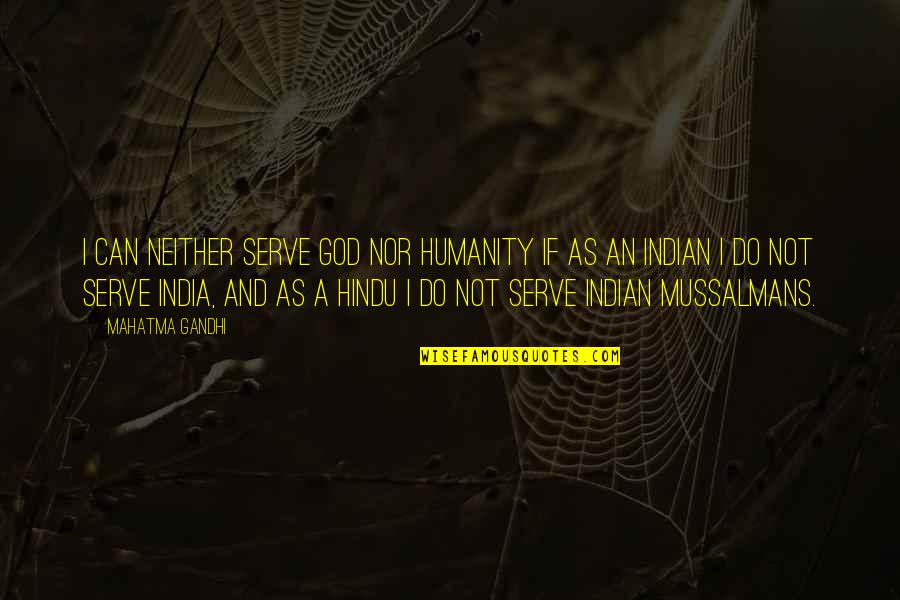 I can neither serve God nor humanity if as an Indian I do not serve India, and as a Hindu I do not serve Indian Mussalmans. —
Mahatma Gandhi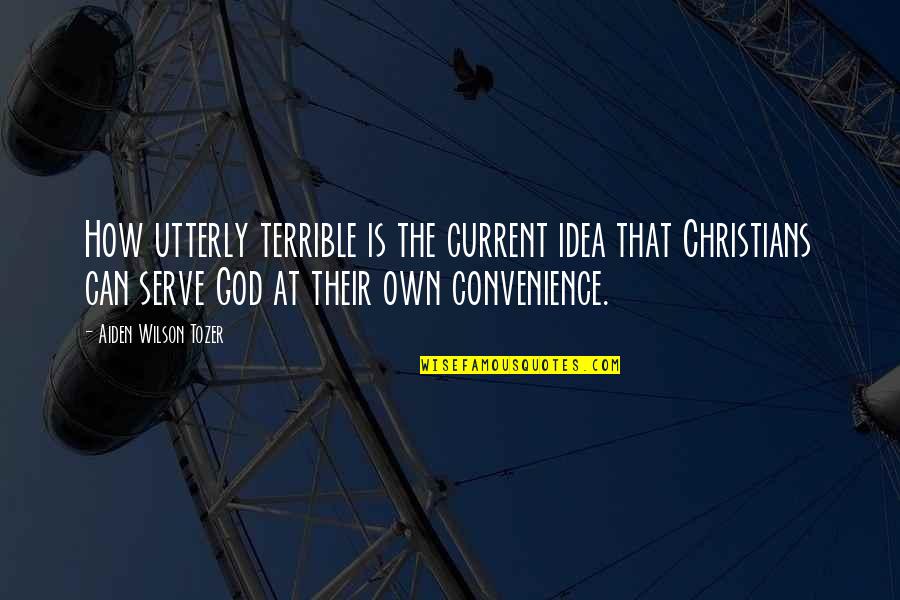 How utterly terrible is the current idea that Christians can serve God at their own convenience. —
Aiden Wilson Tozer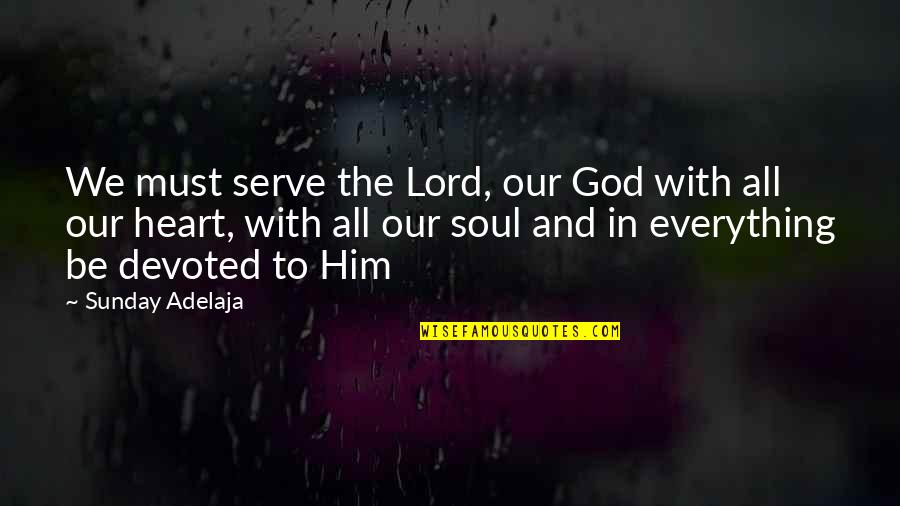 We must serve the Lord, our God with all our heart, with all our soul and in everything be devoted to Him —
Sunday Adelaja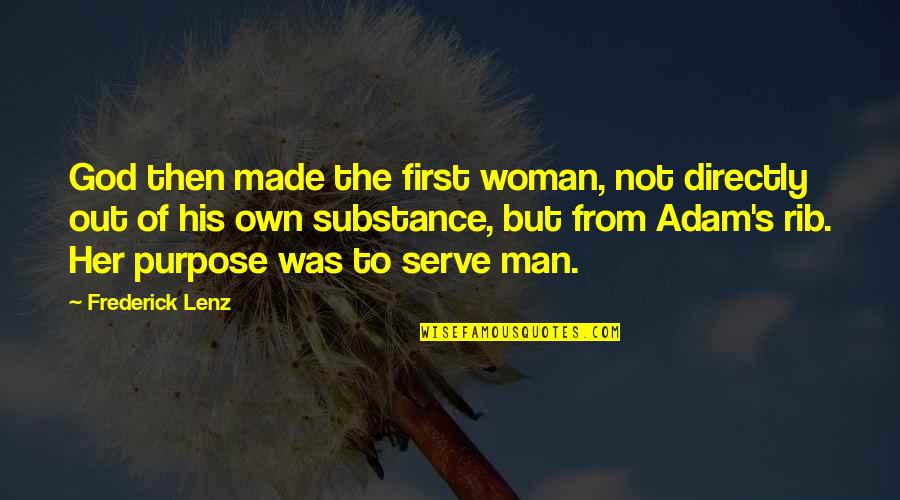 God then made the first woman, not directly out of his own substance, but from Adam's rib. Her purpose was to serve man. —
Frederick Lenz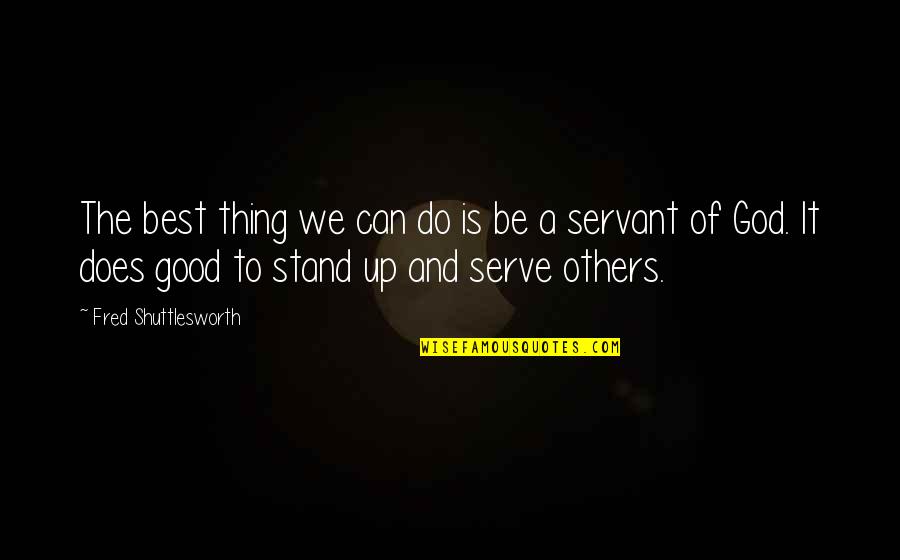 The best thing we can do is be a servant of God. It does good to stand up and serve others. —
Fred Shuttlesworth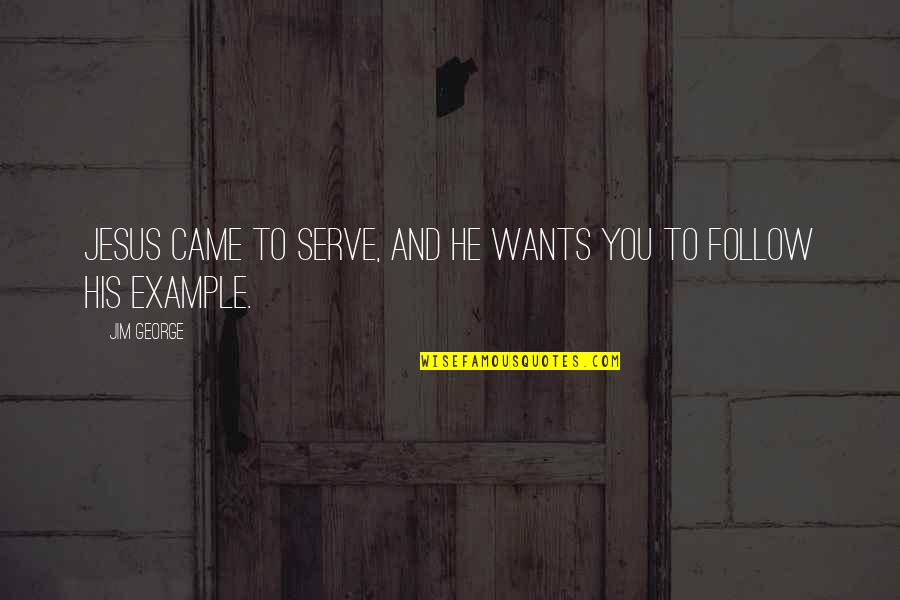 Jesus came to serve, and He wants you to follow His example. —
Jim George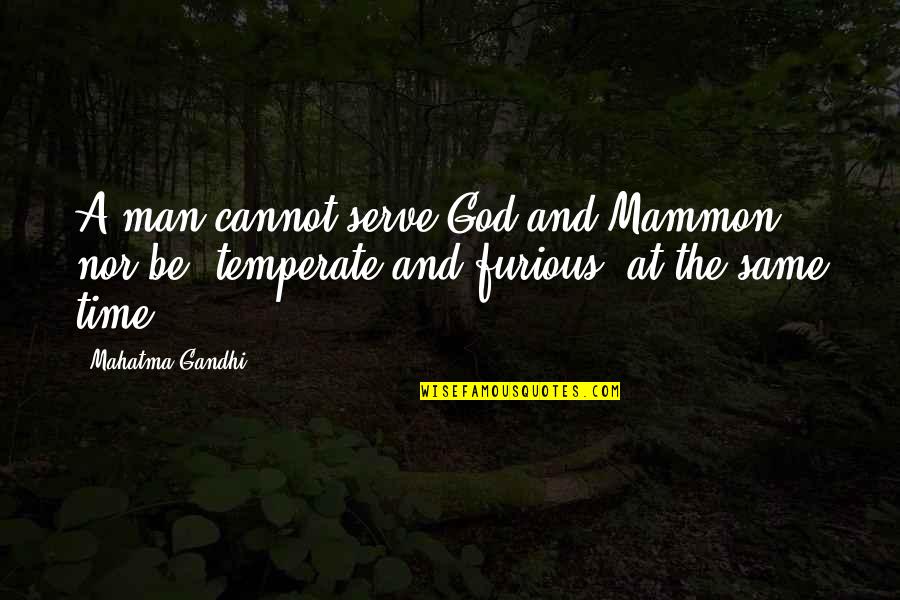 A man cannot serve God and Mammon, nor be "temperate and furious" at the same time. —
Mahatma Gandhi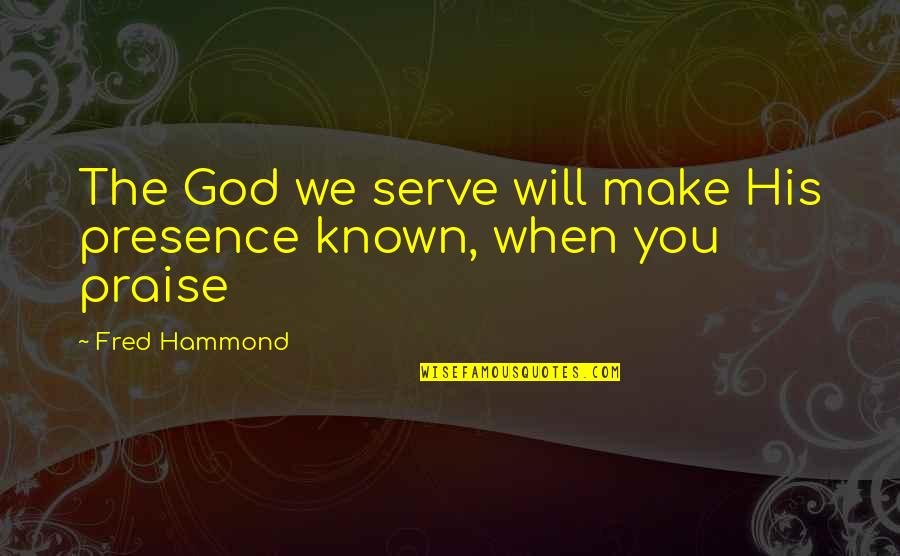 The God we serve will make His presence known, when you praise —
Fred Hammond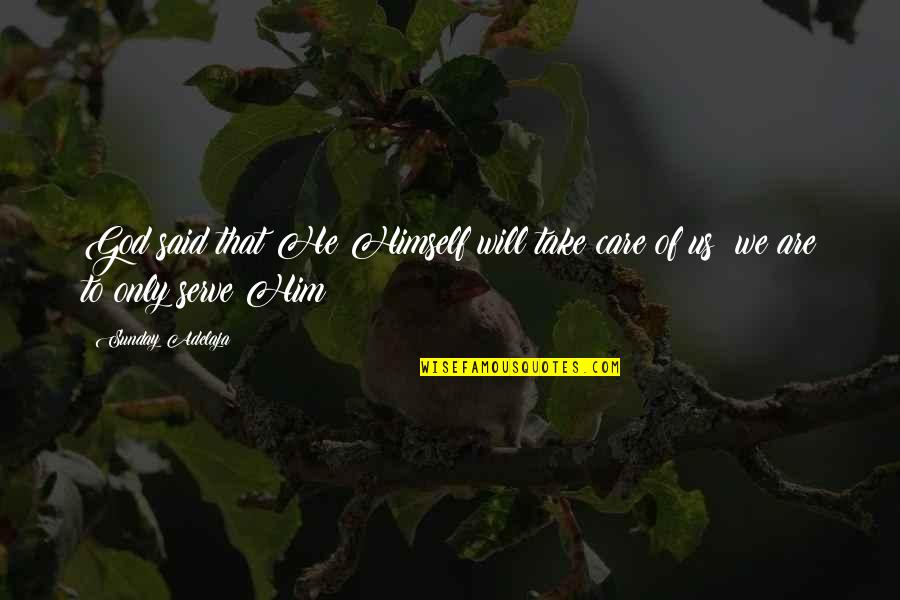 God said that He Himself will take care of us; we are to only serve Him —
Sunday Adelaja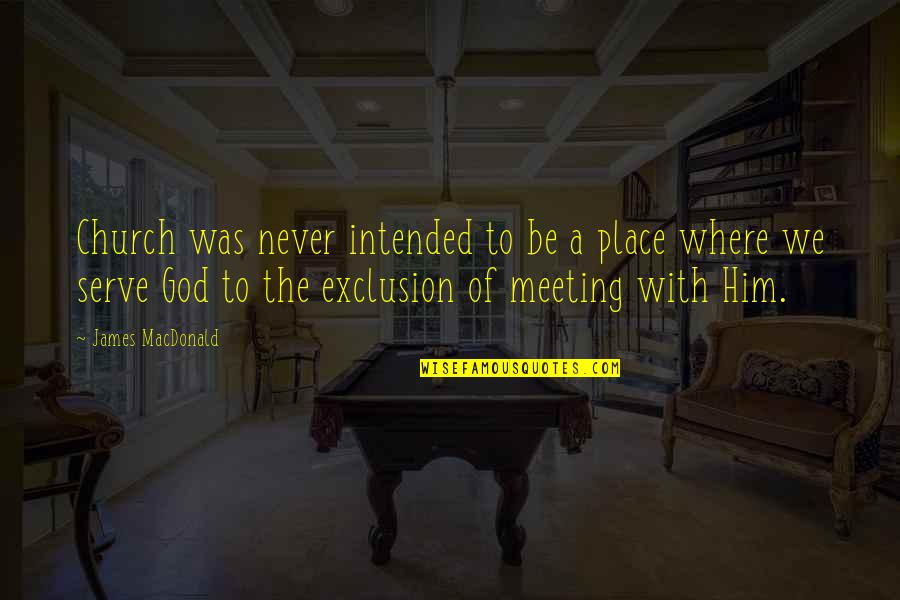 Church was never intended to be a place where we serve God to the exclusion of meeting with Him. —
James MacDonald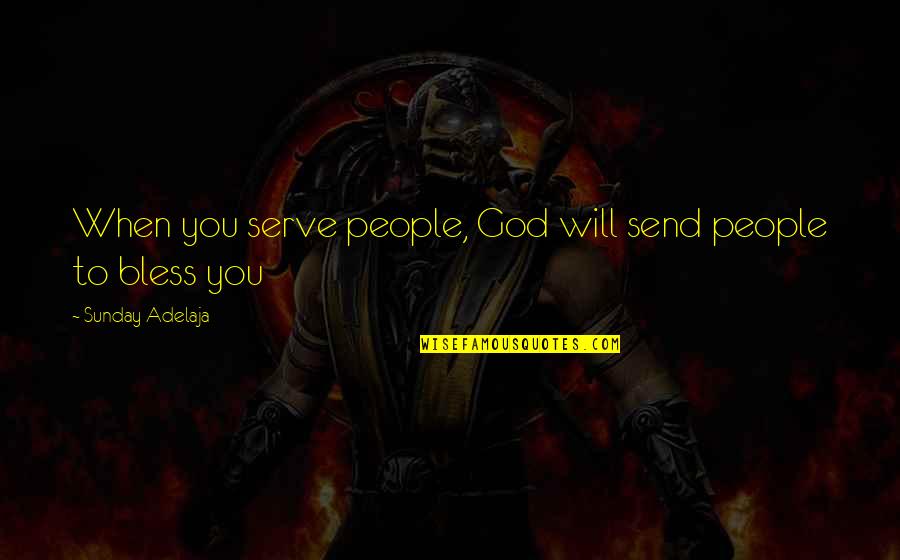 When you serve people, God will send people to bless you —
Sunday Adelaja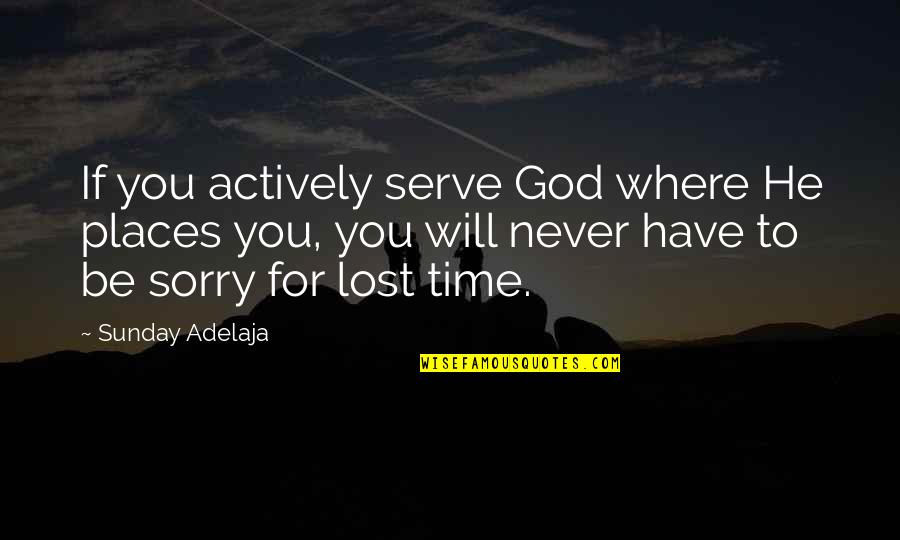 If you actively serve God where He places you, you will never have to be sorry for lost time. —
Sunday Adelaja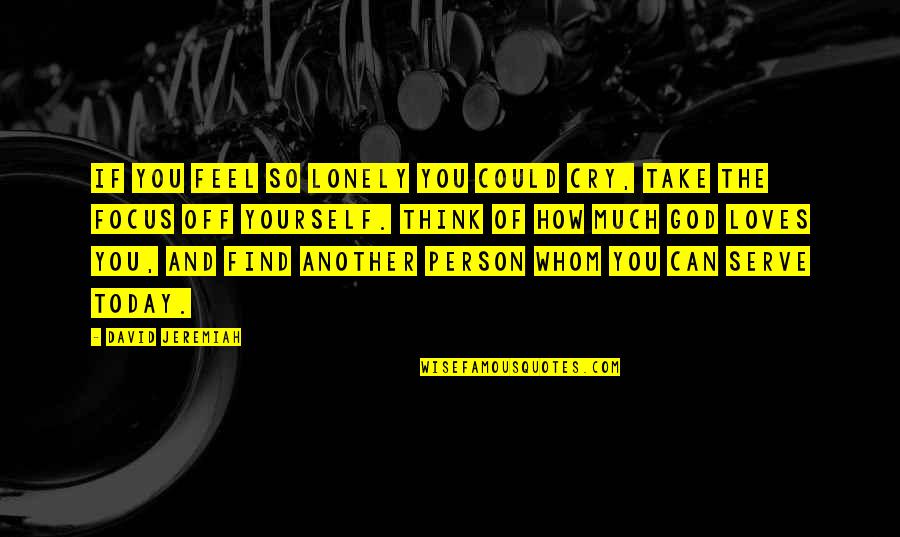 If you feel so lonely you could cry, take the focus off yourself. Think of how much God loves you, and find another person whom you can serve today. —
David Jeremiah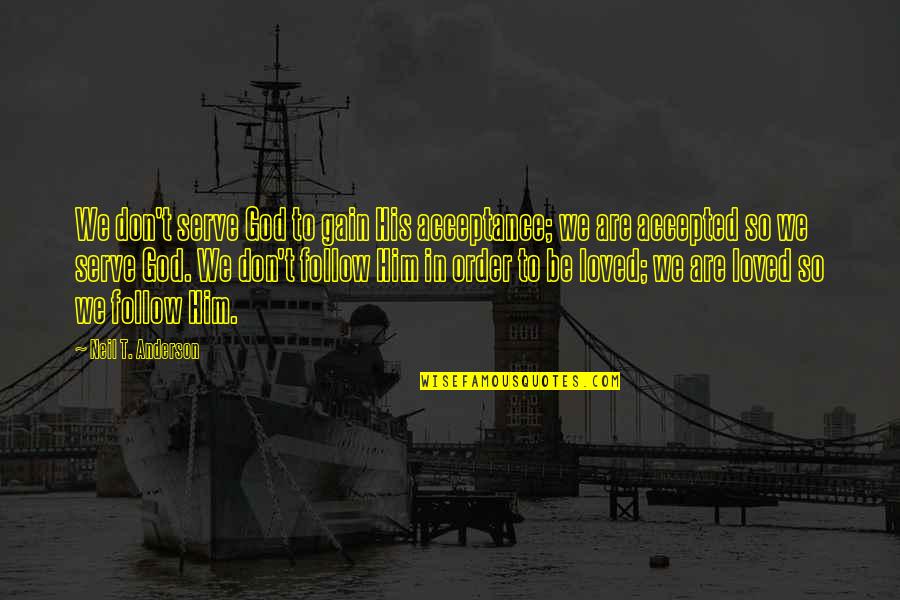 We don't serve God to gain His acceptance; we are accepted so we serve God. We don't follow Him in order to be loved; we are loved so we follow Him. —
Neil T. Anderson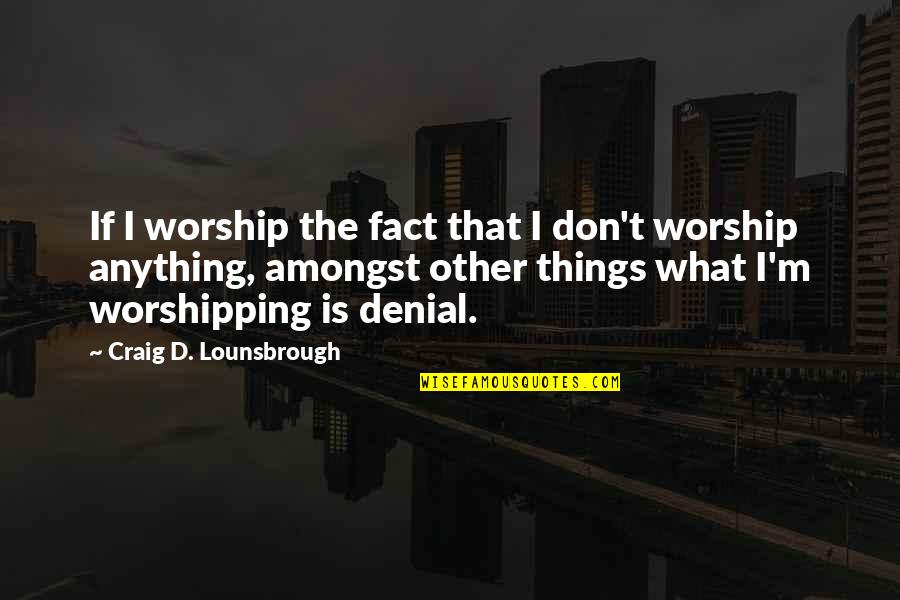 If I worship the fact that I don't worship anything, amongst other things what I'm worshipping is denial. —
Craig D. Lounsbrough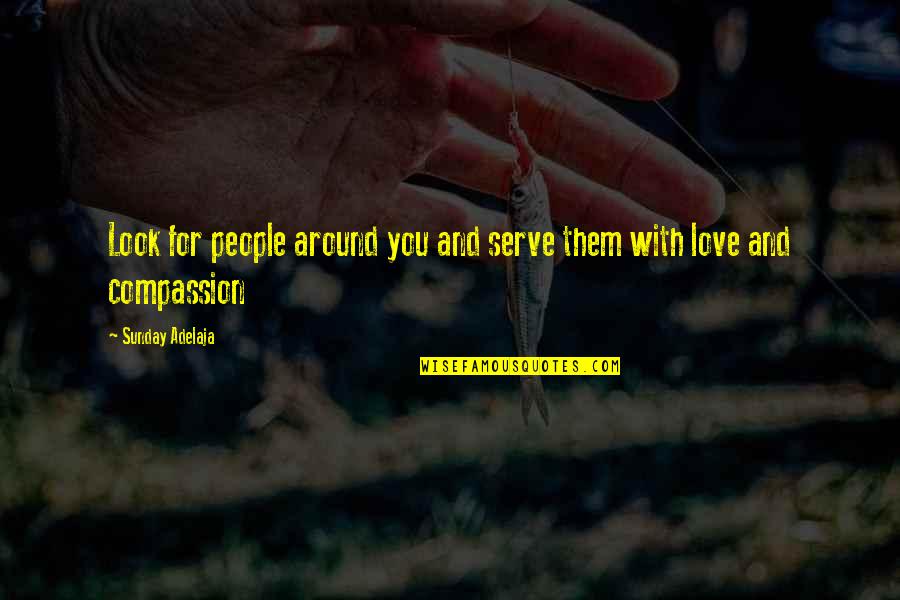 Look for people around you and serve them with love and compassion —
Sunday Adelaja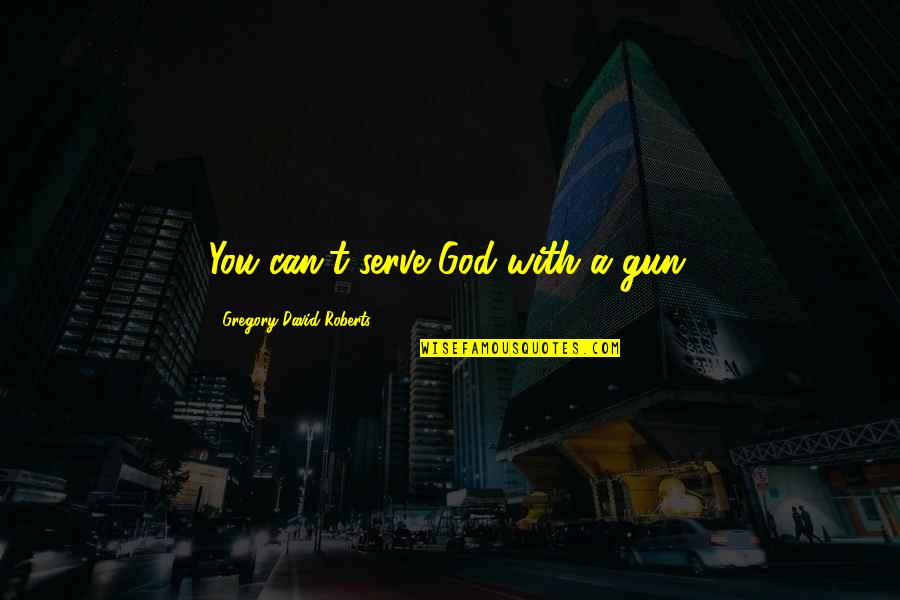 You can't serve God with a gun. —
Gregory David Roberts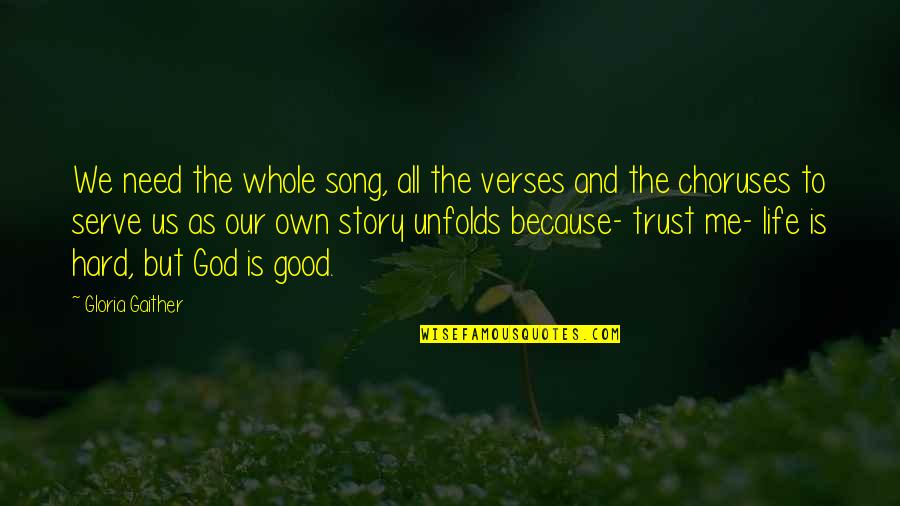 We need the whole song, all the verses and the choruses to serve us as our own story unfolds because- trust me- life is hard, but God is good. —
Gloria Gaither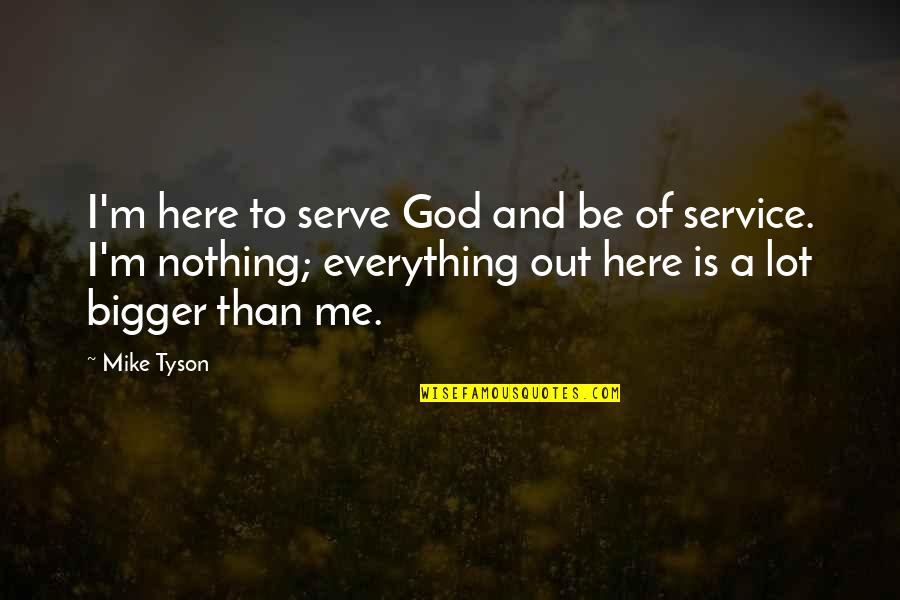 I'm here to serve God and be of service. I'm nothing; everything out here is a lot bigger than me. —
Mike Tyson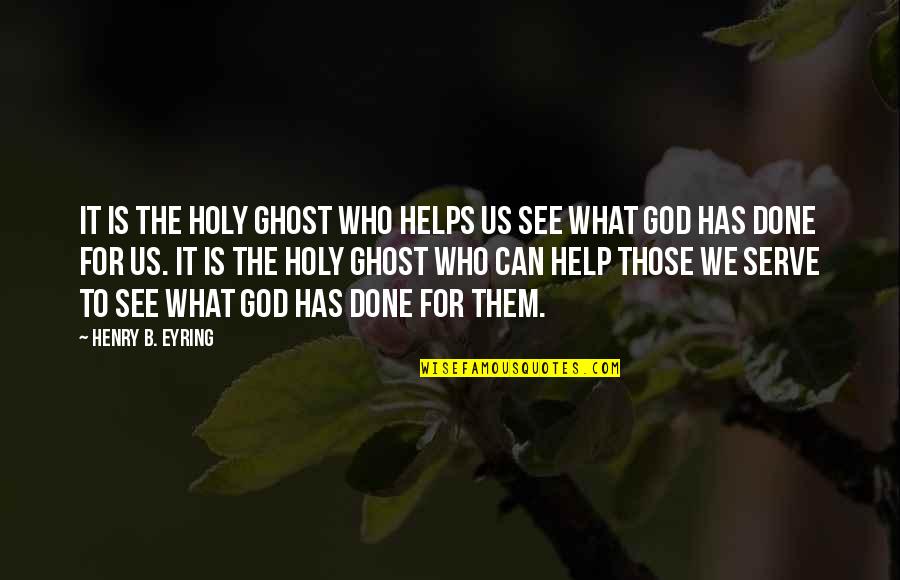 It is the Holy Ghost who helps us see what God has done for us. It is the Holy Ghost who can help those we serve to see what God has done for them. —
Henry B. Eyring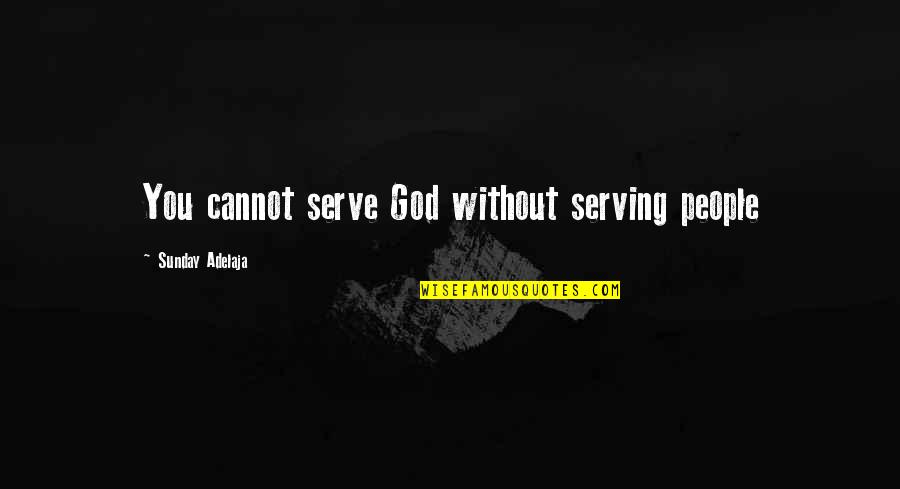 You cannot serve God without serving people —
Sunday Adelaja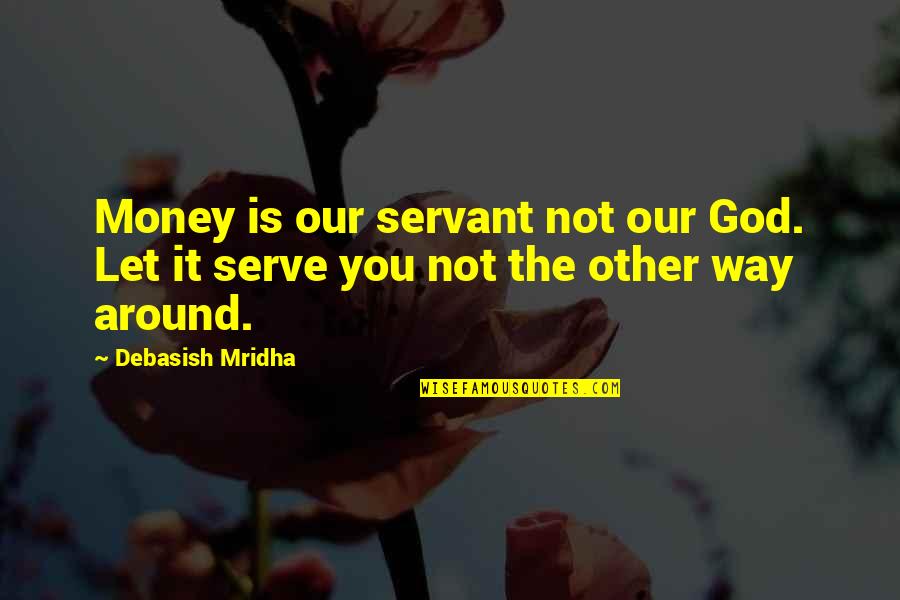 Money is our servant not our God. Let it serve you not the other way around. —
Debasish Mridha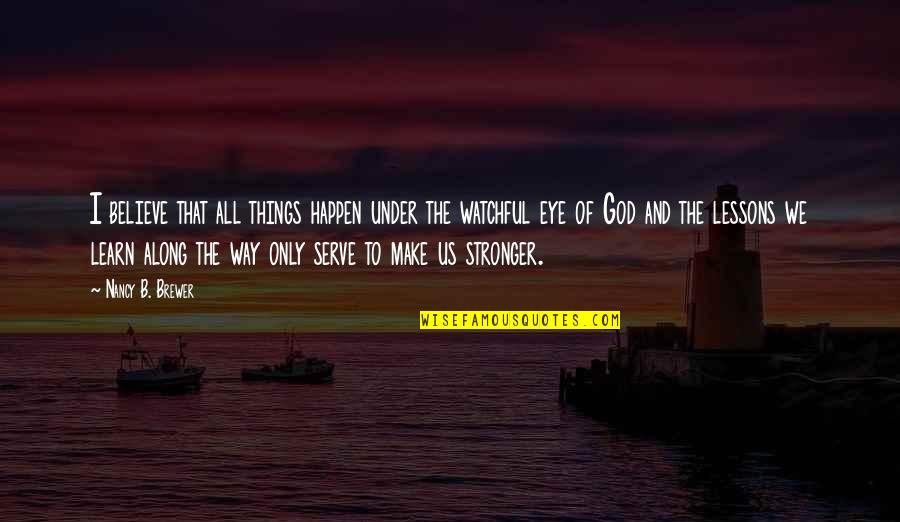 I believe that all things happen under the watchful eye of God and the lessons we learn along the way only serve to make us stronger. —
Nancy B. Brewer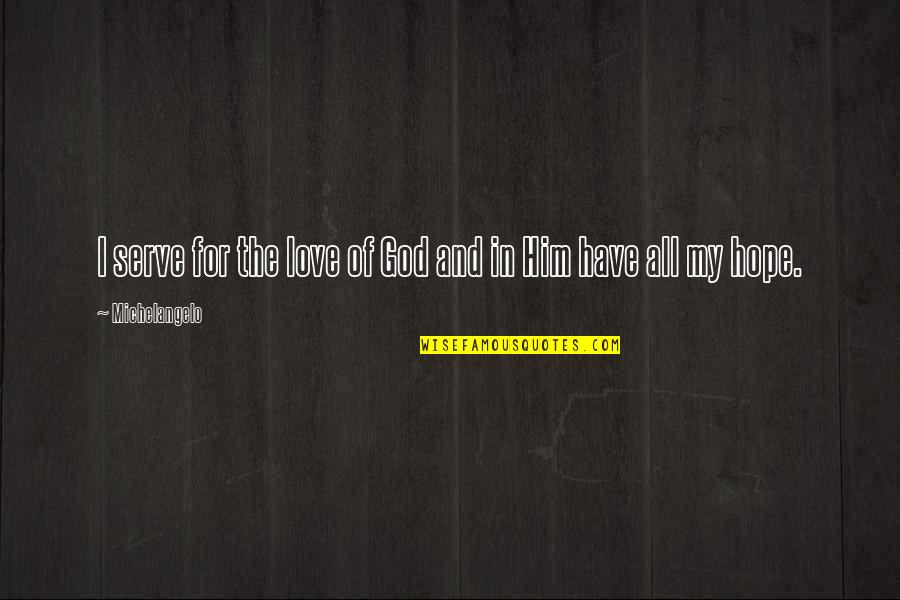 I serve for the love of God and in Him have all my hope. —
Michelangelo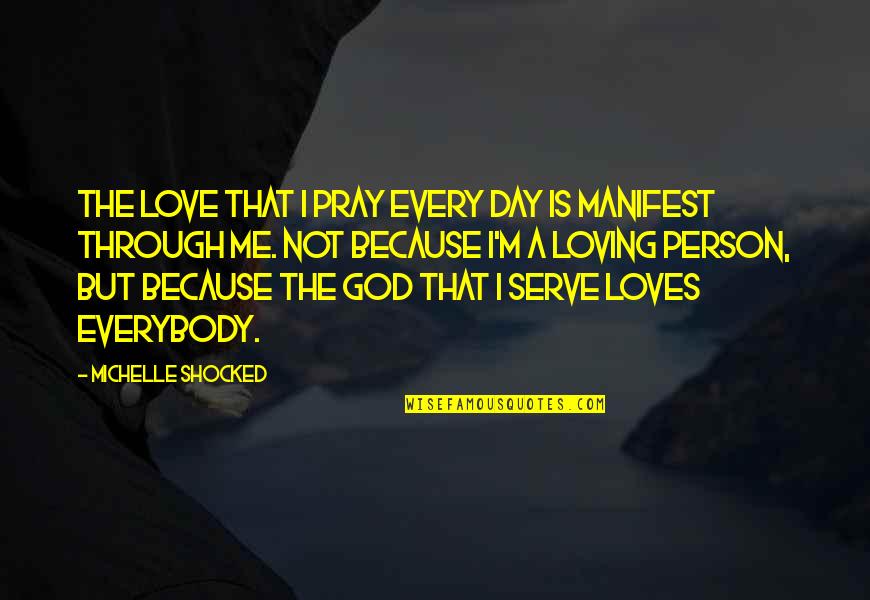 The love that I pray every day is manifest through me. Not because I'm a loving person, but because the God that I serve loves everybody. —
Michelle Shocked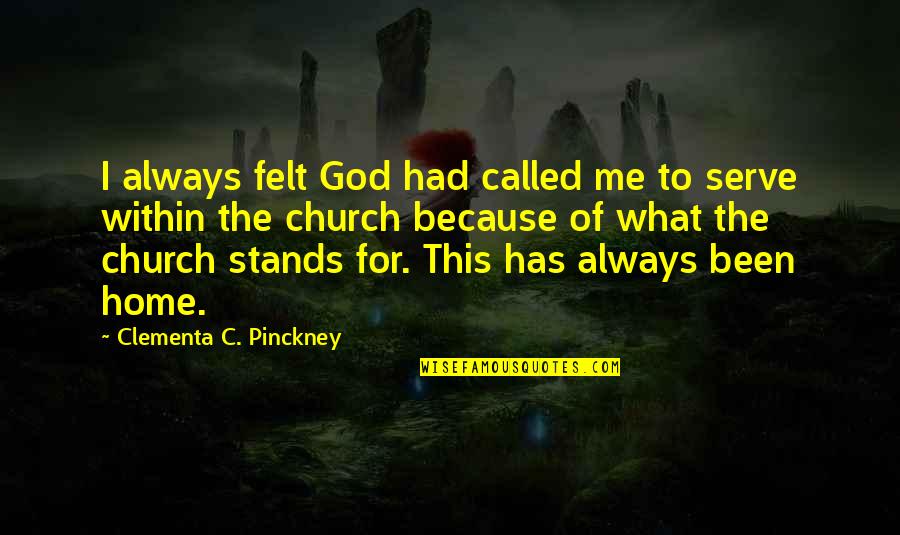 I always felt God had called me to serve within the church because of what the church stands for. This has always been home. —
Clementa C. Pinckney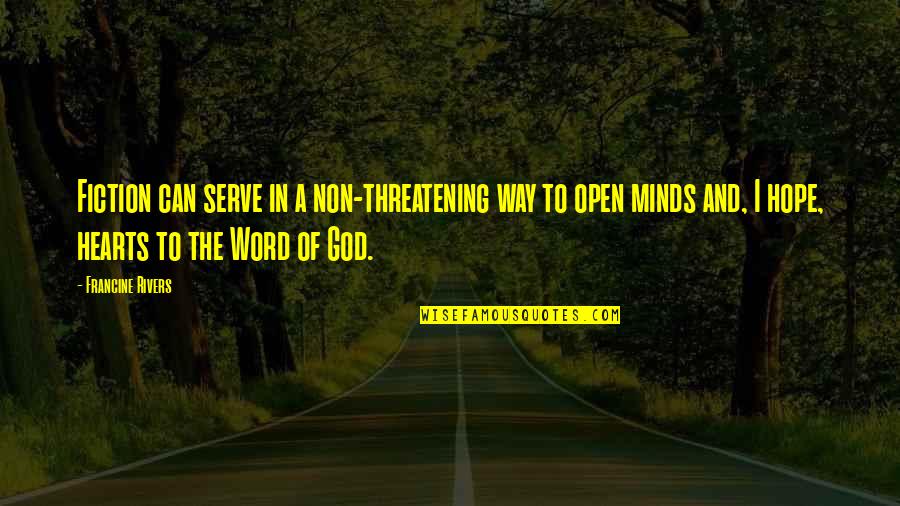 Fiction can serve in a non-threatening way to open minds and, I hope, hearts to the Word of God. —
Francine Rivers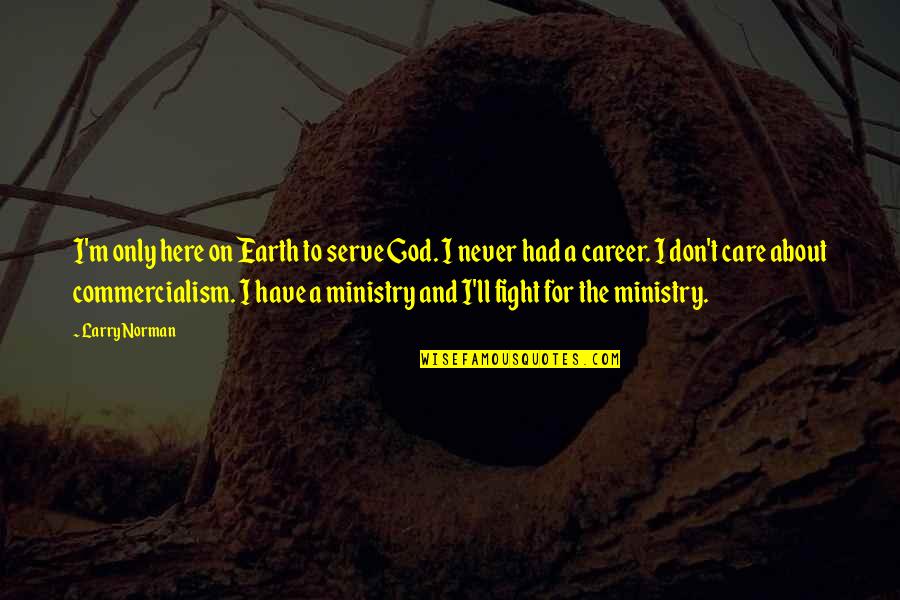 I'm only here on Earth to serve God. I never had a career. I don't care about commercialism. I have a ministry and I'll fight for the ministry. —
Larry Norman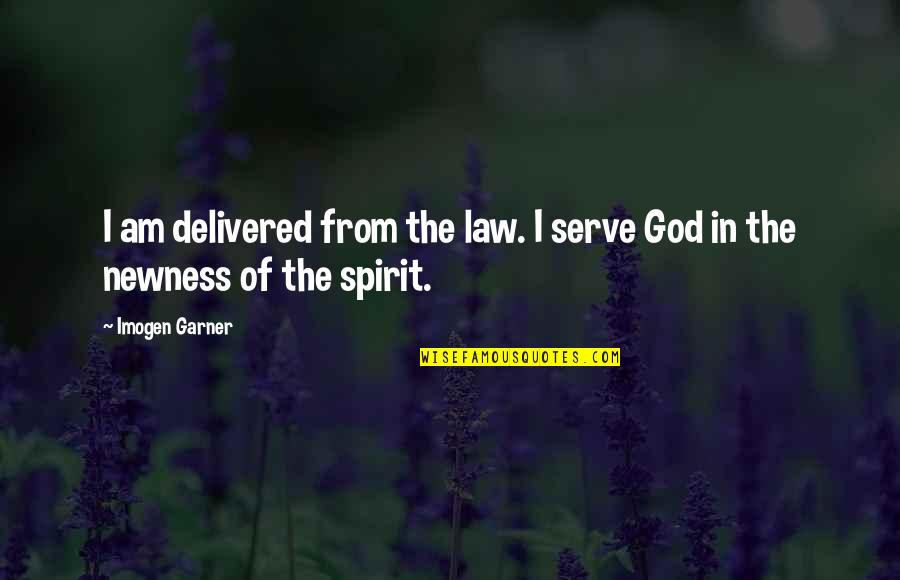 I am delivered from the law. I serve God in the newness of the spirit. —
Imogen Garner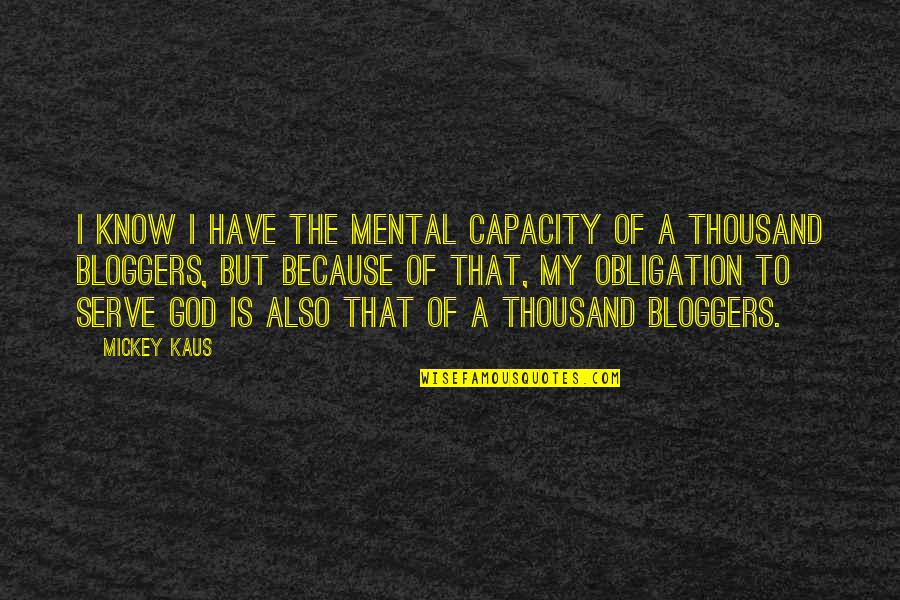 I know I have the mental capacity of a thousand bloggers, but because of that, my obligation to serve God is also that of a thousand bloggers. —
Mickey Kaus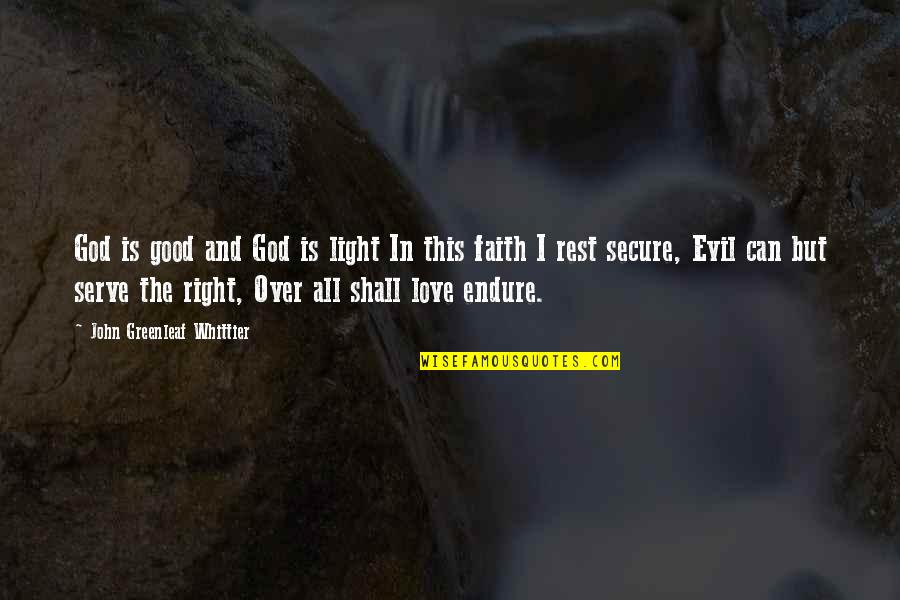 God is good and God is light In this faith I rest secure, Evil can but serve the right, Over all shall love endure. —
John Greenleaf Whittier