Spend Time Family Quotes
Collection of top 53 famous quotes about Spend Time Family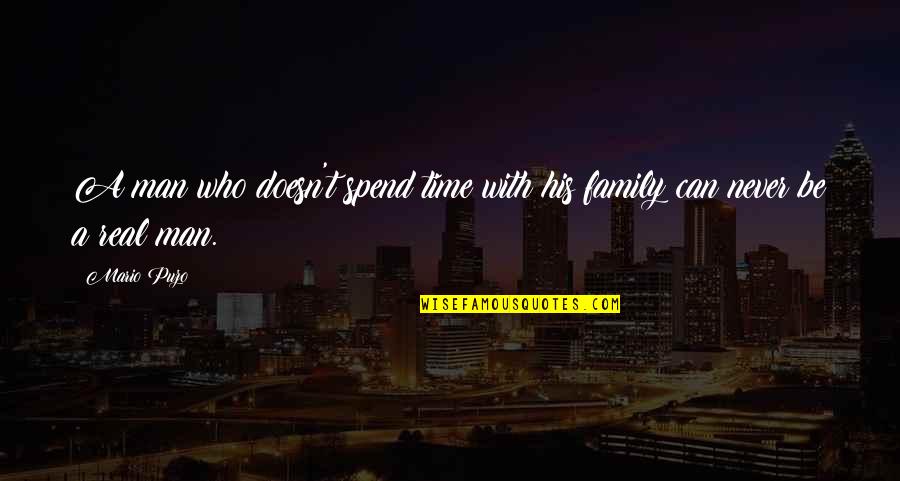 A man who doesn't spend time with his family can never be a real man.
—
Mario Puzo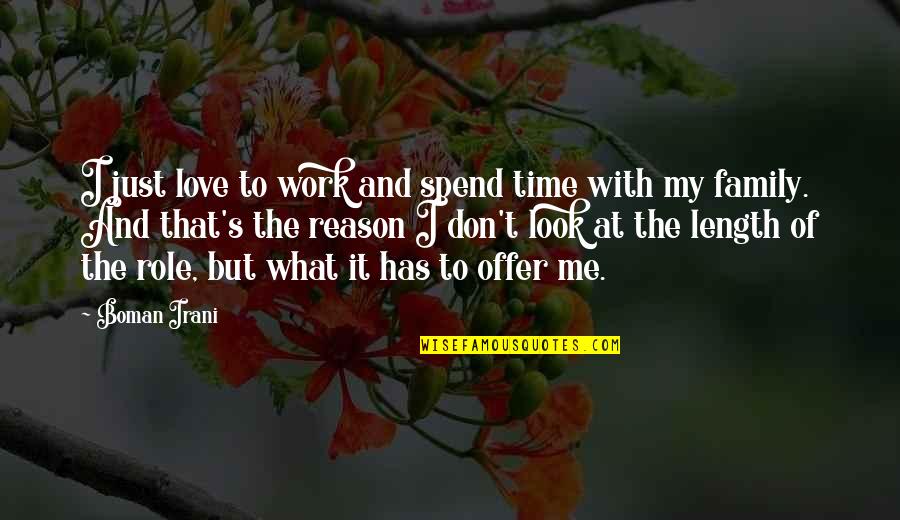 I just love to work and spend time with my family. And that's the reason I don't look at the length of the role, but what it has to offer me.
—
Boman Irani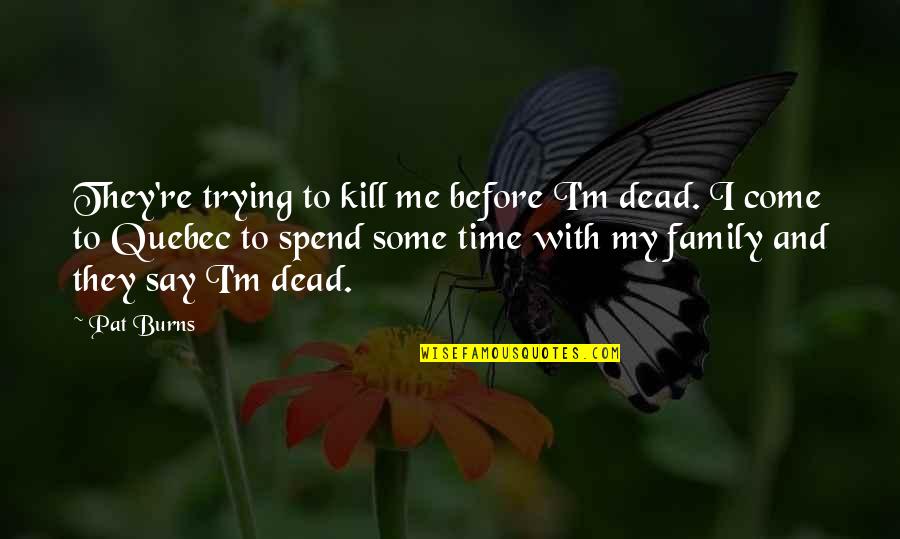 They're trying to kill me before I'm dead. I come to Quebec to spend some time with my family and they say I'm dead.
—
Pat Burns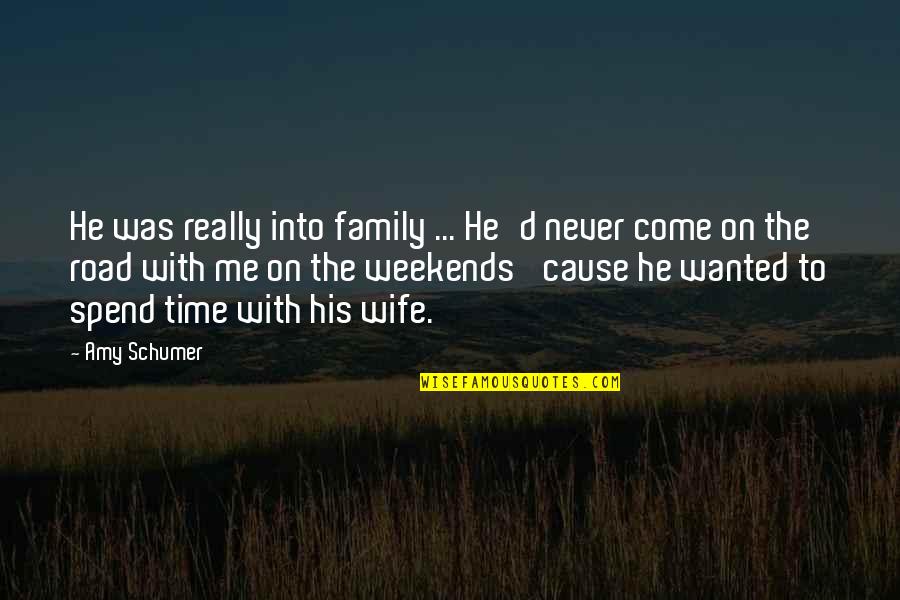 He was really into family ... He'd never come on the road with me on the weekends 'cause he wanted to spend time with his wife.
—
Amy Schumer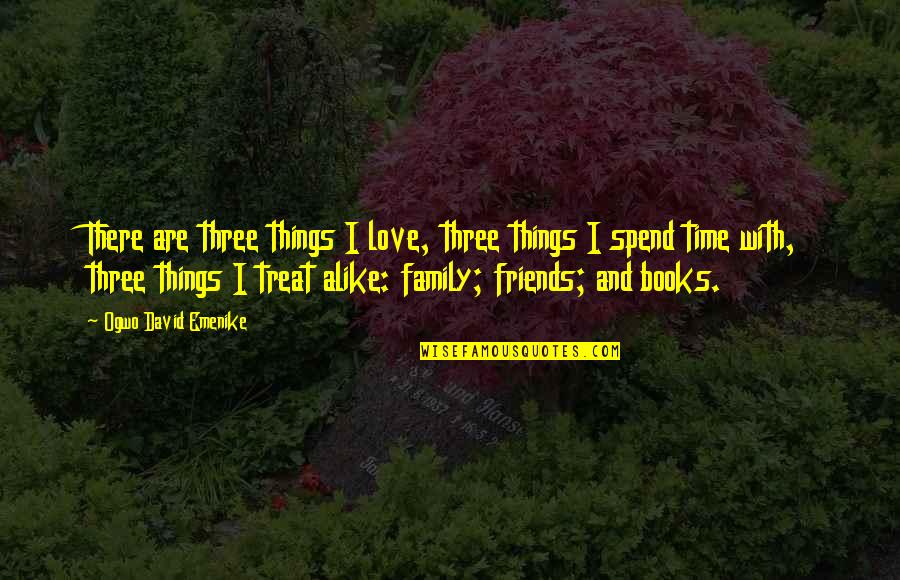 There are three things I love, three things I spend time with, three things I treat alike: family; friends; and books.
—
Ogwo David Emenike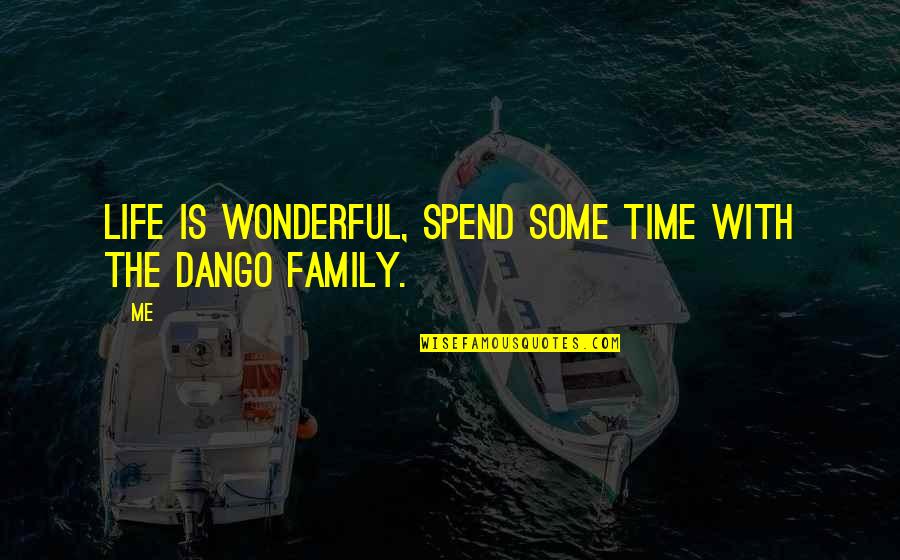 Life is wonderful, spend some time with the dango family.
—
Me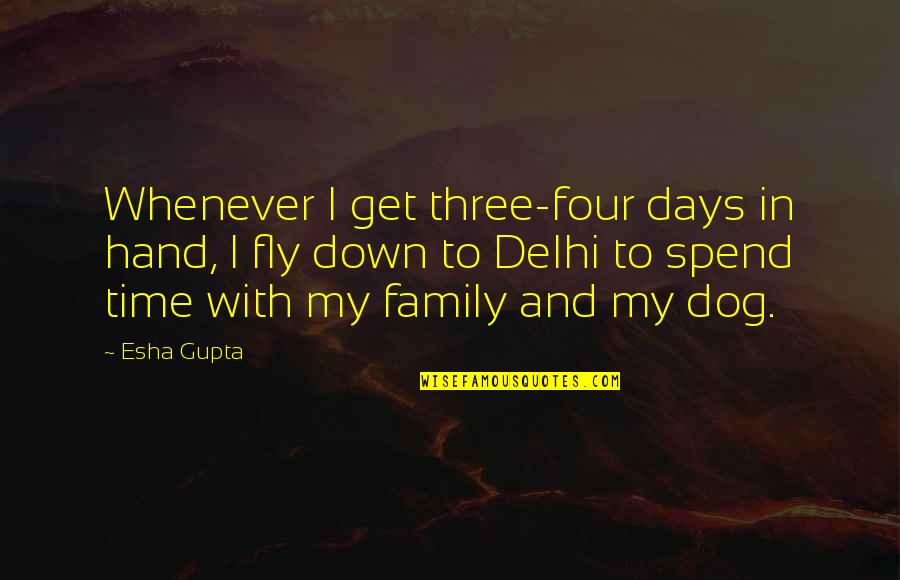 Whenever I get three-four days in hand, I fly down to Delhi to spend time with my family and my dog.
—
Esha Gupta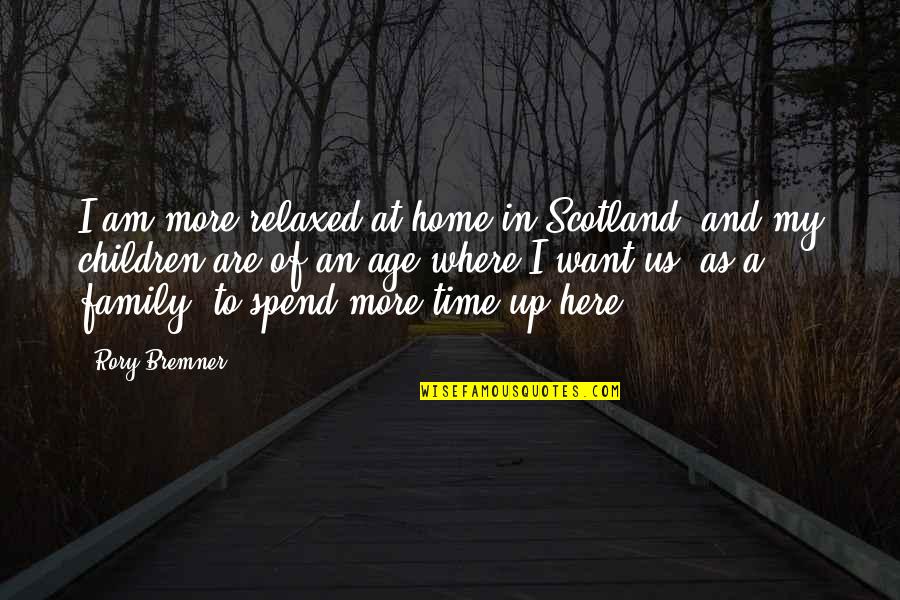 I am more relaxed at home in Scotland, and my children are of an age where I want us, as a family, to spend more time up here.
—
Rory Bremner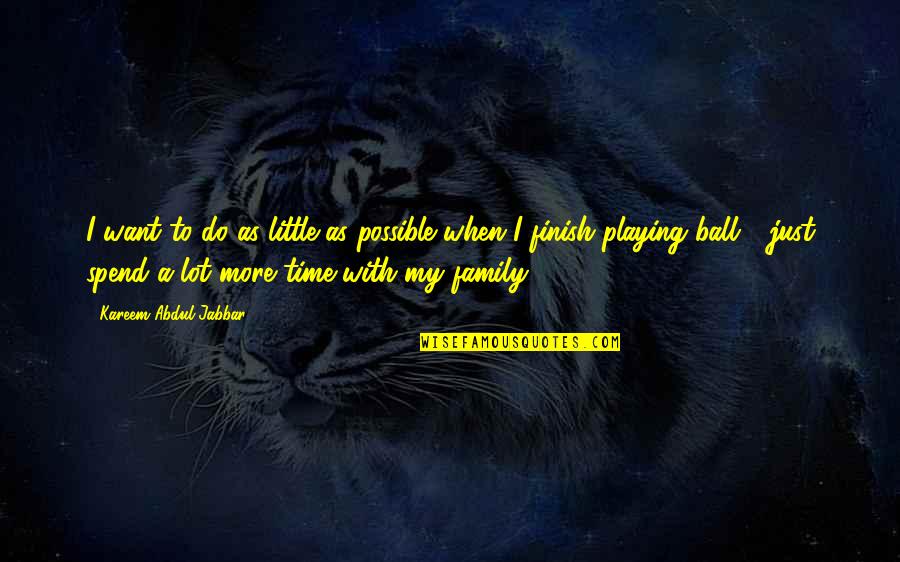 I want to do as little as possible when I finish playing ball - just spend a lot more time with my family.
—
Kareem Abdul-Jabbar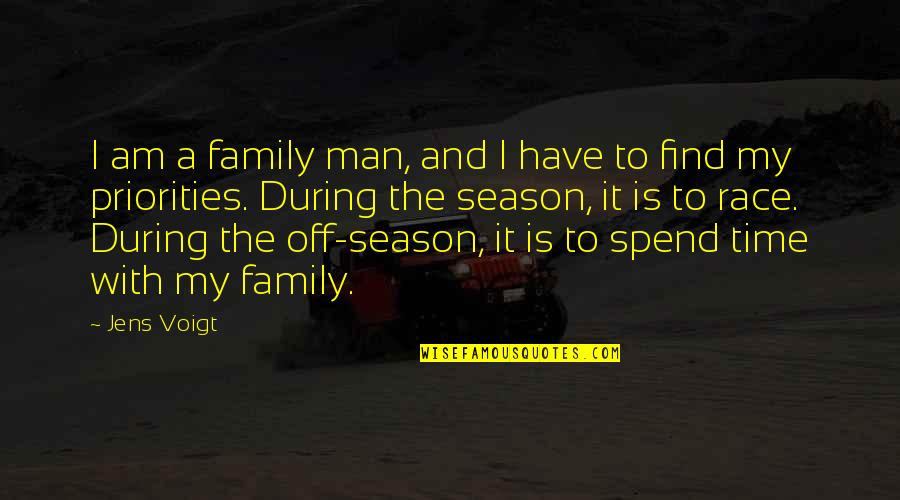 I am a family man, and I have to find my priorities. During the season, it is to race. During the off-season, it is to spend time with my family.
—
Jens Voigt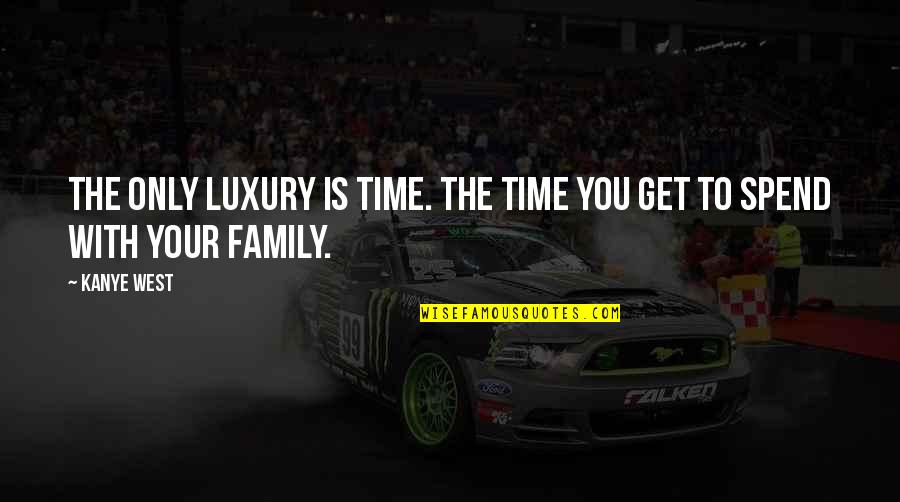 The only luxury is time. The time you get to spend with your family.
—
Kanye West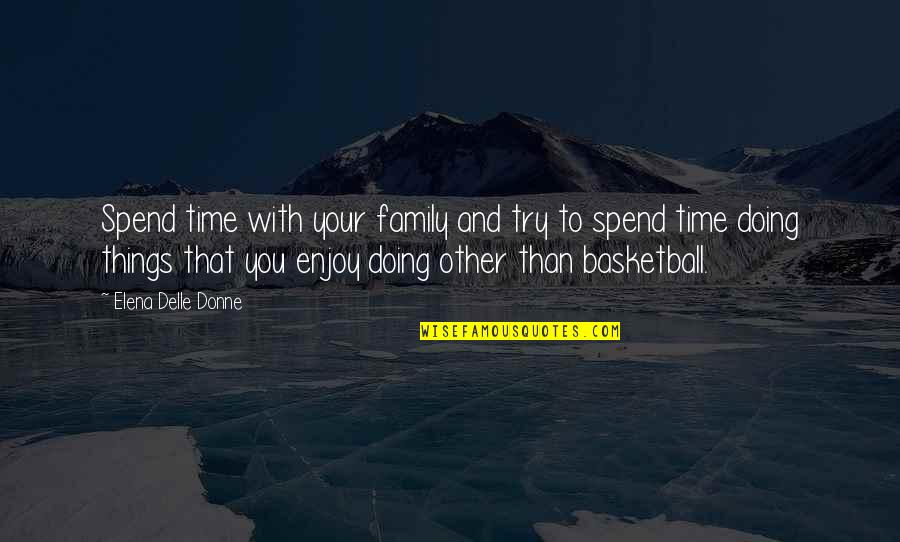 Spend time with your family and try to spend time doing things that you enjoy doing other than basketball.
—
Elena Delle Donne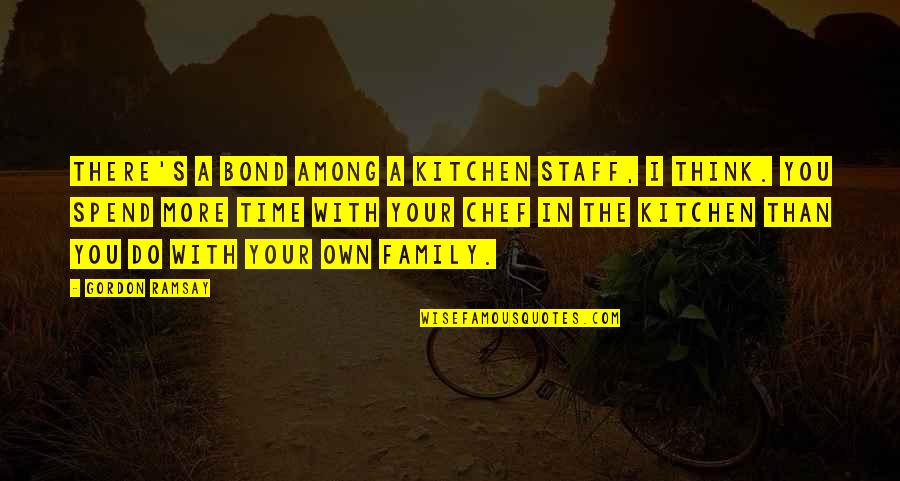 There's a bond among a kitchen staff, I think. You spend more time with your chef in the kitchen than you do with your own family.
—
Gordon Ramsay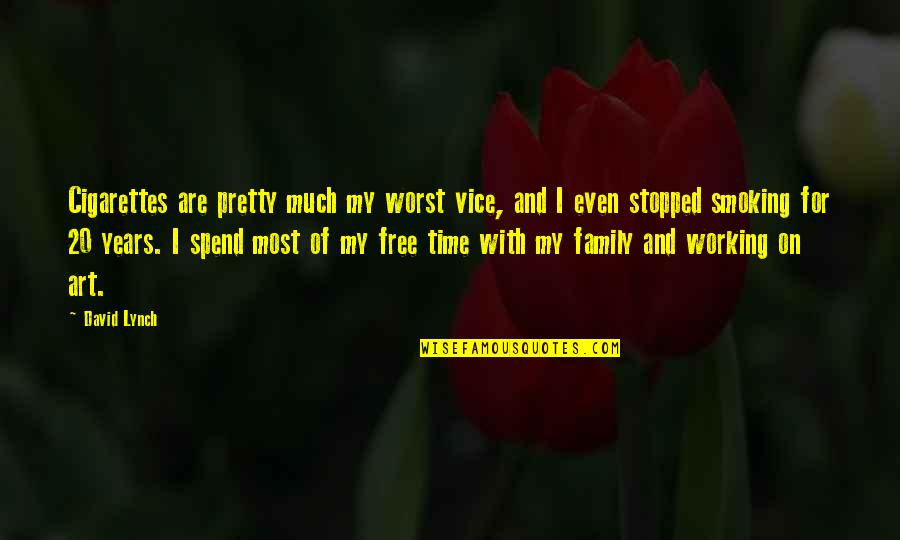 Cigarettes are pretty much my worst vice, and I even stopped smoking for 20 years. I spend most of my free time with my family and working on art.
—
David Lynch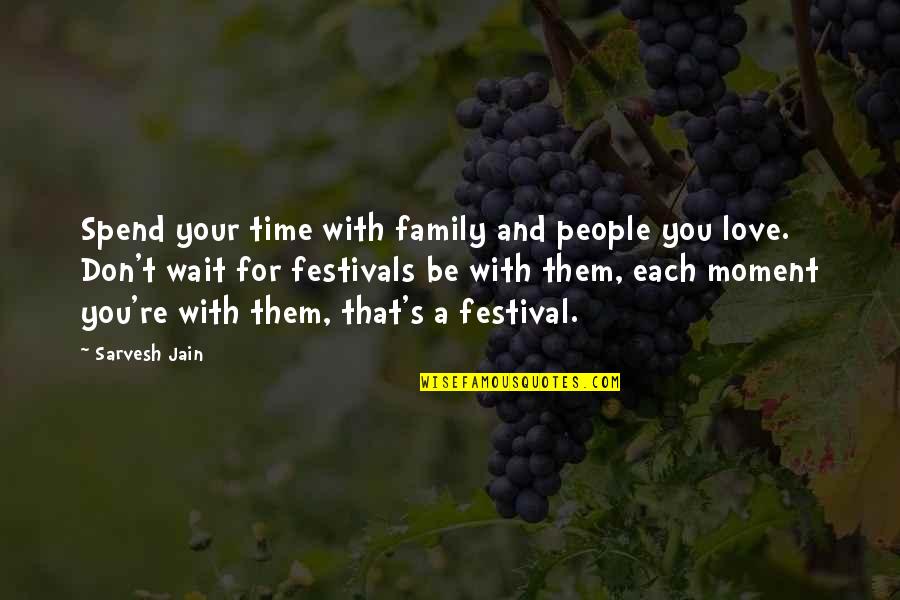 Spend your time with family and people you love. Don't wait for festivals be with them, each moment you're with them, that's a festival. —
Sarvesh Jain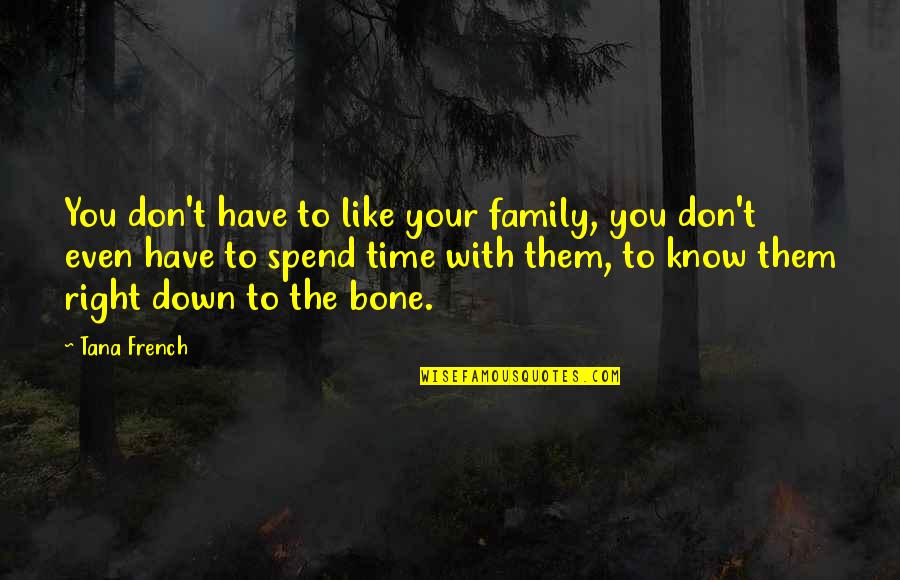 You don't have to like your family, you don't even have to spend time with them, to know them right down to the bone. —
Tana French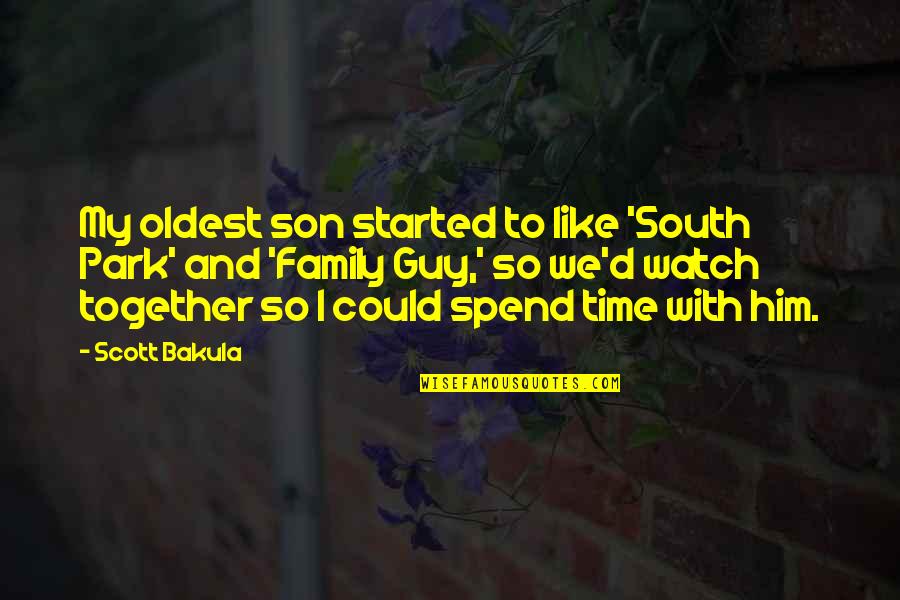 My oldest son started to like 'South Park' and 'Family Guy,' so we'd watch together so I could spend time with him. —
Scott Bakula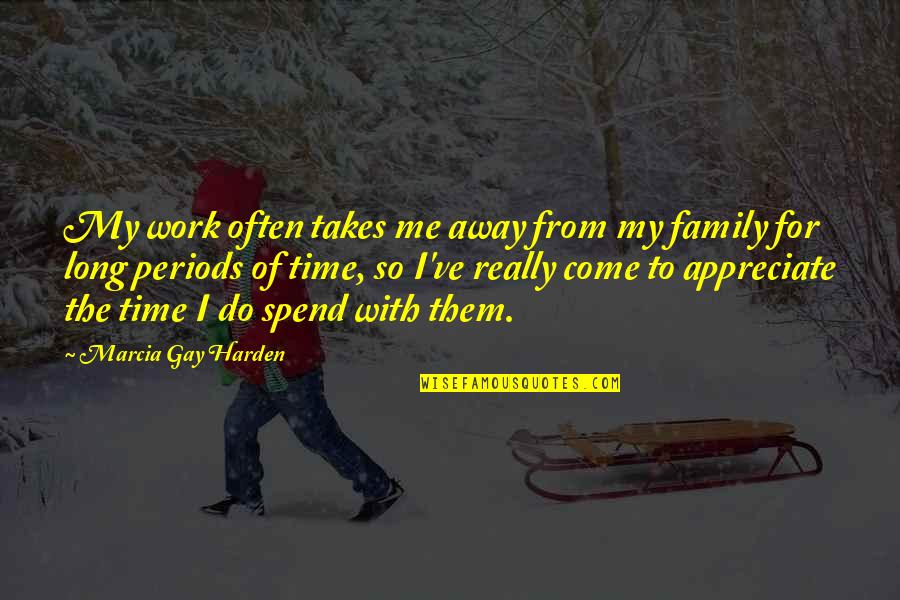 My work often takes me away from my family for long periods of time, so I've really come to appreciate the time I do spend with them. —
Marcia Gay Harden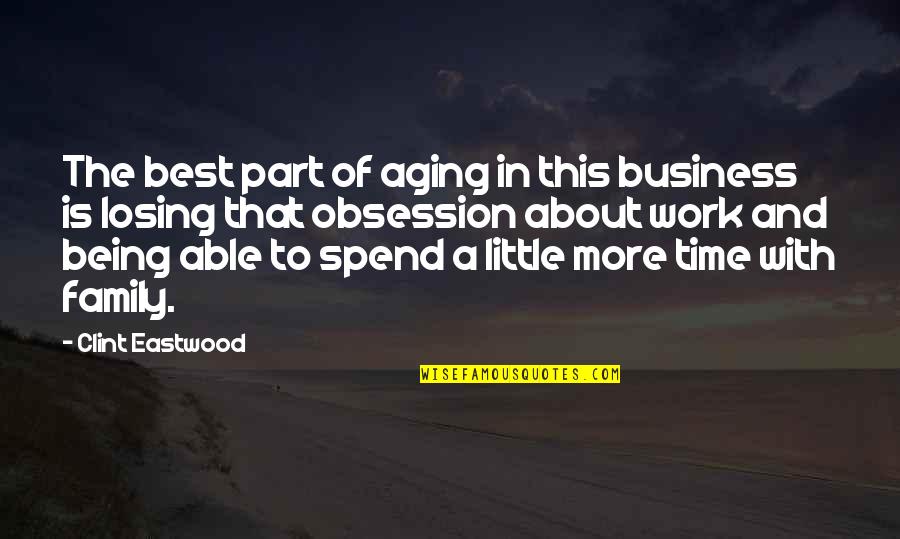 The best part of aging in this business is losing that obsession about work and being able to spend a little more time with family. —
Clint Eastwood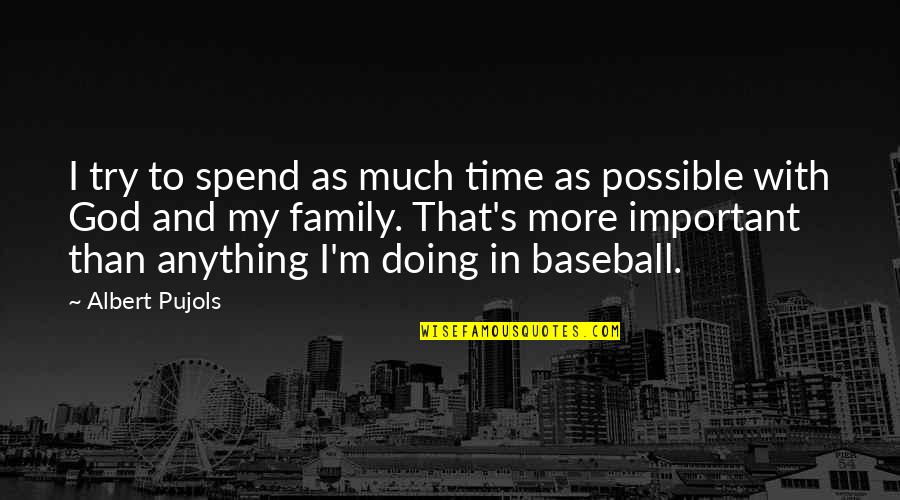 I try to spend as much time as possible with God and my family. That's more important than anything I'm doing in baseball. —
Albert Pujols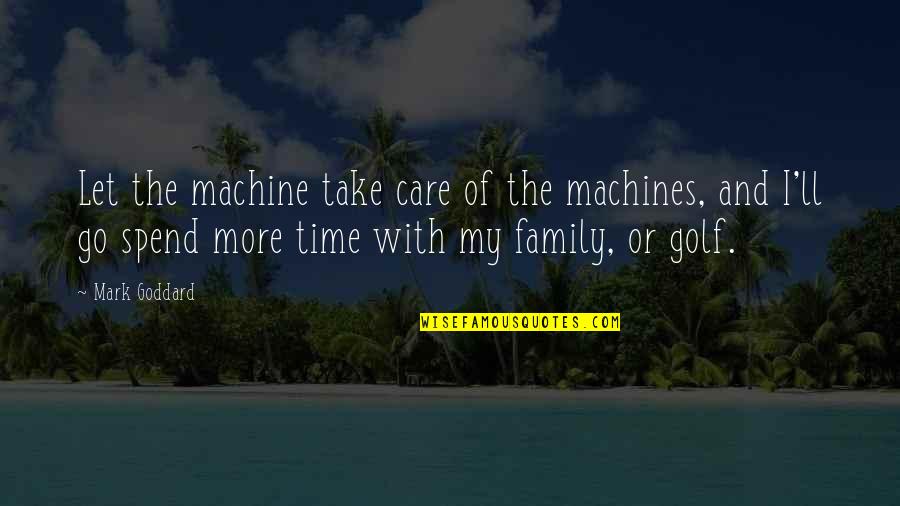 Let the machine take care of the machines, and I'll go spend more time with my family, or golf. —
Mark Goddard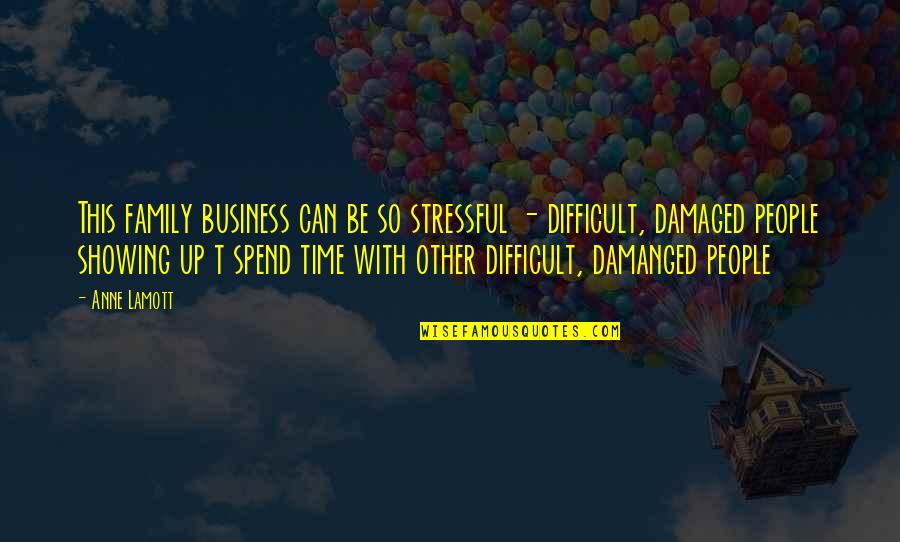 This family business can be so stressful - difficult, damaged people showing up t spend time with other difficult, damanged people —
Anne Lamott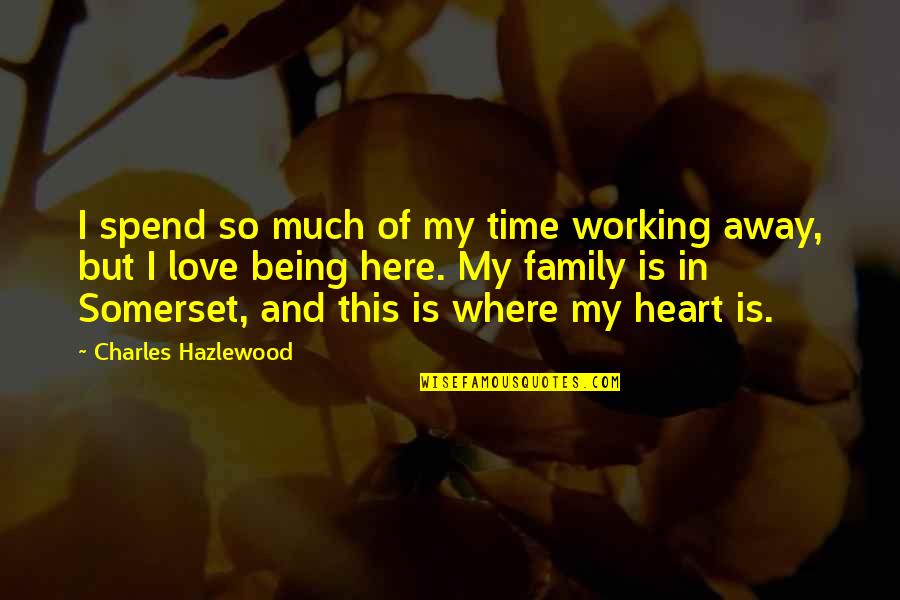 I spend so much of my time working away, but I love being here. My family is in Somerset, and this is where my heart is. —
Charles Hazlewood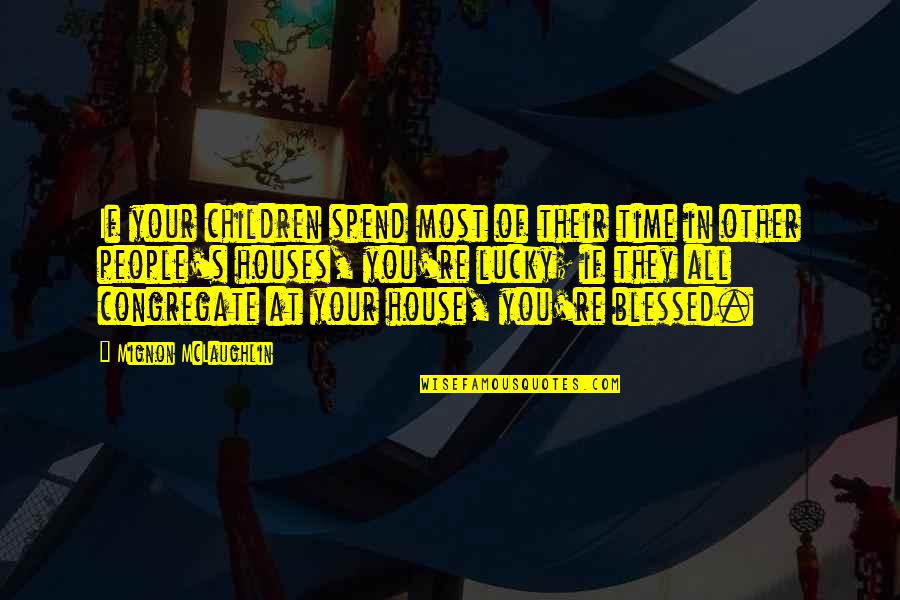 If your children spend most of their time in other people's houses, you're lucky; if they all congregate at your house, you're blessed. —
Mignon McLaughlin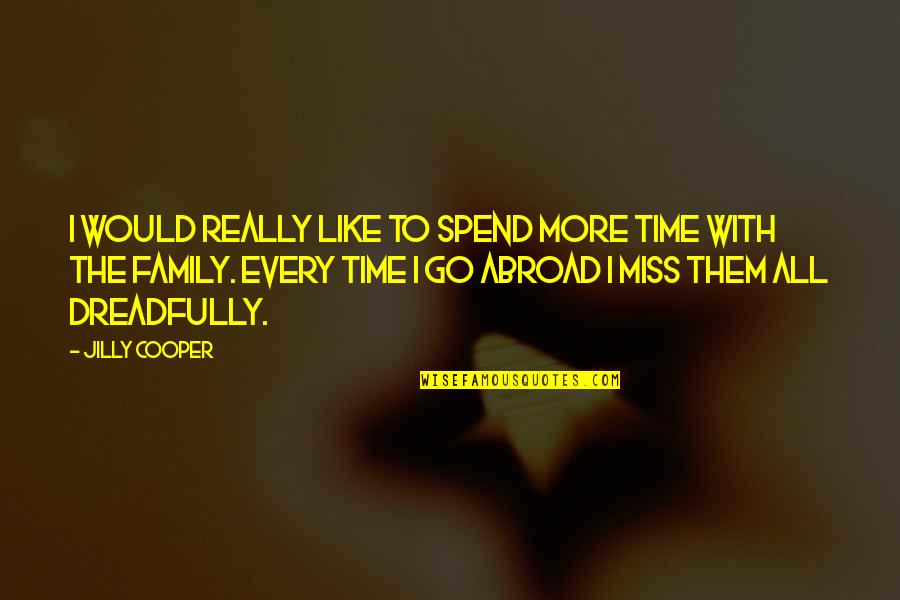 I would really like to spend more time with the family. Every time I go abroad I miss them all dreadfully. —
Jilly Cooper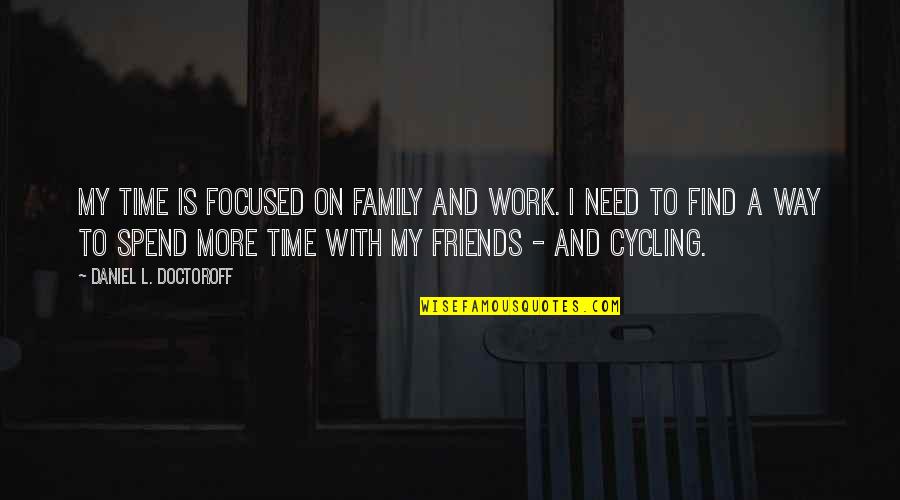 My time is focused on family and work. I need to find a way to spend more time with my friends - and cycling. —
Daniel L. Doctoroff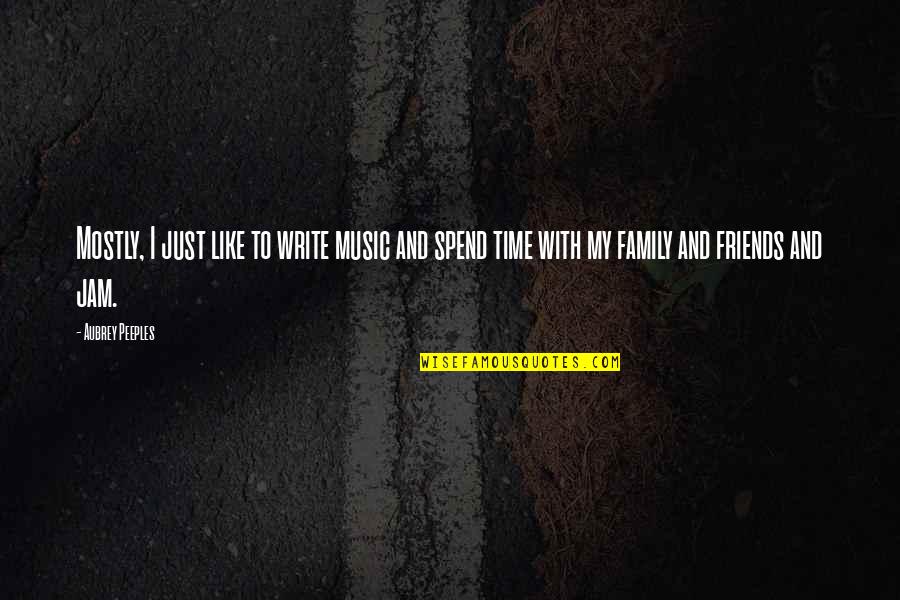 Mostly, I just like to write music and spend time with my family and friends and jam. —
Aubrey Peeples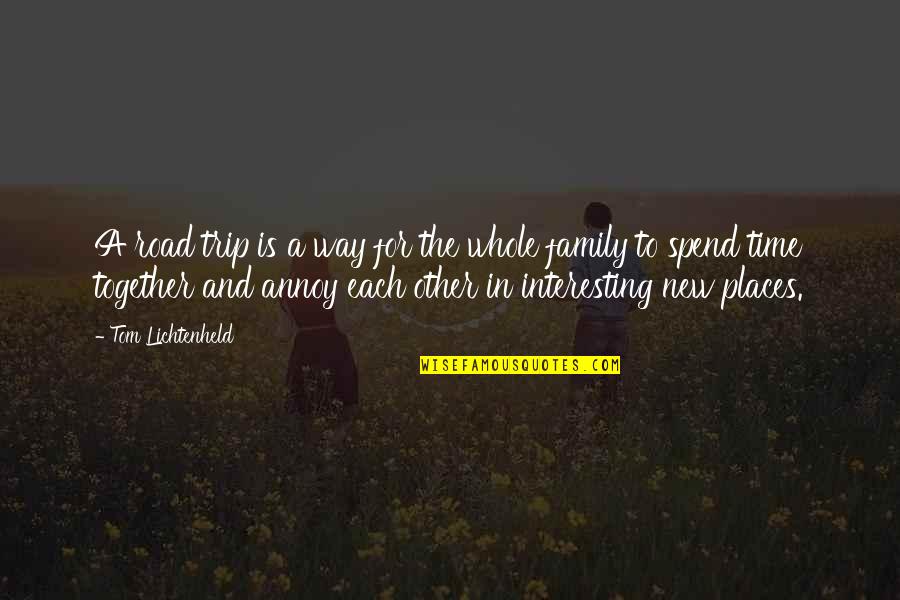 A road trip is a way for the whole family to spend time together and annoy each other in interesting new places. —
Tom Lichtenheld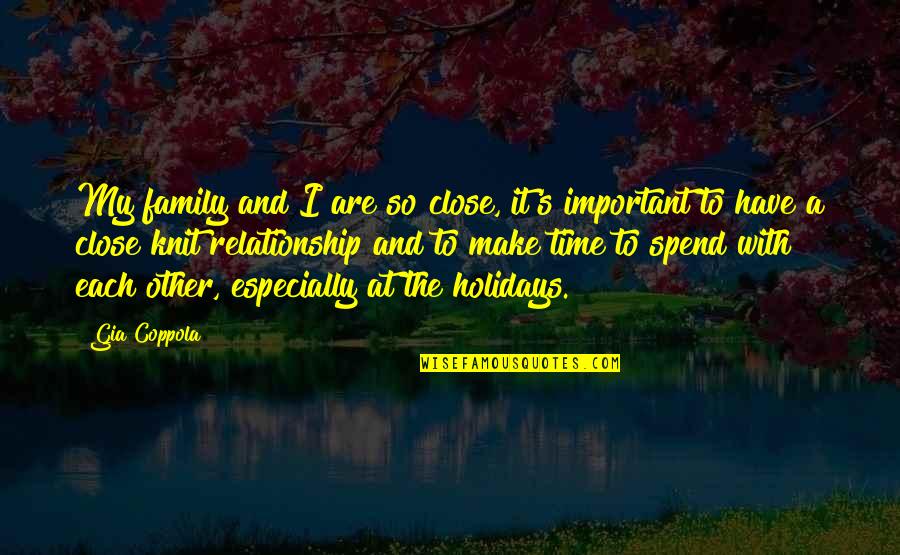 My family and I are so close, it's important to have a close knit relationship and to make time to spend with each other, especially at the holidays. —
Gia Coppola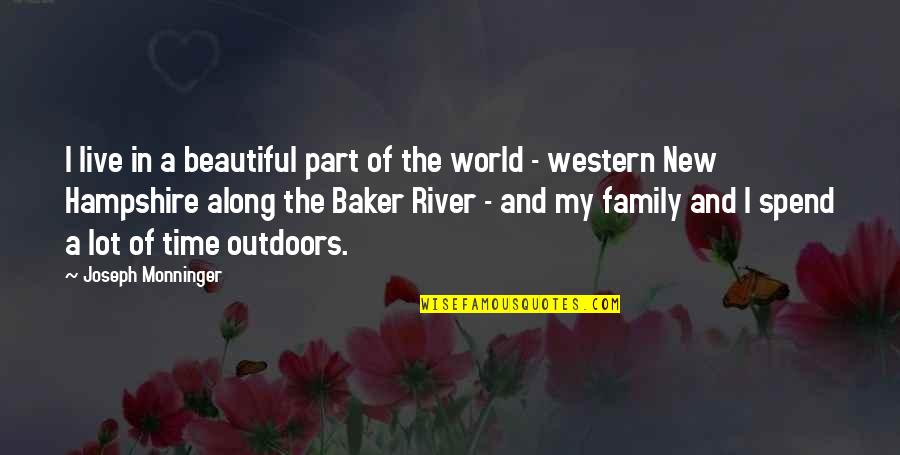 I live in a beautiful part of the world - western New Hampshire along the Baker River - and my family and I spend a lot of time outdoors. —
Joseph Monninger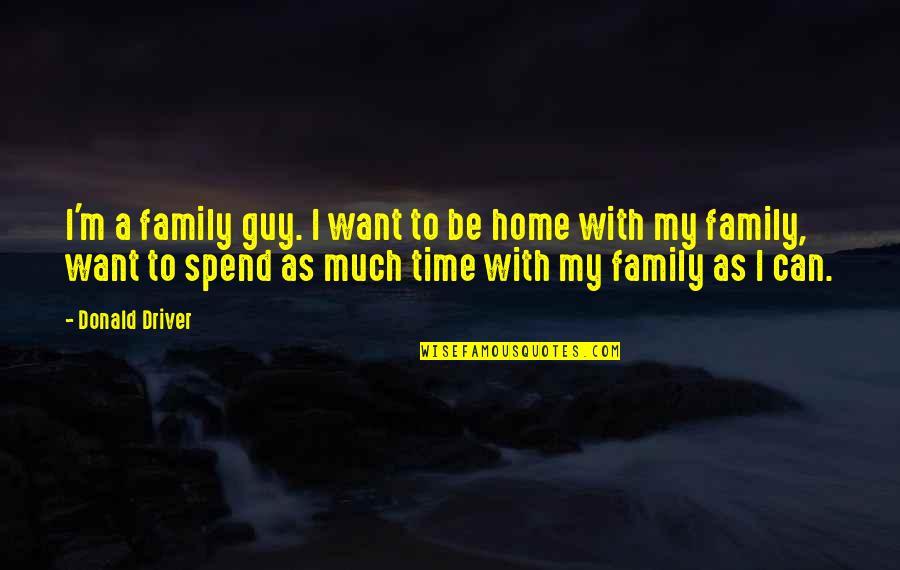 I'm a family guy. I want to be home with my family, want to spend as much time with my family as I can. —
Donald Driver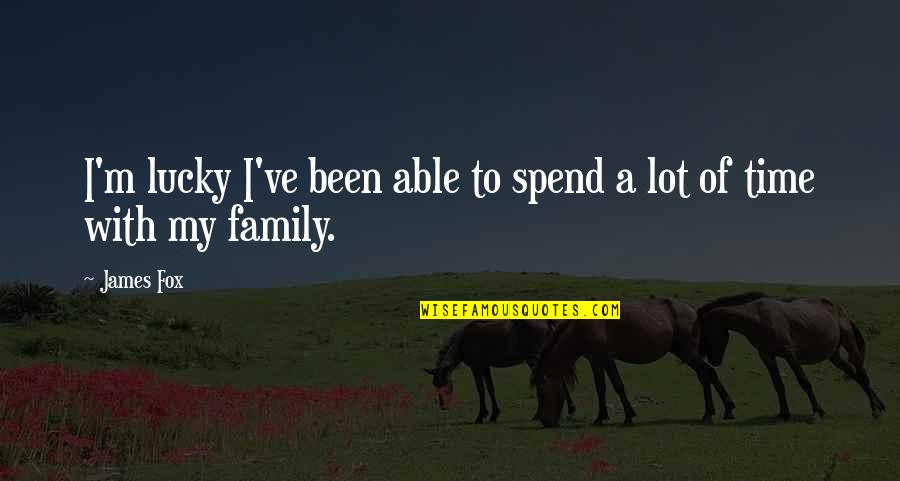 I'm lucky I've been able to spend a lot of time with my family. —
James Fox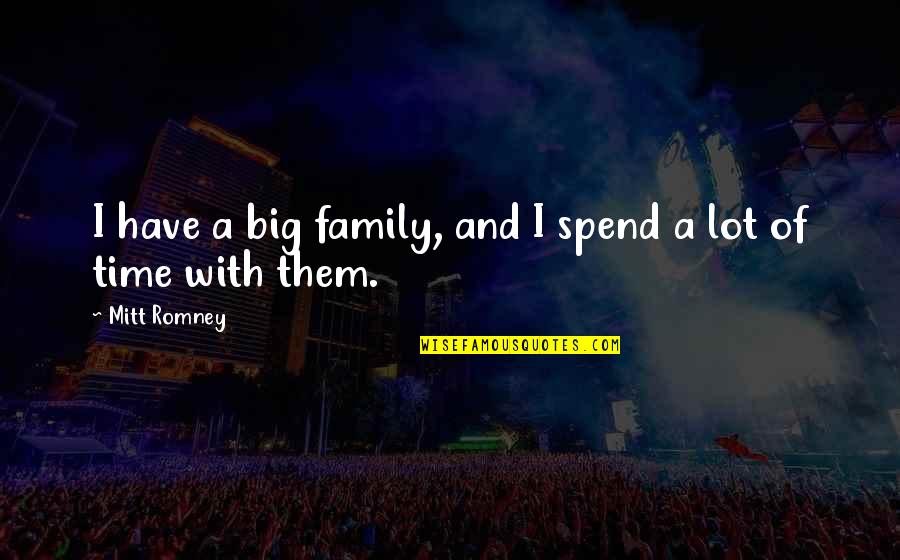 I have a big family, and I spend a lot of time with them. —
Mitt Romney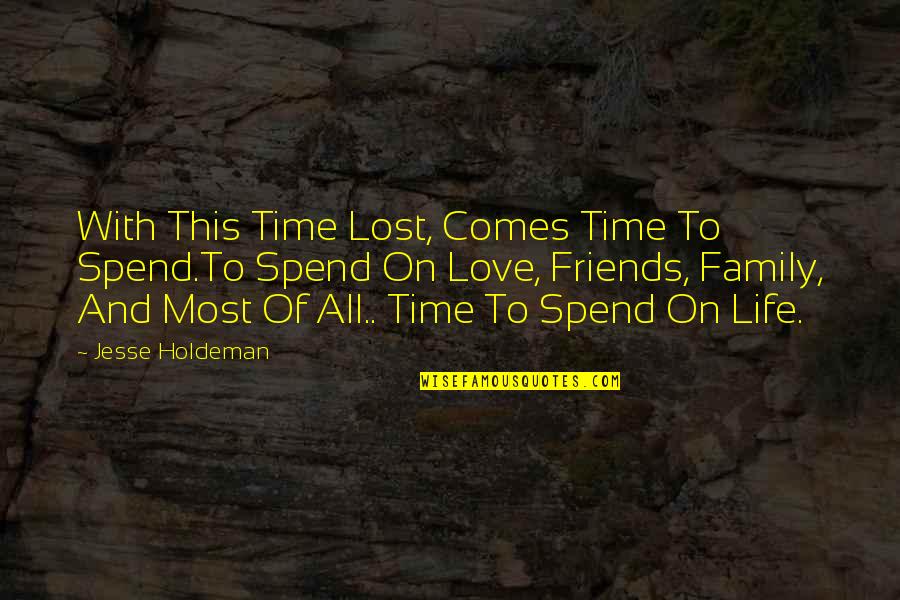 With This Time Lost, Comes Time To Spend.
To Spend On Love, Friends, Family, And Most Of All..
Time To Spend On Life. —
Jesse Holdeman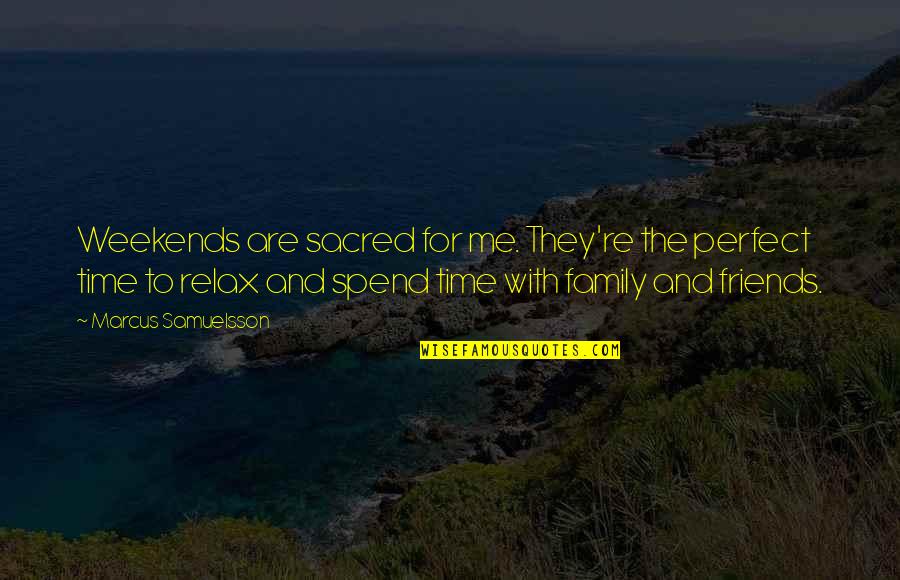 Weekends are sacred for me. They're the perfect time to relax and spend time with family and friends. —
Marcus Samuelsson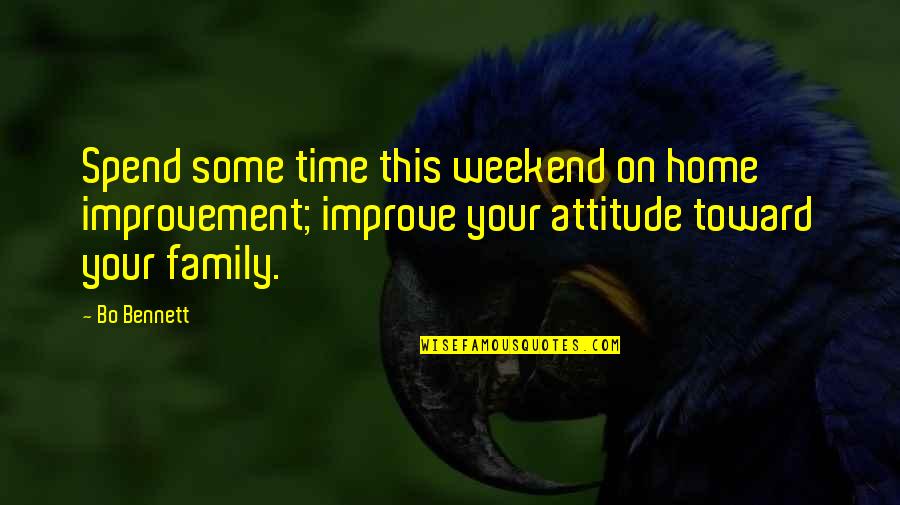 Spend some time this weekend on home improvement; improve your attitude toward your family. —
Bo Bennett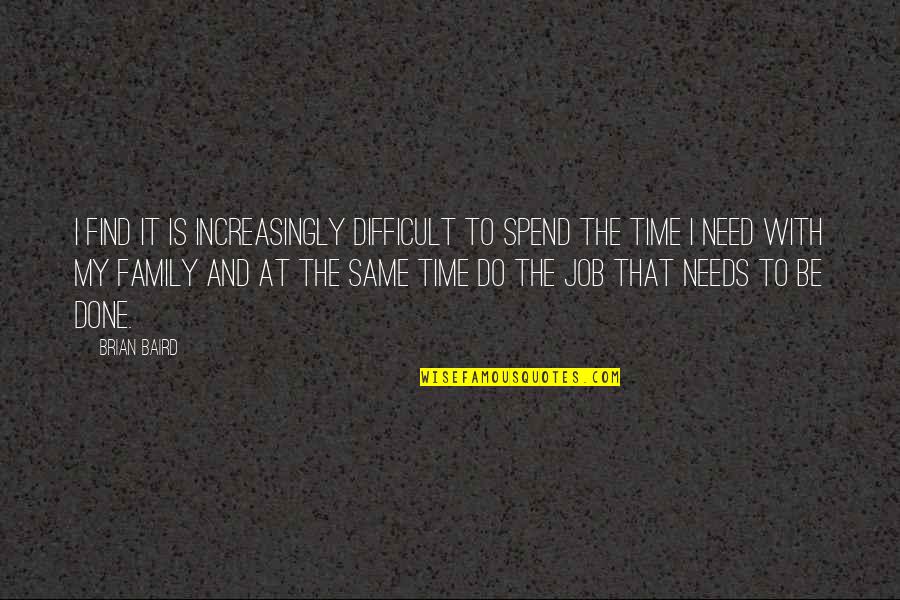 I find it is increasingly difficult to spend the time I need with my family and at the same time do the job that needs to be done. —
Brian Baird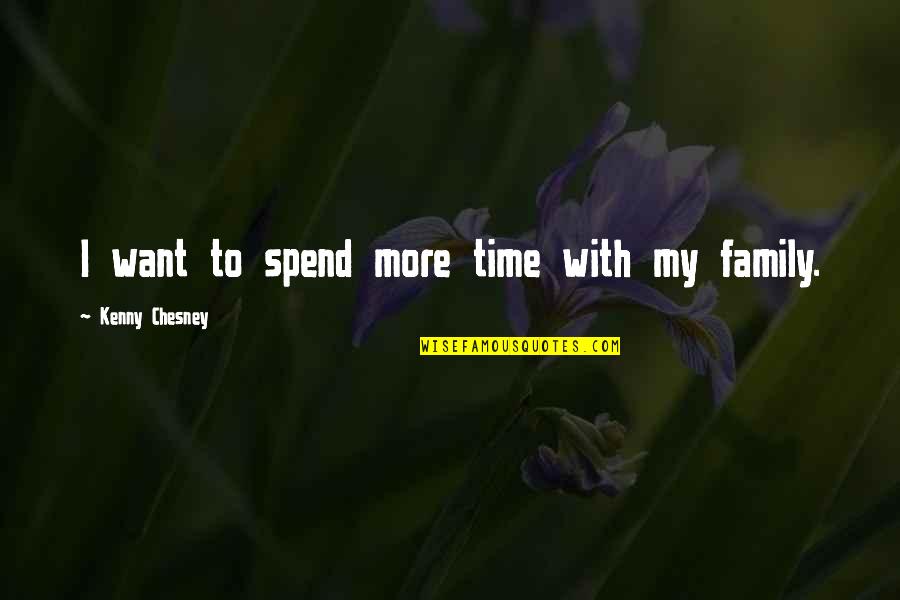 I want to spend more time with my family. —
Kenny Chesney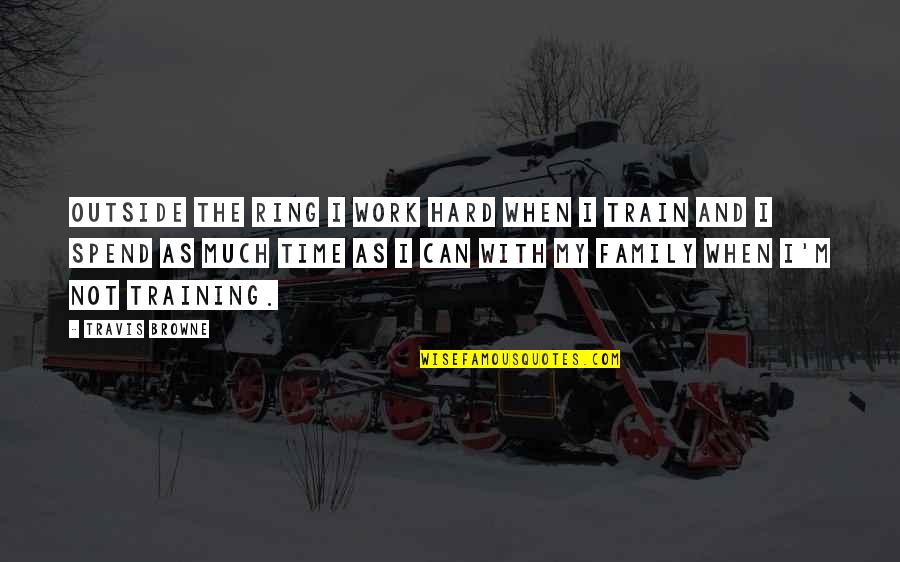 Outside the ring I work hard when I train and I spend as much time as I can with my family when I'm not training. —
Travis Browne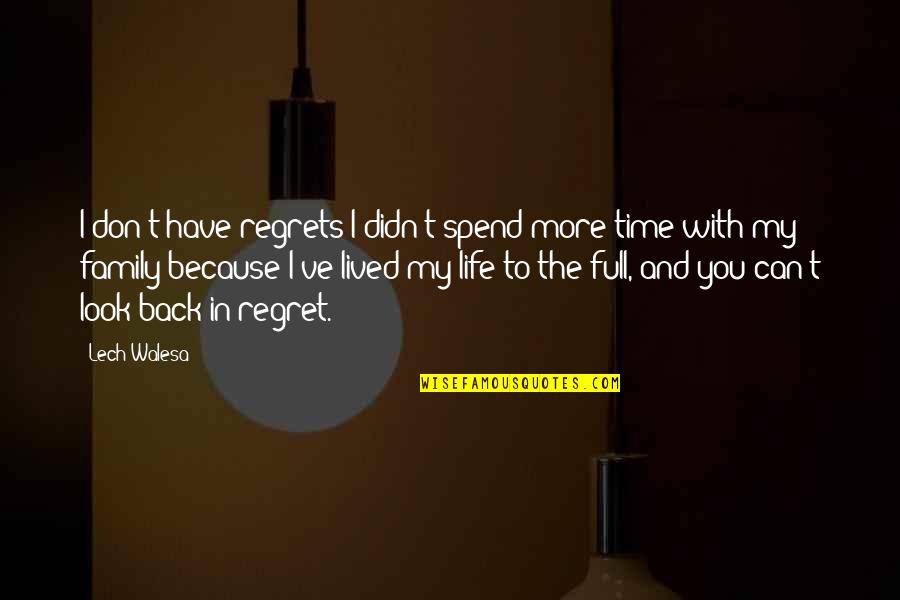 I don't have regrets I didn't spend more time with my family because I've lived my life to the full, and you can't look back in regret. —
Lech Walesa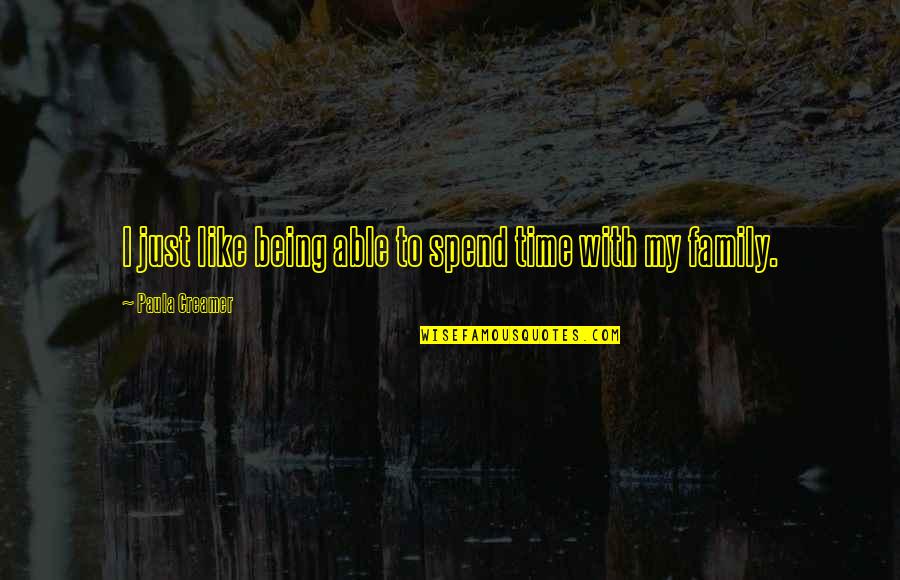 I just like being able to spend time with my family. —
Paula Creamer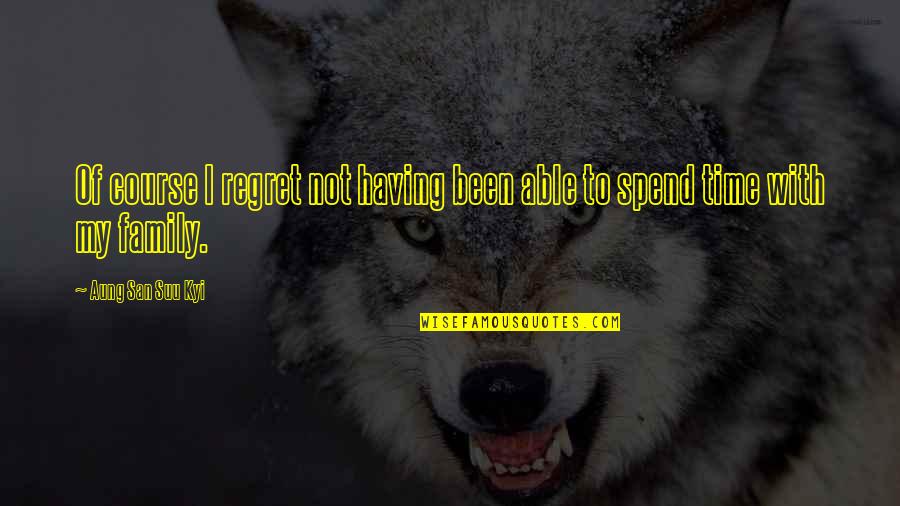 Of course I regret not having been able to spend time with my family. —
Aung San Suu Kyi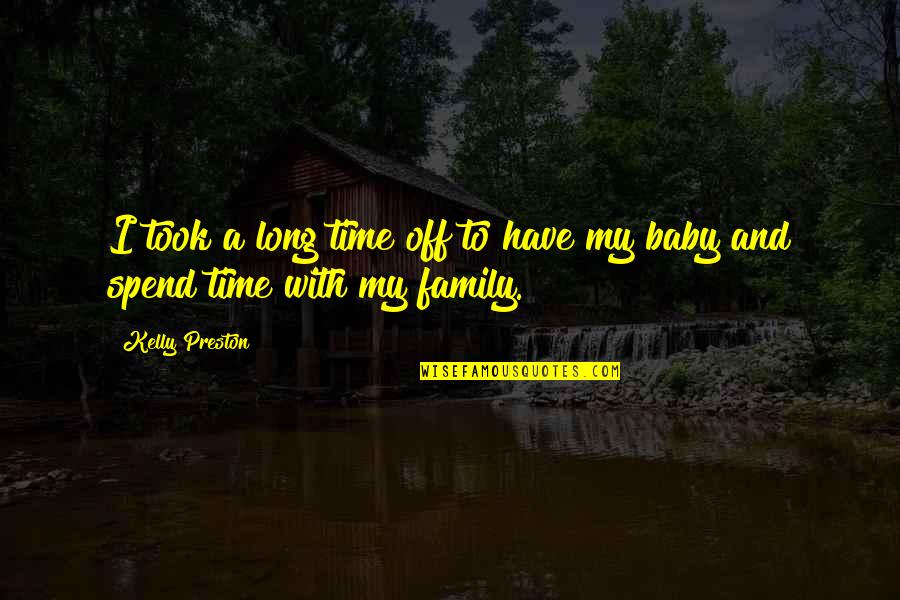 I took a long time off to have my baby and spend time with my family. —
Kelly Preston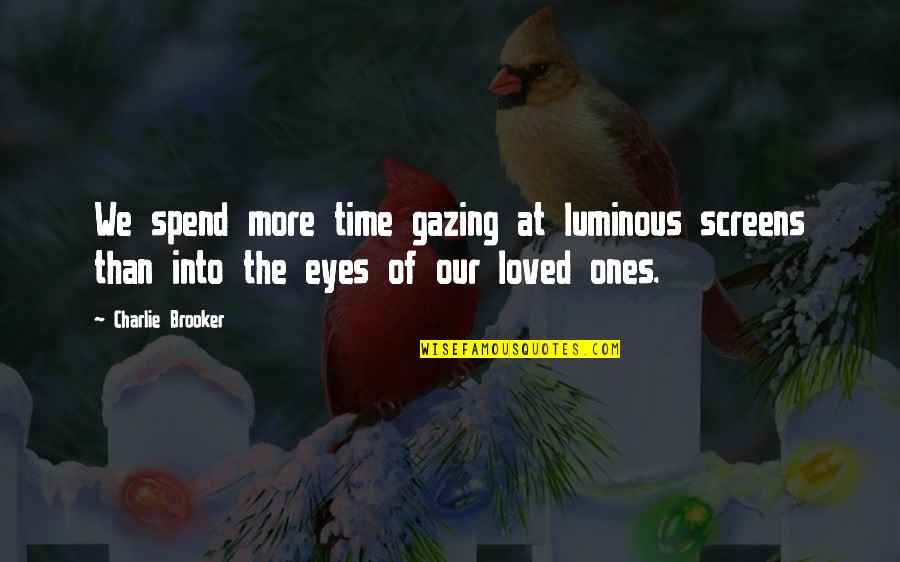 We spend more time gazing at luminous screens than into the eyes of our loved ones. —
Charlie Brooker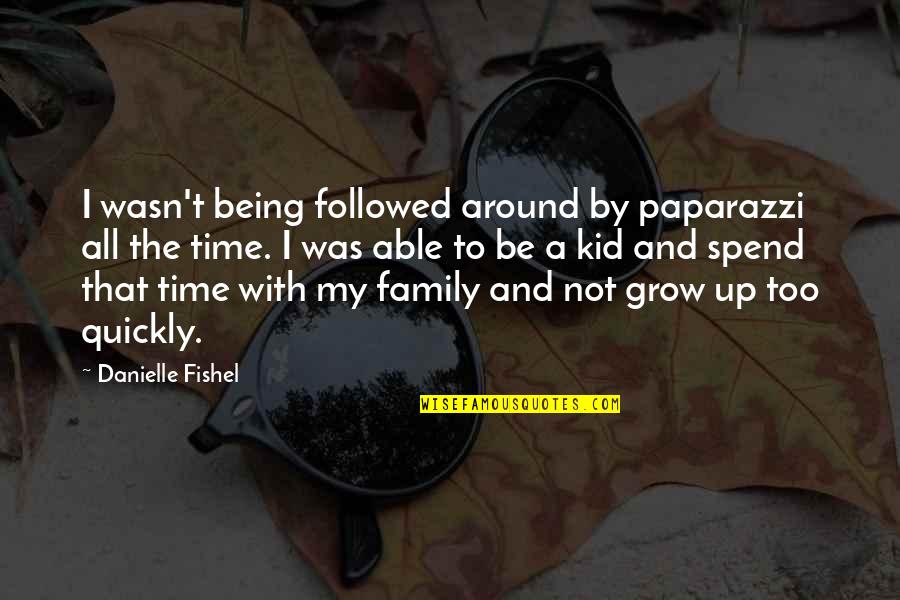 I wasn't being followed around by paparazzi all the time. I was able to be a kid and spend that time with my family and not grow up too quickly. —
Danielle Fishel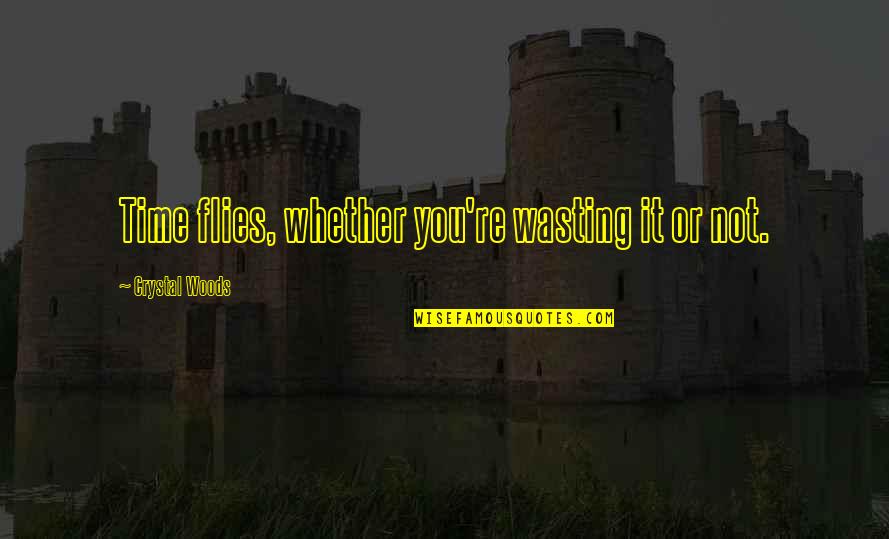 Time flies, whether you're wasting it or not. —
Crystal Woods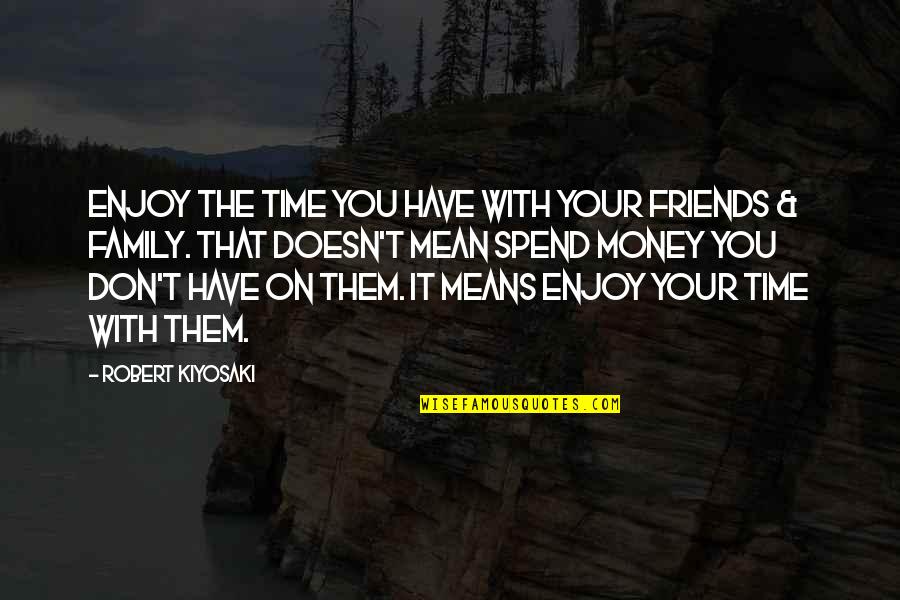 Enjoy the time you have with your friends & family. That doesn't mean spend money you don't have on them. It means enjoy your time with them. —
Robert Kiyosaki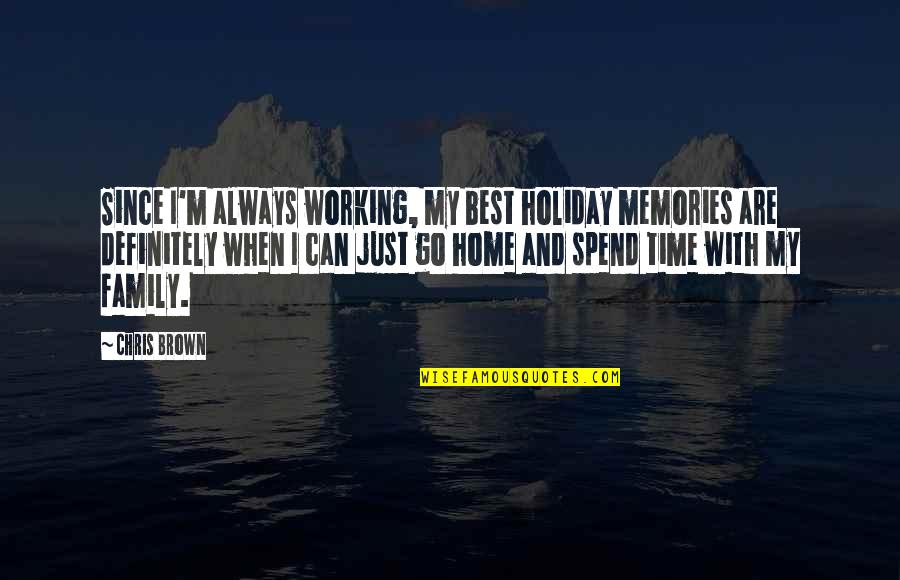 Since I'm always working, my best holiday memories are definitely when I can just go home and spend time with my family. —
Chris Brown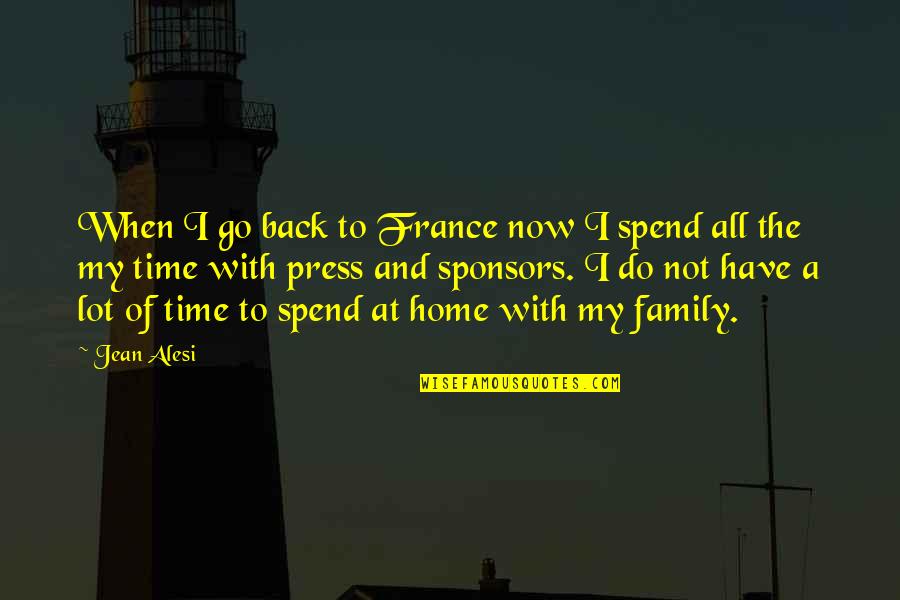 When I go back to France now I spend all the my time with press and sponsors. I do not have a lot of time to spend at home with my family. —
Jean Alesi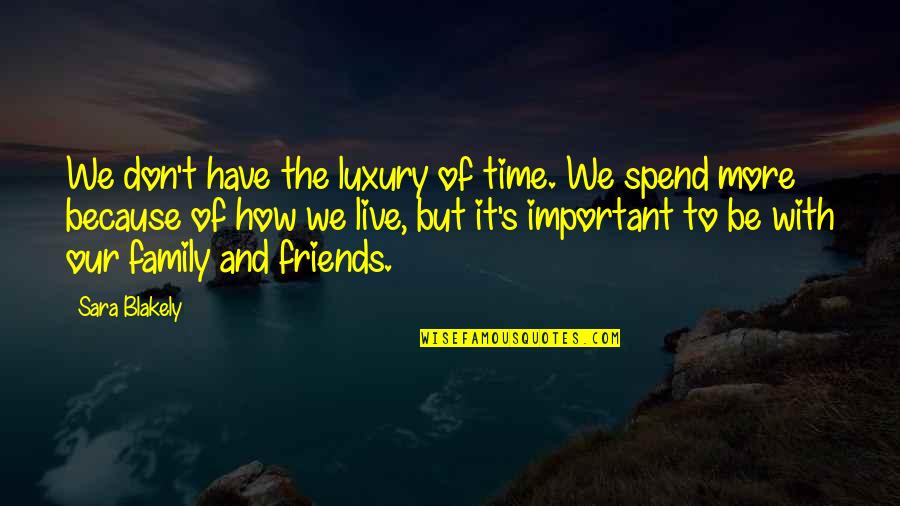 We don't have the luxury of time. We spend more because of how we live, but it's important to be with our family and friends. —
Sara Blakely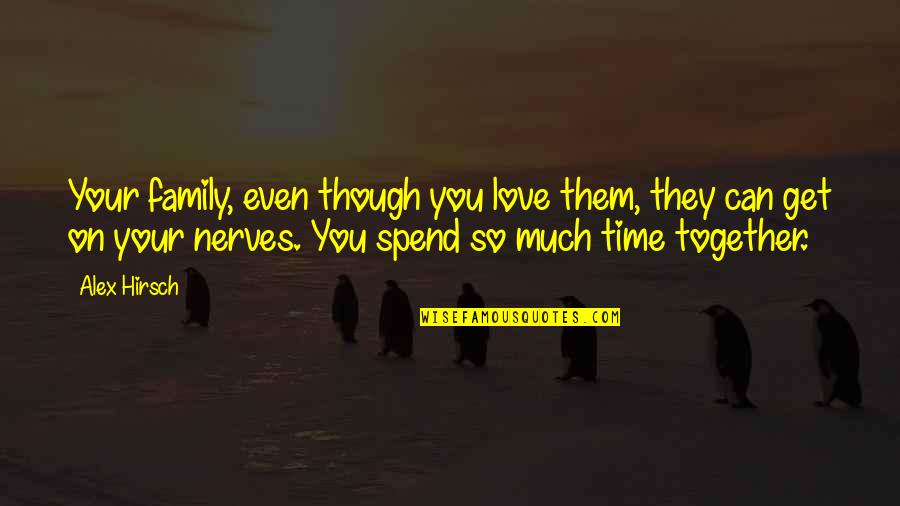 Your family, even though you love them, they can get on your nerves. You spend so much time together. —
Alex Hirsch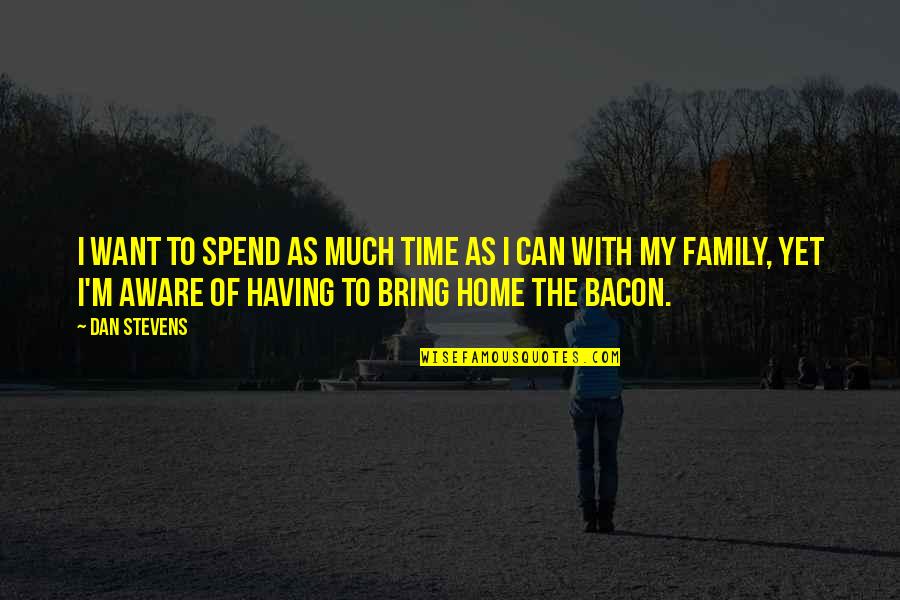 I want to spend as much time as I can with my family, yet I'm aware of having to bring home the bacon. —
Dan Stevens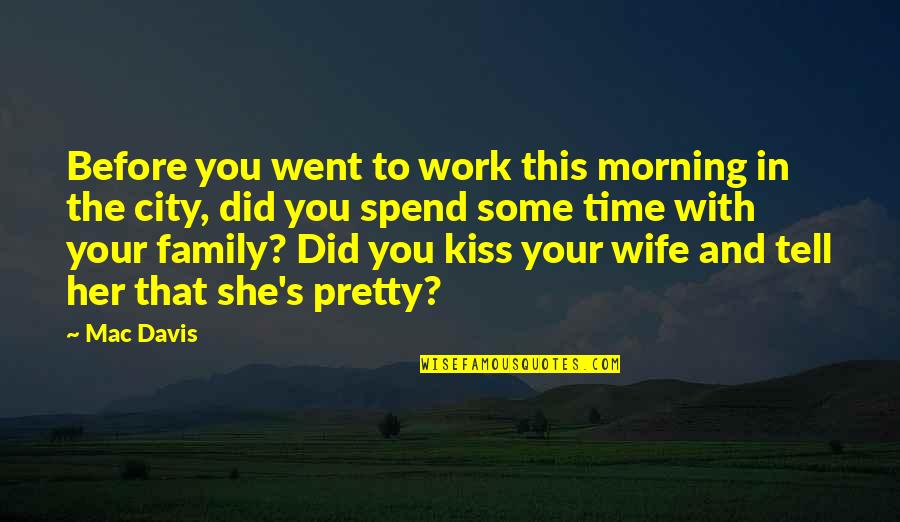 Before you went to work this morning in the city, did you spend some time with your family? Did you kiss your wife and tell her that she's pretty? —
Mac Davis