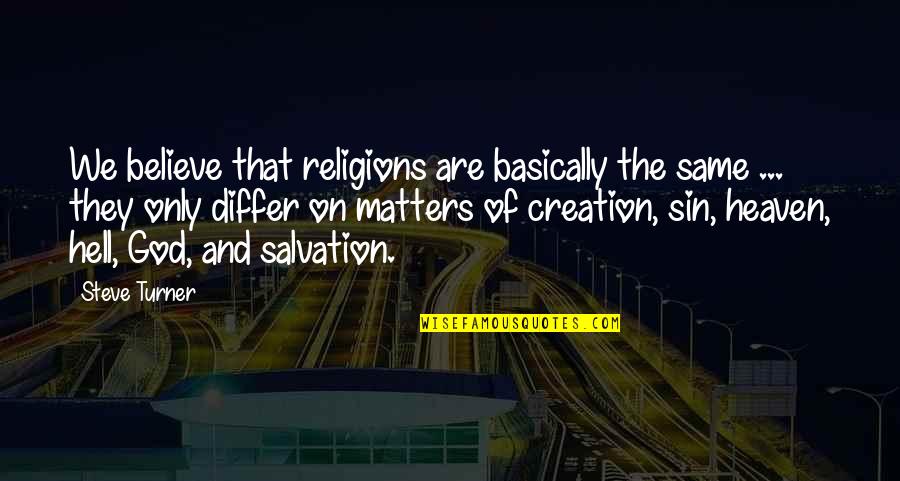 We believe that religions are basically the same ... they only differ on matters of creation, sin, heaven, hell, God, and salvation.
—
Steve Turner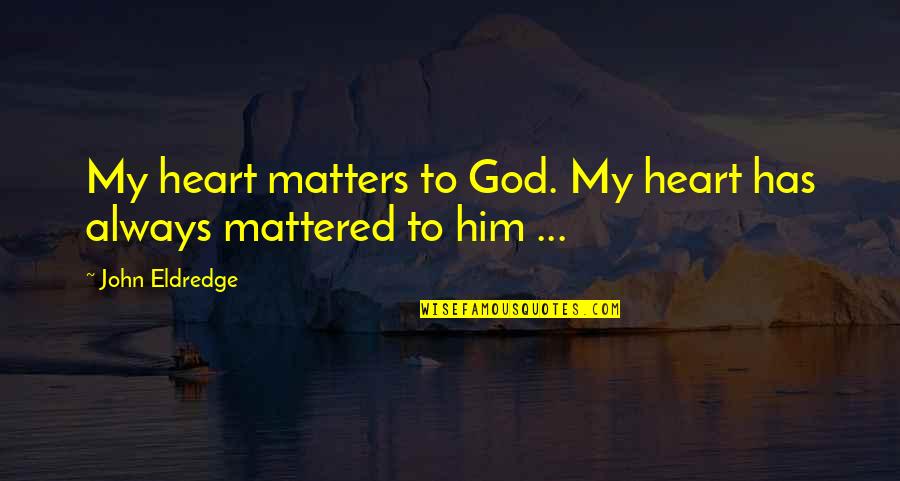 My heart matters to God. My heart has always mattered to him ...
—
John Eldredge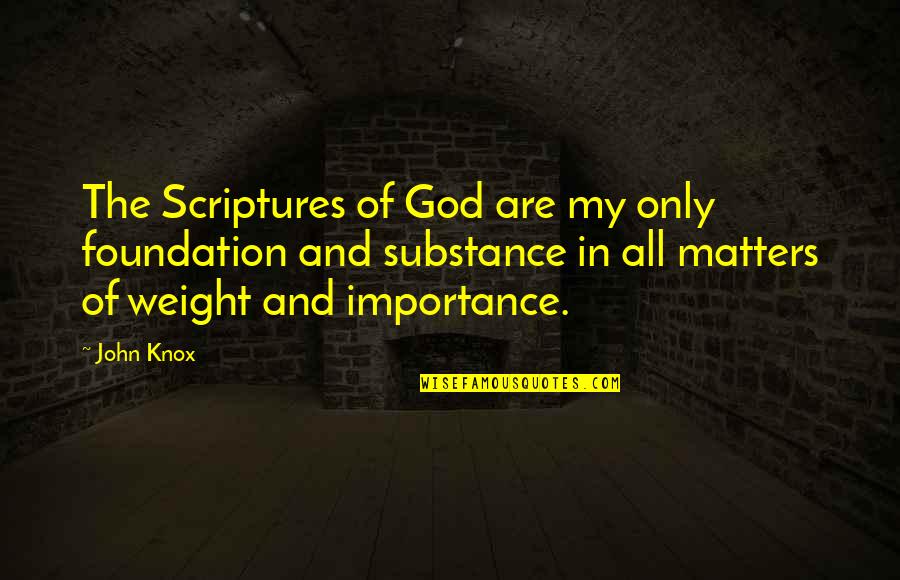 The Scriptures of God are my only foundation and substance in all matters of weight and importance.
—
John Knox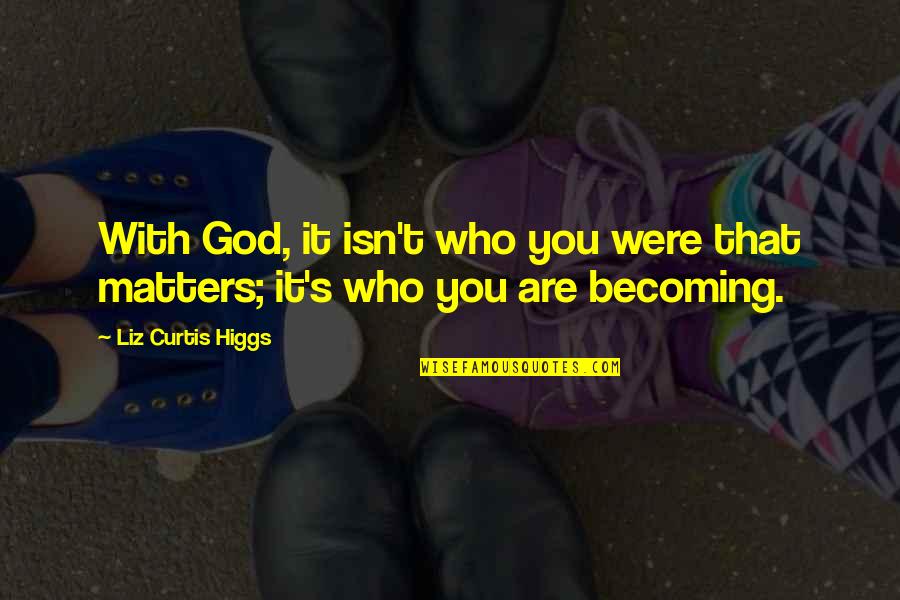 With God, it isn't who you were that matters; it's who you are becoming.
—
Liz Curtis Higgs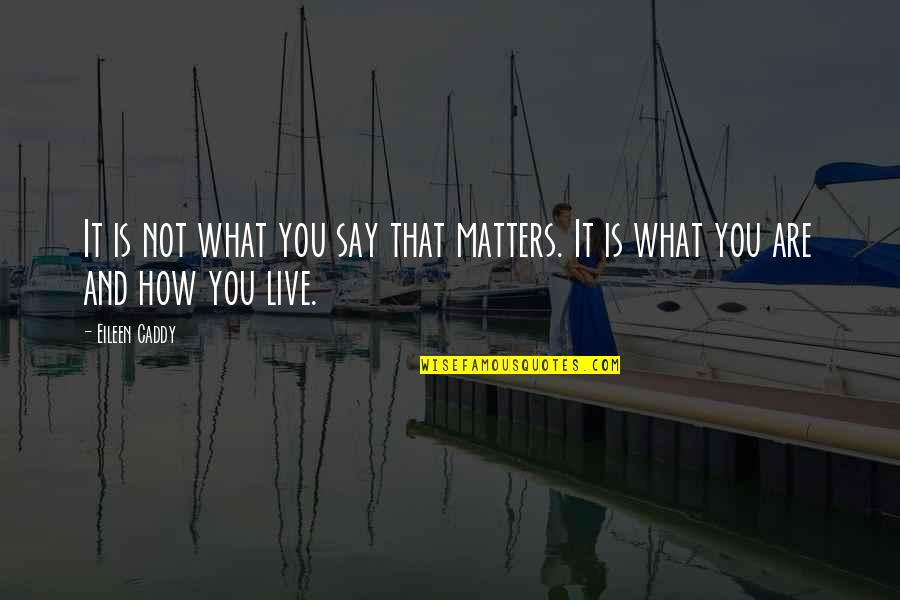 It is not what you say that matters. It is what you are and how you live.
—
Eileen Caddy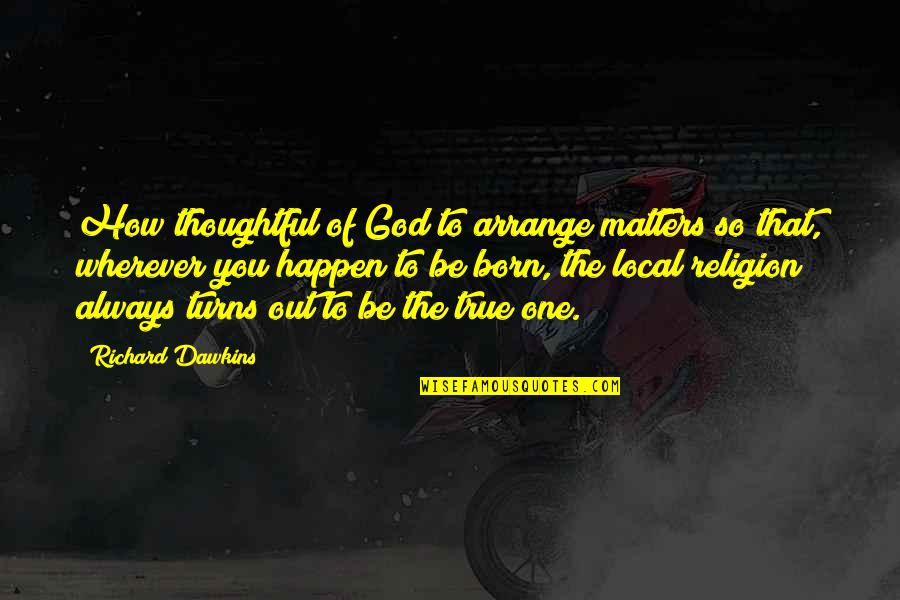 How thoughtful of God to arrange matters so that, wherever you happen to be born, the local religion always turns out to be the true one. —
Richard Dawkins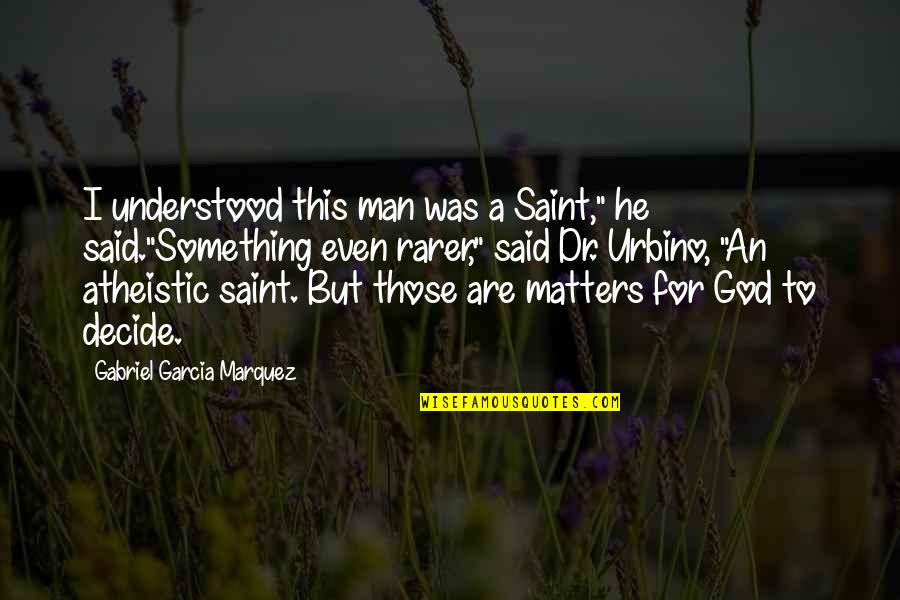 I understood this man was a Saint," he said.
"Something even rarer," said Dr. Urbino, "An atheistic saint. But those are matters for God to decide. —
Gabriel Garcia Marquez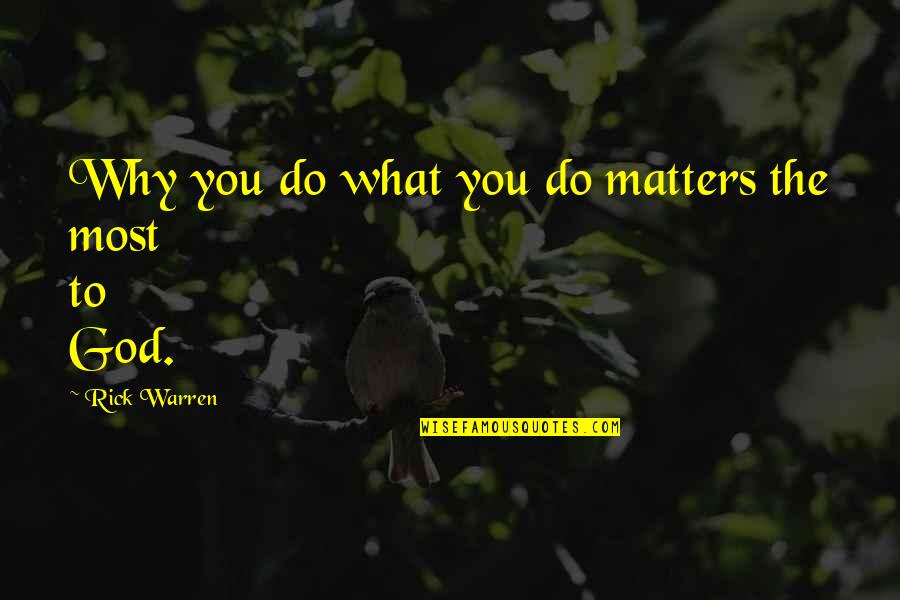 Why you do what you do matters the most to God. —
Rick Warren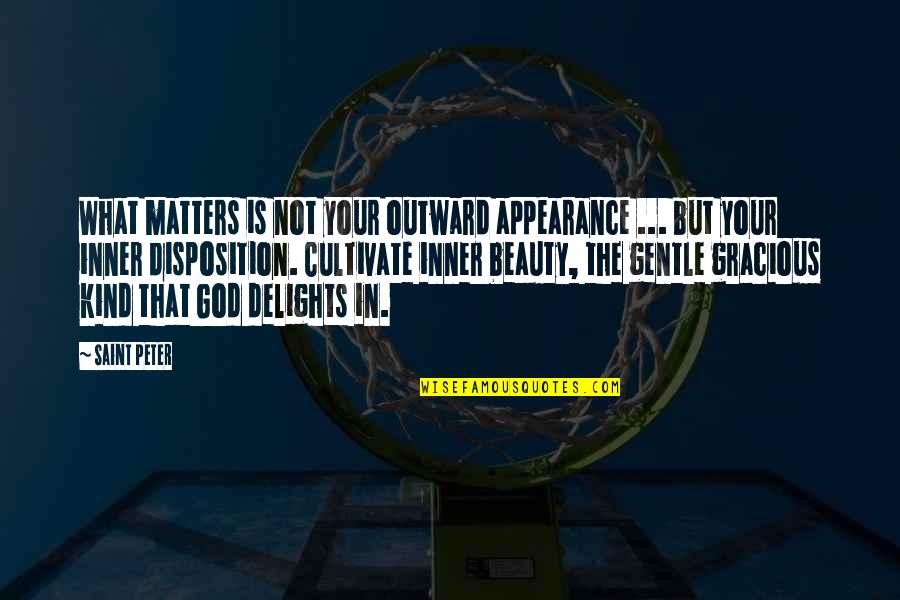 What matters is not your outward appearance ... but your inner disposition. Cultivate inner beauty, the gentle gracious kind that God delights in. —
Saint Peter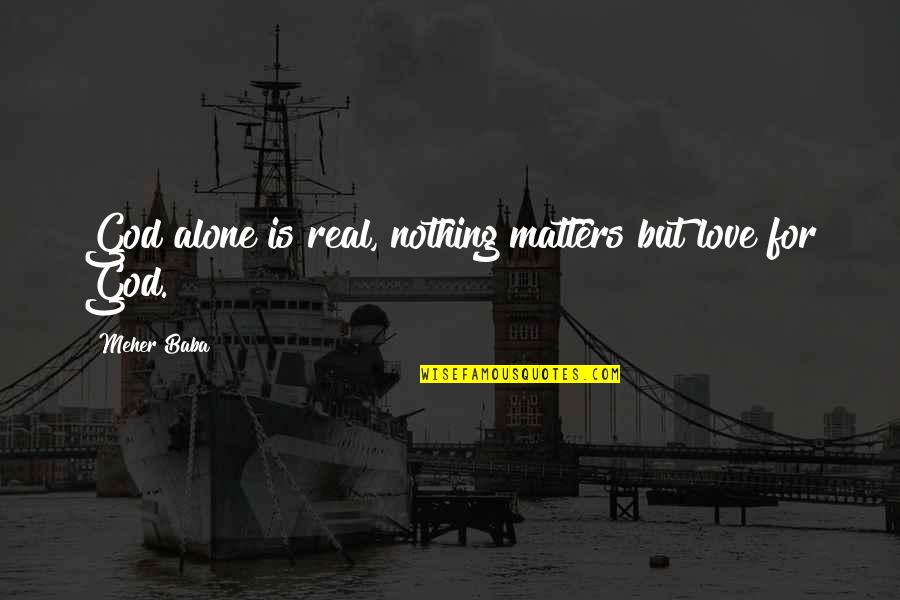 God alone is real, nothing matters but love for God. —
Meher Baba
The only thing that ultimately matters is to eat an ice-cream cone, play a slide trombone, plant a small tree, good God, now you're free. —
Ray Manzarek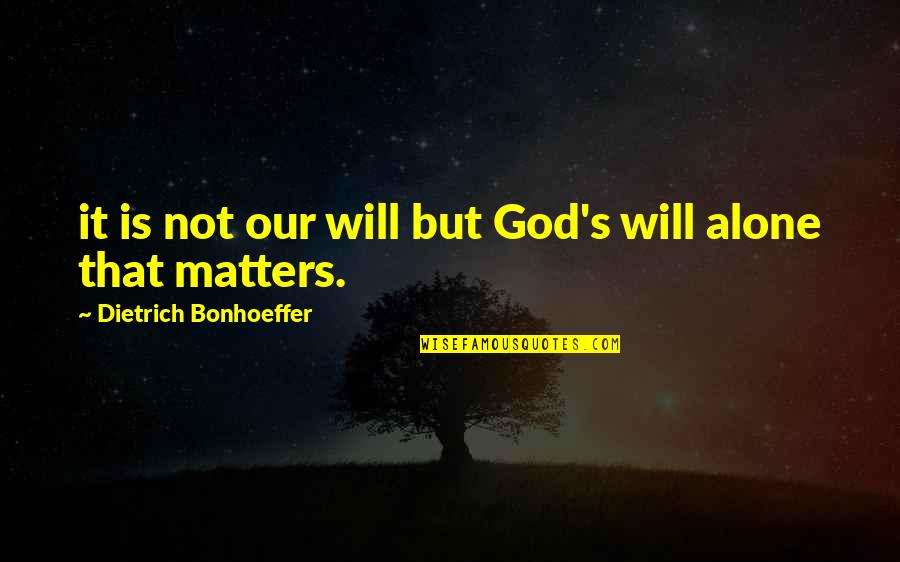 it is not our will but God's will alone that matters. —
Dietrich Bonhoeffer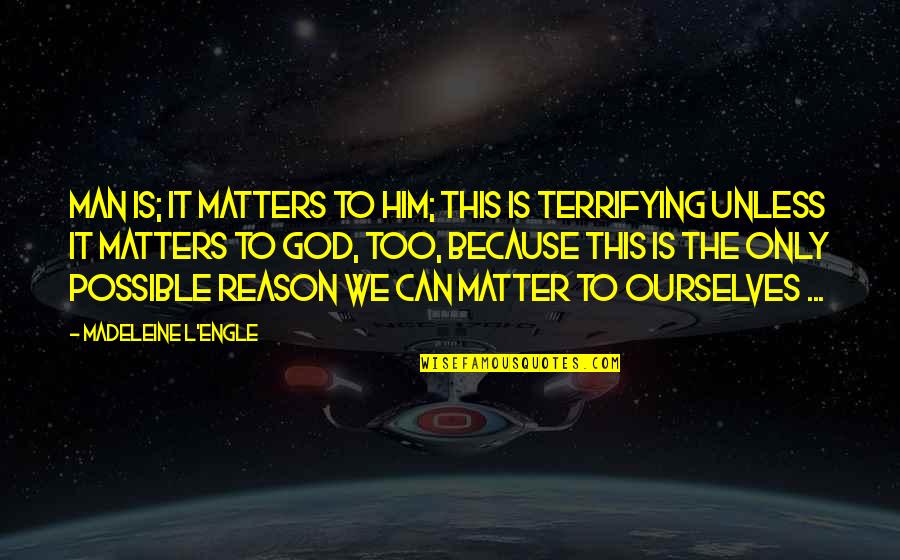 Man is; it matters to him; this is terrifying unless it matters to God, too, because this is the only possible reason we can matter to ourselves ... —
Madeleine L'Engle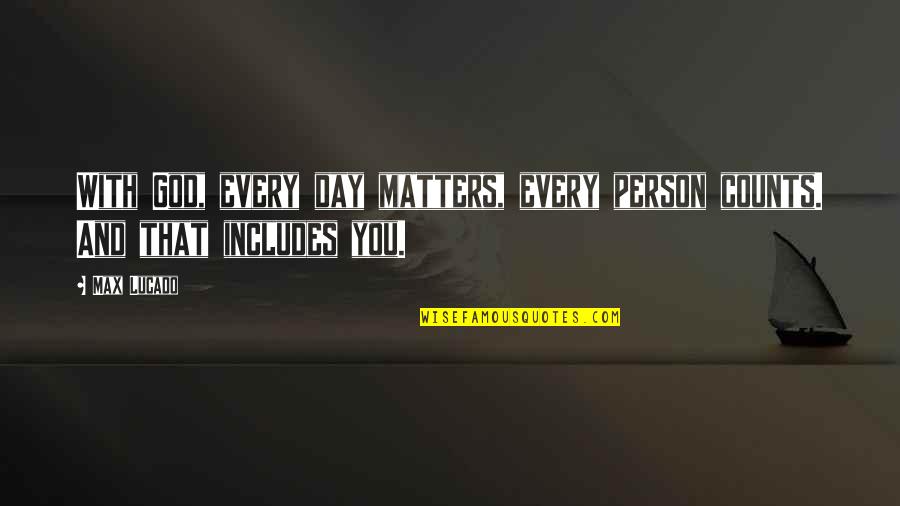 With God, every day matters, every person counts. And that includes you. —
Max Lucado
It is not the greatness of the work which matters to God but the love with which it is done. —
Brother Lawrence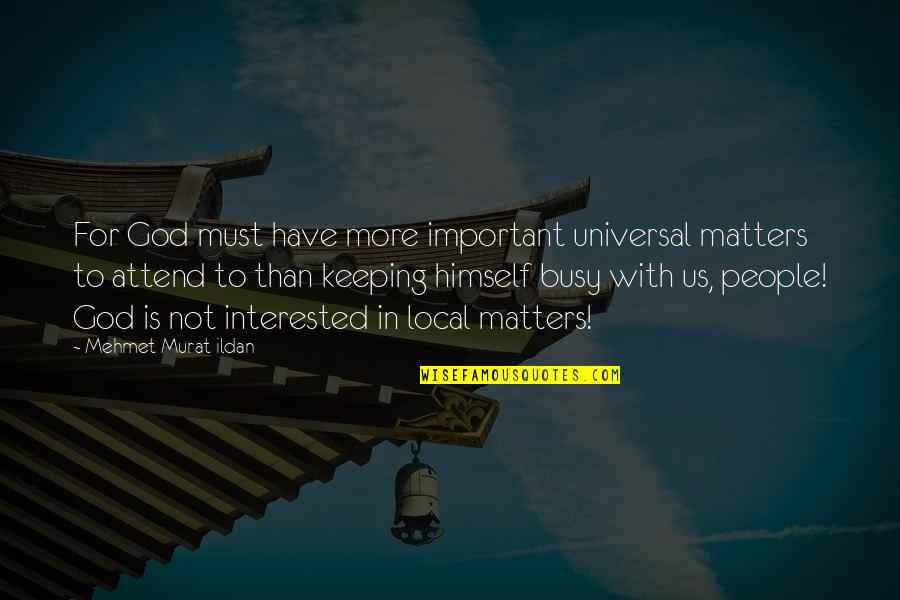 For God must have more important universal matters to attend to than keeping himself busy with us, people! God is not interested in local matters! —
Mehmet Murat Ildan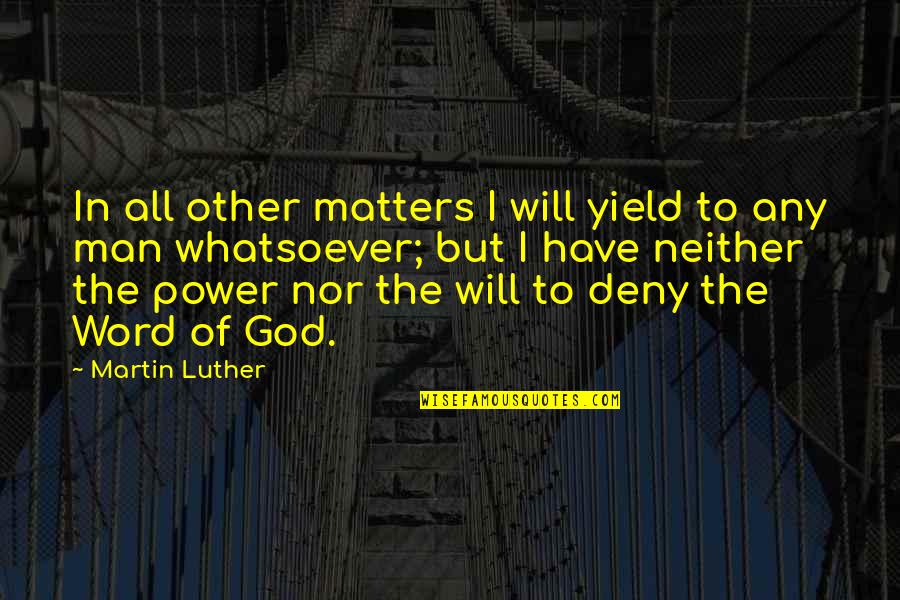 In all other matters I will yield to any man whatsoever; but I have neither the power nor the will to deny the Word of God. —
Martin Luther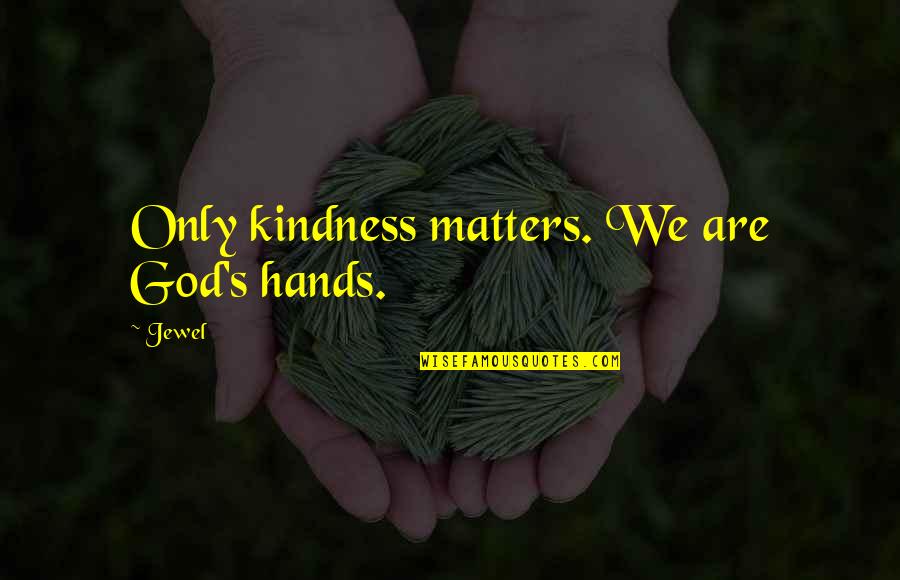 Only kindness matters. We are God's hands. —
Jewel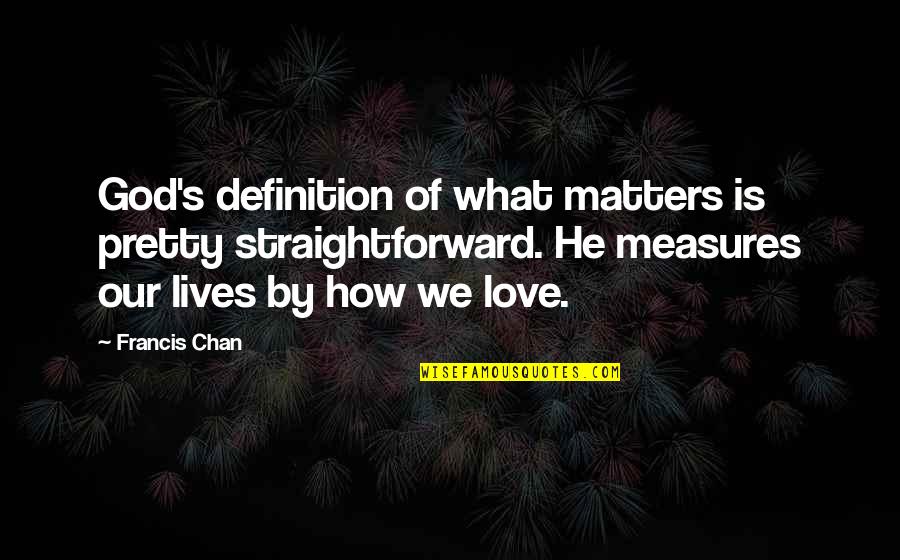 God's definition of what matters is pretty straightforward. He measures our lives by how we love. —
Francis Chan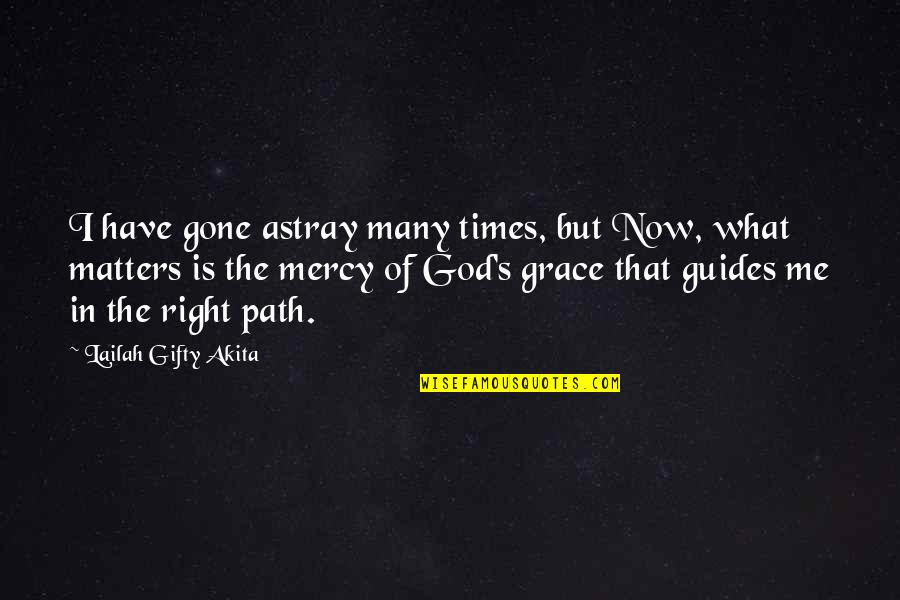 I have gone astray many times, but Now, what matters is the mercy of God's grace that guides me in the right path. —
Lailah Gifty Akita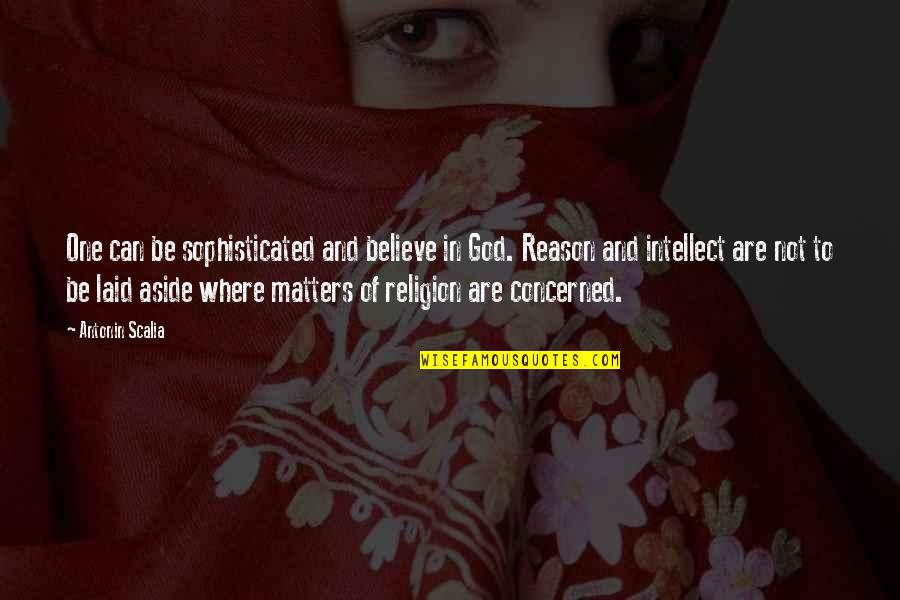 One can be sophisticated and believe in God. Reason and intellect are not to be laid aside where matters of religion are concerned. —
Antonin Scalia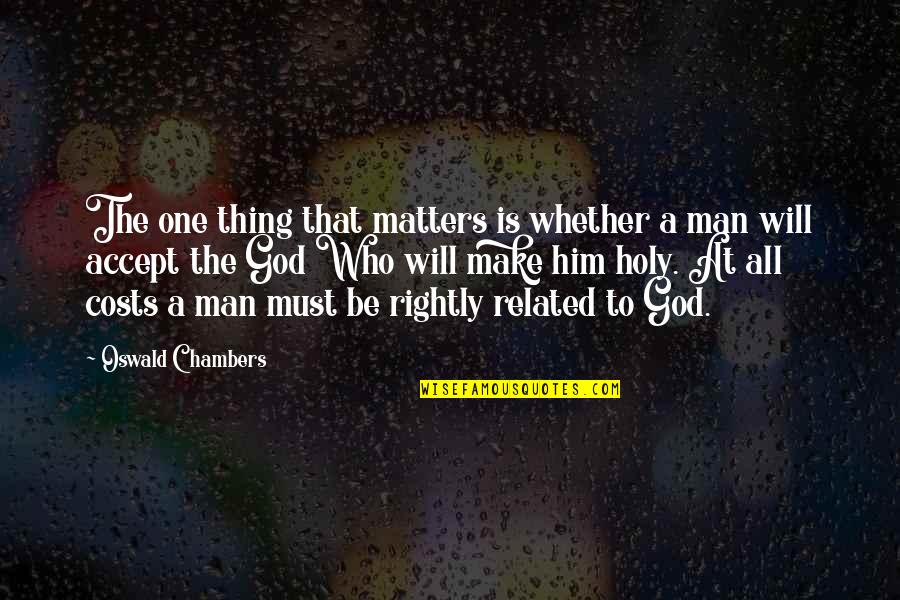 The one thing that matters is whether a man will accept the God Who will make him holy. At all costs a man must be rightly related to God. —
Oswald Chambers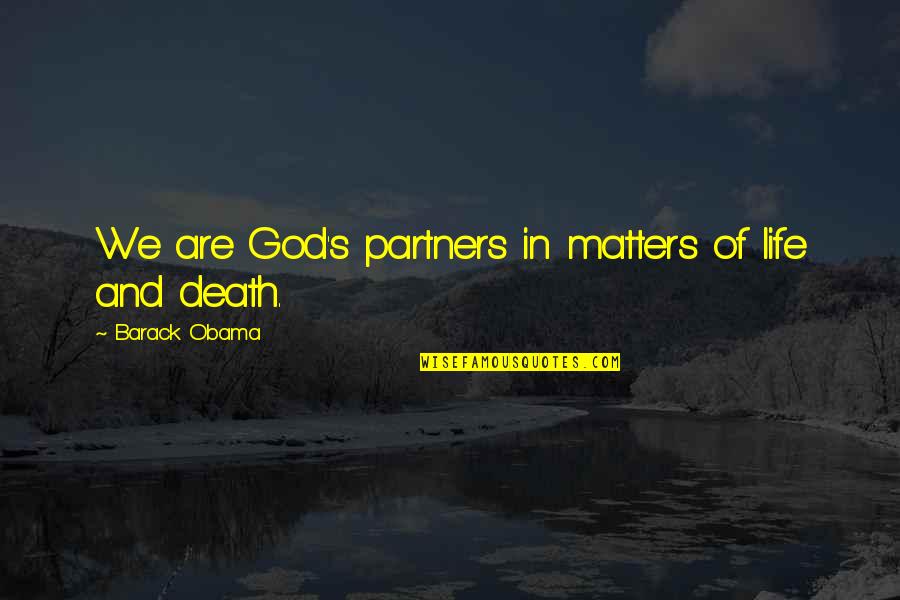 We are God's partners in matters of life and death. —
Barack Obama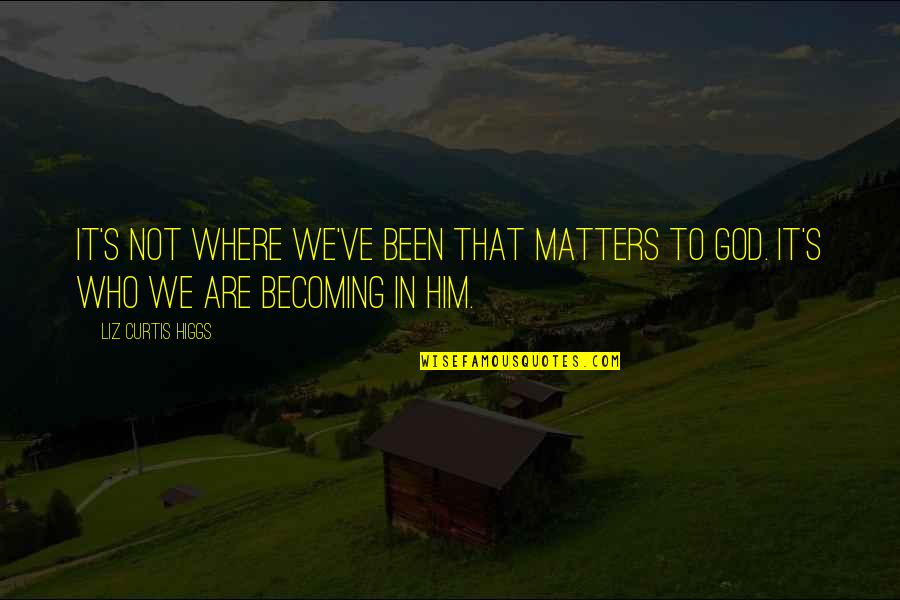 It's not where we've been that matters to God. It's who we are becoming in Him. —
Liz Curtis Higgs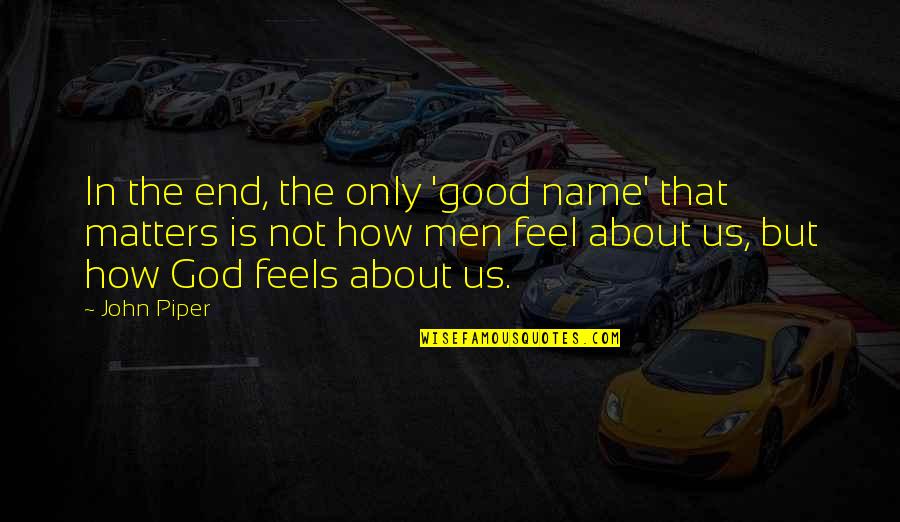 In the end, the only 'good name' that matters is not how men feel about us, but how God feels about us. —
John Piper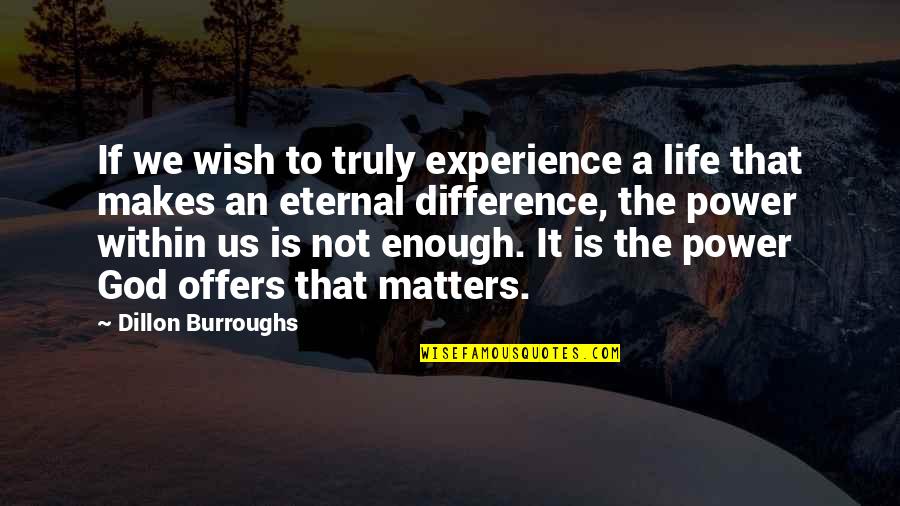 If we wish to truly experience a life that makes an eternal difference, the power within us is not enough. It is the power God offers that matters. —
Dillon Burroughs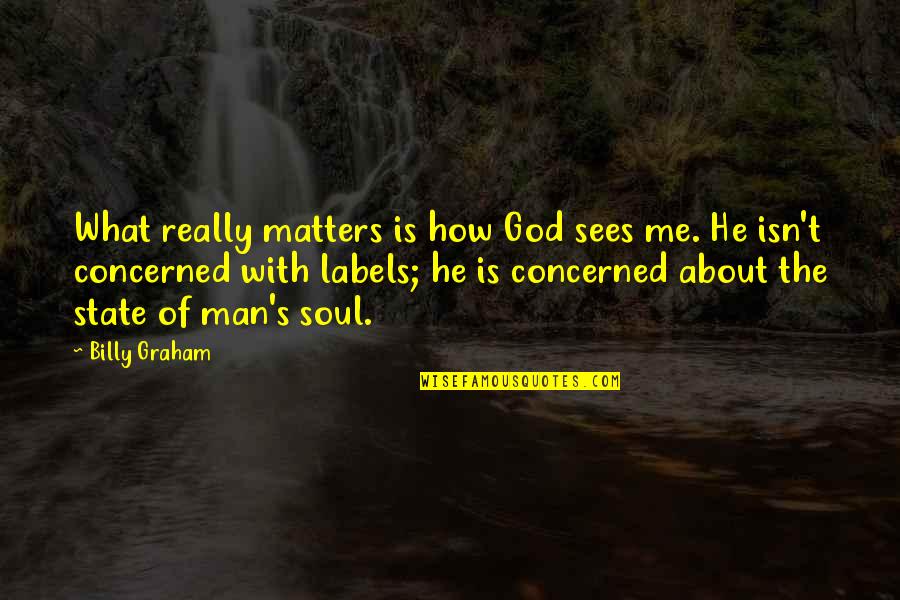 What really matters is how God sees me. He isn't concerned with labels; he is concerned about the state of man's soul. —
Billy Graham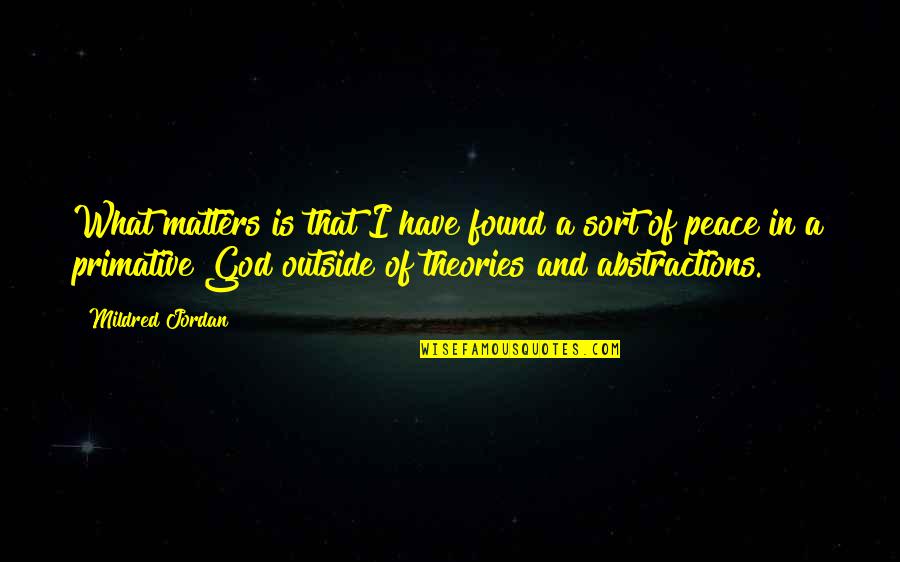 What matters is that I have found a sort of peace in a primative God outside of theories and abstractions. —
Mildred Jordan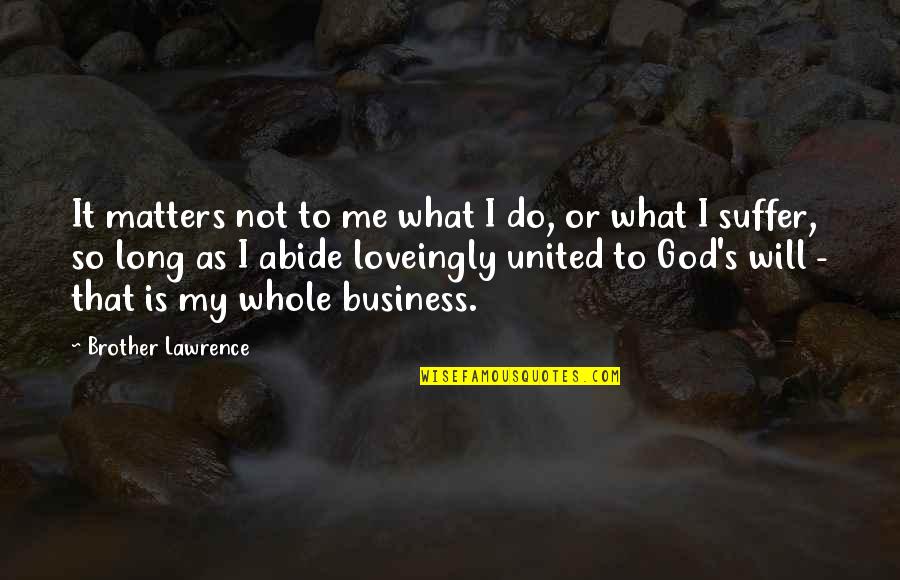 It matters not to me what I do, or what I suffer, so long as I abide loveingly united to God's will - that is my whole business. —
Brother Lawrence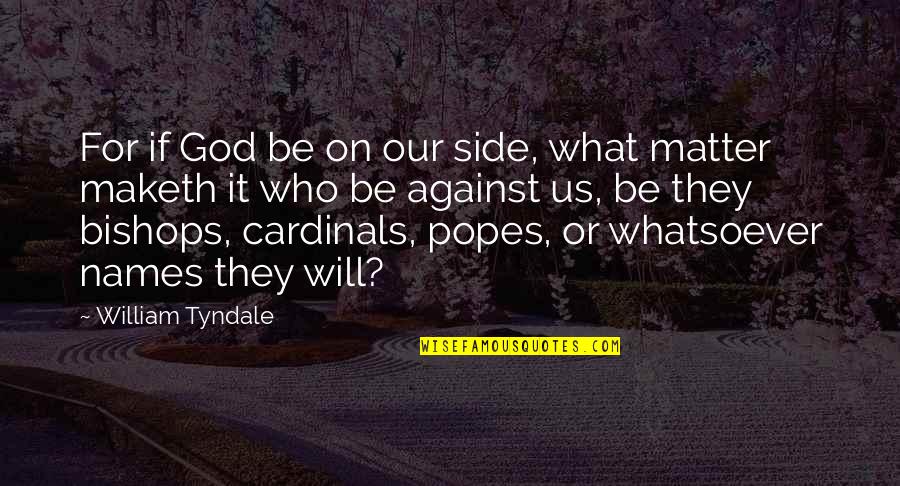 For if God be on our side, what matter maketh it who be against us, be they bishops, cardinals, popes, or whatsoever names they will? —
William Tyndale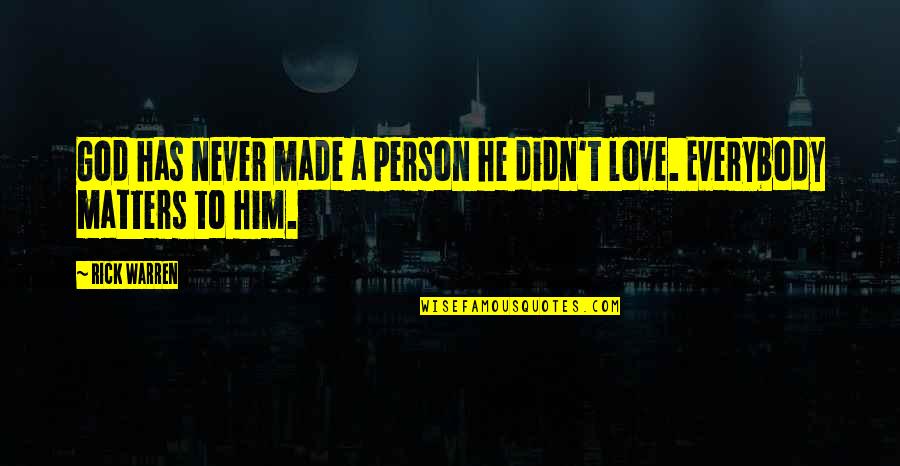 God has never made a person he didn't love. Everybody matters to him. —
Rick Warren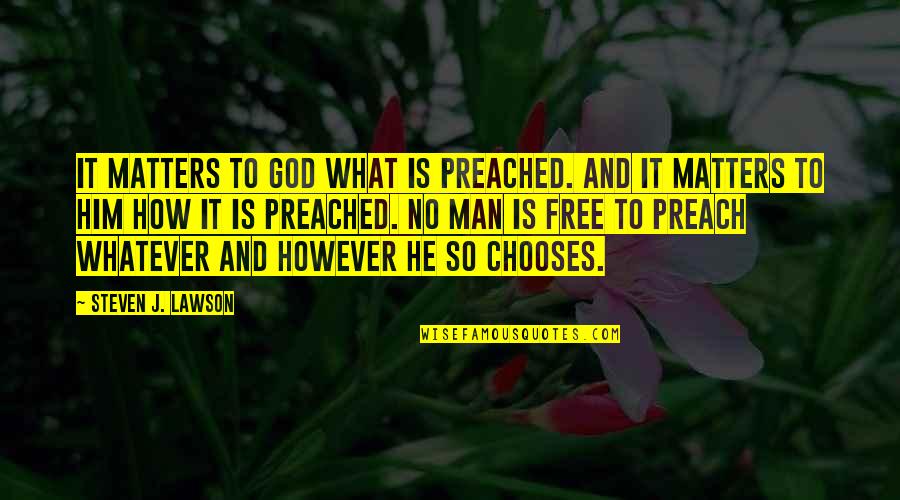 It matters to God what is preached. And it matters to Him how it is preached. No man is free to preach whatever and however he so chooses. —
Steven J. Lawson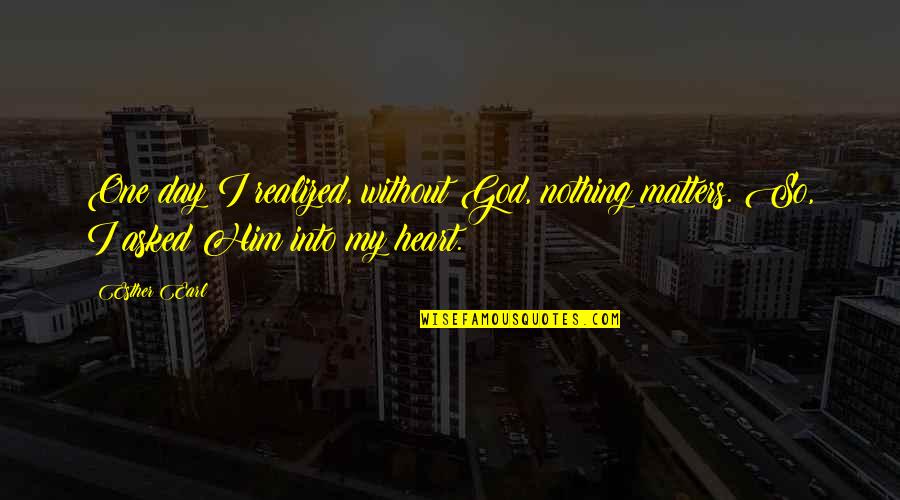 One day I realized, without God, nothing matters. So, I asked Him into my heart. —
Esther Earl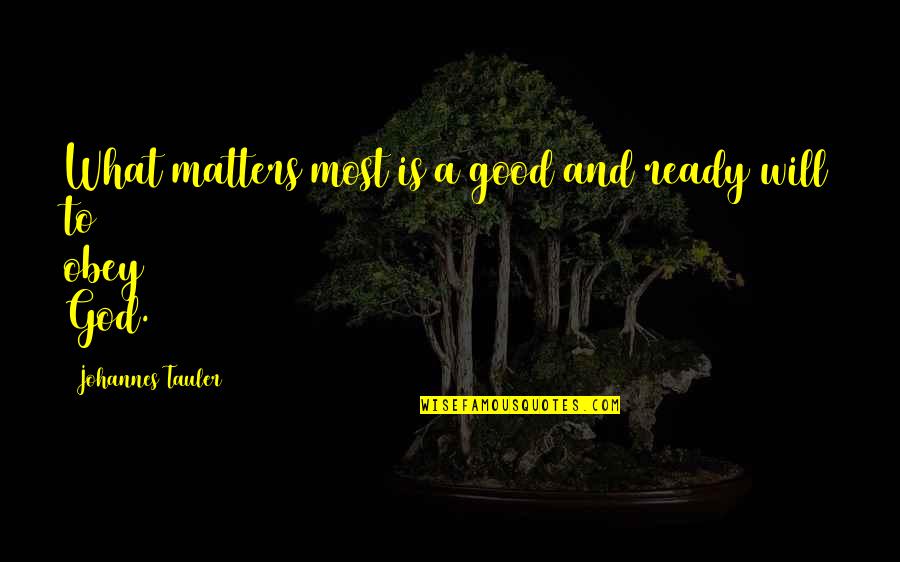 What matters most is a good and ready will to obey God. —
Johannes Tauler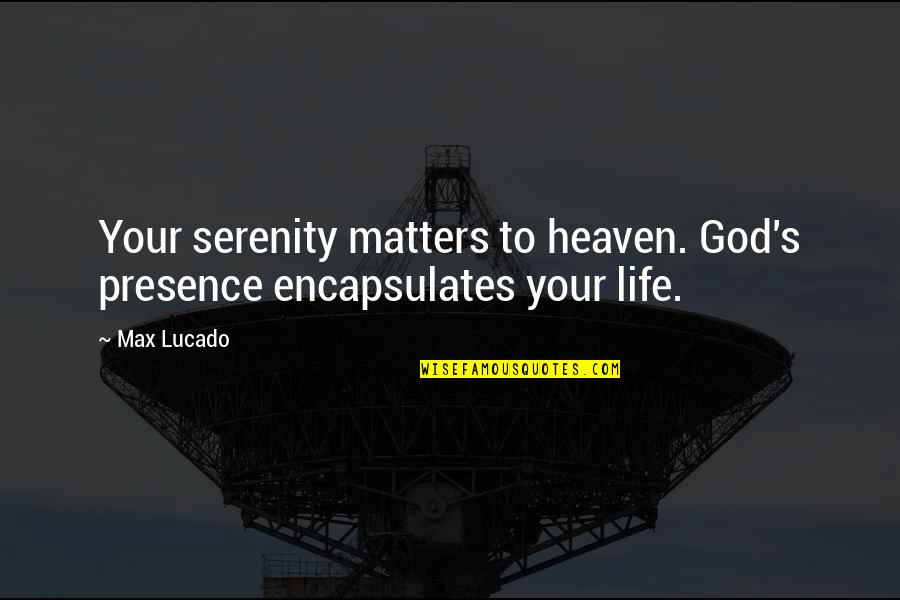 Your serenity matters to heaven. God's presence encapsulates your life. —
Max Lucado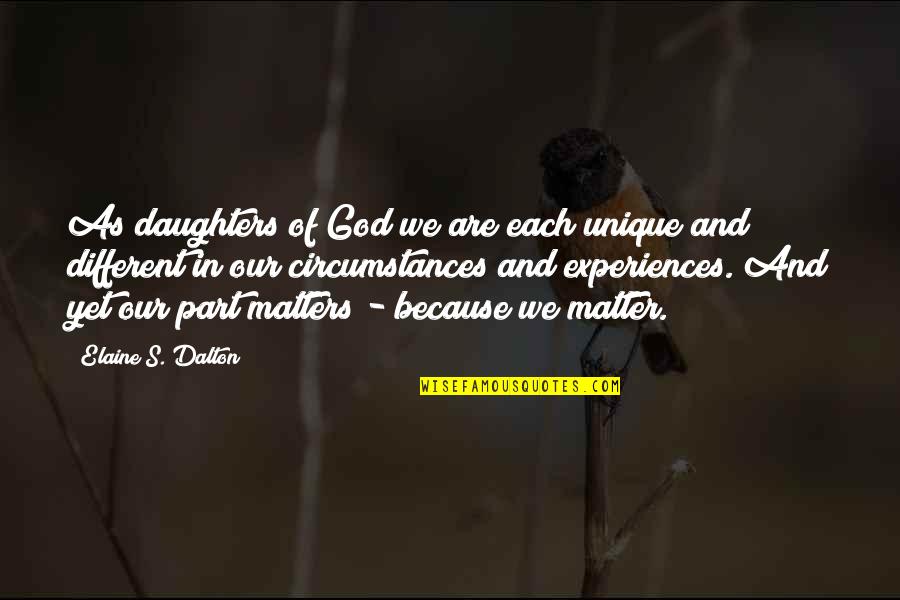 As daughters of God we are each unique and different in our circumstances and experiences. And yet our part matters - because we matter. —
Elaine S. Dalton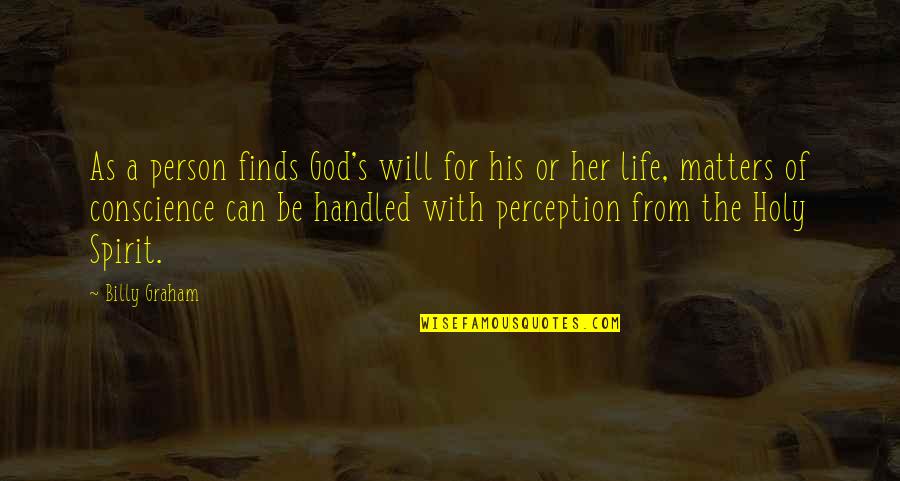 As a person finds God's will for his or her life, matters of conscience can be handled with perception from the Holy Spirit. —
Billy Graham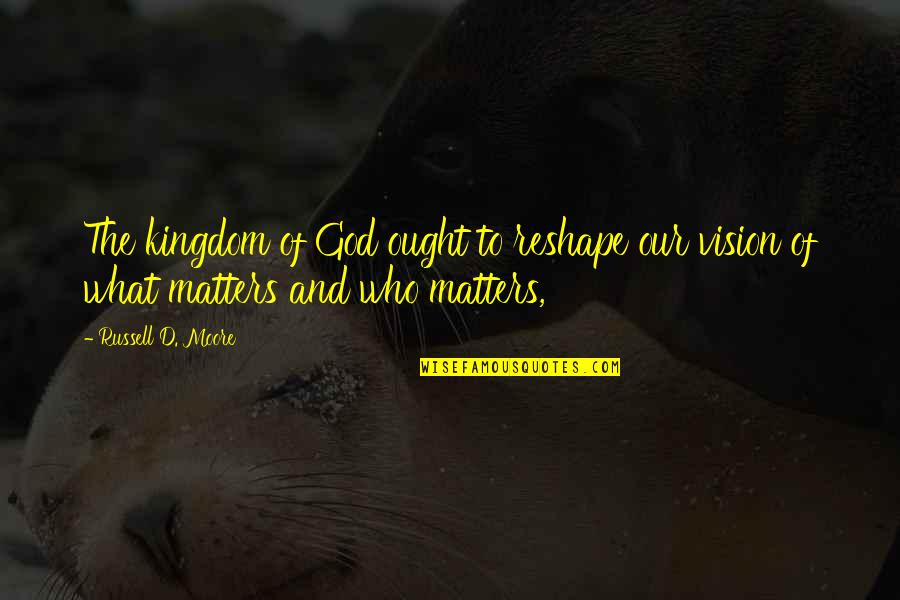 The kingdom of God ought to reshape our vision of what matters and who matters, —
Russell D. Moore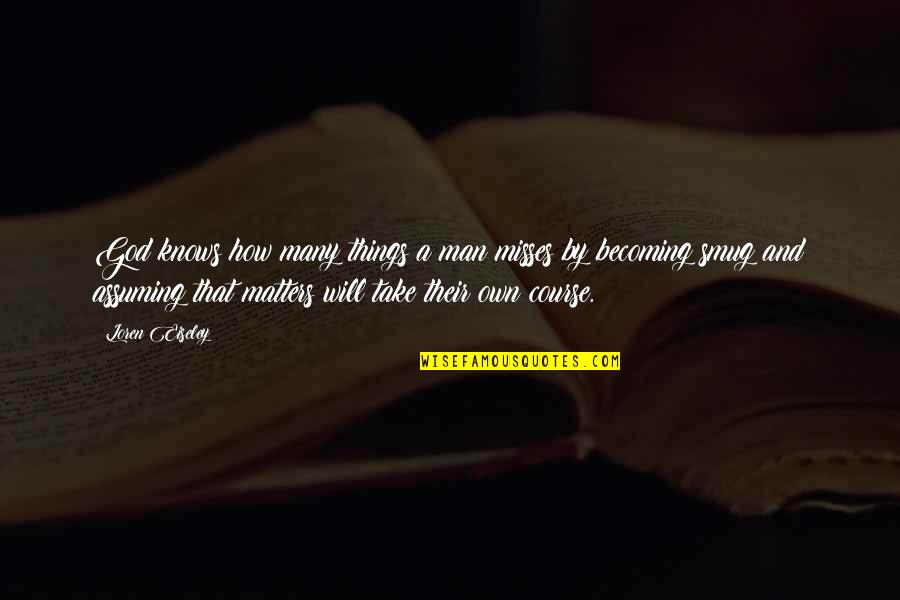 God knows how many things a man misses by becoming smug and assuming that matters will take their own course. —
Loren Eiseley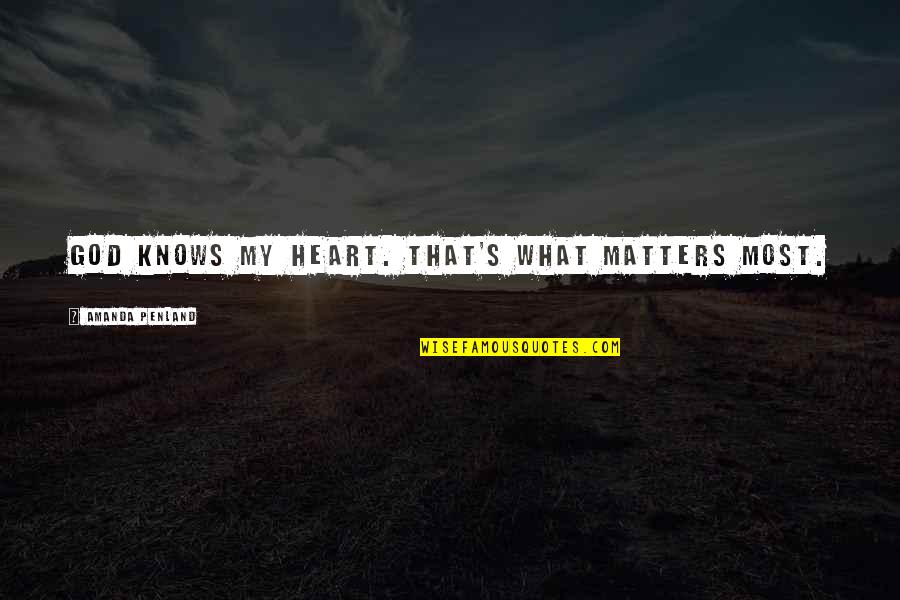 God knows my heart. That's what matters most. —
Amanda Penland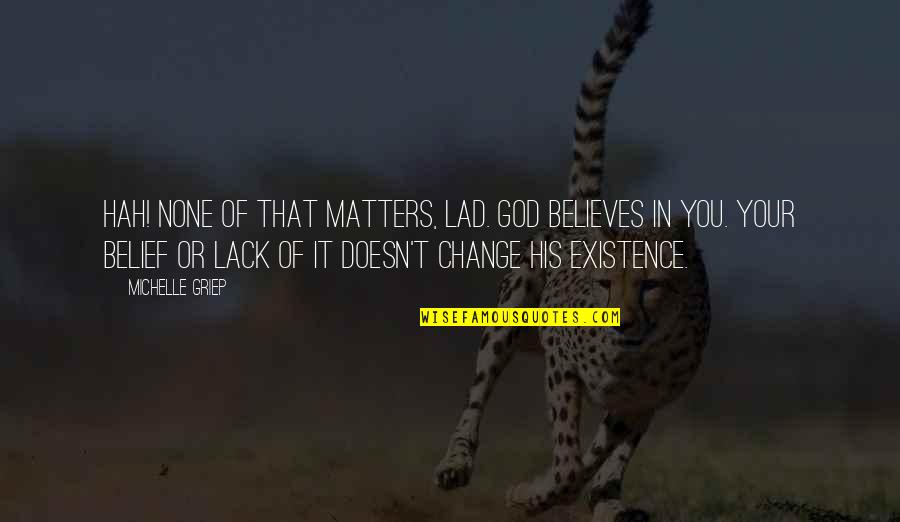 Hah! None of that matters, lad. God believes in you. Your belief or lack of it doesn't change His existence. —
Michelle Griep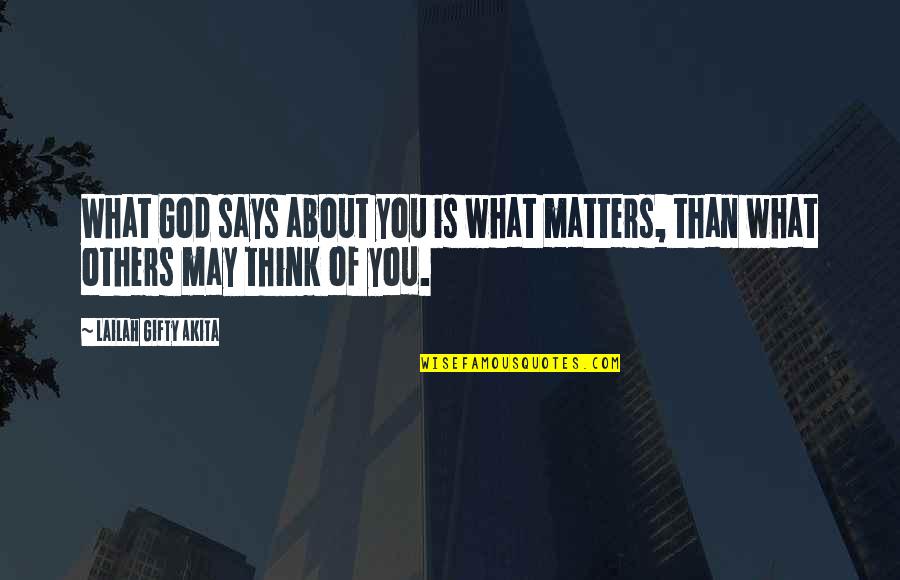 What God says about you is what matters, than what others may think of you. —
Lailah Gifty Akita
He did not live in fear of God because, he reasoned, a merciful God would not create us only to punish us for trivial earthly matters. —
Nadia Hashimi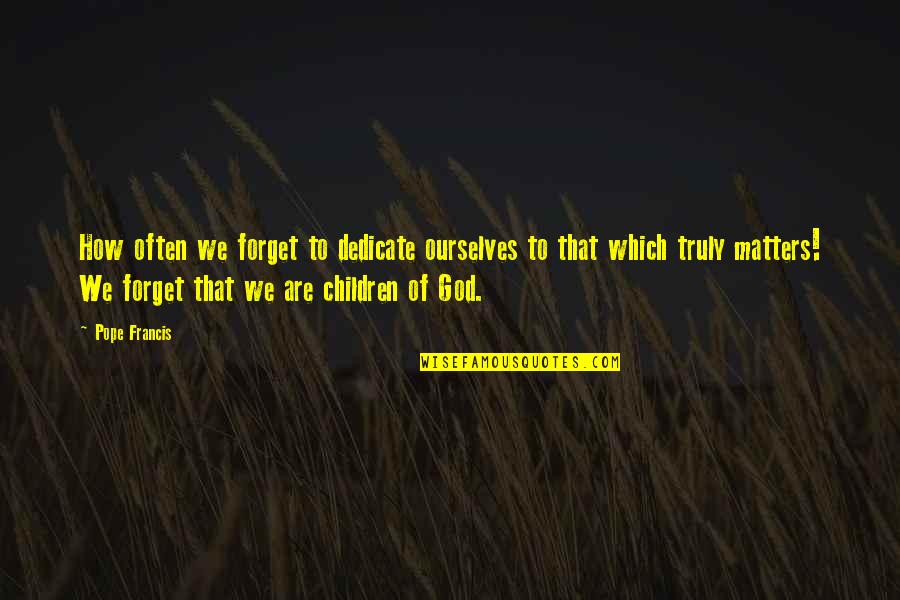 How often we forget to dedicate ourselves to that which truly matters! We forget that we are children of God. —
Pope Francis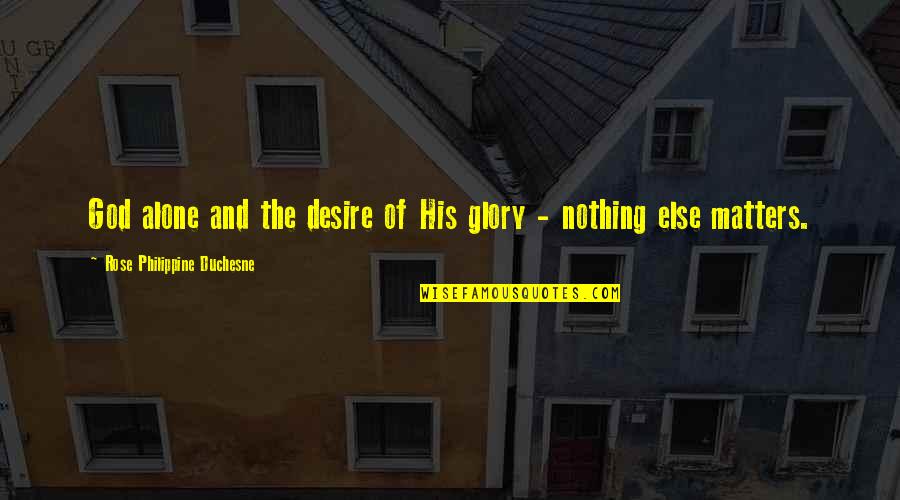 God alone and the desire of His glory - nothing else matters. —
Rose Philippine Duchesne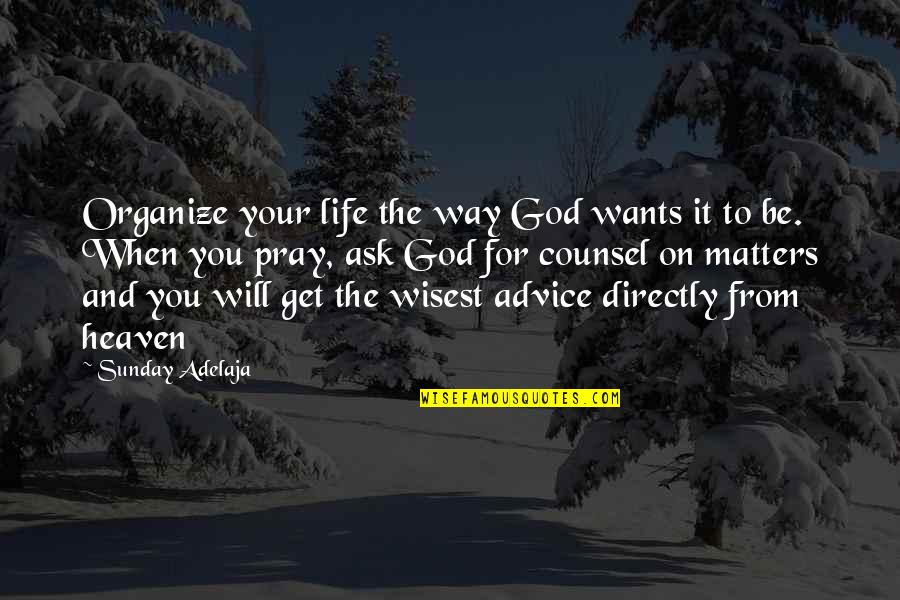 Organize your life the way God wants it to be. When you pray, ask God for counsel on matters and you will get the wisest advice directly from heaven —
Sunday Adelaja
Here's the bottom line - your life matters to this world and the people in it, and it matters to God. —
Vance Brown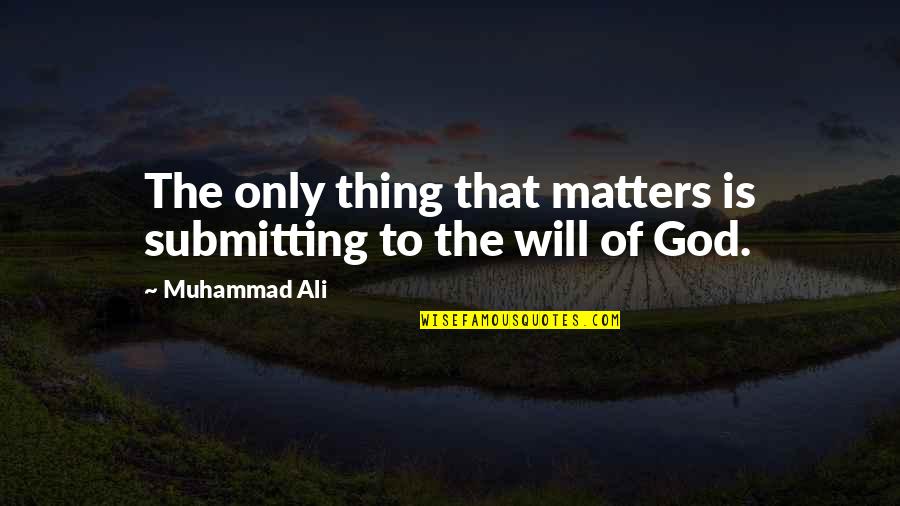 The only thing that matters is submitting to the will of God. —
Muhammad Ali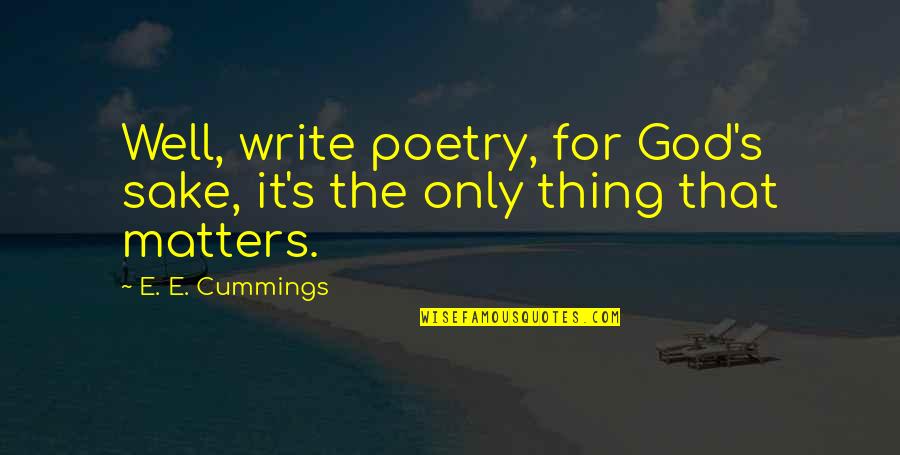 Well, write poetry, for God's sake, it's the only thing that matters. —
E. E. Cummings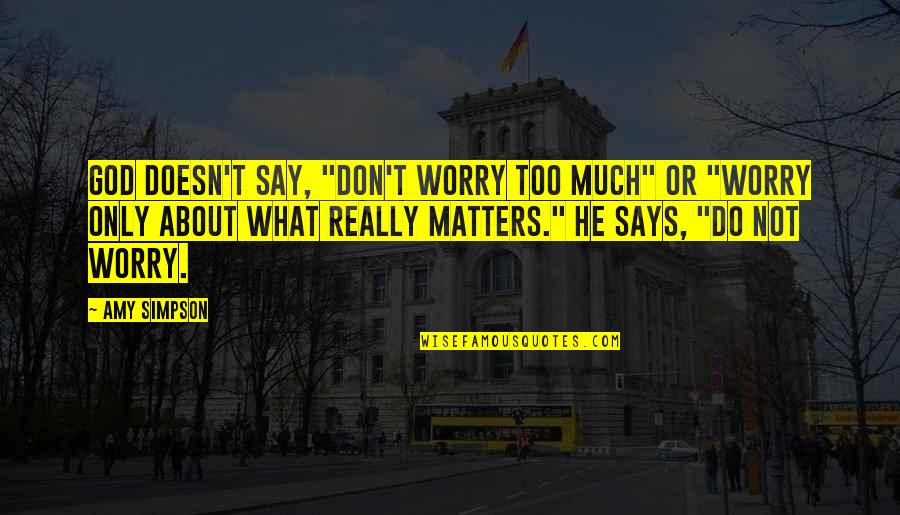 God doesn't say, "Don't worry too much" or "Worry only about what really matters." He says, "Do not worry. —
Amy Simpson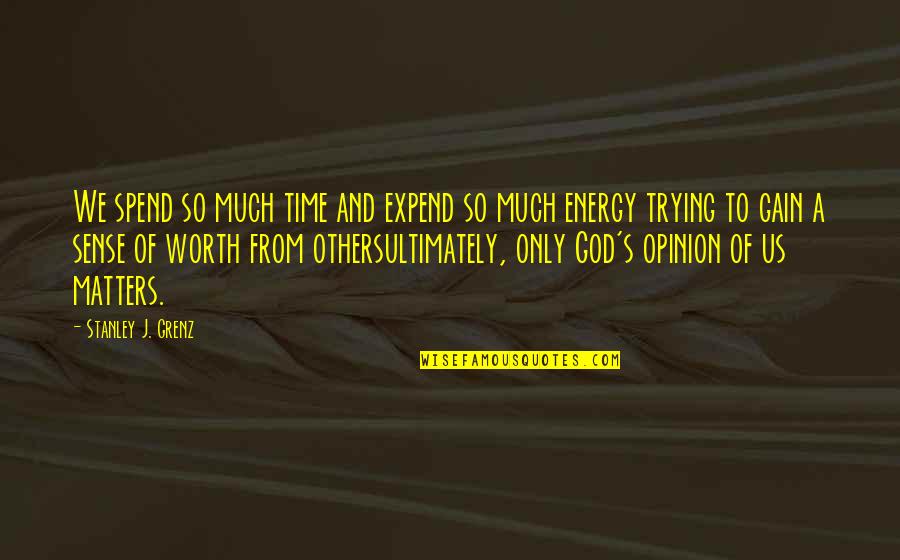 We spend so much time and expend so much energy trying to gain a sense of worth from othersultimately, only God's opinion of us matters. —
Stanley J. Grenz