Mikhail Tal Quotes
Collection of top 24 famous quotes about Mikhail Tal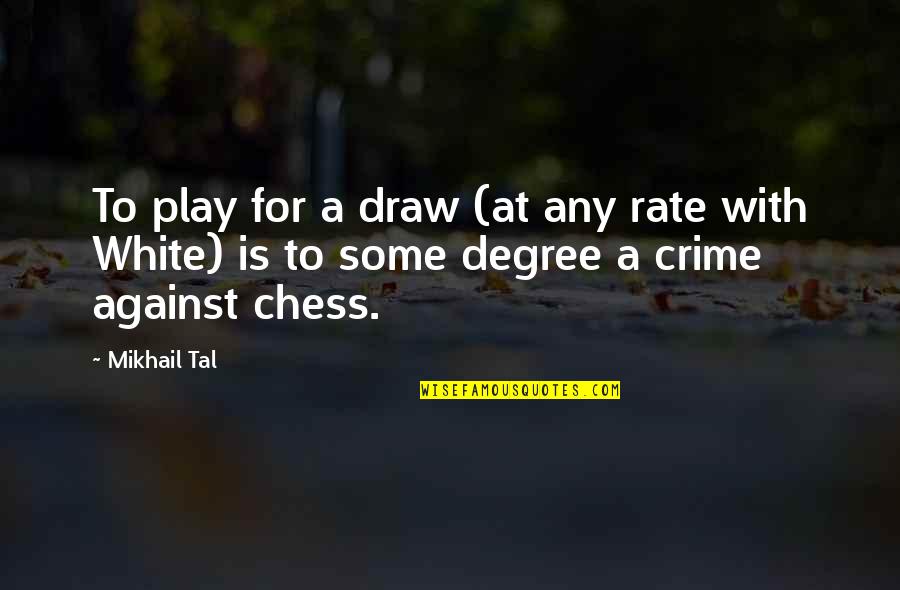 To play for a draw (at any rate with White) is to some degree a crime against chess.
—
Mikhail Tal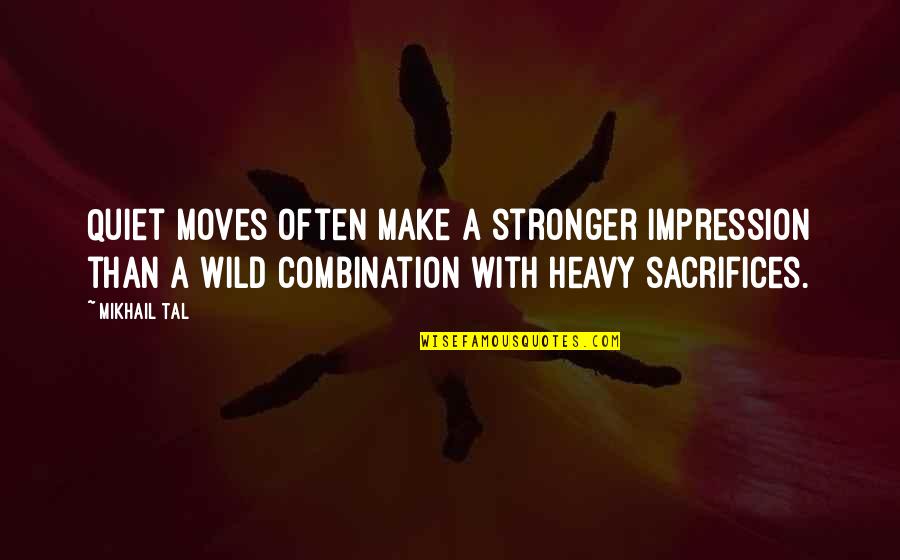 Quiet moves often make a stronger impression than a wild combination with heavy sacrifices.
—
Mikhail Tal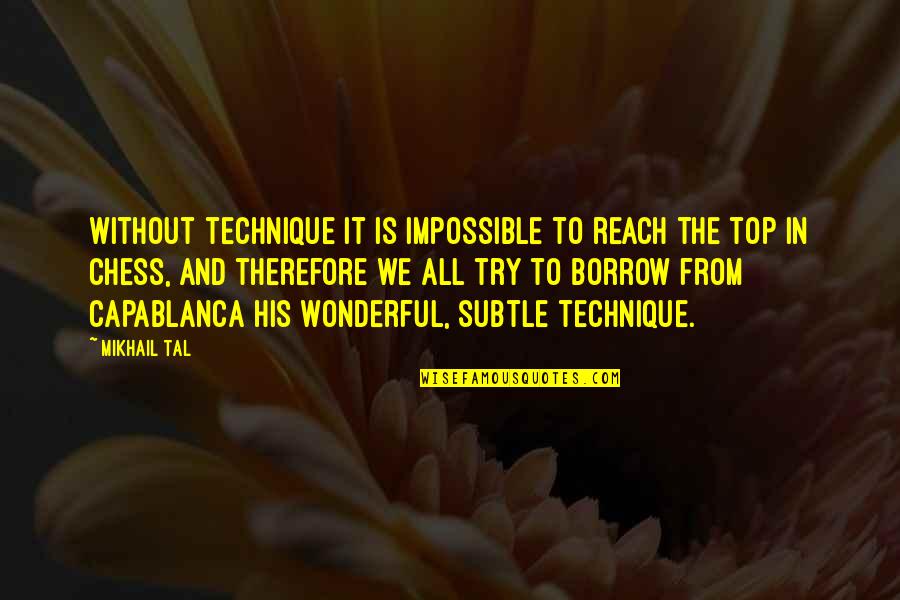 Without technique it is impossible to reach the top in chess, and therefore we all try to borrow from Capablanca his wonderful, subtle technique.
—
Mikhail Tal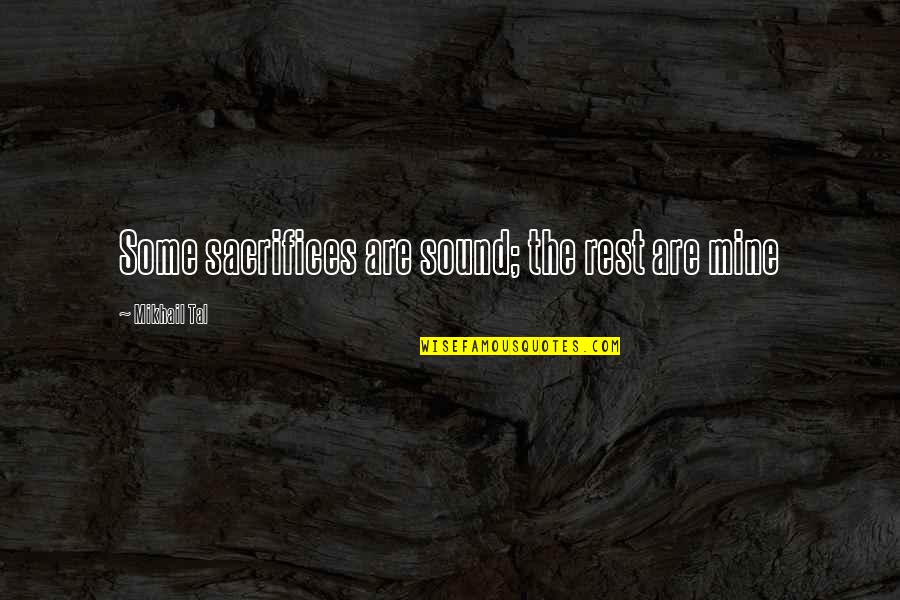 Some sacrifices are sound; the rest are mine
—
Mikhail Tal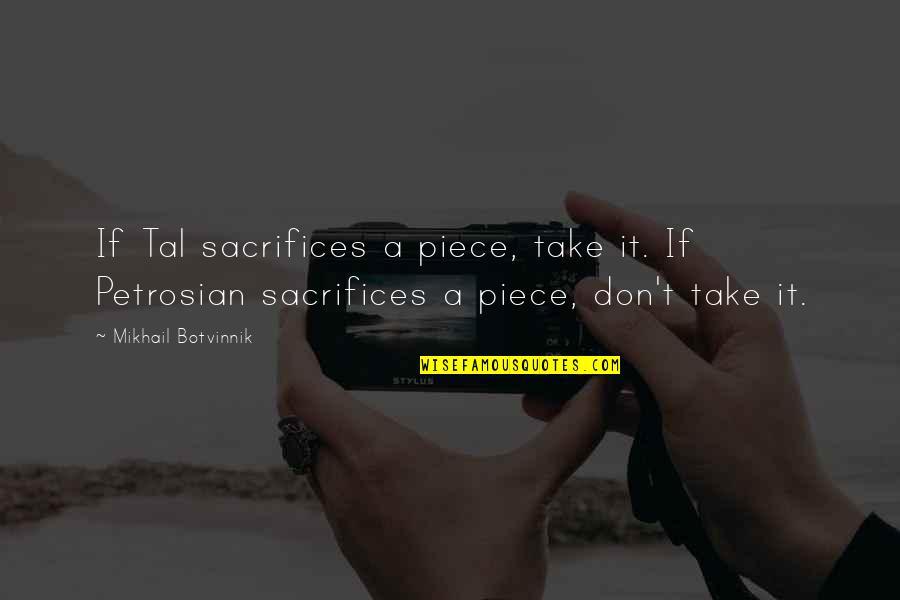 If Tal sacrifices a piece, take it. If Petrosian sacrifices a piece, don't take it.
—
Mikhail Botvinnik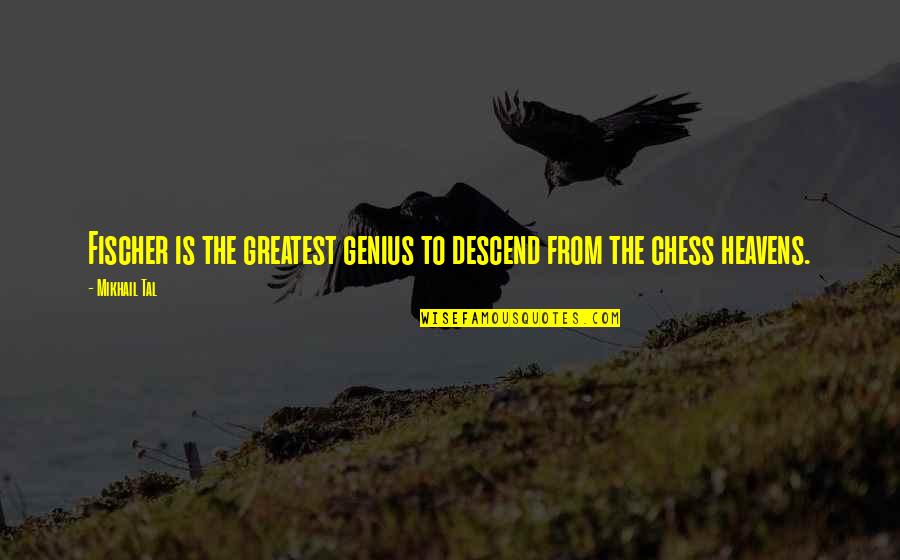 Fischer is the greatest genius to descend from the chess heavens. —
Mikhail Tal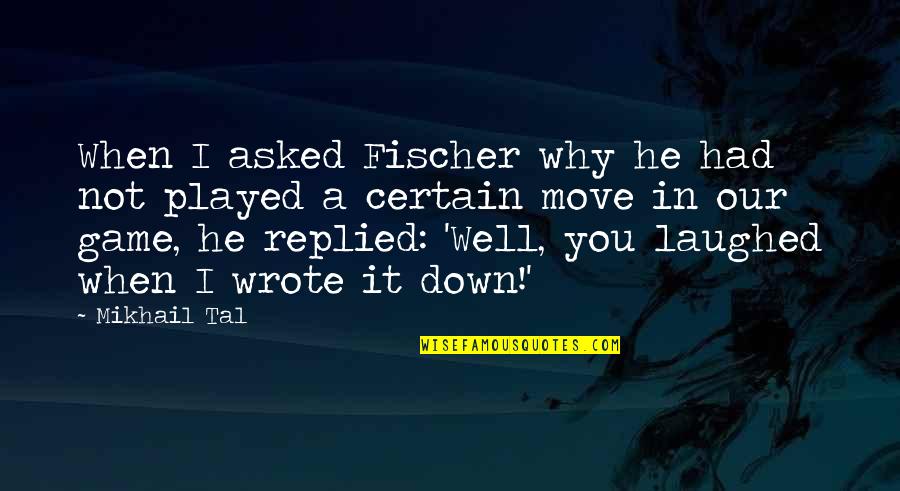 When I asked Fischer why he had not played a certain move in our game, he replied: 'Well, you laughed when I wrote it down!' —
Mikhail Tal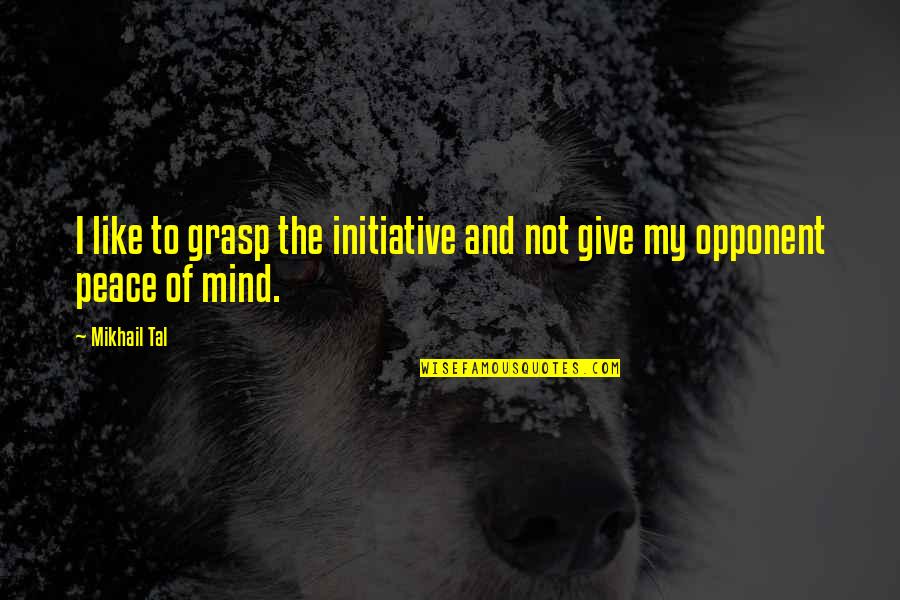 I like to grasp the initiative and not give my opponent peace of mind. —
Mikhail Tal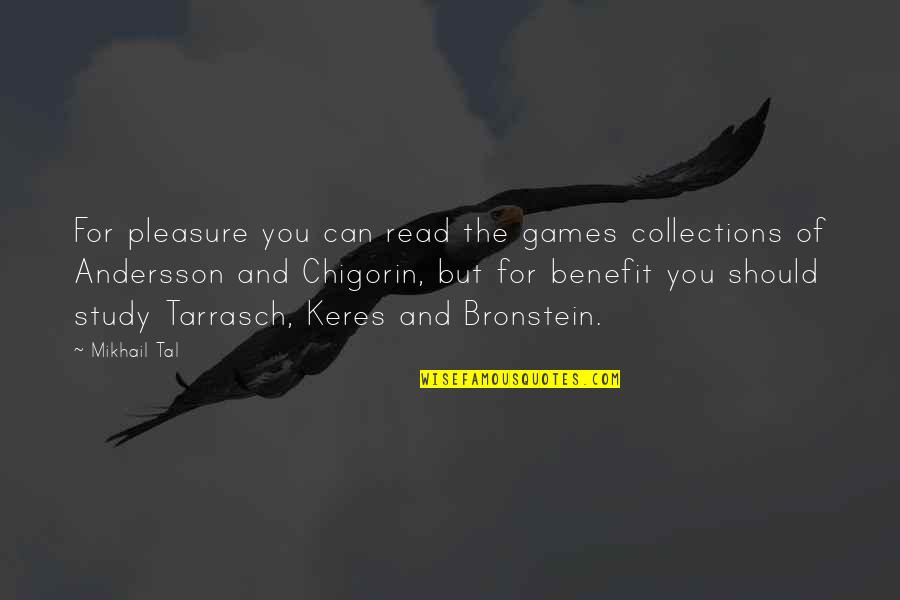 For pleasure you can read the games collections of Andersson and Chigorin, but for benefit you should study Tarrasch, Keres and Bronstein. —
Mikhail Tal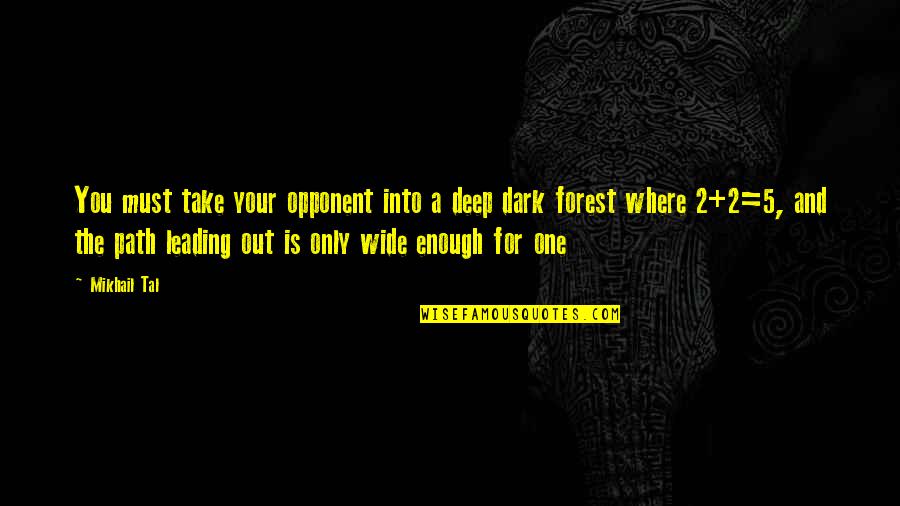 You must take your opponent into a deep dark forest where 2+2=5, and the path leading out is only wide enough for one —
Mikhail Tal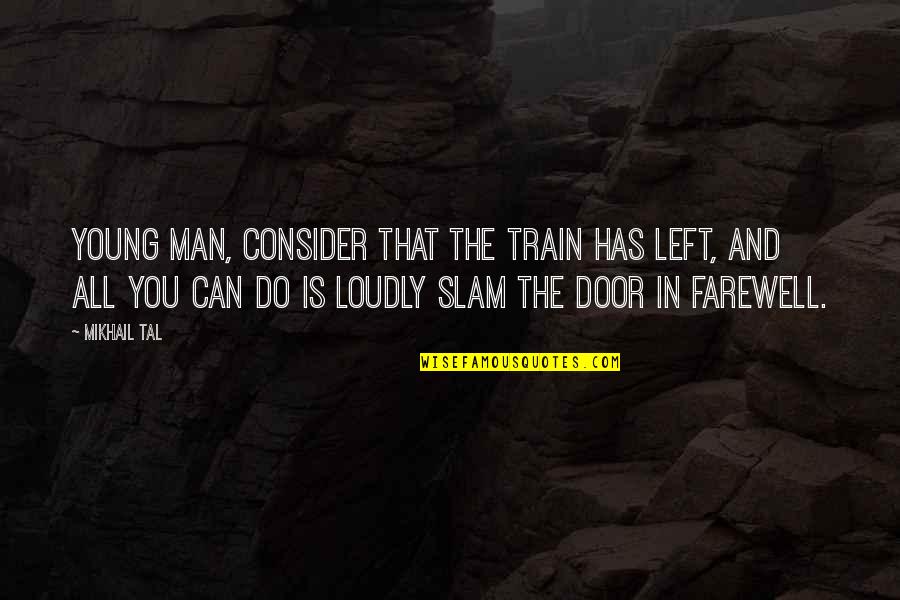 Young man, consider that the train has left, and all you can do is loudly slam the door in farewell. —
Mikhail Tal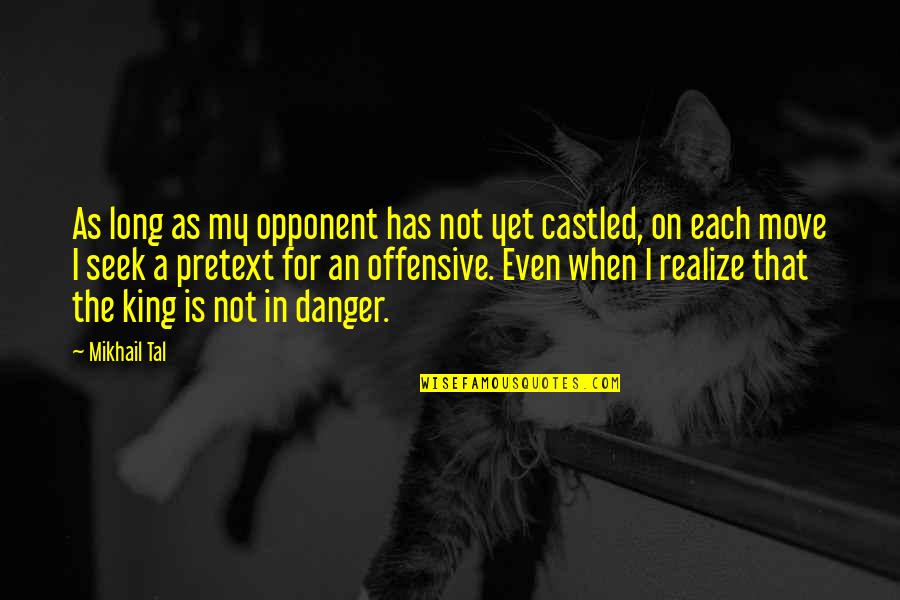 As long as my opponent has not yet castled, on each move I seek a pretext for an offensive. Even when I realize that the king is not in danger. —
Mikhail Tal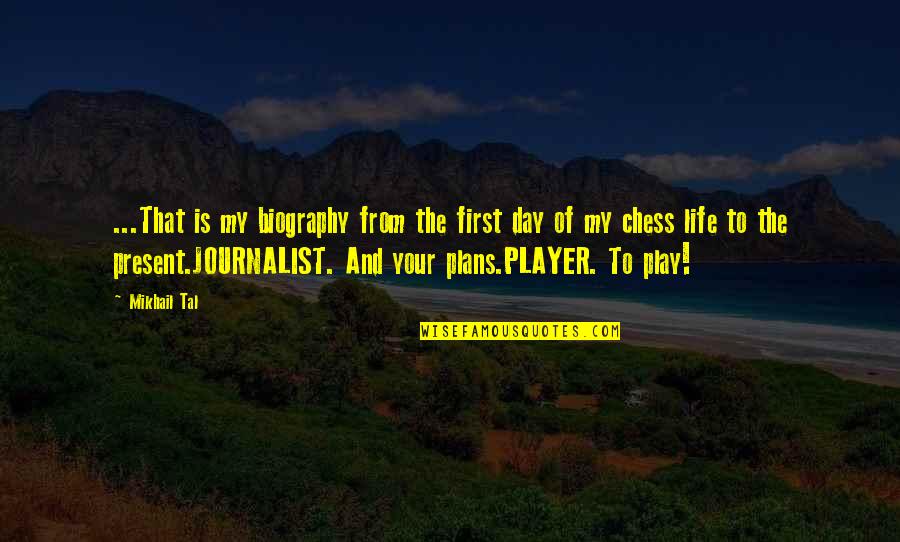 ...That is my biography from the first day of my chess life to the present.
JOURNALIST. And your plans.
PLAYER. To play! —
Mikhail Tal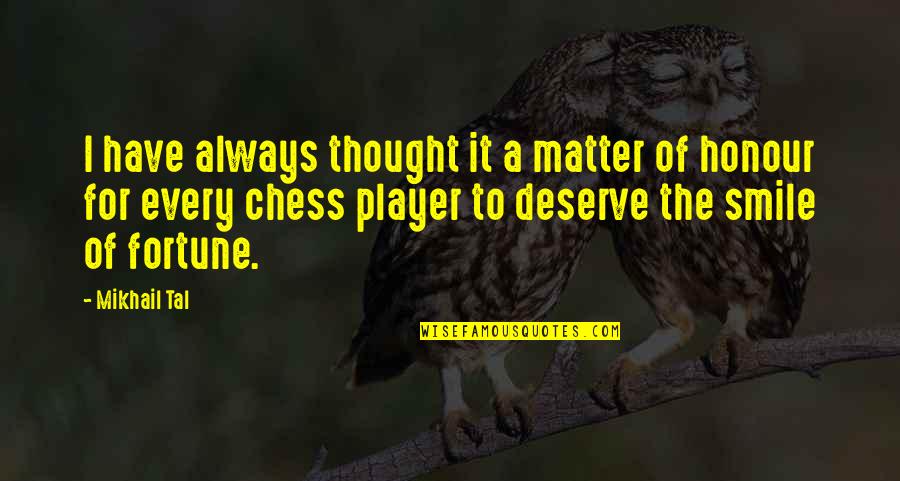 I have always thought it a matter of honour for every chess player to deserve the smile of fortune. —
Mikhail Tal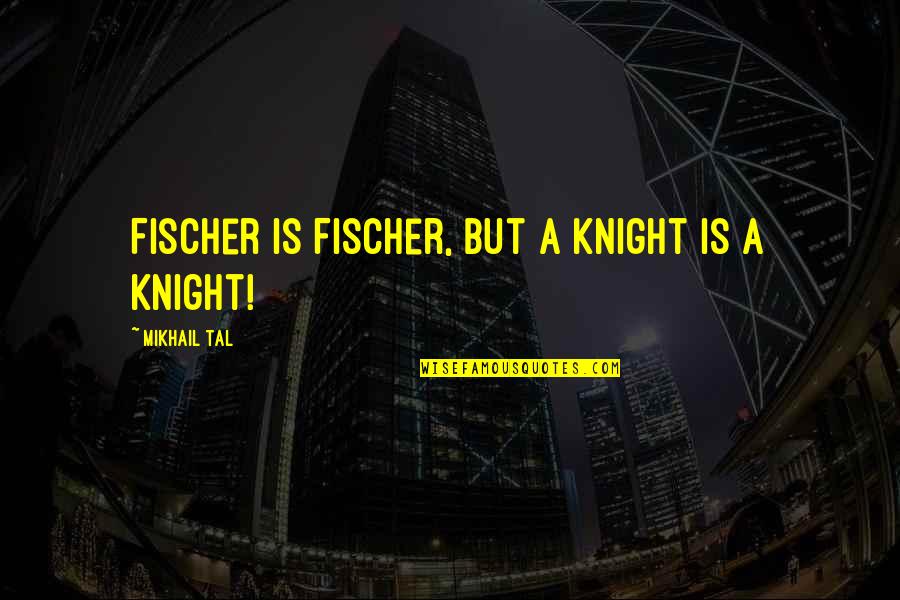 Fischer is Fischer, but a knight is a knight! —
Mikhail Tal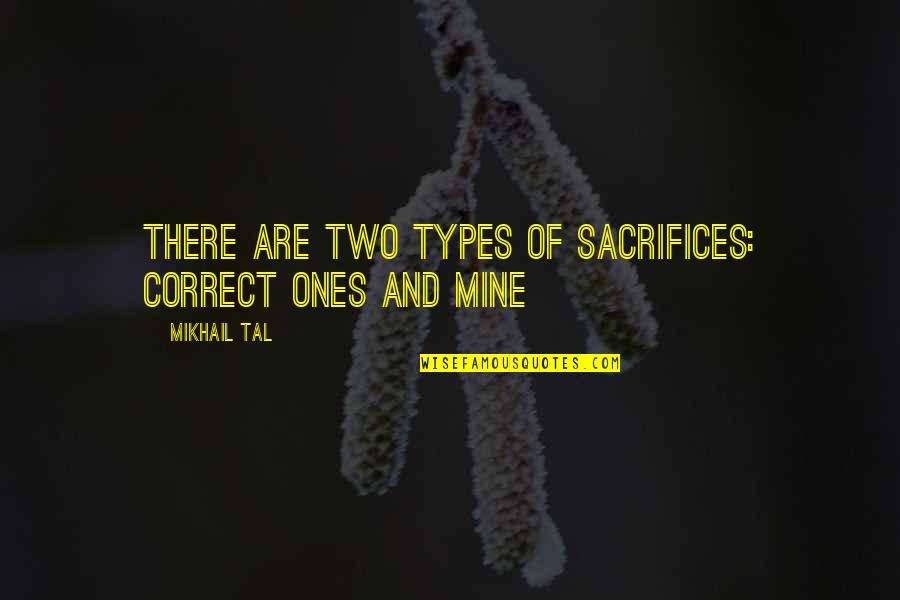 There are two types of sacrifices: correct ones and mine —
Mikhail Tal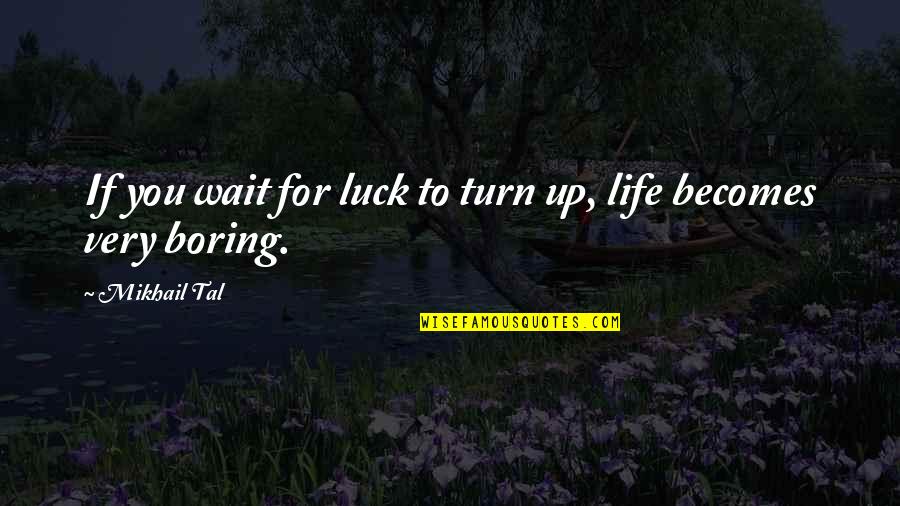 If you wait for luck to turn up, life becomes very boring. —
Mikhail Tal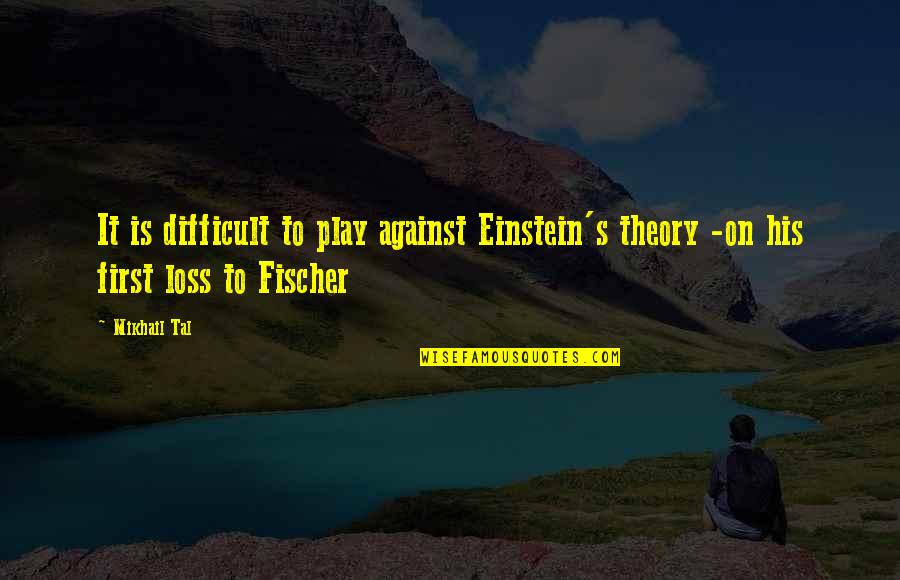 It is difficult to play against Einstein's theory -on his first loss to Fischer —
Mikhail Tal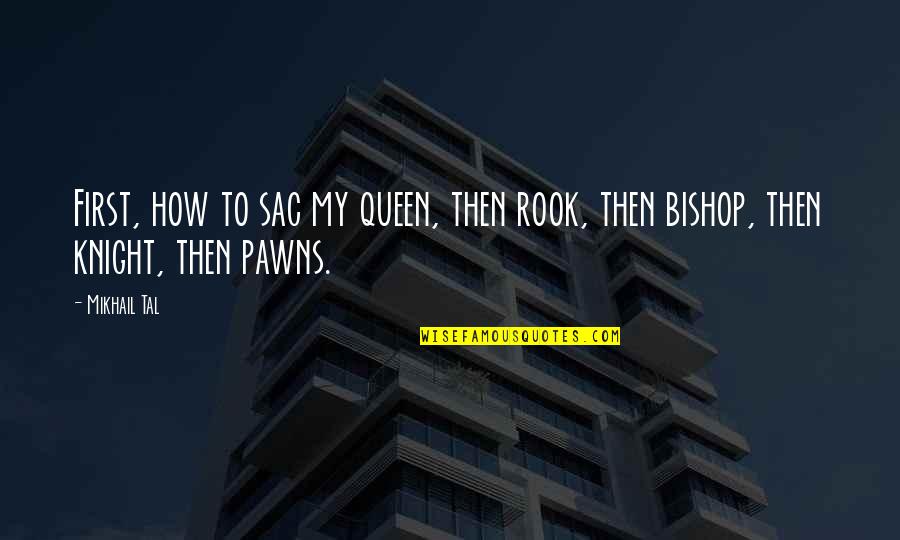 First, how to sac my queen, then rook, then bishop, then knight, then pawns. —
Mikhail Tal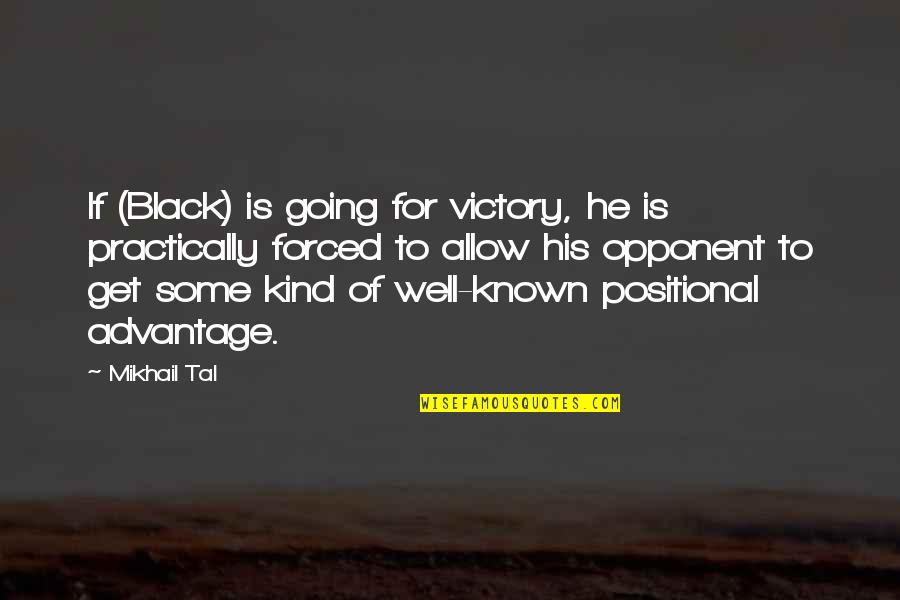 If (Black) is going for victory, he is practically forced to allow his opponent to get some kind of well-known positional advantage. —
Mikhail Tal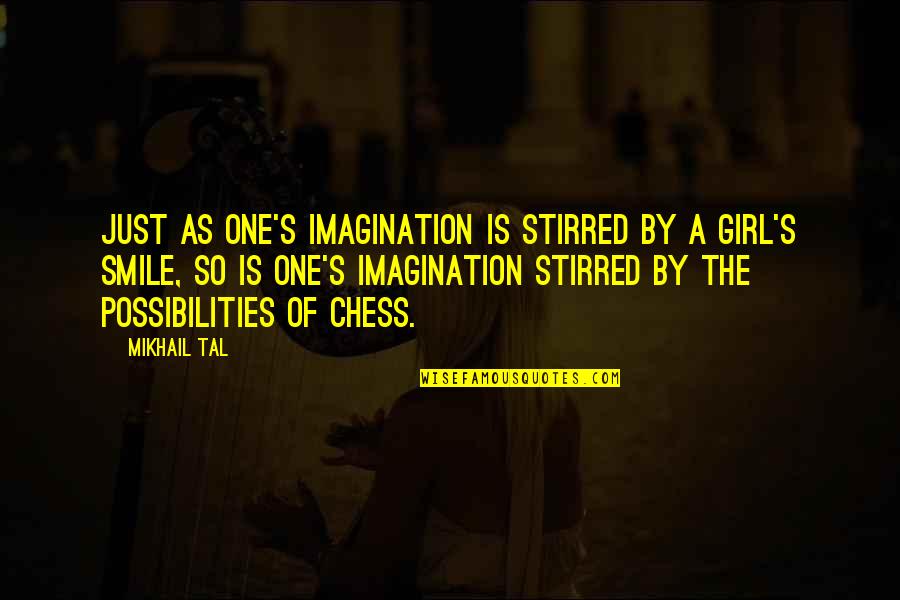 Just as one's imagination is stirred by a girl's smile, so is one's imagination stirred by the possibilities of chess. —
Mikhail Tal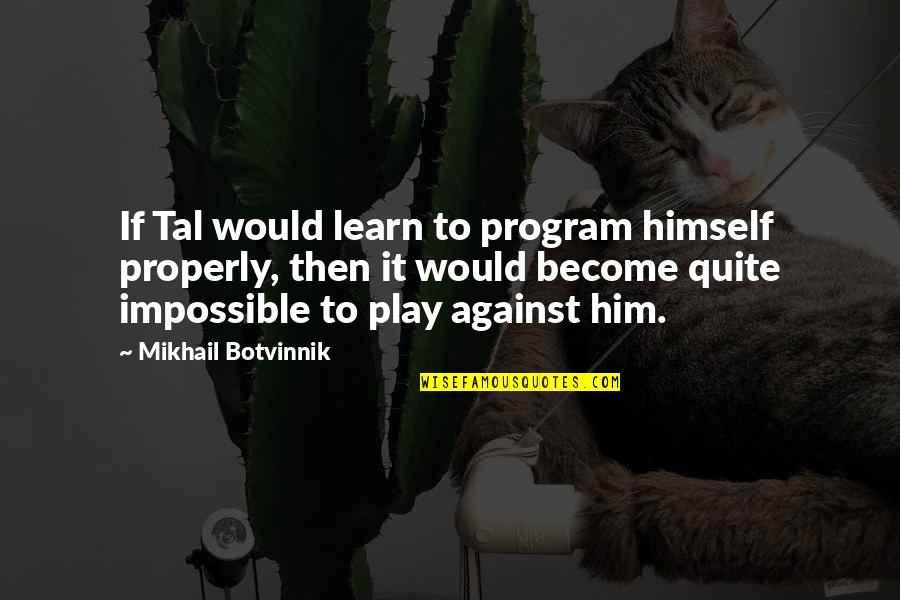 If Tal would learn to program himself properly, then it would become quite impossible to play against him. —
Mikhail Botvinnik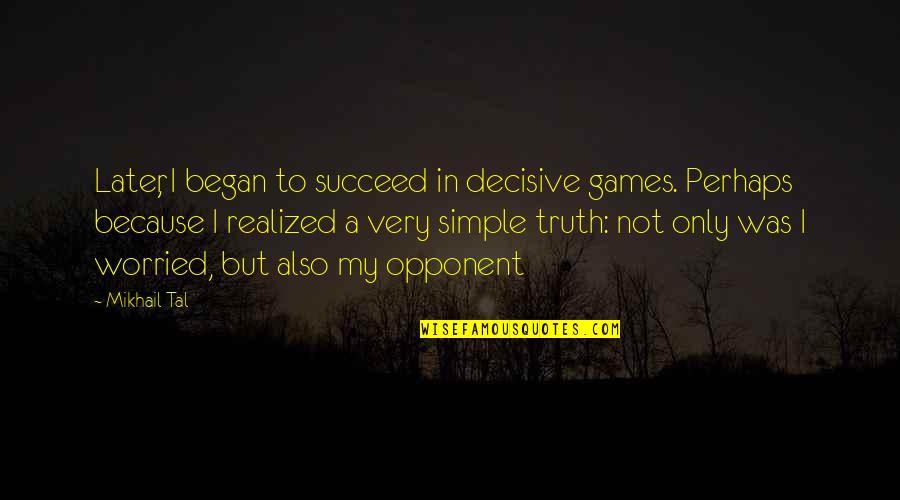 Later, I began to succeed in decisive games. Perhaps because I realized a very simple truth: not only was I worried, but also my opponent —
Mikhail Tal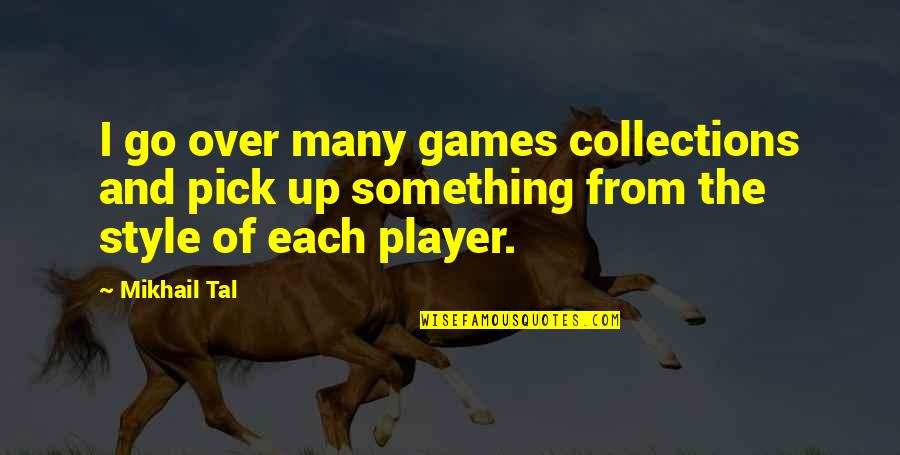 I go over many games collections and pick up something from the style of each player. —
Mikhail Tal