Hurt Because Of Love Quotes
Collection of top 52 famous quotes about Hurt Because Of Love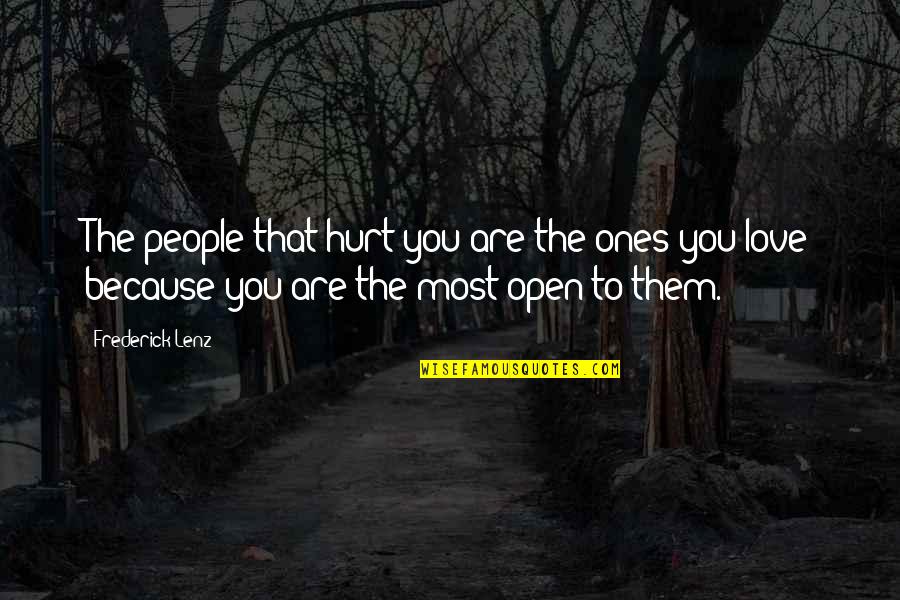 The people that hurt you are the ones you love because you are the most open to them.
—
Frederick Lenz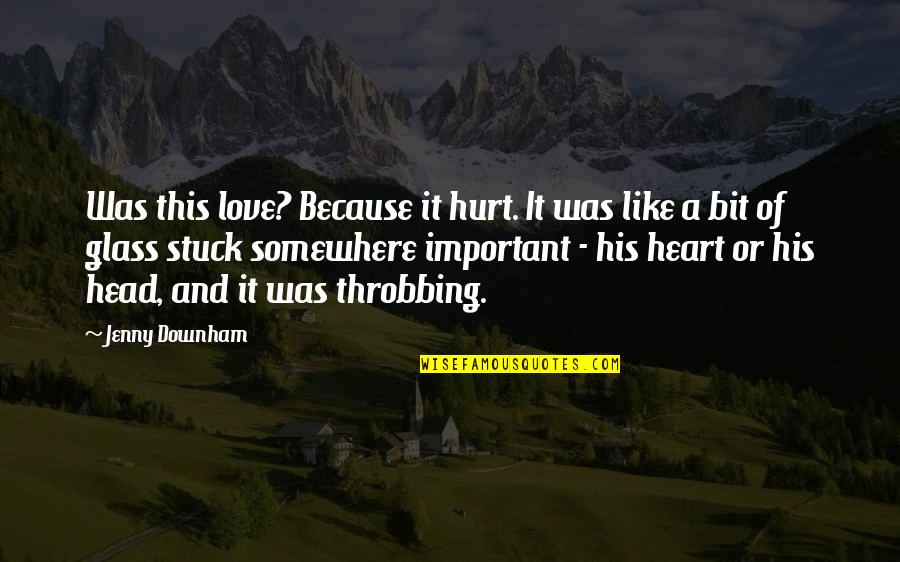 Was this love? Because it hurt. It was like a bit of glass stuck somewhere important - his heart or his head, and it was throbbing.
—
Jenny Downham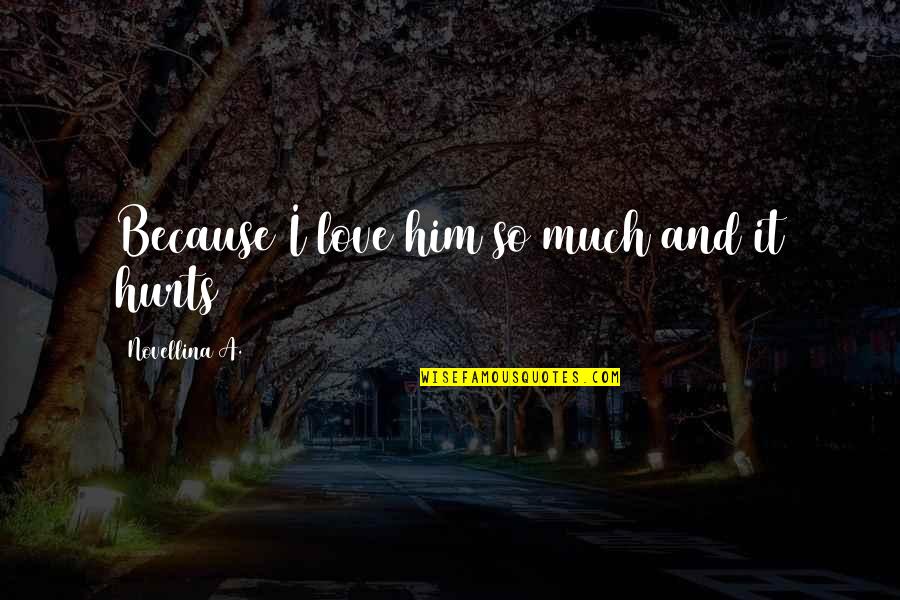 Because I love him so much and it hurts
—
Novellina A.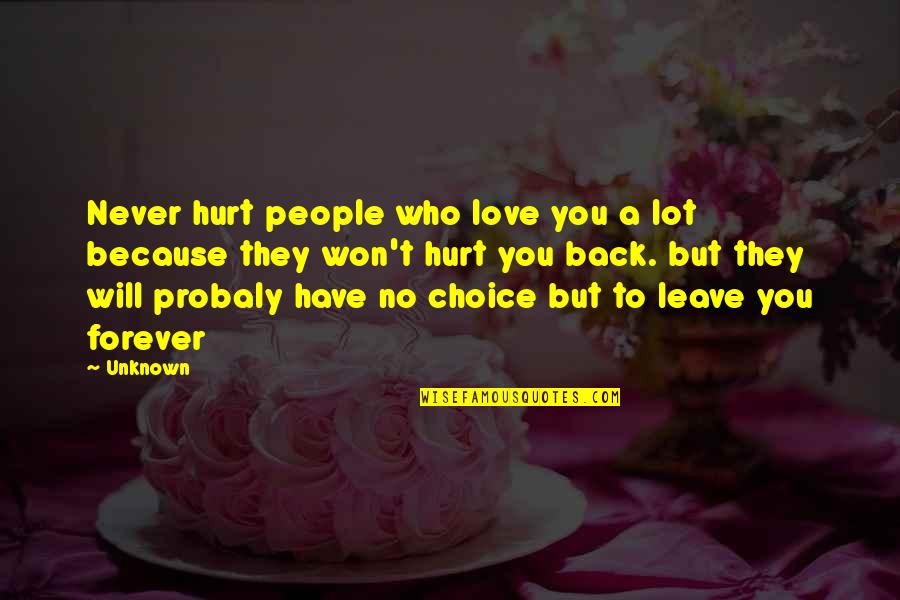 Never hurt people who love you a lot because they won't hurt you back. but they will probaly have no choice but to leave you forever
—
Unknown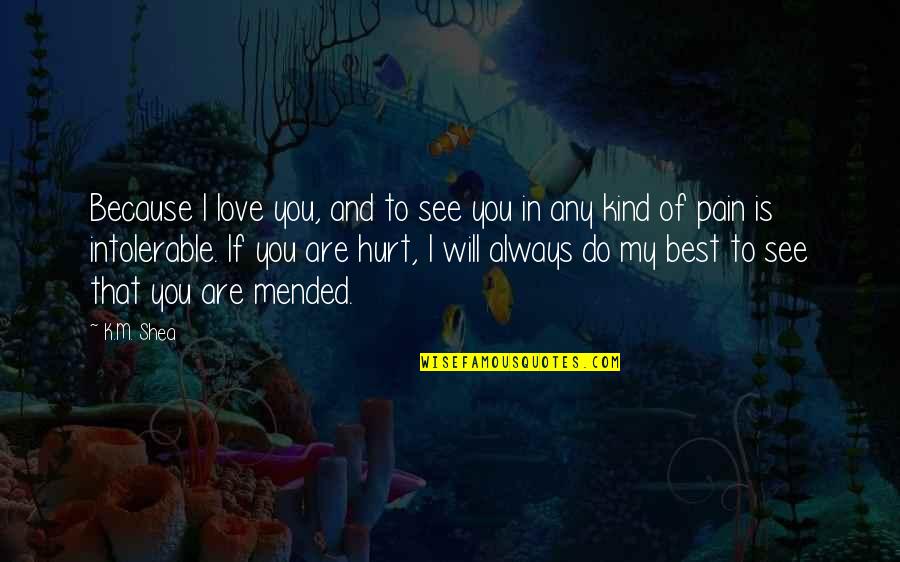 Because I love you, and to see you in any kind of pain is intolerable. If you are hurt, I will always do my best to see that you are mended.
—
K.M. Shea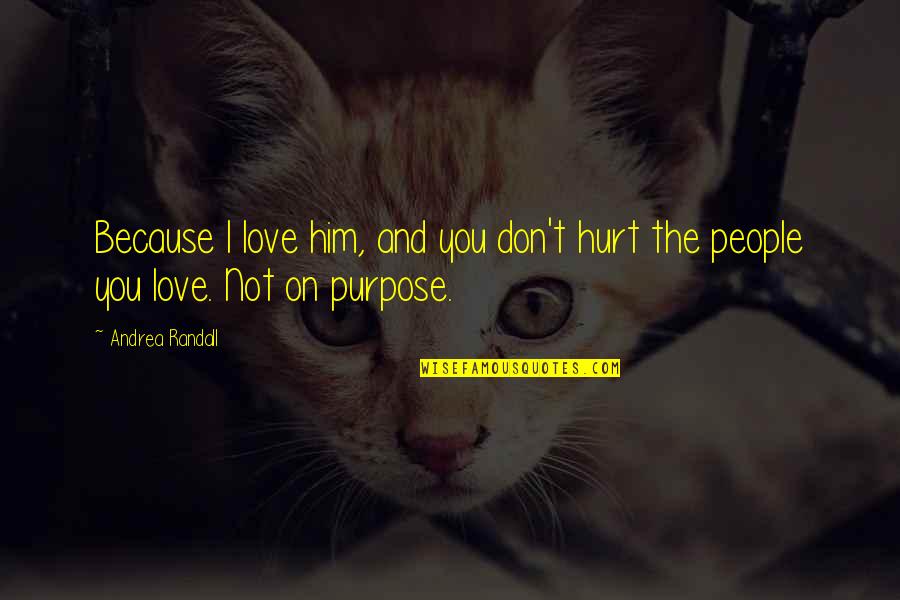 Because I love him, and you don't hurt the people you love. Not on purpose.
—
Andrea Randall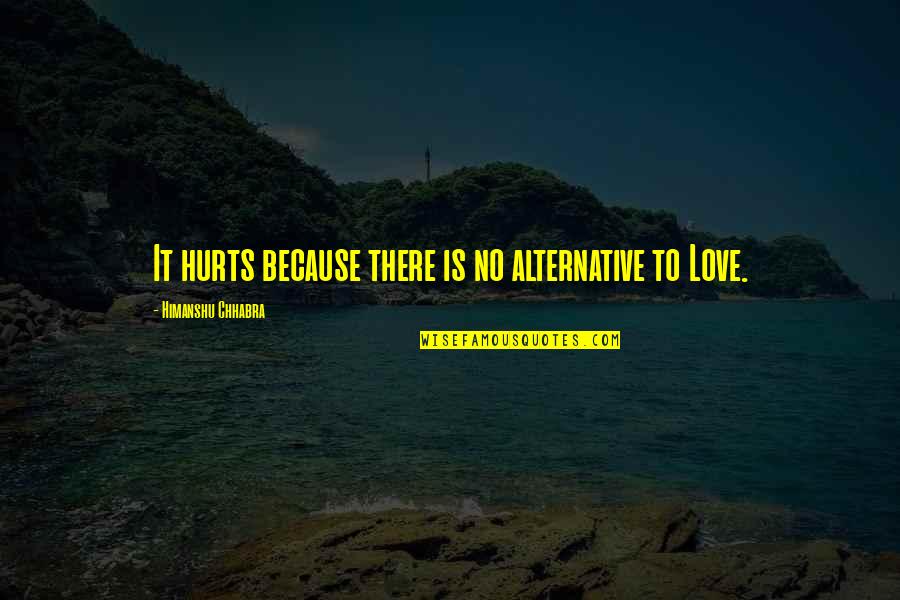 It hurts because there is no alternative to Love.
—
Himanshu Chhabra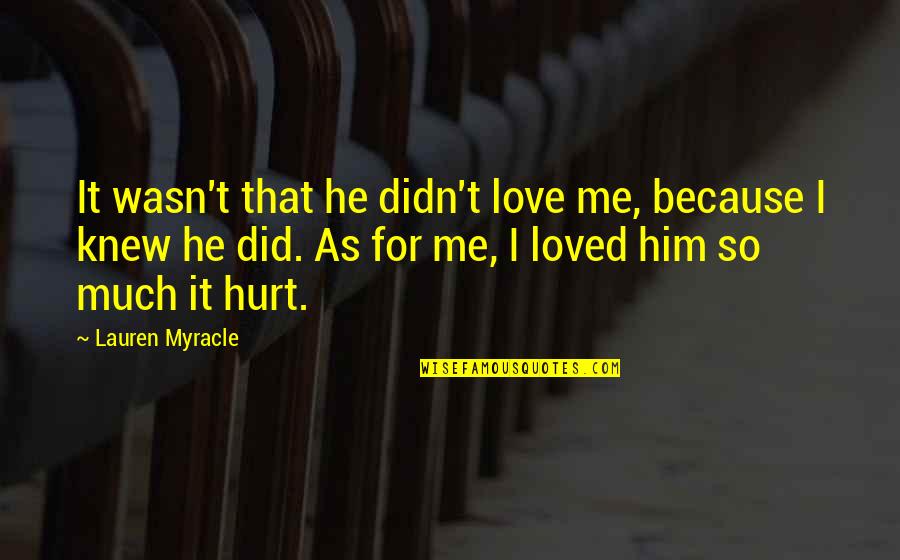 It wasn't that he didn't love me, because I knew he did. As for me, I loved him so much it hurt.
—
Lauren Myracle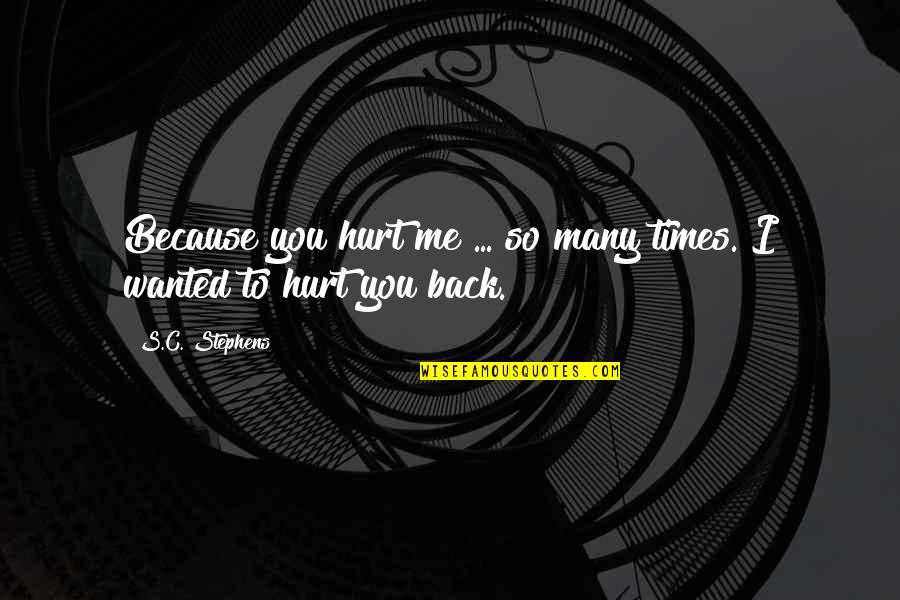 Because you hurt me ... so many times. I wanted to hurt you back.
—
S.C. Stephens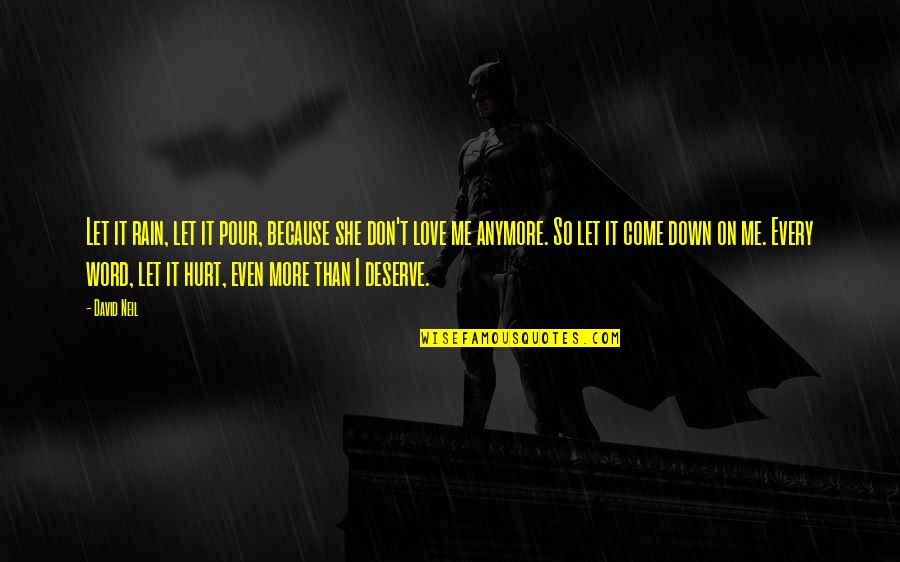 Let it rain, let it pour, because she don't love me anymore. So let it come down on me. Every word, let it hurt, even more than I deserve.
—
David Neil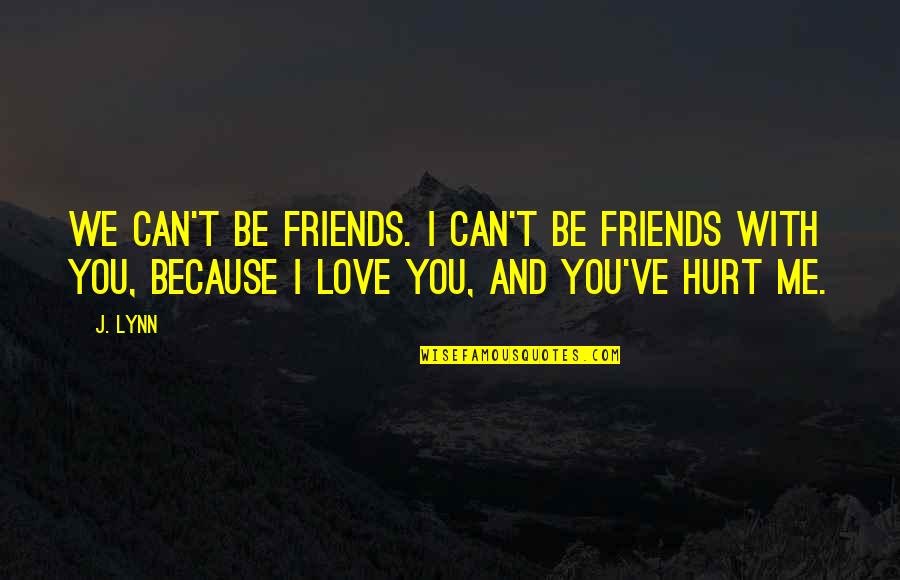 We can't be friends. I can't be friends with you, because I love you, and you've hurt me.
—
J. Lynn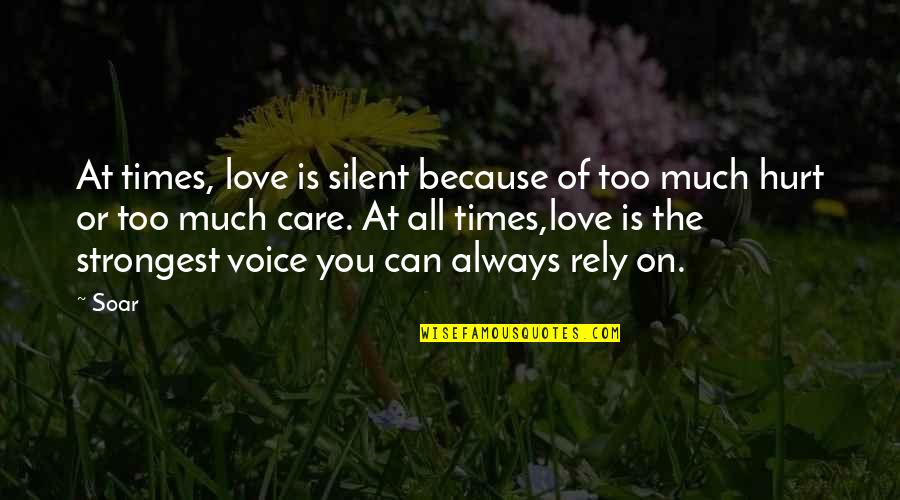 At times, love is silent because of too much hurt or too much care. At all times,
love is the strongest voice you can always rely on. —
Soar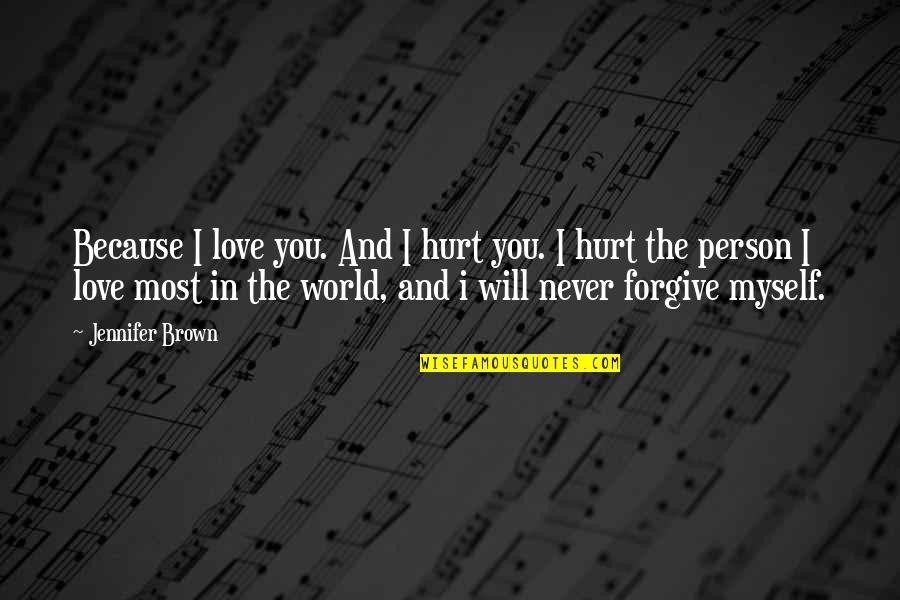 Because I love you. And I hurt you. I hurt the person I love most in the world, and i will never forgive myself. —
Jennifer Brown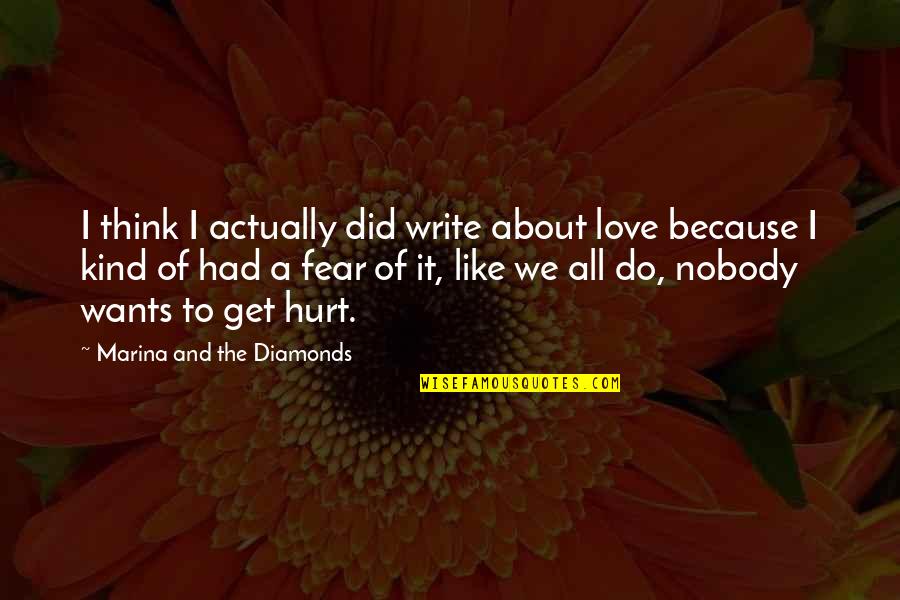 I think I actually did write about love because I kind of had a fear of it, like we all do, nobody wants to get hurt. —
Marina And The Diamonds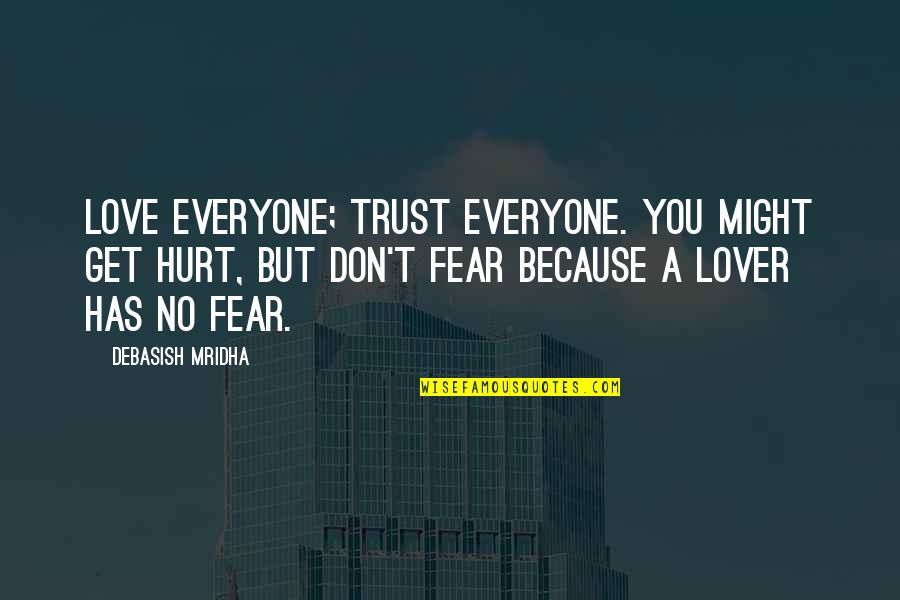 Love everyone; trust everyone. You might get hurt, but don't fear because a lover has no fear. —
Debasish Mridha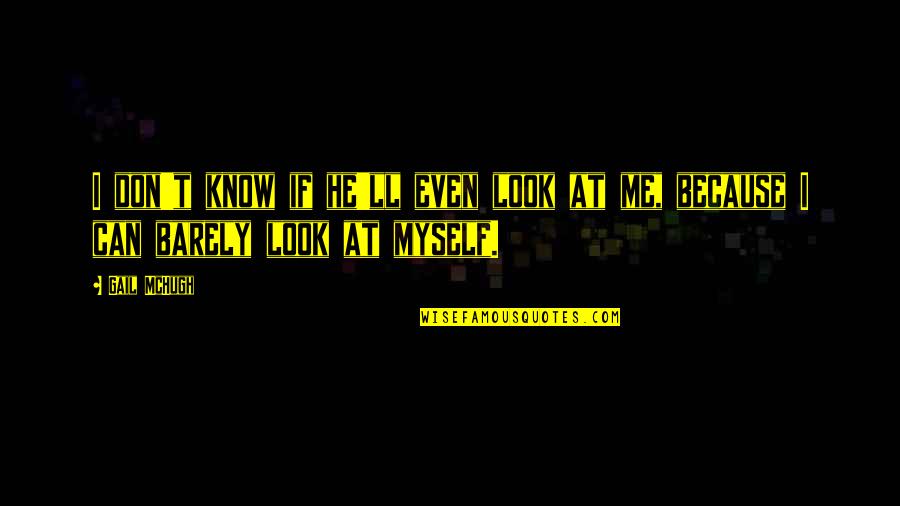 I don't know if he'll even look at me, because I can barely look at myself. —
Gail McHugh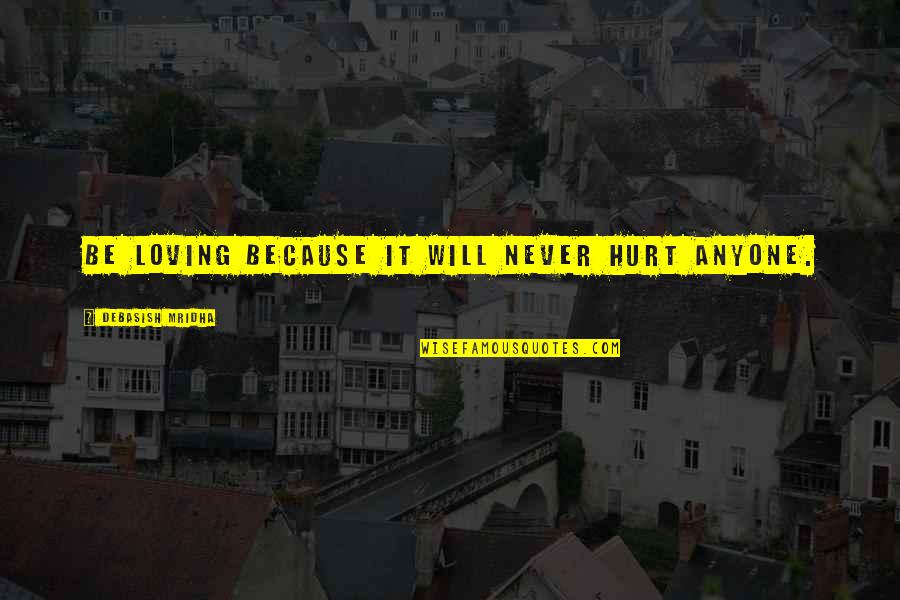 Be loving because it will never hurt anyone. —
Debasish Mridha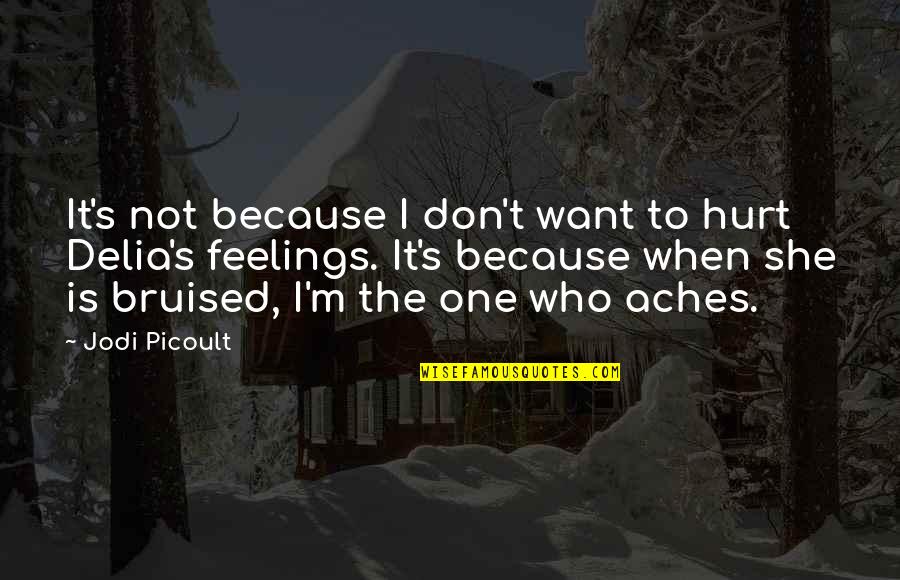 It's not because I don't want to hurt Delia's feelings. It's because when she is bruised, I'm the one who aches. —
Jodi Picoult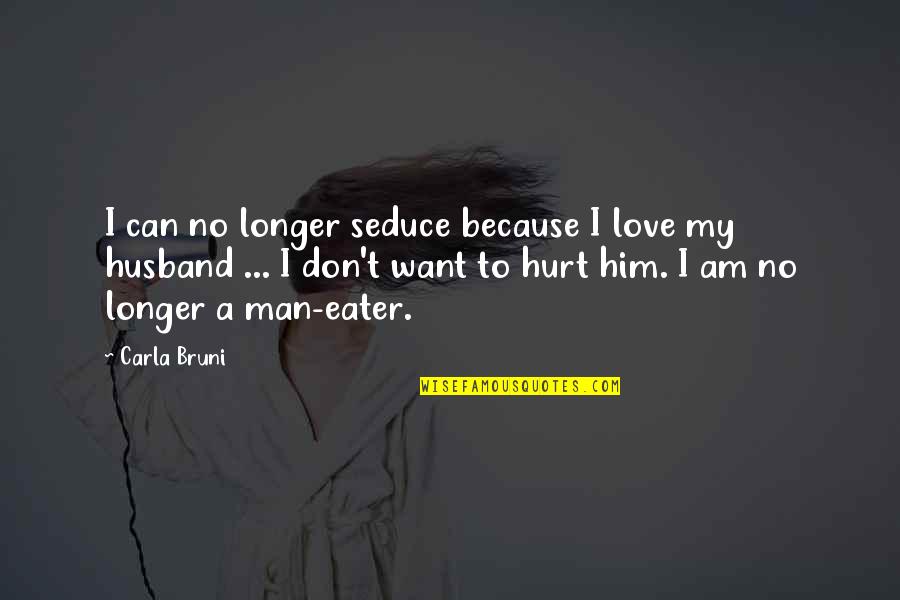 I can no longer seduce because I love my husband ... I don't want to hurt him. I am no longer a man-eater. —
Carla Bruni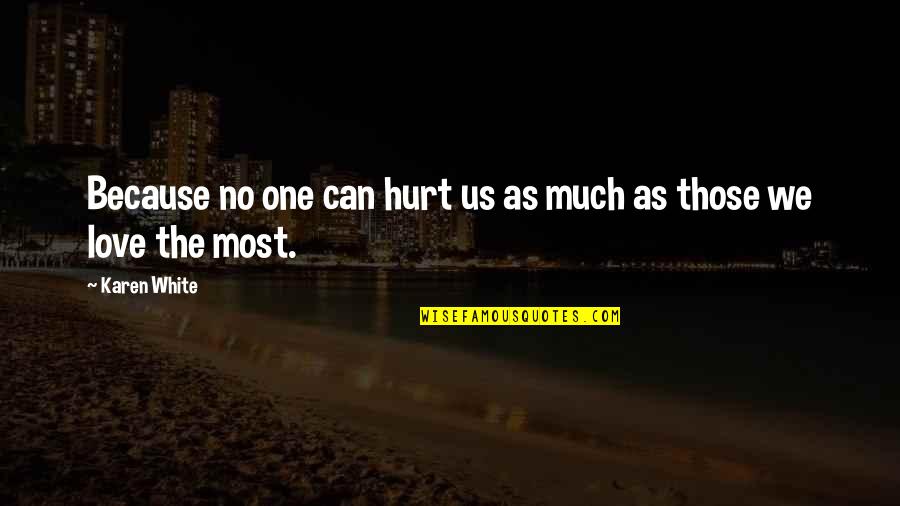 Because no one can hurt us as much as those we love the most. —
Karen White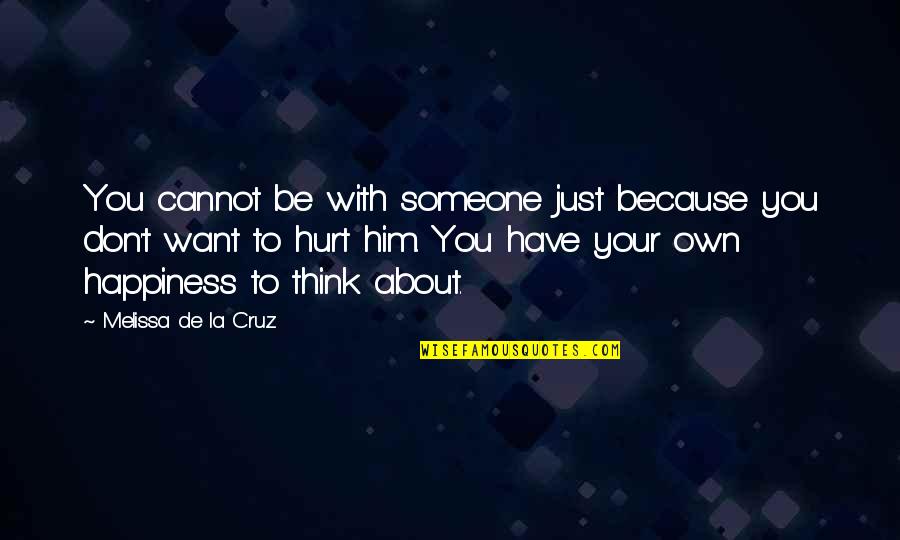 You cannot be with someone just because you don't want to hurt him. You have your own happiness to think about. —
Melissa De La Cruz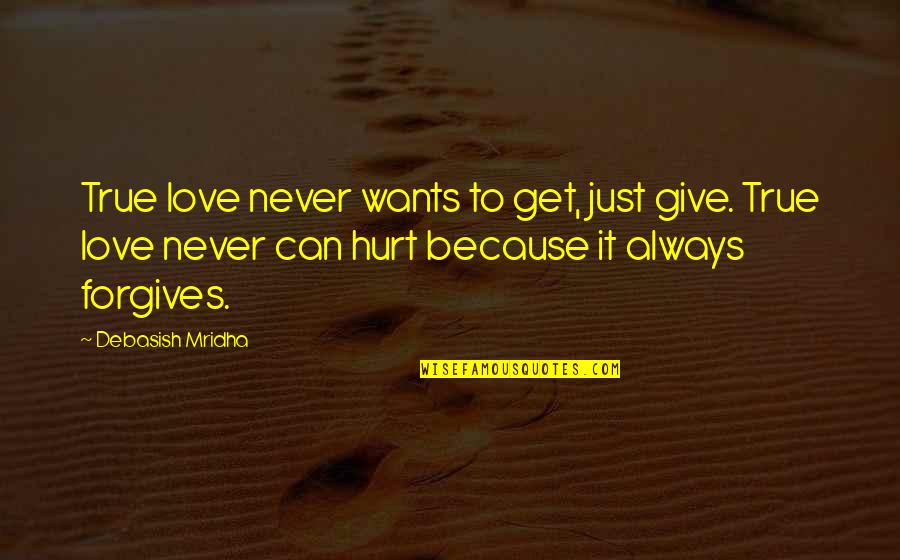 True love never wants to get, just give.
True love never can hurt because it always forgives. —
Debasish Mridha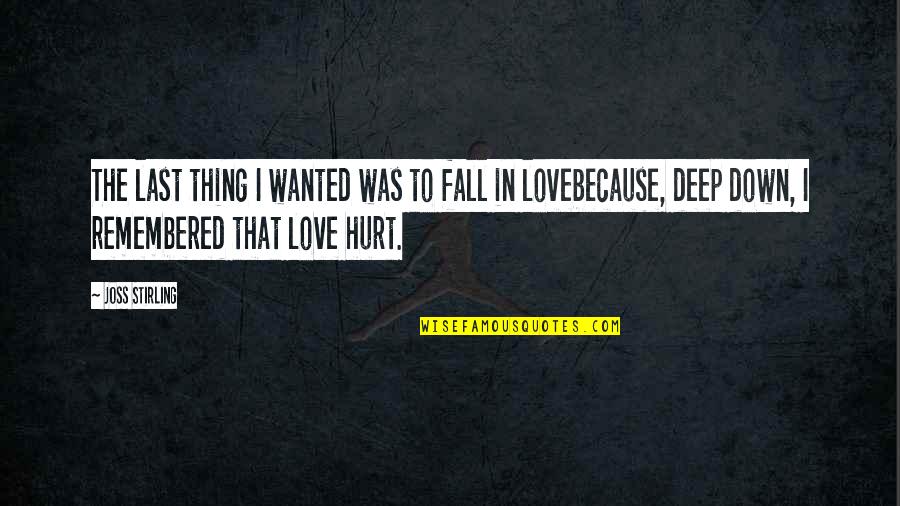 The last thing I wanted was to fall in love
because, deep down, I remembered that love hurt. —
Joss Stirling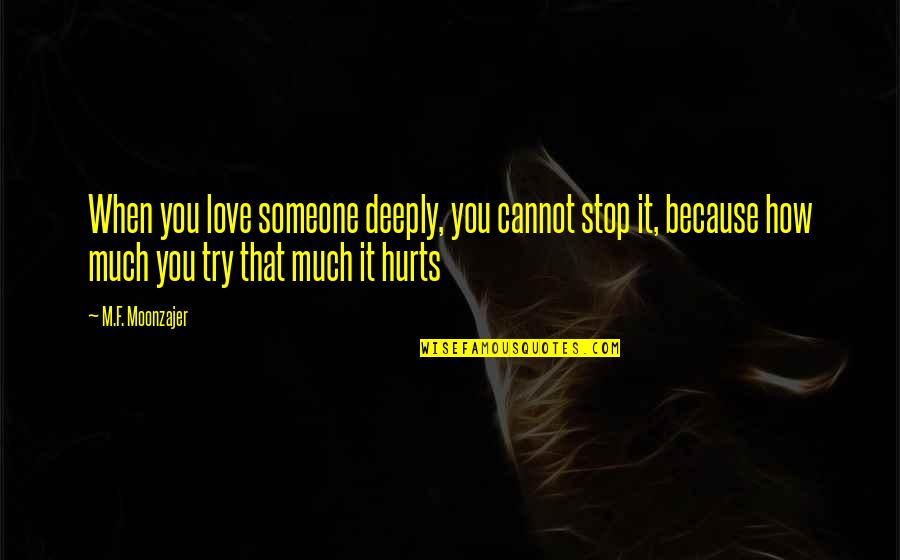 When you love someone deeply, you cannot stop it, because how much you try that much it hurts —
M.F. Moonzajer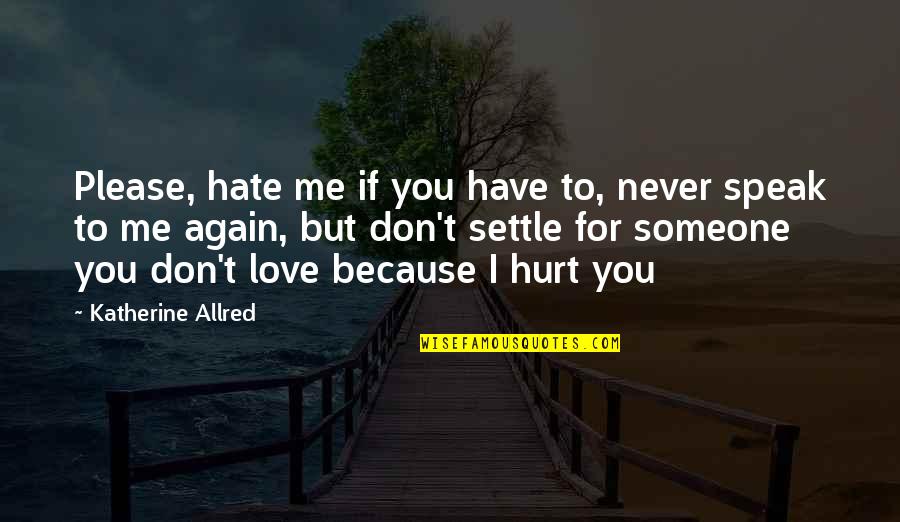 Please, hate me if you have to, never speak to me again, but don't settle for someone you don't love because I hurt you —
Katherine Allred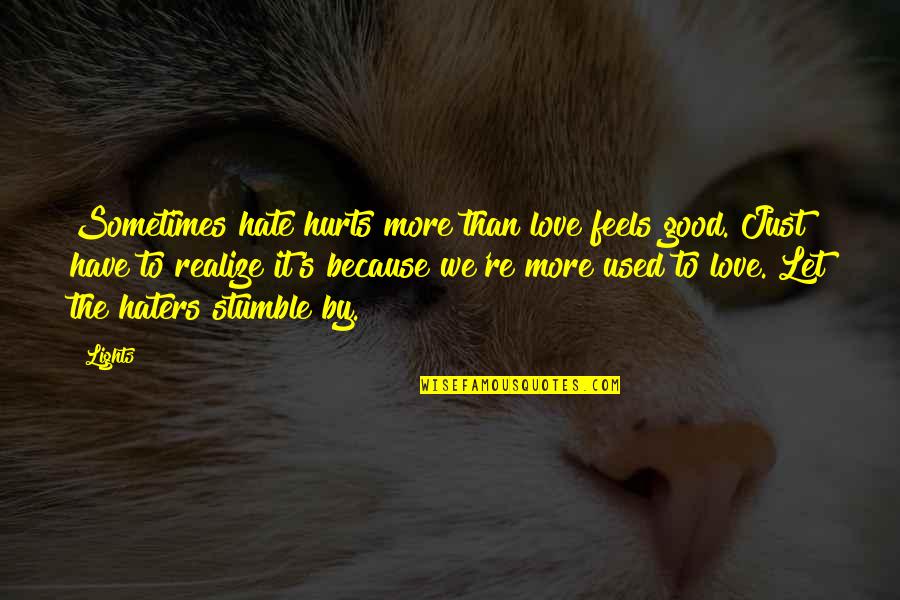 Sometimes hate hurts more than love feels good. Just have to realize it's because we're more used to love. Let the haters stumble by. —
Lights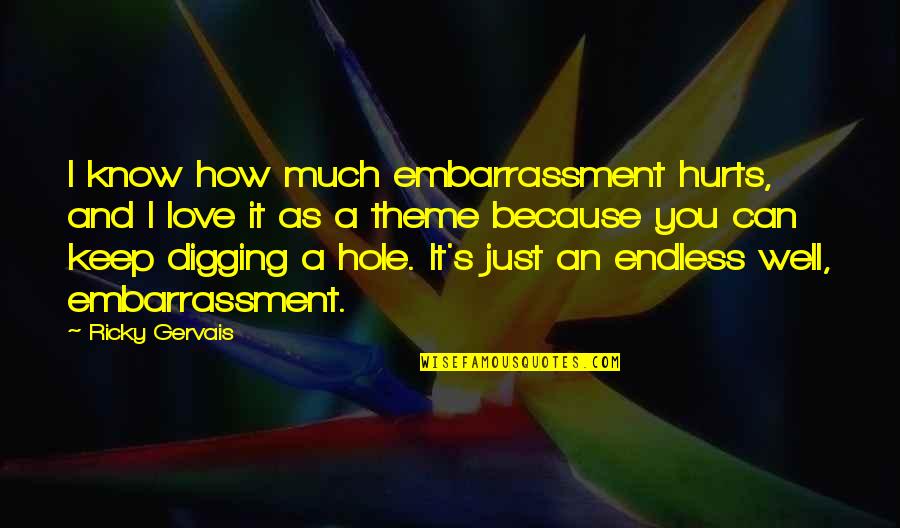 I know how much embarrassment hurts, and I love it as a theme because you can keep digging a hole. It's just an endless well, embarrassment. —
Ricky Gervais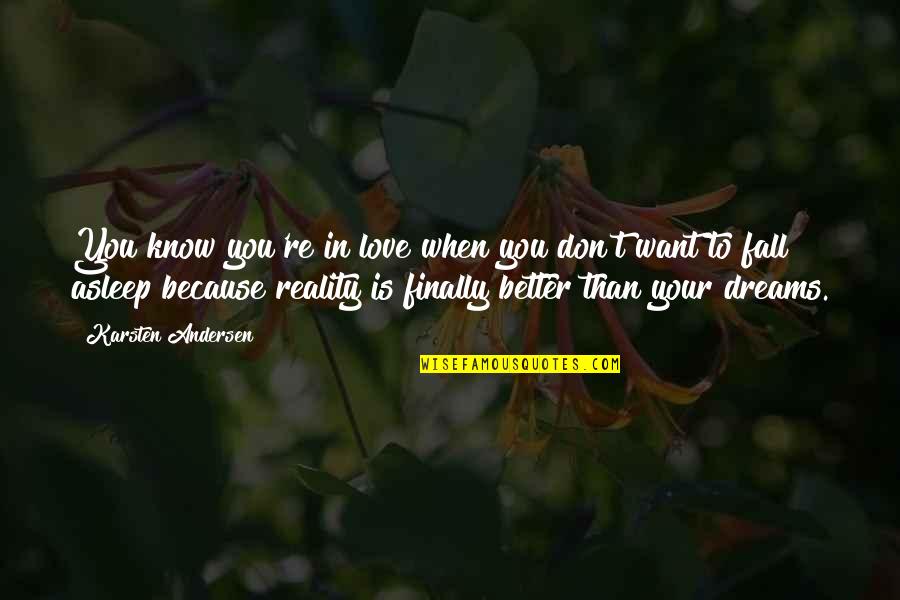 You know you're in love when you don't want to fall asleep because reality is finally better than your dreams. —
Karsten Andersen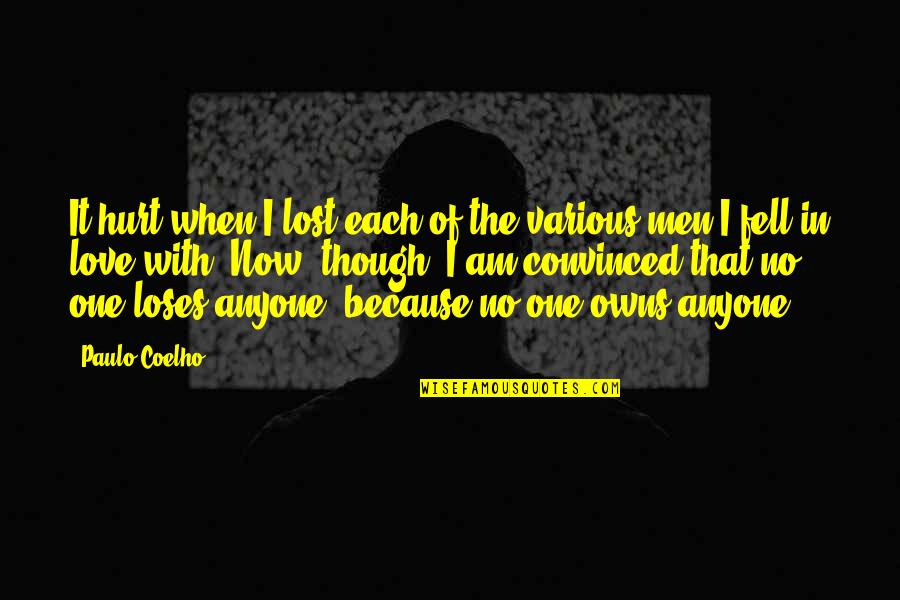 It hurt when I lost each of the various men I fell in love with. Now, though, I am convinced that no one loses anyone, because no one owns anyone. —
Paulo Coelho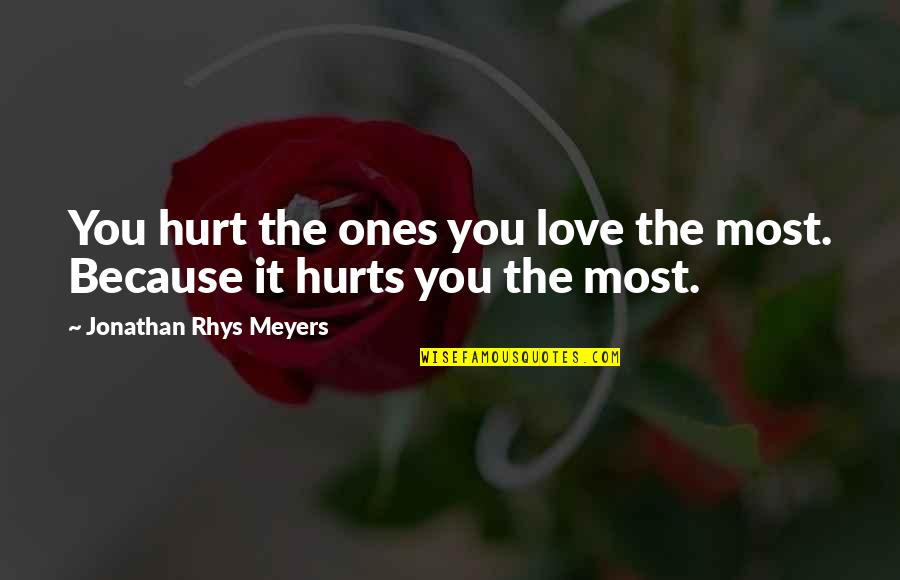 You hurt the ones you love the most. Because it hurts you the most. —
Jonathan Rhys Meyers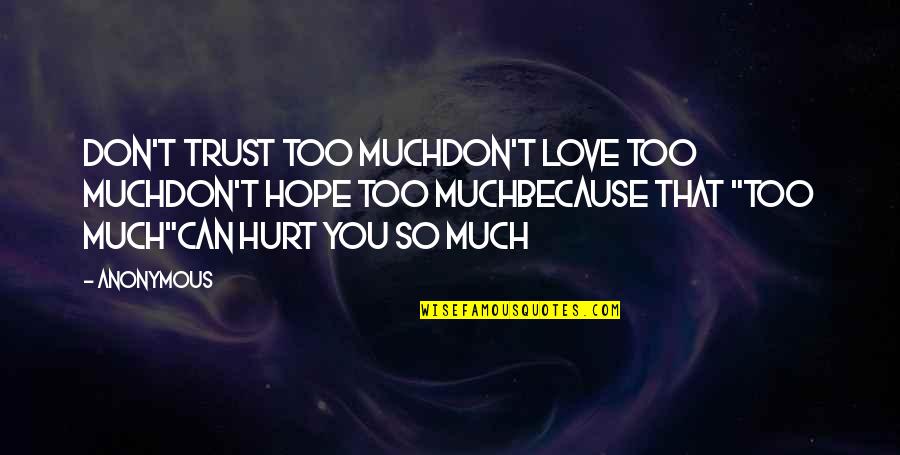 Don't trust too much
Don't love too much
Don't hope too much
Because that "too much"
can hurt you so much —
Anonymous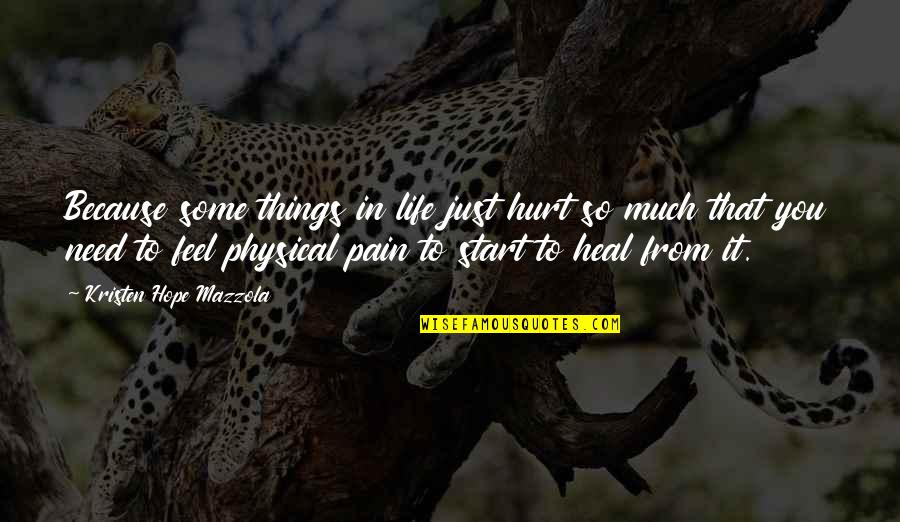 Because some things in life just hurt so much that you need to feel physical pain to start to heal from it. —
Kristen Hope Mazzola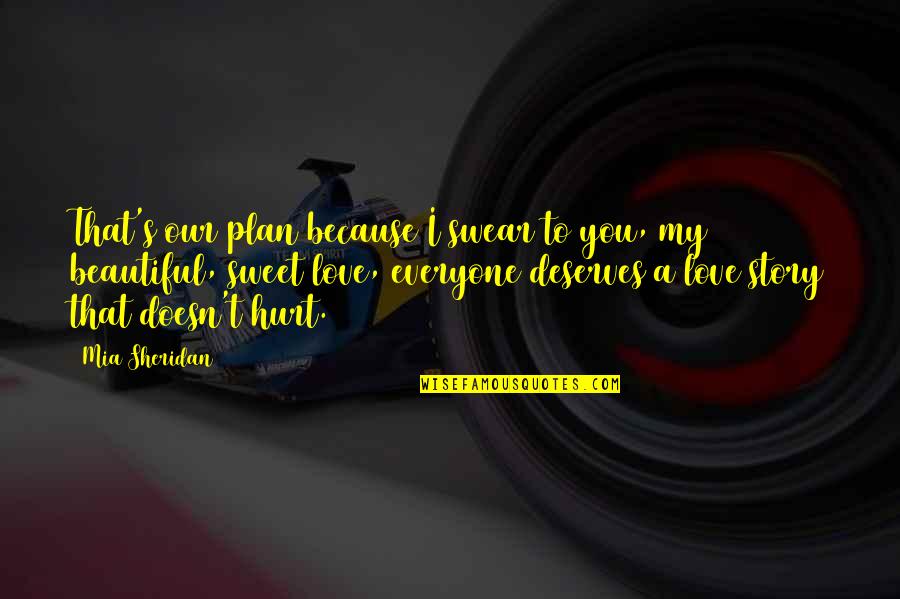 That's our plan because I swear to you, my beautiful, sweet love, everyone deserves a love story that doesn't hurt. —
Mia Sheridan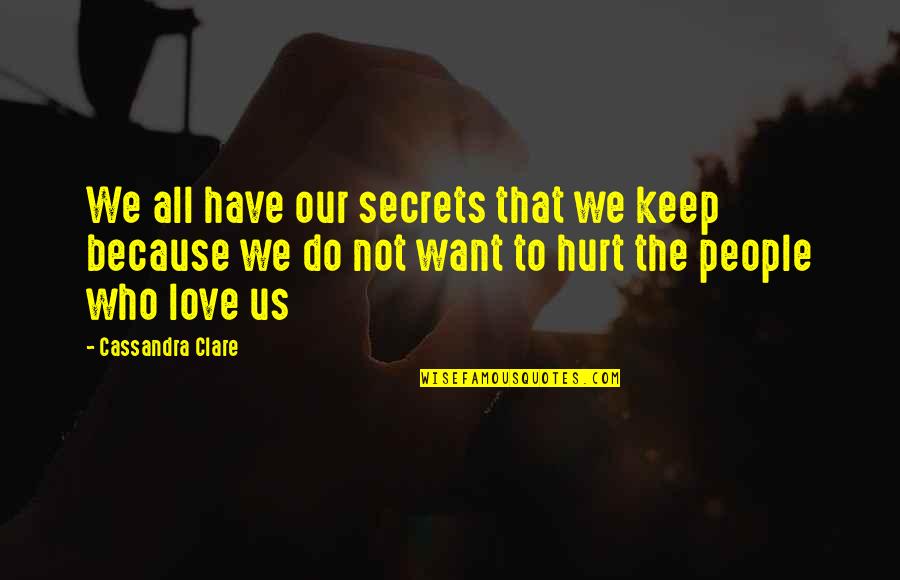 We all have our secrets that we keep because we do not want to hurt the people who love us —
Cassandra Clare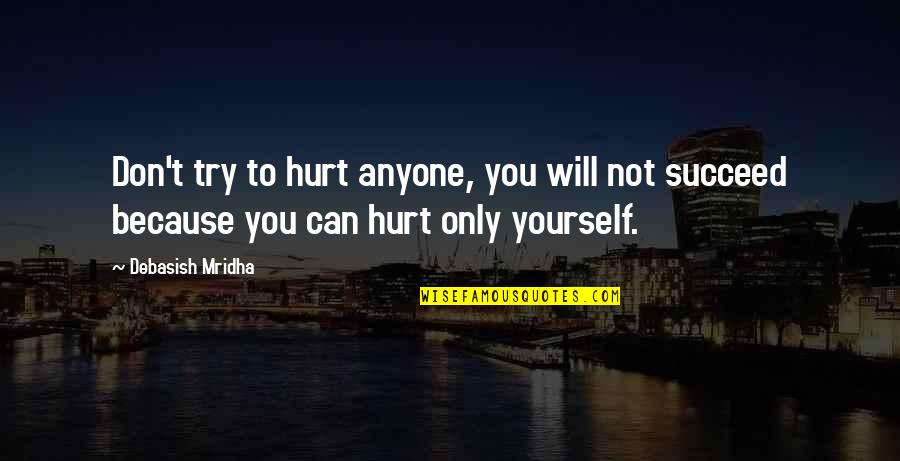 Don't try to hurt anyone, you will not succeed because you can hurt only yourself. —
Debasish Mridha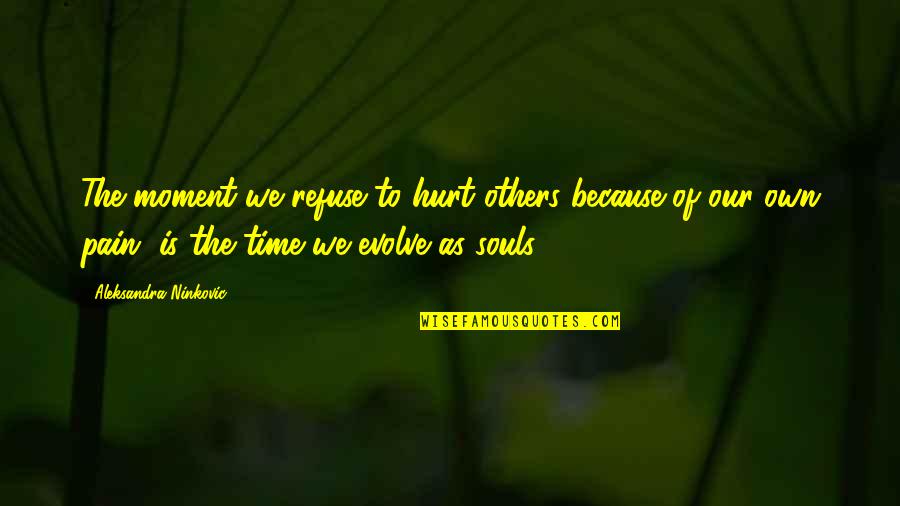 The moment we refuse to hurt others because of our own pain, is the time we evolve as souls. —
Aleksandra Ninkovic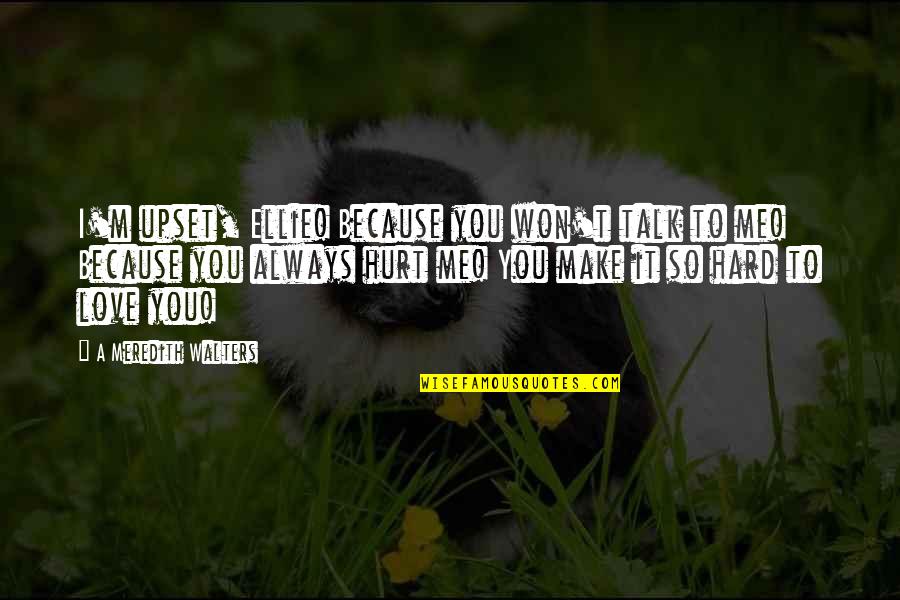 I'm upset, Ellie! Because you won't talk to me! Because you always hurt me! You make it so hard to love you! —
A Meredith Walters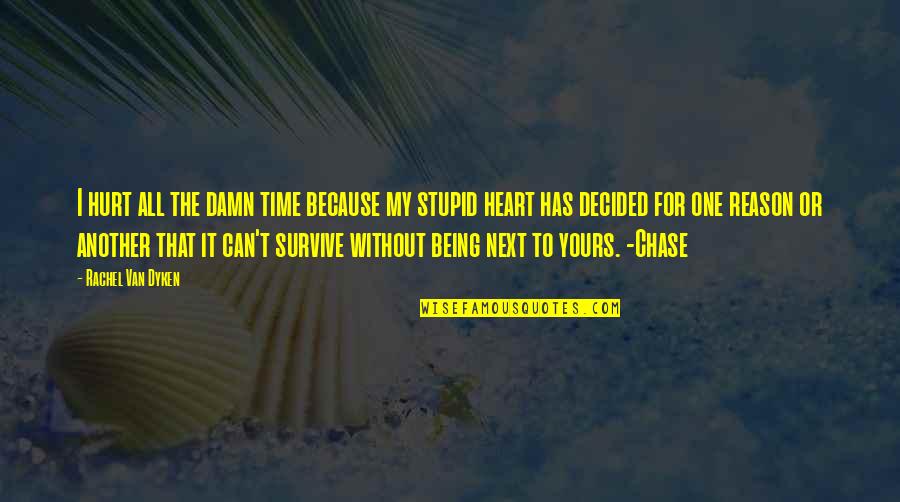 I hurt all the damn time because my stupid heart has decided for one reason or another that it can't survive without being next to yours. -Chase —
Rachel Van Dyken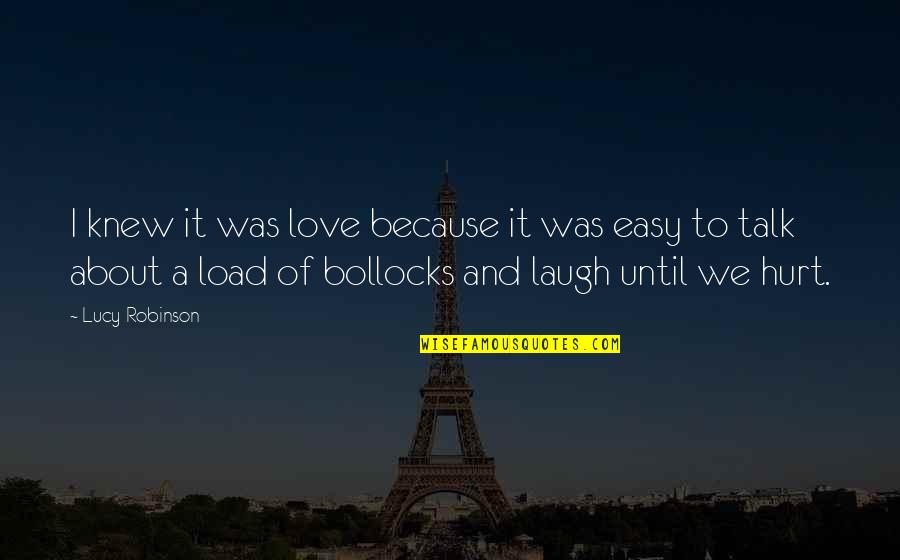 I knew it was love because it was easy to talk about a load of bollocks and laugh until we hurt. —
Lucy Robinson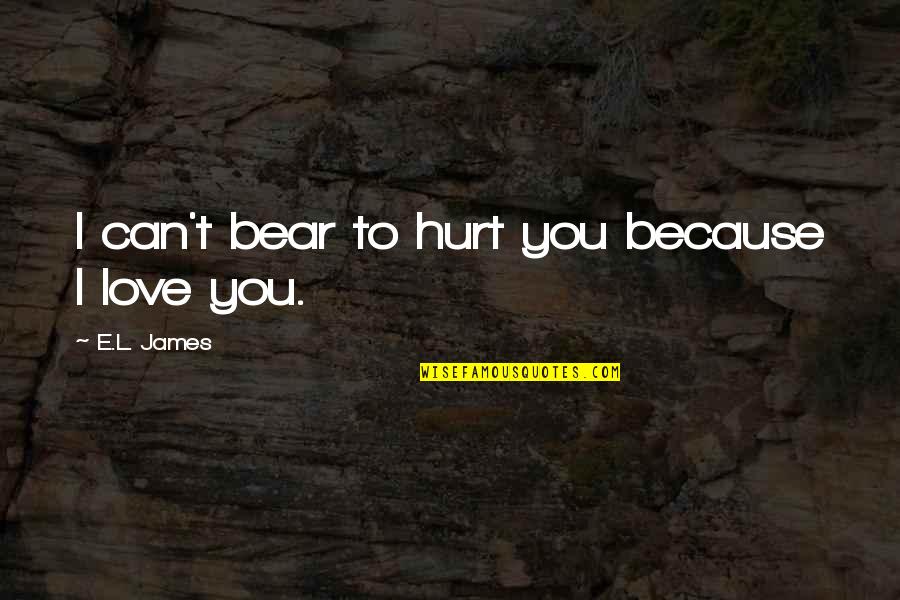 I can't bear to hurt you because I love you. —
E.L. James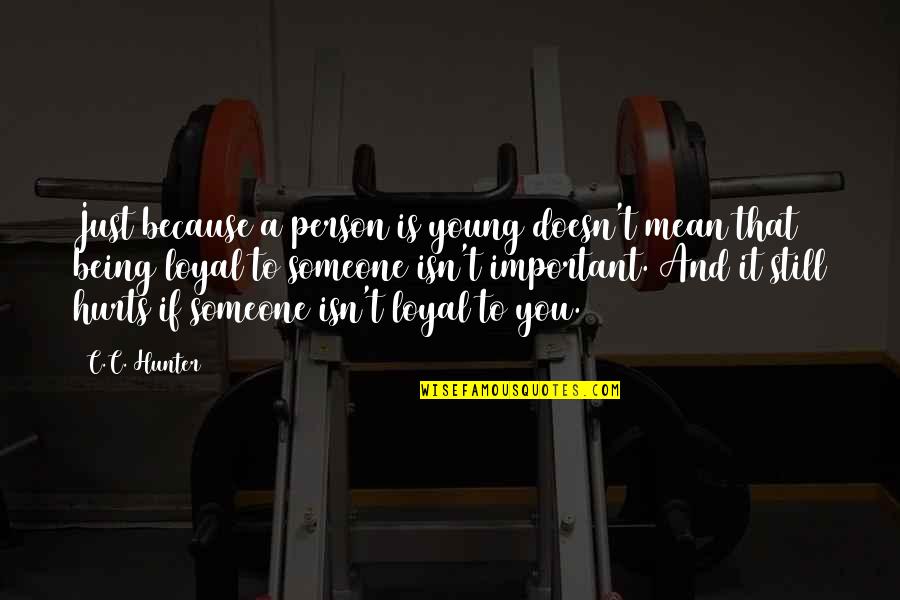 Just because a person is young doesn't mean that being loyal to someone isn't important. And it still hurts if someone isn't loyal to you. —
C.C. Hunter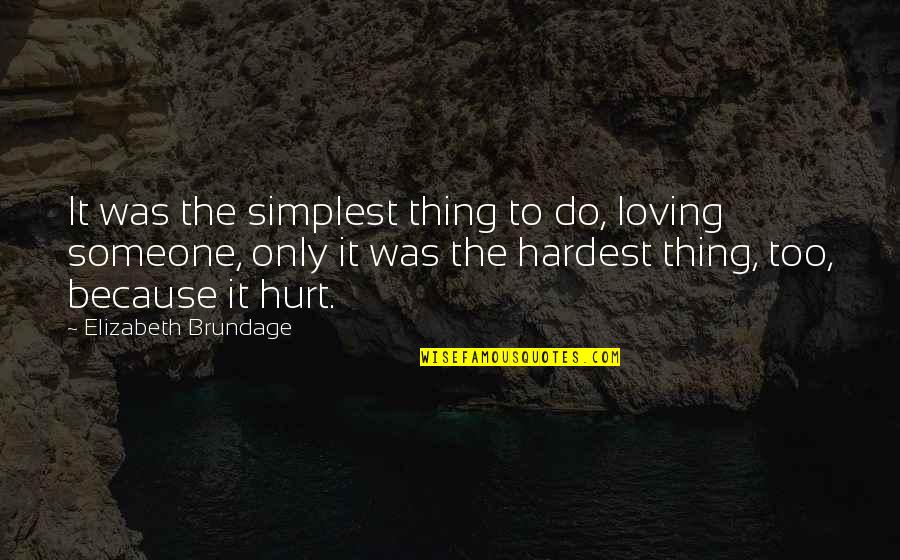 It was the simplest thing to do, loving someone, only it was the hardest thing, too, because it hurt. —
Elizabeth Brundage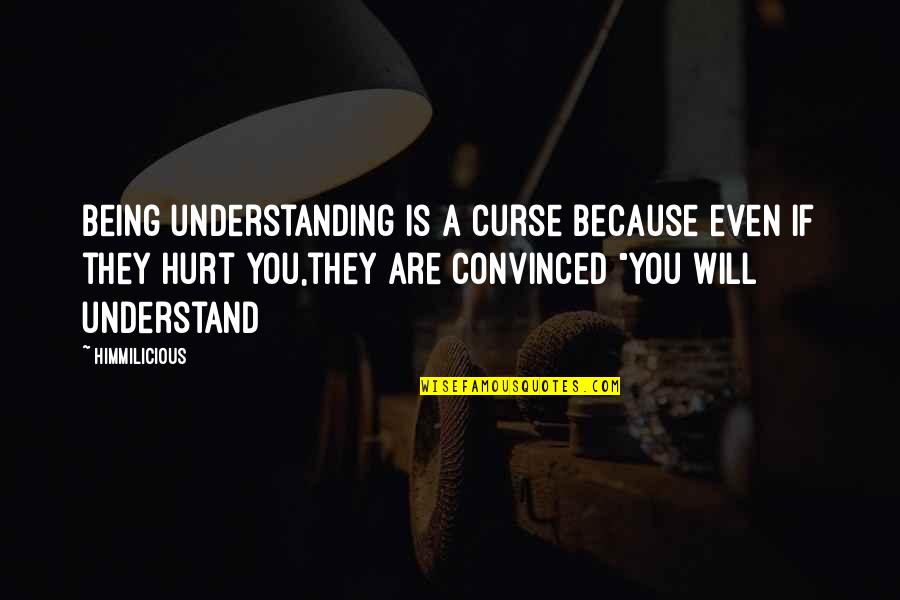 Being understanding is a curse because even if they hurt you,they are convinced "you will understand —
Himmilicious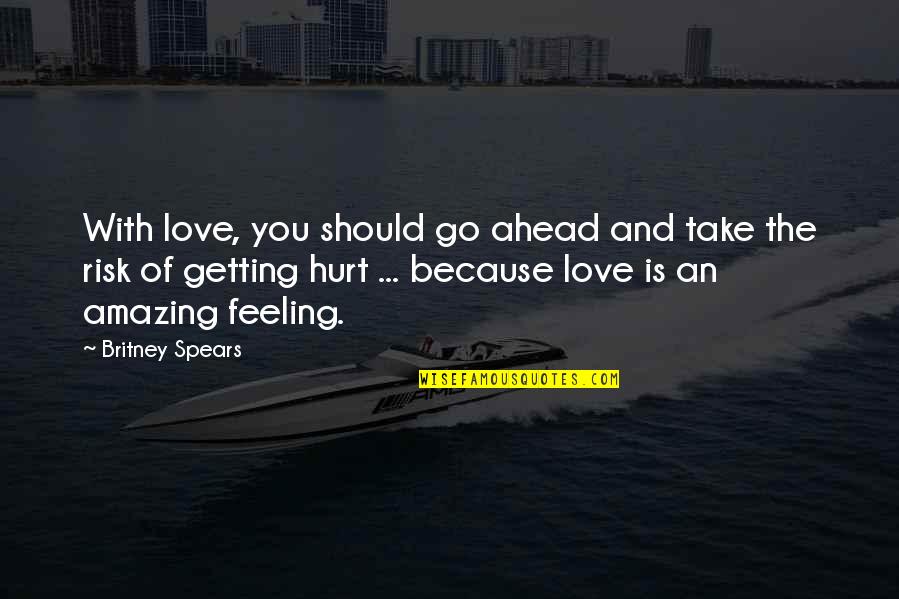 With love, you should go ahead and take the risk of getting hurt ... because love is an amazing feeling. —
Britney Spears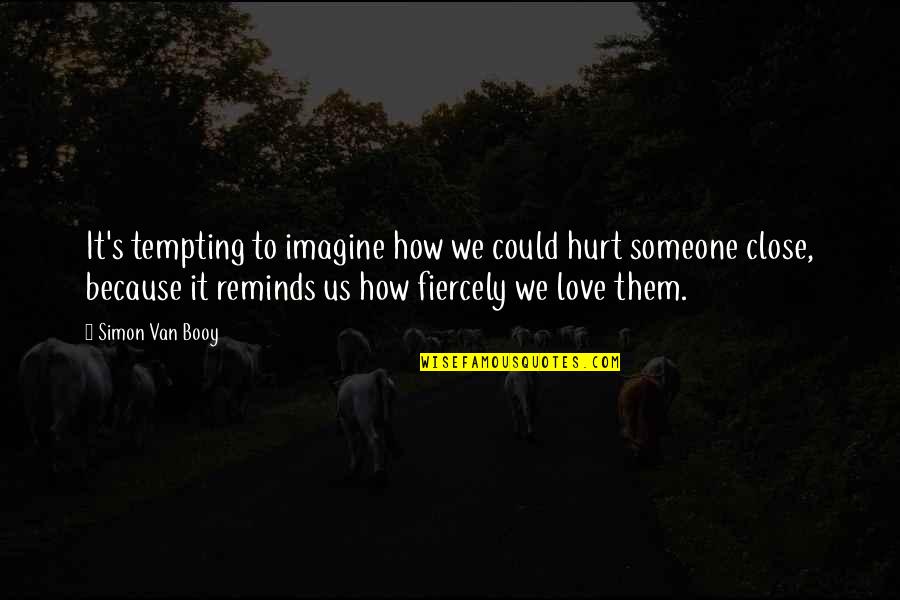 It's tempting to imagine how we could hurt someone close, because it reminds us how fiercely we love them. —
Simon Van Booy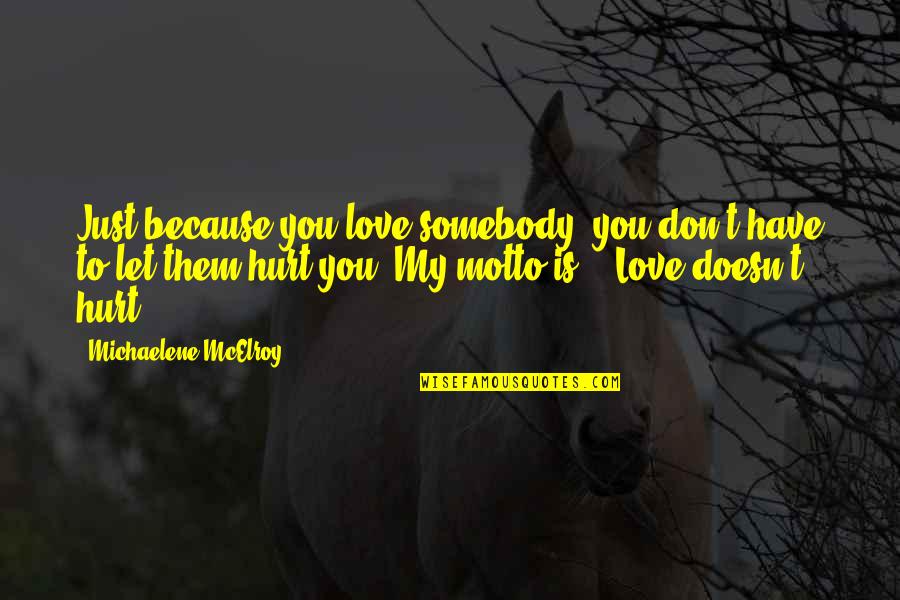 Just because you love somebody, you don't have to let them hurt you. My motto is -- Love doesn't hurt. —
Michaelene McElroy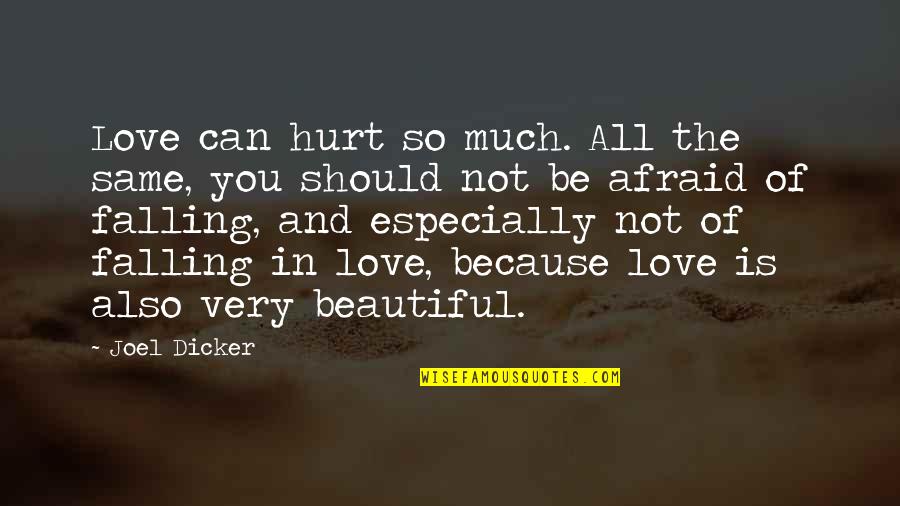 Love can hurt so much. All the same, you should not be afraid of falling, and especially not of falling in love, because love is also very beautiful. —
Joel Dicker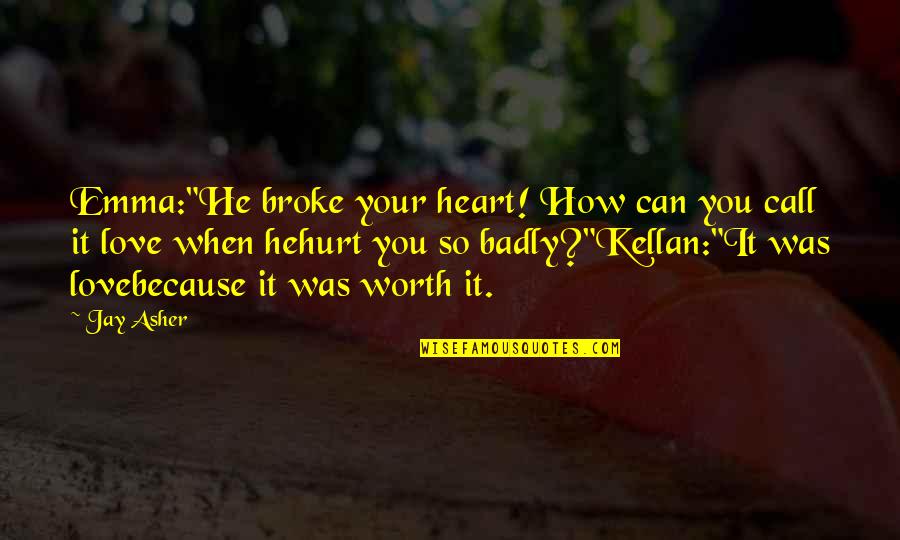 Emma:"He broke your heart! How can you call it love when he
hurt you so badly?"
Kellan:"It was love
because it was worth it. —
Jay Asher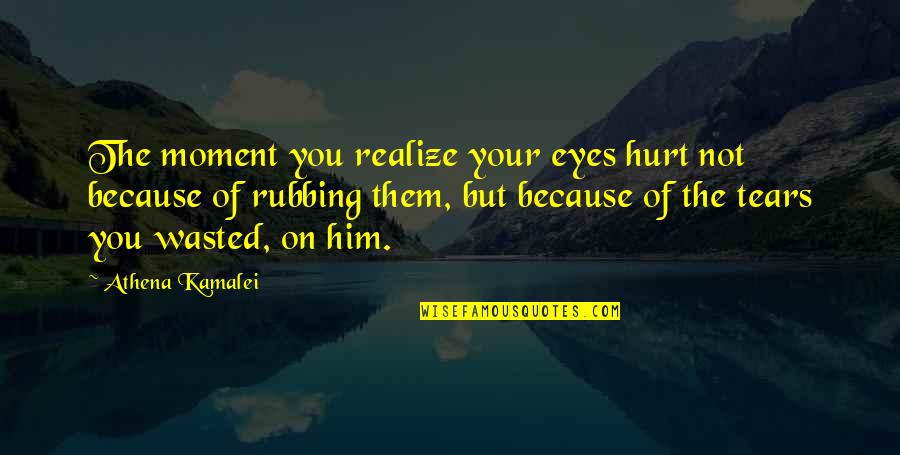 The moment you realize your eyes hurt not because of rubbing them, but because of the tears you wasted, on him. —
Athena Kamalei