Sacrifice For Work Quotes
Collection of top 55 famous quotes about Sacrifice For Work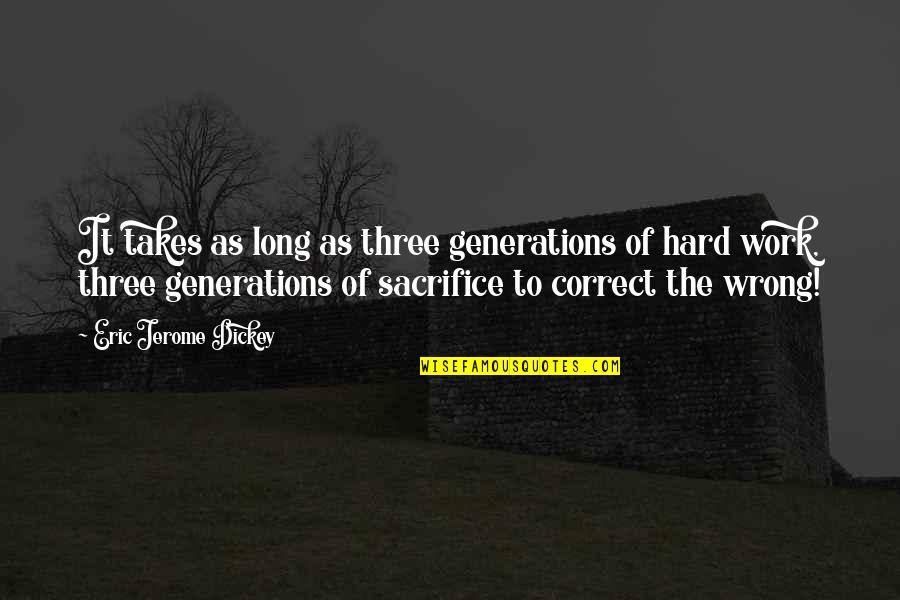 It takes as long as three generations of hard work, three generations of sacrifice to correct the wrong!
—
Eric Jerome Dickey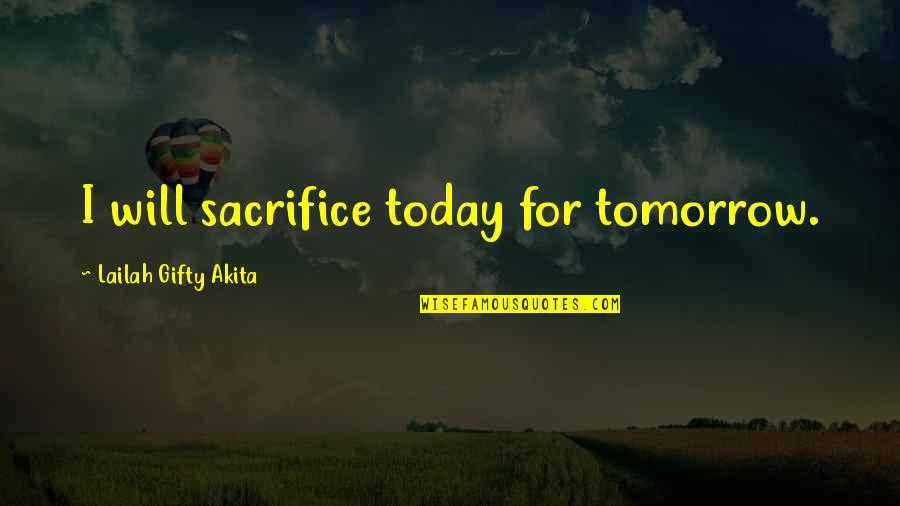 I will sacrifice today for tomorrow.
—
Lailah Gifty Akita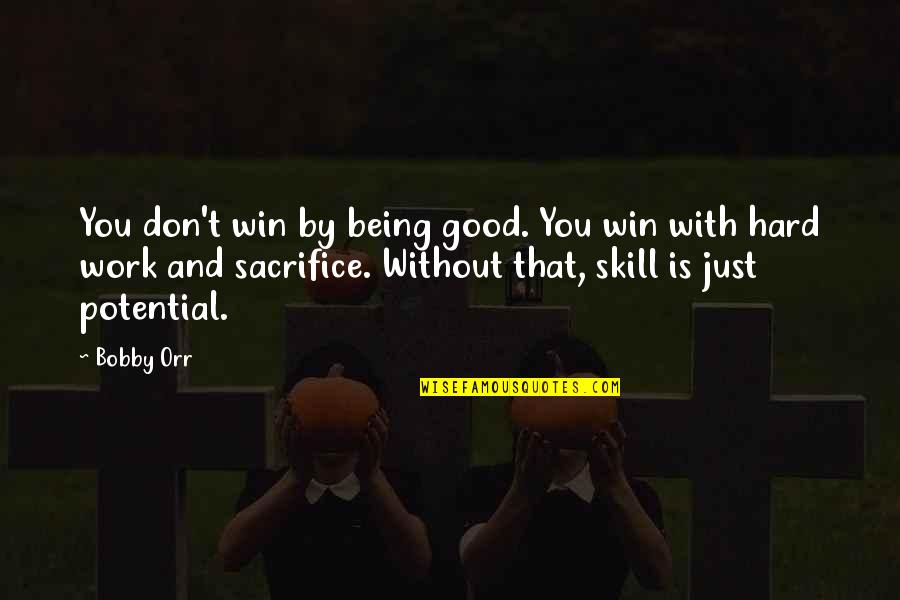 You don't win by being good. You win with hard work and sacrifice. Without that, skill is just potential.
—
Bobby Orr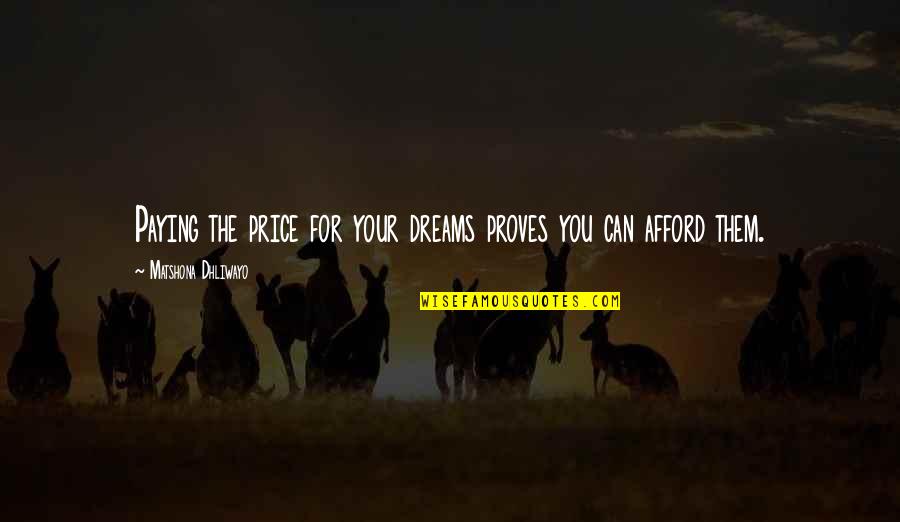 Paying the price for your dreams proves you can afford them.
—
Matshona Dhliwayo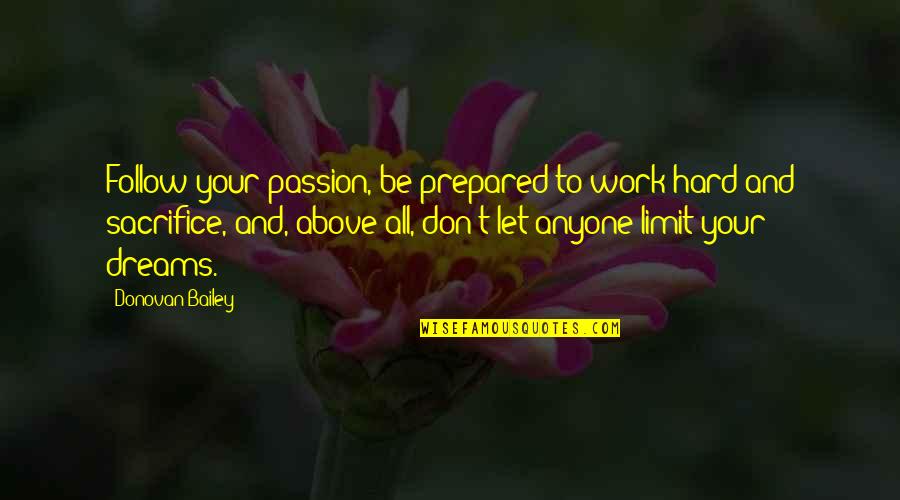 Follow your passion, be prepared to work hard and sacrifice, and, above all, don't let anyone limit your dreams.
—
Donovan Bailey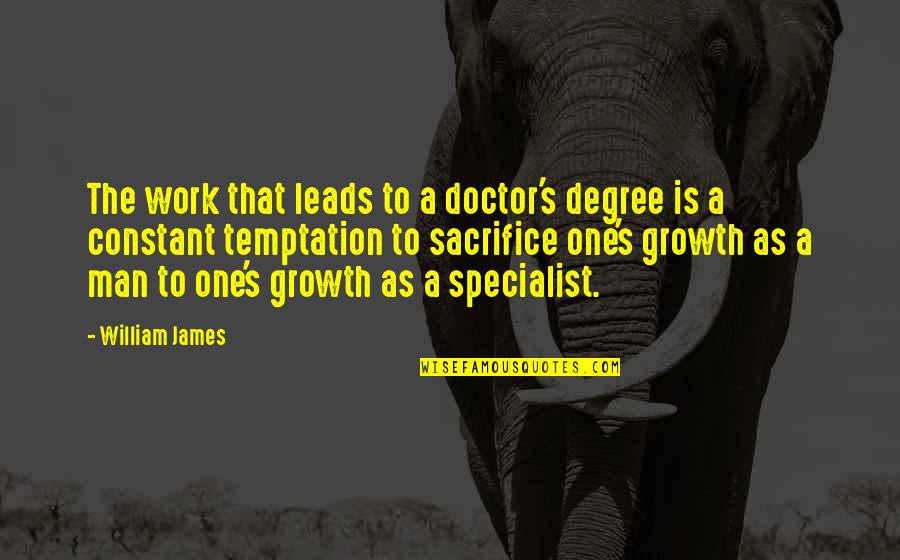 The work that leads to a doctor's degree is a constant temptation to sacrifice one's growth as a man to one's growth as a specialist.
—
William James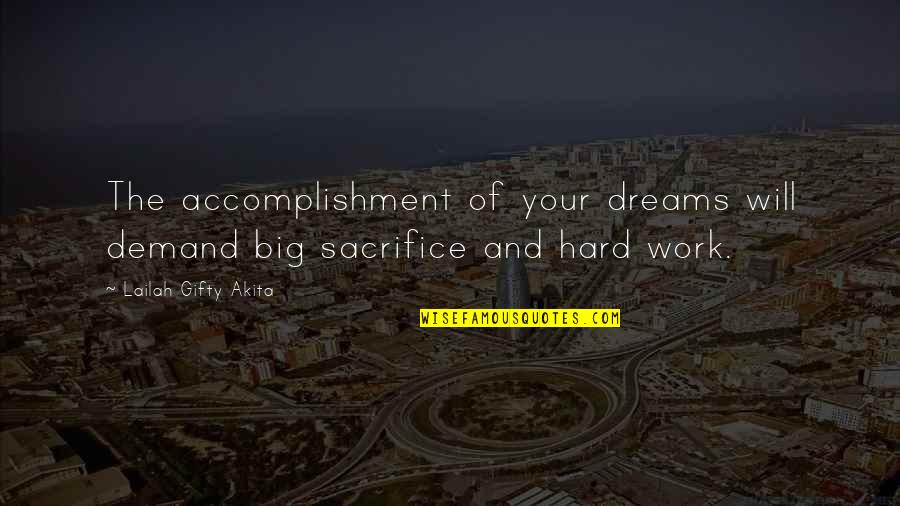 The accomplishment of your dreams will demand big sacrifice and hard work.
—
Lailah Gifty Akita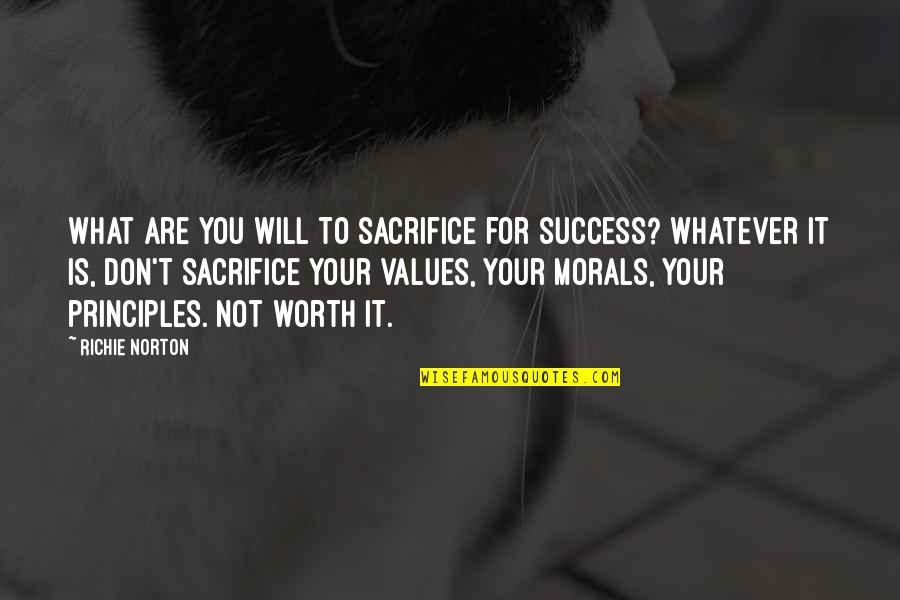 What are you will to sacrifice for success? Whatever it is, don't sacrifice your values, your morals, your principles. Not worth it.
—
Richie Norton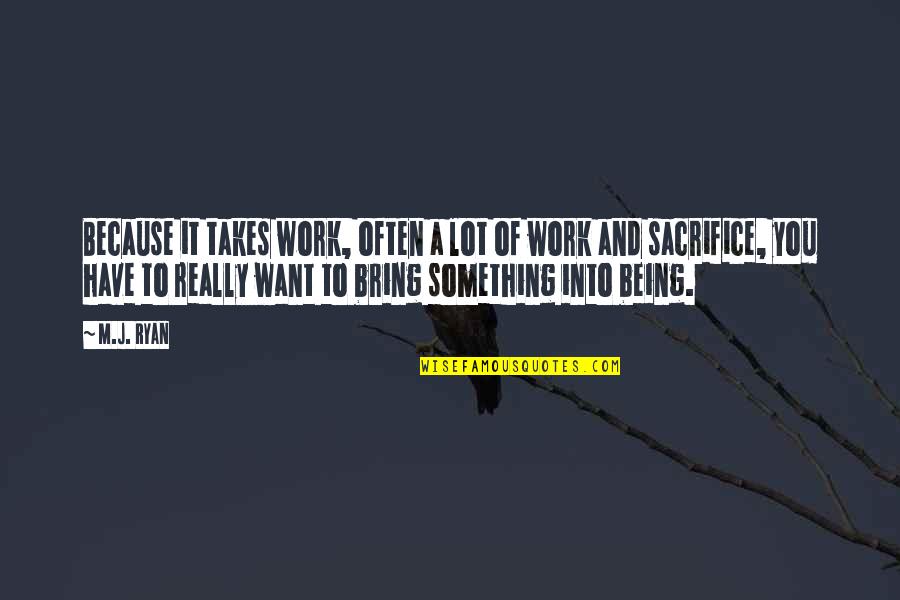 Because it takes work, often a lot of work and sacrifice, you have to really want to bring something into being.
—
M.J. Ryan
I thank my personal staff for their restless sacrifice for my work.
—
Oskar Schindler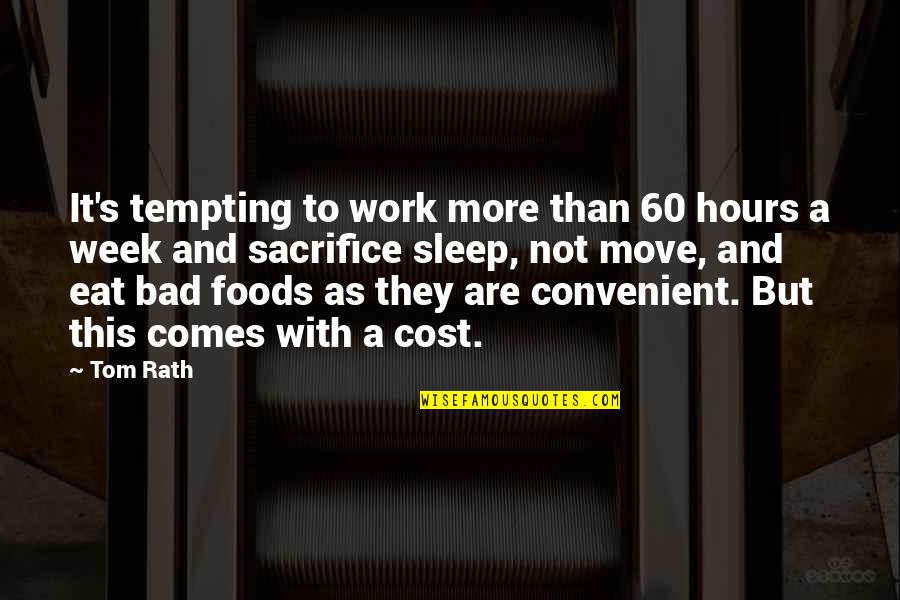 It's tempting to work more than 60 hours a week and sacrifice sleep, not move, and eat bad foods as they are convenient. But this comes with a cost.
—
Tom Rath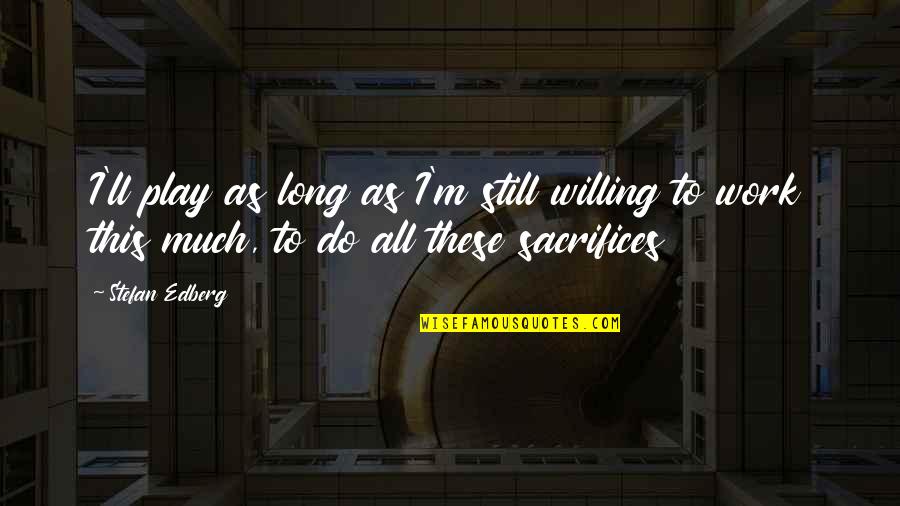 I'll play as long as I'm still willing to work this much, to do all these sacrifices
—
Stefan Edberg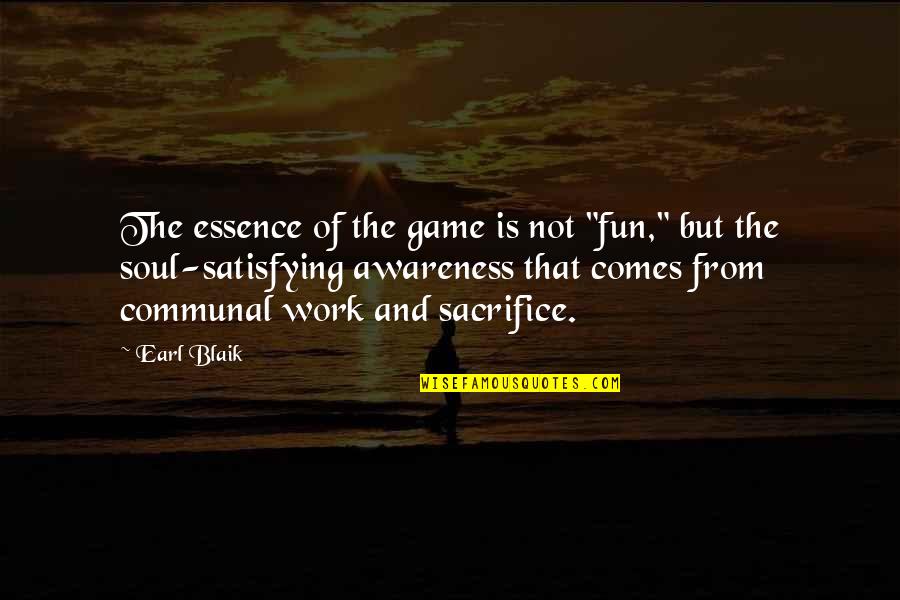 The essence of the game is not "fun," but the soul-satisfying awareness that comes from communal work and sacrifice.
—
Earl Blaik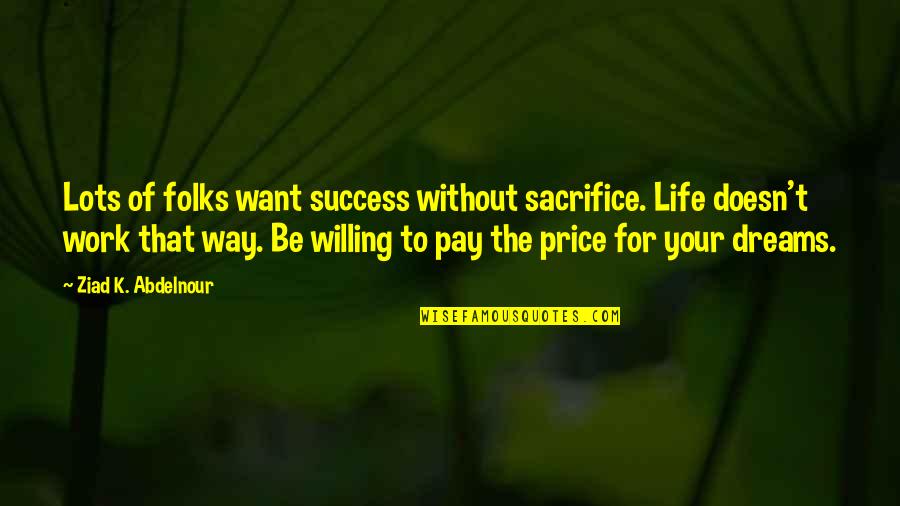 Lots of folks want success without sacrifice. Life doesn't work that way. Be willing to pay the price for your dreams. —
Ziad K. Abdelnour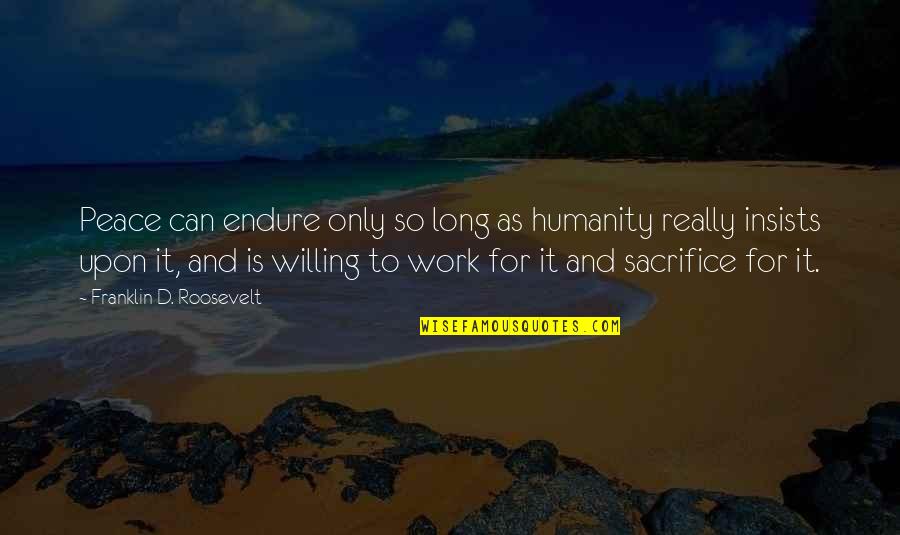 Peace can endure only so long as humanity really insists upon it, and is willing to work for it and sacrifice for it. —
Franklin D. Roosevelt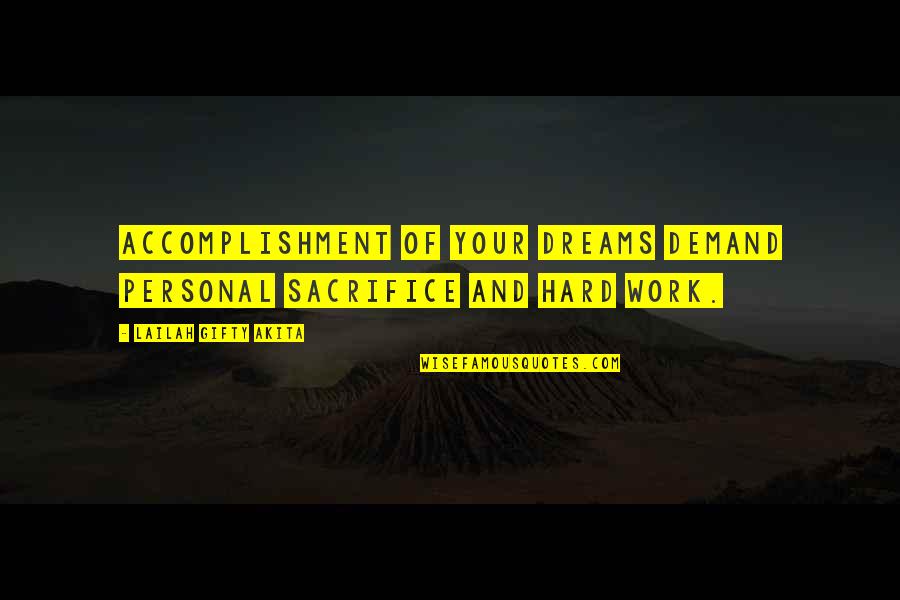 Accomplishment of your dreams demand personal sacrifice and hard work. —
Lailah Gifty Akita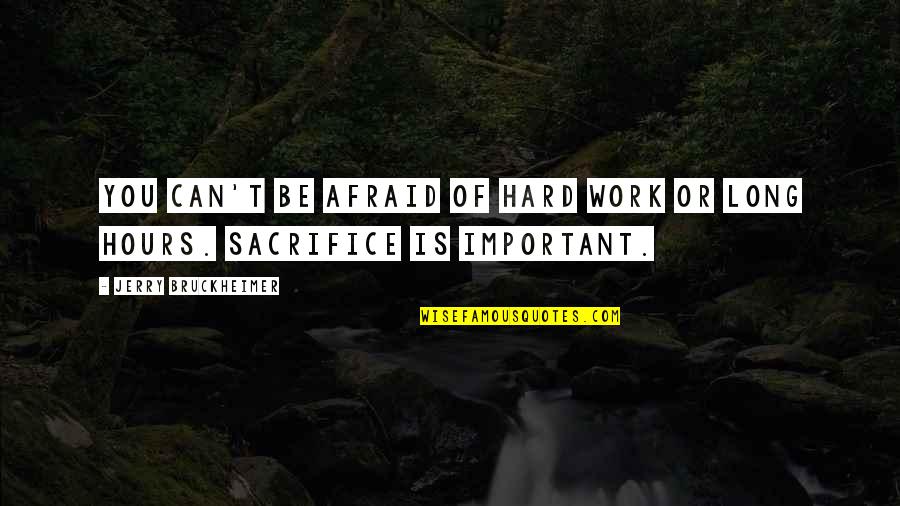 You can't be afraid of hard work or long hours. Sacrifice is important. —
Jerry Bruckheimer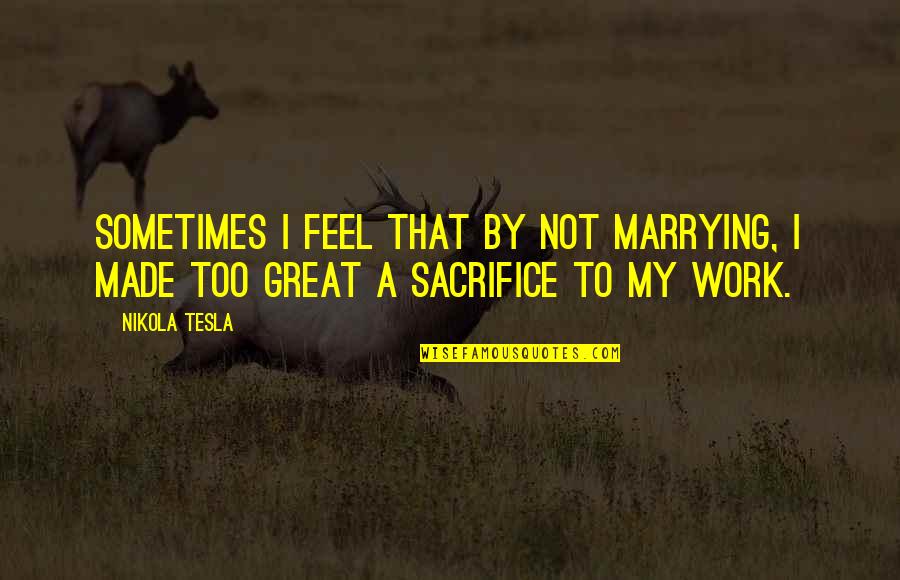 Sometimes I feel that by not marrying, I made too great a sacrifice to my work. —
Nikola Tesla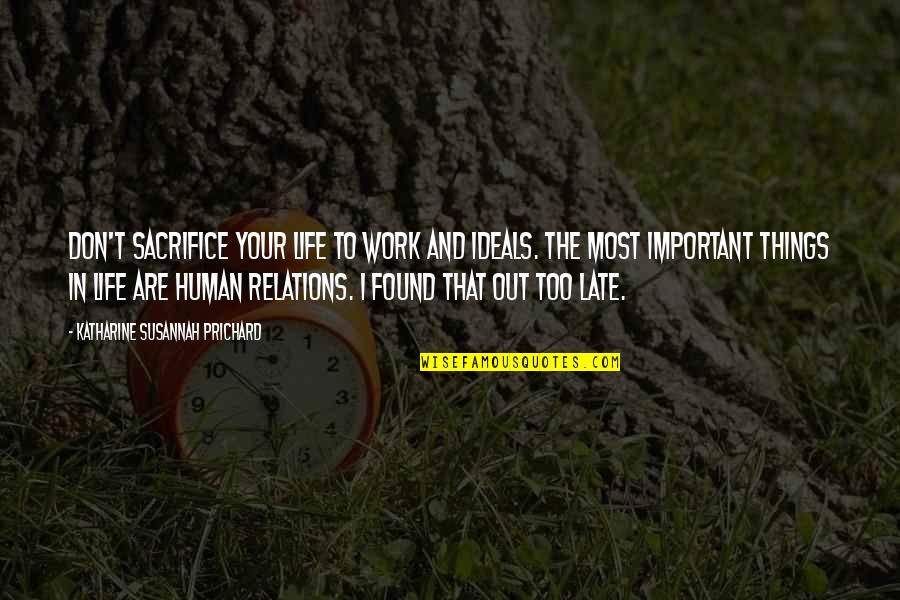 Don't sacrifice your life to work and ideals. The most important things in life are human relations. I found that out too late. —
Katharine Susannah Prichard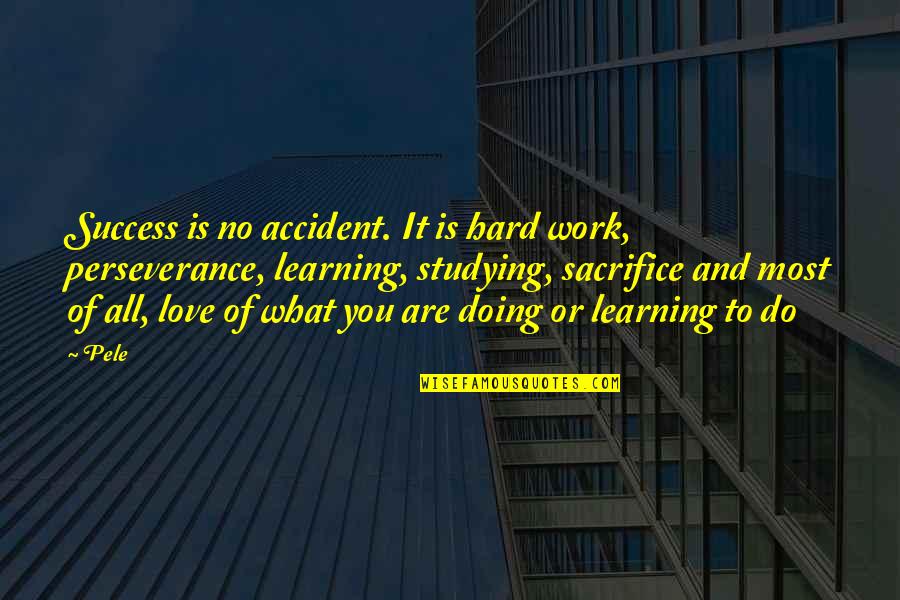 Success is no accident. It is hard work, perseverance, learning, studying, sacrifice and most of all, love of what you are doing or learning to do —
Pele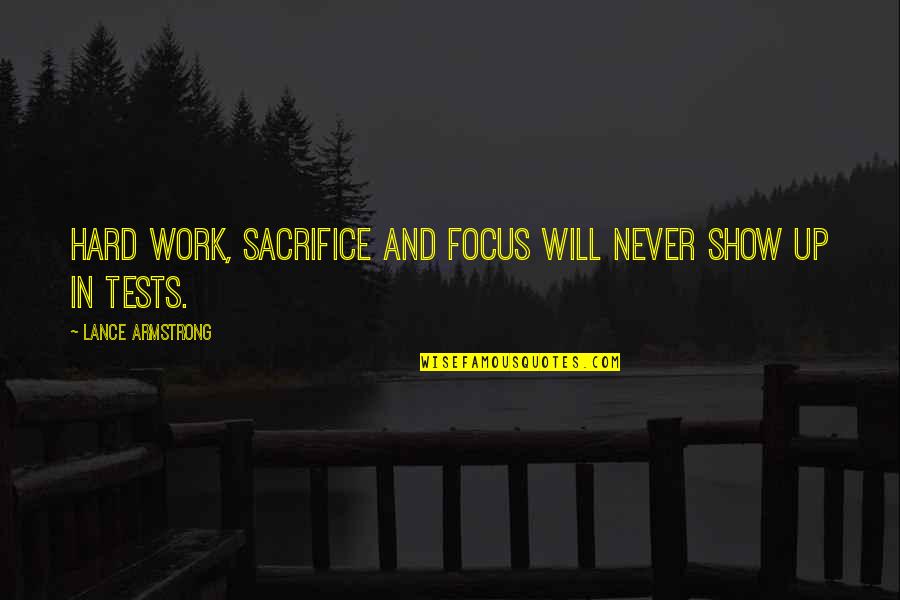 Hard work, sacrifice and focus will never show up in tests. —
Lance Armstrong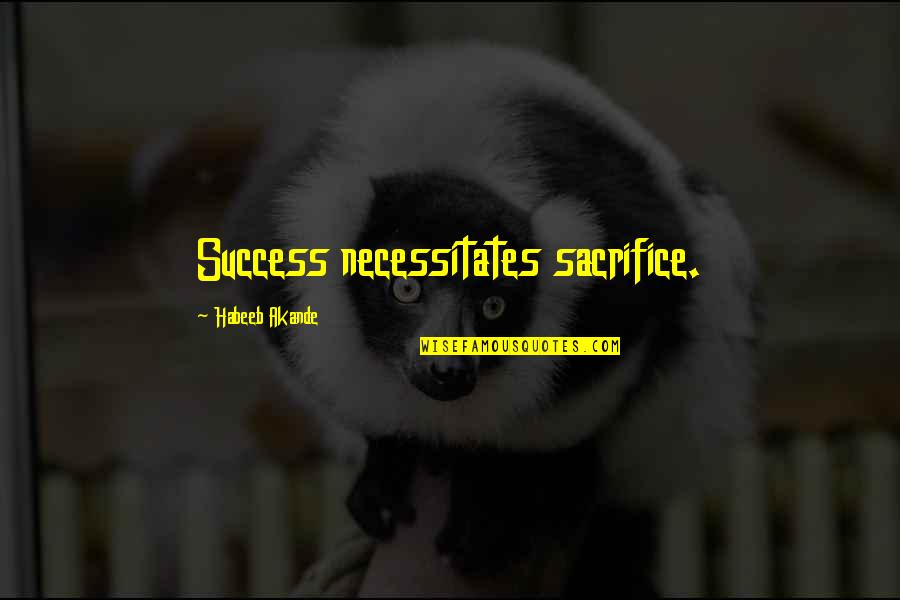 Success necessitates sacrifice. —
Habeeb Akande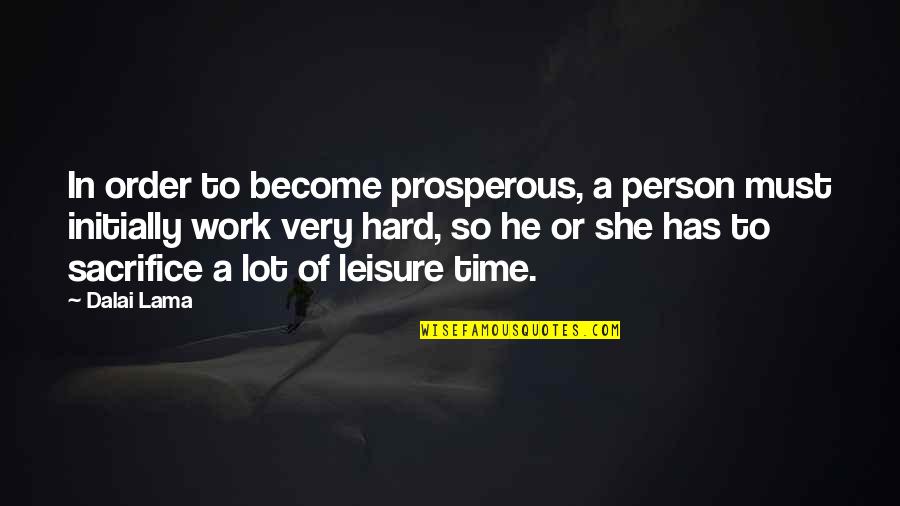 In order to become prosperous, a person must initially work very hard, so he or she has to sacrifice a lot of leisure time. —
Dalai Lama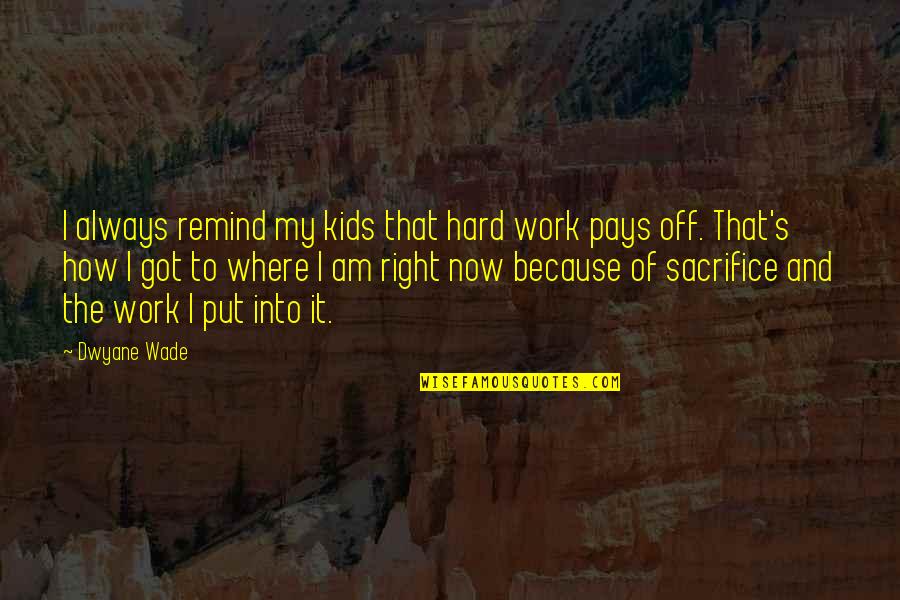 I always remind my kids that hard work pays off. That's how I got to where I am right now because of sacrifice and the work I put into it. —
Dwyane Wade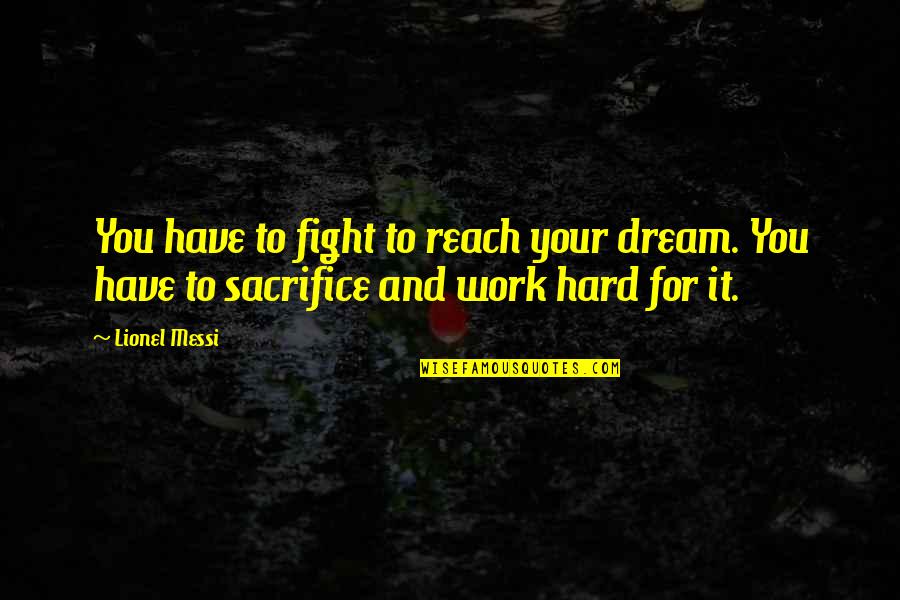 You have to fight to reach your dream. You have to sacrifice and work hard for it. —
Lionel Messi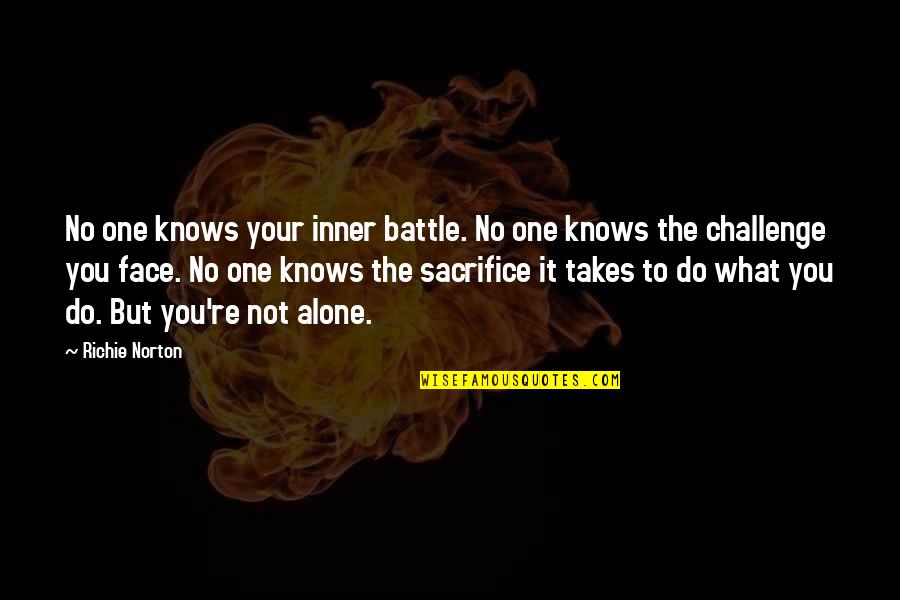 No one knows your inner battle. No one knows the challenge you face. No one knows the sacrifice it takes to do what you do. But you're not alone. —
Richie Norton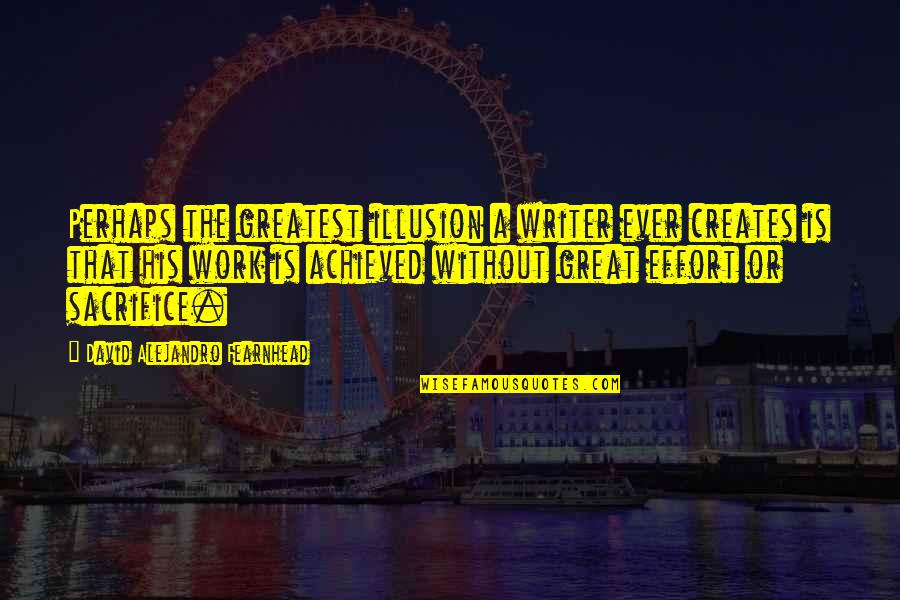 Perhaps the greatest illusion a writer ever creates is that his work is achieved without great effort or sacrifice. —
David Alejandro Fearnhead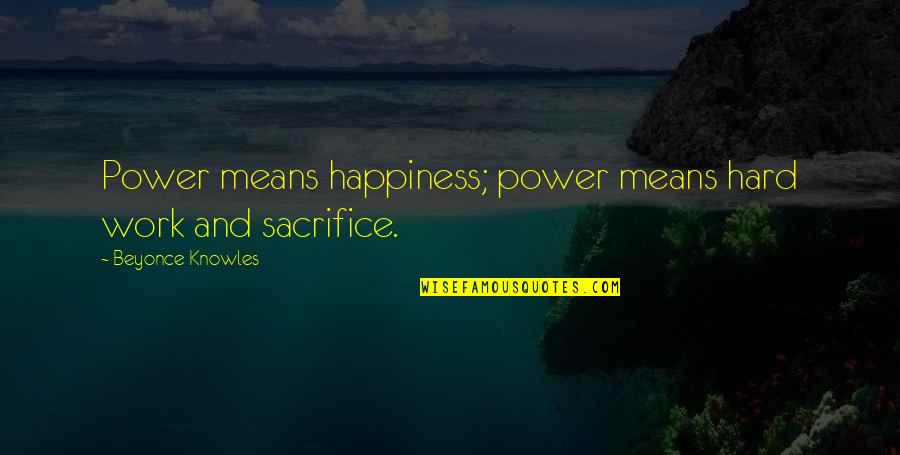 Power means happiness; power means hard work and sacrifice. —
Beyonce Knowles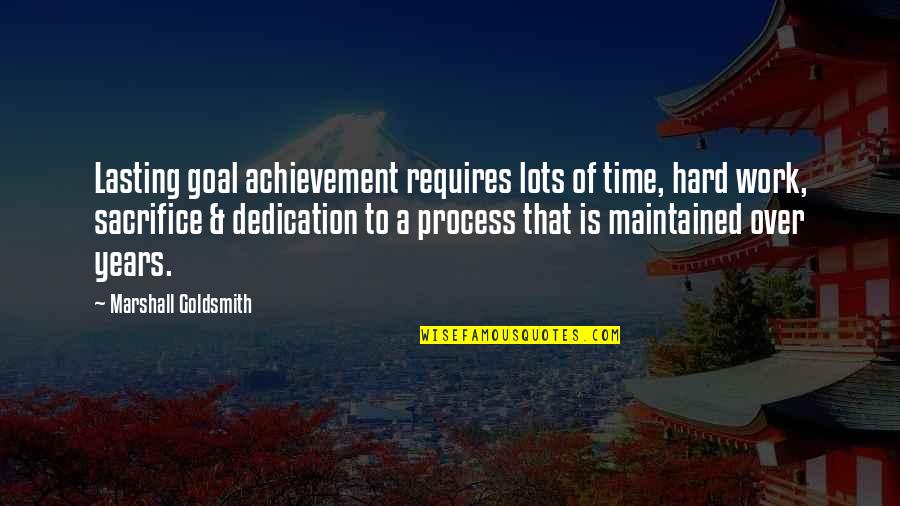 Lasting goal achievement requires lots of time, hard work, sacrifice & dedication to a process that is maintained over years. —
Marshall Goldsmith
Your father ... doesn't work late for you to pinch his dinner. —
Susan Cooper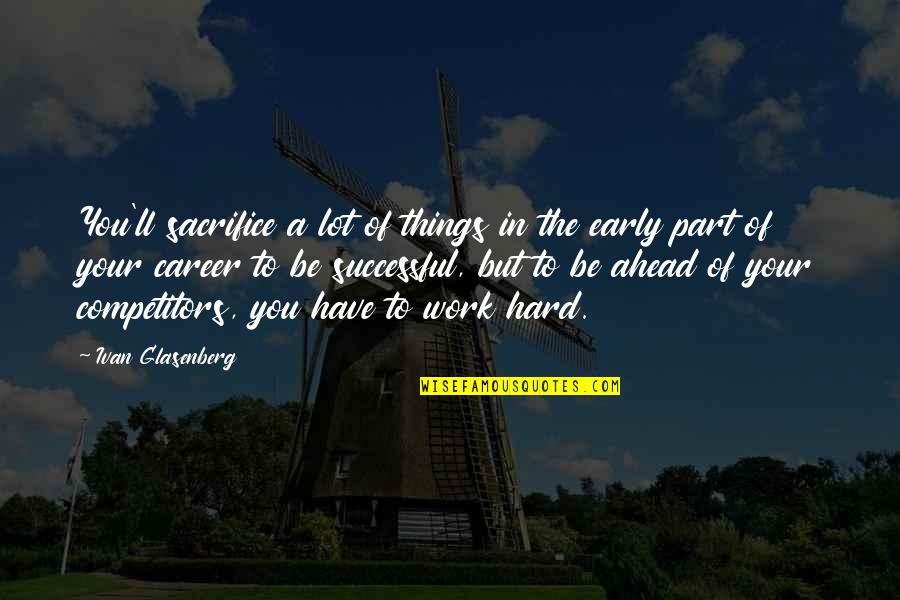 You'll sacrifice a lot of things in the early part of your career to be successful, but to be ahead of your competitors, you have to work hard. —
Ivan Glasenberg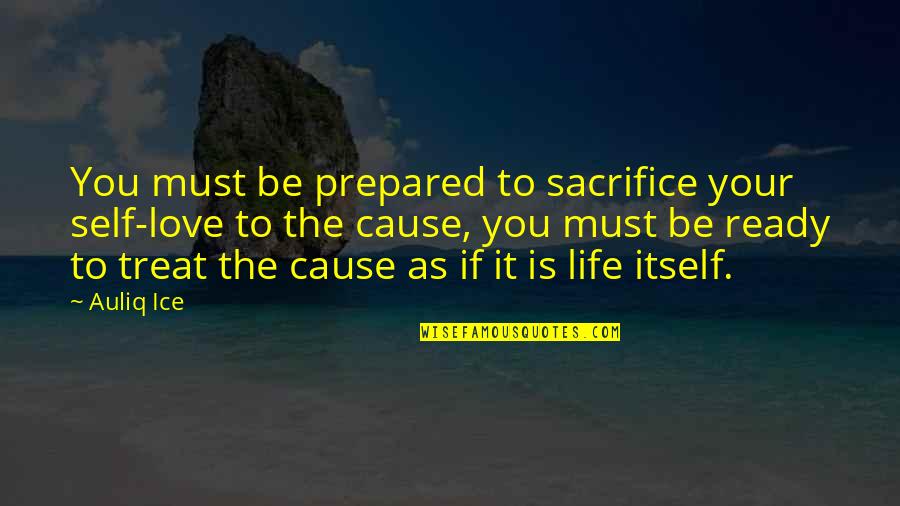 You must be prepared to sacrifice your self-love to the cause, you must be ready to treat the cause as if it is life itself. —
Auliq Ice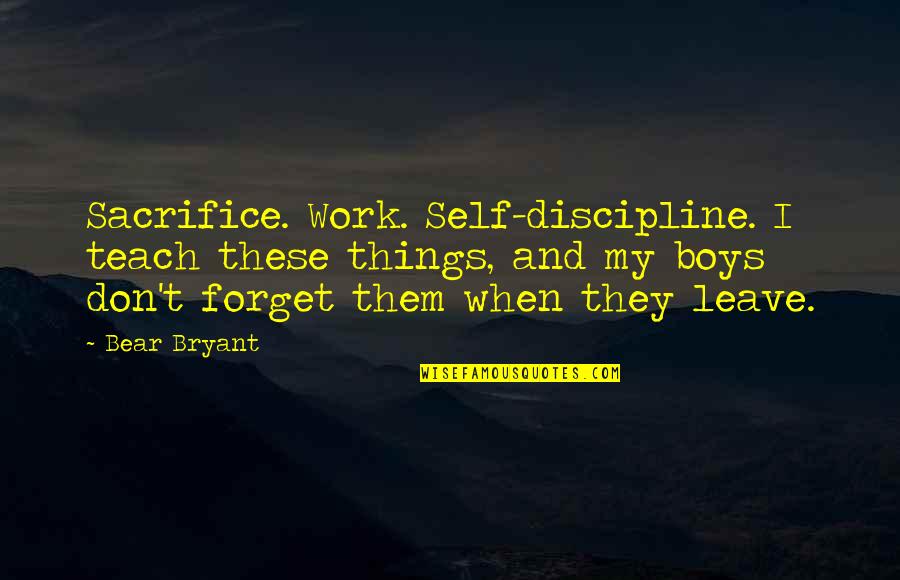 Sacrifice. Work. Self-discipline. I teach these things, and my boys don't forget them when they leave. —
Bear Bryant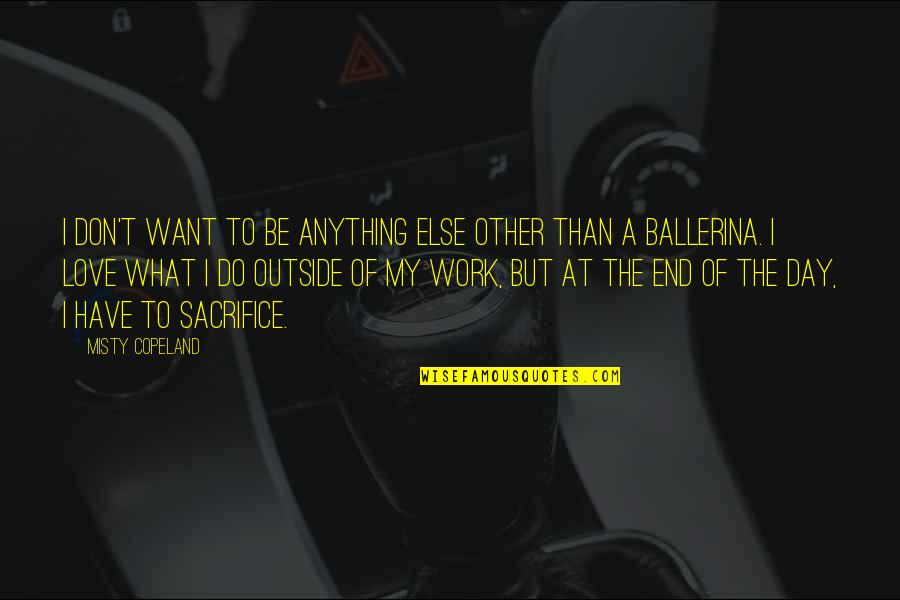 I don't want to be anything else other than a ballerina. I love what I do outside of my work, but at the end of the day, I have to sacrifice. —
Misty Copeland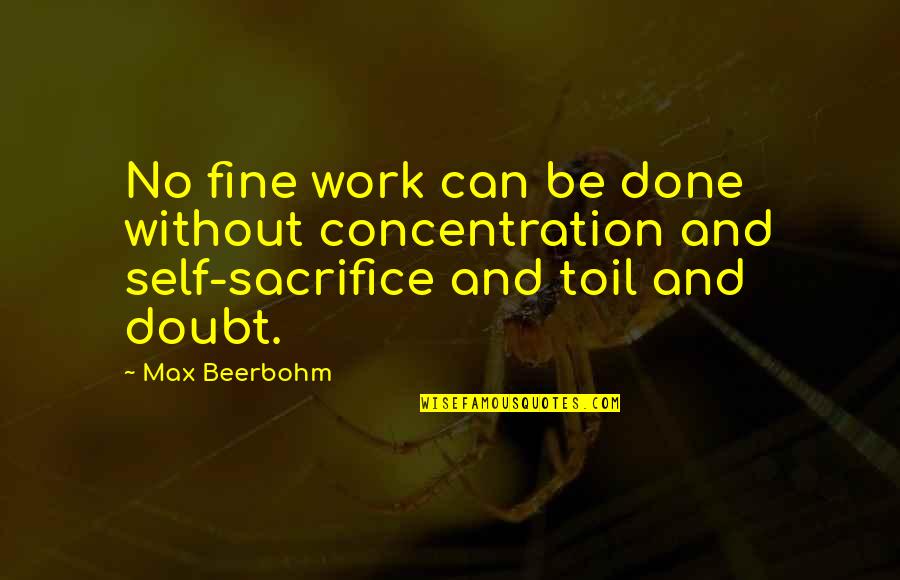 No fine work can be done without concentration and self-sacrifice and toil and doubt. —
Max Beerbohm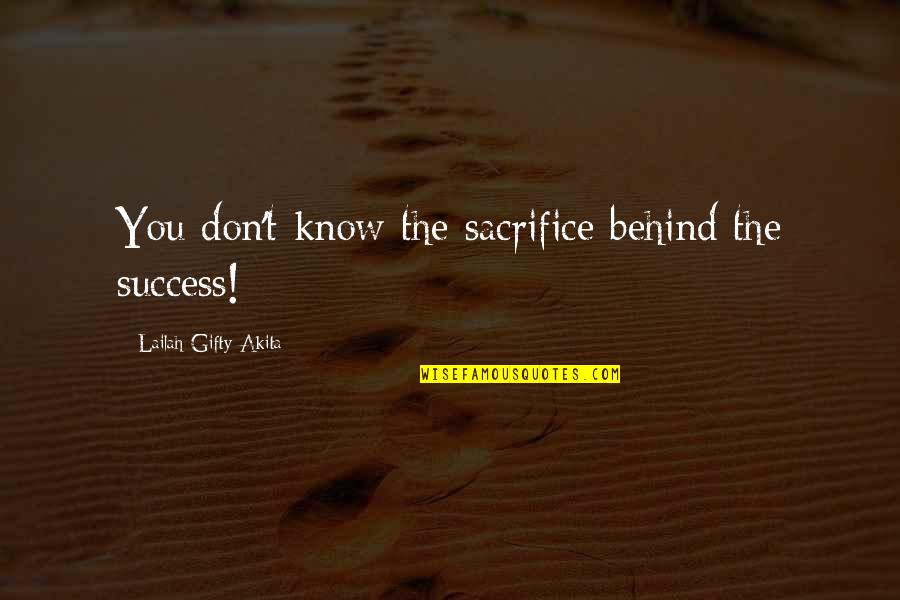 You don't know the sacrifice behind the success! —
Lailah Gifty Akita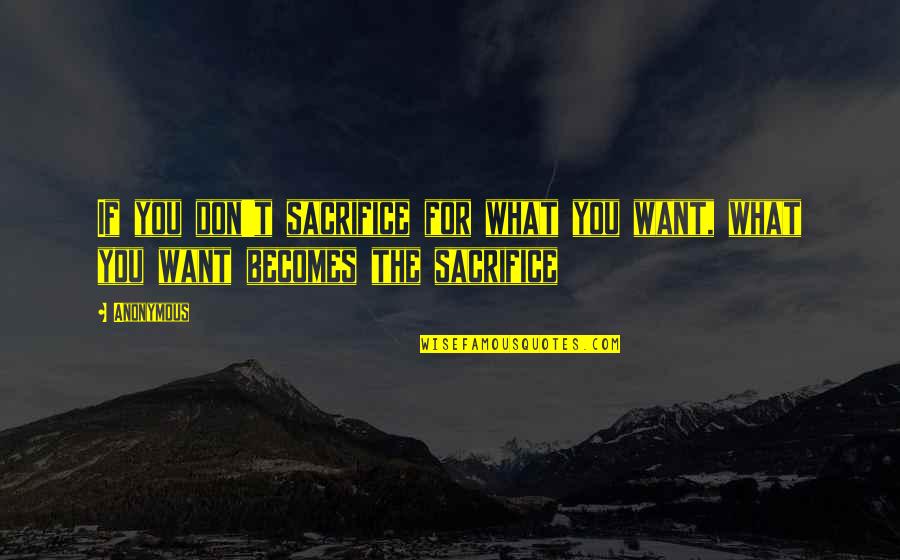 If you don't sacrifice for what you want, what you want becomes the sacrifice —
Anonymous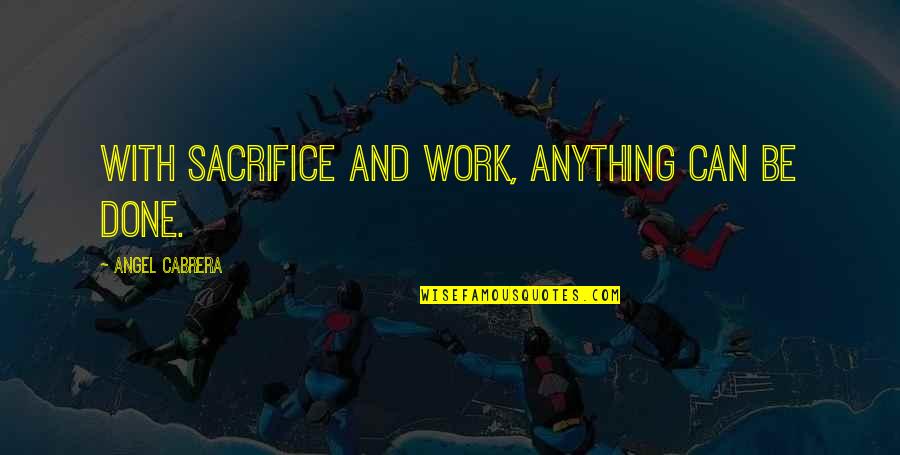 With sacrifice and work, anything can be done. —
Angel Cabrera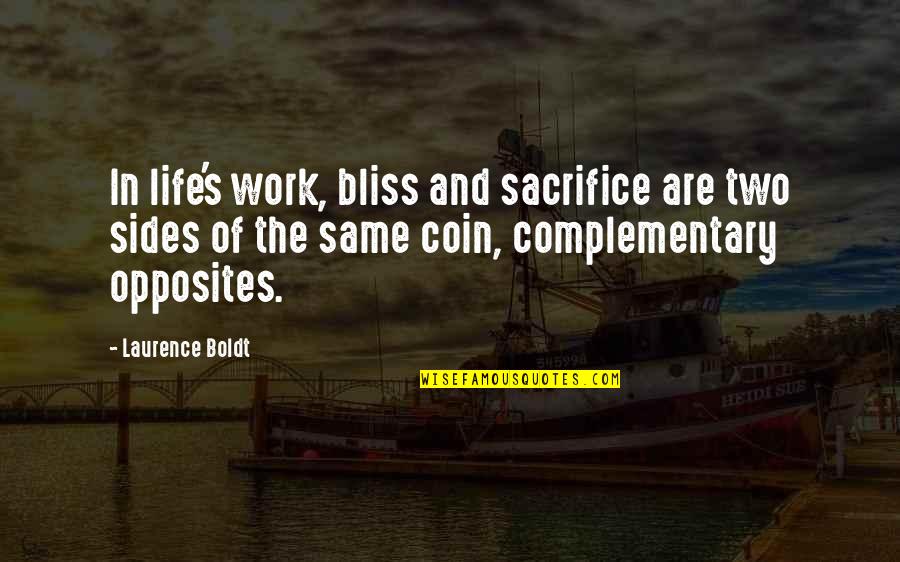 In life's work, bliss and sacrifice are two sides of the same coin, complementary opposites. —
Laurence Boldt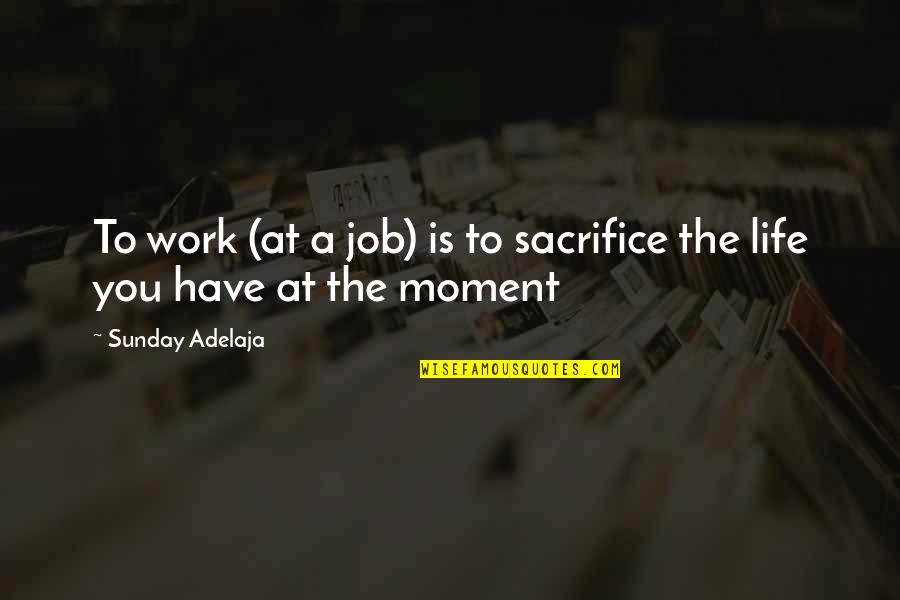 To work (at a job) is to sacrifice the life you have at the moment —
Sunday Adelaja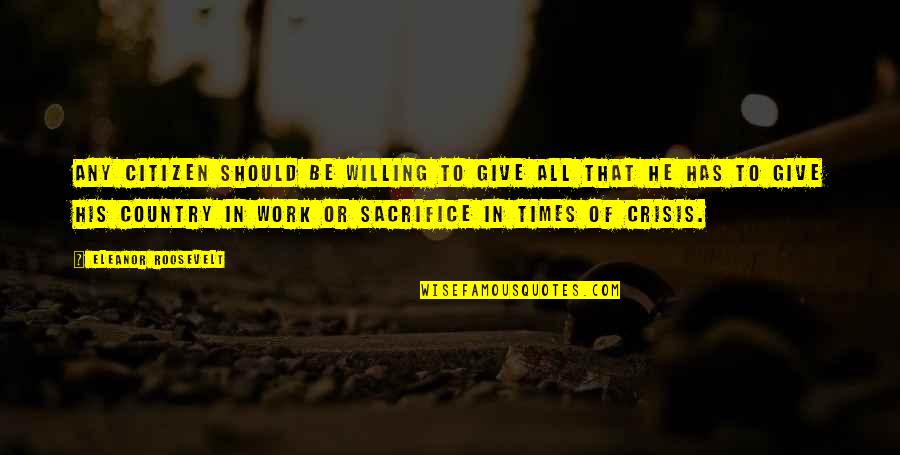 Any citizen should be willing to give all that he has to give his country in work or sacrifice in times of crisis. —
Eleanor Roosevelt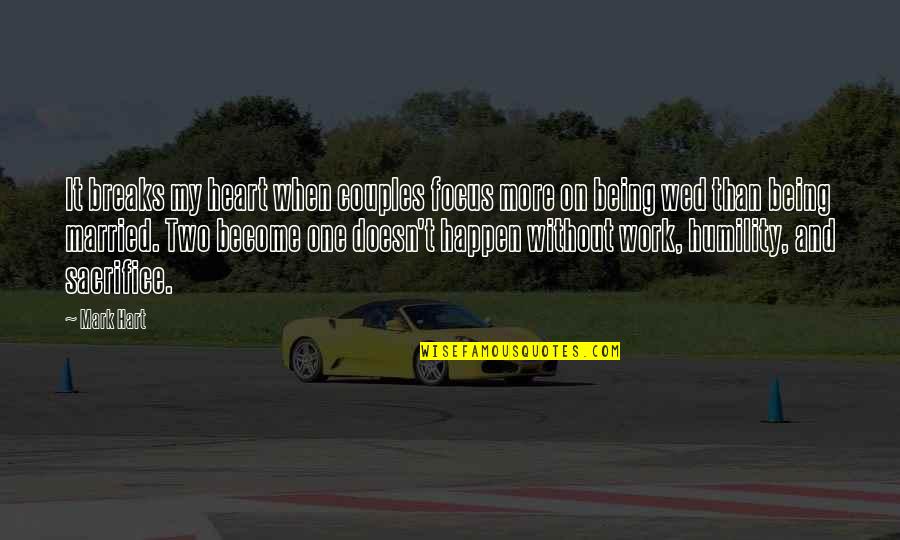 It breaks my heart when couples focus more on being wed than being married. Two become one doesn't happen without work, humility, and sacrifice. —
Mark Hart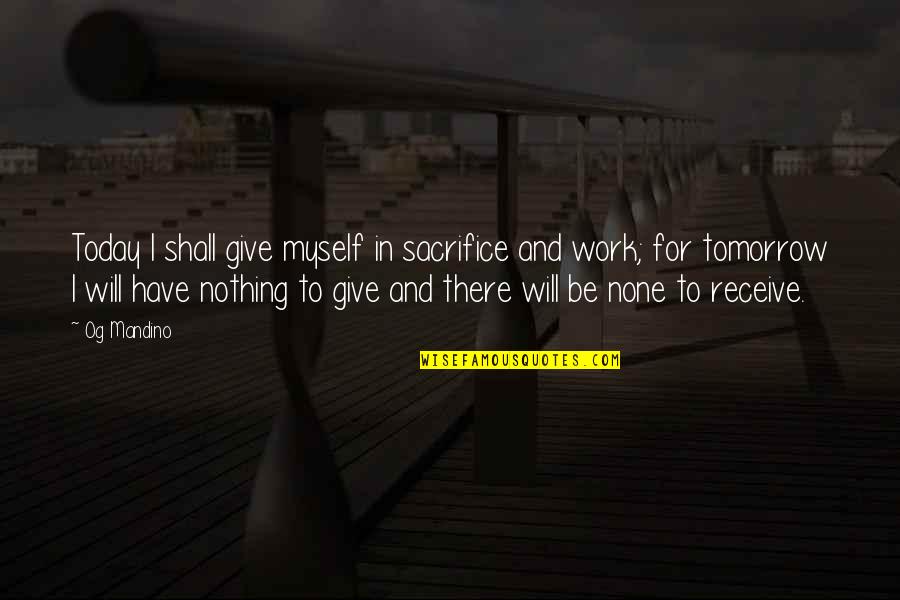 Today I shall give myself in sacrifice and work; for tomorrow I will have nothing to give and there will be none to receive. —
Og Mandino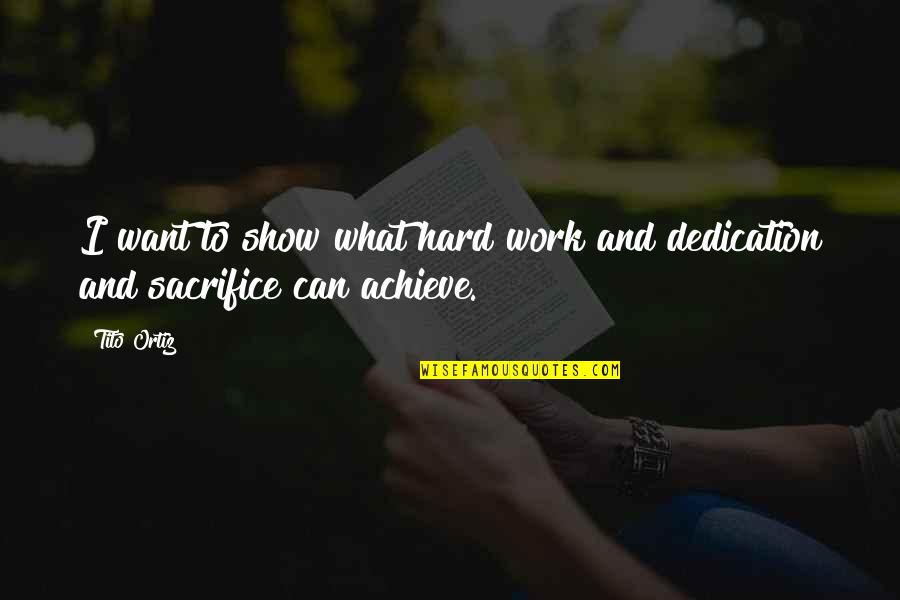 I want to show what hard work and dedication and sacrifice can achieve. —
Tito Ortiz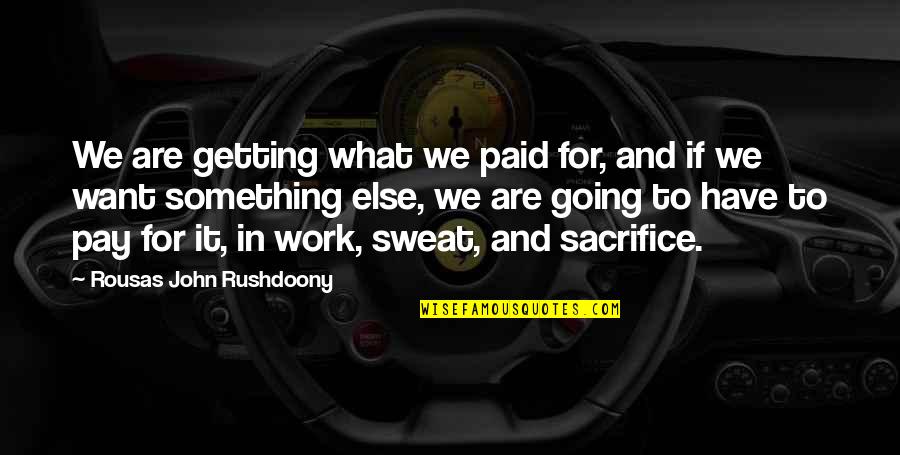 We are getting what we paid for, and if we want something else, we are going to have to pay for it, in work, sweat, and sacrifice. —
Rousas John Rushdoony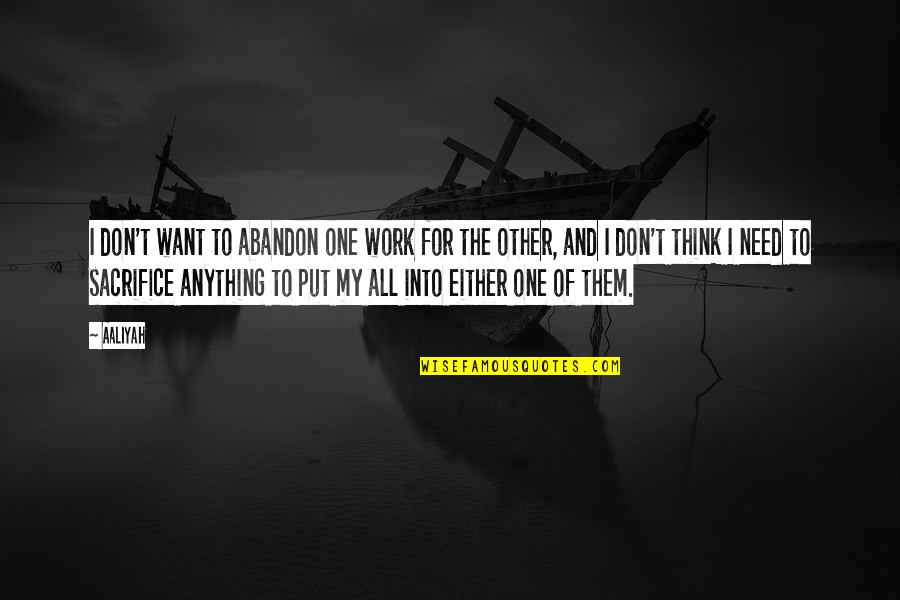 I don't want to abandon one work for the other, and I don't think I need to sacrifice anything to put my all into either one of them. —
Aaliyah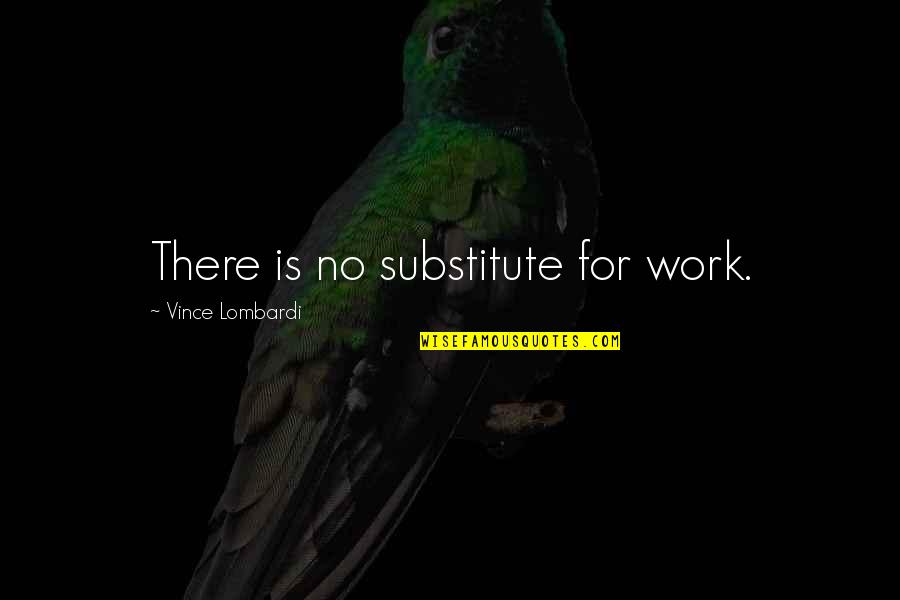 There is no substitute for work. —
Vince Lombardi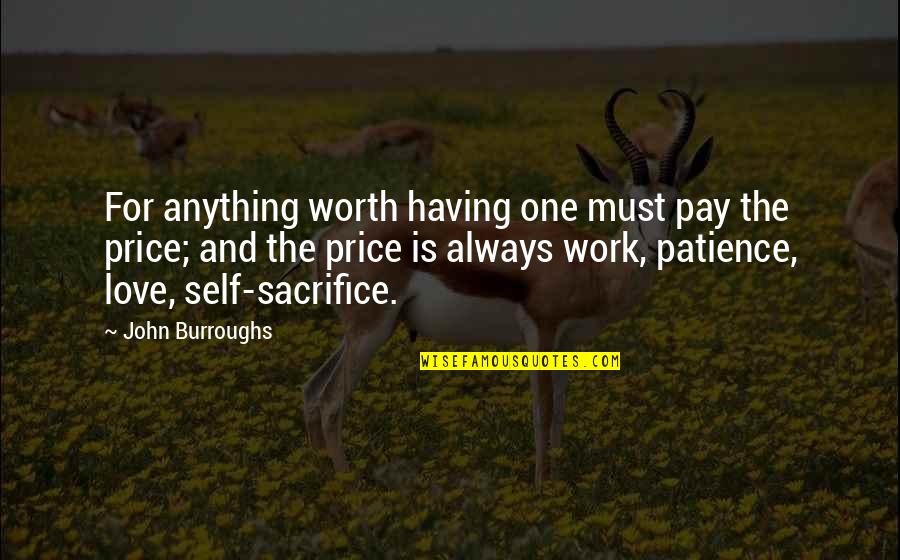 For anything worth having one must pay the price; and the price is always work, patience, love, self-sacrifice. —
John Burroughs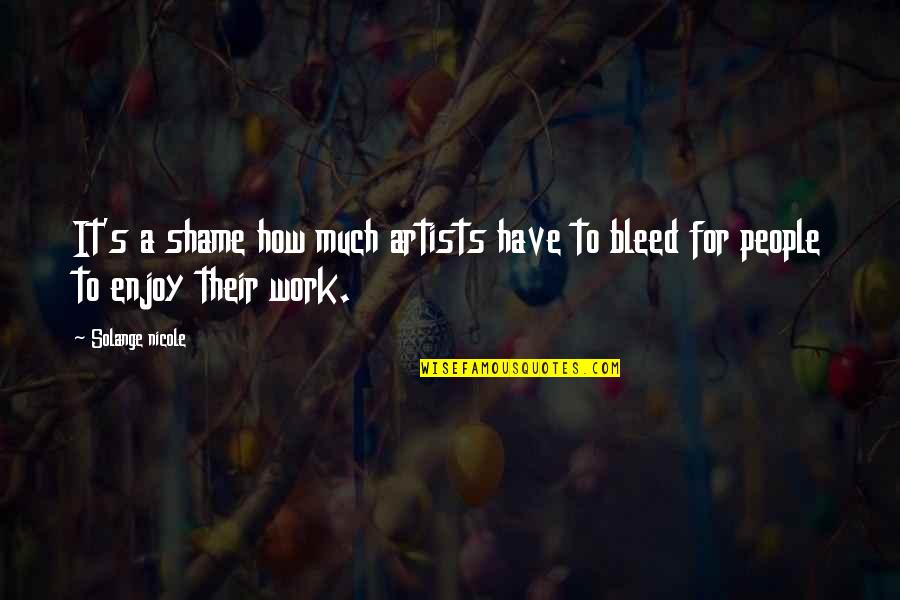 It's a shame how much artists have to bleed for people to enjoy their work. —
Solange Nicole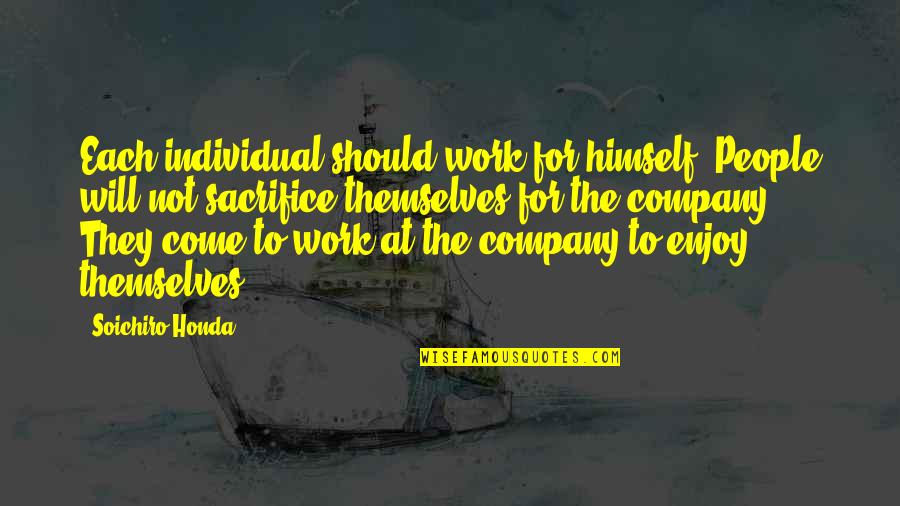 Each individual should work for himself. People will not sacrifice themselves for the company. They come to work at the company to enjoy themselves. —
Soichiro Honda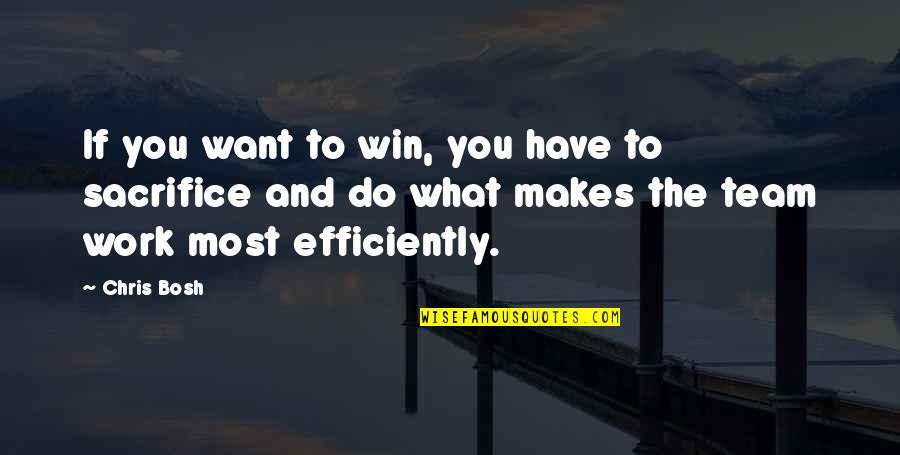 If you want to win, you have to sacrifice and do what makes the team work most efficiently. —
Chris Bosh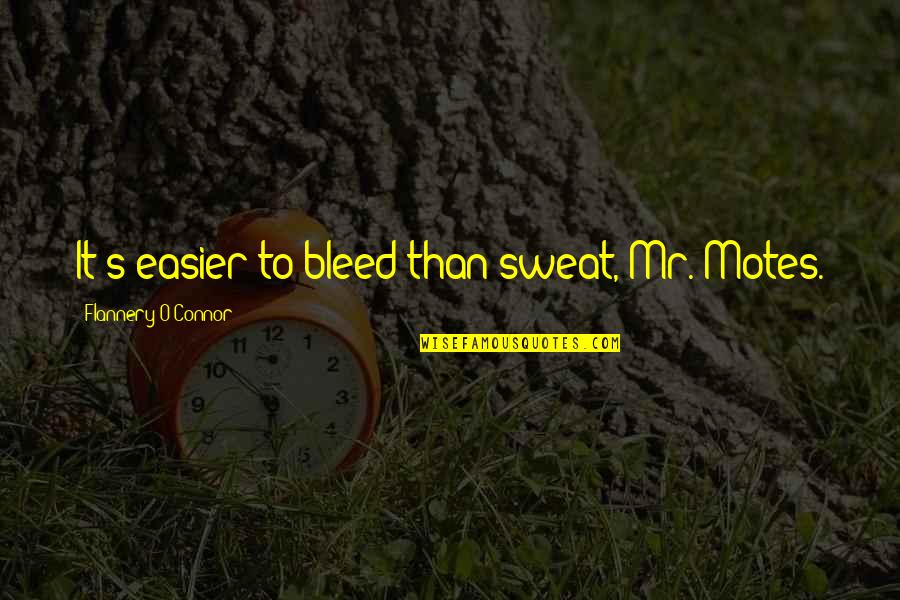 It's easier to bleed than sweat, Mr. Motes. —
Flannery O'Connor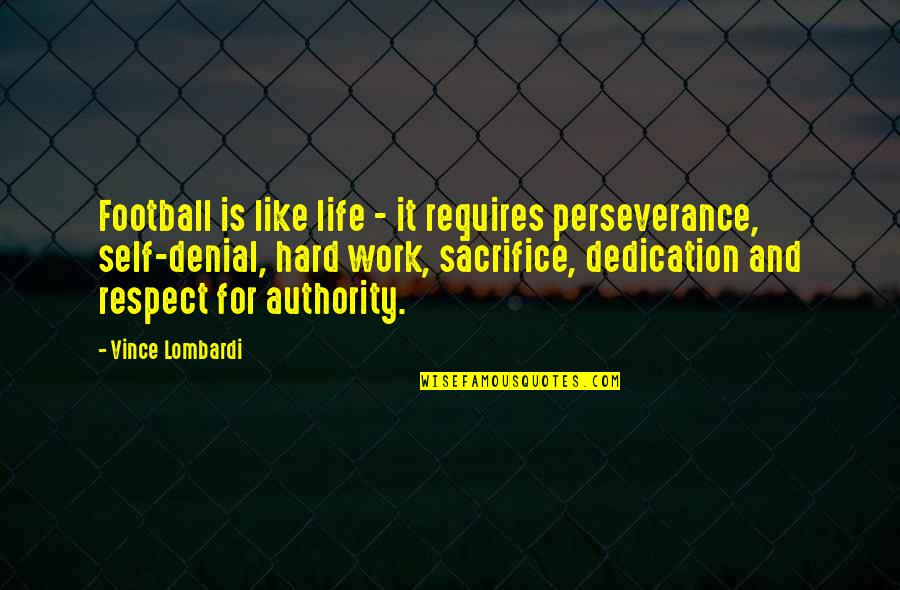 Football is like life - it requires perseverance, self-denial, hard work, sacrifice, dedication and respect for authority. —
Vince Lombardi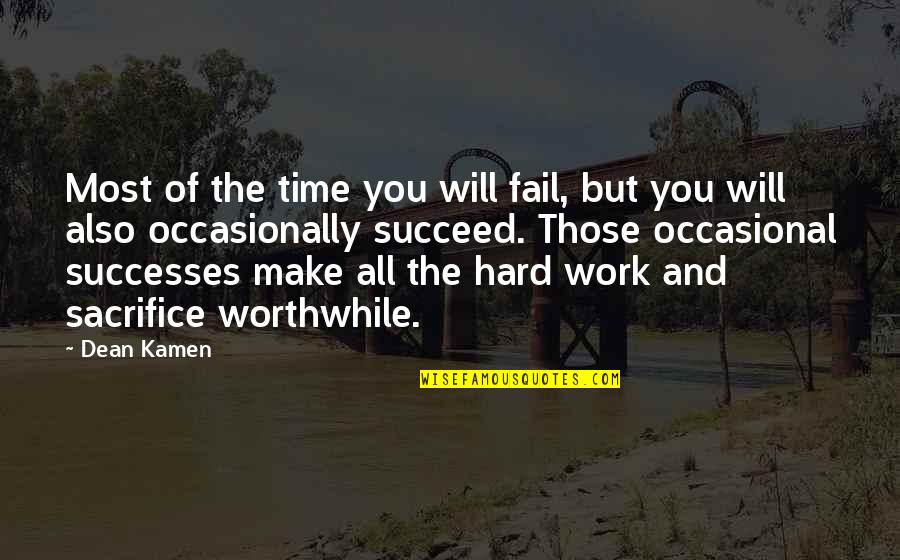 Most of the time you will fail, but you will also occasionally succeed. Those occasional successes make all the hard work and sacrifice worthwhile. —
Dean Kamen