Die Soon Quotes
Collection of top 50 famous quotes about Die Soon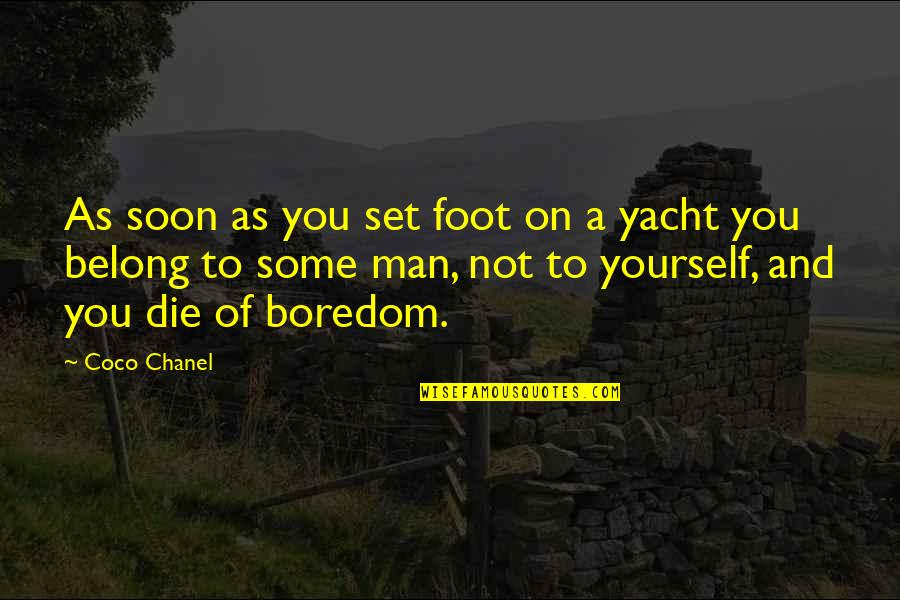 As soon as you set foot on a yacht you belong to some man, not to yourself, and you die of boredom.
—
Coco Chanel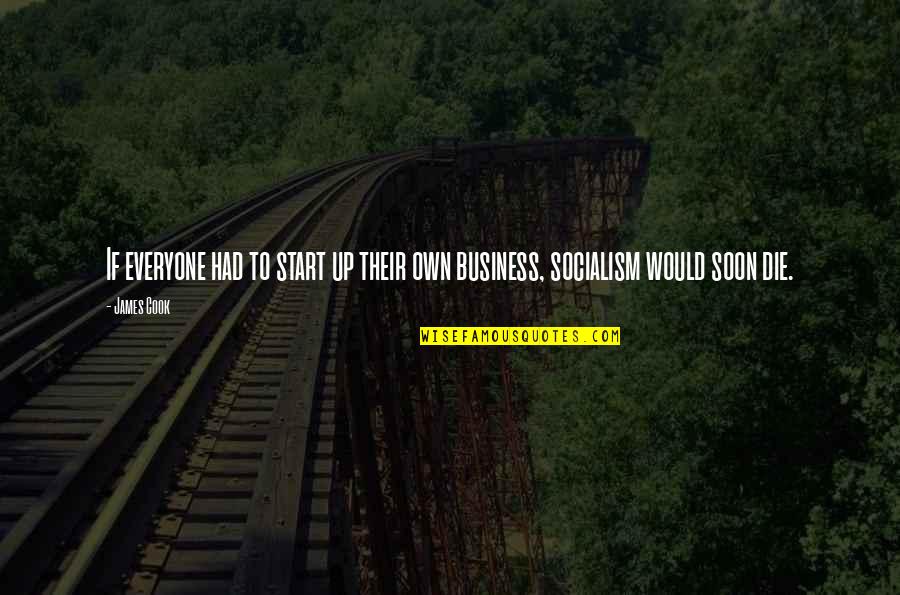 If everyone had to start up their own business, socialism would soon die.
—
James Cook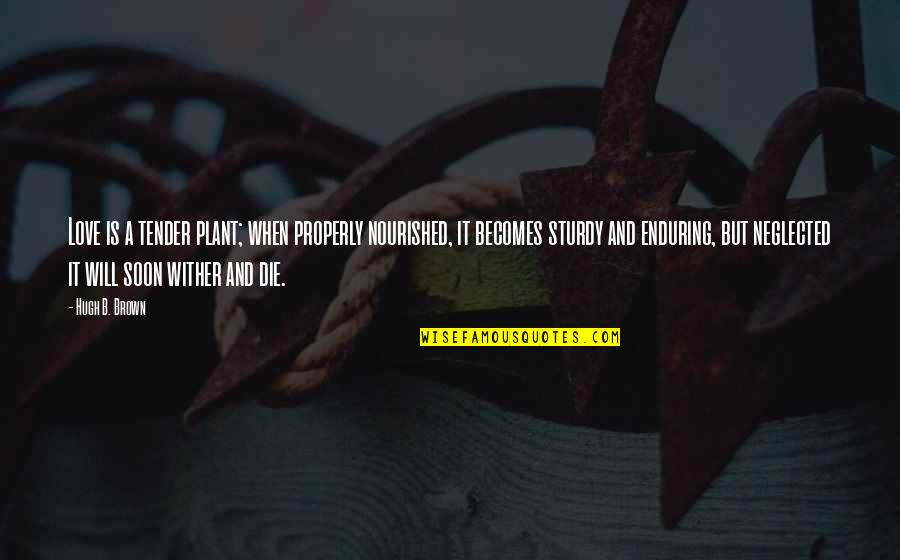 Love is a tender plant; when properly nourished, it becomes sturdy and enduring, but neglected it will soon wither and die.
—
Hugh B. Brown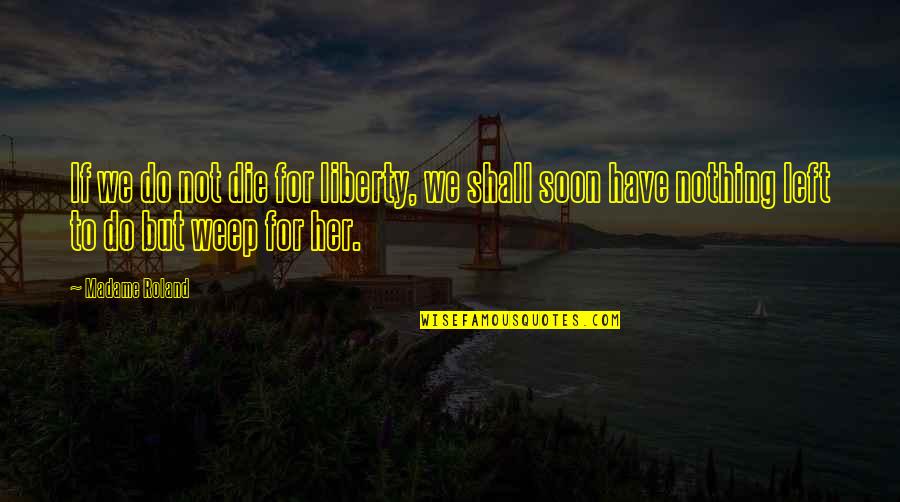 If we do not die for liberty, we shall soon have nothing left to do but weep for her.
—
Madame Roland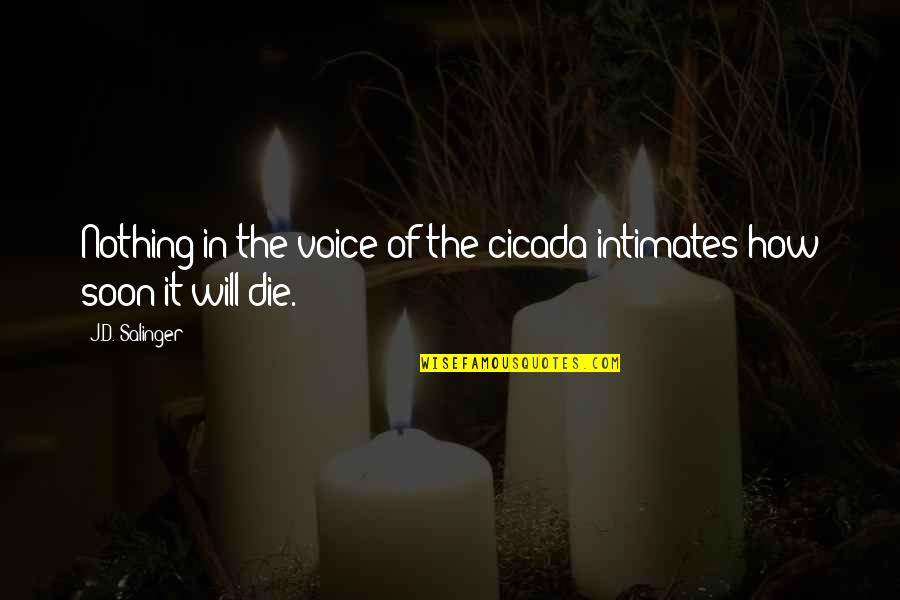 Nothing in the voice of the cicada intimates how soon it will die.
—
J.D. Salinger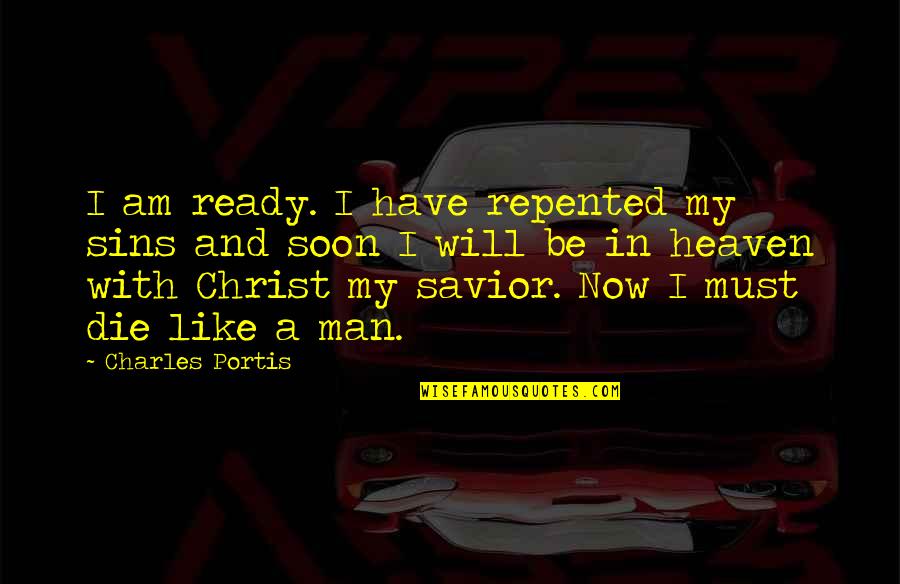 I am ready. I have repented my sins and soon I will be in heaven with Christ my savior. Now I must die like a man.
—
Charles Portis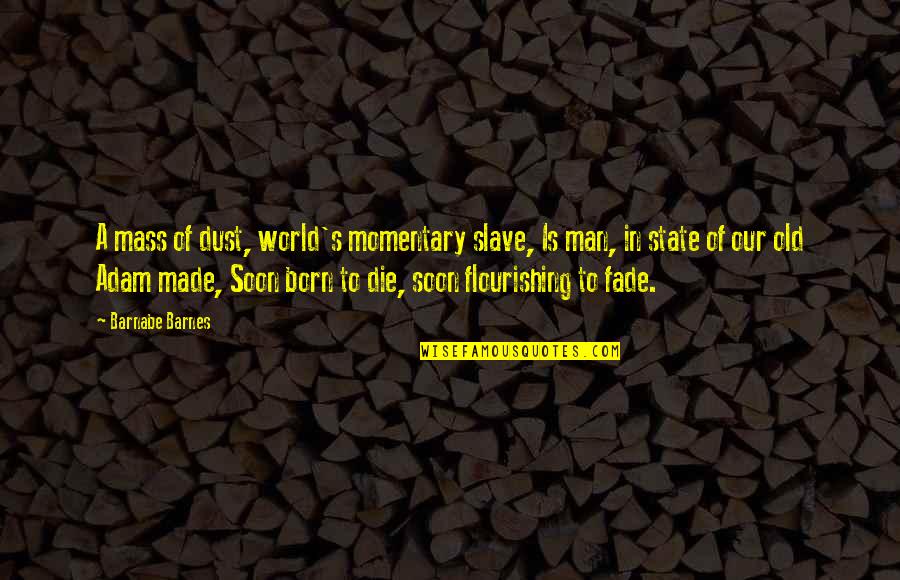 A mass of dust, world's momentary slave, Is man, in state of our old Adam made, Soon born to die, soon flourishing to fade.
—
Barnabe Barnes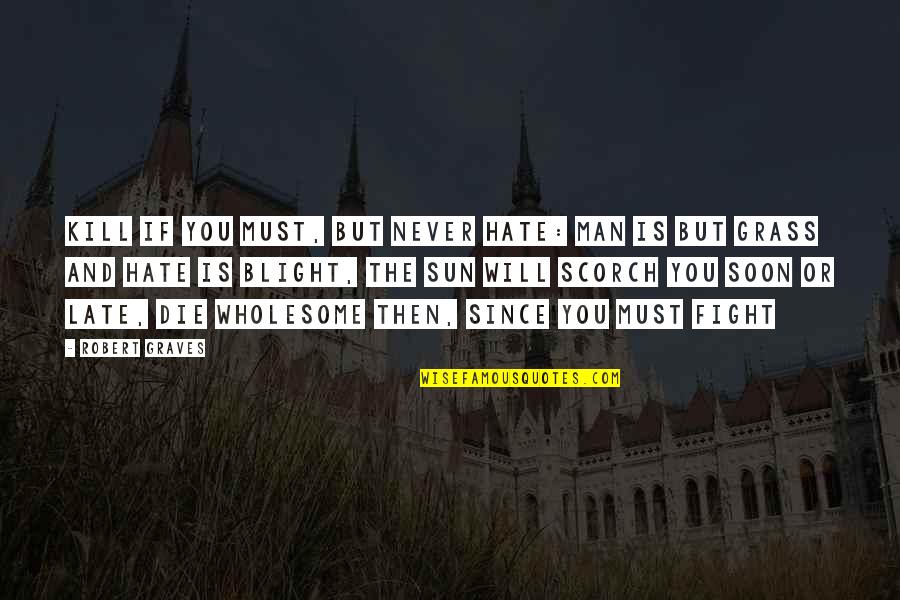 Kill if you must, but never hate: Man is but grass and hate is blight, The sun will scorch you soon or late, Die wholesome then, since you must fight
—
Robert Graves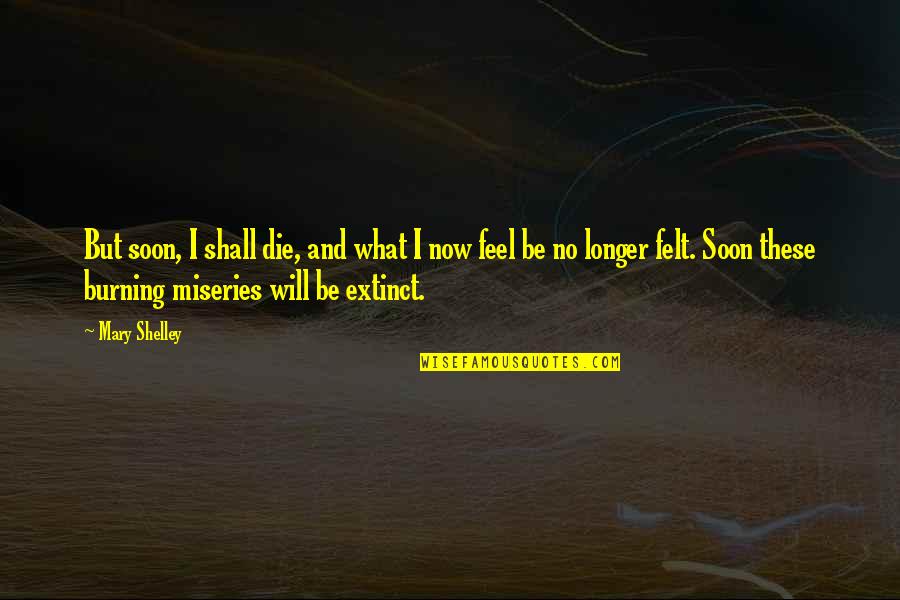 But soon, I shall die, and what I now feel be no longer felt. Soon these burning miseries will be extinct.
—
Mary Shelley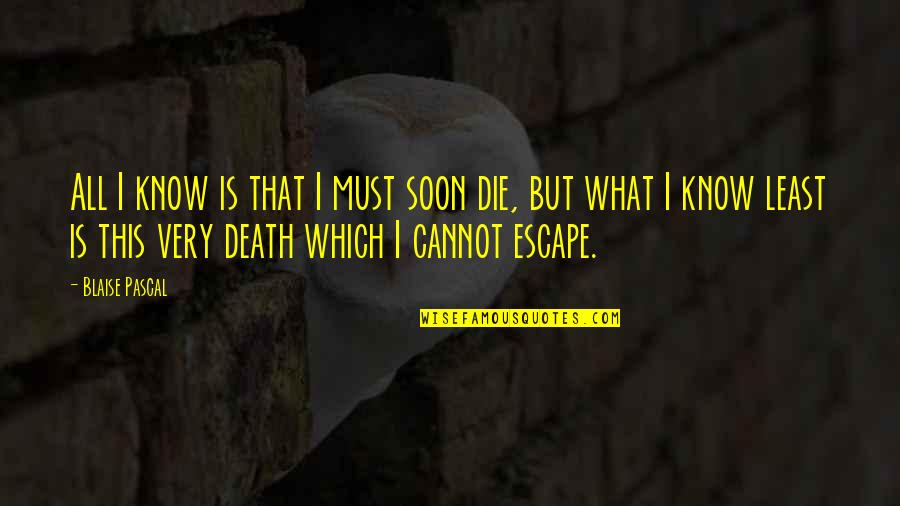 All I know is that I must soon die, but what I know least is this very death which I cannot escape.
—
Blaise Pascal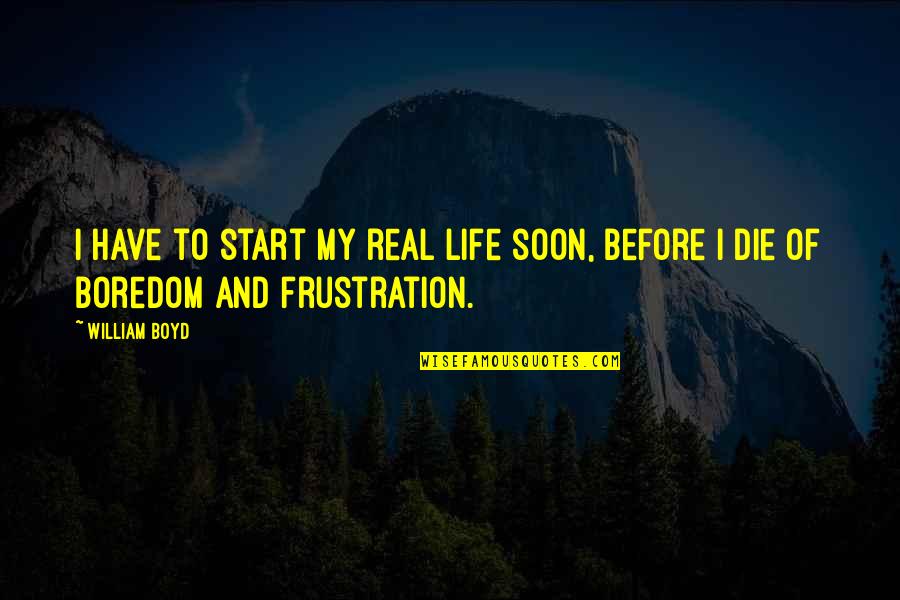 I have to start my real life soon, before I die of boredom and frustration.
—
William Boyd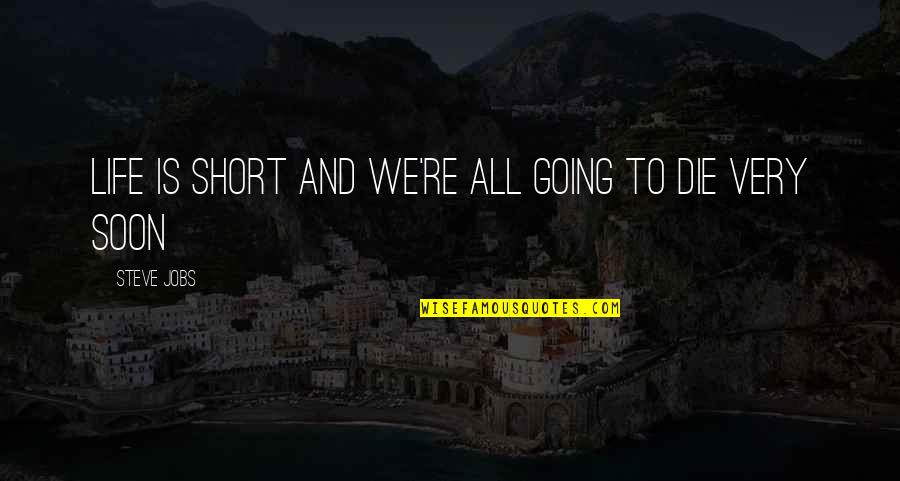 Life is short and we're all going to die very soon —
Steve Jobs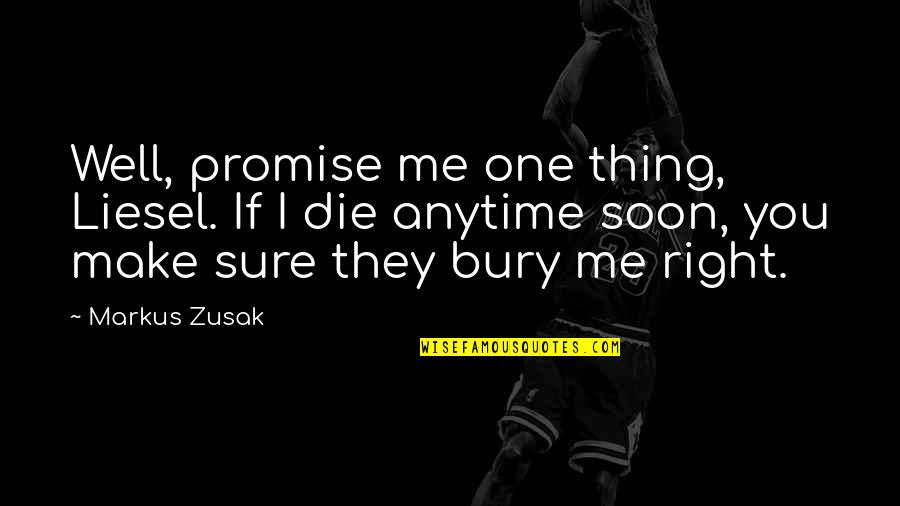 Well, promise me one thing, Liesel. If I die anytime soon, you make sure they bury me right. —
Markus Zusak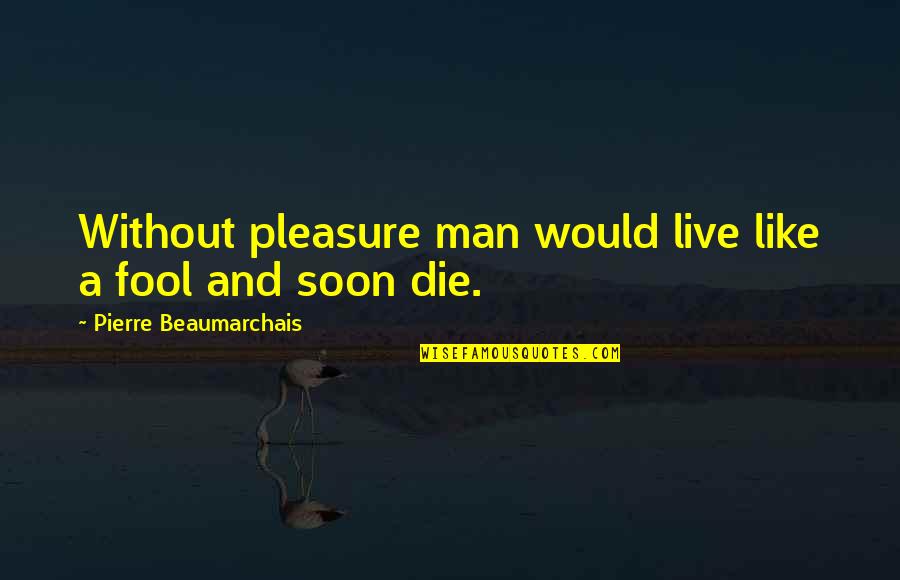 Without pleasure man would live like a fool and soon die. —
Pierre Beaumarchais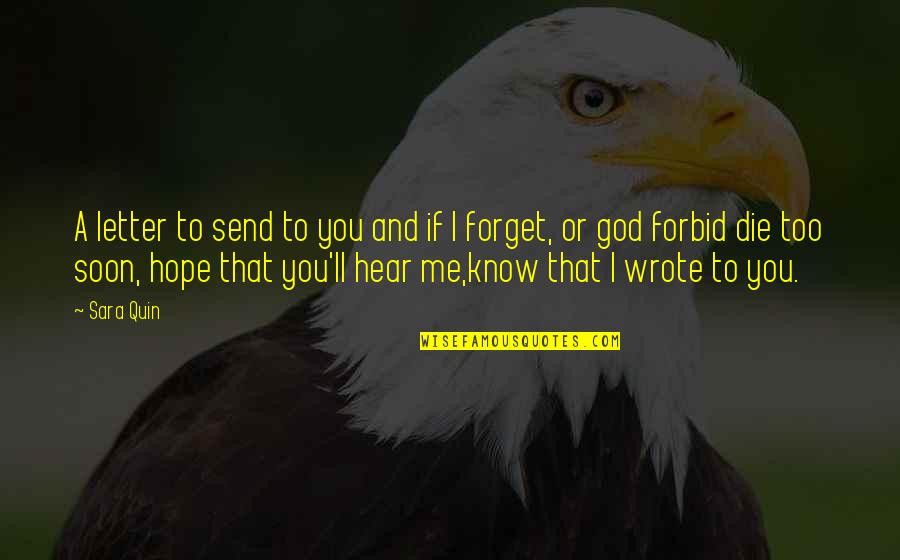 A letter to send to you and if I forget, or god forbid die too soon, hope that you'll hear me,know that I wrote to you. —
Sara Quin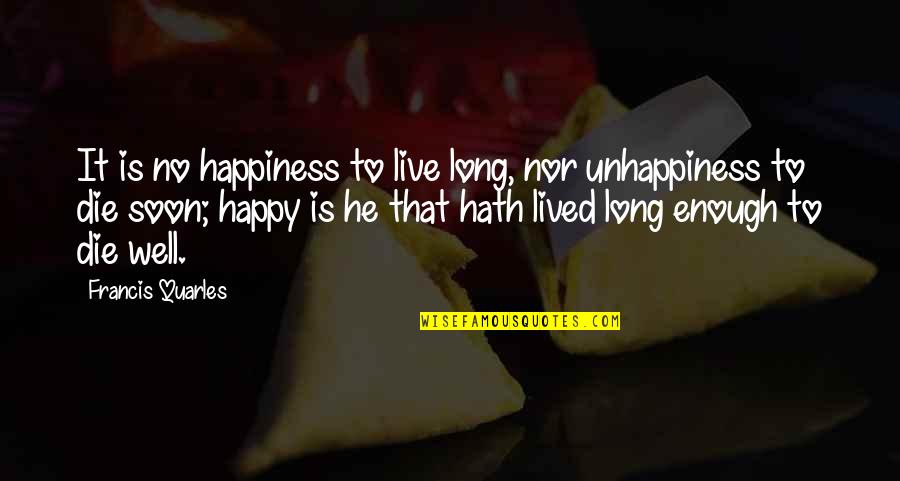 It is no happiness to live long, nor unhappiness to
die soon
; happy is he that hath lived long enough to die well. —
Francis Quarles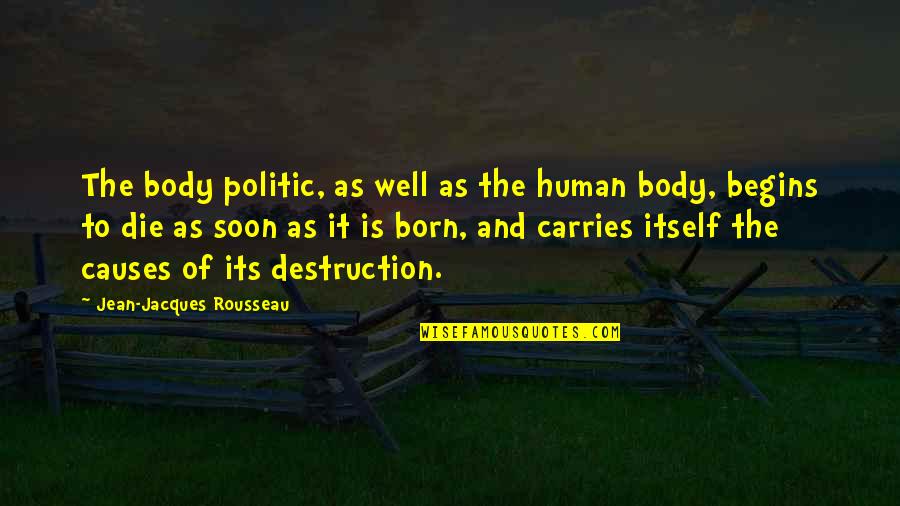 The body politic, as well as the human body, begins to die as soon as it is born, and carries itself the causes of its destruction. —
Jean-Jacques Rousseau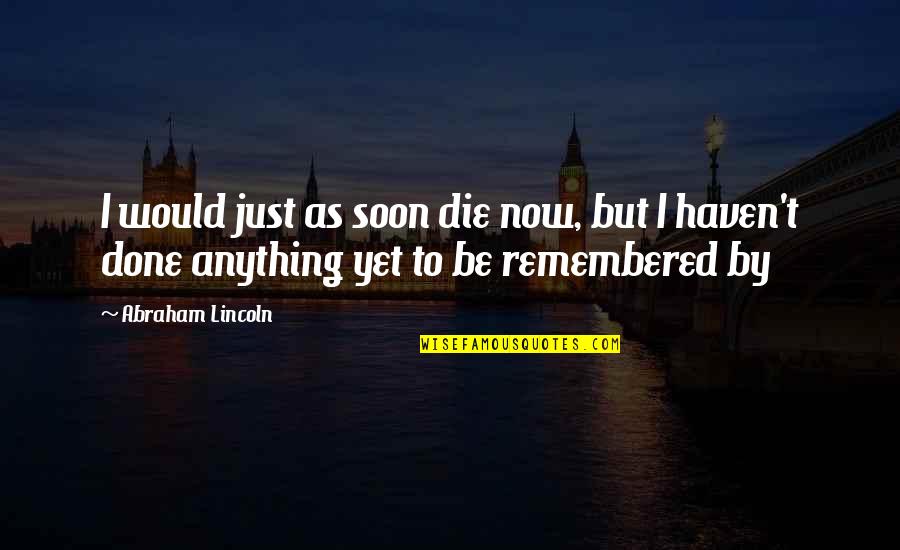 I would just as soon die now, but I haven't done anything yet to be remembered by —
Abraham Lincoln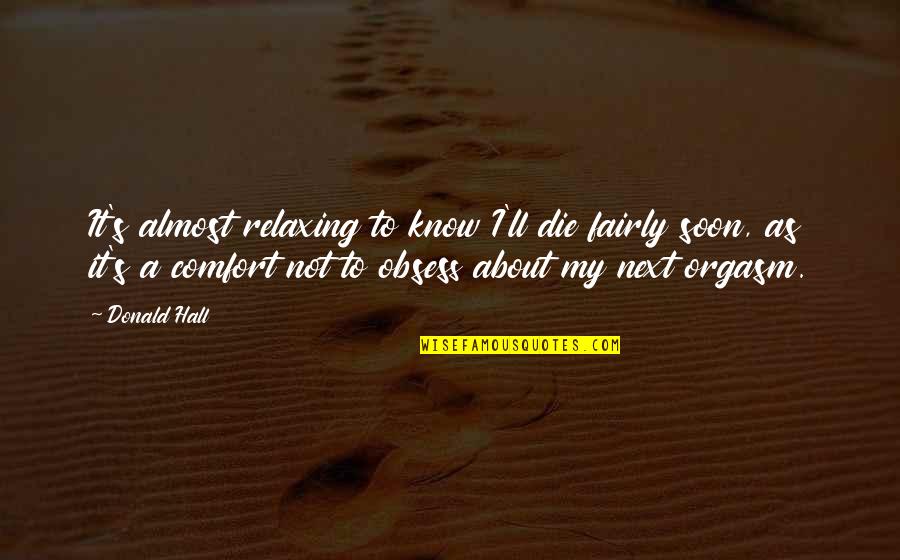 It's almost relaxing to know I'll die fairly soon, as it's a comfort not to obsess about my next orgasm. —
Donald Hall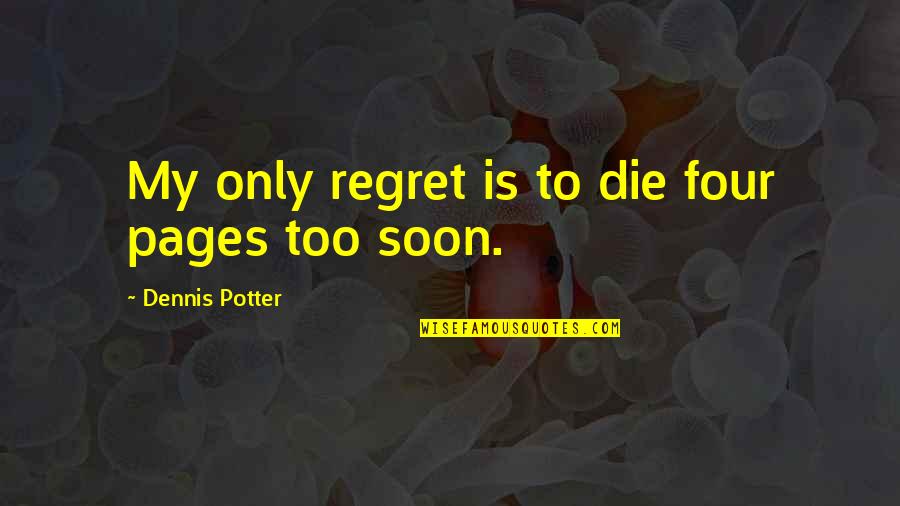 My only regret is to die four pages too soon. —
Dennis Potter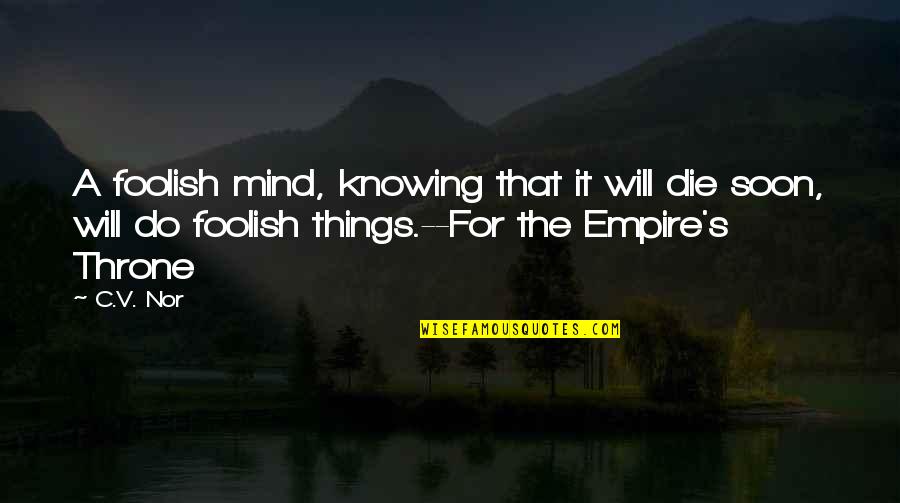 A foolish mind, knowing that it will
die soon
, will do foolish things.
--For the Empire's Throne —
C.V. Nor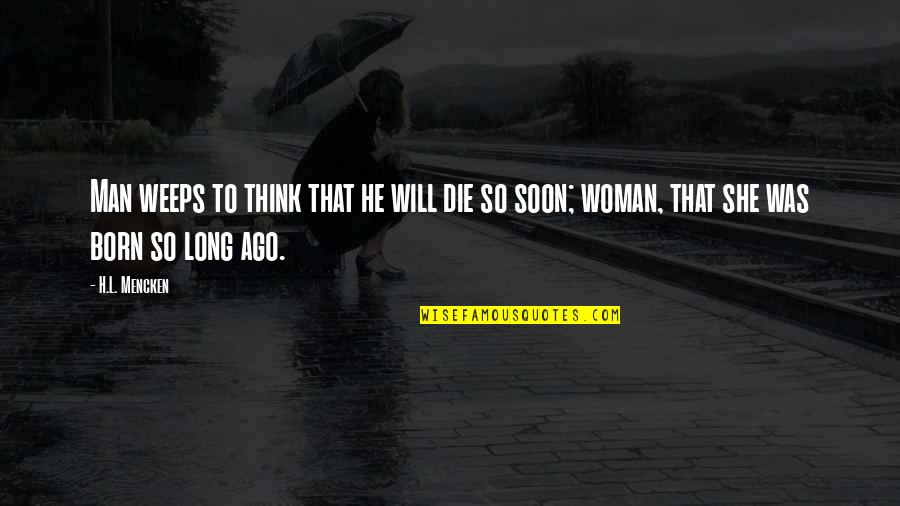 Man weeps to think that he will die so soon; woman, that she was born so long ago. —
H.L. Mencken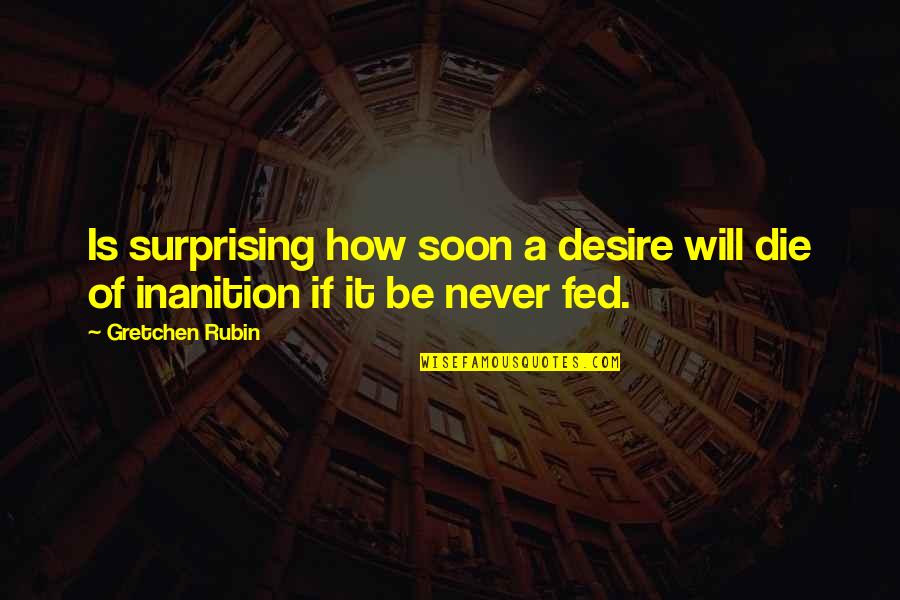 Is surprising how soon a desire will die of inanition if it be never fed. —
Gretchen Rubin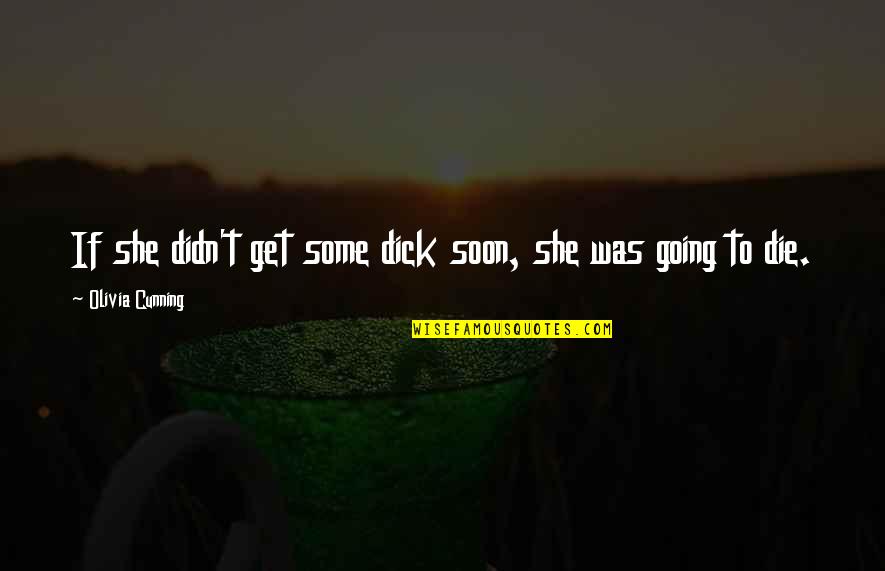 If she didn't get some dick soon, she was going to die. —
Olivia Cunning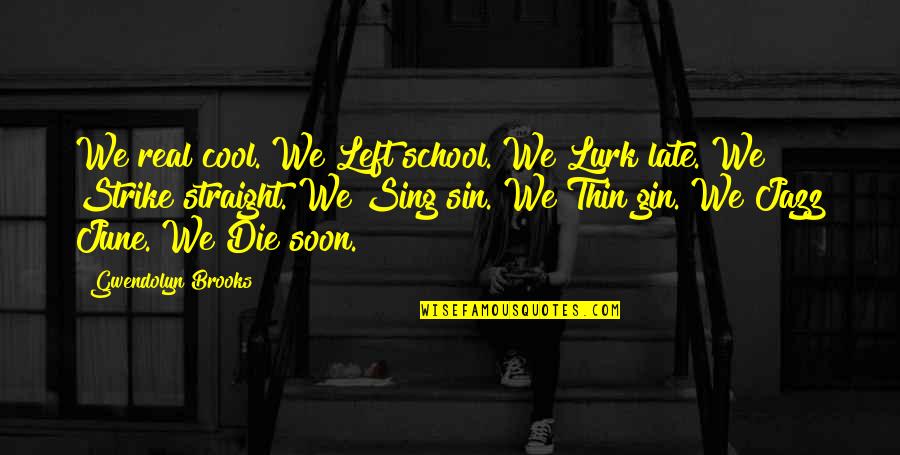 We real cool. We
Left school. We
Lurk late. We
Strike straight. We
Sing sin. We
Thin gin. We
Jazz June. We
Die soon
. —
Gwendolyn Brooks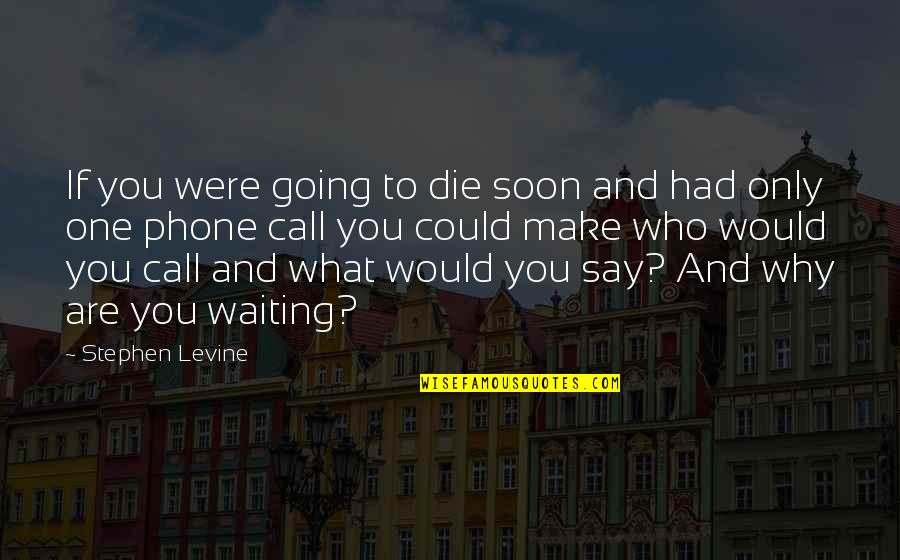 If you were going to
die soon
and had only one phone call you could make who would you call and what would you say?
And why are you waiting? —
Stephen Levine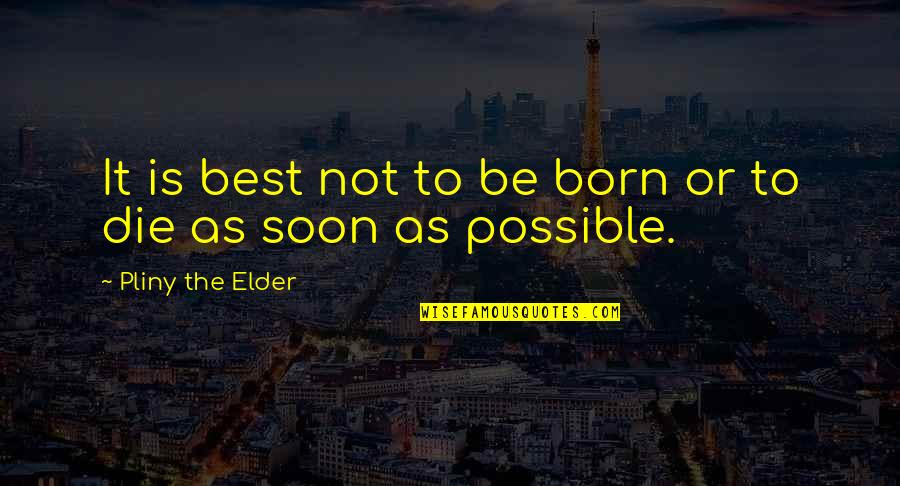 It is best not to be born or to die as soon as possible. —
Pliny The Elder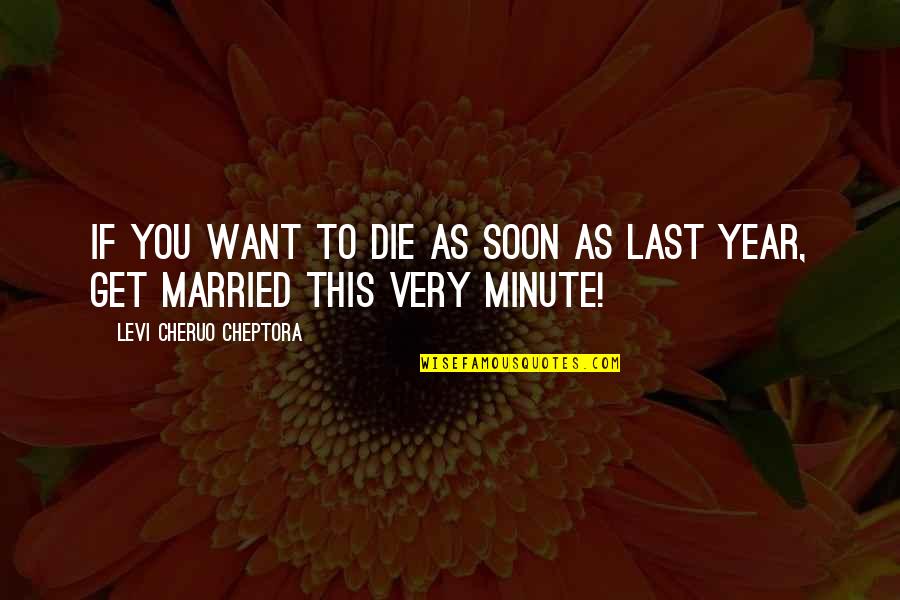 If you want to die as soon as last year, get married this very minute! —
Levi Cheruo Cheptora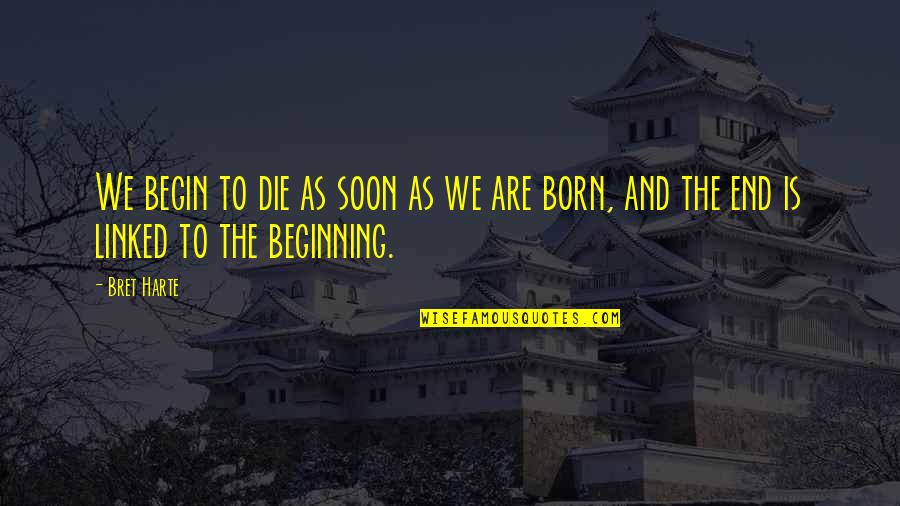 We begin to die as soon as we are born, and the end is linked to the beginning. —
Bret Harte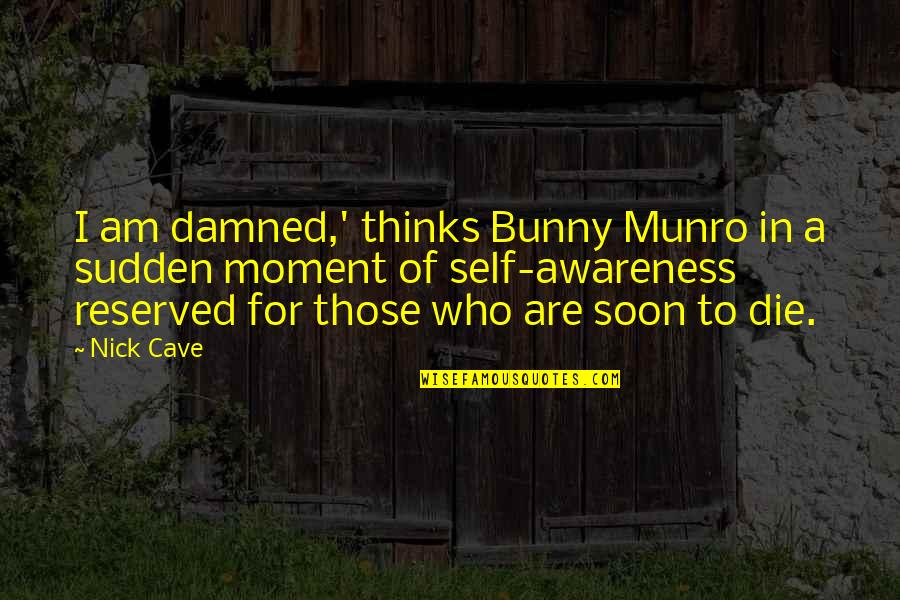 I am damned,' thinks Bunny Munro in a sudden moment of self-awareness reserved for those who are soon to die. —
Nick Cave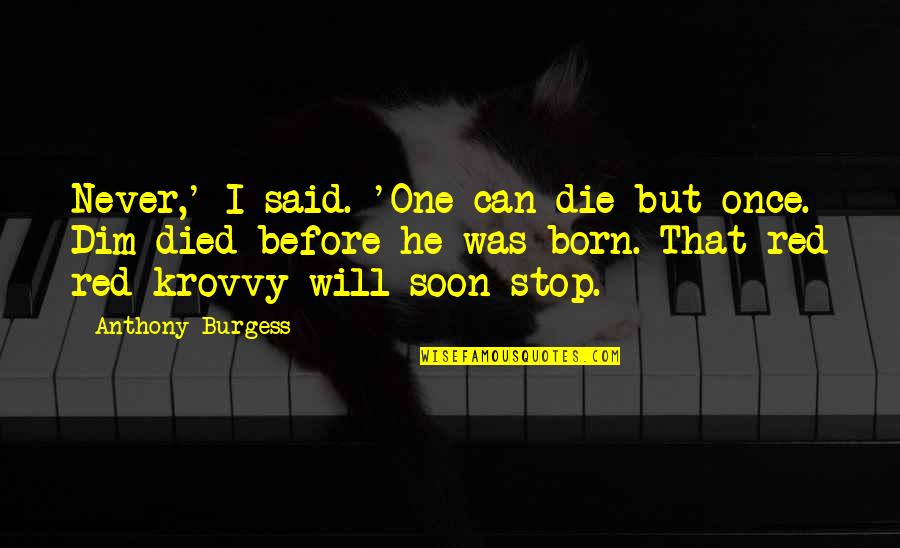 Never,' I said. 'One can die but once. Dim died before he was born. That red red krovvy will soon stop. —
Anthony Burgess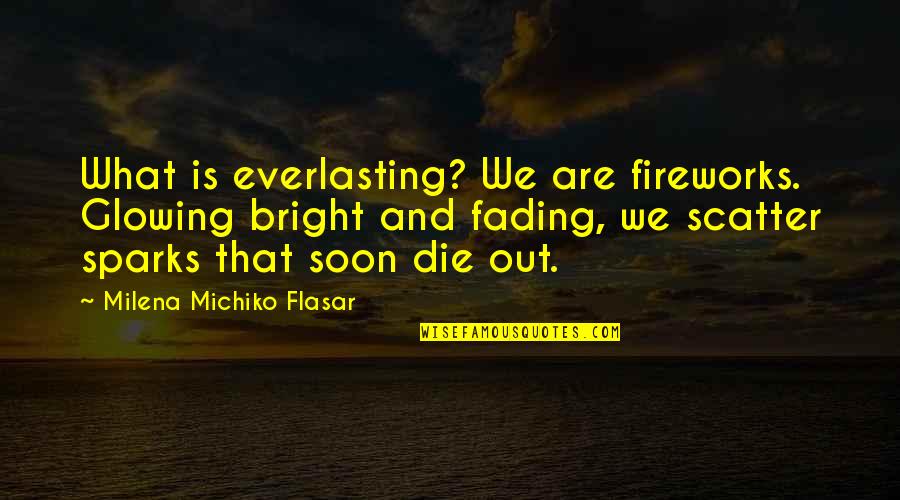 What is everlasting? We are fireworks. Glowing bright and fading, we scatter sparks that soon die out. —
Milena Michiko Flasar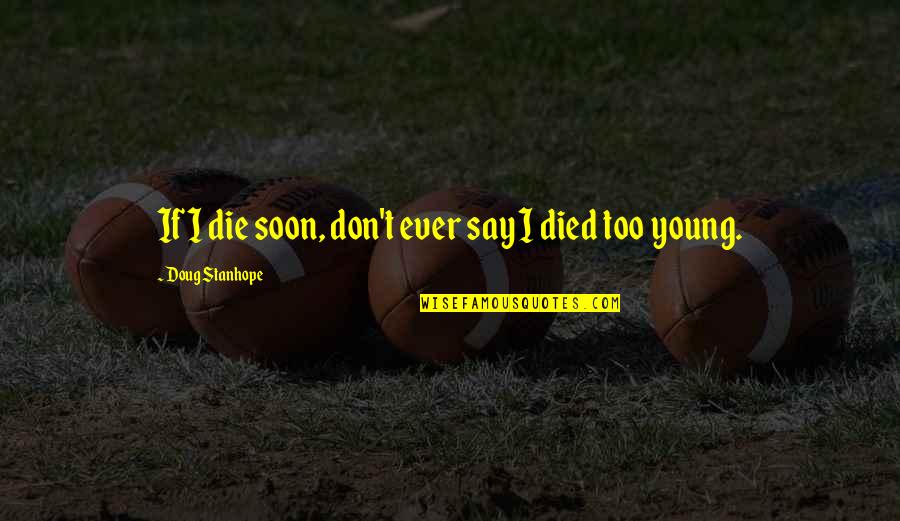 If I
die soon
, don't ever say I died too young. —
Doug Stanhope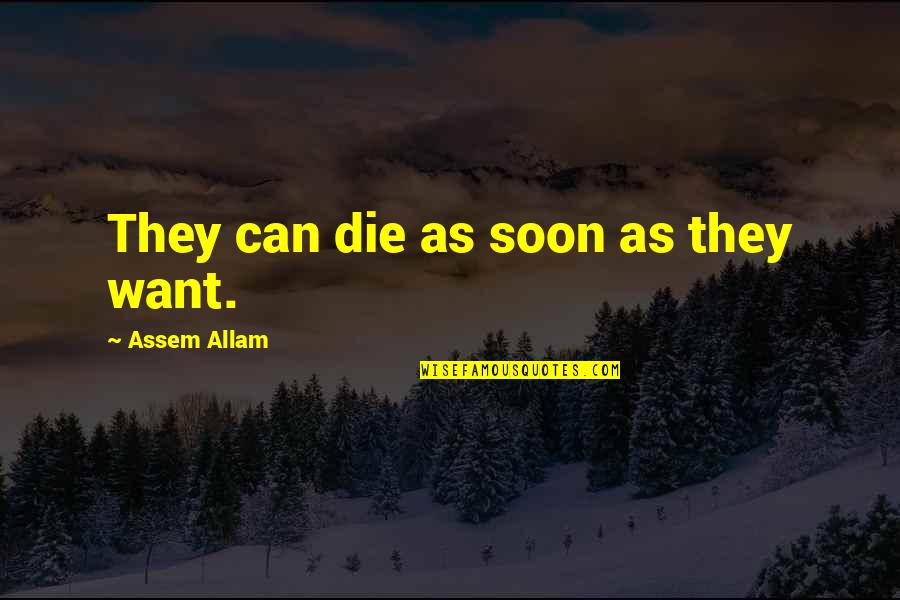 They can die as soon as they want. —
Assem Allam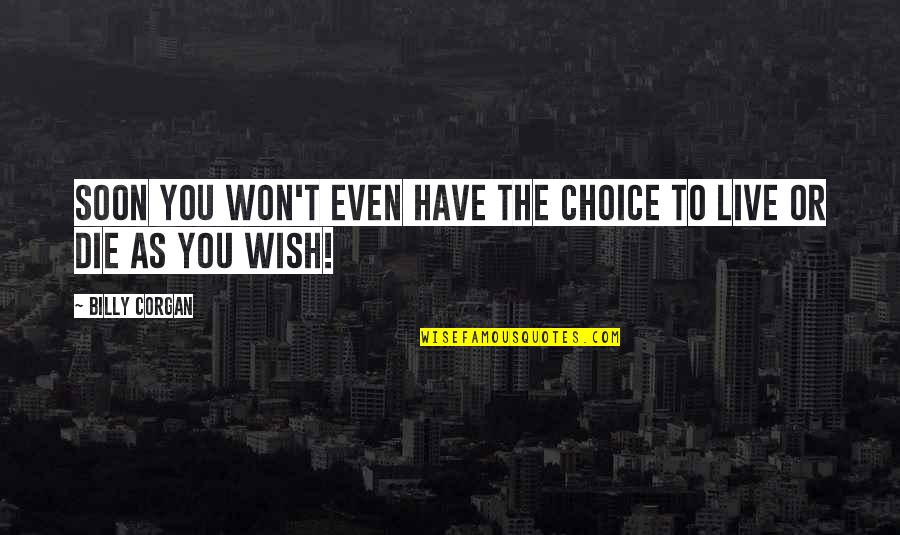 Soon you won't even have the choice to live or die as you wish! —
Billy Corgan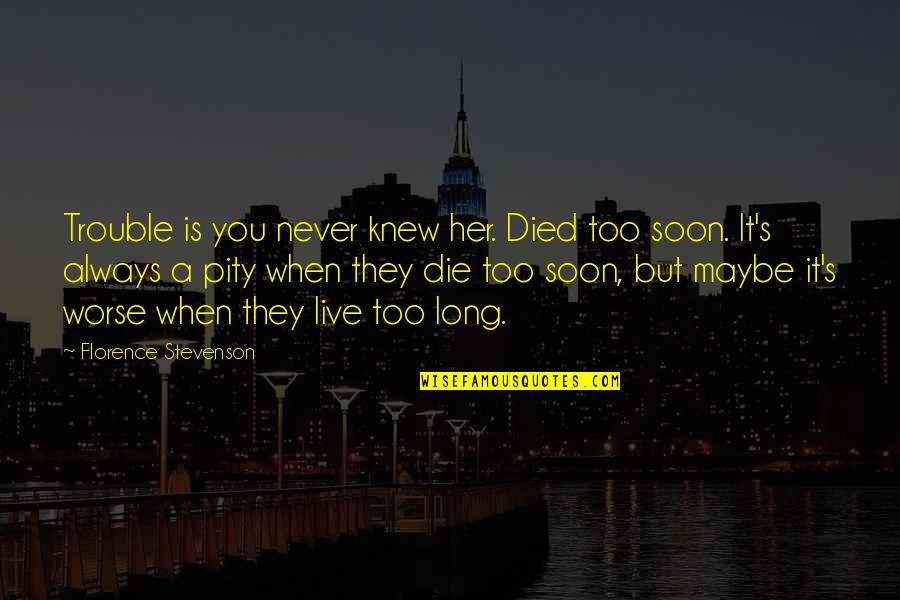 Trouble is you never knew her. Died too soon. It's always a pity when they die too soon, but maybe it's worse when they live too long. —
Florence Stevenson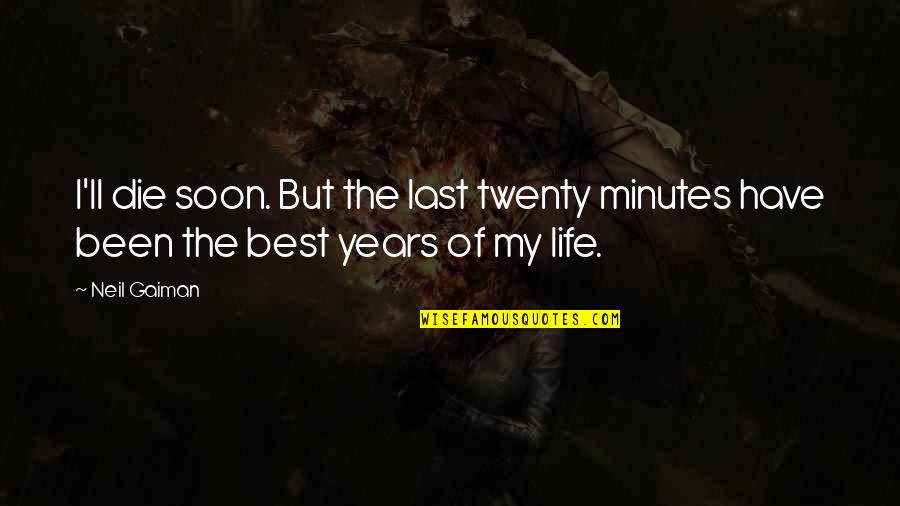 I'll
die soon
. But the last twenty minutes have been the best years of my life. —
Neil Gaiman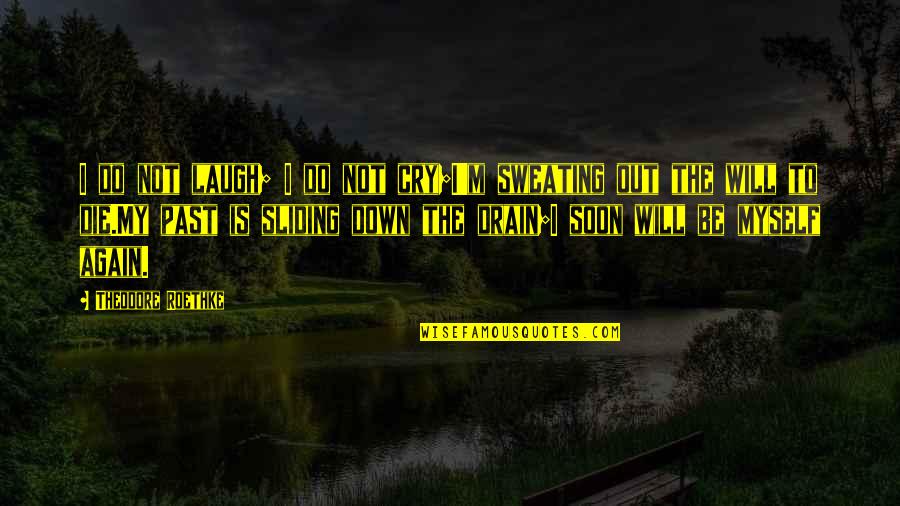 I do not laugh; I do not cry;
I'm sweating out the will to die.
My past is sliding down the drain;
I soon will be myself again. —
Theodore Roethke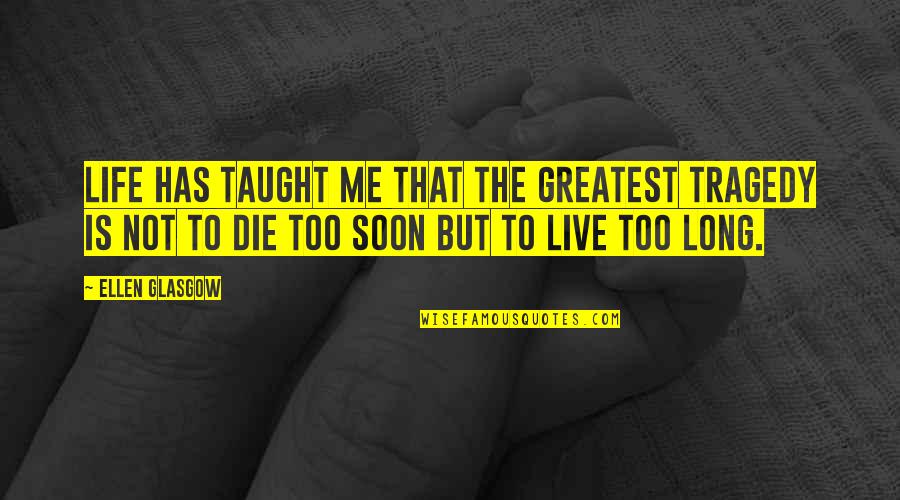 Life has taught me that the greatest tragedy is not to die too soon but to live too long. —
Ellen Glasgow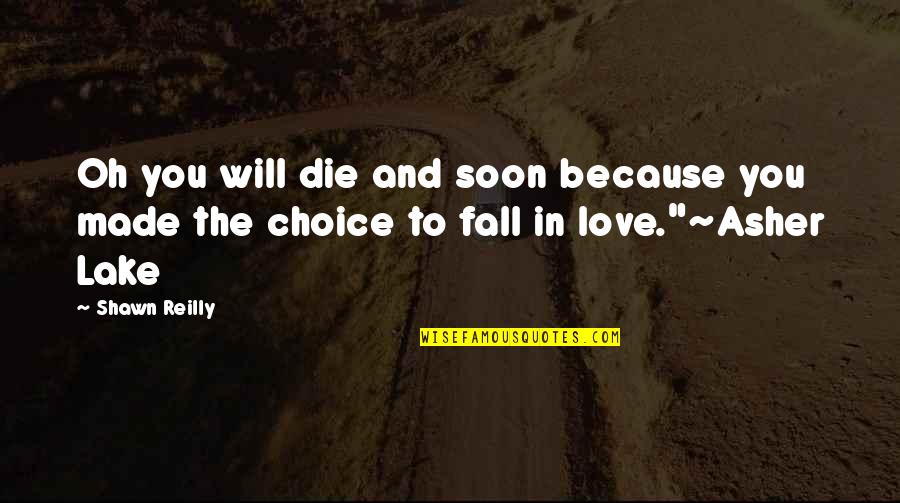 Oh you will die and soon
because you made the
choice to fall in love."
~Asher Lake —
Shawn Reilly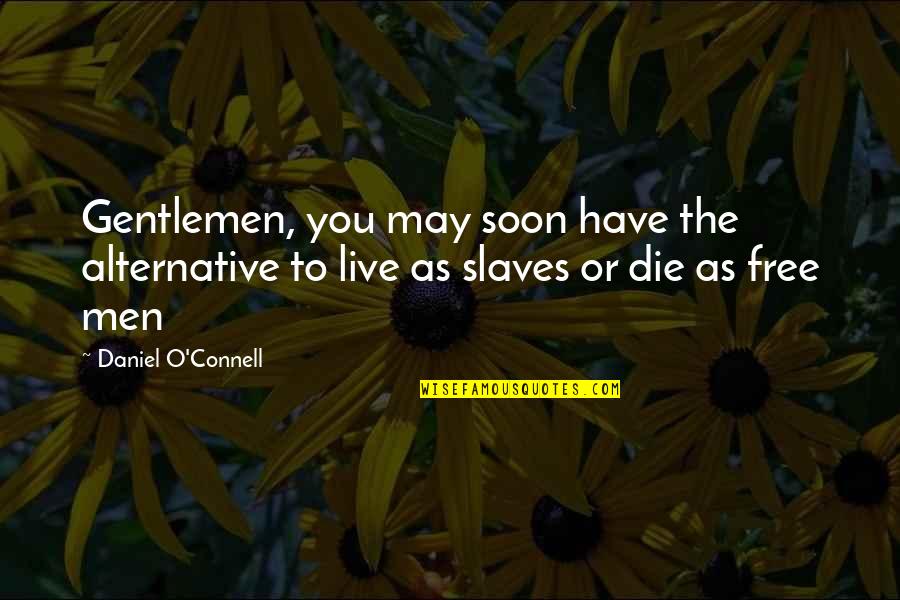 Gentlemen, you may soon have the alternative to live as slaves or die as free men —
Daniel O'Connell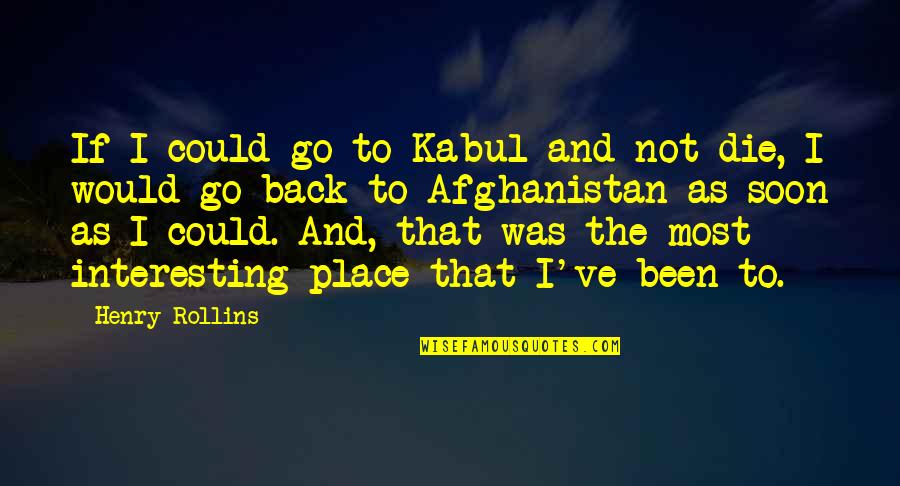 If I could go to Kabul and not die, I would go back to Afghanistan as soon as I could. And, that was the most interesting place that I've been to. —
Henry Rollins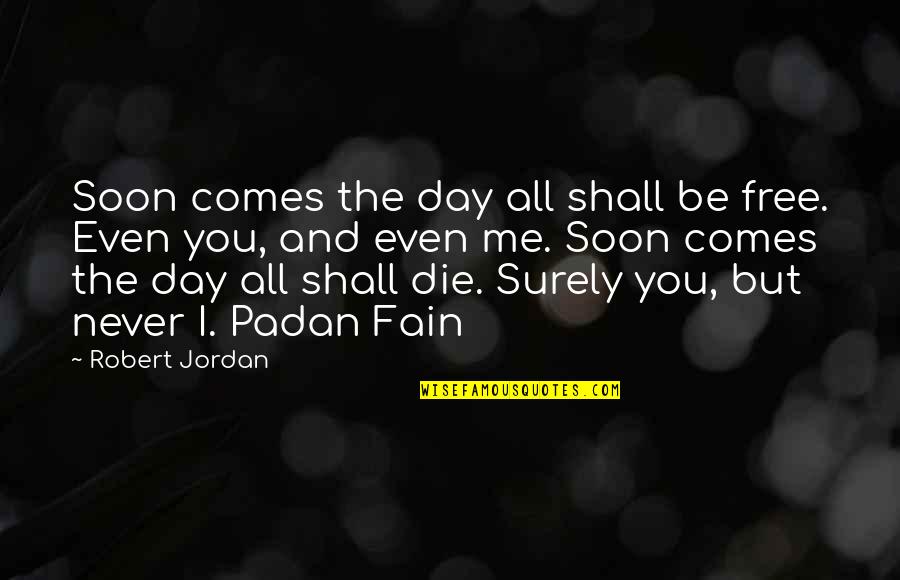 Soon comes the day all shall be free. Even you, and even me. Soon comes the day all shall die. Surely you, but never I.
Padan Fain —
Robert Jordan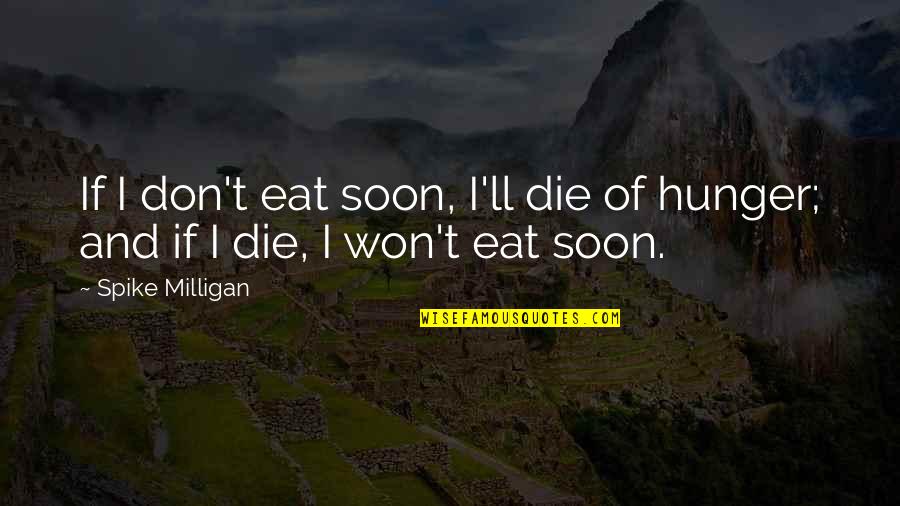 If I don't eat soon, I'll die of hunger; and if I die, I won't eat soon. —
Spike Milligan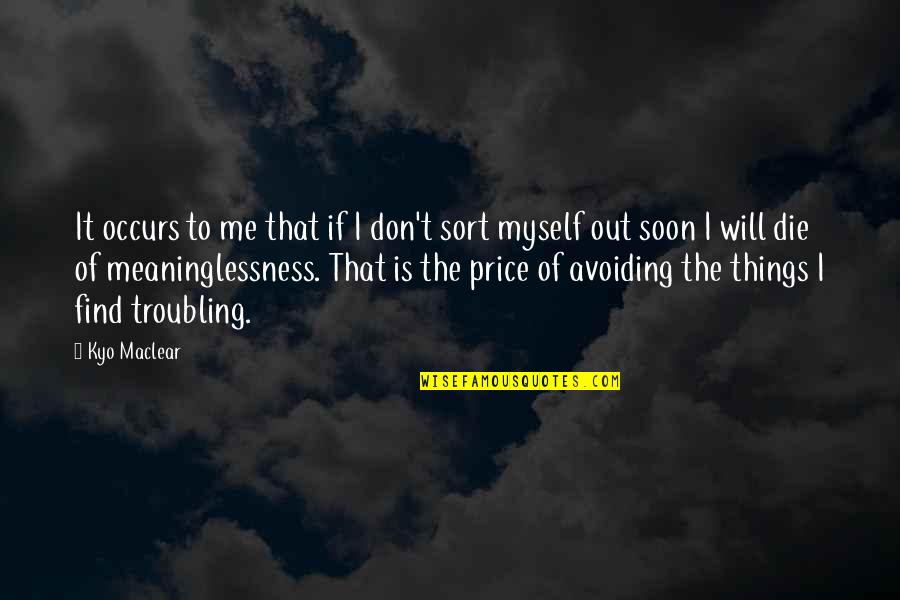 It occurs to me that if I don't sort myself out soon I will die of meaninglessness. That is the price of avoiding the things I find troubling. —
Kyo Maclear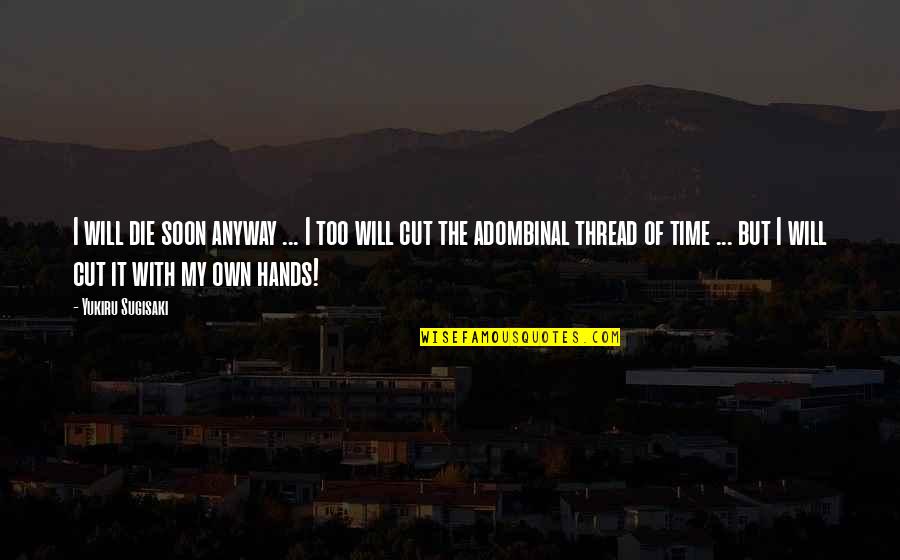 I will
die soon
anyway ... I too will cut the adombinal thread of time ... but I will cut it with my own hands! —
Yukiru Sugisaki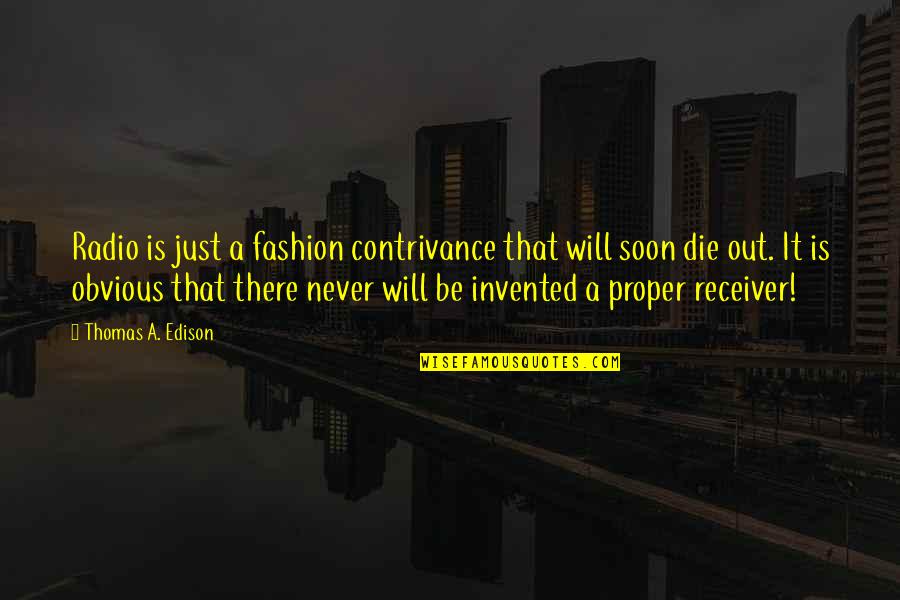 Radio is just a fashion contrivance that will soon die out. It is obvious that there never will be invented a proper receiver! —
Thomas A. Edison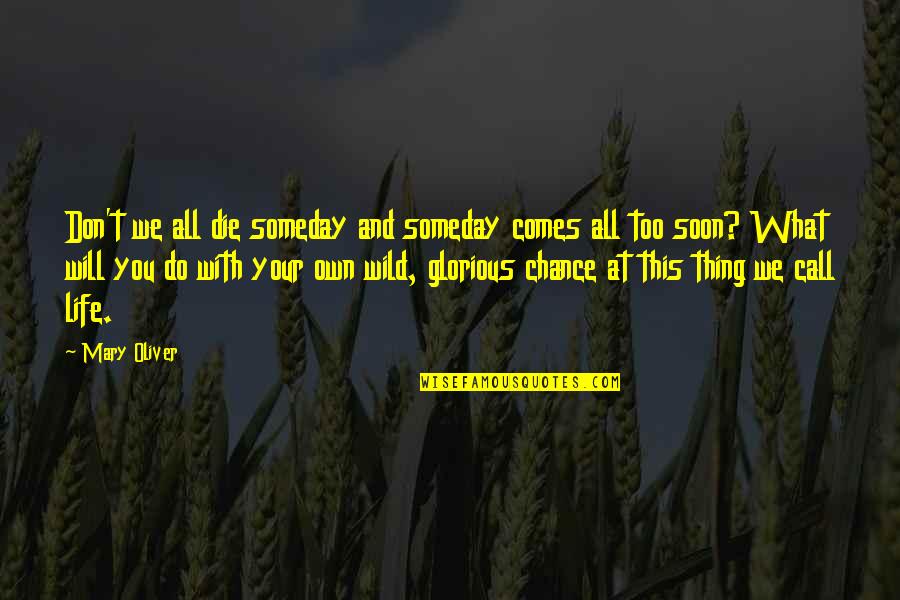 Don't we all die someday and someday comes all too soon? What will you do with your own wild, glorious chance at this thing we call life. —
Mary Oliver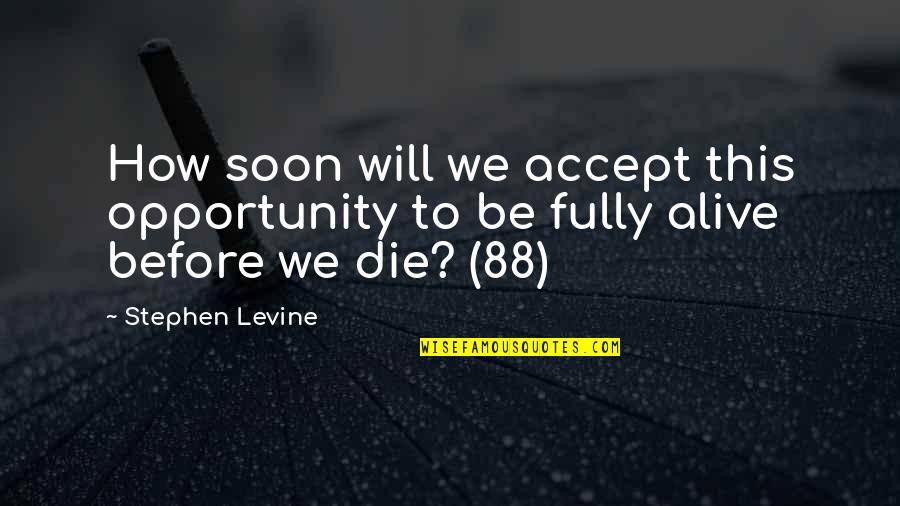 How soon will we accept this opportunity to be fully alive before we die? (88) —
Stephen Levine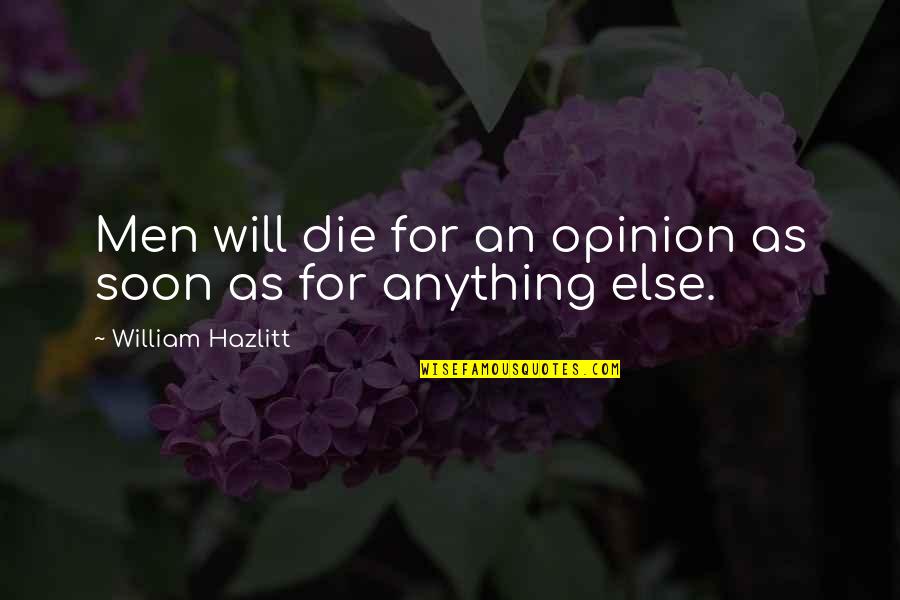 Men will die for an opinion as soon as for anything else. —
William Hazlitt