Days Left Quotes
Collection of top 47 famous quotes about Days Left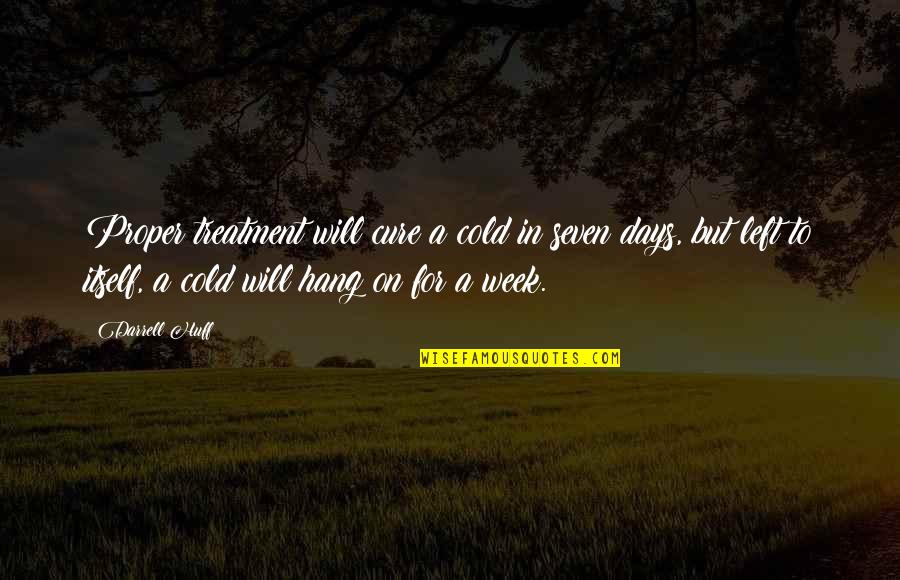 Proper treatment will cure a cold in seven days, but left to itself, a cold will hang on for a week.
—
Darrell Huff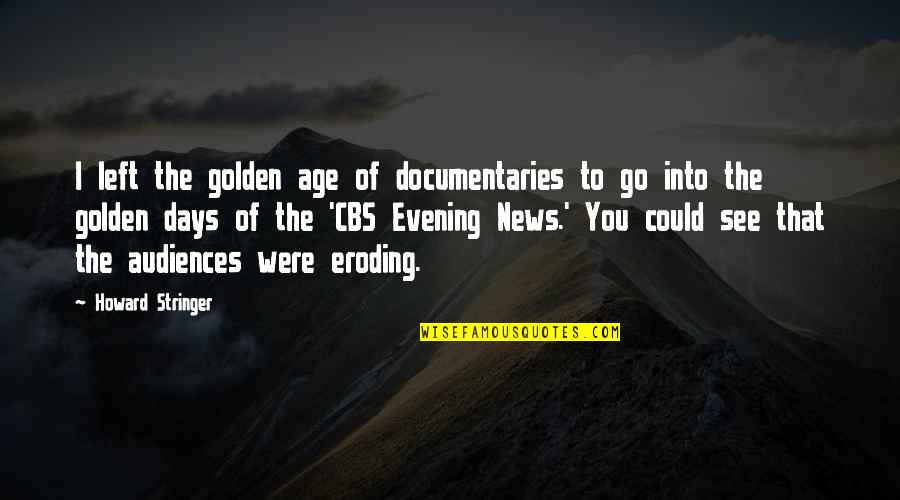 I left the golden age of documentaries to go into the golden days of the 'CBS Evening News.' You could see that the audiences were eroding.
—
Howard Stringer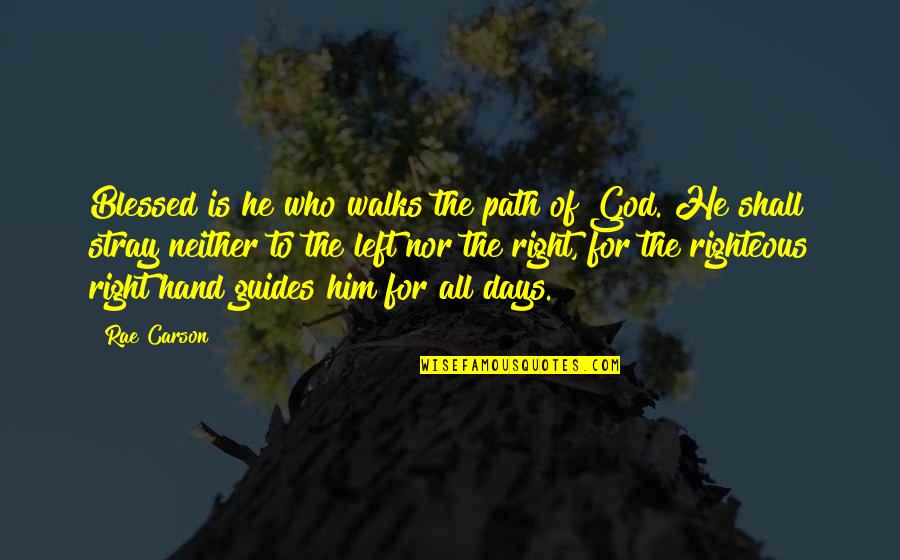 Blessed is he who walks the path of God. He shall stray neither to the left nor the right, for the righteous right hand guides him for all days.
—
Rae Carson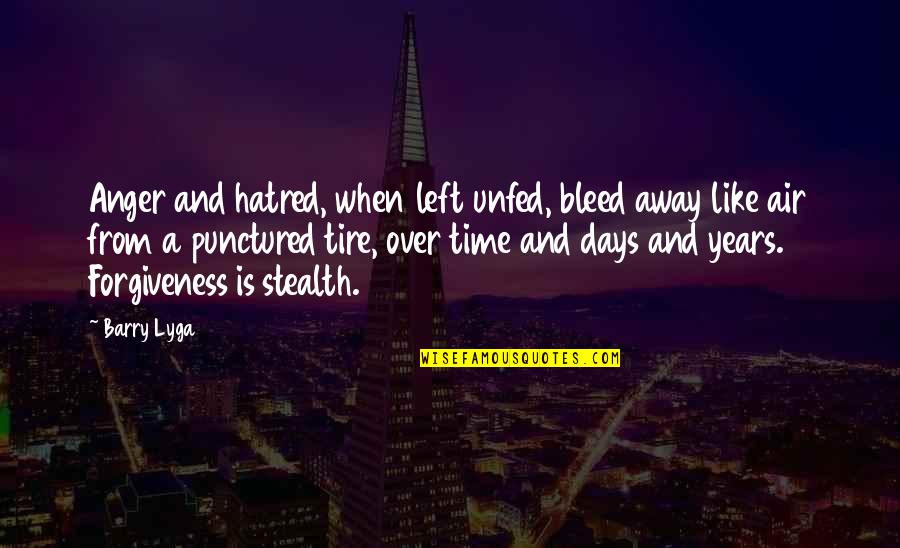 Anger and hatred, when left unfed, bleed away like air from a punctured tire, over time and days and years. Forgiveness is stealth.
—
Barry Lyga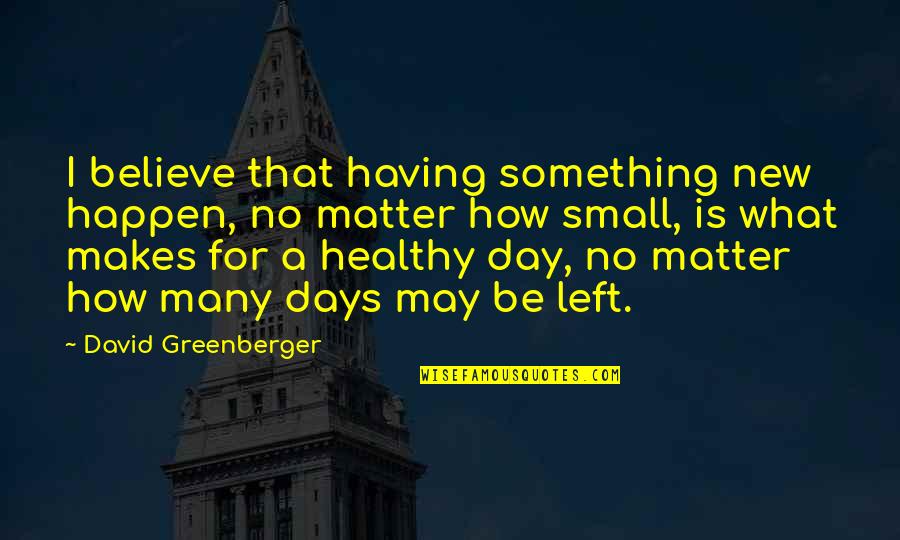 I believe that having something new happen, no matter how small, is what makes for a healthy day, no matter how many days may be left.
—
David Greenberger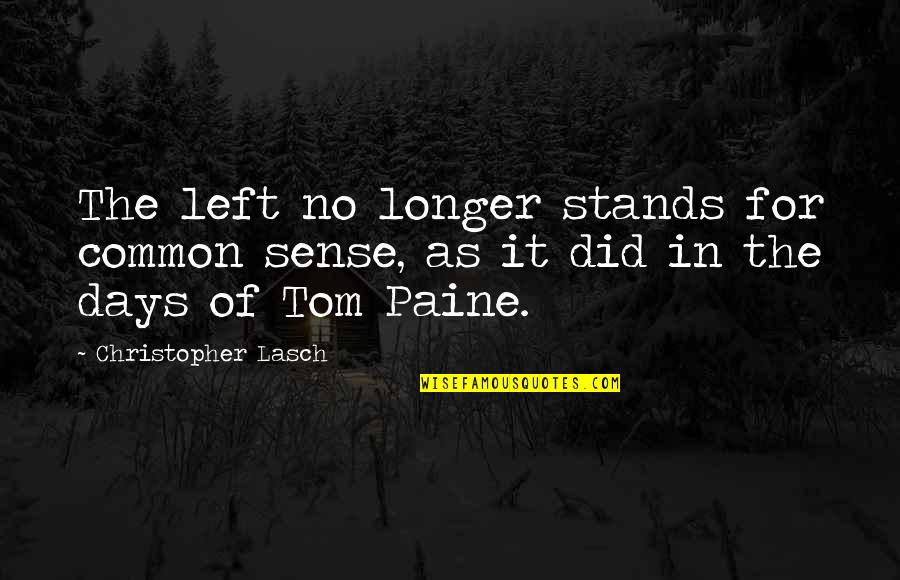 The left no longer stands for common sense, as it did in the days of Tom Paine.
—
Christopher Lasch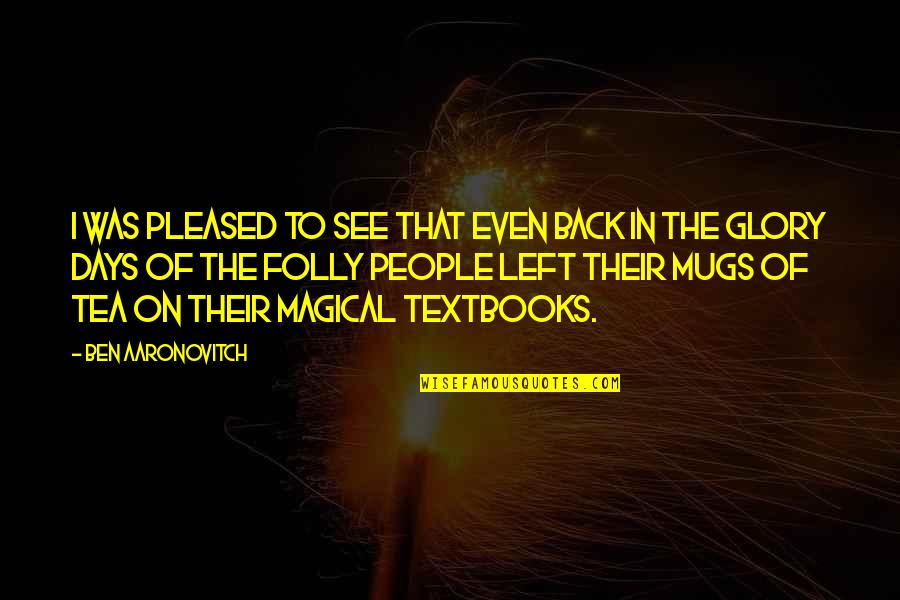 I was pleased to see that even back in the glory days of the Folly people left their mugs of tea on their magical textbooks.
—
Ben Aaronovitch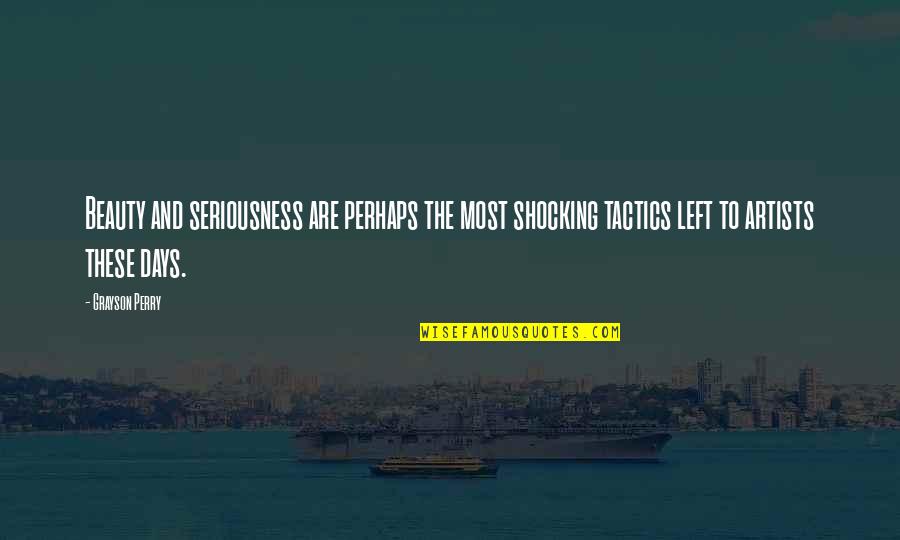 Beauty and seriousness are perhaps the most shocking tactics left to artists these days.
—
Grayson Perry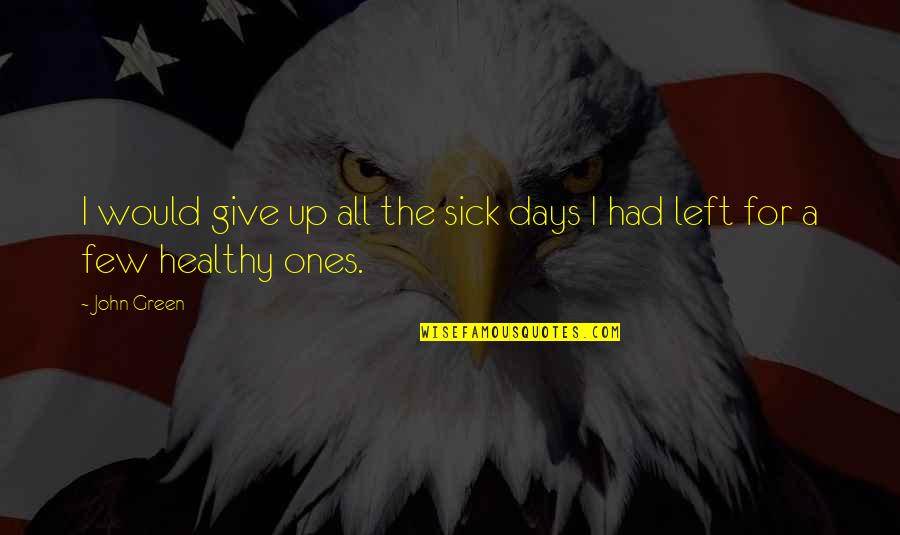 I would give up all the sick days I had left for a few healthy ones.
—
John Green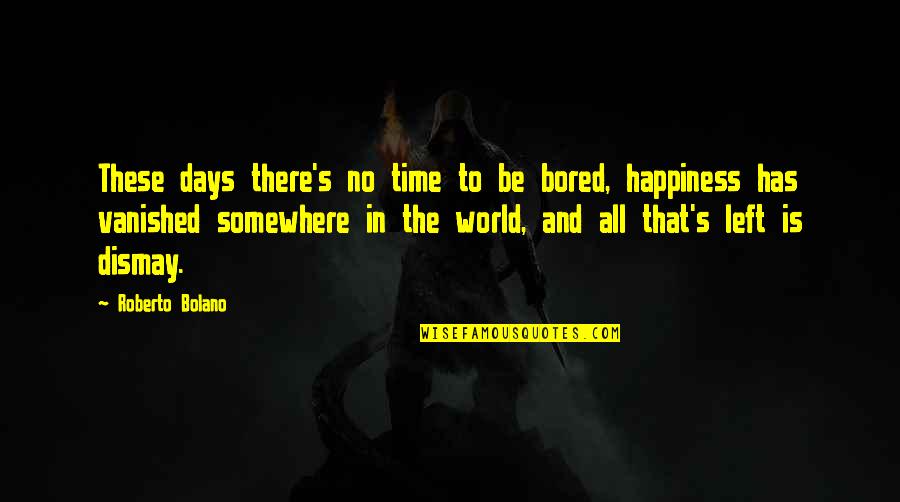 These days there's no time to be bored, happiness has vanished somewhere in the world, and all that's left is dismay.
—
Roberto Bolano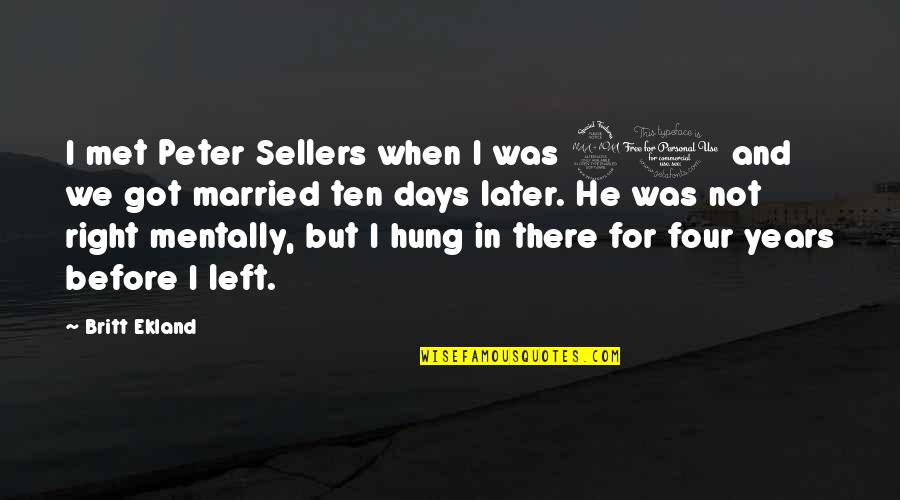 I met Peter Sellers when I was 21 and we got married ten days later. He was not right mentally, but I hung in there for four years before I left.
—
Britt Ekland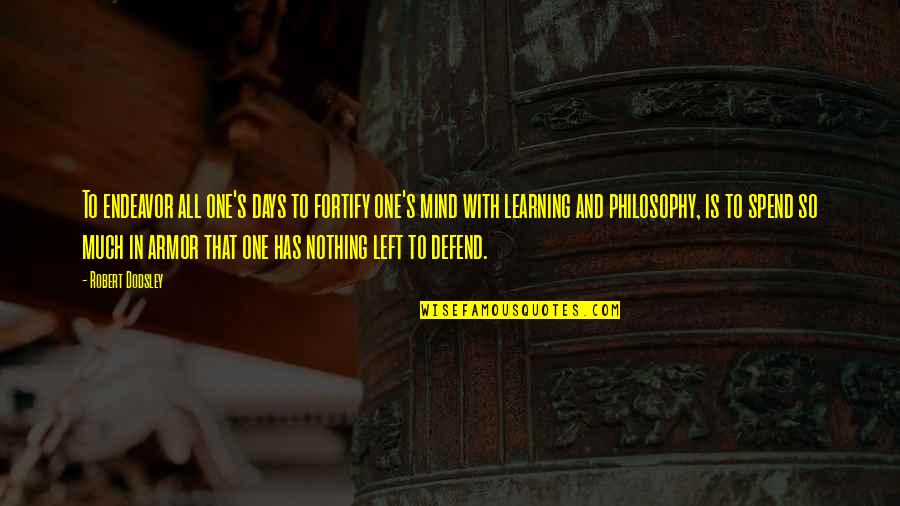 To endeavor all one's days to fortify one's mind with learning and philosophy, is to spend so much in armor that one has nothing left to defend.
—
Robert Dodsley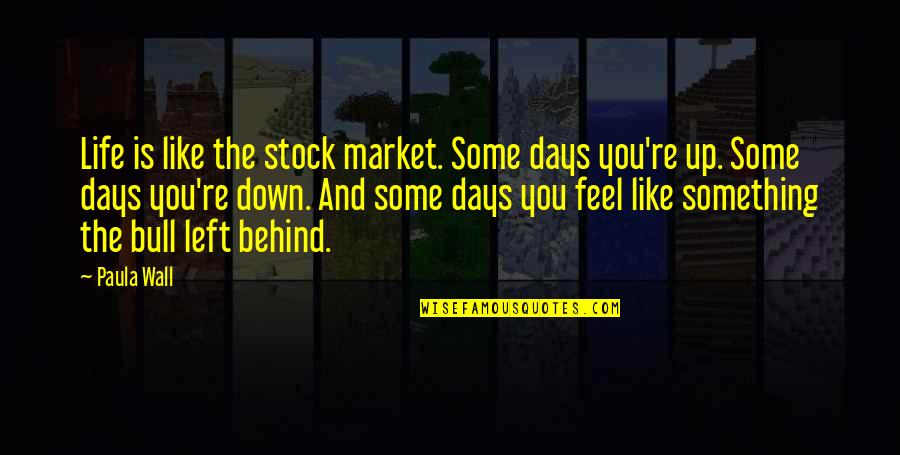 Life is like the stock market. Some days you're up. Some days you're down. And some days you feel like something the bull left behind. —
Paula Wall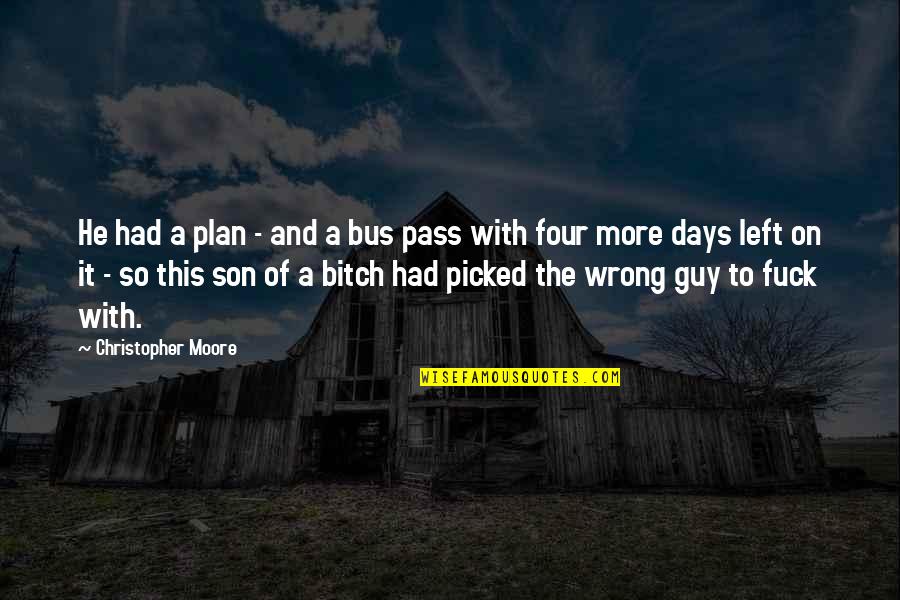 He had a plan - and a bus pass with four more
days left
on it - so this son of a bitch had picked the wrong guy to fuck with. —
Christopher Moore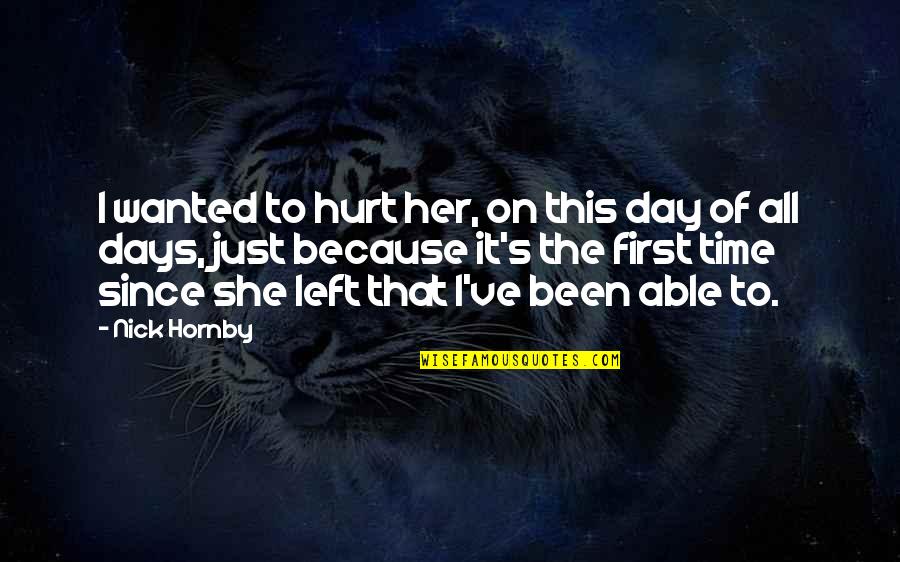 I wanted to hurt her, on this day of all days, just because it's the first time since she left that I've been able to. —
Nick Hornby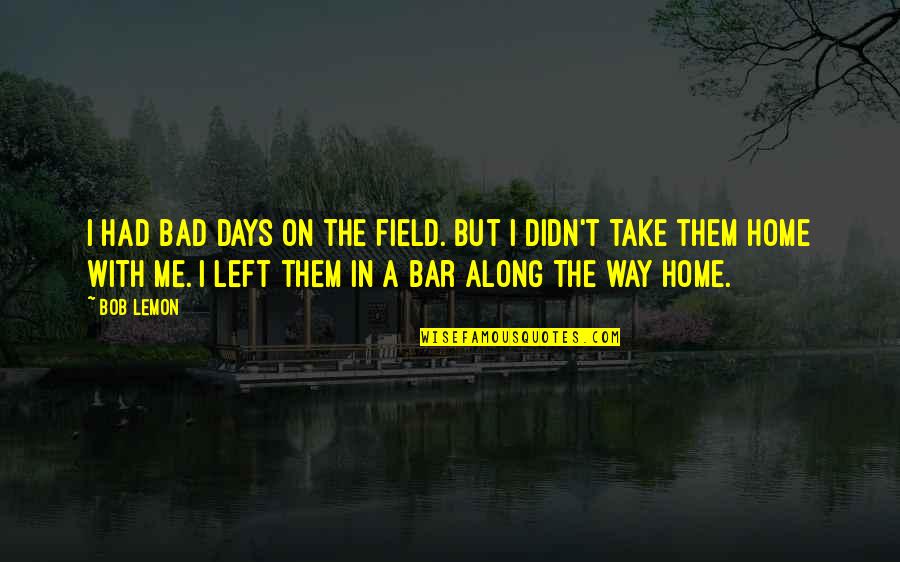 I had bad days on the field. But I didn't take them home with me. I left them in a bar along the way home. —
Bob Lemon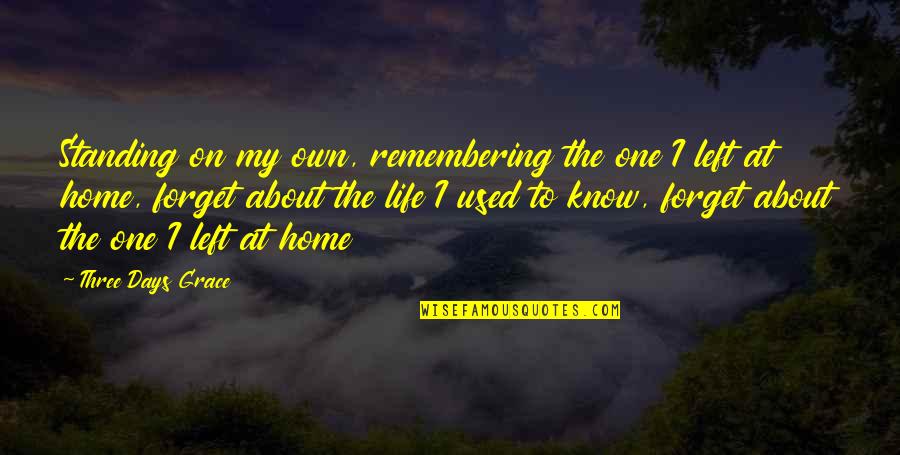 Standing on my own, remembering the one I left at home, forget about the life I used to know, forget about the one I left at home —
Three Days Grace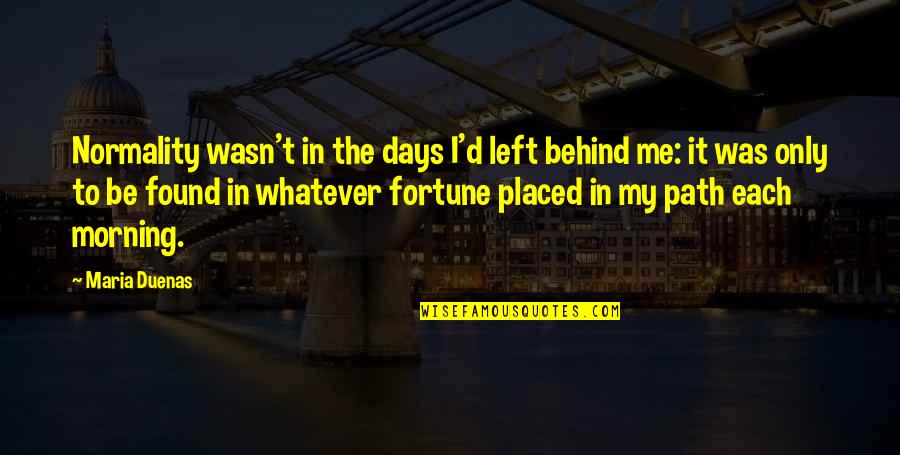 Normality wasn't in the days I'd left behind me: it was only to be found in whatever fortune placed in my path each morning. —
Maria Duenas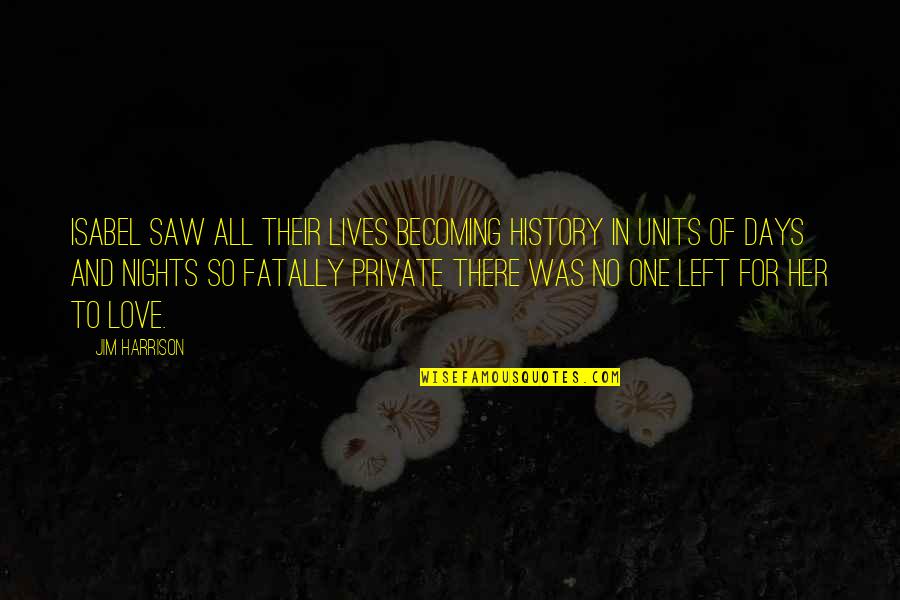 Isabel saw all their lives becoming history in units of days and nights so fatally private there was no one left for her to love. —
Jim Harrison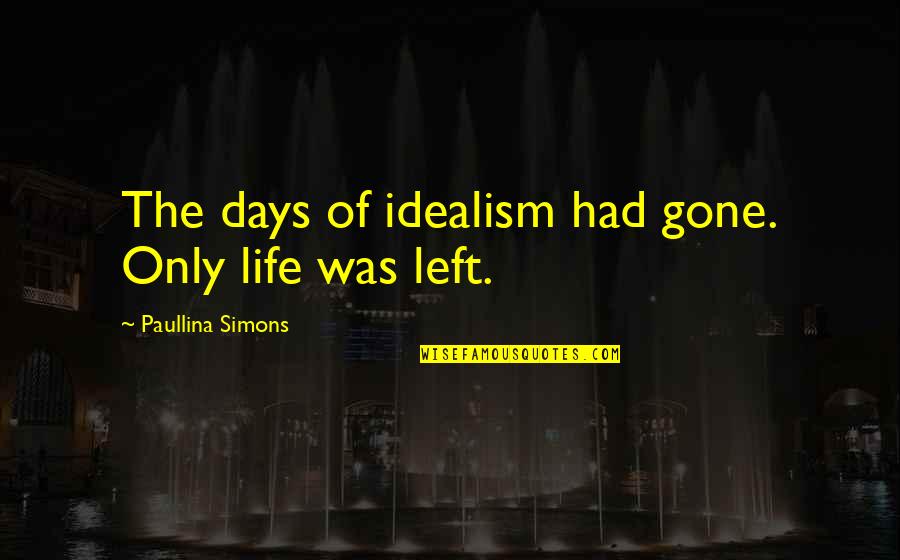 The days of idealism had gone. Only life was left. —
Paullina Simons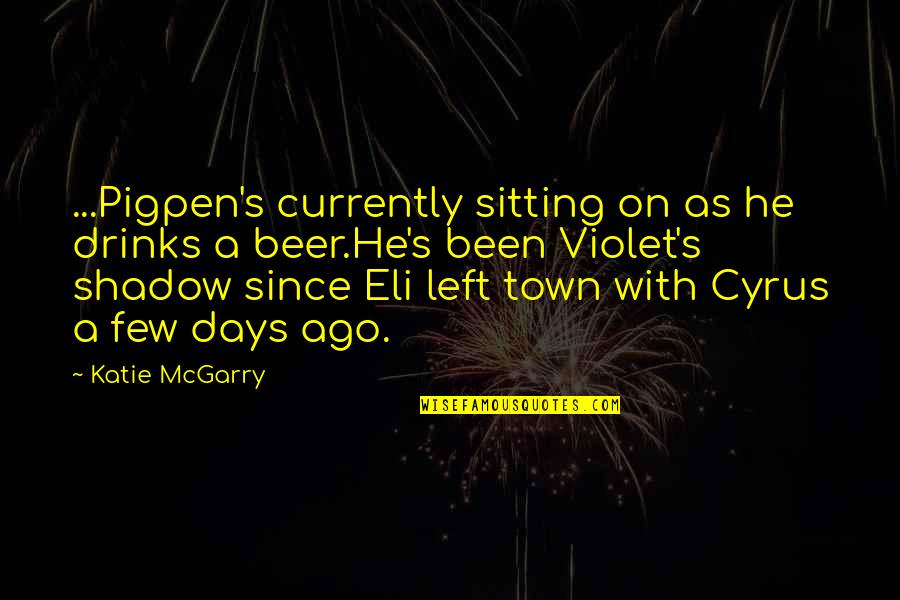 ...Pigpen's currently sitting on as he drinks a beer.
He's been Violet's shadow since Eli left town with Cyrus a few days ago. —
Katie McGarry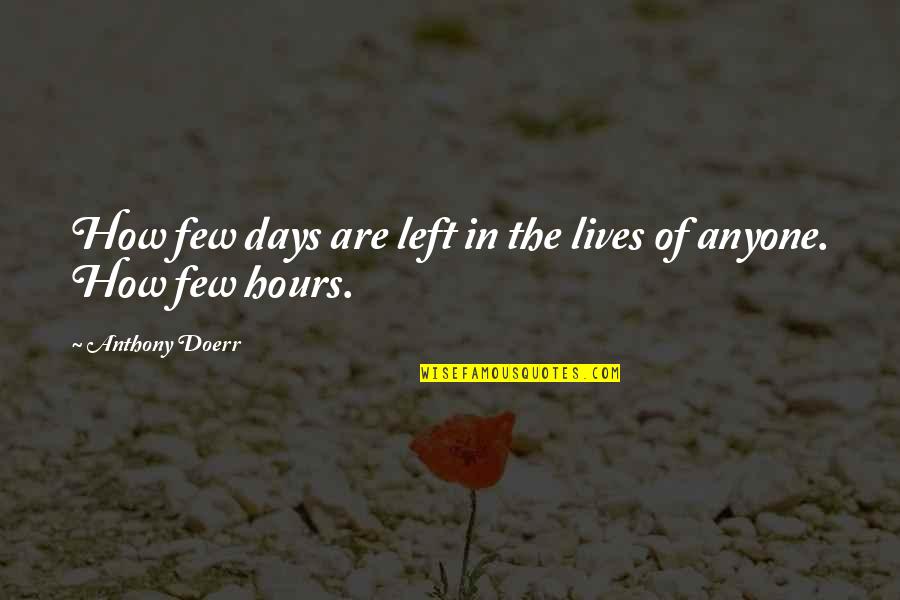 How few days are left in the lives of anyone. How few hours. —
Anthony Doerr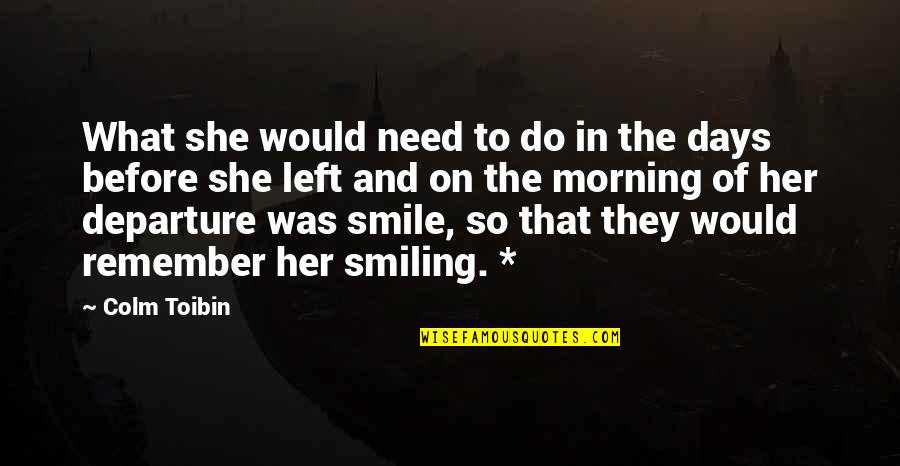 What she would need to do in the days before she left and on the morning of her departure was smile, so that they would remember her smiling. * —
Colm Toibin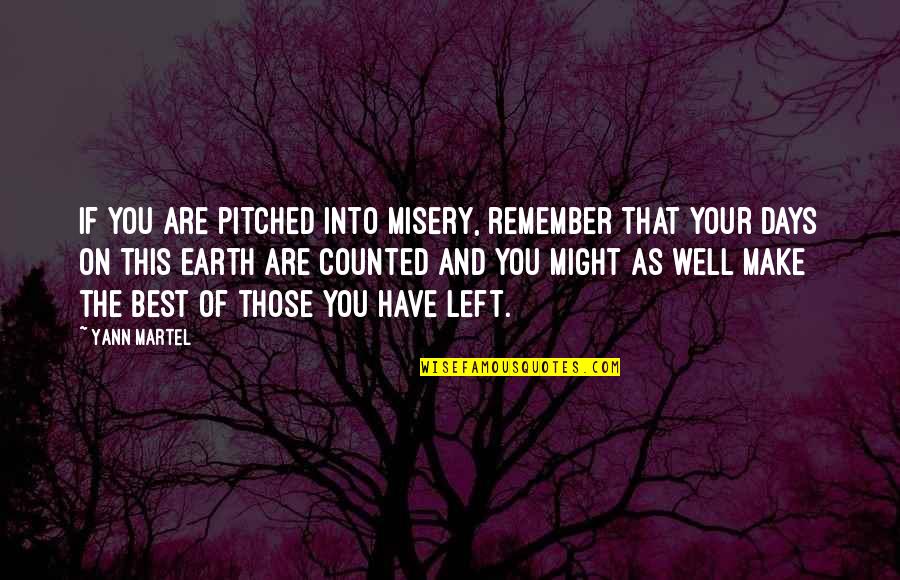 If you are pitched into misery, remember that your days on this earth are counted and you might as well make the best of those you have left. —
Yann Martel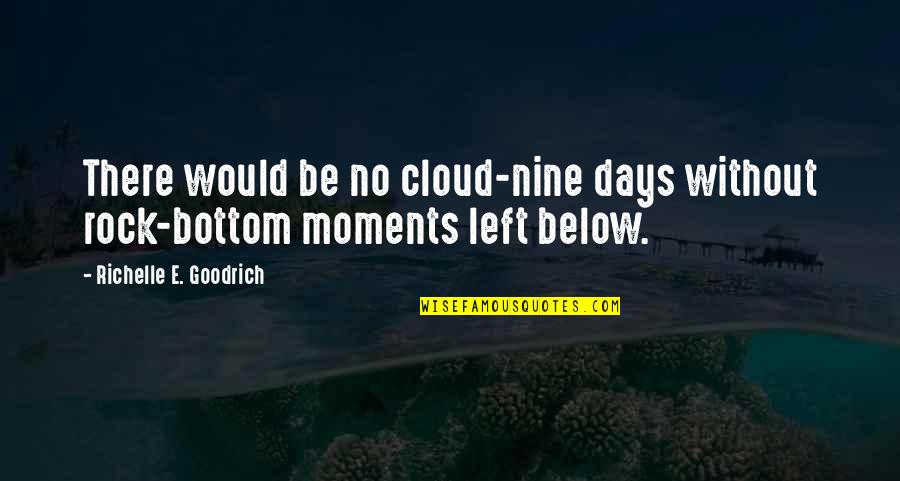 There would be no cloud-nine days without rock-bottom moments left below. —
Richelle E. Goodrich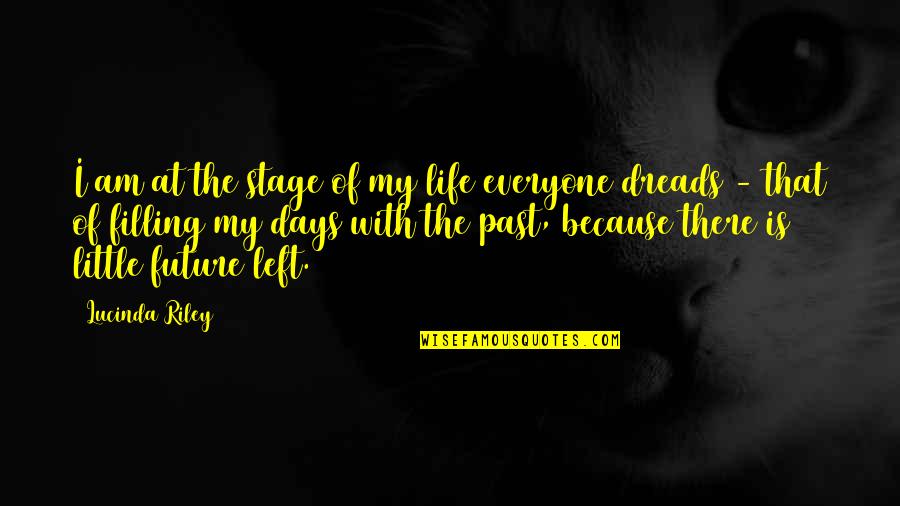 I am at the stage of my life everyone dreads - that of filling my days with the past, because there is little future left. —
Lucinda Riley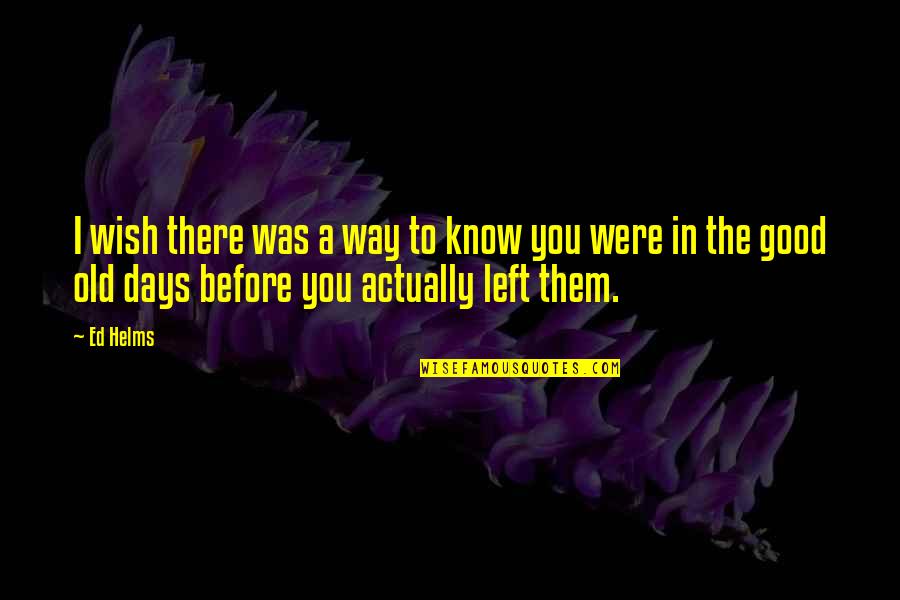 I wish there was a way to know you were in the good old days before you actually left them. —
Ed Helms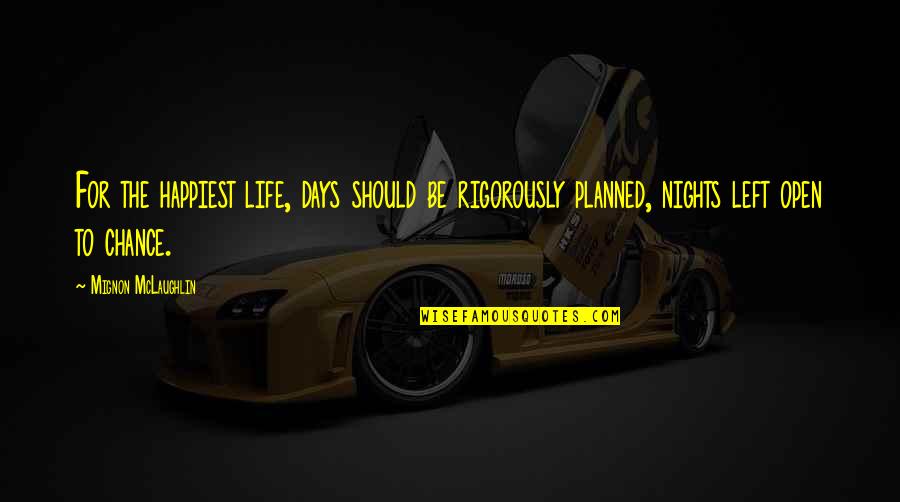 For the happiest life, days should be rigorously planned, nights left open to chance. —
Mignon McLaughlin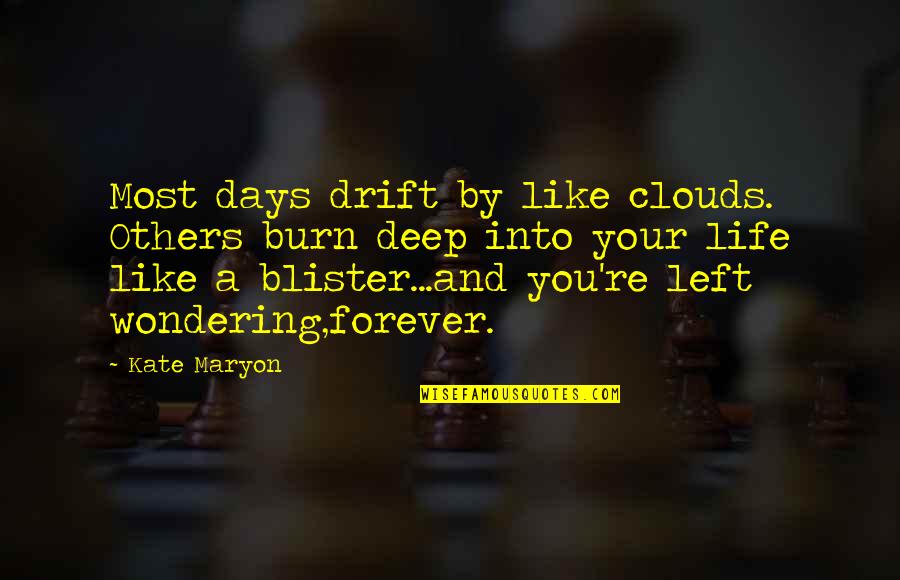 Most days drift by like clouds. Others burn deep into your life like a blister...and you're left wondering,forever. —
Kate Maryon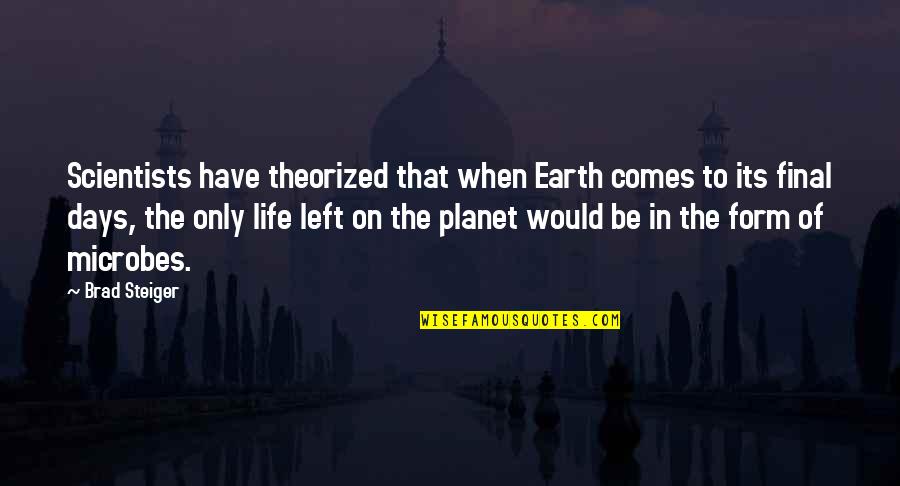 Scientists have theorized that when Earth comes to its final days, the only life left on the planet would be in the form of microbes. —
Brad Steiger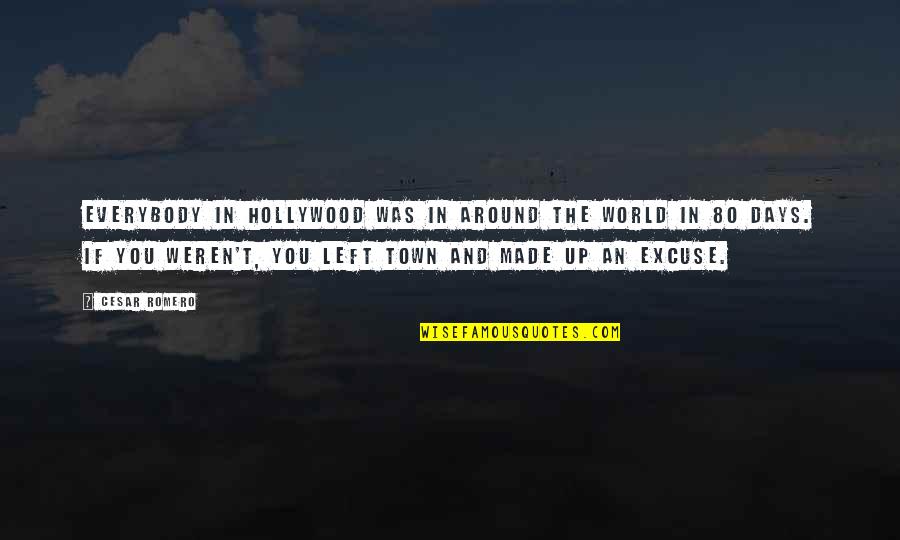 Everybody in Hollywood was in Around the World in 80 Days. If you weren't, you left town and made up an excuse. —
Cesar Romero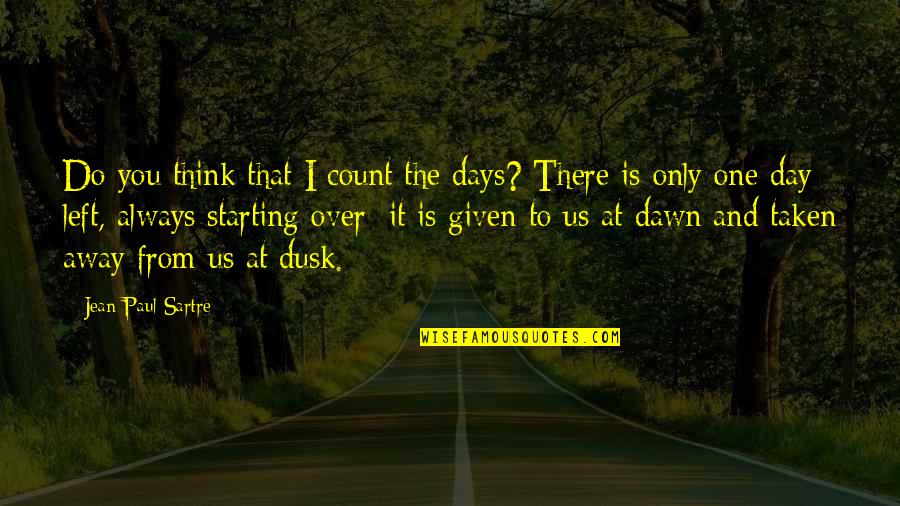 Do you think that I count the days? There is only one day left, always starting over: it is given to us at dawn and taken away from us at dusk. —
Jean-Paul Sartre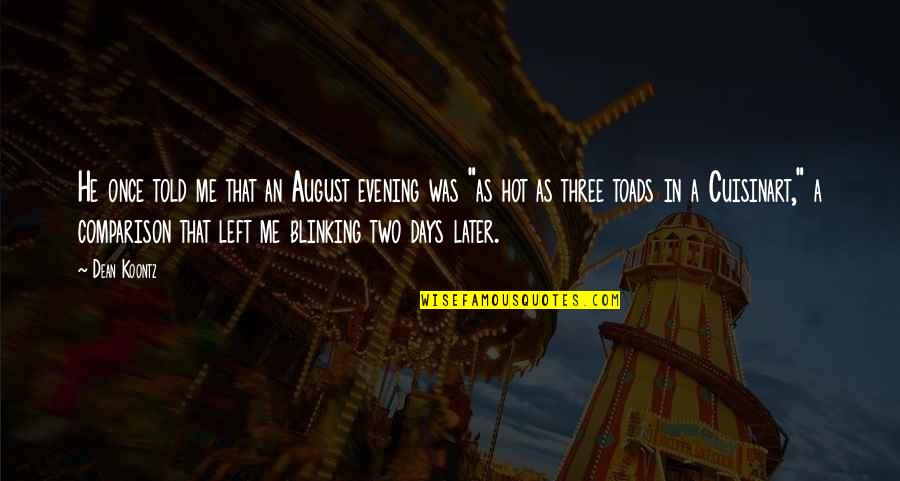 He once told me that an August evening was "as hot as three toads in a Cuisinart," a comparison that left me blinking two days later. —
Dean Koontz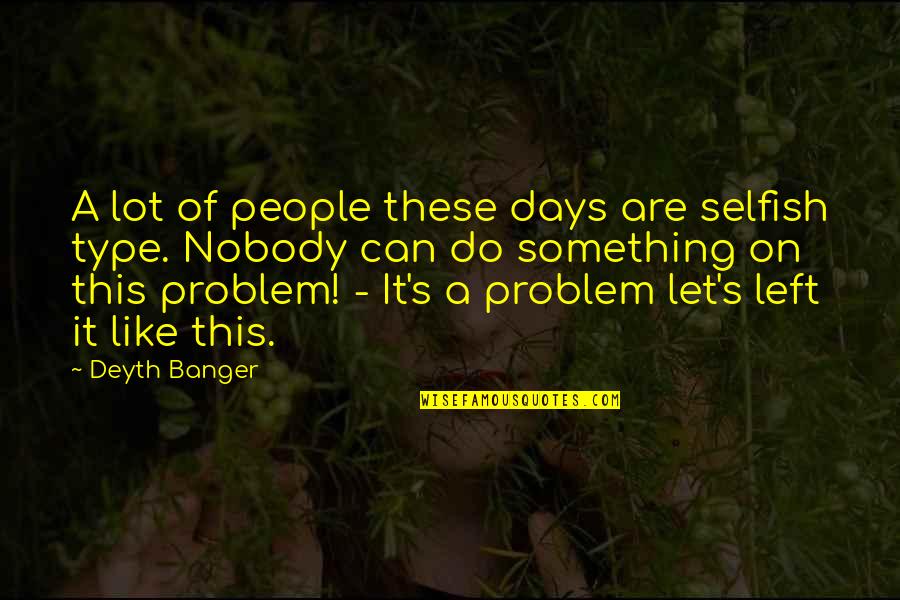 A lot of people these days are selfish type. Nobody can do something on this problem! - It's a problem let's left it like this. —
Deyth Banger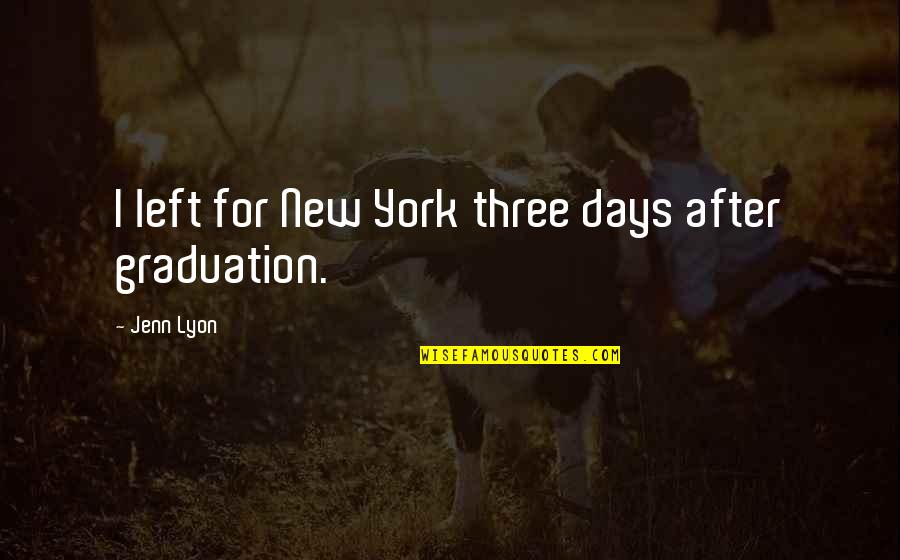 I left for New York three days after graduation. —
Jenn Lyon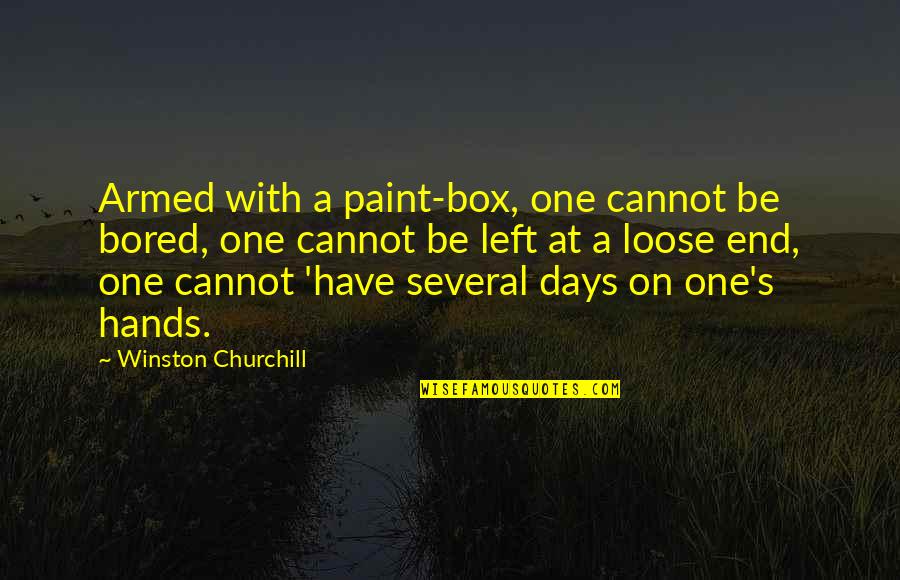 Armed with a paint-box, one cannot be bored, one cannot be left at a loose end, one cannot 'have several days on one's hands. —
Winston Churchill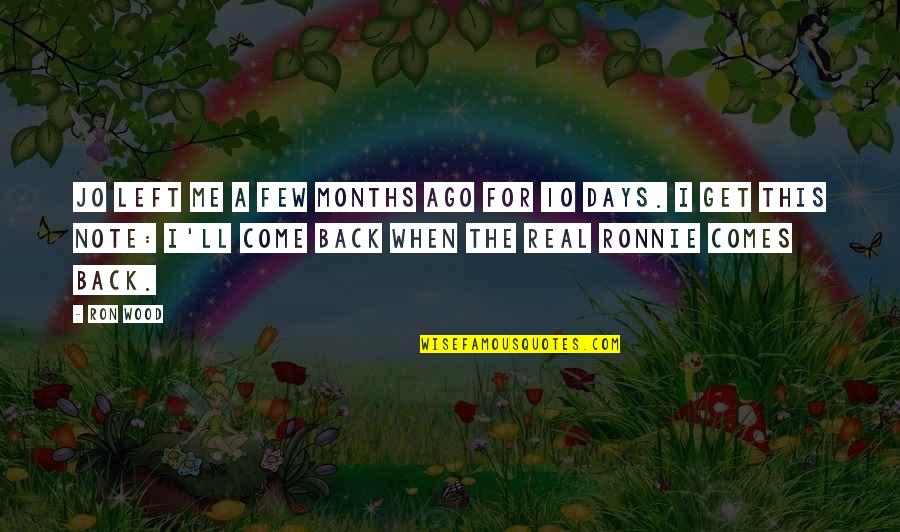 Jo left me a few months ago for 10 days. I get this note: I'll come back when the real Ronnie comes back. —
Ron Wood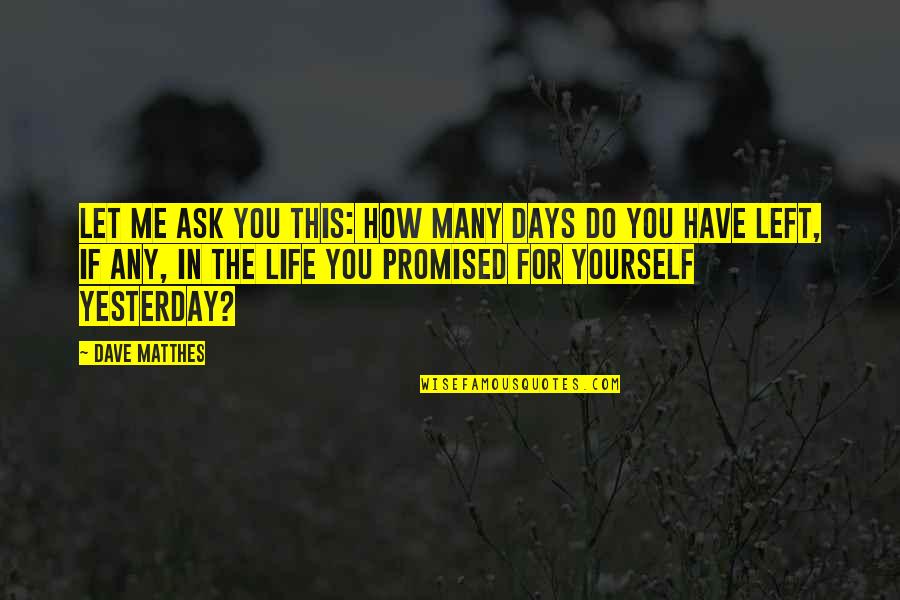 Let me ask you this: How many days do you have left, if any, in the life you promised for yourself yesterday? —
Dave Matthes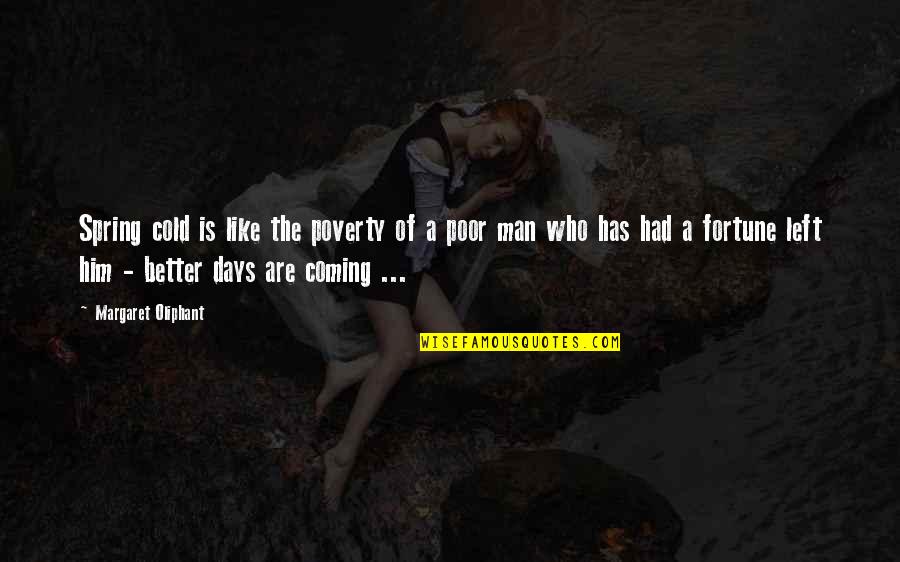 Spring cold is like the poverty of a poor man who has had a fortune left him - better days are coming ... —
Margaret Oliphant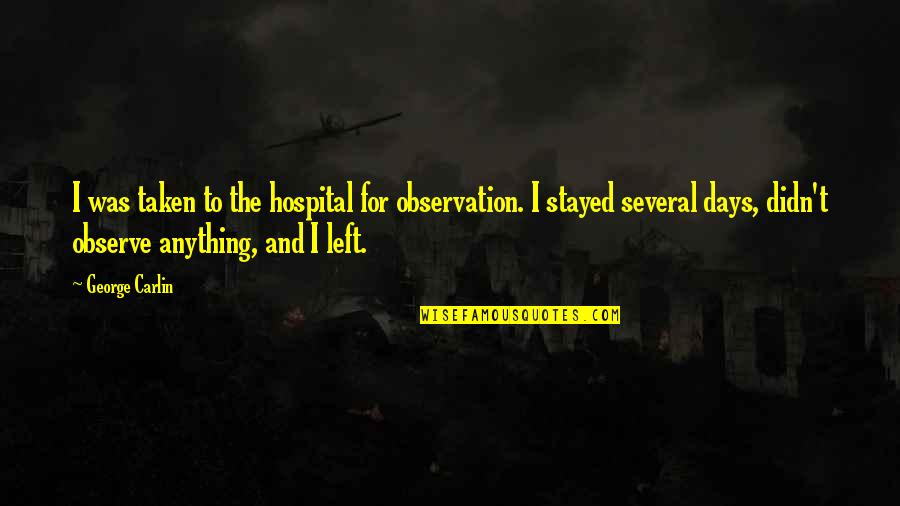 I was taken to the hospital for observation. I stayed several days, didn't observe anything, and I left. —
George Carlin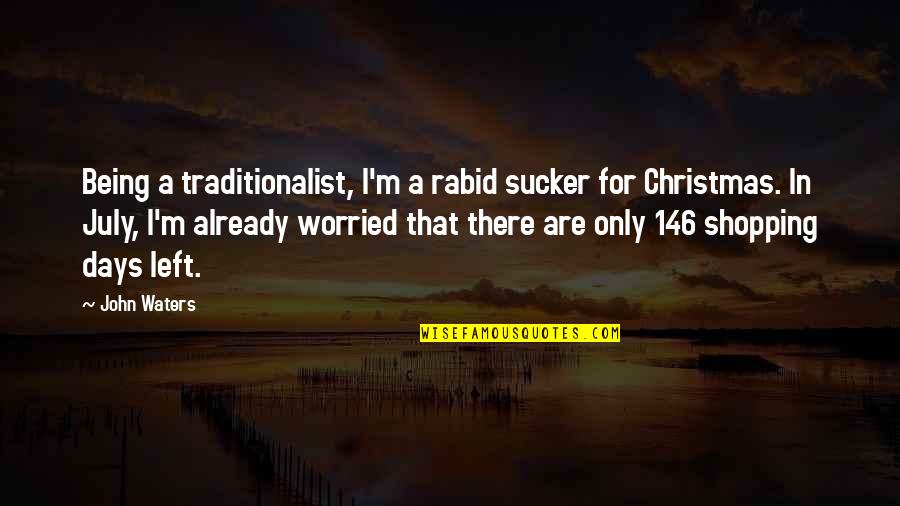 Being a traditionalist, I'm a rabid sucker for Christmas. In July, I'm already worried that there are only 146 shopping
days left
. —
John Waters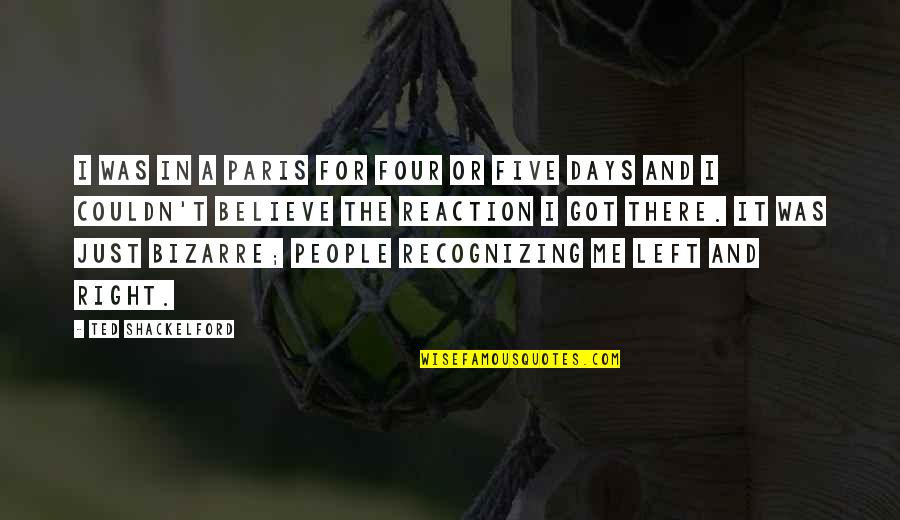 I was in a Paris for four or five days and I couldn't believe the reaction I got there. It was just bizarre; people recognizing me left and right. —
Ted Shackelford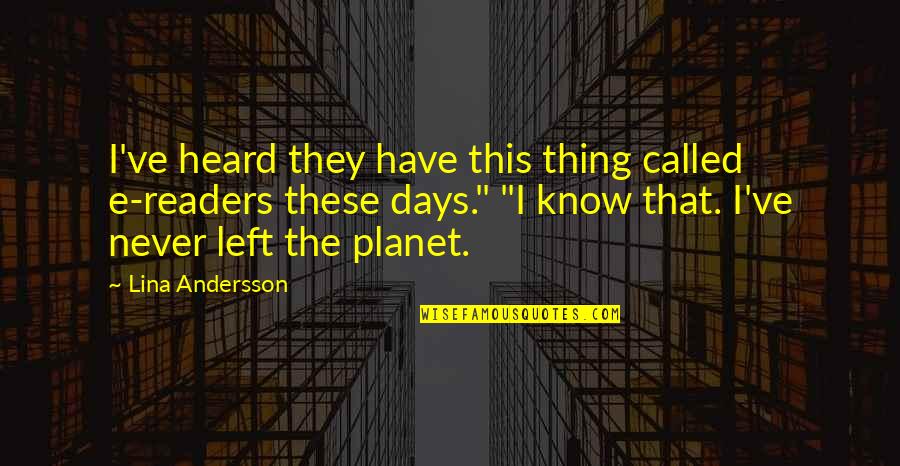 I've heard they have this thing called e-readers these days." "I know that. I've never left the planet. —
Lina Andersson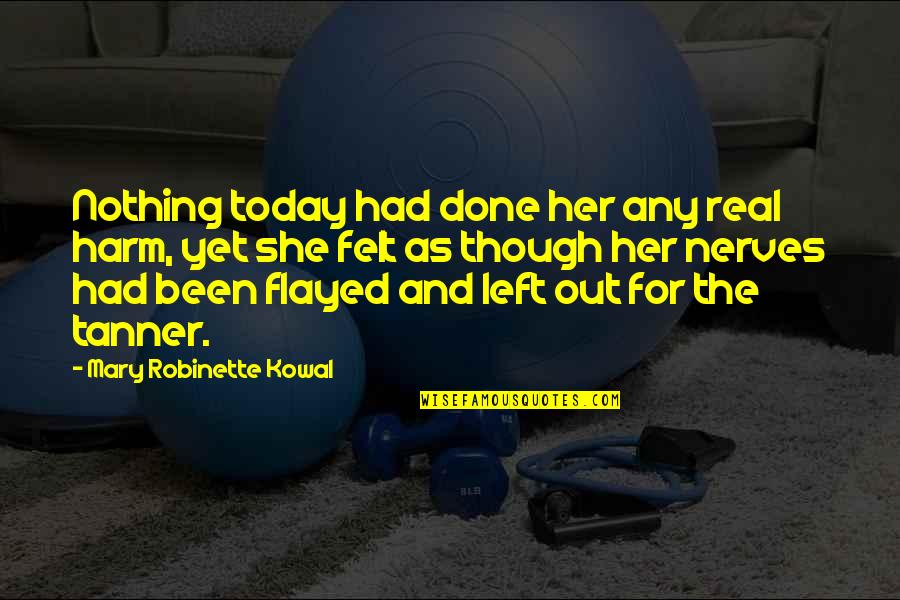 Nothing today had done her any real harm, yet she felt as though her nerves had been flayed and left out for the tanner. —
Mary Robinette Kowal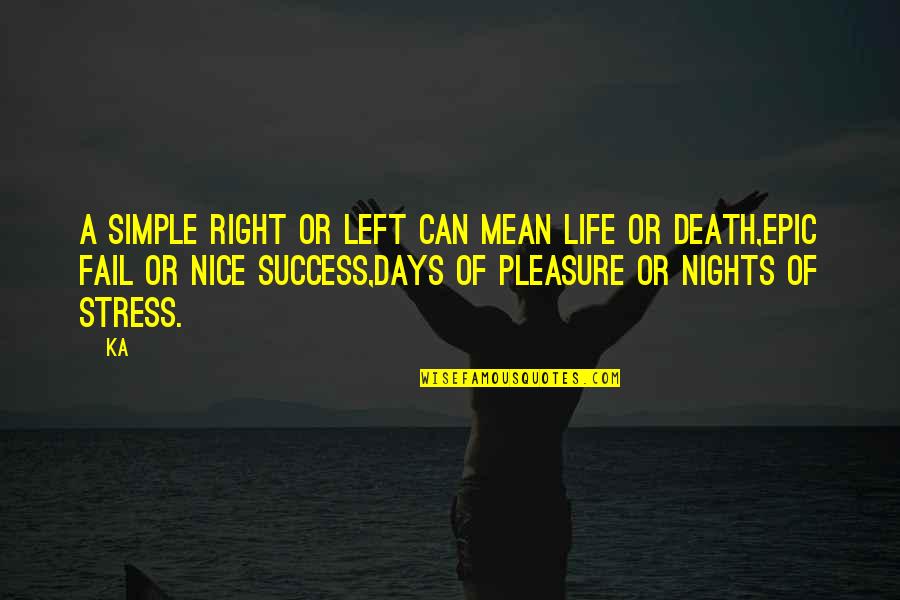 A simple right or left can mean life or death,
Epic fail or nice success,
Days of pleasure or nights of stress. —
Ka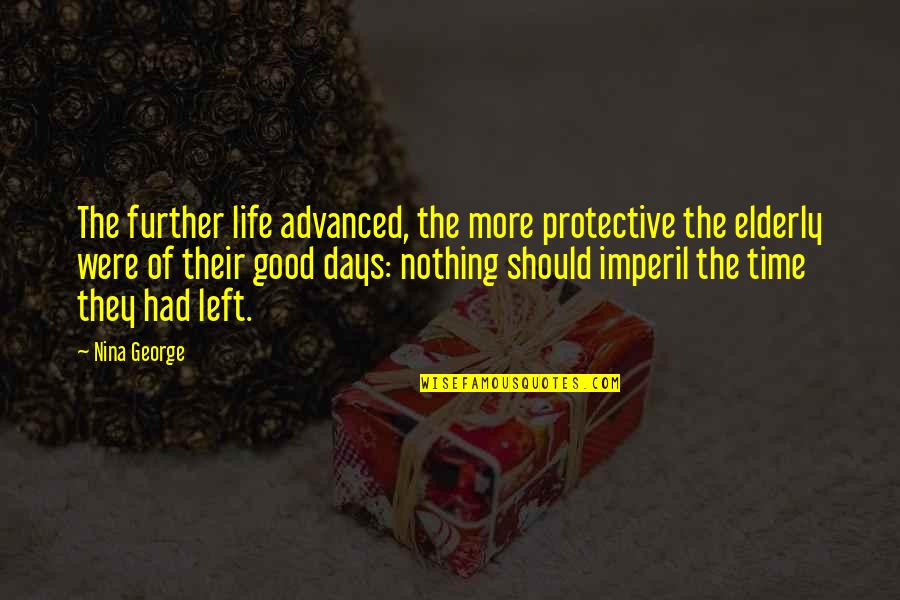 The further life advanced, the more protective the elderly were of their good days: nothing should imperil the time they had left. —
Nina George