Chris Colfer Quotes
Collection of top 100 famous quotes about Chris Colfer
Chris Colfer Quotes & Sayings
Happy to read and share the best inspirational Chris Colfer quotes, sayings and quotations on Wise Famous Quotes.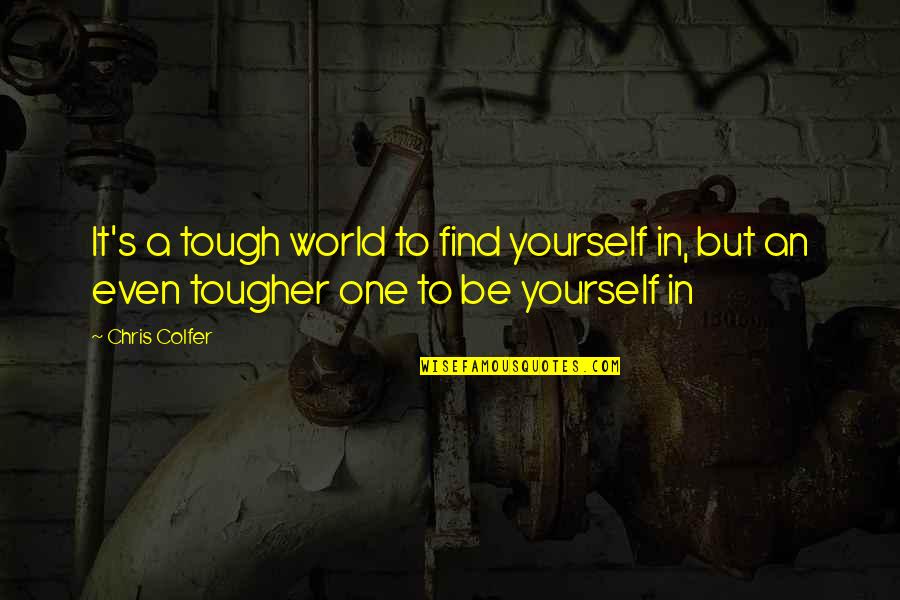 It's a tough world to find yourself in, but an even tougher one to be yourself in
—
Chris Colfer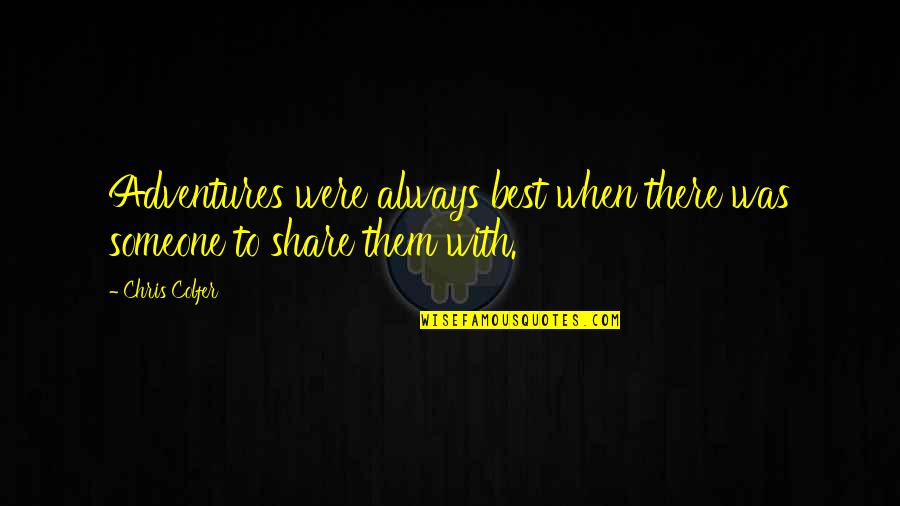 Adventures were always best when there was someone to share them with.
—
Chris Colfer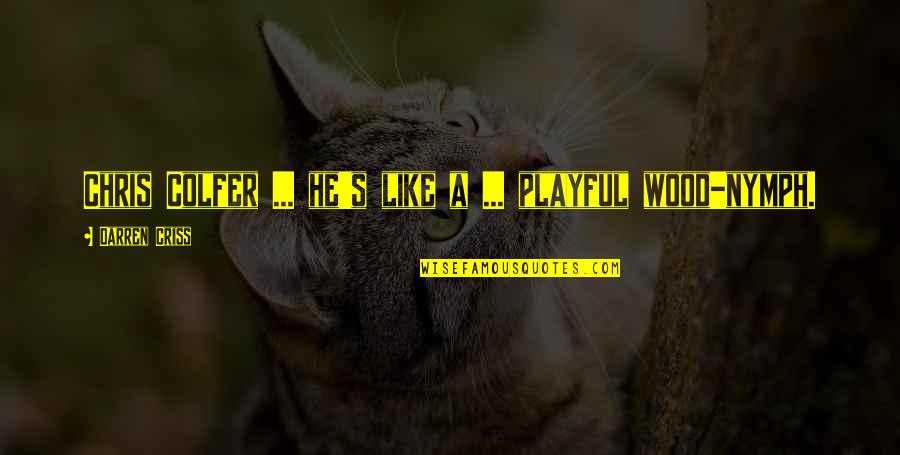 Chris Colfer ... he's like a ... playful wood-nymph.
—
Darren Criss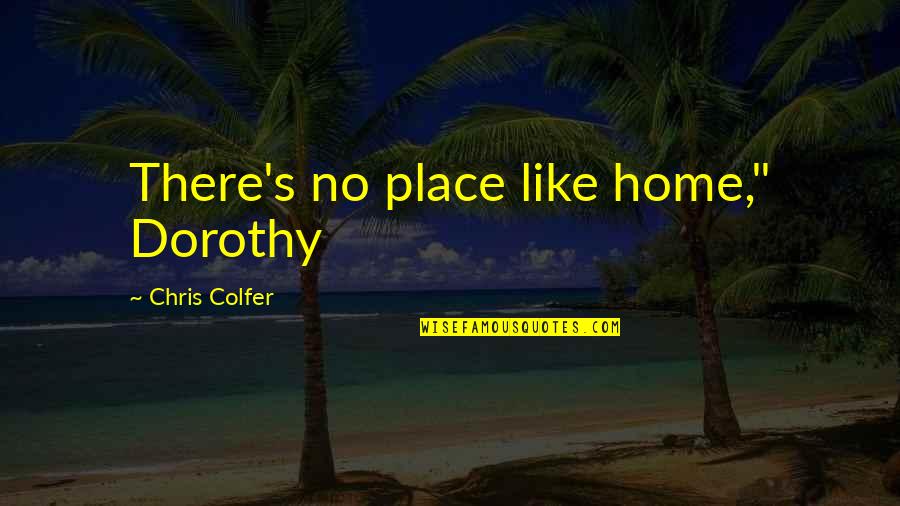 There's no place like home," Dorothy
—
Chris Colfer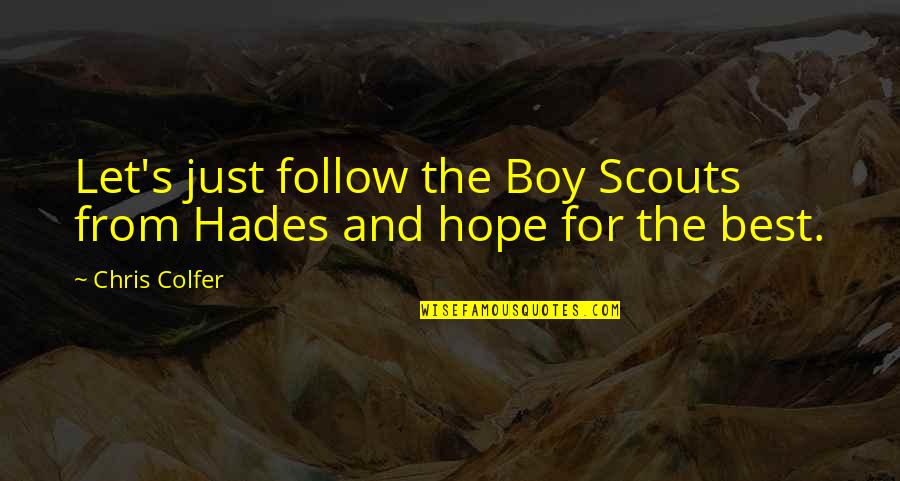 Let's just follow the Boy Scouts from Hades and hope for the best.
—
Chris Colfer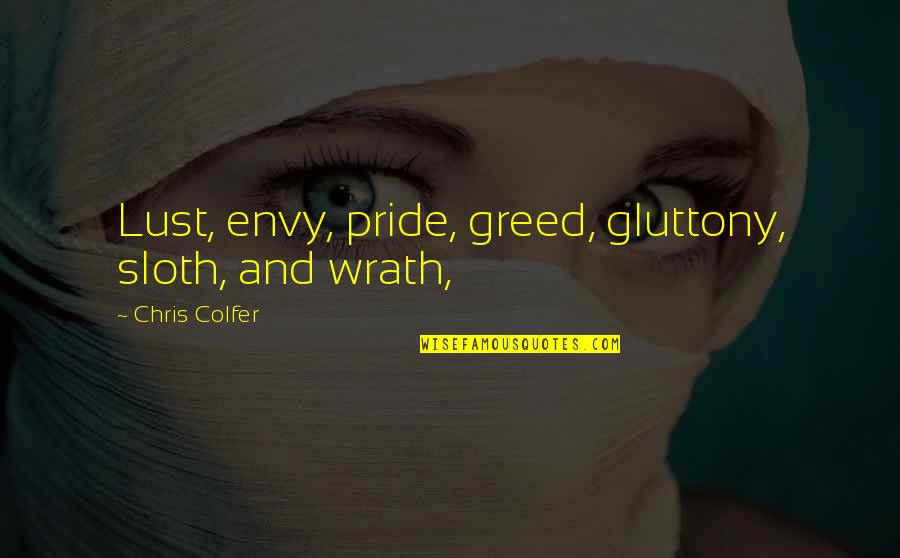 Lust, envy, pride, greed, gluttony, sloth, and wrath,
—
Chris Colfer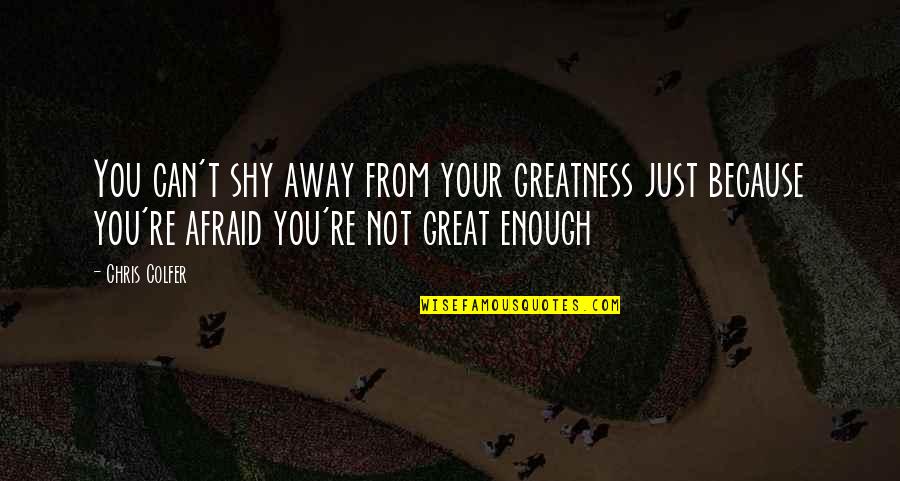 You can't shy away from your greatness just because you're afraid you're not great enough
—
Chris Colfer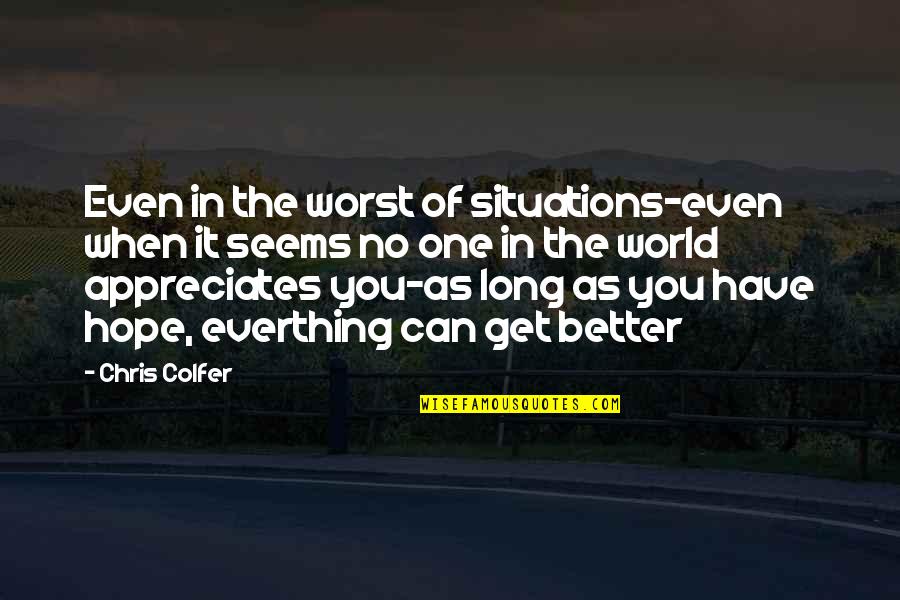 Even in the worst of situations-even when it seems no one in the world appreciates you-as long as you have hope, everthing can get better —
Chris Colfer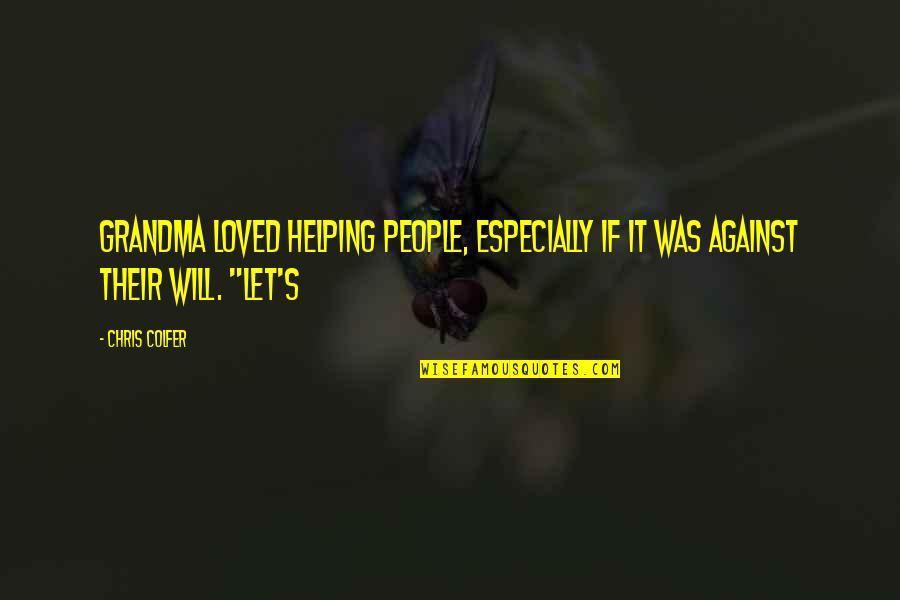 Grandma loved helping people, especially if it was against their will. "Let's —
Chris Colfer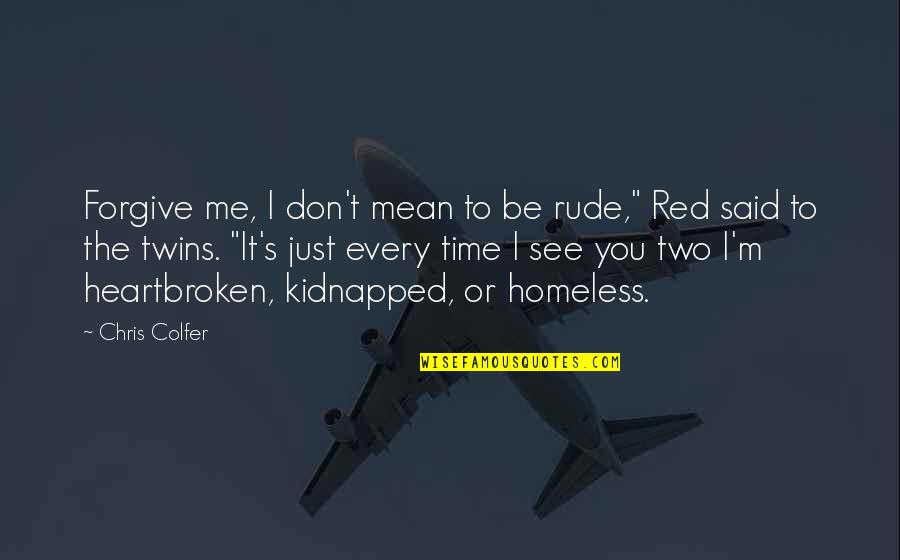 Forgive me, I don't mean to be rude," Red said to the twins. "It's just every time I see you two I'm heartbroken, kidnapped, or homeless. —
Chris Colfer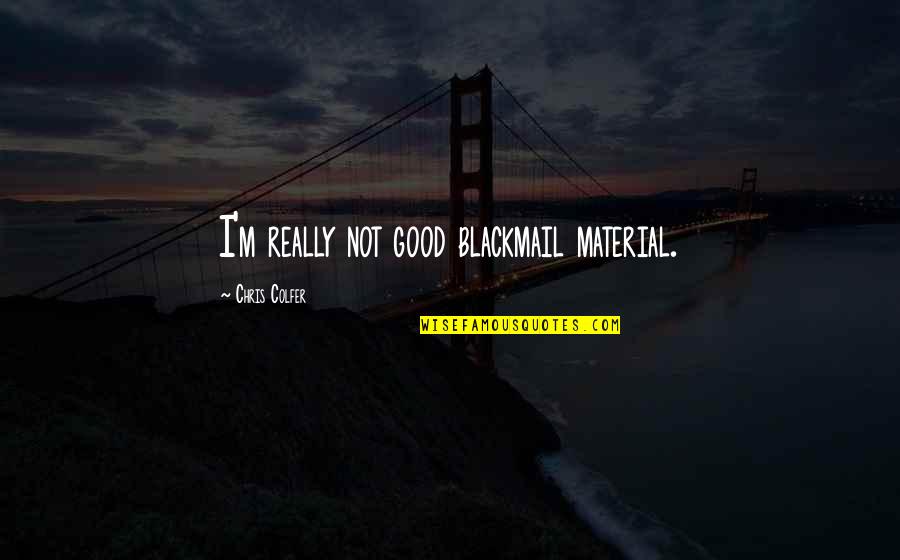 I'm really not good blackmail material. —
Chris Colfer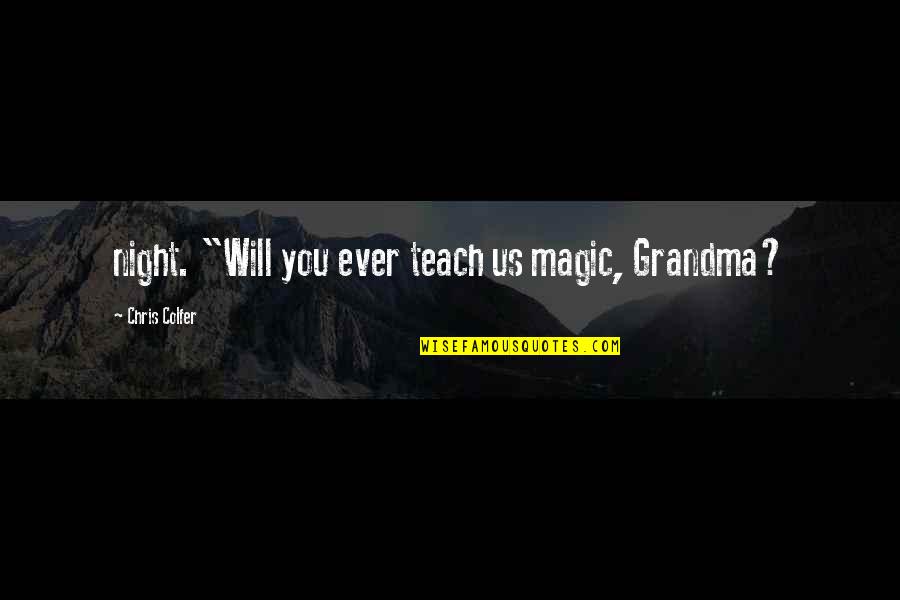 night. "Will you ever teach us magic, Grandma? —
Chris Colfer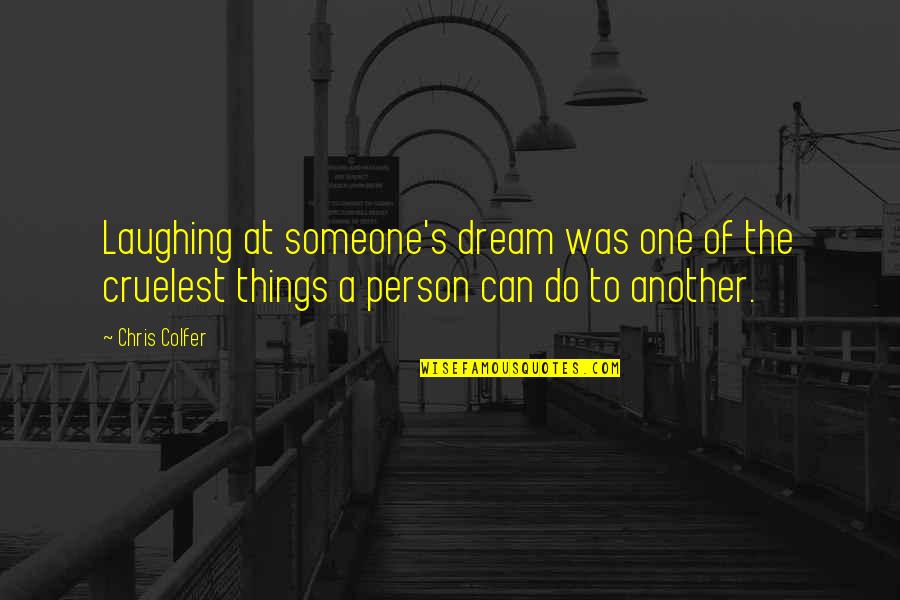 Laughing at someone's dream was one of the cruelest things a person can do to another. —
Chris Colfer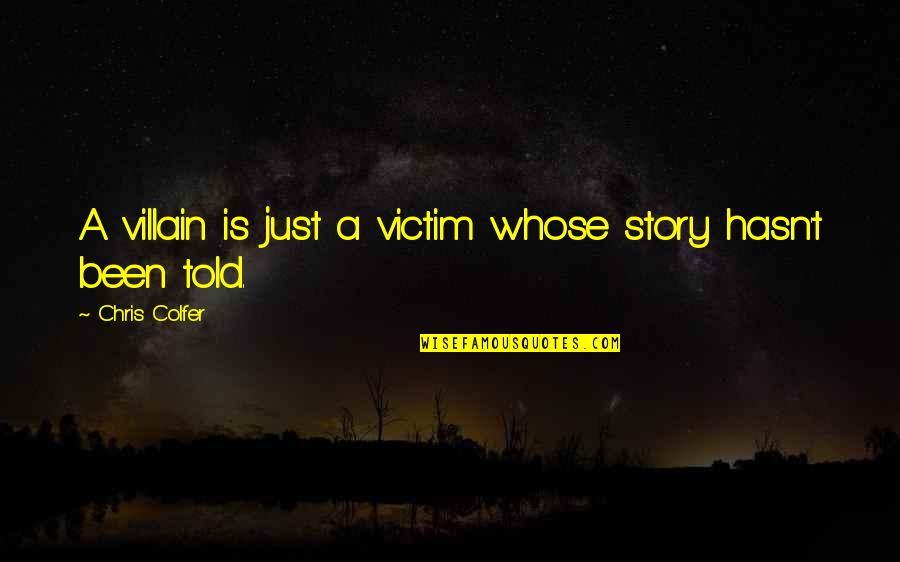 A villain is just a victim whose story hasn't been told. —
Chris Colfer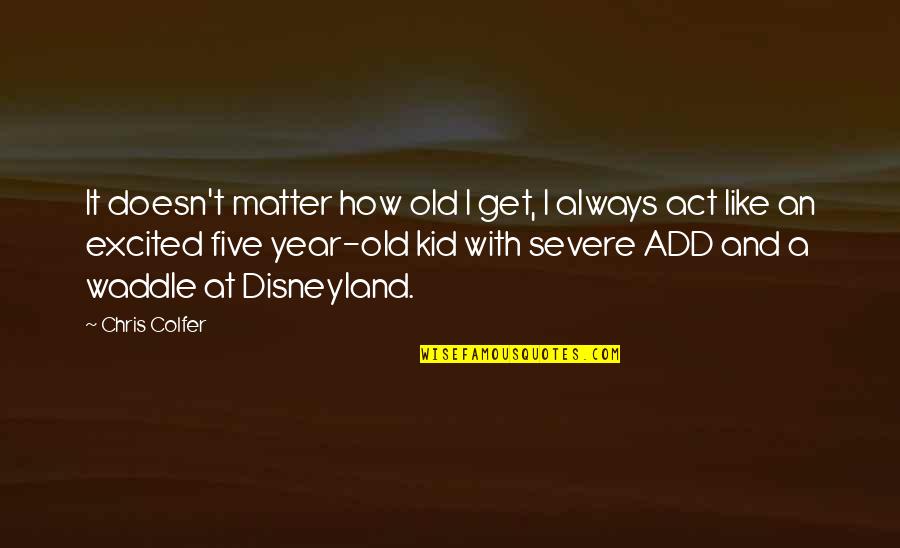 It doesn't matter how old I get, I always act like an excited five year-old kid with severe ADD and a waddle at Disneyland. —
Chris Colfer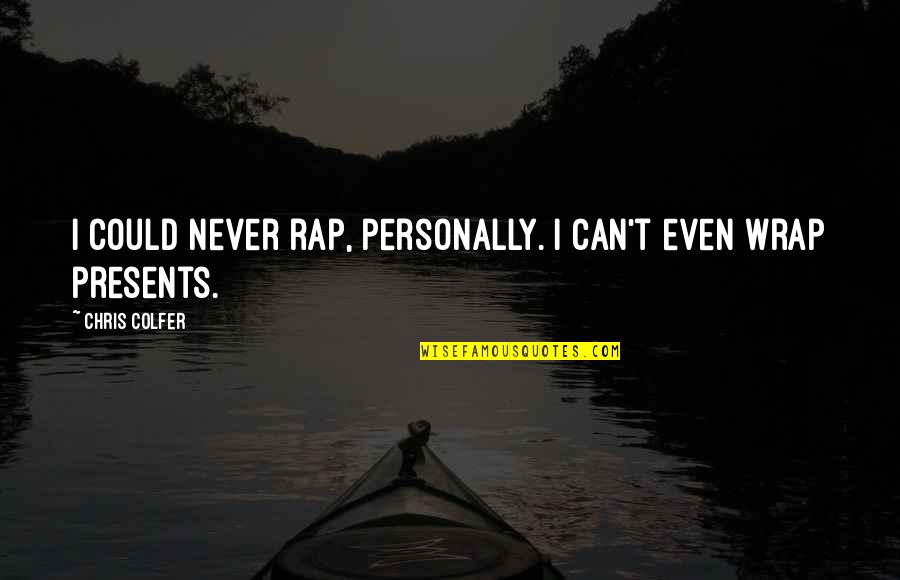 I could never rap, personally. I can't even wrap presents. —
Chris Colfer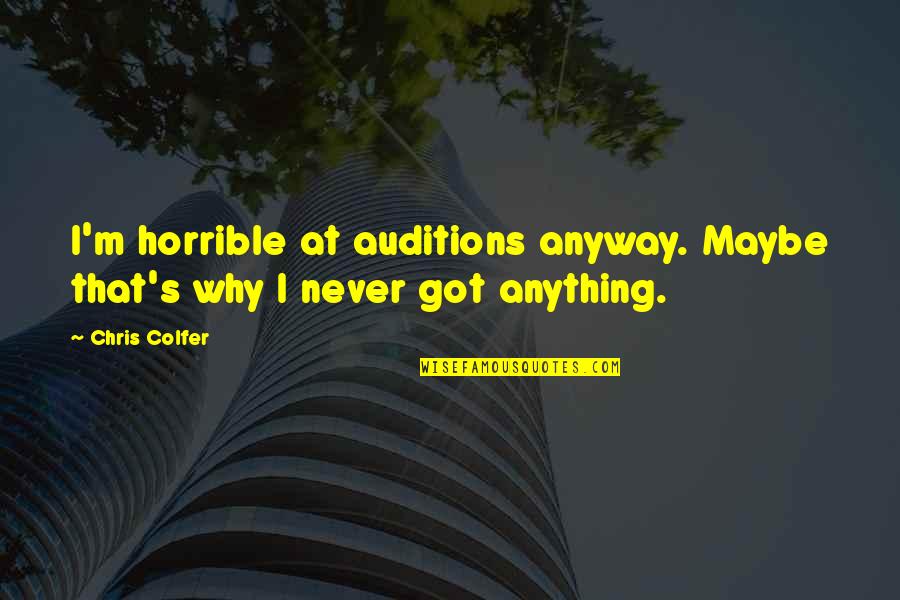 I'm horrible at auditions anyway. Maybe that's why I never got anything. —
Chris Colfer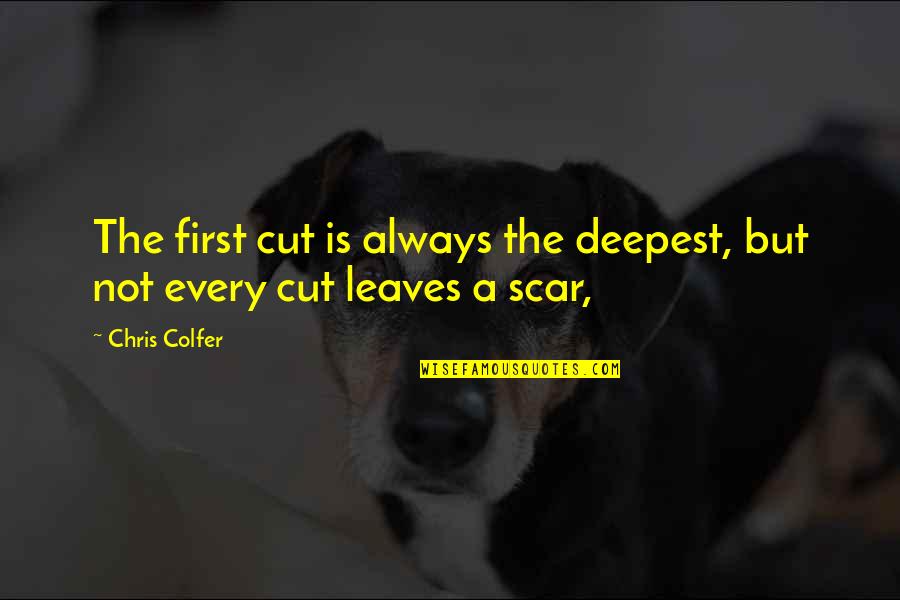 The first cut is always the deepest, but not every cut leaves a scar, —
Chris Colfer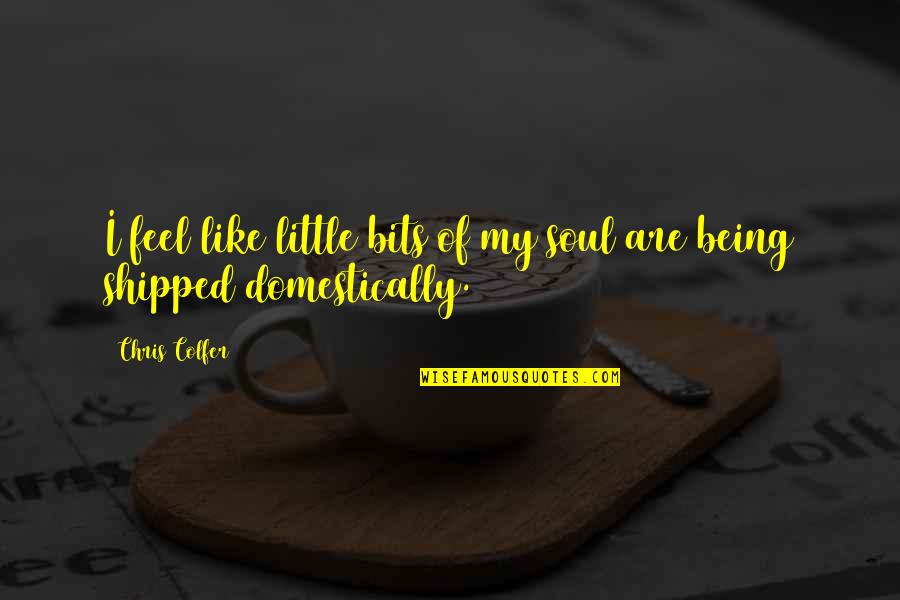 I feel like little bits of my soul are being shipped domestically. —
Chris Colfer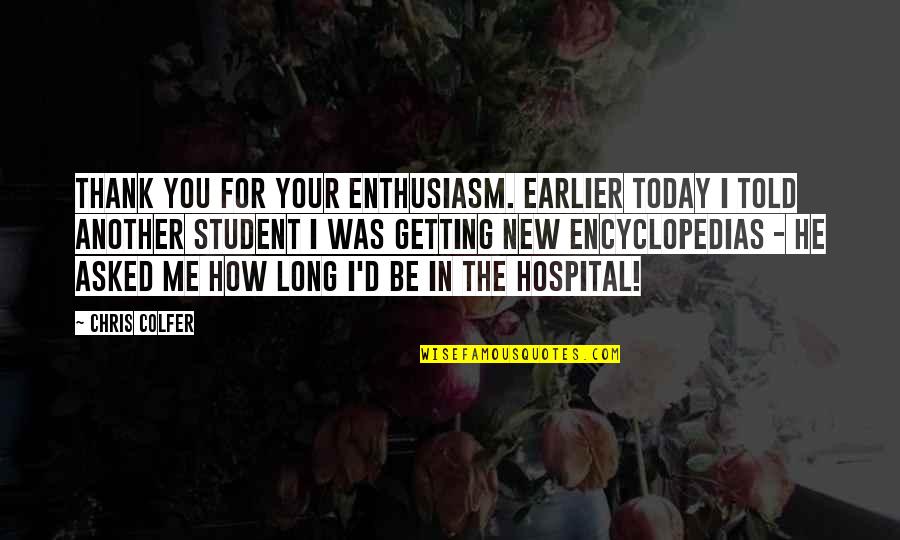 Thank you for your enthusiasm. Earlier today I told another student I was getting new encyclopedias - he asked me how long I'd be in the hospital! —
Chris Colfer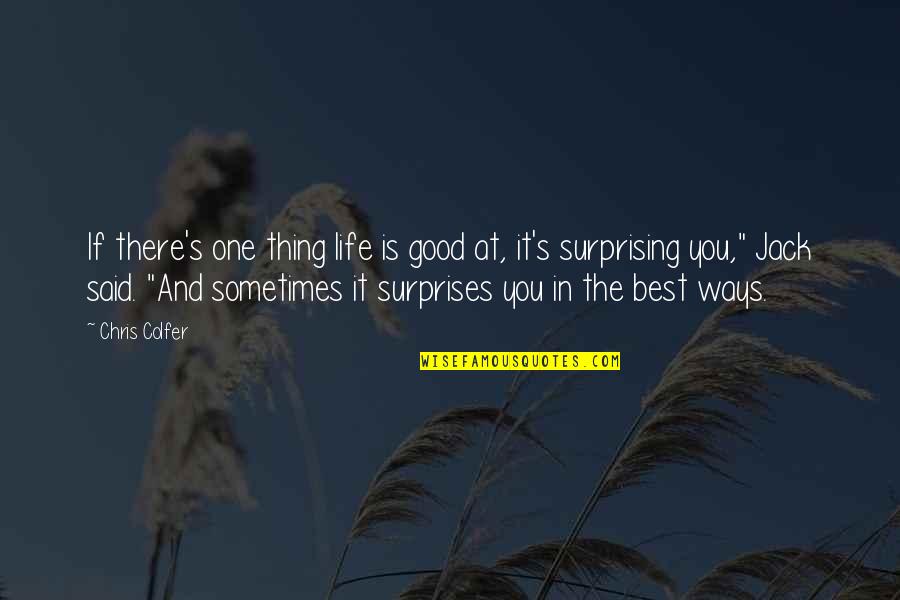 If there's one thing life is good at, it's surprising you," Jack said. "And sometimes it surprises you in the best ways. —
Chris Colfer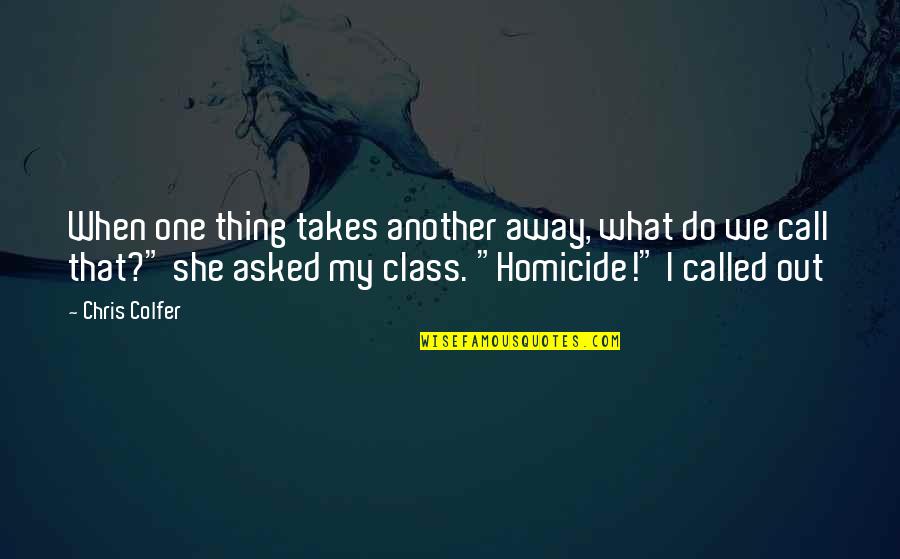 When one thing takes another away, what do we call that?" she asked my class. "Homicide!" I called out —
Chris Colfer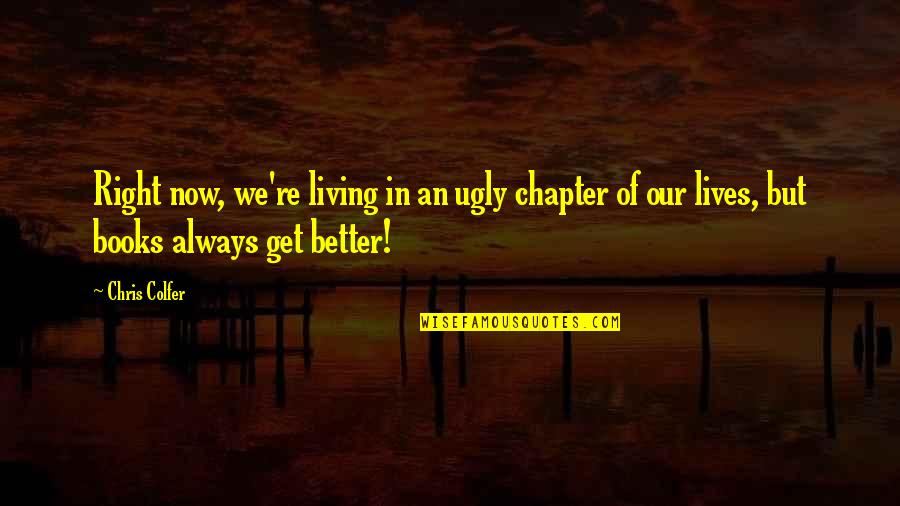 Right now, we're living in an ugly chapter of our lives, but books always get better! —
Chris Colfer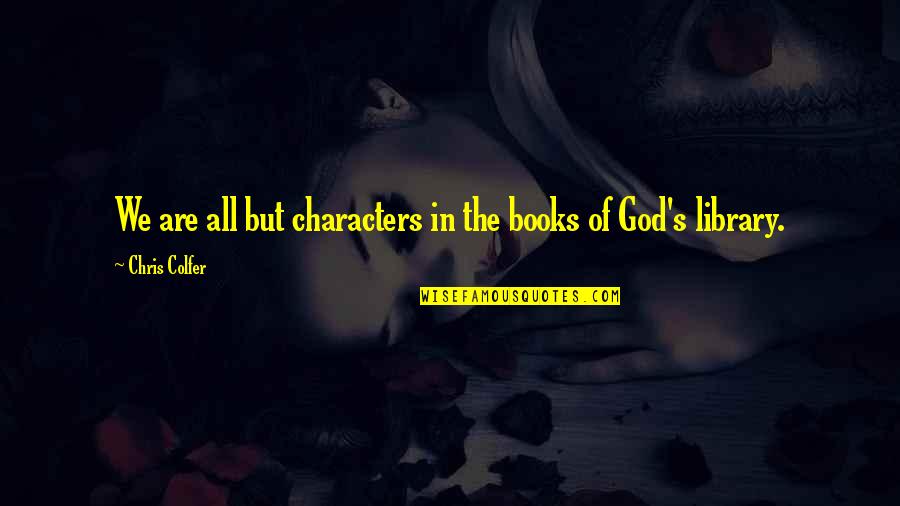 We are all but characters in the books of God's library. —
Chris Colfer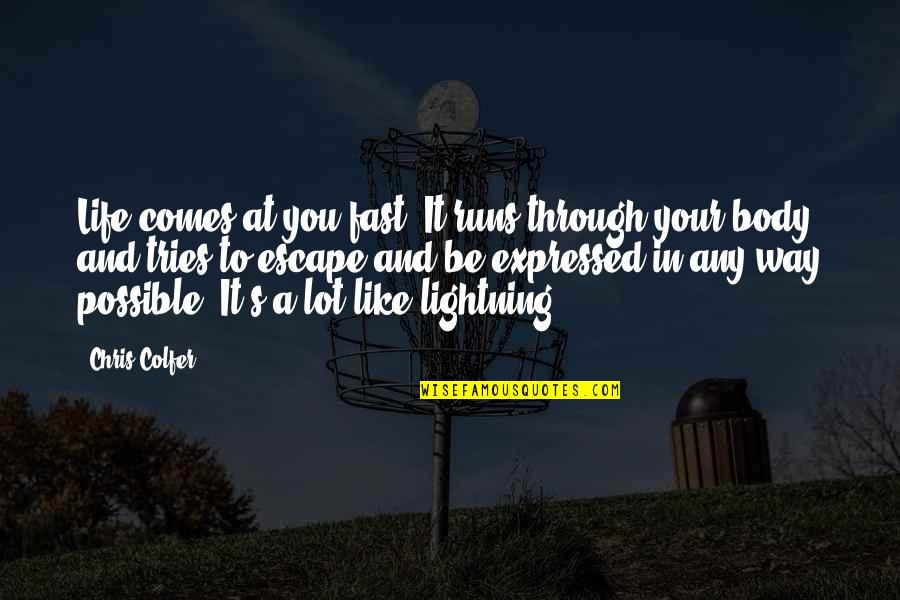 Life comes at you fast. It runs through your body and tries to escape and be expressed in any way possible. It's a lot like lightning. —
Chris Colfer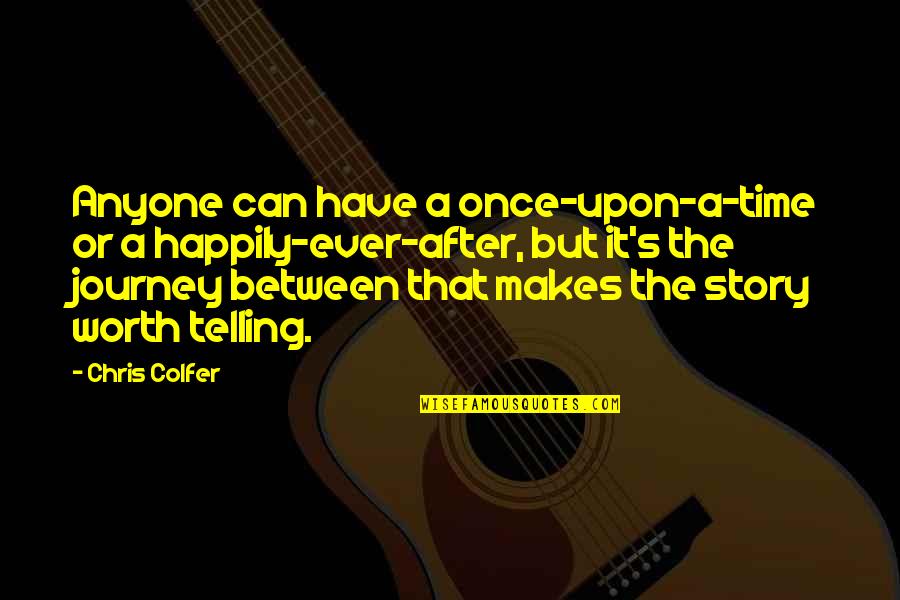 Anyone can have a once-upon-a-time or a happily-ever-after, but it's the journey between that makes the story worth telling. —
Chris Colfer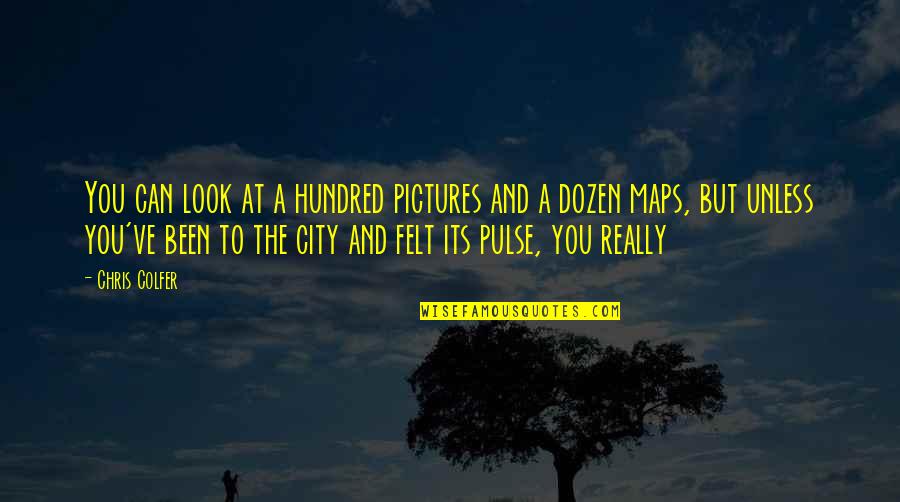 You can look at a hundred pictures and a dozen maps, but unless you've been to the city and felt its pulse, you really —
Chris Colfer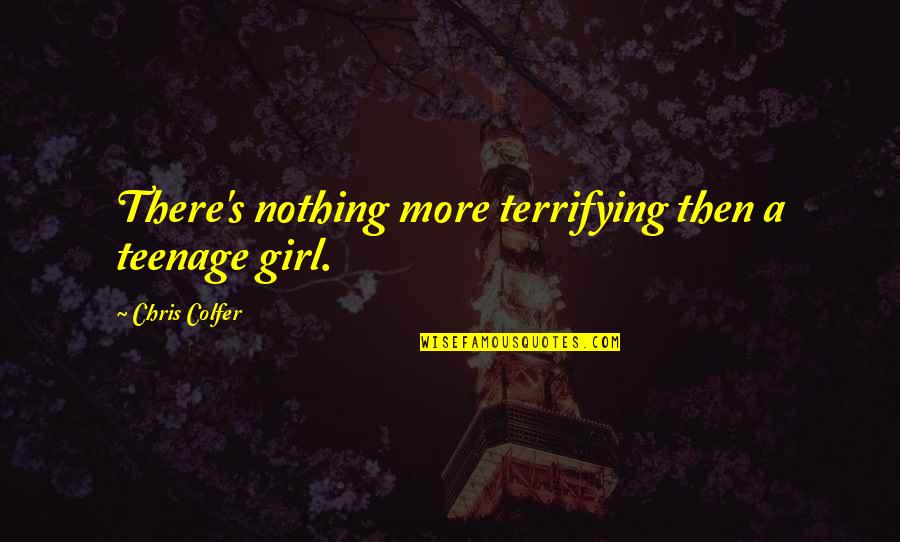 There's nothing more terrifying then a teenage girl. —
Chris Colfer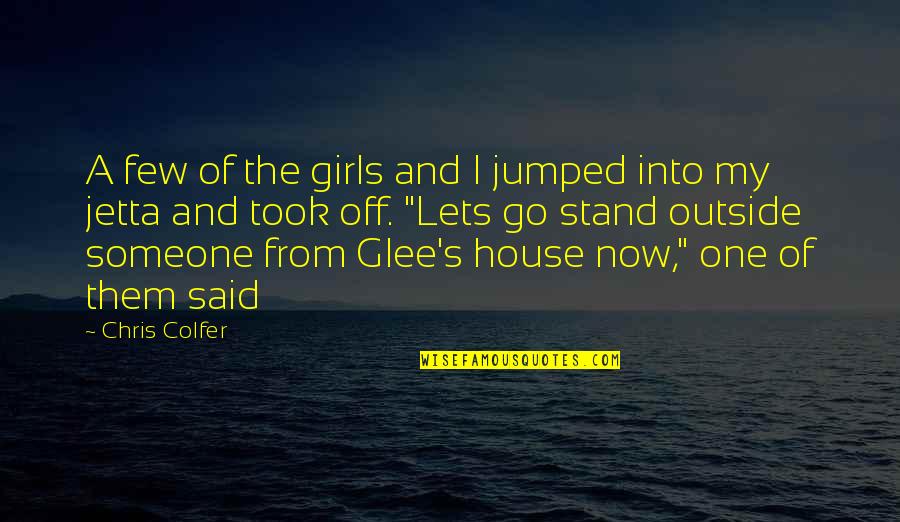 A few of the girls and I jumped into my jetta and took off. "Lets go stand outside someone from Glee's house now," one of them said —
Chris Colfer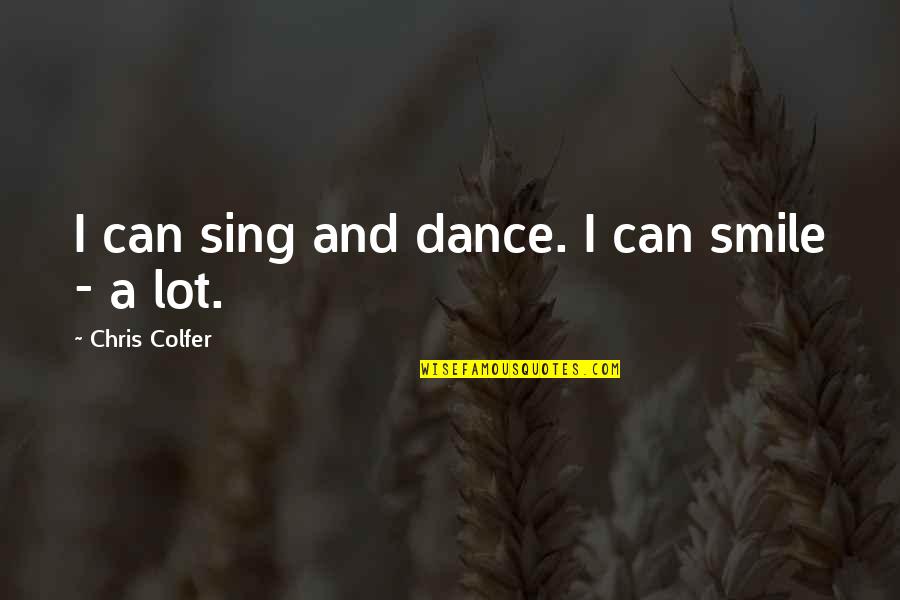 I can sing and dance. I can smile - a lot. —
Chris Colfer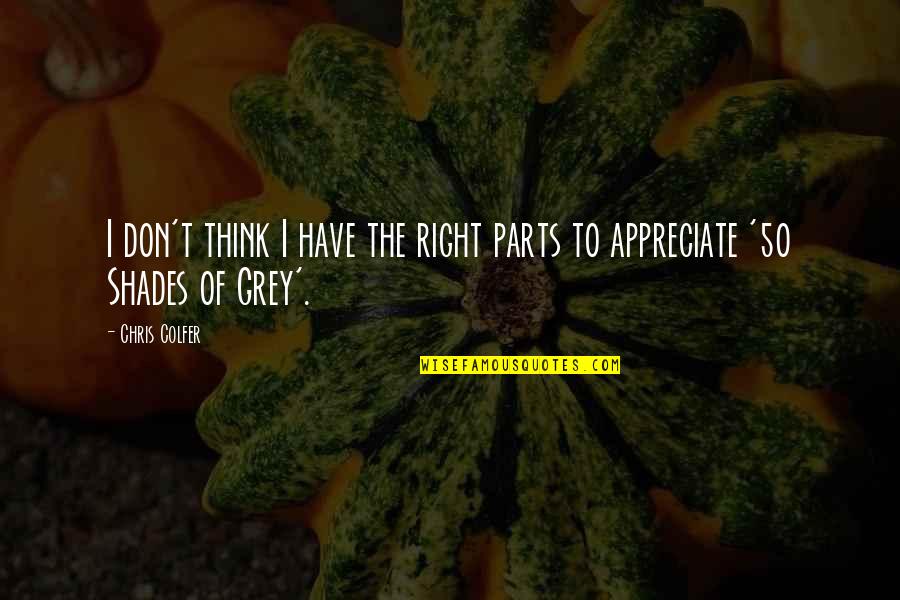 I don't think I have the right parts to appreciate '50 Shades of Grey'. —
Chris Colfer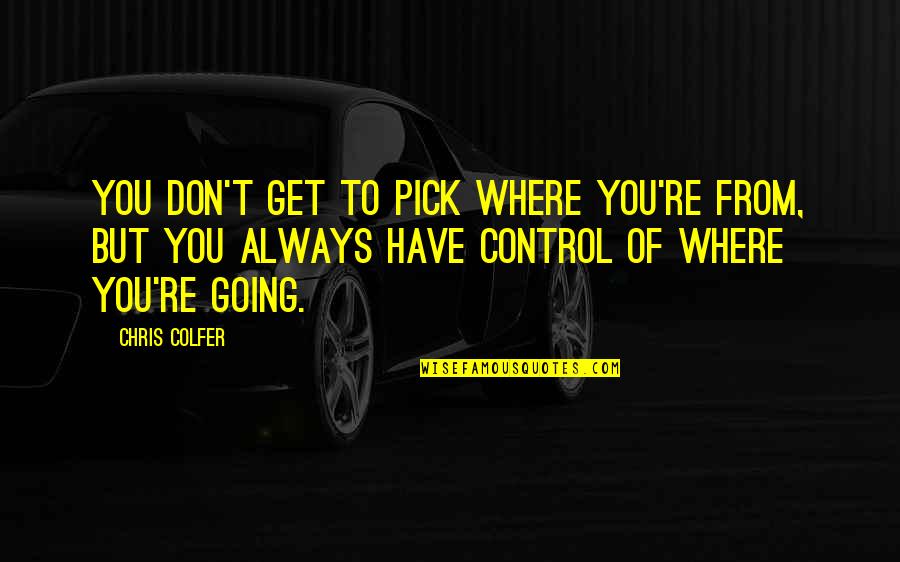 You don't get to pick where you're from, but you always have control of where you're going. —
Chris Colfer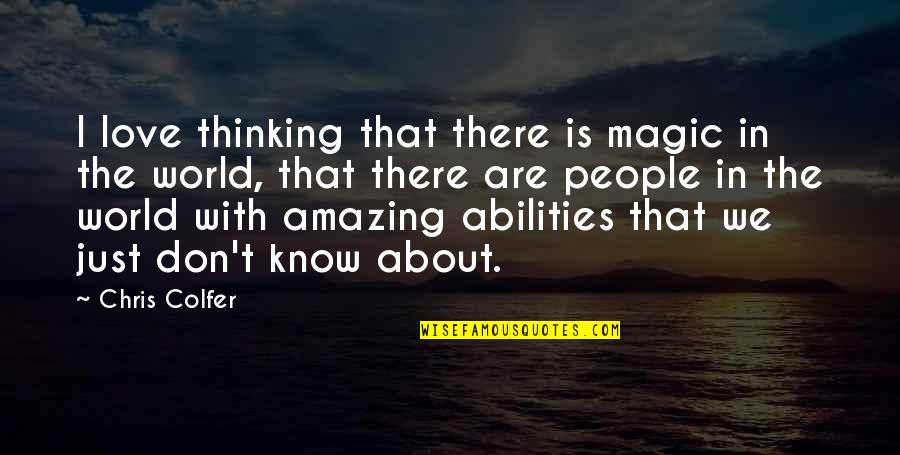 I love thinking that there is magic in the world, that there are people in the world with amazing abilities that we just don't know about. —
Chris Colfer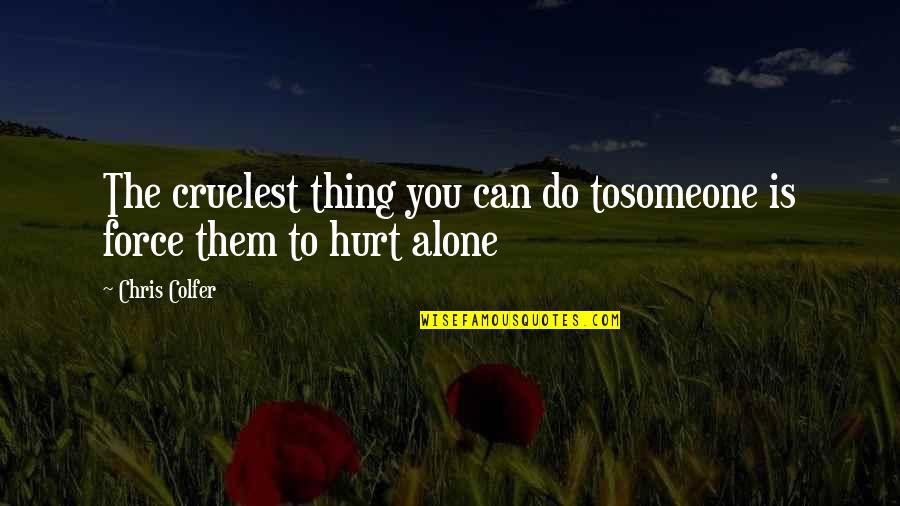 The cruelest thing you can do to
someone is force them to hurt alone —
Chris Colfer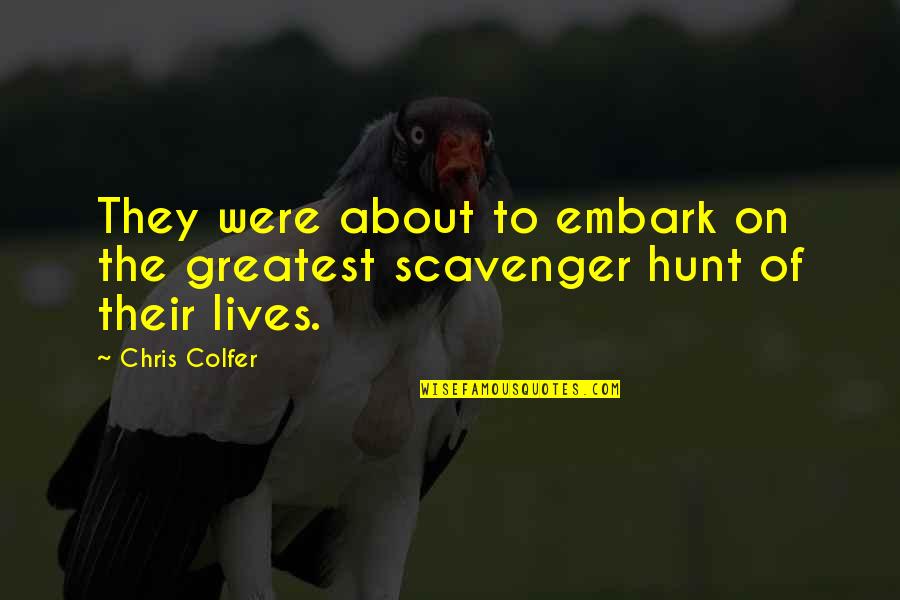 They were about to embark on the greatest scavenger hunt of their lives. —
Chris Colfer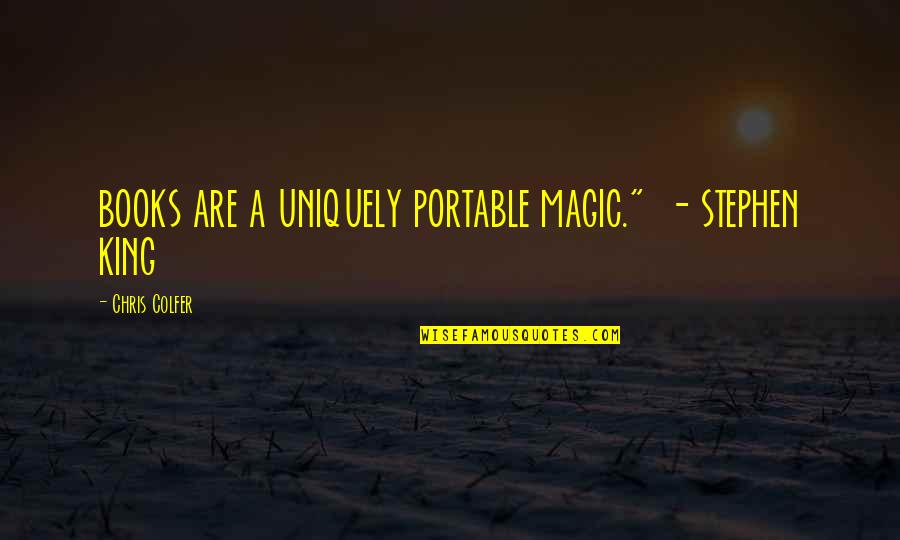 BOOKS ARE A UNIQUELY PORTABLE MAGIC." - STEPHEN KING —
Chris Colfer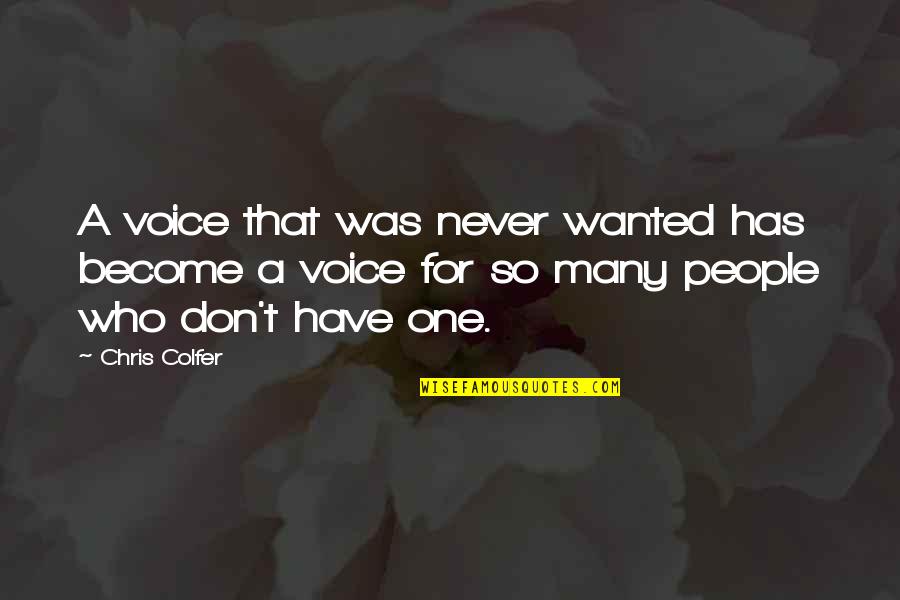 A voice that was never wanted has become a voice for so many people who don't have one. —
Chris Colfer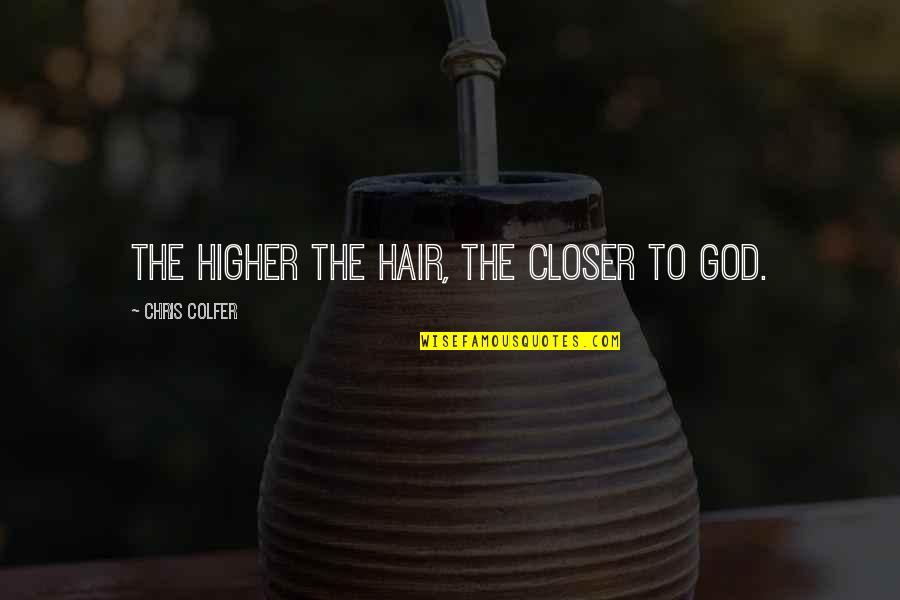 The higher the hair, the closer to god. —
Chris Colfer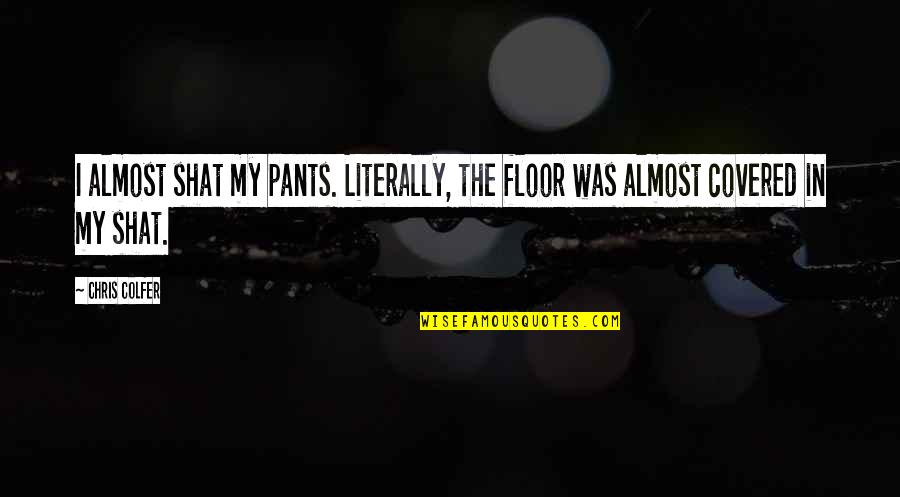 I almost shat my pants. Literally, the floor was almost covered in my shat. —
Chris Colfer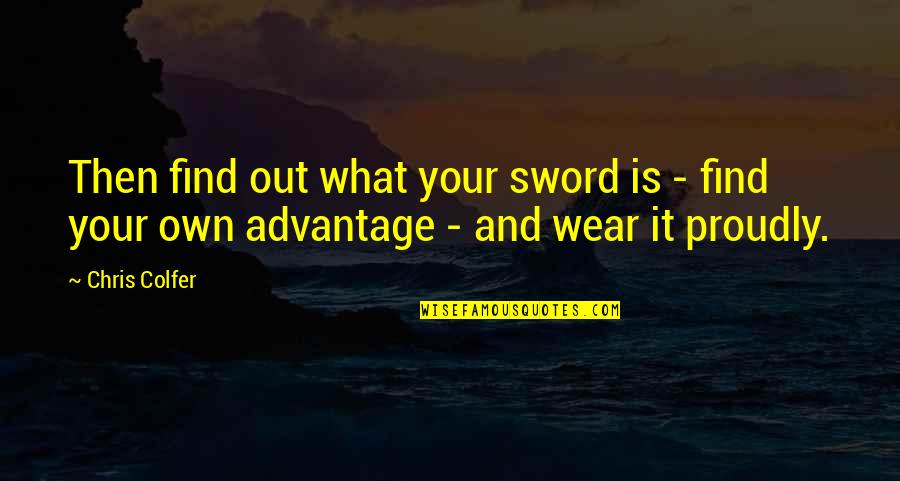 Then find out what your sword is - find your own advantage - and wear it proudly. —
Chris Colfer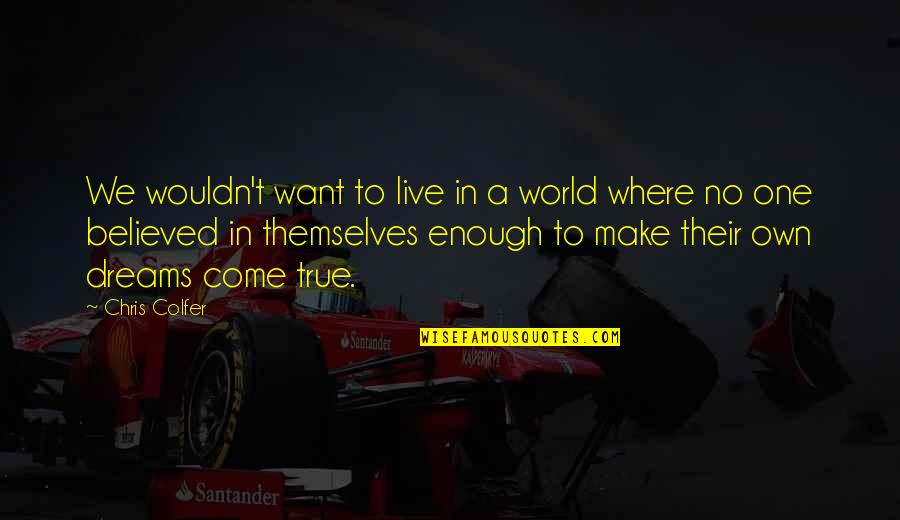 We wouldn't want to live in a world where no one believed in themselves enough to make their own dreams come true. —
Chris Colfer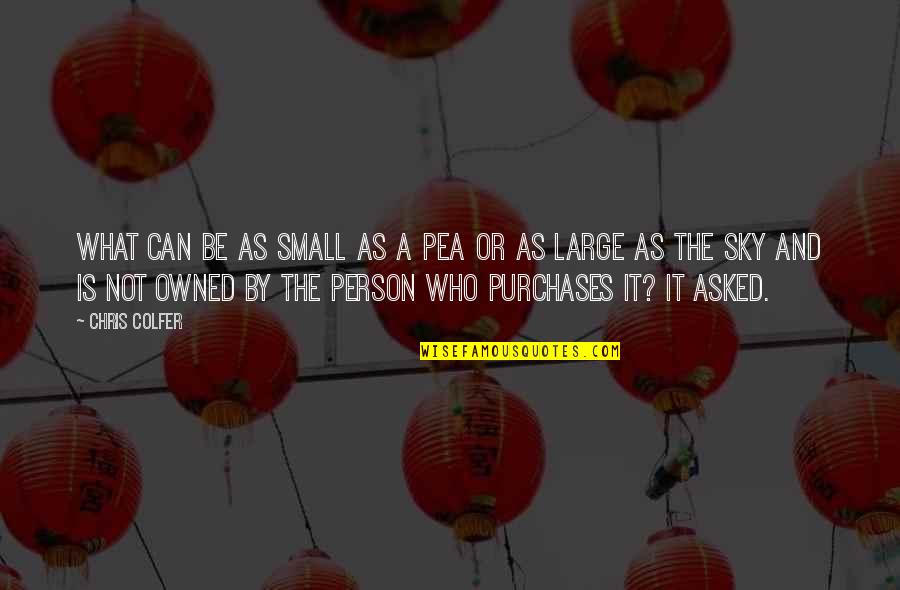 What can be as small as a pea or as large as the sky and is not owned by the person who purchases it? it asked. —
Chris Colfer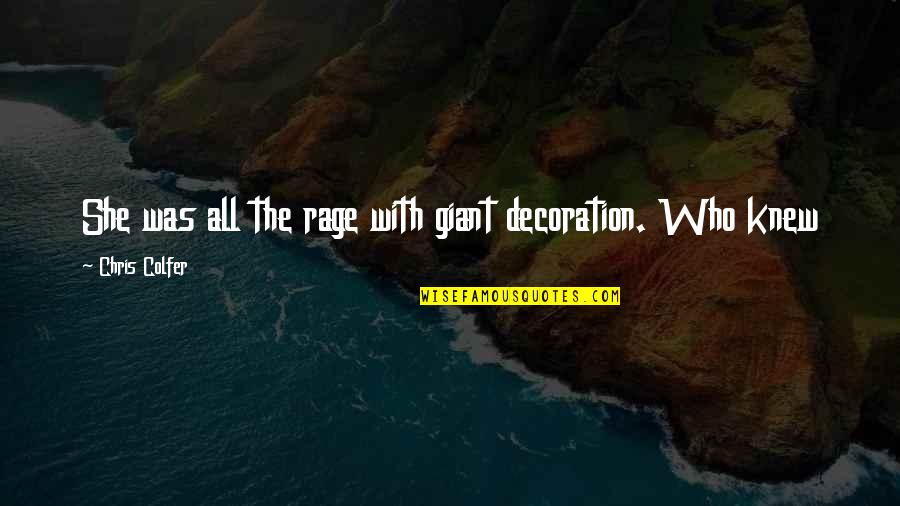 She was all the rage with giant decoration. Who knew —
Chris Colfer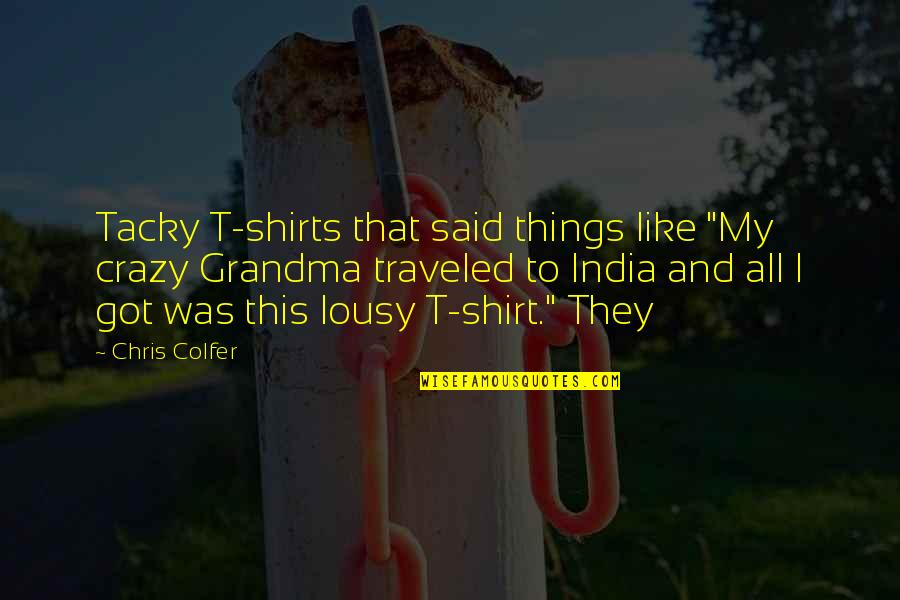 Tacky T-shirts that said things like "My crazy Grandma traveled to India and all I got was this lousy T-shirt." They —
Chris Colfer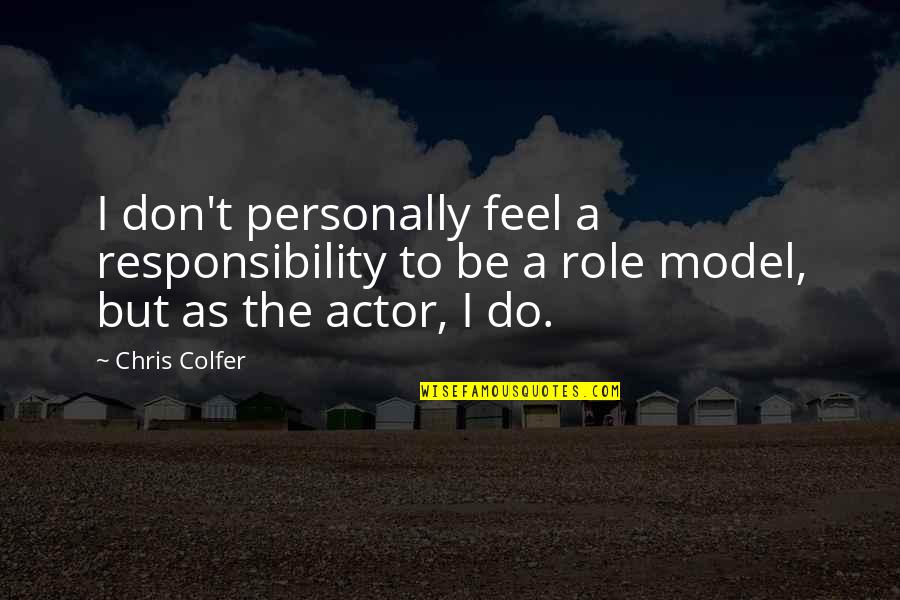 I don't personally feel a responsibility to be a role model, but as the actor, I do. —
Chris Colfer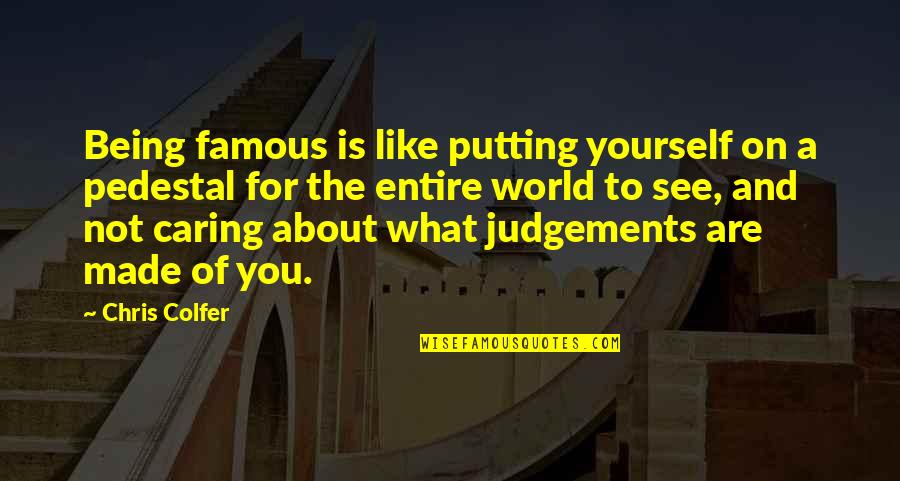 Being famous is like putting yourself on a pedestal for the entire world to see, and not caring about what judgements are made of you. —
Chris Colfer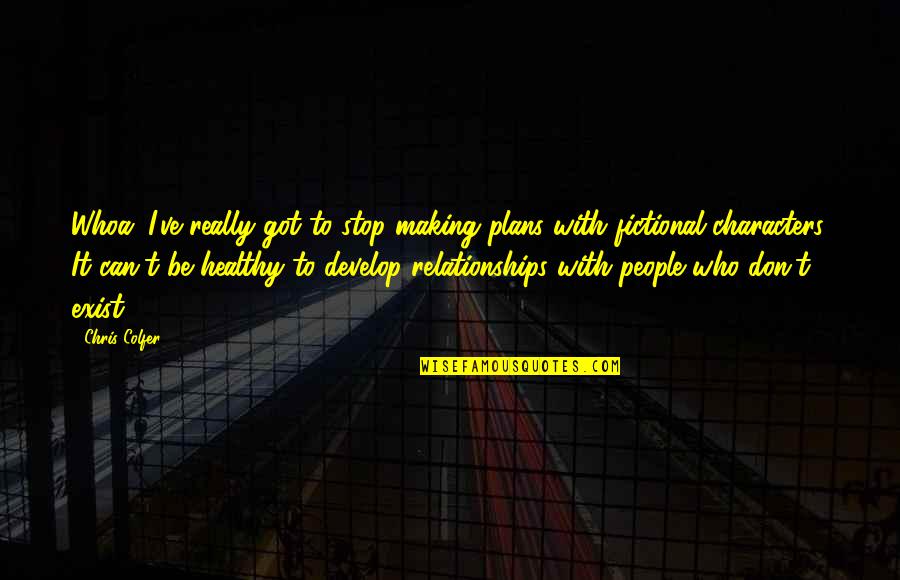 Whoa, I've really got to stop making plans with fictional characters. It can't be healthy to develop relationships with people who don't exist. —
Chris Colfer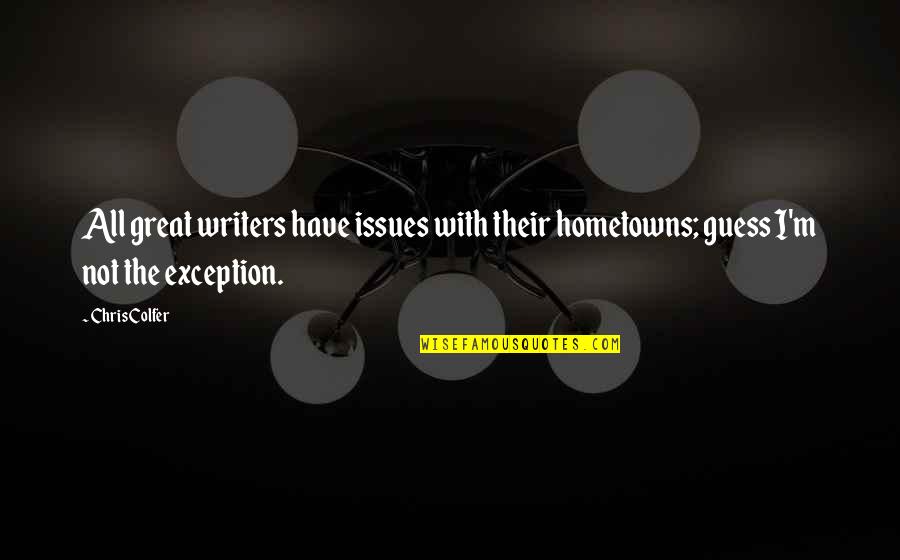 All great writers have issues with their hometowns; guess I'm not the exception. —
Chris Colfer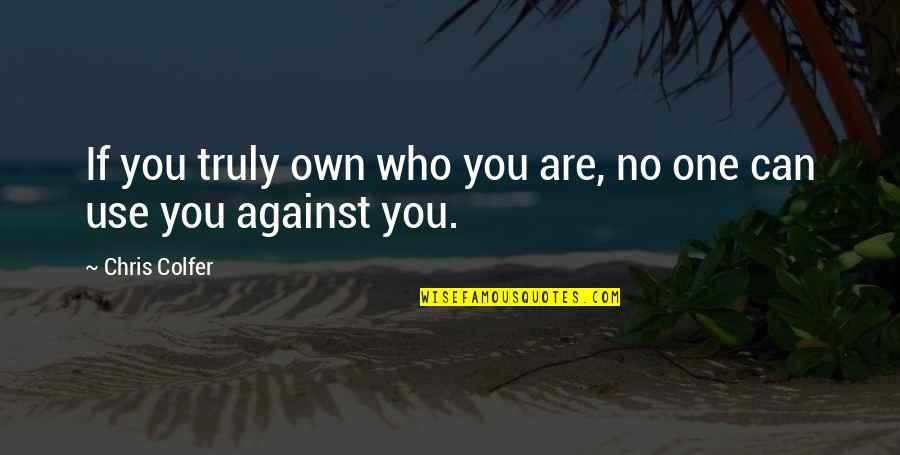 If you truly own who you are, no one can use you against you. —
Chris Colfer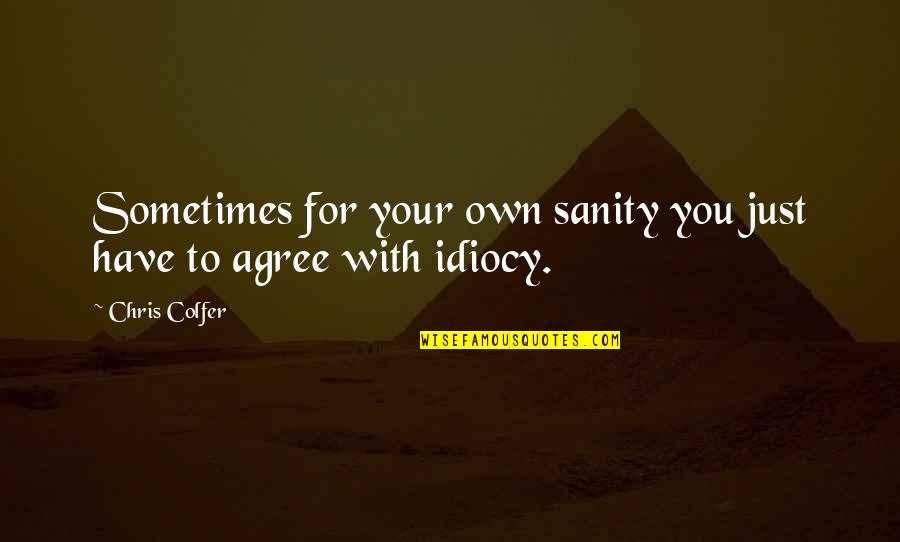 Sometimes for your own sanity you just have to agree with idiocy. —
Chris Colfer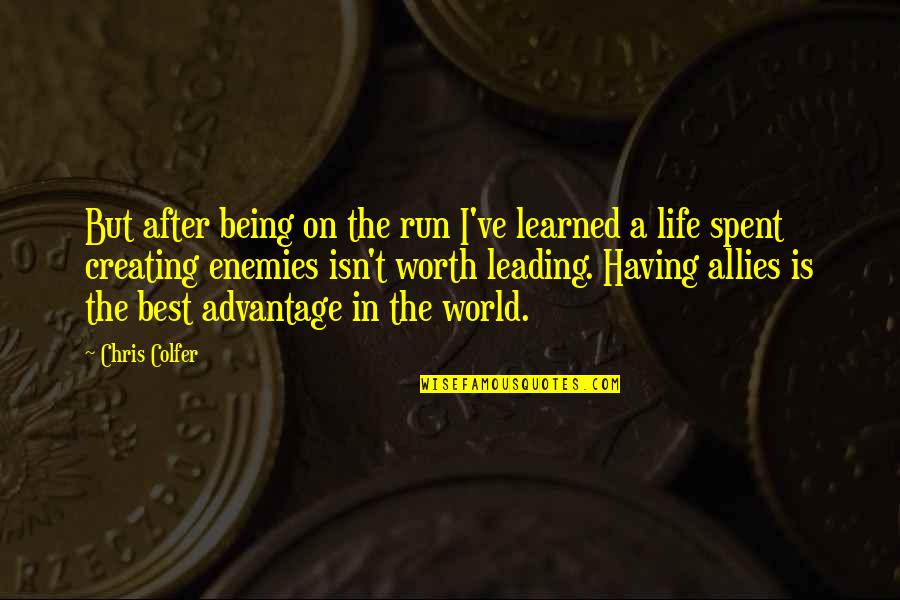 But after being on the run I've learned a life spent creating enemies isn't worth leading. Having allies is the best advantage in the world. —
Chris Colfer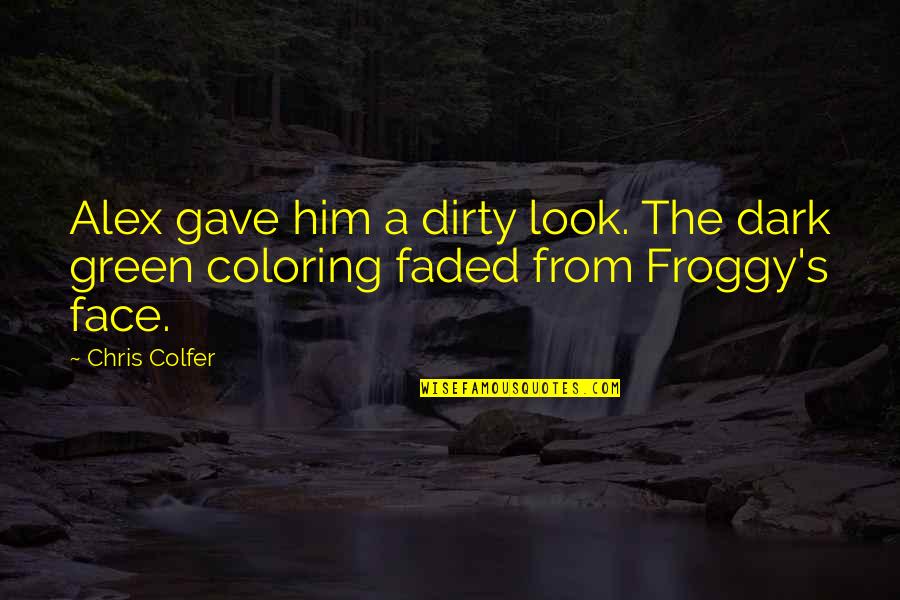 Alex gave him a dirty look. The dark green coloring faded from Froggy's face. —
Chris Colfer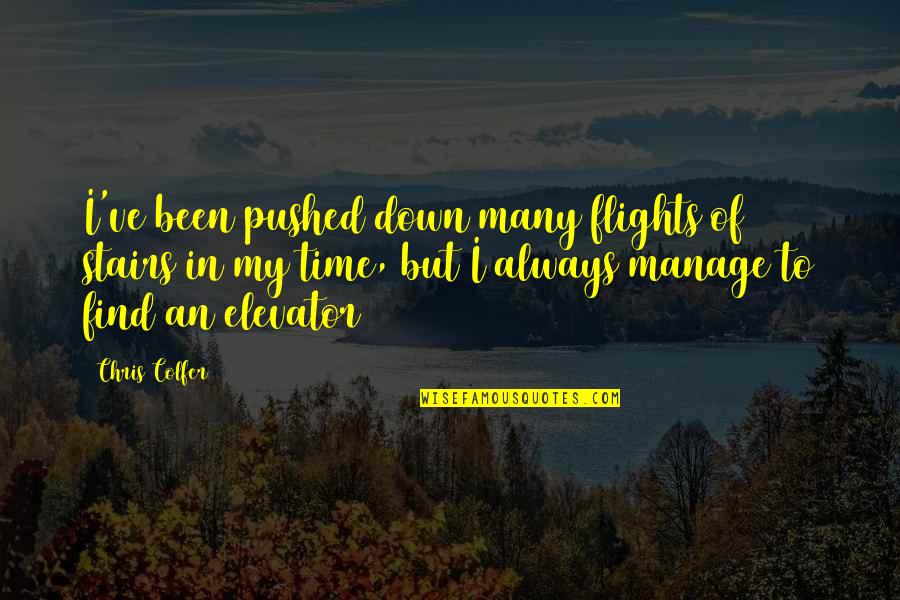 I've been pushed down many flights of stairs in my time, but I always manage to find an elevator —
Chris Colfer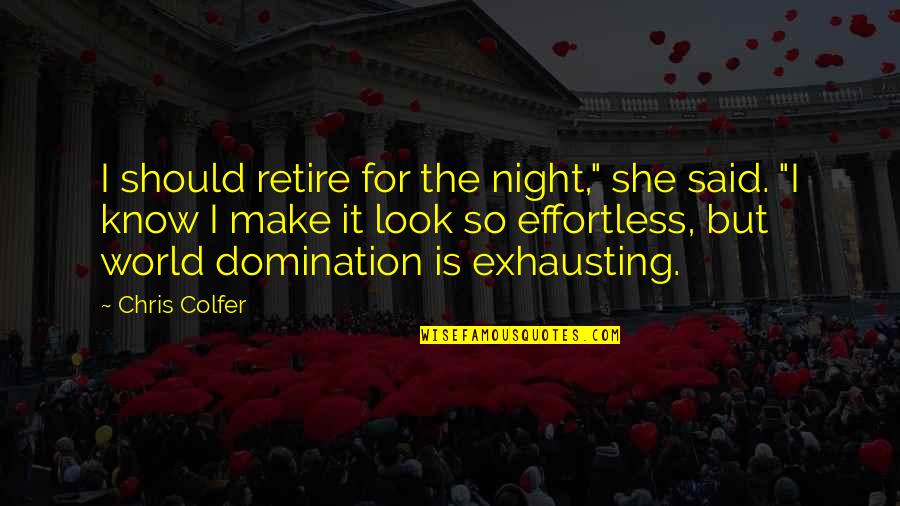 I should retire for the night," she said. "I know I make it look so effortless, but world domination is exhausting. —
Chris Colfer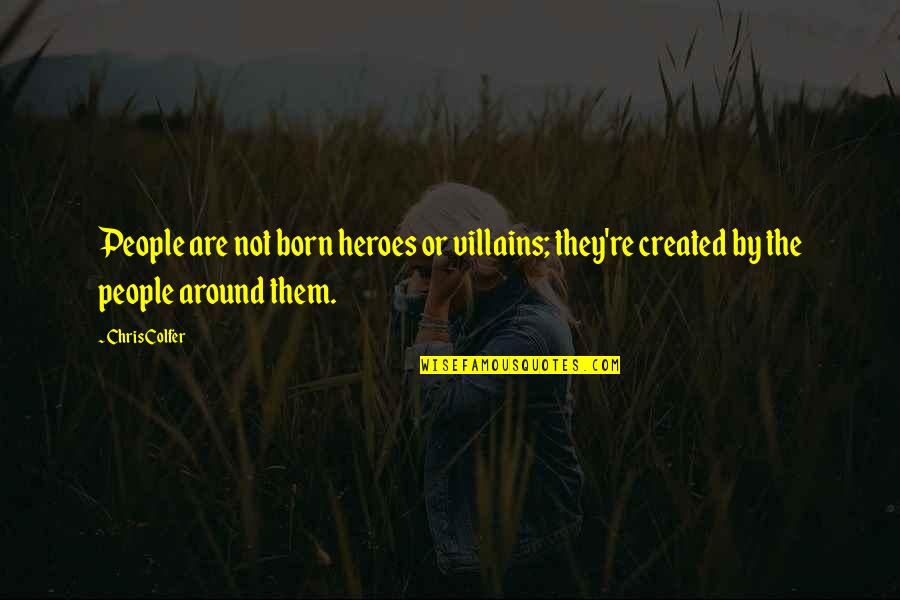 People are not born heroes or villains; they're created by the people around them. —
Chris Colfer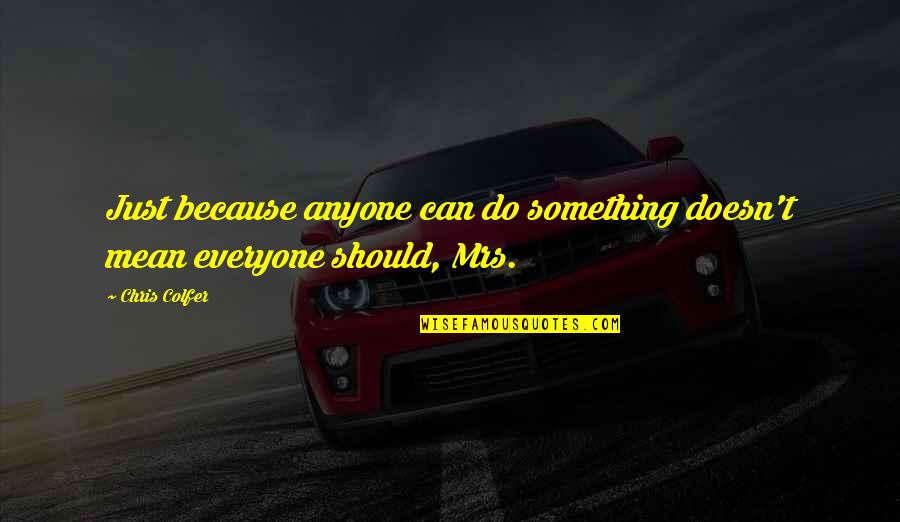 Just because anyone can do something doesn't mean everyone should, Mrs. —
Chris Colfer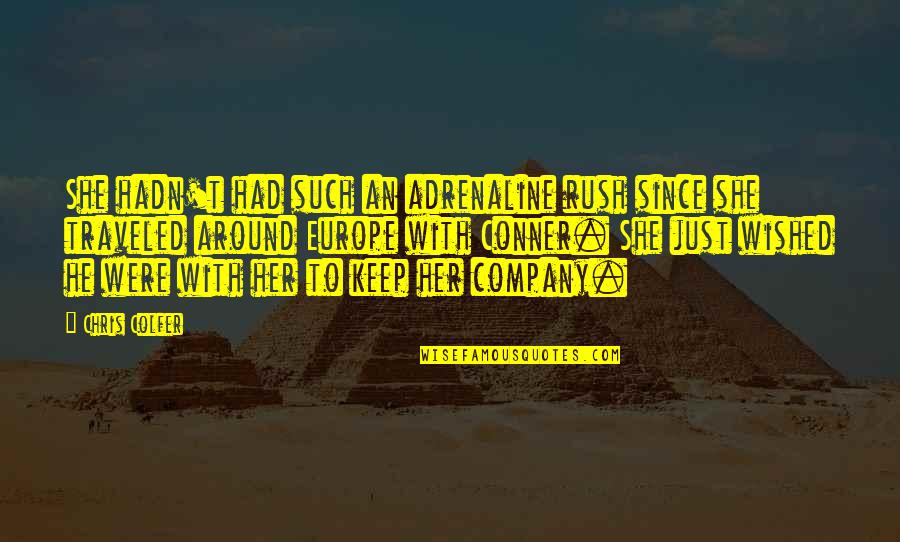 She hadn't had such an adrenaline rush since she traveled around Europe with Conner. She just wished he were with her to keep her company. —
Chris Colfer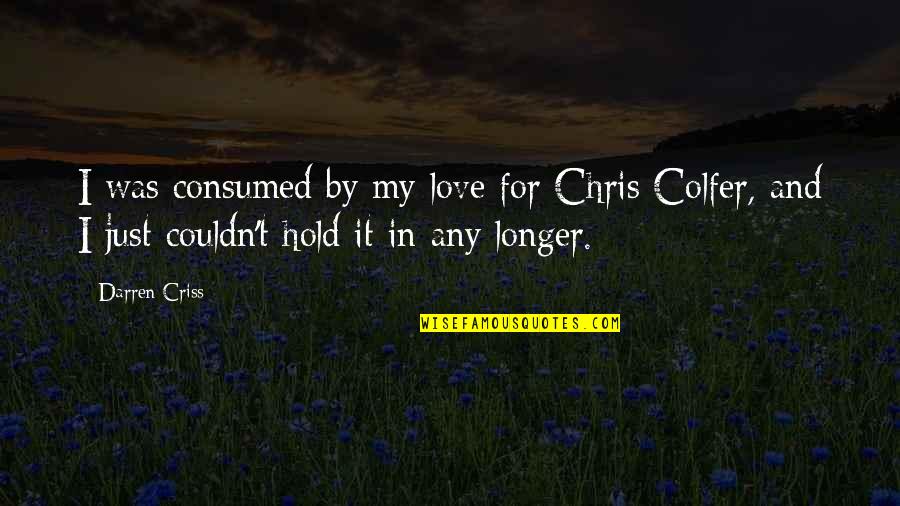 I was consumed by my love for Chris Colfer, and I just couldn't hold it in any longer. —
Darren Criss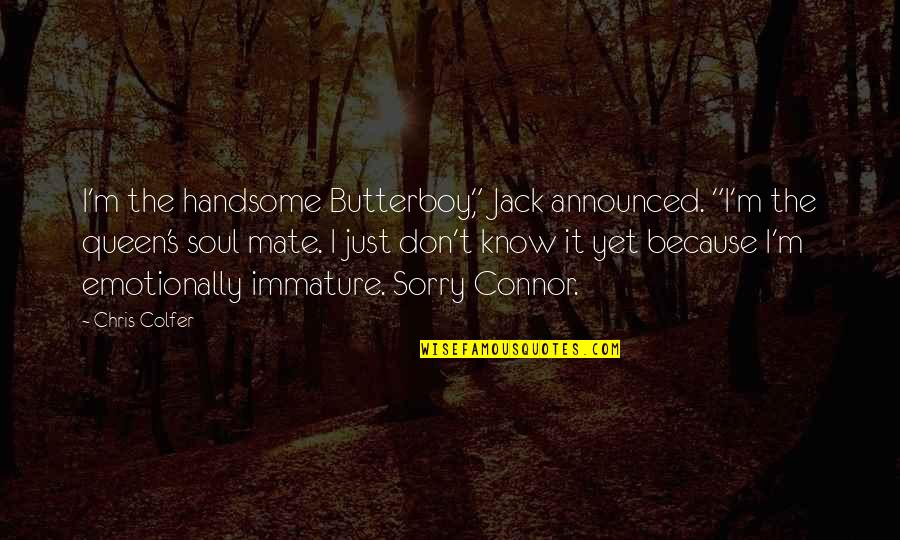 I'm the handsome Butterboy," Jack announced. "I'm the queen's soul mate. I just don't know it yet because I'm emotionally immature. Sorry Connor. —
Chris Colfer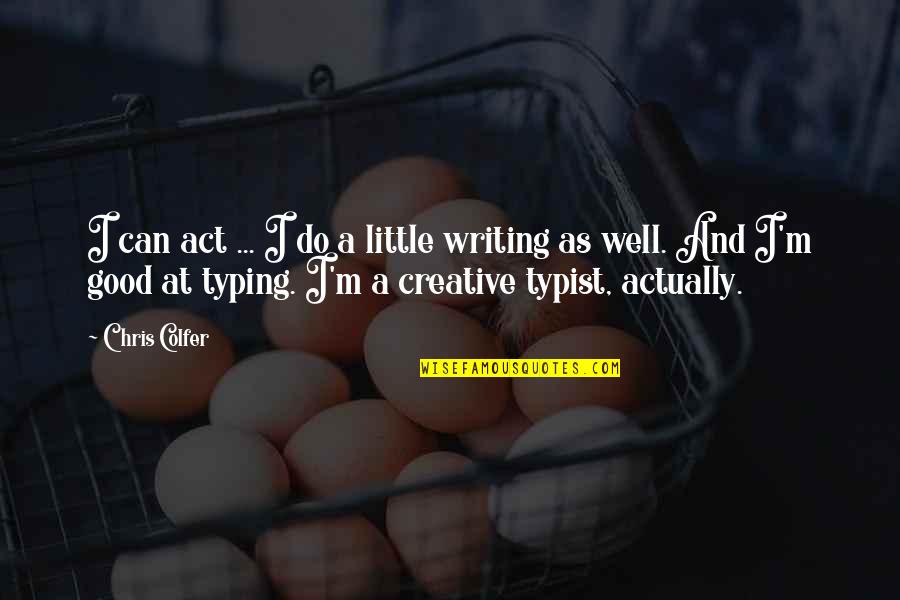 I can act ... I do a little writing as well. And I'm good at typing. I'm a creative typist, actually. —
Chris Colfer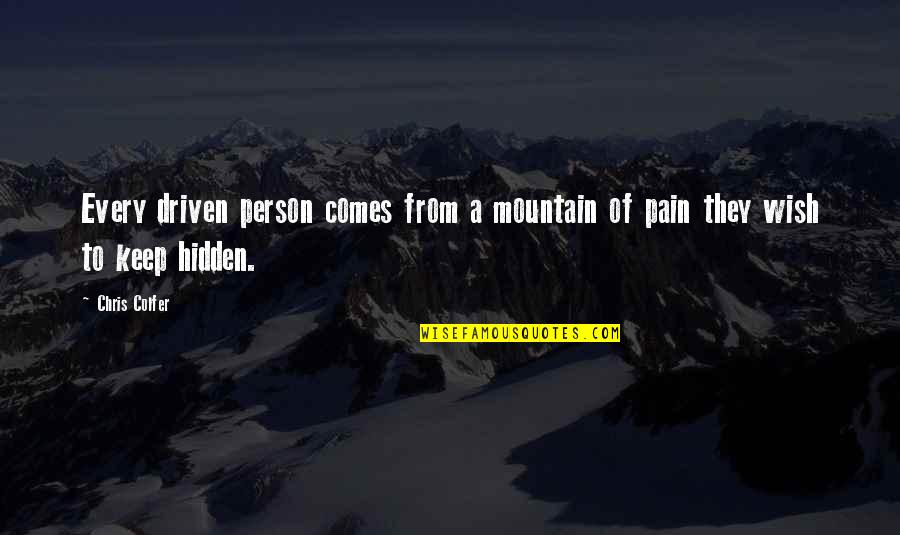 Every driven person comes from a mountain of pain they wish to keep hidden. —
Chris Colfer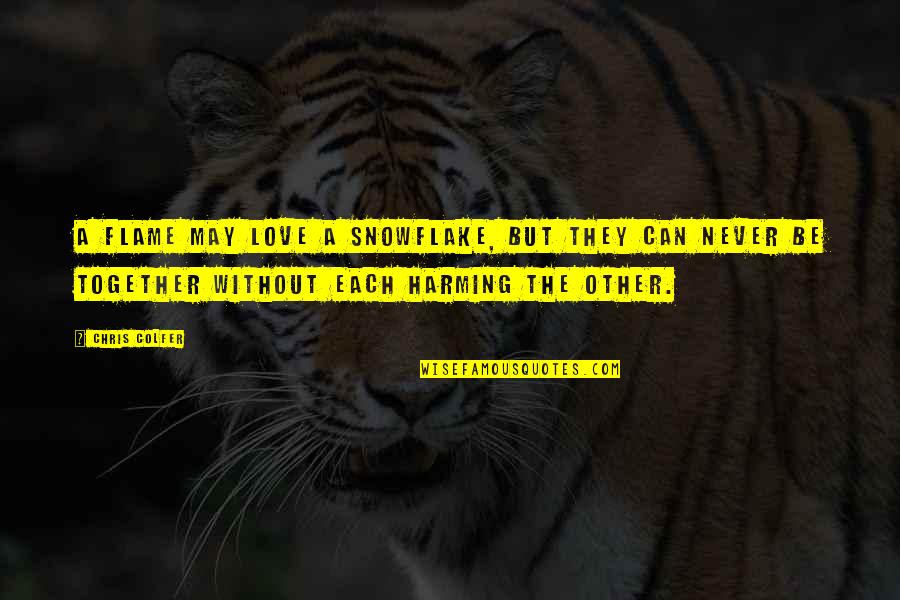 A flame may love a snowflake, but they can never be together without each harming the other. —
Chris Colfer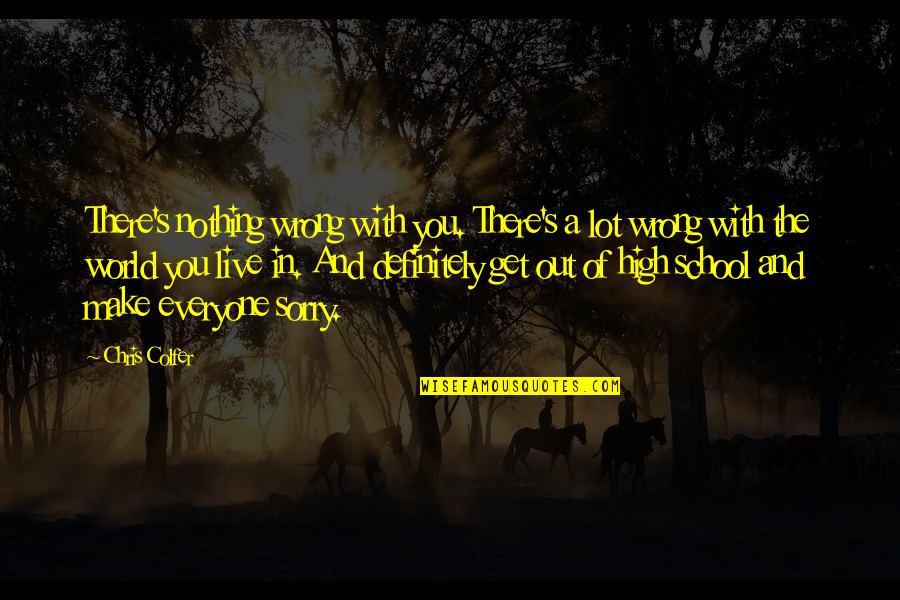 There's nothing wrong with you. There's a lot wrong with the world you live in. And definitely get out of high school and make everyone sorry. —
Chris Colfer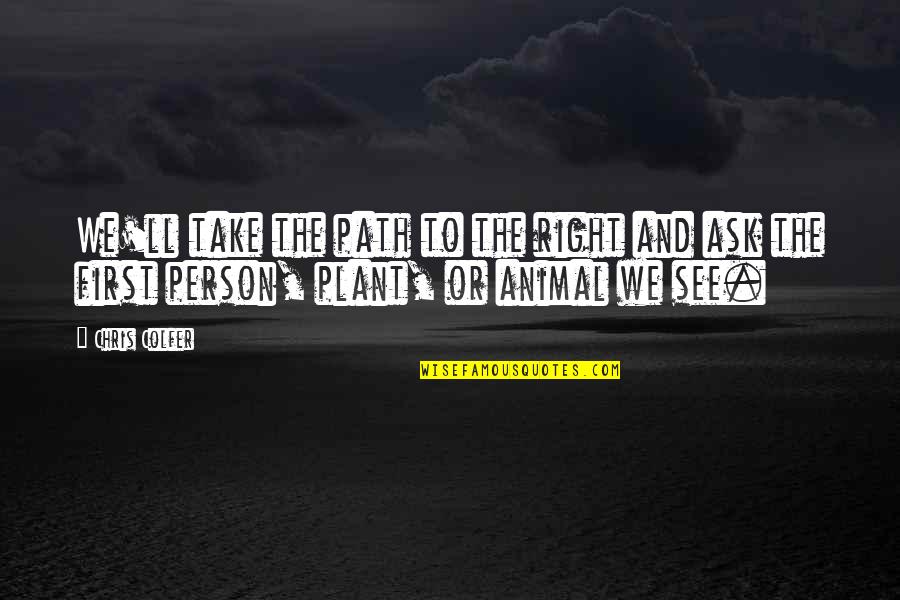 We'll take the path to the right and ask the first person, plant, or animal we see. —
Chris Colfer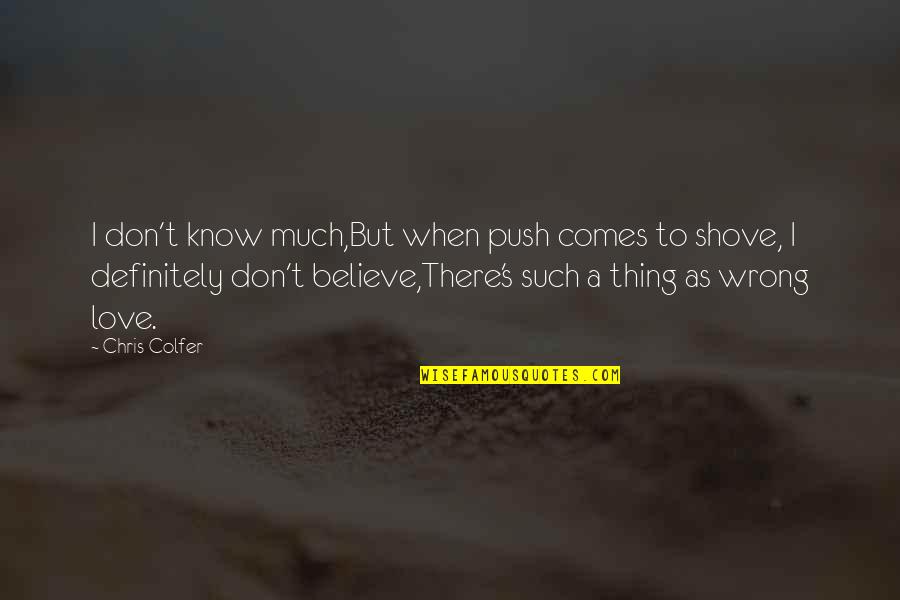 I don't know much,
But when push comes to shove,
I definitely don't believe,
There's such a thing as wrong love. —
Chris Colfer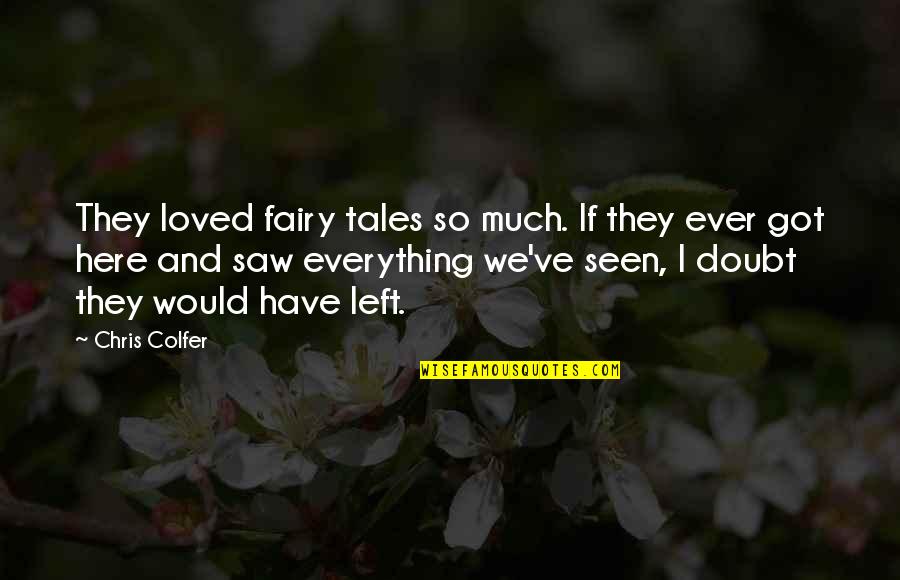 They loved fairy tales so much. If they ever got here and saw everything we've seen, I doubt they would have left. —
Chris Colfer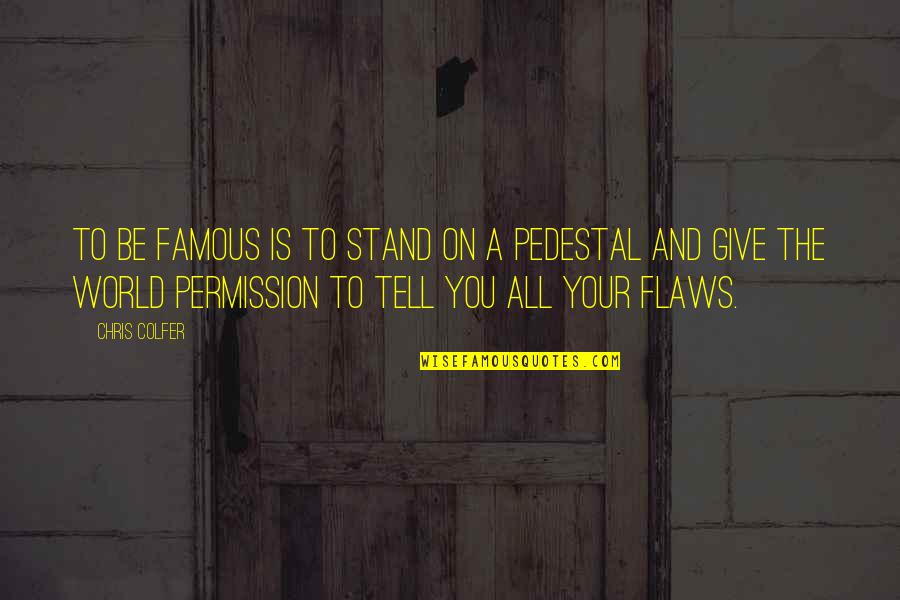 To be famous is to stand on a pedestal and give the world permission to tell you all your flaws. —
Chris Colfer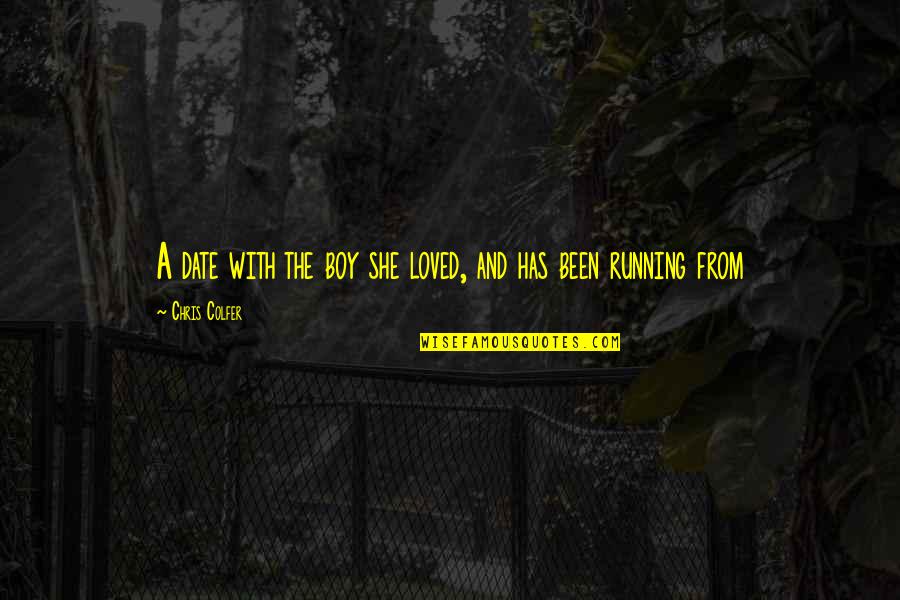 A date with the boy she loved, and has been running from —
Chris Colfer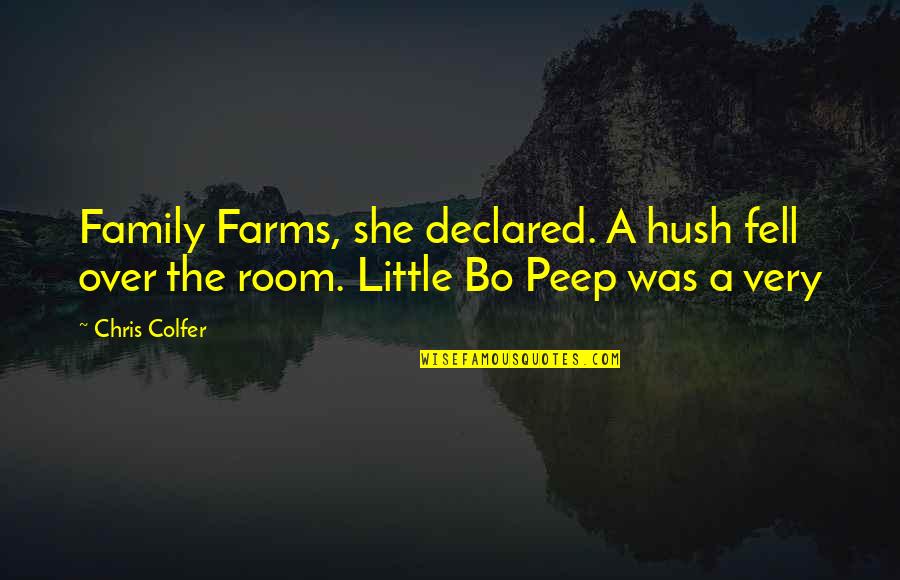 Family Farms, she declared. A hush fell over the room. Little Bo Peep was a very —
Chris Colfer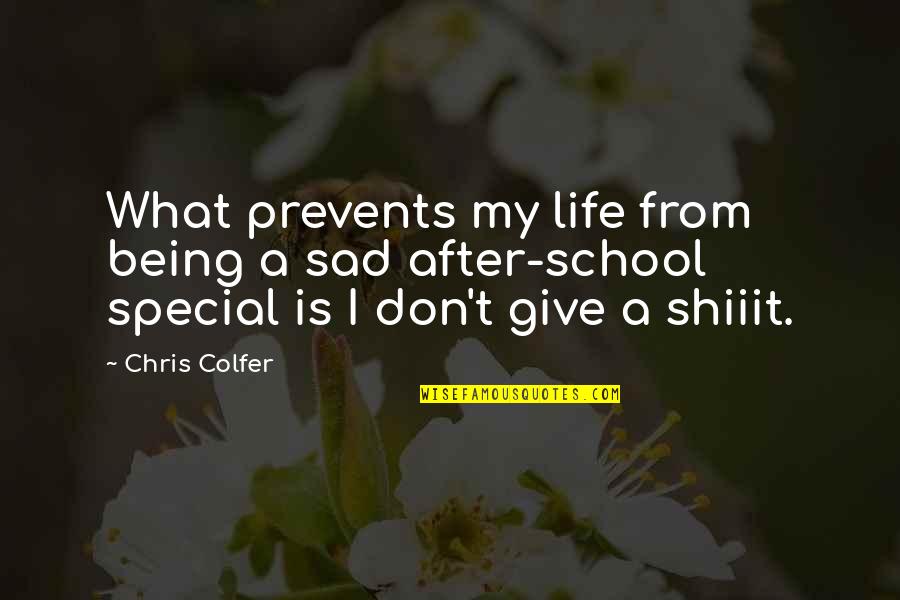 What prevents my life from being a sad after-school special is I don't give a shiiit. —
Chris Colfer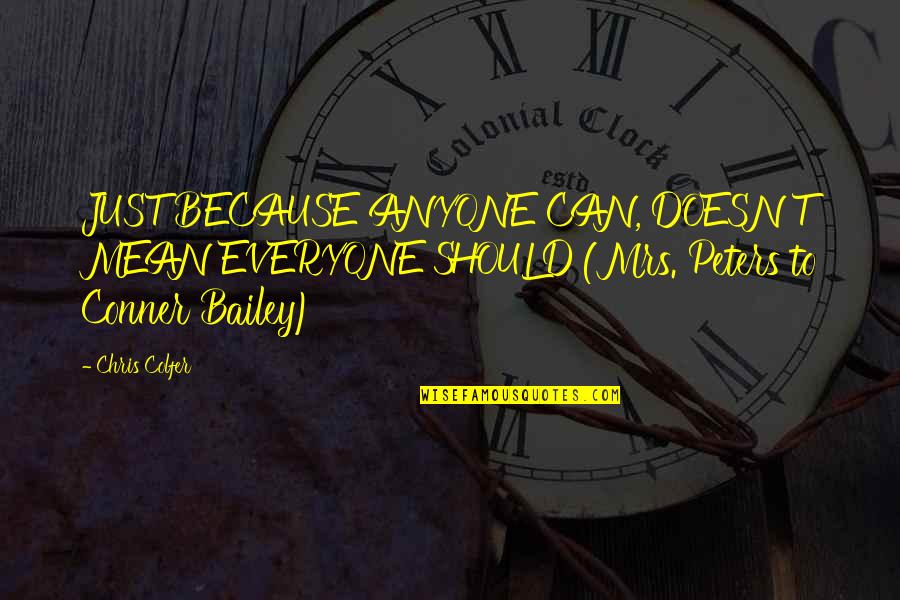 JUST BECAUSE ANYONE CAN, DOESN'T MEAN EVERYONE SHOULD (Mrs. Peters to Conner Bailey) —
Chris Colfer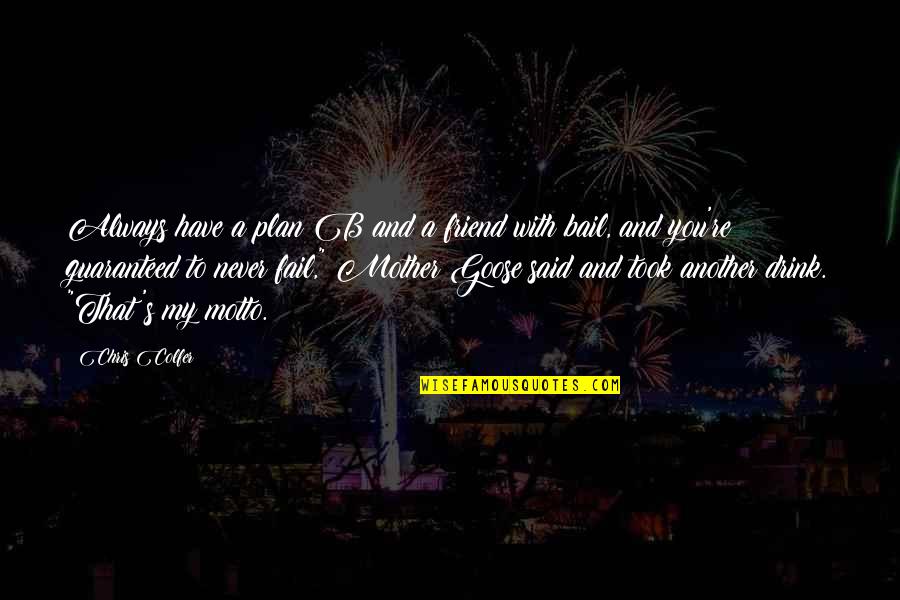 Always have a plan B and a friend with bail, and you're guaranteed to never fail," Mother Goose said and took another drink. "That's my motto. —
Chris Colfer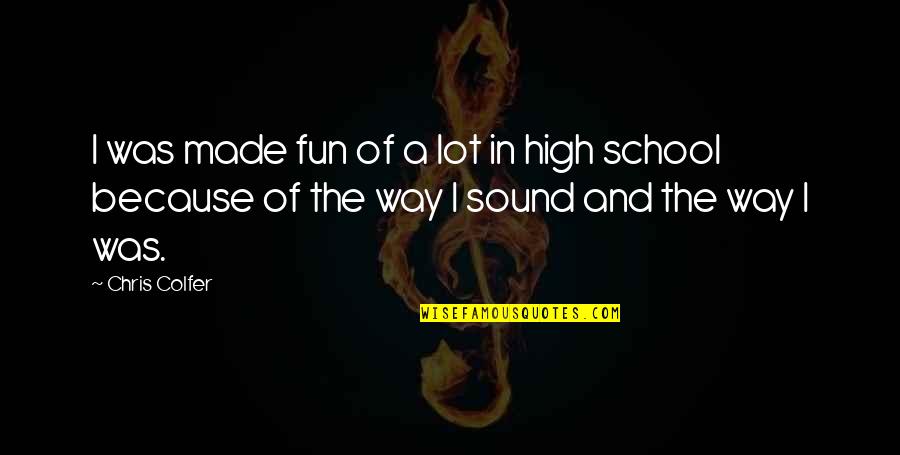 I was made fun of a lot in high school because of the way I sound and the way I was. —
Chris Colfer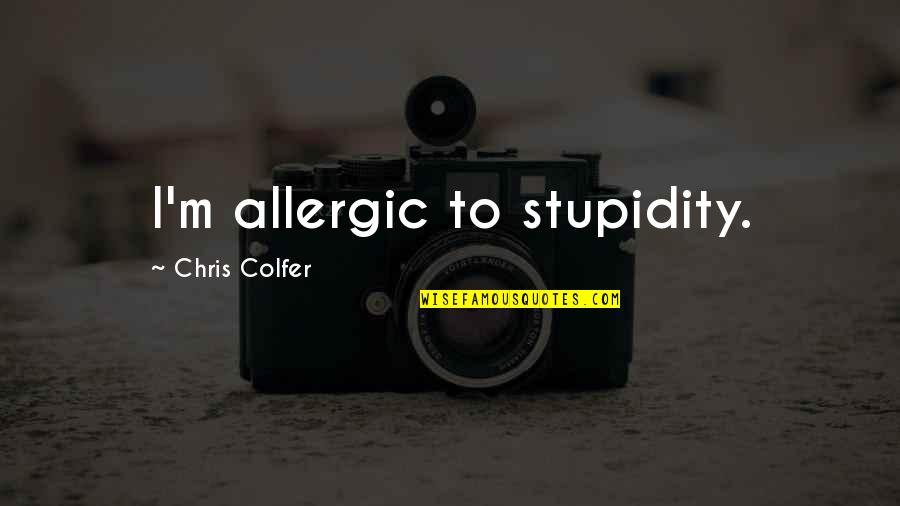 I'm allergic to stupidity. —
Chris Colfer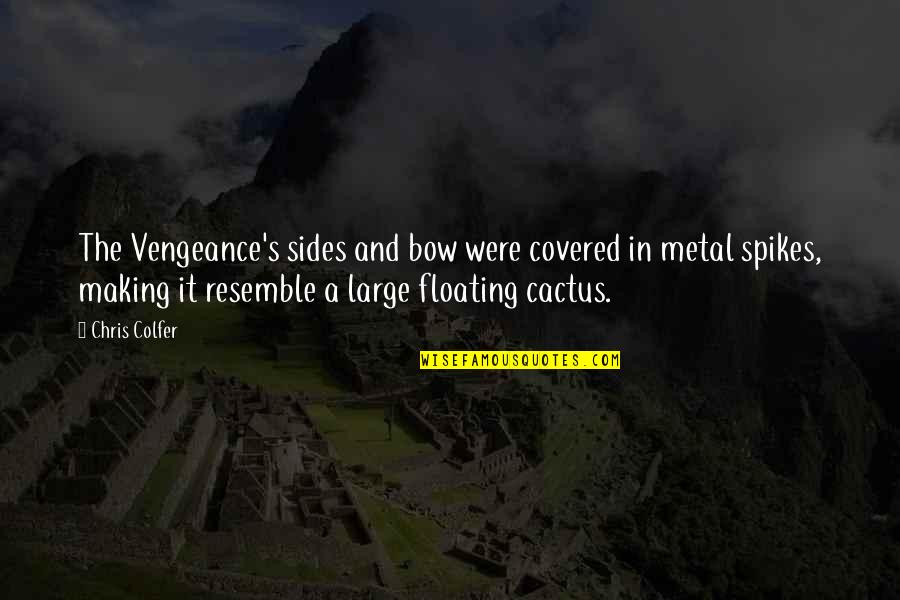 The Vengeance's sides and bow were covered in metal spikes, making it resemble a large floating cactus. —
Chris Colfer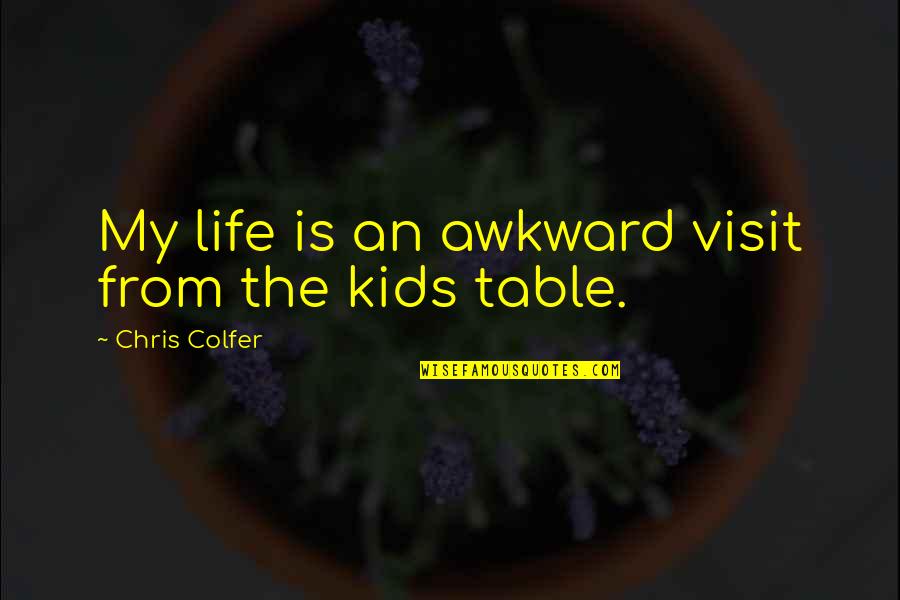 My life is an awkward visit from the kids table. —
Chris Colfer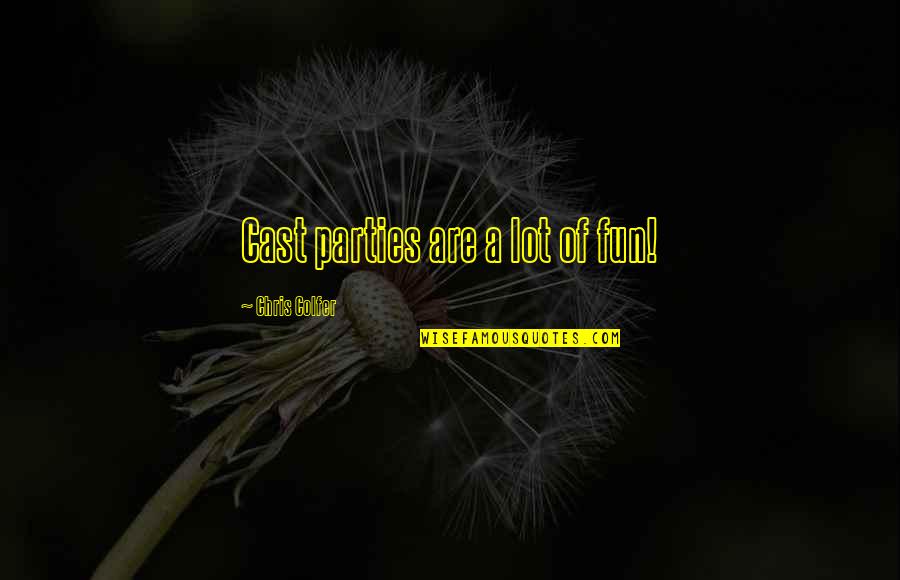 Cast parties are a lot of fun! —
Chris Colfer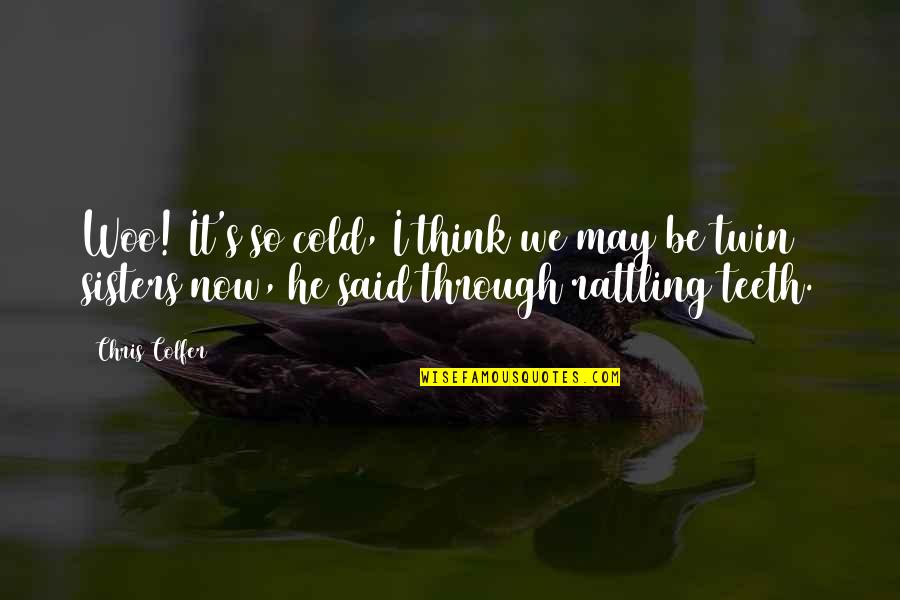 Woo! It's so cold, I think we may be twin sisters now, he said through rattling teeth. —
Chris Colfer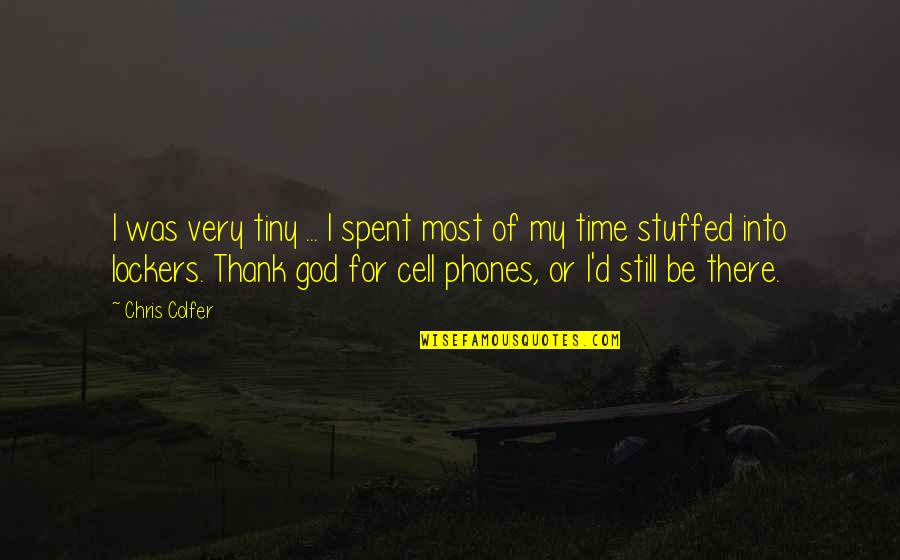 I was very tiny ... I spent most of my time stuffed into lockers. Thank god for cell phones, or I'd still be there. —
Chris Colfer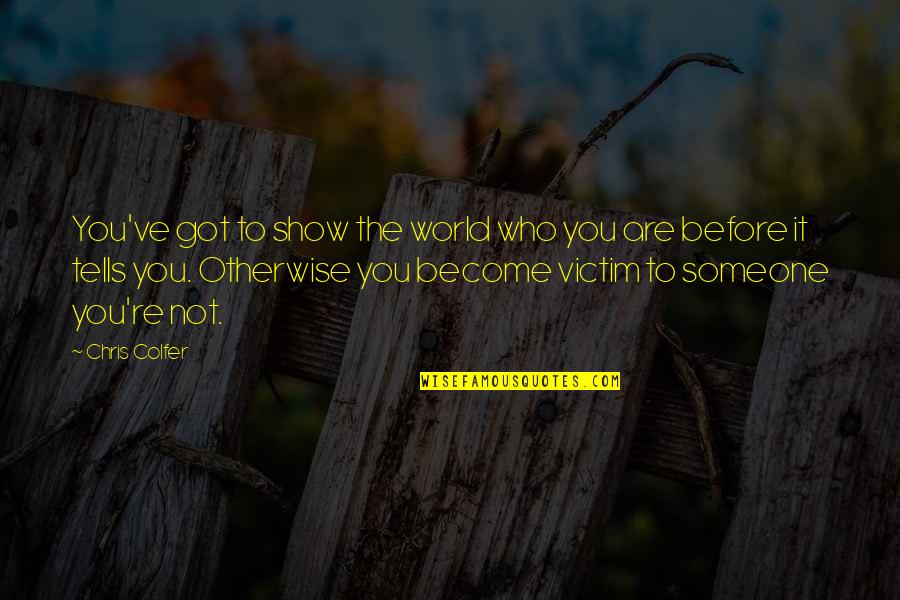 You've got to show the world who you are before it tells you. Otherwise you become victim to someone you're not. —
Chris Colfer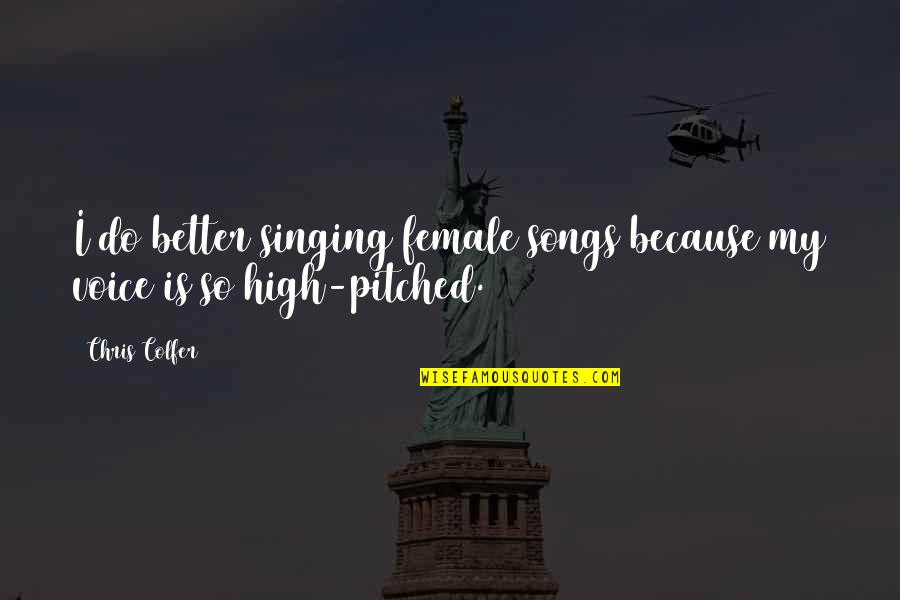 I do better singing female songs because my voice is so high-pitched. —
Chris Colfer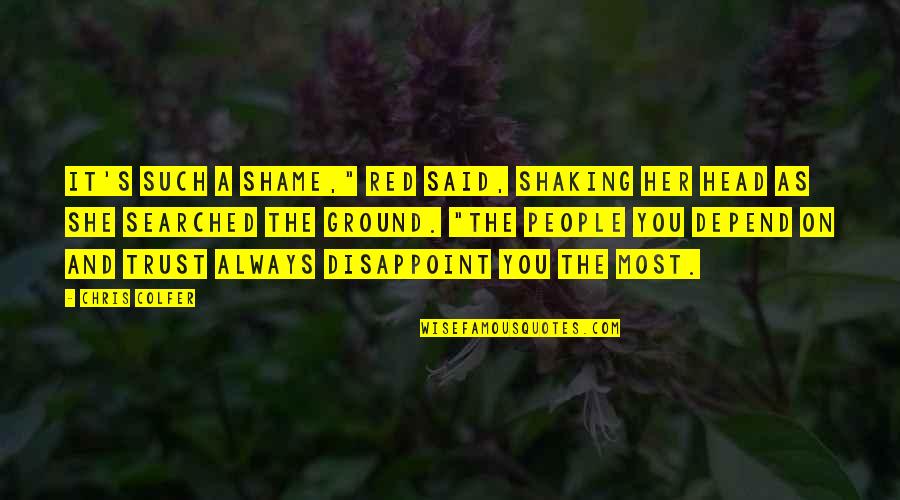 It's such a shame," Red said, shaking her head as she searched the ground. "The people you depend on and trust always disappoint you the most. —
Chris Colfer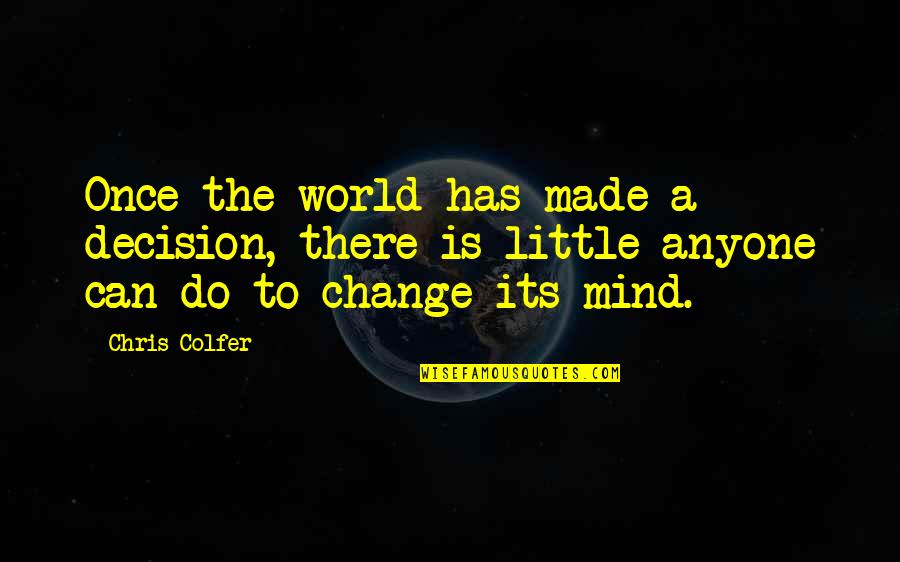 Once the world has made a decision, there is little anyone can do to change its mind. —
Chris Colfer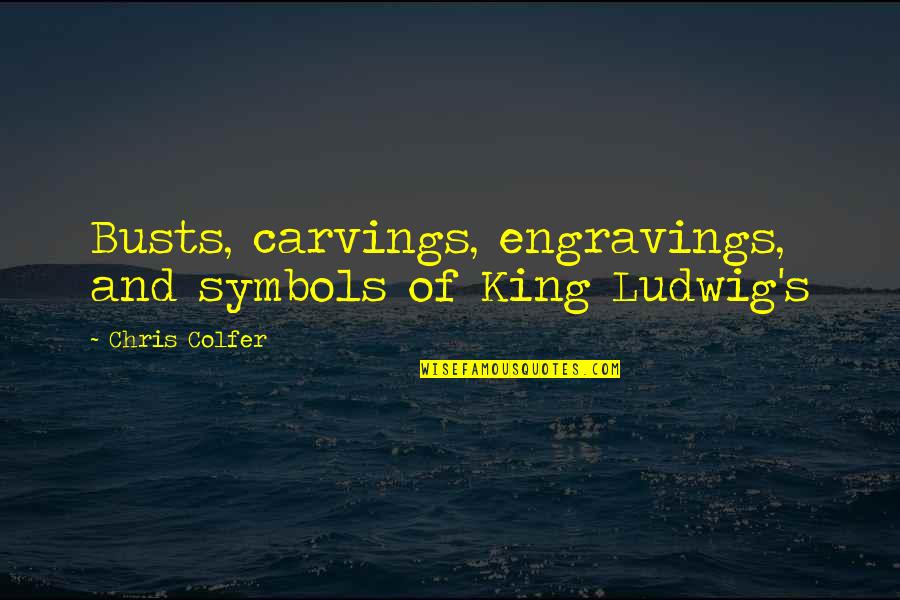 Busts, carvings, engravings, and symbols of King Ludwig's —
Chris Colfer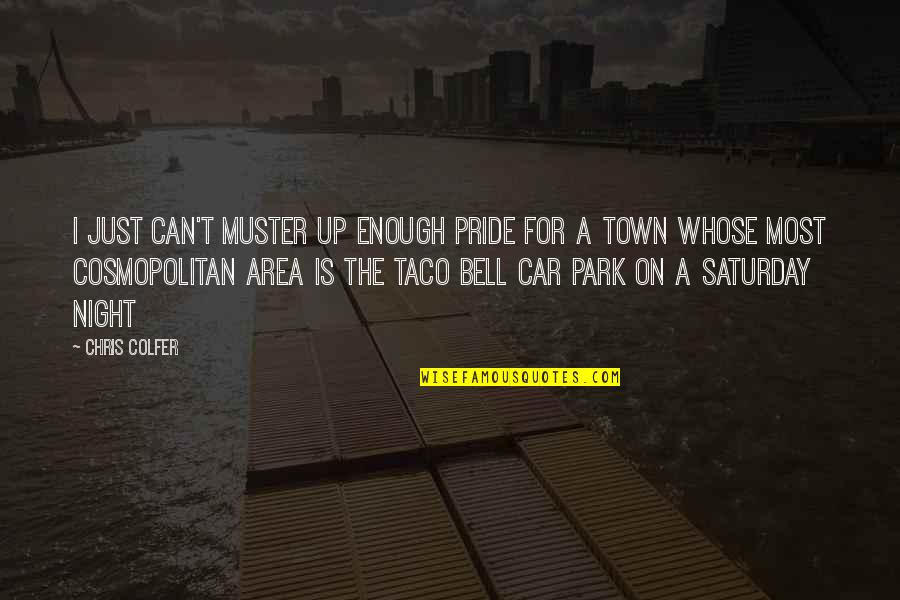 I just can't muster up enough pride for a town whose most cosmopolitan area is the Taco Bell car park on a saturday night —
Chris Colfer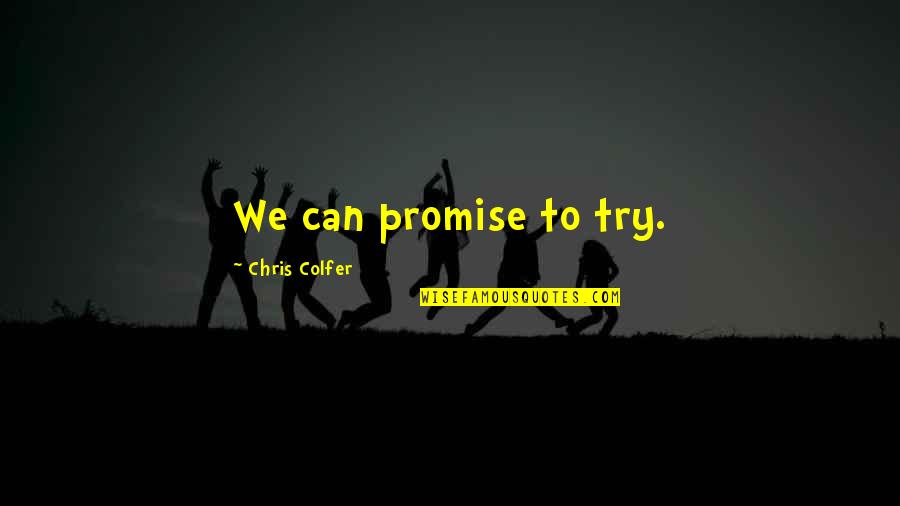 We can promise to try. —
Chris Colfer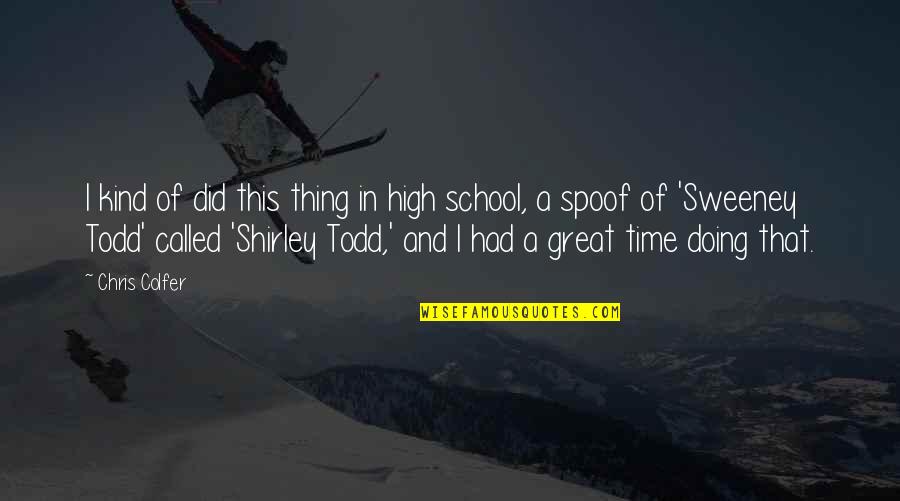 I kind of did this thing in high school, a spoof of 'Sweeney Todd' called 'Shirley Todd,' and I had a great time doing that. —
Chris Colfer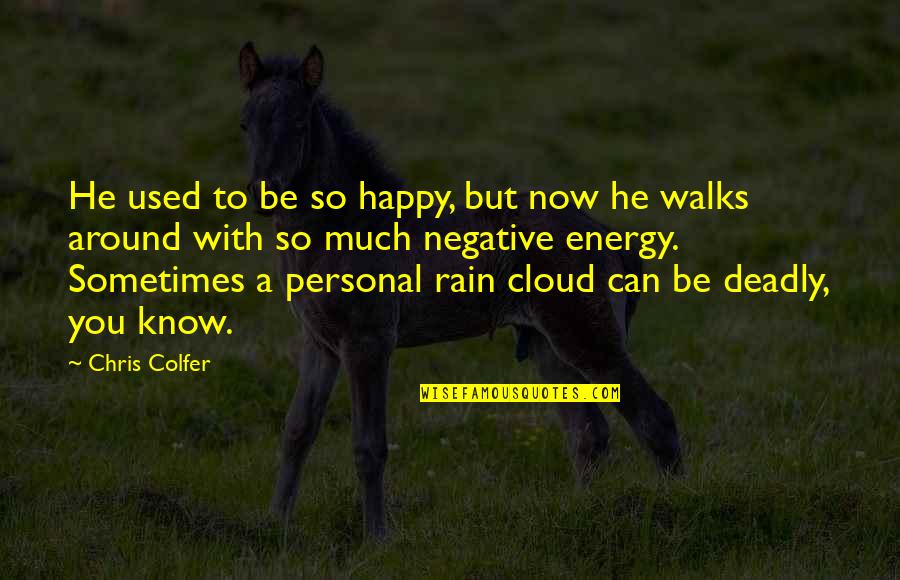 He used to be so happy, but now he walks around with so much negative energy. Sometimes a personal rain cloud can be deadly, you know. —
Chris Colfer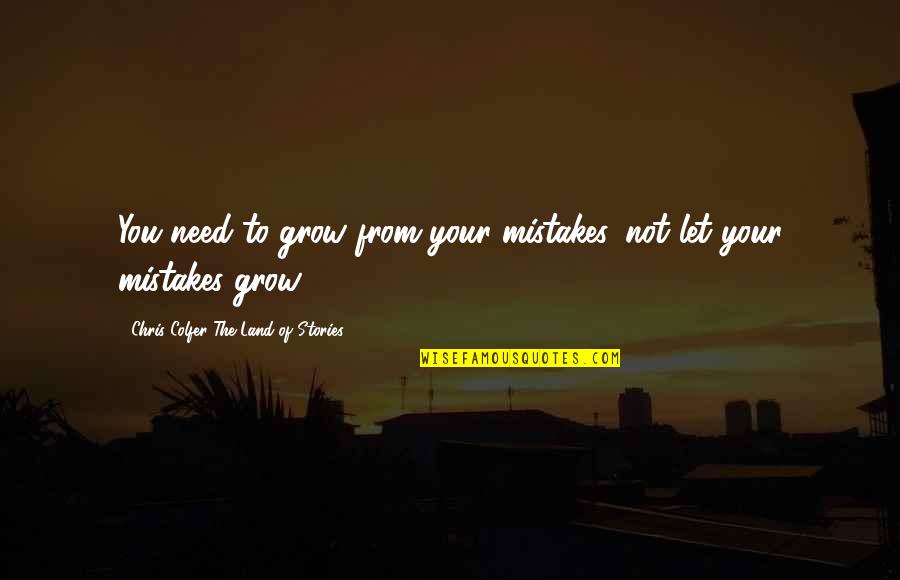 You need to grow from your mistakes, not let your mistakes grow. —
Chris Colfer The Land Of Stories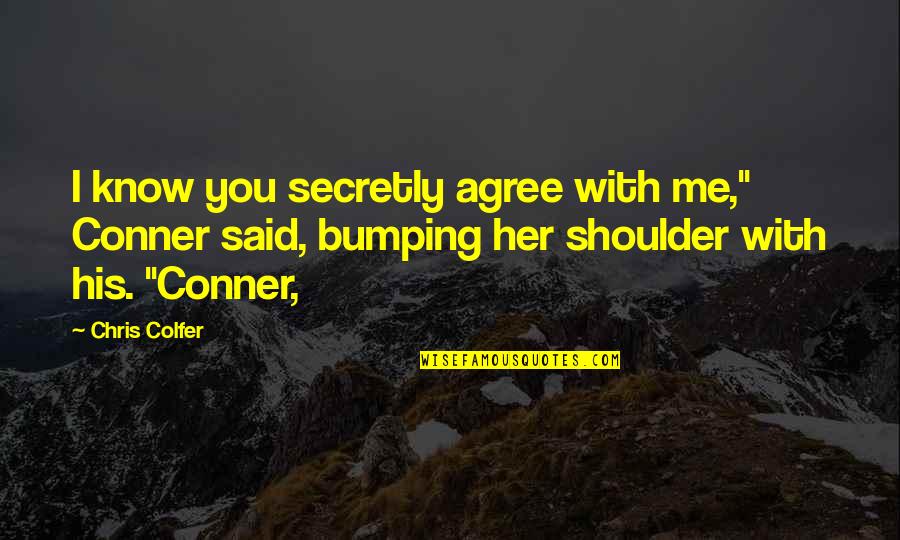 I know you secretly agree with me," Conner said, bumping her shoulder with his. "Conner, —
Chris Colfer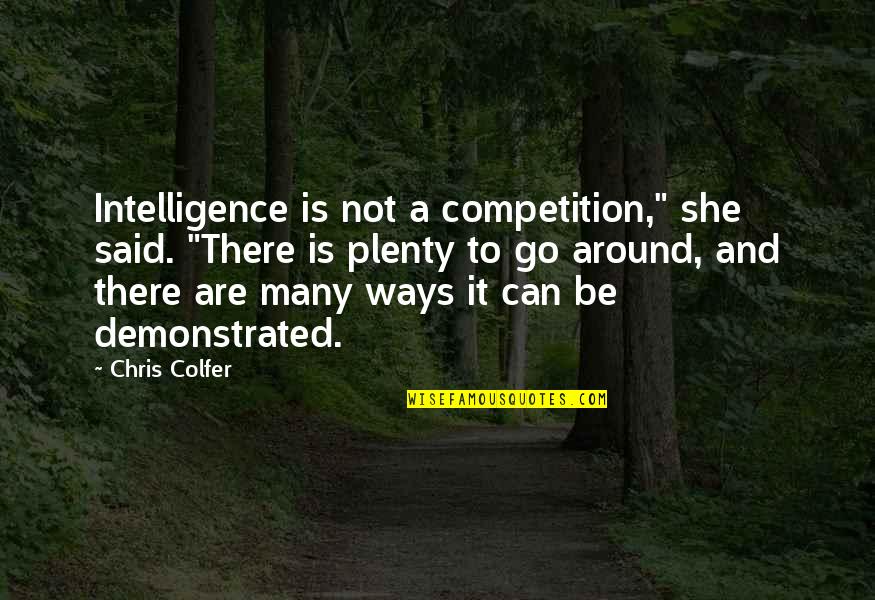 Intelligence is not a competition," she said. "There is plenty to go around, and there are many ways it can be demonstrated. —
Chris Colfer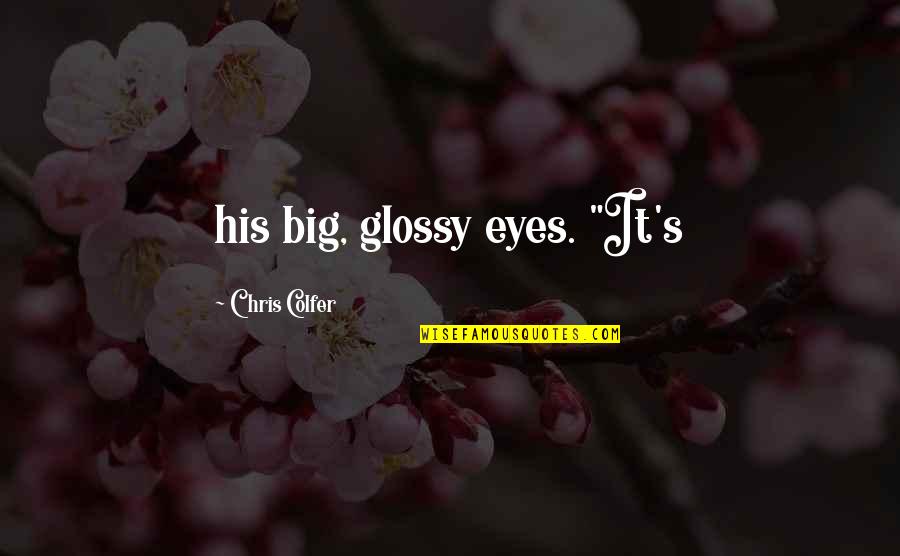 his big, glossy eyes. "It's —
Chris Colfer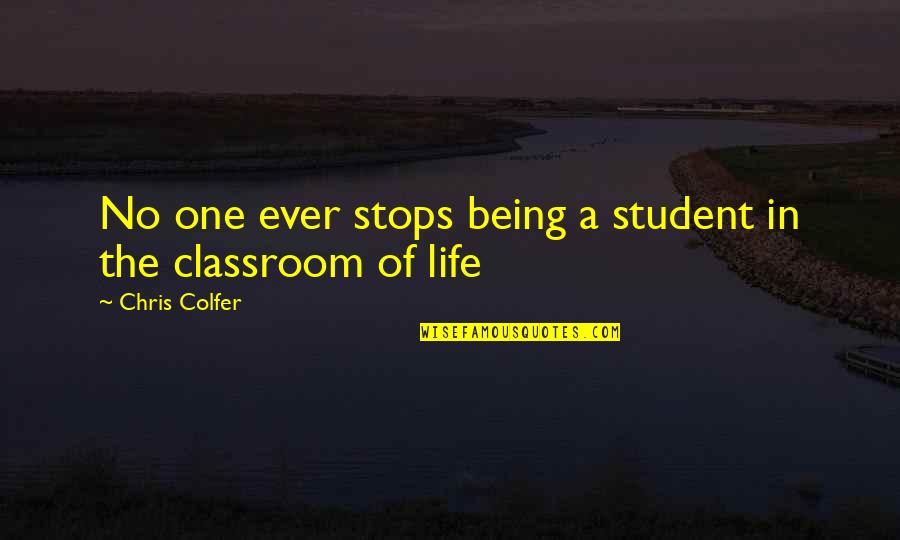 No one ever stops being a student in the classroom of life —
Chris Colfer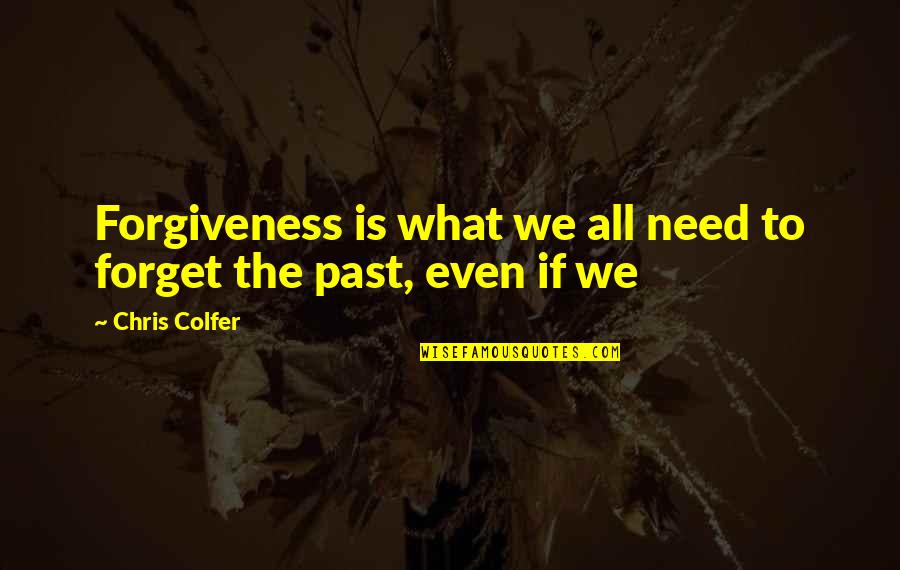 Forgiveness is what we all need to forget the past, even if we —
Chris Colfer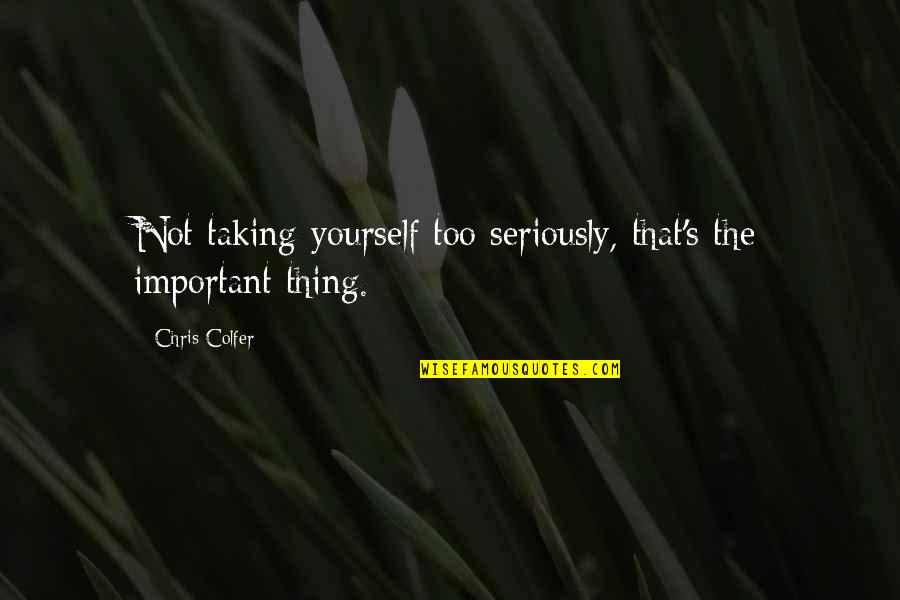 Not taking yourself too seriously, that's the important thing. —
Chris Colfer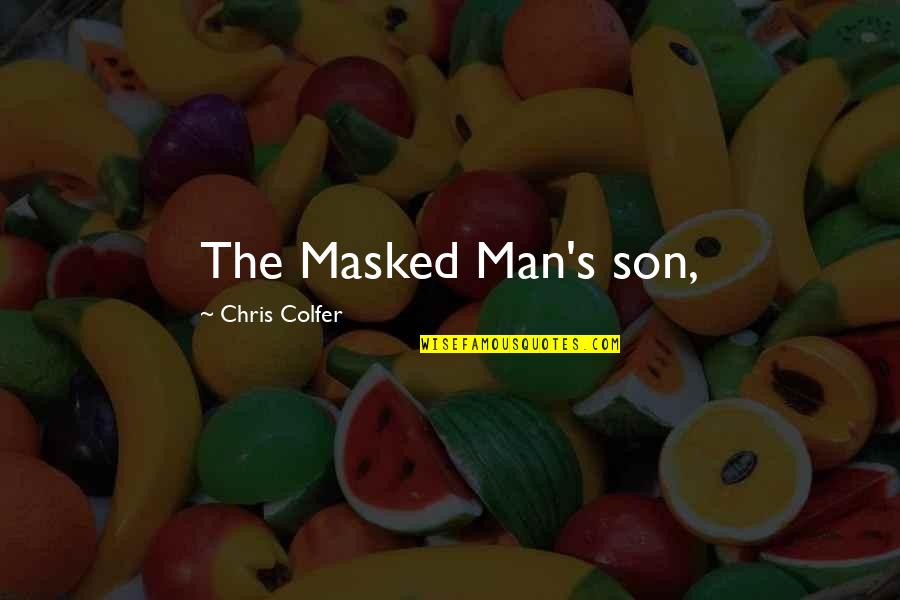 The Masked Man's son, —
Chris Colfer