Work And Travel Quotes
Collection of top 30 famous quotes about Work And Travel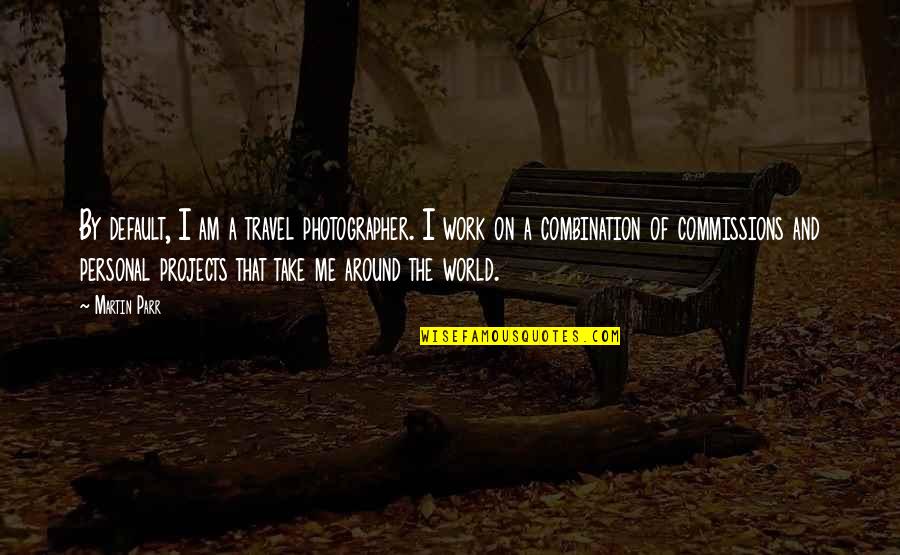 By default, I am a travel photographer. I work on a combination of commissions and personal projects that take me around the world.
—
Martin Parr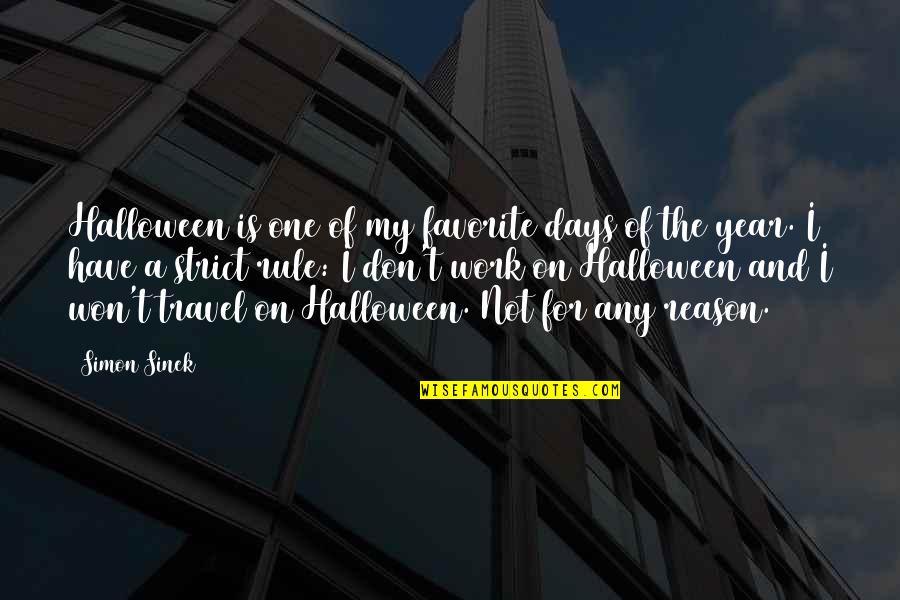 Halloween is one of my favorite days of the year. I have a strict rule: I don't work on Halloween and I won't travel on Halloween. Not for any reason.
—
Simon Sinek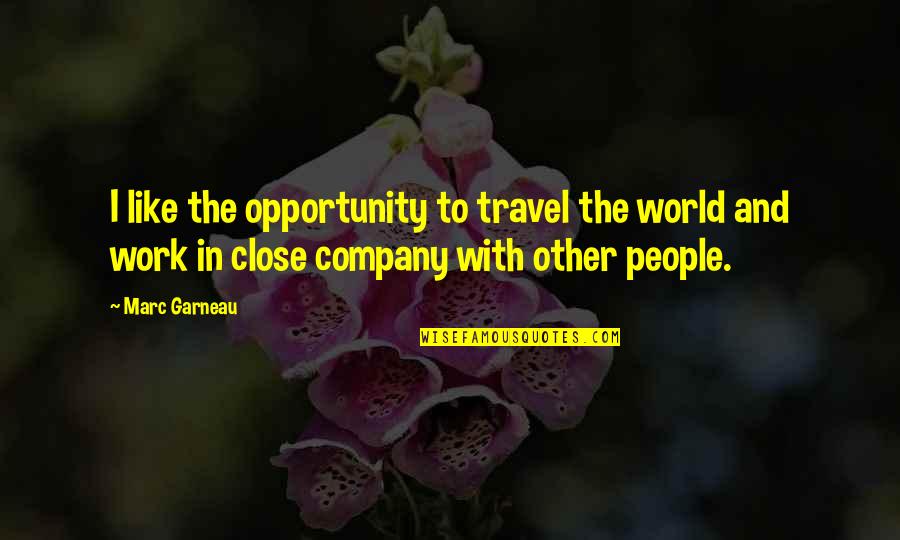 I like the opportunity to travel the world and work in close company with other people.
—
Marc Garneau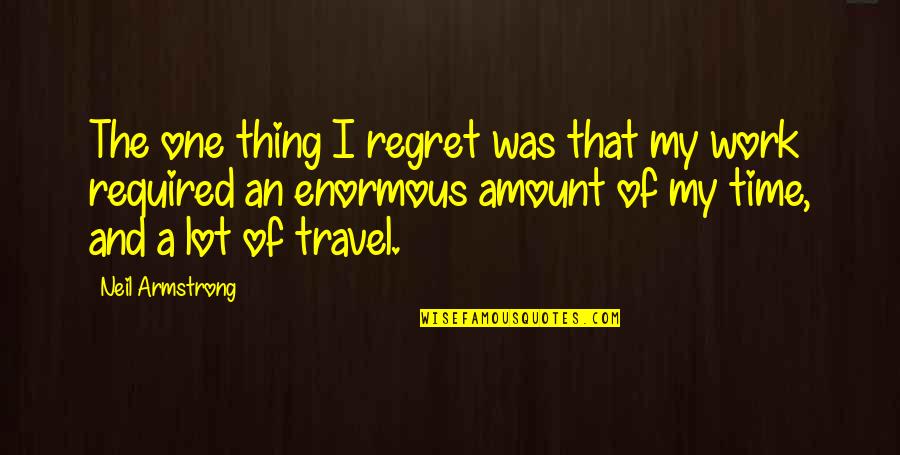 The one thing I regret was that my work required an enormous amount of my time, and a lot of travel.
—
Neil Armstrong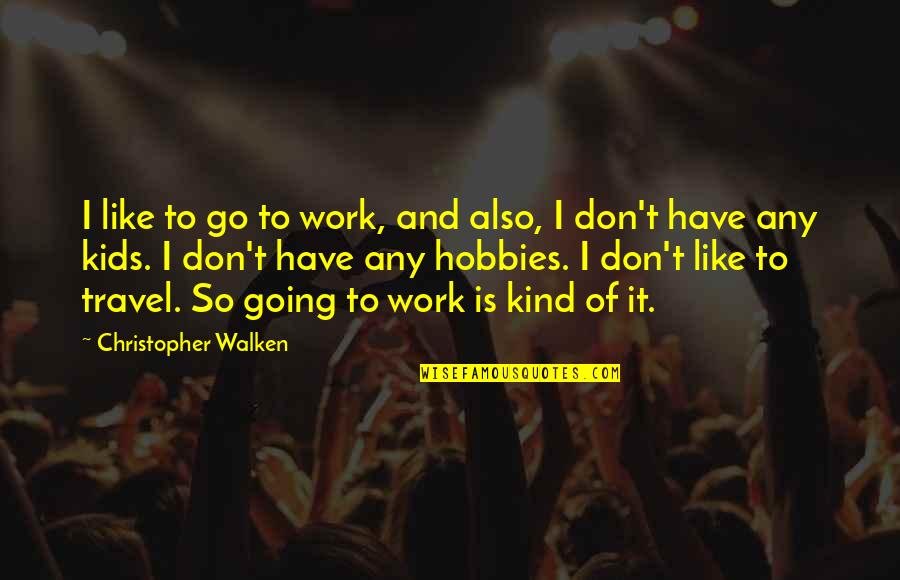 I like to go to work, and also, I don't have any kids. I don't have any hobbies. I don't like to travel. So going to work is kind of it.
—
Christopher Walken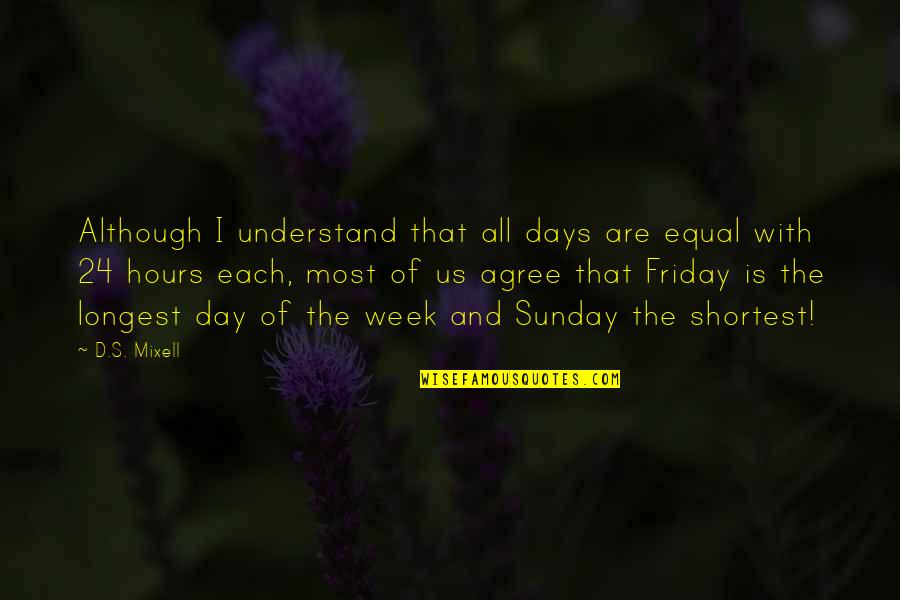 Although I understand that all days are equal with 24 hours each, most of us agree that Friday is the longest day of the week and Sunday the shortest!
—
D.S. Mixell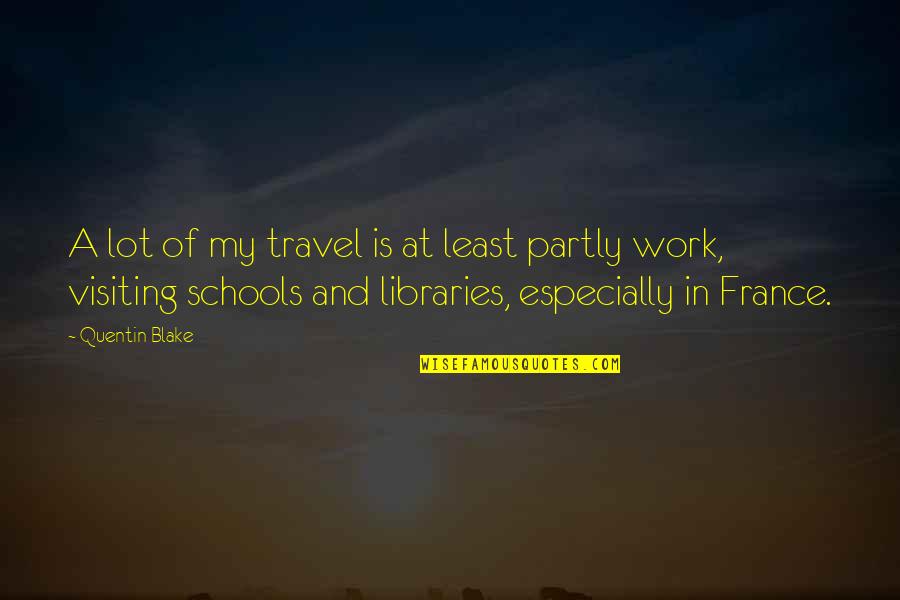 A lot of my travel is at least partly work, visiting schools and libraries, especially in France.
—
Quentin Blake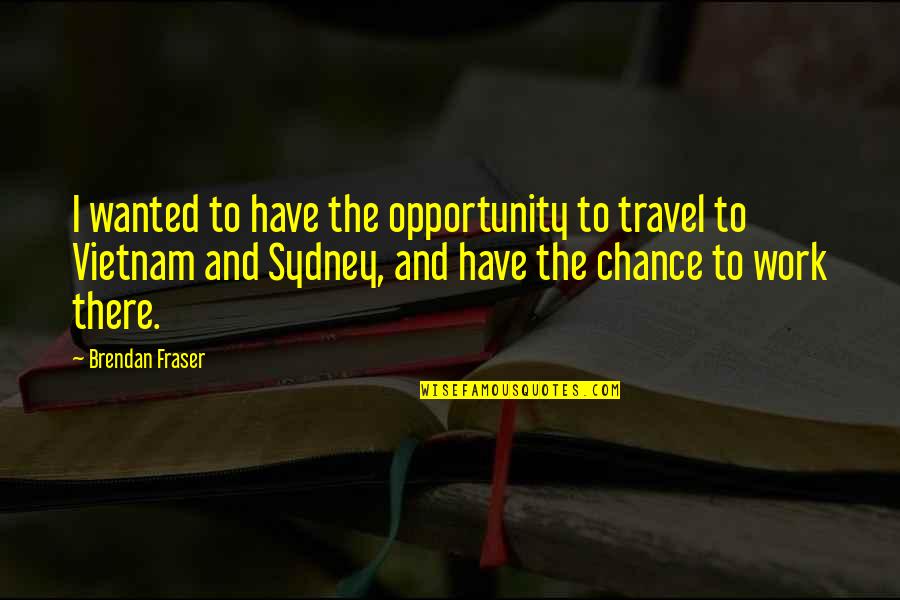 I wanted to have the opportunity to travel to Vietnam and Sydney, and have the chance to work there.
—
Brendan Fraser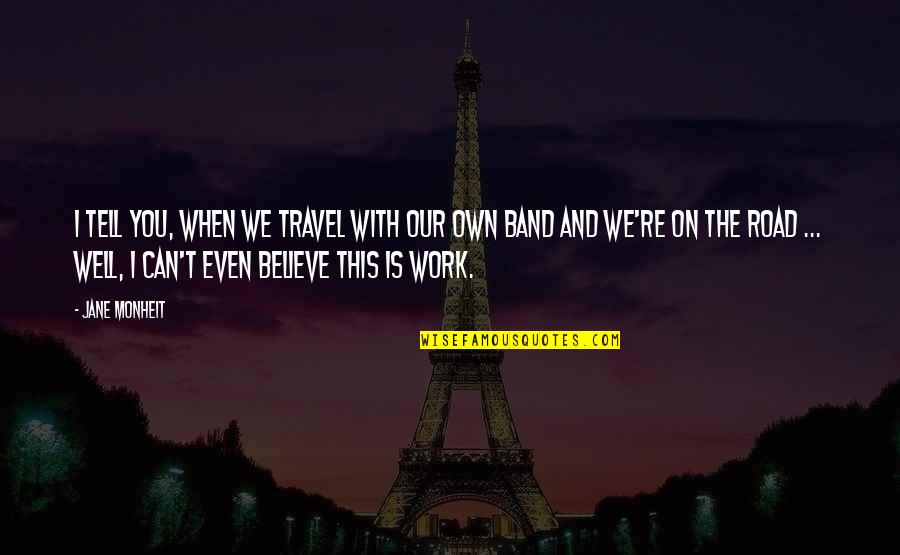 I tell you, when we travel with our own band and we're on the road ... Well, I can't even believe this is work.
—
Jane Monheit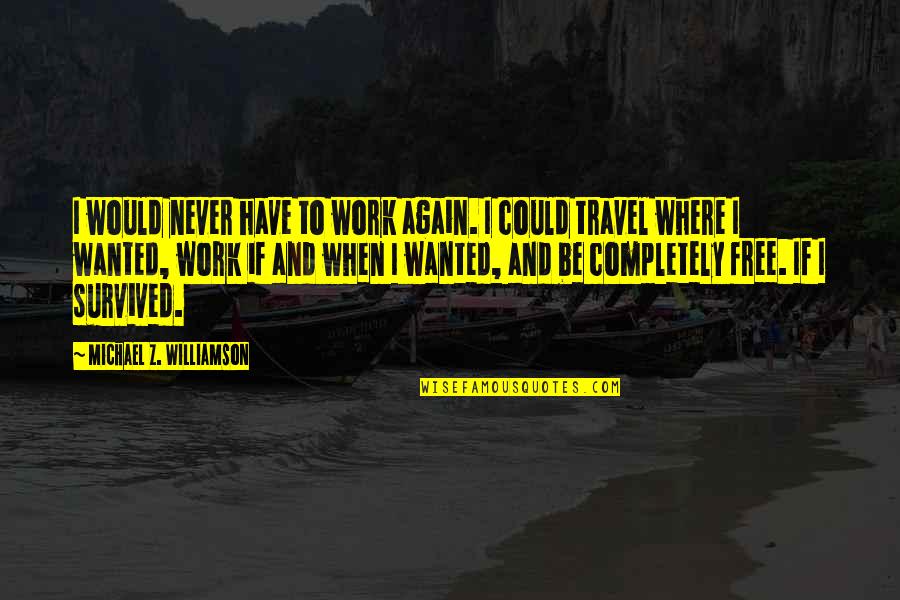 I would never have to work again. I could travel where I wanted, work if and when I wanted, and be completely free. If I survived.
—
Michael Z. Williamson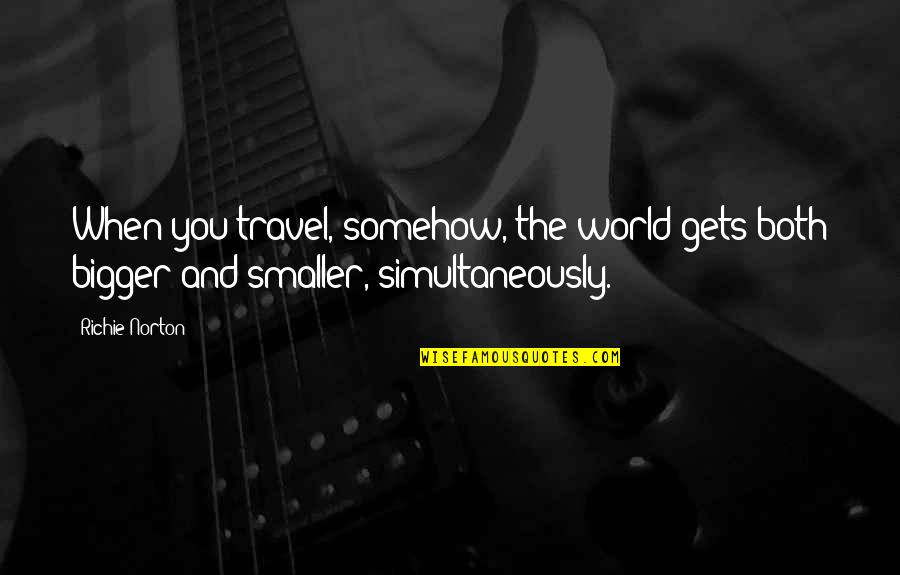 When you travel, somehow, the world gets both bigger and smaller, simultaneously.
—
Richie Norton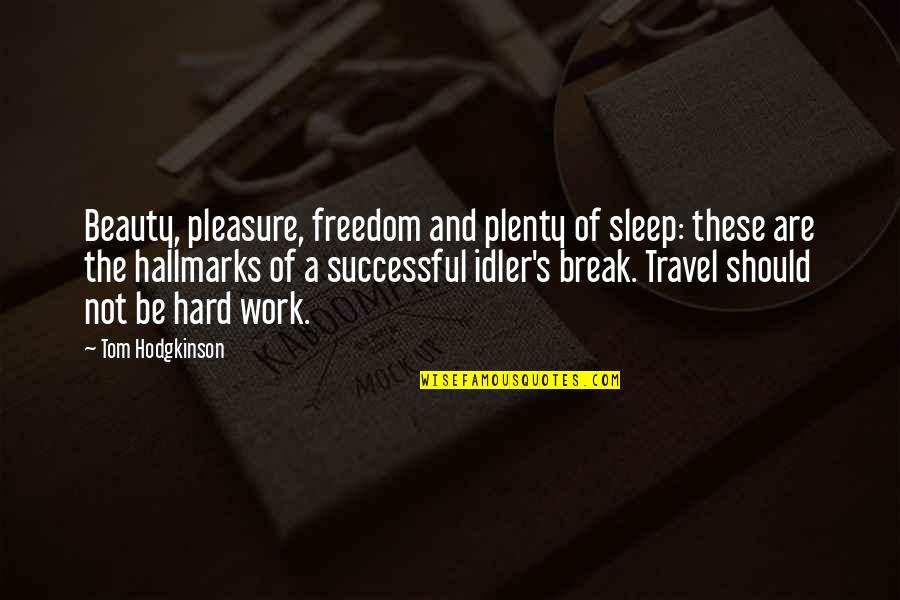 Beauty, pleasure, freedom and plenty of sleep: these are the hallmarks of a successful idler's break. Travel should not be hard work.
—
Tom Hodgkinson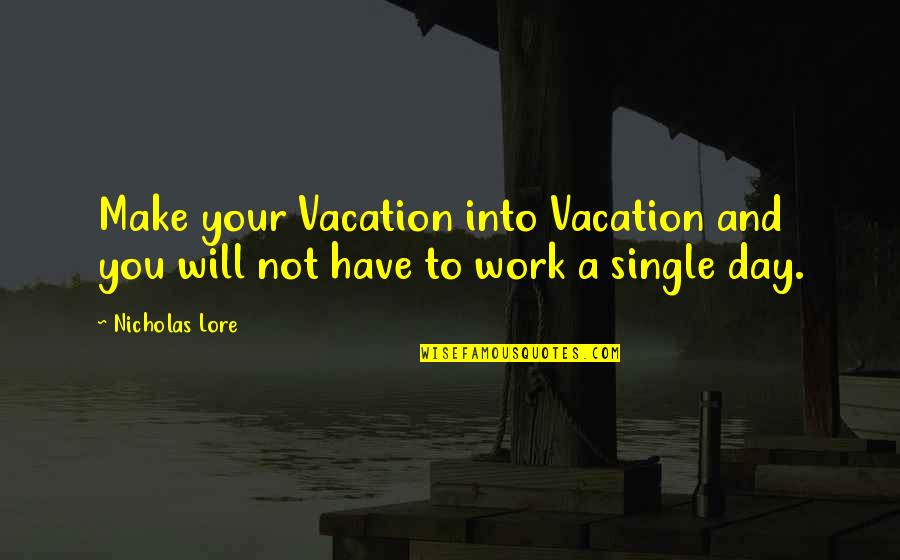 Make your Vacation into Vacation and you will not have to work a single day. —
Nicholas Lore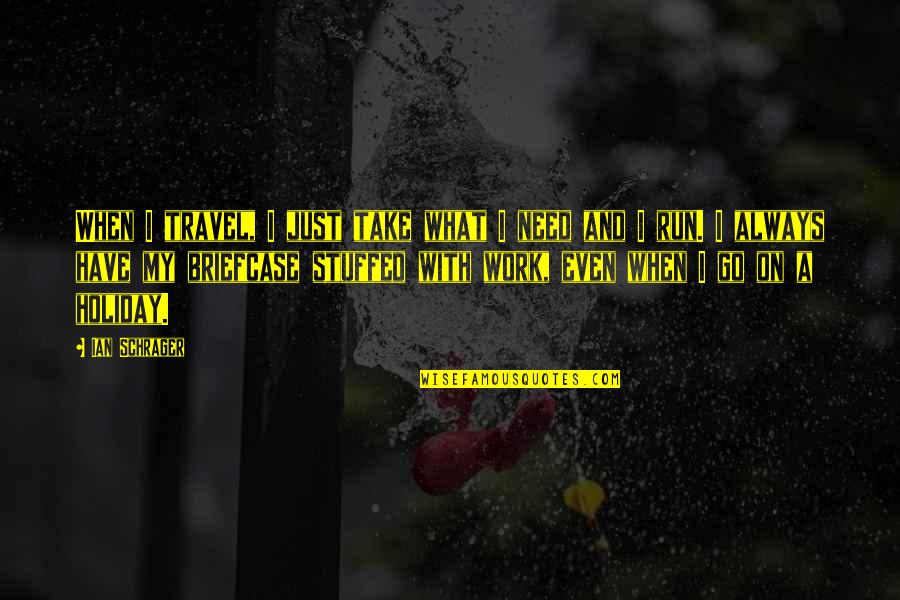 When I travel, I just take what I need and I run. I always have my briefcase stuffed with work, even when I go on a holiday. —
Ian Schrager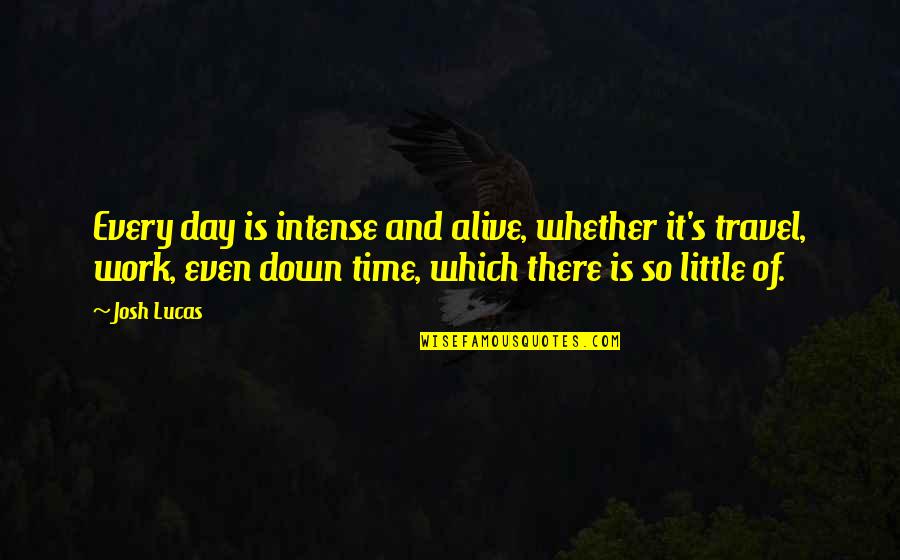 Every day is intense and alive, whether it's travel, work, even down time, which there is so little of. —
Josh Lucas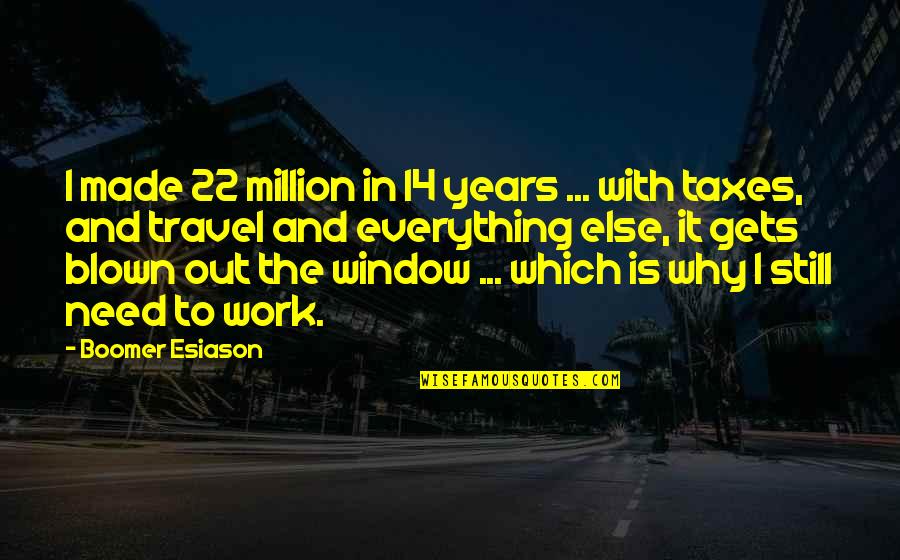 I made 22 million in 14 years ... with taxes, and travel and everything else, it gets blown out the window ... which is why I still need to work. —
Boomer Esiason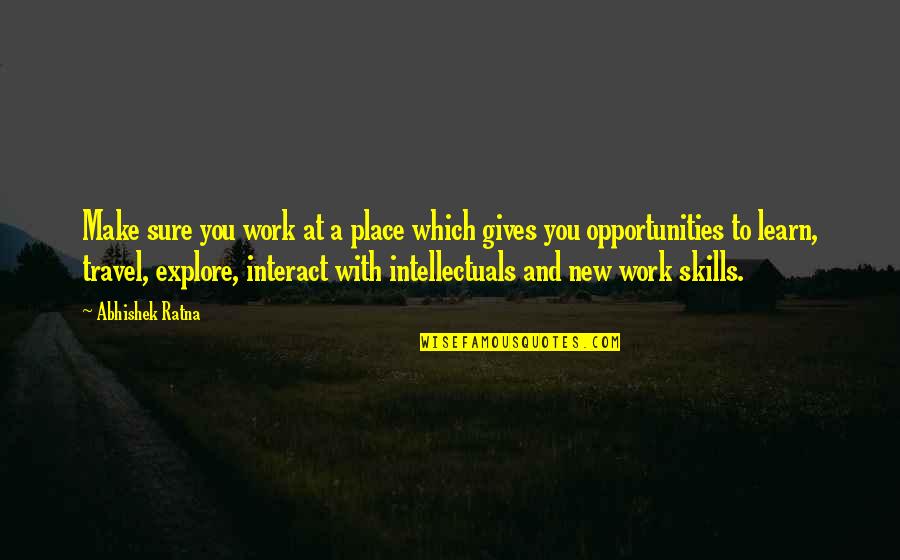 Make sure you work at a place which gives you opportunities to learn, travel, explore, interact with intellectuals and new work skills. —
Abhishek Ratna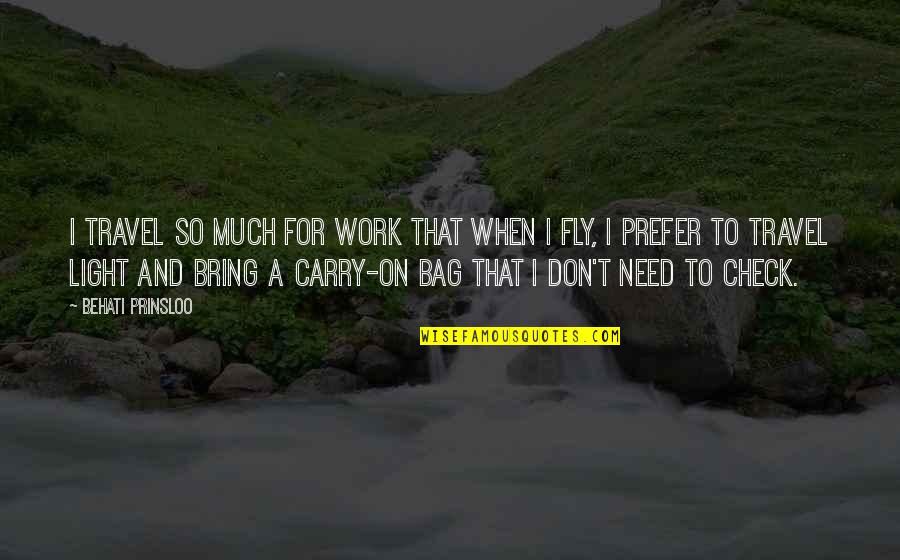 I travel so much for work that when I fly, I prefer to travel light and bring a carry-on bag that I don't need to check. —
Behati Prinsloo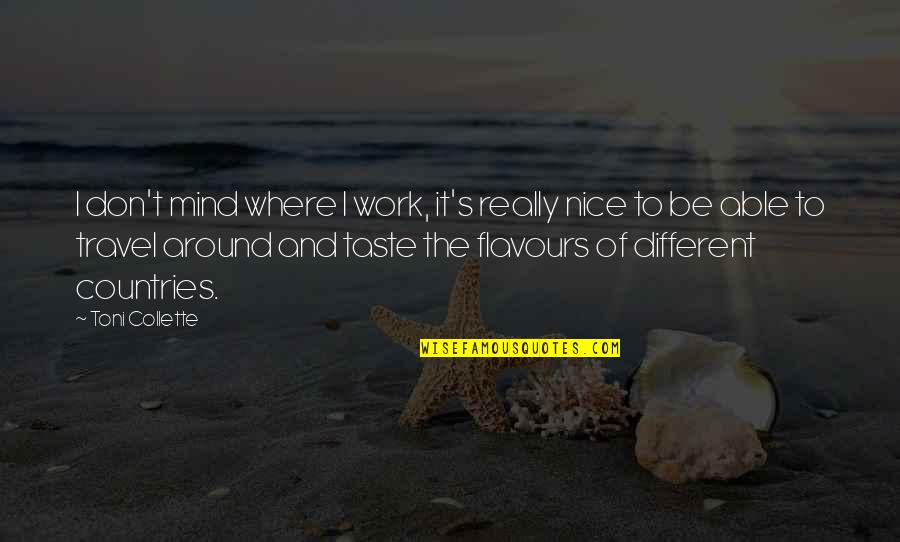 I don't mind where I work, it's really nice to be able to travel around and taste the flavours of different countries. —
Toni Collette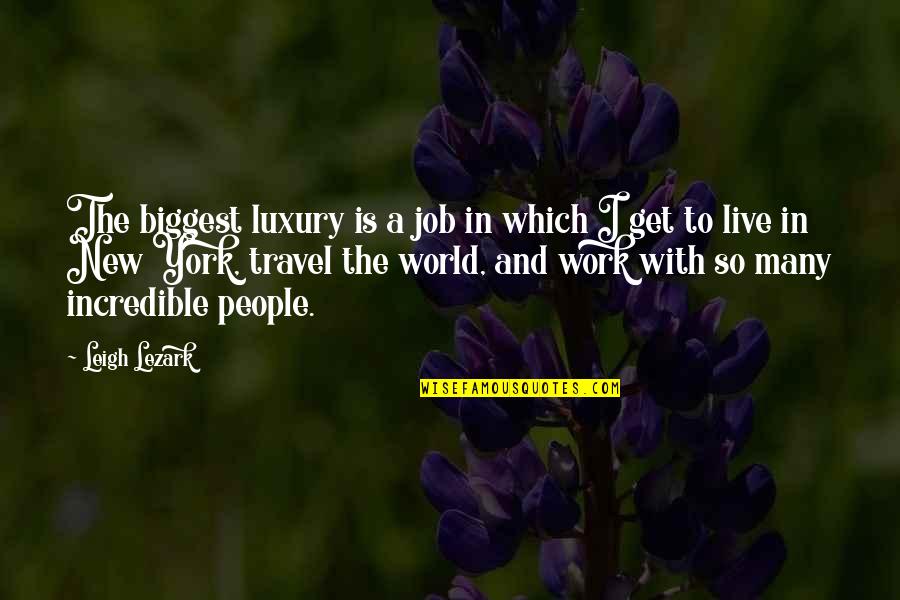 The biggest luxury is a job in which I get to live in New York, travel the world, and work with so many incredible people. —
Leigh Lezark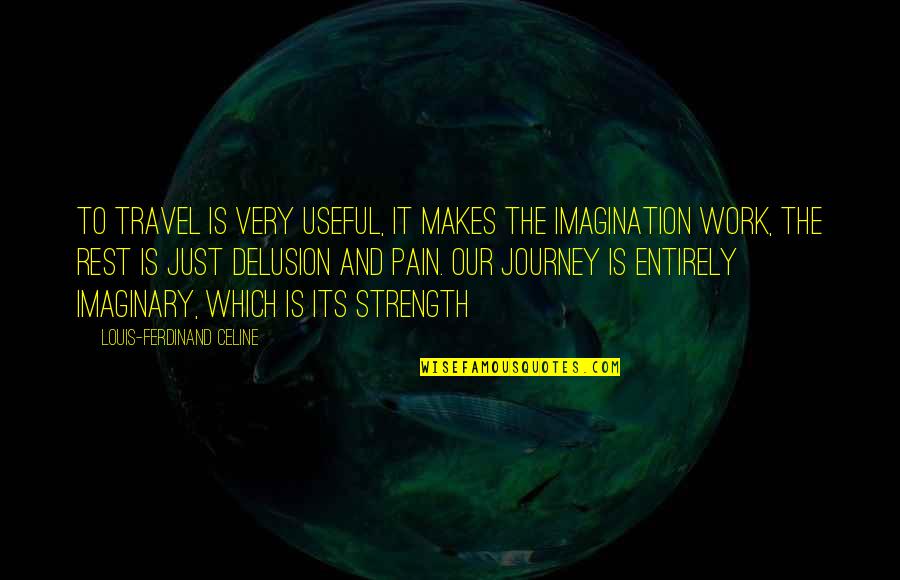 To travel is very useful, it makes the imagination work, the rest is just delusion and pain. Our journey is entirely imaginary, which is its strength —
Louis-Ferdinand Celine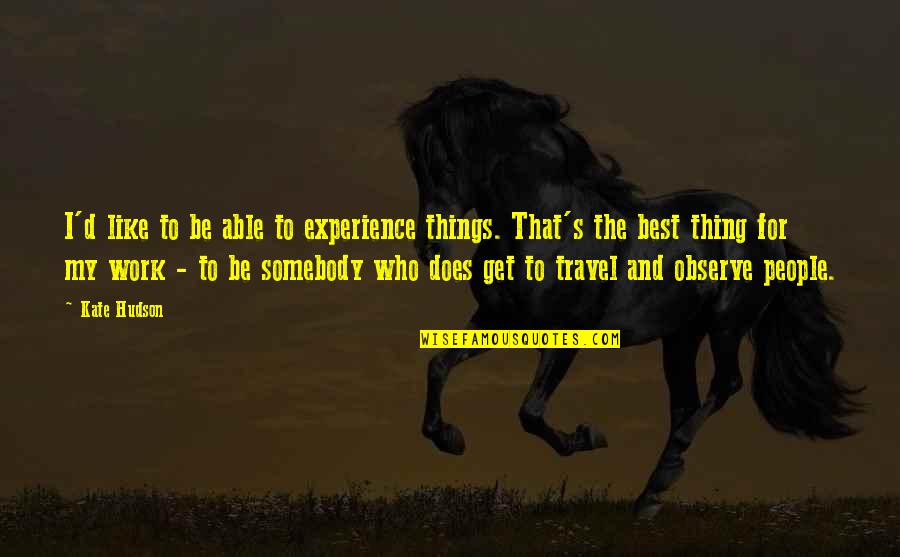 I'd like to be able to experience things. That's the best thing for my work - to be somebody who does get to travel and observe people. —
Kate Hudson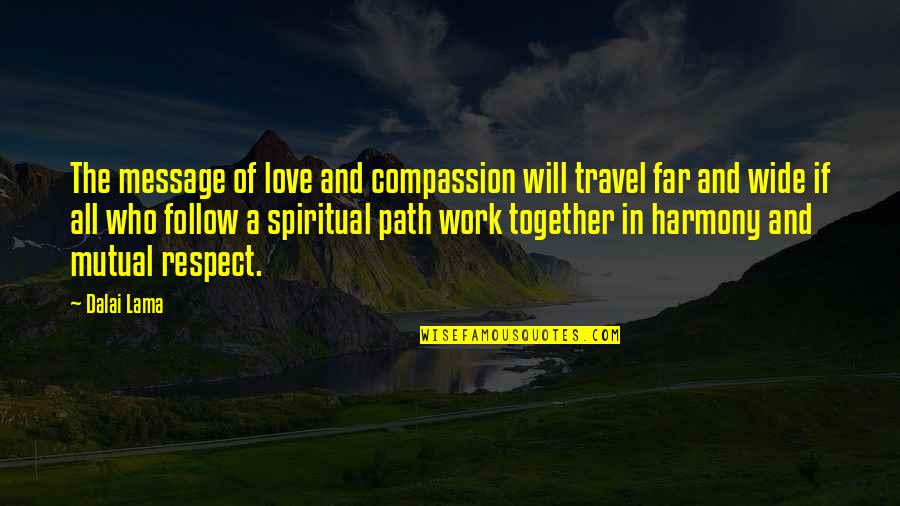 The message of love and compassion will travel far and wide if all who follow a spiritual path work together in harmony and mutual respect. —
Dalai Lama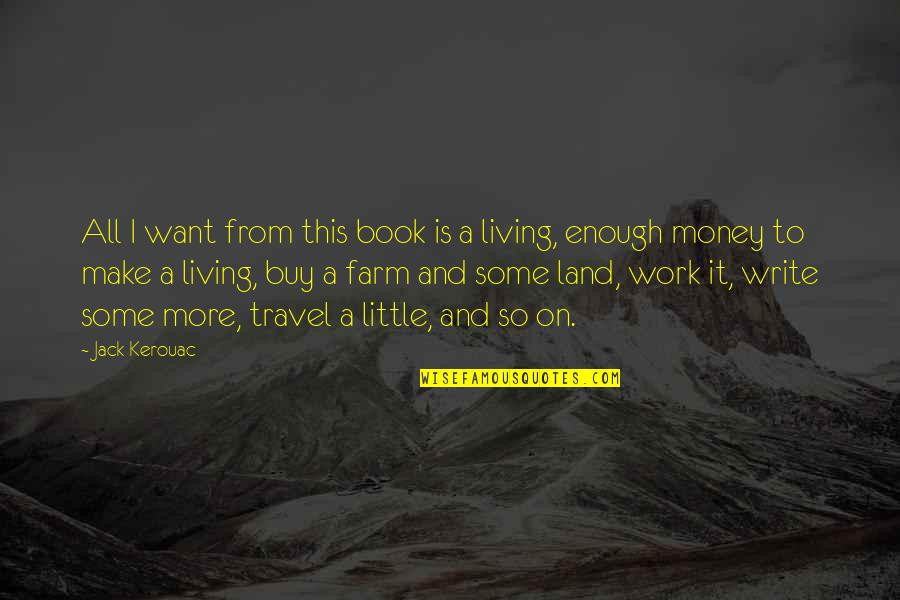 All I want from this book is a living, enough money to make a living, buy a farm and some land, work it, write some more, travel a little, and so on. —
Jack Kerouac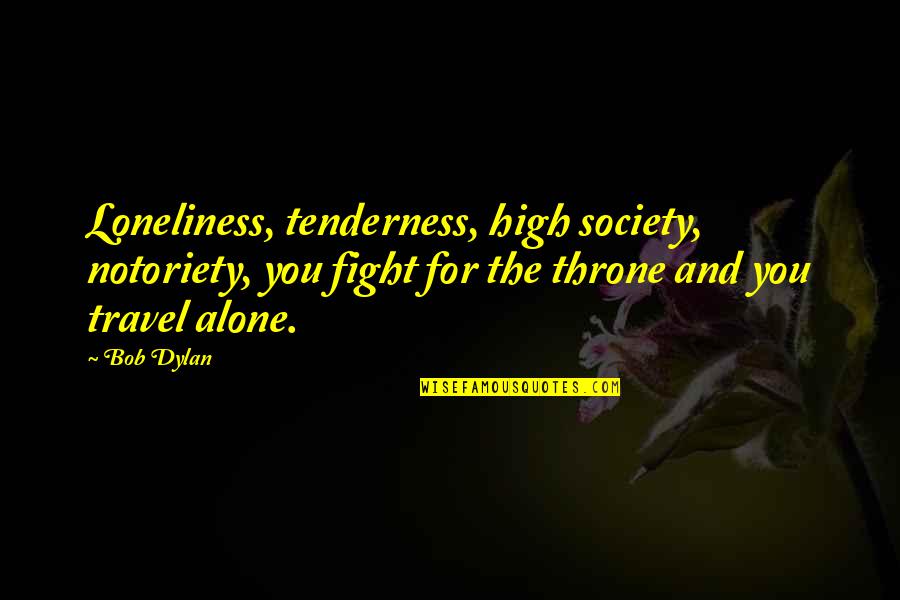 Loneliness, tenderness, high society, notoriety, you fight for the throne and you travel alone. —
Bob Dylan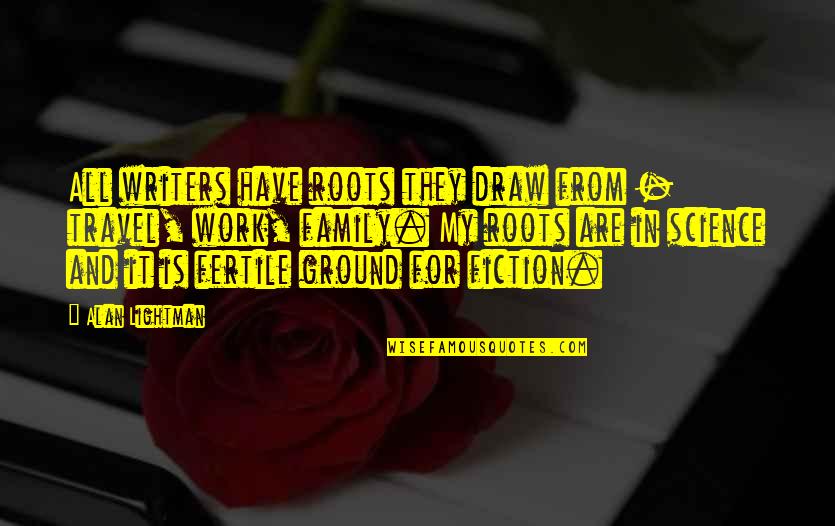 All writers have roots they draw from - travel, work, family. My roots are in science and it is fertile ground for fiction. —
Alan Lightman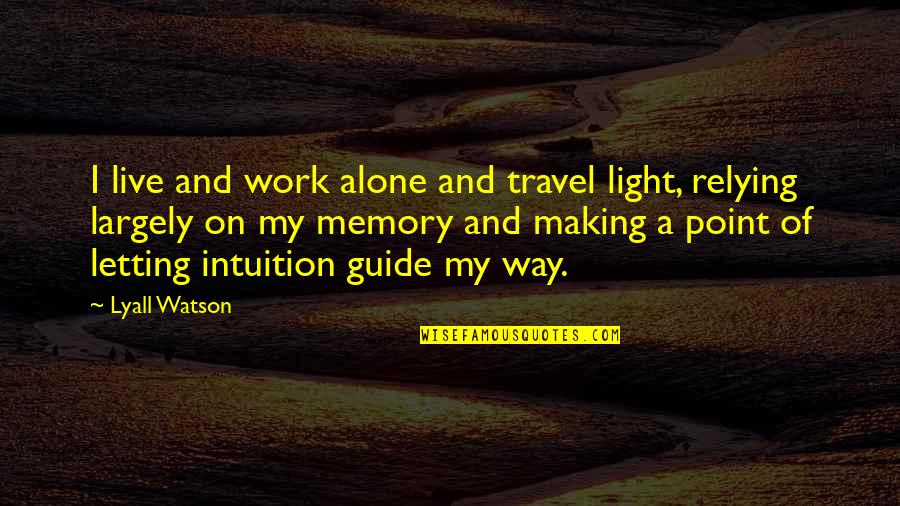 I live and work alone and travel light, relying largely on my memory and making a point of letting intuition guide my way. —
Lyall Watson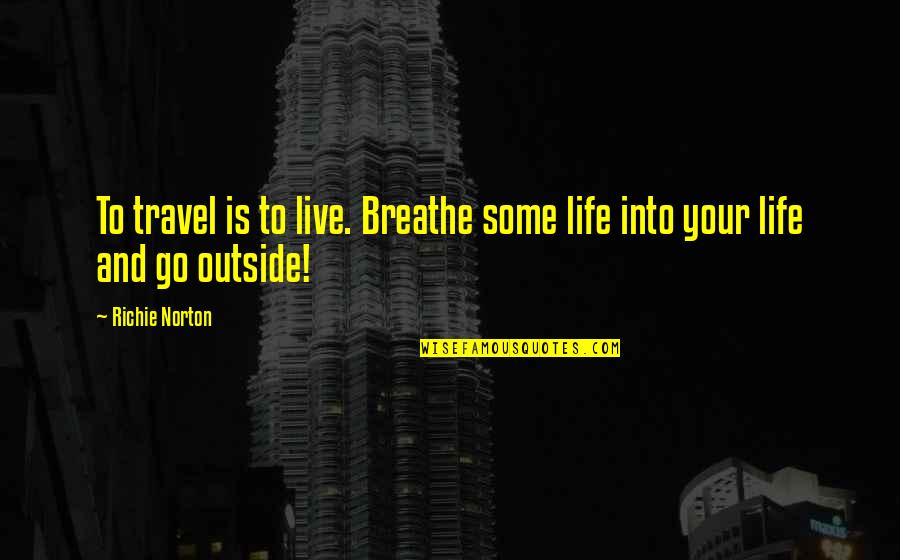 To travel is to live. Breathe some life into your life and go outside! —
Richie Norton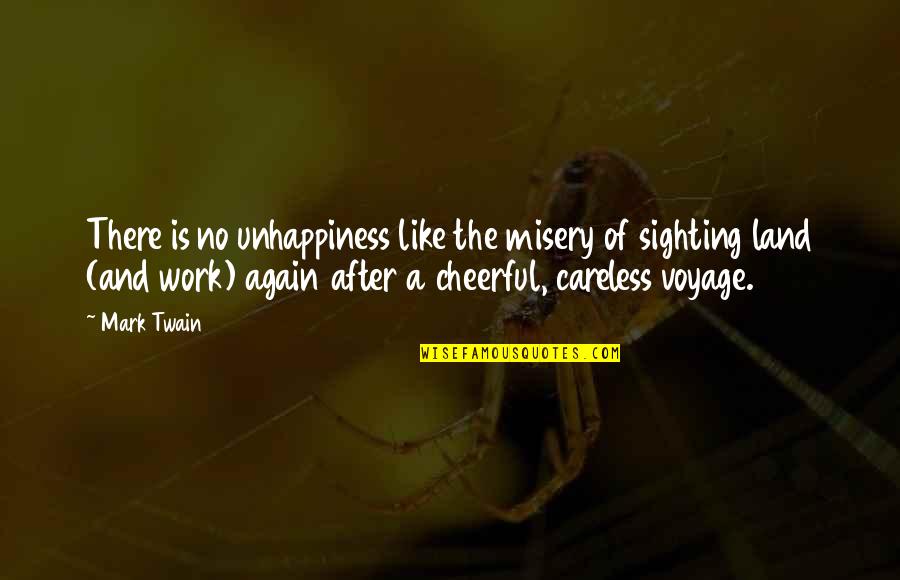 There is no unhappiness like the misery of sighting land (and work) again after a cheerful, careless voyage. —
Mark Twain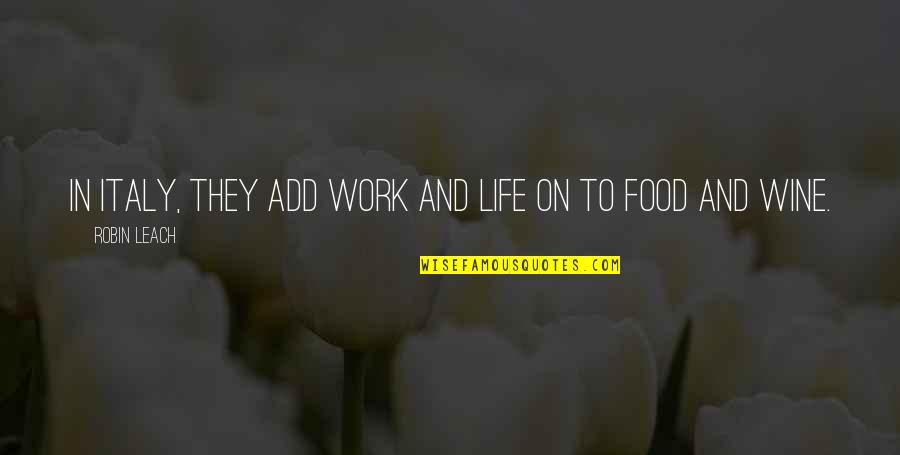 In Italy, they add work and life on to food and wine. —
Robin Leach