What Matters Most In Life Quotes
Collection of top 56 famous quotes about What Matters Most In Life
What Matters Most In Life Quotes & Sayings
Happy to read and share the best inspirational What Matters Most In Life quotes, sayings and quotations on Wise Famous Quotes.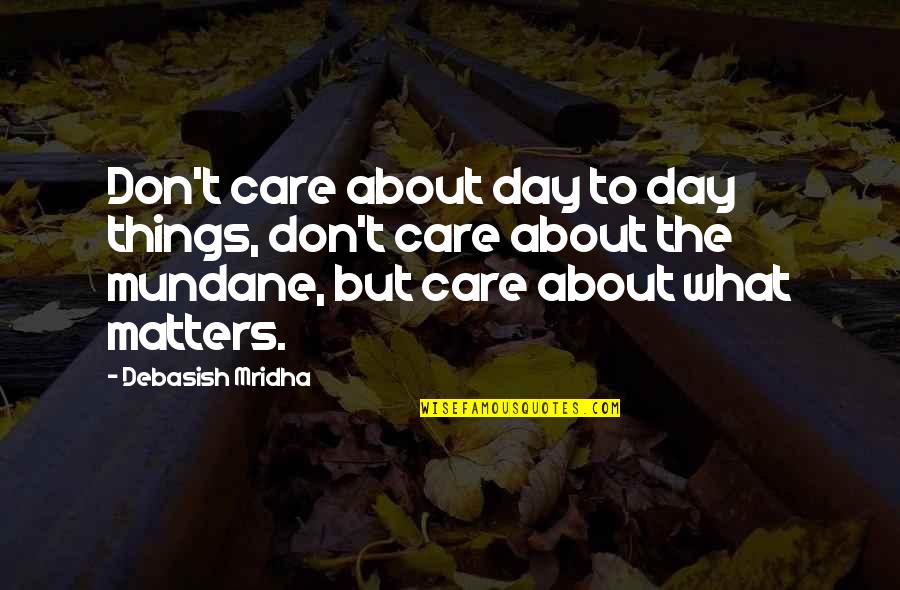 Don't care about day to day things, don't care about the mundane, but care about what matters.
—
Debasish Mridha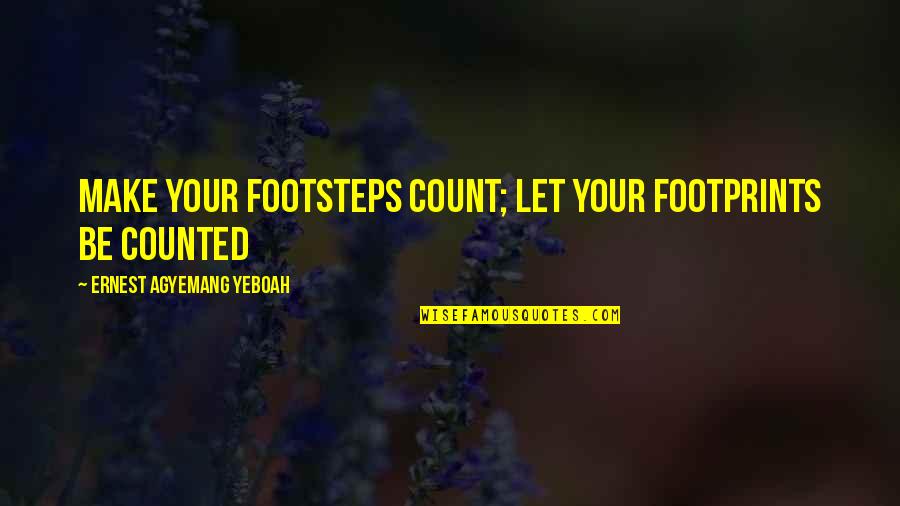 Make your footsteps count; let your footprints be counted
—
Ernest Agyemang Yeboah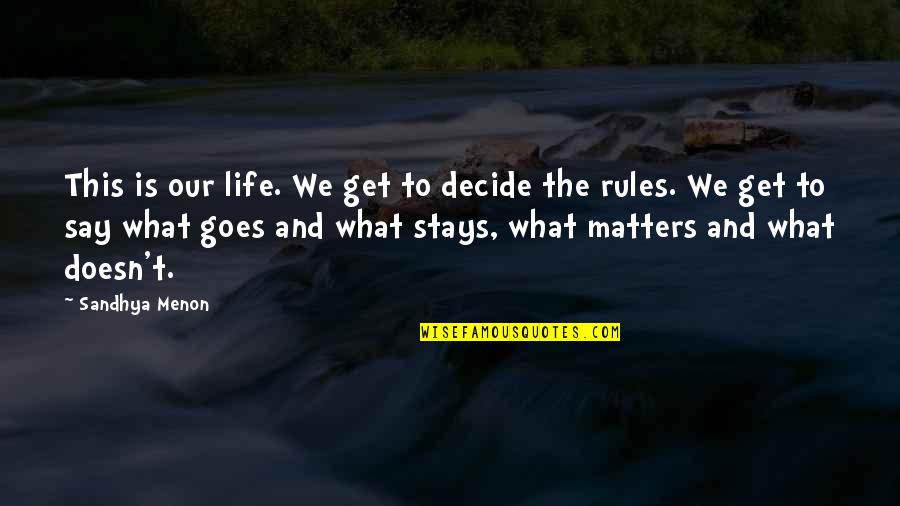 This is our life. We get to decide the rules. We get to say what goes and what stays, what matters and what doesn't.
—
Sandhya Menon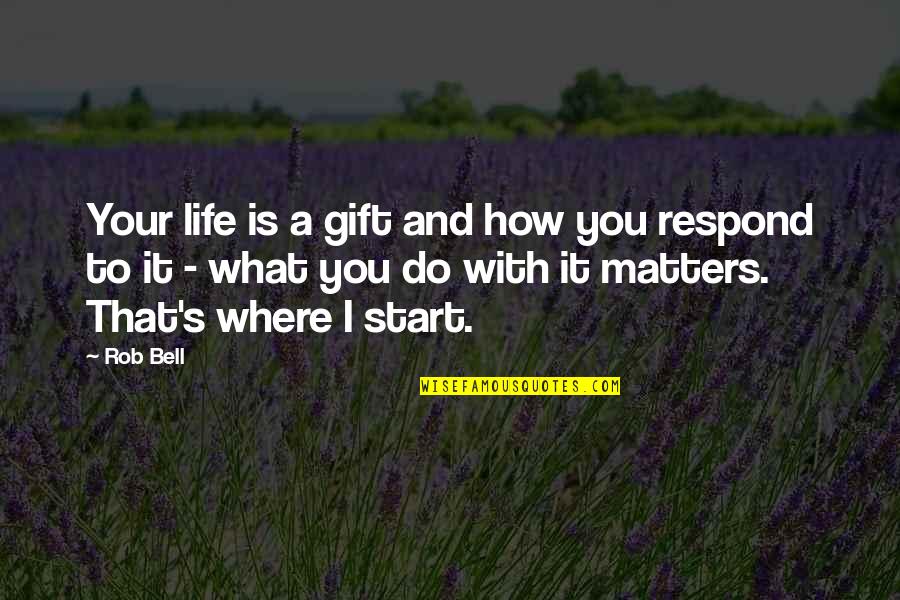 Your life is a gift and how you respond to it - what you do with it matters. That's where I start.
—
Rob Bell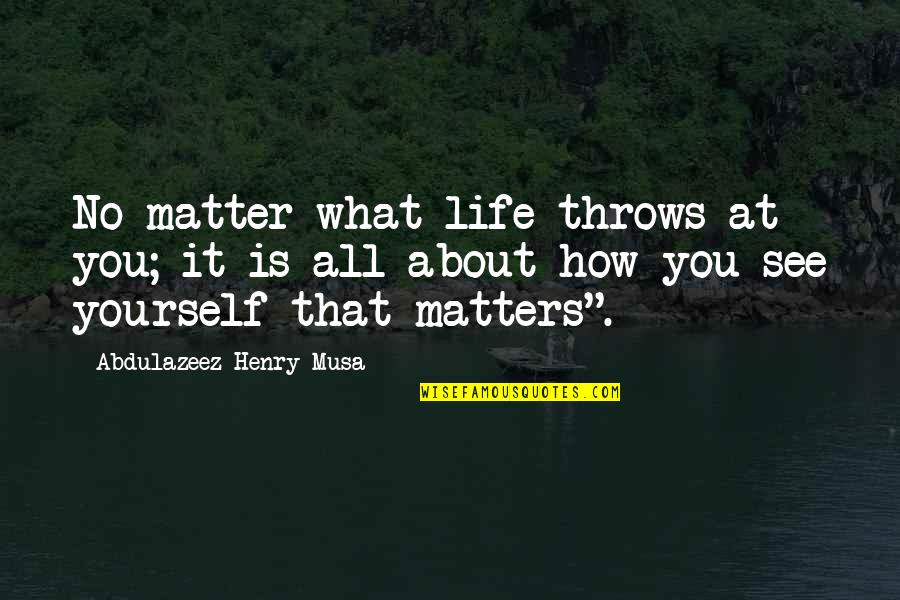 No matter what life throws at you; it is all about how you see yourself that matters".
—
Abdulazeez Henry Musa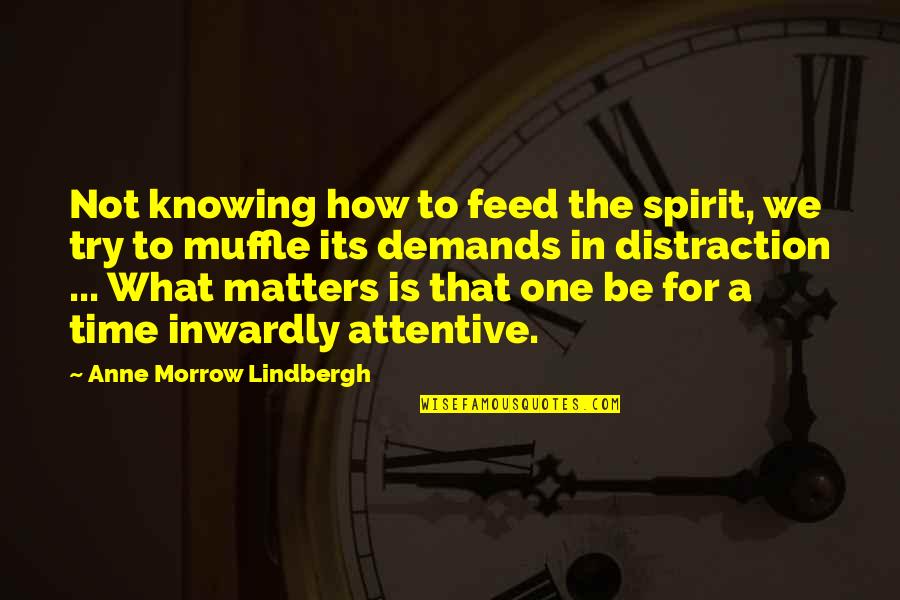 Not knowing how to feed the spirit, we try to muffle its demands in distraction ... What matters is that one be for a time inwardly attentive.
—
Anne Morrow Lindbergh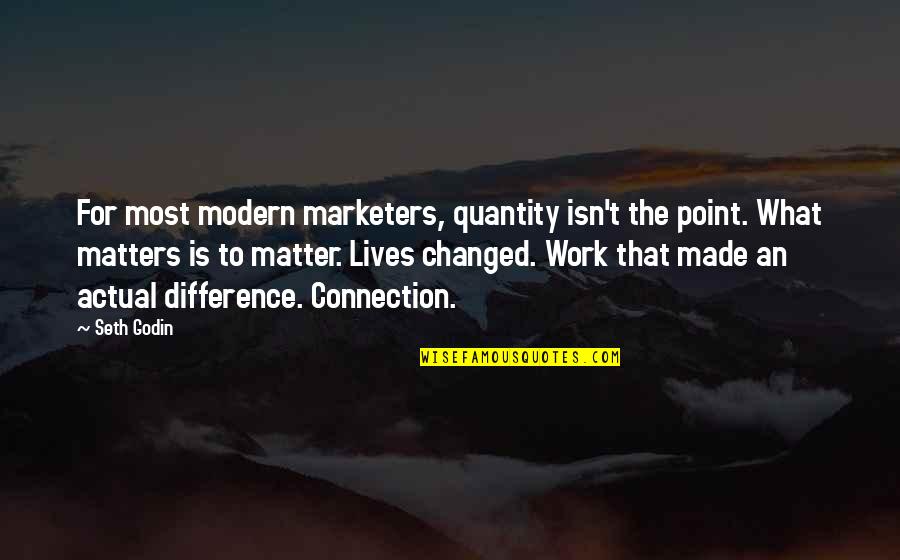 For most modern marketers, quantity isn't the point. What matters is to matter. Lives changed. Work that made an actual difference. Connection.
—
Seth Godin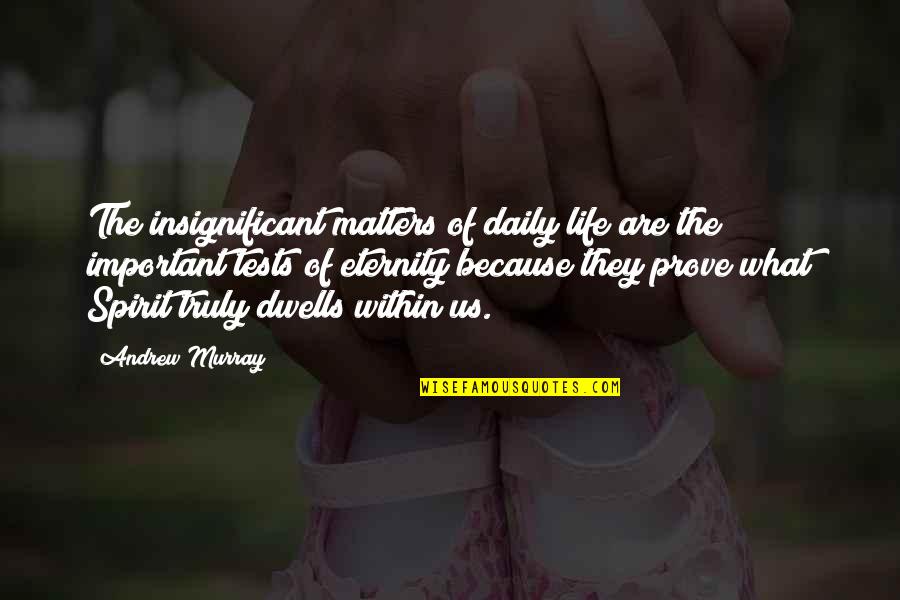 The insignificant matters of daily life are the important tests of eternity because they prove what Spirit truly dwells within us. —
Andrew Murray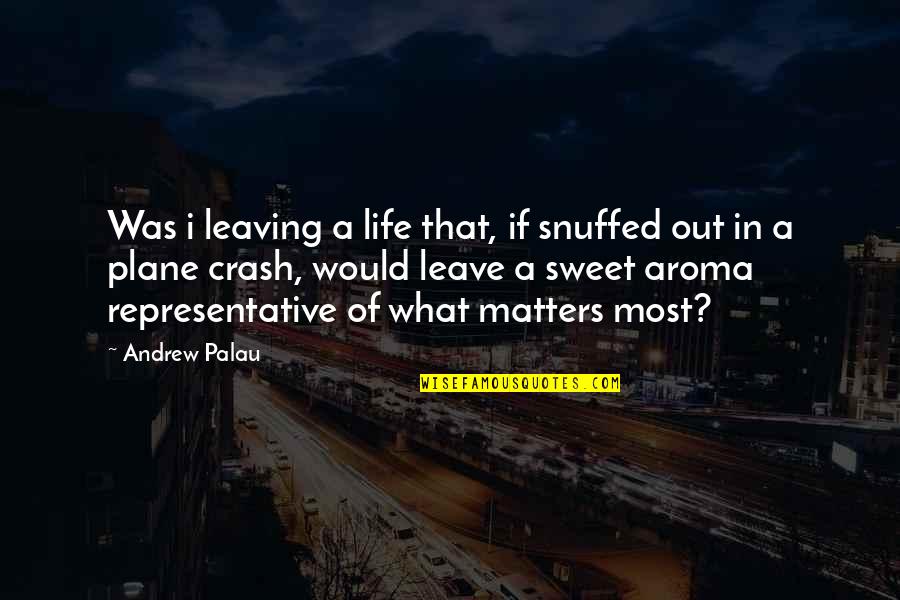 Was i leaving a life that, if snuffed out in a plane crash, would leave a sweet aroma representative of what matters most? —
Andrew Palau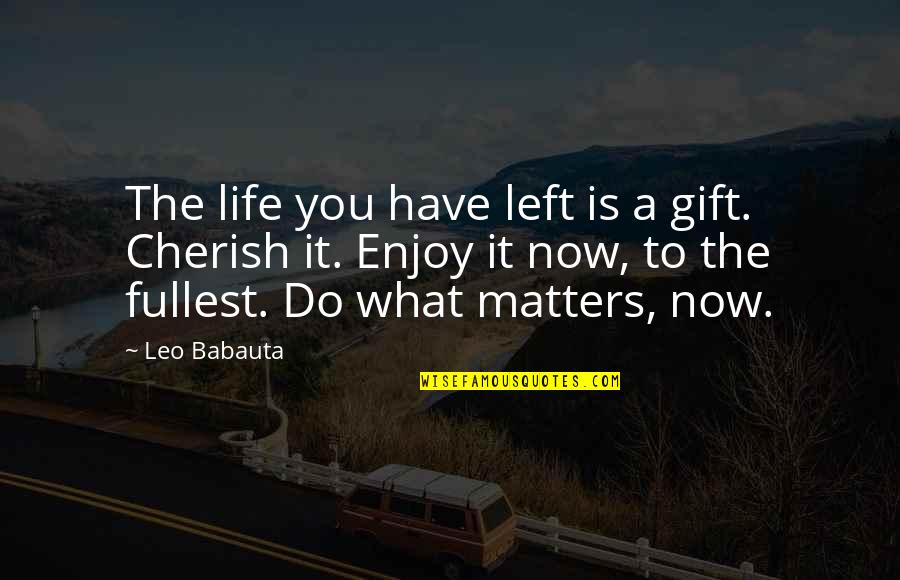 The life you have left is a gift. Cherish it. Enjoy it now, to the fullest. Do what matters, now. —
Leo Babauta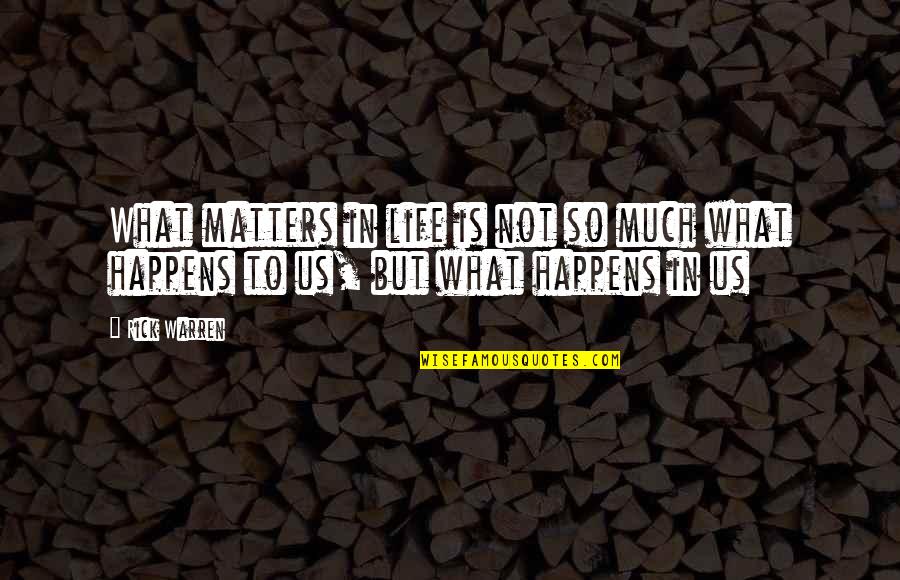 What matters in life is not so much what happens to us, but what happens in us —
Rick Warren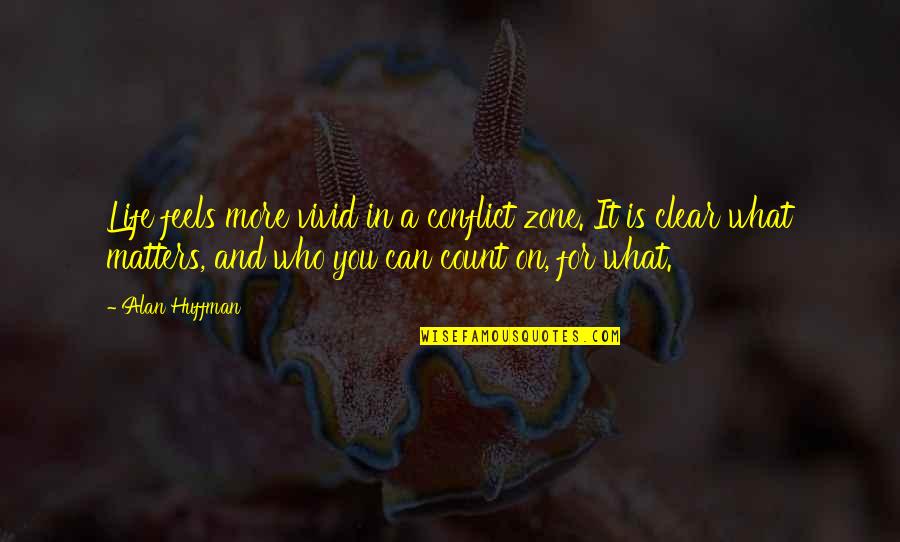 Life feels more vivid in a conflict zone. It is clear what matters, and who you can count on, for what. —
Alan Huffman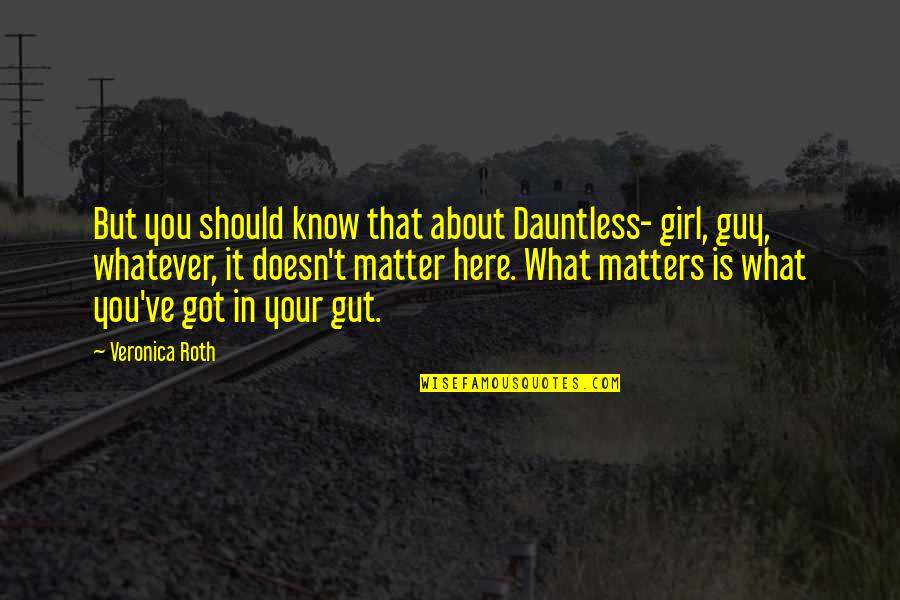 But you should know that about Dauntless- girl, guy, whatever, it doesn't matter here. What matters is what you've got in your gut. —
Veronica Roth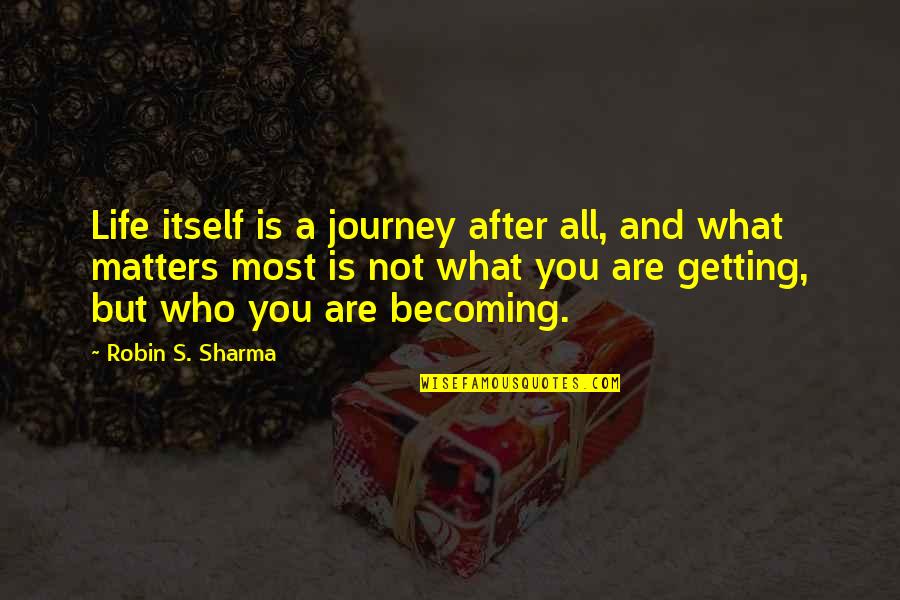 Life itself is a journey after all, and what matters most is not what you are getting, but who you are becoming. —
Robin S. Sharma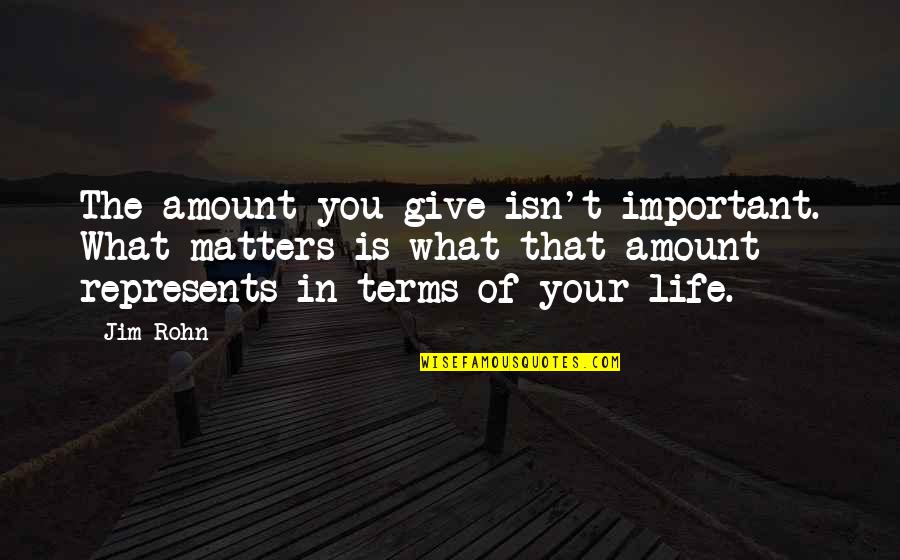 The amount you give isn't important. What matters is what that amount represents in terms of your life. —
Jim Rohn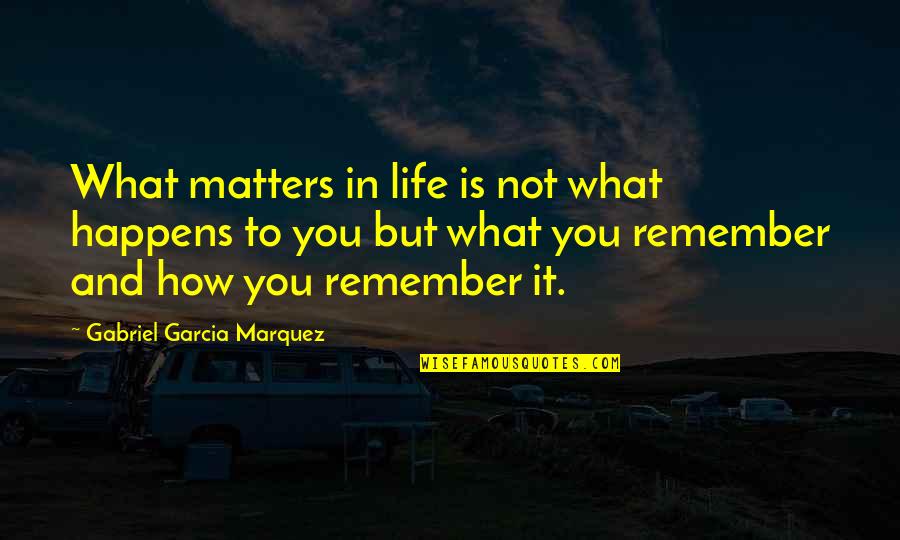 What matters in life is not what happens to you but what you remember and how you remember it. —
Gabriel Garcia Marquez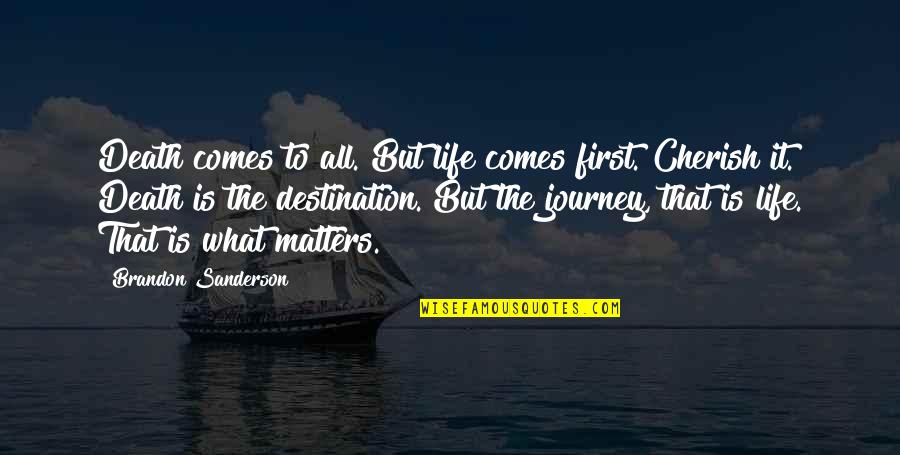 Death comes to all. But life comes first. Cherish it. Death is the destination. But the journey, that is life. That is what matters. —
Brandon Sanderson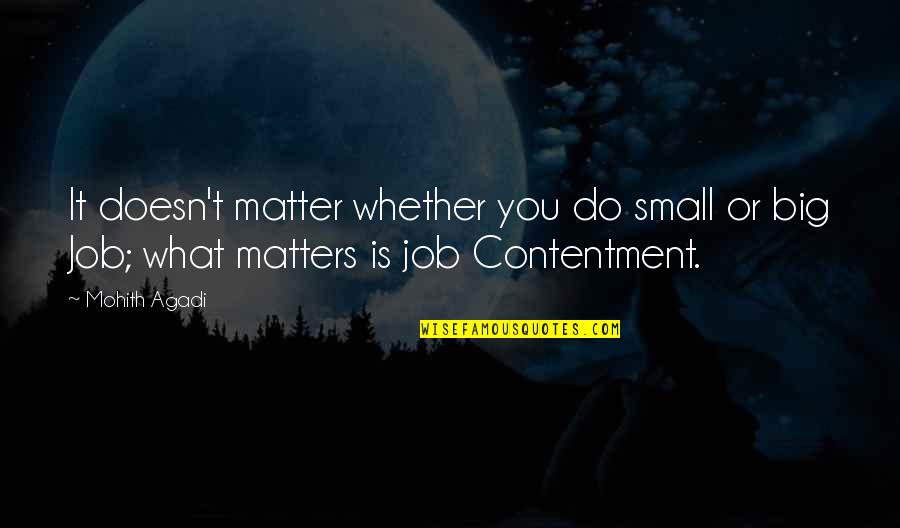 It doesn't matter whether you do small or big Job; what matters is job Contentment. —
Mohith Agadi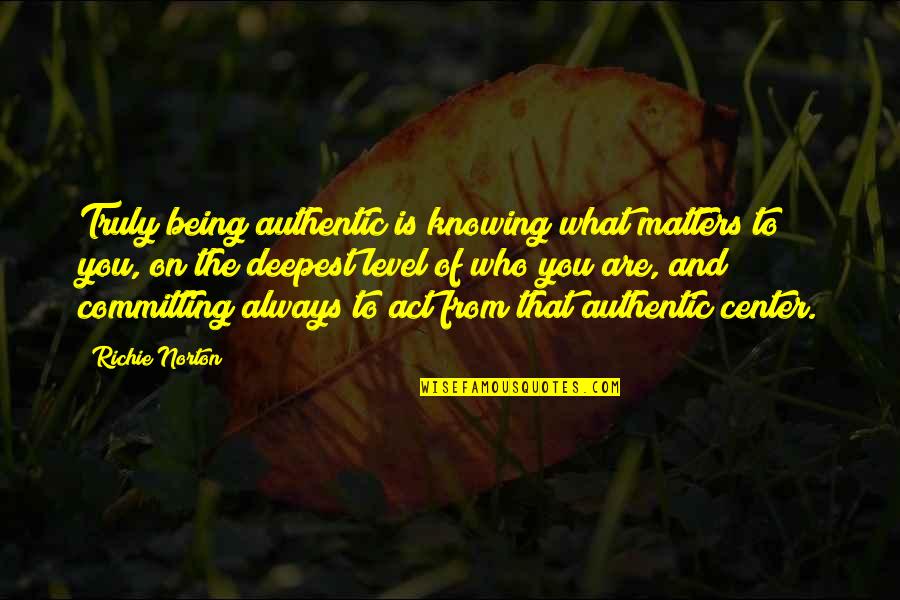 Truly being authentic is knowing what matters to you, on the deepest level of who you are, and committing always to act from that authentic center. —
Richie Norton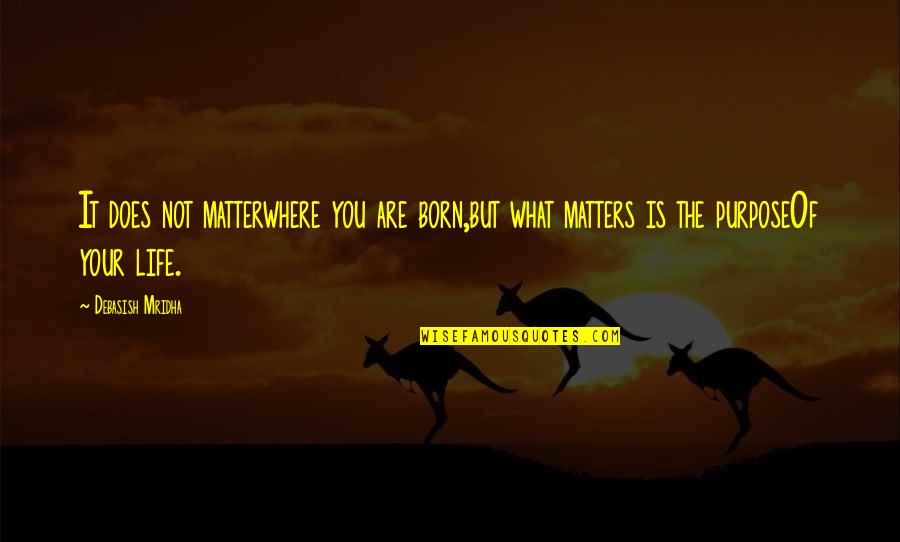 It does not matter
where you are born,
but what matters is the purpose
Of your life. —
Debasish Mridha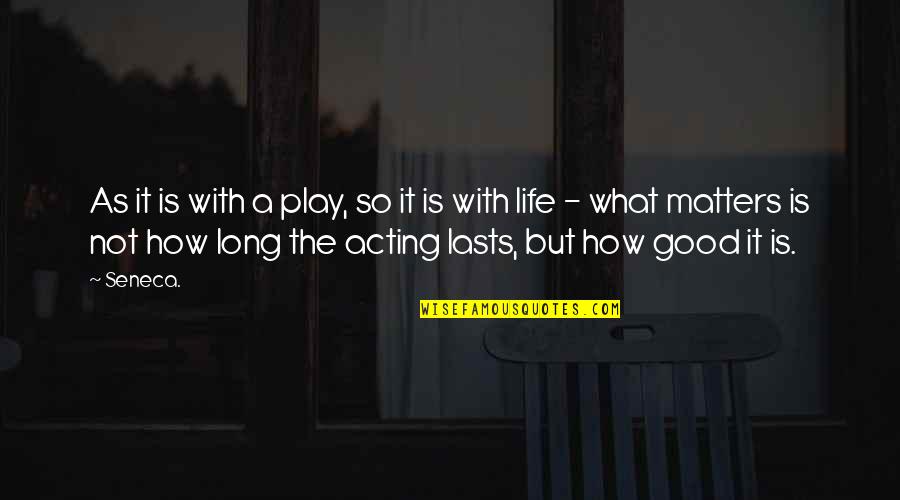 As it is with a play, so it is with life - what matters is not how long the acting lasts, but how good it is. —
Seneca.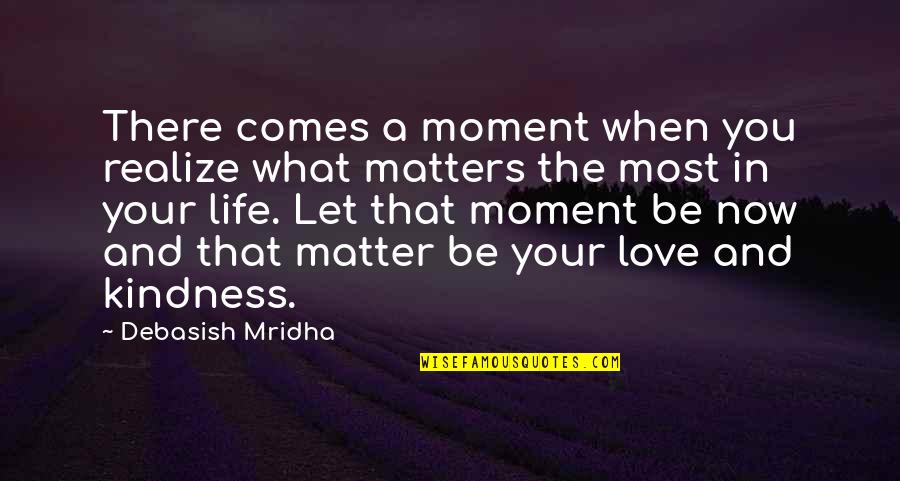 There comes a moment when you realize what matters the most in your life. Let that moment be now and that matter be your love and kindness. —
Debasish Mridha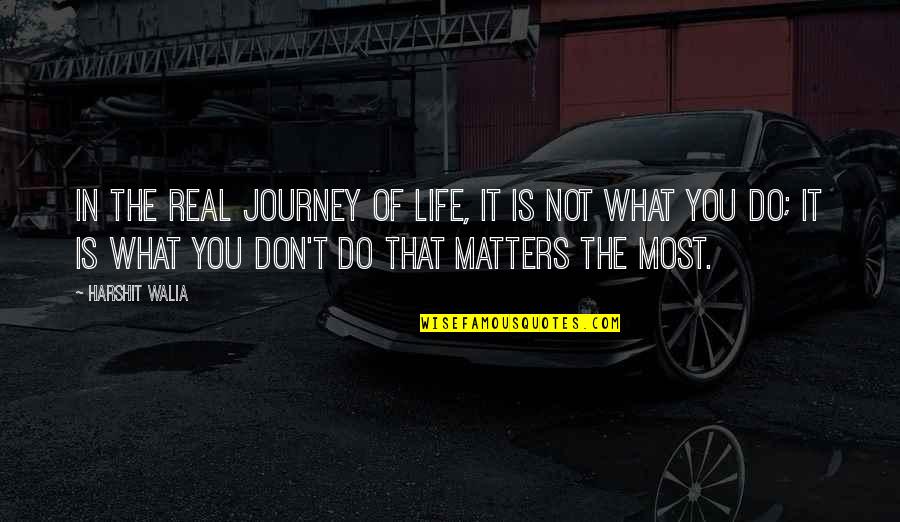 In the real journey of life, it is not what you do; it is what you don't do that matters the most. —
Harshit Walia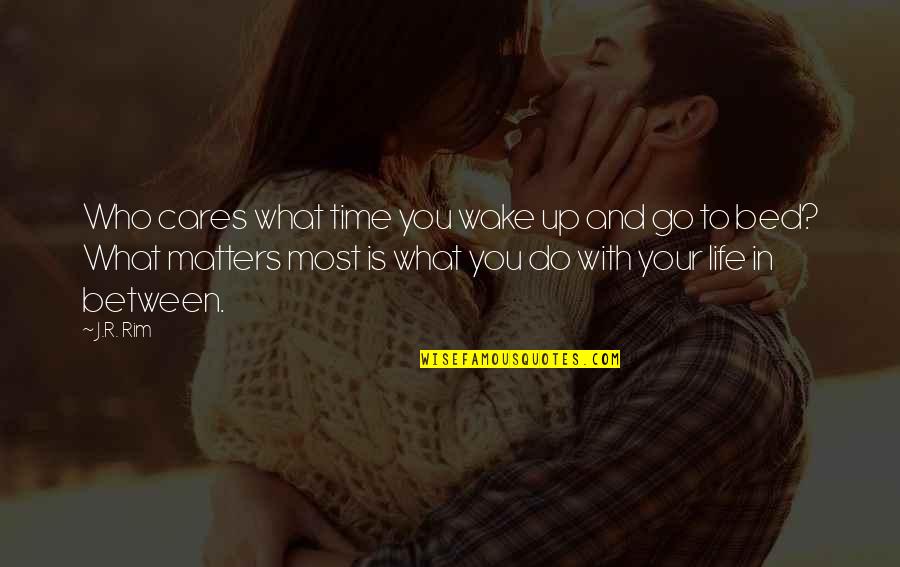 Who cares what time you wake up and go to bed? What matters most is what you do with your life in between. —
J.R. Rim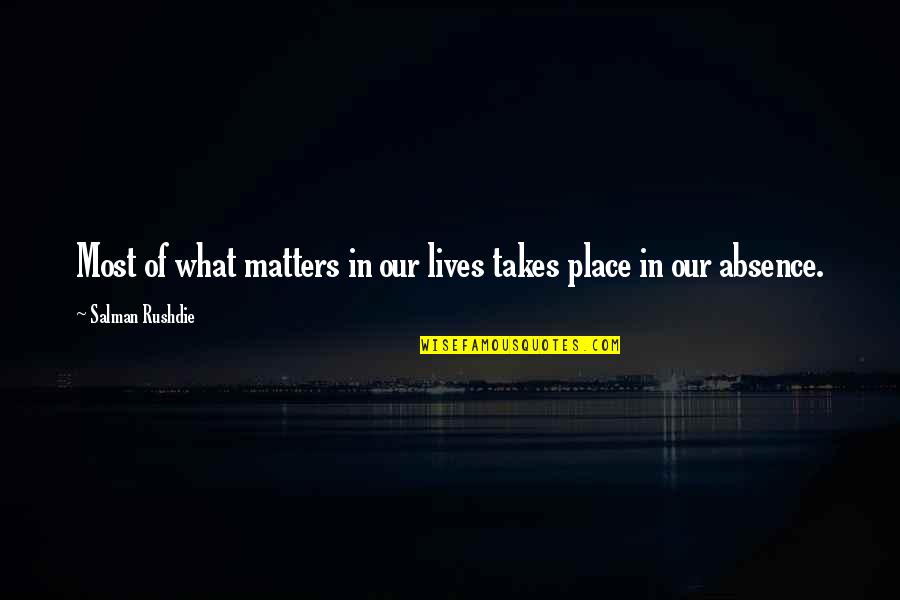 Most of what matters in our lives takes place in our absence. —
Salman Rushdie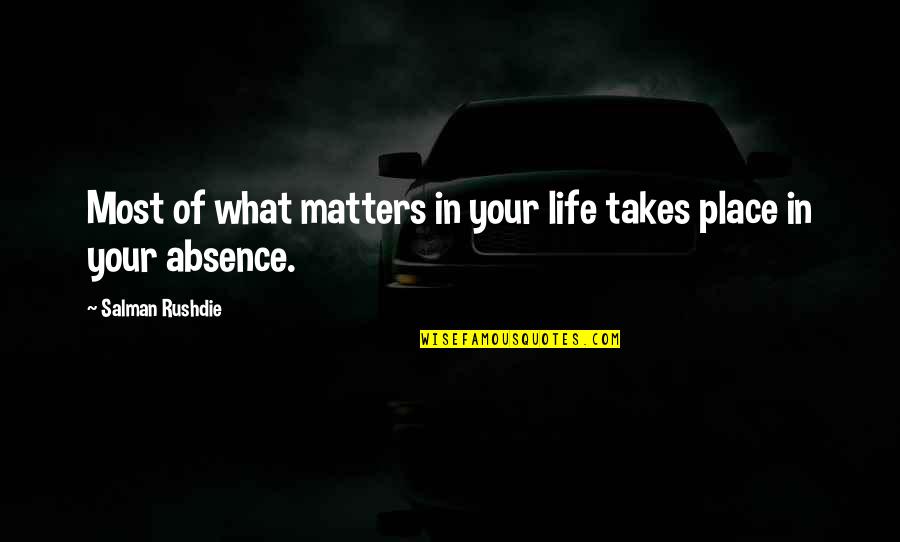 Most of what matters in your life takes place in your absence. —
Salman Rushdie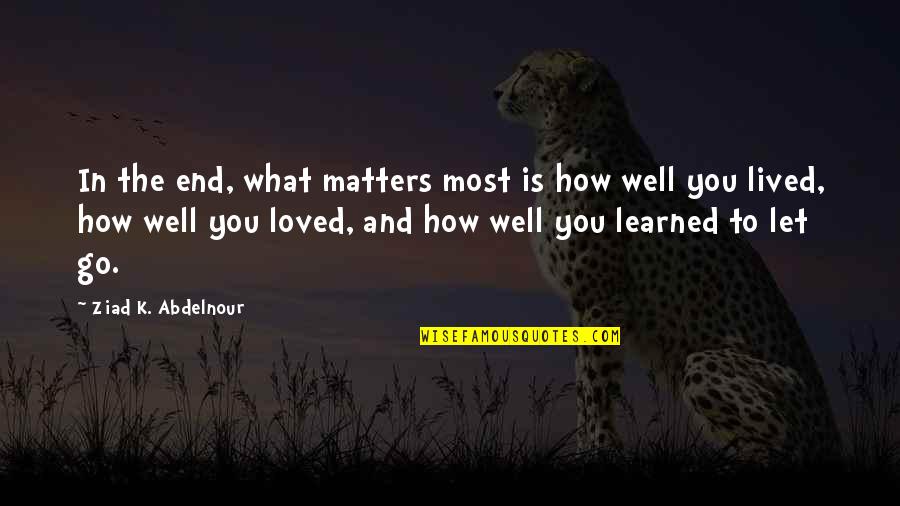 In the end, what matters most is how well you lived, how well you loved, and how well you learned to let go. —
Ziad K. Abdelnour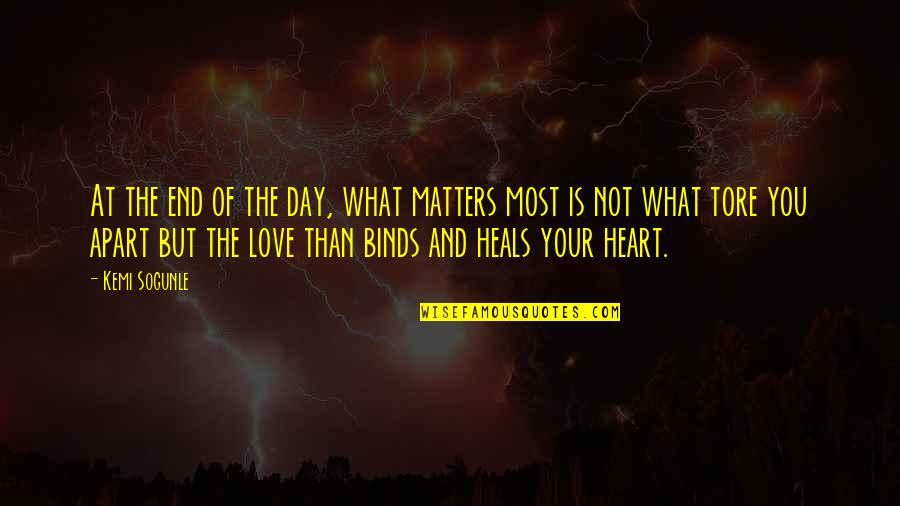 At the end of the day, what matters most is not what tore you apart but the love than binds and heals your heart. —
Kemi Sogunle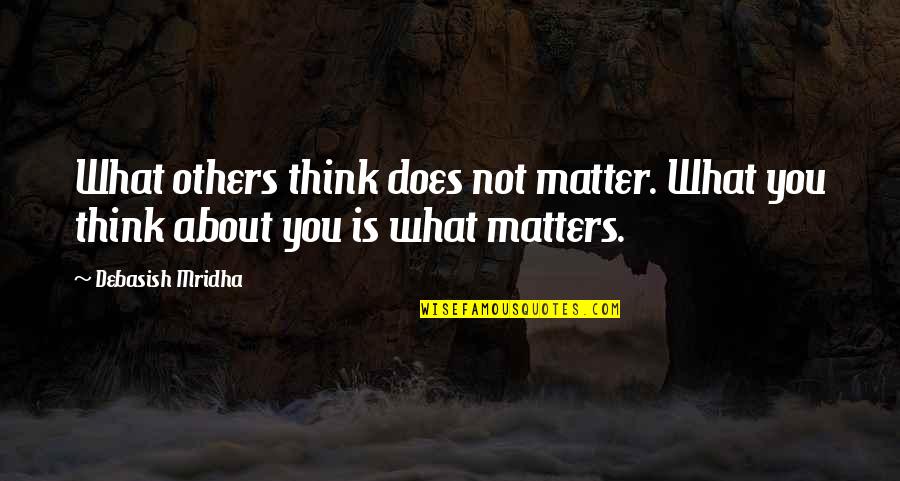 What others think does not matter. What you think about you is what matters. —
Debasish Mridha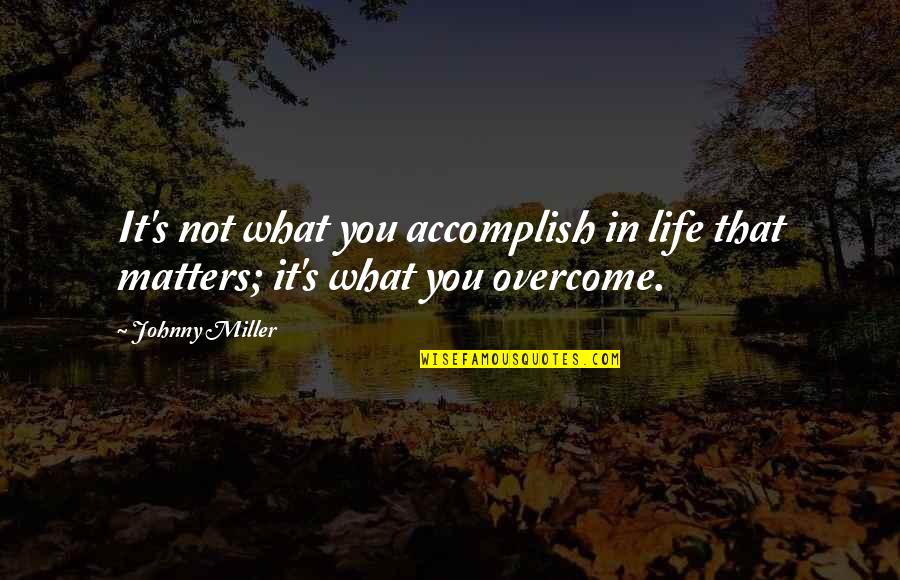 It's not what you accomplish in life that matters; it's what you overcome. —
Johnny Miller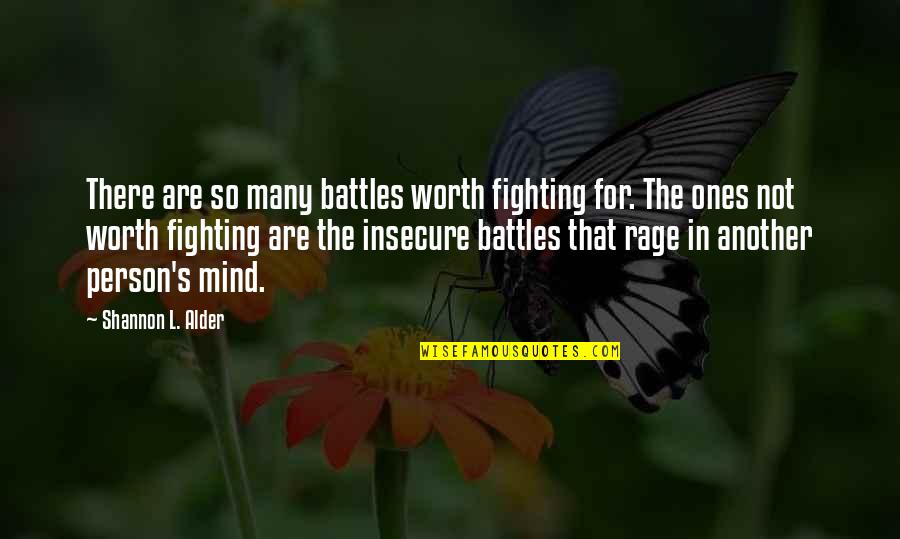 There are so many battles worth fighting for. The ones not worth fighting are the insecure battles that rage in another person's mind. —
Shannon L. Alder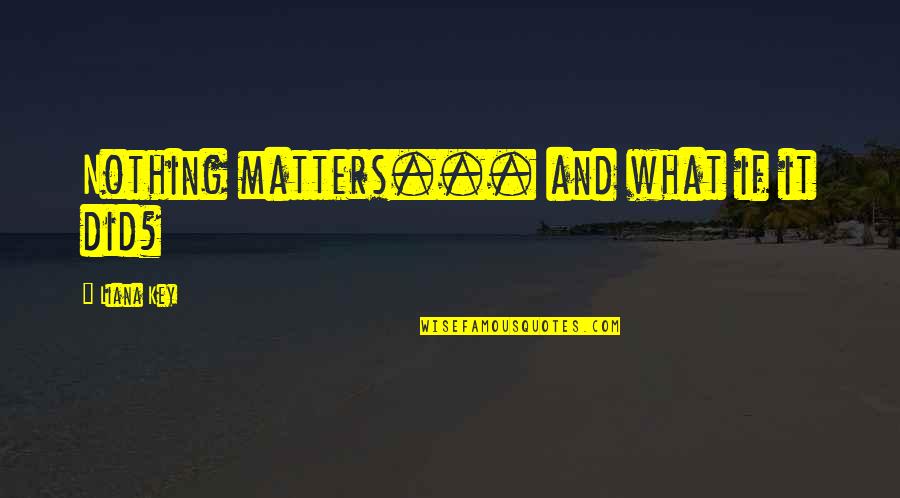 Nothing matters... and what if it did? —
Liana Key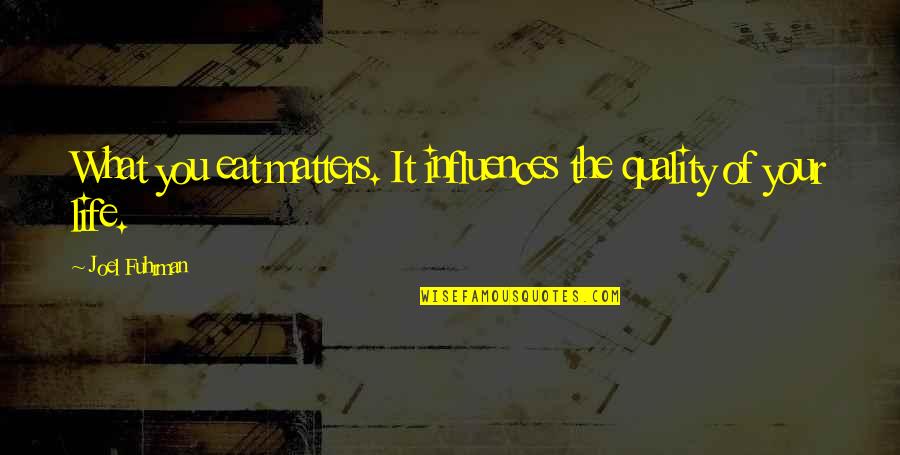 What you eat matters. It influences the quality of your life. —
Joel Fuhrman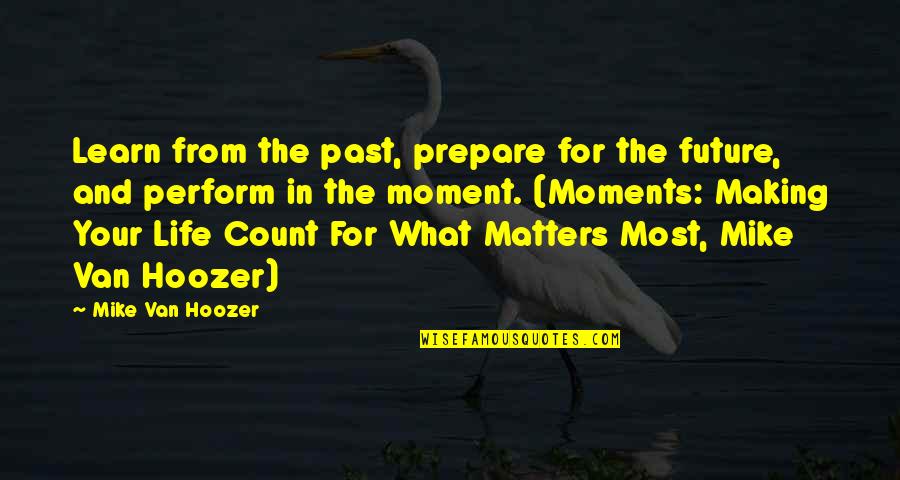 Learn from the past, prepare for the future, and perform in the moment. (Moments: Making Your Life Count For What Matters Most, Mike Van Hoozer) —
Mike Van Hoozer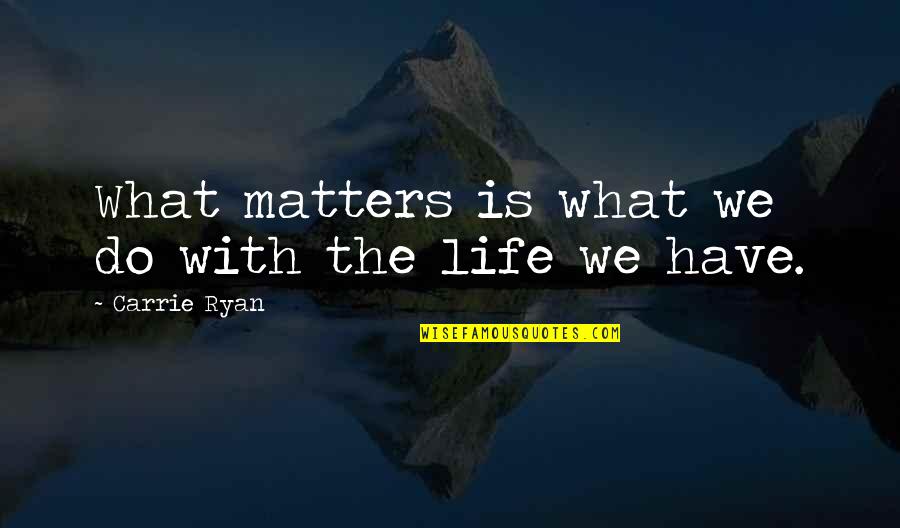 What matters is what we do with the life we have. —
Carrie Ryan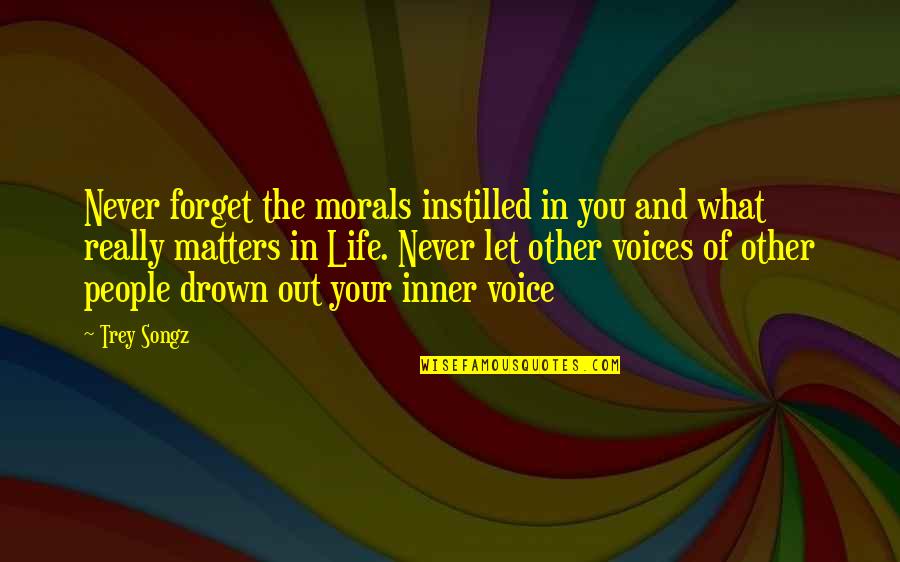 Never forget the morals instilled in you and what really matters in Life. Never let other voices of other people drown out your inner voice —
Trey Songz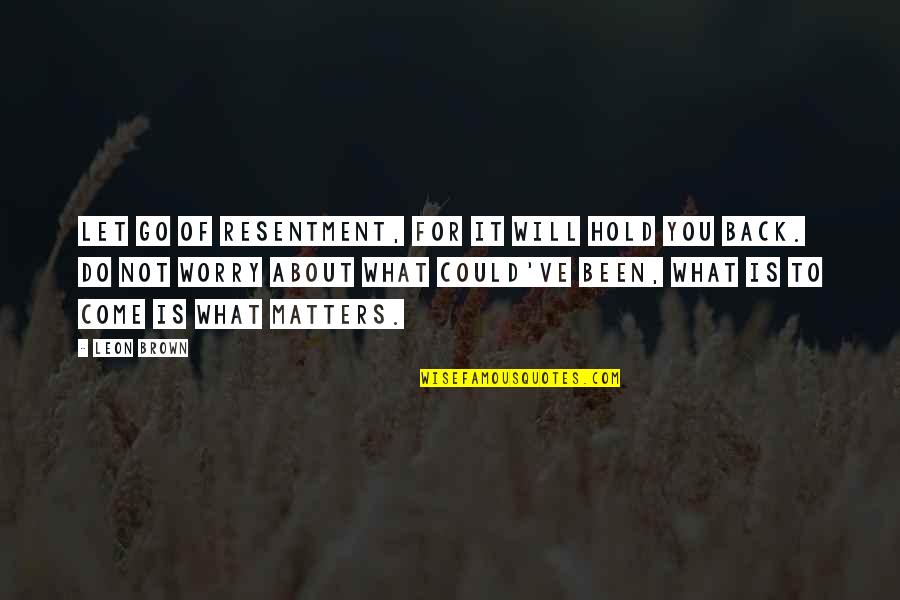 Let go of resentment, for it will hold you back. Do not worry about what could've been, what is to come is what matters. —
Leon Brown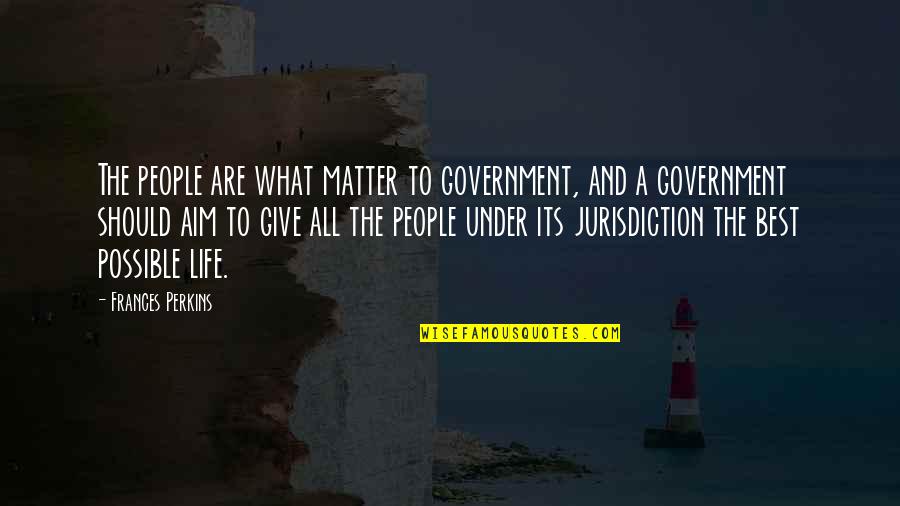 The people are what matter to government, and a government should aim to give all the people under its jurisdiction the best possible life. —
Frances Perkins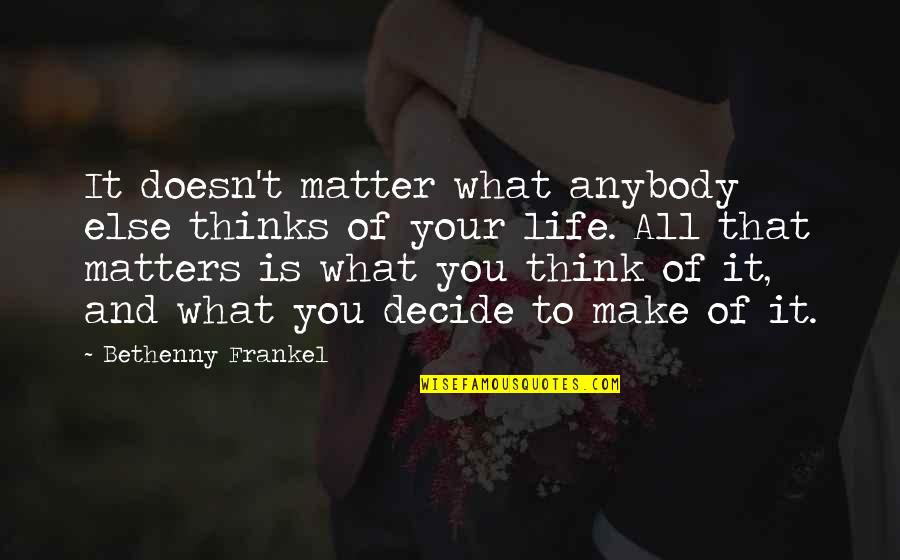 It doesn't matter what anybody else thinks of your life. All that matters is what you think of it, and what you decide to make of it. —
Bethenny Frankel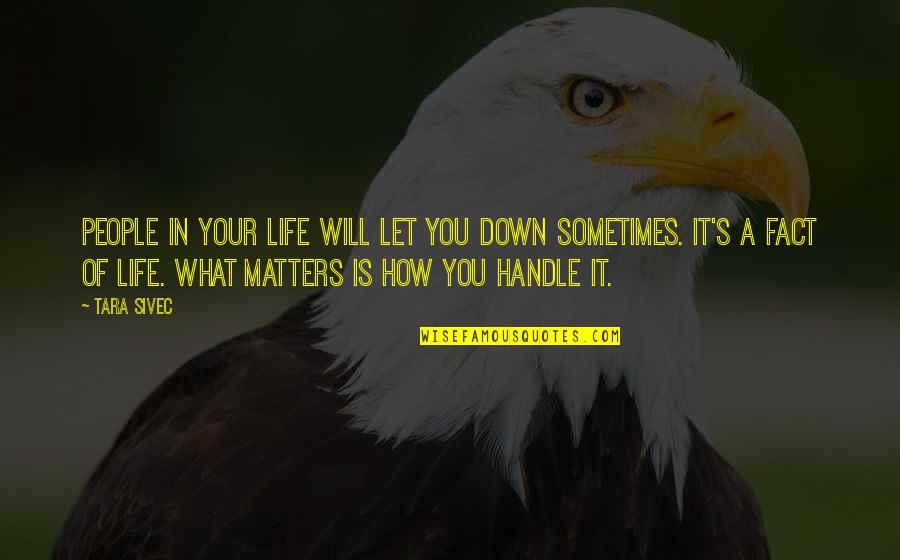 People in your life will let you down sometimes. It's a fact of life. What matters is how you handle it. —
Tara Sivec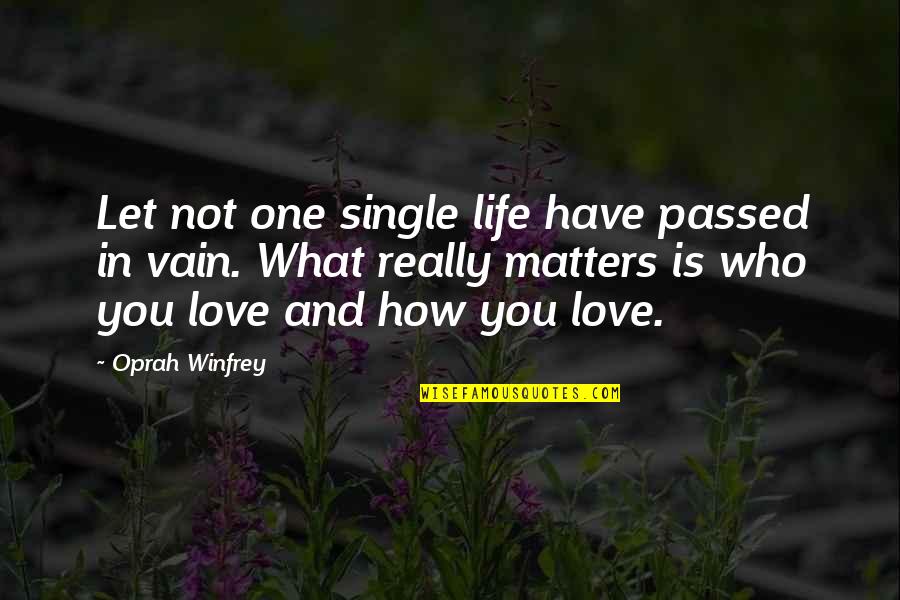 Let not one single life have passed in vain. What really matters is who you love and how you love. —
Oprah Winfrey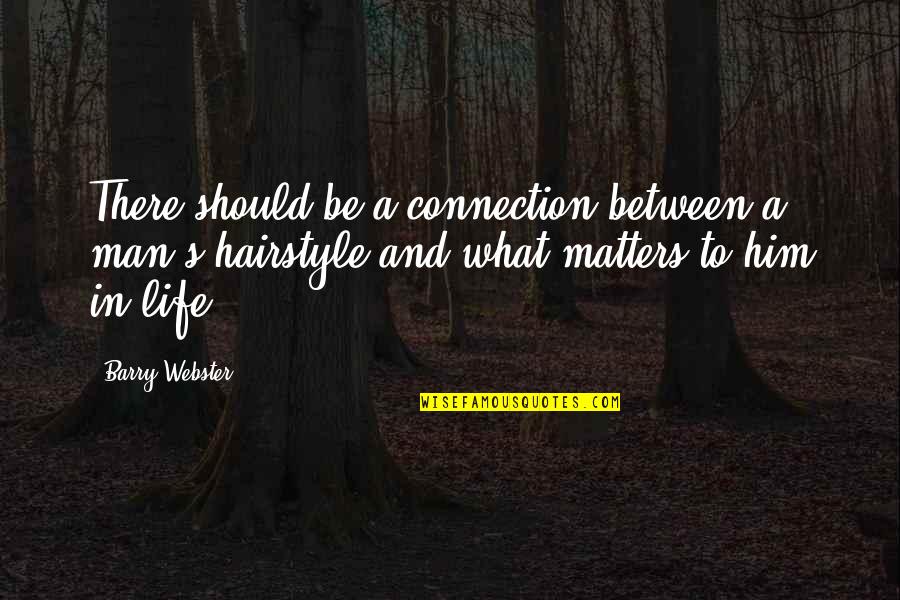 There should be a connection between a man's hairstyle and what matters to him in life. —
Barry Webster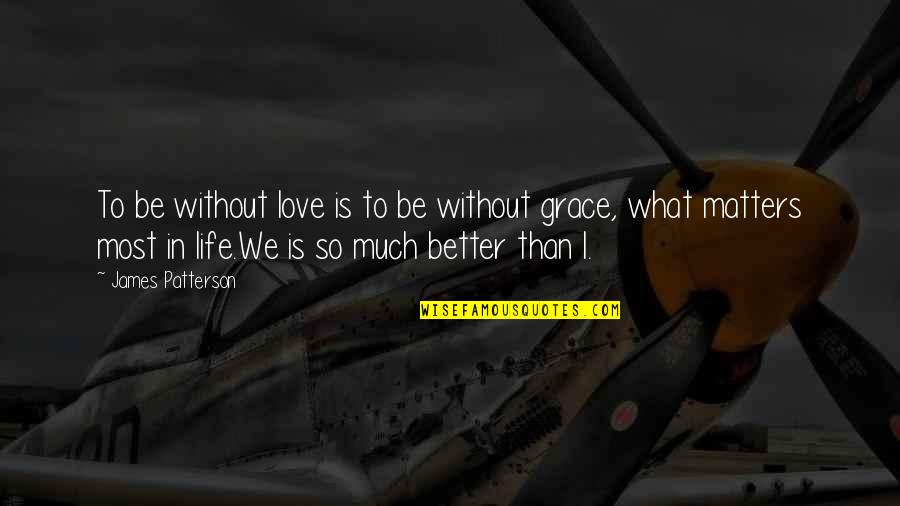 To be without love is to be without grace,
what matters most in life
.
We is so much better than I. —
James Patterson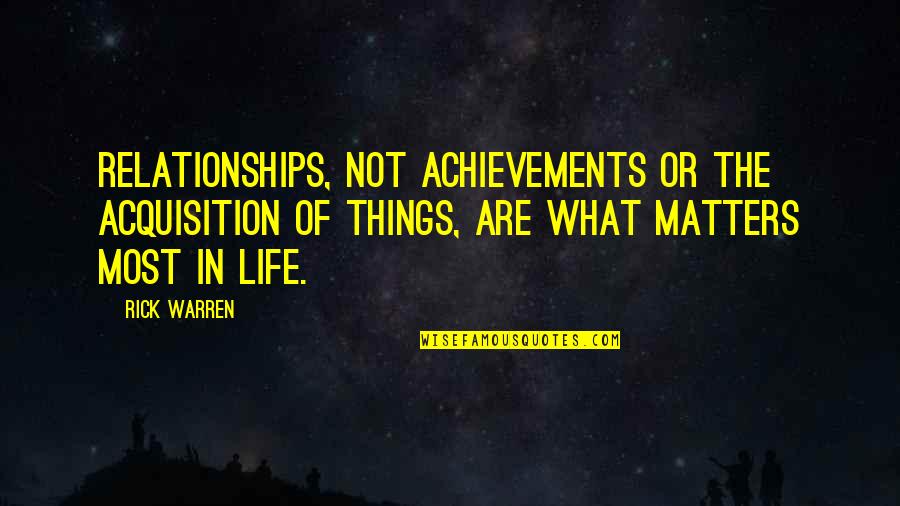 Relationships, not achievements or the acquisition of things, are
what matters most in life
. —
Rick Warren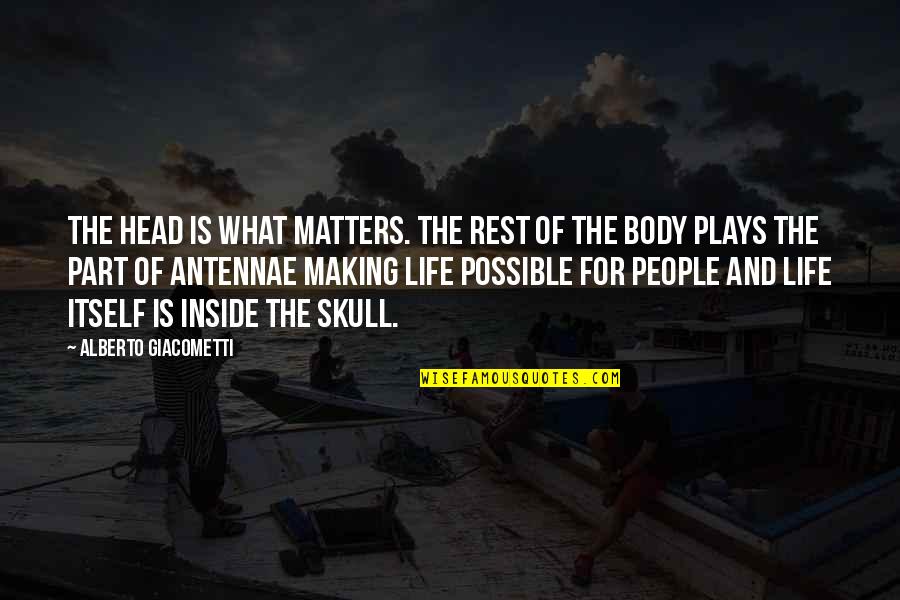 The head is what matters. The rest of the body plays the part of antennae making life possible for people and life itself is inside the skull. —
Alberto Giacometti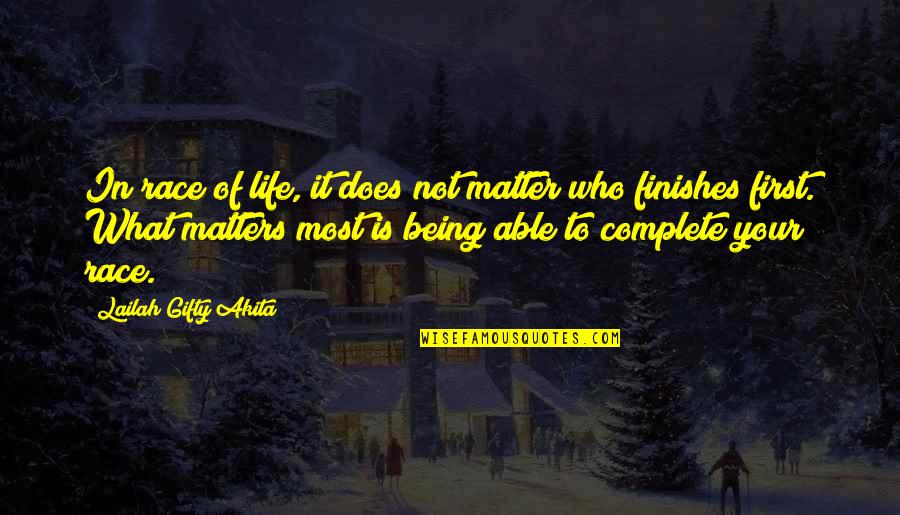 In race of life, it does not matter who finishes first. What matters most is being able to complete your race. —
Lailah Gifty Akita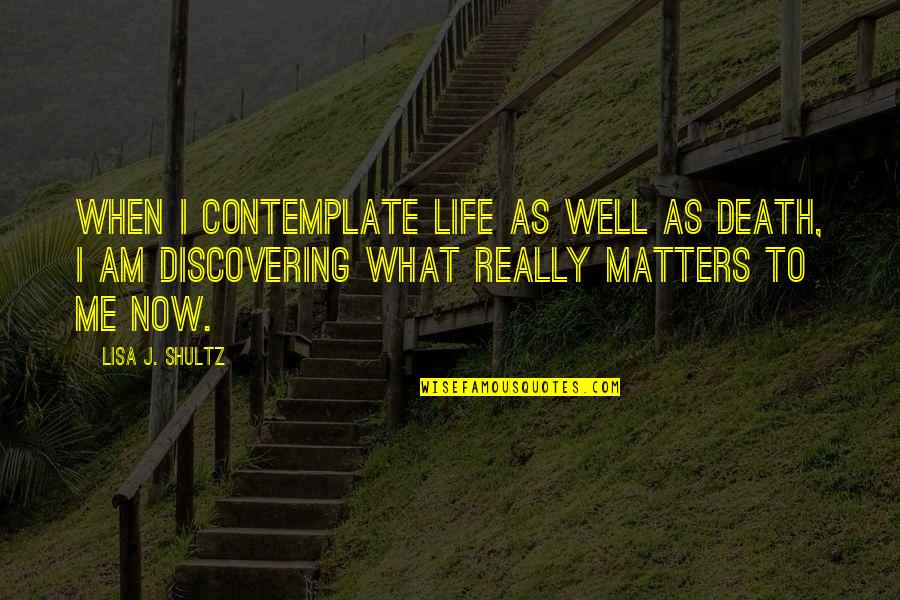 When I contemplate life as well as death, I am discovering what really matters to me now. —
Lisa J. Shultz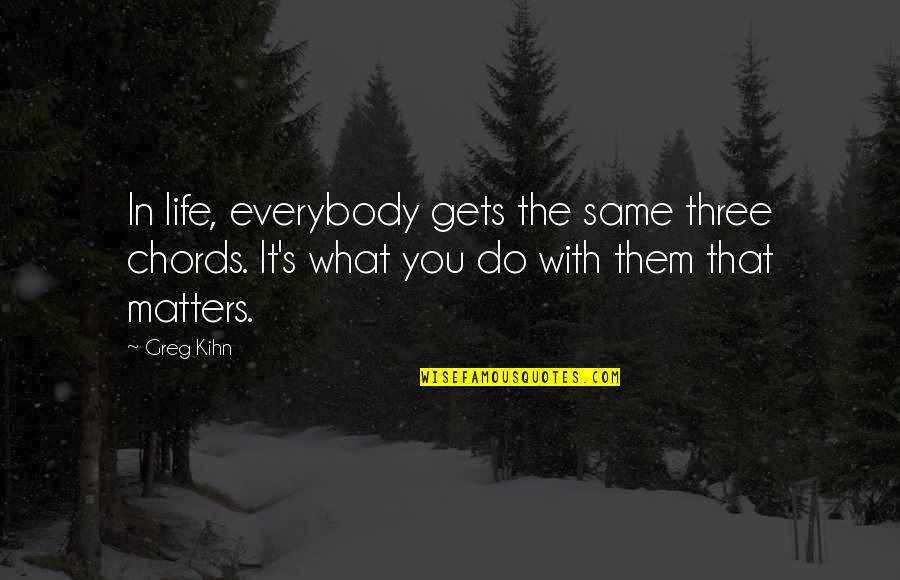 In life, everybody gets the same three chords. It's what you do with them that matters. —
Greg Kihn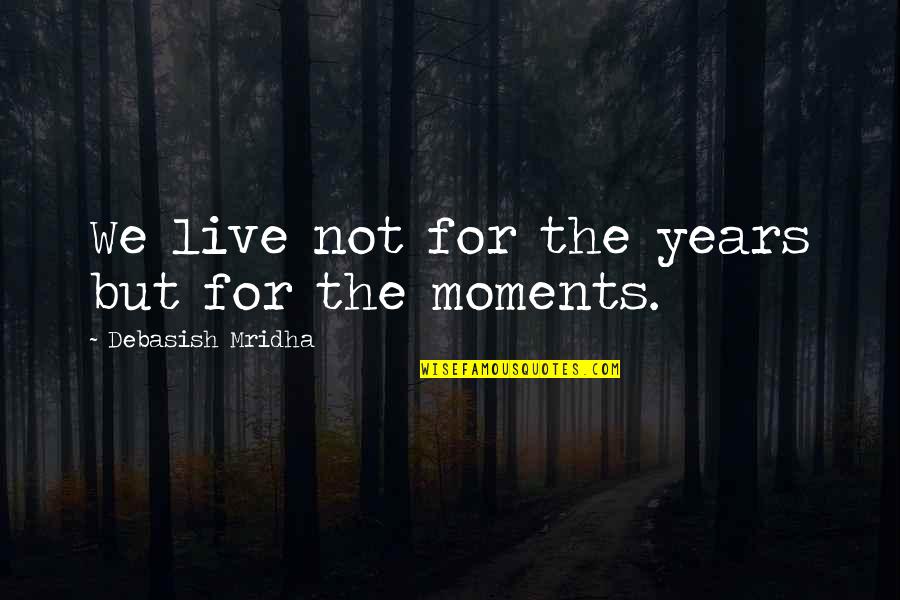 We live not for the years but for the moments. —
Debasish Mridha
Life is going to present you with tons of problems, it's what you do about them that matters. —
Cat Zingano