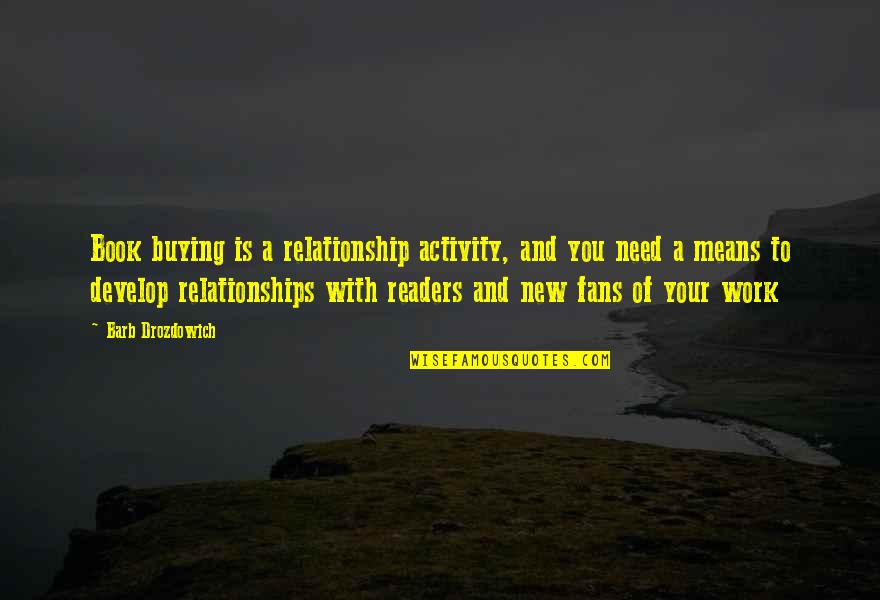 Book buying is a relationship activity, and you need a means to develop relationships with readers and new fans of your work
—
Barb Drozdowich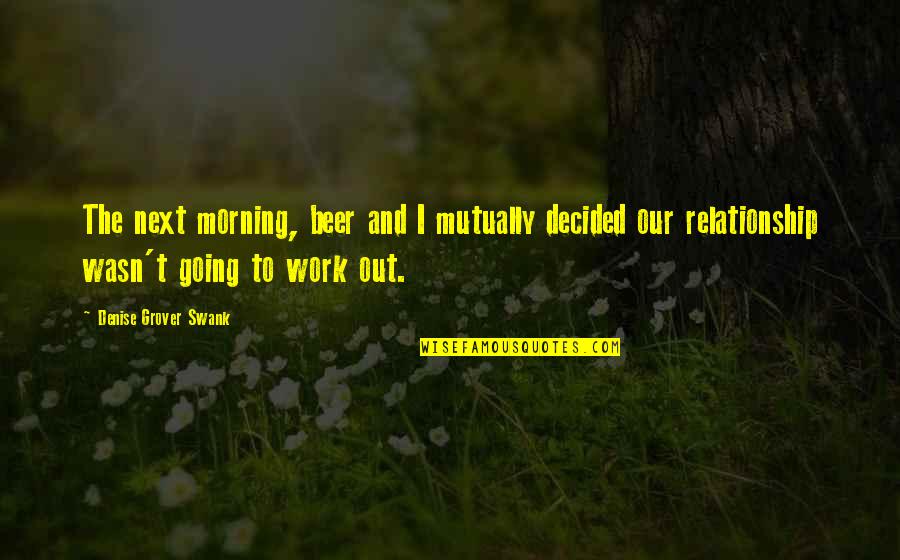 The next morning, beer and I mutually decided our relationship wasn't going to work out.
—
Denise Grover Swank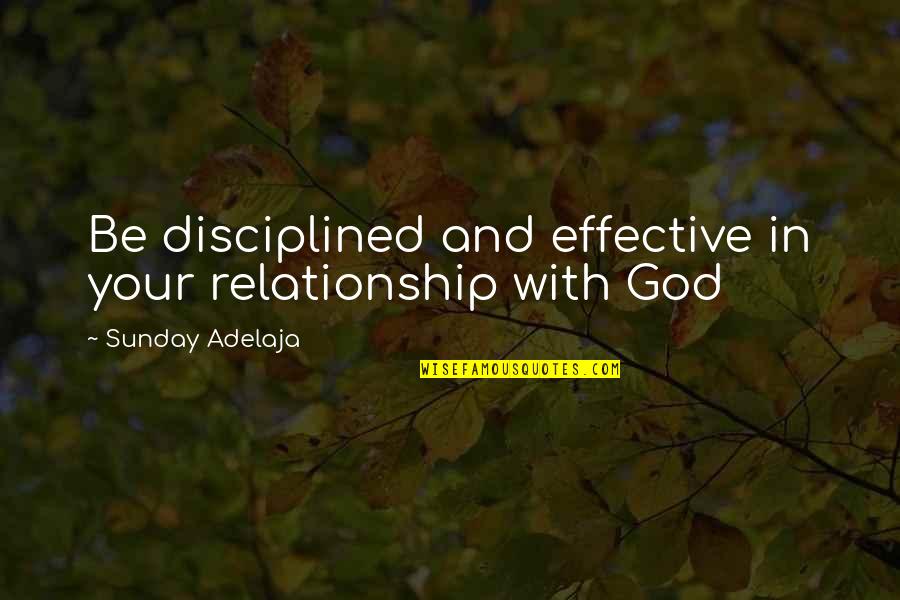 Be disciplined and effective in your relationship with God
—
Sunday Adelaja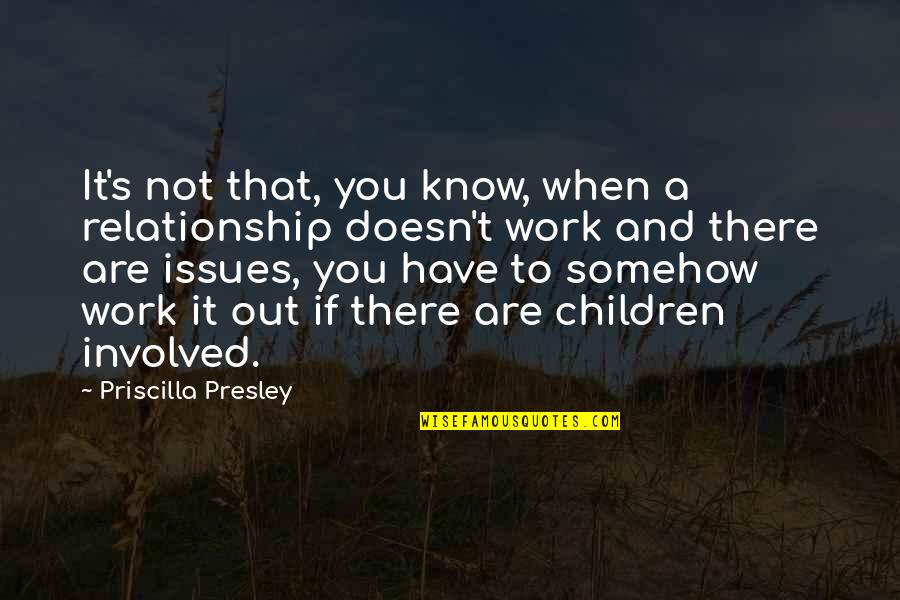 It's not that, you know, when a relationship doesn't work and there are issues, you have to somehow work it out if there are children involved.
—
Priscilla Presley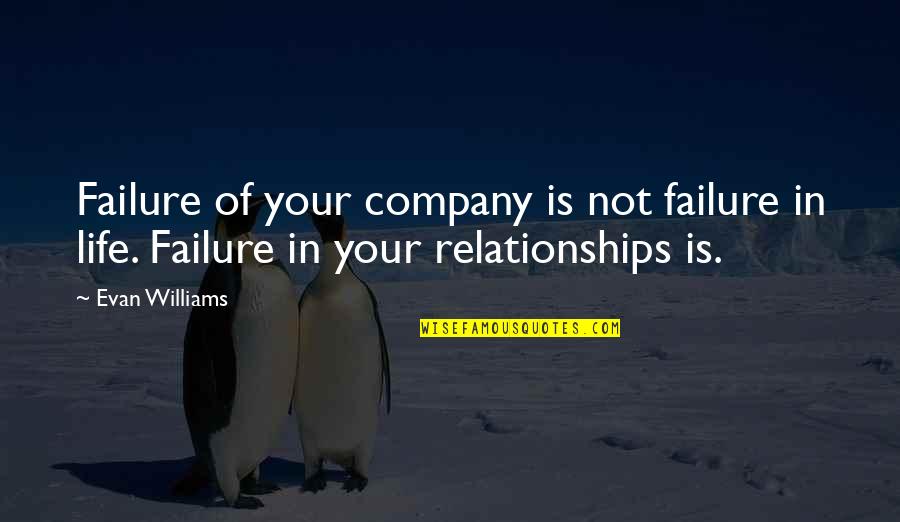 Failure of your company is not failure in life. Failure in your relationships is.
—
Evan Williams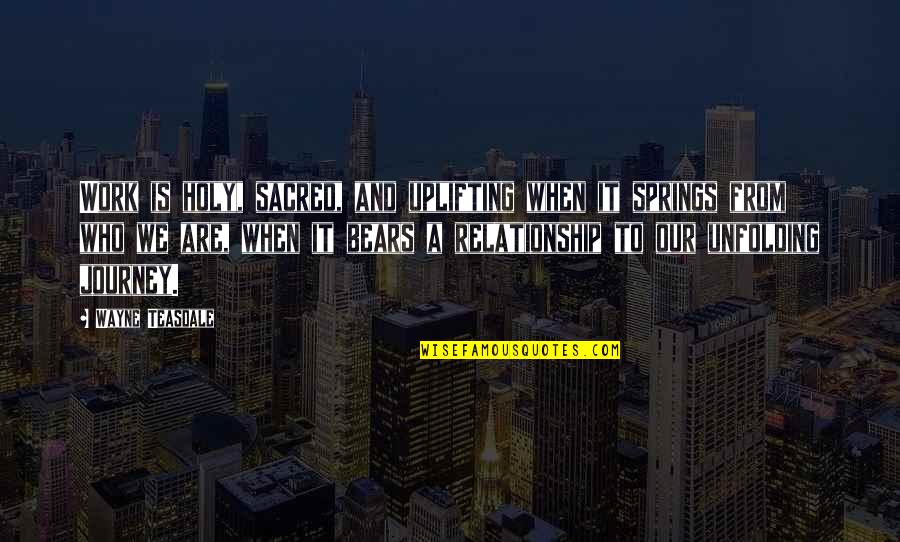 Work is holy, sacred, and uplifting when it springs from who we are, when it bears a relationship to our unfolding journey.
—
Wayne Teasdale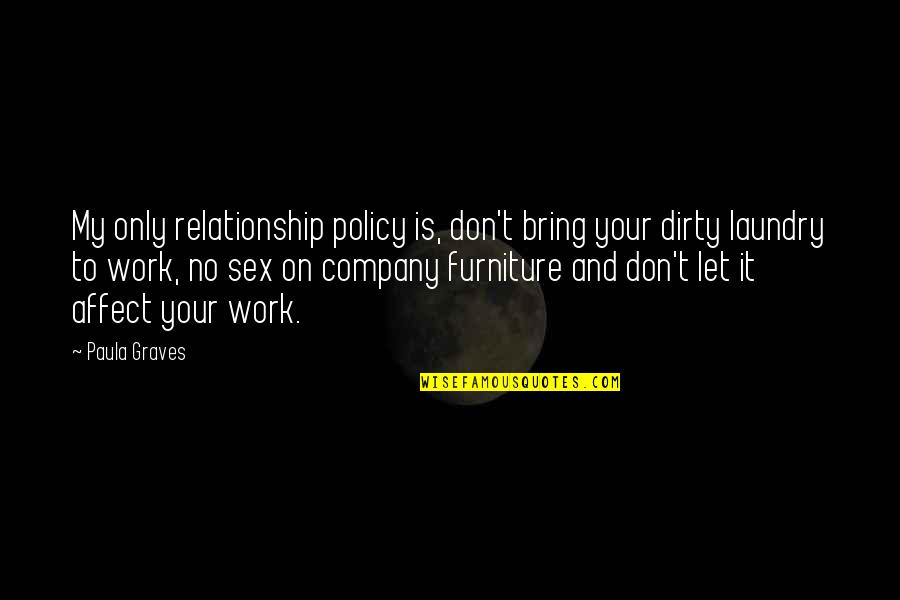 My only relationship policy is, don't bring your dirty laundry to work, no sex on company furniture and don't let it affect your work.
—
Paula Graves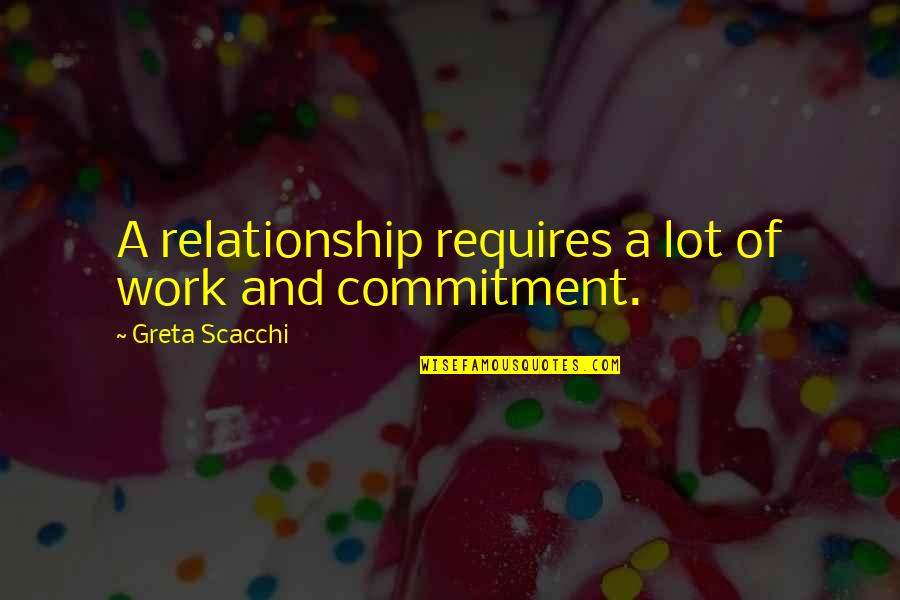 A relationship requires a lot of work and commitment.
—
Greta Scacchi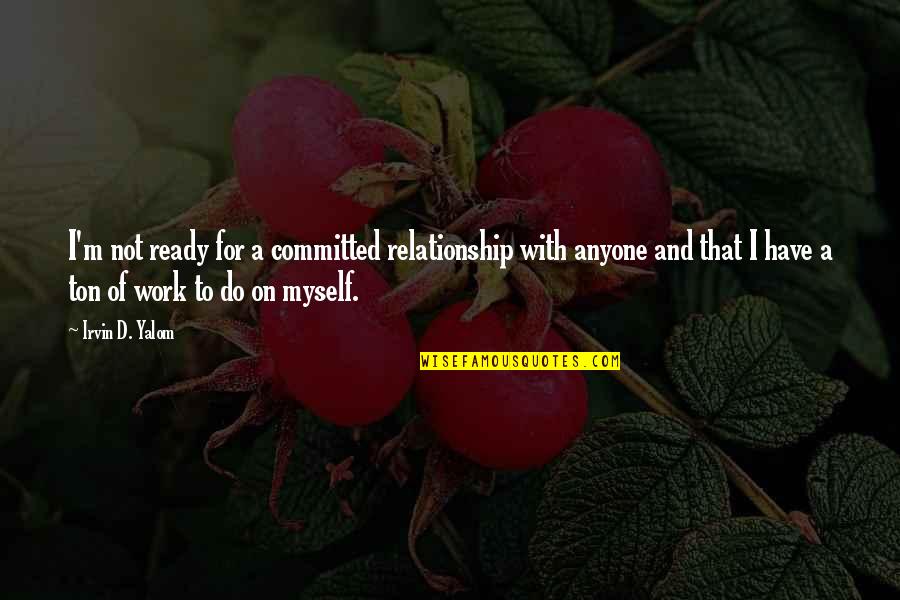 I'm not ready for a committed relationship with anyone and that I have a ton of work to do on myself.
—
Irvin D. Yalom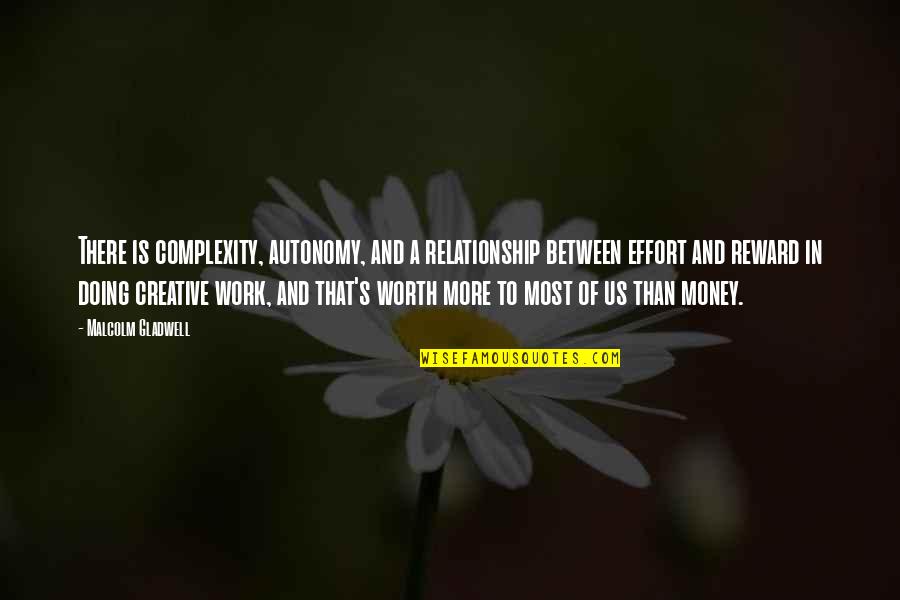 There is complexity, autonomy, and a relationship between effort and reward in doing creative work, and that's worth more to most of us than money.
—
Malcolm Gladwell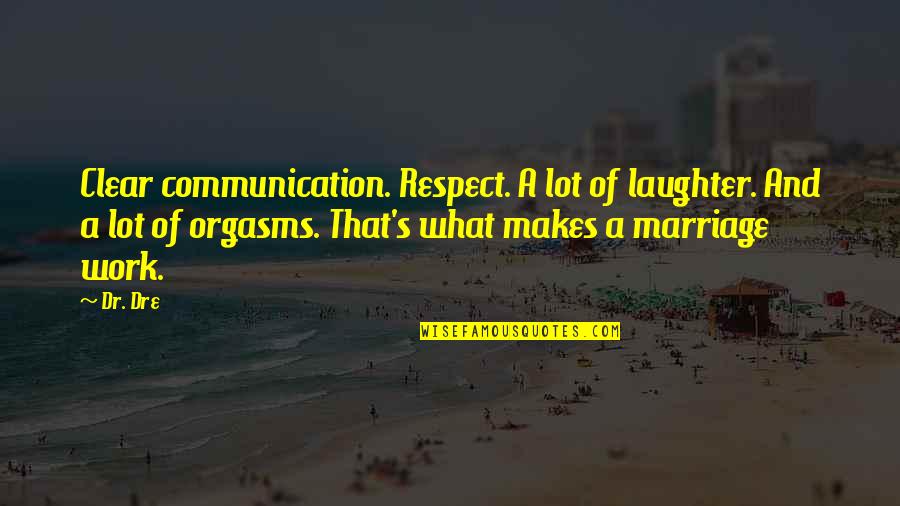 Clear communication. Respect. A lot of laughter. And a lot of orgasms. That's what makes a marriage work.
—
Dr. Dre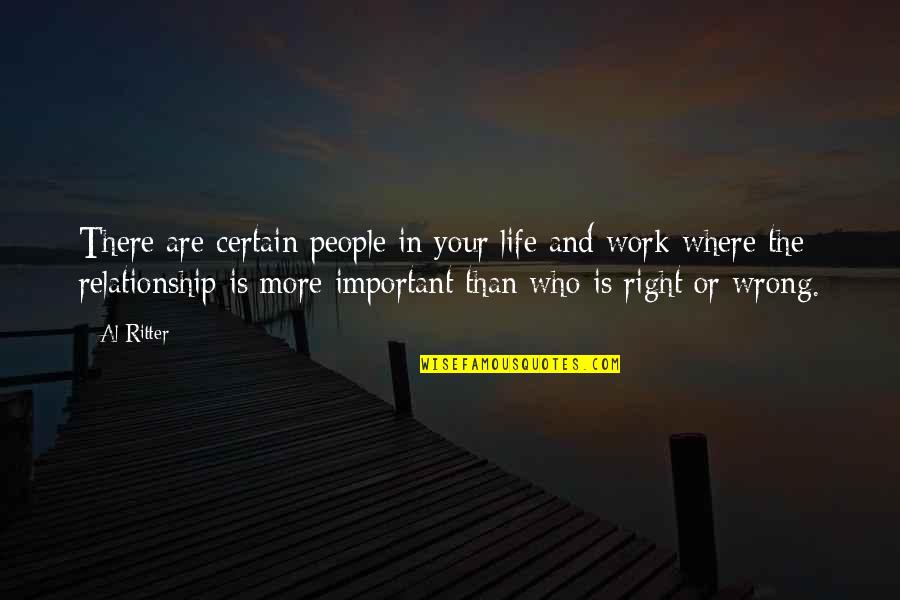 There are certain people in your life and work where the relationship is more important than who is right or wrong.
—
Al Ritter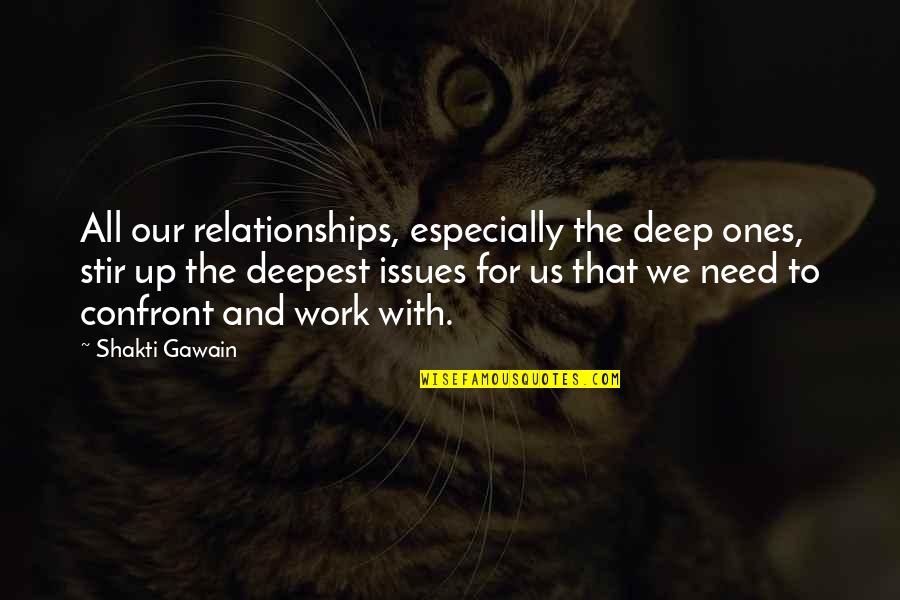 All our relationships, especially the deep ones, stir up the deepest issues for us that we need to confront and work with. —
Shakti Gawain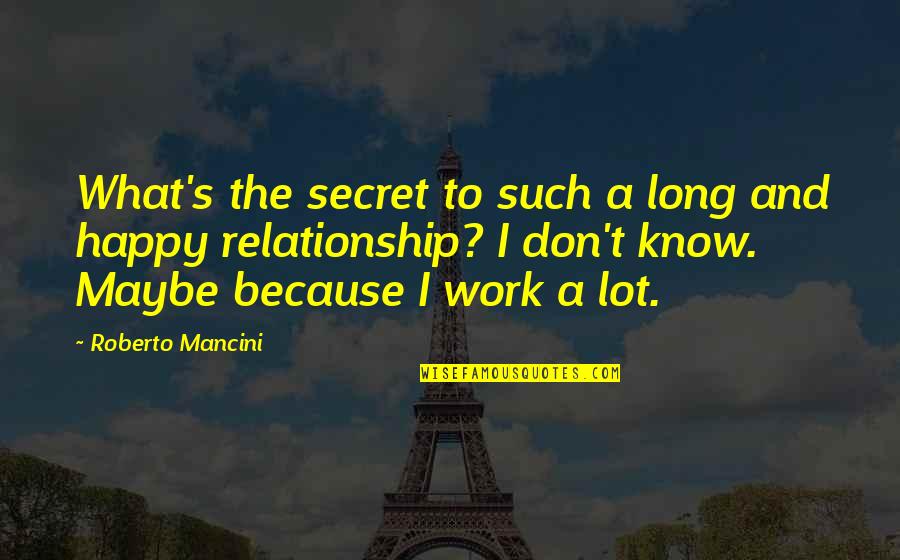 What's the secret to such a long and happy relationship? I don't know. Maybe because I work a lot. —
Roberto Mancini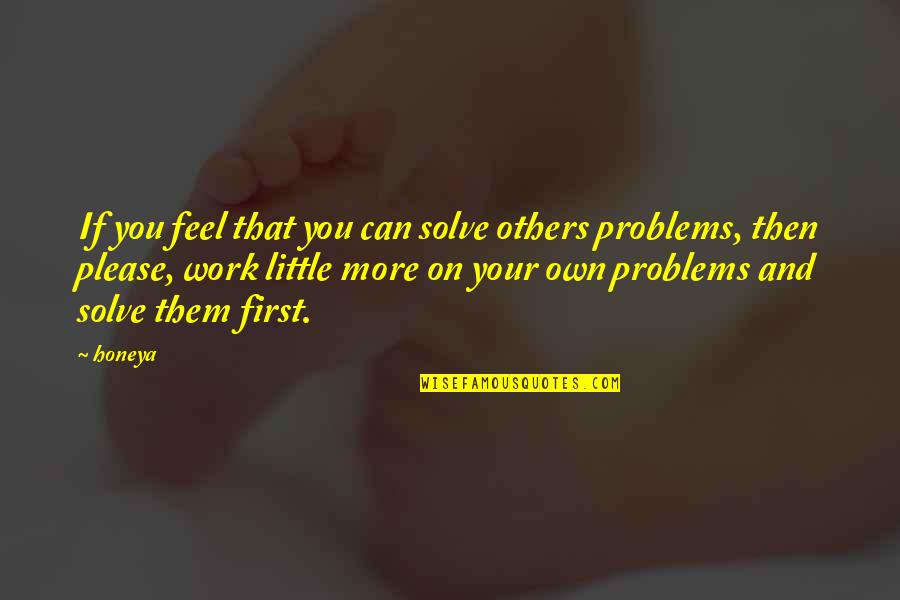 If you feel that you can solve others problems, then please, work little more on your own problems and solve them first. —
Honeya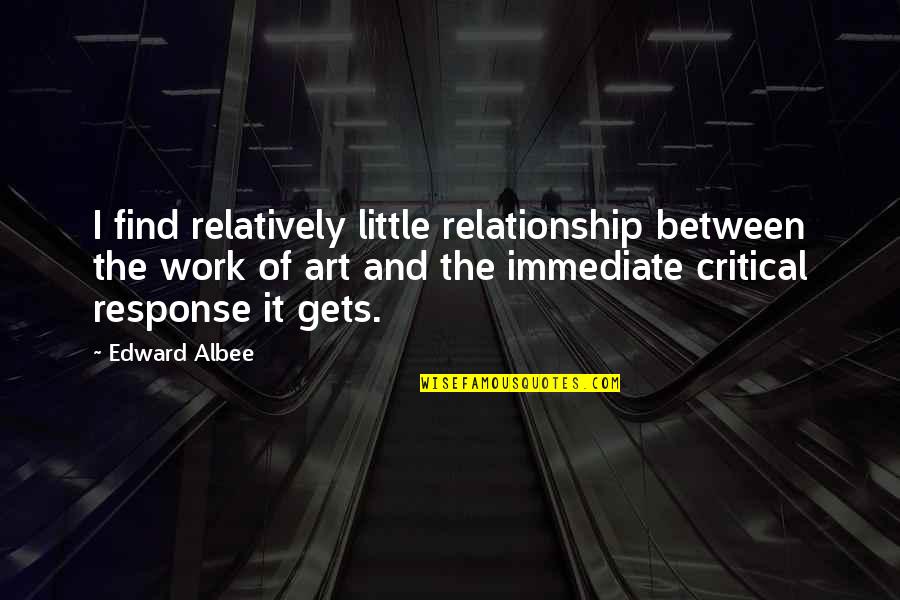 I find relatively little relationship between the work of art and the immediate critical response it gets. —
Edward Albee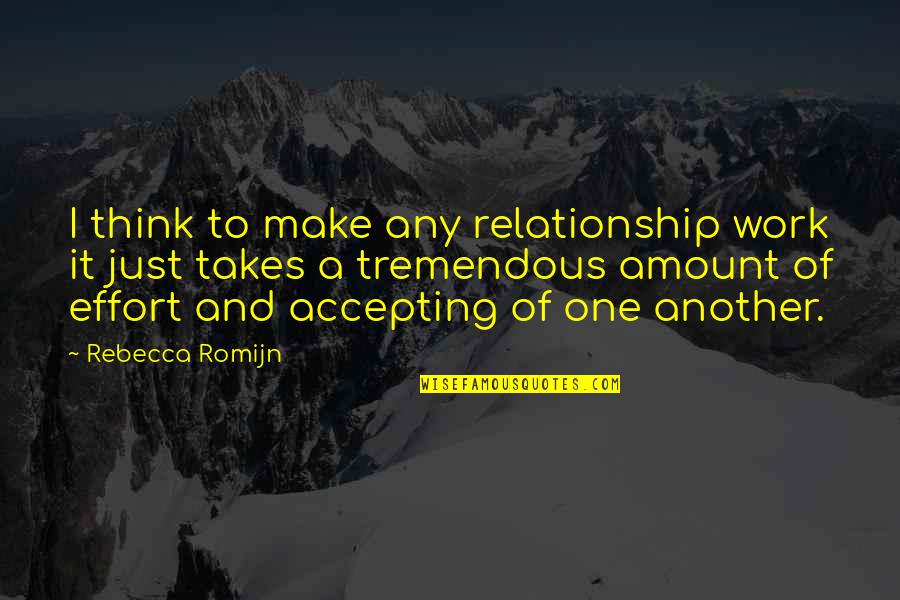 I think to make any relationship work it just takes a tremendous amount of effort and accepting of one another. —
Rebecca Romijn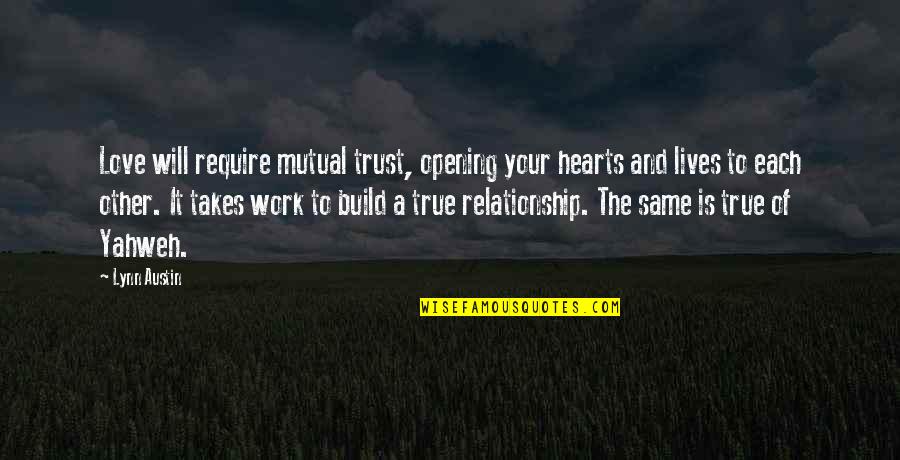 Love will require mutual trust, opening your hearts and lives to each other. It takes work to build a true relationship. The same is true of Yahweh. —
Lynn Austin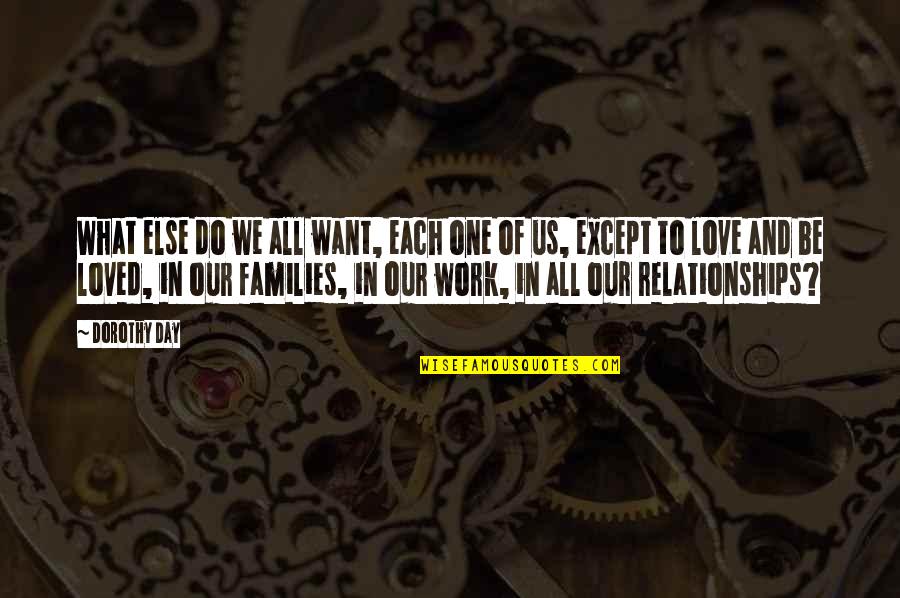 What else do we all want, each one of us, except to love and be loved, in our families, in our work, in all our relationships? —
Dorothy Day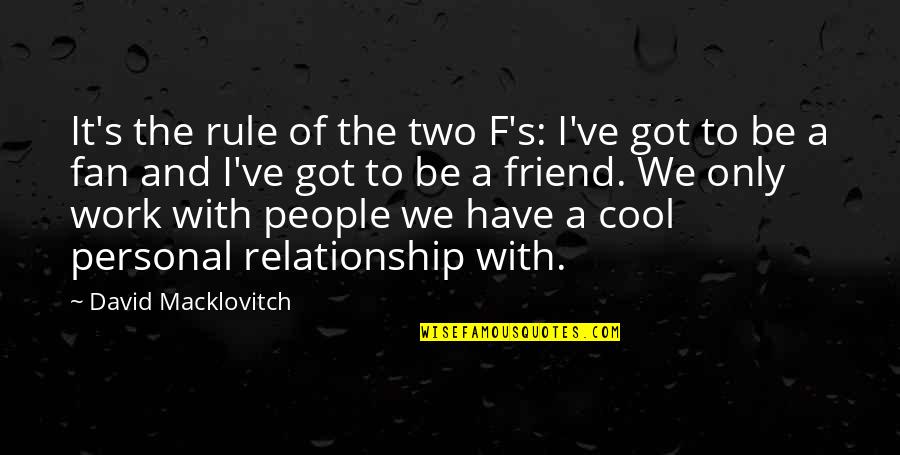 It's the rule of the two F's: I've got to be a fan and I've got to be a friend. We only work with people we have a cool personal relationship with. —
David Macklovitch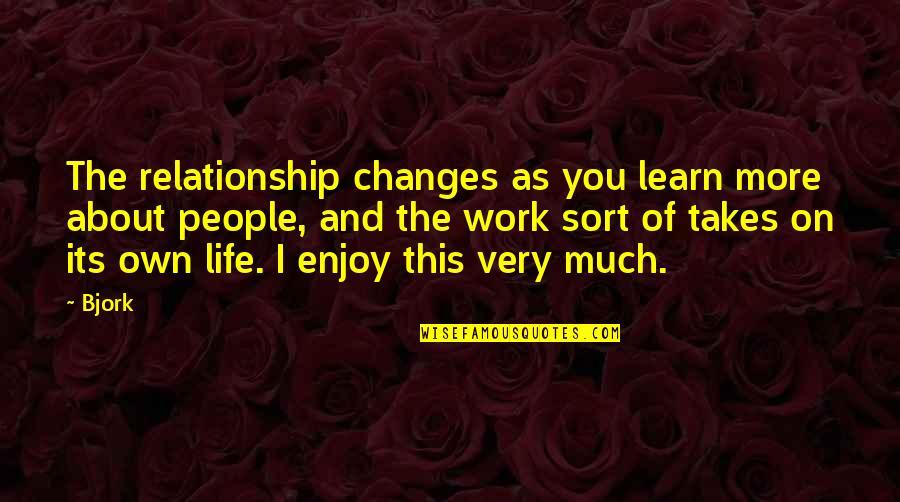 The relationship changes as you learn more about people, and the work sort of takes on its own life. I enjoy this very much. —
Bjork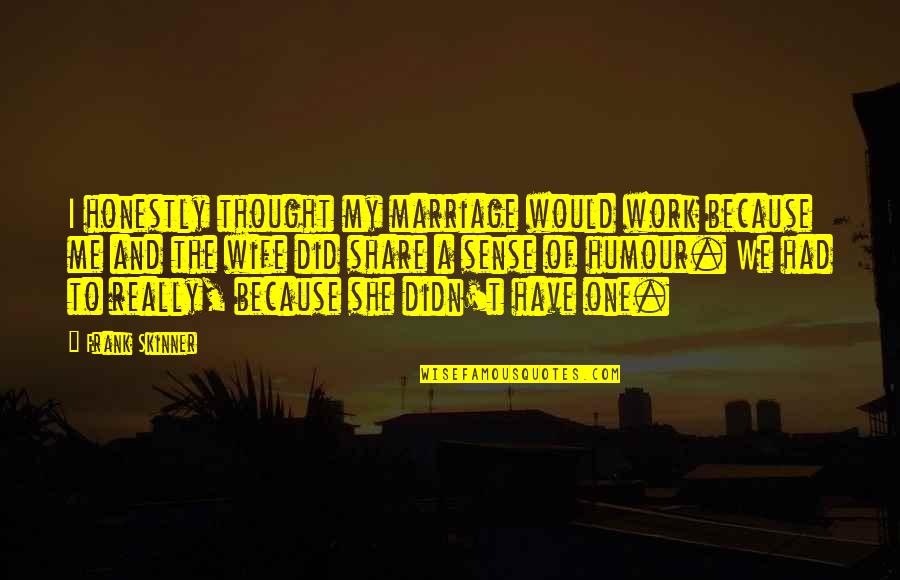 I honestly thought my marriage would work because me and the wife did share a sense of humour. We had to really, because she didn't have one. —
Frank Skinner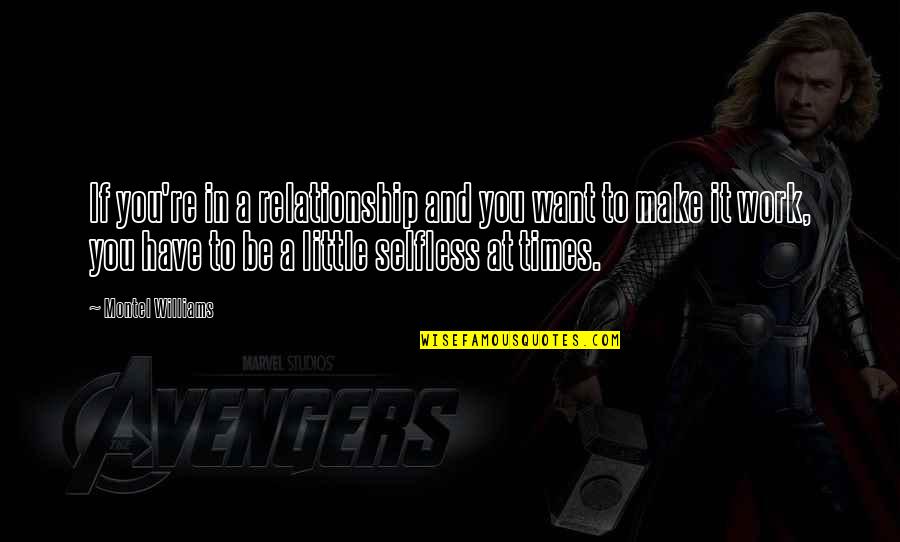 If you're in a relationship and you want to make it work, you have to be a little selfless at times. —
Montel Williams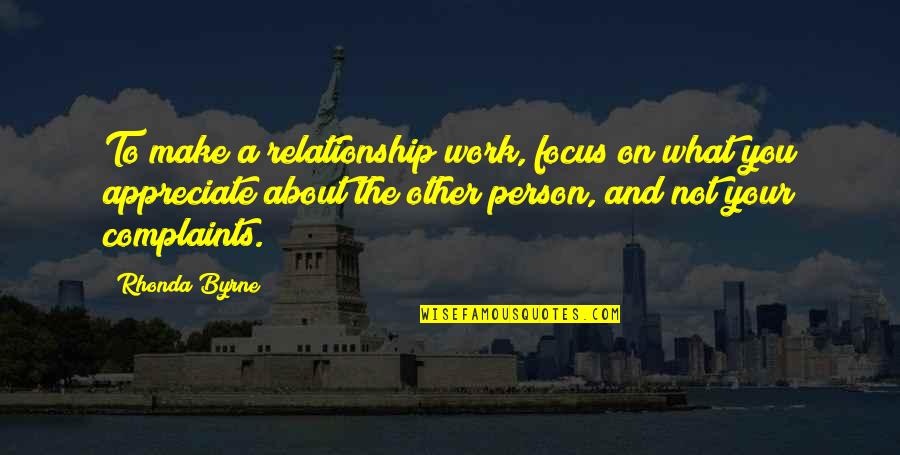 To make a relationship work, focus on what you appreciate about the other person, and not your complaints. —
Rhonda Byrne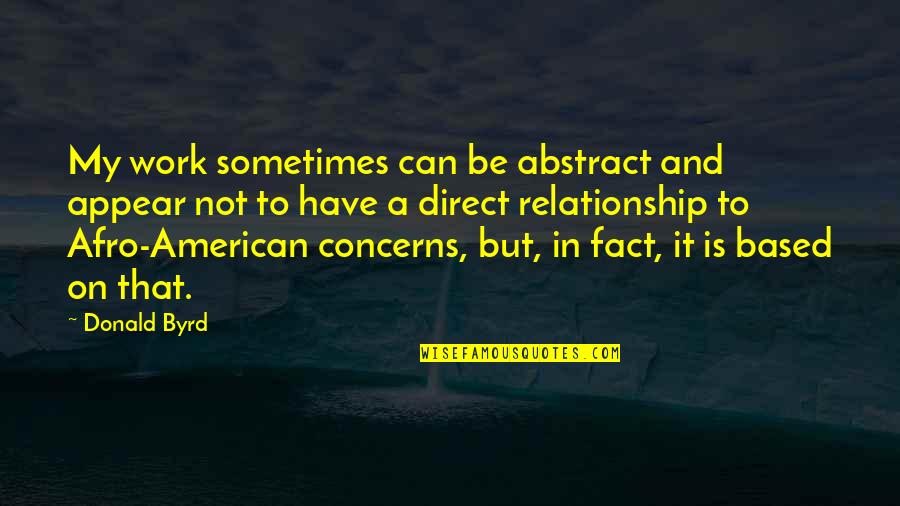 My work sometimes can be abstract and appear not to have a direct relationship to Afro-American concerns, but, in fact, it is based on that. —
Donald Byrd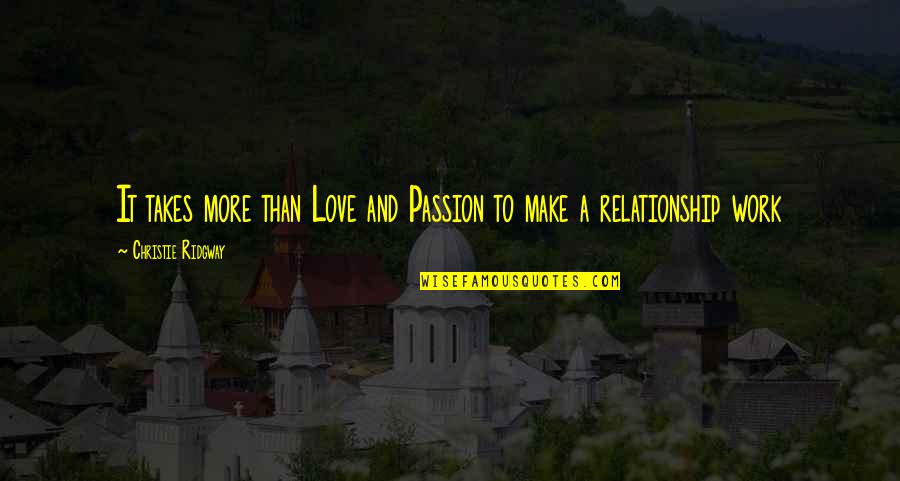 It takes more than Love and Passion to make a relationship work —
Christie Ridgway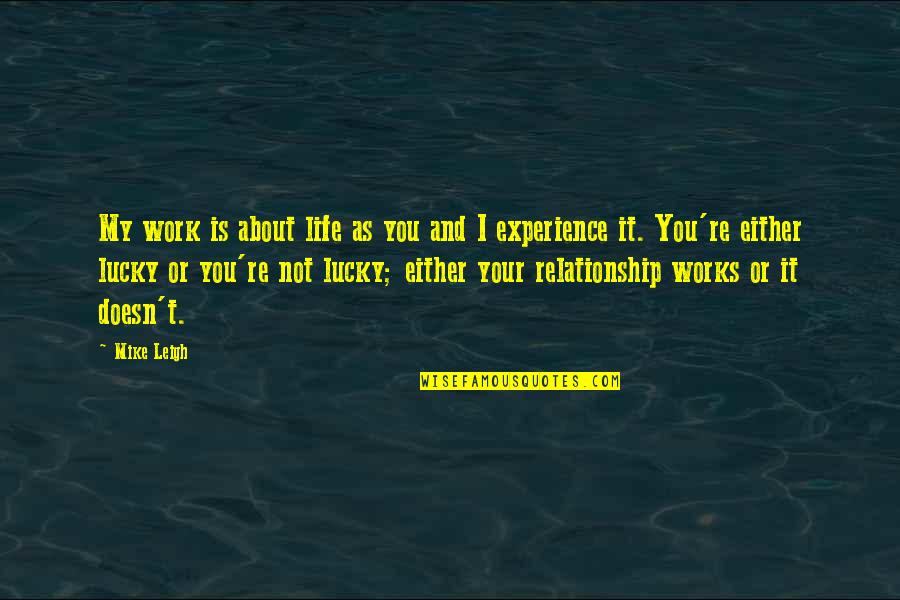 My work is about life as you and I experience it. You're either lucky or you're not lucky; either your relationship works or it doesn't. —
Mike Leigh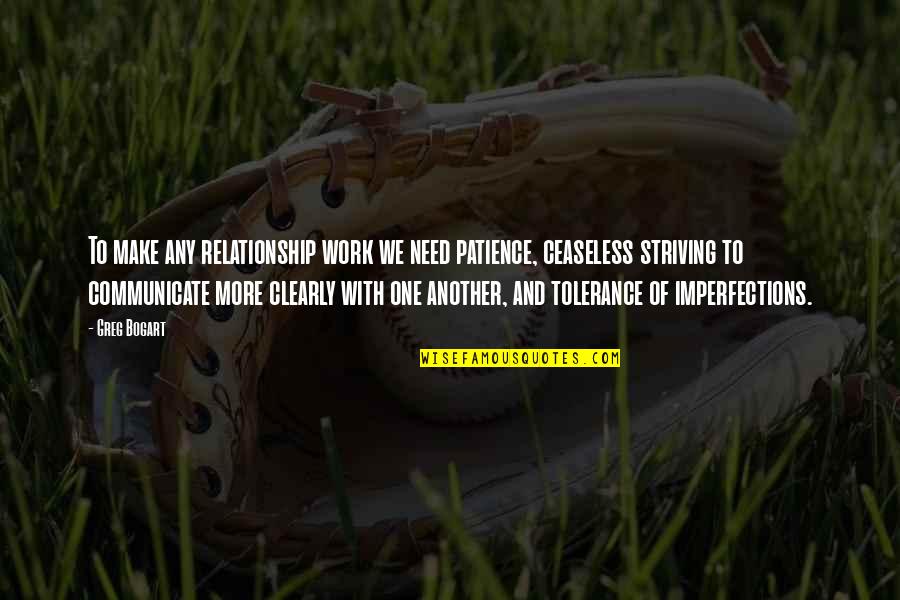 To make any relationship work we need patience, ceaseless striving to communicate more clearly with one another, and tolerance of imperfections. —
Greg Bogart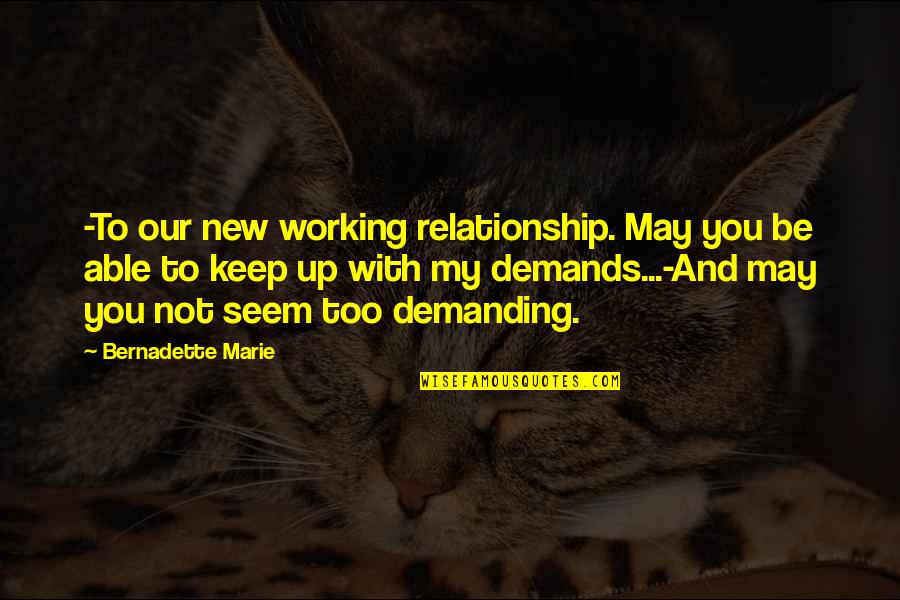 -To our new working relationship. May you be able to keep up with my demands...
-And may you not seem too demanding. —
Bernadette Marie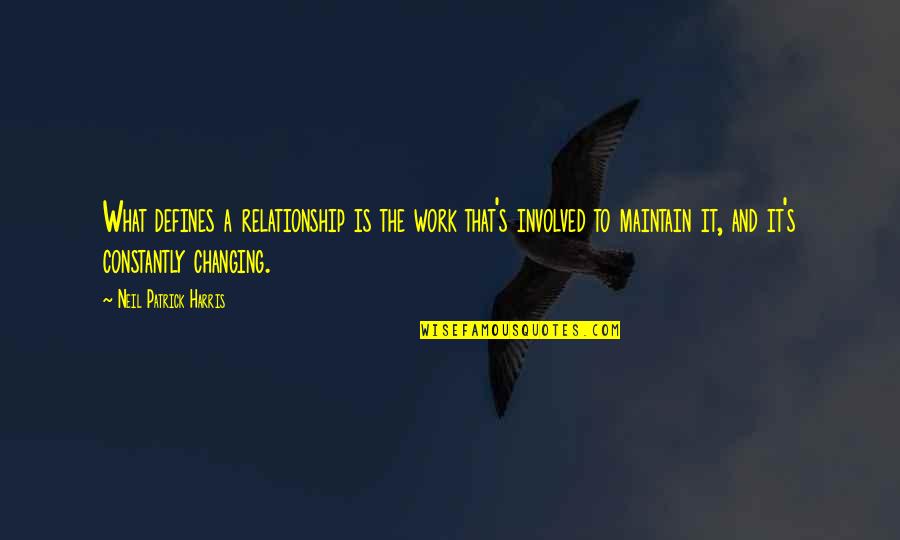 What defines a relationship is the work that's involved to maintain it, and it's constantly changing. —
Neil Patrick Harris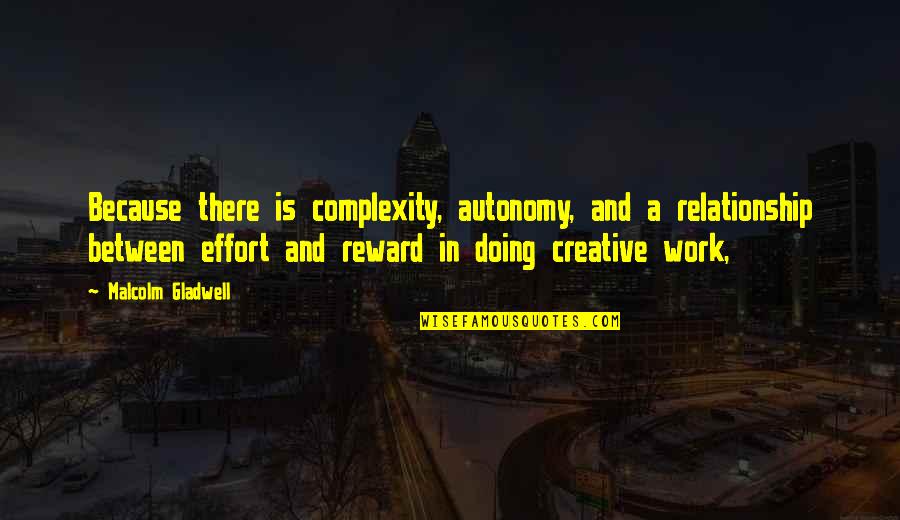 Because there is complexity, autonomy, and a relationship between effort and reward in doing creative work, —
Malcolm Gladwell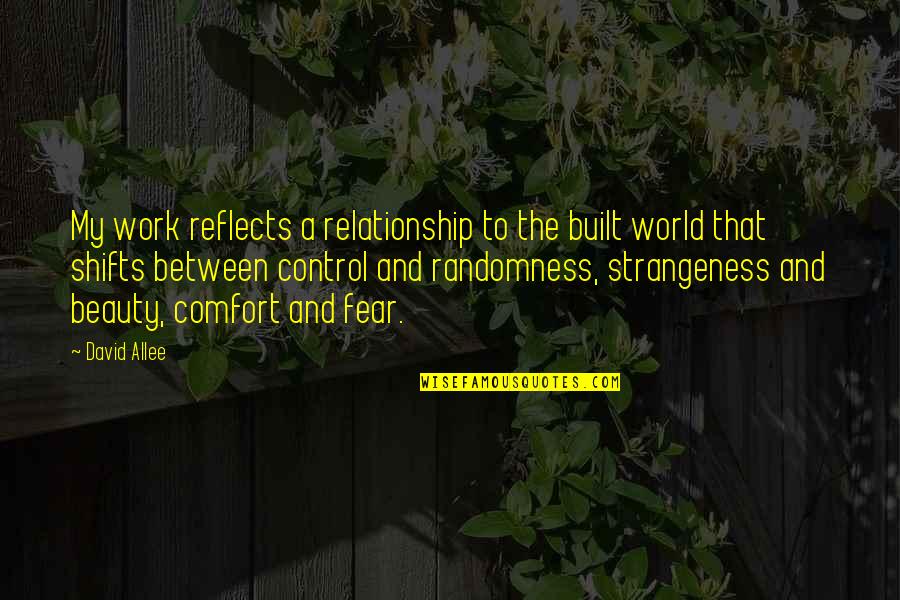 My work reflects a relationship to the built world that shifts between control and randomness, strangeness and beauty, comfort and fear. —
David Allee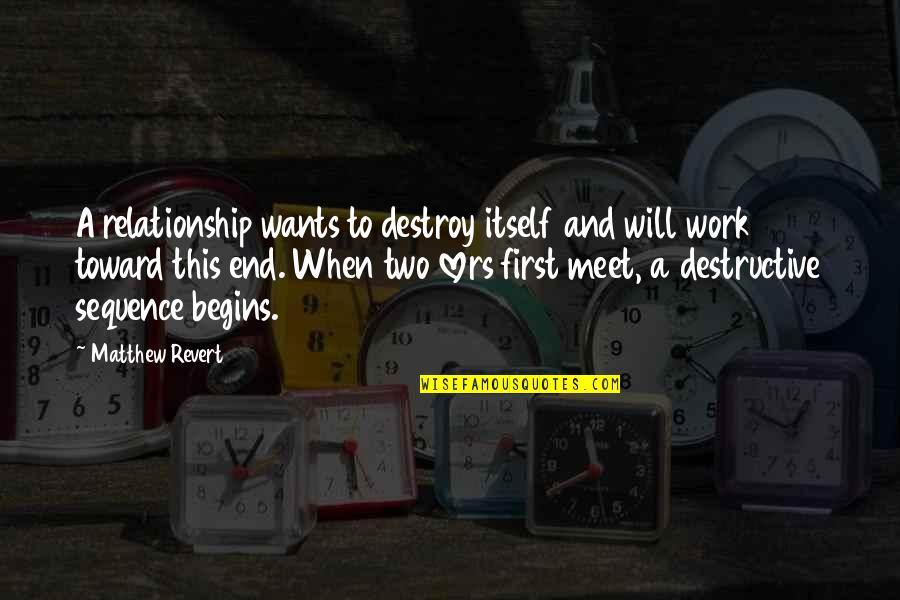 A relationship wants to destroy itself and will work toward this end. When two lovers first meet, a destructive sequence begins. —
Matthew Revert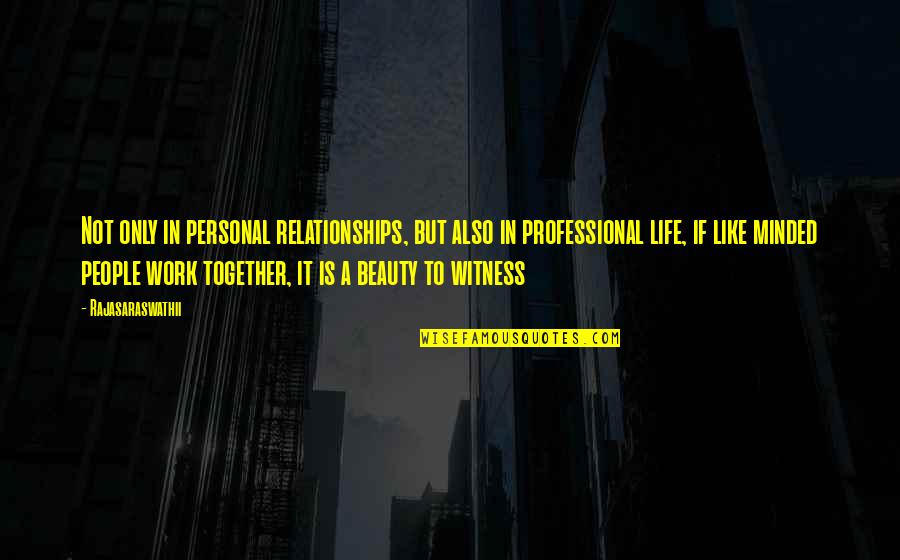 Not only in personal relationships, but also in professional life, if like minded people work together, it is a beauty to witness —
Rajasaraswathii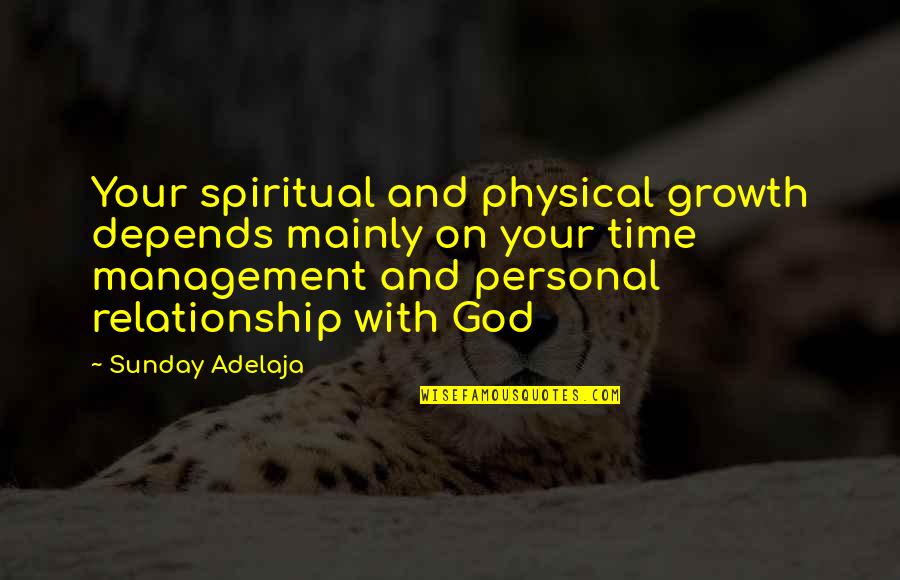 Your spiritual and physical growth depends mainly on your time management and personal relationship with God —
Sunday Adelaja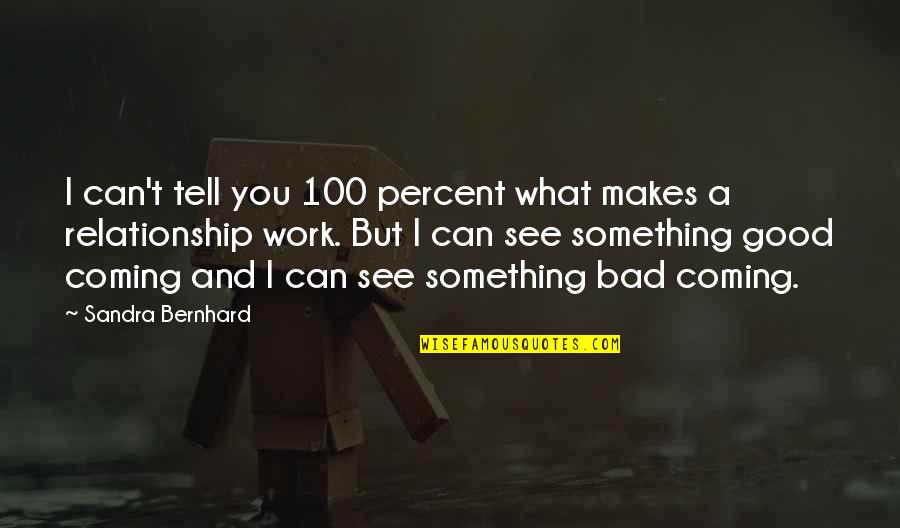 I can't tell you 100 percent what makes a relationship work. But I can see something good coming and I can see something bad coming. —
Sandra Bernhard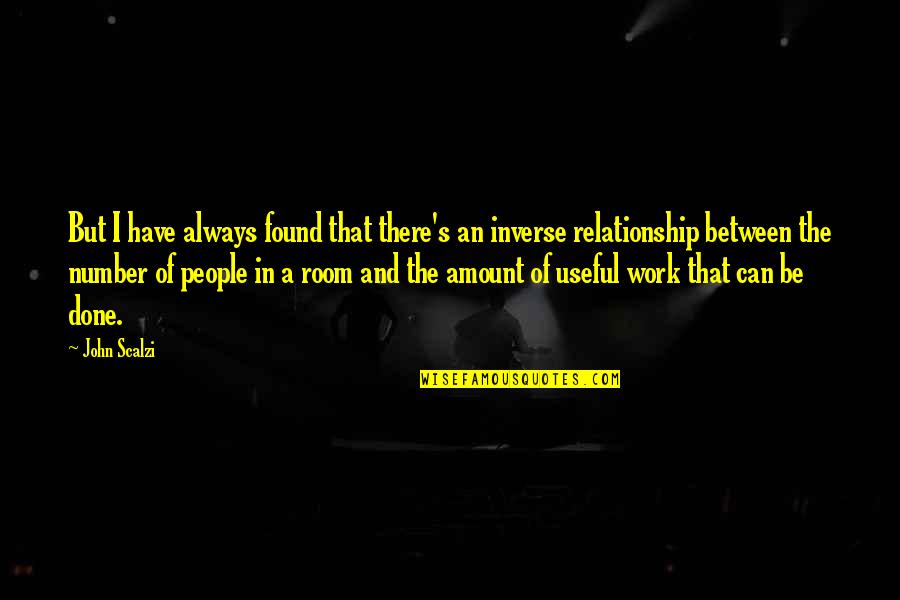 But I have always found that there's an inverse relationship between the number of people in a room and the amount of useful work that can be done. —
John Scalzi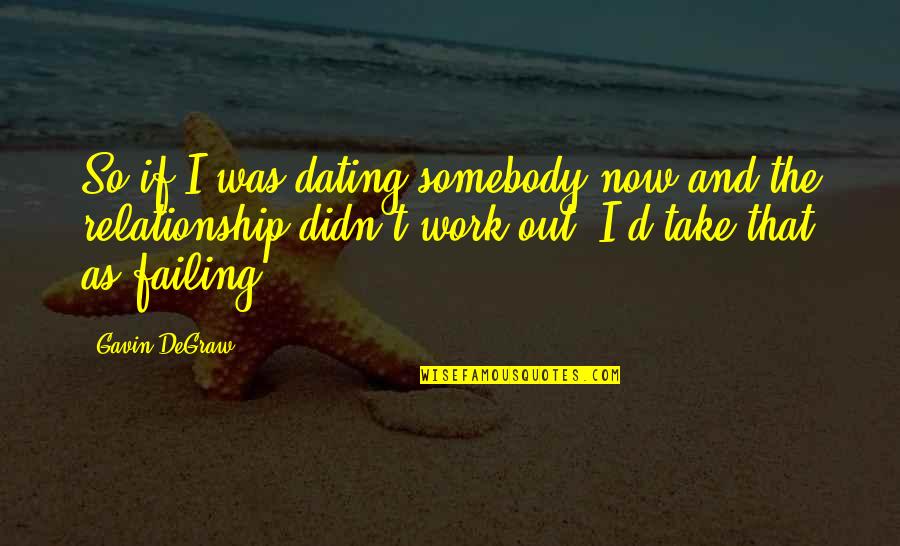 So if I was dating somebody now and the relationship didn't work out, I'd take that as failing. —
Gavin DeGraw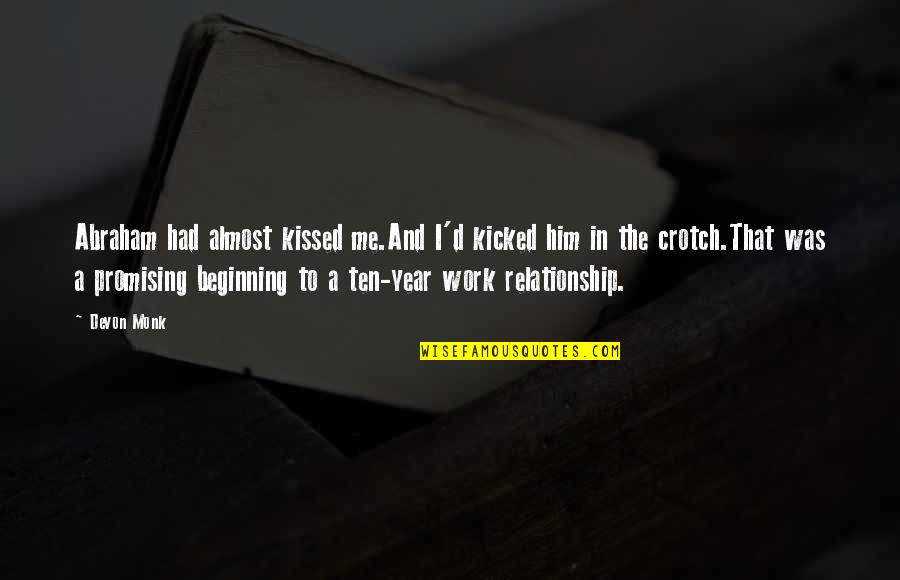 Abraham had almost kissed me.
And I'd kicked him in the crotch.
That was a promising beginning to a ten-year work relationship. —
Devon Monk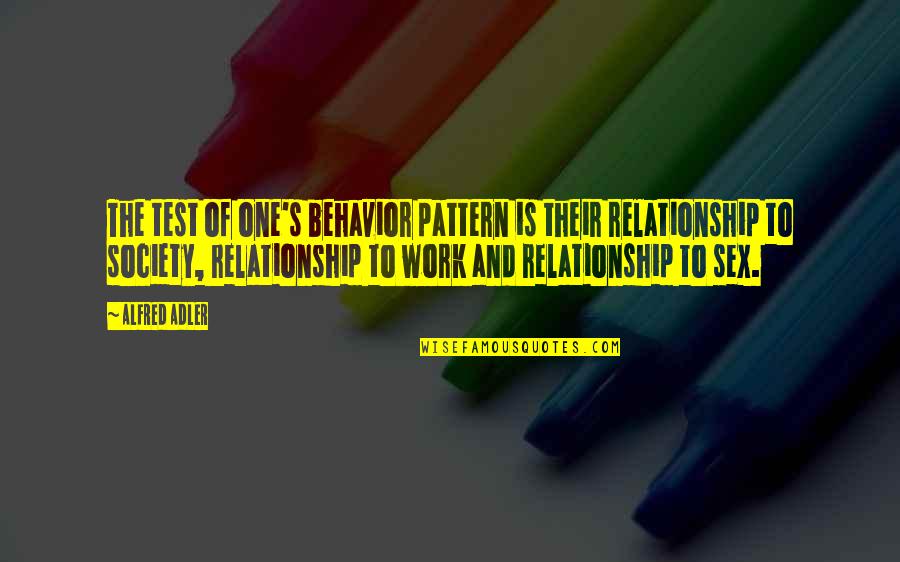 The test of one's behavior pattern is their relationship to society, relationship to
work and relationship
to sex. —
Alfred Adler