The More You Invest Quotes
Collection of top 50 famous quotes about The More You Invest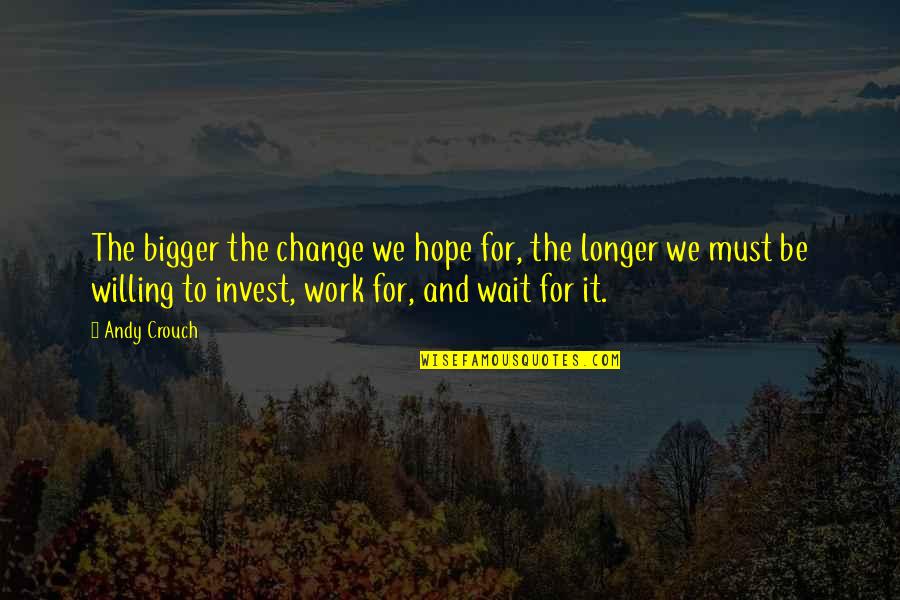 The bigger the change we hope for, the longer we must be willing to invest, work for, and wait for it.
—
Andy Crouch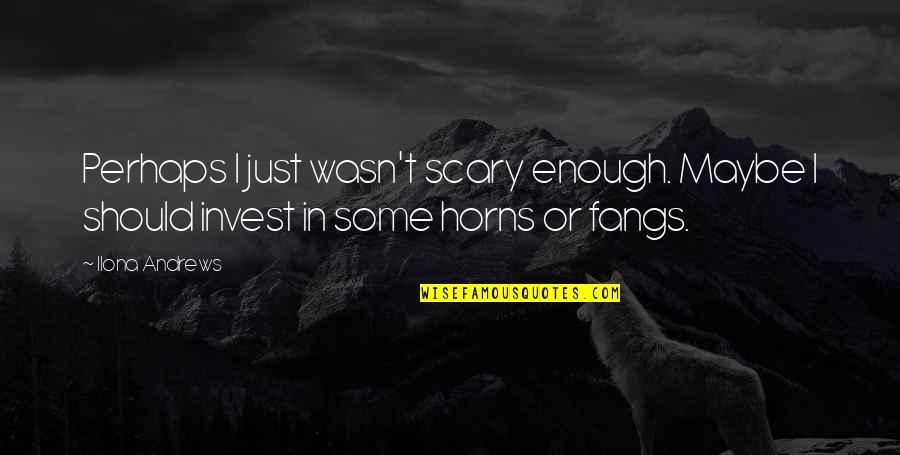 Perhaps I just wasn't scary enough. Maybe I should invest in some horns or fangs.
—
Ilona Andrews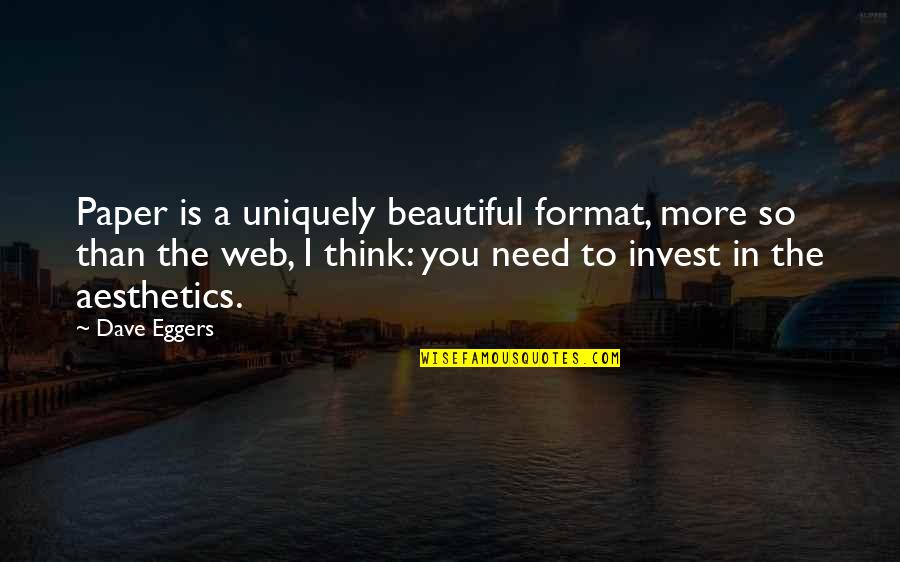 Paper is a uniquely beautiful format, more so than the web, I think: you need to invest in the aesthetics.
—
Dave Eggers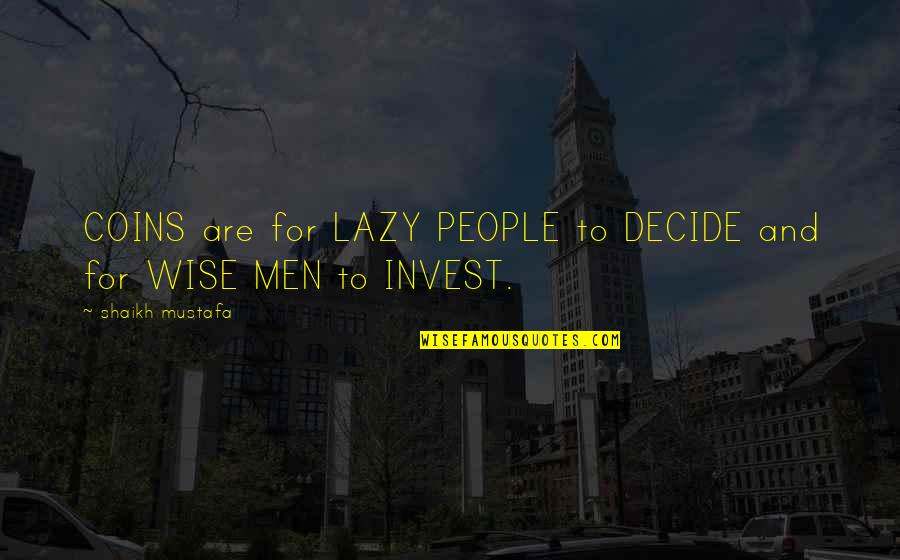 COINS are for LAZY PEOPLE to DECIDE and for WISE MEN to INVEST.
—
Shaikh Mustafa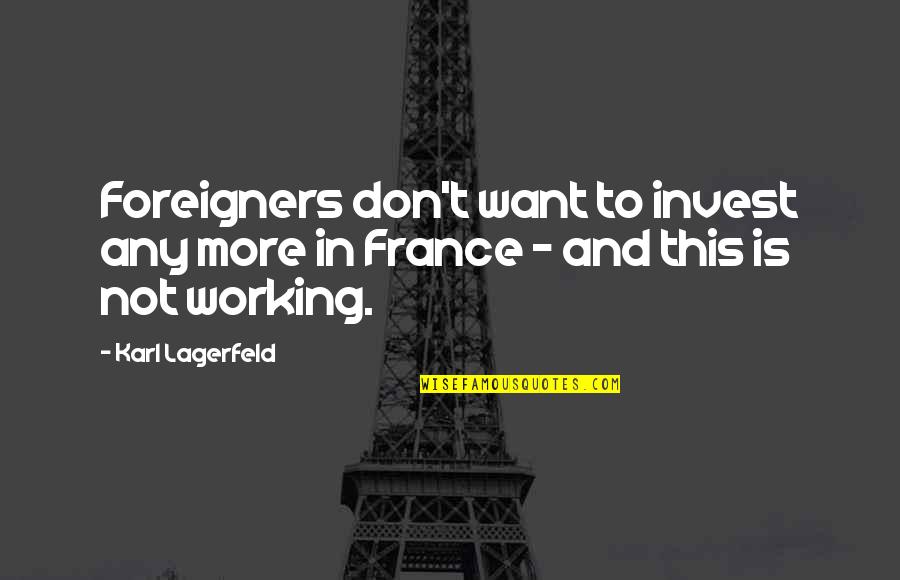 Foreigners don't want to invest any more in France - and this is not working.
—
Karl Lagerfeld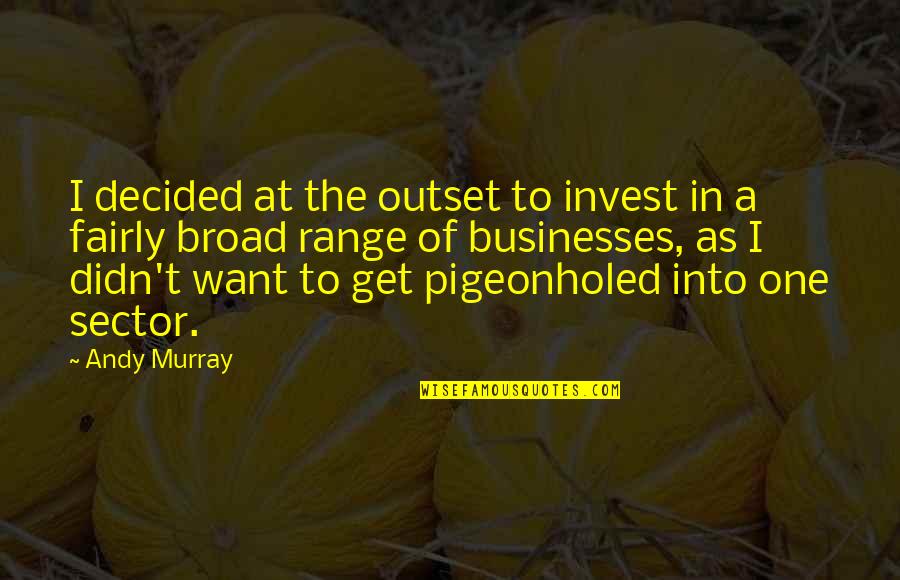 I decided at the outset to invest in a fairly broad range of businesses, as I didn't want to get pigeonholed into one sector.
—
Andy Murray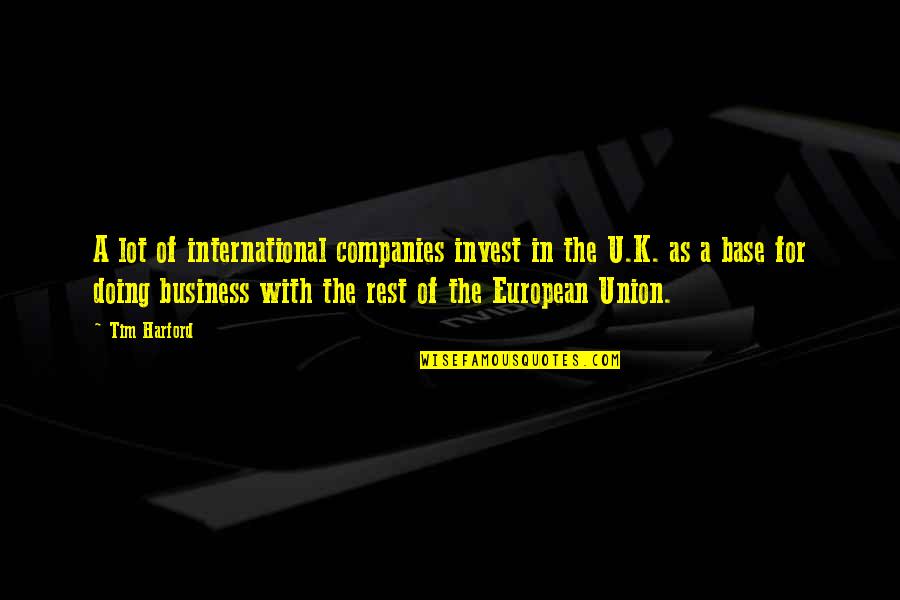 A lot of international companies invest in the U.K. as a base for doing business with the rest of the European Union.
—
Tim Harford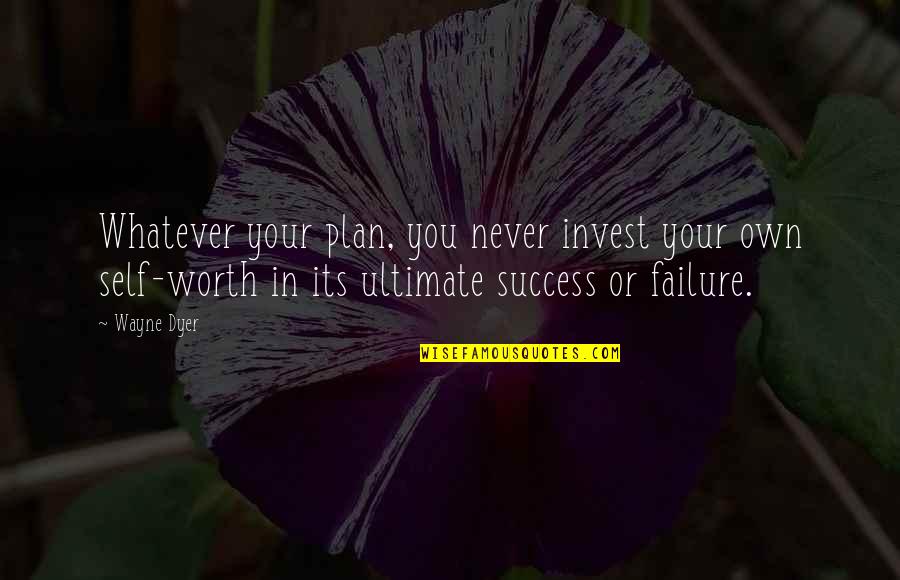 Whatever your plan, you never invest your own self-worth in its ultimate success or failure.
—
Wayne Dyer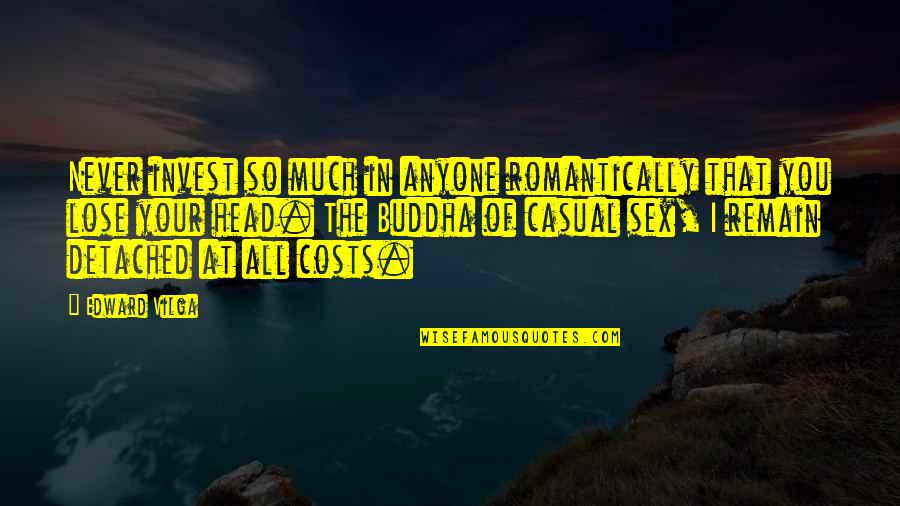 Never invest so much in anyone romantically that you lose your head. The Buddha of casual sex, I remain detached at all costs.
—
Edward Vilga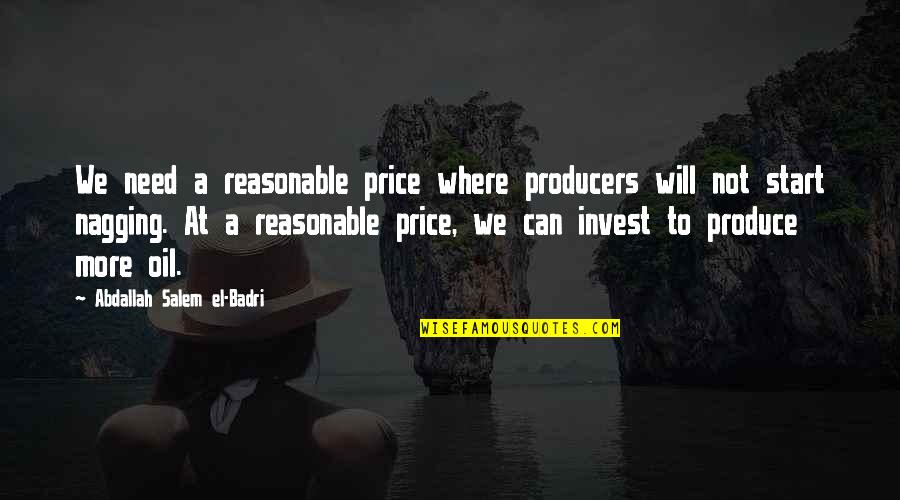 We need a reasonable price where producers will not start nagging. At a reasonable price, we can invest to produce more oil.
—
Abdallah Salem El-Badri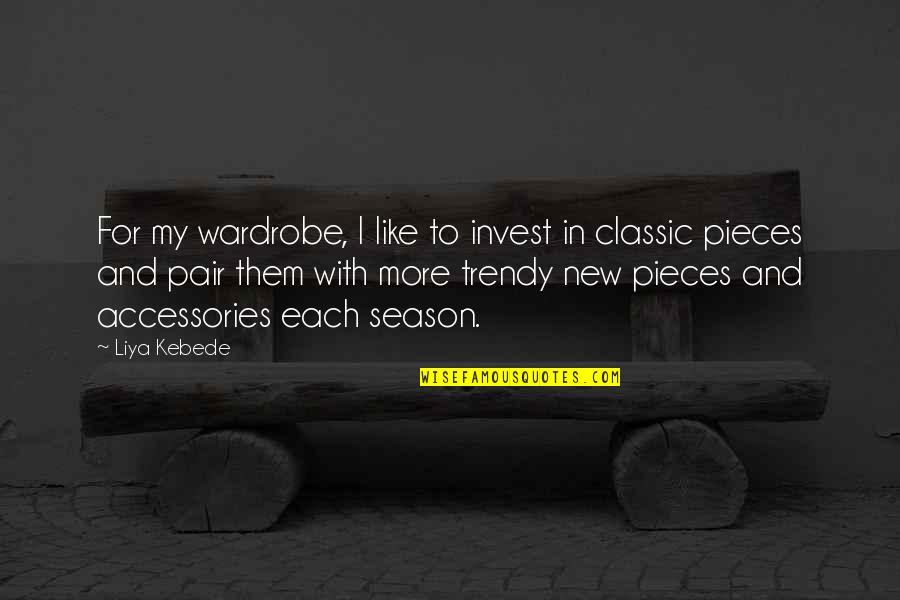 For my wardrobe, I like to invest in classic pieces and pair them with more trendy new pieces and accessories each season.
—
Liya Kebede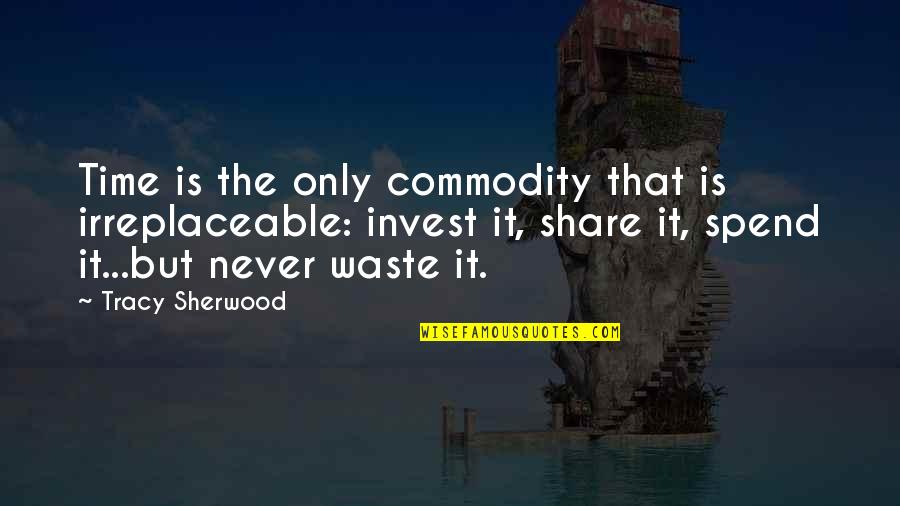 Time is the only commodity that is irreplaceable: invest it, share it, spend it...but never waste it.
—
Tracy Sherwood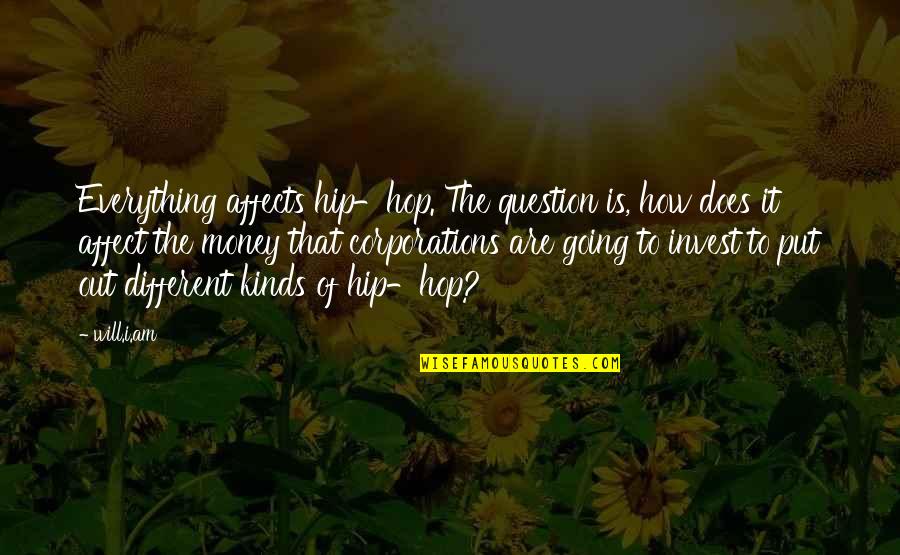 Everything affects hip-hop. The question is, how does it affect the money that corporations are going to invest to put out different kinds of hip-hop?
—
Will.i.am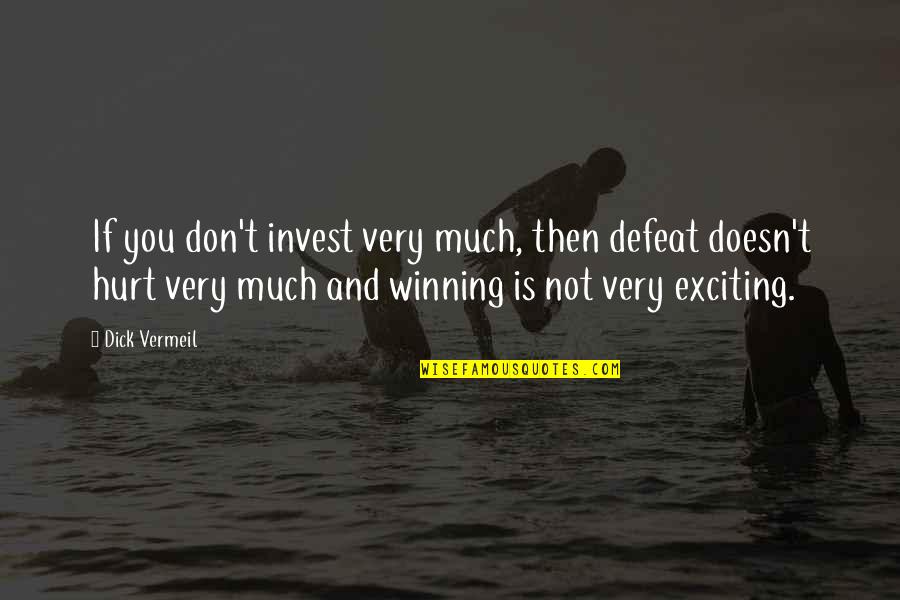 If you don't invest very much, then defeat doesn't hurt very much and winning is not very exciting.
—
Dick Vermeil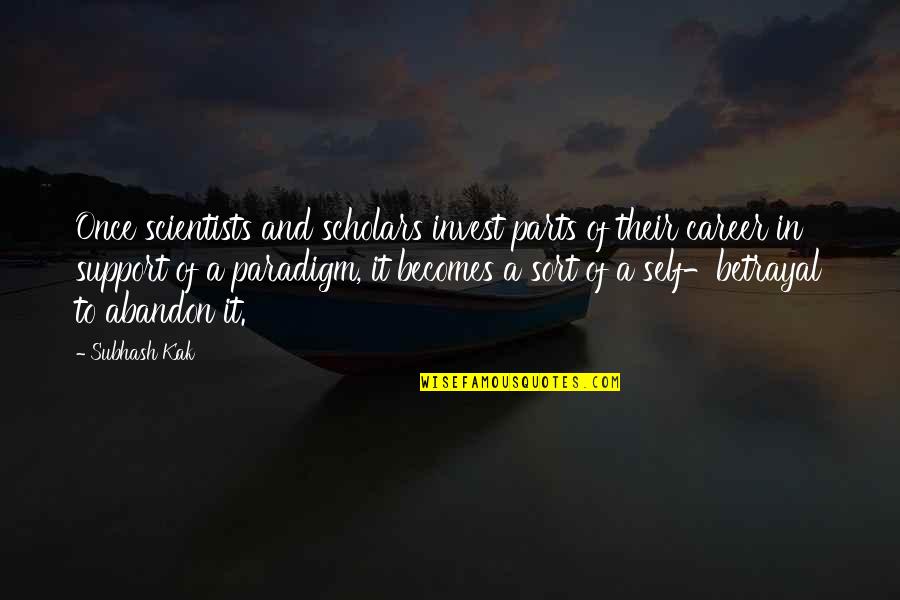 Once scientists and scholars invest parts of their career in support of a paradigm, it becomes a sort of a self-betrayal to abandon it. —
Subhash Kak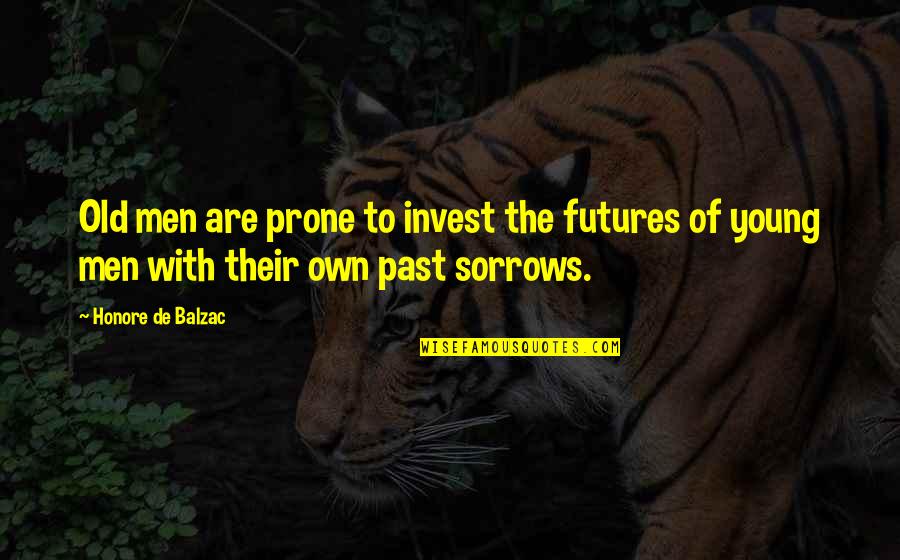 Old men are prone to invest the futures of young men with their own past sorrows. —
Honore De Balzac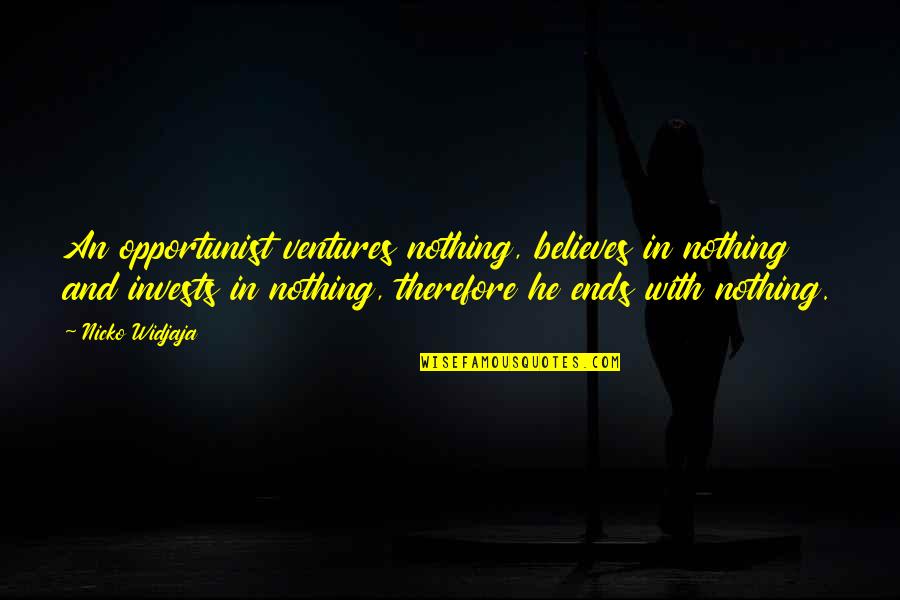 An opportunist ventures nothing, believes in nothing and invests in nothing, therefore he ends with nothing. —
Nicko Widjaja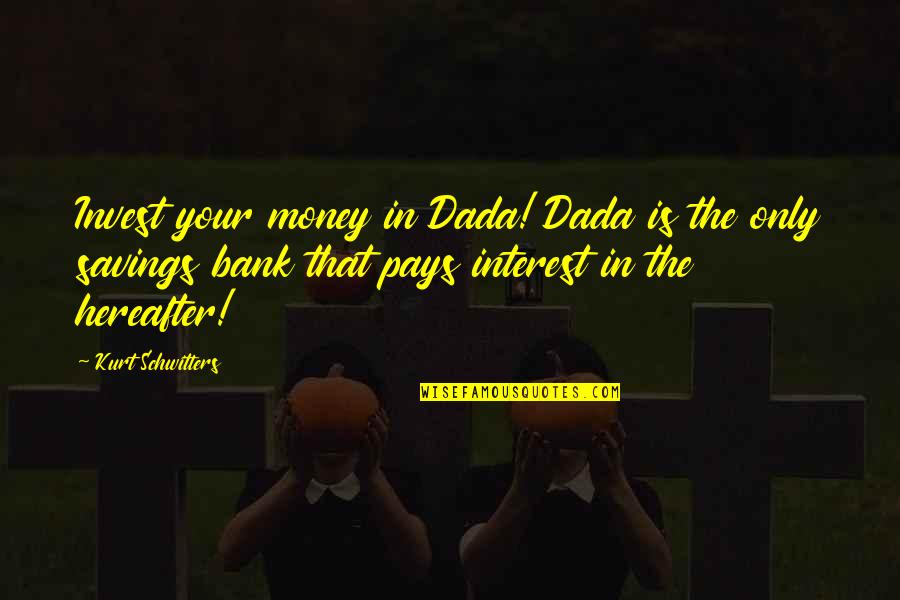 Invest your money in Dada! Dada is the only savings bank that pays interest in the hereafter! —
Kurt Schwitters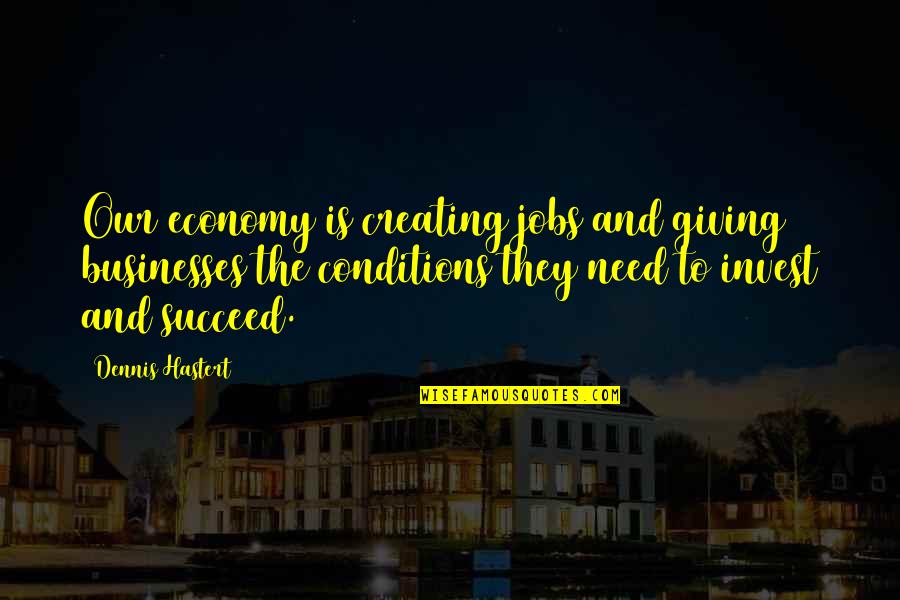 Our economy is creating jobs and giving businesses the conditions they need to invest and succeed. —
Dennis Hastert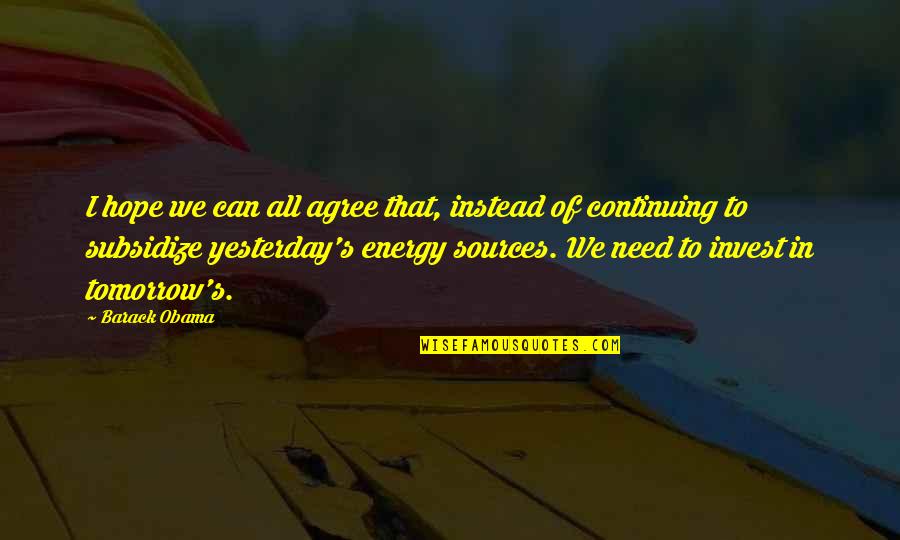 I hope we can all agree that, instead of continuing to subsidize yesterday's energy sources. We need to invest in tomorrow's. —
Barack Obama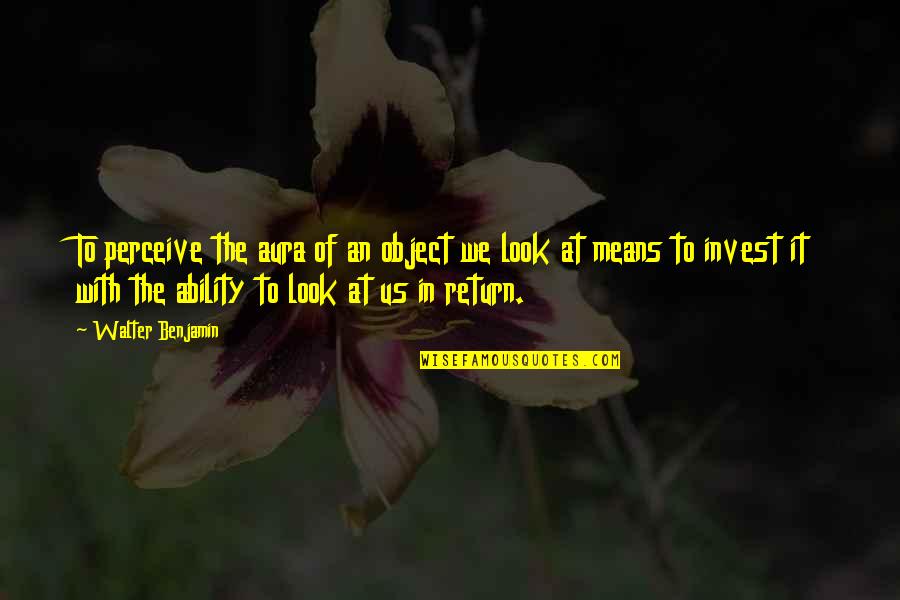 To perceive the aura of an object we look at means to invest it with the ability to look at us in return. —
Walter Benjamin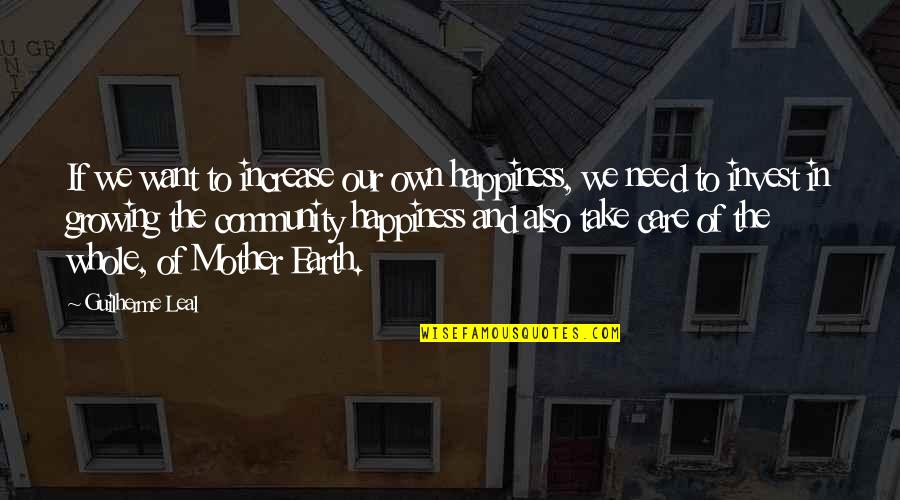 If we want to increase our own happiness, we need to invest in growing the community happiness and also take care of the whole, of Mother Earth. —
Guilherme Leal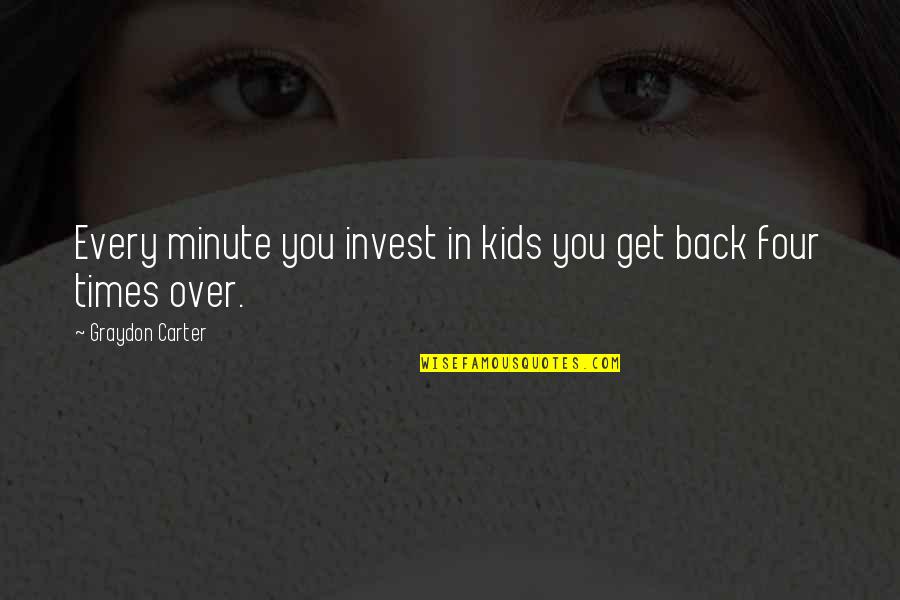 Every minute you invest in kids you get back four times over. —
Graydon Carter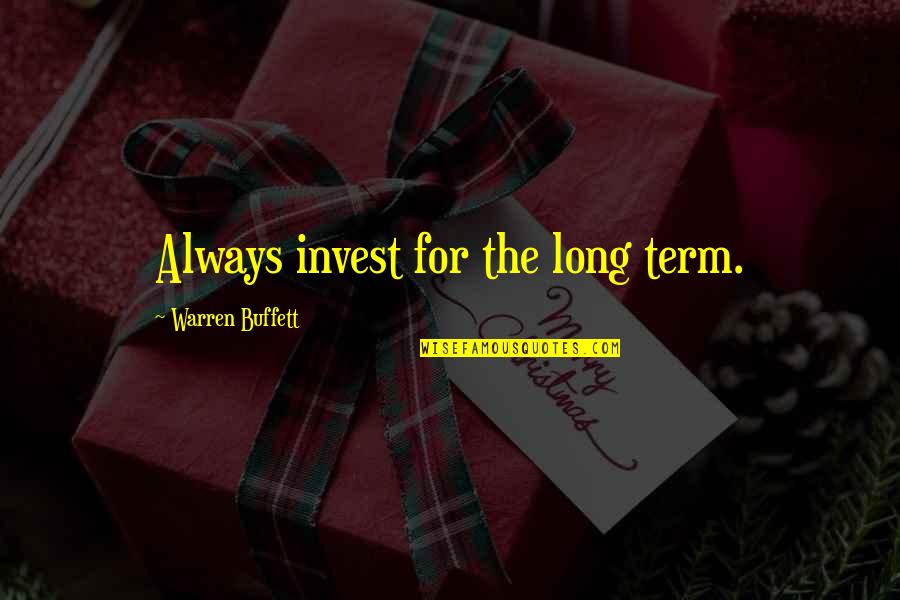 Always invest for the long term. —
Warren Buffett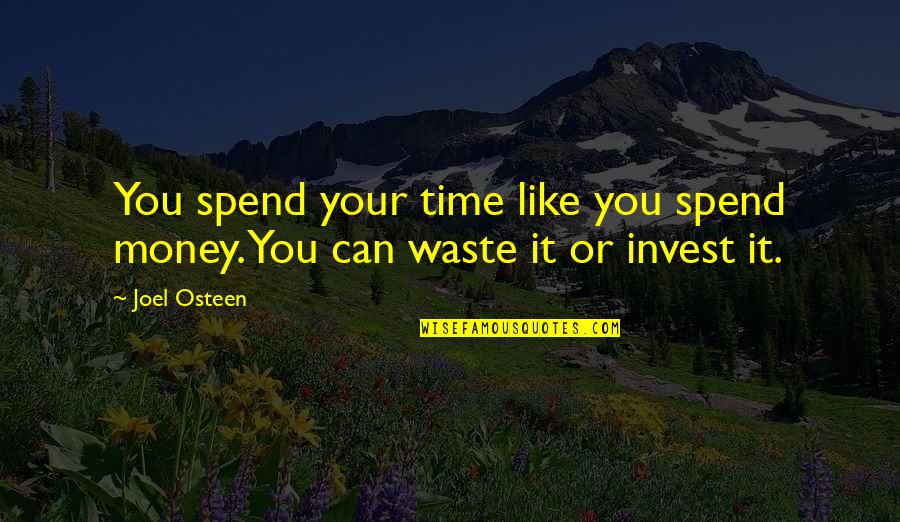 You spend your time like you spend money. You can waste it or invest it. —
Joel Osteen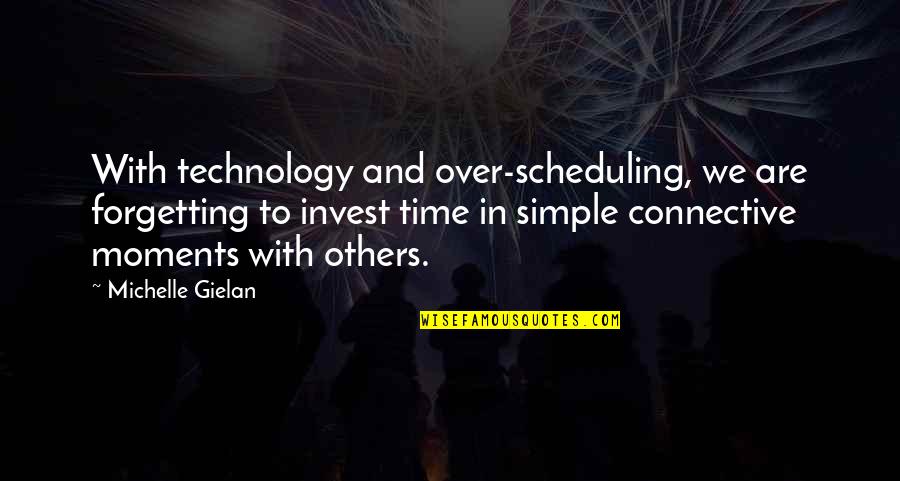 With technology and over-scheduling, we are forgetting to invest time in simple connective moments with others. —
Michelle Gielan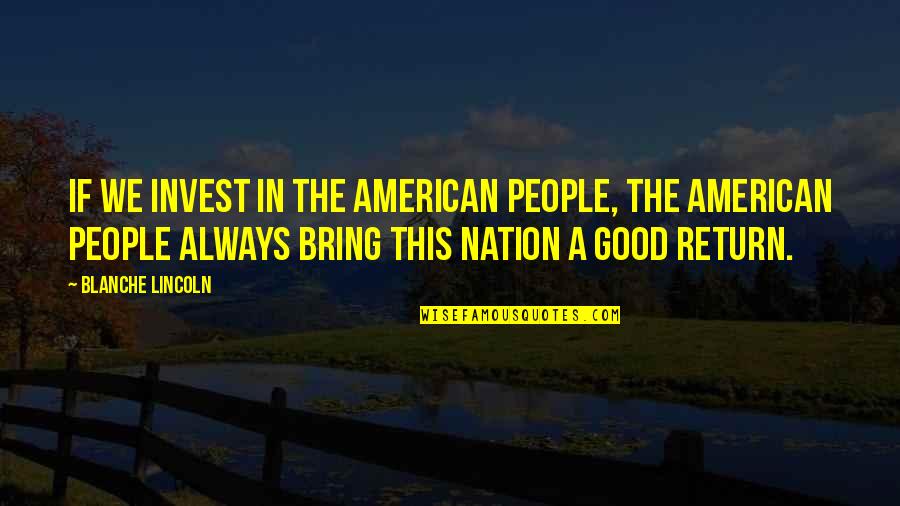 If we invest in the American people, the American people always bring this Nation a good return. —
Blanche Lincoln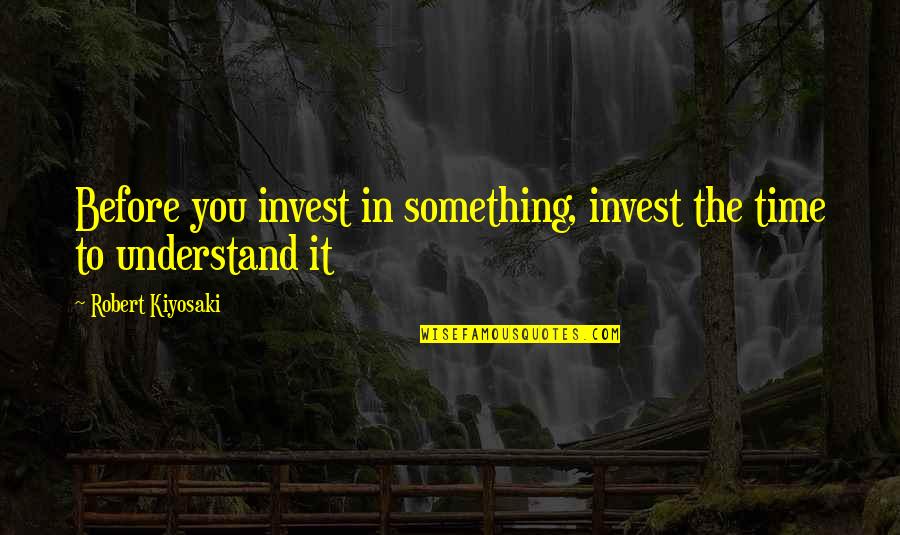 Before you invest in something, invest the time to understand it —
Robert Kiyosaki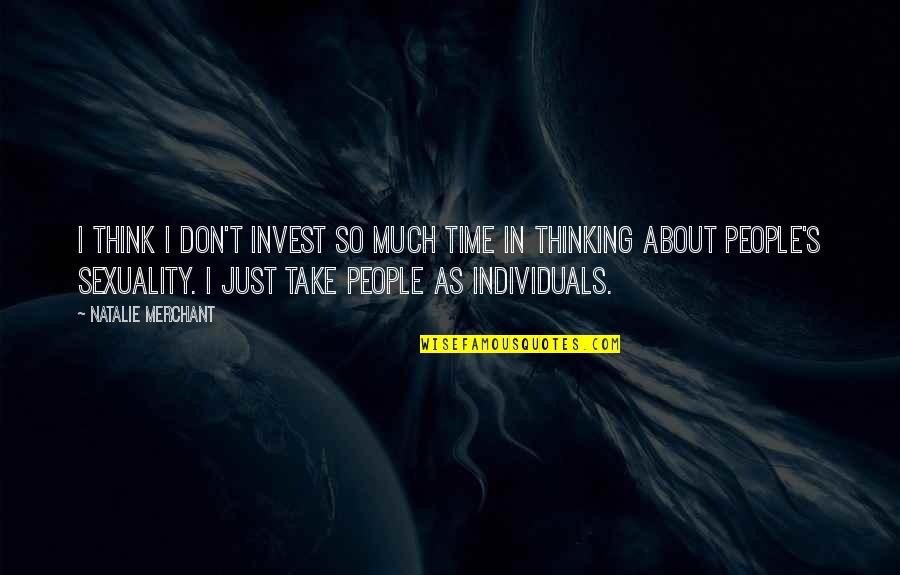 I think I don't invest so much time in thinking about people's sexuality. I just take people as individuals. —
Natalie Merchant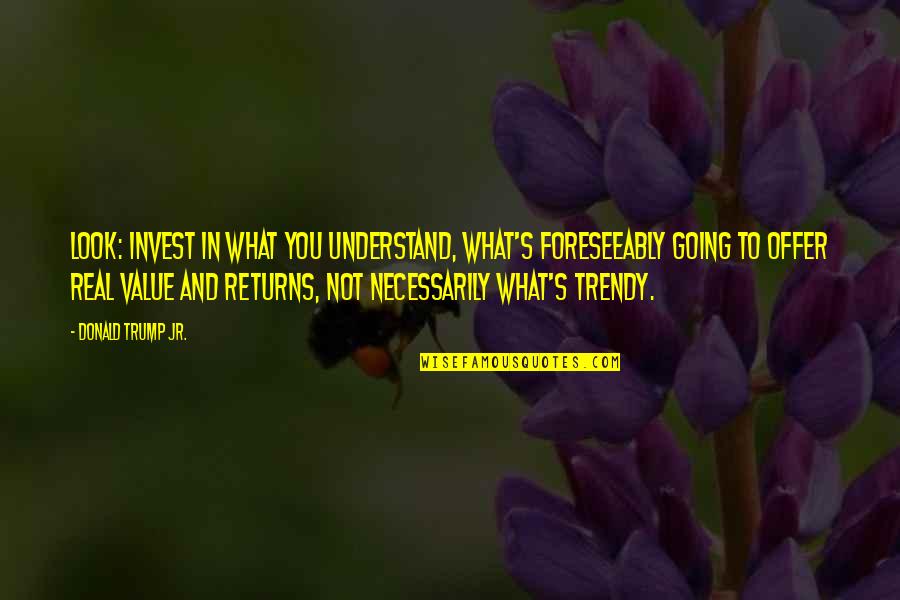 Look: invest in what you understand, what's foreseeably going to offer real value and returns, not necessarily what's trendy. —
Donald Trump Jr.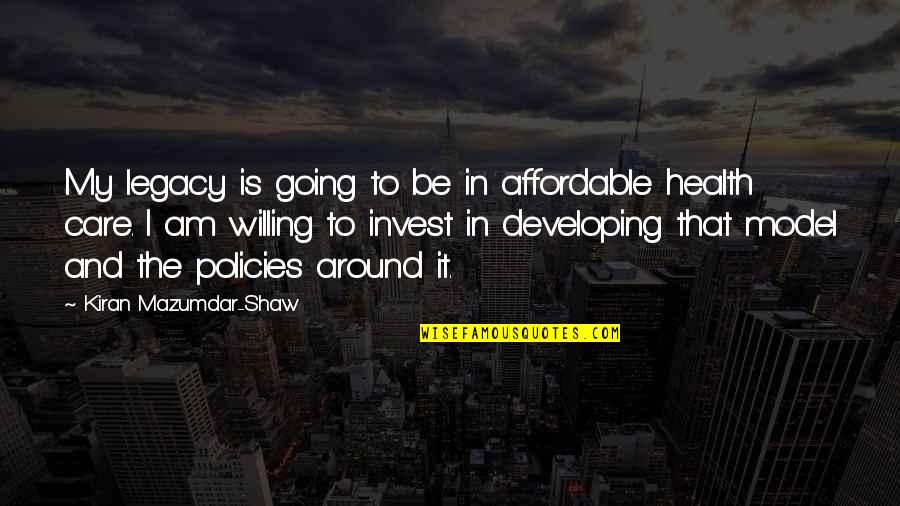 My legacy is going to be in affordable health care. I am willing to invest in developing that model and the policies around it. —
Kiran Mazumdar-Shaw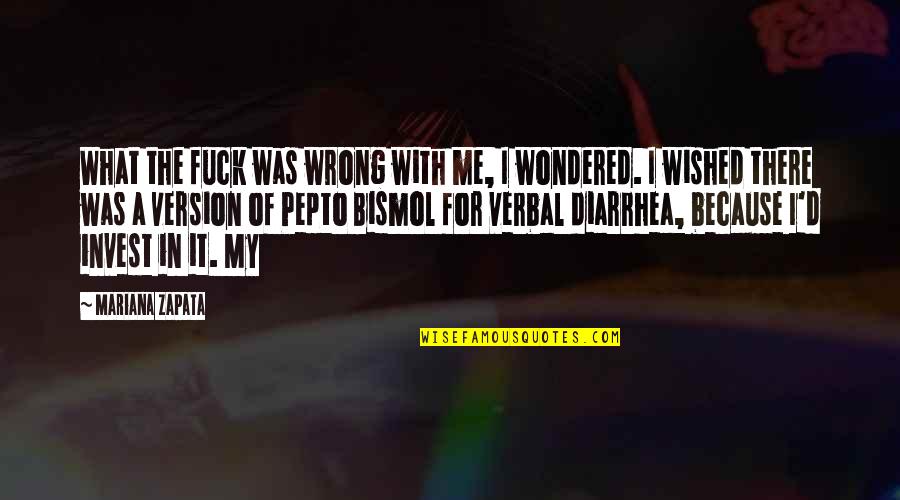 What the fuck was wrong with me, I wondered. I wished there was a version of Pepto Bismol for verbal diarrhea, because I'd invest in it. My —
Mariana Zapata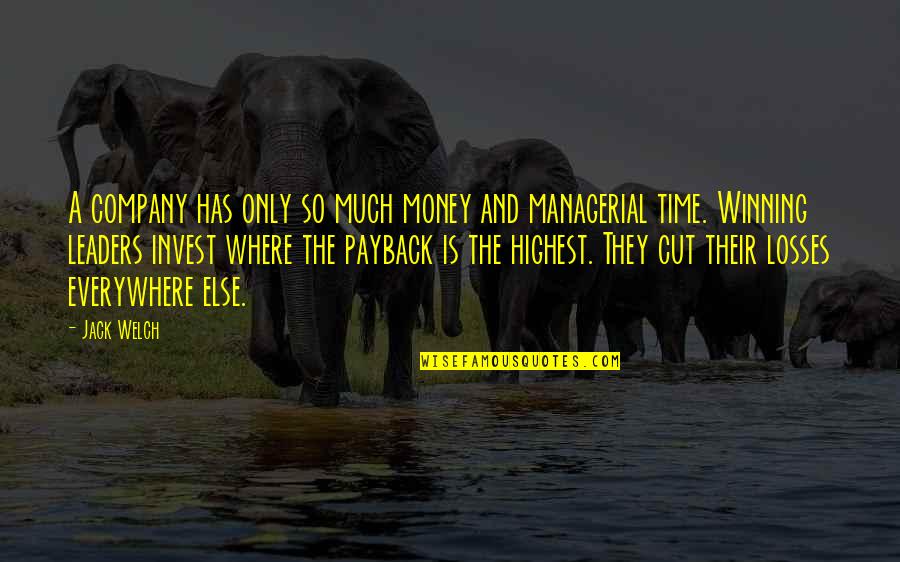 A company has only so much money and managerial time. Winning leaders invest where the payback is the highest. They cut their losses everywhere else. —
Jack Welch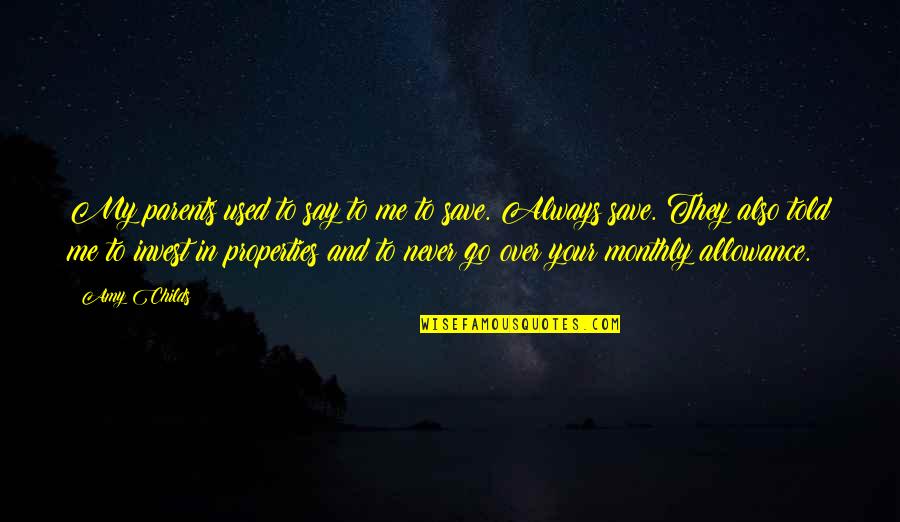 My parents used to say to me to save. Always save. They also told me to invest in properties and to never go over your monthly allowance. —
Amy Childs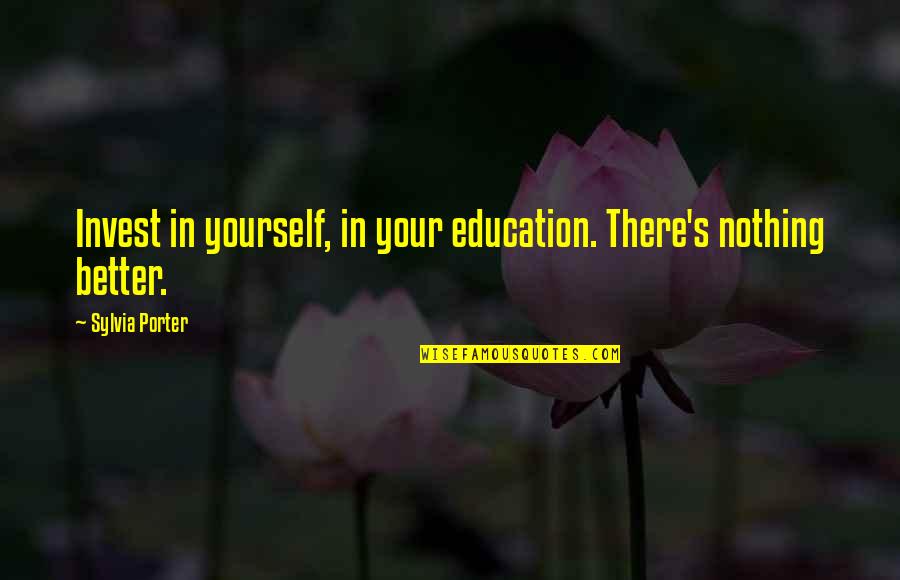 Invest in yourself, in your education. There's nothing better. —
Sylvia Porter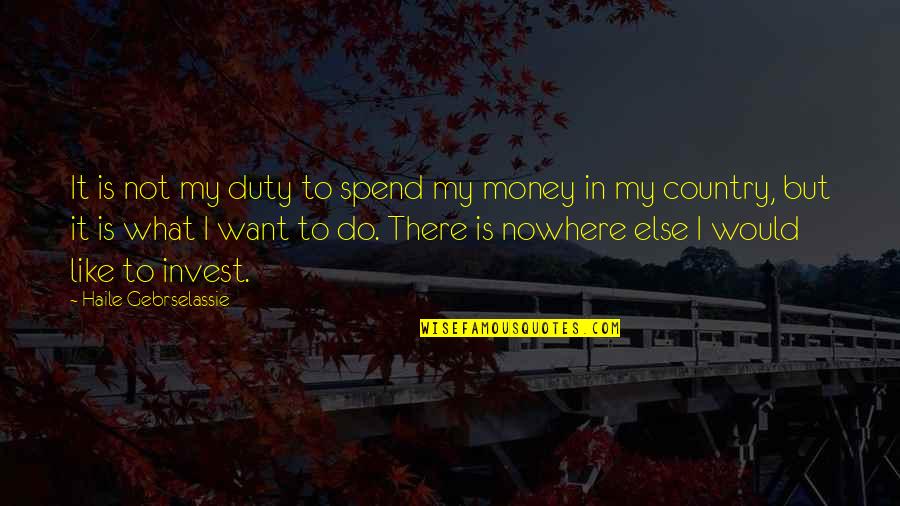 It is not my duty to spend my money in my country, but it is what I want to do. There is nowhere else I would like to invest. —
Haile Gebrselassie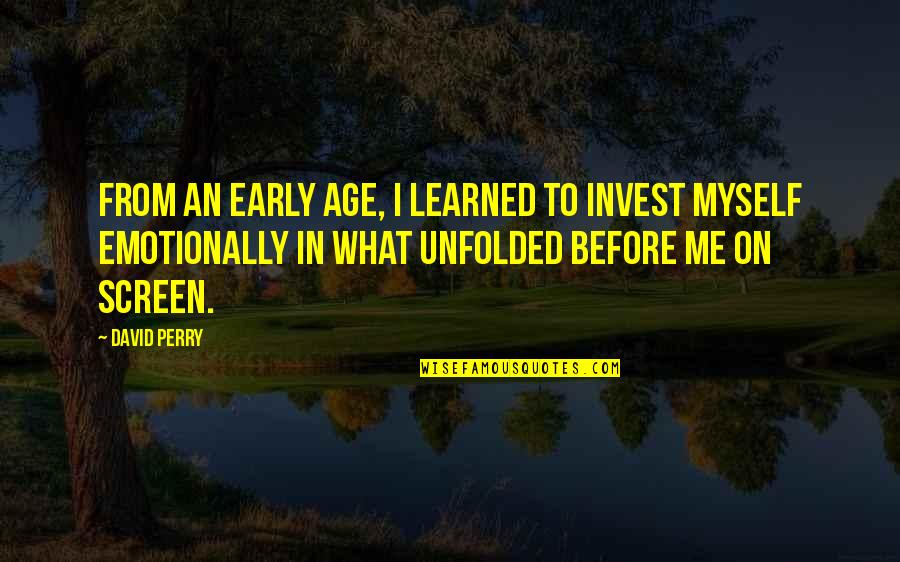 From an early age, I learned to invest myself emotionally in what unfolded before me on screen. —
David Perry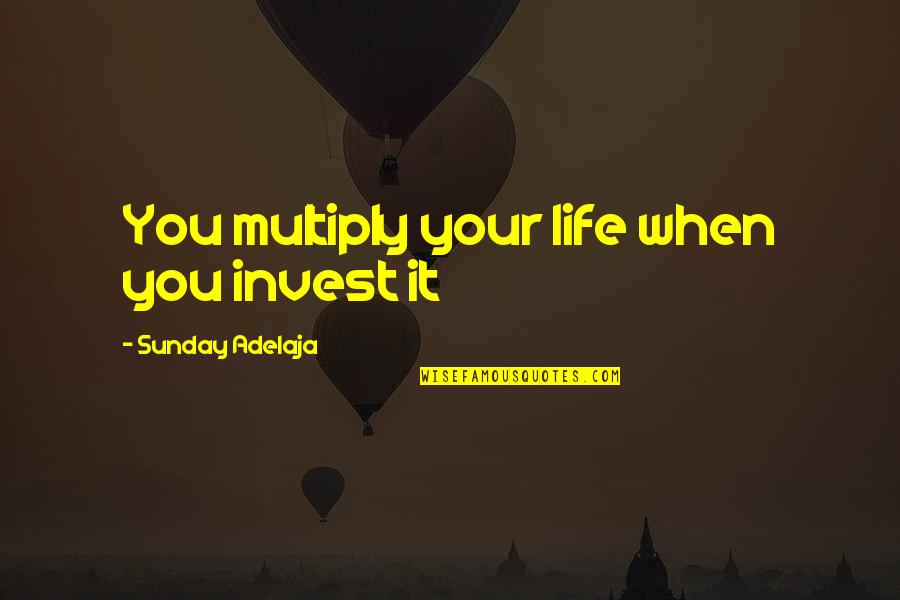 You multiply your life when you invest it —
Sunday Adelaja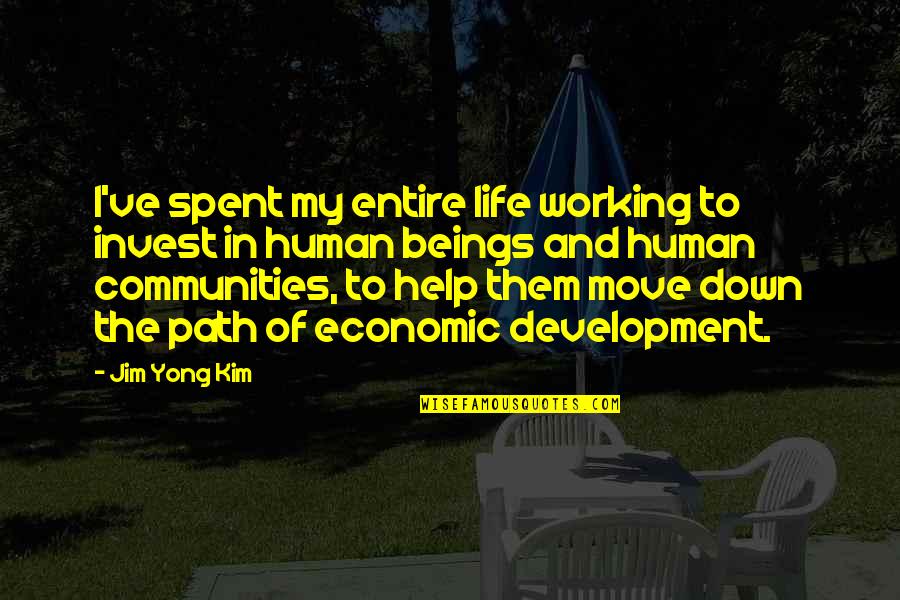 I've spent my entire life working to invest in human beings and human communities, to help them move down the path of economic development. —
Jim Yong Kim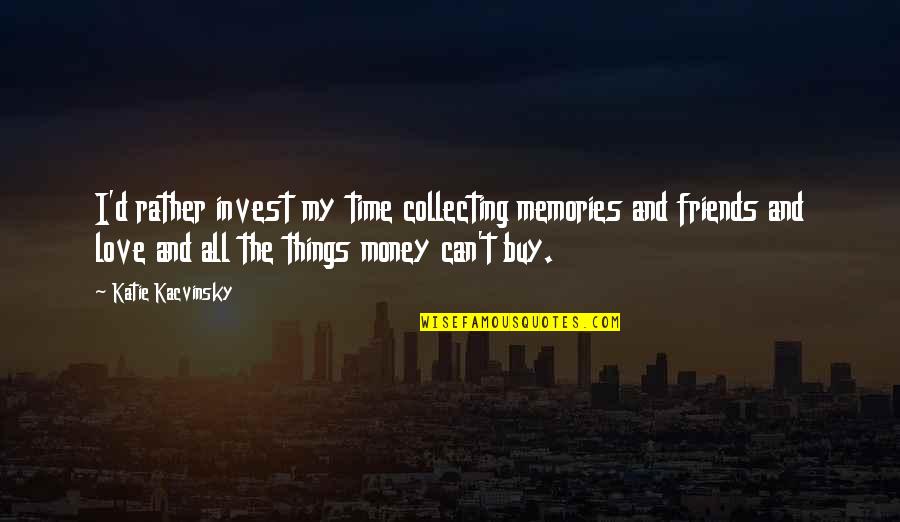 I'd rather invest my time collecting memories and friends and love and all the things money can't buy. —
Katie Kacvinsky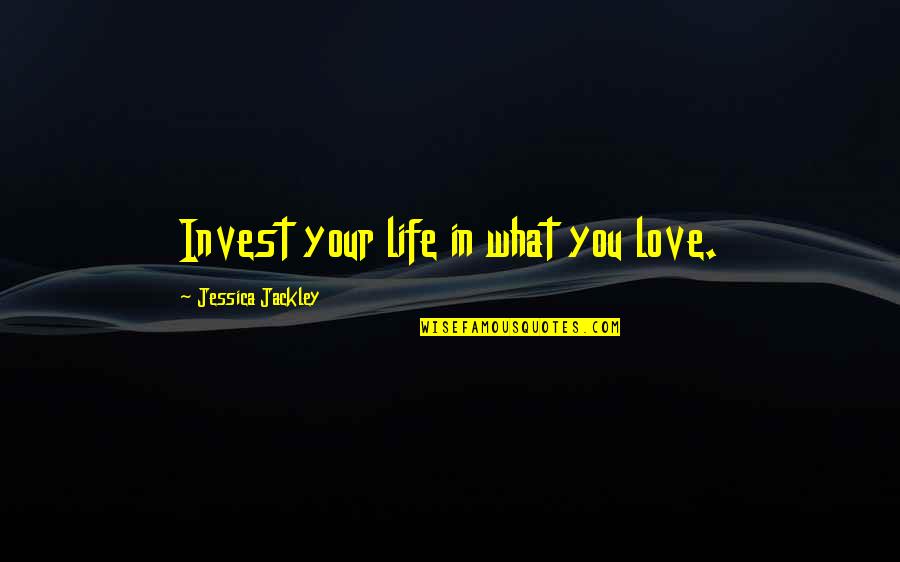 Invest your life in what you love. —
Jessica Jackley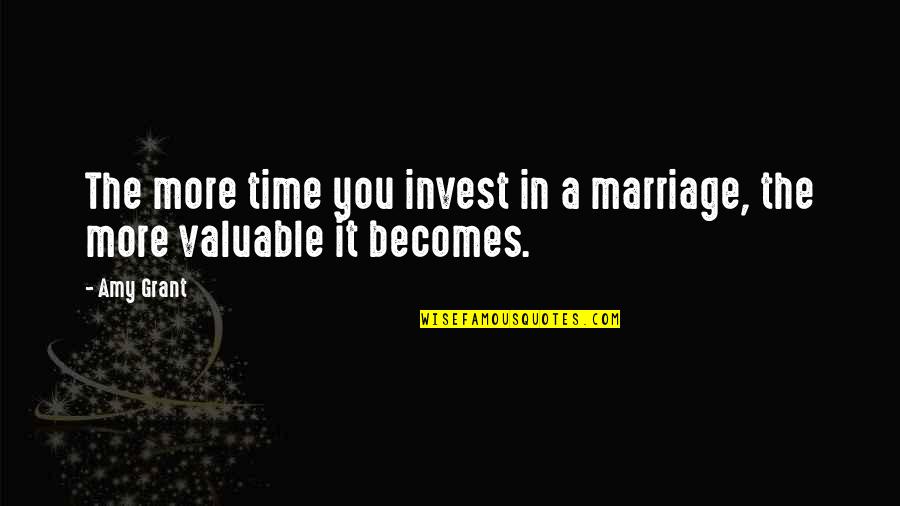 The more time you invest in a marriage, the more valuable it becomes. —
Amy Grant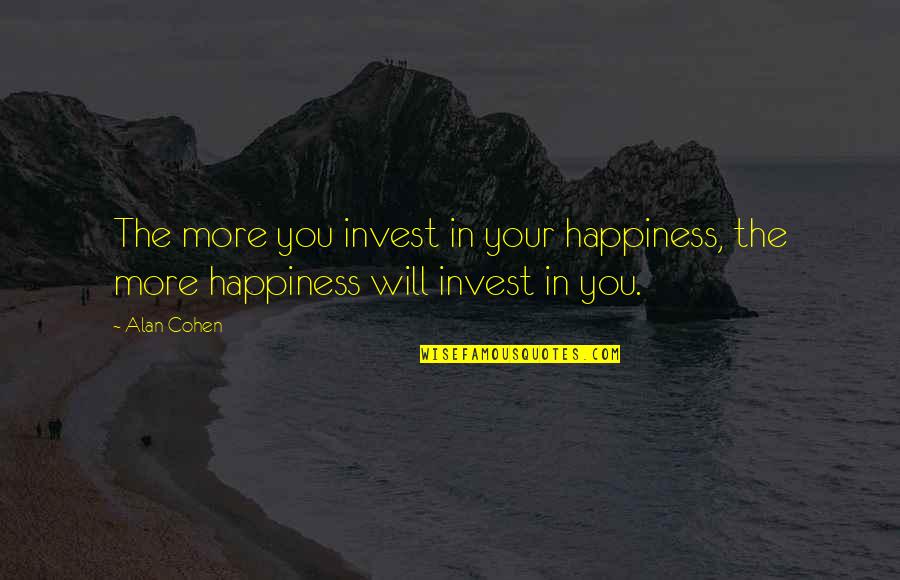 The more you invest
in your happiness, the more happiness will invest in you. —
Alan Cohen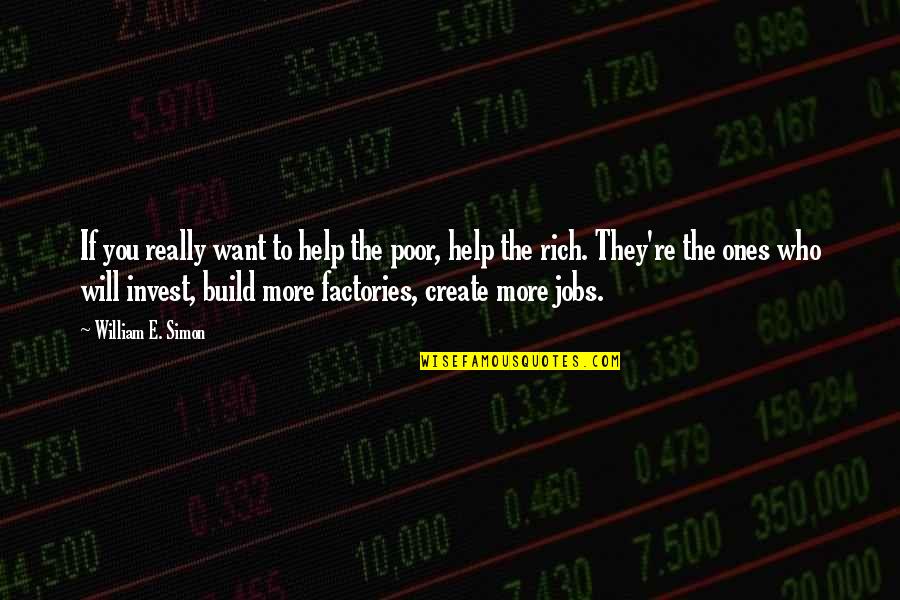 If you really want to help the poor, help the rich. They're the ones who will invest, build more factories, create more jobs. —
William E. Simon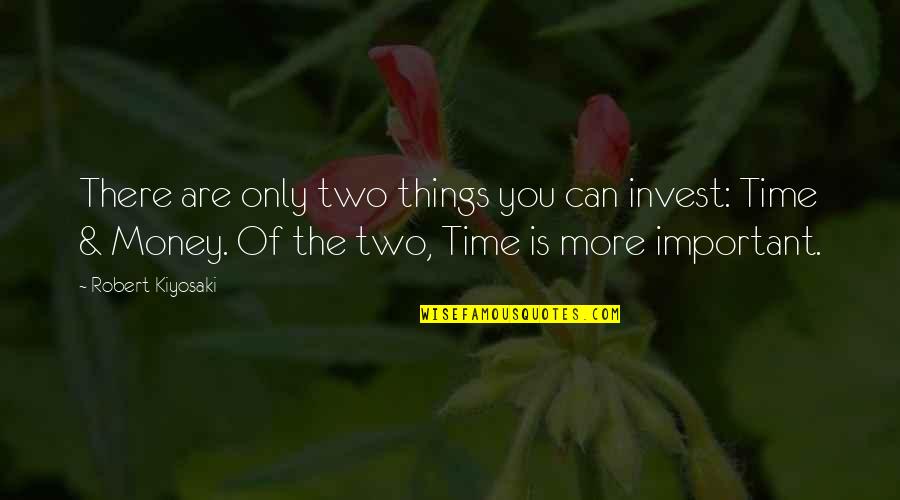 There are only two things you can invest: Time & Money. Of the two, Time is more important. —
Robert Kiyosaki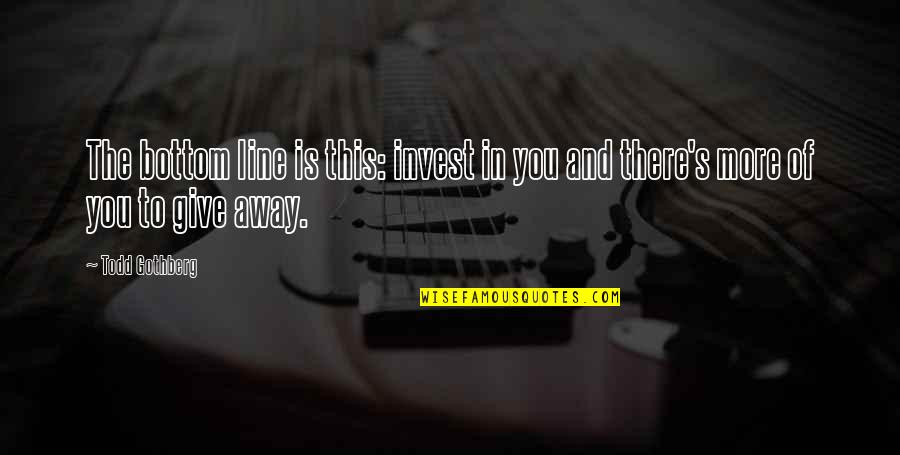 The bottom line is this: invest in you and there's more of you to give away. —
Todd Gothberg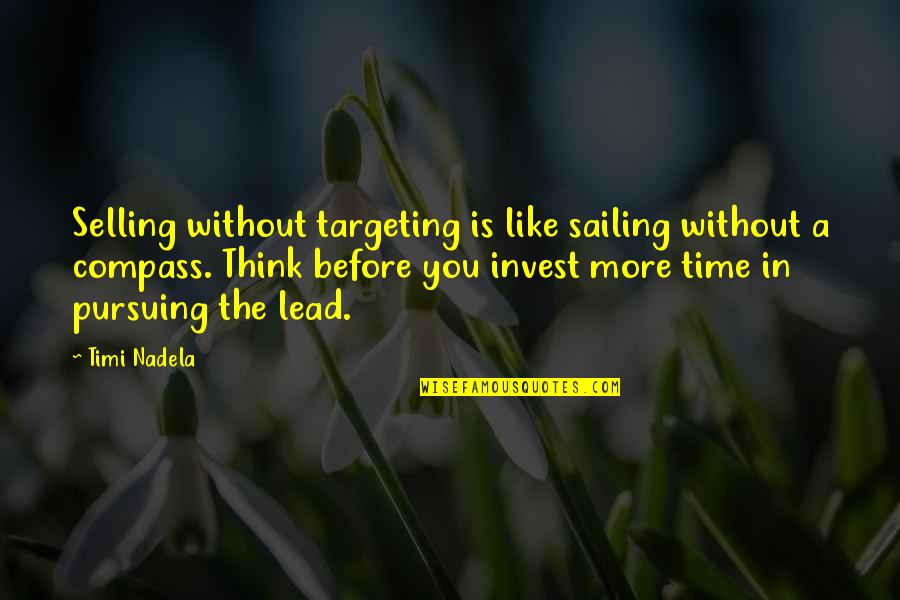 Selling without targeting is like sailing without a compass. Think before you invest more time in pursuing the lead. —
Timi Nadela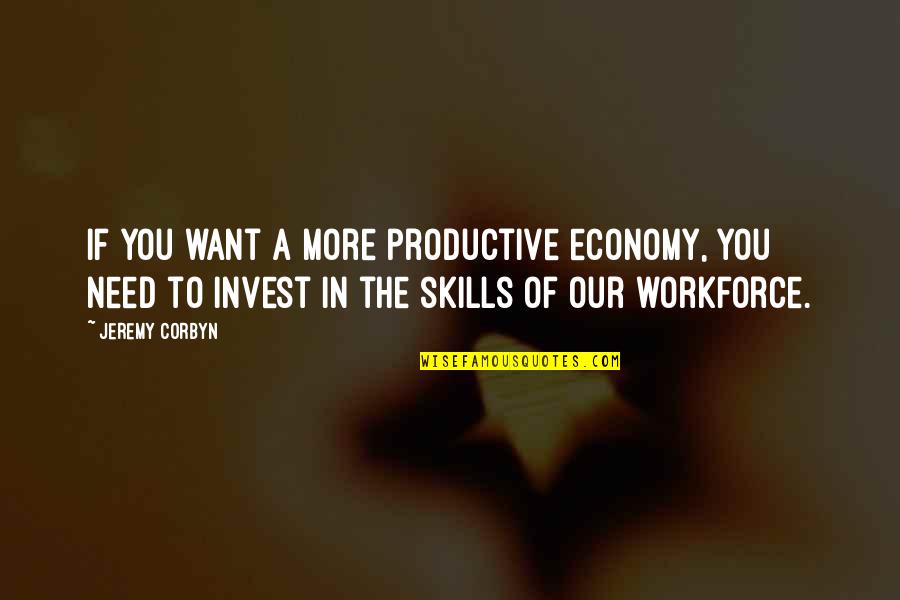 If you want a more productive economy, you need to invest in the skills of our workforce. —
Jeremy Corbyn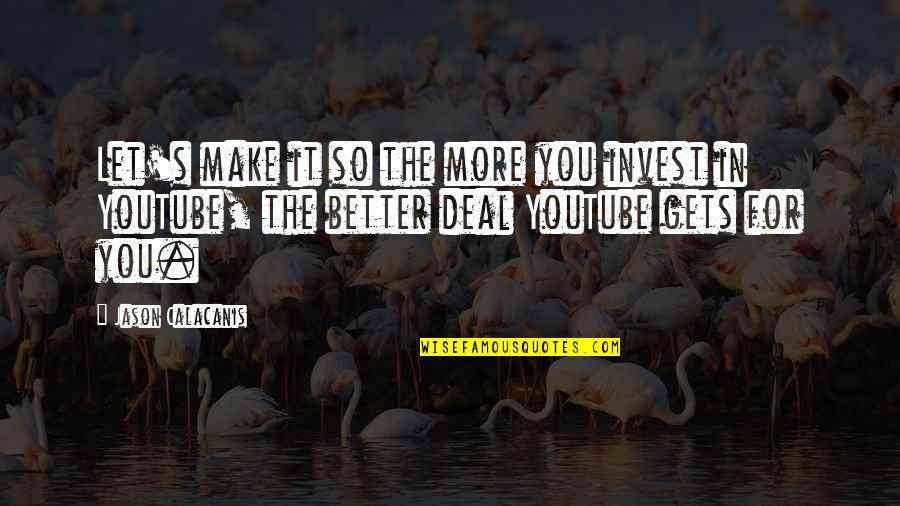 Let's make it so
the more you invest
in YouTube, the better deal YouTube gets for you. —
Jason Calacanis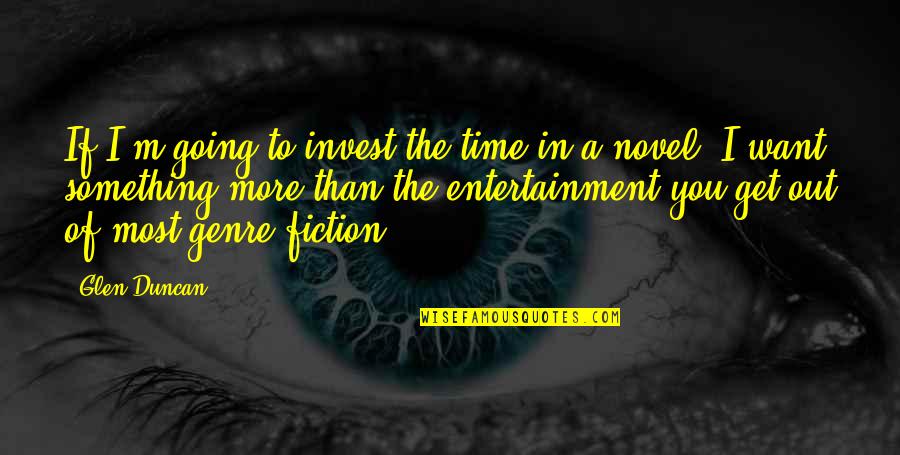 If I'm going to invest the time in a novel, I want something more than the entertainment you get out of most genre fiction. —
Glen Duncan