Margaret Mead Quotes
Collection of top 100 famous quotes about Margaret Mead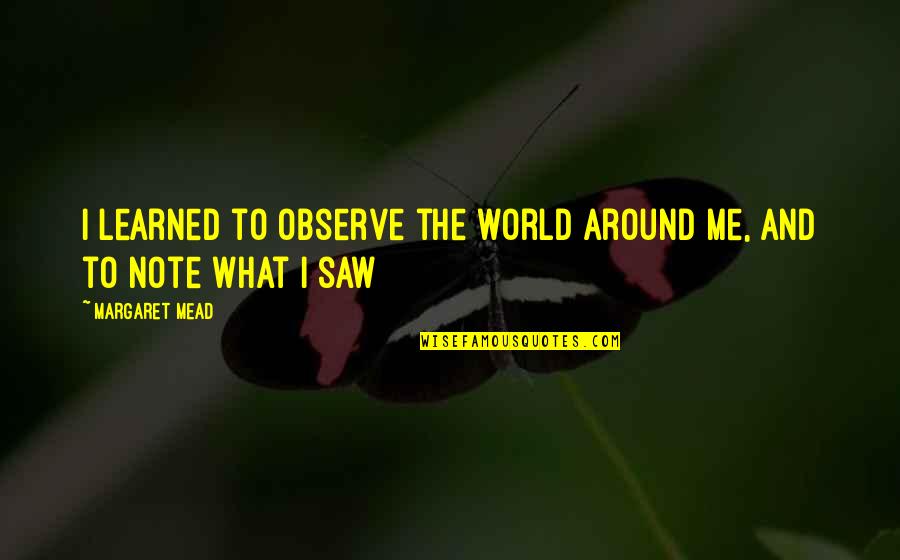 I learned to observe the world around me, and to note what I saw
—
Margaret Mead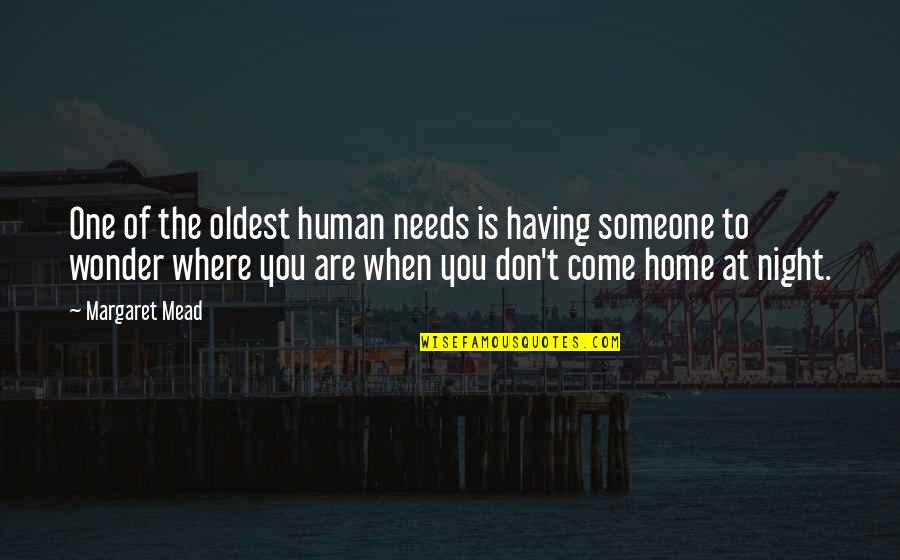 One of the oldest human needs is having someone to wonder where you are when you don't come home at night.
—
Margaret Mead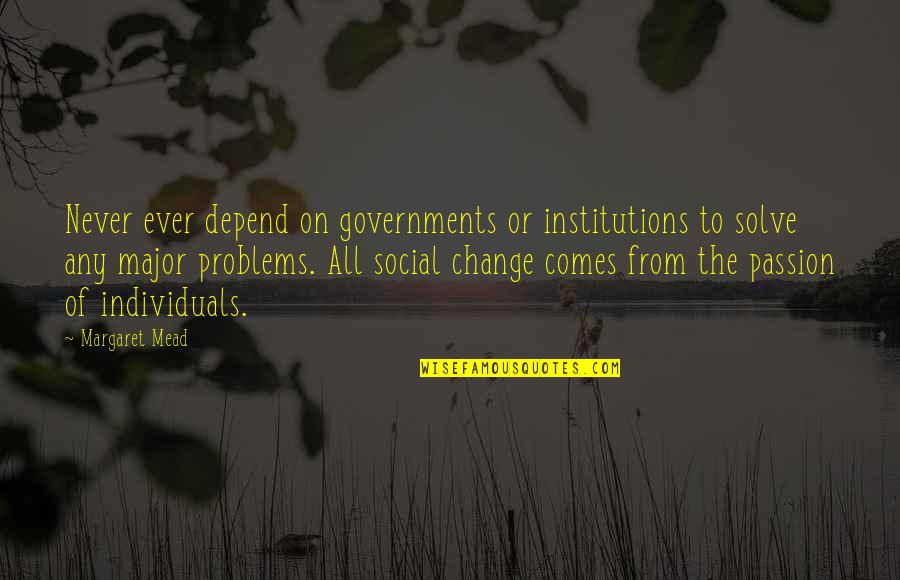 Never ever depend on governments or institutions to solve any major problems. All social change comes from the passion of individuals.
—
Margaret Mead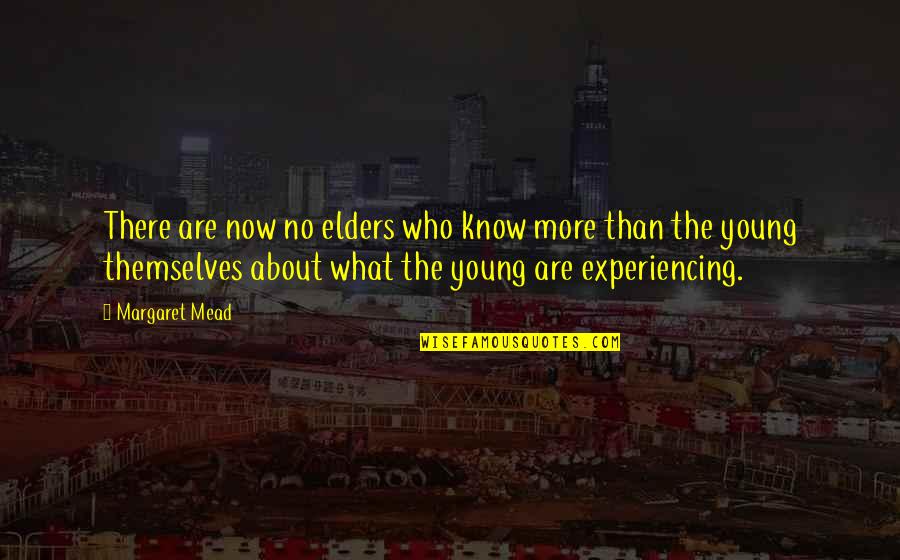 There are now no elders who know more than the young themselves about what the young are experiencing.
—
Margaret Mead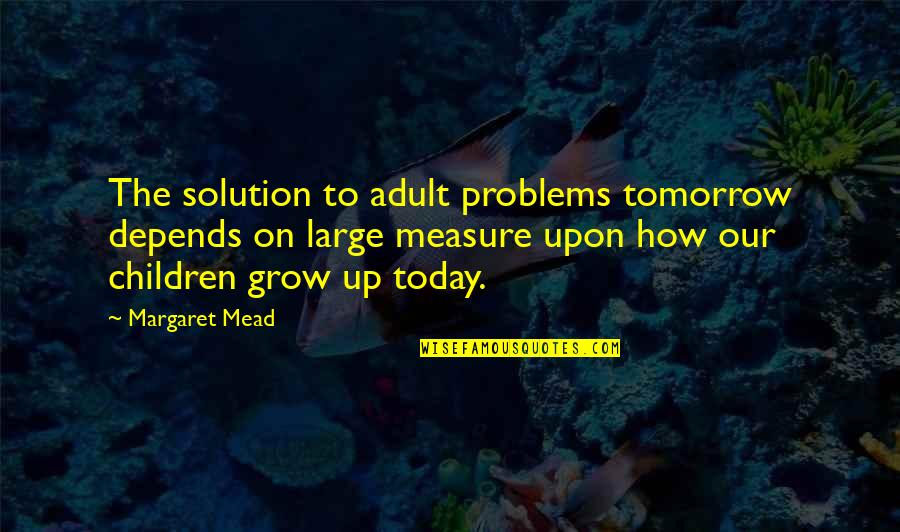 The solution to adult problems tomorrow depends on large measure upon how our children grow up today.
—
Margaret Mead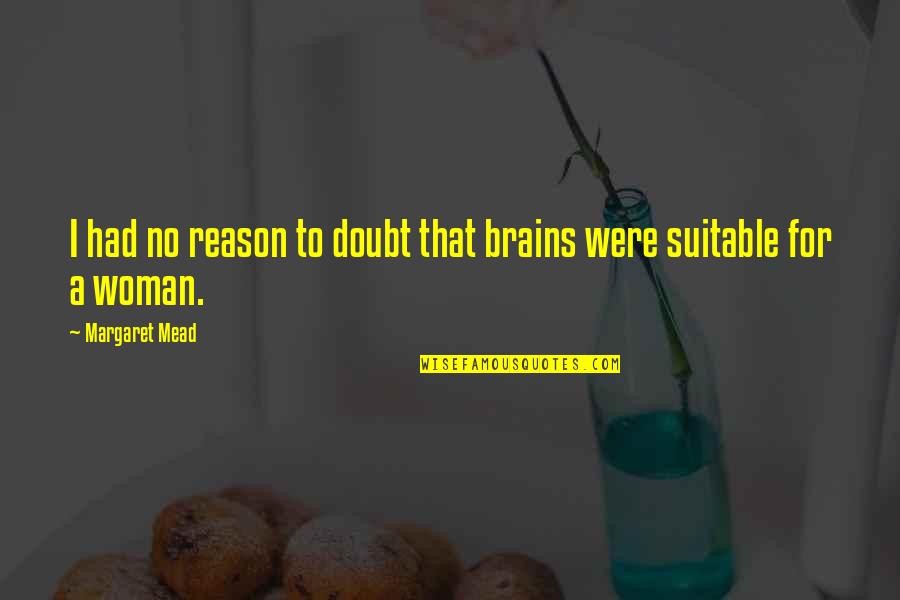 I had no reason to doubt that brains were suitable for a woman.
—
Margaret Mead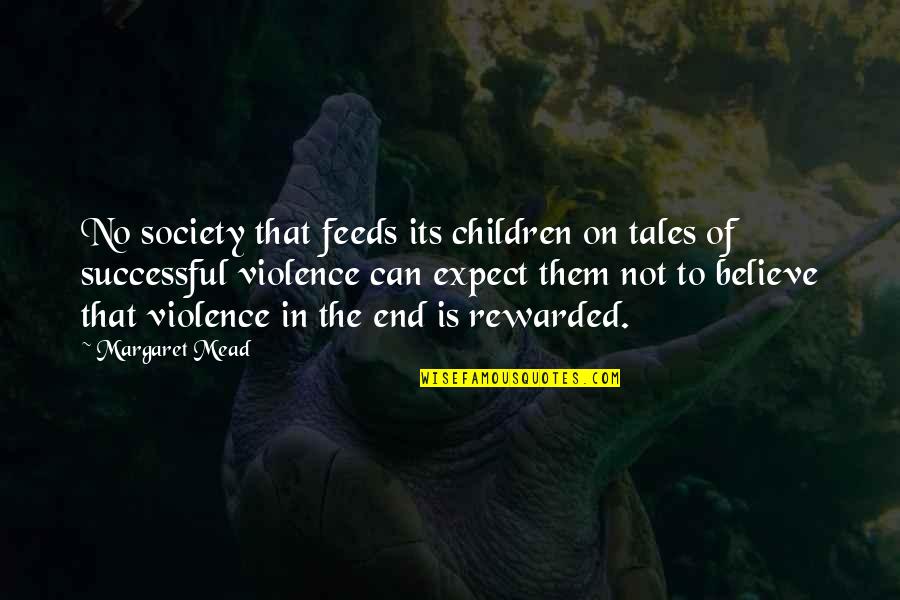 No society that feeds its children on tales of successful violence can expect them not to believe that violence in the end is rewarded.
—
Margaret Mead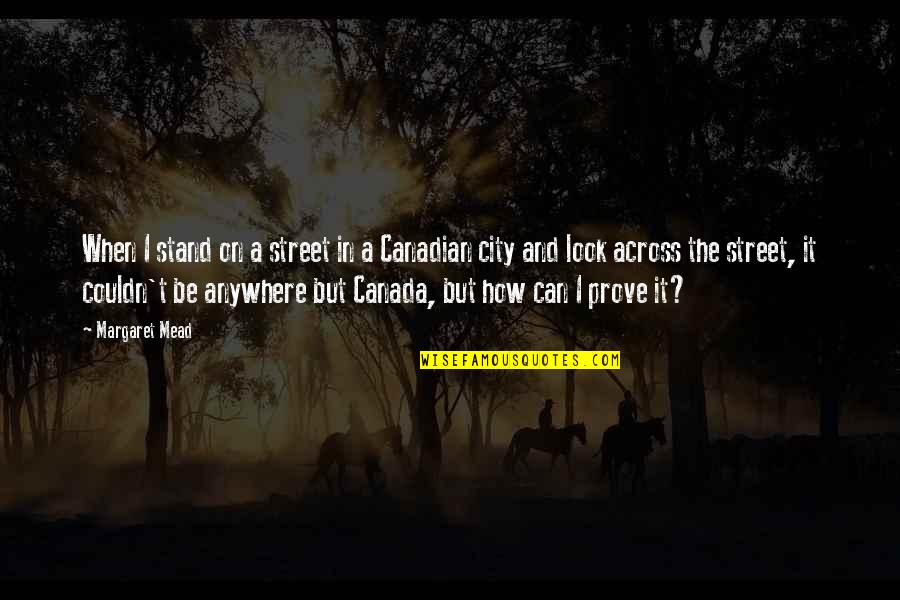 When I stand on a street in a Canadian city and look across the street, it couldn't be anywhere but Canada, but how can I prove it? —
Margaret Mead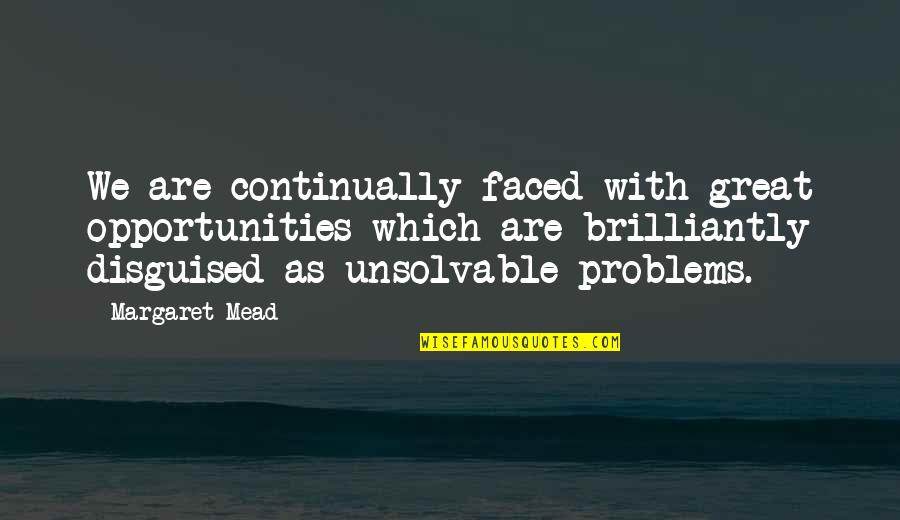 We are continually faced with great opportunities which are brilliantly disguised as unsolvable problems. —
Margaret Mead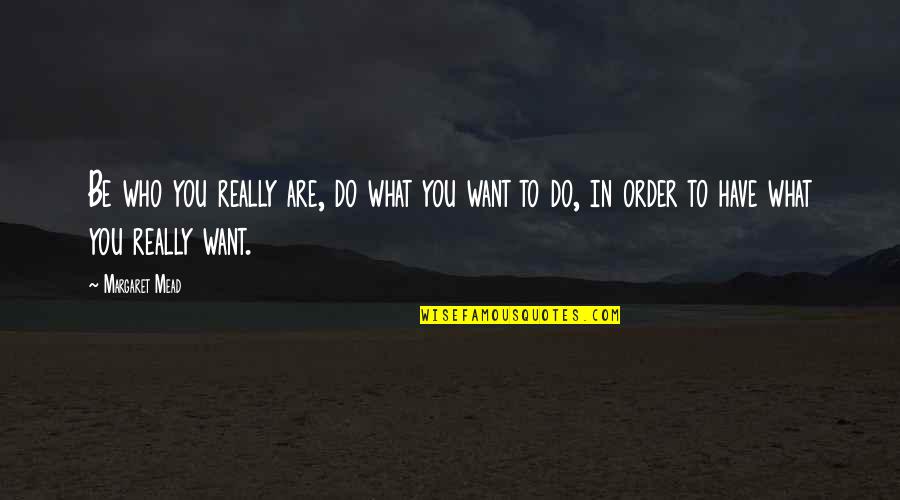 Be who you really are, do what you want to do, in order to have what you really want. —
Margaret Mead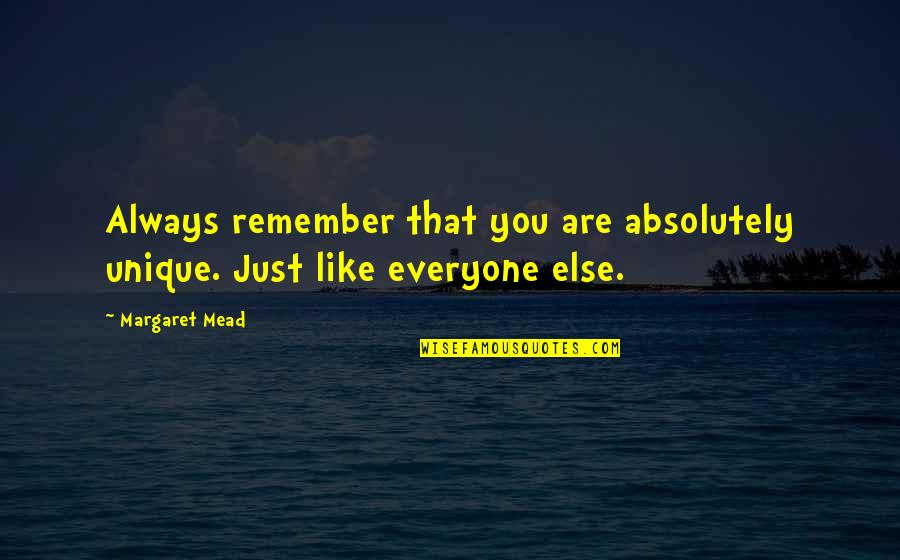 Always remember that you are absolutely unique. Just like everyone else. —
Margaret Mead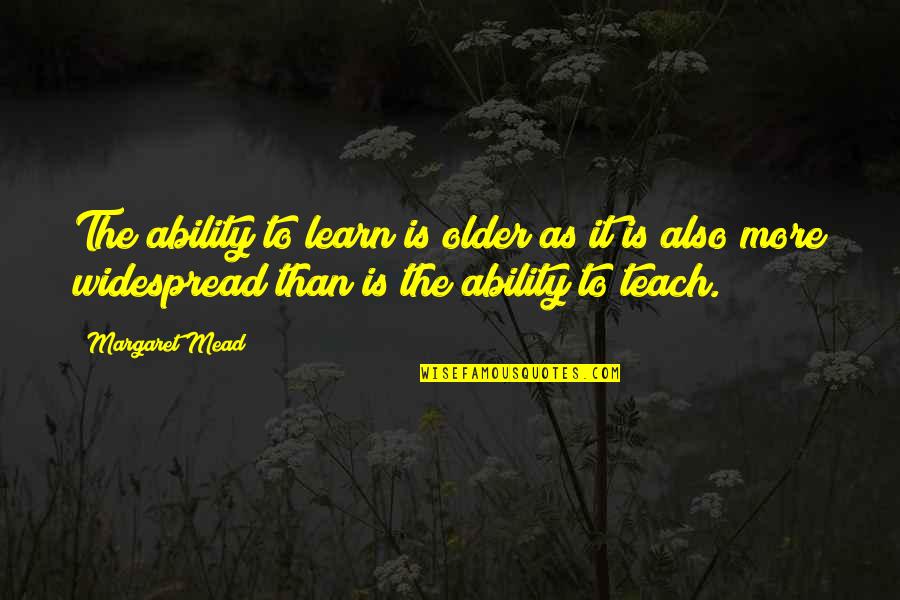 The ability to learn is older as it is also more widespread than is the ability to teach. —
Margaret Mead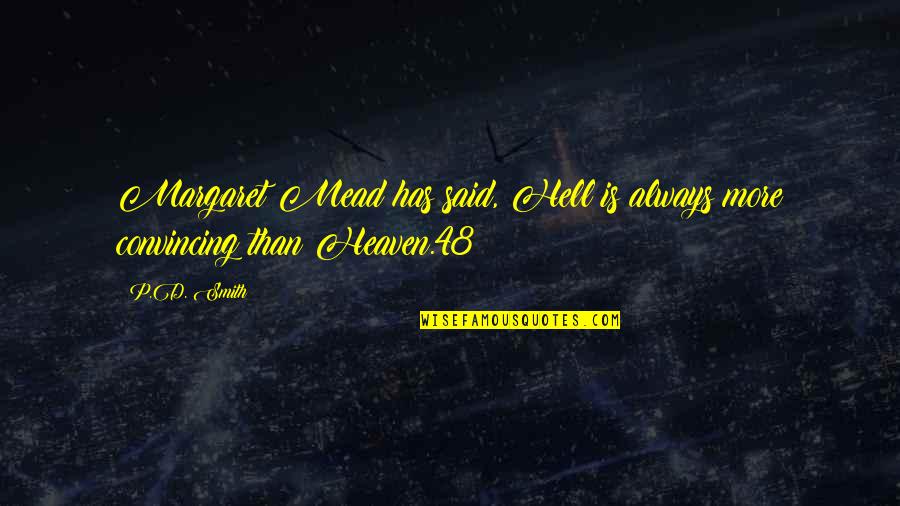 Margaret Mead has said, Hell is always more convincing than Heaven.48 —
P.D. Smith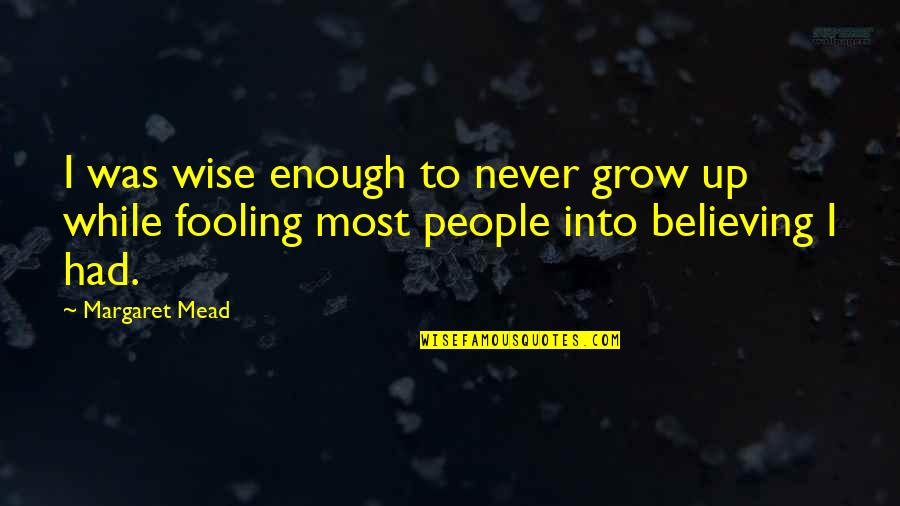 I was wise enough to never grow up while fooling most people into believing I had. —
Margaret Mead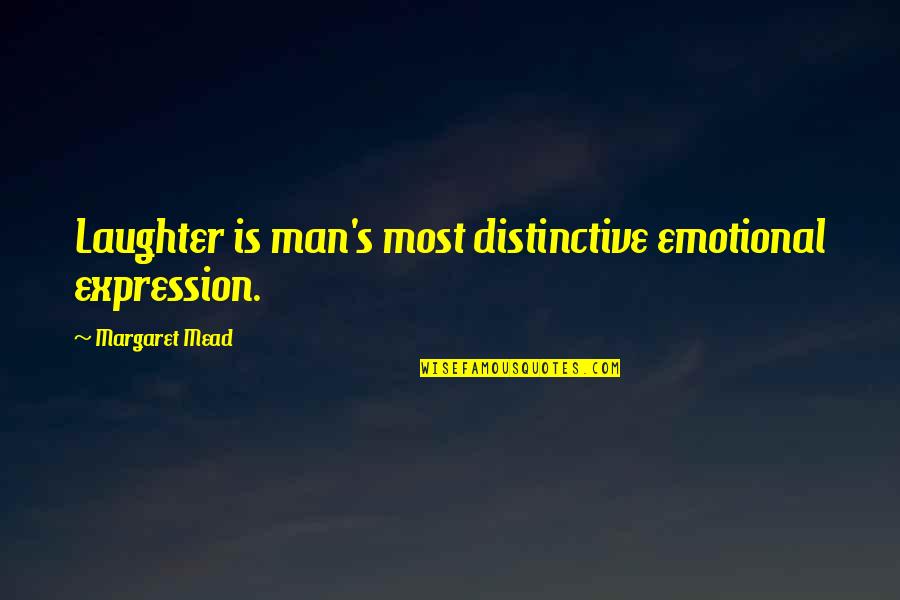 Laughter is man's most distinctive emotional expression. —
Margaret Mead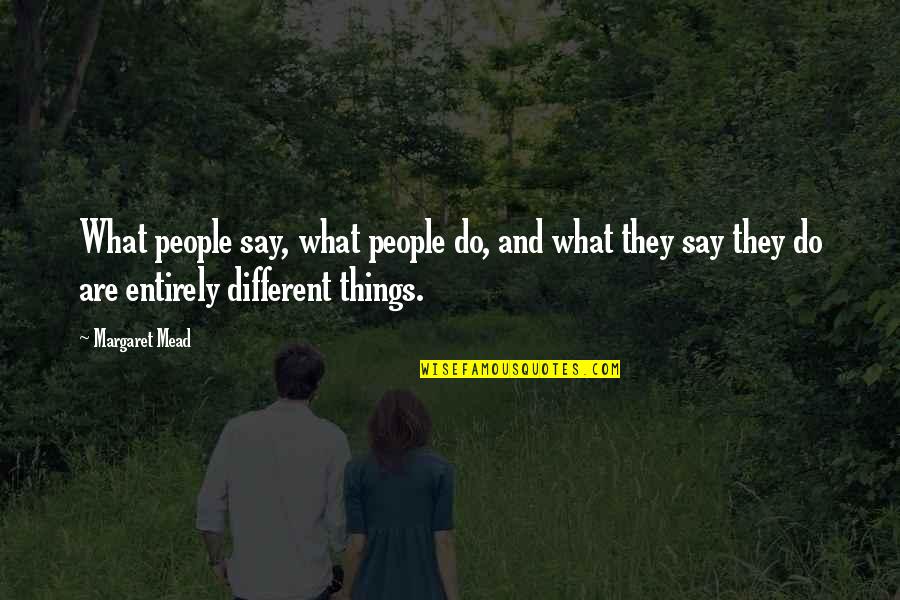 What people say, what people do, and what they say they do are entirely different things. —
Margaret Mead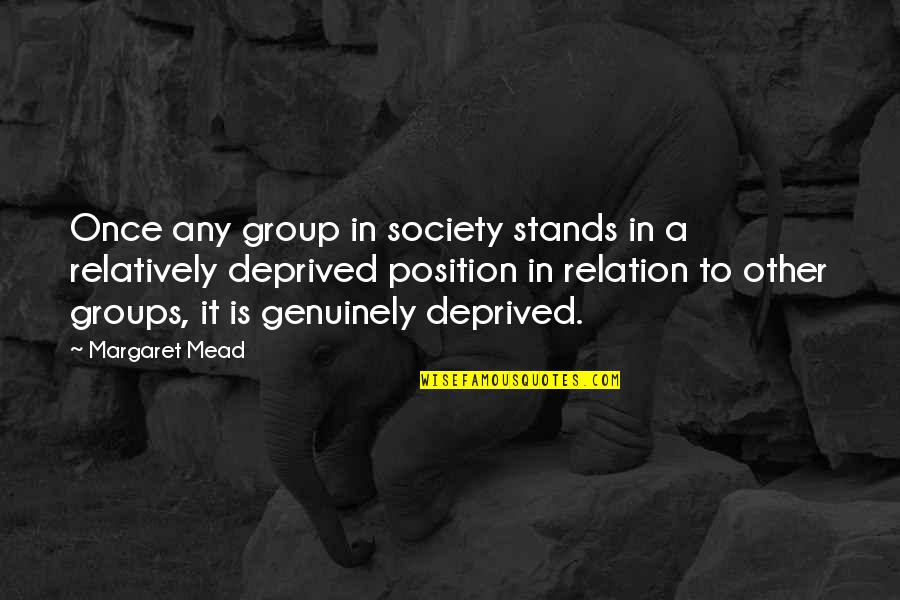 Once any group in society stands in a relatively deprived position in relation to other groups, it is genuinely deprived. —
Margaret Mead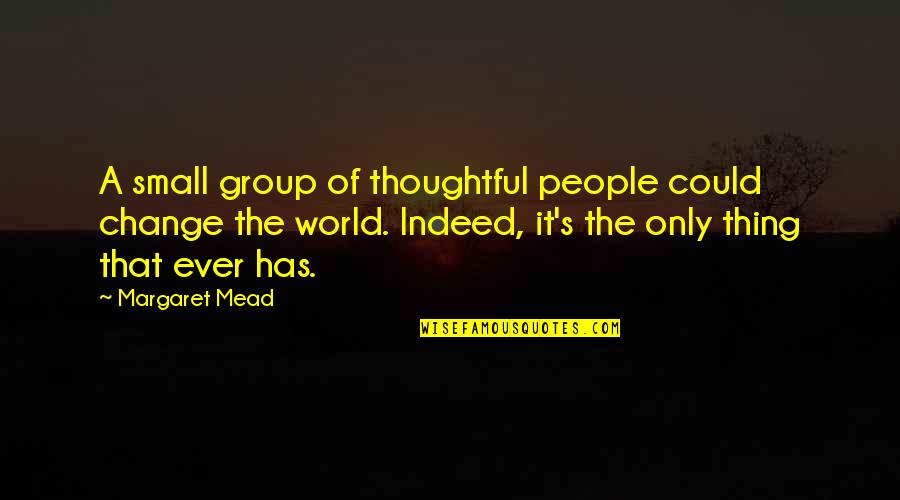 A small group of thoughtful people could change the world. Indeed, it's the only thing that ever has. —
Margaret Mead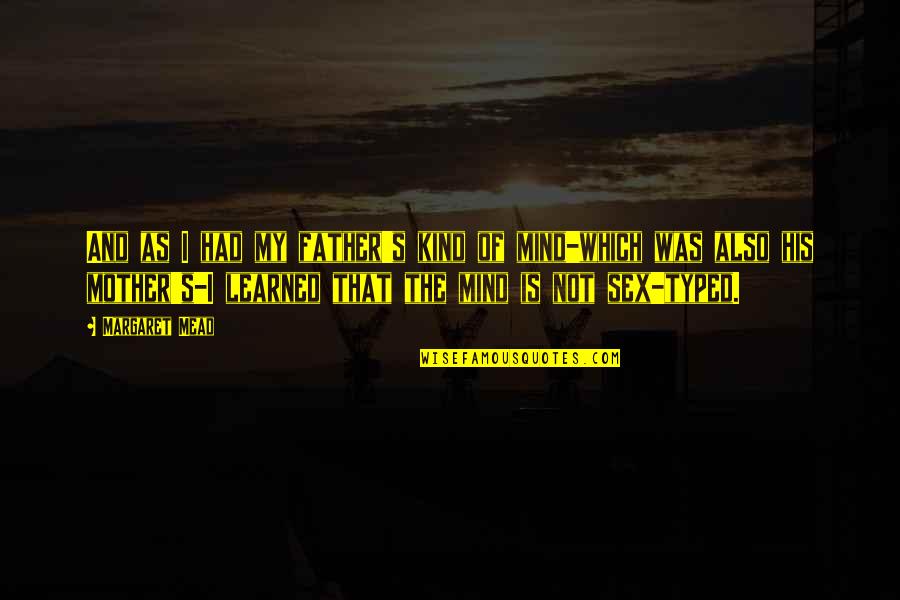 And as I had my father's kind of mind-which was also his mother's-I learned that the mind is not sex-typed. —
Margaret Mead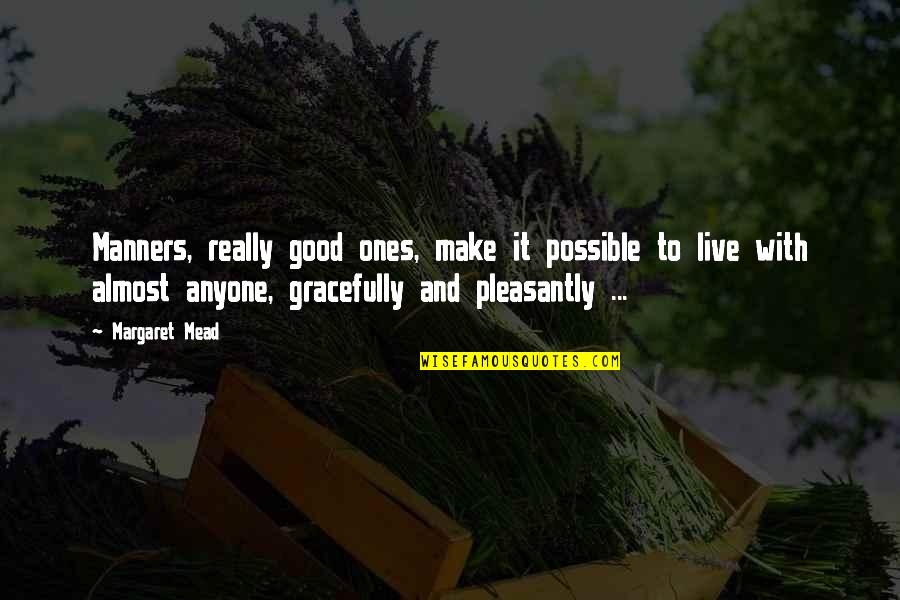 Manners, really good ones, make it possible to live with almost anyone, gracefully and pleasantly ... —
Margaret Mead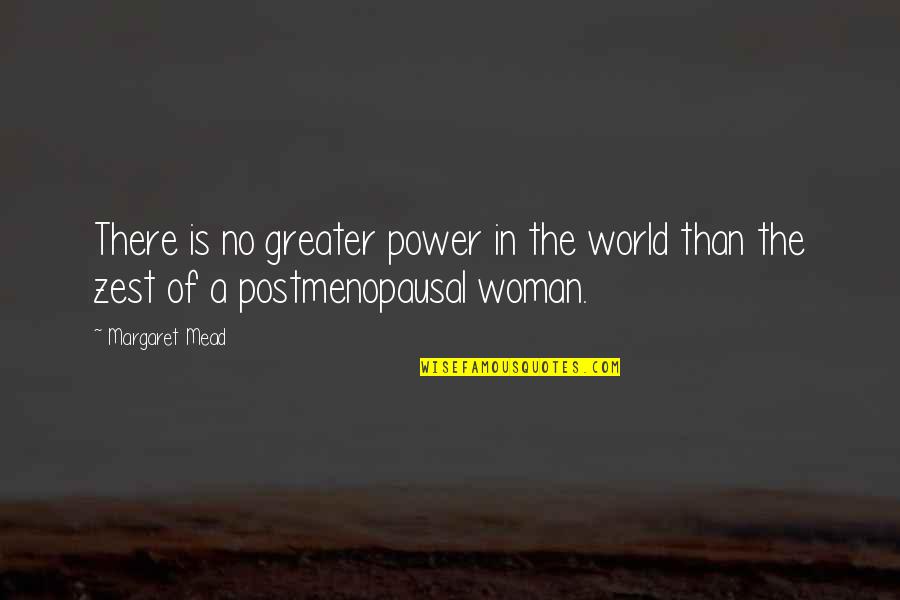 There is no greater power in the world than the zest of a postmenopausal woman. —
Margaret Mead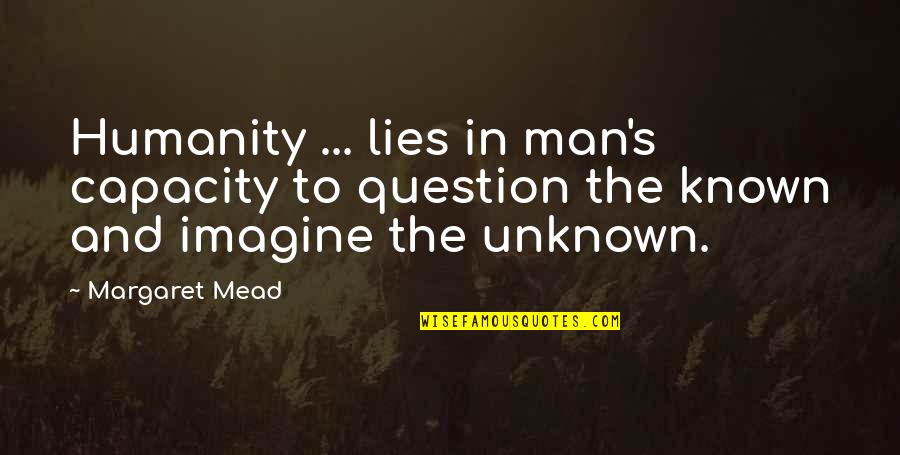 Humanity ... lies in man's capacity to question the known and imagine the unknown. —
Margaret Mead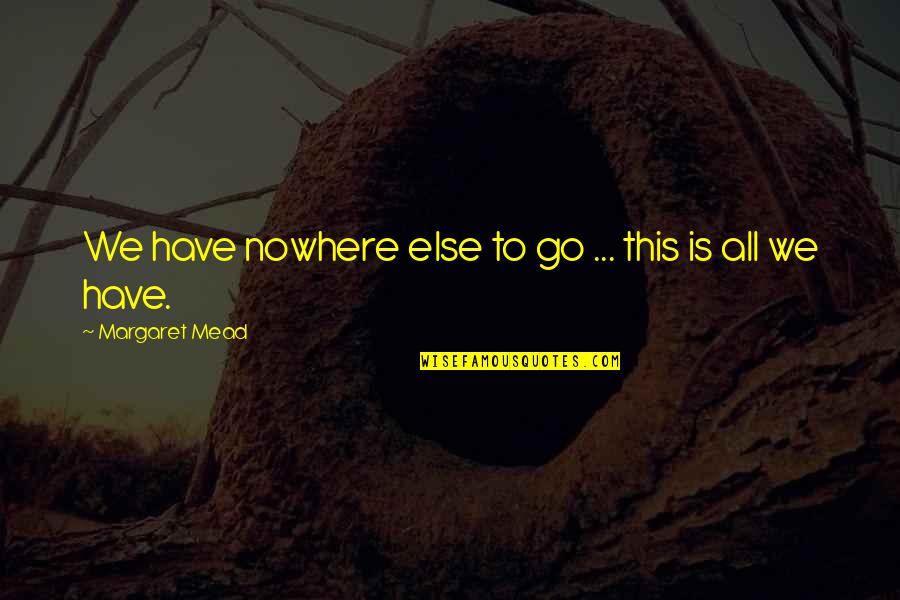 We have nowhere else to go ... this is all we have. —
Margaret Mead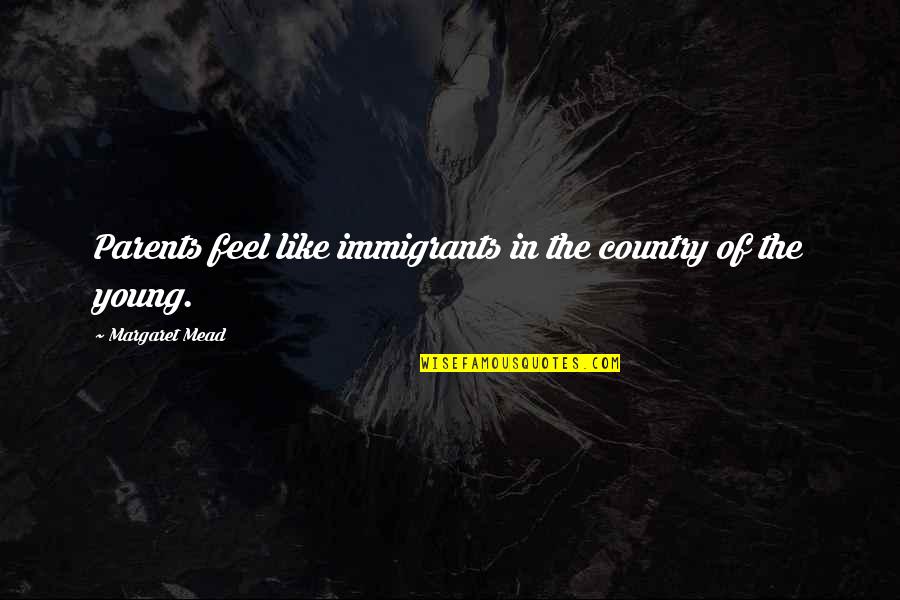 Parents feel like immigrants in the country of the young. —
Margaret Mead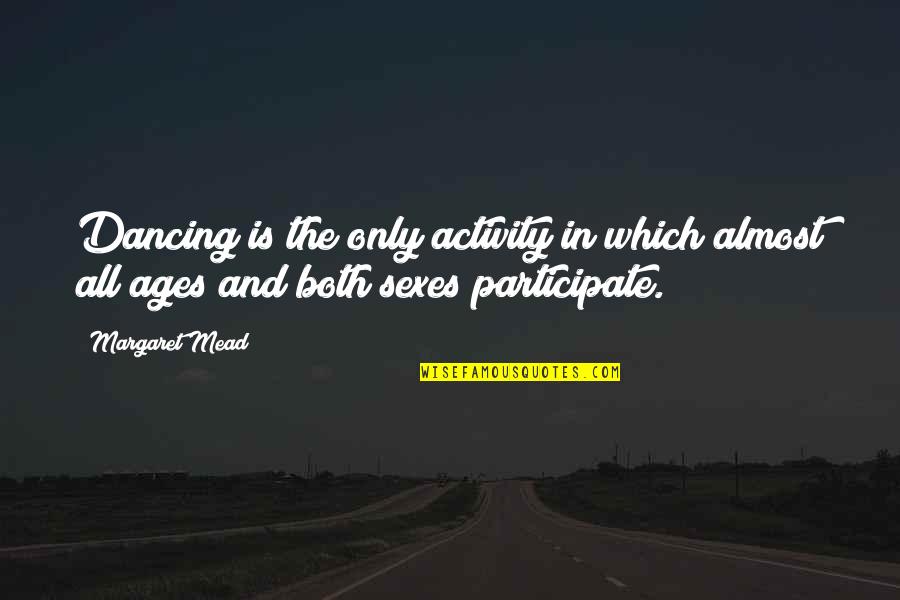 Dancing is the only activity in which almost all ages and both sexes participate. —
Margaret Mead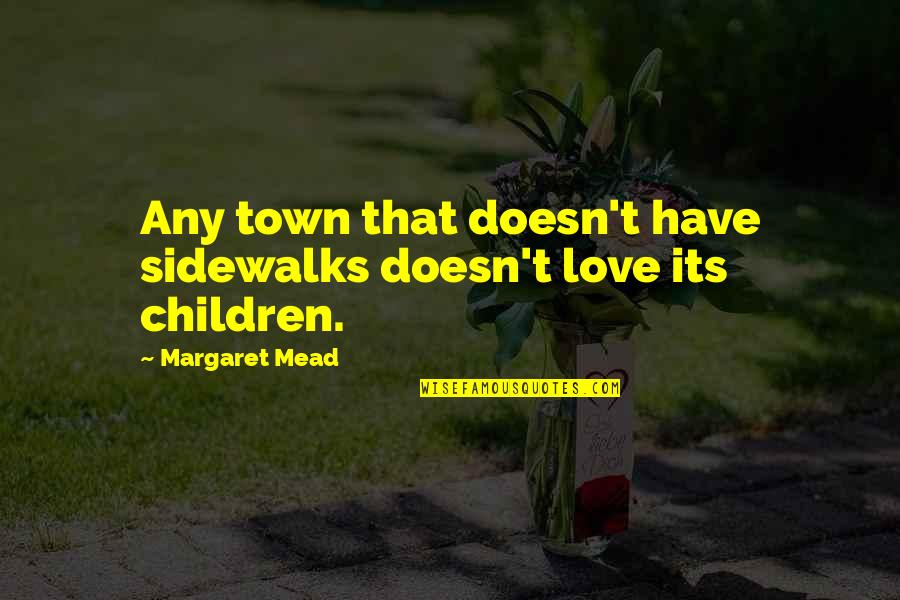 Any town that doesn't have sidewalks doesn't love its children. —
Margaret Mead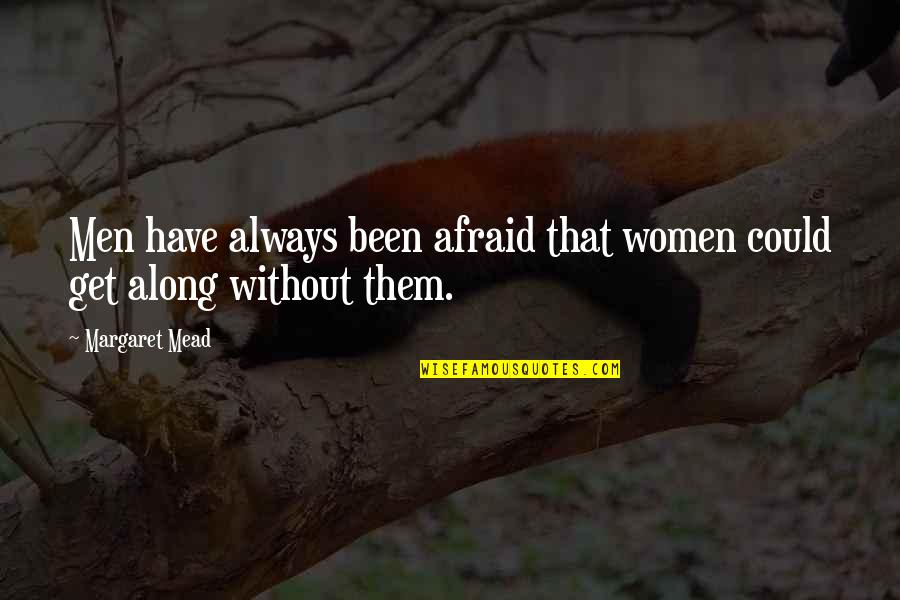 Men have always been afraid that women could get along without them. —
Margaret Mead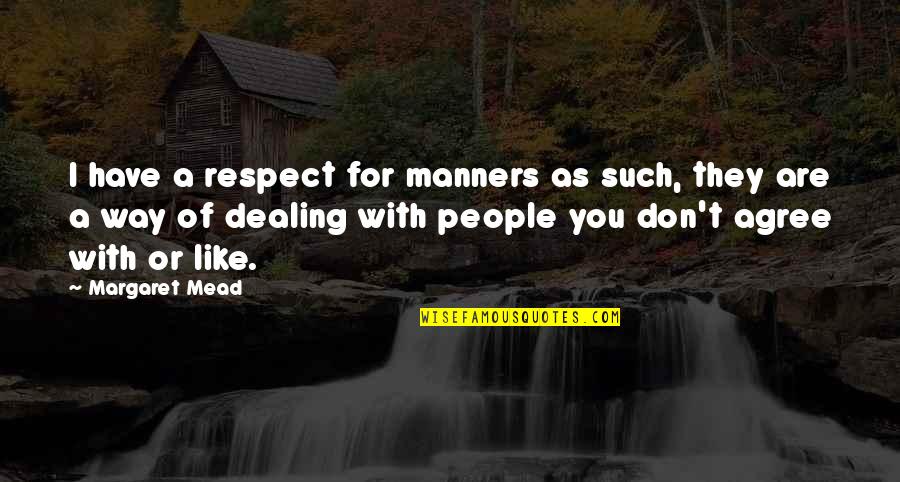 I have a respect for manners as such, they are a way of dealing with people you don't agree with or like. —
Margaret Mead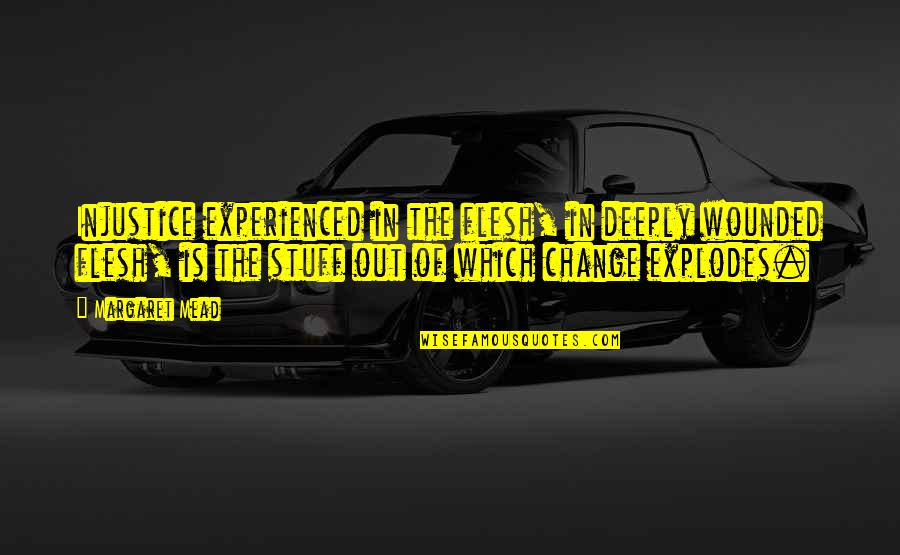 Injustice experienced in the flesh, in deeply wounded flesh, is the stuff out of which change explodes. —
Margaret Mead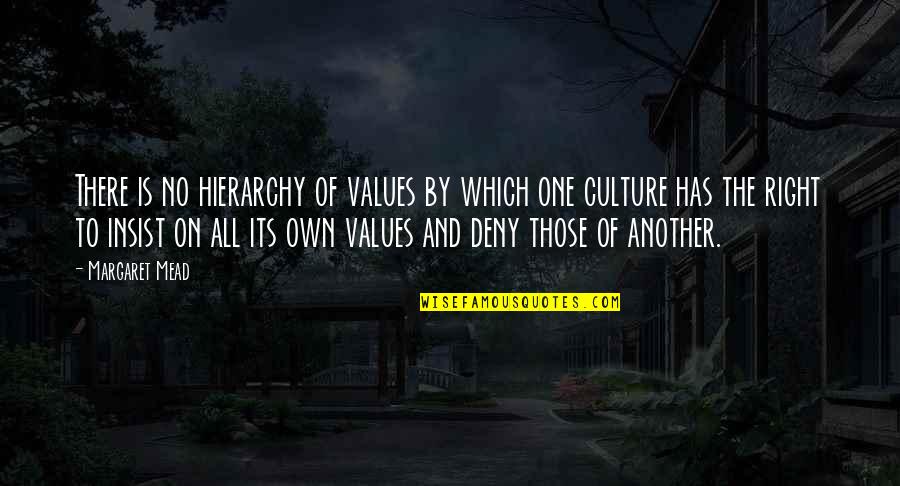 There is no hierarchy of values by which one culture has the right to insist on all its own values and deny those of another. —
Margaret Mead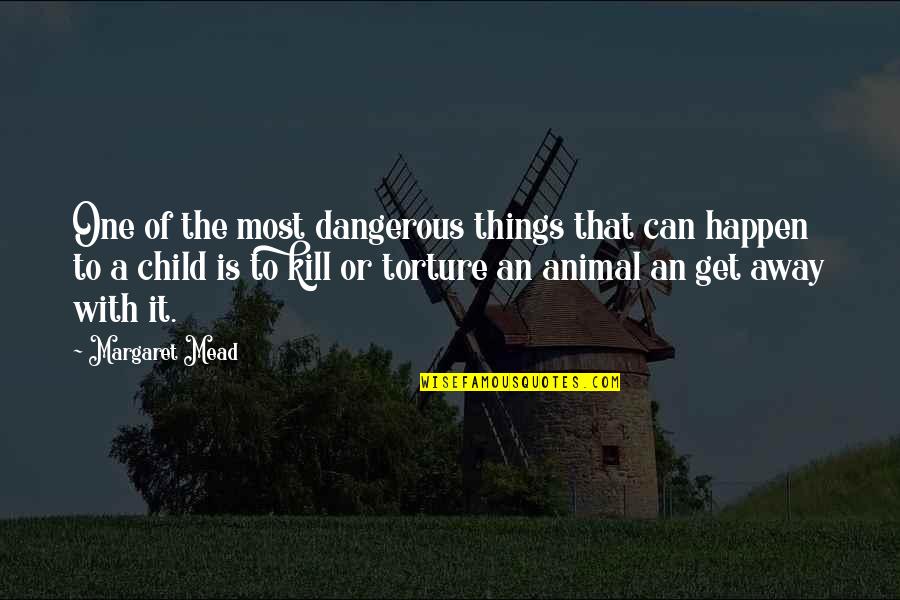 One of the most dangerous things that can happen to a child is to kill or torture an animal an get away with it. —
Margaret Mead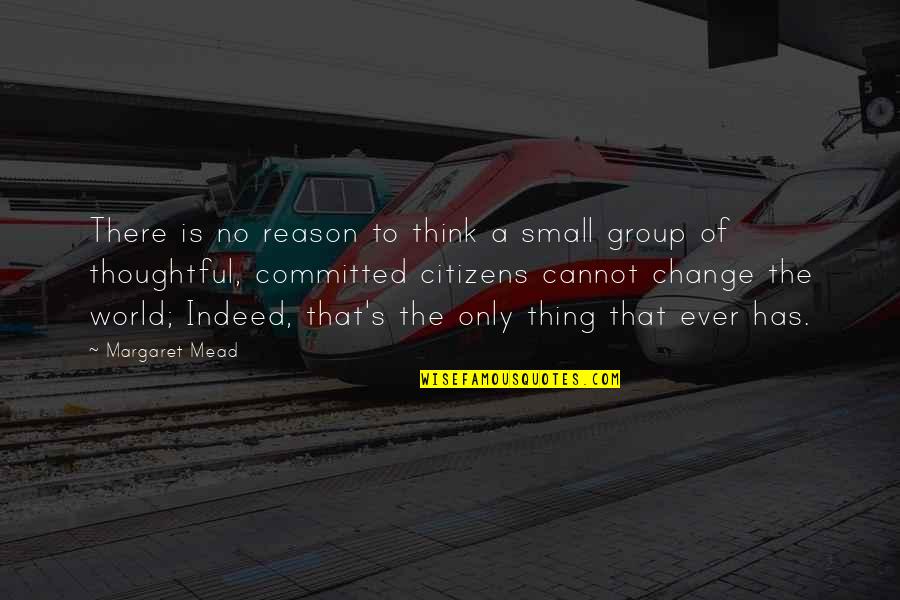 There is no reason to think a small group of thoughtful, committed citizens cannot change the world; Indeed, that's the only thing that ever has. —
Margaret Mead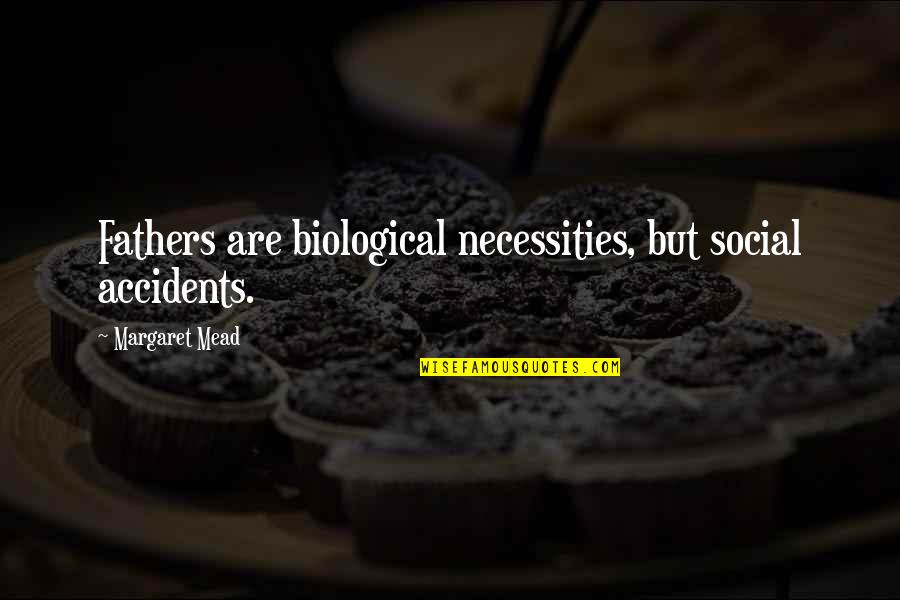 Fathers are biological necessities, but social accidents. —
Margaret Mead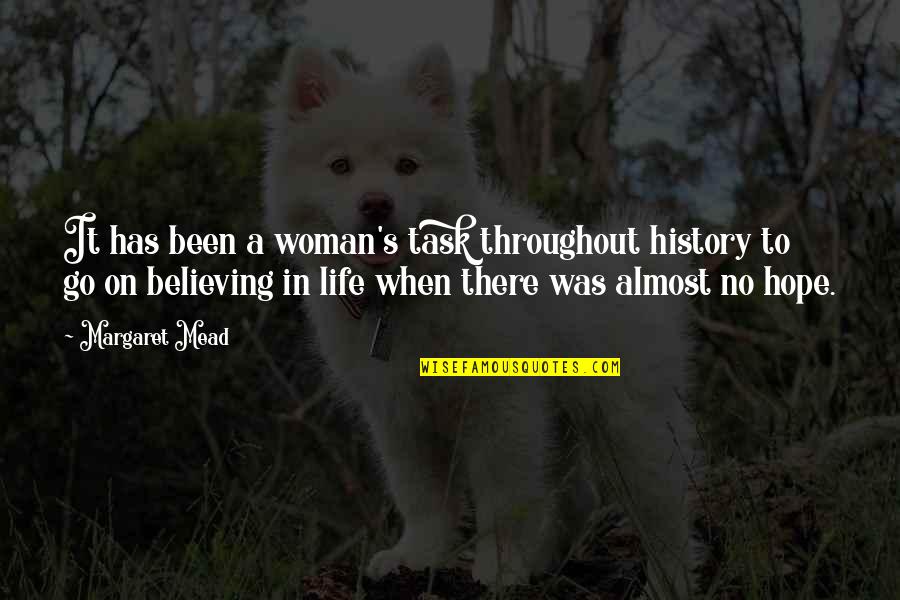 It has been a woman's task throughout history to go on believing in life when there was almost no hope. —
Margaret Mead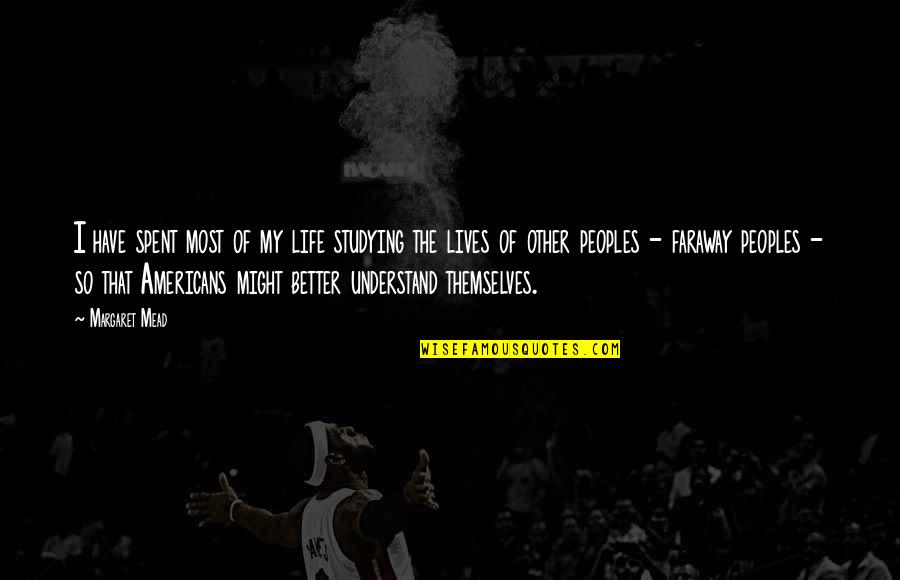 I have spent most of my life studying the lives of other peoples - faraway peoples - so that Americans might better understand themselves. —
Margaret Mead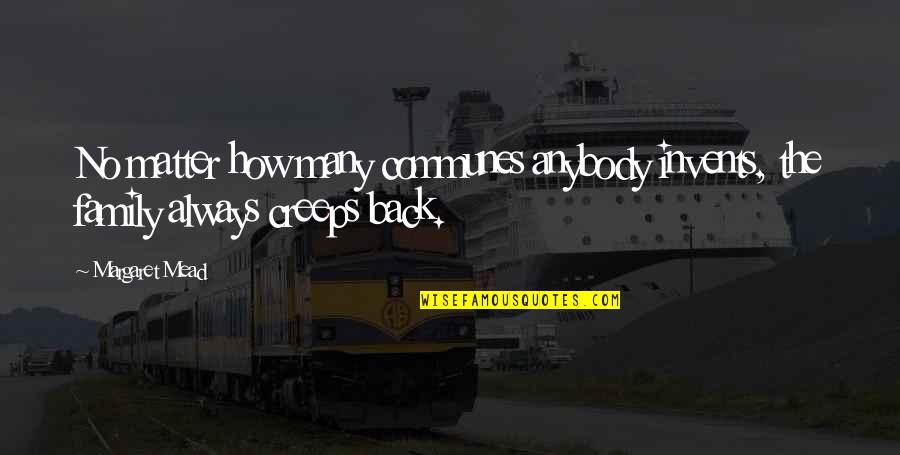 No matter how many communes anybody invents, the family always creeps back. —
Margaret Mead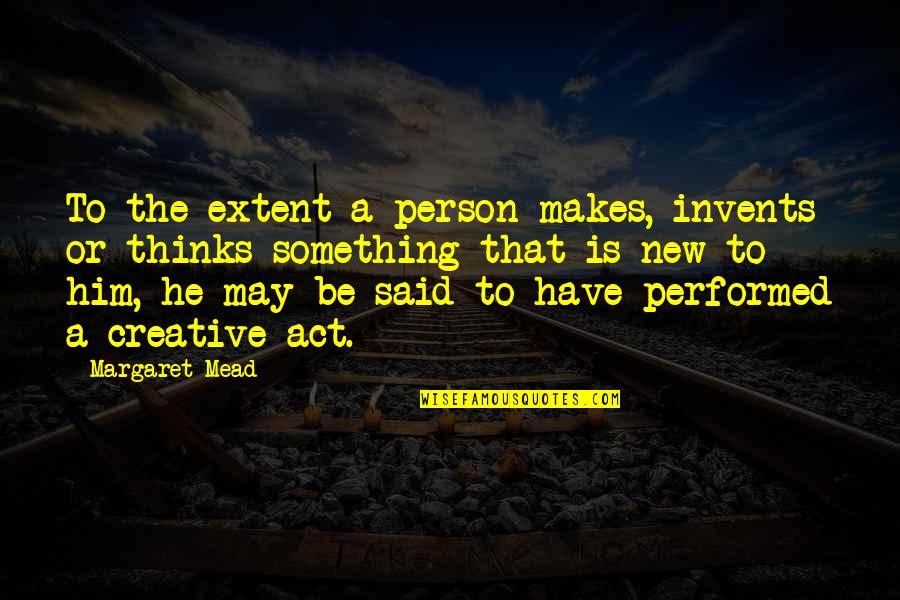 To the extent a person makes, invents or thinks something that is new to him, he may be said to have performed a creative act. —
Margaret Mead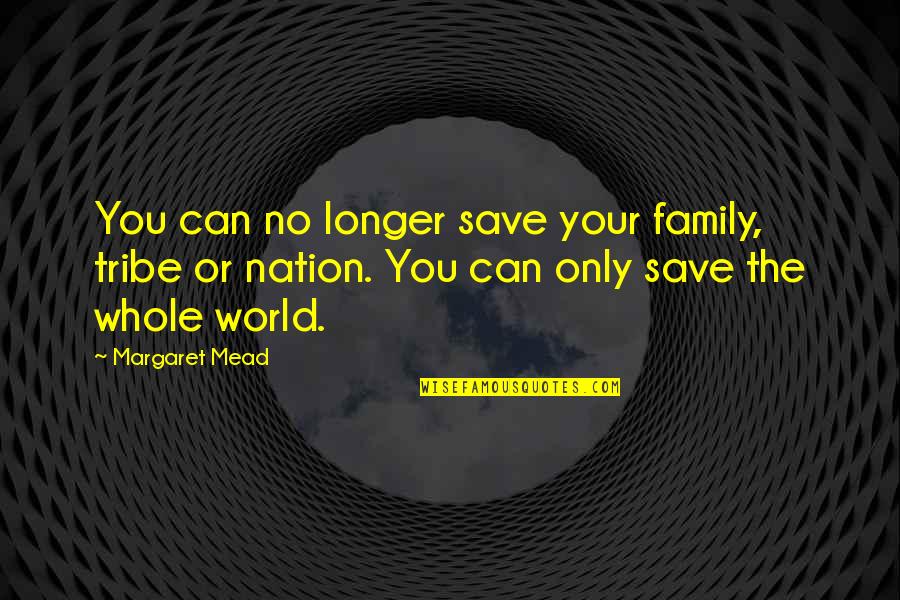 You can no longer save your family, tribe or nation. You can only save the whole world. —
Margaret Mead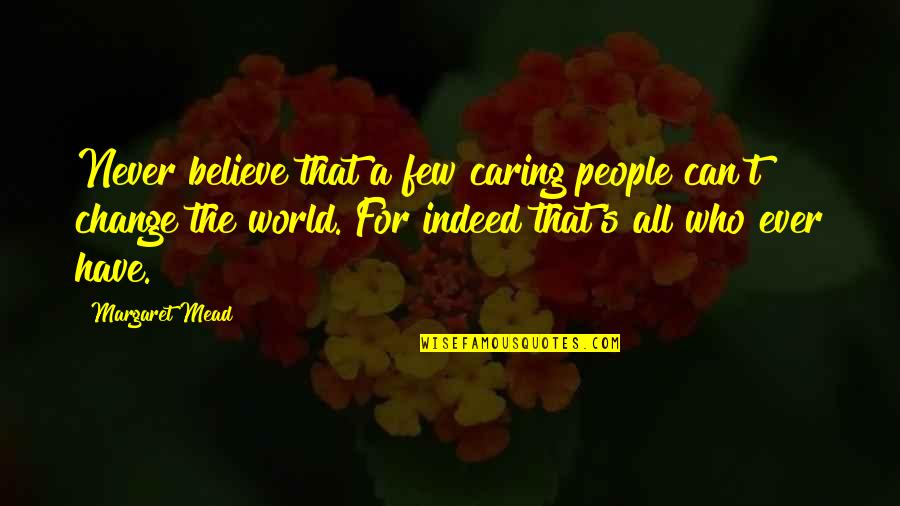 Never believe that a few caring people can't change the world. For indeed that's all who ever have. —
Margaret Mead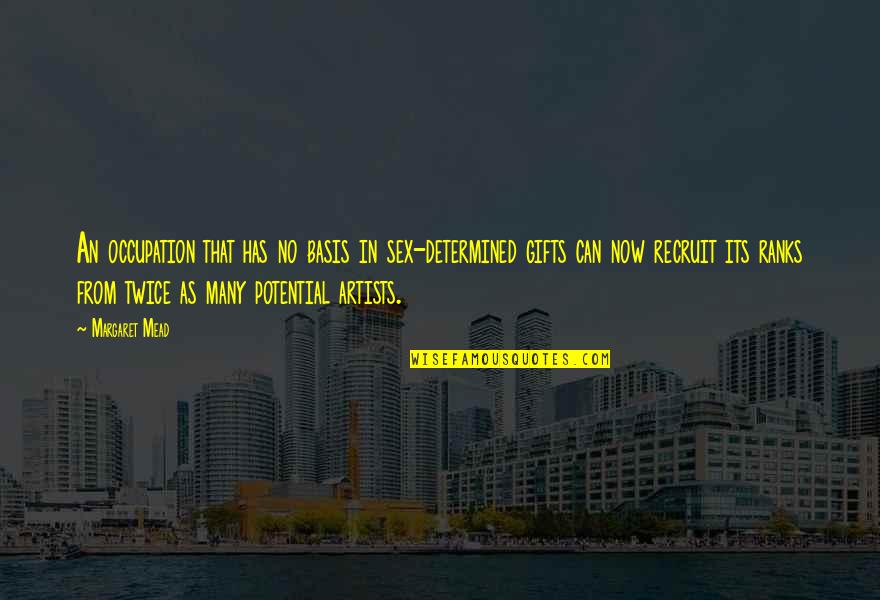 An occupation that has no basis in sex-determined gifts can now recruit its ranks from twice as many potential artists. —
Margaret Mead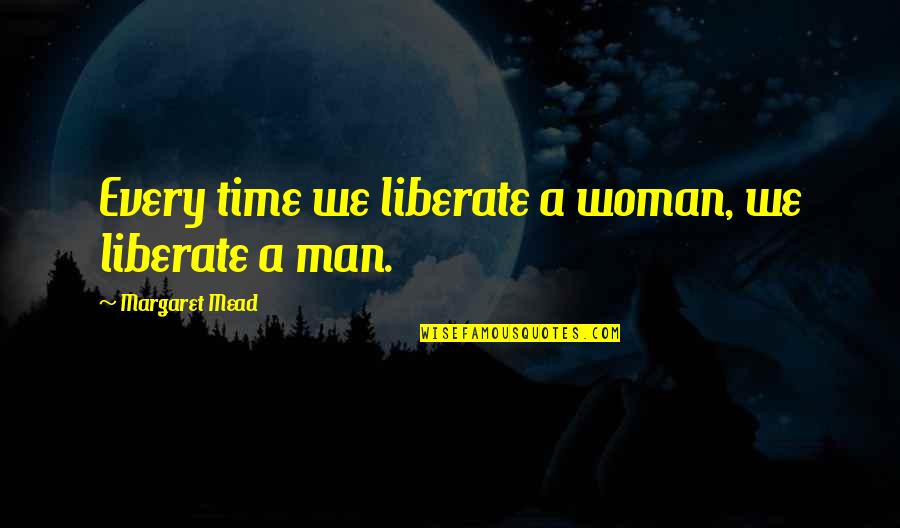 Every time we liberate a woman, we liberate a man. —
Margaret Mead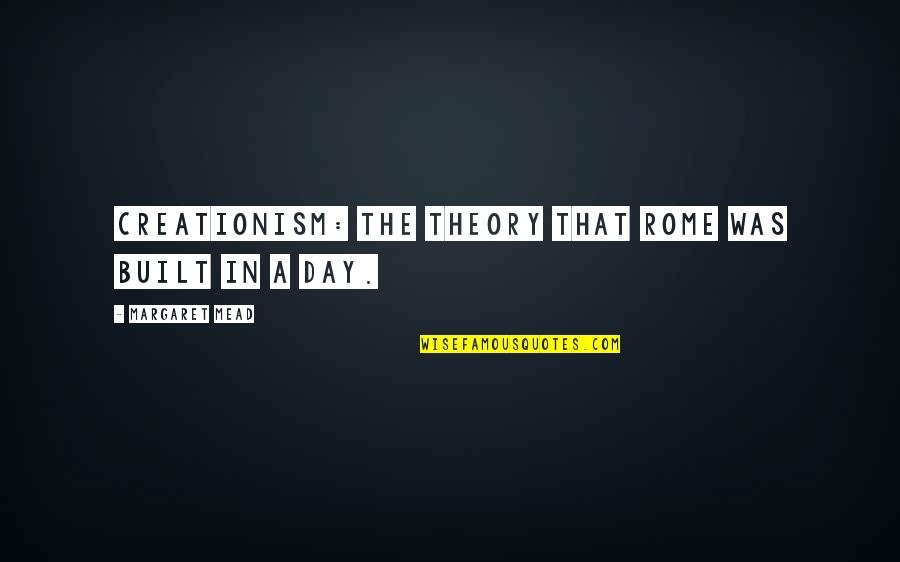 Creationism: the theory that Rome was built in a day. —
Margaret Mead
In the presence of grandparent and grandchild, past and future merge in the present. —
Margaret Mead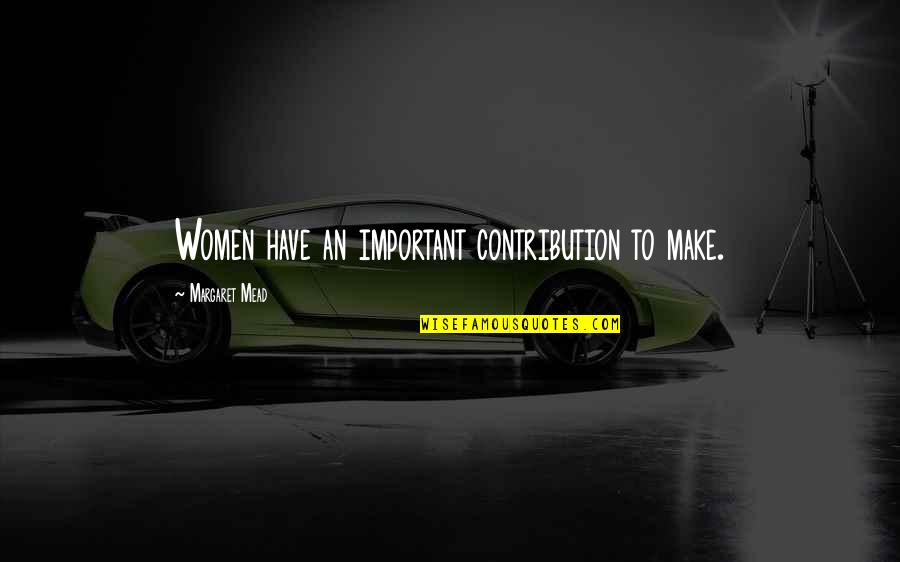 Women have an important contribution to make. —
Margaret Mead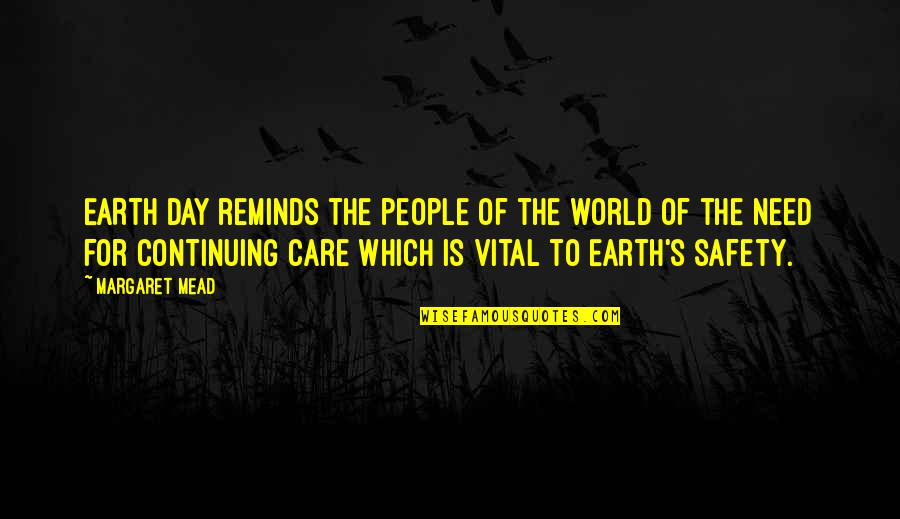 EARTH DAY reminds the people of the world of the need for continuing care which is vital to Earth's safety. —
Margaret Mead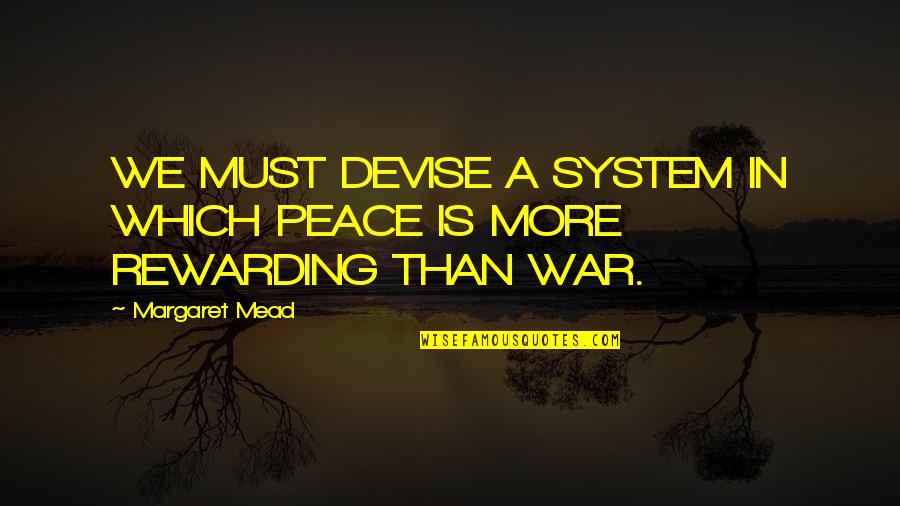 WE MUST DEVISE A SYSTEM IN WHICH PEACE IS MORE REWARDING THAN WAR. —
Margaret Mead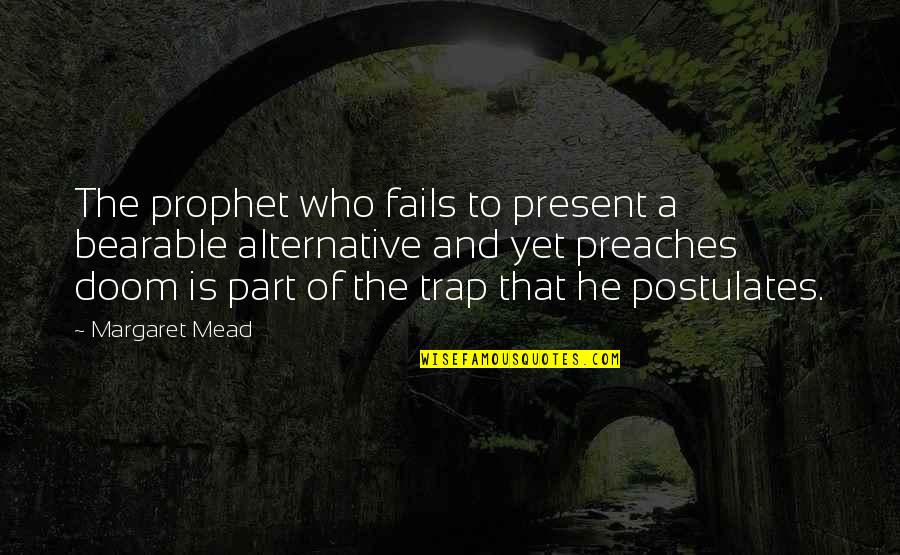 The prophet who fails to present a bearable alternative and yet preaches doom is part of the trap that he postulates. —
Margaret Mead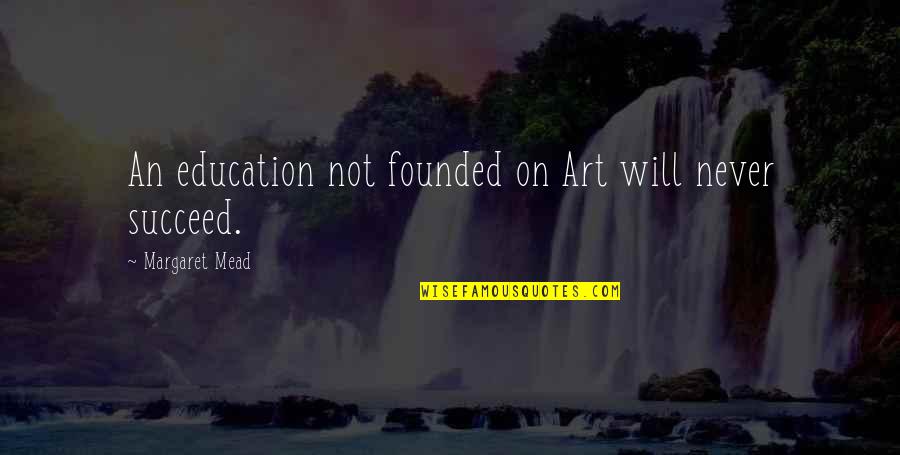 An education not founded on Art will never succeed. —
Margaret Mead
My grandmother wanted me to have an education, so she kept me out of school. —
Margaret Mead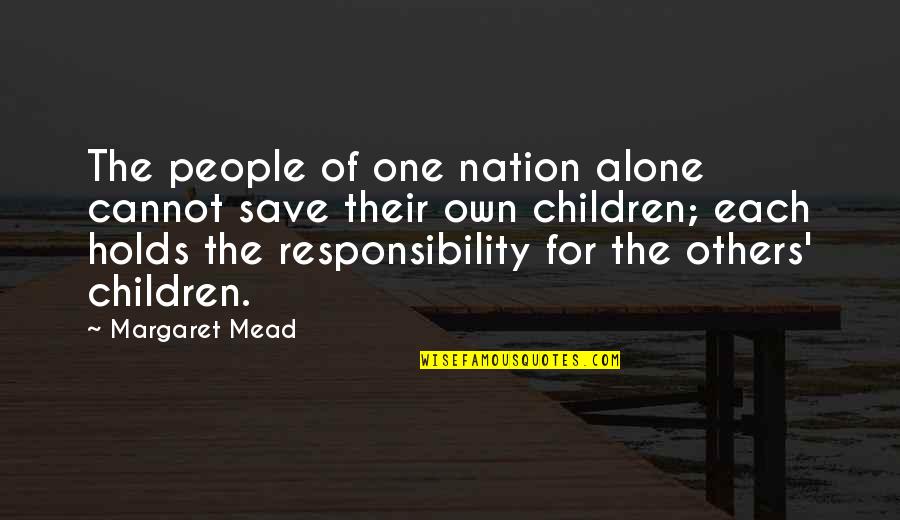 The people of one nation alone cannot save their own children; each holds the responsibility for the others' children. —
Margaret Mead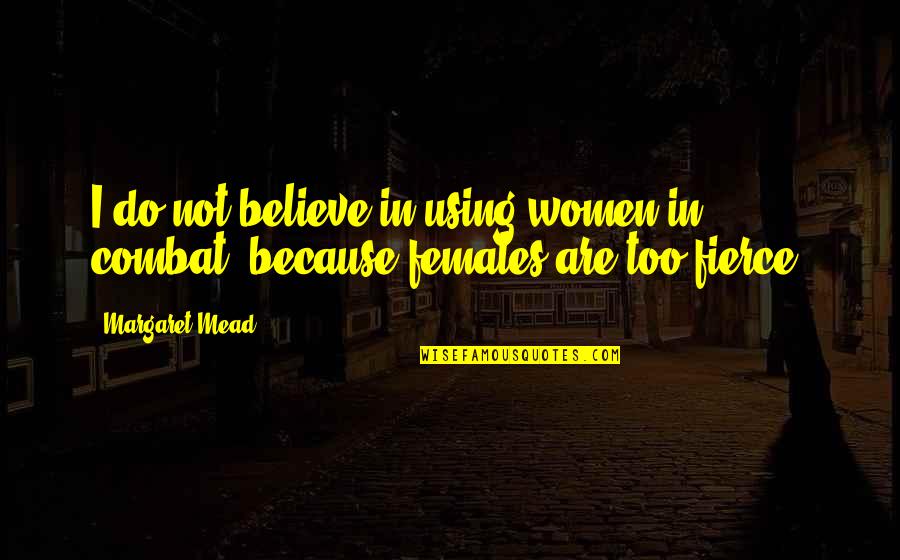 I do not believe in using women in combat, because females are too fierce. —
Margaret Mead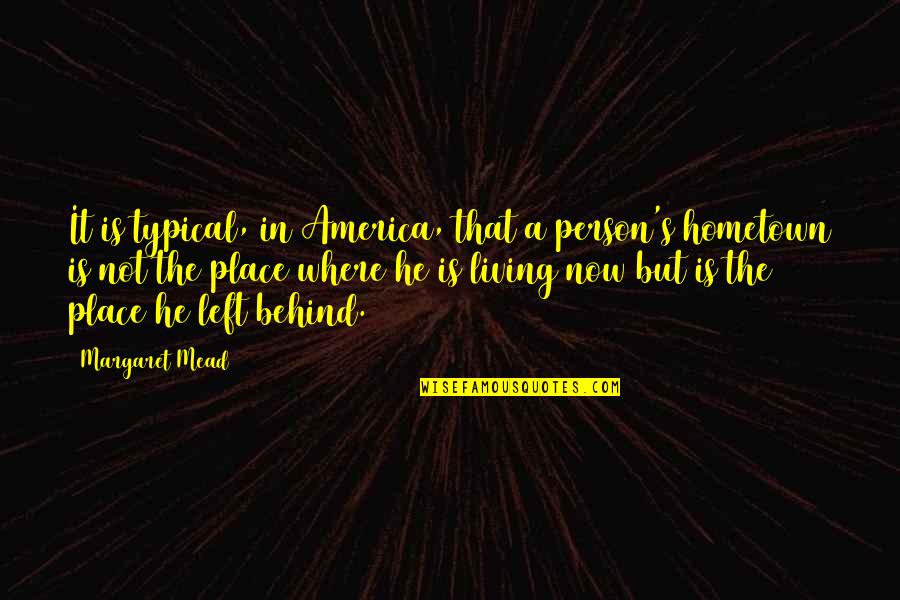 It is typical, in America, that a person's hometown is not the place where he is living now but is the place he left behind. —
Margaret Mead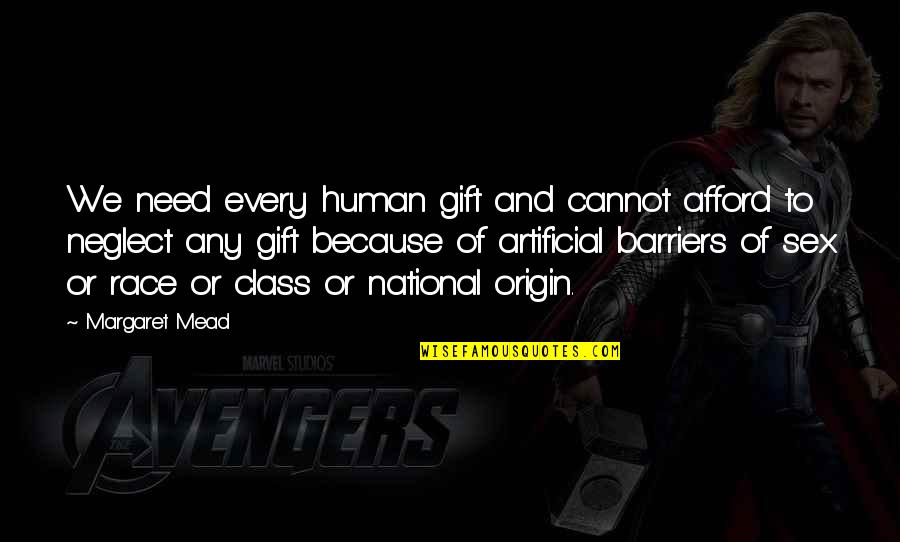 We need every human gift and cannot afford to neglect any gift because of artificial barriers of sex or race or class or national origin. —
Margaret Mead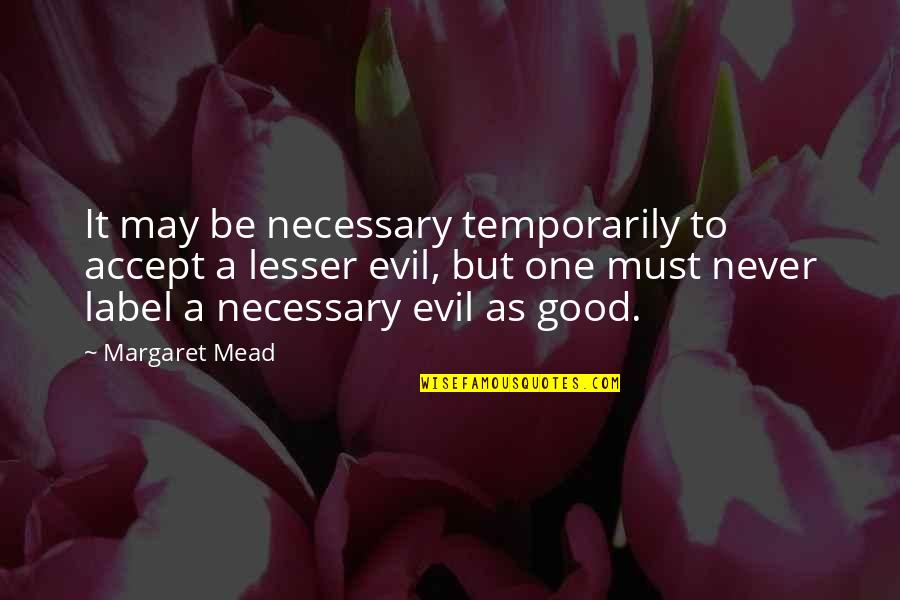 It may be necessary temporarily to accept a lesser evil, but one must never label a necessary evil as good. —
Margaret Mead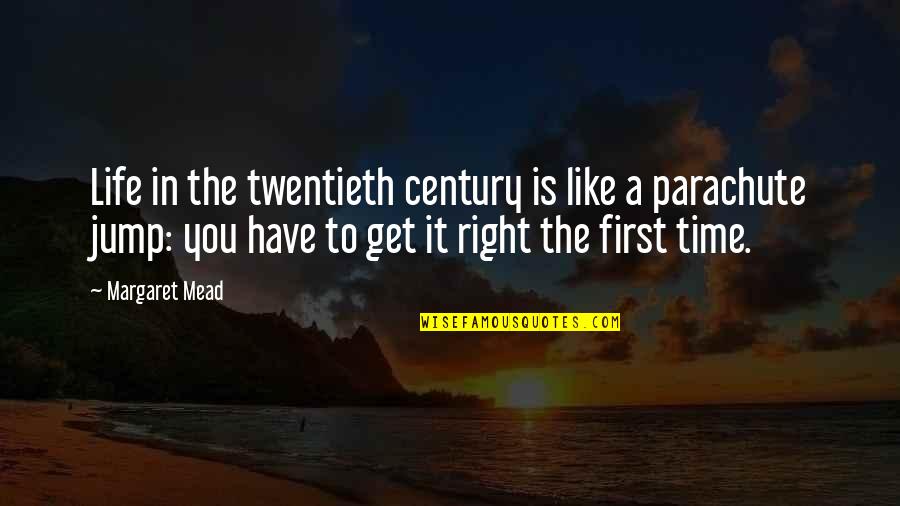 Life in the twentieth century is like a parachute jump: you have to get it right the first time. —
Margaret Mead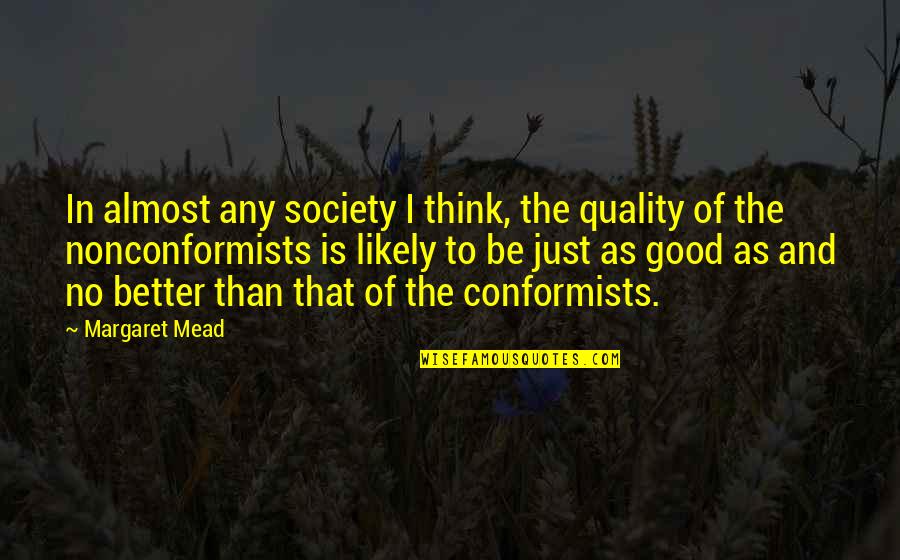 In almost any society I think, the quality of the nonconformists is likely to be just as good as and no better than that of the conformists. —
Margaret Mead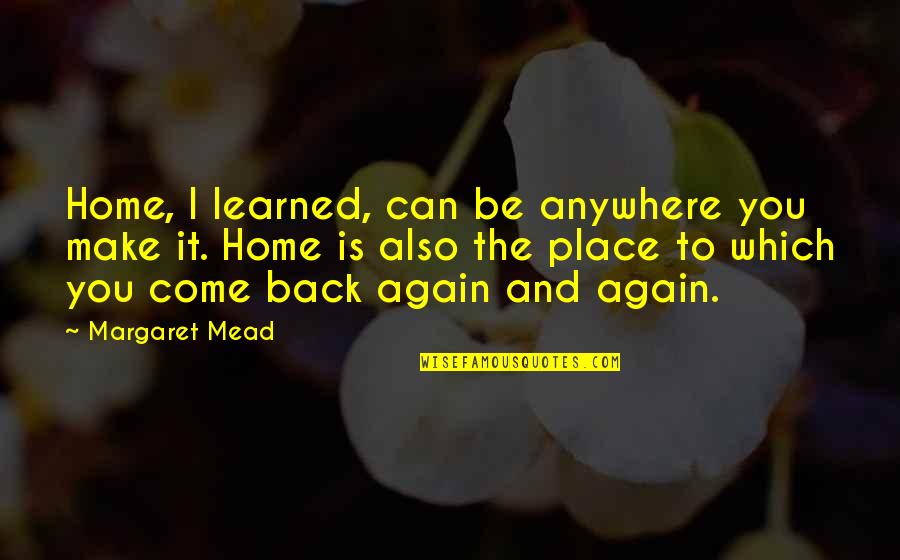 Home, I learned, can be anywhere you make it. Home is also the place to which you come back again and again. —
Margaret Mead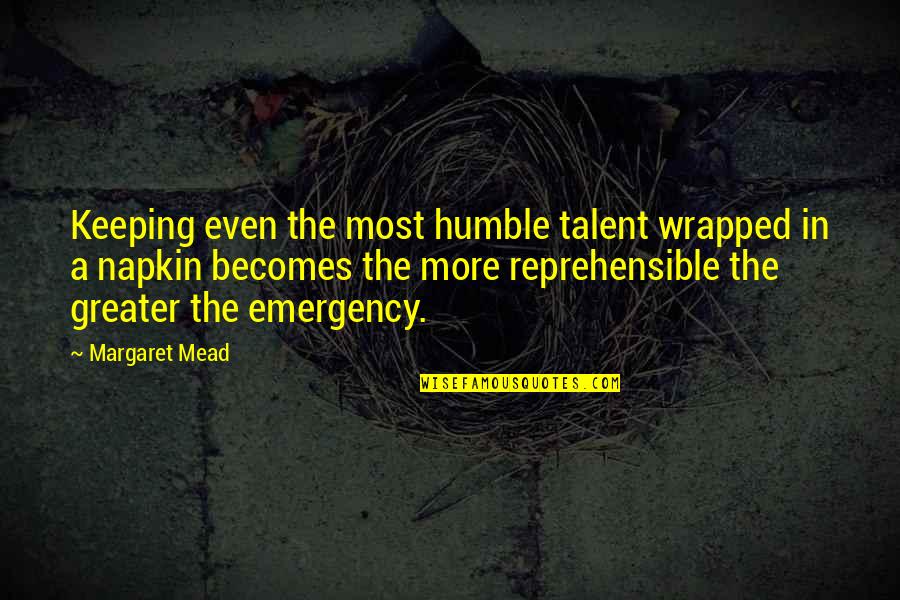 Keeping even the most humble talent wrapped in a napkin becomes the more reprehensible the greater the emergency. —
Margaret Mead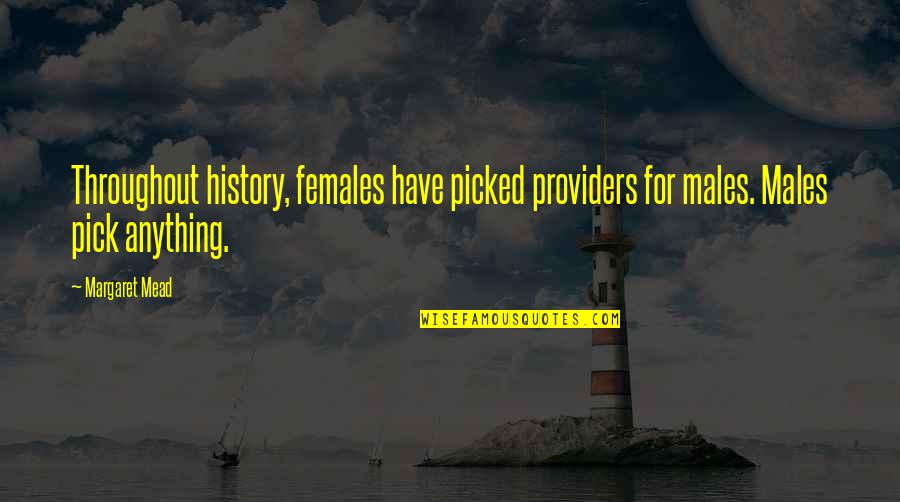 Throughout history, females have picked providers for males. Males pick anything. —
Margaret Mead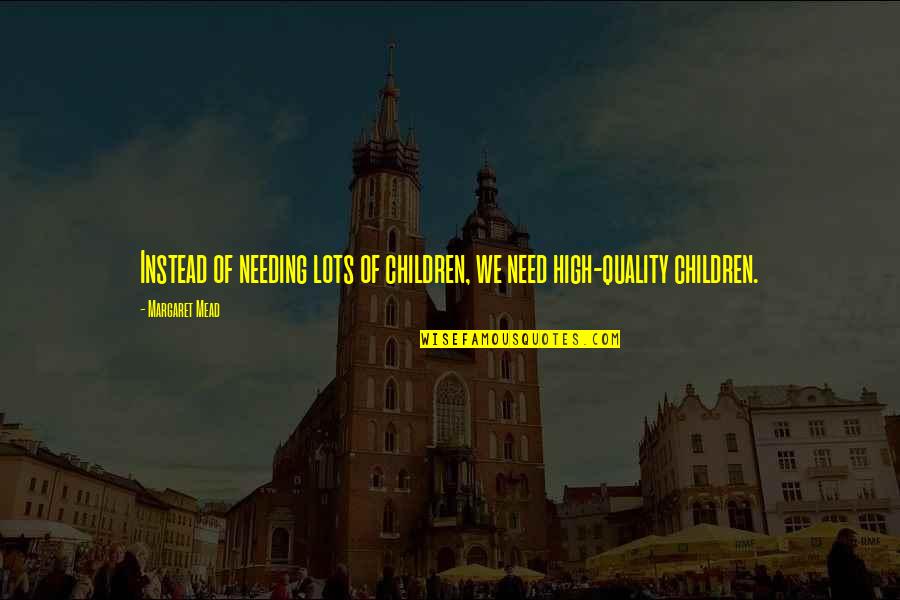 Instead of needing lots of children, we need high-quality children. —
Margaret Mead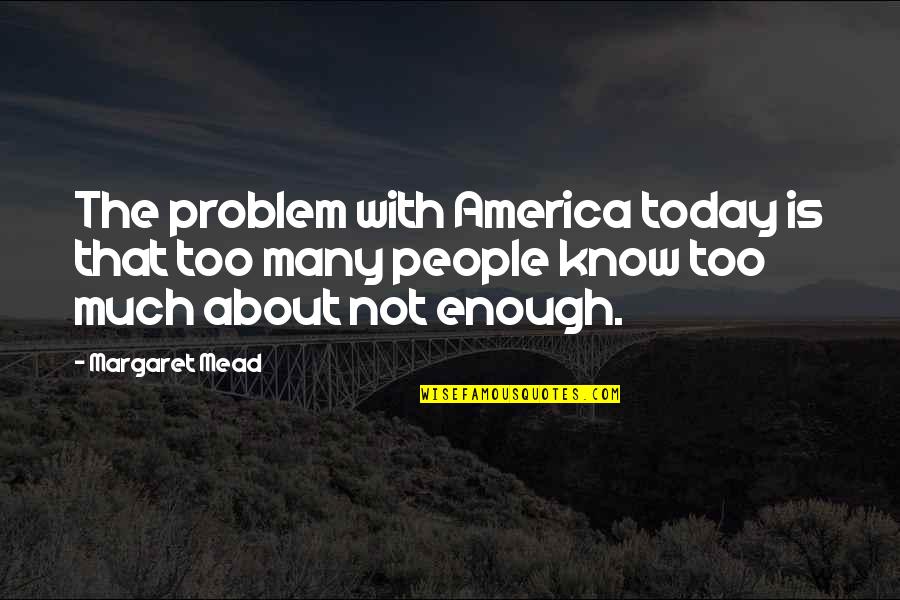 The problem with America today is that too many people know too much about not enough. —
Margaret Mead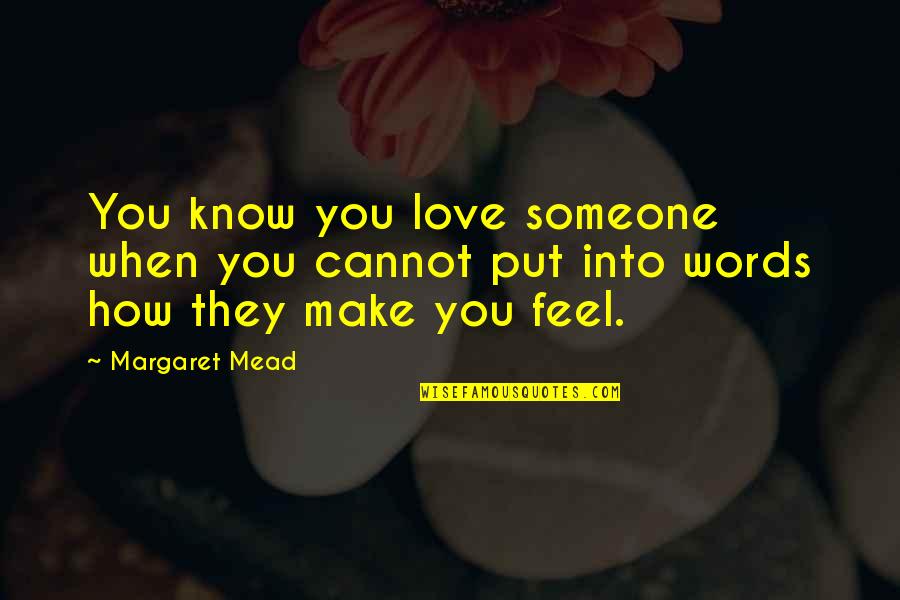 You know you love someone when you cannot put into words how they make you feel. —
Margaret Mead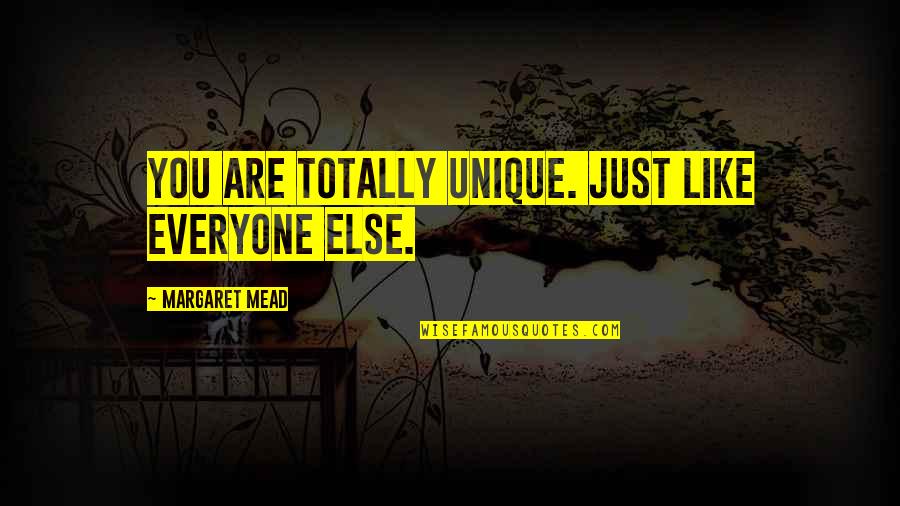 You are totally unique. Just like everyone else. —
Margaret Mead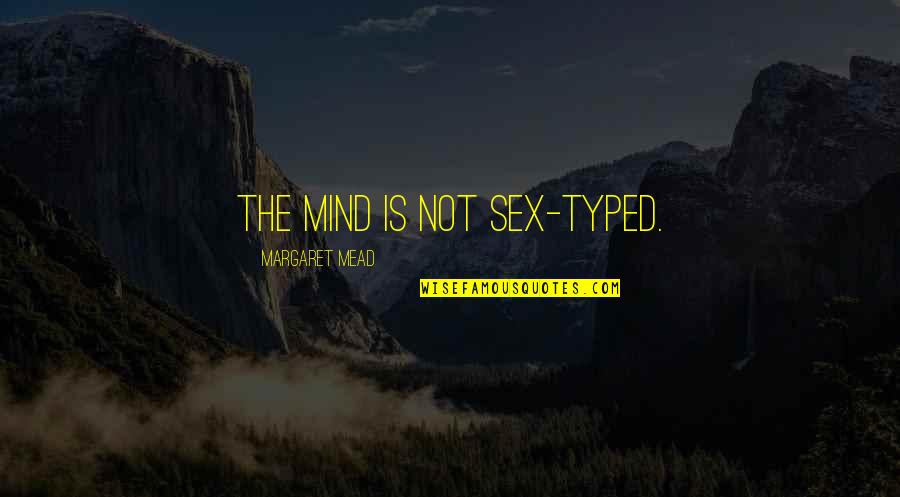 The mind is not sex-typed. —
Margaret Mead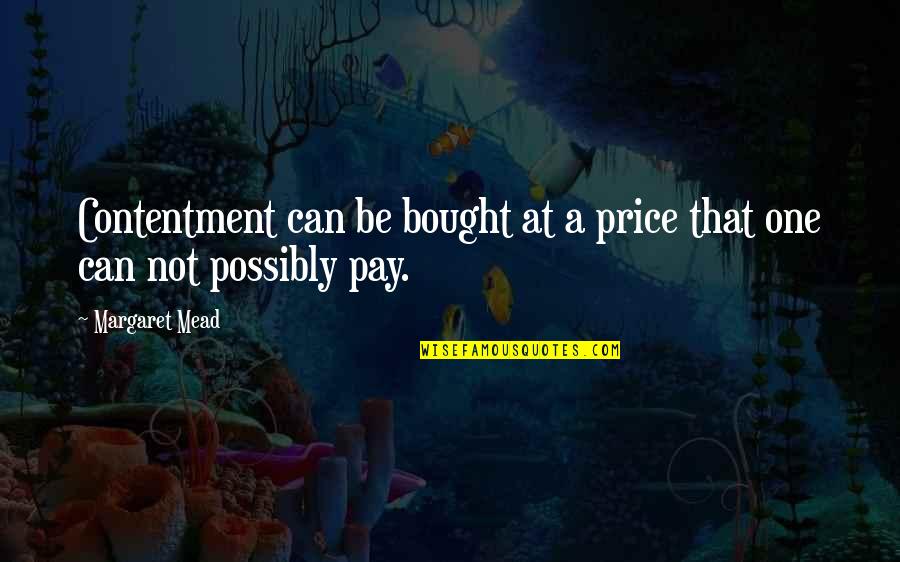 Contentment can be bought at a price that one can not possibly pay. —
Margaret Mead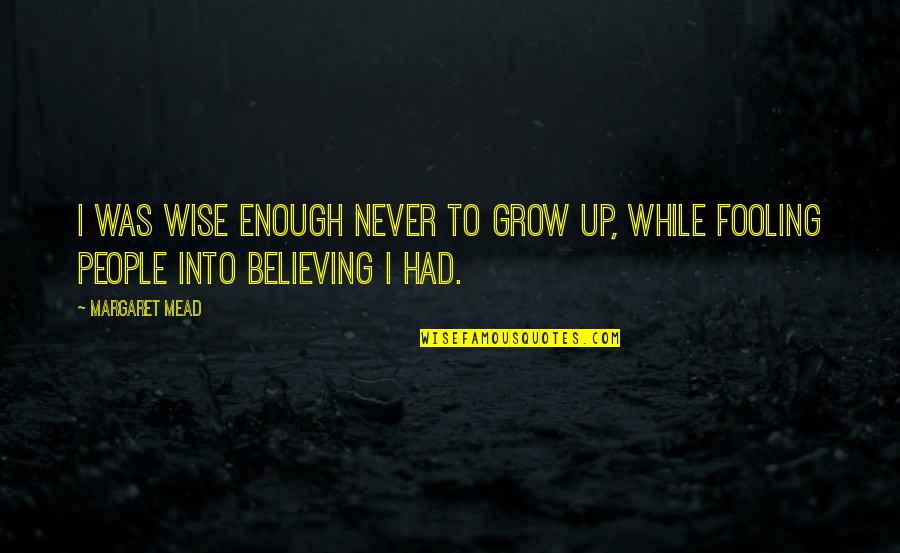 I was wise enough never to grow up, while fooling people into believing I had. —
Margaret Mead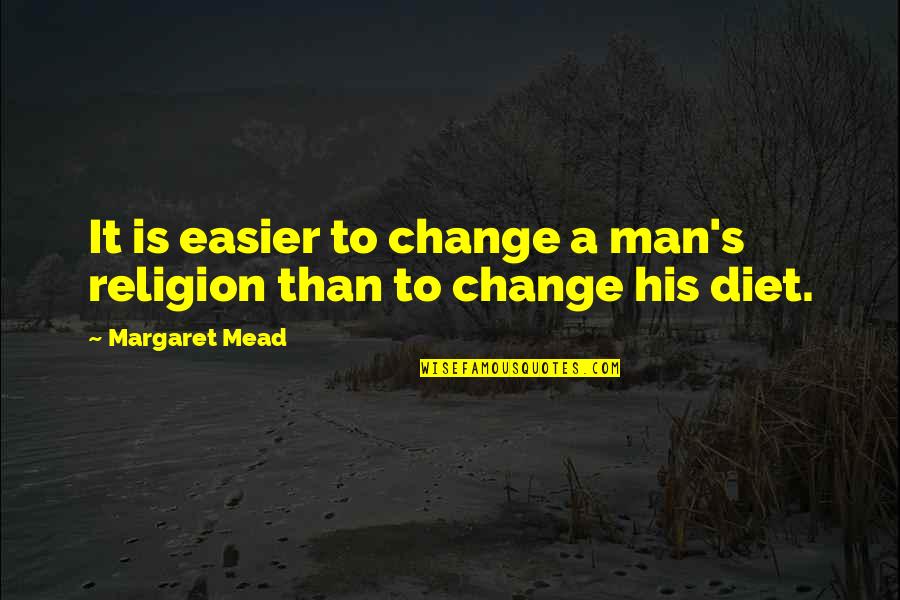 It is easier to change a man's religion than to change his diet. —
Margaret Mead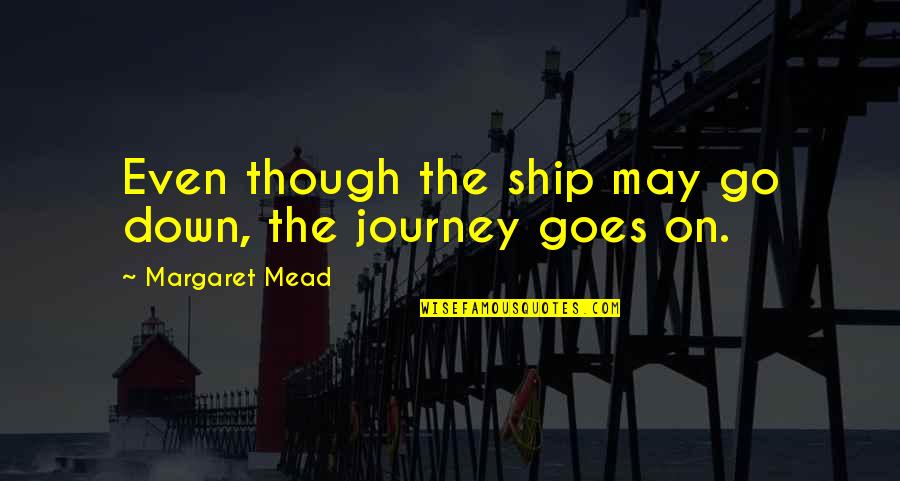 Even though the ship may go down, the journey goes on. —
Margaret Mead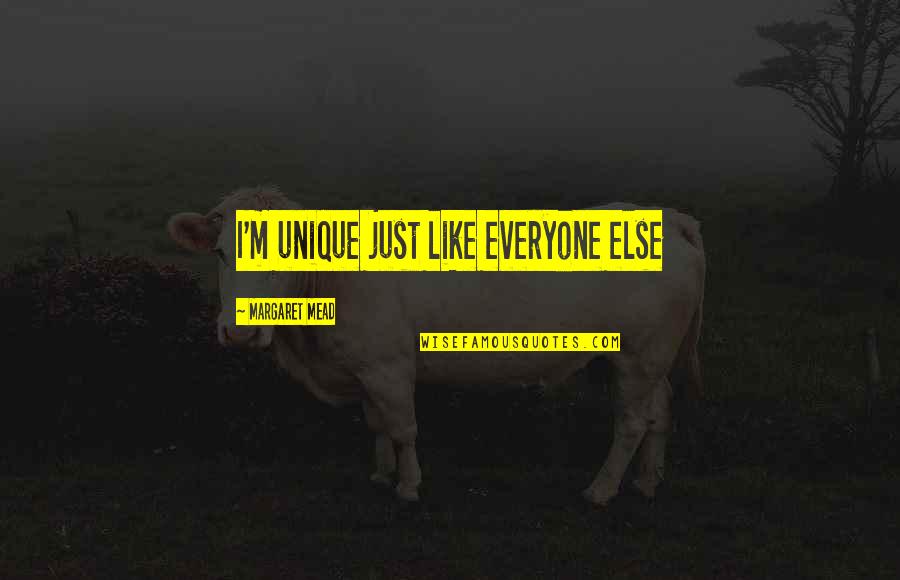 I'm unique just like everyone else —
Margaret Mead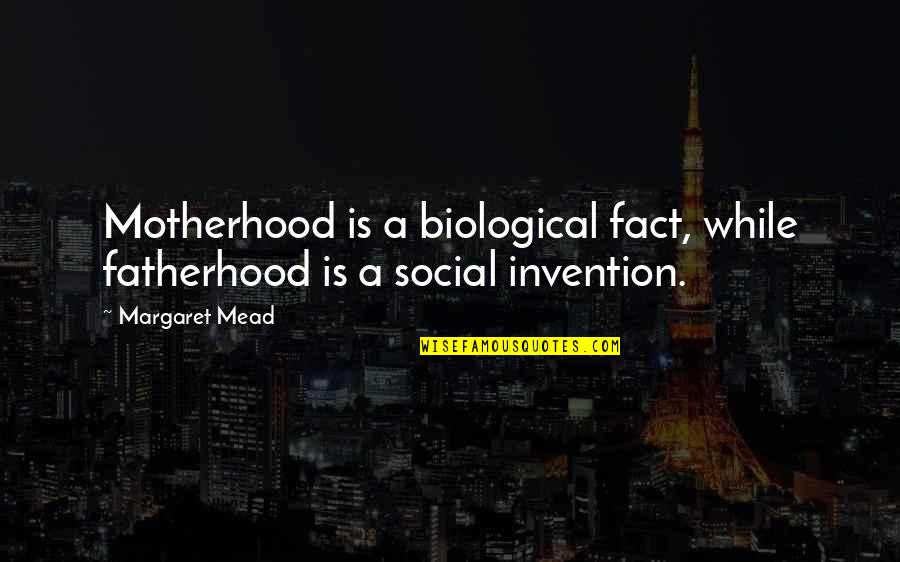 Motherhood is a biological fact, while fatherhood is a social invention. —
Margaret Mead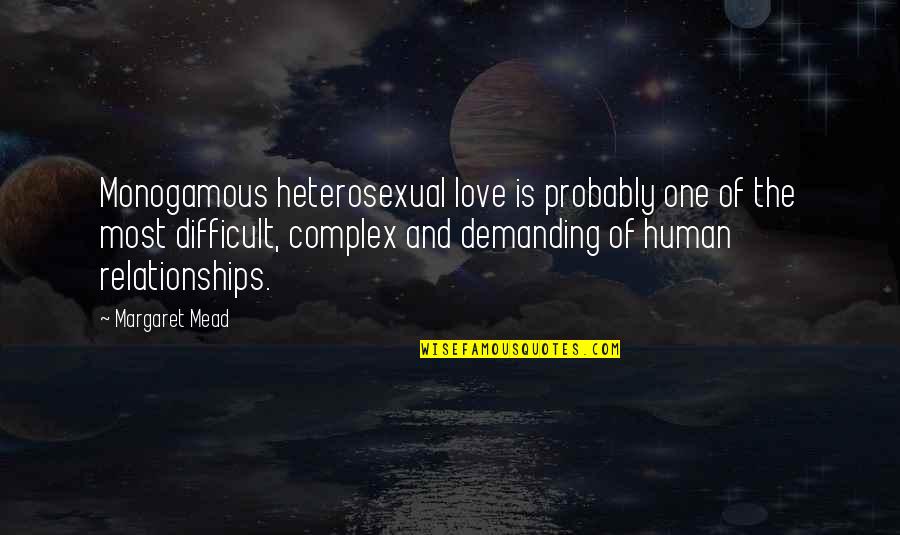 Monogamous heterosexual love is probably one of the most difficult, complex and demanding of human relationships. —
Margaret Mead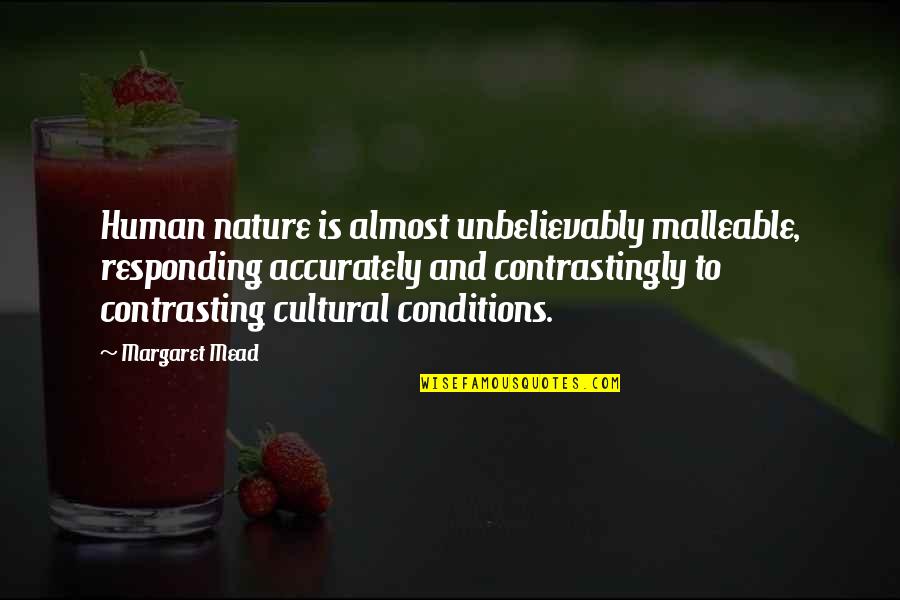 Human nature is almost unbelievably malleable, responding accurately and contrastingly to contrasting cultural conditions. —
Margaret Mead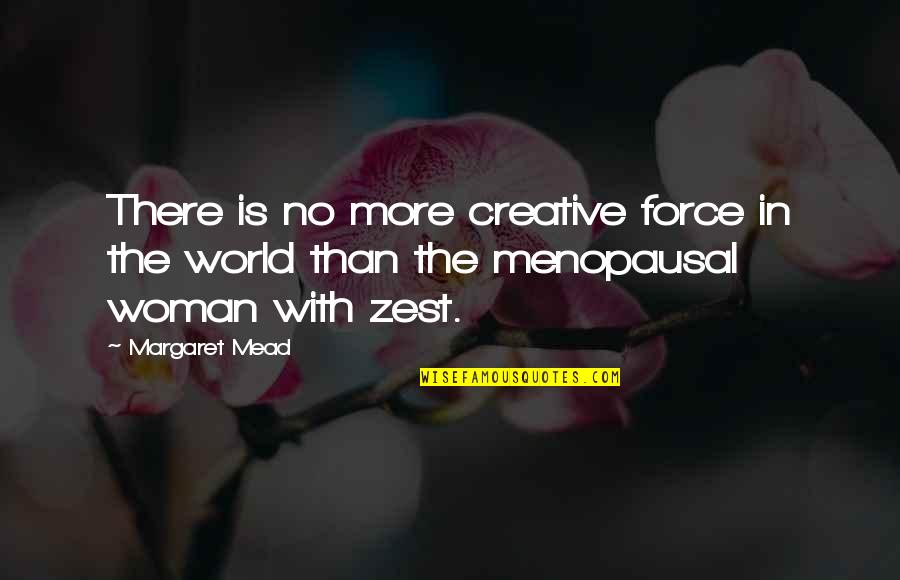 There is no more creative force in the world than the menopausal woman with zest. —
Margaret Mead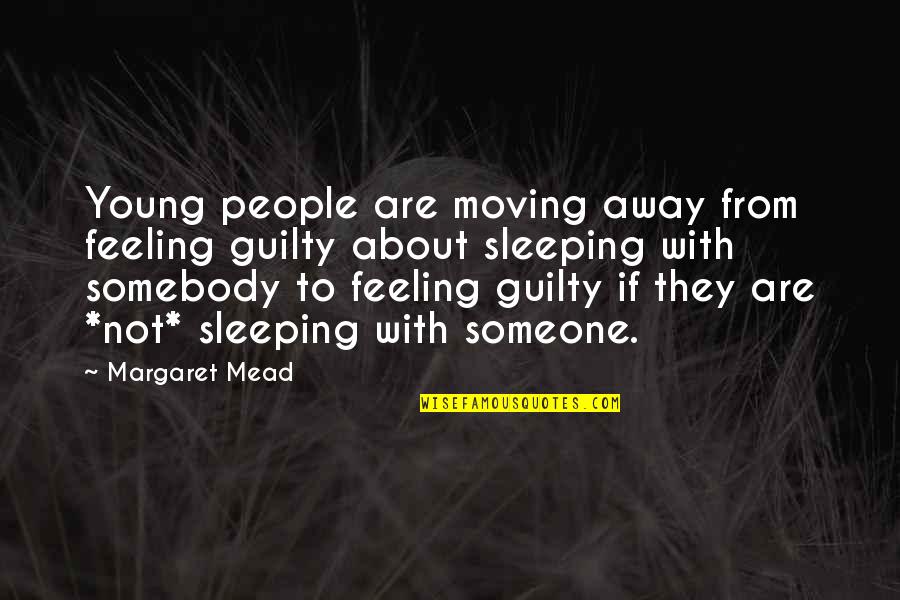 Young people are moving away from feeling guilty about sleeping with somebody to feeling guilty if they are *not* sleeping with someone. —
Margaret Mead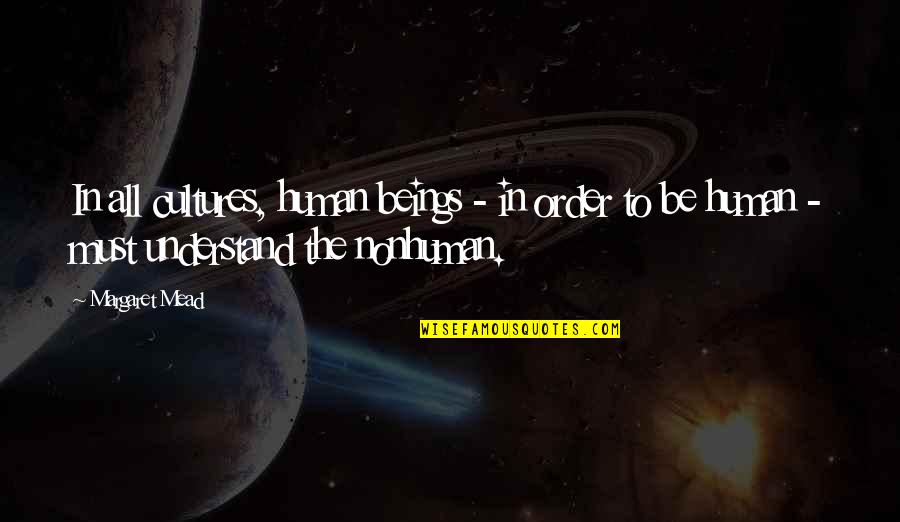 In all cultures, human beings - in order to be human - must understand the nonhuman. —
Margaret Mead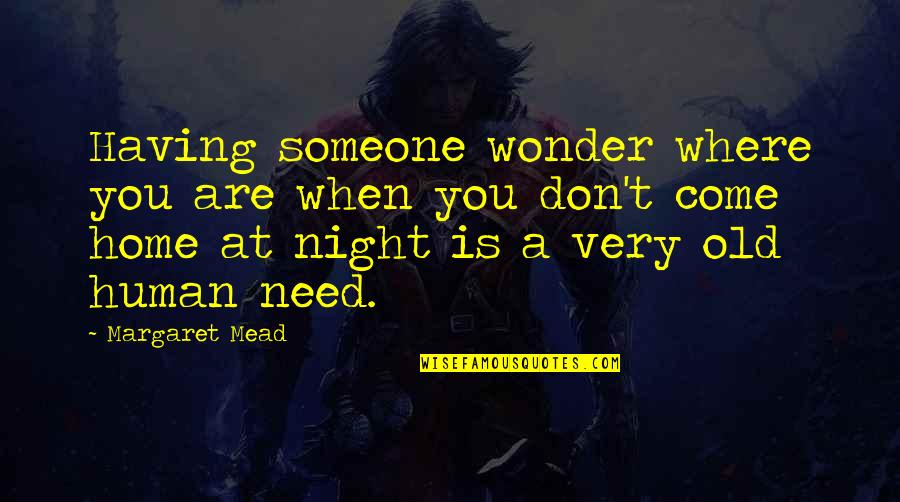 Having someone wonder where you are when you don't come home at night is a very old human need. —
Margaret Mead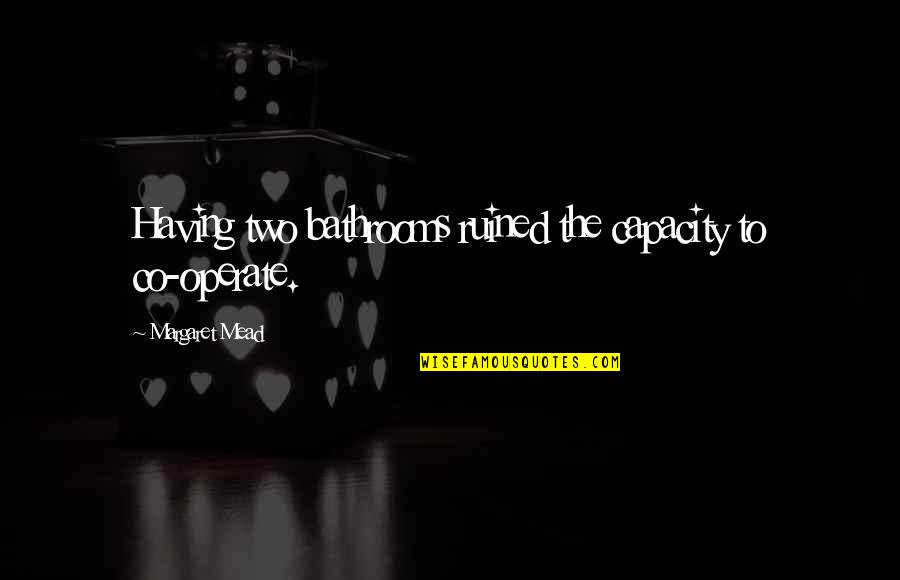 Having two bathrooms ruined the capacity to co-operate. —
Margaret Mead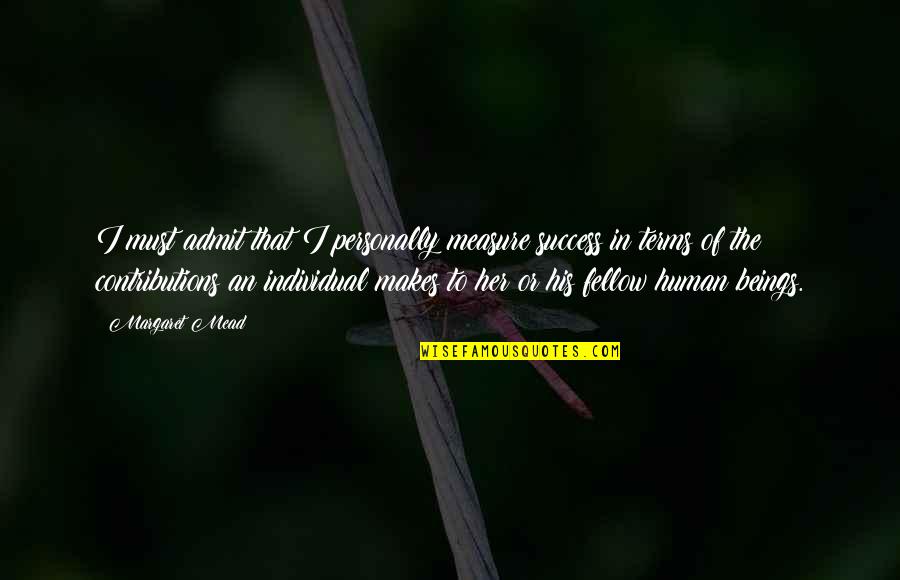 I must admit that I personally measure success in terms of the contributions an individual makes to her or his fellow human beings. —
Margaret Mead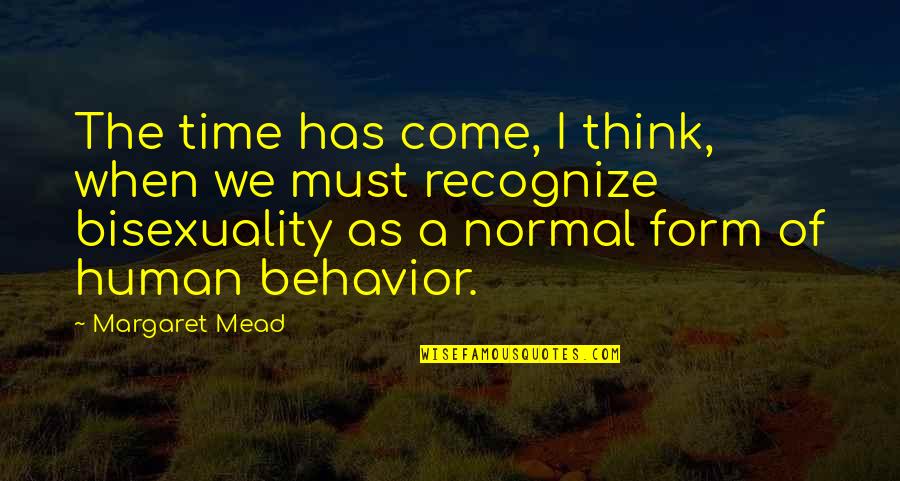 The time has come, I think, when we must recognize bisexuality as a normal form of human behavior. —
Margaret Mead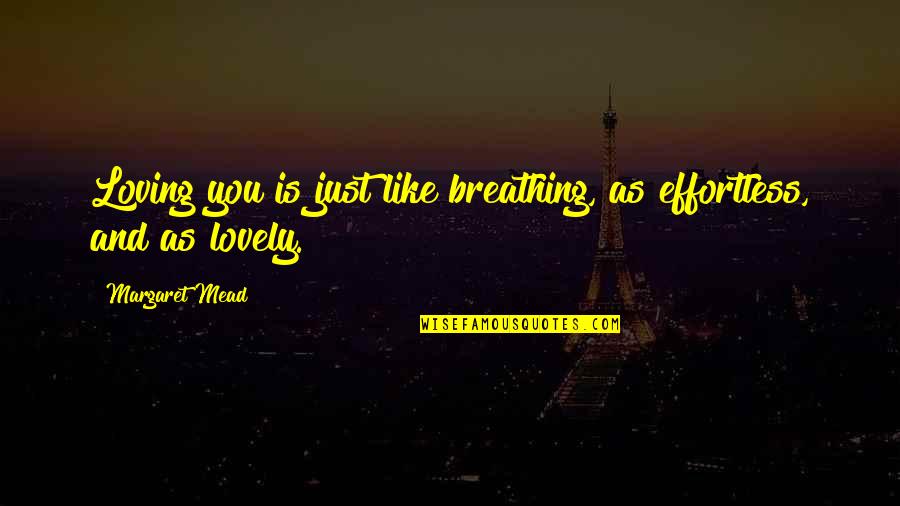 Loving you is just like breathing, as effortless, and as lovely. —
Margaret Mead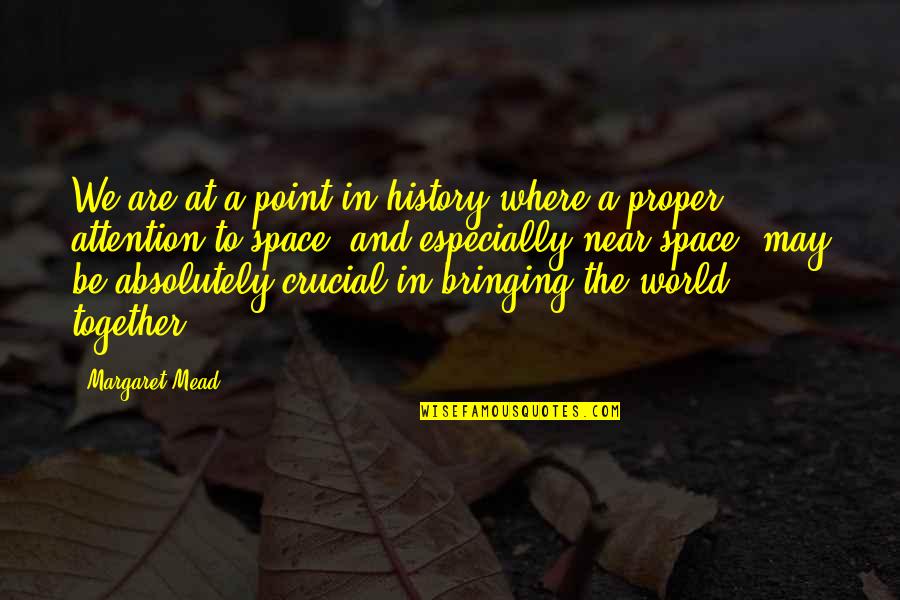 We are at a point in history where a proper attention to space, and especially near space, may be absolutely crucial in bringing the world together. —
Margaret Mead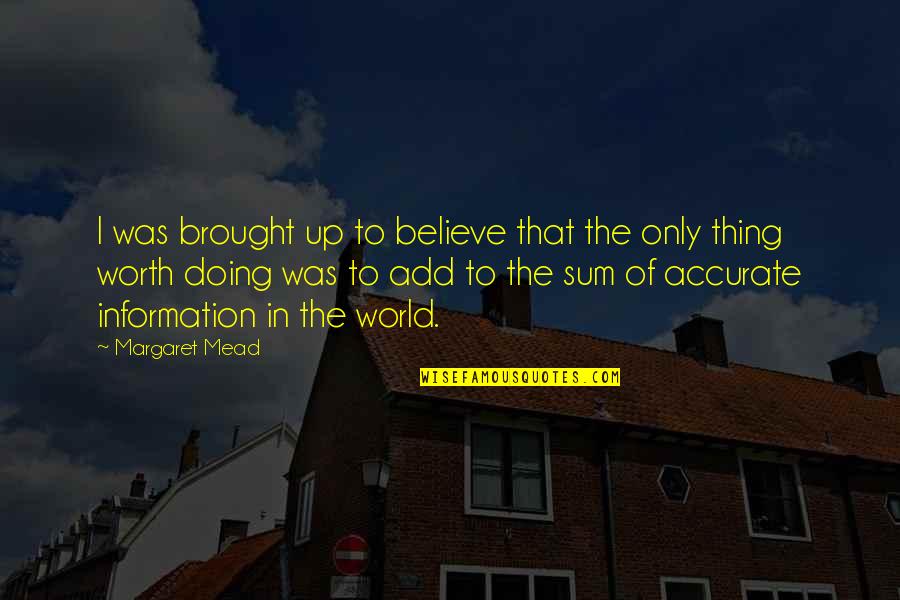 I was brought up to believe that the only thing worth doing was to add to the sum of accurate information in the world. —
Margaret Mead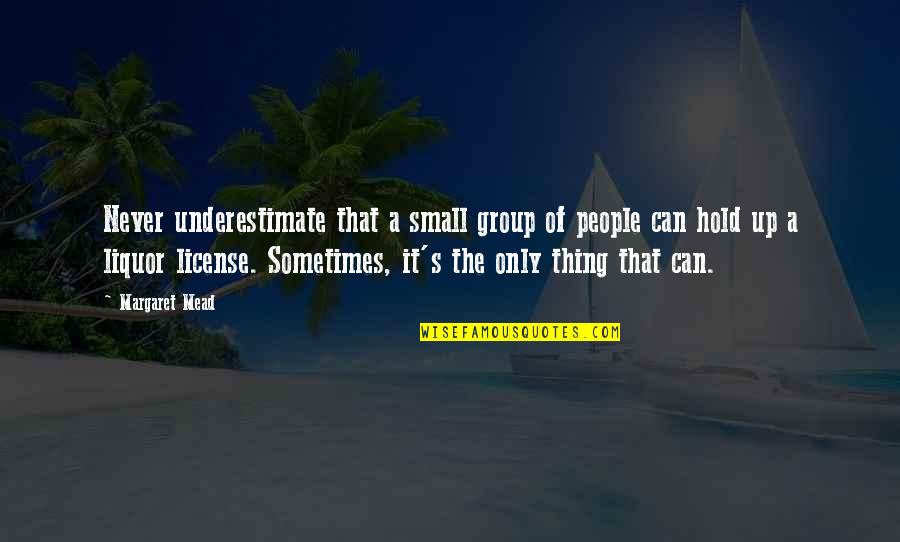 Never underestimate that a small group of people can hold up a liquor license. Sometimes, it's the only thing that can. —
Margaret Mead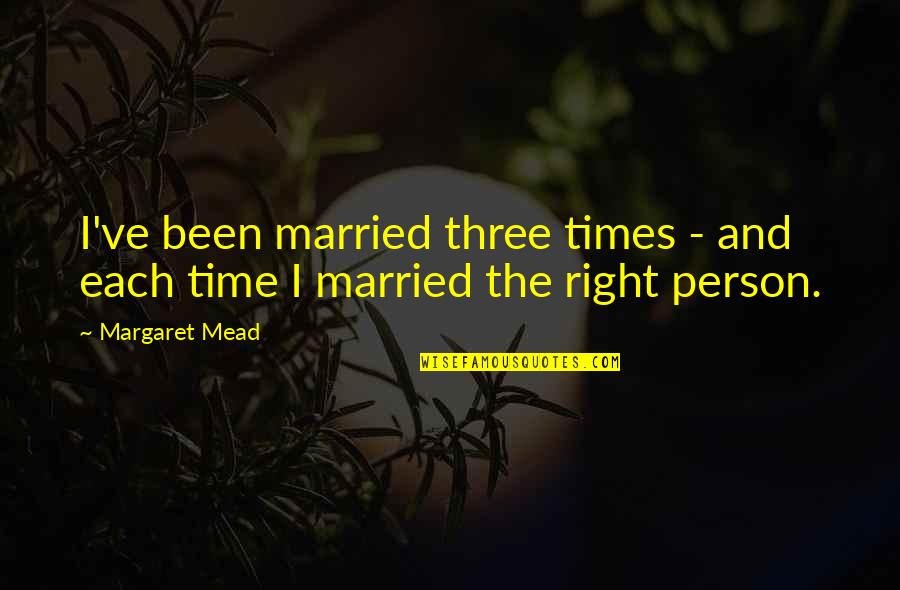 I've been married three times - and each time I married the right person. —
Margaret Mead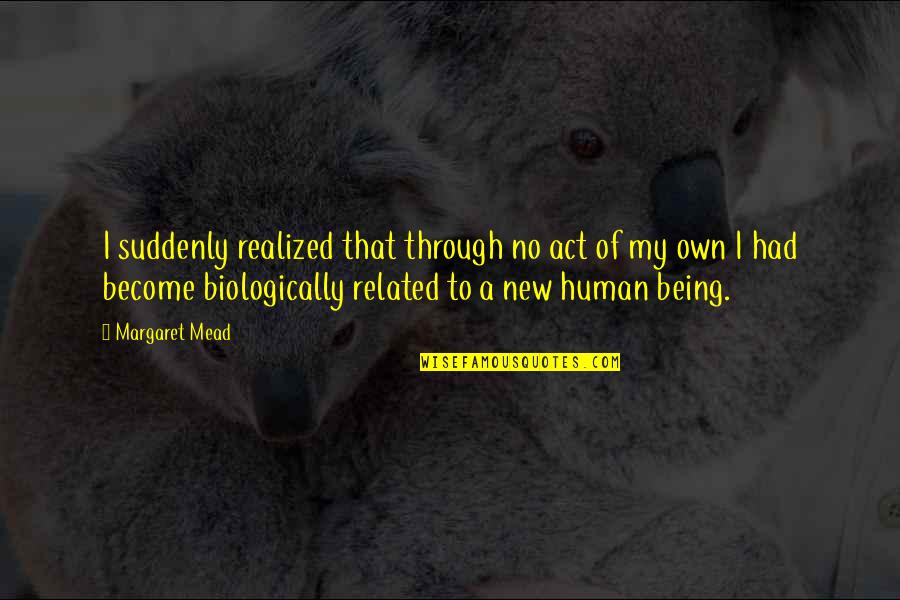 I suddenly realized that through no act of my own I had become biologically related to a new human being. —
Margaret Mead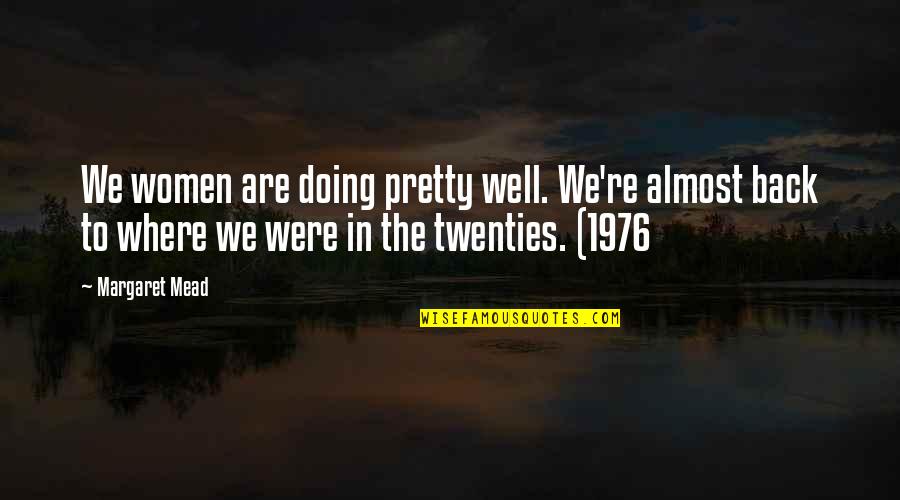 We women are doing pretty well. We're almost back to where we were in the twenties. (1976 —
Margaret Mead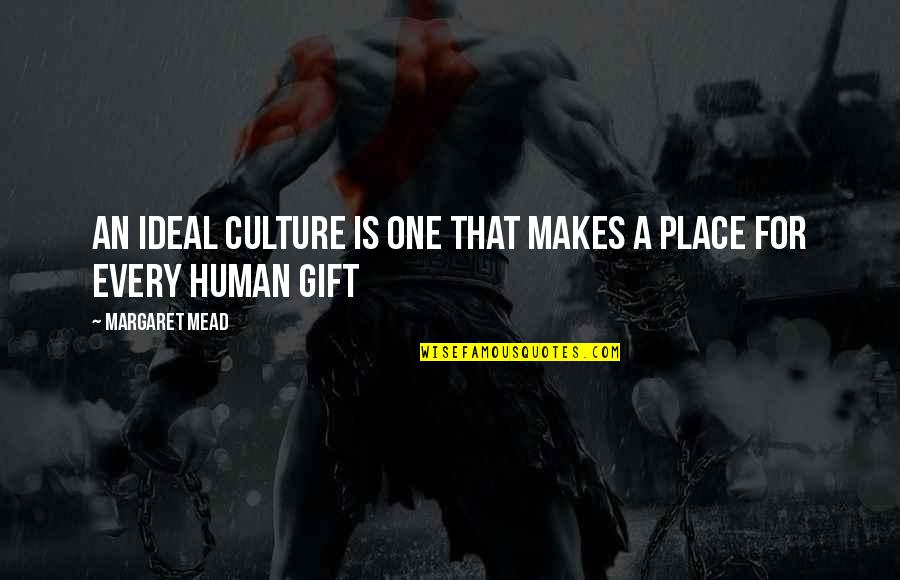 An ideal culture is one that makes a place for every human gift —
Margaret Mead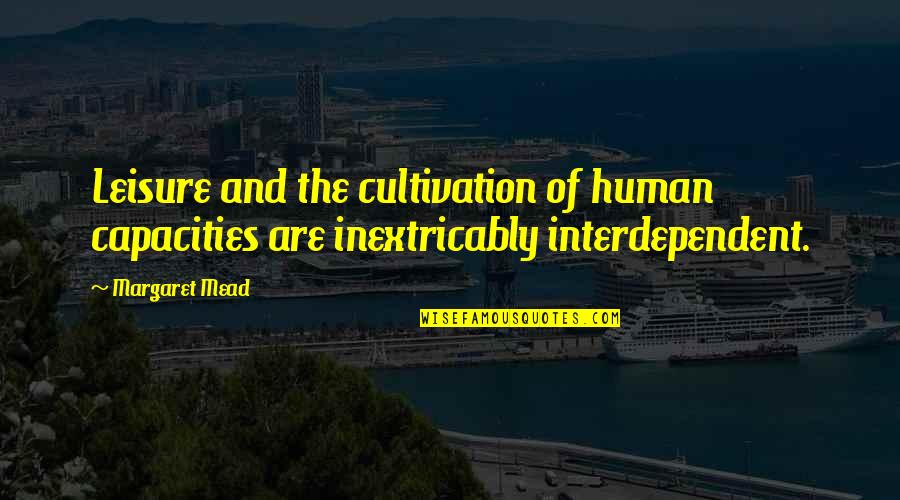 Leisure and the cultivation of human capacities are inextricably interdependent. —
Margaret Mead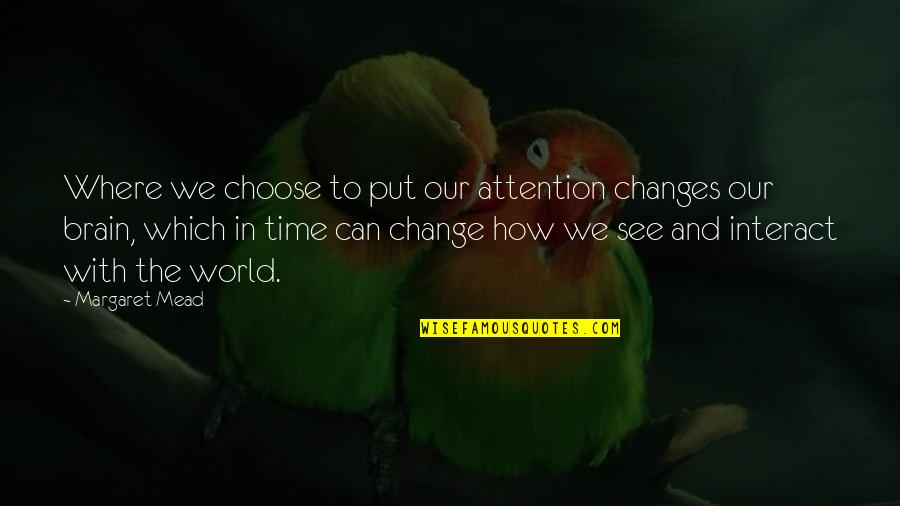 Where we choose to put our attention changes our brain, which in time can change how we see and interact with the world. —
Margaret Mead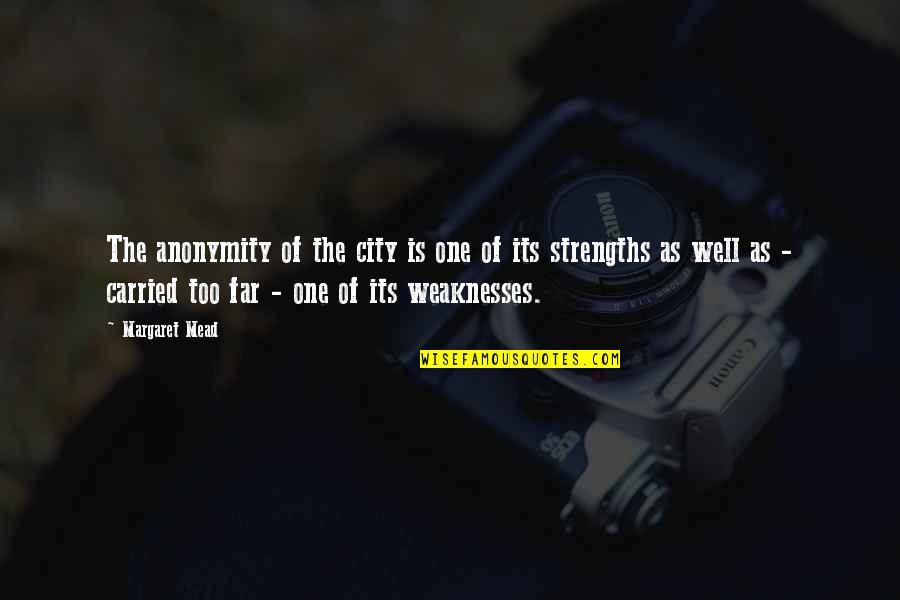 The anonymity of the city is one of its strengths as well as - carried too far - one of its weaknesses. —
Margaret Mead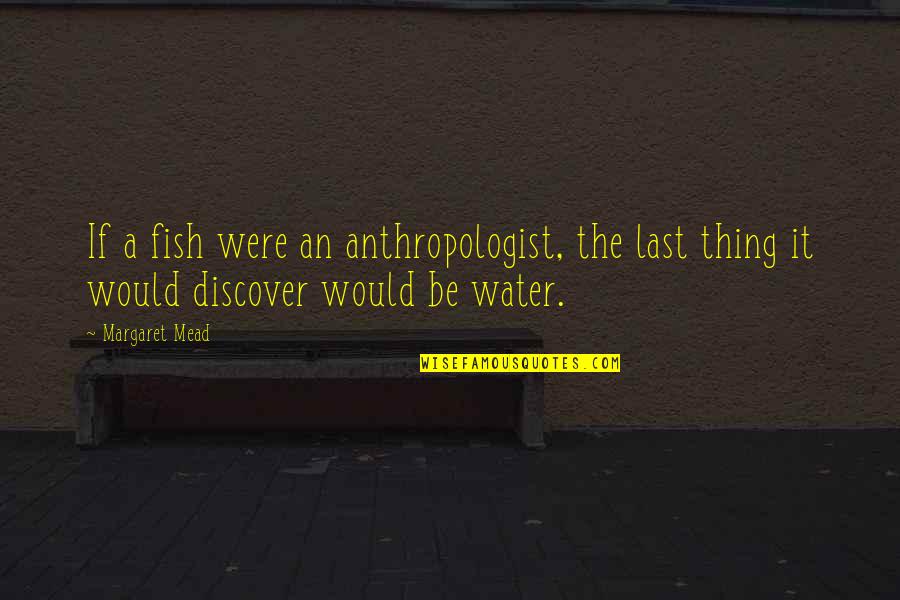 If a fish were an anthropologist, the last thing it would discover would be water. —
Margaret Mead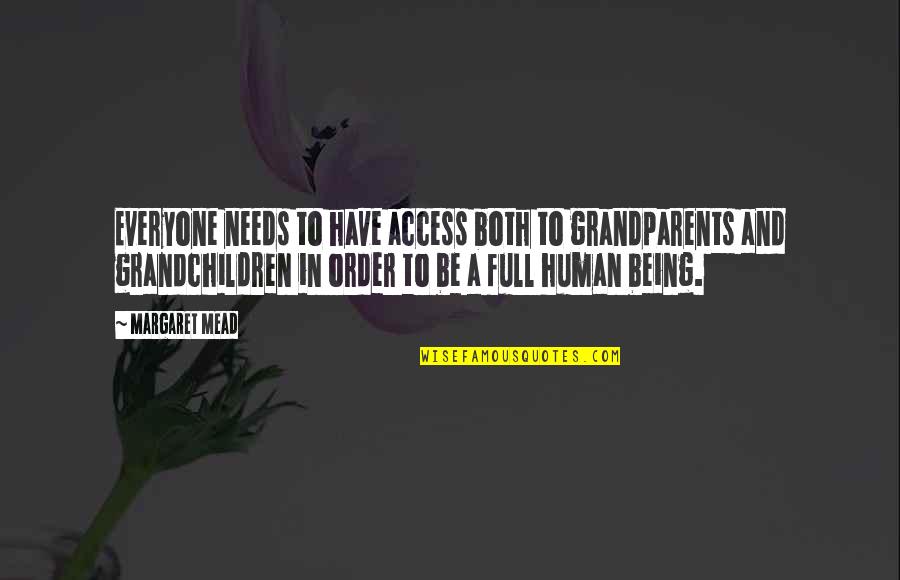 Everyone needs to have access both to grandparents and grandchildren in order to be a full human being. —
Margaret Mead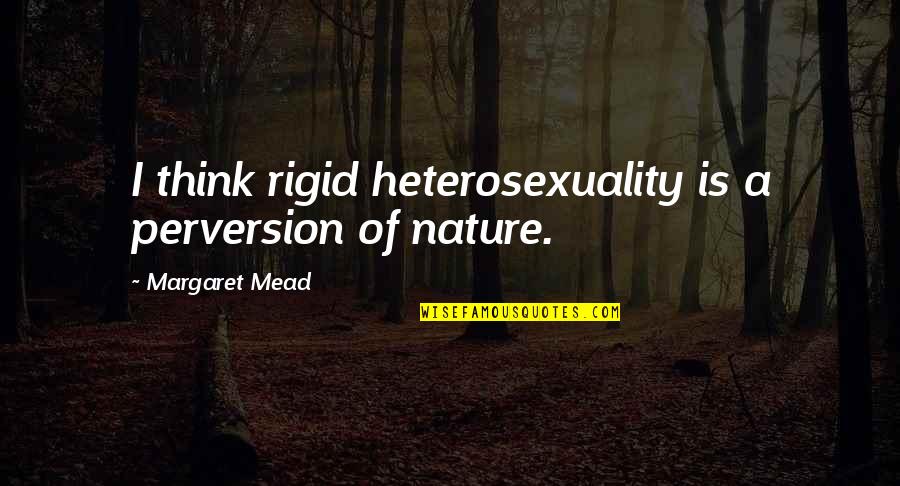 I think rigid heterosexuality is a perversion of nature. —
Margaret Mead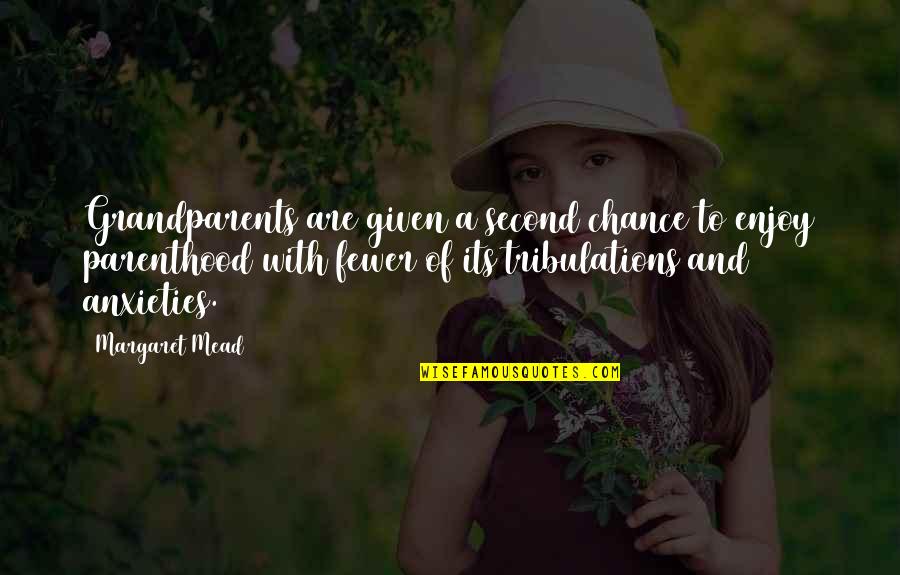 Grandparents are given a second chance to enjoy parenthood with fewer of its tribulations and anxieties. —
Margaret Mead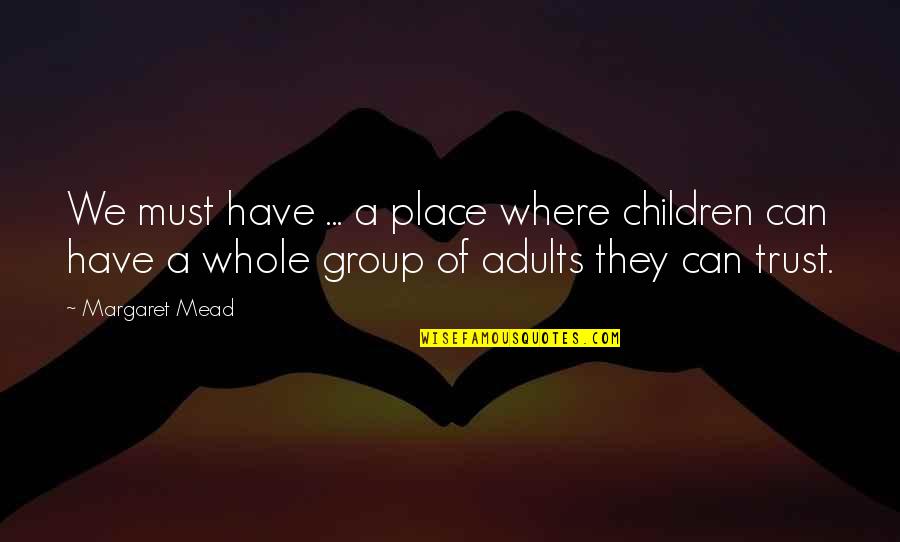 We must have ... a place where children can have a whole group of adults they can trust. —
Margaret Mead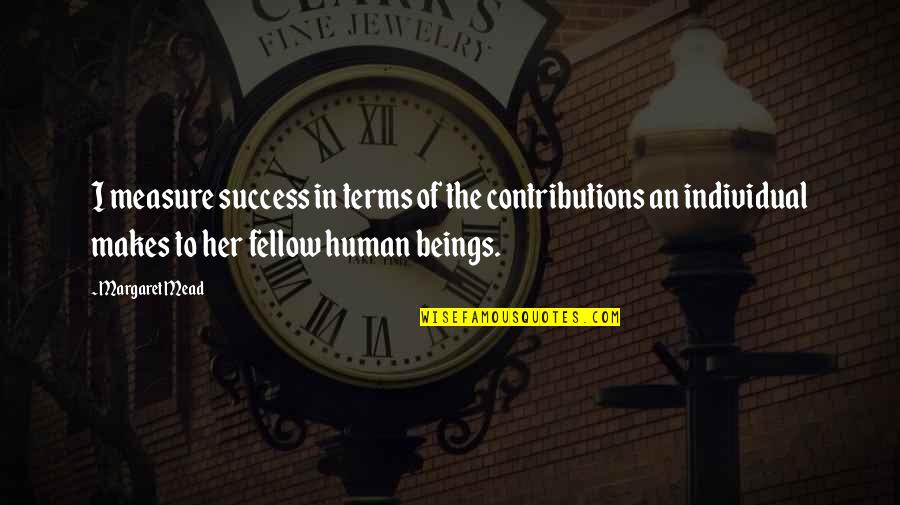 I measure success in terms of the contributions an individual makes to her fellow human beings. —
Margaret Mead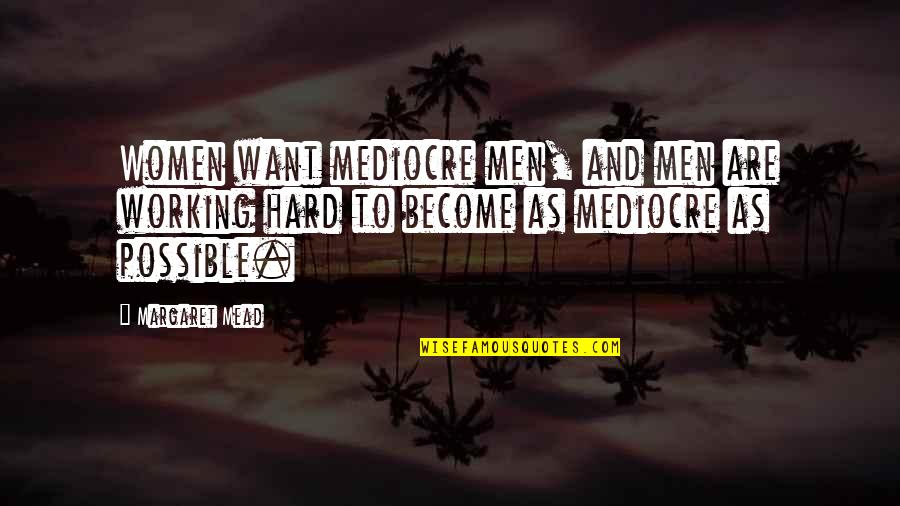 Women want mediocre men, and men are working hard to become as mediocre as possible. —
Margaret Mead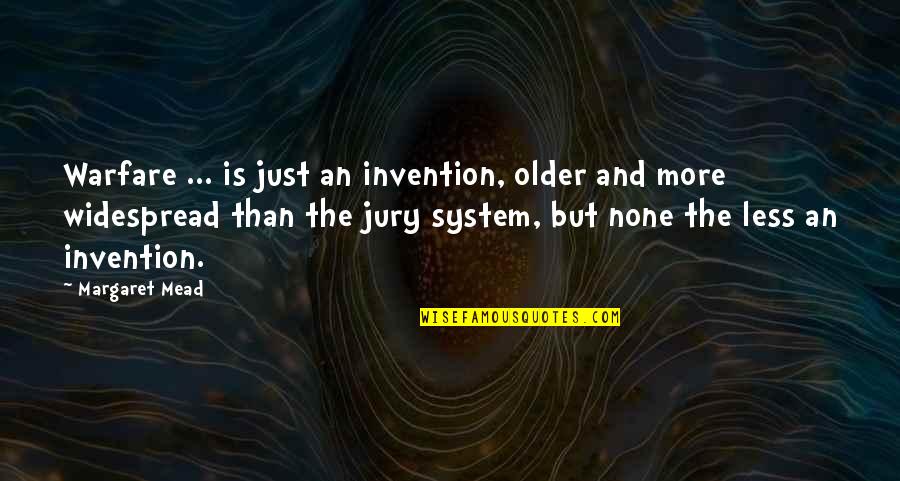 Warfare ... is just an invention, older and more widespread than the jury system, but none the less an invention. —
Margaret Mead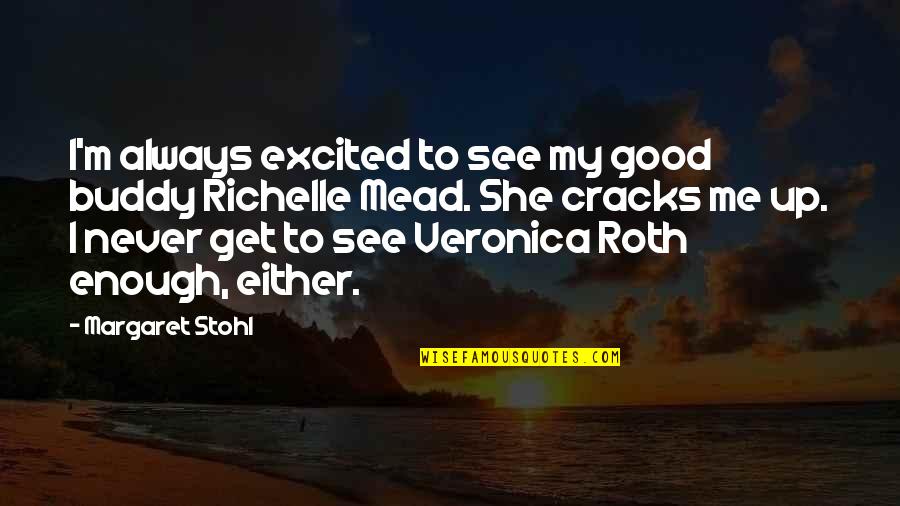 I'm always excited to see my good buddy Richelle Mead. She cracks me up. I never get to see Veronica Roth enough, either. —
Margaret Stohl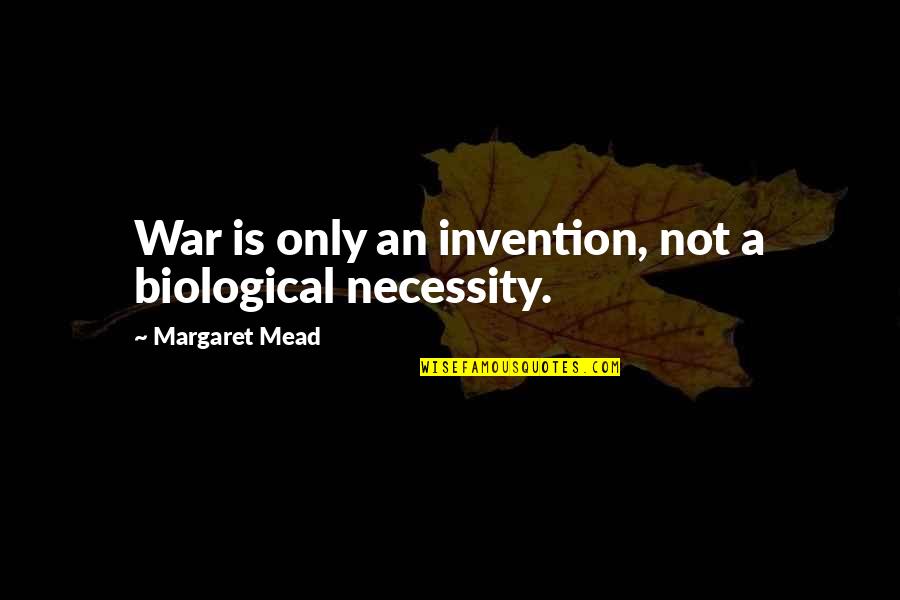 War is only an invention, not a biological necessity. —
Margaret Mead