Lows And Highs Quotes
Collection of top 52 famous quotes about Lows And Highs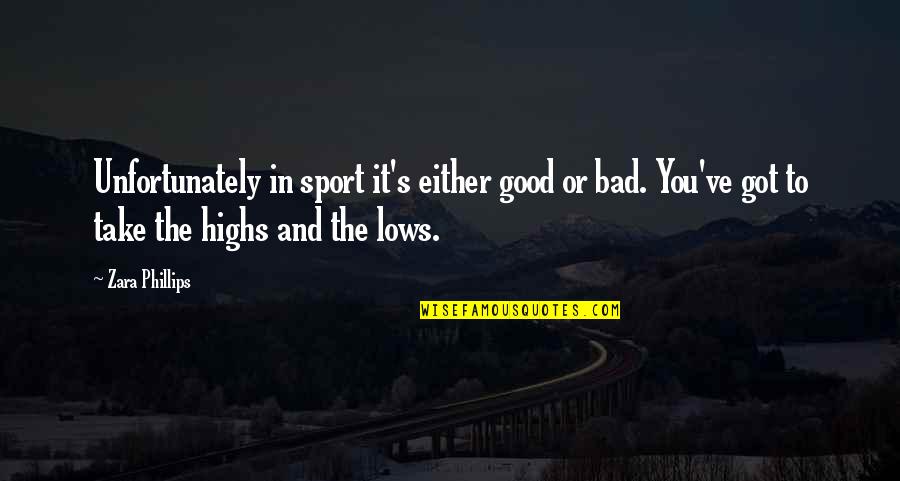 Unfortunately in sport it's either good or bad. You've got to take the highs and the lows.
—
Zara Phillips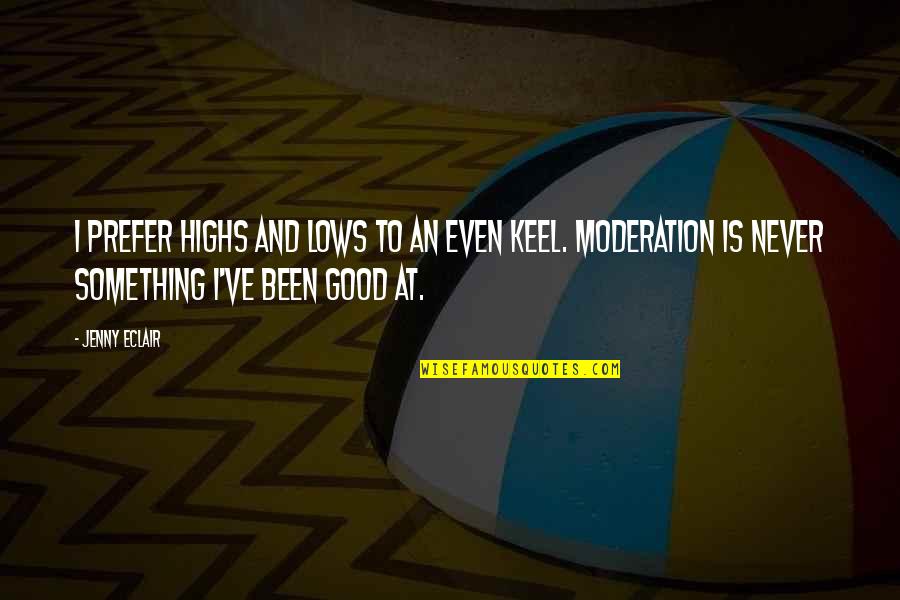 I prefer highs and lows to an even keel. Moderation is never something I've been good at.
—
Jenny Eclair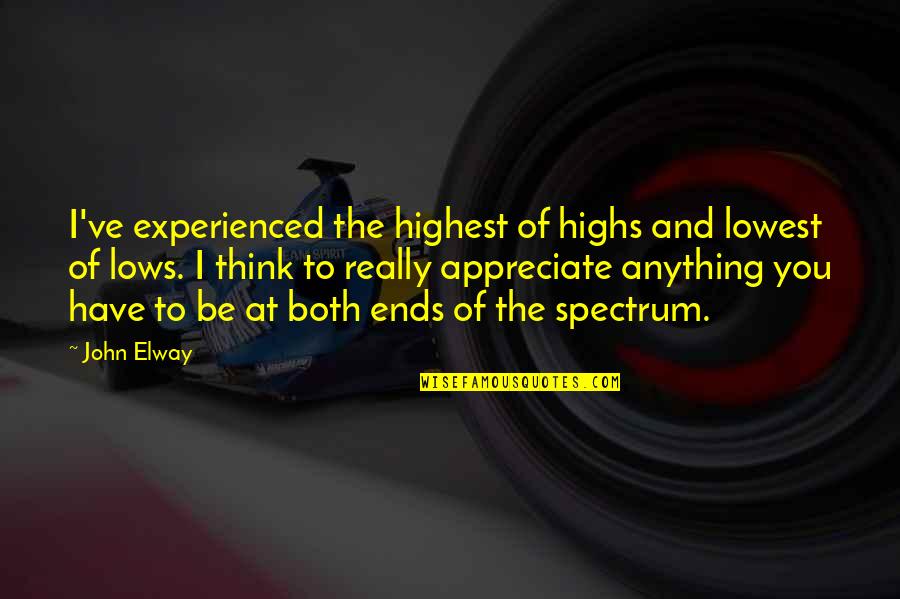 I've experienced the highest of highs and lowest of lows. I think to really appreciate anything you have to be at both ends of the spectrum.
—
John Elway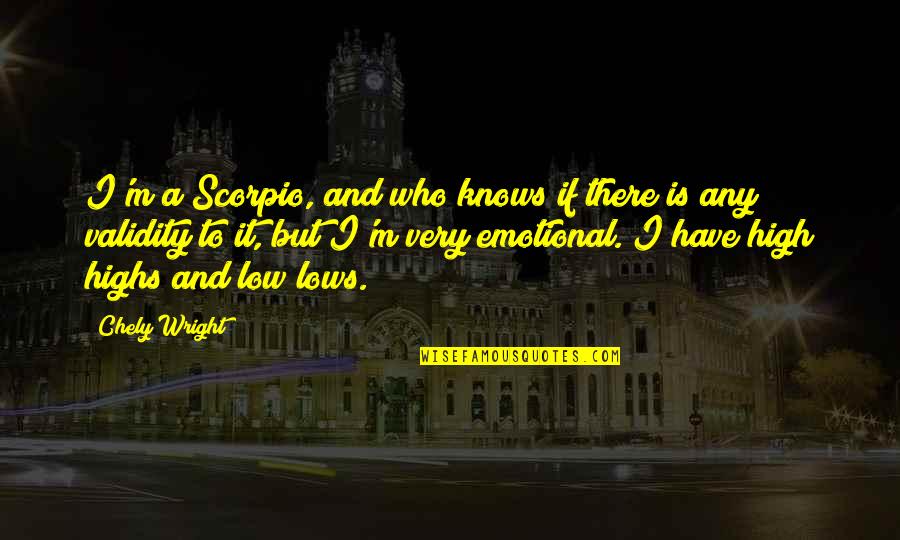 I'm a Scorpio, and who knows if there is any validity to it, but I'm very emotional. I have high highs and low lows.
—
Chely Wright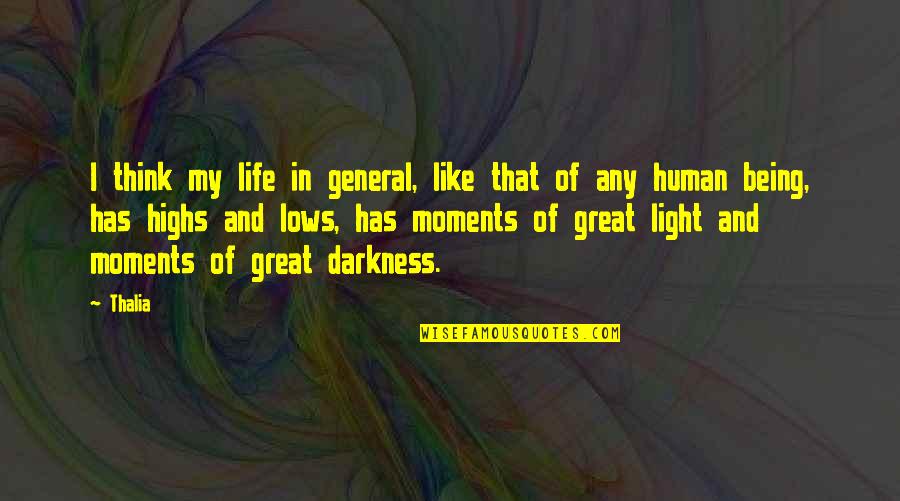 I think my life in general, like that of any human being, has highs and lows, has moments of great light and moments of great darkness.
—
Thalia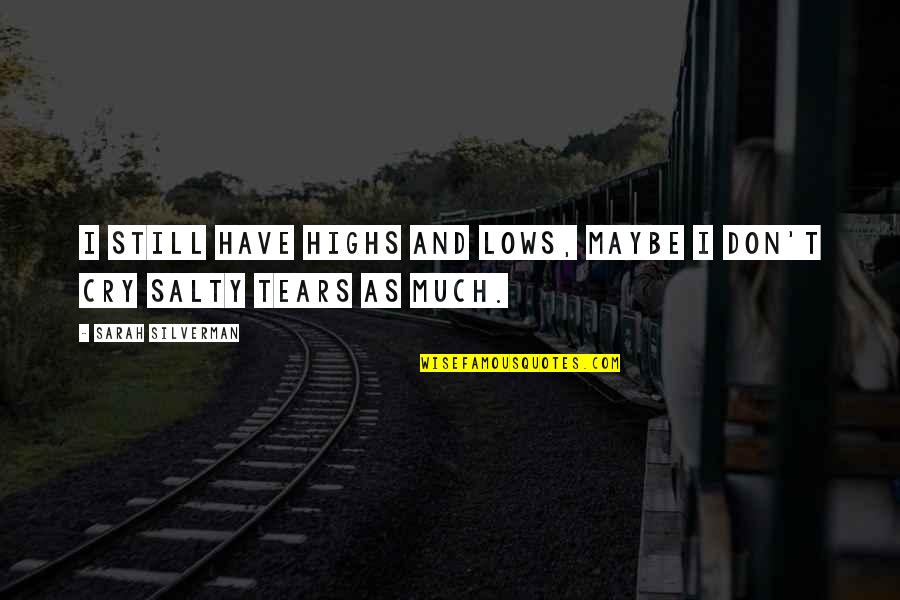 I still have highs and lows, maybe I don't cry salty tears as much.
—
Sarah Silverman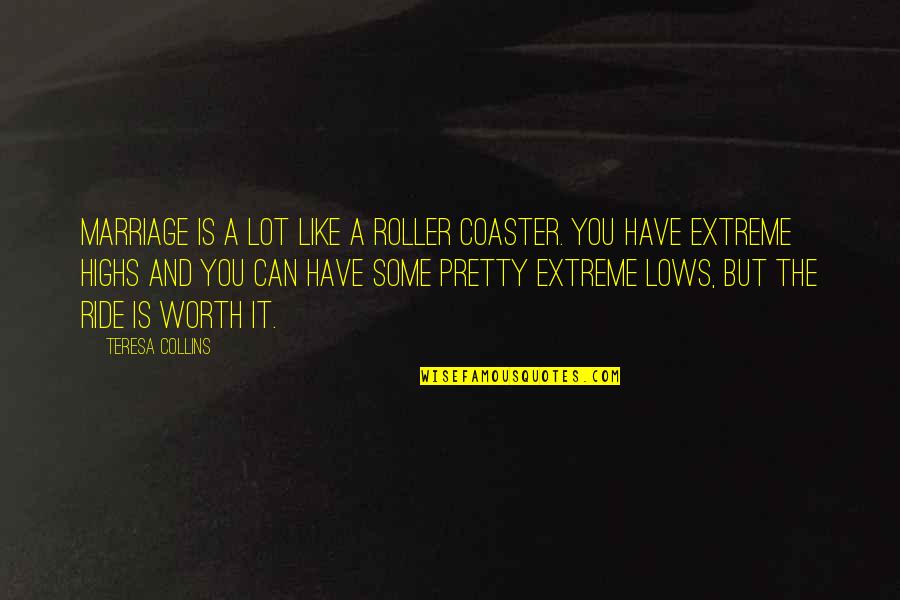 Marriage is a lot like a roller coaster. You have extreme highs and you can have some pretty extreme lows, but the ride is worth it.
—
Teresa Collins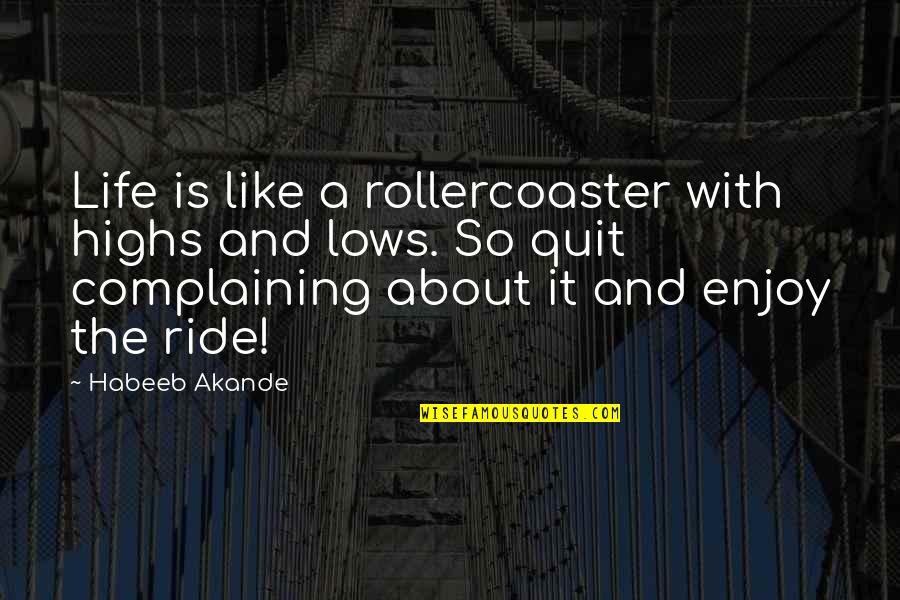 Life is like a rollercoaster with highs and lows. So quit complaining about it and enjoy the ride!
—
Habeeb Akande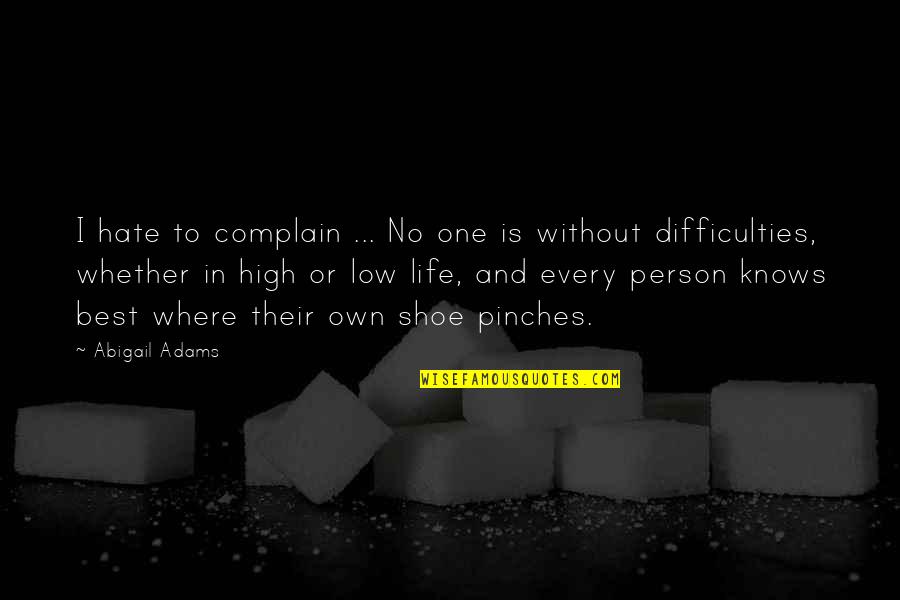 I hate to complain ... No one is without difficulties, whether in high or low life, and every person knows best where their own shoe pinches.
—
Abigail Adams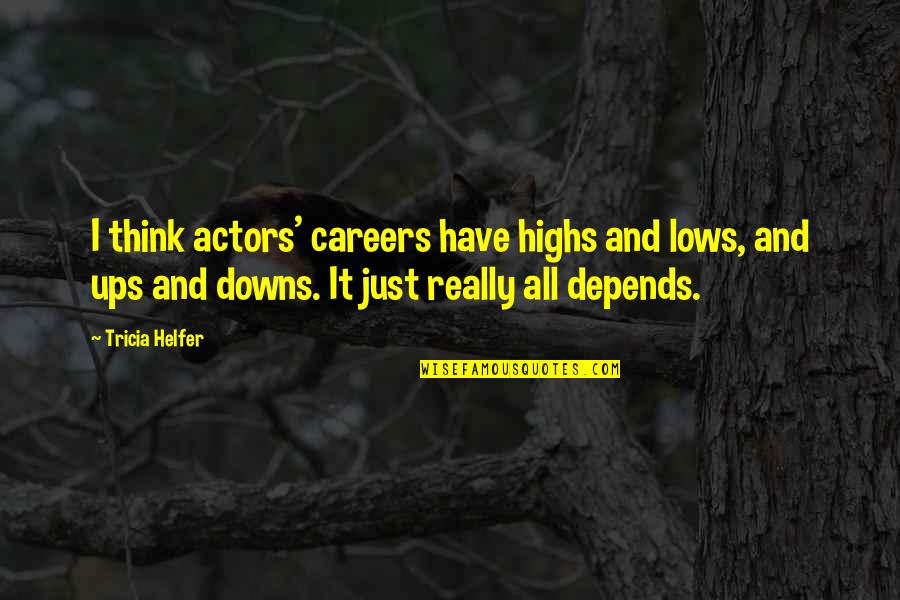 I think actors' careers have highs and lows, and ups and downs. It just really all depends.
—
Tricia Helfer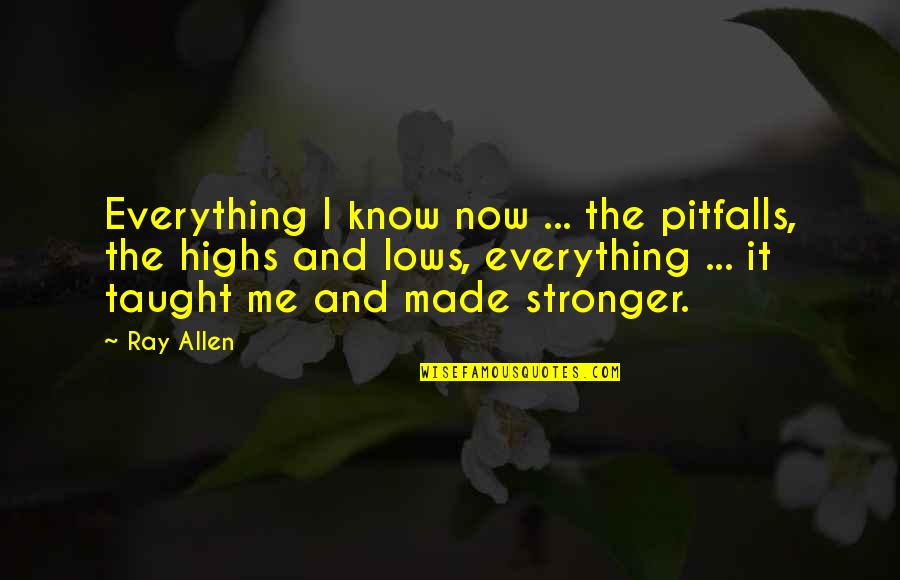 Everything I know now ... the pitfalls, the highs and lows, everything ... it taught me and made stronger.
—
Ray Allen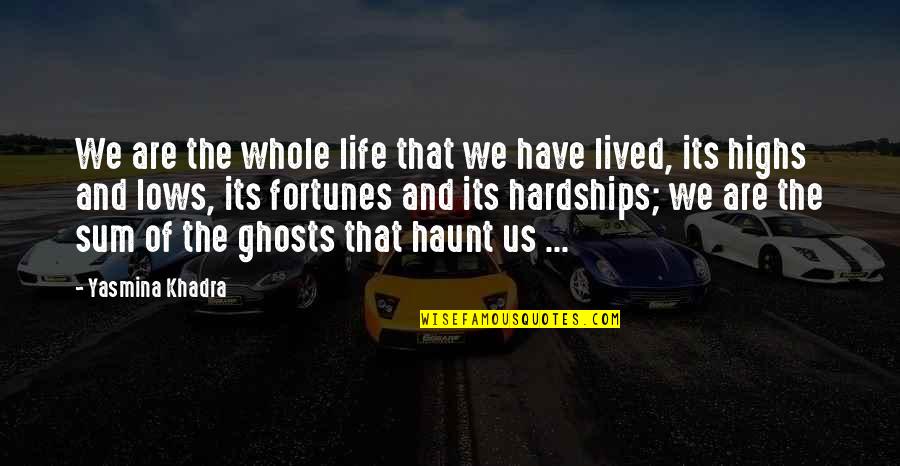 We are the whole life that we have lived, its highs and lows, its fortunes and its hardships; we are the sum of the ghosts that haunt us ...
—
Yasmina Khadra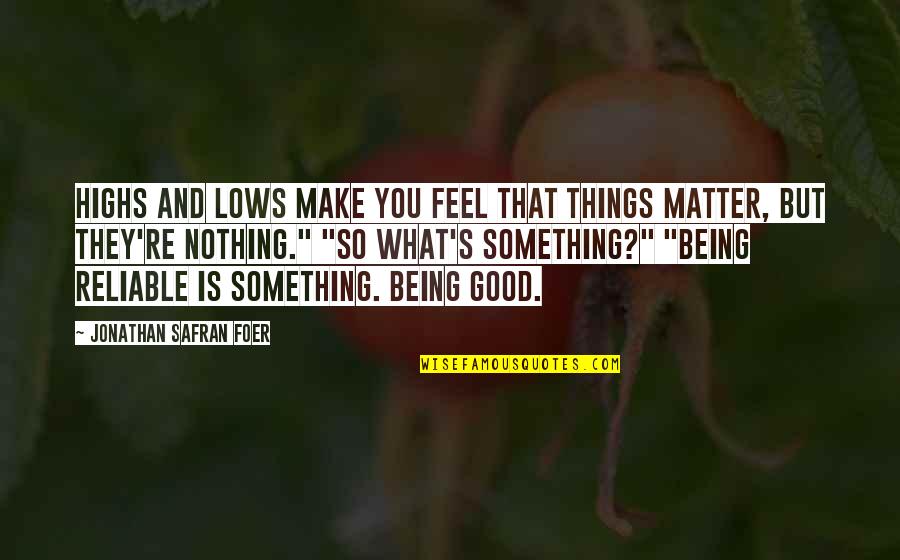 Highs and lows make you feel that things matter, but they're nothing." "So what's something?" "Being reliable is something. Being good.
—
Jonathan Safran Foer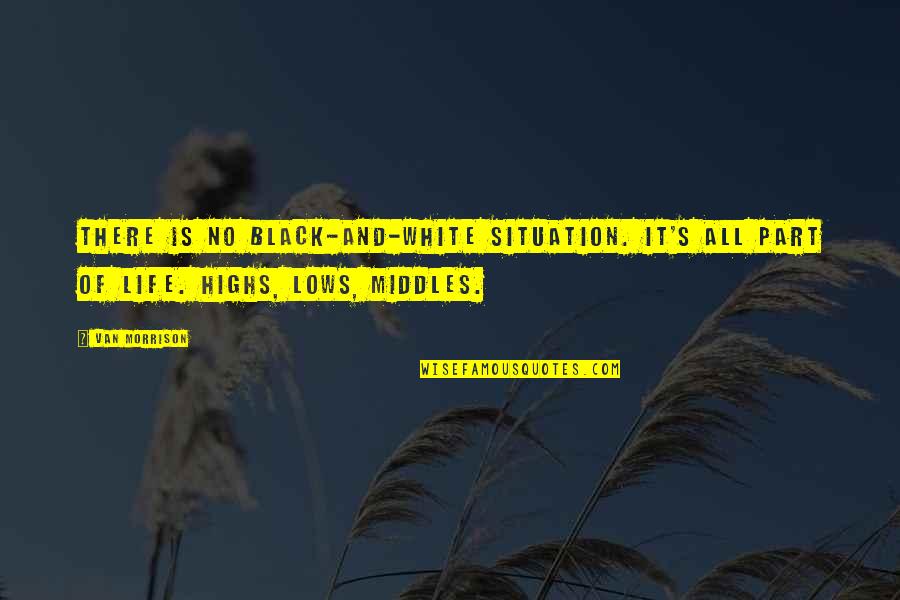 There is no black-and-white situation. It's all part of life. Highs, lows, middles.
—
Van Morrison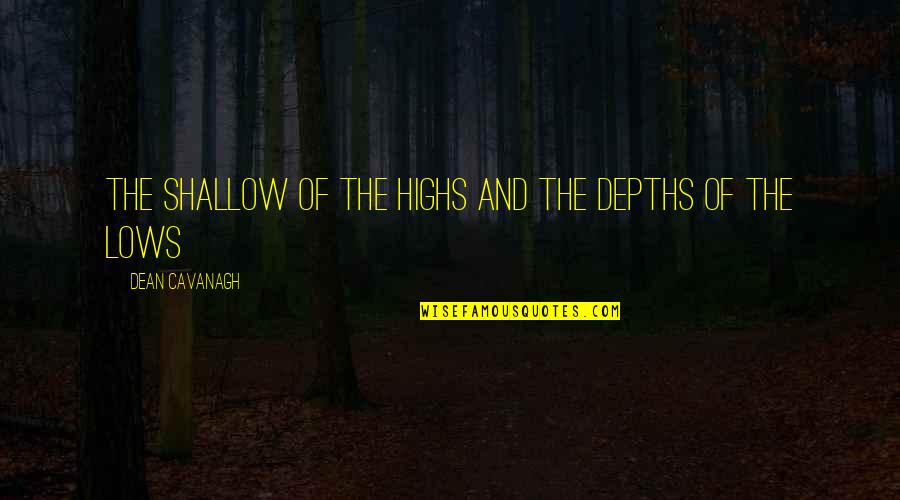 The shallow of the highs and the depths of the lows
—
Dean Cavanagh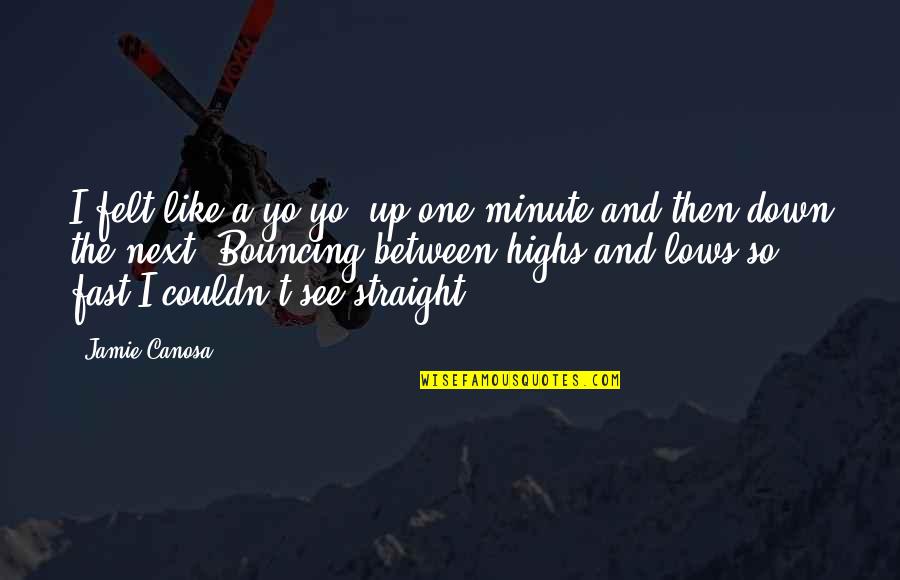 I felt like a yo-yo, up one minute and then down the next. Bouncing between highs and lows so fast I couldn't see straight. —
Jamie Canosa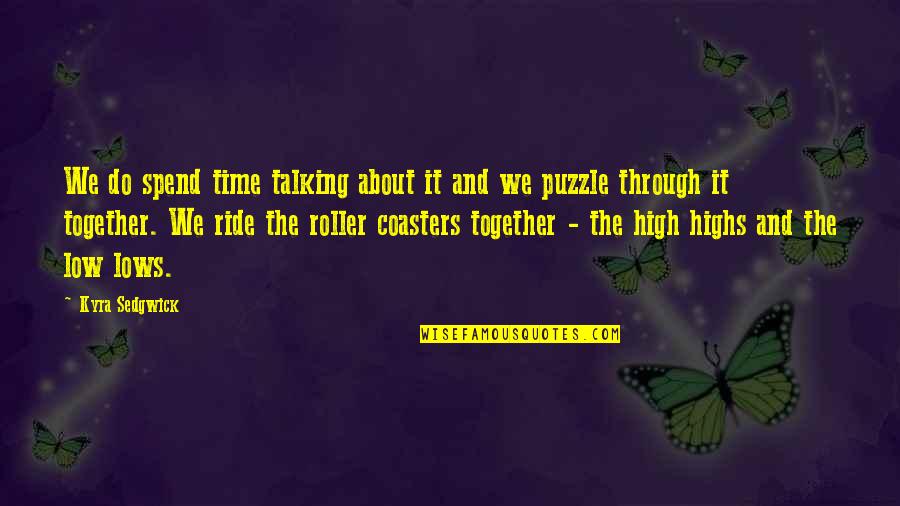 We do spend time talking about it and we puzzle through it together. We ride the roller coasters together - the high highs and the low lows. —
Kyra Sedgwick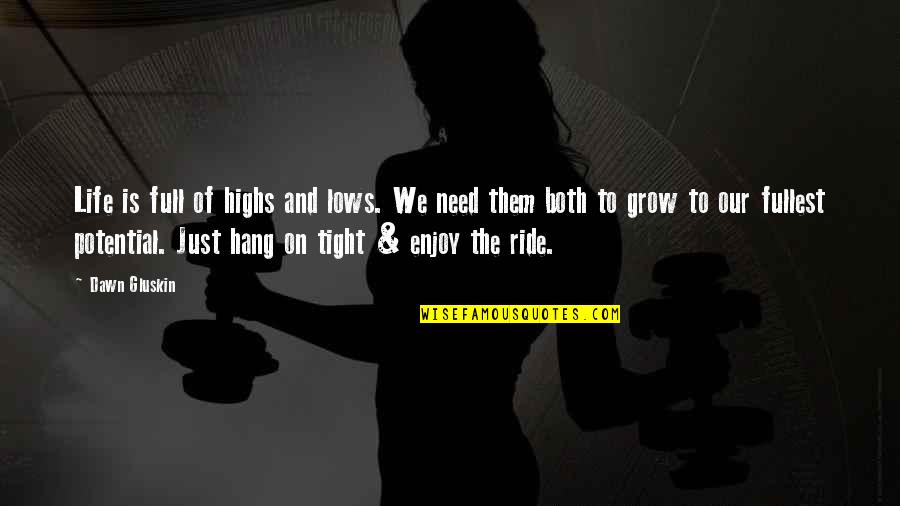 Life is full of highs and lows. We need them both to grow to our fullest potential. Just hang on tight & enjoy the ride. —
Dawn Gluskin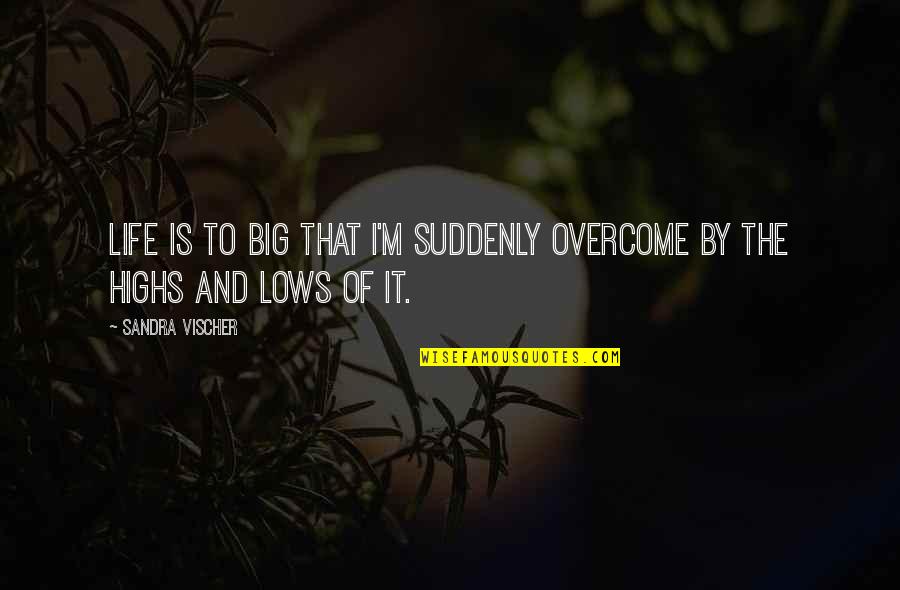 Life is to BIG that I'm suddenly overcome by the highs and lows of it. —
Sandra Vischer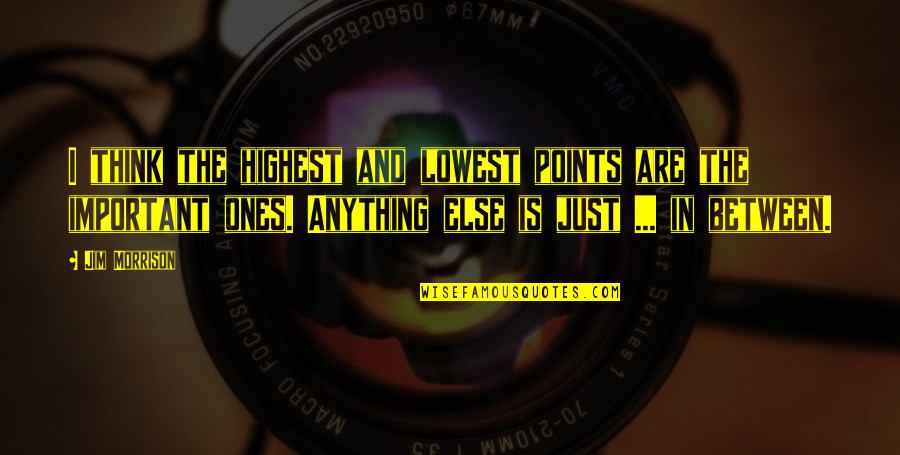 I think the highest and lowest points are the important ones. Anything else is just ... in between. —
Jim Morrison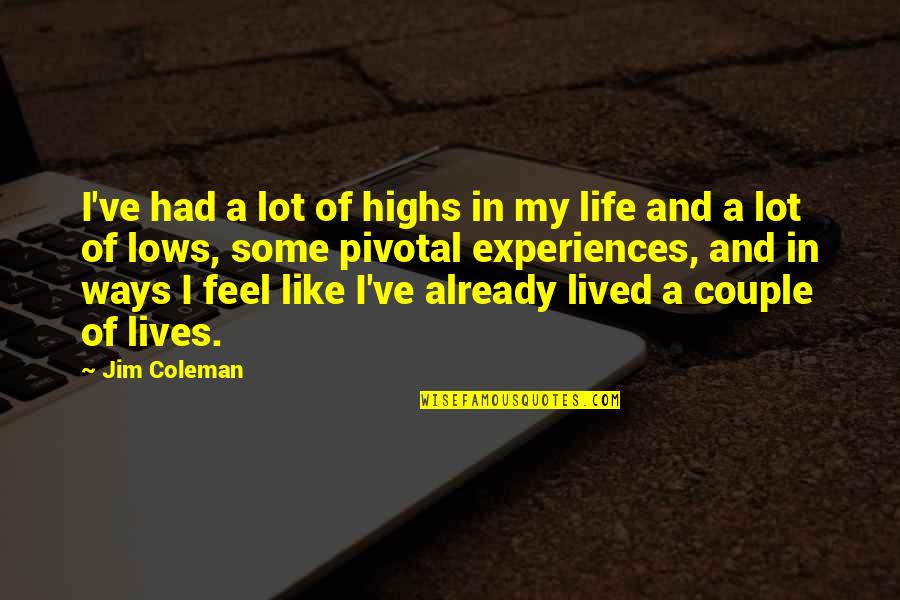 I've had a lot of highs in my life and a lot of lows, some pivotal experiences, and in ways I feel like I've already lived a couple of lives. —
Jim Coleman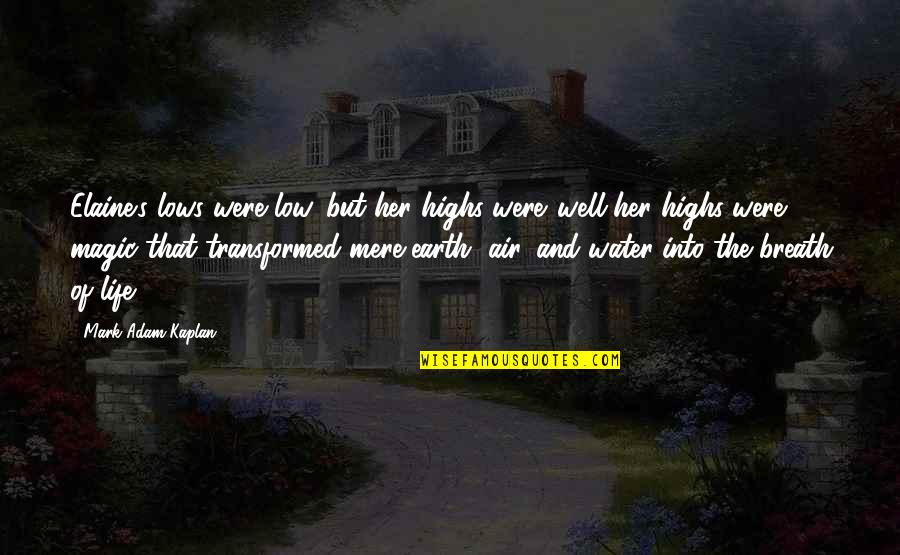 Elaine's lows were low, but her highs were...well her highs were magic that transformed mere earth, air, and water into the breath of life. —
Mark Adam Kaplan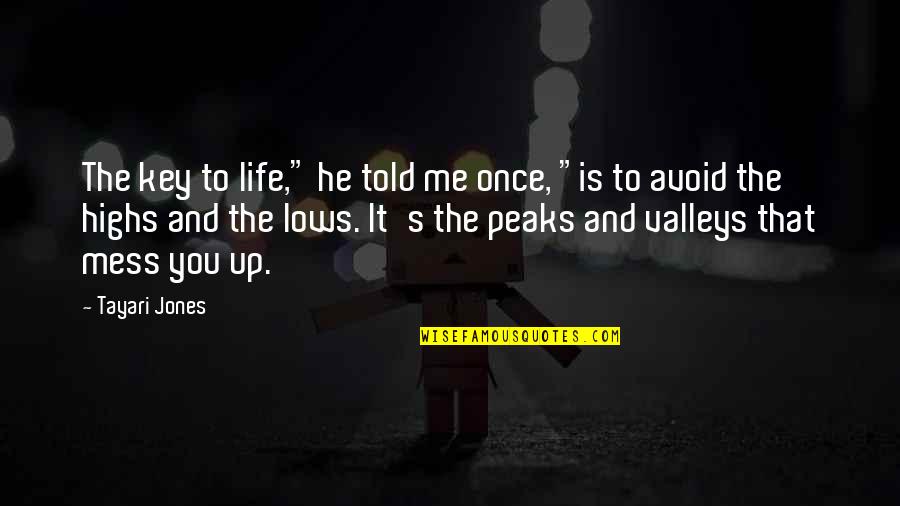 The key to life," he told me once, "is to avoid the highs and the lows. It's the peaks and valleys that mess you up. —
Tayari Jones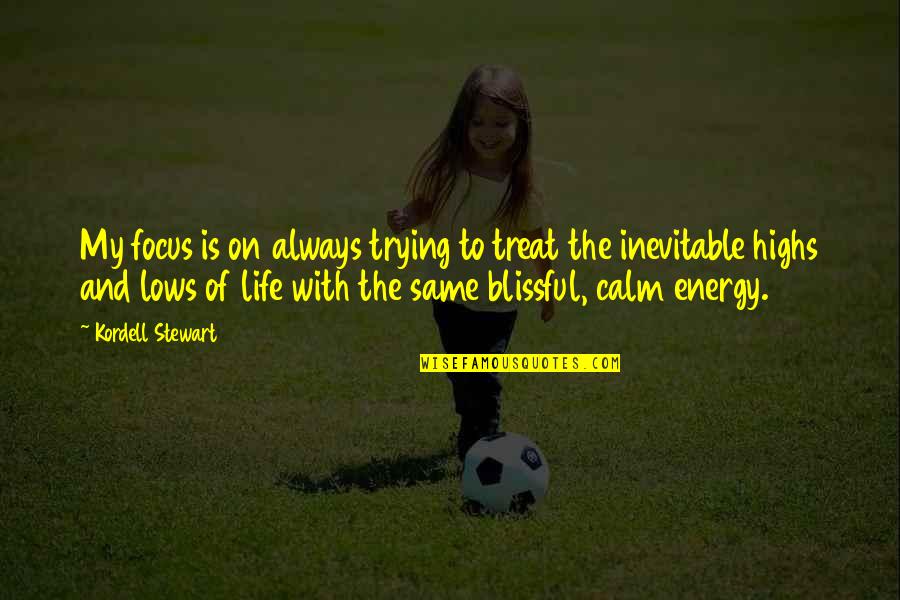 My focus is on always trying to treat the inevitable highs and lows of life with the same blissful, calm energy. —
Kordell Stewart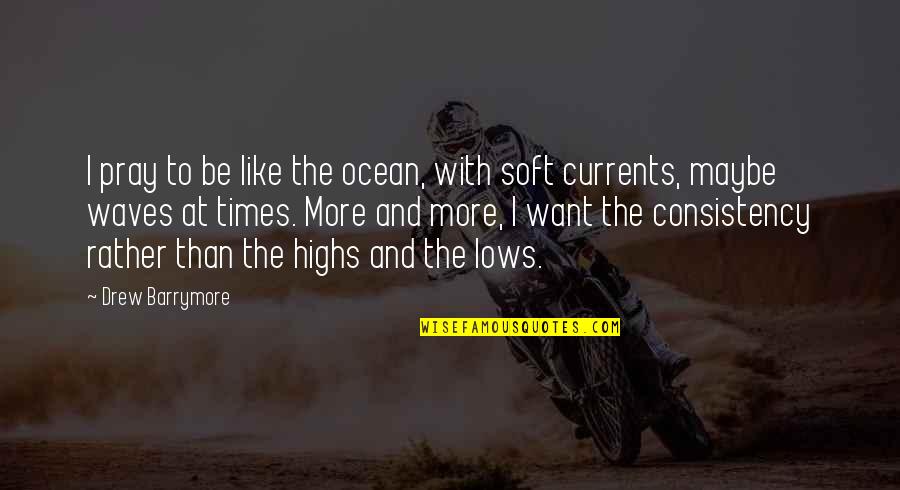 I pray to be like the ocean, with soft currents, maybe waves at times. More and more, I want the consistency rather than the highs and the lows. —
Drew Barrymore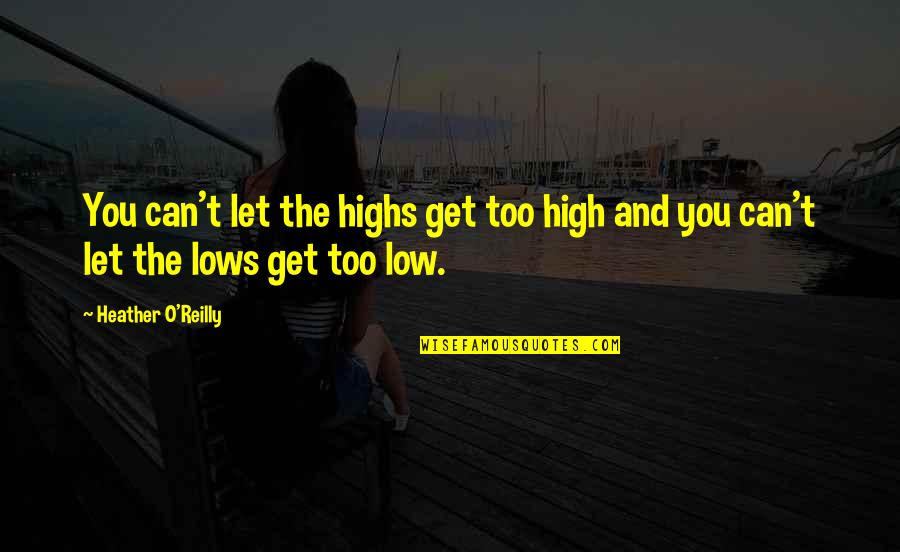 You can't let the highs get too high and you can't let the lows get too low. —
Heather O'Reilly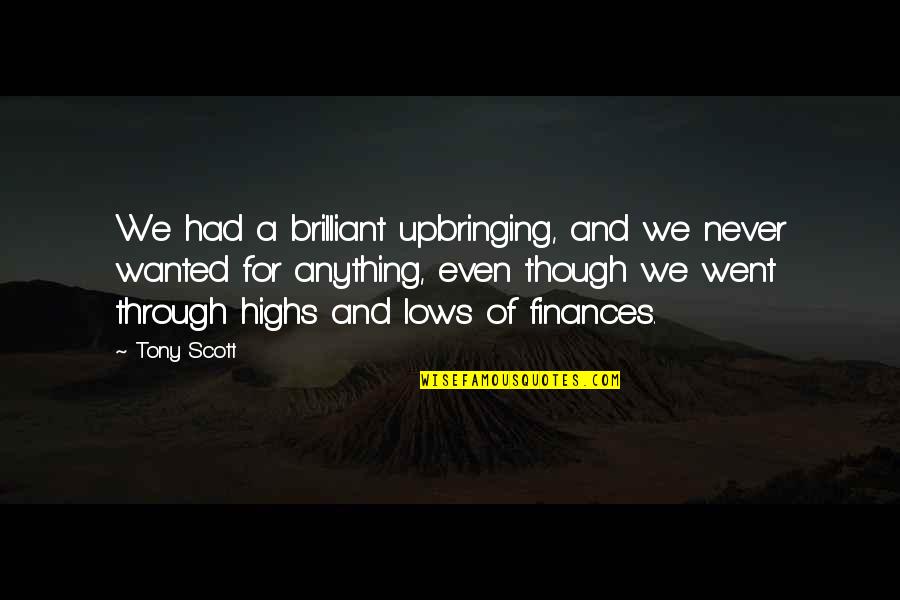 We had a brilliant upbringing, and we never wanted for anything, even though we went through highs and lows of finances. —
Tony Scott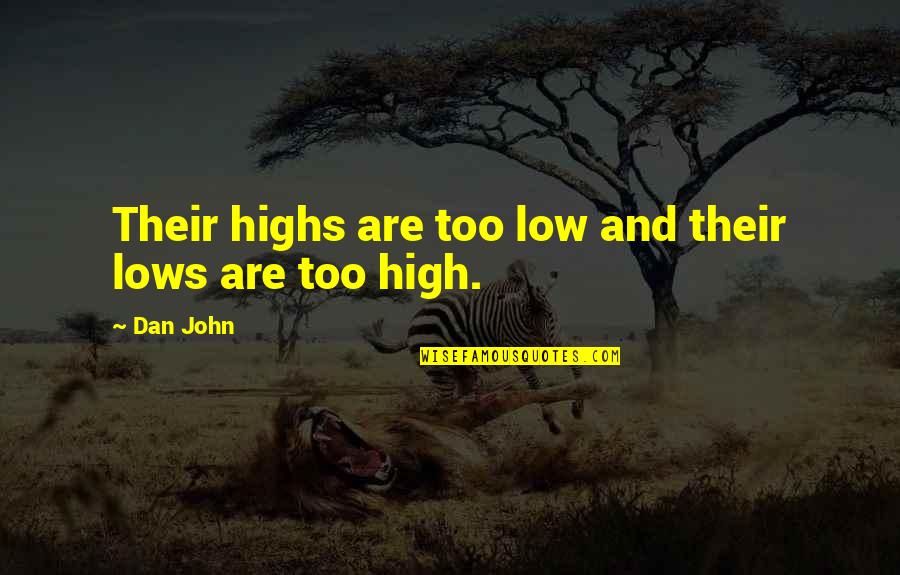 Their highs are too low and their lows are too high. —
Dan John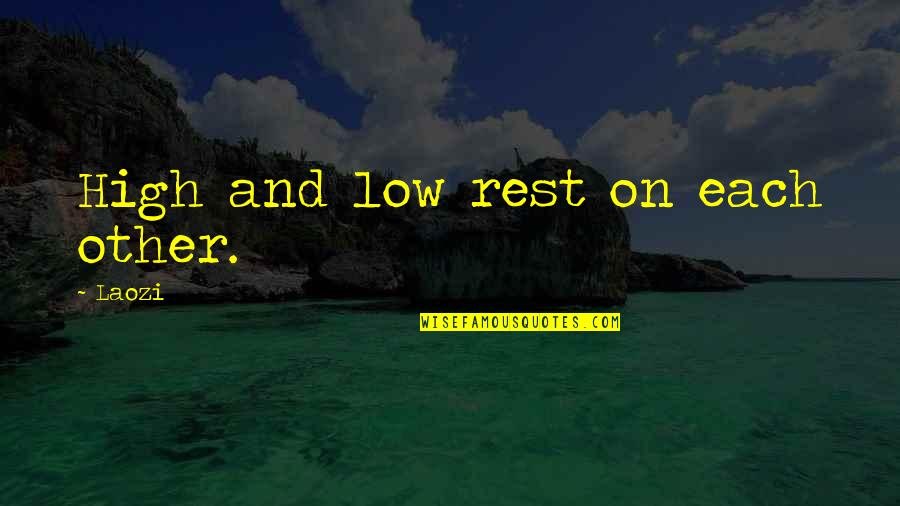 High and low rest on each other. —
Laozi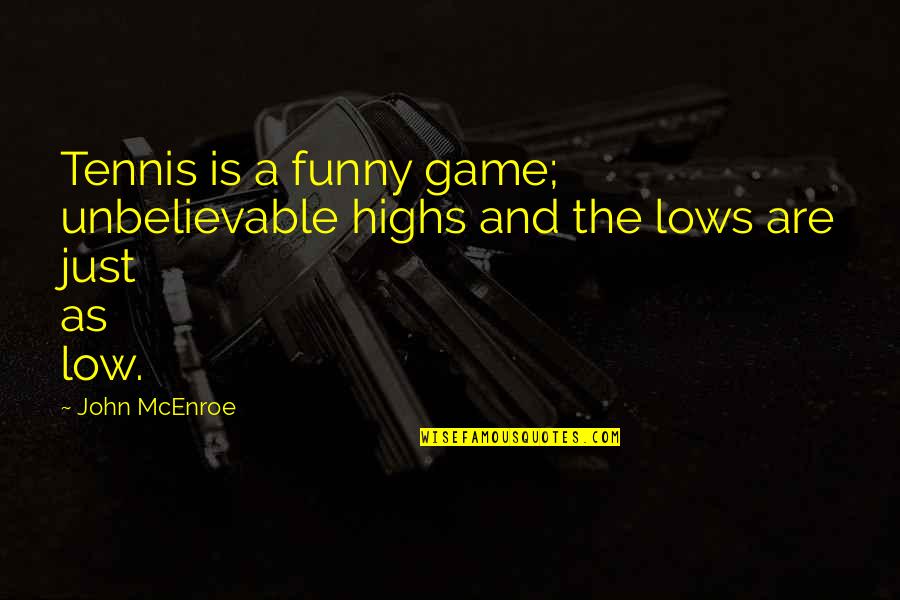 Tennis is a funny game; unbelievable highs and the lows are just as low. —
John McEnroe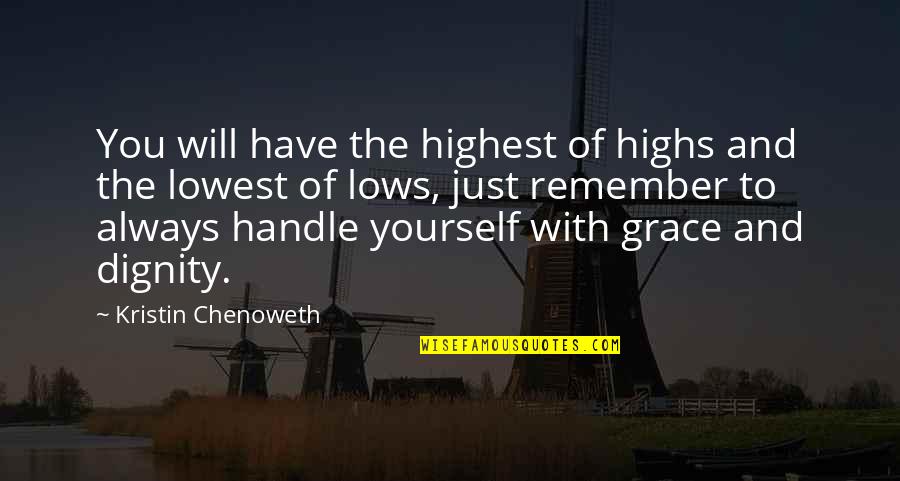 You will have the highest of highs and the lowest of lows, just remember to always handle yourself with grace and dignity. —
Kristin Chenoweth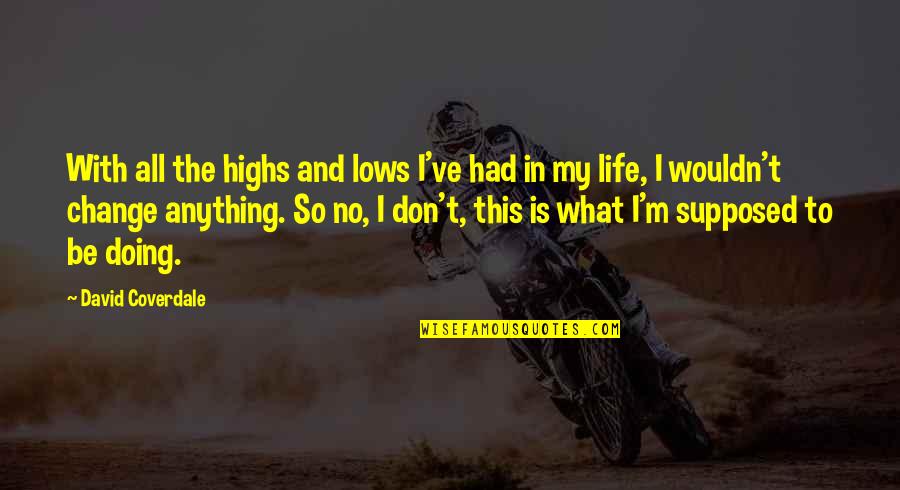 With all the highs and lows I've had in my life, I wouldn't change anything. So no, I don't, this is what I'm supposed to be doing. —
David Coverdale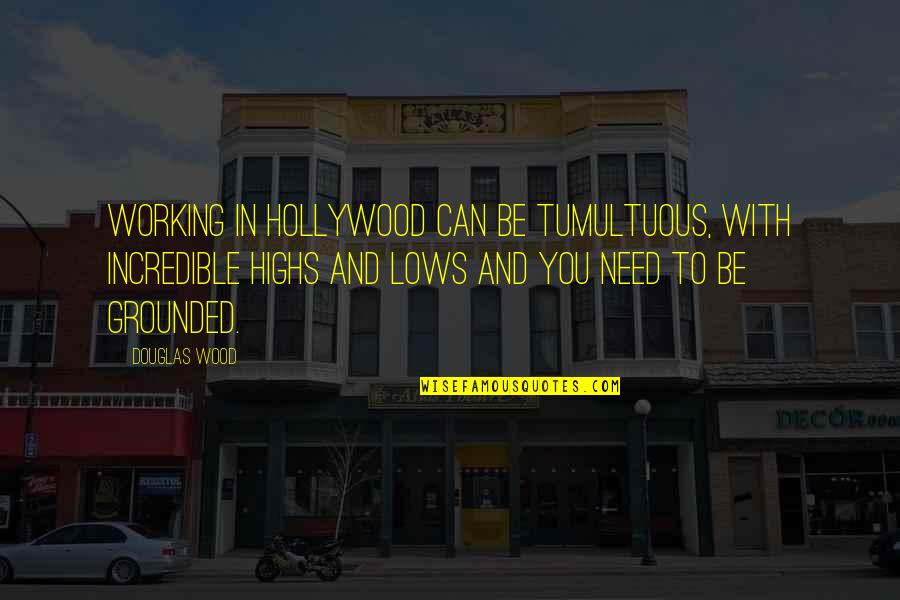 Working in Hollywood can be tumultuous, with incredible highs and lows and you need to be grounded. —
Douglas Wood
In football, you are going to have highs and lows, and you have to recognize when you have new opportunities and walk in those. —
D'Brickashaw Ferguson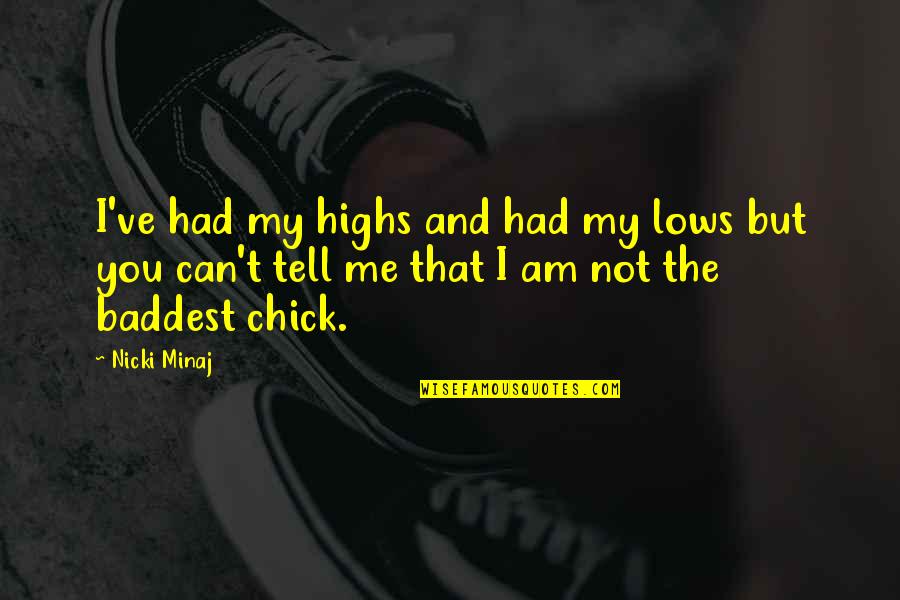 I've had my highs and had my lows but you can't tell me that I am not the baddest chick. —
Nicki Minaj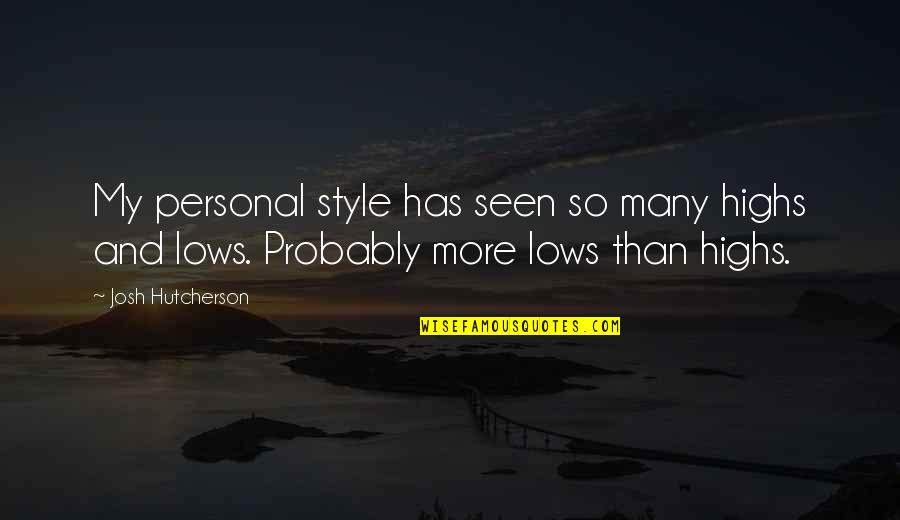 My personal style has seen so many highs and lows. Probably more lows than highs. —
Josh Hutcherson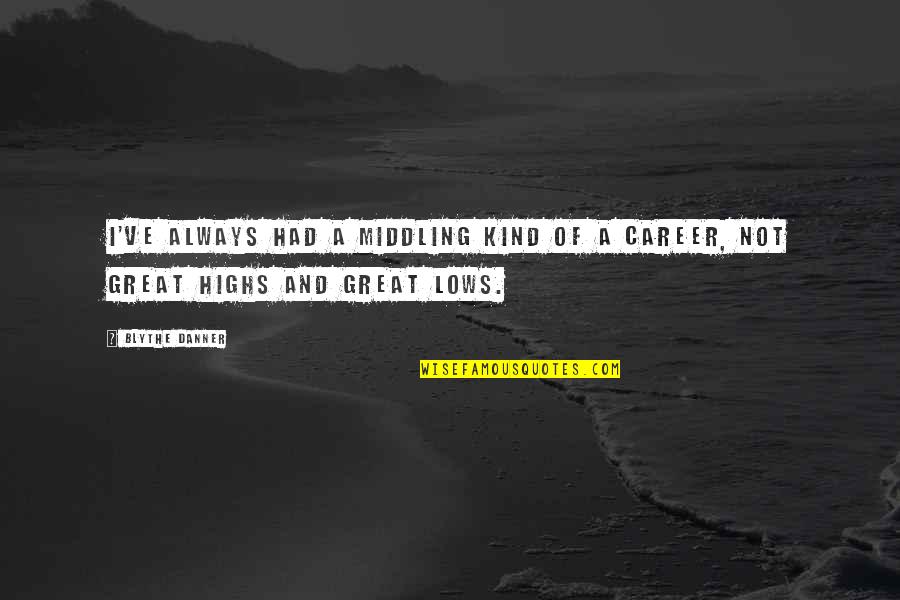 I've always had a middling kind of a career, not great highs and great lows. —
Blythe Danner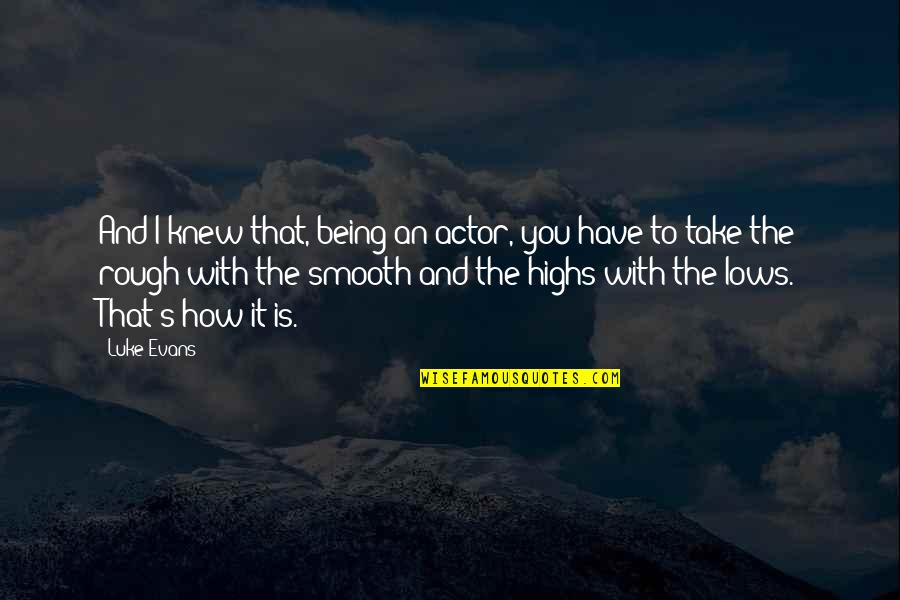 And I knew that, being an actor, you have to take the rough with the smooth and the highs with the lows. That's how it is. —
Luke Evans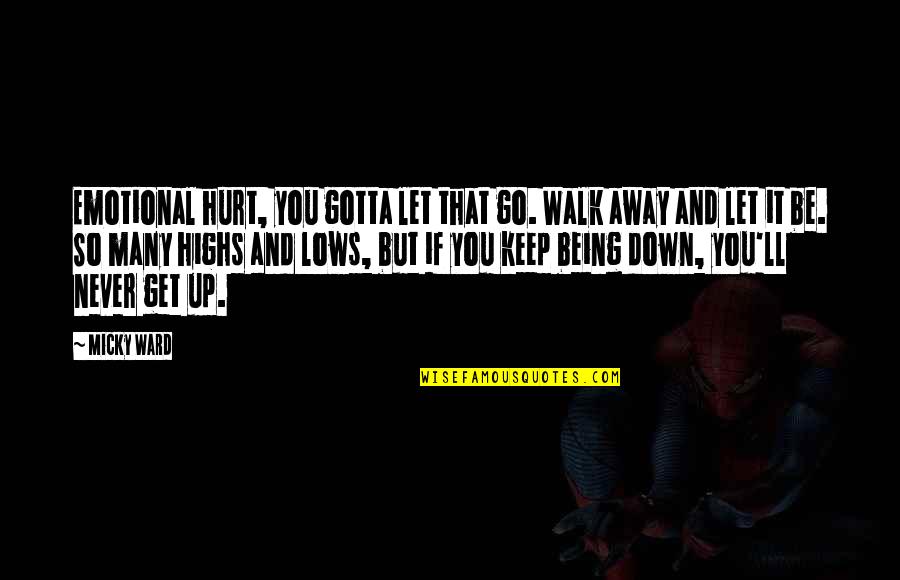 Emotional hurt, you gotta let that go. Walk away and let it be. So many highs and lows, but if you keep being down, you'll never get up. —
Micky Ward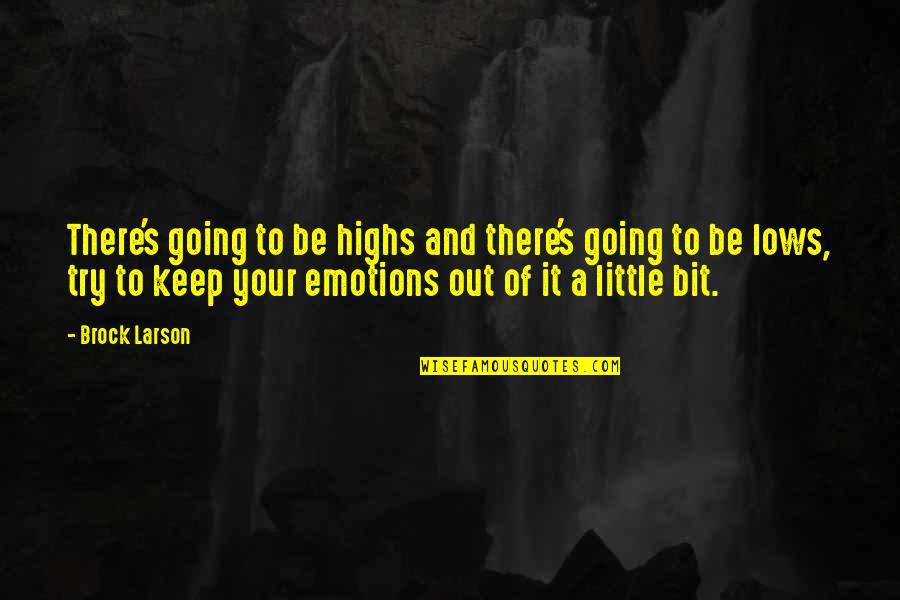 There's going to be highs and there's going to be lows, try to keep your emotions out of it a little bit. —
Brock Larson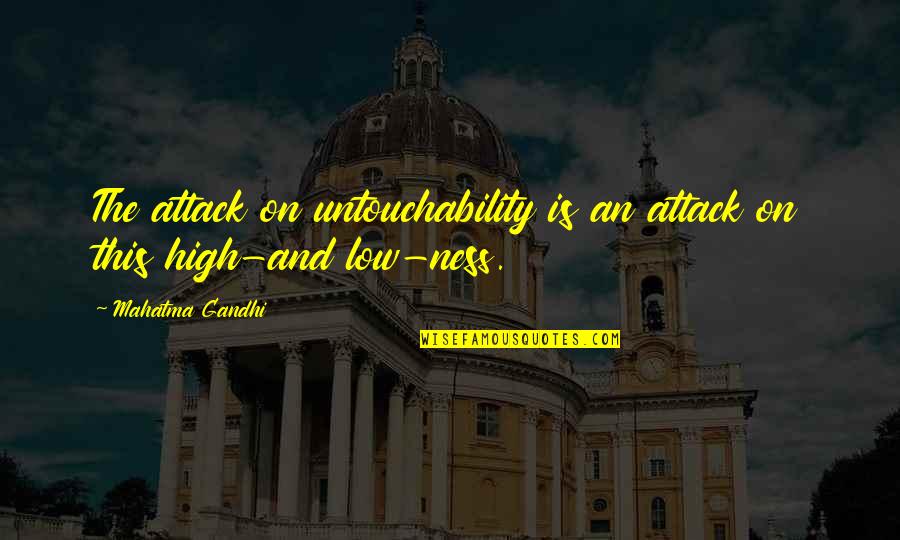 The attack on untouchability is an attack on this high-and low-ness. —
Mahatma Gandhi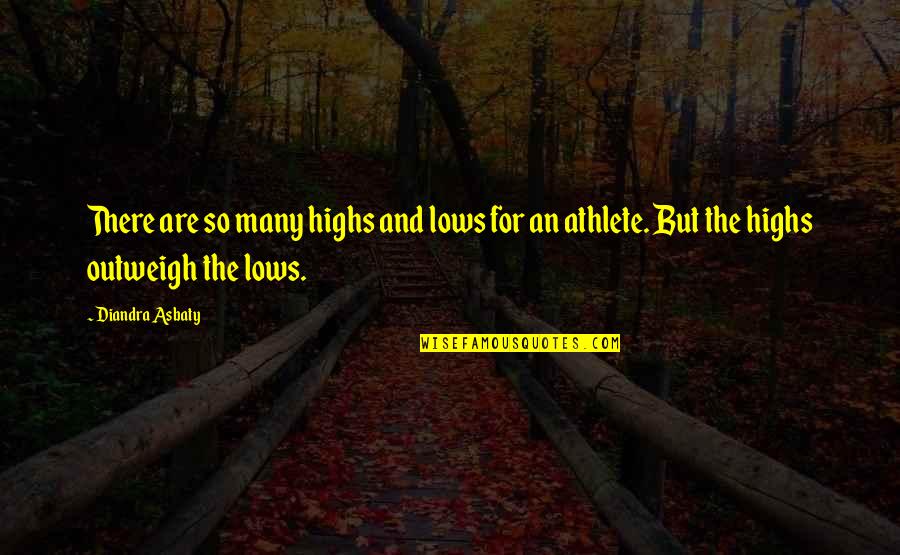 There are so many highs and lows for an athlete. But the highs outweigh the lows. —
Diandra Asbaty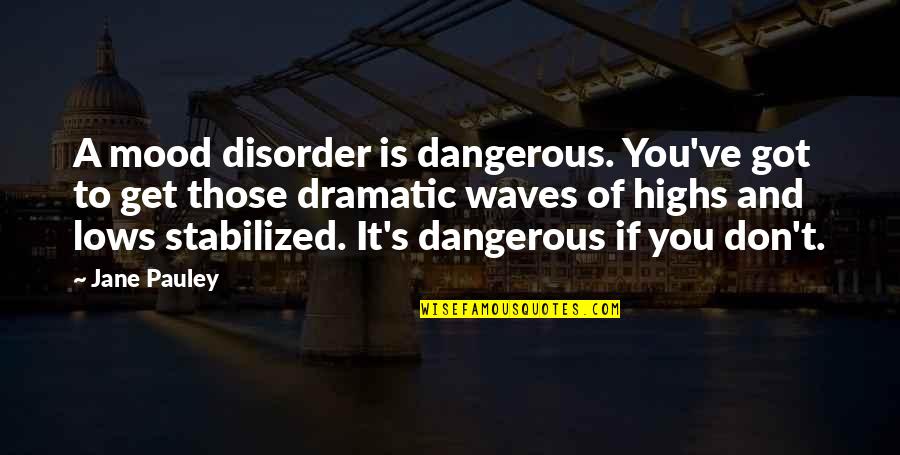 A mood disorder is dangerous. You've got to get those dramatic waves of highs and lows stabilized. It's dangerous if you don't. —
Jane Pauley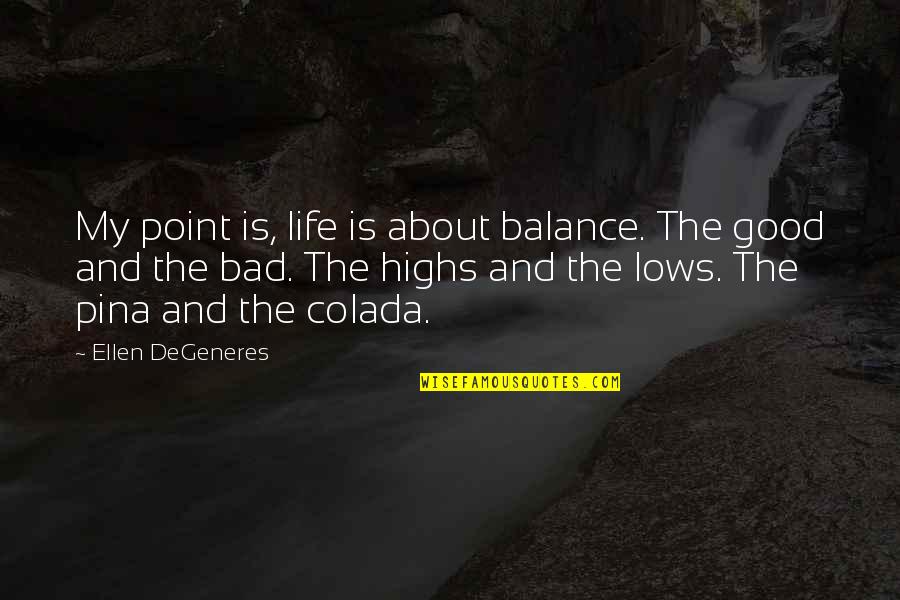 My point is, life is about balance. The good and the bad. The highs and the lows. The pina and the colada. —
Ellen DeGeneres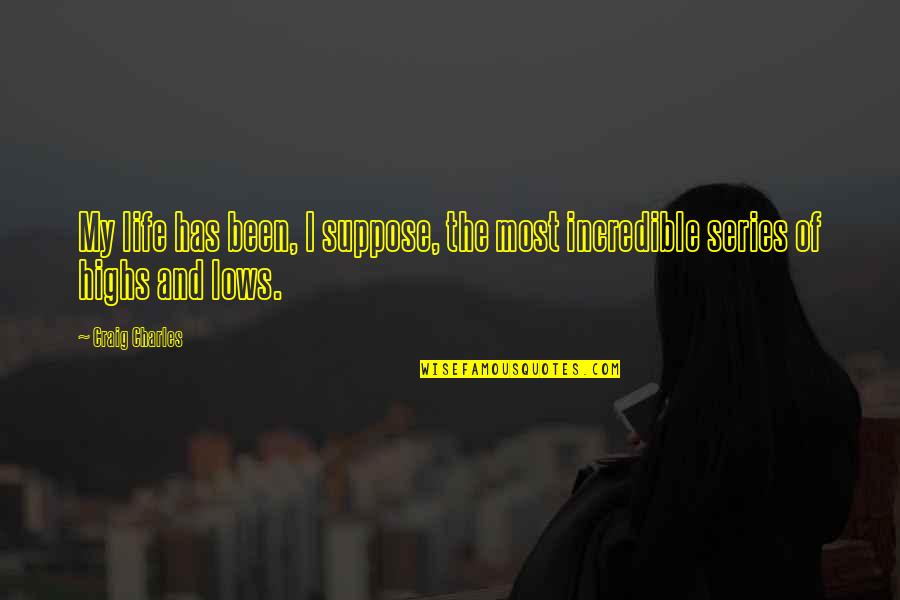 My life has been, I suppose, the most incredible series of highs and lows. —
Craig Charles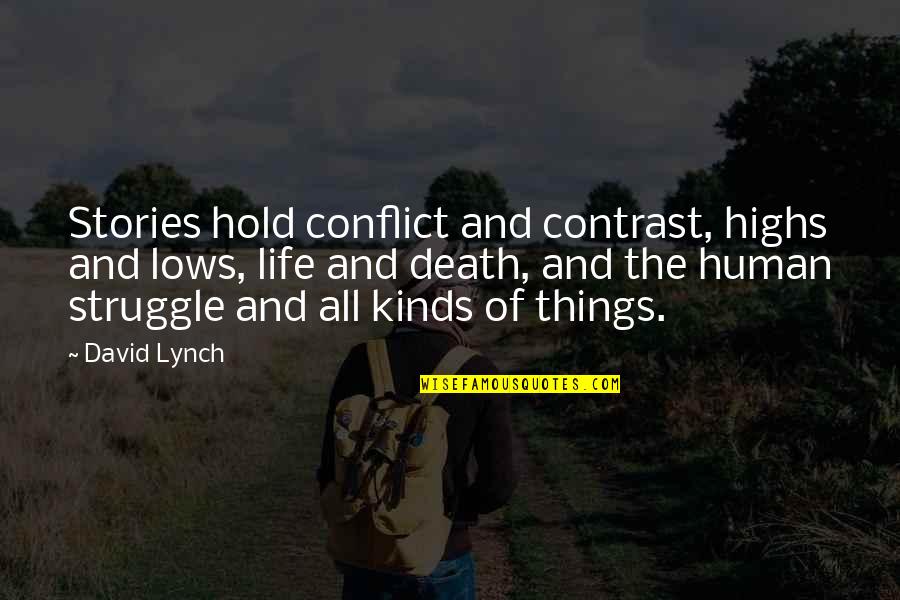 Stories hold conflict and contrast, highs and lows, life and death, and the human struggle and all kinds of things. —
David Lynch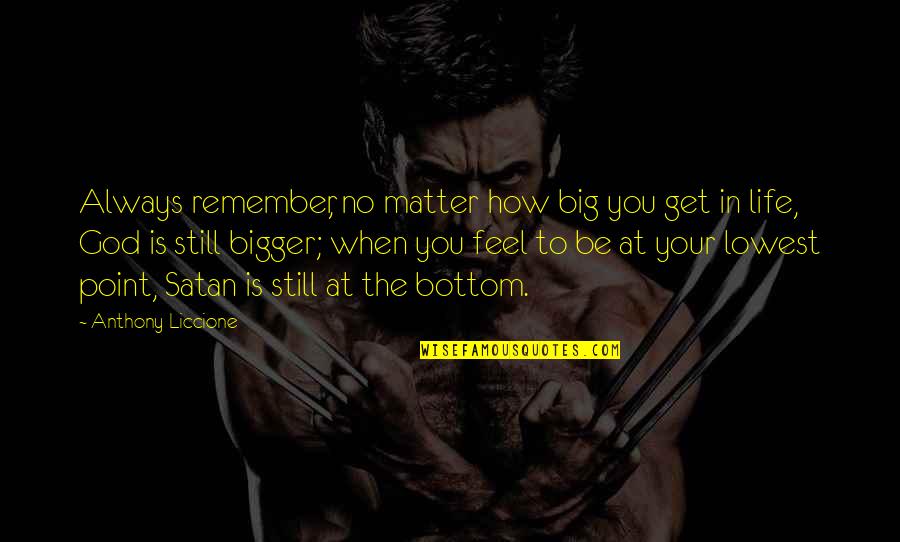 Always remember, no matter how big you get in life, God is still bigger; when you feel to be at your lowest point, Satan is still at the bottom. —
Anthony Liccione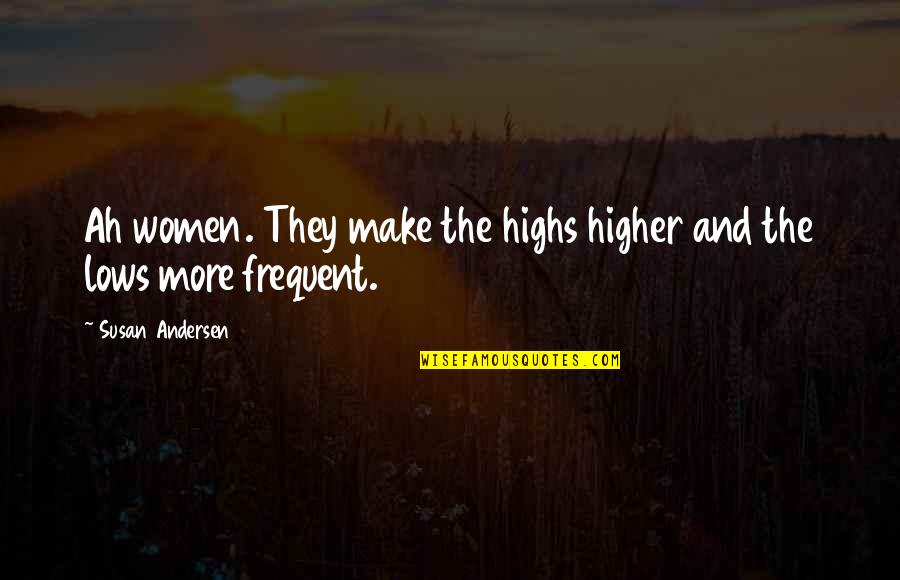 Ah women. They make the highs higher and the lows more frequent. —
Susan Andersen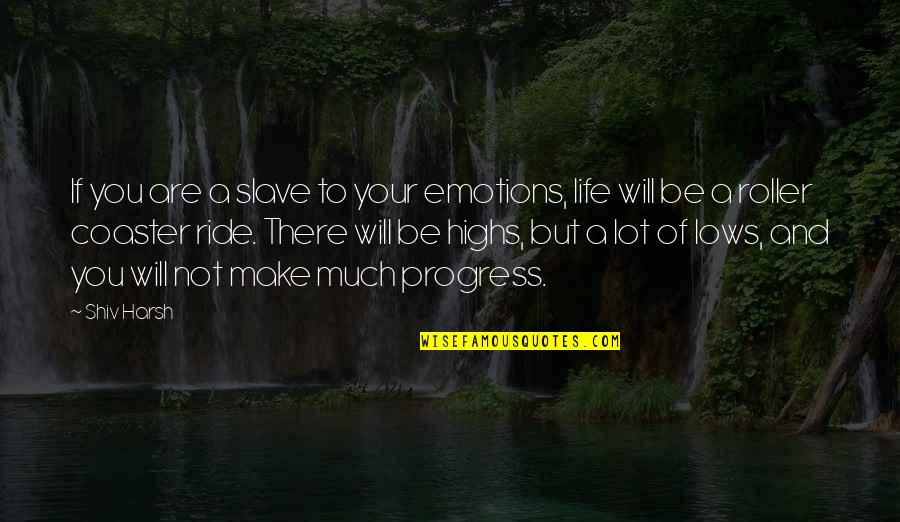 If you are a slave to your emotions, life will be a roller coaster ride. There will be highs, but a lot of lows, and you will not make much progress. —
Shiv Harsh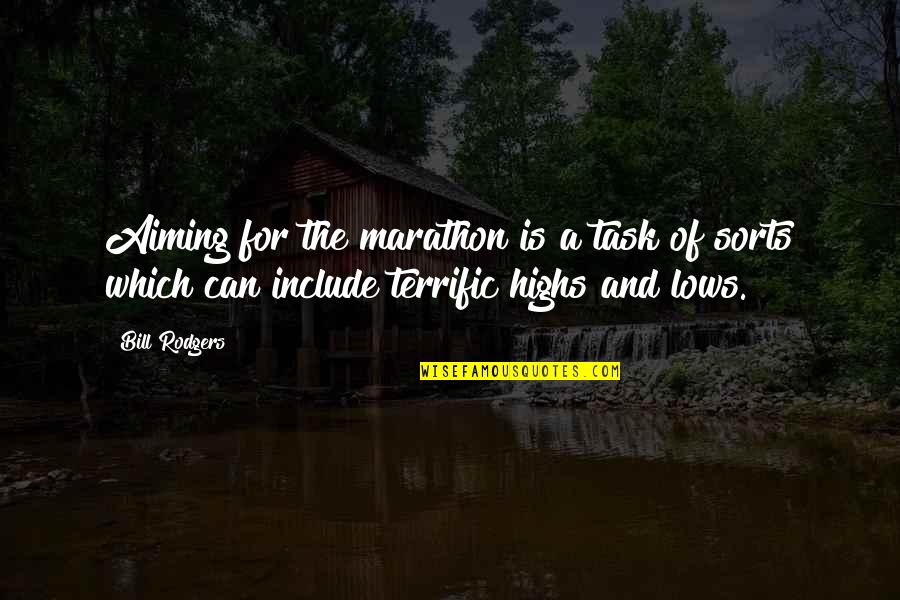 Aiming for the marathon is a task of sorts which can include terrific highs and lows. —
Bill Rodgers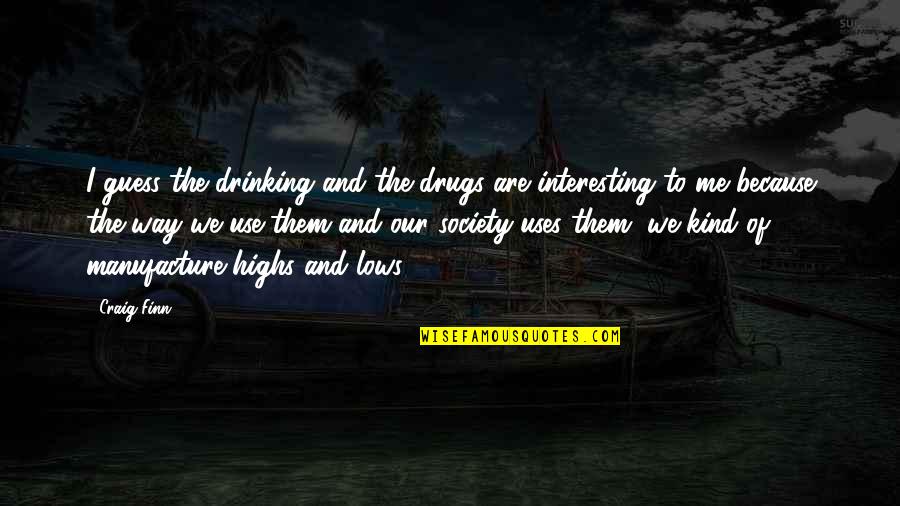 I guess the drinking and the drugs are interesting to me because the way we use them and our society uses them, we kind of manufacture highs and lows. —
Craig Finn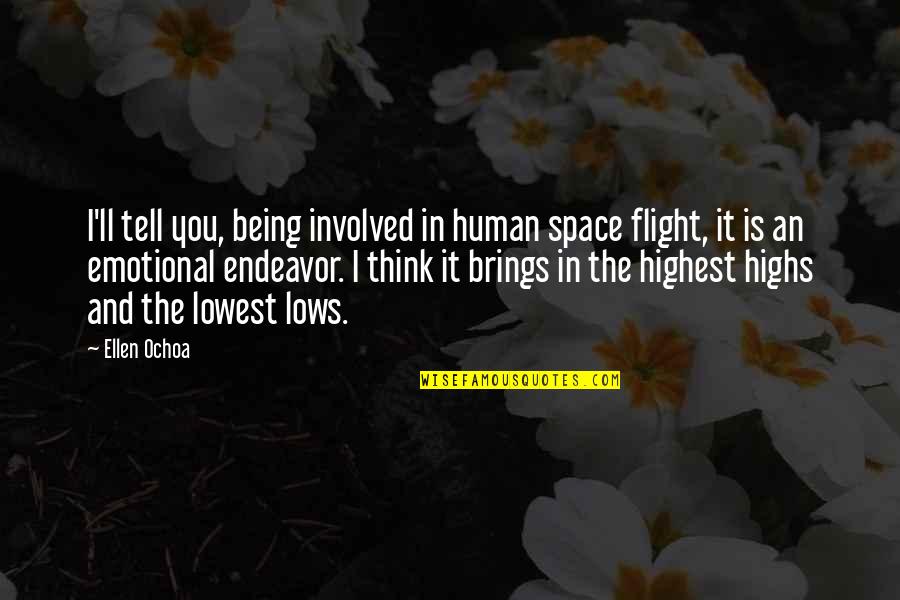 I'll tell you, being involved in human space flight, it is an emotional endeavor. I think it brings in the highest highs and the lowest lows. —
Ellen Ochoa