If You Want Something In Life Quotes
Collection of top 66 famous quotes about If You Want Something In Life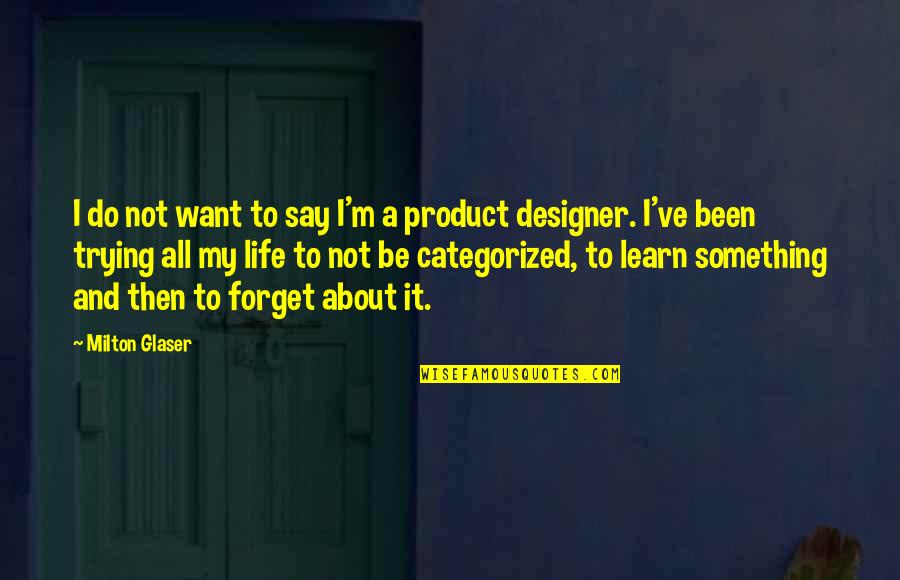 I do not want to say I'm a product designer. I've been trying all my life to not be categorized, to learn something and then to forget about it.
—
Milton Glaser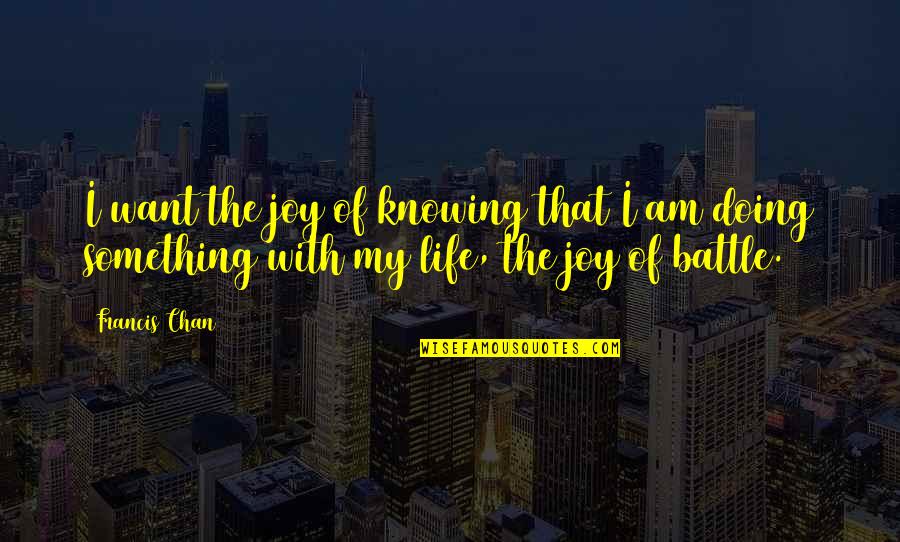 I want the joy of knowing that I am doing something with my life, the joy of battle.
—
Francis Chan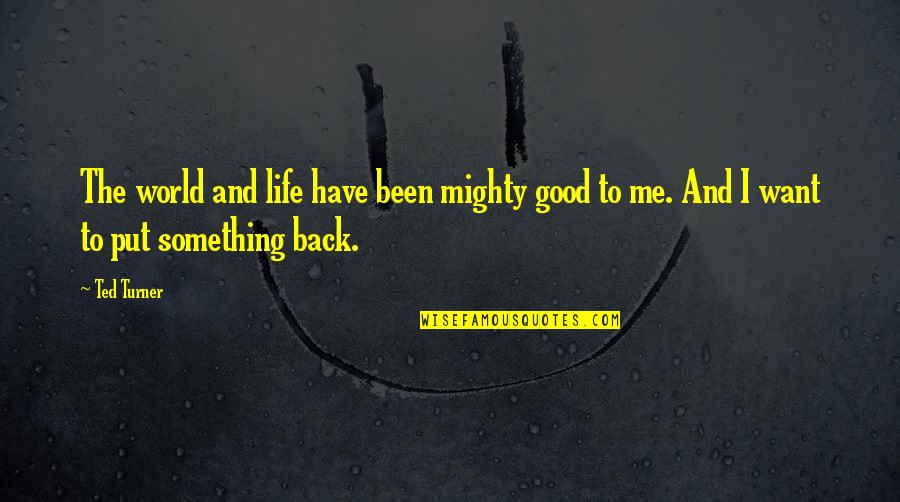 The world and life have been mighty good to me. And I want to put something back.
—
Ted Turner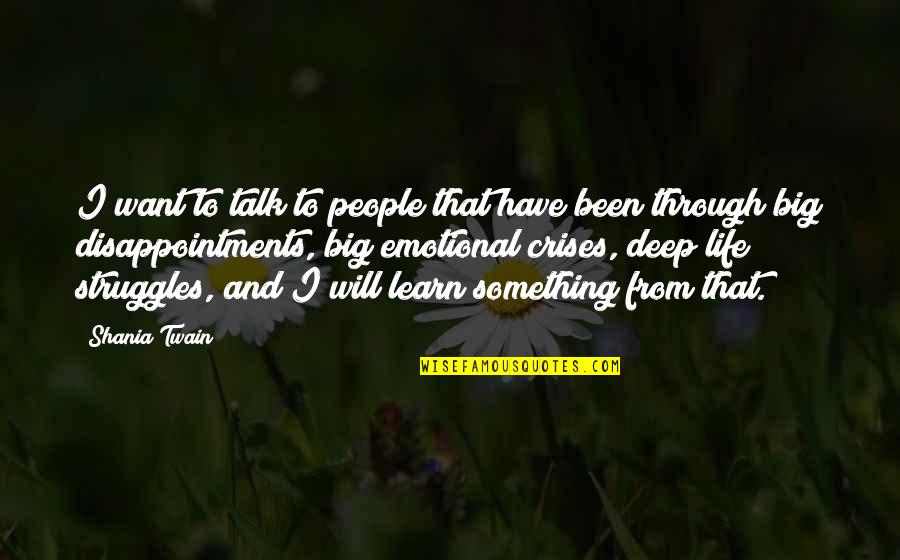 I want to talk to people that have been through big disappointments, big emotional crises, deep life struggles, and I will learn something from that.
—
Shania Twain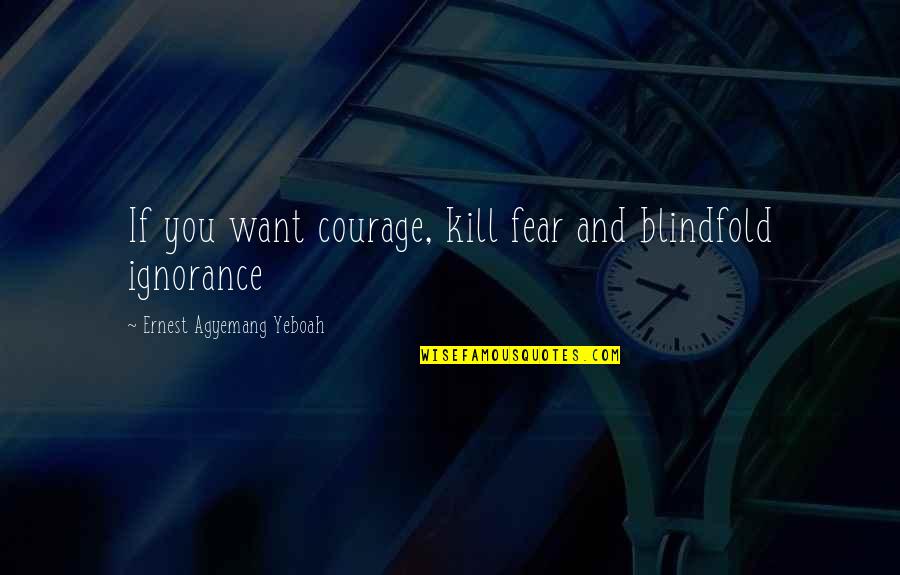 If you want courage, kill fear and blindfold ignorance
—
Ernest Agyemang Yeboah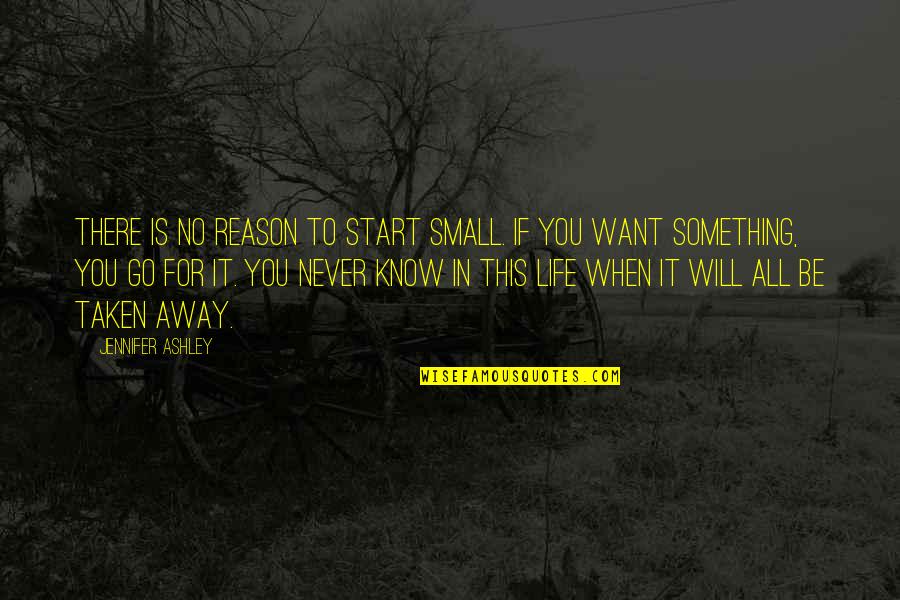 There is no reason to start small. If you want something, you go for it. You never know in this life when it will all be taken away.
—
Jennifer Ashley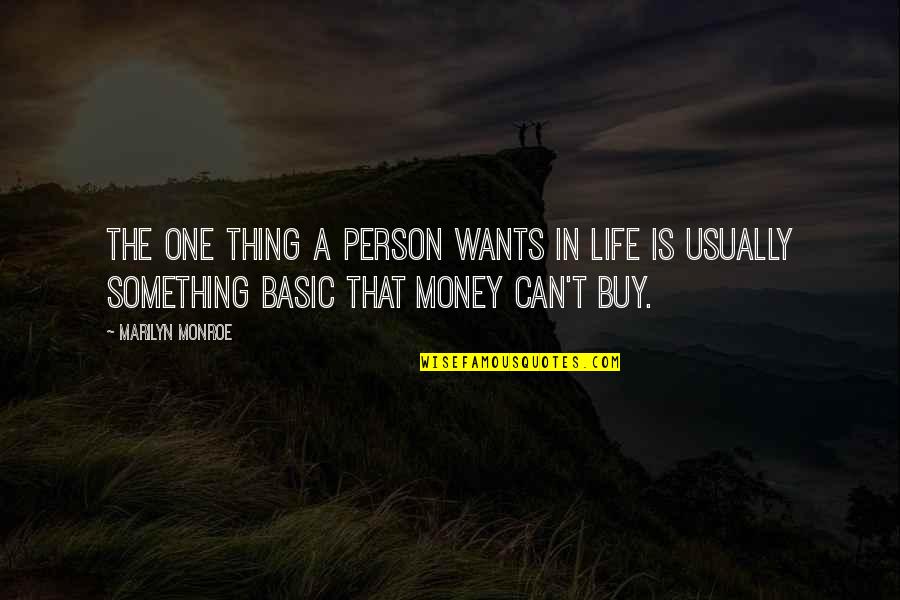 The one thing a person wants in life is usually something basic that money can't buy.
—
Marilyn Monroe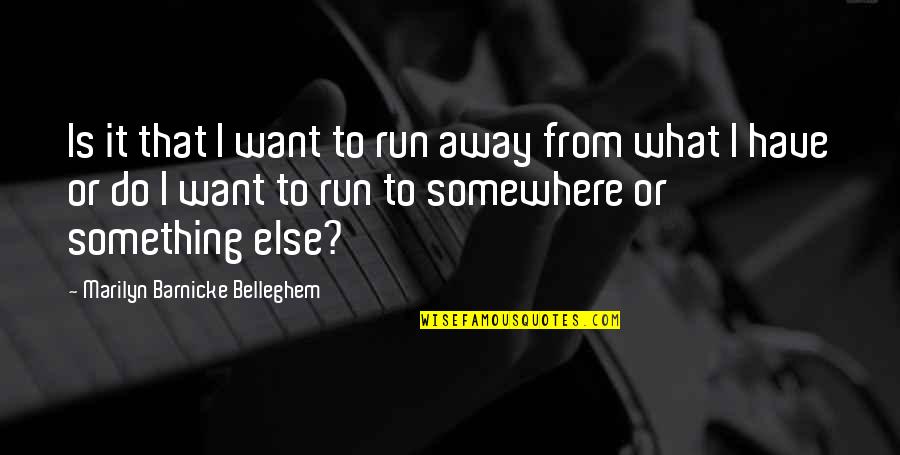 Is it that I want to run away from what I have or do I want to run to somewhere or something else?
—
Marilyn Barnicke Belleghem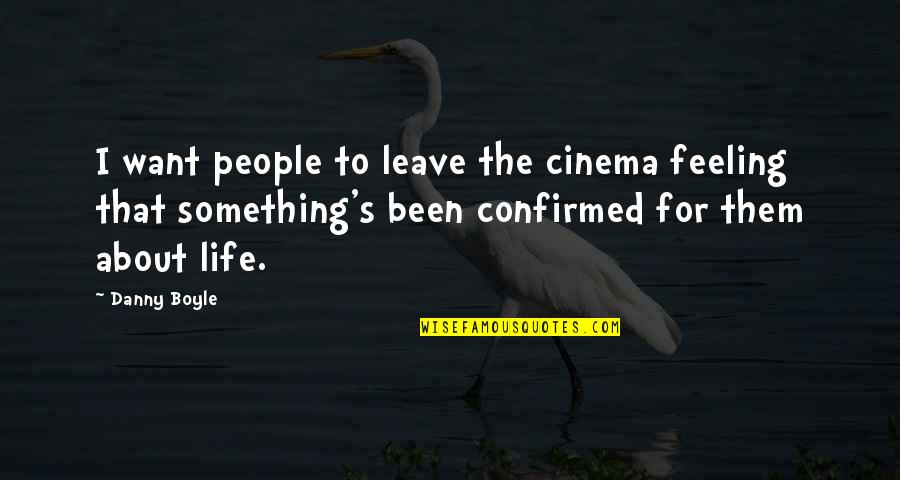 I want people to leave the cinema feeling that something's been confirmed for them about life.
—
Danny Boyle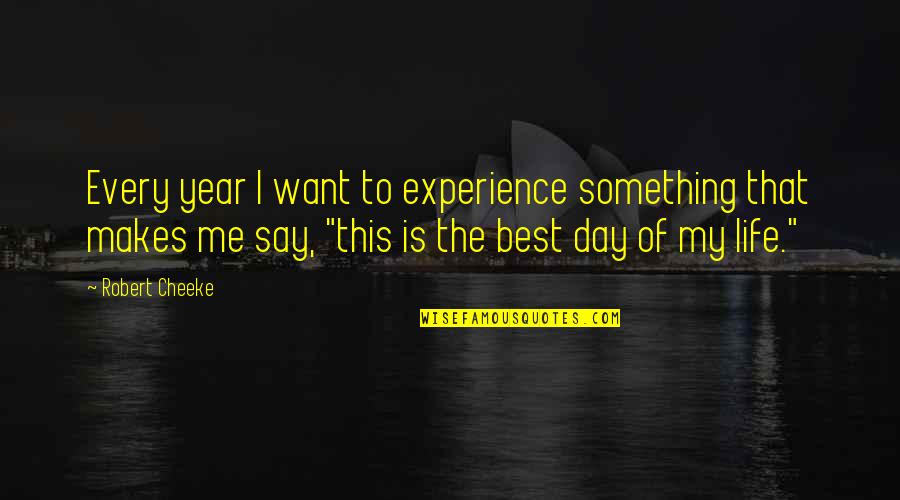 Every year I want to experience something that makes me say, "this is the best day of my life."
—
Robert Cheeke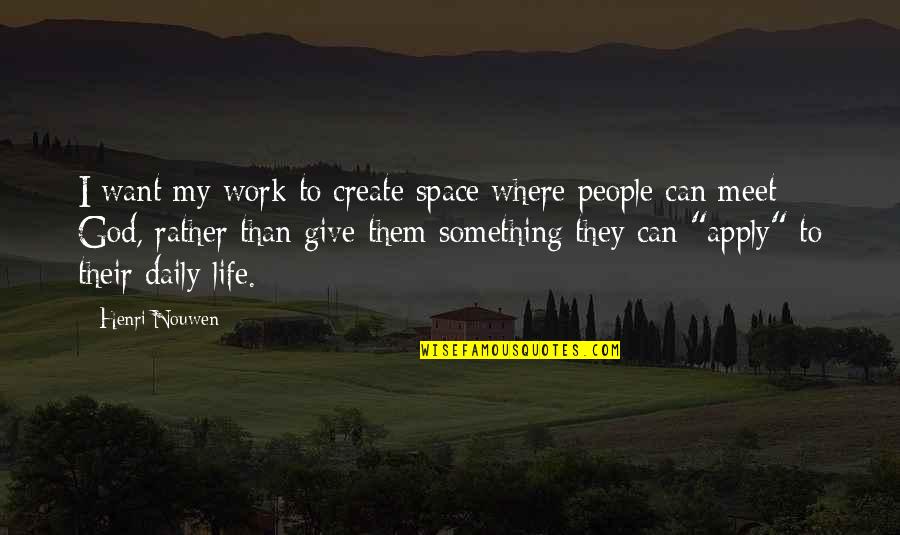 I want my work to create space where people can meet God, rather than give them something they can "apply" to their daily life.
—
Henri Nouwen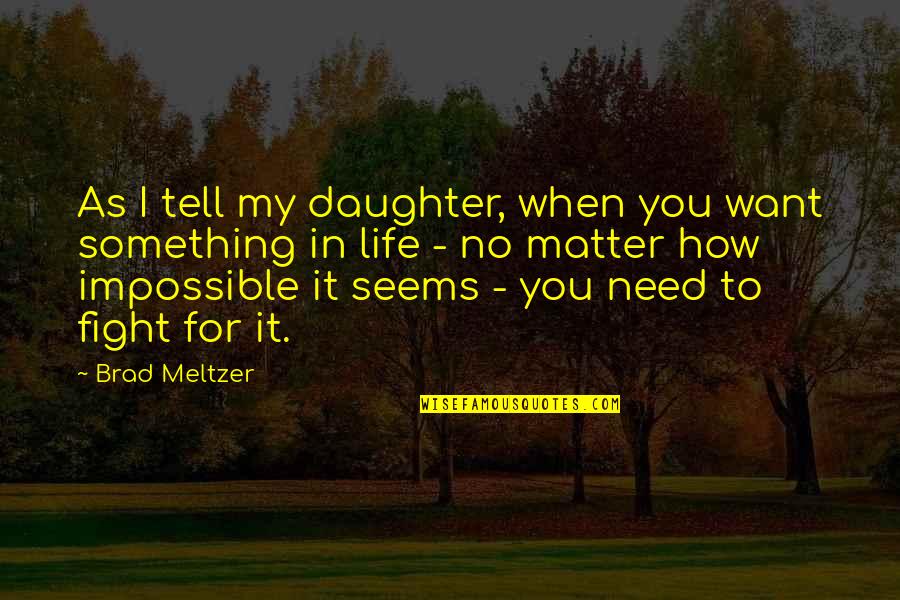 As I tell my daughter, when you want something in life - no matter how impossible it seems - you need to fight for it. —
Brad Meltzer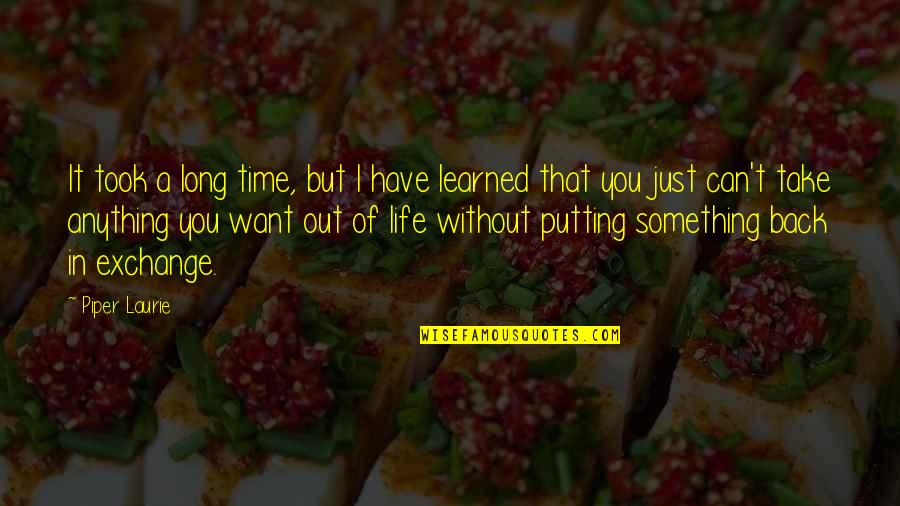 It took a long time, but I have learned that you just can't take anything you want out of life without putting something back in exchange. —
Piper Laurie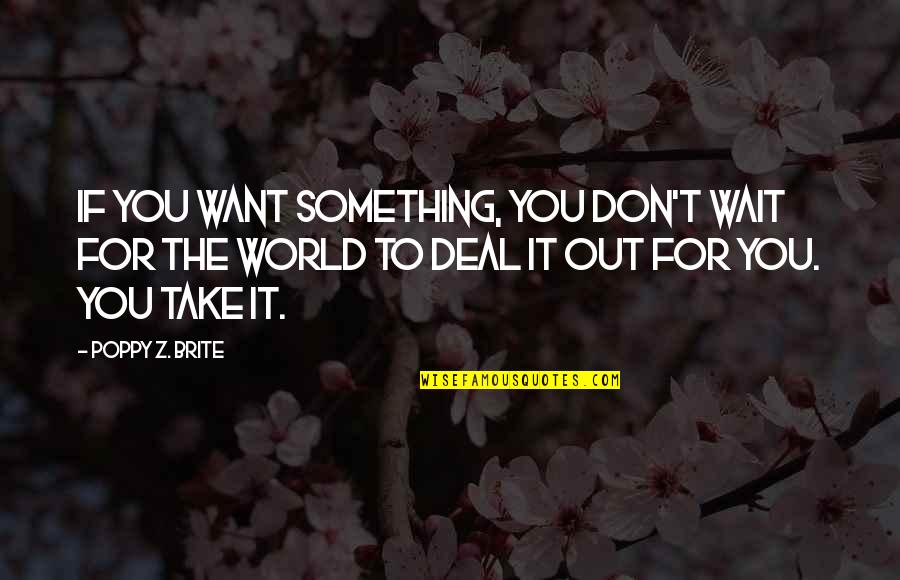 If you want something, you don't wait for the world to deal it out for you. You take it. —
Poppy Z. Brite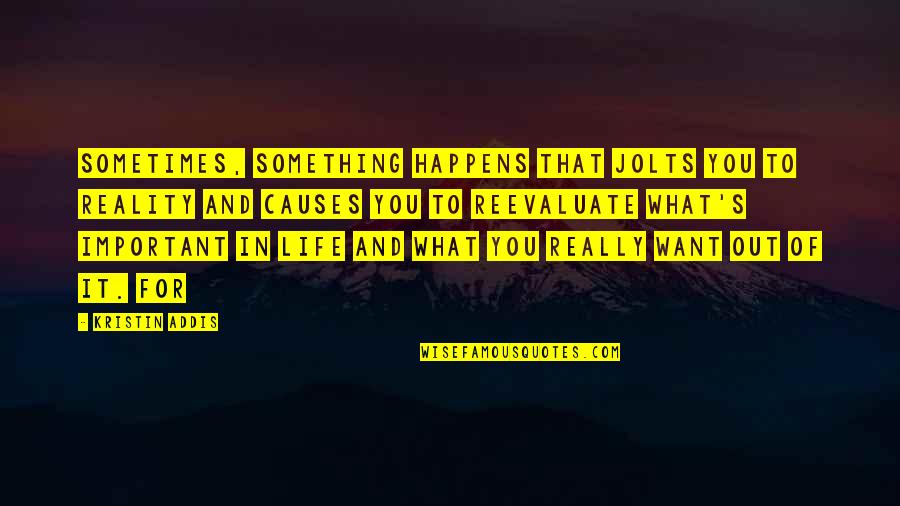 sometimes, something happens that jolts you to reality and causes you to reevaluate what's important in life and what you really want out of it. For —
Kristin Addis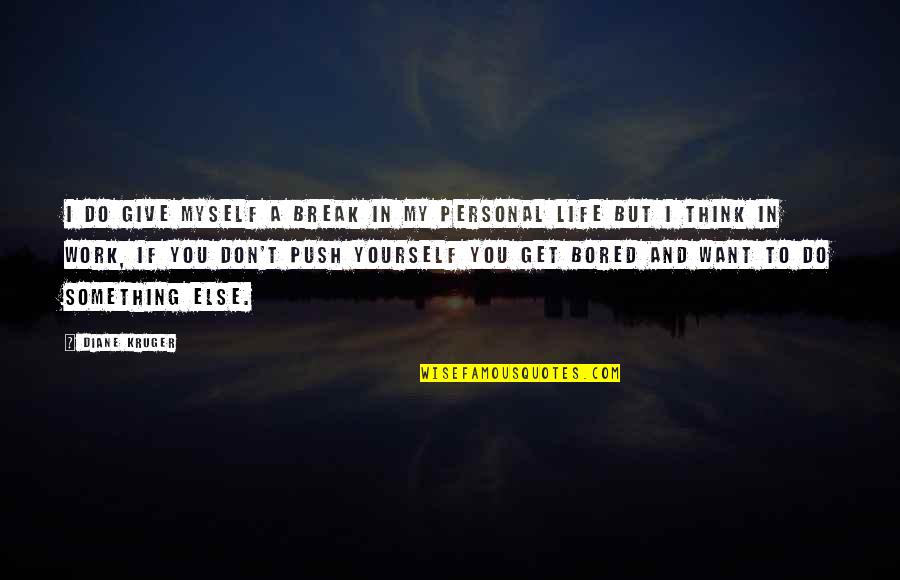 I do give myself a break in my personal life but I think in work, if you don't push yourself you get bored and want to do something else. —
Diane Kruger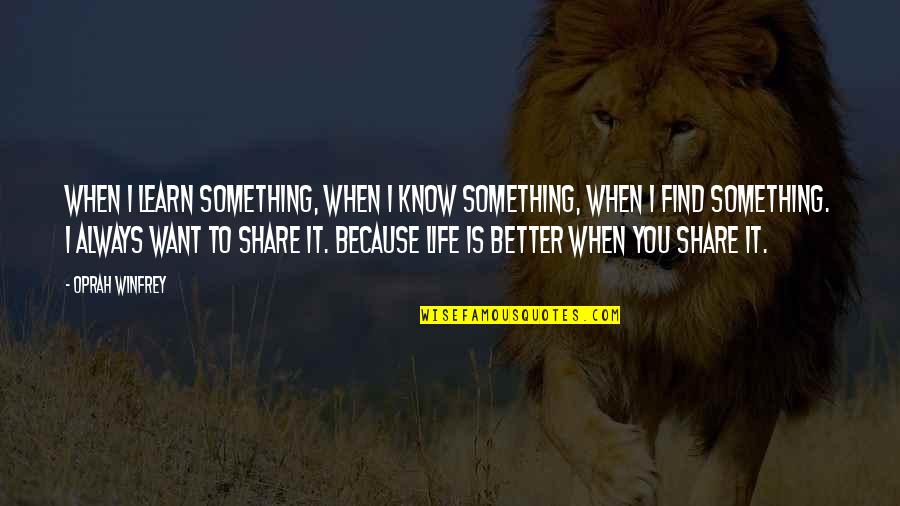 When I learn something, when I know something, when I find something. I always want to share it. Because life is better when you share it. —
Oprah Winfrey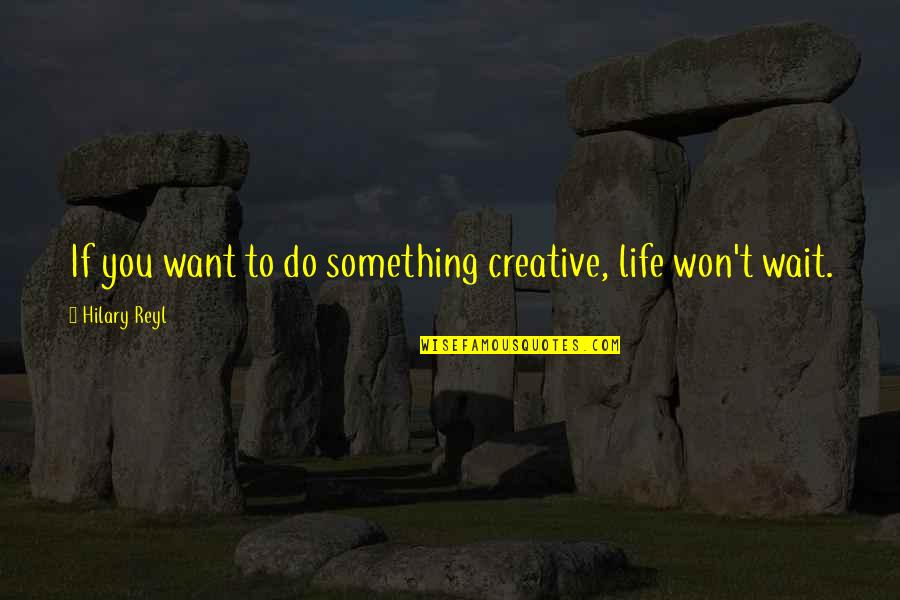 If you want to do something creative, life won't wait. —
Hilary Reyl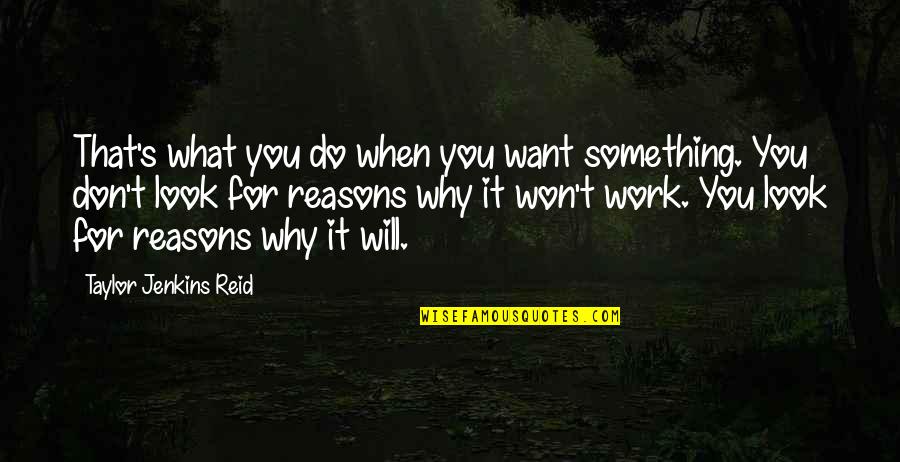 That's what you do when you want something. You don't look for reasons why it won't work. You look for reasons why it will. —
Taylor Jenkins Reid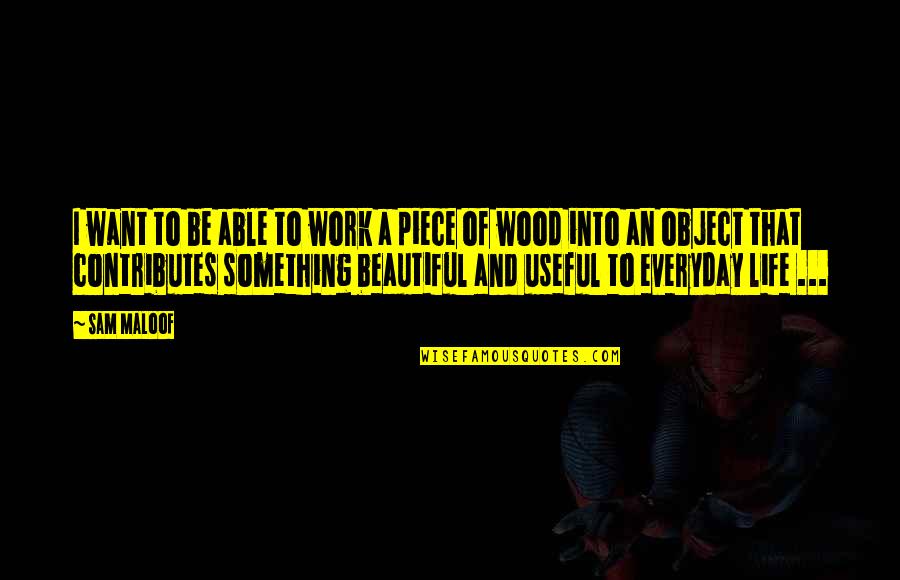 I want to be able to work a piece of wood into an object that contributes something beautiful and useful to everyday life ... —
Sam Maloof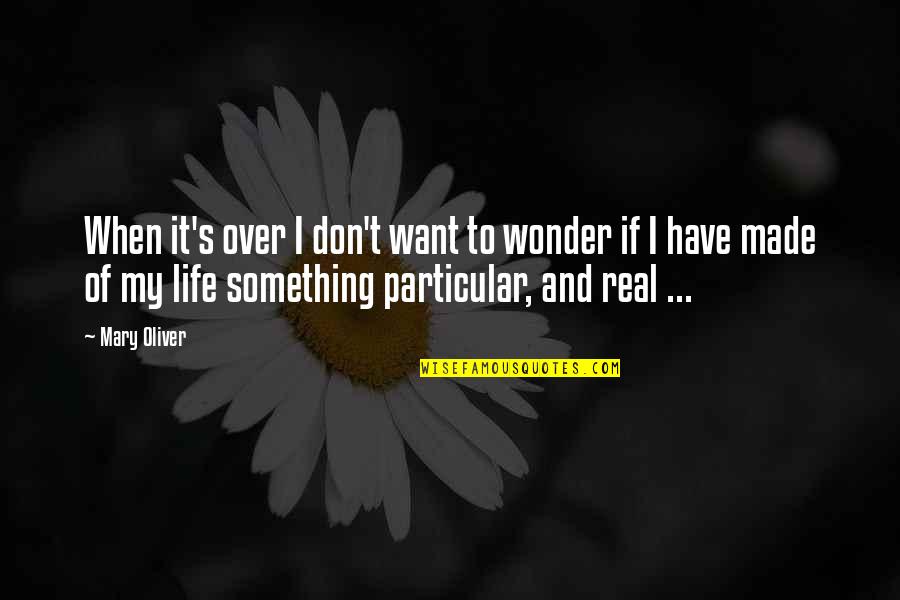 When it's over I don't want to wonder if I have made of my life something particular, and real ... —
Mary Oliver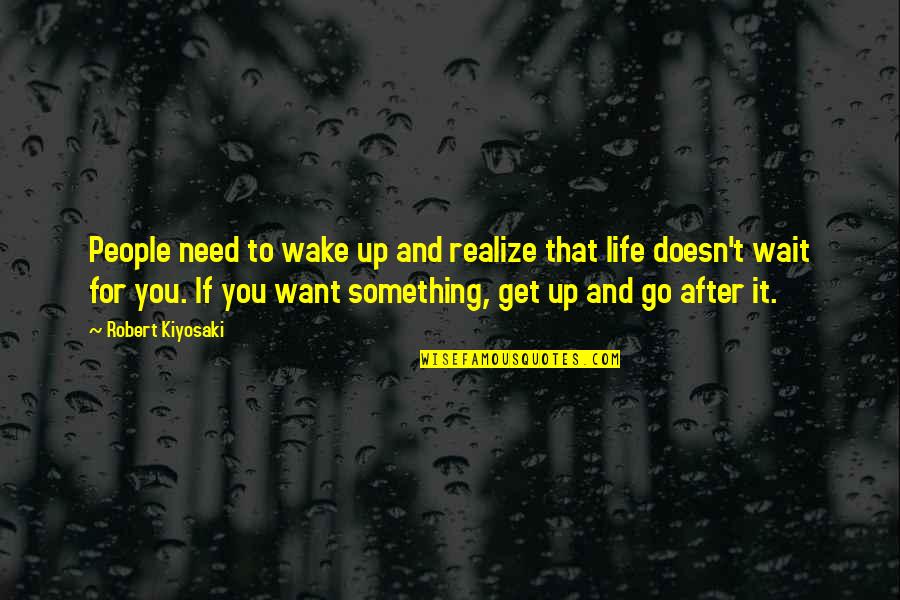 People need to wake up and realize that life doesn't wait for you. If you want something, get up and go after it. —
Robert Kiyosaki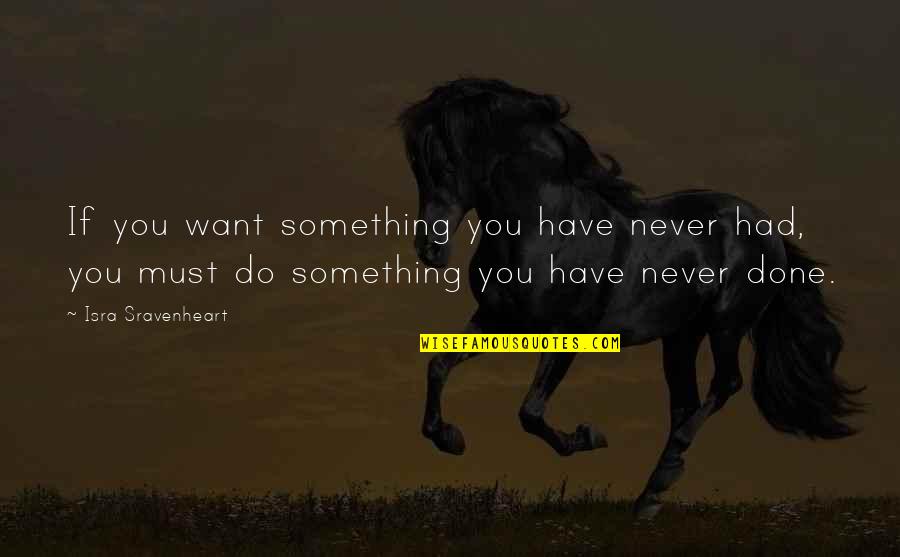 If you want something you have never had, you must do something you have never done. —
Isra Sravenheart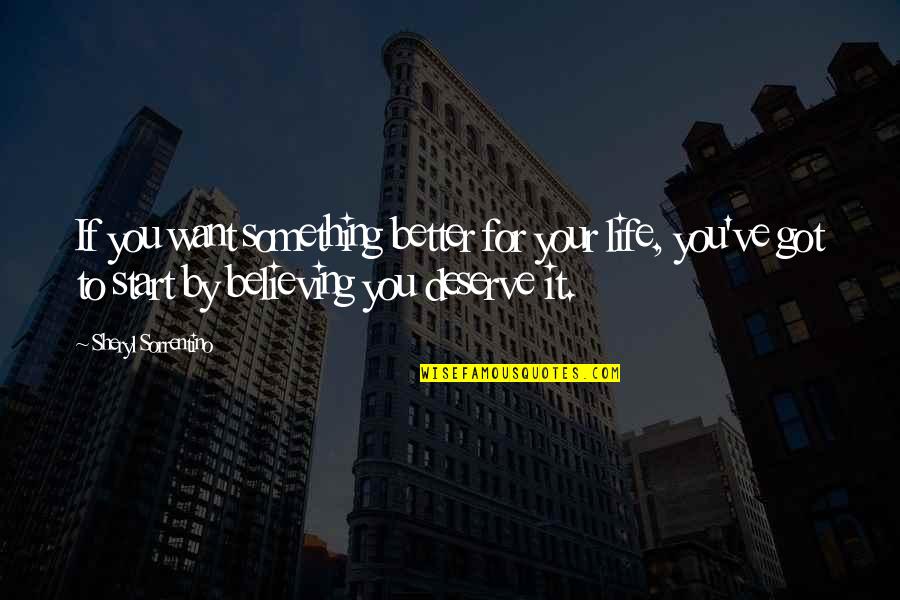 If you want something better for your life, you've got to start by believing you deserve it. —
Sheryl Sorrentino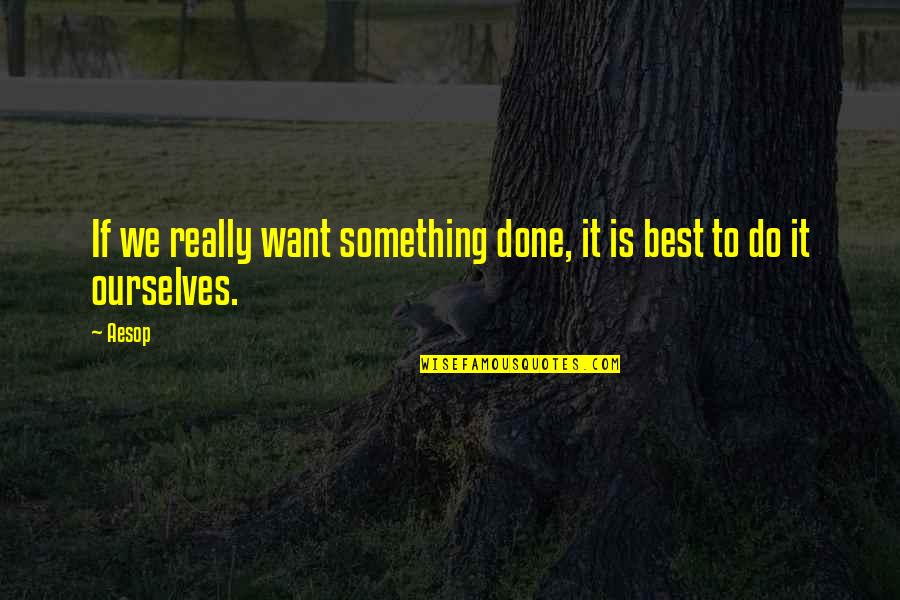 If we really want something done, it is best to do it ourselves. —
Aesop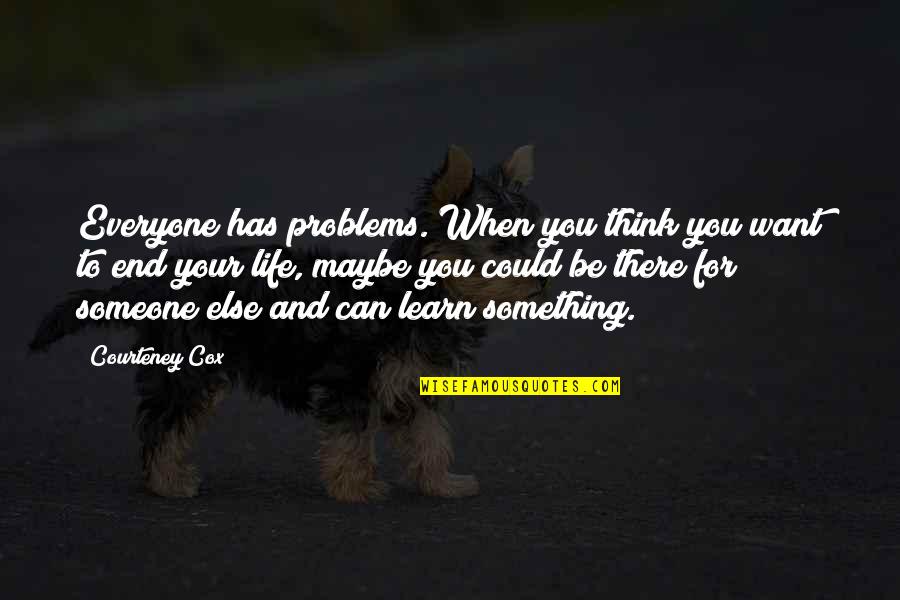 Everyone has problems. When you think you want to end your life, maybe you could be there for someone else and can learn something. —
Courteney Cox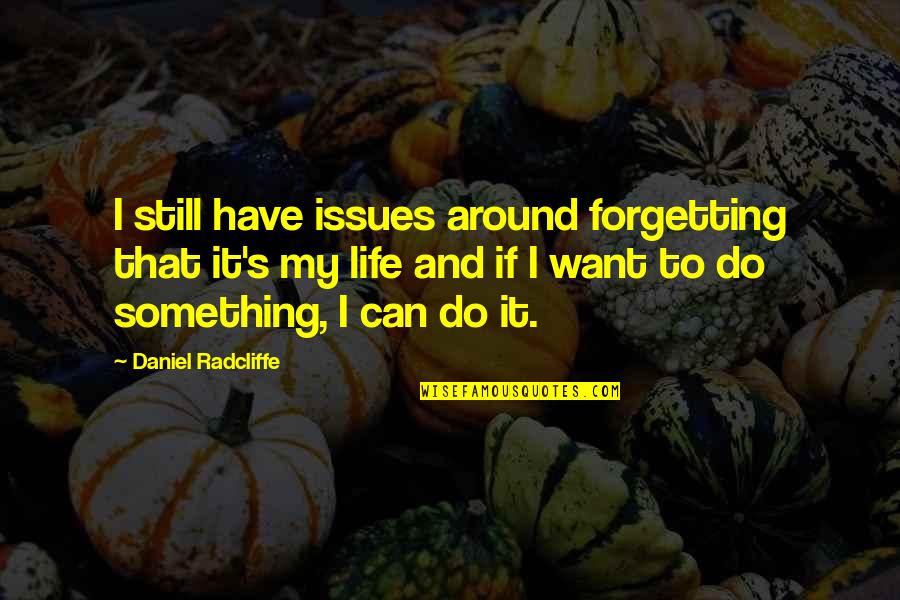 I still have issues around forgetting that it's my life and if I want to do something, I can do it. —
Daniel Radcliffe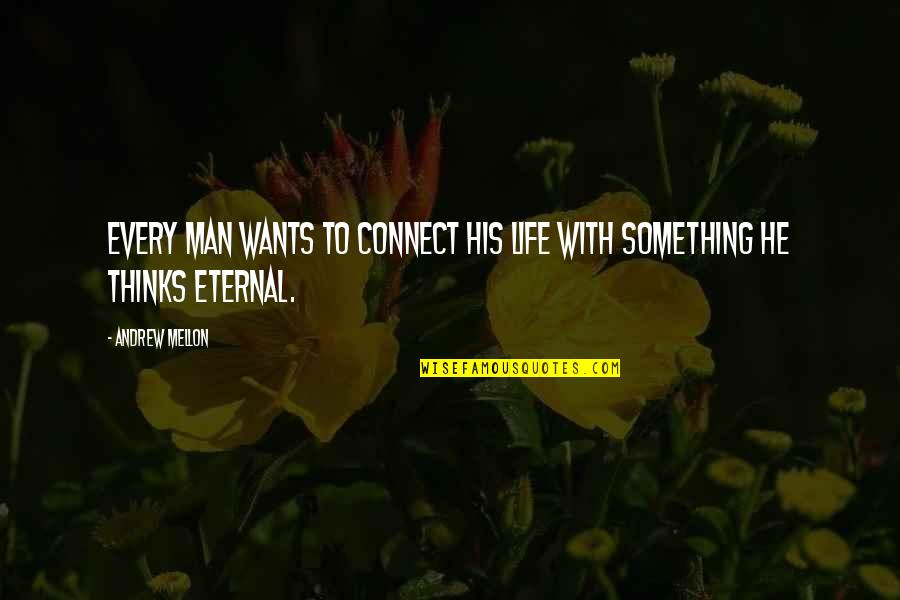 Every man wants to connect his life with something he thinks eternal. —
Andrew Mellon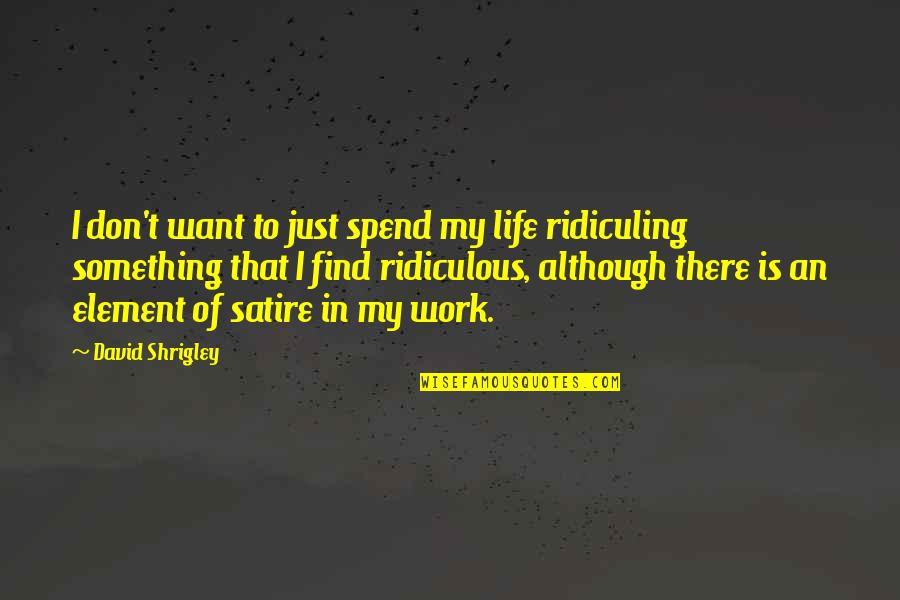 I don't want to just spend my life ridiculing something that I find ridiculous, although there is an element of satire in my work. —
David Shrigley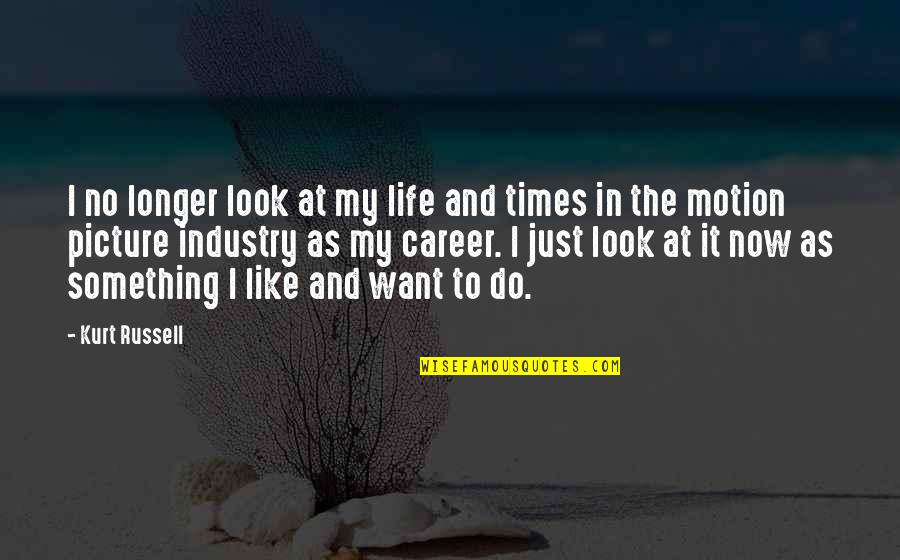 I no longer look at my life and times in the motion picture industry as my career. I just look at it now as something I like and want to do. —
Kurt Russell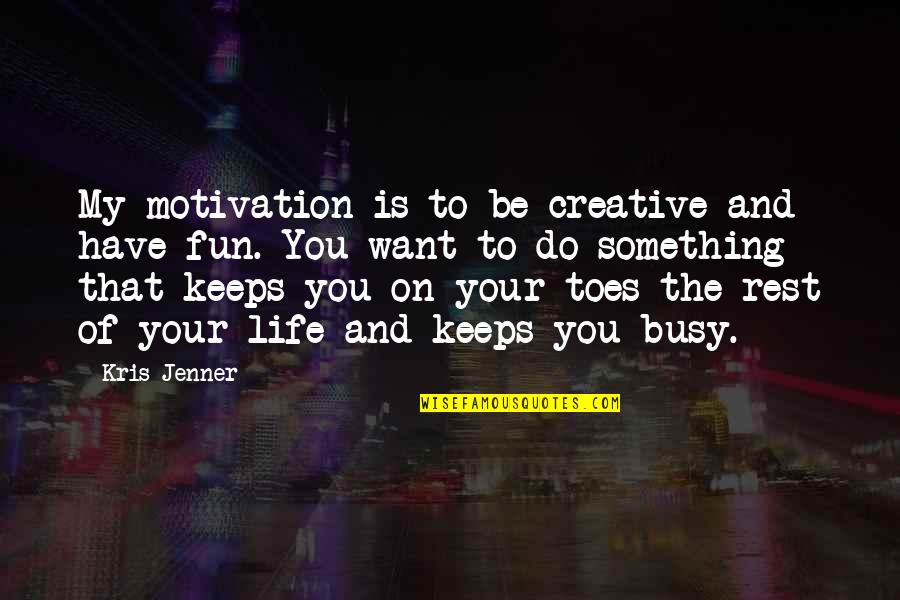 My motivation is to be creative and have fun. You want to do something that keeps you on your toes the rest of your life and keeps you busy. —
Kris Jenner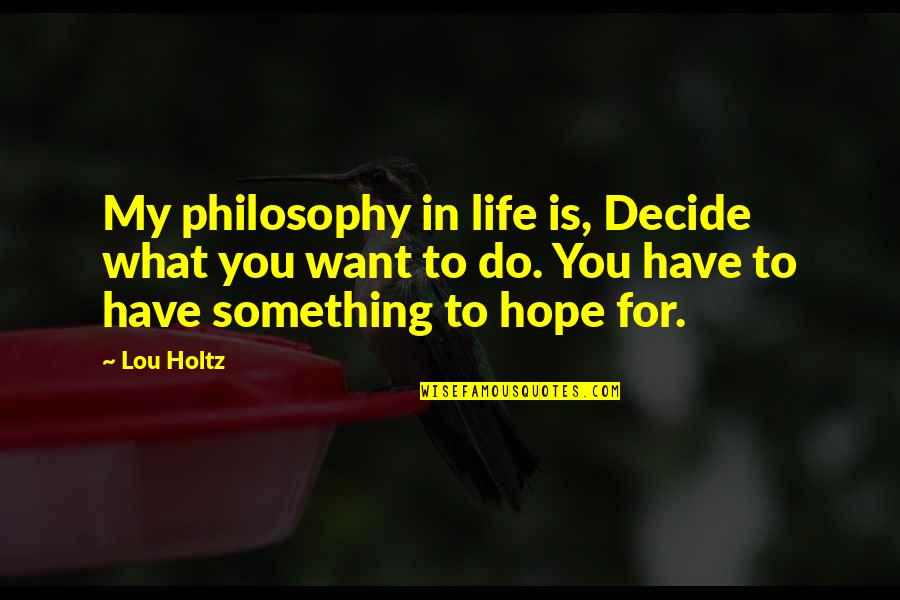 My philosophy in life is, Decide what you want to do. You have to have something to hope for. —
Lou Holtz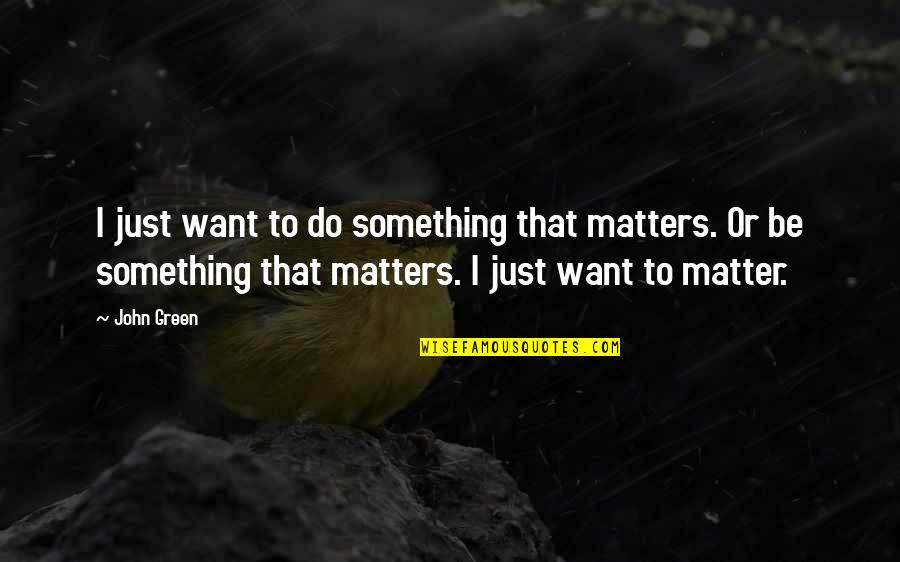 I just want to do something that matters. Or be something that matters. I just want to matter. —
John Green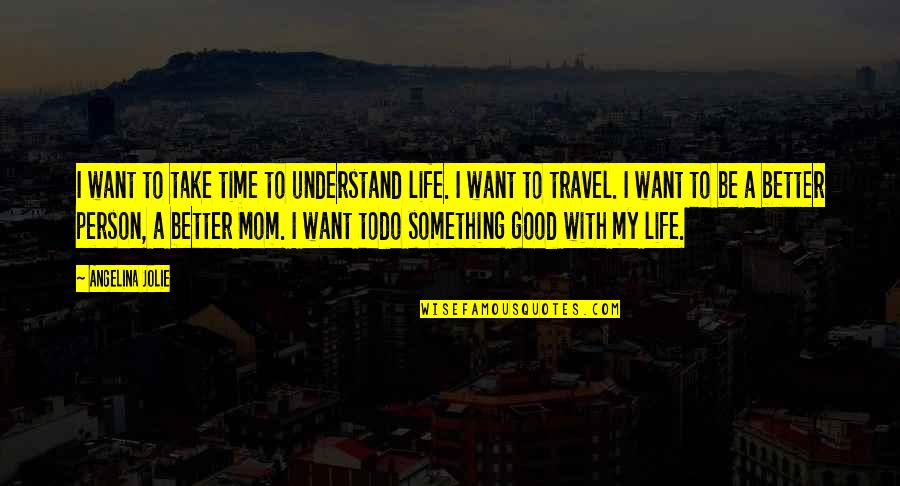 I want to take time to understand life. I want to travel. I want to be a better person, a better Mom. I want to
do something good with my life. —
Angelina Jolie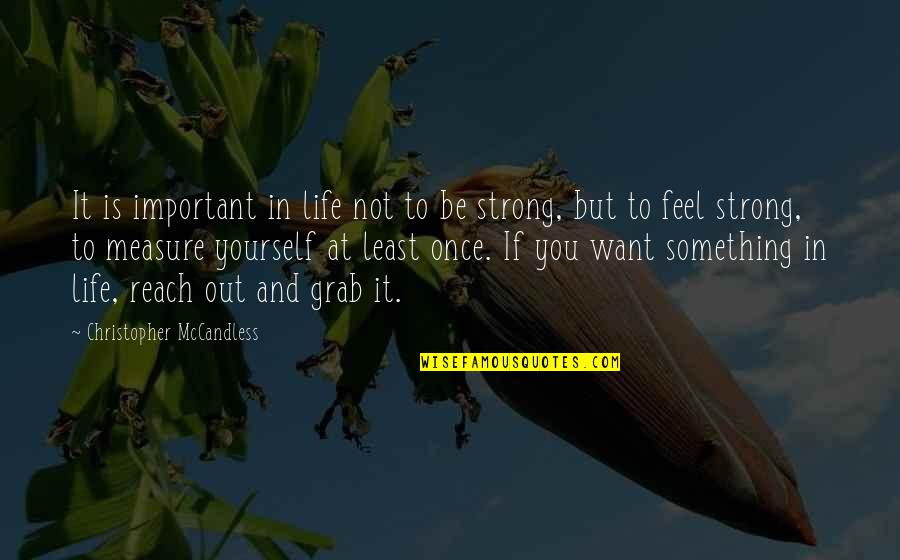 It is important in life not to be strong, but to feel strong, to measure yourself at least once.
If you want something in life
, reach out and grab it. —
Christopher McCandless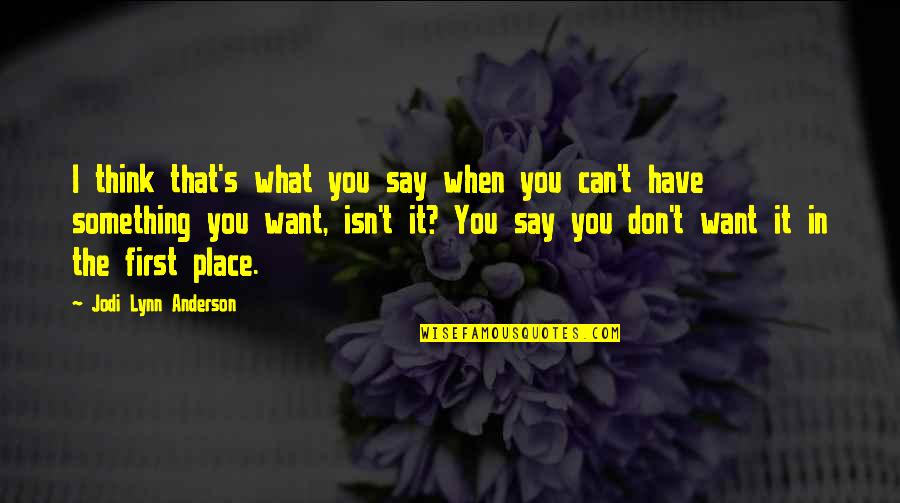 I think that's what you say when you can't have something you want, isn't it? You say you don't want it in the first place. —
Jodi Lynn Anderson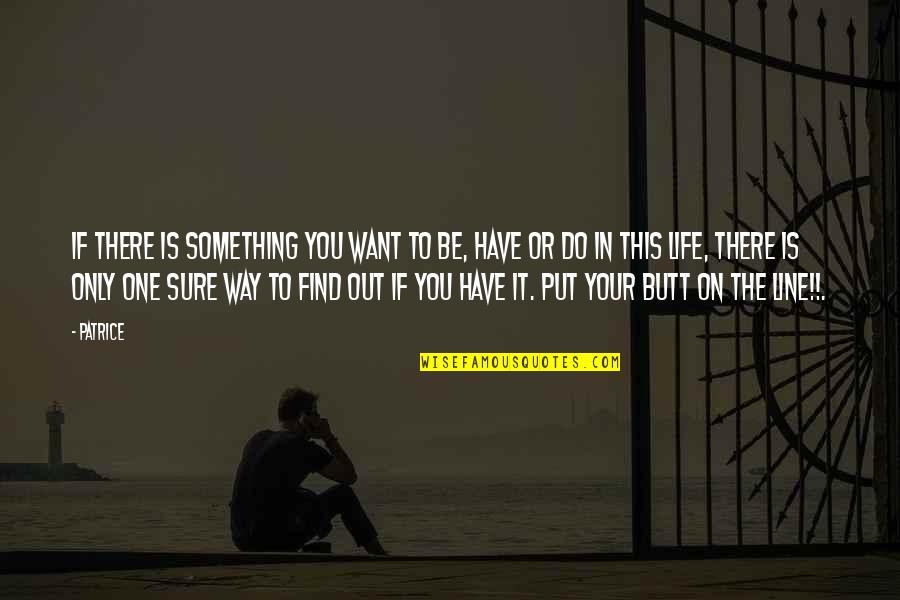 If there is something you want to be, have or do in this life, there is only one sure way to find out if you have it. Put your butt on the line!!. —
Patrice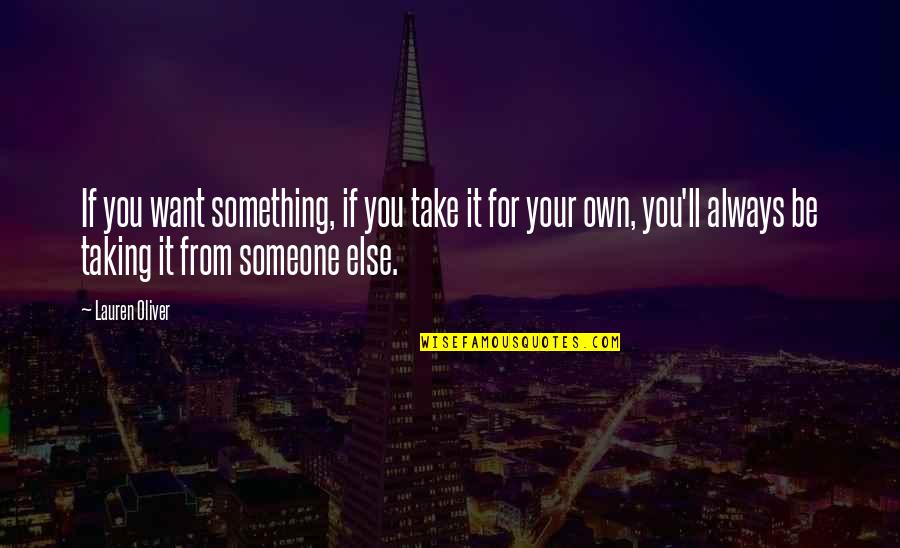 If you want something, if you take it for your own, you'll always be taking it from someone else. —
Lauren Oliver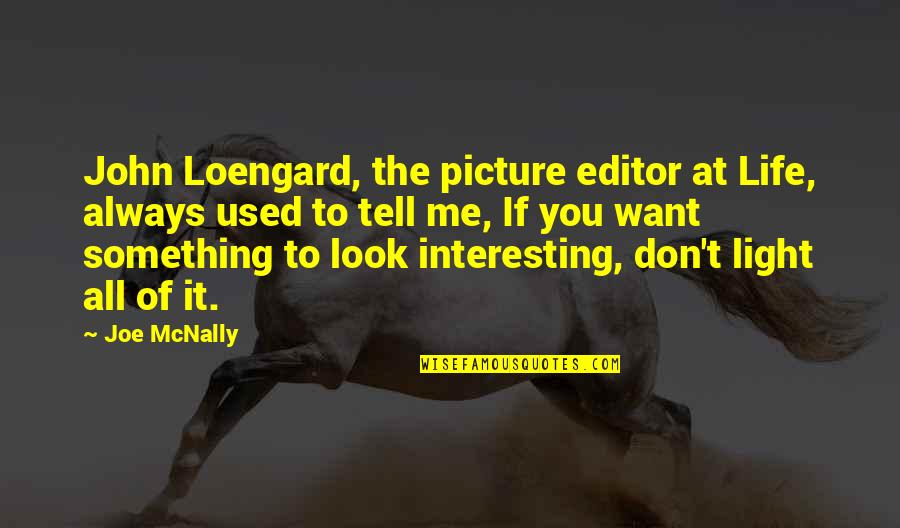 John Loengard, the picture editor at Life, always used to tell me, If you want something to look interesting, don't light all of it. —
Joe McNally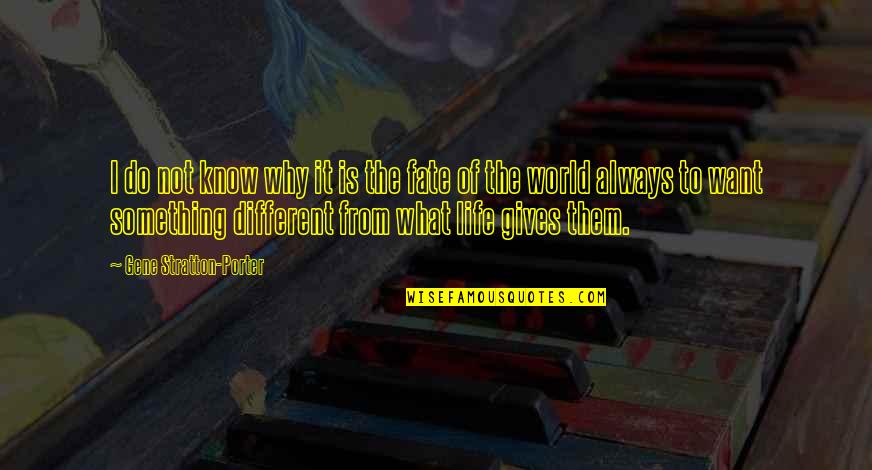 I do not know why it is the fate of the world always to want something different from what life gives them. —
Gene Stratton-Porter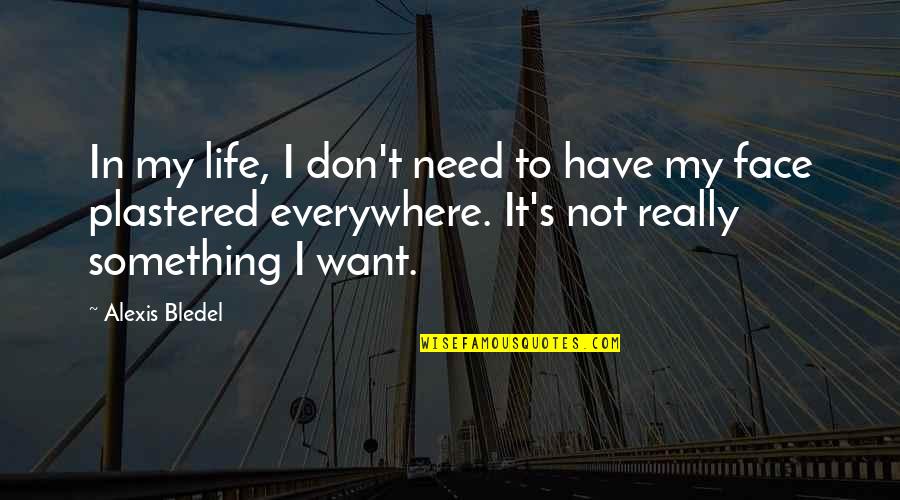 In my life, I don't need to have my face plastered everywhere. It's not really something I want. —
Alexis Bledel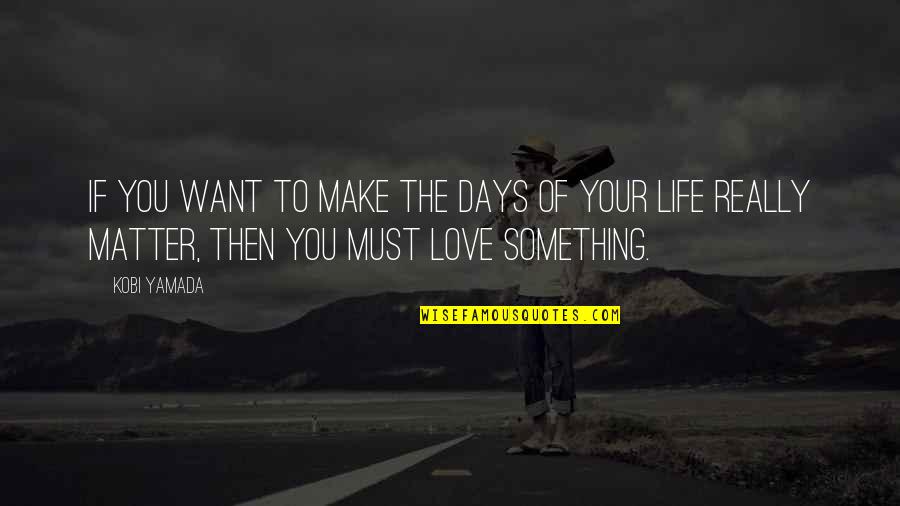 If you want to make the days of your life really matter, then you must love something. —
Kobi Yamada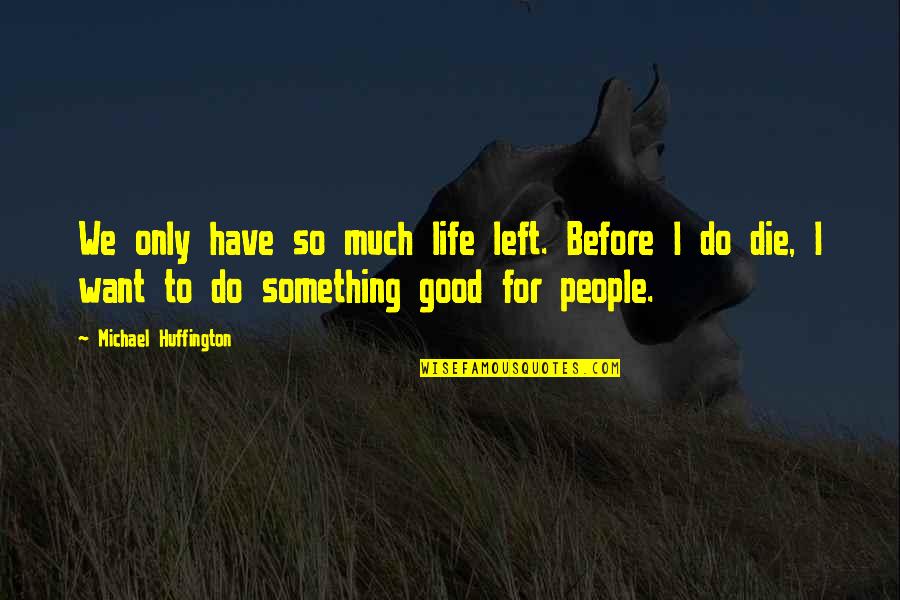 We only have so much life left. Before I do die, I want to do something good for people. —
Michael Huffington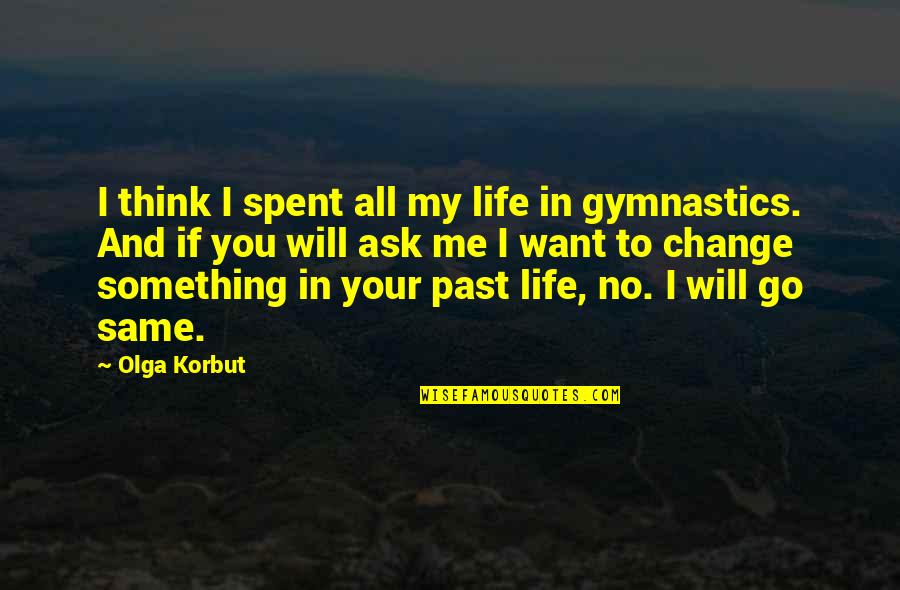 I think I spent all my life in gymnastics. And if you will ask me I want to change something in your past life, no. I will go same. —
Olga Korbut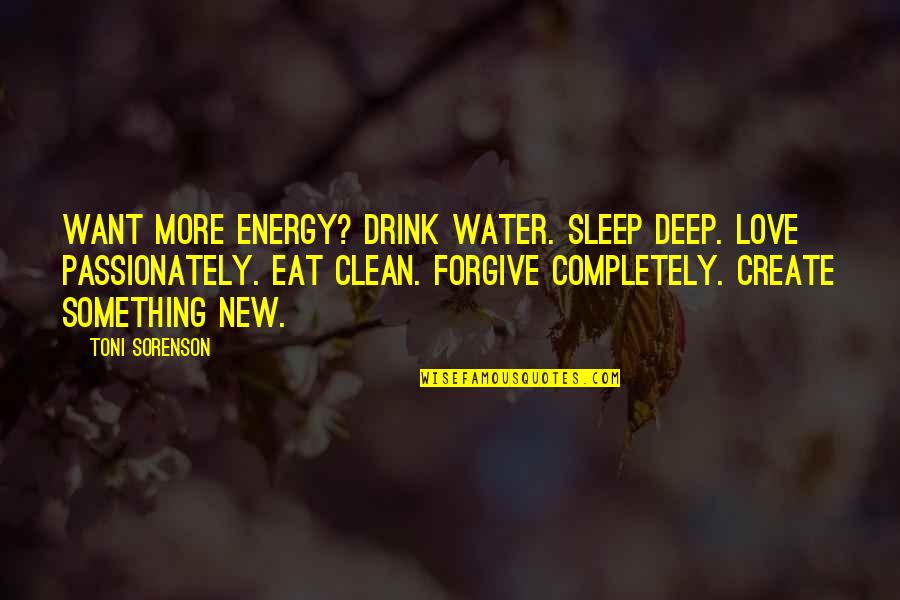 Want more energy? Drink water. Sleep deep. Love passionately. Eat clean. Forgive completely. Create something new. —
Toni Sorenson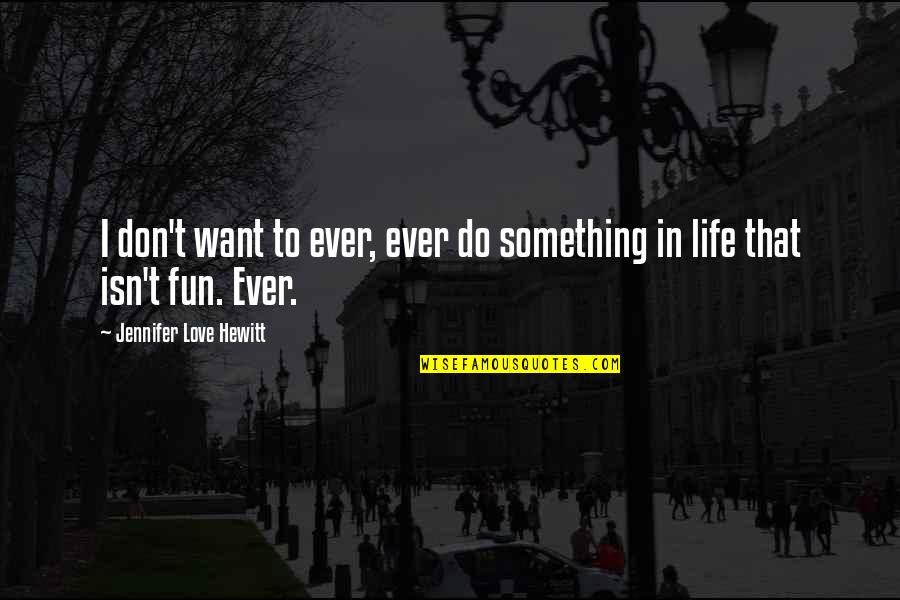 I don't want to ever, ever do something in life that isn't fun. Ever. —
Jennifer Love Hewitt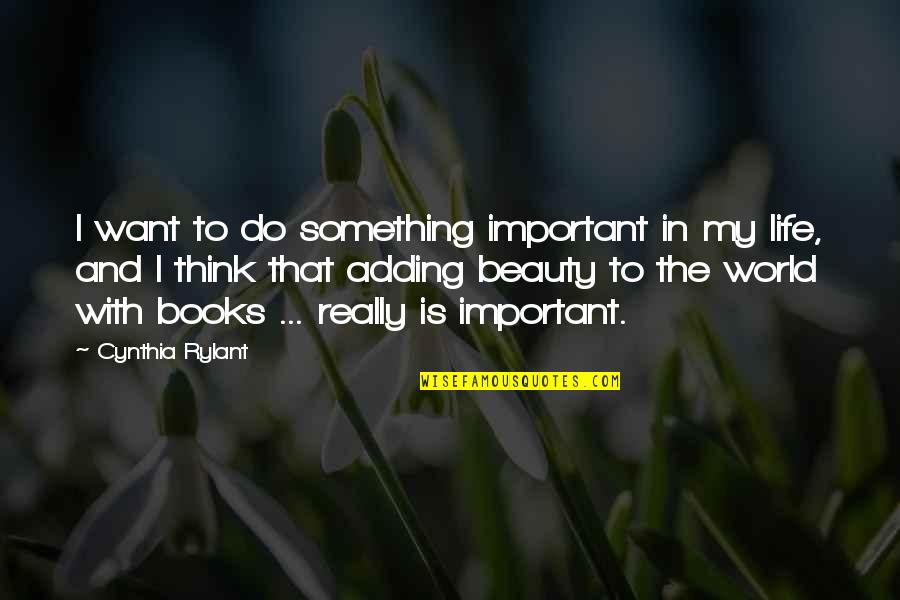 I want to do something important in my life, and I think that adding beauty to the world with books ... really is important. —
Cynthia Rylant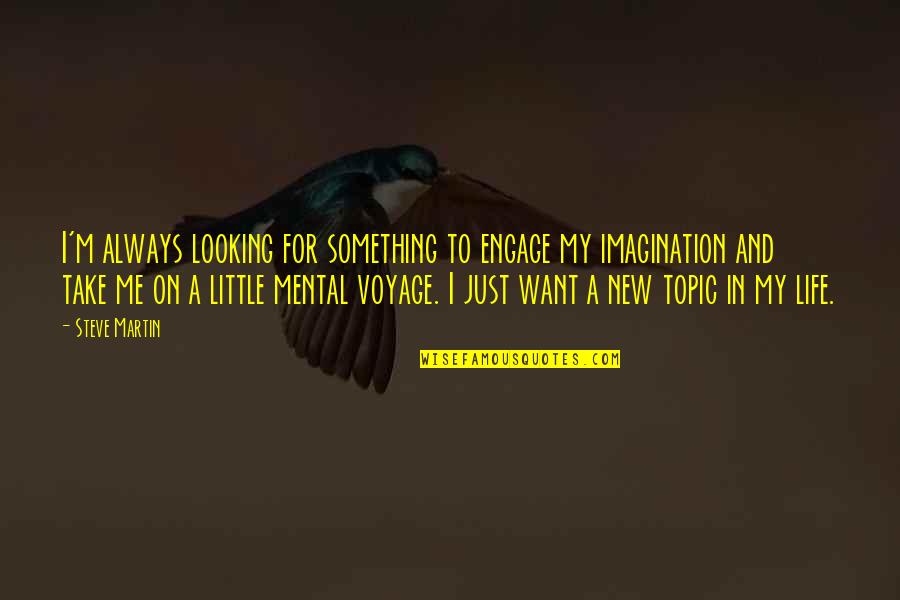 I'm always looking for something to engage my imagination and take me on a little mental voyage. I just want a new topic in my life. —
Steve Martin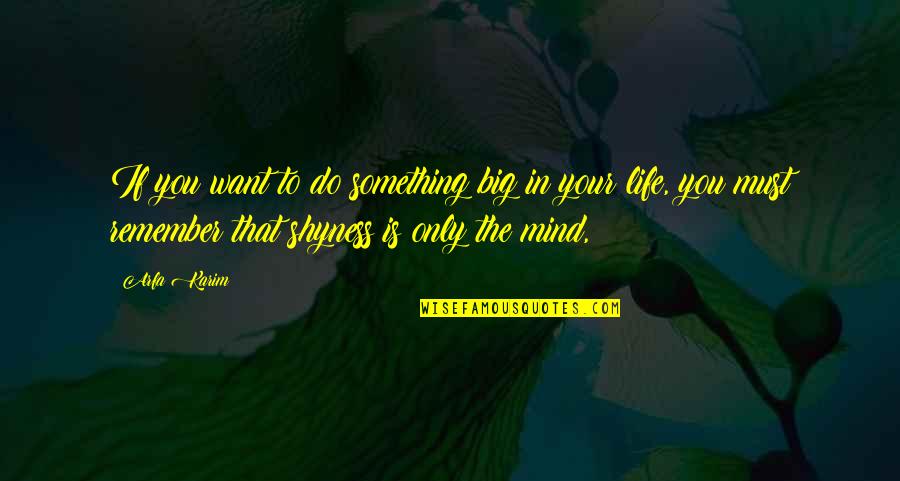 If you want to do something big in your life, you must remember that shyness is only the mind, —
Arfa Karim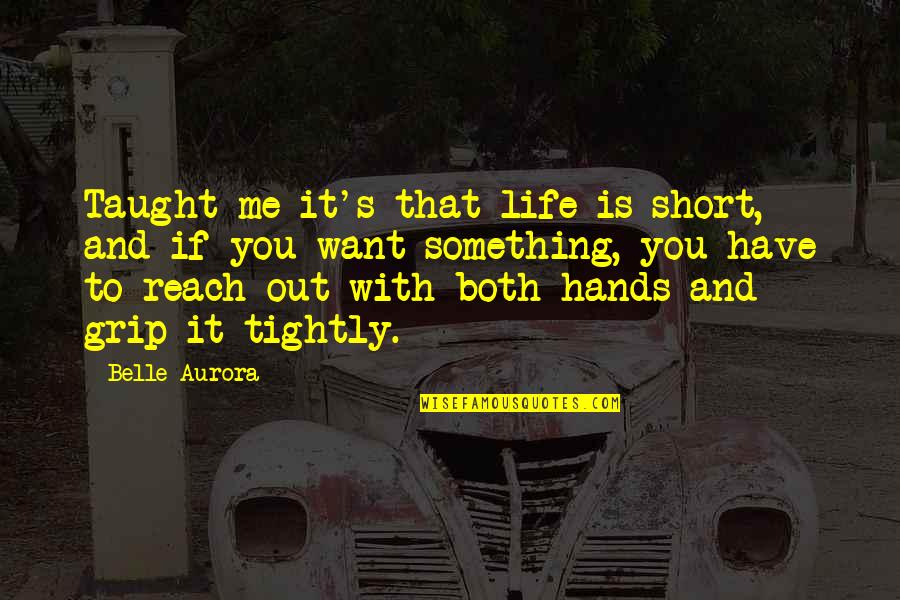 Taught me it's that life is short, and if you want something, you have to reach out with both hands and grip it tightly. —
Belle Aurora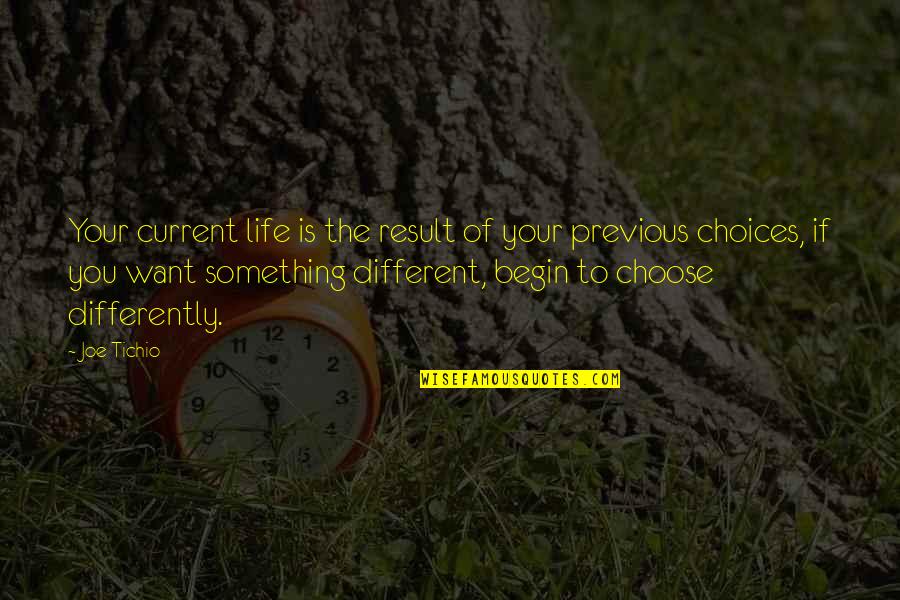 Your current life is the result of your previous choices, if you want something different, begin to choose differently. —
Joe Tichio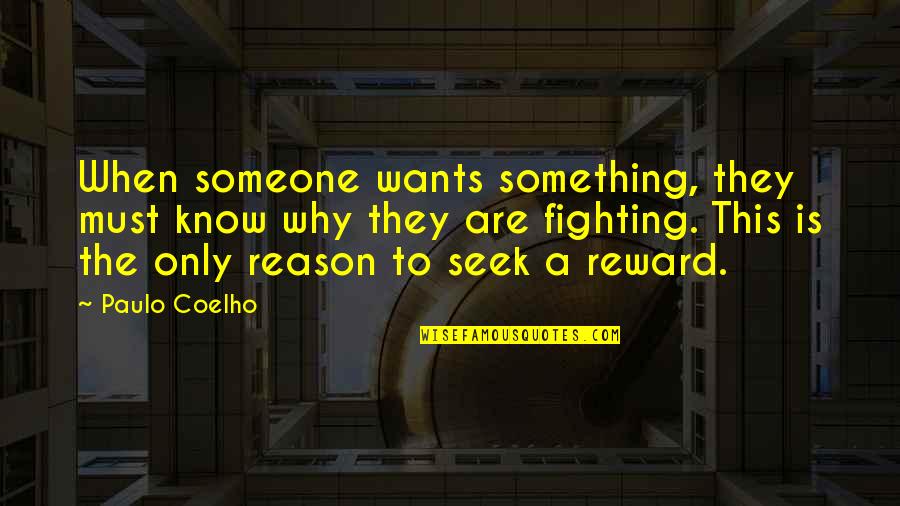 When someone wants something, they must know why they are fighting. This is the only reason to seek a reward. —
Paulo Coelho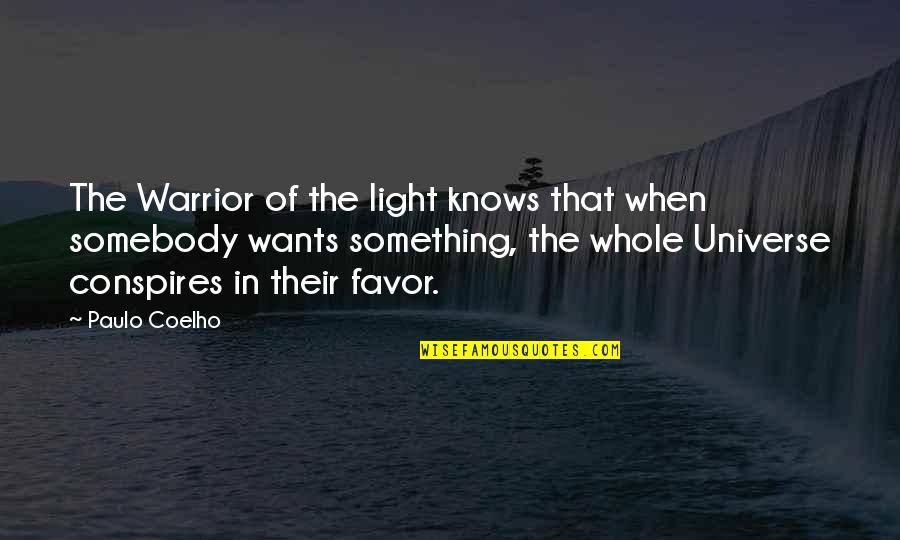 The Warrior of the light knows that when somebody wants something, the whole Universe conspires in their favor. —
Paulo Coelho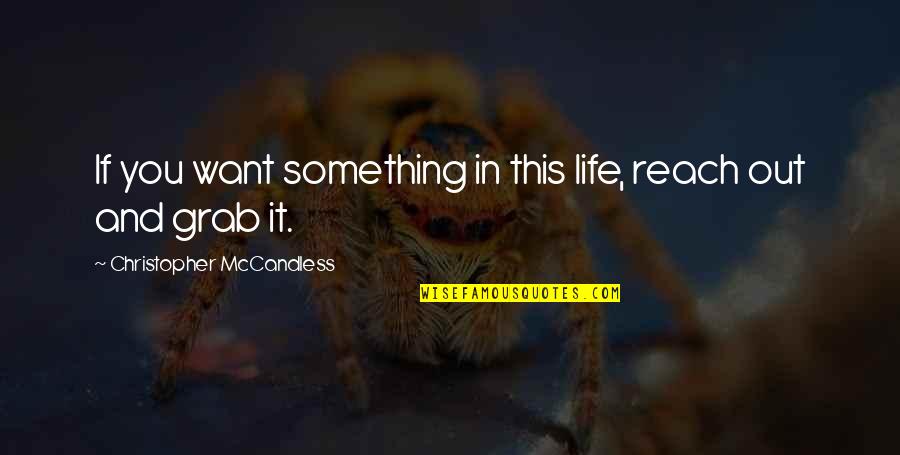 If you want something in this life, reach out and grab it. —
Christopher McCandless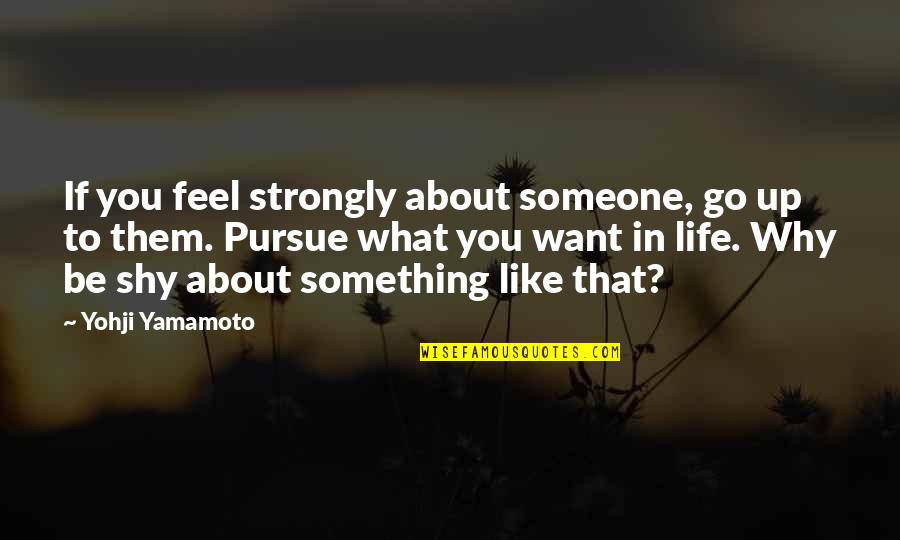 If you feel strongly about someone, go up to them. Pursue what you want in life. Why be shy about something like that? —
Yohji Yamamoto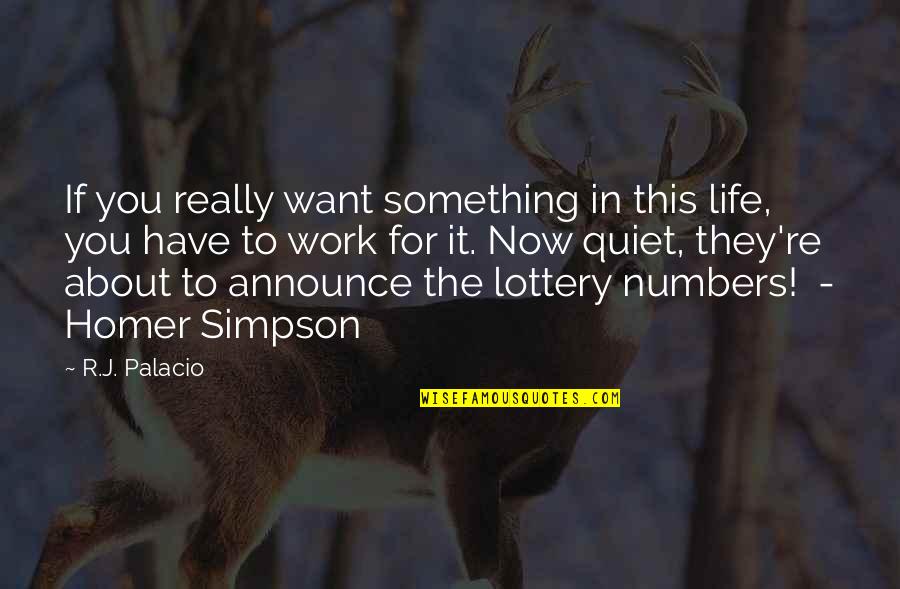 If you really want something in this life, you have to work for it. Now quiet, they're about to announce the lottery numbers! - Homer Simpson —
R.J. Palacio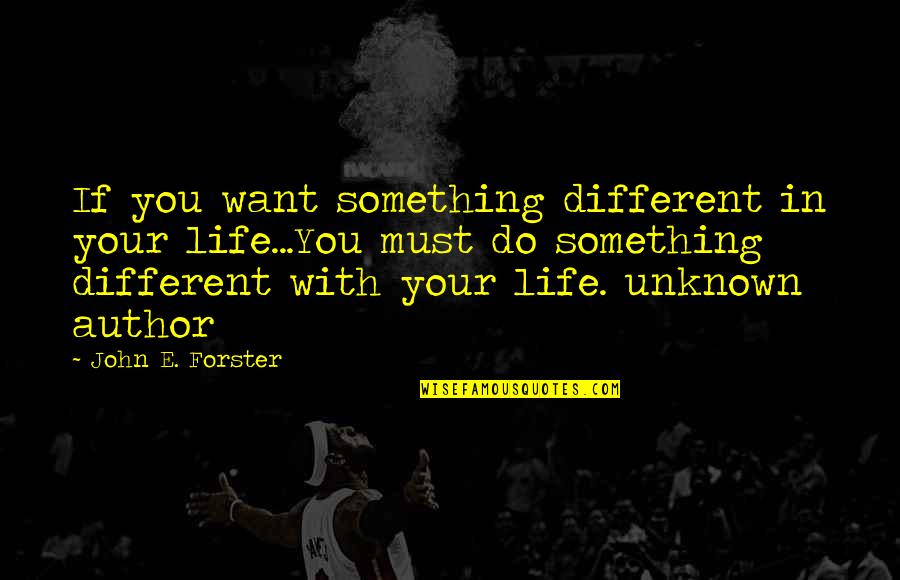 If you want something different in your life...You must do something different with your life. unknown author —
John E. Forster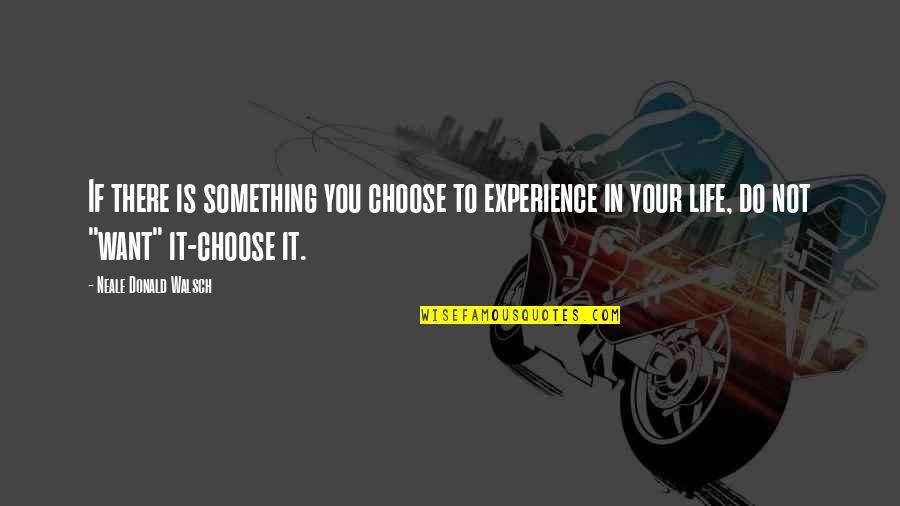 If there is something you choose to experience in your life, do not "want" it-choose it. —
Neale Donald Walsch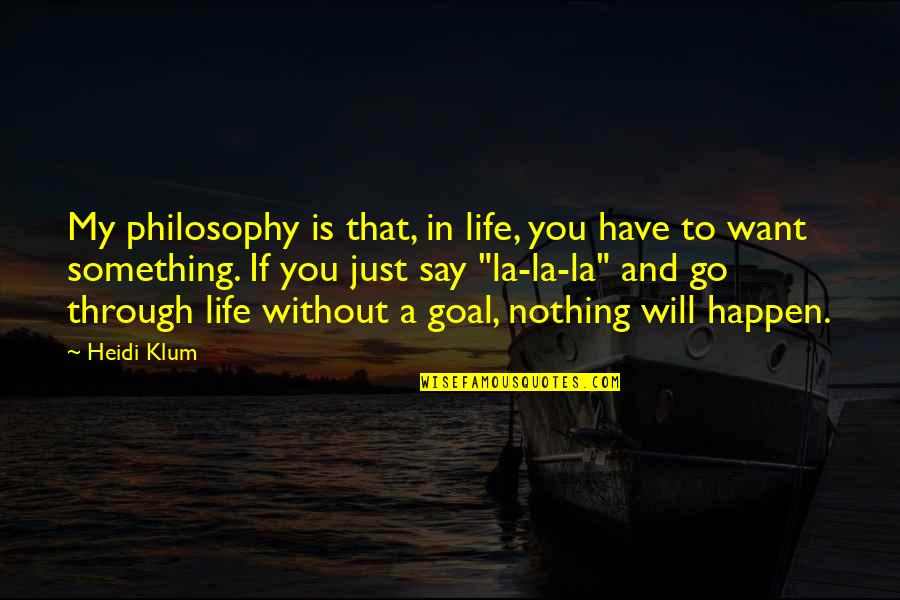 My philosophy is that, in life, you have to want something. If you just say "la-la-la" and go through life without a goal, nothing will happen. —
Heidi Klum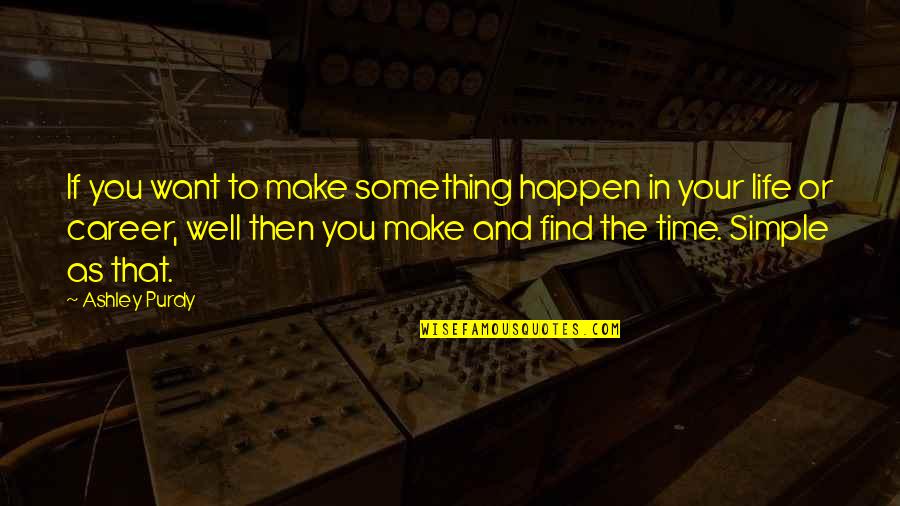 If you want to make something happen in your life or career, well then you make and find the time. Simple as that. —
Ashley Purdy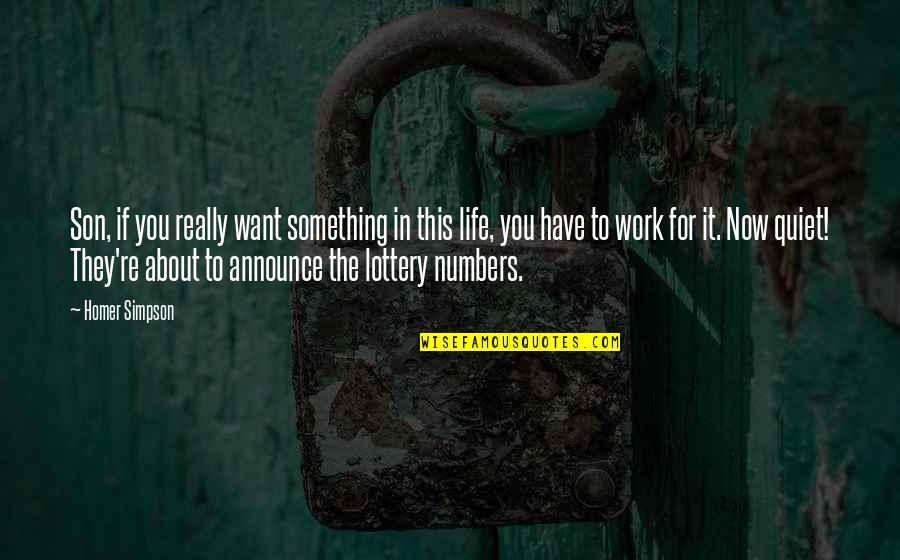 Son, if you really want something in this life, you have to work for it. Now quiet! They're about to announce the lottery numbers. —
Homer Simpson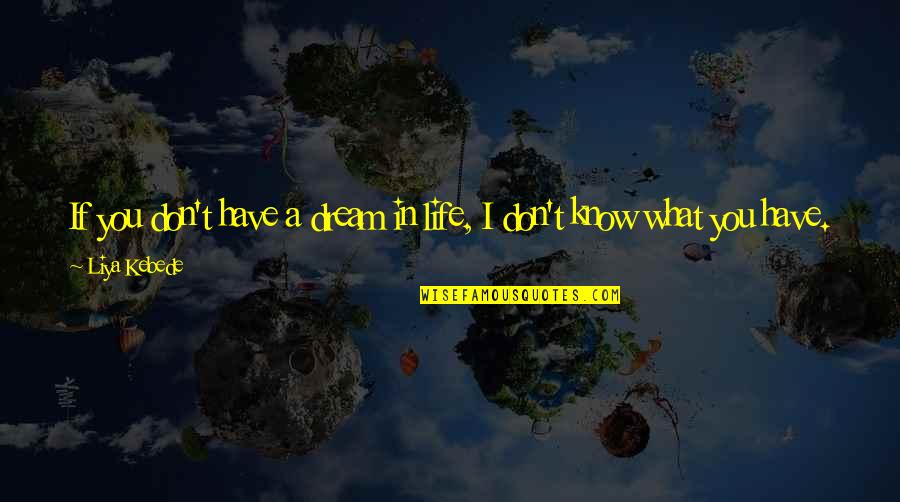 If you don't have a dream in life, I don't know what you have. You have to want something beyond your reach; it's exciting when it works out. —
Liya Kebede
So early in my life, I had learned that if you want something, you had better make some noise. —
Malcolm X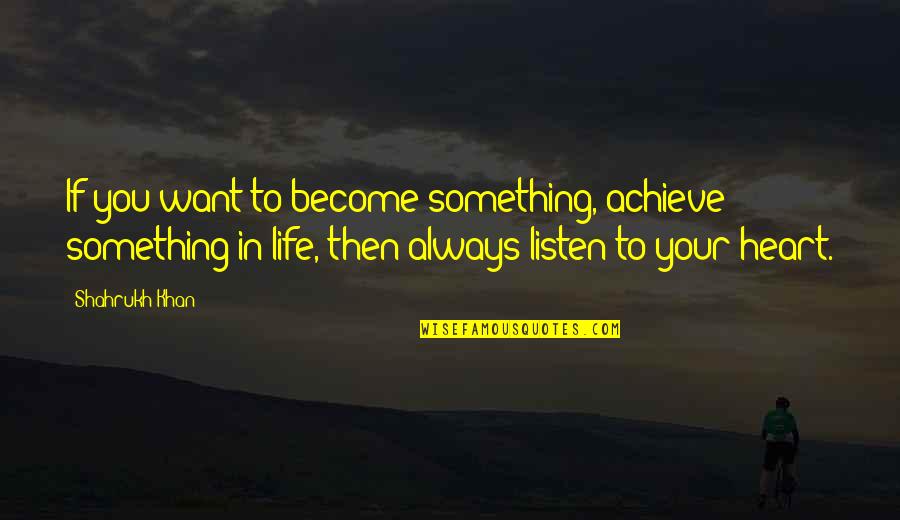 If you want to become something, achieve something in life, then always listen to your heart. —
Shahrukh Khan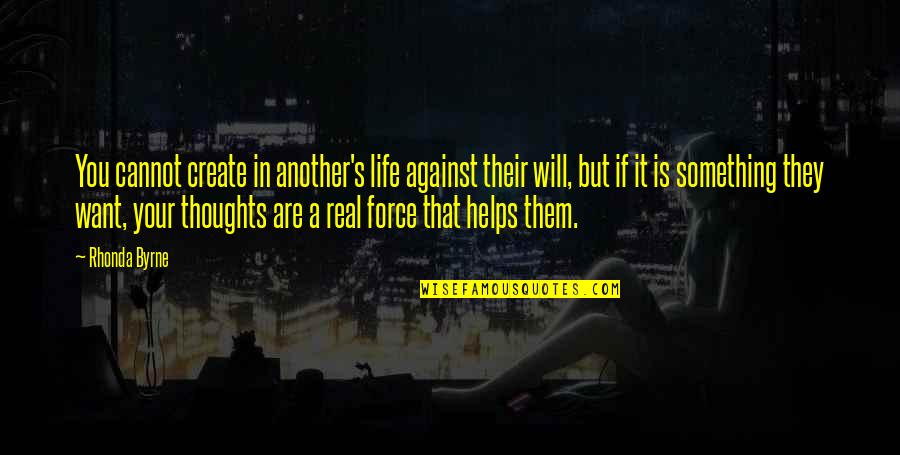 You cannot create in another's life against their will, but if it is something they want, your thoughts are a real force that helps them. —
Rhonda Byrne