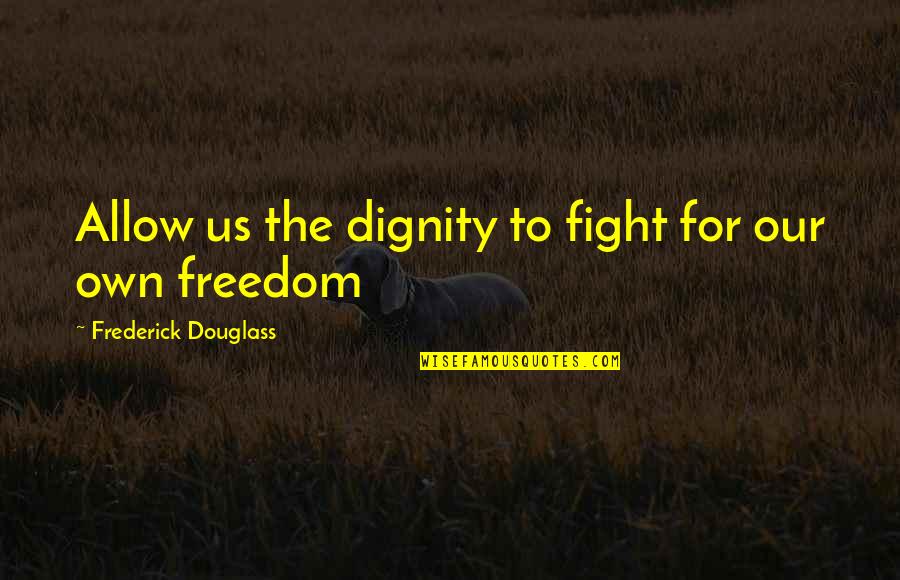 Allow us the dignity to fight for our own freedom
—
Frederick Douglass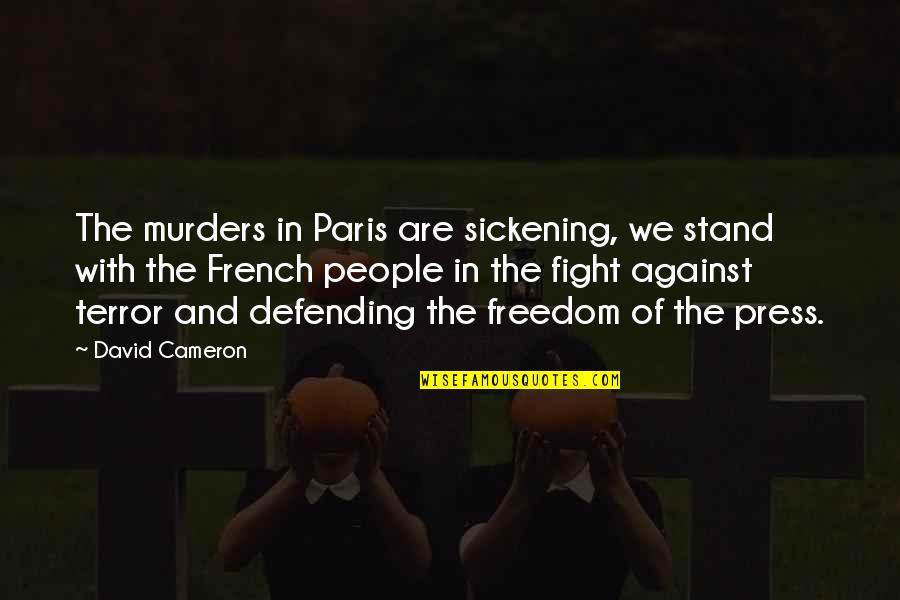 The murders in Paris are sickening, we stand with the French people in the fight against terror and defending the freedom of the press.
—
David Cameron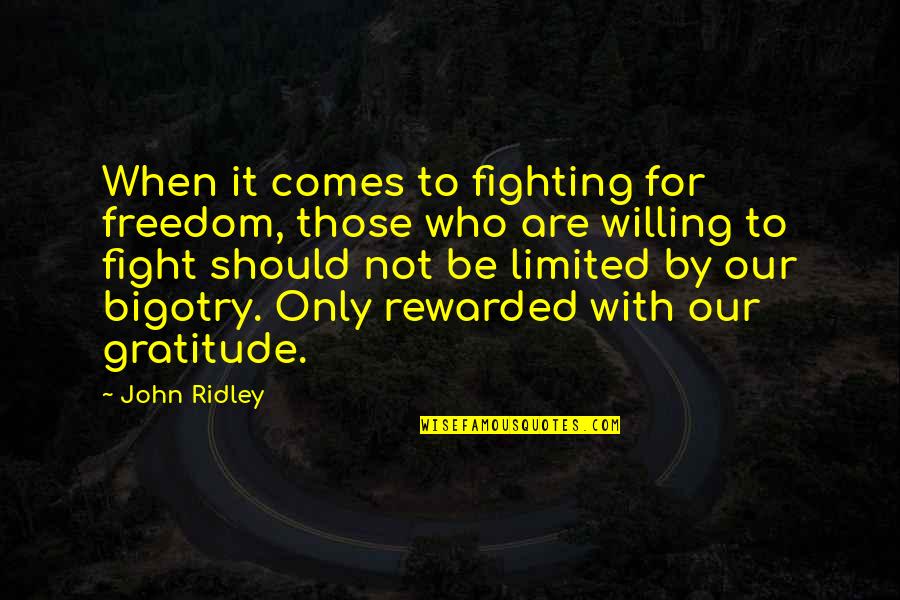 When it comes to fighting for freedom, those who are willing to fight should not be limited by our bigotry. Only rewarded with our gratitude.
—
John Ridley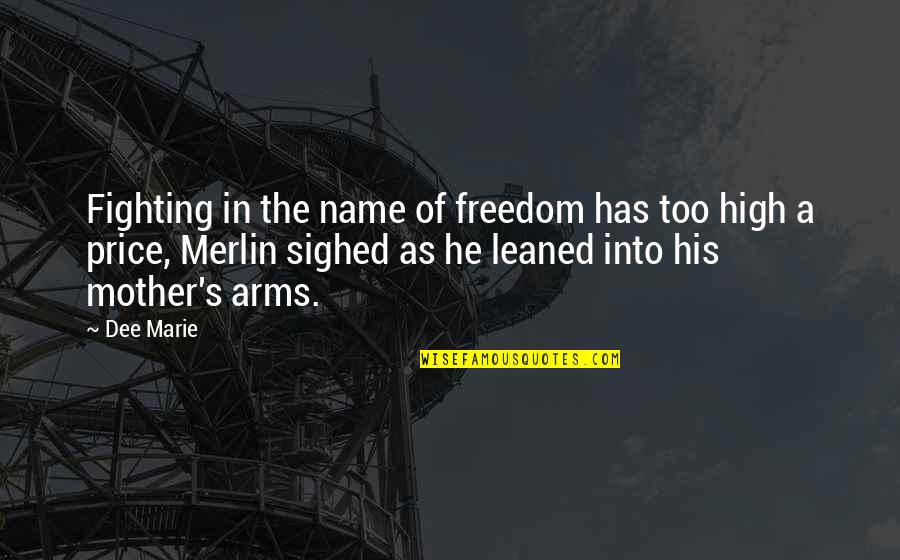 Fighting in the name of freedom has too high a price, Merlin sighed as he leaned into his mother's arms.
—
Dee Marie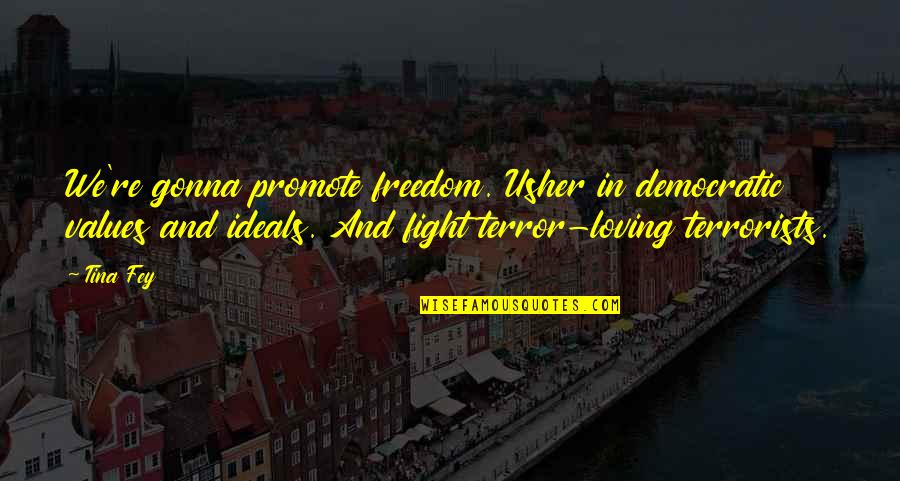 We're gonna promote freedom. Usher in democratic values and ideals. And fight terror-loving terrorists.
—
Tina Fey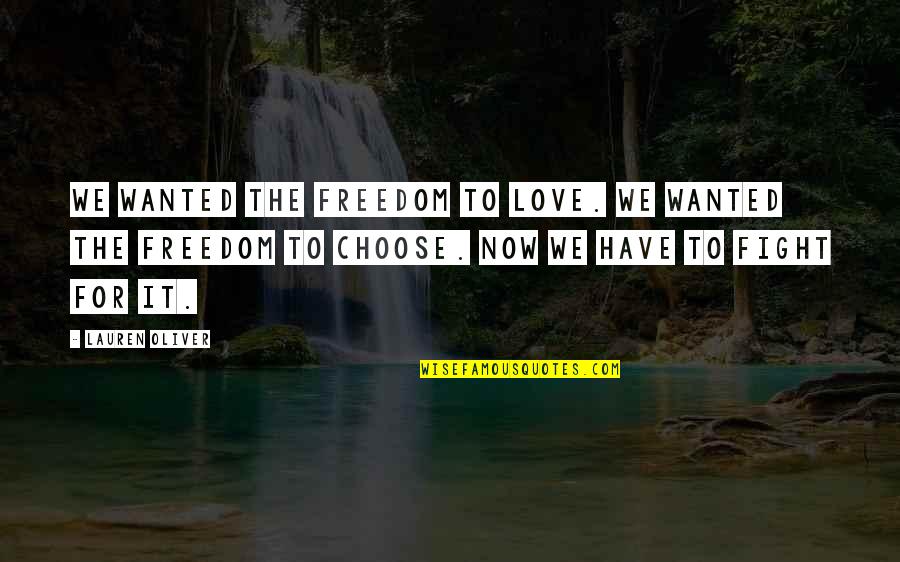 We wanted the freedom to love. We wanted the freedom to choose. Now we have to fight for it.
—
Lauren Oliver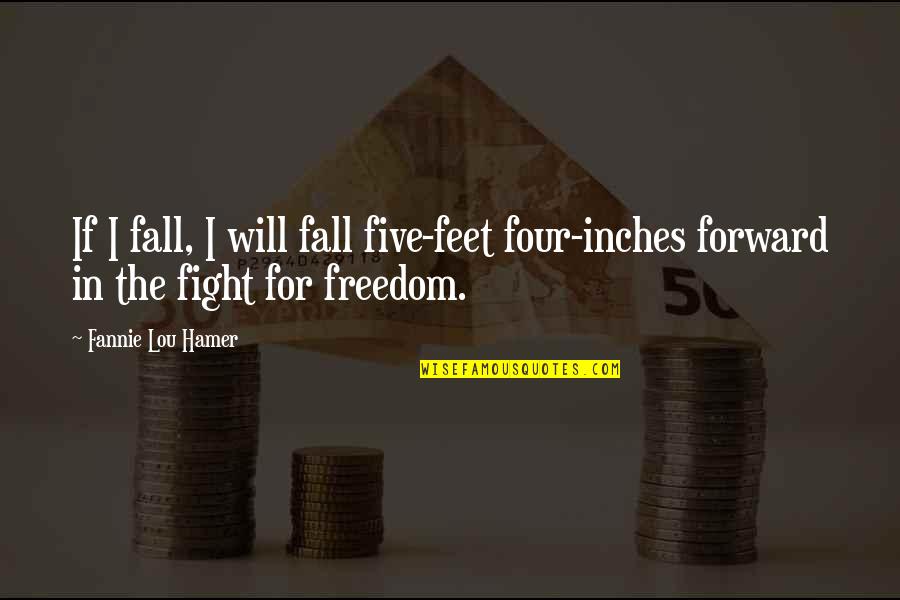 If I fall, I will fall five-feet four-inches forward in the fight for freedom.
—
Fannie Lou Hamer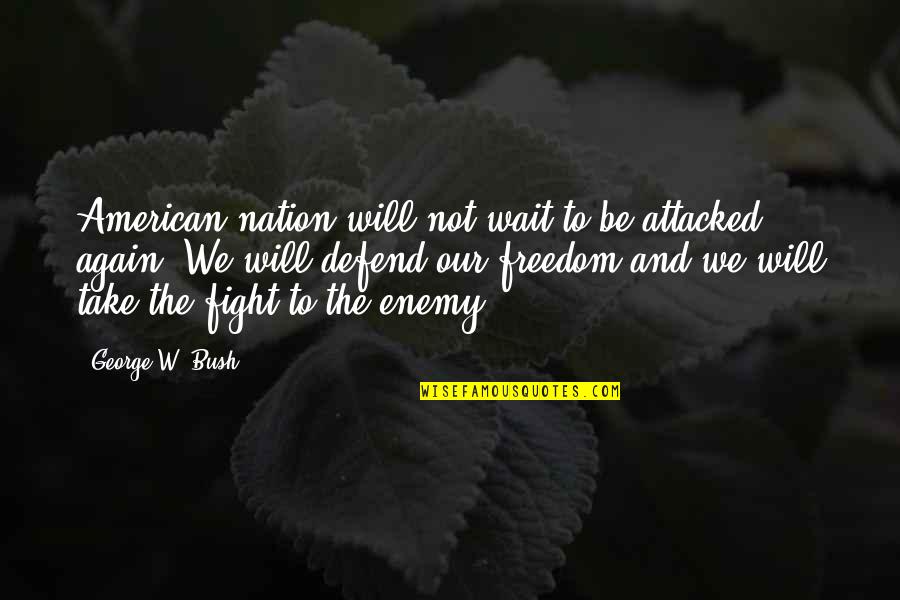 American nation will not wait to be attacked again. We will defend our freedom and we will take the fight to the enemy.
—
George W. Bush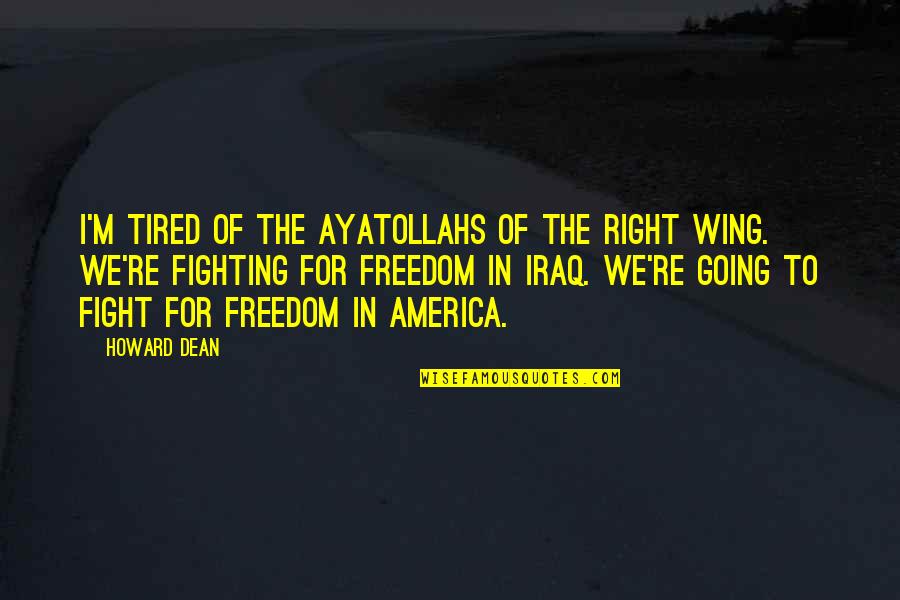 I'm tired of the ayatollahs of the right wing. We're fighting for freedom in Iraq. We're going to fight for freedom in America.
—
Howard Dean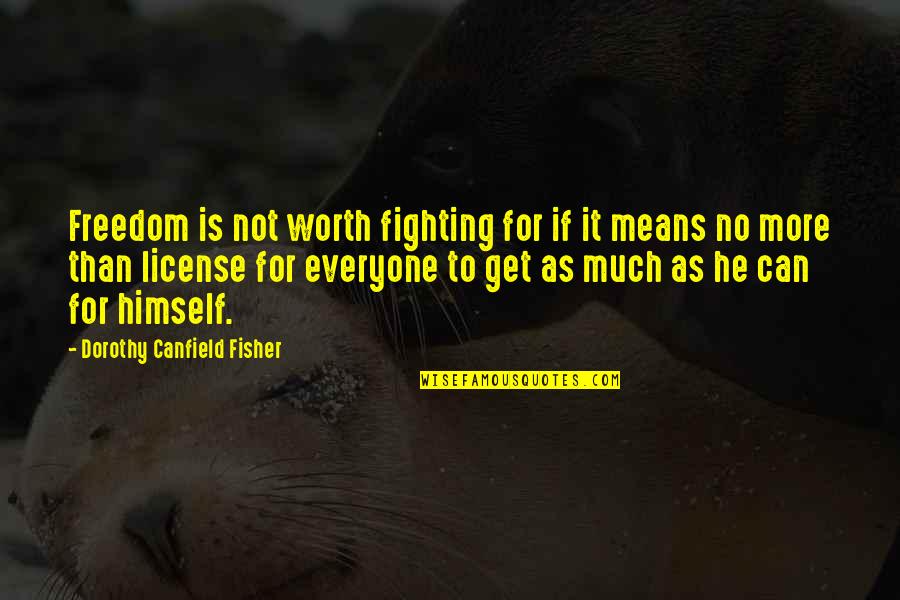 Freedom is not worth fighting for if it means no more than license for everyone to get as much as he can for himself.
—
Dorothy Canfield Fisher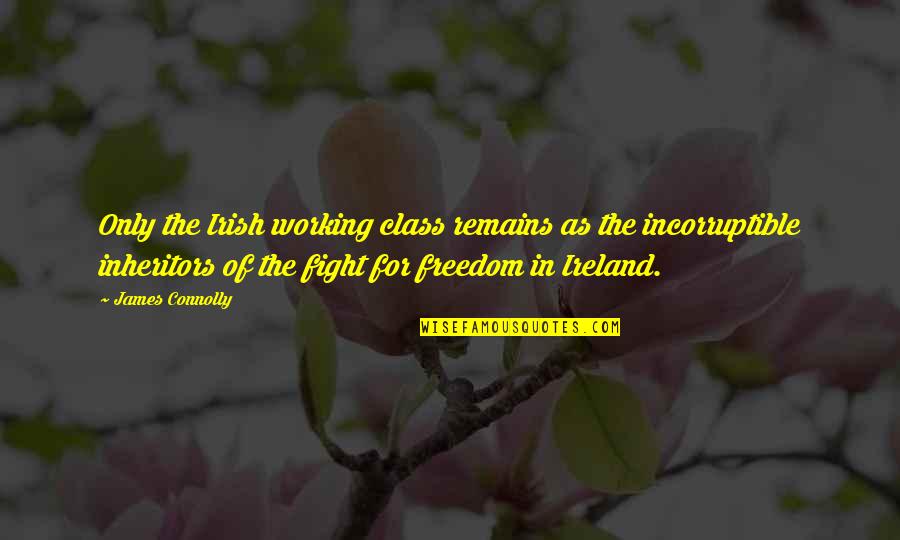 Only the Irish working class remains as the incorruptible inheritors of the fight for freedom in Ireland.
—
James Connolly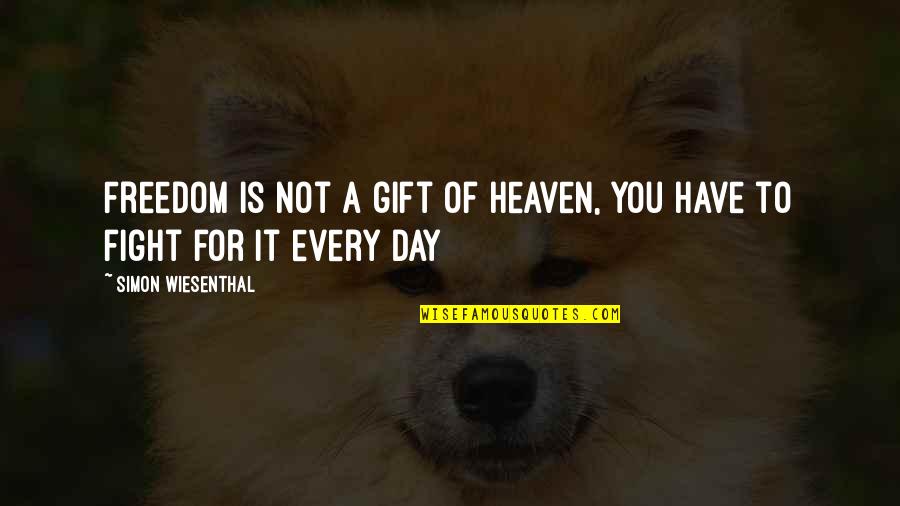 Freedom is not a gift of heaven, you have to fight for it every day
—
Simon Wiesenthal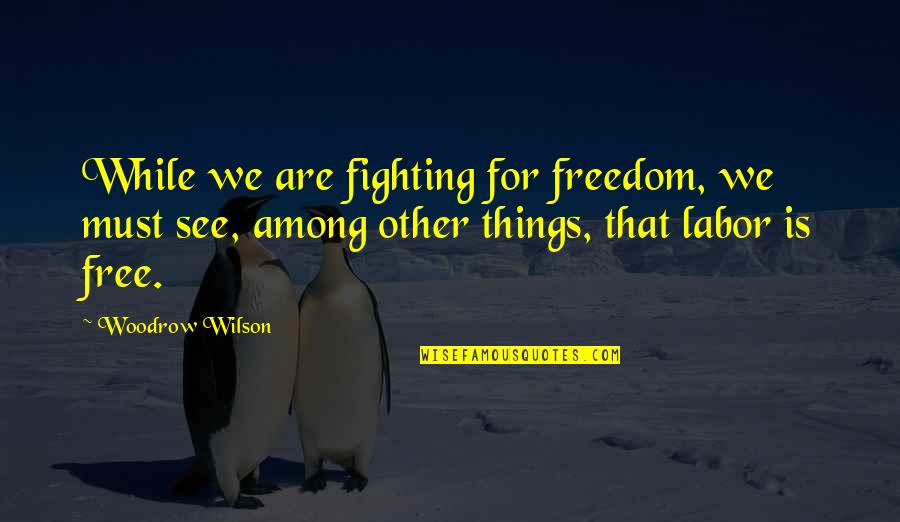 While we are fighting for freedom, we must see, among other things, that labor is free. —
Woodrow Wilson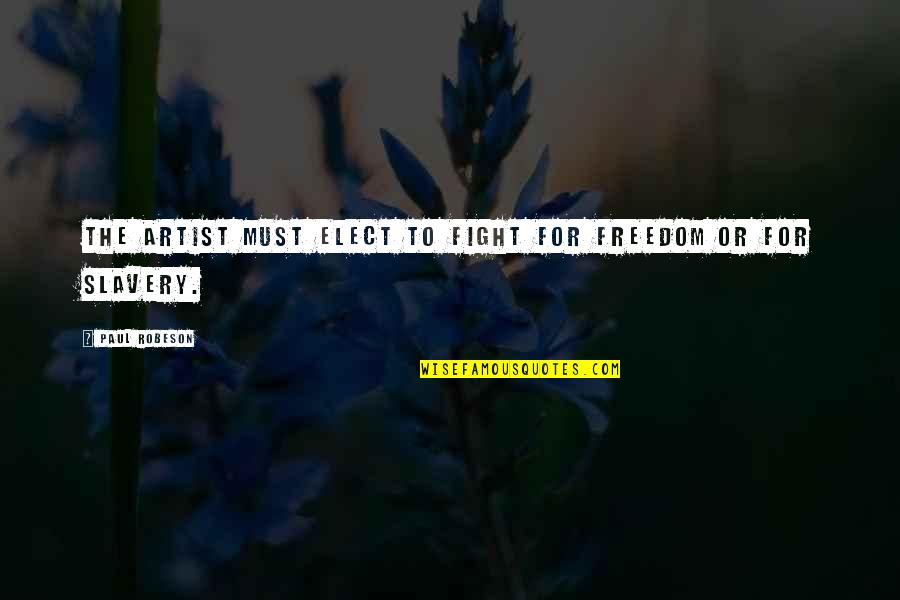 The artist must elect to fight for Freedom or for Slavery. —
Paul Robeson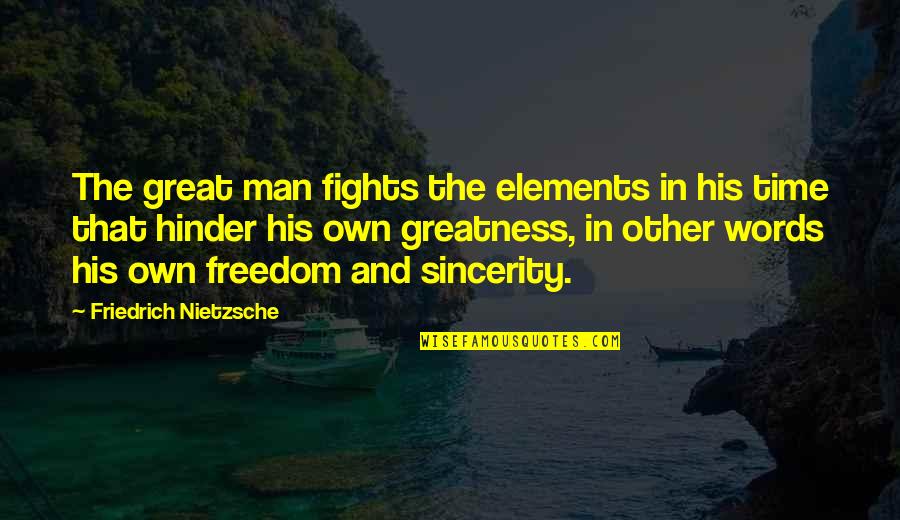 The great man fights the elements in his time that hinder his own greatness, in other words his own freedom and sincerity. —
Friedrich Nietzsche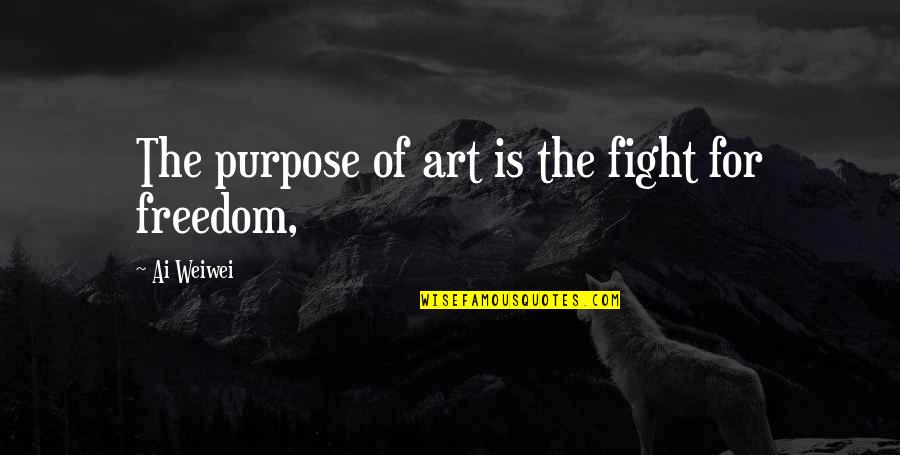 The purpose of art is the fight for freedom, —
Ai Weiwei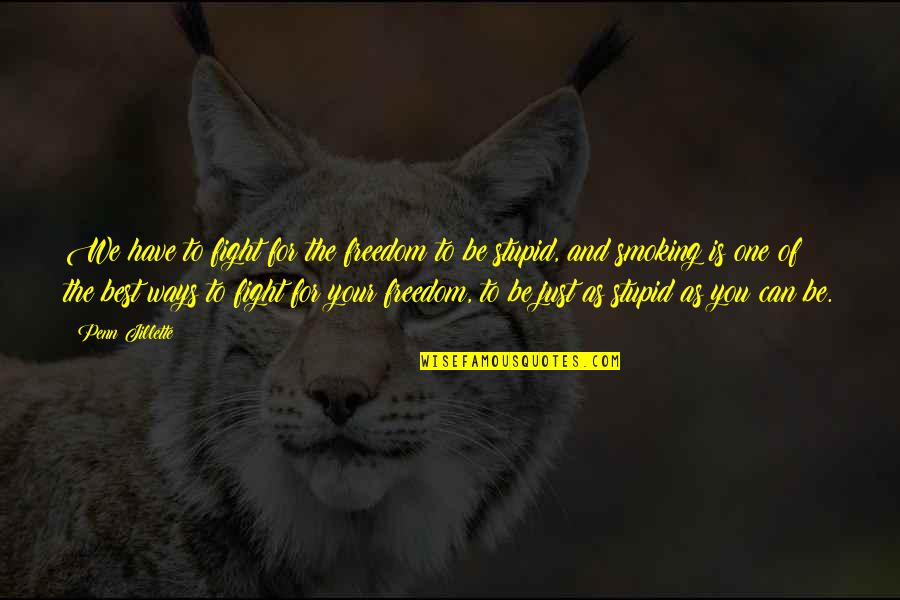 We have to fight for the freedom to be stupid, and smoking is one of the best ways to fight for your freedom, to be just as stupid as you can be. —
Penn Jillette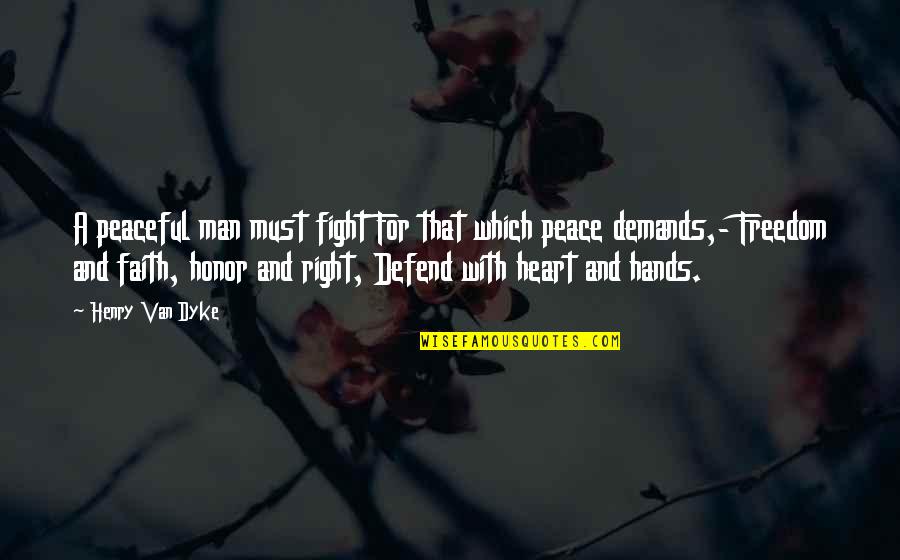 A peaceful man must fight For that which peace demands,- Freedom and faith, honor and right, Defend with heart and hands. —
Henry Van Dyke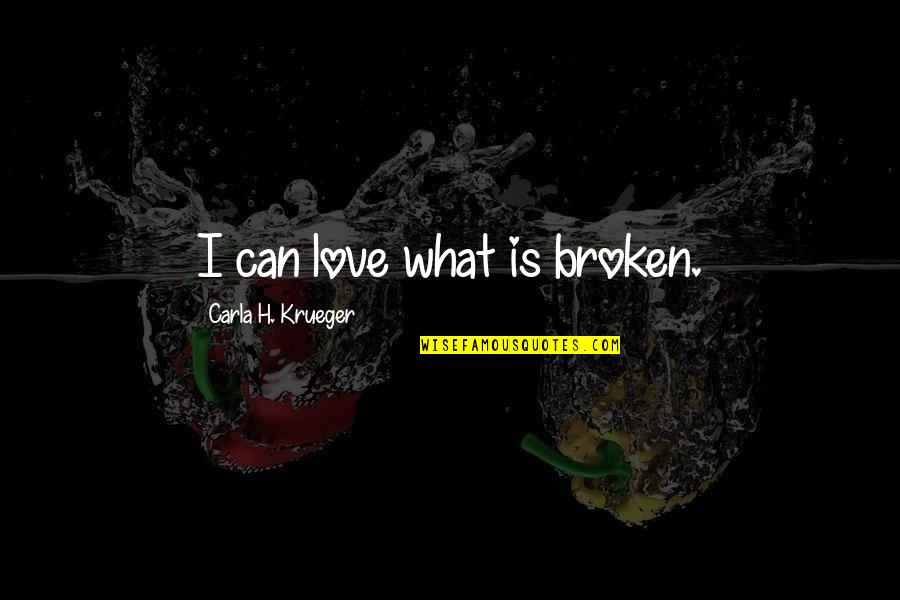 I can love what is broken. —
Carla H. Krueger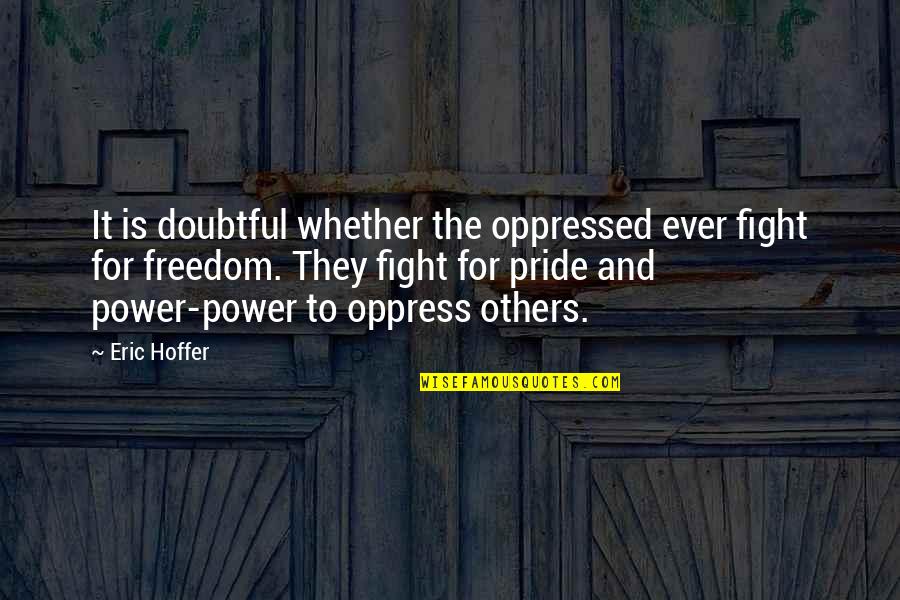 It is doubtful whether the oppressed ever fight for freedom. They fight for pride and power-power to oppress others. —
Eric Hoffer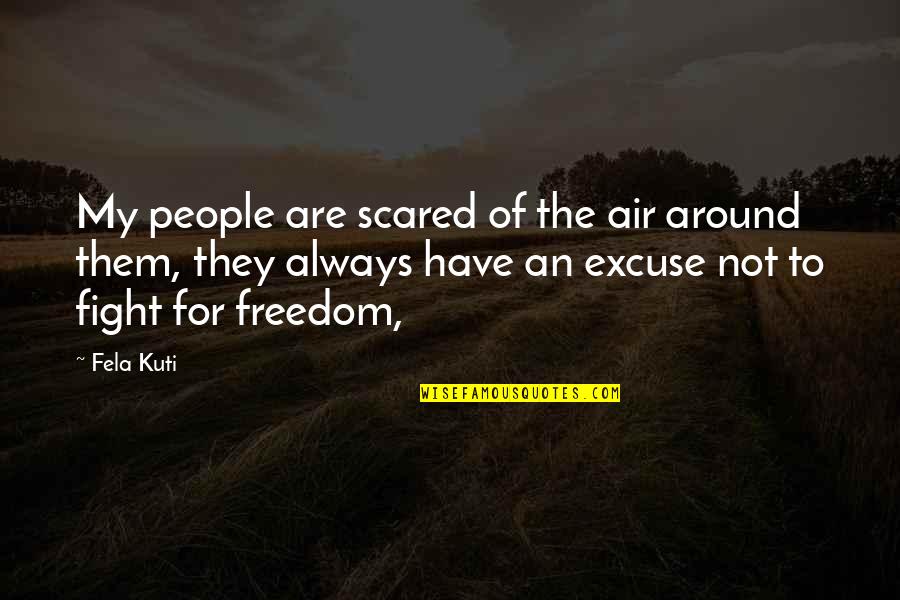 My people are scared of the air around them, they always have an excuse not to fight for freedom, —
Fela Kuti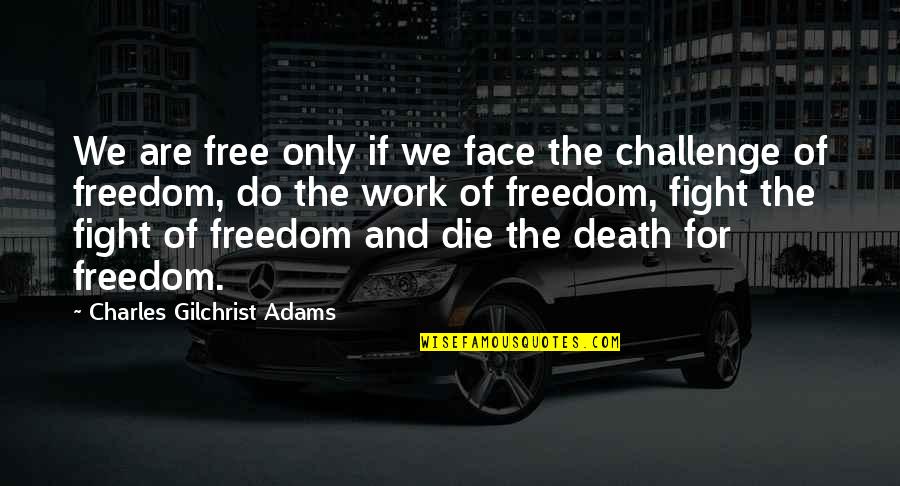 We are free only if we face the challenge of freedom, do the work of freedom, fight the fight of freedom and die the death for freedom. —
Charles Gilchrist Adams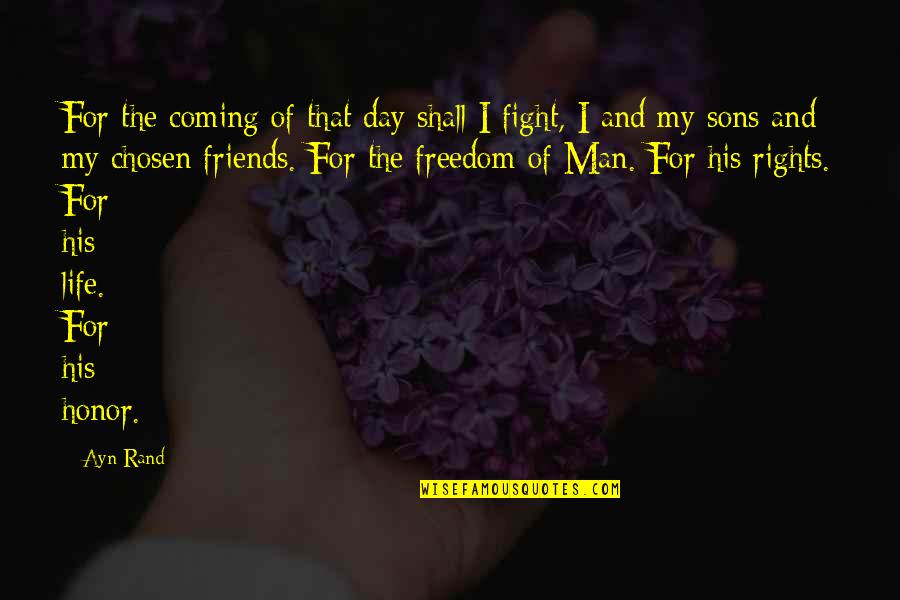 For the coming of that day shall I fight, I and my sons and my chosen friends. For the freedom of Man. For his rights. For his life. For his honor. —
Ayn Rand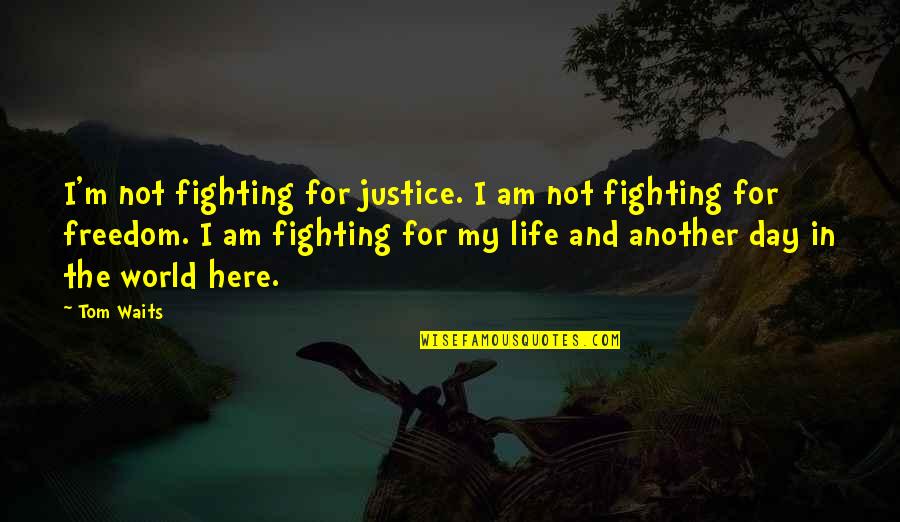 I'm not fighting for justice. I am not fighting for freedom. I am fighting for my life and another day in the world here. —
Tom Waits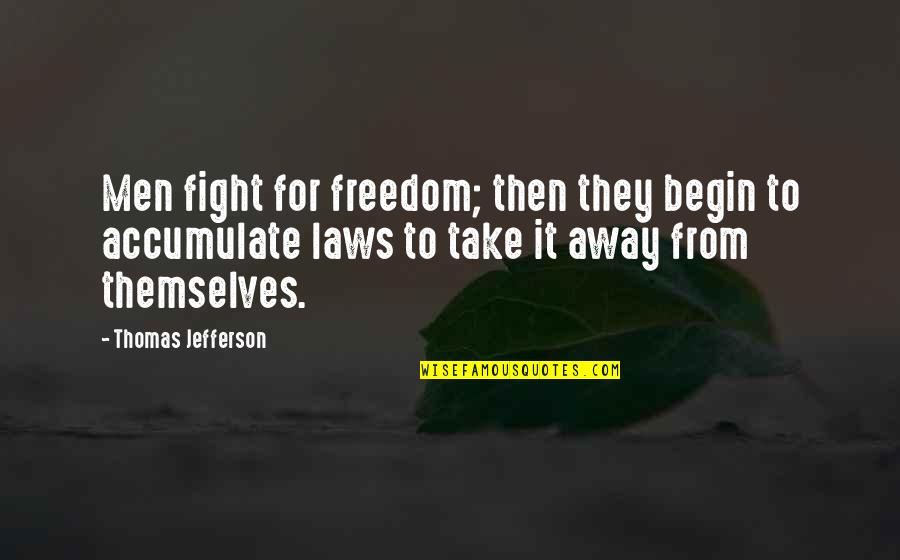 Men fight for freedom; then they begin to accumulate laws to take it away from themselves. —
Thomas Jefferson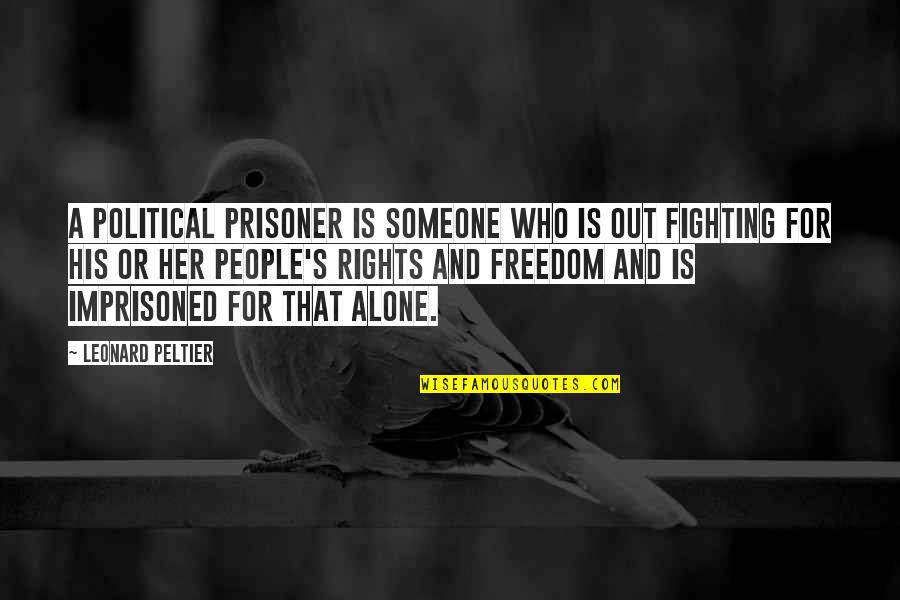 A political prisoner is someone who is out fighting for his or her people's rights and freedom and is imprisoned for that alone. —
Leonard Peltier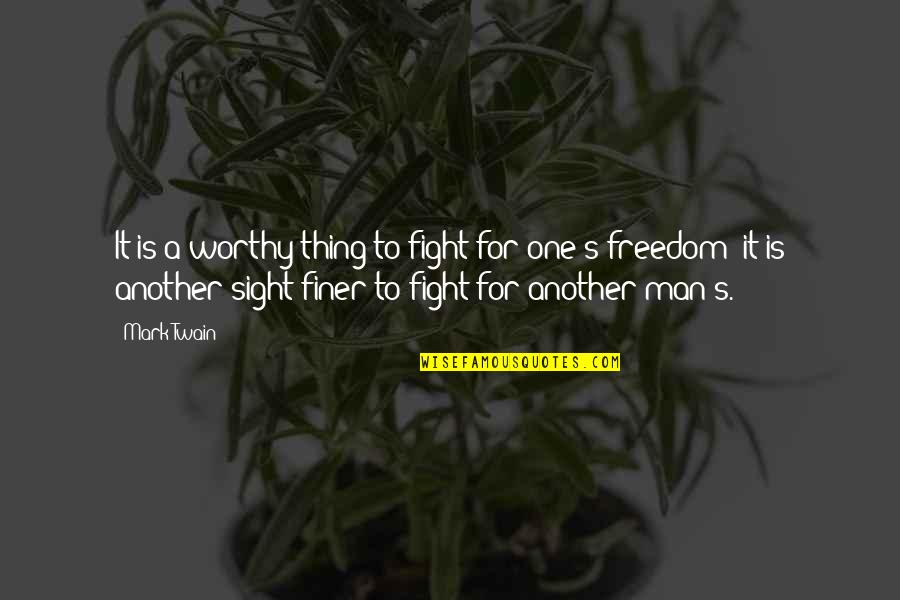 It is a worthy thing to fight for one's freedom; it is another sight finer to fight for another man's. —
Mark Twain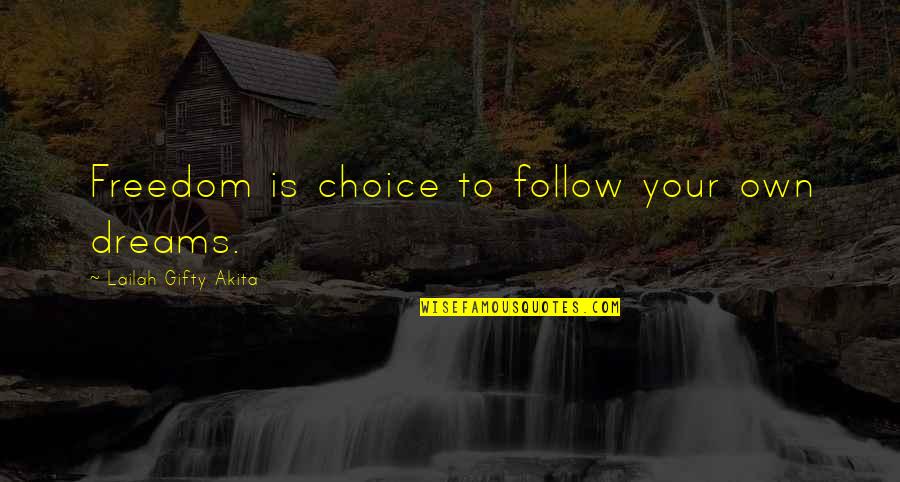 Freedom is choice to follow your own dreams. —
Lailah Gifty Akita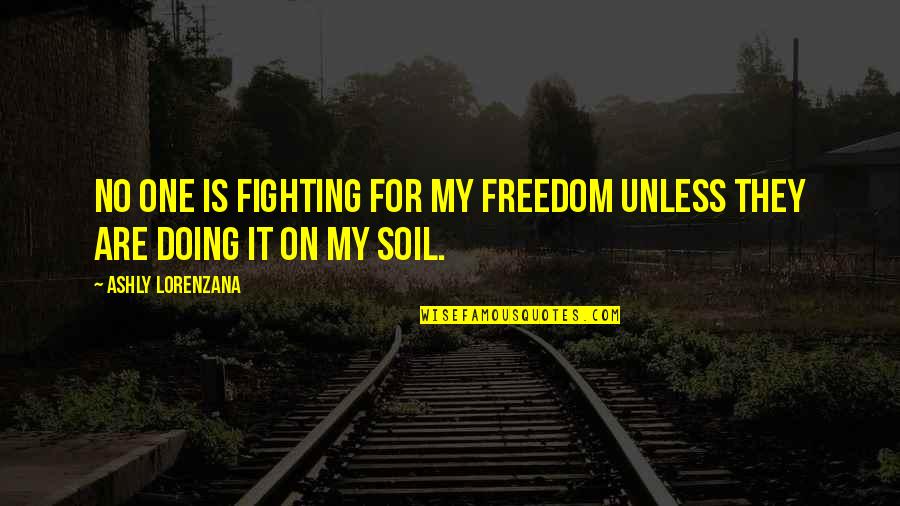 No one is fighting for my freedom unless they are doing it on my soil. —
Ashly Lorenzana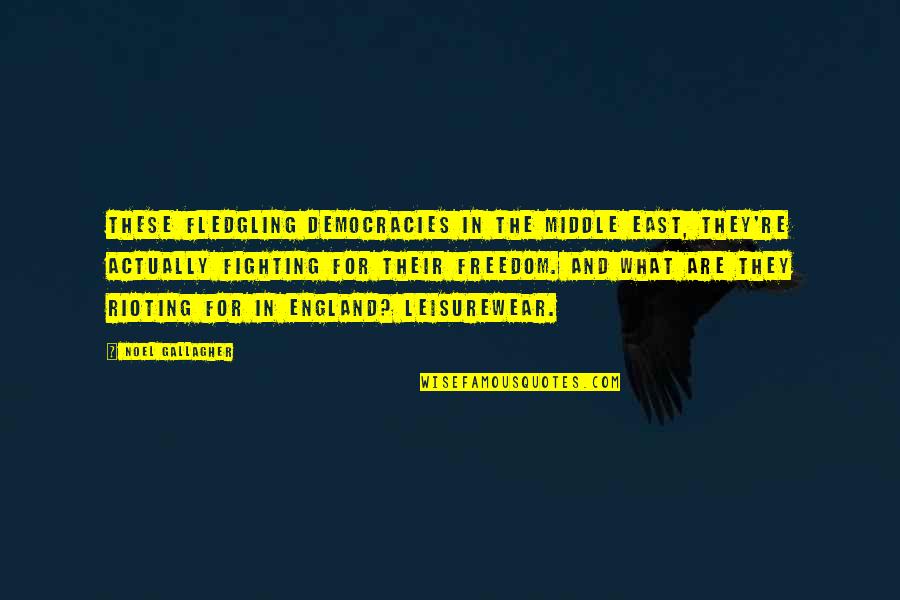 These fledgling democracies in the Middle East, they're actually fighting for their freedom. And what are they rioting for in England? Leisurewear. —
Noel Gallagher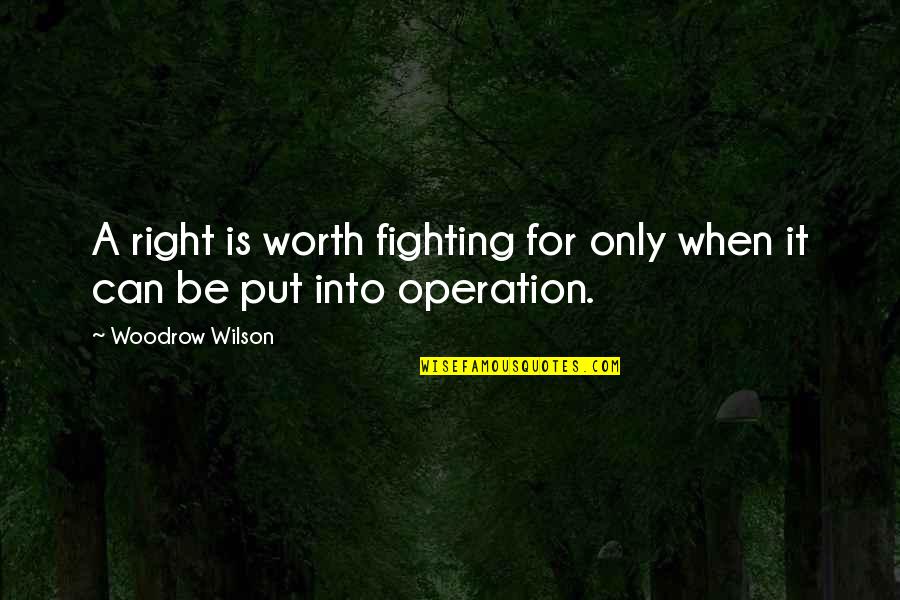 A right is worth fighting for only when it can be put into operation. —
Woodrow Wilson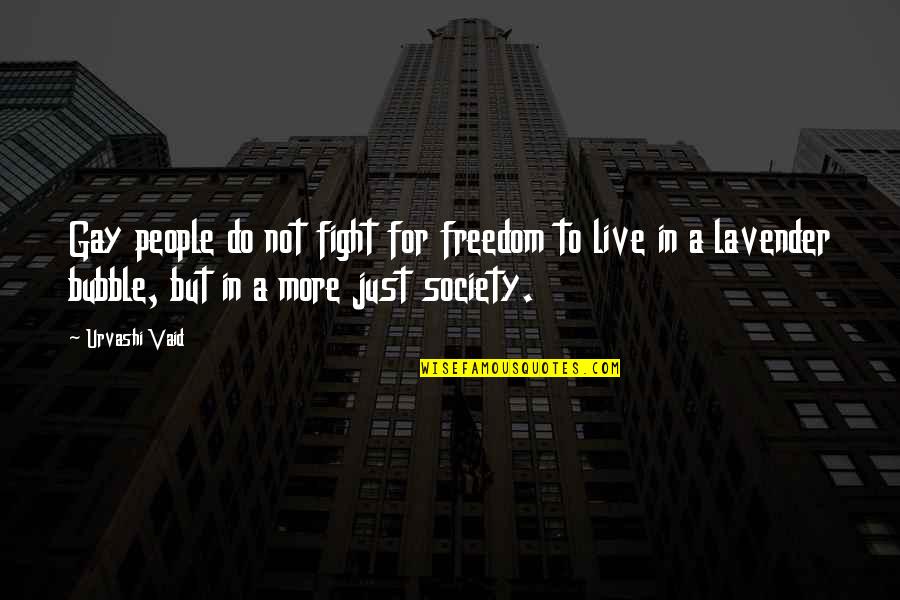 Gay people do not fight for freedom to live in a lavender bubble, but in a more just society. —
Urvashi Vaid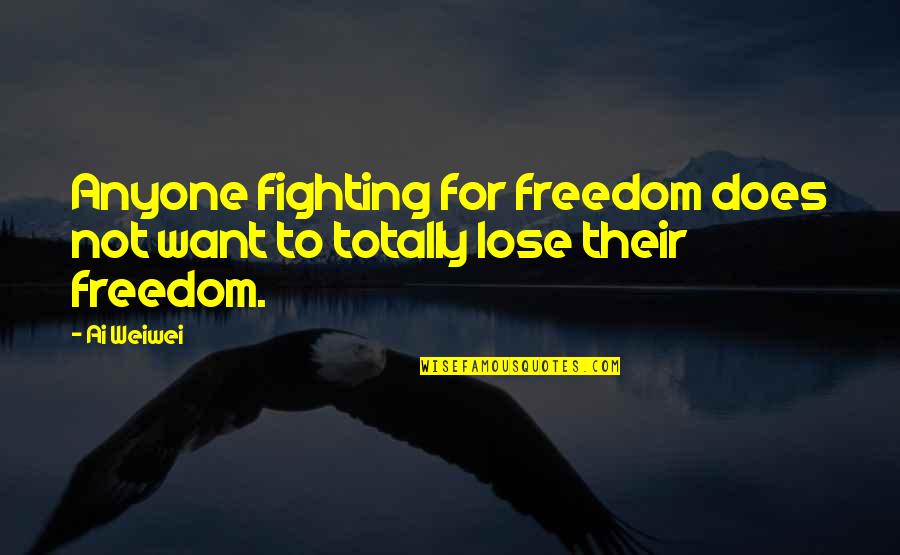 Anyone fighting for freedom does not want to totally lose their freedom. —
Ai Weiwei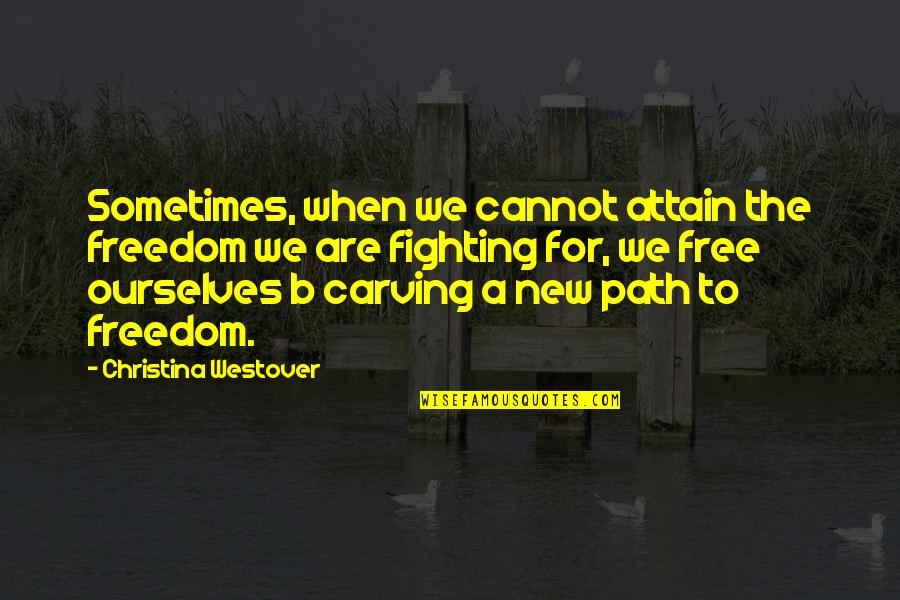 Sometimes, when we cannot attain the freedom we are fighting for, we free ourselves b carving a new path to freedom. —
Christina Westover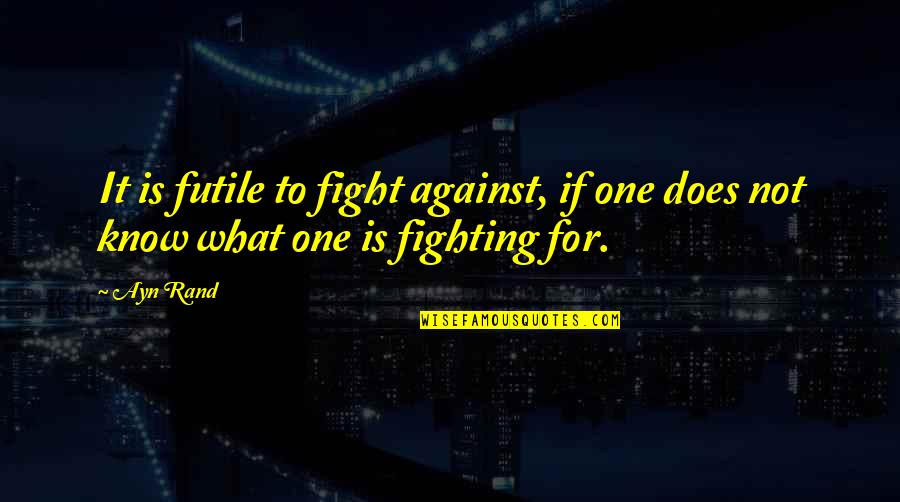 It is futile to fight against, if one does not know what one is fighting for. —
Ayn Rand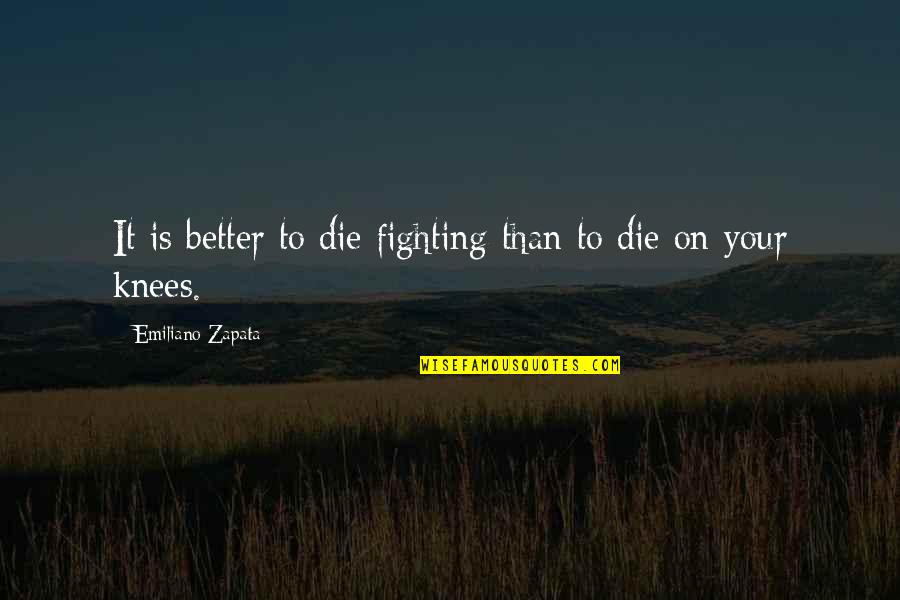 It is better to die fighting than to die on your knees. —
Emiliano Zapata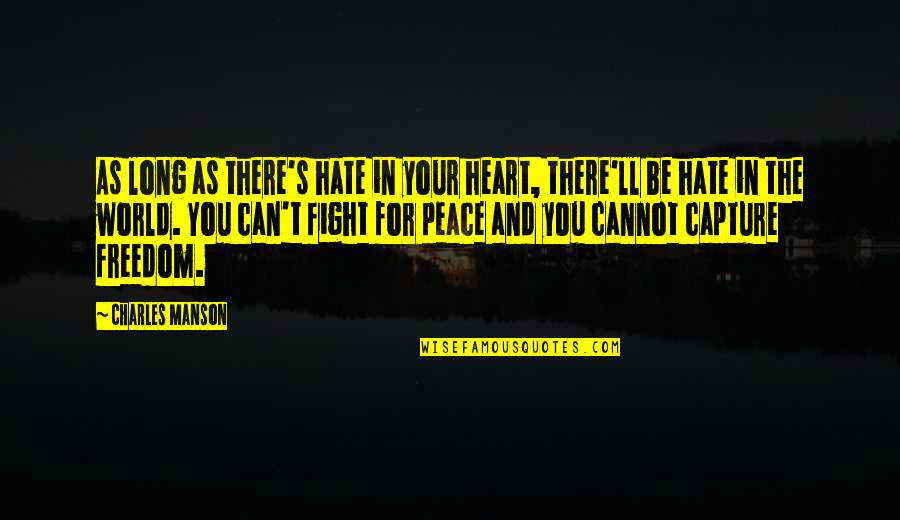 As long as there's hate in your heart, there'll be hate in the world. You can't fight for peace and you cannot capture freedom. —
Charles Manson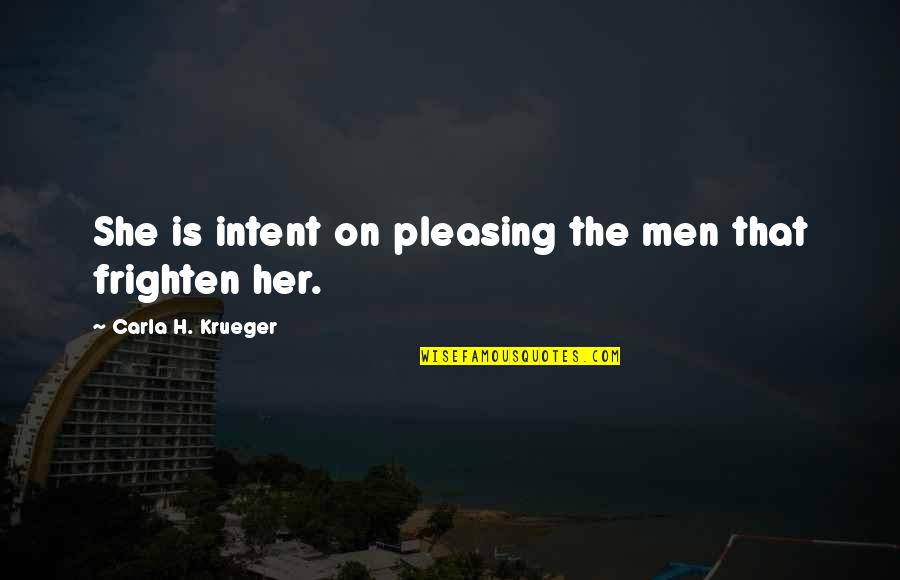 She is intent on pleasing the men that frighten her. —
Carla H. Krueger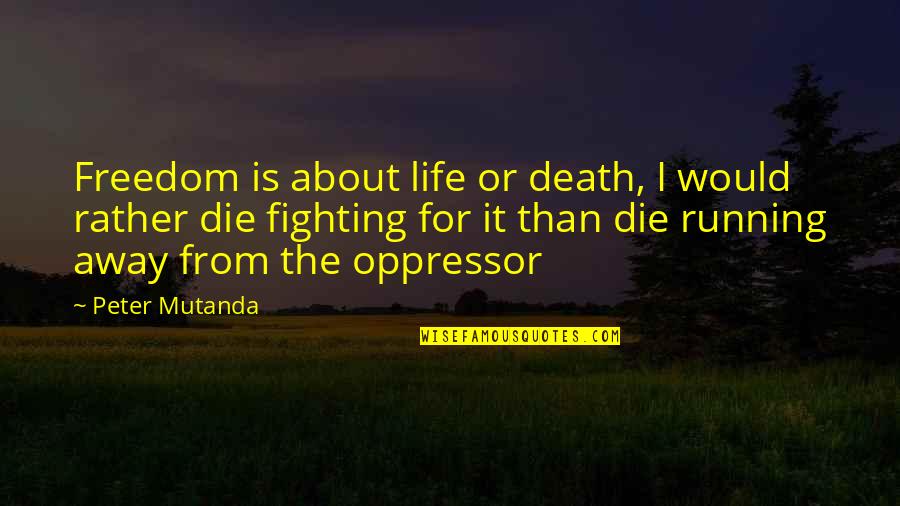 Freedom is about life or death, I would rather die fighting for it than die running away from the oppressor —
Peter Mutanda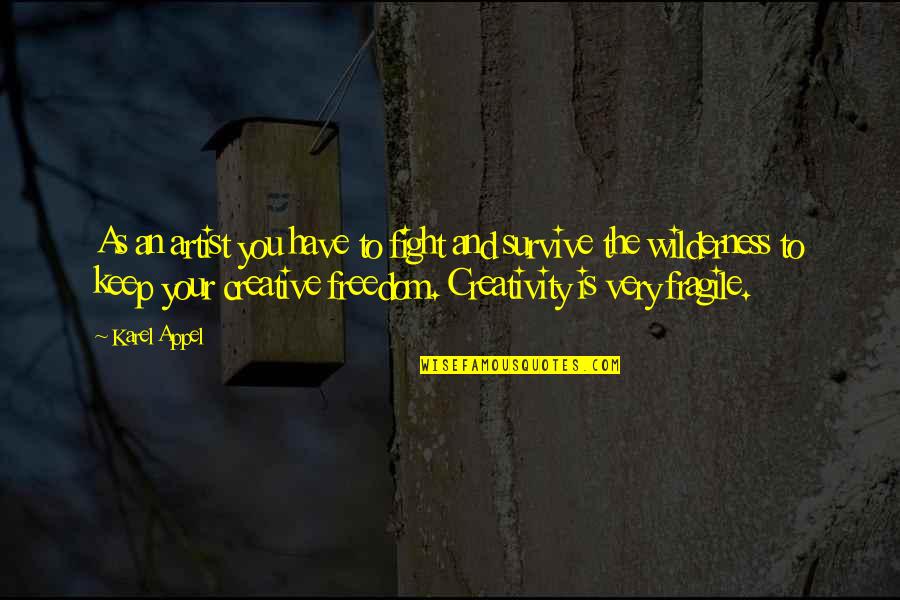 As an artist you have to fight and survive the wilderness to keep your creative freedom. Creativity is very fragile. —
Karel Appel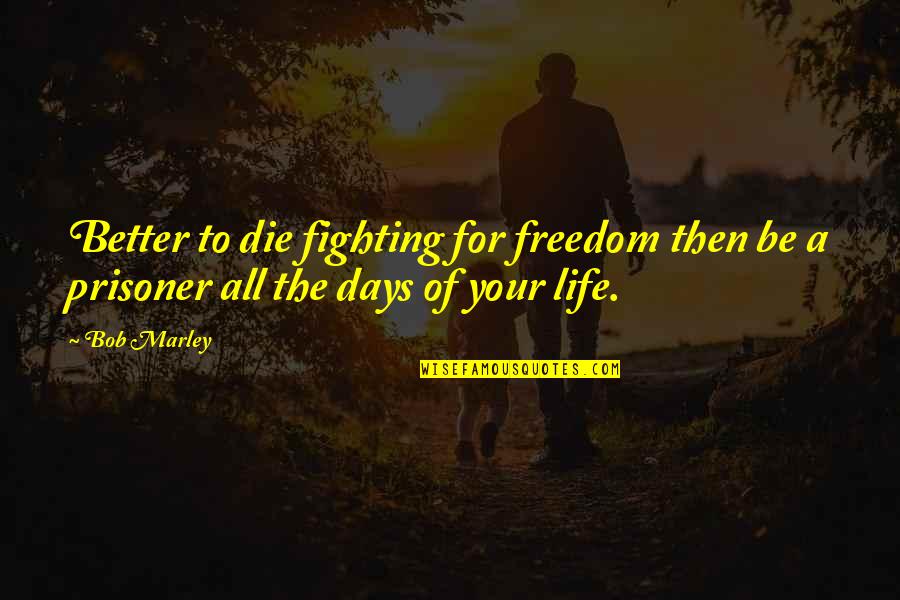 Better to die fighting for freedom then be a prisoner all the days of your life. —
Bob Marley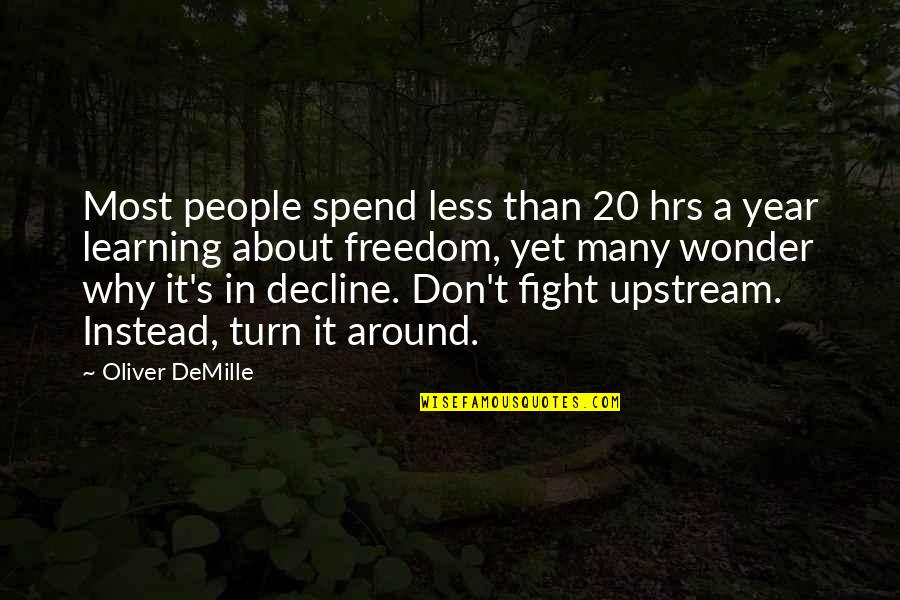 Most people spend less than 20 hrs a year learning about freedom, yet many wonder why it's in decline. Don't fight upstream. Instead, turn it around. —
Oliver DeMille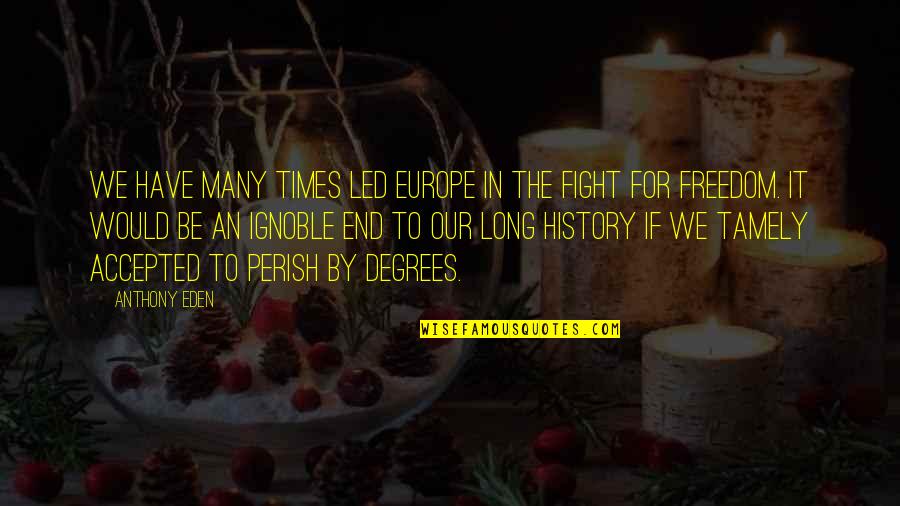 We have many times led Europe in the fight for freedom. It would be an ignoble end to our long history if we tamely accepted to perish by degrees. —
Anthony Eden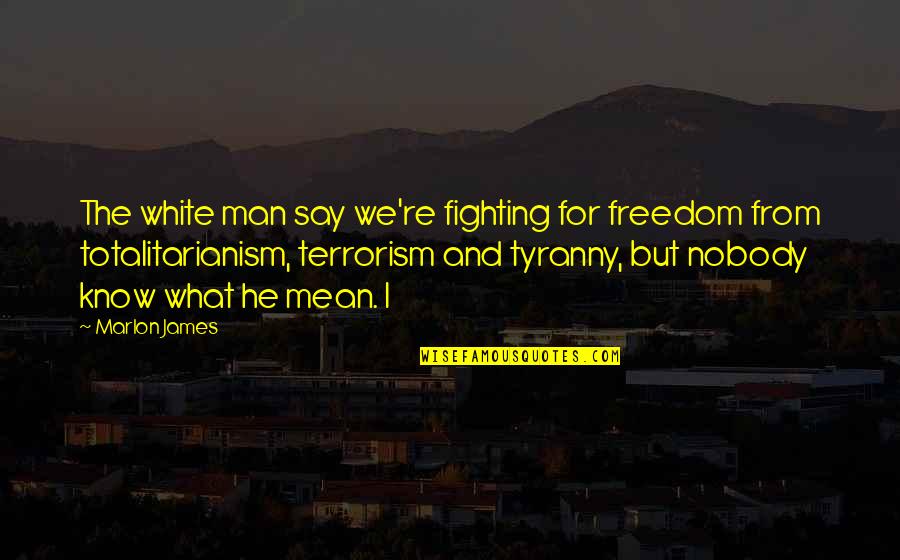 The white man say we're fighting for freedom from totalitarianism, terrorism and tyranny, but nobody know what he mean. I —
Marlon James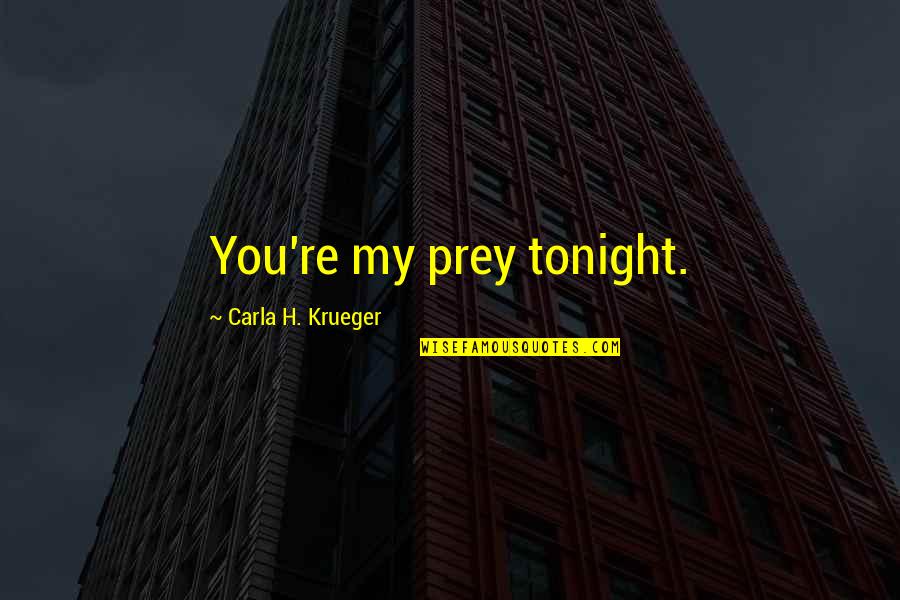 You're my prey tonight. —
Carla H. Krueger
She may be trained, but I'm fighting for my family, my home, my freedom. She's fighting for a goddamn paycheck. —
Amie Kaufman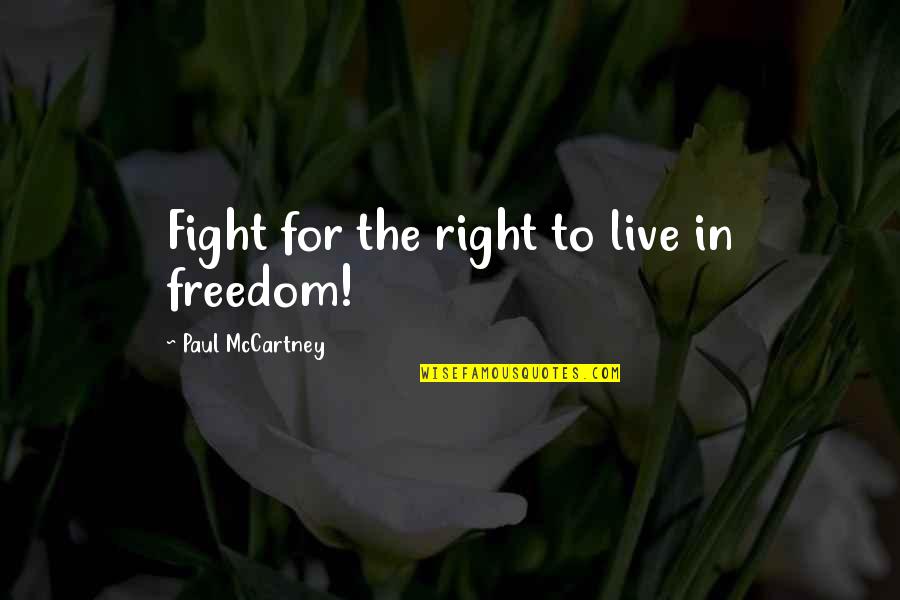 Fight for the right to live in freedom! —
Paul McCartney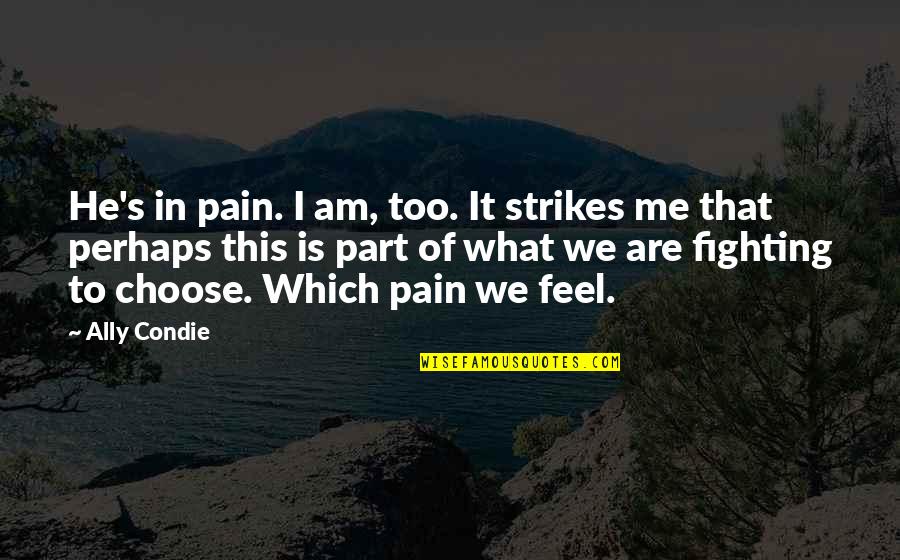 He's in pain. I am, too. It strikes me that perhaps this is part of what we are fighting to choose. Which pain we feel. —
Ally Condie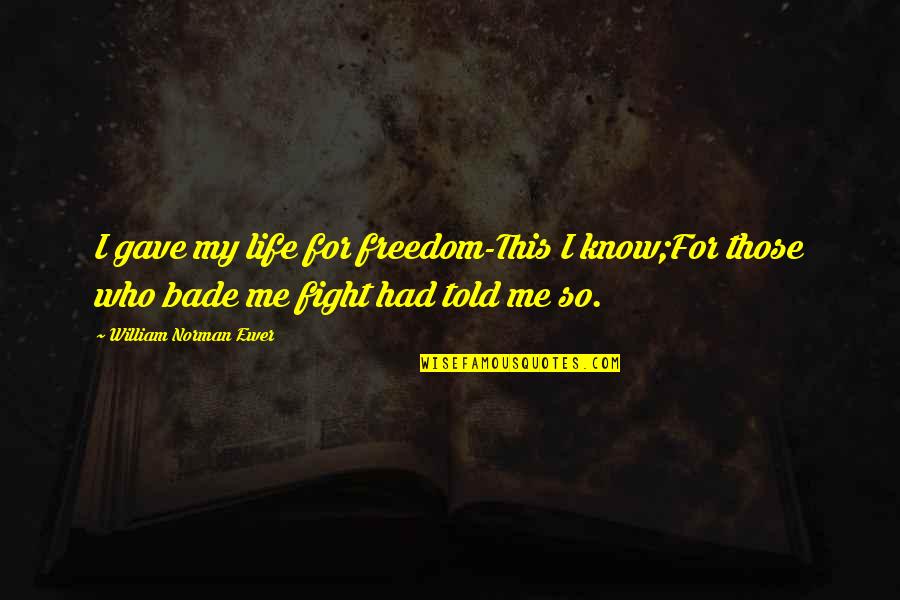 I gave my life for freedom-This I know;
For those who bade me fight had told me so. —
William Norman Ewer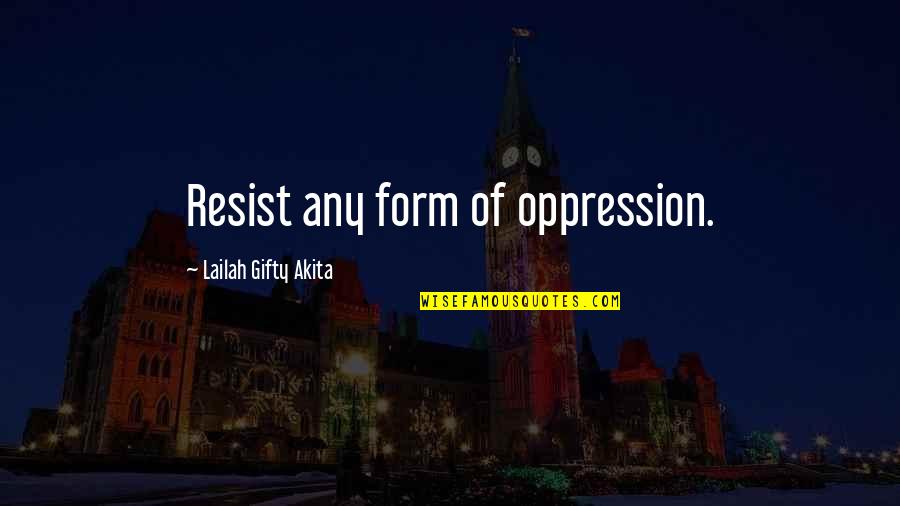 Resist any form of oppression. —
Lailah Gifty Akita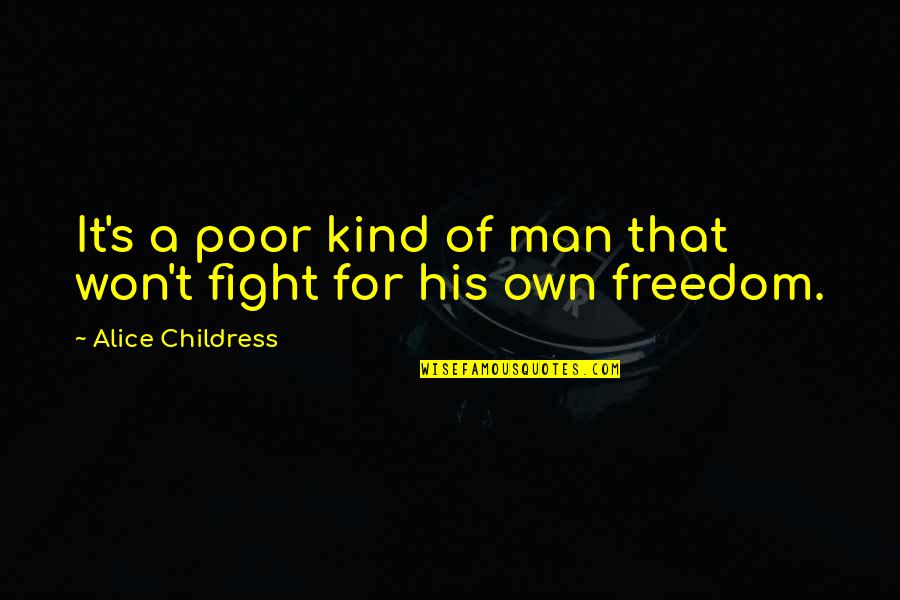 It's a poor kind of man that won't fight for his own freedom. —
Alice Childress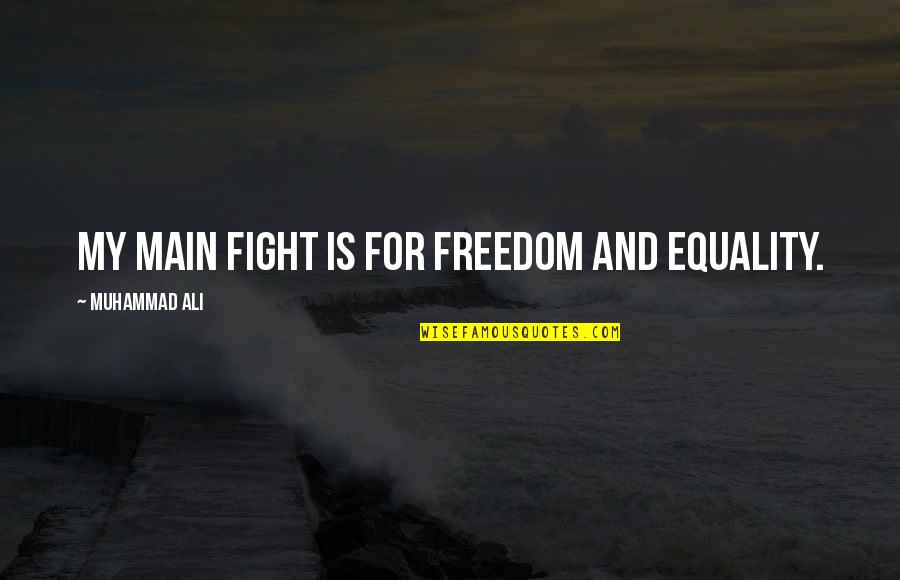 My main fight is for freedom and equality. —
Muhammad Ali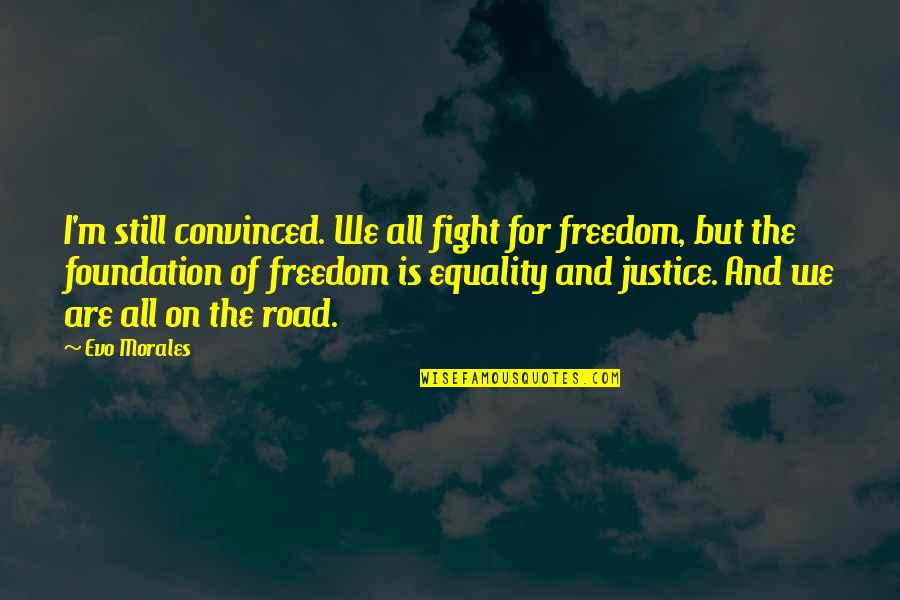 I'm still convinced. We all fight for freedom, but the foundation of freedom is equality and justice. And we are all on the road. —
Evo Morales