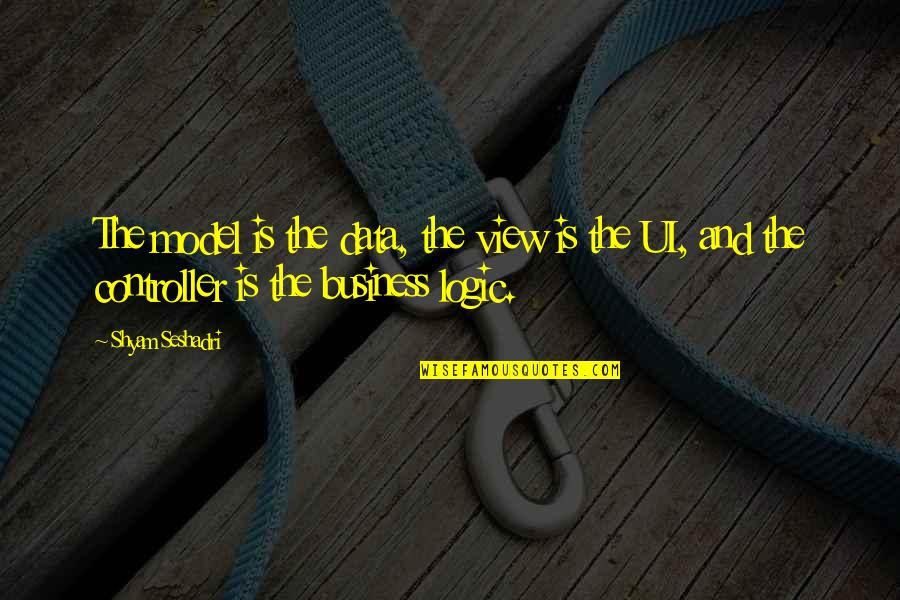 The model is the data, the view is the UI, and the controller is the business logic.
—
Shyam Seshadri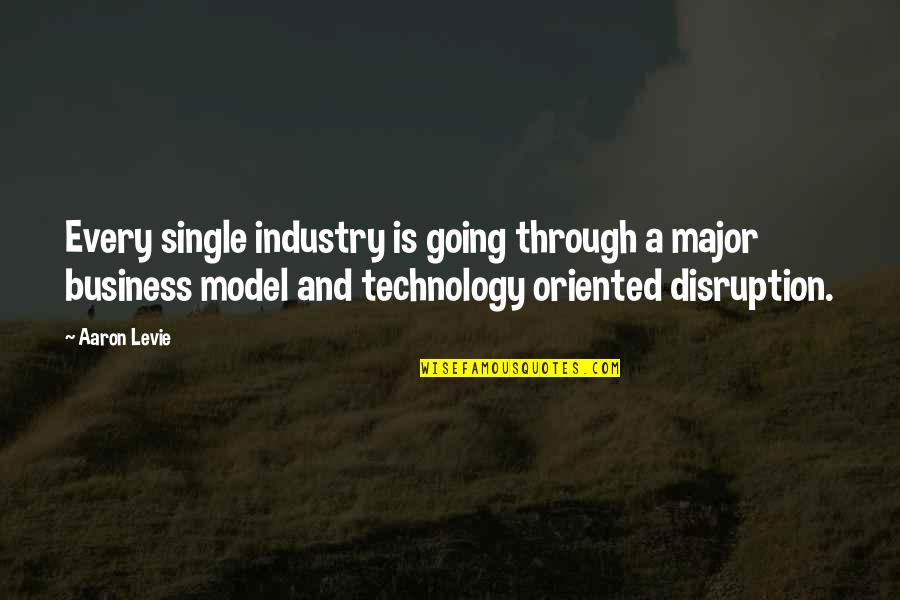 Every single industry is going through a major business model and technology oriented disruption.
—
Aaron Levie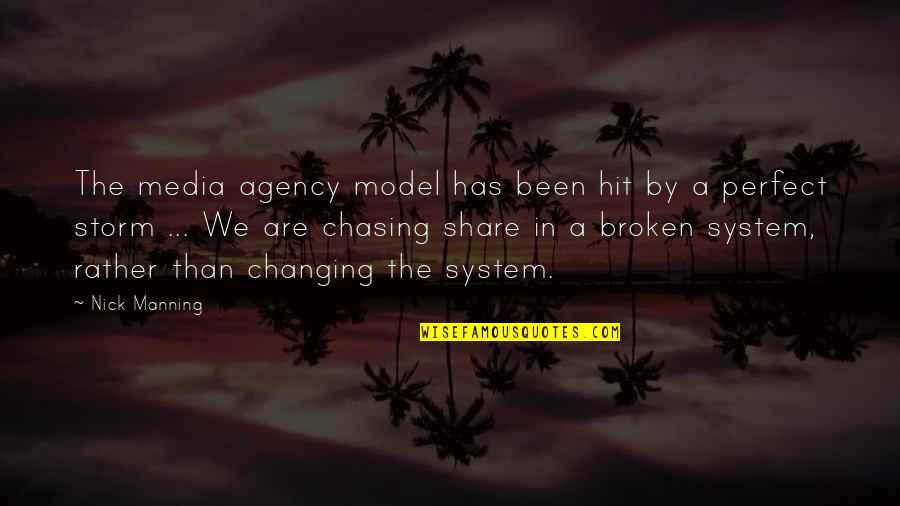 The media agency model has been hit by a perfect storm ... We are chasing share in a broken system, rather than changing the system.
—
Nick Manning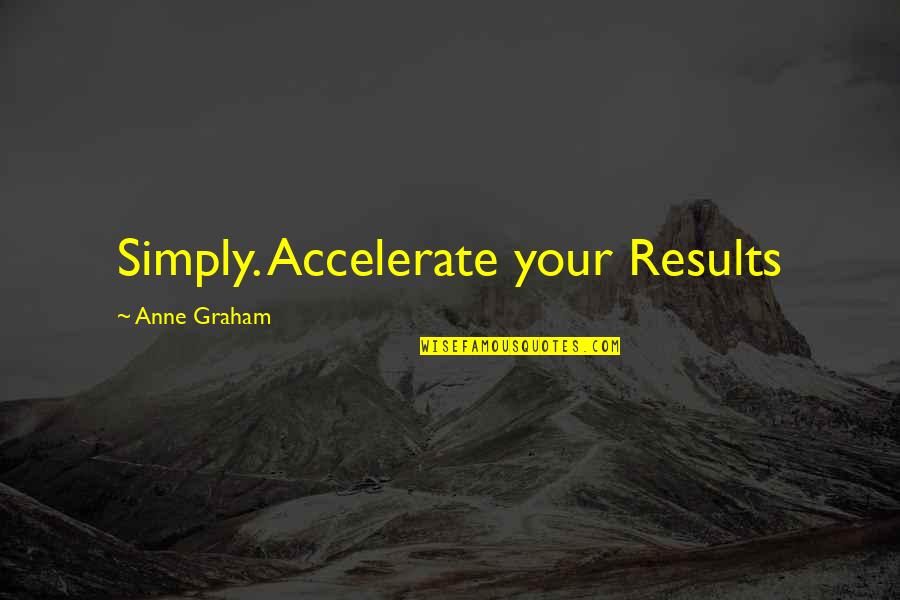 Simply. Accelerate your Results
—
Anne Graham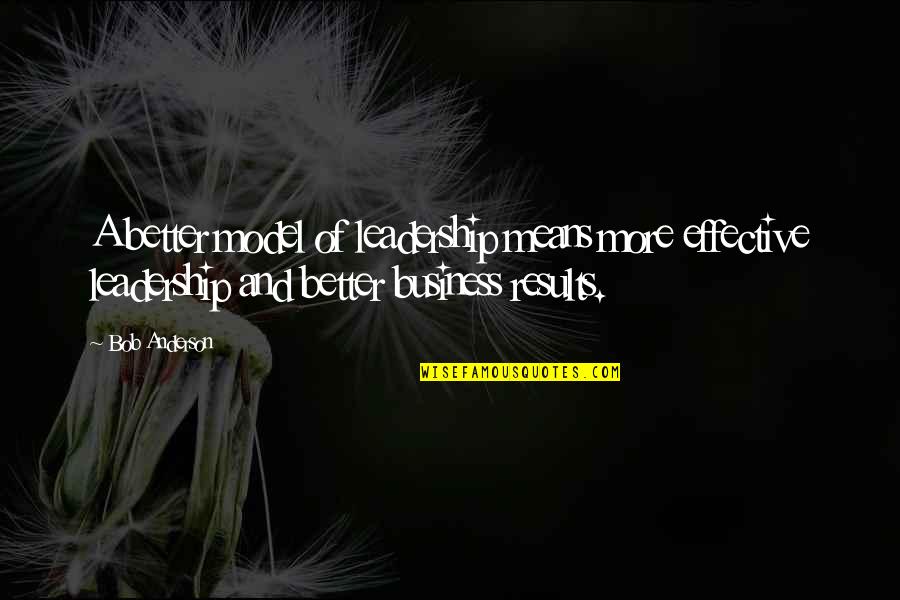 A better model of leadership means more effective leadership and better business results.
—
Bob Anderson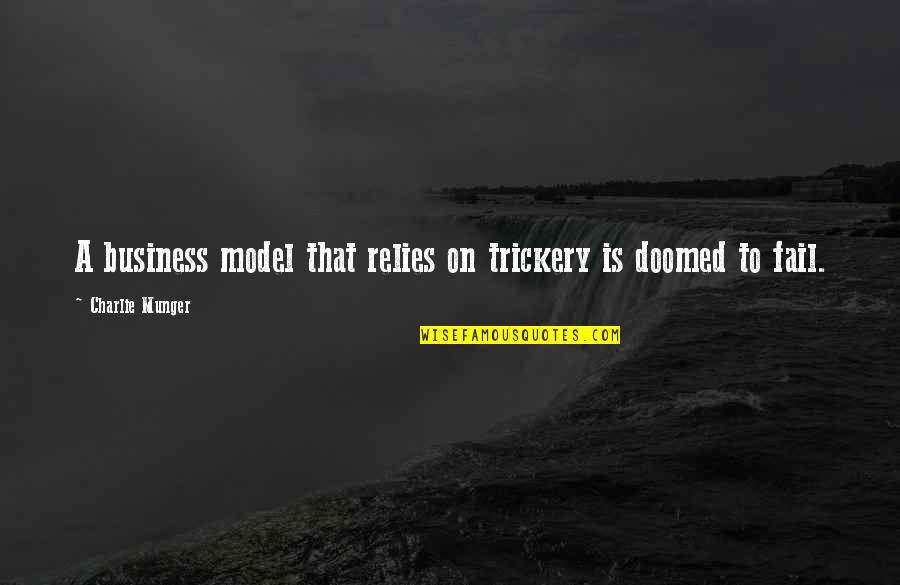 A business model that relies on trickery is doomed to fail.
—
Charlie Munger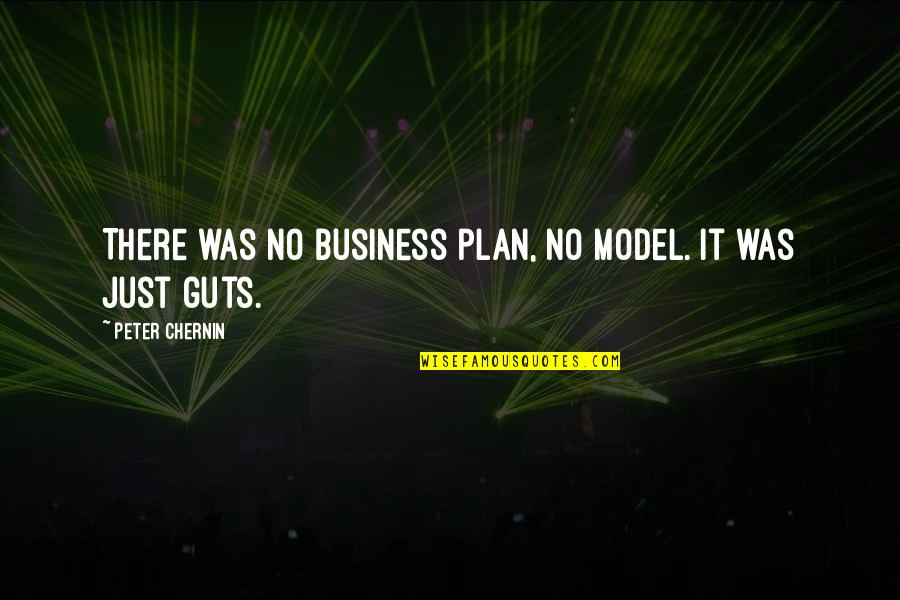 There was no business plan, no model. It was just guts.
—
Peter Chernin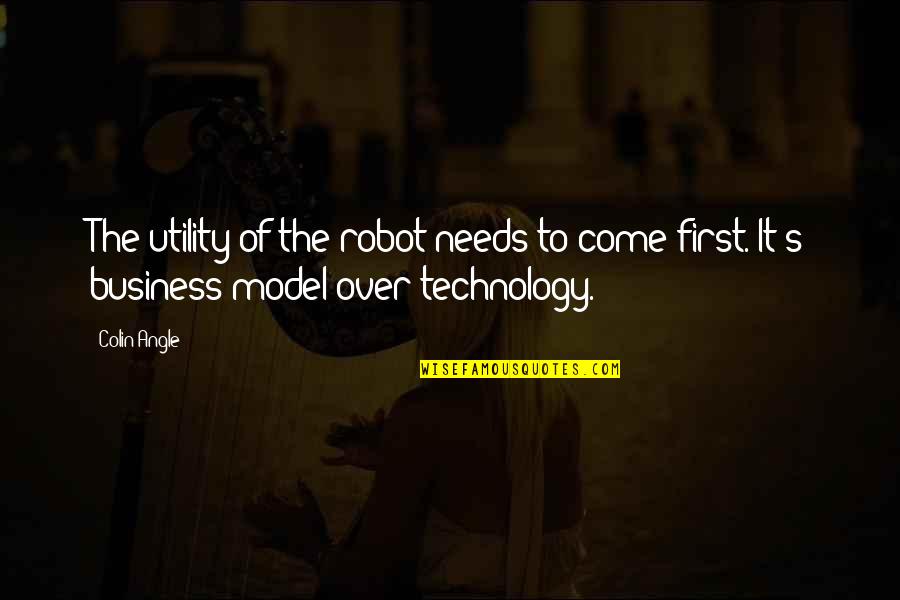 The utility of the robot needs to come first. It's
business model
over technology. —
Colin Angle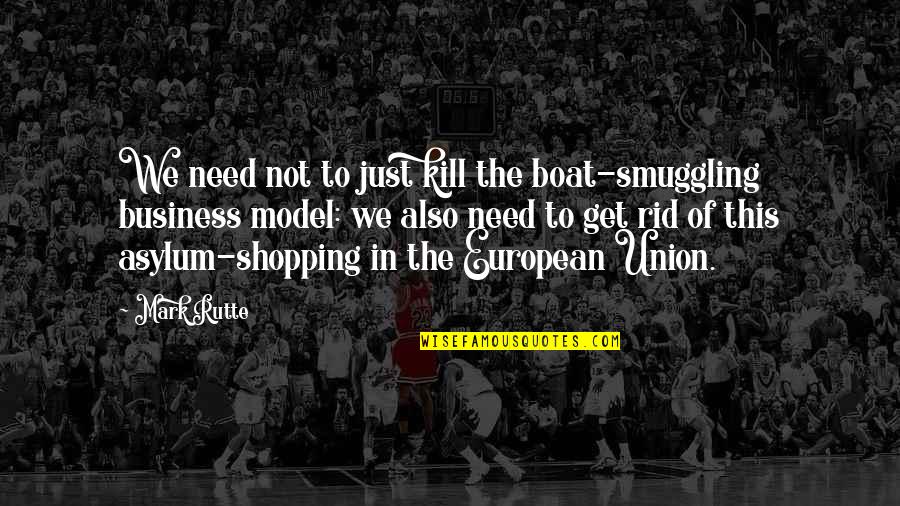 We need not to just kill the boat-smuggling
business model
: we also need to get rid of this asylum-shopping in the European Union. —
Mark Rutte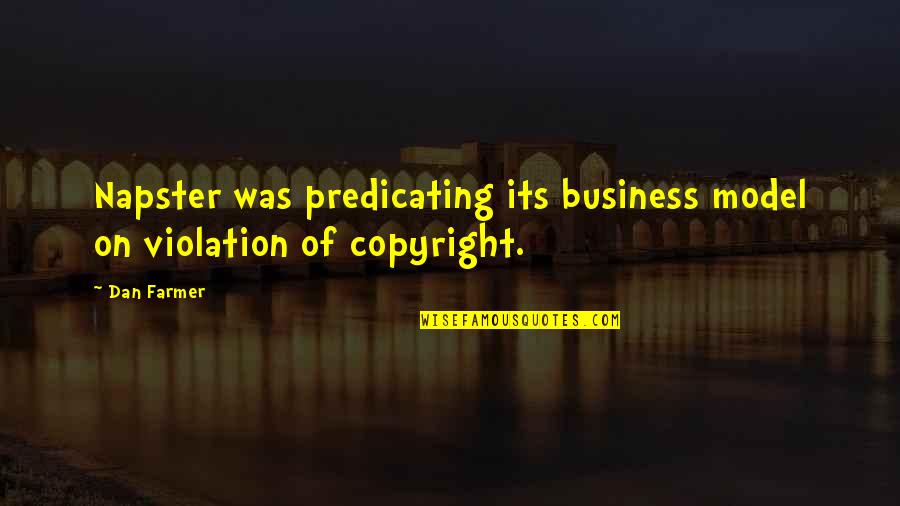 Napster was predicating its
business model
on violation of copyright. —
Dan Farmer
The number one way culture is shaped is by what leaders model. —
Mindy Hall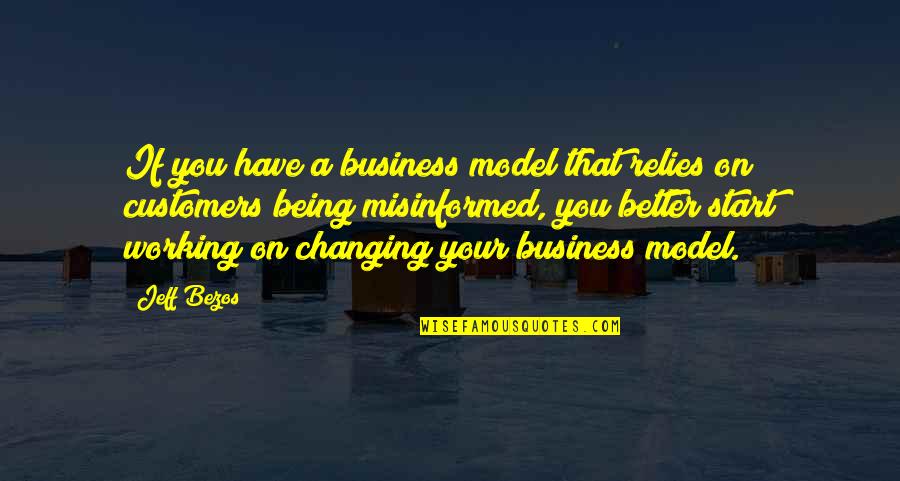 If you have a
business model
that relies on customers being misinformed, you better start working on changing your
business model
. —
Jeff Bezos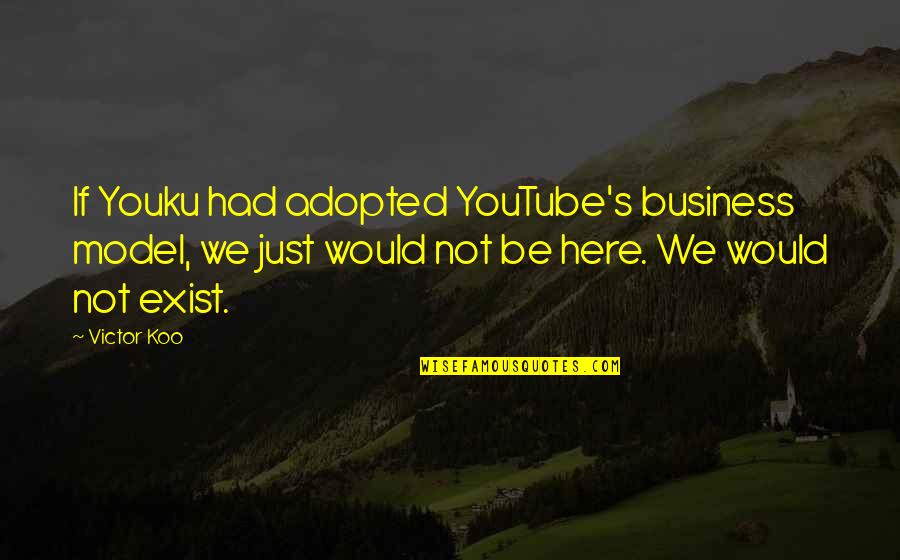 If Youku had adopted YouTube's
business model
, we just would not be here. We would not exist. —
Victor Koo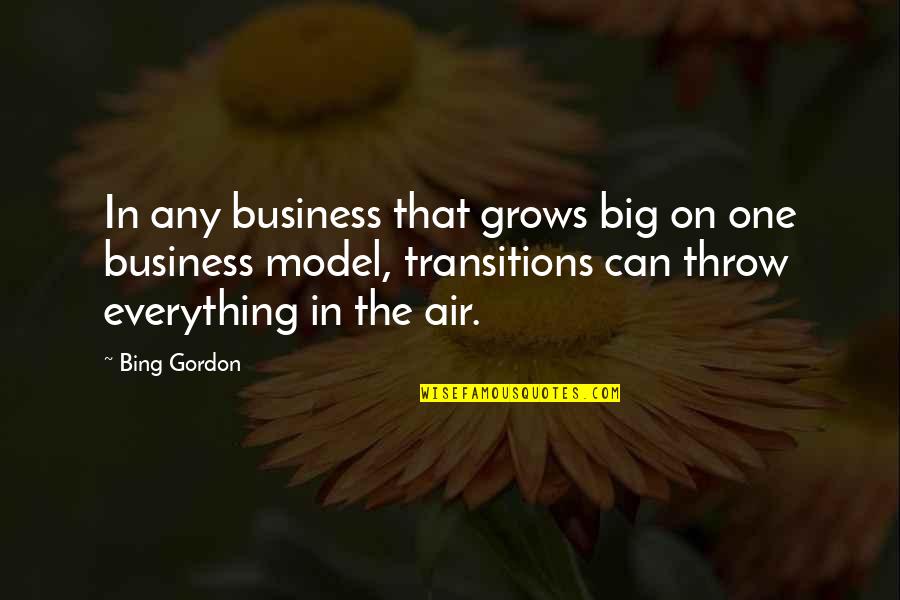 In any business that grows big on one
business model
, transitions can throw everything in the air. —
Bing Gordon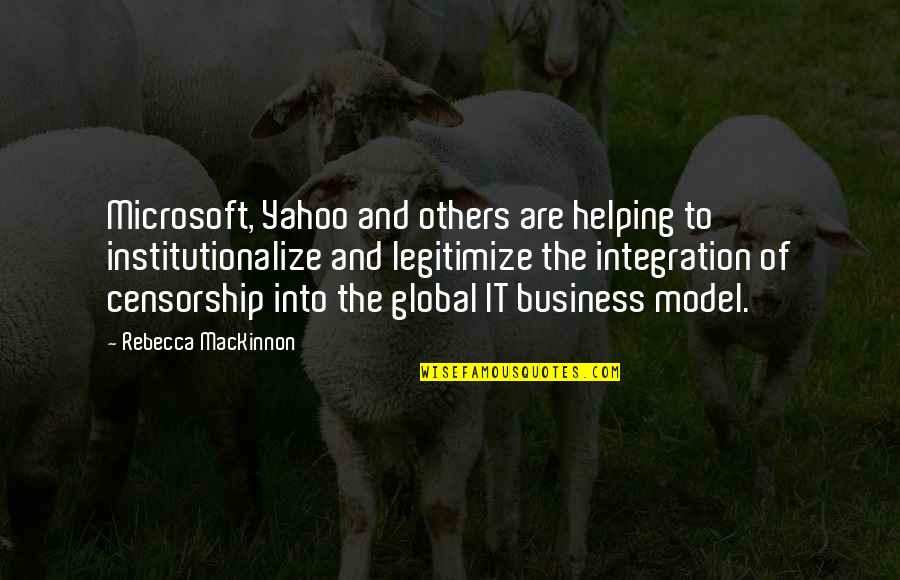 Microsoft, Yahoo and others are helping to institutionalize and legitimize the integration of censorship into the global IT
business model
. —
Rebecca MacKinnon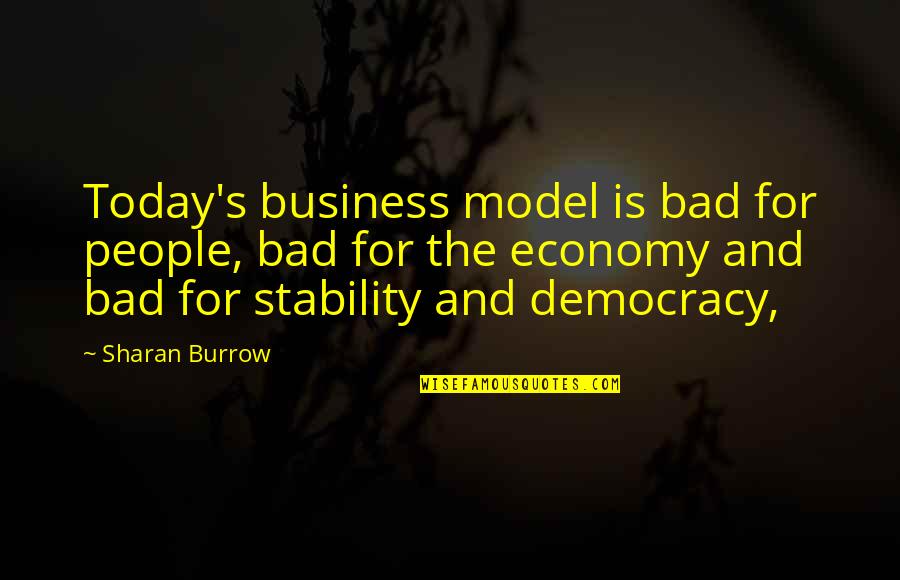 Today's
business model
is bad for people, bad for the economy and bad for stability and democracy, —
Sharan Burrow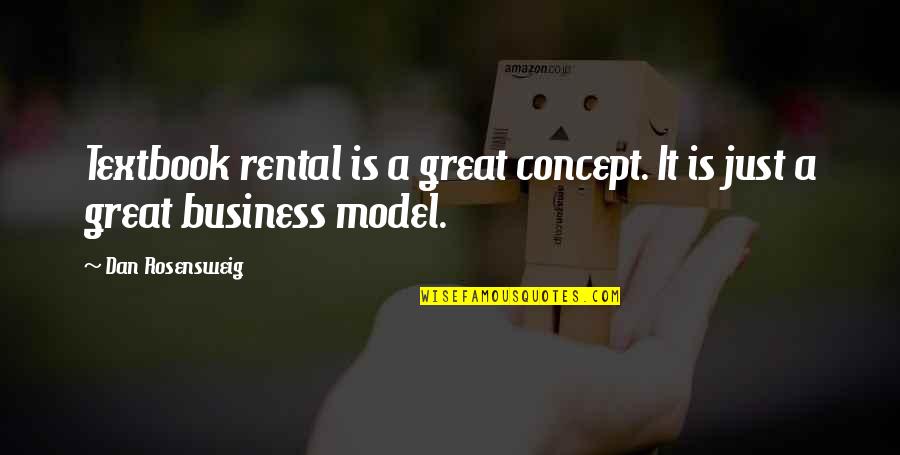 Textbook rental is a great concept. It is just a great
business model
. —
Dan Rosensweig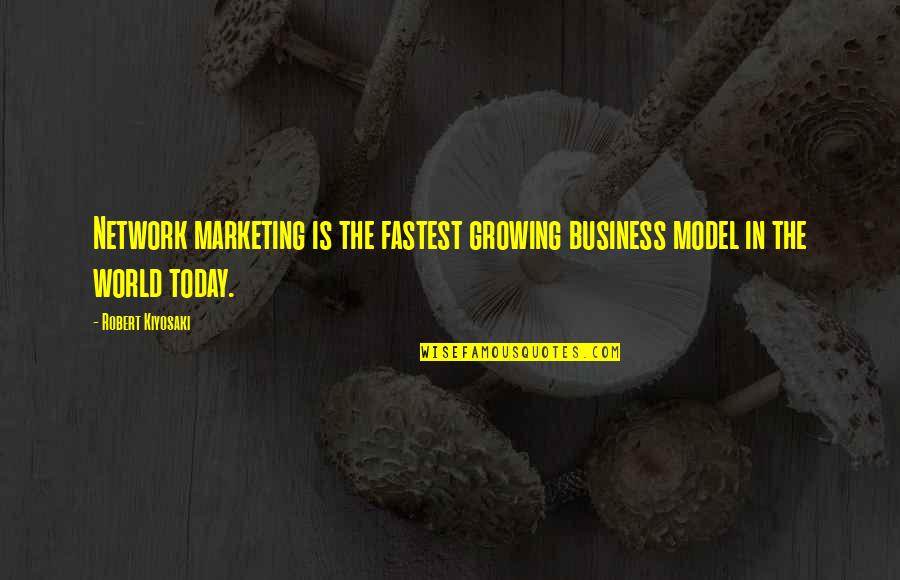 Network marketing is the fastest growing
business model
in the world today. —
Robert Kiyosaki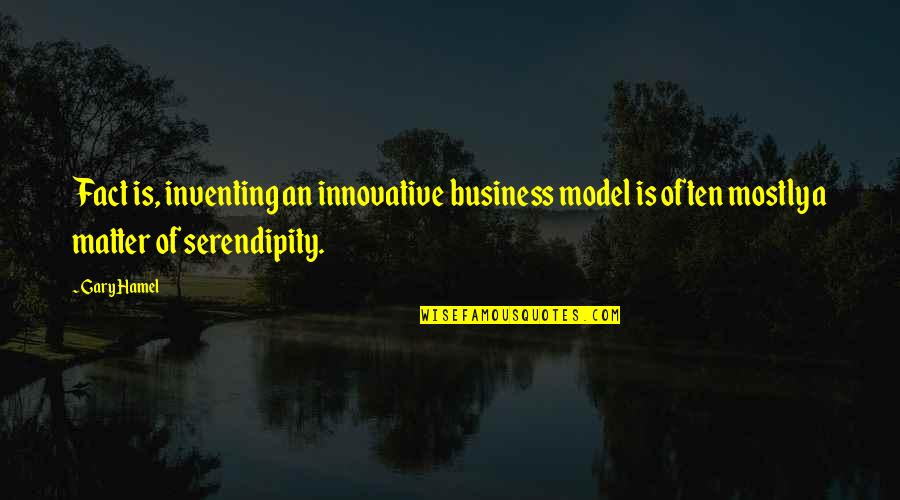 Fact is, inventing an innovative
business model
is often mostly a matter of serendipity. —
Gary Hamel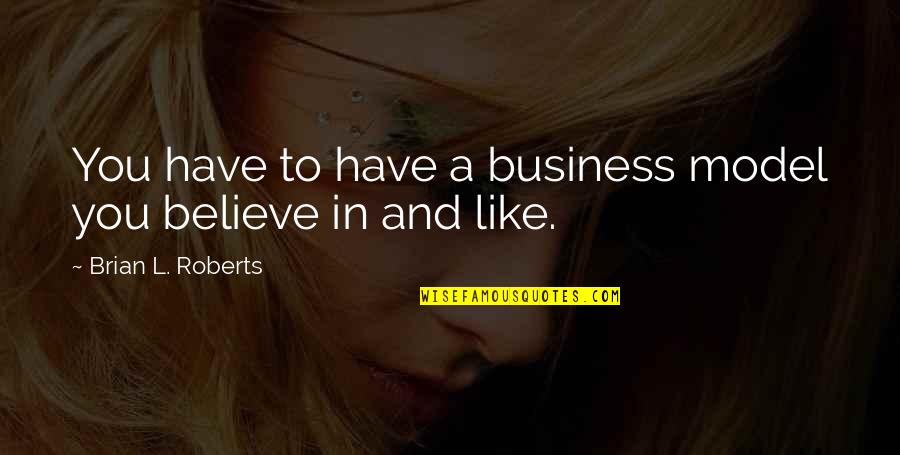 You have to have a
business model
you believe in and like. —
Brian L. Roberts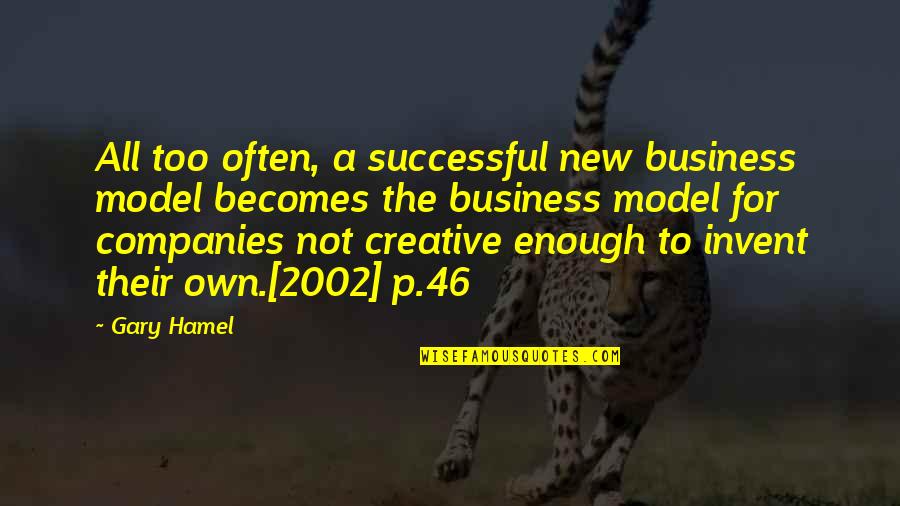 All too often, a successful new
business model
becomes the
business model
for companies not creative enough to invent their own.
[2002] p.46 —
Gary Hamel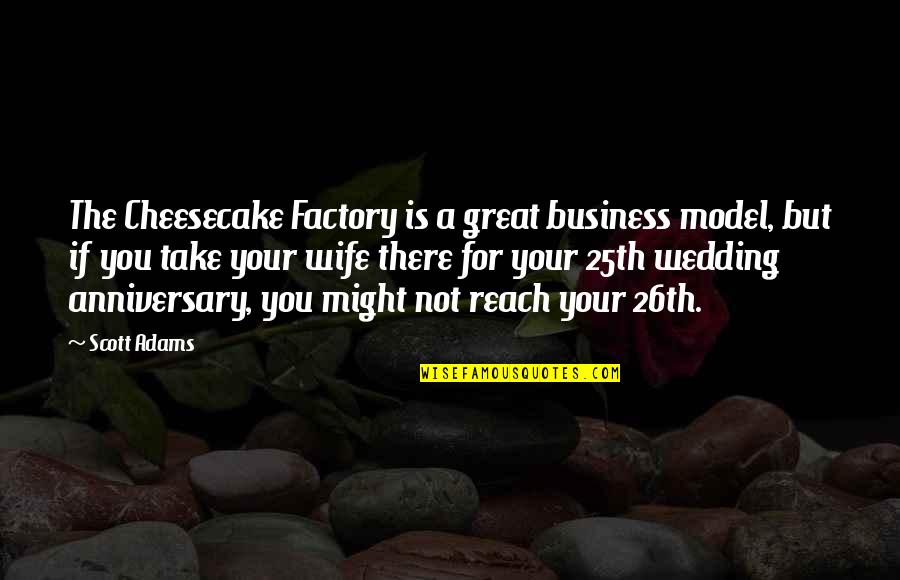 The Cheesecake Factory is a great
business model
, but if you take your wife there for your 25th wedding anniversary, you might not reach your 26th. —
Scott Adams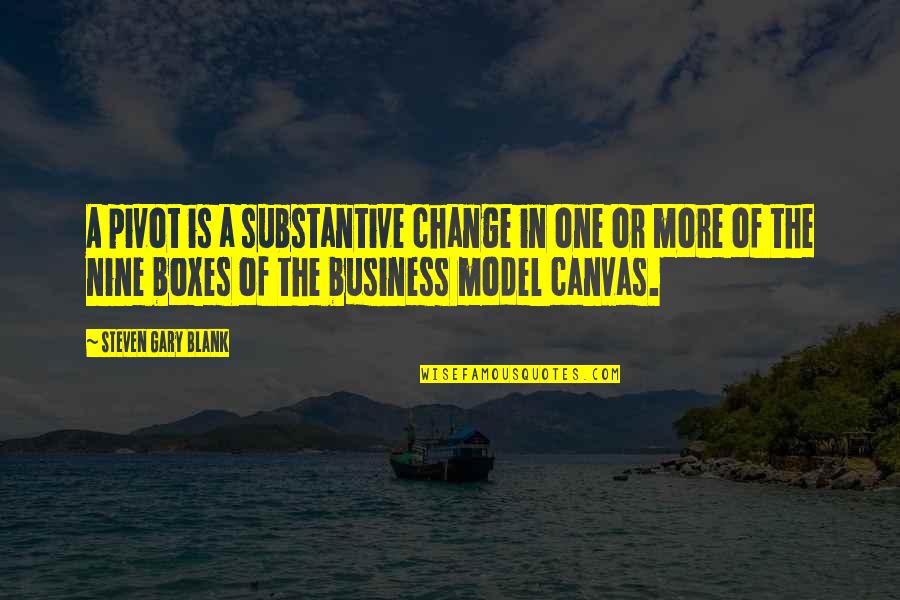 A pivot is a substantive change in one or more of the nine boxes of the
business model
canvas. —
Steven Gary Blank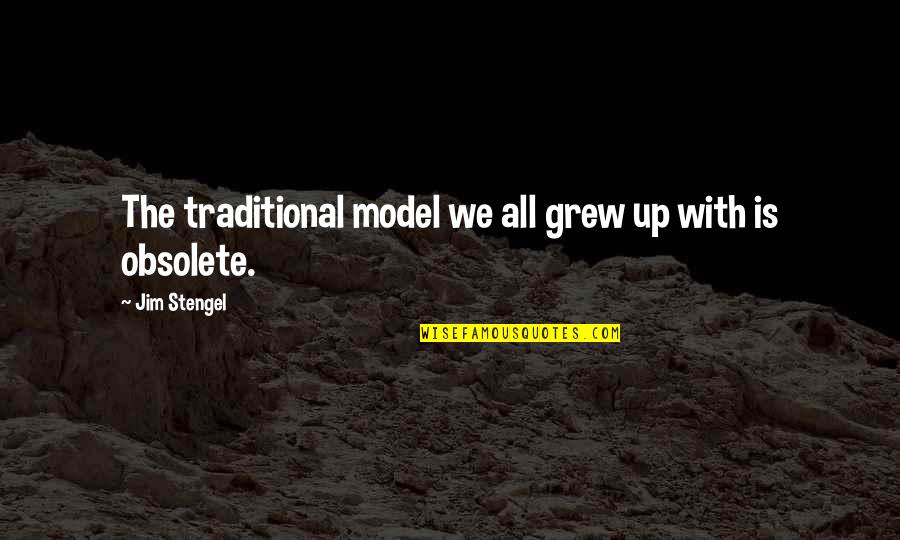 The traditional model we all grew up with is obsolete. —
Jim Stengel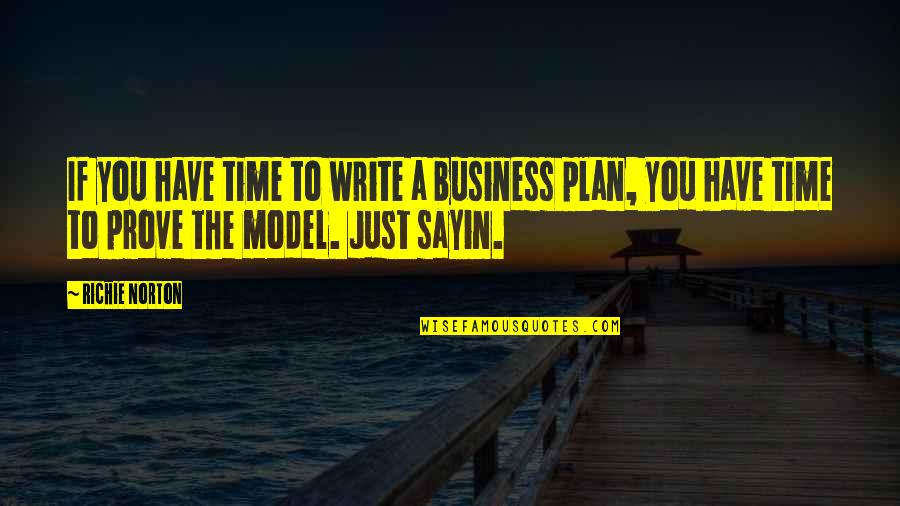 If you have time to write a business plan, you have time to prove the model. Just sayin. —
Richie Norton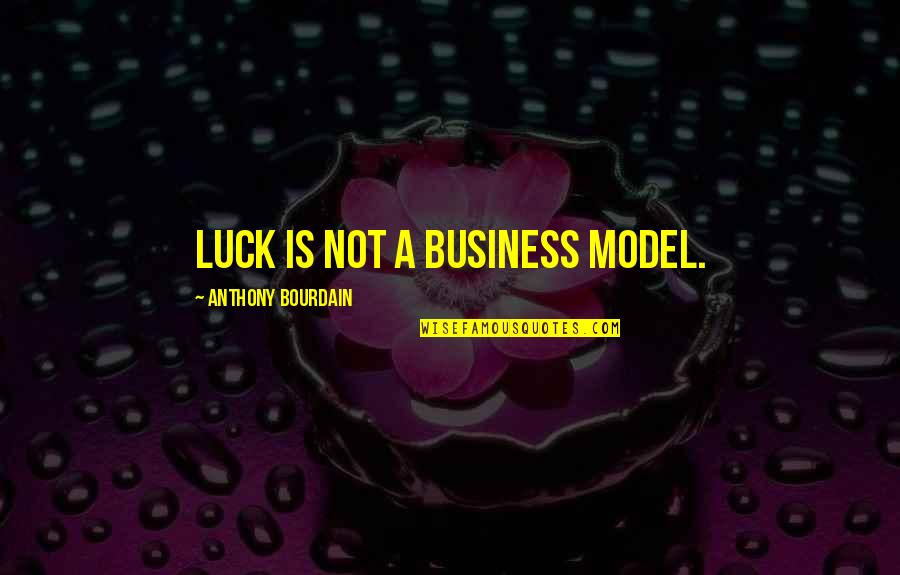 Luck is not a
business model
. —
Anthony Bourdain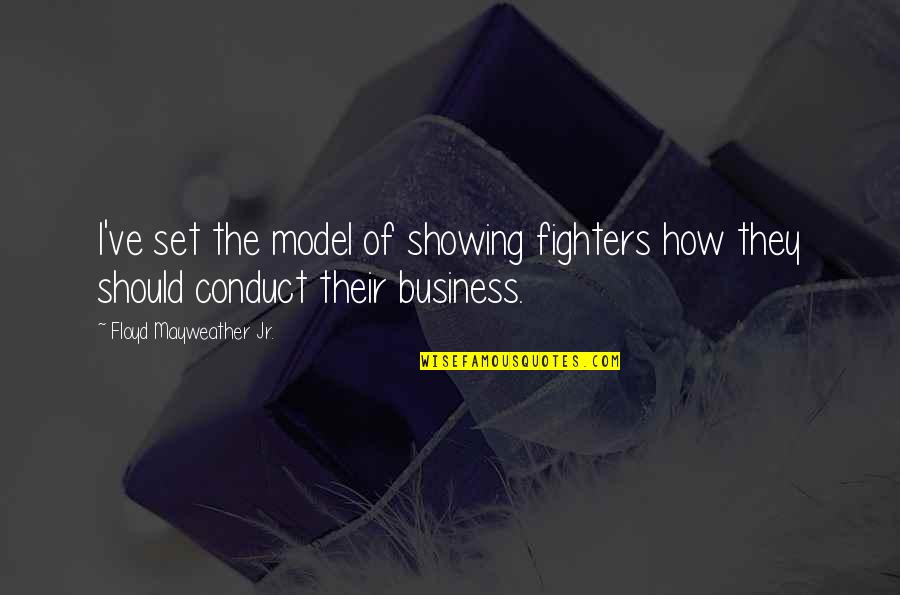 I've set the model of showing fighters how they should conduct their business. —
Floyd Mayweather Jr.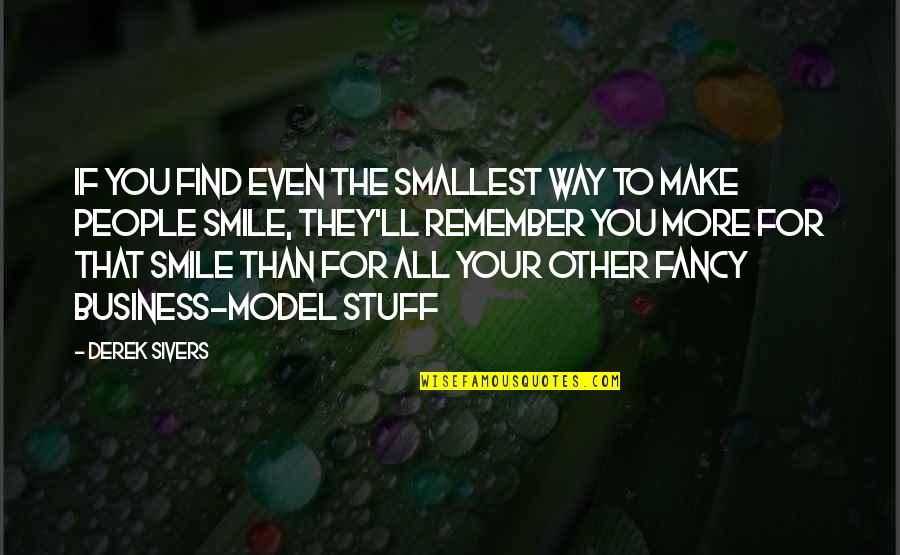 If you find even the smallest way to make people smile, they'll remember you more for that smile than for all your other fancy business-model stuff —
Derek Sivers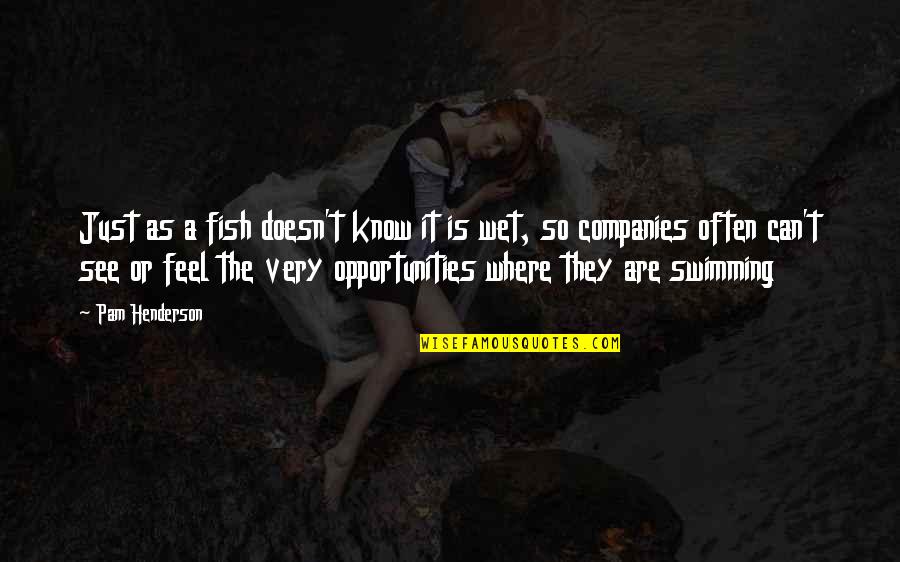 Just as a fish doesn't know it is wet, so companies often can't see or feel the very opportunities where they are swimming —
Pam Henderson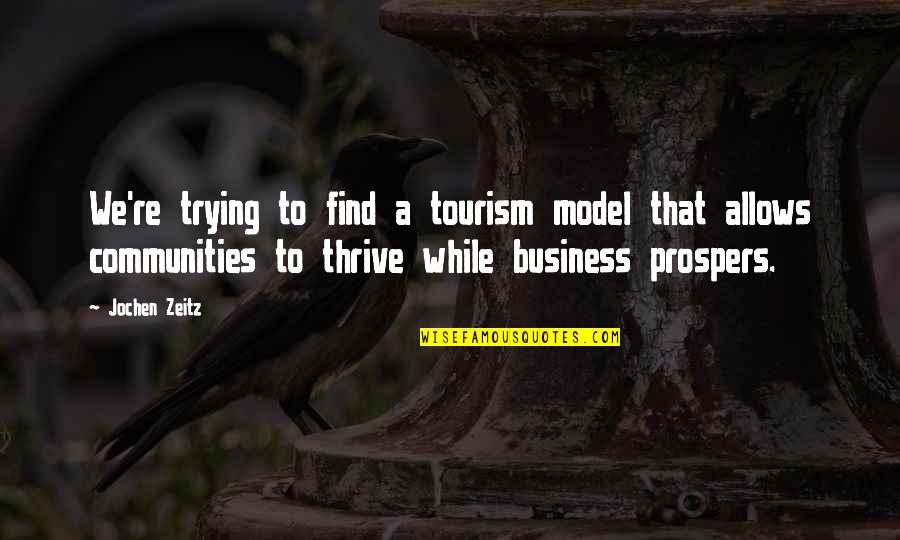 We're trying to find a tourism model that allows communities to thrive while business prospers. —
Jochen Zeitz
The
business model
of racing is not a pretty one. —
Jeff Gordon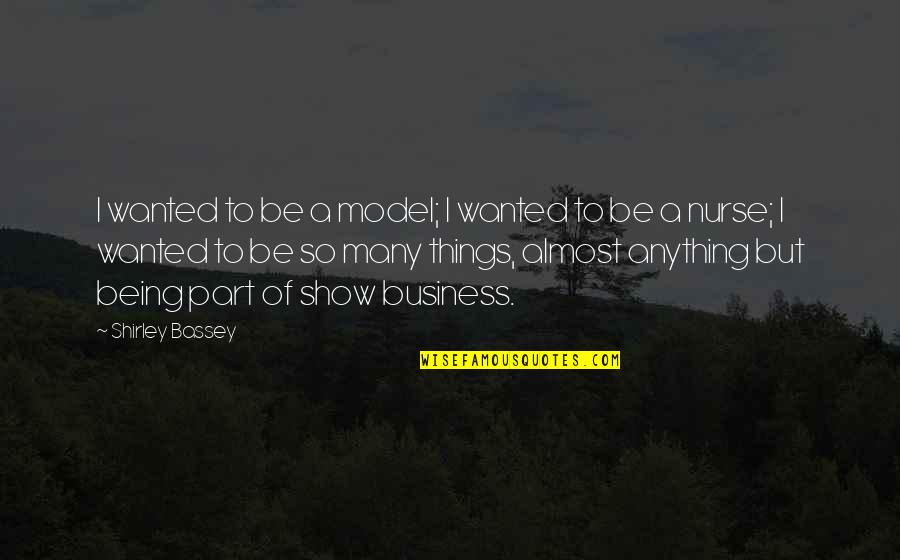 I wanted to be a model; I wanted to be a nurse; I wanted to be so many things, almost anything but being part of show business. —
Shirley Bassey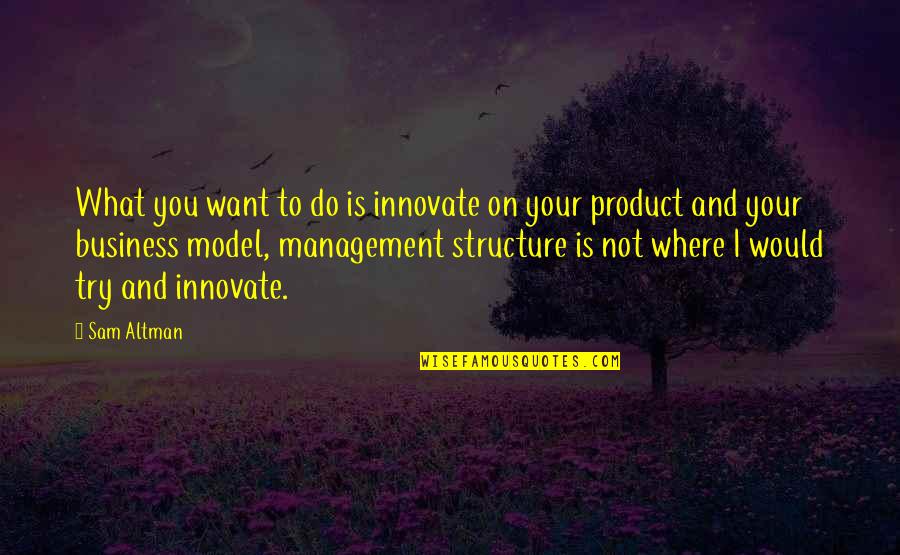 What you want to do is innovate on your product and your
business model
, management structure is not where I would try and innovate. —
Sam Altman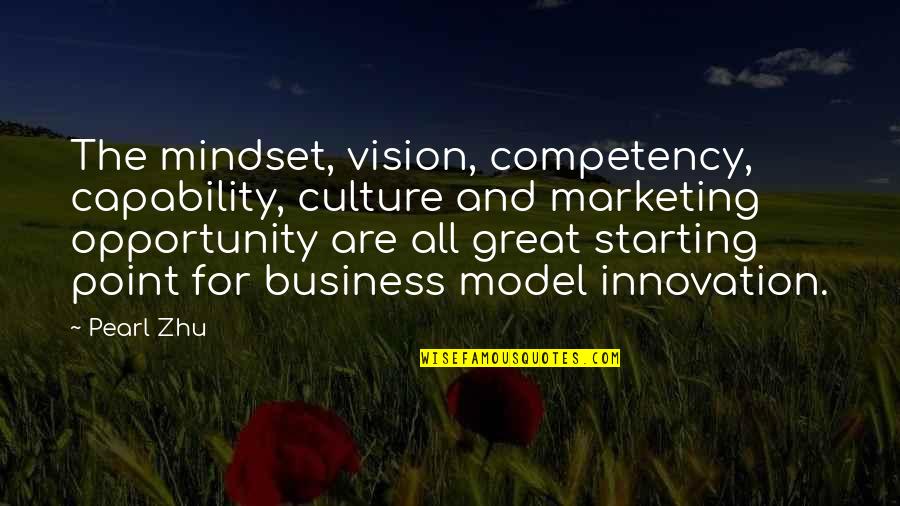 The mindset, vision, competency, capability, culture and marketing opportunity are all great starting point for
business model
innovation. —
Pearl Zhu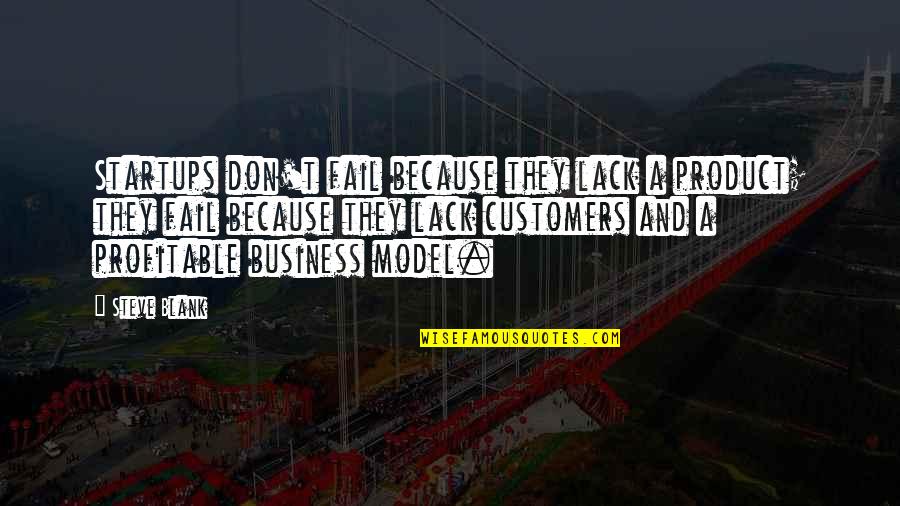 Startups don't fail because they lack a product; they fail because they lack customers and a profitable
business model
. —
Steve Blank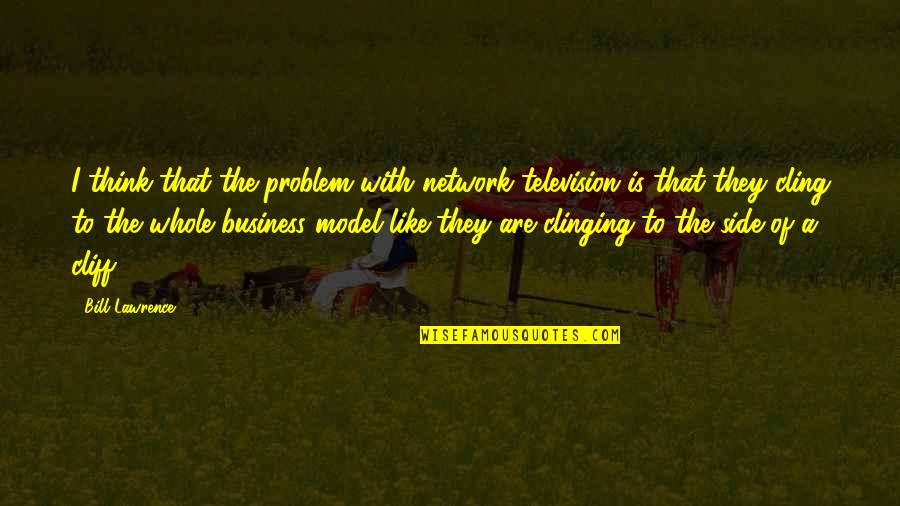 I think that the problem with network television is that they cling to the whole
business model
like they are clinging to the side of a cliff. —
Bill Lawrence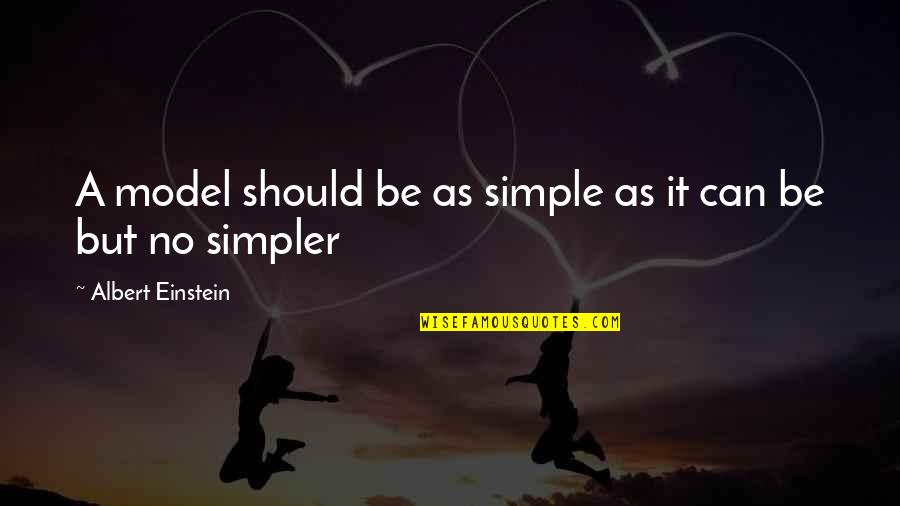 A model should be as simple as it can be but no simpler —
Albert Einstein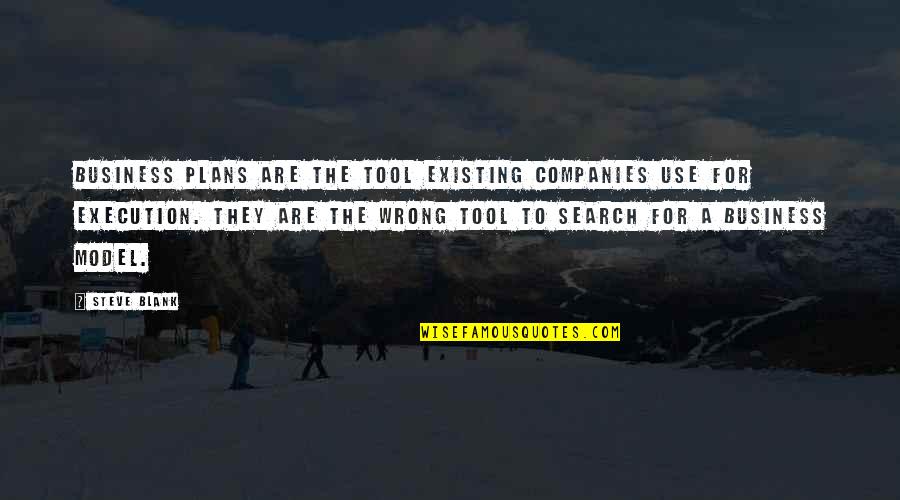 Business plans are the tool existing companies use for execution. They are the wrong tool to search for a
business model
. —
Steve Blank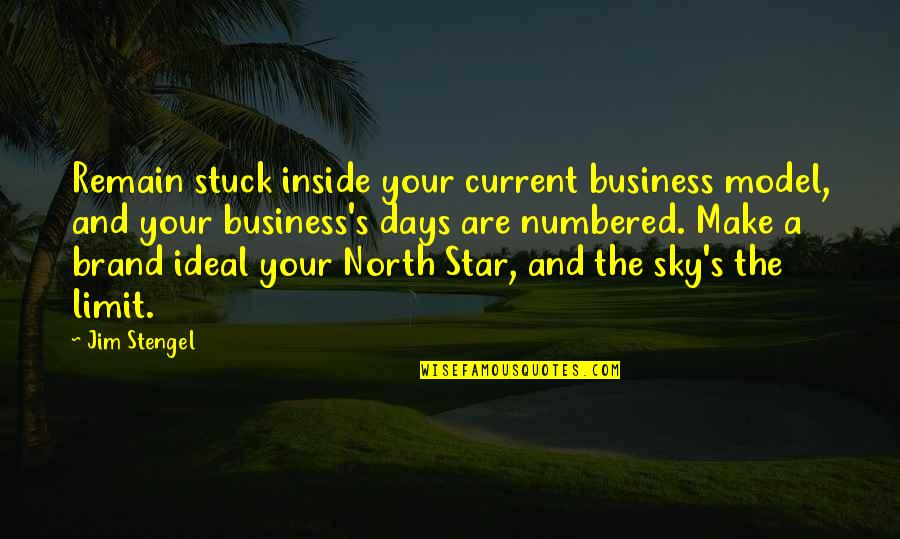 Remain stuck inside your current
business model
, and your business's days are numbered. Make a brand ideal your North Star, and the sky's the limit. —
Jim Stengel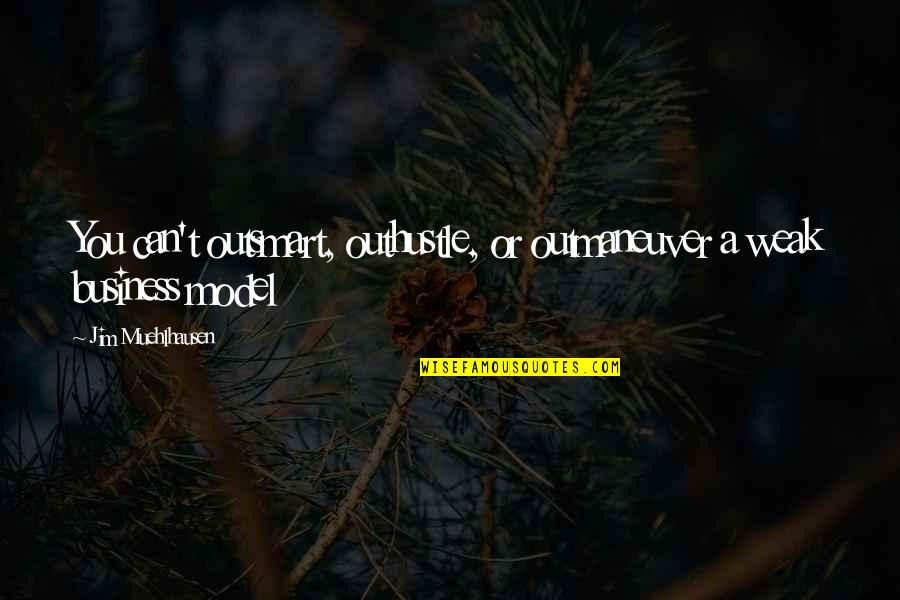 You can't outsmart, outhustle, or outmaneuver a weak
business model
—
Jim Muehlhausen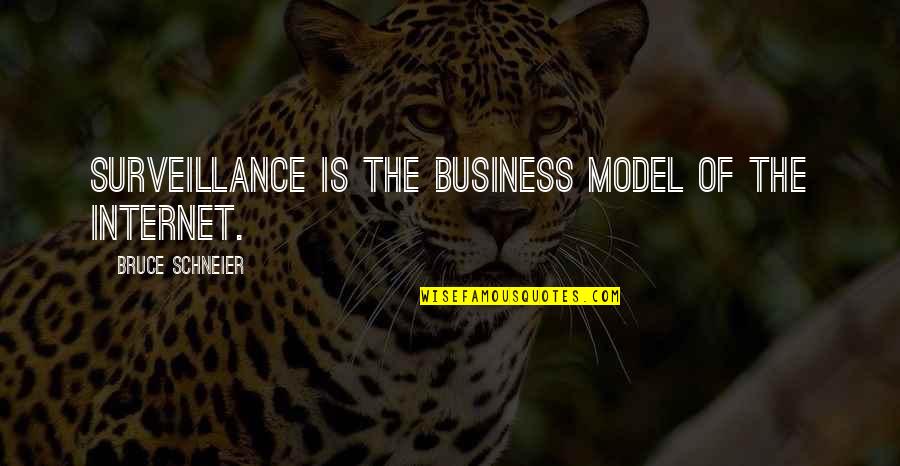 Surveillance is the
business model
of the Internet. —
Bruce Schneier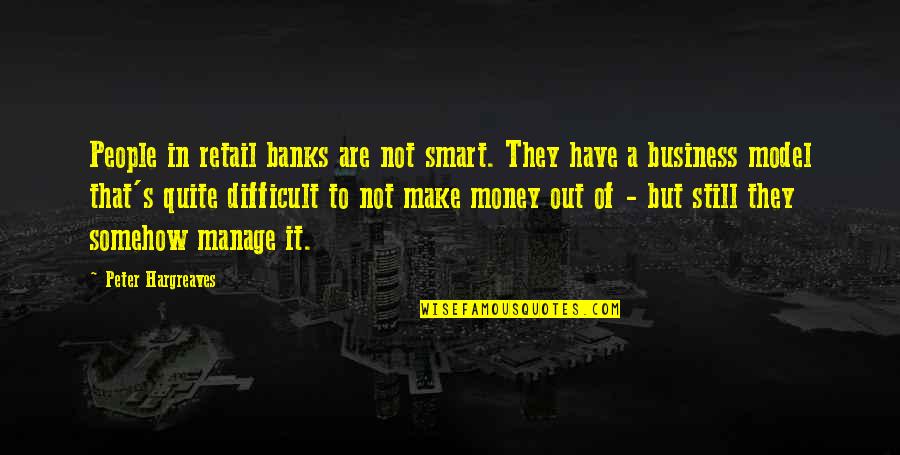 People in retail banks are not smart. They have a
business model
that's quite difficult to not make money out of - but still they somehow manage it. —
Peter Hargreaves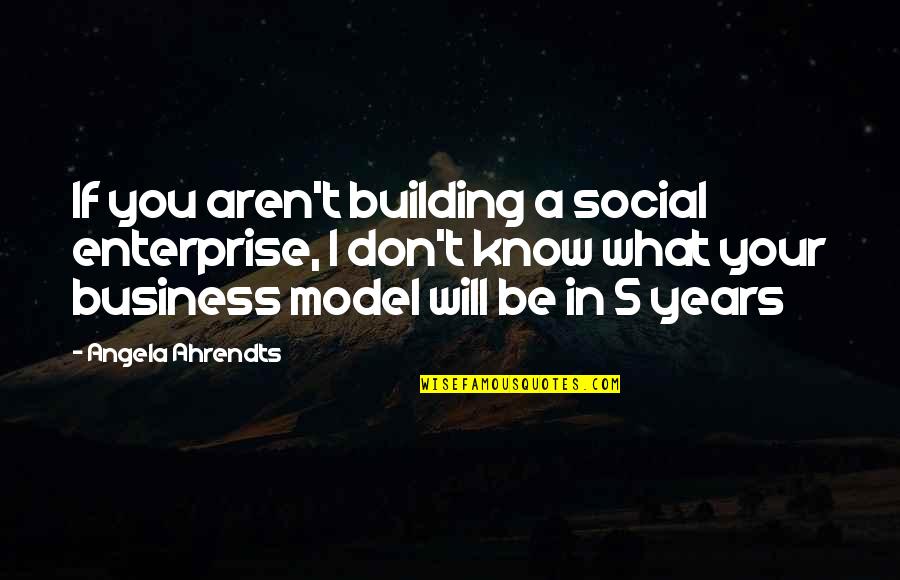 If you aren't building a social enterprise, I don't know what your
business model
will be in 5 years —
Angela Ahrendts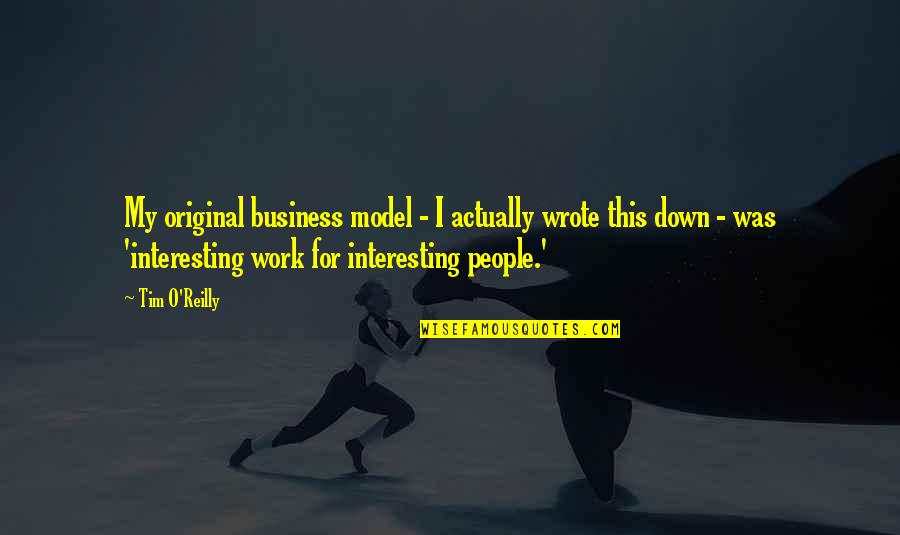 My original
business model
- I actually wrote this down - was 'interesting work for interesting people.' —
Tim O'Reilly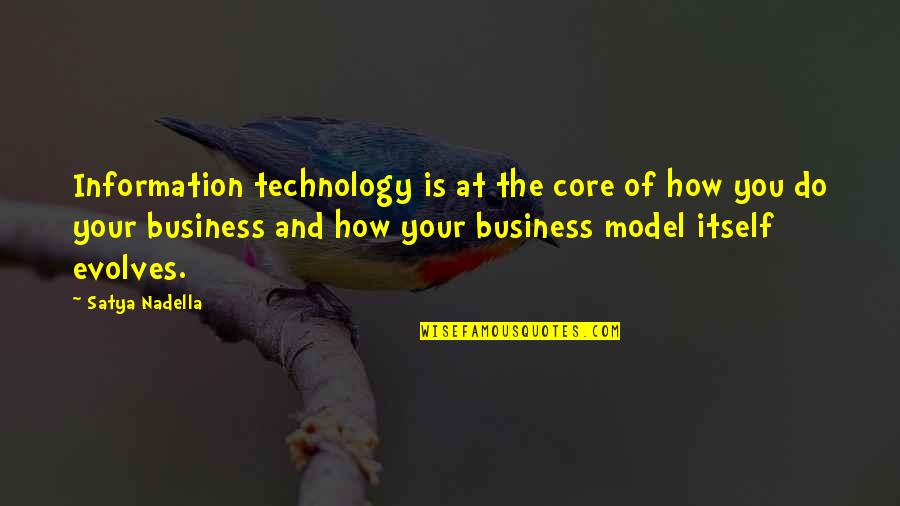 Information technology is at the core of how you do your business and how your
business model
itself evolves. —
Satya Nadella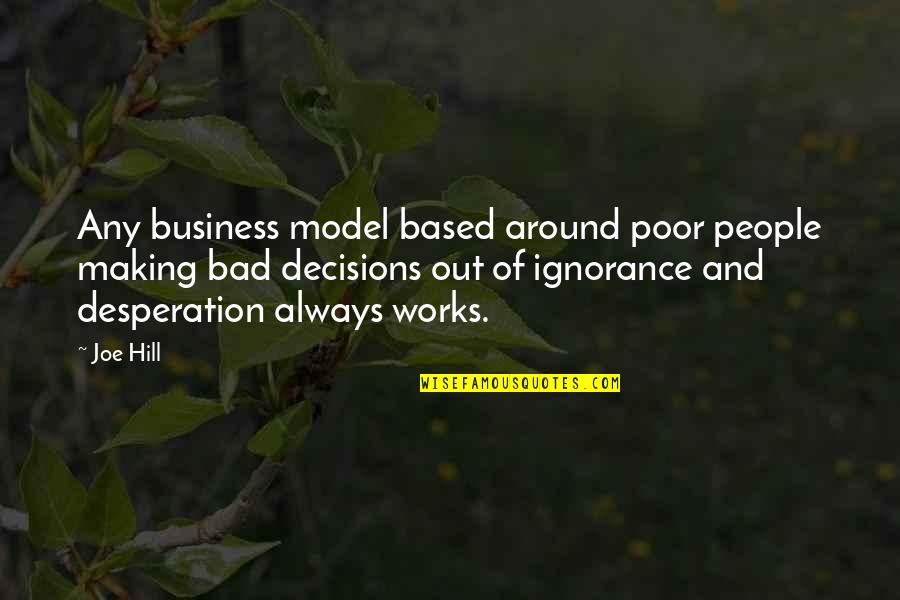 Any
business model
based around poor people making bad decisions out of ignorance and desperation always works. —
Joe Hill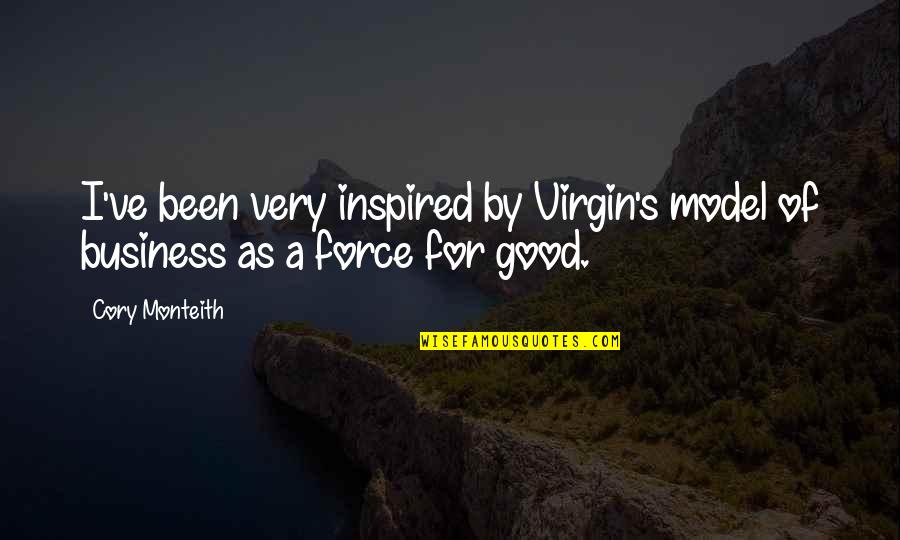 I've been very inspired by Virgin's model of business as a force for good. —
Cory Monteith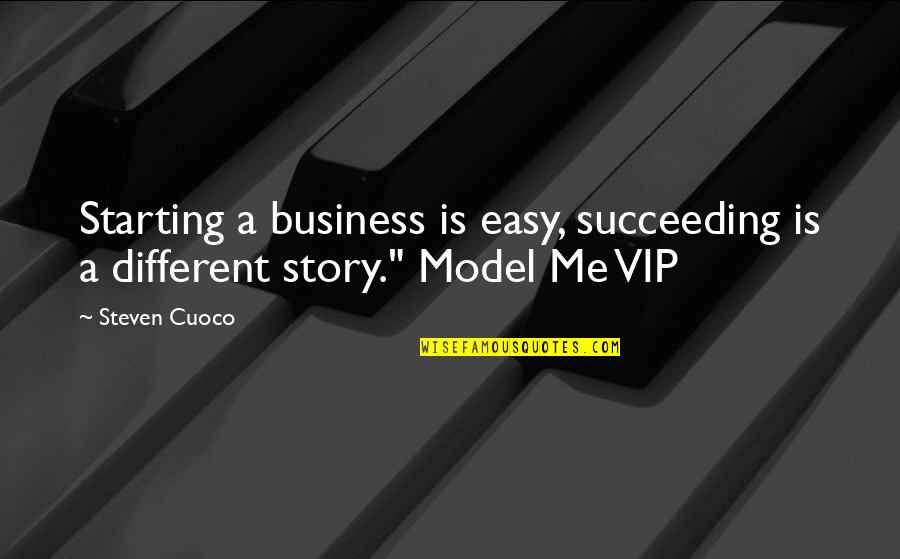 Starting a business is easy, succeeding is a different story." Model Me VIP —
Steven Cuoco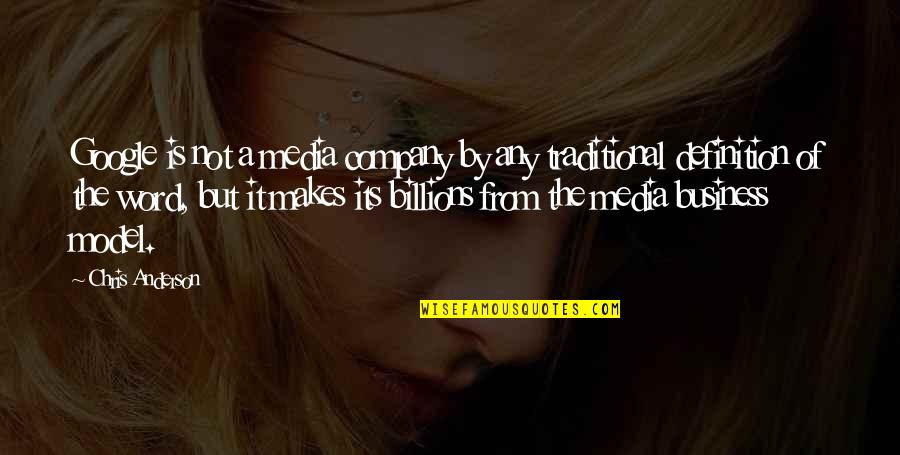 Google is not a media company by any traditional definition of the word, but it makes its billions from the media
business model
. —
Chris Anderson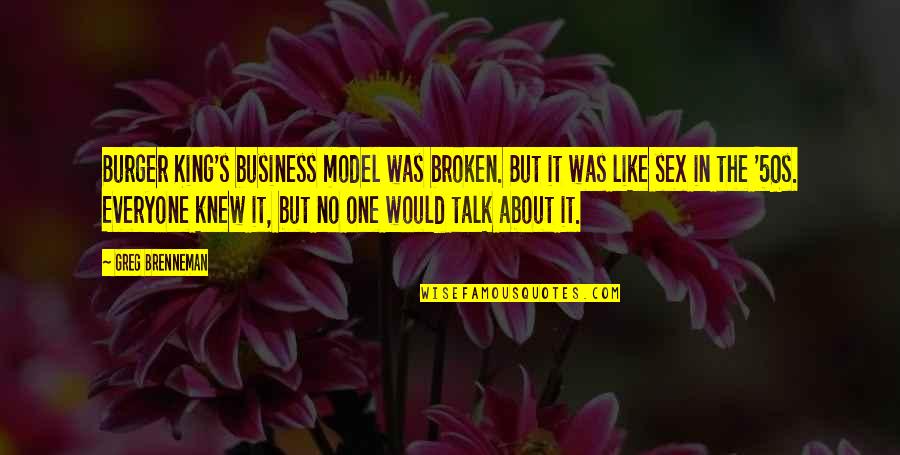 Burger King's
business model
was broken. But it was like sex in the '50s. Everyone knew it, but no one would talk about it. —
Greg Brenneman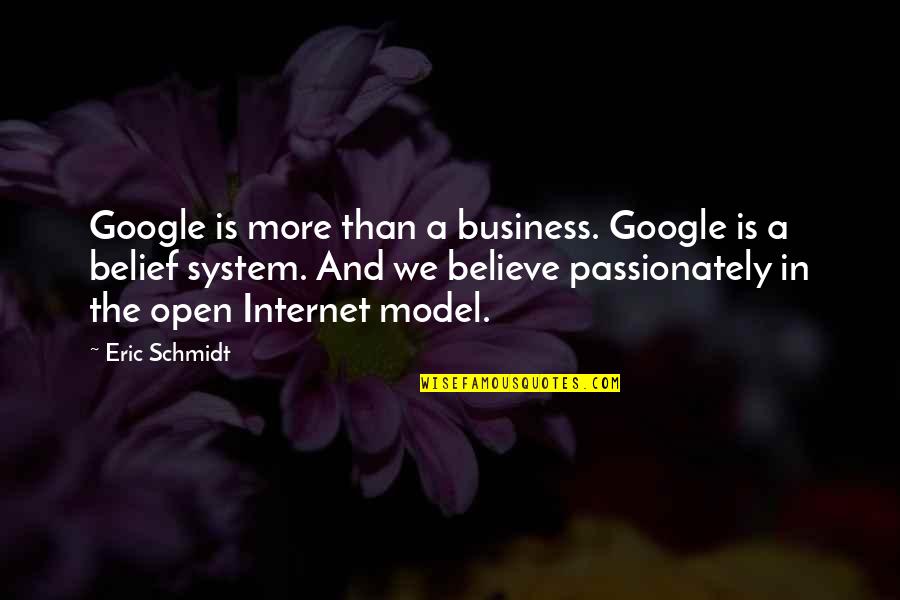 Google is more than a business. Google is a belief system. And we believe passionately in the open Internet model. —
Eric Schmidt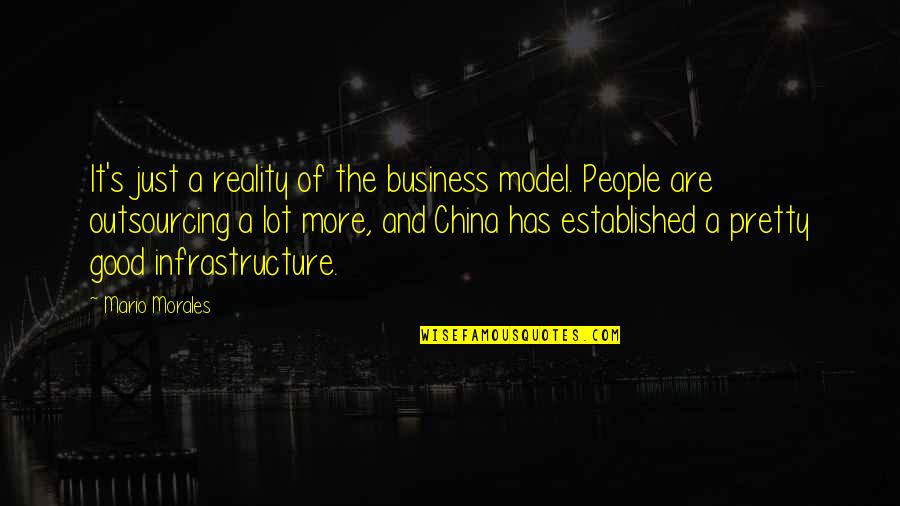 It's just a reality of the
business model
. People are outsourcing a lot more, and China has established a pretty good infrastructure. —
Mario Morales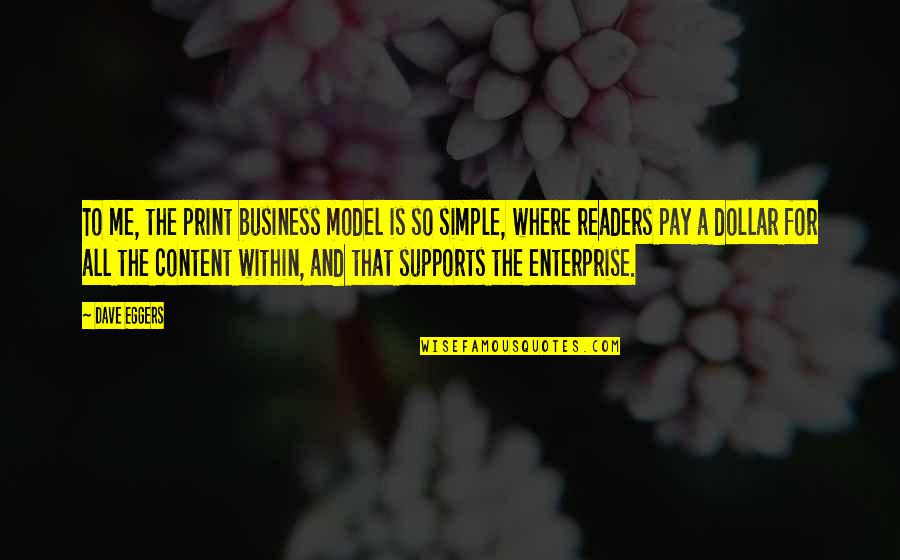 To me, the print
business model
is so simple, where readers pay a dollar for all the content within, and that supports the enterprise. —
Dave Eggers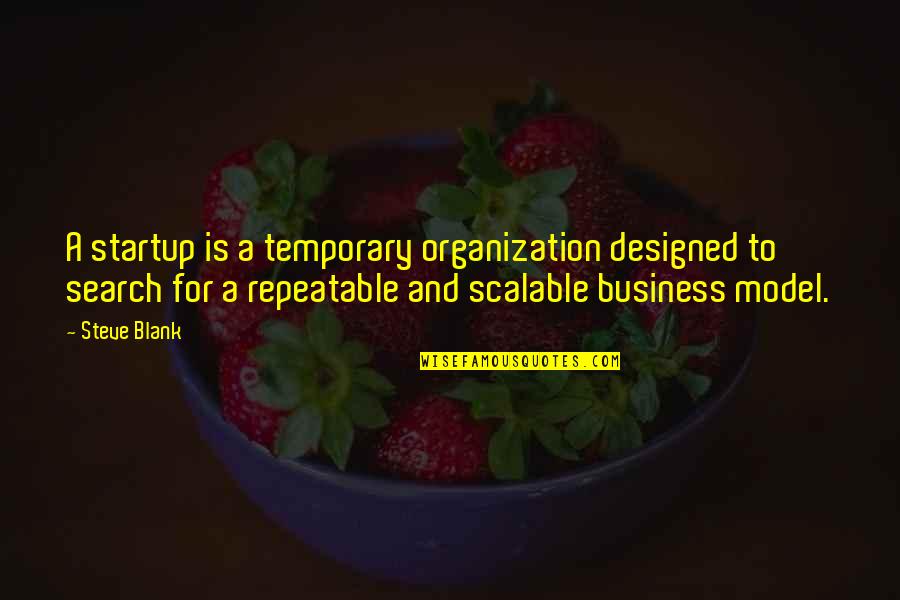 A startup is a temporary organization designed to search for a repeatable and scalable
business model
. —
Steve Blank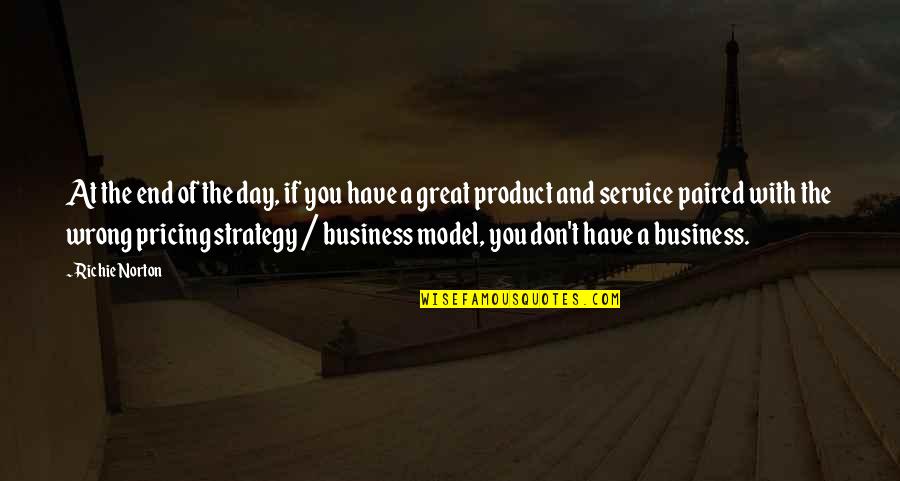 At the end of the day, if you have a great product and service paired with the wrong pricing strategy /
business model
, you don't have a business. —
Richie Norton