No comedian's wife thinks he's funny. The first few years of the marriage, maybe. I was funny as hell the first couple of years.
—
Tom Smothers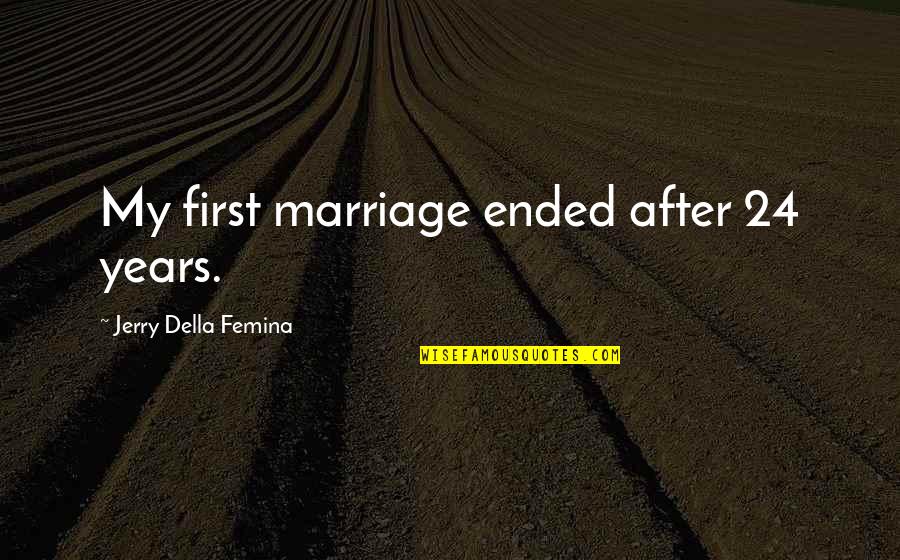 My first marriage ended after 24 years.
—
Jerry Della Femina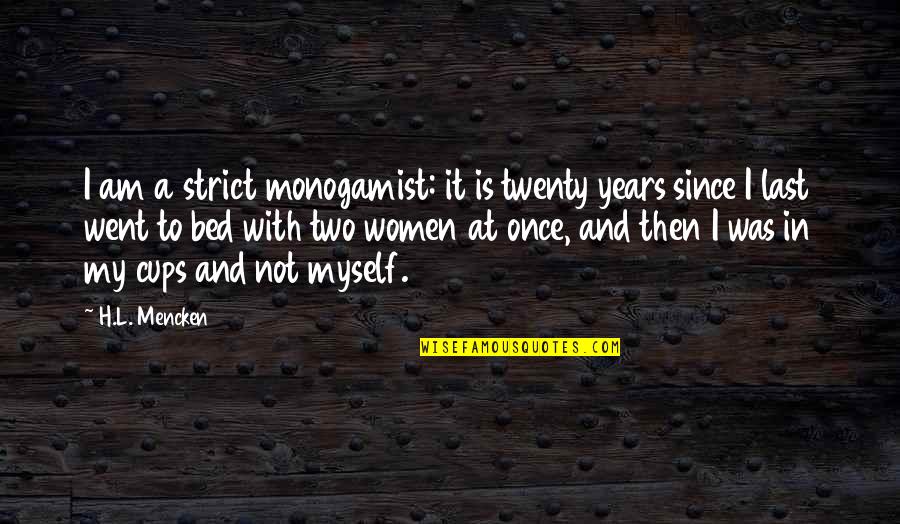 I am a strict monogamist: it is twenty years since I last went to bed with two women at once, and then I was in my cups and not myself.
—
H.L. Mencken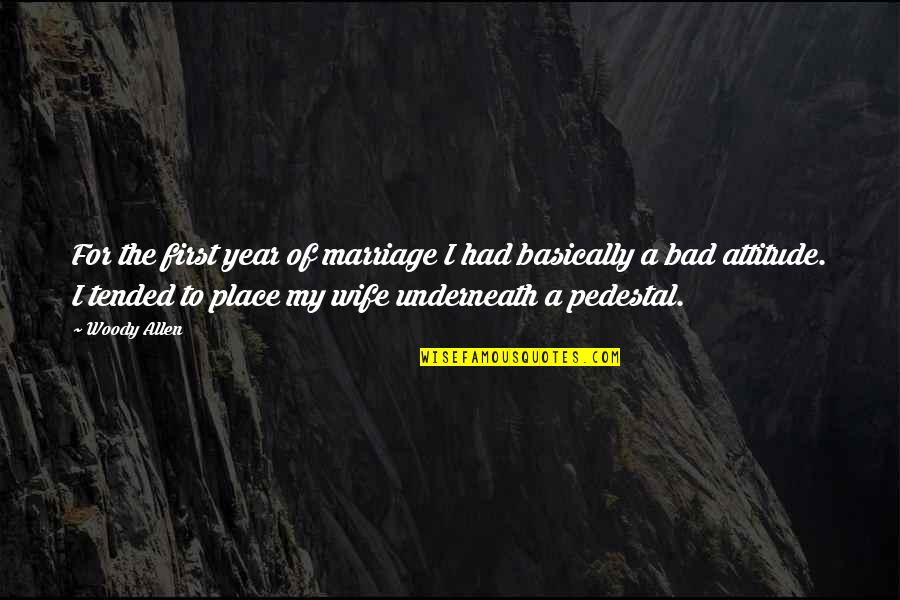 For the first year of marriage I had basically a bad attitude. I tended to place my wife underneath a pedestal. —
Woody Allen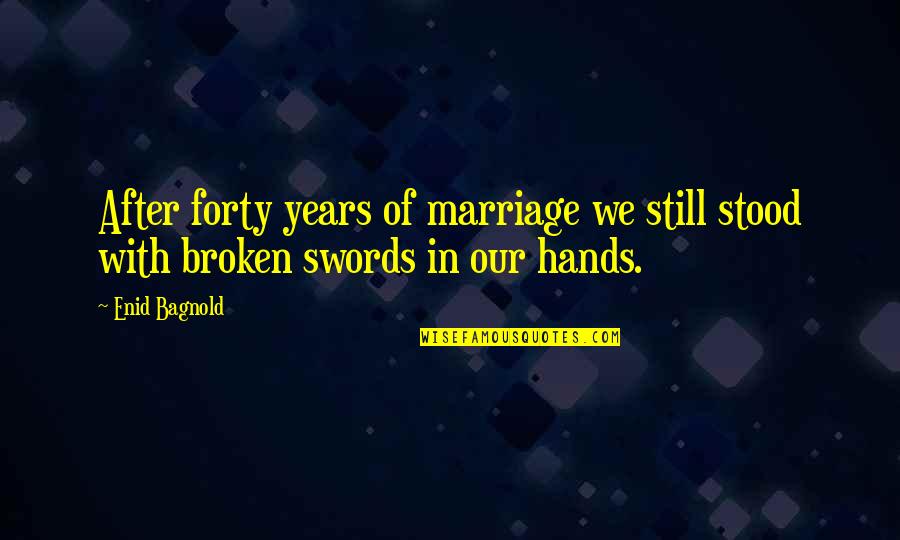 After forty years of marriage we still stood with broken swords in our hands. —
Enid Bagnold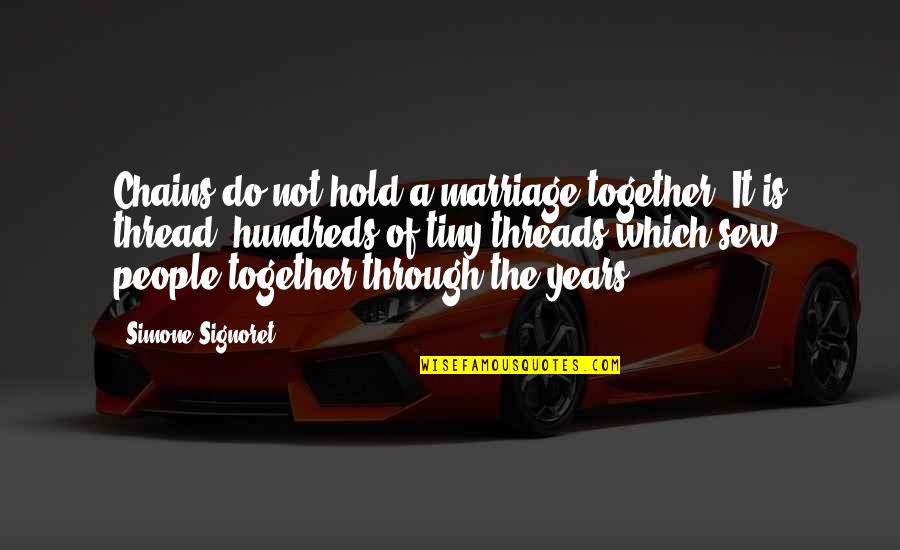 Chains do not hold a marriage together. It is thread, hundreds of tiny threads which sew people together through the years. —
Simone Signoret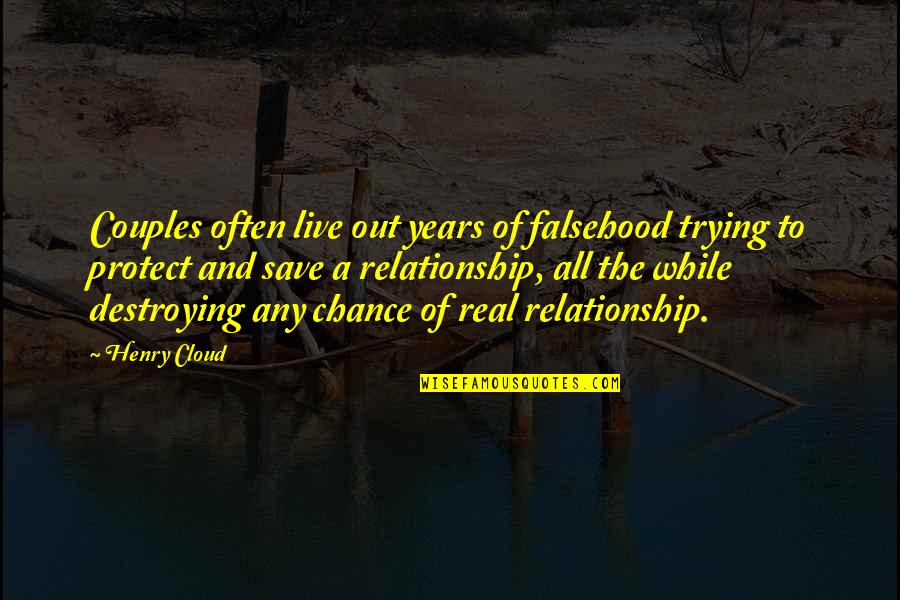 Couples often live out years of falsehood trying to protect and save a relationship, all the while destroying any chance of real relationship. —
Henry Cloud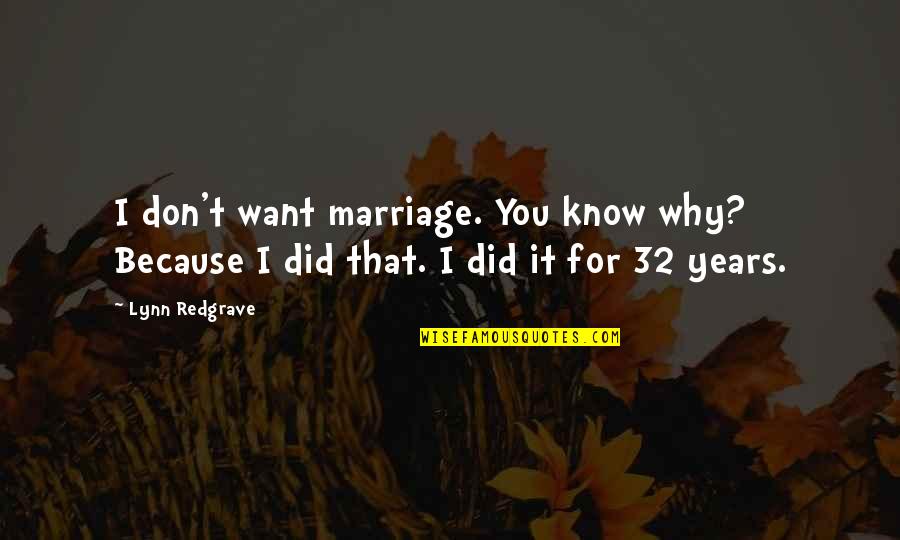 I don't want marriage. You know why? Because I did that. I did it for 32 years. —
Lynn Redgrave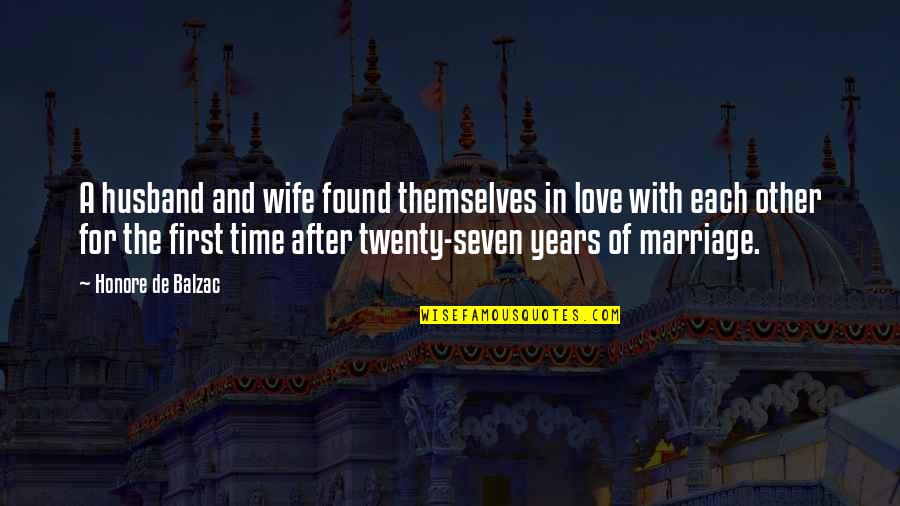 A husband and wife found themselves in love with each other for the first time after twenty-seven years of marriage. —
Honore De Balzac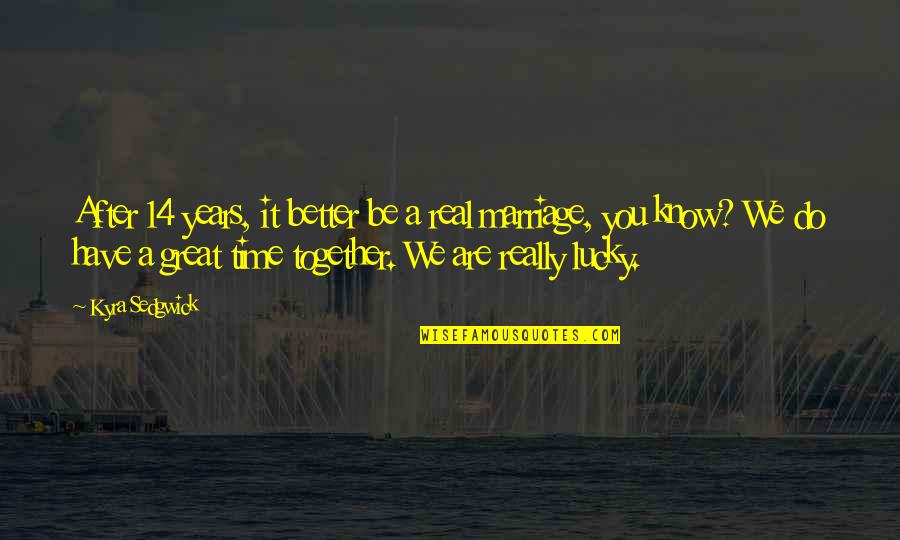 After 14 years, it better be a real marriage, you know? We do have a great time together. We are really lucky. —
Kyra Sedgwick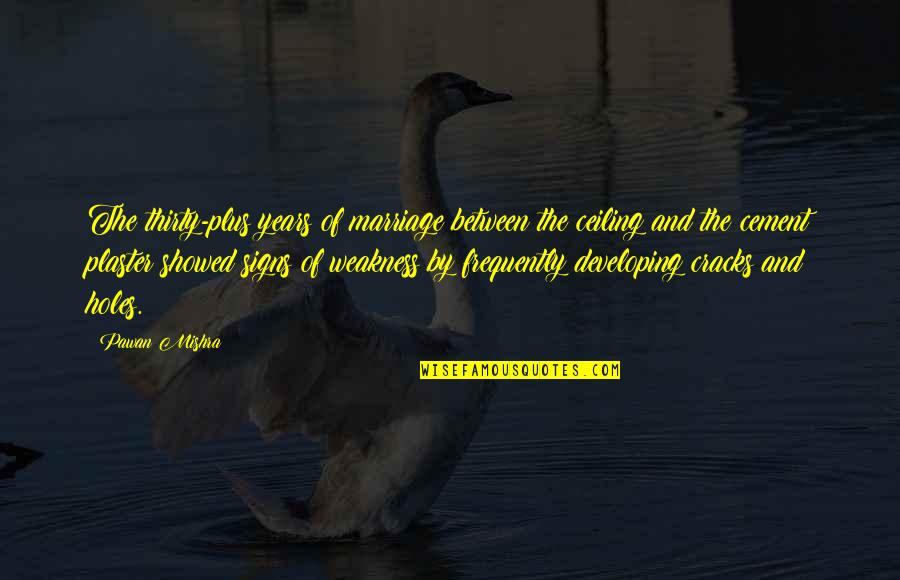 The thirty-plus years of marriage between the ceiling and the cement plaster showed signs of weakness by frequently developing cracks and holes. —
Pawan Mishra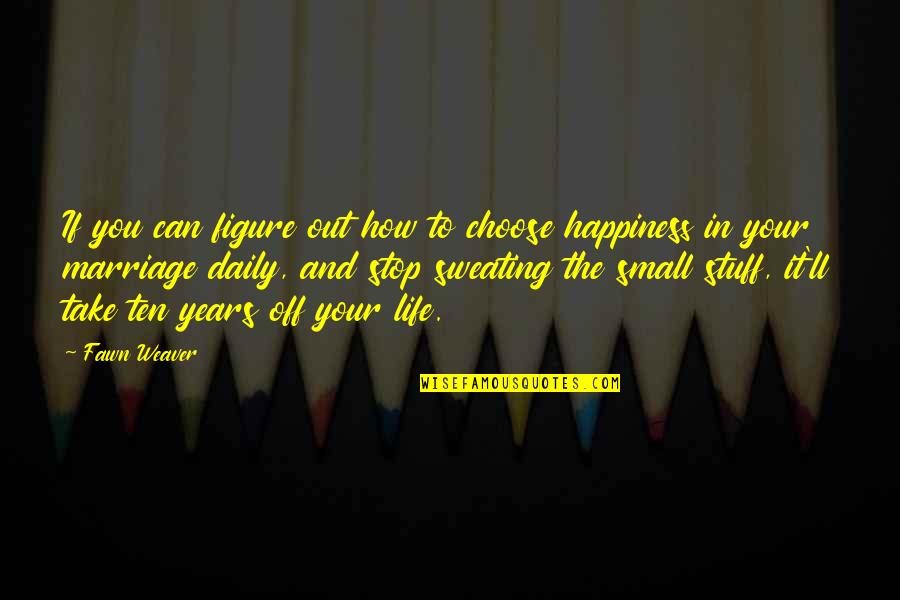 If you can figure out how to choose happiness in your marriage daily, and stop sweating the small stuff, it'll take ten years off your life. —
Fawn Weaver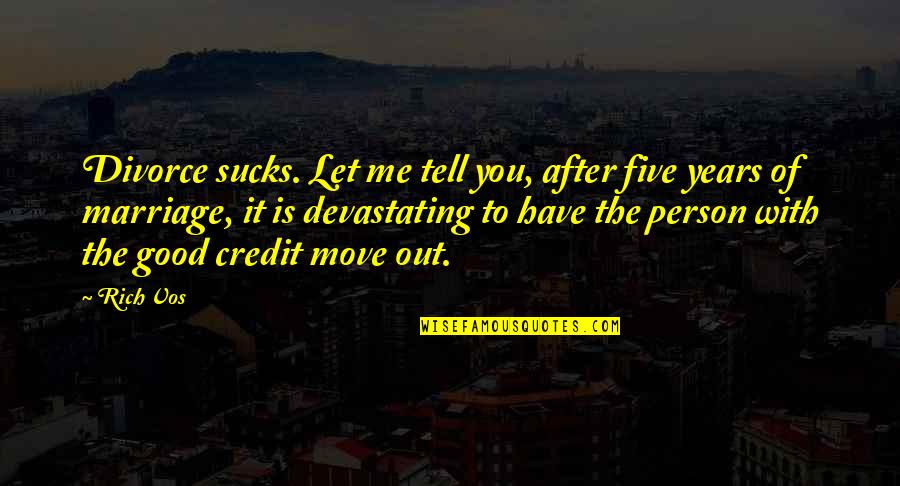 Divorce sucks. Let me tell you, after five years of marriage, it is devastating to have the person with the good credit move out. —
Rich Vos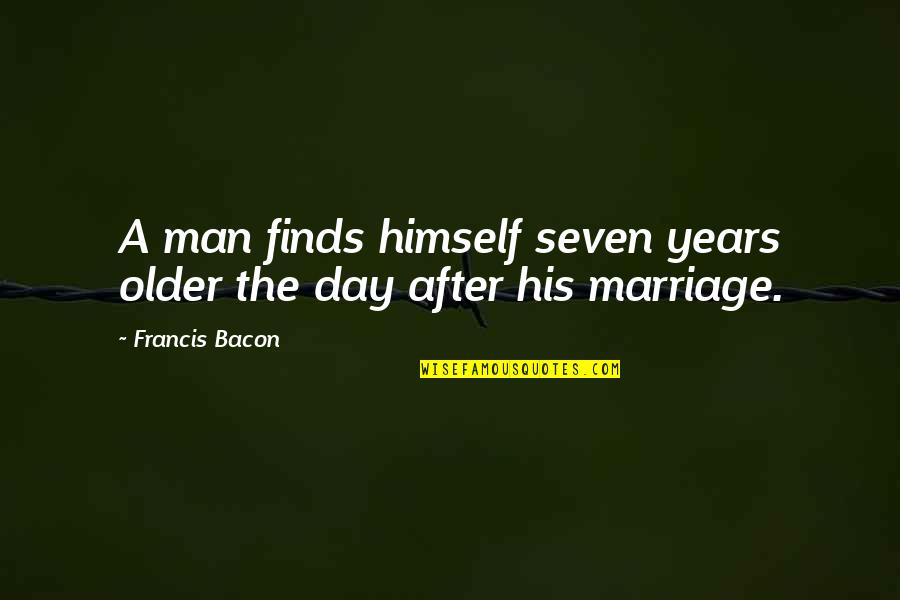 A man finds himself seven years older the day after his marriage. —
Francis Bacon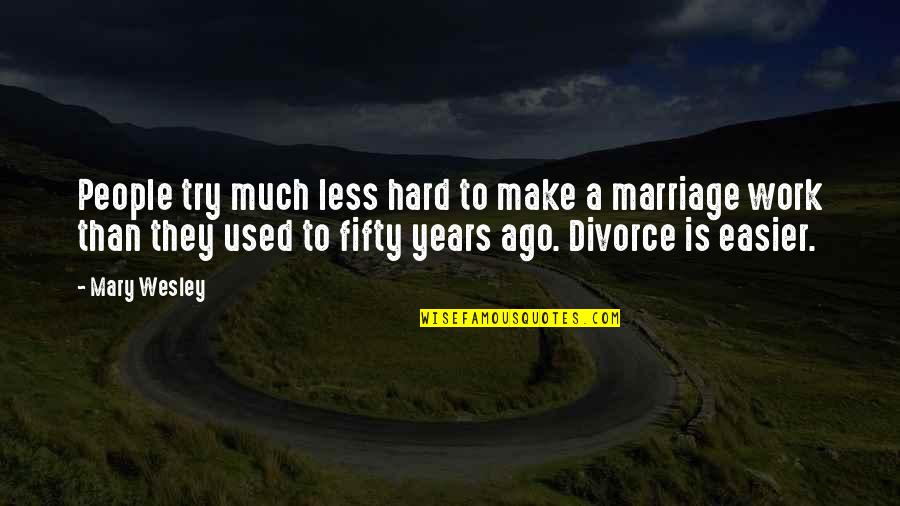 People try much less hard to make a marriage work than they used to fifty years ago. Divorce is easier. —
Mary Wesley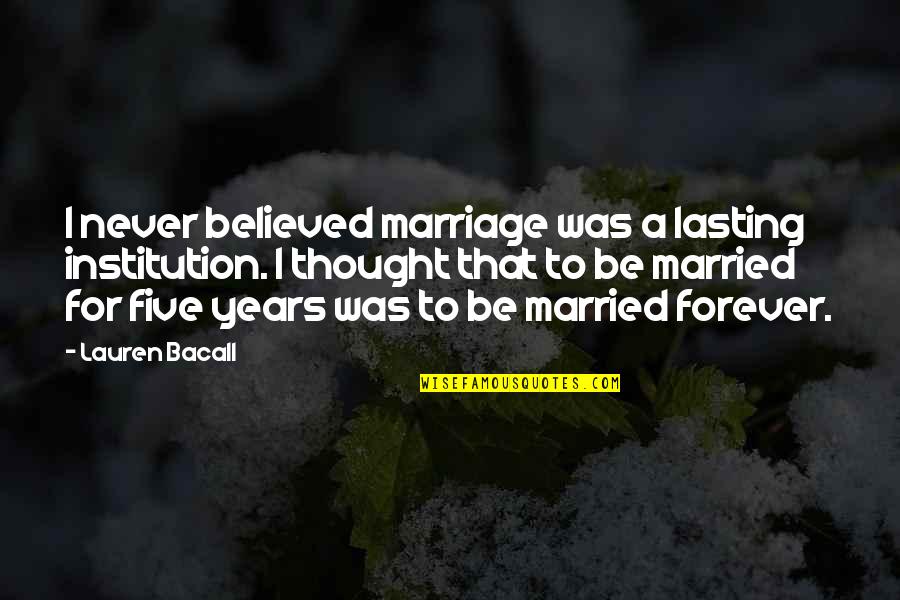 I never believed marriage was a lasting institution. I thought that to be married for five years was to be married forever. —
Lauren Bacall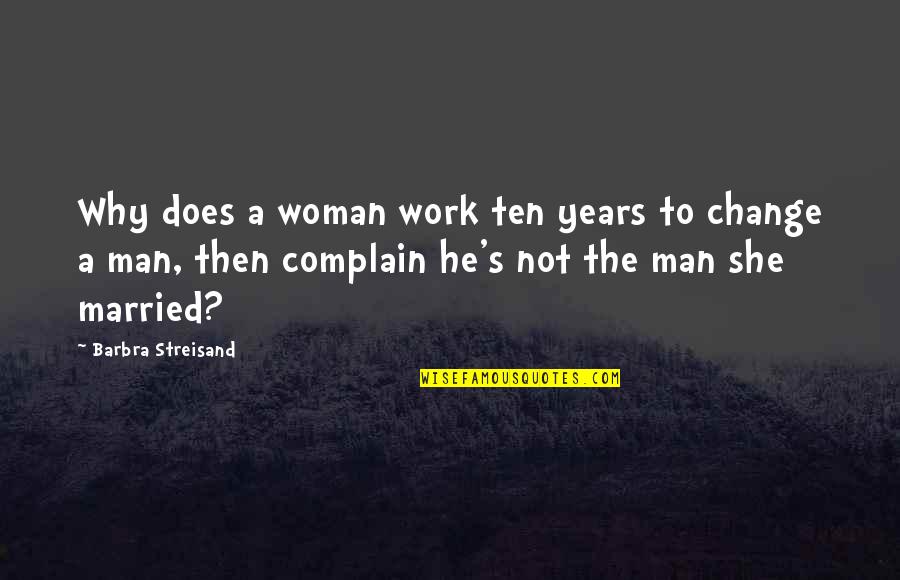 Why does a woman work ten years to change a man, then complain he's not the man she married? —
Barbra Streisand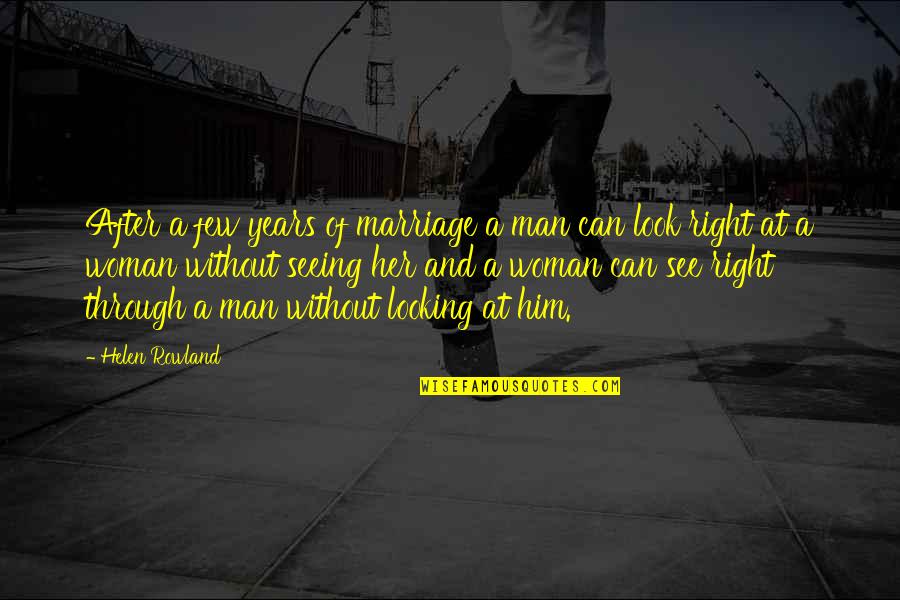 After a few years of marriage a man can look right at a woman without seeing her and a woman can see right through a man without looking at him. —
Helen Rowland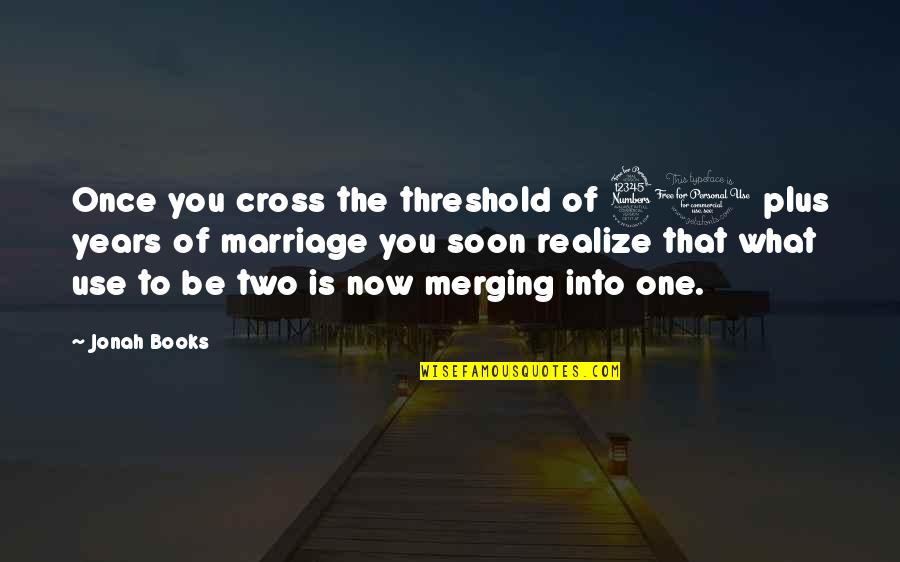 Once you cross the threshold of 30 plus years of marriage you soon realize that what use to be two is now merging into one. —
Jonah Books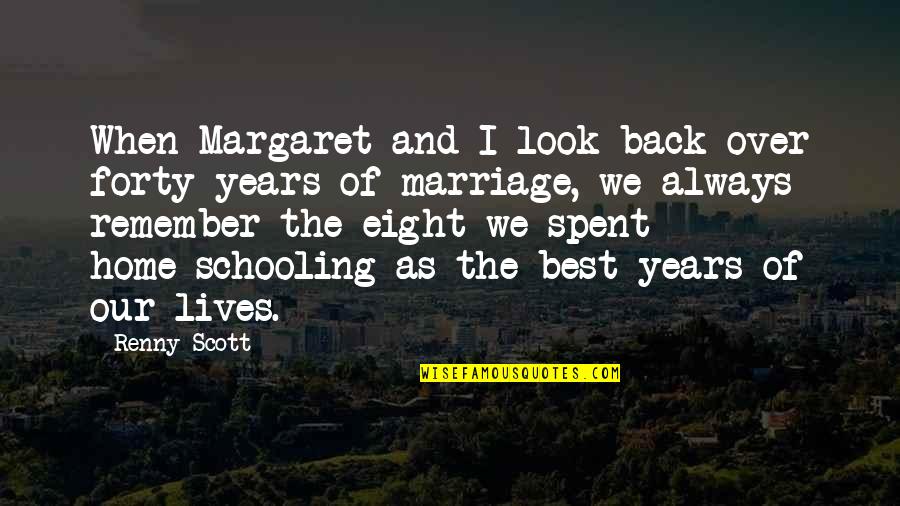 When Margaret and I look back over forty years of marriage, we always remember the eight we spent home-schooling as the best years of our lives. —
Renny Scott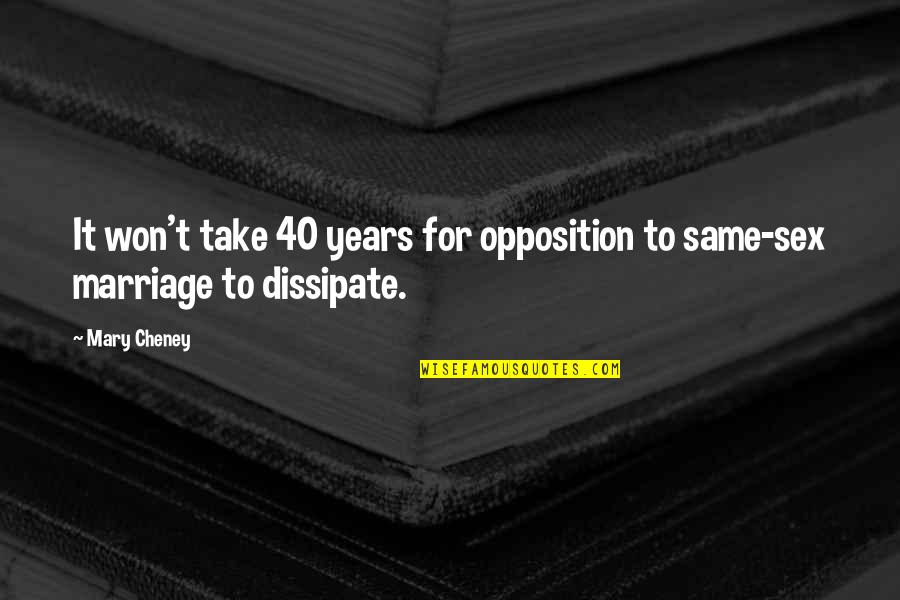 It won't take 40 years for opposition to same-sex marriage to dissipate. —
Mary Cheney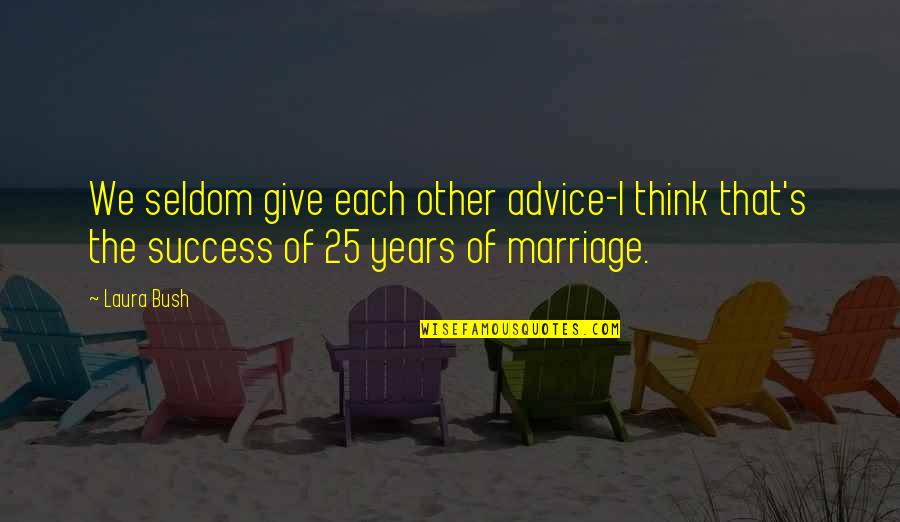 We seldom give each other advice-I think that's the success of 25 years of marriage. —
Laura Bush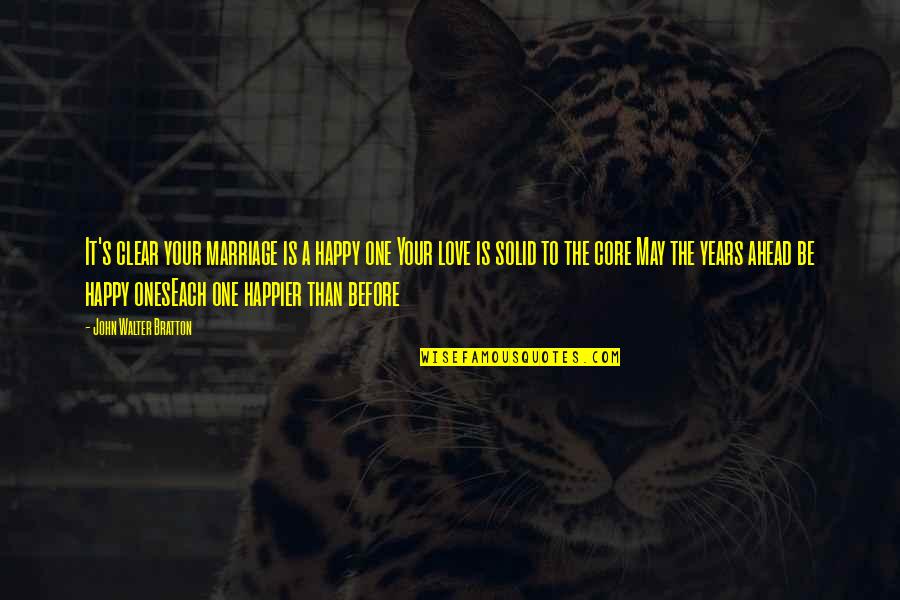 It's clear your marriage is a happy one
Your love is solid to the core
May the years ahead be happy ones
Each one happier than before —
John Walter Bratton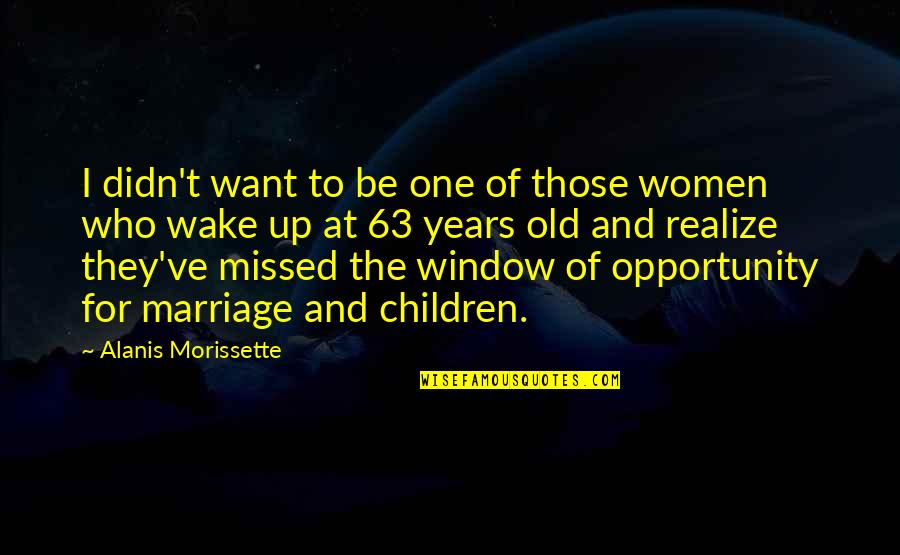 I didn't want to be one of those women who wake up at 63 years old and realize they've missed the window of opportunity for marriage and children. —
Alanis Morissette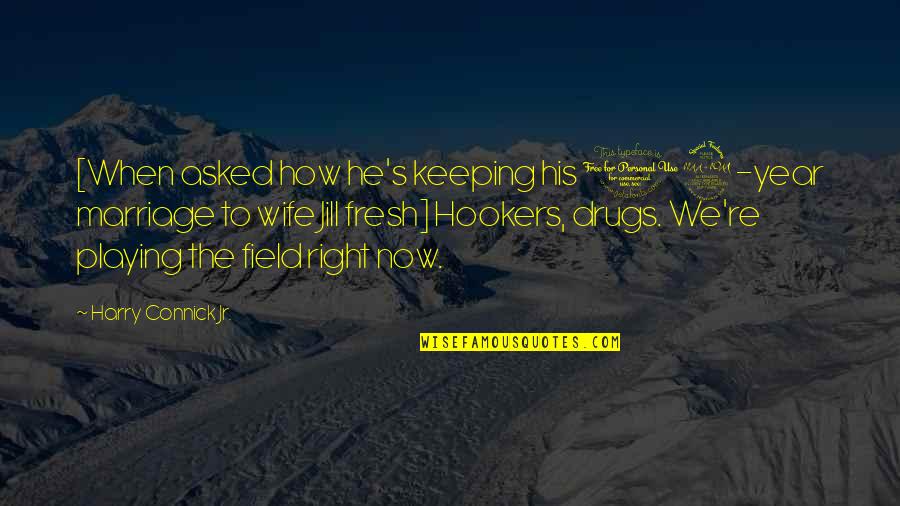 [When asked how he's keeping his 12-year marriage to wife Jill fresh] Hookers, drugs. We're playing the field right now. —
Harry Connick Jr.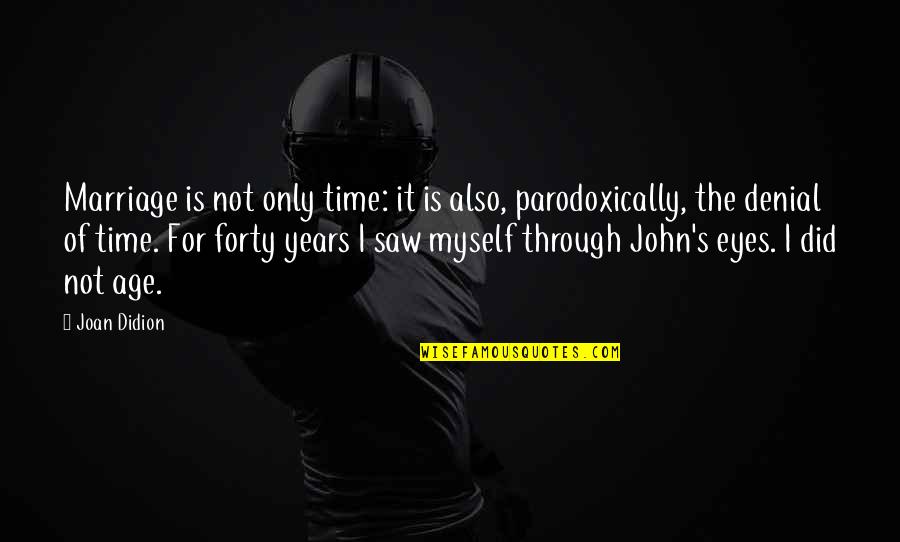 Marriage is not only time: it is also, parodoxically, the denial of time. For forty years I saw myself through John's eyes. I did not age. —
Joan Didion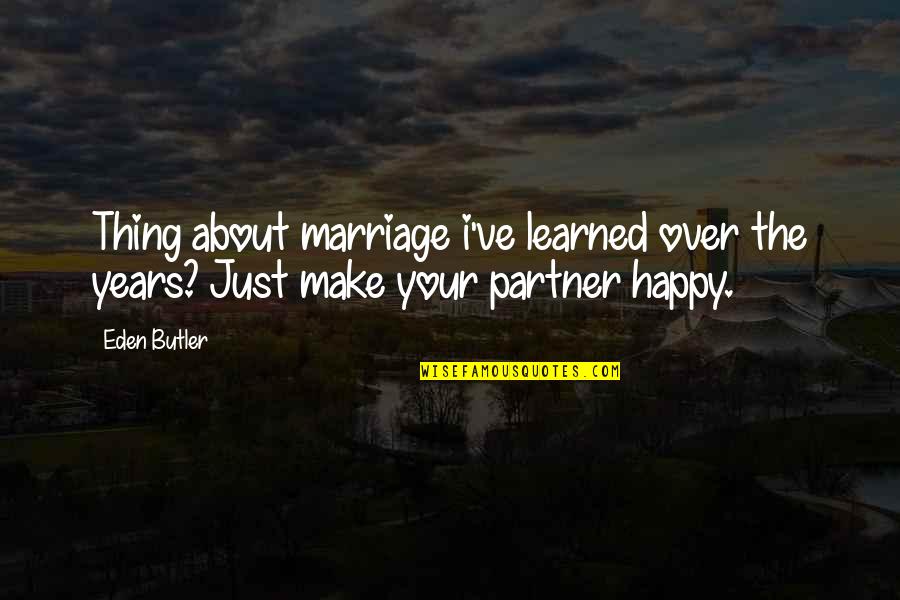 Thing about marriage i've learned over the years? Just make your partner happy. —
Eden Butler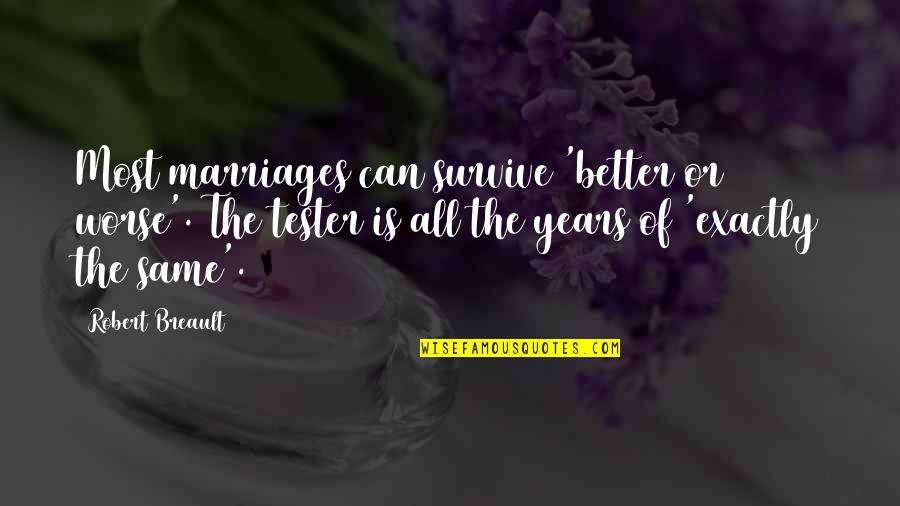 Most marriages can survive 'better or worse'. The tester is all the years of 'exactly the same'. —
Robert Breault
I think I've scratched the surface after twenty years of marriage. Women want chocolate and conversation. —
Mel Gibson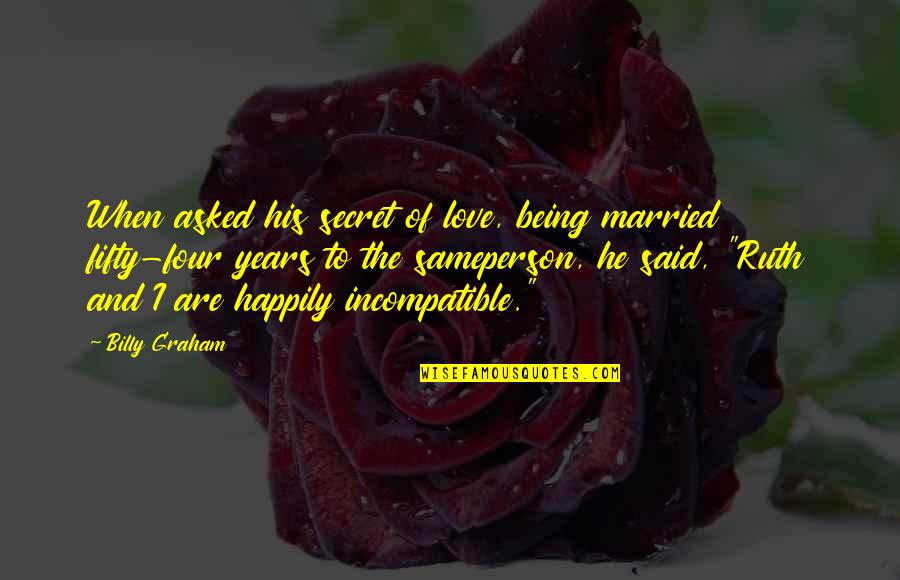 When asked his secret of love, being married fifty-four years to the same
person, he said, "Ruth and I are happily incompatible." —
Billy Graham