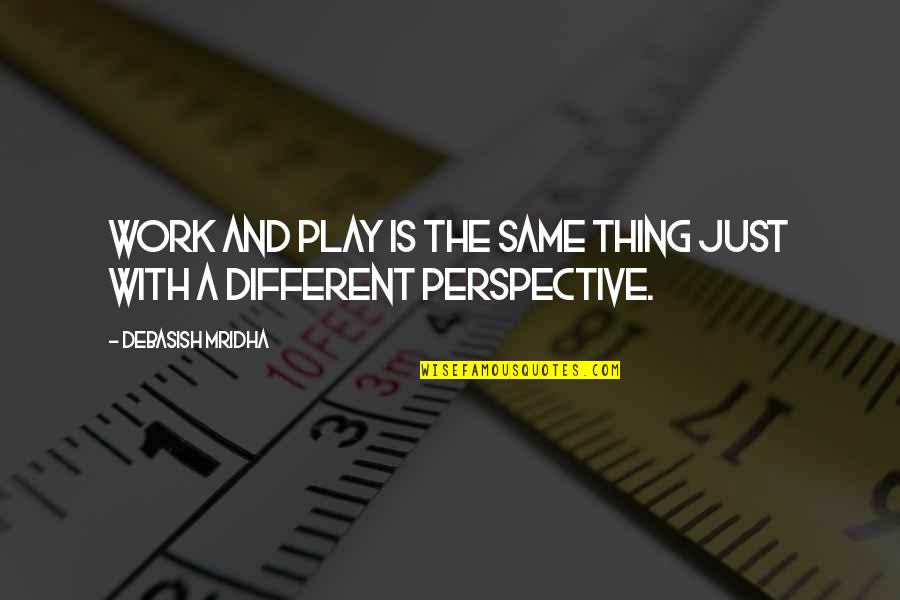 Work and play is the same thing just with a different perspective.
—
Debasish Mridha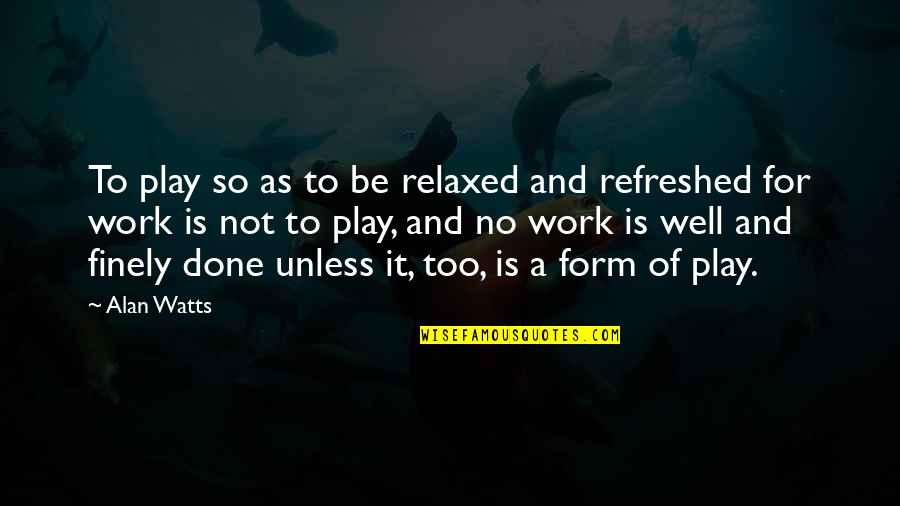 To play so as to be relaxed and refreshed for work is not to play, and no work is well and finely done unless it, too, is a form of play.
—
Alan Watts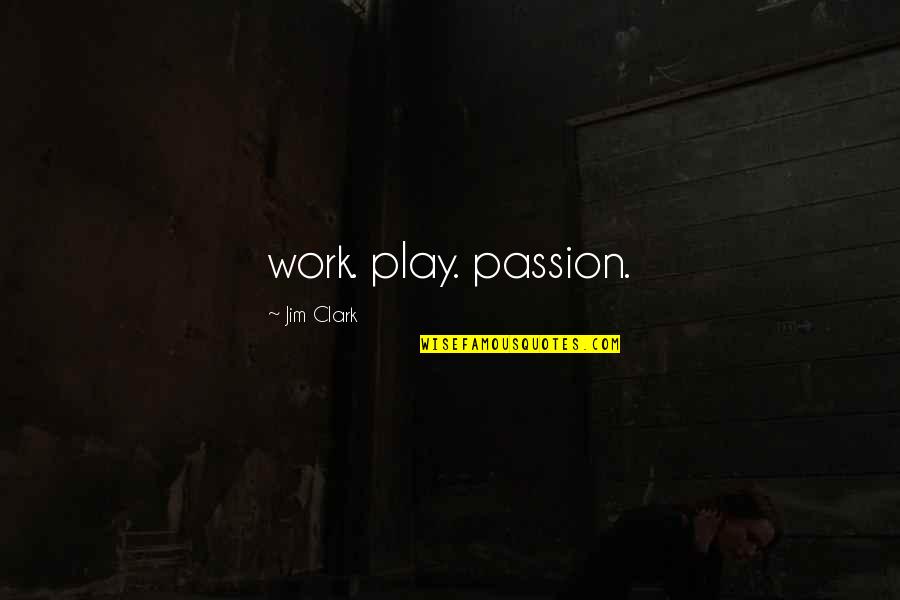 work. play. passion.
—
Jim Clark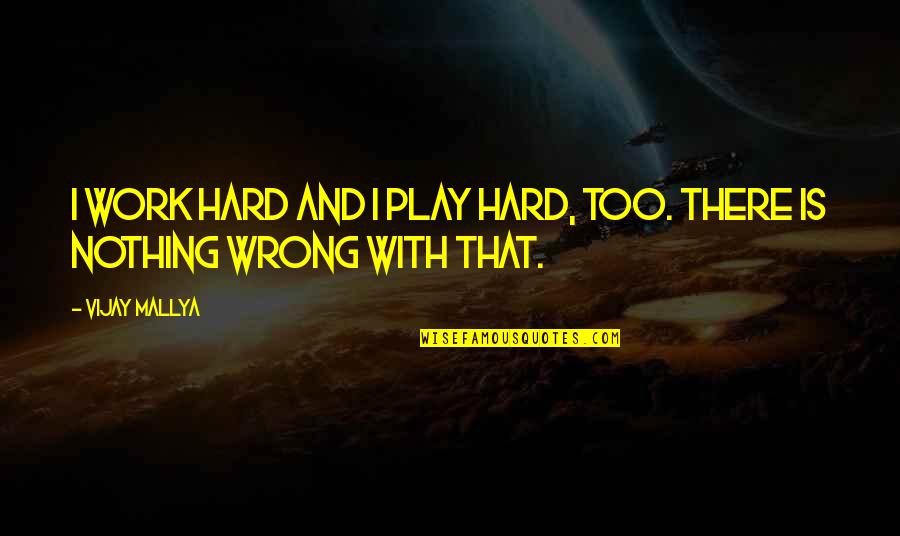 I work hard and I play hard, too. There is nothing wrong with that.
—
Vijay Mallya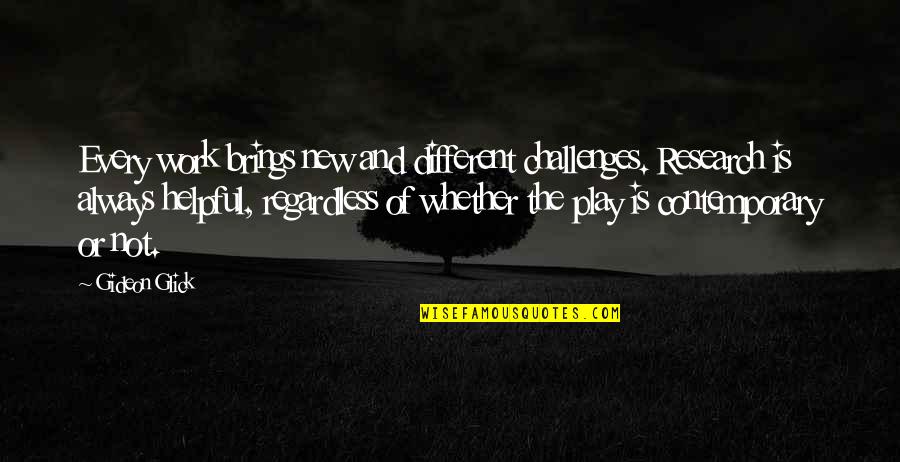 Every work brings new and different challenges. Research is always helpful, regardless of whether the play is contemporary or not.
—
Gideon Glick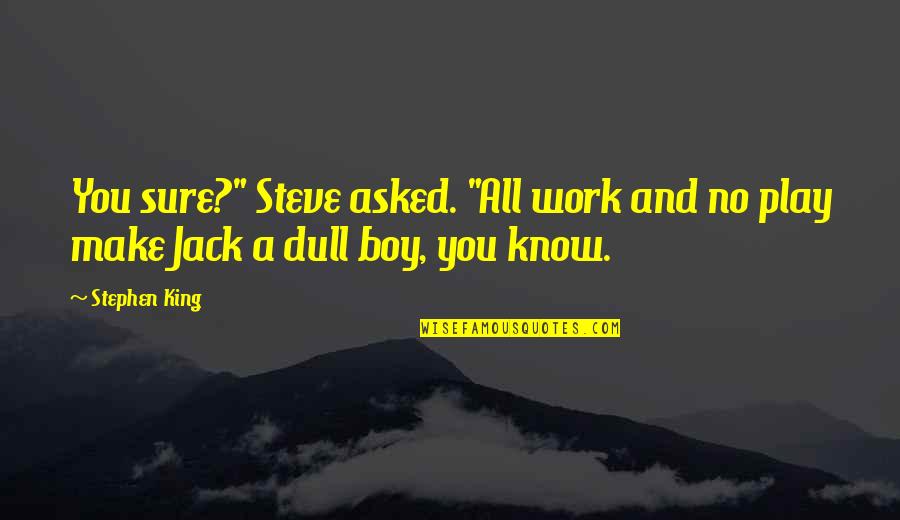 You sure?" Steve asked. "All work and no play make Jack a dull boy, you know.
—
Stephen King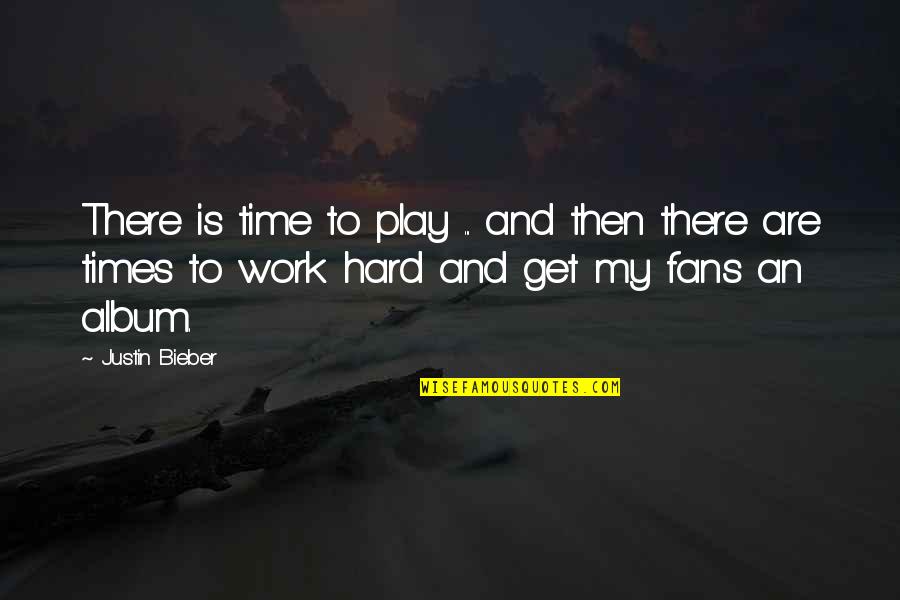 There is time to play ... and then there are times to work hard and get my fans an album.
—
Justin Bieber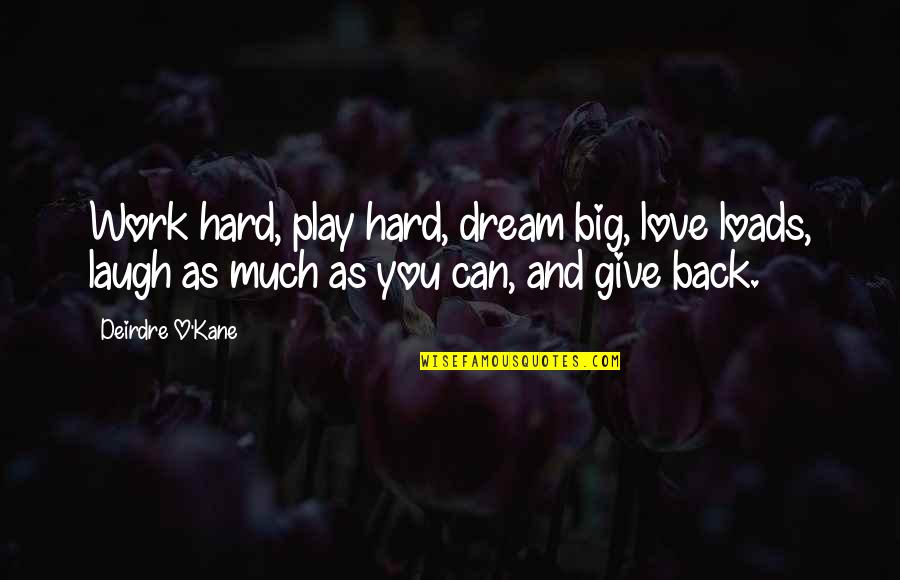 Work hard, play hard, dream big, love loads, laugh as much as you can, and give back.
—
Deirdre O'Kane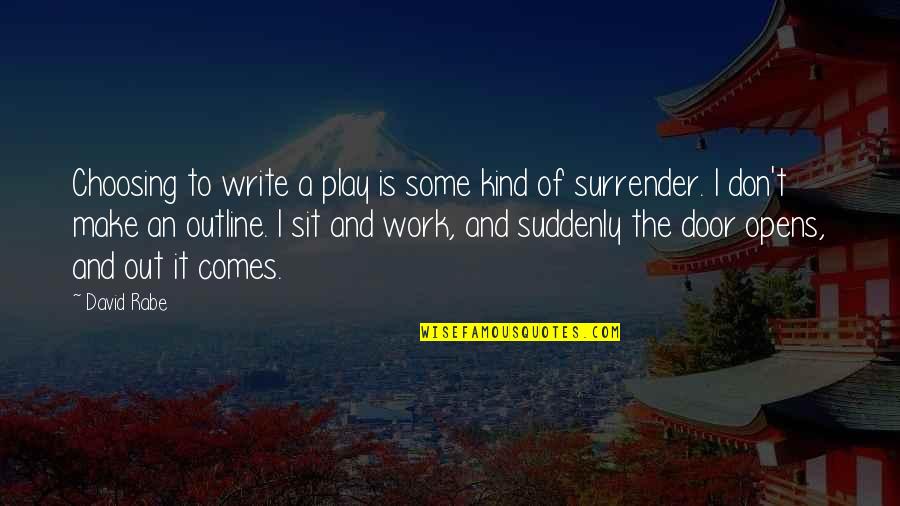 Choosing to write a play is some kind of surrender. I don't make an outline. I sit and work, and suddenly the door opens, and out it comes.
—
David Rabe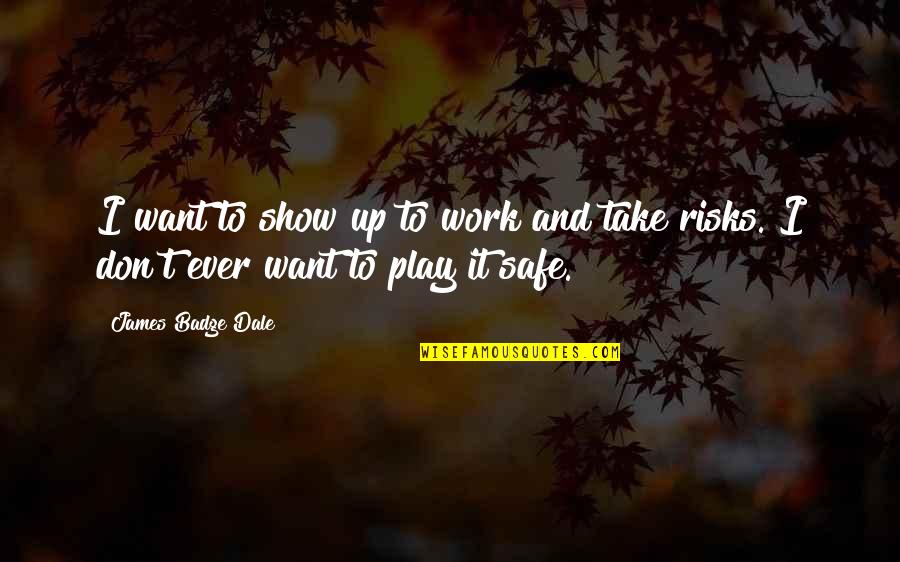 I want to show up to work and take risks. I don't ever want to play it safe.
—
James Badge Dale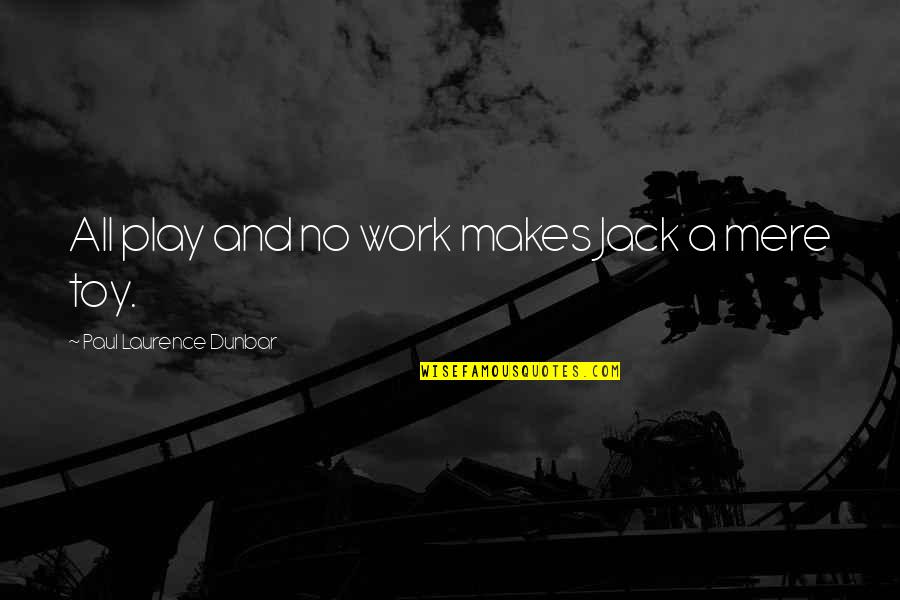 All play and no work makes Jack a mere toy.
—
Paul Laurence Dunbar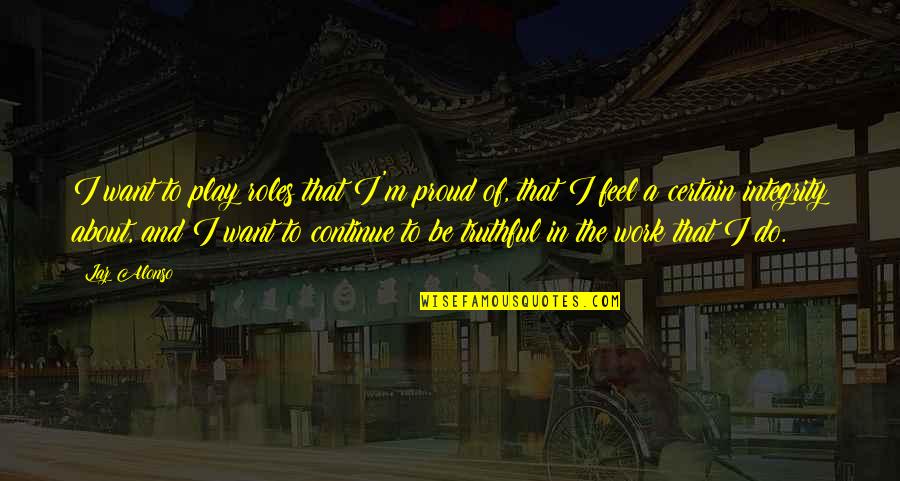 I want to play roles that I'm proud of, that I feel a certain integrity about, and I want to continue to be truthful in the work that I do. —
Laz Alonso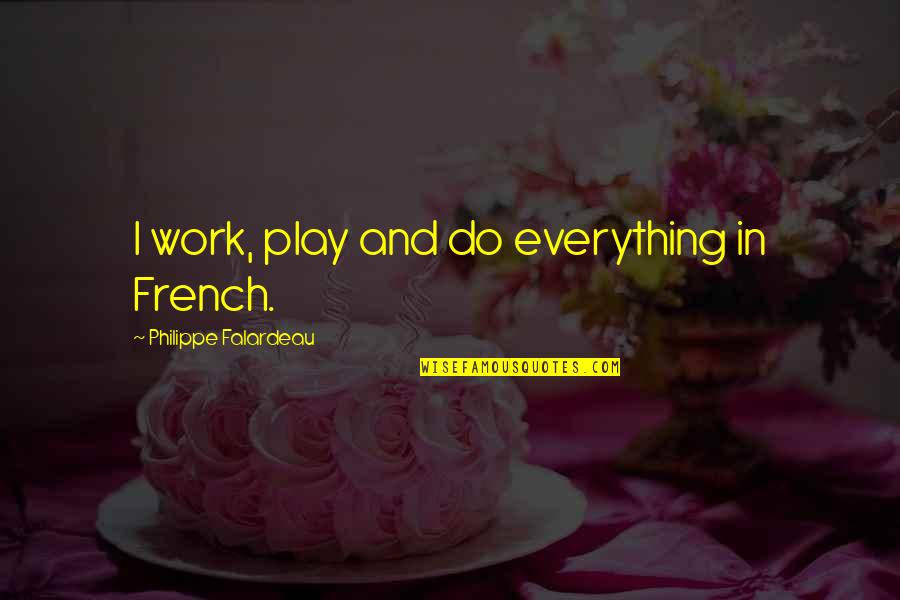 I work, play and do everything in French. —
Philippe Falardeau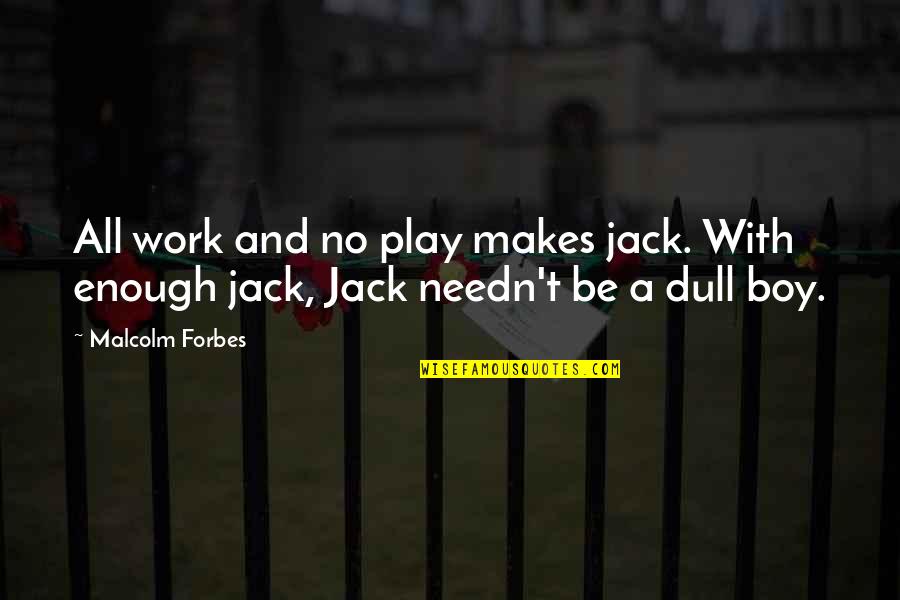 All work and no play makes jack. With enough jack, Jack needn't be a dull boy. —
Malcolm Forbes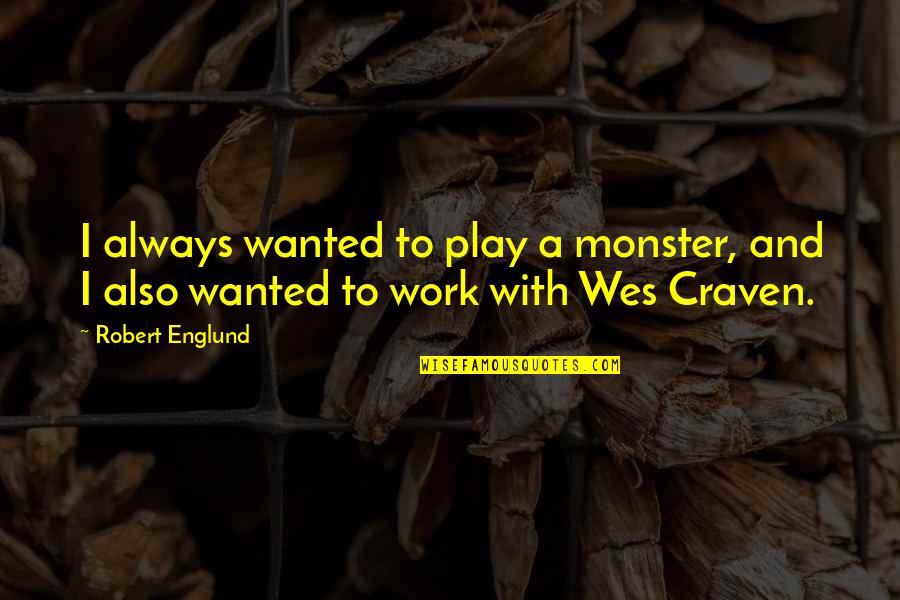 I always wanted to play a monster, and I also wanted to work with Wes Craven. —
Robert Englund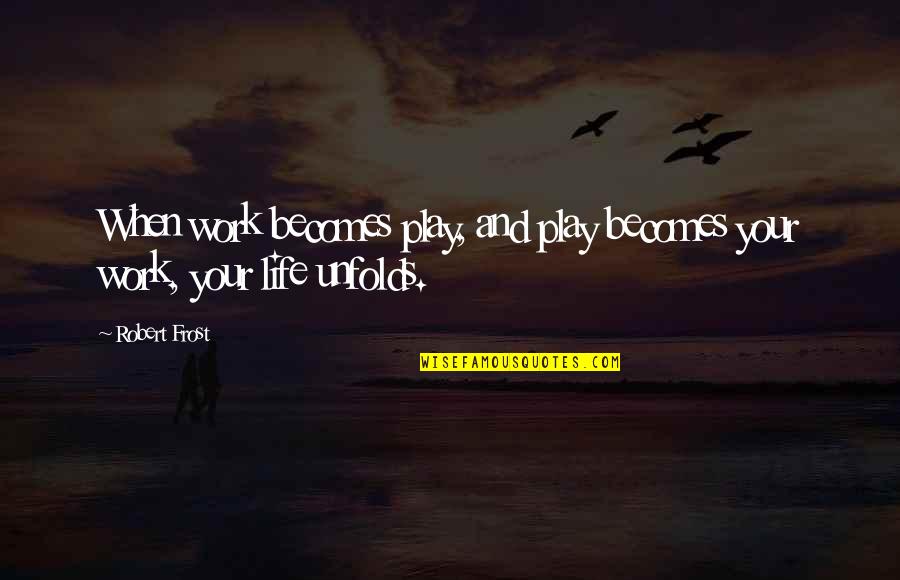 When work becomes play, and play becomes your work, your life unfolds. —
Robert Frost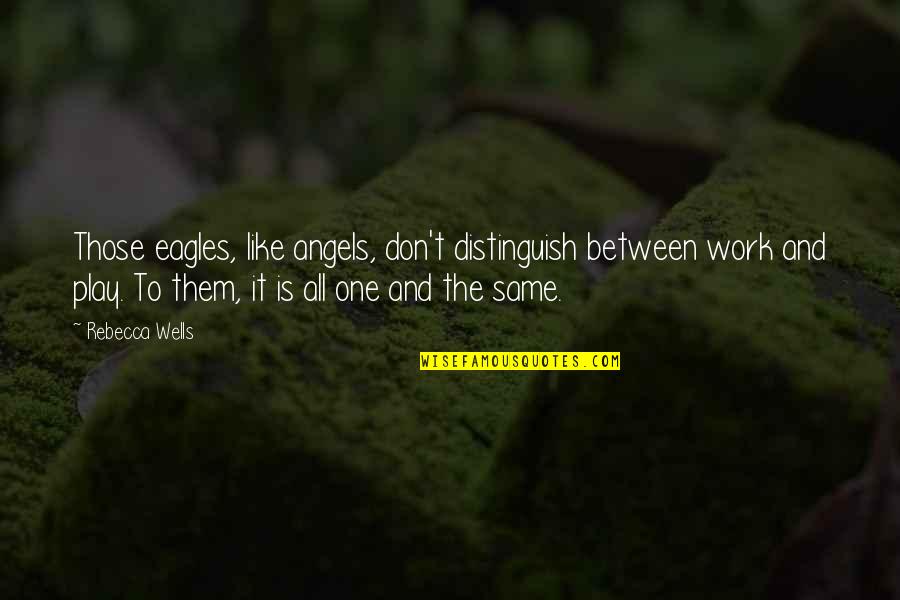 Those eagles, like angels, don't distinguish between
work and play
. To them, it is all one and the same. —
Rebecca Wells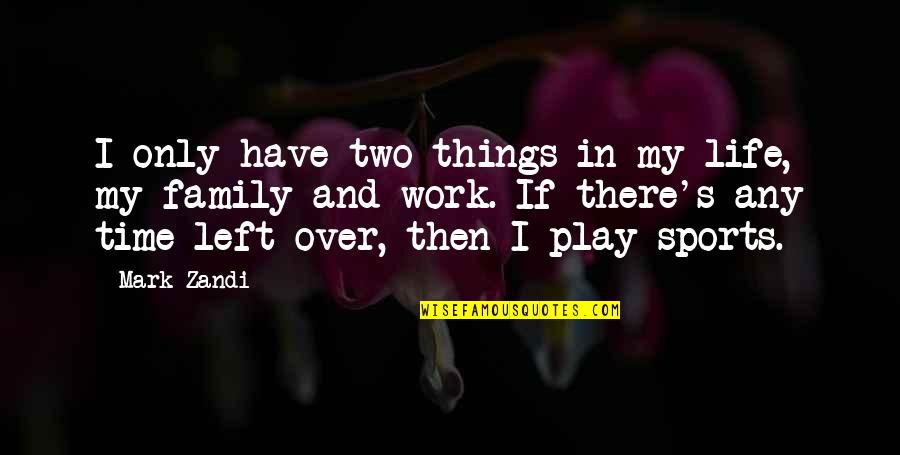 I only have two things in my life, my family and work. If there's any time left over, then I play sports. —
Mark Zandi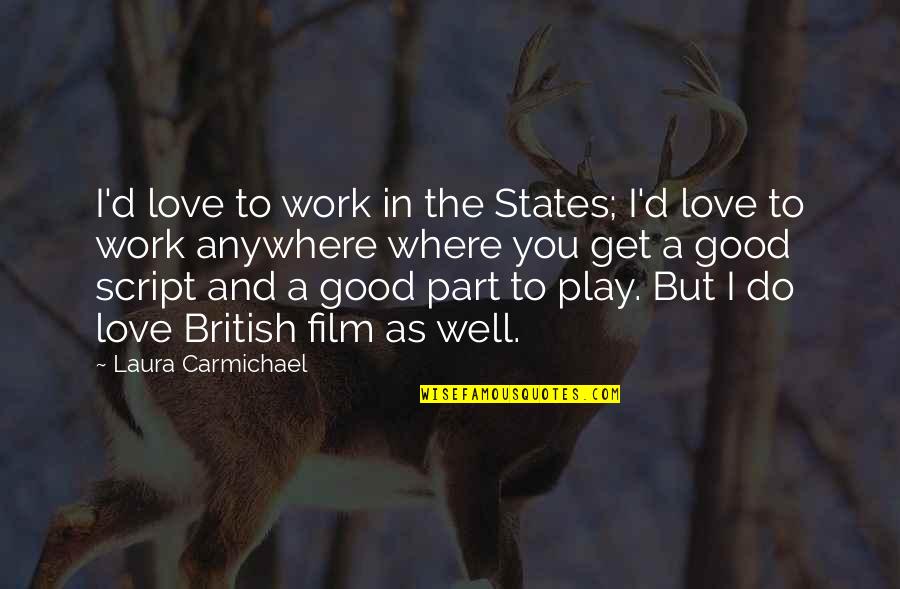 I'd love to work in the States; I'd love to work anywhere where you get a good script and a good part to play. But I do love British film as well. —
Laura Carmichael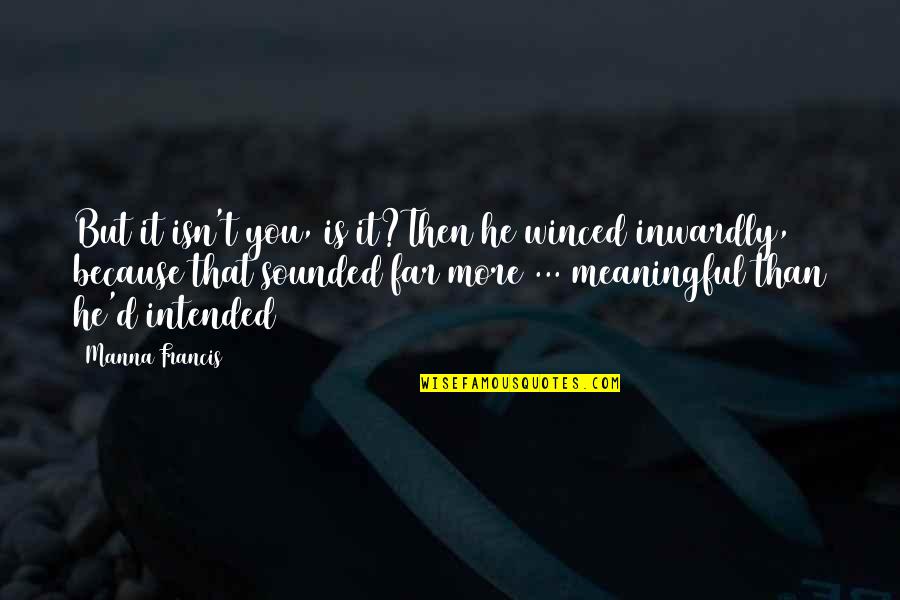 But it isn't you, is it?
Then he winced inwardly, because that sounded far more ... meaningful than he'd intended —
Manna Francis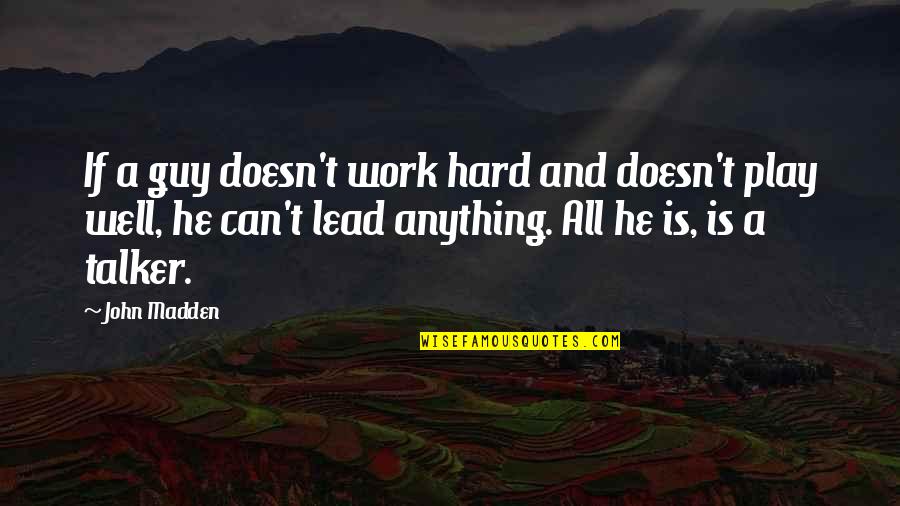 If a guy doesn't work hard and doesn't play well, he can't lead anything. All he is, is a talker. —
John Madden
If you just work on stuff that you like and you're passionate about, you don't have to have a master plan with how things will play out. —
Mark Zuckerberg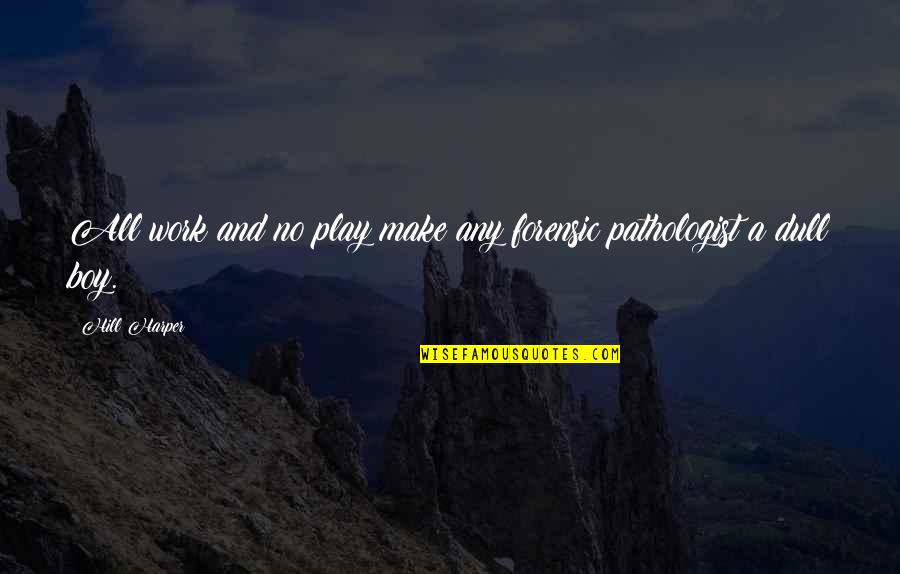 All work and no play make any forensic pathologist a dull boy. —
Hill Harper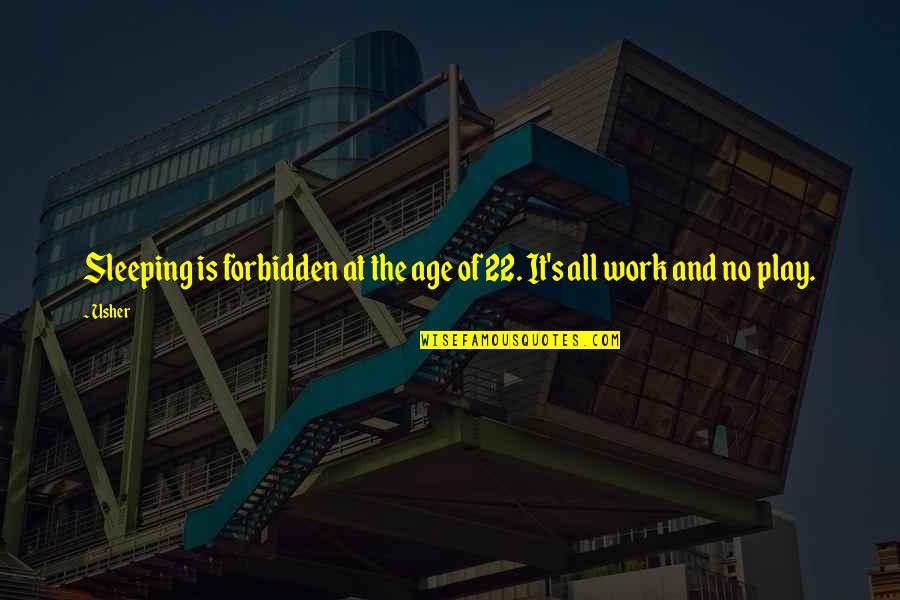 Sleeping is forbidden at the age of 22. It's all work and no play. —
Usher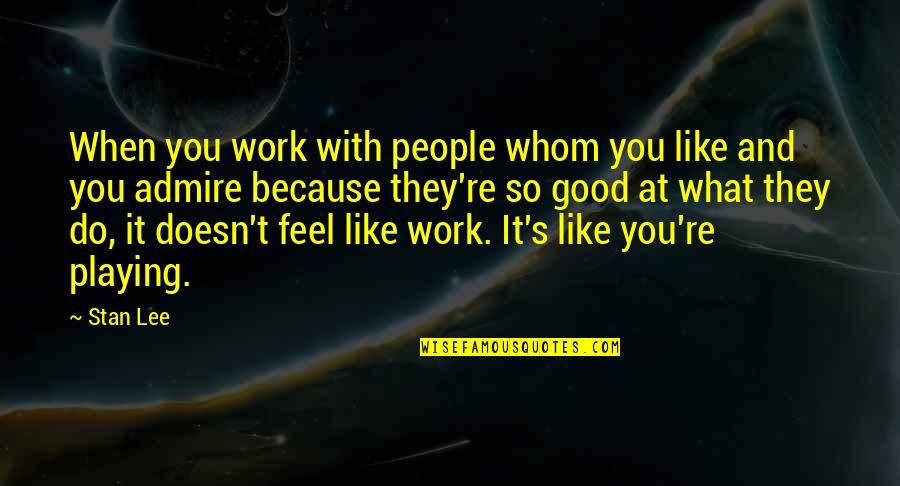 When you work with people whom you like and you admire because they're so good at what they do, it doesn't feel like work. It's like you're playing. —
Stan Lee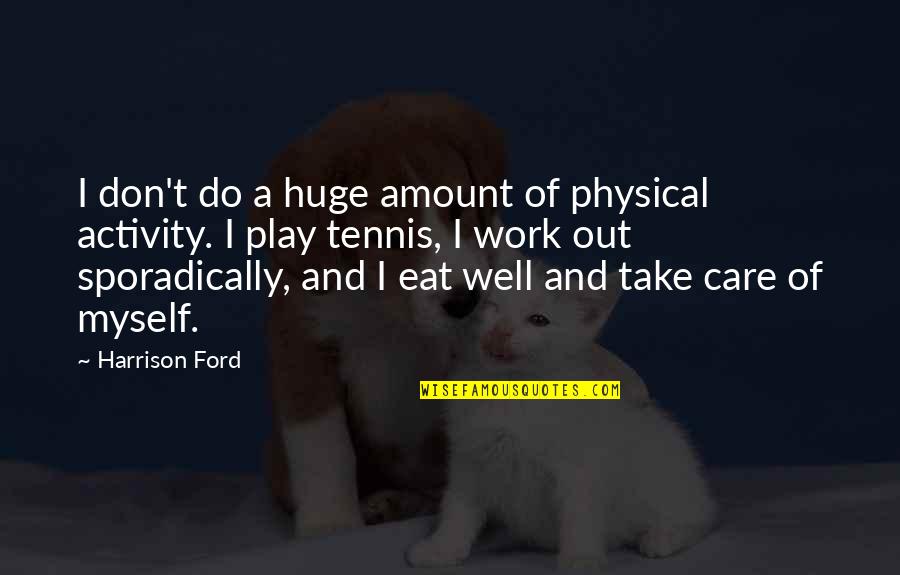 I don't do a huge amount of physical activity. I play tennis, I work out sporadically, and I eat well and take care of myself. —
Harrison Ford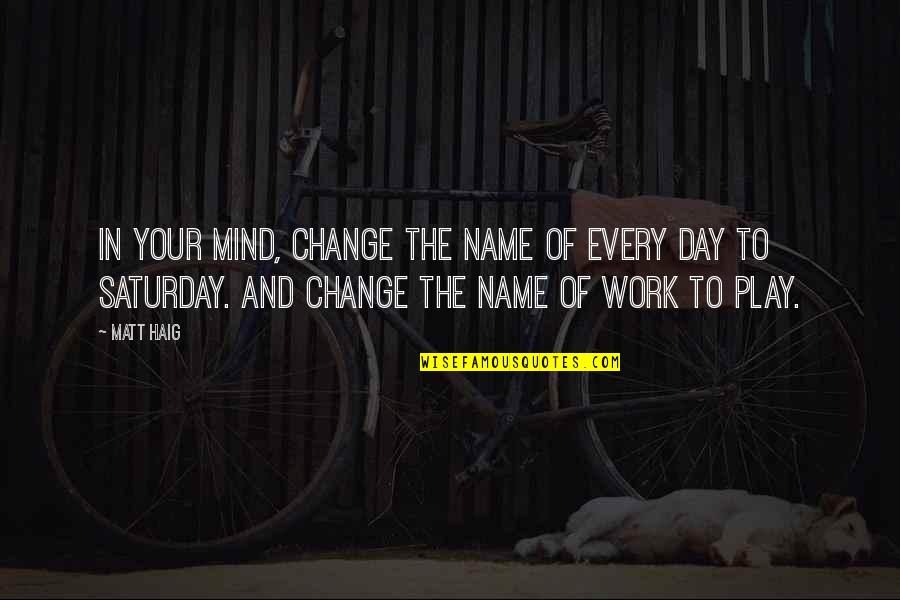 In your mind, change the name of every day to Saturday. And change the name of work to play. —
Matt Haig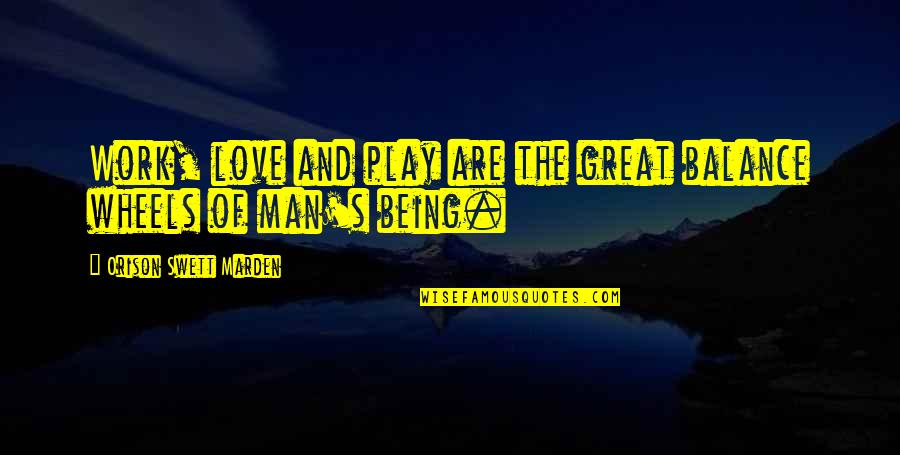 Work, love and play are the great balance wheels of man's being. —
Orison Swett Marden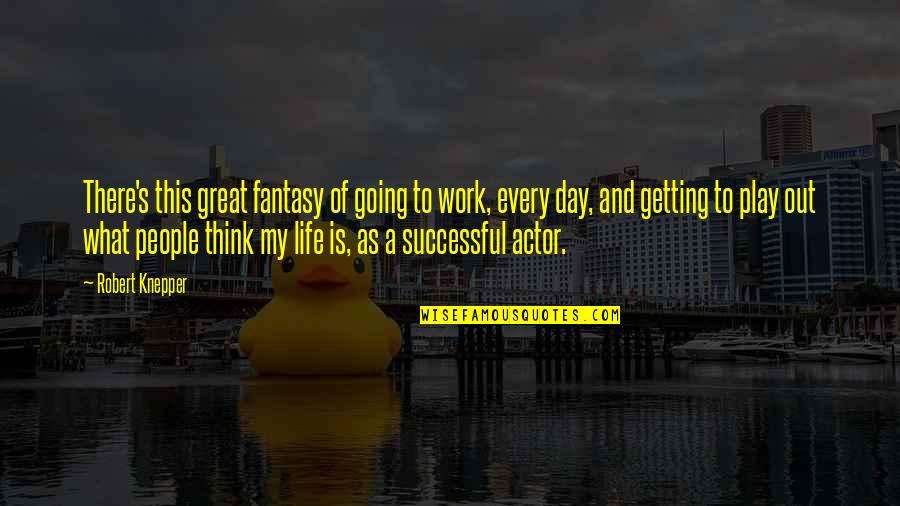 There's this great fantasy of going to work, every day, and getting to play out what people think my life is, as a successful actor. —
Robert Knepper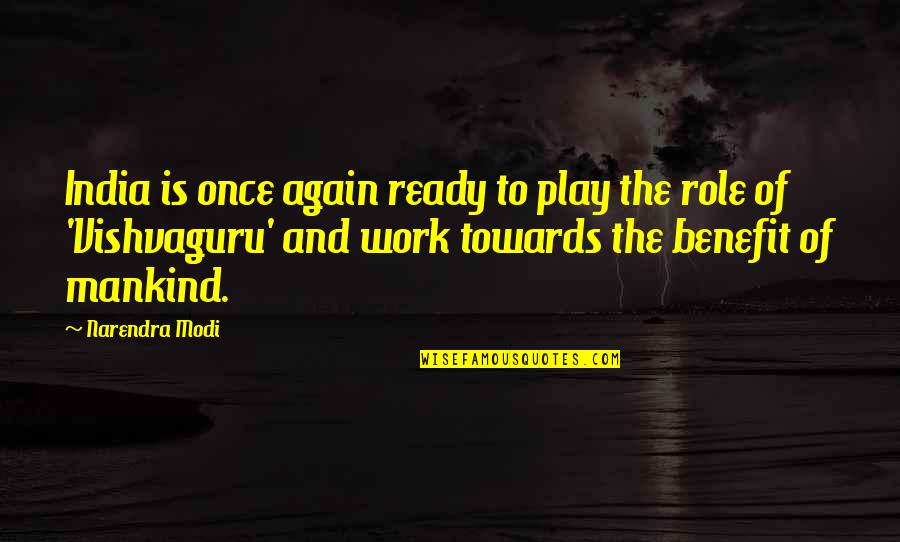 India is once again ready to play the role of 'Vishvaguru' and work towards the benefit of mankind. —
Narendra Modi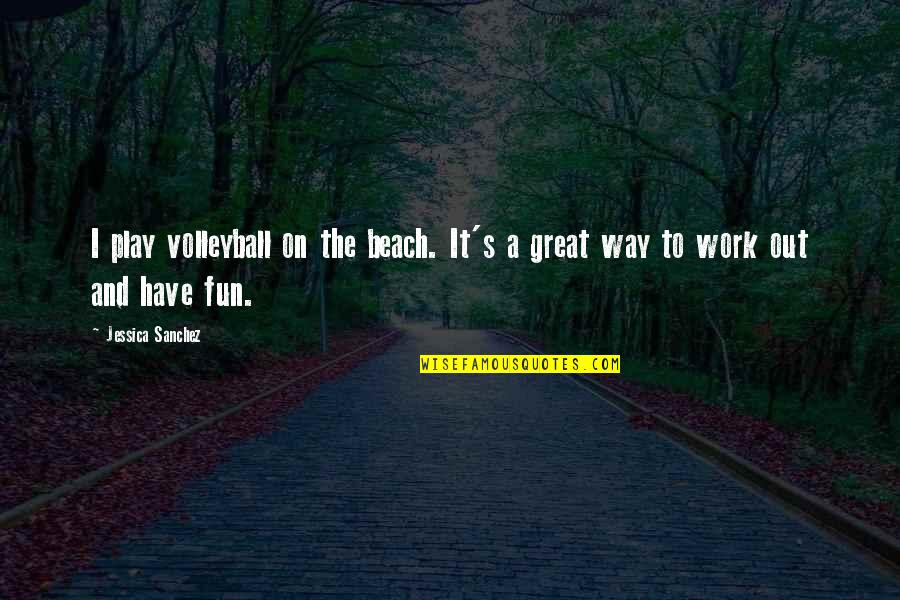 I play volleyball on the beach. It's a great way to work out and have fun. —
Jessica Sanchez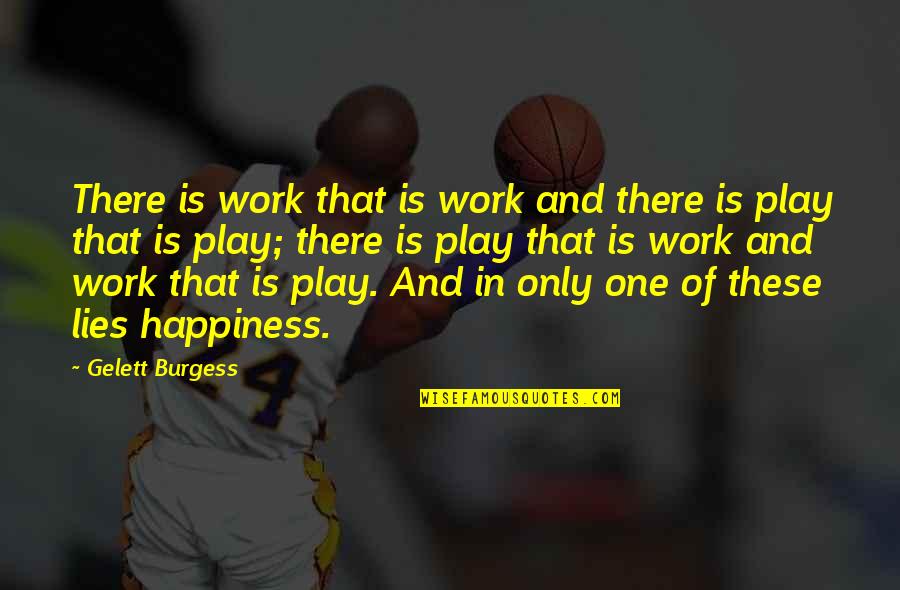 There is work that is work and there is play that is play; there is play that is work and work that is play. And in only one of these lies happiness. —
Gelett Burgess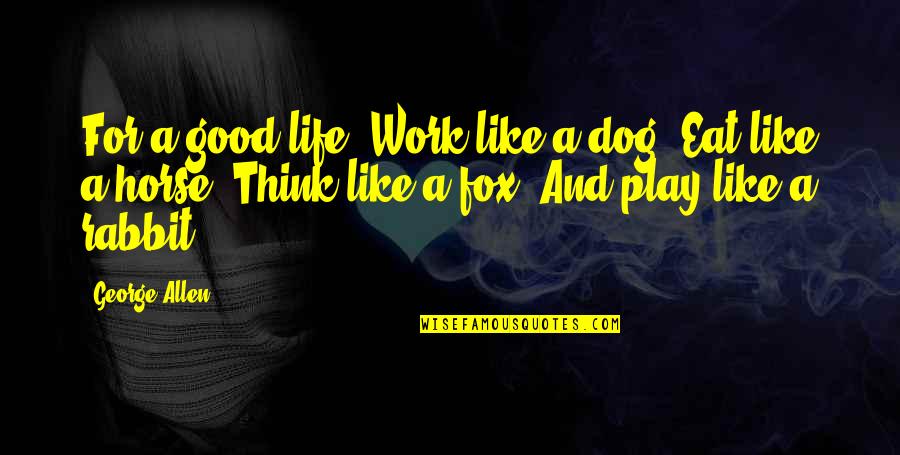 For a good life: Work like a dog. Eat like a horse. Think like a fox. And play like a rabbit. —
George Allen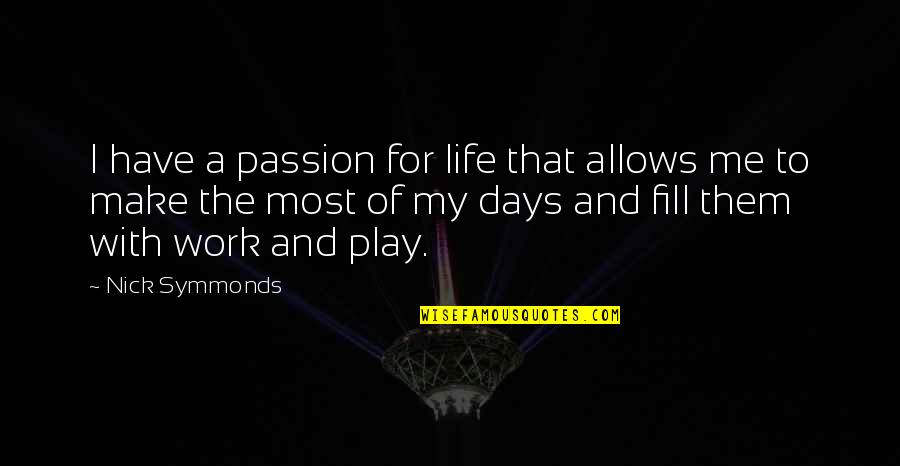 I have a passion for life that allows me to make the most of my days and fill them with
work and play
. —
Nick Symmonds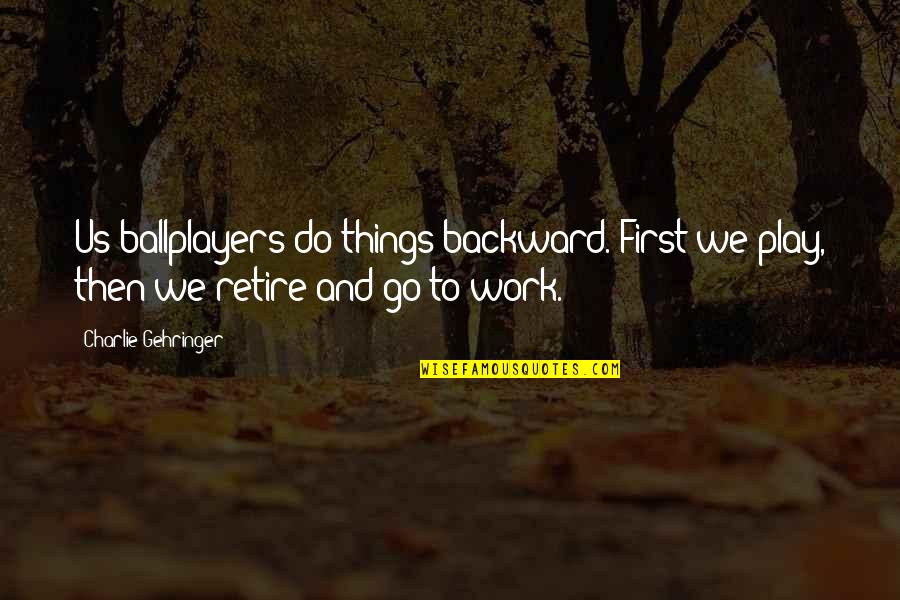 Us ballplayers do things backward. First we play, then we retire and go to work. —
Charlie Gehringer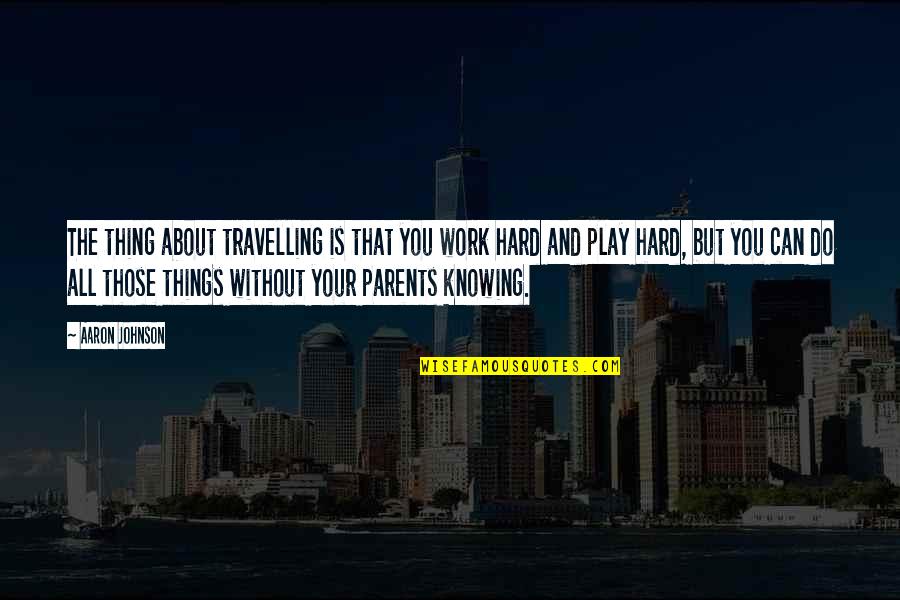 The thing about travelling is that you work hard and play hard, but you can do all those things without your parents knowing. —
Aaron Johnson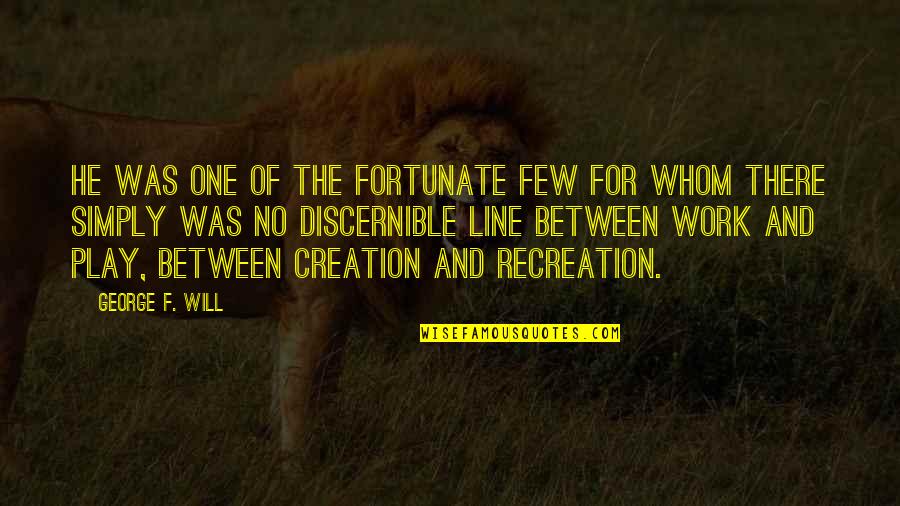 He was one of the fortunate few for whom there simply was no discernible line between
work and play
, between creation and recreation. —
George F. Will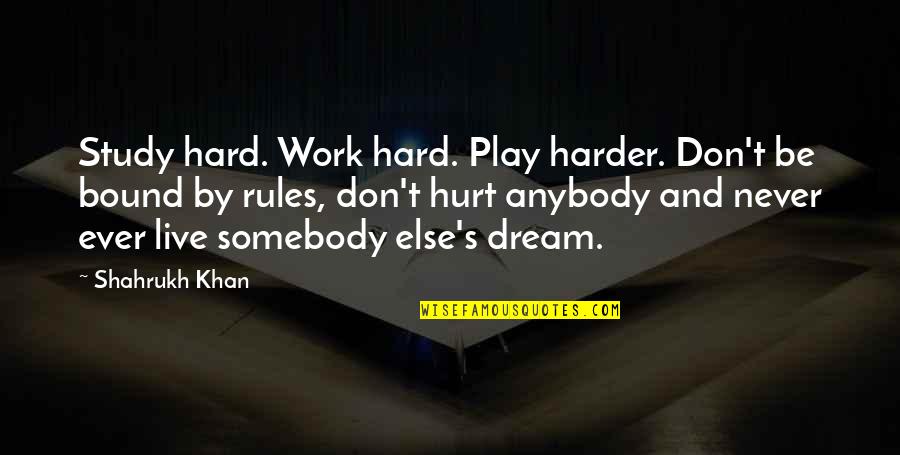 Study hard. Work hard. Play harder. Don't be bound by rules, don't hurt anybody and never ever live somebody else's dream. —
Shahrukh Khan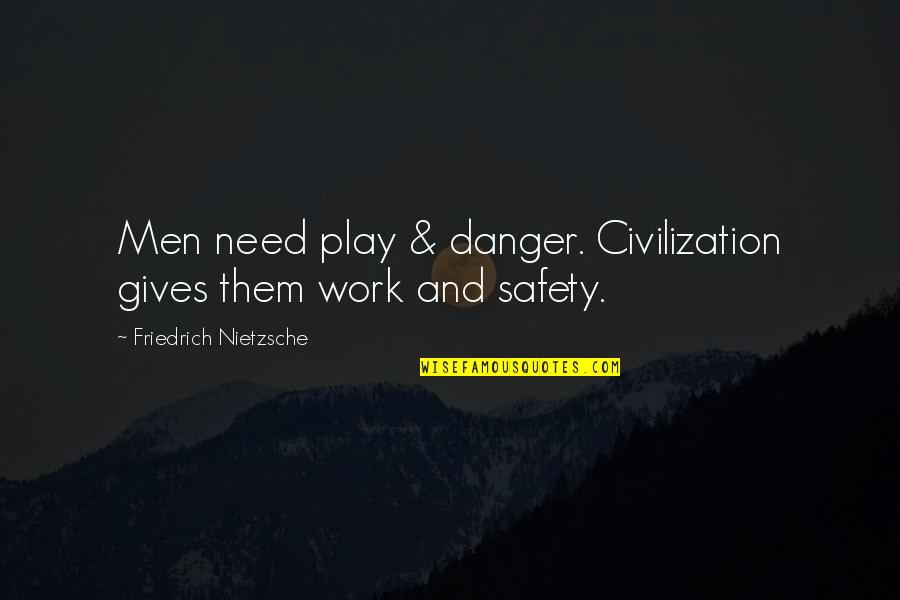 Men need play & danger. Civilization gives them work and safety. —
Friedrich Nietzsche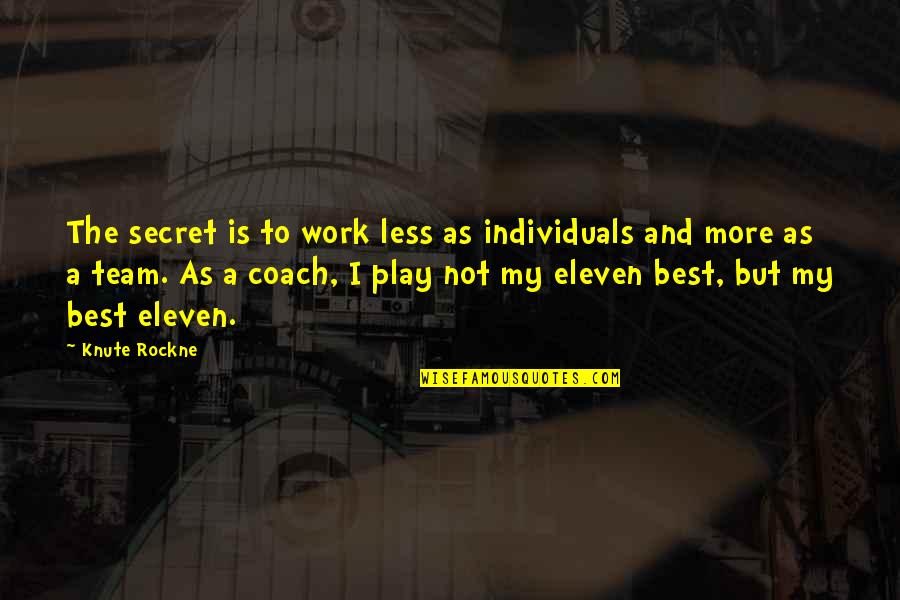 The secret is to work less as individuals and more as a team. As a coach, I play not my eleven best, but my best eleven. —
Knute Rockne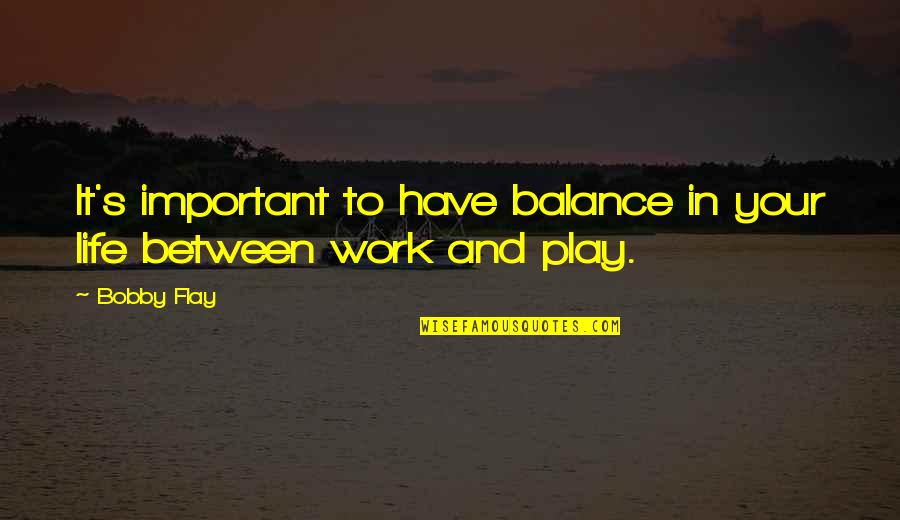 It's important to have balance in your life between
work and play
. —
Bobby Flay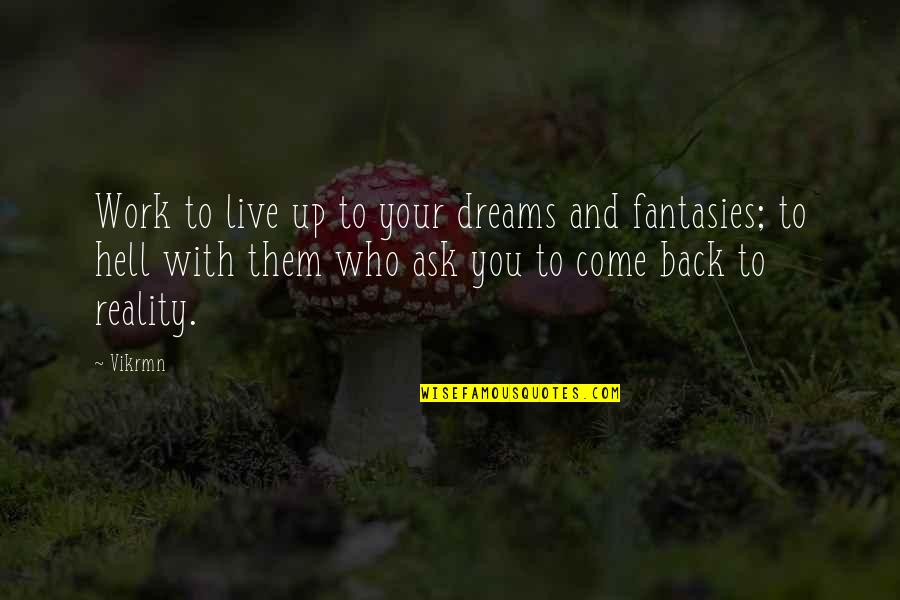 Work to live up to your dreams and fantasies; to hell with them who ask you to come back to reality. —
Vikrmn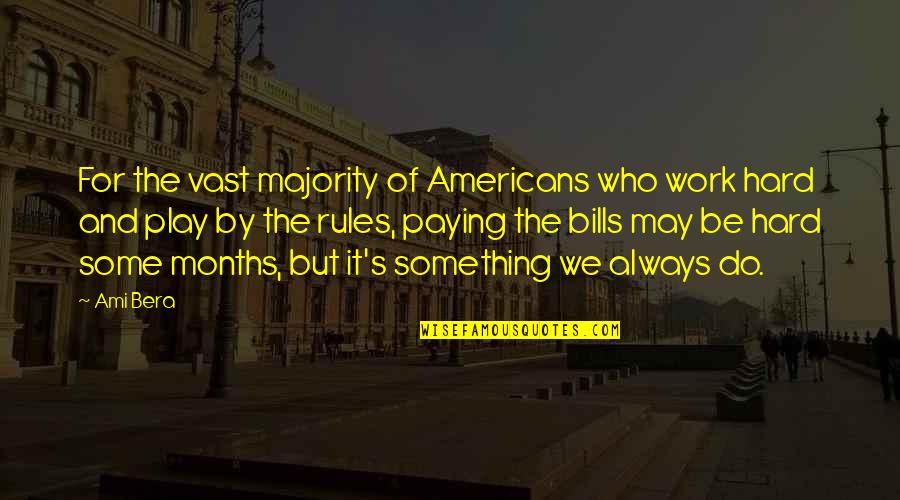 For the vast majority of Americans who work hard and play by the rules, paying the bills may be hard some months, but it's something we always do. —
Ami Bera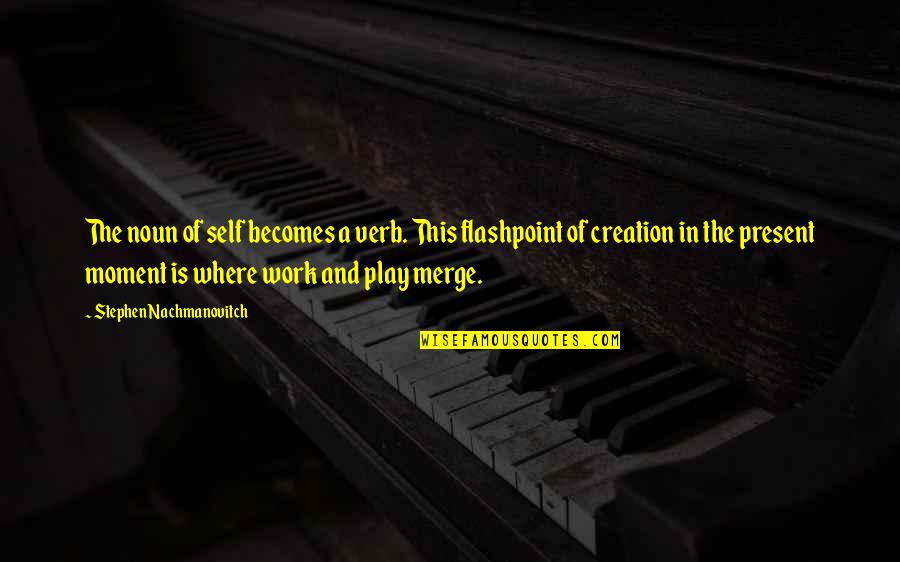 The noun of self becomes a verb. This flashpoint of creation in the present moment is where
work and play
merge. —
Stephen Nachmanovitch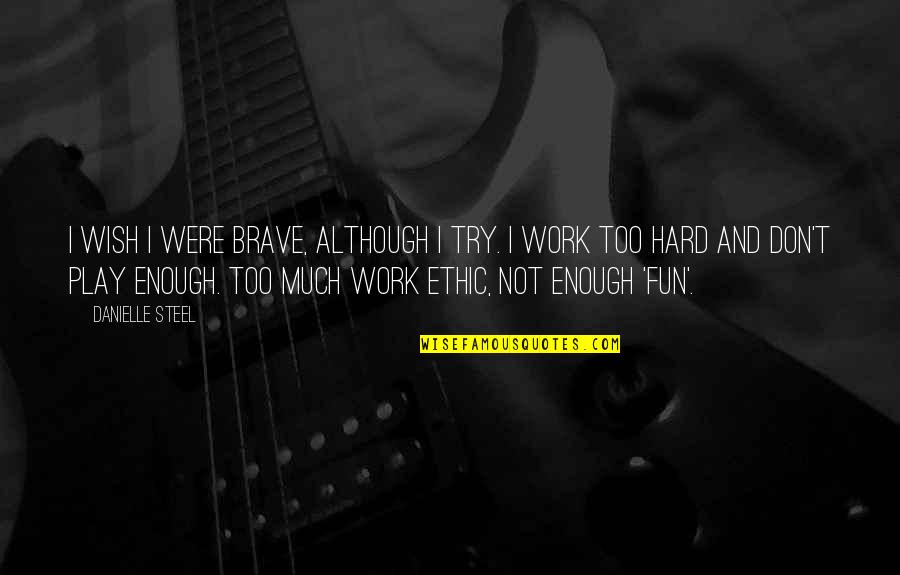 I wish I were brave, although I try. I work too hard and don't play enough. Too much work ethic, not enough 'fun'. —
Danielle Steel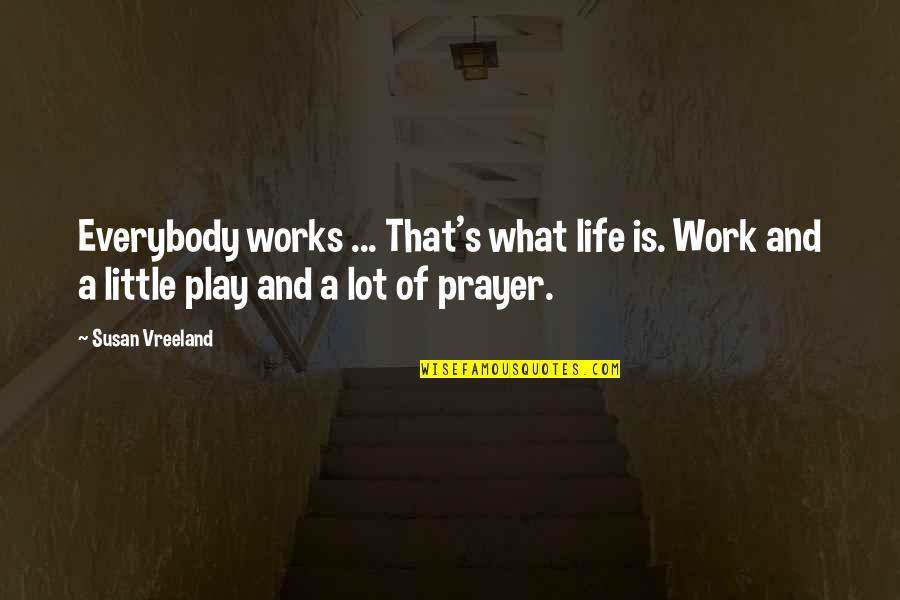 Everybody works ... That's what life is. Work and a little play and a lot of prayer. —
Susan Vreeland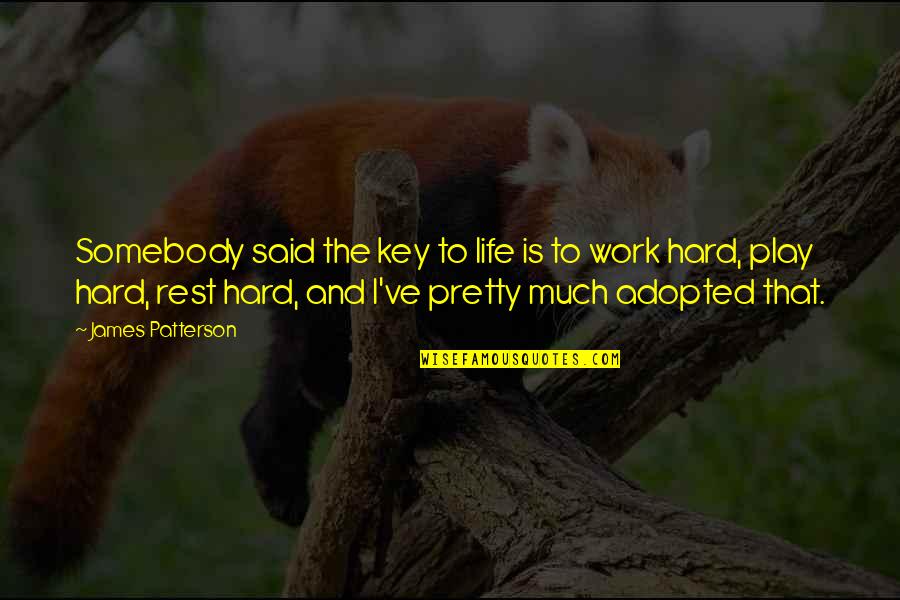 Somebody said the key to life is to work hard, play hard, rest hard, and I've pretty much adopted that. —
James Patterson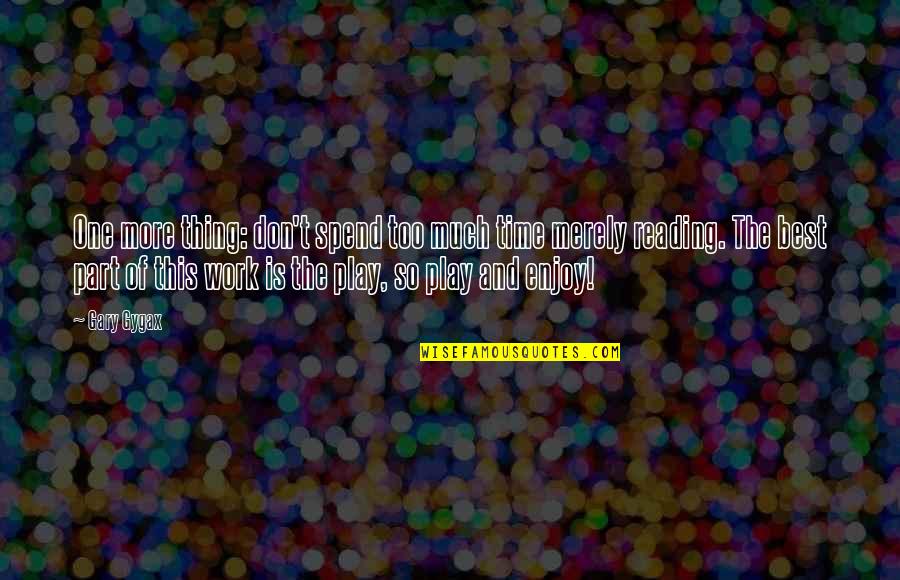 One more thing: don't spend too much time merely reading. The best part of this work is the play, so play and enjoy! —
Gary Gygax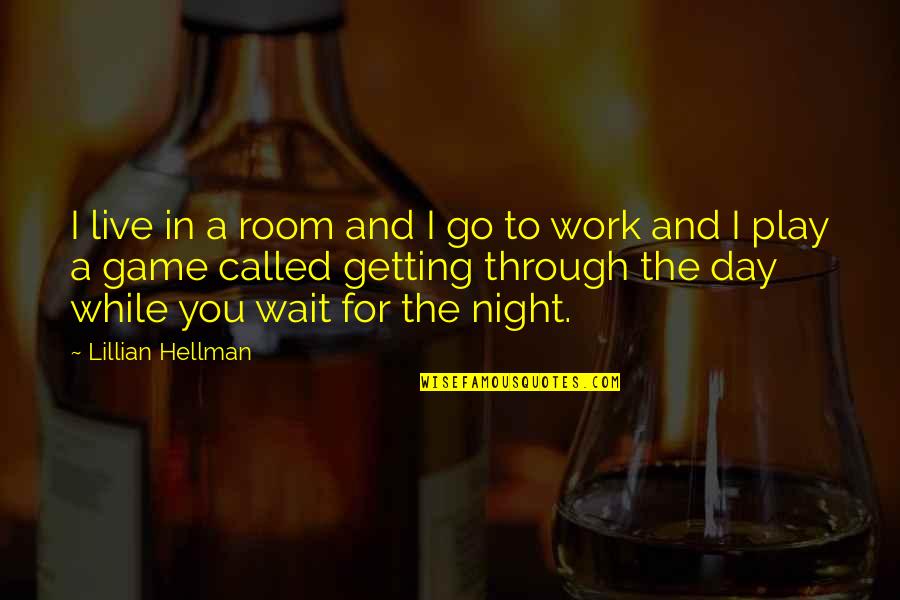 I live in a room and I go to work and I play a game called getting through the day while you wait for the night. —
Lillian Hellman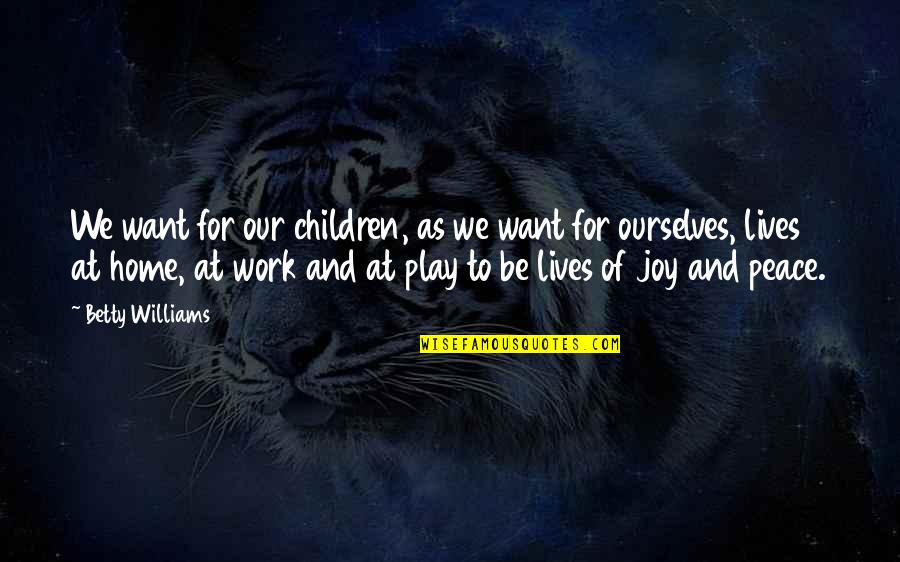 We want for our children, as we want for ourselves, lives at home, at work and at play to be lives of joy and peace. —
Betty Williams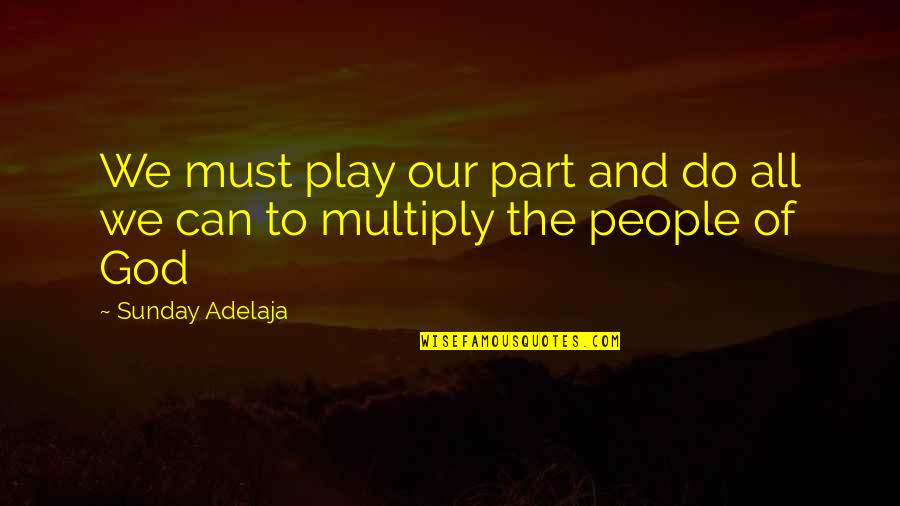 We must play our part and do all we can to multiply the people of God —
Sunday Adelaja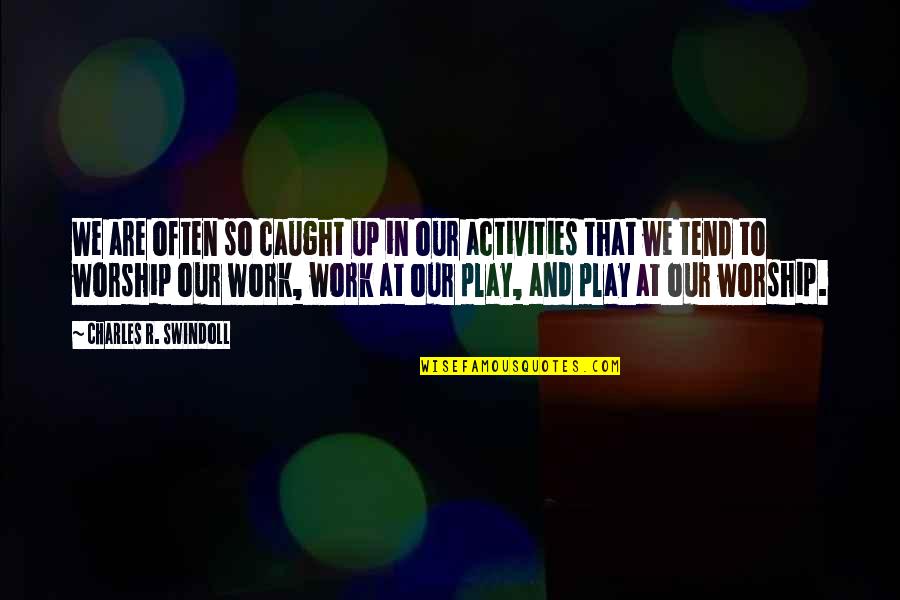 We are often so caught up in our activities that we tend to worship our work, work at our play, and play at our worship. —
Charles R. Swindoll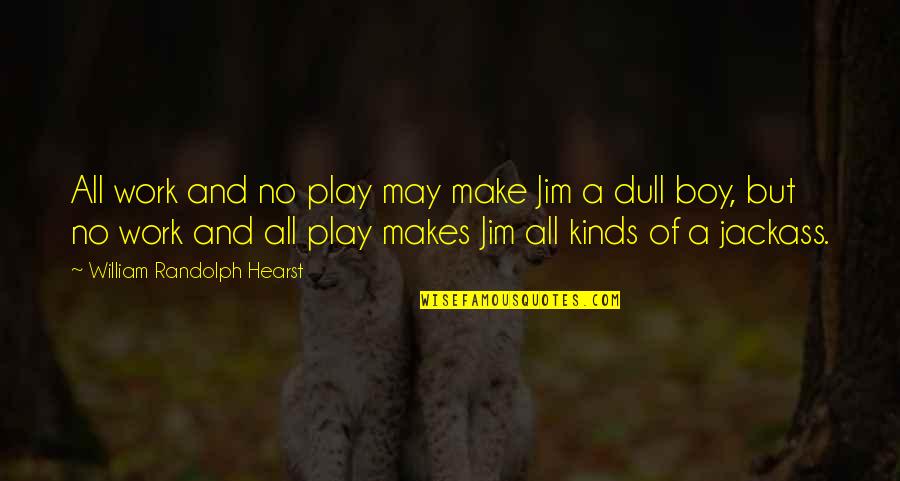 All work and no play may make Jim a dull boy, but no work and all play makes Jim all kinds of a jackass. —
William Randolph Hearst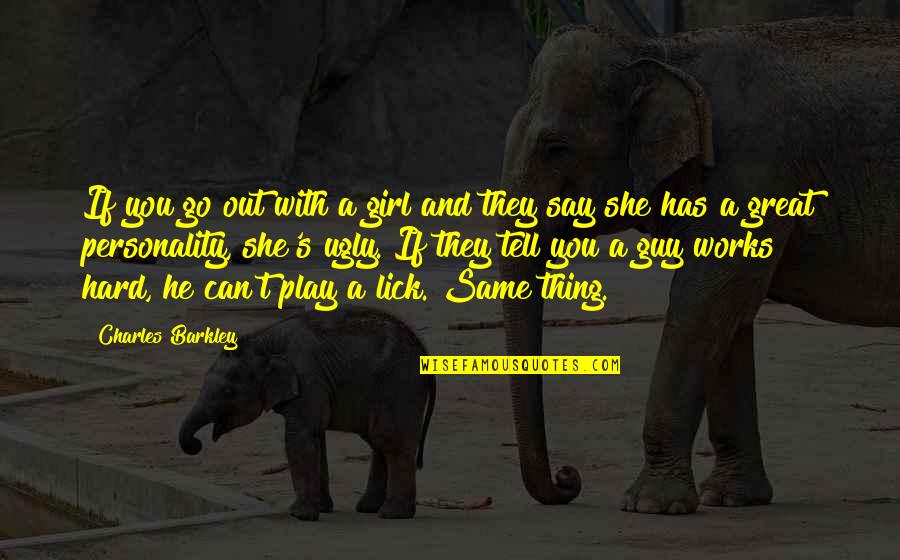 If you go out with a girl and they say she has a great personality, she's ugly. If they tell you a guy works hard, he can't play a lick. Same thing. —
Charles Barkley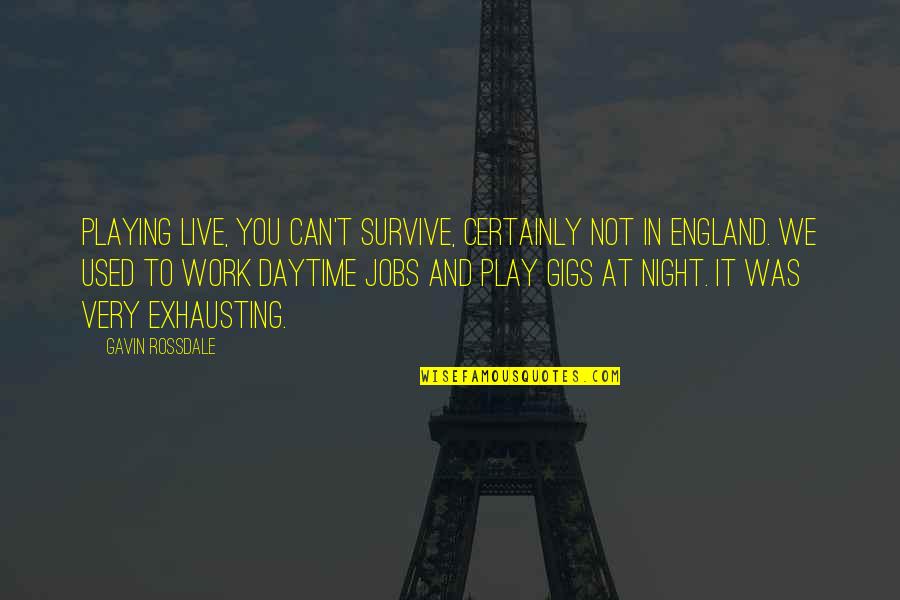 Playing live, you can't survive, certainly not in England. We used to work daytime jobs and play gigs at night. It was very exhausting. —
Gavin Rossdale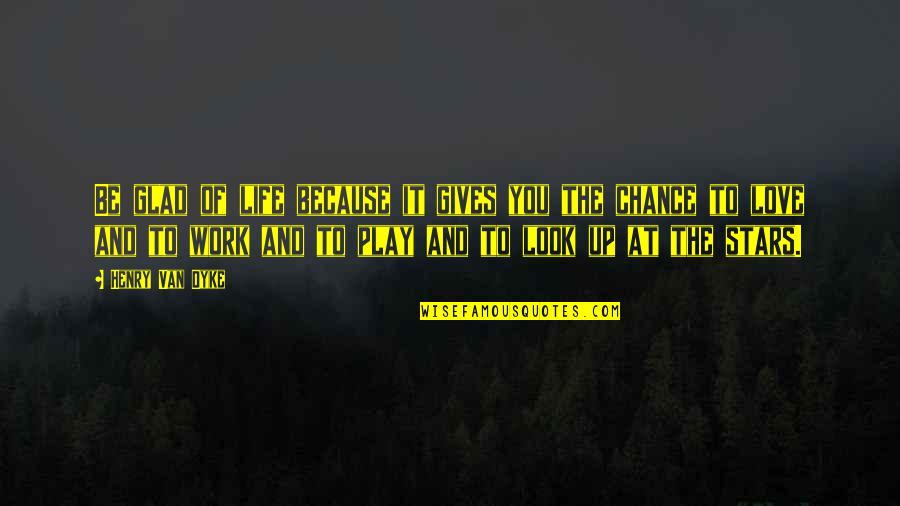 Be glad of life because it gives you the chance to love and to work and to play and to look up at the stars. —
Henry Van Dyke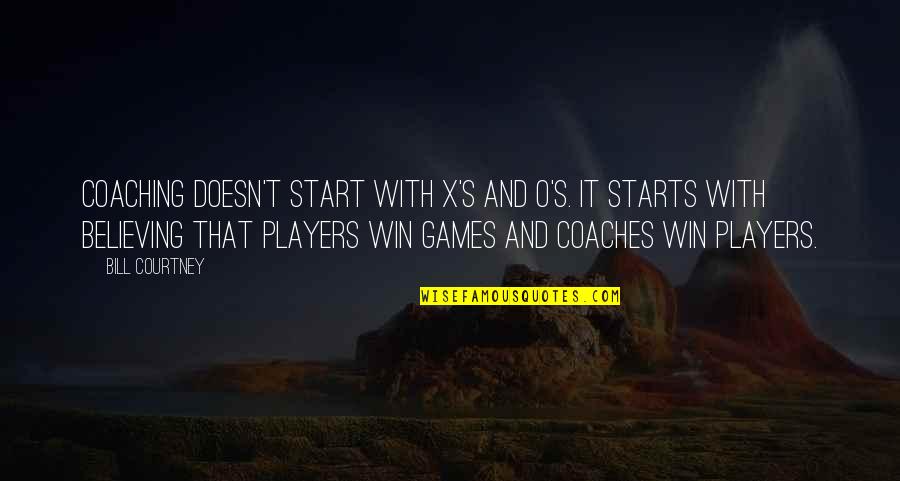 Coaching doesn't start with X's and O's. It starts with believing that players win games and coaches win players. —
Bill Courtney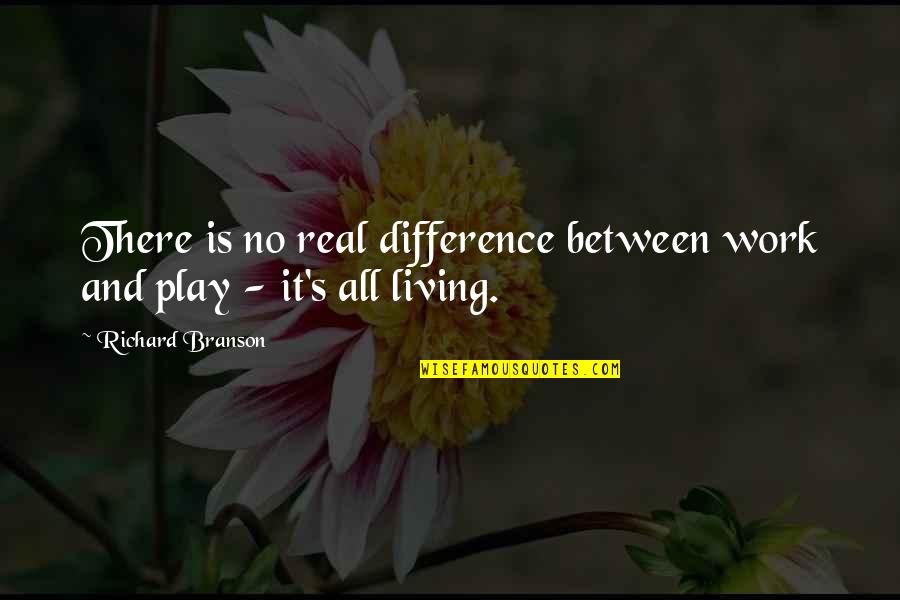 There is no real difference between
work and play
- it's all living. —
Richard Branson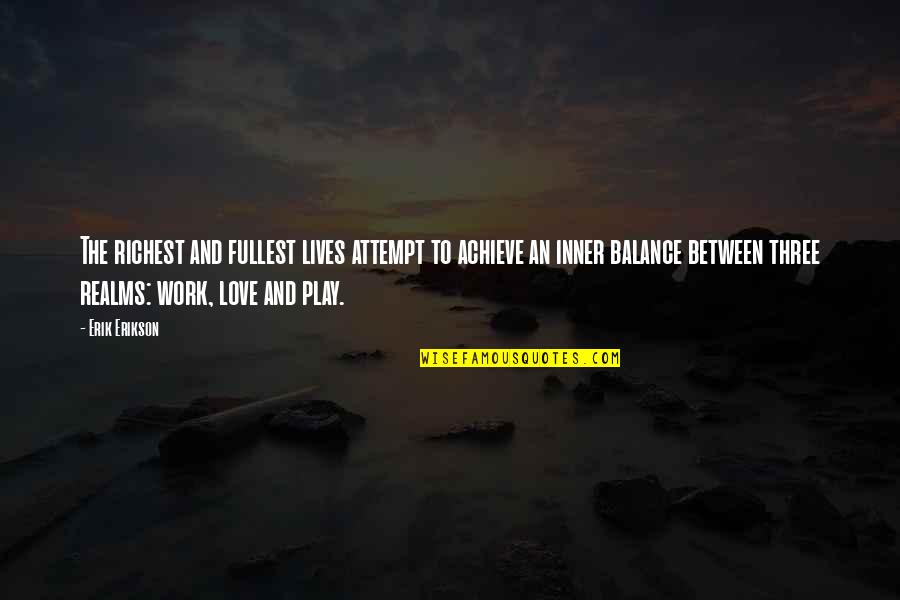 The richest and fullest lives attempt to achieve an inner balance between three realms: work, love and play. —
Erik Erikson
The social world is transforming the way we create wealth, work, learn, play, raise our children, and probably the way we think. —
Don Tapscott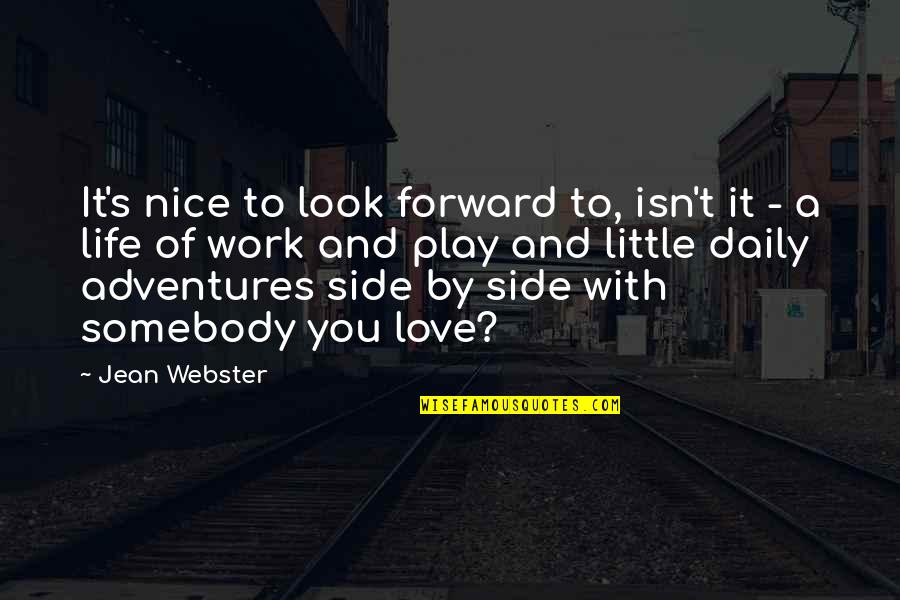 It's nice to look forward to, isn't it - a life of
work and play
and little daily adventures side by side with somebody you love? —
Jean Webster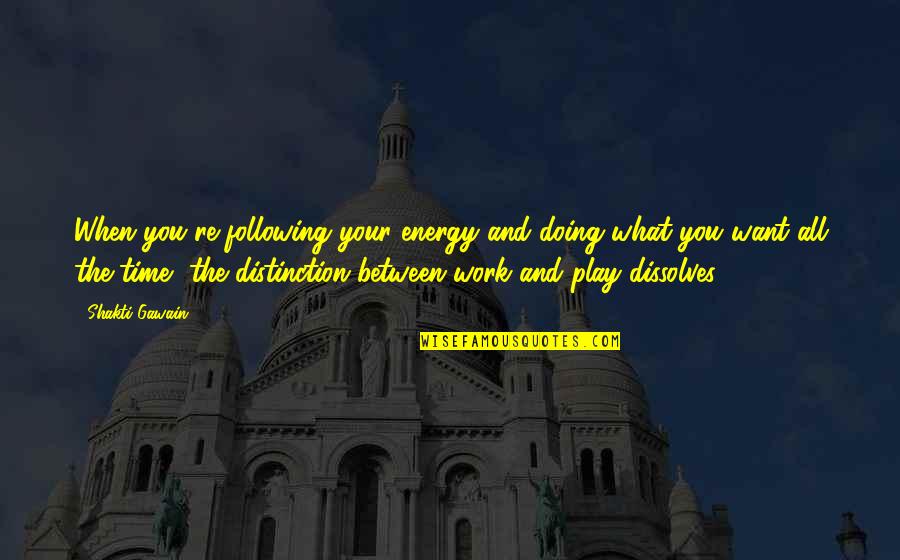 When you're following your energy and doing what you want all the time, the distinction between
work and play
dissolves. —
Shakti Gawain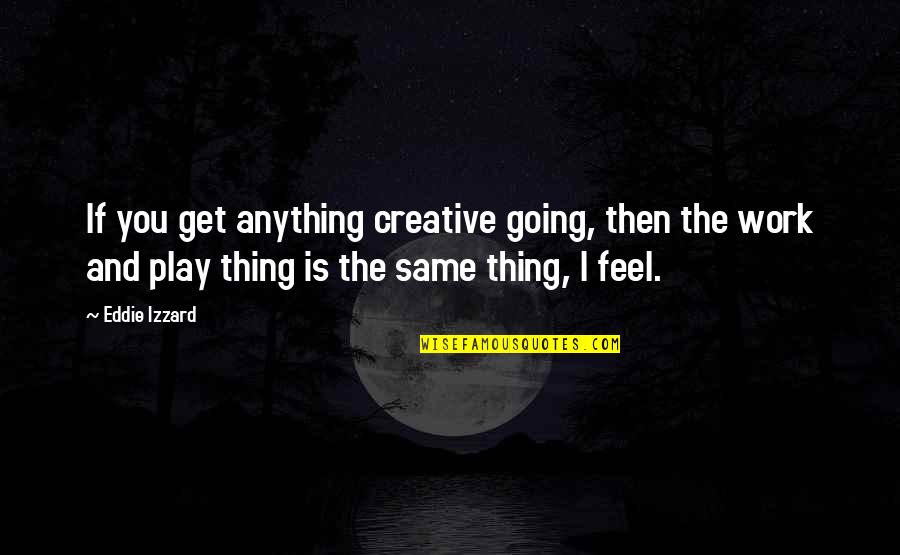 If you get anything creative going, then the
work and play
thing is the same thing, I feel. —
Eddie Izzard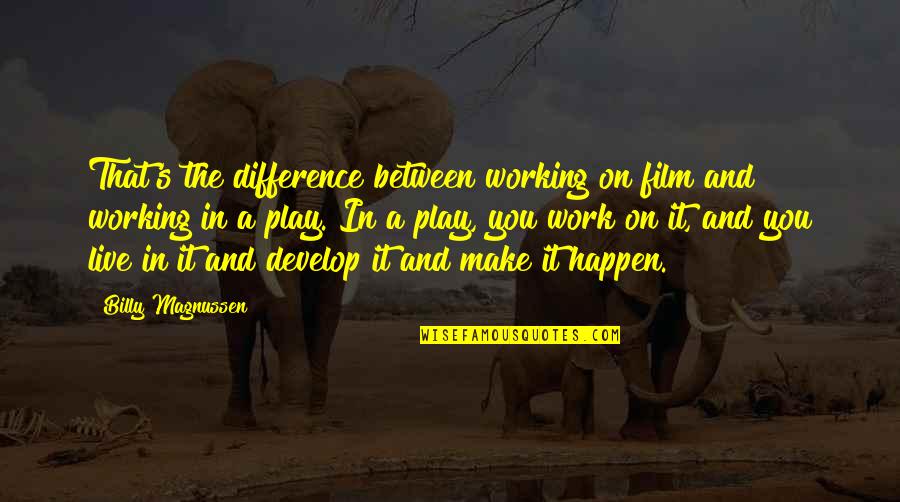 That's the difference between working on film and working in a play. In a play, you work on it, and you live in it and develop it and make it happen. —
Billy Magnussen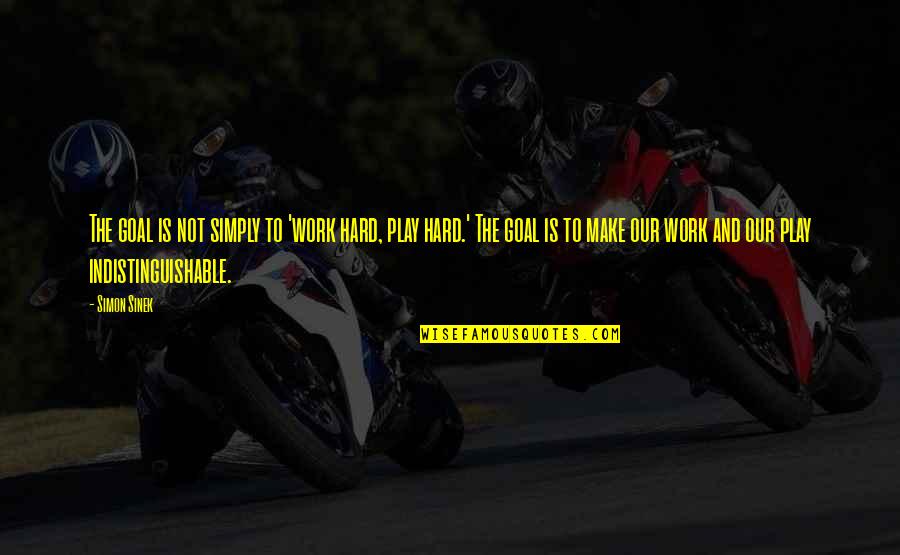 The goal is not simply to 'work hard, play hard.' The goal is to make our work and our play indistinguishable. —
Simon Sinek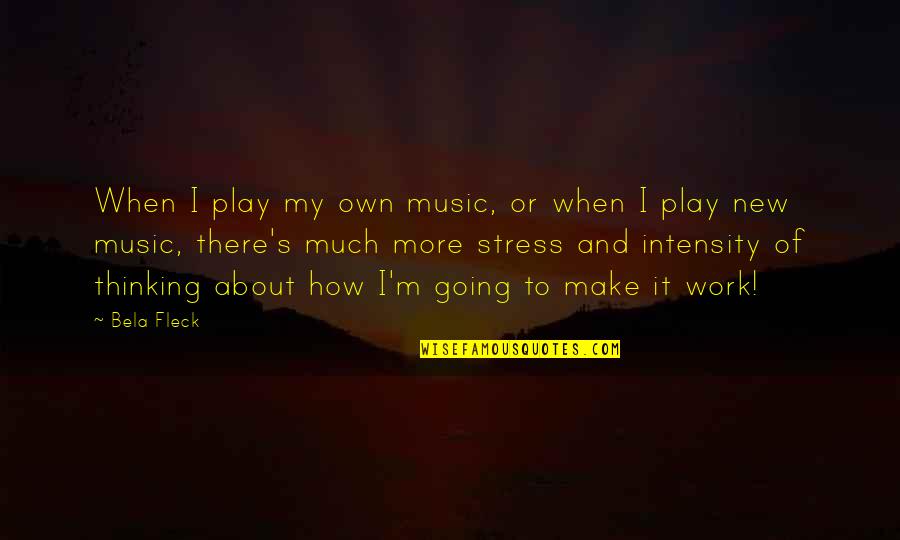 When I play my own music, or when I play new music, there's much more stress and intensity of thinking about how I'm going to make it work! —
Bela Fleck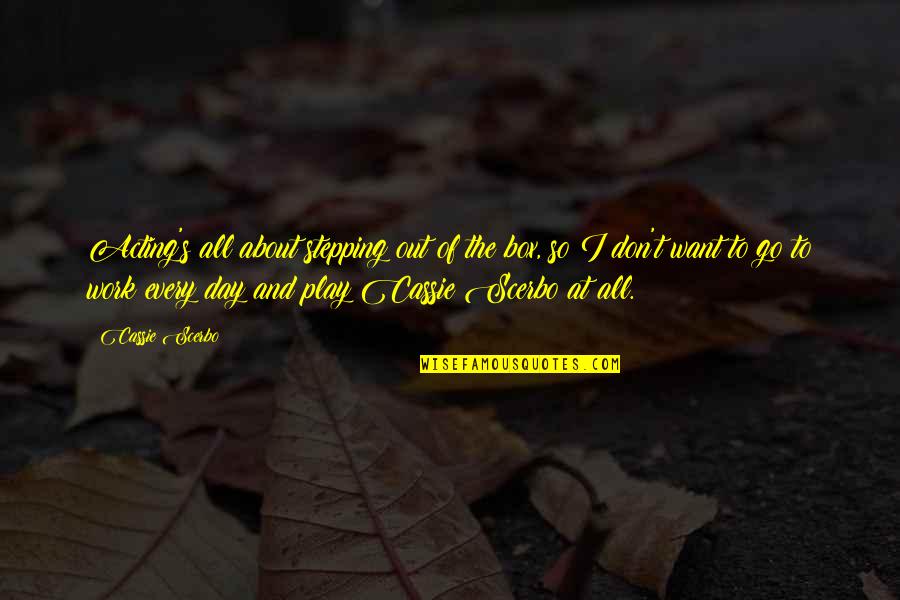 Acting's all about stepping out of the box, so I don't want to go to work every day and play Cassie Scerbo at all. —
Cassie Scerbo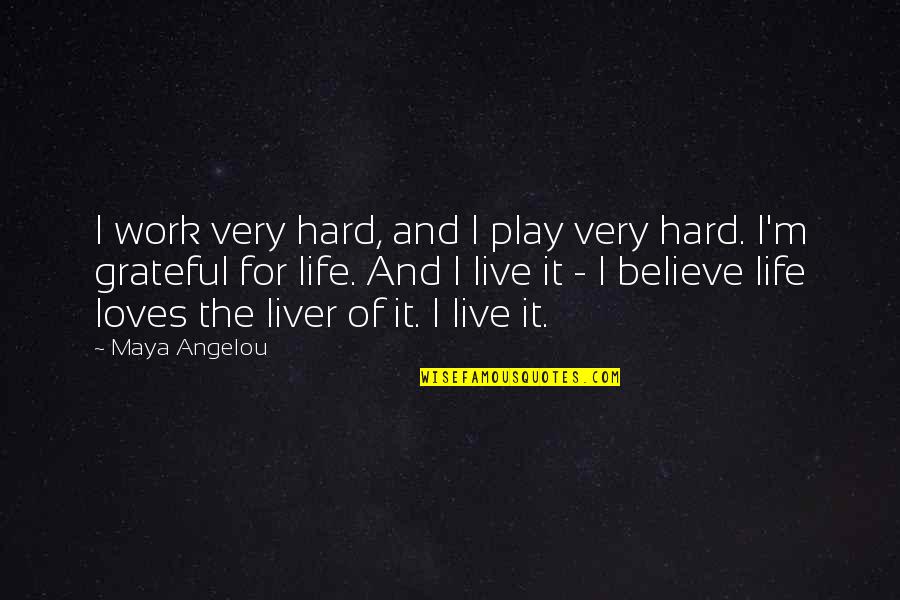 I work very hard, and I play very hard. I'm grateful for life. And I live it - I believe life loves the liver of it. I live it. —
Maya Angelou
I find it satisfying and intellectually stimulating to work with the intensity, brevity, balance and word play of the short story. —
Annie Proulx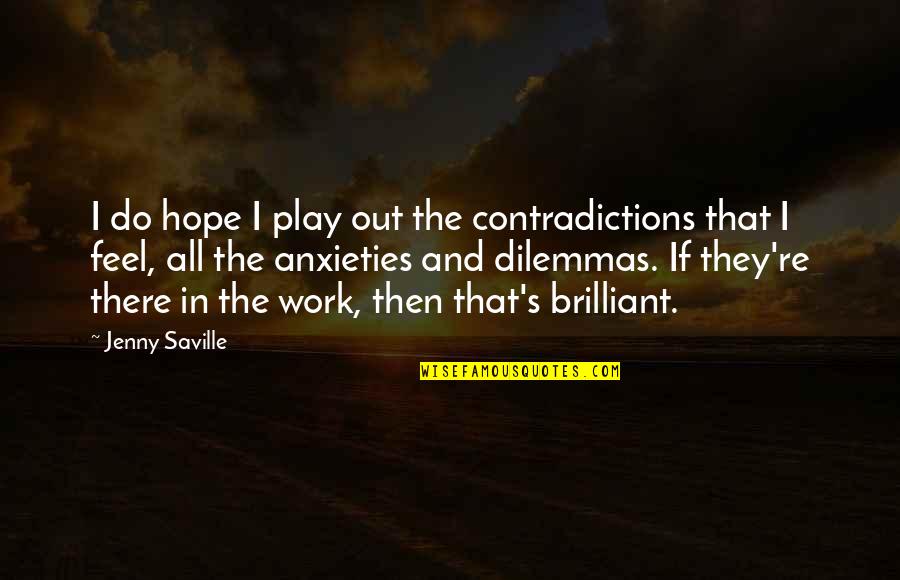 I do hope I play out the contradictions that I feel, all the anxieties and dilemmas. If they're there in the work, then that's brilliant. —
Jenny Saville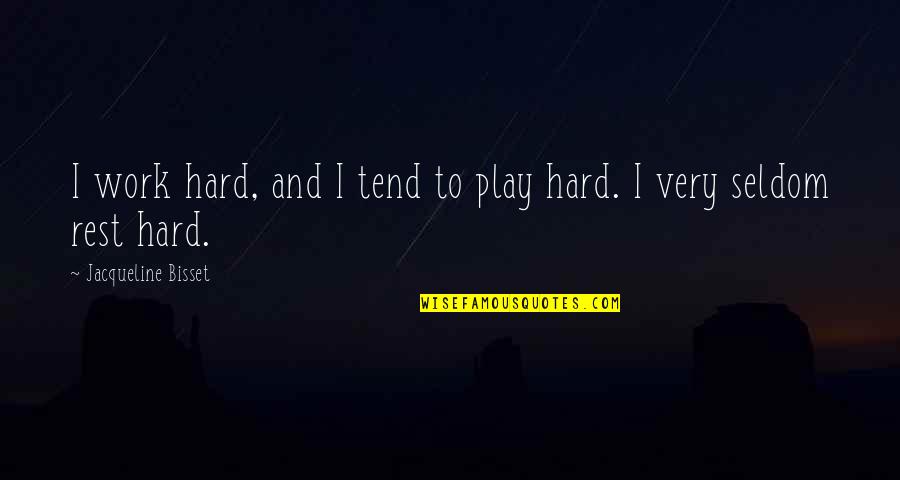 I work hard, and I tend to play hard. I very seldom rest hard. —
Jacqueline Bisset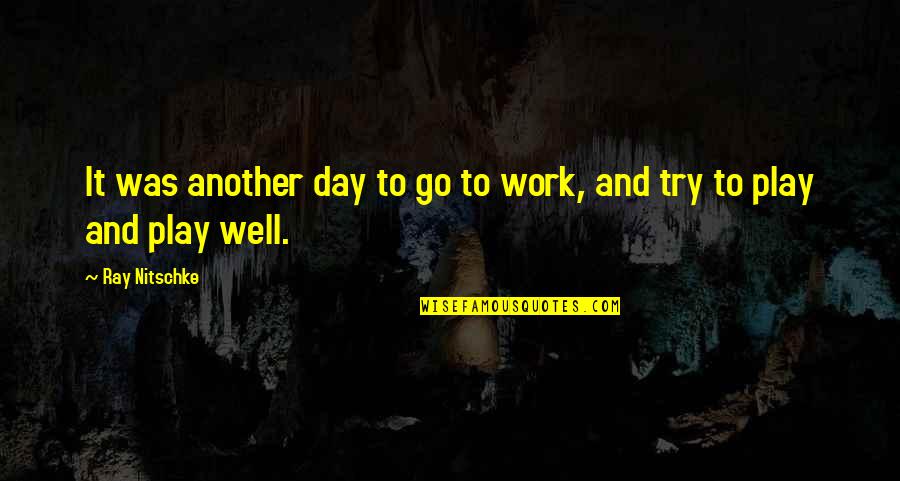 It was another day to go to work, and try to play and play well. —
Ray Nitschke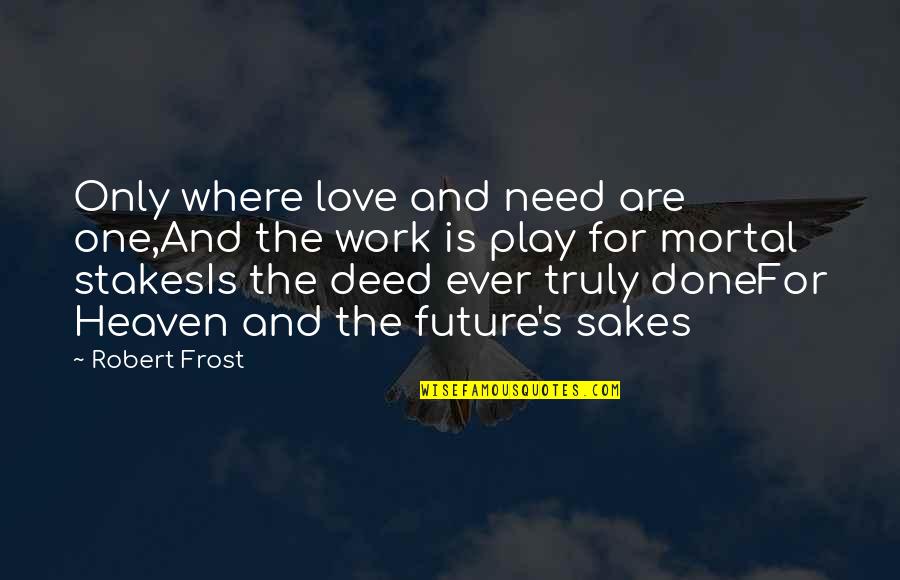 Only where love and need are one,
And the work is play for mortal stakes
Is the deed ever truly done
For Heaven and the future's sakes —
Robert Frost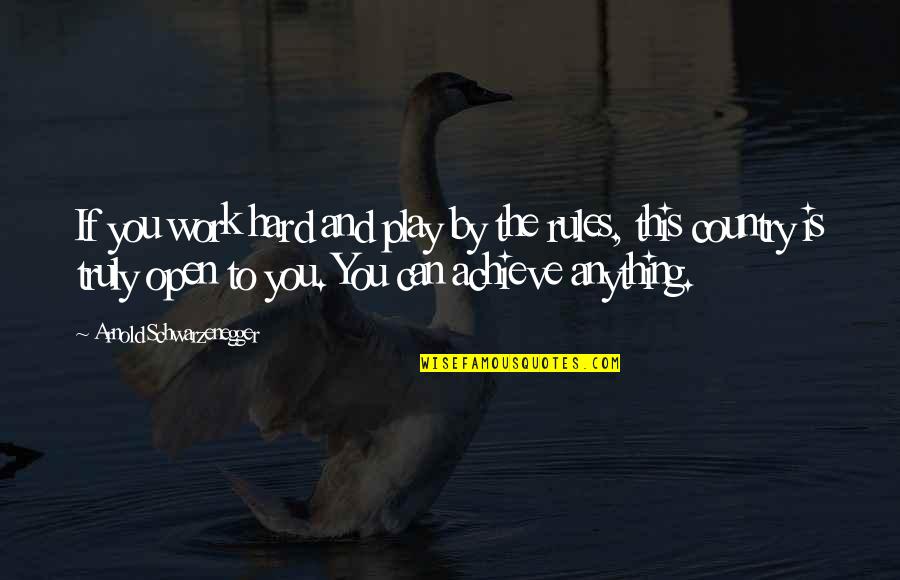 If you work hard and play by the rules, this country is truly open to you. You can achieve anything. —
Arnold Schwarzenegger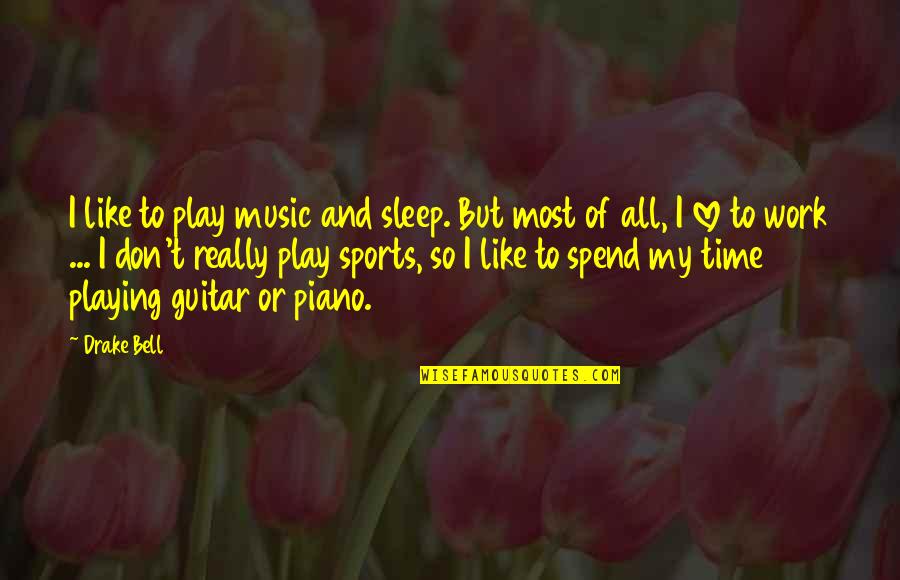 I like to play music and sleep. But most of all, I love to work ... I don't really play sports, so I like to spend my time playing guitar or piano. —
Drake Bell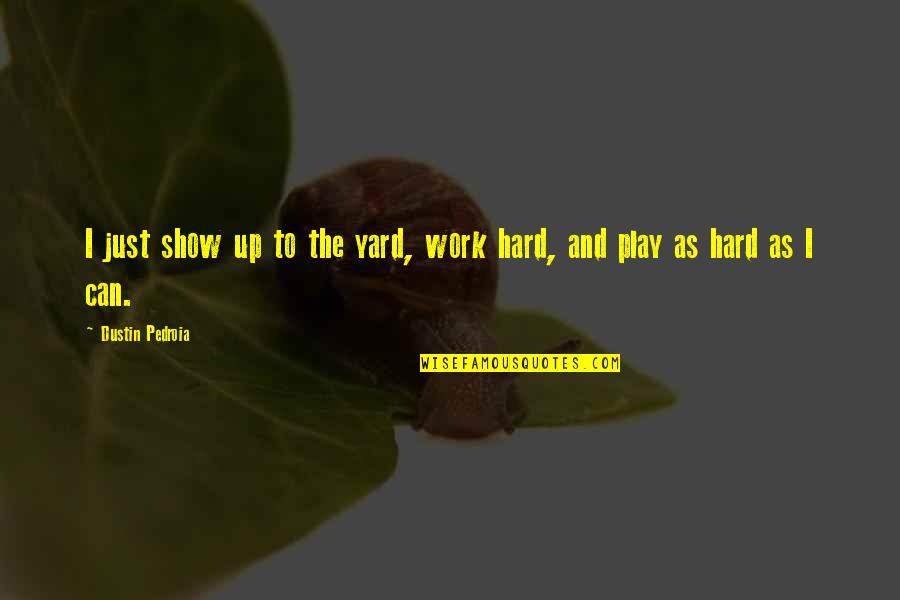 I just show up to the yard, work hard, and play as hard as I can. —
Dustin Pedroia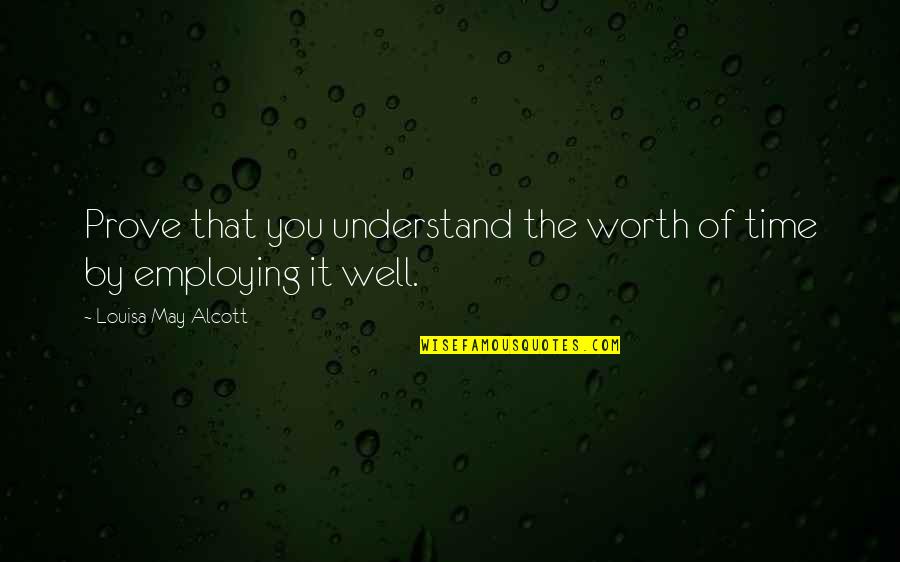 Prove that you understand the worth of time by employing it well. —
Louisa May Alcott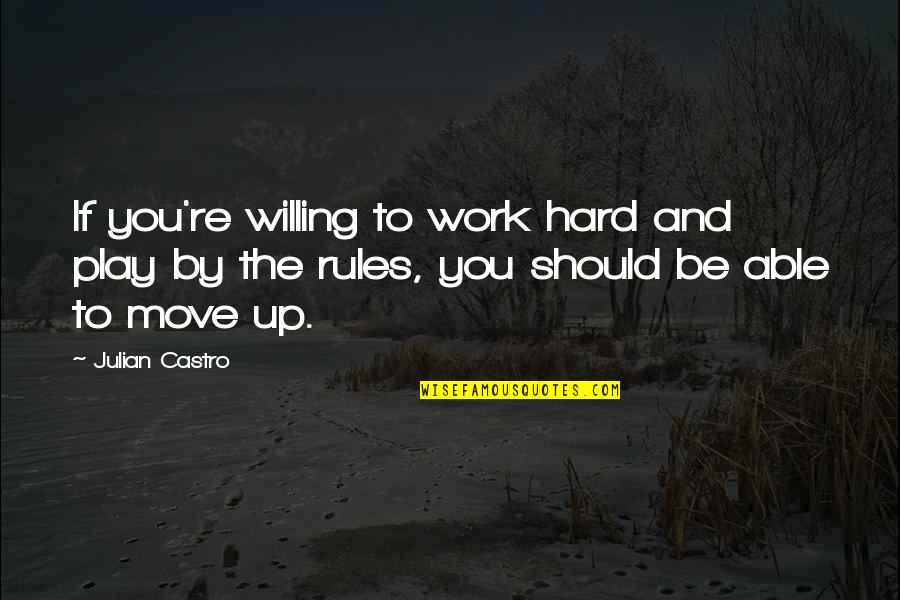 If you're willing to work hard and play by the rules, you should be able to move up. —
Julian Castro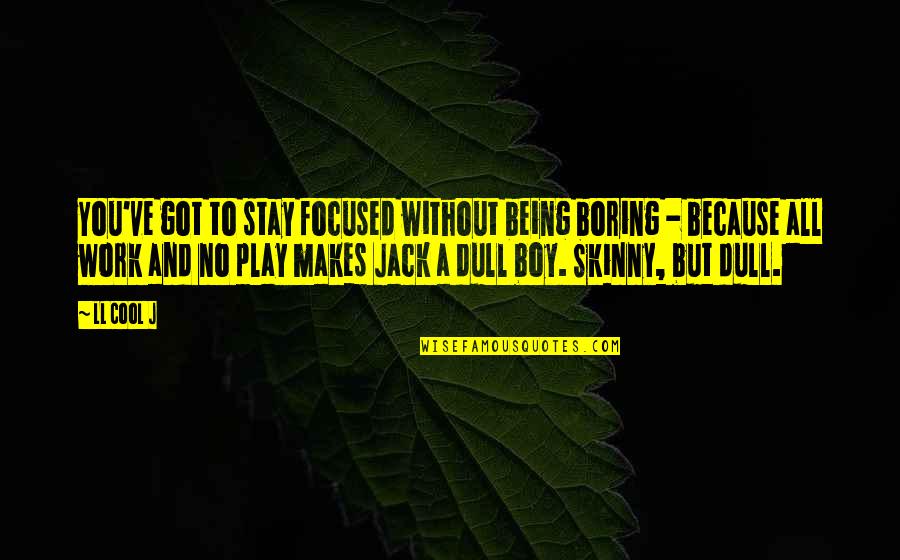 You've got to stay focused without being boring - because all work and no play makes Jack a dull boy. Skinny, but dull. —
LL Cool J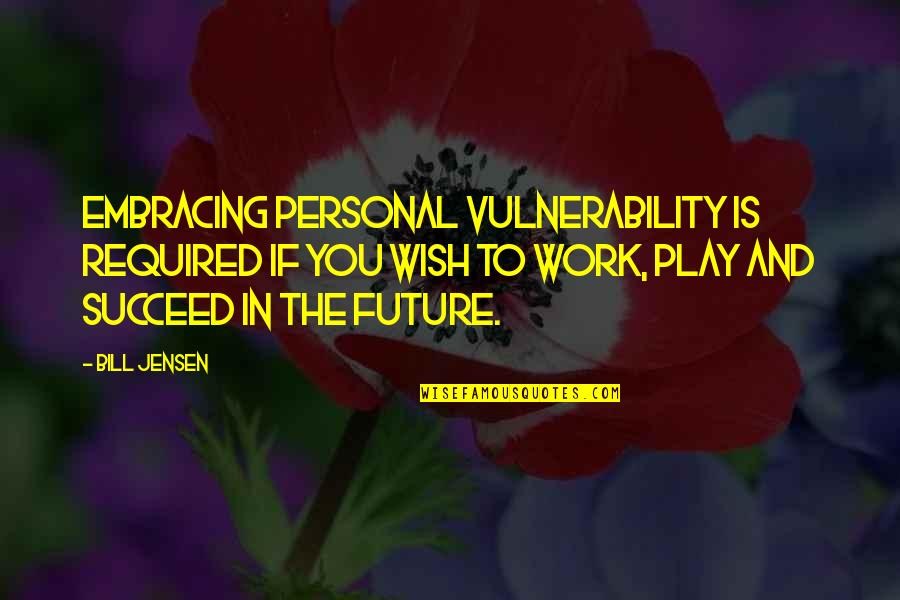 Embracing personal vulnerability is required if you wish to work, play and succeed in the future. —
Bill Jensen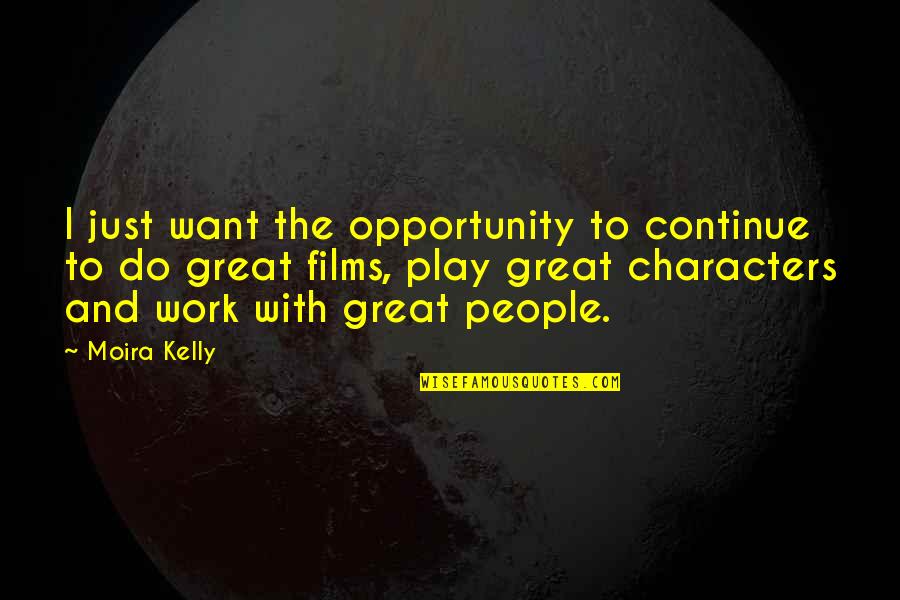 I just want the opportunity to continue to do great films, play great characters and work with great people. —
Moira Kelly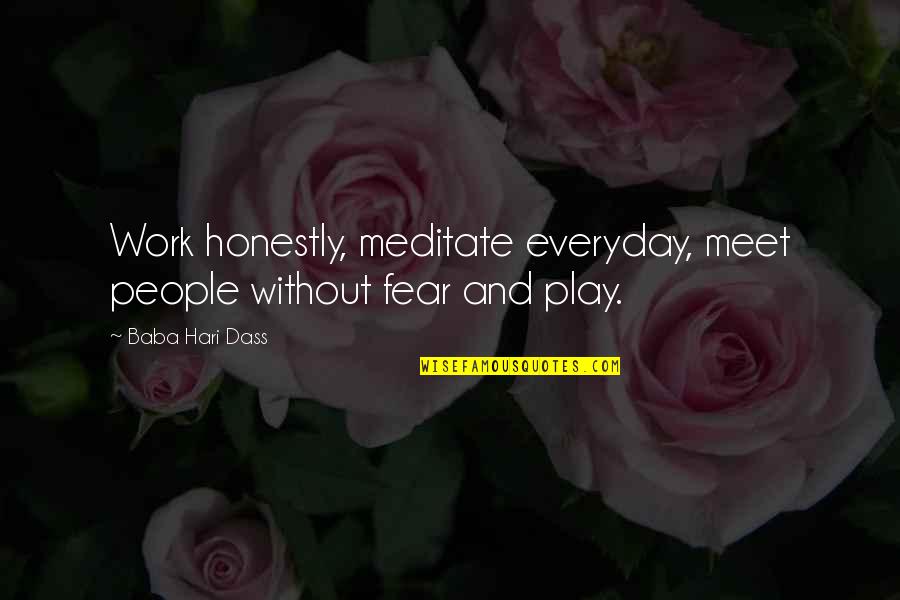 Work honestly, meditate everyday, meet people without fear and play. —
Baba Hari Dass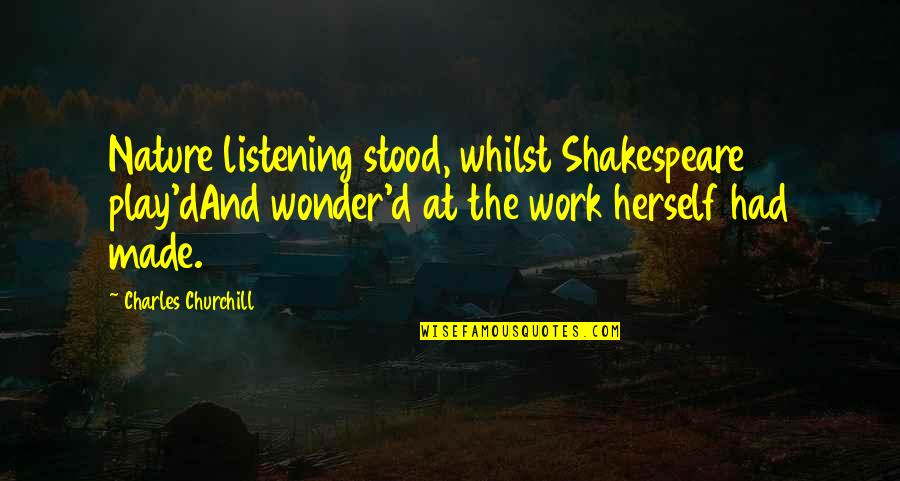 Nature listening stood, whilst Shakespeare play'd
And wonder'd at the work herself had made. —
Charles Churchill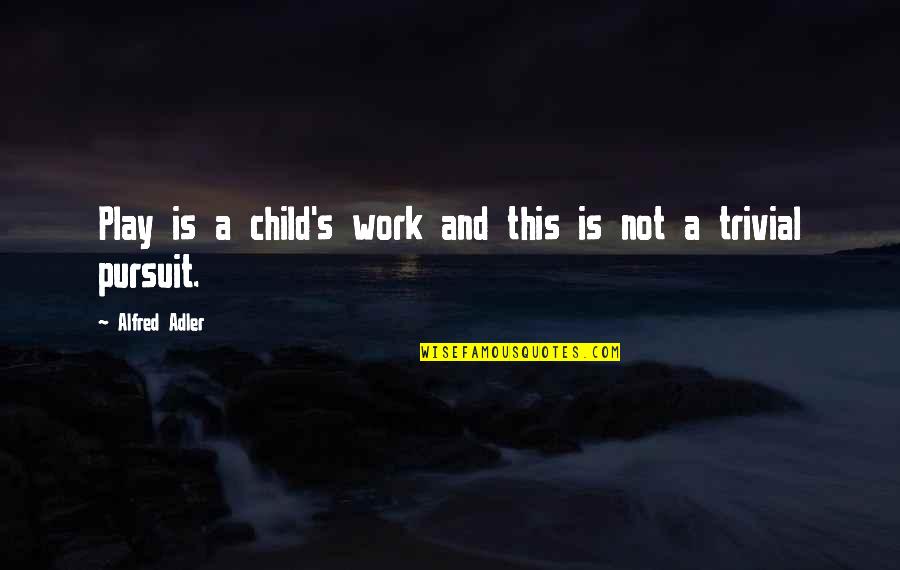 Play is a child's work and this is not a trivial pursuit. —
Alfred Adler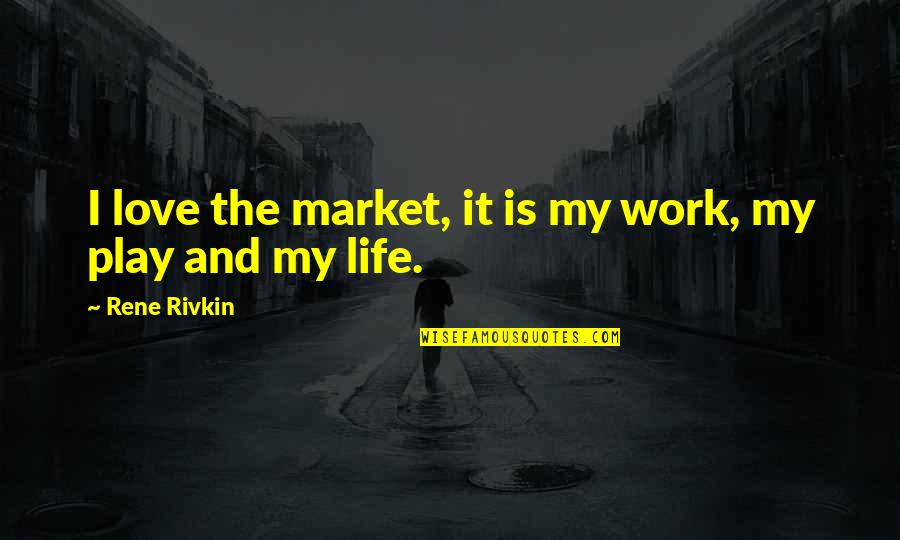 I love the market, it is my work, my play and my life. —
Rene Rivkin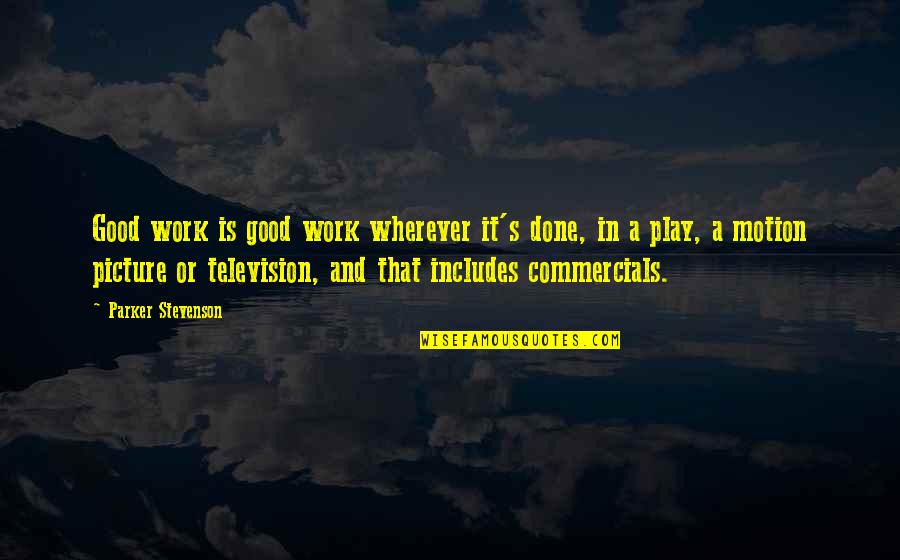 Good work is good work wherever it's done, in a play, a motion picture or television, and that includes commercials. —
Parker Stevenson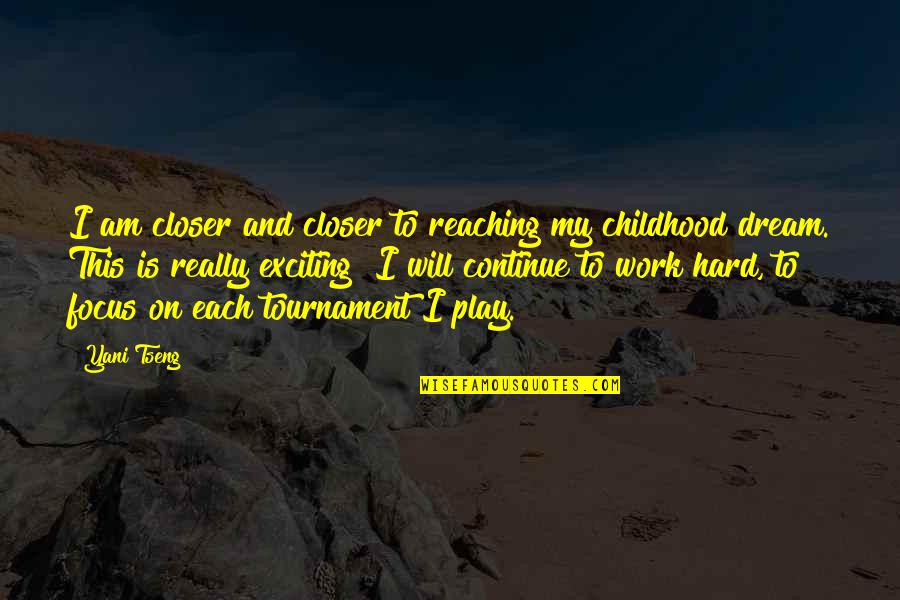 I am closer and closer to reaching my childhood dream. This is really exciting! I will continue to work hard, to focus on each tournament I play. —
Yani Tseng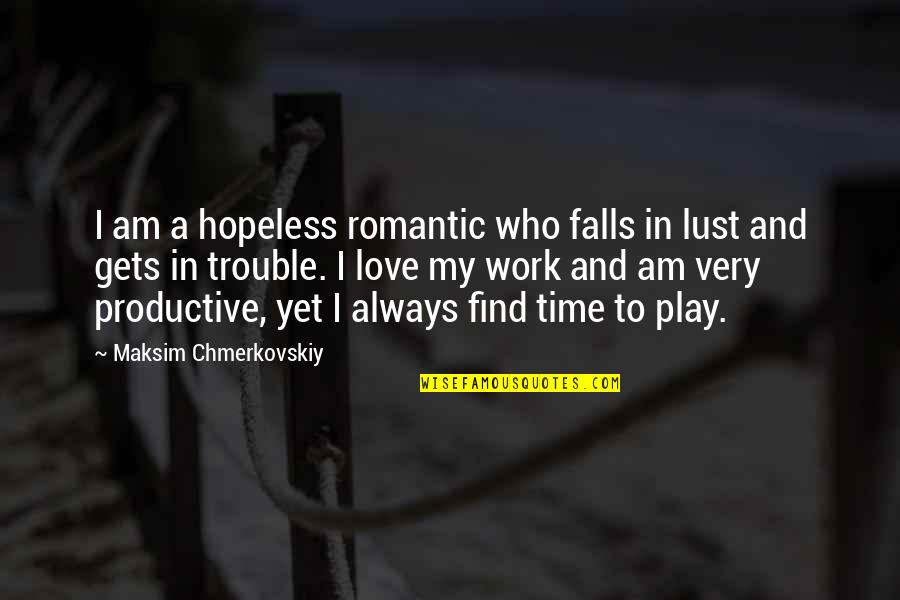 I am a hopeless romantic who falls in lust and gets in trouble. I love my work and am very productive, yet I always find time to play. —
Maksim Chmerkovskiy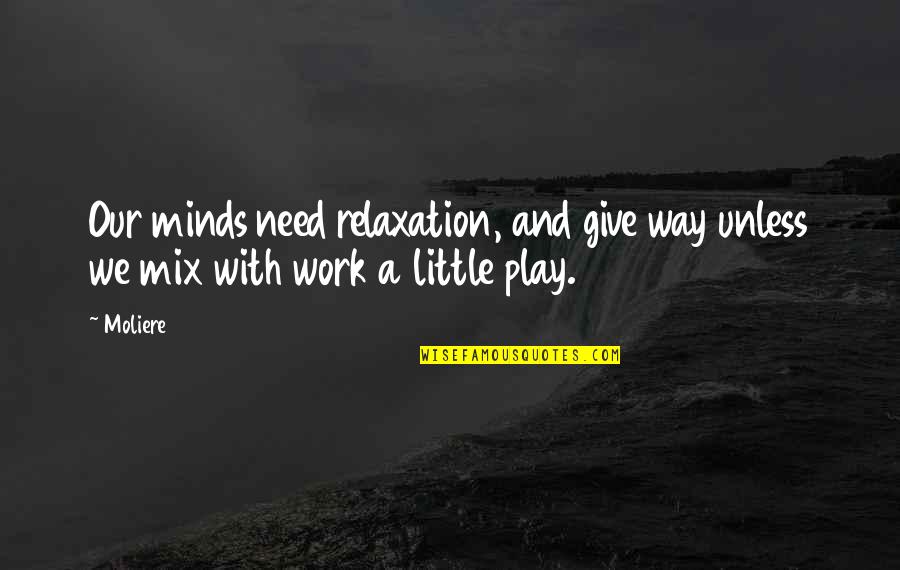 Our minds need relaxation, and give way unless we mix with work a little play. —
Moliere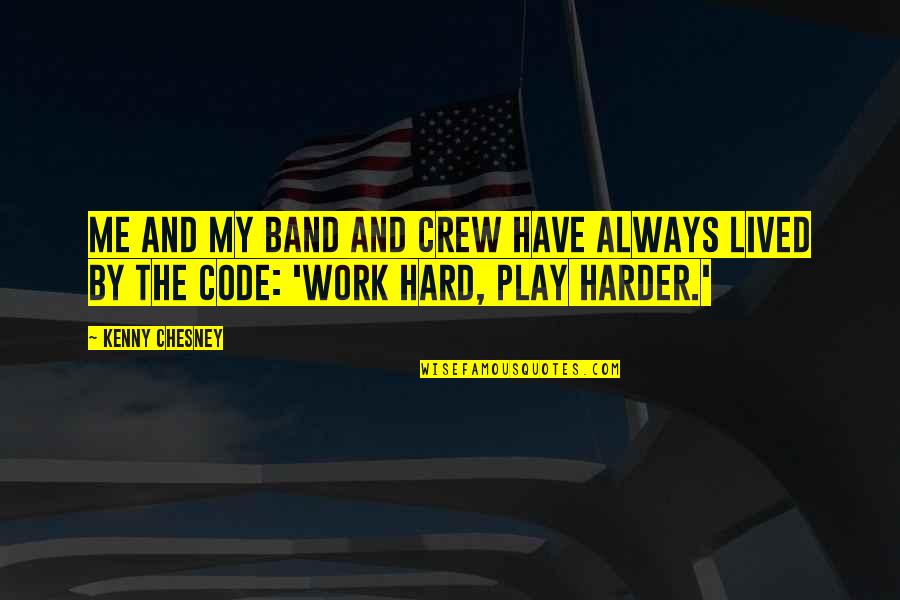 Me and my band and crew have always lived by the code: 'Work hard, play harder.' —
Kenny Chesney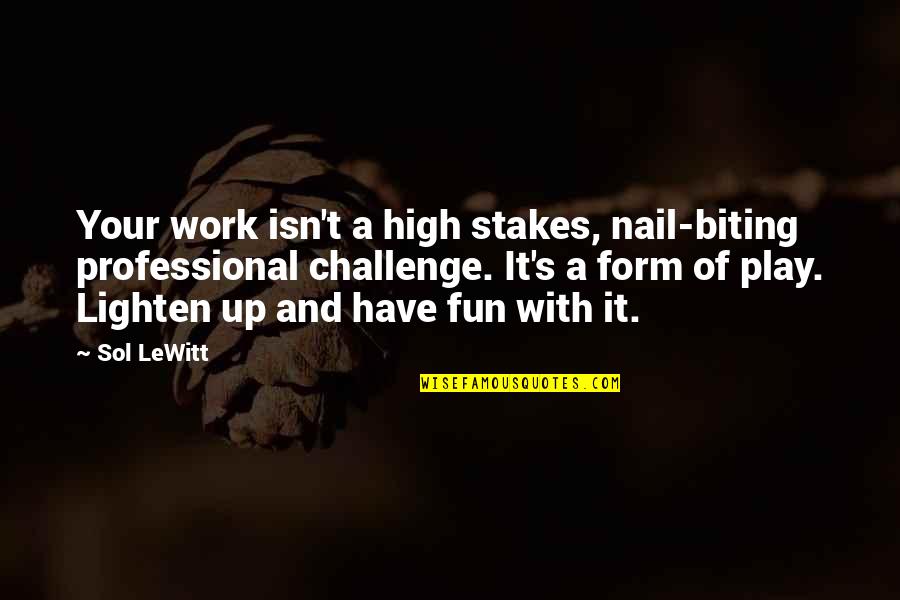 Your work isn't a high stakes, nail-biting professional challenge. It's a form of play. Lighten up and have fun with it. —
Sol LeWitt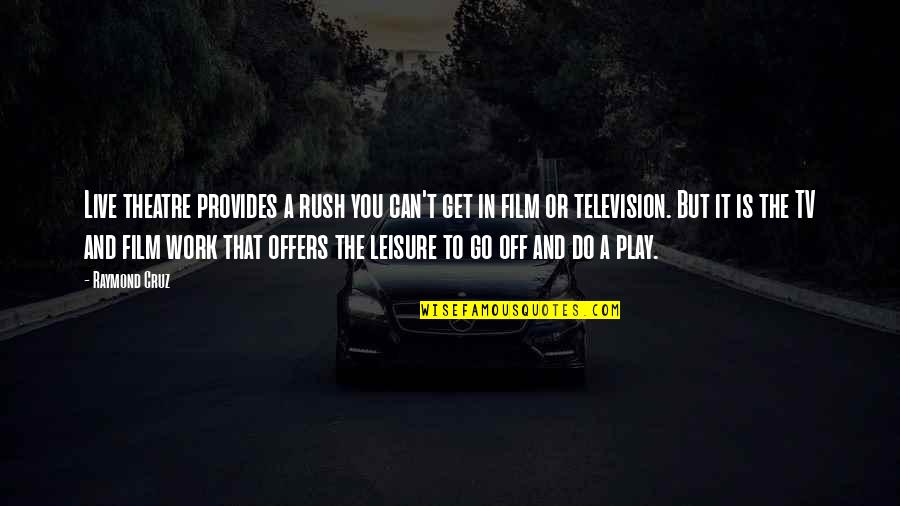 Live theatre provides a rush you can't get in film or television. But it is the TV and film work that offers the leisure to go off and do a play. —
Raymond Cruz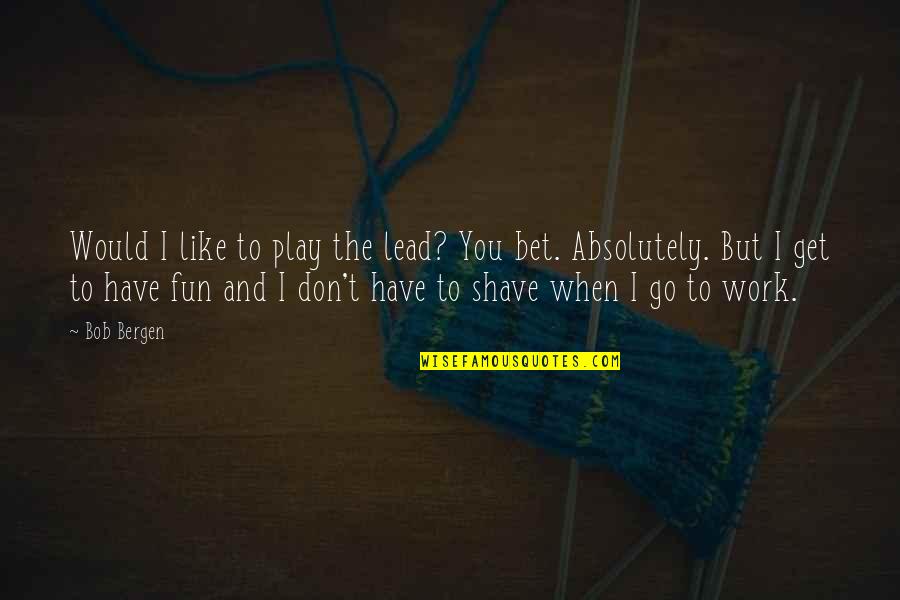 Would I like to play the lead? You bet. Absolutely. But I get to have fun and I don't have to shave when I go to work. —
Bob Bergen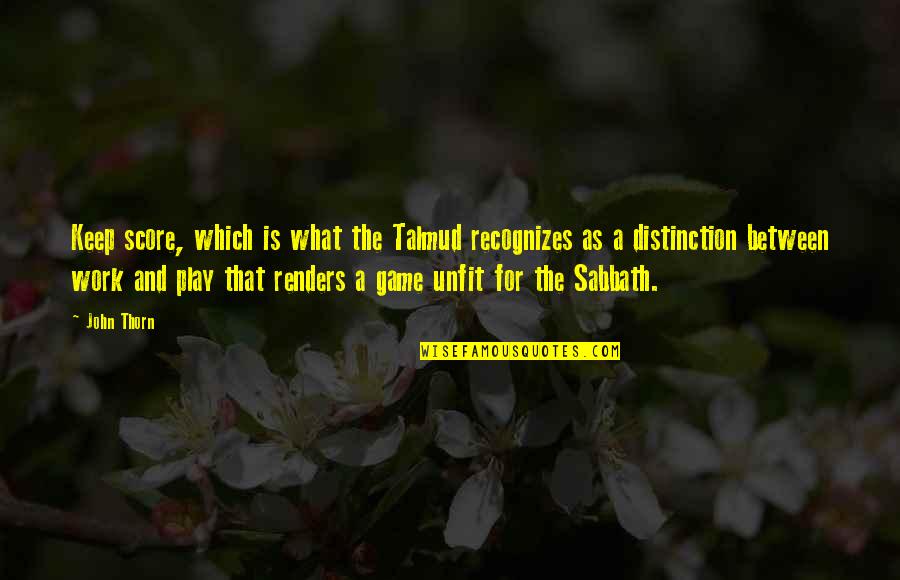 Keep score, which is what the Talmud recognizes as a distinction between
work and play
that renders a game unfit for the Sabbath. —
John Thorn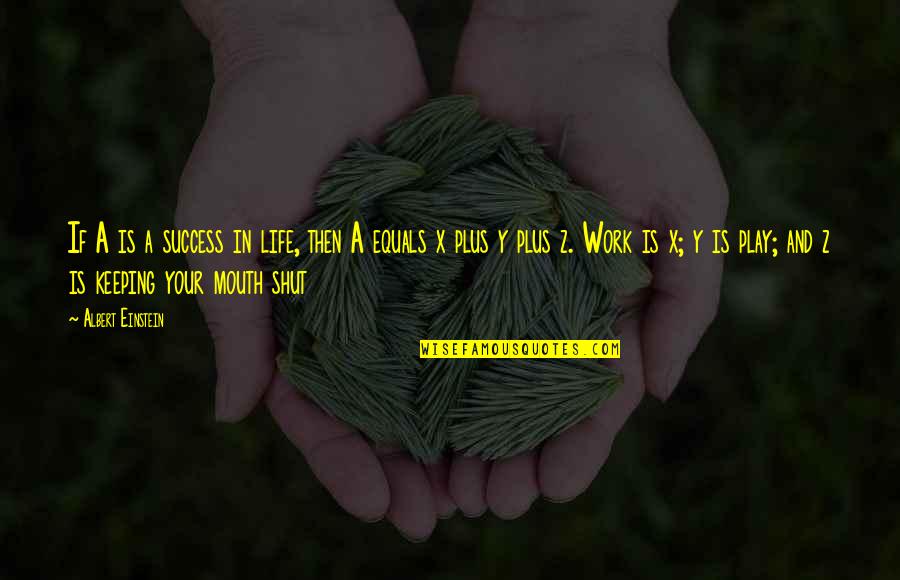 If A is a success in life, then A equals x plus y plus z. Work is x; y is play; and z is keeping your mouth shut —
Albert Einstein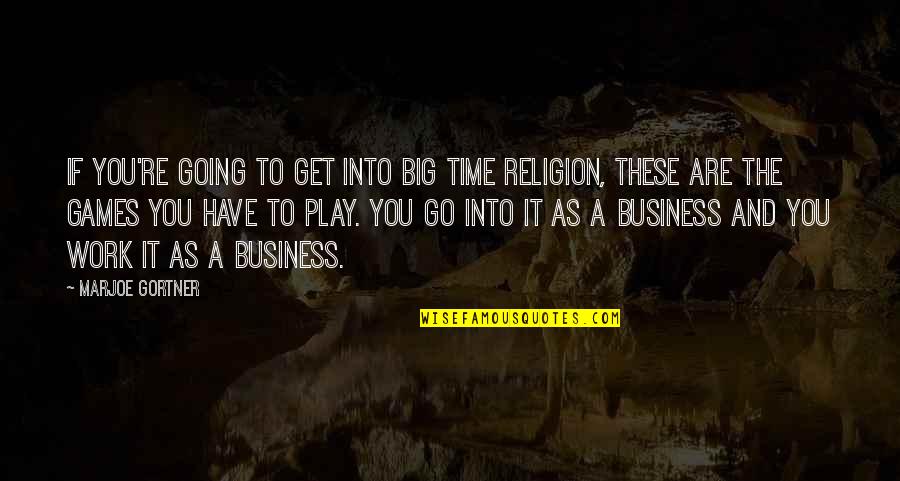 If you're going to get into big time religion, these are the games you have to play. You go into it as a business and you work it as a business. —
Marjoe Gortner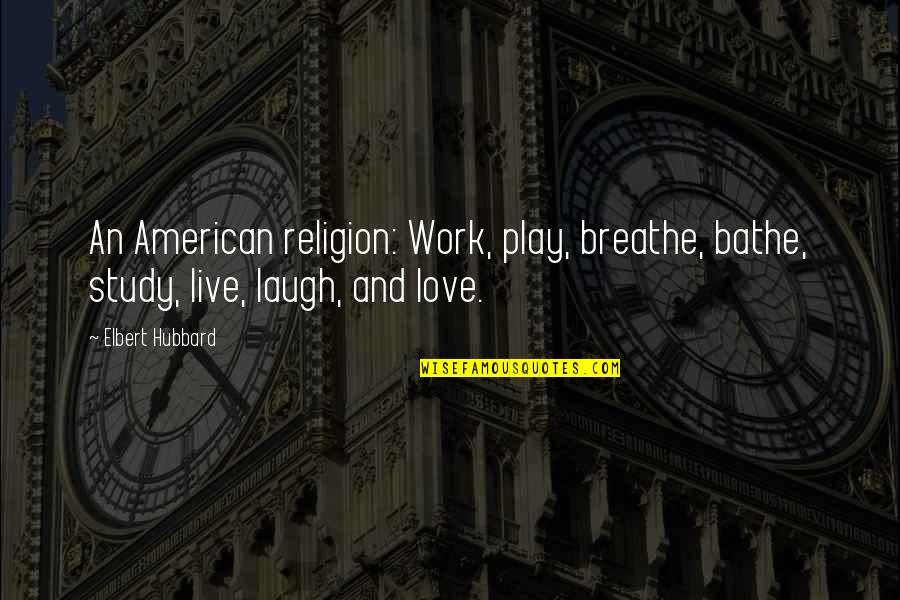 An American religion: Work, play, breathe, bathe, study, live, laugh, and love. —
Elbert Hubbard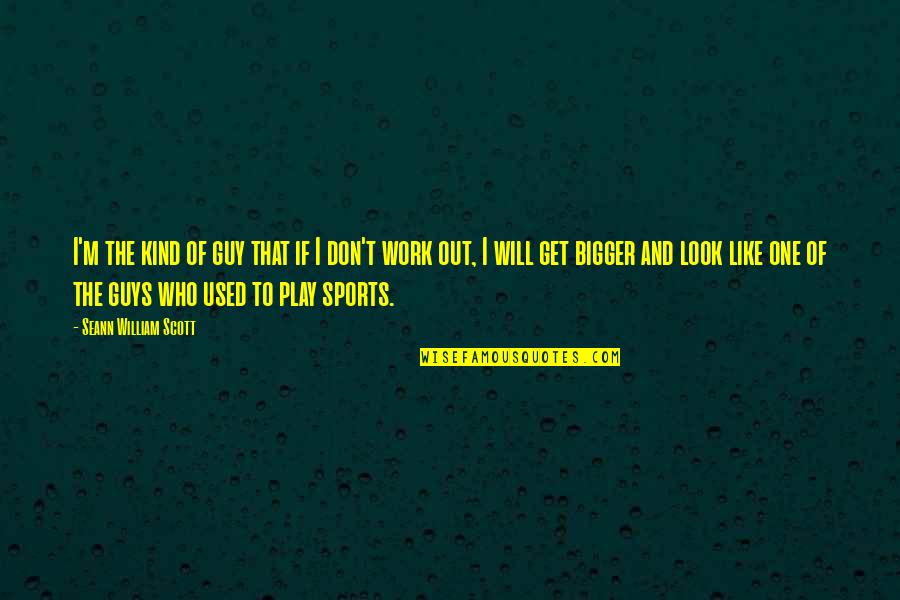 I'm the kind of guy that if I don't work out, I will get bigger and look like one of the guys who used to play sports. —
Seann William Scott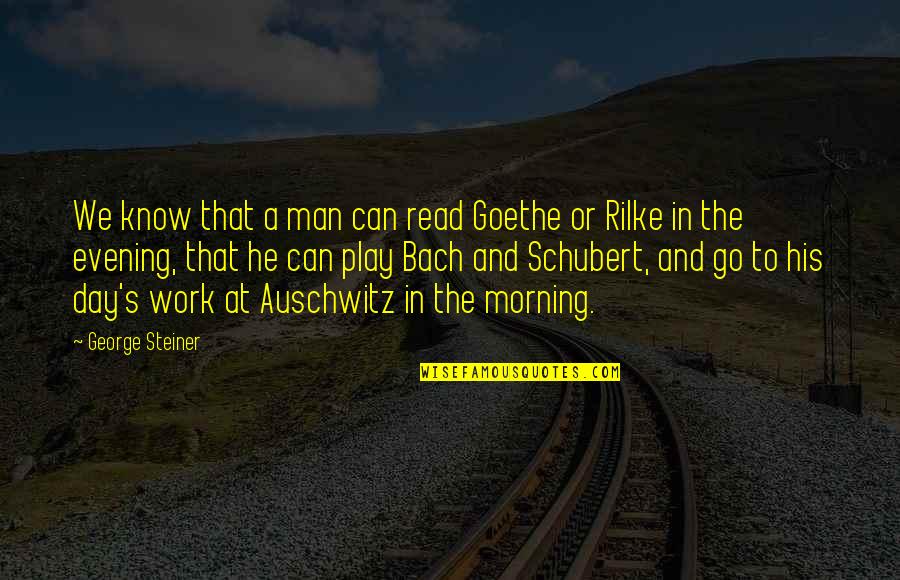 We know that a man can read Goethe or Rilke in the evening, that he can play Bach and Schubert, and go to his day's work at Auschwitz in the morning. —
George Steiner