What Matters In Love Quotes
Collection of top 54 famous quotes about What Matters In Love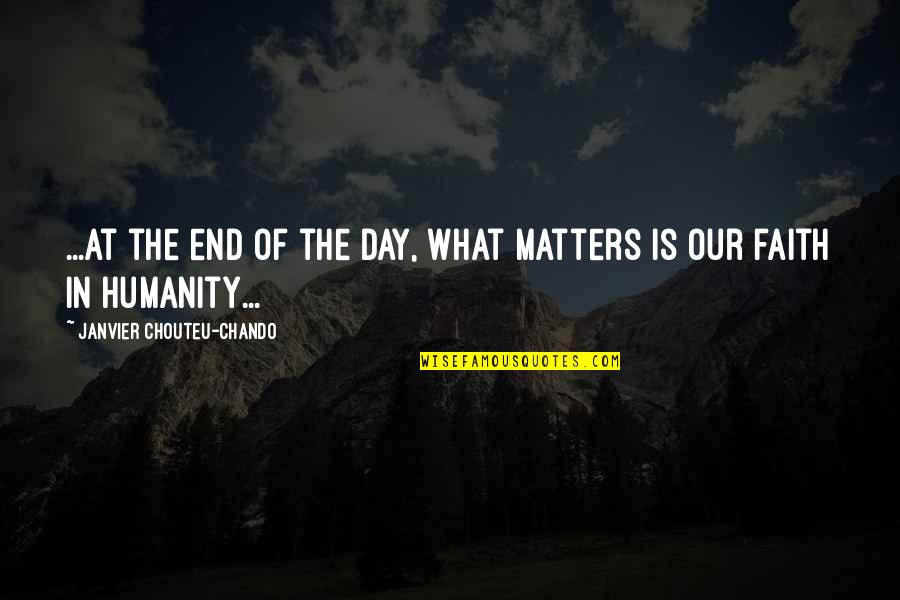 ...At the end of the day, what matters is our faith in humanity...
—
Janvier Chouteu-Chando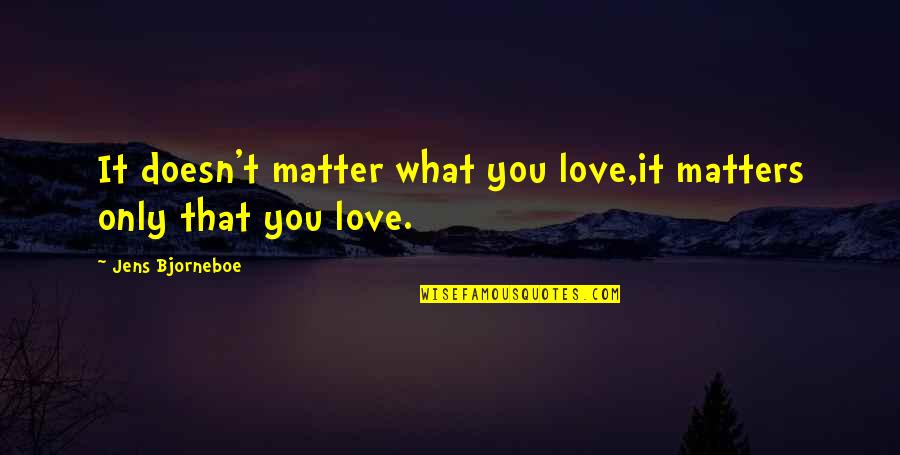 It doesn't matter what you love,
it matters only that you love.
—
Jens Bjorneboe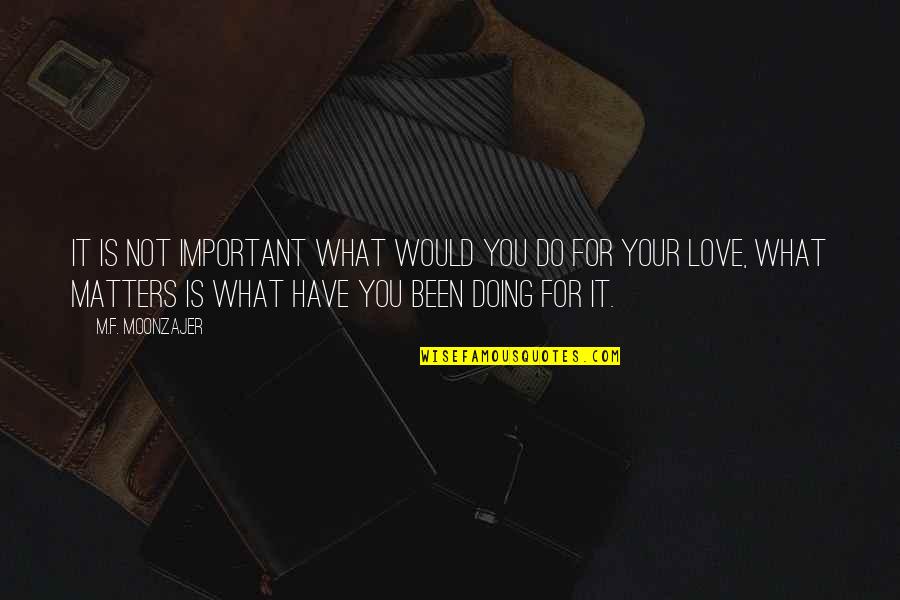 It is not important what would you do for your love, what matters is what have you been doing for it.
—
M.F. Moonzajer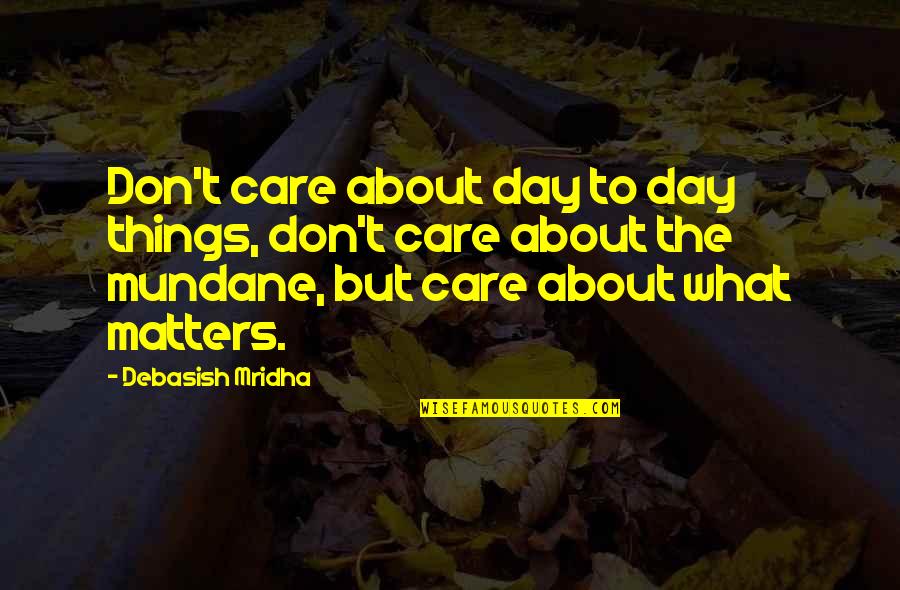 Don't care about day to day things, don't care about the mundane, but care about what matters.
—
Debasish Mridha
Family's first, and that's what matters most. We realize that our love goes deeper than the tennis game.
—
Serena Williams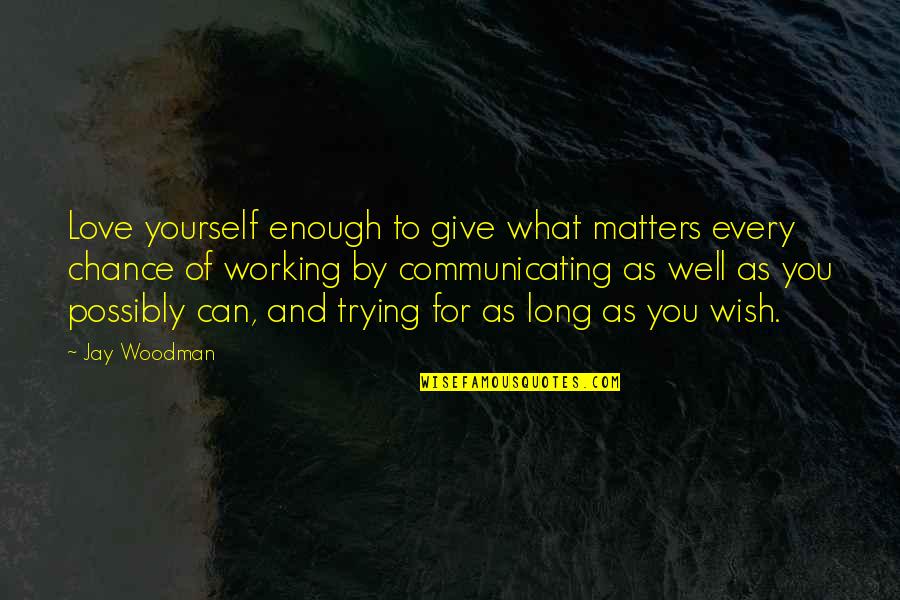 Love yourself enough to give what matters every chance of working by communicating as well as you possibly can, and trying for as long as you wish.
—
Jay Woodman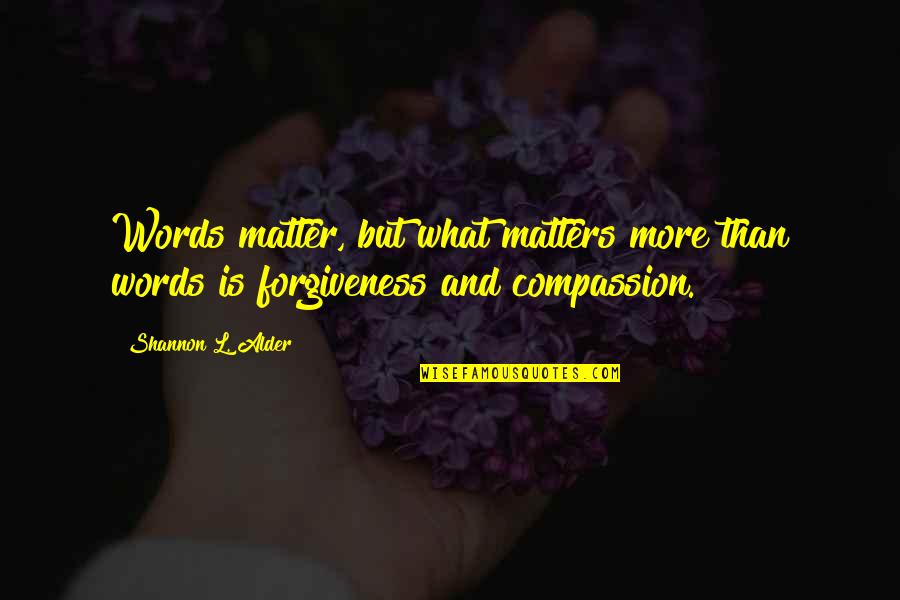 Words matter, but what matters more than words is forgiveness and compassion.
—
Shannon L. Alder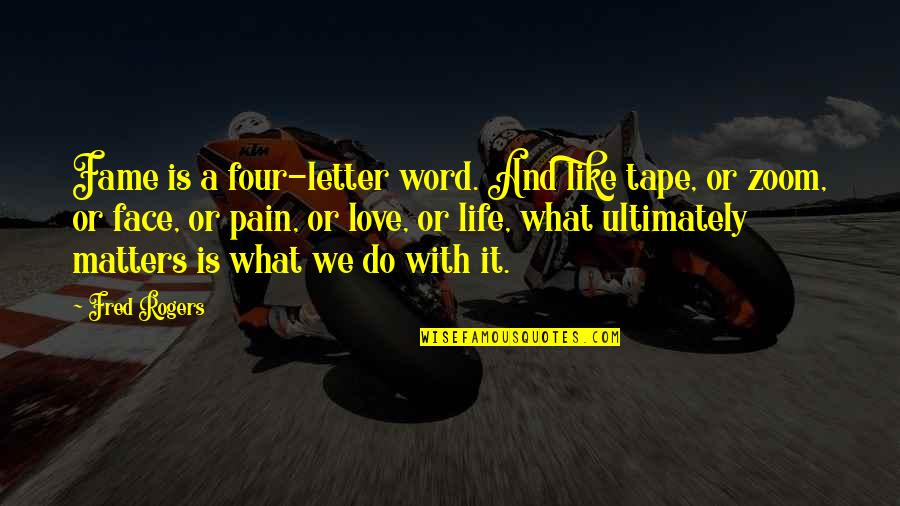 Fame is a four-letter word. And like tape, or zoom, or face, or pain, or love, or life, what ultimately matters is what we do with it.
—
Fred Rogers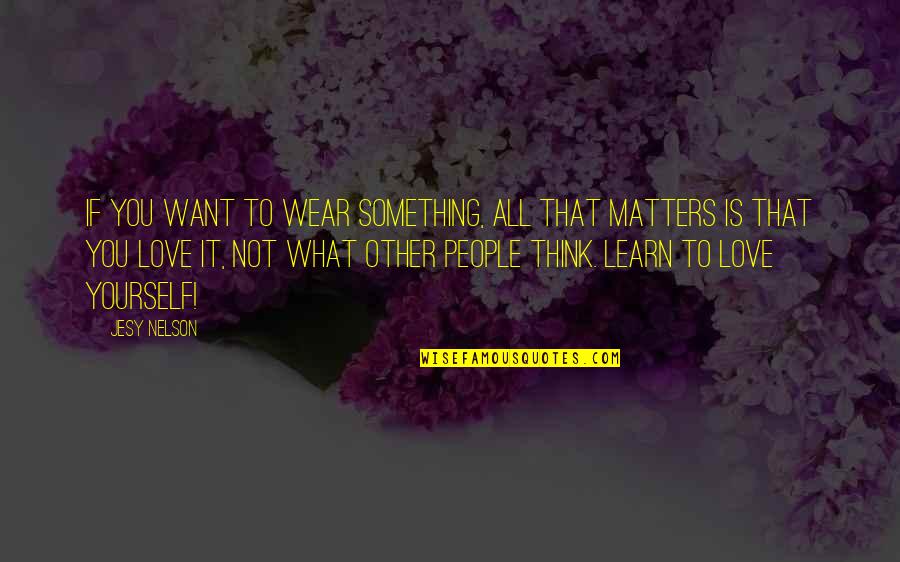 If you want to wear something, all that matters is that you love it, not what other people think. Learn to love yourself!
—
Jesy Nelson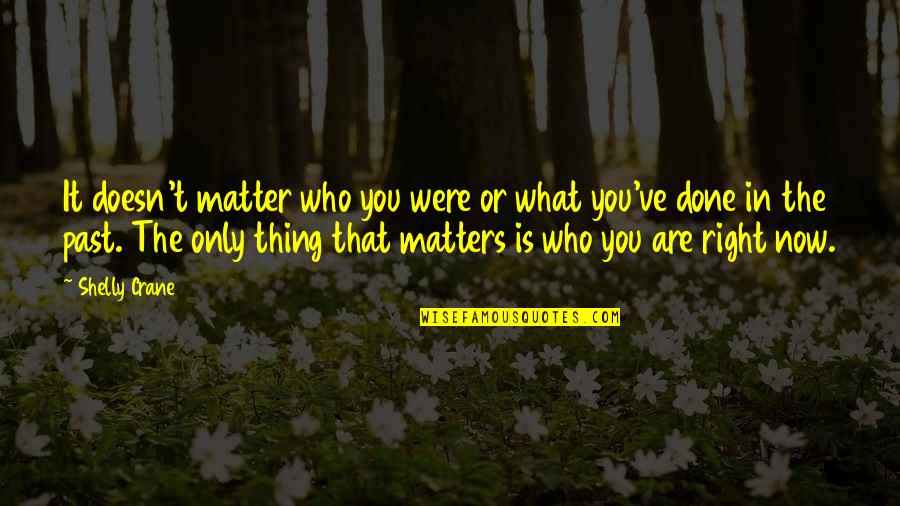 It doesn't matter who you were or what you've done in the past. The only thing that matters is who you are right now.
—
Shelly Crane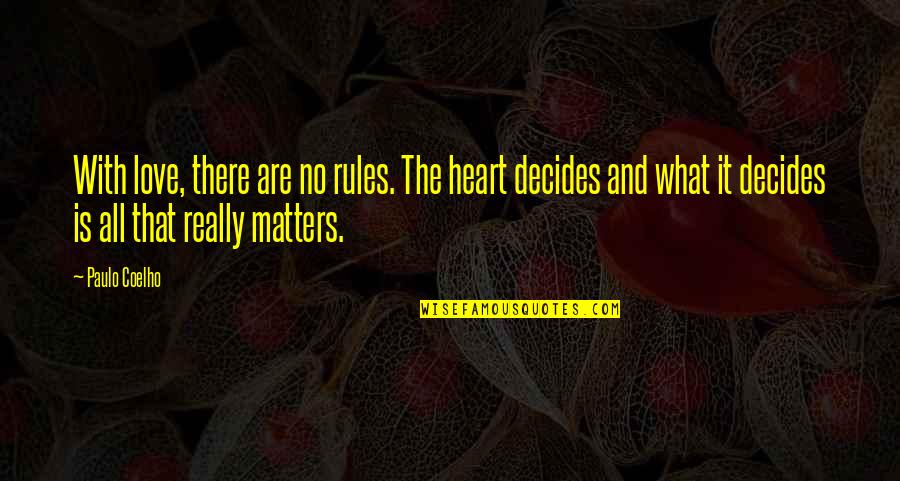 With love, there are no rules. The heart decides and what it decides is all that really matters.
—
Paulo Coelho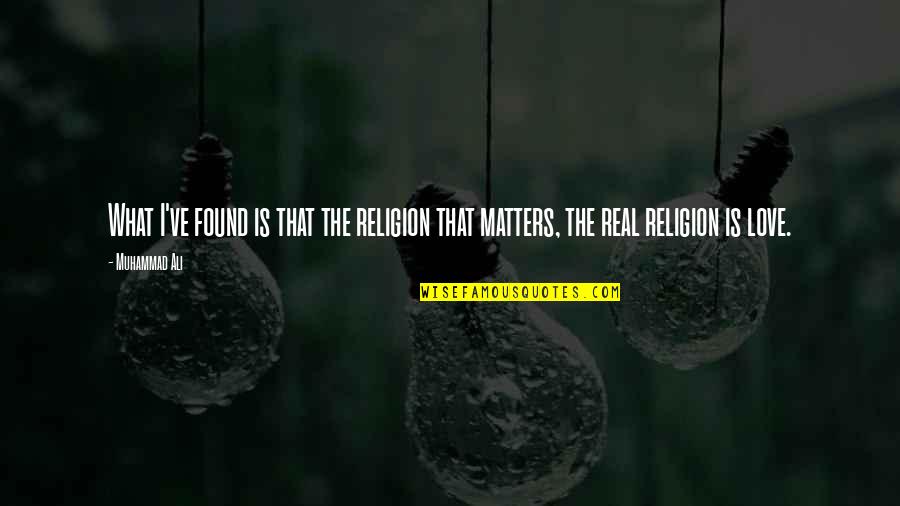 What I've found is that the religion that matters, the real religion is love.
—
Muhammad Ali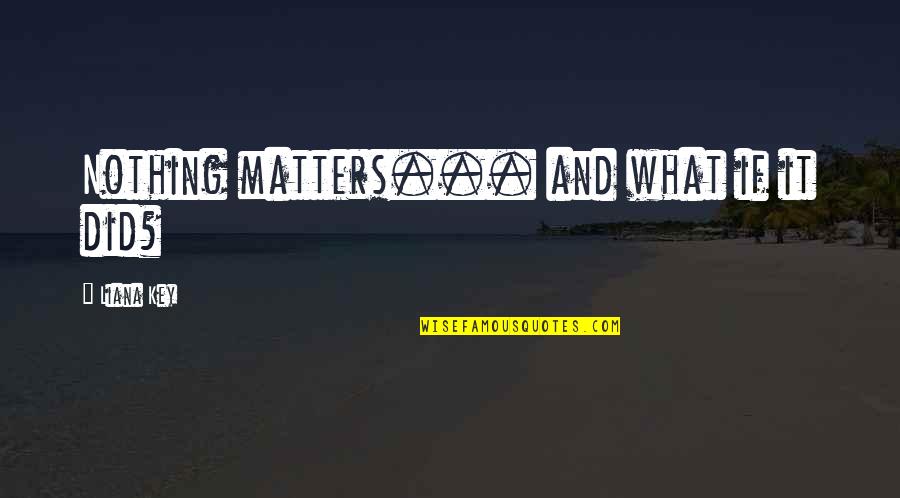 Nothing matters... and what if it did? —
Liana Key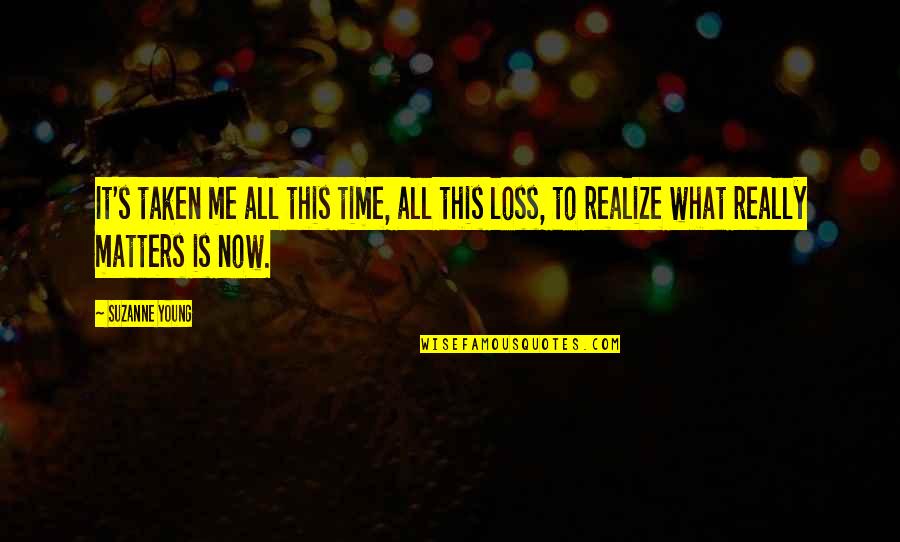 It's taken me all this time, all this loss, to realize what really matters is now. —
Suzanne Young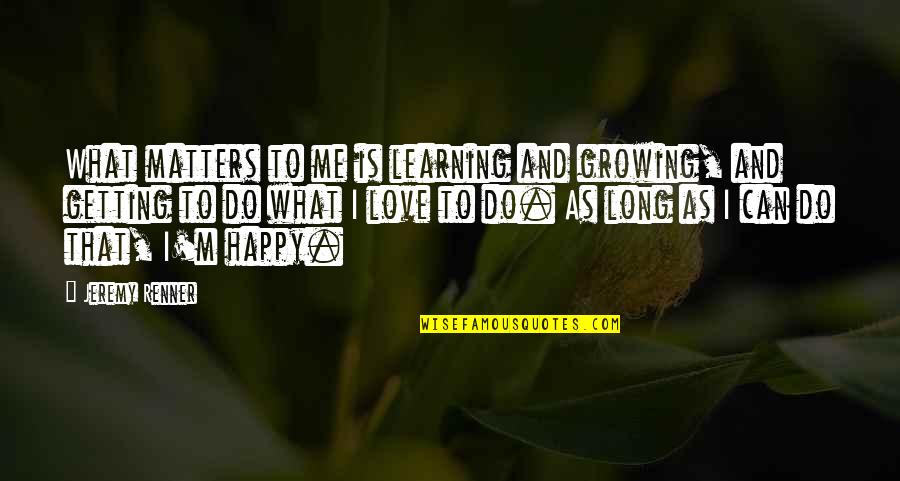 What matters to me is learning and growing, and getting to do what I love to do. As long as I can do that, I'm happy. —
Jeremy Renner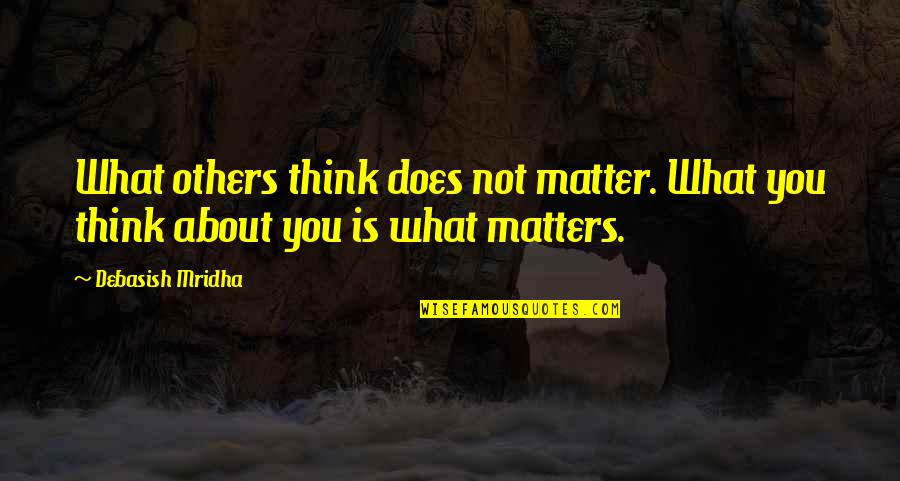 What others think does not matter. What you think about you is what matters. —
Debasish Mridha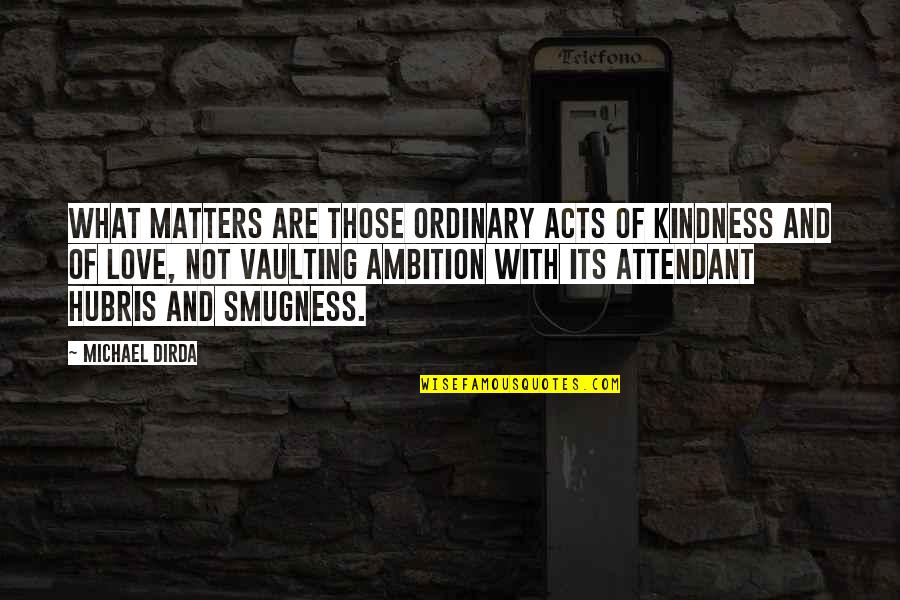 What matters are those ordinary acts of kindness and of love, not vaulting ambition with its attendant hubris and smugness. —
Michael Dirda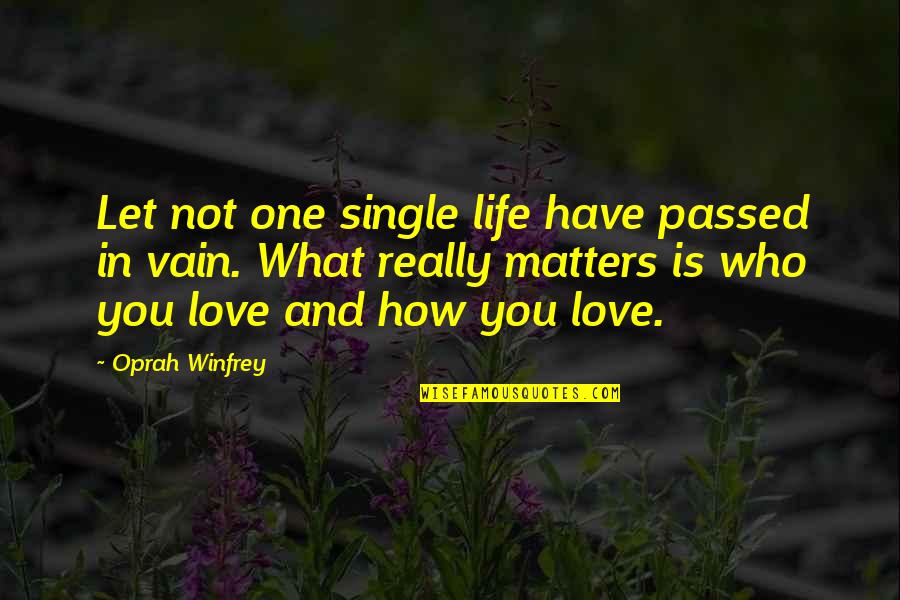 Let not one single life have passed in vain. What really matters is who you love and how you love. —
Oprah Winfrey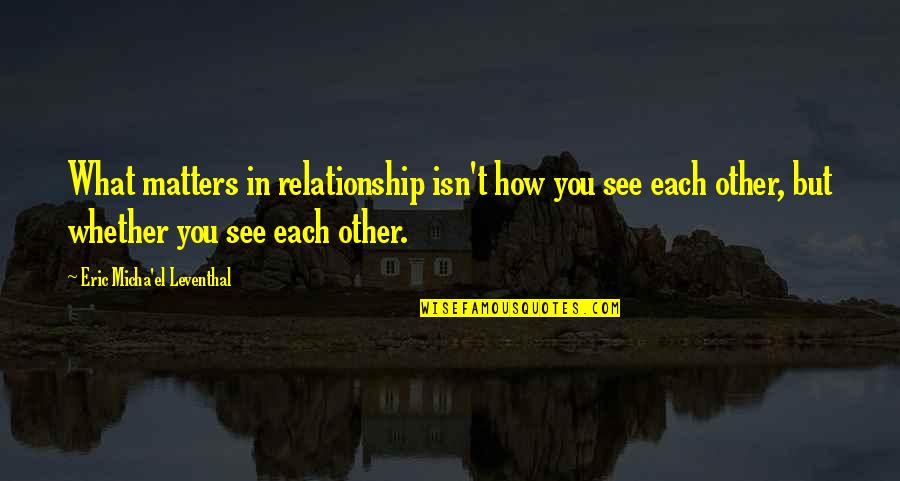 What matters in relationship isn't how you see each other, but whether you see each other. —
Eric Micha'el Leventhal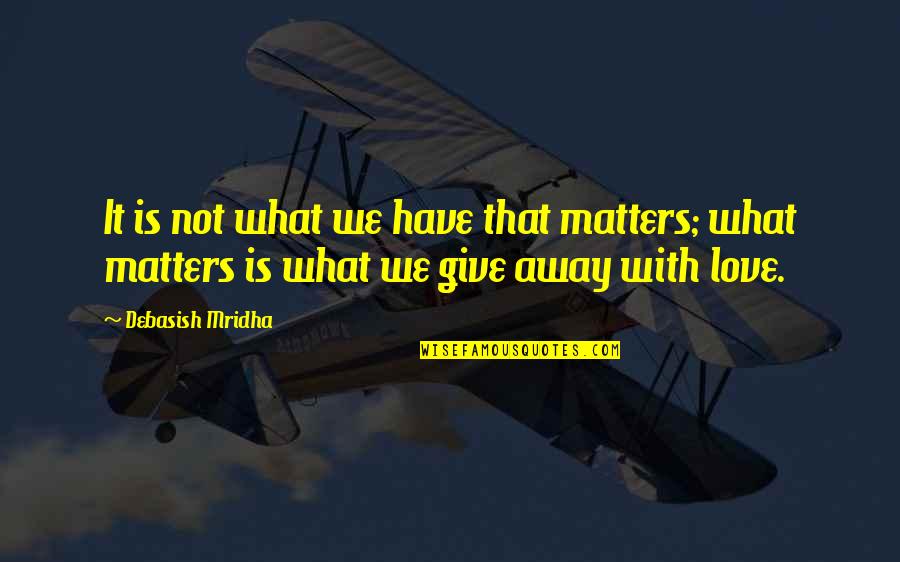 It is not what we have that matters; what matters is what we give away with love. —
Debasish Mridha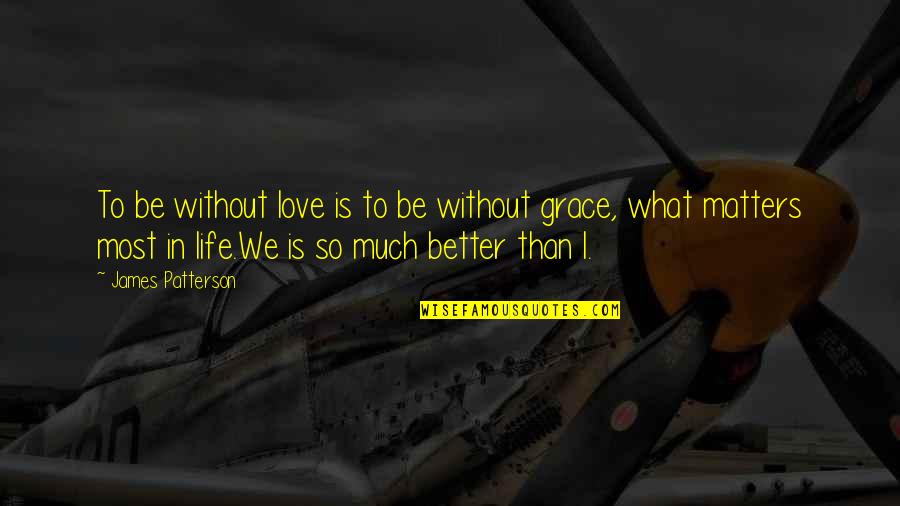 To be without love is to be without grace, what matters most in life.
We is so much better than I. —
James Patterson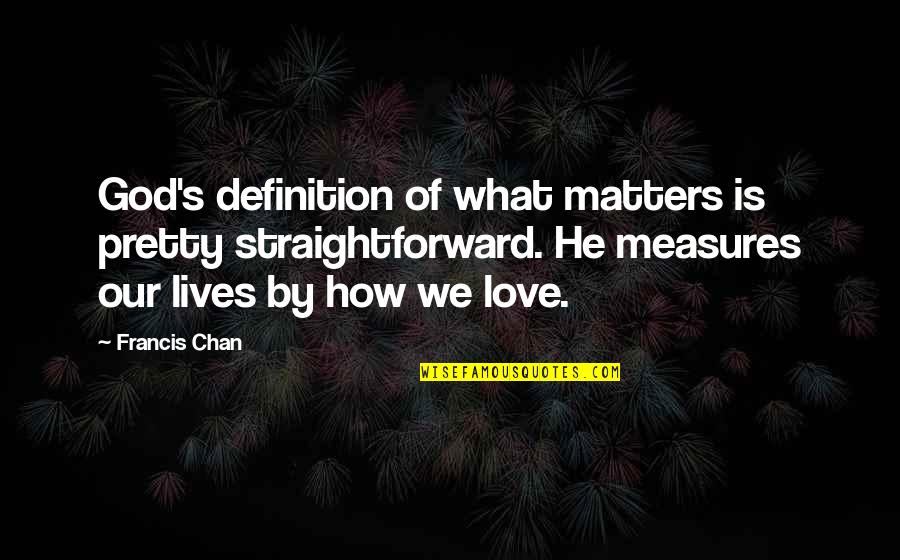 God's definition of what matters is pretty straightforward. He measures our lives by how we love. —
Francis Chan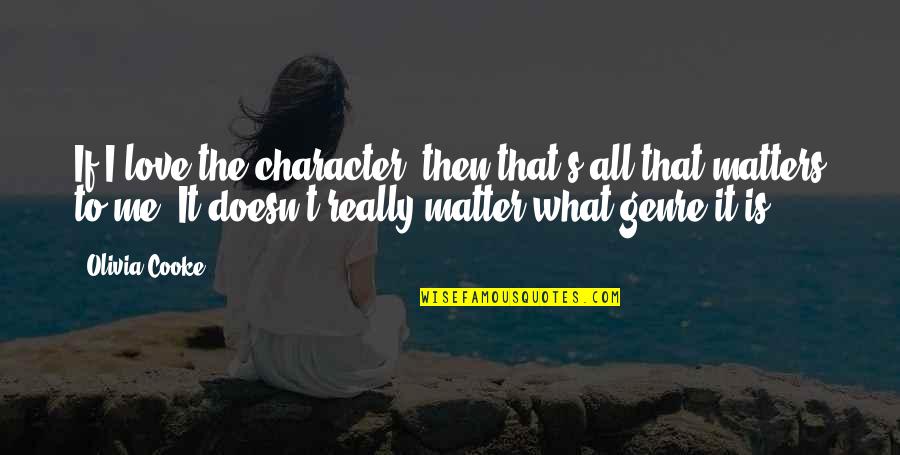 If I love the character, then that's all that matters to me. It doesn't really matter what genre it is. —
Olivia Cooke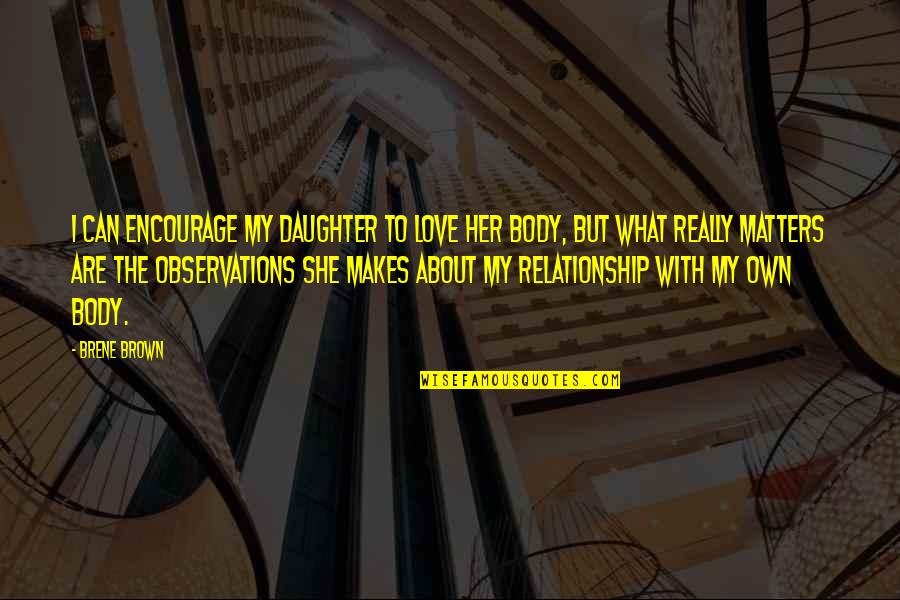 I can encourage my daughter to love her body, but what really matters are the observations she makes about my relationship with my own body. —
Brene Brown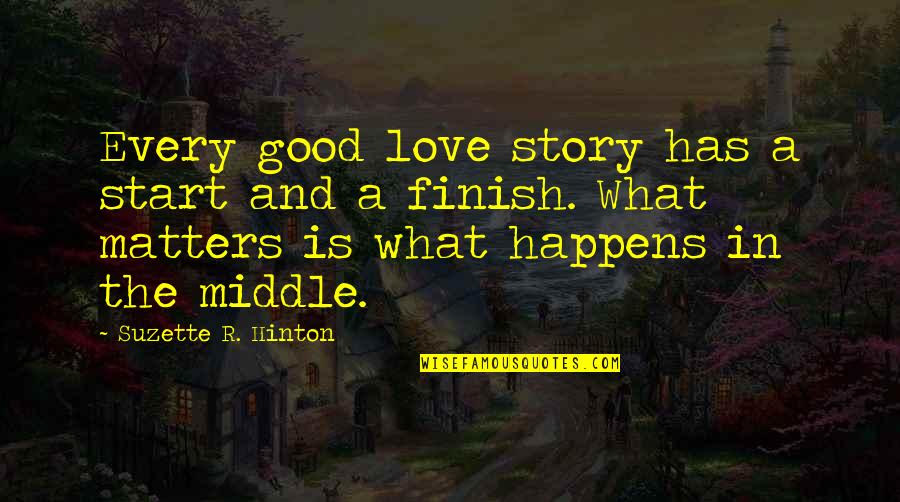 Every good love story has a start and a finish. What matters is what happens in the middle. —
Suzette R. Hinton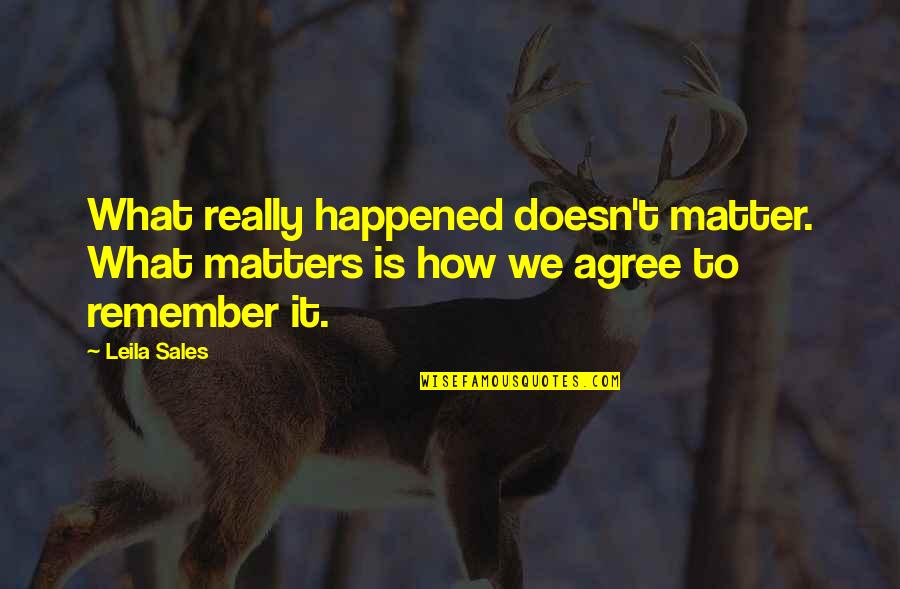 What really happened doesn't matter. What matters is how we agree to remember it. —
Leila Sales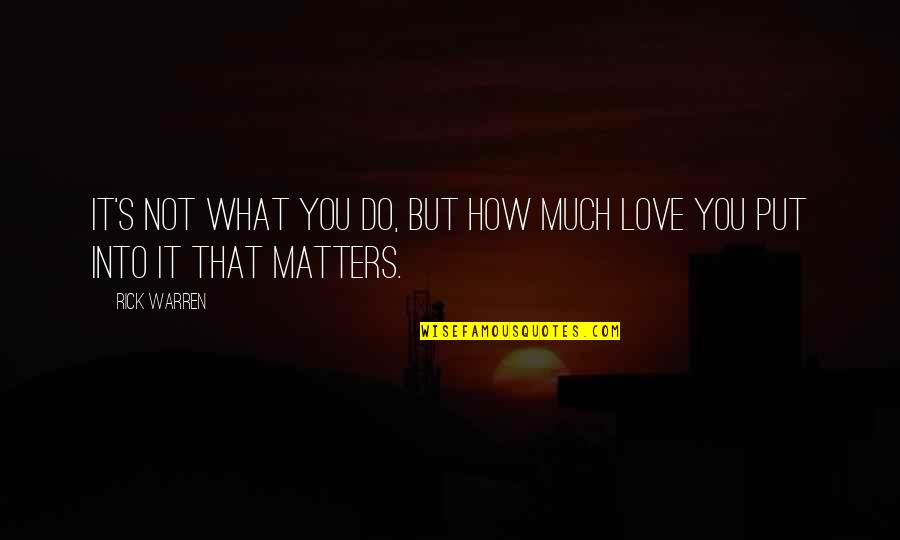 It's not what you do, but how much love you put into it that matters. —
Rick Warren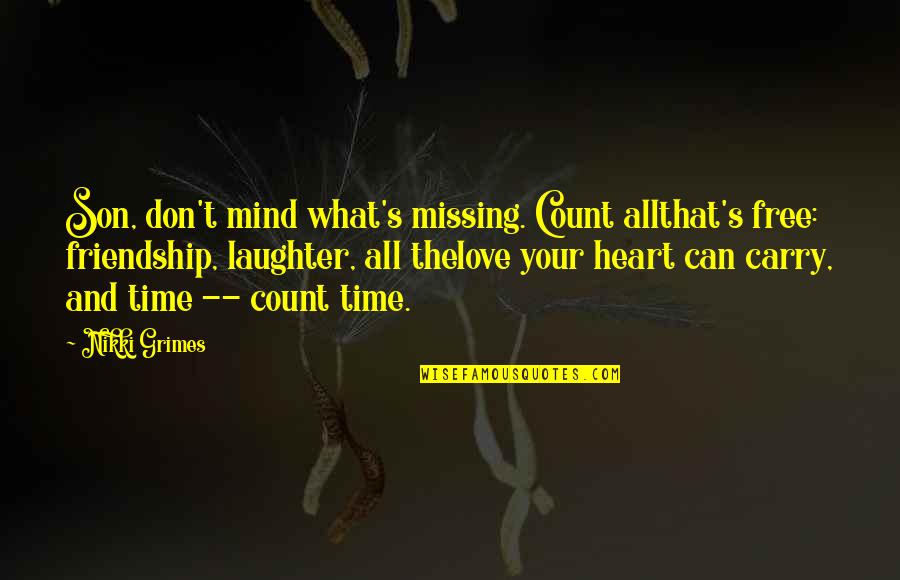 Son, don't mind what's missing. Count allthat's free: friendship, laughter, all thelove your heart can carry, and time -- count time. —
Nikki Grimes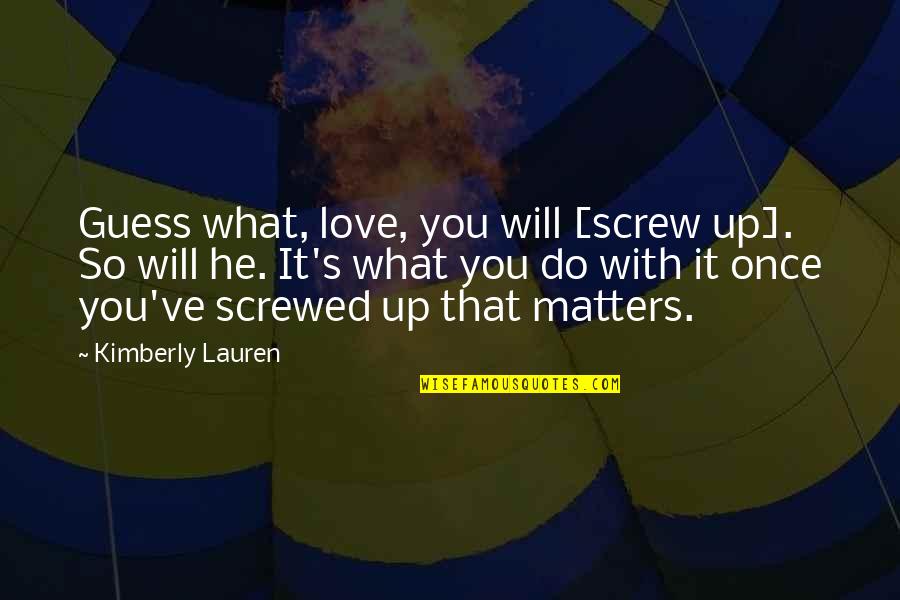 Guess what, love, you will [screw up]. So will he. It's what you do with it once you've screwed up that matters. —
Kimberly Lauren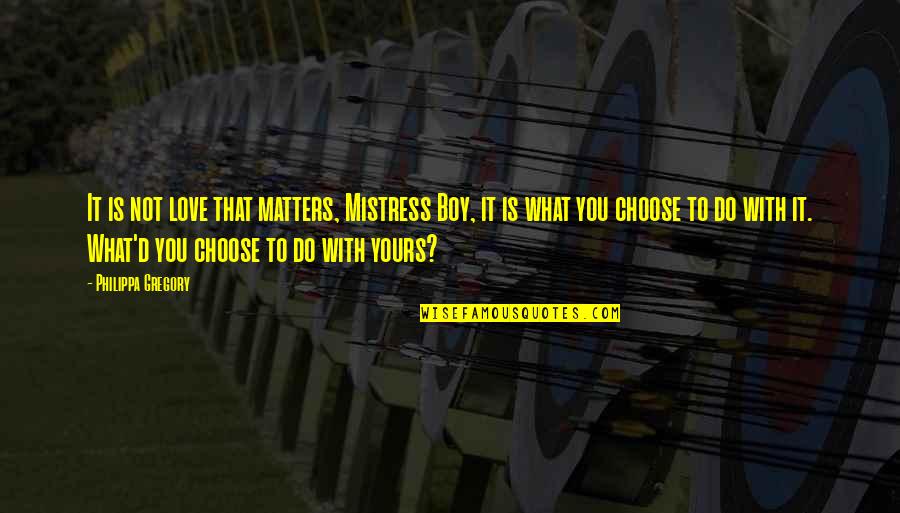 It is not love that matters, Mistress Boy, it is what you choose to do with it. What'd you choose to do with yours? —
Philippa Gregory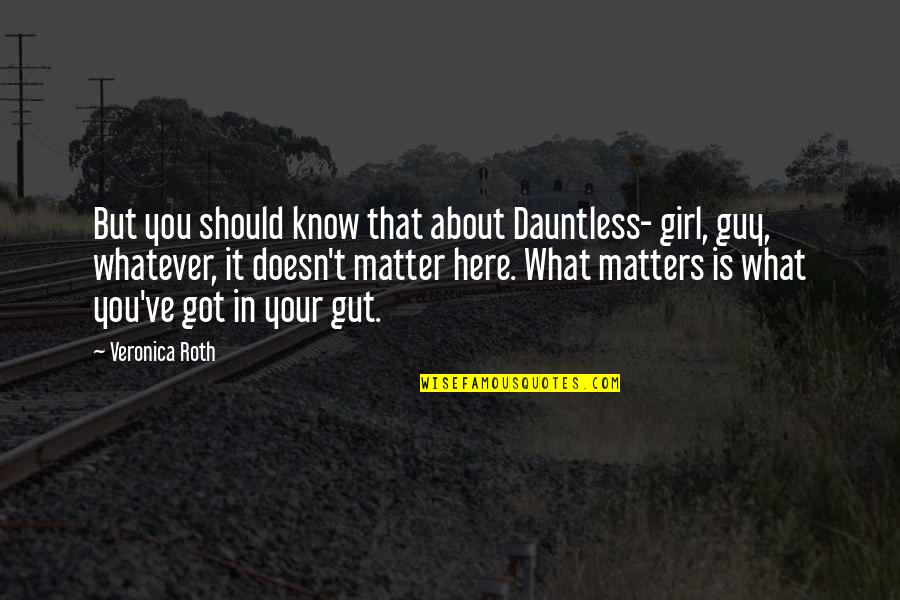 But you should know that about Dauntless- girl, guy, whatever, it doesn't matter here. What matters is what you've got in your gut. —
Veronica Roth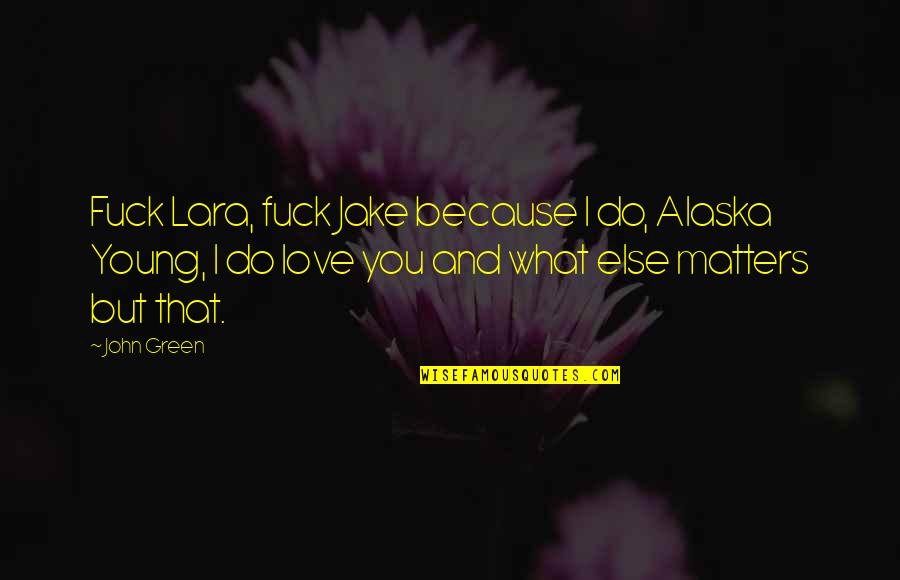 Fuck Lara, fuck Jake because I do, Alaska Young, I do love you and what else matters but that. —
John Green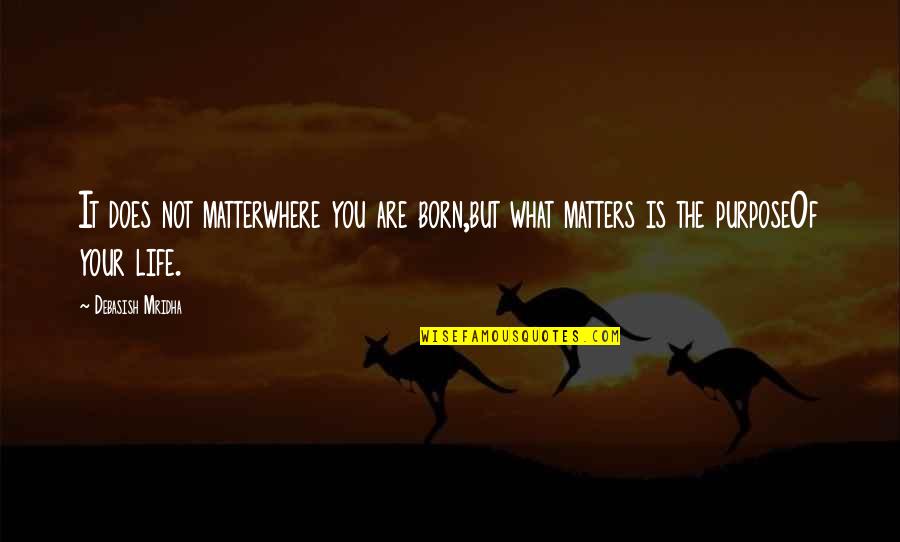 It does not matter
where you are born,
but what matters is the purpose
Of your life. —
Debasish Mridha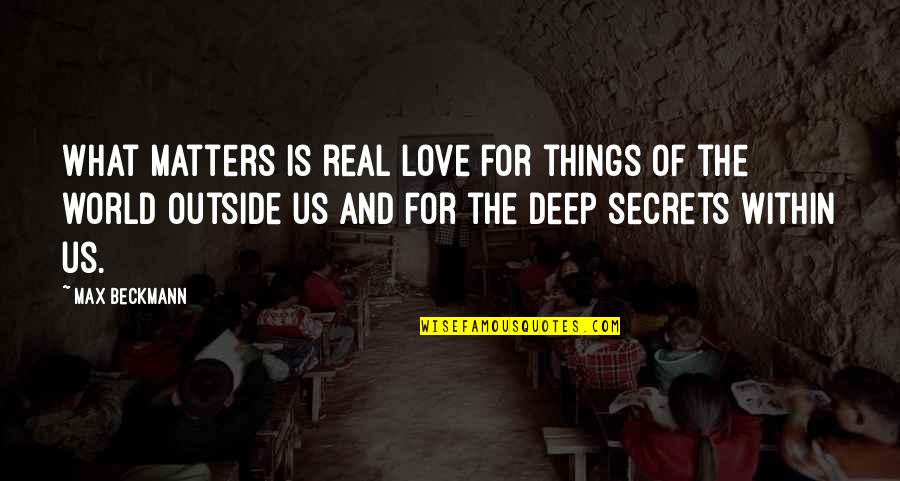 What matters is real love for things of the world outside us and for the deep secrets within us. —
Max Beckmann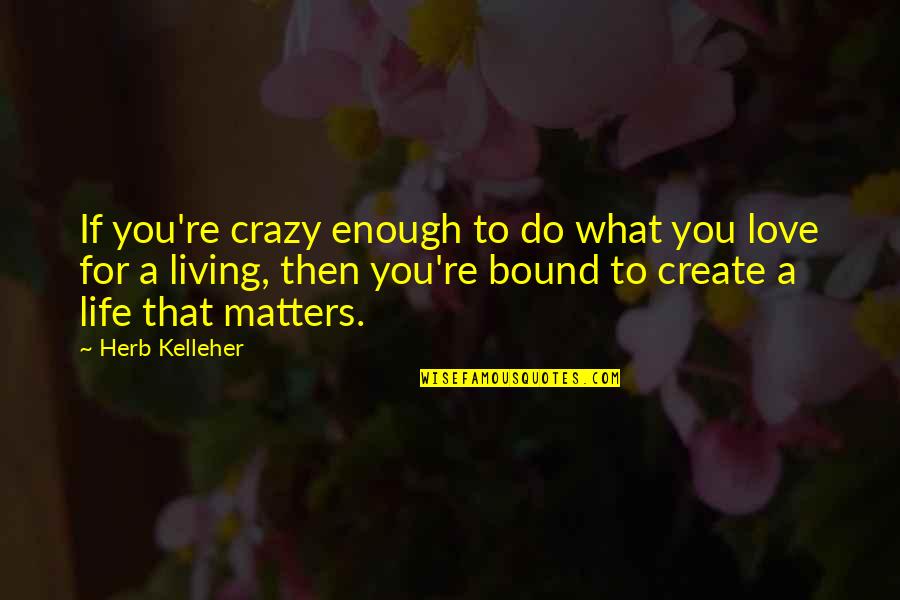 If you're crazy enough to do what you love for a living, then you're bound to create a life that matters. —
Herb Kelleher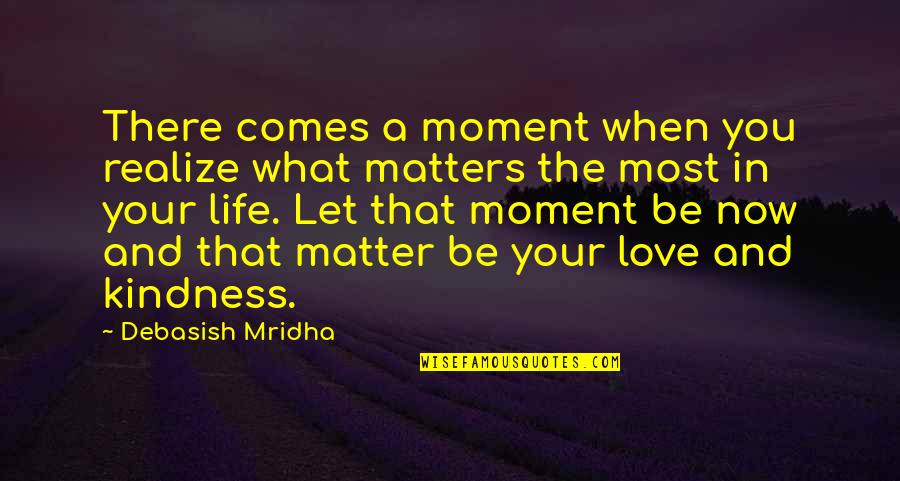 There comes a moment when you realize what matters the most in your life. Let that moment be now and that matter be your love and kindness. —
Debasish Mridha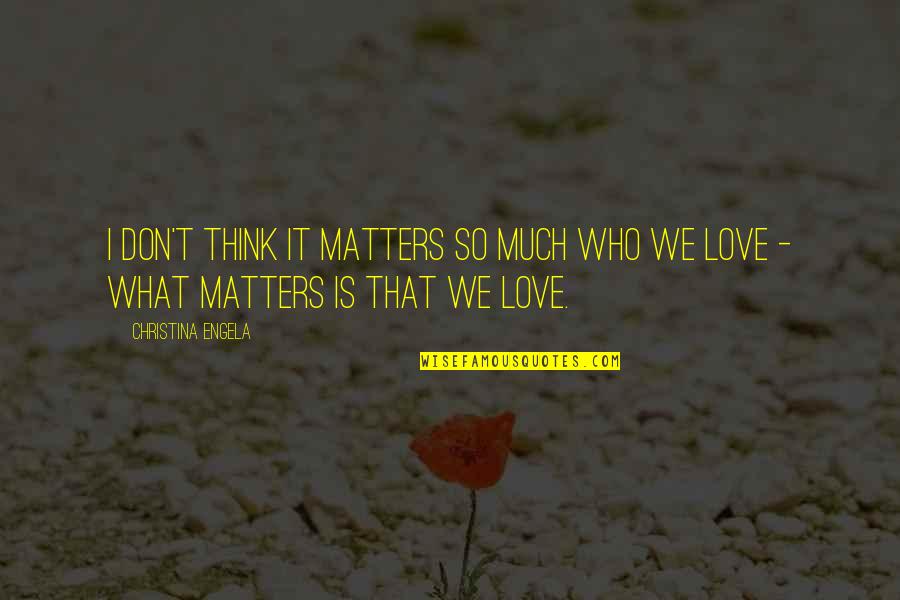 I don't think it matters so much who we love - what matters is that we love. —
Christina Engela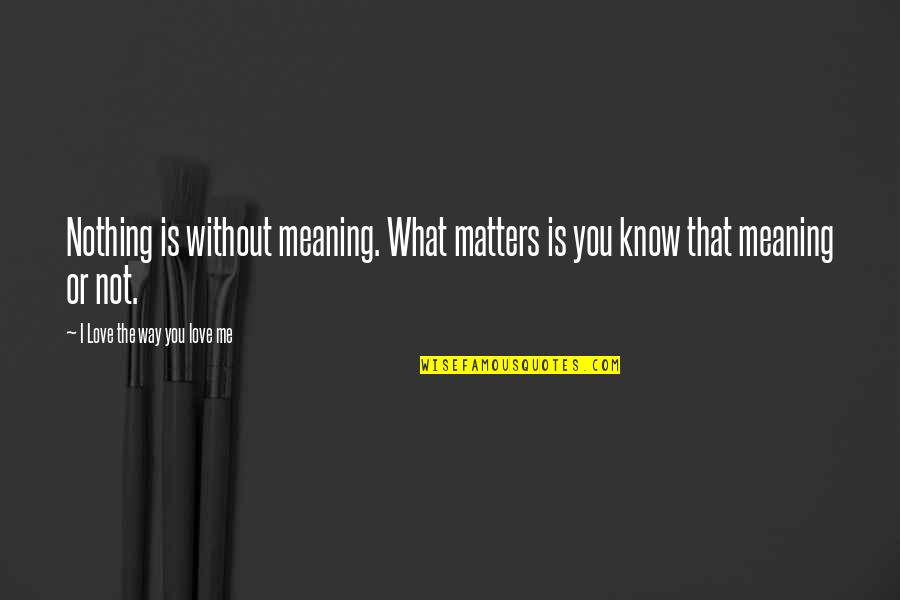 Nothing is without meaning. What matters is you know that meaning or not. —
I Love The Way You Love Me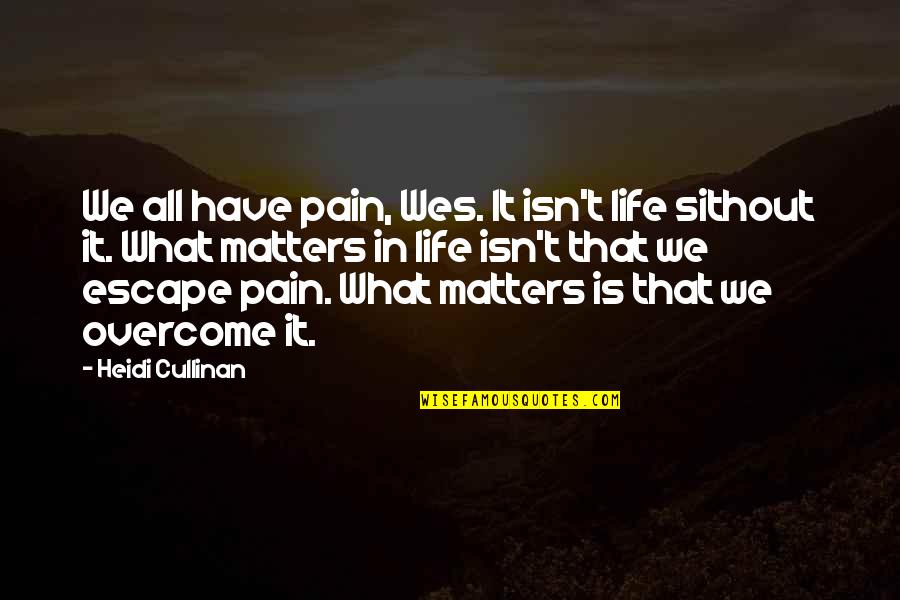 We all have pain, Wes. It isn't life sithout it. What matters in life isn't that we escape pain. What matters is that we overcome it. —
Heidi Cullinan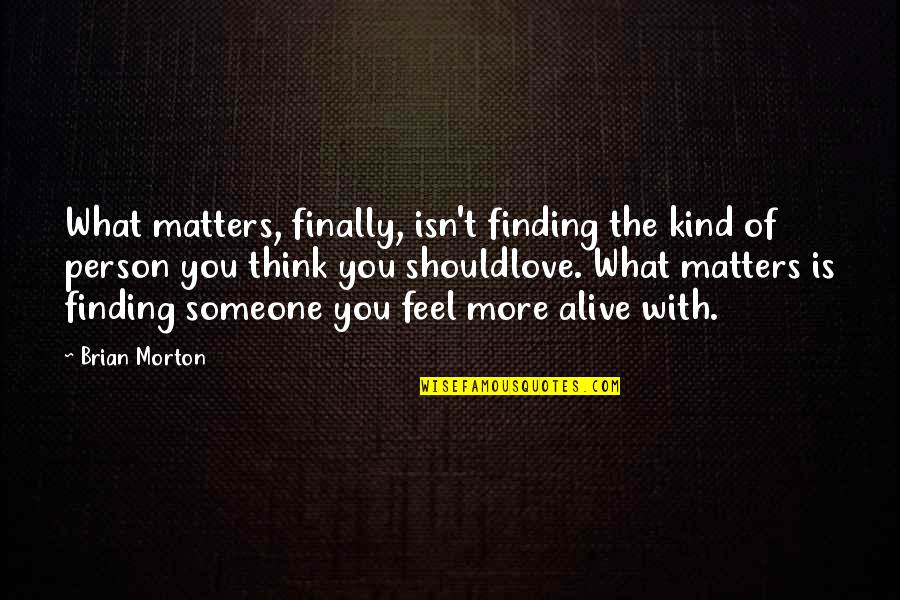 What matters, finally, isn't finding the kind of person you think you should
love. What matters is finding someone you feel more alive with. —
Brian Morton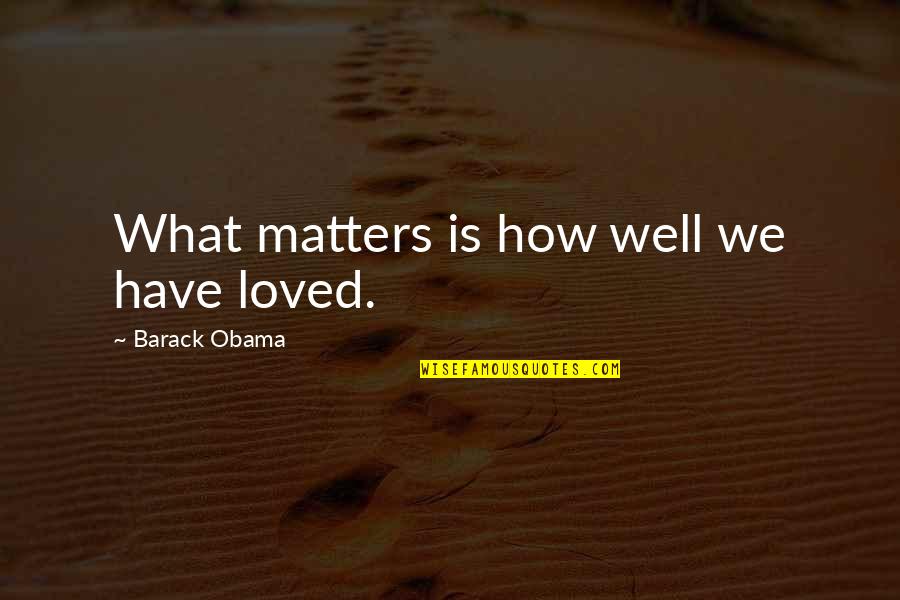 What matters is how well we have loved. —
Barack Obama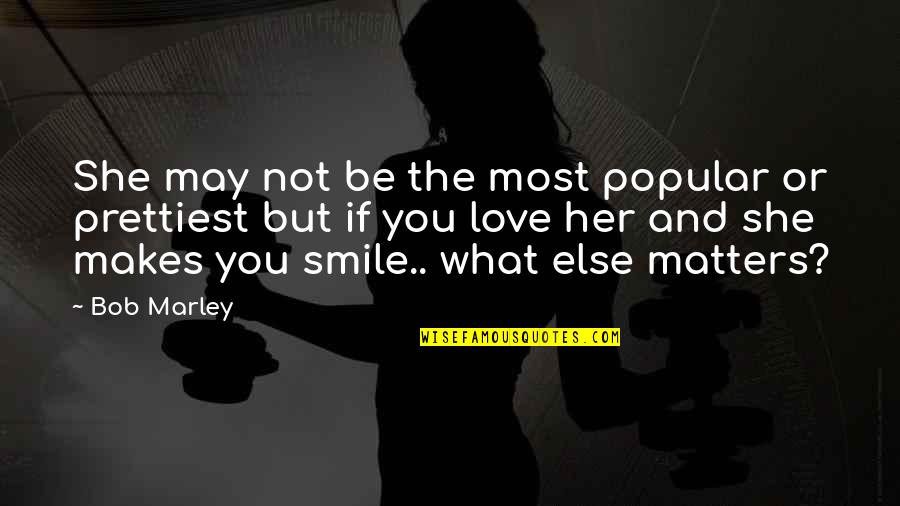 She may not be the most popular or prettiest but if you love her and she makes you smile.. what else matters? —
Bob Marley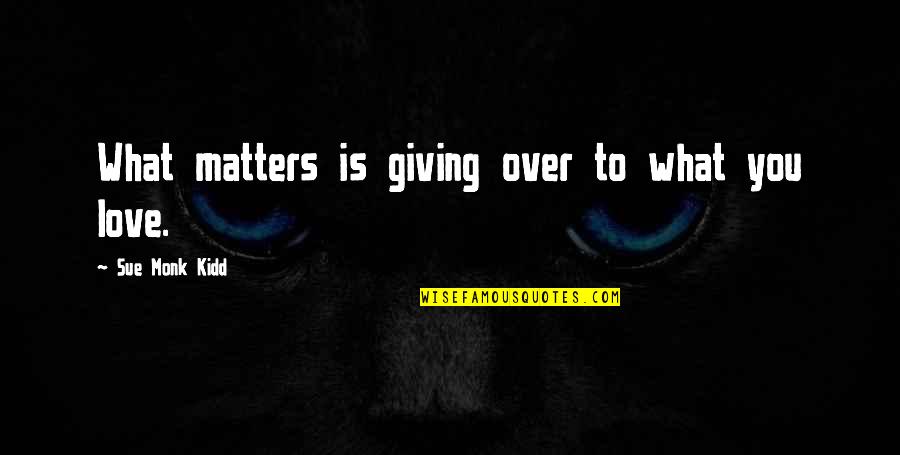 What matters is giving over to what you love. —
Sue Monk Kidd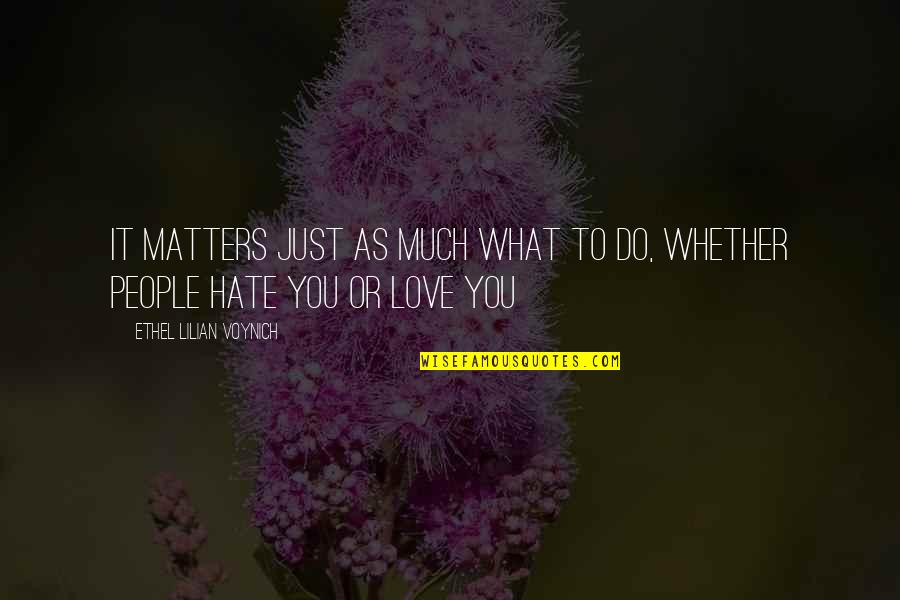 It matters just as much what to do, whether people hate you or love you —
Ethel Lilian Voynich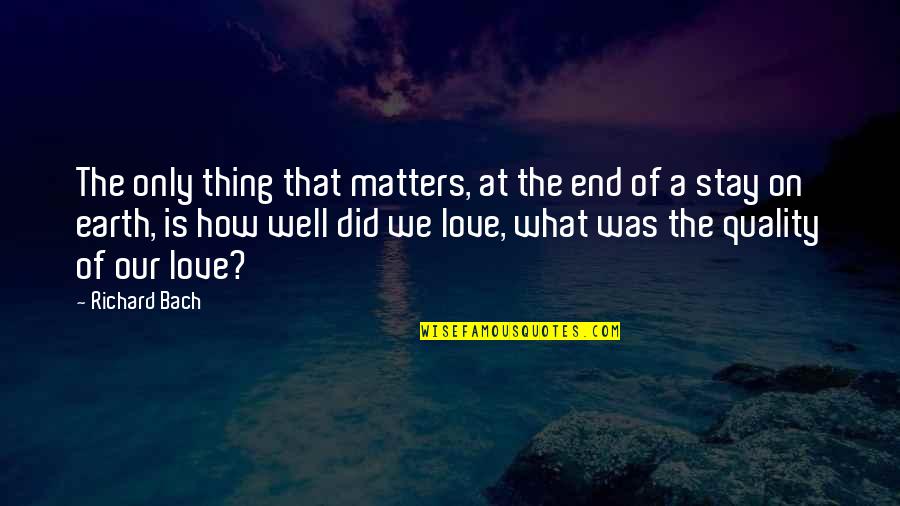 The only thing that matters, at the end of a stay on earth, is how well did we love, what was the quality of our love? —
Richard Bach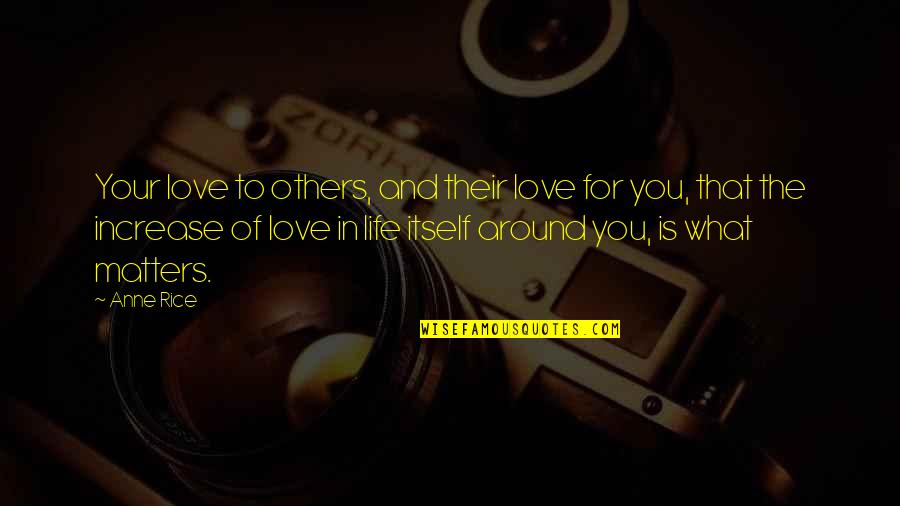 Your love to others, and their love for you, that the increase of love in life itself around you, is what matters. —
Anne Rice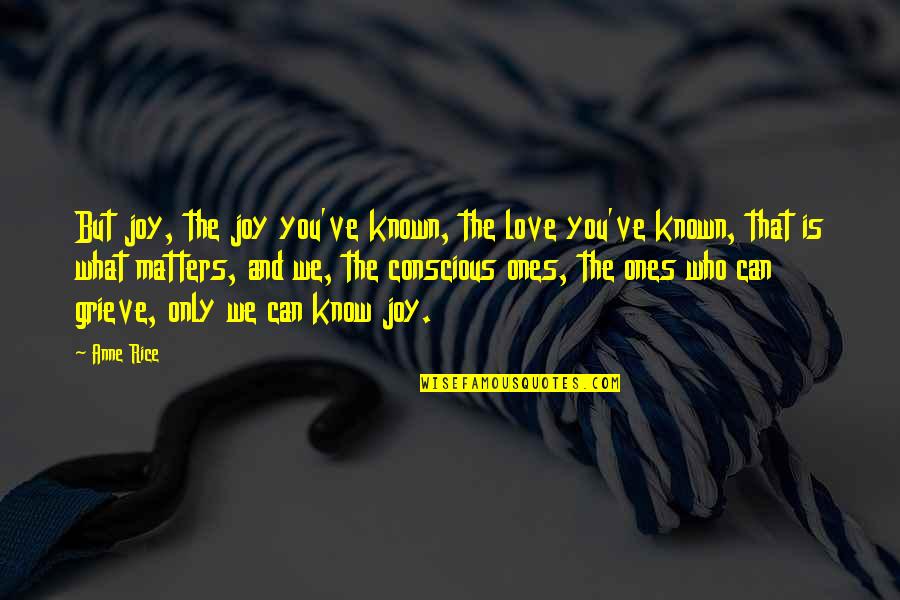 But joy, the joy you've known, the love you've known, that is what matters, and we, the conscious ones, the ones who can grieve, only we can know joy. —
Anne Rice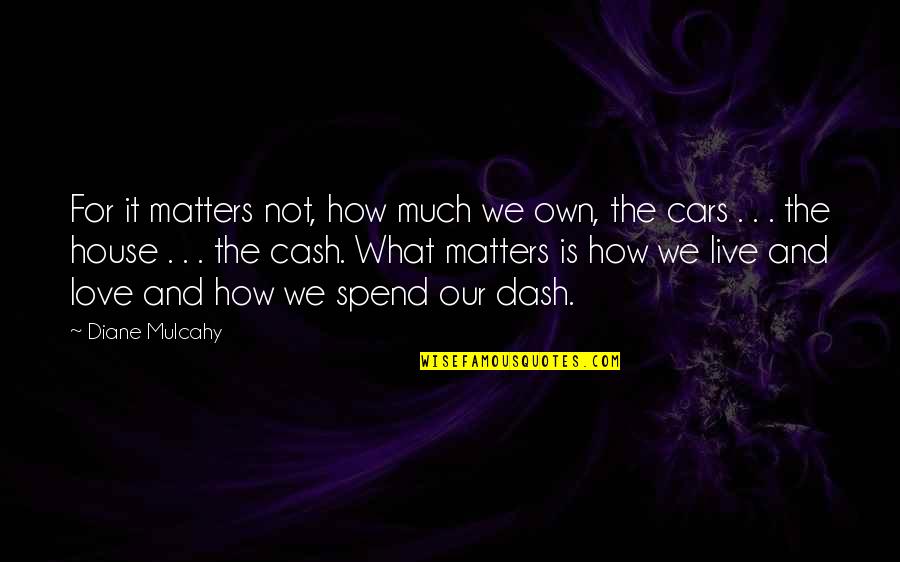 For it matters not, how much we own, the cars . . . the house . . . the cash. What matters is how we live and love and how we spend our dash. —
Diane Mulcahy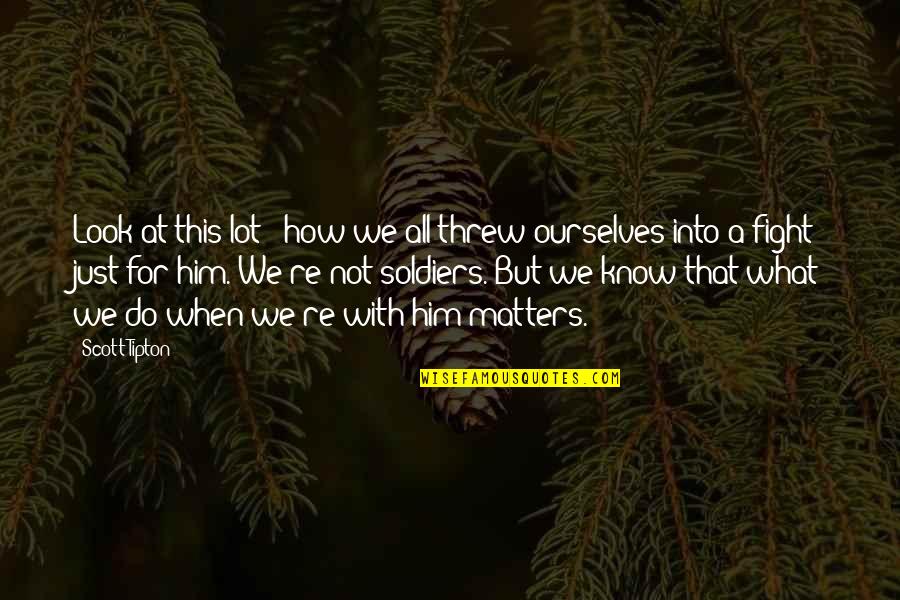 Look at this lot - how we all threw ourselves into a fight just for him. We're not soldiers. But we know that what we do when we're with him matters. —
Scott Tipton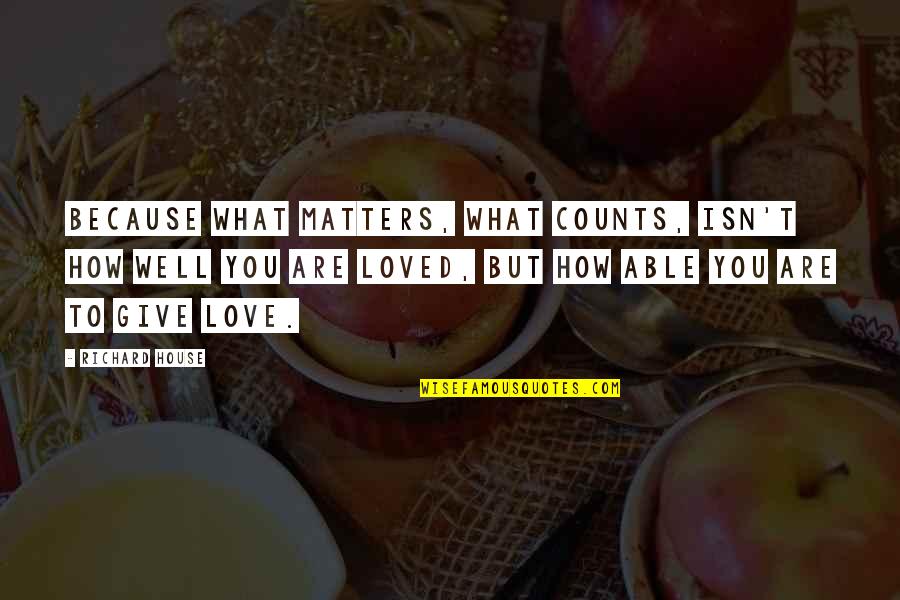 Because what matters, what counts, isn't how well you are loved, but how able you are to give love. —
Richard House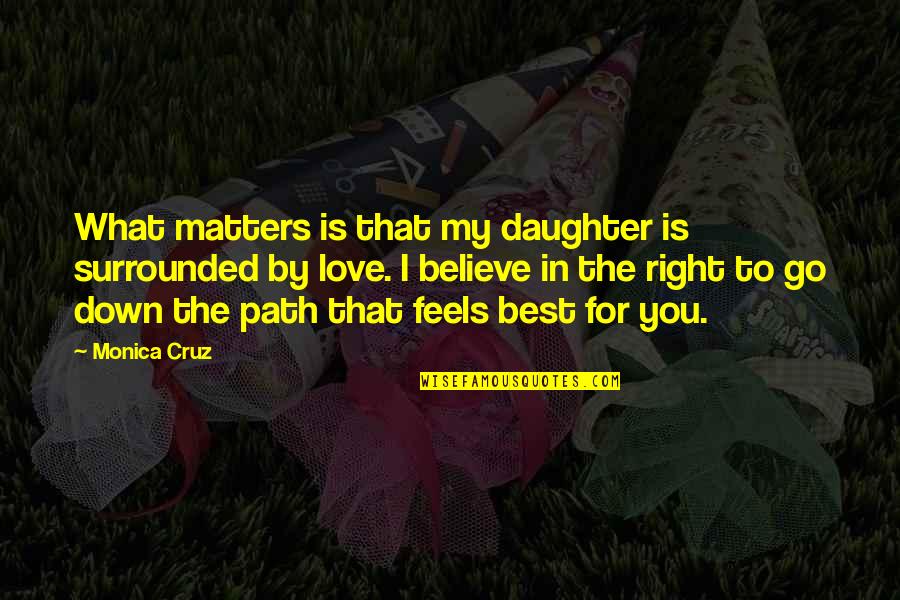 What matters is that my daughter is surrounded by love. I believe in the right to go down the path that feels best for you. —
Monica Cruz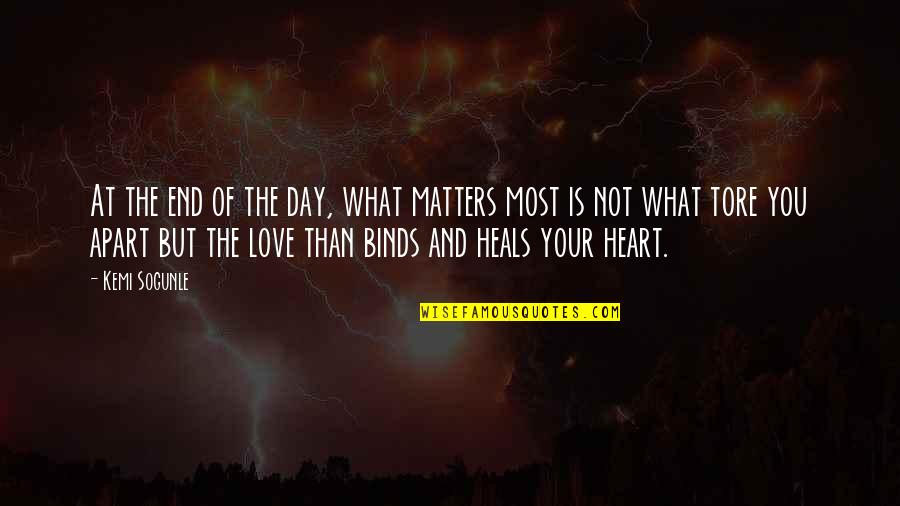 At the end of the day, what matters most is not what tore you apart but the love than binds and heals your heart. —
Kemi Sogunle