Wants To Die Quotes
Collection of top 45 famous quotes about Wants To Die
Wants To Die Quotes & Sayings
Happy to read and share the best inspirational Wants To Die quotes, sayings and quotations on Wise Famous Quotes.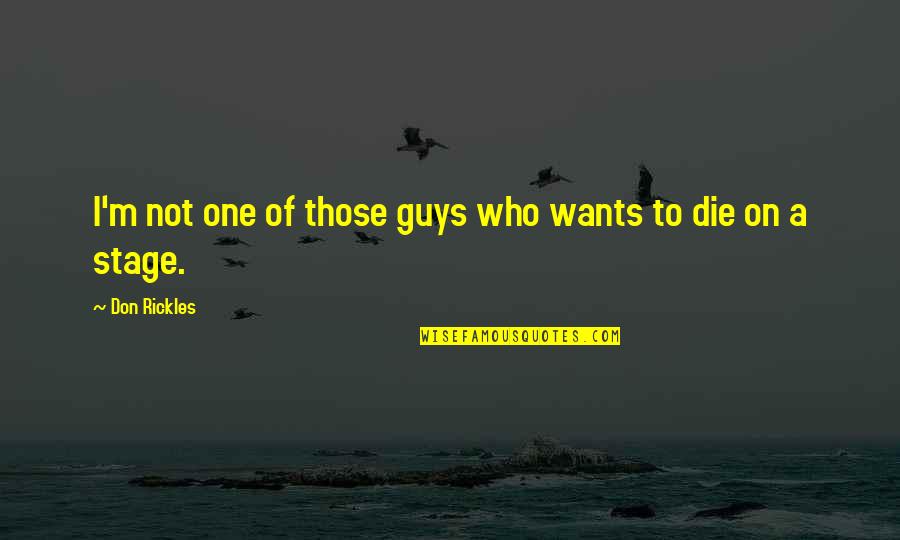 I'm not one of those guys who wants to die on a stage.
—
Don Rickles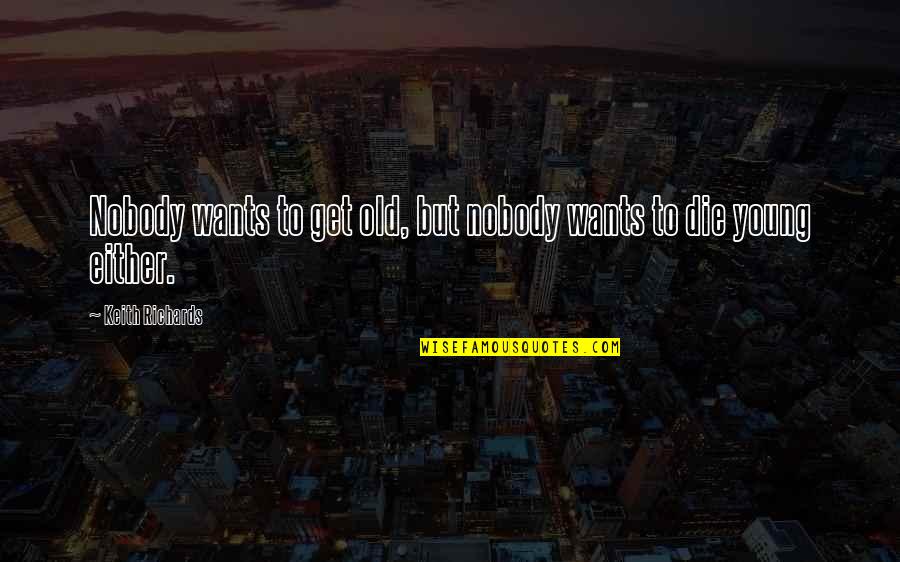 Nobody wants to get old, but nobody wants to die young either.
—
Keith Richards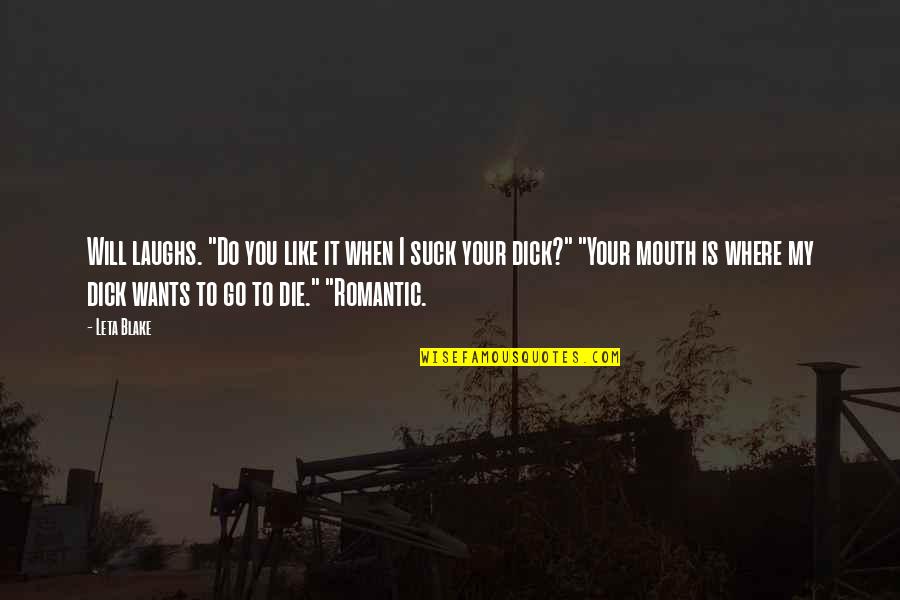 Will laughs. "Do you like it when I suck your dick?" "Your mouth is where my dick wants to go to die." "Romantic.
—
Leta Blake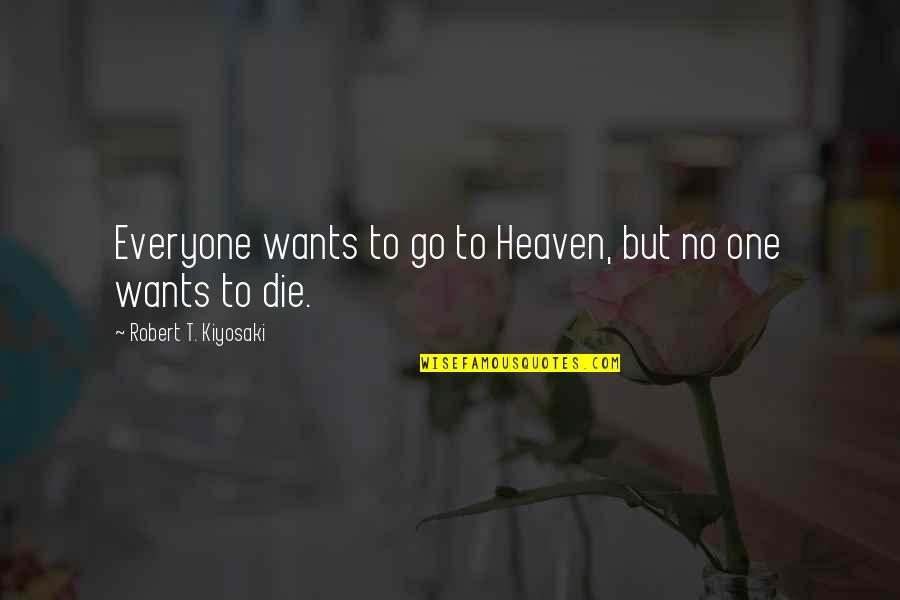 Everyone wants to go to Heaven, but no one wants to die.
—
Robert T. Kiyosaki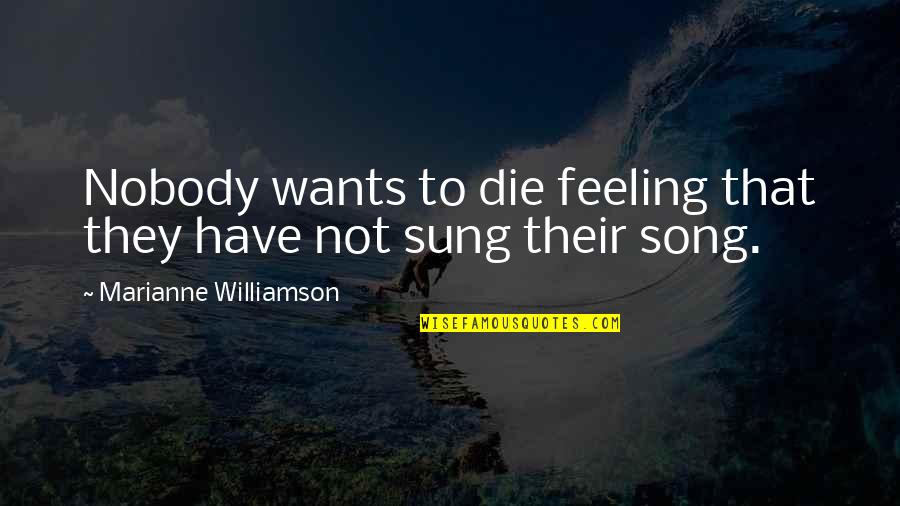 Nobody wants to die feeling that they have not sung their song.
—
Marianne Williamson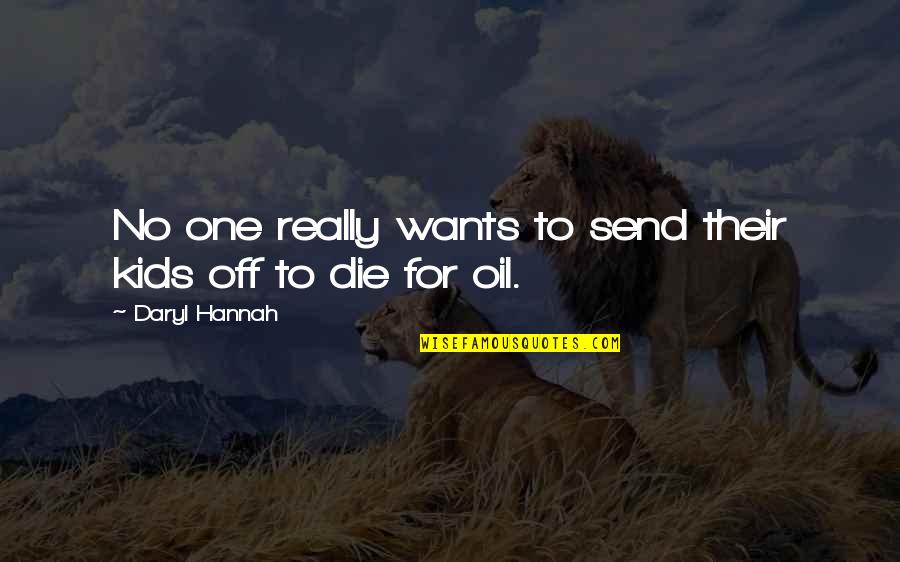 No one really wants to send their kids off to die for oil. —
Daryl Hannah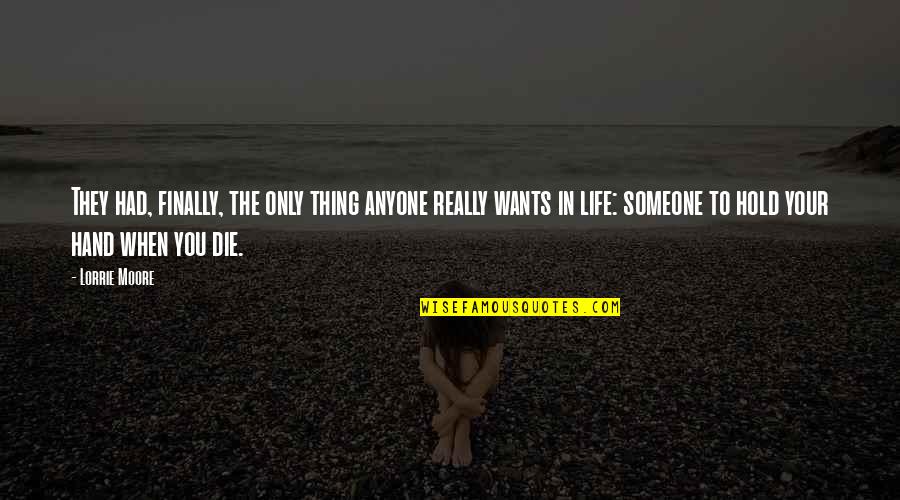 They had, finally, the only thing anyone really wants in life: someone to hold your hand when you die. —
Lorrie Moore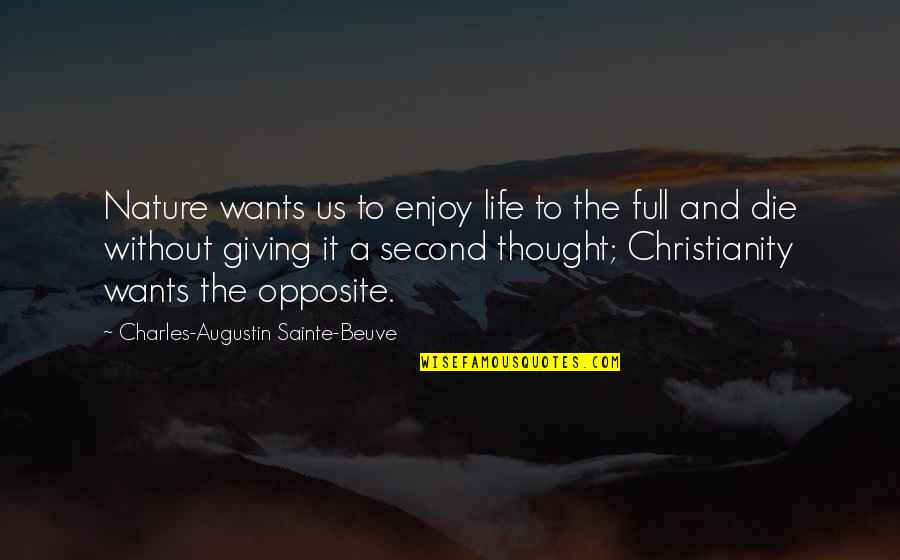 Nature wants us to enjoy life to the full and die without giving it a second thought; Christianity wants the opposite. —
Charles-Augustin Sainte-Beuve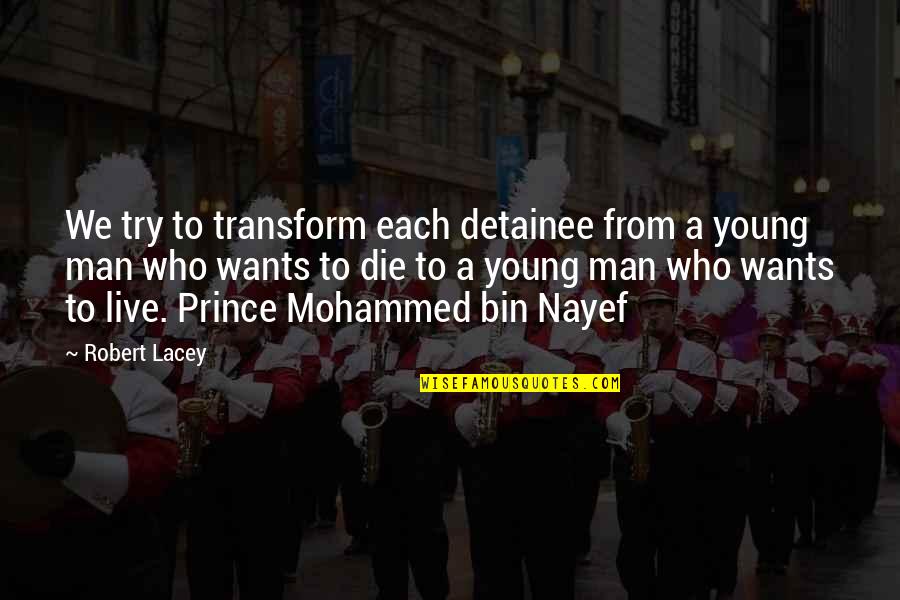 We try to transform each detainee from a young man who
wants to die
to a young man who wants to live. Prince Mohammed bin Nayef —
Robert Lacey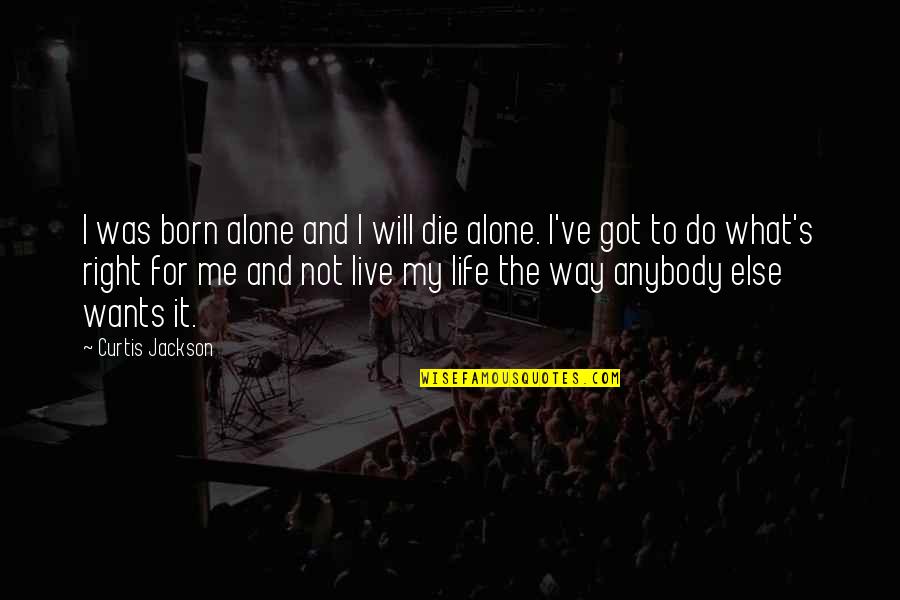 I was born alone and I will die alone. I've got to do what's right for me and not live my life the way anybody else wants it. —
Curtis Jackson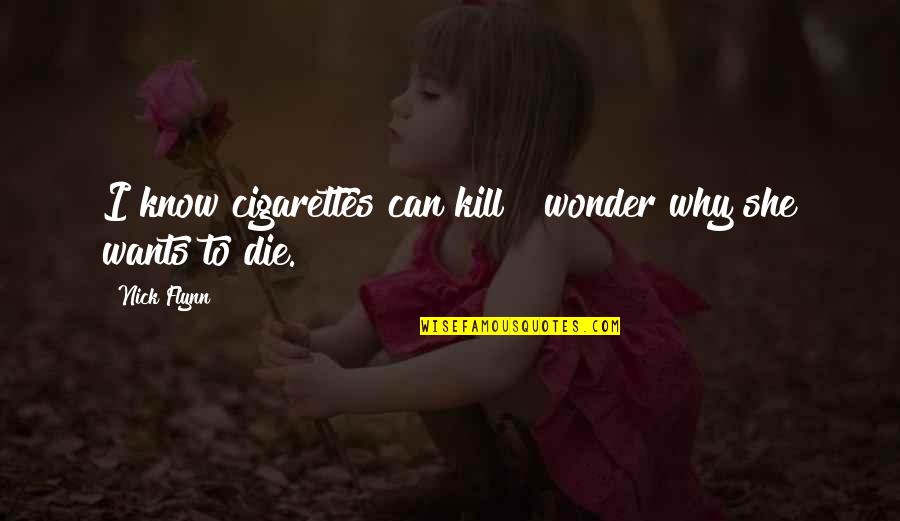 I know cigarettes can kill & wonder why she
wants to die
. —
Nick Flynn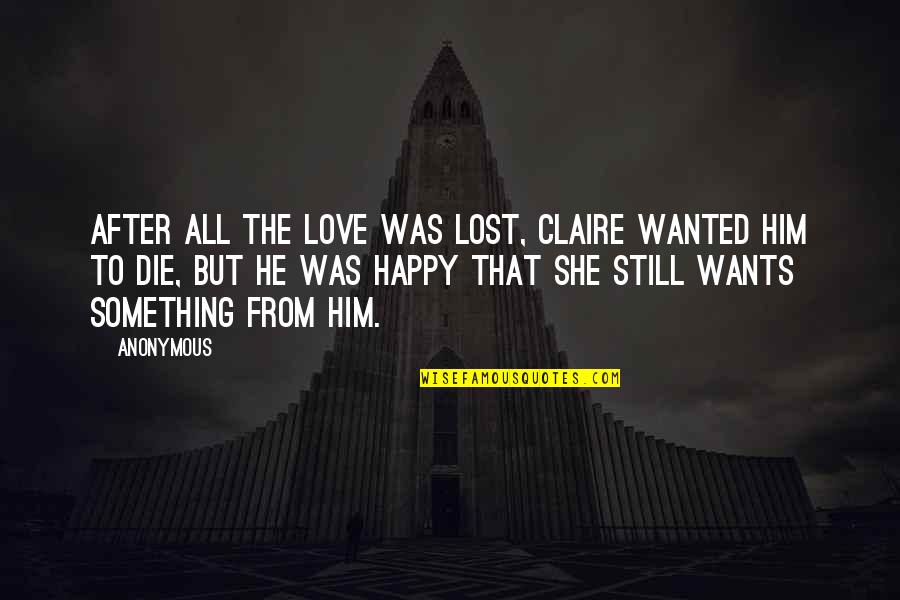 After all the love was lost, Claire wanted him to die, but he was happy that she still wants something from him. —
Anonymous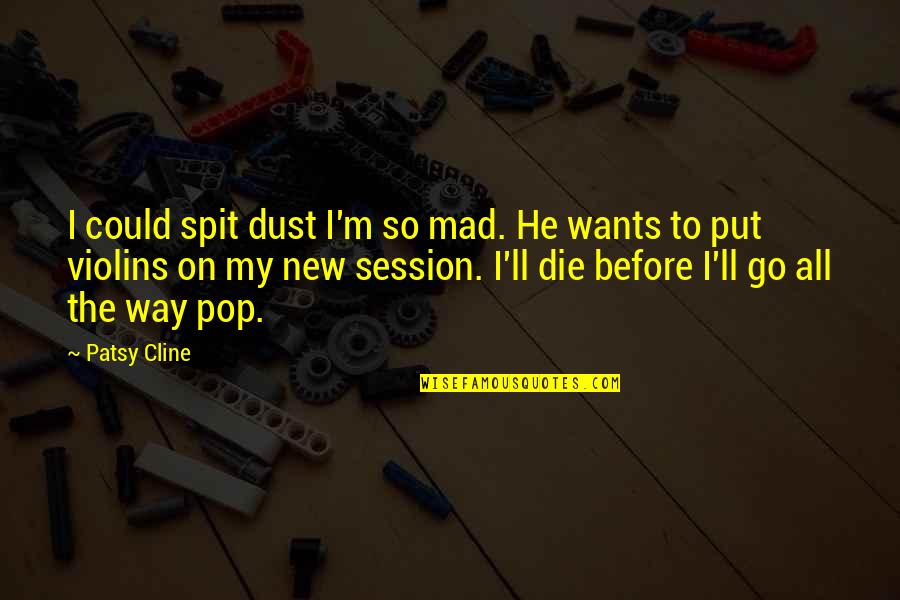 I could spit dust I'm so mad. He wants to put violins on my new session. I'll die before I'll go all the way pop. —
Patsy Cline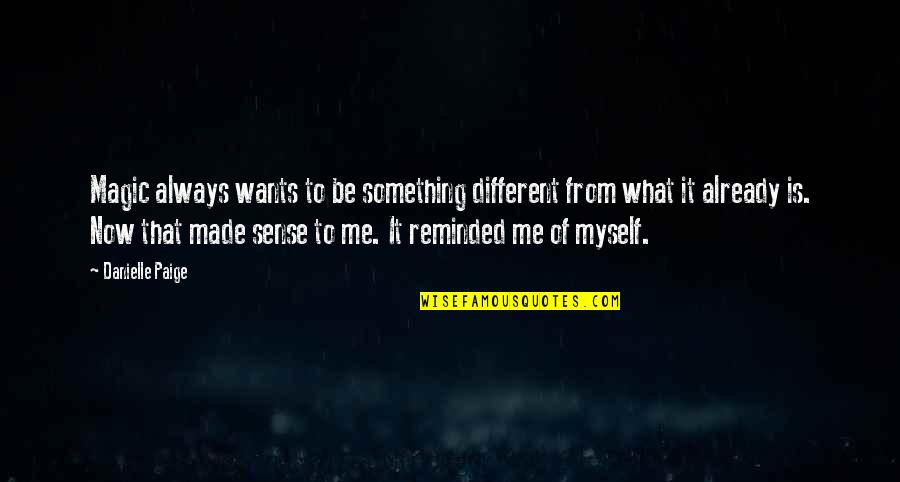 Magic always wants to be something different from what it already is. Now that made sense to me. It reminded me of myself. —
Danielle Paige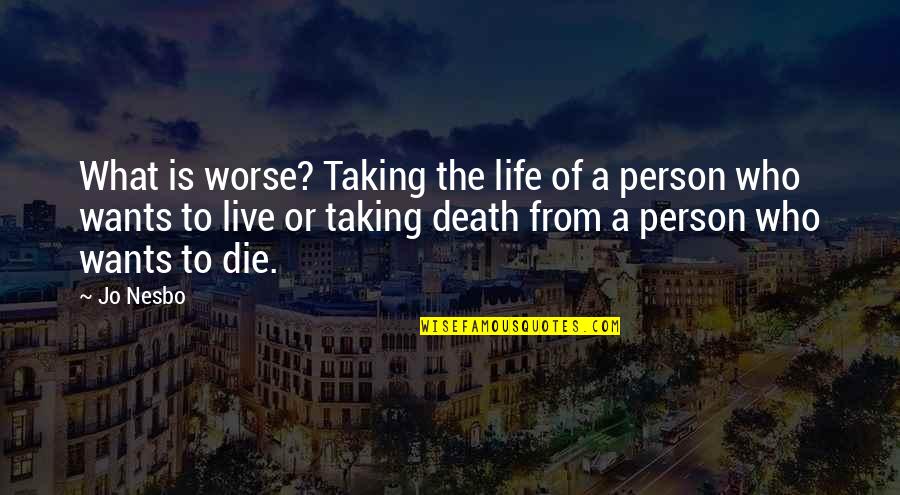 What is worse? Taking the life of a person who wants to live or taking death from a person who
wants to die
. —
Jo Nesbo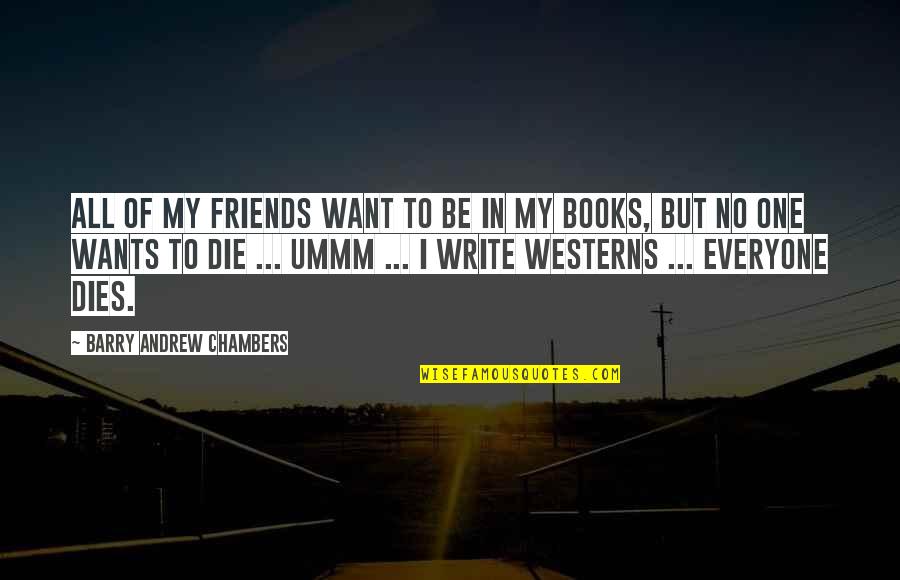 All of my friends want to be in my books, but no one
wants to die
... ummm ... I write westerns ... everyone dies. —
Barry Andrew Chambers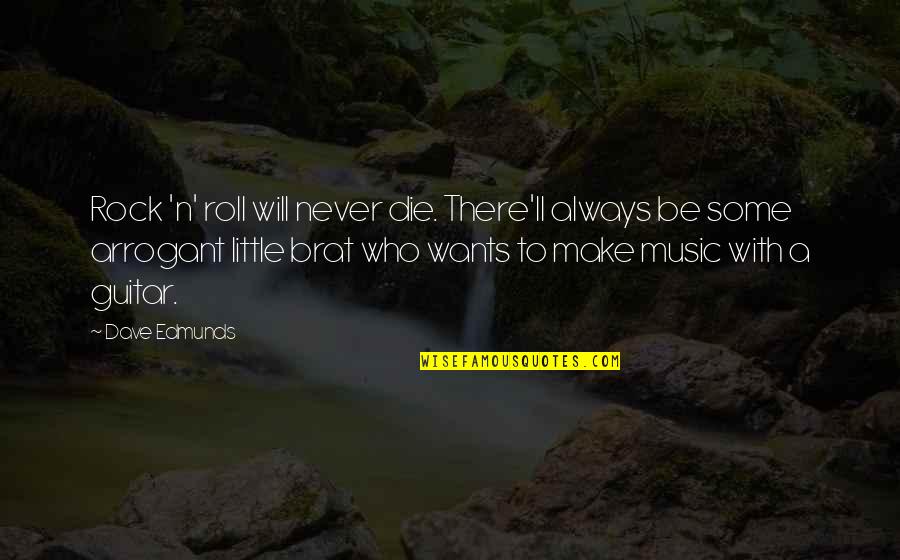 Rock 'n' roll will never die. There'll always be some arrogant little brat who wants to make music with a guitar. —
Dave Edmunds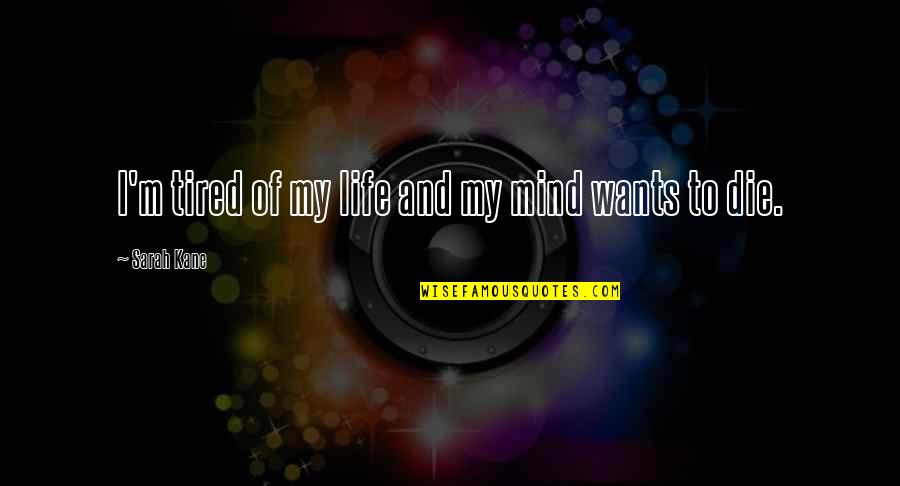 I'm tired of my life and my mind
wants to die
. —
Sarah Kane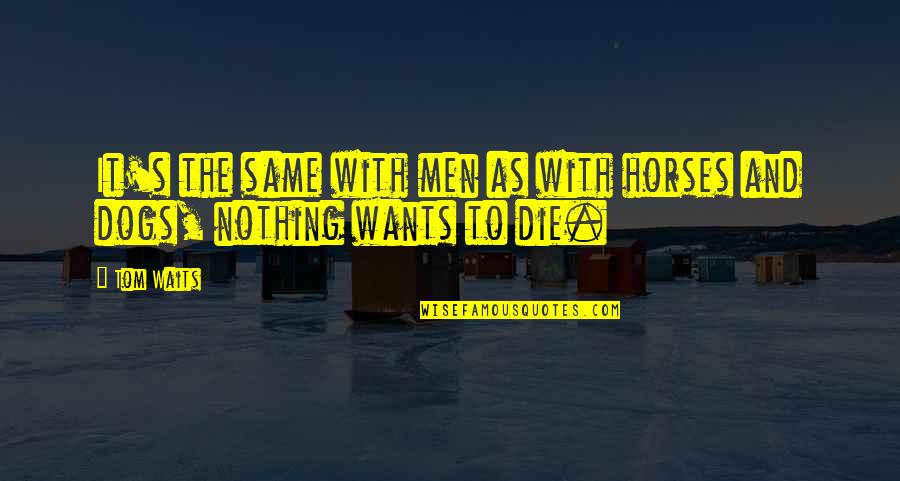 It's the same with men as with horses and dogs, nothing
wants to die
. —
Tom Waits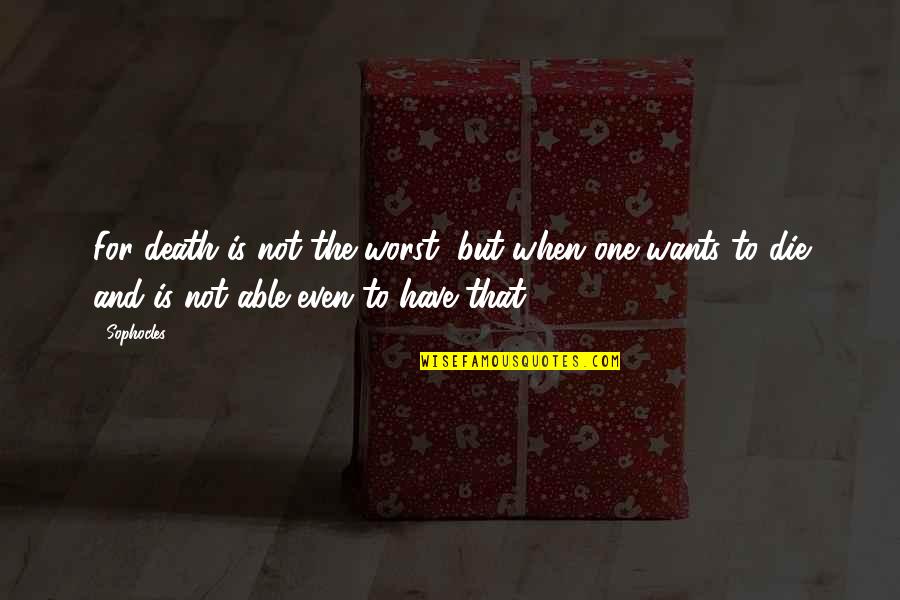 For death is not the worst, but when one
wants to die
and is not able even to have that. —
Sophocles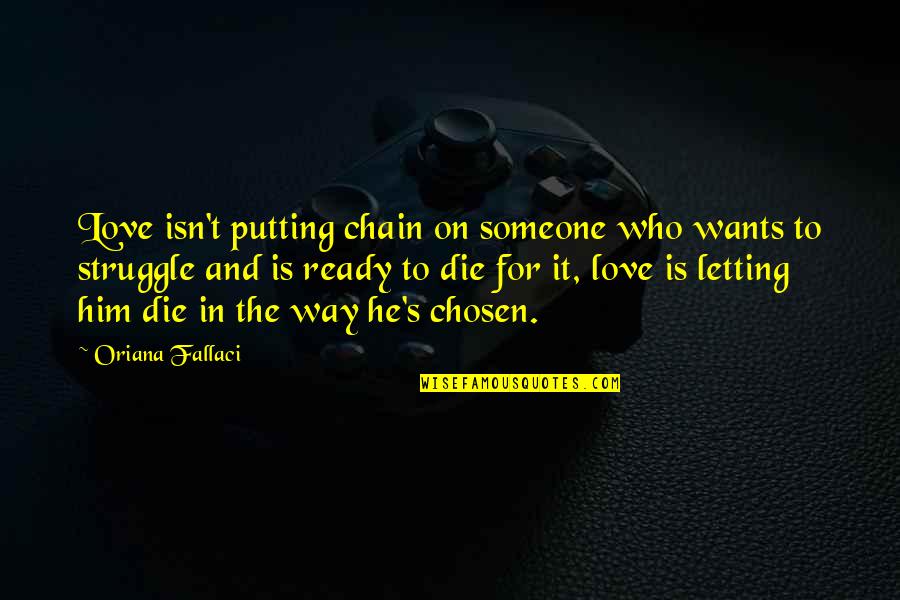 Love isn't putting chain on someone who wants to struggle and is ready to die for it, love is letting him die in the way he's chosen. —
Oriana Fallaci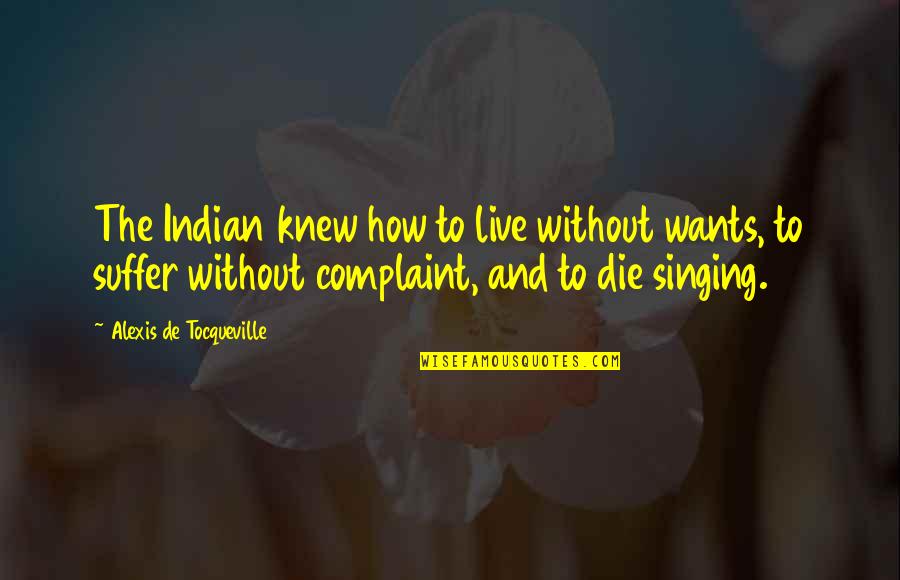 The Indian knew how to live without wants, to suffer without complaint, and to die singing. —
Alexis De Tocqueville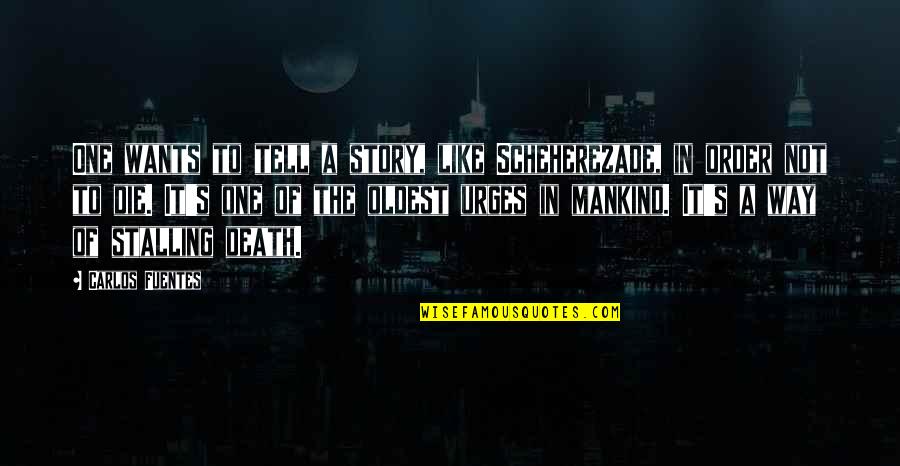 One wants to tell a story, like Scheherezade, in order not to die. It's one of the oldest urges in mankind. It's a way of stalling death. —
Carlos Fuentes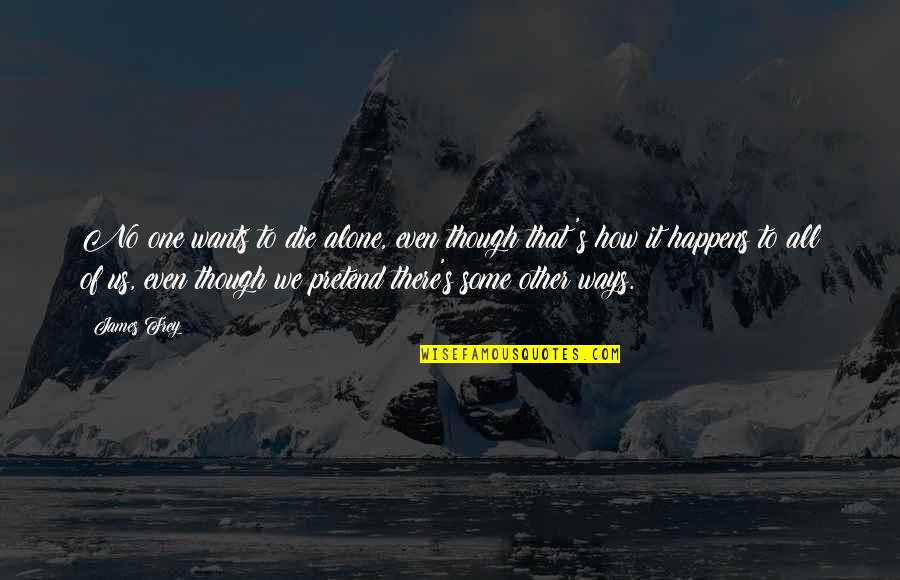 No one
wants to die
alone, even though that's how it happens to all of us, even though we pretend there's some other ways. —
James Frey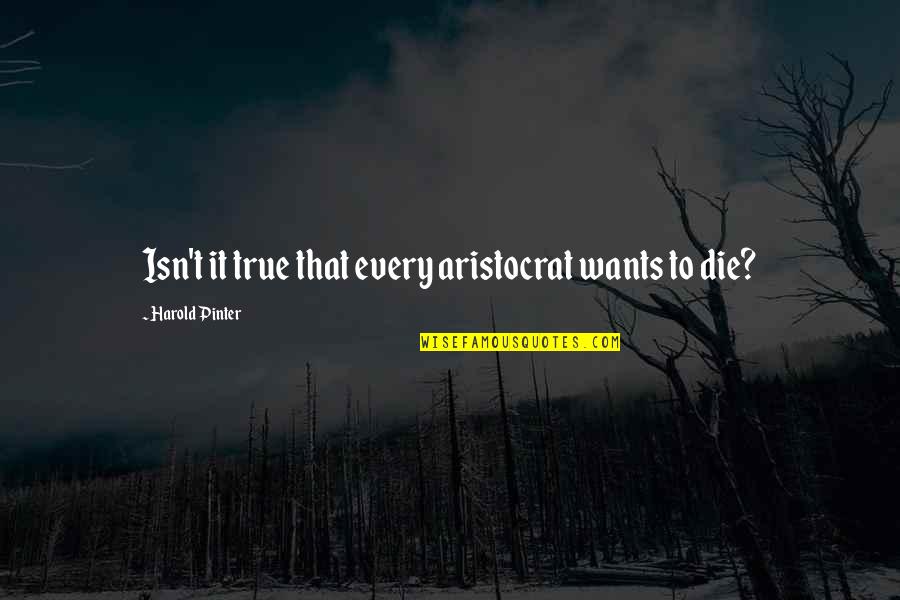 Isn't it true that every aristocrat
wants to die
? —
Harold Pinter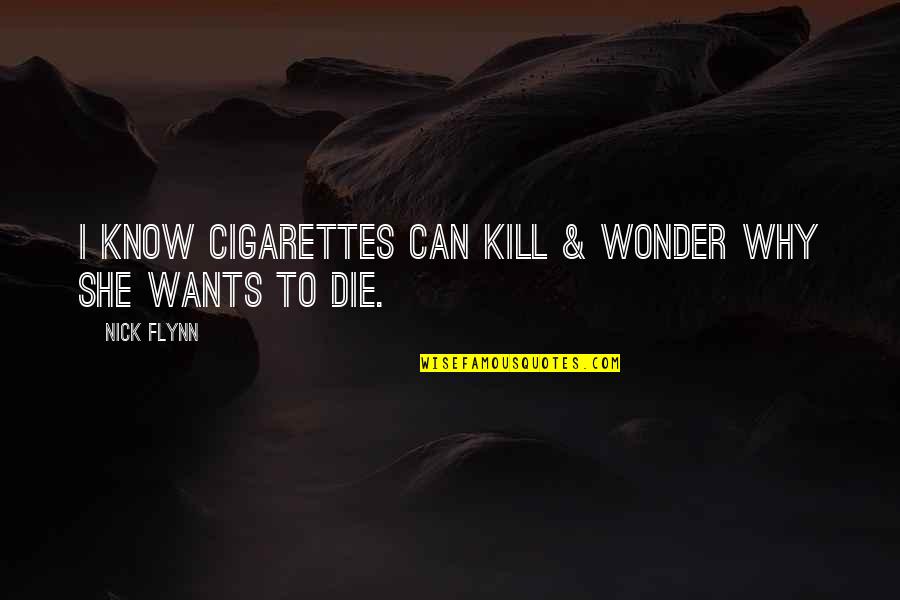 I know cigarettes can kill & wonder why she
wants to die
. —
Nick Flynn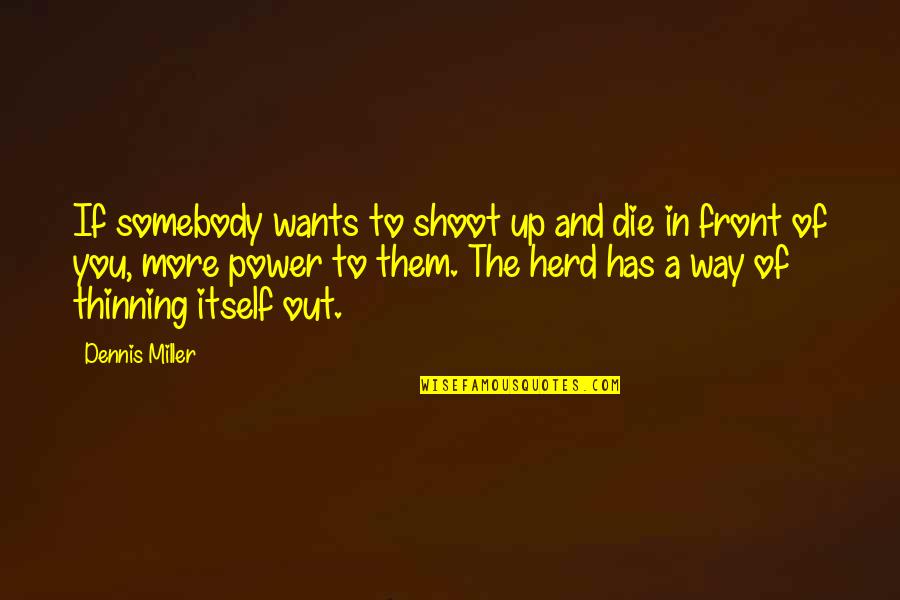 If somebody wants to shoot up and die in front of you, more power to them. The herd has a way of thinning itself out. —
Dennis Miller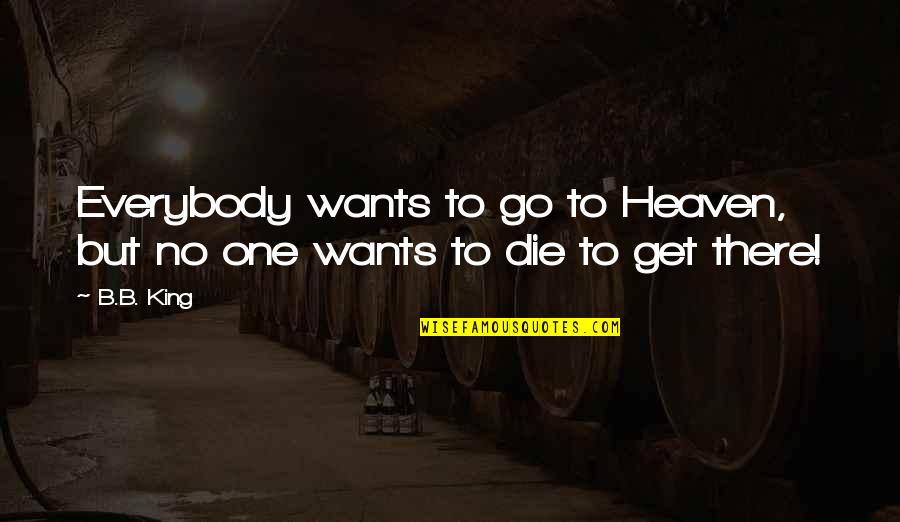 Everybody wants to go to Heaven, but no one
wants to die
to get there! —
B.B. King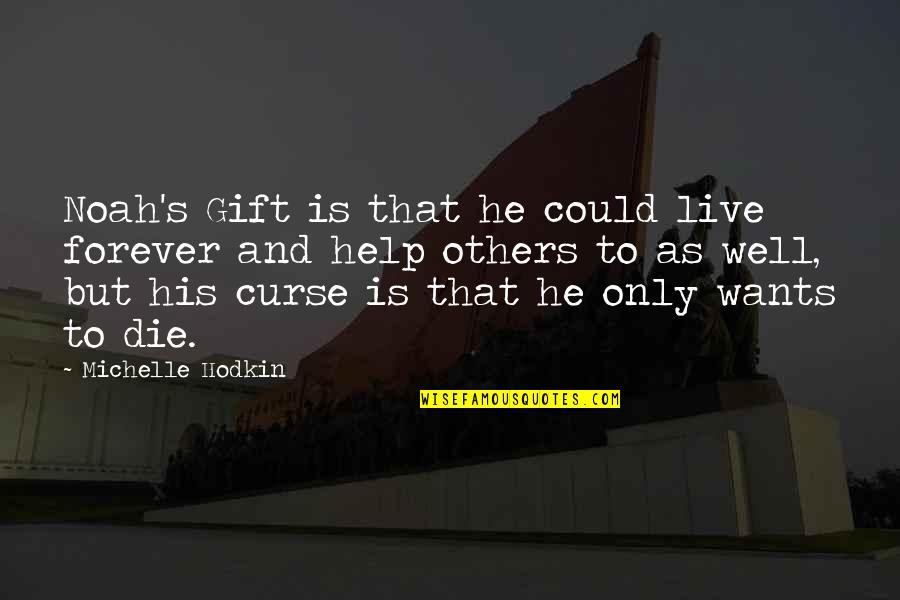 Noah's Gift is that he could live forever and help others to as well, but his curse is that he only
wants to die
. —
Michelle Hodkin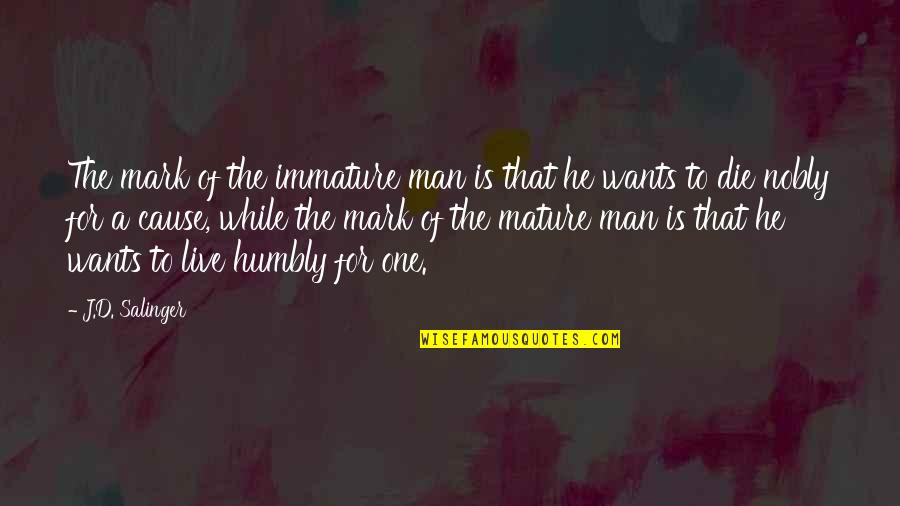 The mark of the immature man is that he
wants to die
nobly for a cause, while the mark of the mature man is that he wants to live humbly for one. —
J.D. Salinger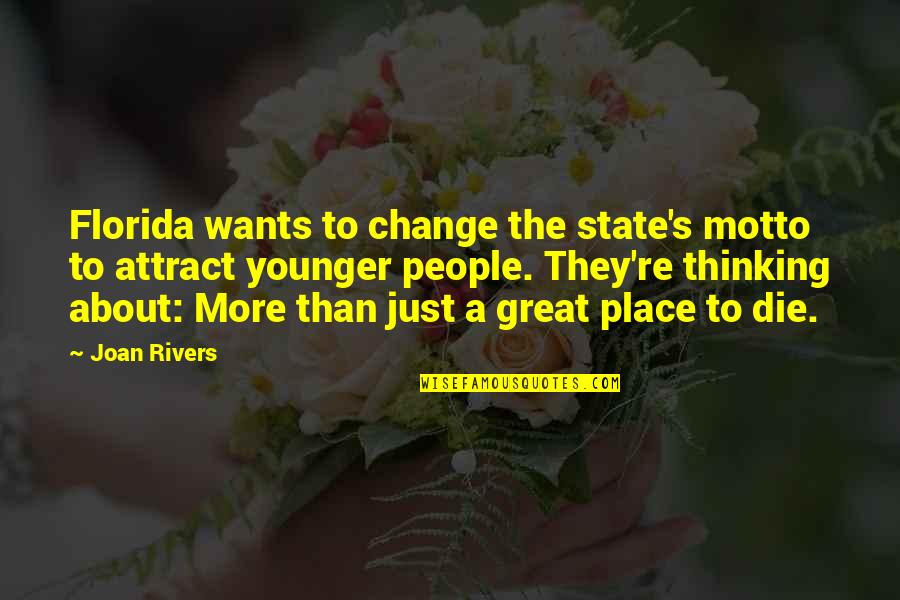 Florida wants to change the state's motto to attract younger people. They're thinking about: More than just a great place to die. —
Joan Rivers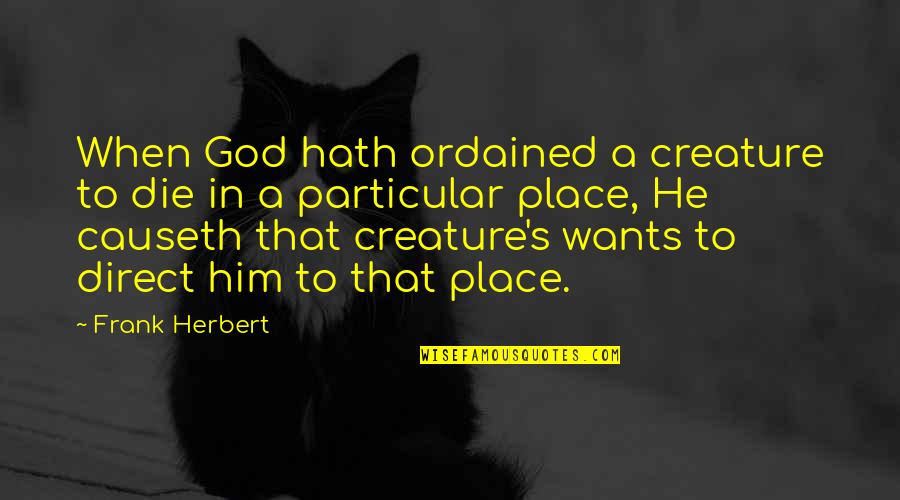 When God hath ordained a creature to die in a particular place, He causeth that creature's wants to direct him to that place. —
Frank Herbert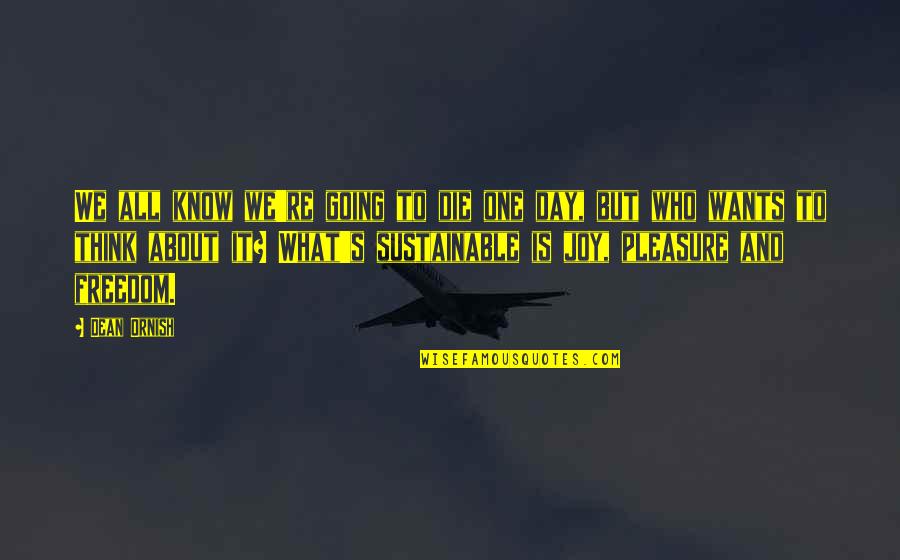 We all know we're going to die one day, but who wants to think about it? What's sustainable is joy, pleasure and freedom. —
Dean Ornish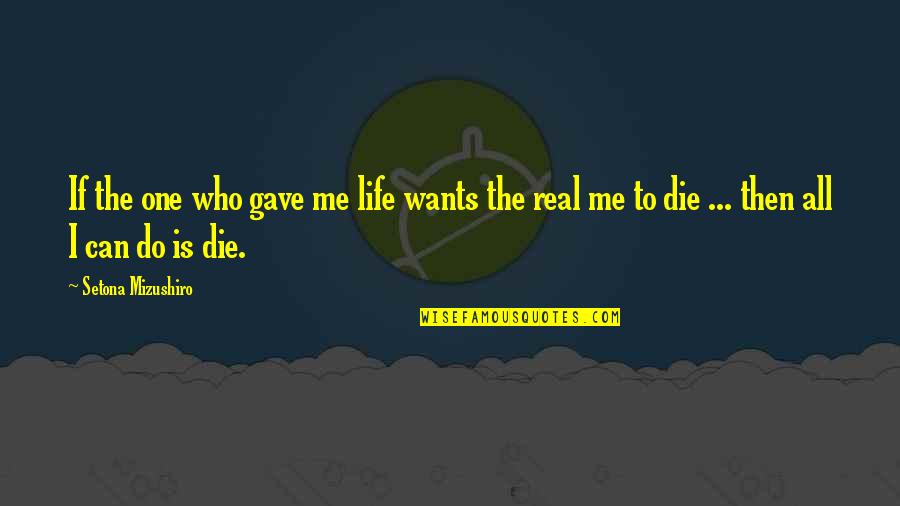 If the one who gave me life wants the real me to die ... then all I can do is die. —
Setona Mizushiro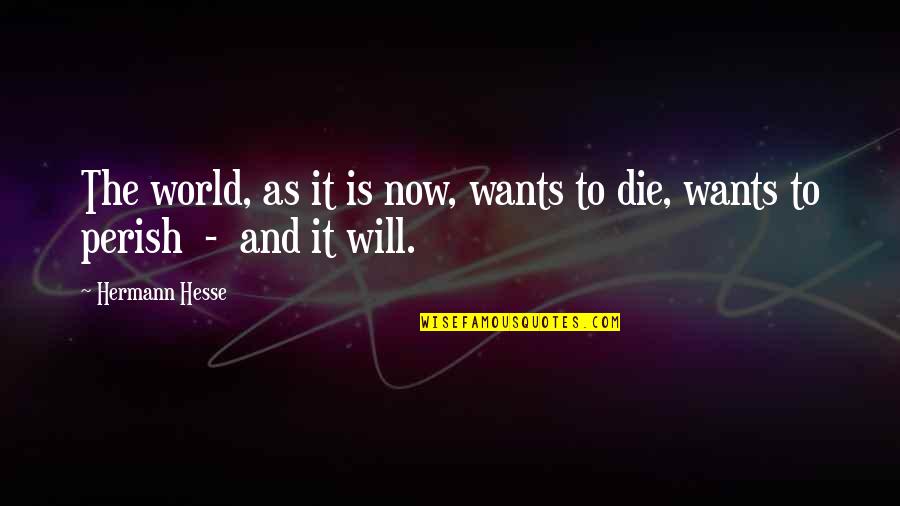 The world, as it is now,
wants to die
, wants to perish - and it will. —
Hermann Hesse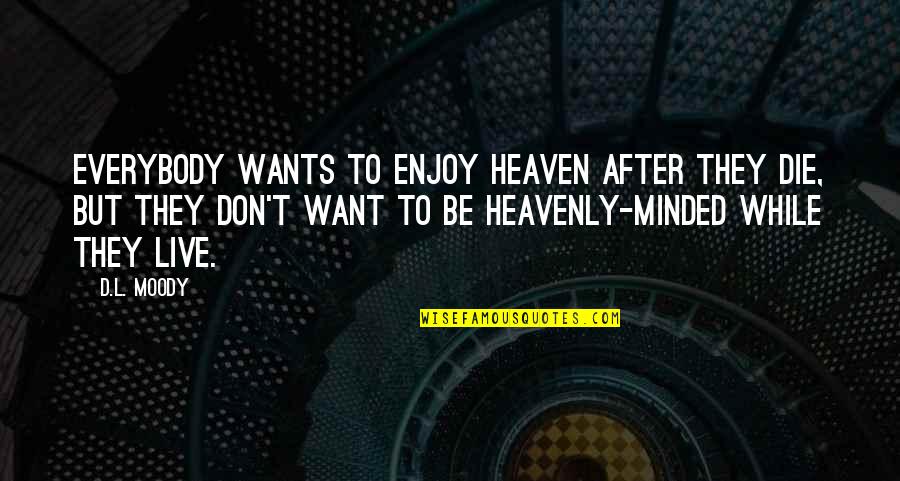 Everybody wants to enjoy heaven after they die, but they don't want to be heavenly-minded while they live. —
D.L. Moody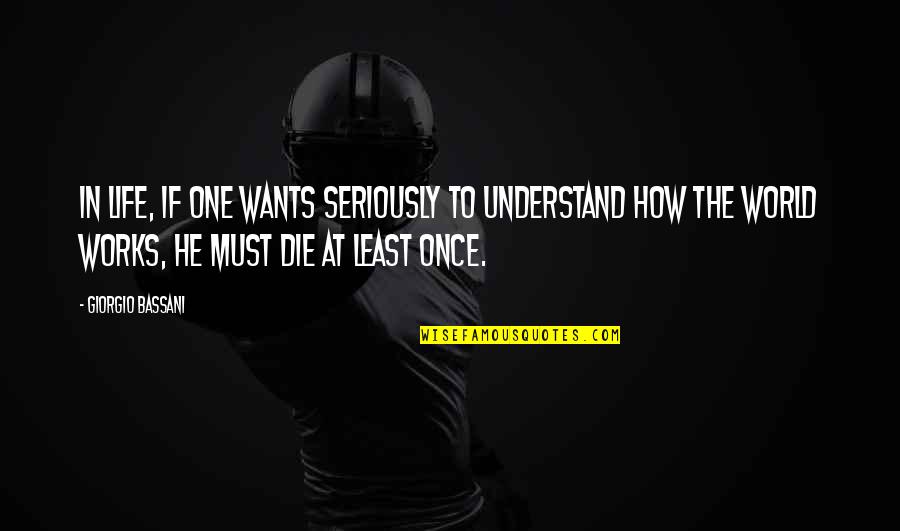 In life, if one wants seriously to understand how the world works, he must die at least once. —
Giorgio Bassani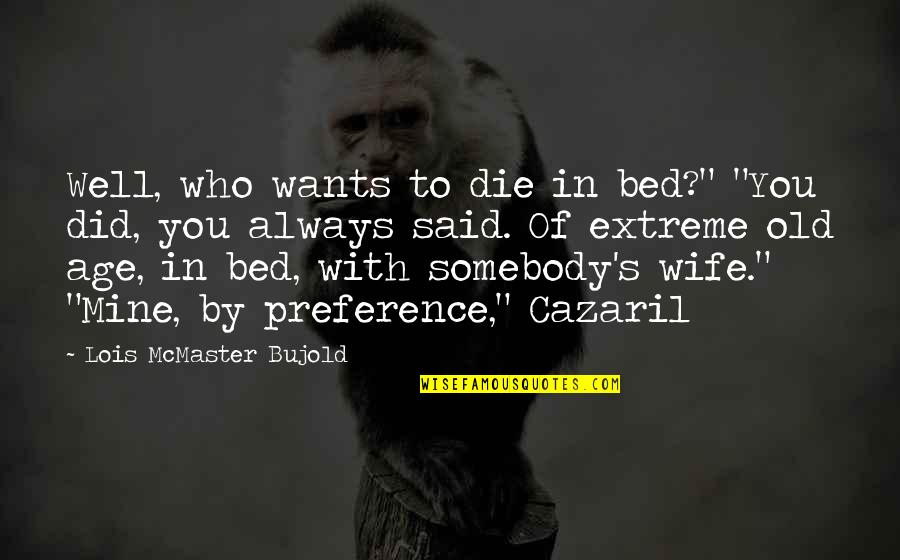 Well, who
wants to die
in bed?" "You did, you always said. Of extreme old age, in bed, with somebody's wife." "Mine, by preference," Cazaril —
Lois McMaster Bujold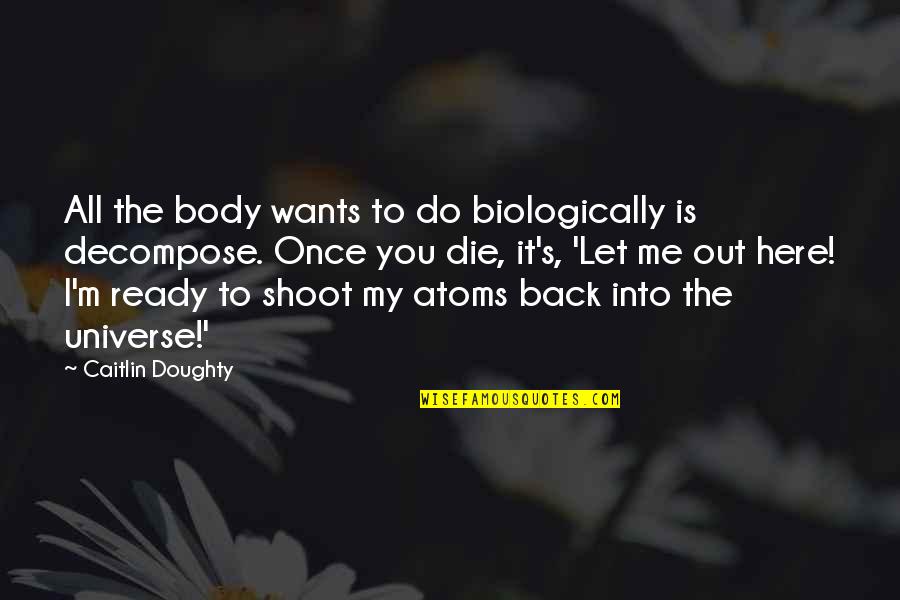 All the body wants to do biologically is decompose. Once you die, it's, 'Let me out here! I'm ready to shoot my atoms back into the universe!' —
Caitlin Doughty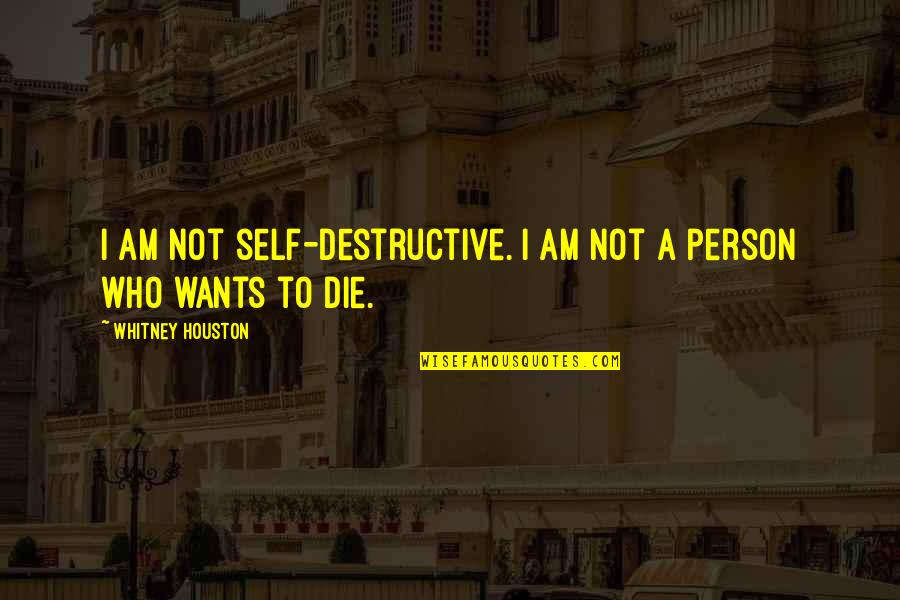 I am not self-destructive. I am not a person who
wants to die
. —
Whitney Houston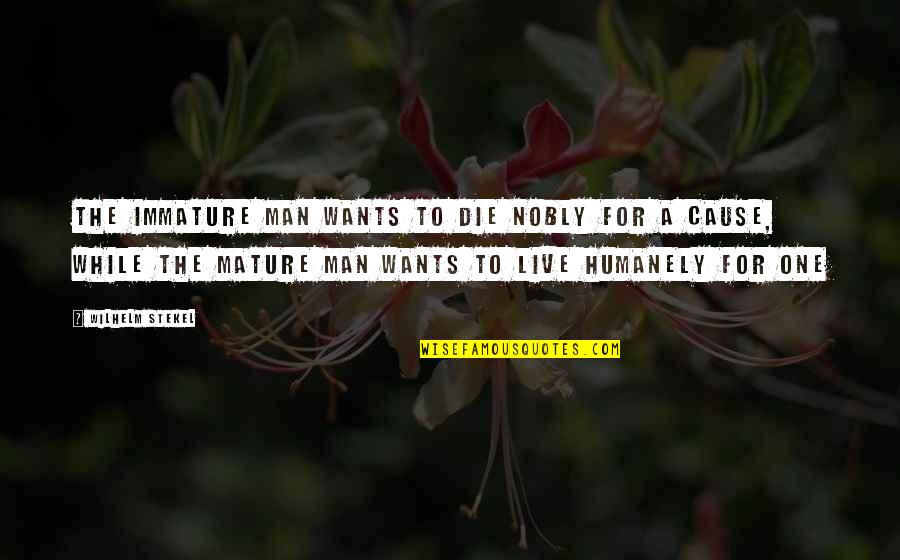 The immature man
wants to die
nobly for a cause, while the mature man wants to live humanely for one —
Wilhelm Stekel