Running From God Quotes
Collection of top 56 famous quotes about Running From God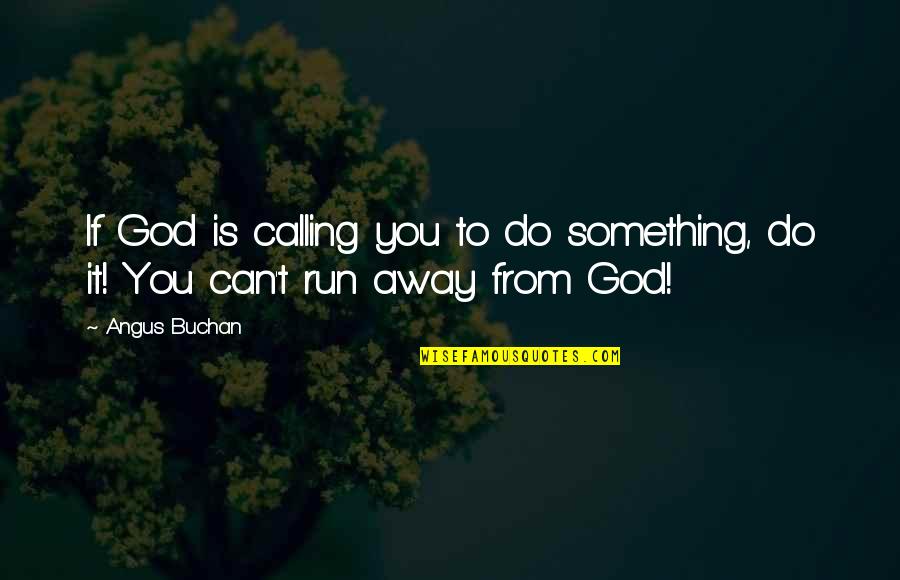 If God is calling you to do something, do it! You can't run away from God!
—
Angus Buchan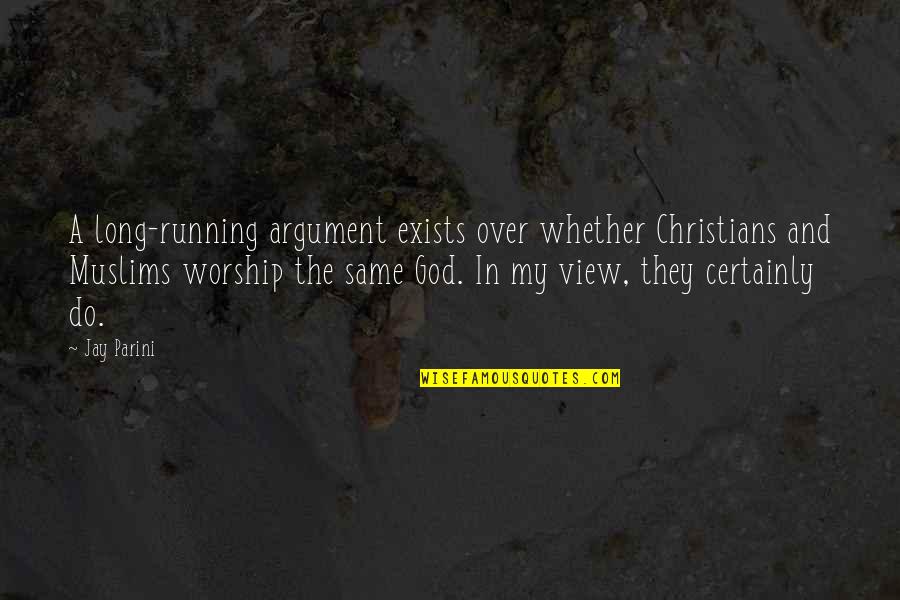 A long-running argument exists over whether Christians and Muslims worship the same God. In my view, they certainly do.
—
Jay Parini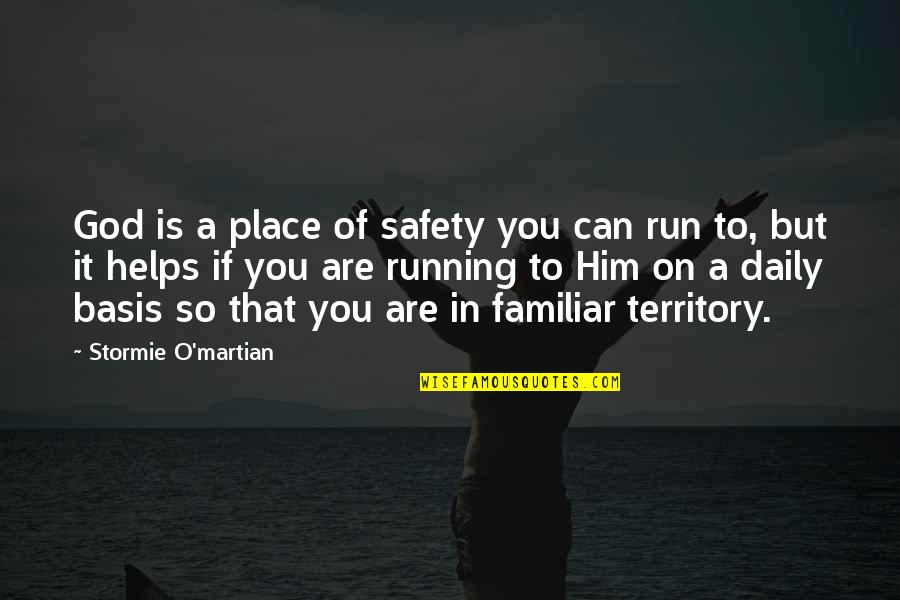 God is a place of safety you can run to, but it helps if you are running to Him on a daily basis so that you are in familiar territory.
—
Stormie O'martian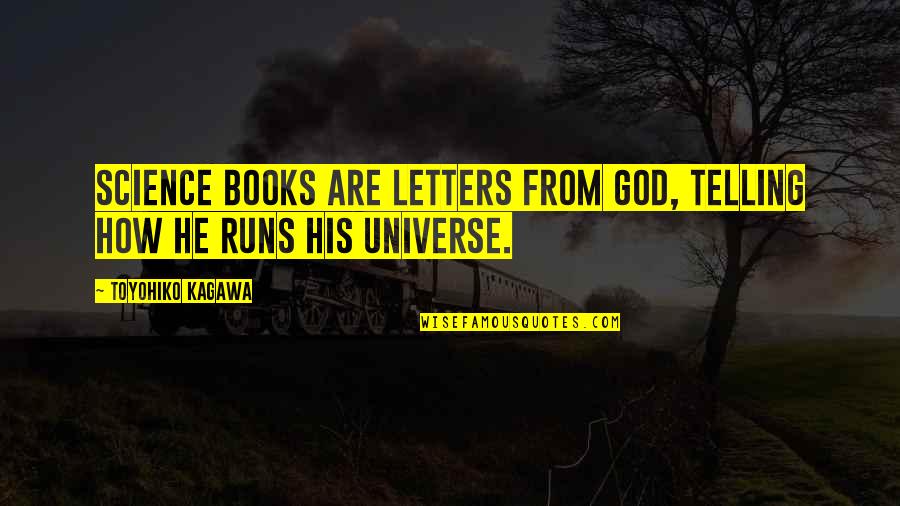 Science books are letters from God, telling how He runs His universe.
—
Toyohiko Kagawa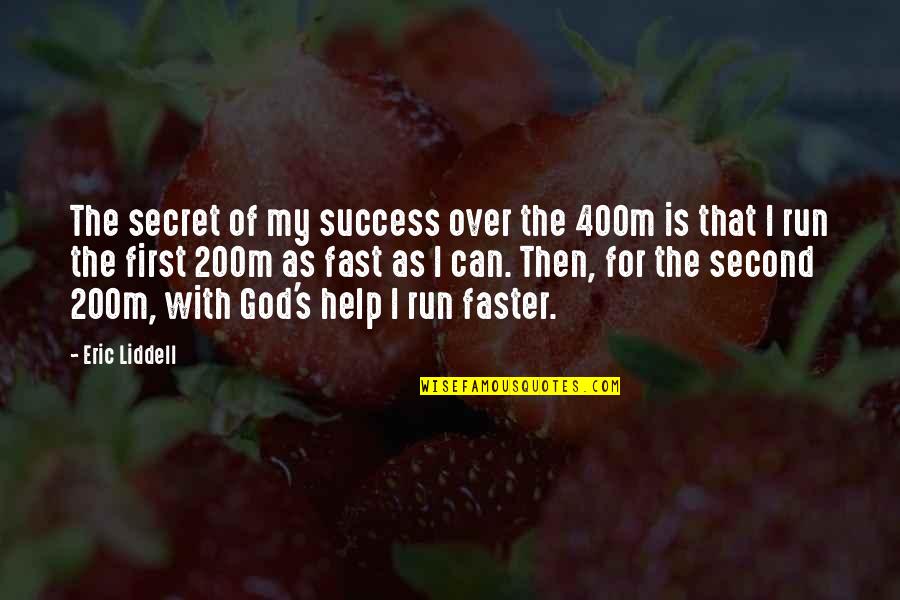 The secret of my success over the 400m is that I run the first 200m as fast as I can. Then, for the second 200m, with God's help I run faster.
—
Eric Liddell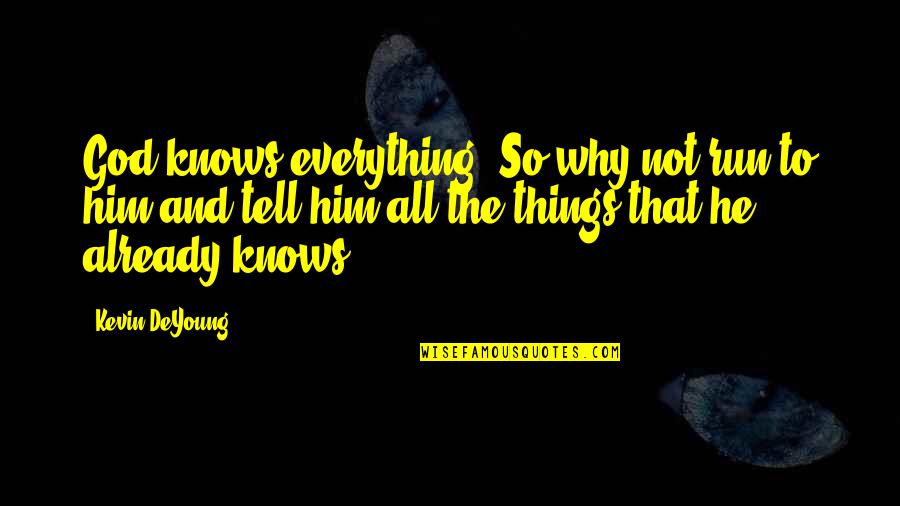 God knows everything. So why not run to him and tell him all the things that he already knows?
—
Kevin DeYoung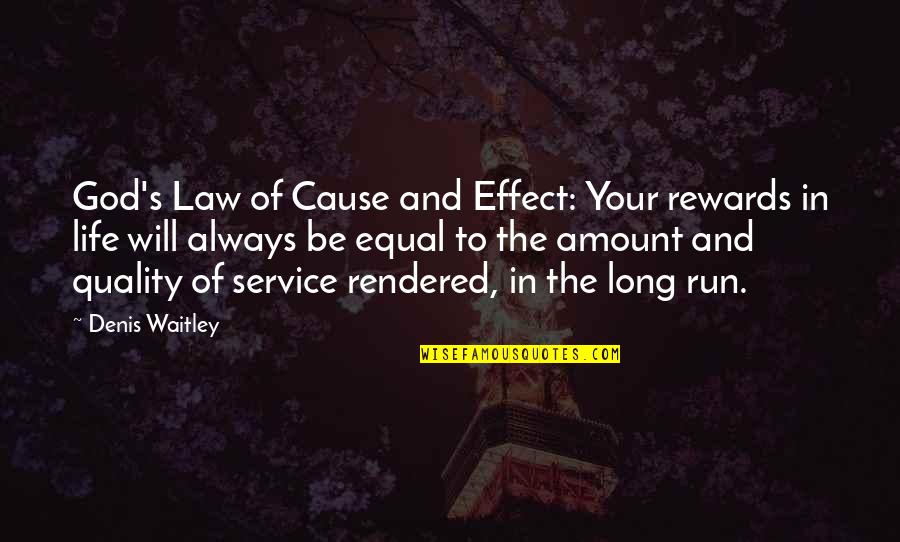 God's Law of Cause and Effect: Your rewards in life will always be equal to the amount and quality of service rendered, in the long run.
—
Denis Waitley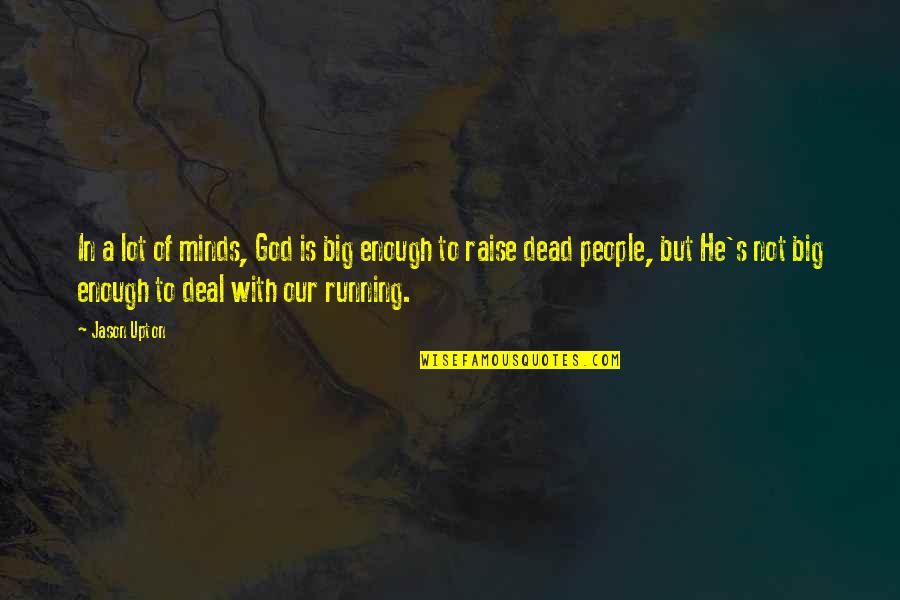 In a lot of minds, God is big enough to raise dead people, but He's not big enough to deal with our running.
—
Jason Upton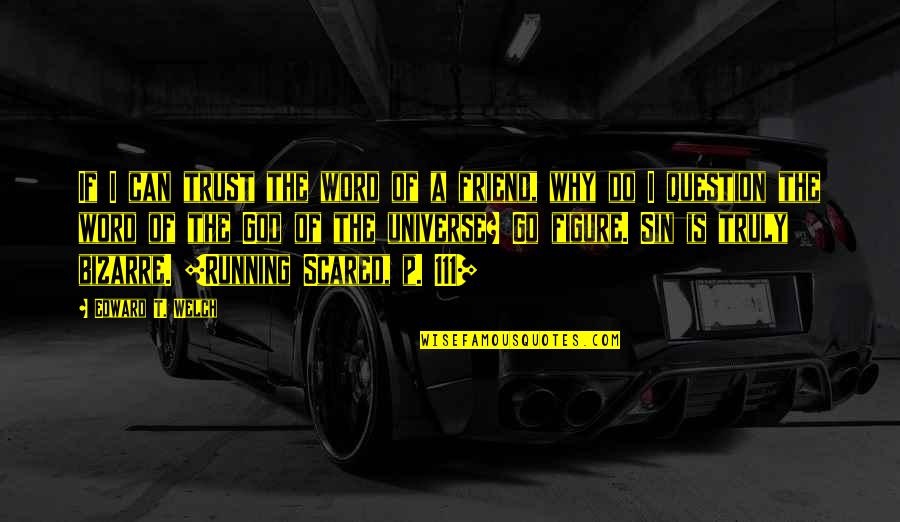 If I can trust the word of a friend, why do I question the word of the God of the universe? Go figure. Sin is truly bizarre. [Running Scared, p. 111]
—
Edward T. Welch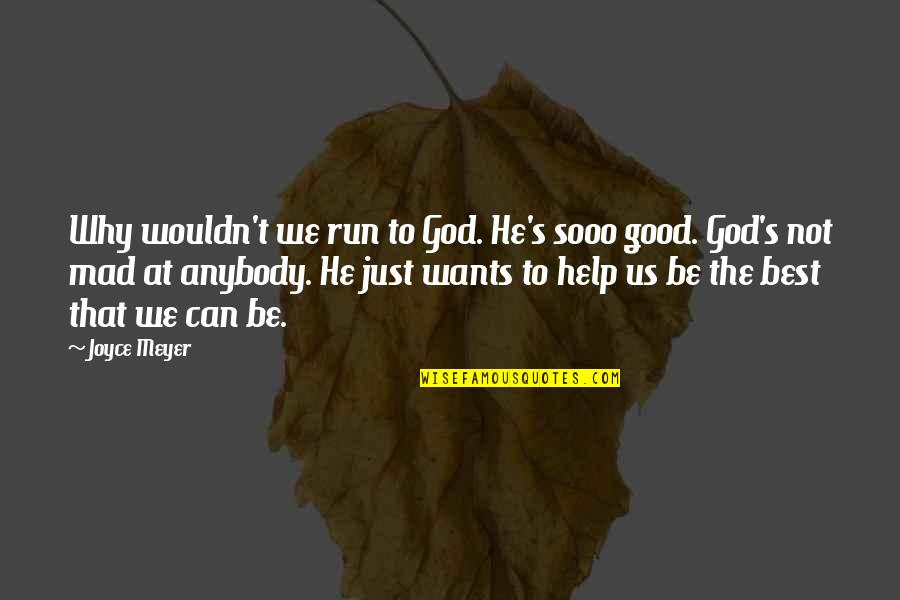 Why wouldn't we run to God. He's sooo good. God's not mad at anybody. He just wants to help us be the best that we can be.
—
Joyce Meyer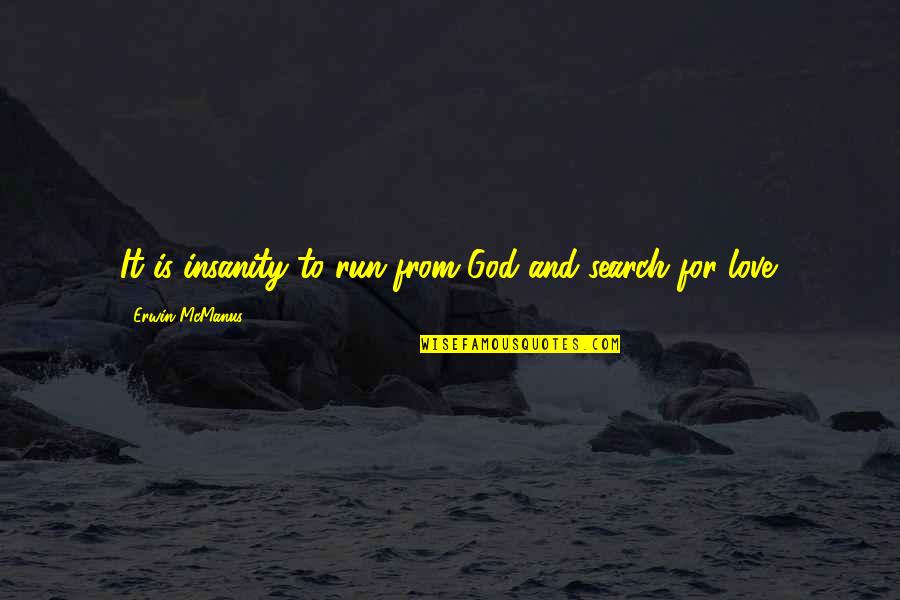 It is insanity to run from God and search for love.
—
Erwin McManus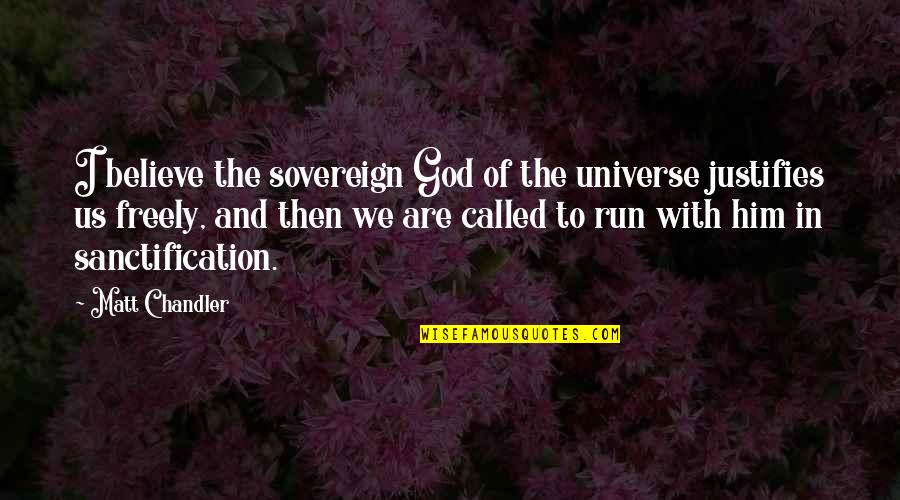 I believe the sovereign God of the universe justifies us freely, and then we are called to run with him in sanctification. —
Matt Chandler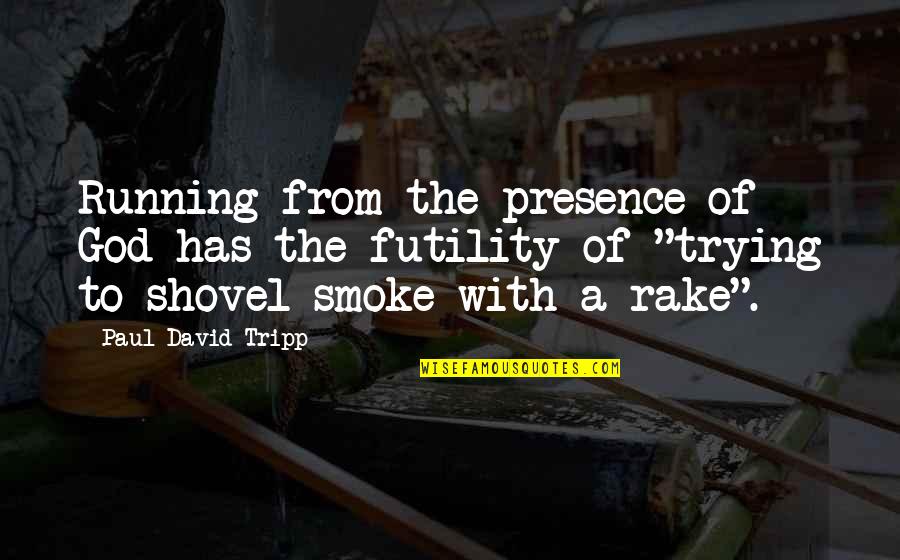 Running from the presence of God has the futility of "trying to shovel smoke with a rake". —
Paul David Tripp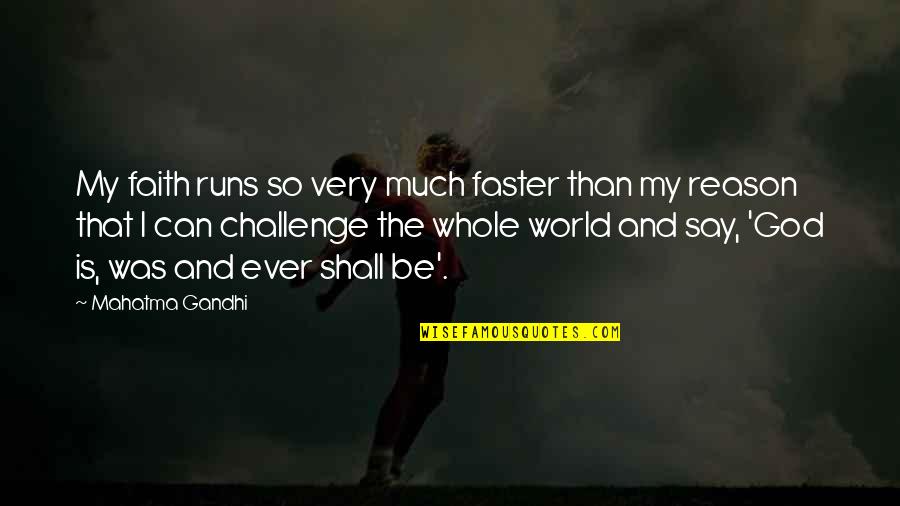 My faith runs so very much faster than my reason that I can challenge the whole world and say, 'God is, was and ever shall be'. —
Mahatma Gandhi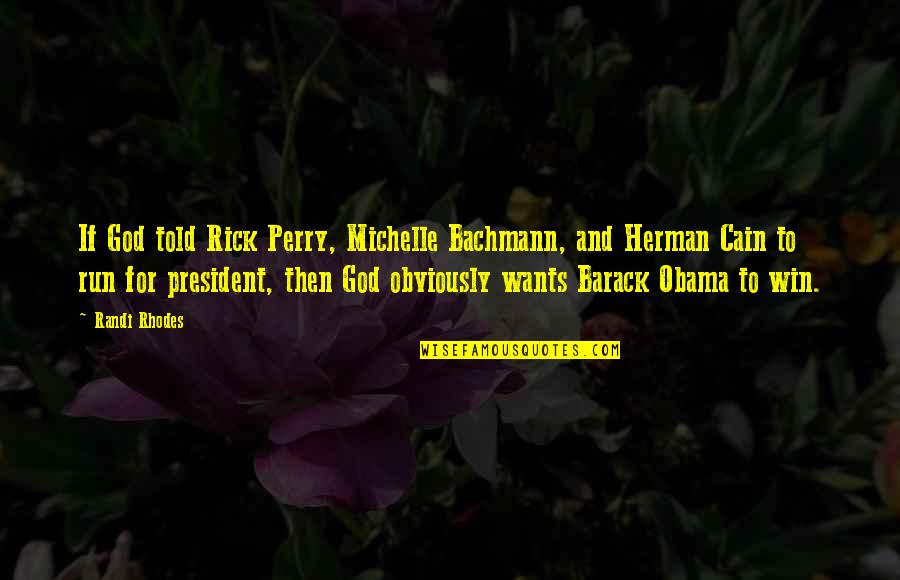 If God told Rick Perry, Michelle Bachmann, and Herman Cain to run for president, then God obviously wants Barack Obama to win. —
Randi Rhodes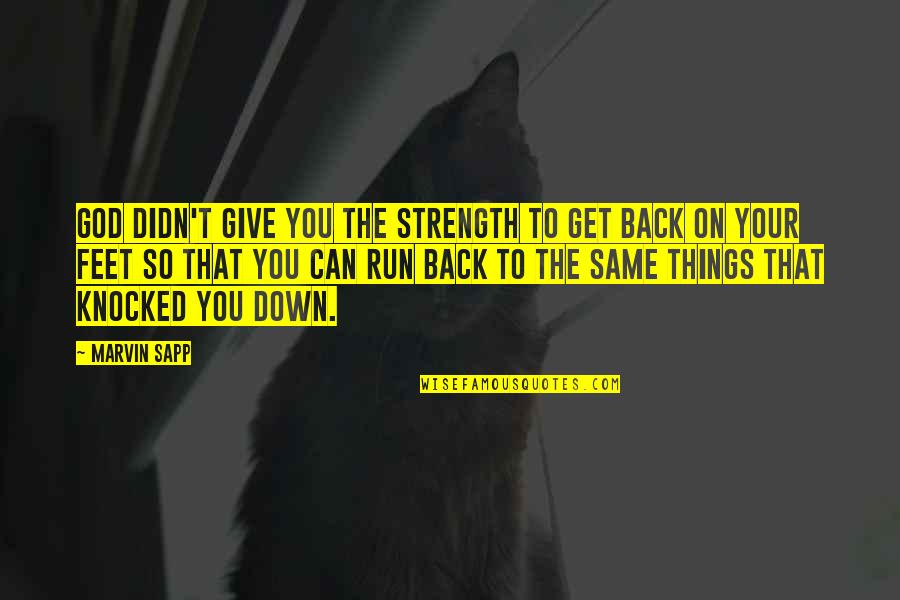 God didn't give you the strength to get back on your feet so that you can run back to the same things that knocked you down. —
Marvin Sapp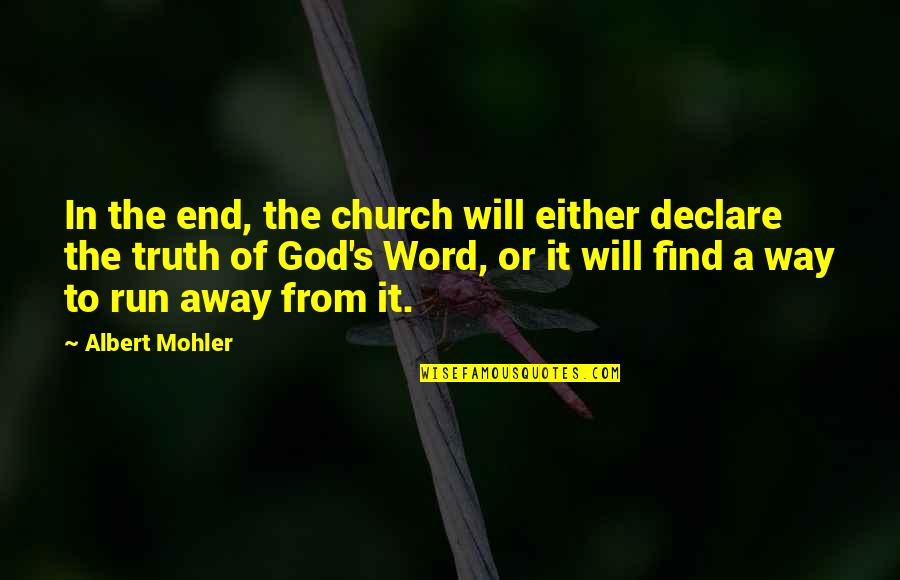 In the end, the church will either declare the truth of God's Word, or it will find a way to run away from it. —
Albert Mohler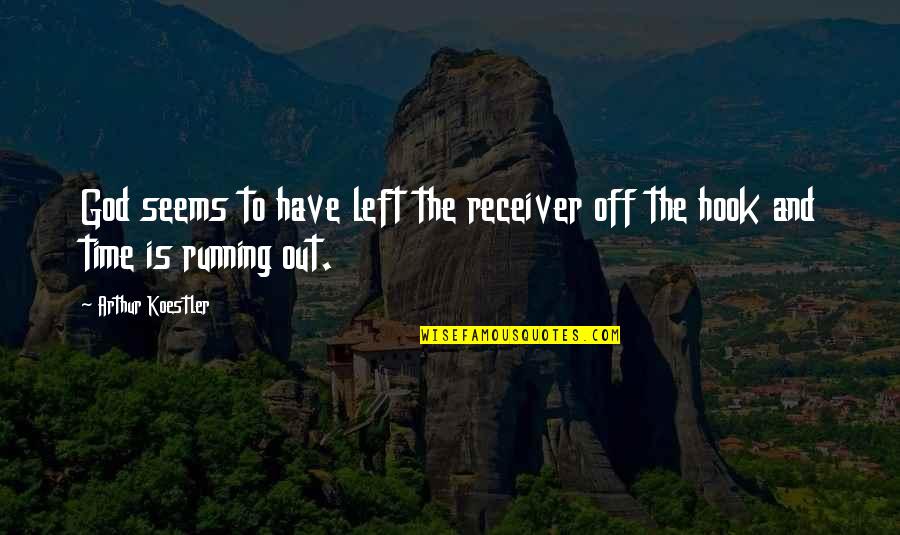 God seems to have left the receiver off the hook and time is running out. —
Arthur Koestler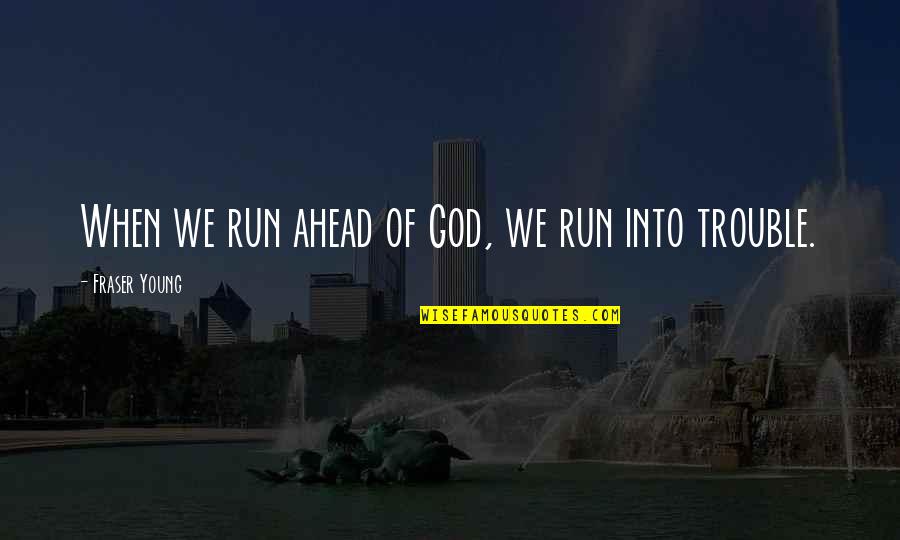 When we run ahead of God, we run into trouble. —
Fraser Young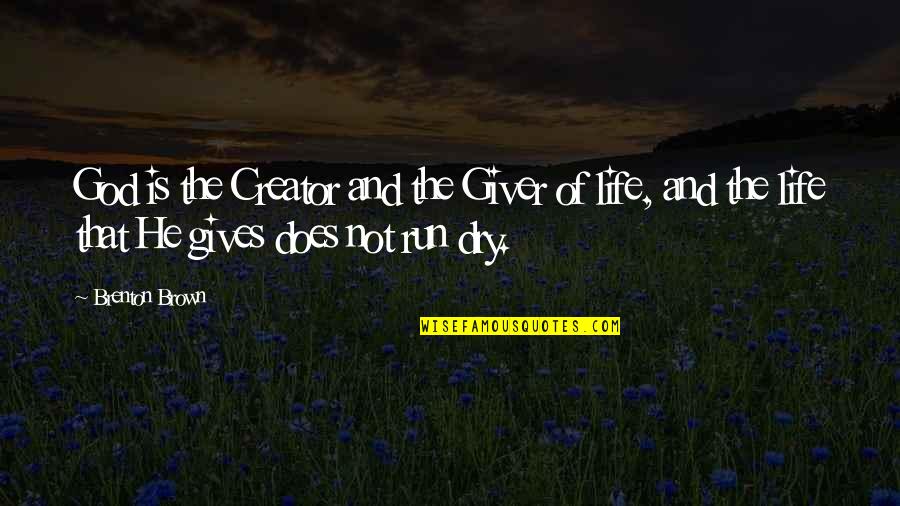 God is the Creator and the Giver of life, and the life that He gives does not run dry. —
Brenton Brown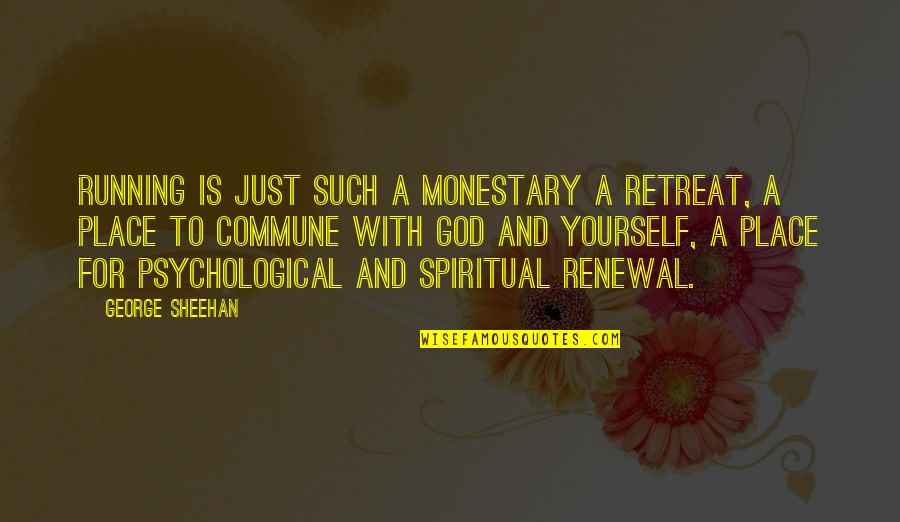 Running is just such a monestary
a retreat, a place to commune with God and yourself, a place for psychological and spiritual renewal. —
George Sheehan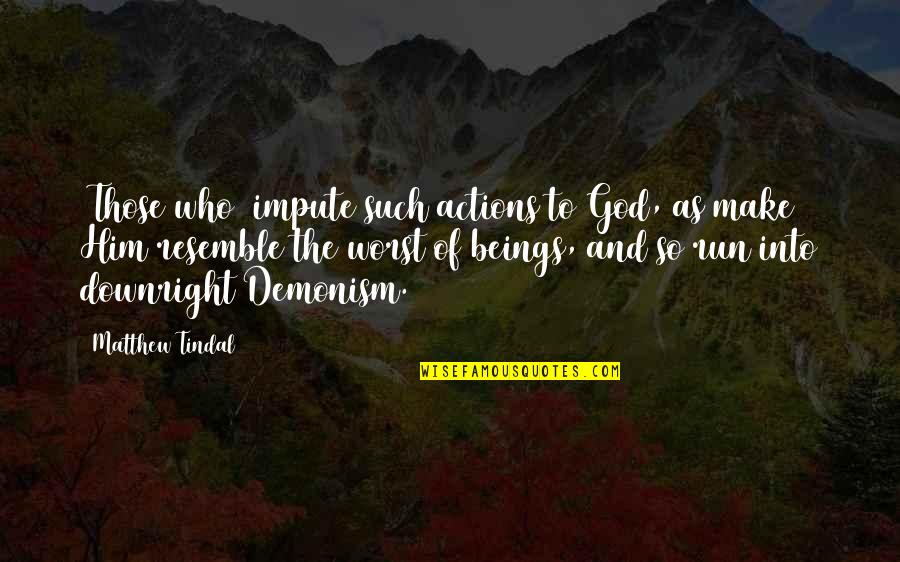 (Those who) impute such actions to God, as make Him resemble the worst of beings, and so run into downright Demonism. —
Matthew Tindal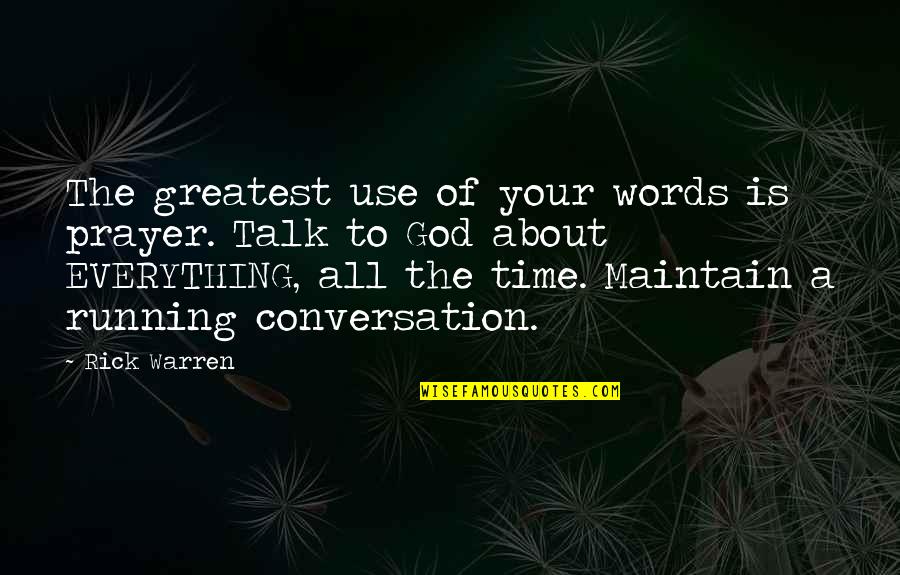 The greatest use of your words is prayer. Talk to God about EVERYTHING, all the time. Maintain a running conversation. —
Rick Warren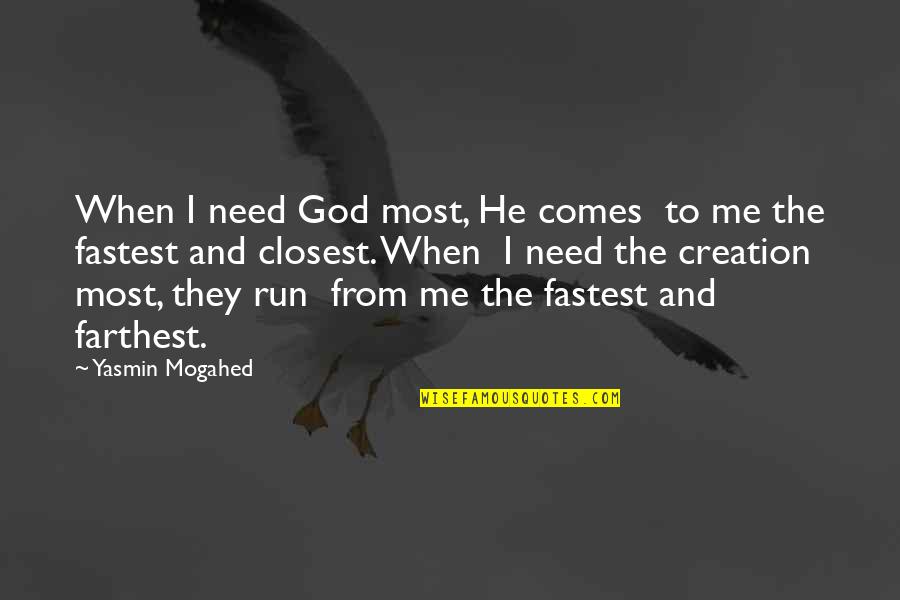 When I need God most, He comes
to me the fastest and closest. When
I need the creation most, they run
from me the fastest and farthest. —
Yasmin Mogahed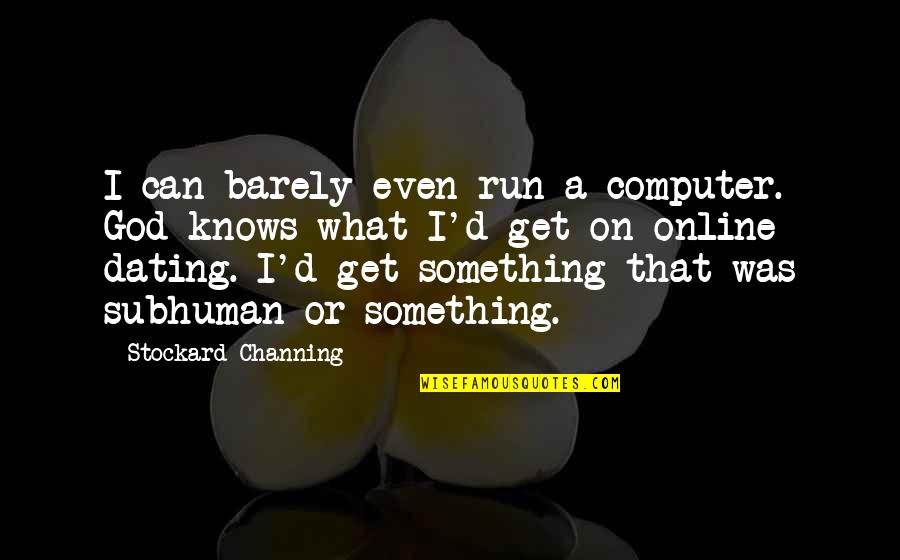 I can barely even run a computer. God knows what I'd get on online dating. I'd get something that was subhuman or something. —
Stockard Channing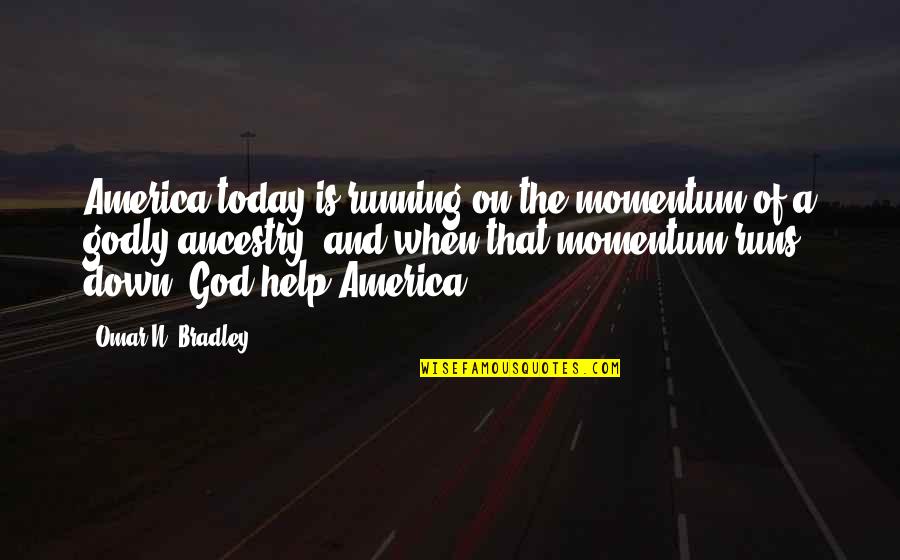 America today is running on the momentum of a godly ancestry, and when that momentum runs down, God help America. —
Omar N. Bradley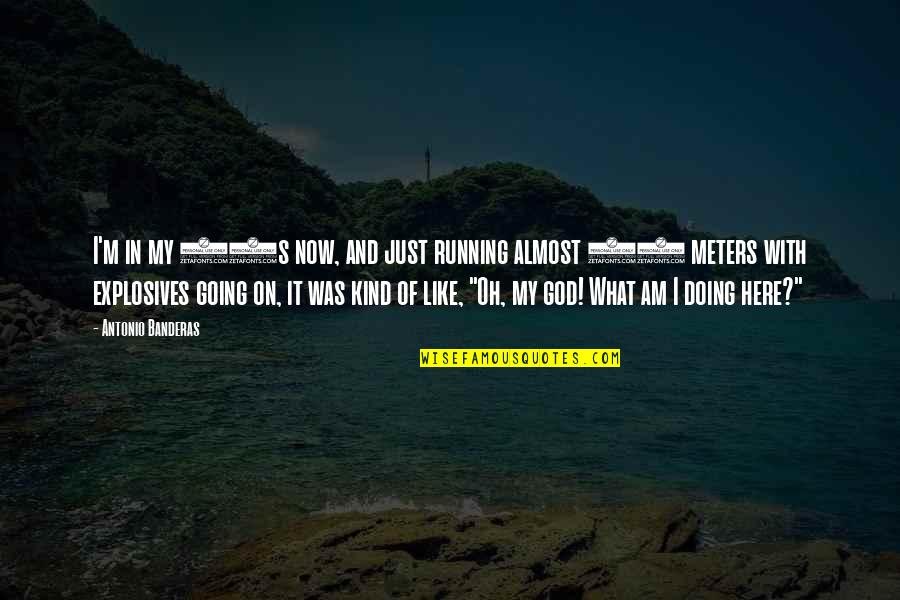 I'm in my 60s now, and just running almost 50 meters with explosives going on, it was kind of like, "Oh, my god! What am I doing here?" —
Antonio Banderas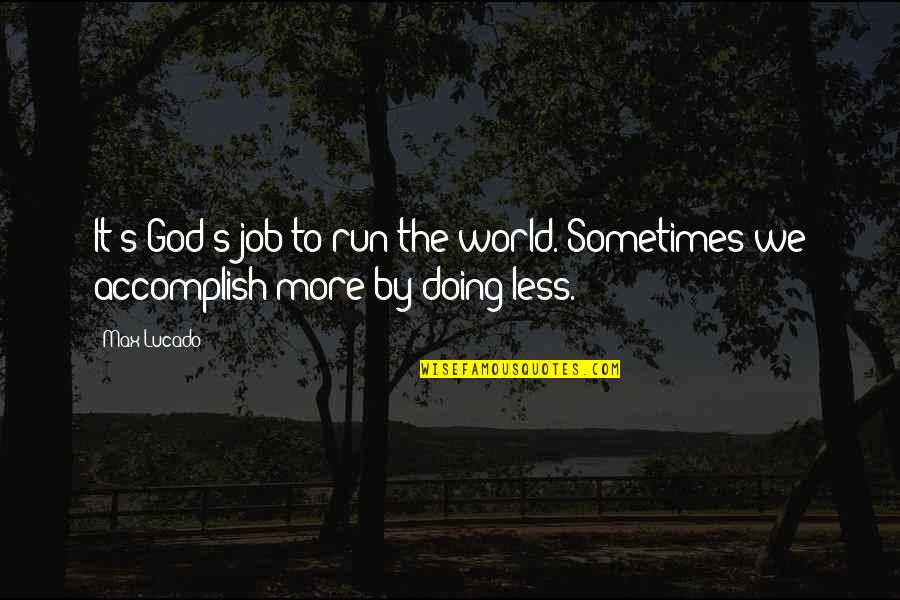 It's God's job to run the world. Sometimes we accomplish more by doing less. —
Max Lucado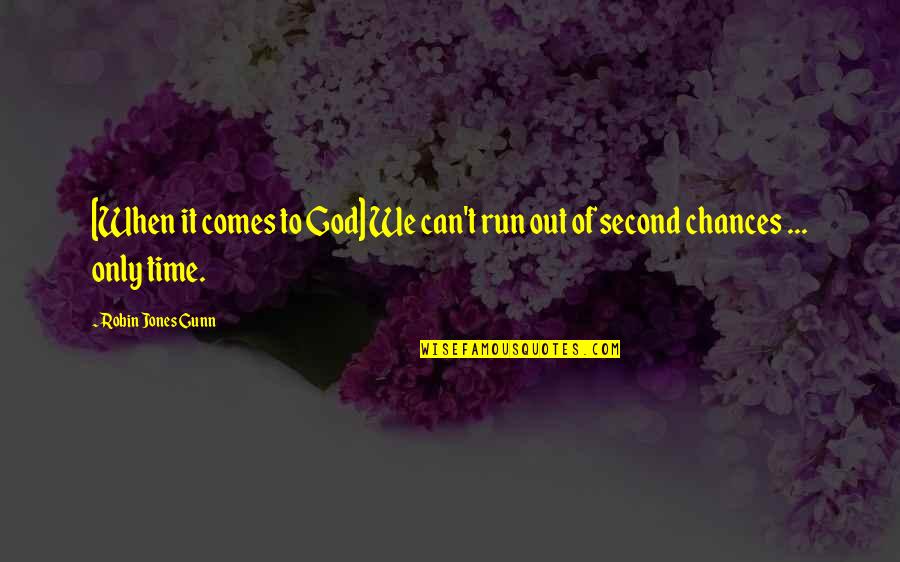 [When it comes to God] We can't run out of second chances ... only time. —
Robin Jones Gunn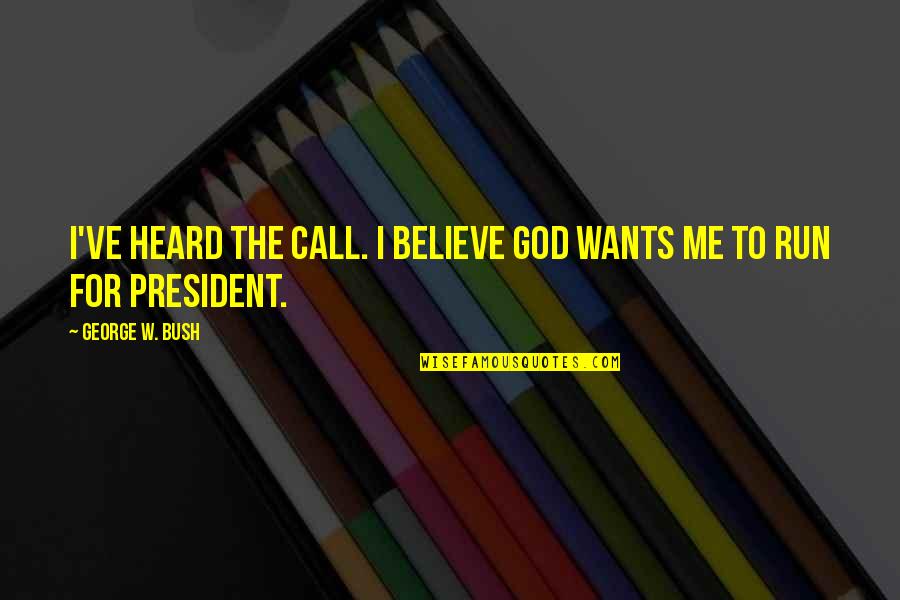 I've heard the call. I believe God wants me to run for president. —
George W. Bush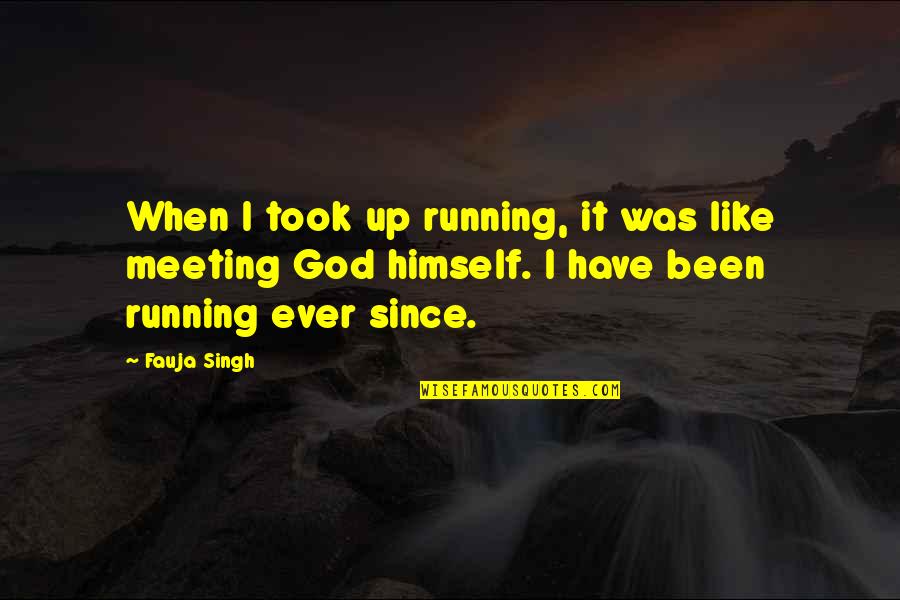 When I took up running, it was like meeting God himself. I have been running ever since. —
Fauja Singh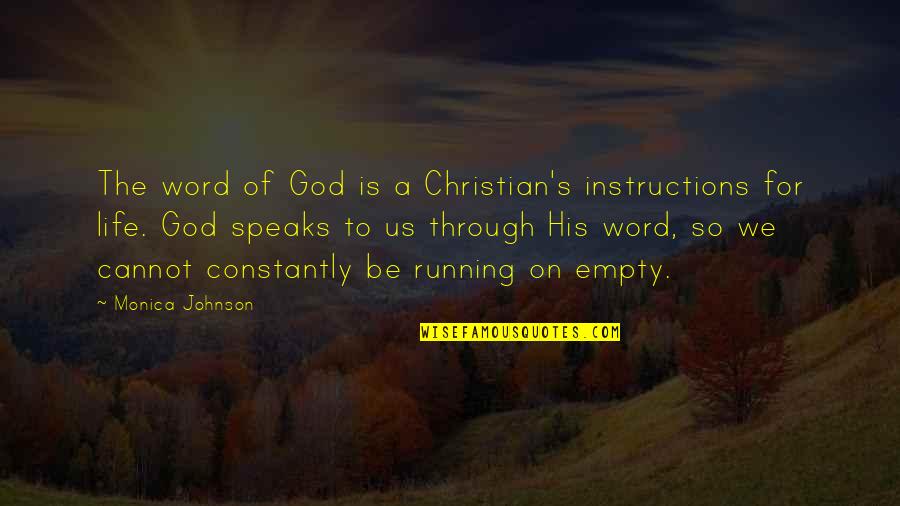 The word of God is a Christian's instructions for life. God speaks to us through His word, so we cannot constantly be running on empty. —
Monica Johnson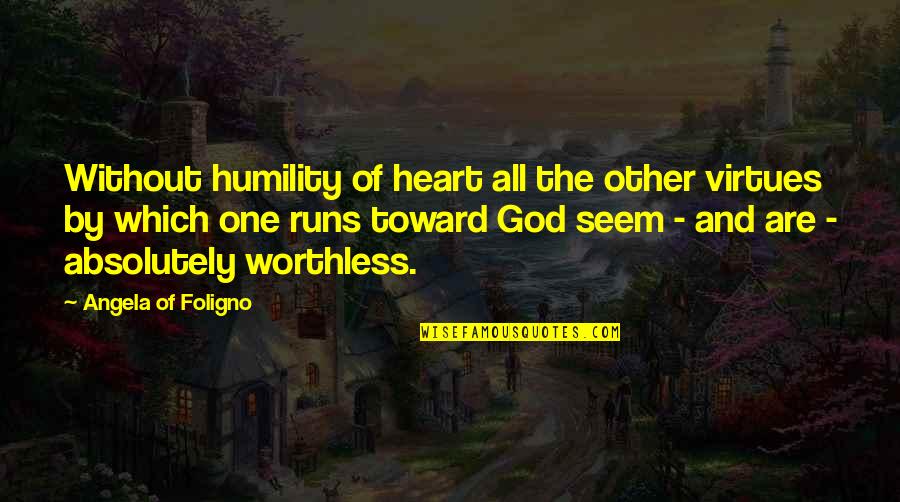 Without humility of heart all the other virtues by which one runs toward God seem - and are - absolutely worthless. —
Angela Of Foligno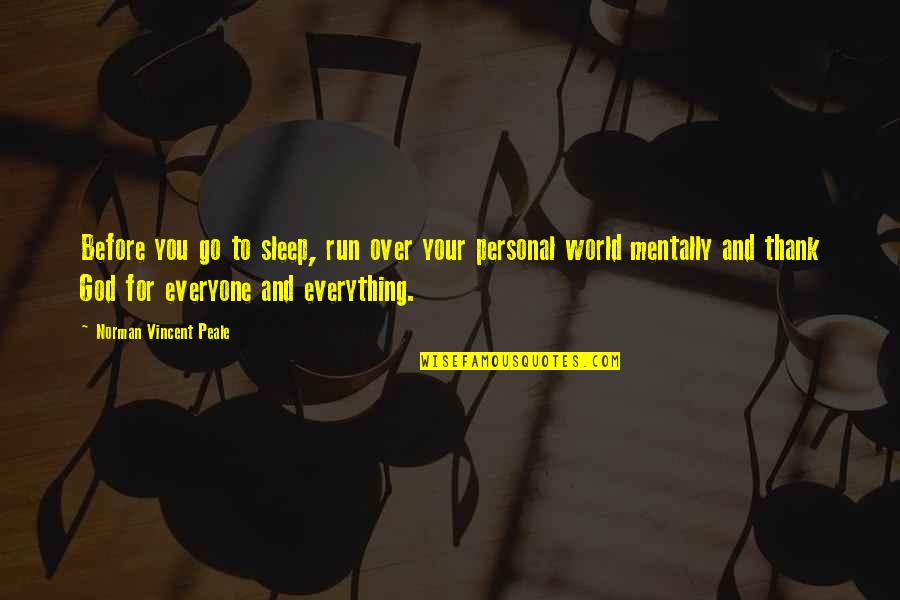 Before you go to sleep, run over your personal world mentally and thank God for everyone and everything. —
Norman Vincent Peale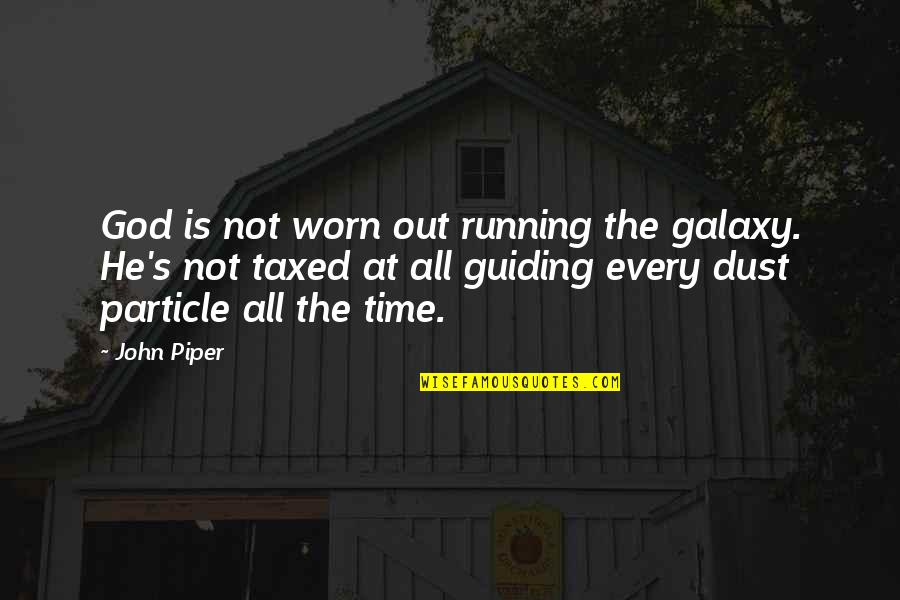 God is not worn out running the galaxy. He's not taxed at all guiding every dust particle all the time. —
John Piper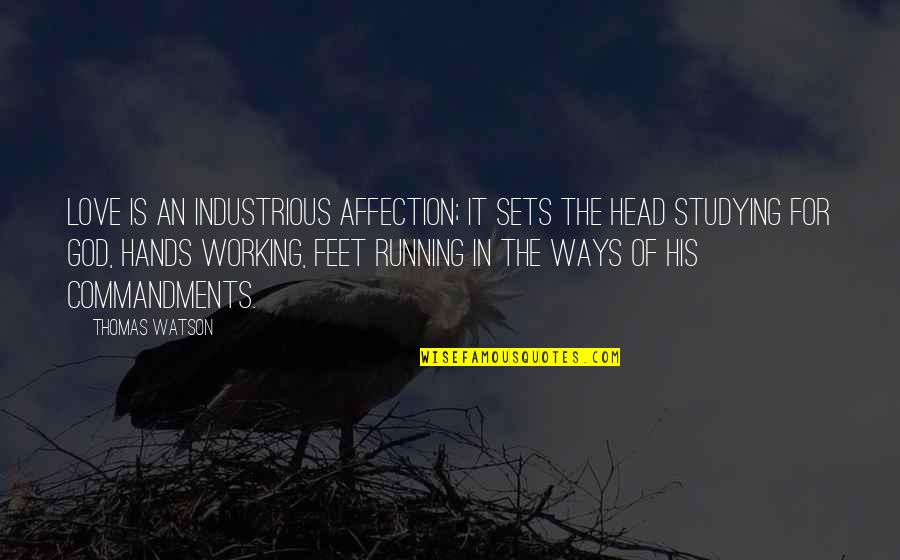 Love is an industrious affection; it sets the head studying for God, hands working, feet running in the ways of his commandments. —
Thomas Watson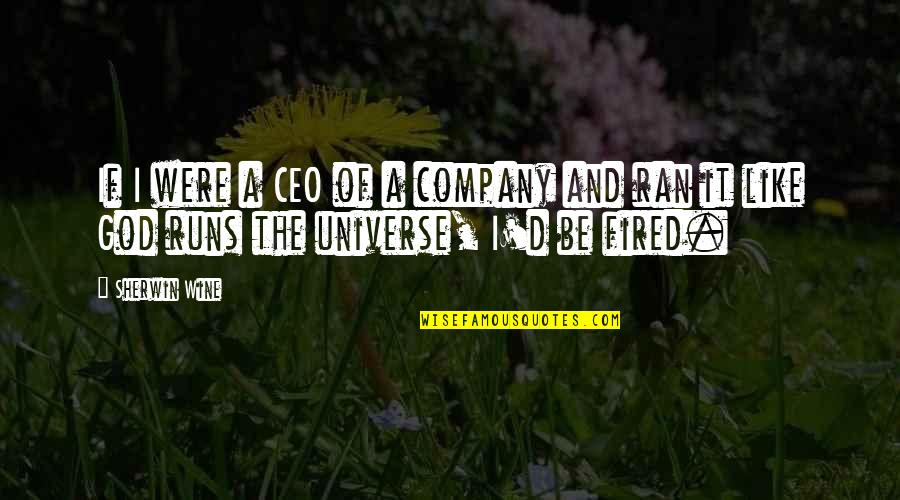 If I were a CEO of a company and ran it like God runs the universe, I'd be fired. —
Sherwin Wine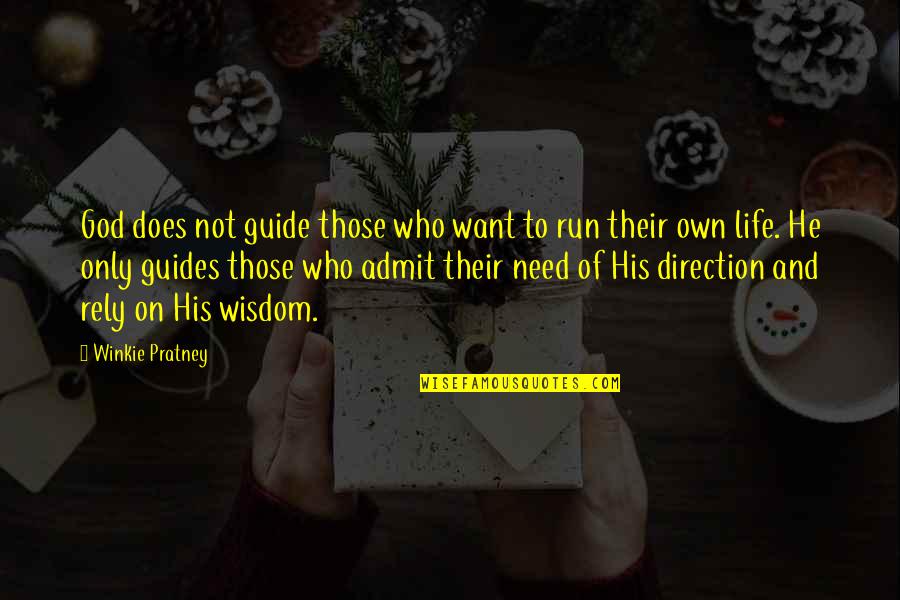 God does not guide those who want to run their own life. He only guides those who admit their need of His direction and rely on His wisdom. —
Winkie Pratney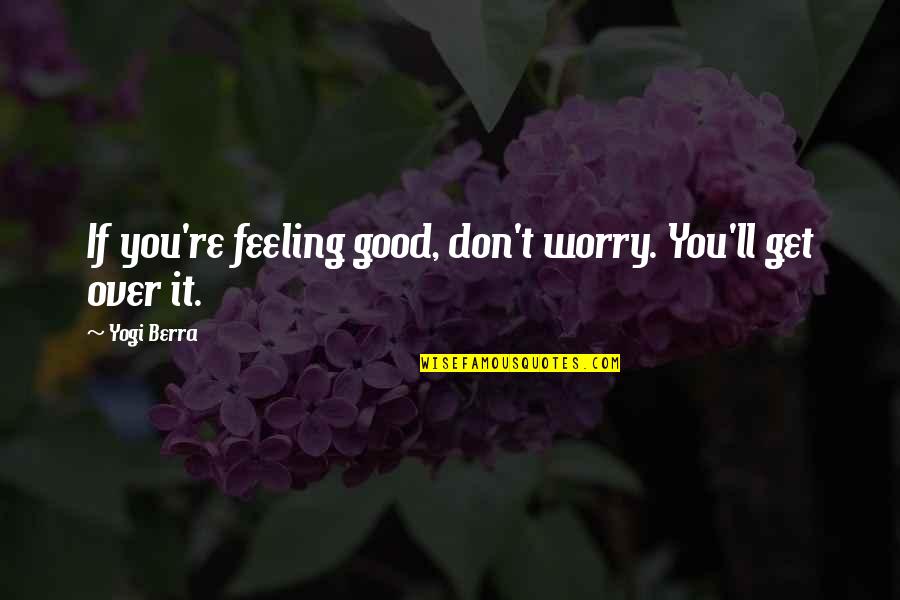 If you're feeling good, don't worry. You'll get over it. —
Yogi Berra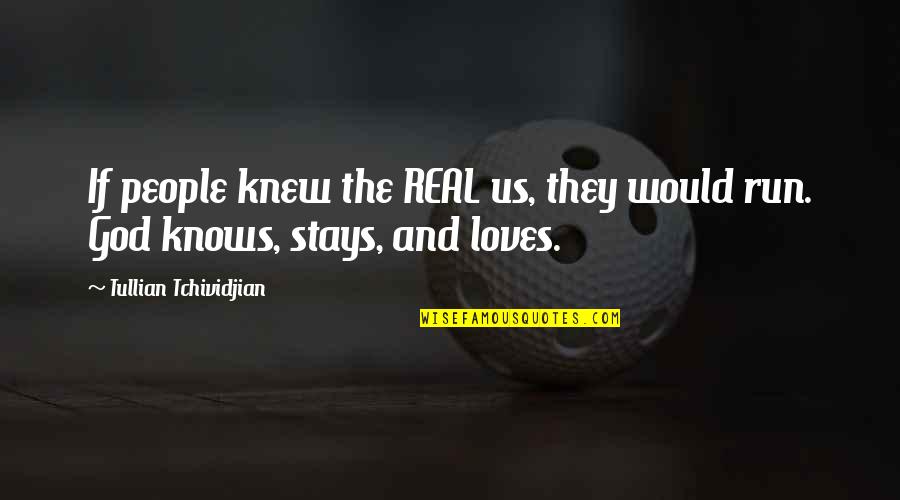 If people knew the REAL us, they would run. God knows, stays, and loves. —
Tullian Tchividjian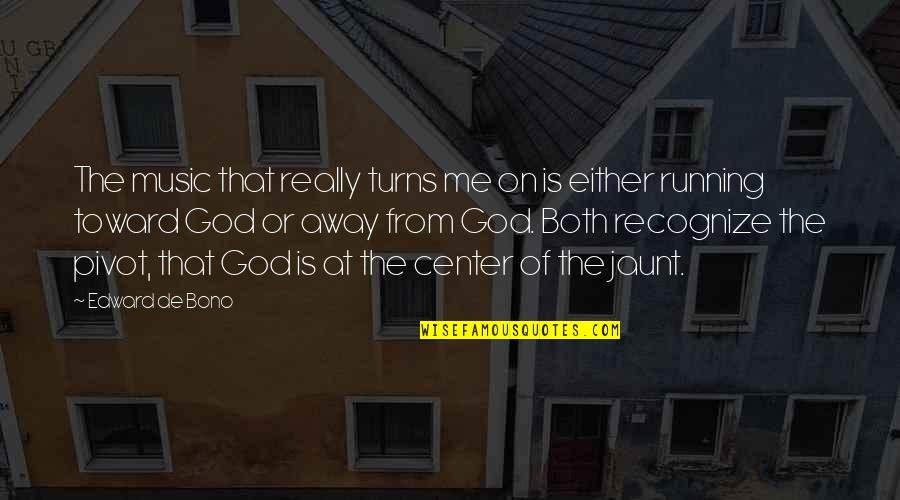 The music that really turns me on is either running toward God or away from God. Both recognize the pivot, that God is at the center of the jaunt. —
Edward De Bono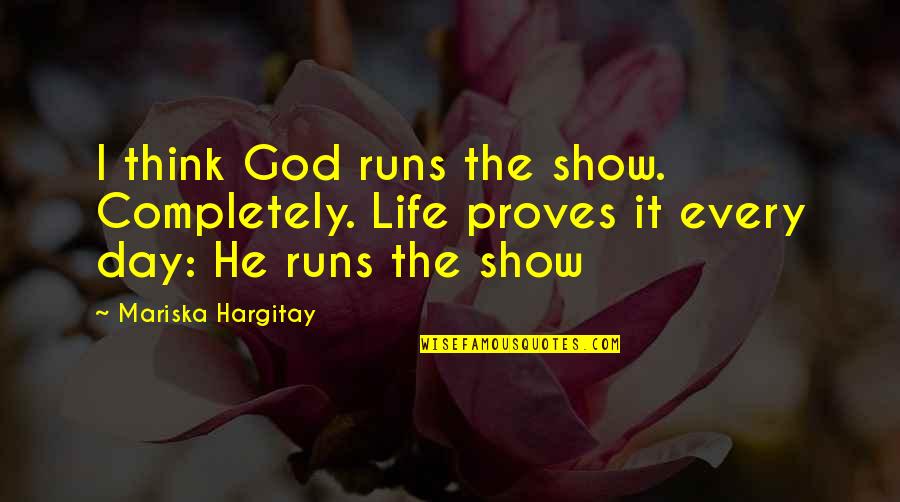 I think God runs the show. Completely. Life proves it every day: He runs the show —
Mariska Hargitay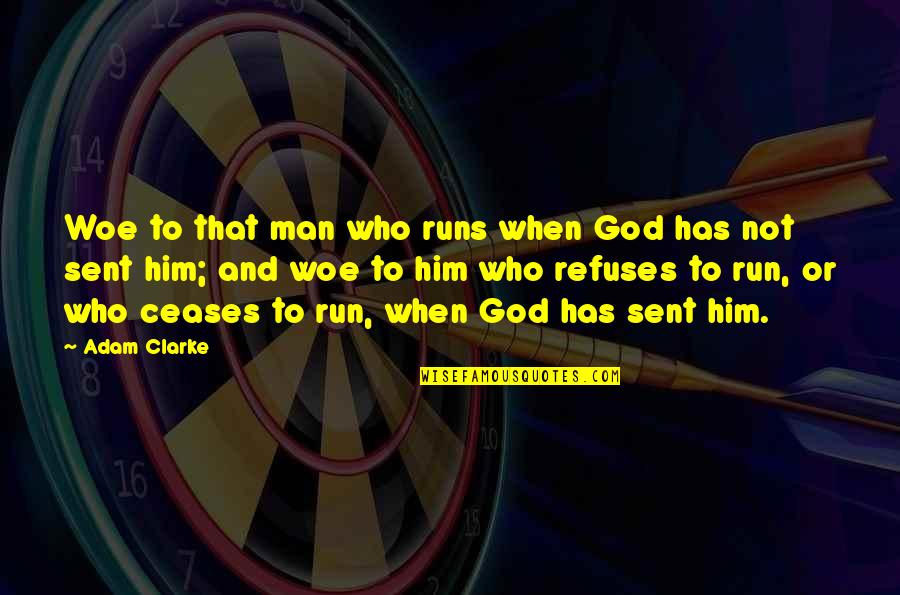 Woe to that man who runs when God has not sent him; and woe to him who refuses to run, or who ceases to run, when God has sent him. —
Adam Clarke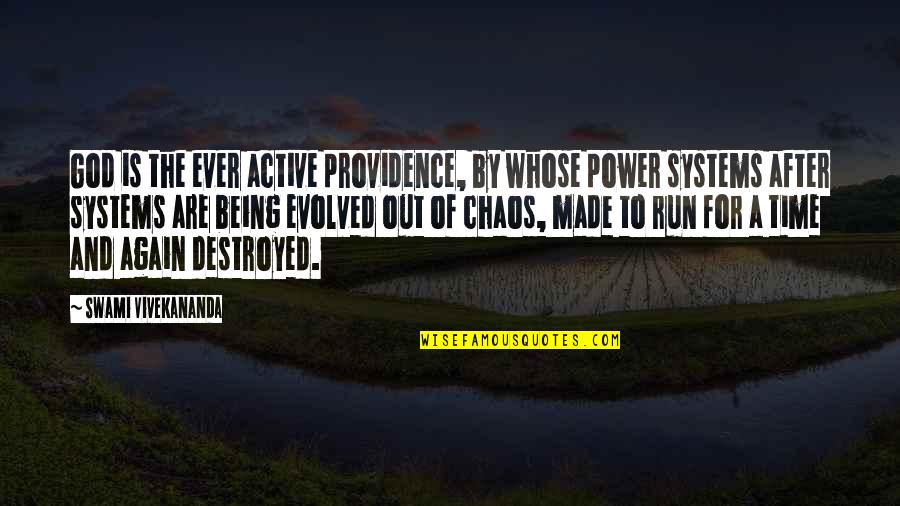 God is the ever active providence, by whose power systems after systems are being evolved out of chaos, made to run for a time and again destroyed. —
Swami Vivekananda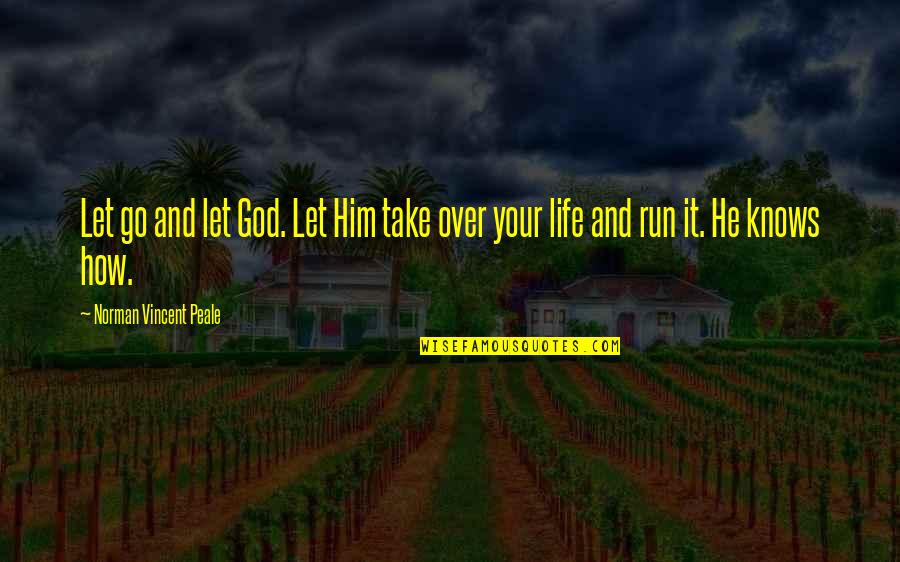 Let go and let God. Let Him take over your life and run it. He knows how. —
Norman Vincent Peale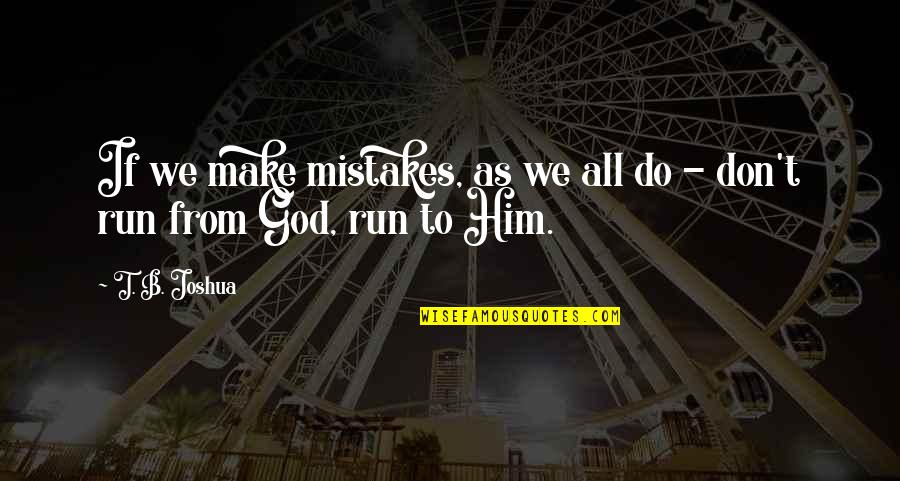 If we make mistakes, as we all do - don't run from God, run to Him. —
T. B. Joshua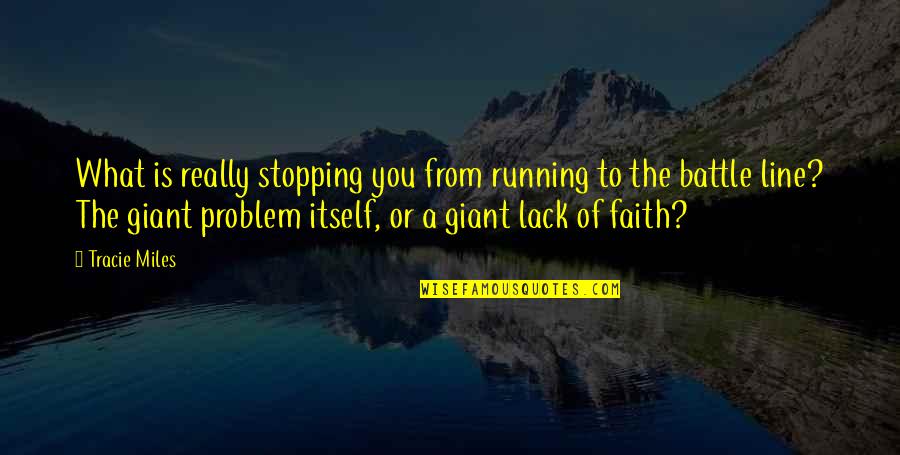 What is really stopping you from running to the battle line? The giant problem itself, or a giant lack of faith? —
Tracie Miles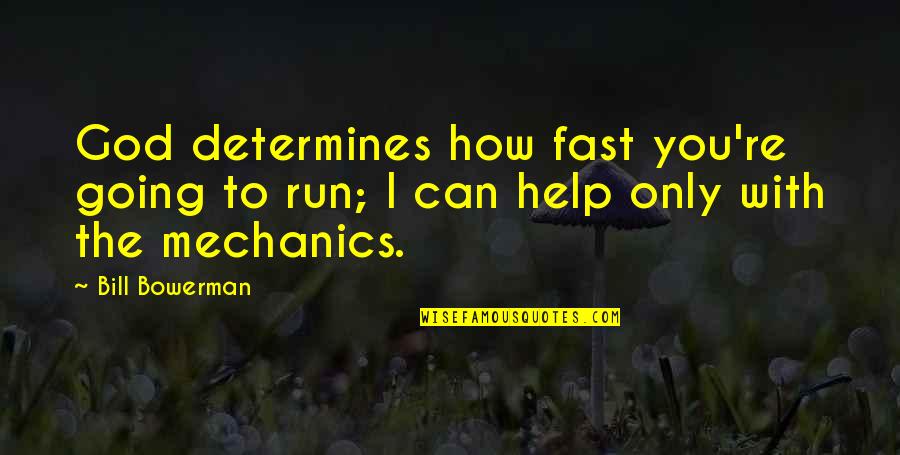 God determines how fast you're going to run; I can help only with the mechanics. —
Bill Bowerman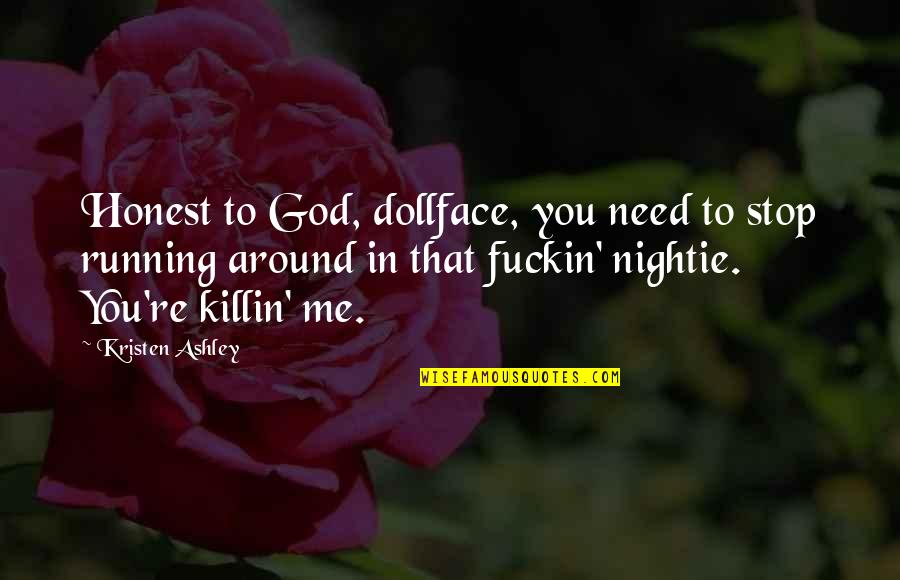 Honest to God, dollface, you need to stop running around in that fuckin' nightie. You're killin' me. —
Kristen Ashley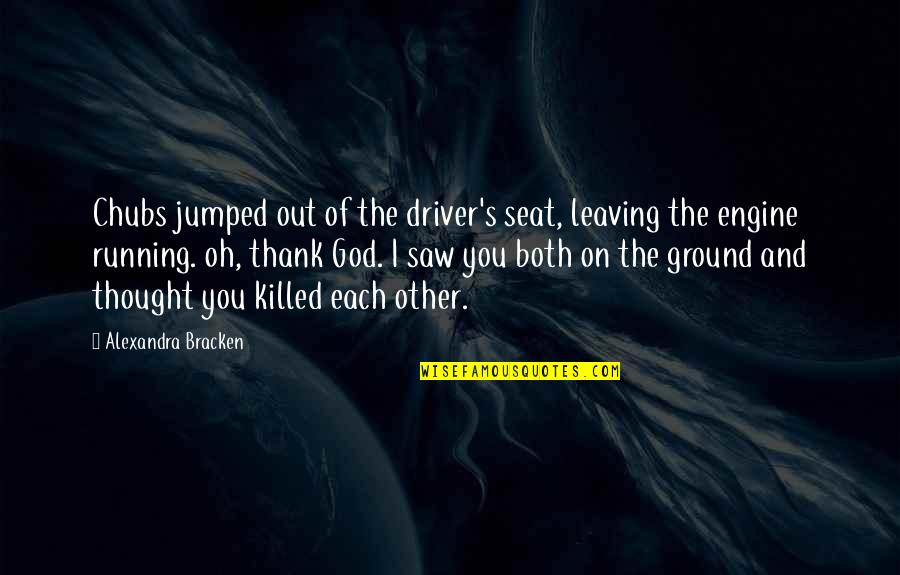 Chubs jumped out of the driver's seat, leaving the engine running. oh, thank God. I saw you both on the ground and thought you killed each other. —
Alexandra Bracken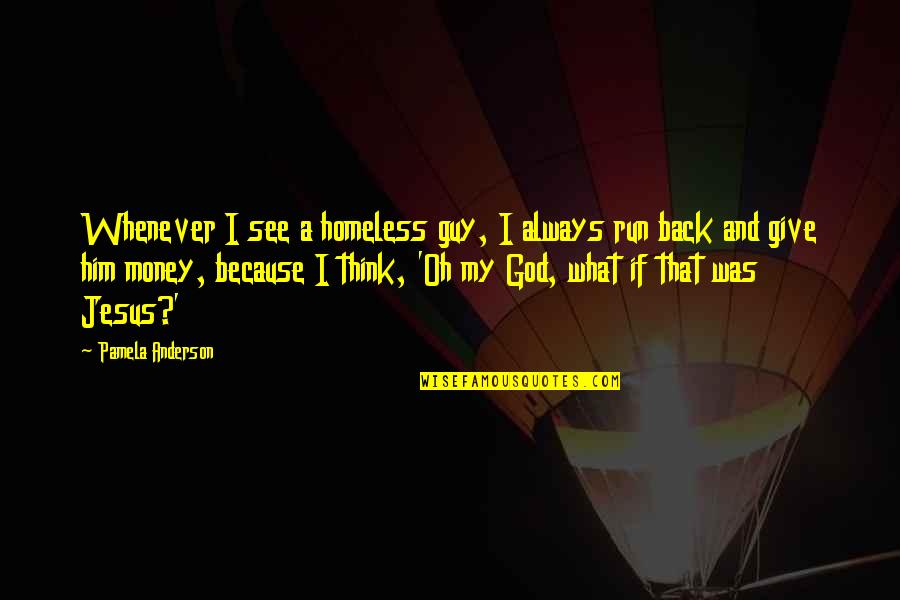 Whenever I see a homeless guy, I always run back and give him money, because I think, 'Oh my God, what if that was Jesus?' —
Pamela Anderson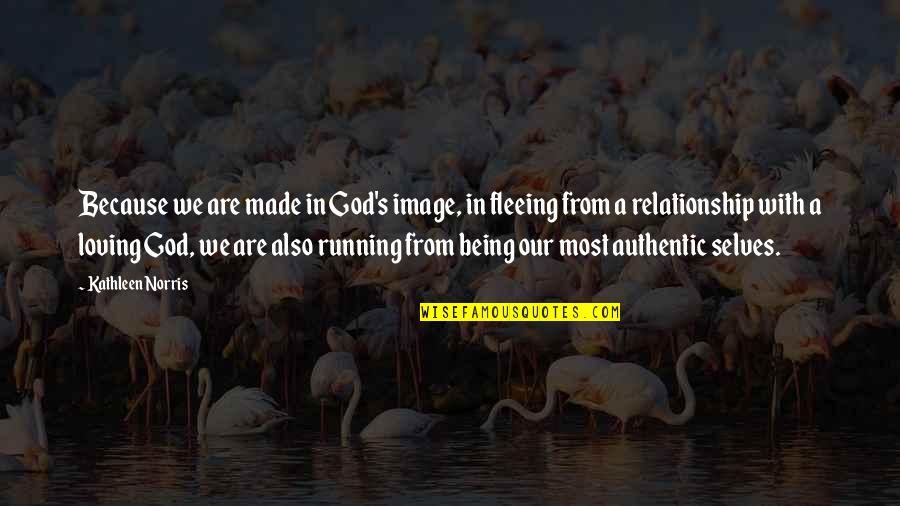 Because we are made in God's image, in fleeing from a relationship with a loving God, we are also running from being our most authentic selves. —
Kathleen Norris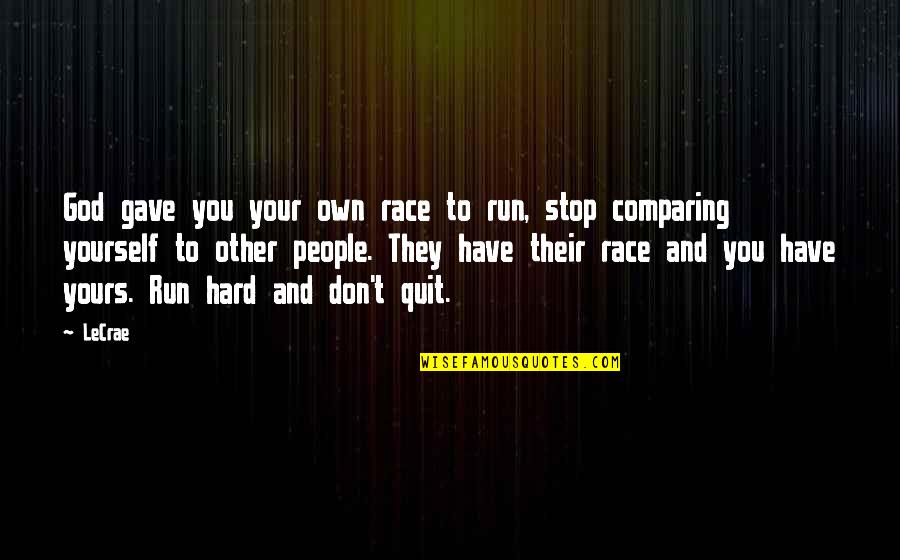 God gave you your own race to run, stop comparing yourself to other people. They have their race and you have yours. Run hard and don't quit. —
LeCrae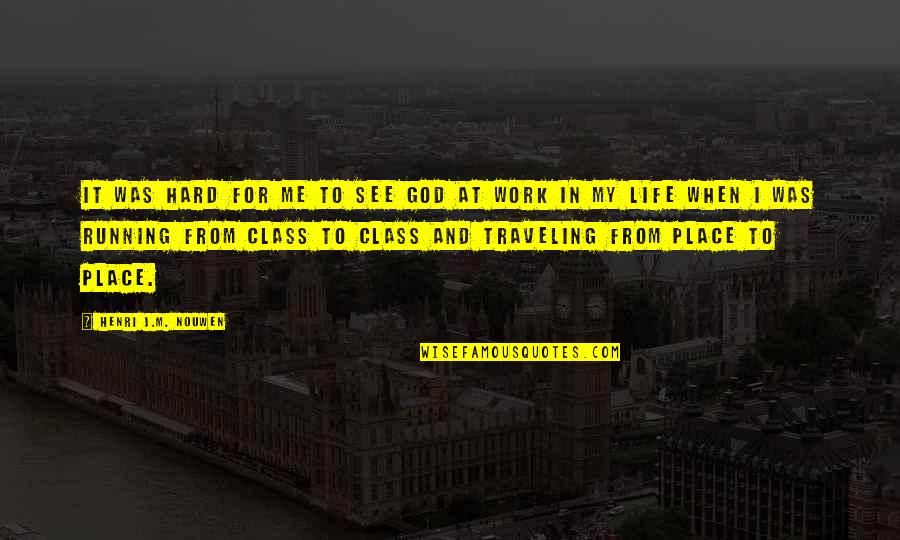 It was hard for me to see God at work in my life when I was running from class to class and traveling from place to place. —
Henri J.M. Nouwen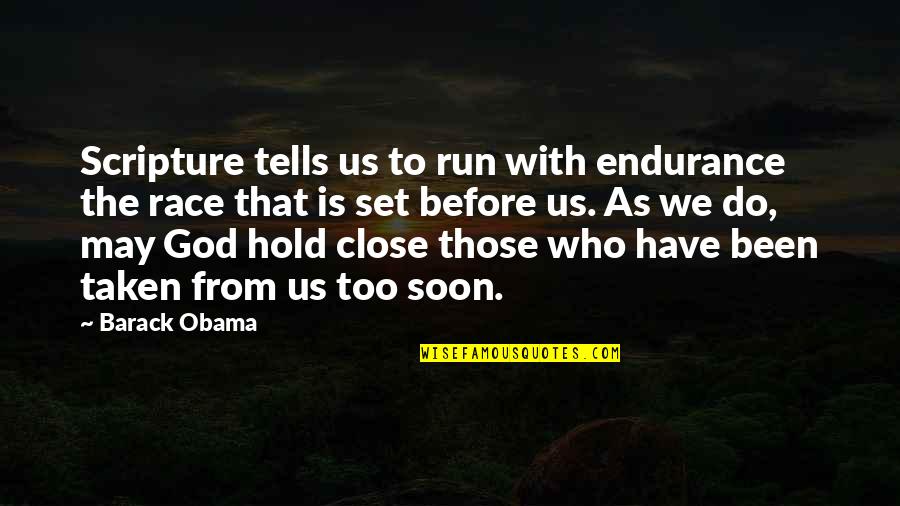 Scripture tells us to run with endurance the race that is set before us. As we do, may God hold close those who have been taken from us too soon. —
Barack Obama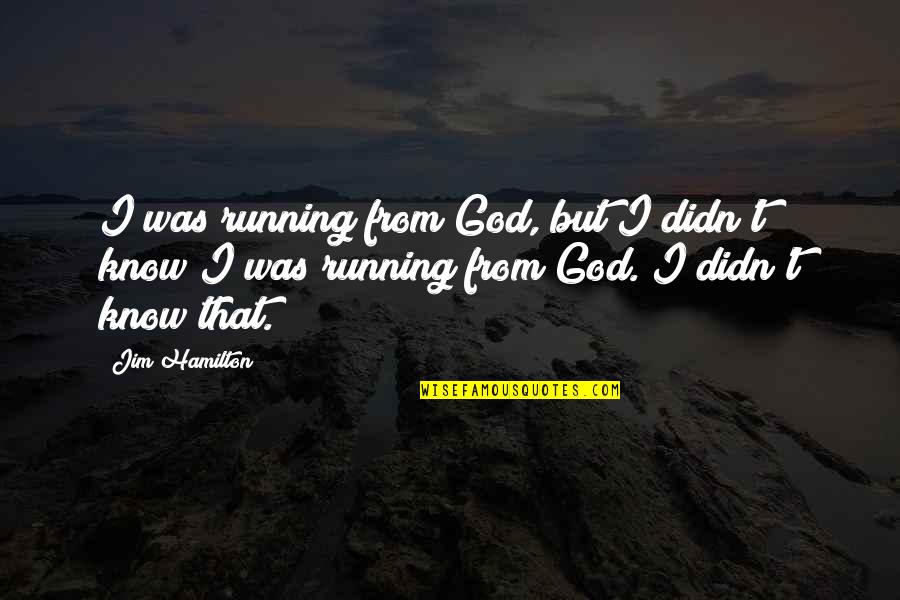 I was running from God, but I didn't know I was running from God. I didn't know that. —
Jim Hamilton