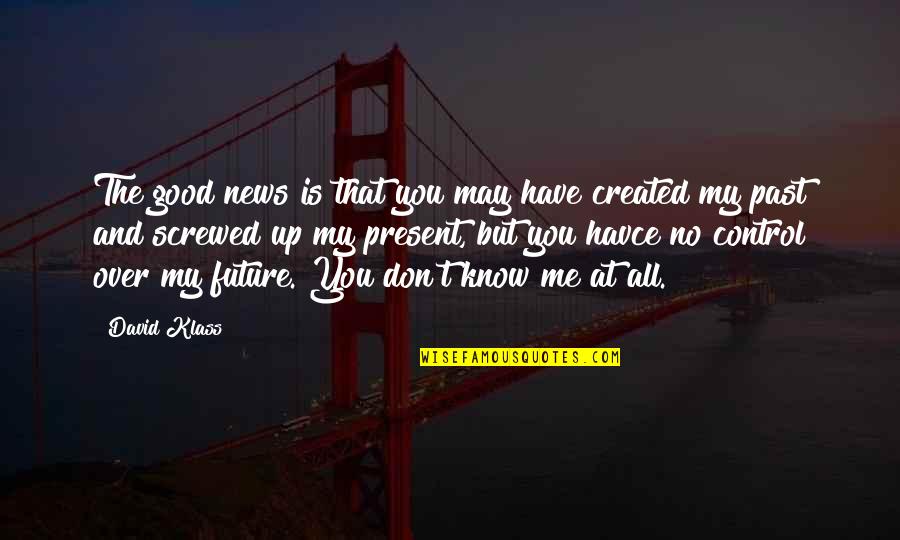 The good news is that you may have created my past and screwed up my present, but you havce no control over my future. You don't know me at all.
—
David Klass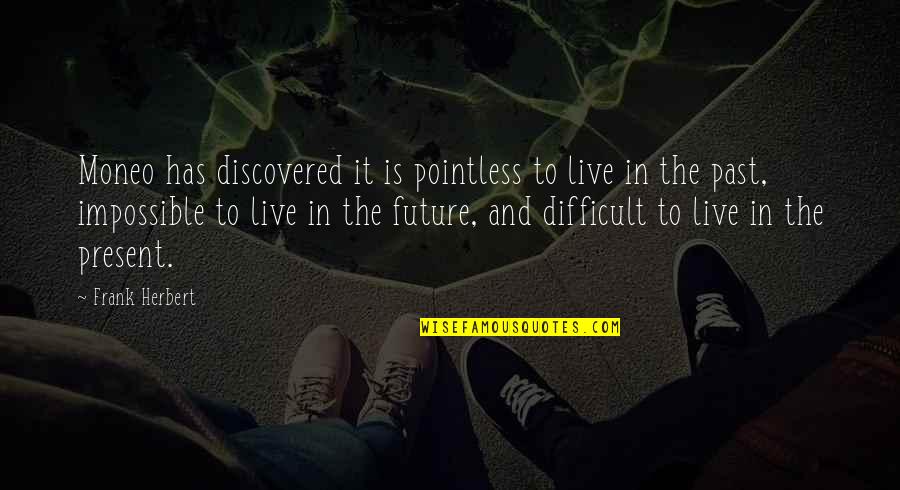 Moneo has discovered it is pointless to live in the past, impossible to live in the future, and difficult to live in the present.
—
Frank Herbert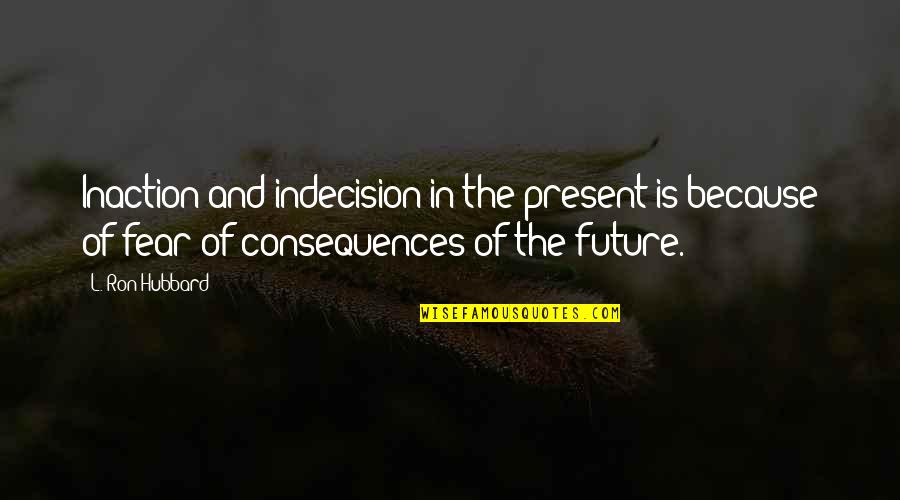 Inaction and indecision in the present is because of fear of consequences of the future.
—
L. Ron Hubbard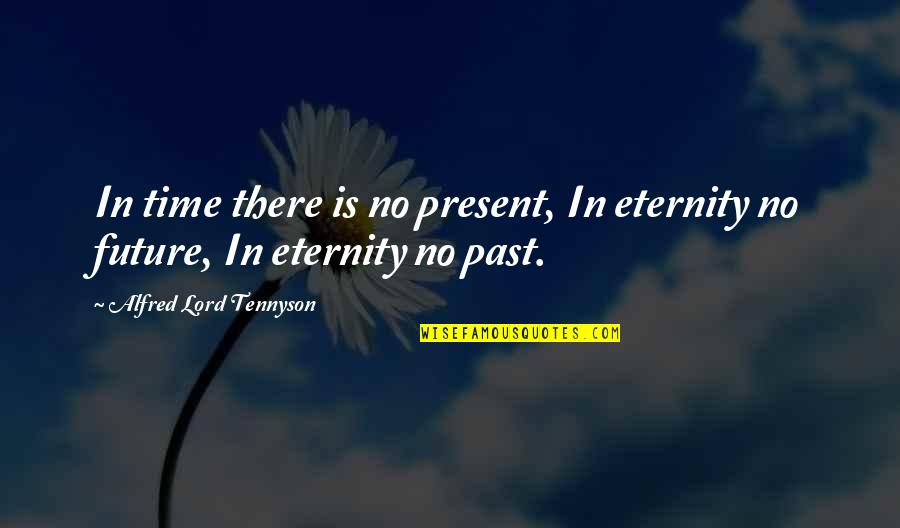 In time there is no present, In eternity no future, In eternity no past.
—
Alfred Lord Tennyson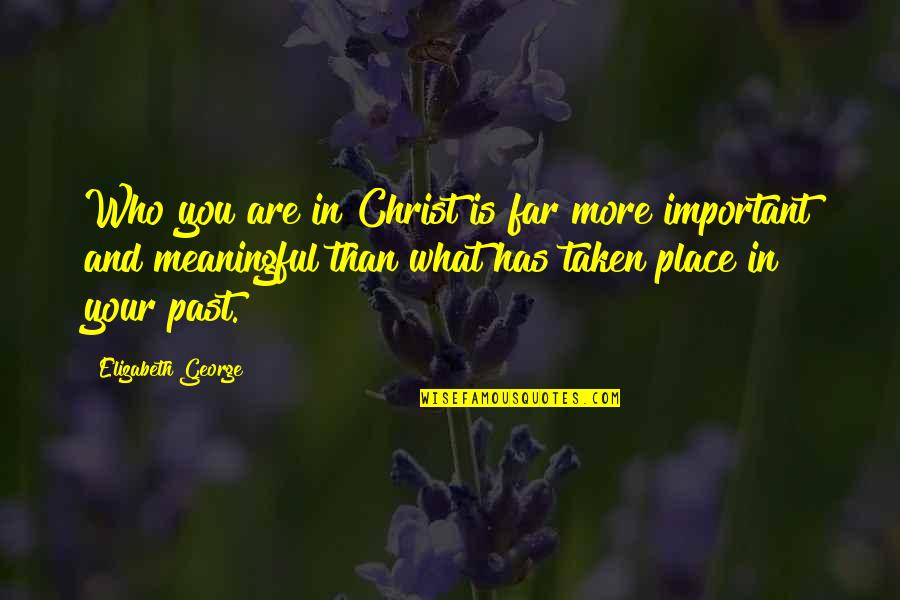 Who you are in Christ is far more important and meaningful than what has taken place in your past.
—
Elizabeth George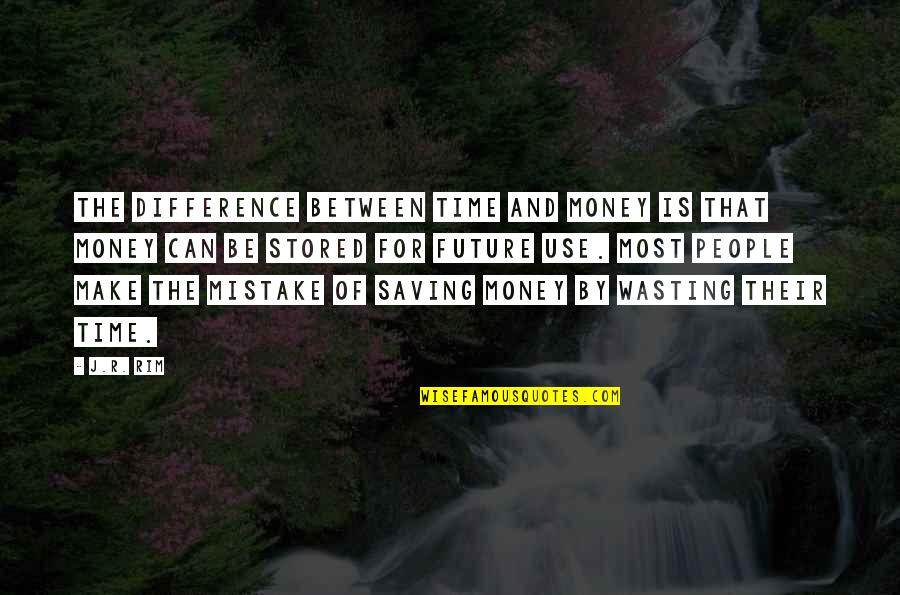 The difference between time and money is that money can be stored for future use. Most people make the mistake of saving money by wasting their time.
—
J.R. Rim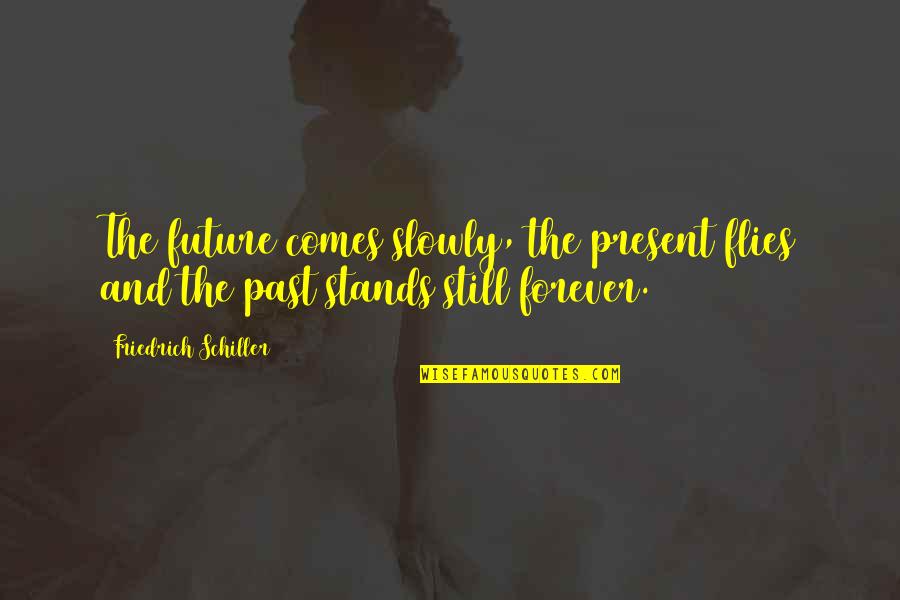 The future comes slowly, the present flies and the past stands still forever.
—
Friedrich Schiller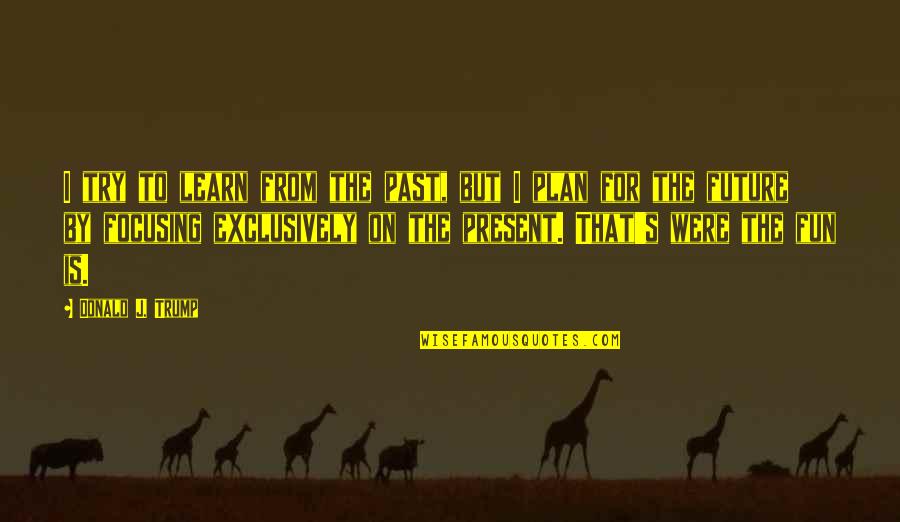 I try to learn from the past, but I plan for the future by focusing exclusively on the present. That's were the fun is.
—
Donald J. Trump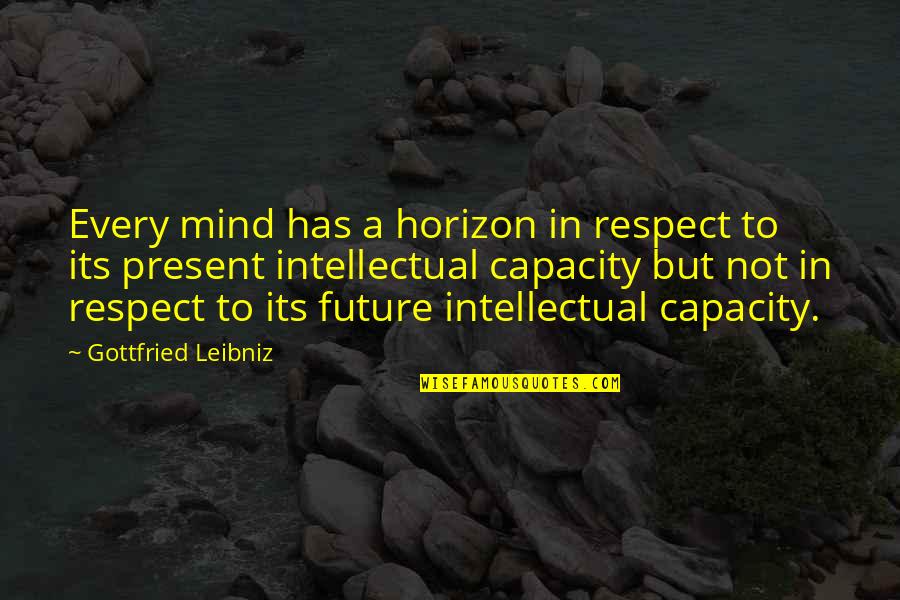 Every mind has a horizon in respect to its present intellectual capacity but not in respect to its future intellectual capacity.
—
Gottfried Leibniz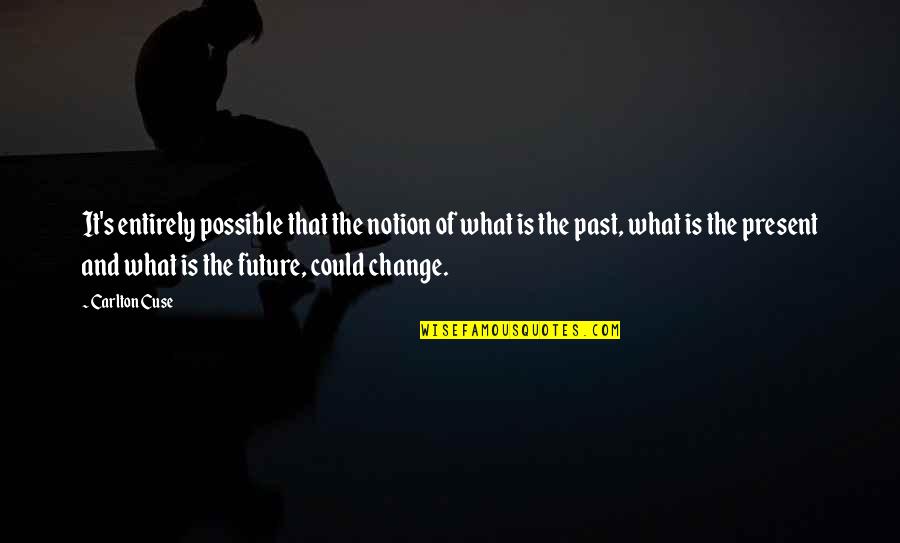 It's entirely possible that the notion of what is the past, what is the present and what is the future, could change.
—
Carlton Cuse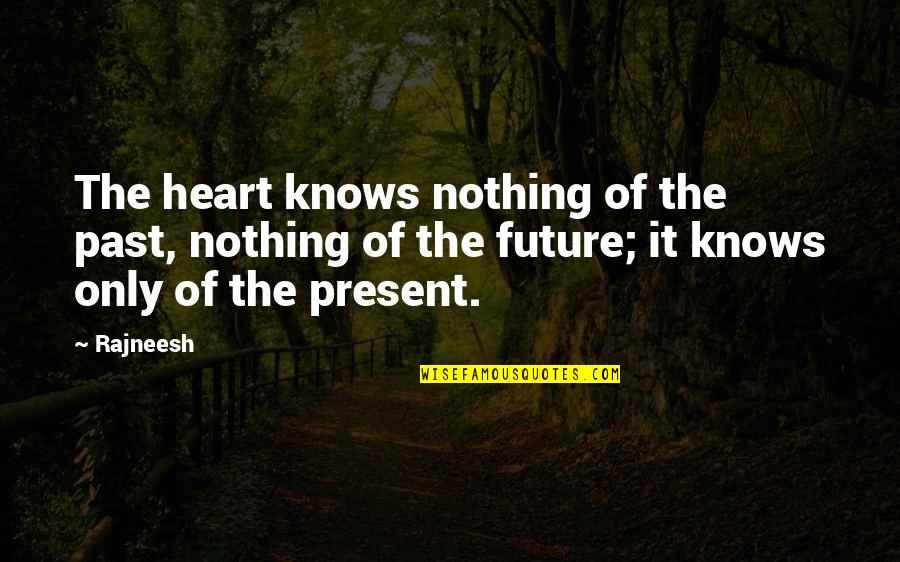 The heart knows nothing of the past, nothing of the future; it knows only of the present. —
Rajneesh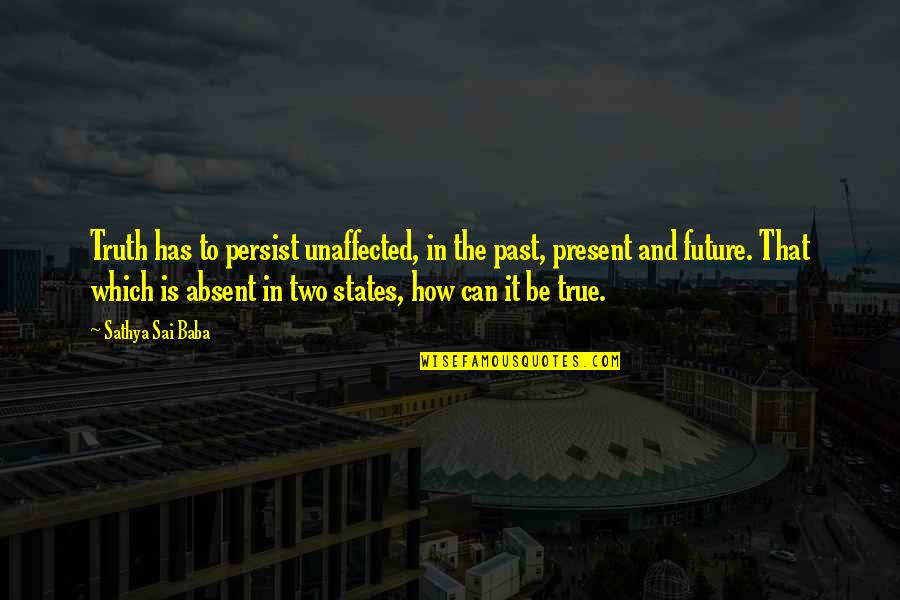 Truth has to persist unaffected, in the past, present and future. That which is absent in two states, how can it be true. —
Sathya Sai Baba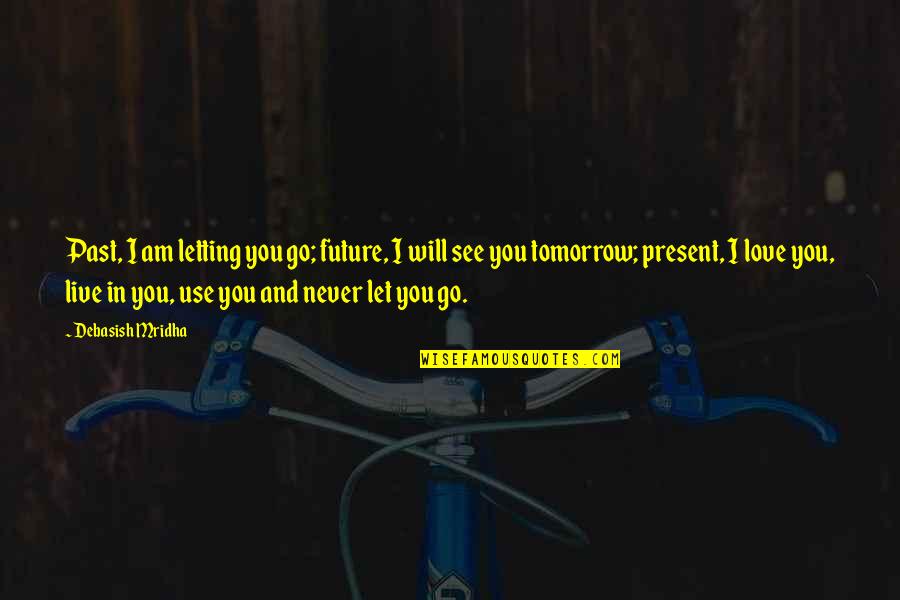 Past, I am letting you go; future, I will see you tomorrow; present, I love you, live in you, use you and never let you go. —
Debasish Mridha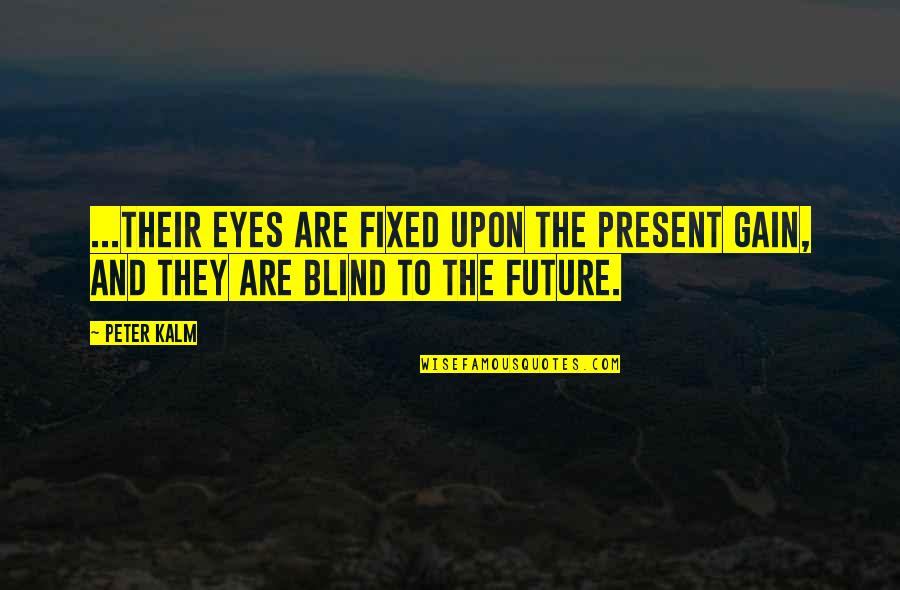 ...their eyes are fixed upon the present gain, and they are blind to the future. —
Peter Kalm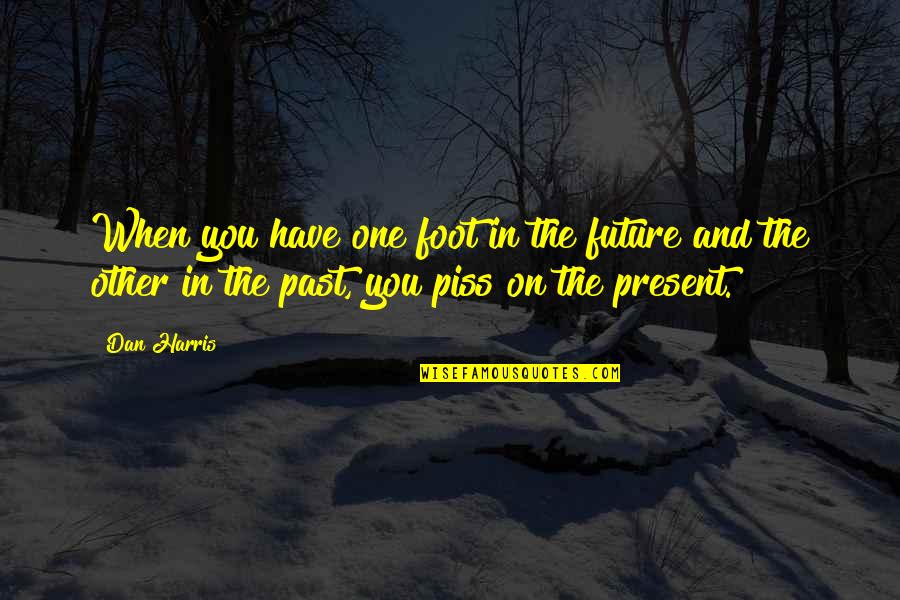 When you have one foot in the future and the other in the past, you piss on the present. —
Dan Harris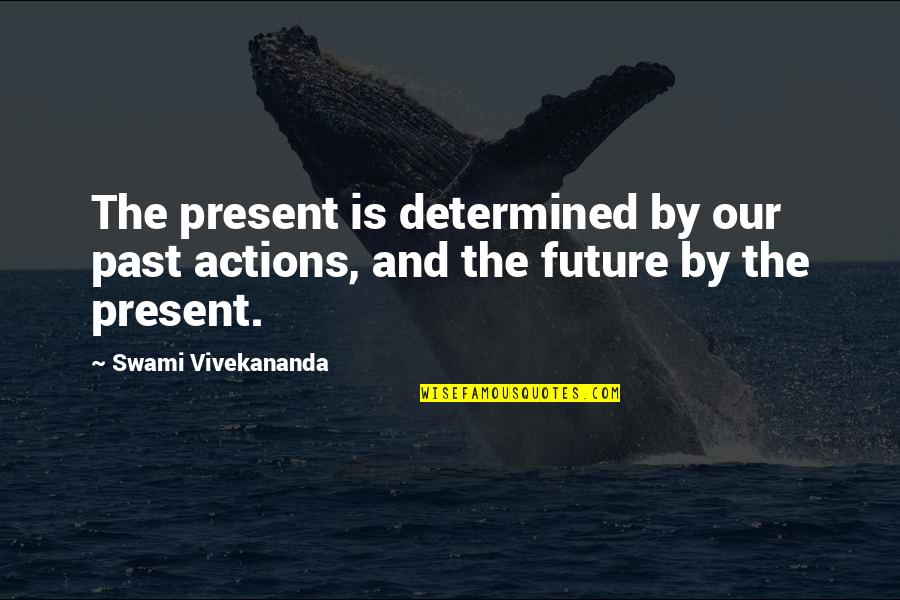 The present is determined by our past actions, and the future by the present. —
Swami Vivekananda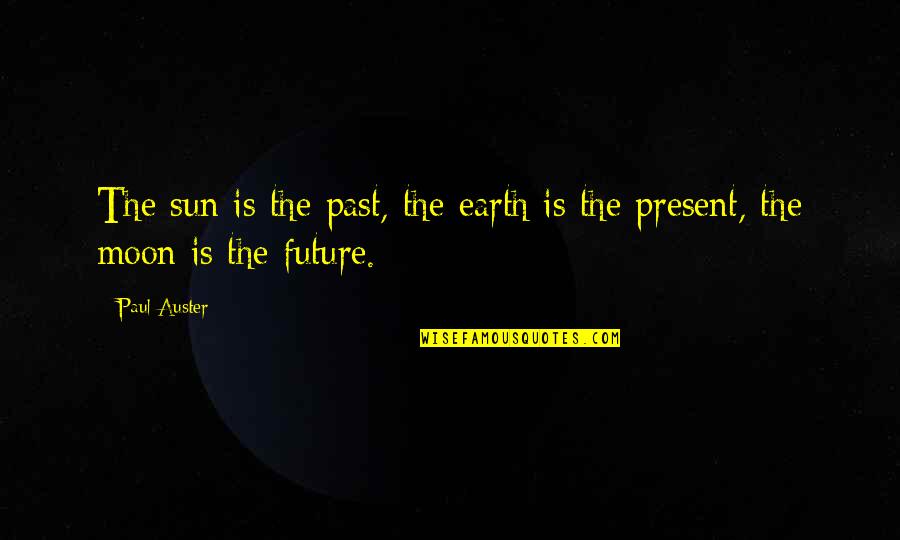 The sun is the past, the earth is the present, the moon is the future. —
Paul Auster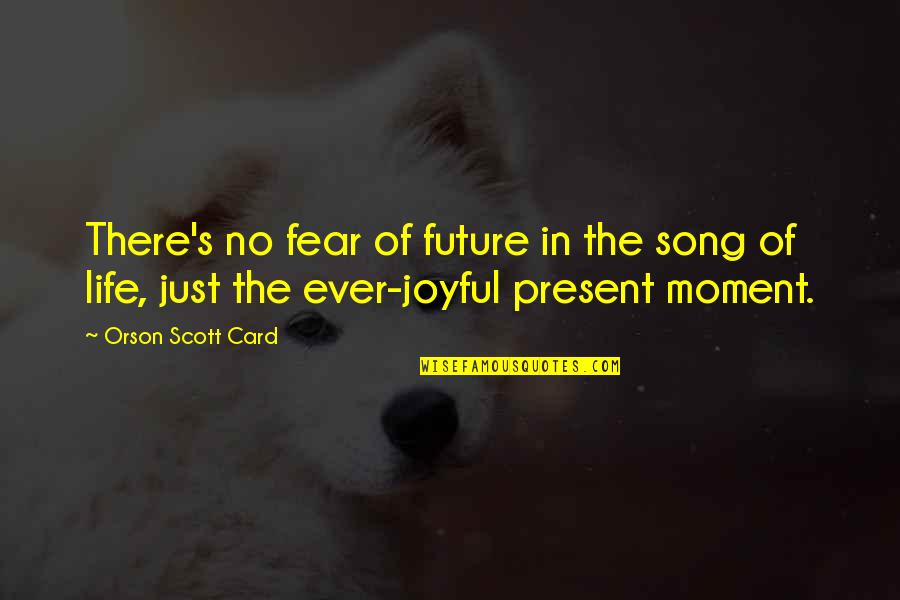 There's no fear of future in the song of life, just the ever-joyful present moment. —
Orson Scott Card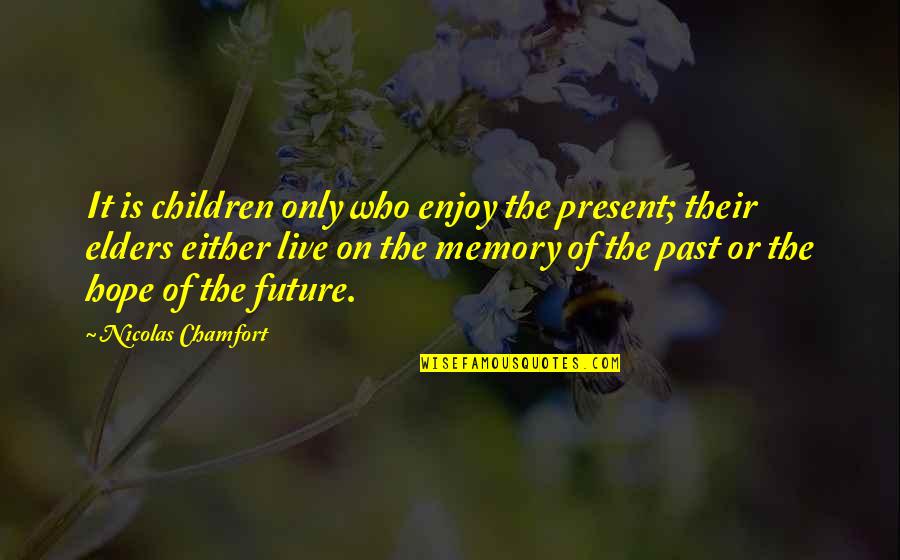 It is children only who enjoy the present; their elders either live on the memory of the past or the hope of the future. —
Nicolas Chamfort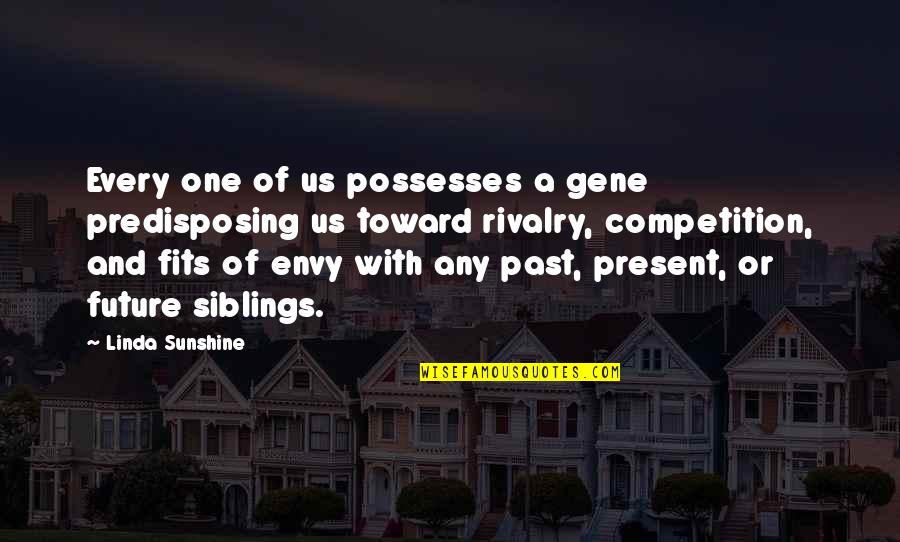 Every one of us possesses a gene predisposing us toward rivalry, competition, and fits of envy with any past, present, or future siblings. —
Linda Sunshine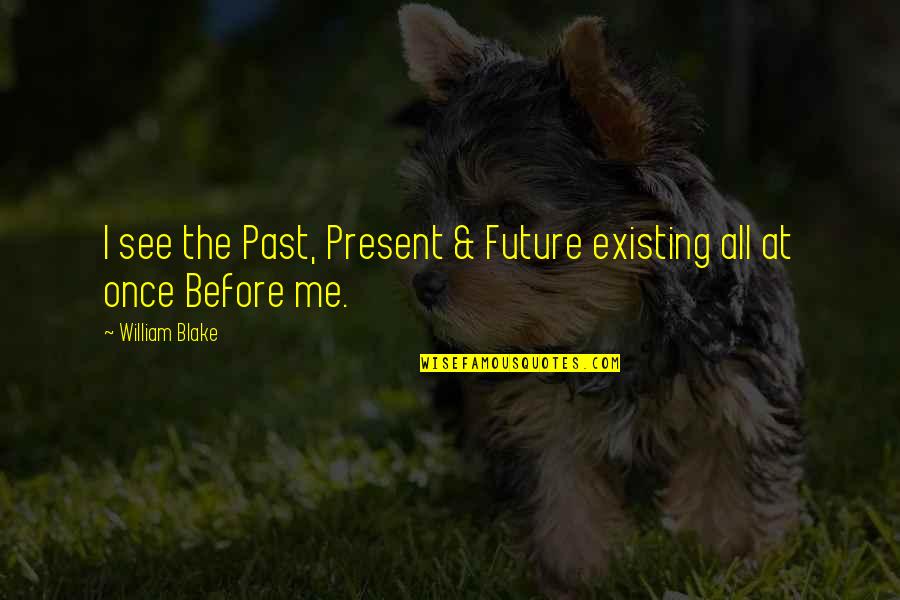 I see the Past, Present & Future existing all at once Before me. —
William Blake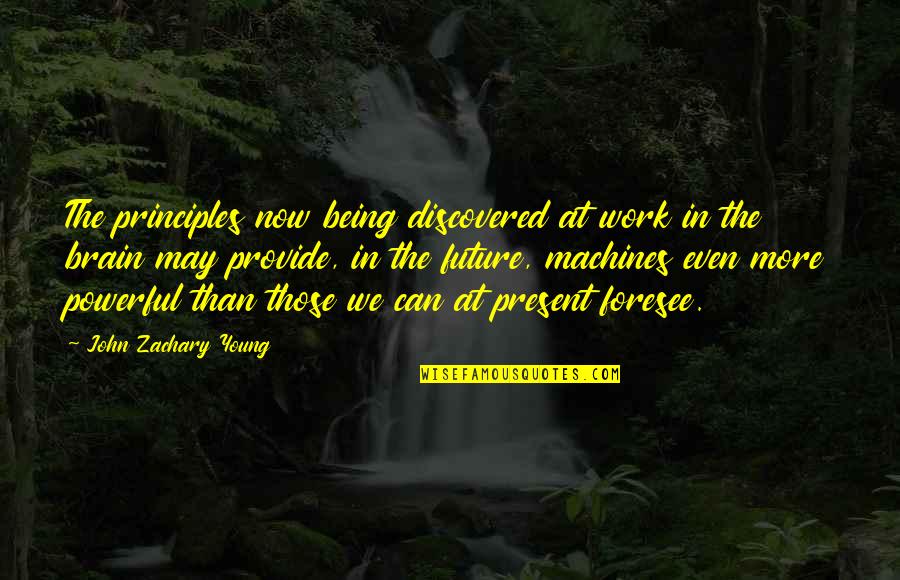 The principles now being discovered at work in the brain may provide, in the future, machines even more powerful than those we can at present foresee. —
John Zachary Young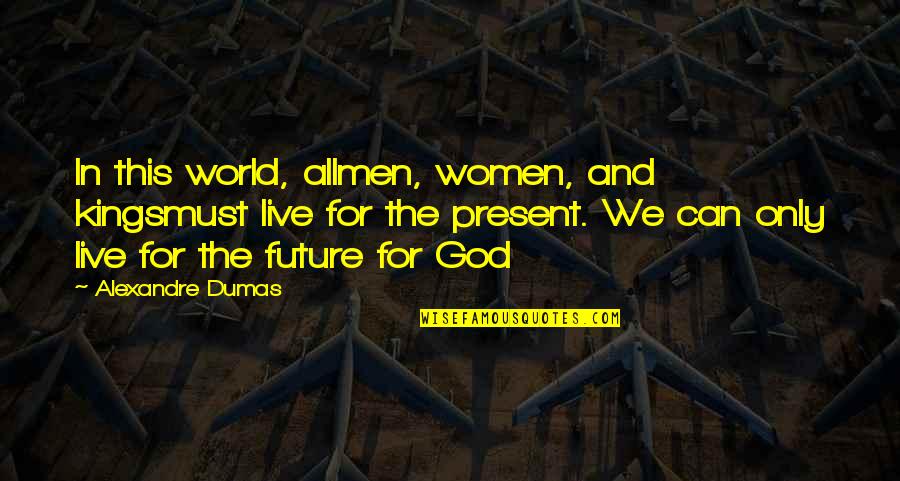 In this world, all
men, women, and kings
must live for the present. We can only live for the future for God —
Alexandre Dumas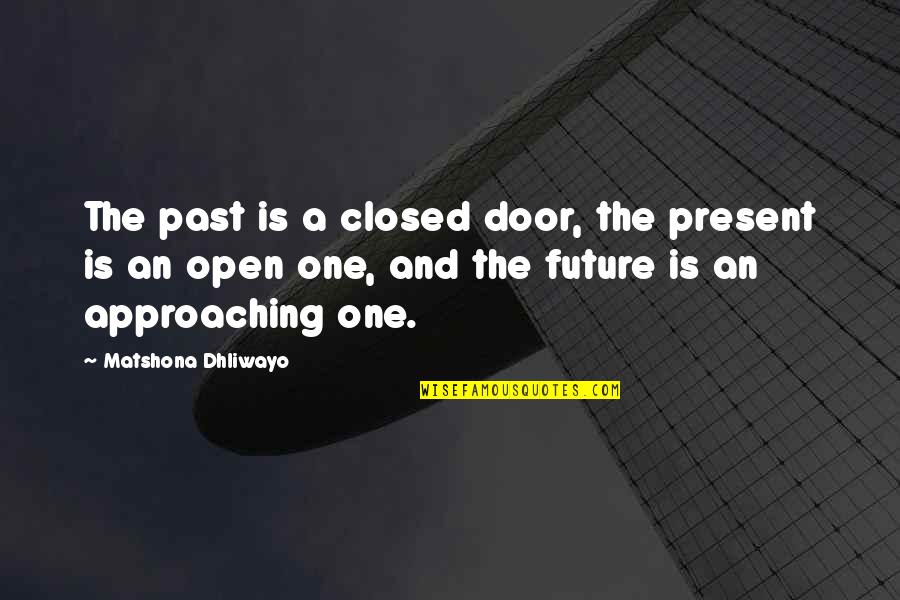 The past is a closed door, the present is an open one, and the future is an approaching one. —
Matshona Dhliwayo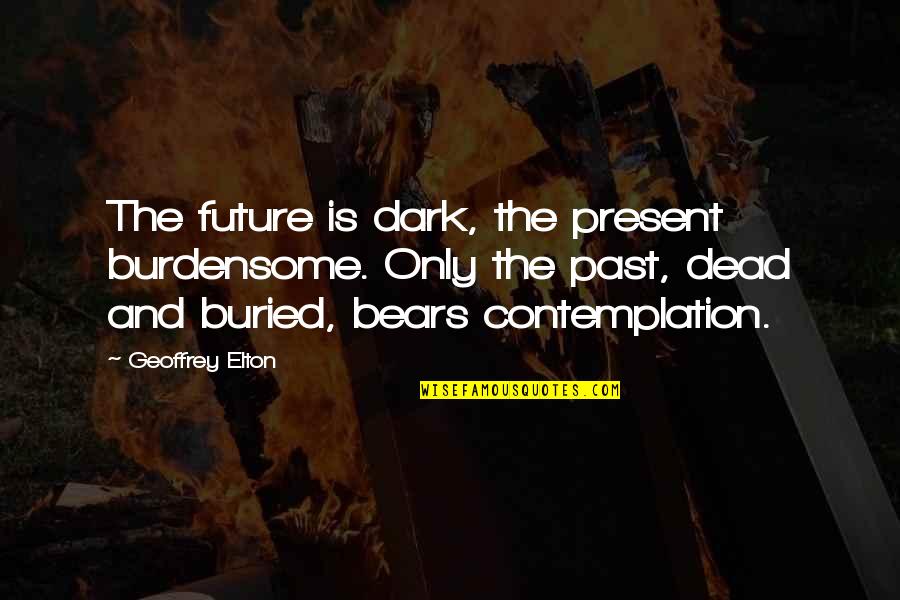 The future is dark, the present burdensome. Only the past, dead and buried, bears contemplation. —
Geoffrey Elton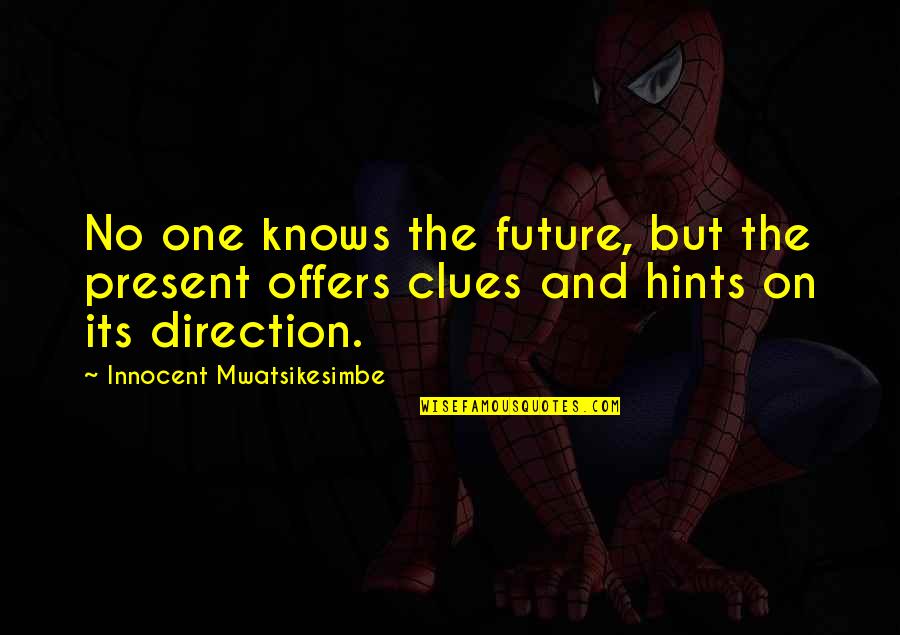 No one knows the future, but the present offers clues and hints on its direction. —
Innocent Mwatsikesimbe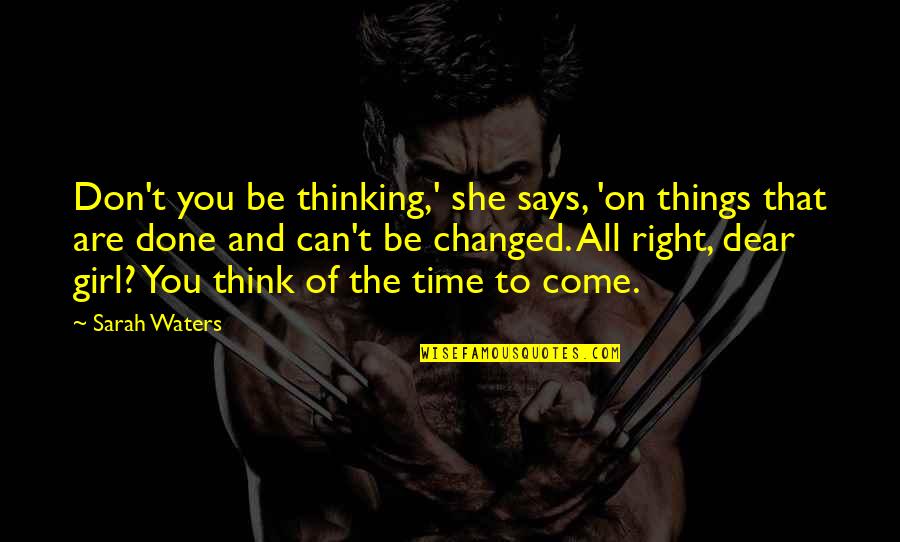 Don't you be thinking,' she says, 'on things that are done and can't be changed. All right, dear girl? You think of the time to come. —
Sarah Waters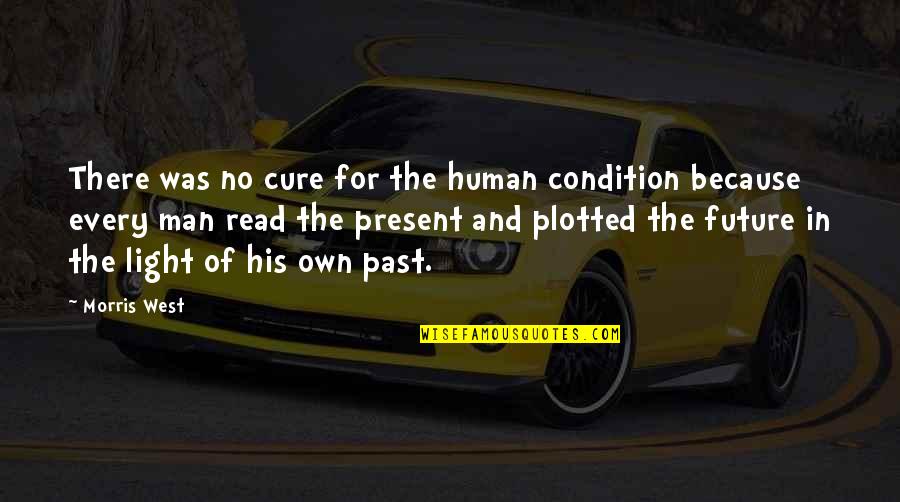 There was no cure for the human condition because every man read the present and plotted the future in the light of his own past. —
Morris West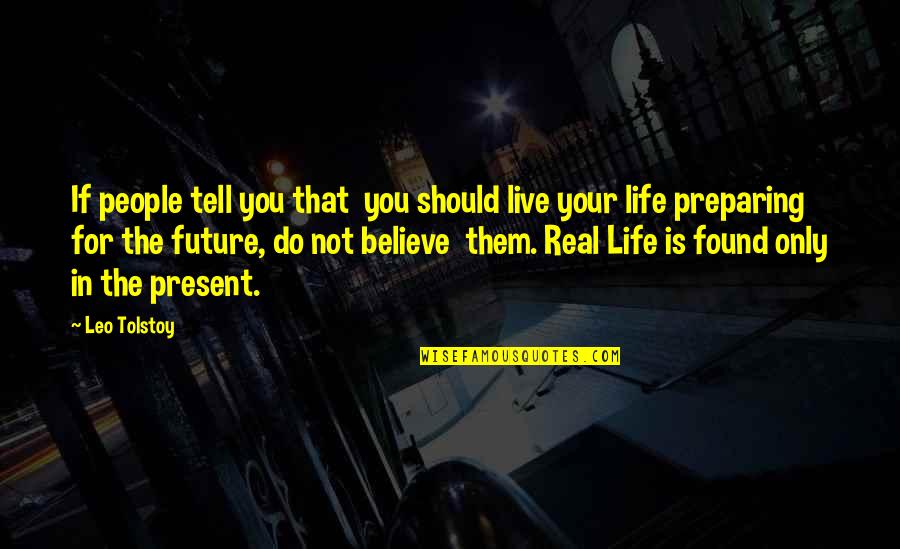 If people tell you that
you should live your life preparing for the future, do not believe
them. Real Life is found only in the present. —
Leo Tolstoy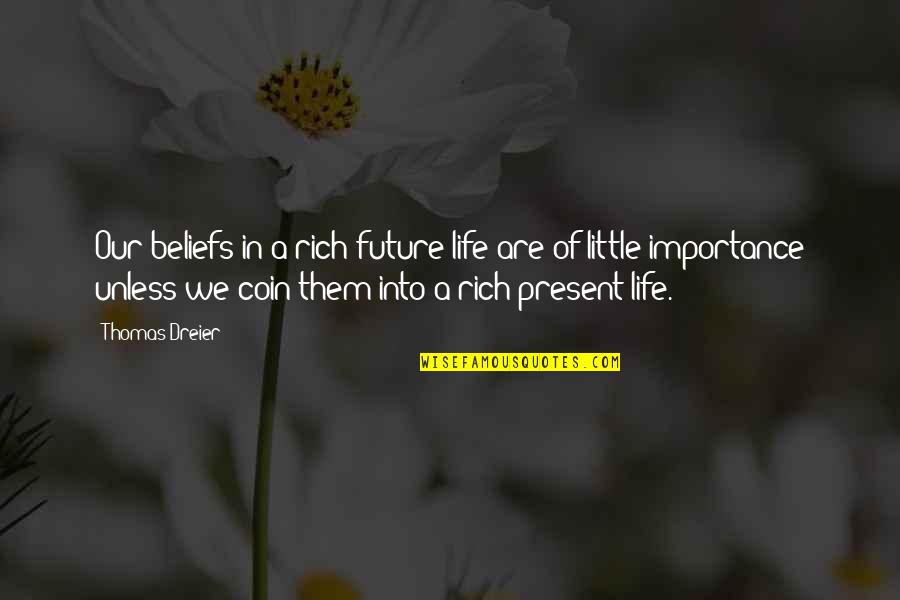 Our beliefs in a rich future life are of little importance unless we coin them into a rich present life. —
Thomas Dreier