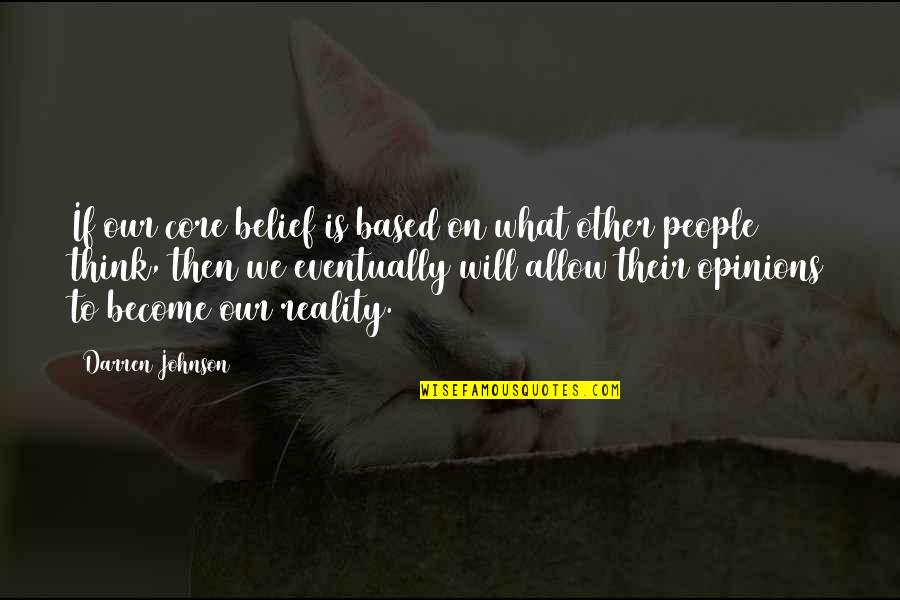 If our core belief is based on what other people think, then we eventually will allow their opinions to become our reality.
—
Darren Johnson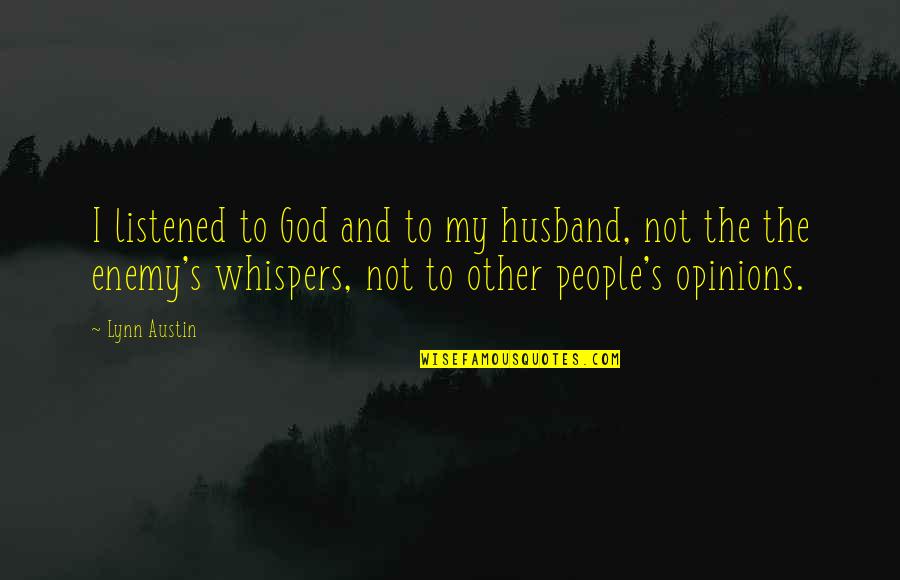 I listened to God and to my husband, not the the enemy's whispers, not to other people's opinions.
—
Lynn Austin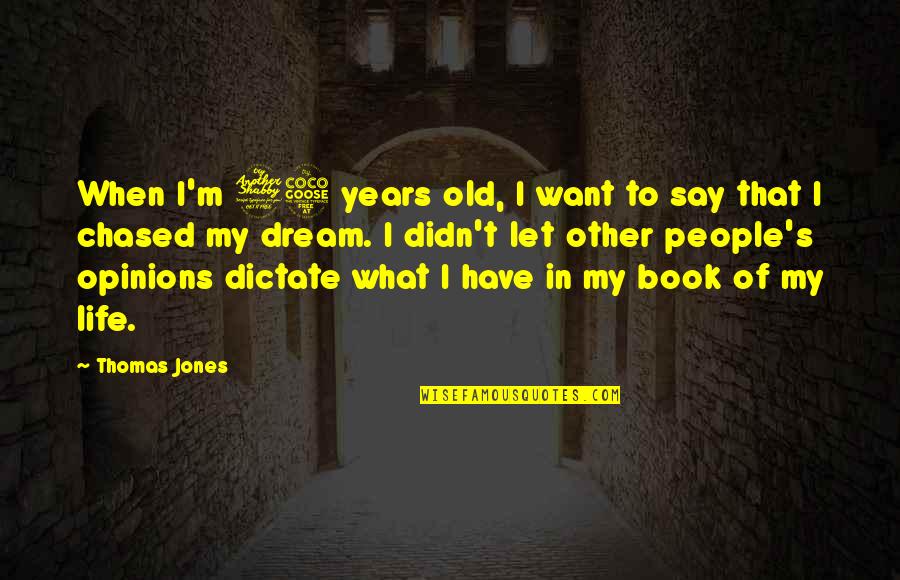 When I'm 75 years old, I want to say that I chased my dream. I didn't let other people's opinions dictate what I have in my book of my life.
—
Thomas Jones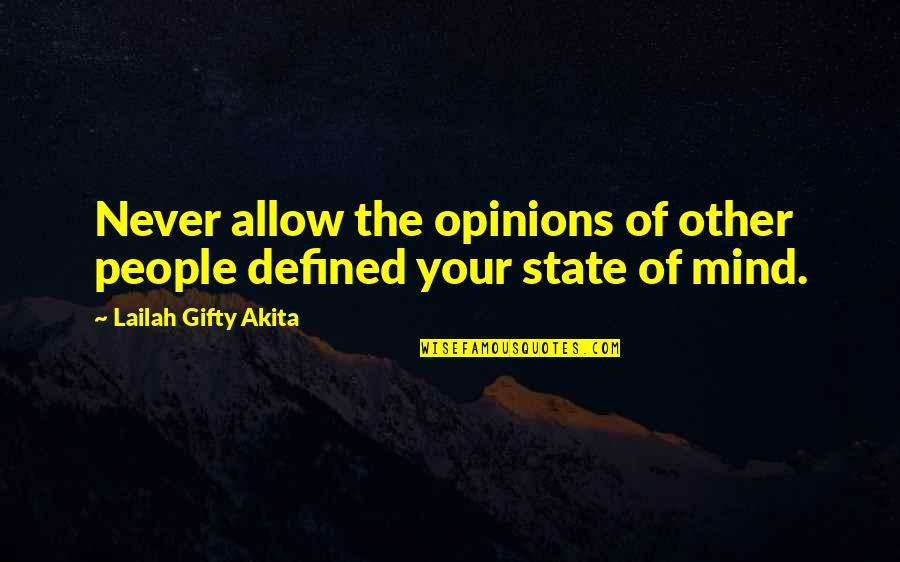 Never allow the opinions of other people defined your state of mind.
—
Lailah Gifty Akita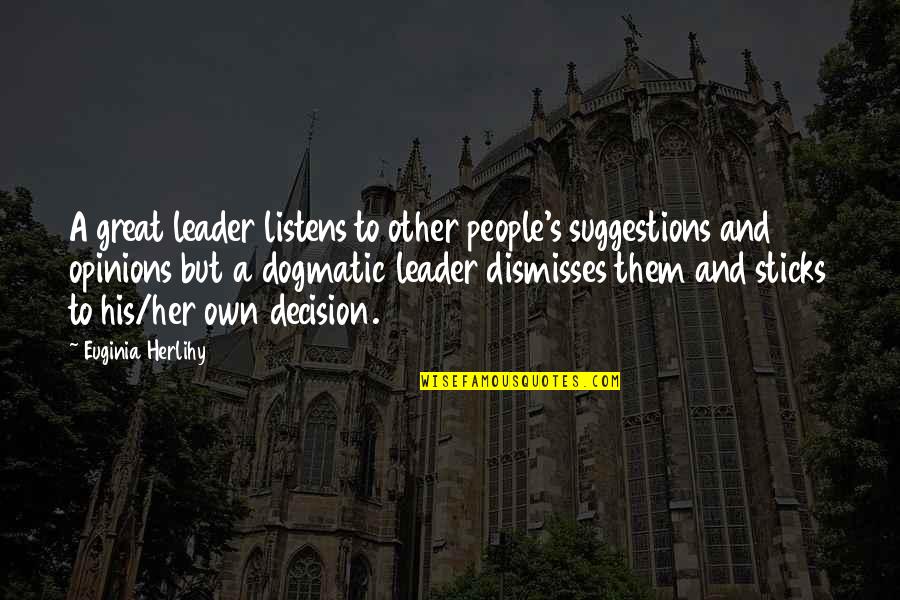 A great leader listens to other people's suggestions and opinions but a dogmatic leader dismisses them and sticks to his/her own decision.
—
Euginia Herlihy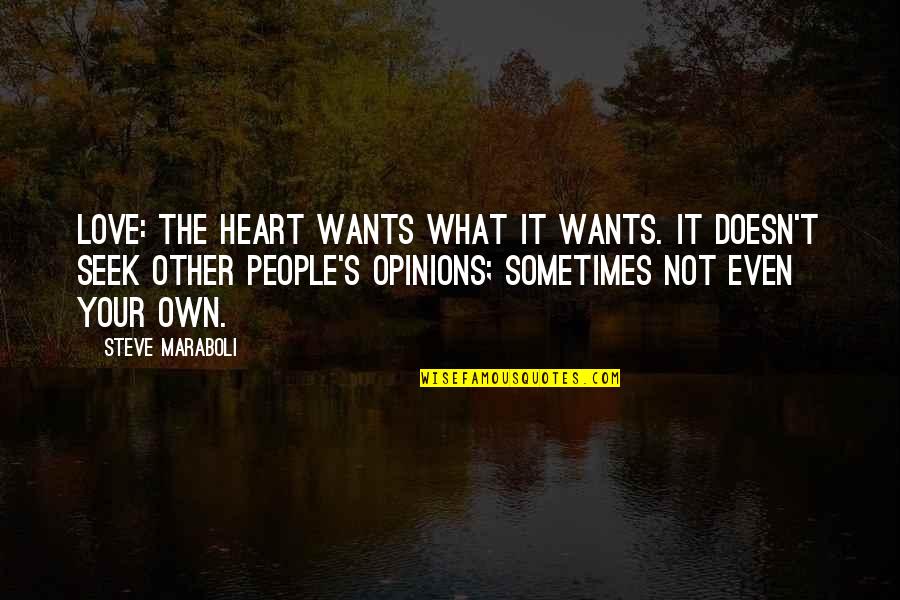 Love: The heart wants what it wants. It doesn't seek other people's opinions; sometimes not even your own.
—
Steve Maraboli
What other's think of you is their opinions. Never seek to please people.Be yourself.
—
Lailah Gifty Akita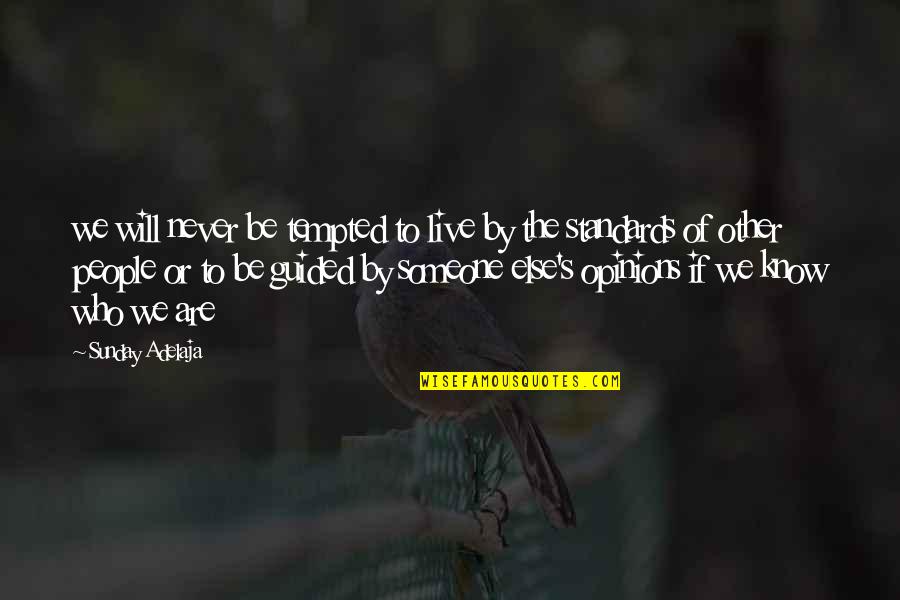 we will never be tempted to live by the standards of other people or to be guided by someone else's opinions if we know who we are
—
Sunday Adelaja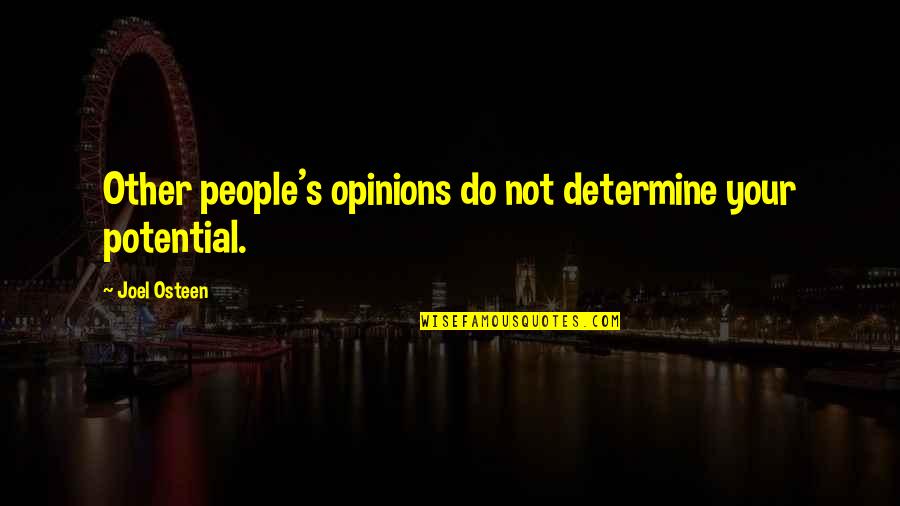 Other people's opinions do not determine your potential.
—
Joel Osteen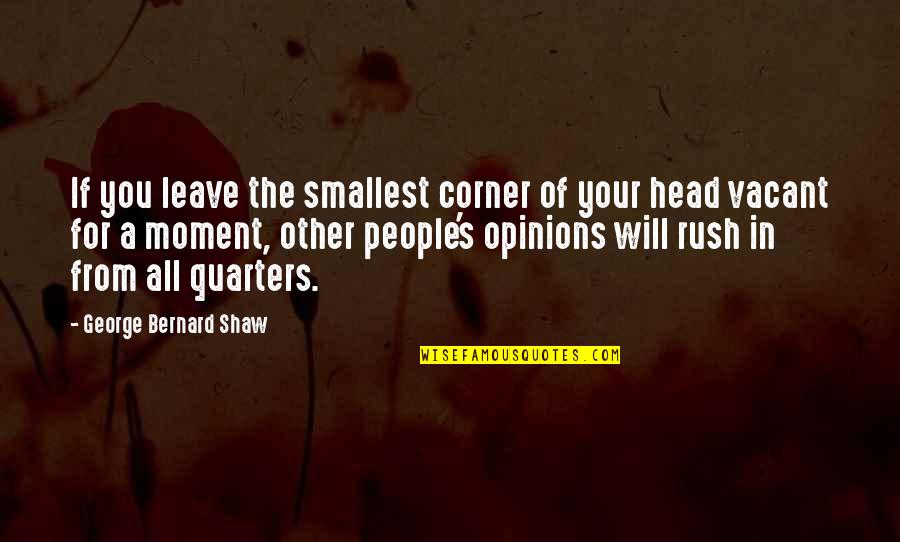 If you leave the smallest corner of your head vacant for a moment, other people's opinions will rush in from all quarters.
—
George Bernard Shaw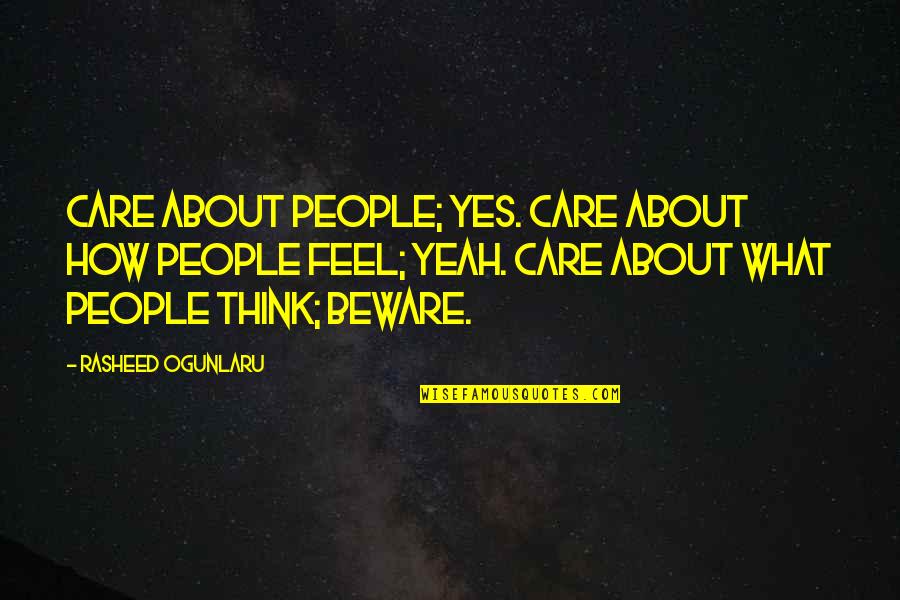 Care about people; yes. Care about how people feel; yeah. Care about what people think; beware.
—
Rasheed Ogunlaru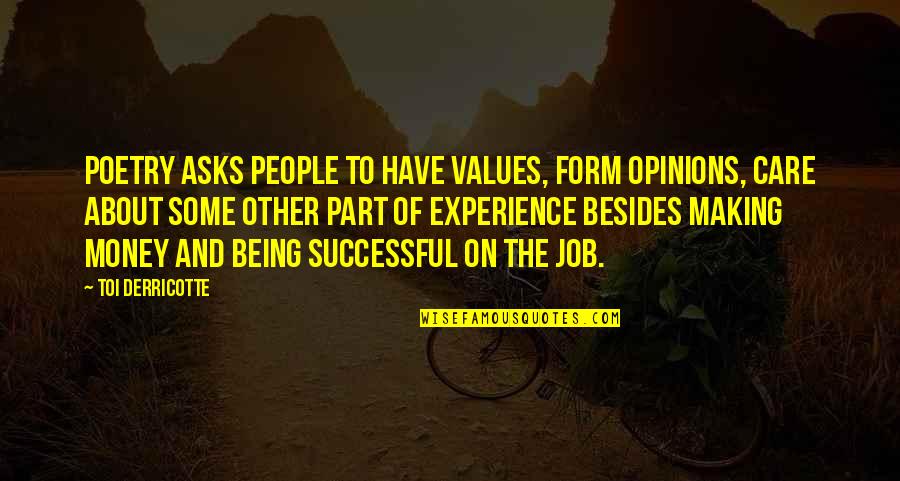 Poetry asks people to have values, form opinions, care about some other part of experience besides making money and being successful on the job. —
Toi Derricotte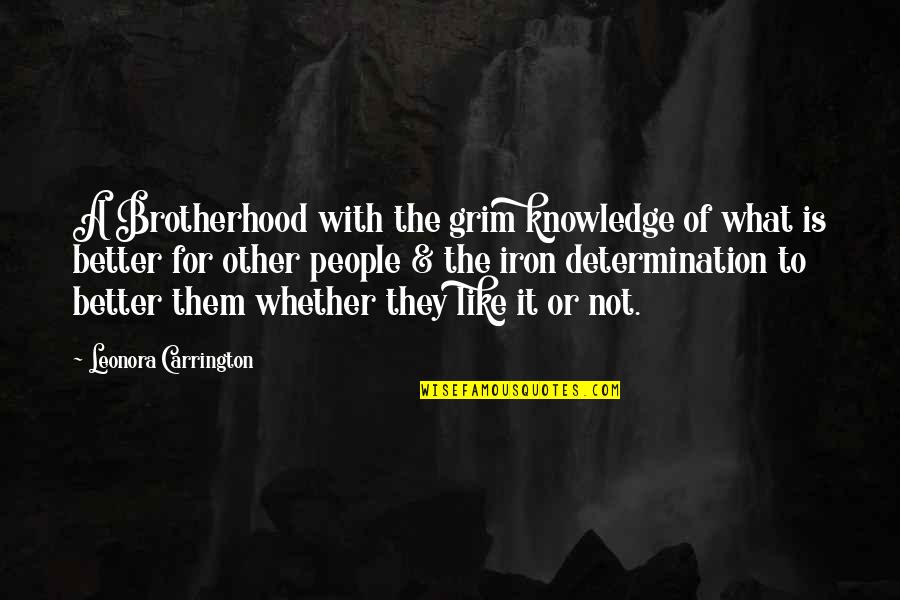 A Brotherhood with the grim knowledge of what is better for other people & the iron determination to better them whether they like it or not. —
Leonora Carrington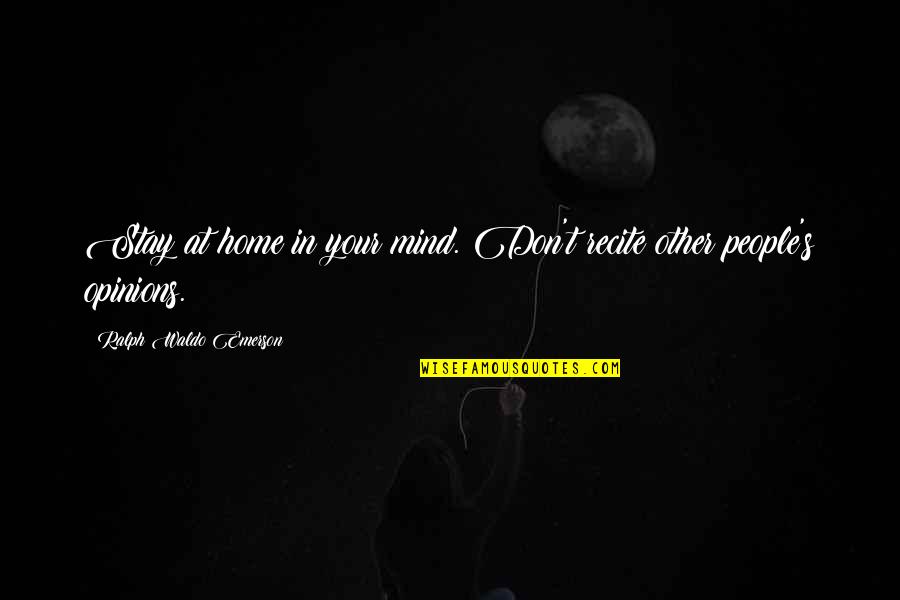 Stay at home in your mind. Don't recite other people's opinions. —
Ralph Waldo Emerson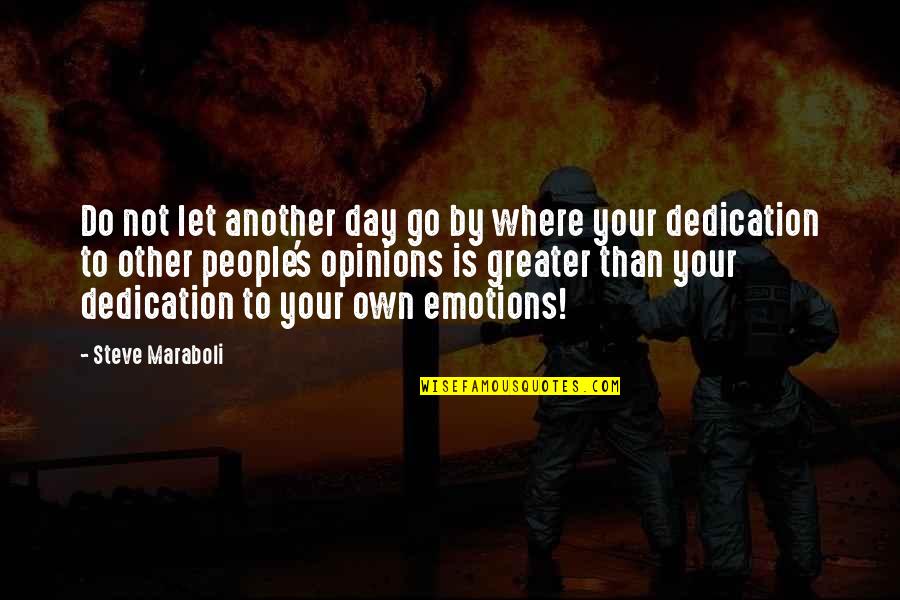 Do not let another day go by where your dedication to other people's opinions is greater than your dedication to your own emotions! —
Steve Maraboli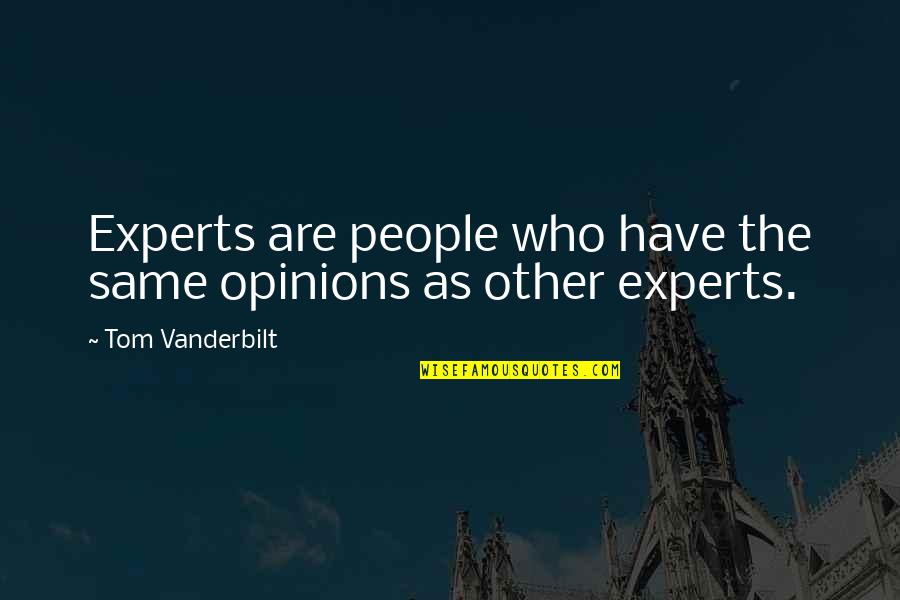 Experts are people who have the same opinions as other experts. —
Tom Vanderbilt
Actors are an insecure breed. It's hard to have your career depend upon other people's opinions of what you do. —
Alyssa Milano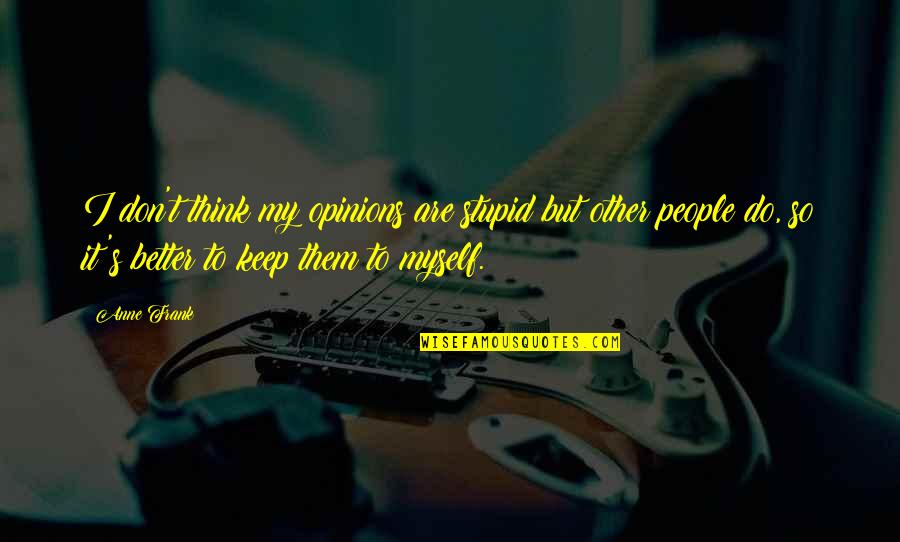 I don't think my opinions are stupid but other people do, so it's better to keep them to myself. —
Anne Frank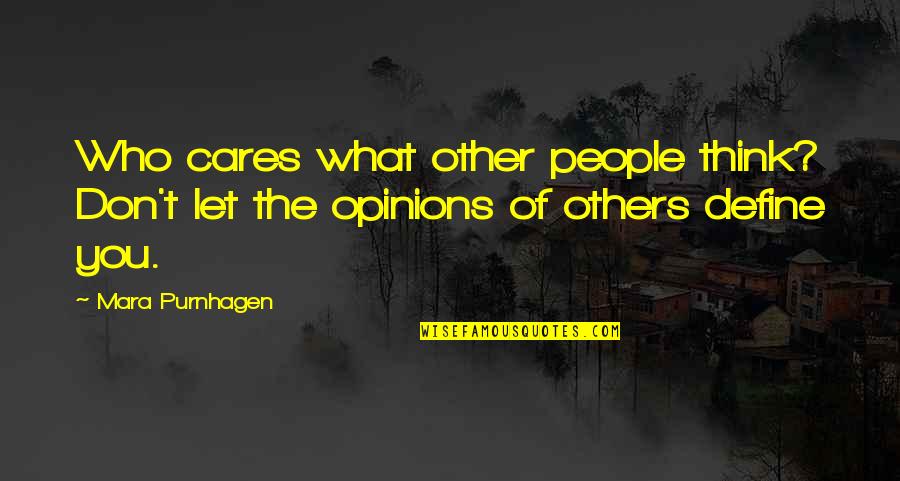 Who cares what other people think? Don't let the opinions of others define you. —
Mara Purnhagen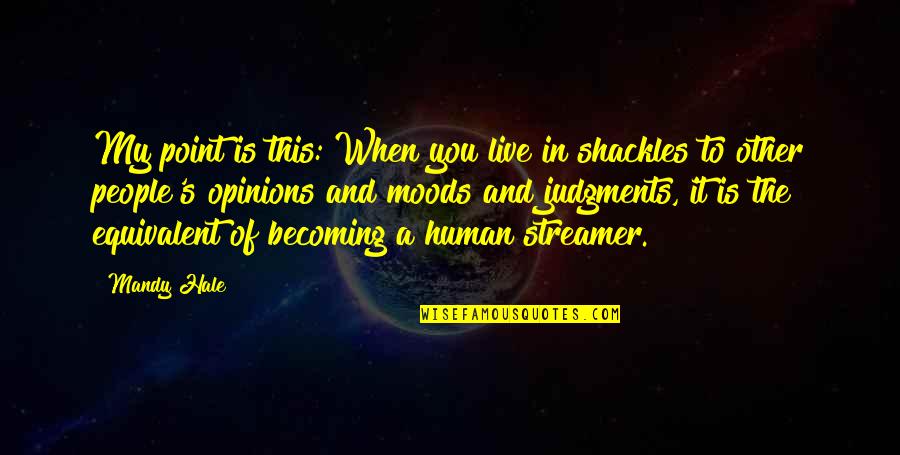 My point is this: When you live in shackles to other people's opinions and moods and judgments, it is the equivalent of becoming a human streamer. —
Mandy Hale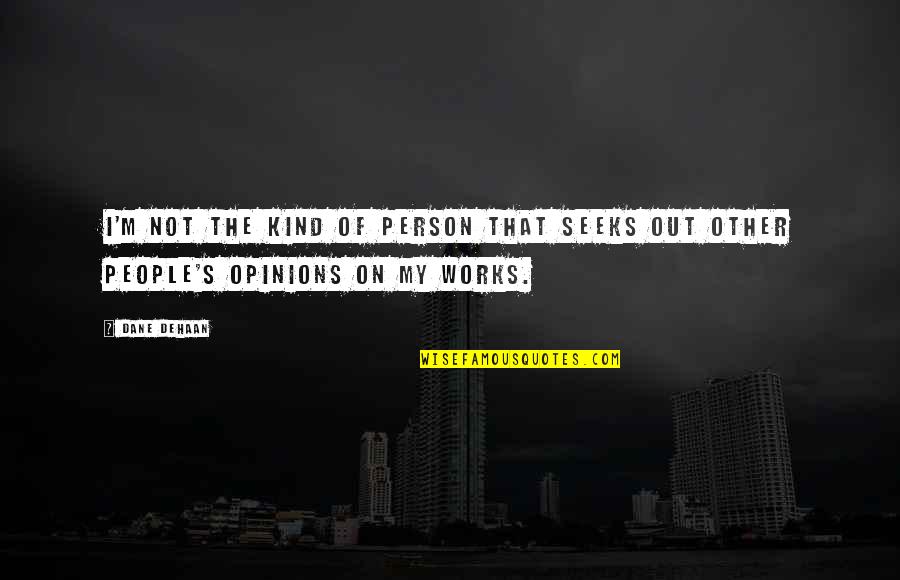 I'm not the kind of person that seeks out other people's opinions on my works. —
Dane DeHaan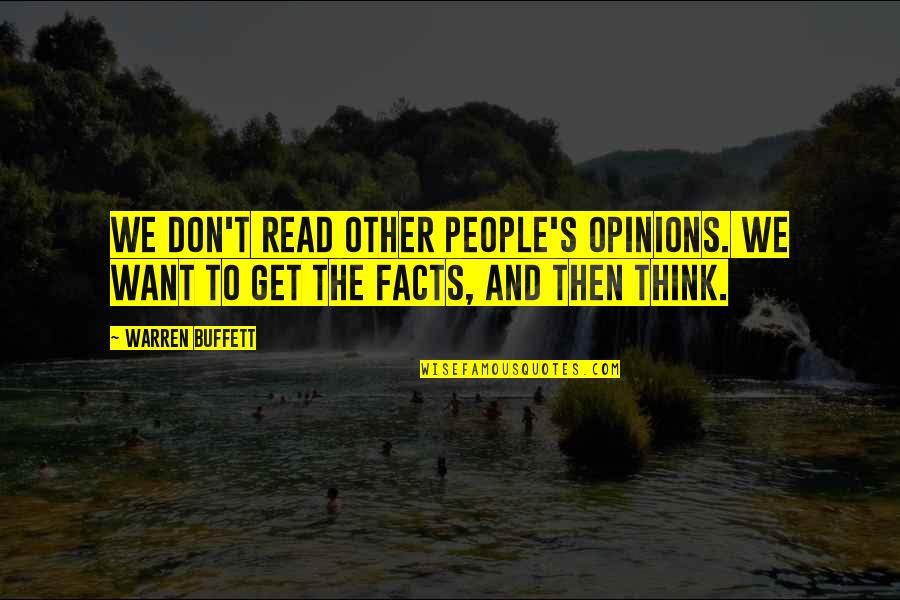 We don't read other people's opinions. We want to get the facts, and then think. —
Warren Buffett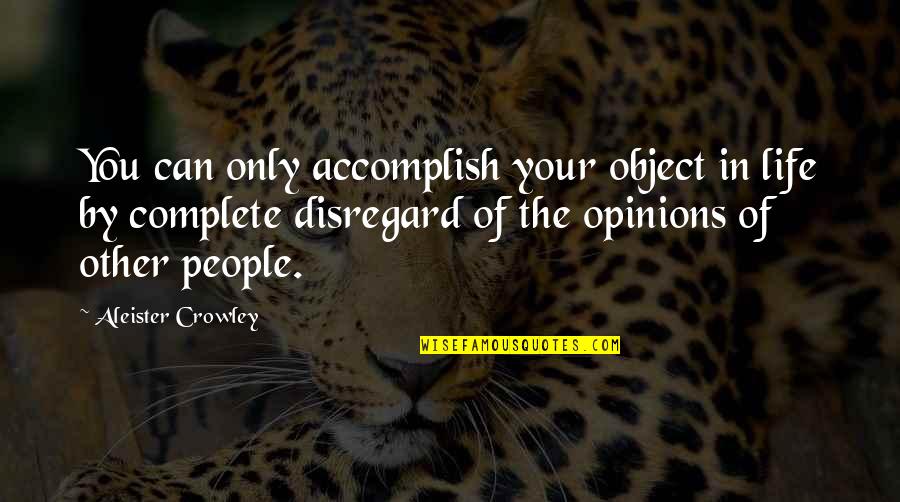 You can only accomplish your object in life by complete disregard of the opinions of other people. —
Aleister Crowley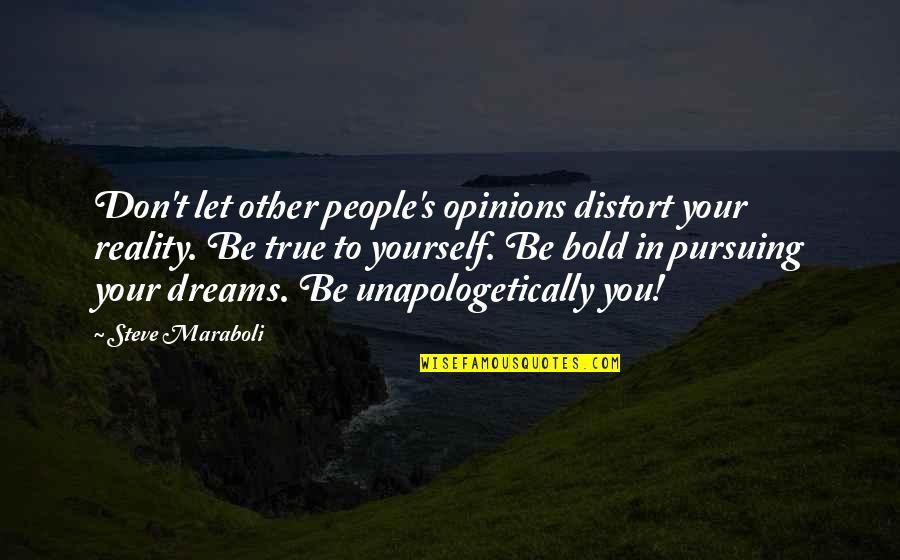 Don't let other people's opinions distort your reality. Be true to yourself. Be bold in pursuing your dreams. Be unapologetically you! —
Steve Maraboli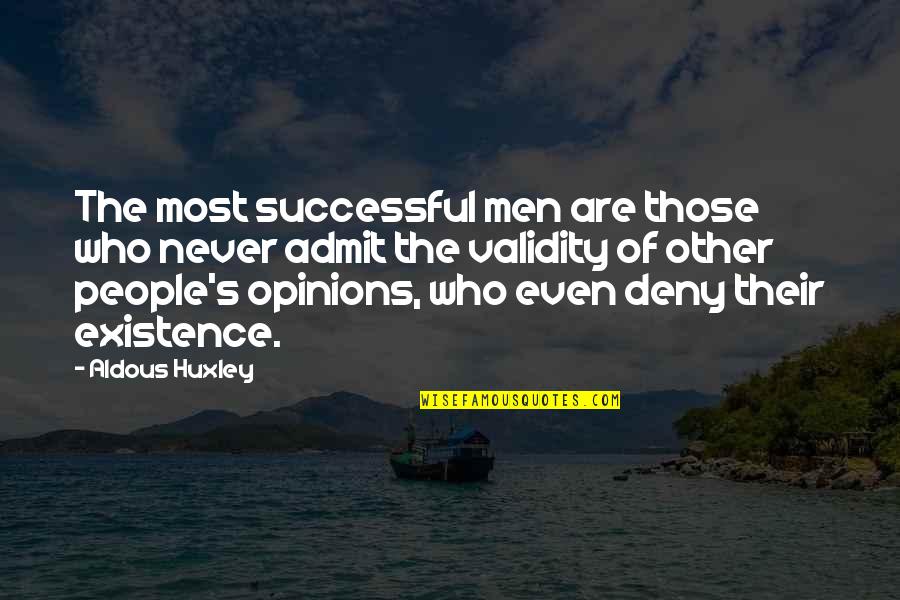 The most successful men are those who never admit the validity of other people's opinions, who even deny their existence. —
Aldous Huxley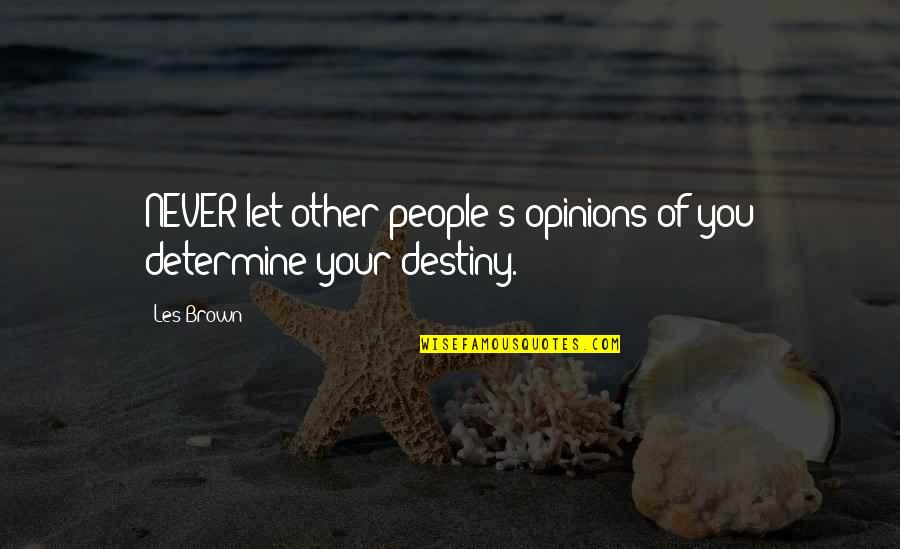 NEVER let other people's opinions of you determine your destiny. —
Les Brown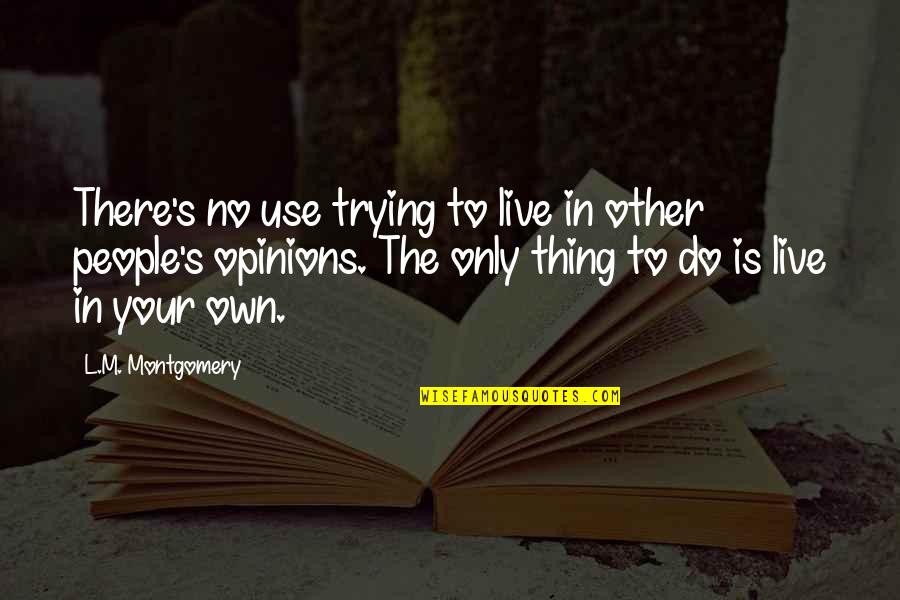 There's no use trying to live in other people's opinions. The only thing to do is live in your own. —
L.M. Montgomery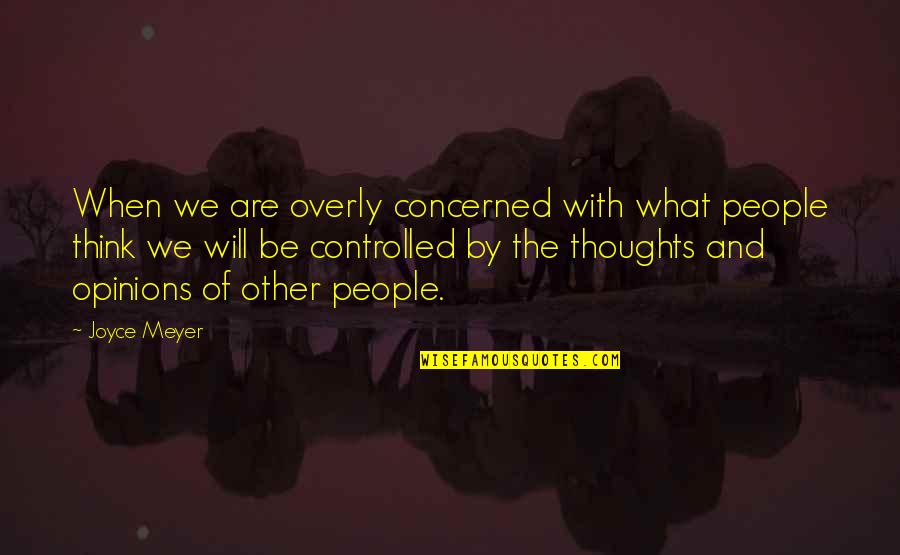 When we are overly concerned with what people think we will be controlled by the thoughts and opinions of other people. —
Joyce Meyer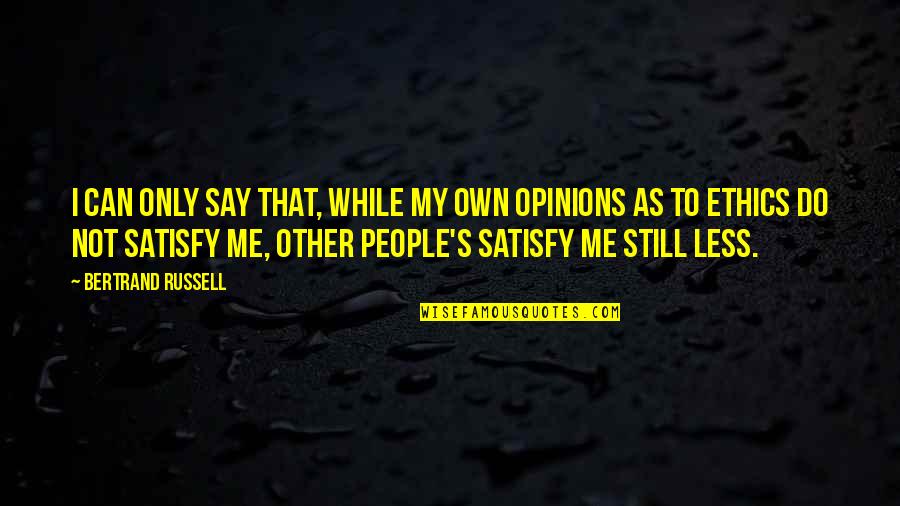 I can only say that, while my own opinions as to ethics do not satisfy me, other people's satisfy me still less. —
Bertrand Russell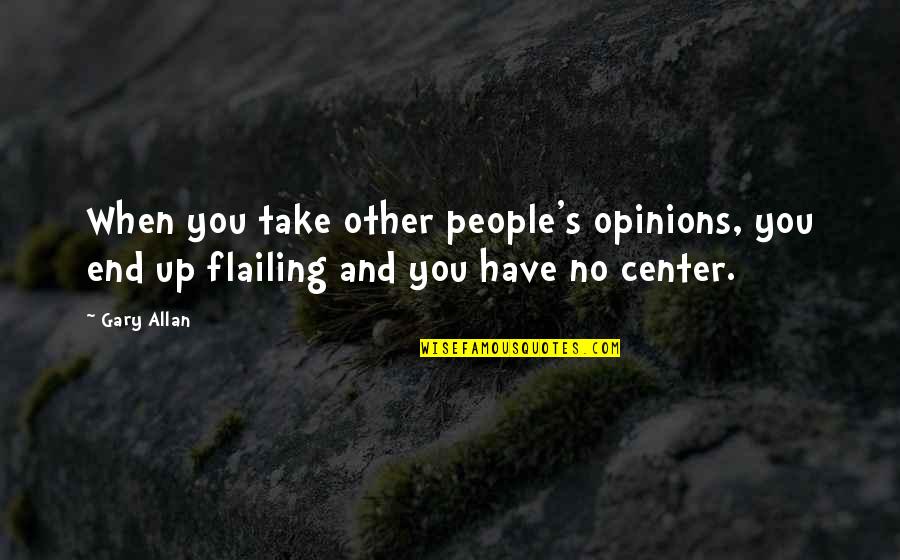 When you take other people's opinions, you end up flailing and you have no center. —
Gary Allan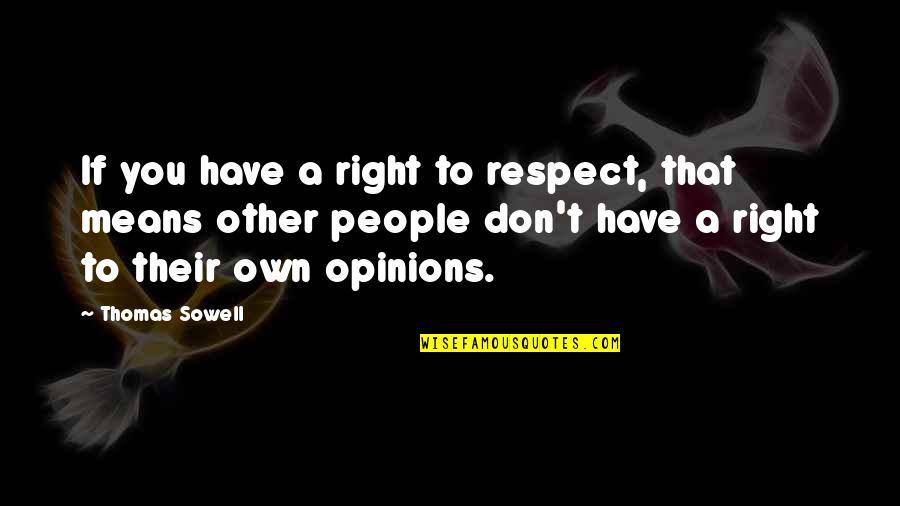 If you have a right to respect, that means other people don't have a right to their own opinions. —
Thomas Sowell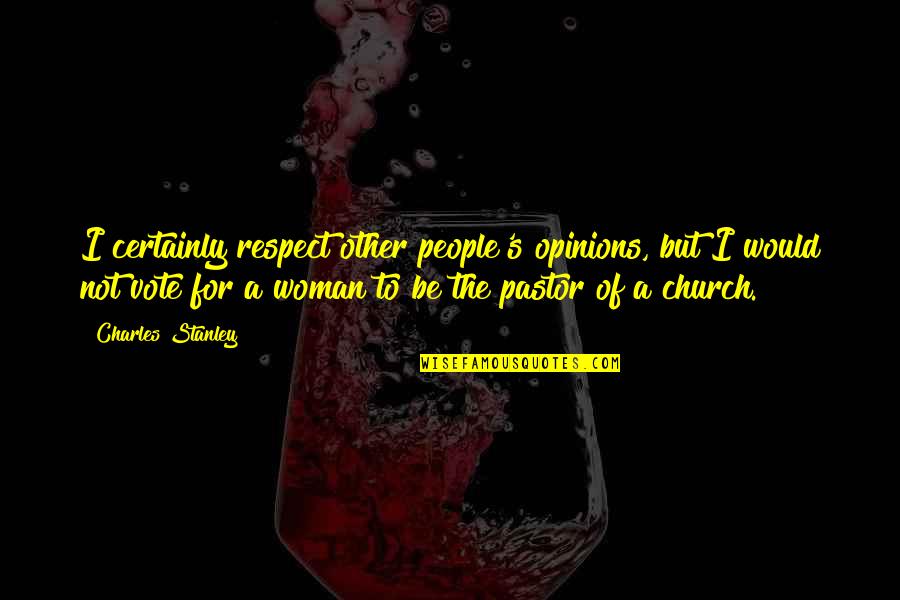 I certainly respect other people's opinions, but I would not vote for a woman to be the pastor of a church. —
Charles Stanley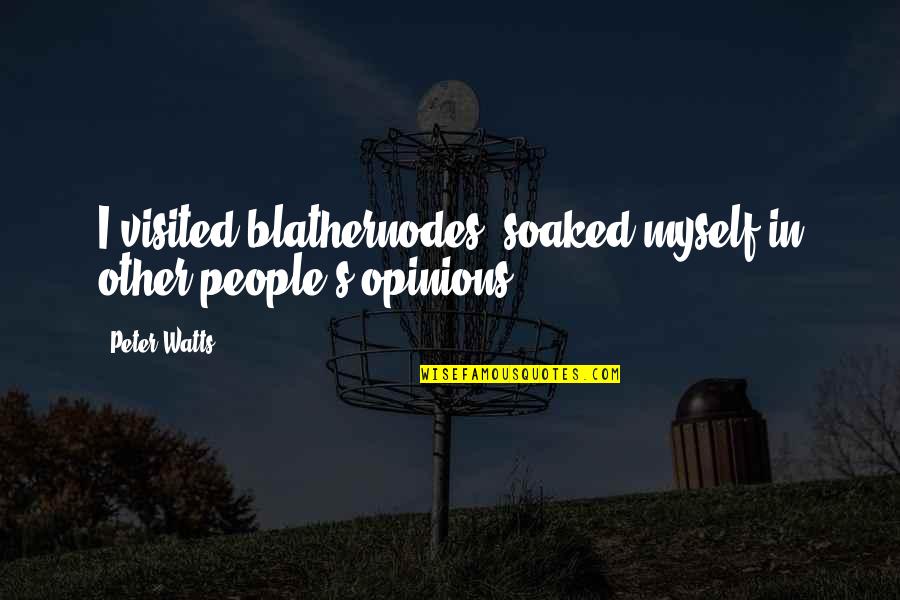 I visited blathernodes, soaked myself in other people's opinions. —
Peter Watts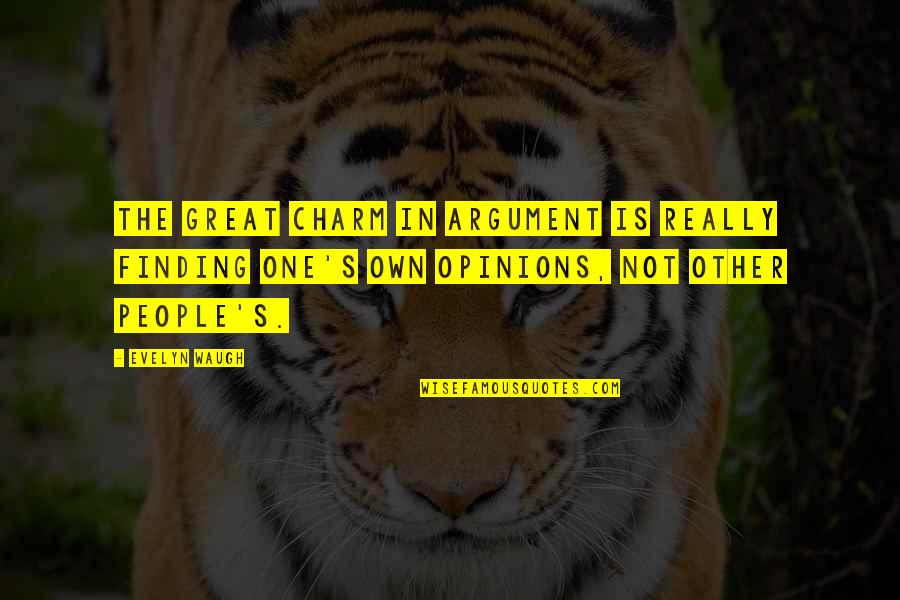 The great charm in argument is really finding one's own opinions, not other people's. —
Evelyn Waugh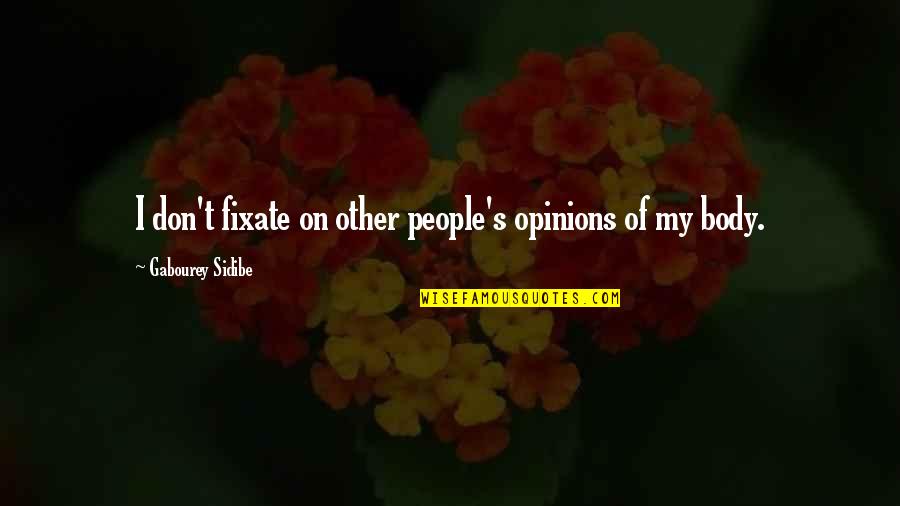 I don't fixate on other people's opinions of my body. —
Gabourey Sidibe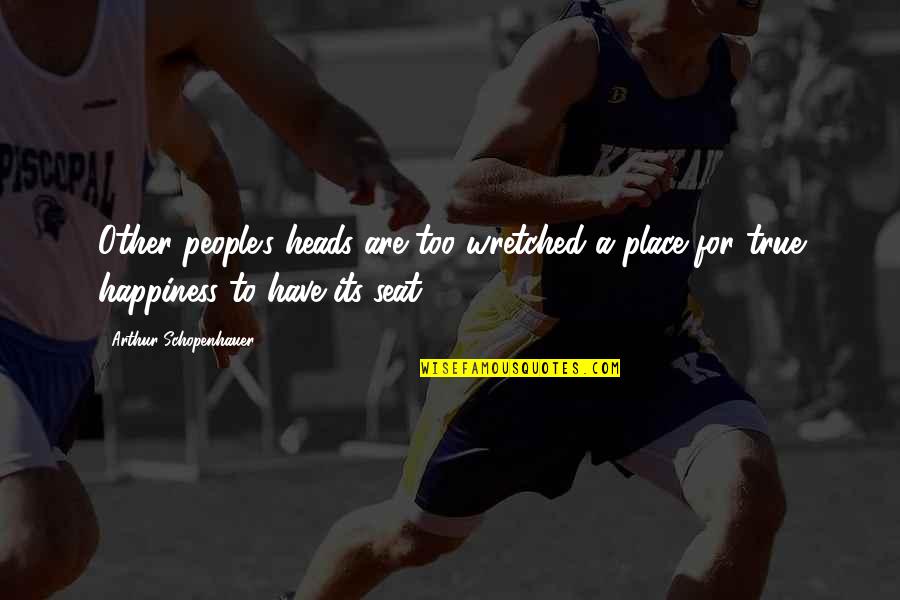 Other people's heads are too wretched a place for true happiness to have its seat. —
Arthur Schopenhauer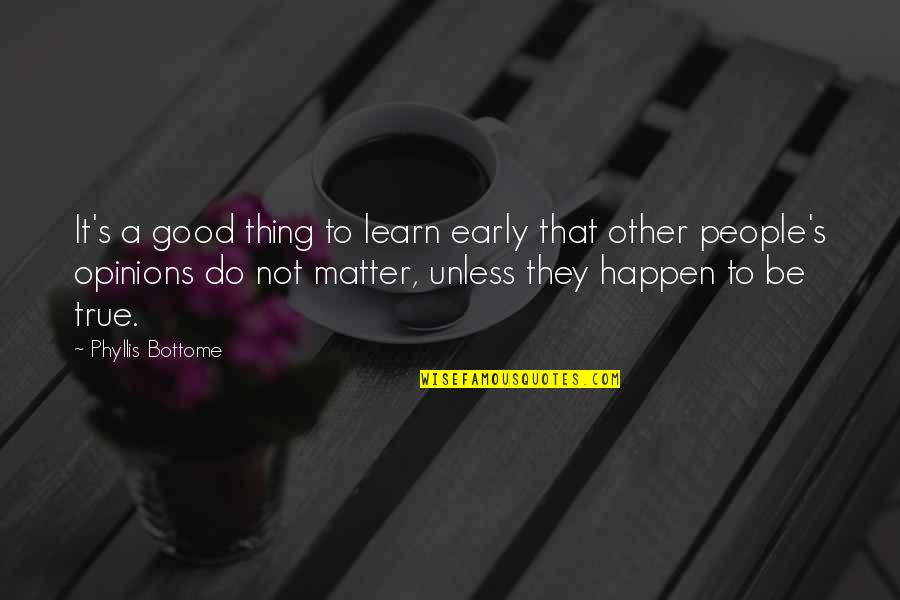 It's a good thing to learn early that other people's opinions do not matter, unless they happen to be true. —
Phyllis Bottome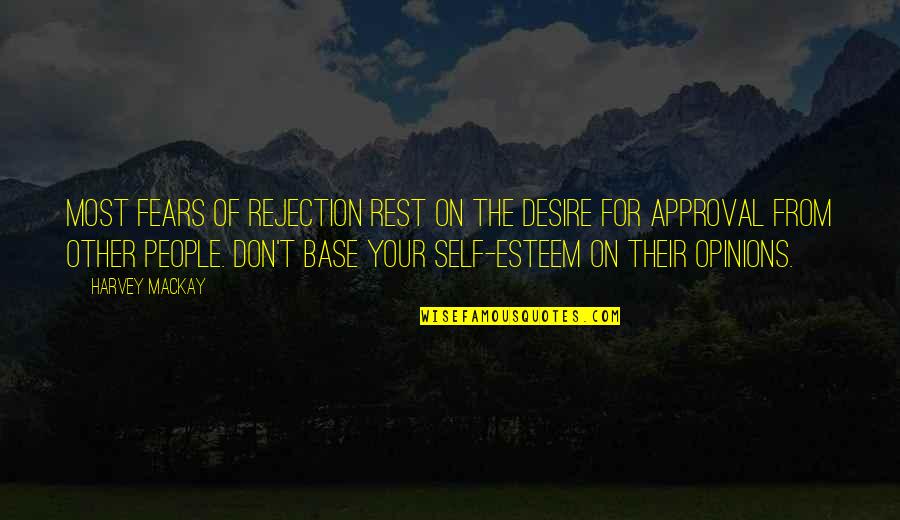 Most fears of rejection rest on the desire for approval from other people. Don't base your self-esteem on their opinions. —
Harvey MacKay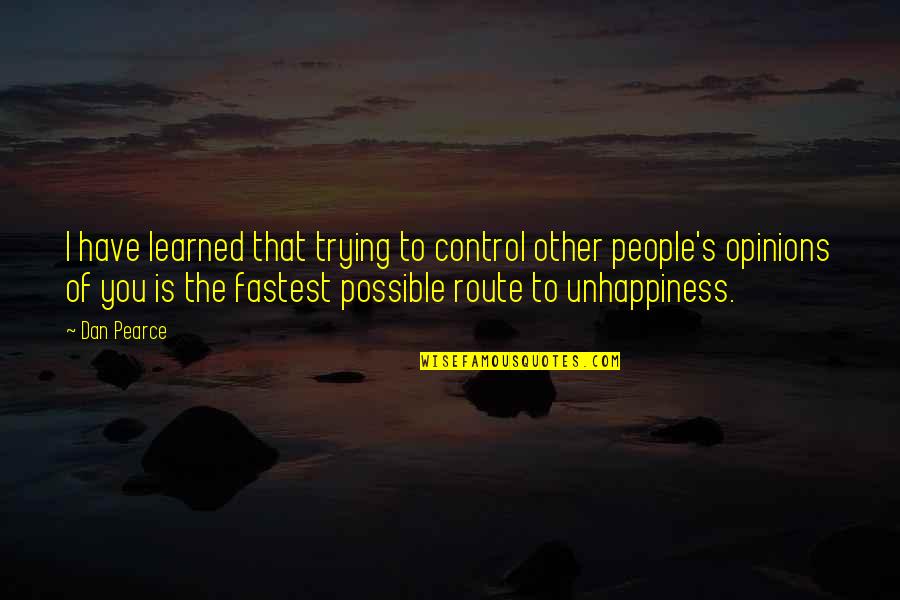 I have learned that trying to control other people's opinions of you is the fastest possible route to unhappiness. —
Dan Pearce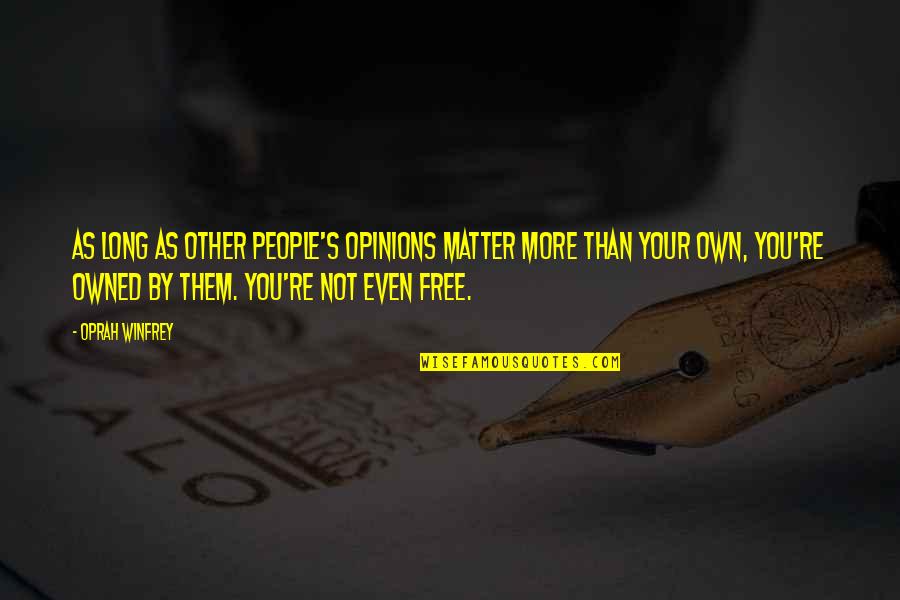 As long as other people's opinions matter more than your own, you're owned by them. You're not even free. —
Oprah Winfrey
We hear strong opinions from arrogant people all day long. We need to cleanse our minds by reminding each other of God's actual words. —
Francis Chan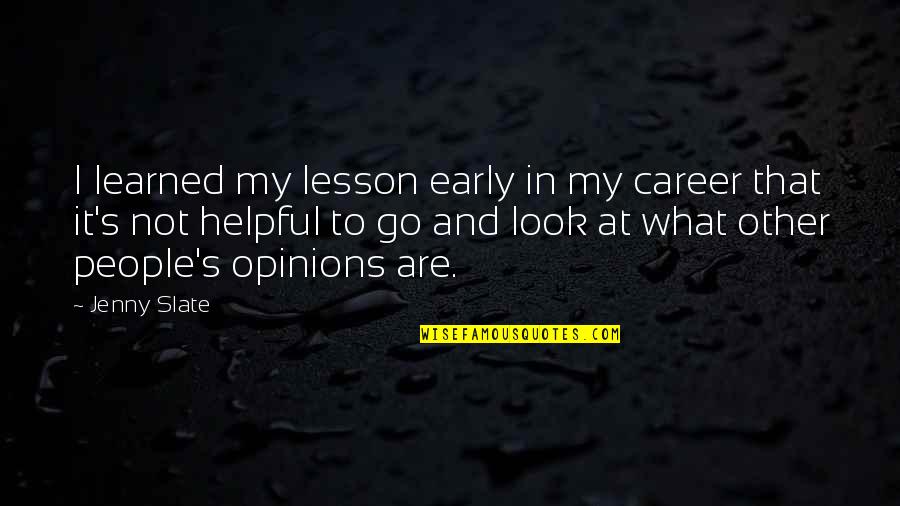 I learned my lesson early in my career that it's not helpful to go and look at what other people's opinions are. —
Jenny Slate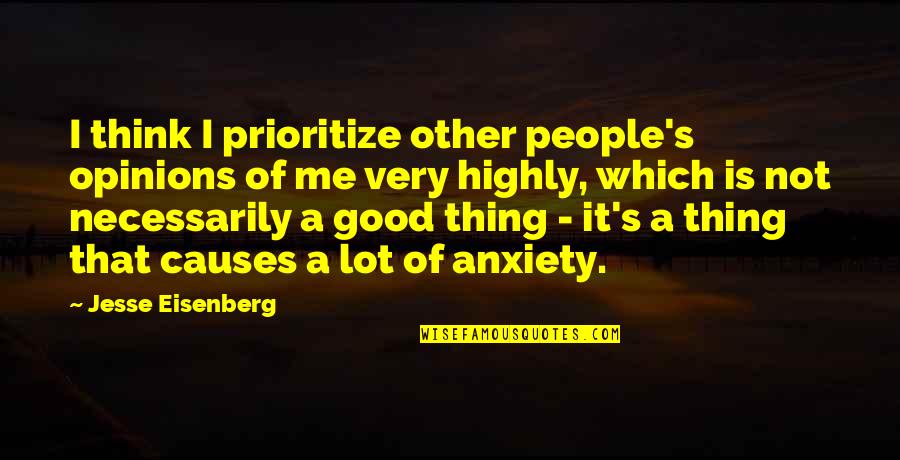 I think I prioritize other people's opinions of me very highly, which is not necessarily a good thing - it's a thing that causes a lot of anxiety. —
Jesse Eisenberg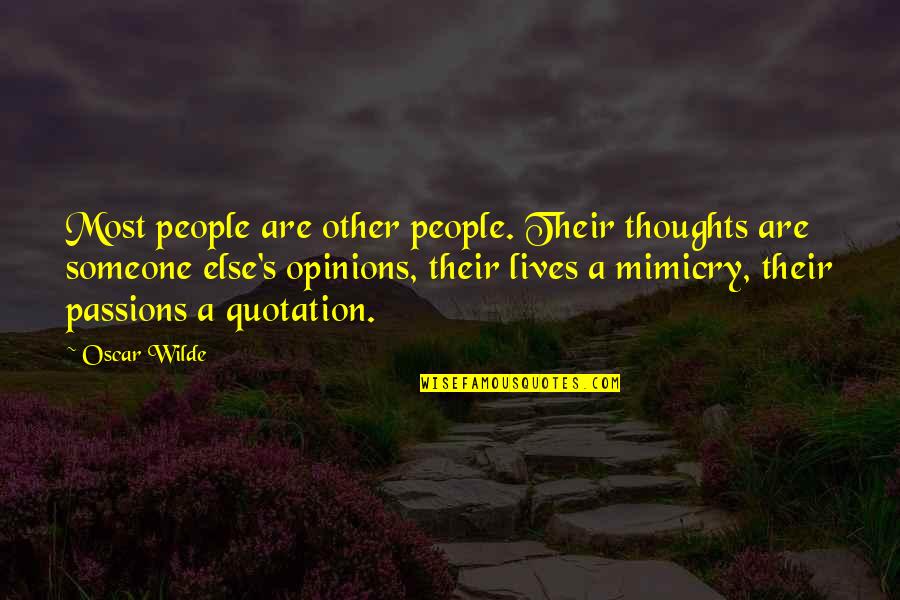 Most people are other people. Their thoughts are someone else's opinions, their lives a mimicry, their passions a quotation. —
Oscar Wilde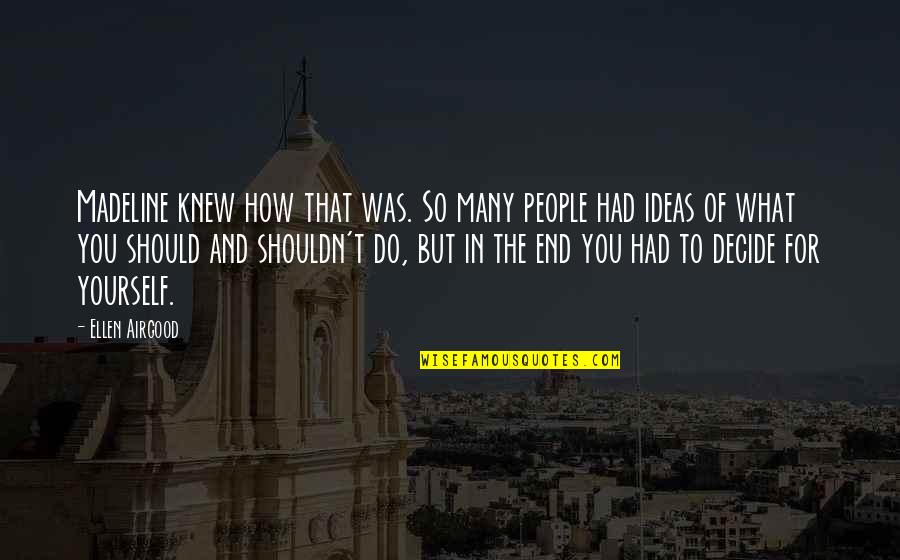 Madeline knew how that was. So many people had ideas of what you should and shouldn't do, but in the end you had to decide for yourself. —
Ellen Airgood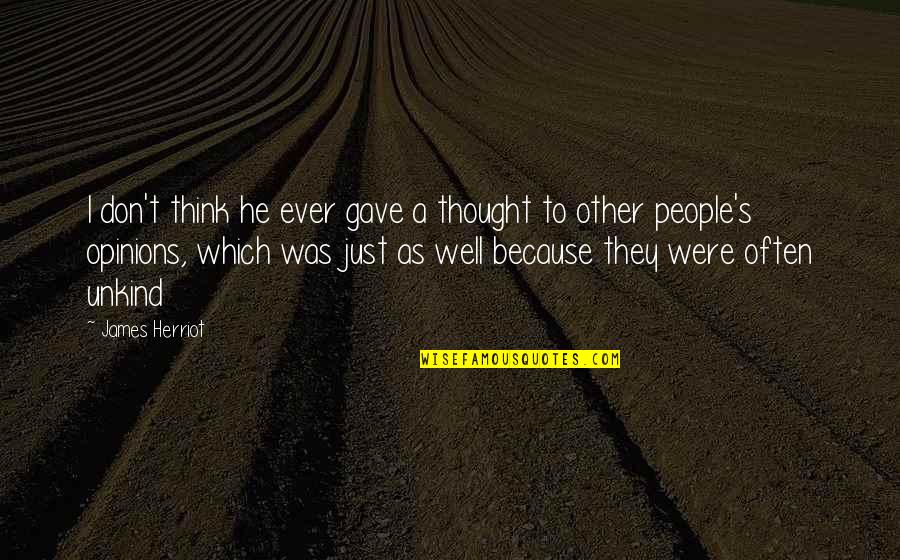 I don't think he ever gave a thought to other people's opinions, which was just as well because they were often unkind —
James Herriot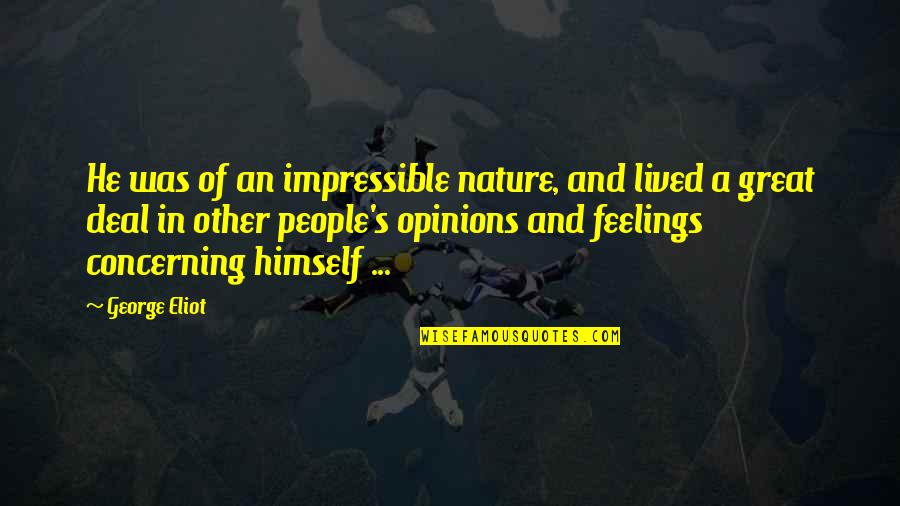 He was of an impressible nature, and lived a great deal in other people's opinions and feelings concerning himself ... —
George Eliot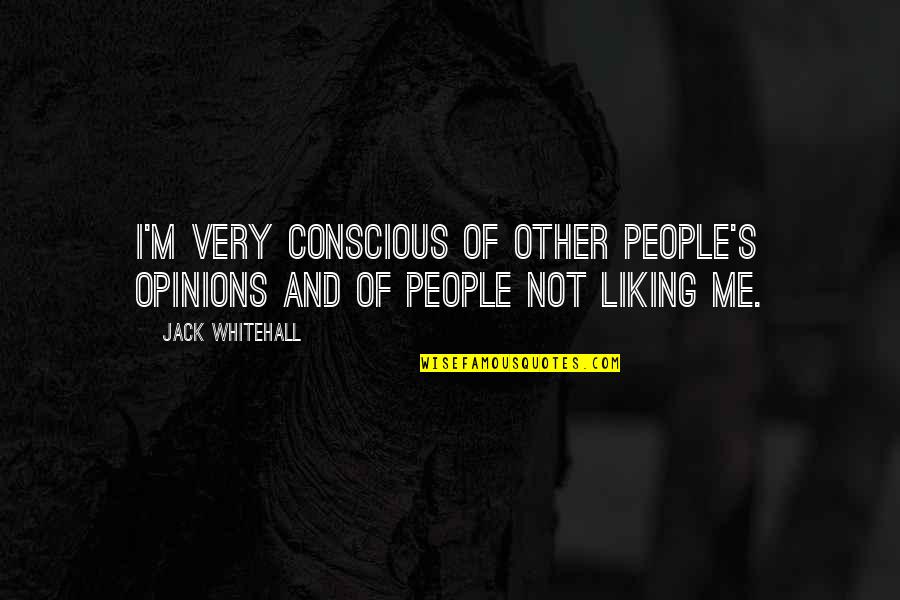 I'm very conscious of other people's opinions and of people not liking me. —
Jack Whitehall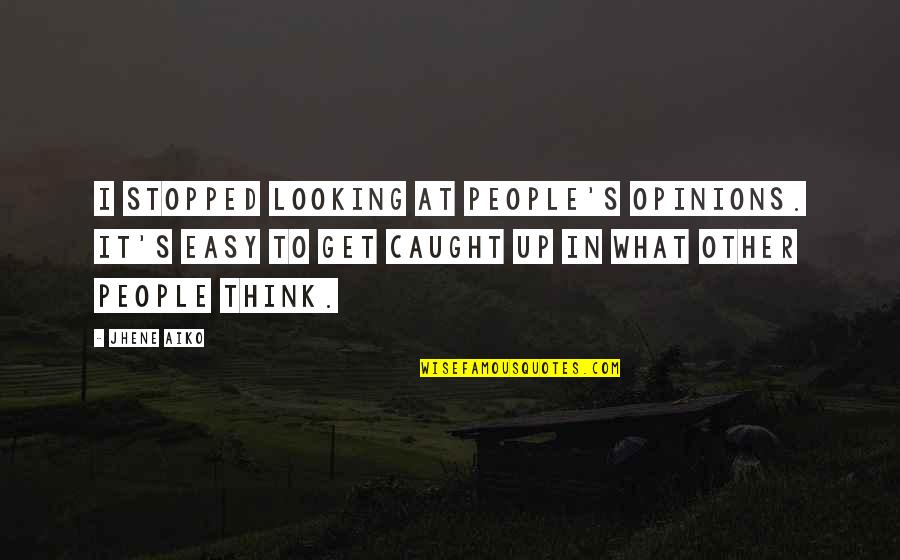 I stopped looking at people's opinions. It's easy to get caught up in what other people think. —
Jhene Aiko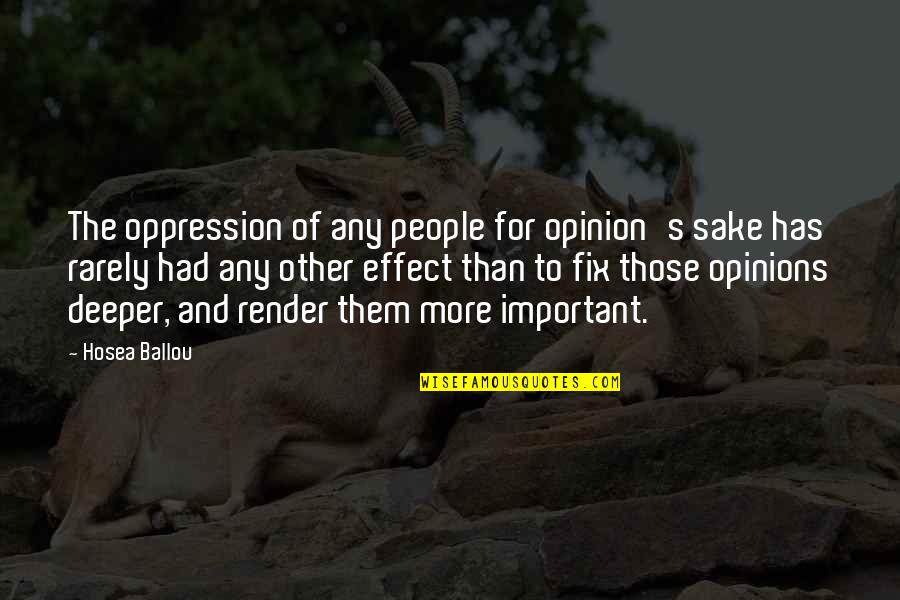 The oppression of any people for opinion's sake has rarely had any other effect than to fix those opinions deeper, and render them more important. —
Hosea Ballou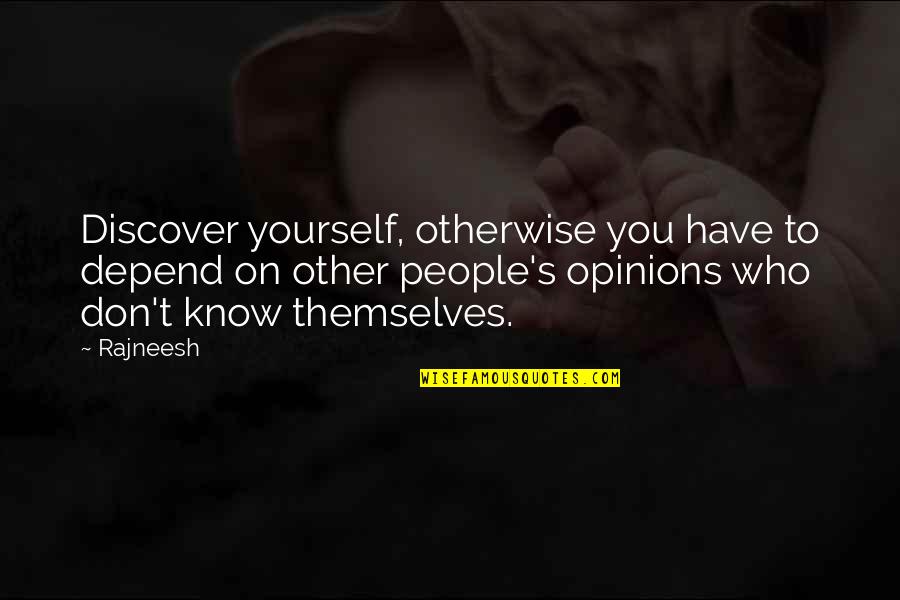 Discover yourself, otherwise you have to depend on other people's opinions who don't know themselves. —
Rajneesh
Other people's opinions of you are none of your business. —
Robin Sharma
If you are still not dead to the opinions of other people, and it is important for you not to offend anyone, then you haven't even started ministering —
Sunday Adelaja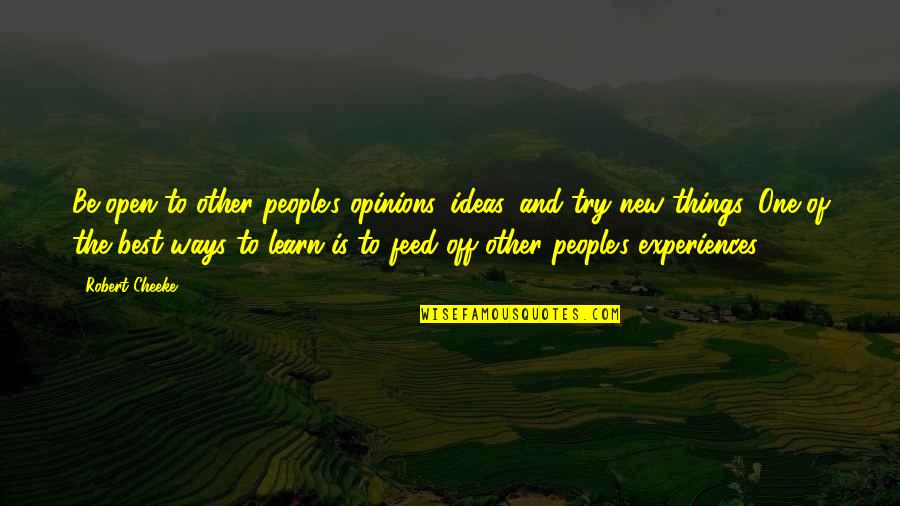 Be open to other people's opinions, ideas, and try new things. One of the best ways to learn is to feed off other people's experiences. —
Robert Cheeke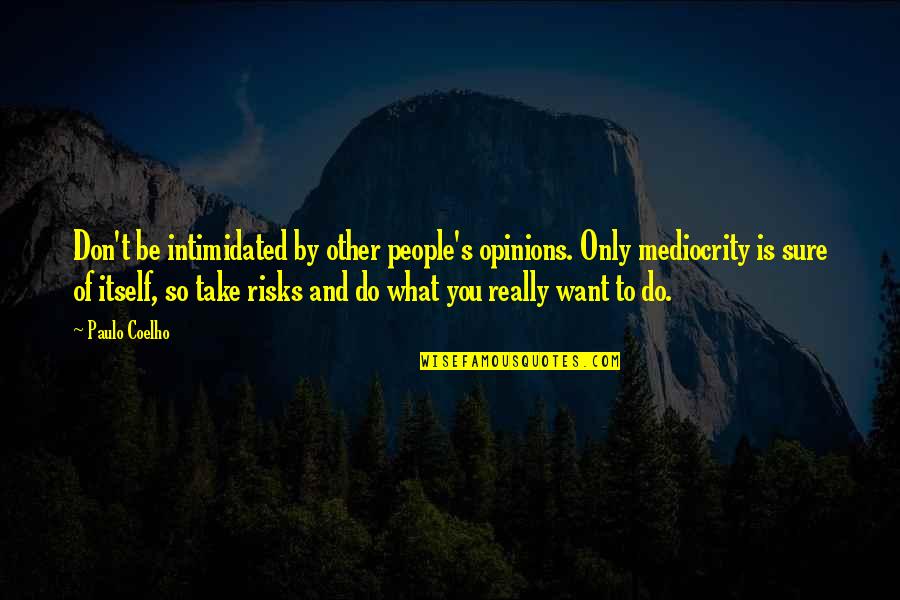 Don't be intimidated by other people's opinions. Only mediocrity is sure of itself, so take risks and do what you really want to do. —
Paulo Coelho