Okri's Quotes
Collection of top 71 famous quotes about Okri's
Okri's Quotes & Sayings
Happy to read and share the best inspirational Okri's quotes, sayings and quotations on Wise Famous Quotes.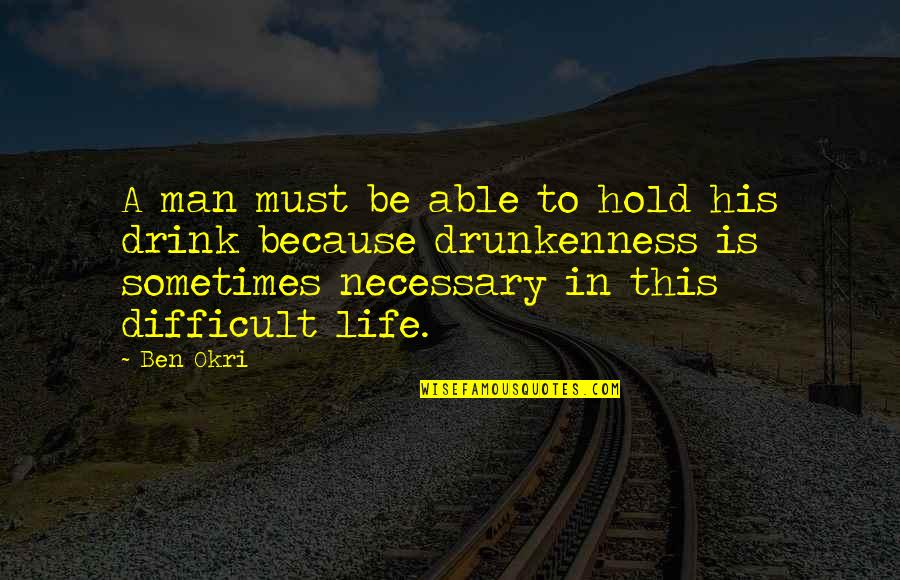 A man must be able to hold his drink because drunkenness is sometimes necessary in this difficult life.
—
Ben Okri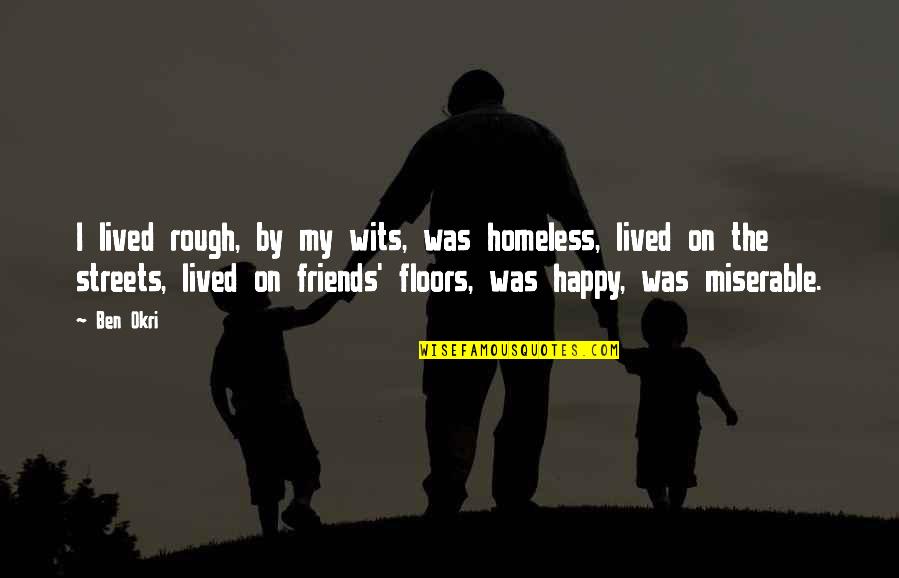 I lived rough, by my wits, was homeless, lived on the streets, lived on friends' floors, was happy, was miserable.
—
Ben Okri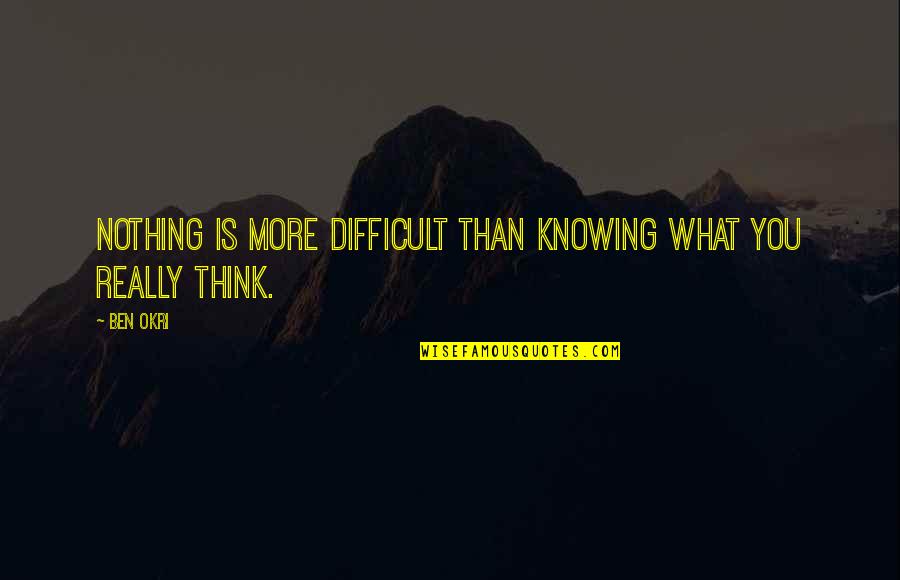 Nothing is more difficult than knowing what you really think.
—
Ben Okri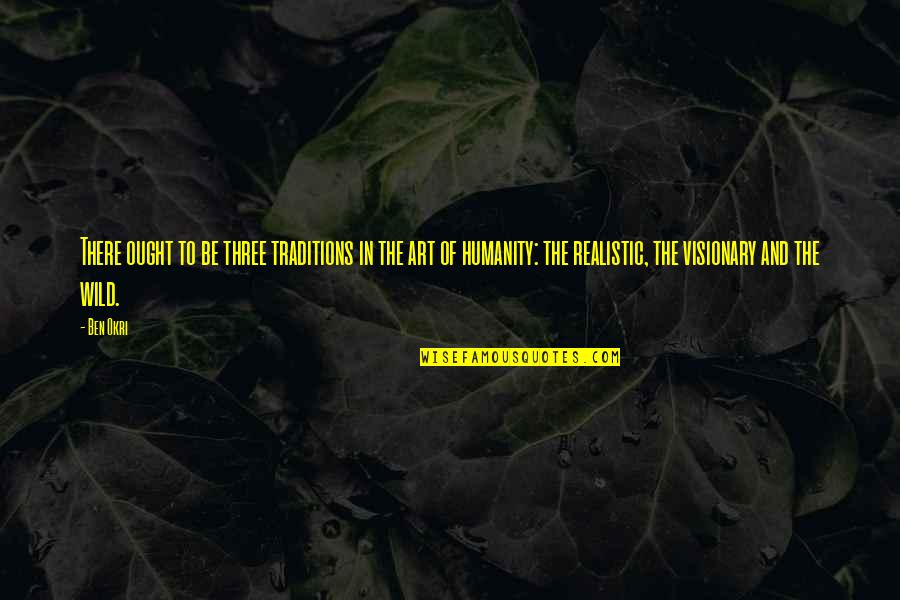 There ought to be three traditions in the art of humanity: the realistic, the visionary and the wild.
—
Ben Okri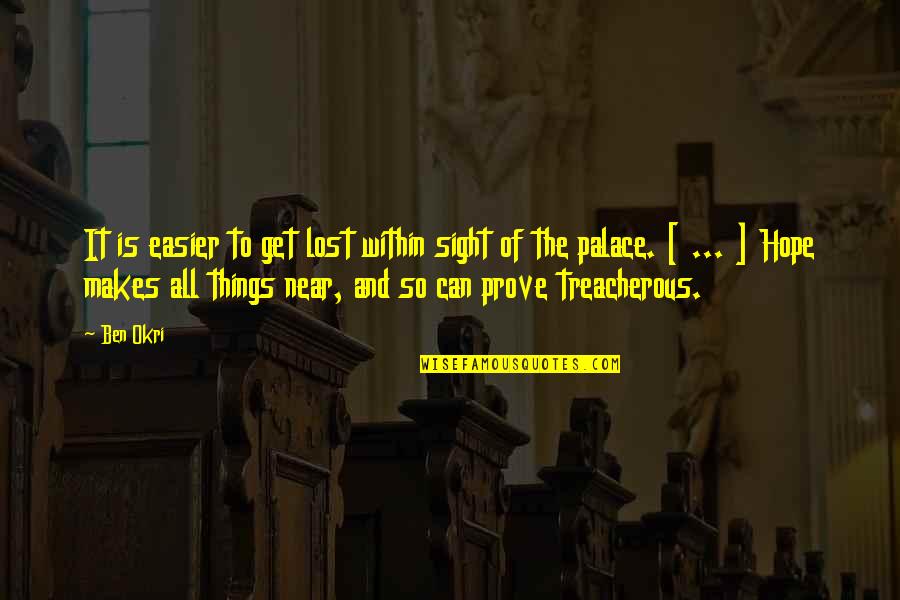 It is easier to get lost within sight of the palace. [ ... ] Hope makes all things near, and so can prove treacherous.
—
Ben Okri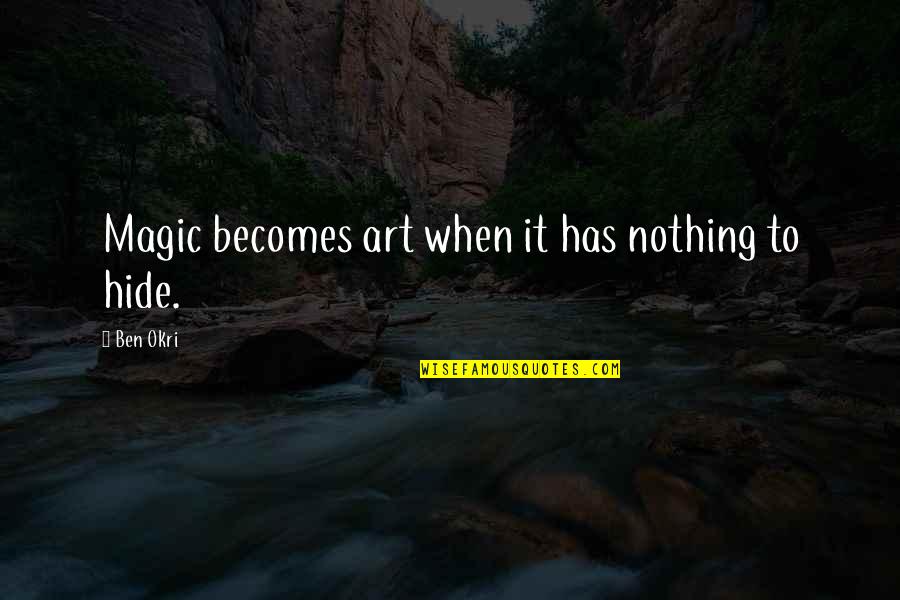 Magic becomes art when it has nothing to hide. —
Ben Okri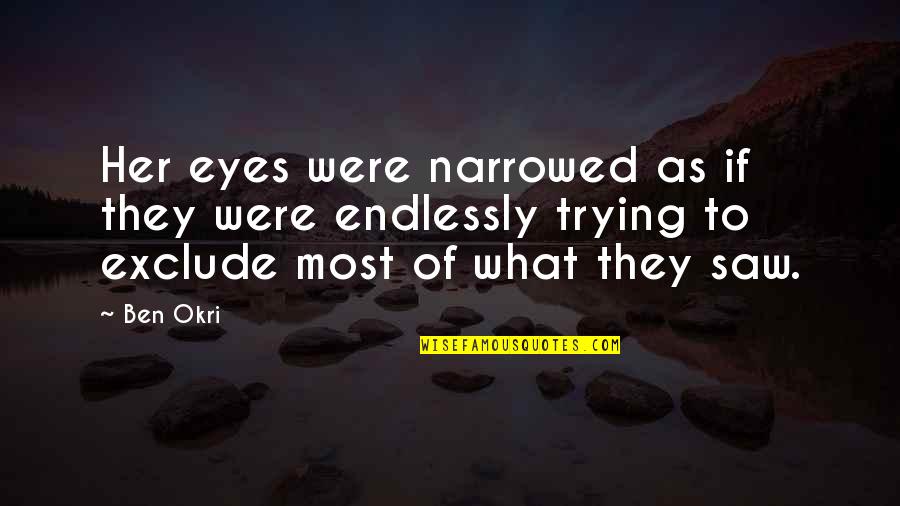 Her eyes were narrowed as if they were endlessly trying to exclude most of what they saw. —
Ben Okri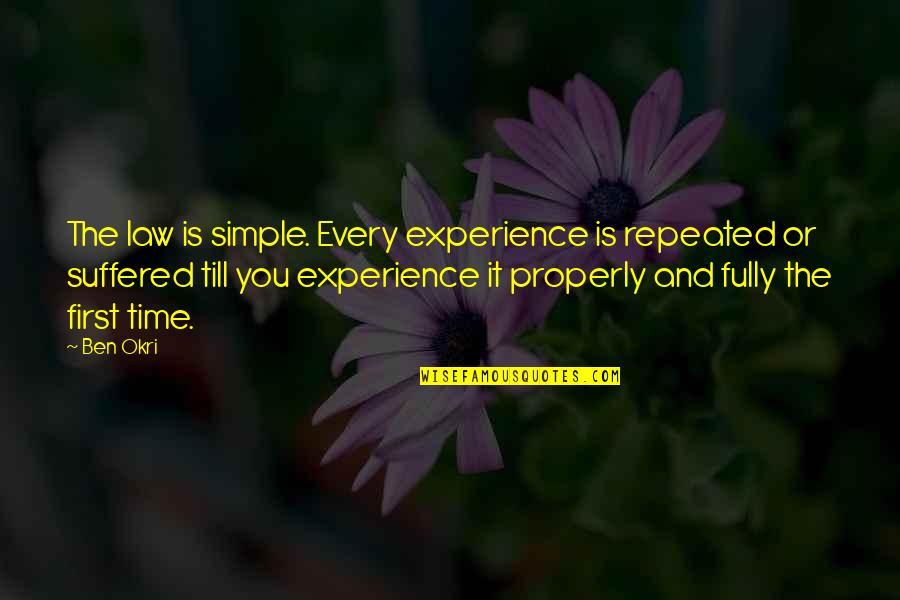 The law is simple. Every experience is repeated or suffered till you experience it properly and fully the first time. —
Ben Okri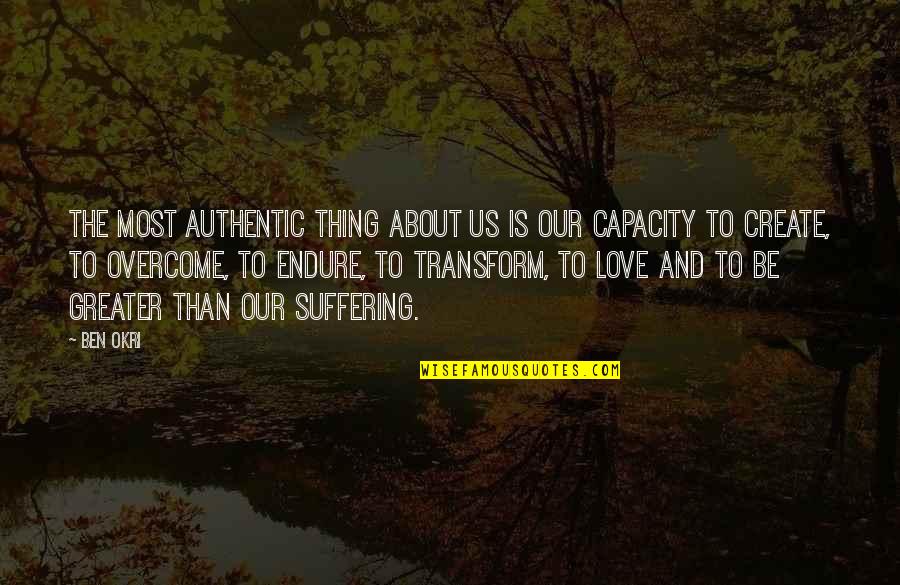 The most authentic thing about us is our capacity to create, to overcome, to endure, to transform, to love and to be greater than our suffering. —
Ben Okri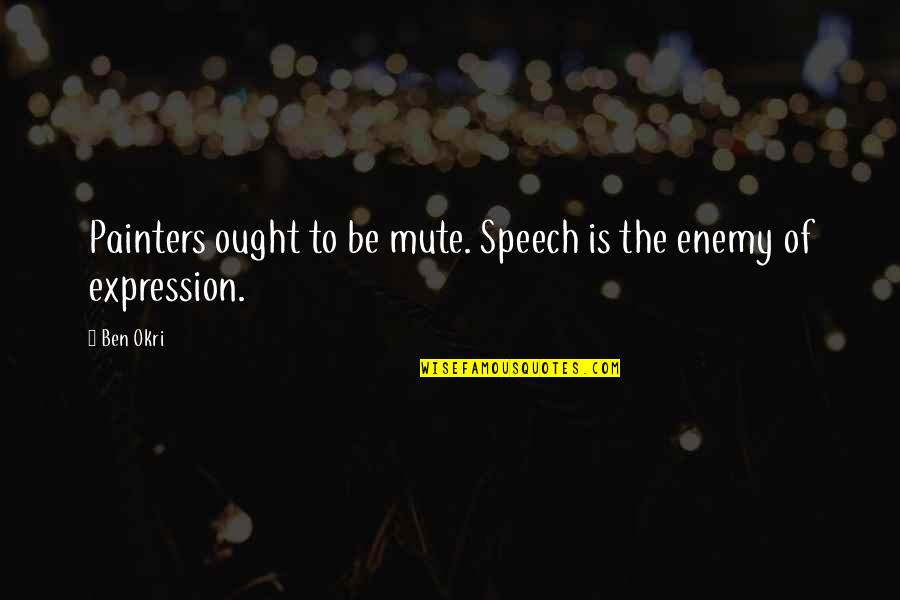 Painters ought to be mute. Speech is the enemy of expression. —
Ben Okri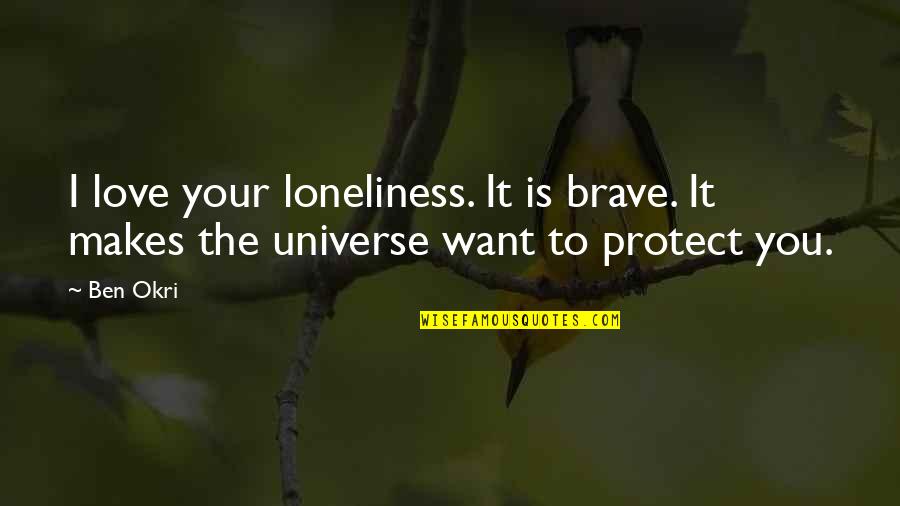 I love your loneliness. It is brave. It makes the universe want to protect you. —
Ben Okri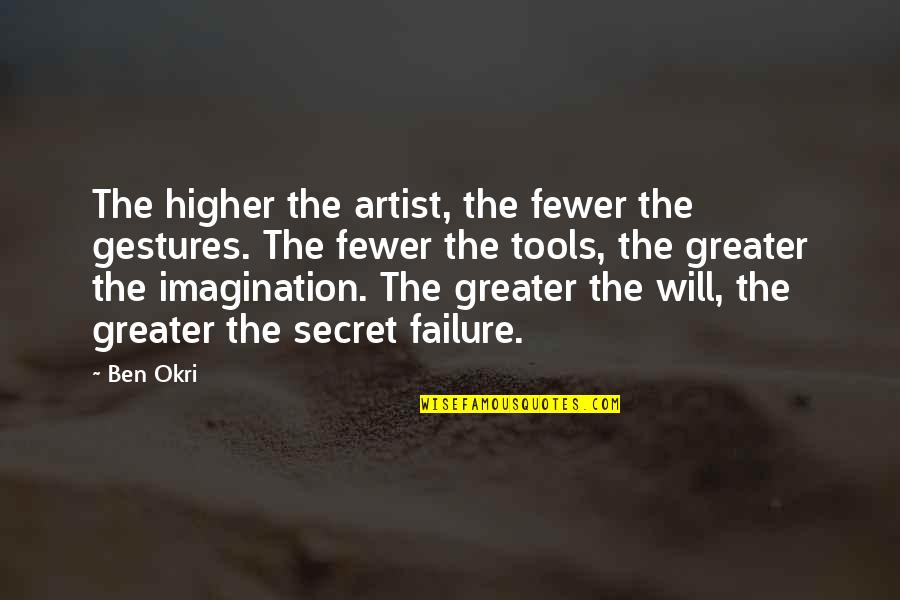 The higher the artist, the fewer the gestures. The fewer the tools, the greater the imagination. The greater the will, the greater the secret failure. —
Ben Okri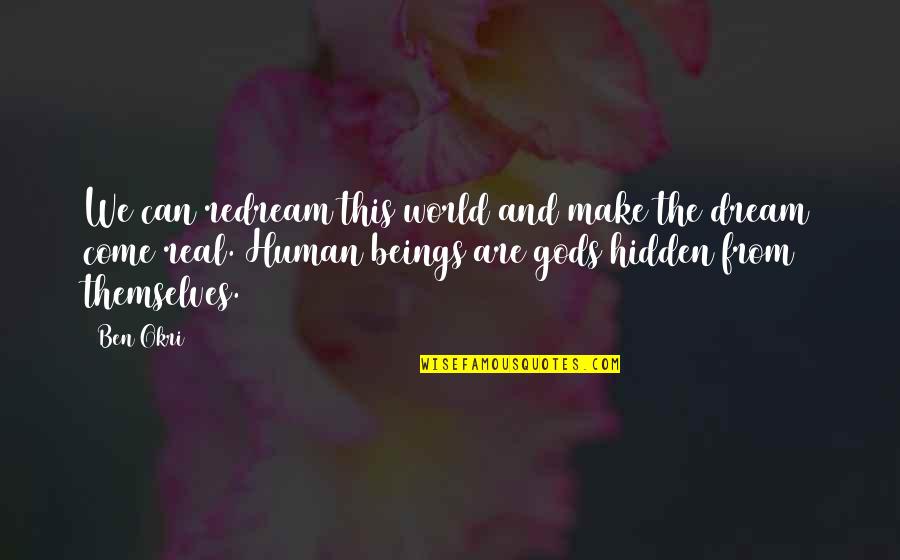 We can redream this world and make the dream come real. Human beings are gods hidden from themselves. —
Ben Okri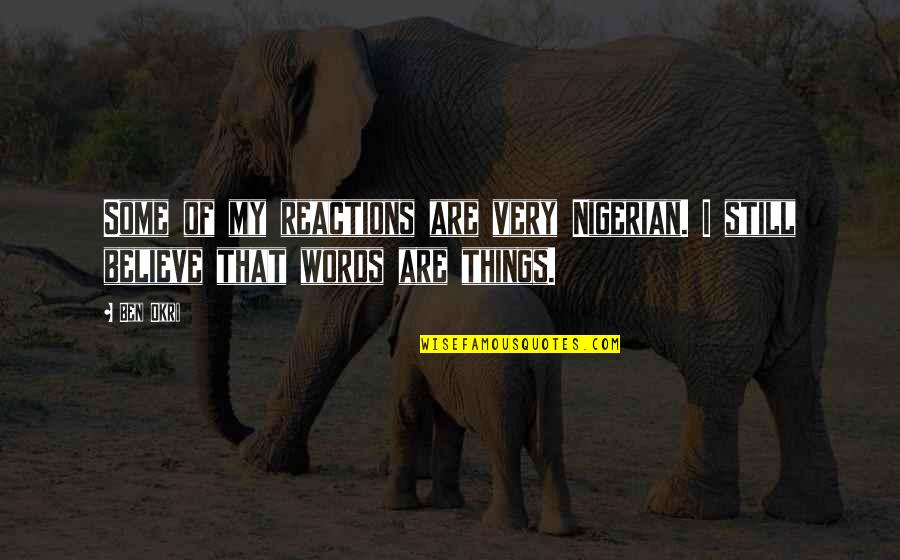 Some of my reactions are very Nigerian. I still believe that words are things. —
Ben Okri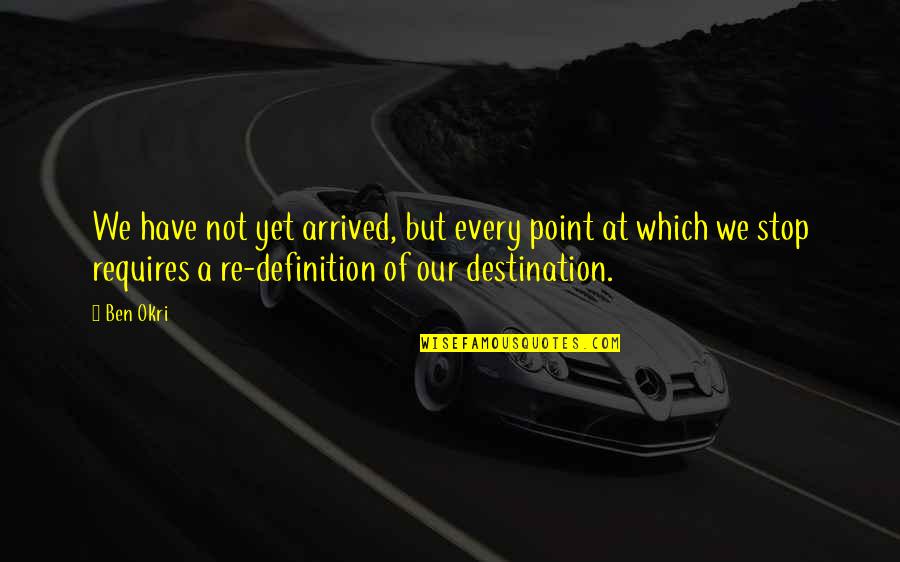 We have not yet arrived, but every point at which we stop requires a re-definition of our destination. —
Ben Okri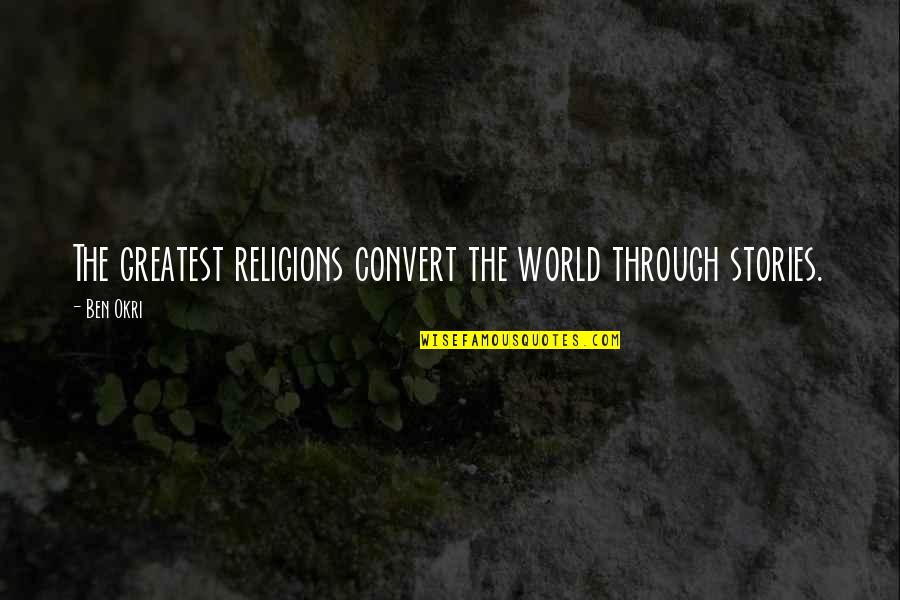 The greatest religions convert the world through stories. —
Ben Okri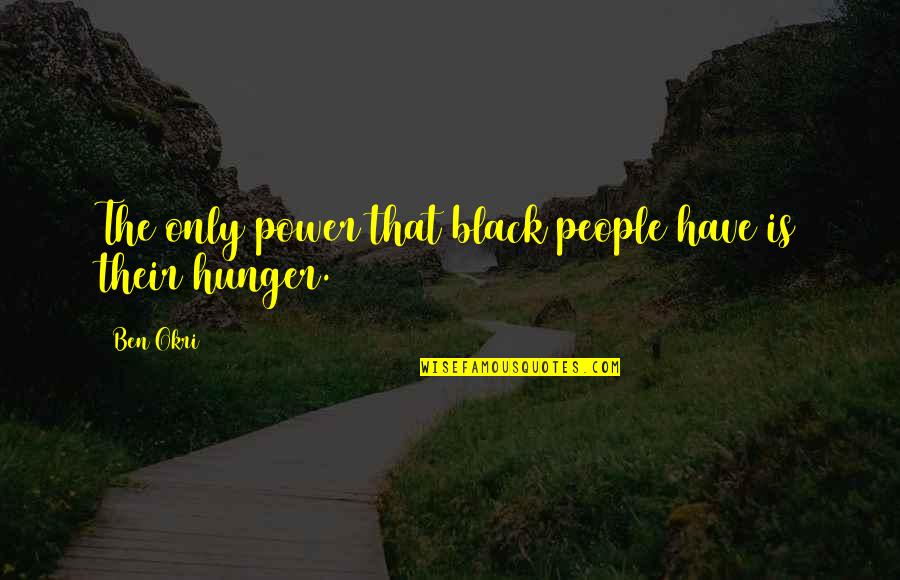 The only power that black people have is their hunger. —
Ben Okri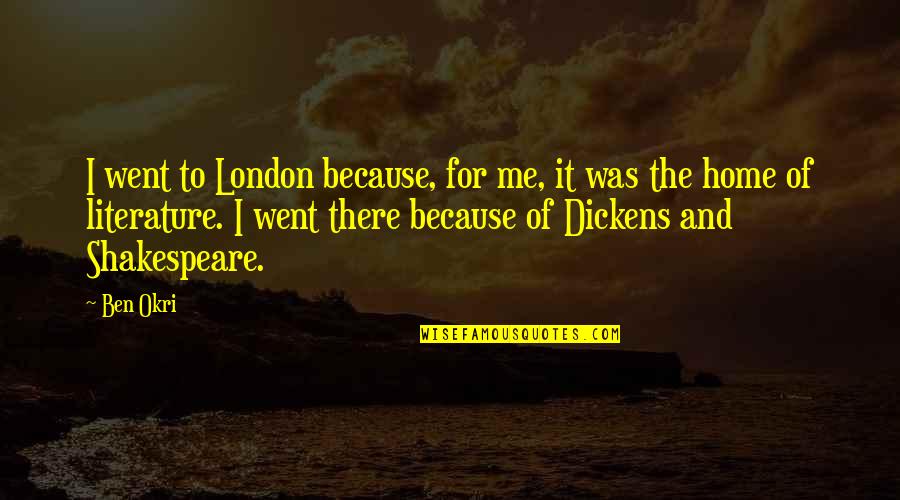 I went to London because, for me, it was the home of literature. I went there because of Dickens and Shakespeare. —
Ben Okri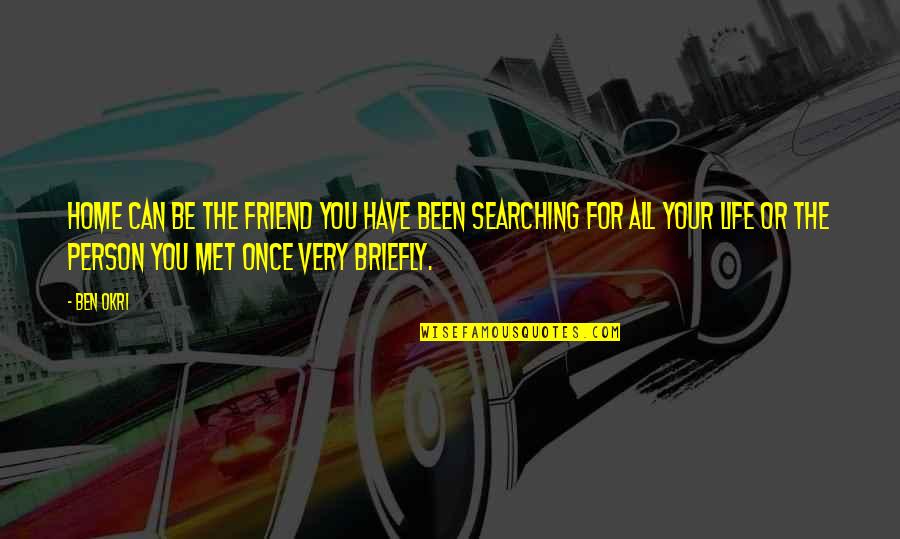 Home can be the friend you have been searching for all your life or the person you met once very briefly. —
Ben Okri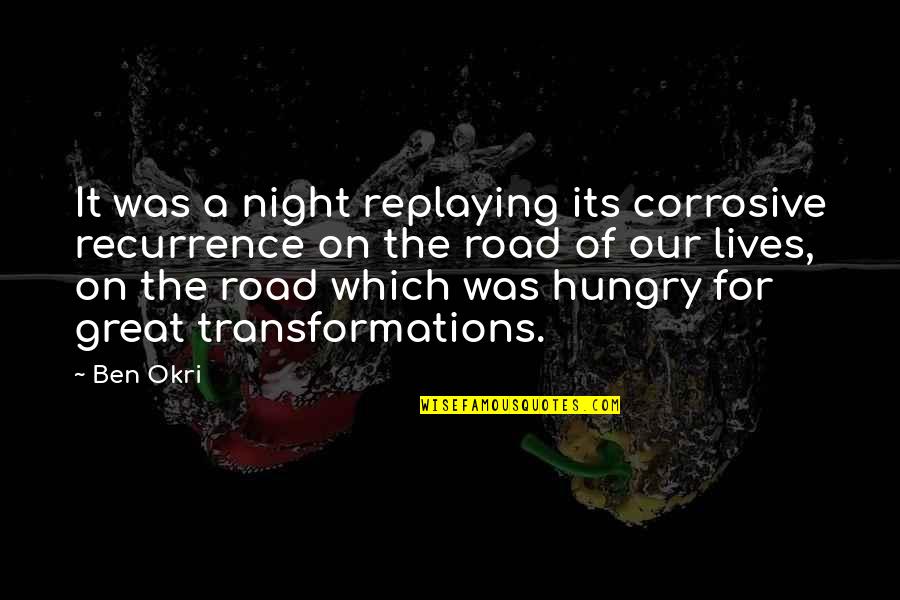 It was a night replaying its corrosive recurrence on the road of our lives, on the road which was hungry for great transformations. —
Ben Okri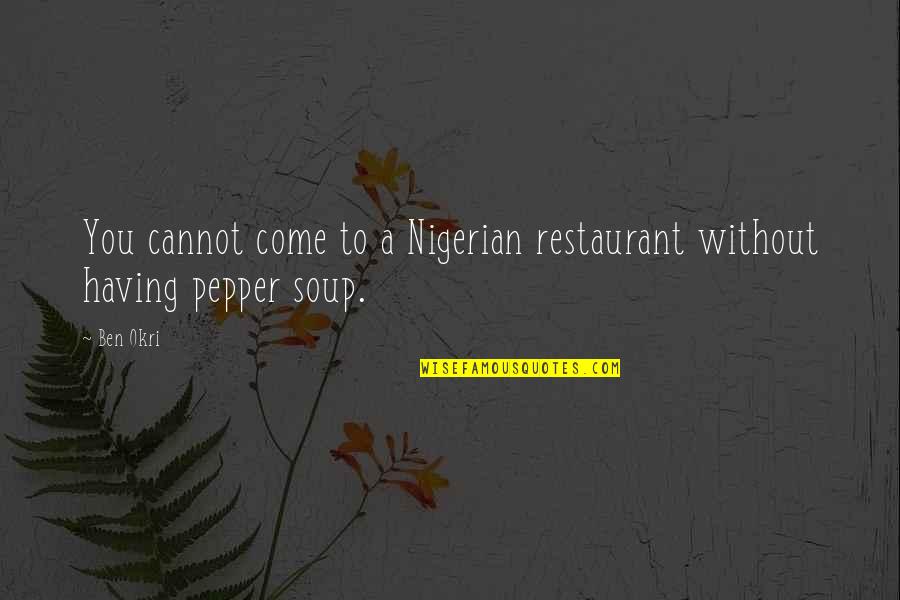 You cannot come to a Nigerian restaurant without having pepper soup. —
Ben Okri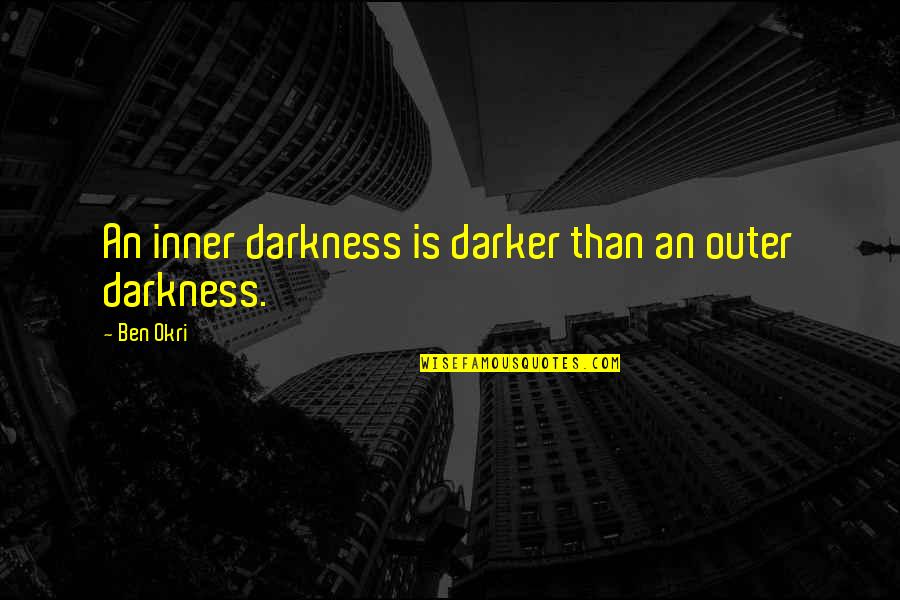 An inner darkness is darker than an outer darkness. —
Ben Okri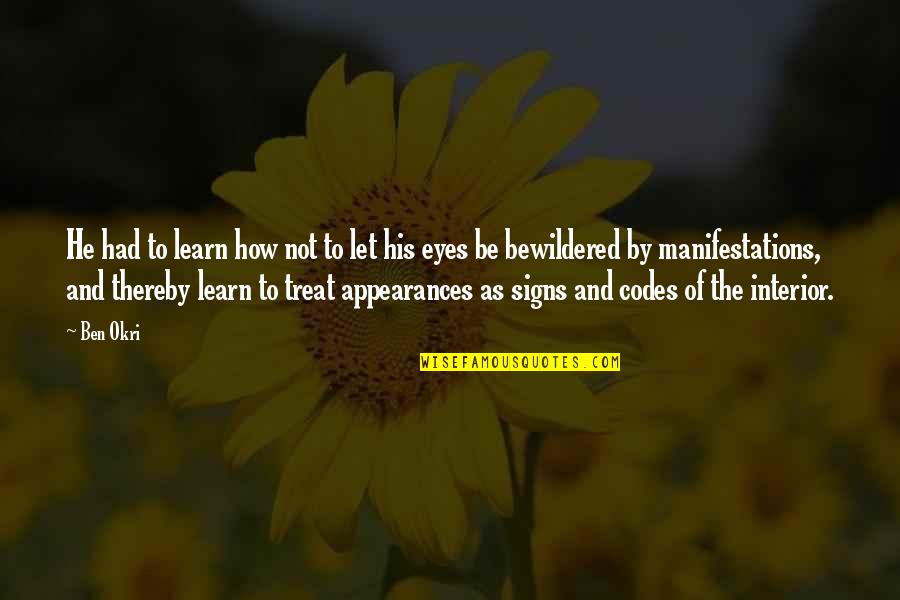 He had to learn how not to let his eyes be bewildered by manifestations, and thereby learn to treat appearances as signs and codes of the interior. —
Ben Okri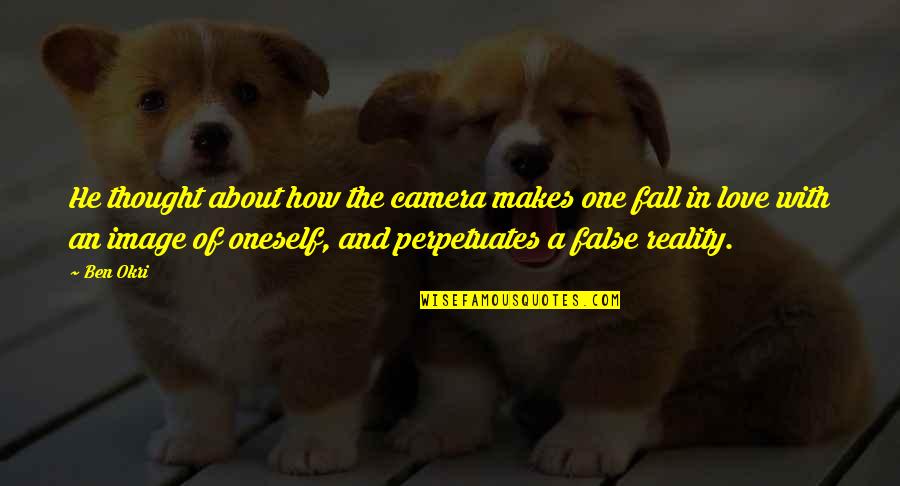 He thought about how the camera makes one fall in love with an image of oneself, and perpetuates a false reality. —
Ben Okri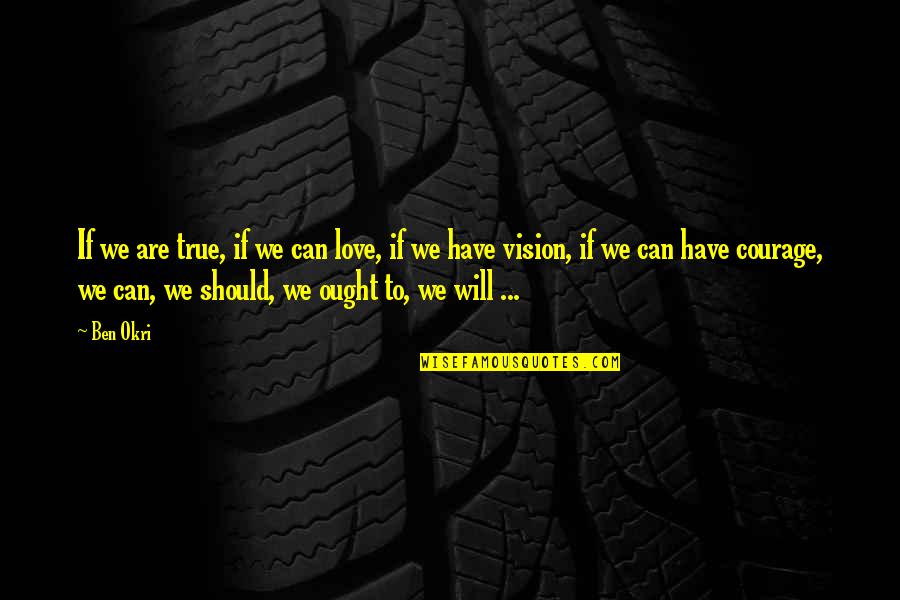 If we are true, if we can love, if we have vision, if we can have courage, we can, we should, we ought to, we will ... —
Ben Okri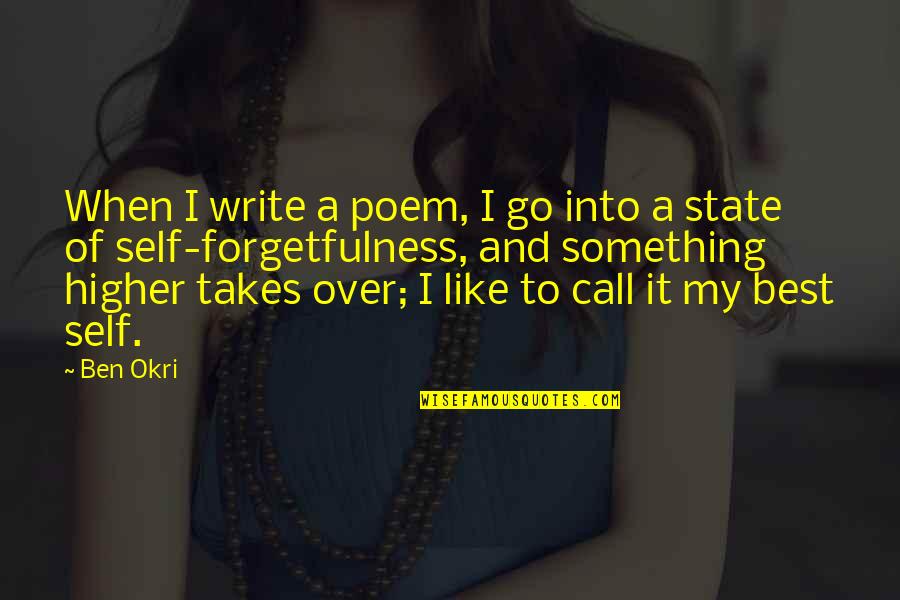 When I write a poem, I go into a state of self-forgetfulness, and something higher takes over; I like to call it my best self. —
Ben Okri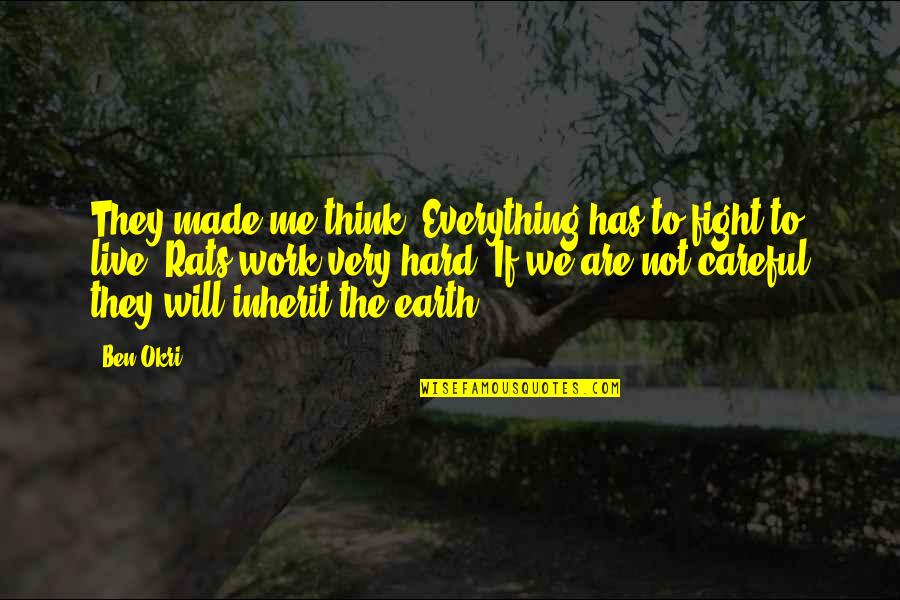 They made me think. Everything has to fight to live. Rats work very hard. If we are not careful they will inherit the earth. —
Ben Okri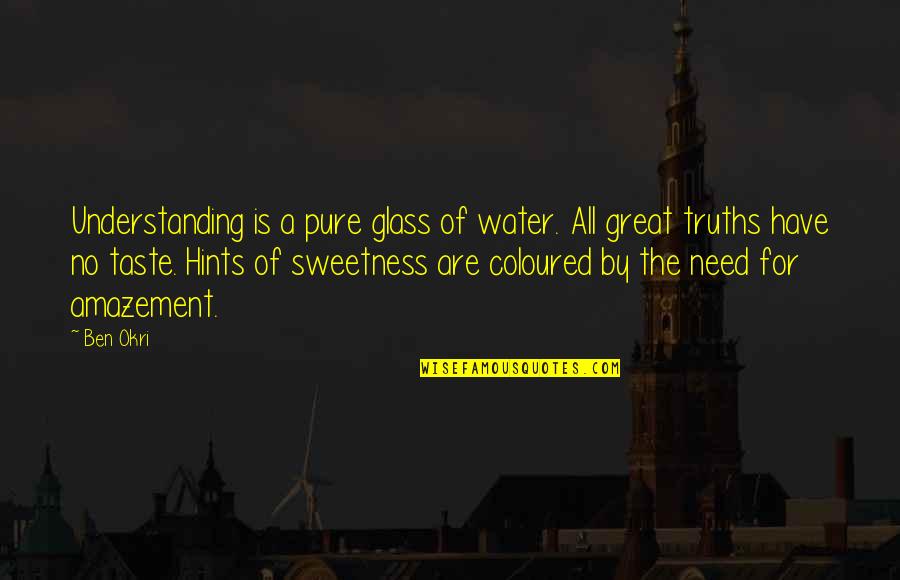 Understanding is a pure glass of water. All great truths have no taste. Hints of sweetness are coloured by the need for amazement. —
Ben Okri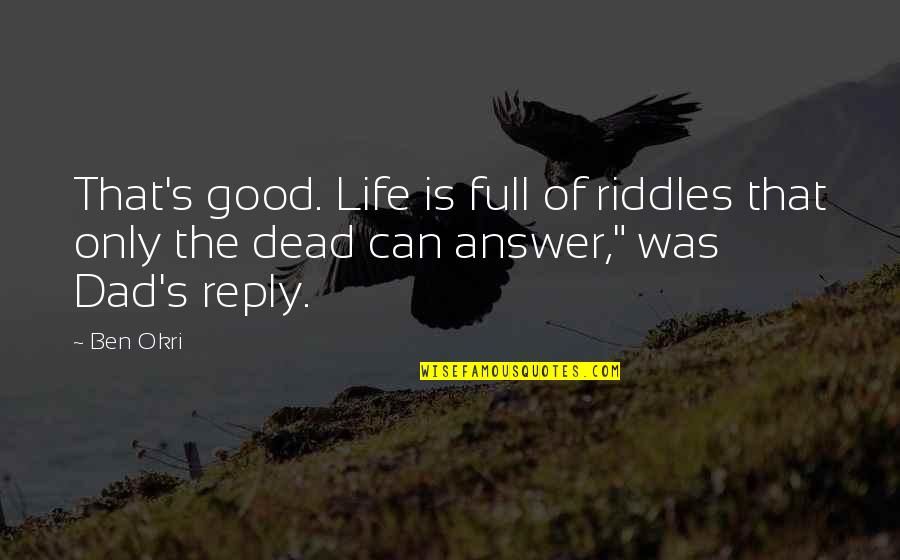 That's good. Life is full of riddles that only the dead can answer," was Dad's reply. —
Ben Okri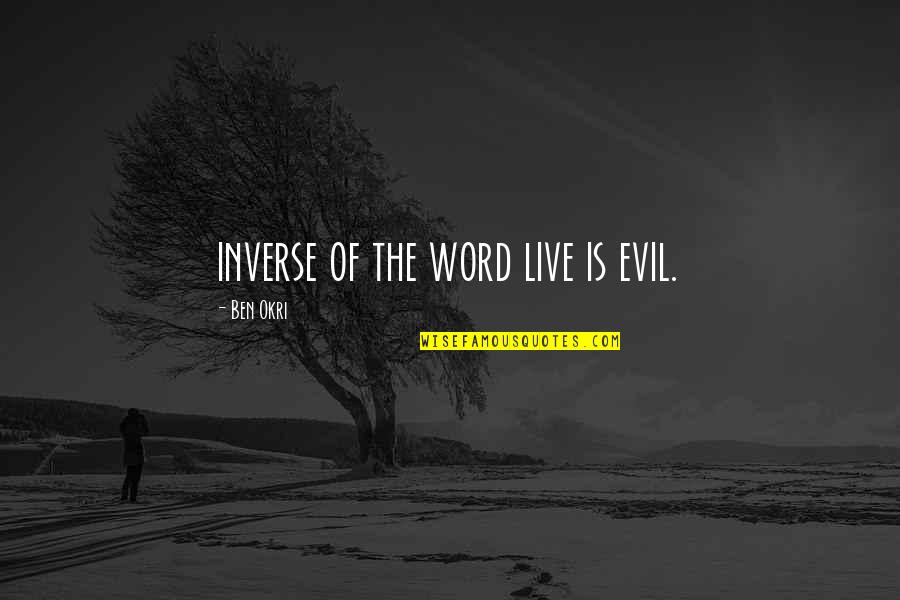 inverse of the word live is evil. —
Ben Okri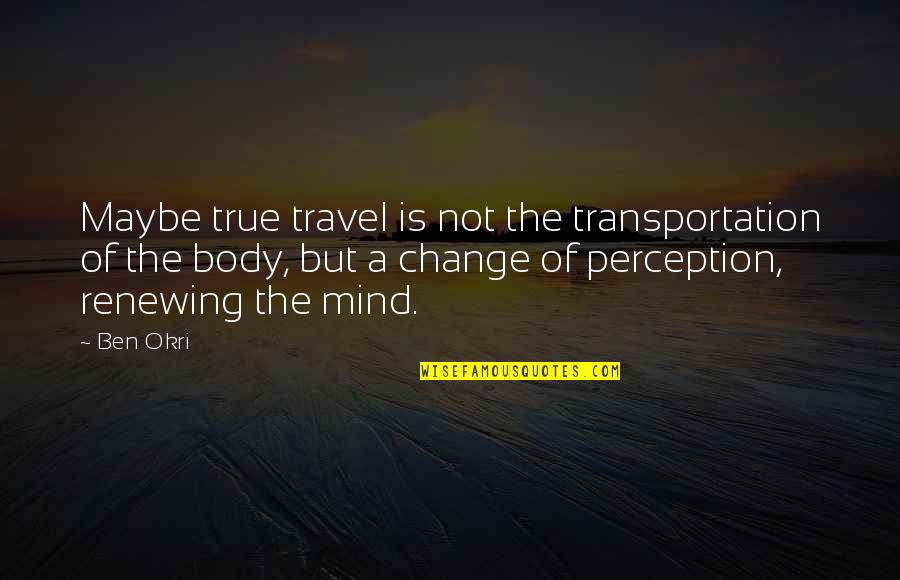 Maybe true travel is not the transportation of the body, but a change of perception, renewing the mind. —
Ben Okri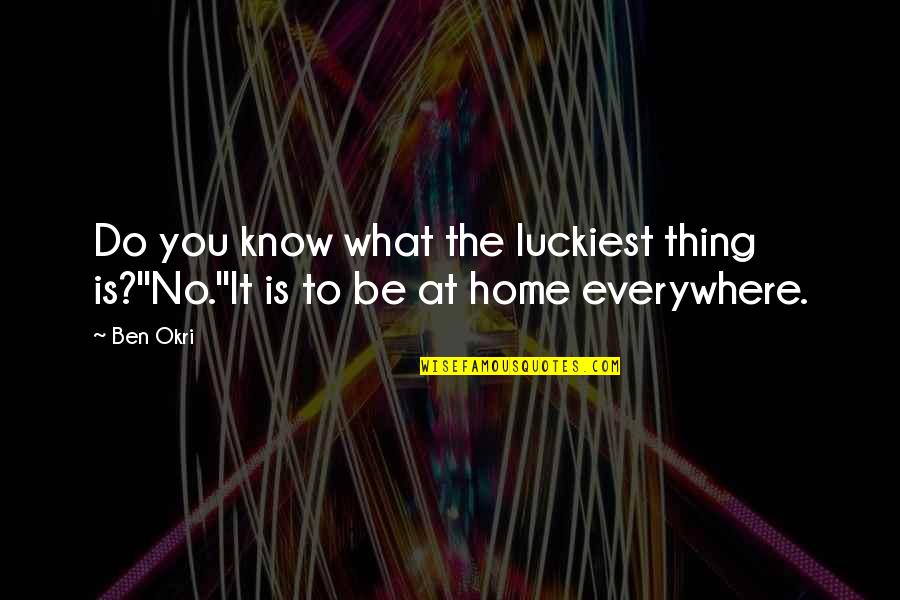 Do you know what the luckiest thing is?'
'No.'
'It is to be at home everywhere. —
Ben Okri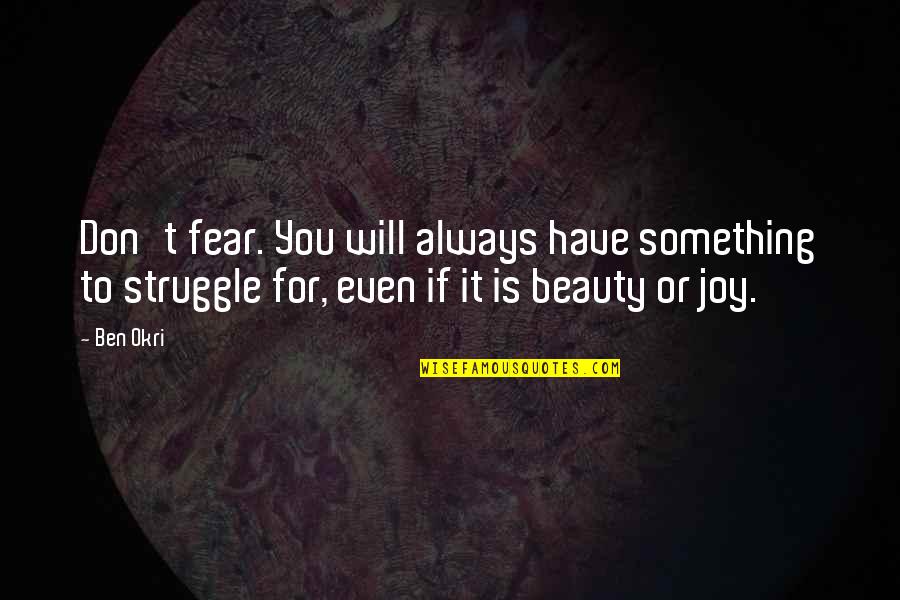 Don't fear. You will always have something to struggle for, even if it is beauty or joy. —
Ben Okri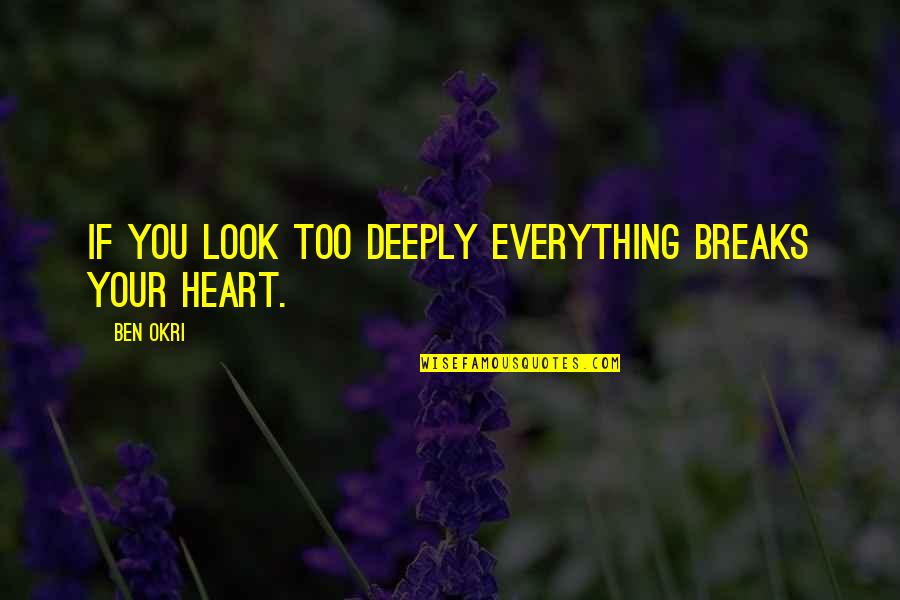 If You Look Too Deeply Everything Breaks Your Heart. —
Ben Okri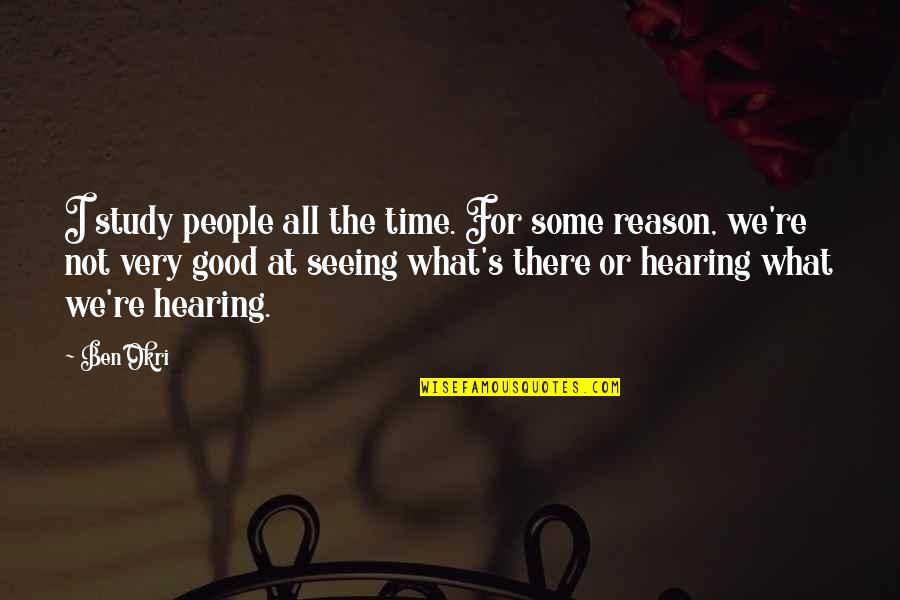 I study people all the time. For some reason, we're not very good at seeing what's there or hearing what we're hearing. —
Ben Okri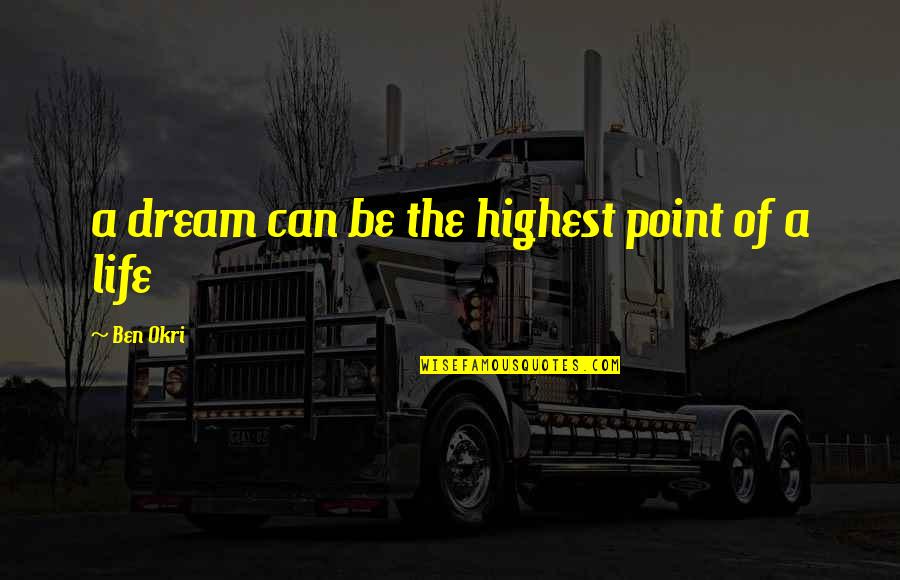 a dream can be the highest point of a life —
Ben Okri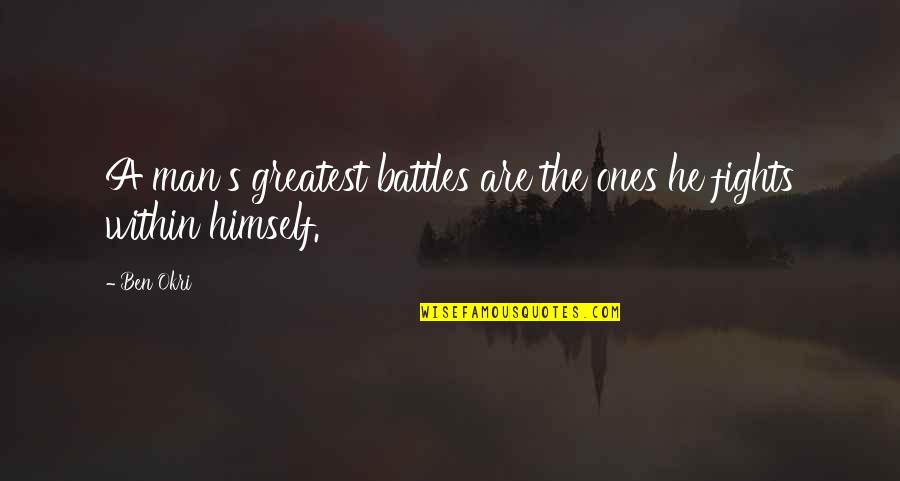 A man's greatest battles are the ones he fights within himself. —
Ben Okri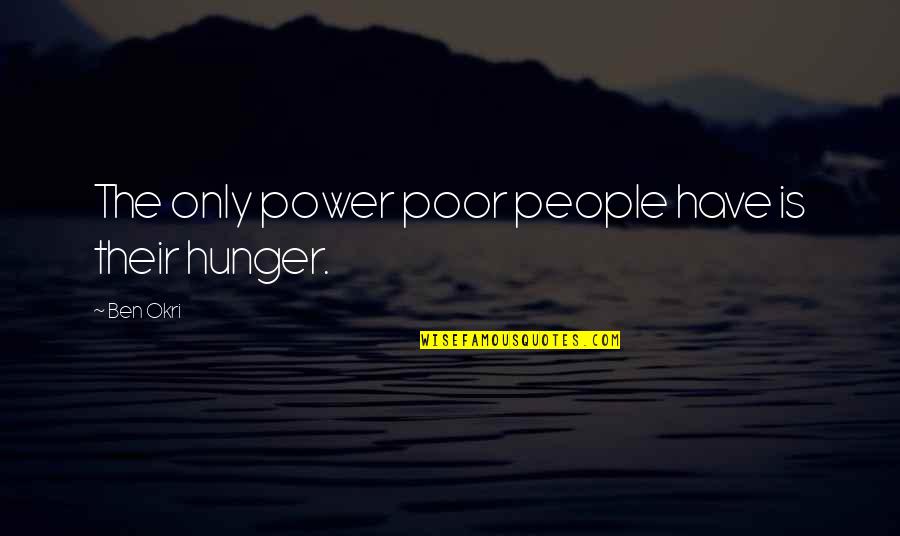 The only power poor people have is their hunger. —
Ben Okri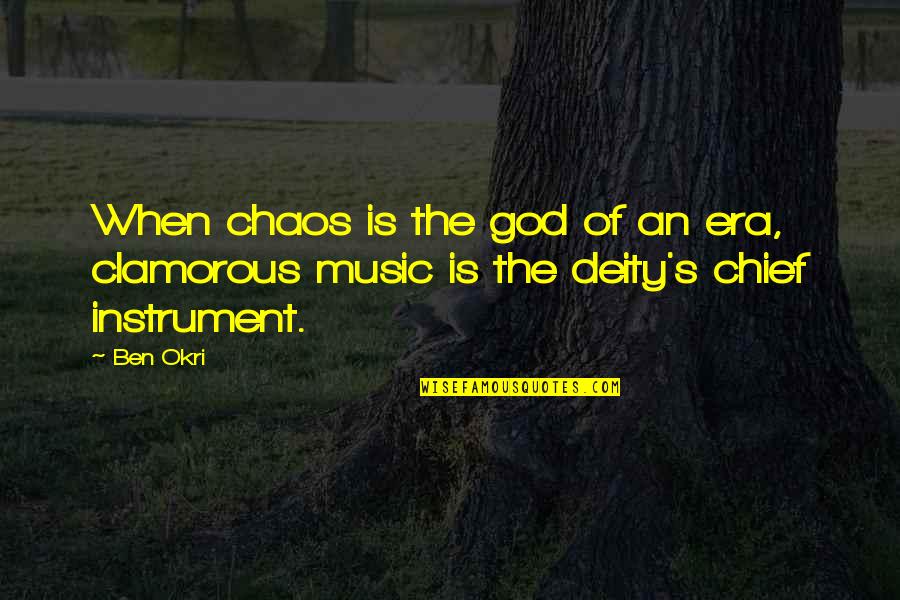 When chaos is the god of an era, clamorous music is the deity's chief instrument. —
Ben Okri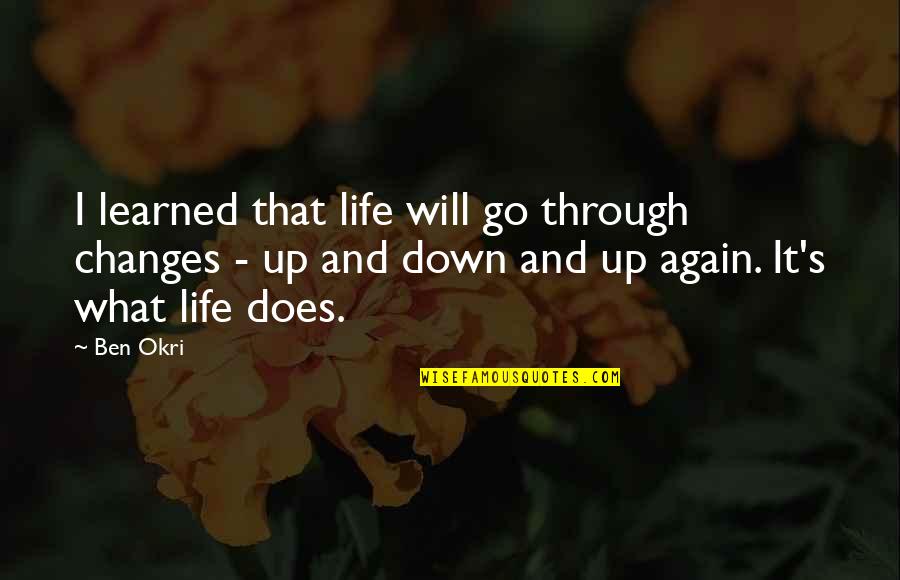 I learned that life will go through changes - up and down and up again. It's what life does. —
Ben Okri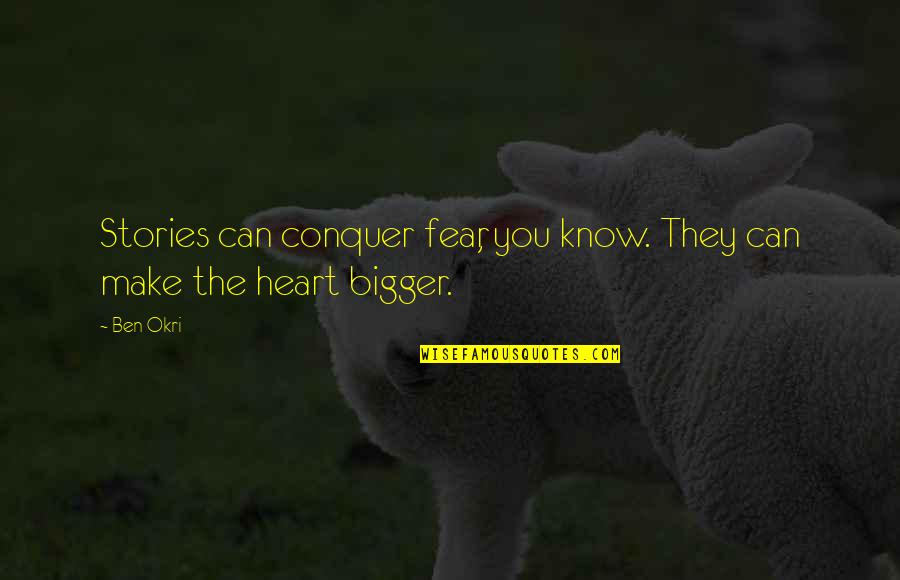 Stories can conquer fear, you know. They can make the heart bigger. —
Ben Okri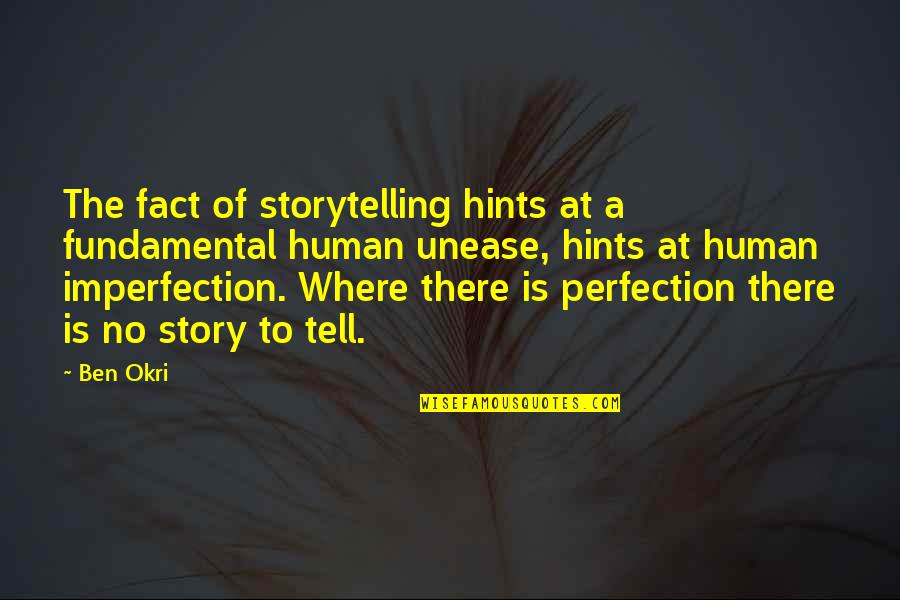 The fact of storytelling hints at a fundamental human unease, hints at human imperfection. Where there is perfection there is no story to tell. —
Ben Okri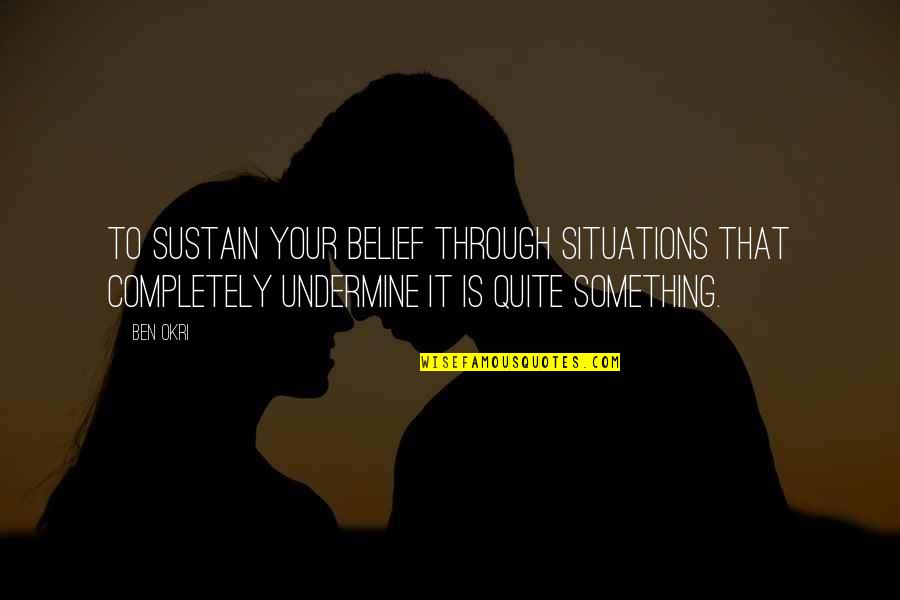 To sustain your belief through situations that completely undermine it is quite something. —
Ben Okri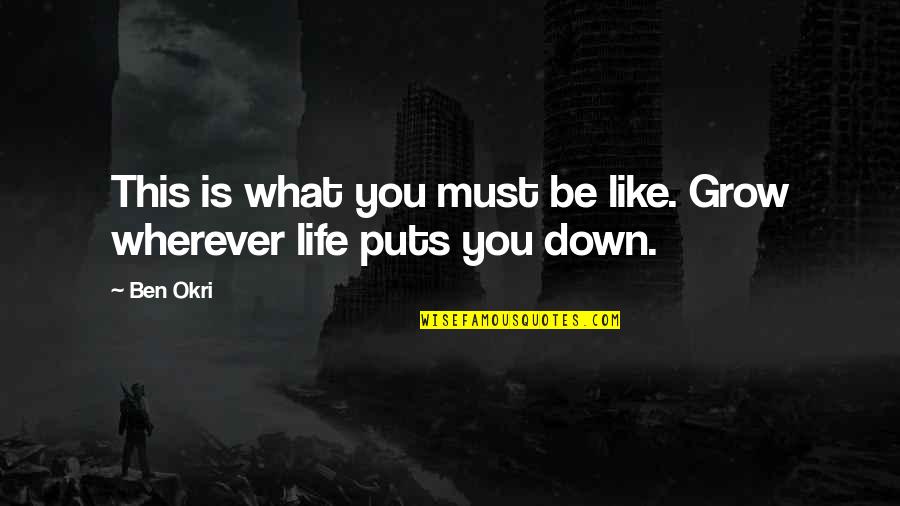 This is what you must be like. Grow wherever life puts you down. —
Ben Okri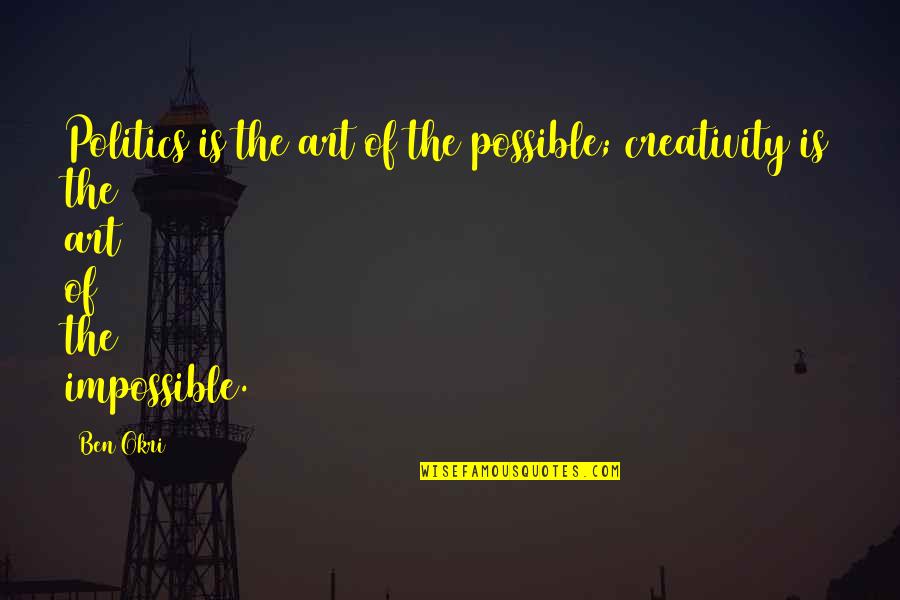 Politics is the art of the possible; creativity is the art of the impossible. —
Ben Okri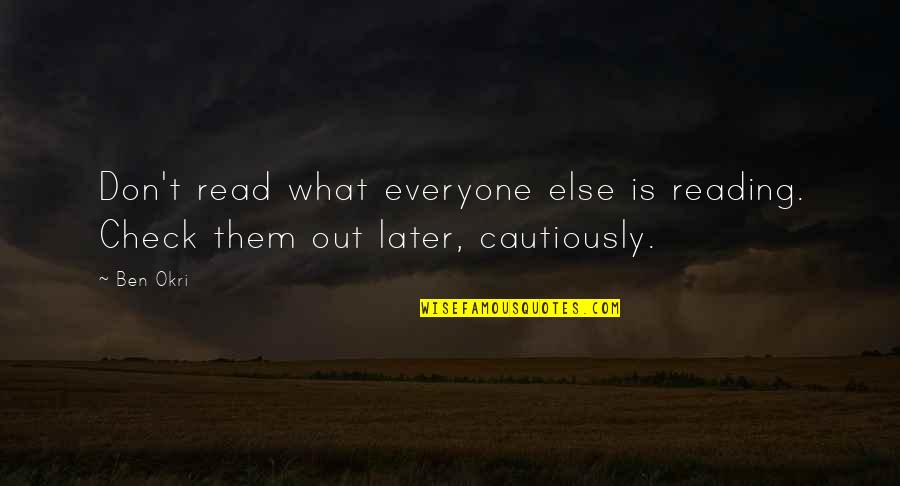 Don't read what everyone else is reading. Check them out later, cautiously. —
Ben Okri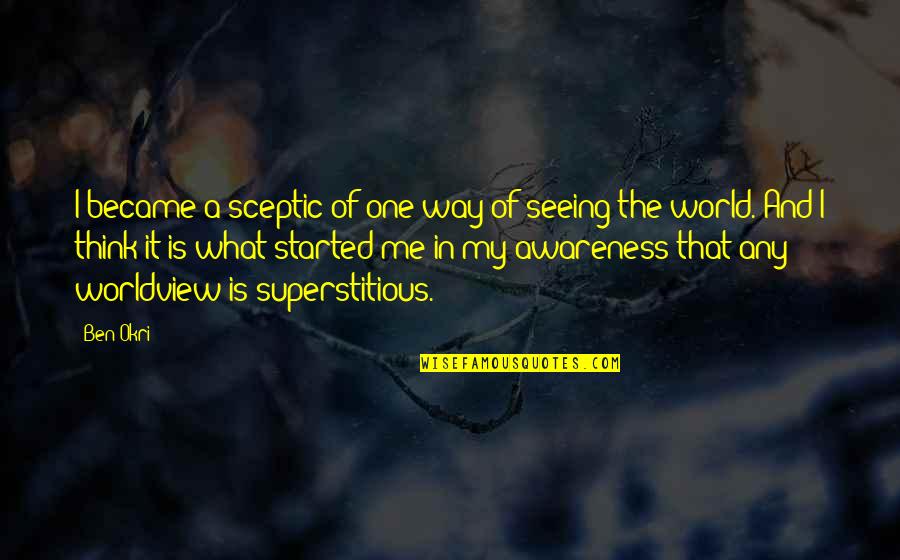 I became a sceptic of one way of seeing the world. And I think it is what started me in my awareness that any worldview is superstitious. —
Ben Okri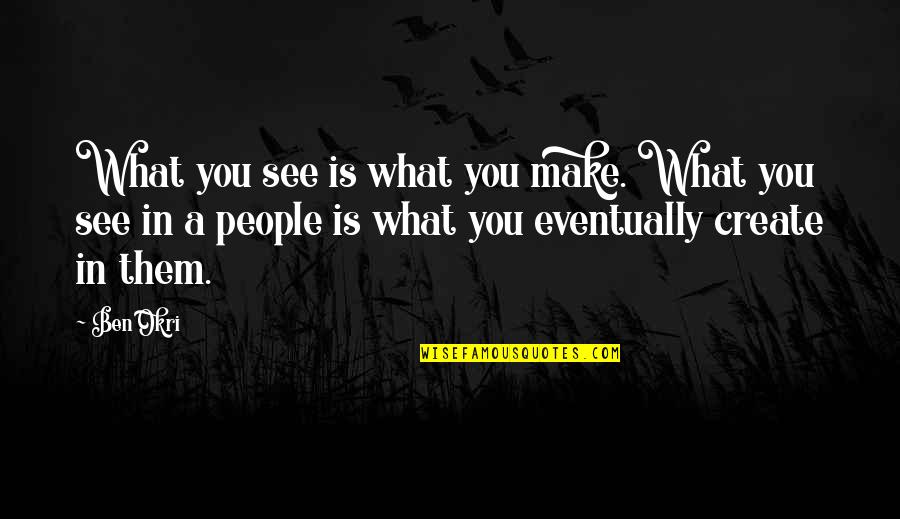 What you see is what you make. What you see in a people is what you eventually create in them. —
Ben Okri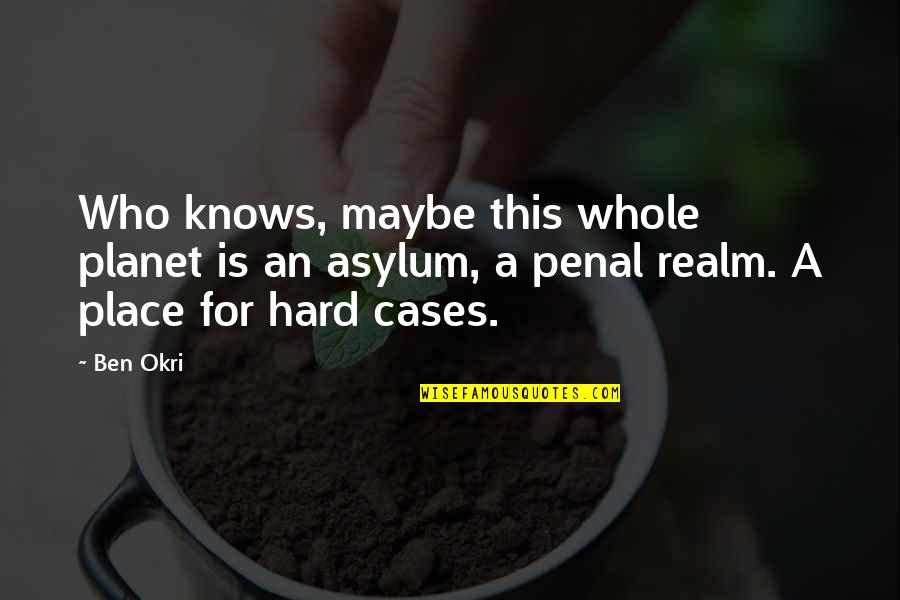 Who knows, maybe this whole planet is an asylum, a penal realm. A place for hard cases. —
Ben Okri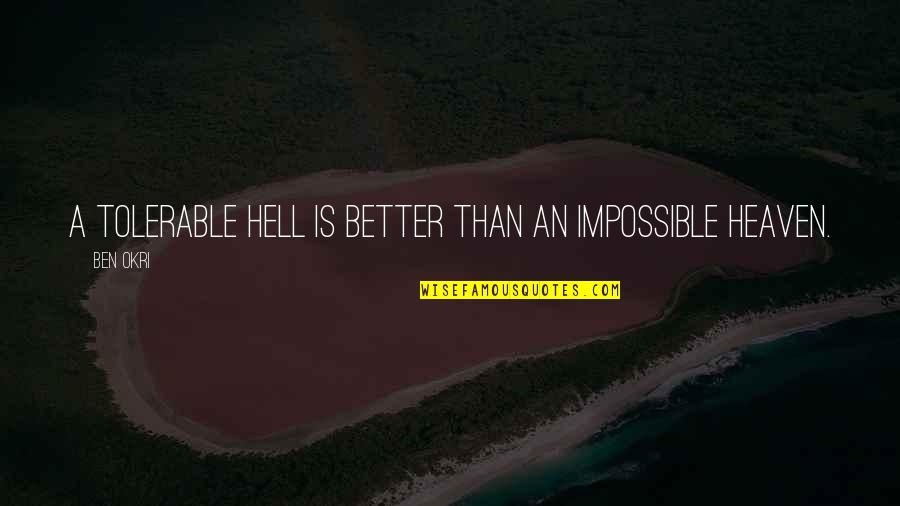 A tolerable hell is better than an impossible heaven. —
Ben Okri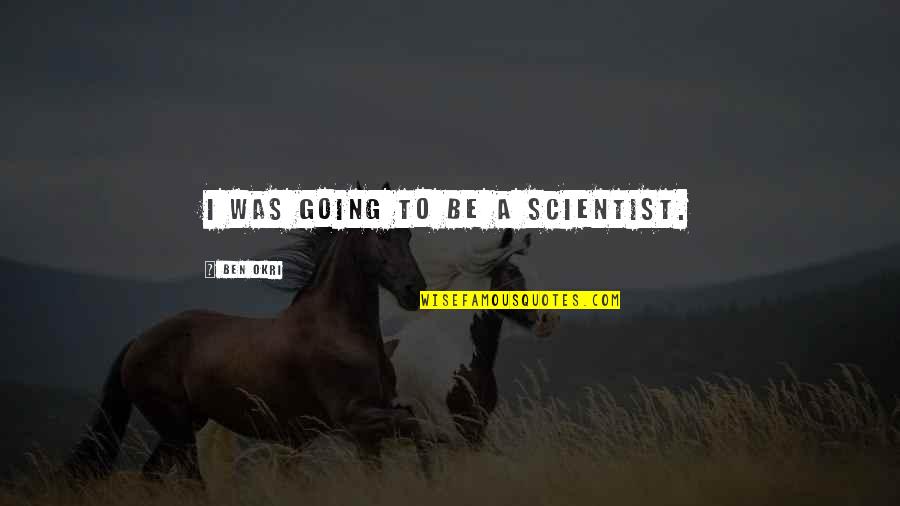 I was going to be a scientist. —
Ben Okri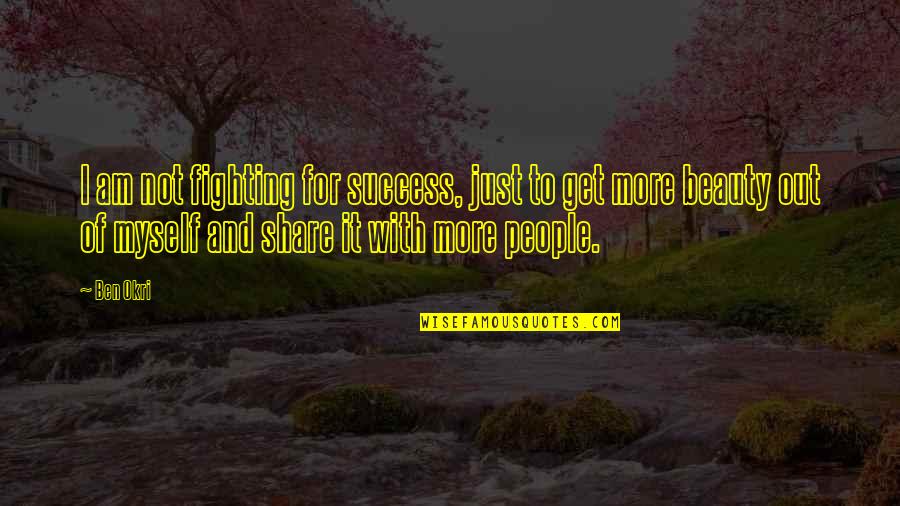 I am not fighting for success, just to get more beauty out of myself and share it with more people. —
Ben Okri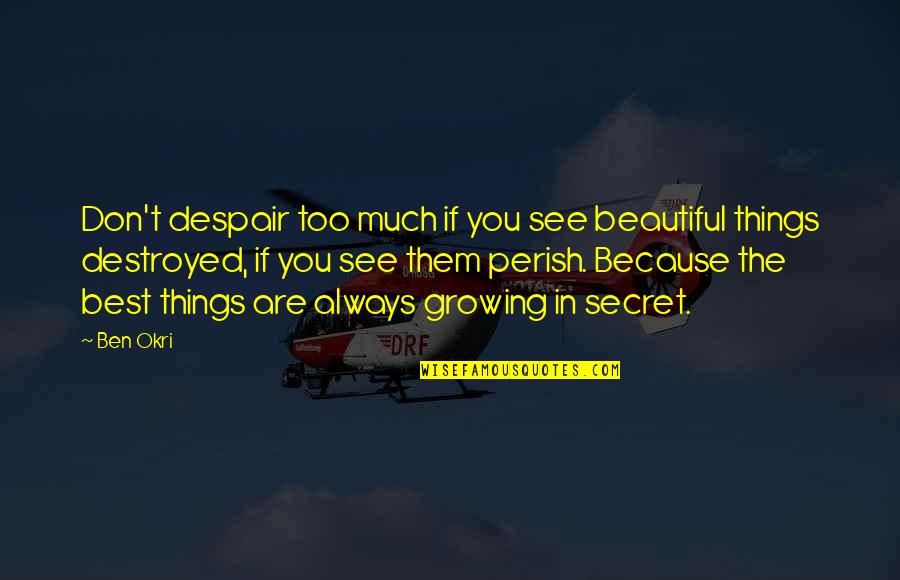 Don't despair too much if you see beautiful things destroyed, if you see them perish. Because the best things are always growing in secret. —
Ben Okri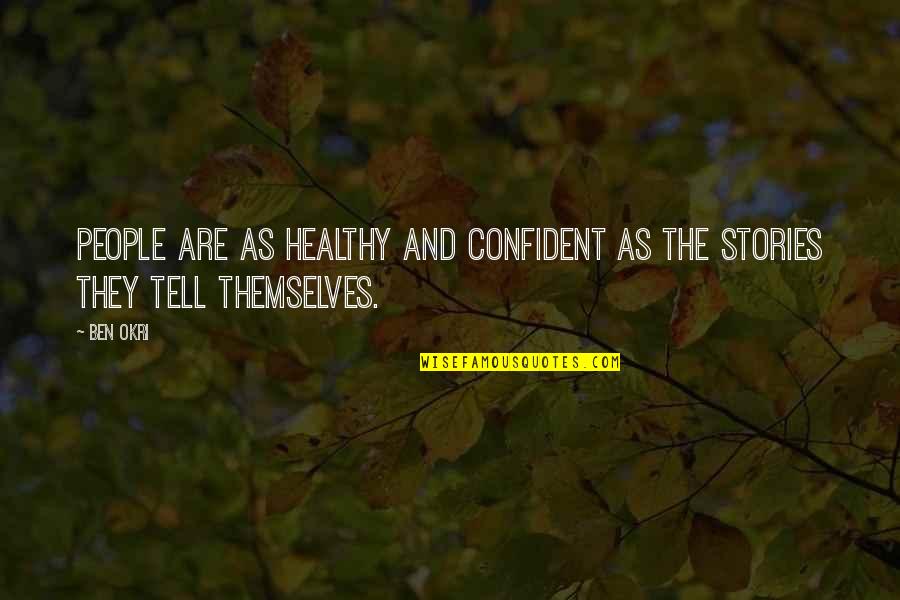 People are as healthy and confident as the stories they tell themselves. —
Ben Okri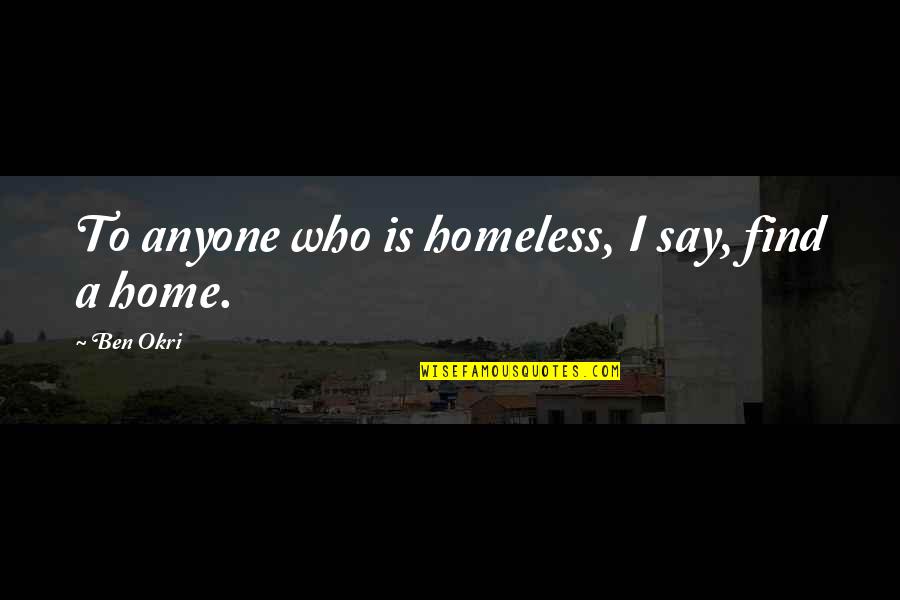 To anyone who is homeless, I say, find a home. —
Ben Okri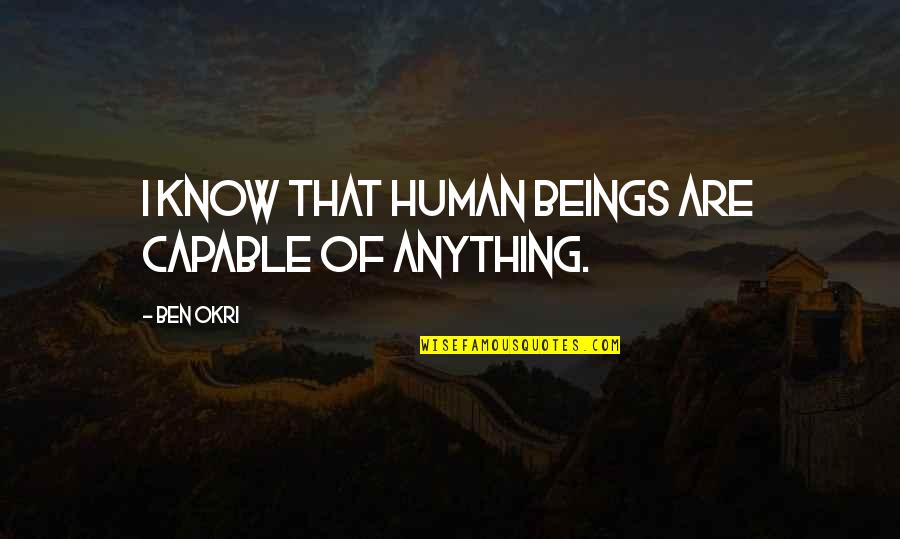 I know that human beings are capable of anything. —
Ben Okri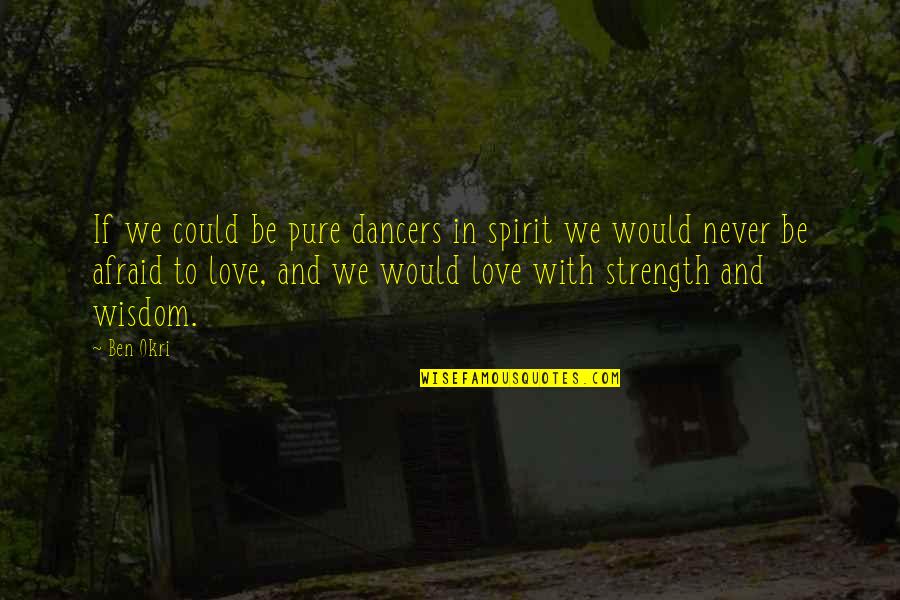 If we could be pure dancers in spirit we would never be afraid to love, and we would love with strength and wisdom. —
Ben Okri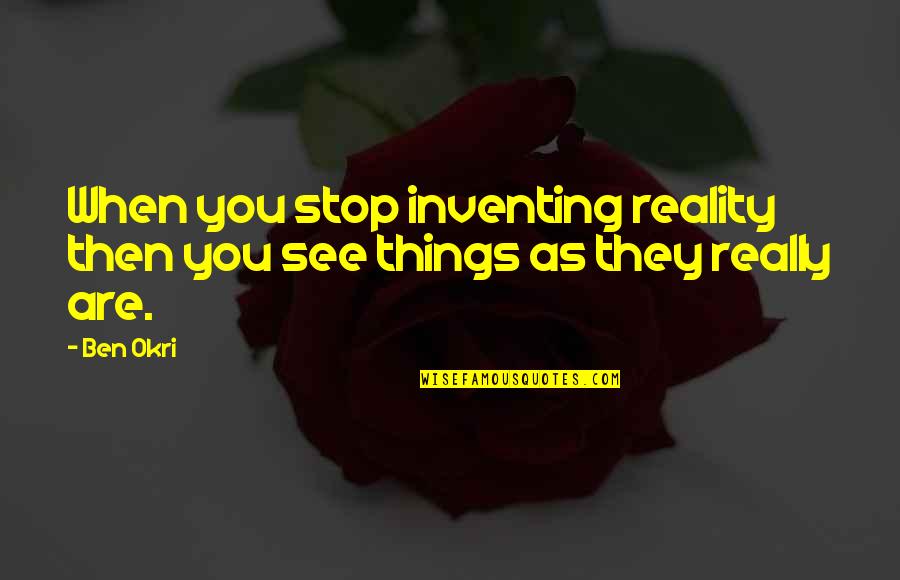 When you stop inventing reality then you see things as they really are. —
Ben Okri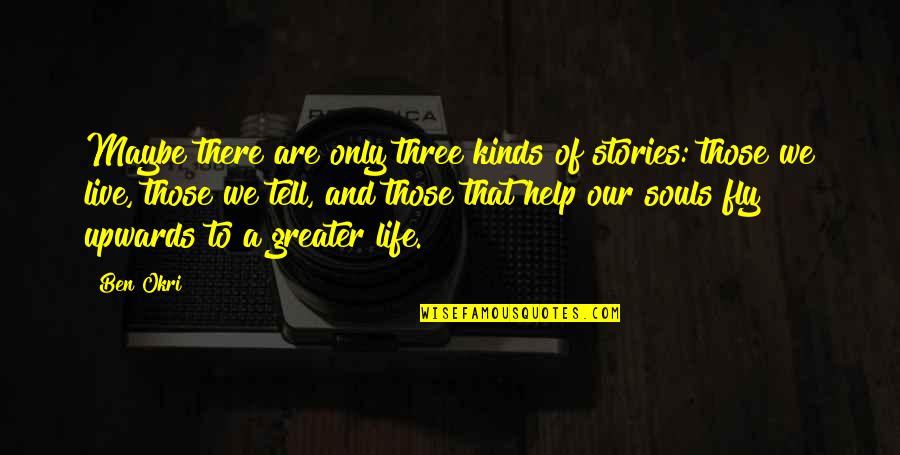 Maybe there are only three kinds of stories: those we live, those we tell, and those that help our souls fly upwards to a greater life. —
Ben Okri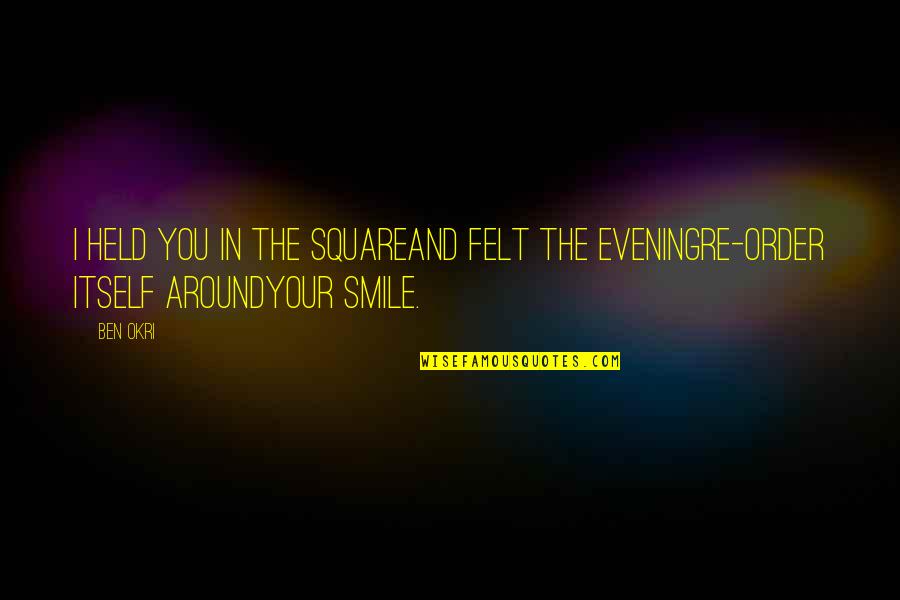 I held you in the square
And felt the evening
Re-order itself around
Your smile. —
Ben Okri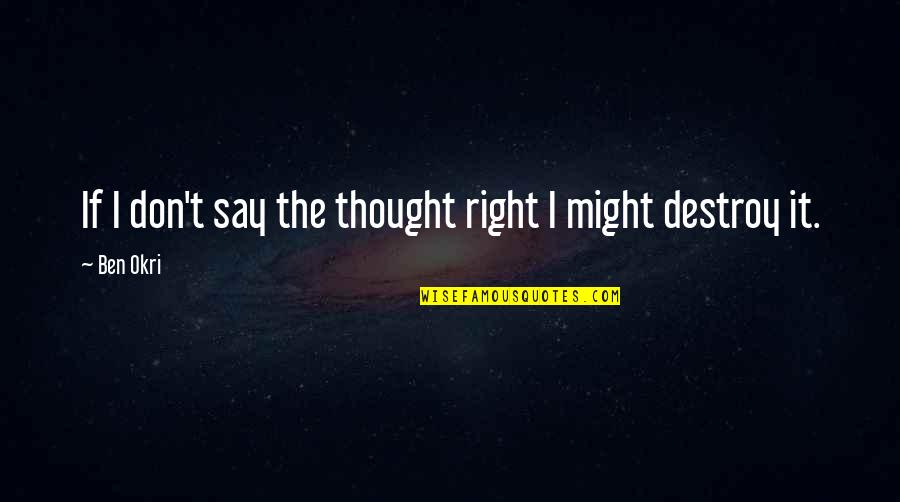 If I don't say the thought right I might destroy it. —
Ben Okri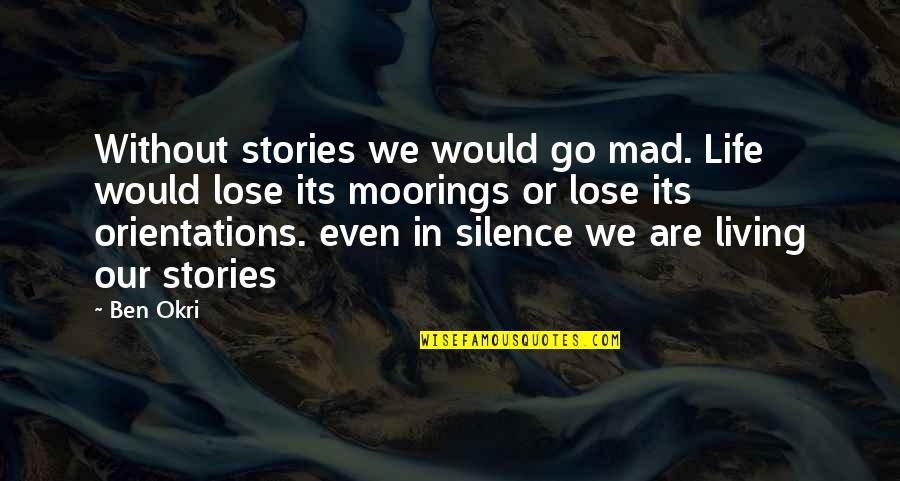 Without stories we would go mad. Life would lose its moorings or lose its orientations. even in silence we are living our stories —
Ben Okri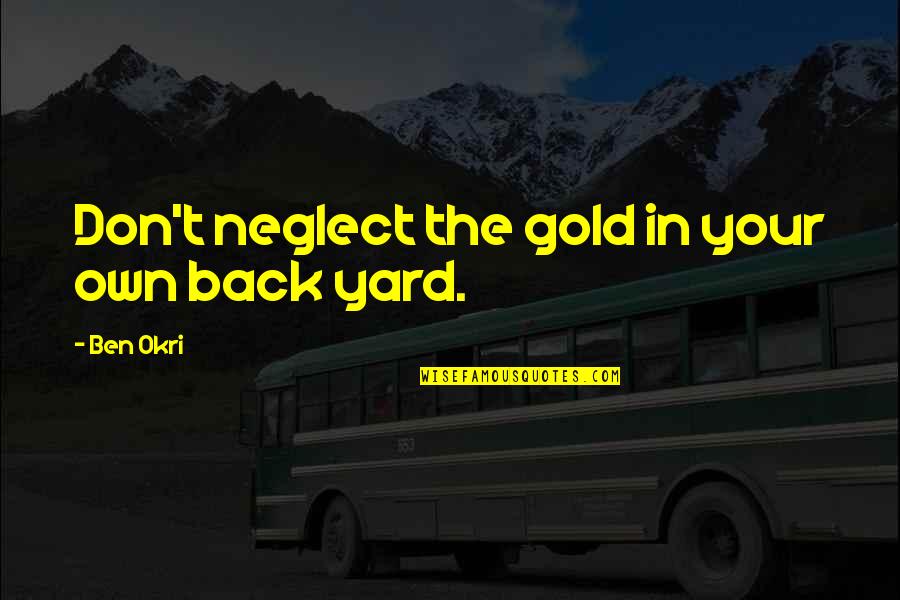 Don't neglect the gold in your own back yard. —
Ben Okri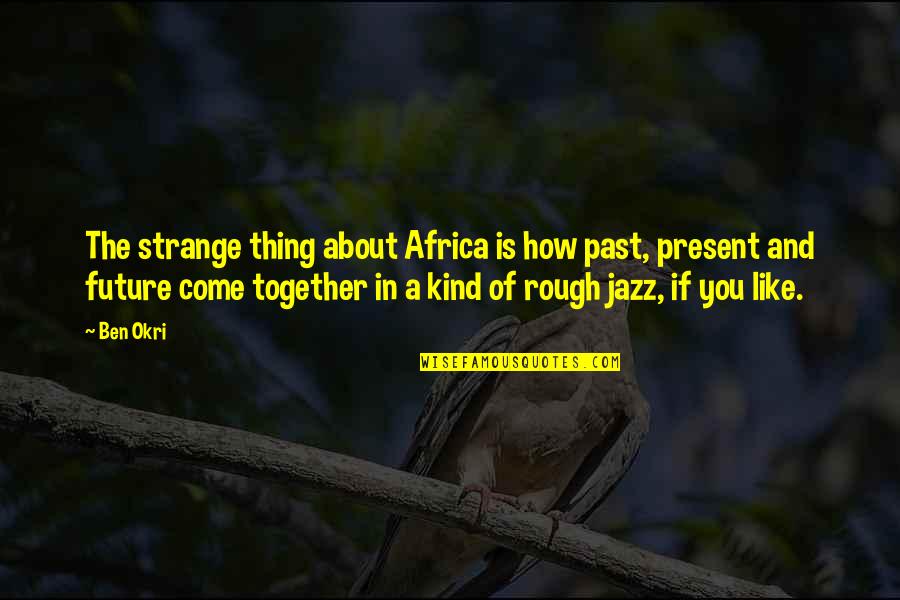 The strange thing about Africa is how past, present and future come together in a kind of rough jazz, if you like. —
Ben Okri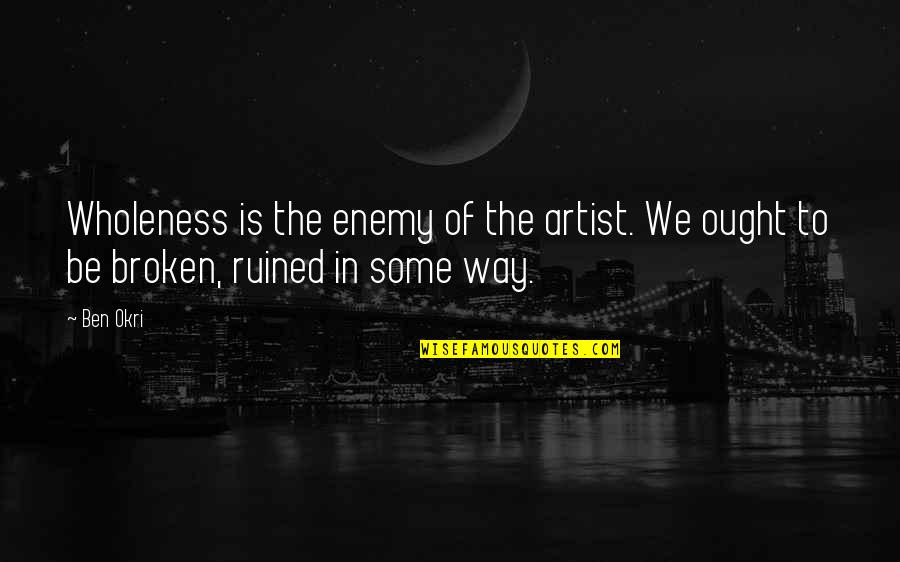 Wholeness is the enemy of the artist. We ought to be broken, ruined in some way. —
Ben Okri