Mark Forsyth Quotes
Collection of top 25 famous quotes about Mark Forsyth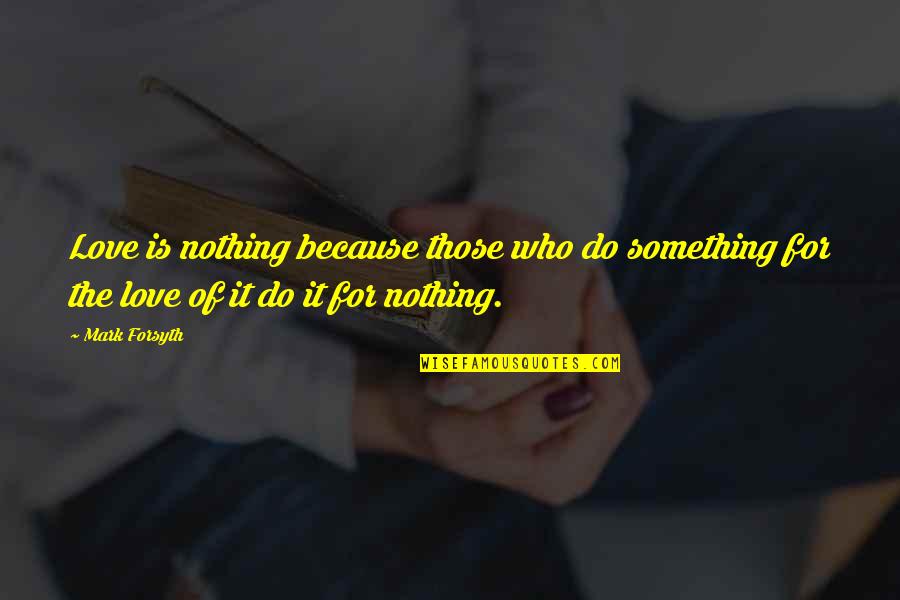 Love is nothing because those who do something for the love of it do it for nothing.
—
Mark Forsyth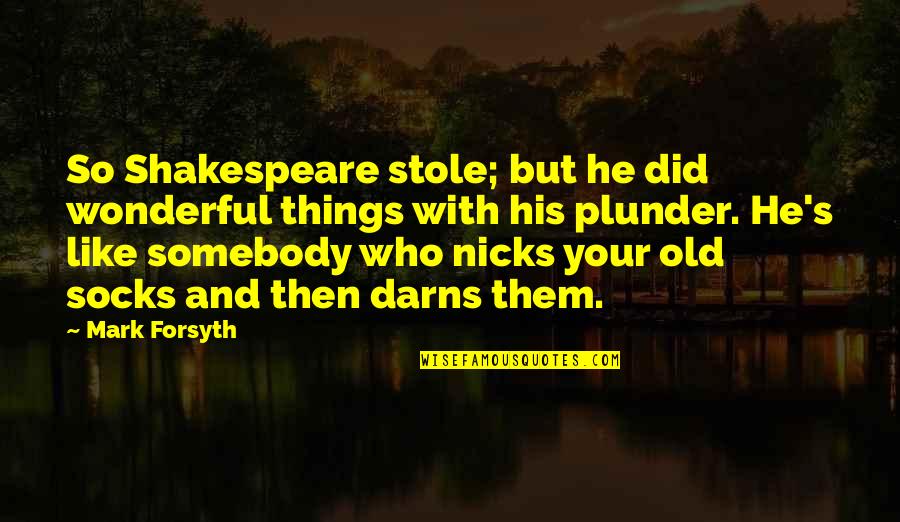 So Shakespeare stole; but he did wonderful things with his plunder. He's like somebody who nicks your old socks and then darns them.
—
Mark Forsyth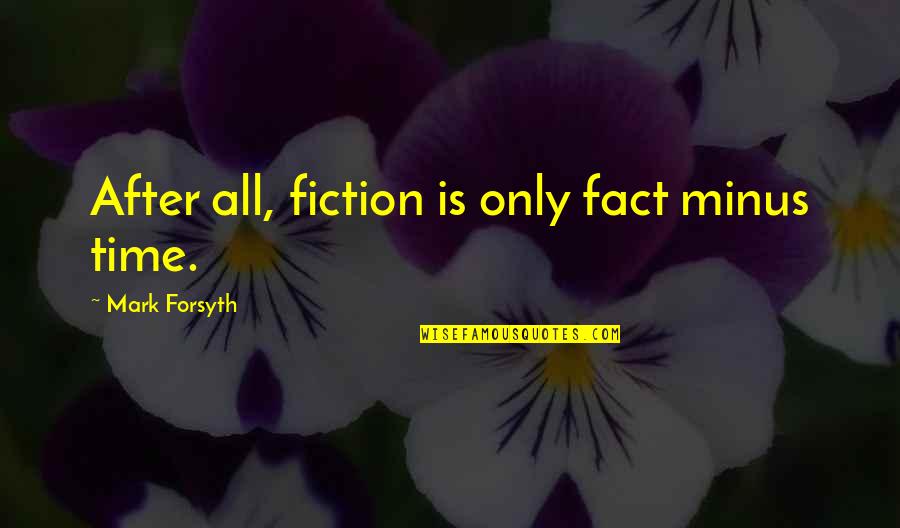 After all, fiction is only fact minus time.
—
Mark Forsyth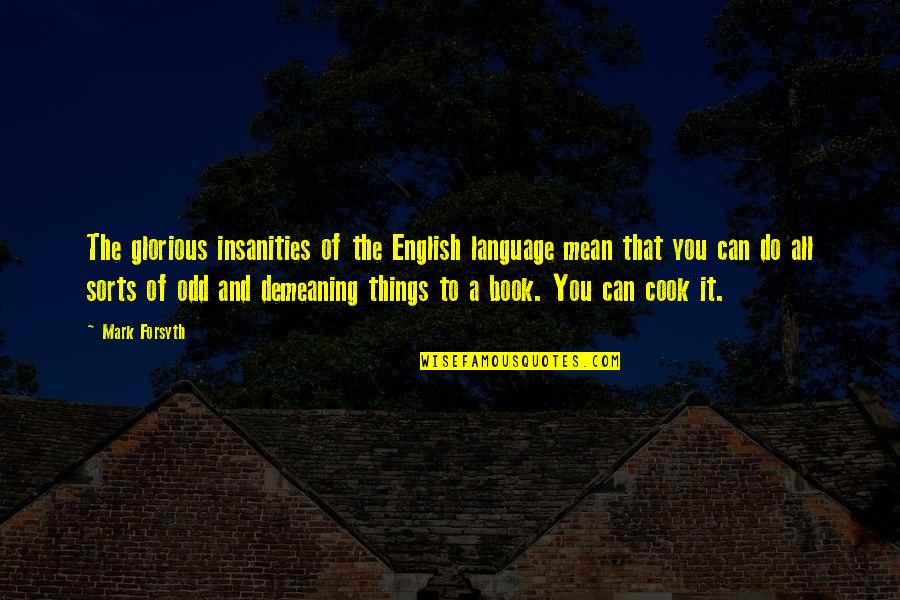 The glorious insanities of the English language mean that you can do all sorts of odd and demeaning things to a book. You can cook it.
—
Mark Forsyth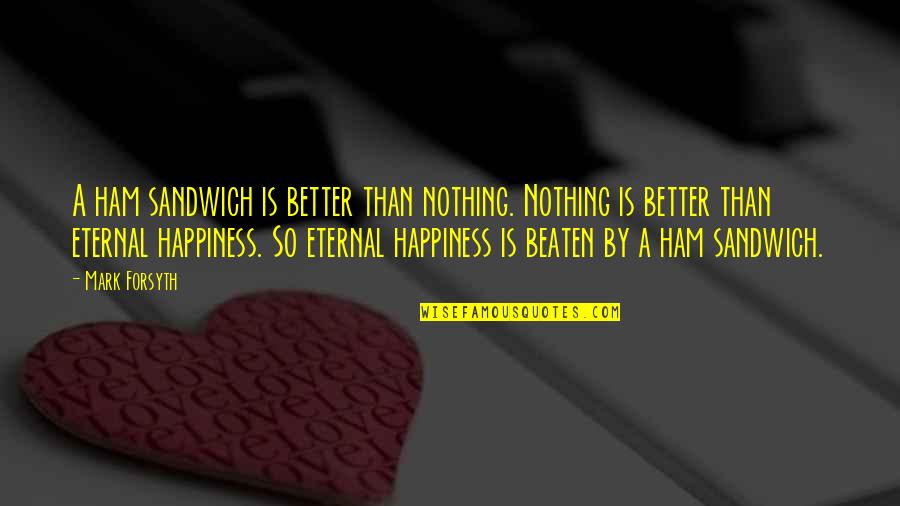 A ham sandwich is better than nothing. Nothing is better than eternal happiness. So eternal happiness is beaten by a ham sandwich.
—
Mark Forsyth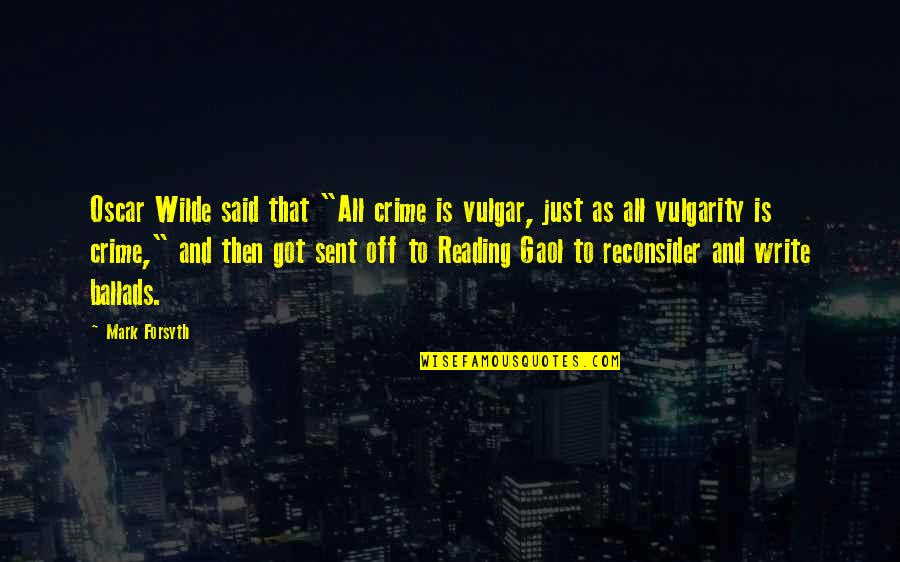 Oscar Wilde said that "All crime is vulgar, just as all vulgarity is crime," and then got sent off to Reading Gaol to reconsider and write ballads.
—
Mark Forsyth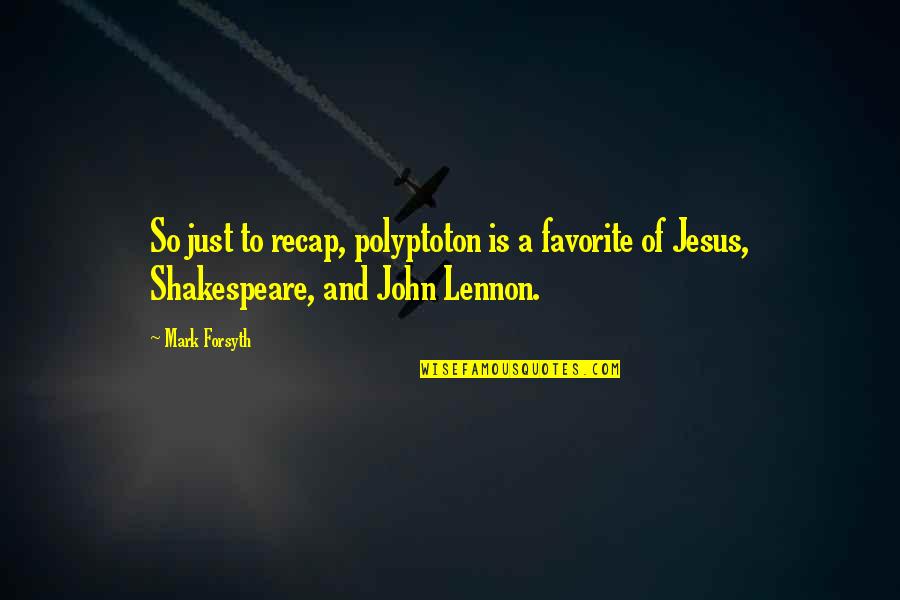 So just to recap, polyptoton is a favorite of Jesus, Shakespeare, and John Lennon.
—
Mark Forsyth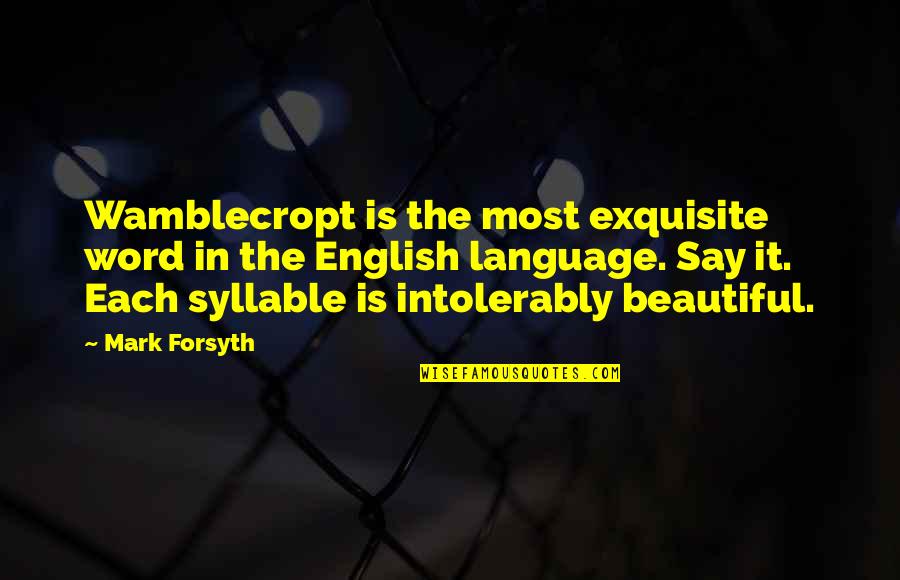 Wamblecropt is the most exquisite word in the English language. Say it. Each syllable is intolerably beautiful.
—
Mark Forsyth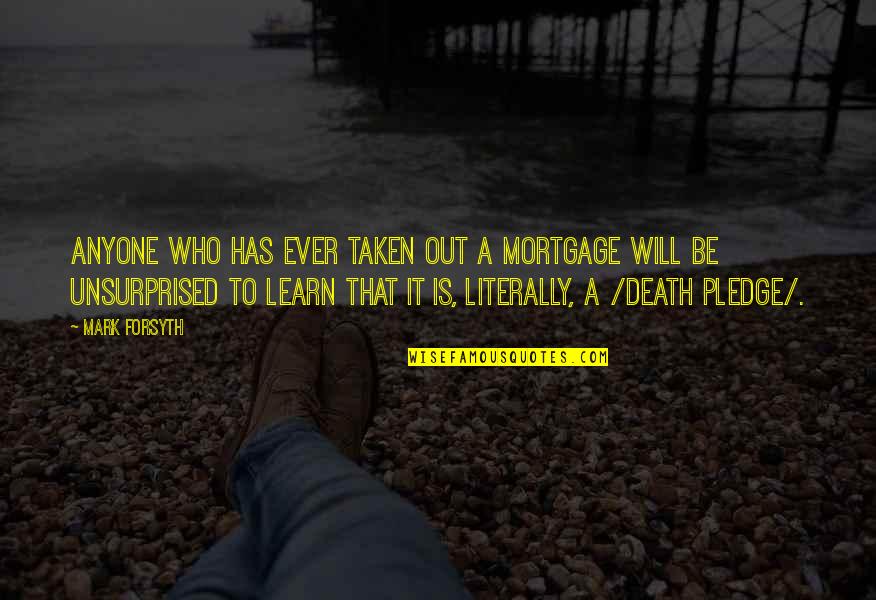 Anyone who has ever taken out a mortgage will be unsurprised to learn that it is, literally, a /death pledge/. —
Mark Forsyth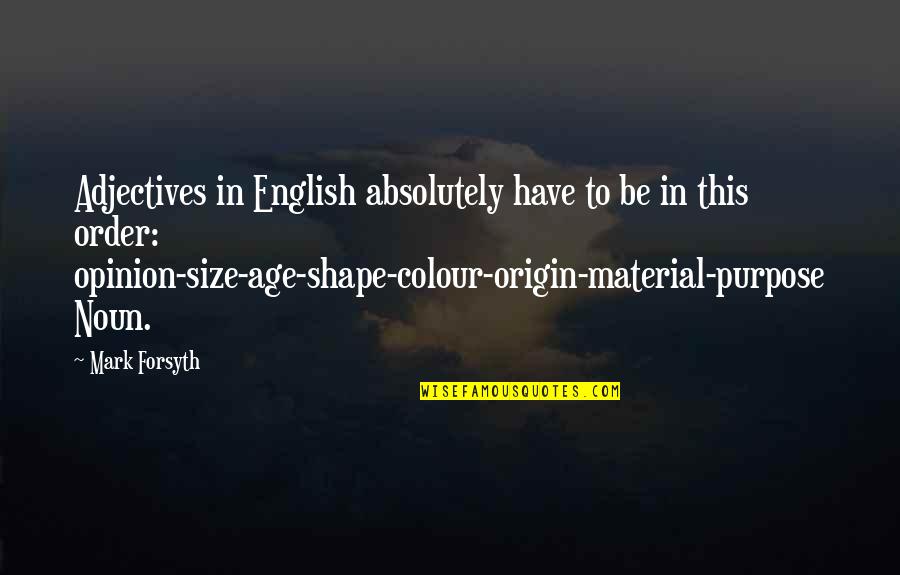 Adjectives in English absolutely have to be in this order: opinion-size-age-shape-colour-origin-material-purpose Noun. —
Mark Forsyth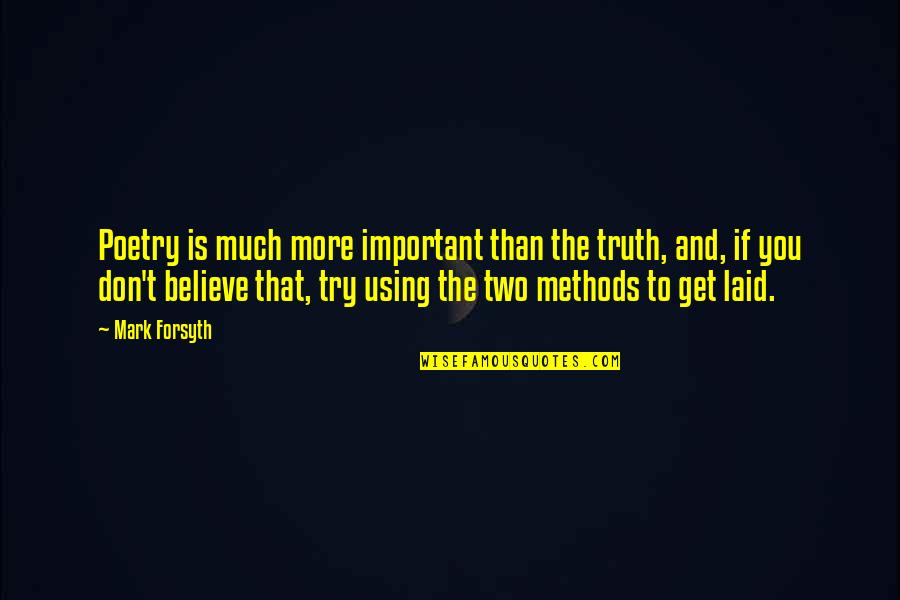 Poetry is much more important than the truth, and, if you don't believe that, try using the two methods to get laid. —
Mark Forsyth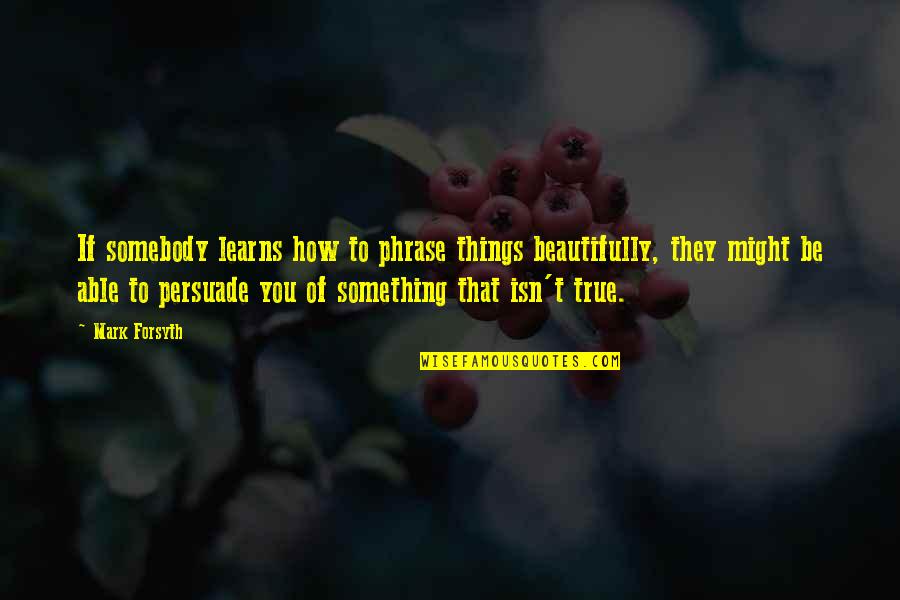 If somebody learns how to phrase things beautifully, they might be able to persuade you of something that isn't true. —
Mark Forsyth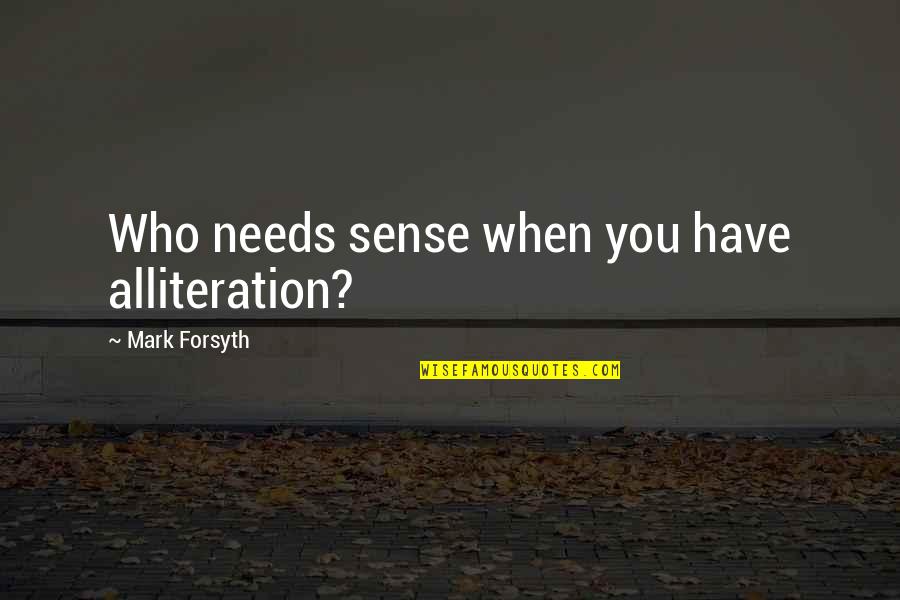 Who needs sense when you have alliteration? —
Mark Forsyth
The Bible is chock-a-block with such unnecessary but beautiful antitheses. God, whatever his other failings, is a great rhetorician. —
Mark Forsyth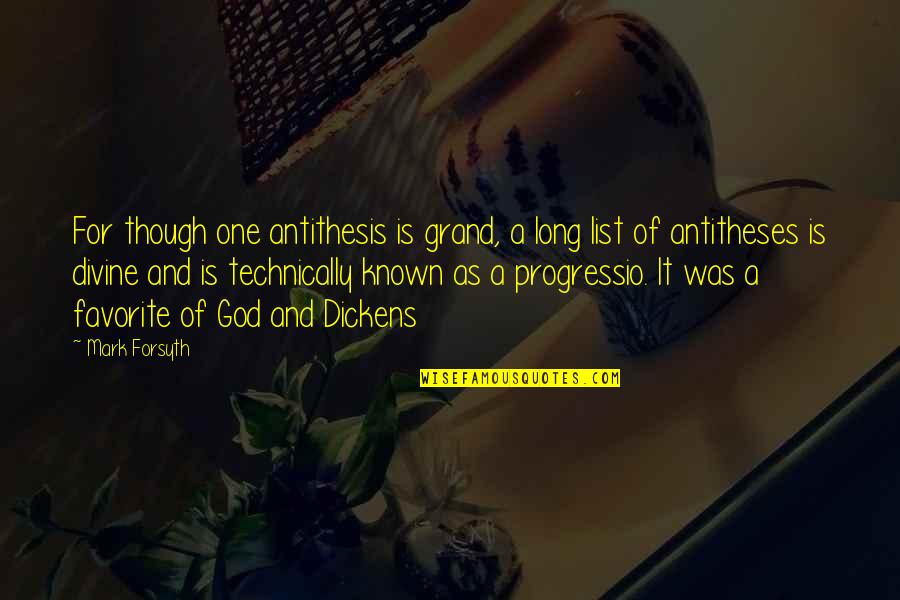 For though one antithesis is grand, a long list of antitheses is divine and is technically known as a progressio. It was a favorite of God and Dickens —
Mark Forsyth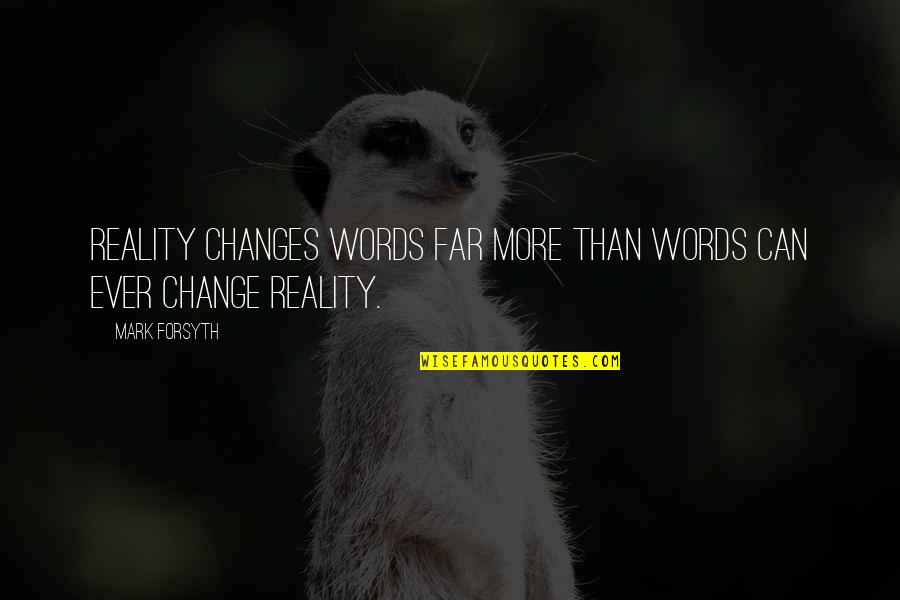 Reality changes words far more than words can ever change reality. —
Mark Forsyth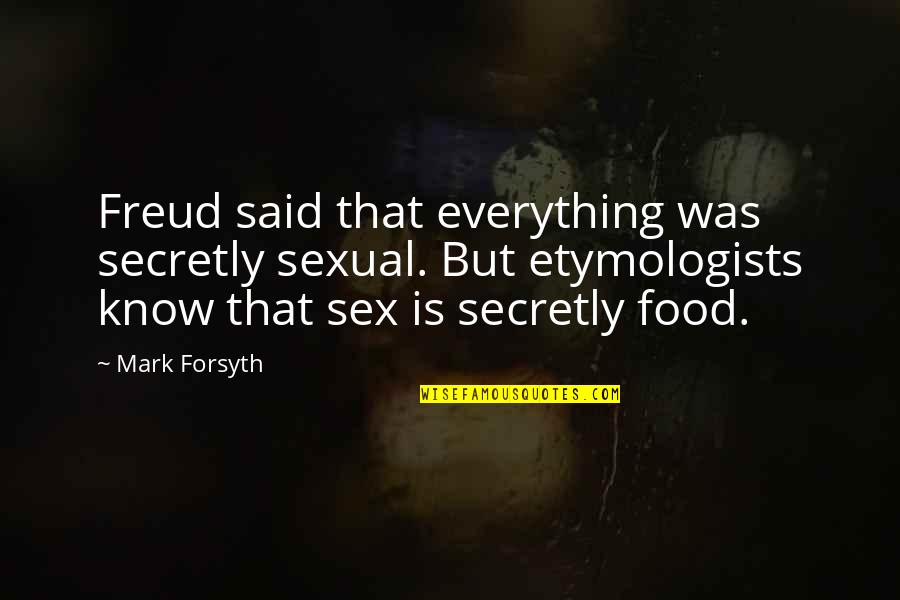 Freud said that everything was secretly sexual. But etymologists know that sex is secretly food. —
Mark Forsyth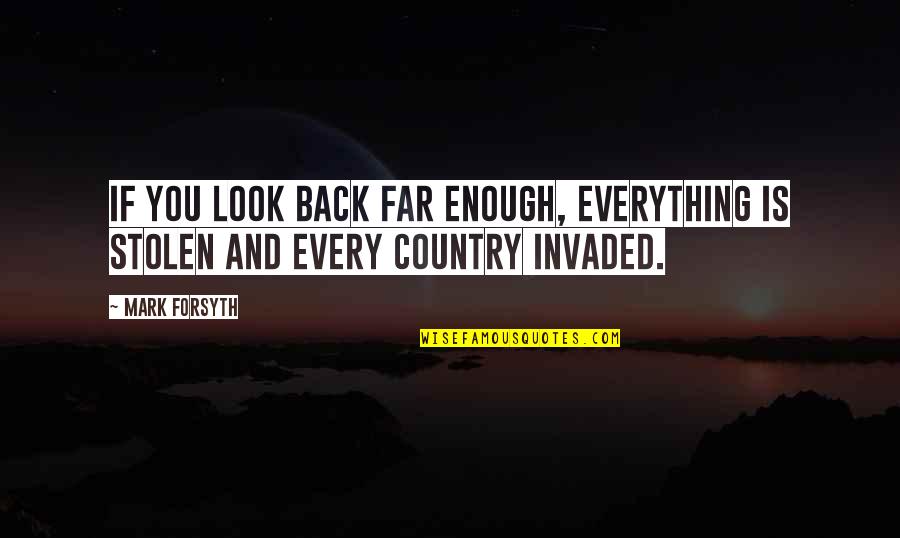 If you look back far enough, everything is stolen and every country invaded. —
Mark Forsyth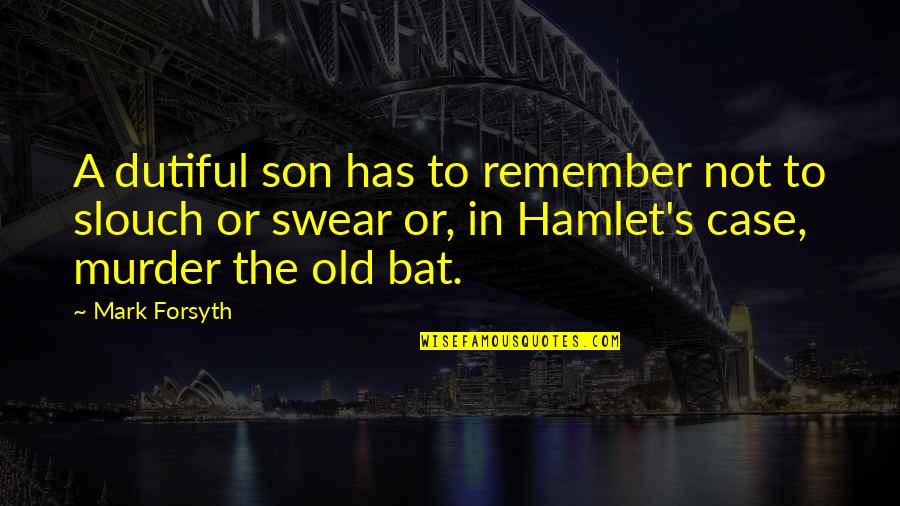 A dutiful son has to remember not to slouch or swear or, in Hamlet's case, murder the old bat. —
Mark Forsyth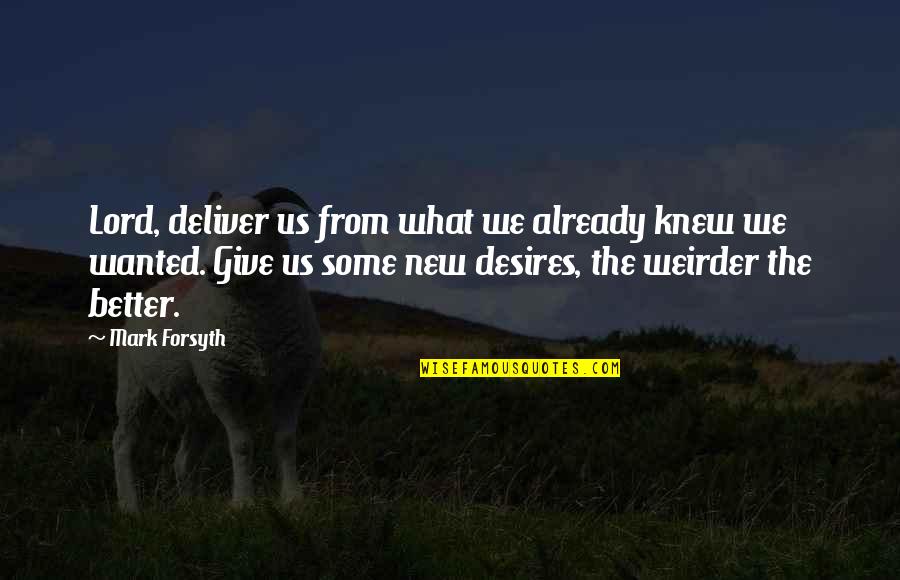 Lord, deliver us from what we already knew we wanted. Give us some new desires, the weirder the better. —
Mark Forsyth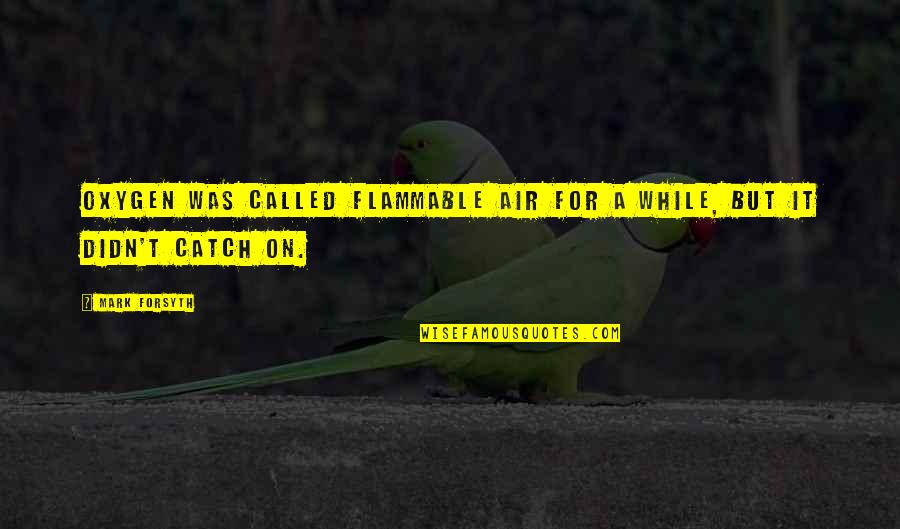 Oxygen was called flammable air for a while, but it didn't catch on. —
Mark Forsyth
Position for his colleague in Secret Intelligence would be just the reverse. Sir Mark was having —
Frederick Forsyth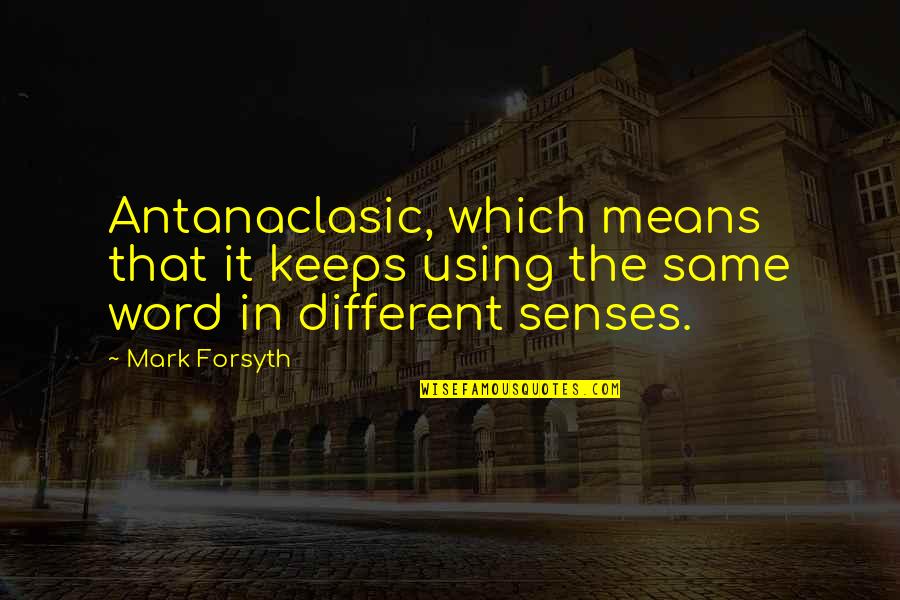 Antanaclasic, which means that it keeps using the same word in different senses. —
Mark Forsyth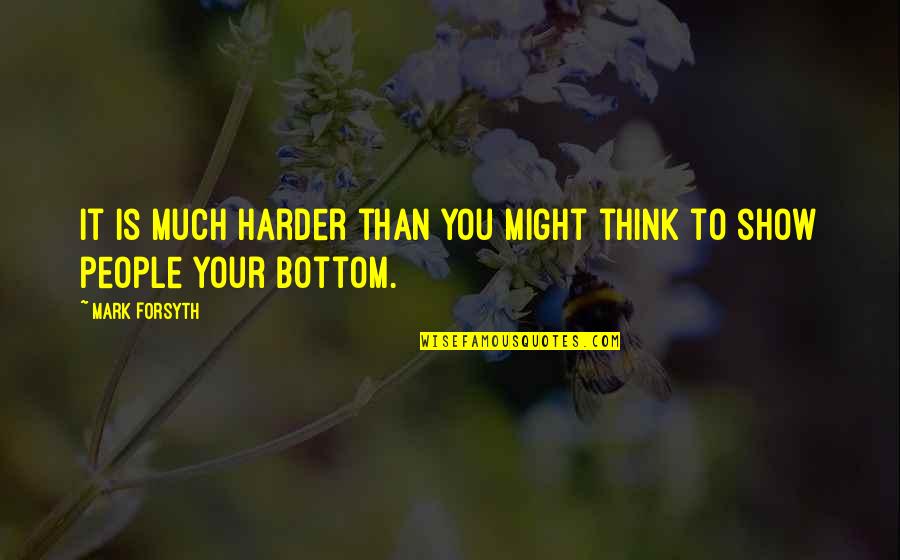 It is much harder than you might think to show people your bottom. —
Mark Forsyth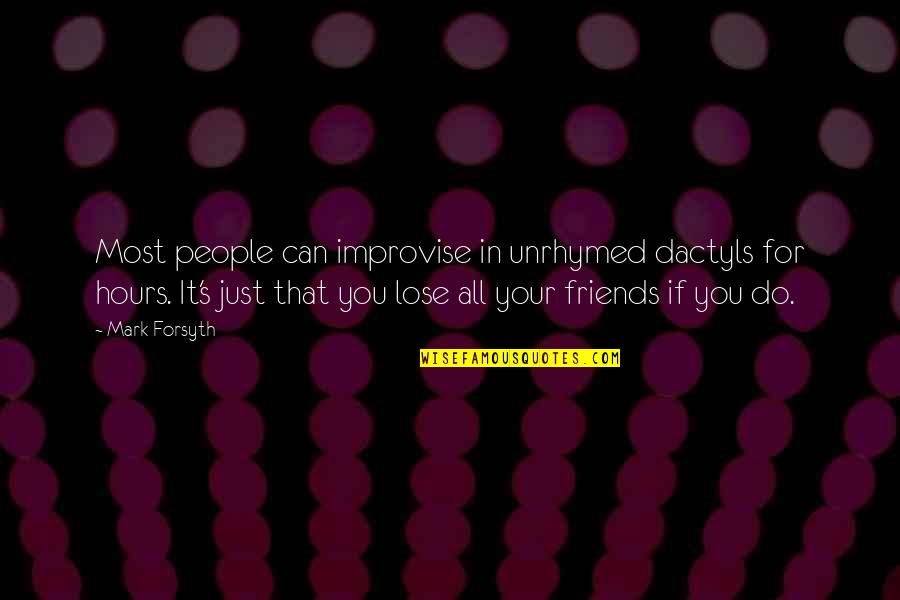 Most people can improvise in unrhymed dactyls for hours. It's just that you lose all your friends if you do. —
Mark Forsyth