Just One Kiss Quotes
Collection of top 52 famous quotes about Just One Kiss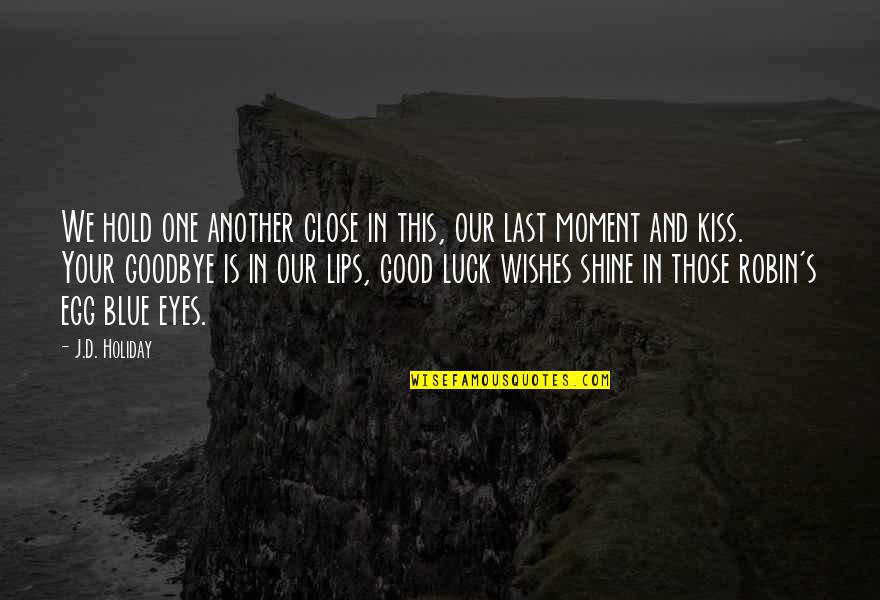 We hold one another close in this, our last moment and kiss. Your goodbye is in our lips, good luck wishes shine in those robin's egg blue eyes.
—
J.D. Holiday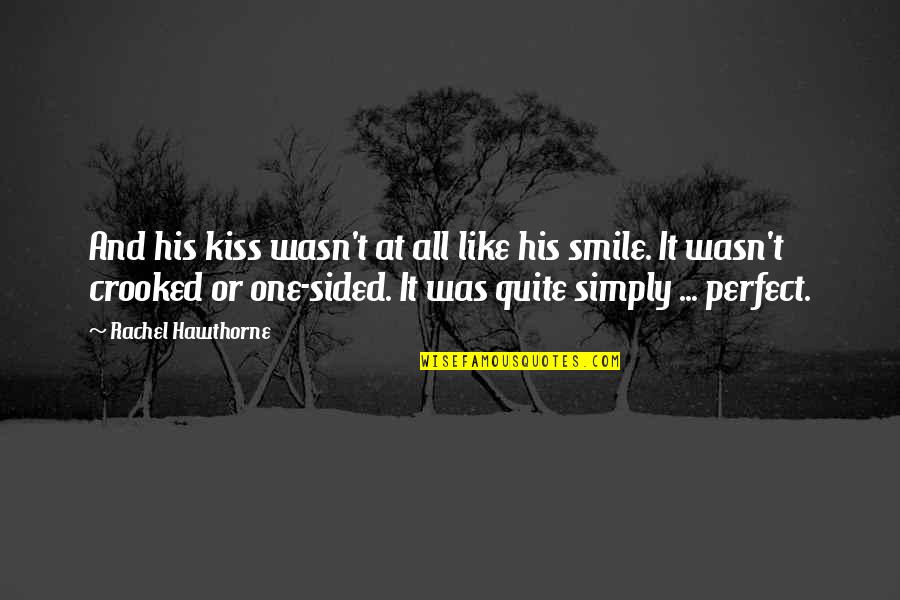 And his kiss wasn't at all like his smile. It wasn't crooked or one-sided. It was quite simply ... perfect.
—
Rachel Hawthorne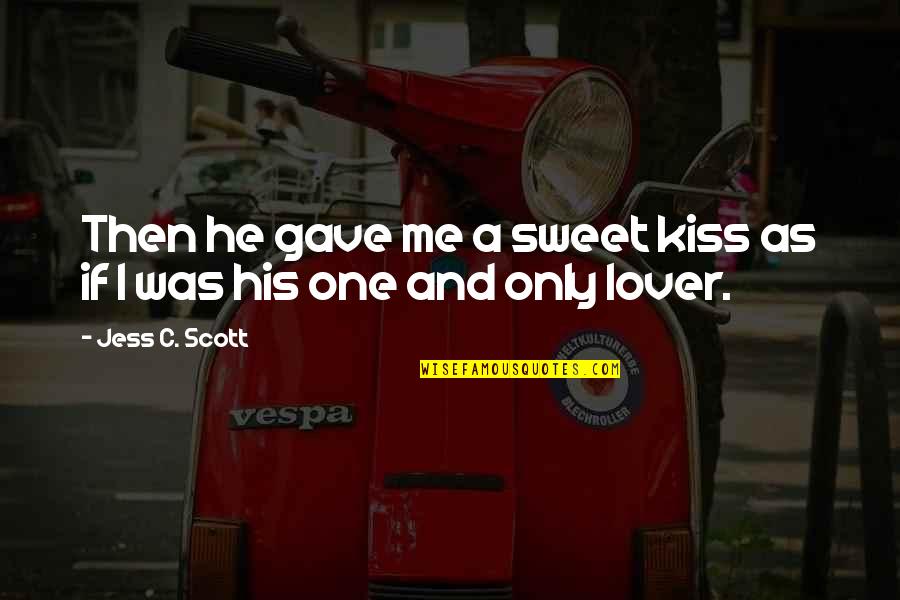 Then he gave me a sweet kiss as if I was his one and only lover.
—
Jess C. Scott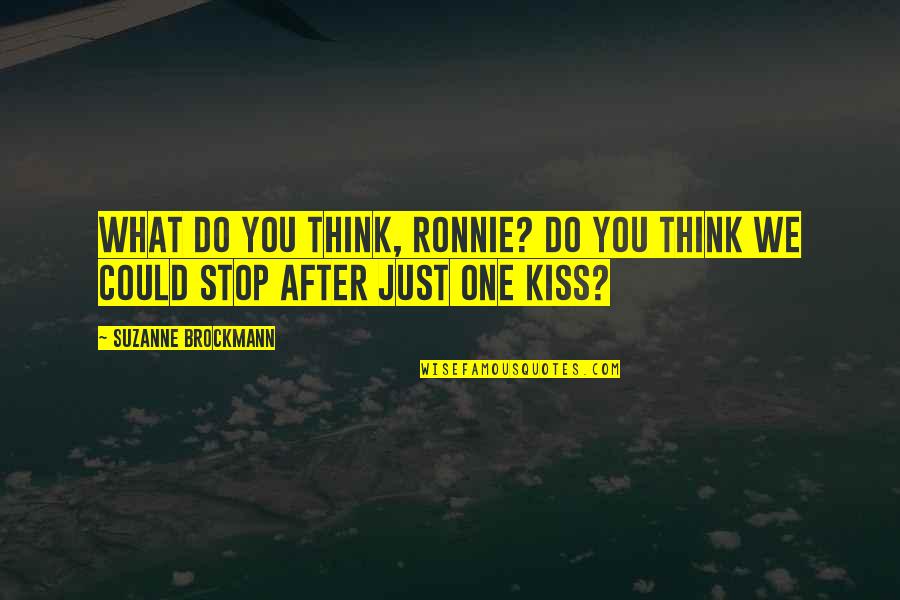 What do you think, Ronnie? Do you think we could stop after just one kiss?
—
Suzanne Brockmann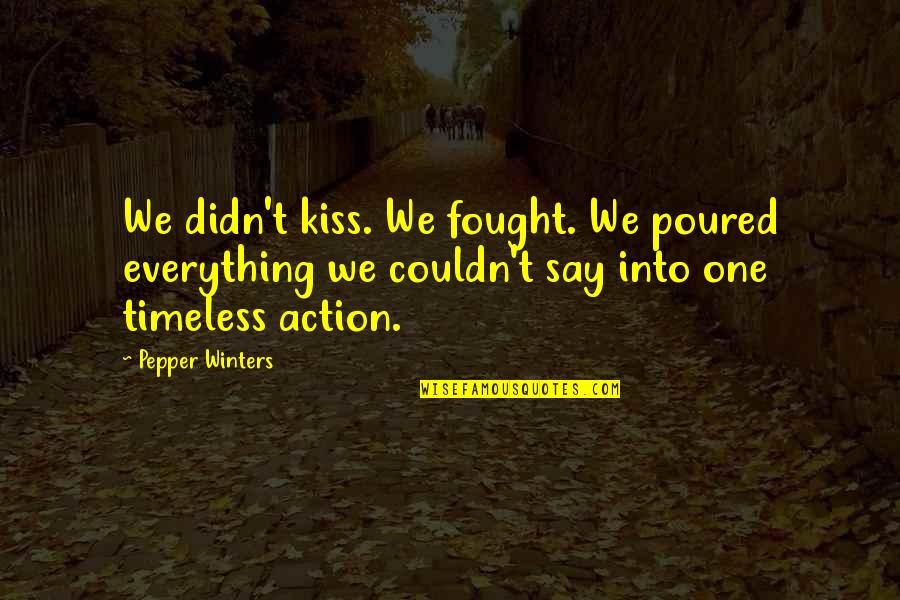 We didn't kiss. We fought. We poured everything we couldn't say into one timeless action.
—
Pepper Winters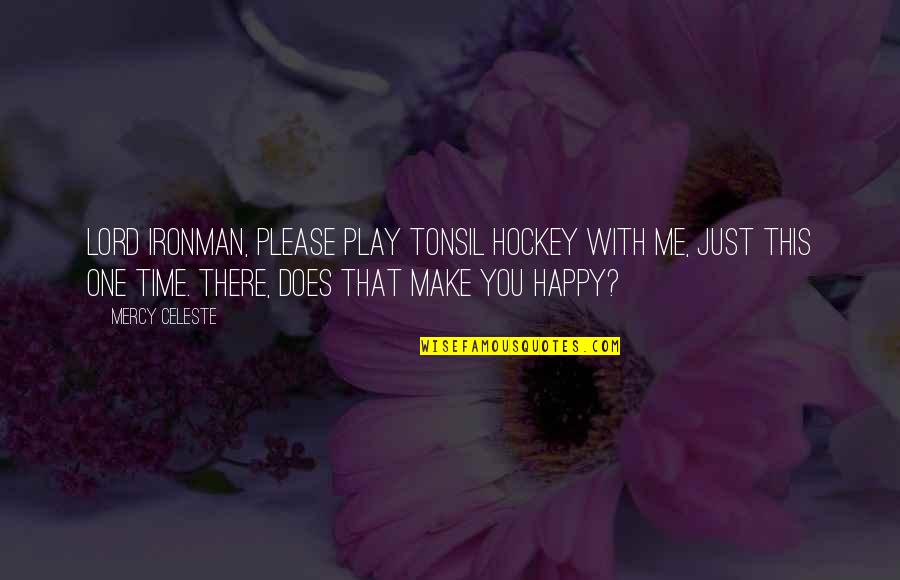 Lord Ironman, please play tonsil hockey with me, just this one time. There, does that make you happy?
—
Mercy Celeste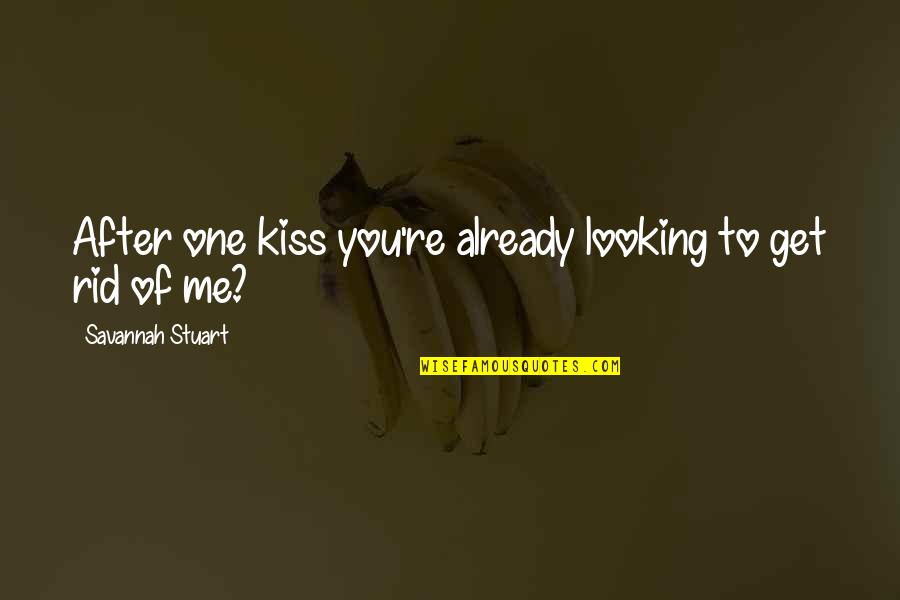 After one kiss you're already looking to get rid of me?
—
Savannah Stuart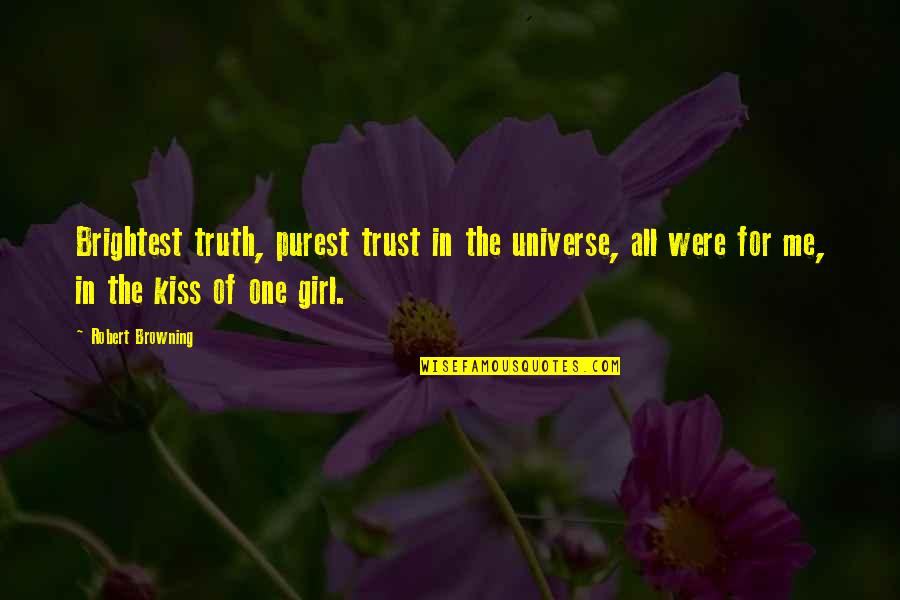 Brightest truth, purest trust in the universe, all were for me, in the kiss of one girl.
—
Robert Browning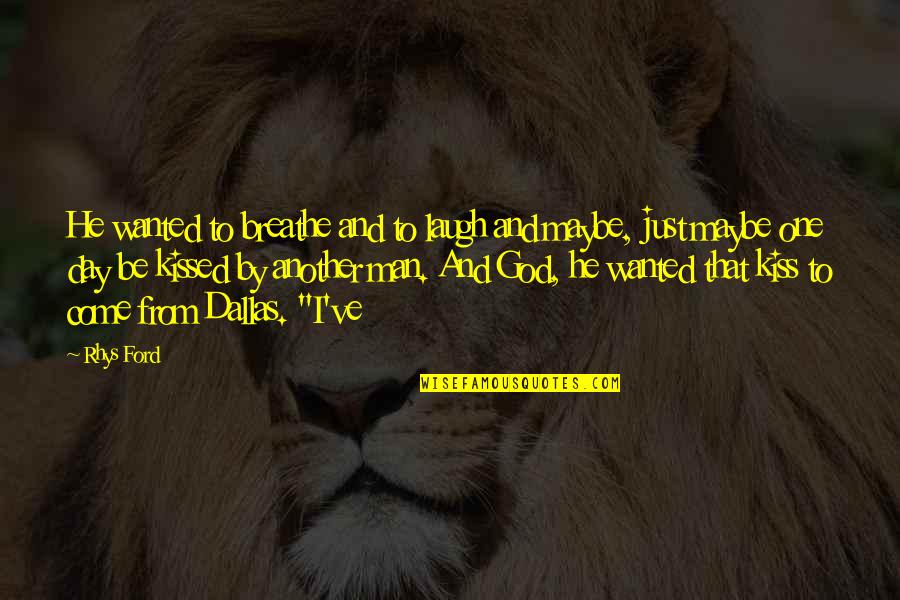 He wanted to breathe and to laugh and maybe, just maybe one day be kissed by another man. And God, he wanted that kiss to come from Dallas. "I've
—
Rhys Ford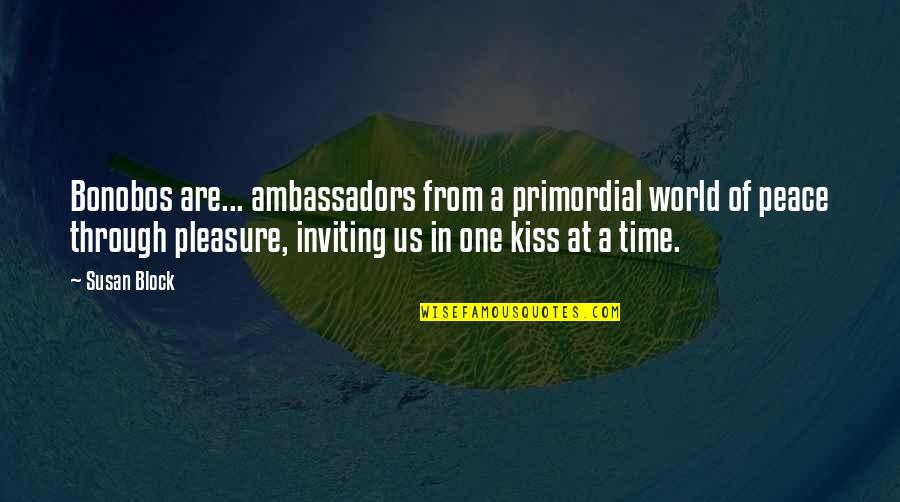 Bonobos are... ambassadors from a primordial world of peace through pleasure, inviting us in one kiss at a time. —
Susan Block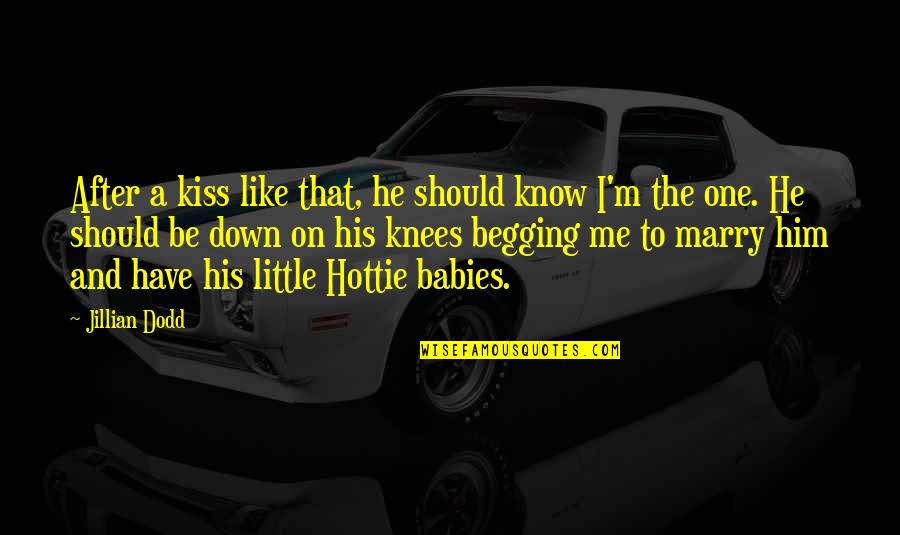 After a kiss like that, he should know I'm the one.
He should be down on his knees begging me to marry him and have his little Hottie babies. —
Jillian Dodd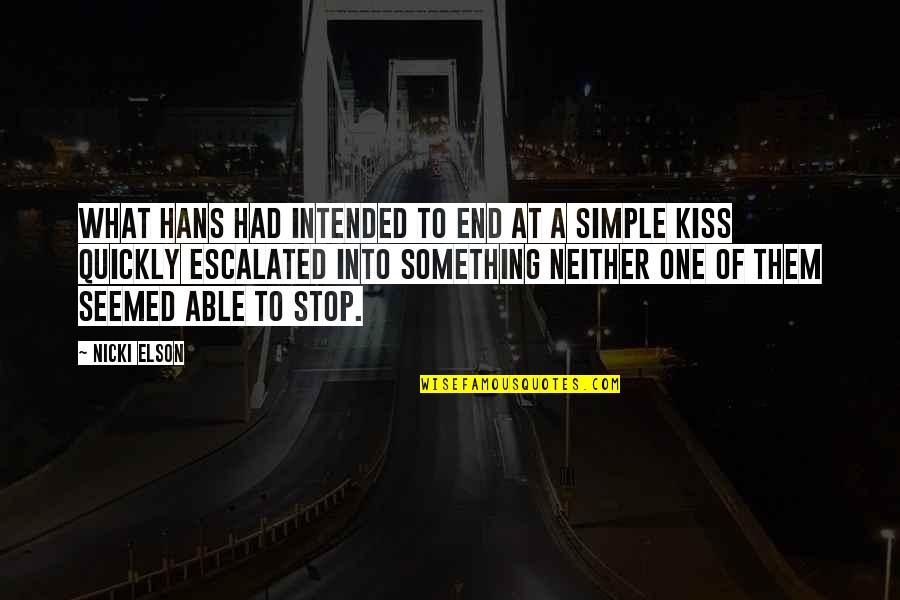 What Hans had intended to end at a simple kiss quickly escalated into something neither one of them seemed able to stop. —
Nicki Elson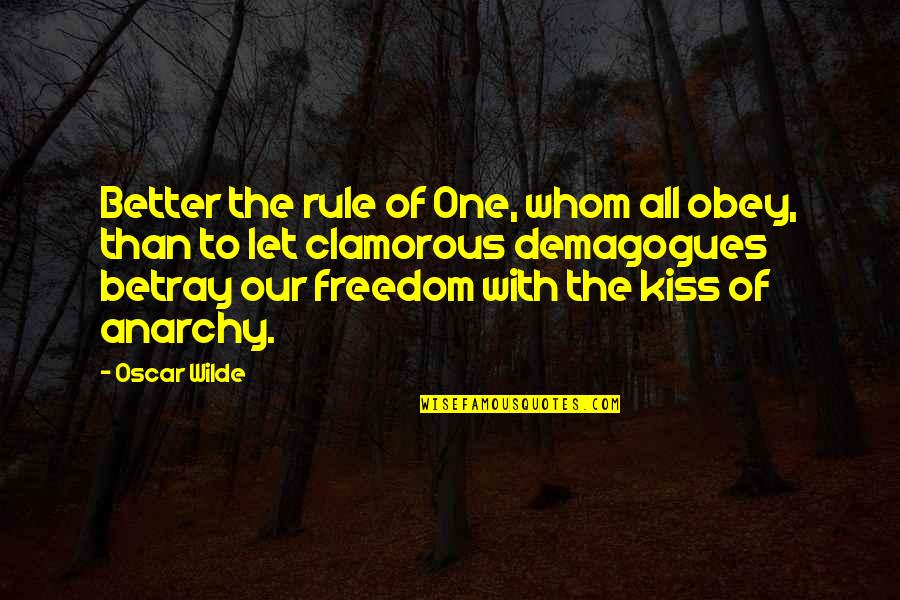 Better the rule of One, whom all obey, than to let clamorous demagogues betray our freedom with the kiss of anarchy. —
Oscar Wilde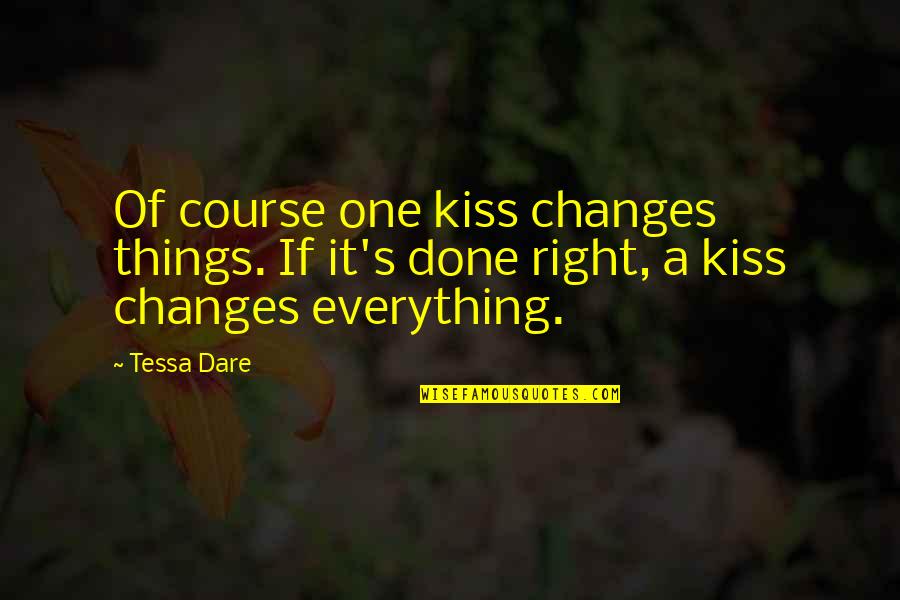 Of course one kiss changes things. If it's done right, a kiss changes everything. —
Tessa Dare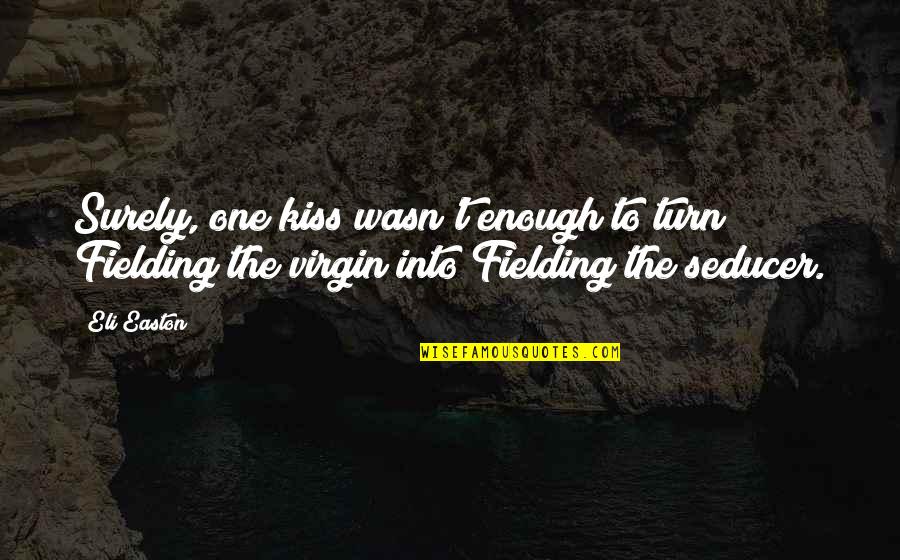 Surely, one kiss wasn't enough to turn Fielding the virgin into Fielding the seducer. —
Eli Easton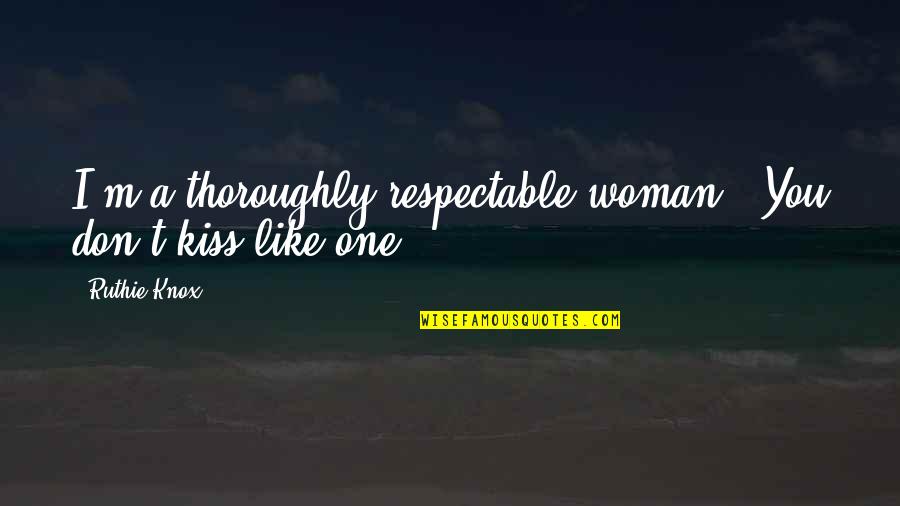 I'm a thoroughly respectable woman."
"You don't kiss like one. —
Ruthie Knox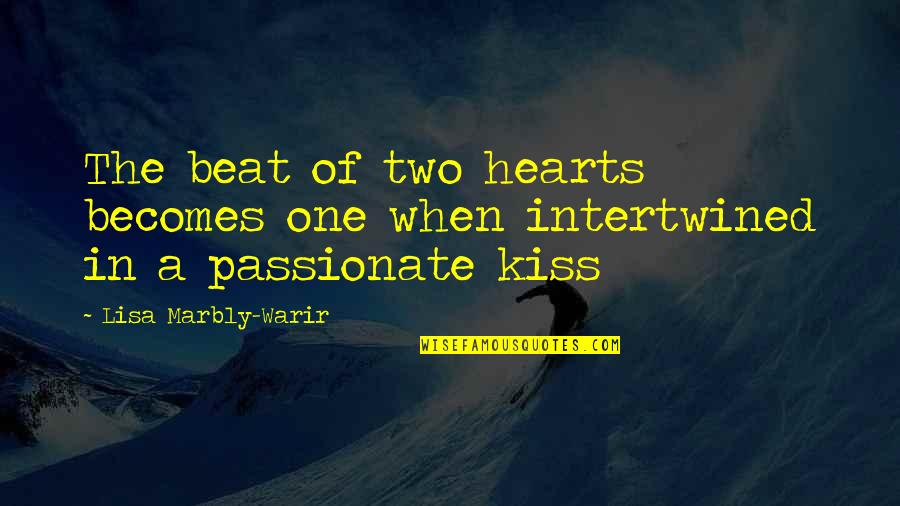 The beat of two hearts becomes one when intertwined in a passionate kiss —
Lisa Marbly-Warir
Cause the sweetest kiss I ever got is the one I've never tasted —
Sixto Rodriguez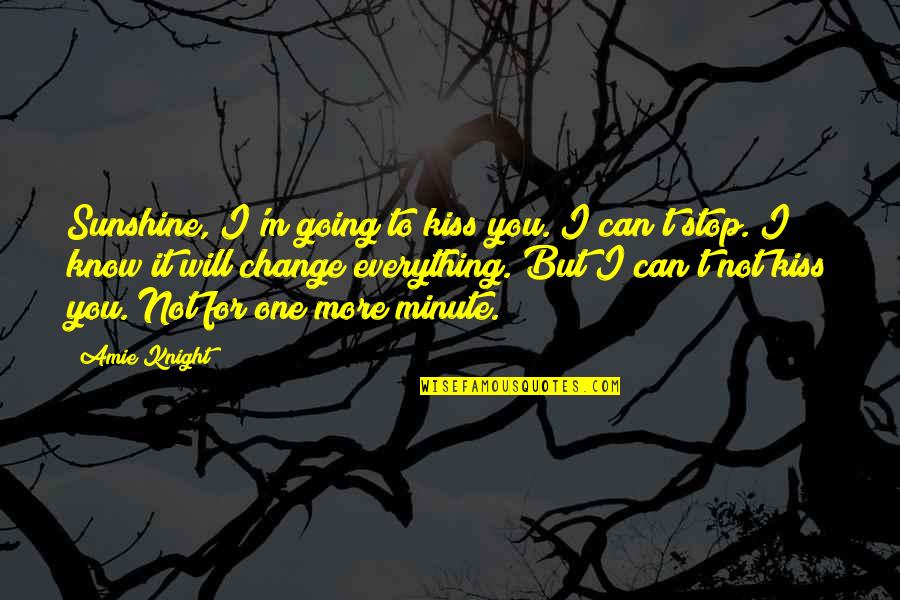 Sunshine, I'm going to kiss you. I can't stop. I know it will change everything. But I can't not kiss you. Not for one more minute. —
Amie Knight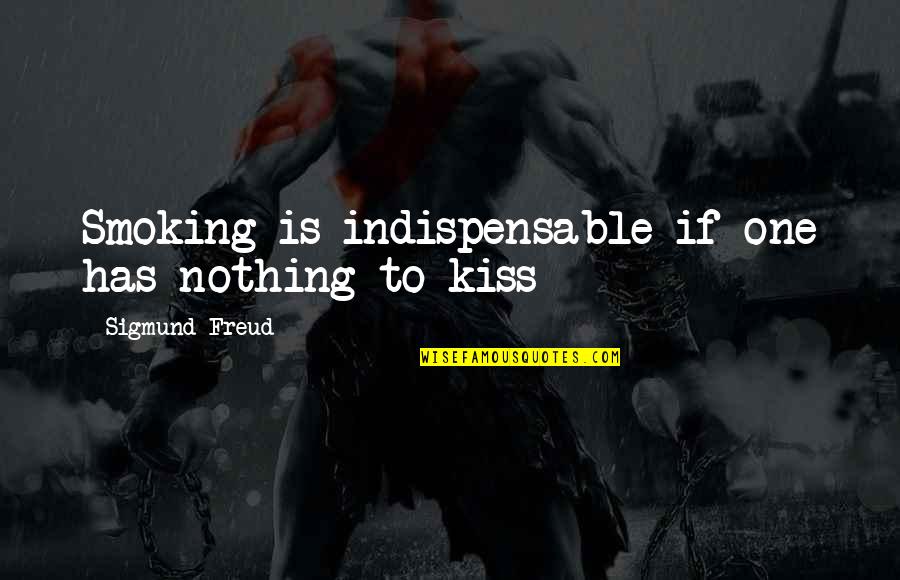 Smoking is indispensable if one has nothing to kiss —
Sigmund Freud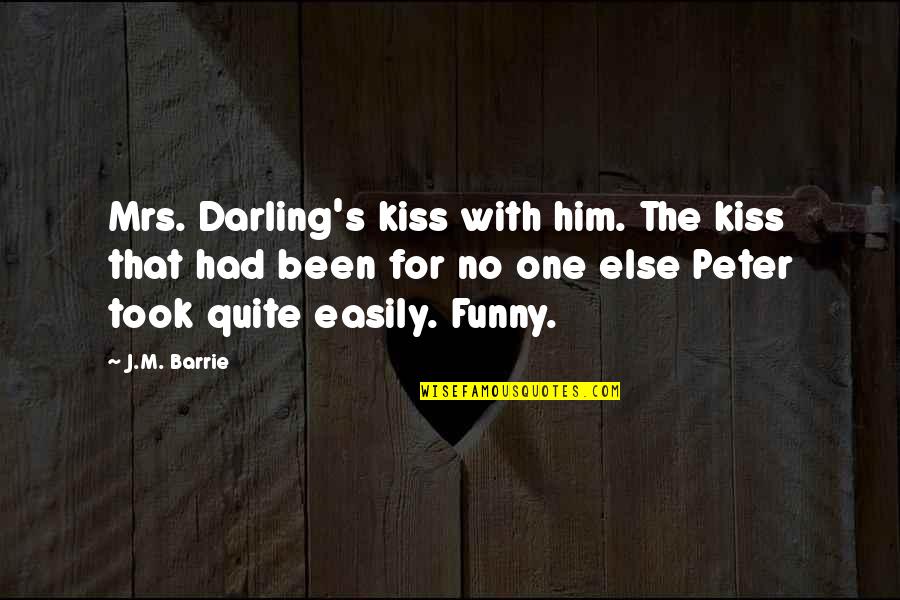 Mrs. Darling's kiss with him. The kiss that had been for no one else Peter took quite easily. Funny. —
J.M. Barrie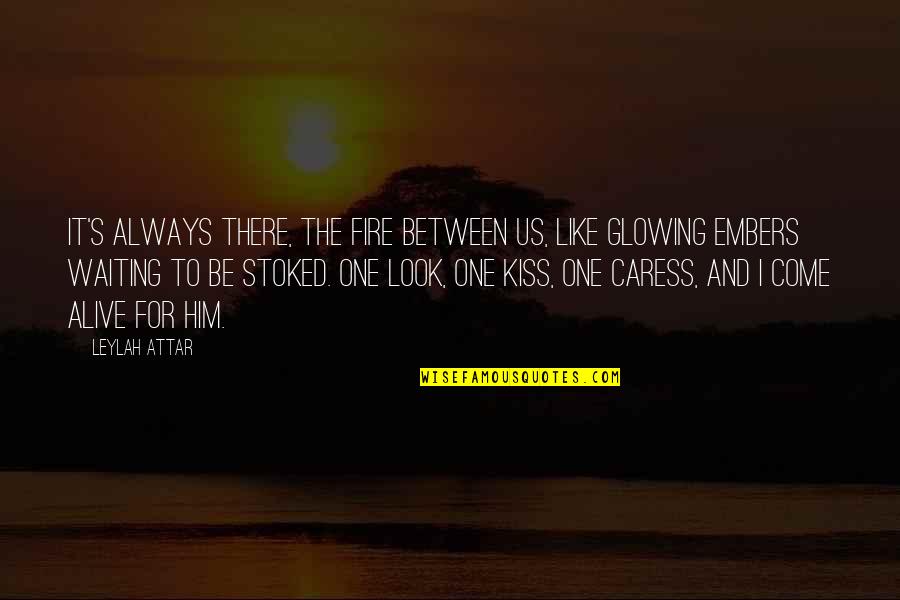 It's always there, the fire between us, like glowing embers waiting to be stoked. One look, one kiss, one caress, and I come alive for him. —
Leylah Attar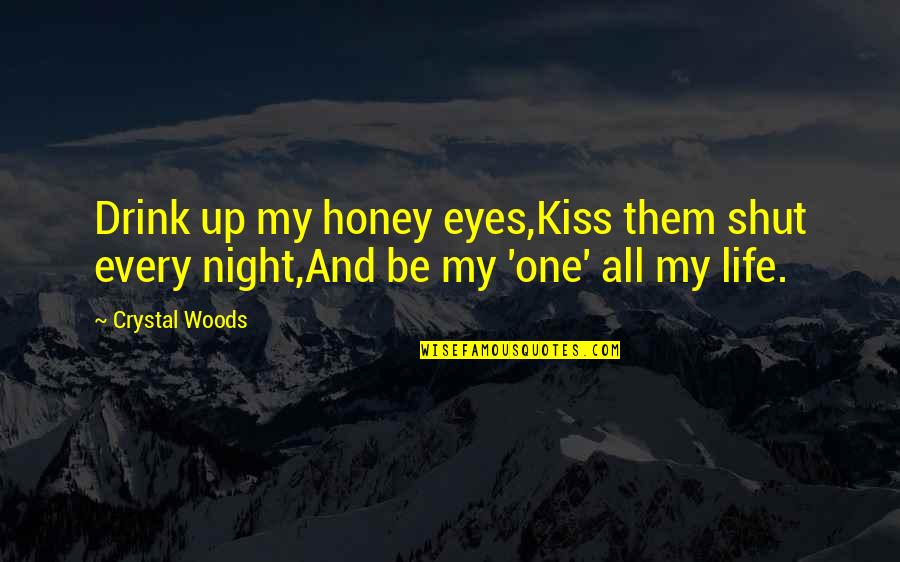 Drink up my honey eyes,
Kiss them shut every night,
And be my 'one' all my life. —
Crystal Woods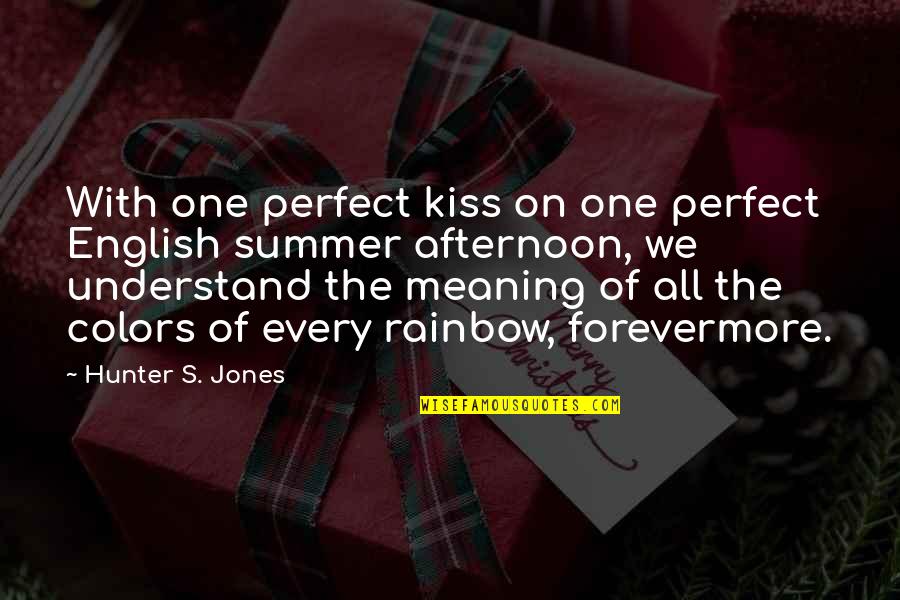 With one perfect kiss on one perfect English summer afternoon, we understand the meaning of all the colors of every rainbow, forevermore. —
Hunter S. Jones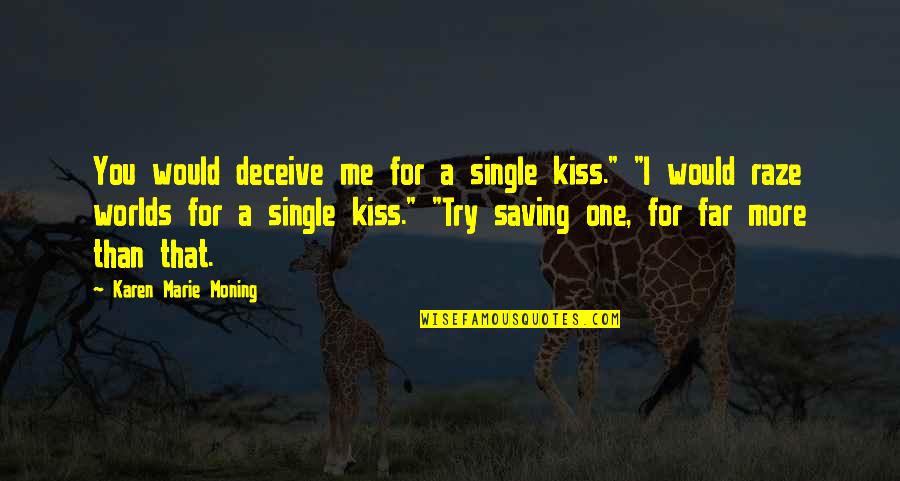 You would deceive me for a single kiss." "I would raze worlds for a single kiss." "Try saving one, for far more than that. —
Karen Marie Moning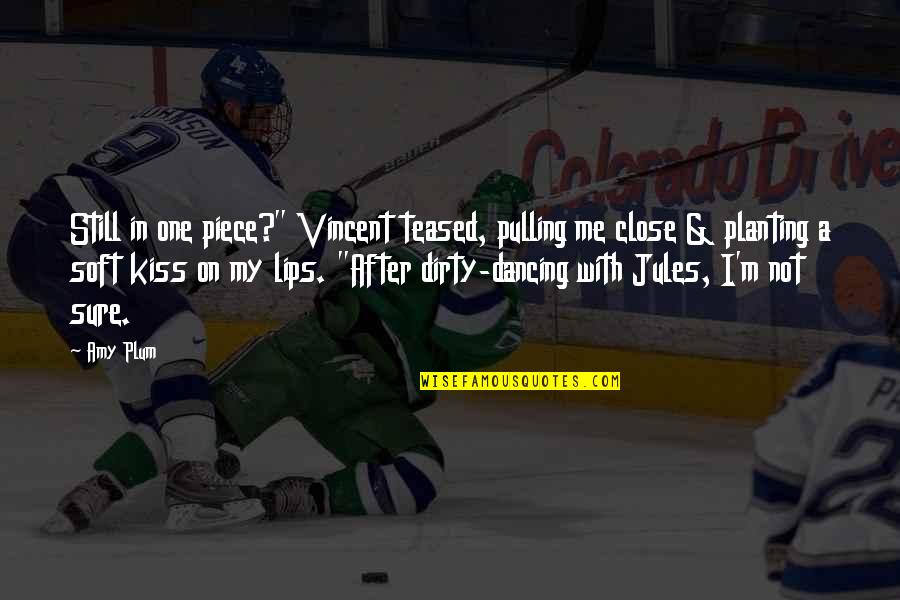 Still in one piece?" Vincent teased, pulling me close & planting a soft kiss on my lips. "After dirty-dancing with Jules, I'm not sure. —
Amy Plum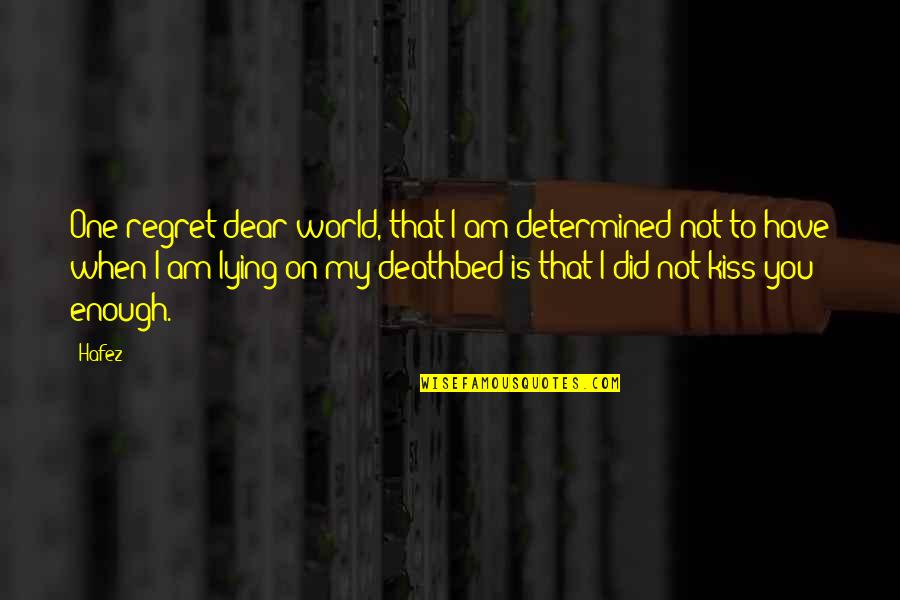 One regret dear world, that I am determined not to have when I am lying on my deathbed is that I did not kiss you enough. —
Hafez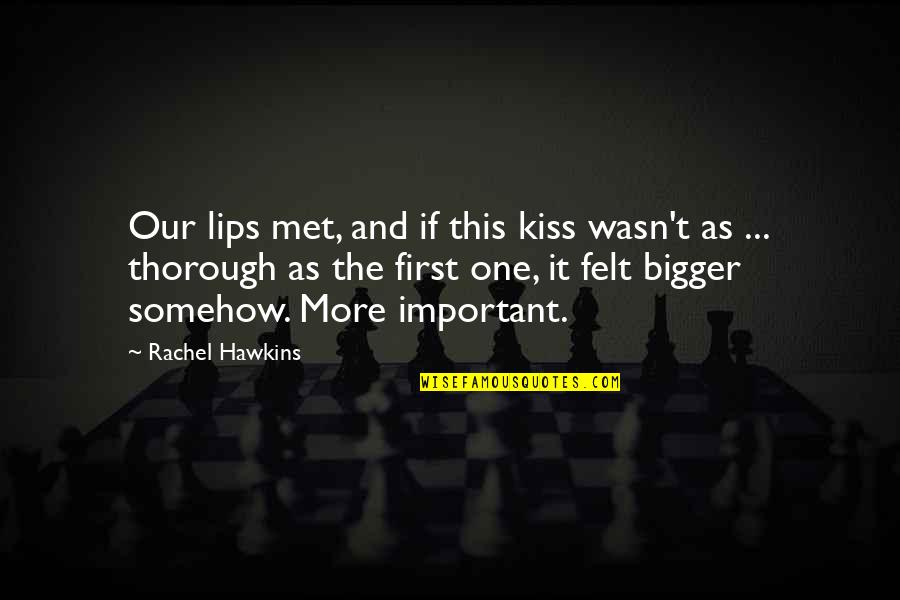 Our lips met, and if this kiss wasn't as ... thorough as the first one, it felt bigger somehow. More important. —
Rachel Hawkins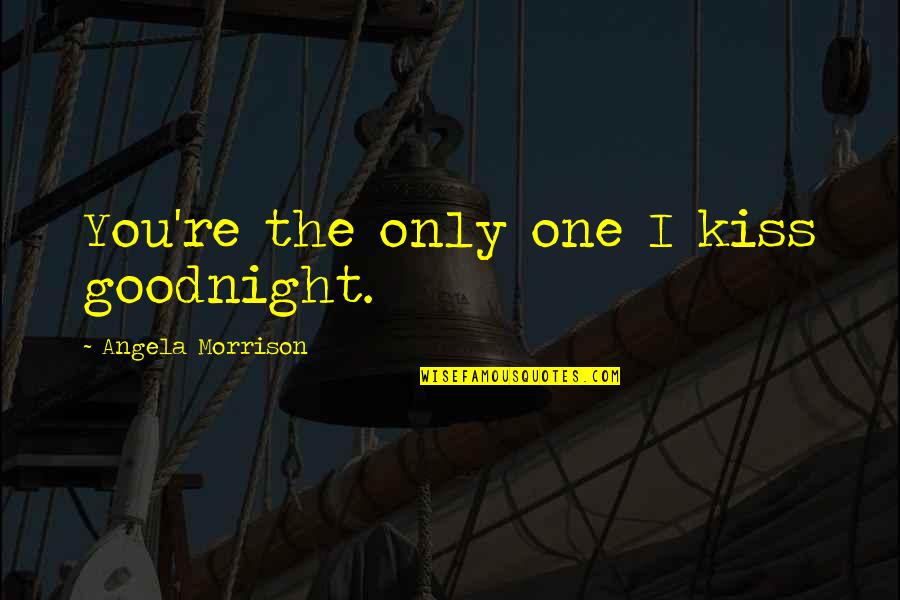 You're the only one I kiss goodnight. —
Angela Morrison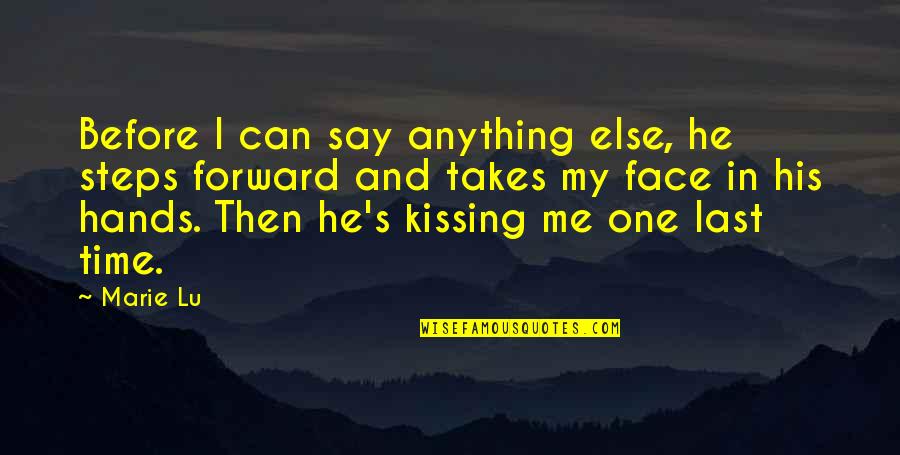 Before I can say anything else, he steps forward and takes my face in his hands. Then he's kissing me one last time. —
Marie Lu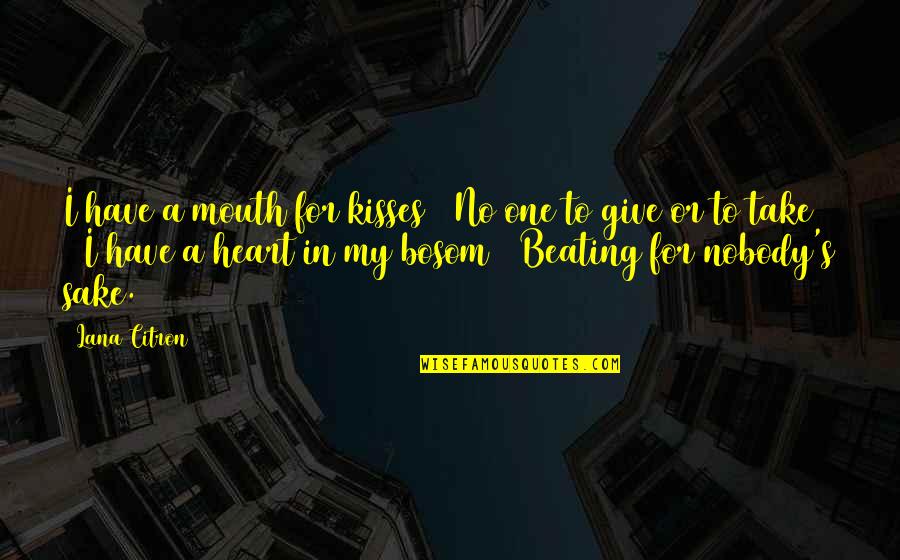 I have a mouth for kisses / No one to give or to take / I have a heart in my bosom / Beating for nobody's sake. —
Lana Citron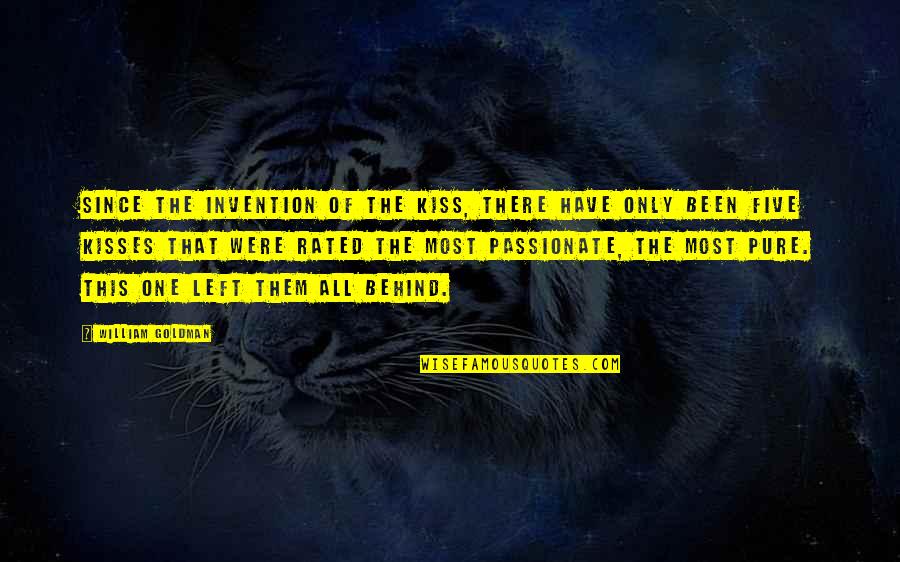 Since the invention of the kiss, there have only been five kisses that were rated the most passionate, the most pure. This one left them all behind. —
William Goldman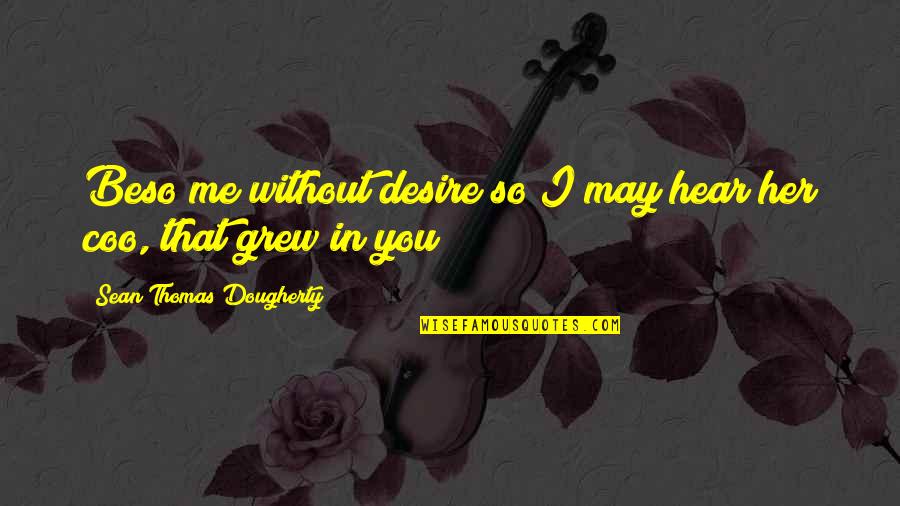 Beso me without desire so I may hear her coo, that grew in you —
Sean Thomas Dougherty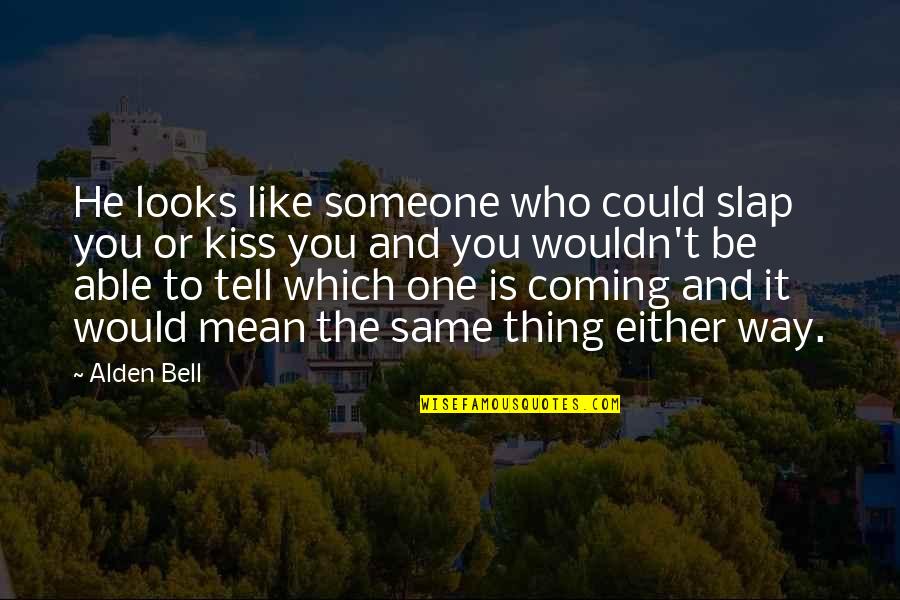 He looks like someone who could slap you or kiss you and you wouldn't be able to tell which one is coming and it would mean the same thing either way. —
Alden Bell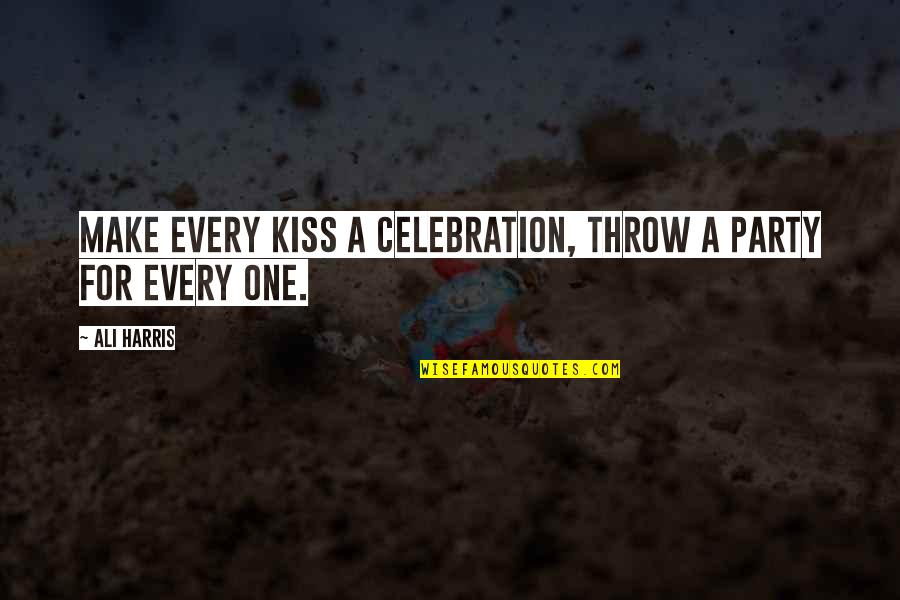 Make every kiss a celebration, throw a party for every one. —
Ali Harris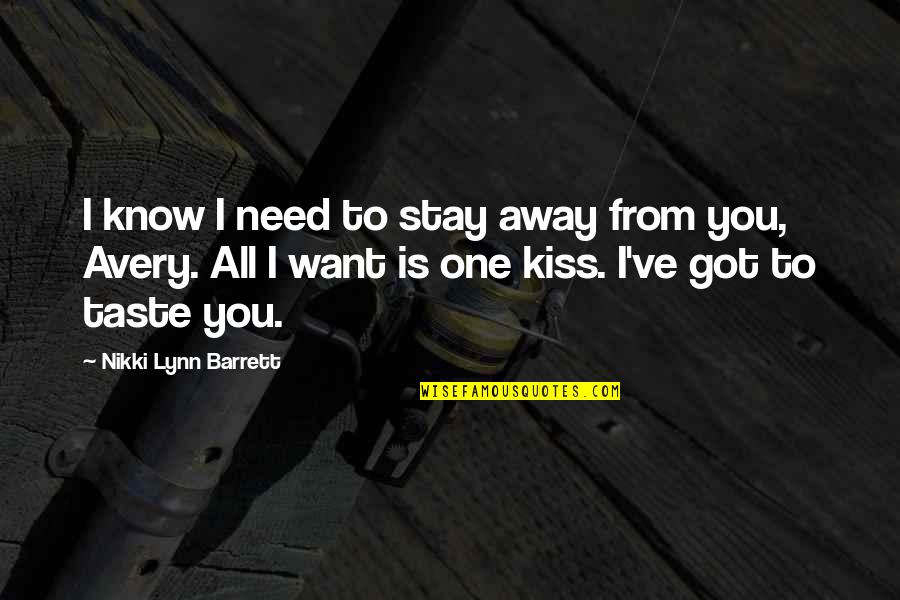 I know I need to stay away from you, Avery. All I want is one kiss. I've got to taste you. —
Nikki Lynn Barrett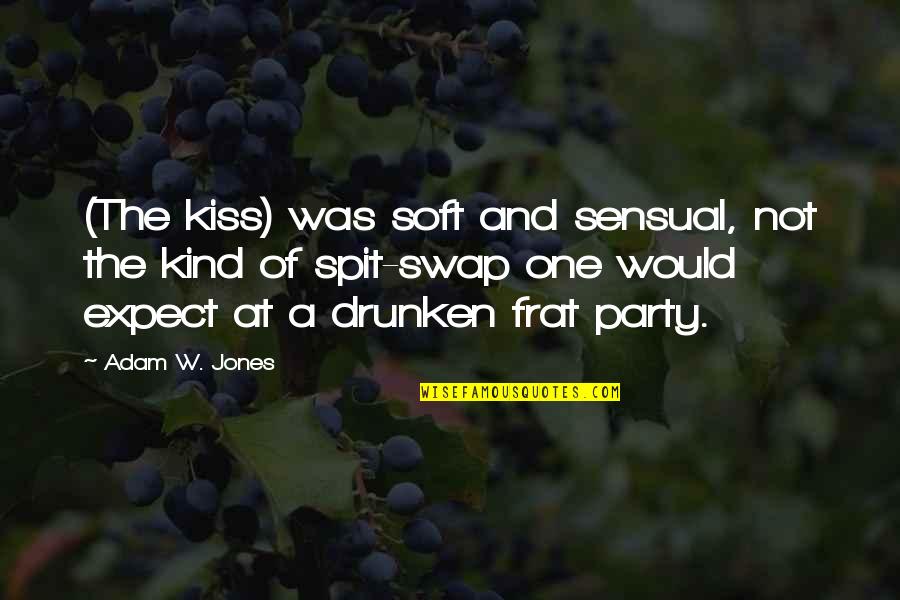 (The kiss) was soft and sensual, not the kind of spit-swap one would expect at a drunken frat party. —
Adam W. Jones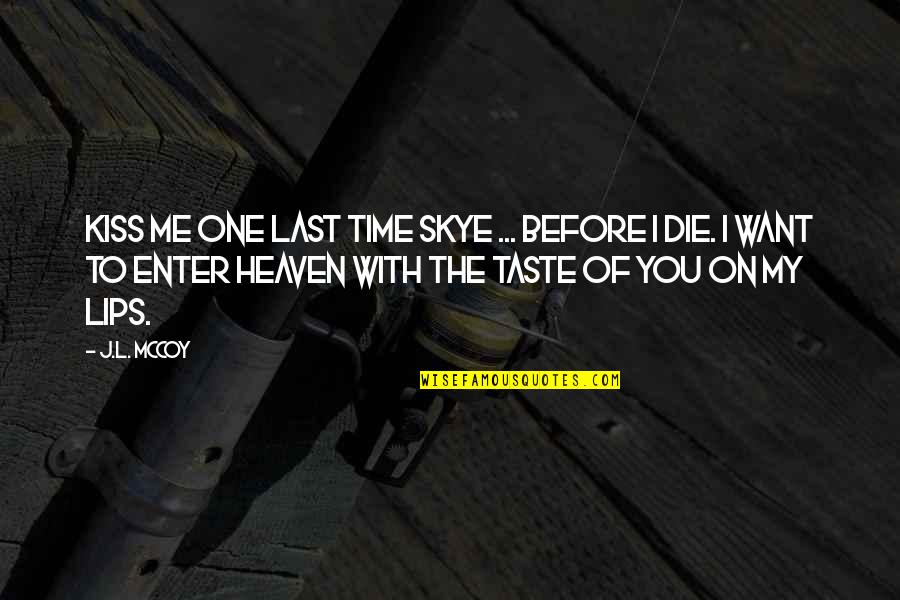 Kiss me one last time Skye ... before I die. I want to enter heaven with the taste of you on my lips. —
J.L. McCoy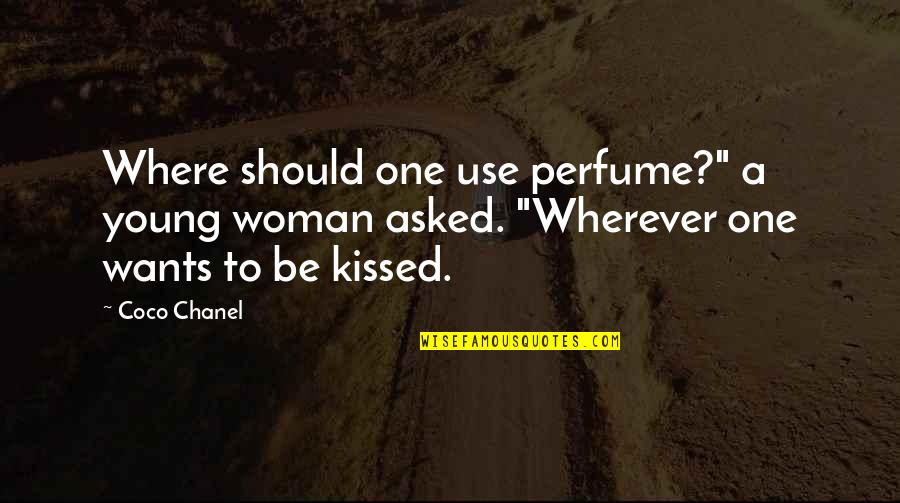 Where should one use perfume?" a young woman asked. "Wherever one wants to be kissed. —
Coco Chanel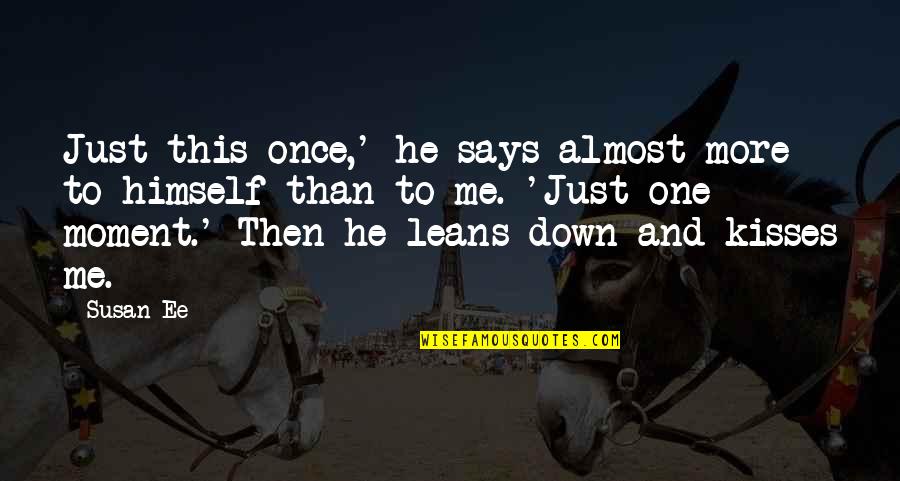 Just this once,' he says almost more to himself than to me. 'Just one moment.'
Then he leans down and kisses me. —
Susan Ee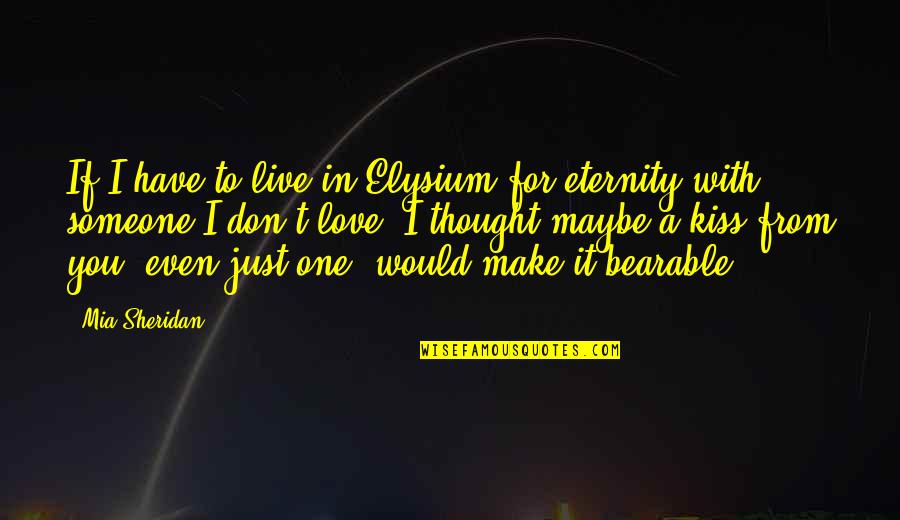 If I have to live in Elysium for eternity with someone I don't love, I thought maybe a kiss from you, even just one, would make it bearable. —
Mia Sheridan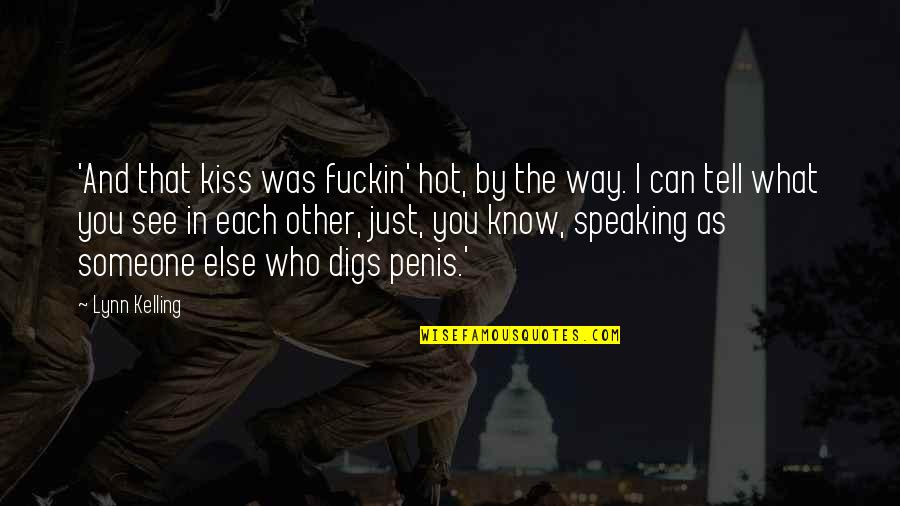 'And that kiss was fuckin' hot, by the way. I can tell what you see in each other, just, you know, speaking as someone else who digs penis.' —
Lynn Kelling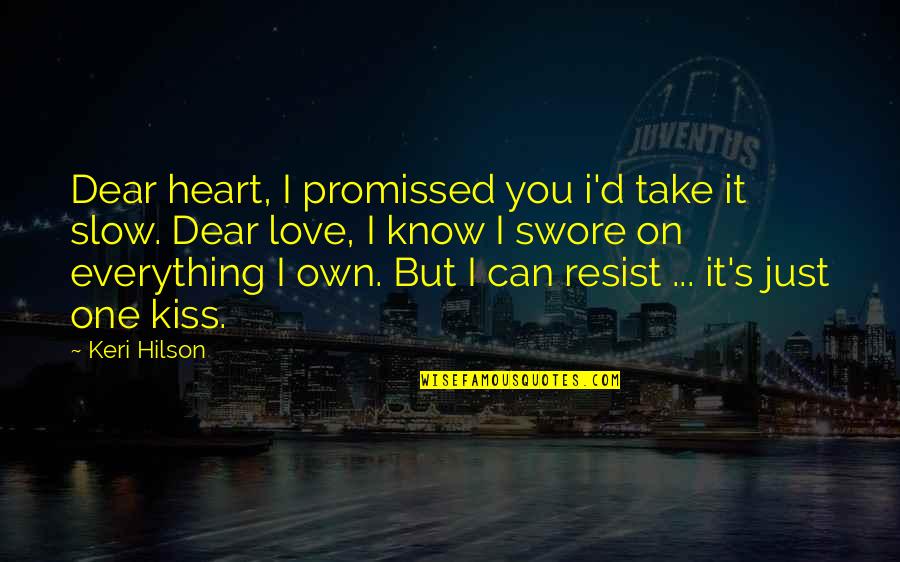 Dear heart, I promissed you i'd take it slow. Dear love, I know I swore on everything I own. But I can resist ... it's
just one kiss
. —
Keri Hilson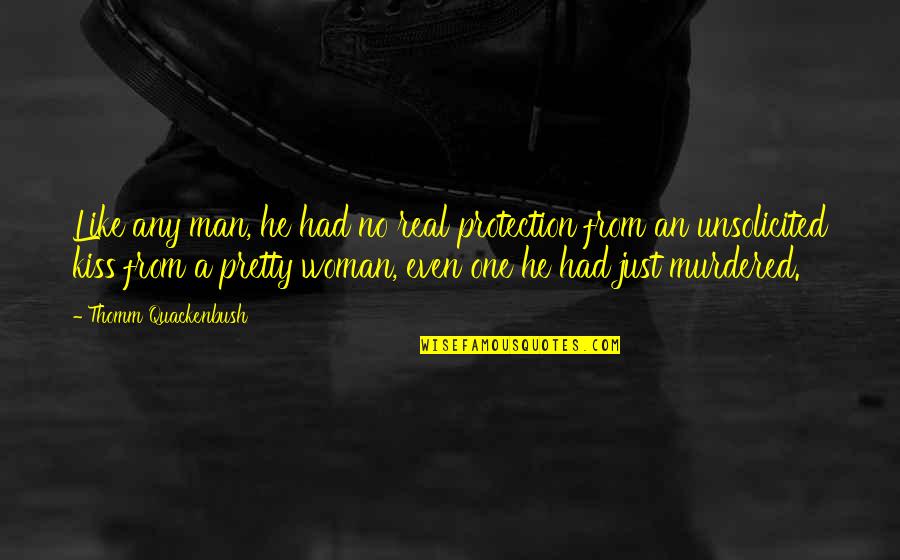 Like any man, he had no real protection from an unsolicited kiss from a pretty woman, even one he had just murdered. —
Thomm Quackenbush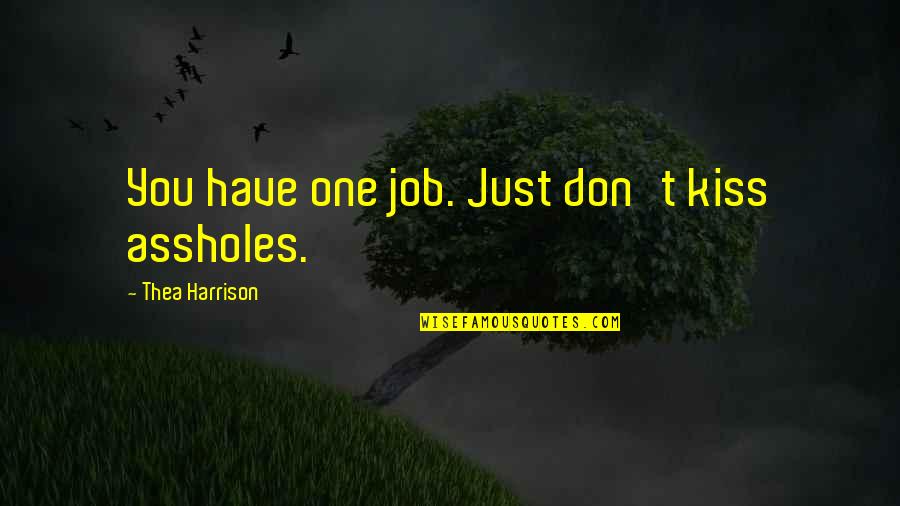 You have one job. Just don't kiss assholes. —
Thea Harrison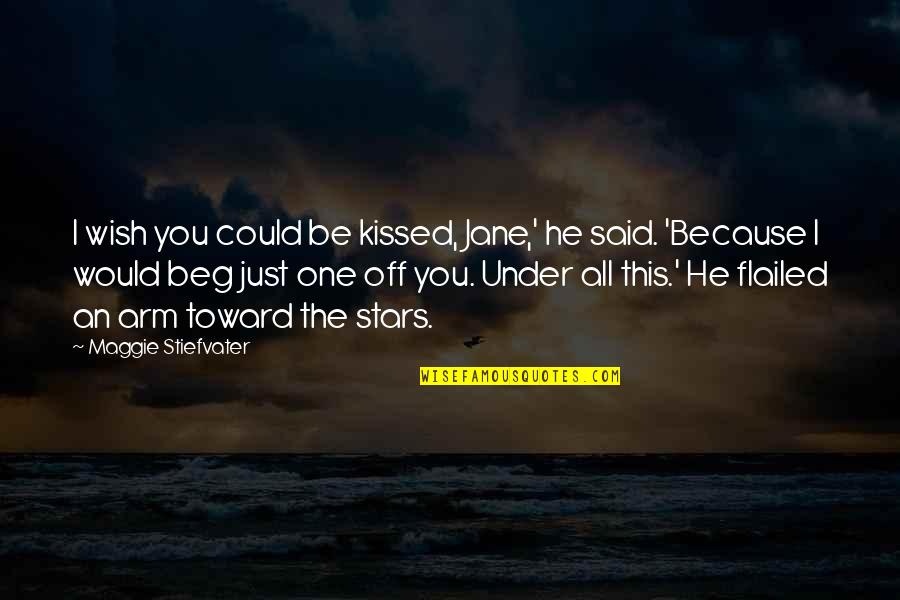 I wish you could be kissed, Jane,' he said. 'Because I would beg just one off you. Under all this.' He flailed an arm toward the stars. —
Maggie Stiefvater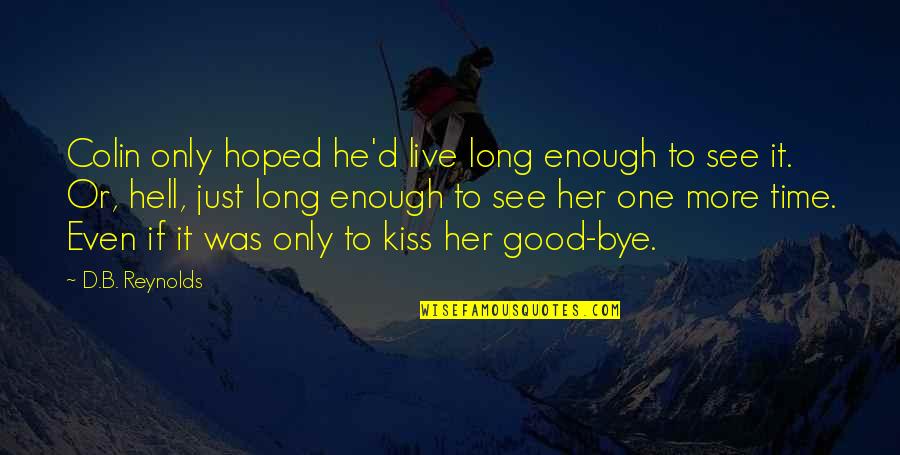 Colin only hoped he'd live long enough to see it. Or, hell, just long enough to see her one more time. Even if it was only to kiss her good-bye. —
D.B. Reynolds