It Only Gets Better Quotes
Collection of top 46 famous quotes about It Only Gets Better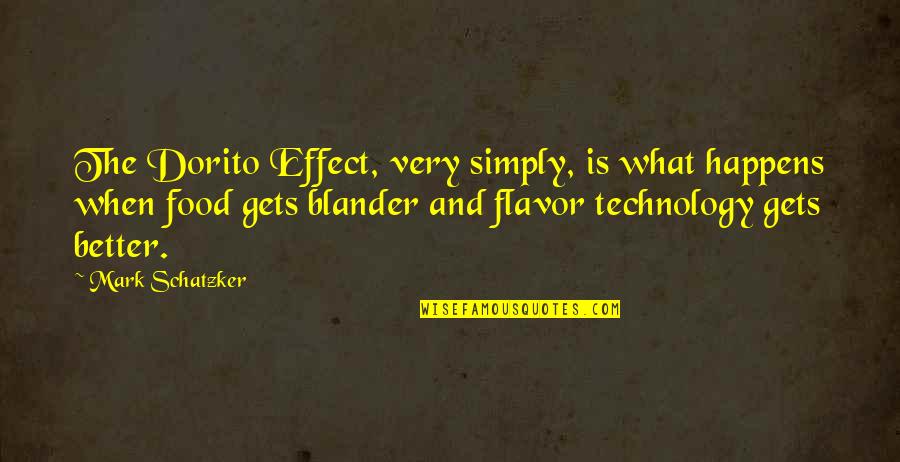 The Dorito Effect, very simply, is what happens when food gets blander and flavor technology gets better.
—
Mark Schatzker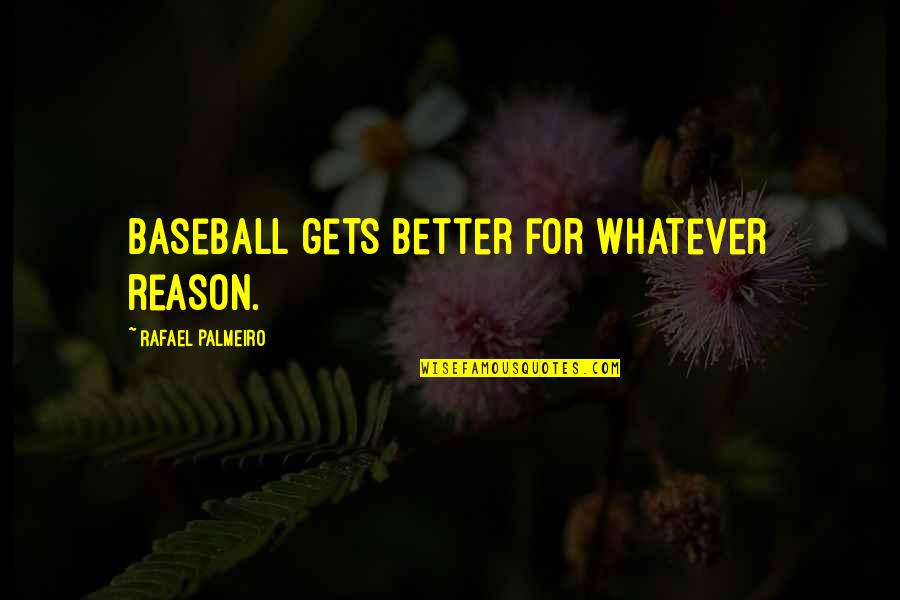 Baseball gets better for whatever reason.
—
Rafael Palmeiro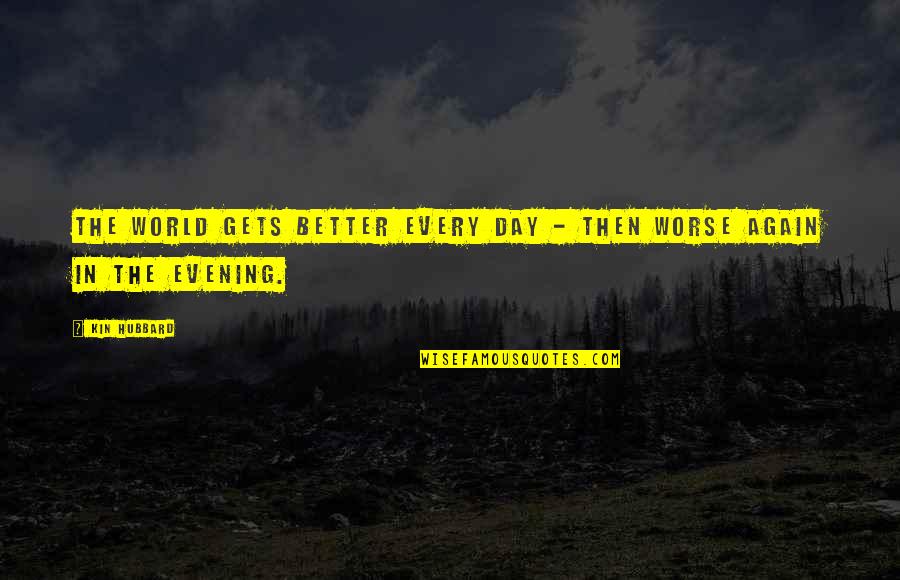 The world gets better every day - then worse again in the evening.
—
Kin Hubbard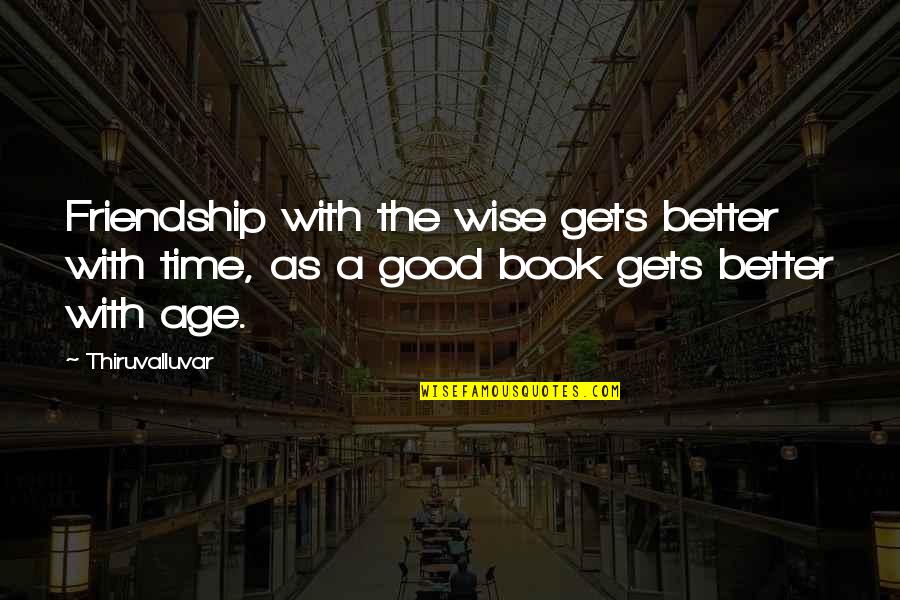 Friendship with the wise gets better with time, as a good book gets better with age.
—
Thiruvalluvar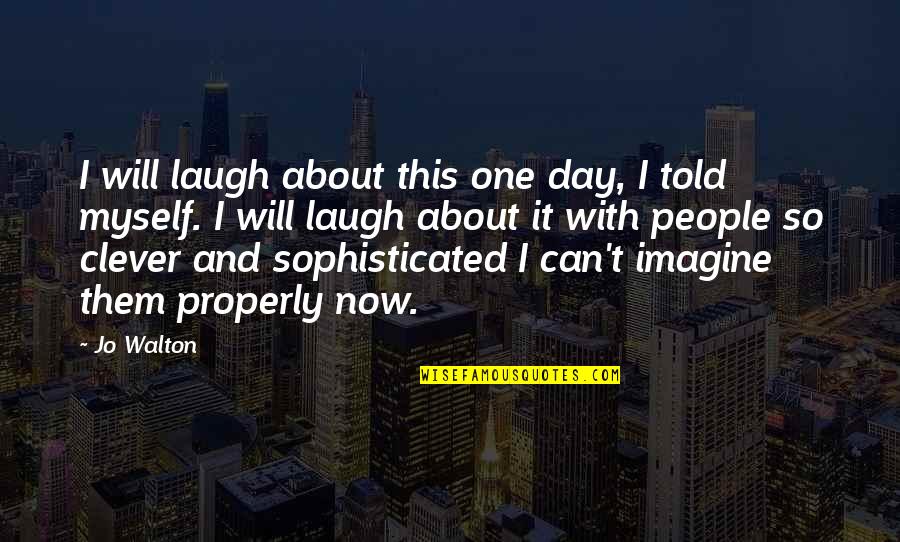 I will laugh about this one day, I told myself. I will laugh about it with people so clever and sophisticated I can't imagine them properly now.
—
Jo Walton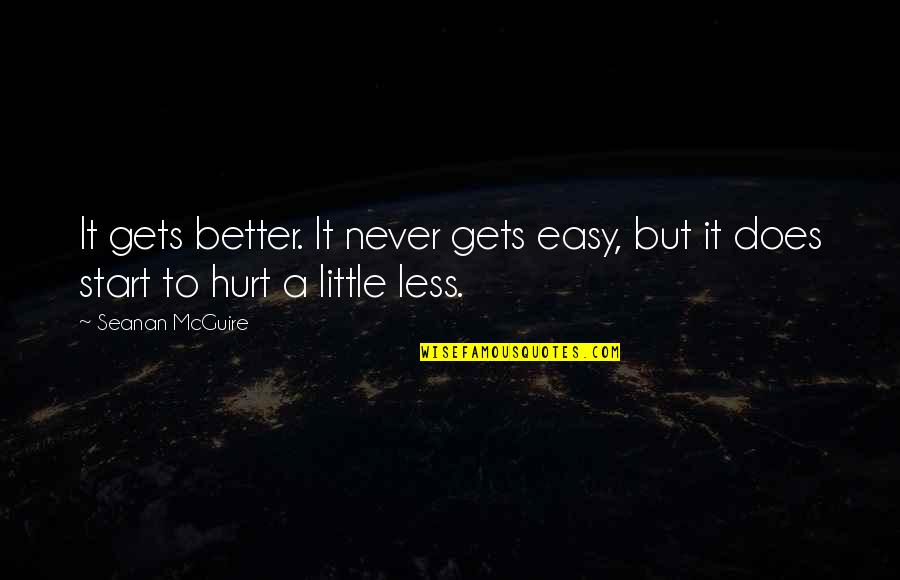 It gets better. It never gets easy, but it does start to hurt a little less.
—
Seanan McGuire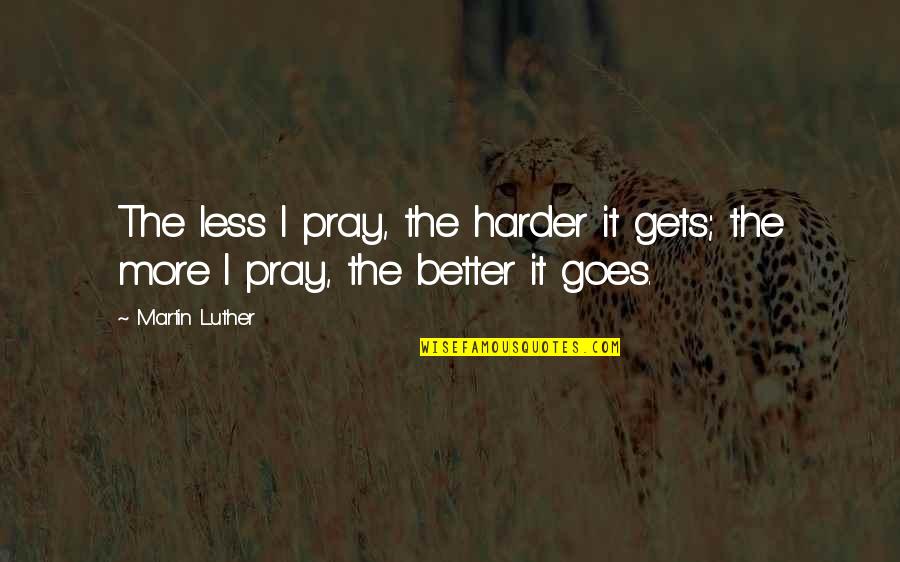 The less I pray, the harder it gets; the more I pray, the better it goes.
—
Martin Luther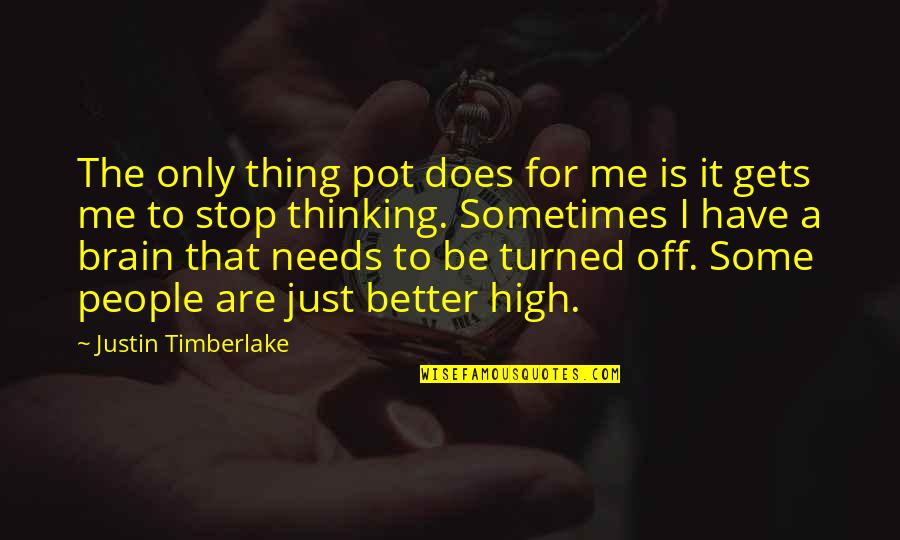 The only thing pot does for me is it gets me to stop thinking. Sometimes I have a brain that needs to be turned off. Some people are just better high.
—
Justin Timberlake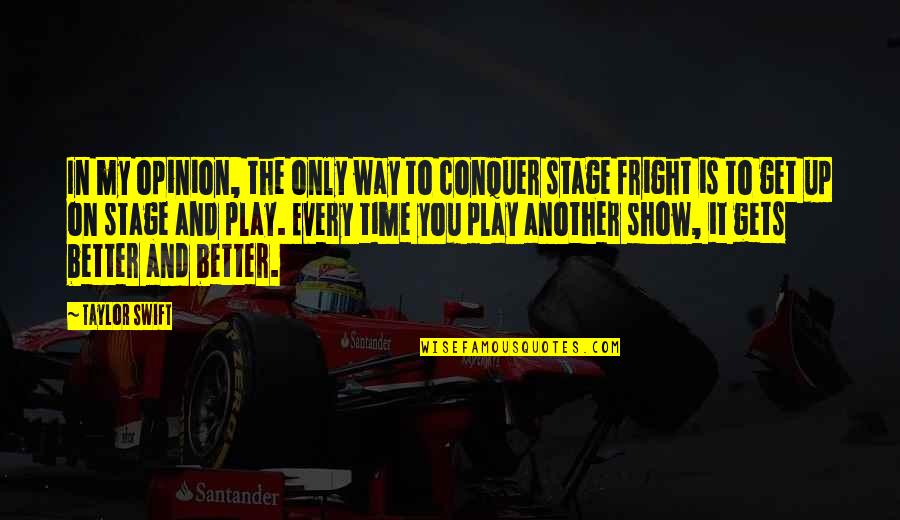 In my opinion, the only way to conquer stage fright is to get up on stage and play. Every time you play another show, it gets better and better.
—
Taylor Swift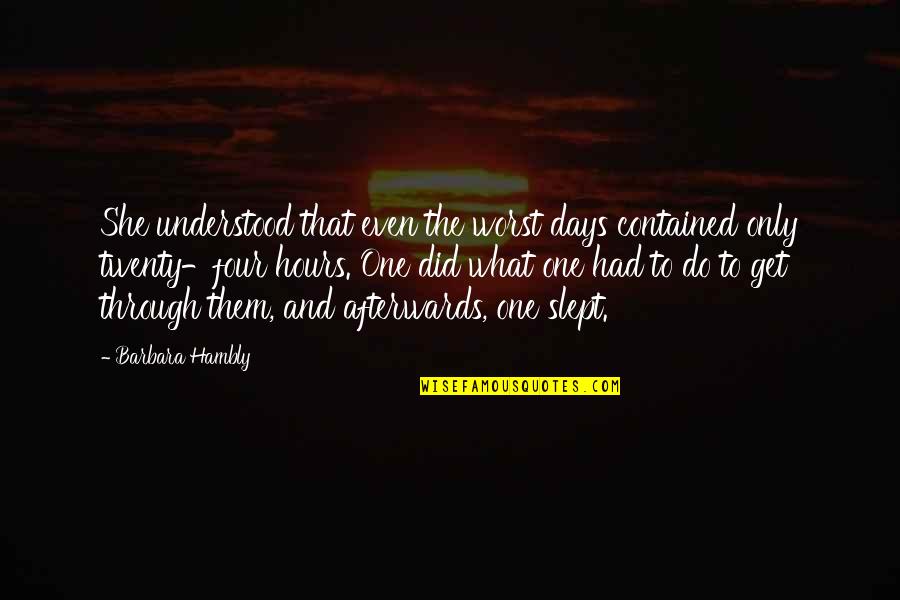 She understood that even the worst days contained only twenty-four hours. One did what one had to do to get through them, and afterwards, one slept.
—
Barbara Hambly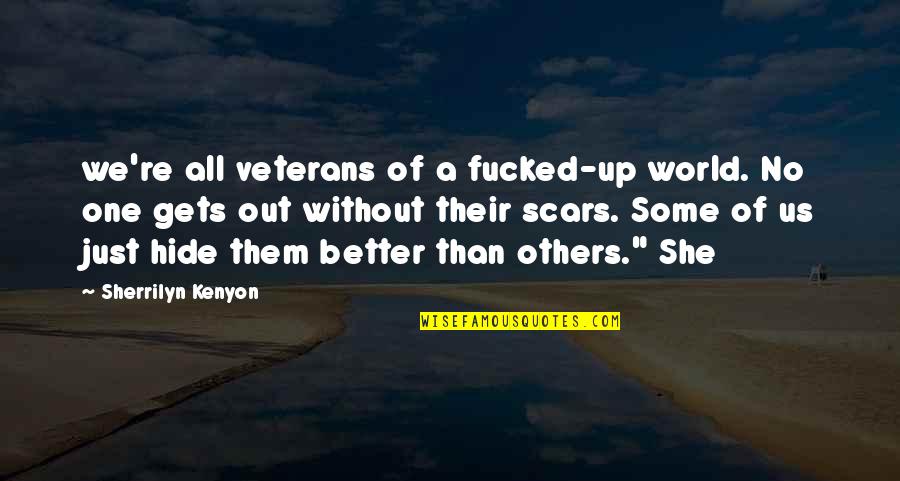 we're all veterans of a fucked-up world. No one gets out without their scars. Some of us just hide them better than others." She —
Sherrilyn Kenyon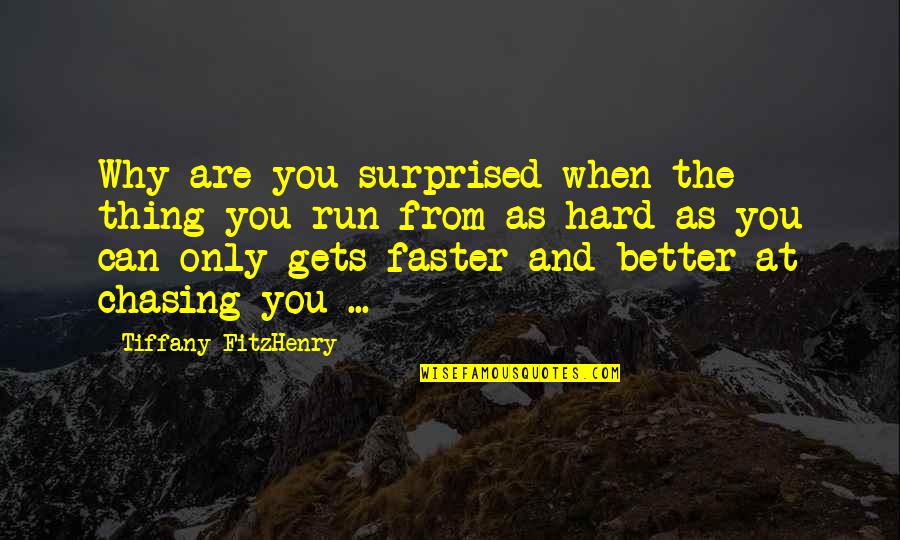 Why are you surprised when the thing you run from as hard as you can only gets faster and better at chasing you ... —
Tiffany FitzHenry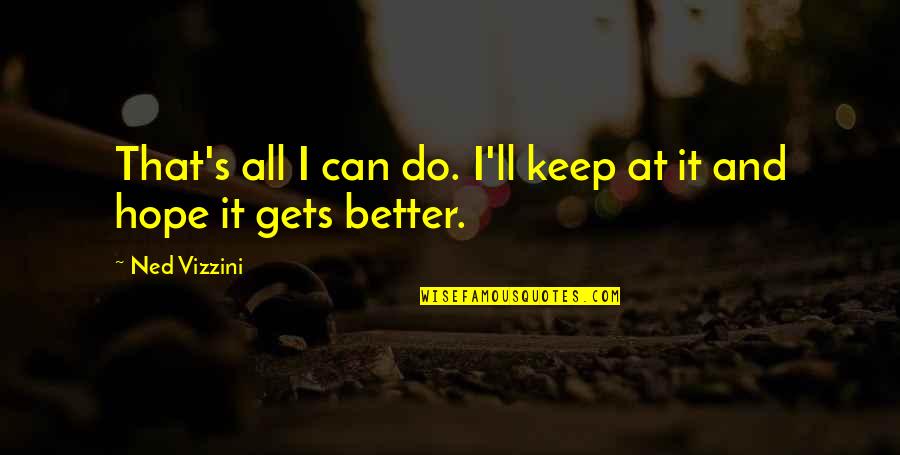 That's all I can do. I'll keep at it and hope it gets better. —
Ned Vizzini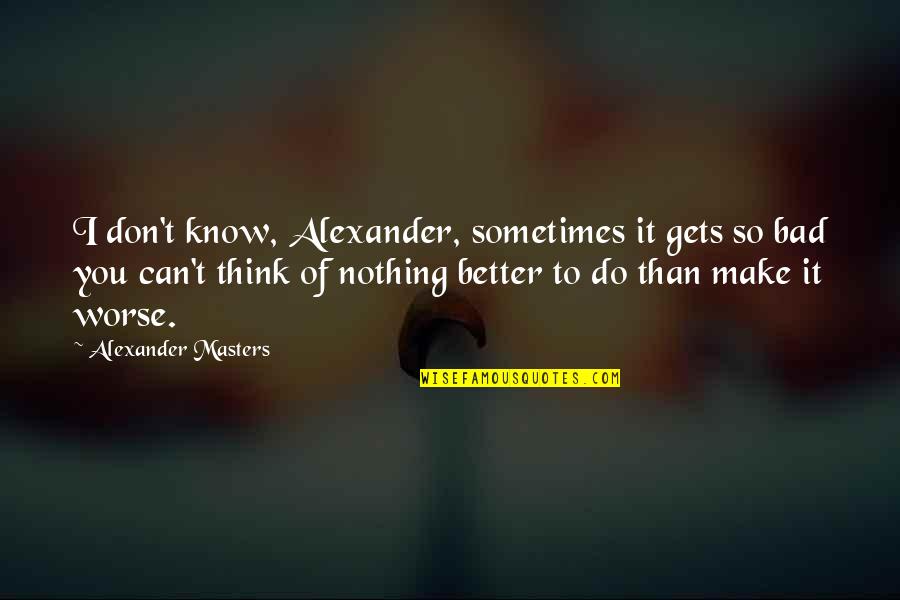 I don't know, Alexander, sometimes it gets so bad you can't think of nothing better to do than make it worse. —
Alexander Masters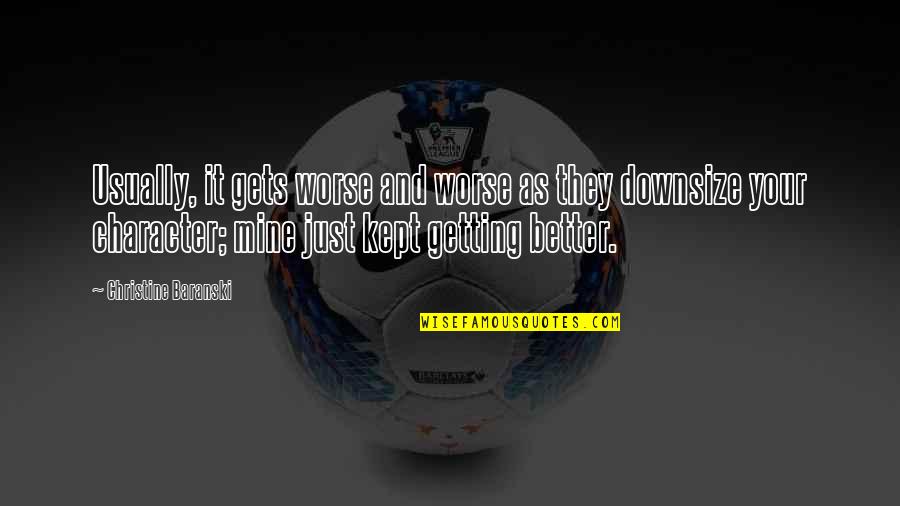 Usually, it gets worse and worse as they downsize your character; mine just kept getting better. —
Christine Baranski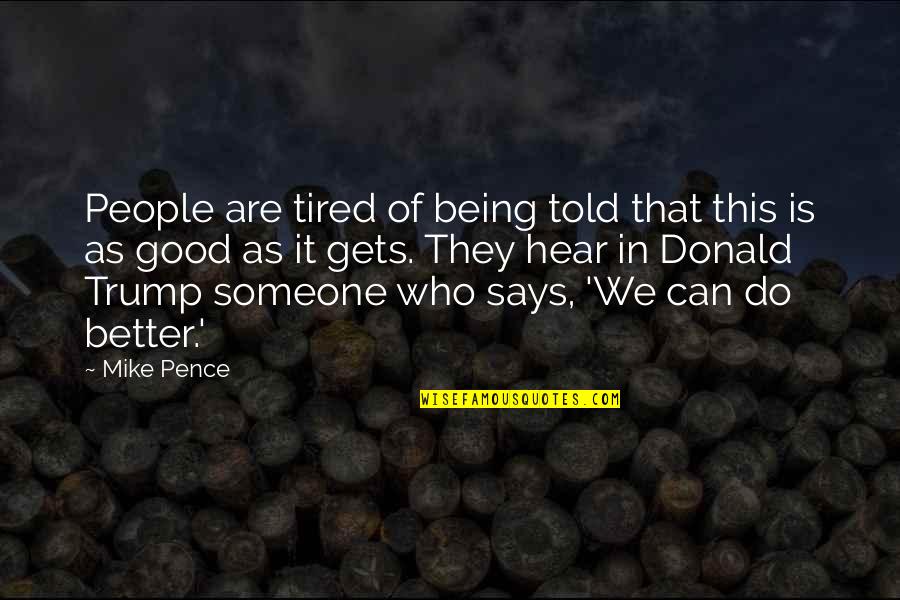 People are tired of being told that this is as good as it gets. They hear in Donald Trump someone who says, 'We can do better.' —
Mike Pence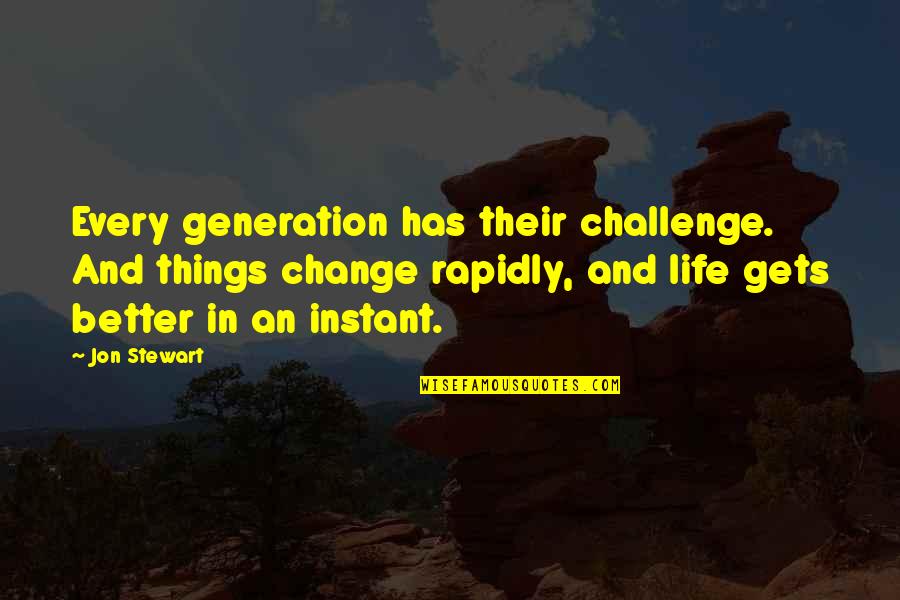 Every generation has their challenge. And things change rapidly, and life gets better in an instant. —
Jon Stewart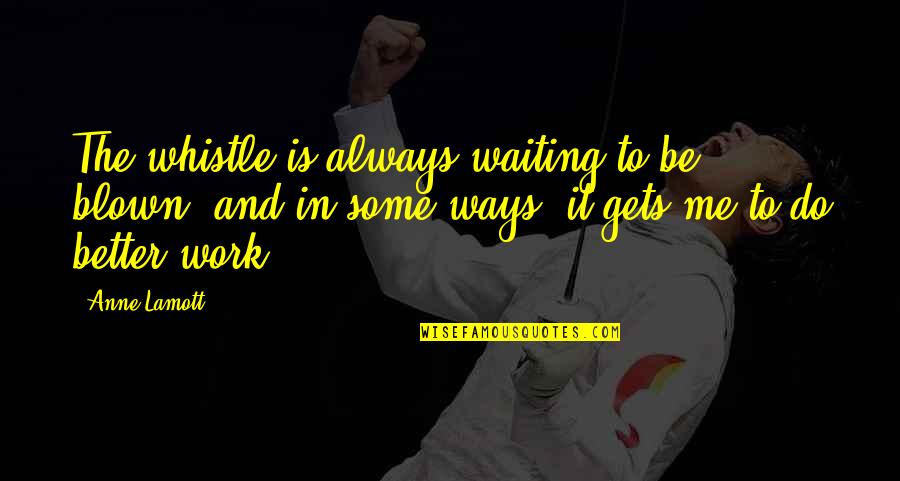 The whistle is always waiting to be blown, and in some ways, it gets me to do better work. —
Anne Lamott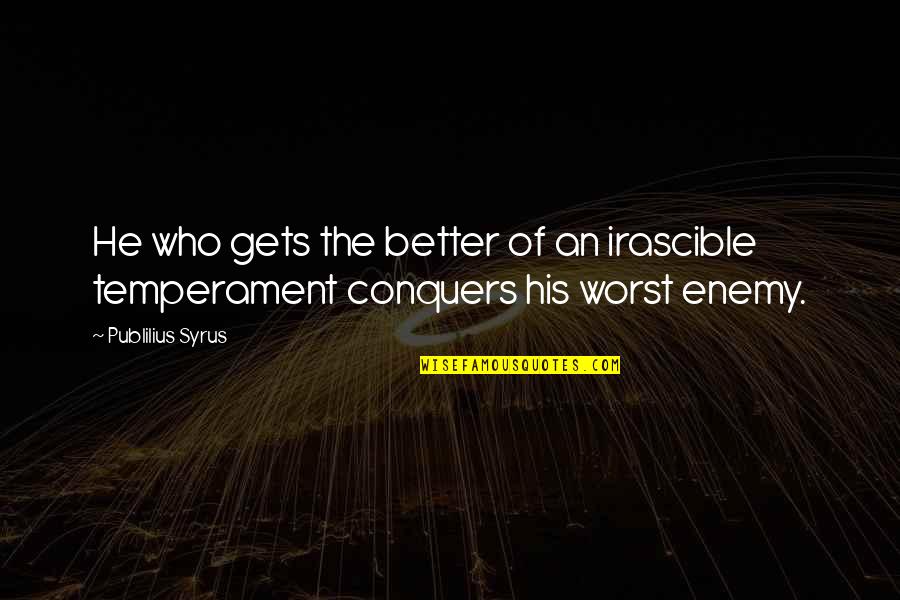 He who gets the better of an irascible temperament conquers his worst enemy. —
Publilius Syrus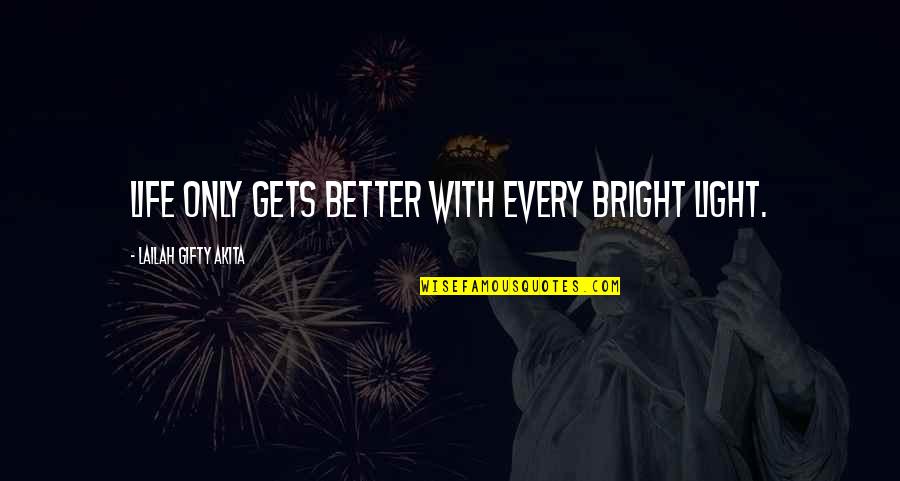 Life only gets better with every bright light. —
Lailah Gifty Akita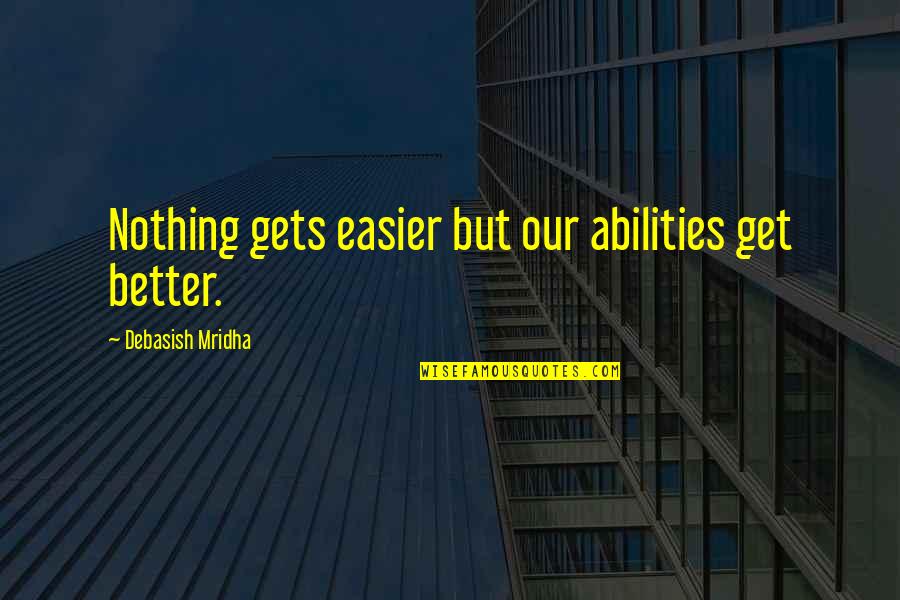 Nothing gets easier but our abilities get better. —
Debasish Mridha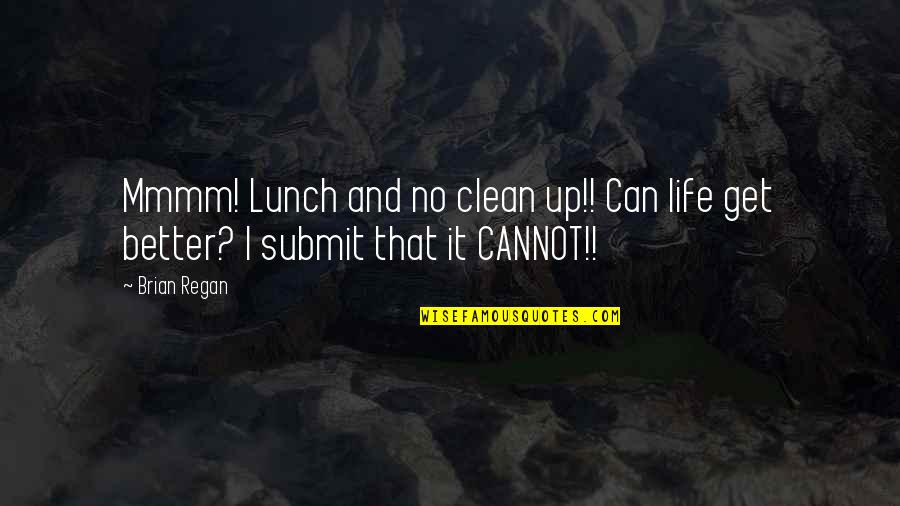 Mmmm! Lunch and no clean up!! Can life get better? I submit that it CANNOT!! —
Brian Regan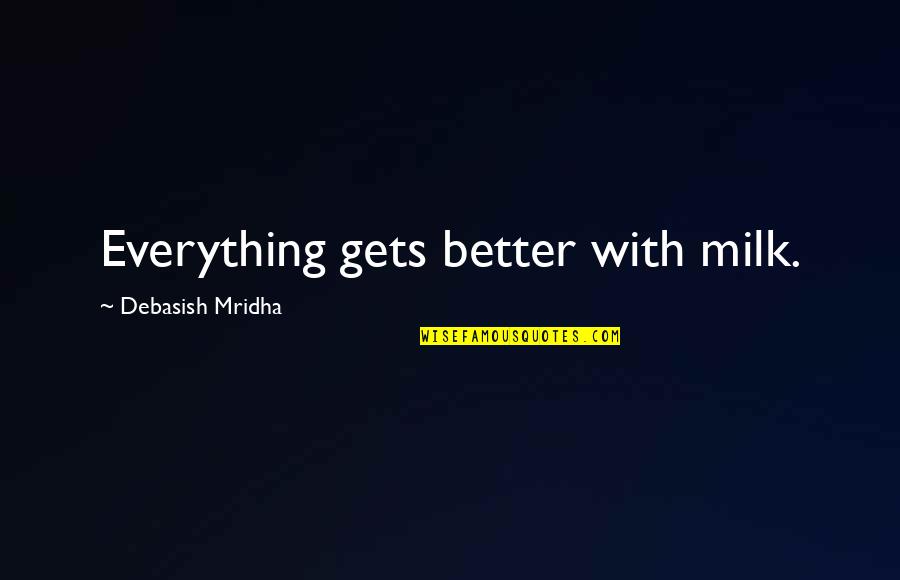 Everything gets better with milk. —
Debasish Mridha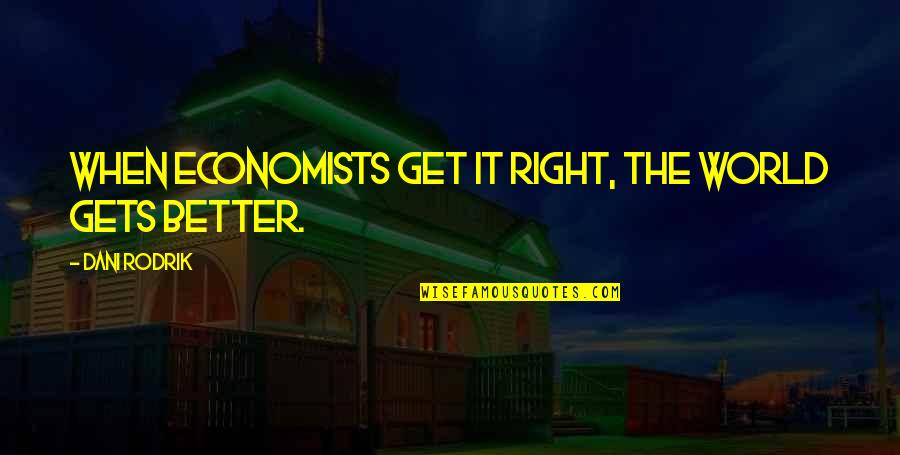 When economists get it right, the world gets better. —
Dani Rodrik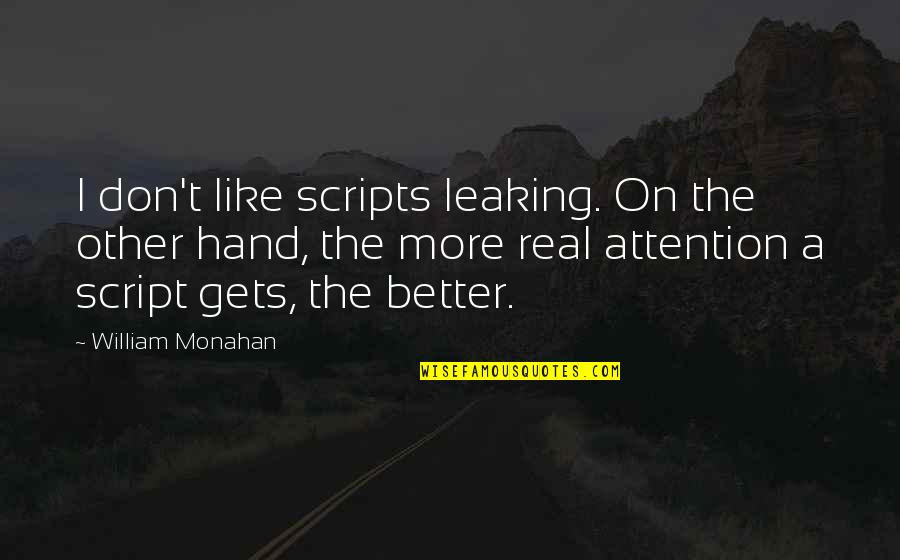 I don't like scripts leaking. On the other hand, the more real attention a script gets, the better. —
William Monahan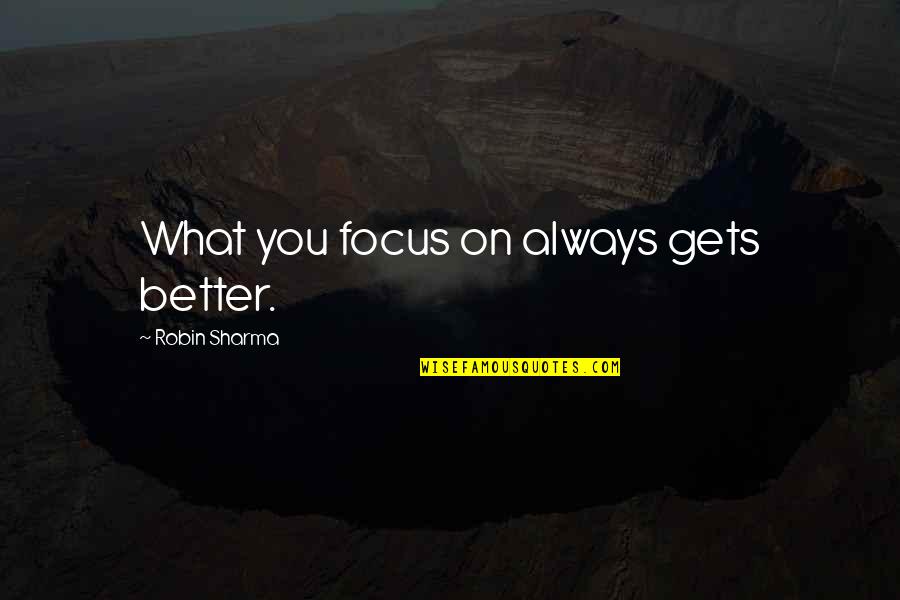 What you focus on always gets better. —
Robin Sharma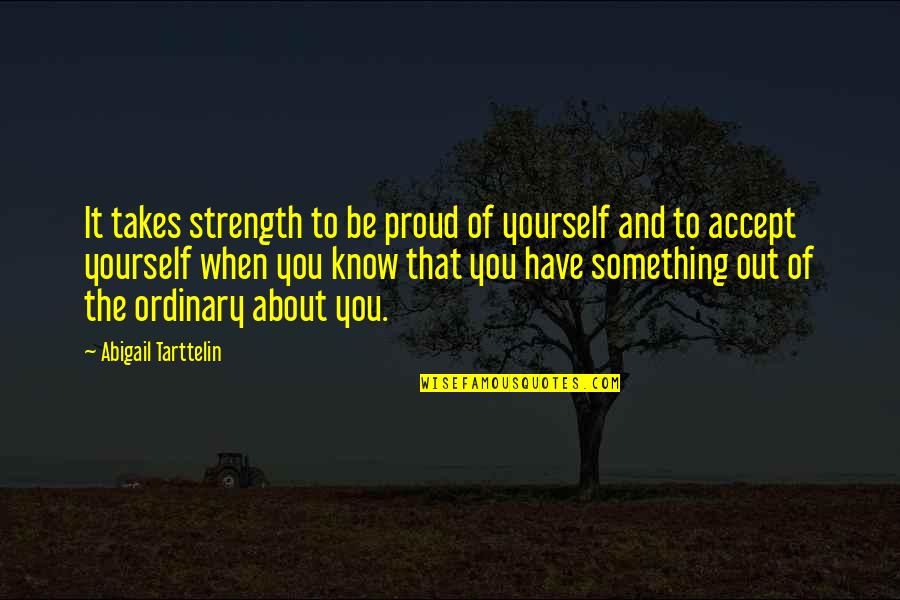 It takes strength to be proud of yourself and to accept yourself when you know that you have something out of the ordinary about you. —
Abigail Tarttelin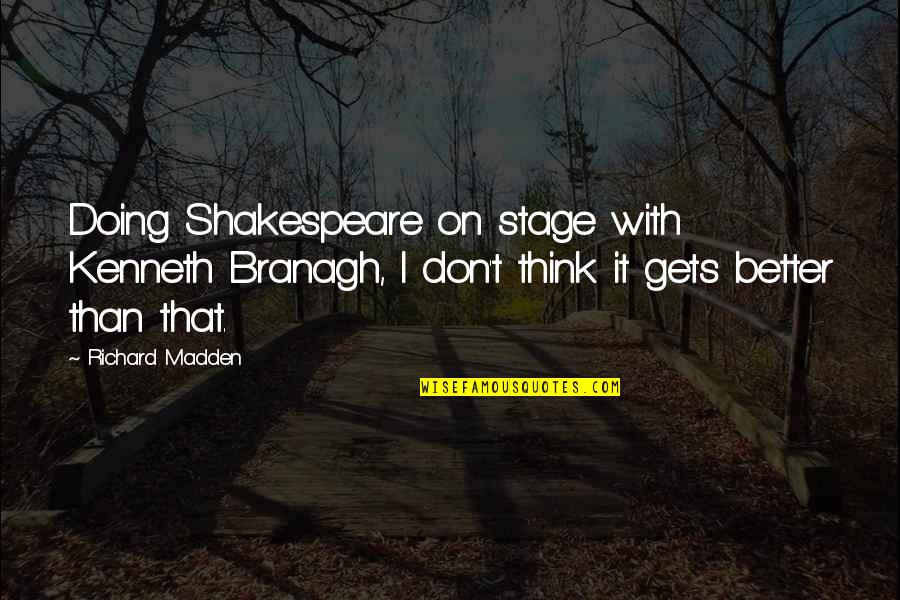 Doing Shakespeare on stage with Kenneth Branagh, I don't think it gets better than that. —
Richard Madden
I'm the type of pitcher that definitely gets stronger and better adjusted to the batters as the season goes on. —
Daisuke Matsuzaka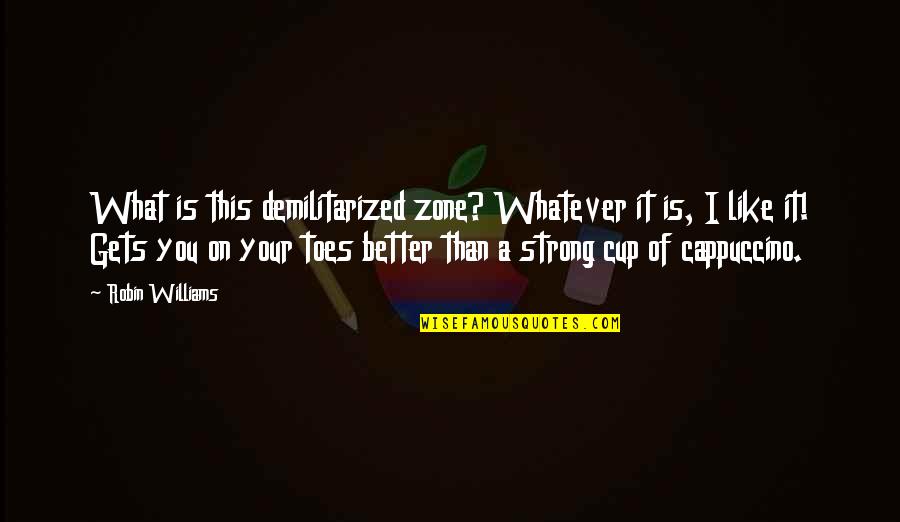 What is this demilitarized zone? Whatever it is, I like it! Gets you on your toes better than a strong cup of cappuccino. —
Robin Williams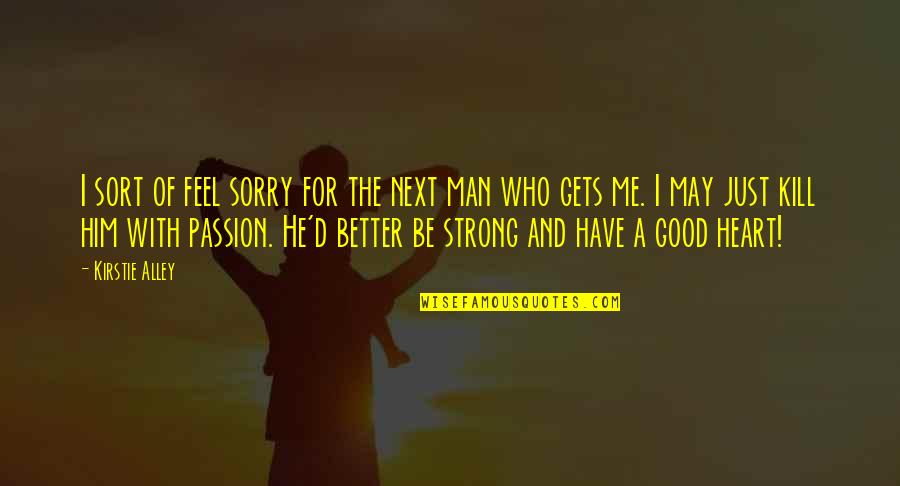 I sort of feel sorry for the next man who gets me. I may just kill him with passion. He'd better be strong and have a good heart! —
Kirstie Alley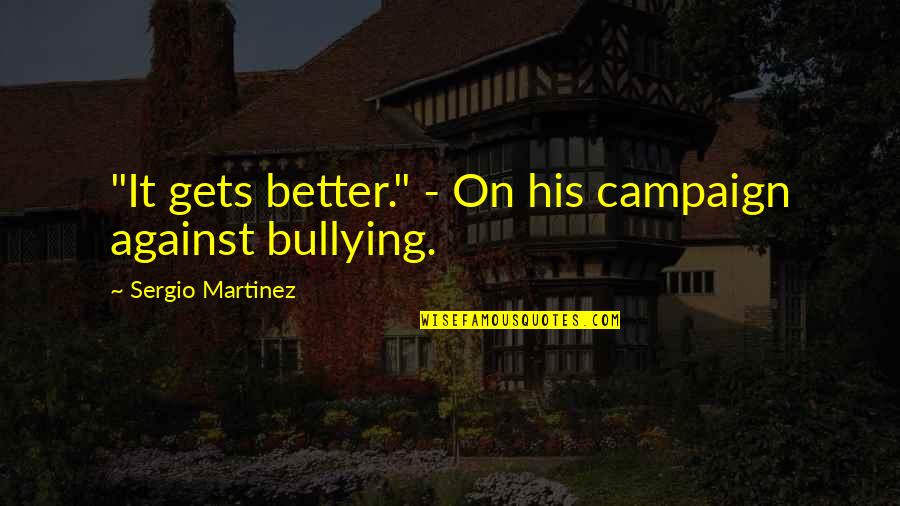 "It gets better." - On his campaign against bullying. —
Sergio Martinez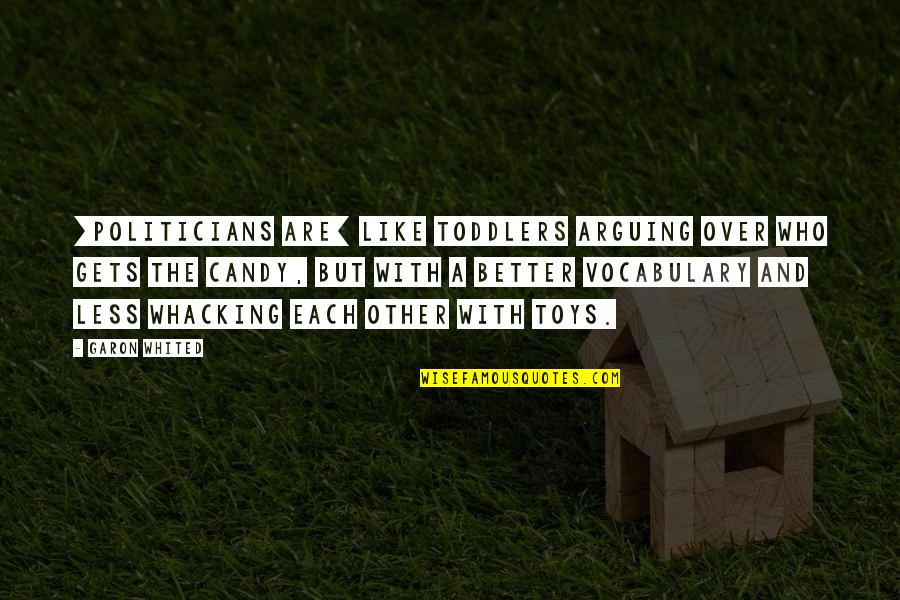 [politicians are] like toddlers arguing over who gets the candy, but with a better vocabulary and less whacking each other with toys. —
Garon Whited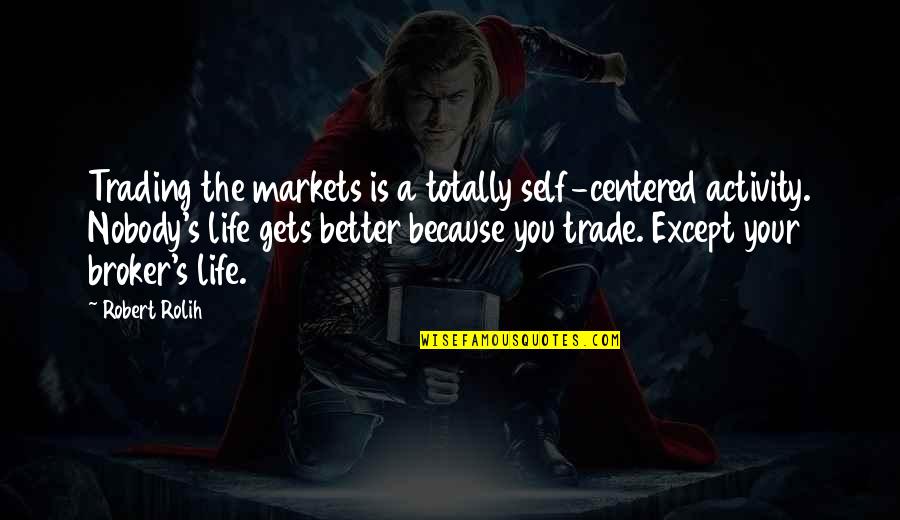 Trading the markets is a totally self-centered activity. Nobody's life gets better because you trade. Except your broker's life. —
Robert Rolih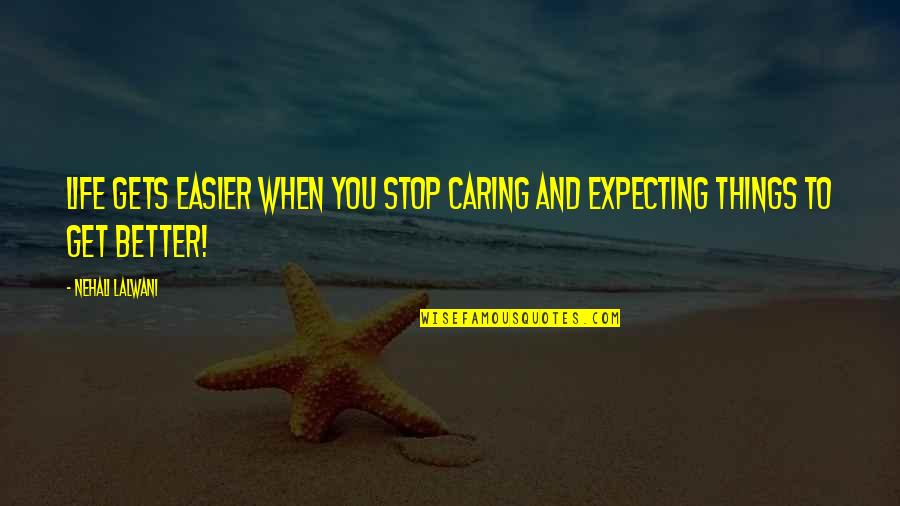 Life gets easier when you stop caring and expecting things to get better! —
Nehali Lalwani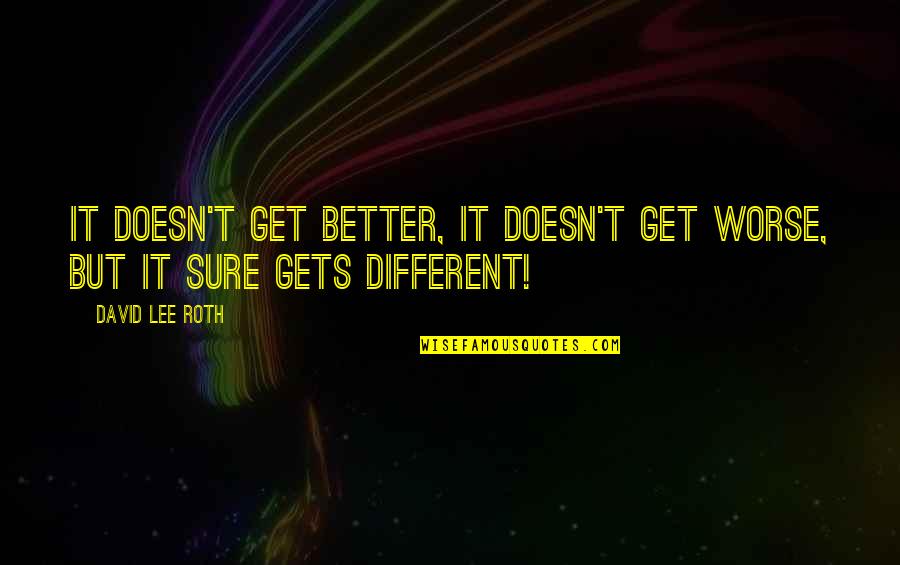 It doesn't get better, it doesn't get worse, but it sure gets different! —
David Lee Roth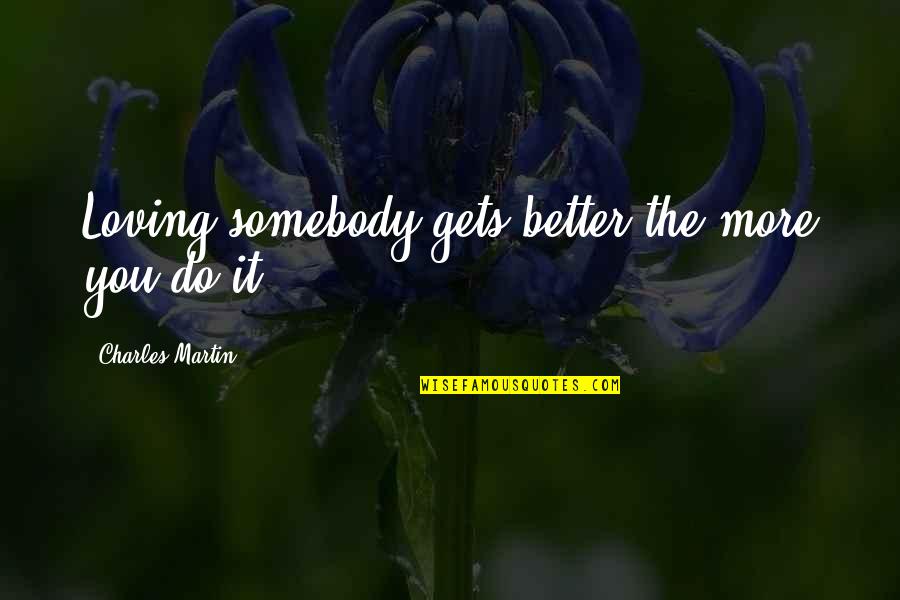 Loving somebody gets better the more you do it. —
Charles Martin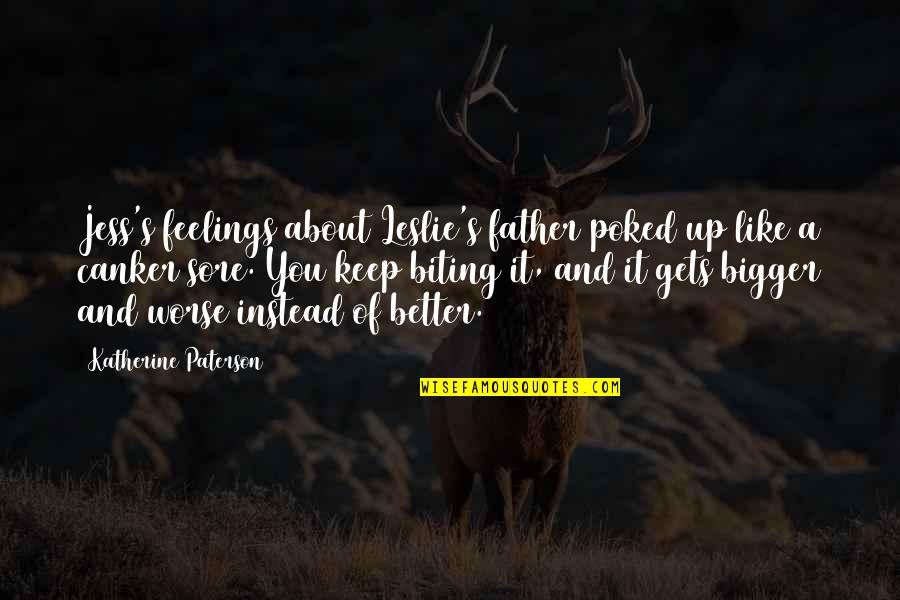 Jess's feelings about Leslie's father poked up like a canker sore. You keep biting it, and it gets bigger and worse instead of better. —
Katherine Paterson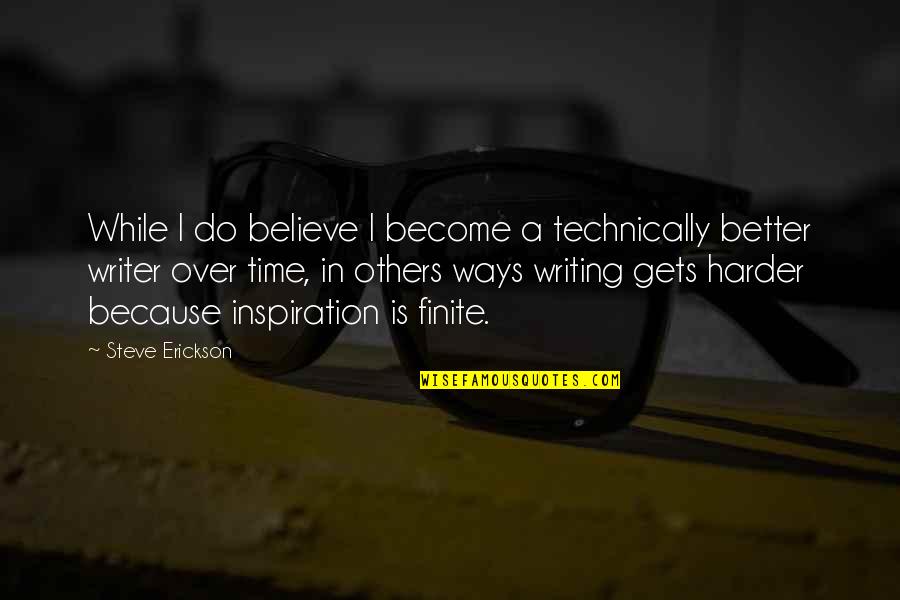 While I do believe I become a technically better writer over time, in others ways writing gets harder because inspiration is finite. —
Steve Erickson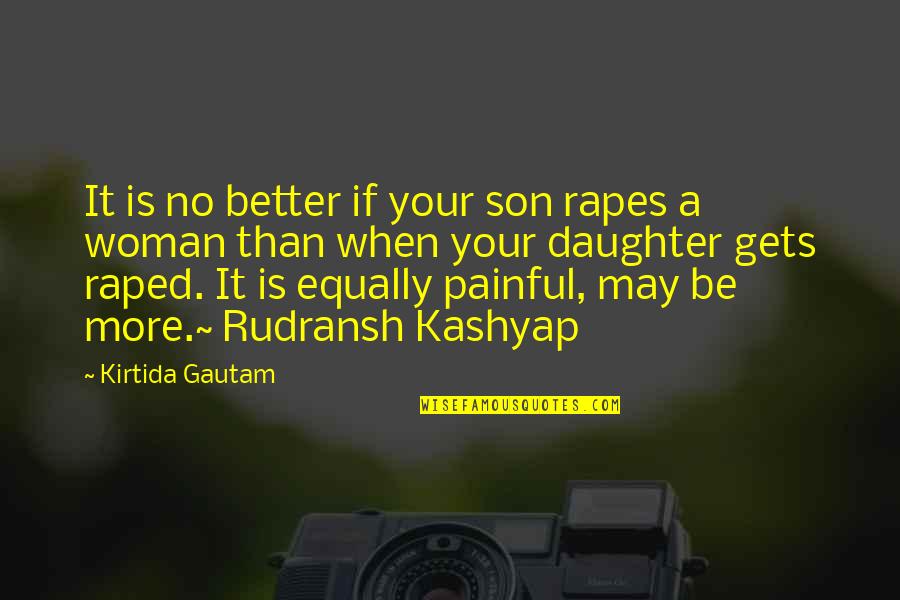 It is no better if your son rapes a woman than when your daughter gets raped. It is equally painful, may be more.
~ Rudransh Kashyap —
Kirtida Gautam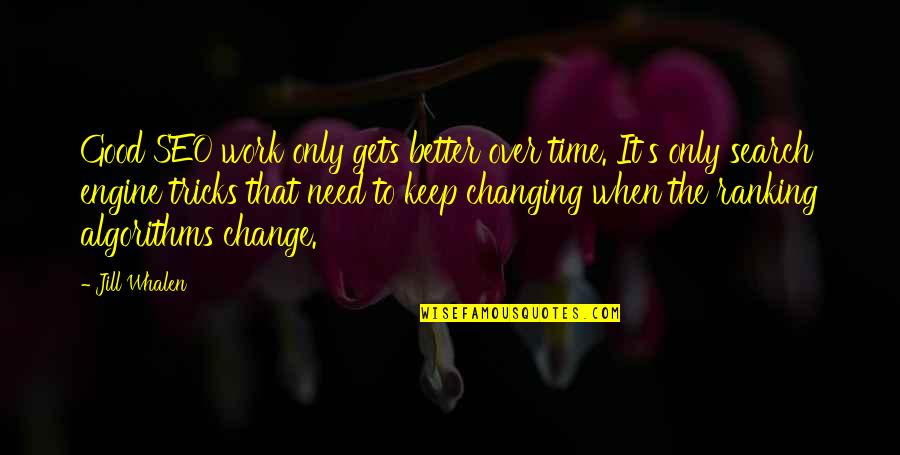 Good SEO work only gets better over time. It's only search engine tricks that need to keep changing when the ranking algorithms change. —
Jill Whalen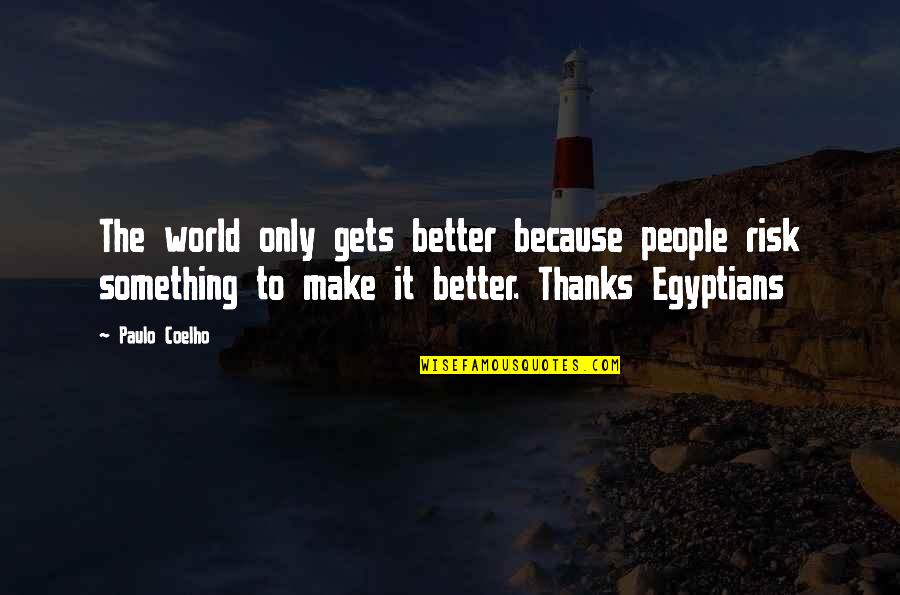 The world only gets better because people risk something to make it better. Thanks Egyptians —
Paulo Coelho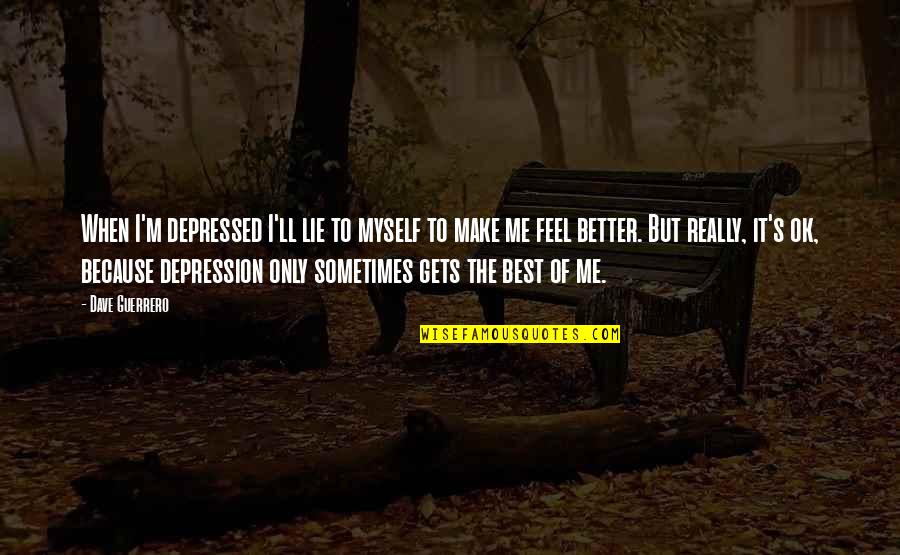 When I'm depressed I'll lie to myself to make me feel better. But really, it's ok, because depression only sometimes gets the best of me. —
Dave Guerrero