Hoping For Love Quotes
Collection of top 53 famous quotes about Hoping For Love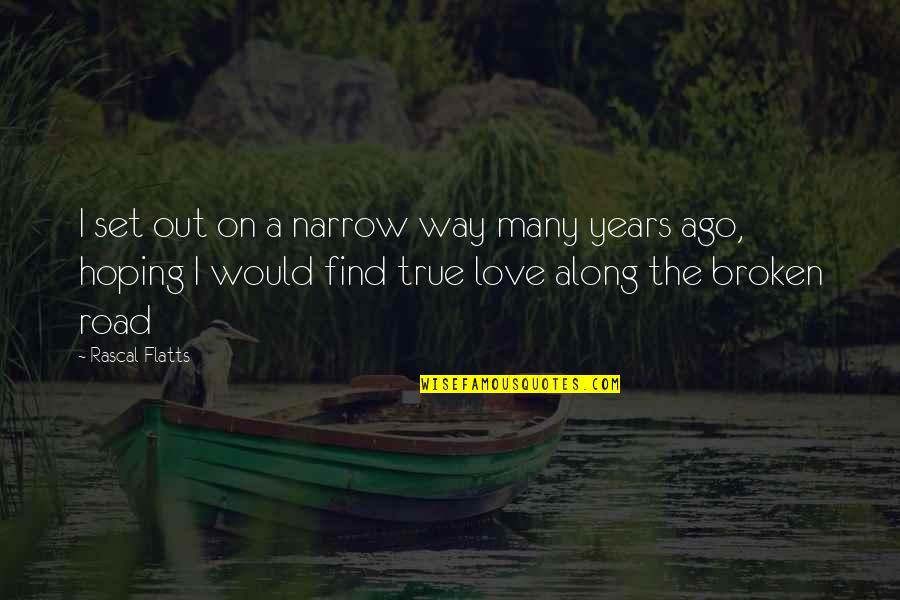 I set out on a narrow way many years ago, hoping I would find true love along the broken road
—
Rascal Flatts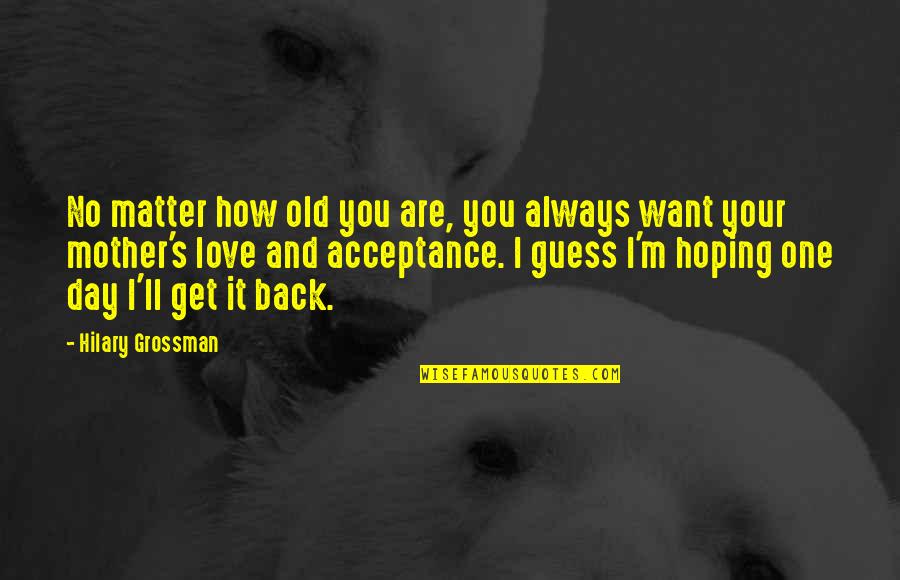 No matter how old you are, you always want your mother's love and acceptance. I guess I'm hoping one day I'll get it back.
—
Hilary Grossman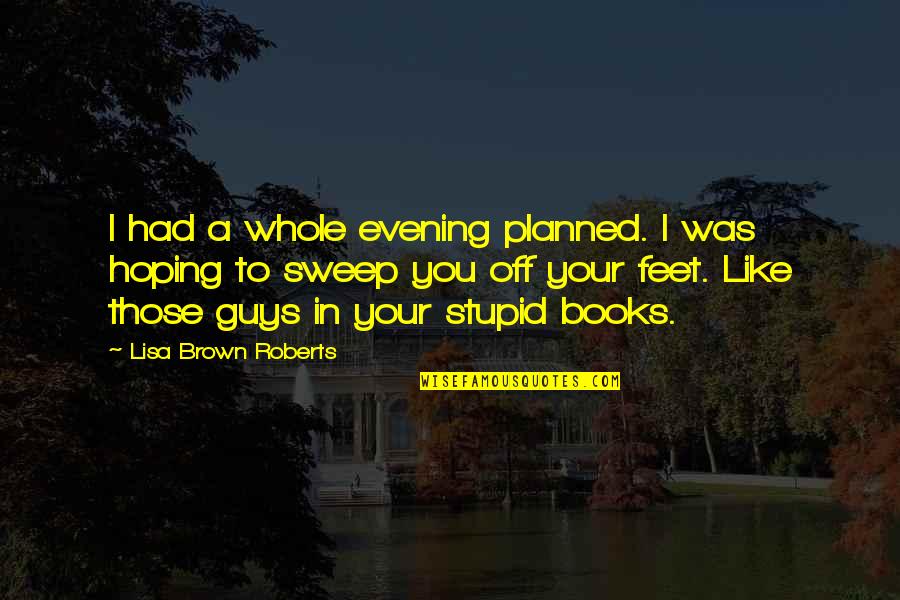 I had a whole evening planned. I was hoping to sweep you off your feet. Like those guys in your stupid books.
—
Lisa Brown Roberts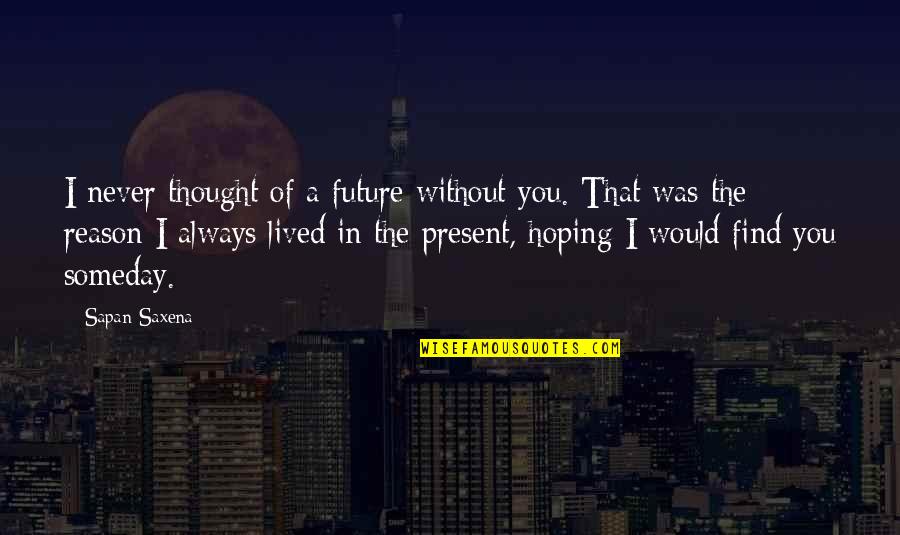 I never thought of a future without you. That was the reason I always lived in the present, hoping I would find you someday.
—
Sapan Saxena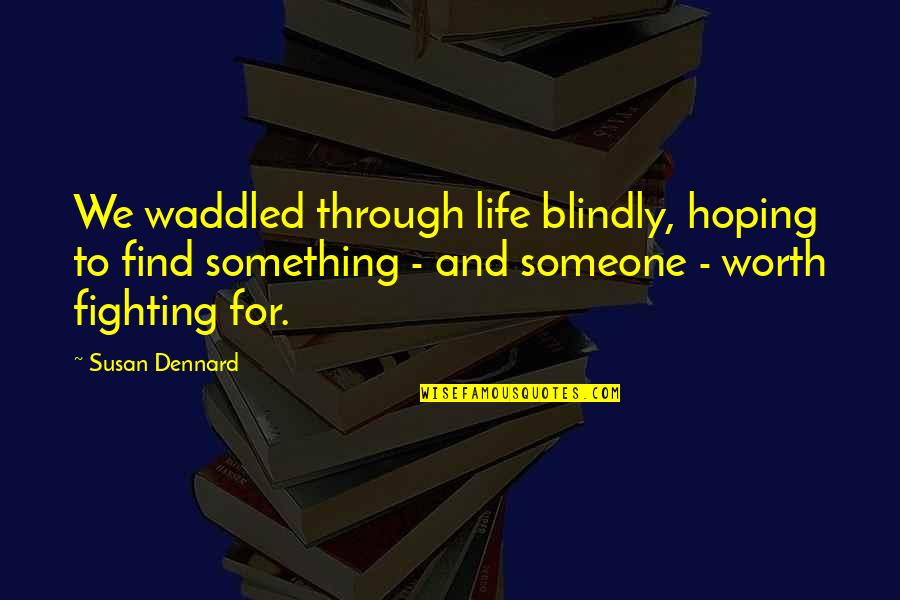 We waddled through life blindly, hoping to find something - and someone - worth fighting for.
—
Susan Dennard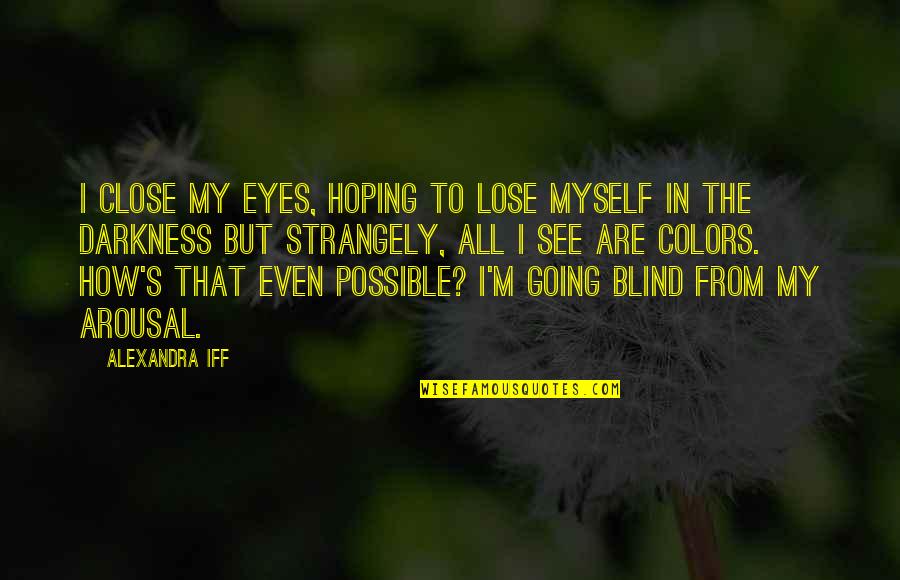 I close my eyes, hoping to lose myself in the darkness but strangely, all I see are colors. How's that even possible? I'm going blind from my arousal.
—
Alexandra Iff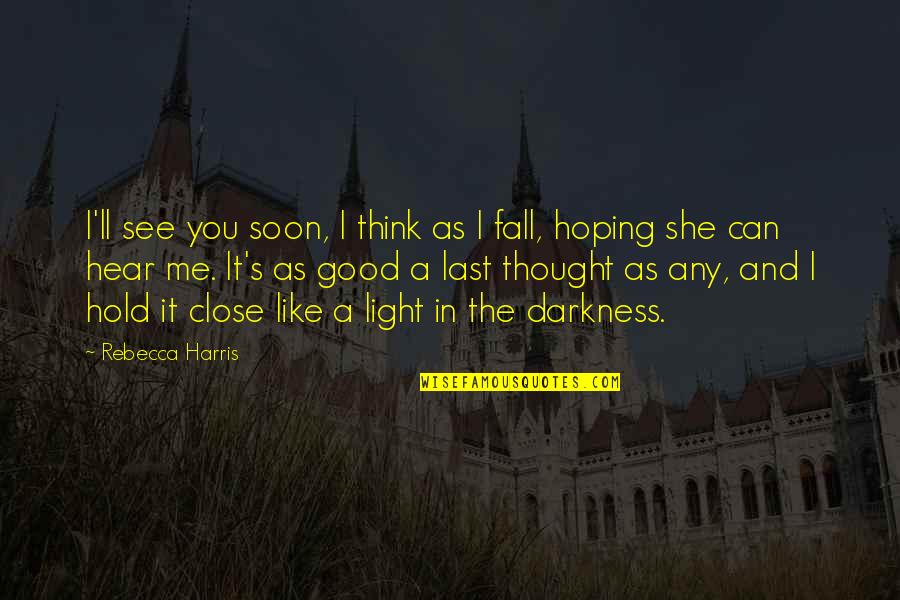 I'll see you soon, I think as I fall, hoping she can hear me. It's as good a last thought as any, and I hold it close like a light in the darkness.
—
Rebecca Harris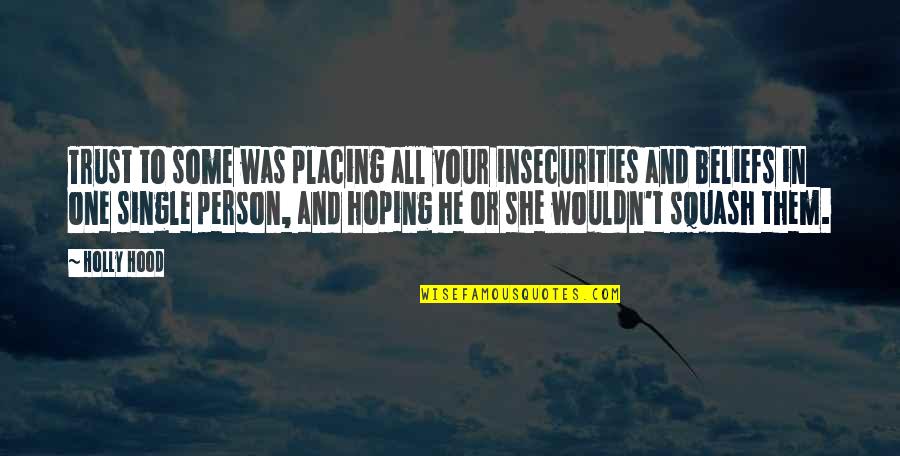 Trust to some was placing all your insecurities and beliefs in one single person, and hoping he or she wouldn't squash them.
—
Holly Hood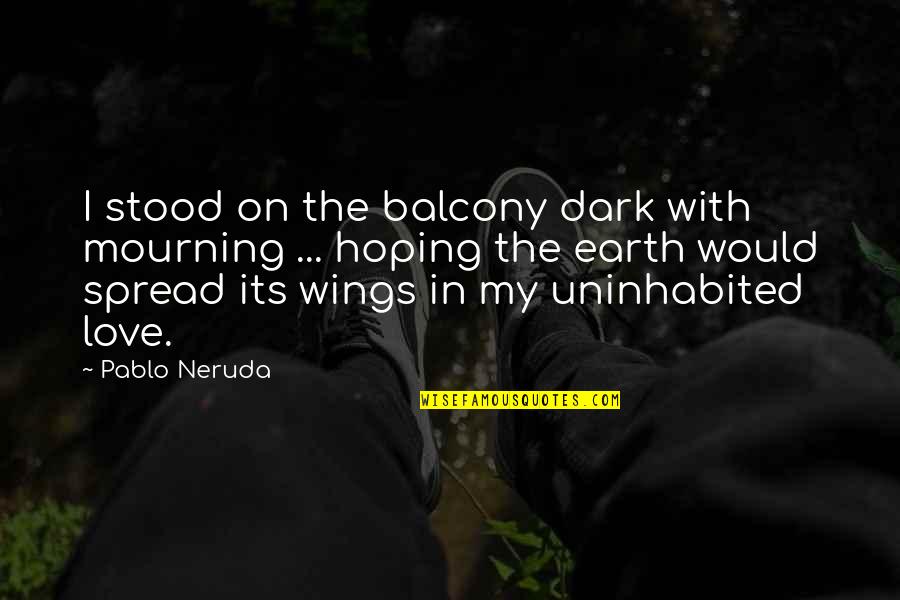 I stood on the balcony dark with mourning ... hoping the earth would spread its wings in my uninhabited love.
—
Pablo Neruda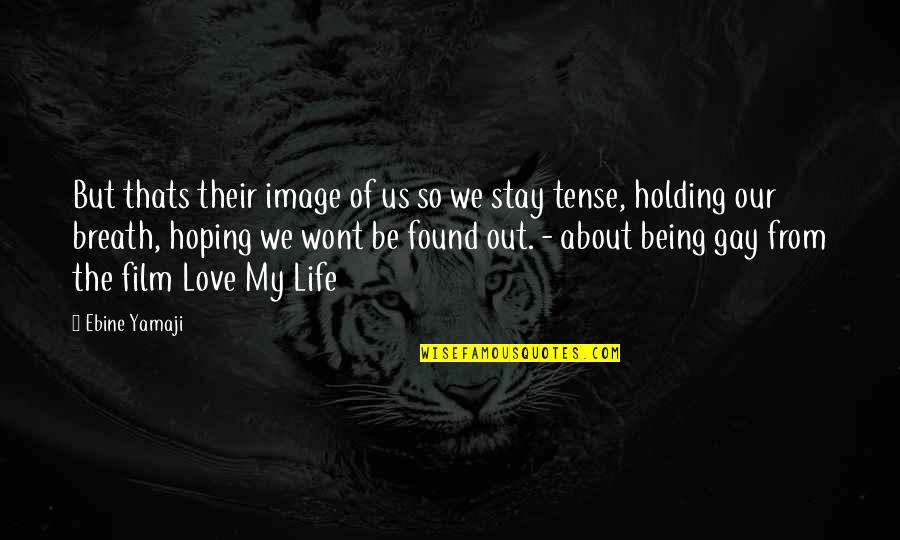 But thats their image of us so we stay tense, holding our breath, hoping we wont be found out. - about being gay from the film Love My Life
—
Ebine Yamaji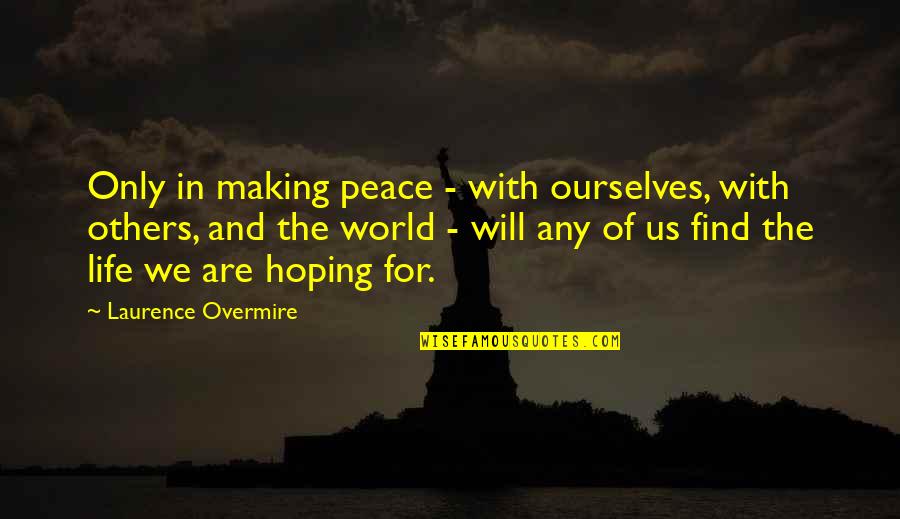 Only in making peace - with ourselves, with others, and the world - will any of us find the life we are hoping for.
—
Laurence Overmire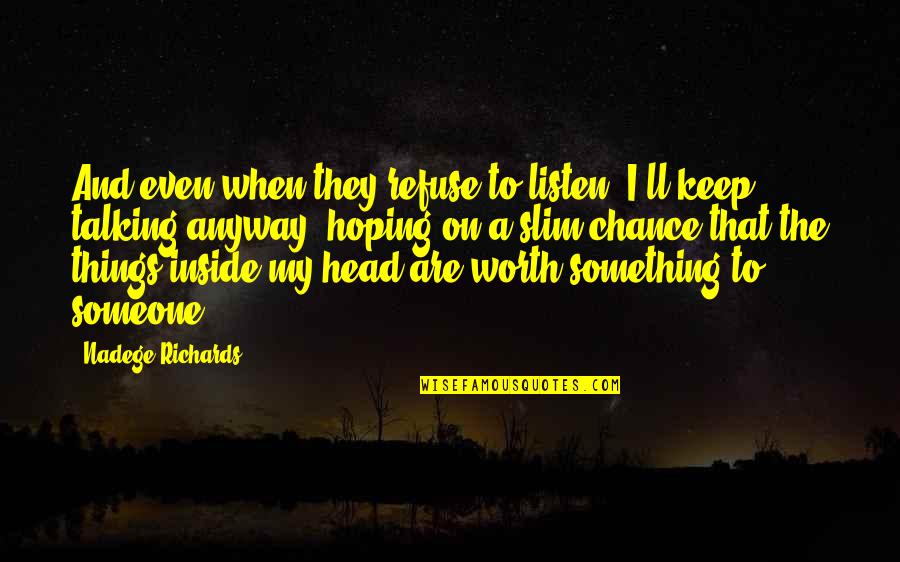 And even when they refuse to listen, I'll keep talking anyway, hoping on a slim chance that the things inside my head are worth something to someone.
—
Nadege Richards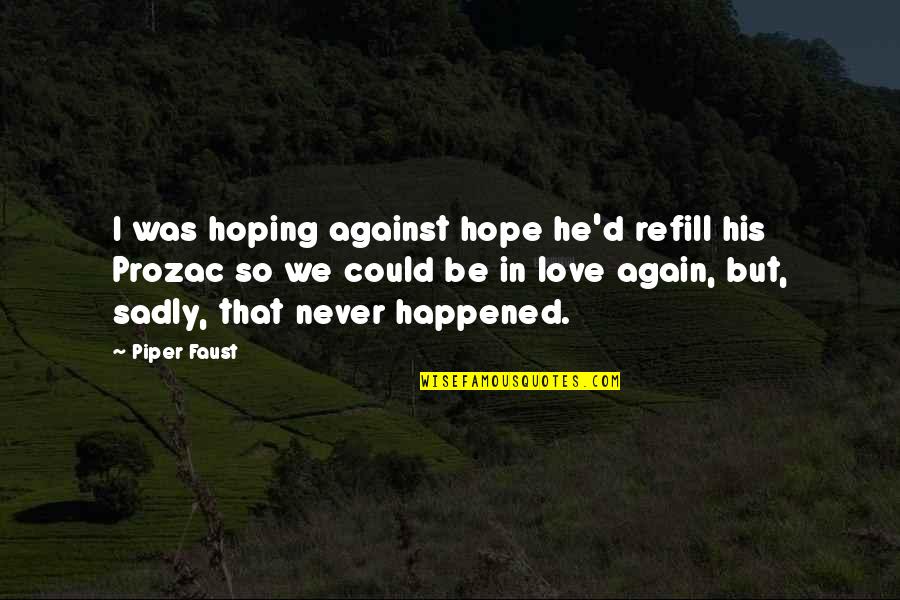 I was hoping against hope he'd refill his Prozac so we could be in love again, but, sadly, that never happened. —
Piper Faust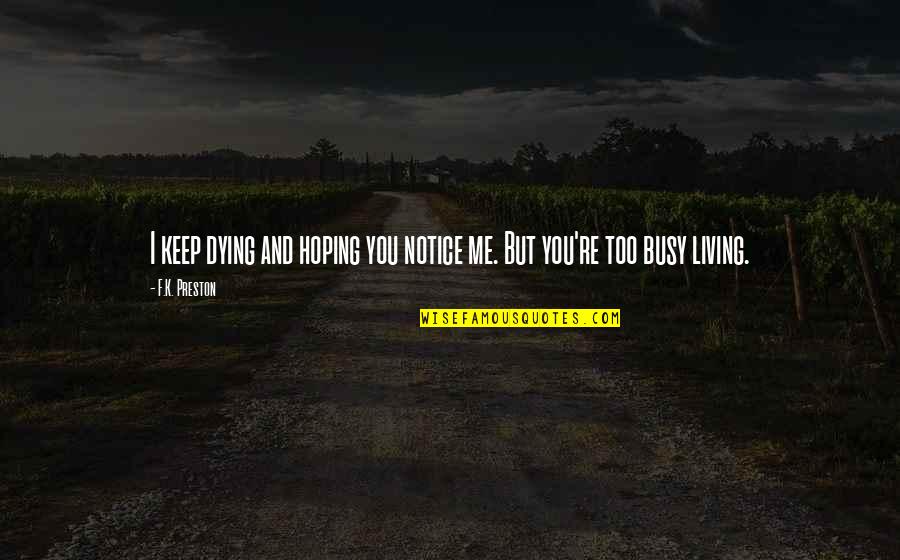 I keep dying and hoping you notice me. But you're too busy living. —
F.K. Preston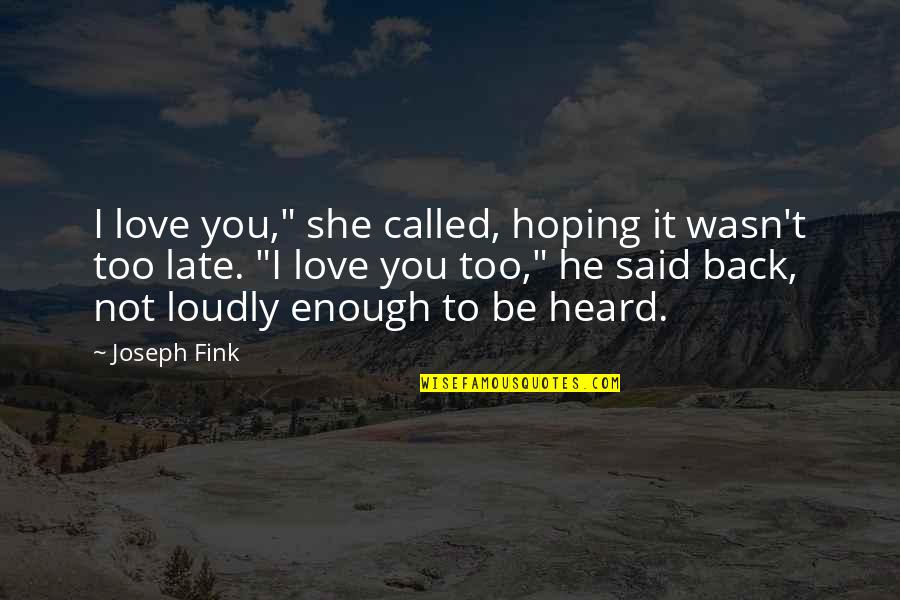 I love you," she called, hoping it wasn't too late. "I love you too," he said back, not loudly enough to be heard. —
Joseph Fink
Most women got this thing called compassion. It doesn't make them foolish, just more forgiving. More capable of trying and hoping things worked out. —
Eric Jerome Dickey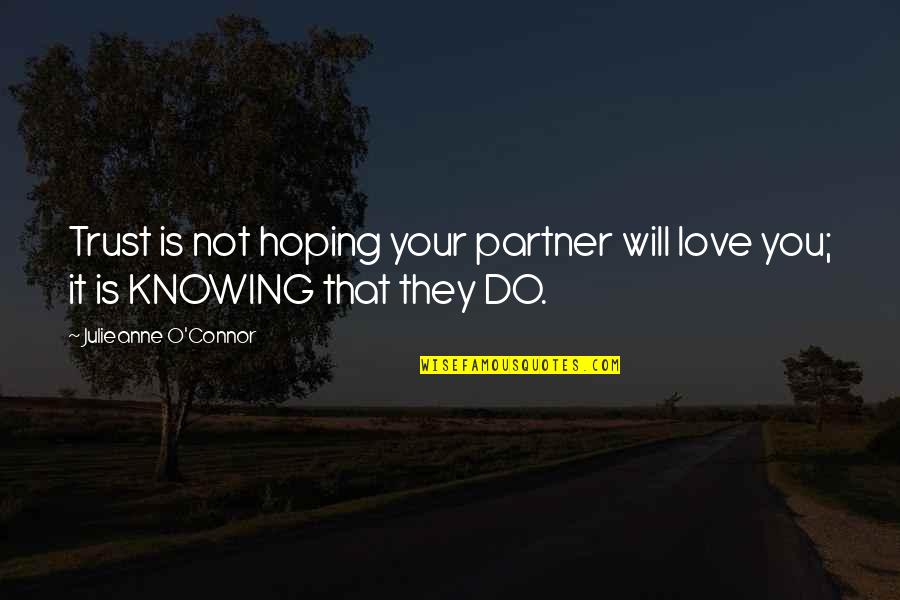 Trust is not hoping your partner will love you; it is KNOWING that they DO. —
Julieanne O'Connor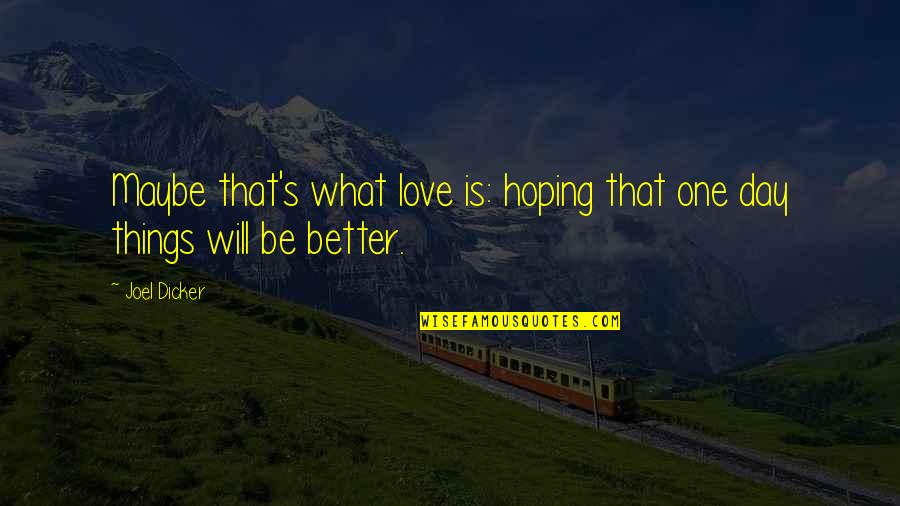 Maybe that's what love is: hoping that one day things will be better. —
Joel Dicker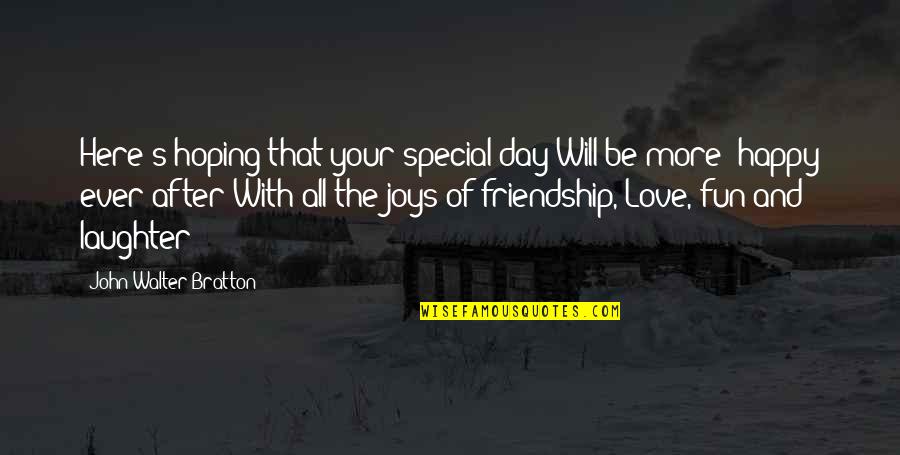 Here's hoping that your special day
Will be more 'happy ever after'
With all the joys of friendship,
Love, fun and laughter —
John Walter Bratton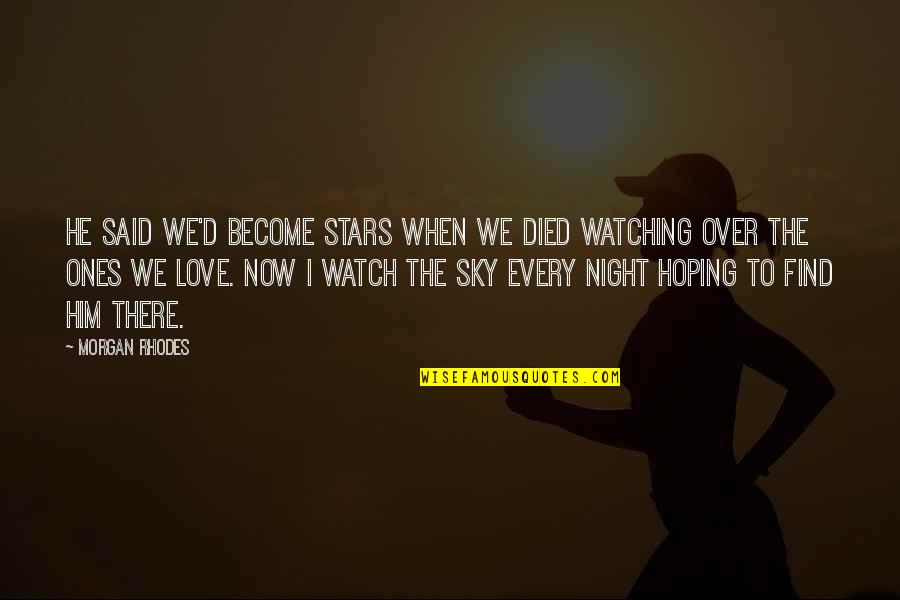 He said we'd become stars when we died watching over the ones we love. Now I watch the sky every night hoping to find him there. —
Morgan Rhodes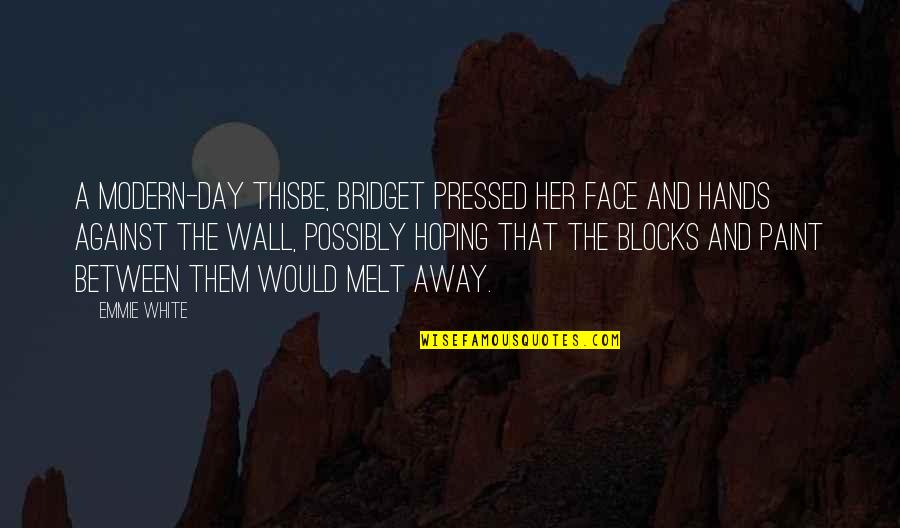 A modern-day Thisbe, Bridget pressed her face and hands against the wall, possibly hoping that the blocks and paint between them would melt away. —
Emmie White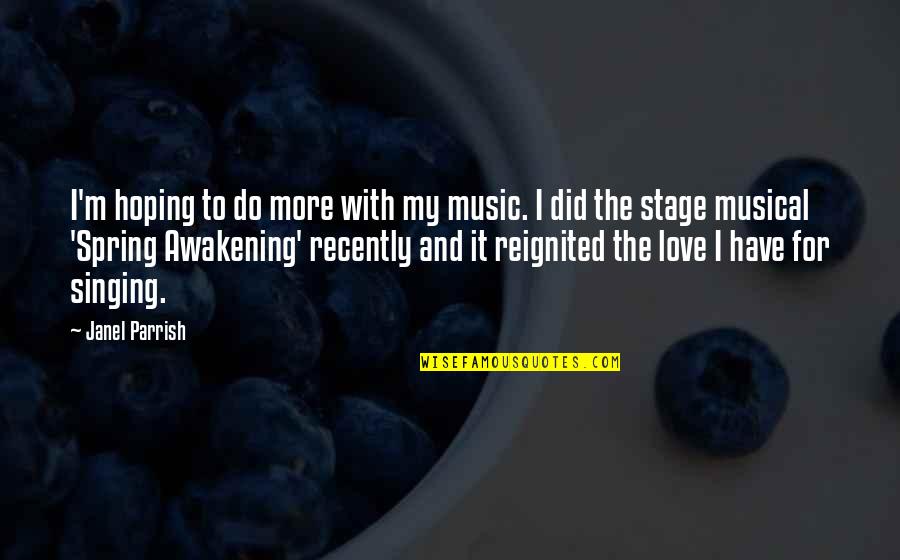 I'm hoping to do more with my music. I did the stage musical 'Spring Awakening' recently and it reignited the love I have for singing. —
Janel Parrish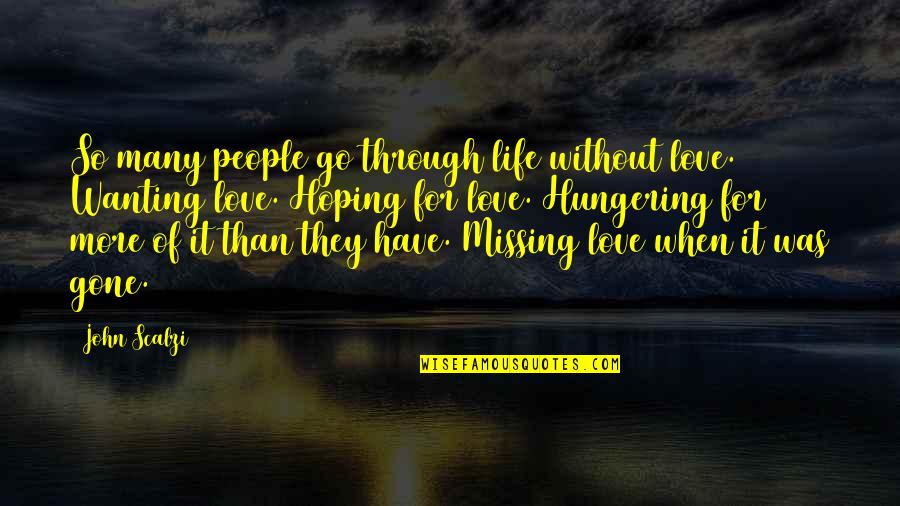 So many people go through life without love. Wanting love.
Hoping for love
. Hungering for more of it than they have. Missing love when it was gone. —
John Scalzi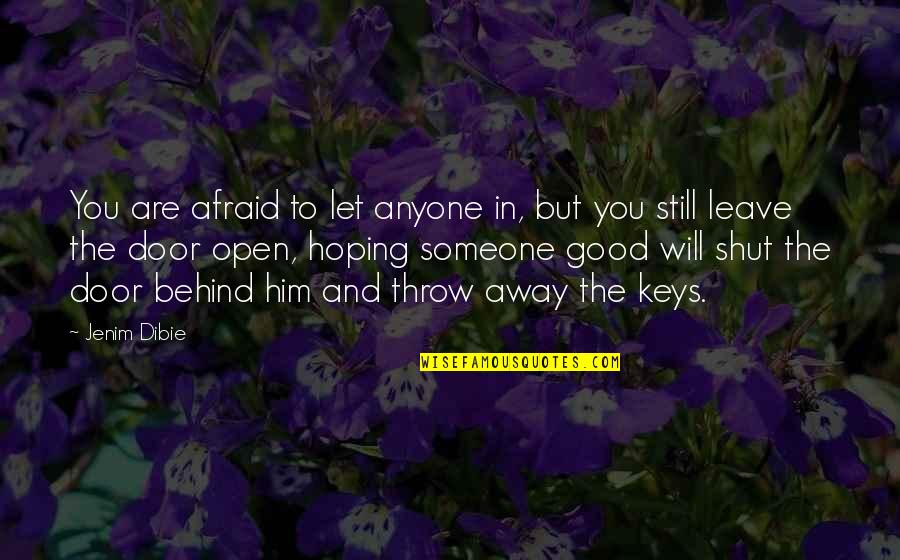 You are afraid to let anyone in, but you still leave the door open, hoping someone good will shut the door behind him and throw away the keys. —
Jenim Dibie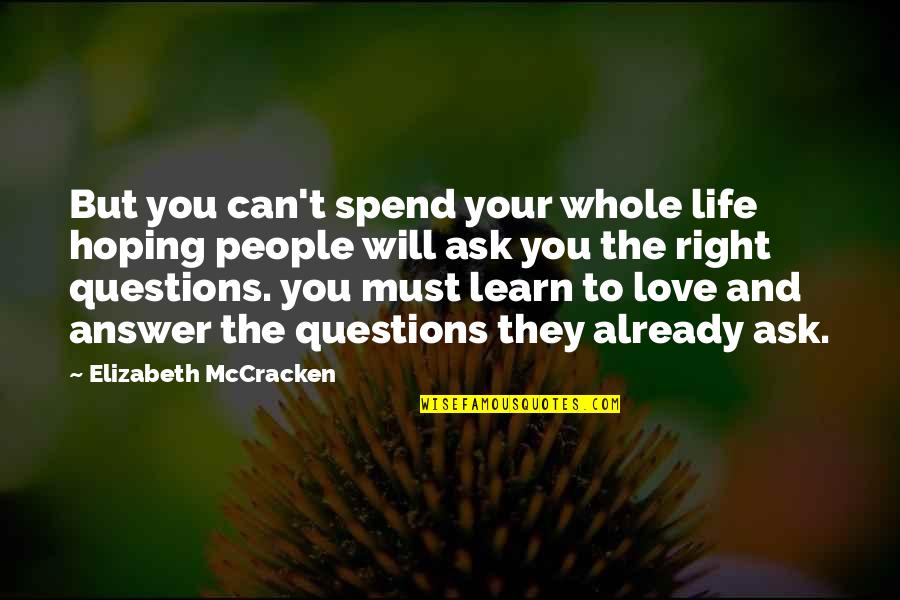 But you can't spend your whole life hoping people will ask you the right questions. you must learn to love and answer the questions they already ask. —
Elizabeth McCracken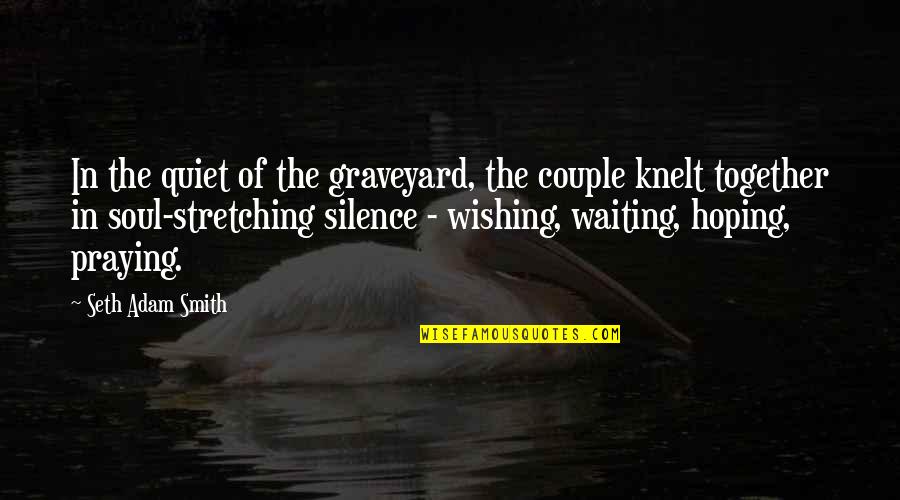 In the quiet of the graveyard, the couple knelt together in soul-stretching silence - wishing, waiting, hoping, praying. —
Seth Adam Smith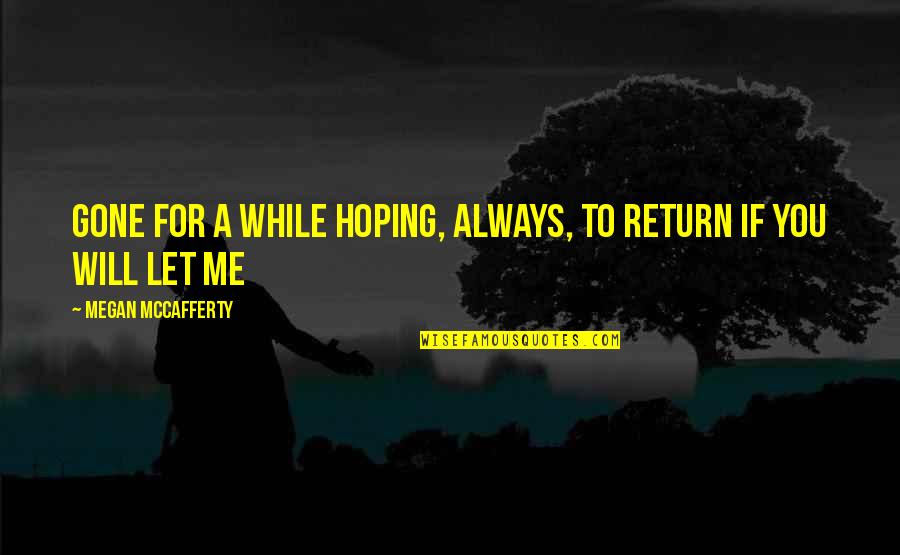 Gone for a while Hoping, always, to return If you will let me —
Megan McCafferty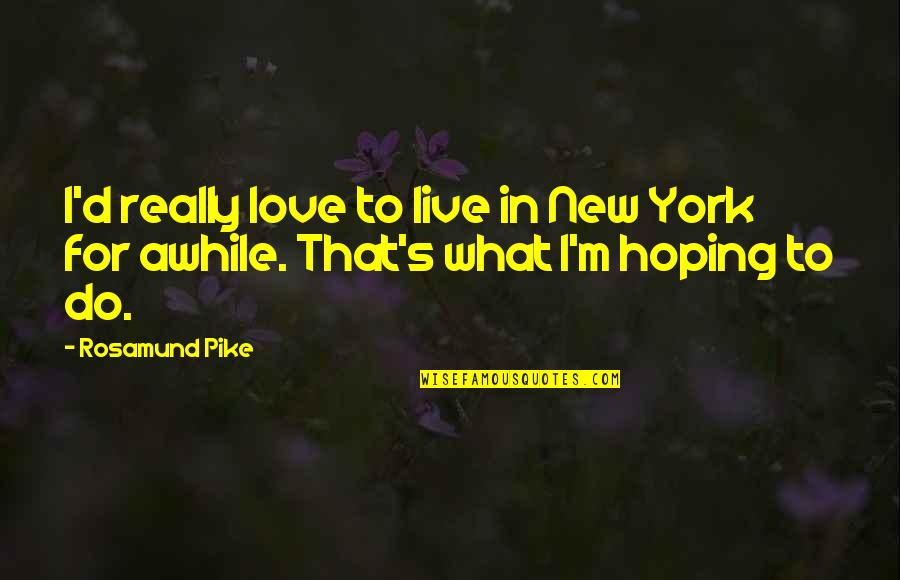 I'd really love to live in New York for awhile. That's what I'm hoping to do. —
Rosamund Pike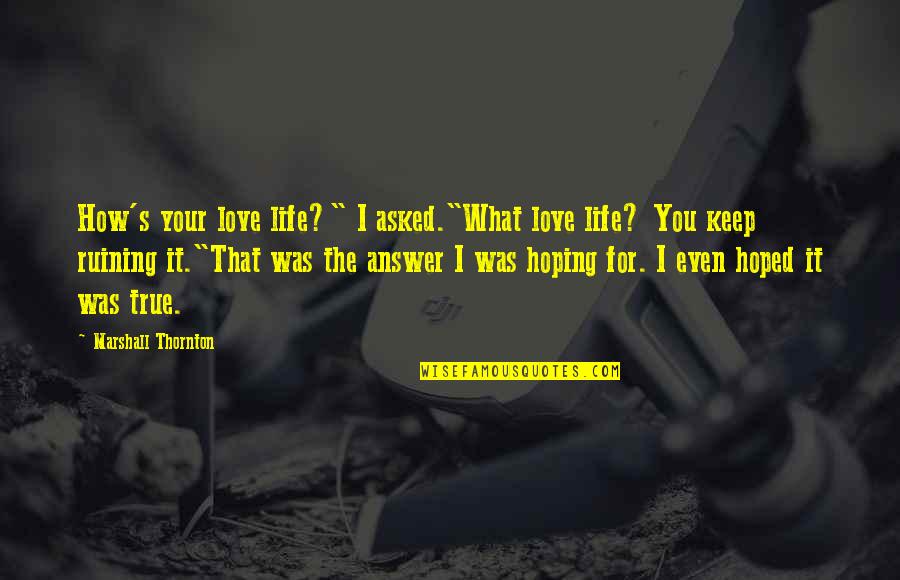 How's your love life?" I asked.
"What love life? You keep ruining it."
That was the answer I was hoping for. I even hoped it was true. —
Marshall Thornton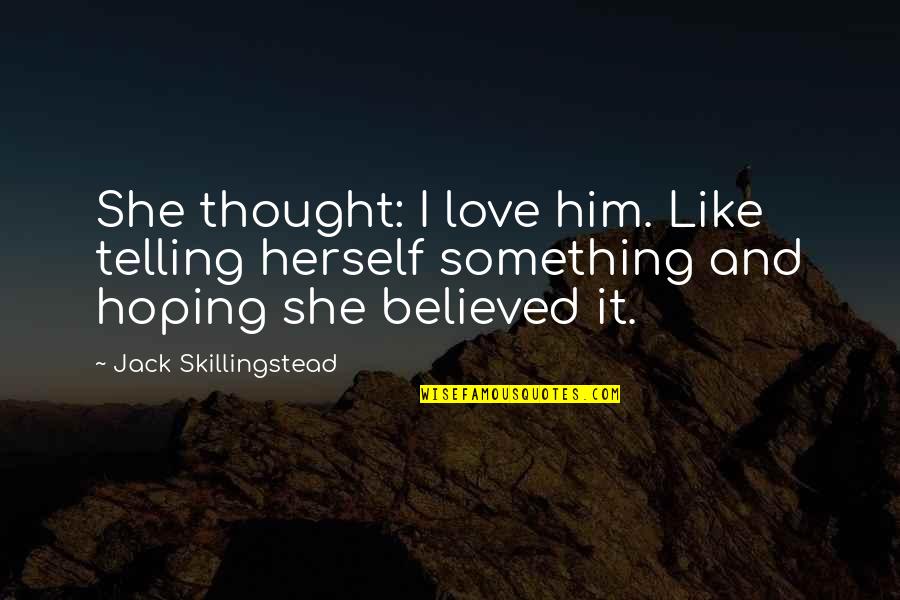 She thought: I love him. Like telling herself something and hoping she believed it. —
Jack Skillingstead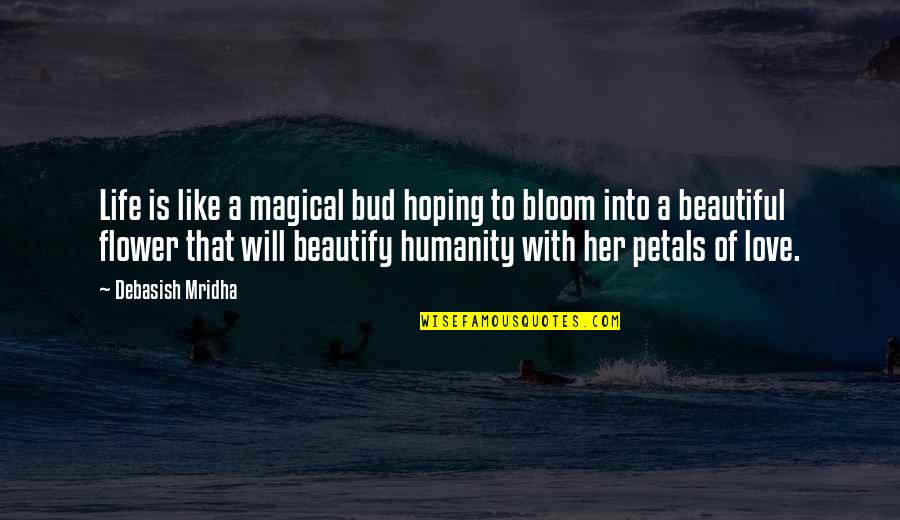 Life is like a magical bud hoping to bloom into a beautiful flower that will beautify humanity with her petals of love. —
Debasish Mridha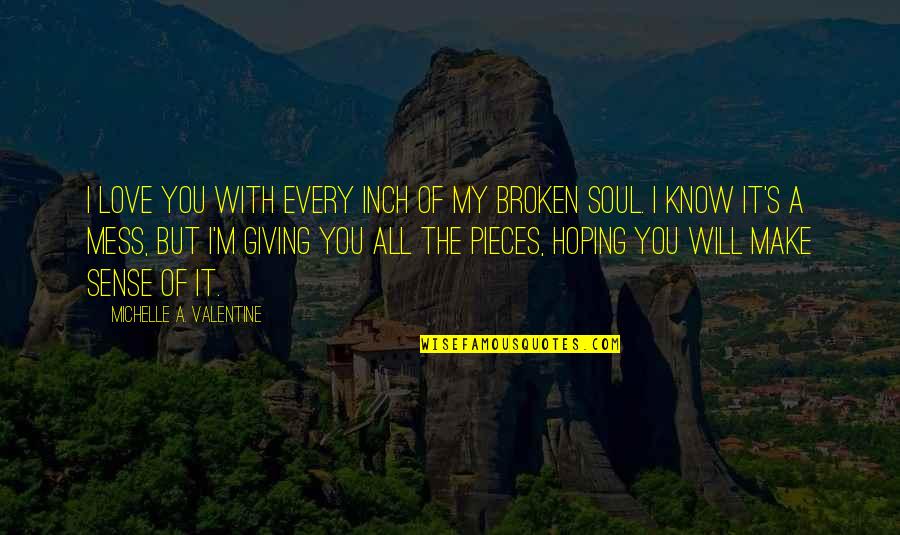 I love you with every inch of my broken soul. I know it's a mess, but I'm giving you all the pieces, hoping you will make sense of it. —
Michelle A. Valentine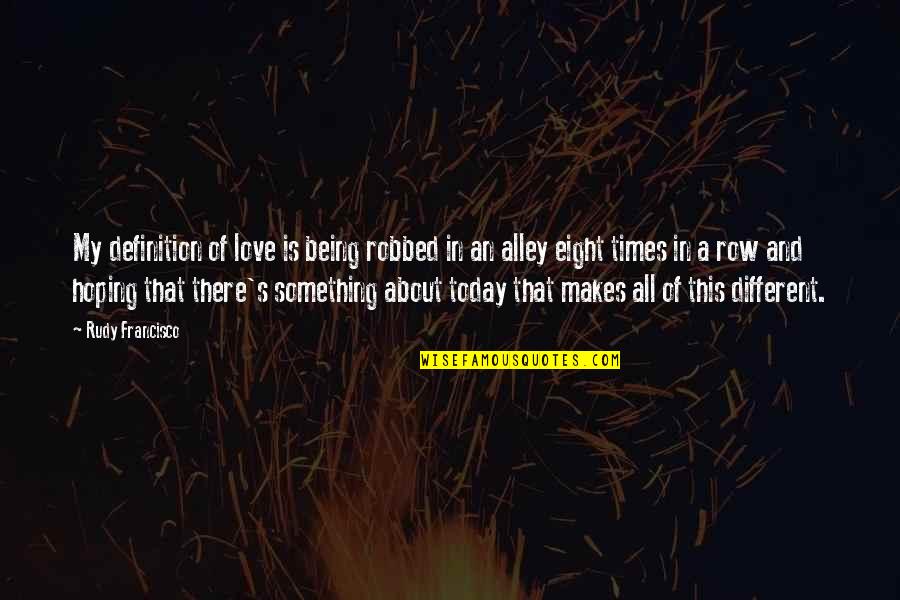 My definition of love is being robbed in an alley eight times in a row and hoping that there's something about today that makes all of this different. —
Rudy Francisco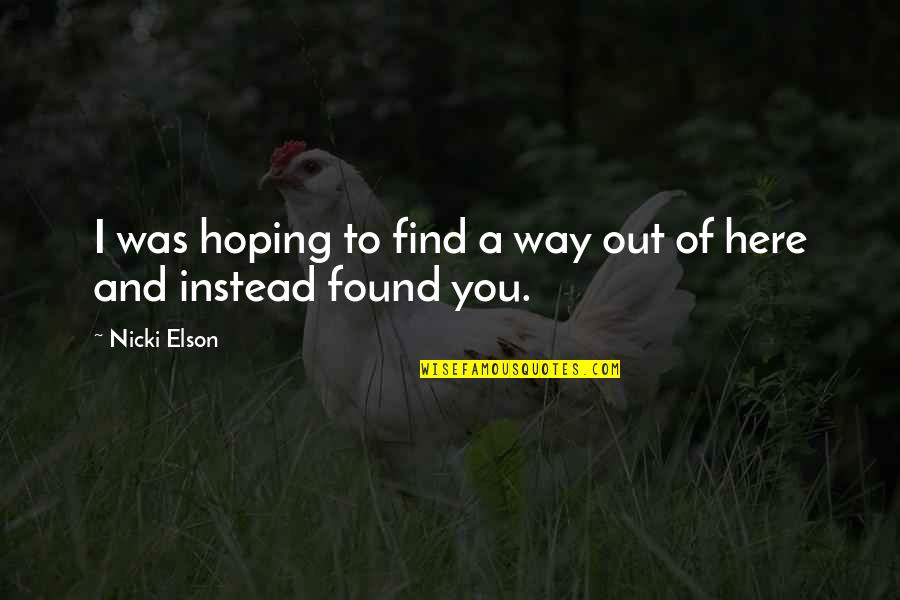 I was hoping to find a way out of here and instead found you. —
Nicki Elson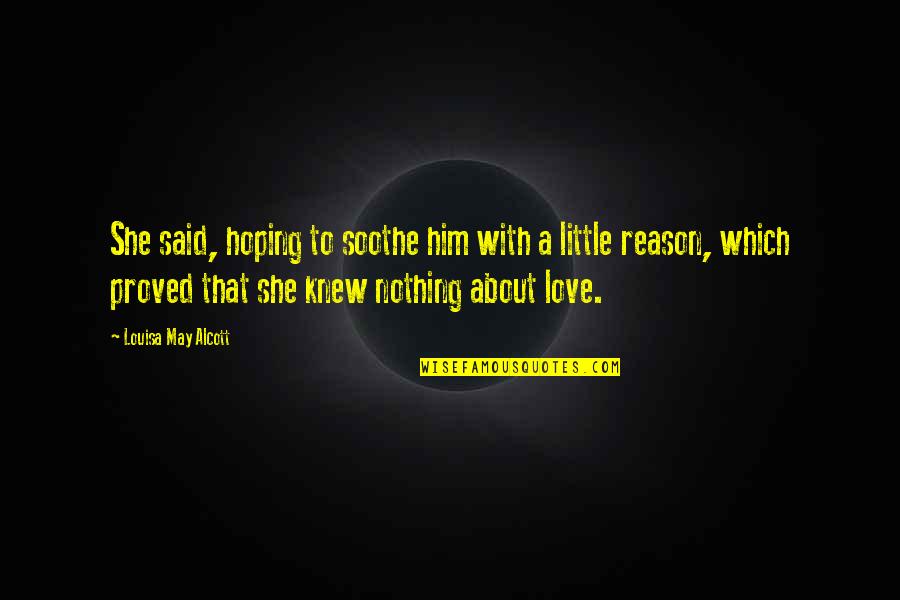 She said, hoping to soothe him with a little reason, which proved that she knew nothing about love. —
Louisa May Alcott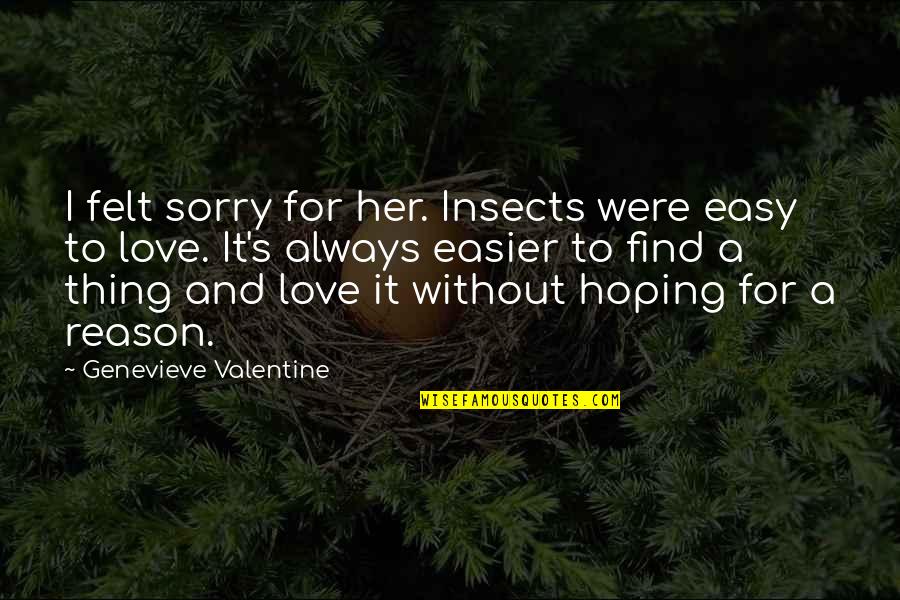 I felt sorry for her. Insects were easy to love. It's always easier to find a thing and love it without hoping for a reason. —
Genevieve Valentine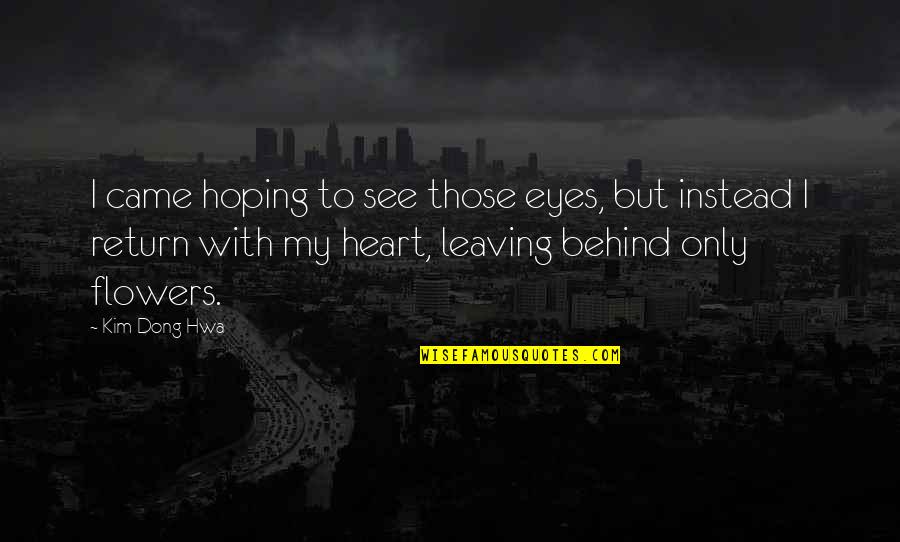 I came hoping to see those eyes, but instead I return with my heart, leaving behind only flowers. —
Kim Dong Hwa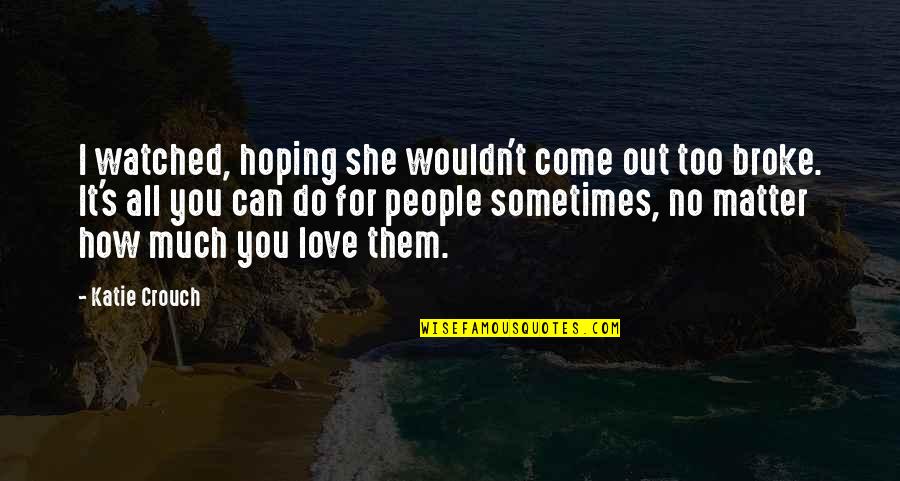 I watched, hoping she wouldn't come out too broke. It's all you can do for people sometimes, no matter how much you love them. —
Katie Crouch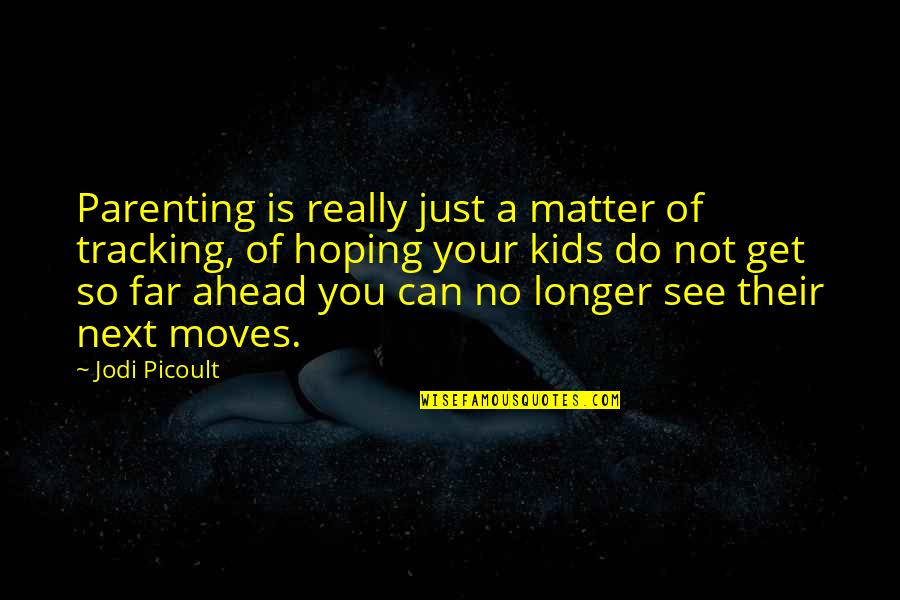 Parenting is really just a matter of tracking, of hoping your kids do not get so far ahead you can no longer see their next moves. —
Jodi Picoult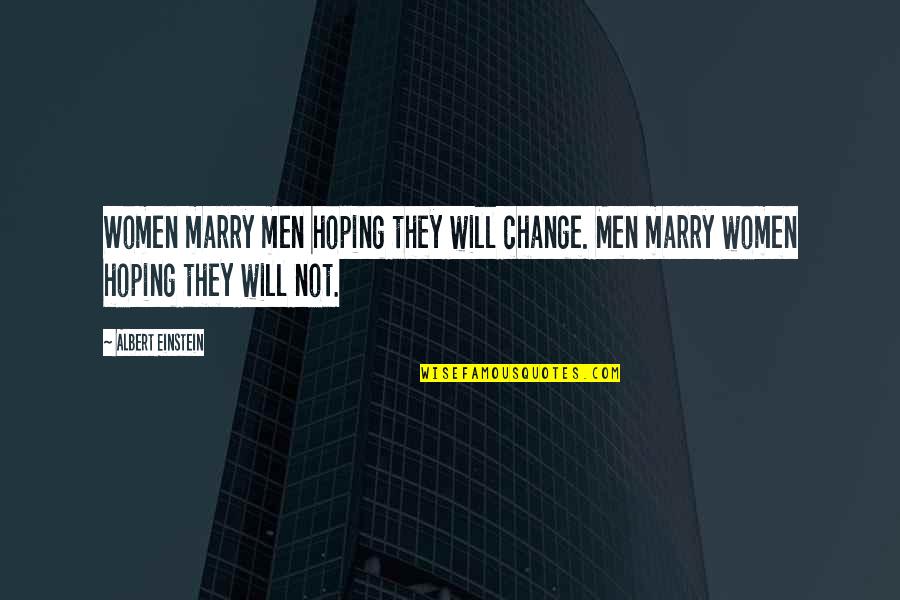 Women marry men hoping they will change. Men marry women hoping they will not. —
Albert Einstein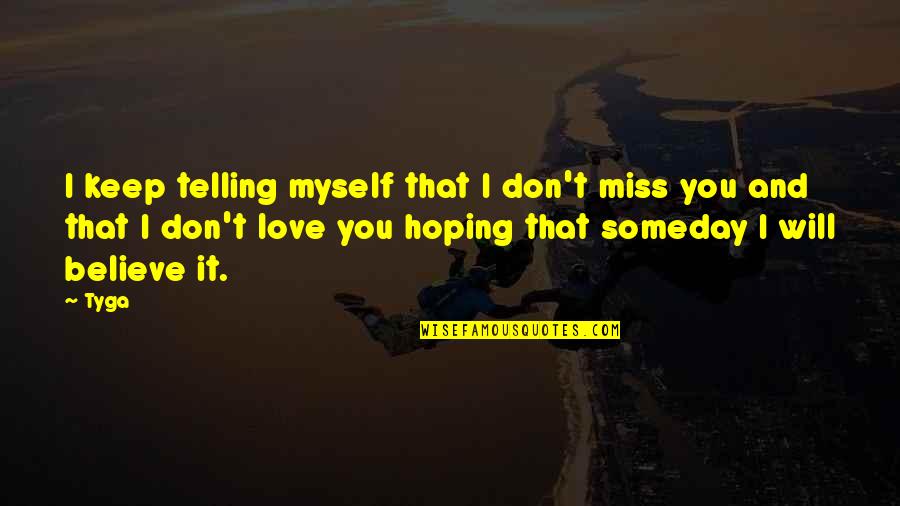 I keep telling myself that I don't miss you and that I don't love you hoping that someday I will believe it. —
Tyga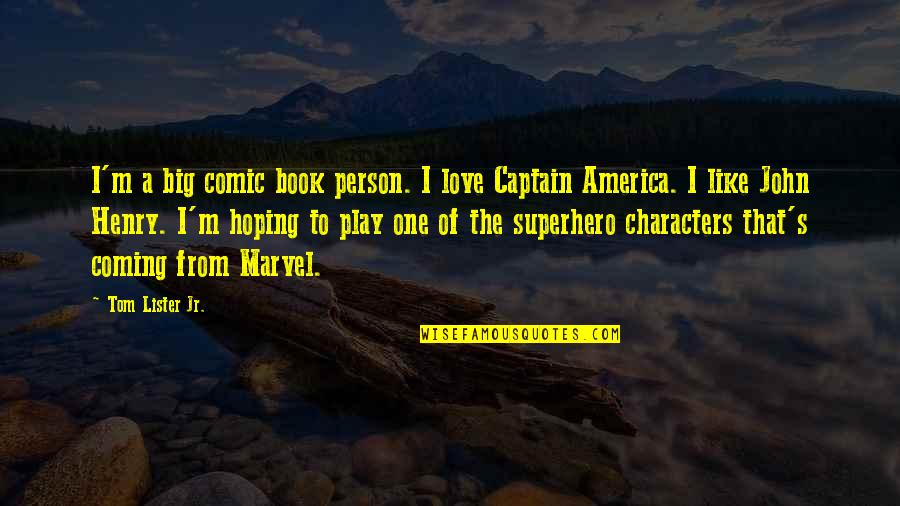 I'm a big comic book person. I love Captain America. I like John Henry. I'm hoping to play one of the superhero characters that's coming from Marvel. —
Tom Lister Jr.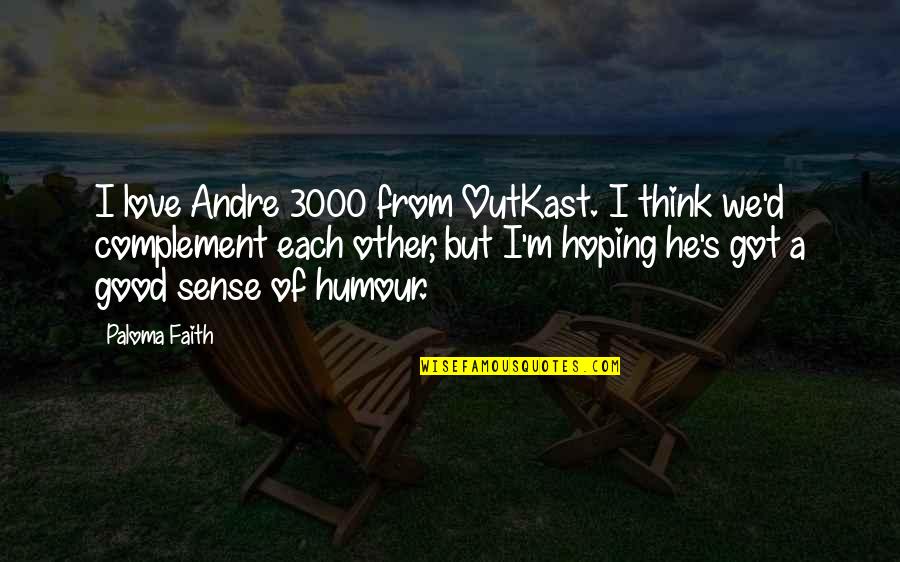 I love Andre 3000 from OutKast. I think we'd complement each other, but I'm hoping he's got a good sense of humour. —
Paloma Faith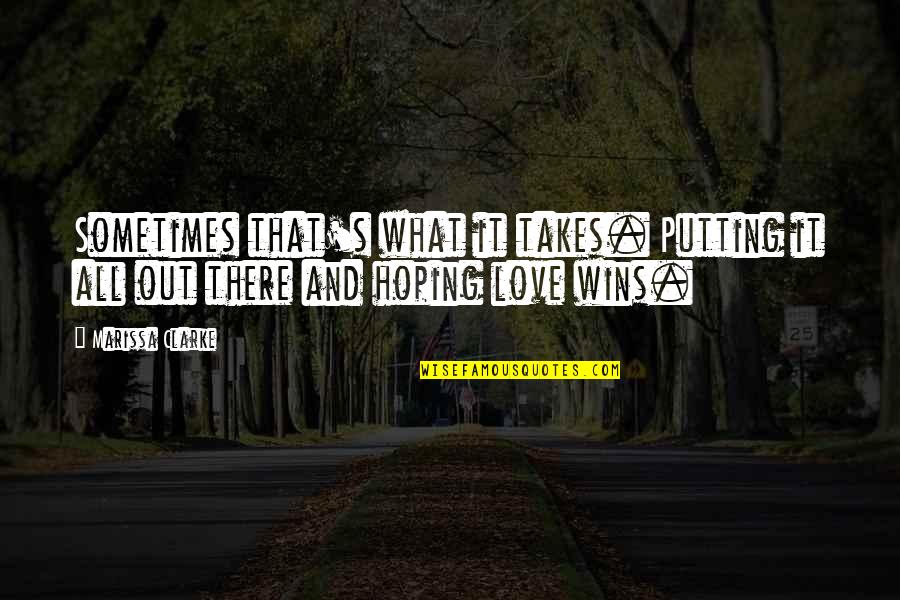 Sometimes that's what it takes. Putting it all out there and hoping love wins. —
Marissa Clarke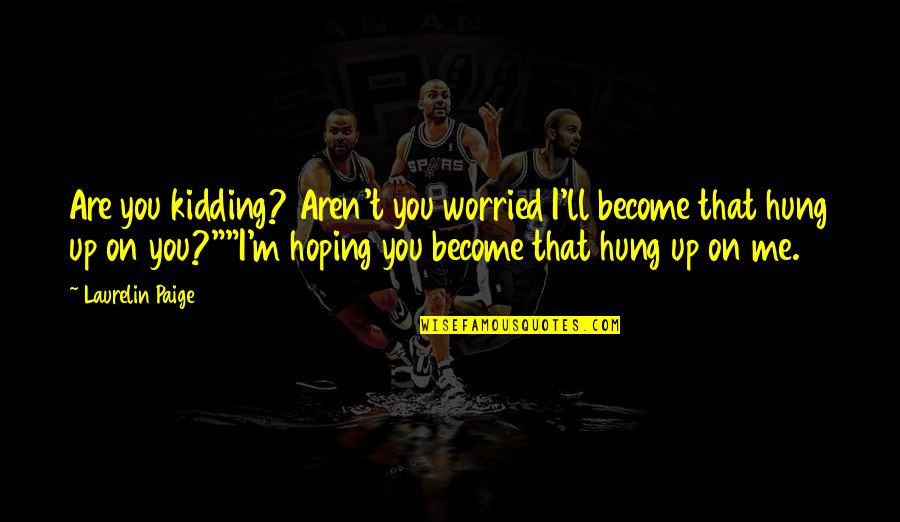 Are you kidding? Aren't you worried I'll become that hung up on you?"
"I'm hoping you become that hung up on me. —
Laurelin Paige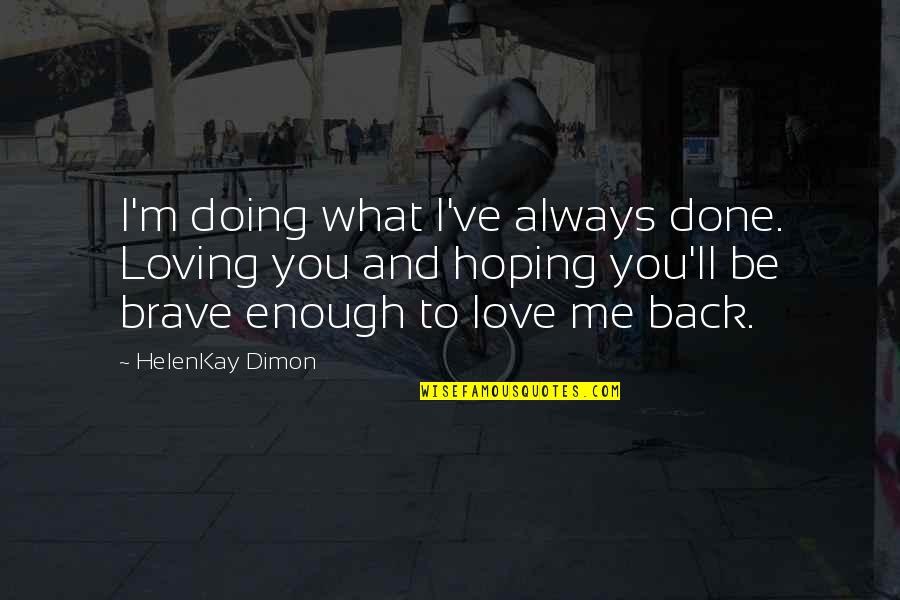 I'm doing what I've always done. Loving you and hoping you'll be brave enough to love me back. —
HelenKay Dimon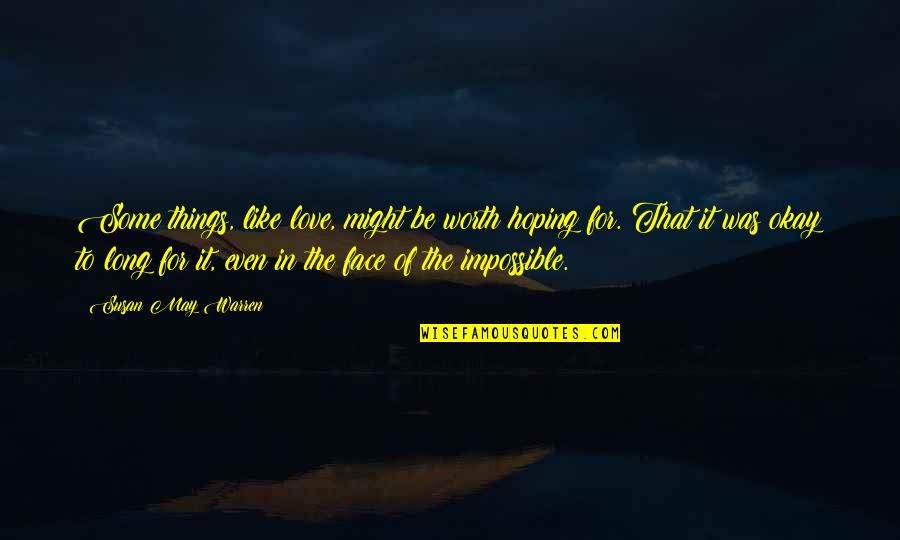 Some things, like love, might be worth hoping for. That it was okay to long for it, even in the face of the impossible. —
Susan May Warren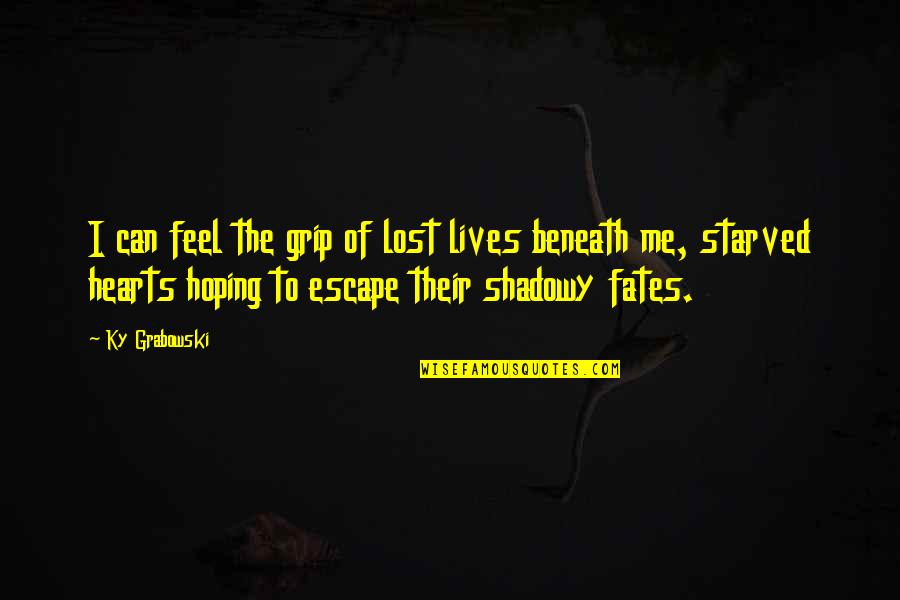 I can feel the grip of lost lives beneath me, starved hearts hoping to escape their shadowy fates. —
Ky Grabowski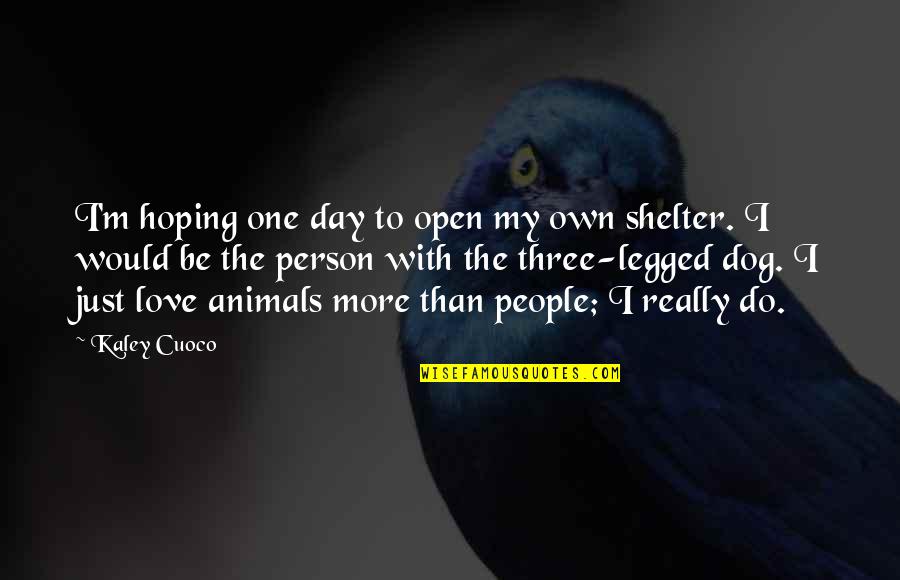 I'm hoping one day to open my own shelter. I would be the person with the three-legged dog. I just love animals more than people; I really do. —
Kaley Cuoco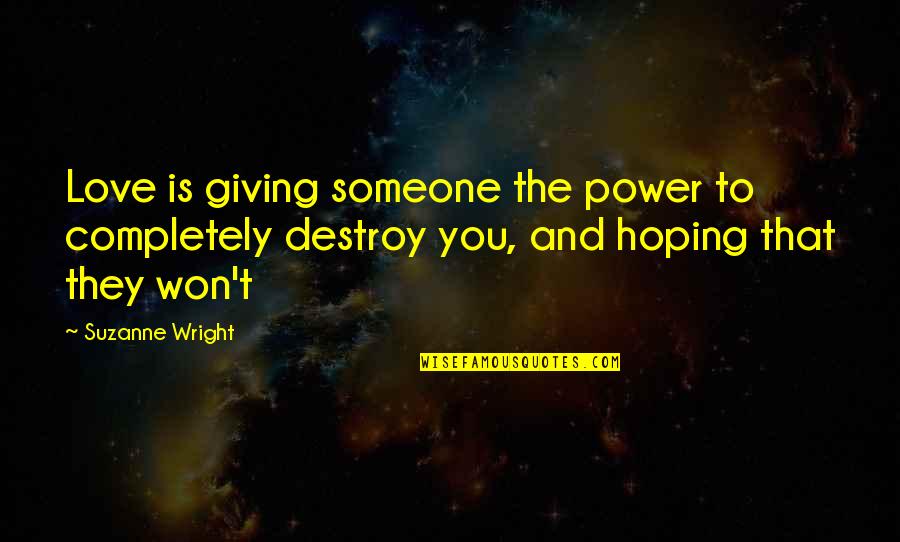 Love is giving someone the power to completely destroy you, and hoping that they won't —
Suzanne Wright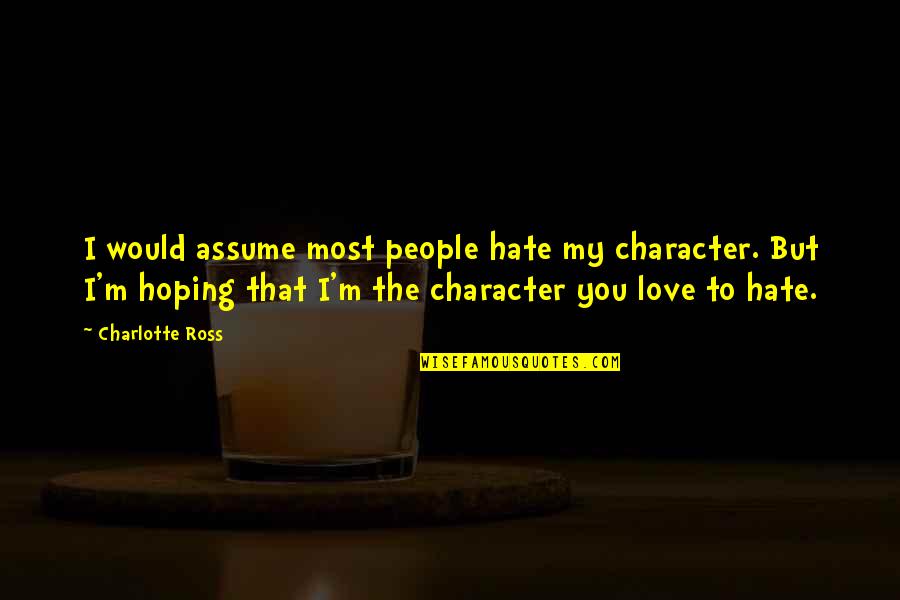 I would assume most people hate my character. But I'm hoping that I'm the character you love to hate. —
Charlotte Ross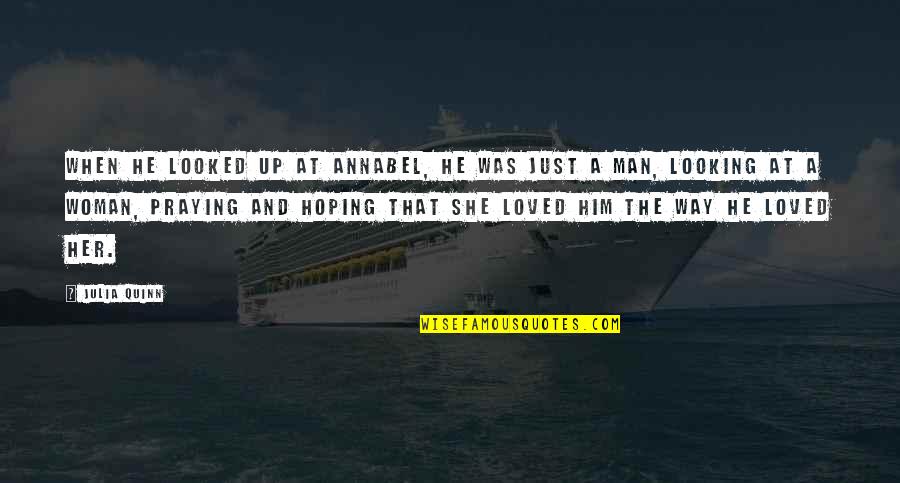 When he looked up at Annabel, he was just a man, looking at a woman, praying and hoping that she loved him the way he loved her. —
Julia Quinn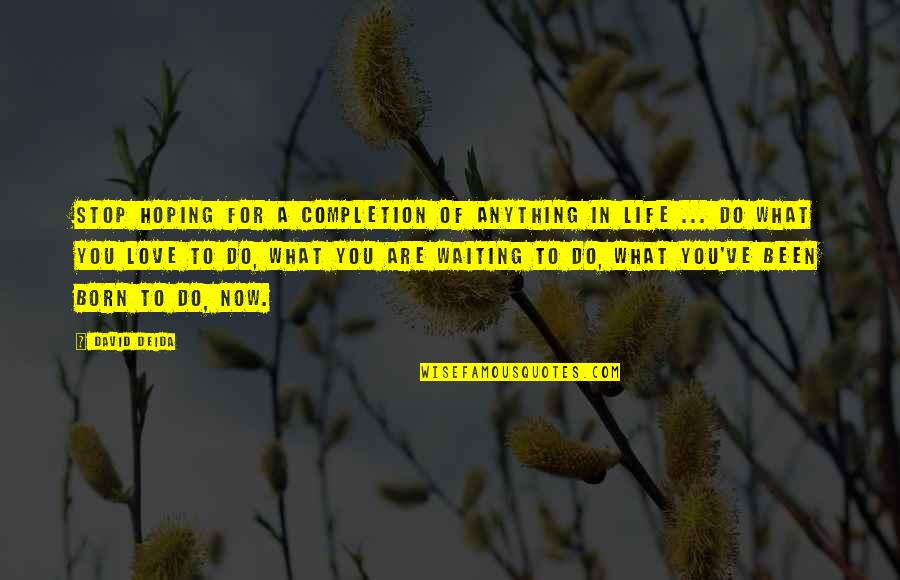 Stop hoping for a completion of anything in life ... Do what you love to do, what you are waiting to do, what you've been born to do, now. —
David Deida