God And His Glory Quotes
Collection of top 55 famous quotes about God And His Glory
God And His Glory Quotes & Sayings
Happy to read and share the best inspirational God And His Glory quotes, sayings and quotations on Wise Famous Quotes.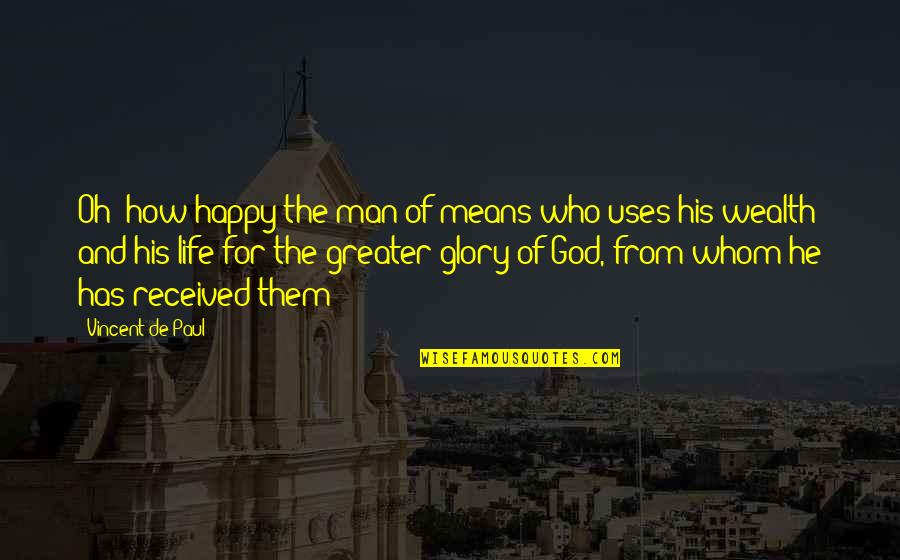 Oh! how happy the man of means who uses his wealth and his life for the greater glory of God, from whom he has received them!
—
Vincent De Paul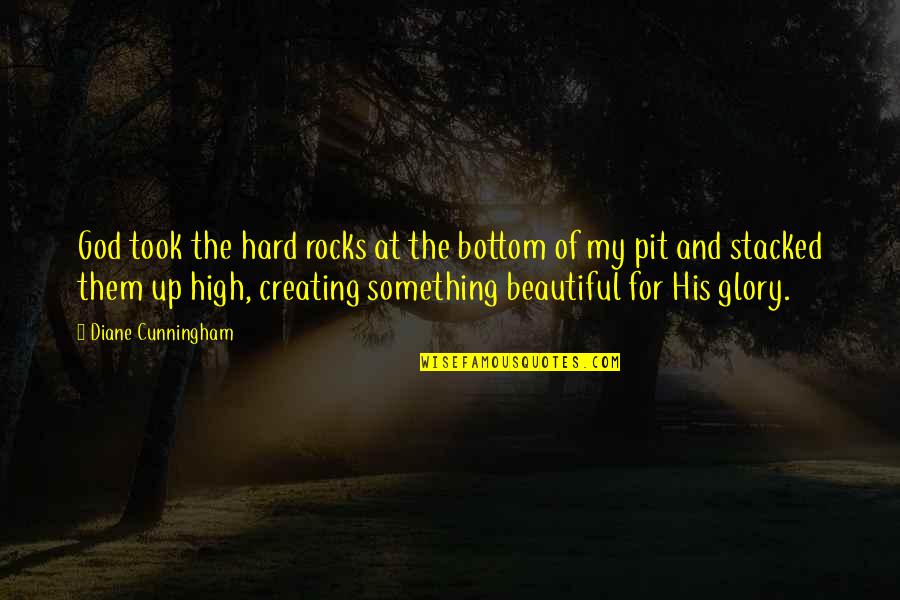 God took the hard rocks at the bottom of my pit and stacked them up high, creating something beautiful for His glory.
—
Diane Cunningham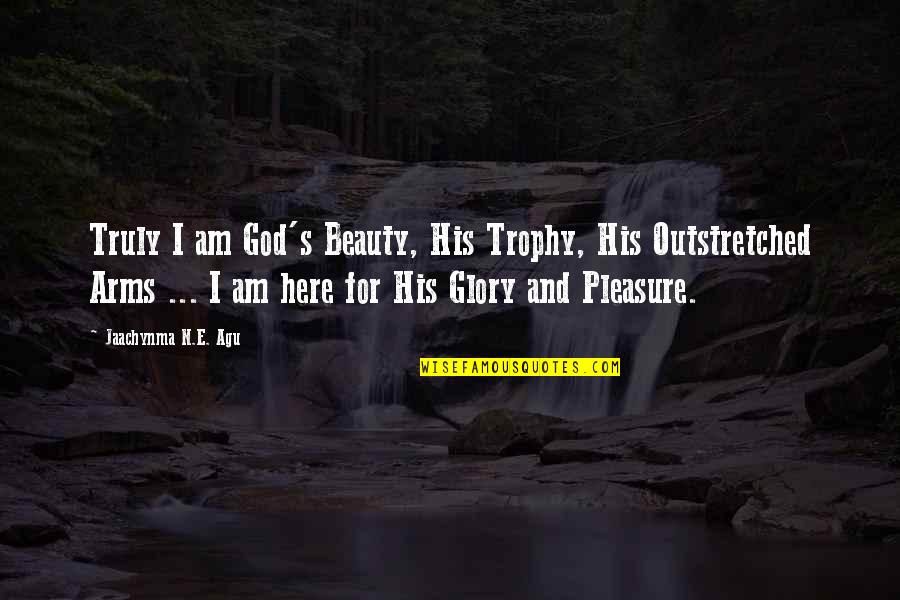 Truly I am God's Beauty, His Trophy, His Outstretched Arms ... I am here for His Glory and Pleasure.
—
Jaachynma N.E. Agu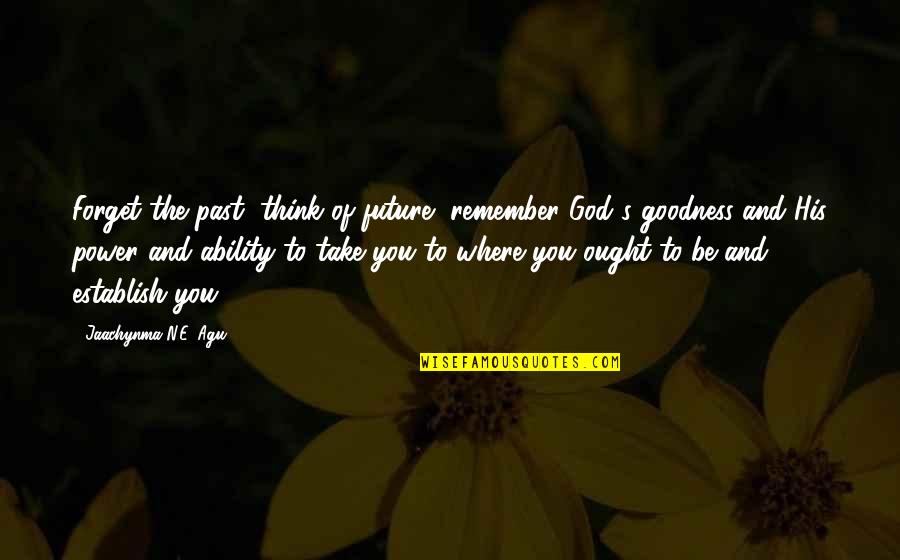 Forget the past, think of future, remember God's goodness and His power and ability to take you to where you ought to be and establish you.
—
Jaachynma N.E. Agu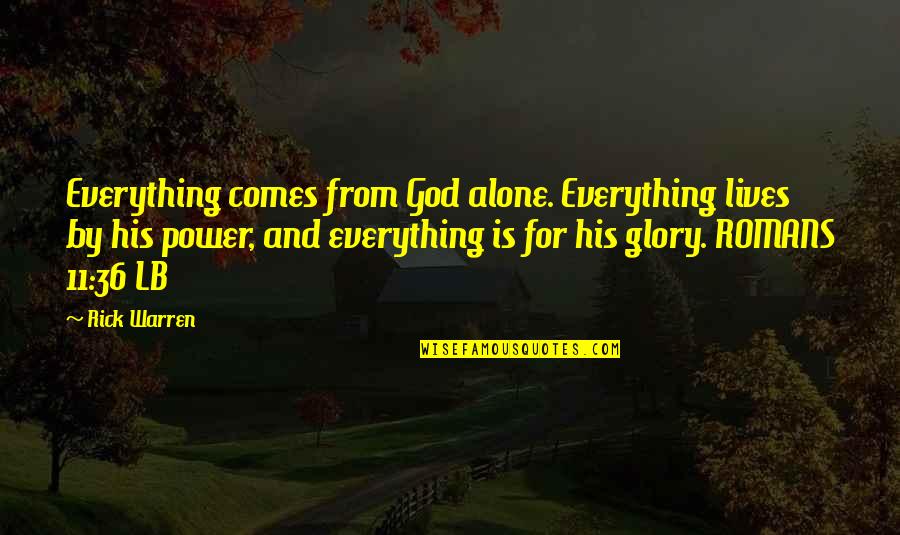 Everything comes from God alone. Everything lives by his power, and everything is for his glory. ROMANS 11:36 LB
—
Rick Warren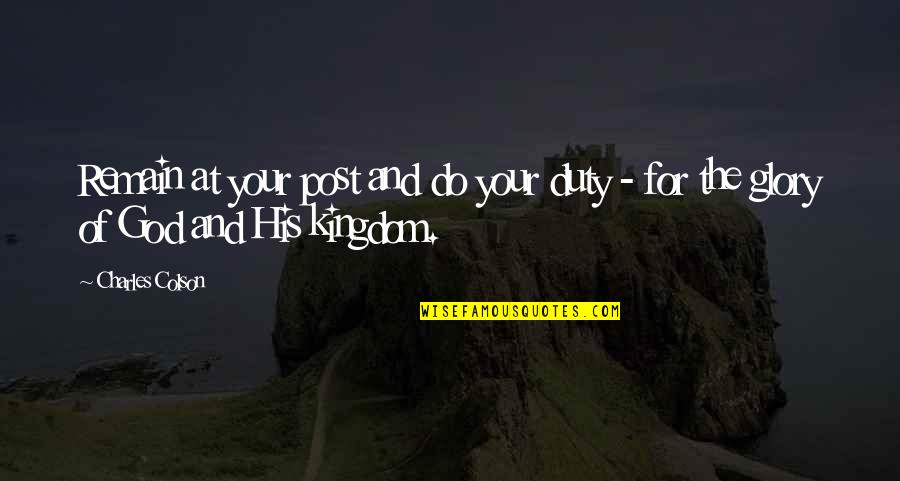 Remain at your post and do your duty - for the glory of God and His kingdom.
—
Charles Colson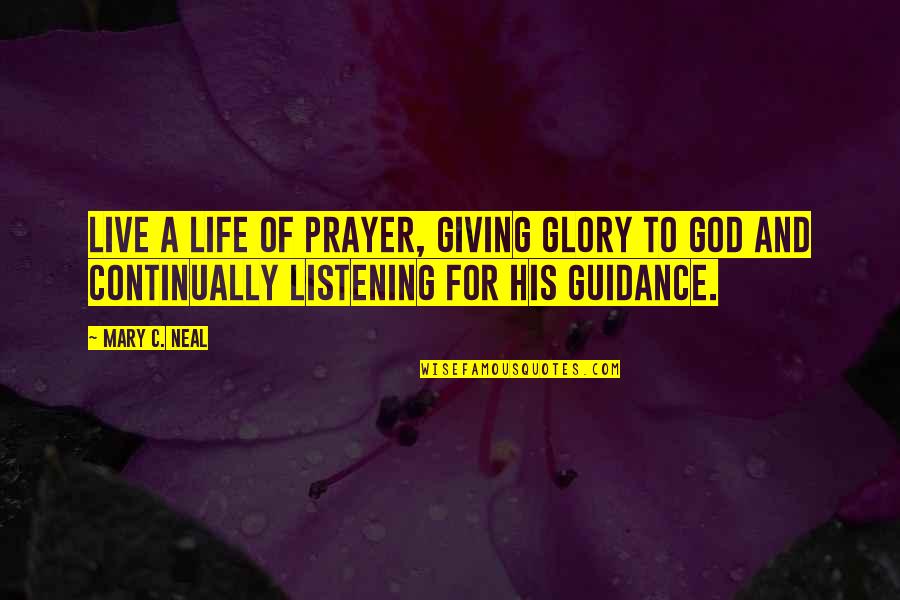 Live a life of prayer, giving glory to God and continually listening for His guidance.
—
Mary C. Neal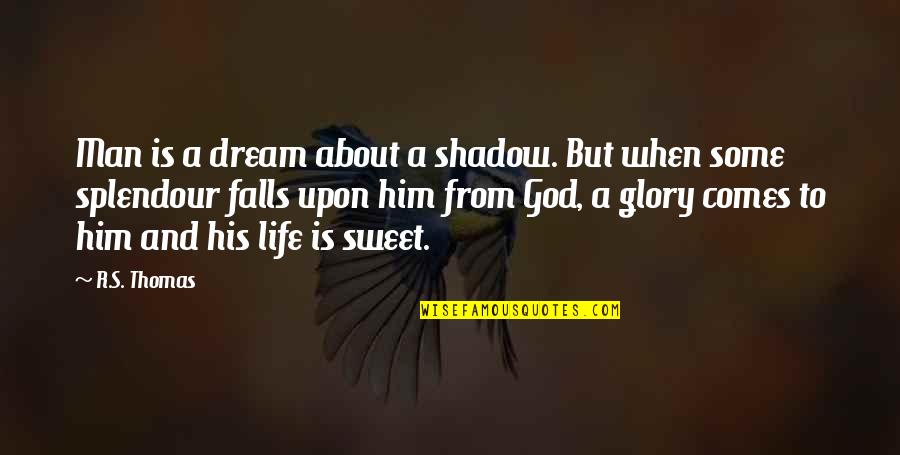 Man is a dream about a shadow. But when some splendour falls upon him from God, a glory comes to him and his life is sweet.
—
R.S. Thomas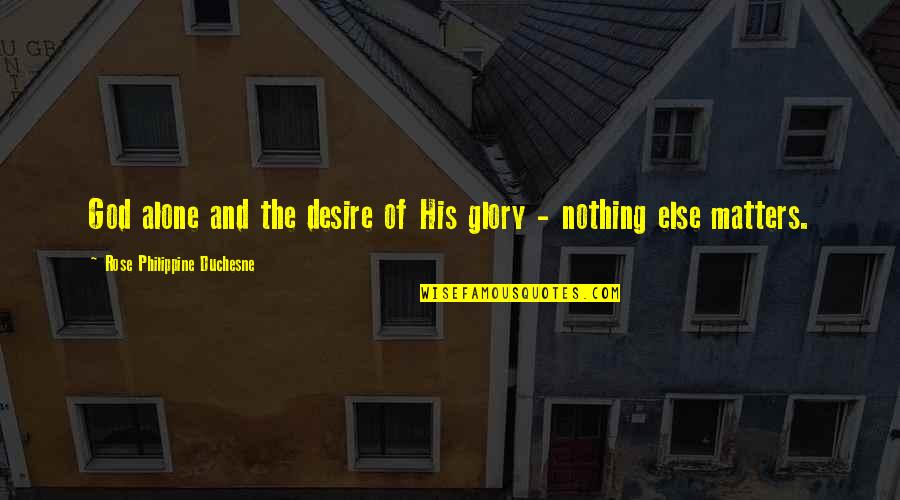 God alone and the desire of His glory - nothing else matters. —
Rose Philippine Duchesne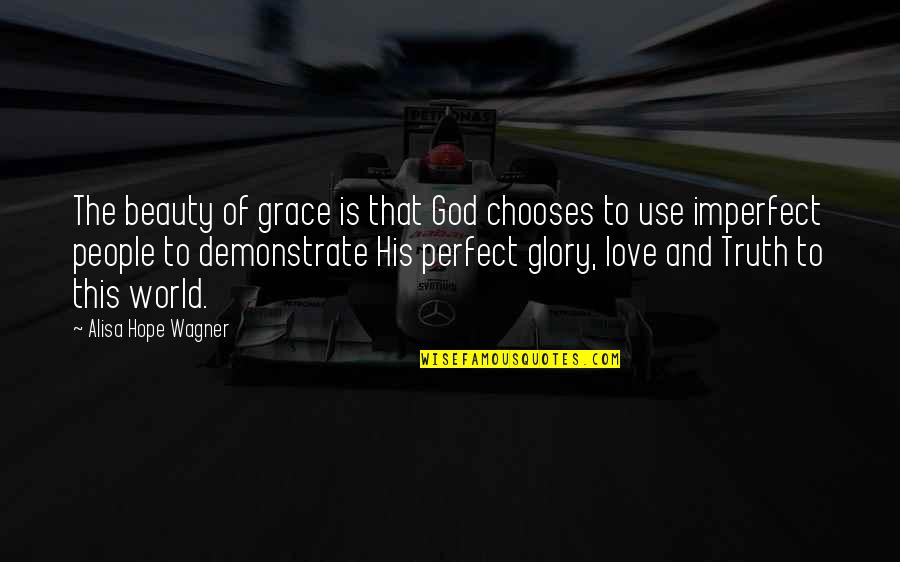 The beauty of grace is that God chooses to use imperfect people to demonstrate His perfect glory, love and Truth to this world. —
Alisa Hope Wagner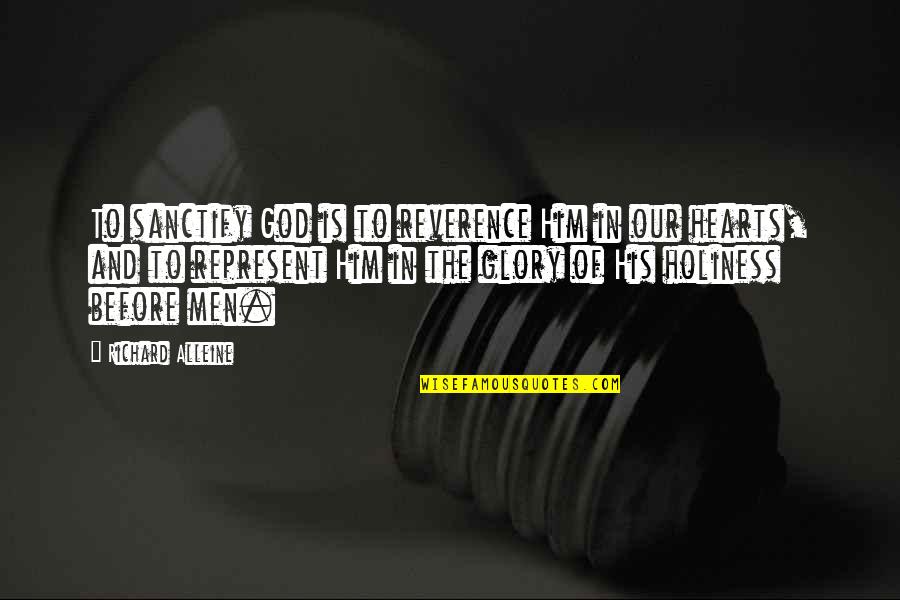 To sanctify God is to reverence Him in our hearts, and to represent Him in the glory of His holiness before men. —
Richard Alleine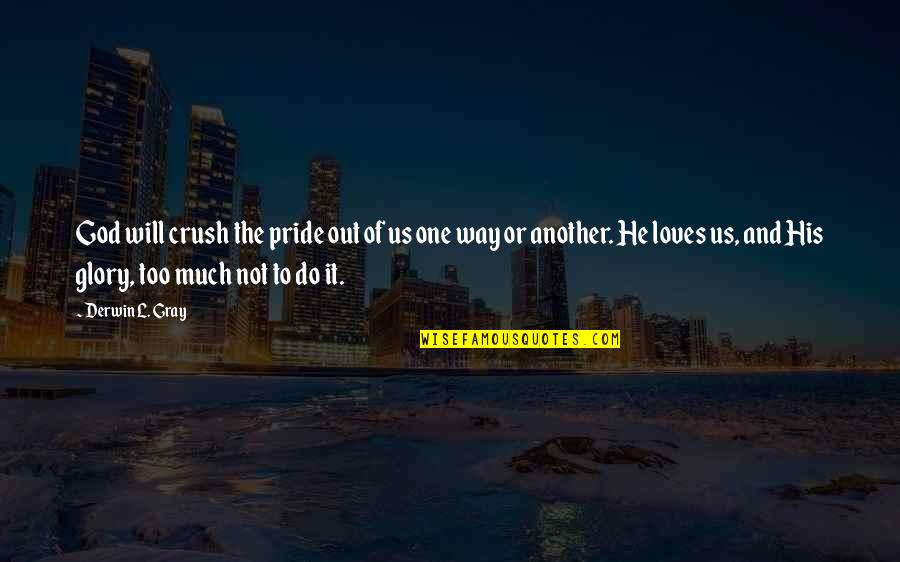 God will crush the pride out of us one way or another. He loves us, and His glory, too much not to do it. —
Derwin L. Gray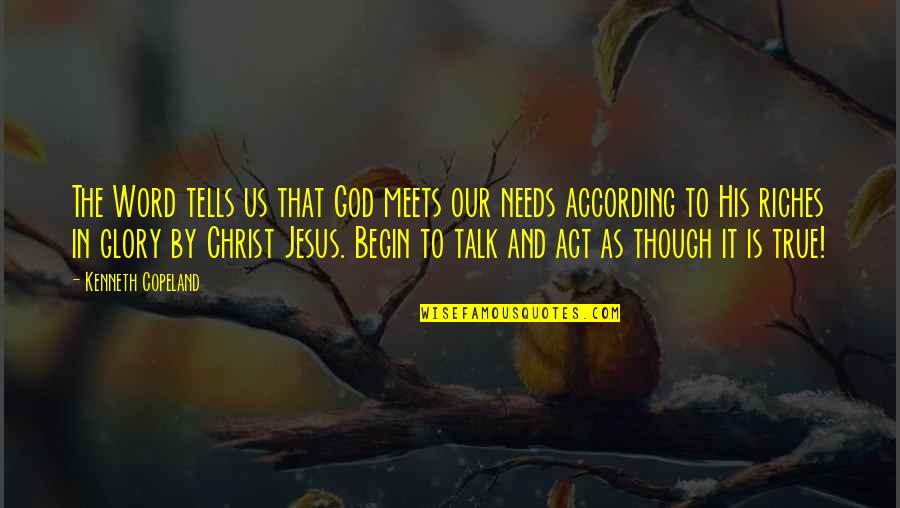 The Word tells us that God meets our needs according to His riches in glory by Christ Jesus. Begin to talk and act as though it is true! —
Kenneth Copeland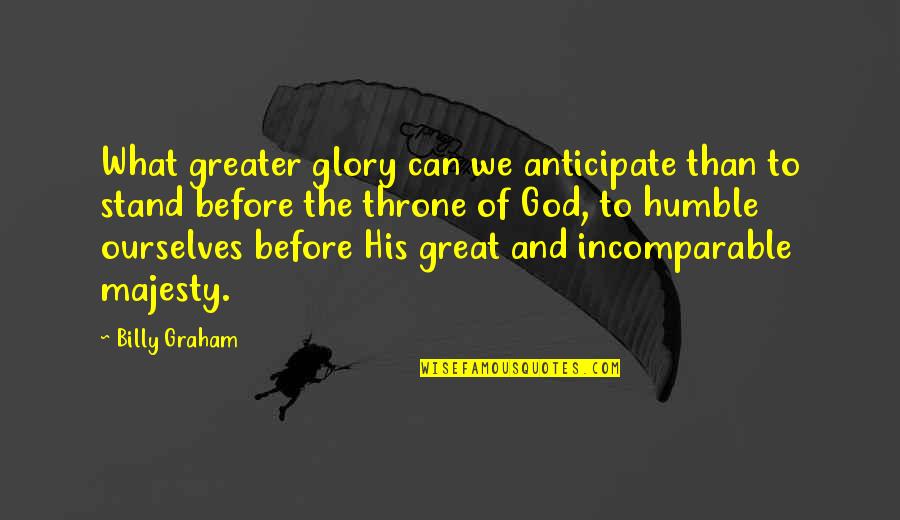 What greater glory can we anticipate than to stand before the throne of God, to humble ourselves before His great and incomparable majesty. —
Billy Graham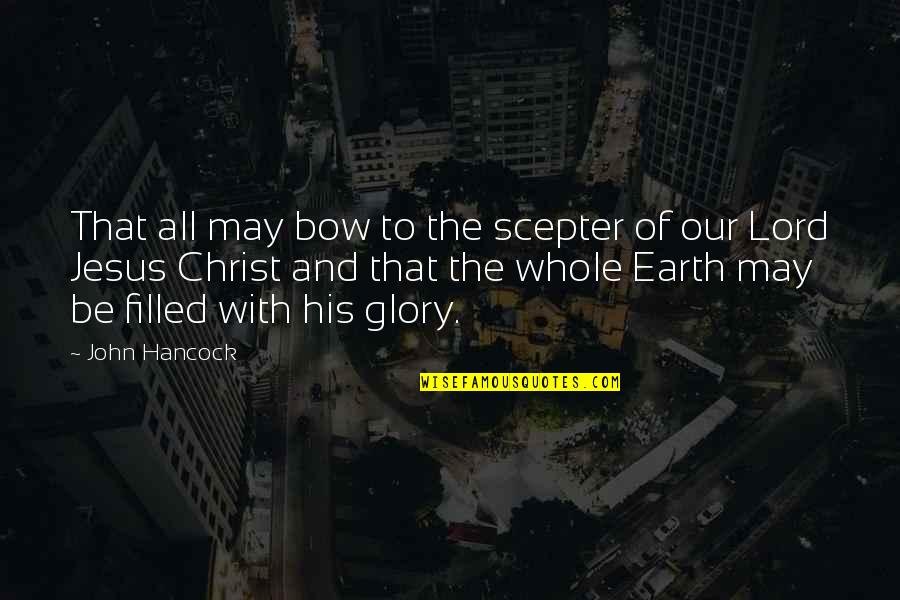 That all may bow to the scepter of our Lord Jesus Christ and that the whole Earth may be filled with his glory. —
John Hancock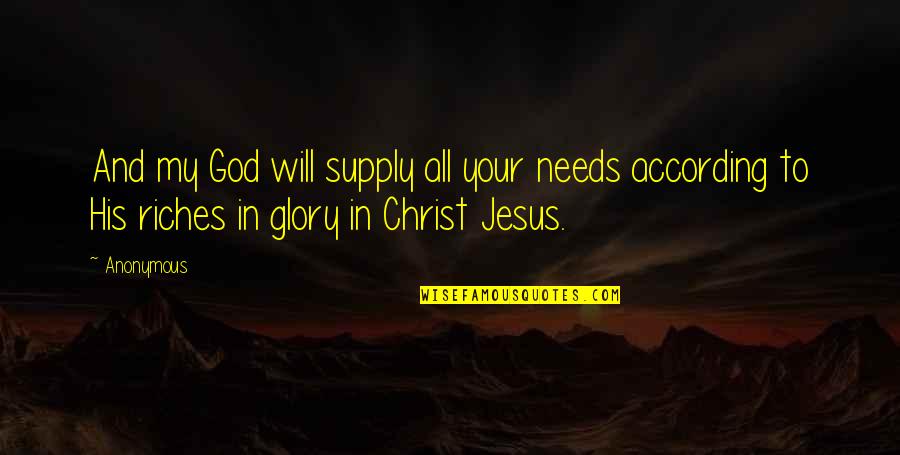 And my God will supply all your needs according to His riches in glory in Christ Jesus. —
Anonymous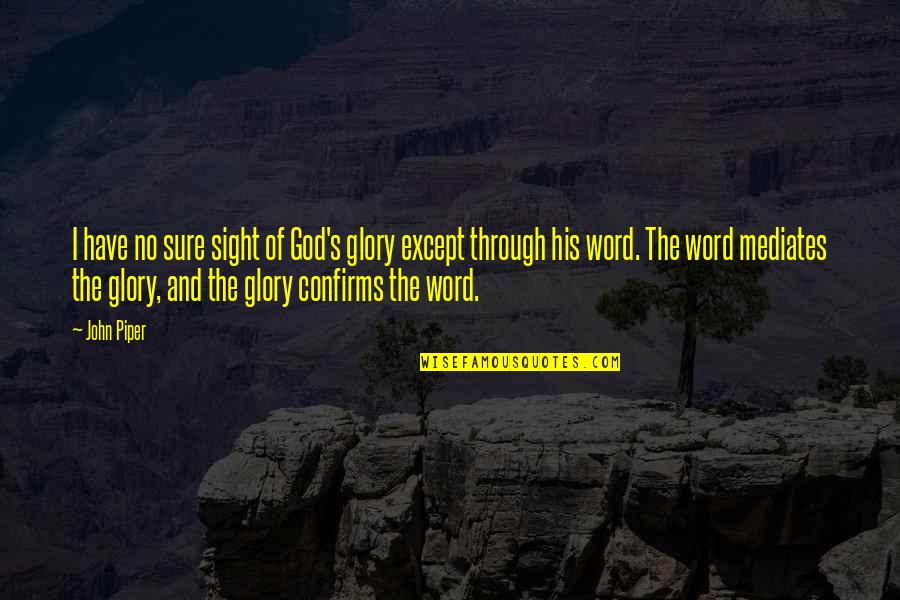 I have no sure sight of God's glory except through his word. The word mediates the glory, and the glory confirms the word. —
John Piper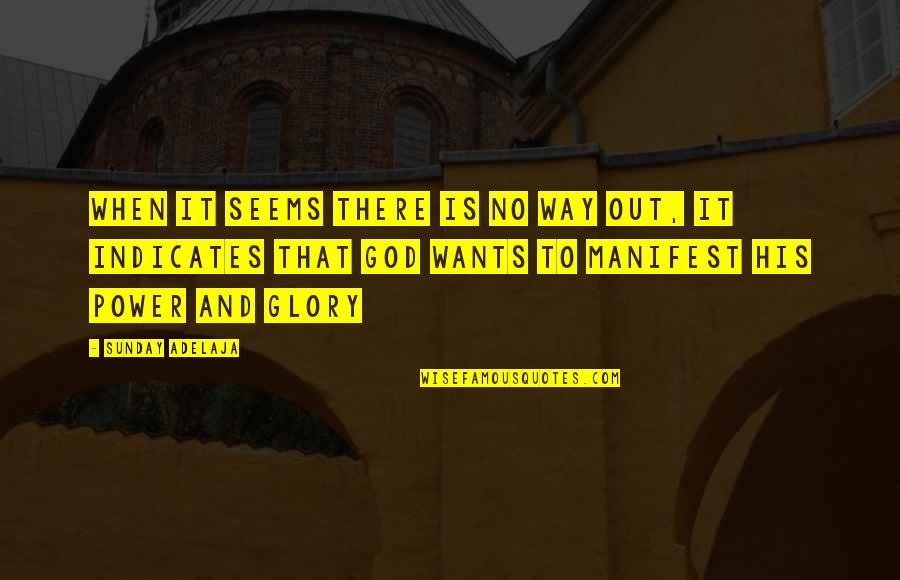 When it seems there is no way out, it indicates that God wants to manifest His power and glory —
Sunday Adelaja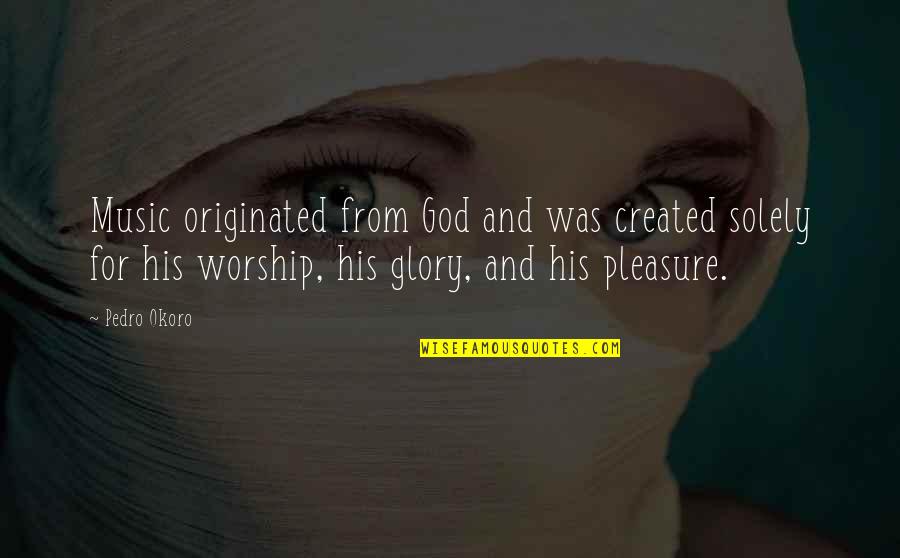 Music originated from God and was created solely for his worship, his glory, and his pleasure. —
Pedro Okoro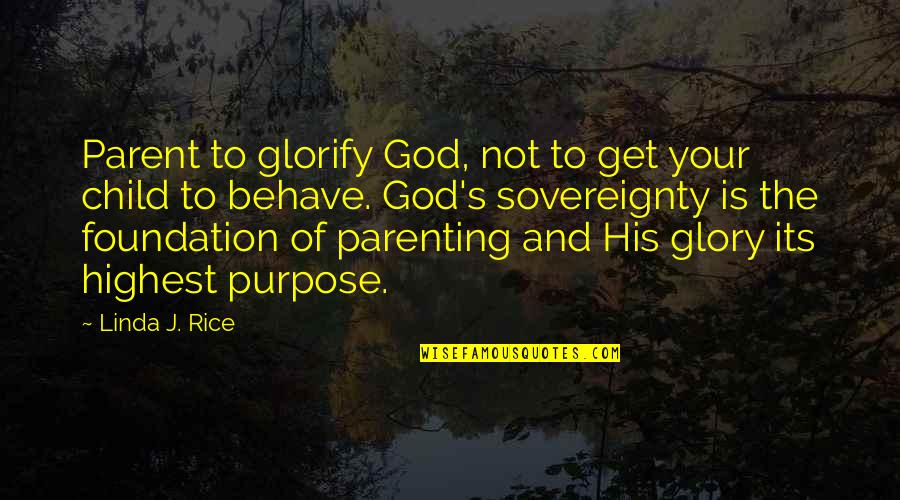 Parent to glorify God, not to get your child to behave. God's sovereignty is the foundation of parenting and His glory its highest purpose. —
Linda J. Rice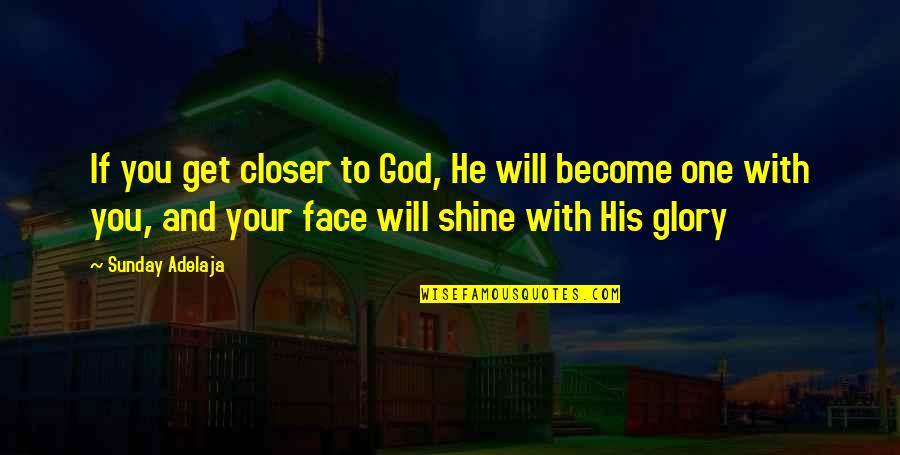 If you get closer to God, He will become one with you, and your face will shine with His glory —
Sunday Adelaja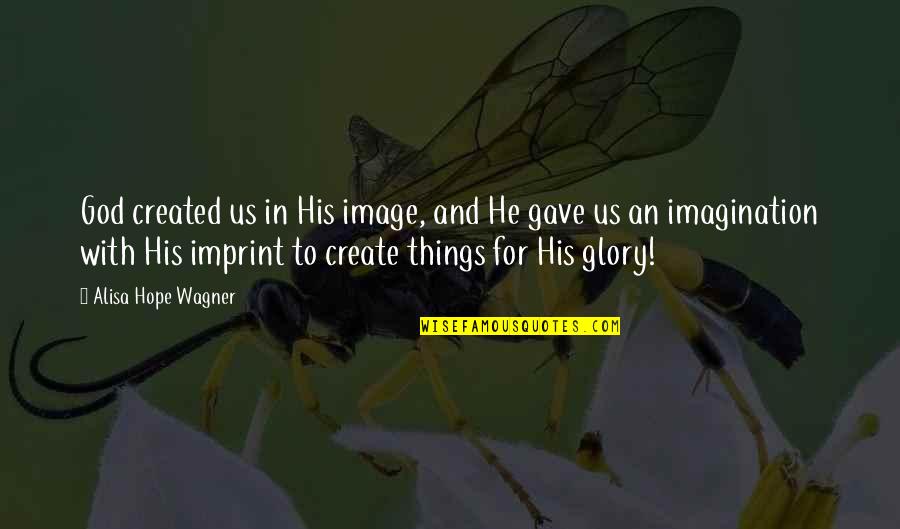 God created us in His image, and He gave us an imagination with His imprint to create things for His glory! —
Alisa Hope Wagner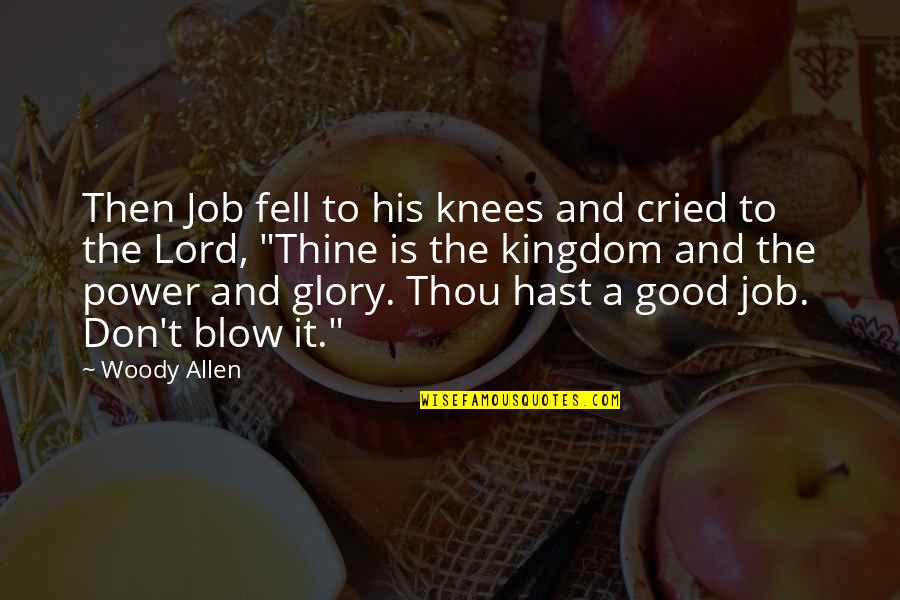 Then Job fell to his knees and cried to the Lord, "Thine is the kingdom and the power and glory. Thou hast a good job. Don't blow it." —
Woody Allen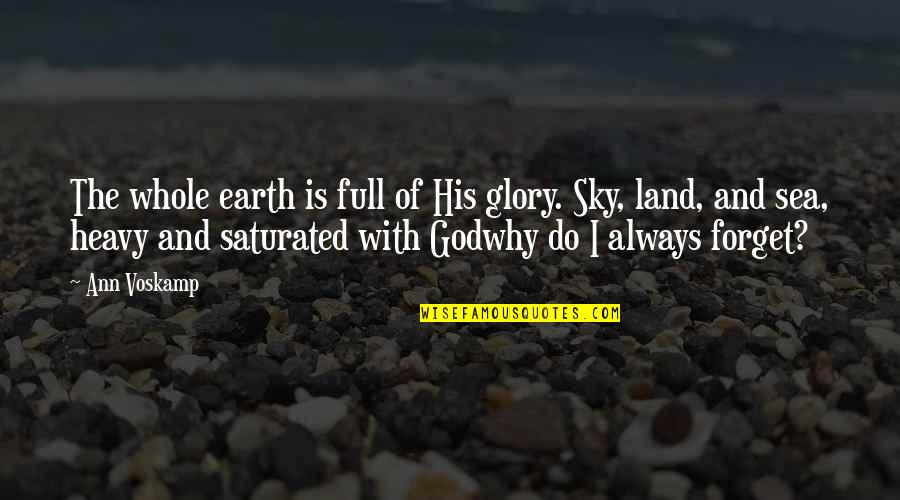 The whole earth is full of His glory. Sky, land, and sea, heavy and saturated with God
why do I always forget? —
Ann Voskamp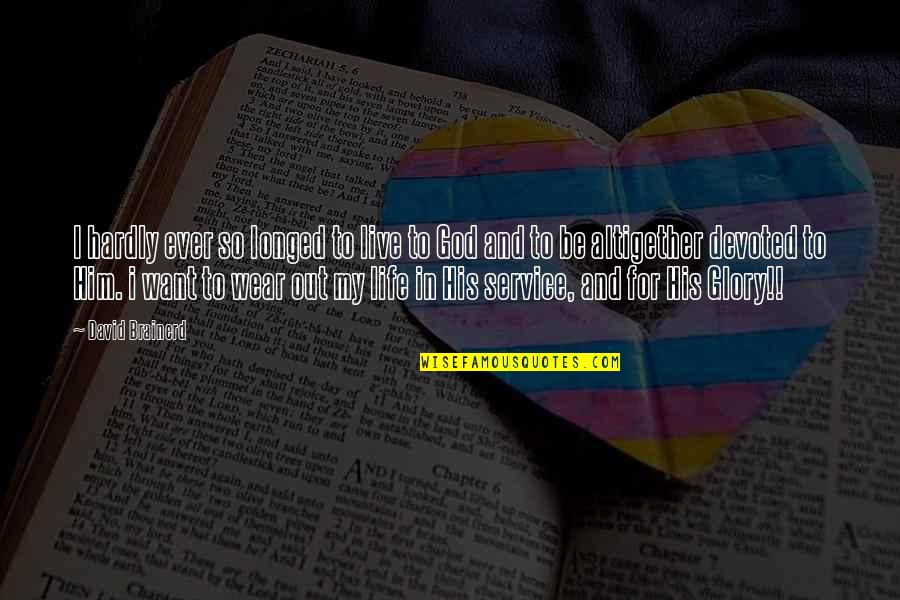 I hardly ever so longed to live to God and to be altigether devoted to Him. i want to wear out my life in His service, and for His Glory!! —
David Brainerd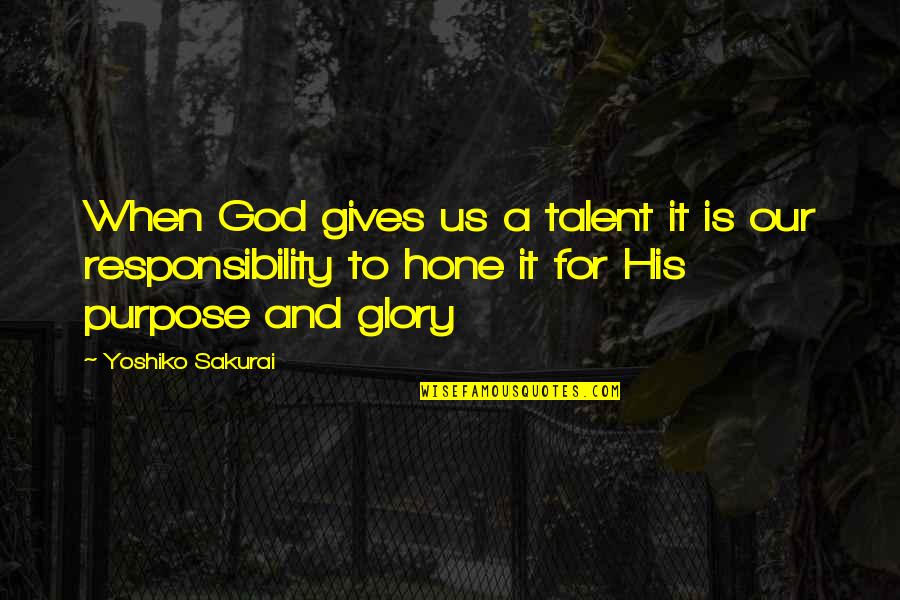 When God gives us a talent it is our responsibility to hone it for His purpose and glory —
Yoshiko Sakurai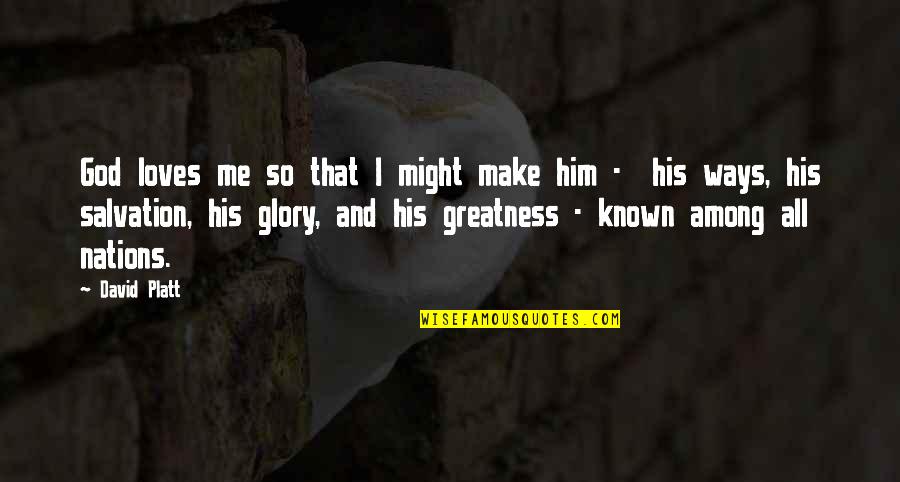 God loves me so that I might make him - his ways, his salvation, his glory, and his greatness - known among all nations. —
David Platt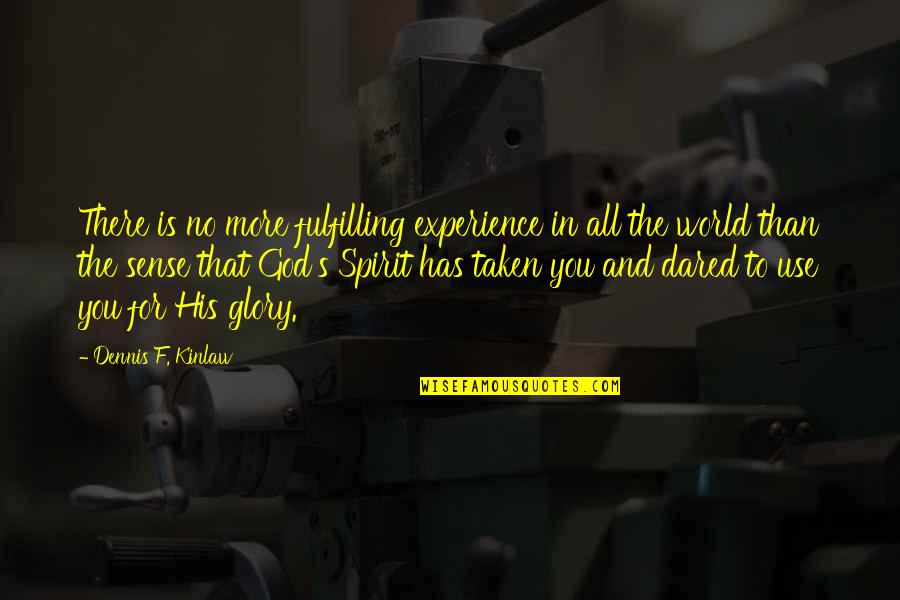 There is no more fulfilling experience in all the world than the sense that God's Spirit has taken you and dared to use you for His glory. —
Dennis F. Kinlaw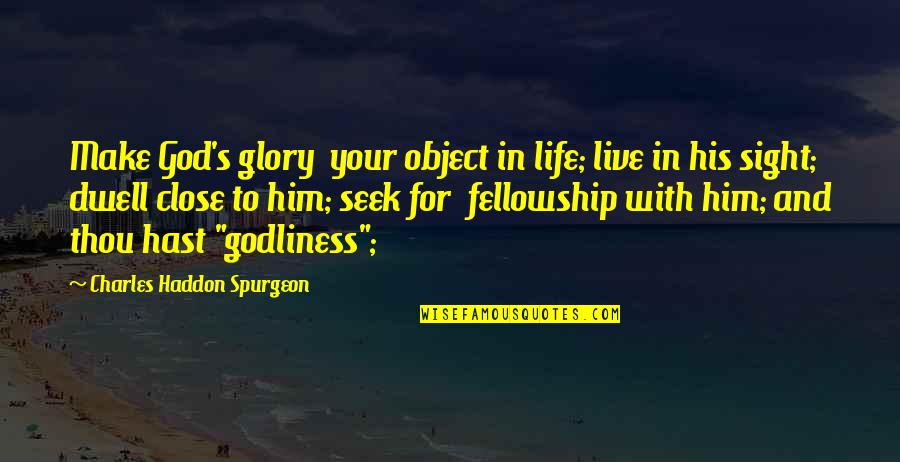 Make God's glory your object in life; live in his sight; dwell close to him; seek for fellowship with him; and thou hast "godliness"; —
Charles Haddon Spurgeon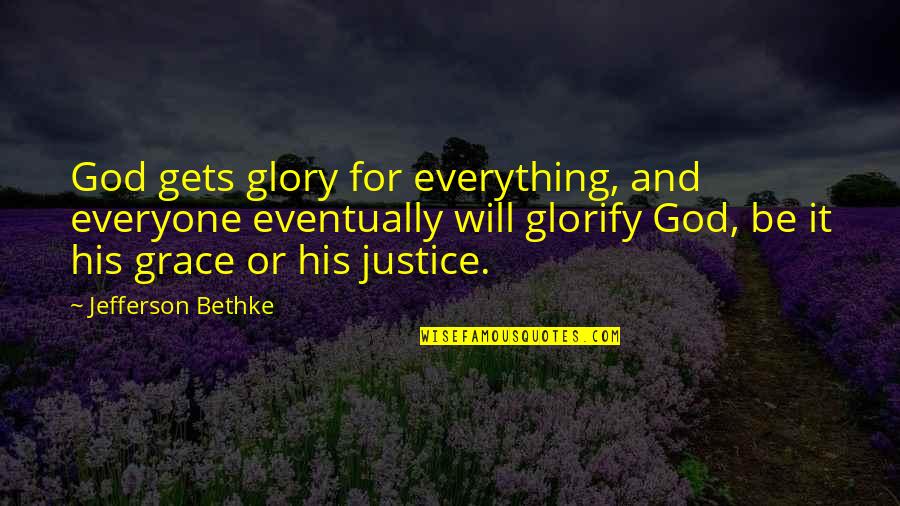 God gets glory for everything, and everyone eventually will glorify God, be it his grace or his justice. —
Jefferson Bethke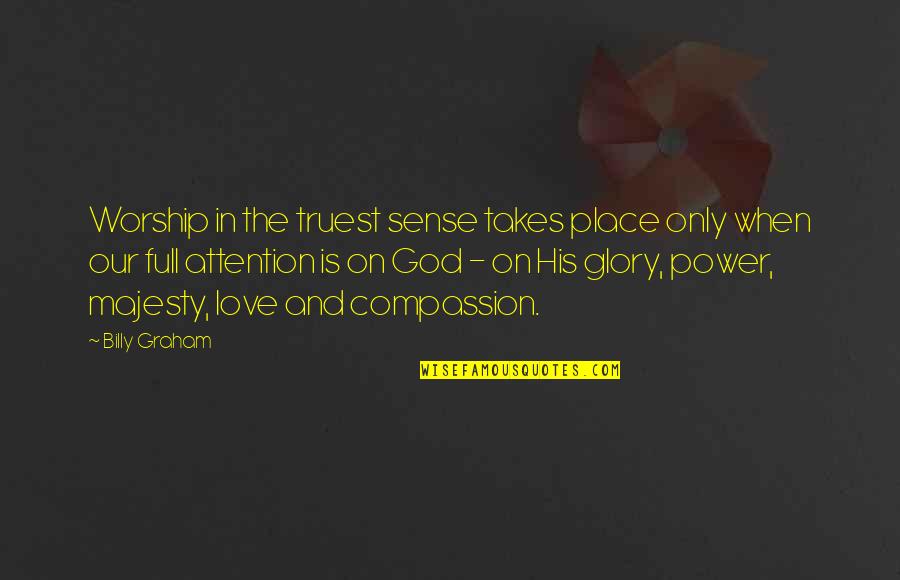 Worship in the truest sense takes place only when our full attention is on God - on His glory, power, majesty, love and compassion. —
Billy Graham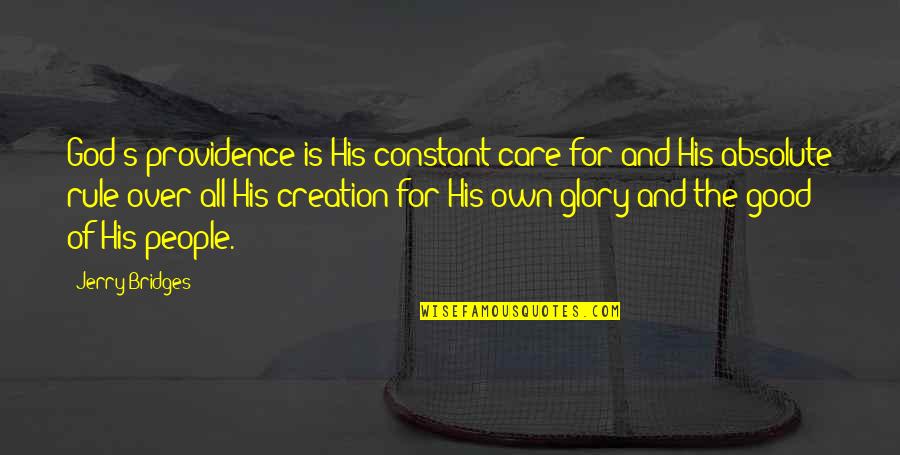 God's providence is His constant care for and His absolute rule over all His creation for His own glory and the good of His people. —
Jerry Bridges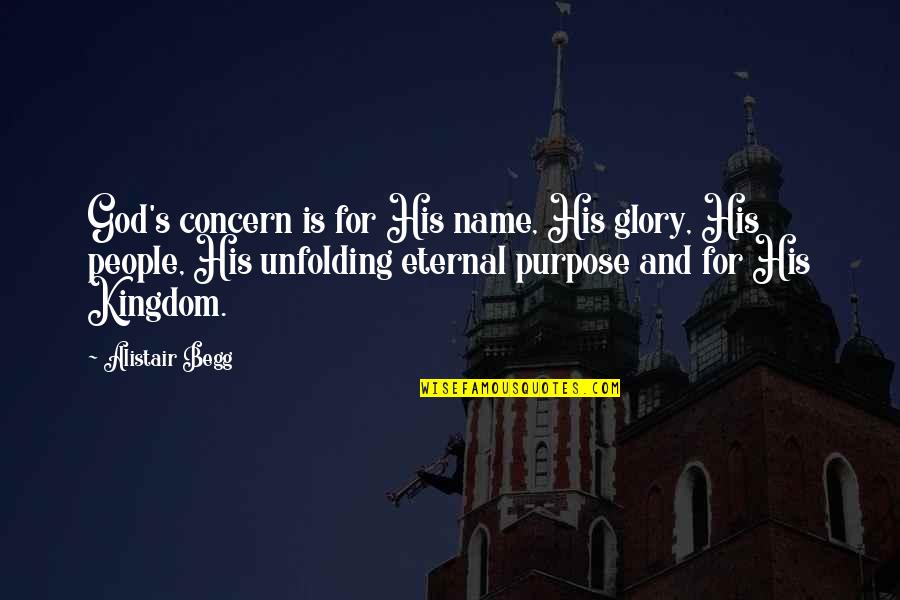 God's concern is for His name, His glory, His people, His unfolding eternal purpose and for His Kingdom. —
Alistair Begg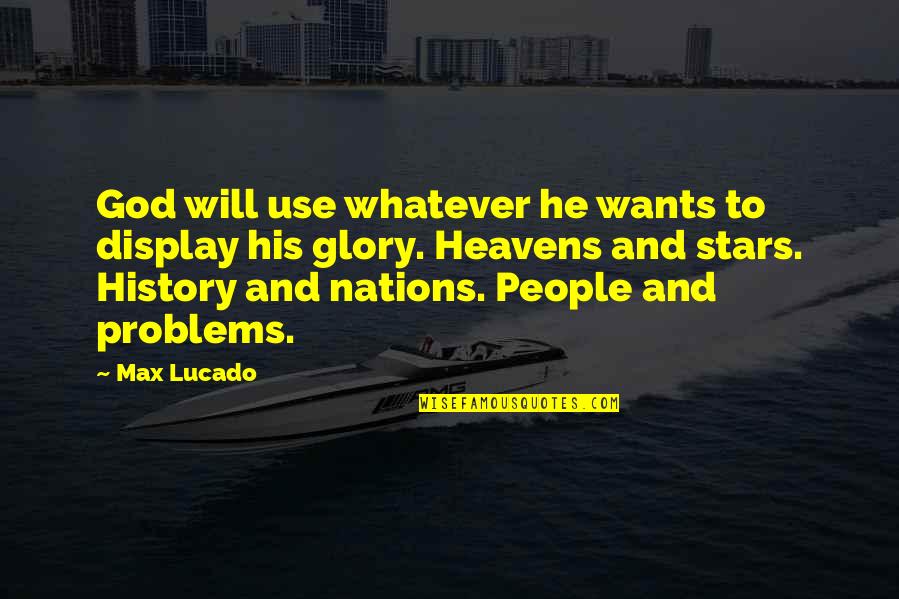 God will use whatever he wants to display his glory. Heavens and stars. History and nations. People and problems. —
Max Lucado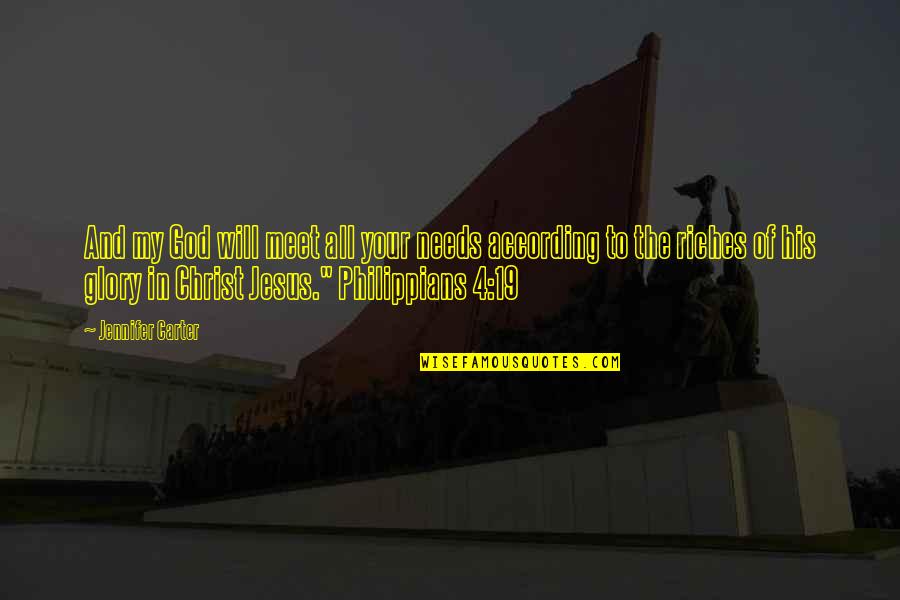 And my God will meet all your needs according to the riches of his glory in Christ Jesus." Philippians 4:19 —
Jennifer Carter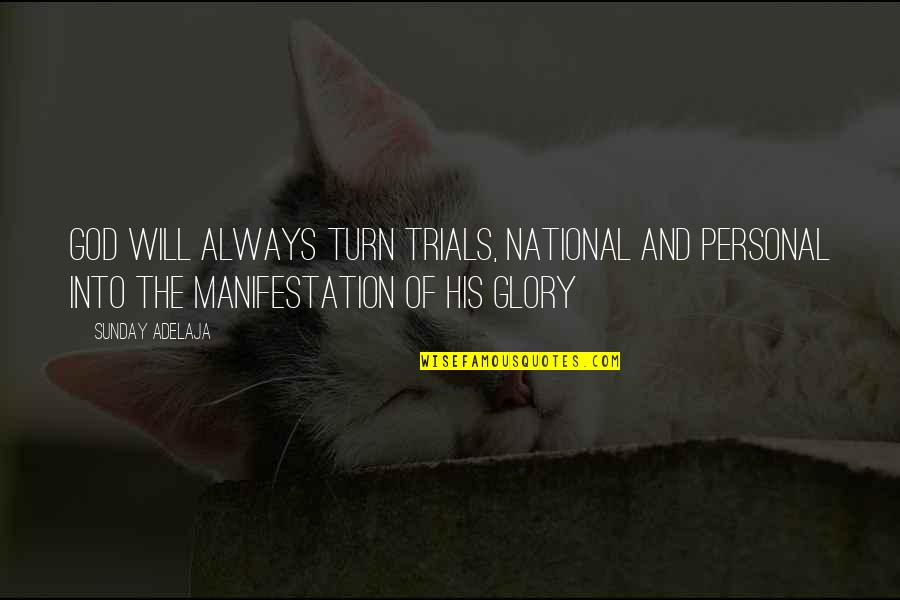 God will always turn trials, national and personal into the manifestation of His glory —
Sunday Adelaja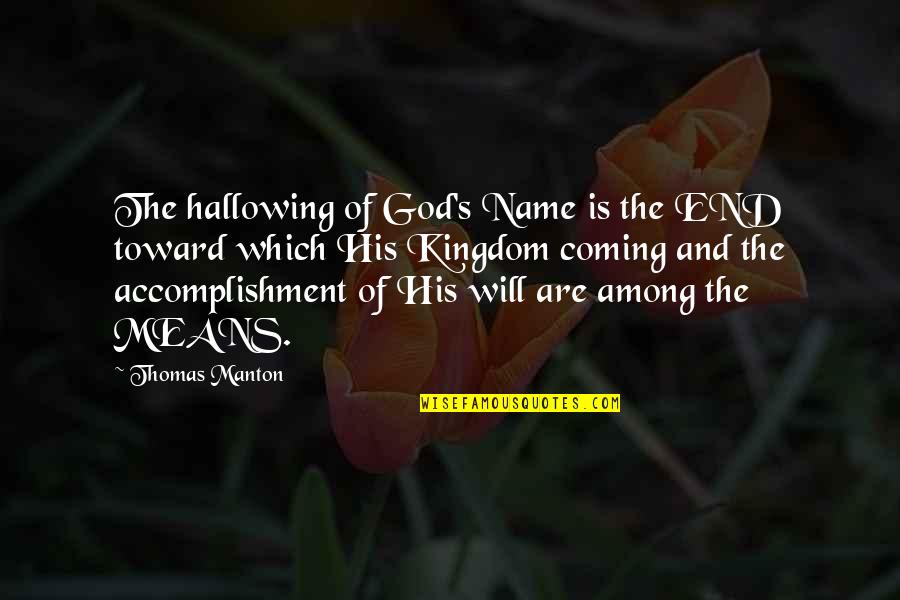 The hallowing of God's Name is the END toward which His Kingdom coming and the accomplishment of His will are among the MEANS. —
Thomas Manton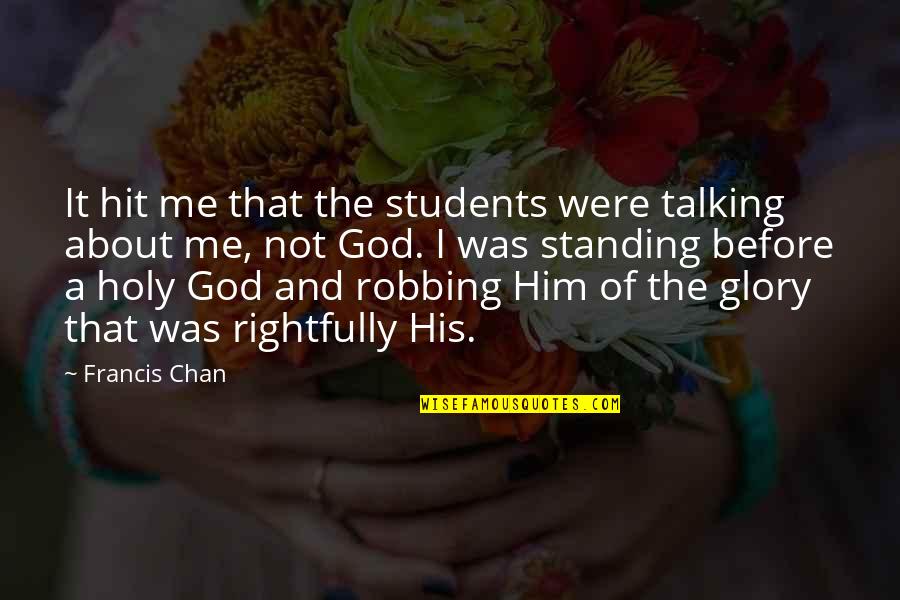 It hit me that the students were talking about me, not God. I was standing before a holy God and robbing Him of the glory that was rightfully His. —
Francis Chan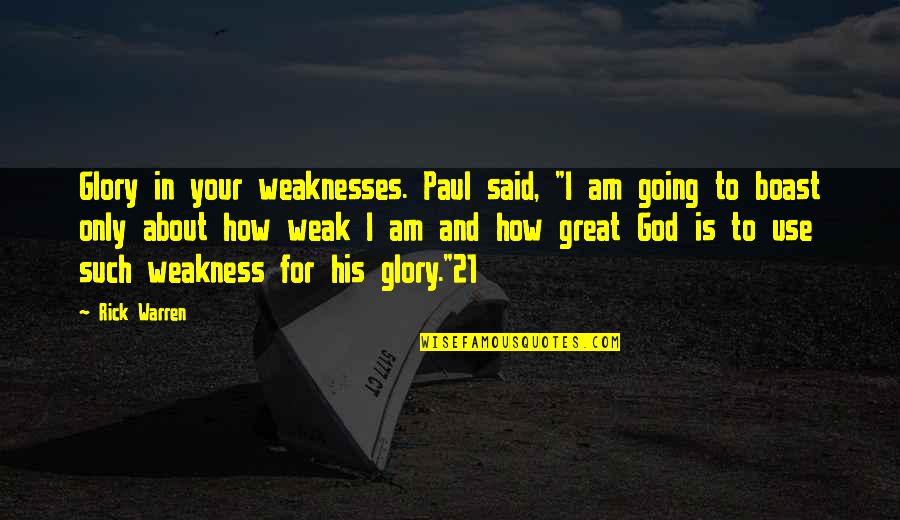 Glory in your weaknesses. Paul said, "I am going to boast only about how weak I am and how great God is to use such weakness for his glory."21 —
Rick Warren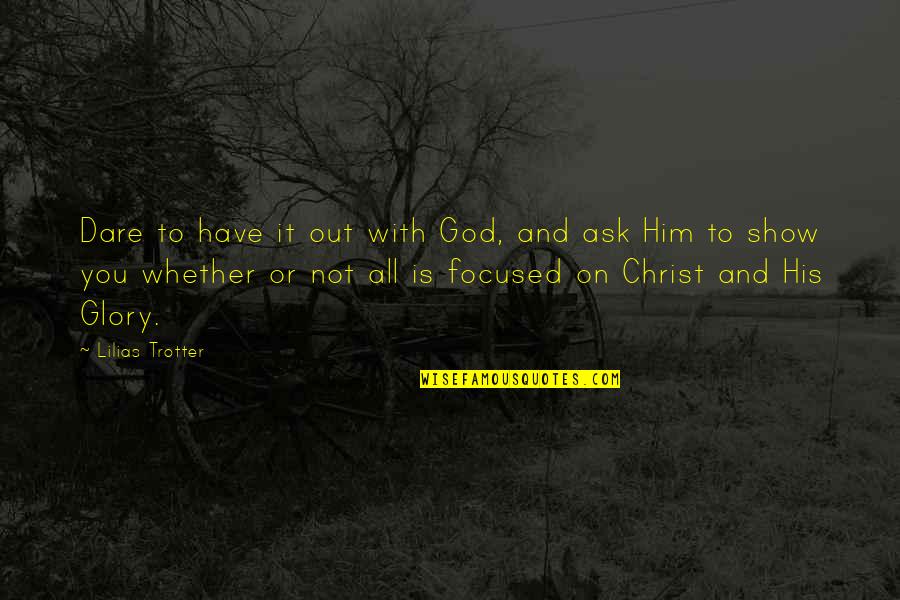 Dare to have it out with God, and ask Him to show you whether or not all is focused on Christ and His Glory. —
Lilias Trotter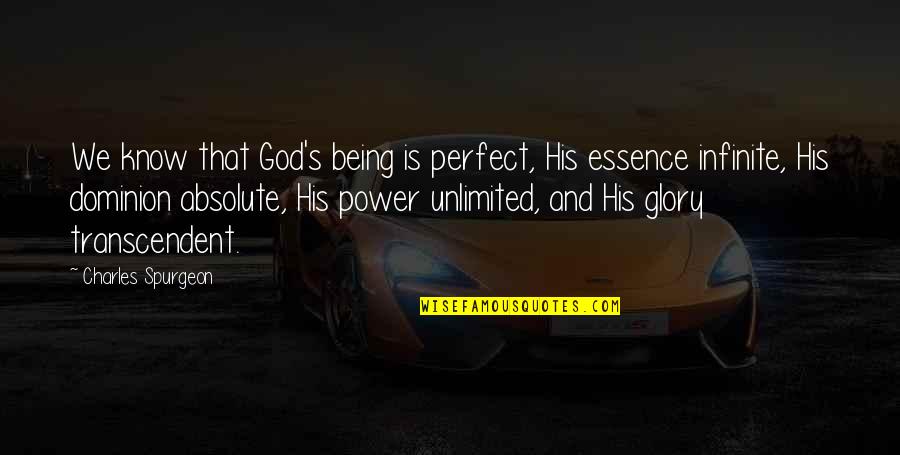 We know that God's being is perfect, His essence infinite, His dominion absolute, His power unlimited, and His glory transcendent. —
Charles Spurgeon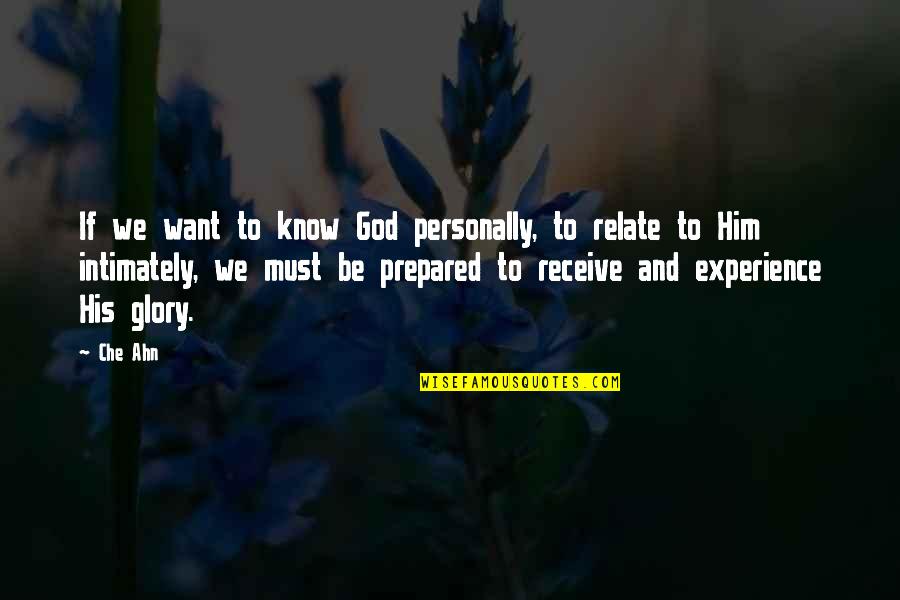 If we want to know God personally, to relate to Him intimately, we must be prepared to receive and experience His glory. —
Che Ahn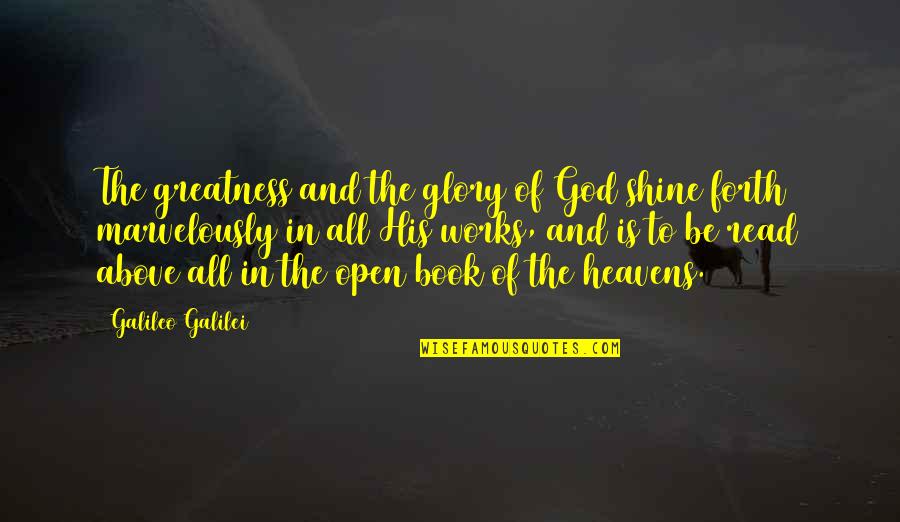 The greatness and the glory of God shine forth marvelously in all His works, and is to be read above all in the open book of the heavens. —
Galileo Galilei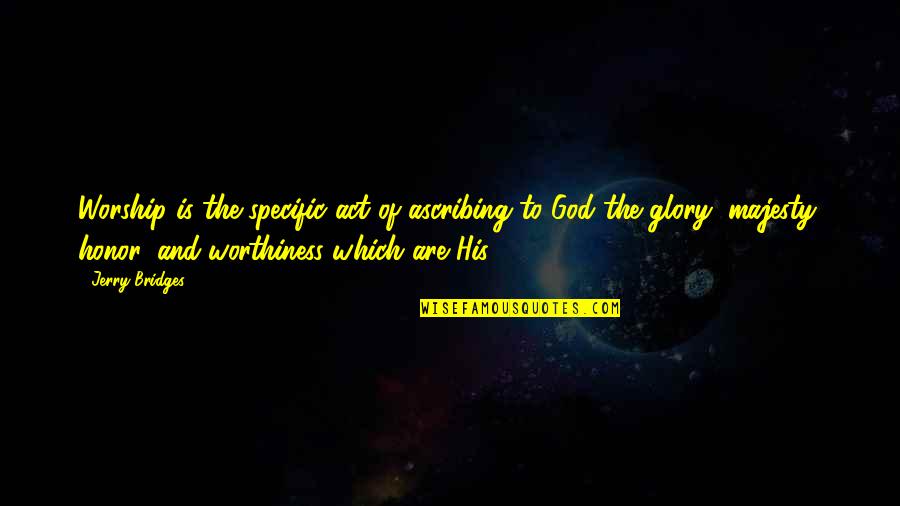 Worship is the specific act of ascribing to God the glory, majesty, honor, and worthiness which are His. —
Jerry Bridges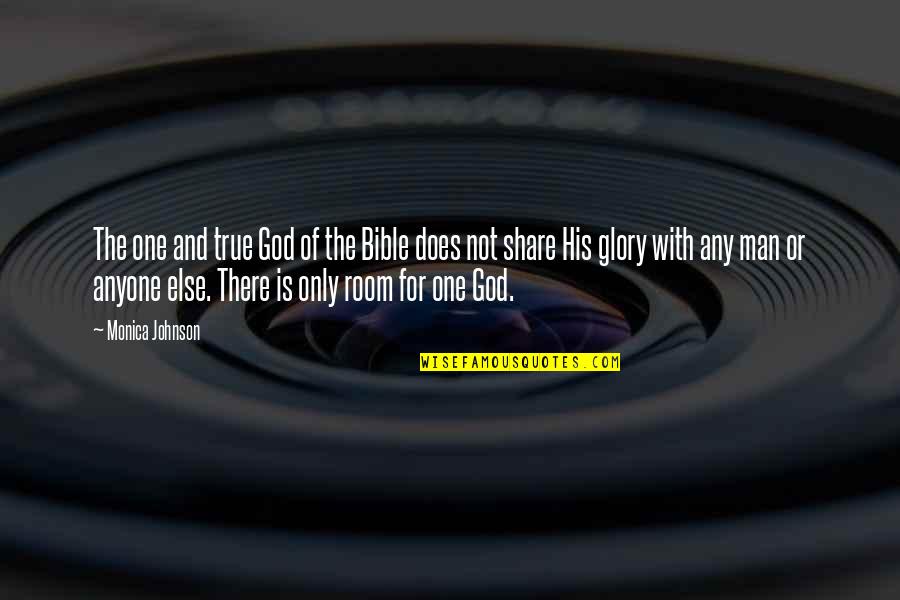 The one and true God of the Bible does not share His glory with any man or anyone else. There is only room for one God. —
Monica Johnson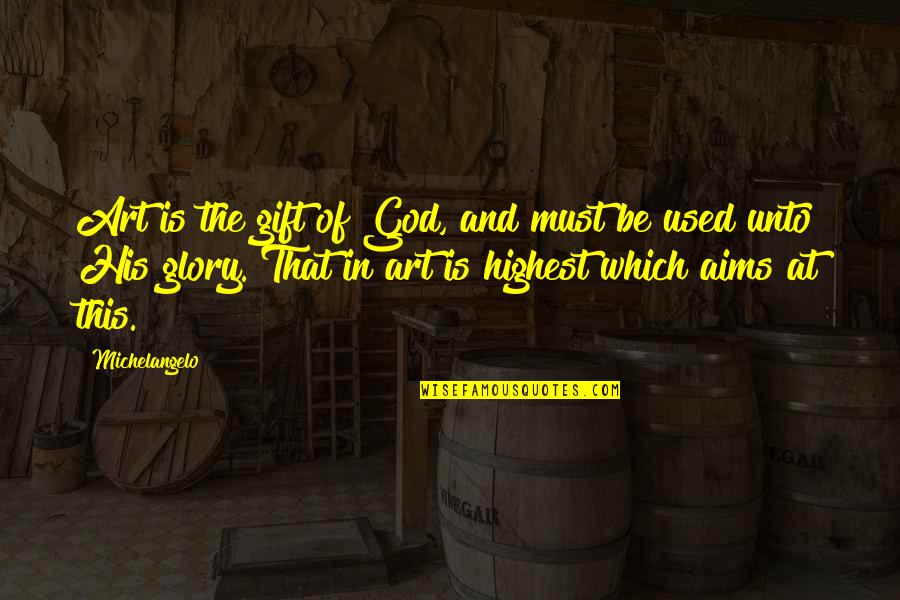 Art is the gift of God, and must be used unto His glory. That in art is highest which aims at this. —
Michelangelo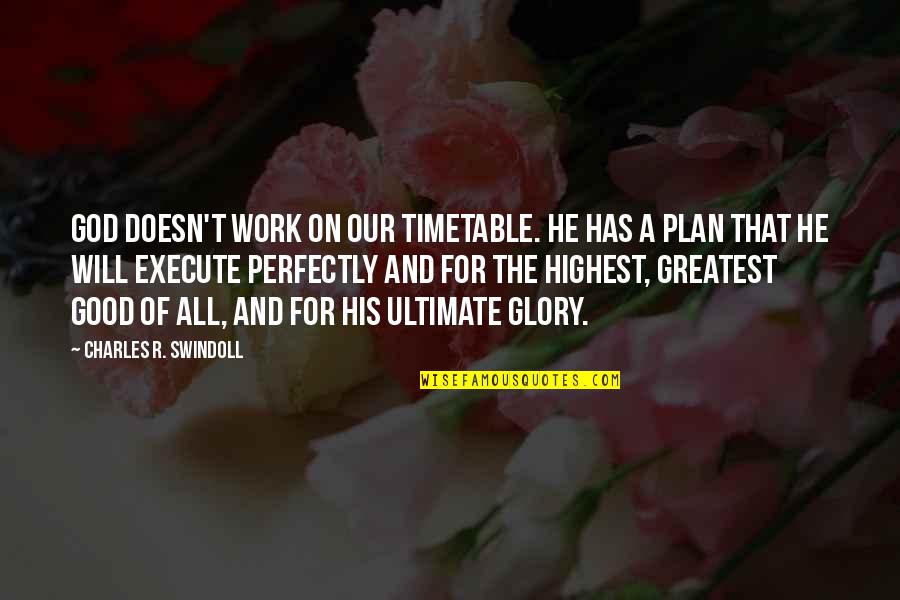 God doesn't work on our timetable. He has a plan that He will execute perfectly and for the highest, greatest good of all, and for His ultimate glory. —
Charles R. Swindoll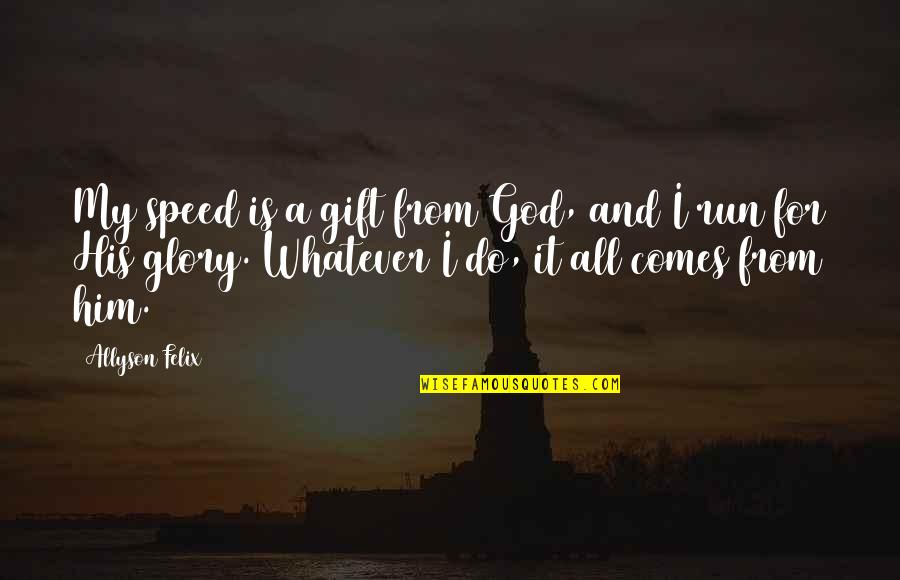 My speed is a gift from God, and I run for His glory. Whatever I do, it all comes from him. —
Allyson Felix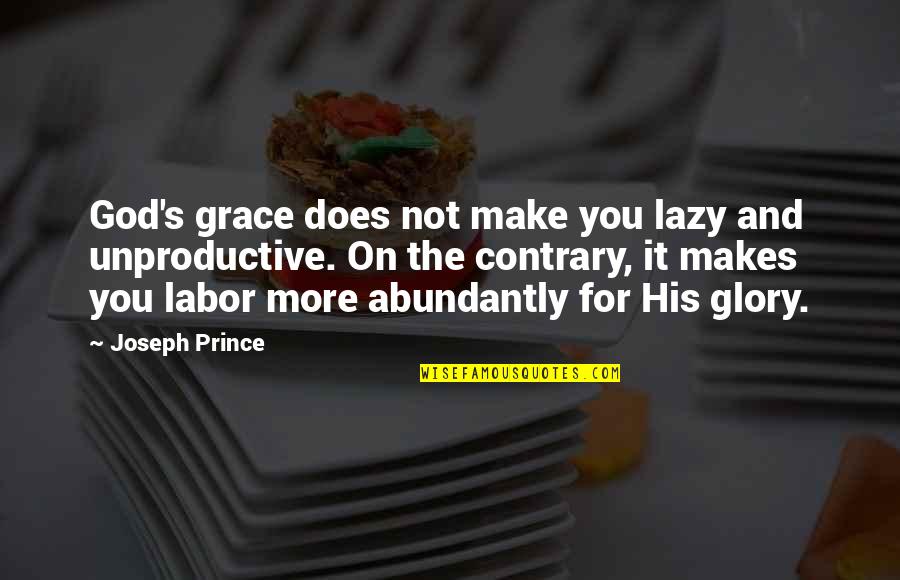 God's grace does not make you lazy and unproductive. On the contrary, it makes you labor more abundantly for His glory. —
Joseph Prince