Certainty And Doubt Quotes
Collection of top 57 famous quotes about Certainty And Doubt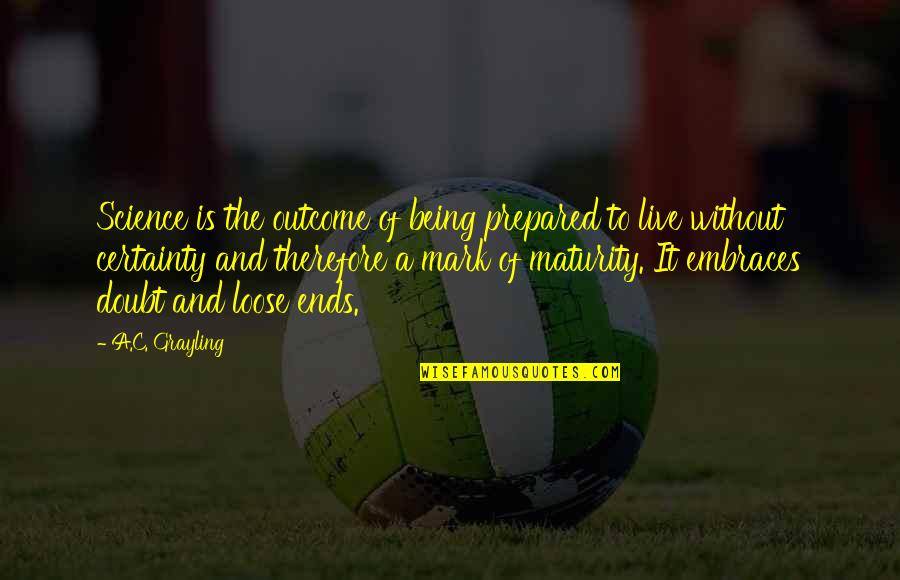 Science is the outcome of being prepared to live without certainty and therefore a mark of maturity. It embraces doubt and loose ends.
—
A.C. Grayling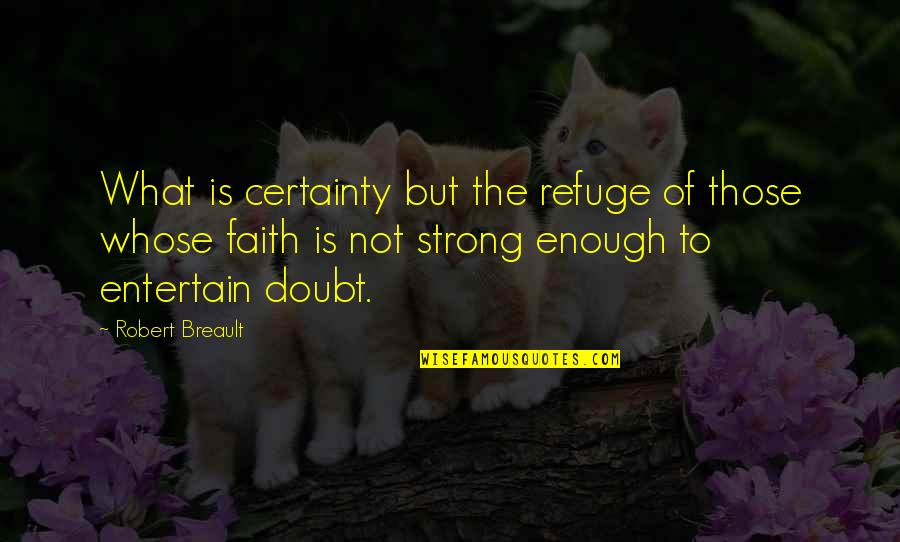 What is certainty but the refuge of those whose faith is not strong enough to entertain doubt.
—
Robert Breault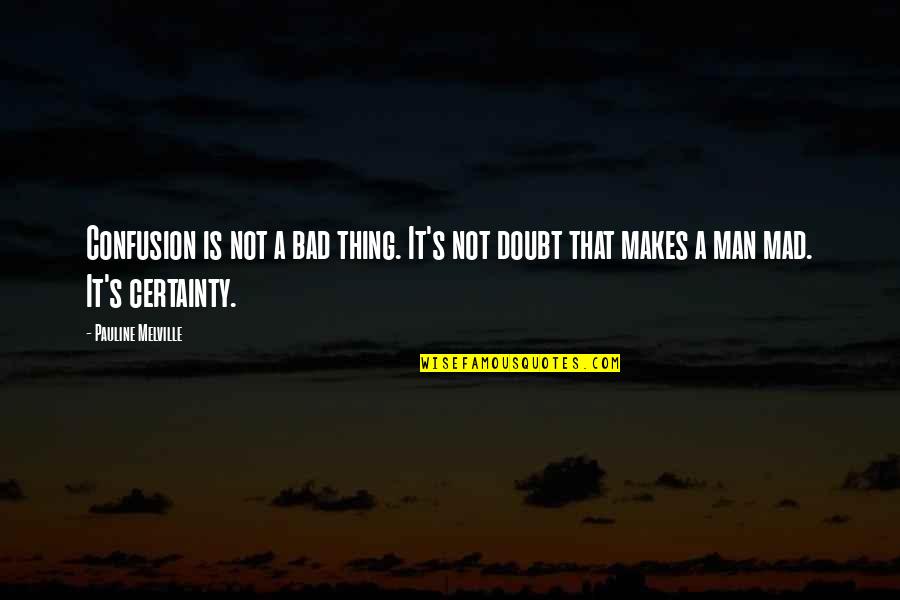 Confusion is not a bad thing. It's not doubt that makes a man mad. It's certainty.
—
Pauline Melville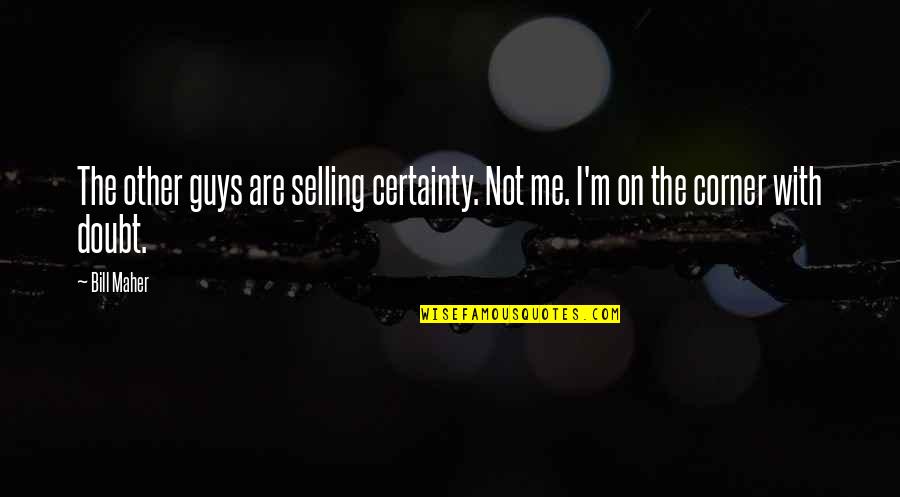 The other guys are selling certainty. Not me. I'm on the corner with doubt.
—
Bill Maher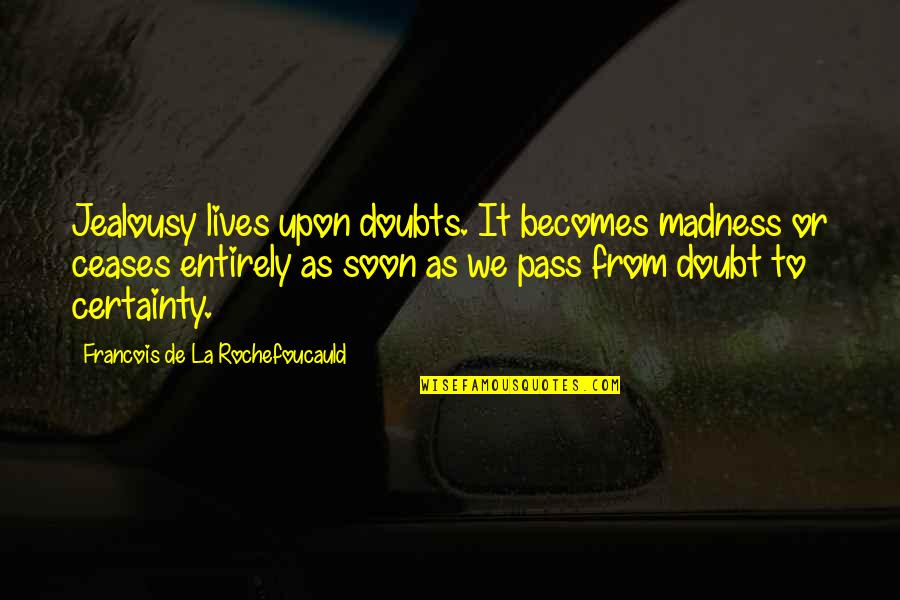 Jealousy lives upon doubts. It becomes madness or ceases entirely as soon as we pass from doubt to certainty.
—
Francois De La Rochefoucauld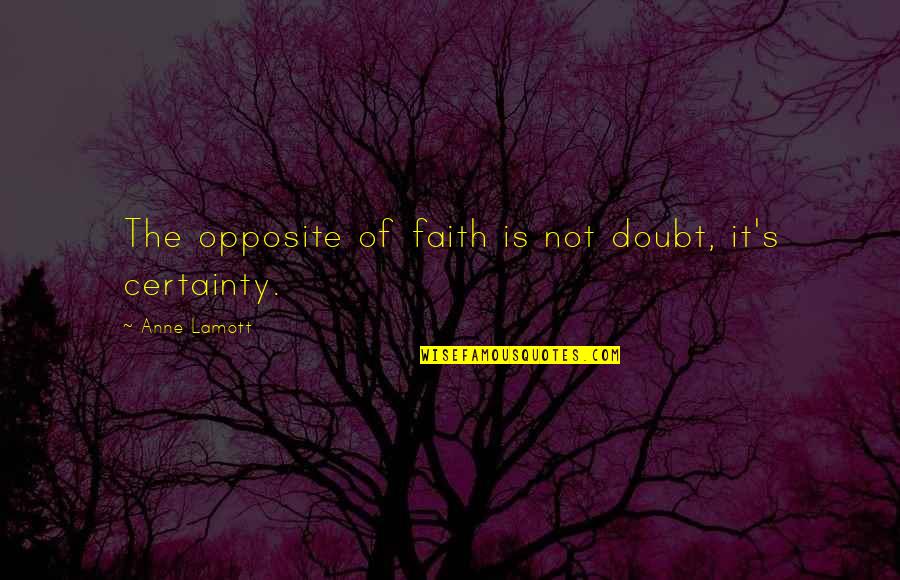 The opposite of faith is not doubt, it's certainty.
—
Anne Lamott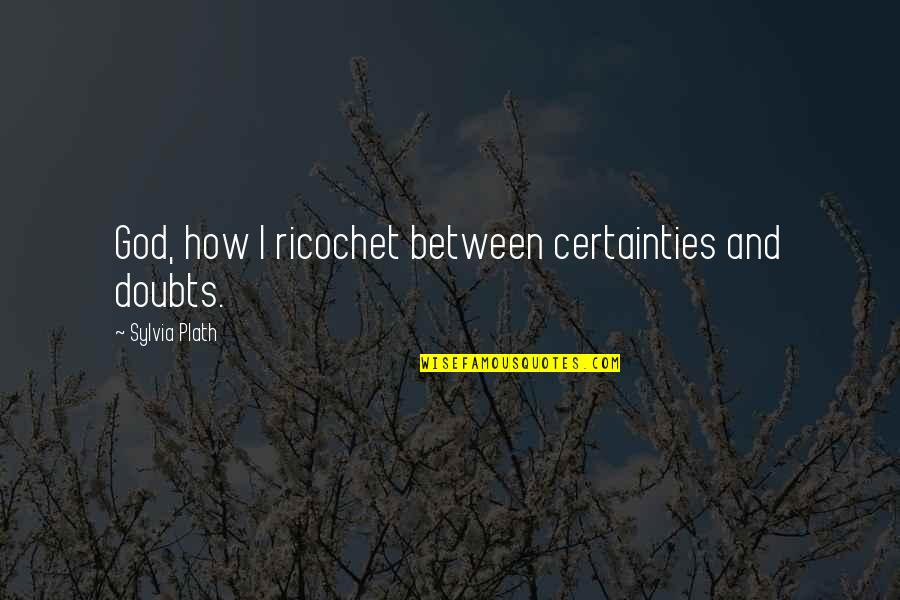 God, how I ricochet between certainties and doubts.
—
Sylvia Plath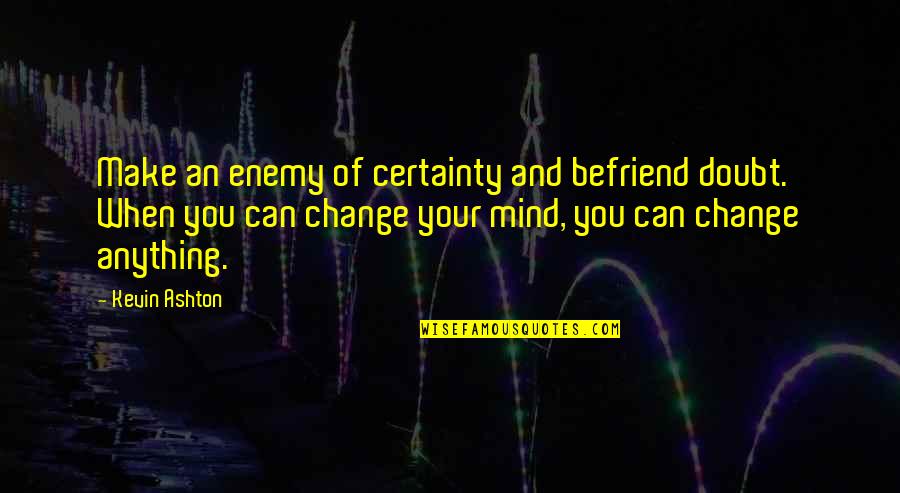 Make an enemy of certainty and befriend doubt. When you can change your mind, you can change anything.
—
Kevin Ashton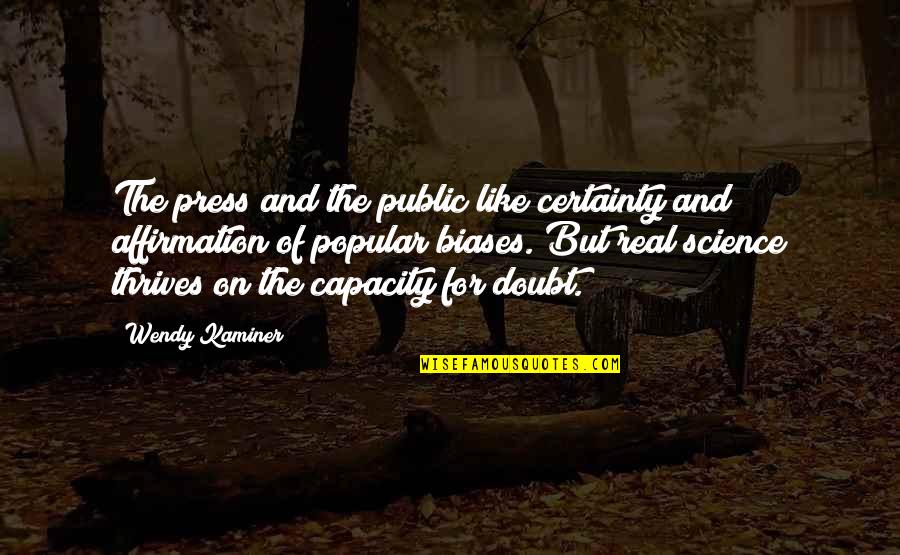 The press and the public like certainty and affirmation of popular biases. But real science thrives on the capacity for doubt.
—
Wendy Kaminer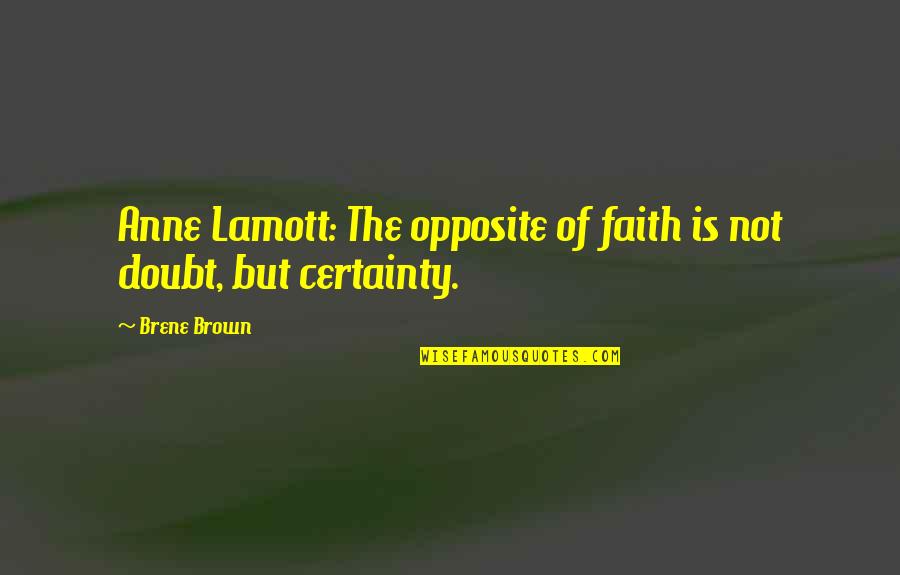 Anne Lamott: The opposite of faith is not doubt, but certainty.
—
Brene Brown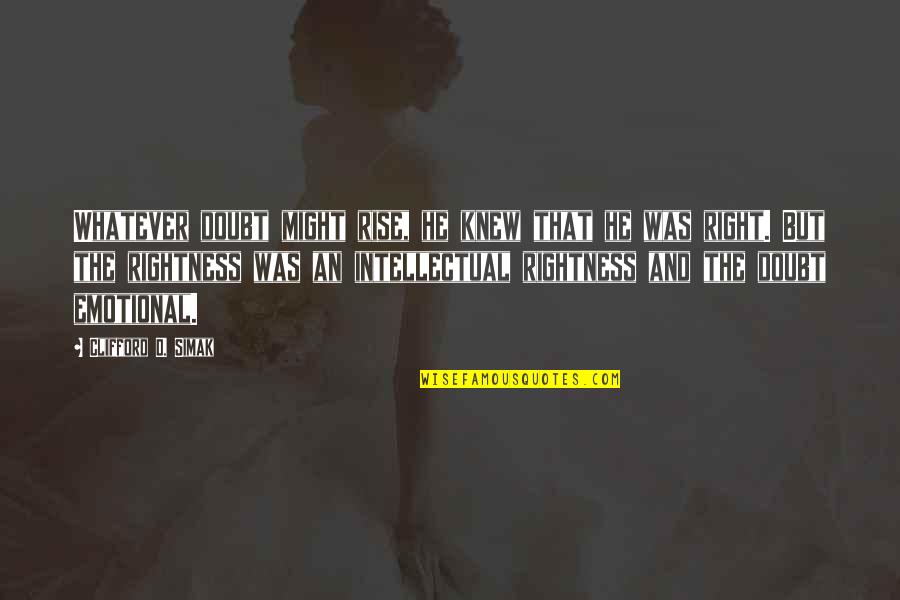 Whatever doubt might rise, he knew that he was right. But the rightness was an intellectual rightness and the doubt emotional.
—
Clifford D. Simak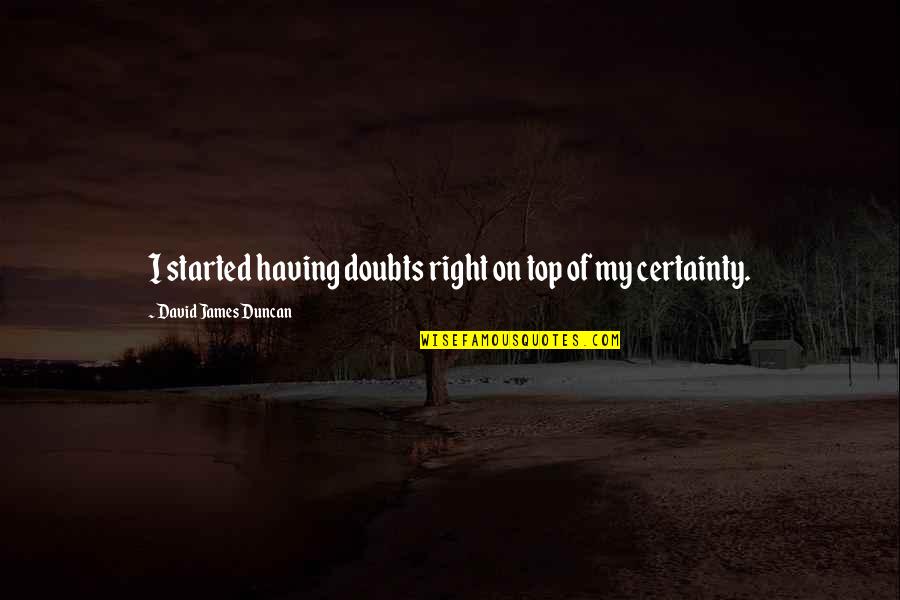 I started having doubts right on top of my certainty.
—
David James Duncan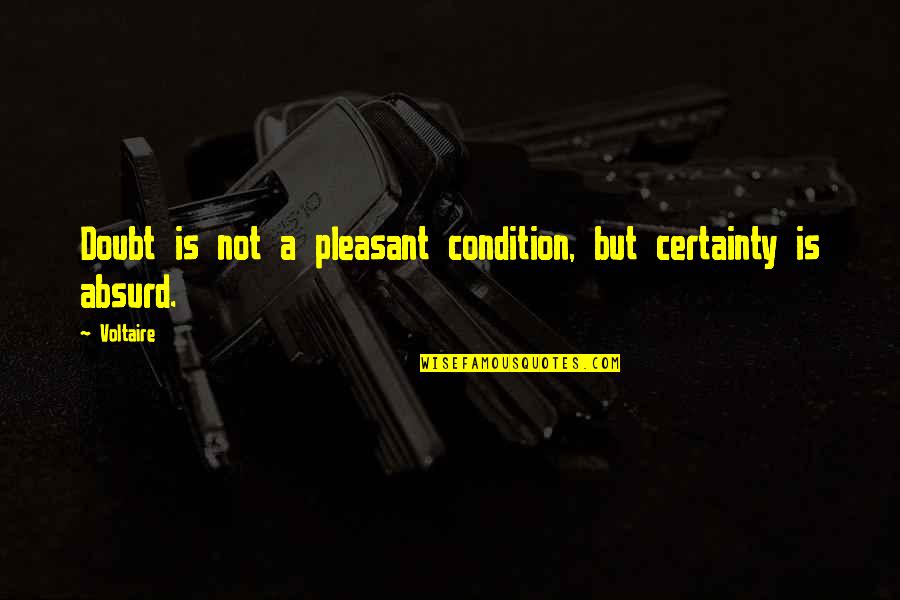 Doubt is not a pleasant condition, but certainty is absurd.
—
Voltaire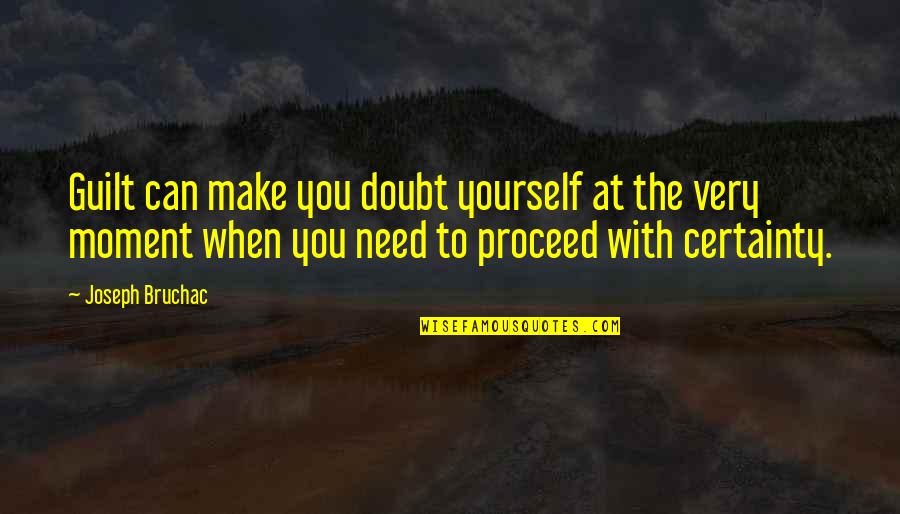 Guilt can make you doubt yourself at the very moment when you need to proceed with certainty. —
Joseph Bruchac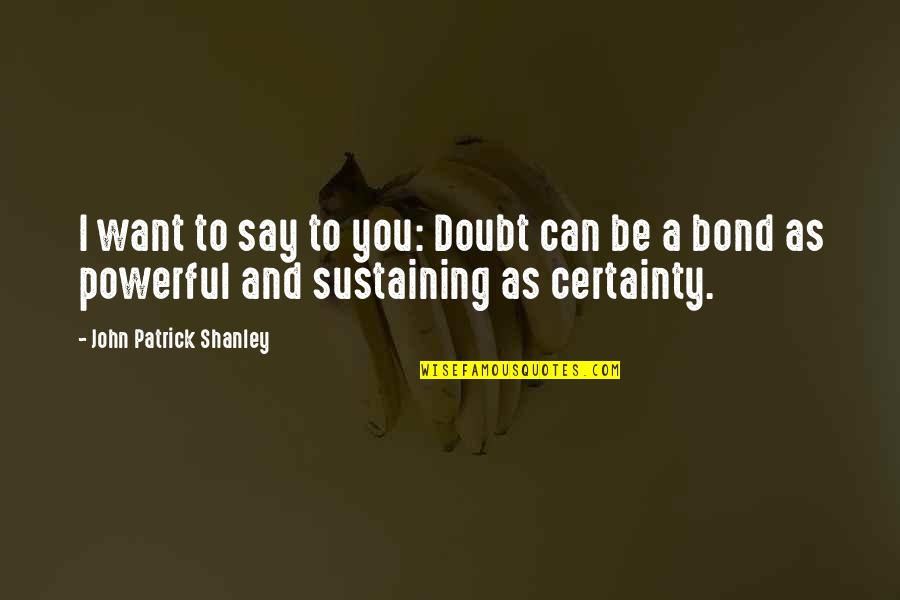 I want to say to you: Doubt can be a bond as powerful and sustaining as certainty. —
John Patrick Shanley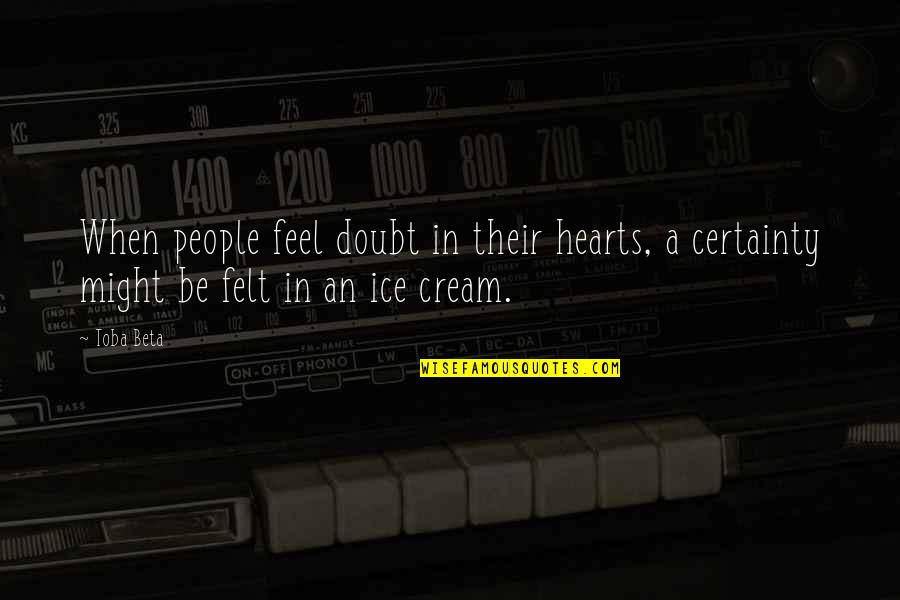 When people feel doubt in their hearts,
a certainty might be felt in an ice cream. —
Toba Beta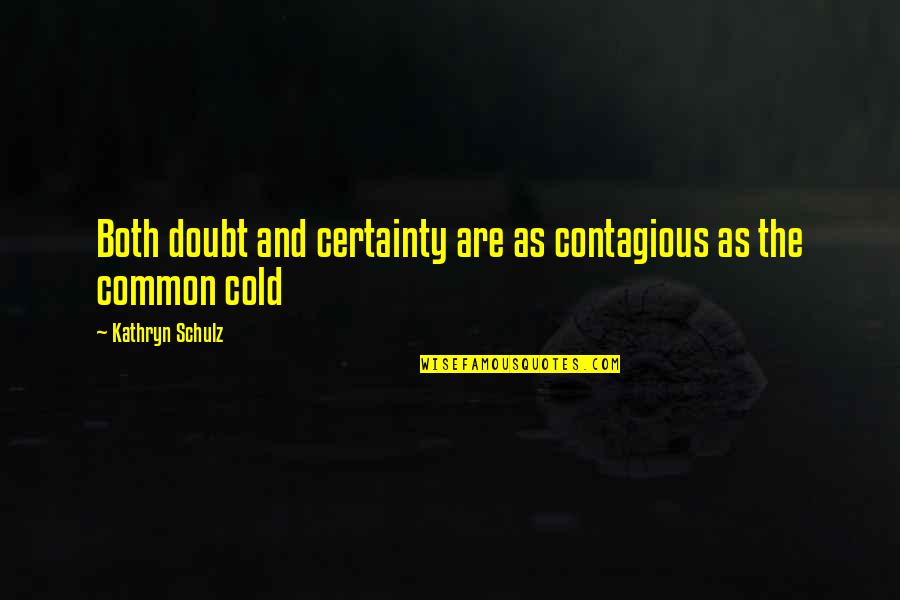 Both doubt and certainty are as contagious as the common cold —
Kathryn Schulz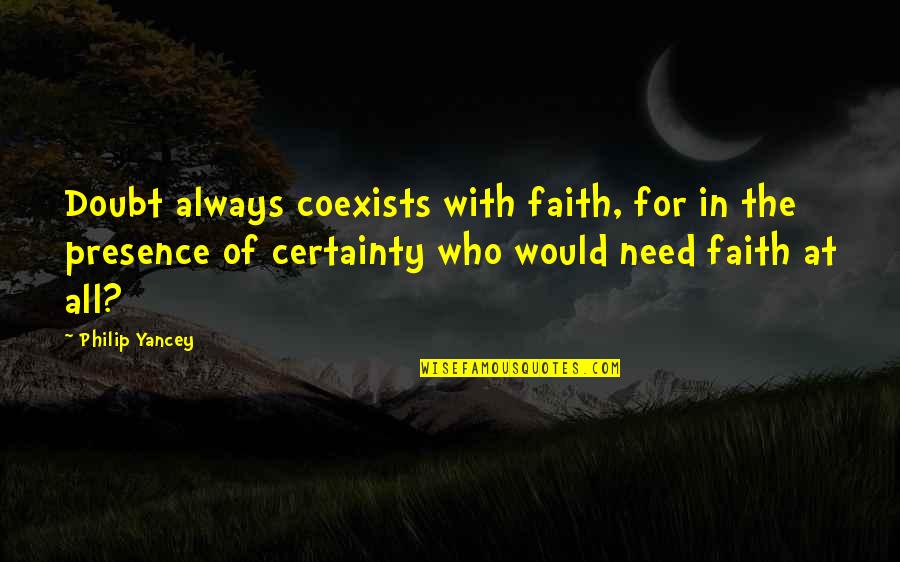 Doubt always coexists with faith, for in the presence of certainty who would need faith at all? —
Philip Yancey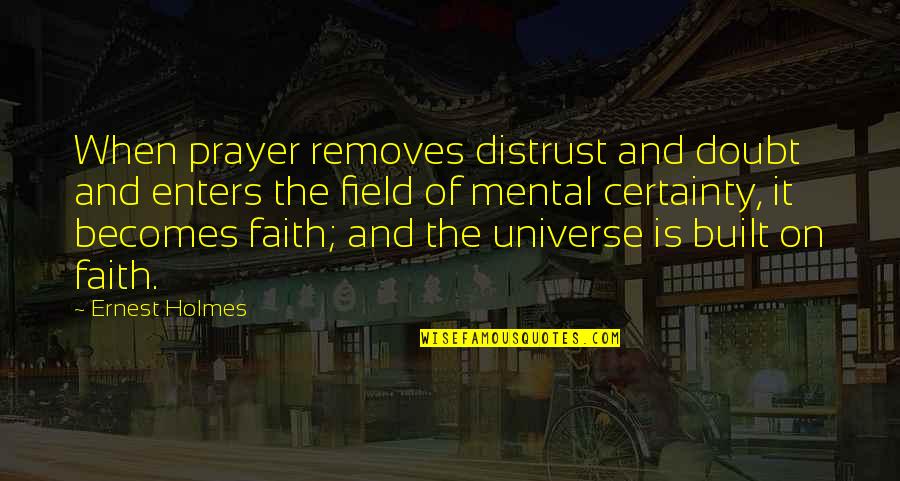 When prayer removes distrust and doubt and enters the field of mental certainty, it becomes faith; and the universe is built on faith. —
Ernest Holmes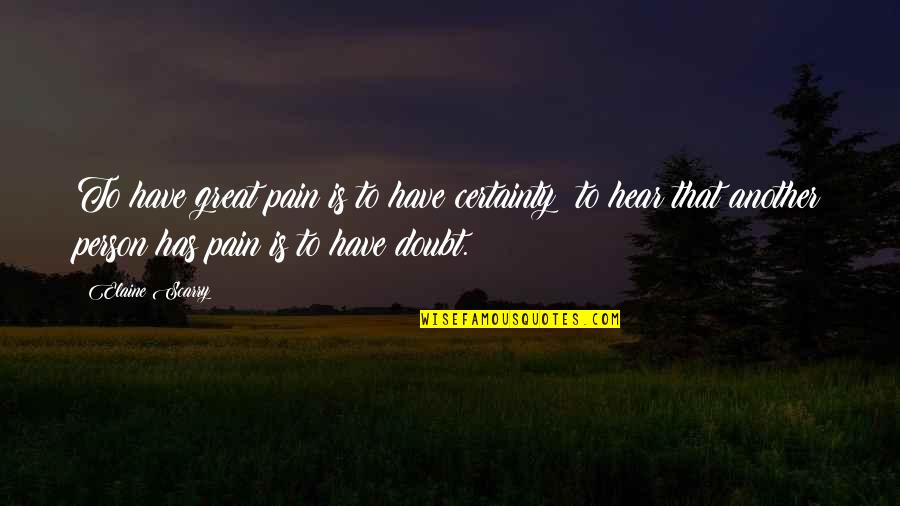 To have great pain is to have certainty; to hear that another person has pain is to have doubt. —
Elaine Scarry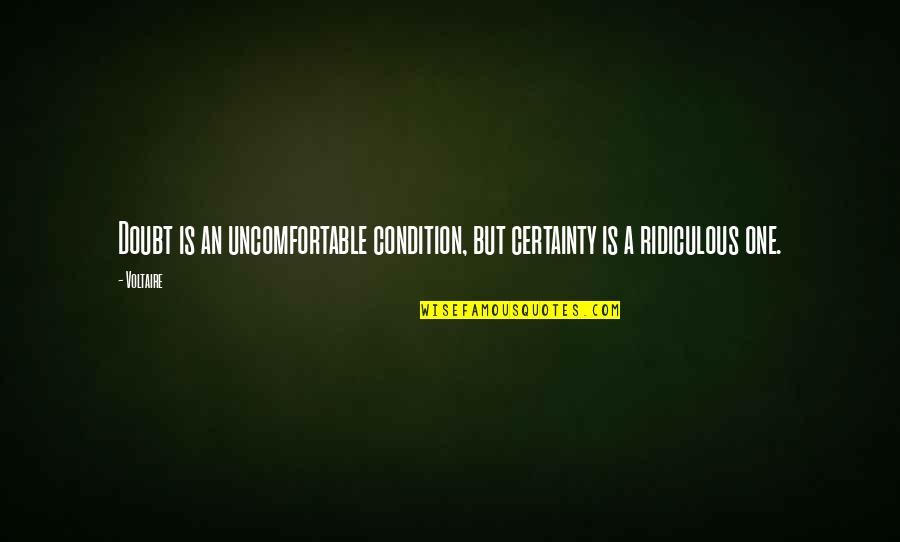 Doubt is an uncomfortable condition, but certainty is a ridiculous one. —
Voltaire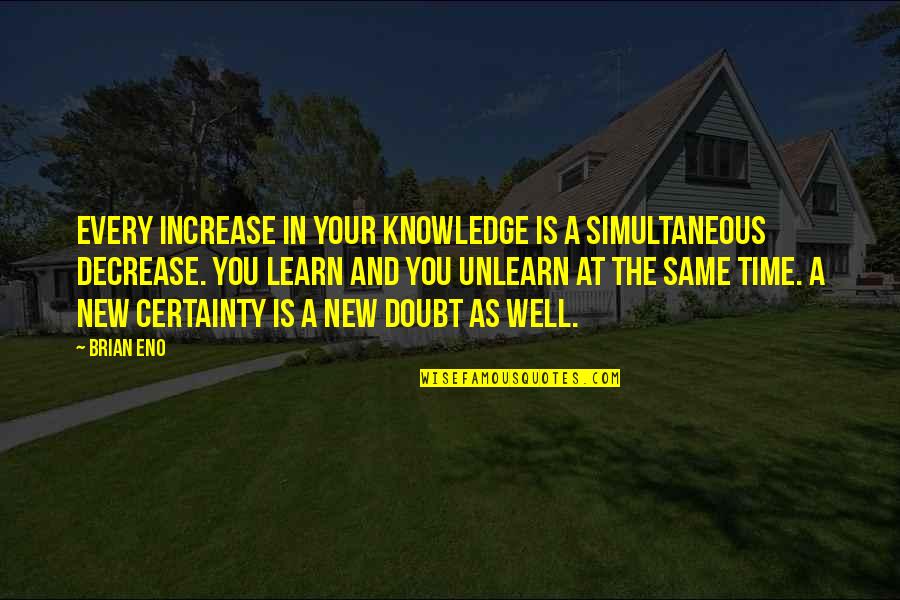 Every increase in your knowledge is a simultaneous decrease. You learn and you unlearn at the same time. A new certainty is a new doubt as well. —
Brian Eno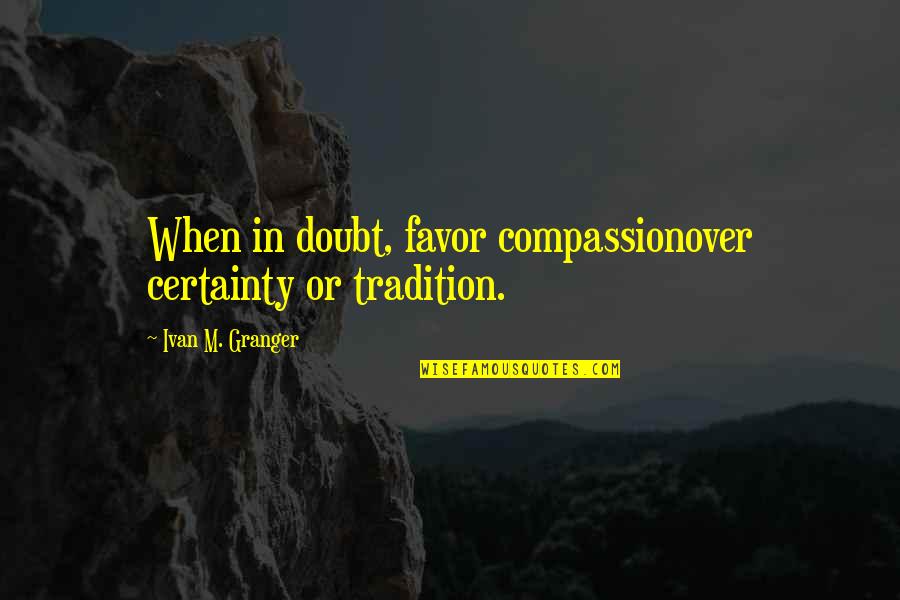 When in doubt, favor compassion
over certainty or tradition. —
Ivan M. Granger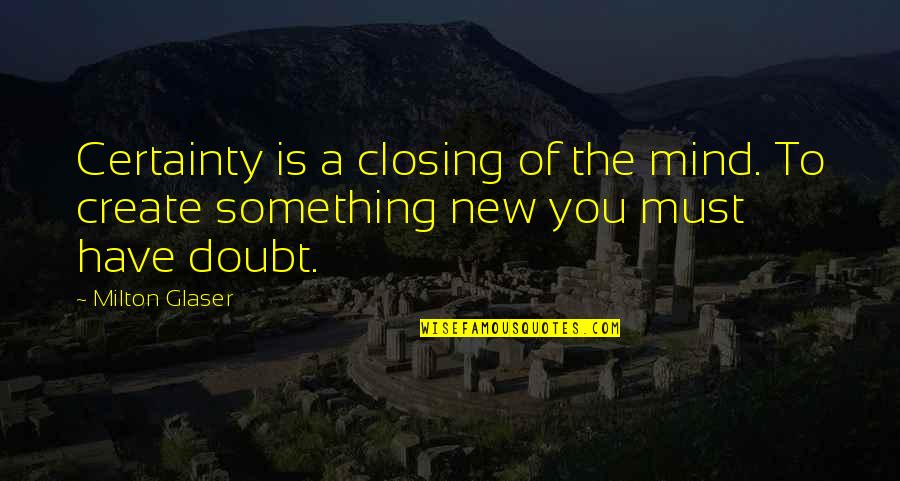 Certainty is a closing of the mind. To create something new you must have doubt. —
Milton Glaser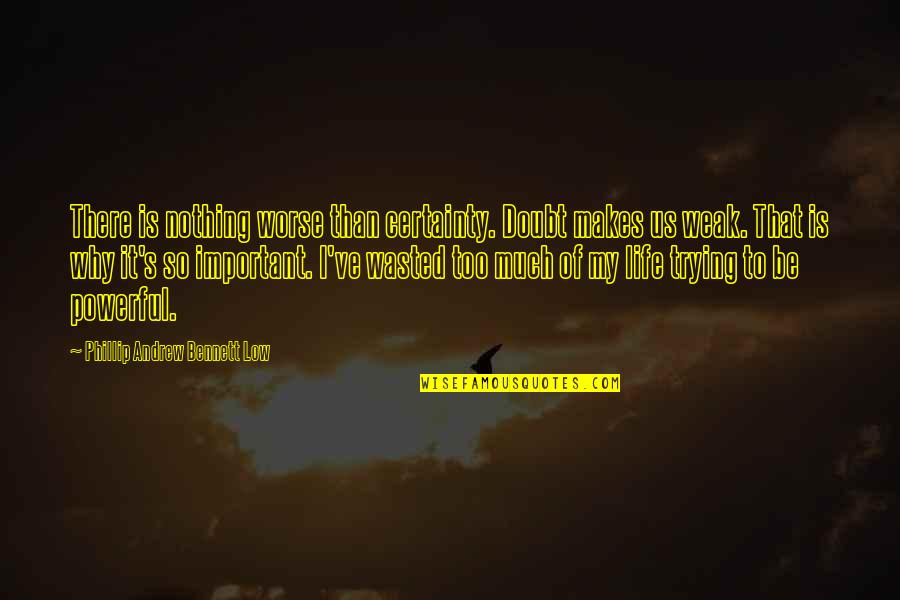 There is nothing worse than certainty. Doubt makes us weak. That is why it's so important. I've wasted too much of my life trying to be powerful. —
Phillip Andrew Bennett Low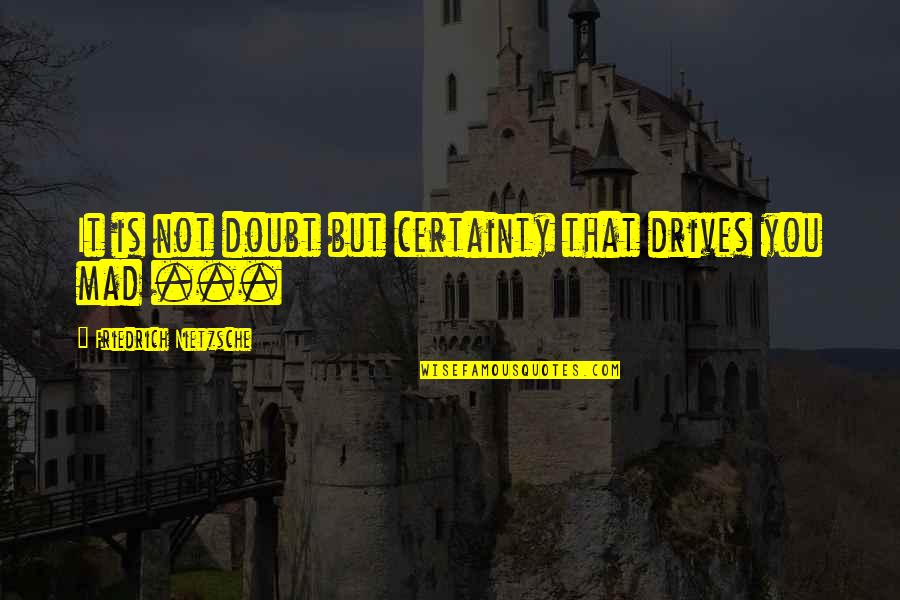 It is not doubt but certainty that drives you mad ... —
Friedrich Nietzsche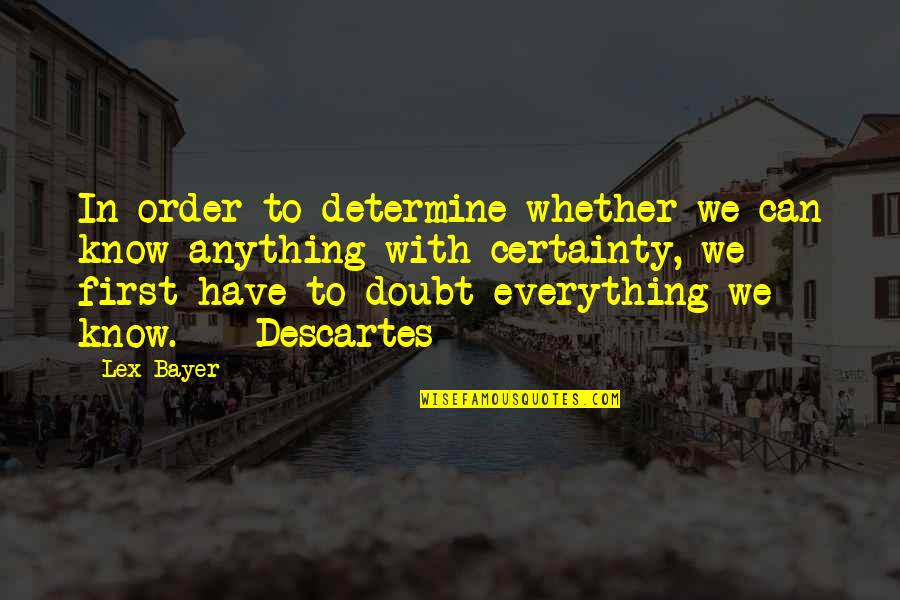 In order to determine whether we can know anything with certainty, we first have to doubt everything we know. - Descartes —
Lex Bayer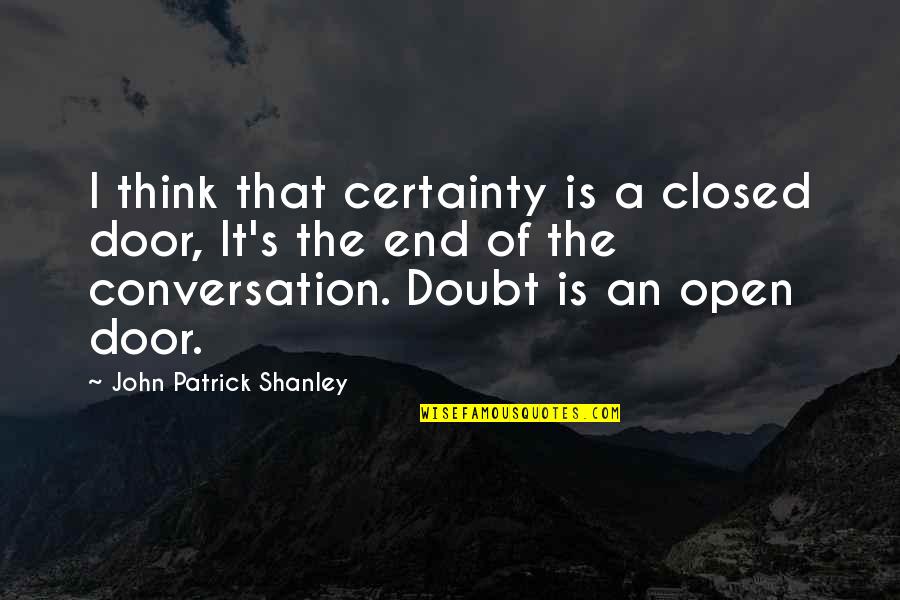 I think that certainty is a closed door, It's the end of the conversation. Doubt is an open door. —
John Patrick Shanley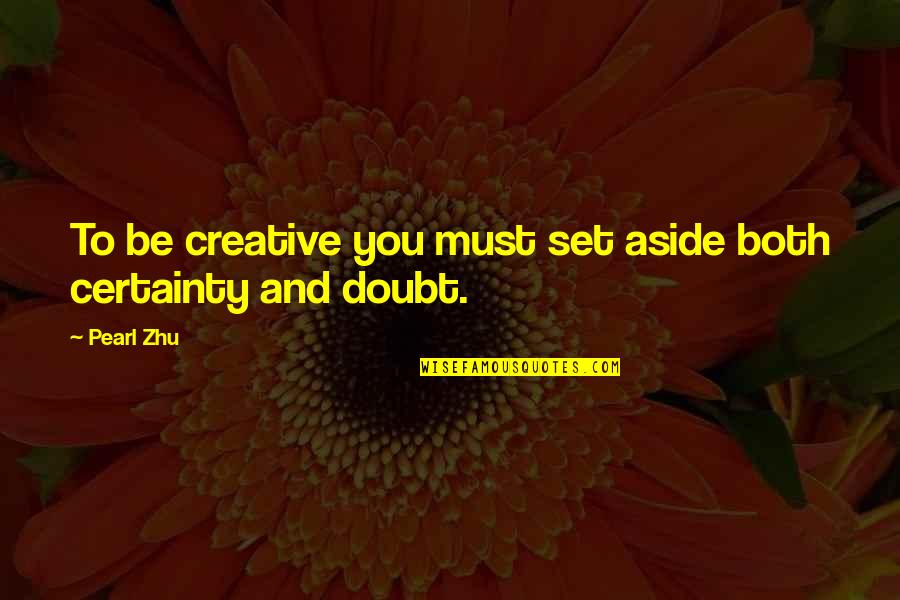 To be creative you must set aside both
certainty and doubt
. —
Pearl Zhu
Doubt is nothing but a trivial agitation on the surface of the soul, while deep down there is a calm certainty. —
Francois Mauriac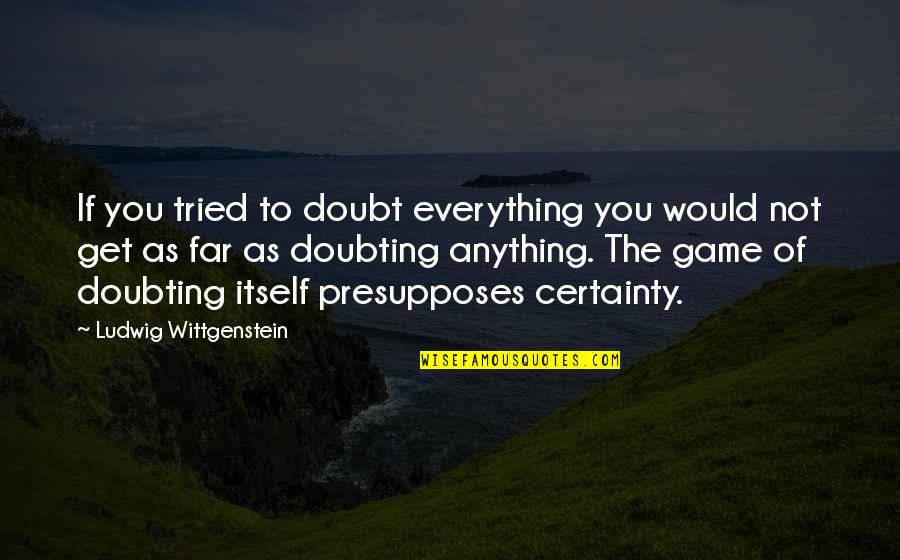 If you tried to doubt everything you would not get as far as doubting anything. The game of doubting itself presupposes certainty. —
Ludwig Wittgenstein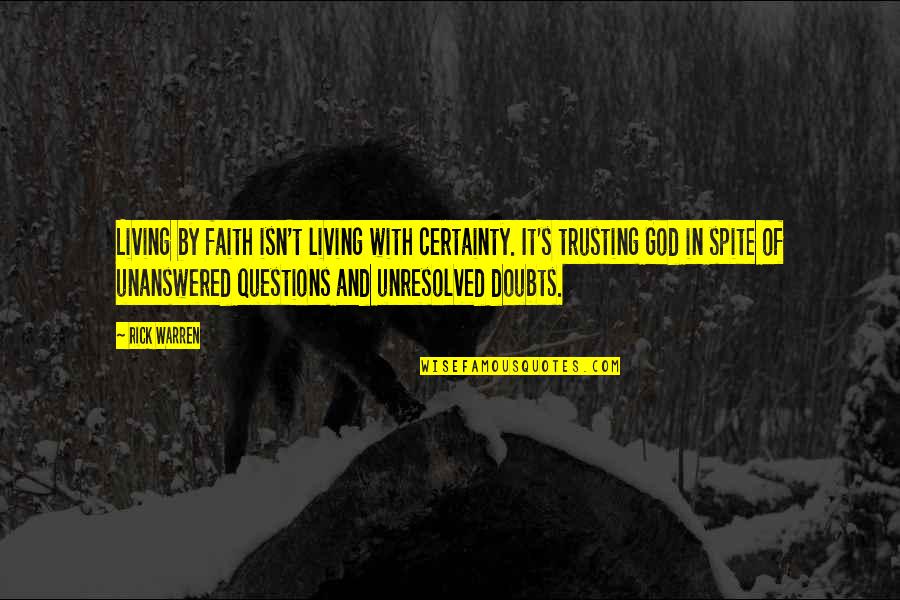 Living by faith isn't living with certainty. It's trusting God in spite of unanswered questions and unresolved doubts. —
Rick Warren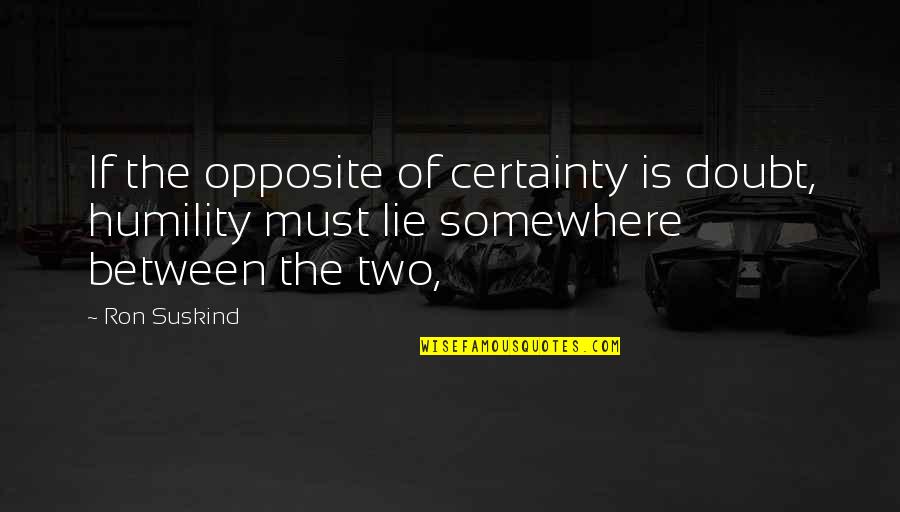 If the opposite of certainty is doubt, humility must lie somewhere between the two, —
Ron Suskind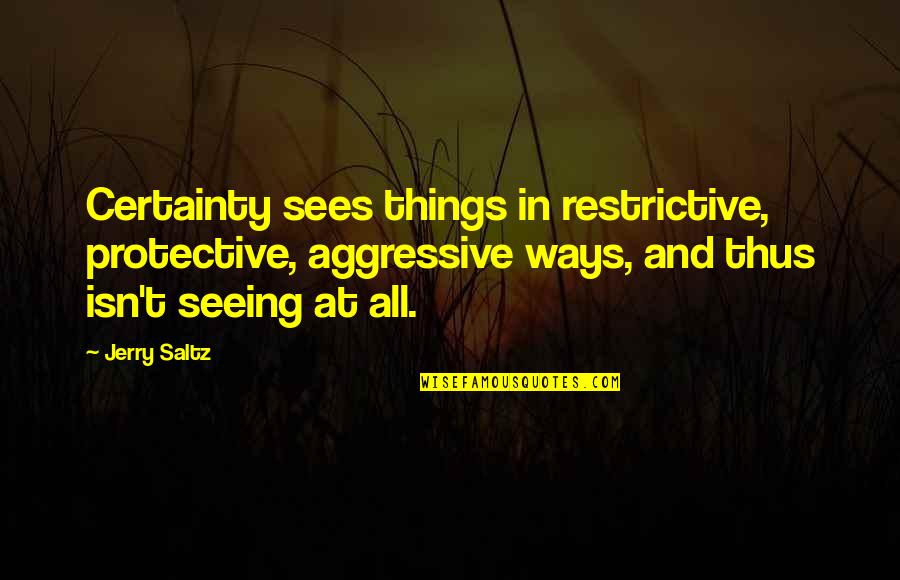 Certainty sees things in restrictive, protective, aggressive ways, and thus isn't seeing at all. —
Jerry Saltz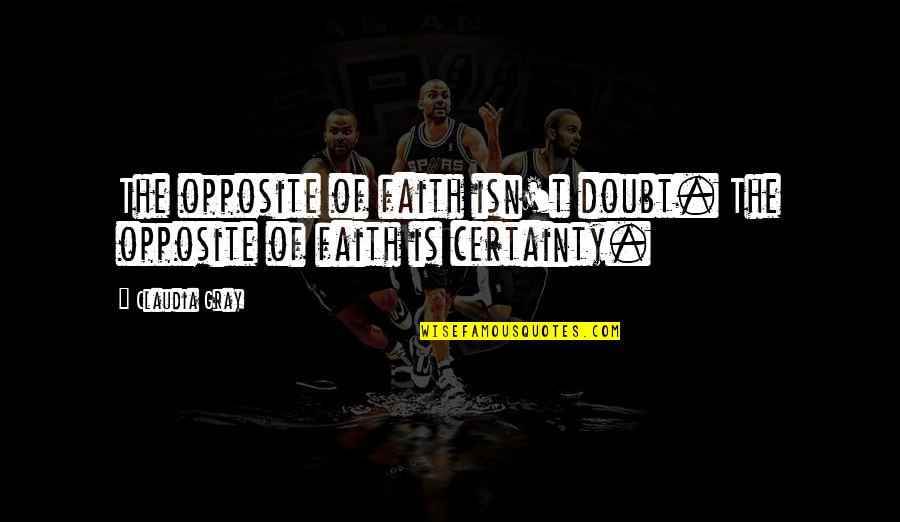 The opposite of faith isn't doubt. The opposite of faith is certainty. —
Claudia Gray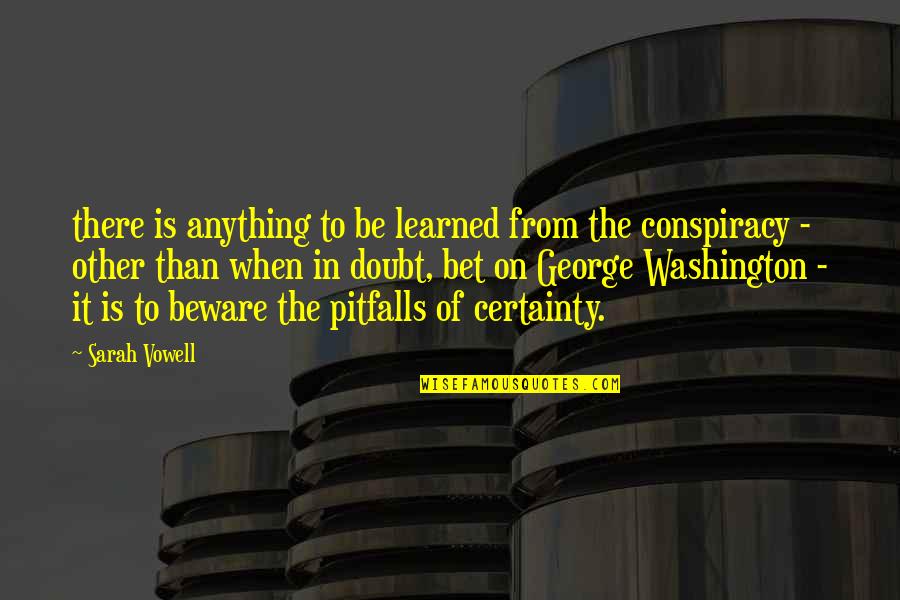 there is anything to be learned from the conspiracy - other than when in doubt, bet on George Washington - it is to beware the pitfalls of certainty. —
Sarah Vowell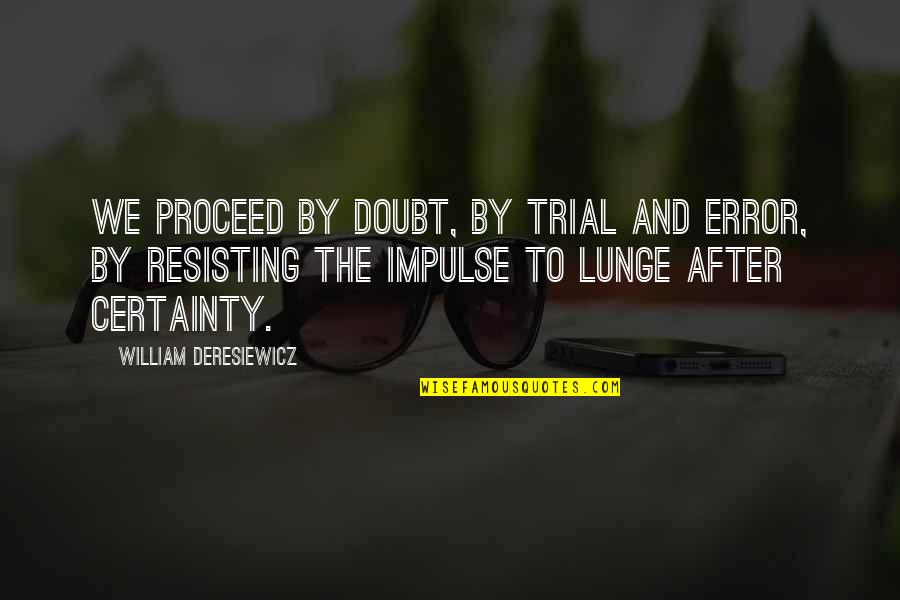 We proceed by doubt, by trial and error, by resisting the impulse to lunge after certainty. —
William Deresiewicz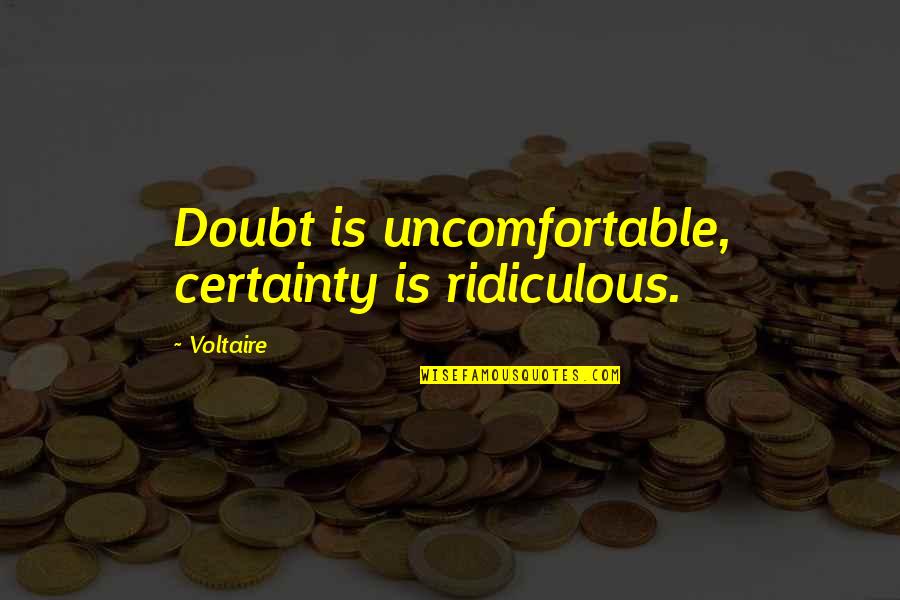 Doubt is uncomfortable, certainty is ridiculous. —
Voltaire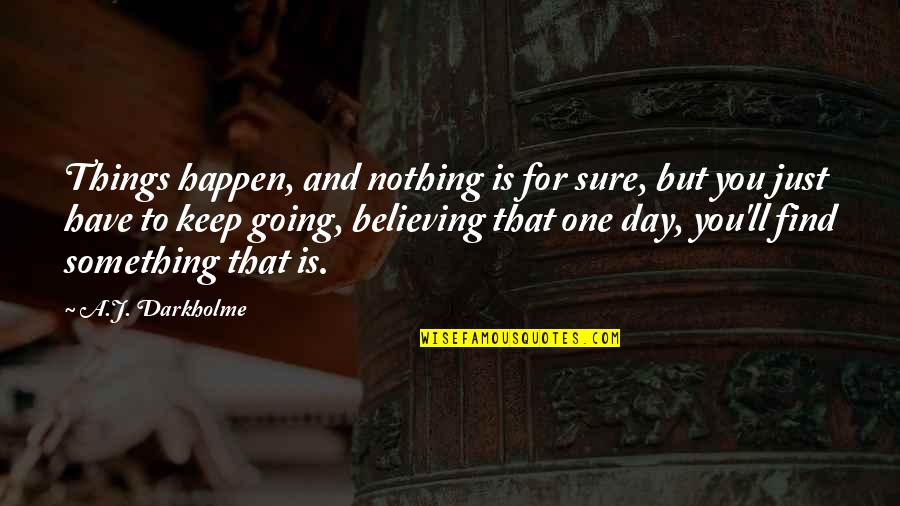 Things happen, and nothing is for sure, but you just have to keep going, believing that one day, you'll find something that is. —
A.J. Darkholme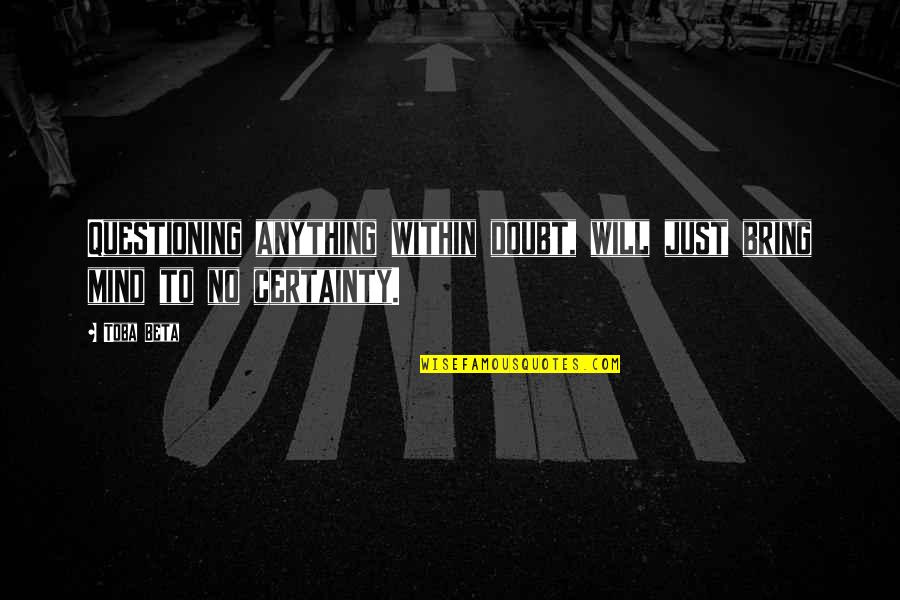 Questioning anything within doubt,
will just bring mind to no certainty. —
Toba Beta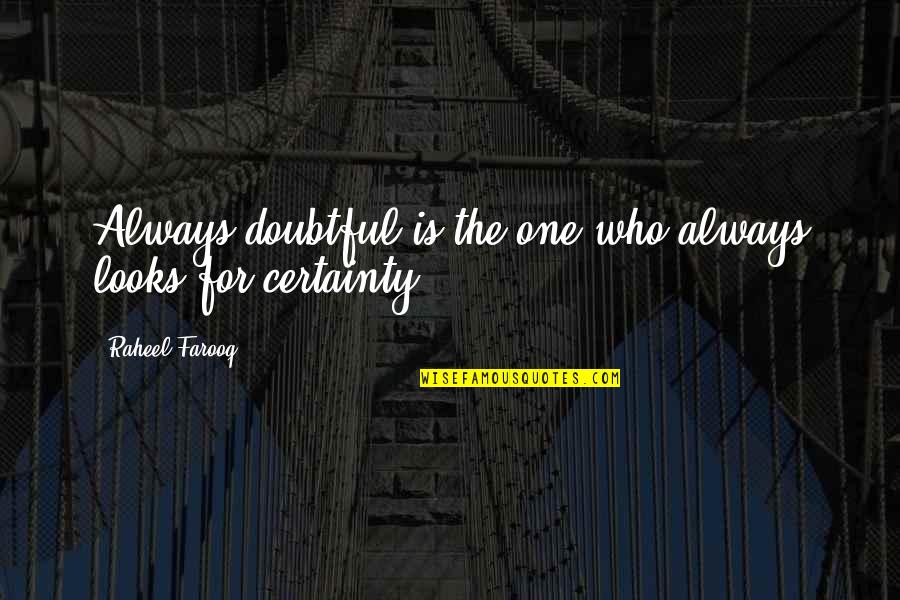 Always doubtful is the one who always looks for certainty. —
Raheel Farooq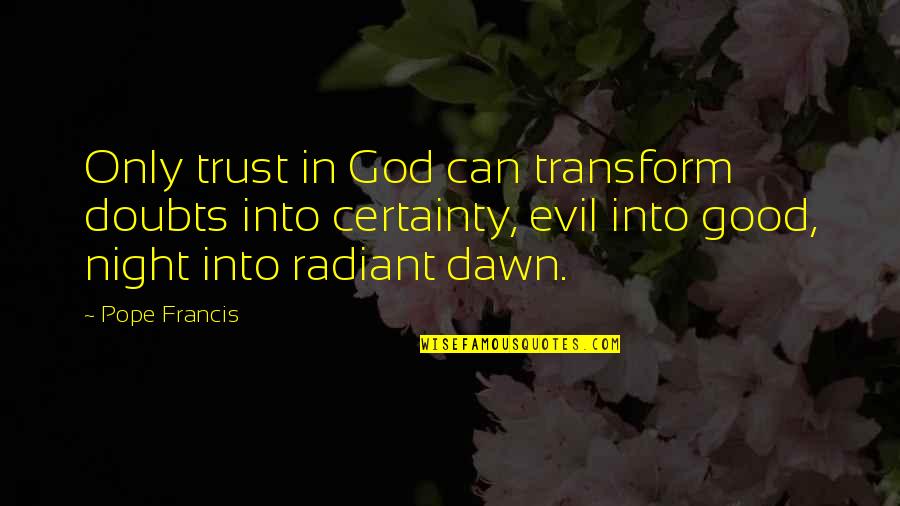 Only trust in God can transform doubts into certainty, evil into good, night into radiant dawn. —
Pope Francis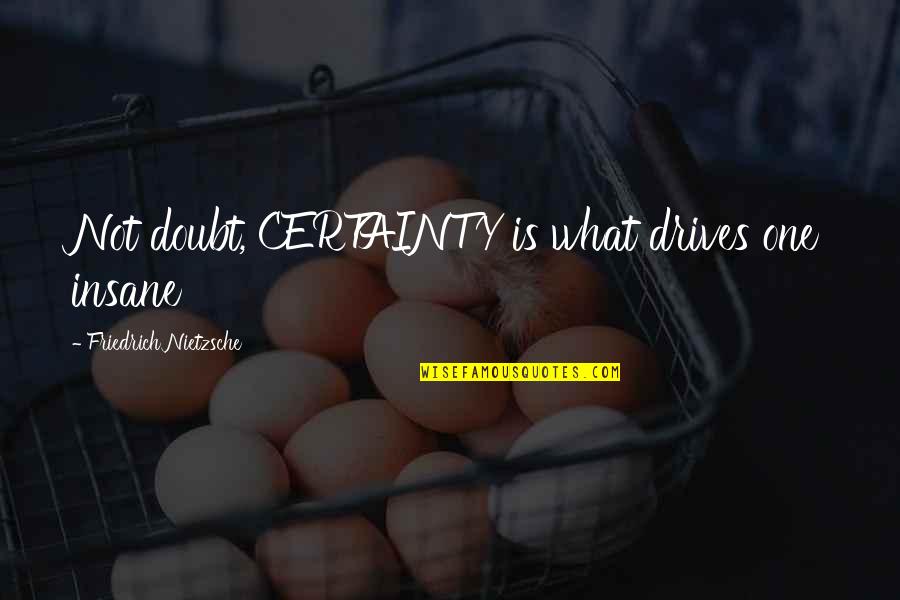 Not doubt, CERTAINTY is what drives one insane —
Friedrich Nietzsche
All great discoveries ... are products as much of doubt as of certainty, and the two in opposition clear the air for marvelous accidents. —
Mark Helprin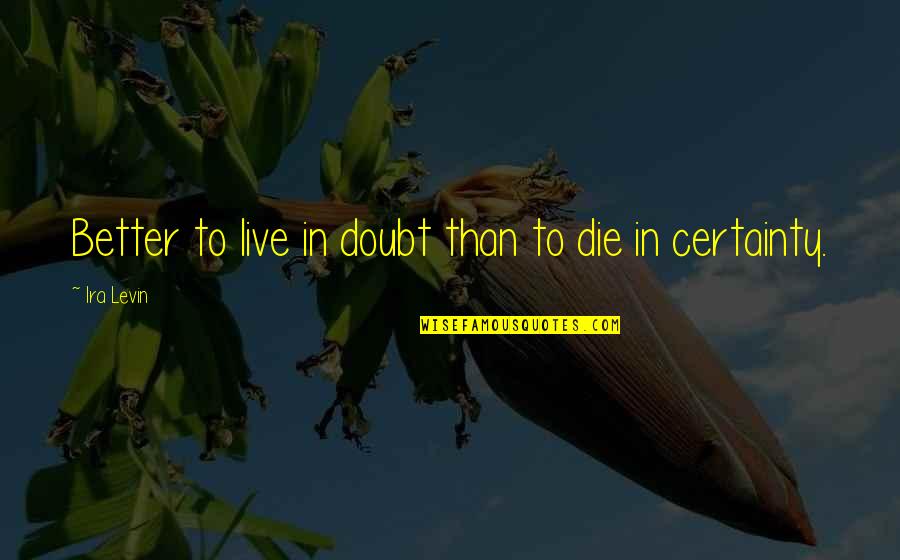 Better to live in doubt than to die in certainty. —
Ira Levin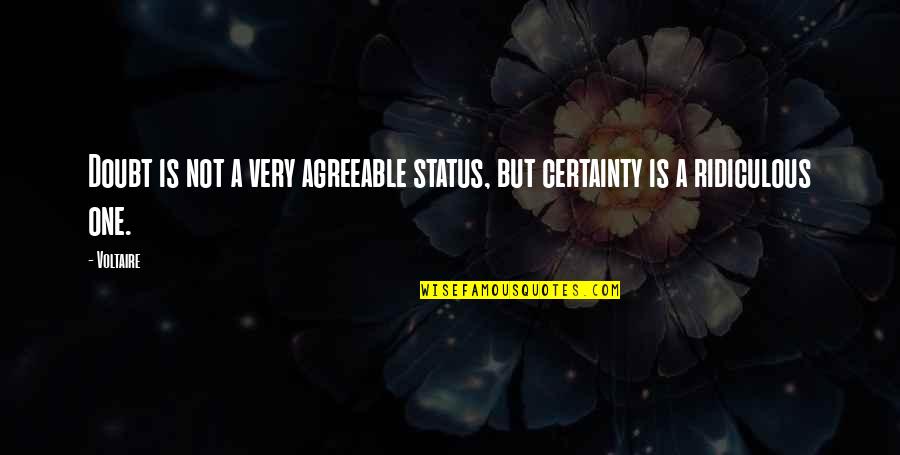 Doubt is not a very agreeable status, but certainty is a ridiculous one. —
Voltaire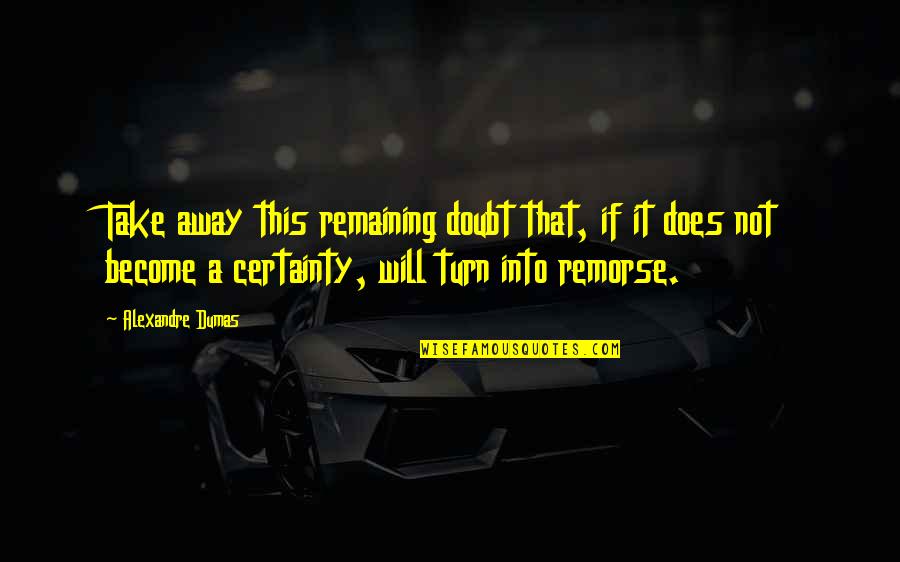 Take away this remaining doubt that, if it does not become a certainty, will turn into remorse. —
Alexandre Dumas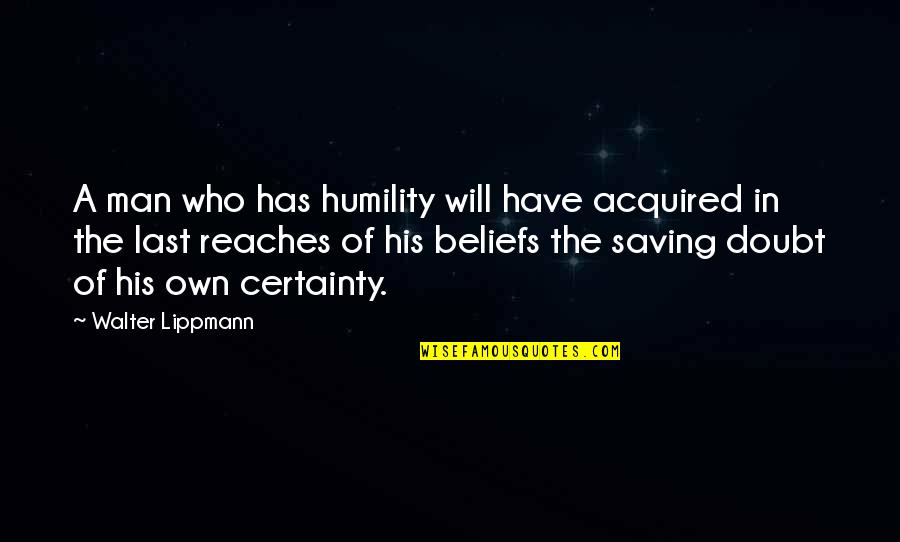 A man who has humility will have acquired in the last reaches of his beliefs the saving doubt of his own certainty. —
Walter Lippmann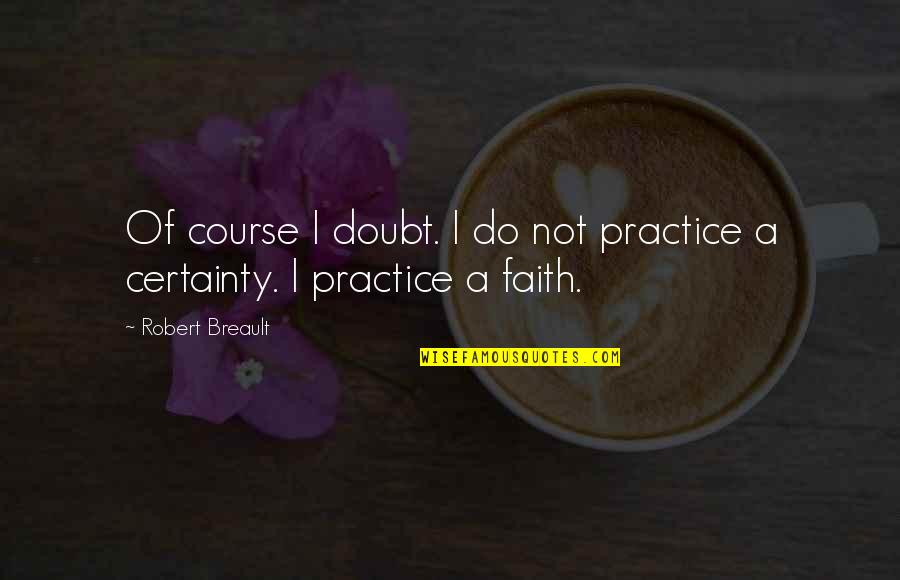 Of course I doubt. I do not practice a certainty. I practice a faith. —
Robert Breault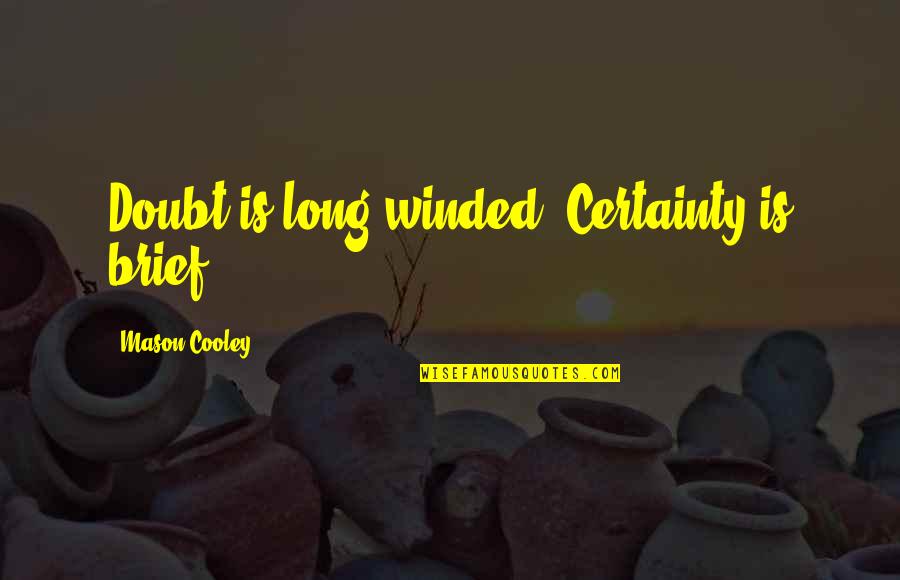 Doubt is long-winded. Certainty is brief. —
Mason Cooley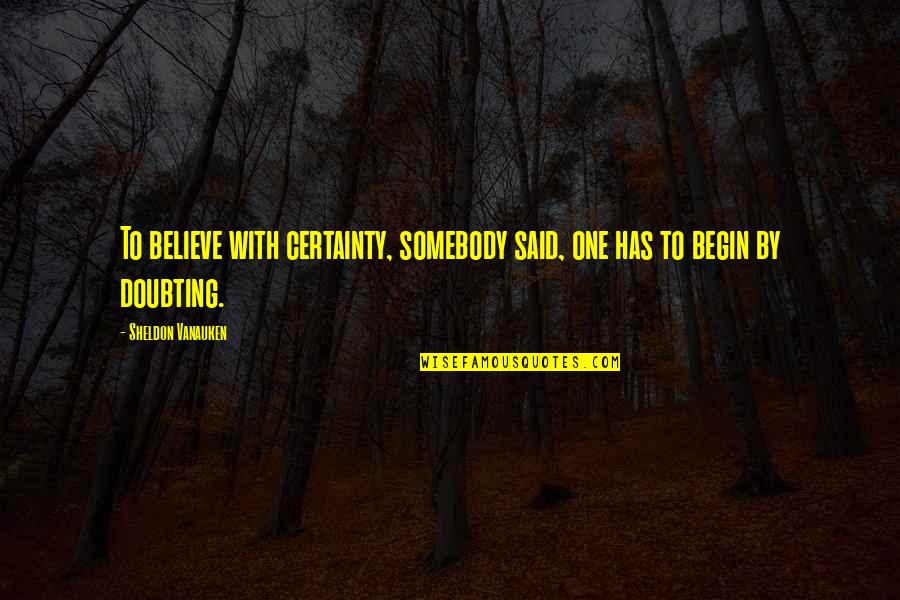 To believe with certainty, somebody said, one has to begin by doubting. —
Sheldon Vanauken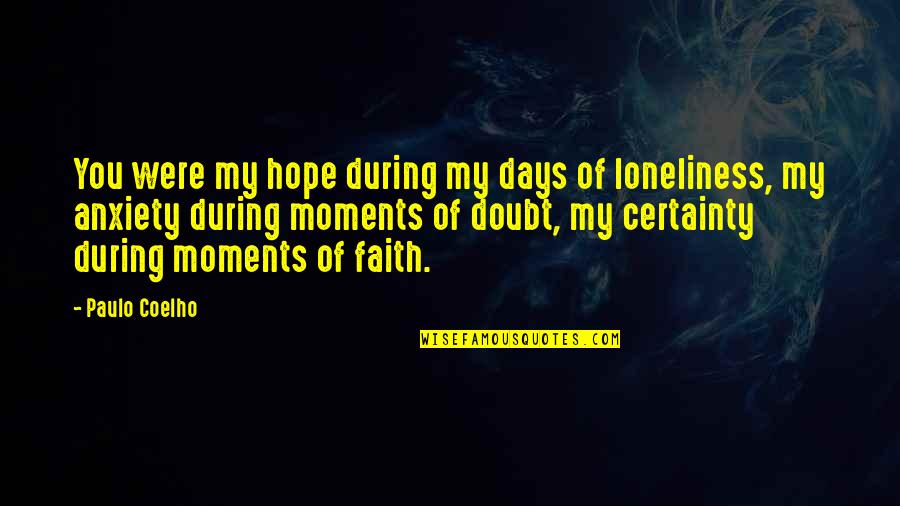 You were my hope during my days of loneliness, my anxiety during moments of doubt, my certainty during moments of faith. —
Paulo Coelho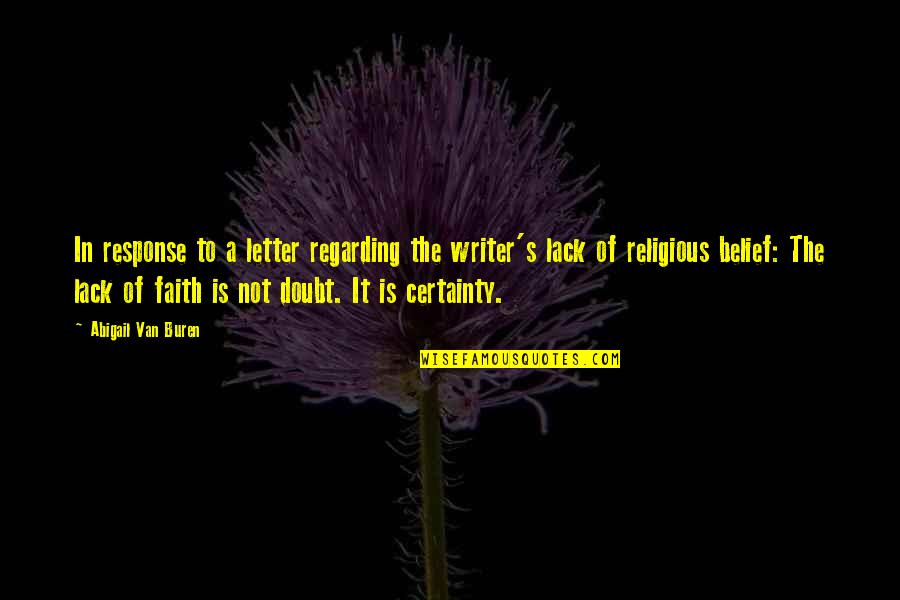 In response to a letter regarding the writer's lack of religious belief:
The lack of faith is not doubt. It is certainty. —
Abigail Van Buren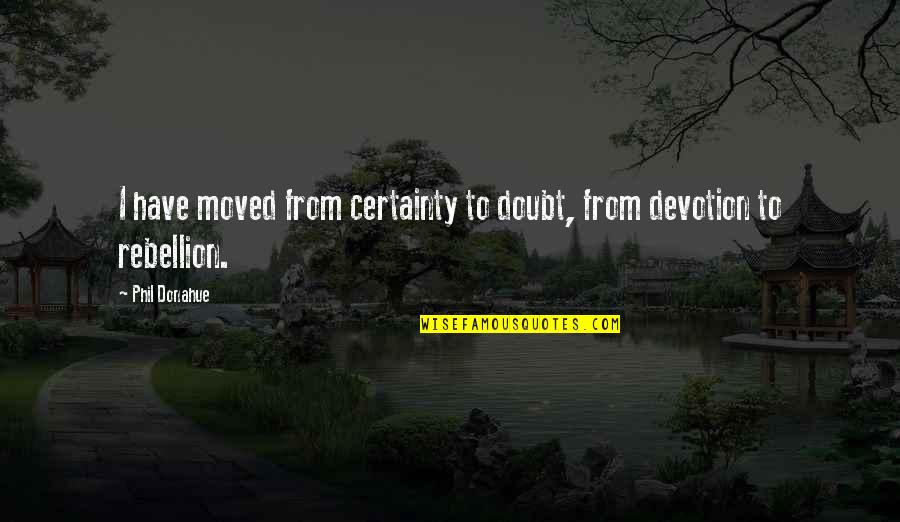 I have moved from certainty to doubt, from devotion to rebellion. —
Phil Donahue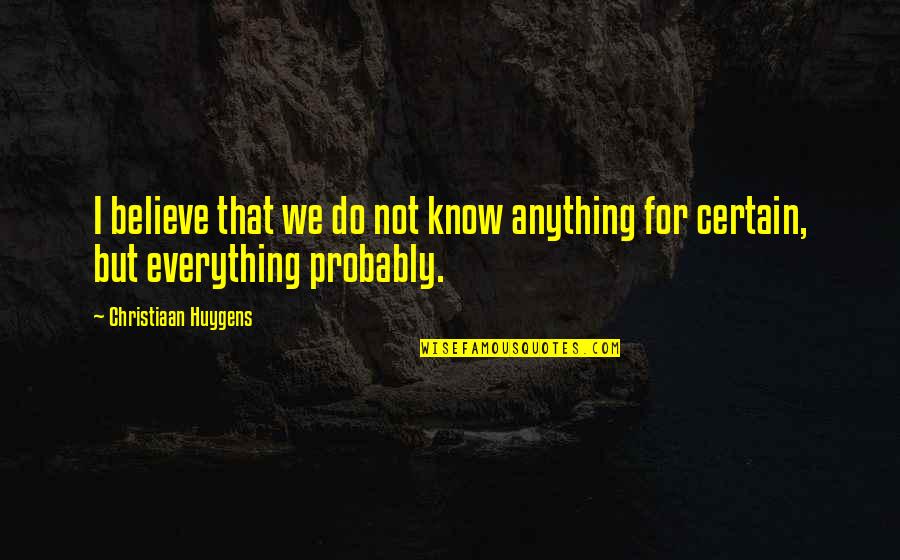 I believe that we do not know anything for certain, but everything probably. —
Christiaan Huygens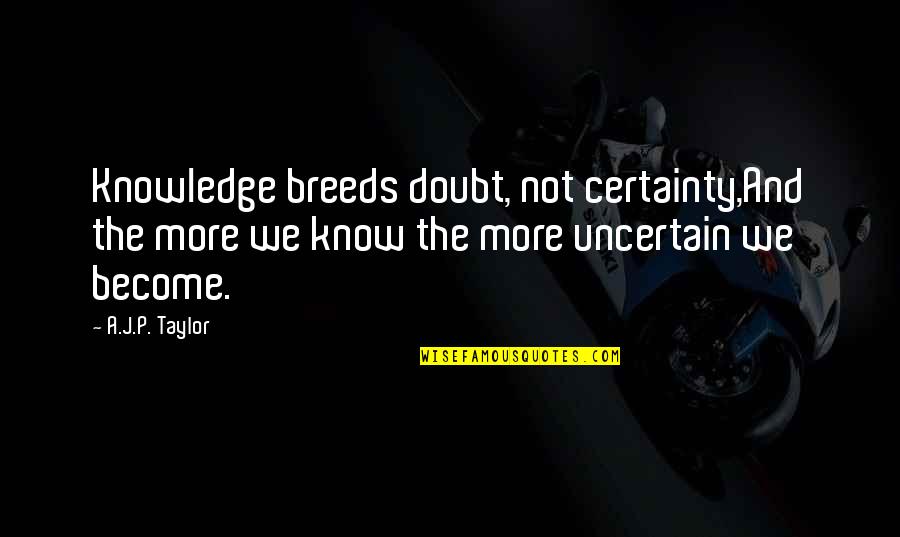 Knowledge breeds doubt, not certainty,
And the more we know the more uncertain we become. —
A.J.P. Taylor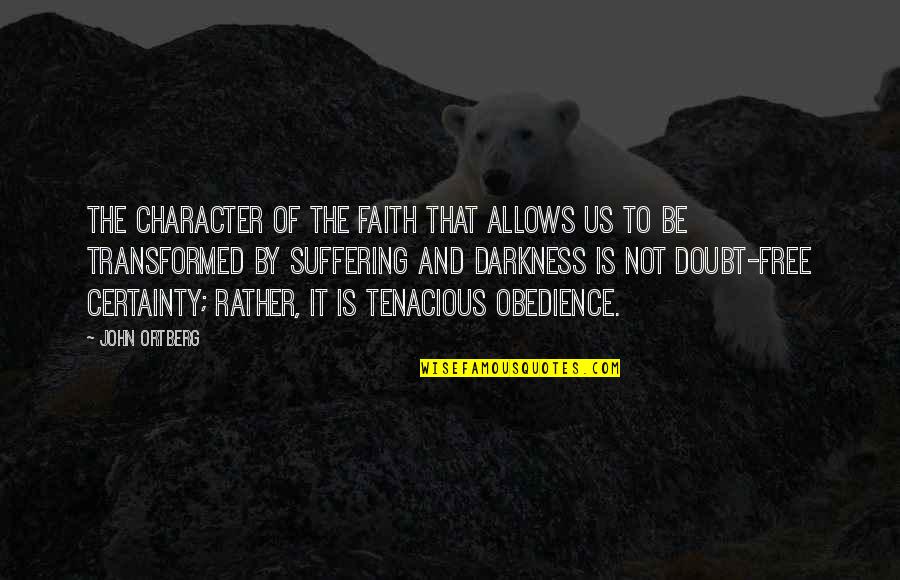 The character of the faith that allows us to be transformed by suffering and darkness is not doubt-free certainty; rather, it is tenacious obedience. —
John Ortberg