They Say True Love Quotes
Collection of top 57 famous quotes about They Say True Love
They Say True Love Quotes & Sayings
Happy to read and share the best inspirational They Say True Love quotes, sayings and quotations on Wise Famous Quotes.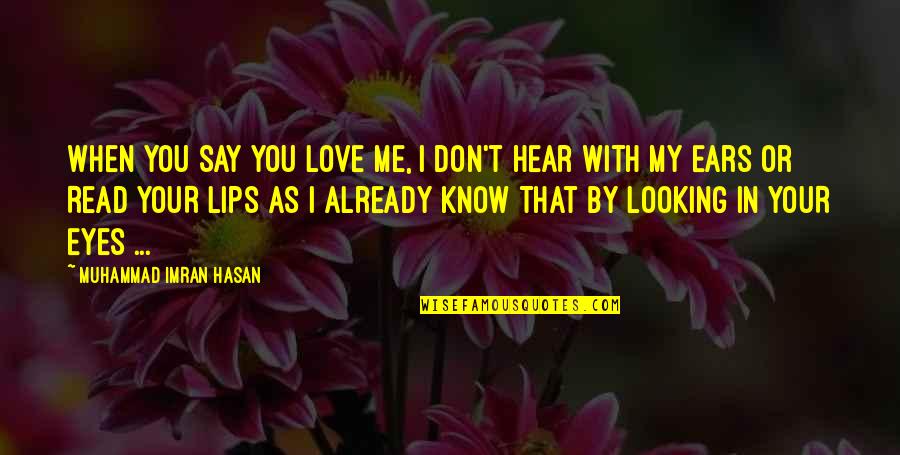 When YOU Say YOU Love Me, I Don't Hear With My Ears Or Read YOUR Lips As I Already Know That By Looking In YOUR Eyes ...
—
Muhammad Imran Hasan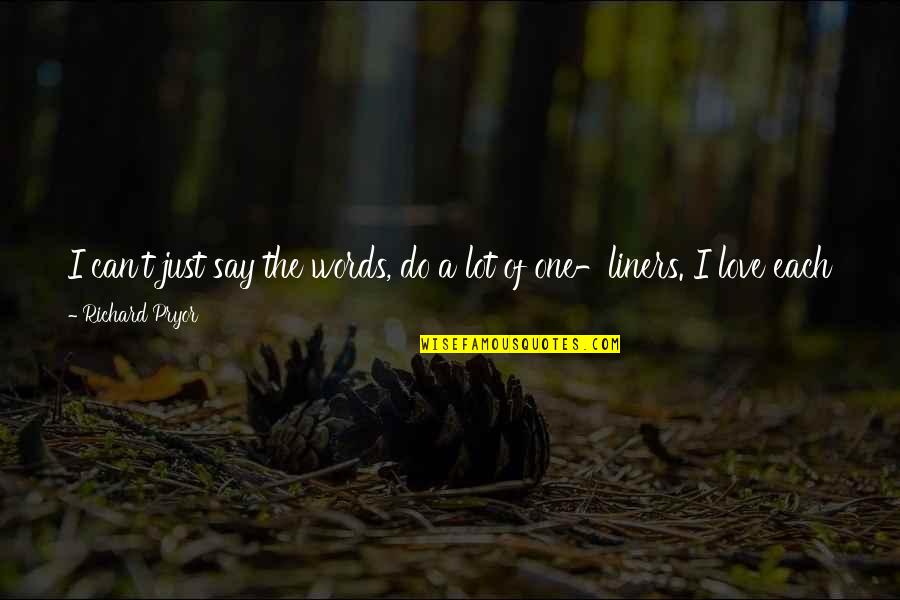 I can't just say the words, do a lot of one-liners. I love each person I play; I have to be that person. I have to do him true.
—
Richard Pryor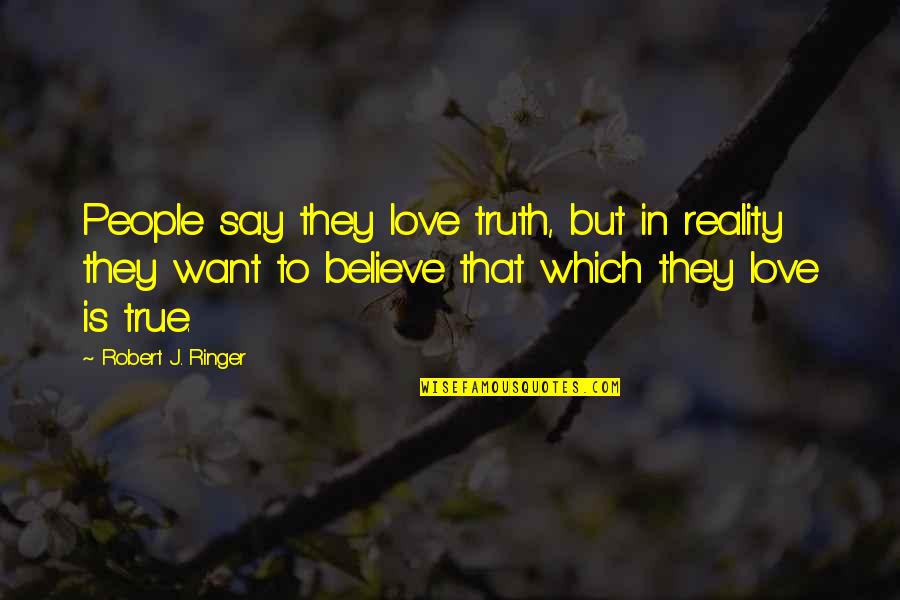 People say they love truth, but in reality they want to believe that which they love is true.
—
Robert J. Ringer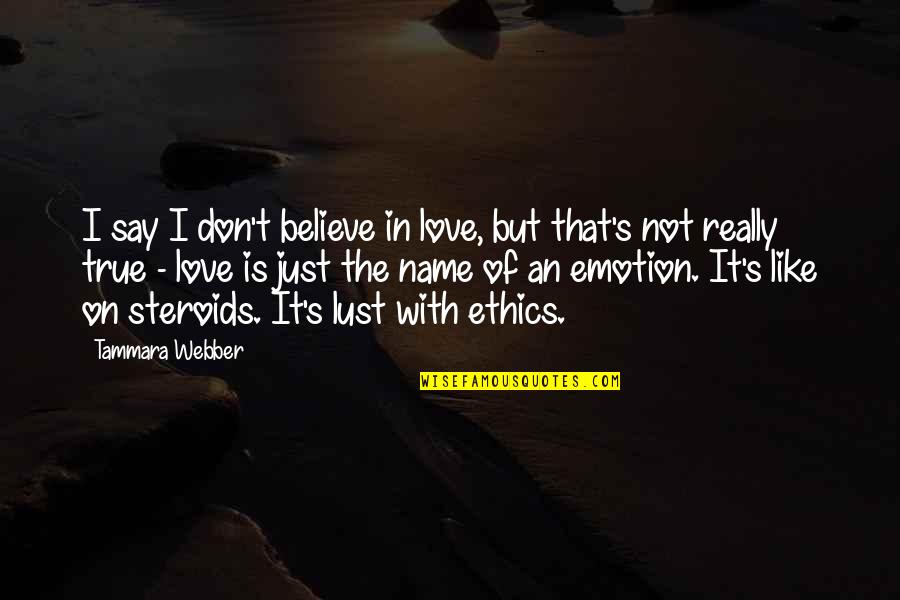 I say I don't believe in love, but that's not really true - love is just the name of an emotion. It's like on steroids. It's lust with ethics.
—
Tammara Webber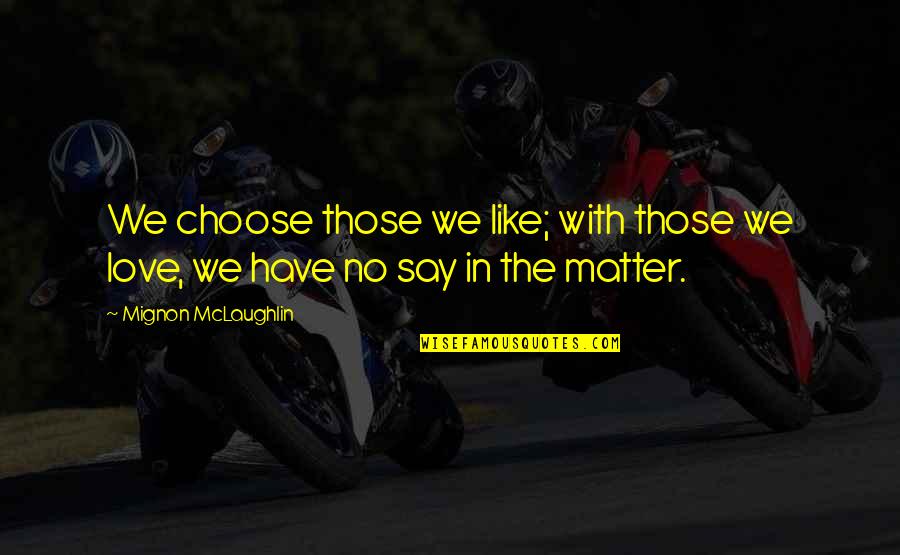 We choose those we like; with those we love, we have no say in the matter.
—
Mignon McLaughlin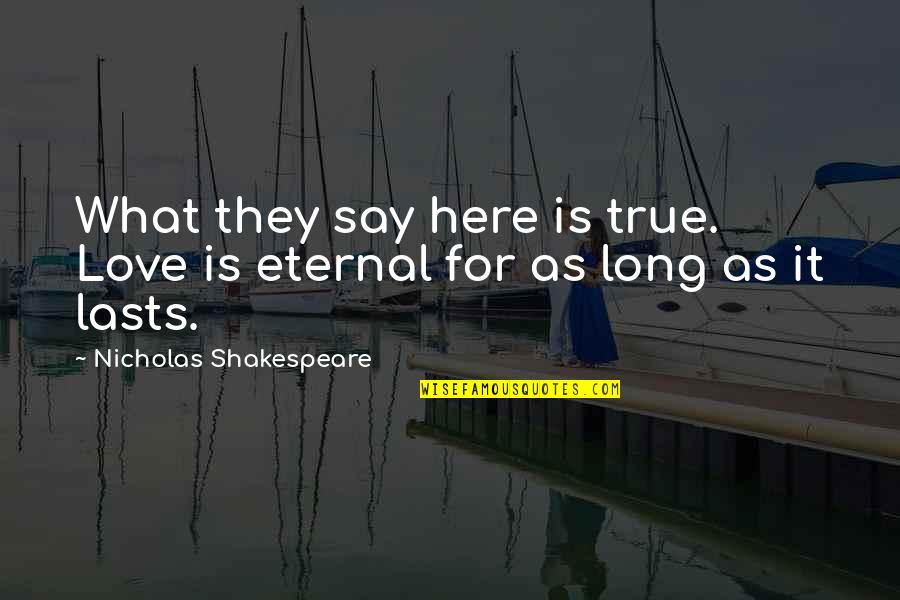 What they say here is true. Love is eternal for as long as it lasts. —
Nicholas Shakespeare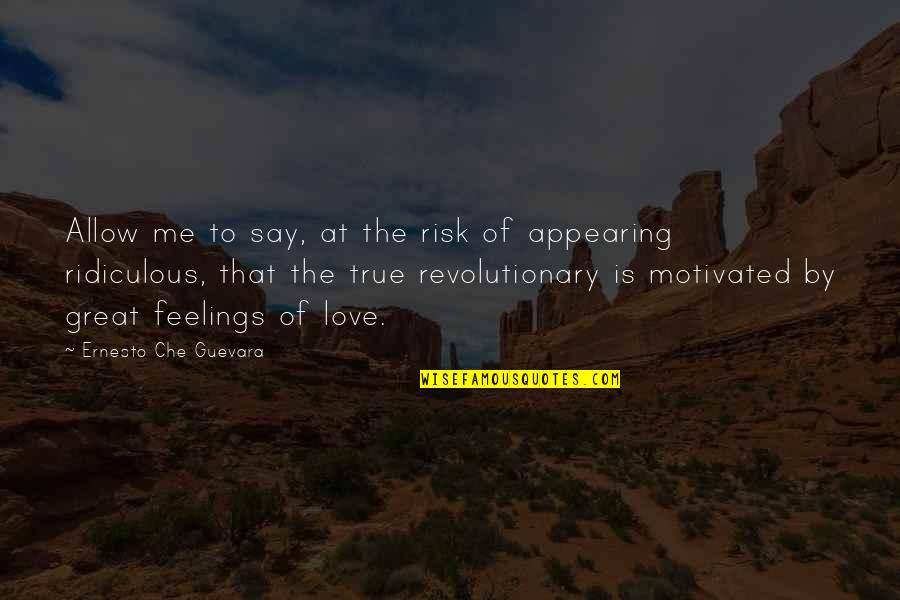 Allow me to say, at the risk of appearing ridiculous, that the true revolutionary is motivated by great feelings of love. —
Ernesto Che Guevara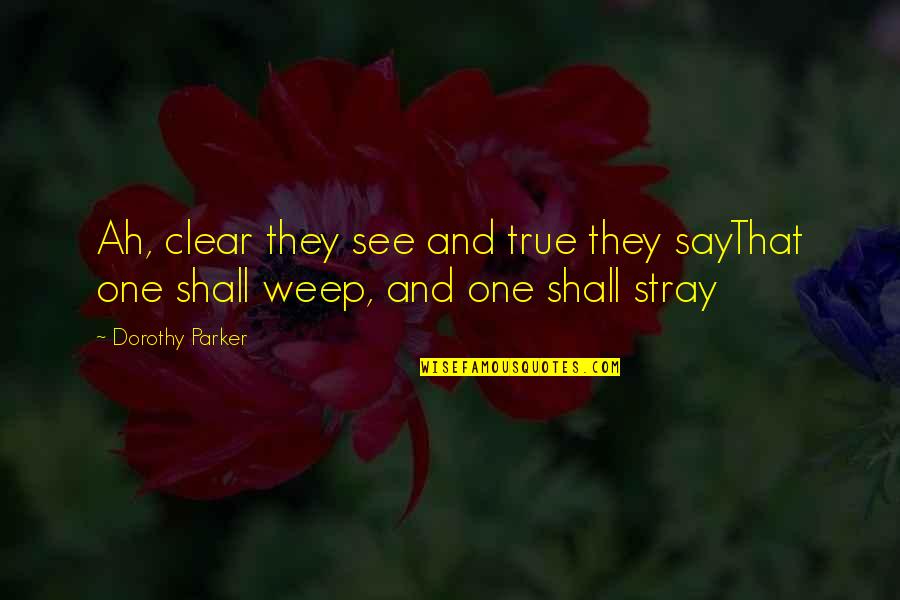 Ah, clear they see and true they say
That one shall weep, and one shall stray —
Dorothy Parker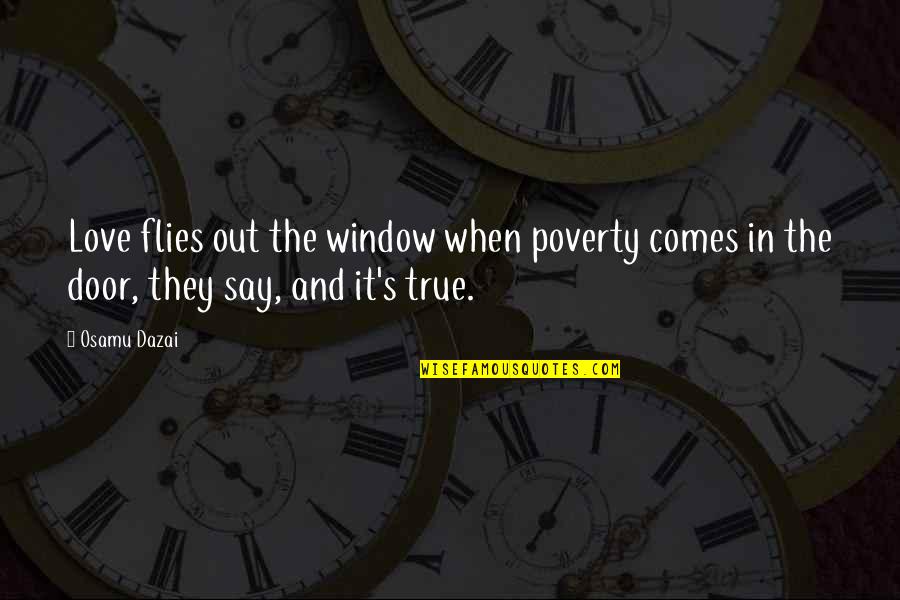 Love flies out the window when poverty comes in the door, they say, and it's true. —
Osamu Dazai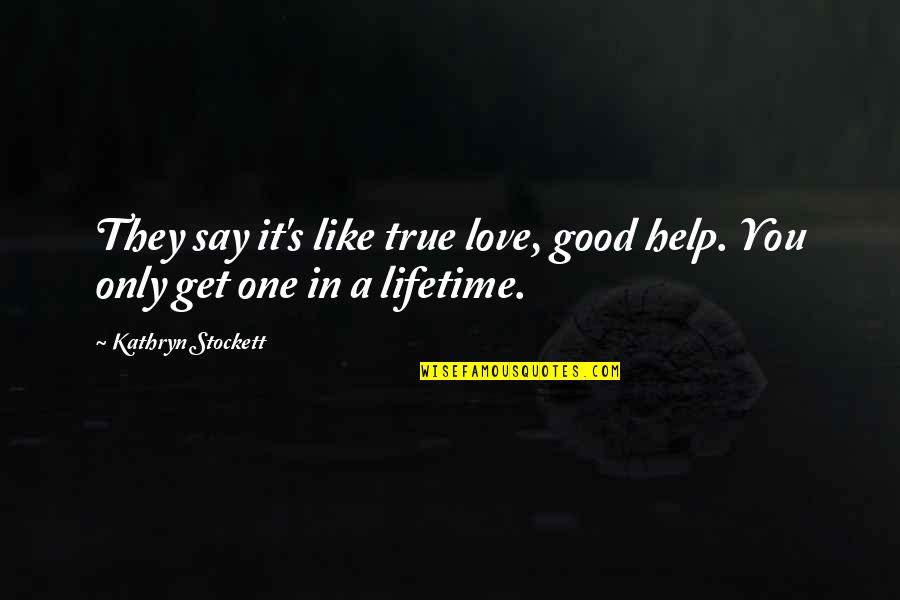 They say it's like true love, good help. You only get one in a lifetime. —
Kathryn Stockett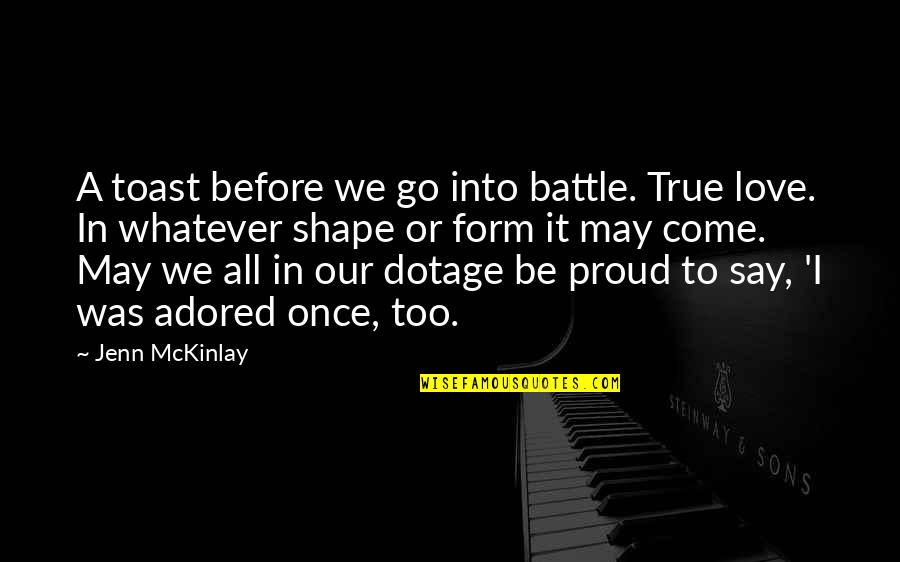 A toast before we go into battle. True love. In whatever shape or form it may come. May we all in our dotage be proud to say, 'I was adored once, too. —
Jenn McKinlay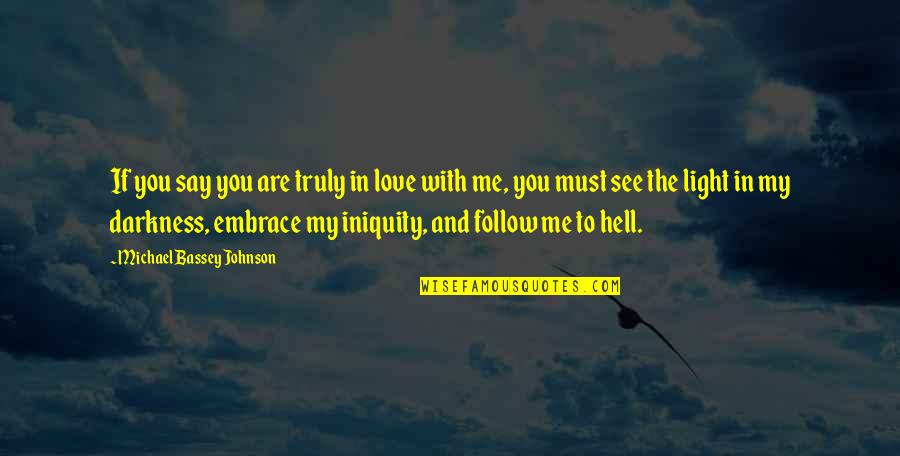 If you say you are truly in love with me, you must see the light in my darkness, embrace my iniquity, and follow me to hell. —
Michael Bassey Johnson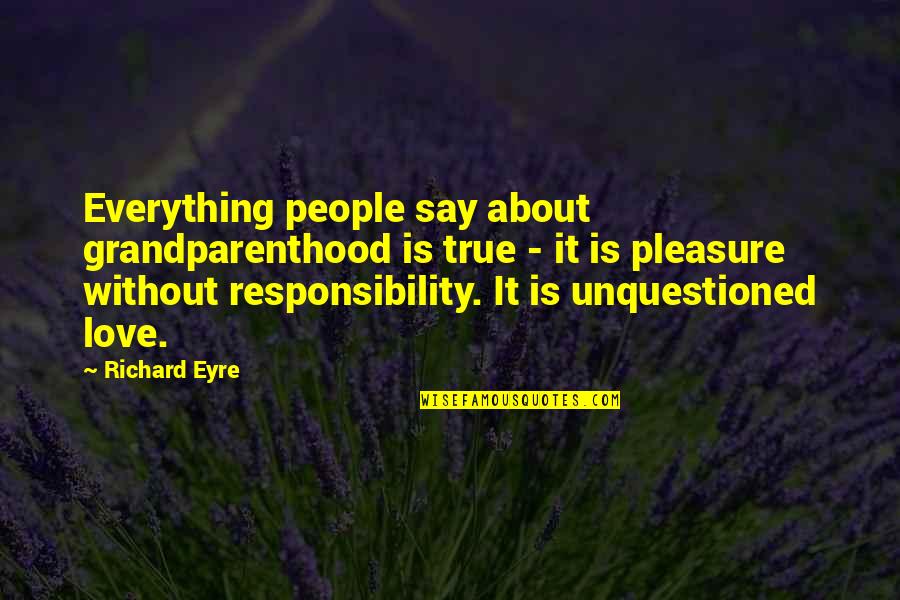 Everything people say about grandparenthood is true - it is pleasure without responsibility. It is unquestioned love. —
Richard Eyre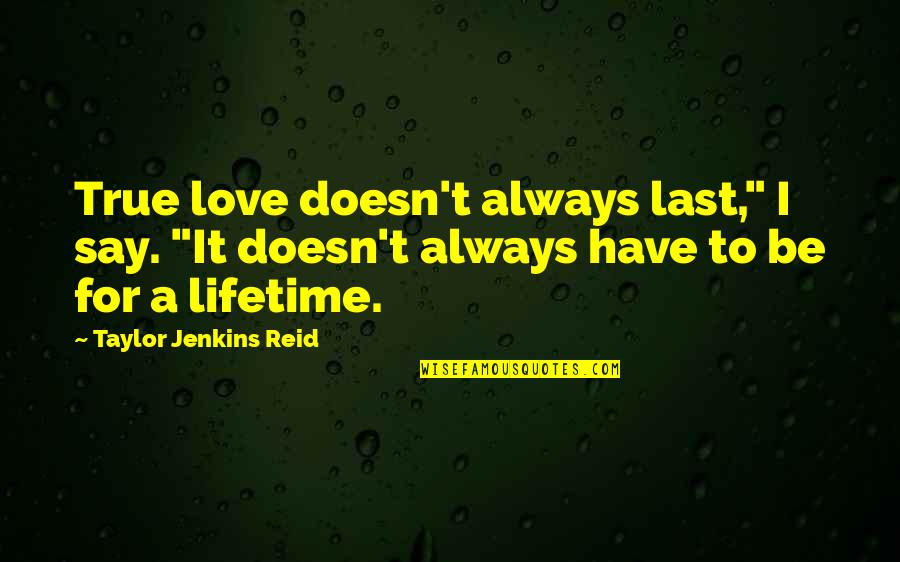 True love doesn't always last," I say. "It doesn't always have to be for a lifetime. —
Taylor Jenkins Reid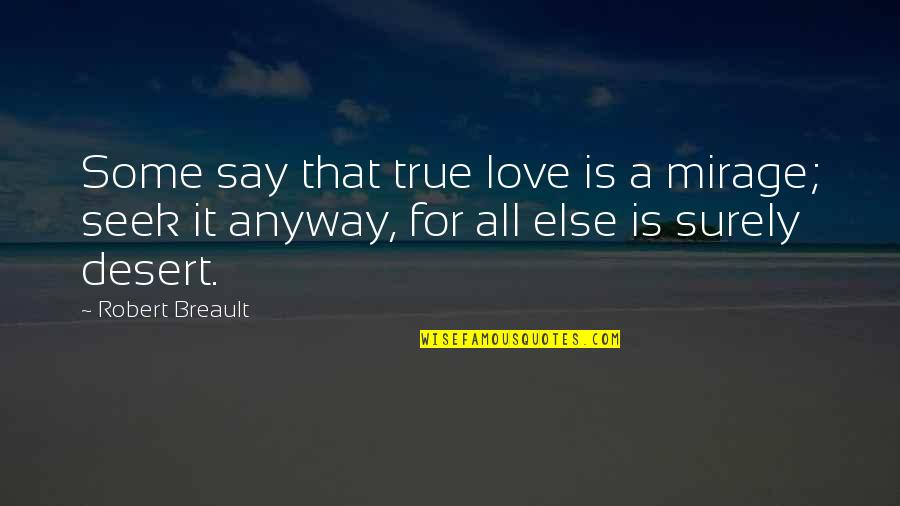 Some say that true love is a mirage; seek it anyway, for all else is surely desert. —
Robert Breault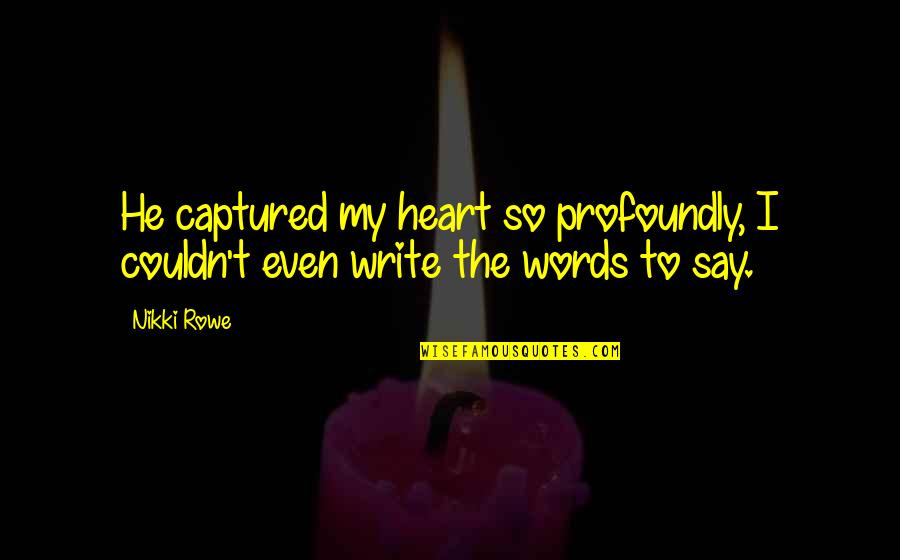 He captured my heart so profoundly, I couldn't even write the words to say. —
Nikki Rowe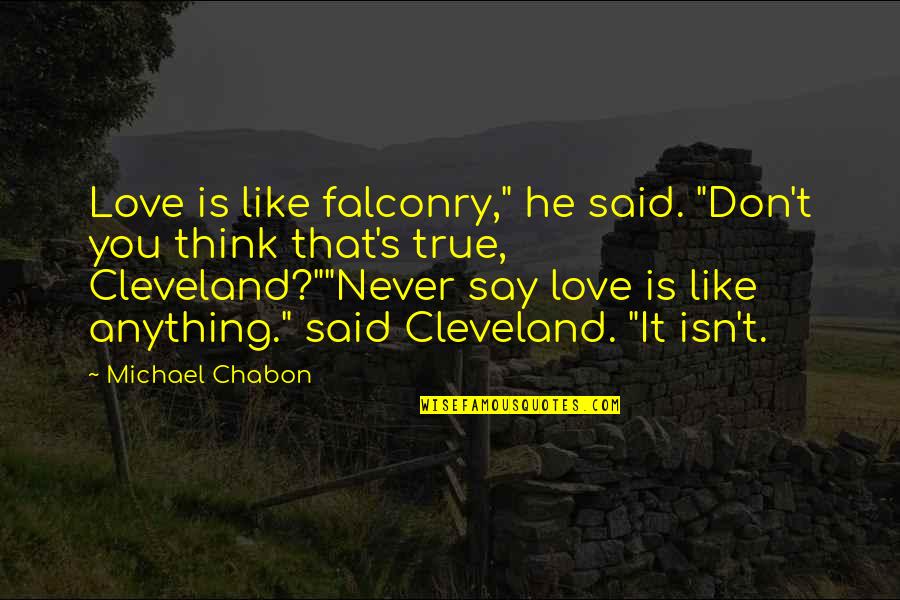 Love is like falconry," he said. "Don't you think that's true, Cleveland?"
"Never say love is like anything." said Cleveland. "It isn't. —
Michael Chabon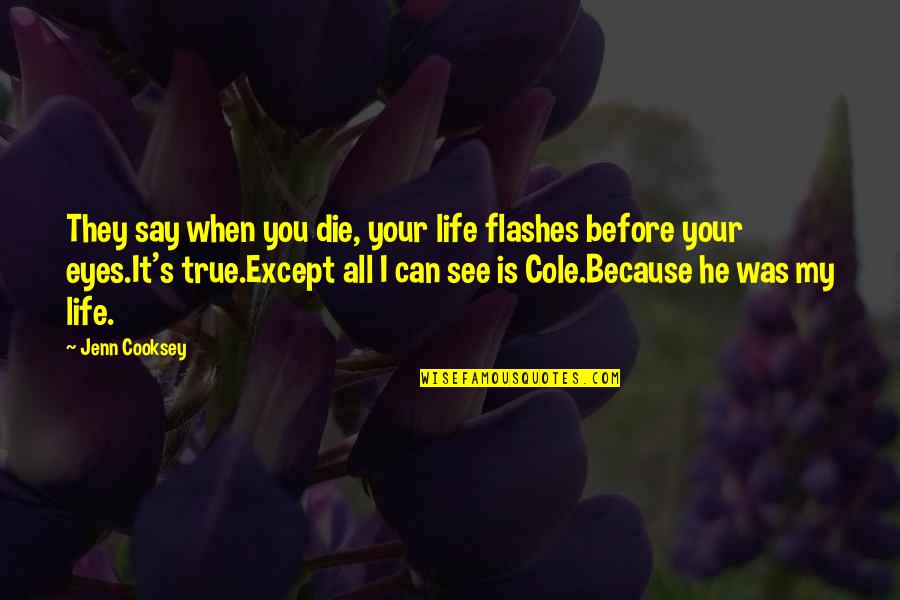 They say when you die, your life flashes before your eyes.
It's true.
Except all I can see is Cole.
Because he was my life. —
Jenn Cooksey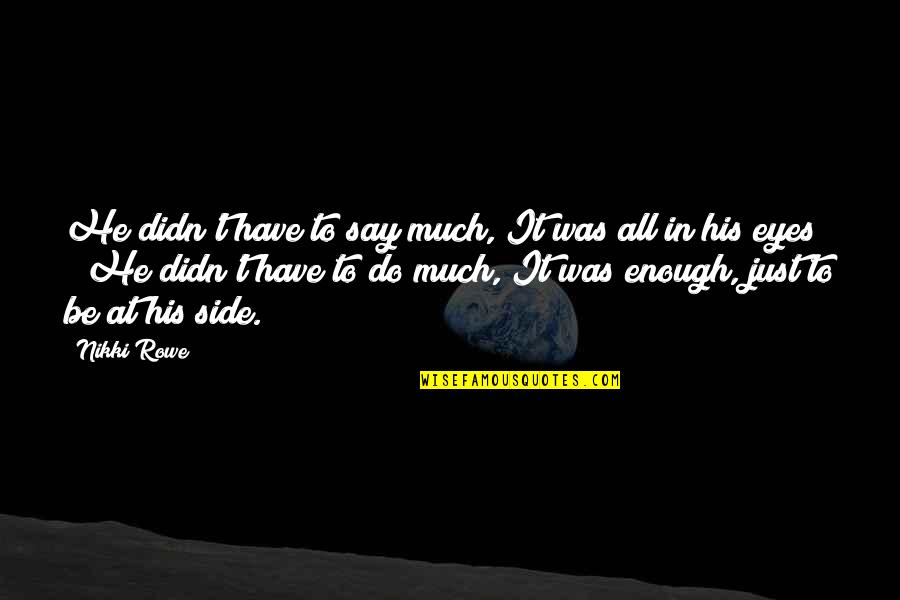 He didn't have to say much,
It was all in his eyes ~
He didn't have to do much,
It was enough, just to be at his side. —
Nikki Rowe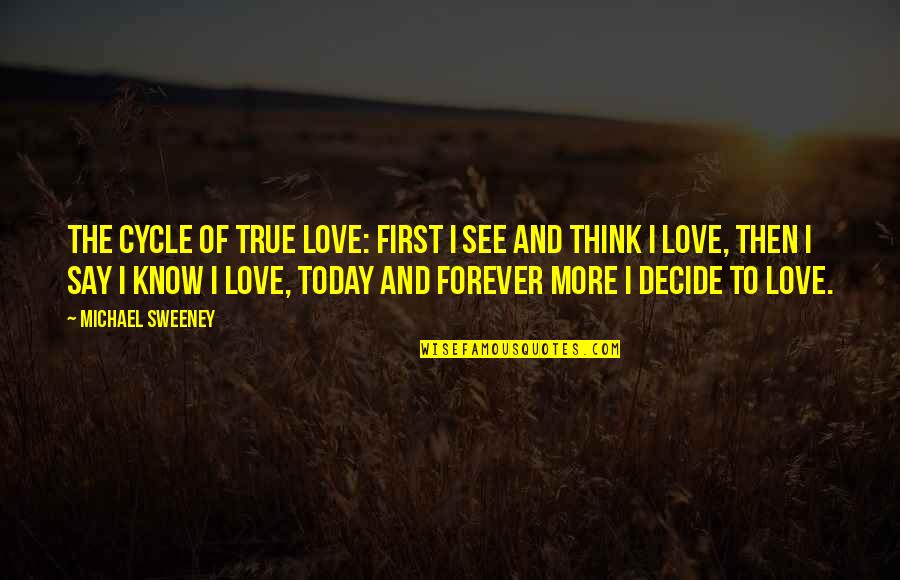 The Cycle of True Love: First I see and think I love, then I say I know I love, today and forever more I decide to love. —
Michael Sweeney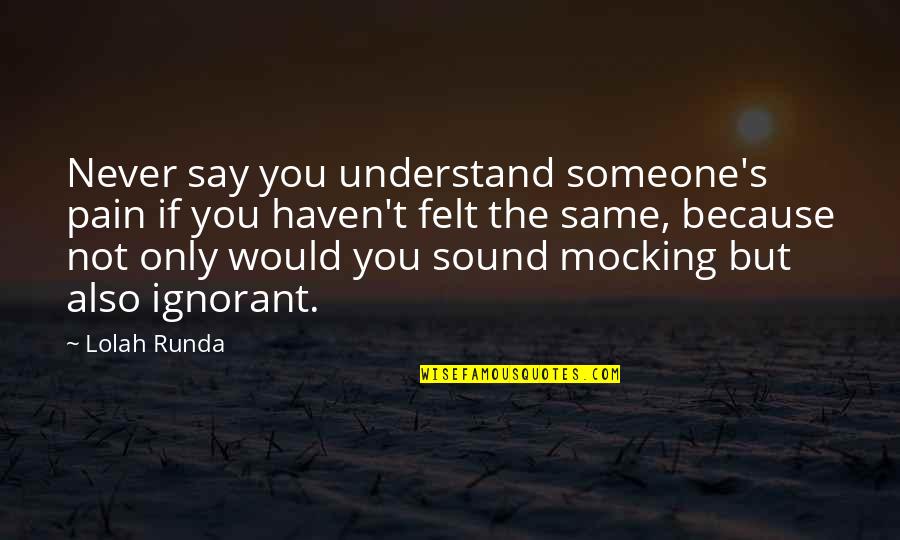 Never say you understand someone's pain if you haven't felt the same, because not only would you sound mocking but also ignorant. —
Lolah Runda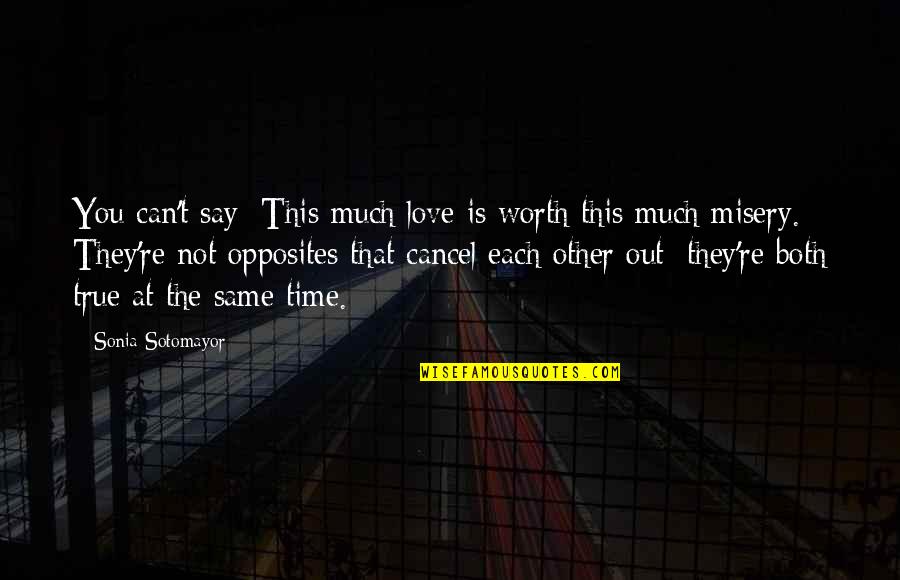 You can't say: This much love is worth this much misery. They're not opposites that cancel each other out; they're both true at the same time. —
Sonia Sotomayor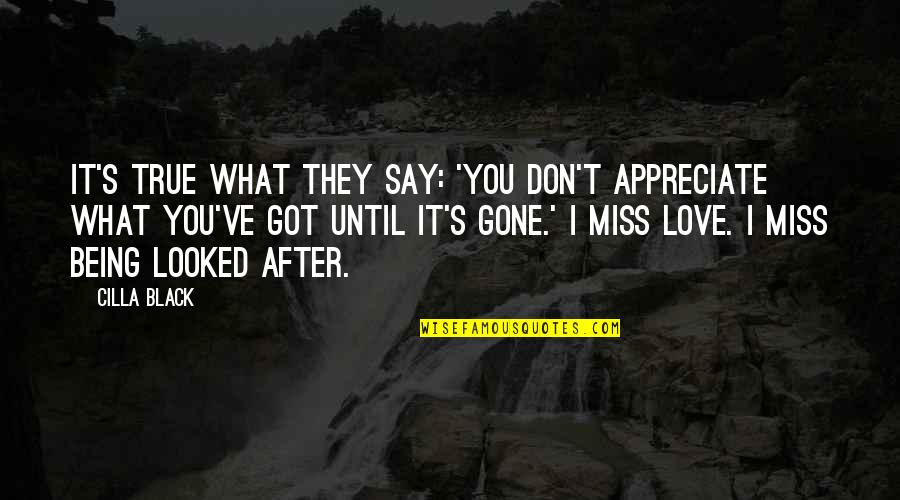 It's true what they say: 'You don't appreciate what you've got until it's gone.' I miss love. I miss being looked after. —
Cilla Black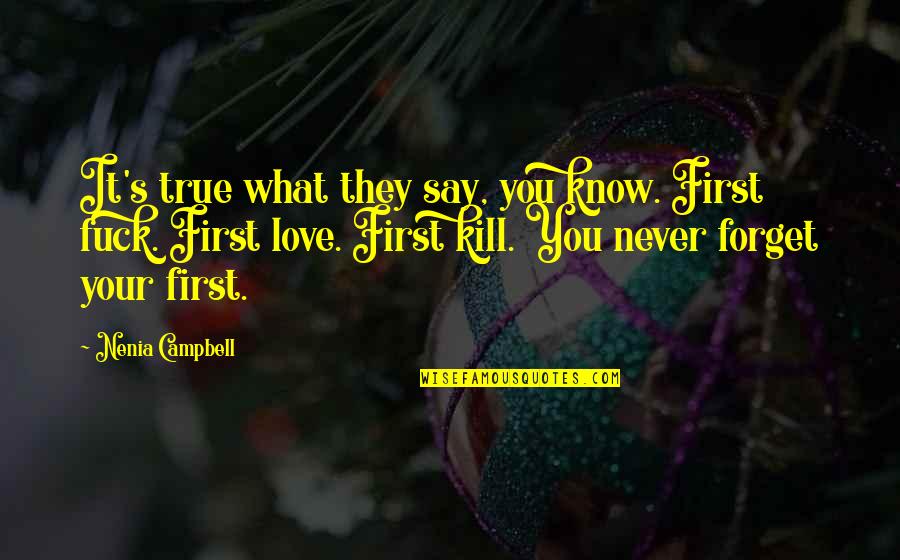 It's true what they say, you know. First fuck. First love. First kill. You never forget your first. —
Nenia Campbell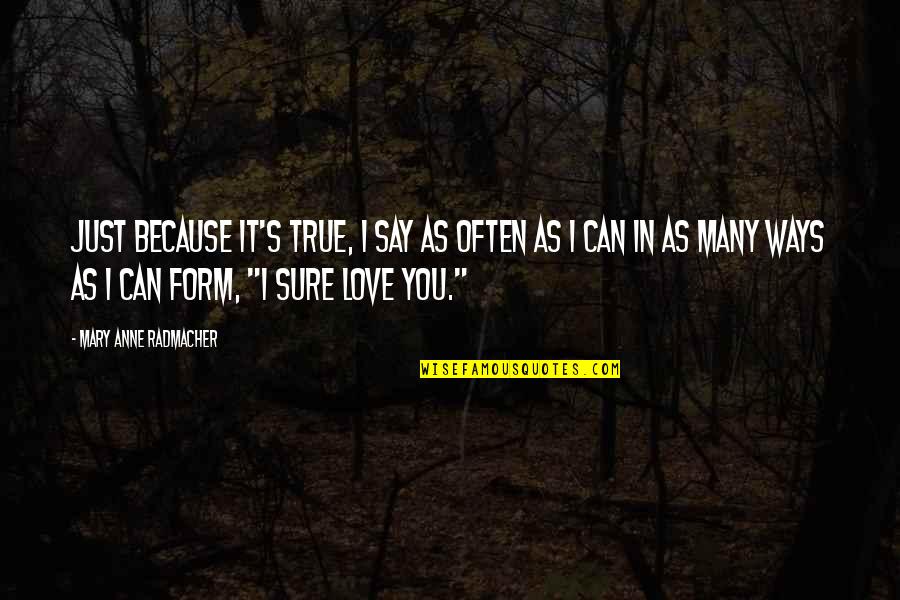 Just because it's true, I say as often as I can in as many ways as I can form, "I sure love you." —
Mary Anne Radmacher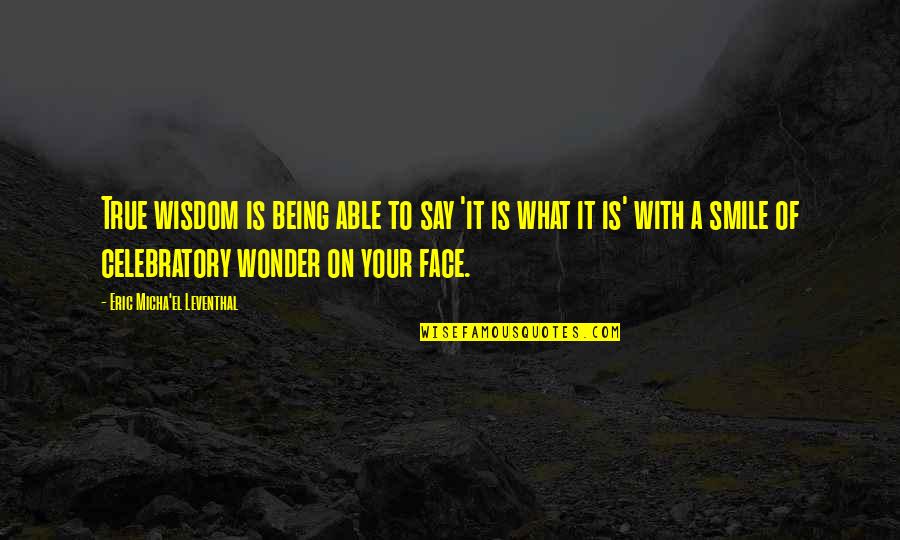 True wisdom is being able to say 'it is what it is' with a smile of celebratory wonder on your face. —
Eric Micha'el Leventhal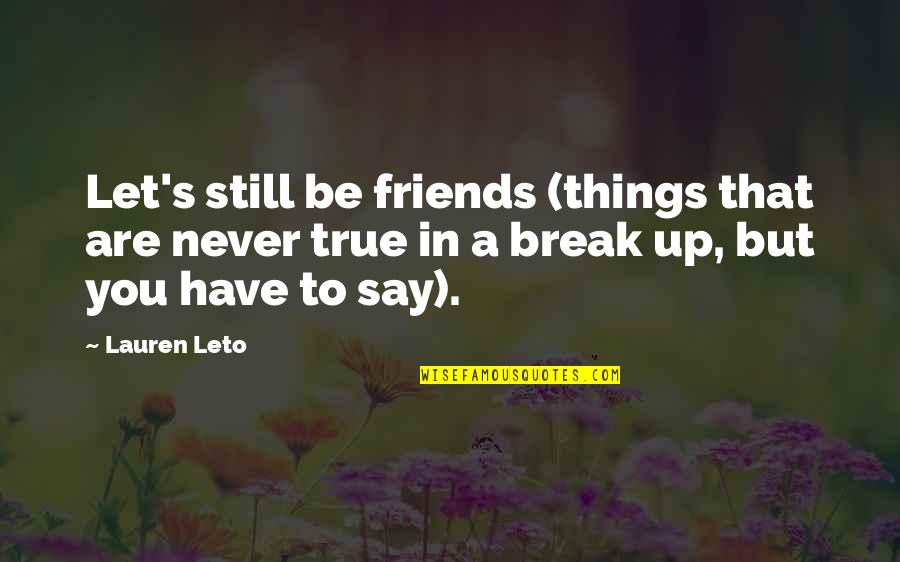 Let's still be friends (things that are never true in a break up, but you have to say). —
Lauren Leto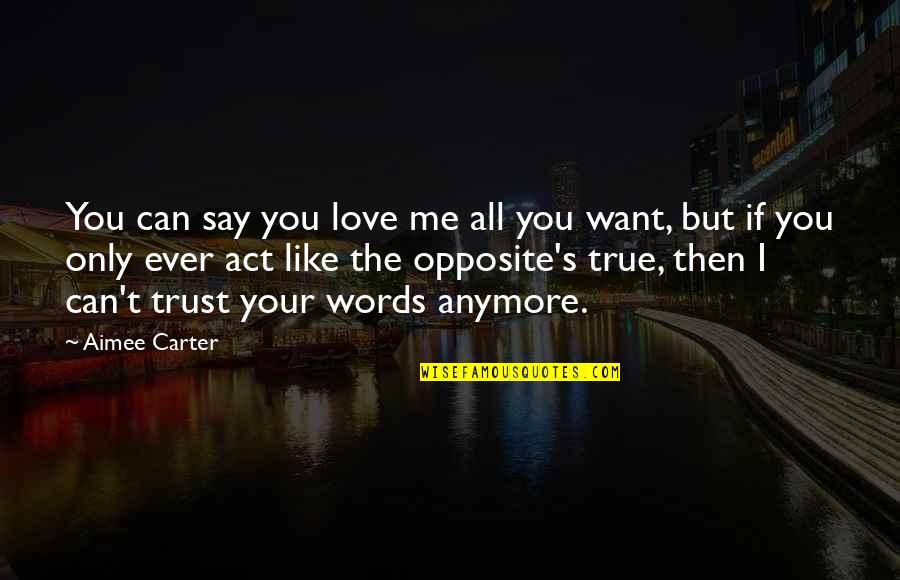 You can say you love me all you want, but if you only ever act like the opposite's true, then I can't trust your words anymore. —
Aimee Carter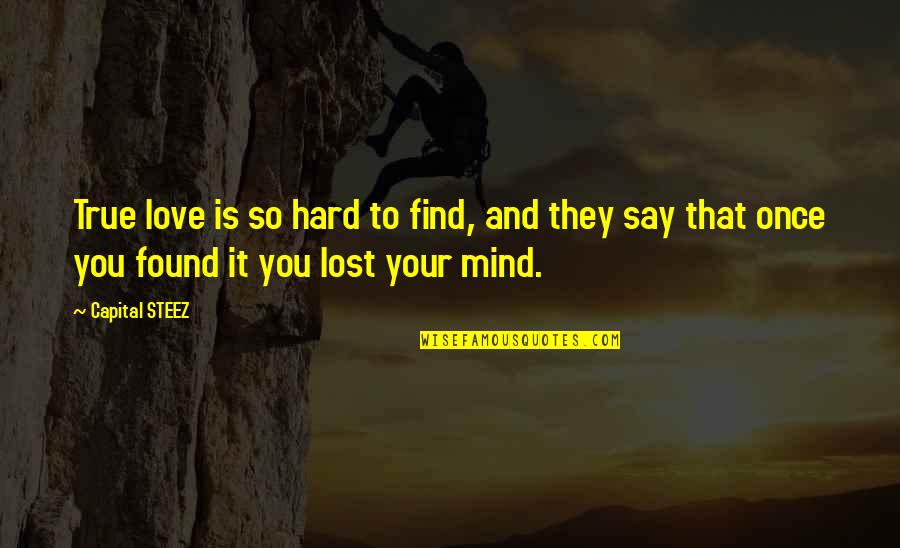 True love is so hard to find, and they say that once you found it you lost your mind. —
Capital STEEZ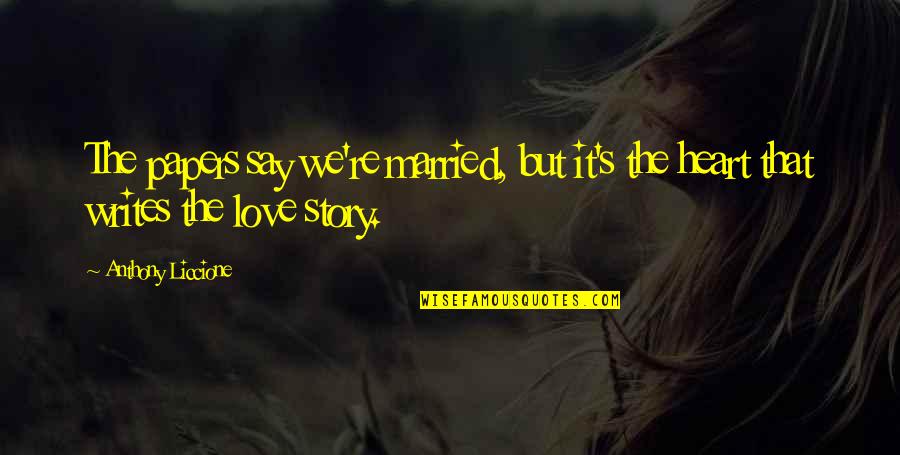 The papers say we're married, but it's the heart that writes the love story. —
Anthony Liccione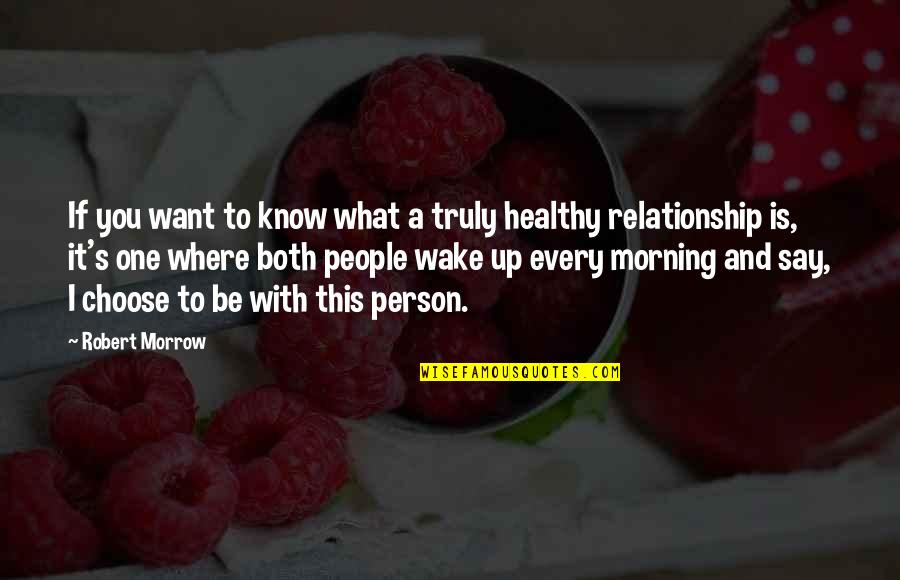 If you want to know what a truly healthy relationship is, it's one where both people wake up every morning and say, I choose to be with this person. —
Robert Morrow
Unless you're honest, you won't know that the love is true. It's easy to say I love you, much harder to say I'd never lie to you. —
Blanche Marriott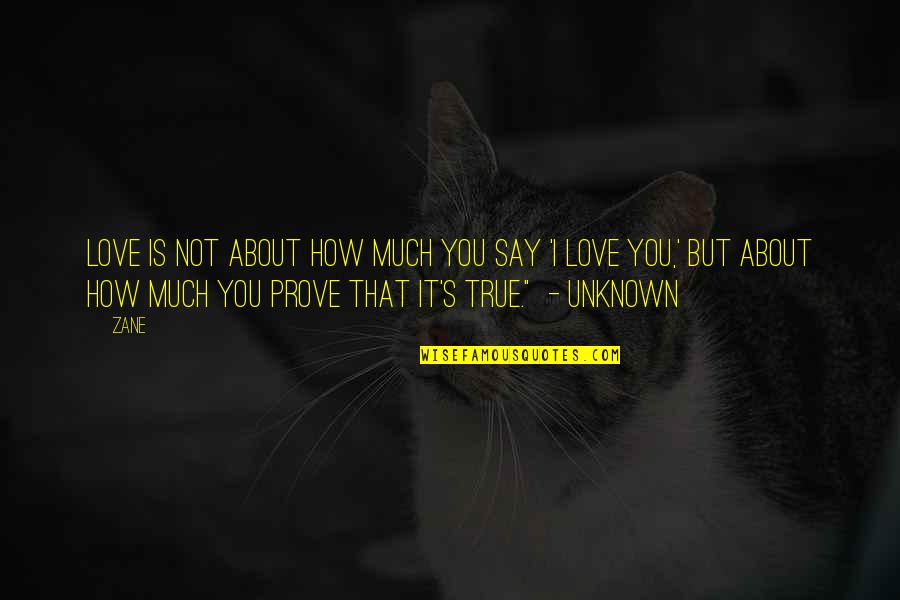 Love is not about how much you say 'I love you,' but about how much you prove that it's true." - Unknown —
Zane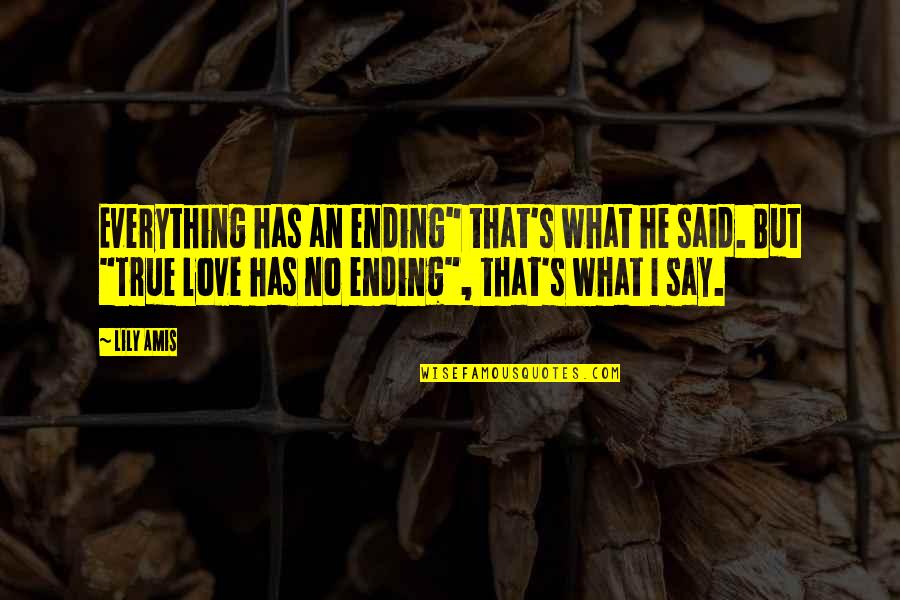 Everything has an ending" that's what he said. But "True love has no ending", that's what I say. —
Lily Amis
True Love Never Can Say Good-bye.
My Love for you is Forever —
Ellen J. Barrier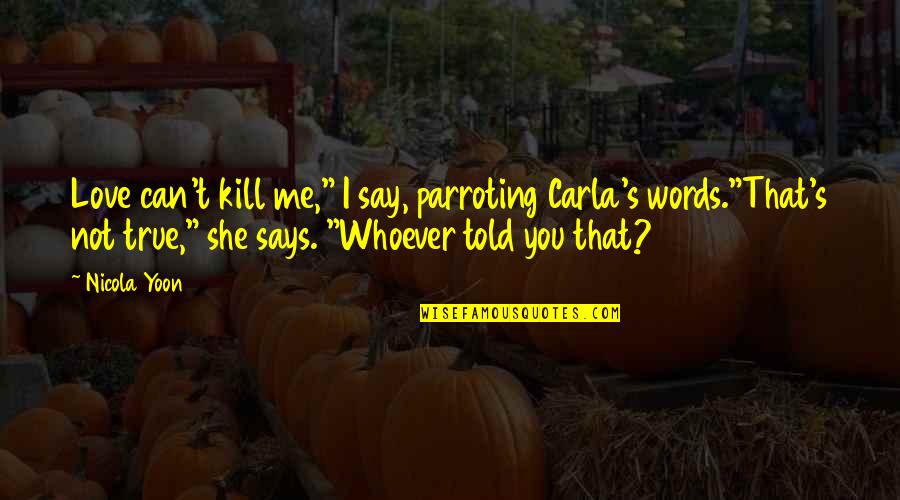 Love can't kill me," I say, parroting Carla's words.
"That's not true," she says. "Whoever told you that? —
Nicola Yoon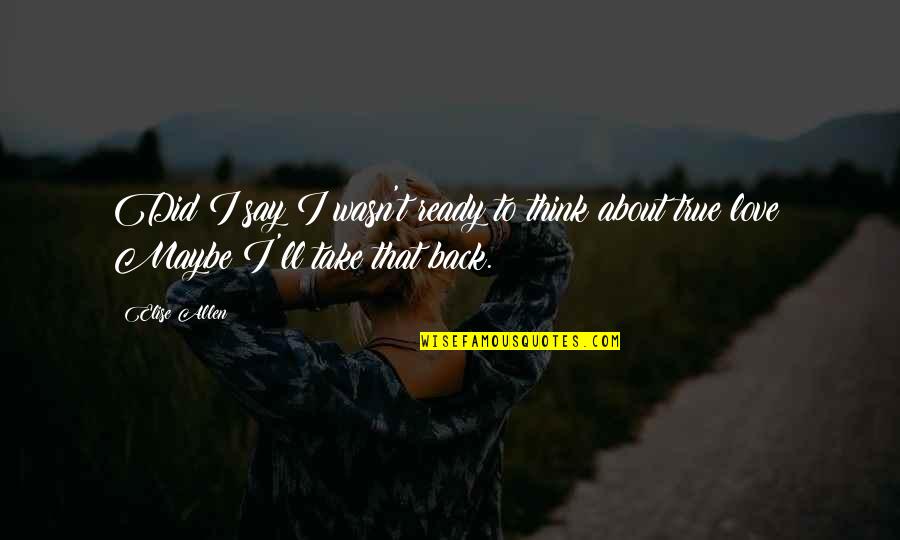 Did I say I wasn't ready to think about true love? Maybe I'll take that back. —
Elise Allen
I'm sorry to say so but, sadly, it's true that Bang-ups and Hang-ups can happen to you. —
Dr. Seuss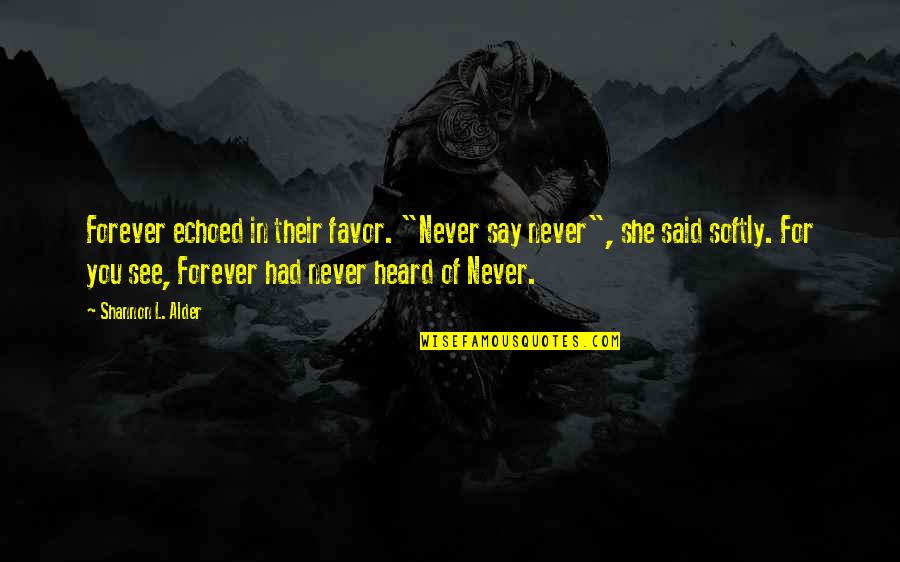 Forever echoed in their favor. "Never say never", she said softly. For you see, Forever had never heard of Never. —
Shannon L. Alder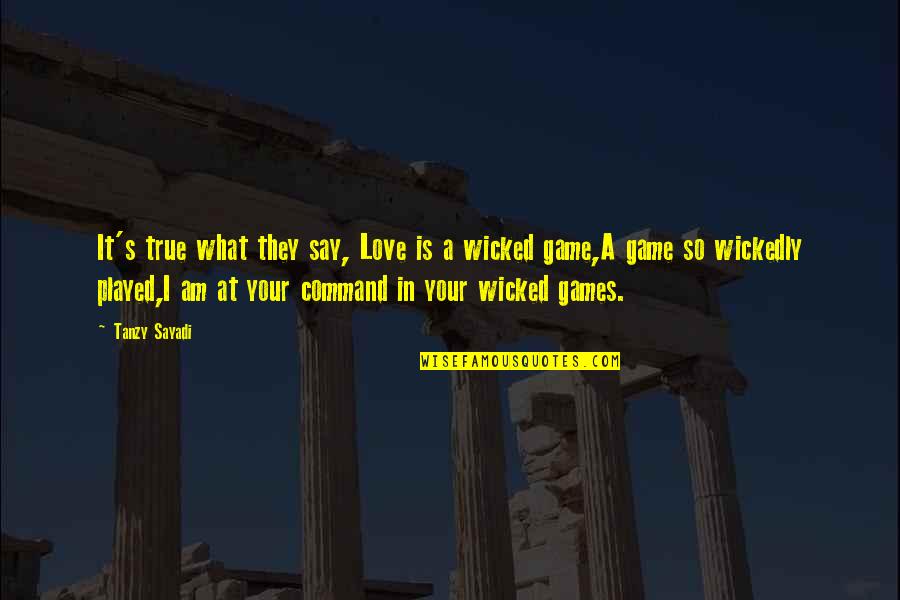 It's true what they say,
Love is a wicked game,
A game so wickedly played,
I am at your command in your wicked games. —
Tanzy Sayadi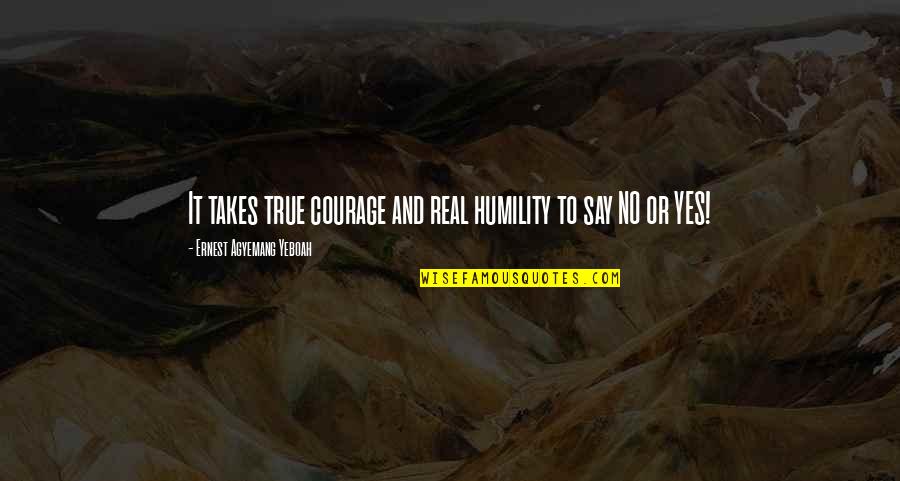 It takes true courage and real humility to say NO or YES! —
Ernest Agyemang Yeboah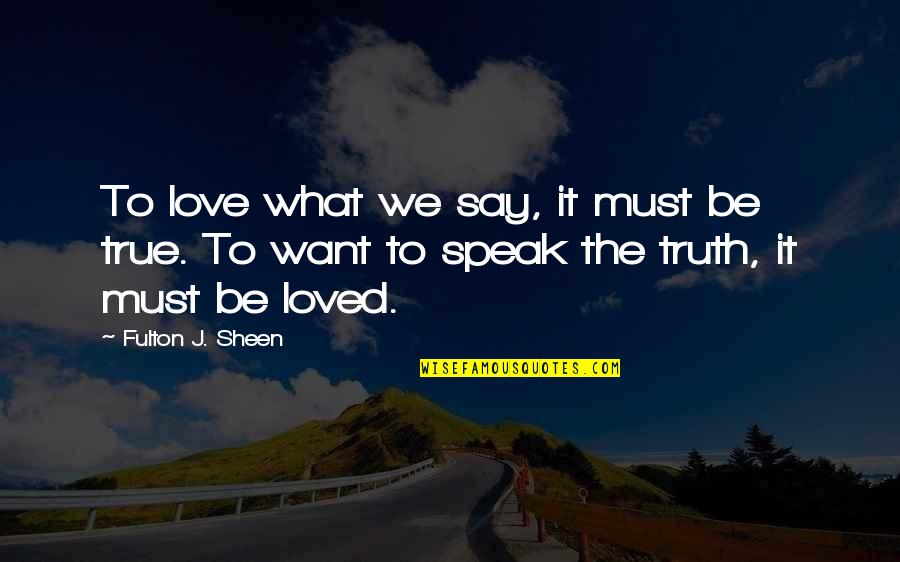 To love what we say, it must be true. To want to speak the truth, it must be loved. —
Fulton J. Sheen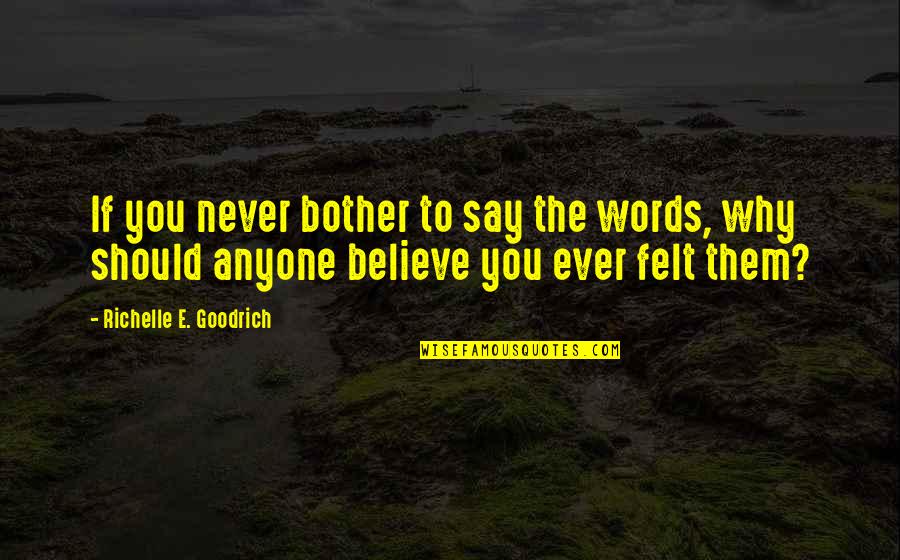 If you never bother to say the words, why should anyone believe you ever felt them? —
Richelle E. Goodrich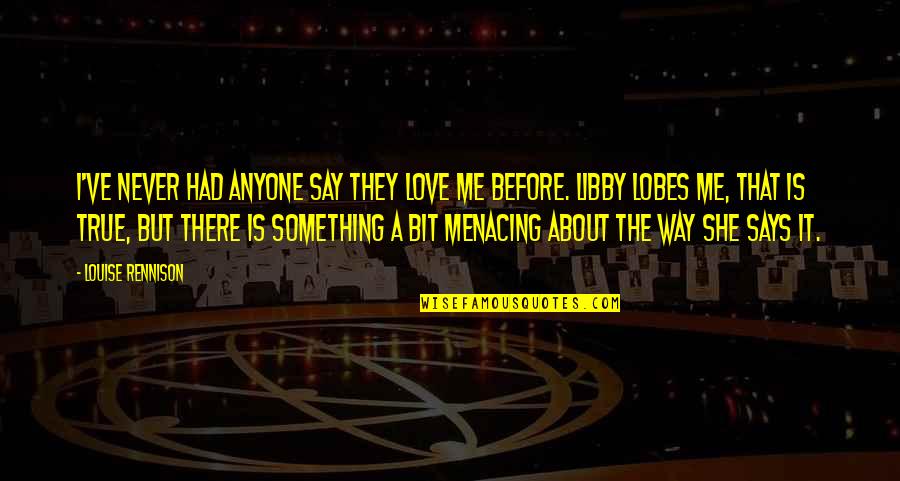 I've never had anyone say they love me before. Libby lobes me, that is true, but there is something a bit menacing about the way she says it. —
Louise Rennison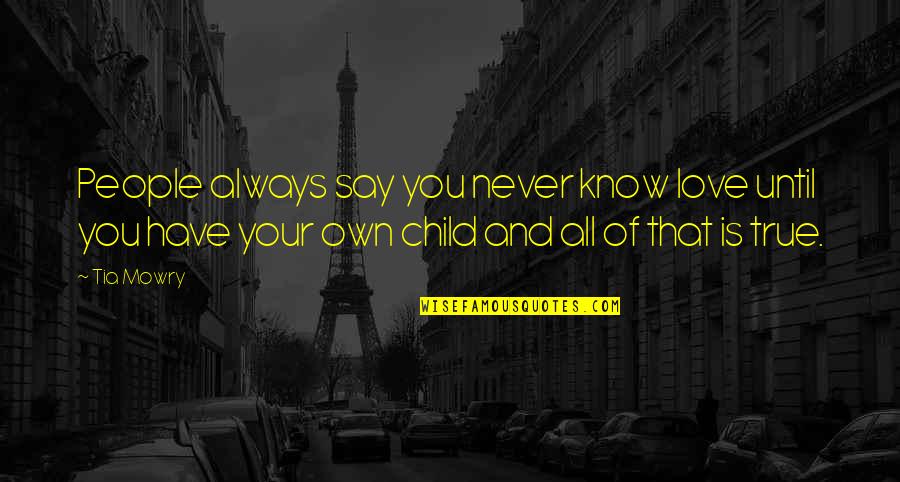 People always say you never know love until you have your own child and all of that is true. —
Tia Mowry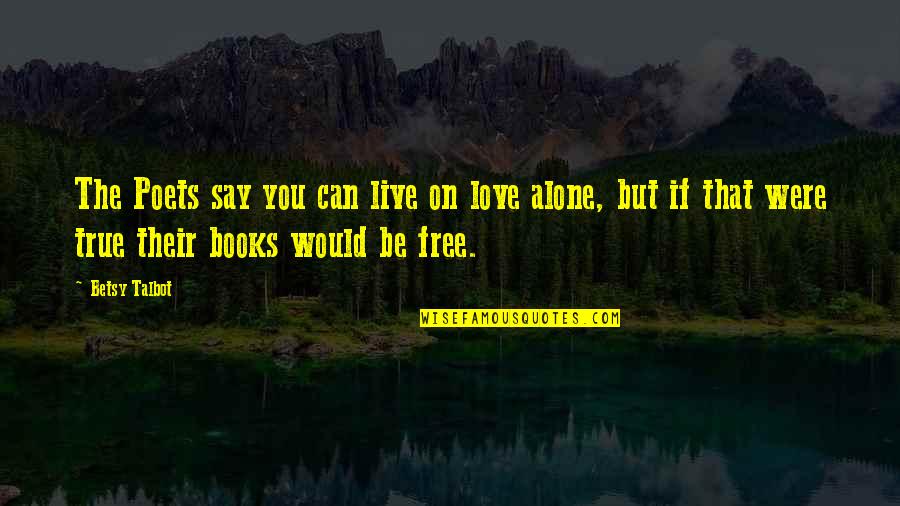 The Poets say you can live on love alone, but if that were true their books would be free. —
Betsy Talbot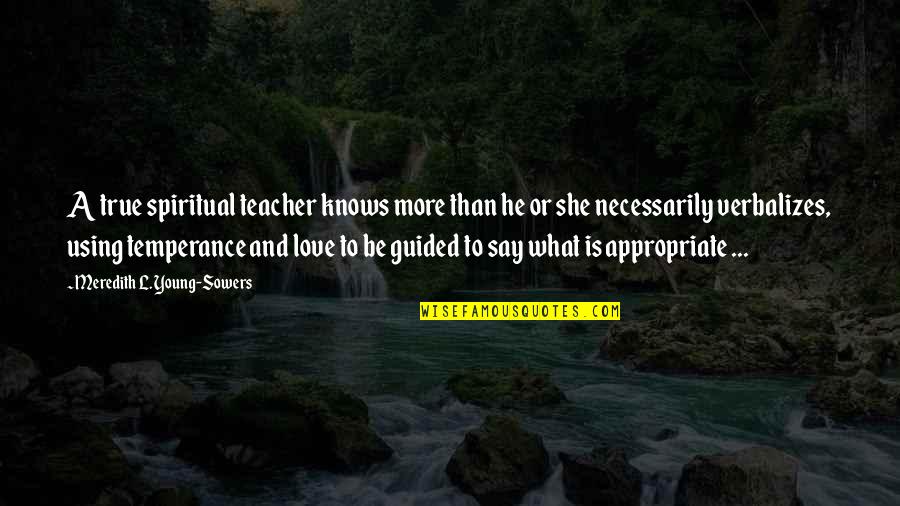 A true spiritual teacher knows more than he or she necessarily verbalizes, using temperance and love to be guided to say what is appropriate ... —
Meredith L. Young-Sowers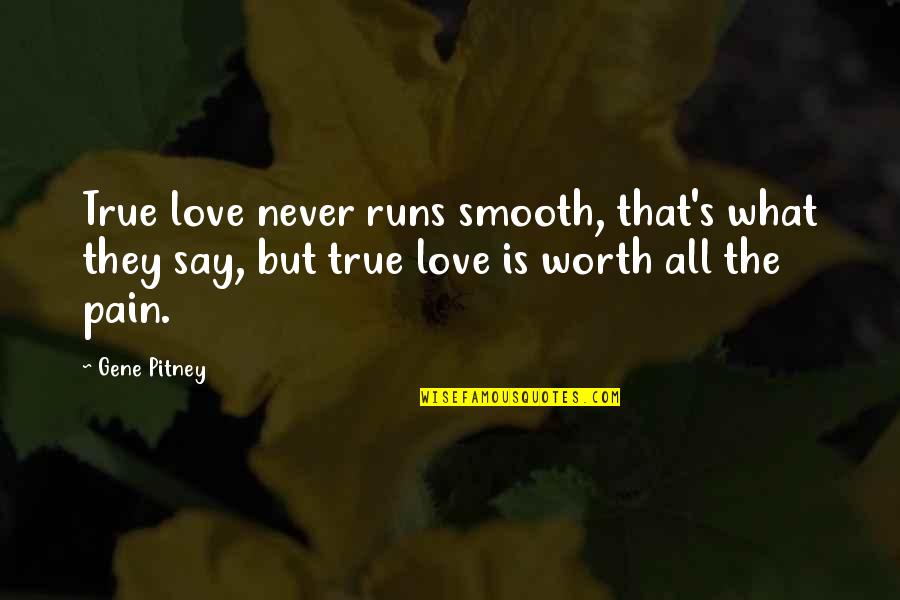 True love never runs smooth, that's what they say, but true love is worth all the pain. —
Gene Pitney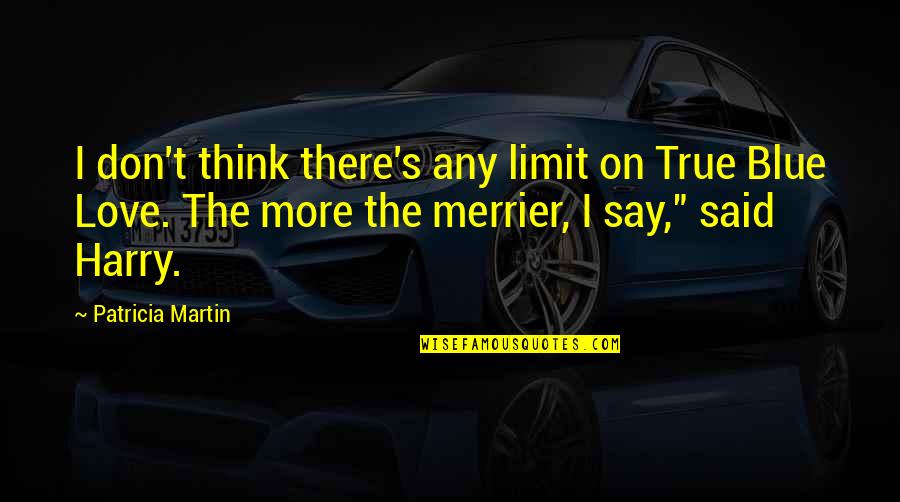 I don't think there's any limit on True Blue Love. The more the merrier, I say," said Harry. —
Patricia Martin