Summer And Spring Quotes
Collection of top 51 famous quotes about Summer And Spring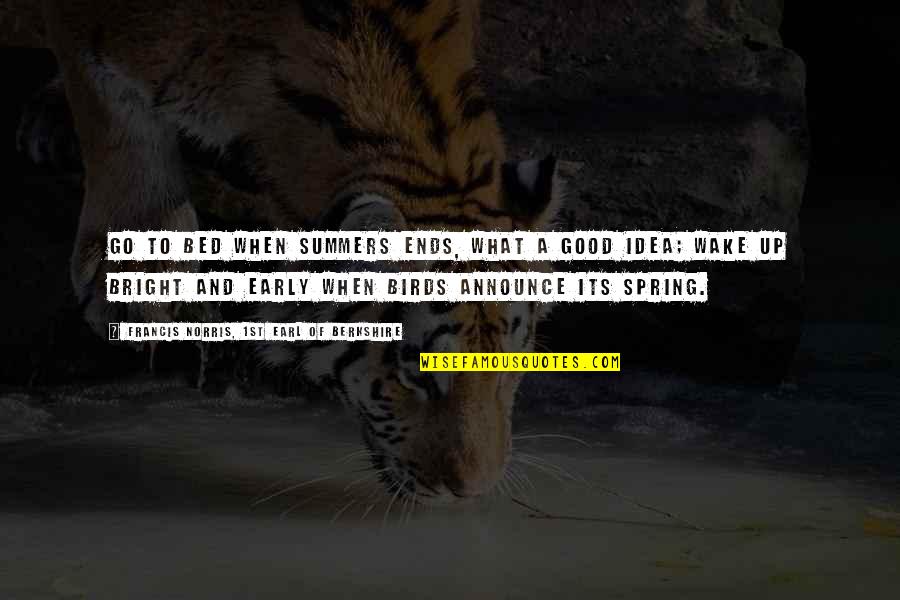 Go to bed when summers ends, what a good idea; wake up bright and early when birds announce its spring.
—
Francis Norris, 1st Earl Of Berkshire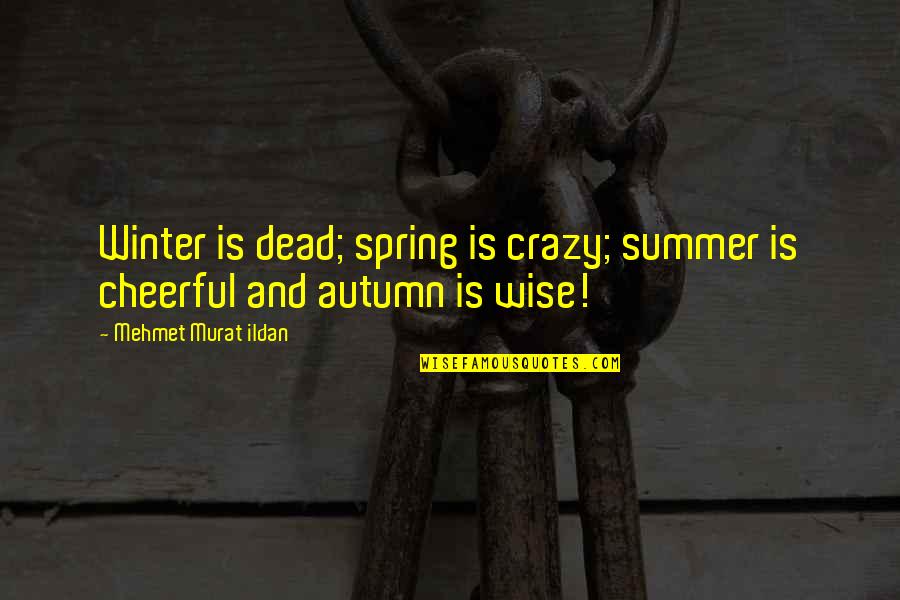 Winter is dead; spring is crazy; summer is cheerful and autumn is wise!
—
Mehmet Murat Ildan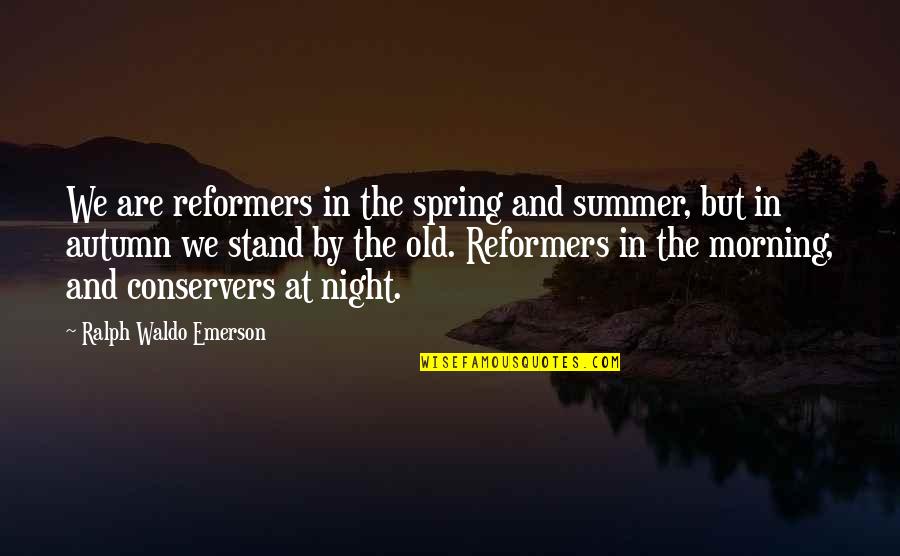 We are reformers in the spring and summer, but in autumn we stand by the old. Reformers in the morning, and conservers at night.
—
Ralph Waldo Emerson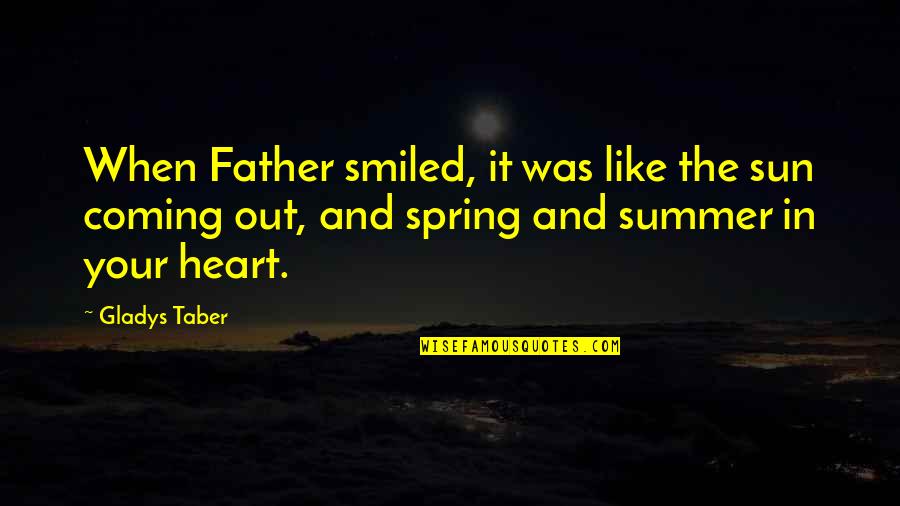 When Father smiled, it was like the sun coming out, and spring and summer in your heart.
—
Gladys Taber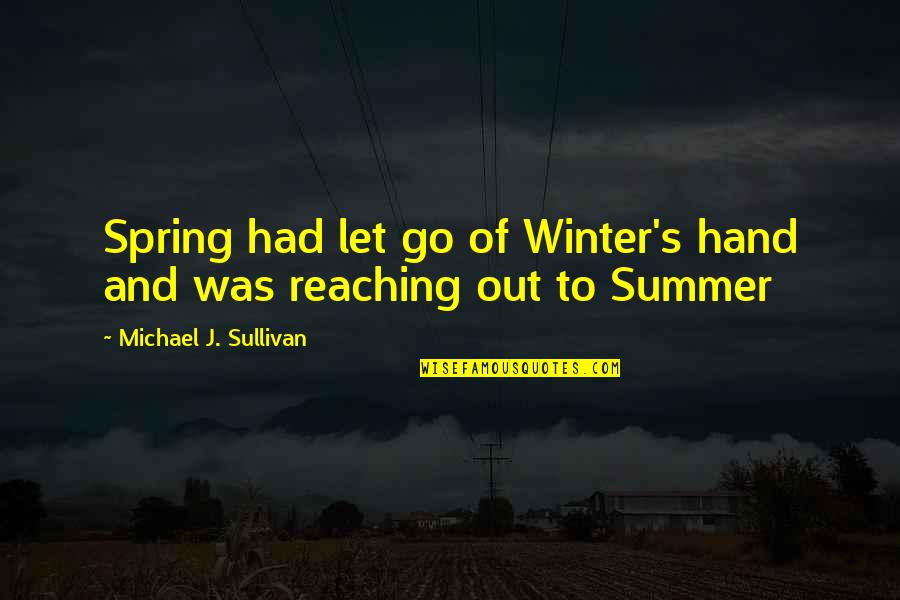 Spring had let go of Winter's hand and was reaching out to Summer
—
Michael J. Sullivan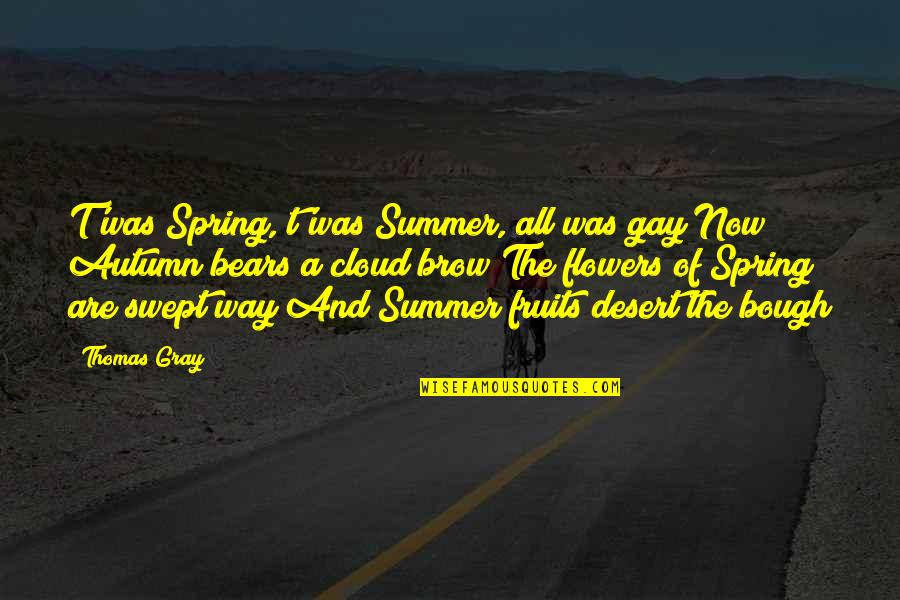 T'was Spring, t'was Summer, all was gay Now Autumn bears a cloud brow The flowers of Spring are swept way And Summer fruits desert the bough
—
Thomas Gray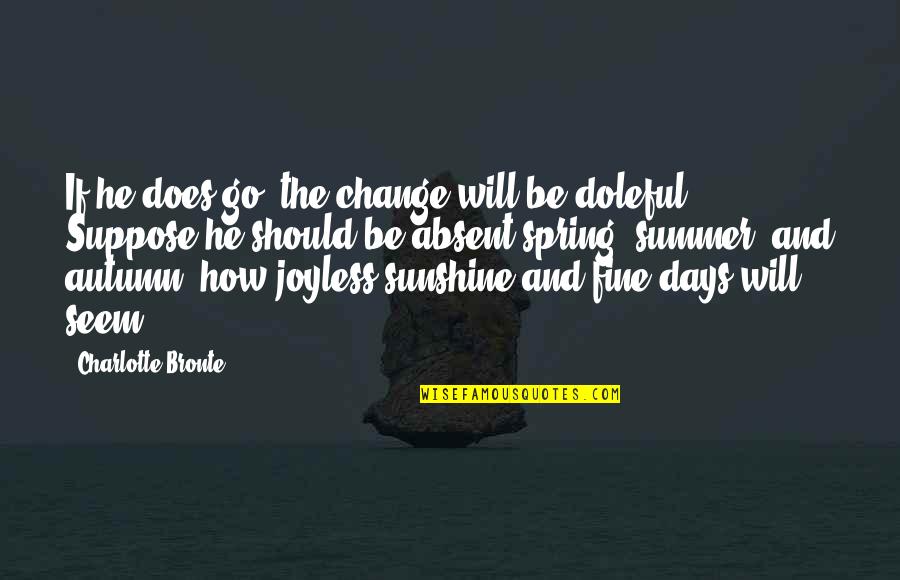 If he does go, the change will be doleful. Suppose he should be absent spring, summer, and autumn: how joyless sunshine and fine days will seem!
—
Charlotte Bronte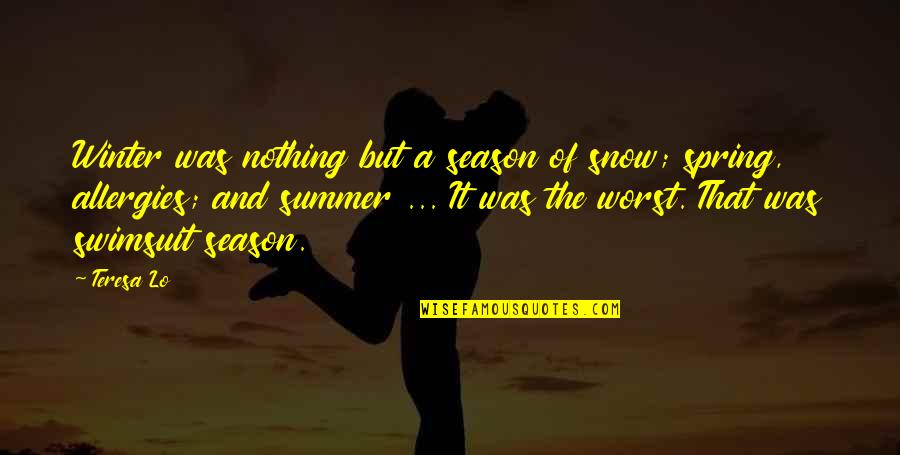 Winter was nothing but a season of snow; spring, allergies; and summer ... It was the worst. That was swimsuit season.
—
Teresa Lo
The Summer had died peacefully in its sleep, and Autumn, as soft-spoken executrix, was locking life up safely until Spring came to claim it.
—
Kurt Vonnegut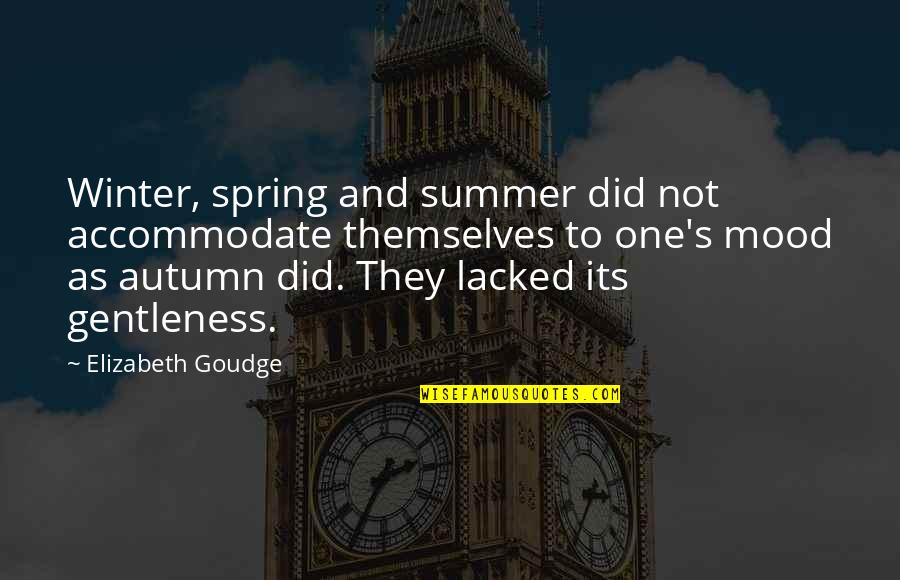 Winter, spring and summer did not accommodate themselves to one's mood as autumn did. They lacked its gentleness.
—
Elizabeth Goudge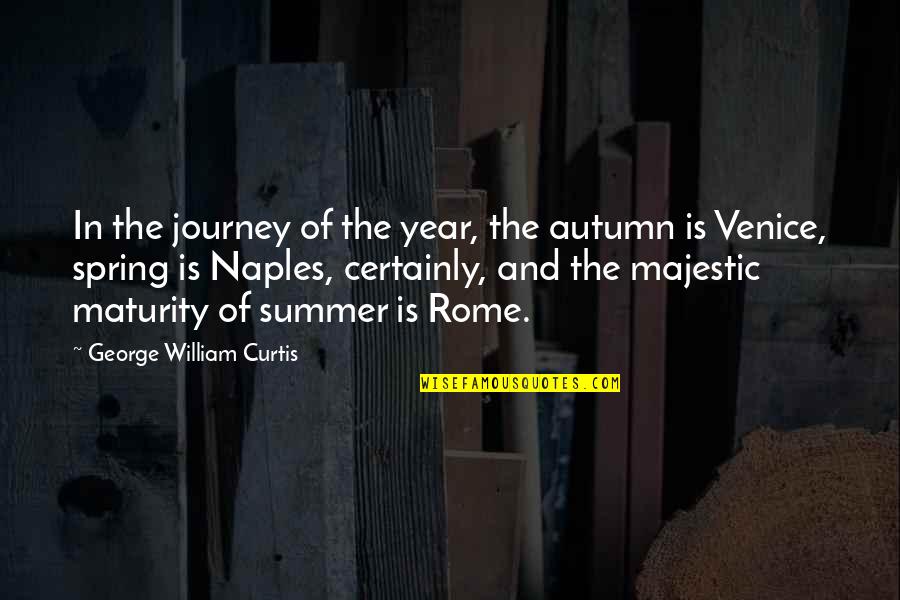 In the journey of the year, the autumn is Venice, spring is Naples, certainly, and the majestic maturity of summer is Rome.
—
George William Curtis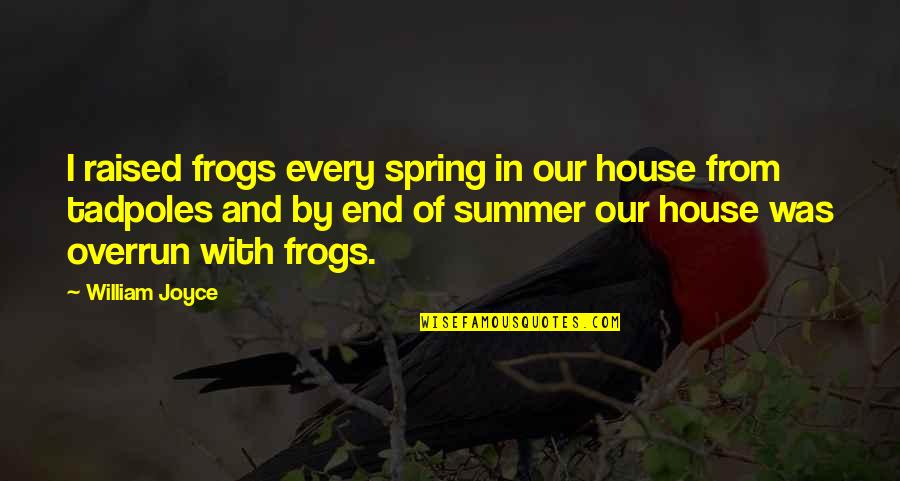 I raised frogs every spring in our house from tadpoles and by end of summer our house was overrun with frogs.
—
William Joyce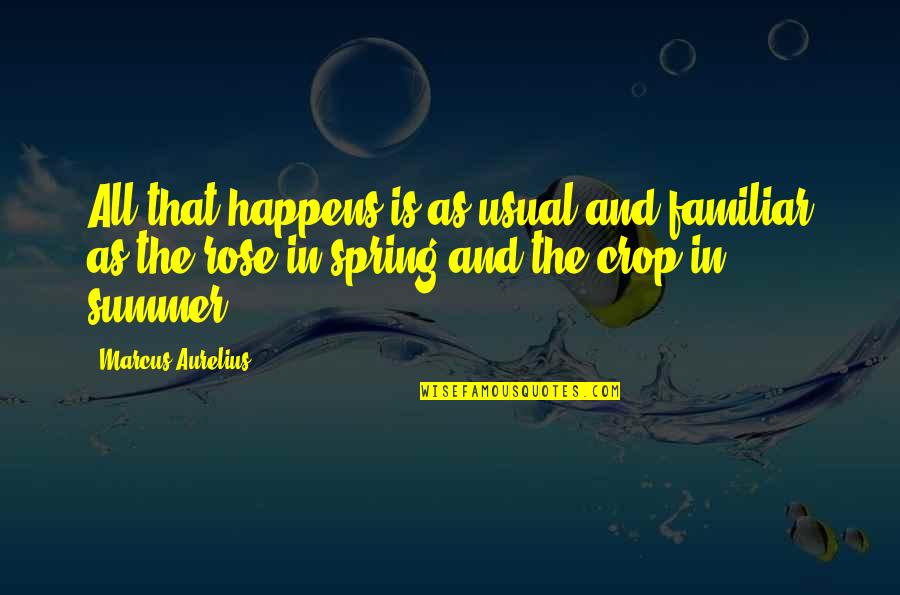 All that happens is as usual and familiar as the rose in spring and the crop in summer. —
Marcus Aurelius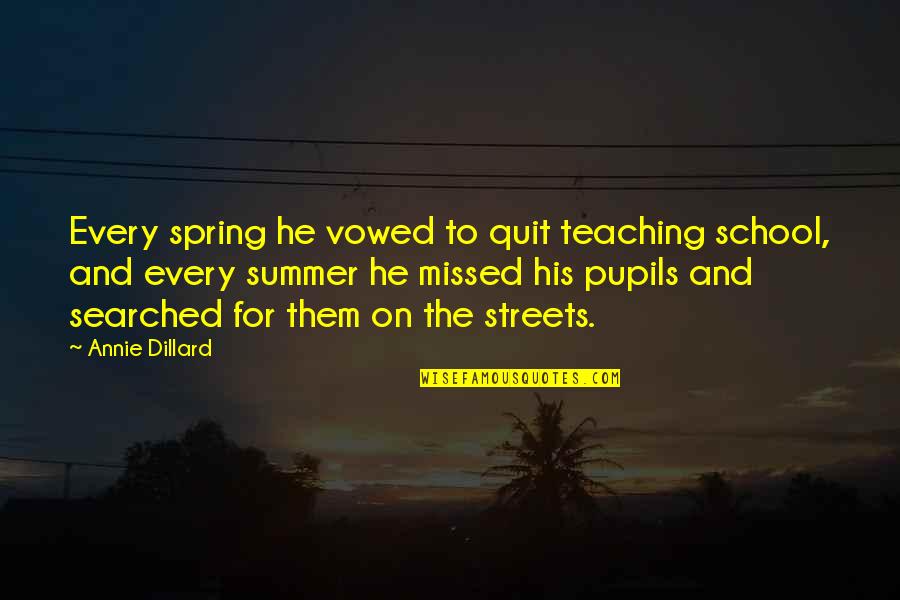 Every spring he vowed to quit teaching school, and every summer he missed his pupils and searched for them on the streets. —
Annie Dillard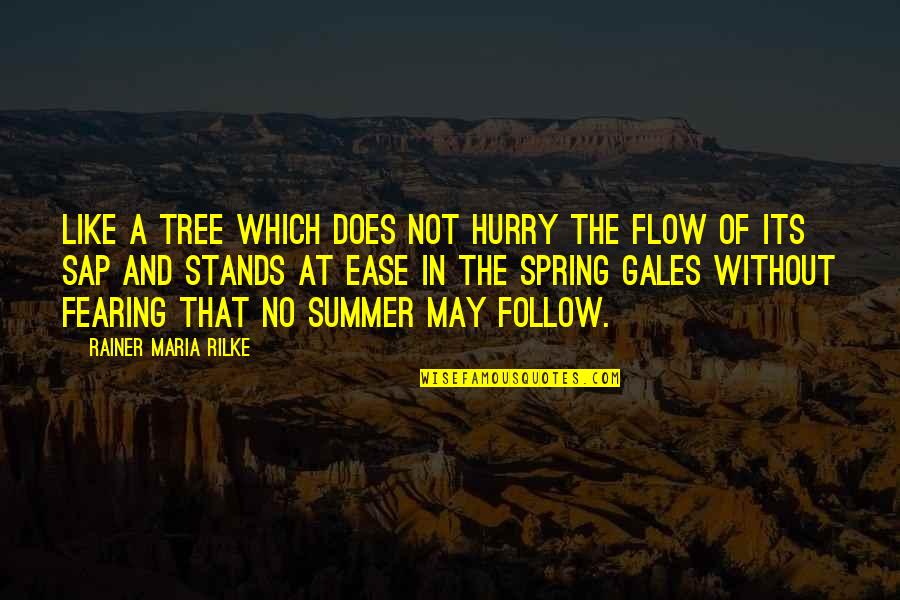 Like a tree which does not hurry the flow of its sap and stands at ease in the spring gales without fearing that no summer may follow. —
Rainer Maria Rilke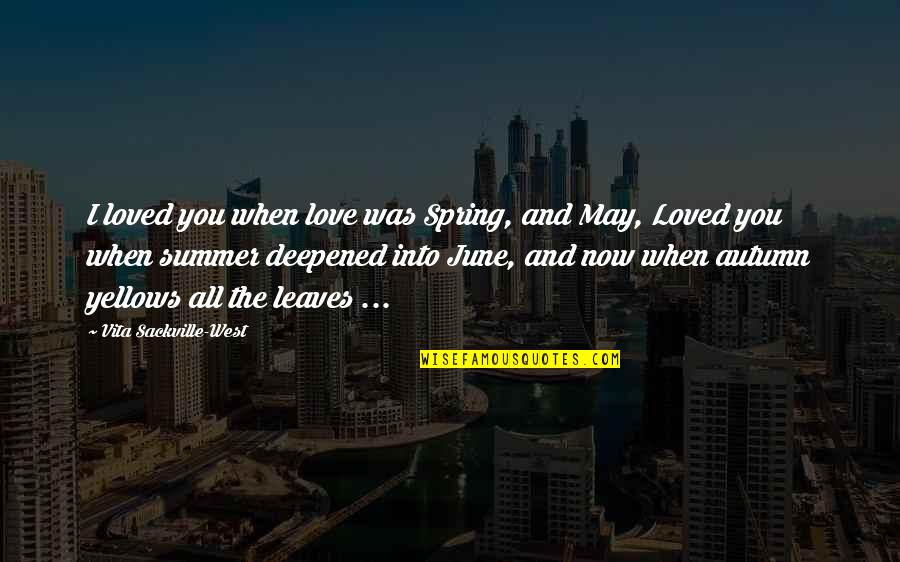 I loved you when love was Spring, and May, Loved you when summer deepened into June, and now when autumn yellows all the leaves ... —
Vita Sackville-West
August brings into sharp focus and a furious boil everything I've been listening to in the late spring and summer. —
Henry Rollins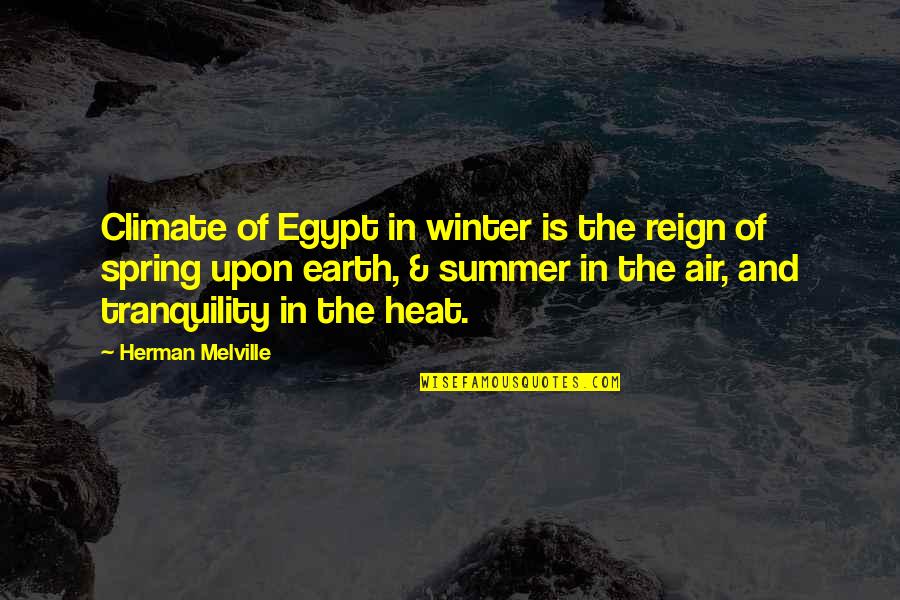 Climate of Egypt in winter is the reign of spring upon earth, & summer in the air, and tranquility in the heat. —
Herman Melville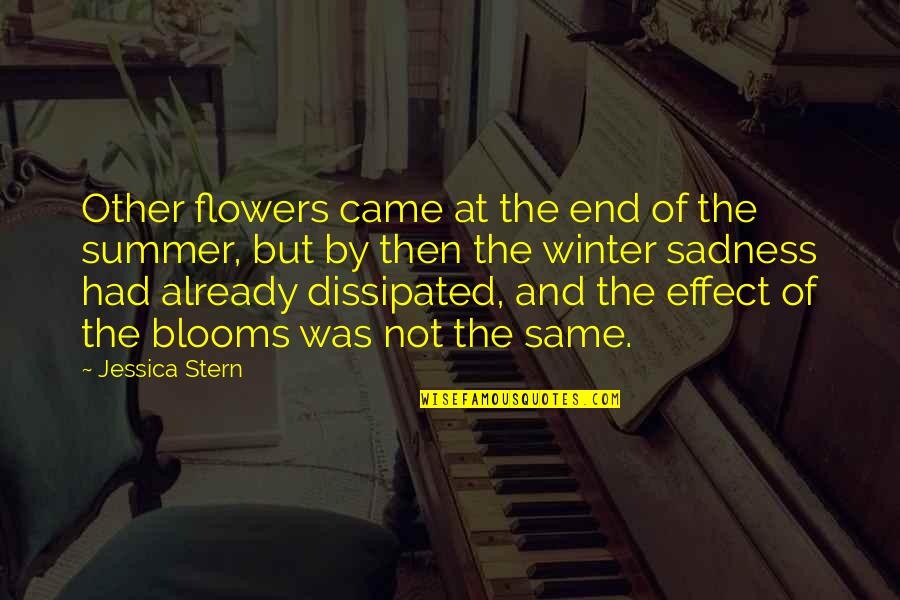 Other flowers came at the end of the summer, but by then the winter sadness had already dissipated, and the effect of the blooms was not the same. —
Jessica Stern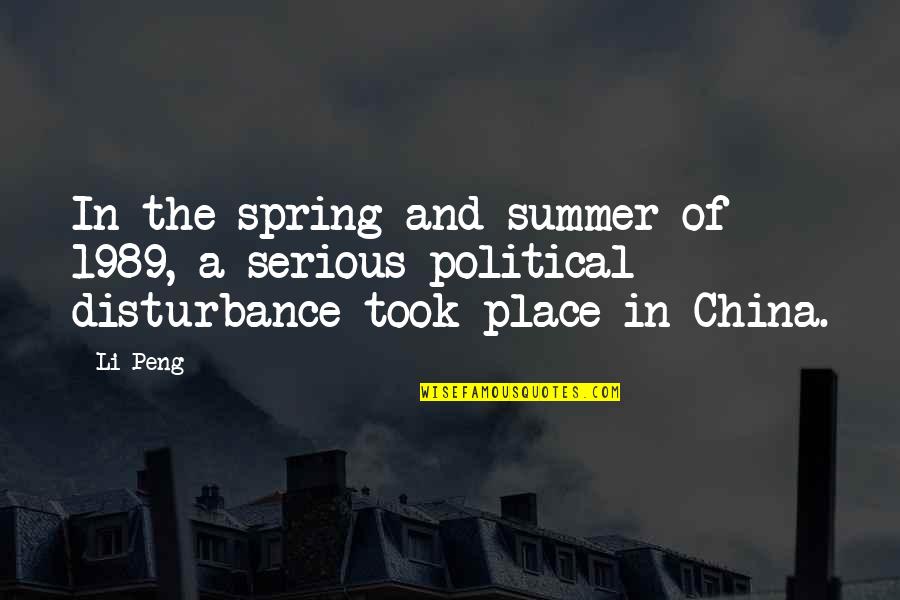 In the spring and summer of 1989, a serious political disturbance took place in China. —
Li Peng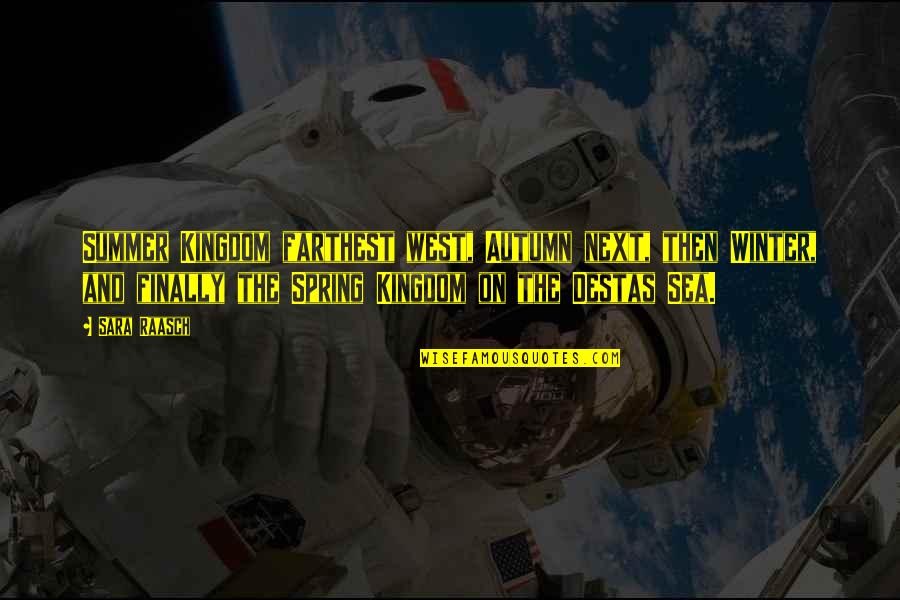 Summer Kingdom farthest west, Autumn next, then Winter, and finally the Spring Kingdom on the Destas Sea. —
Sara Raasch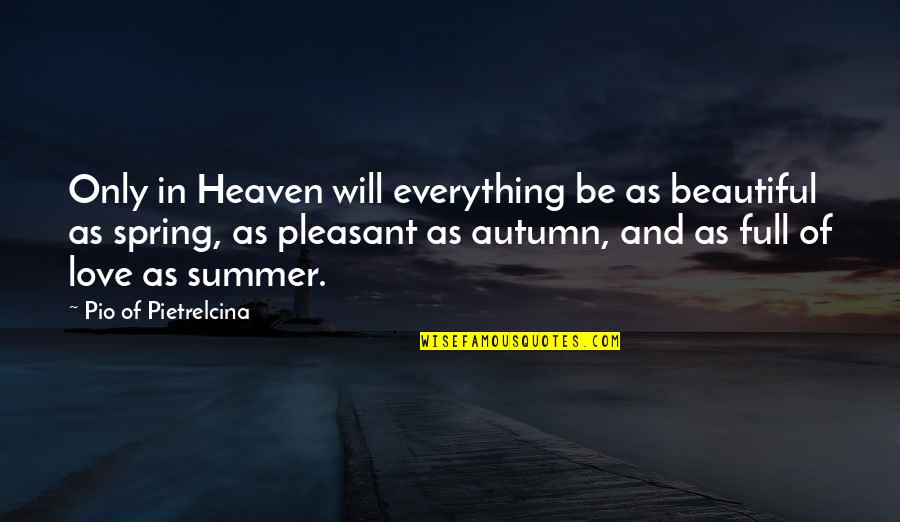 Only in Heaven will everything be as beautiful as spring, as pleasant as autumn, and as full of love as summer. —
Pio Of Pietrelcina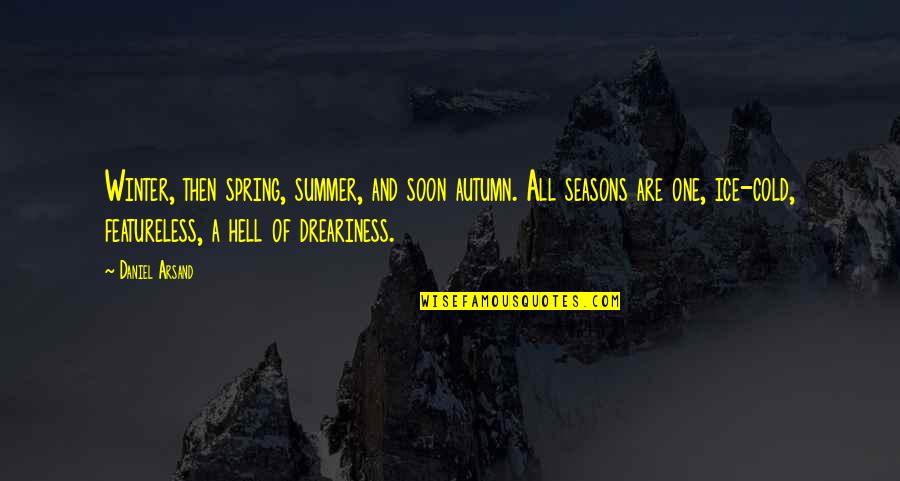 Winter, then spring, summer, and soon autumn. All seasons are one, ice-cold, featureless, a hell of dreariness. —
Daniel Arsand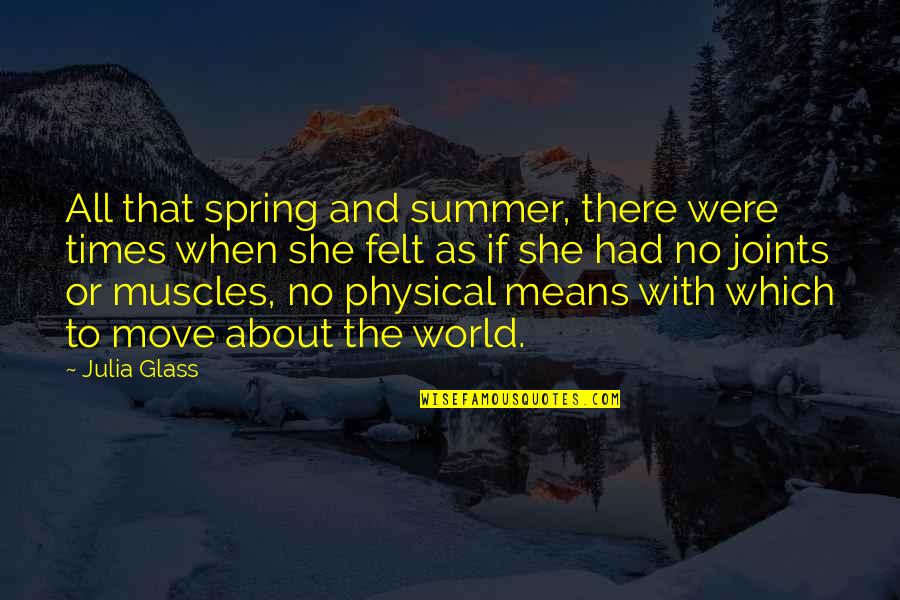 All that spring and summer, there were times when she felt as if she had no joints or muscles, no physical means with which to move about the world. —
Julia Glass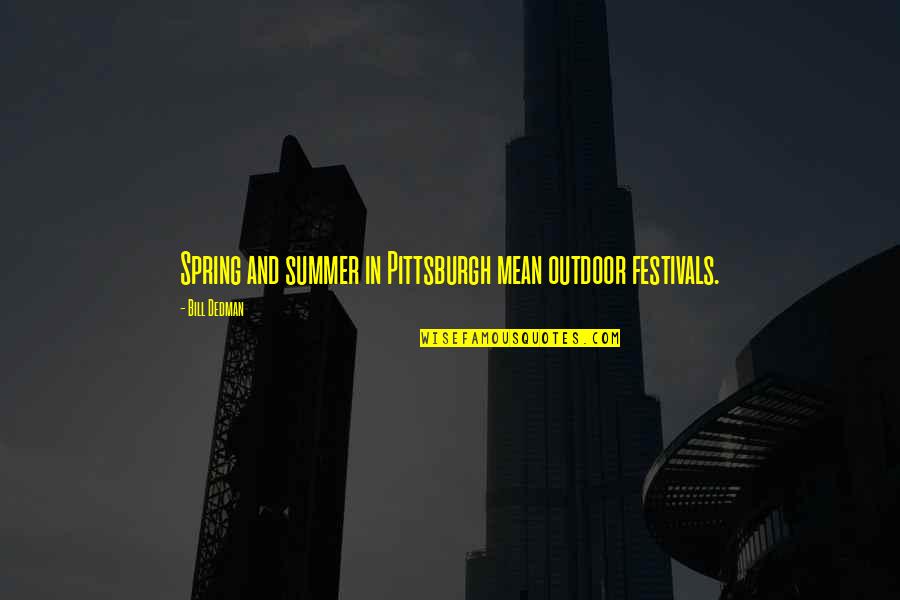 Spring and summer in Pittsburgh mean outdoor festivals. —
Bill Dedman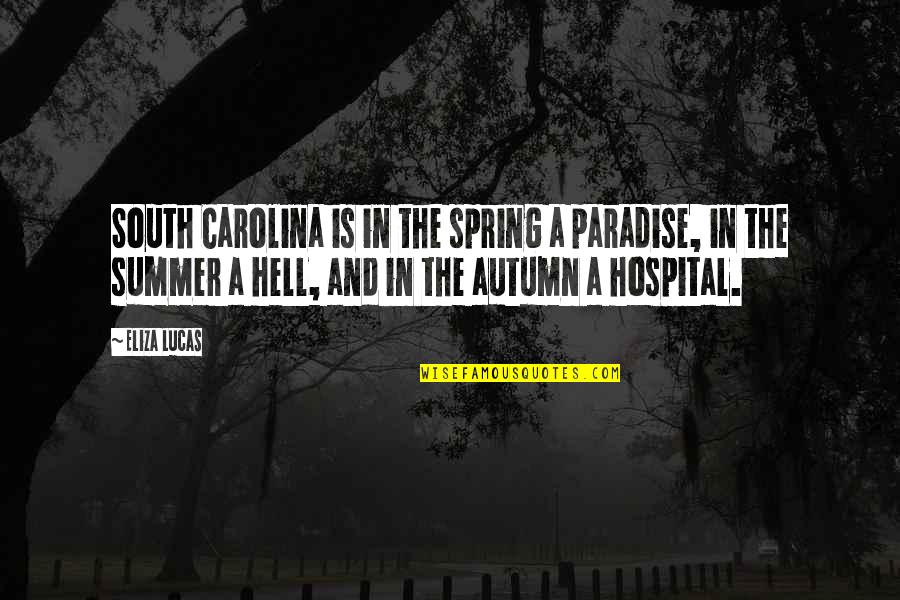 South Carolina is in the spring a paradise, in the summer a hell, and in the autumn a hospital. —
Eliza Lucas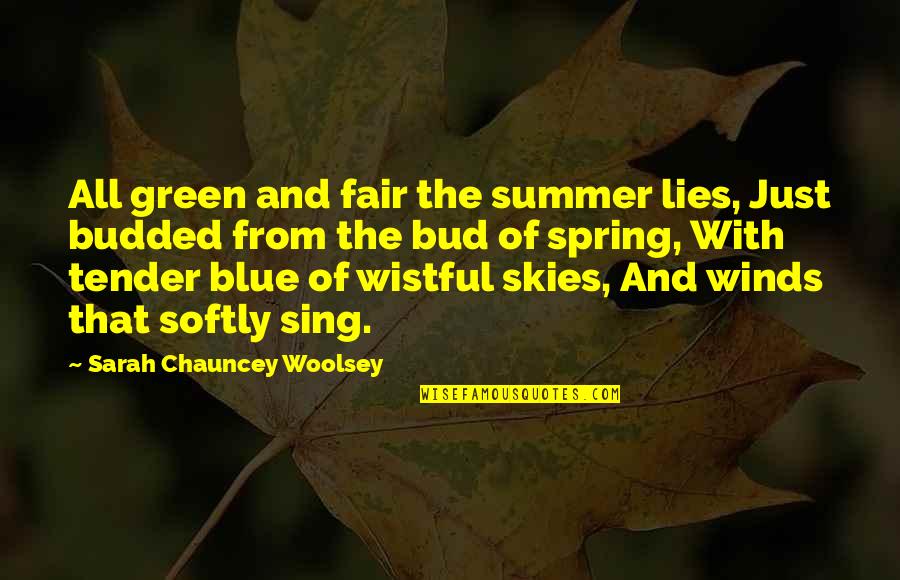 All green and fair the summer lies, Just budded from the bud of spring, With tender blue of wistful skies, And winds that softly sing. —
Sarah Chauncey Woolsey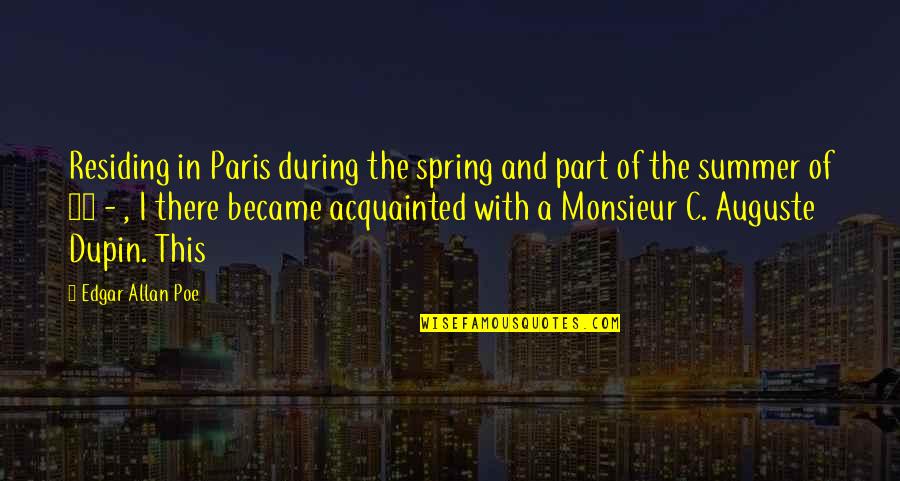 Residing in Paris during the spring and part of the summer of 18 - , I there became acquainted with a Monsieur C. Auguste Dupin. This —
Edgar Allan Poe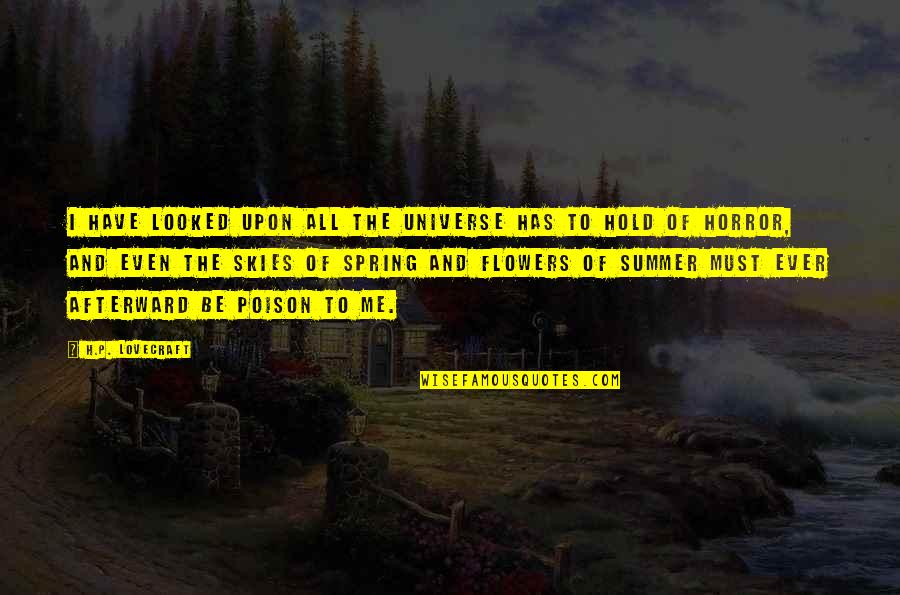 I have looked upon all the universe has to hold of horror, and even the skies of spring and flowers of summer must ever afterward be poison to me. —
H.P. Lovecraft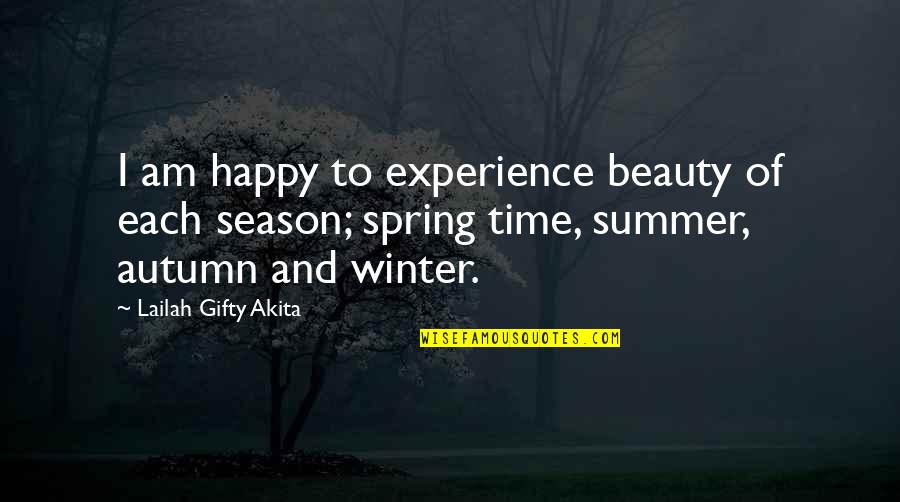 I am happy to experience beauty of each season; spring time, summer, autumn and winter. —
Lailah Gifty Akita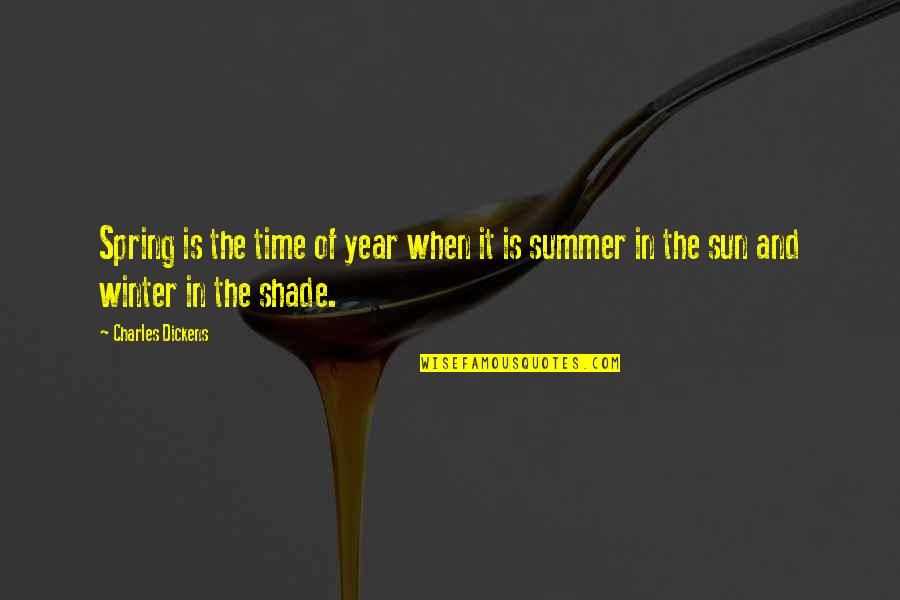 Spring is the time of year when it is summer in the sun and winter in the shade. —
Charles Dickens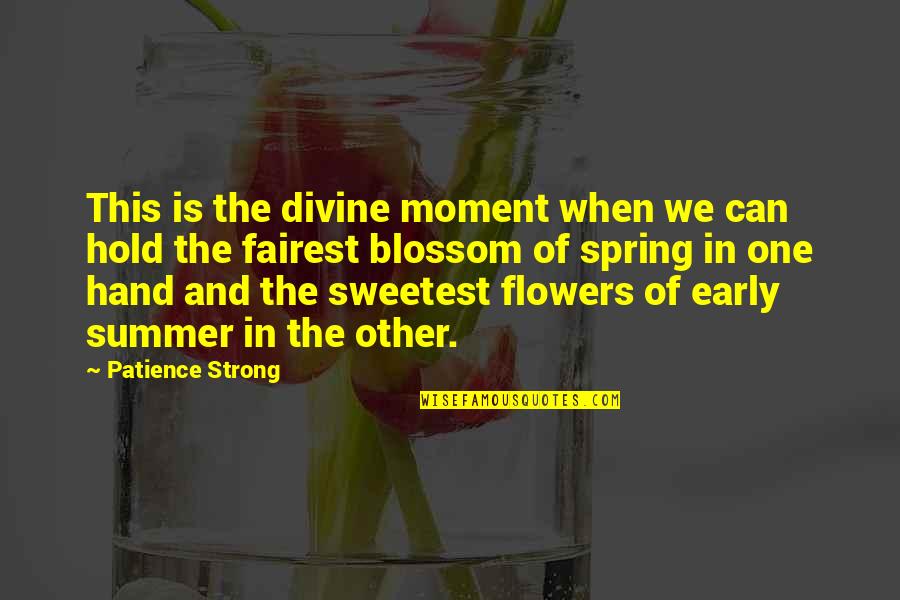 This is the divine moment when we can hold the fairest blossom of spring in one hand and the sweetest flowers of early summer in the other. —
Patience Strong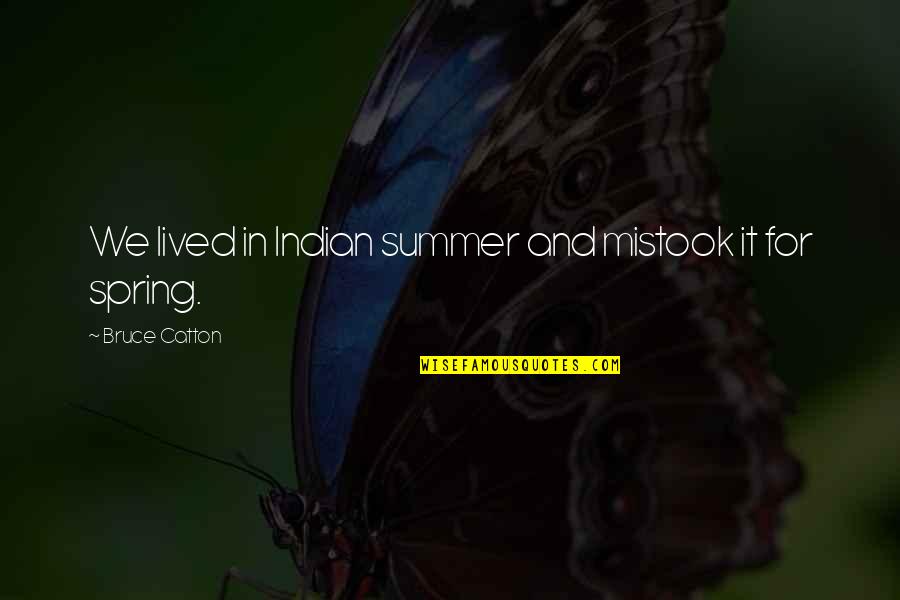 We lived in Indian summer and mistook it for spring. —
Bruce Catton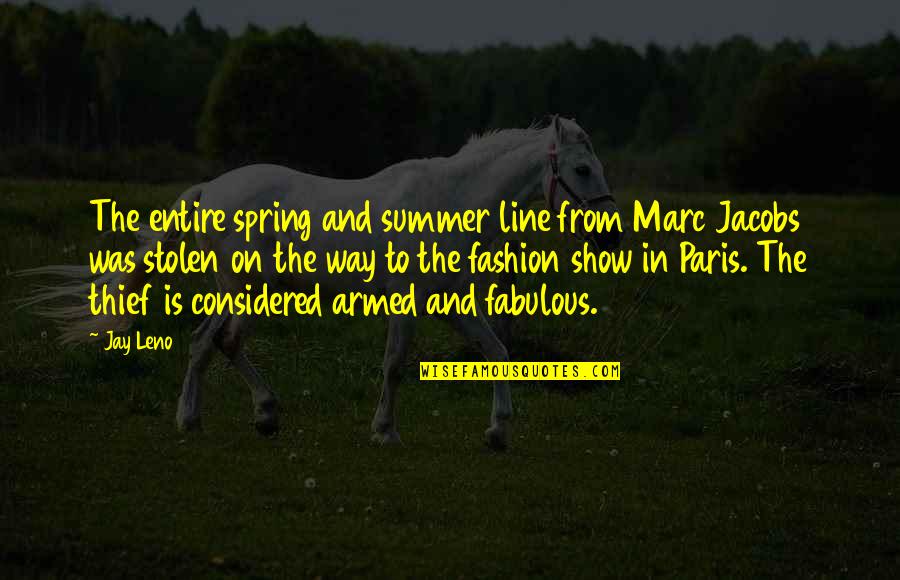 The entire spring and summer line from Marc Jacobs was stolen on the way to the fashion show in Paris. The thief is considered armed and fabulous. —
Jay Leno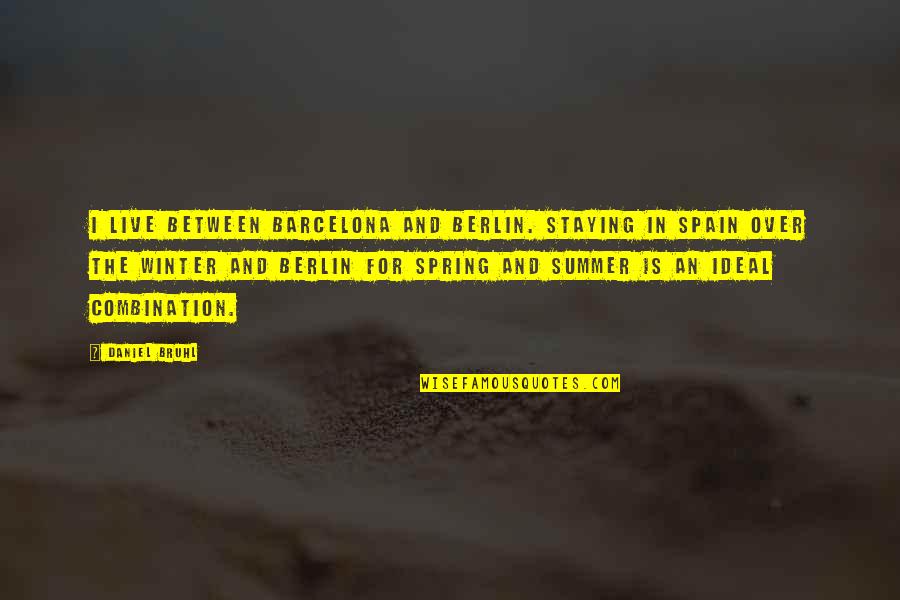 I live between Barcelona and Berlin. Staying in Spain over the winter and Berlin for spring and summer is an ideal combination. —
Daniel Bruhl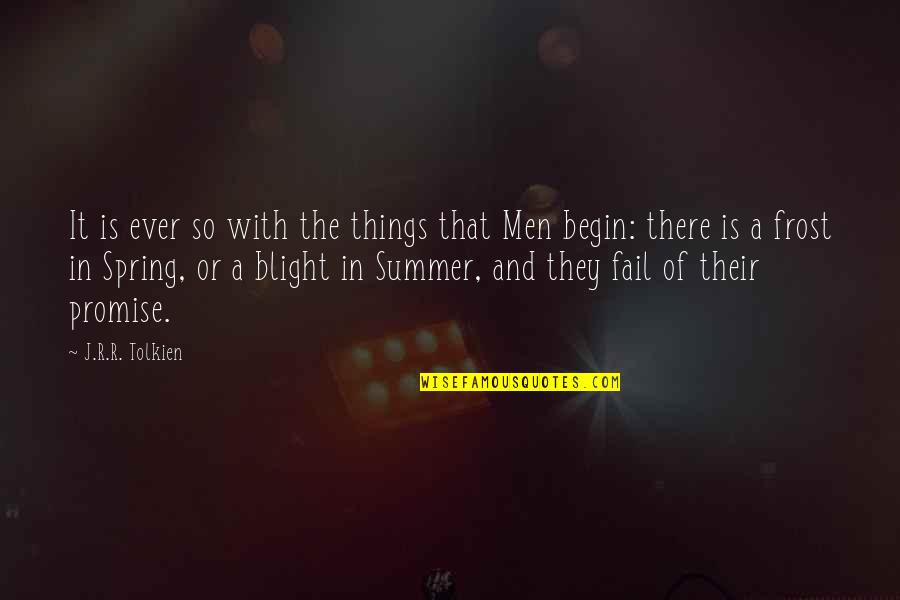 It is ever so with the things that Men begin: there is a frost in Spring, or a blight in Summer, and they fail of their promise. —
J.R.R. Tolkien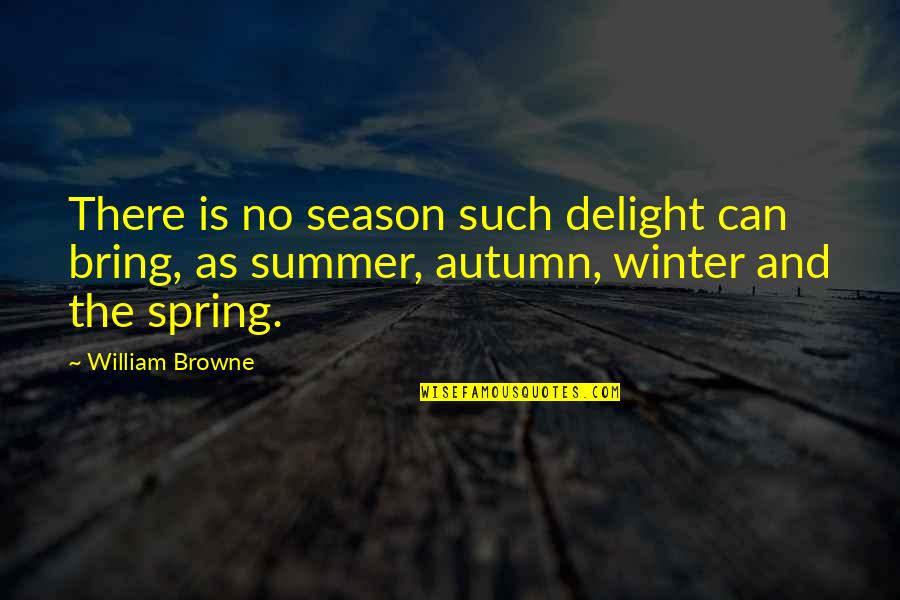 There is no season such delight can bring, as summer, autumn, winter and the spring. —
William Browne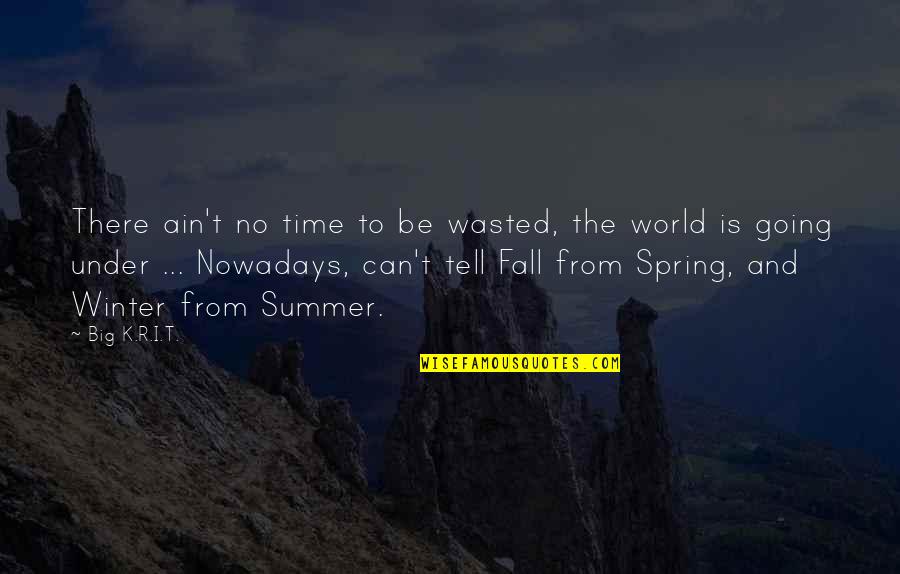 There ain't no time to be wasted, the world is going under ...
Nowadays, can't tell Fall from Spring, and Winter from Summer. —
Big K.R.I.T.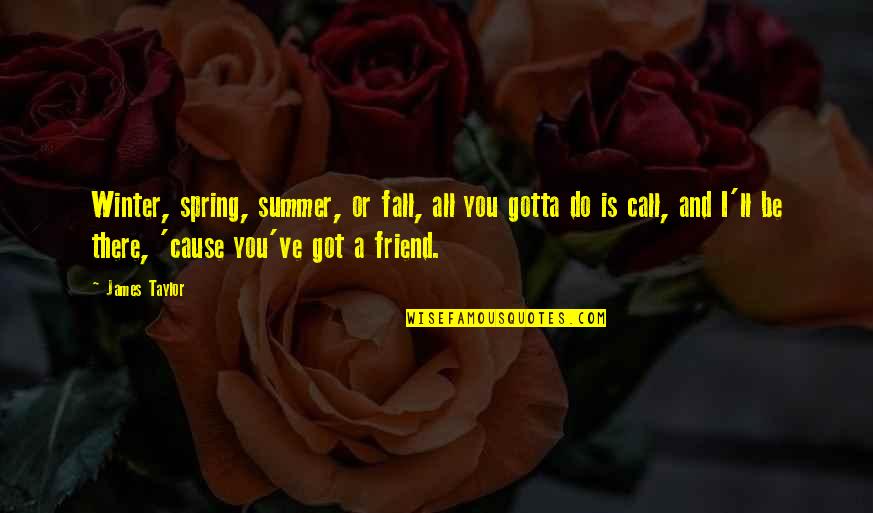 Winter, spring, summer, or fall, all you gotta do is call, and I'll be there, 'cause you've got a friend. —
James Taylor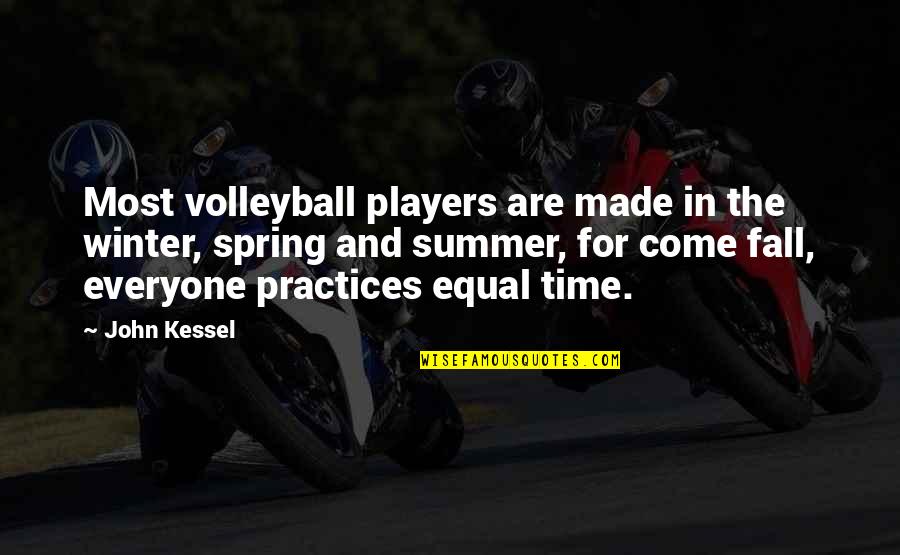 Most volleyball players are made in the winter, spring and summer, for come fall, everyone practices equal time. —
John Kessel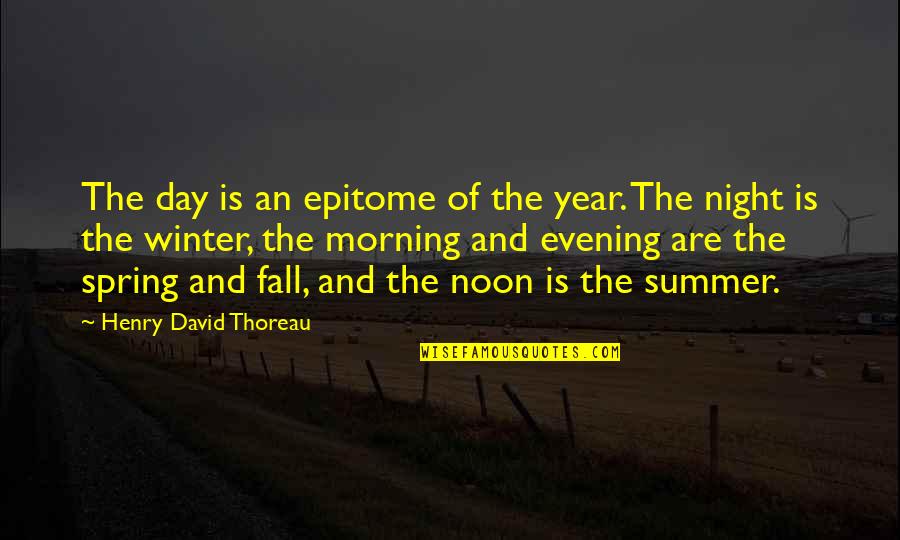 The day is an epitome of the year. The night is the winter, the morning and evening are the spring and fall, and the noon is the summer. —
Henry David Thoreau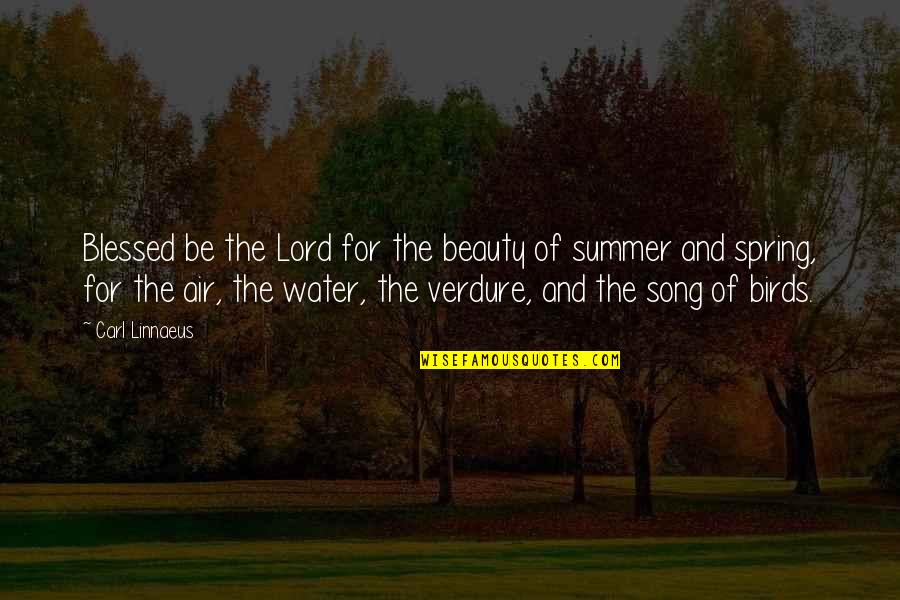 Blessed be the Lord for the beauty of
summer and spring
, for the air, the water, the verdure, and the song of birds. —
Carl Linnaeus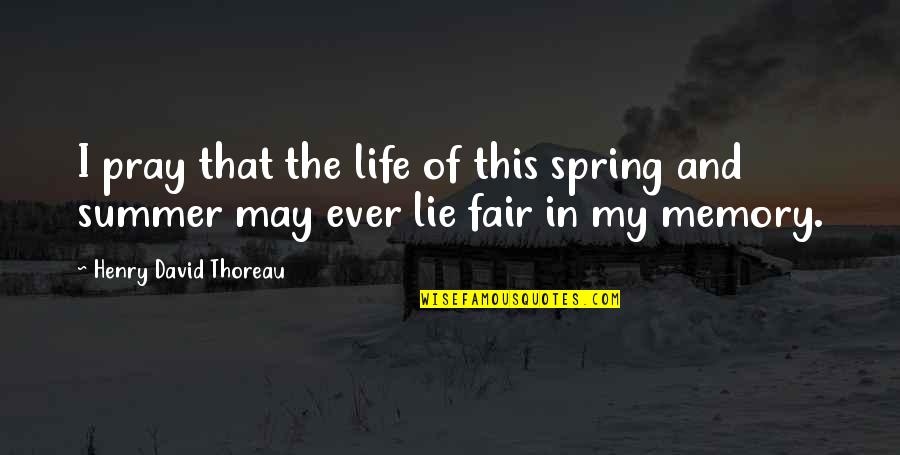 I pray that the life of this spring and summer may ever lie fair in my memory. —
Henry David Thoreau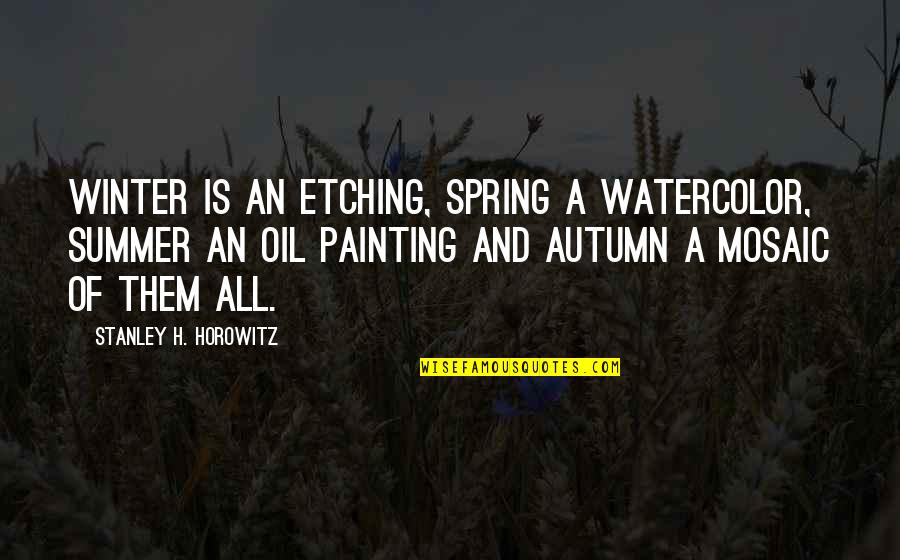 Winter is an etching, spring a watercolor, summer an oil painting and autumn a mosaic of them all. —
Stanley H. Horowitz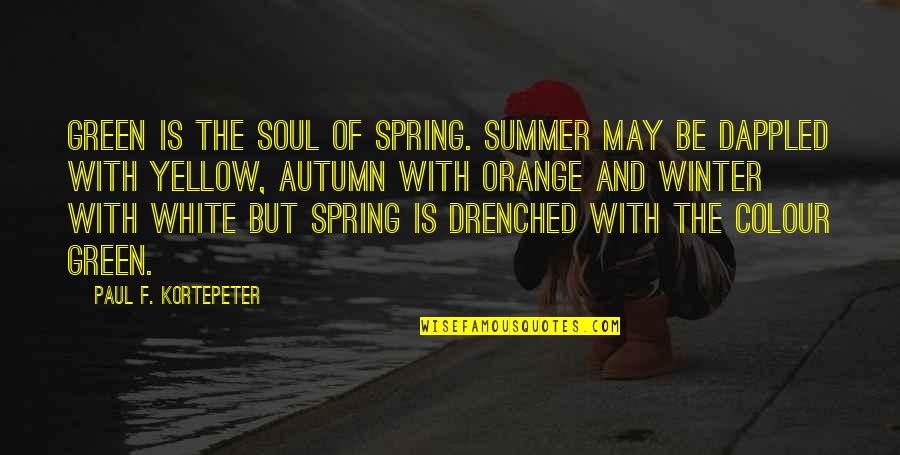 Green is the soul of Spring. Summer may be dappled with yellow, Autumn with orange and Winter with white but Spring is drenched with the colour green. —
Paul F. Kortepeter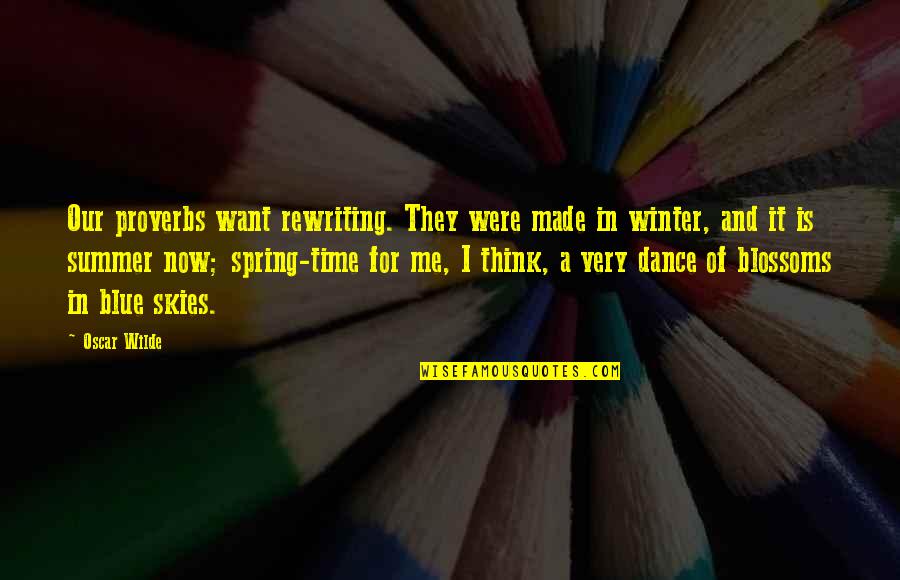 Our proverbs want rewriting. They were made in winter, and it is summer now; spring-time for me, I think, a very dance of blossoms in blue skies. —
Oscar Wilde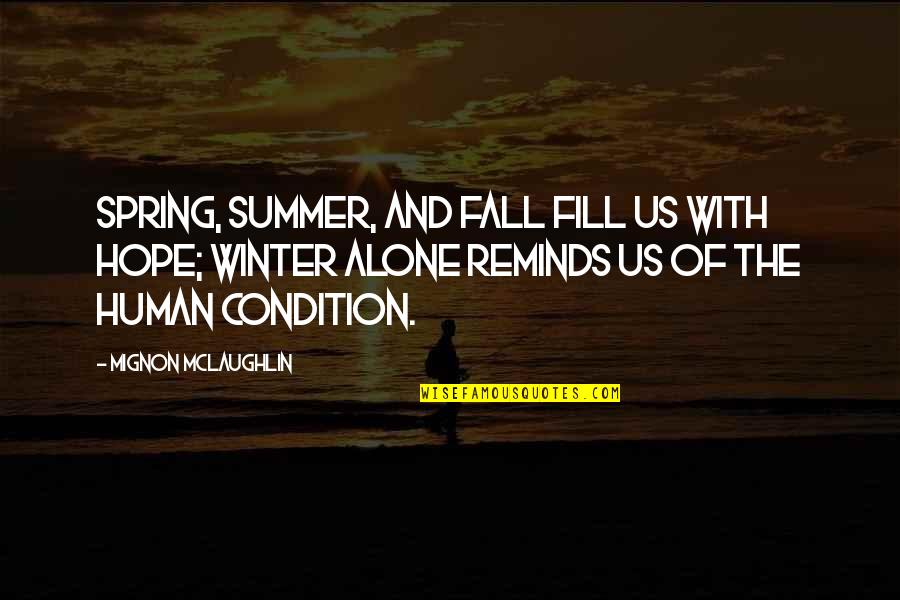 Spring, summer, and fall fill us with hope; winter alone reminds us of the human condition. —
Mignon McLaughlin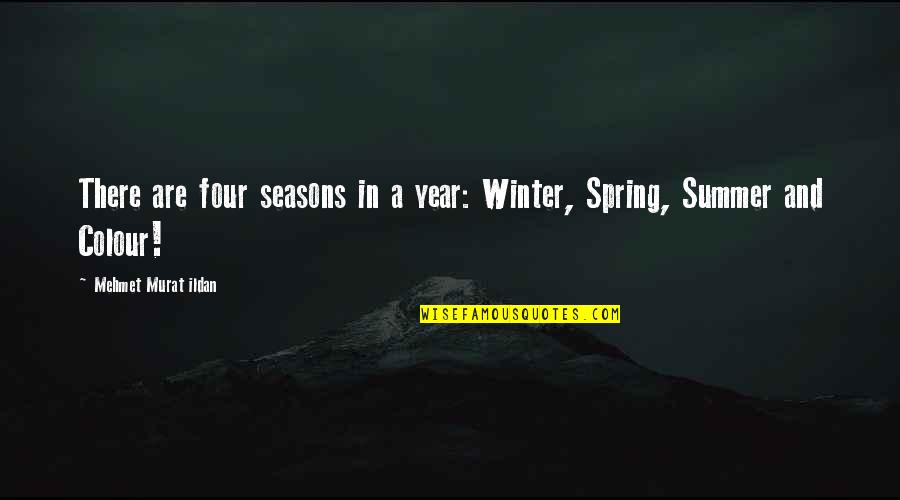 There are four seasons in a year: Winter, Spring, Summer and Colour! —
Mehmet Murat Ildan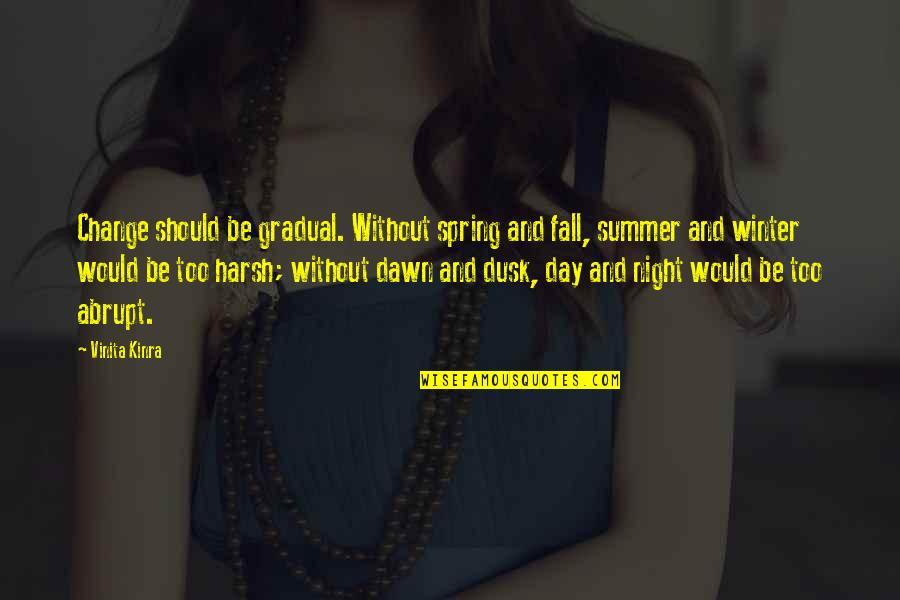 Change should be gradual. Without spring and fall, summer and winter would be too harsh; without dawn and dusk, day and night would be too abrupt. —
Vinita Kinra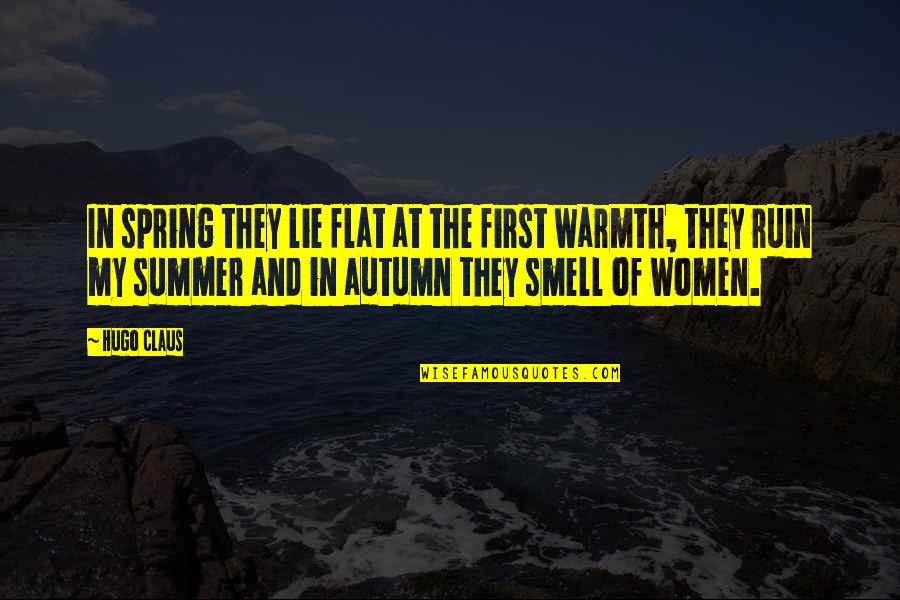 In spring they lie flat at the first warmth, they ruin my summer and in autumn they smell of women. —
Hugo Claus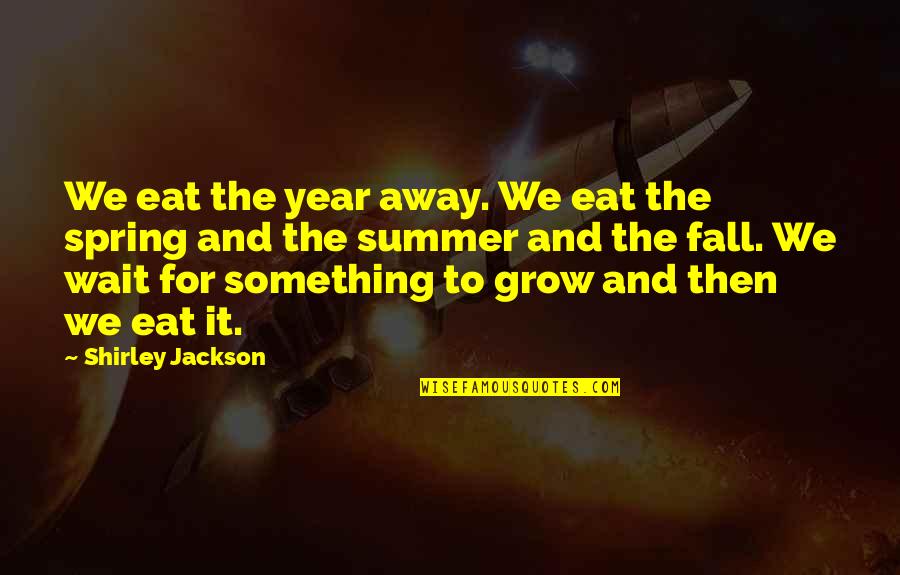 We eat the year away. We eat the spring and the summer and the fall. We wait for something to grow and then we eat it. —
Shirley Jackson