Slack Off Quotes
Collection of top 40 famous quotes about Slack Off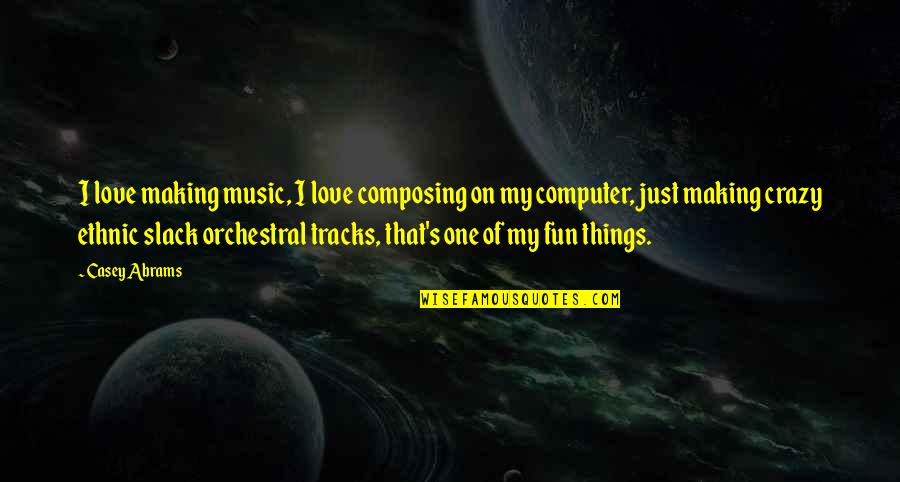 I love making music, I love composing on my computer, just making crazy ethnic slack orchestral tracks, that's one of my fun things.
—
Casey Abrams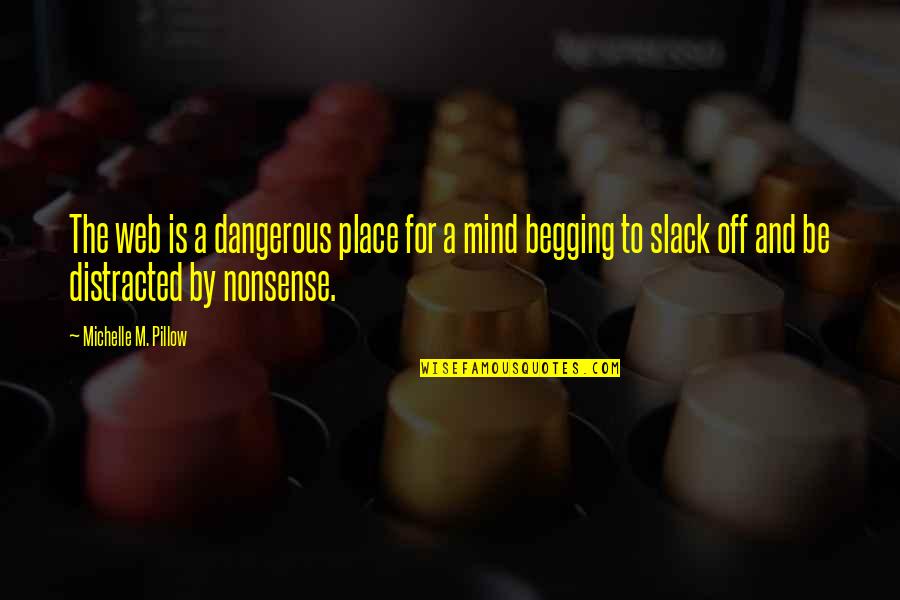 The web is a dangerous place for a mind begging to slack off and be distracted by nonsense.
—
Michelle M. Pillow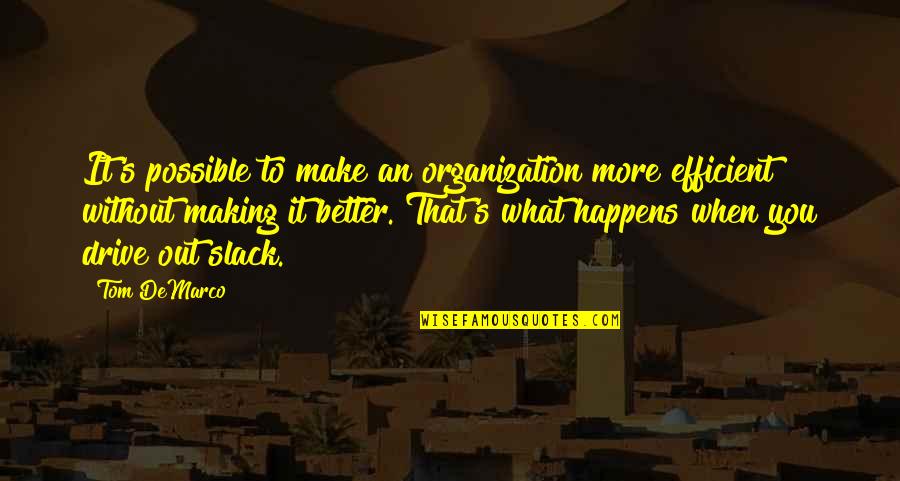 It's possible to make an organization more efficient without making it better. That's what happens when you drive out slack.
—
Tom DeMarco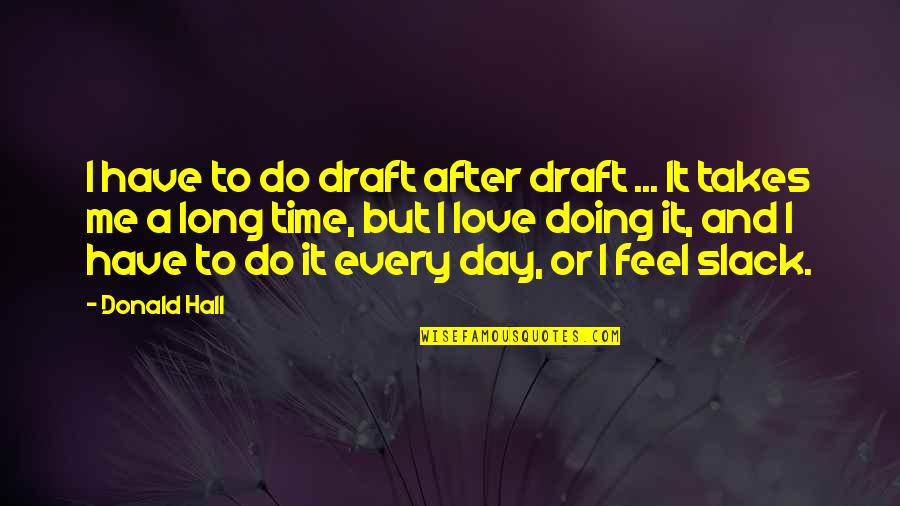 I have to do draft after draft ... It takes me a long time, but I love doing it, and I have to do it every day, or I feel slack.
—
Donald Hall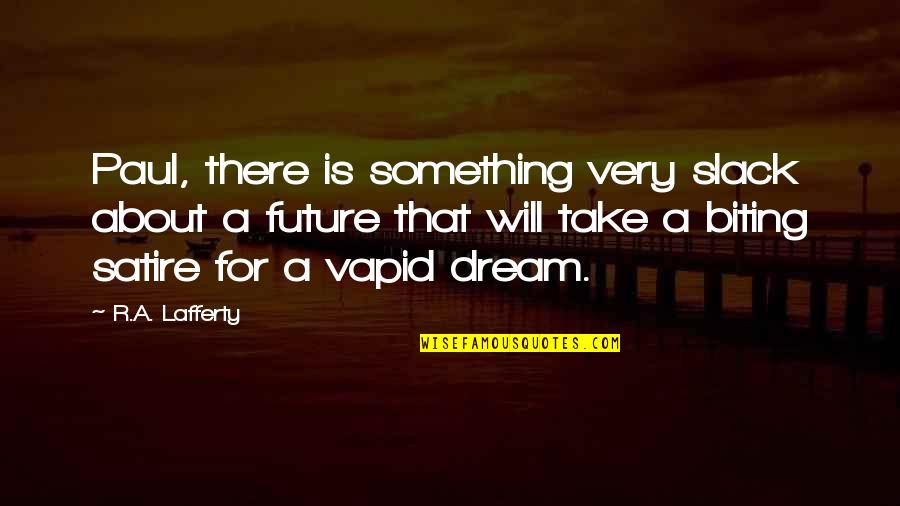 Paul, there is something very slack about a future that will take a biting satire for a vapid dream.
—
R.A. Lafferty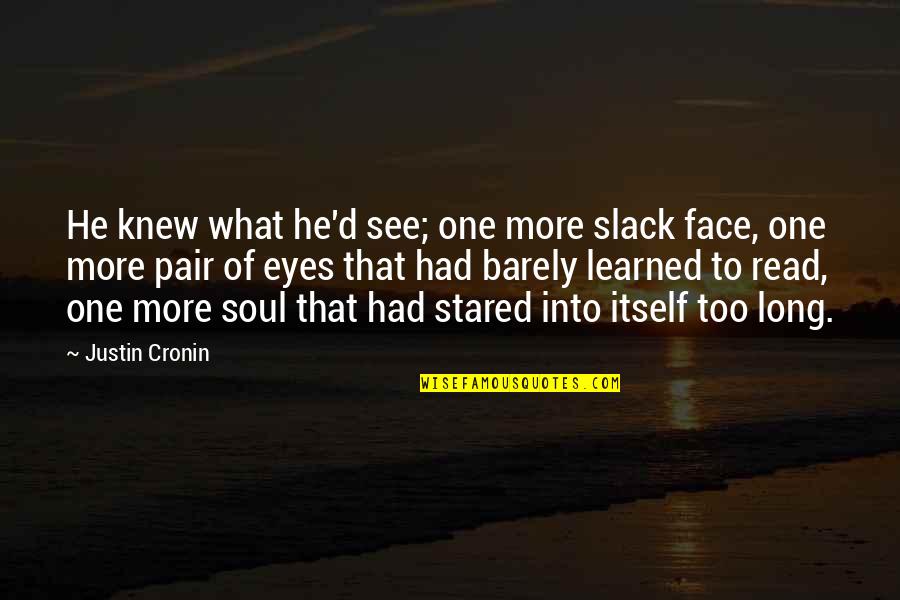 He knew what he'd see; one more slack face, one more pair of eyes that had barely learned to read, one more soul that had stared into itself too long.
—
Justin Cronin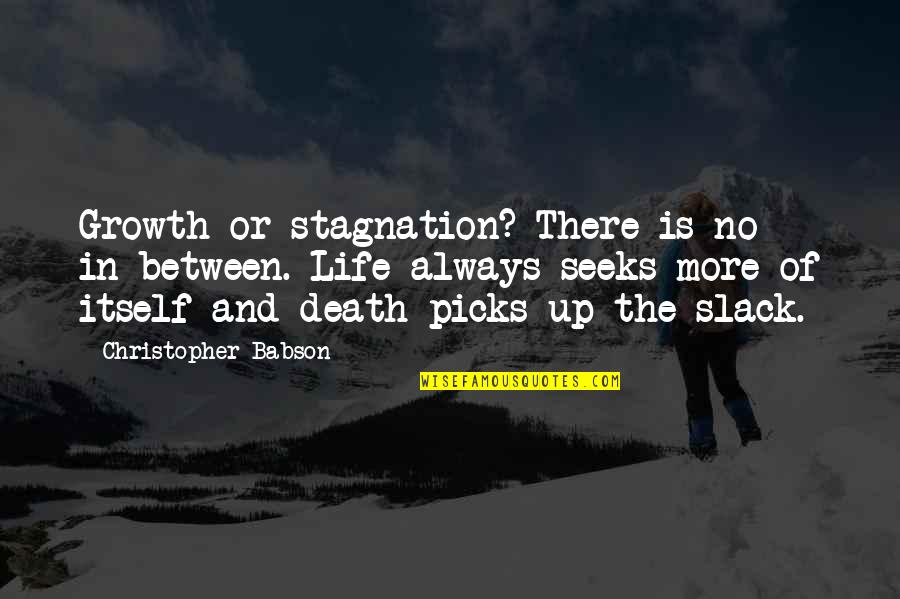 Growth or stagnation? There is no in-between. Life always seeks more of itself and death picks up the slack.
—
Christopher Babson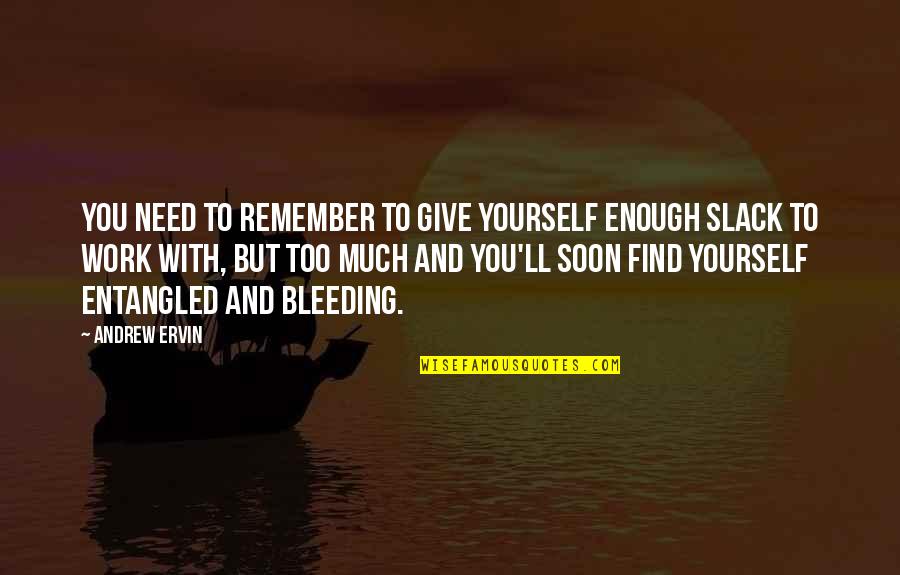 You need to remember to give yourself enough slack to work with, but too much and you'll soon find yourself entangled and bleeding.
—
Andrew Ervin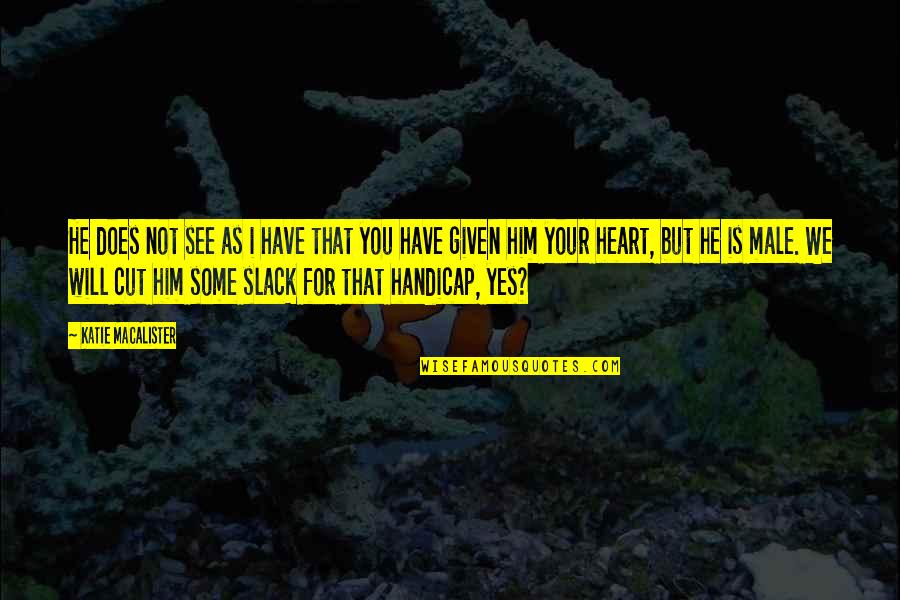 He does not see as i have that you have given him your heart, but he is male. We will cut him some slack for that handicap, yes?
—
Katie MacAlister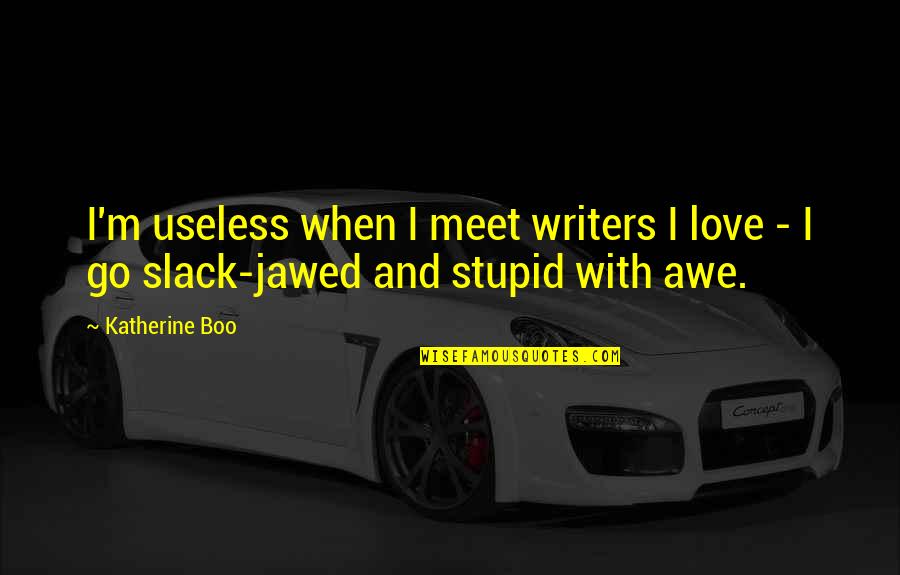 I'm useless when I meet writers I love - I go slack-jawed and stupid with awe. —
Katherine Boo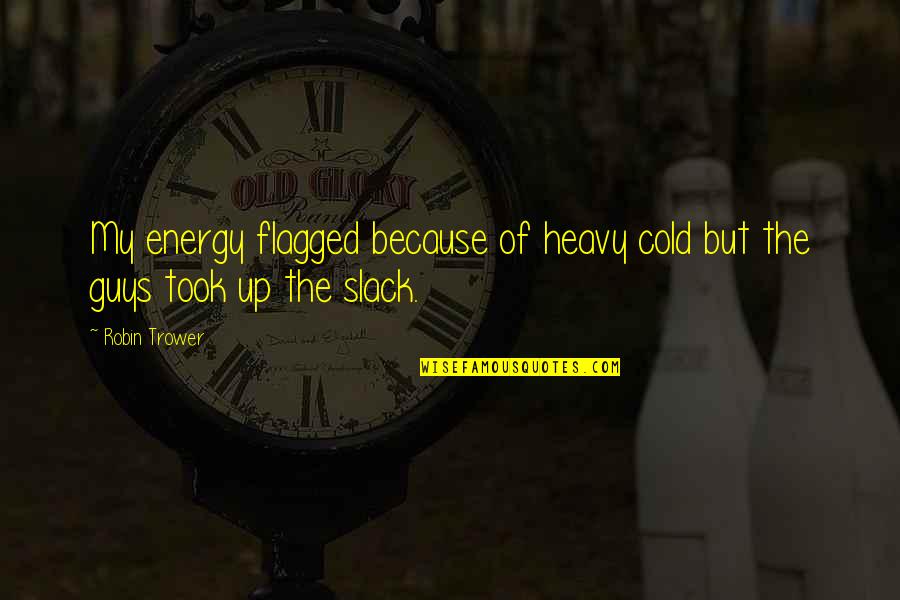 My energy flagged because of heavy cold but the guys took up the slack. —
Robin Trower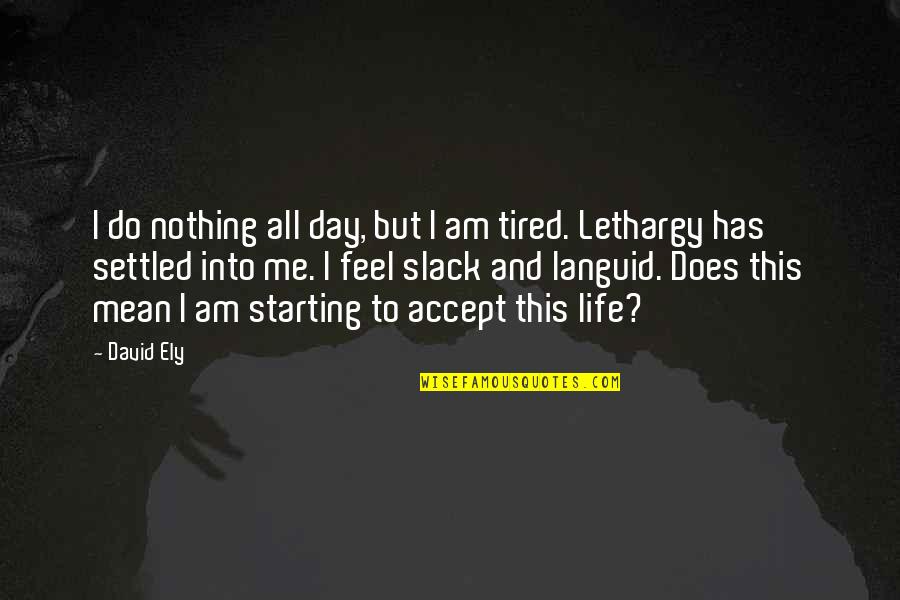 I do nothing all day, but I am tired. Lethargy has settled into me. I feel slack and languid. Does this mean I am starting to accept this life? —
David Ely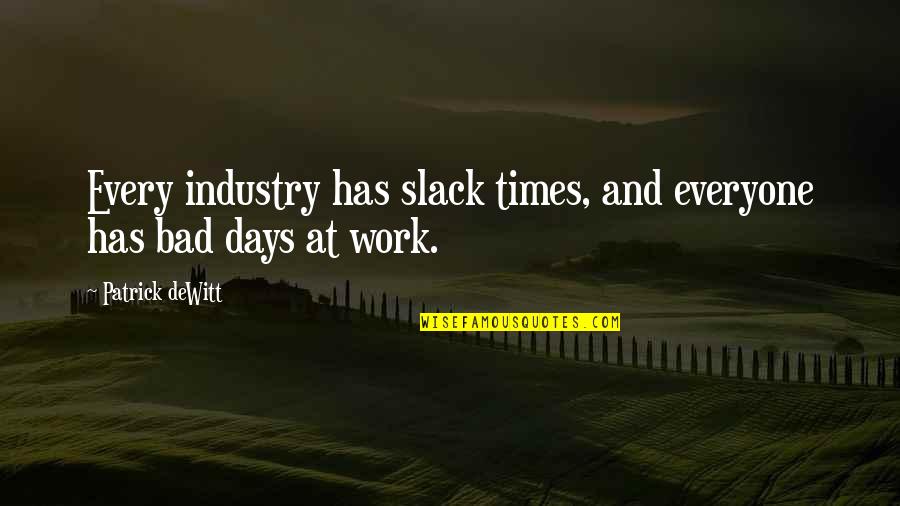 Every industry has slack times, and everyone has bad days at work. —
Patrick DeWitt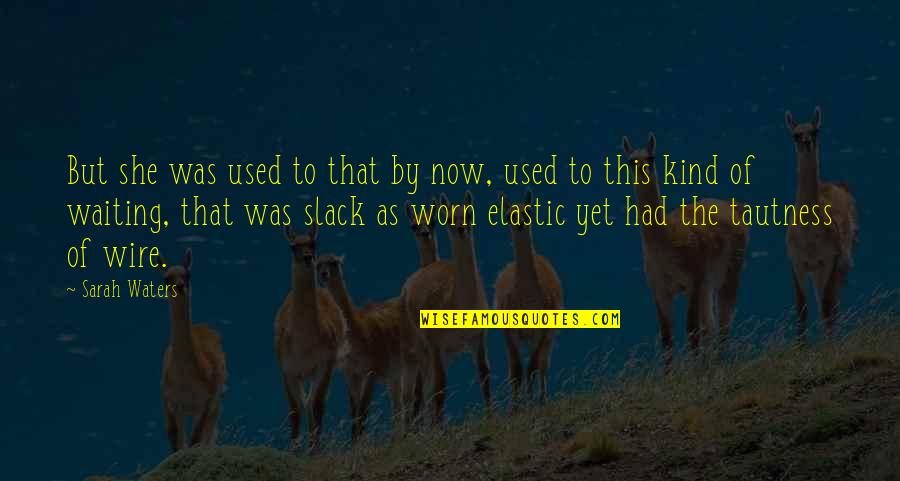 But she was used to that by now, used to this kind of waiting, that was slack as worn elastic yet had the tautness of wire. —
Sarah Waters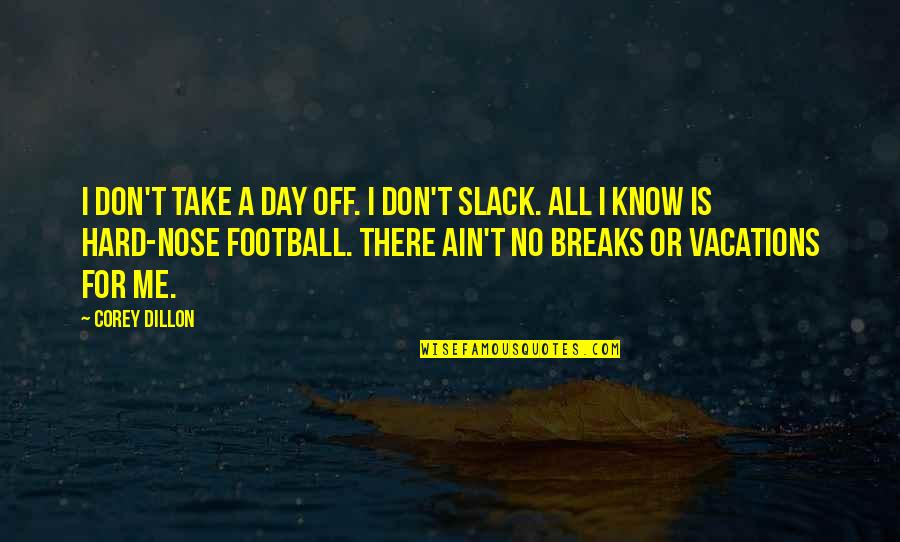 I don't take a day off. I don't slack. All I know is hard-nose football. There ain't no breaks or vacations for me. —
Corey Dillon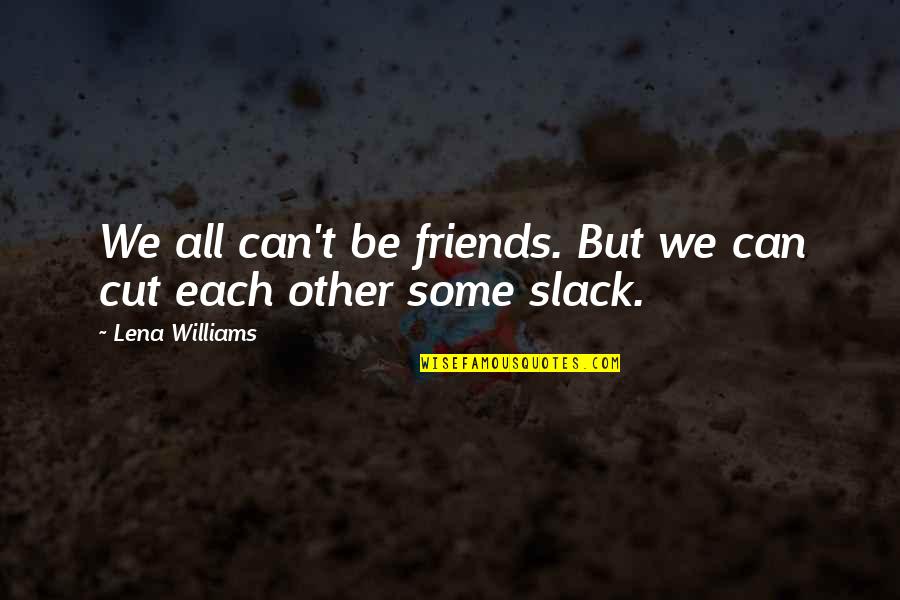 We all can't be friends. But we can cut each other some slack. —
Lena Williams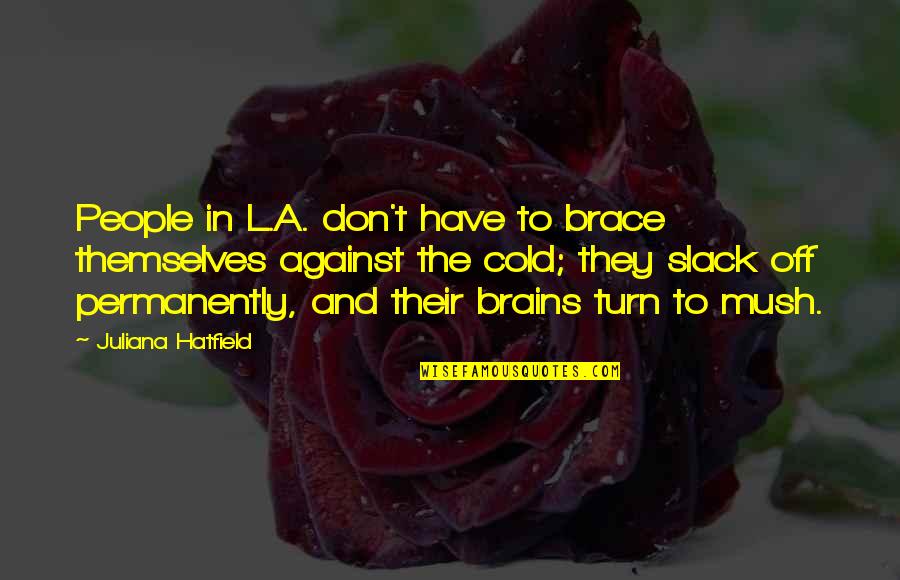 People in L.A. don't have to brace themselves against the cold; they
slack off
permanently, and their brains turn to mush. —
Juliana Hatfield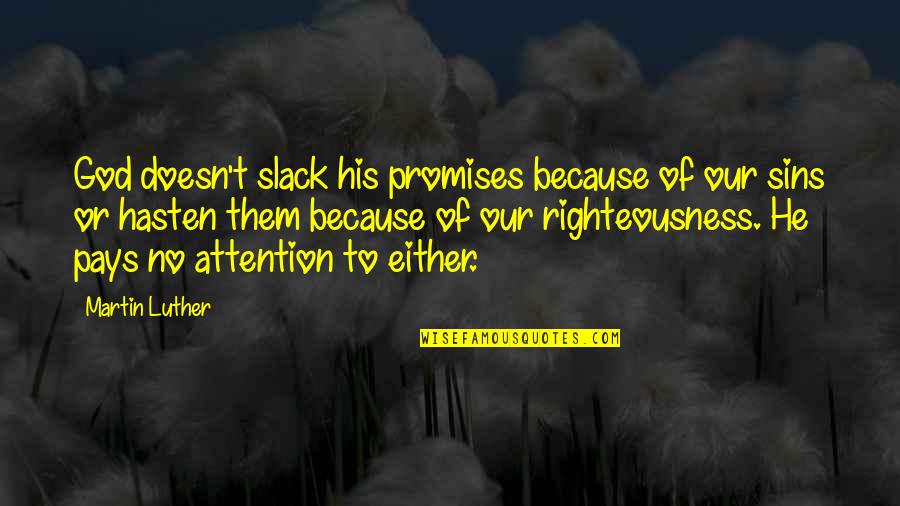 God doesn't slack his promises because of our sins or hasten them because of our righteousness. He pays no attention to either. —
Martin Luther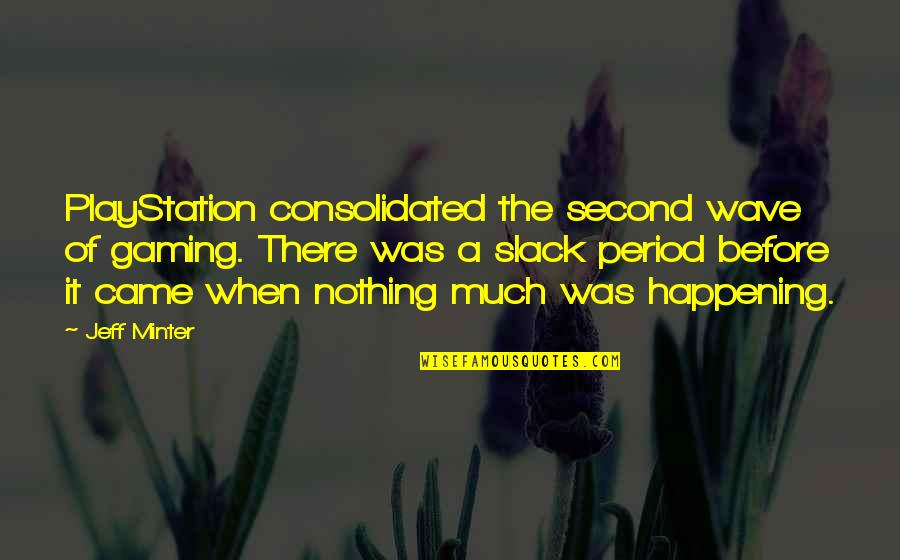 PlayStation consolidated the second wave of gaming. There was a slack period before it came when nothing much was happening. —
Jeff Minter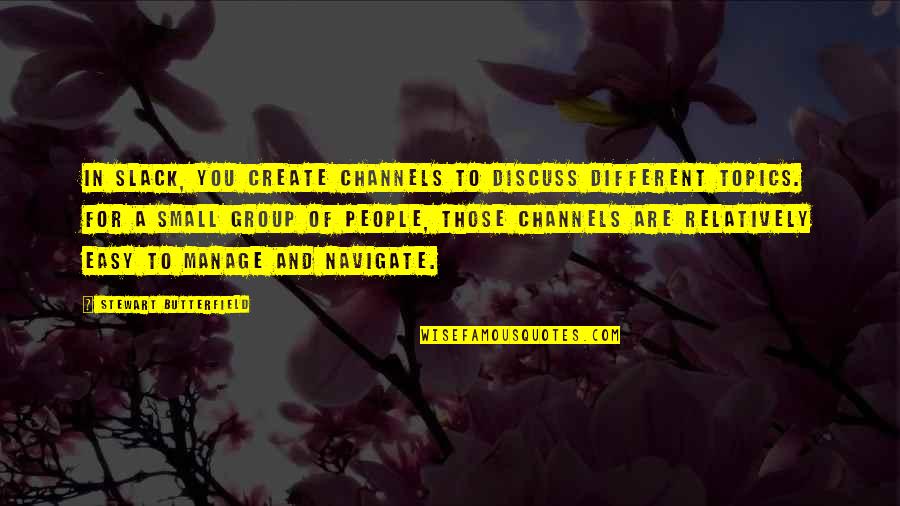 In Slack, you create channels to discuss different topics. For a small group of people, those channels are relatively easy to manage and navigate. —
Stewart Butterfield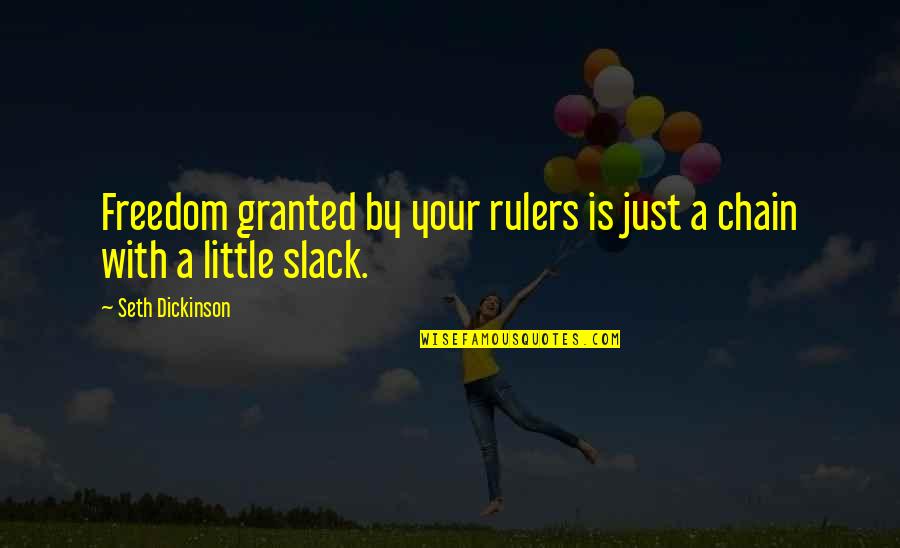 Freedom granted by your rulers is just a chain with a little slack. —
Seth Dickinson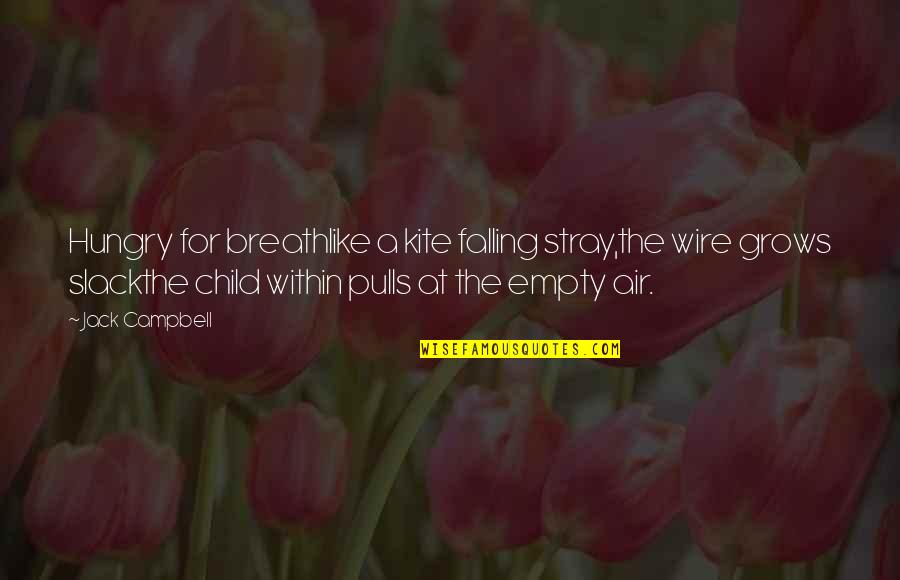 Hungry for breath
like a kite falling stray,
the wire grows slack
the child within pulls at the empty air. —
Jack Campbell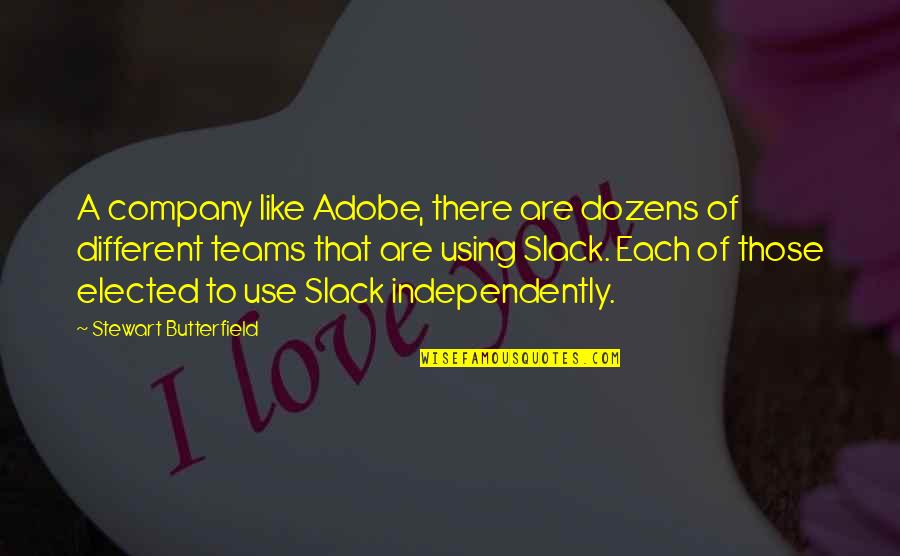 A company like Adobe, there are dozens of different teams that are using Slack. Each of those elected to use Slack independently. —
Stewart Butterfield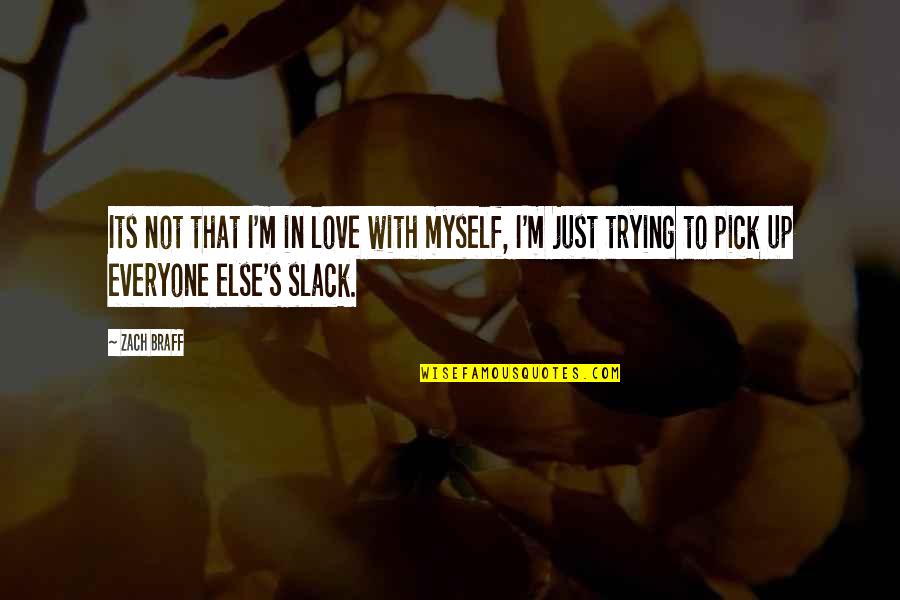 Its not that I'm in love with myself, I'm just trying to pick up everyone else's slack. —
Zach Braff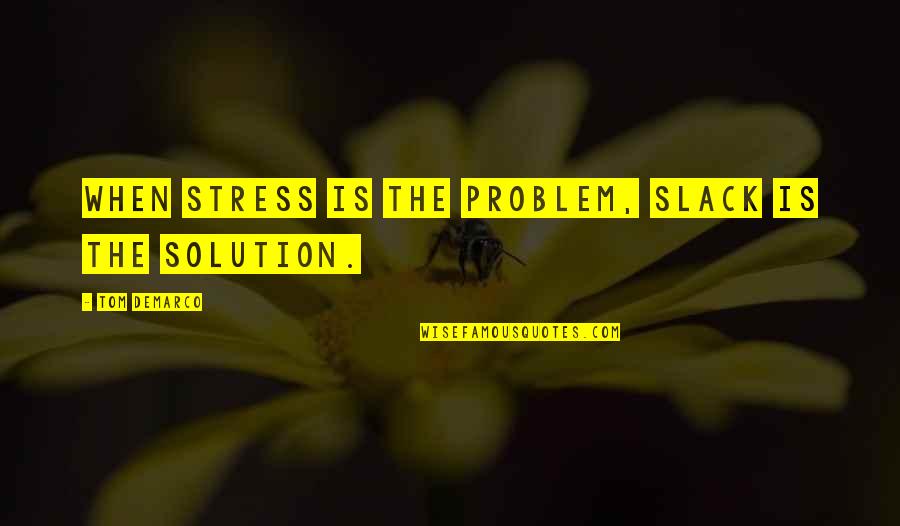 When stress is the problem, slack is the solution. —
Tom DeMarco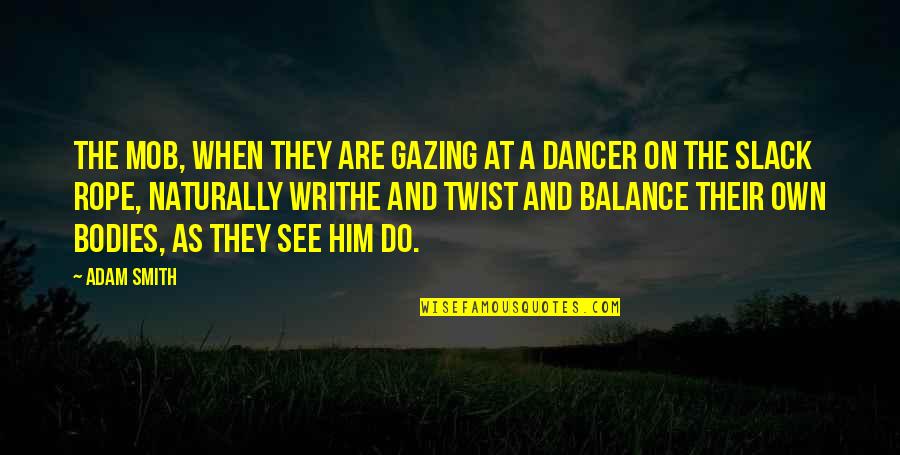 The mob, when they are gazing at a dancer on the slack rope, naturally writhe and twist and balance their own bodies, as they see him do. —
Adam Smith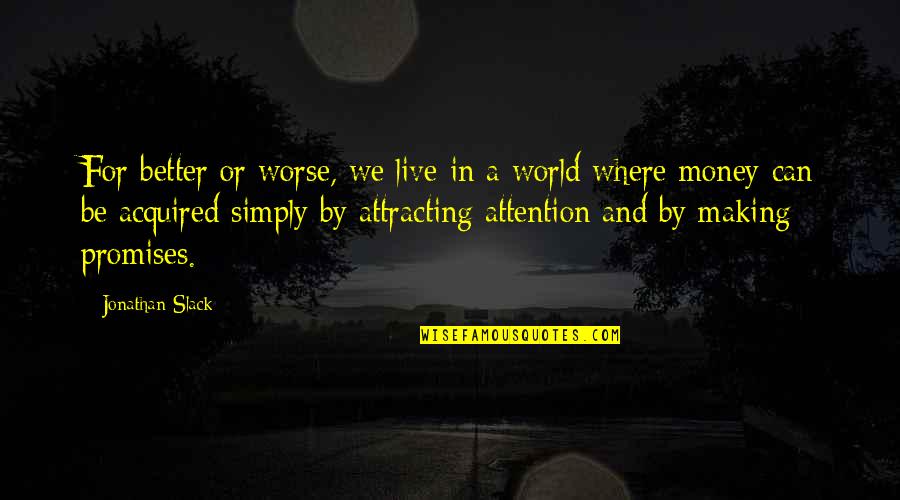 For better or worse, we live in a world where money can be acquired simply by attracting attention and by making promises. —
Jonathan Slack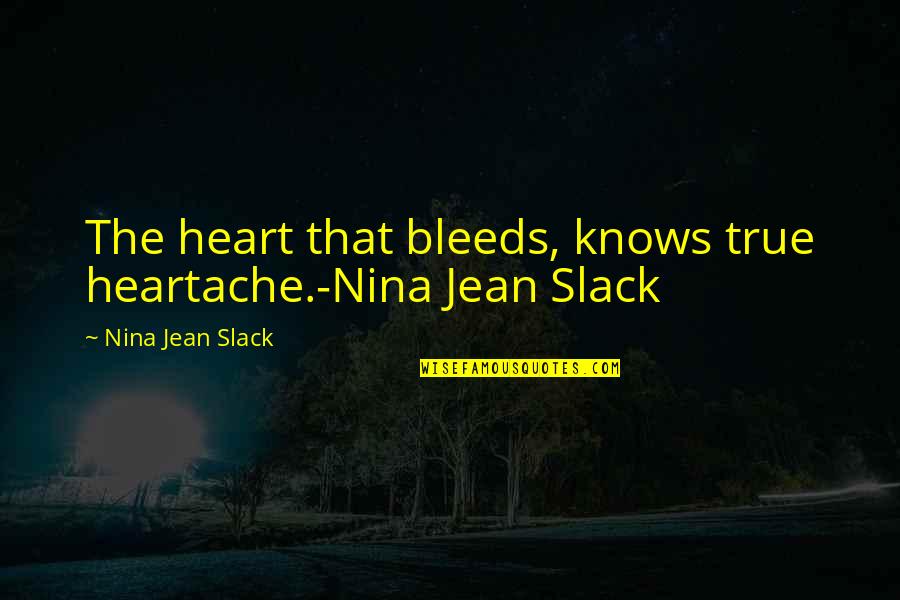 The heart that bleeds, knows true heartache.-Nina Jean Slack —
Nina Jean Slack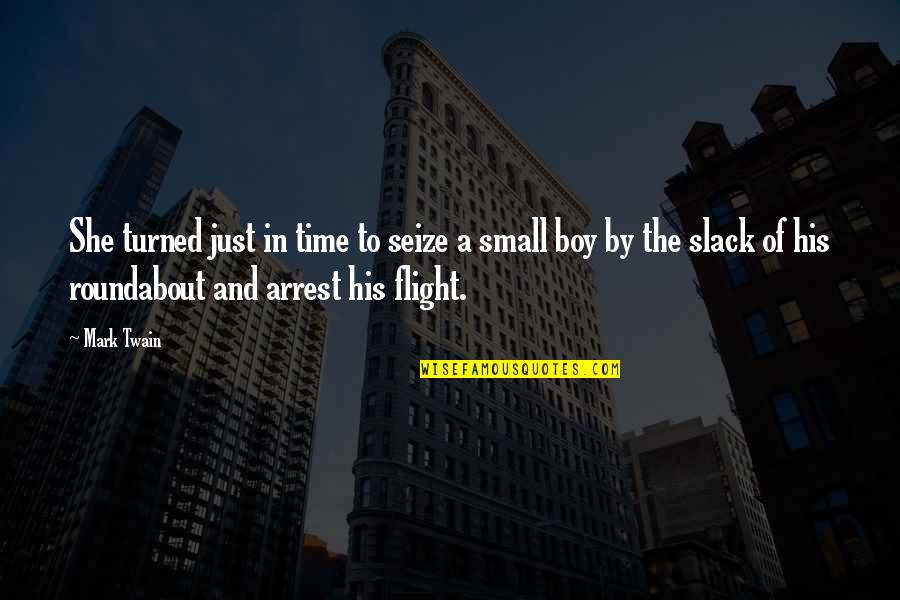 She turned just in time to seize a small boy by the slack of his roundabout and arrest his flight. —
Mark Twain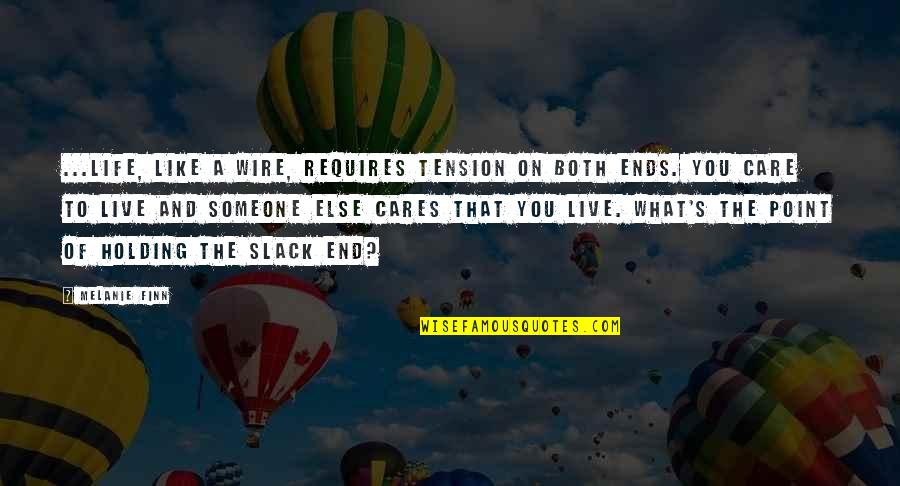 ...life, like a wire, requires tension on both ends. You care to live and someone else cares that you live. What's the point of holding the slack end? —
Melanie Finn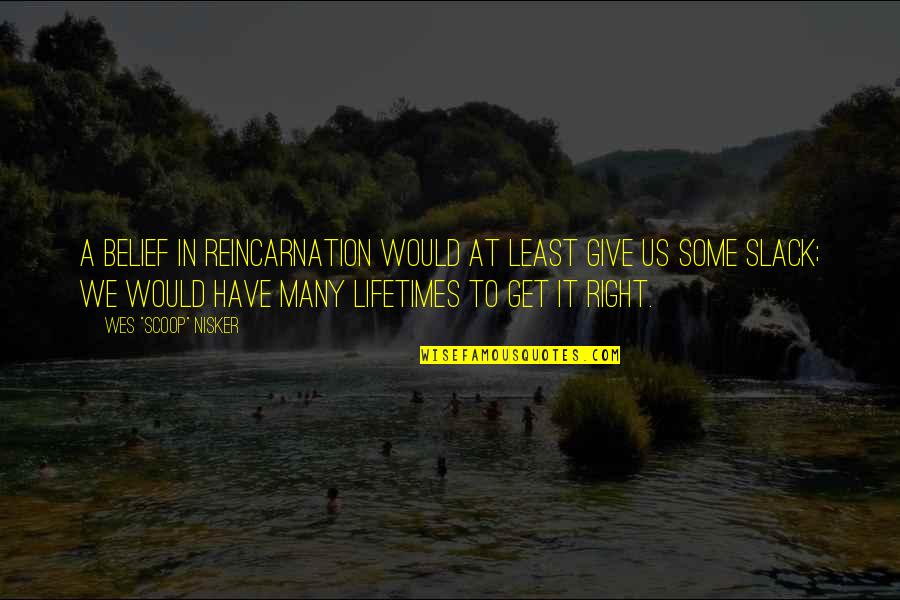 A belief in reincarnation would at least give us some slack; we would have many lifetimes to get it right. —
Wes "Scoop" Nisker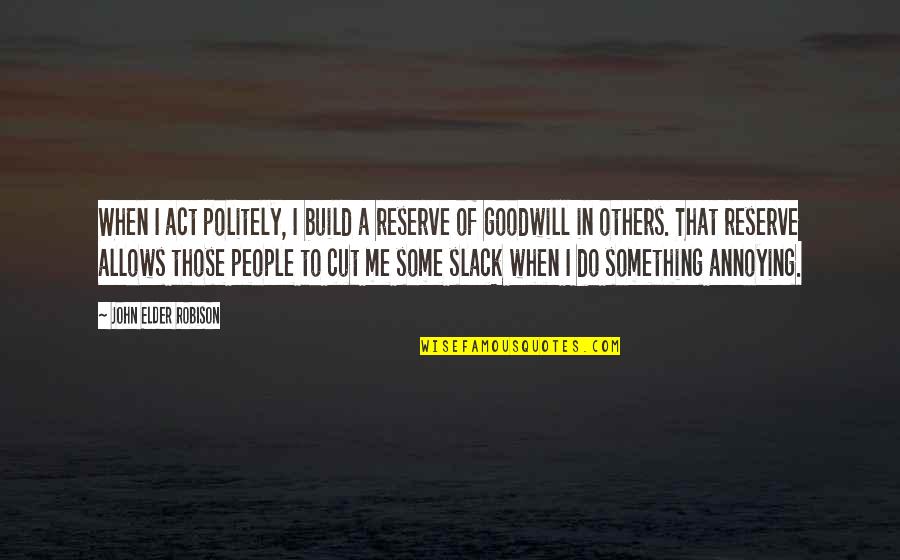 When I act politely, I build a reserve of goodwill in others. That reserve allows those people to cut me some slack when I do something annoying. —
John Elder Robison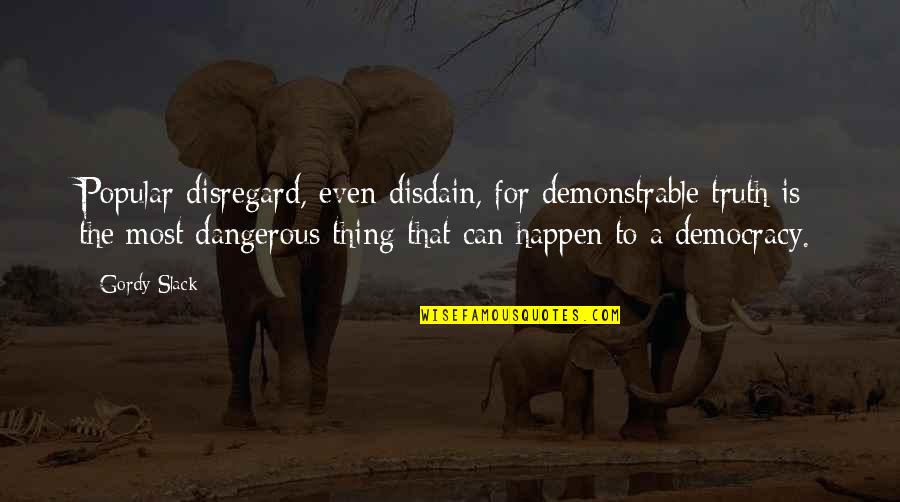 Popular disregard, even disdain, for demonstrable truth is the most dangerous thing that can happen to a democracy. —
Gordy Slack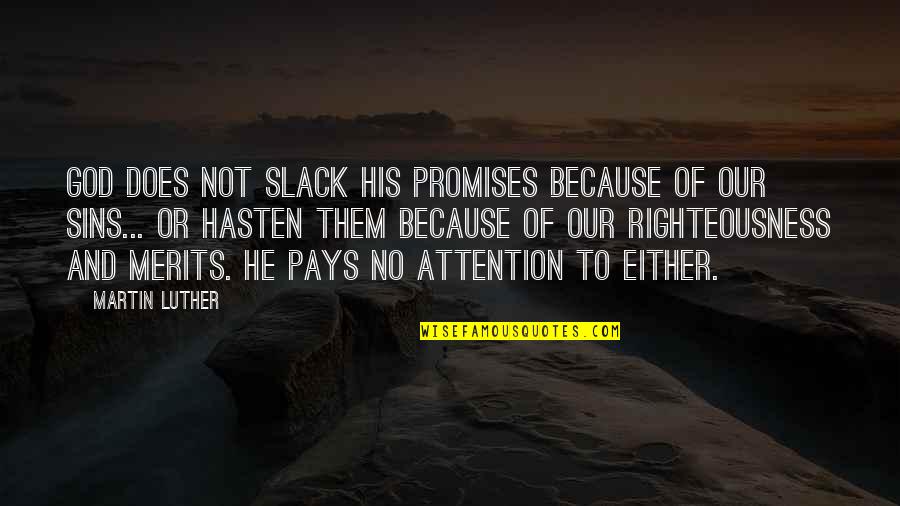 God does not slack his promises because of our sins... or hasten them because of our righteousness and merits. He pays no attention to either. —
Martin Luther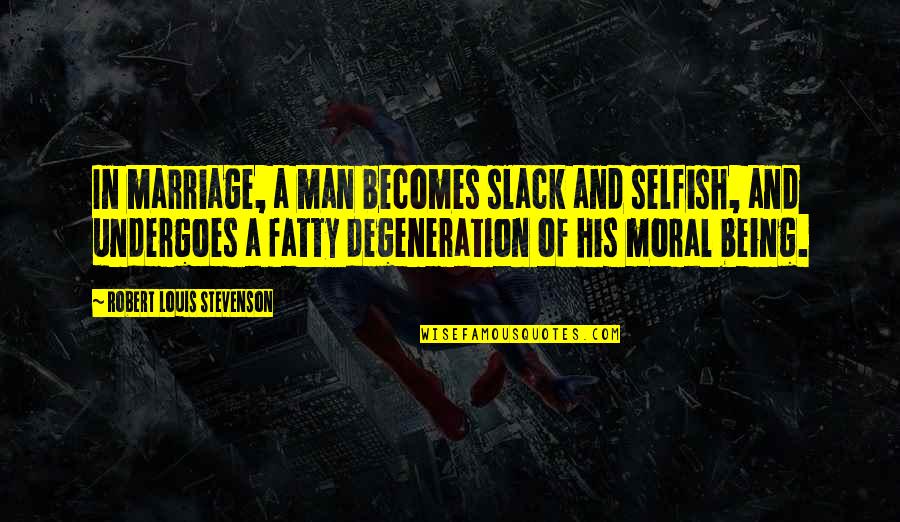 In marriage, a man becomes slack and selfish, and undergoes a fatty degeneration of his moral being. —
Robert Louis Stevenson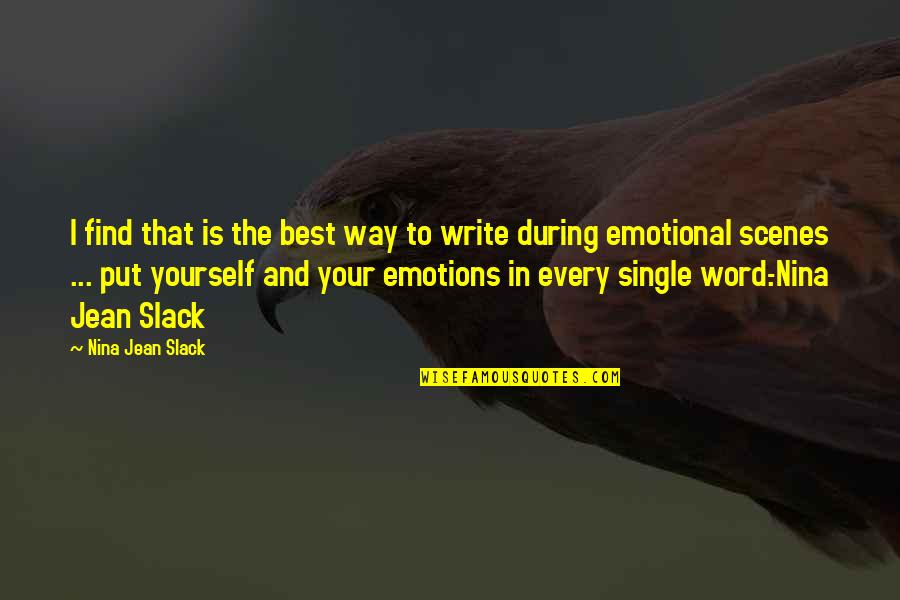 I find that is the best way to write during emotional scenes ... put yourself and your emotions in every single word.-Nina Jean Slack —
Nina Jean Slack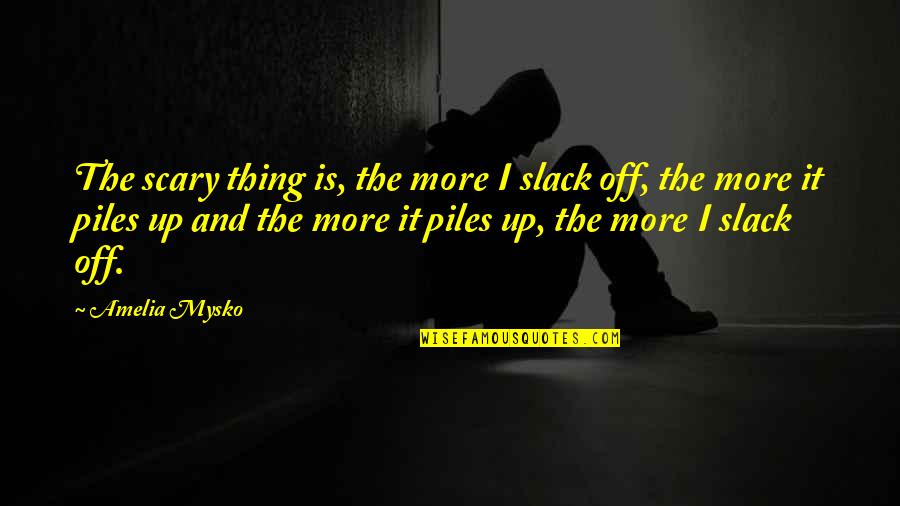 The scary thing is, the more I
slack off
, the more it piles up and the more it piles up, the more I
slack off
. —
Amelia Mysko