Predator And Prey Quotes
Collection of top 40 famous quotes about Predator And Prey
Predator And Prey Quotes & Sayings
Happy to read and share the best inspirational Predator And Prey quotes, sayings and quotations on Wise Famous Quotes.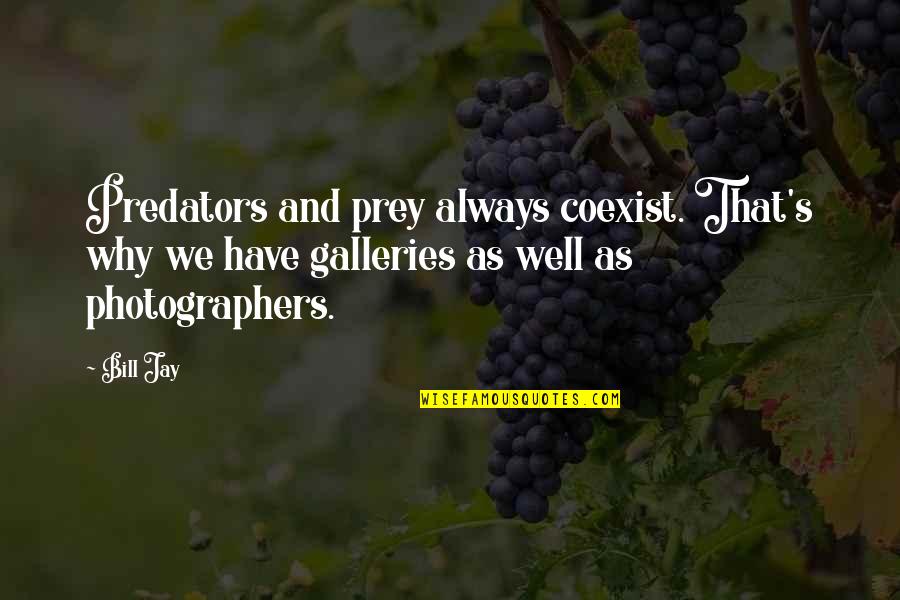 Predators and prey always coexist. That's why we have galleries as well as photographers.
—
Bill Jay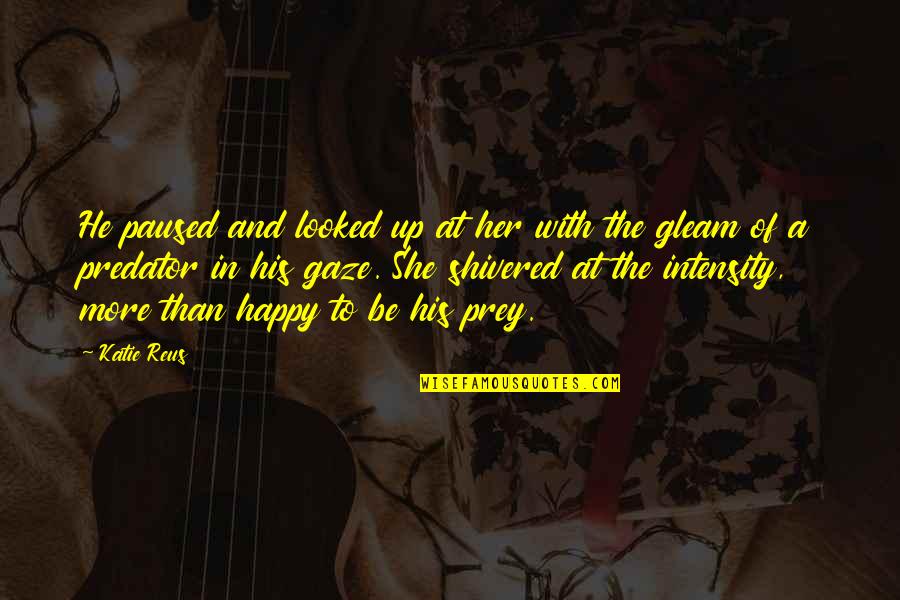 He paused and looked up at her with the gleam of a predator in his gaze. She shivered at the intensity, more than happy to be his prey.
—
Katie Reus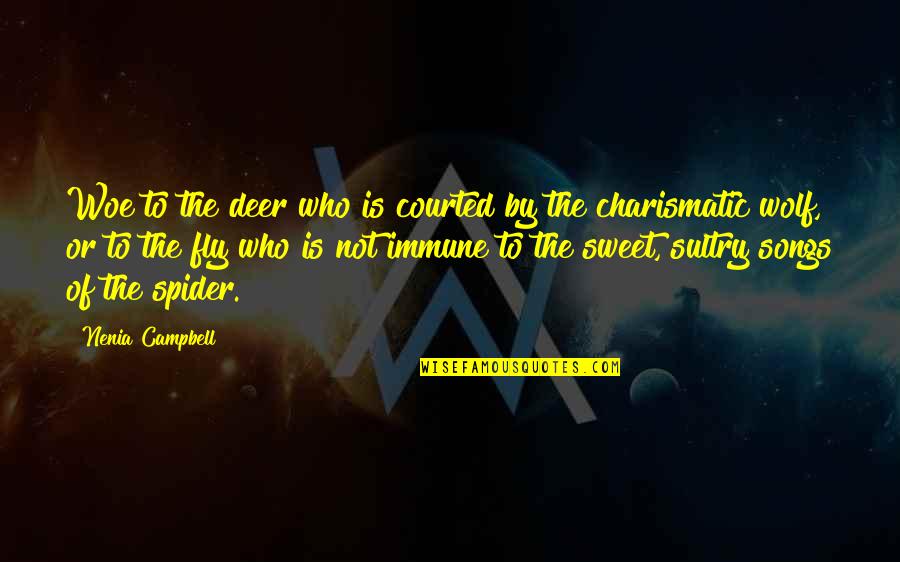 Woe to the deer who is courted by the charismatic wolf, or to the fly who is not immune to the sweet, sultry songs of the spider.
—
Nenia Campbell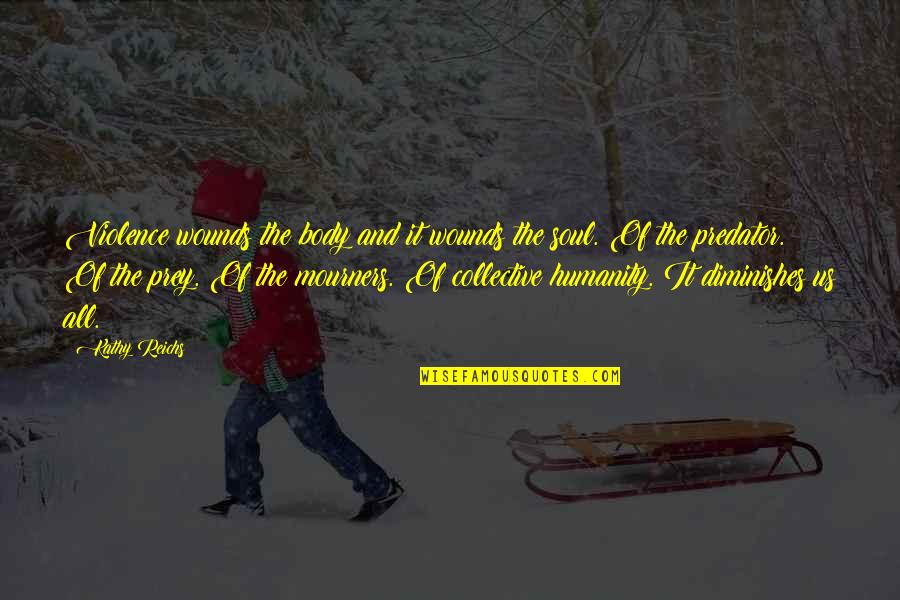 Violence wounds the body and it wounds the soul. Of the predator. Of the prey. Of the mourners. Of collective humanity. It diminishes us all. —
Kathy Reichs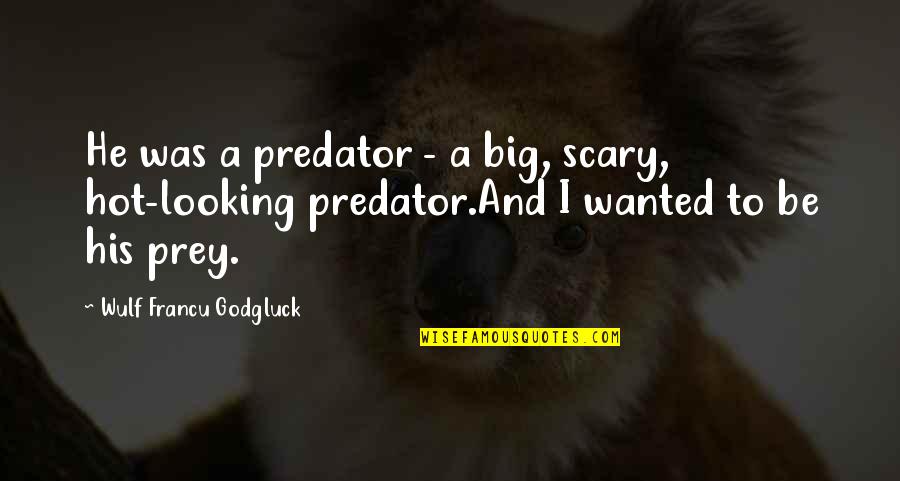 He was a predator - a big, scary, hot-looking predator.
And I wanted to be his prey. —
Wulf Francu Godgluck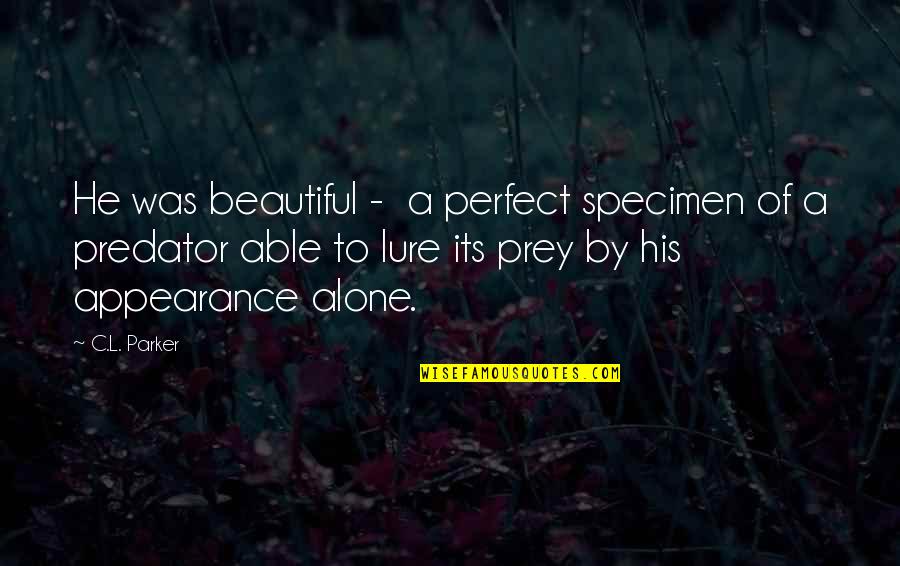 He was beautiful - a perfect specimen of a predator able to lure its prey by his appearance alone. —
C.L. Parker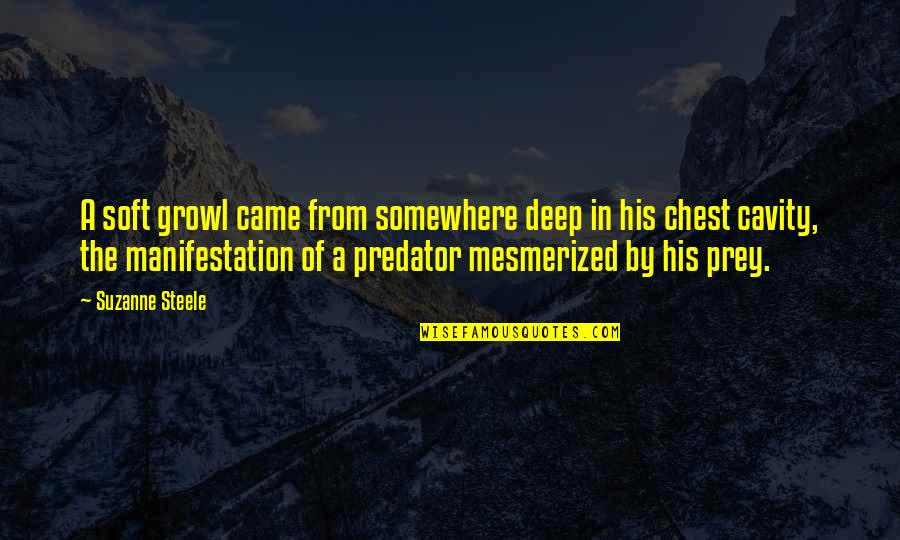 A soft growl came from somewhere deep in his chest cavity, the manifestation of a predator mesmerized by his prey. —
Suzanne Steele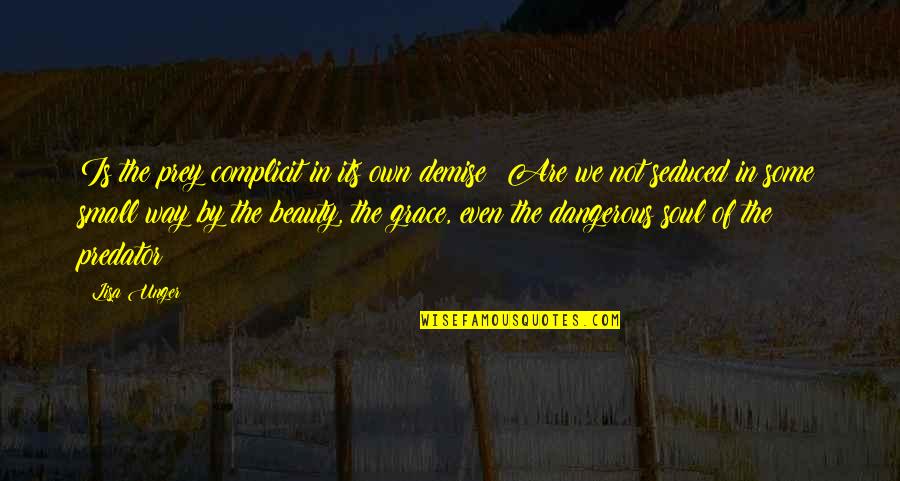 Is the prey complicit in its own demise? Are we not seduced in some small way by the beauty, the grace, even the dangerous soul of the predator? —
Lisa Unger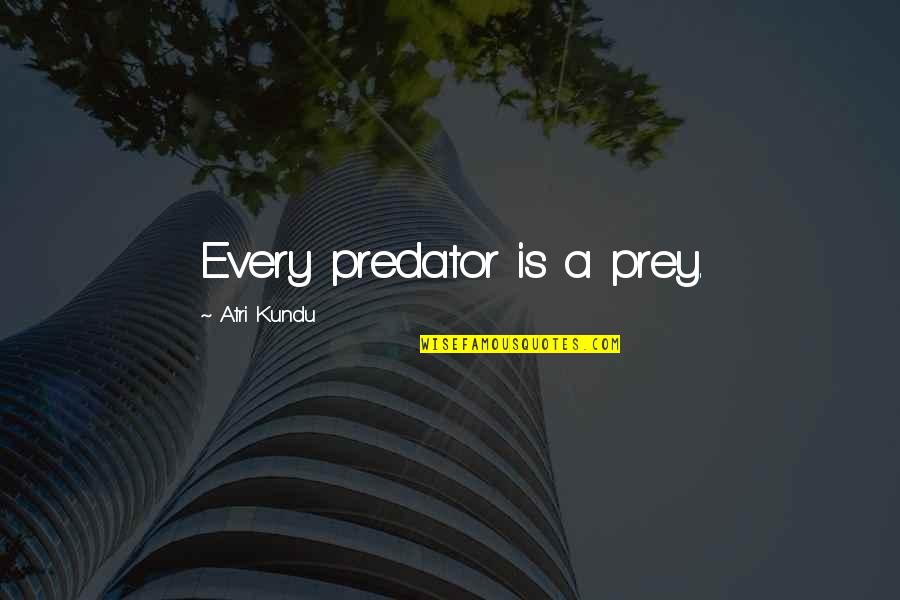 Every predator is a prey. —
Atri Kundu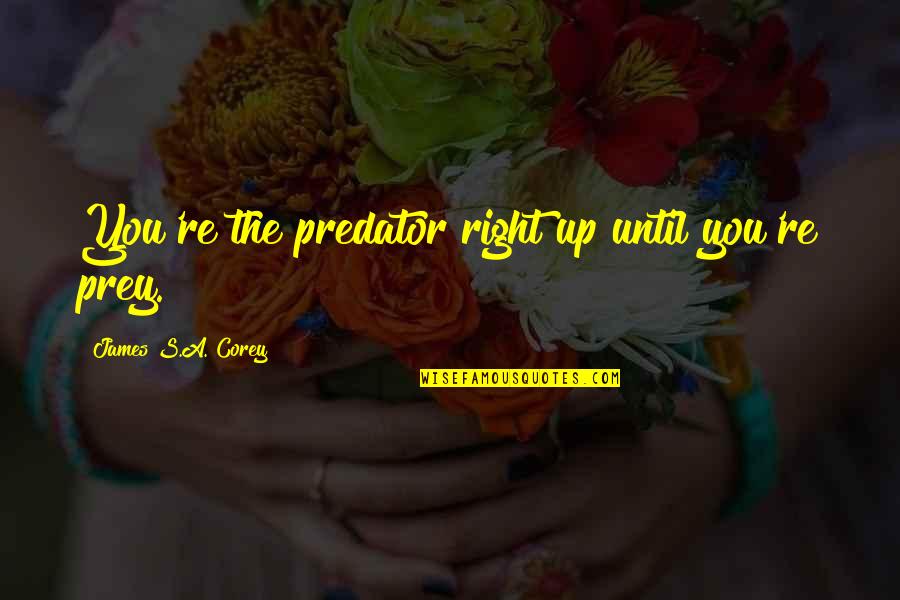 You're the predator right up until you're prey. —
James S.A. Corey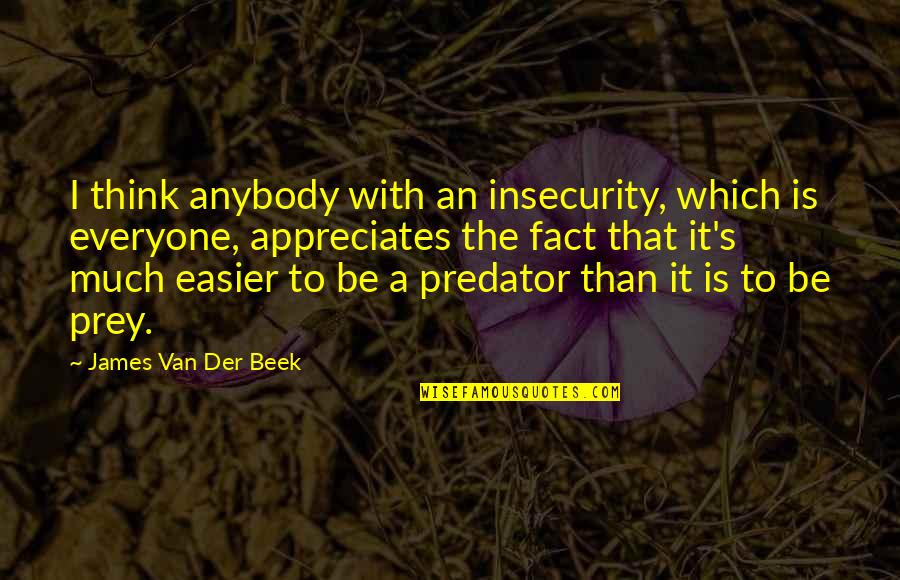 I think anybody with an insecurity, which is everyone, appreciates the fact that it's much easier to be a predator than it is to be prey. —
James Van Der Beek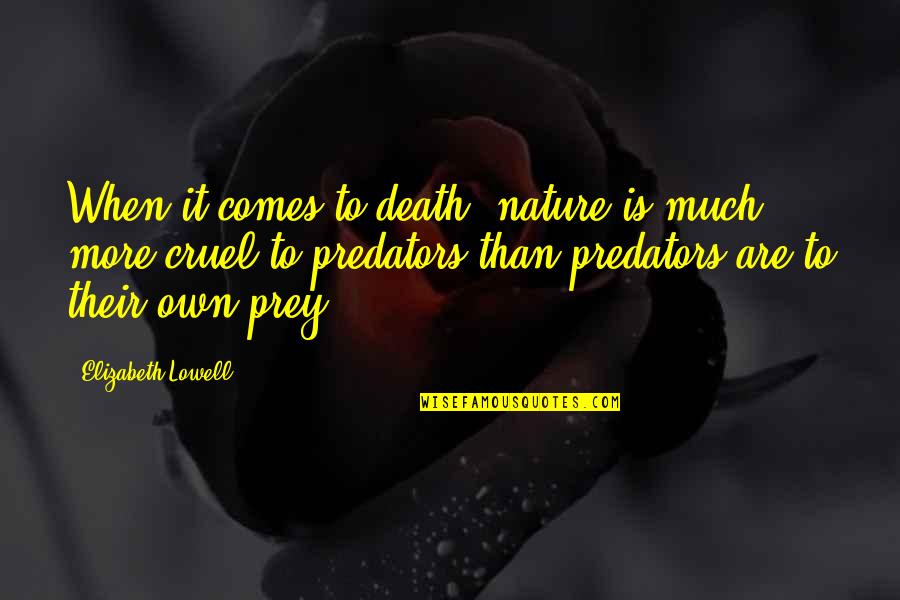 When it comes to death, nature is much more cruel to predators than predators are to their own prey —
Elizabeth Lowell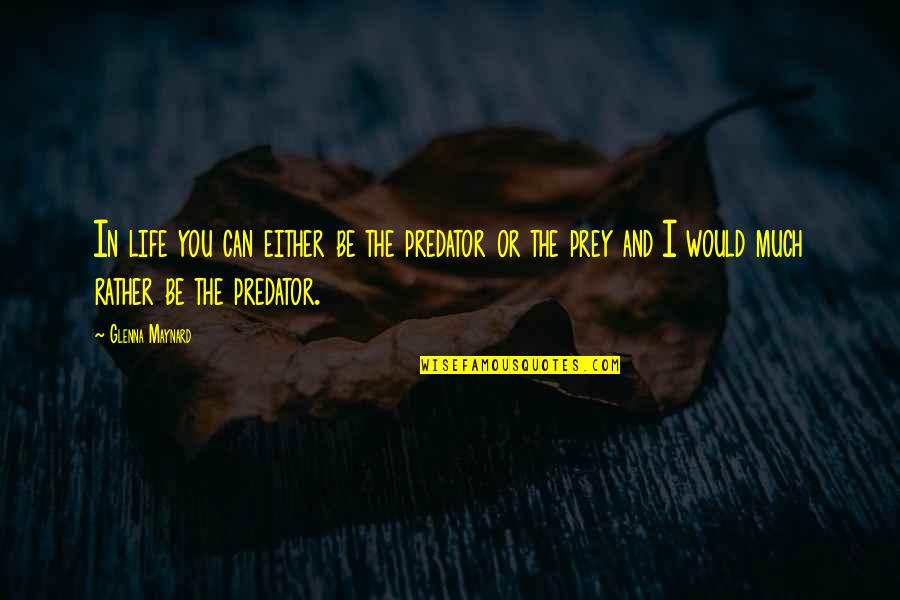 In life you can either be the predator or the prey and I would much rather be the predator. —
Glenna Maynard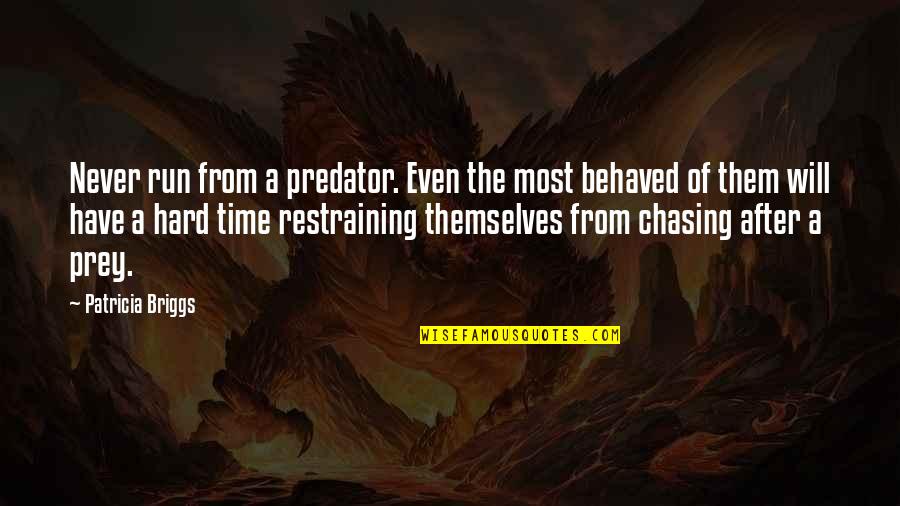 Never run from a predator. Even the most behaved of them will have a hard time restraining themselves from chasing after a prey. —
Patricia Briggs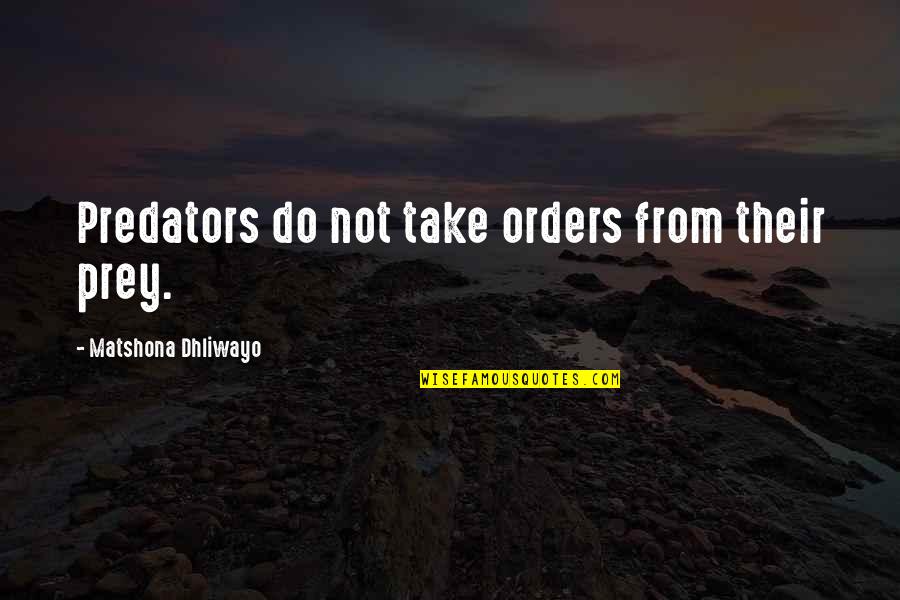 Predators do not take orders from their prey. —
Matshona Dhliwayo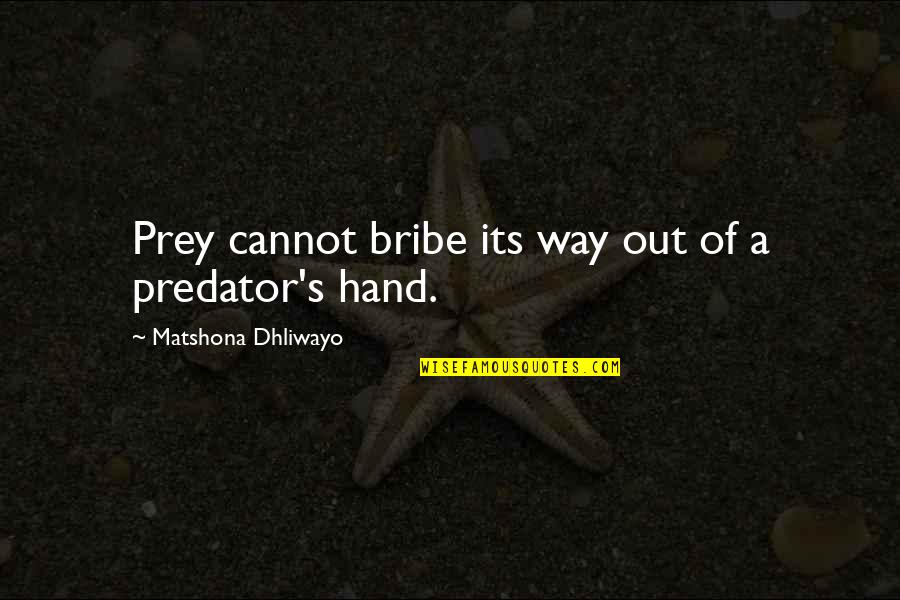 Prey cannot bribe its way out of a predator's hand. —
Matshona Dhliwayo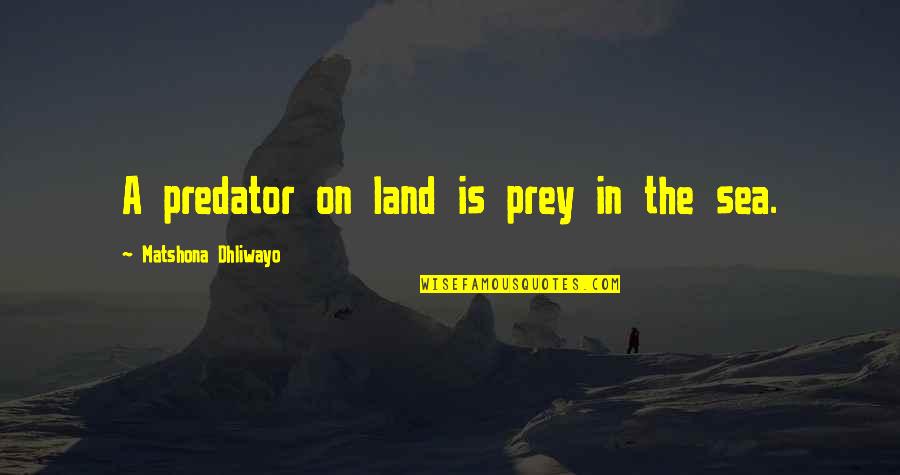 A predator on land is prey in the sea. —
Matshona Dhliwayo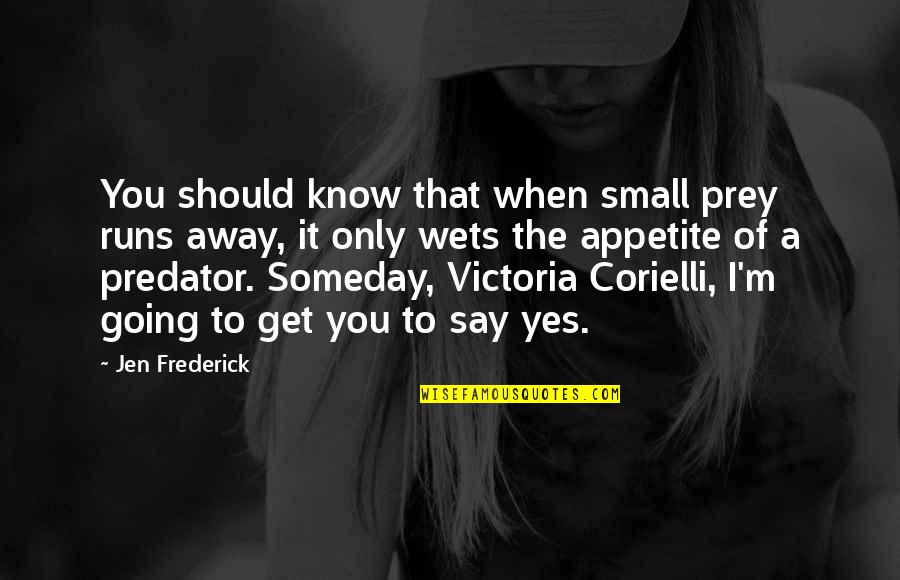 You should know that when small prey runs away, it only wets the appetite of a predator. Someday, Victoria Corielli, I'm going to get you to say yes. —
Jen Frederick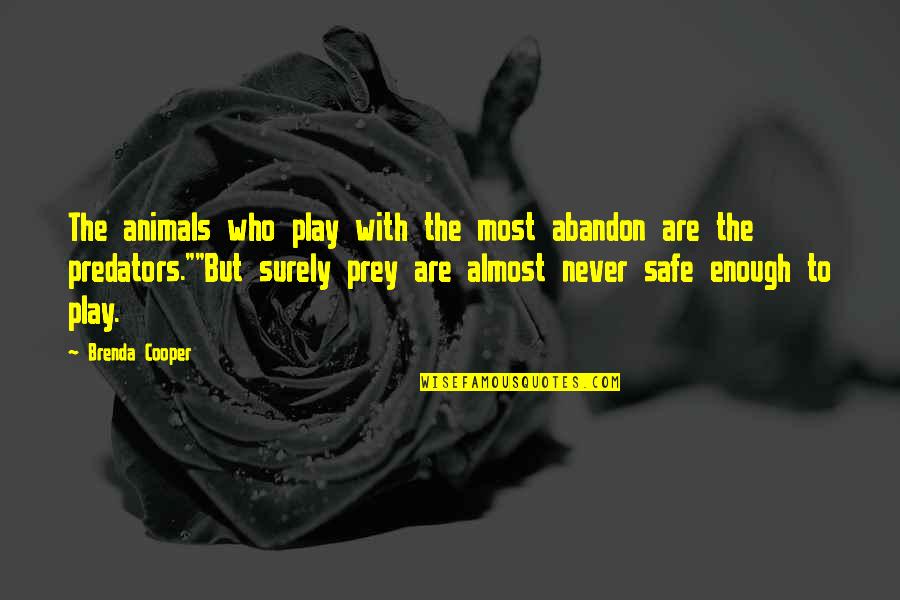 The animals who play with the most abandon are the predators."
"But surely prey are almost never safe enough to play. —
Brenda Cooper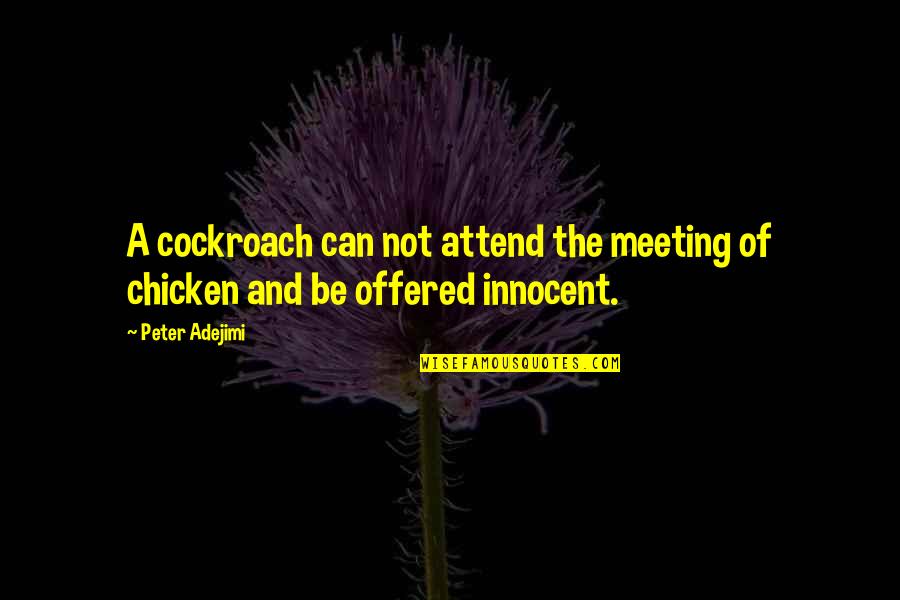 A cockroach can not attend the meeting of chicken and be offered innocent. —
Peter Adejimi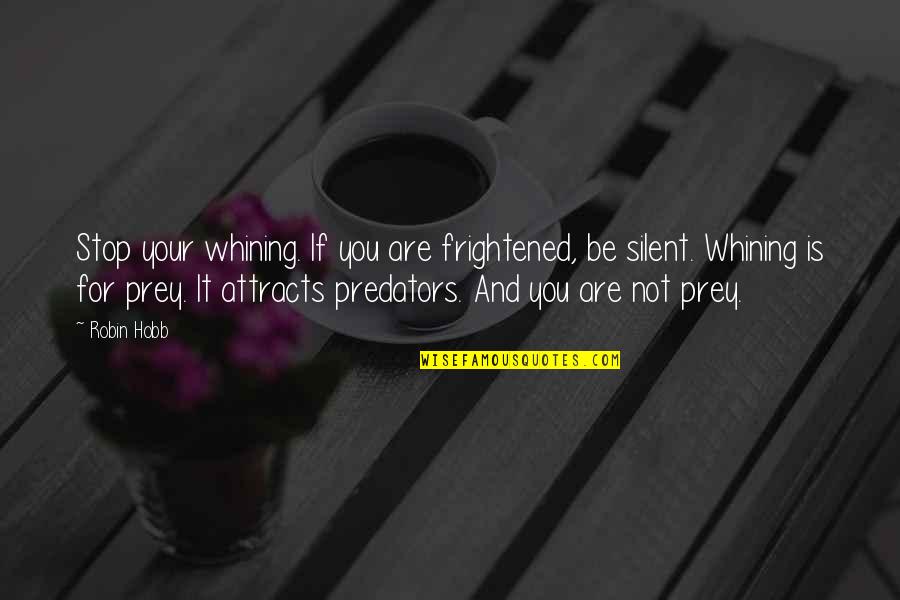 Stop your whining. If you are frightened, be silent. Whining is for prey. It attracts predators. And you are not prey. —
Robin Hobb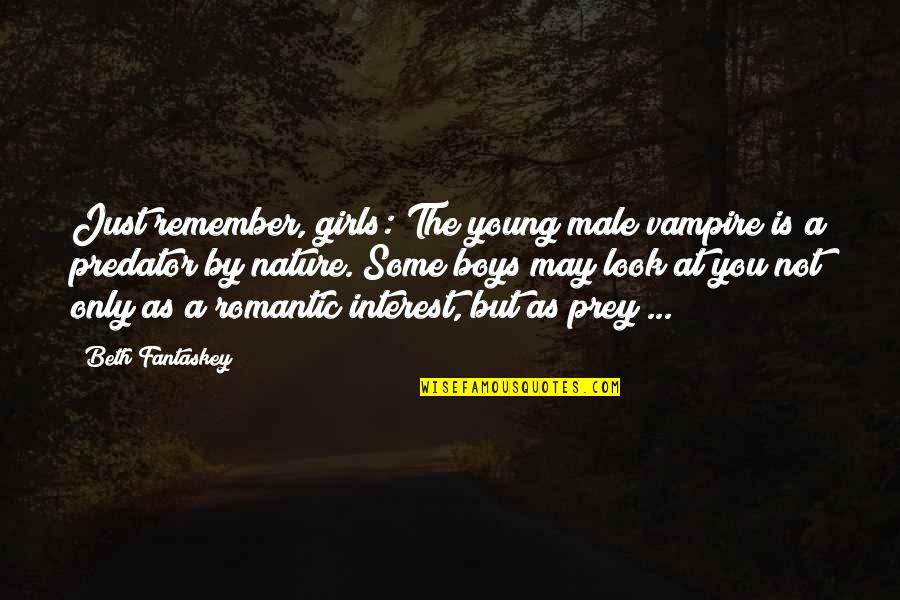 Just remember, girls: The young male vampire is a predator by nature. Some boys may look at you not only as a romantic interest, but as prey ... —
Beth Fantaskey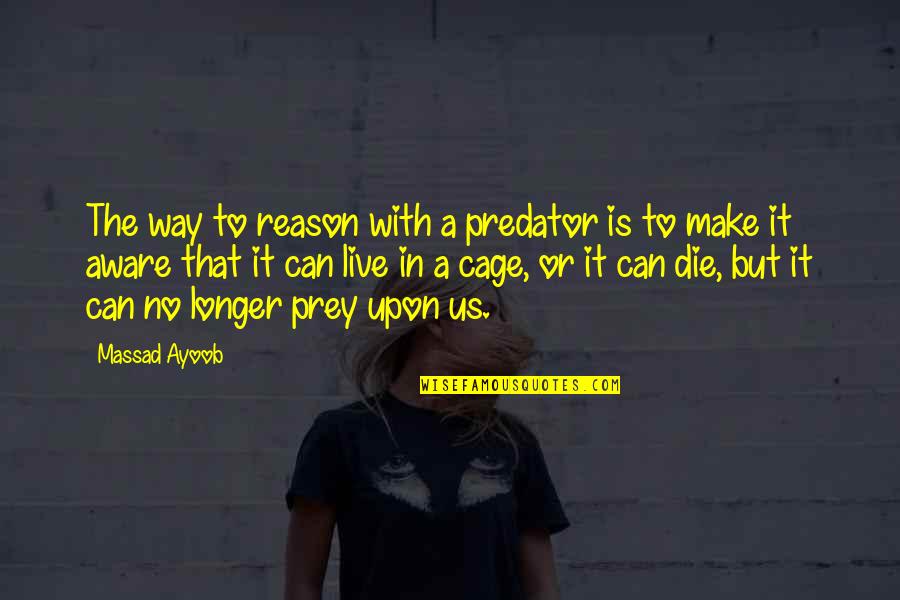 The way to reason with a predator is to make it aware that it can live in a cage, or it can die, but it can no longer prey upon us. —
Massad Ayoob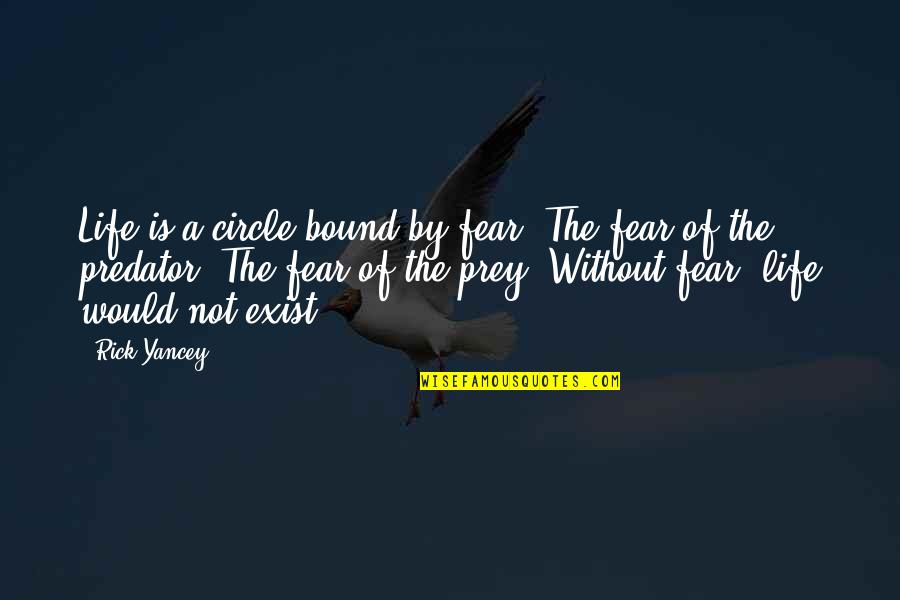 Life is a circle bound by fear. The fear of the predator. The fear of the prey. Without fear, life would not exist. —
Rick Yancey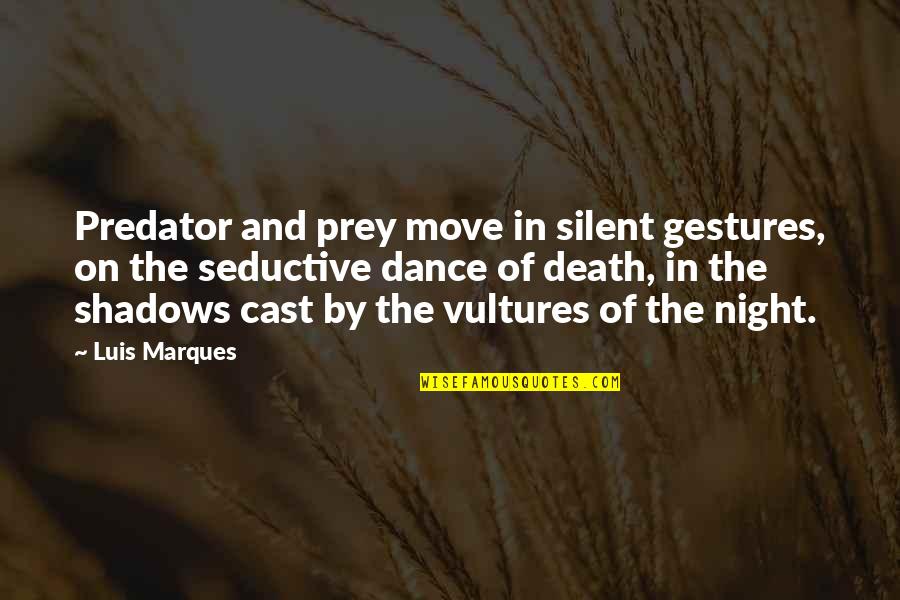 Predator and prey
move in silent gestures, on the seductive dance of death, in the shadows cast by the vultures of the night. —
Luis Marques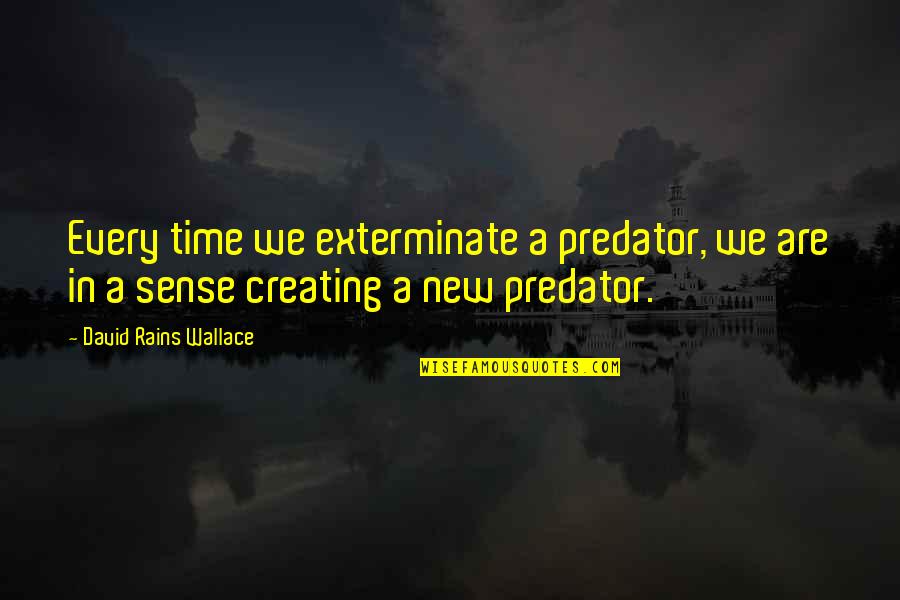 Every time we exterminate a predator, we are in a sense creating a new predator. —
David Rains Wallace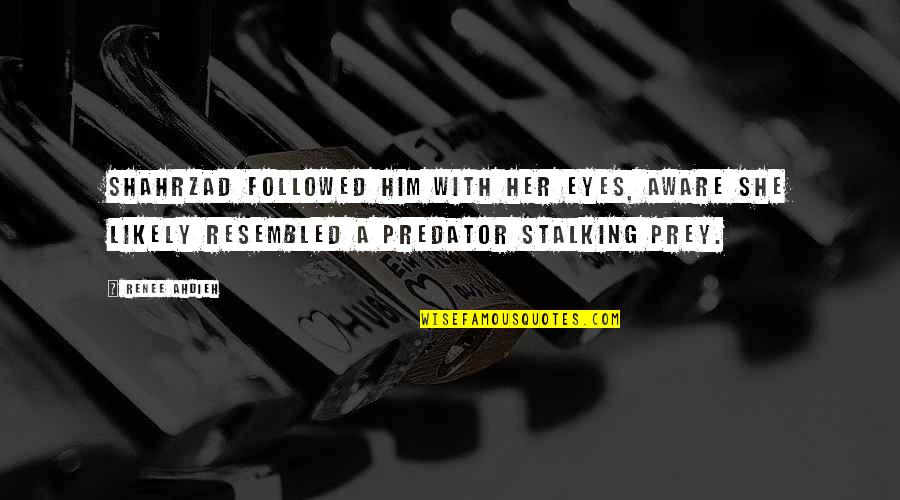 Shahrzad followed him with her eyes, aware she likely resembled a predator stalking prey. —
Renee Ahdieh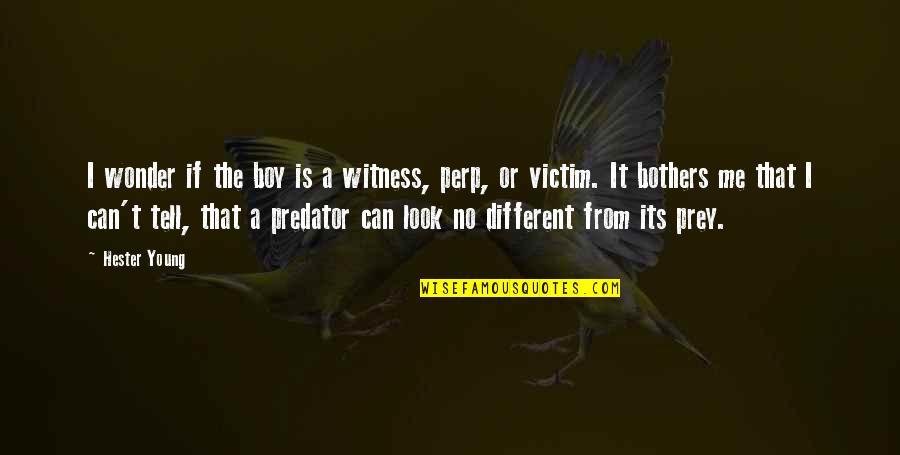 I wonder if the boy is a witness, perp, or victim. It bothers me that I can't tell, that a predator can look no different from its prey. —
Hester Young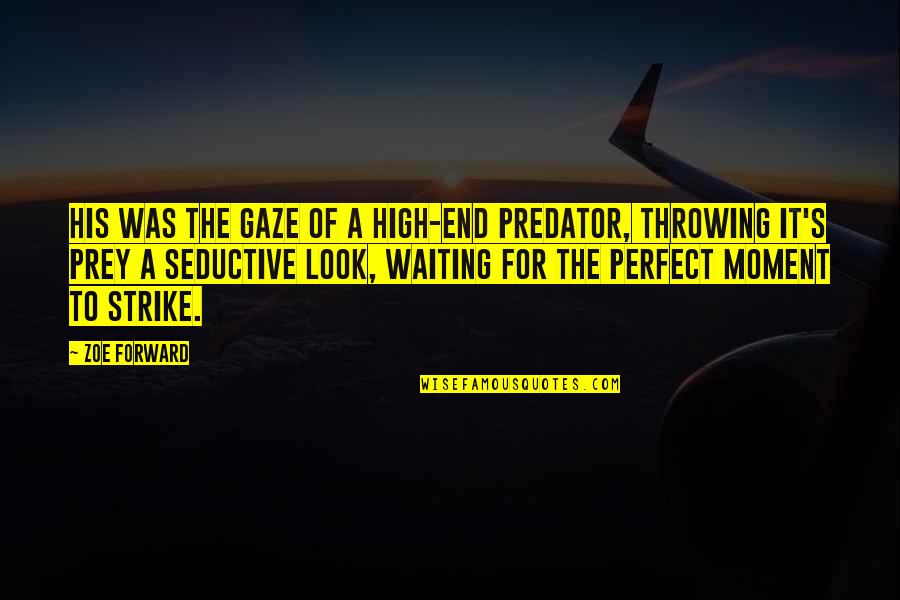 His was the gaze of a high-end predator, throwing it's prey a seductive look, waiting for the perfect moment to strike. —
Zoe Forward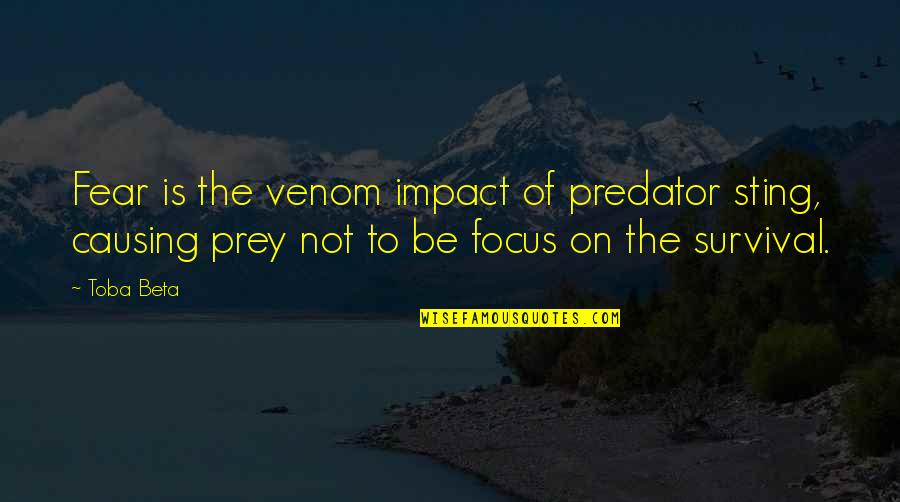 Fear is the venom impact of predator sting,
causing prey not to be focus on the survival. —
Toba Beta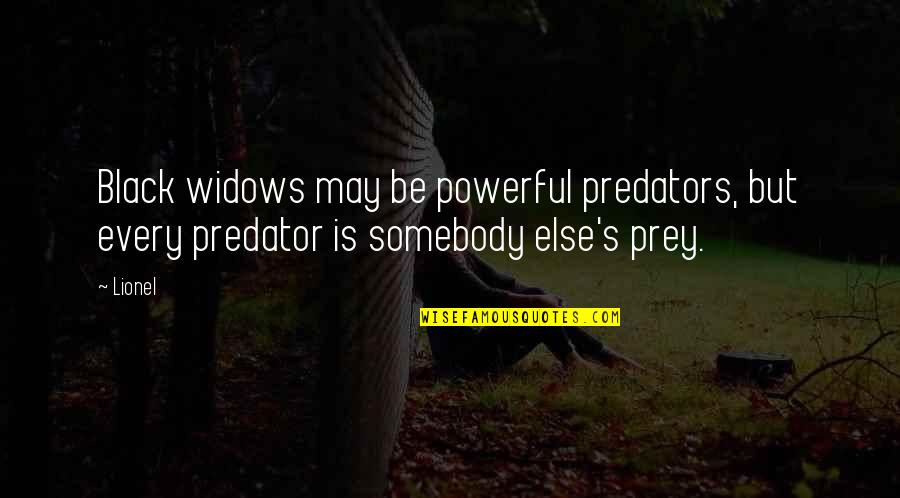 Black widows may be powerful predators, but every predator is somebody else's prey. —
Lionel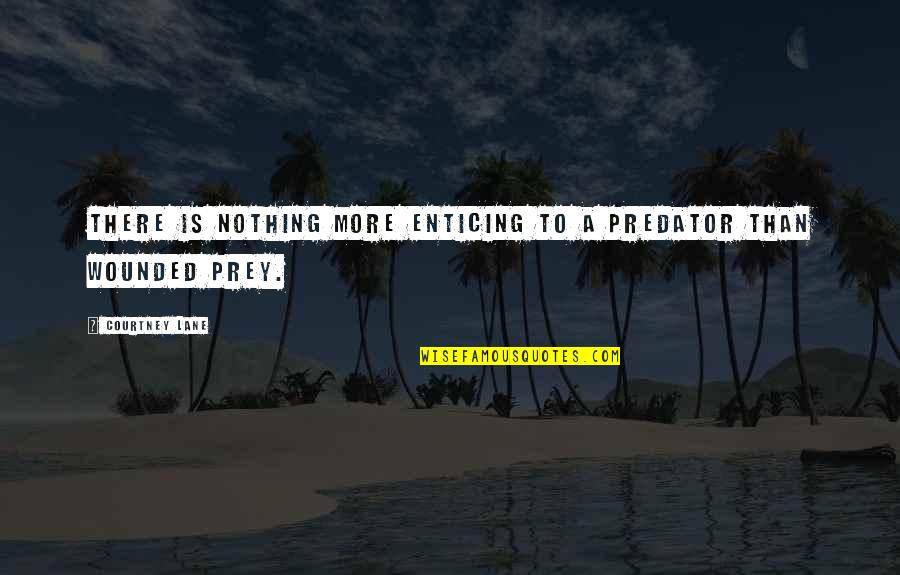 there is nothing more enticing to a predator than wounded prey. —
Courtney Lane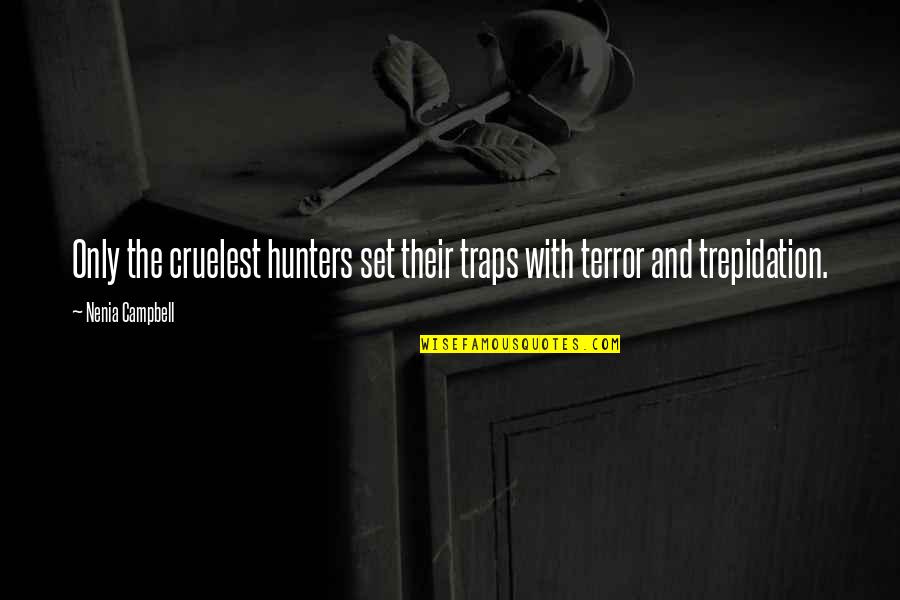 Only the cruelest hunters set their traps with terror and trepidation. —
Nenia Campbell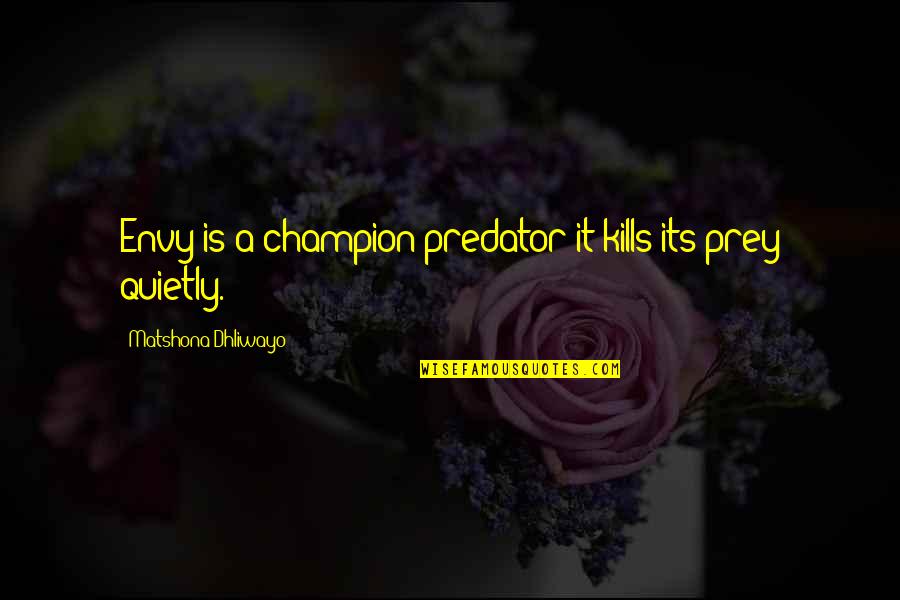 Envy is a champion predator;
it kills its prey quietly. —
Matshona Dhliwayo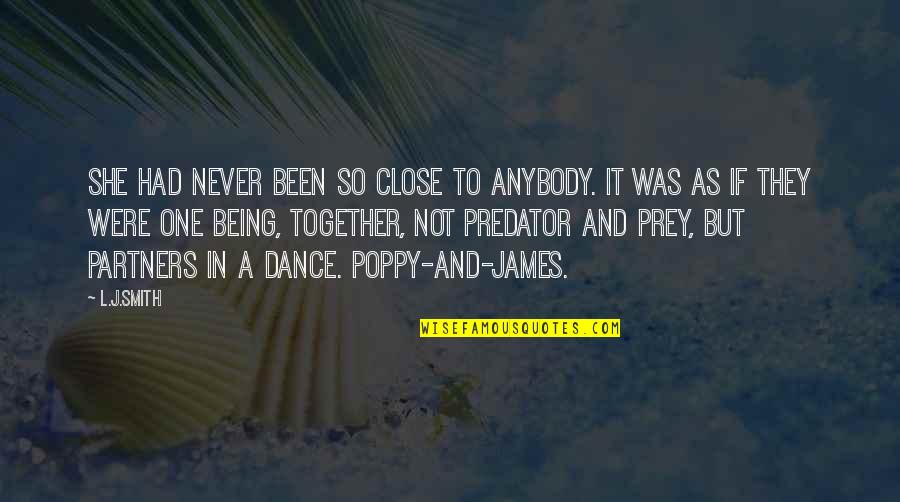 She had never been so close to anybody. It was as if they were one being, together, not
predator and prey
, but partners in a dance. Poppy-and-James. —
L.J.Smith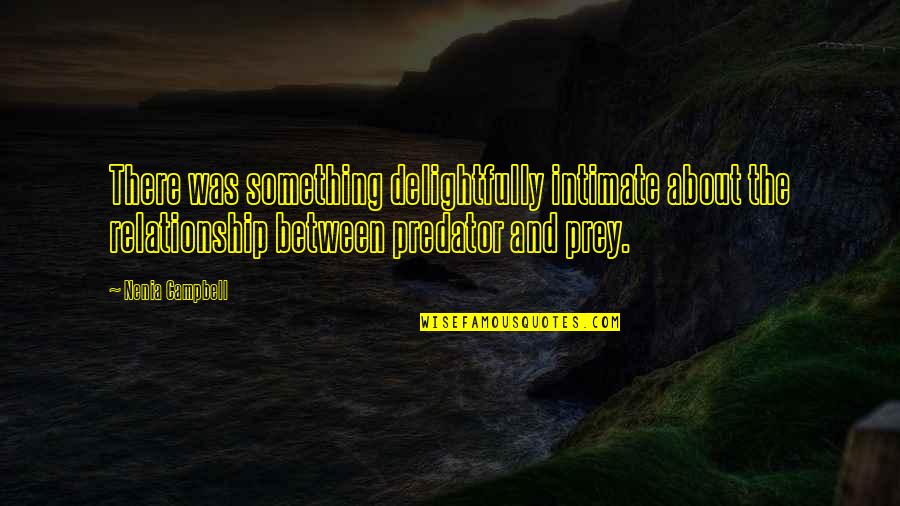 There was something delightfully intimate about the relationship between
predator and prey
. —
Nenia Campbell