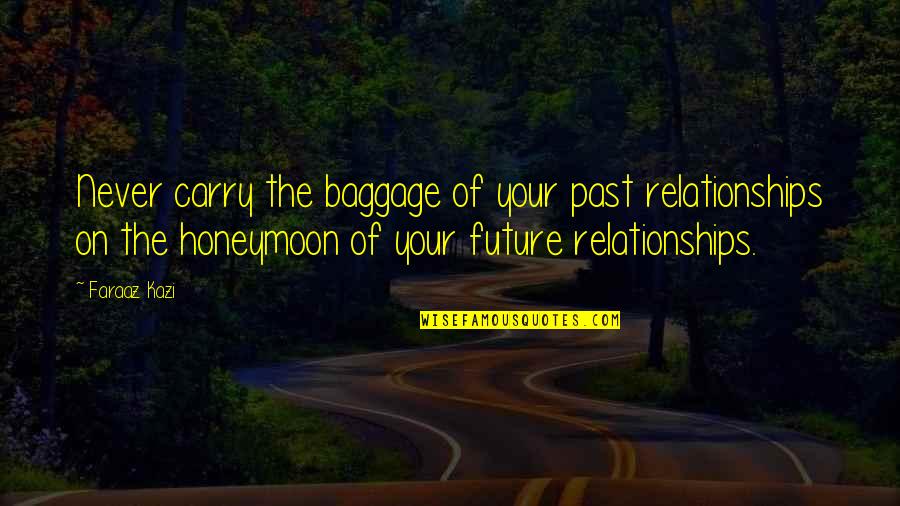 Never carry the baggage of your past relationships on the honeymoon of your future relationships.
—
Faraaz Kazi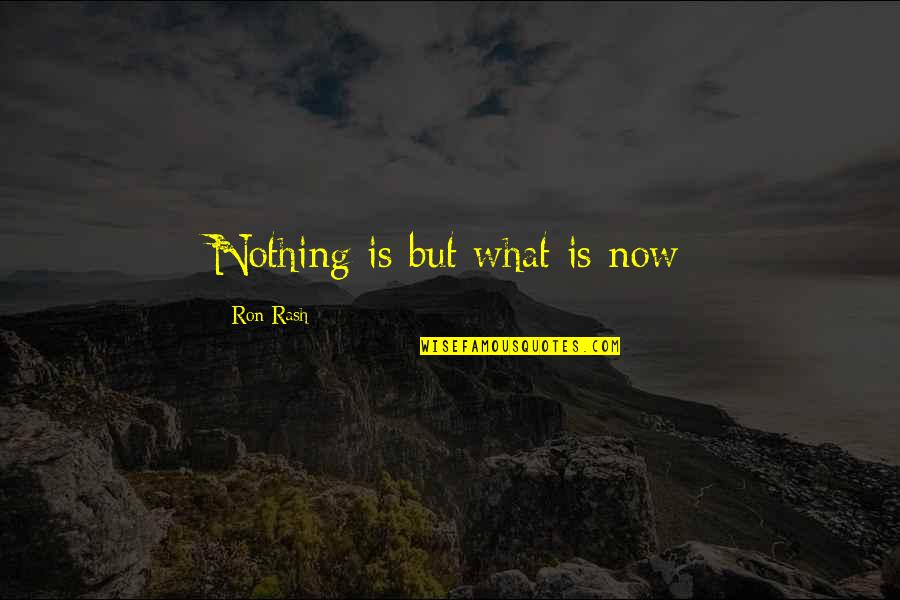 Nothing is but what is now
—
Ron Rash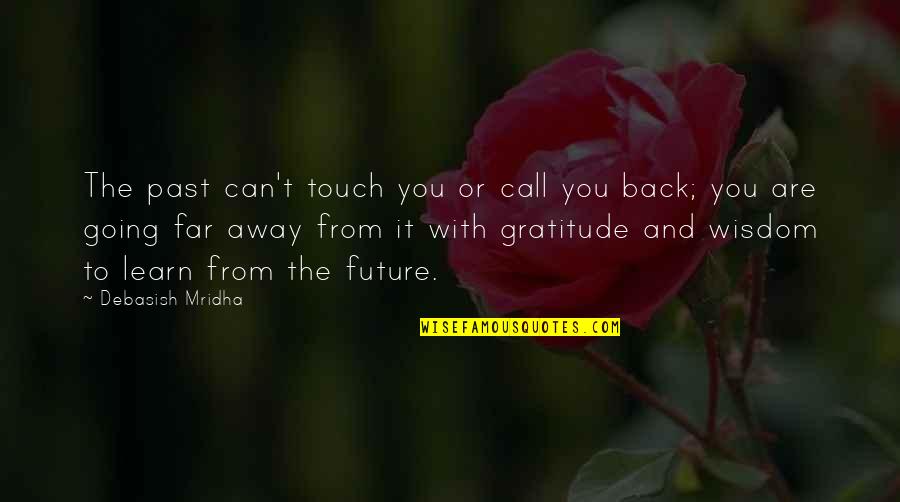 The past can't touch you or call you back; you are going far away from it with gratitude and wisdom to learn from the future.
—
Debasish Mridha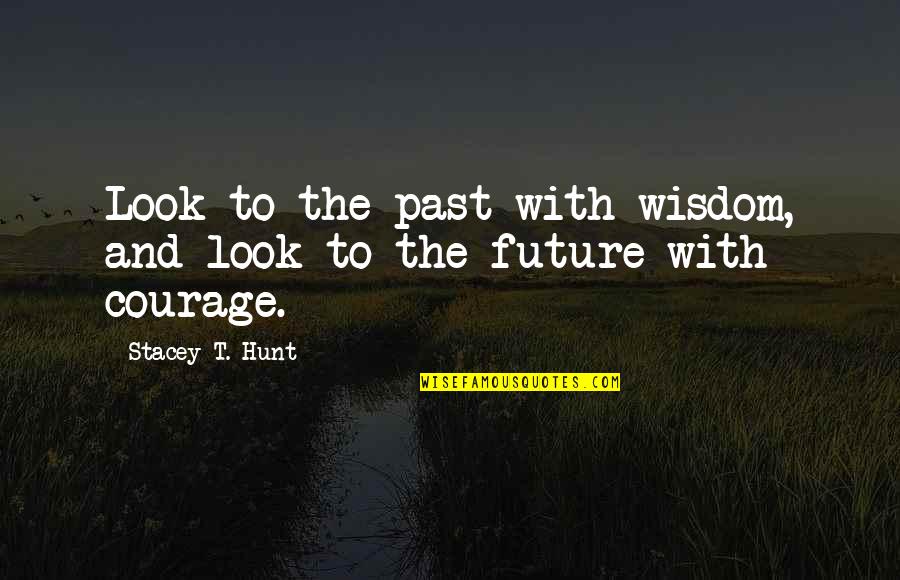 Look to the past with wisdom, and look to the future with courage.
—
Stacey T. Hunt
I just want to show her that her life is worth living, that she can't let her past dictate her future.
—
S.A. Rolls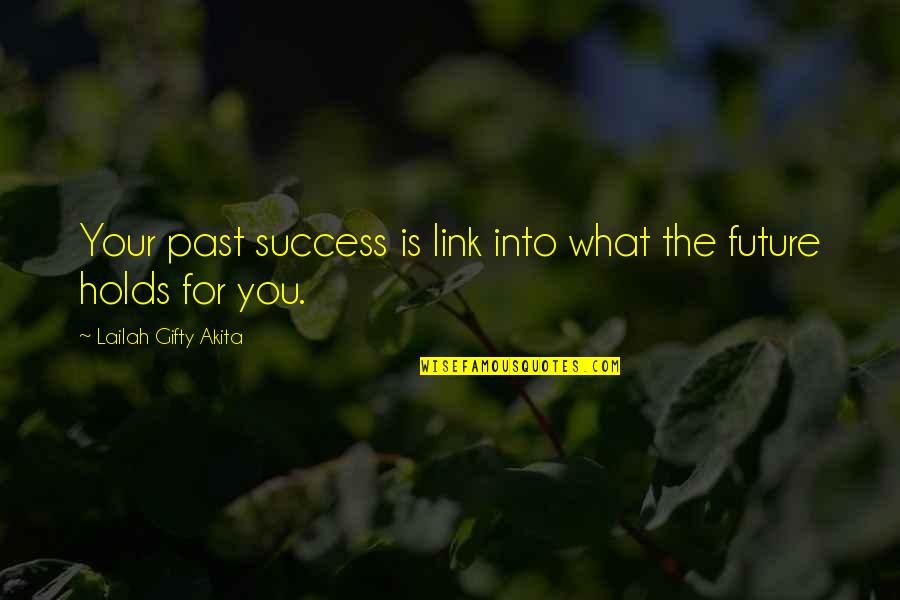 Your past success is link into what the future holds for you.
—
Lailah Gifty Akita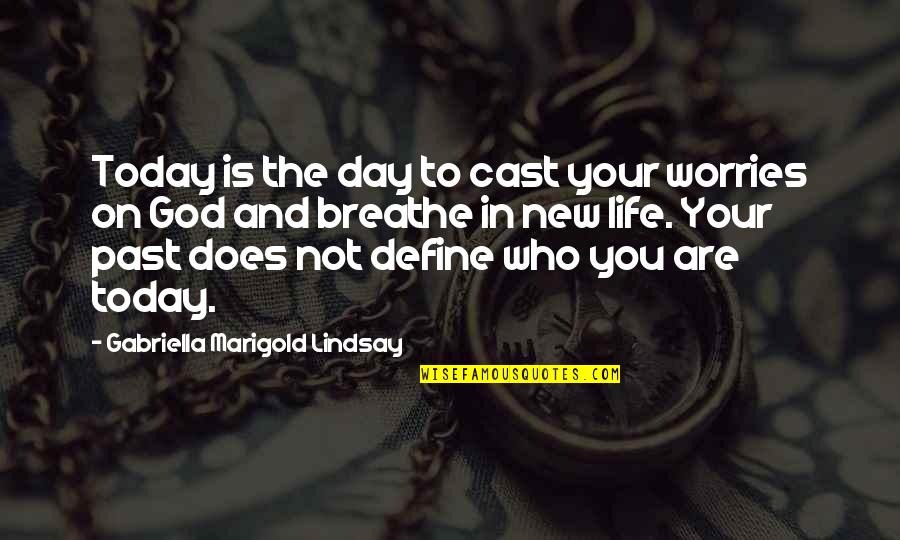 Today is the day to cast your worries on God and breathe in new life. Your past does not define who you are today.
—
Gabriella Marigold Lindsay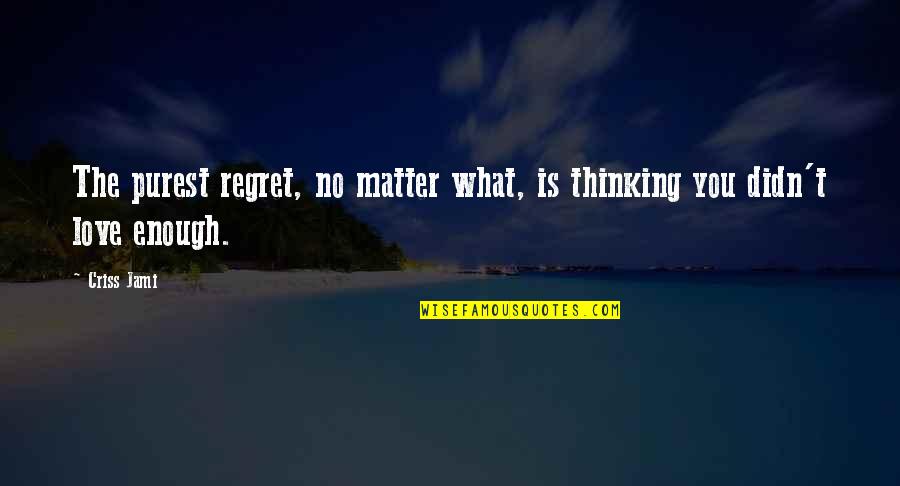 The purest regret, no matter what, is thinking you didn't love enough.
—
Criss Jami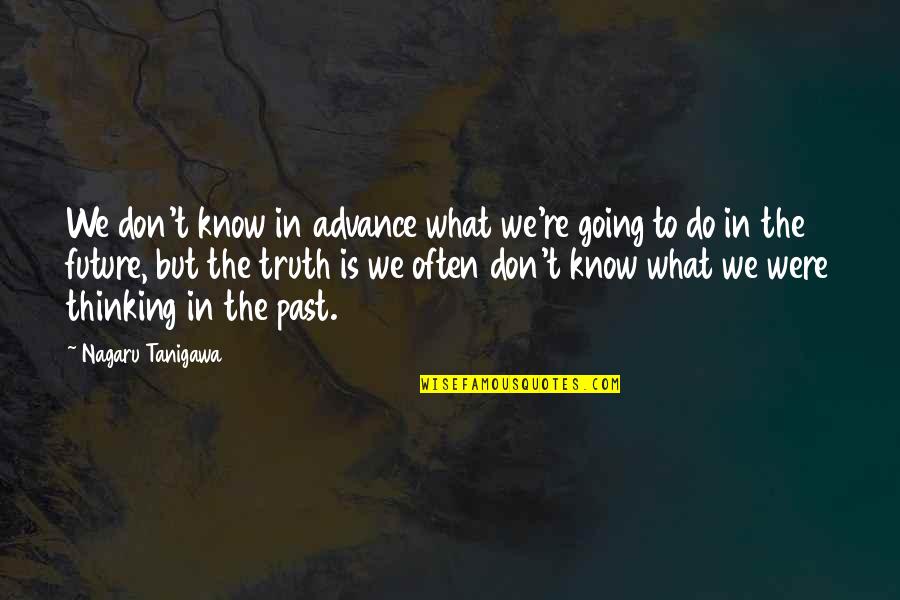 We don't know in advance what we're going to do in the future, but the truth is we often don't know what we were thinking in the past.
—
Nagaru Tanigawa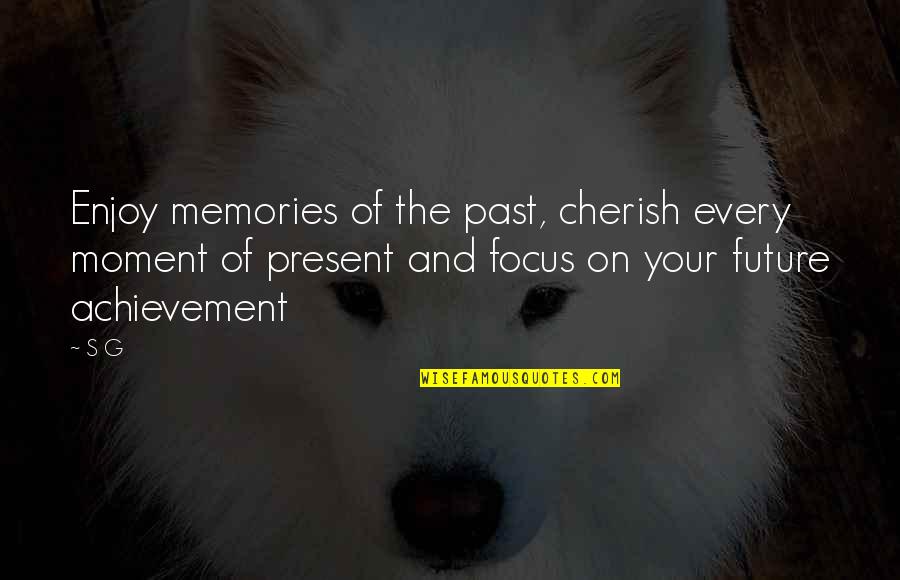 Enjoy memories of the past, cherish every moment of present and focus on your future achievement
—
S G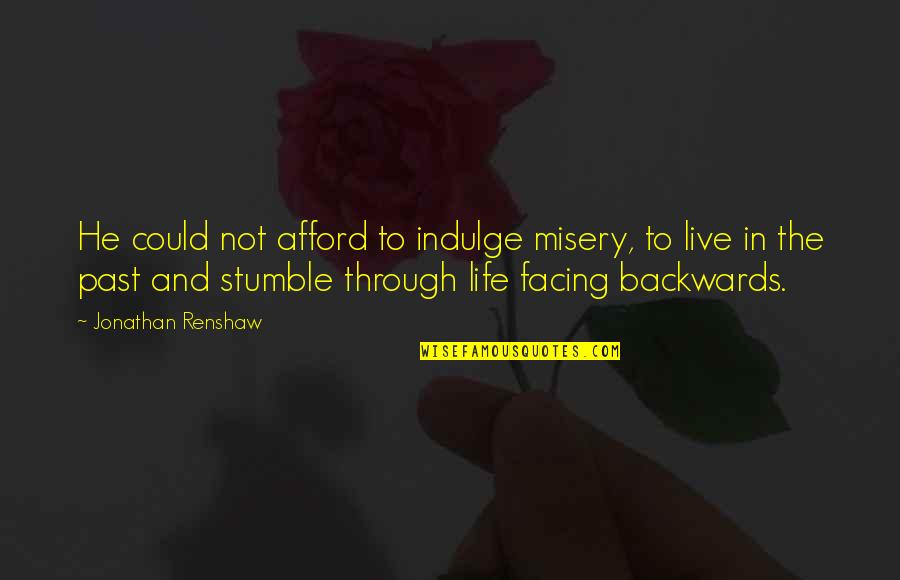 He could not afford to indulge misery, to live in the past and stumble through life facing backwards.
—
Jonathan Renshaw
No matter how bright your future seems you can never forget about the past".
—
Abdulazeez Henry Musa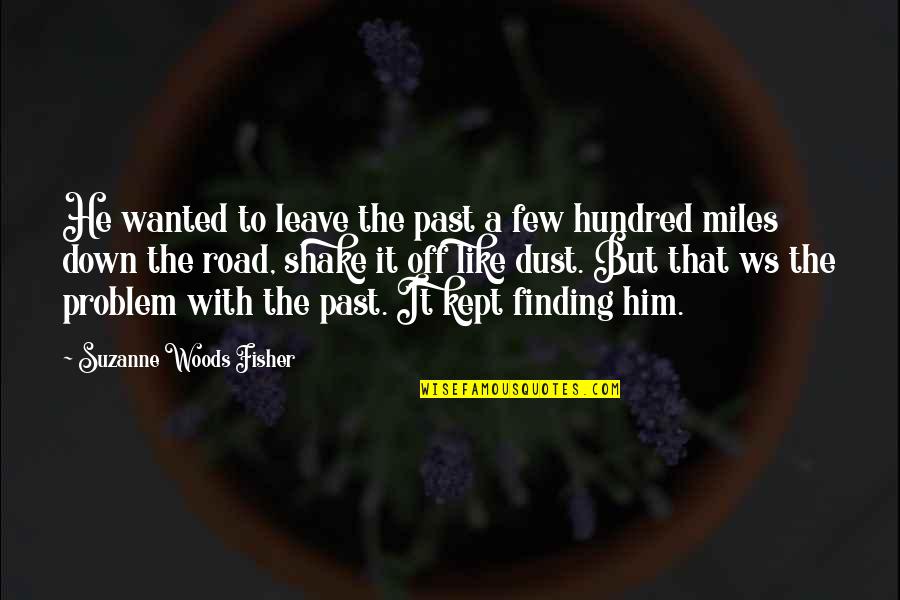 He wanted to leave the past a few hundred miles down the road, shake it off like dust. But that ws the problem with the past. It kept finding him.
—
Suzanne Woods Fisher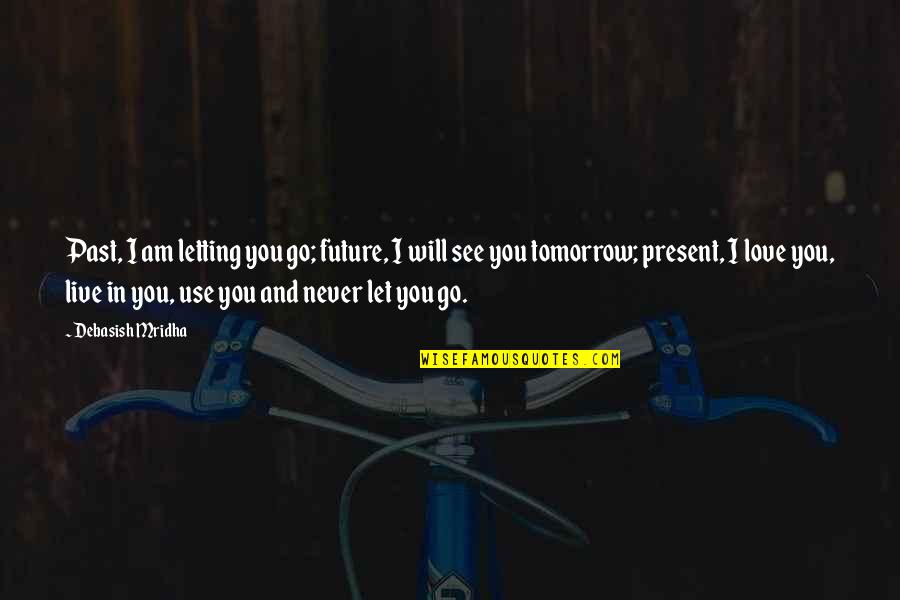 Past, I am letting you go; future, I will see you tomorrow; present, I love you, live in you, use you and never let you go. —
Debasish Mridha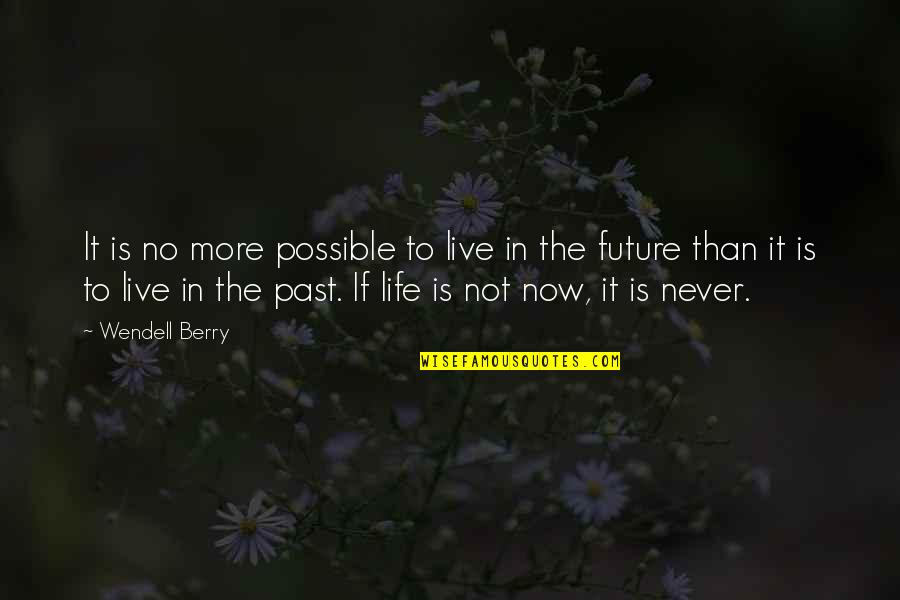 It is no more possible to live in the future than it is to live in the past. If life is not now, it is never. —
Wendell Berry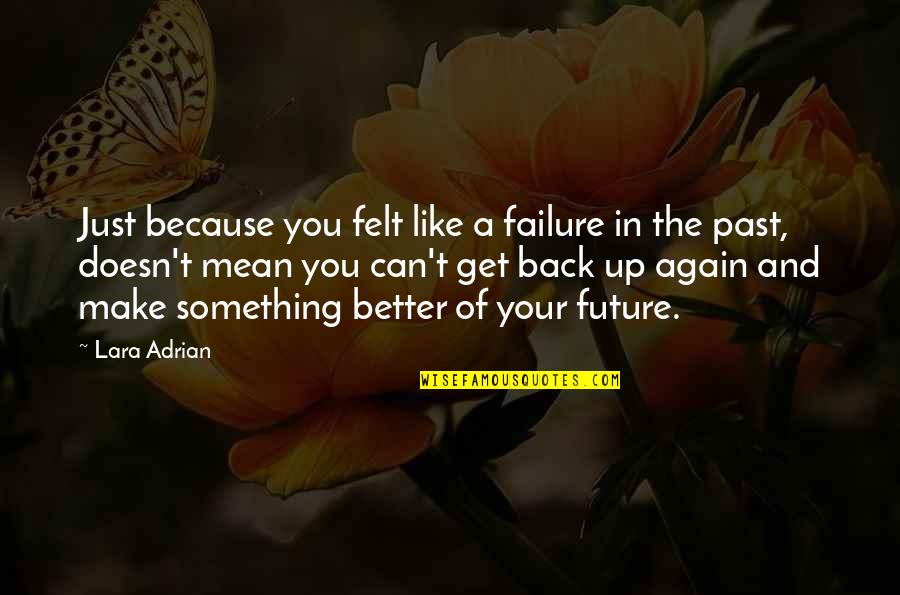 Just because you felt like a failure in the past, doesn't mean you can't get back up again and make something better of your future. —
Lara Adrian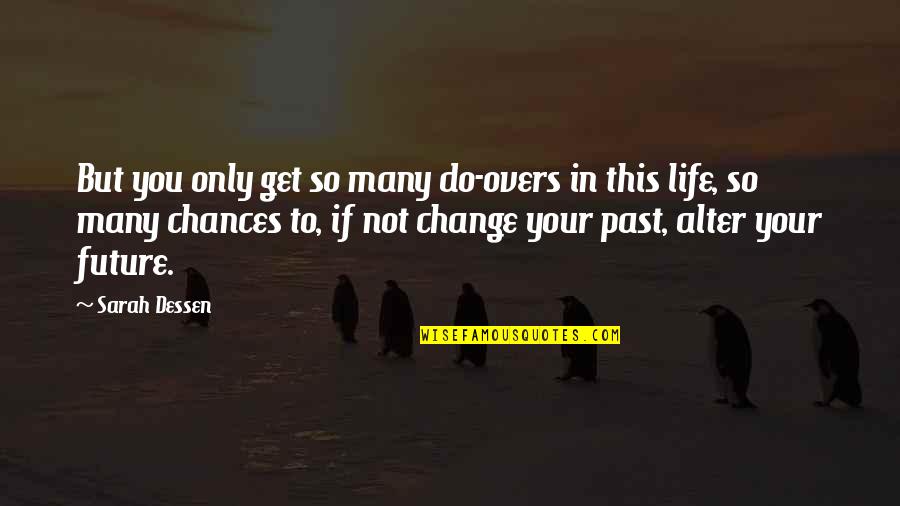 But you only get so many do-overs in this life, so many chances to, if not change your past, alter your future. —
Sarah Dessen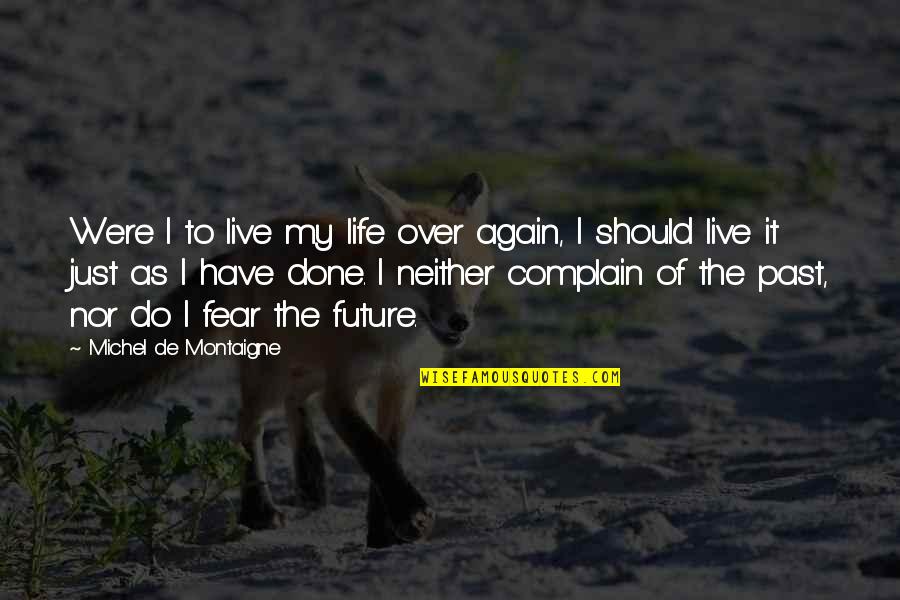 Were I to live my life over again, I should live it just as I have done. I neither complain of the past, nor do I fear the future. —
Michel De Montaigne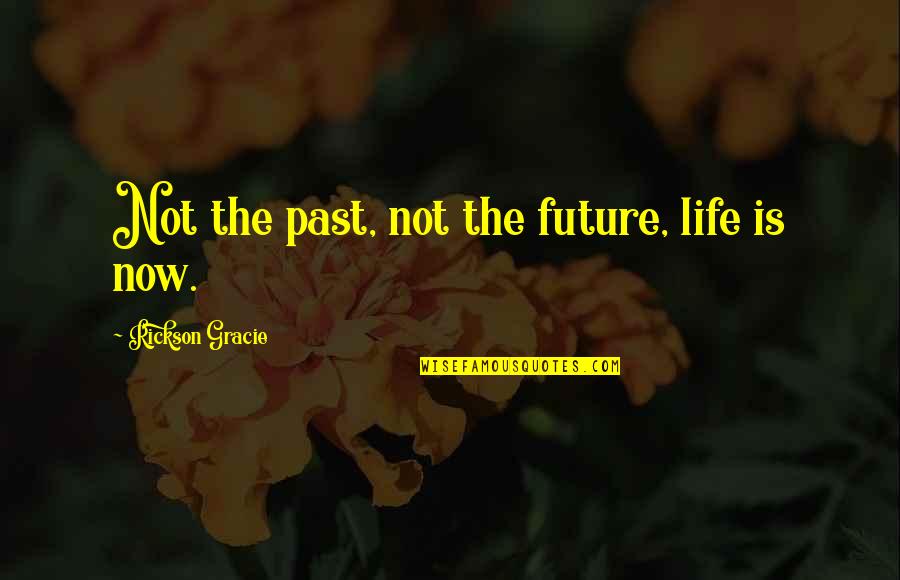 Not the past, not the future, life is now. —
Rickson Gracie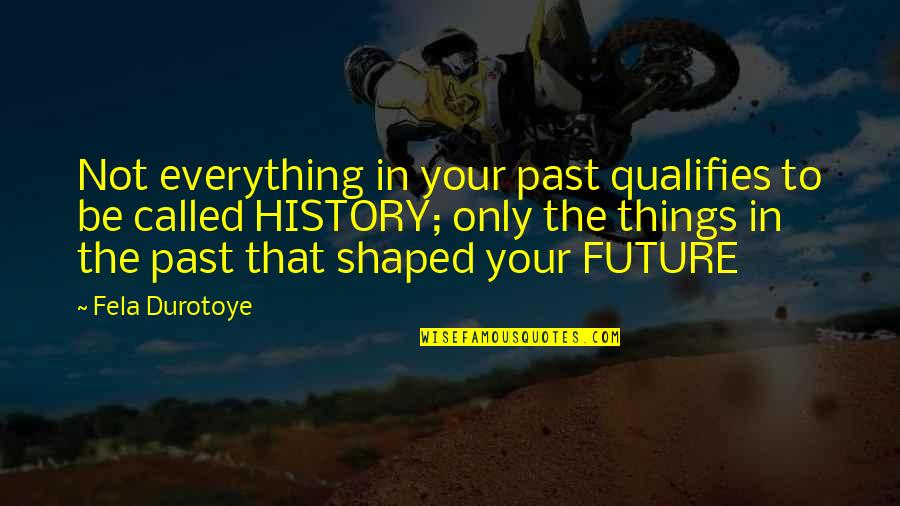 Not everything in your past qualifies to be called HISTORY; only the things in the past that shaped your FUTURE —
Fela Durotoye
All the bad in my life led me to her, which makes me think that I can live with the past if she is my future. - HEW —
Michelle Warren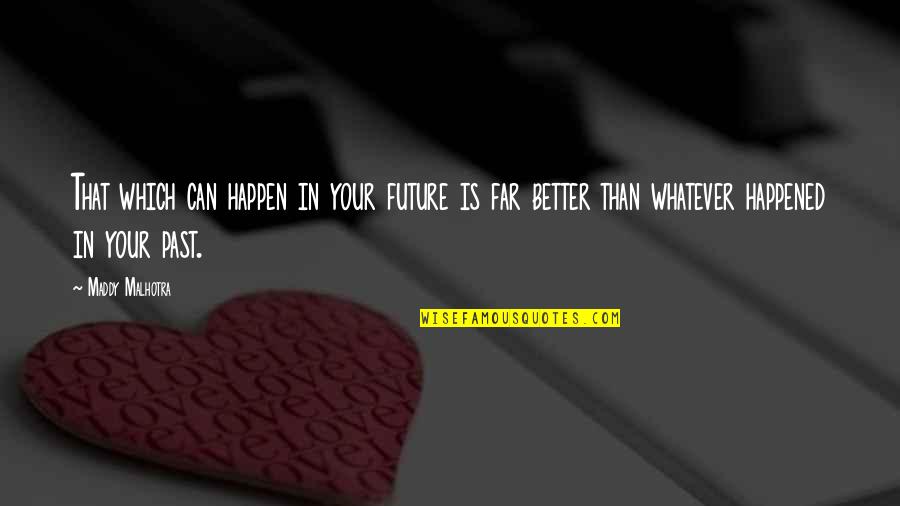 That which can happen in your future is far better than whatever happened in your past. —
Maddy Malhotra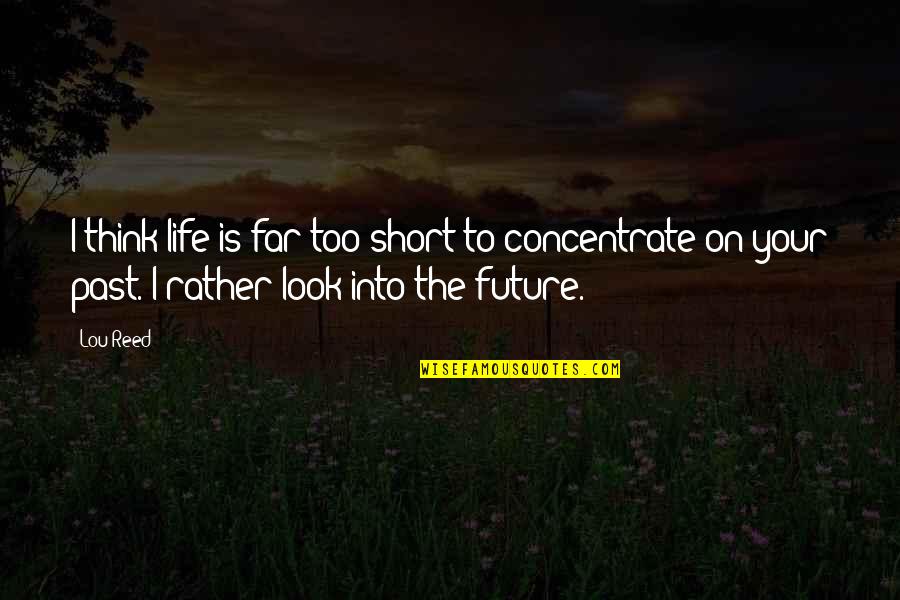 I think life is far too short to concentrate on your past. I rather look into the future. —
Lou Reed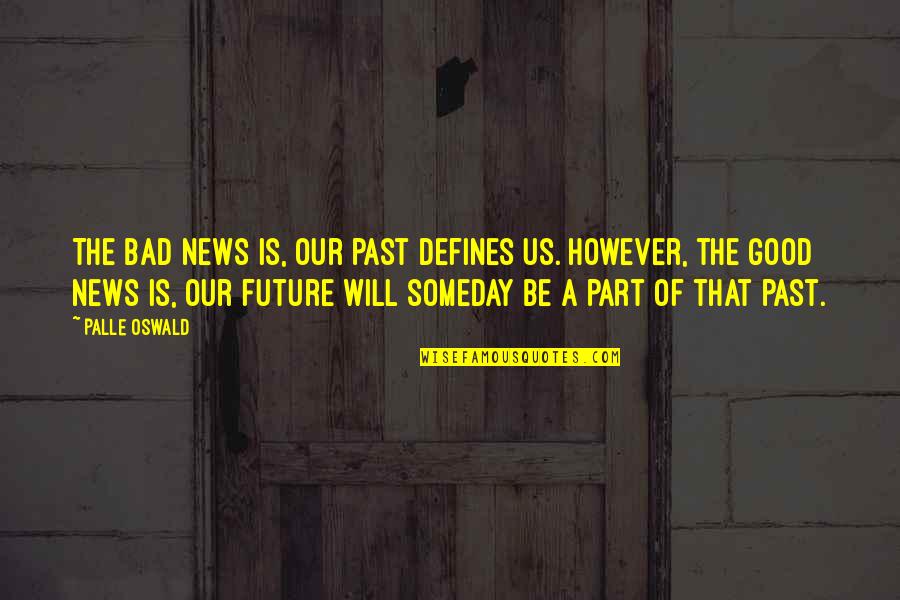 The bad news is, our past defines us. However, the good news is, our future will someday be a part of that past. —
Palle Oswald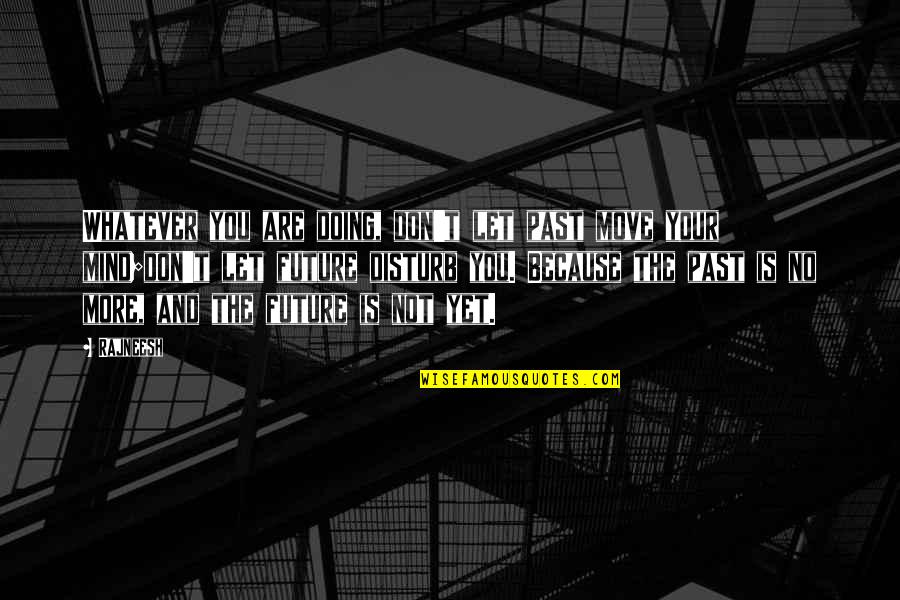 Whatever you are doing, don't let past move your mind;don't let future disturb you. Because the past is no more, and the future is not yet. —
Rajneesh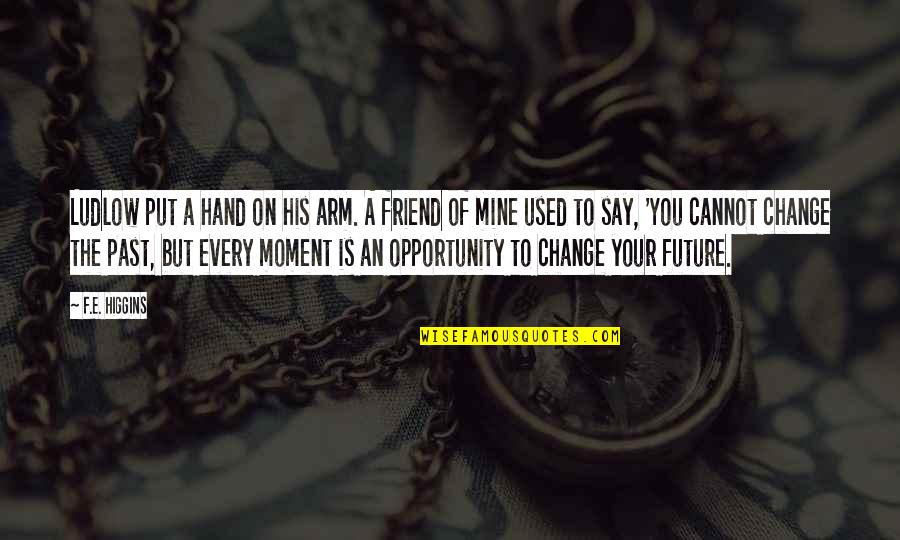 Ludlow put a hand on his arm. A friend of mine used to say, 'You cannot change the past, but every moment is an opportunity to change your future. —
F.E. Higgins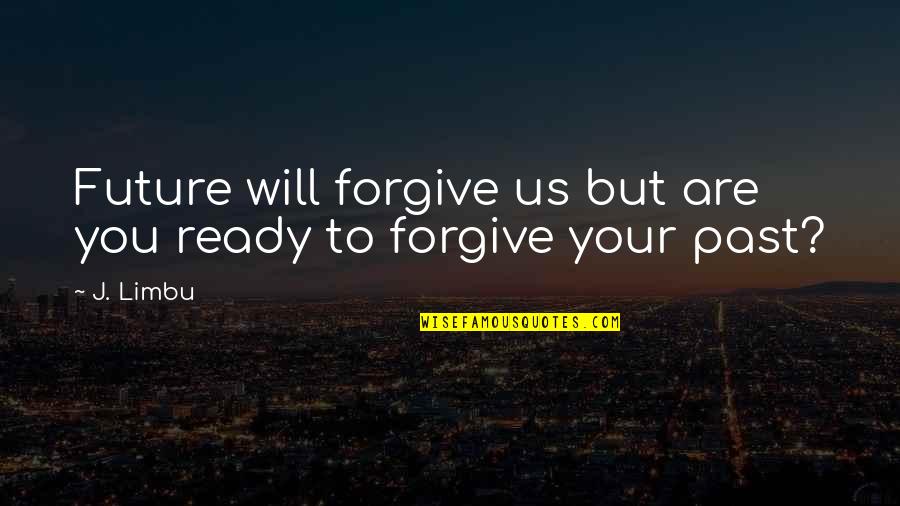 Future will forgive us but are you ready to forgive your past? —
J. Limbu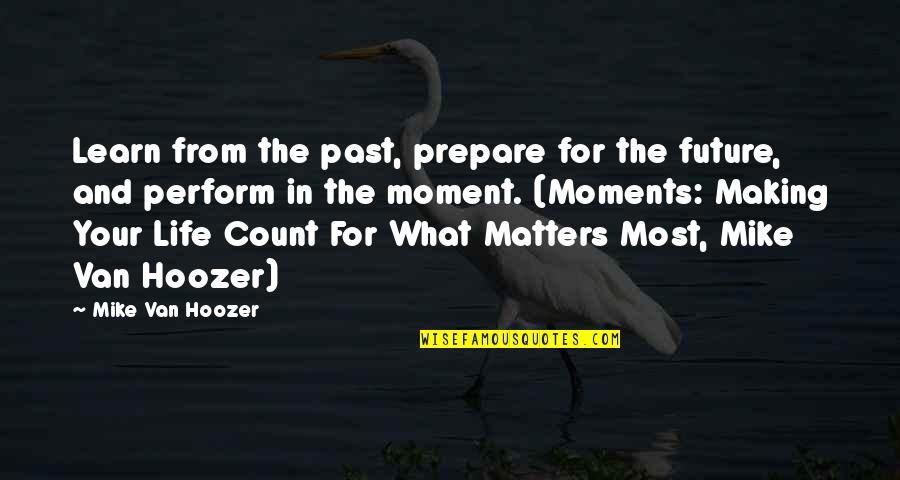 Learn from the past, prepare for the future, and perform in the moment. (Moments: Making Your Life Count For What Matters Most, Mike Van Hoozer) —
Mike Van Hoozer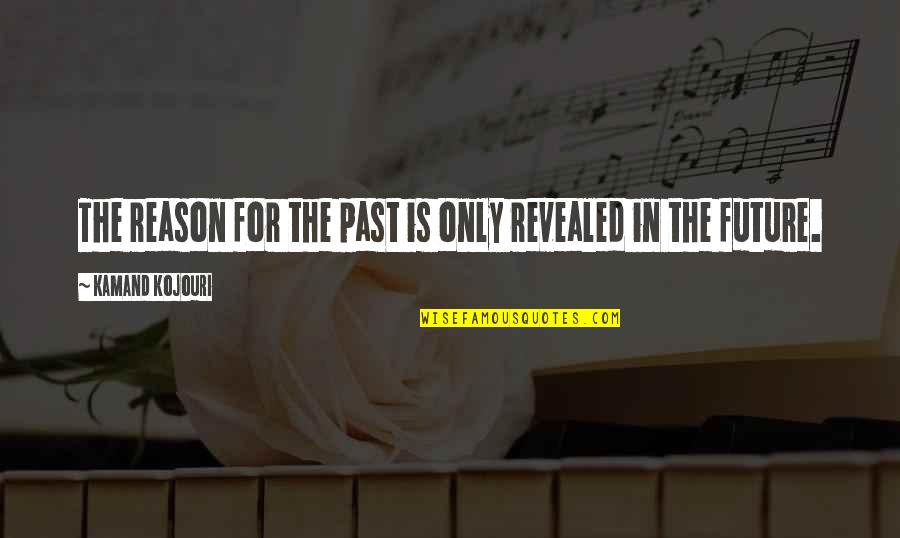 The reason for the past is only revealed in the future. —
Kamand Kojouri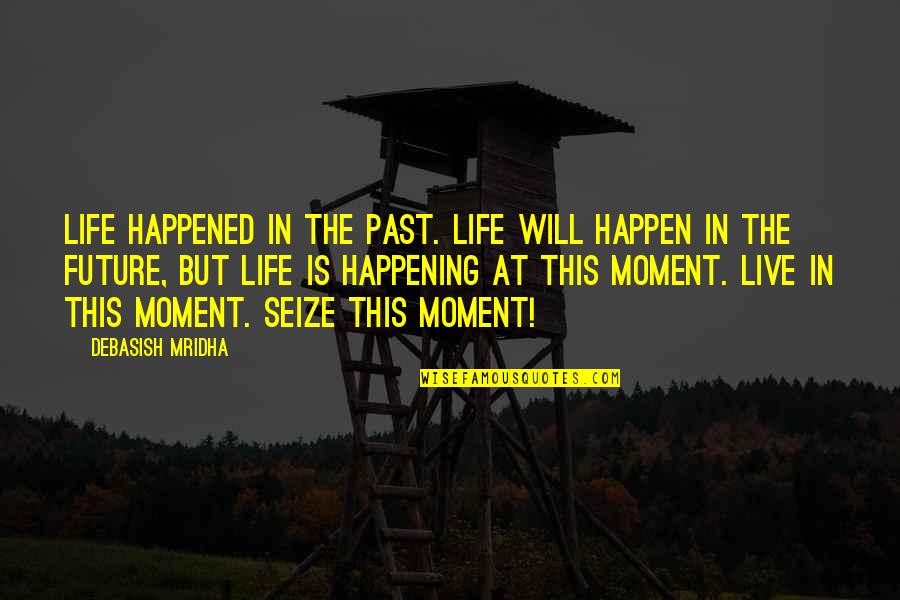 Life happened in the past. Life will happen in the future, but life is happening at this moment. Live in this moment. Seize this moment! —
Debasish Mridha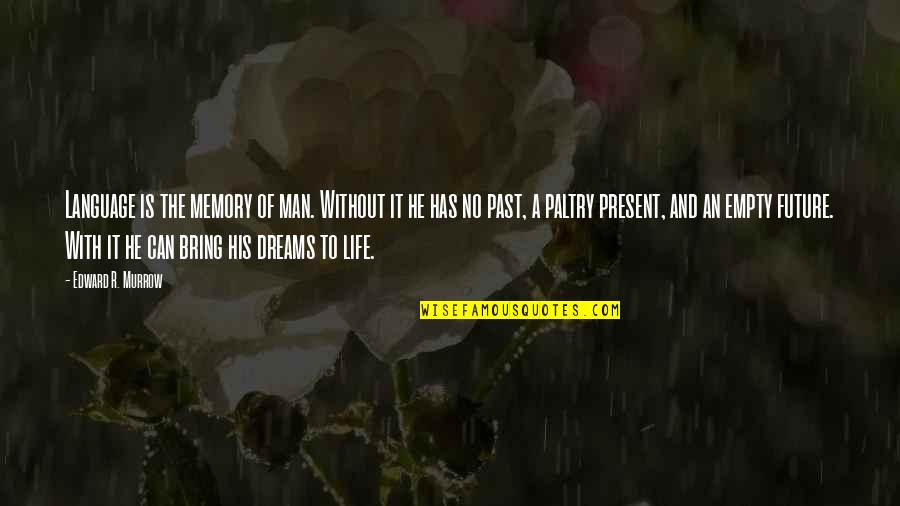 Language is the memory of man. Without it he has no past, a paltry present, and an empty future. With it he can bring his dreams to life. —
Edward R. Murrow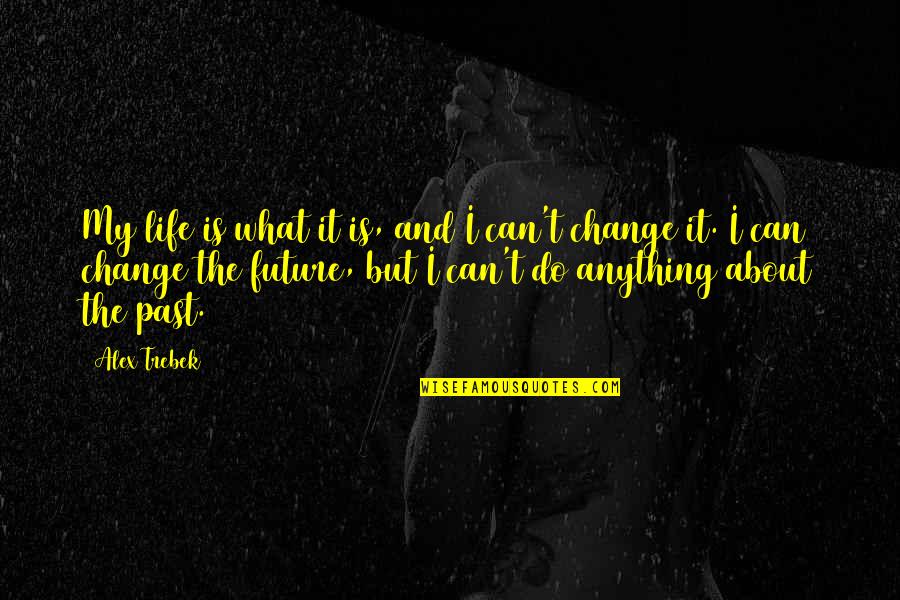 My life is what it is, and I can't change it. I can change the future, but I can't do anything about the past. —
Alex Trebek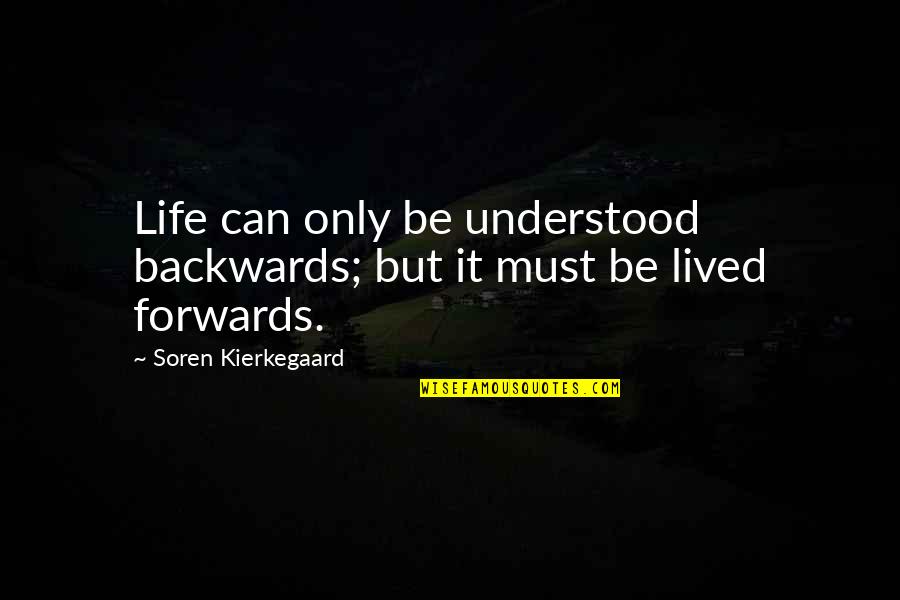 Life can only be understood backwards; but it must be lived forwards. —
Soren Kierkegaard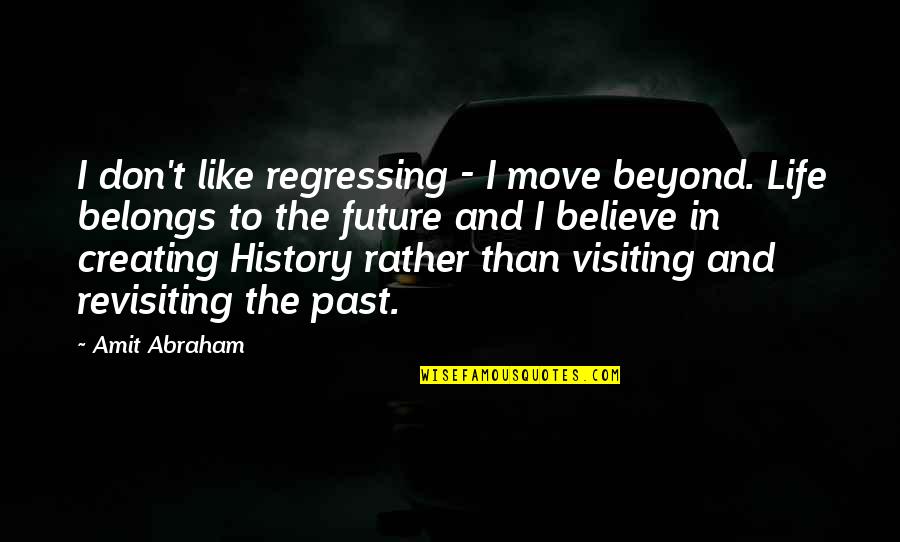 I don't like regressing - I move beyond. Life belongs to the future and I believe in creating History rather than visiting and revisiting the past. —
Amit Abraham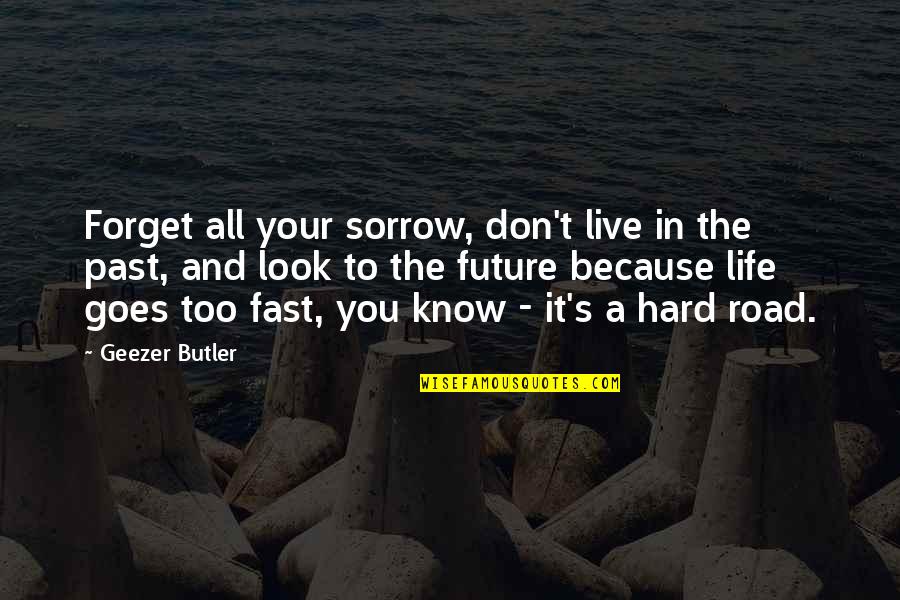 Forget all your sorrow, don't live in the past, and look to the future because life goes too fast, you know - it's a hard road. —
Geezer Butler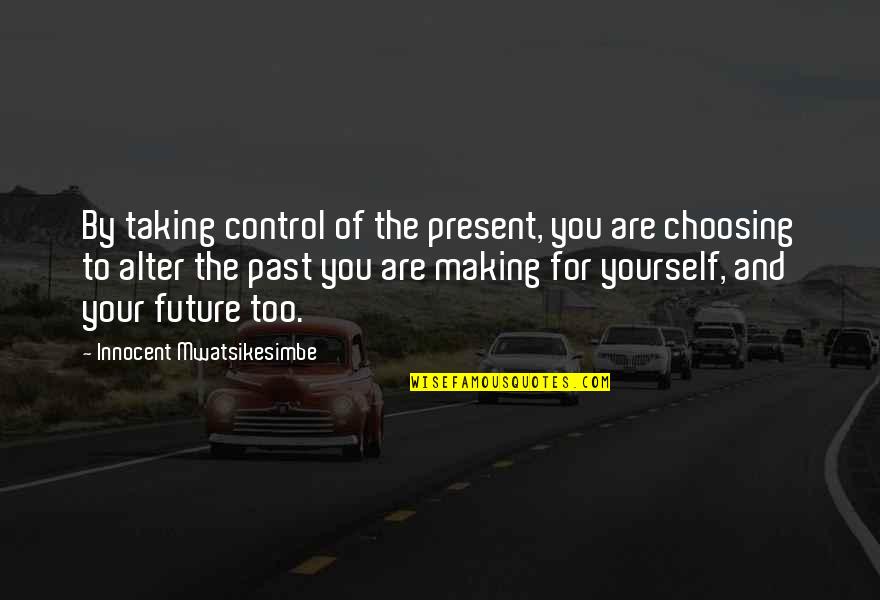 By taking control of the present, you are choosing to alter the past you are making for yourself, and your future too. —
Innocent Mwatsikesimbe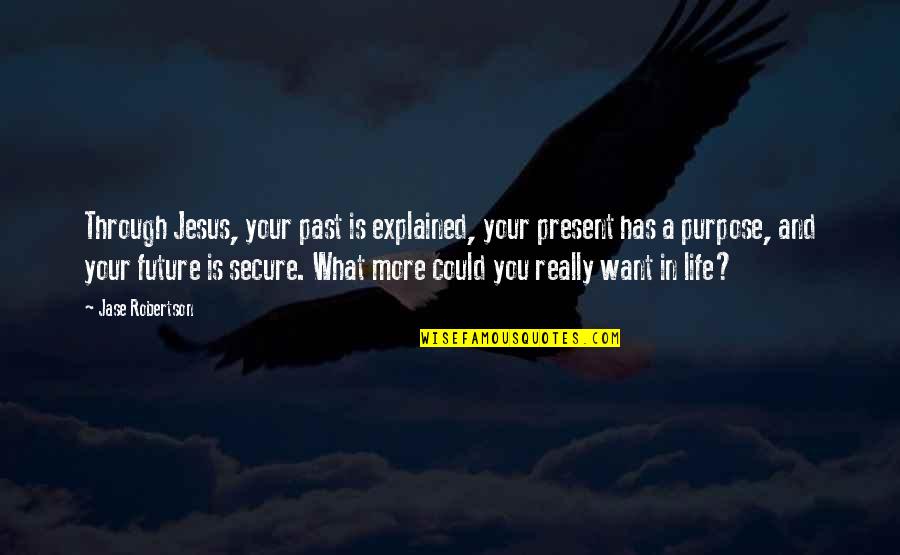 Through Jesus, your past is explained, your present has a purpose, and your future is secure. What more could you really want in life? —
Jase Robertson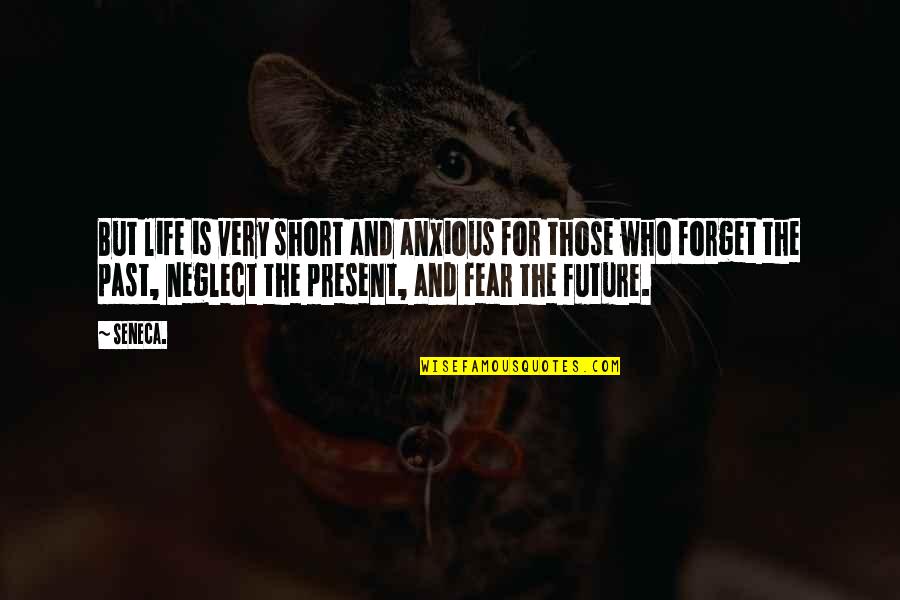 But life is very short and anxious for those who forget the past, neglect the present, and fear the future. —
Seneca.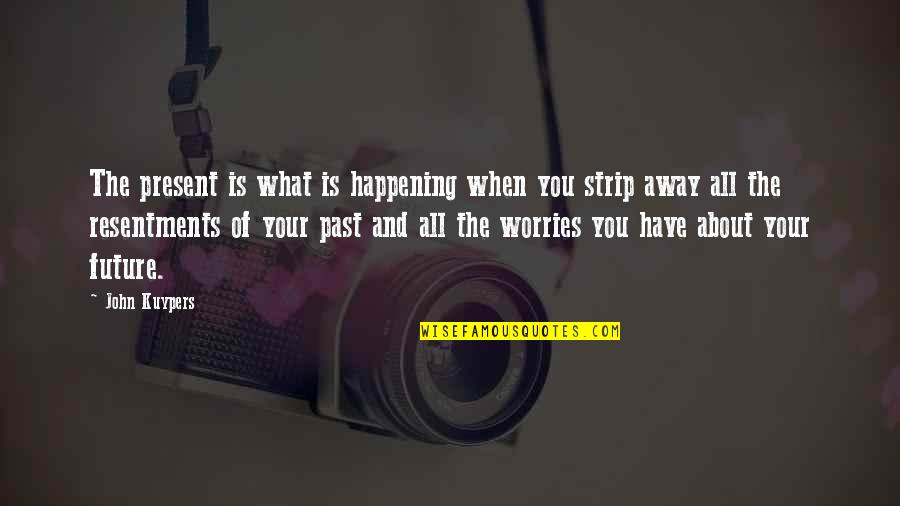 The present is what is happening when you strip away all the resentments of your past and all the worries you have about your future. —
John Kuypers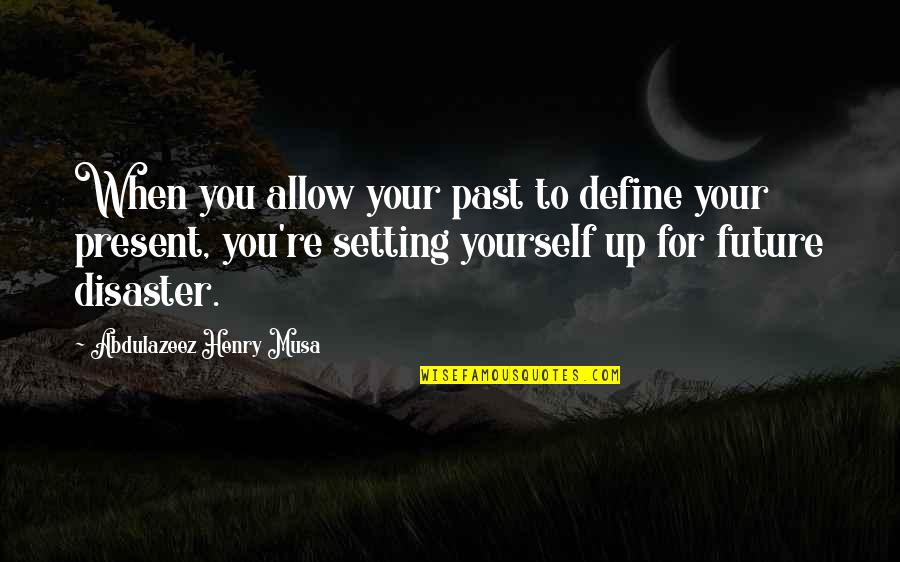 When you allow your past to define your present, you're setting yourself up for future disaster. —
Abdulazeez Henry Musa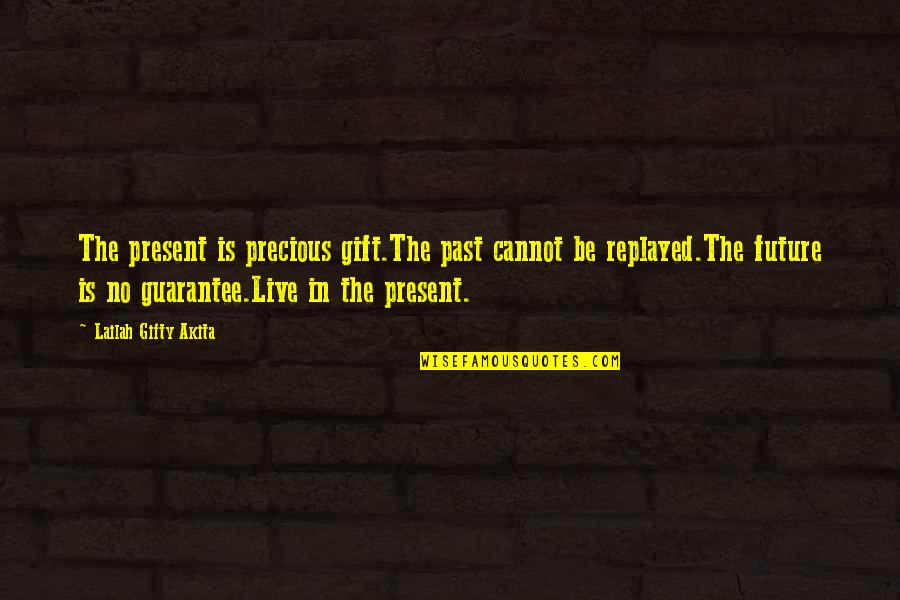 The present is precious gift.
The past cannot be replayed.
The future is no guarantee.
Live in the present. —
Lailah Gifty Akita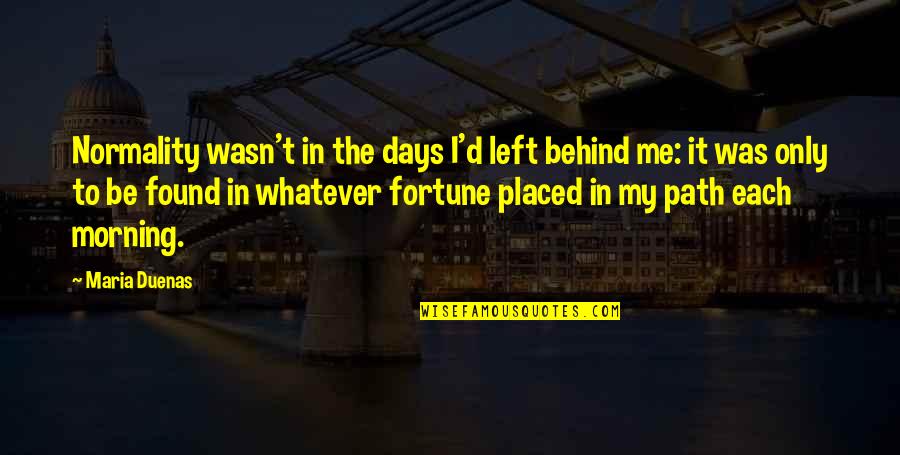 Normality wasn't in the days I'd left behind me: it was only to be found in whatever fortune placed in my path each morning. —
Maria Duenas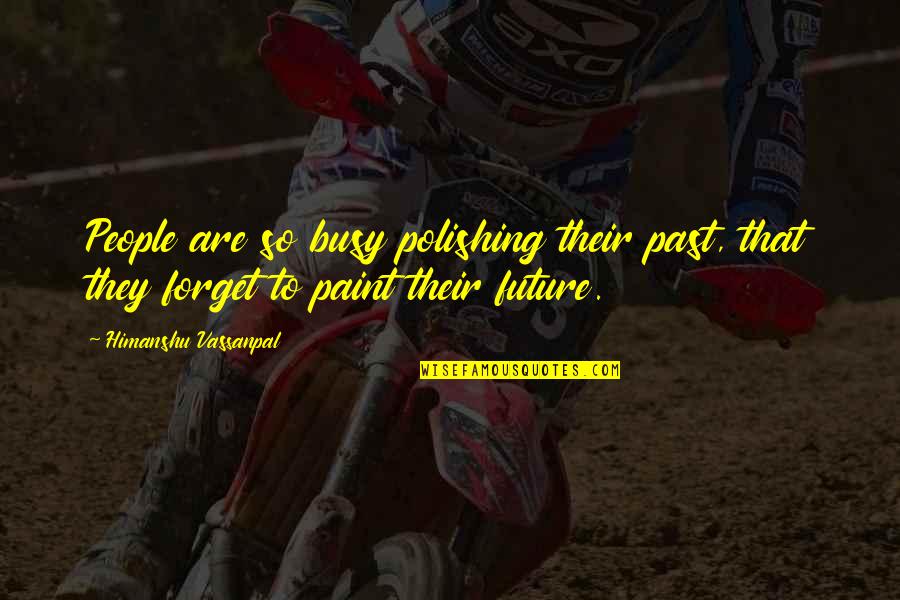 People are so busy polishing their past, that they forget to paint their future. —
Himanshu Vassanpal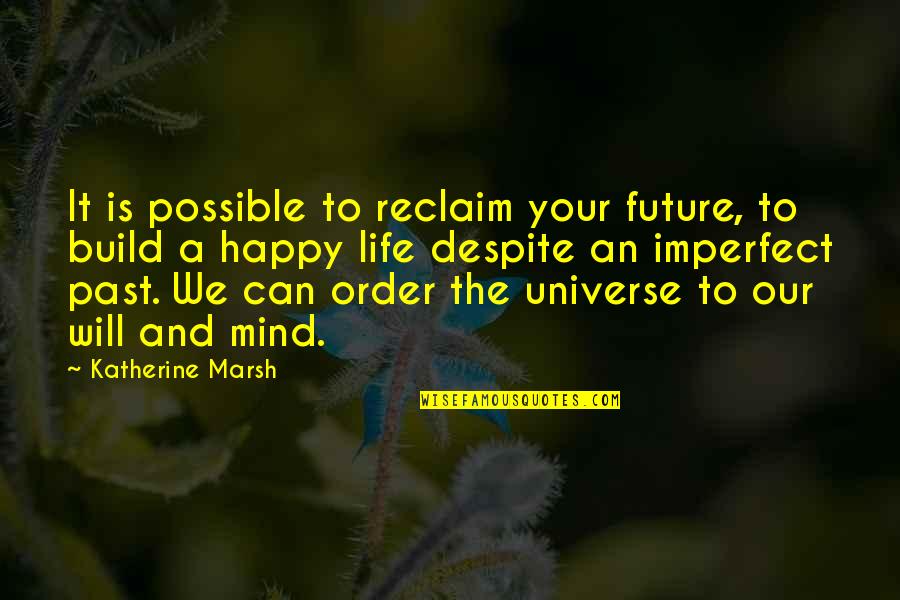 It is possible to reclaim your future, to build a happy life despite an imperfect past. We can order the universe to our will and mind. —
Katherine Marsh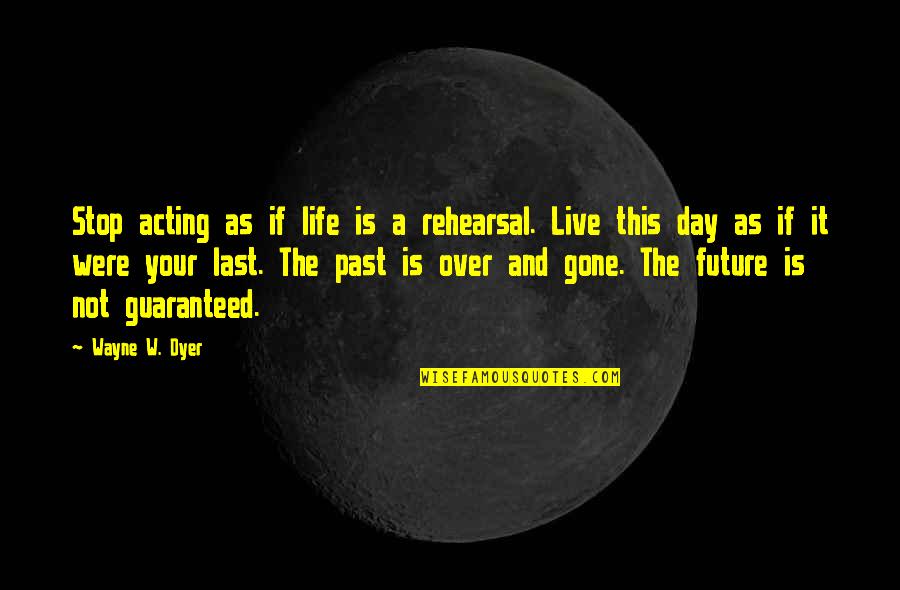 Stop acting as if life is a rehearsal. Live this day as if it were your last. The past is over and gone. The future is not guaranteed. —
Wayne W. Dyer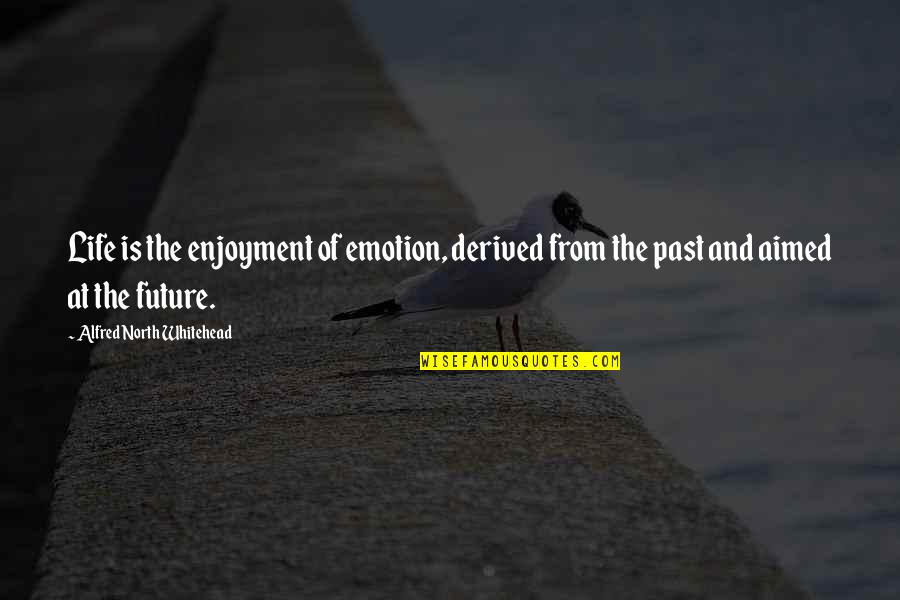 Life is the enjoyment of emotion, derived from the past and aimed at the future. —
Alfred North Whitehead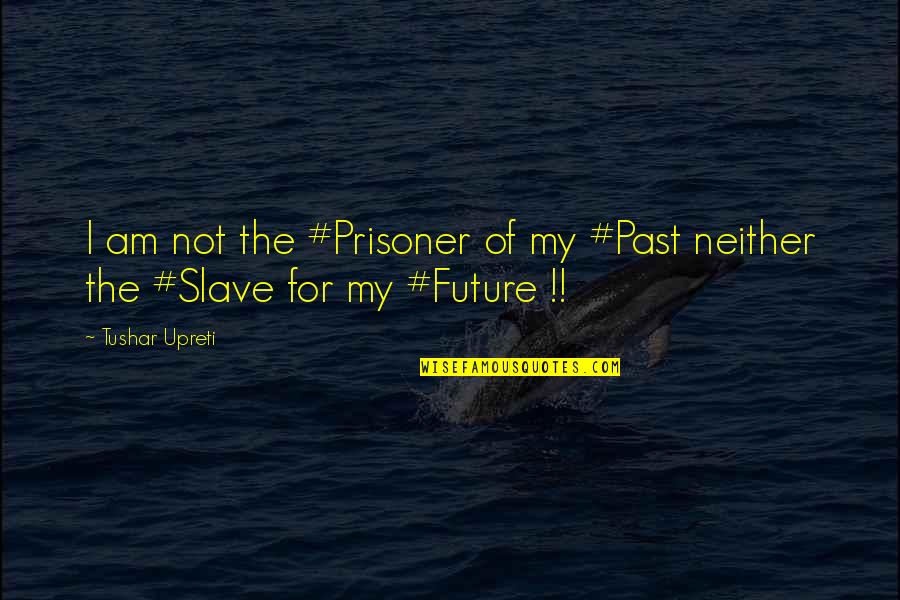 I am not the #Prisoner of my #Past neither the #Slave for my #Future !! —
Tushar Upreti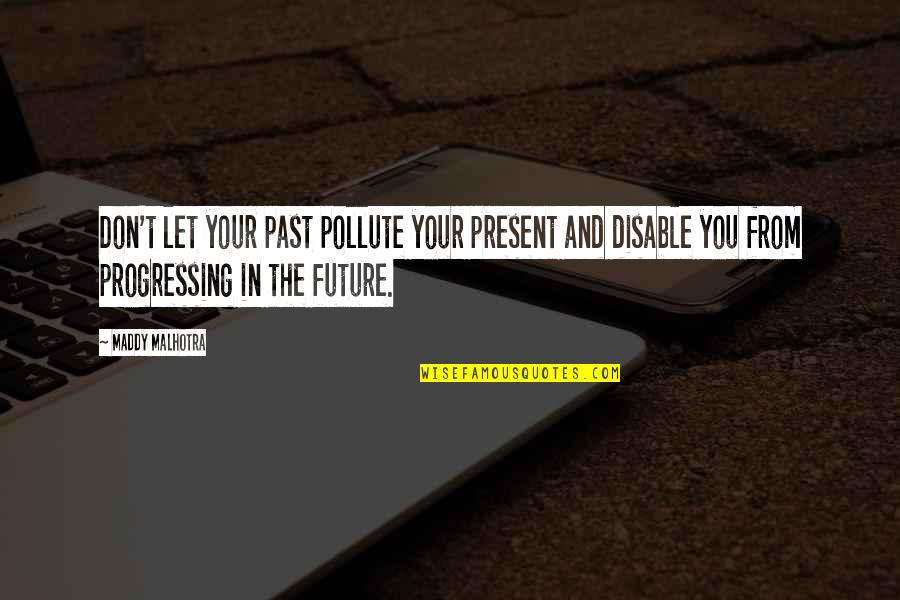 Don't let your past pollute your present and disable you from progressing in the future. —
Maddy Malhotra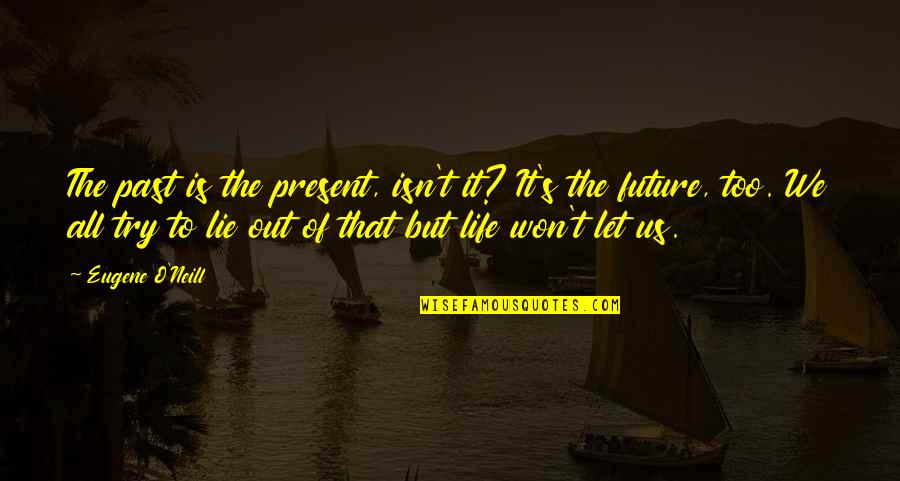 The past is the present, isn't it? It's the future, too. We all try to lie out of that but life won't let us. —
Eugene O'Neill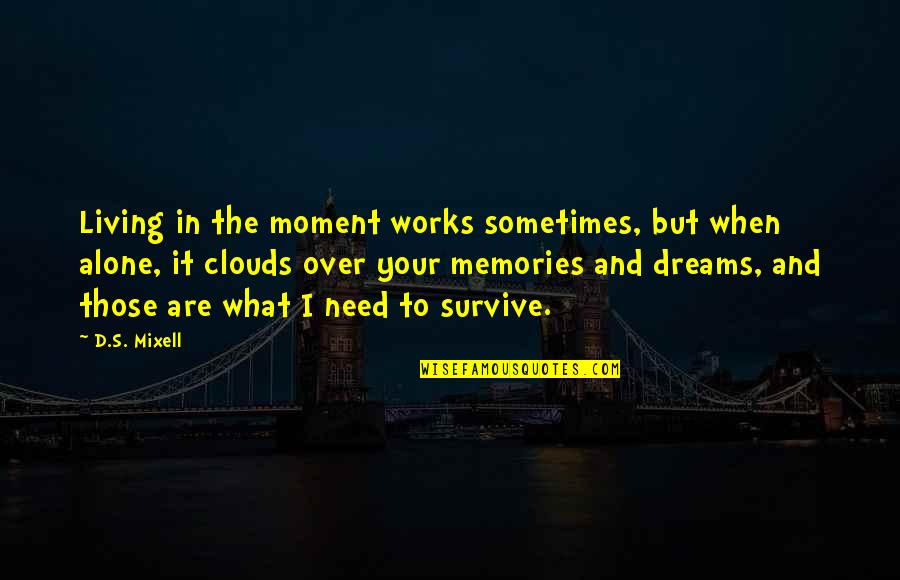 Living in the moment works sometimes, but when alone, it clouds over your memories and dreams, and those are what I need to survive. —
D.S. Mixell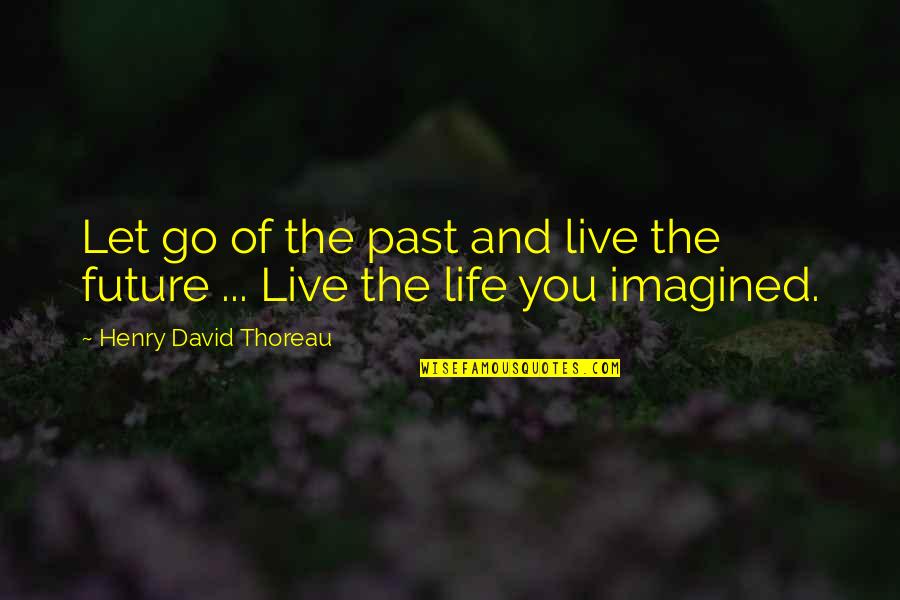 Let go of the past and live the future ... Live the life you imagined. —
Henry David Thoreau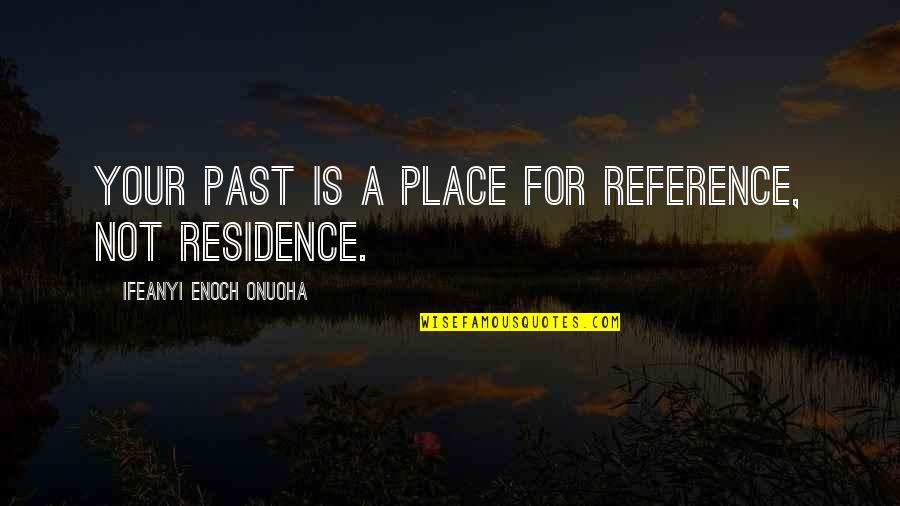 Your past is a place for reference, not residence. —
Ifeanyi Enoch Onuoha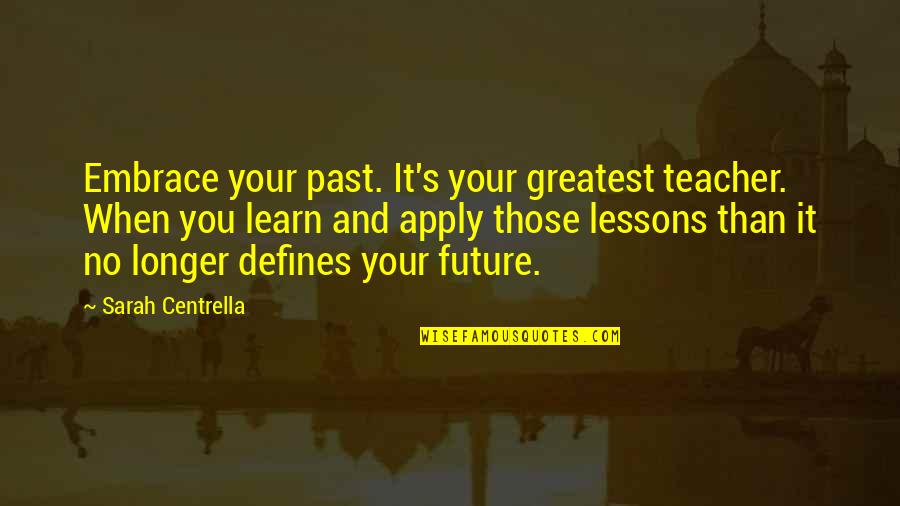 Embrace your past. It's your greatest teacher. When you learn and apply those lessons than it no longer defines your future. —
Sarah Centrella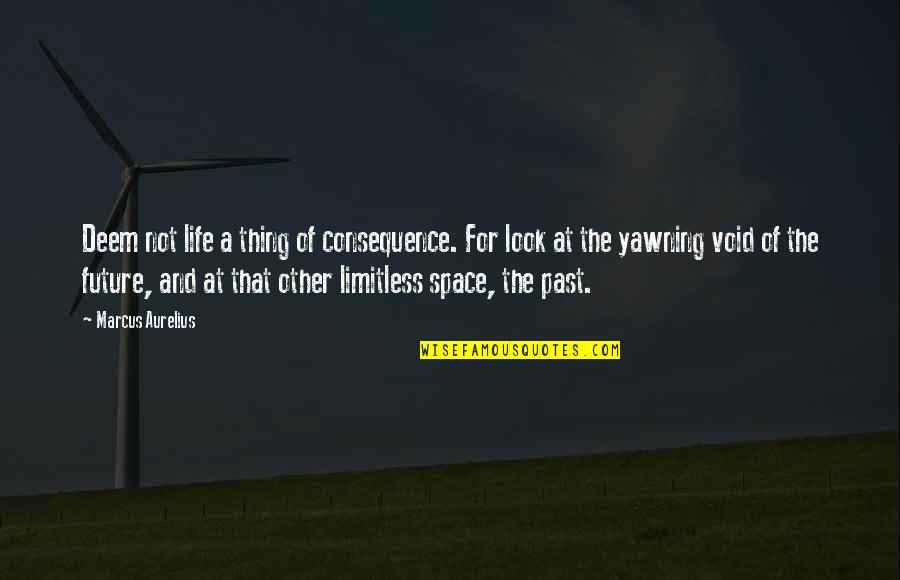 Deem not life a thing of consequence. For look at the yawning void of the future, and at that other limitless space, the past. —
Marcus Aurelius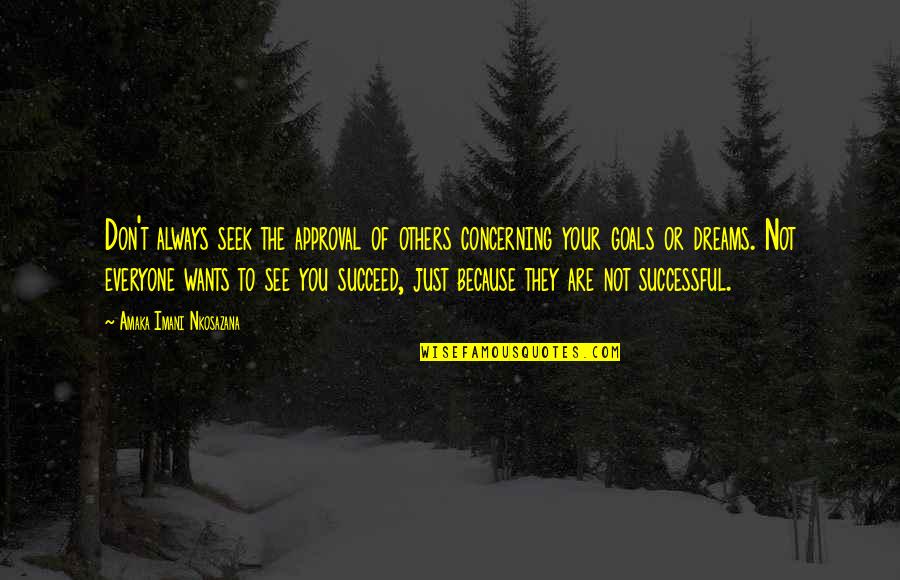 Don't always seek the approval of others concerning your goals or dreams. Not everyone wants to see you succeed, just because they are not successful. —
Amaka Imani Nkosazana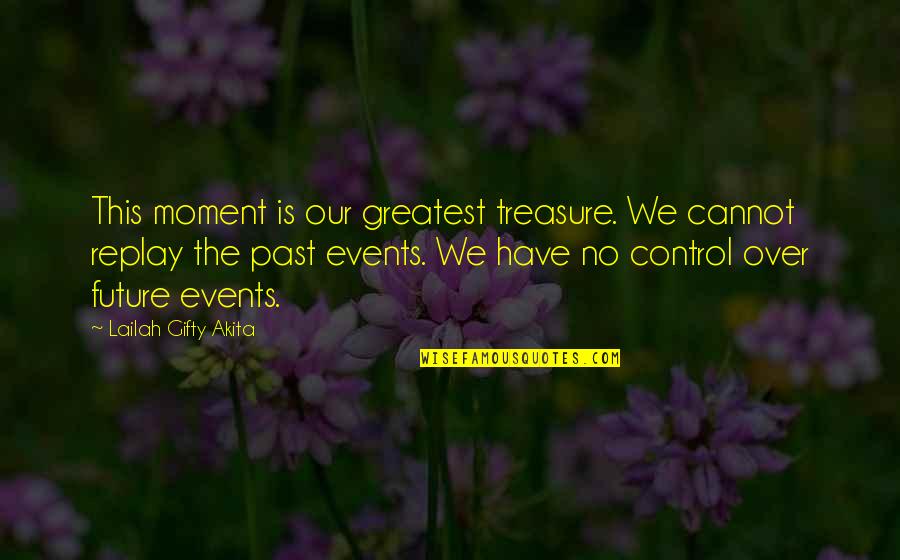 This moment is our greatest treasure. We cannot replay the past events. We have no control over future events. —
Lailah Gifty Akita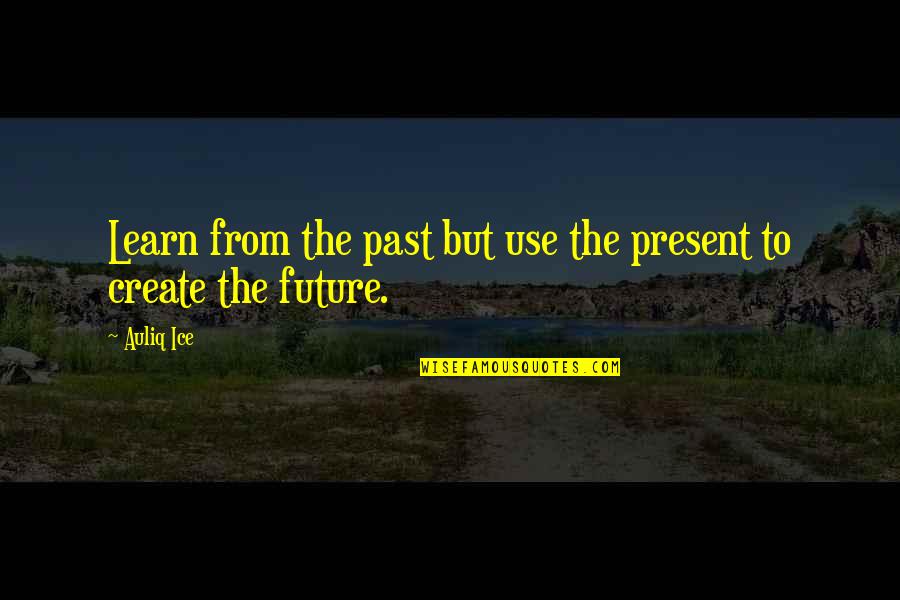 Learn from the past but use the present to create the future. —
Auliq Ice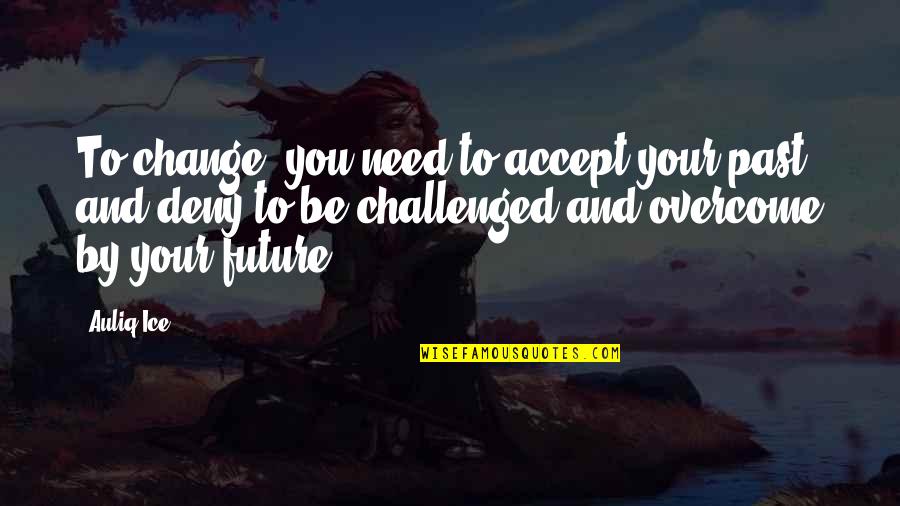 To change, you need to accept your past and deny to be challenged and overcome by your future. —
Auliq Ice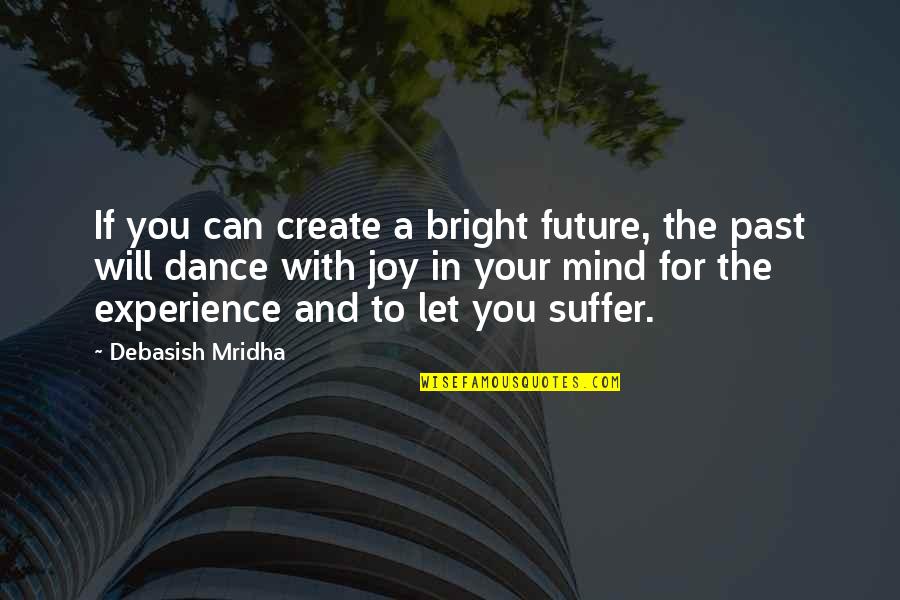 If you can create a bright future, the past will dance with joy in your mind for the experience and to let you suffer. —
Debasish Mridha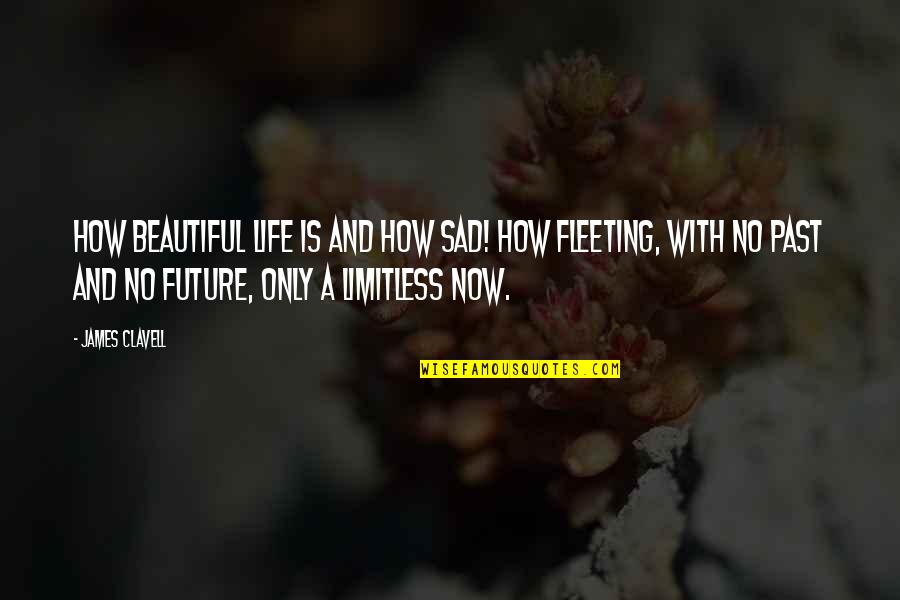 How beautiful life is and how sad! How fleeting, with no past and no future, only a limitless now. —
James Clavell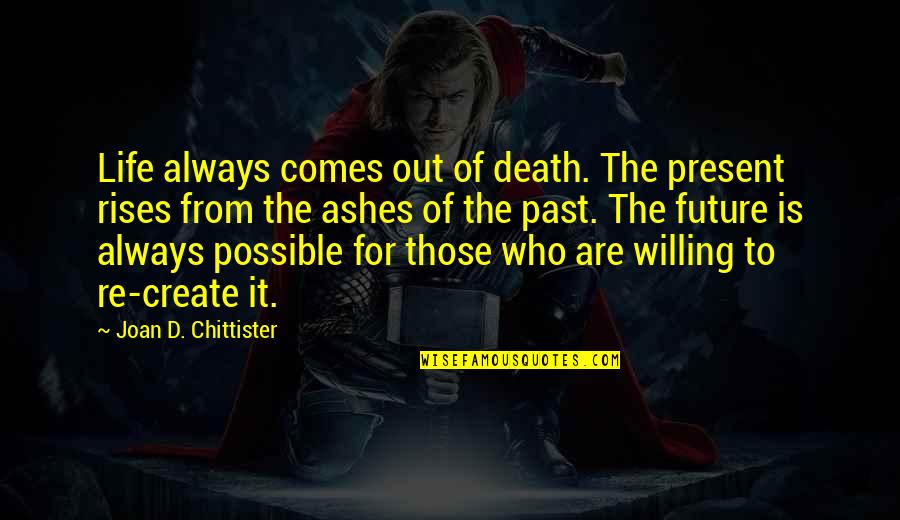 Life always comes out of death. The present rises from the ashes of the past. The future is always possible for those who are willing to re-create it. —
Joan D. Chittister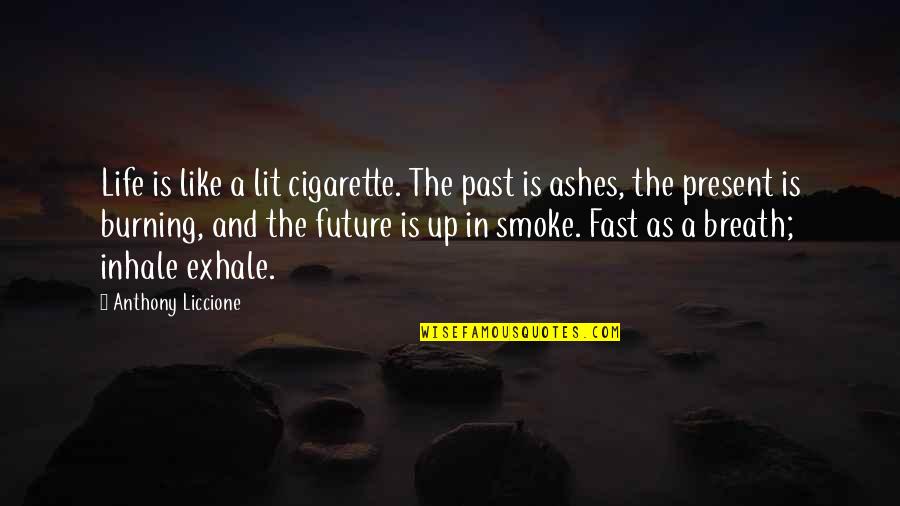 Life is like a lit cigarette. The past is ashes, the present is burning, and the future is up in smoke. Fast as a breath; inhale exhale. —
Anthony Liccione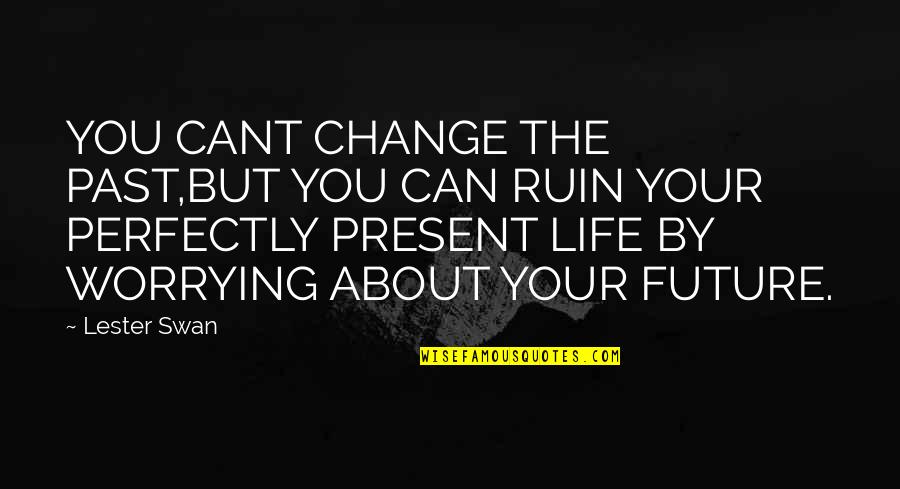 YOU CANT CHANGE THE PAST,BUT YOU CAN RUIN YOUR PERFECTLY PRESENT LIFE BY WORRYING ABOUT YOUR FUTURE. —
Lester Swan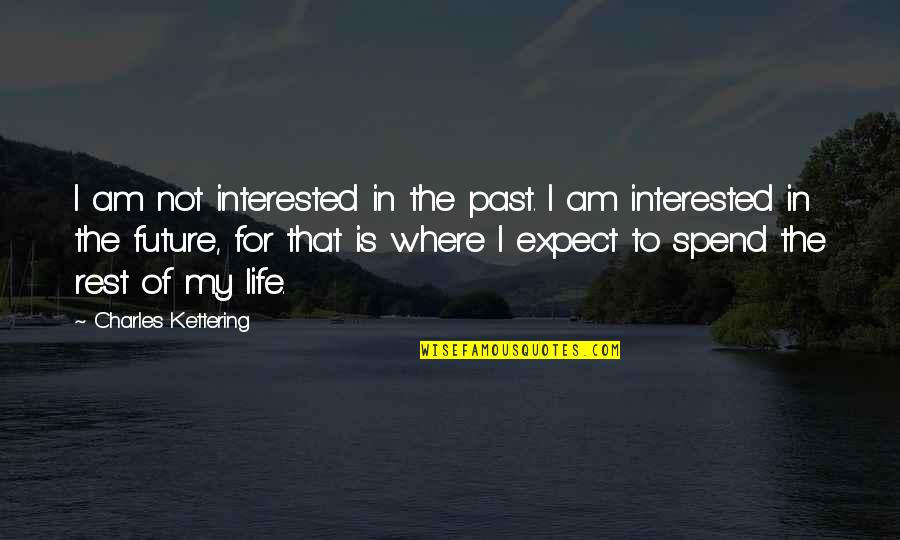 I am not interested in the past. I am interested in the future, for that is where I expect to spend the rest of my life. —
Charles Kettering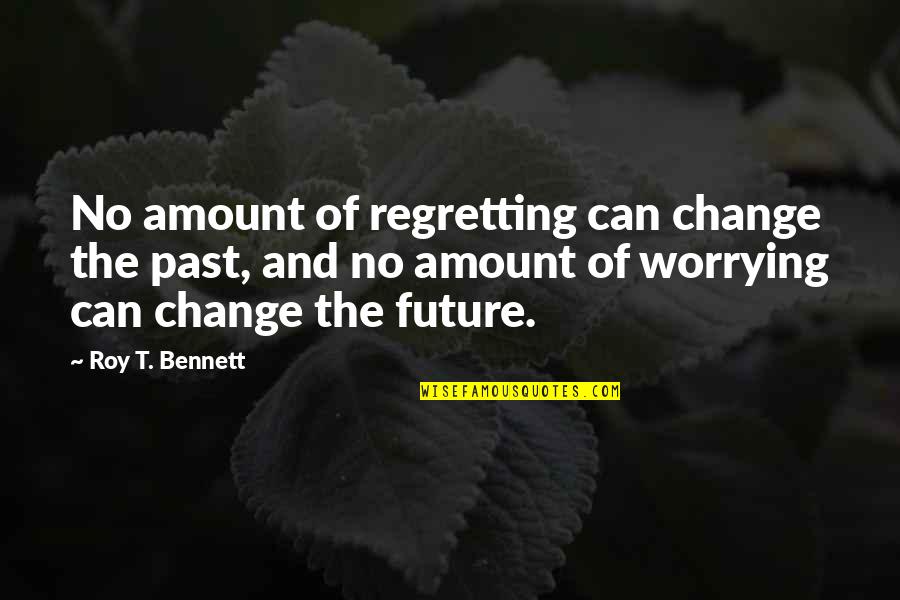 No amount of regretting can change the past, and no amount of worrying can change the future. —
Roy T. Bennett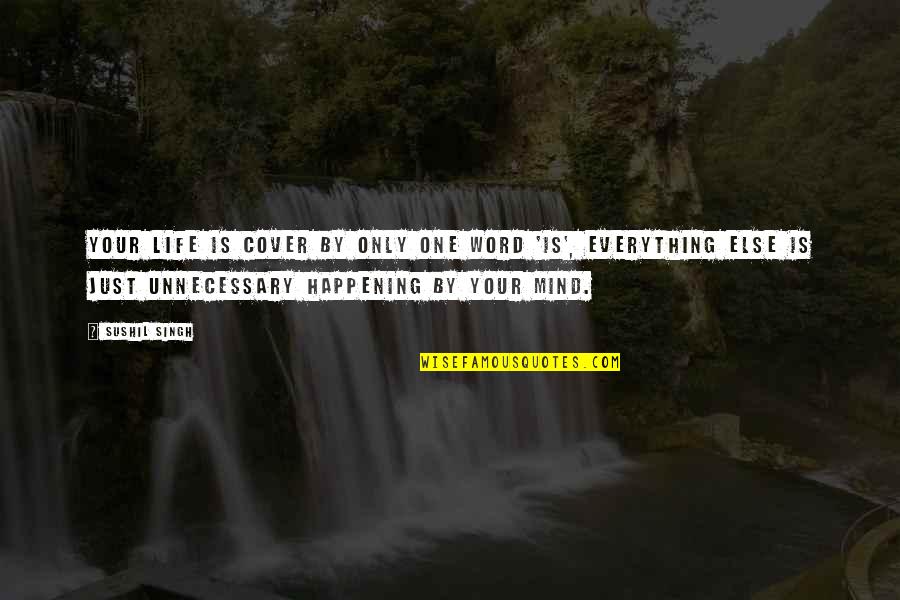 your Life is cover by only one word 'IS', everything else is Just Unnecessary Happening By Your Mind. —
Sushil Singh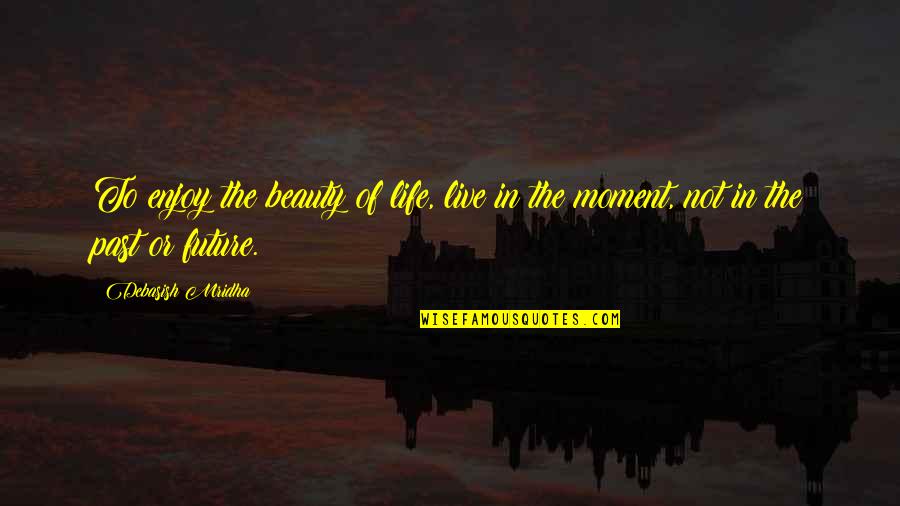 To enjoy the beauty of life, live in the moment, not in the past or future. —
Debasish Mridha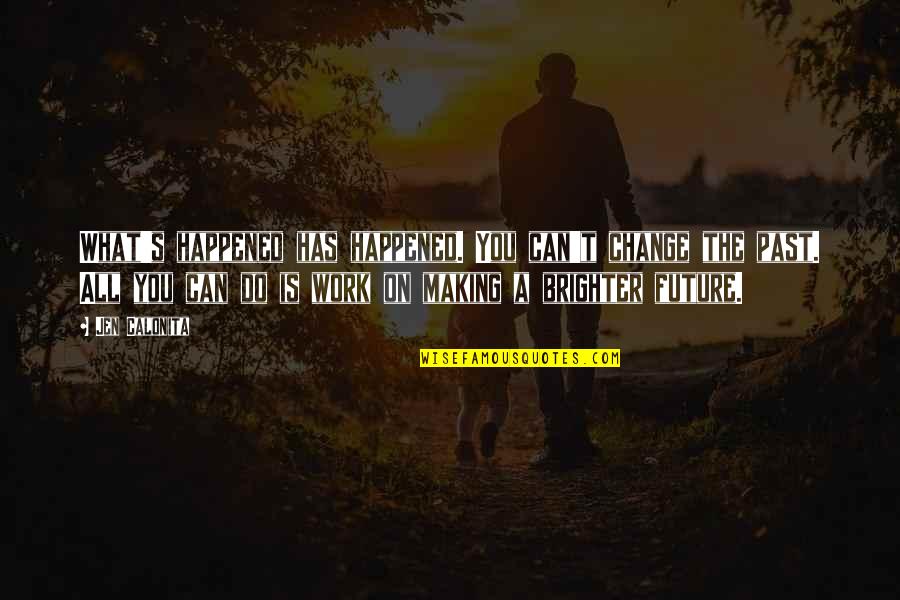 What's happened has happened. You can't change the past. All you can do is work on making a brighter future. —
Jen Calonita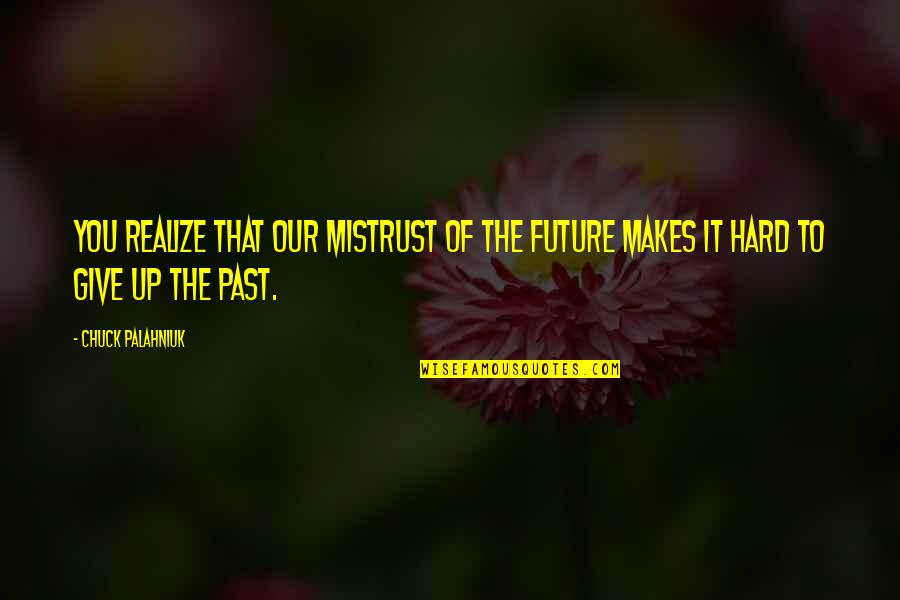 You realize that our mistrust of the future makes it hard to give up the past. —
Chuck Palahniuk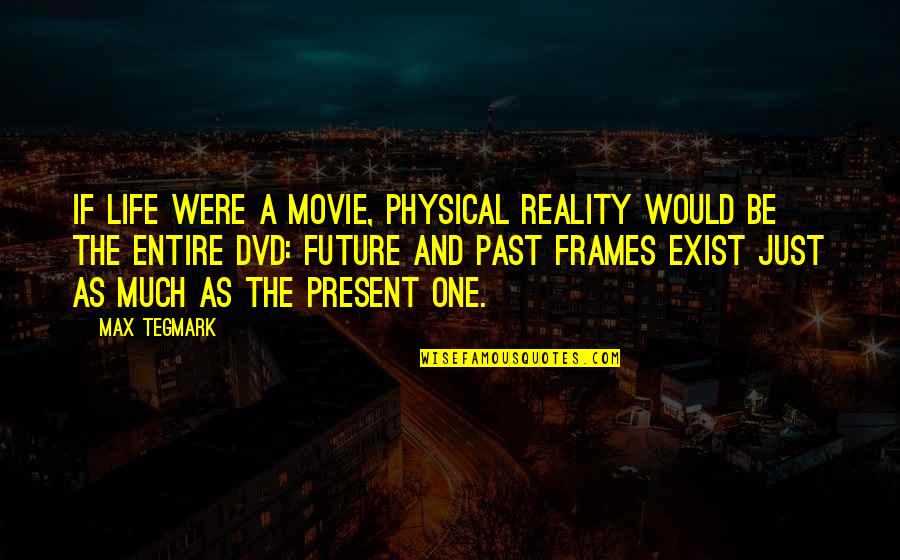 If life were a movie, physical reality would be the entire DVD: Future and past frames exist just as much as the present one. —
Max Tegmark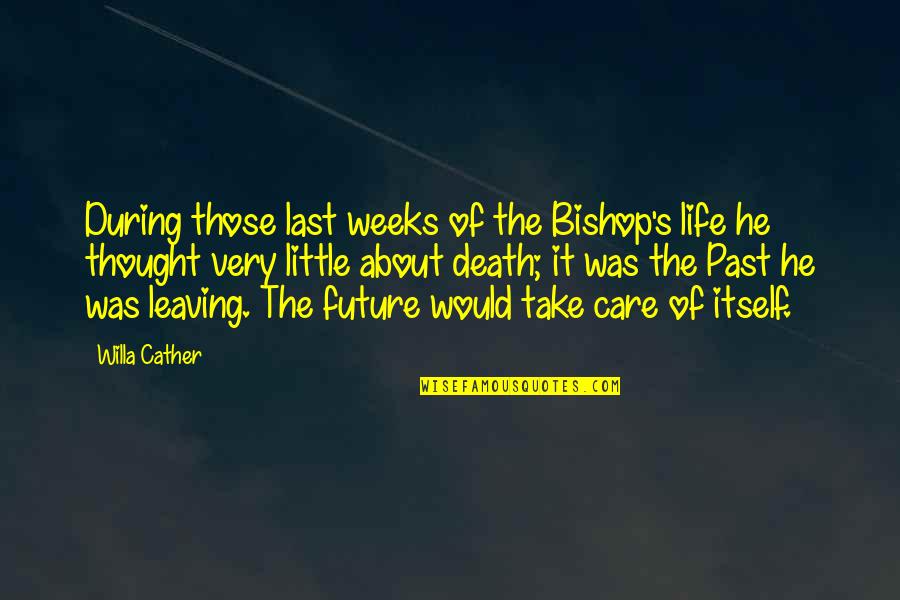 During those last weeks of the Bishop's life he thought very little about death; it was the Past he was leaving. The future would take care of itself. —
Willa Cather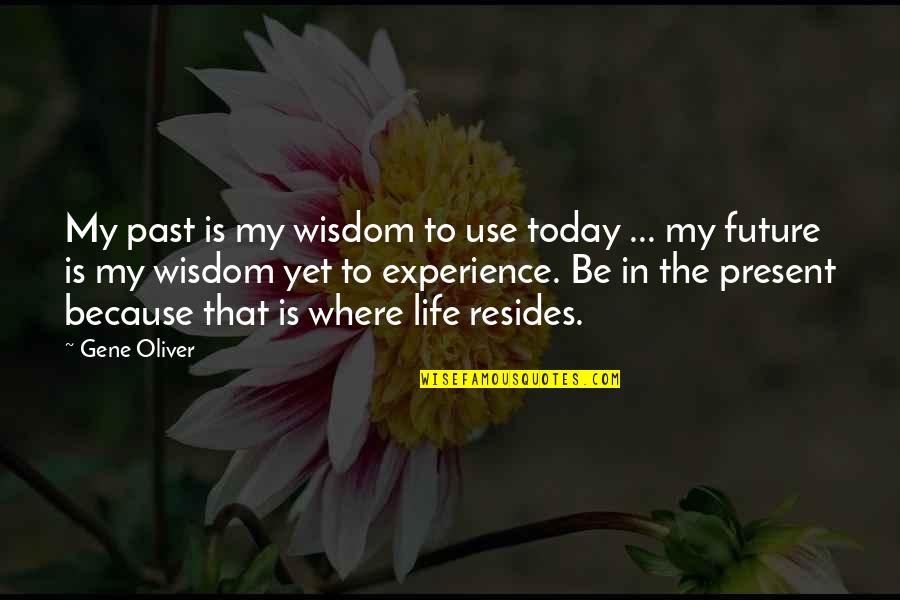 My past is my wisdom to use today ... my future is my wisdom yet to experience. Be in the present because that is where life resides. —
Gene Oliver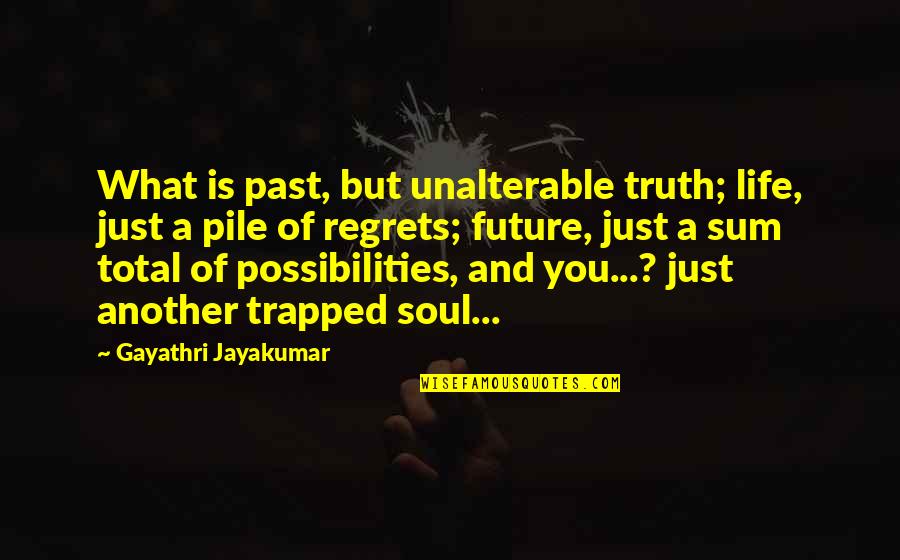 What is past, but unalterable truth; life, just a pile of regrets; future, just a sum total of possibilities, and you...? just another trapped soul... —
Gayathri Jayakumar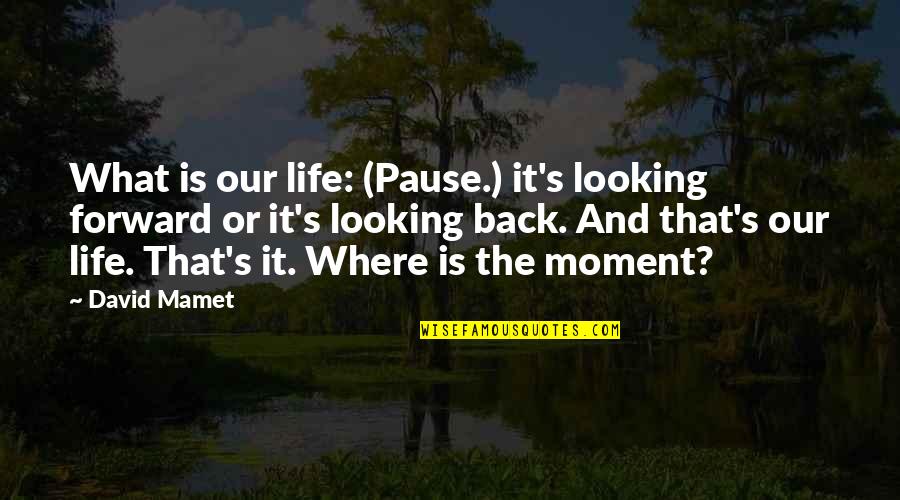 What is our life: (Pause.) it's looking forward or it's looking back. And that's our life. That's it. Where is the moment? —
David Mamet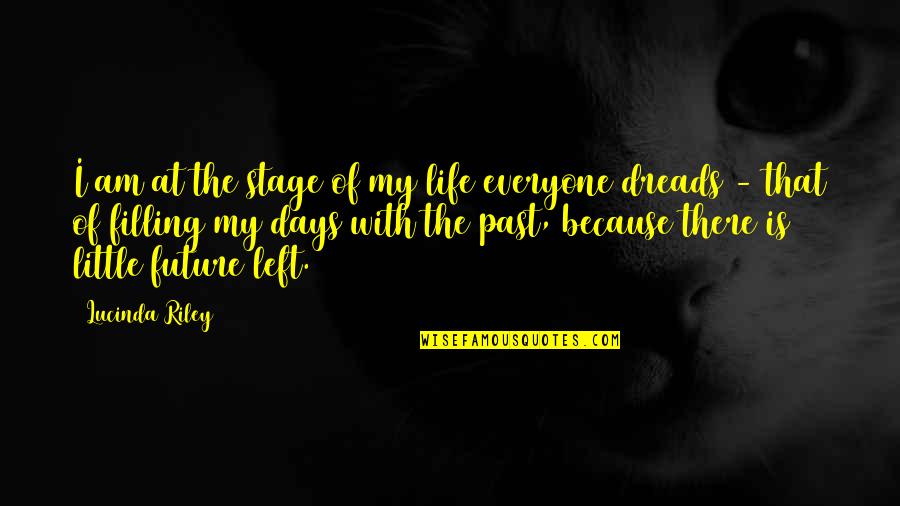 I am at the stage of my life everyone dreads - that of filling my days with the past, because there is little future left. —
Lucinda Riley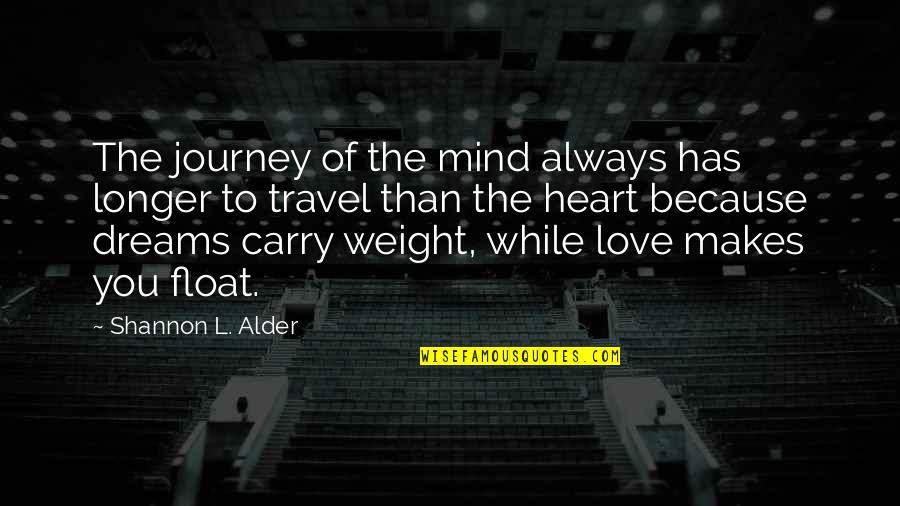 The journey of the mind always has longer to travel than the heart because dreams carry weight, while love makes you float. —
Shannon L. Alder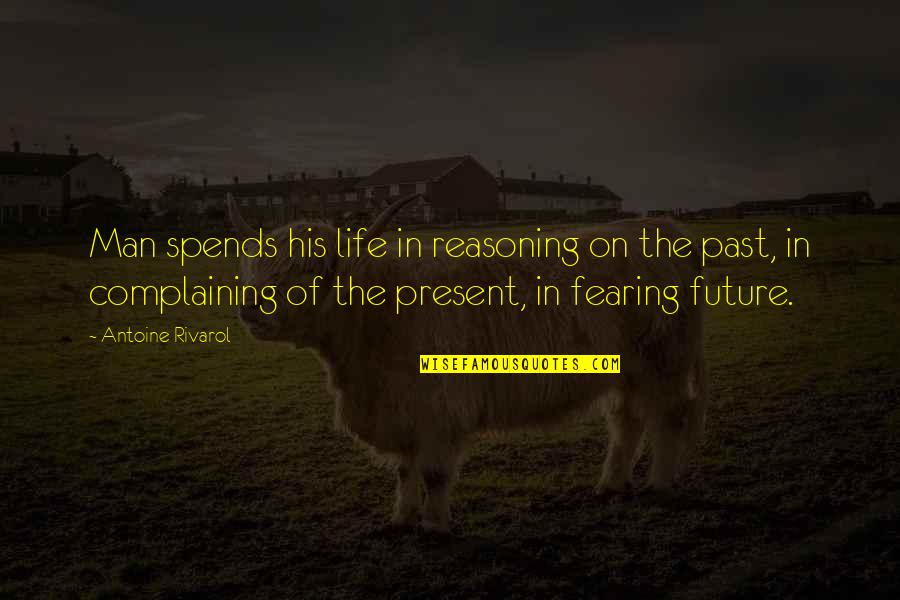 Man spends his life in reasoning on the past, in complaining of the present, in fearing future. —
Antoine Rivarol
To live a more balanced life, glance at the past, live in the present, and focus on the future. —
Todd Stocker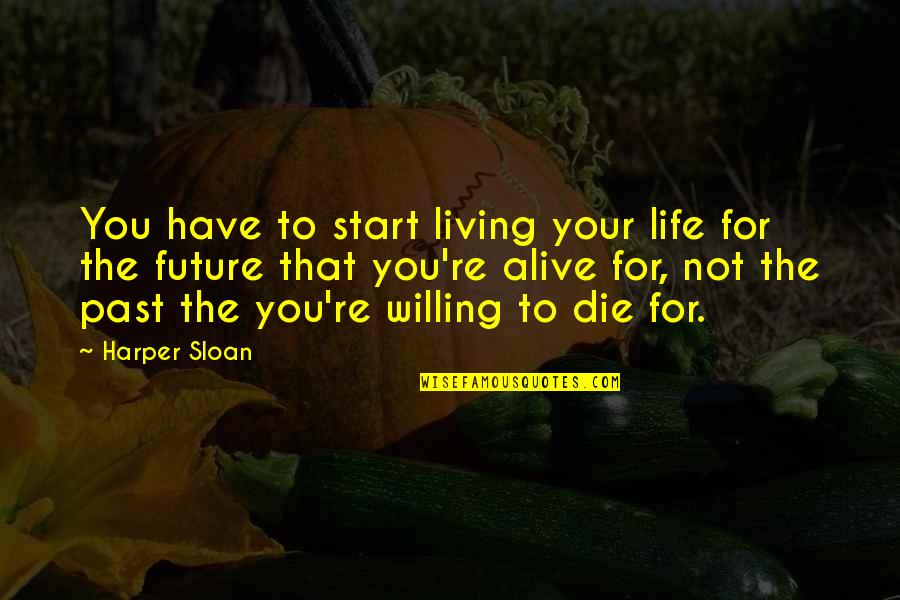 You have to start living your life for the future that you're alive for, not the past the you're willing to die for. —
Harper Sloan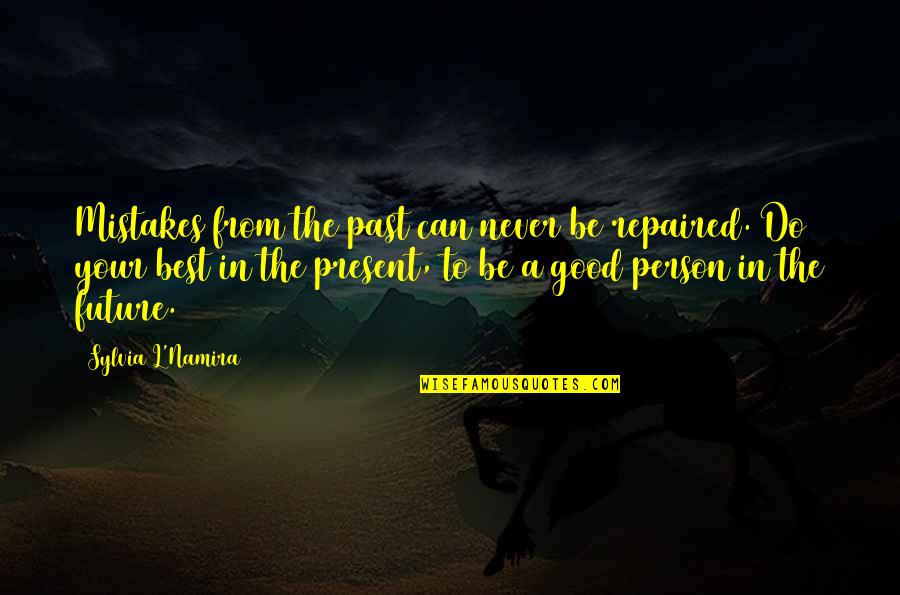 Mistakes from the past can never be repaired. Do your best in the present, to be a good person in the future. —
Sylvia L'Namira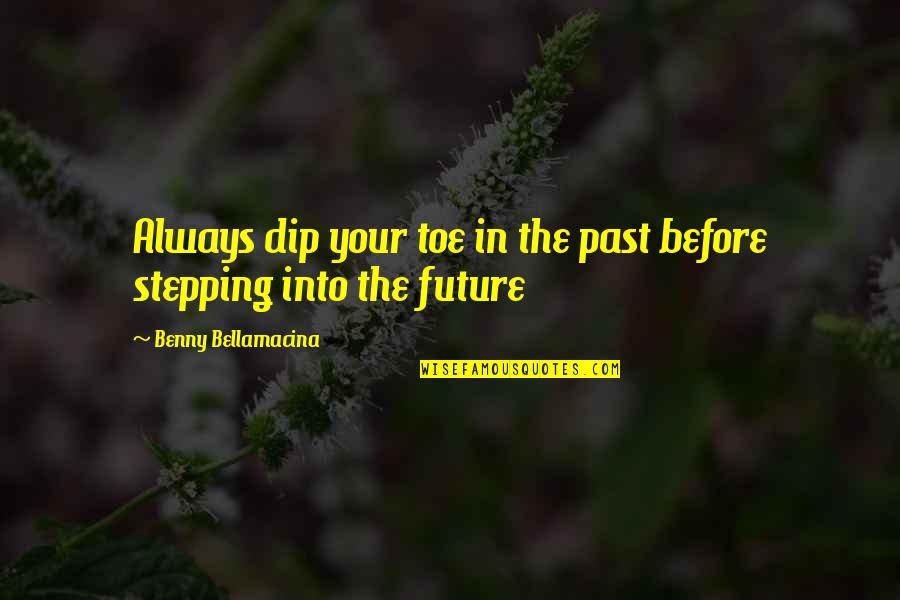 Always dip your toe in the past before stepping into the future —
Benny Bellamacina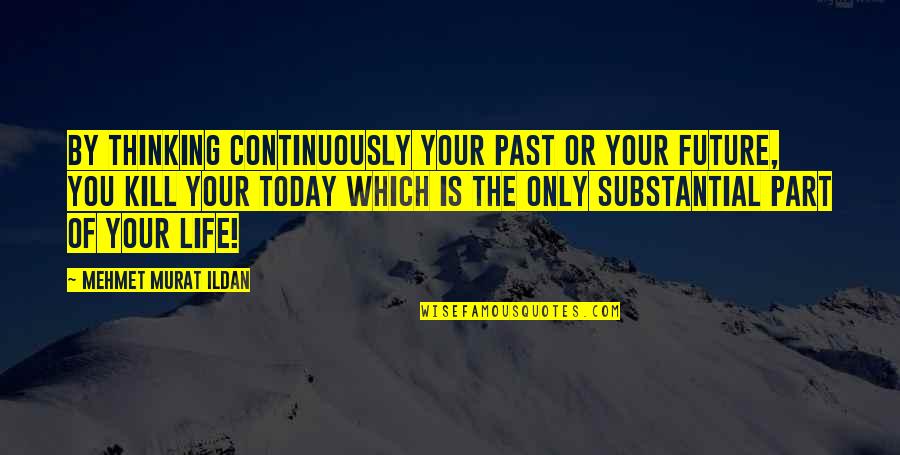 By thinking continuously your past or your future, you kill your today which is the only substantial part of your life! —
Mehmet Murat Ildan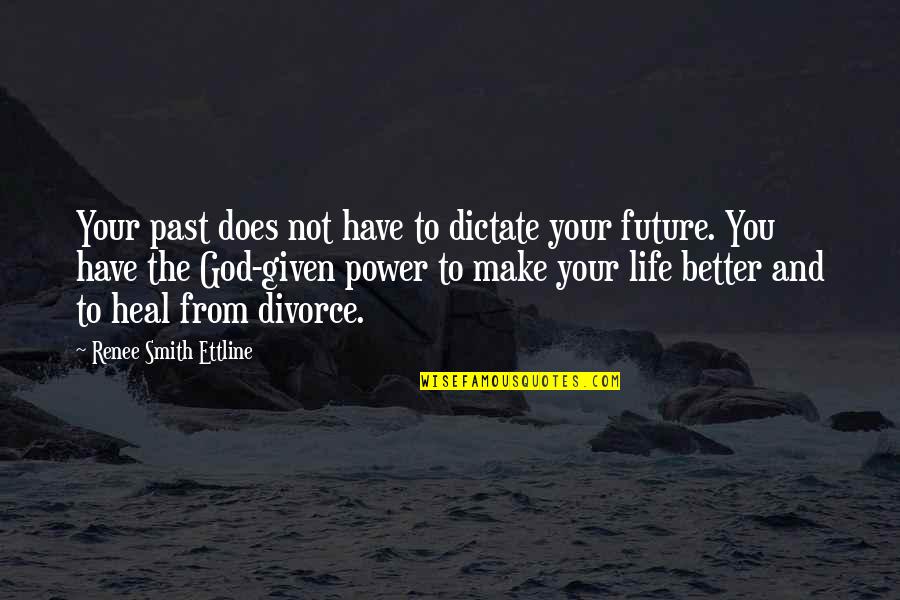 Your past does not have to dictate your future. You have the God-given power to make your life better and to heal from divorce. —
Renee Smith Ettline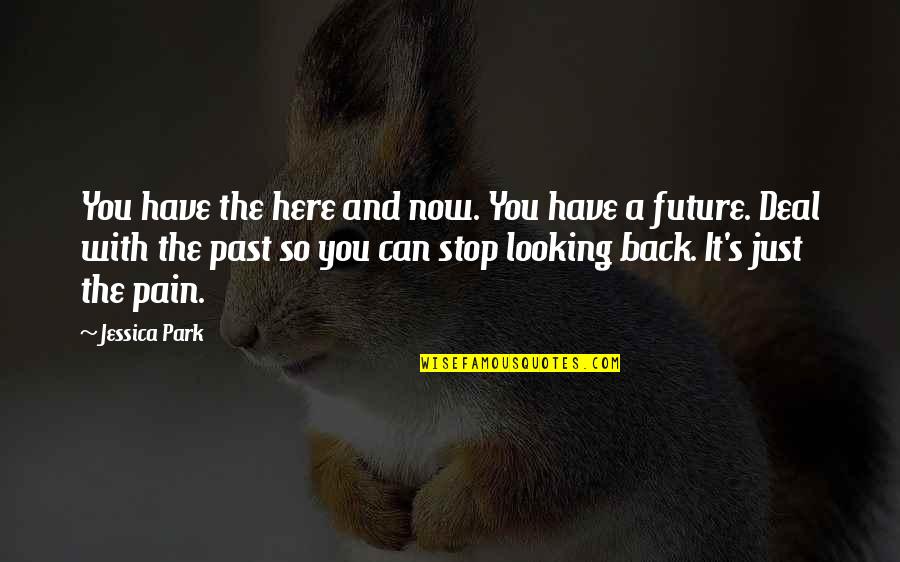 You have the here and now. You have a future. Deal with the past so you can stop looking back. It's just the pain. —
Jessica Park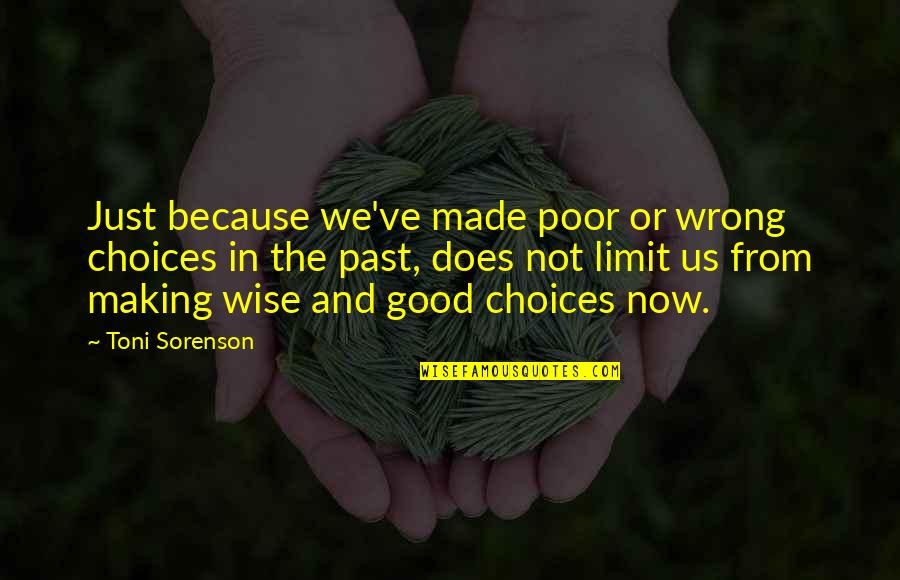 Just because we've made poor or wrong choices in the past, does not limit us from making wise and good choices now. —
Toni Sorenson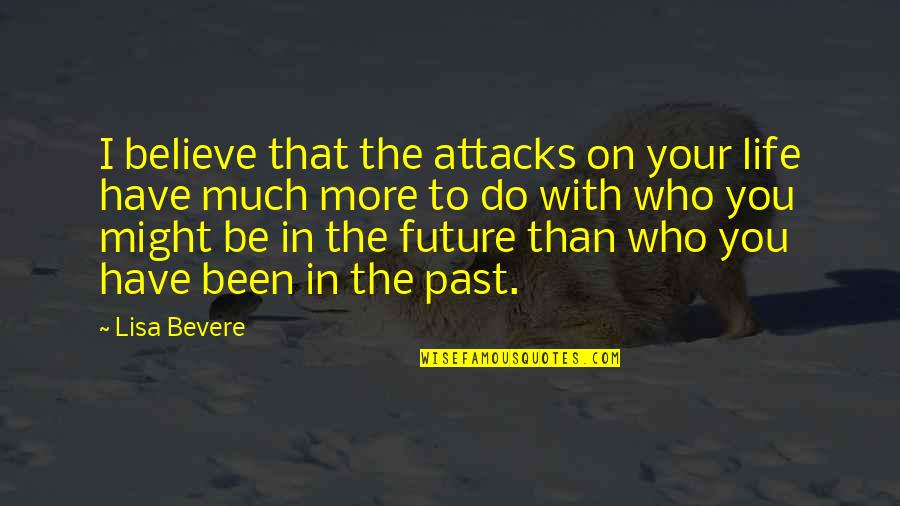 I believe that the attacks on your life have much more to do with who you might be in the future than who you have been in the past. —
Lisa Bevere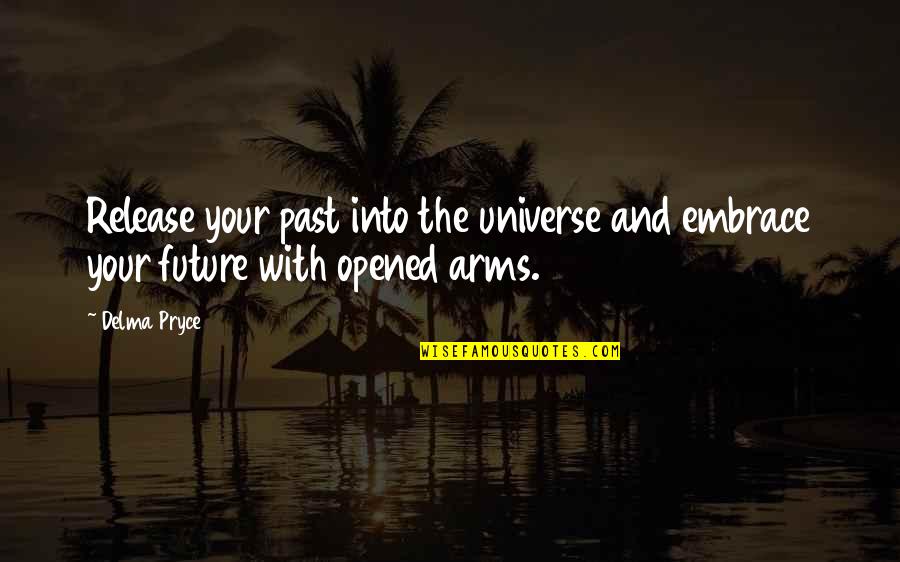 Release your past into the universe and embrace your future with opened arms. —
Delma Pryce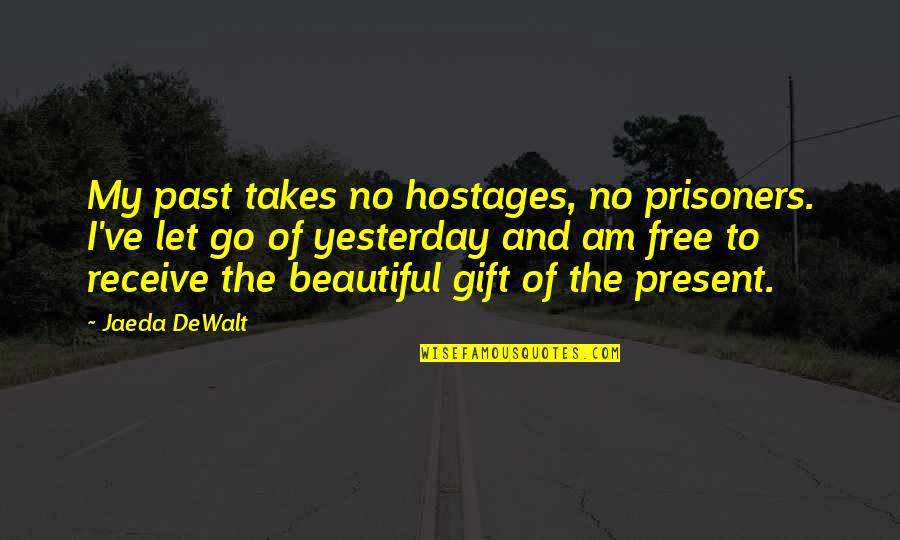 My past takes no hostages, no prisoners. I've let go of yesterday and am free to receive the beautiful gift of the present. —
Jaeda DeWalt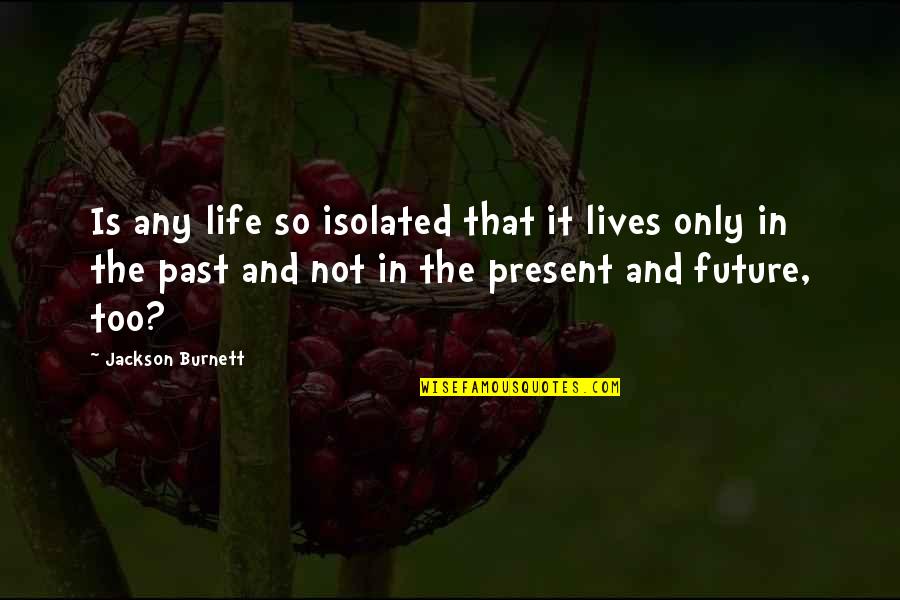 Is any life so isolated that it lives only in the past and not in the present and future, too? —
Jackson Burnett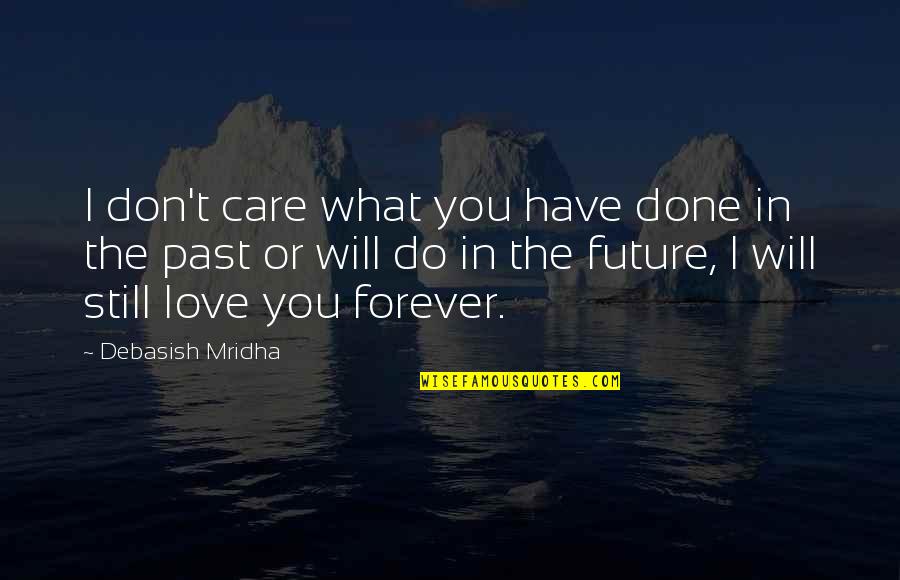 I don't care what you have done in the past or will do in the future, I will still love you forever. —
Debasish Mridha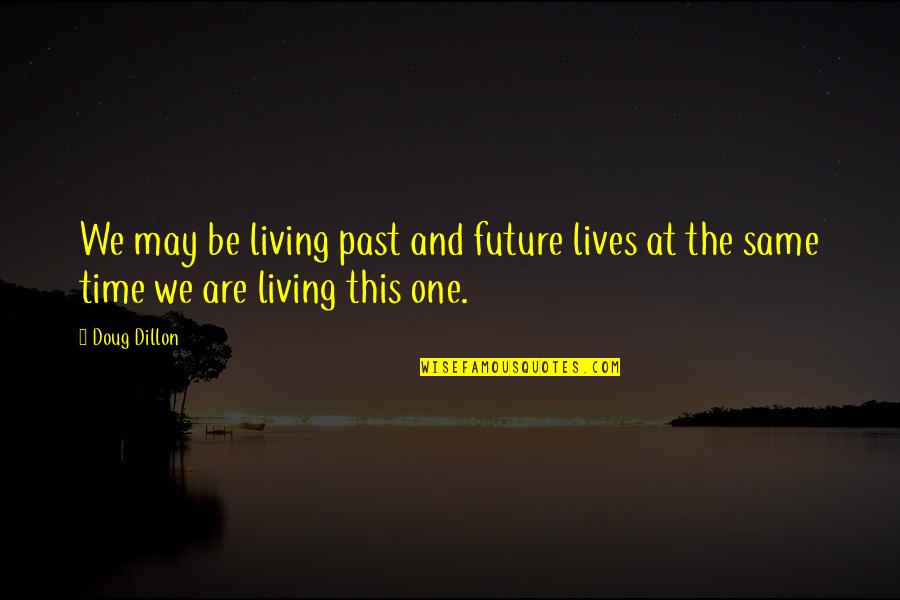 We may be living past and future lives at the same time we are living this one. —
Doug Dillon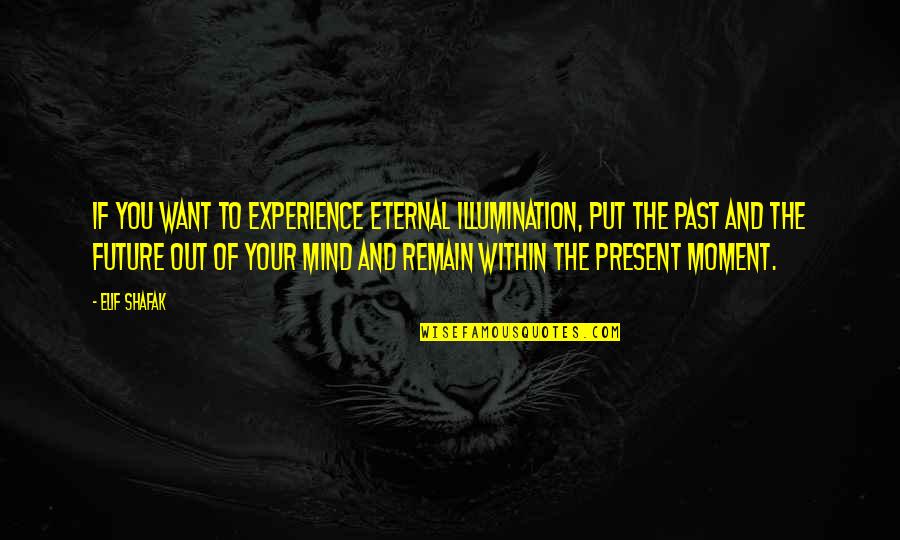 If you want to experience eternal illumination, put the past and the future out of your mind and remain within the present moment. —
Elif Shafak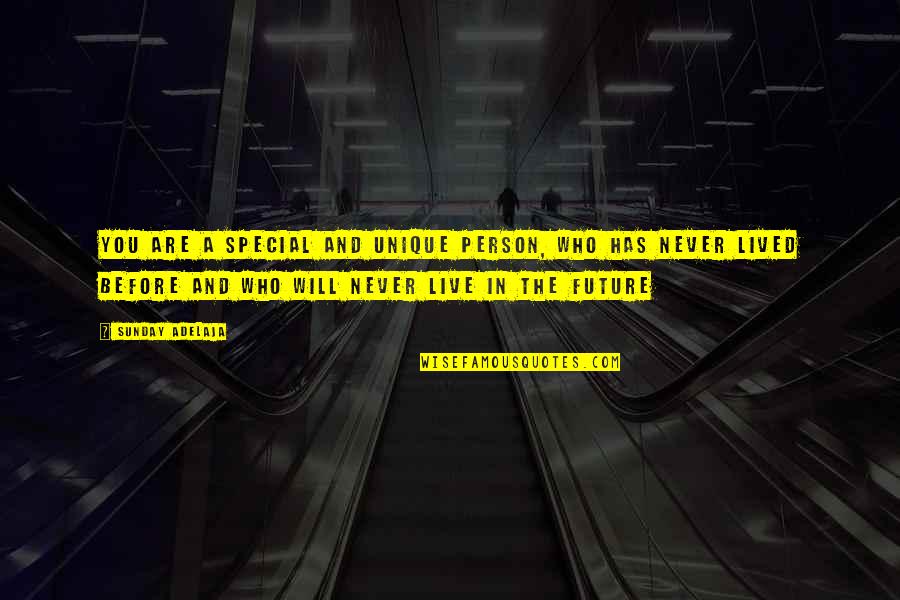 You are a special and unique person, who has never lived before and who will never live in the future —
Sunday Adelaja
Feelings should always be allowed to be free. You should not judge a future love by past suffering. —
Paulo Coelho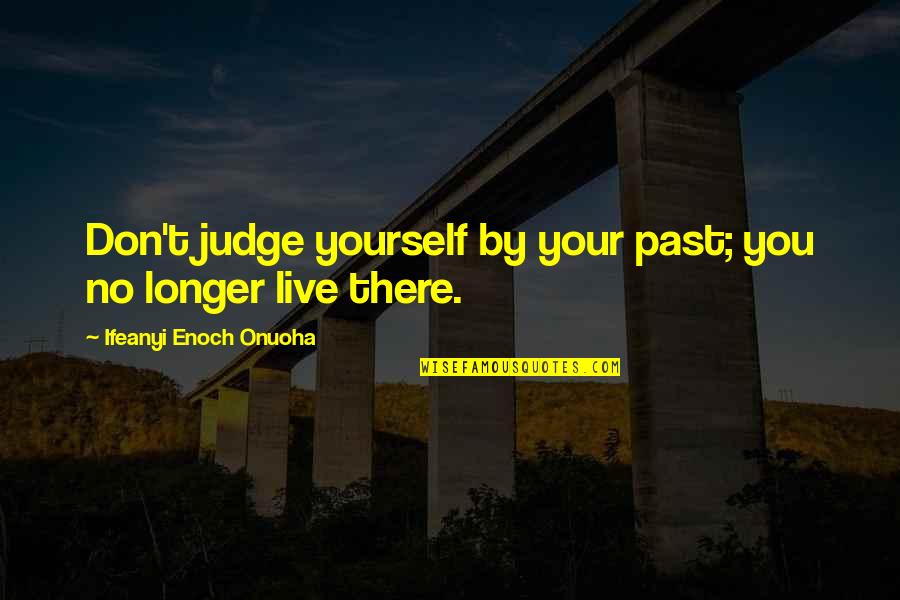 Don't judge yourself by your past; you no longer live there. —
Ifeanyi Enoch Onuoha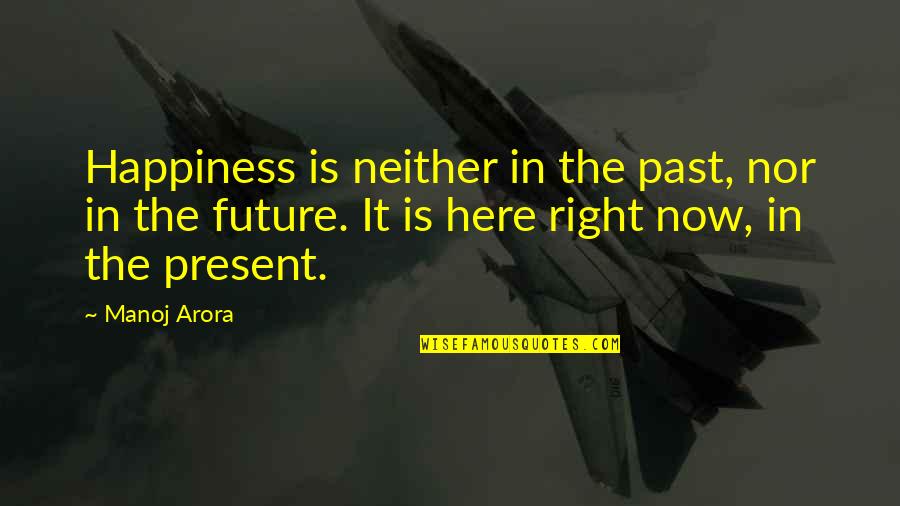 Happiness is neither in the past, nor in the future. It is here right now, in the present. —
Manoj Arora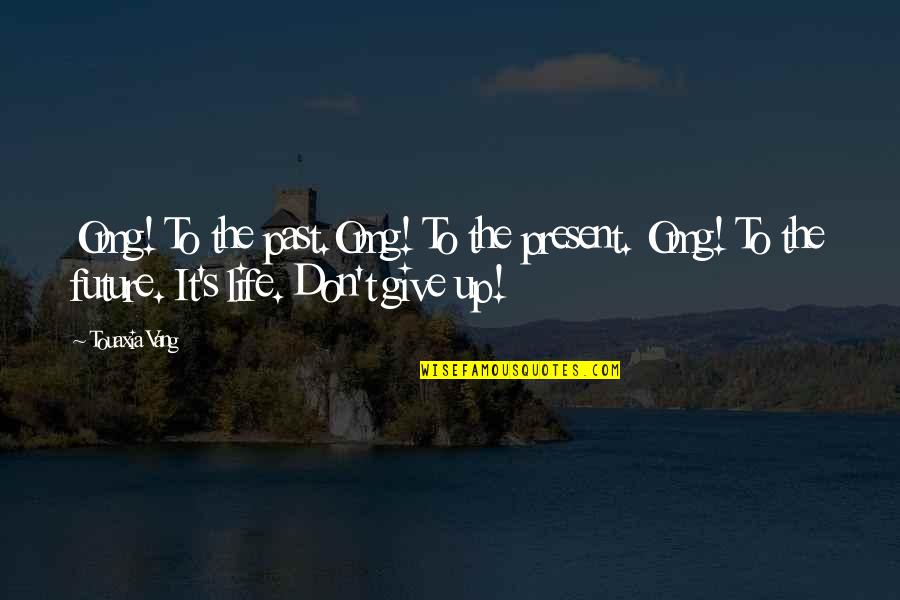 Omg! To the past.
Omg! To the present.
Omg! To the future.
It's life. Don't give up! —
Touaxia Vang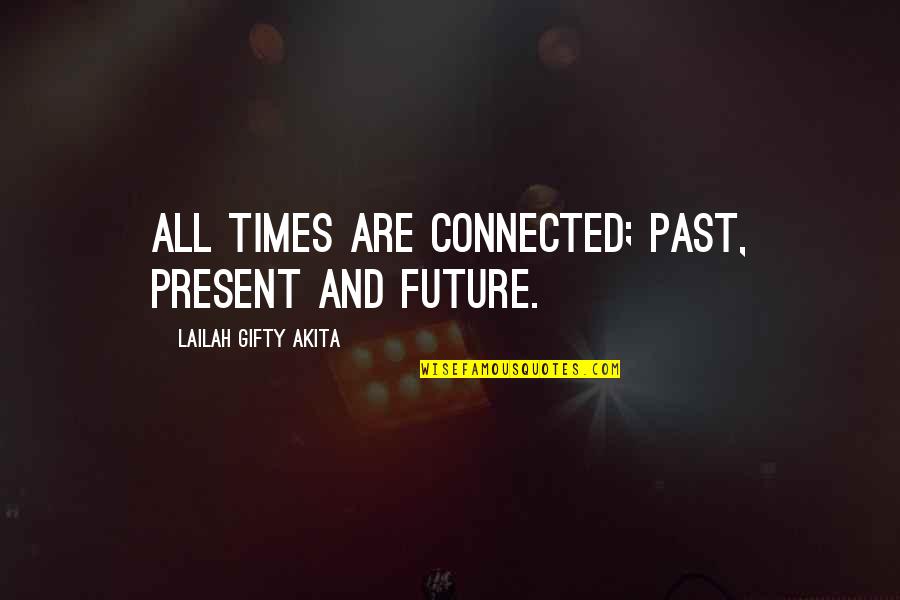 All times are connected; past, present and future. —
Lailah Gifty Akita