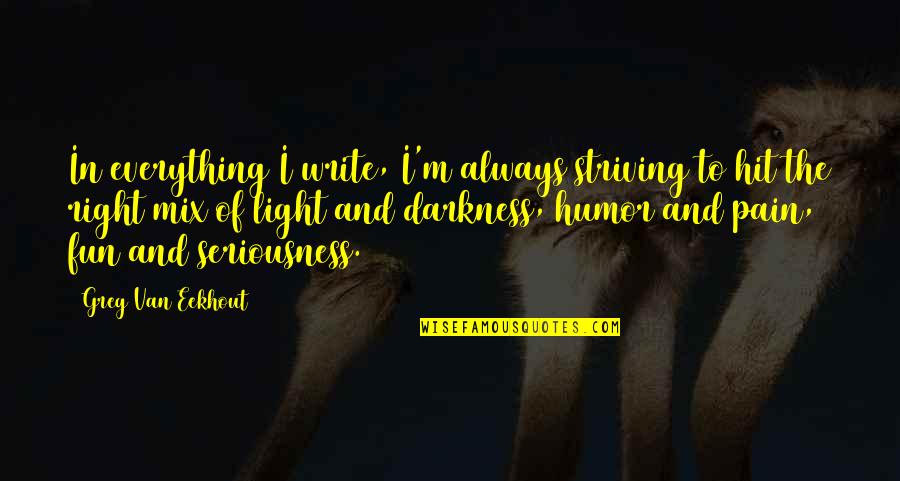 In everything I write, I'm always striving to hit the right mix of light and darkness, humor and pain, fun and seriousness.
—
Greg Van Eekhout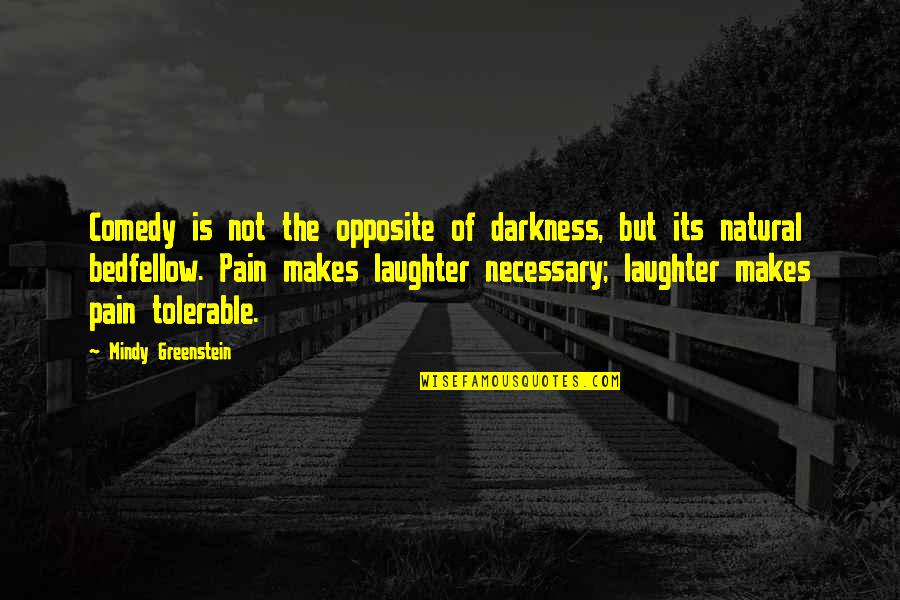 Comedy is not the opposite of darkness, but its natural bedfellow. Pain makes laughter necessary; laughter makes pain tolerable.
—
Mindy Greenstein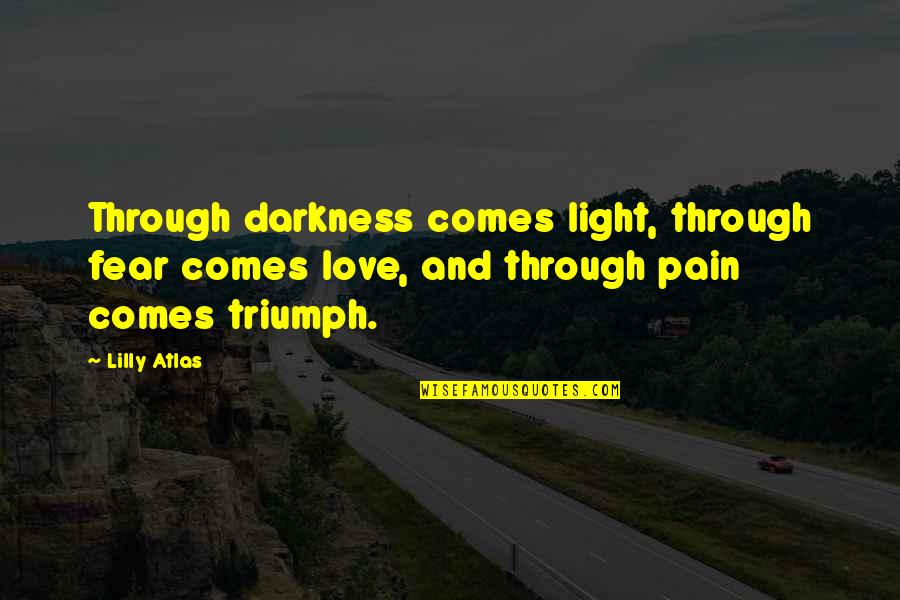 Through darkness comes light, through fear comes love, and through pain comes triumph.
—
Lilly Atlas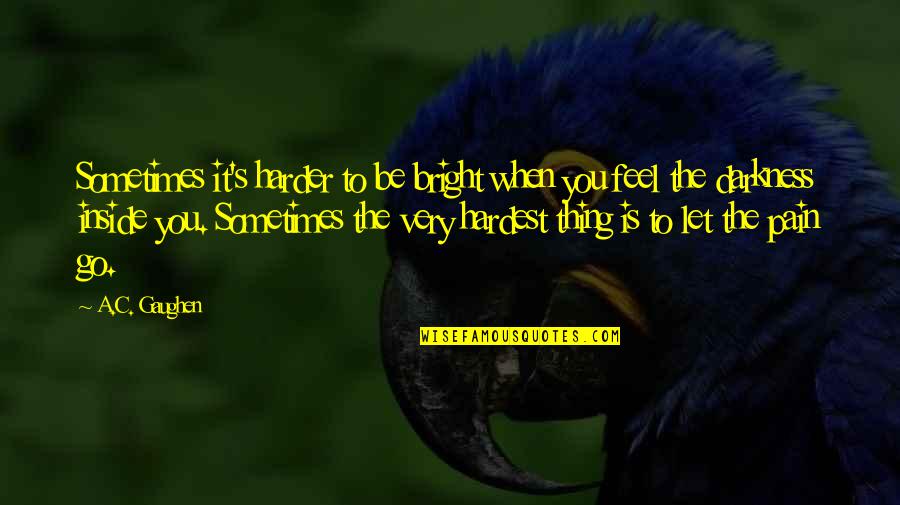 Sometimes it's harder to be bright when you feel the darkness inside you. Sometimes the very hardest thing is to let the pain go.
—
A.C. Gaughen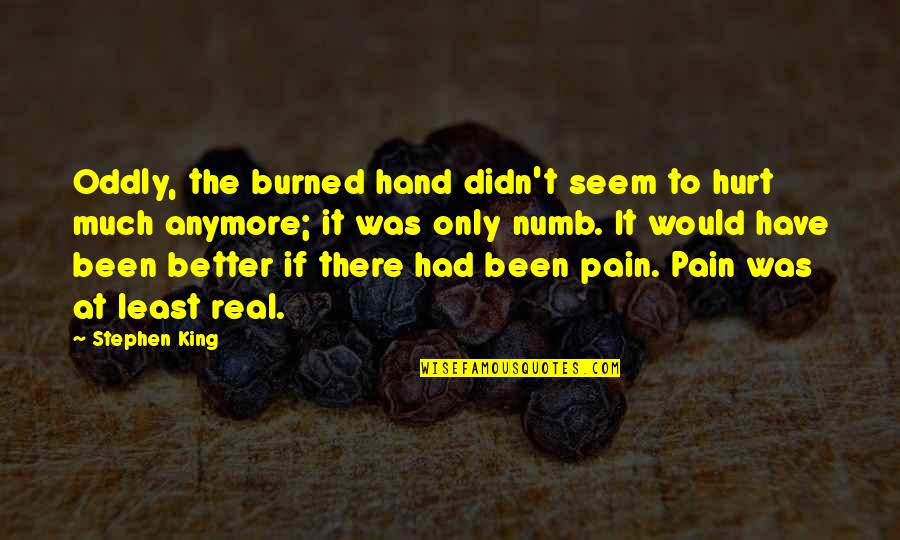 Oddly, the burned hand didn't seem to hurt much anymore; it was only numb. It would have been better if there had been pain. Pain was at least real.
—
Stephen King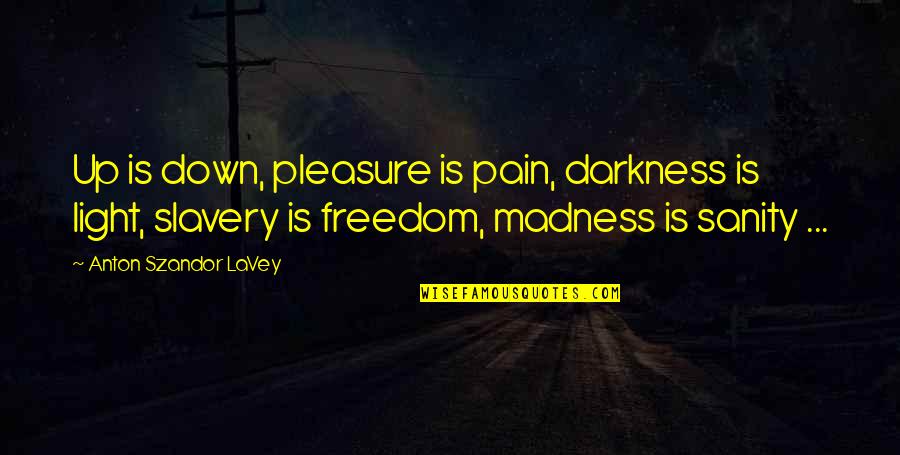 Up is down, pleasure is pain, darkness is light, slavery is freedom, madness is sanity ...
—
Anton Szandor LaVey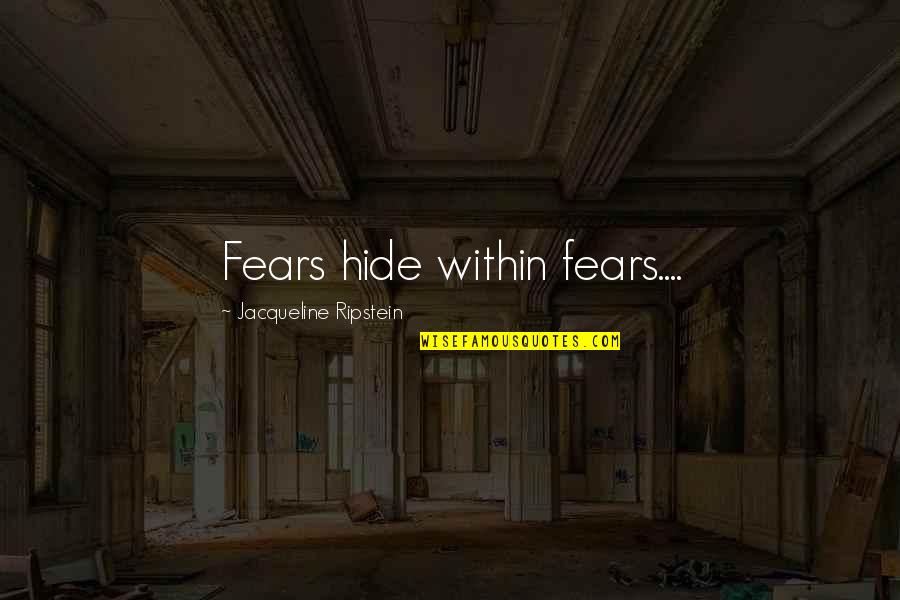 Fears hide within fears....
—
Jacqueline Ripstein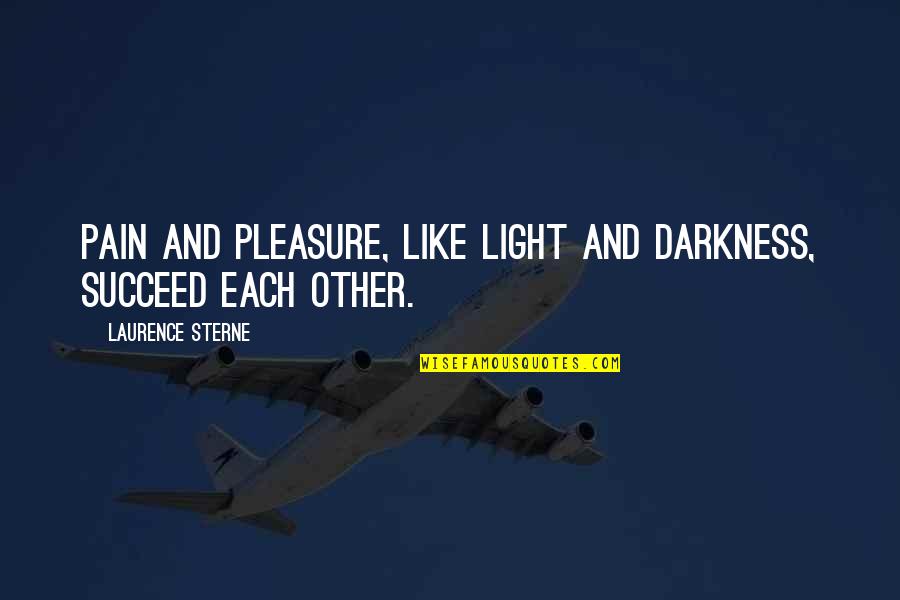 Pain and pleasure, like light and darkness, succeed each other.
—
Laurence Sterne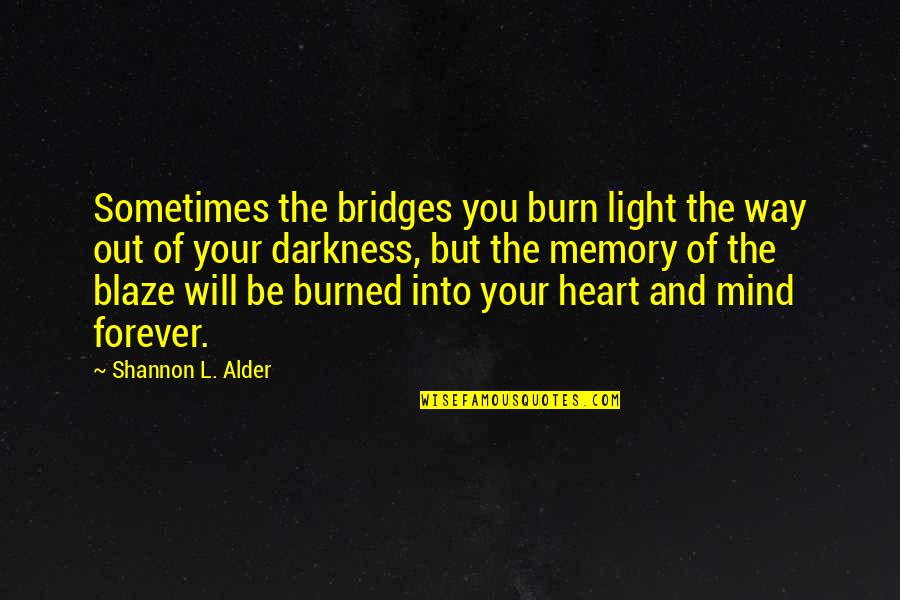 Sometimes the bridges you burn light the way out of your darkness, but the memory of the blaze will be burned into your heart and mind forever.
—
Shannon L. Alder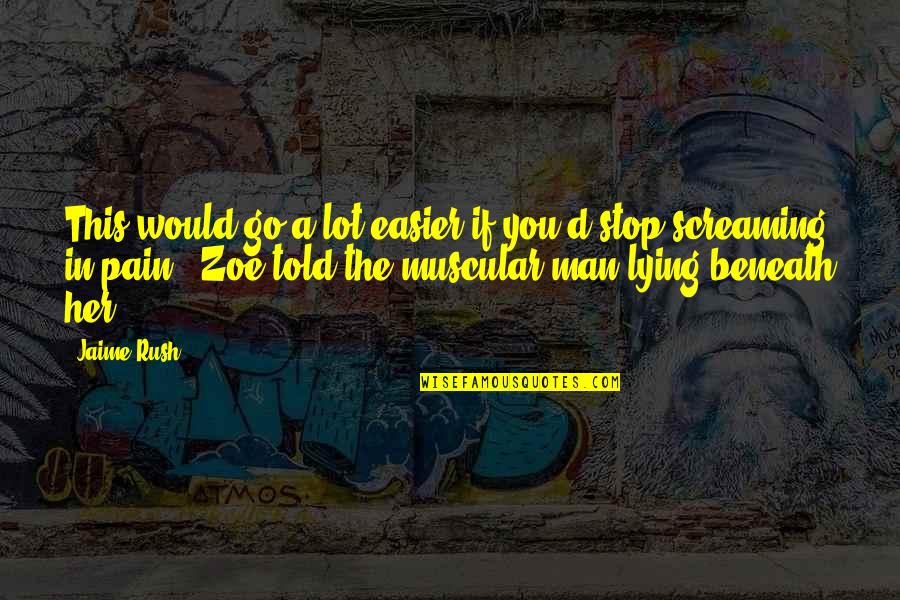 This would go a lot easier if you'd stop screaming in pain,' Zoe told the muscular man lying beneath her.
—
Jaime Rush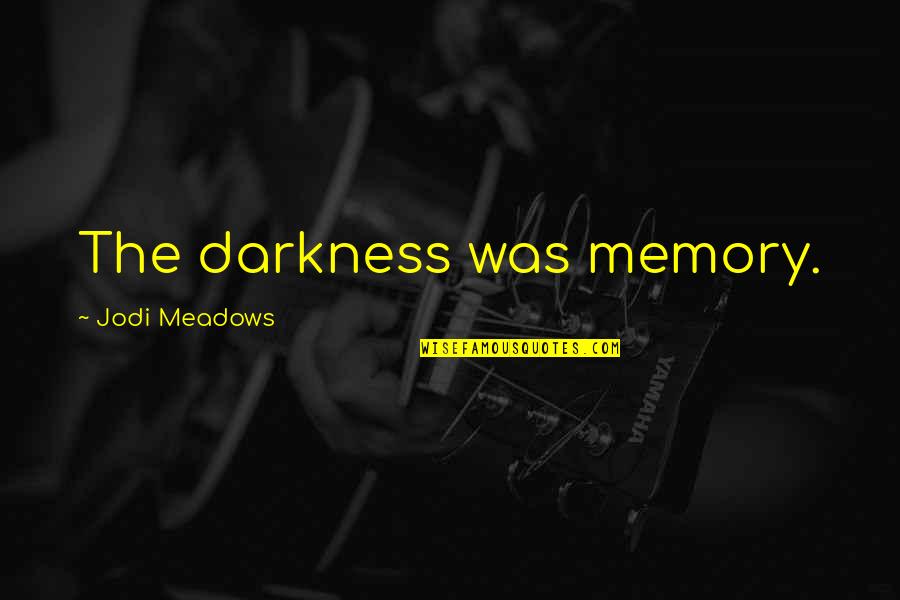 The darkness was memory.
—
Jodi Meadows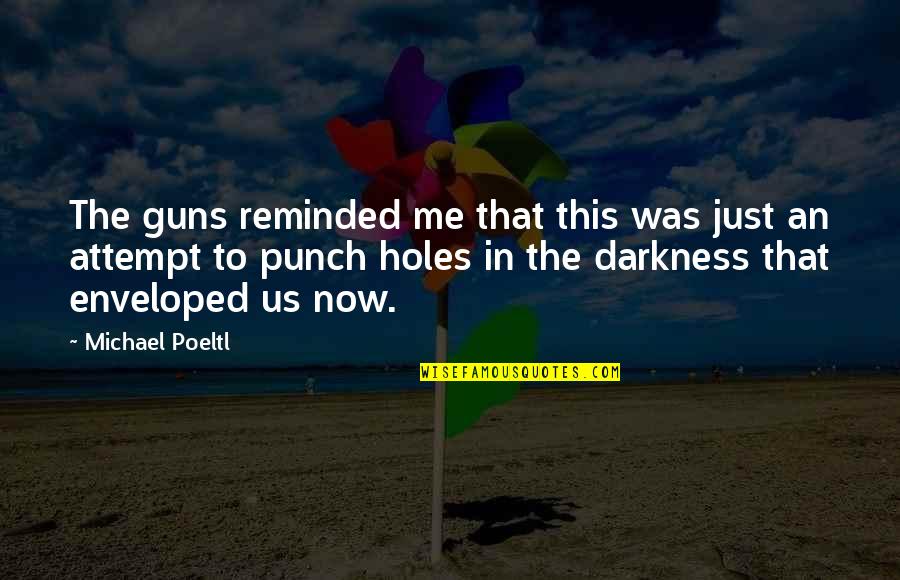 The guns reminded me that this was just an attempt to punch holes in the darkness that enveloped us now. —
Michael Poeltl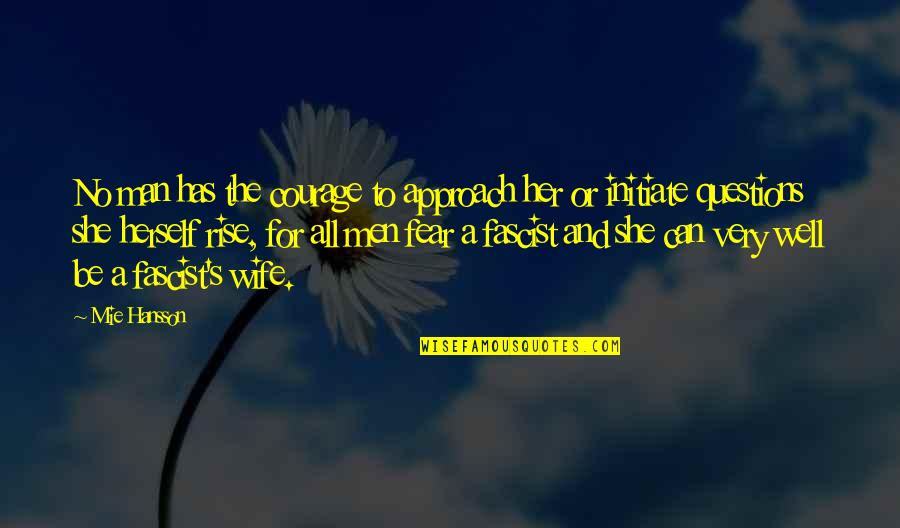 No man has the courage to approach her or initiate questions she herself rise, for all men fear a fascist and she can very well be a fascist's wife. —
Mie Hansson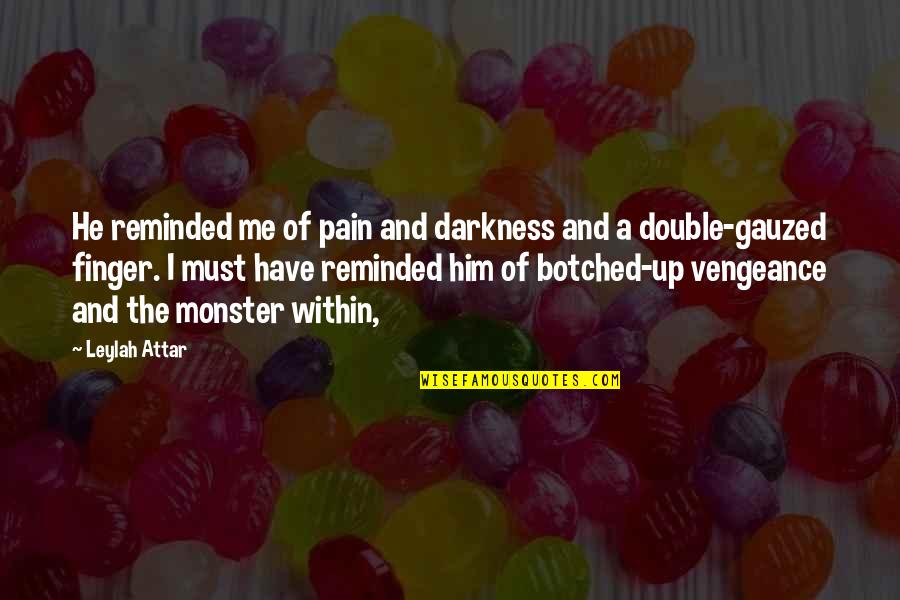 He reminded me of
pain and darkness
and a double-gauzed finger. I must have reminded him of botched-up vengeance and the monster within, —
Leylah Attar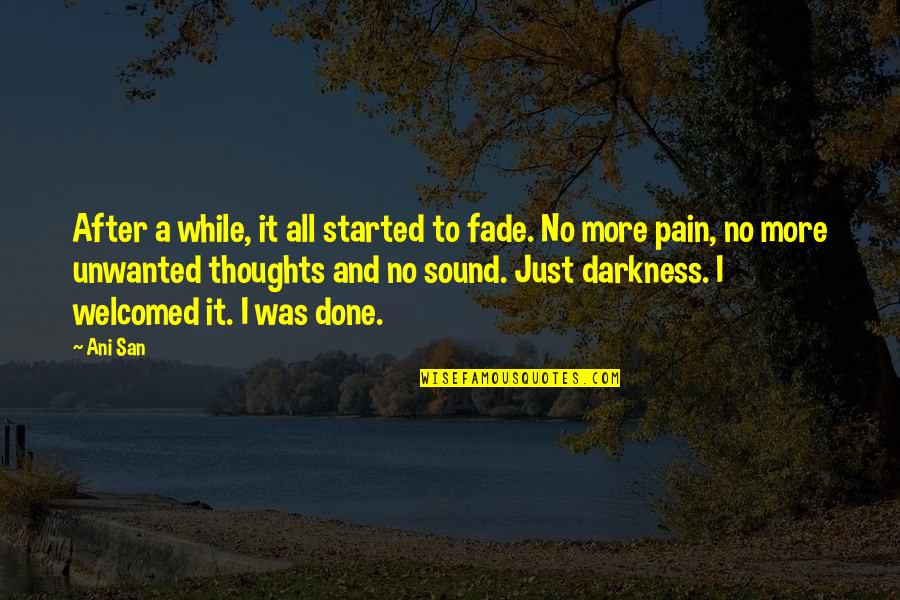 After a while, it all started to fade. No more pain, no more unwanted thoughts and no sound. Just darkness. I welcomed it. I was done. —
Ani San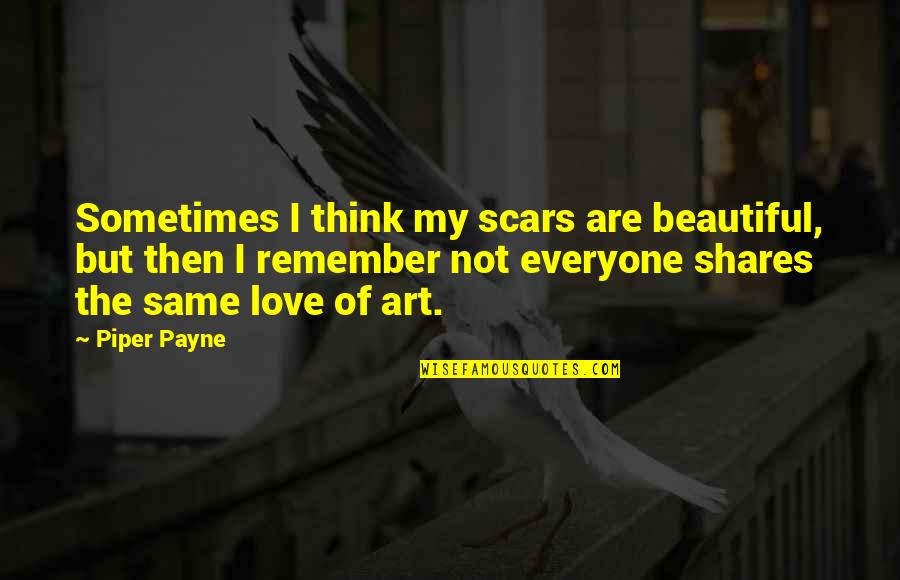 Sometimes I think my scars are beautiful, but then I remember not everyone shares the same love of art. —
Piper Payne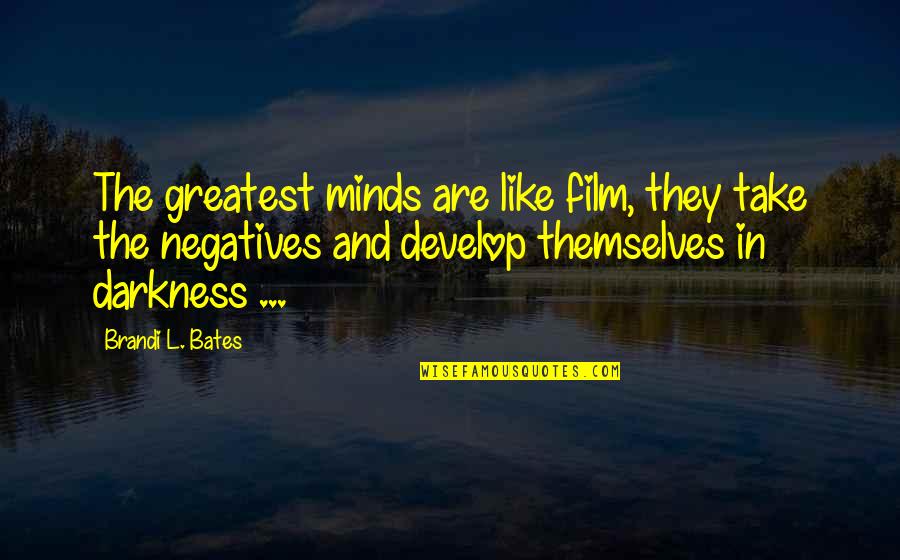 The greatest minds are like film, they take the negatives and develop themselves in darkness ... —
Brandi L. Bates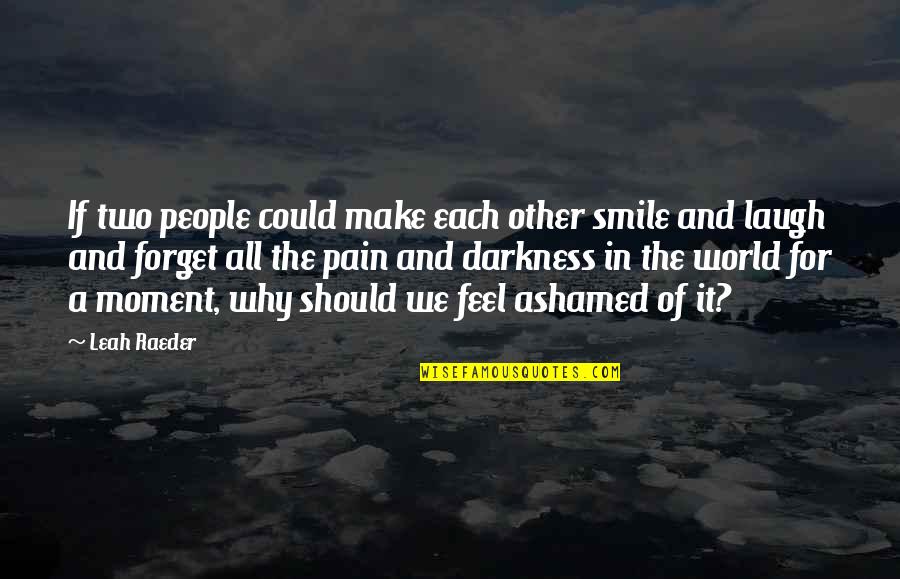 If two people could make each other smile and laugh and forget all the
pain and darkness
in the world for a moment, why should we feel ashamed of it? —
Leah Raeder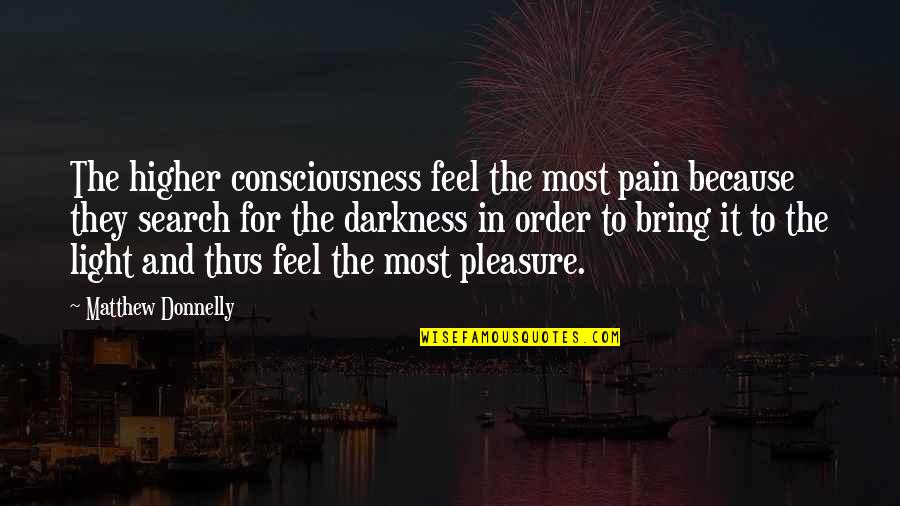 The higher consciousness feel the most pain because they search for the darkness in order to bring it to the light and thus feel the most pleasure. —
Matthew Donnelly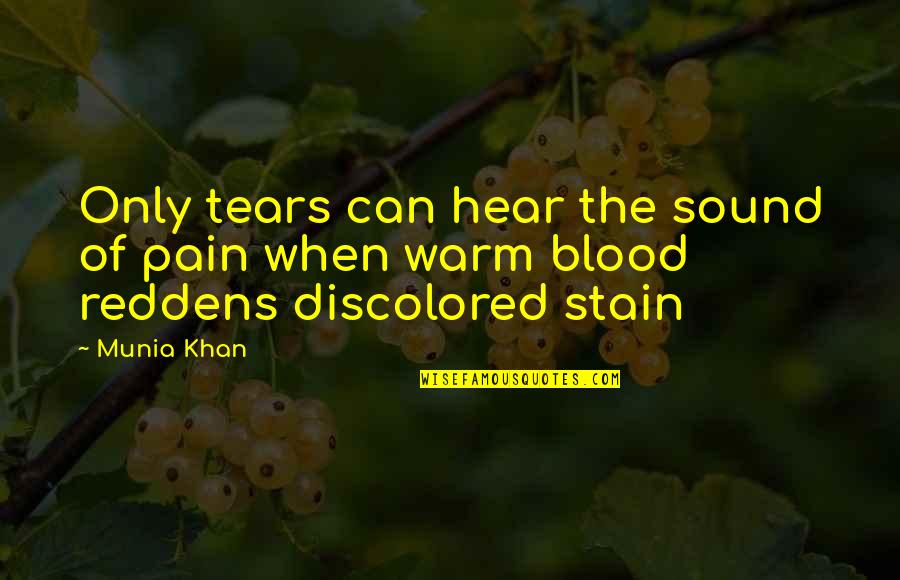 Only tears can hear the sound of pain
when warm blood reddens discolored stain —
Munia Khan
She was a vessel built to hold the pain of her history, but it had cracked her, and radiant darkness leaked out through the crack. When —
Michael Chabon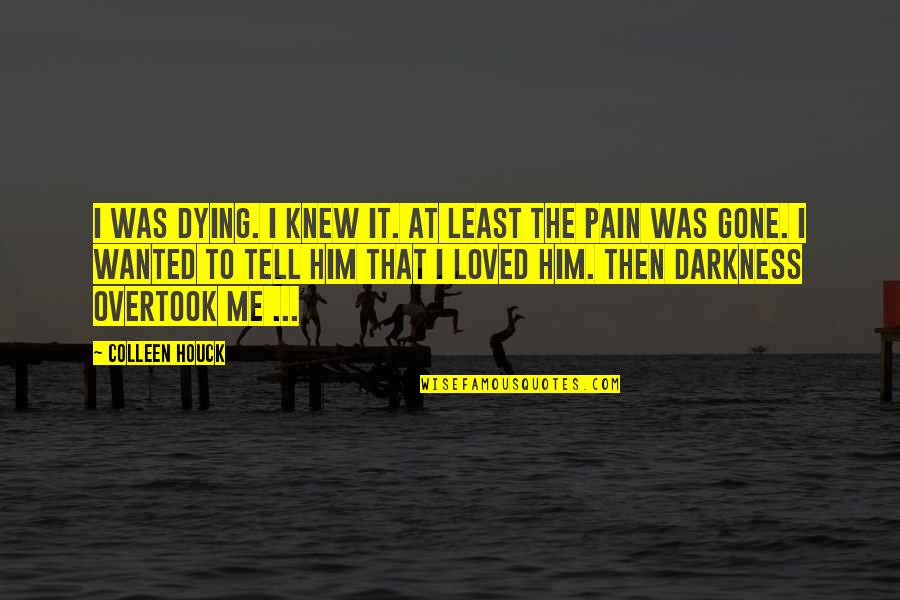 I was dying. I knew it. At least the pain was gone. I wanted to tell him that I loved him. Then darkness overtook me ... —
Colleen Houck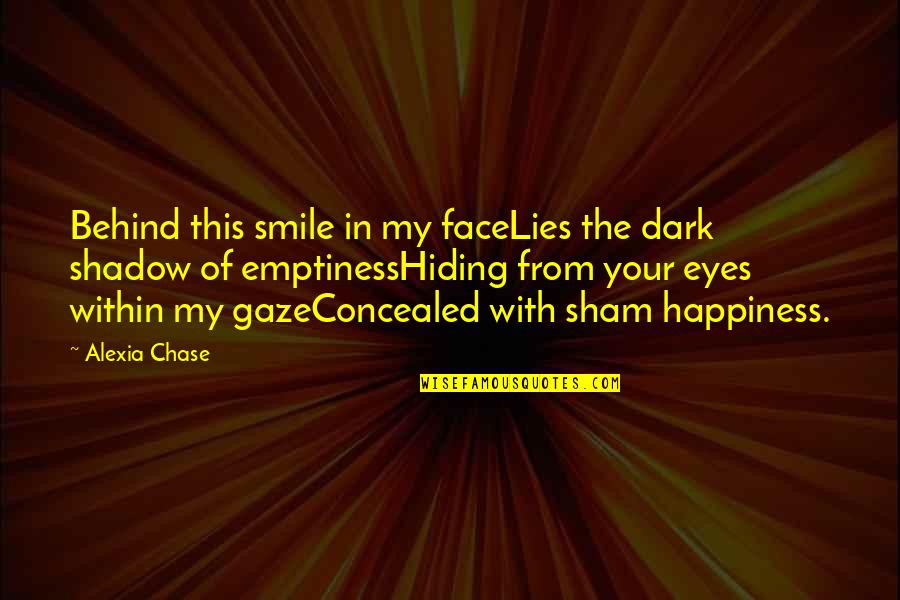 Behind this smile in my face
Lies the dark shadow of emptiness
Hiding from your eyes within my gaze
Concealed with sham happiness. —
Alexia Chase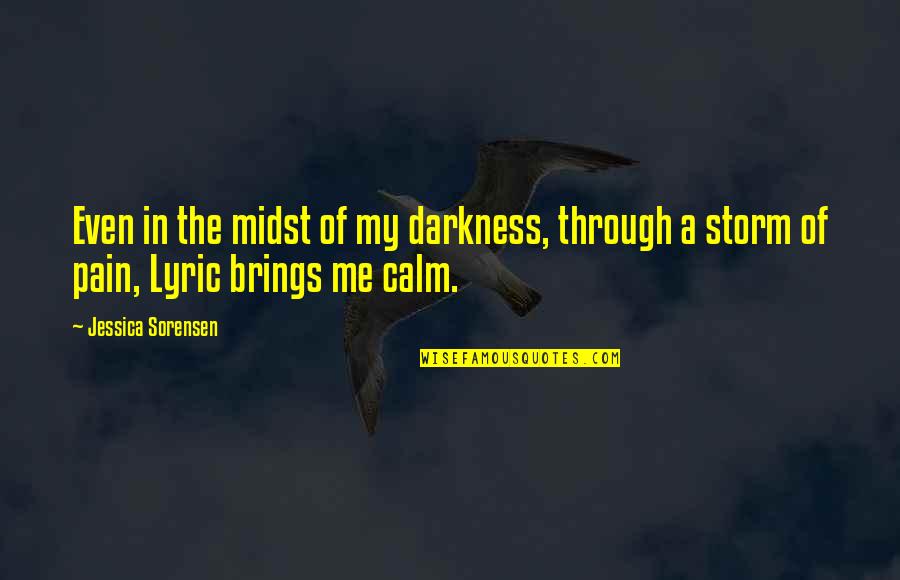 Even in the midst of my darkness, through a storm of pain, Lyric brings me calm. —
Jessica Sorensen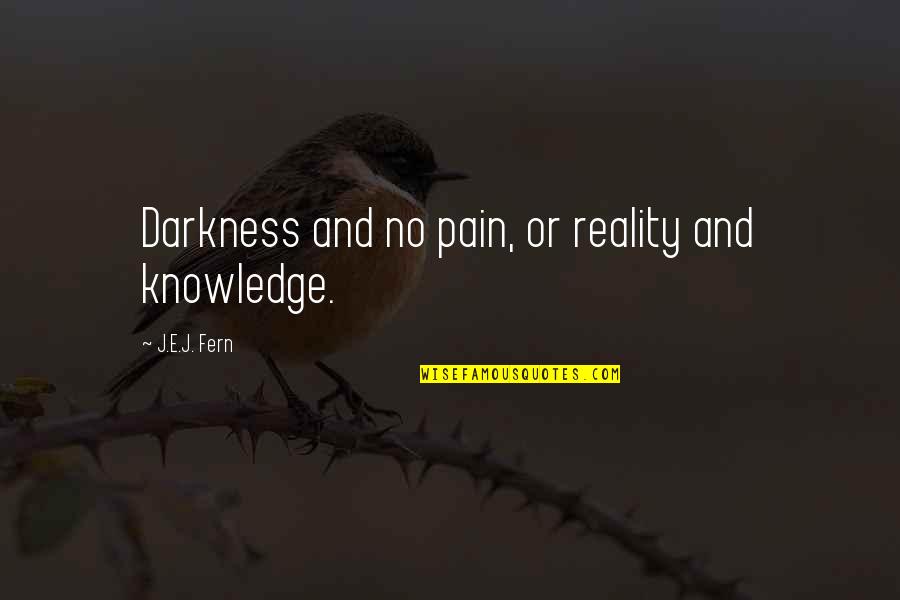 Darkness and no pain, or reality and knowledge. —
J.E.J. Fern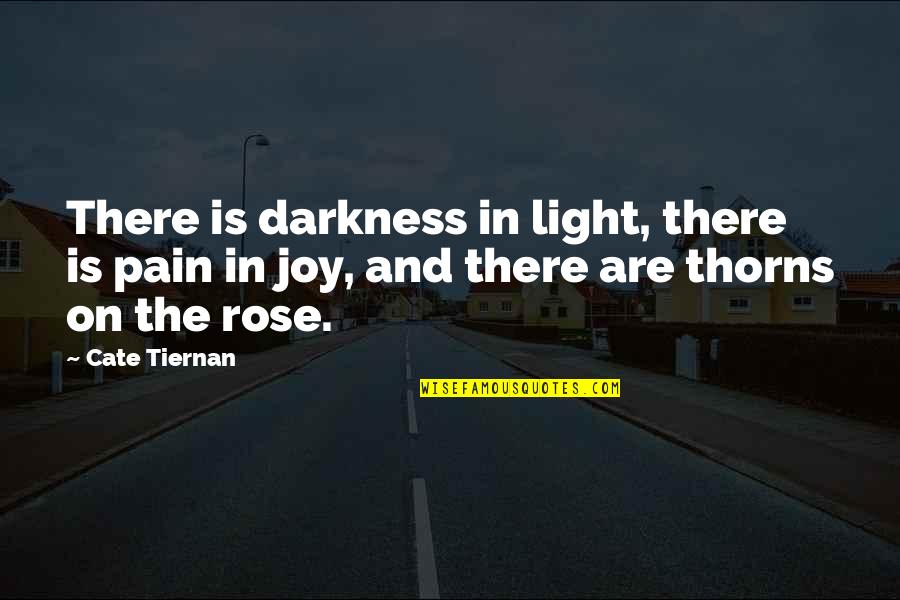 There is darkness in light, there is pain in joy, and there are thorns on the rose. —
Cate Tiernan
So much pain. So many lives. Their darkness must end. —
Adam Jensen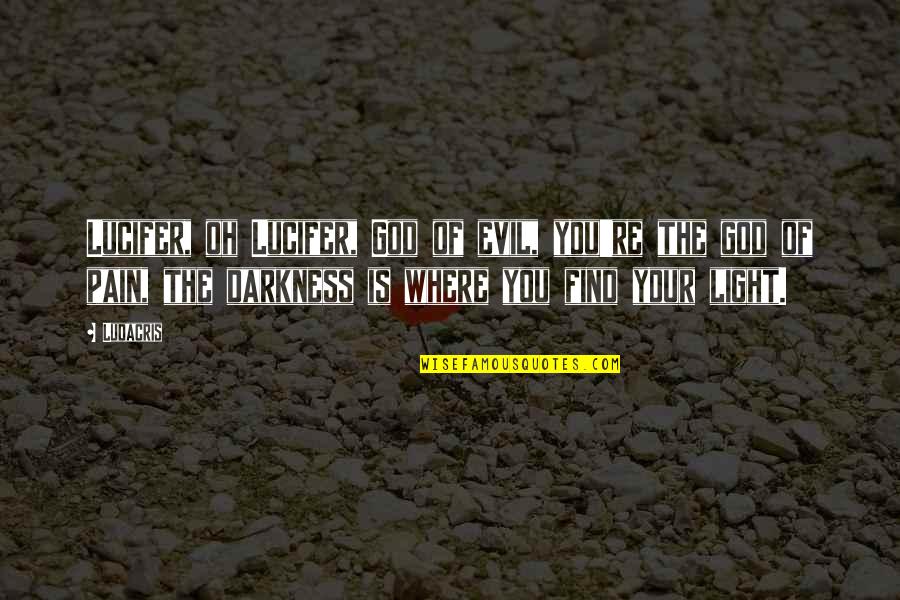 Lucifer, oh Lucifer, God of evil, you're the god of pain, the darkness is where you find your light. —
Ludacris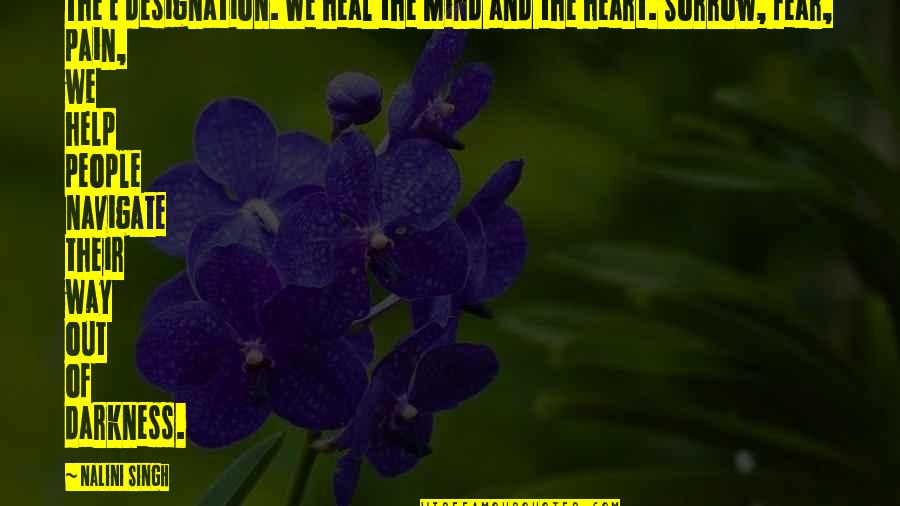 The E designation. We heal the mind and the heart. Sorrow, fear, pain, we help people navigate their way out of darkness. —
Nalini Singh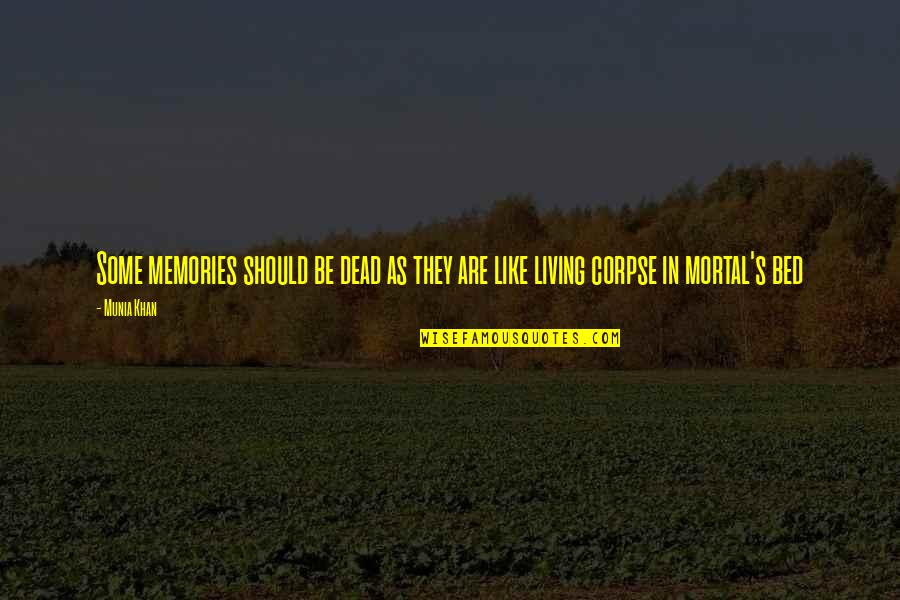 Some memories should be dead as they are like living corpse in mortal's bed —
Munia Khan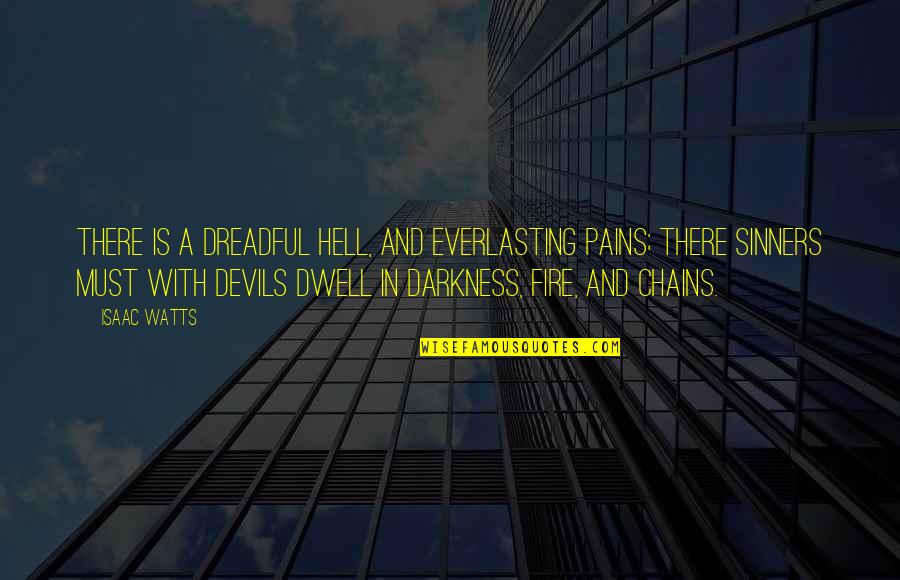 There is a dreadful Hell, And everlasting pains; There sinners must with devils dwell In darkness, fire, and chains. —
Isaac Watts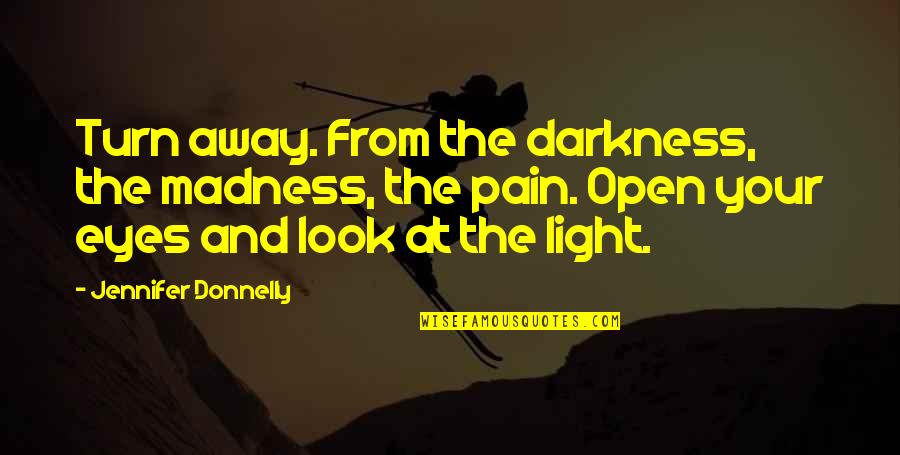 Turn away. From the darkness, the madness, the pain. Open your eyes and look at the light. —
Jennifer Donnelly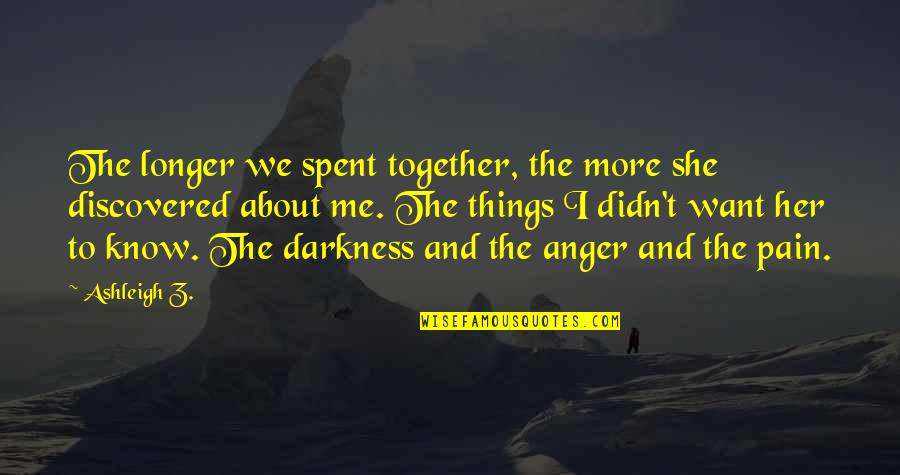 The longer we spent together, the more she discovered about me. The things I didn't want her to know. The darkness and the anger and the pain. —
Ashleigh Z.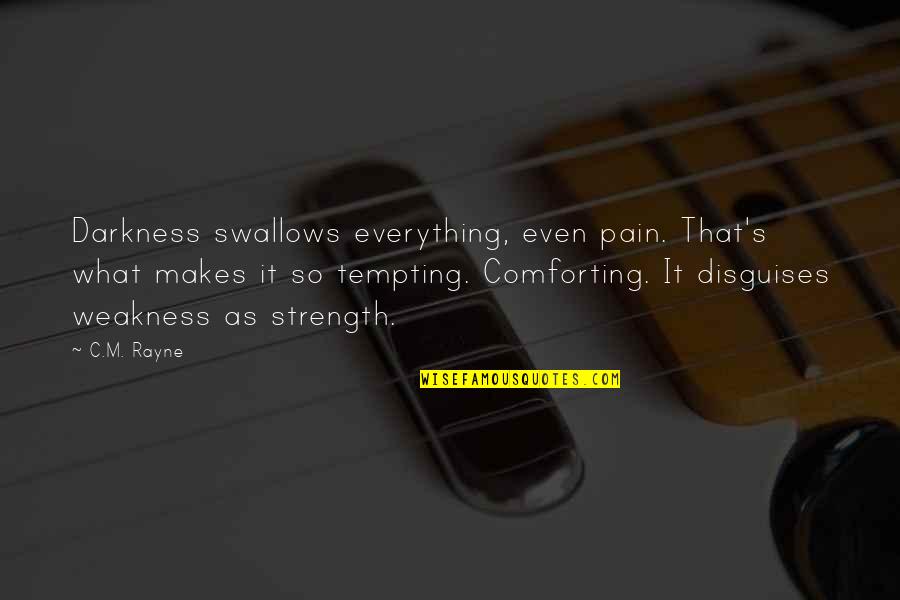 Darkness swallows everything, even pain. That's what makes it so tempting. Comforting. It disguises weakness as strength. —
C.M. Rayne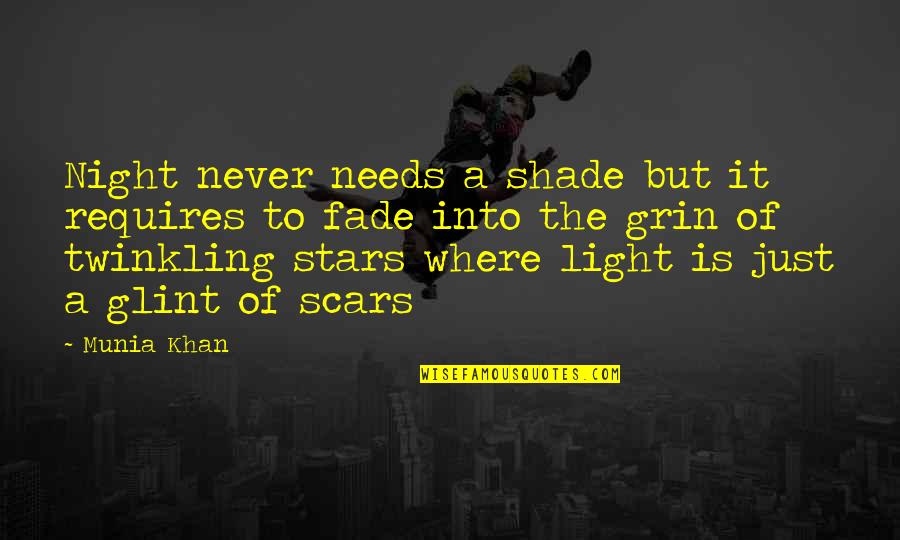 Night never needs a shade
but it requires to fade
into the grin of twinkling stars
where light is just a glint of scars —
Munia Khan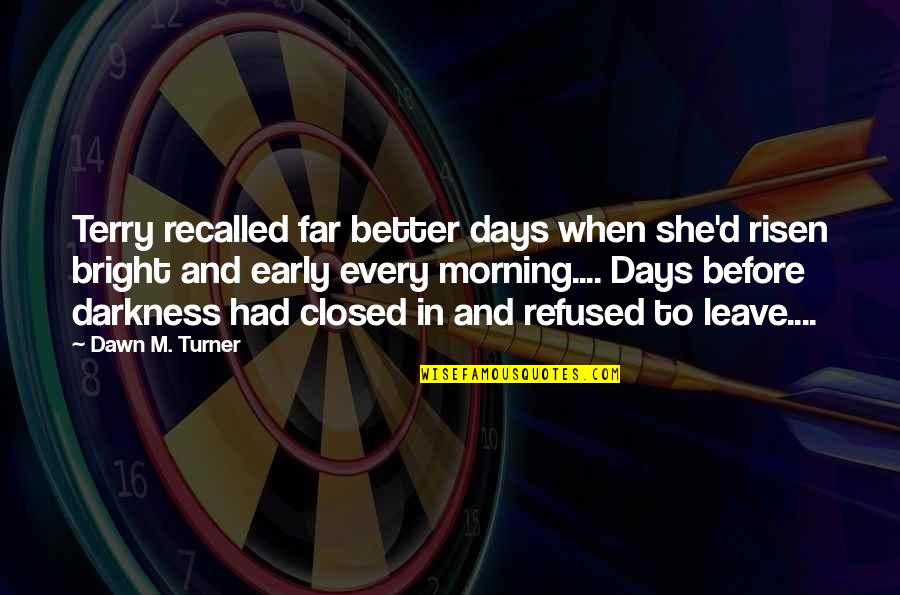 Terry recalled far better days when she'd risen bright and early every morning.... Days before darkness had closed in and refused to leave.... —
Dawn M. Turner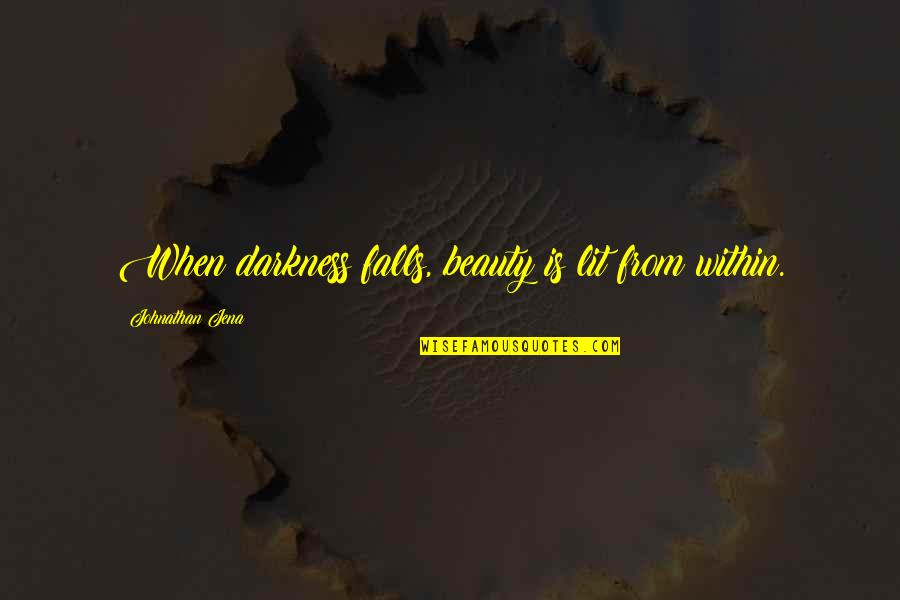 When darkness falls, beauty is lit from within. —
Johnathan Jena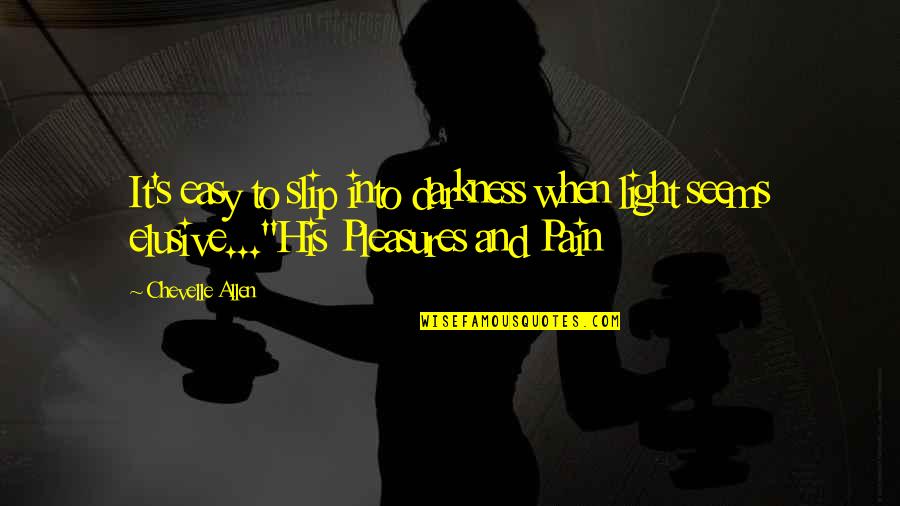 It's easy to slip into darkness when light seems elusive..."
His Pleasures and Pain —
Chevelle Allen