Not Ready To Die Quotes
Collection of top 67 famous quotes about Not Ready To Die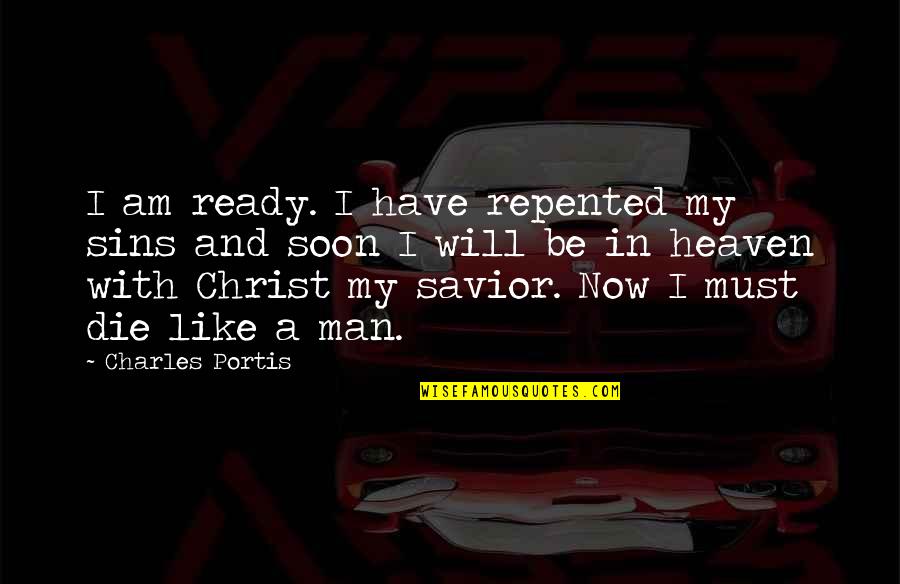 I am ready. I have repented my sins and soon I will be in heaven with Christ my savior. Now I must die like a man.
—
Charles Portis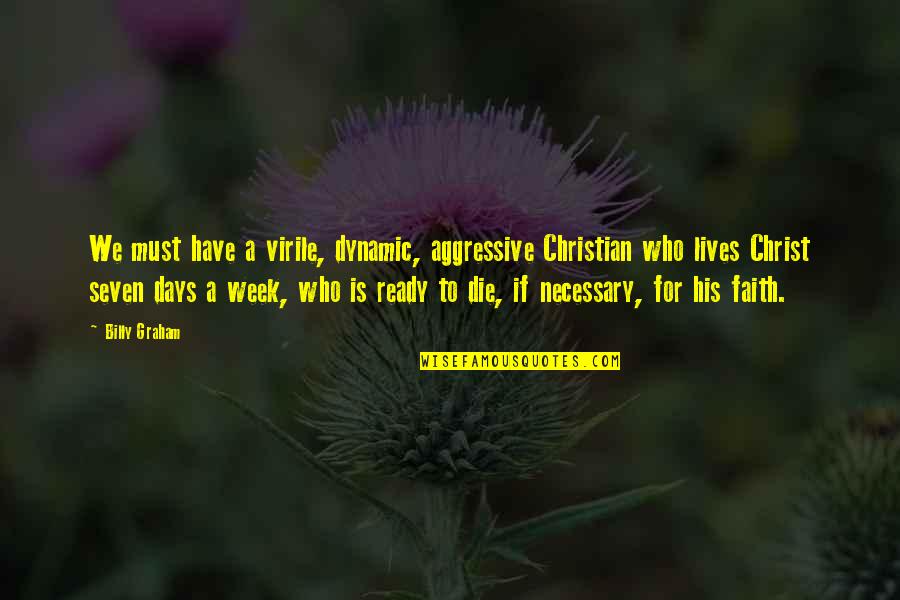 We must have a virile, dynamic, aggressive Christian who lives Christ seven days a week, who is ready to die, if necessary, for his faith.
—
Billy Graham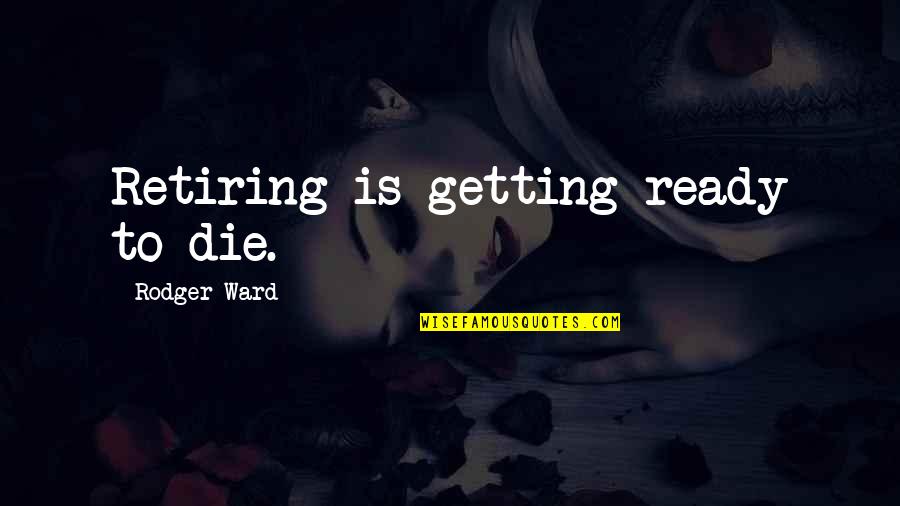 Retiring is getting ready to die.
—
Rodger Ward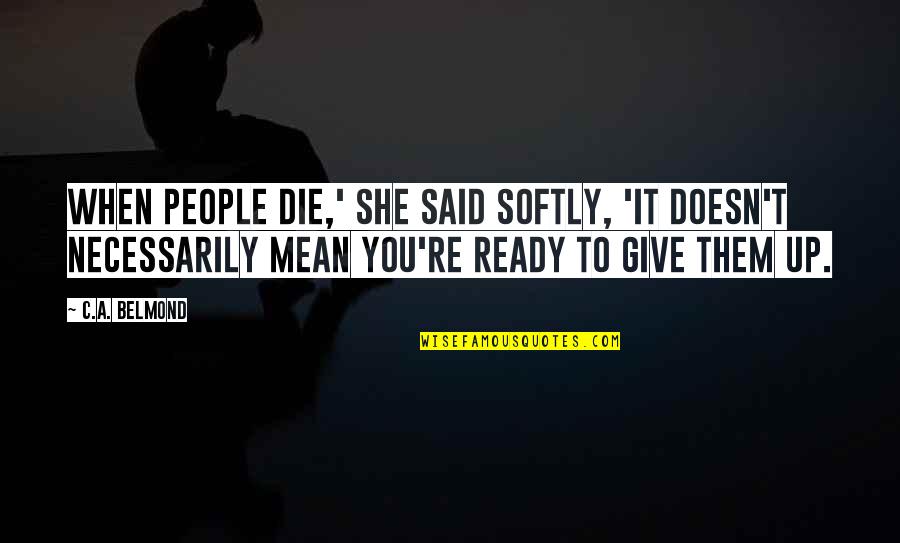 When people die,' she said softly, 'It doesn't necessarily mean you're ready to give them up.
—
C.A. Belmond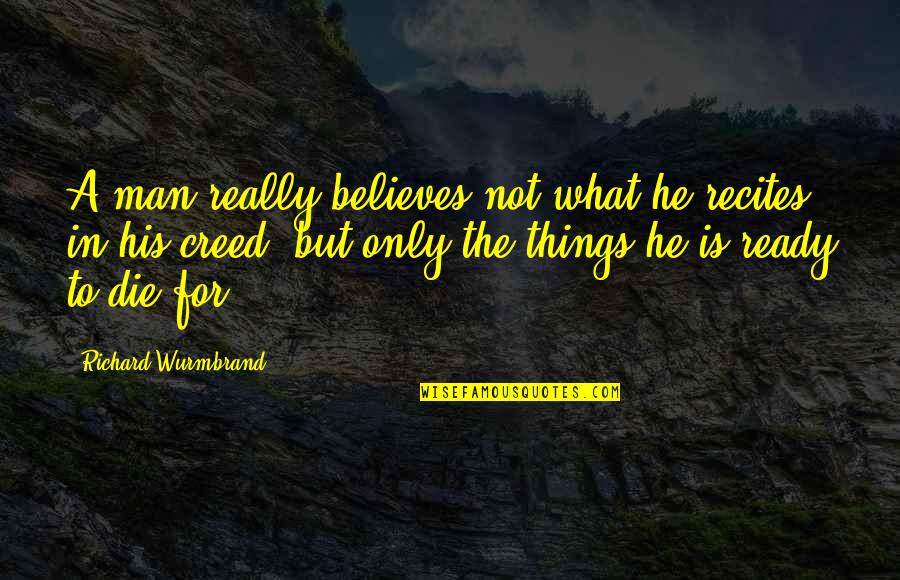 A man really believes not what he recites in his creed, but only the things he is ready to die for.
—
Richard Wurmbrand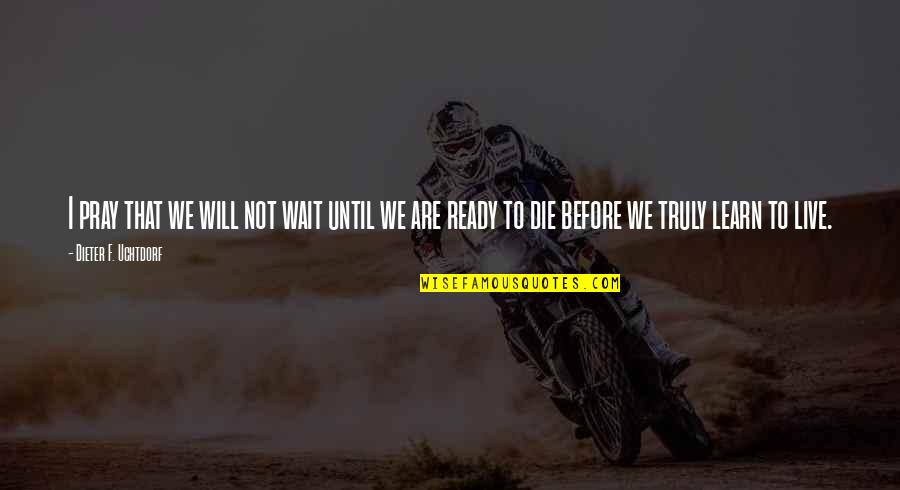 I pray that we will not wait until we are ready to die before we truly learn to live. —
Dieter F. Uchtdorf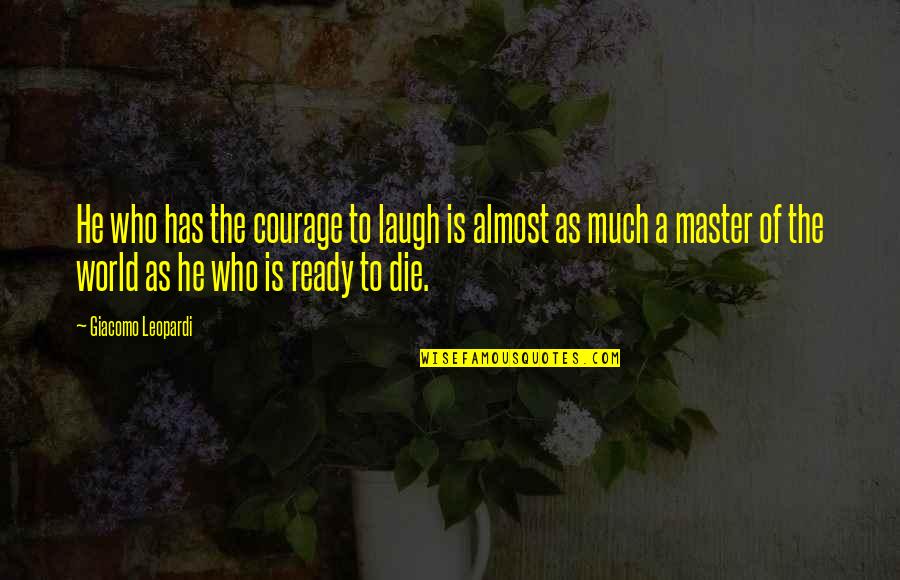 He who has the courage to laugh is almost as much a master of the world as he who is ready to die. —
Giacomo Leopardi
Change makers take risks and are ready to die for excellence than to give excuses and live for mediocrity. —
Israelmore Ayivor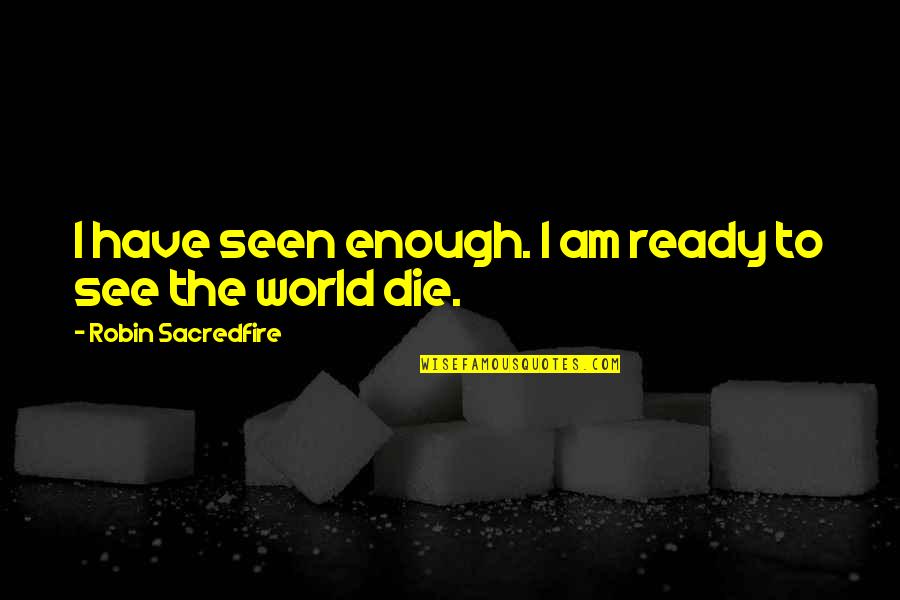 I have seen enough. I am ready to see the world die. —
Robin Sacredfire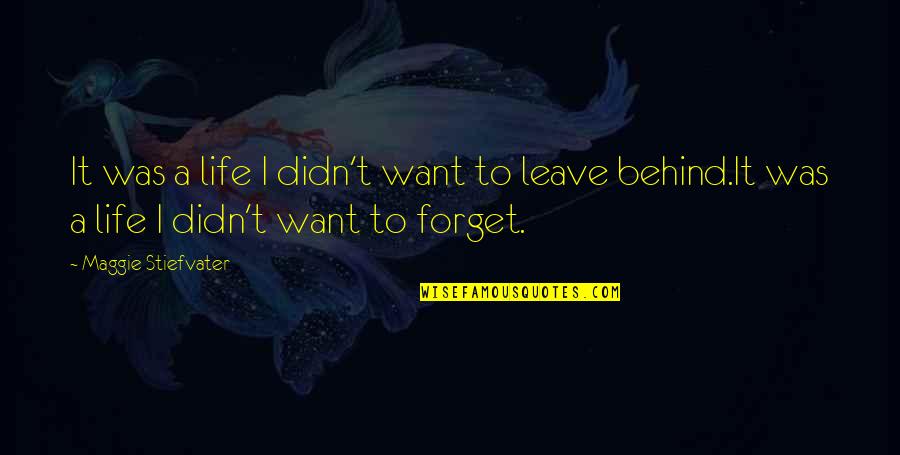 It was a life I didn't want to leave behind.It was a life I didn't want to forget. —
Maggie Stiefvater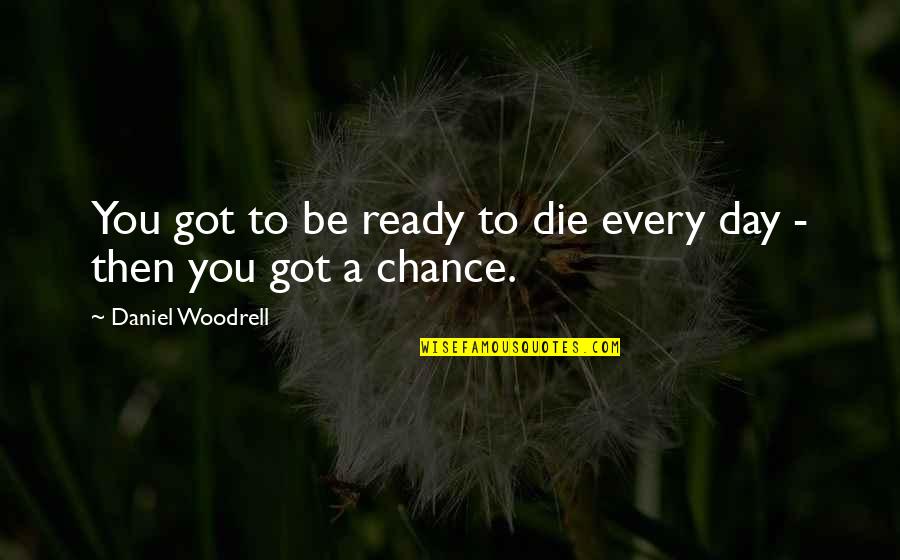 You got to be ready to die every day - then you got a chance. —
Daniel Woodrell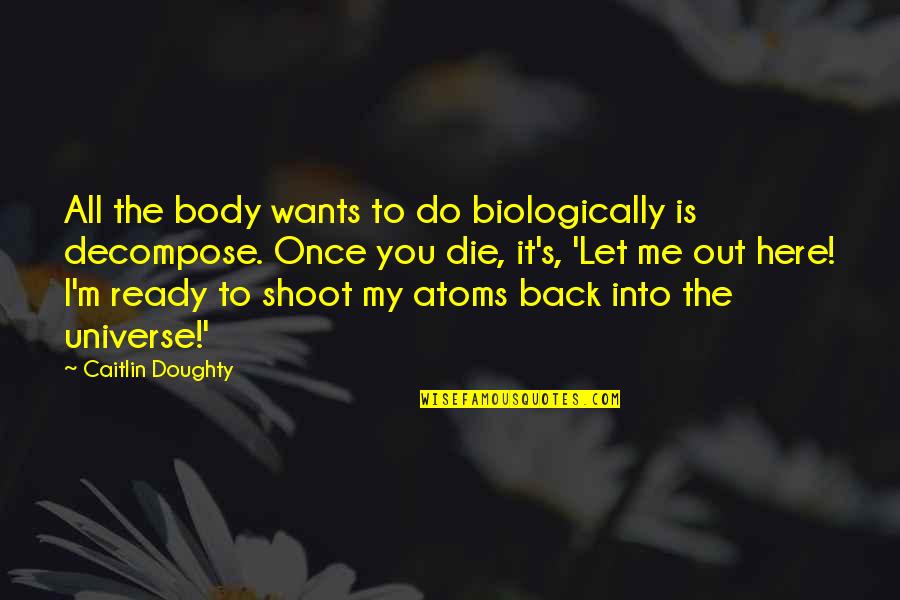 All the body wants to do biologically is decompose. Once you die, it's, 'Let me out here! I'm ready to shoot my atoms back into the universe!' —
Caitlin Doughty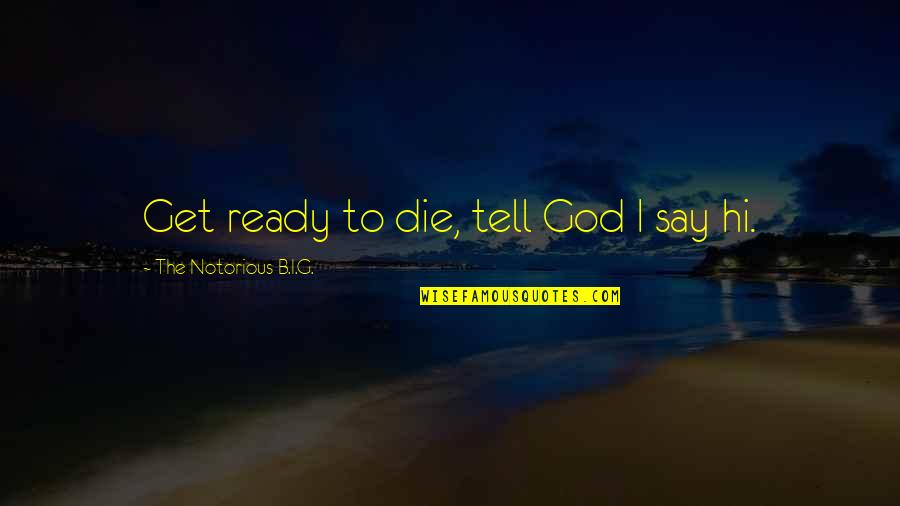 Get ready to die, tell God I say hi. —
The Notorious B.I.G.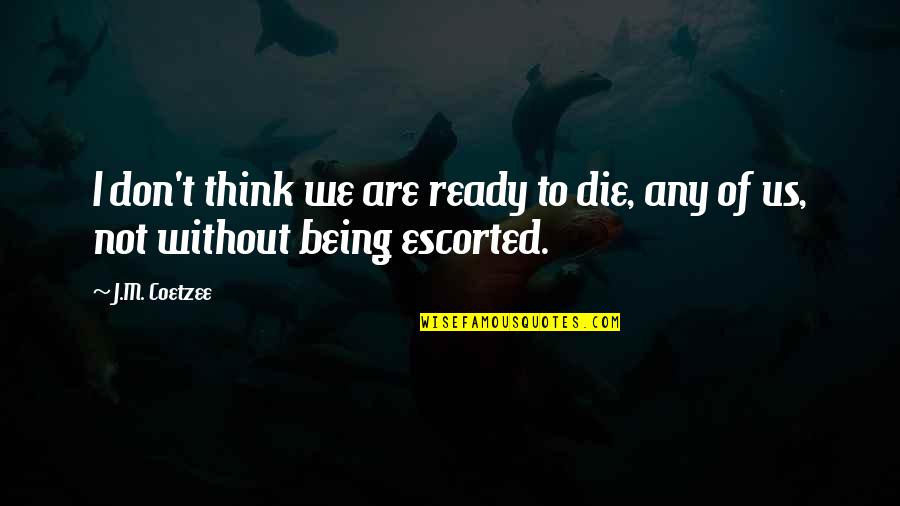 I don't think we are ready to die, any of us, not without being escorted. —
J.M. Coetzee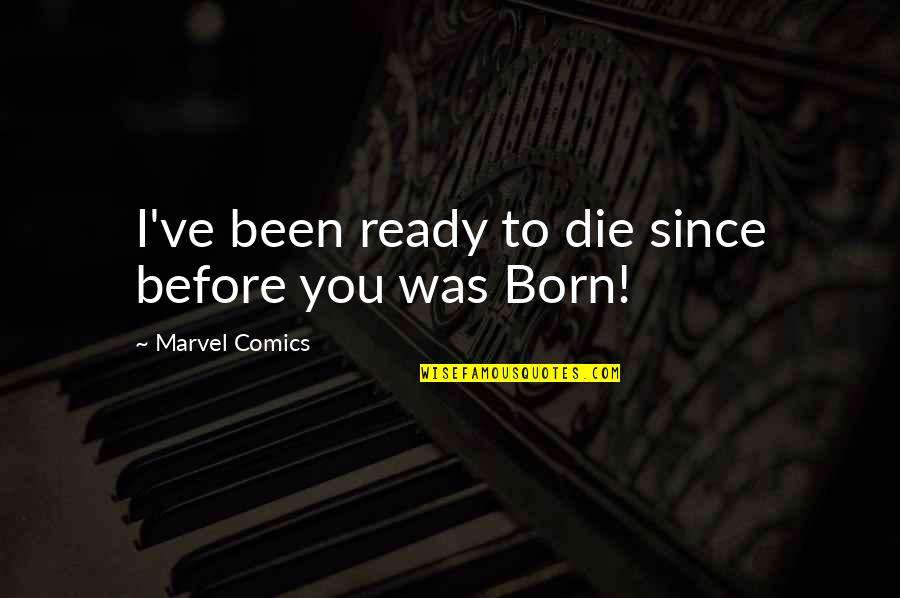 I've been ready to die since before you was Born! —
Marvel Comics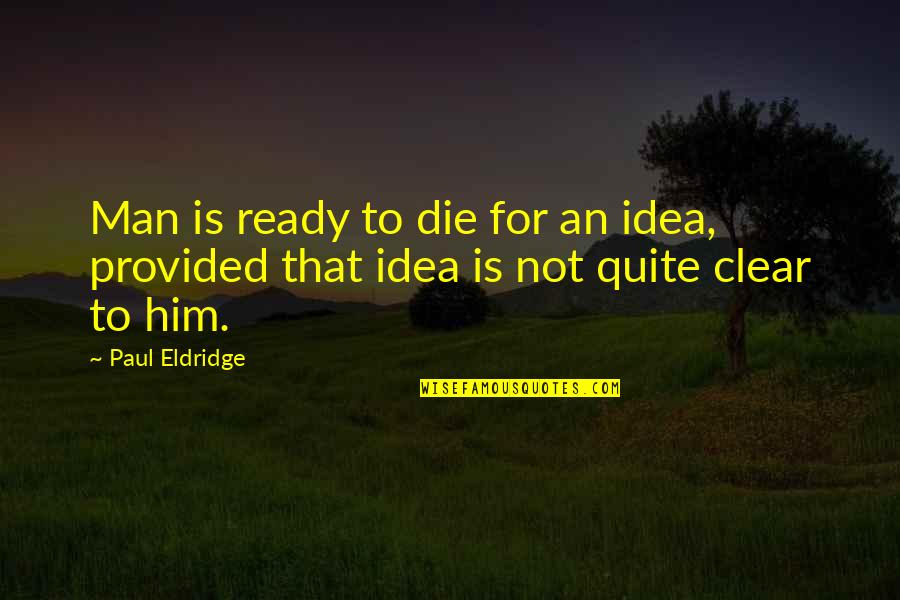 Man is ready to die for an idea, provided that idea is not quite clear to him. —
Paul Eldridge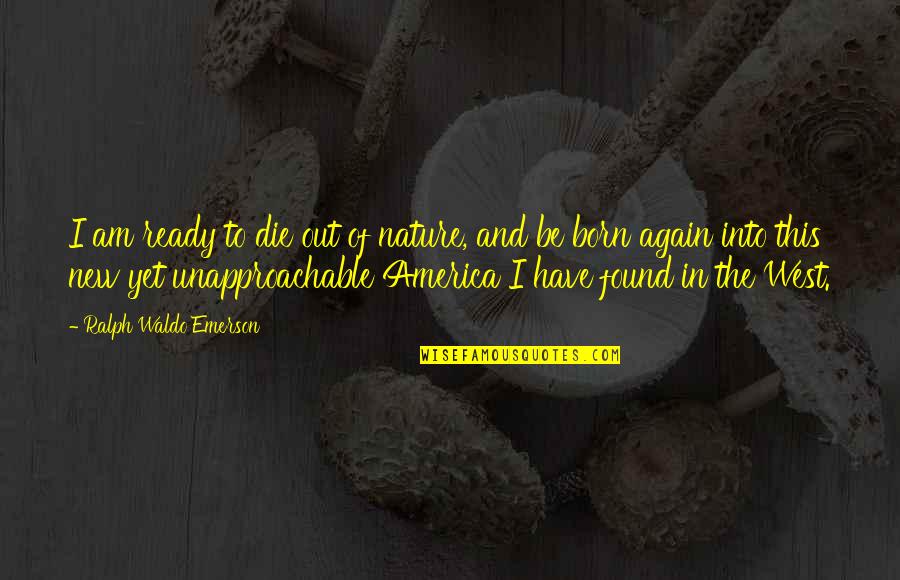 I am ready to die out of nature, and be born again into this new yet unapproachable America I have found in the West. —
Ralph Waldo Emerson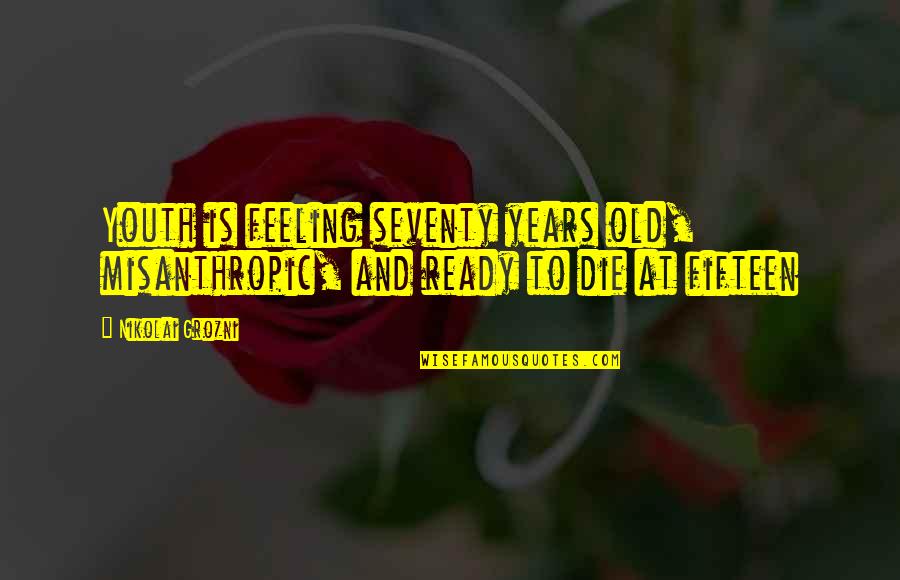 Youth is feeling seventy years old, misanthropic, and ready to die at fifteen —
Nikolai Grozni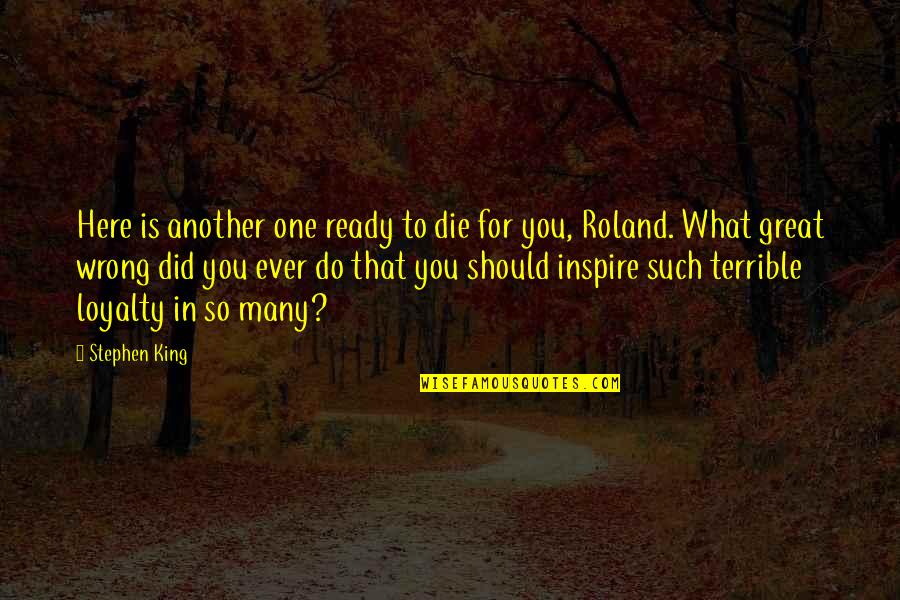 Here is another one ready to die for you, Roland. What great wrong did you ever do that you should inspire such terrible loyalty in so many? —
Stephen King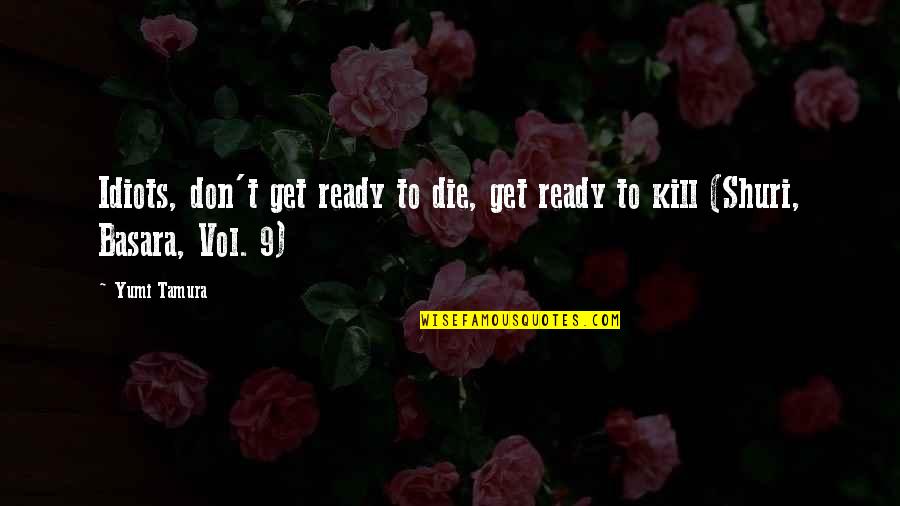 Idiots, don't get ready to die, get ready to kill (Shuri, Basara, Vol. 9) —
Yumi Tamura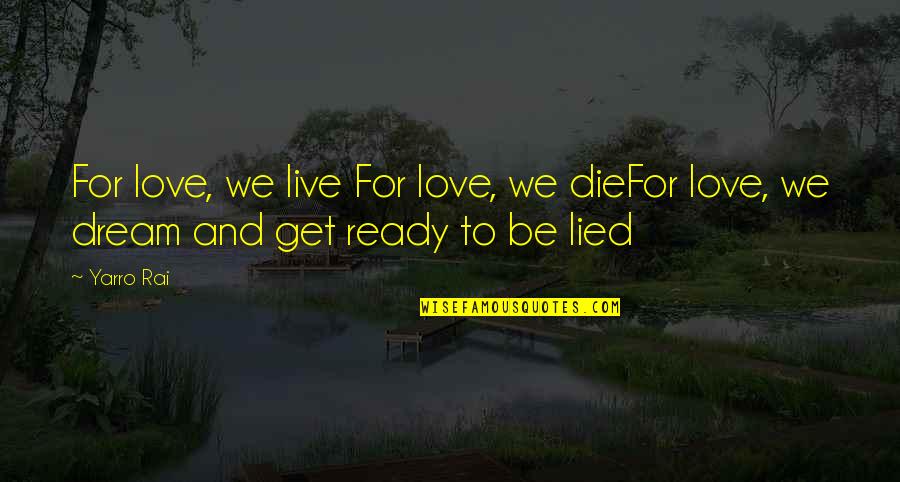 For love, we live
For love, we die
For love, we dream and get ready to be lied —
Yarro Rai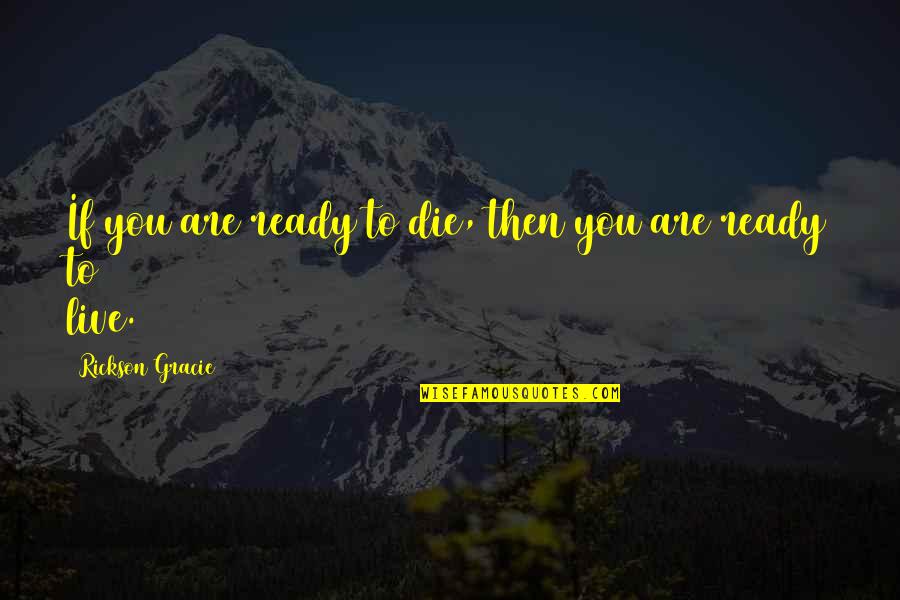 If you are ready to die, then you are ready to live. —
Rickson Gracie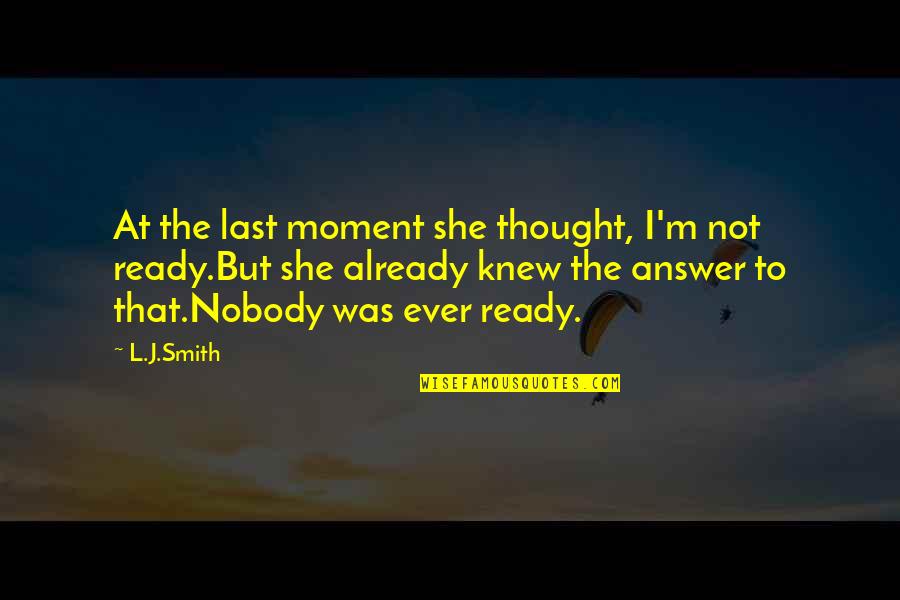 At the last moment she thought, I'm not ready.
But she already knew the answer to that.
Nobody was ever ready. —
L.J.Smith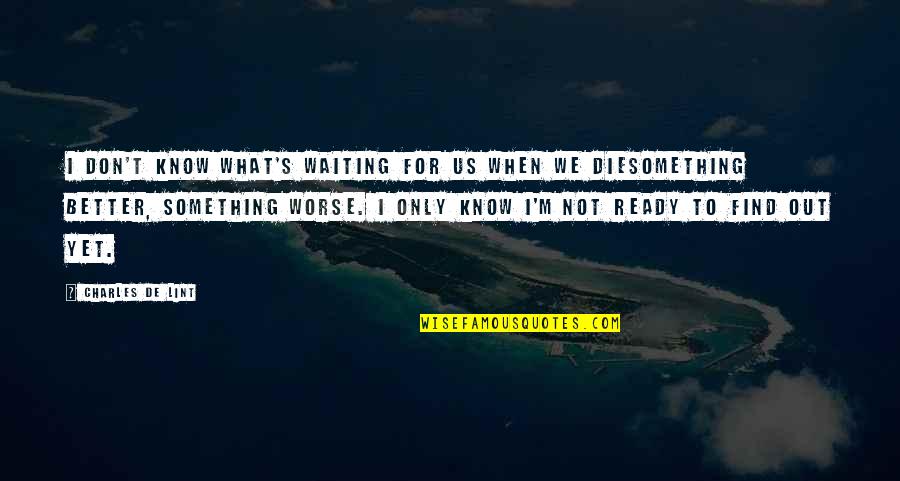 I don't know what's waiting for us when we die
something better, something worse. I only know I'm not ready to find out yet. —
Charles De Lint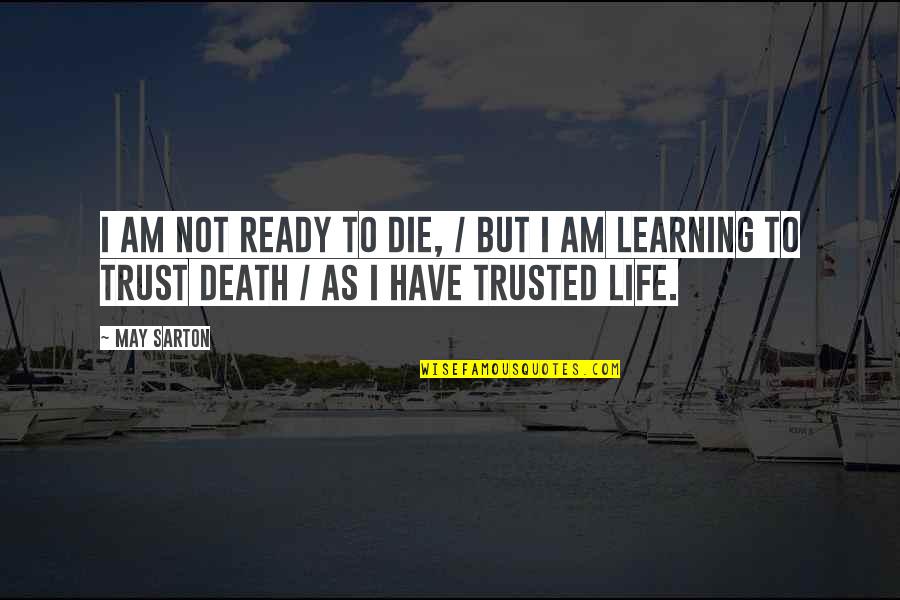 I am
not ready to die
, / But I am learning to trust death / As I have trusted life. —
May Sarton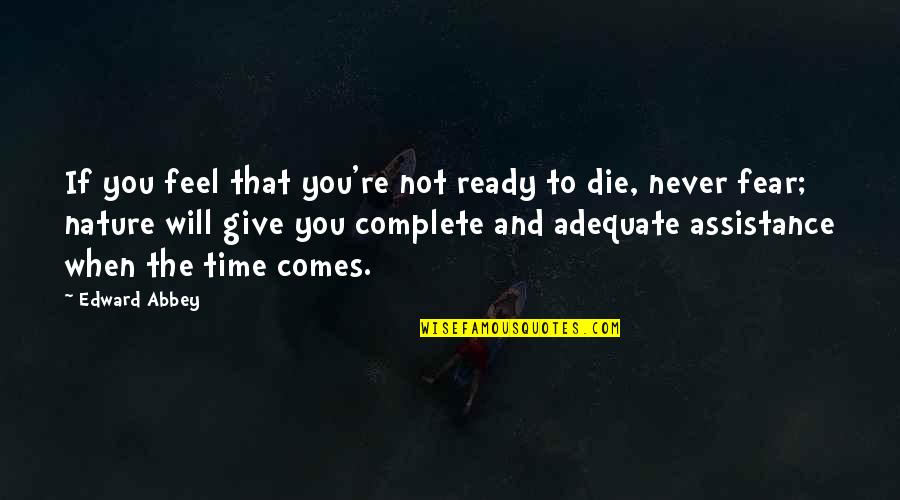 If you feel that you're
not ready to die
, never fear; nature will give you complete and adequate assistance when the time comes. —
Edward Abbey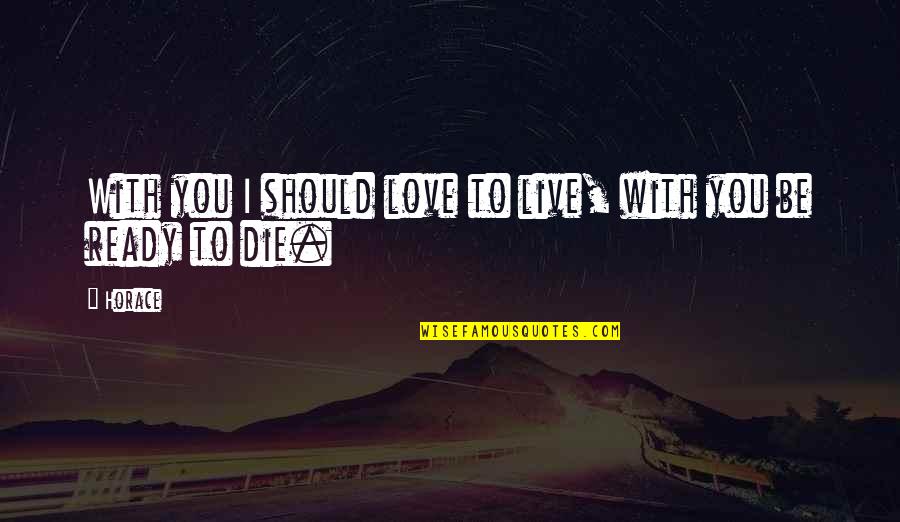 With you I should love to live, with you be ready to die. —
Horace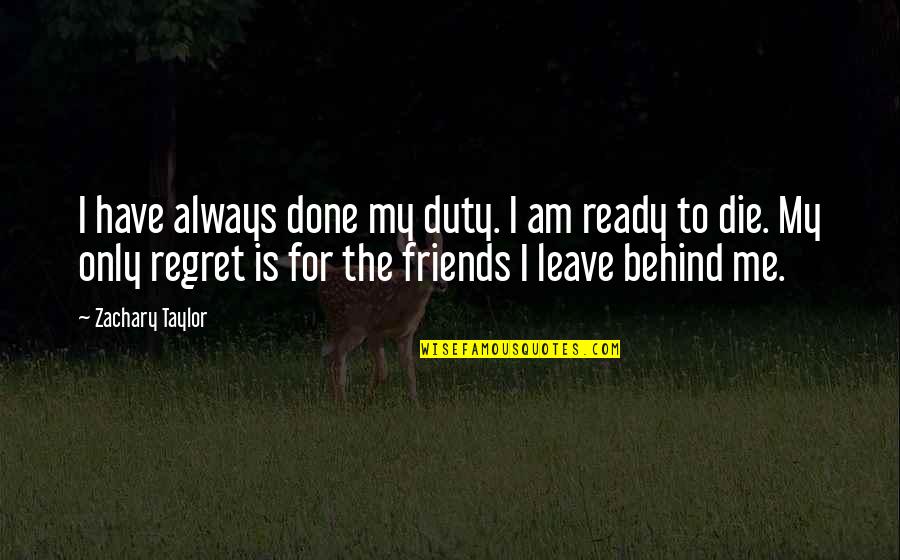 I have always done my duty. I am ready to die. My only regret is for the friends I leave behind me. —
Zachary Taylor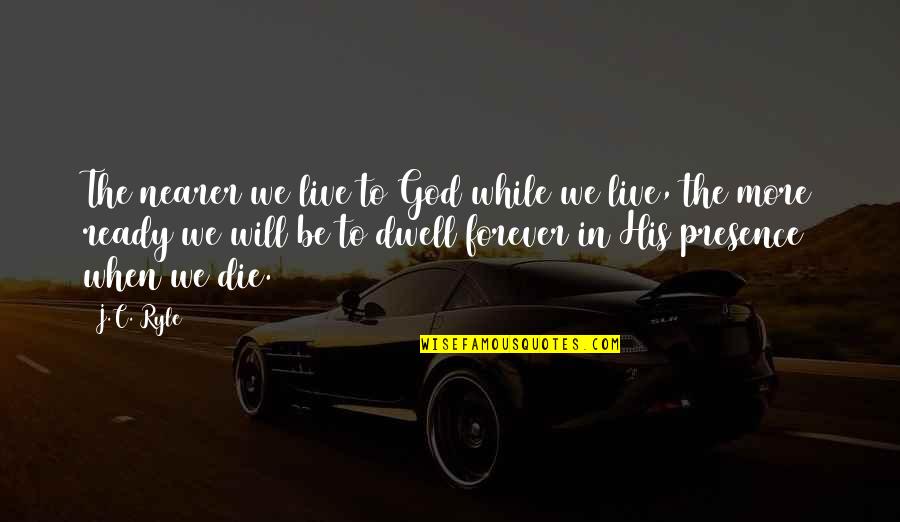 The nearer we live to God while we live, the more ready we will be to dwell forever in His presence when we die. —
J.C. Ryle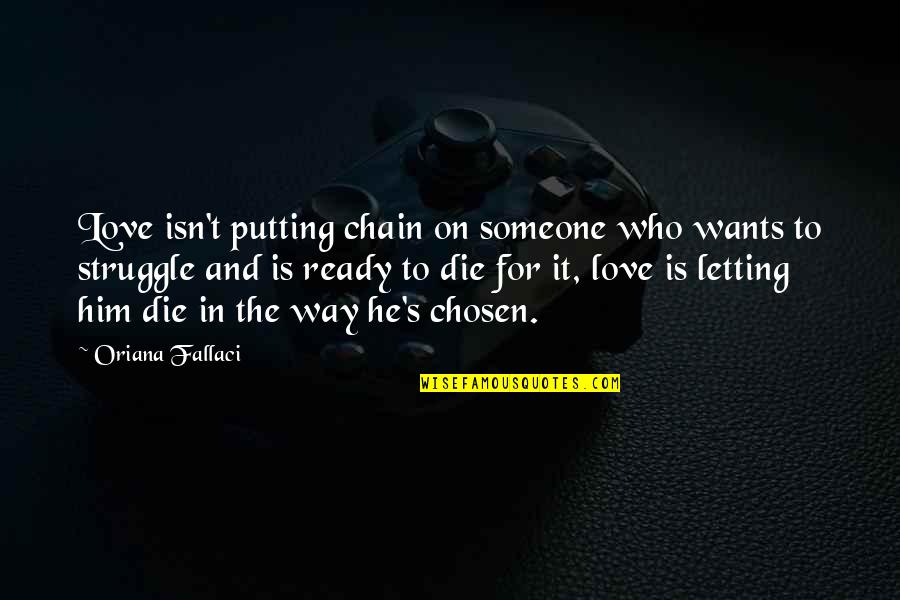 Love isn't putting chain on someone who wants to struggle and is ready to die for it, love is letting him die in the way he's chosen. —
Oriana Fallaci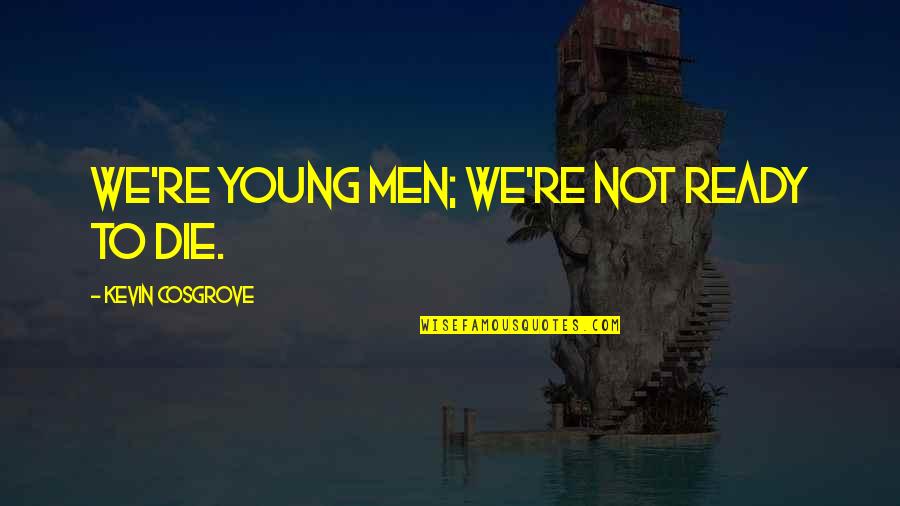 We're young men; we're
not ready to die
. —
Kevin Cosgrove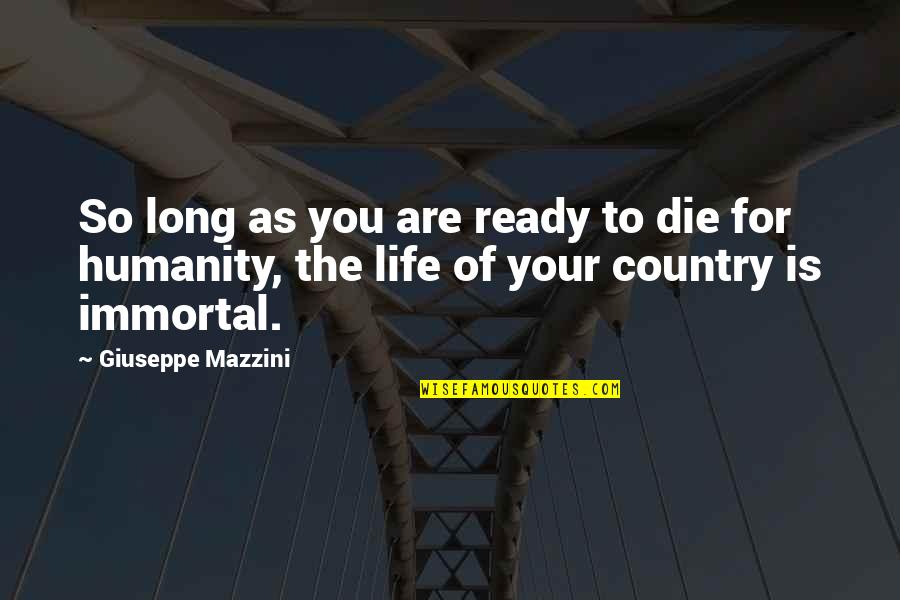 So long as you are ready to die for humanity, the life of your country is immortal. —
Giuseppe Mazzini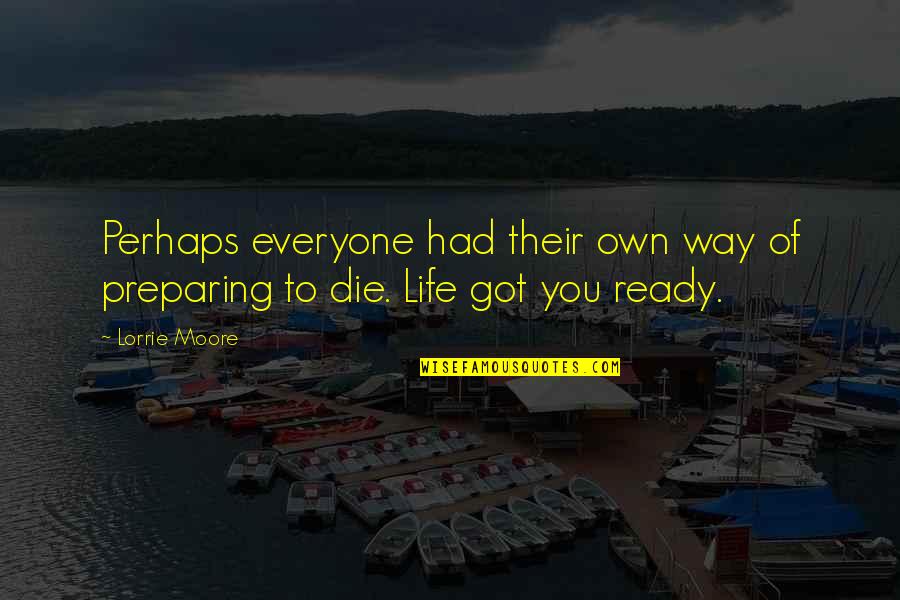 Perhaps everyone had their own way of preparing to die. Life got you ready. —
Lorrie Moore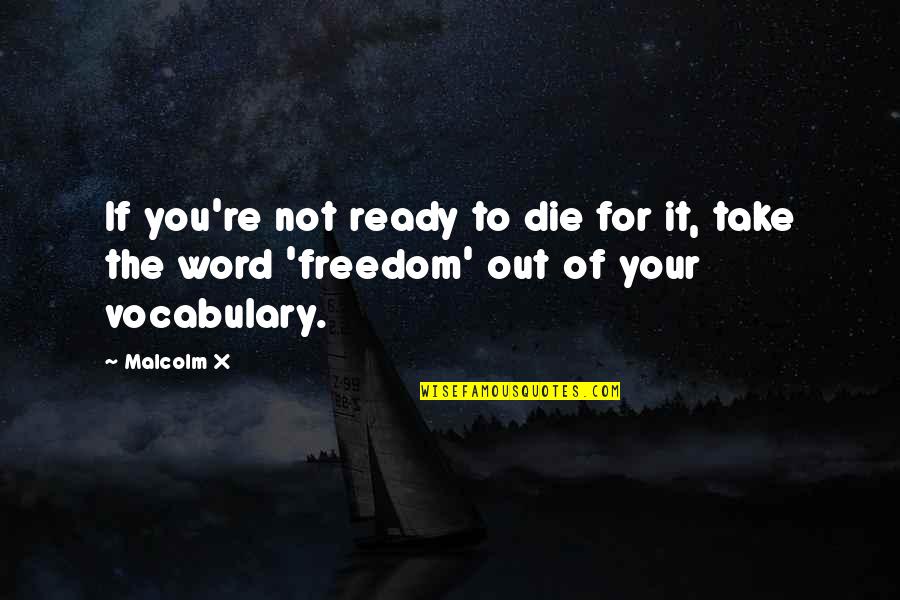 If you're
not ready to die
for it, take the word 'freedom' out of your vocabulary. —
Malcolm X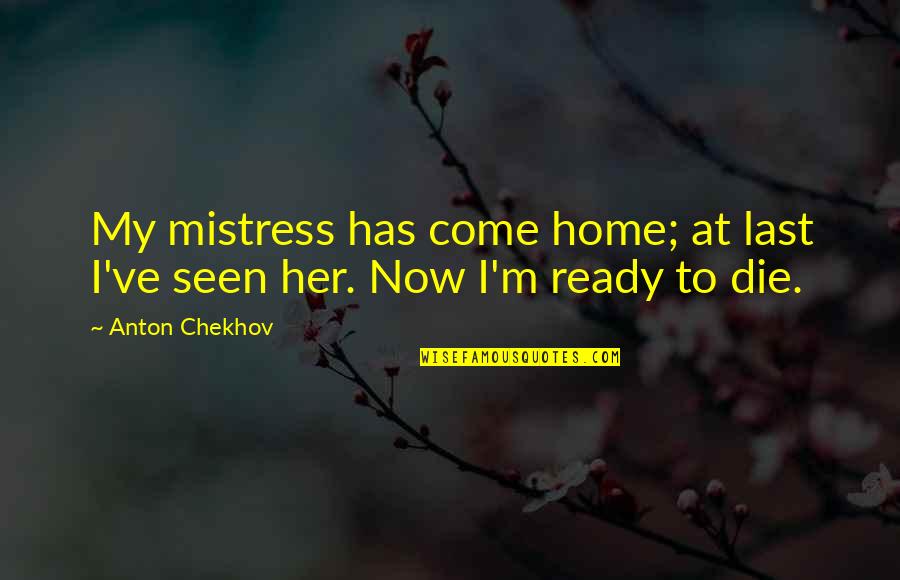 My mistress has come home; at last I've seen her. Now I'm ready to die. —
Anton Chekhov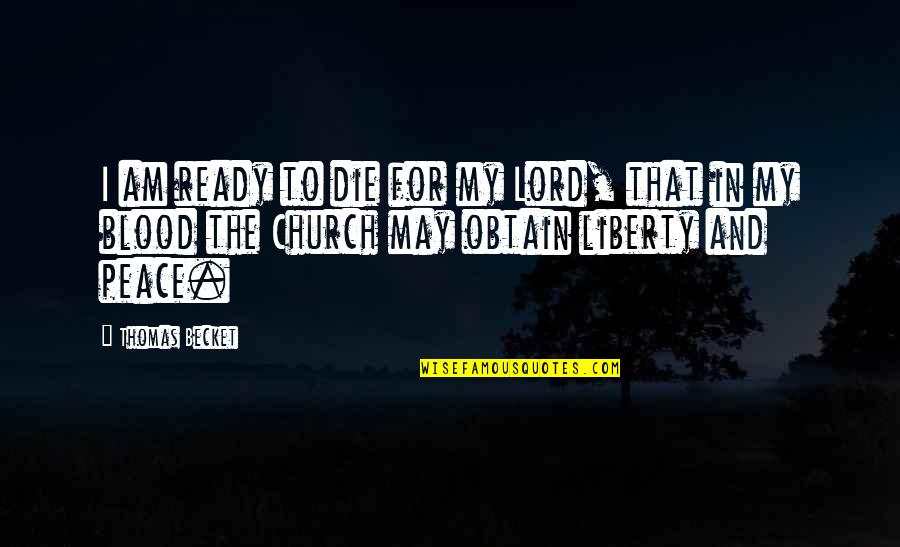 I am ready to die for my Lord, that in my blood the Church may obtain liberty and peace. —
Thomas Becket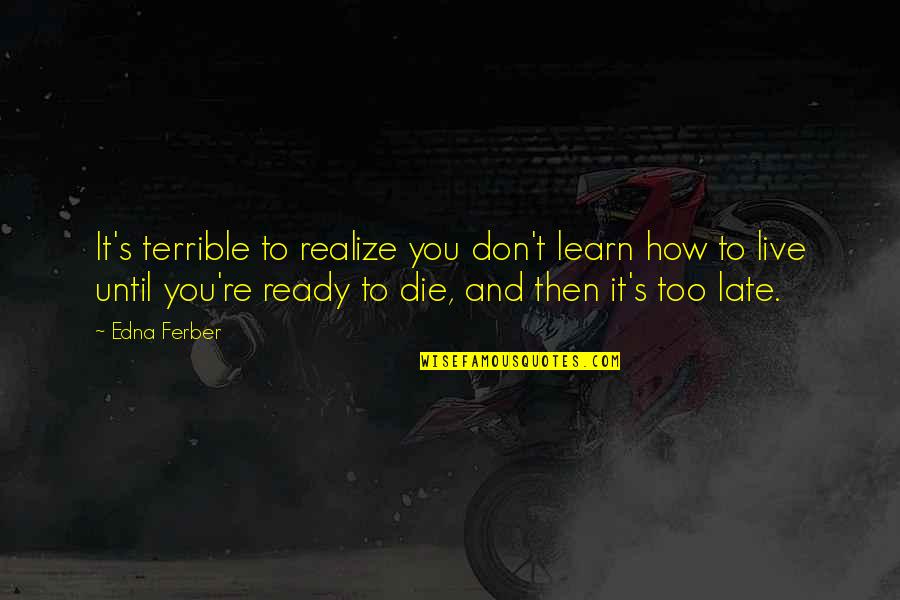 It's terrible to realize you don't learn how to live until you're ready to die, and then it's too late. —
Edna Ferber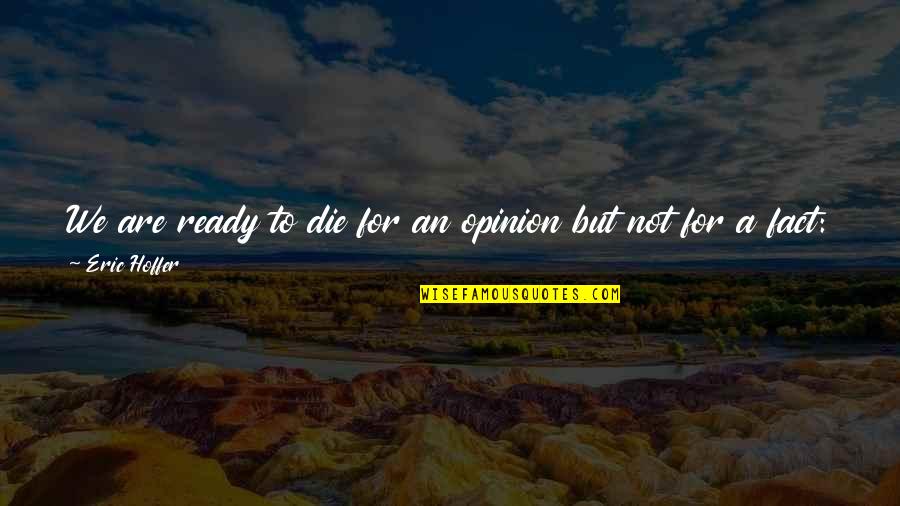 We are ready to die for an opinion but not for a fact: indeed, it is by our readiness to die that we try to prove the factualness of our opinion. —
Eric Hoffer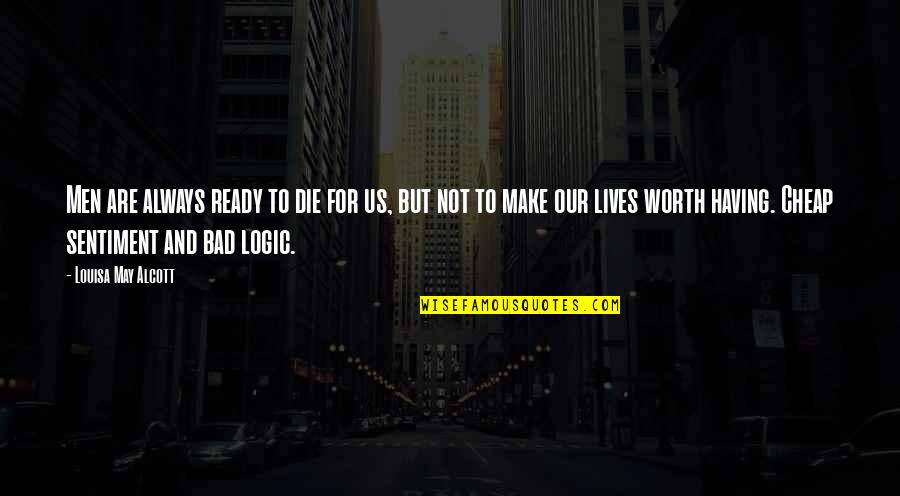 Men are always ready to die for us, but not to make our lives worth having. Cheap sentiment and bad logic. —
Louisa May Alcott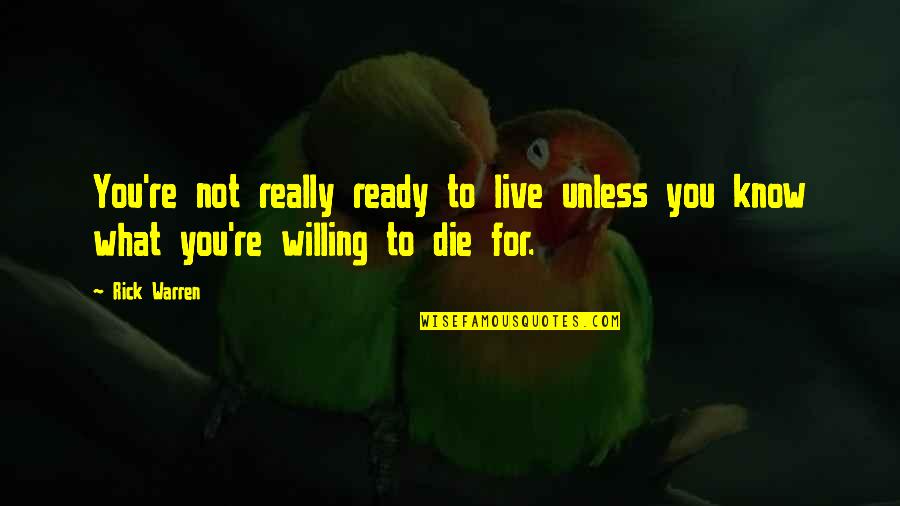 You're not really ready to live unless you know what you're willing to die for. —
Rick Warren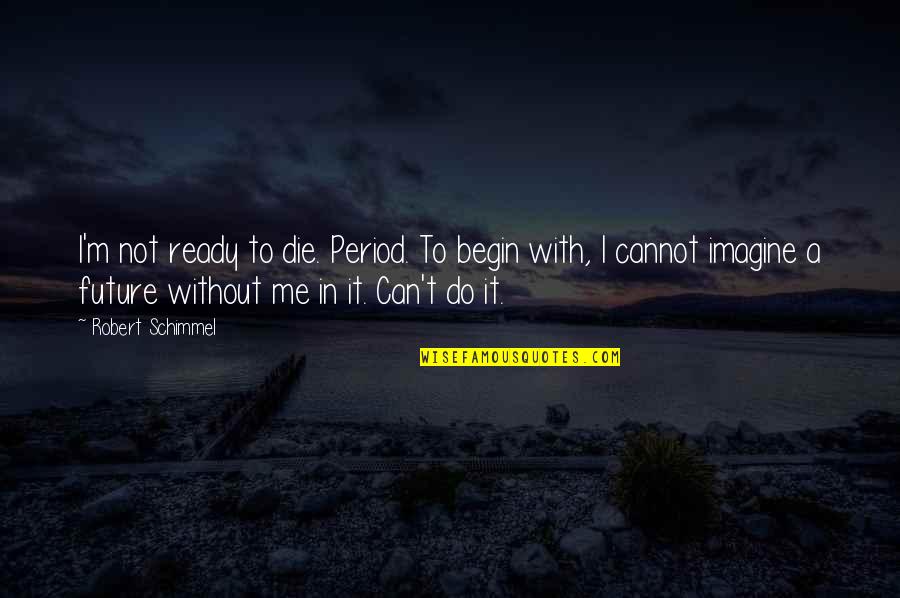 I'm
not ready to die
. Period. To begin with, I cannot imagine a future without me in it. Can't do it. —
Robert Schimmel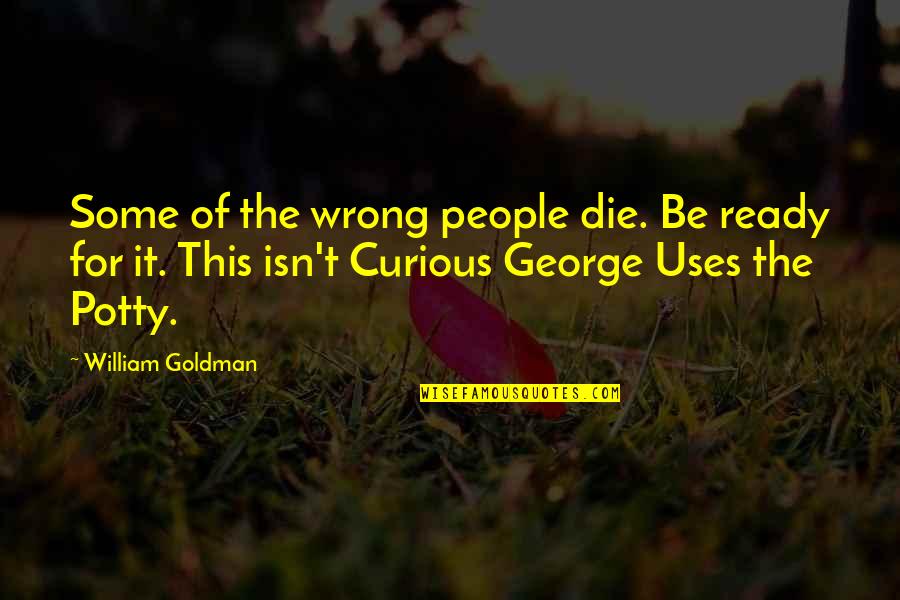 Some of the wrong people die. Be ready for it. This isn't Curious George Uses the Potty. —
William Goldman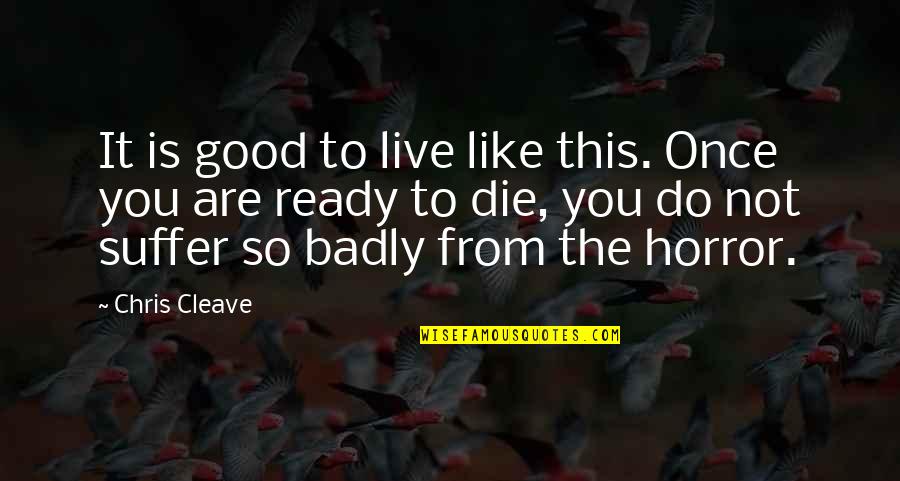 It is good to live like this. Once you are ready to die, you do not suffer so badly from the horror. —
Chris Cleave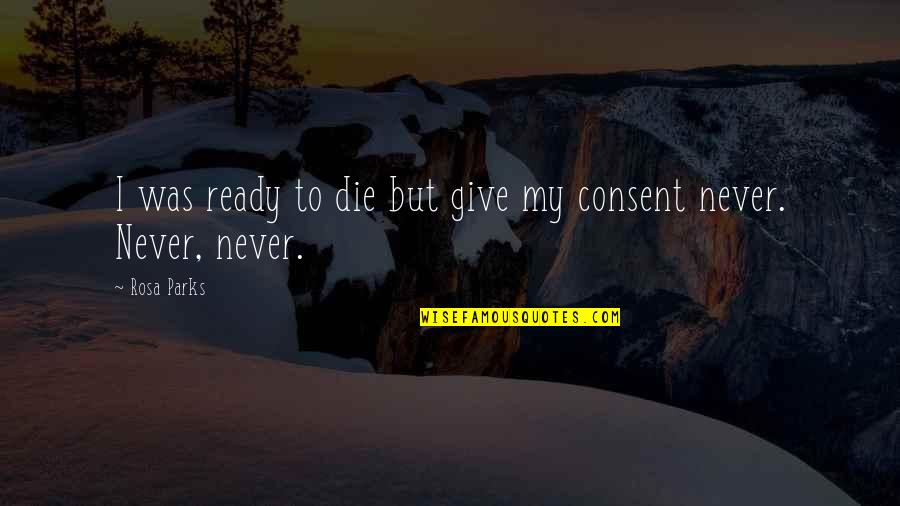 I was ready to die but give my consent never. Never, never. —
Rosa Parks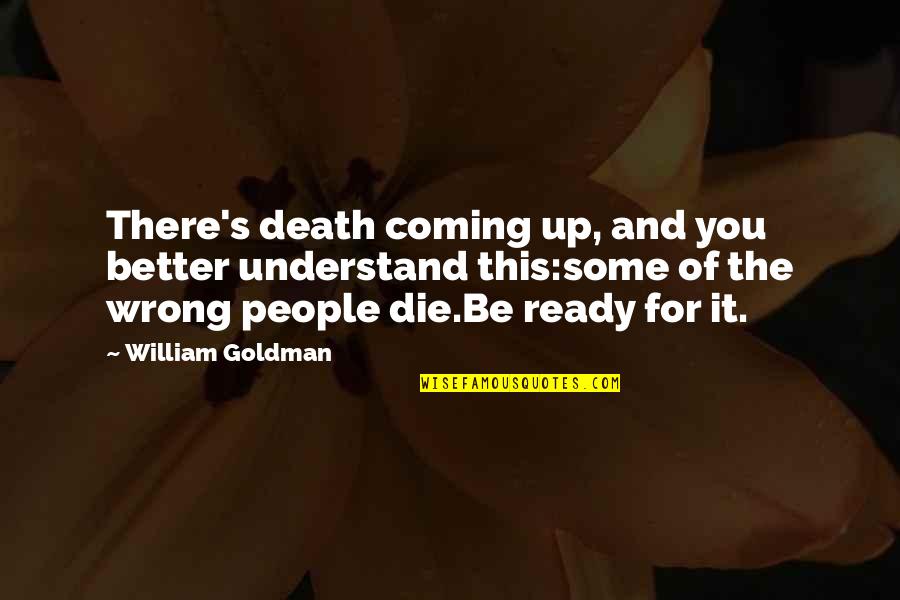 There's death coming up, and you better understand this:some of the wrong people die.Be ready for it. —
William Goldman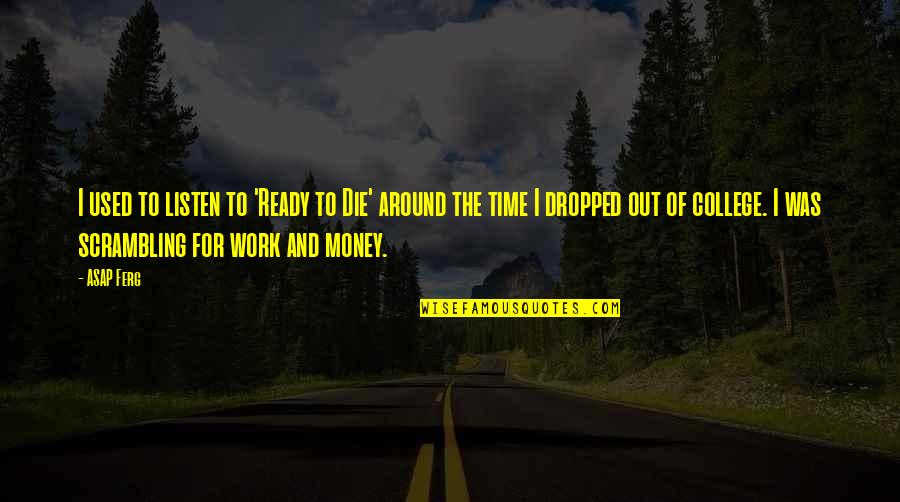 I used to listen to 'Ready to Die' around the time I dropped out of college. I was scrambling for work and money. —
ASAP Ferg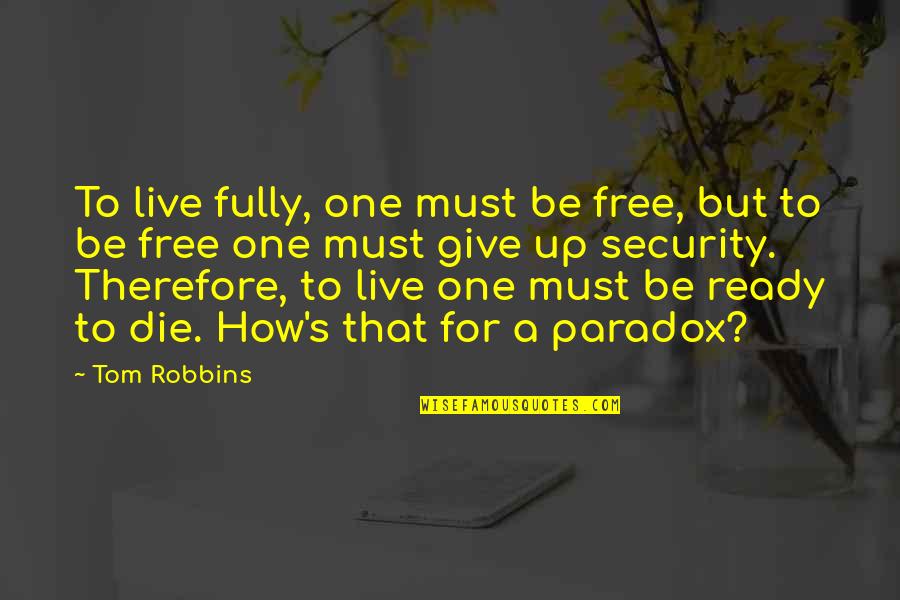 To live fully, one must be free, but to be free one must give up security. Therefore, to live one must be ready to die. How's that for a paradox? —
Tom Robbins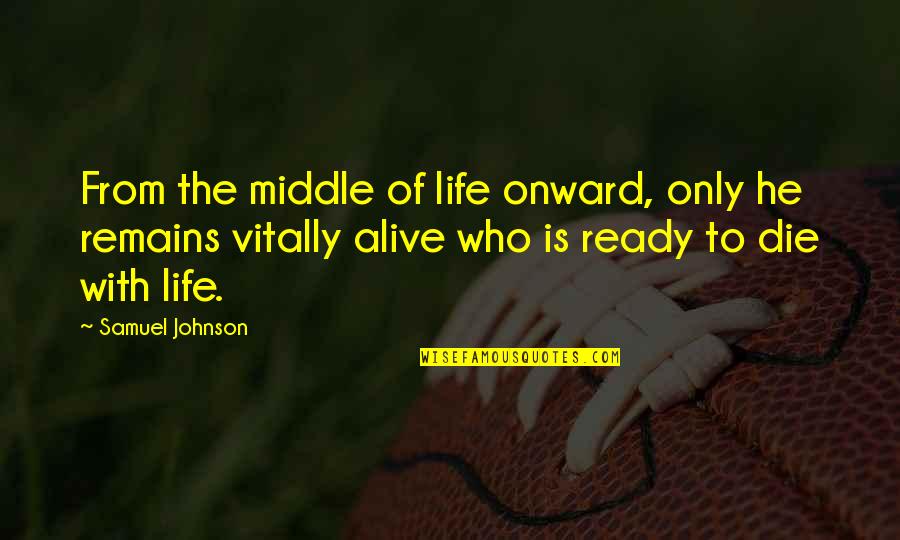 From the middle of life onward, only he remains vitally alive who is ready to die with life. —
Samuel Johnson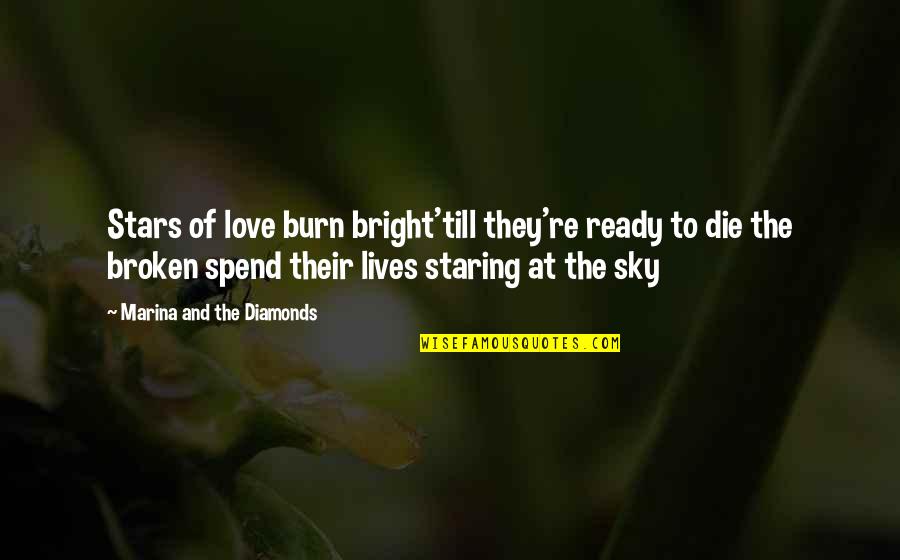 Stars of love burn bright
'till they're ready to die
the broken spend their lives
staring at the sky —
Marina And The Diamonds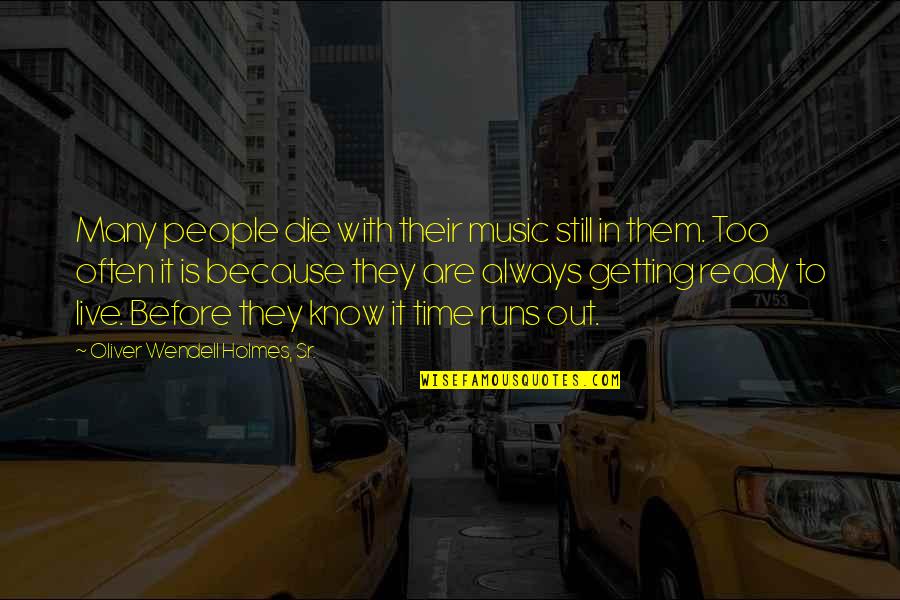 Many people die with their music still in them. Too often it is because they are always getting ready to live. Before they know it time runs out. —
Oliver Wendell Holmes, Sr.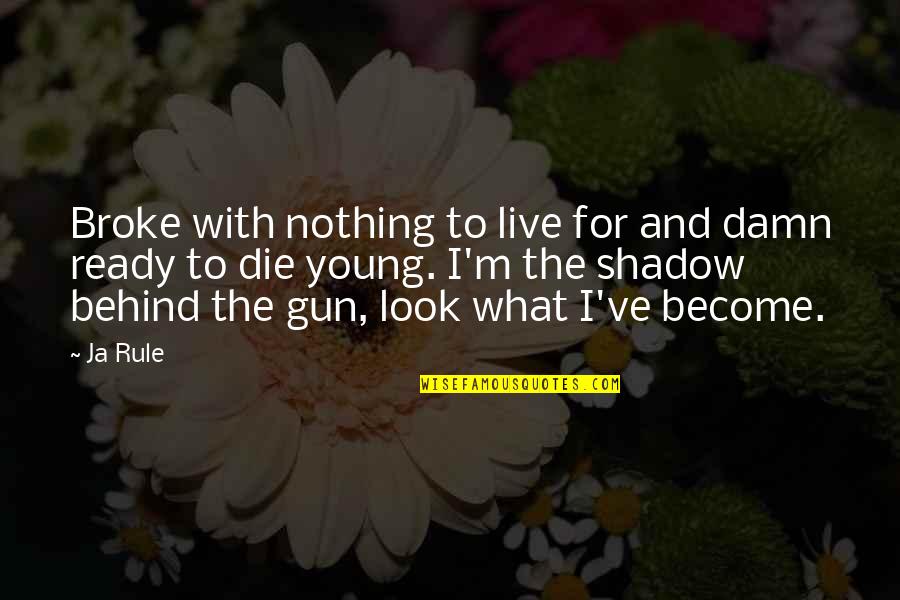 Broke with nothing to live for and damn ready to die young. I'm the shadow behind the gun, look what I've become. —
Ja Rule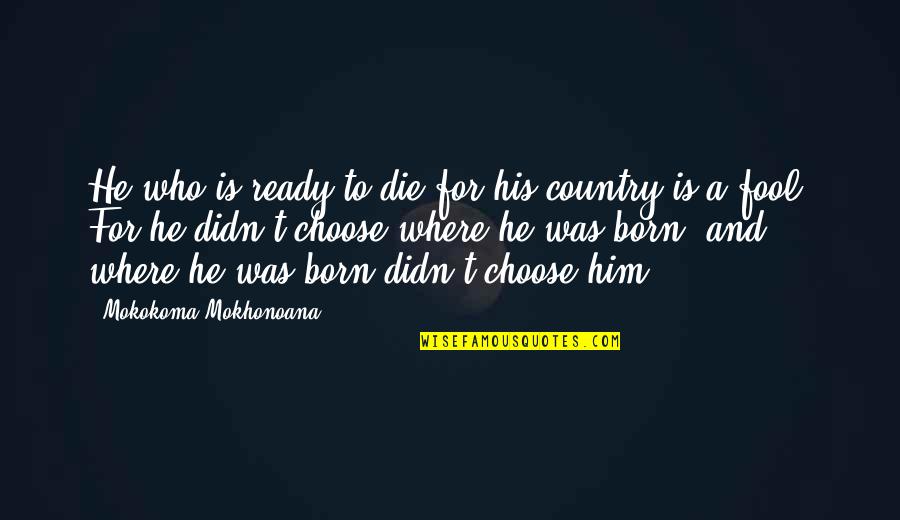 He who is ready to die for his country is a fool. For he didn't choose where he was born; and where he was born didn't choose him. —
Mokokoma Mokhonoana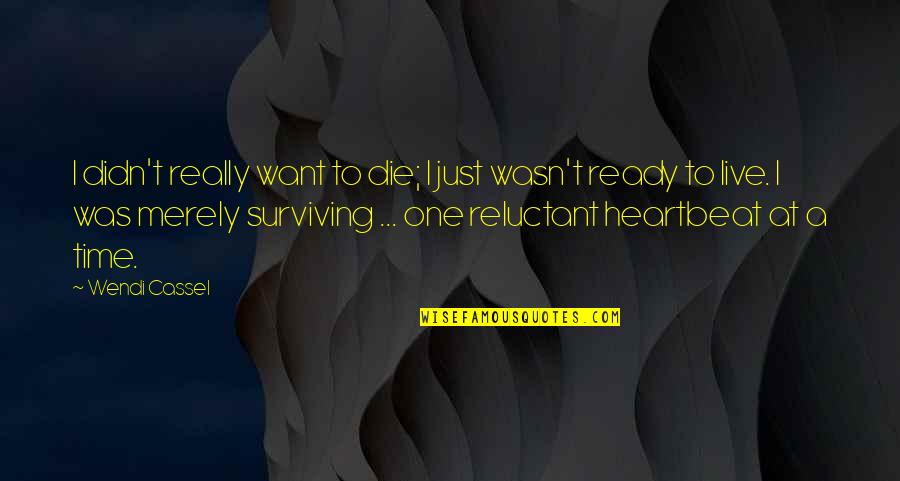 I didn't really want to die; I just wasn't ready to live. I was merely surviving ... one reluctant heartbeat at a time. —
Wendi Cassel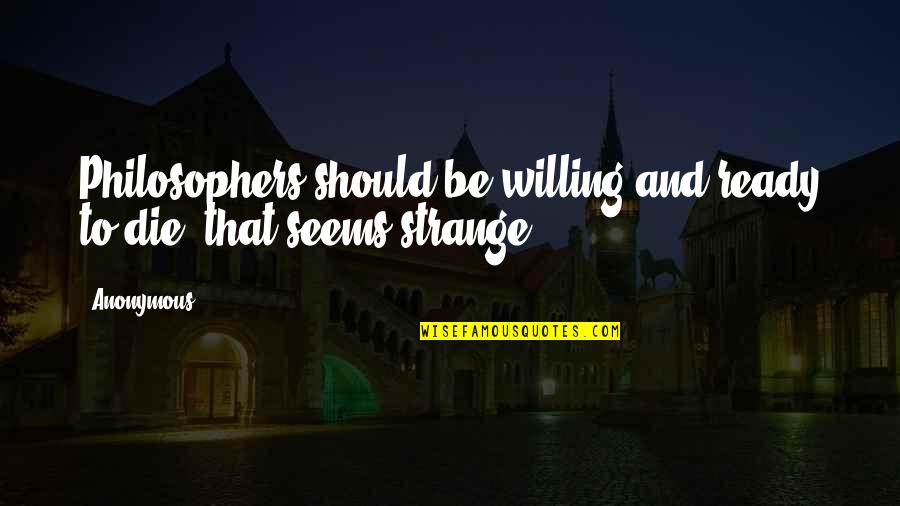 Philosophers should be willing and ready to die, that seems strange, —
Anonymous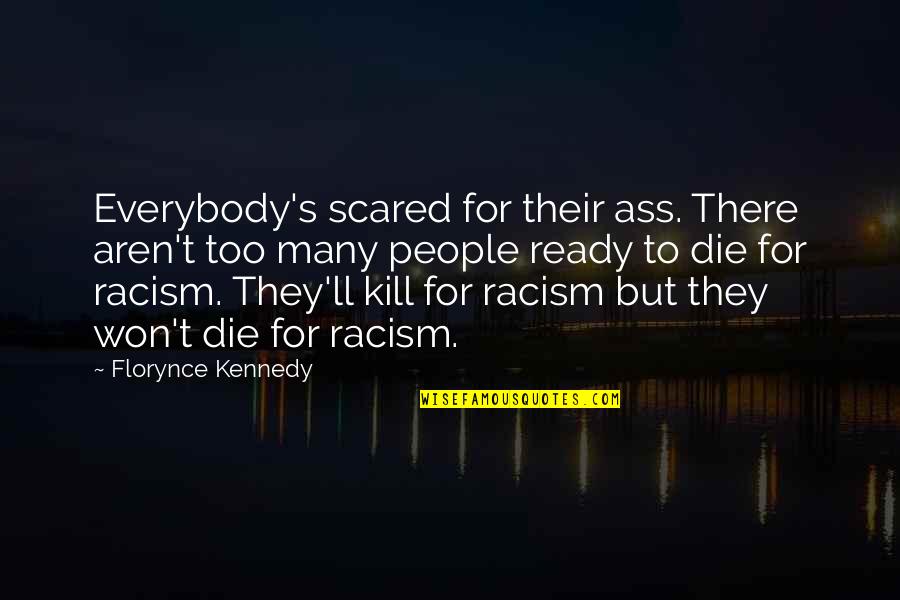 Everybody's scared for their ass. There aren't too many people ready to die for racism. They'll kill for racism but they won't die for racism. —
Florynce Kennedy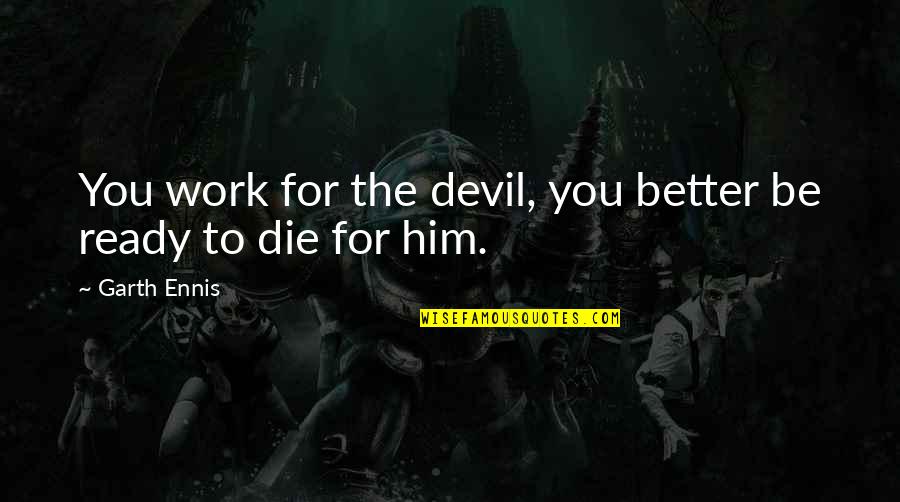 You work for the devil, you better be ready to die for him. —
Garth Ennis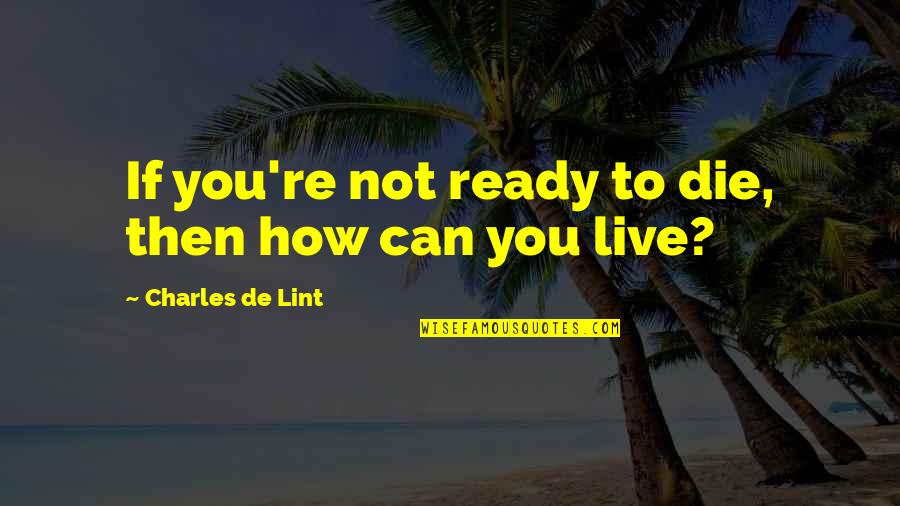 If you're
not ready to die
, then how can you live? —
Charles De Lint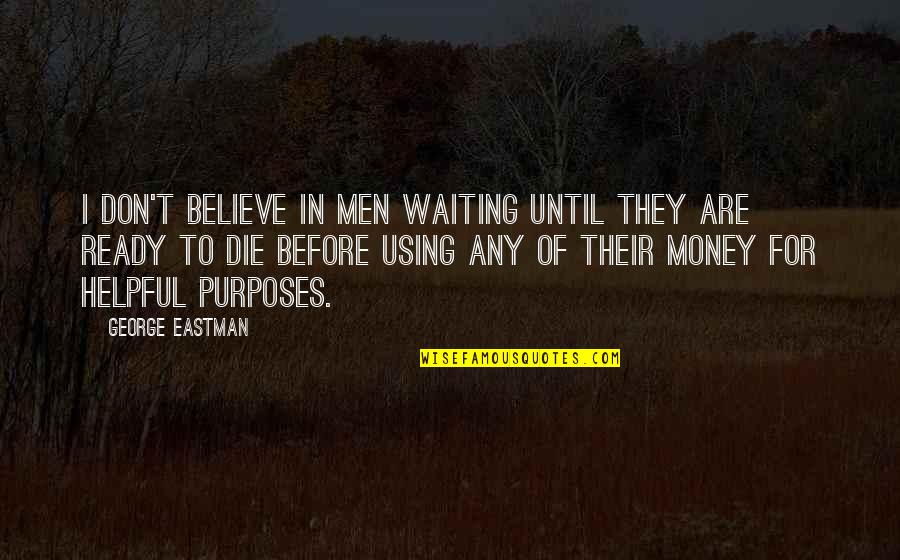 I don't believe in men waiting until they are ready to die before using any of their money for helpful purposes. —
George Eastman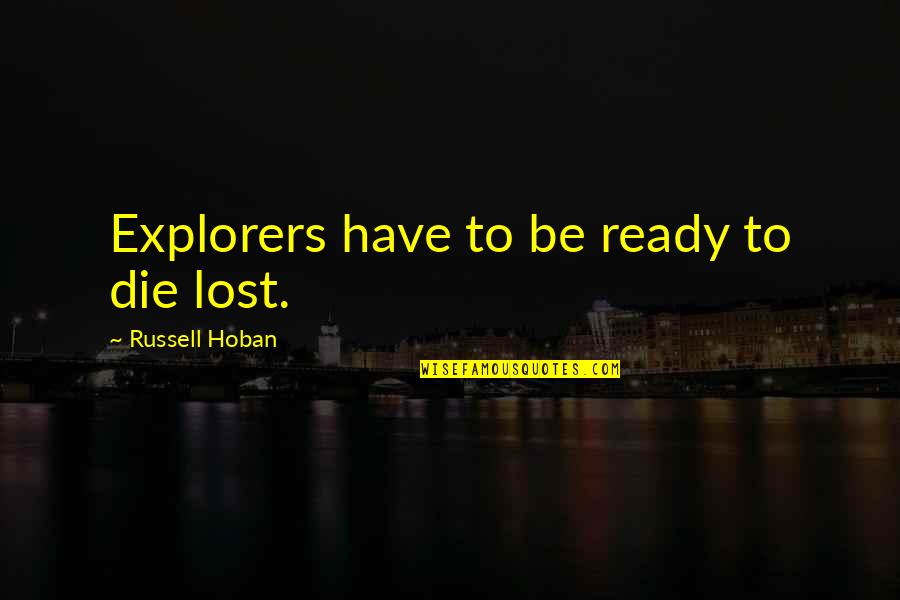 Explorers have to be ready to die lost. —
Russell Hoban