No Such Thing As Luck Quotes
Collection of top 56 famous quotes about No Such Thing As Luck
No Such Thing As Luck Quotes & Sayings
Happy to read and share the best inspirational No Such Thing As Luck quotes, sayings and quotations on Wise Famous Quotes.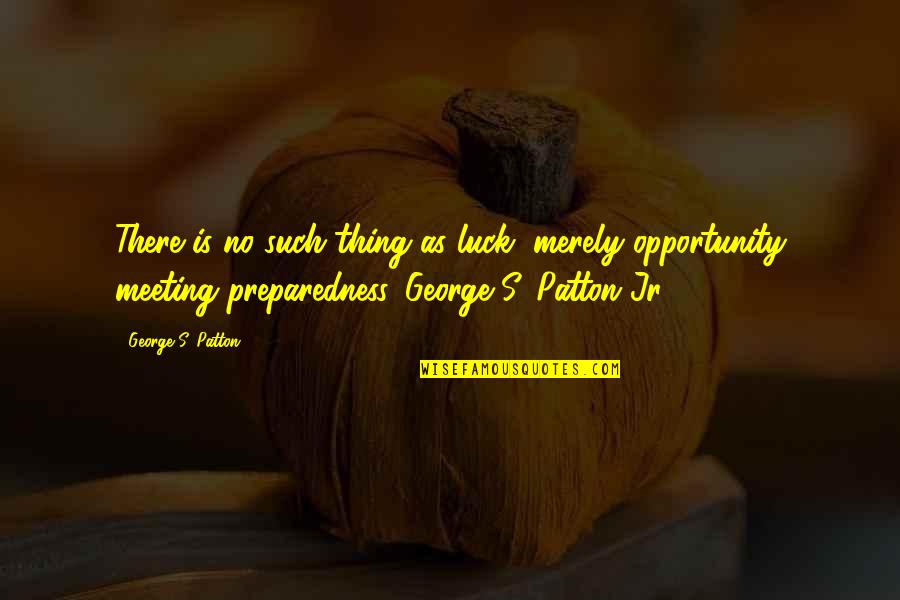 There is no such thing as luck, merely opportunity meeting preparedness. George S. Patton Jr.
—
George S. Patton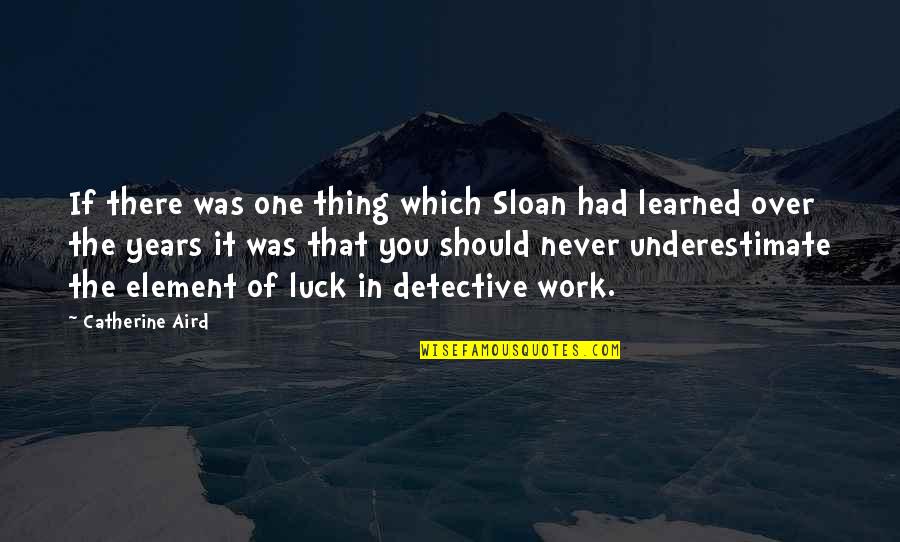 If there was one thing which Sloan had learned over the years it was that you should never underestimate the element of luck in detective work.
—
Catherine Aird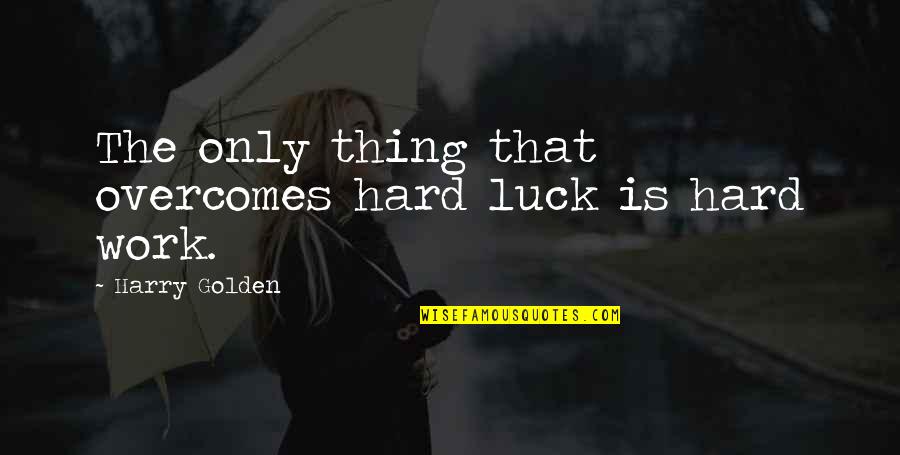 The only thing that overcomes hard luck is hard work.
—
Harry Golden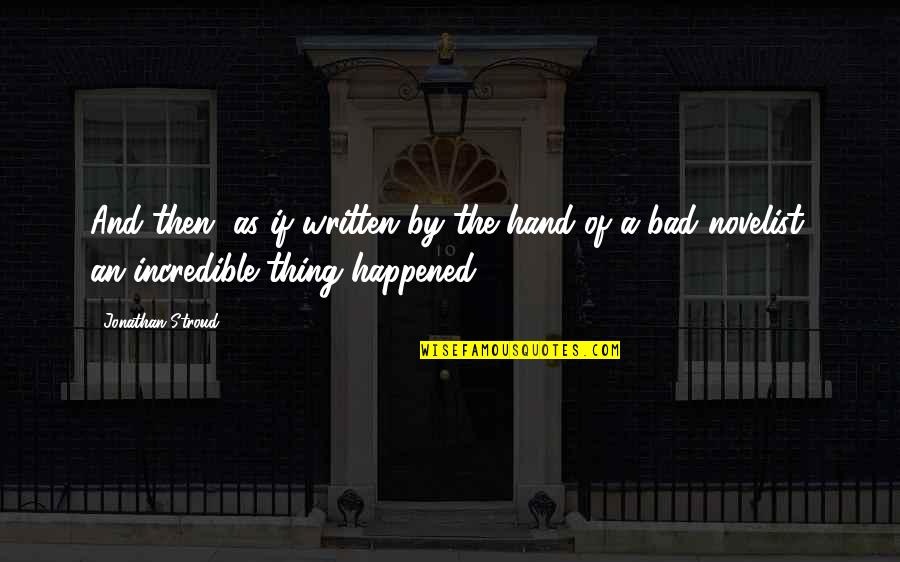 And then, as if written by the hand of a bad novelist, an incredible thing happened.
—
Jonathan Stroud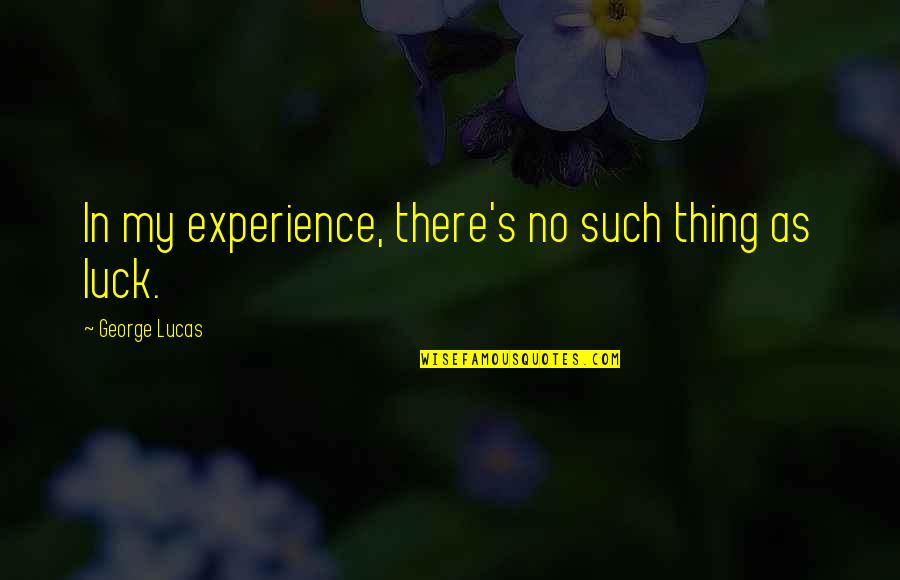 In my experience, there's no such thing as luck.
—
George Lucas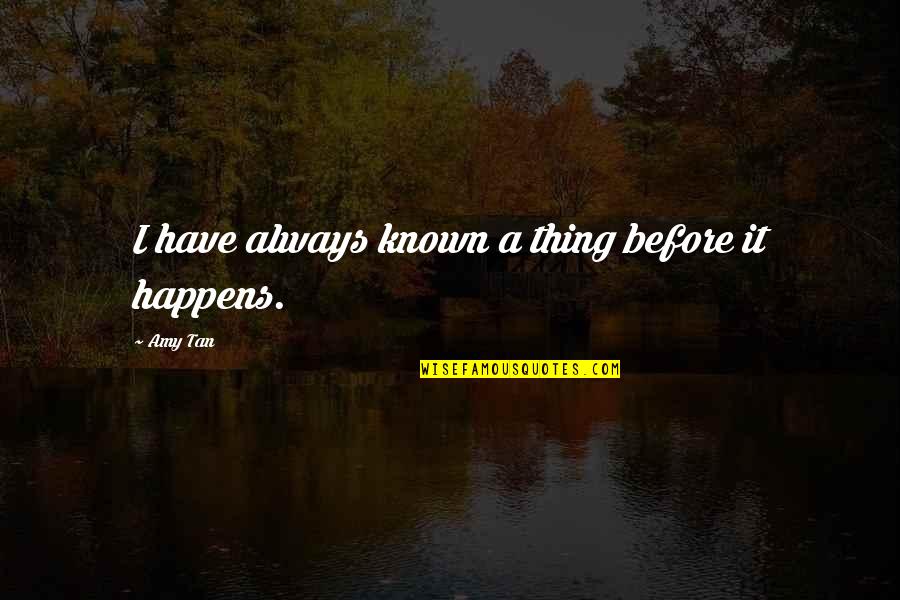 I have always known a thing before it happens.
—
Amy Tan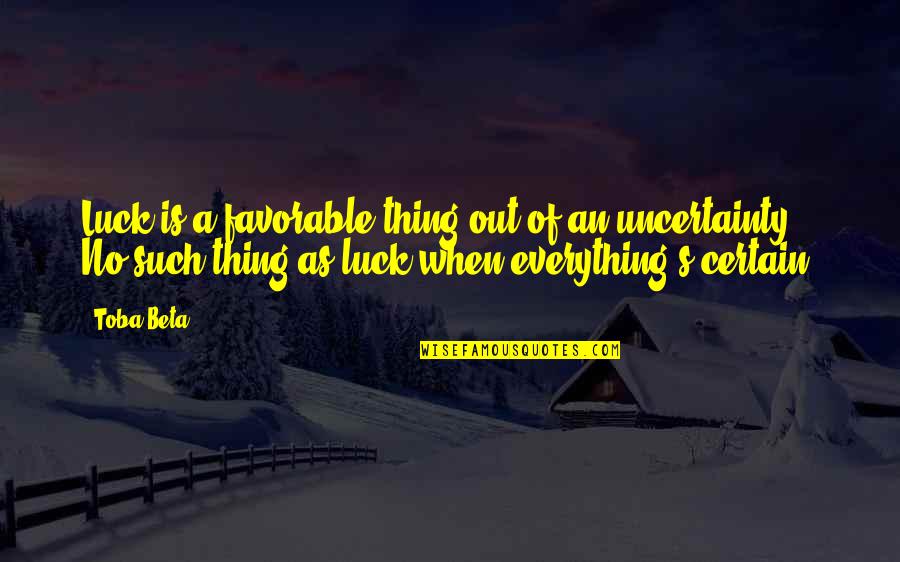 Luck is a favorable thing out of an uncertainty.
No such thing as luck
when everything's certain. —
Toba Beta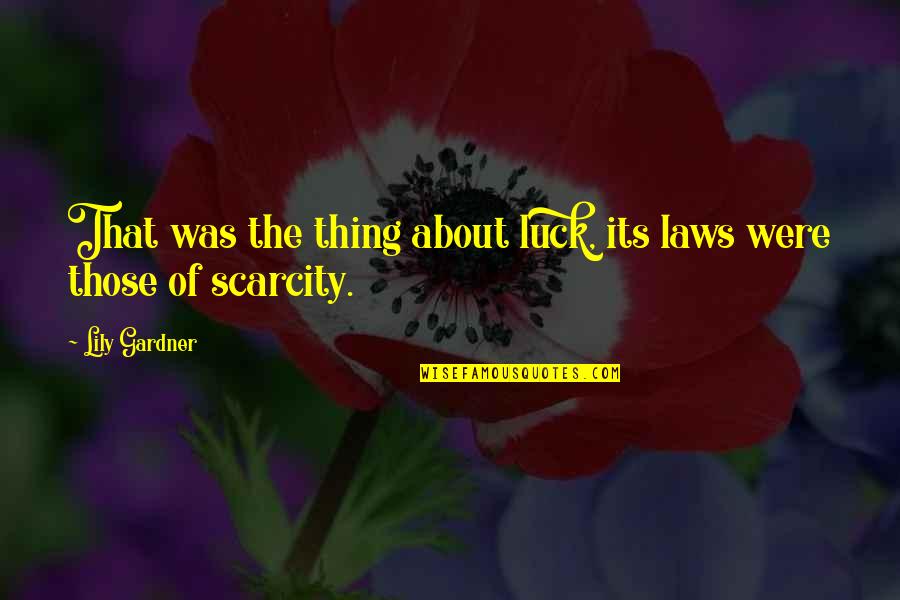 That was the thing about luck, its laws were those of scarcity. —
Lily Gardner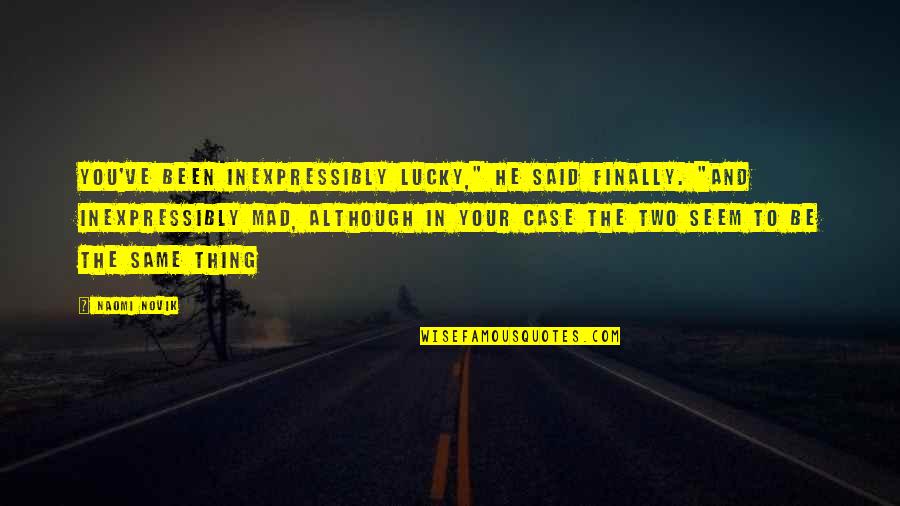 You've been inexpressibly lucky," he said finally. "And inexpressibly mad, although in your case the two seem to be the same thing —
Naomi Novik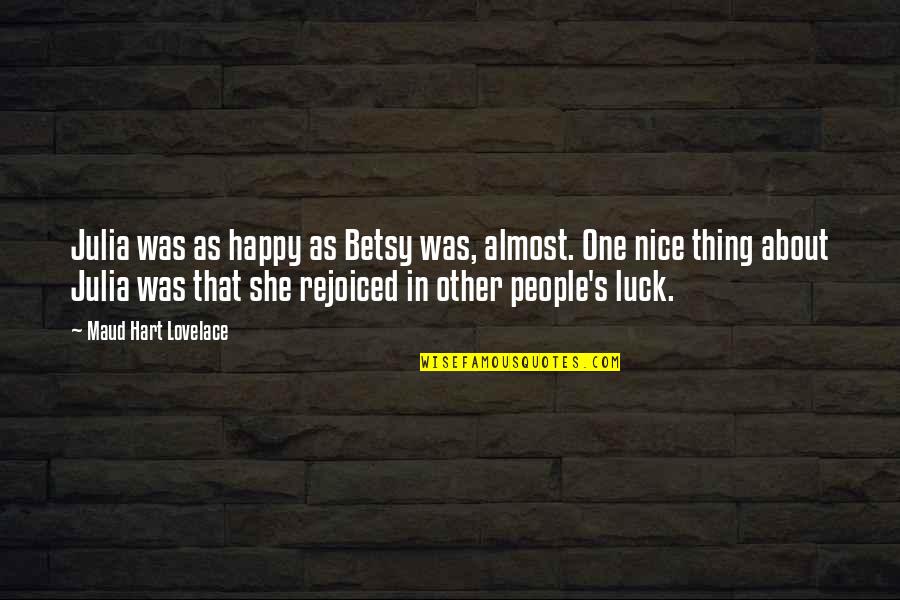 Julia was as happy as Betsy was, almost. One nice thing about Julia was that she rejoiced in other people's luck. —
Maud Hart Lovelace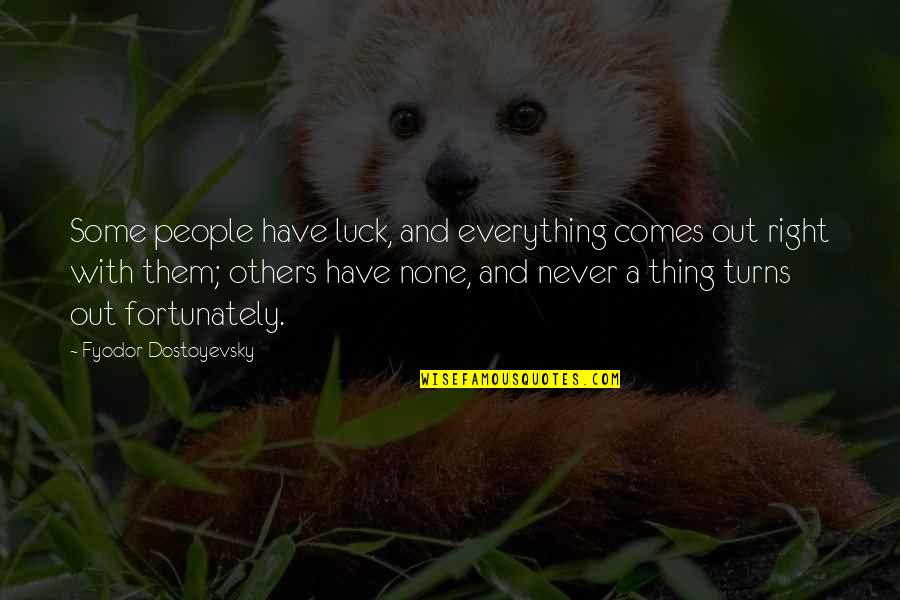 Some people have luck, and everything comes out right with them; others have none, and never a thing turns out fortunately. —
Fyodor Dostoyevsky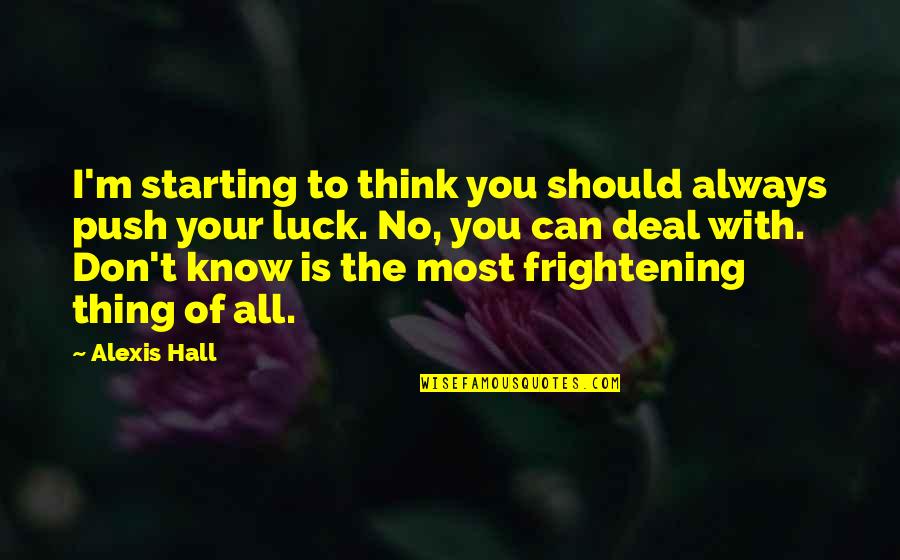 I'm starting to think you should always push your luck. No, you can deal with. Don't know is the most frightening thing of all. —
Alexis Hall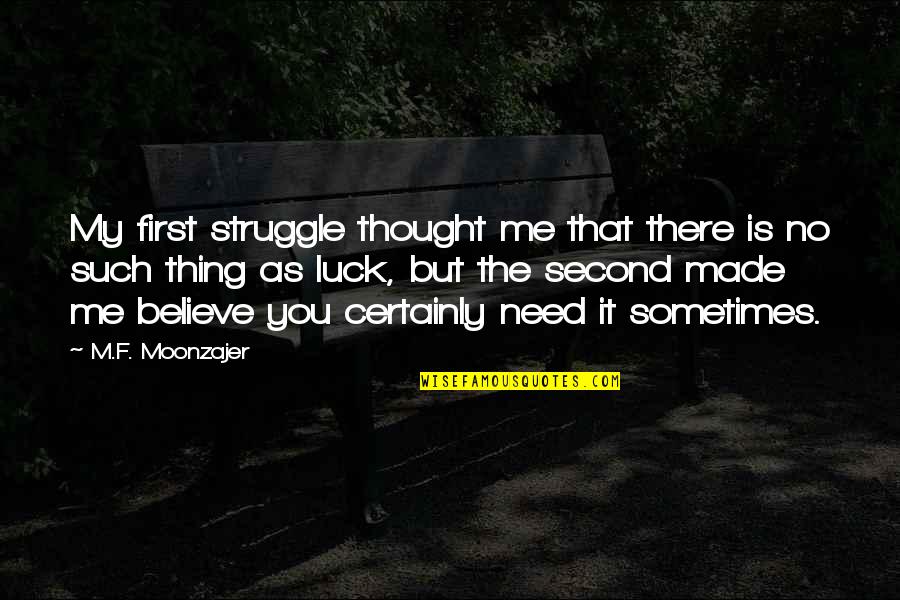 My first struggle thought me that there is
no such thing as luck
, but the second made me believe you certainly need it sometimes. —
M.F. Moonzajer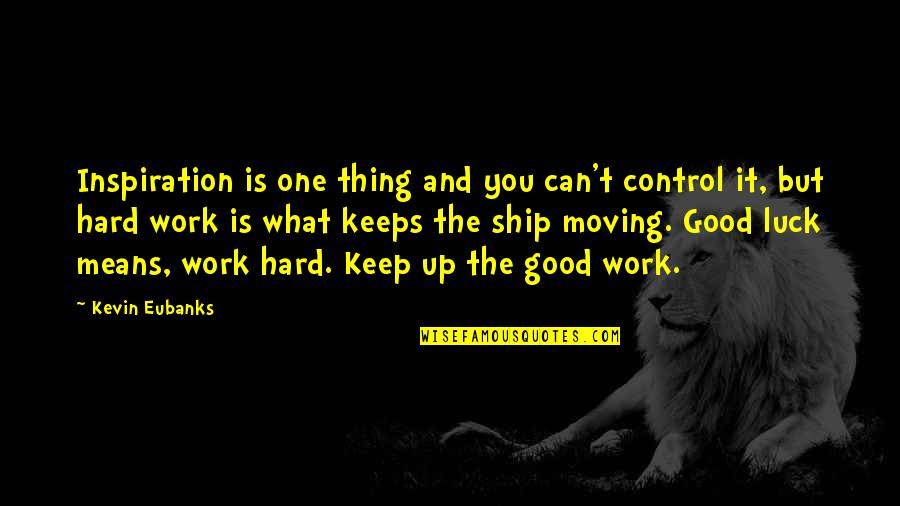 Inspiration is one thing and you can't control it, but hard work is what keeps the ship moving. Good luck means, work hard. Keep up the good work. —
Kevin Eubanks
The deepest thing in any one is the conviction of the bad luck that follows boasting. —
Gertrude Stein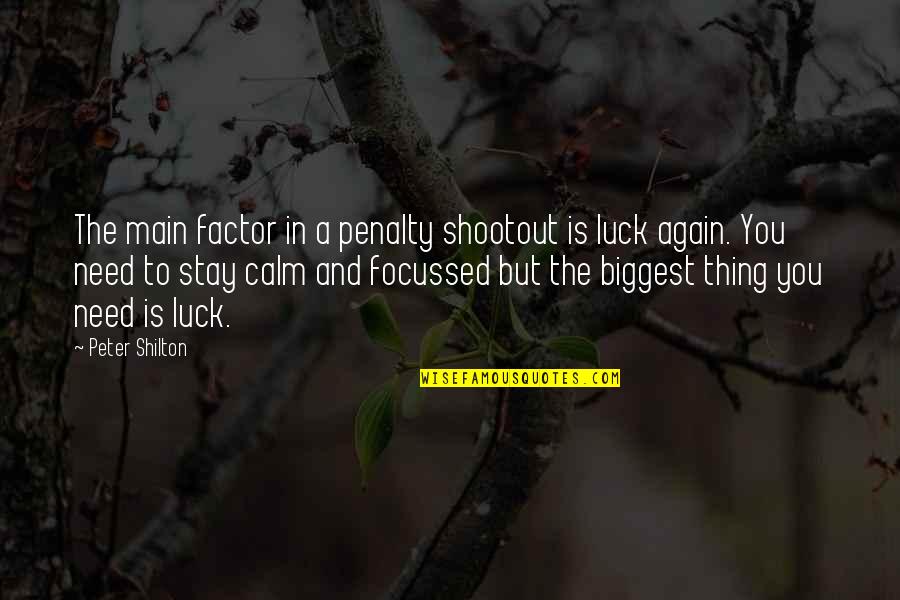 The main factor in a penalty shootout is luck again. You need to stay calm and focussed but the biggest thing you need is luck. —
Peter Shilton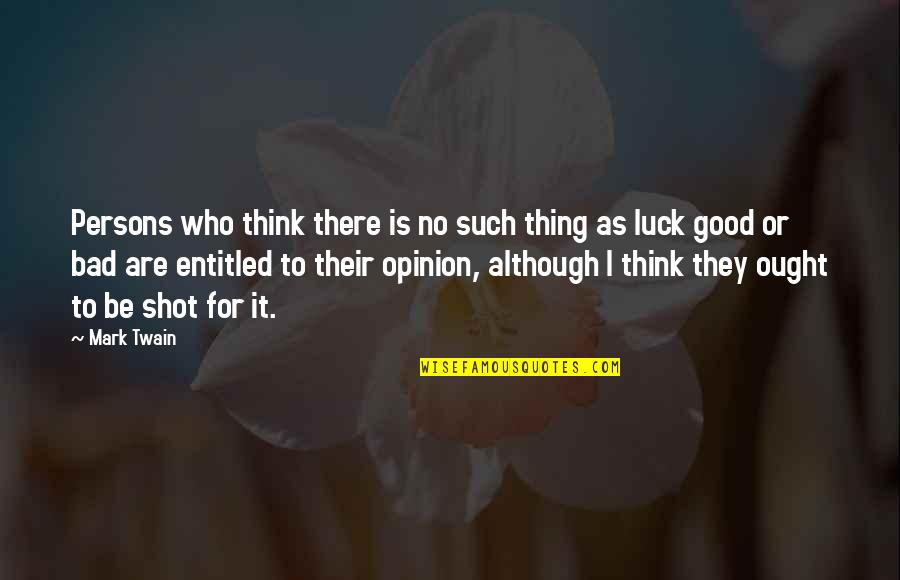 Persons who think there is
no such thing as luck
good or bad are entitled to their opinion, although I think they ought to be shot for it. —
Mark Twain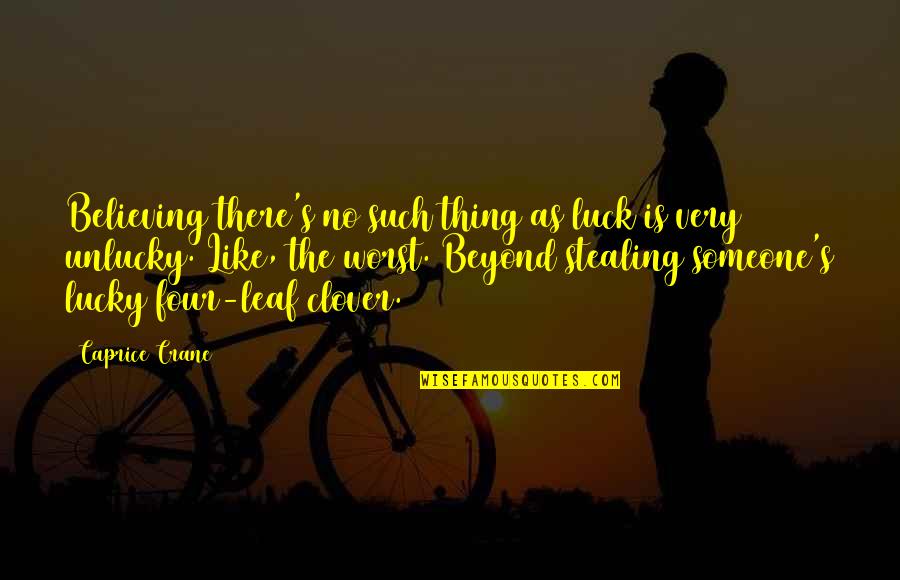 Believing there's
no such thing as luck
is very unlucky. Like, the worst. Beyond stealing someone's lucky four-leaf clover. —
Caprice Crane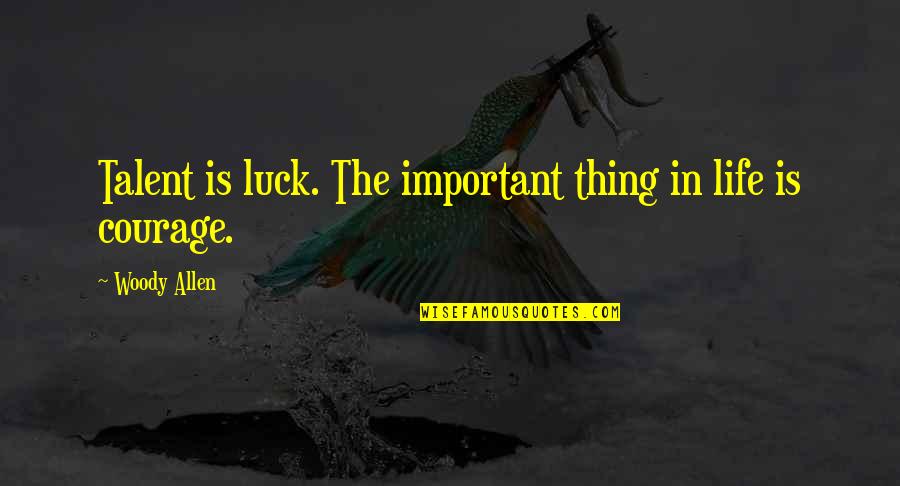 Talent is luck. The important thing in life is courage. —
Woody Allen
It's luck that one thing works out and one doesn't, it's sort of happenstance. —
Richard Linklater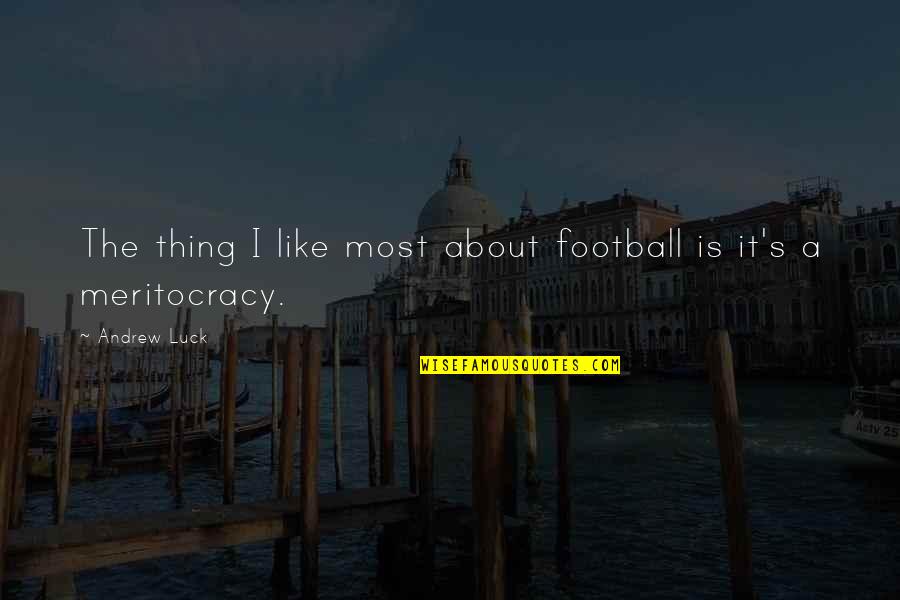 The thing I like most about football is it's a meritocracy. —
Andrew Luck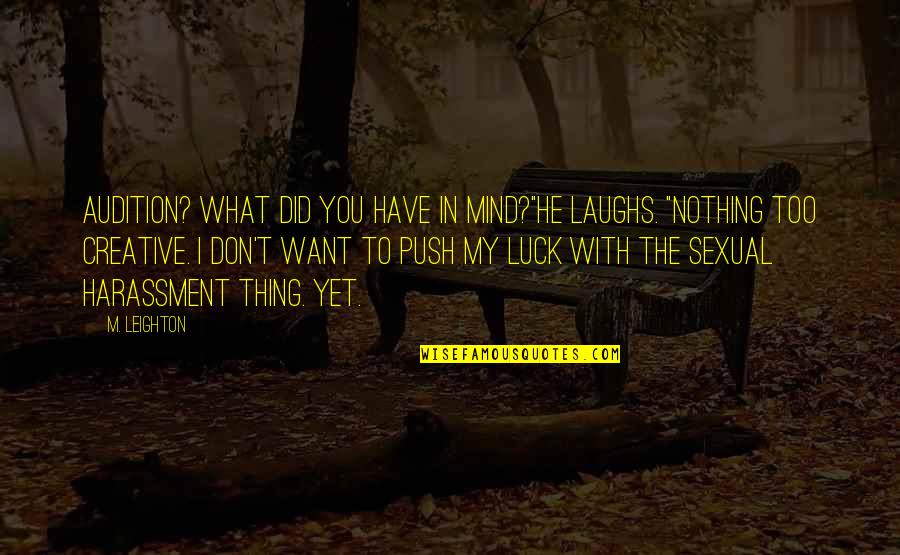 Audition? What did you have in mind?"
He laughs. "Nothing too creative. I don't want to push my luck with the sexual harassment thing. Yet. —
M. Leighton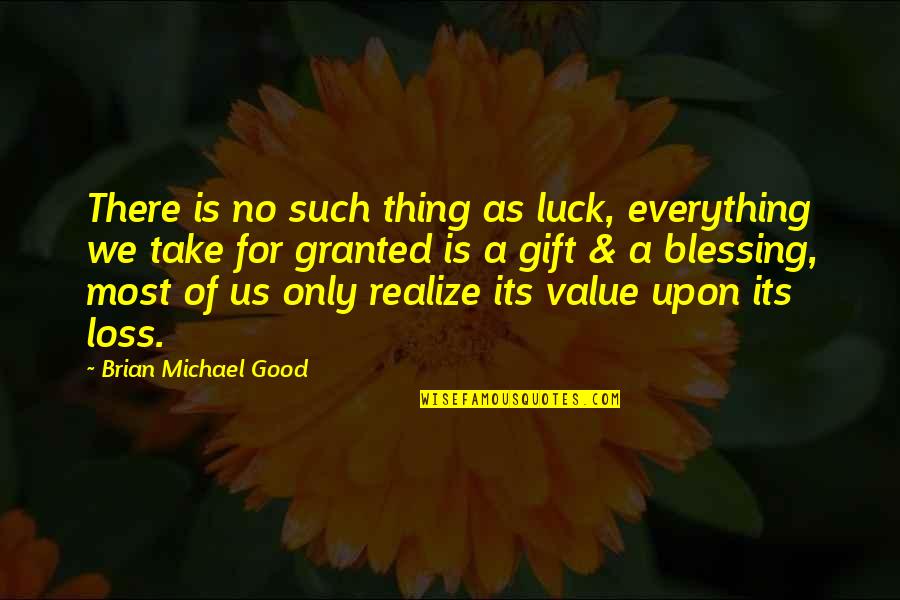 There is
no such thing as luck
, everything we take for granted is a gift & a blessing, most of us only realize its value upon its loss. —
Brian Michael Good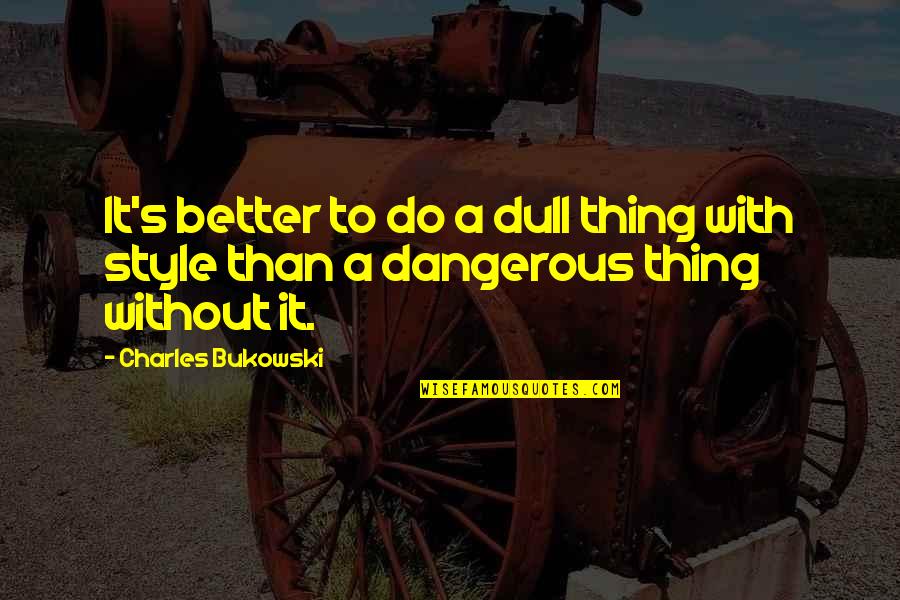 It's better to do a dull thing with style than a dangerous thing without it. —
Charles Bukowski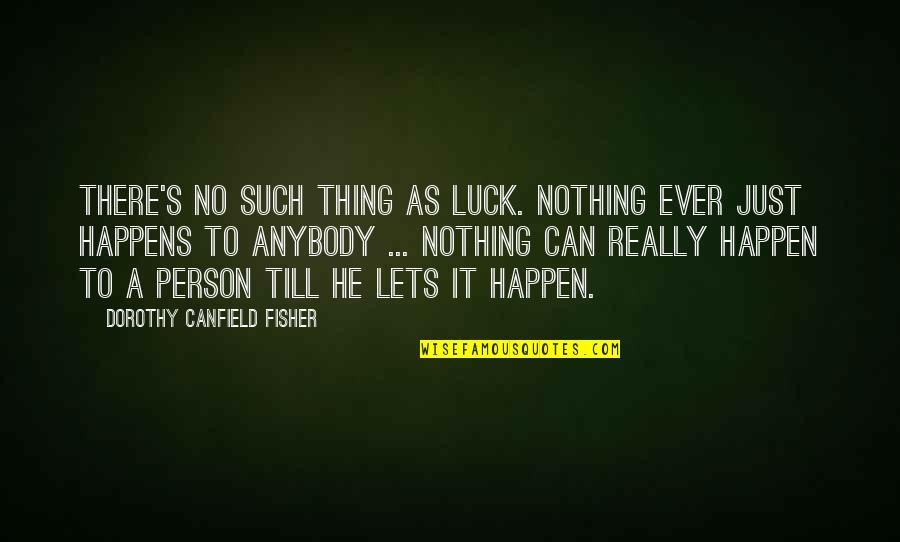 There's
no such thing as luck
. Nothing ever just happens to anybody ... nothing can really happen to a person till he lets it happen. —
Dorothy Canfield Fisher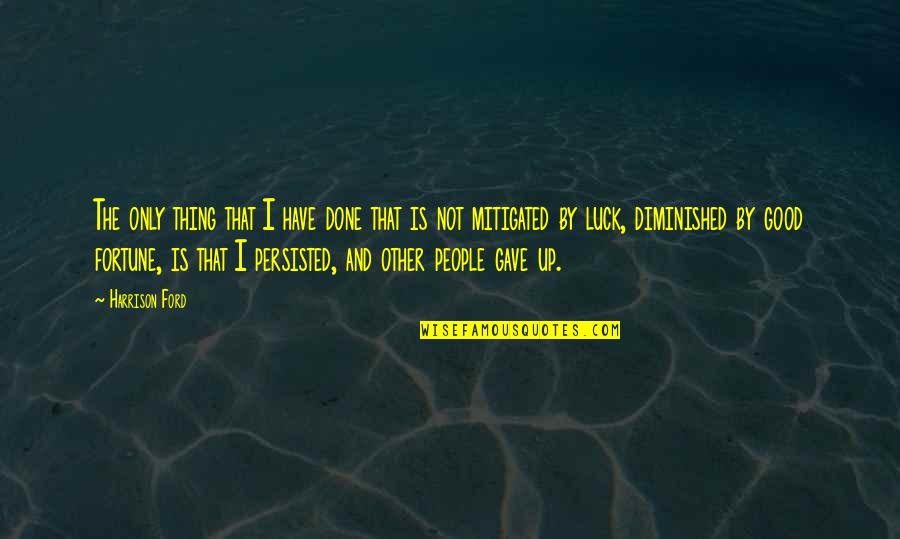 The only thing that I have done that is not mitigated by luck, diminished by good fortune, is that I persisted, and other people gave up. —
Harrison Ford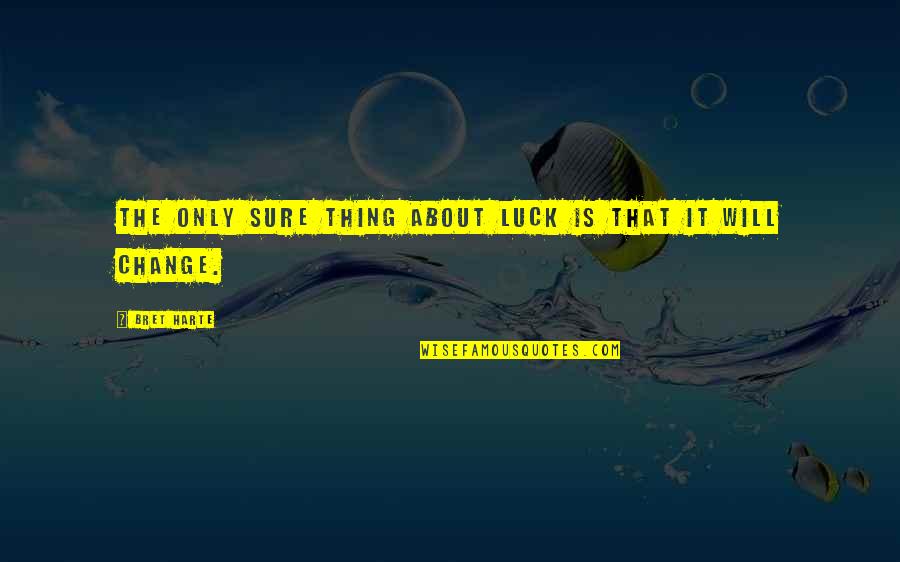 The only sure thing about luck is that it will change. —
Bret Harte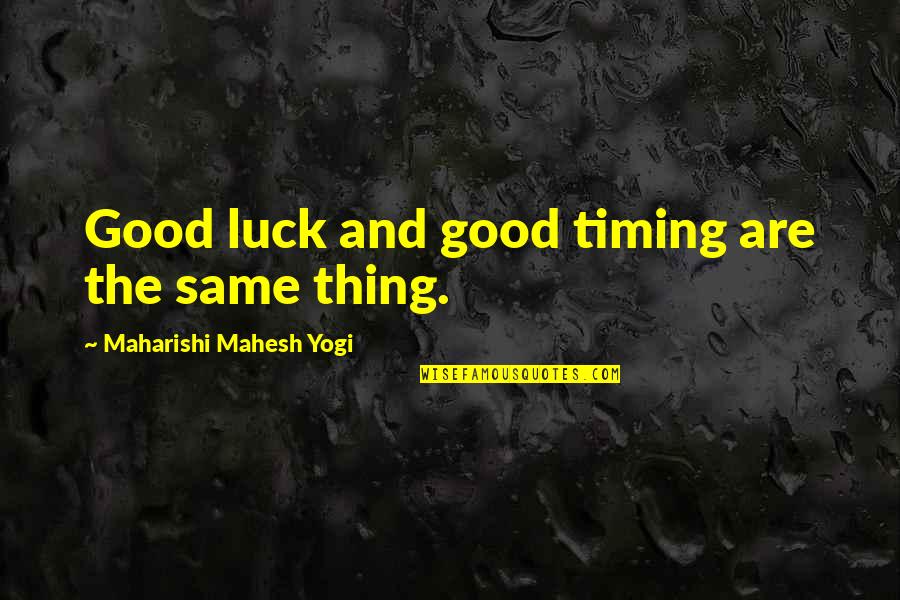 Good luck and good timing are the same thing. —
Maharishi Mahesh Yogi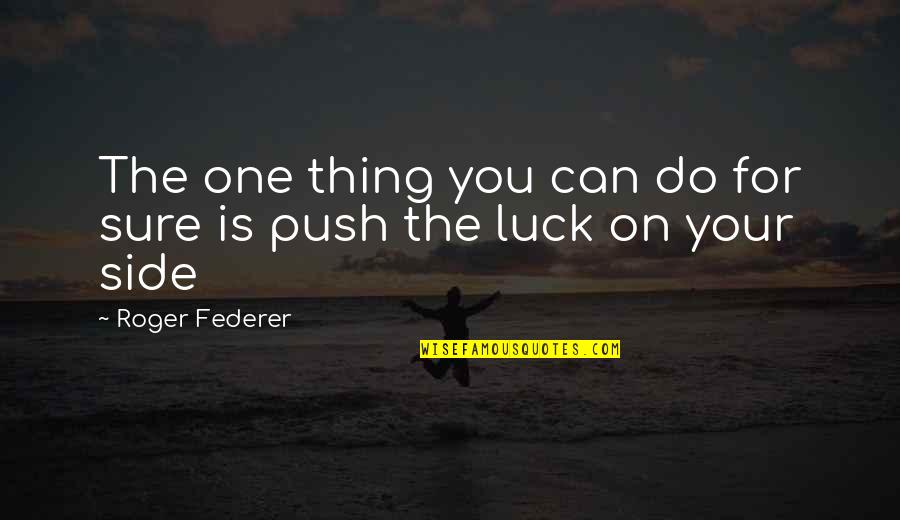 The one thing you can do for sure is push the luck on your side —
Roger Federer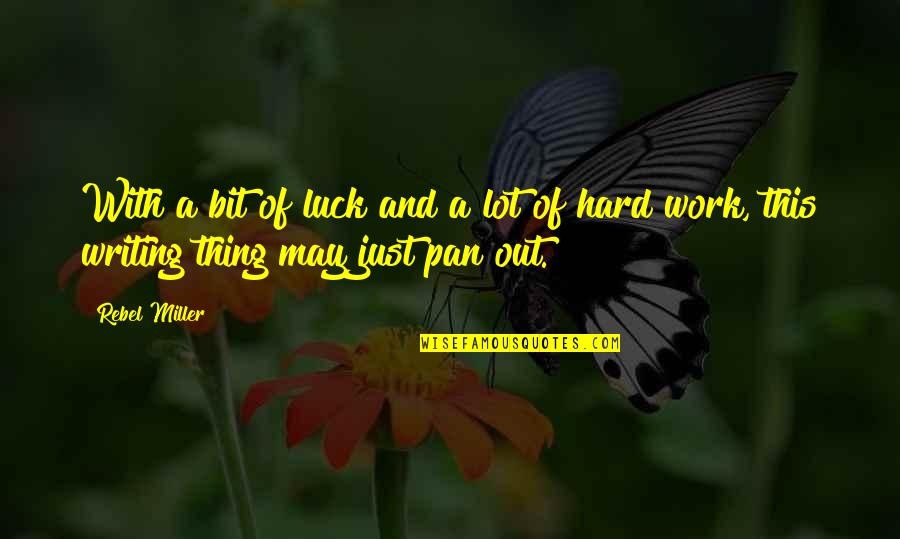 With a bit of luck and a lot of hard work, this writing thing may just pan out. —
Rebel Miller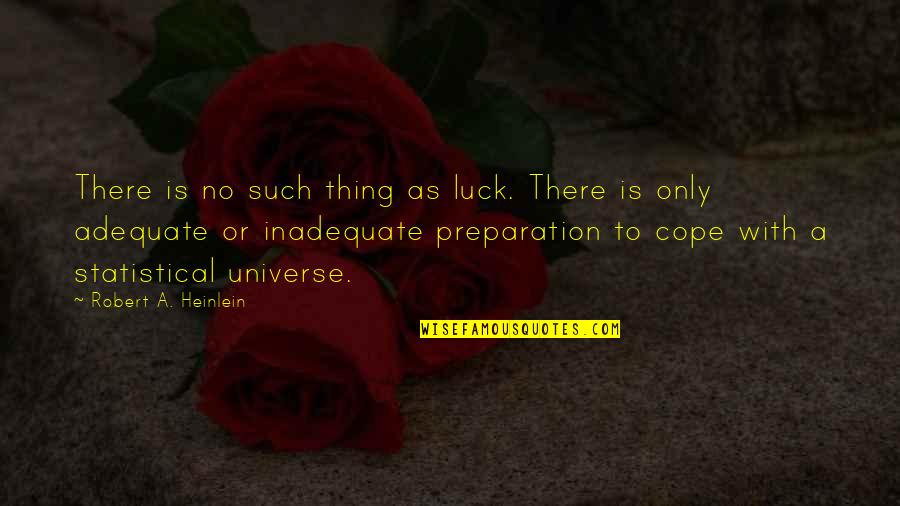 There is
no such thing as luck
. There is only adequate or inadequate preparation to cope with a statistical universe. —
Robert A. Heinlein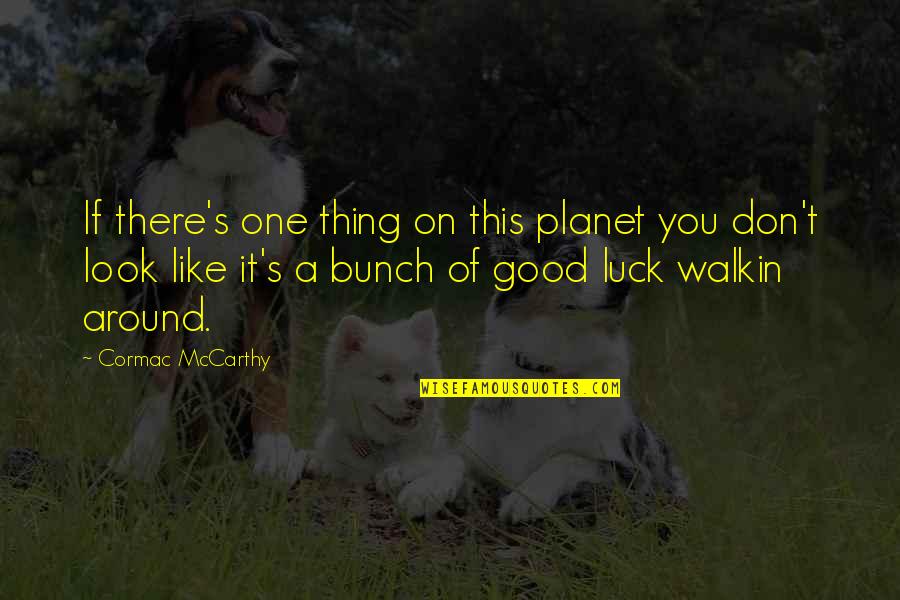 If there's one thing on this planet you don't look like it's a bunch of good luck walkin around. —
Cormac McCarthy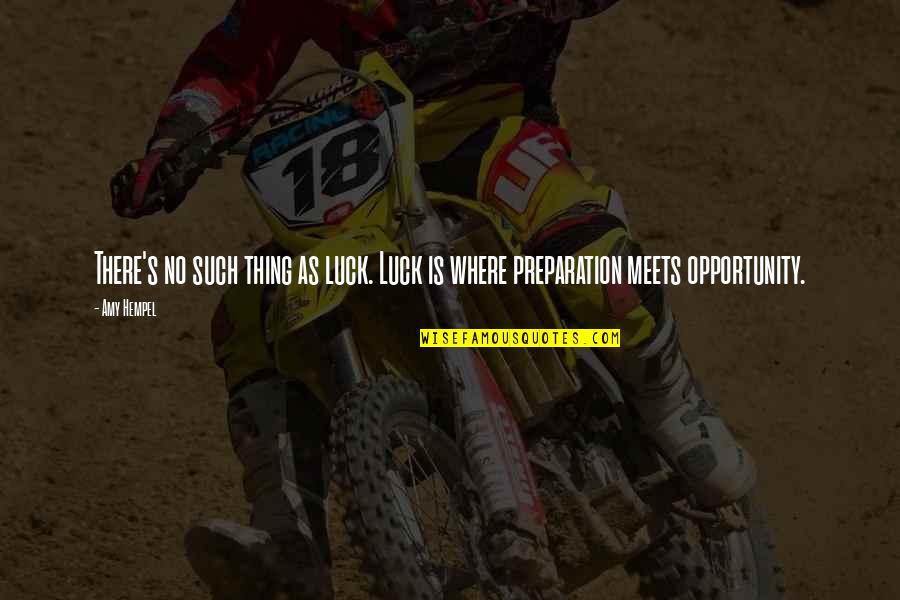 There's
no such thing as luck
. Luck is where preparation meets opportunity. —
Amy Hempel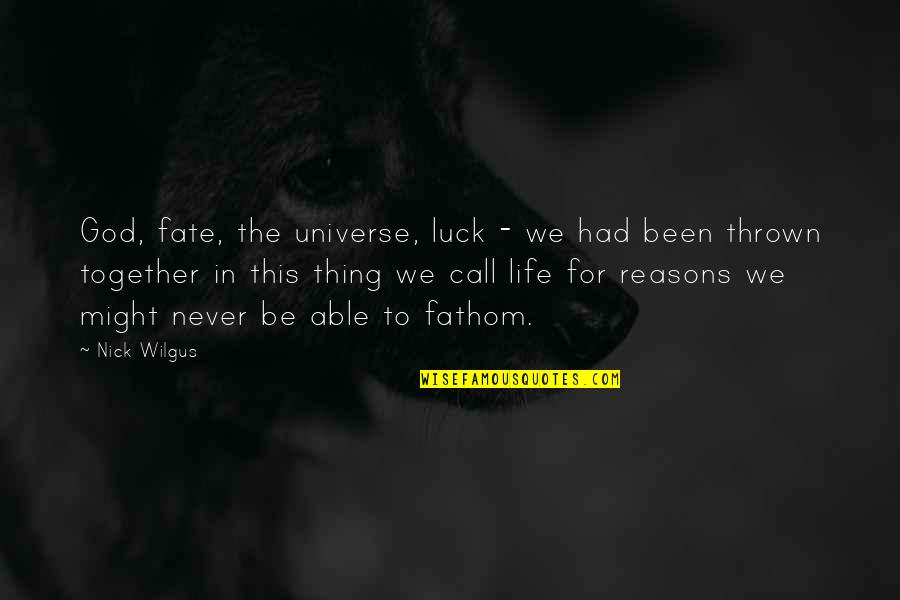 God, fate, the universe, luck - we had been thrown together in this thing we call life for reasons we might never be able to fathom. —
Nick Wilgus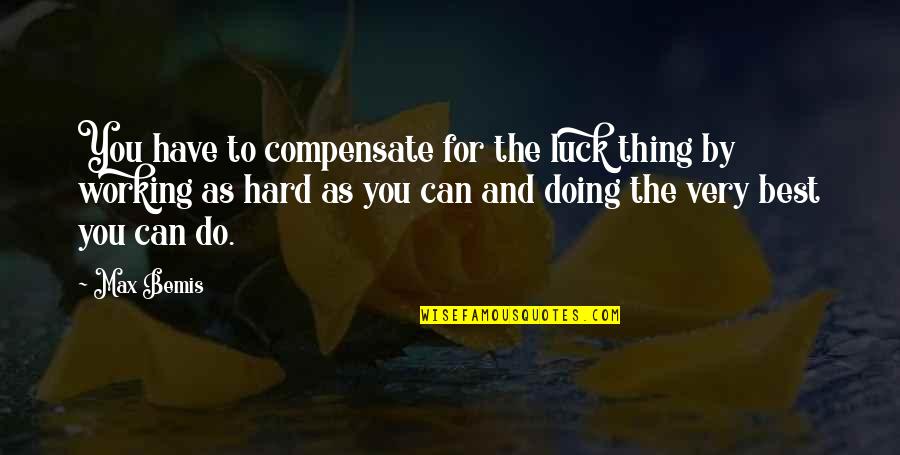 You have to compensate for the luck thing by working as hard as you can and doing the very best you can do. —
Max Bemis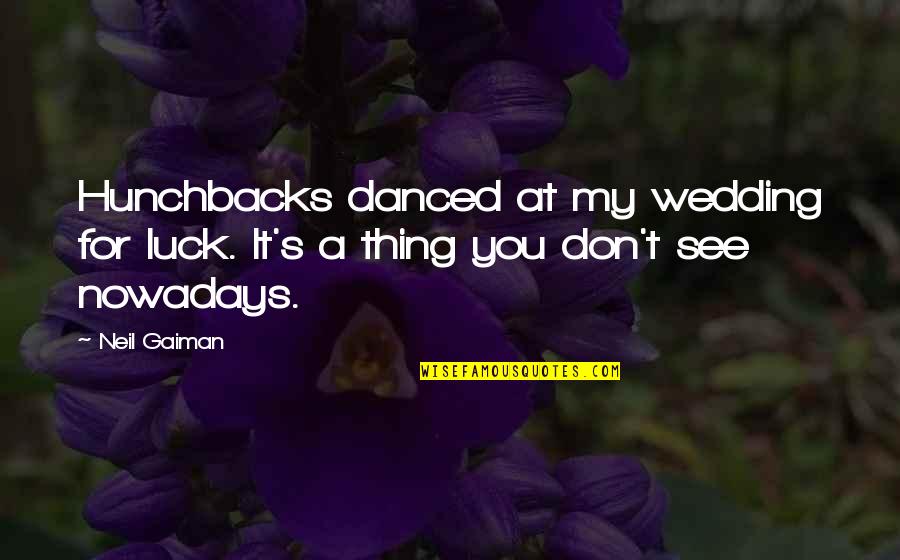 Hunchbacks danced at my wedding for luck. It's a thing you don't see nowadays. —
Neil Gaiman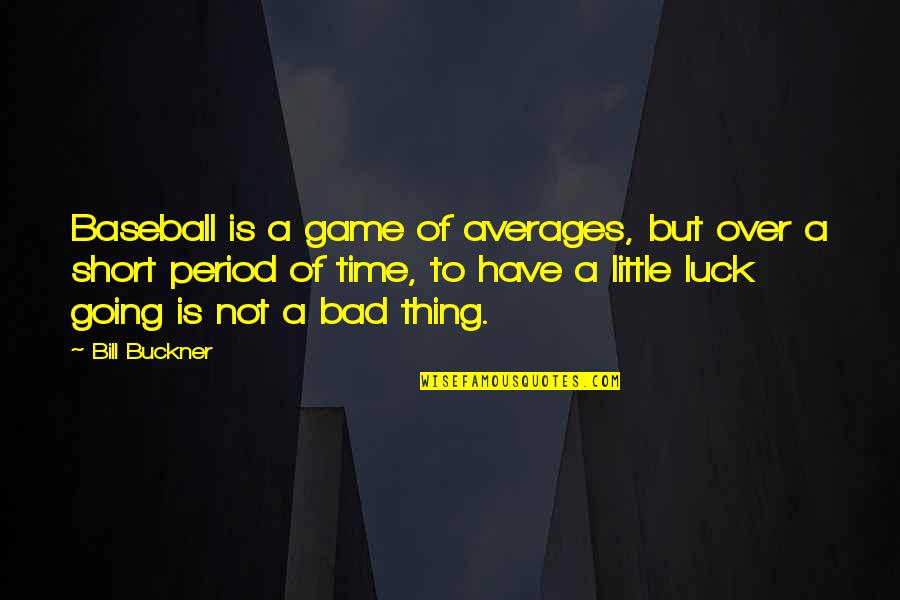 Baseball is a game of averages, but over a short period of time, to have a little luck going is not a bad thing. —
Bill Buckner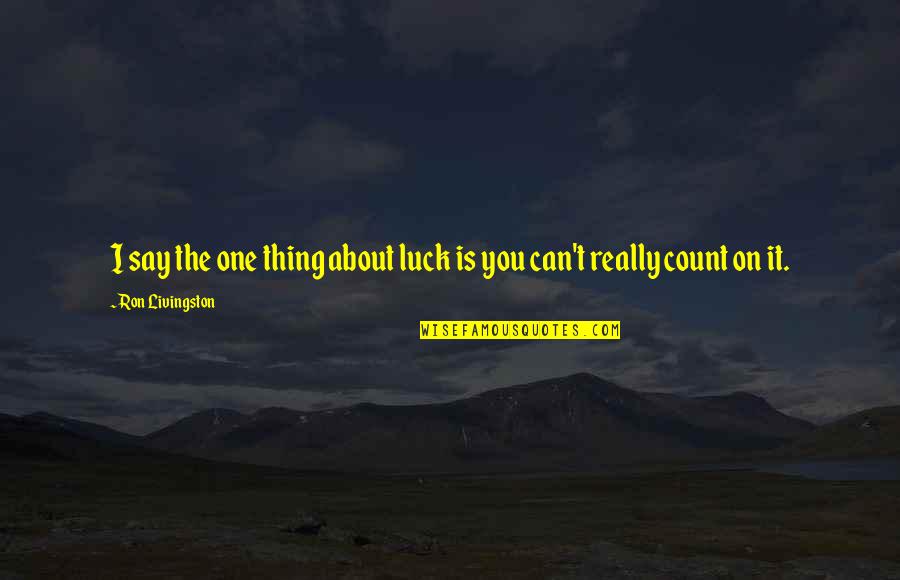 I say the one thing about luck is you can't really count on it. —
Ron Livingston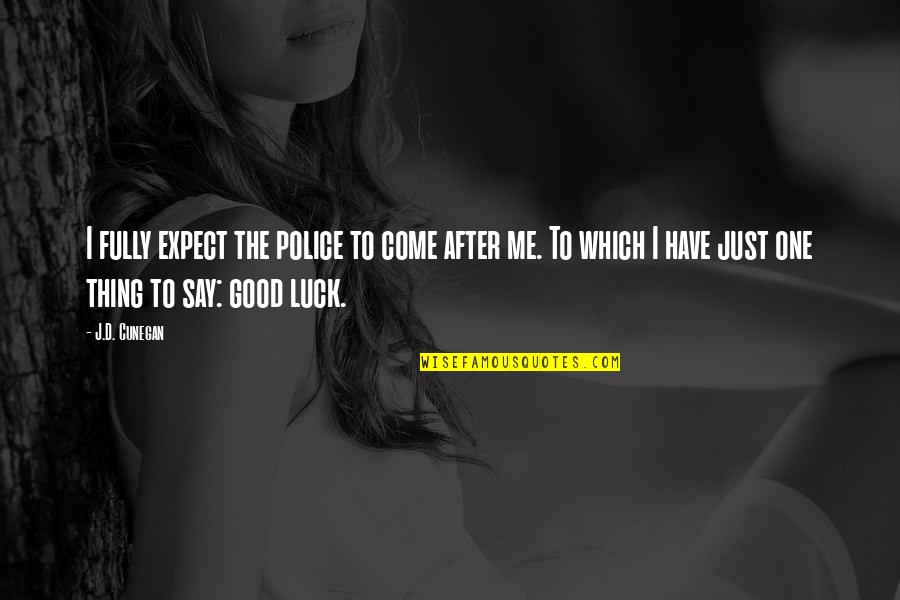 I fully expect the police to come after me. To which I have just one thing to say: good luck. —
J.D. Cunegan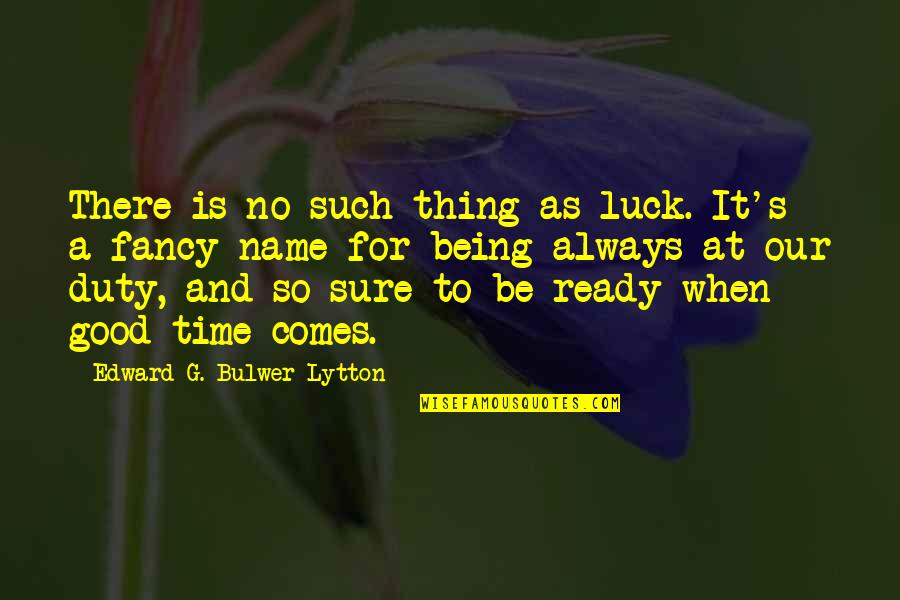 There is
no such thing as luck
. It's a fancy name for being always at our duty, and so sure to be ready when good time comes. —
Edward G. Bulwer-Lytton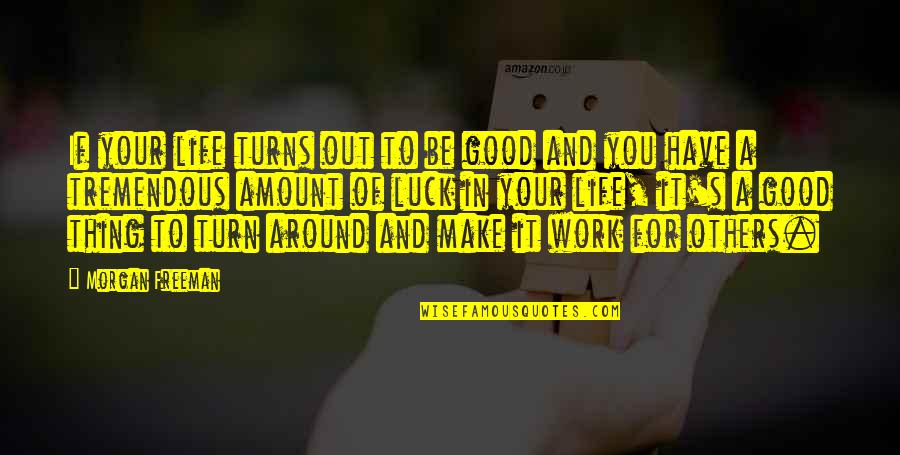 If your life turns out to be good and you have a tremendous amount of luck in your life, it's a good thing to turn around and make it work for others. —
Morgan Freeman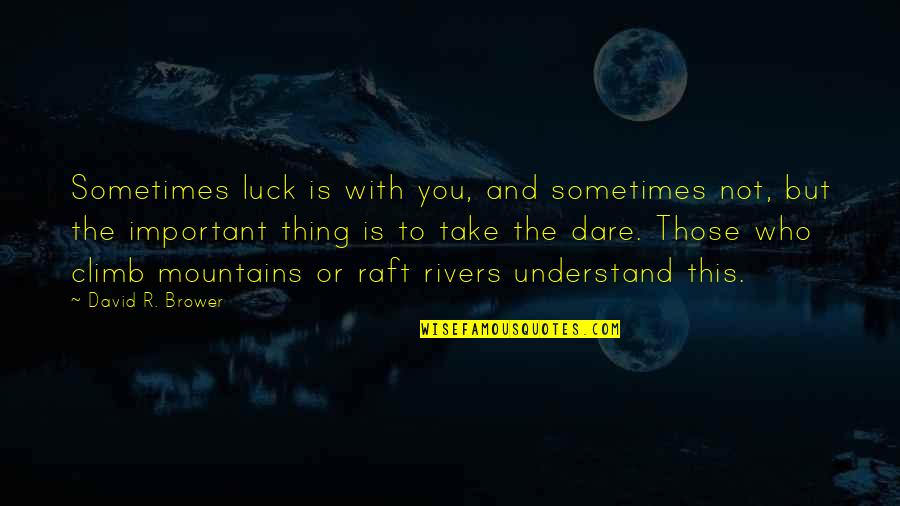 Sometimes luck is with you, and sometimes not, but the important thing is to take the dare. Those who climb mountains or raft rivers understand this. —
David R. Brower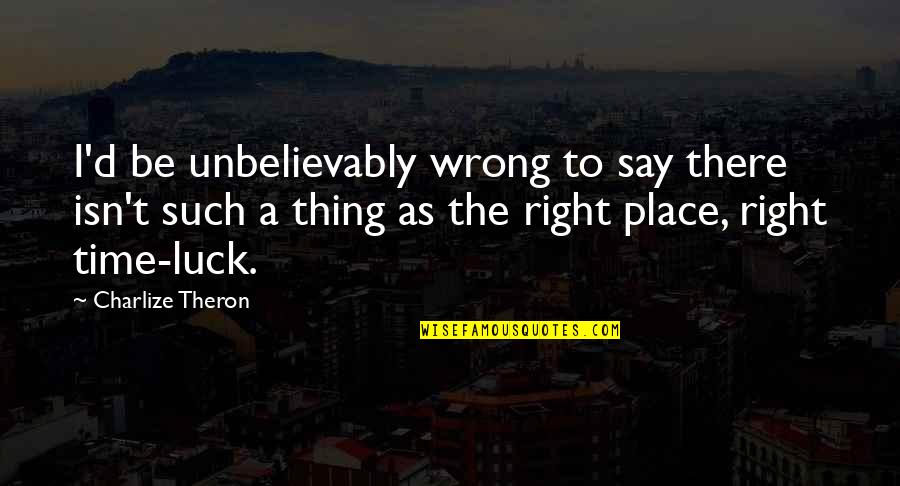 I'd be unbelievably wrong to say there isn't such a thing as the right place, right time-luck. —
Charlize Theron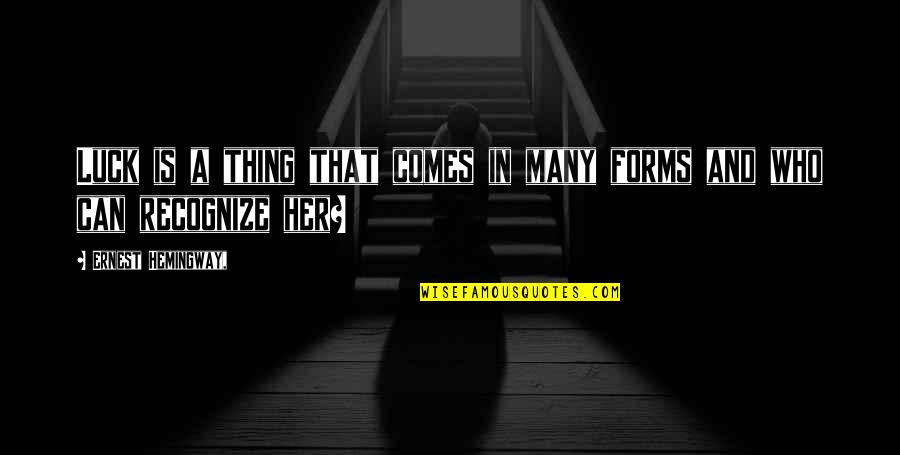 Luck is a thing that comes in many forms and who can recognize her? —
Ernest Hemingway,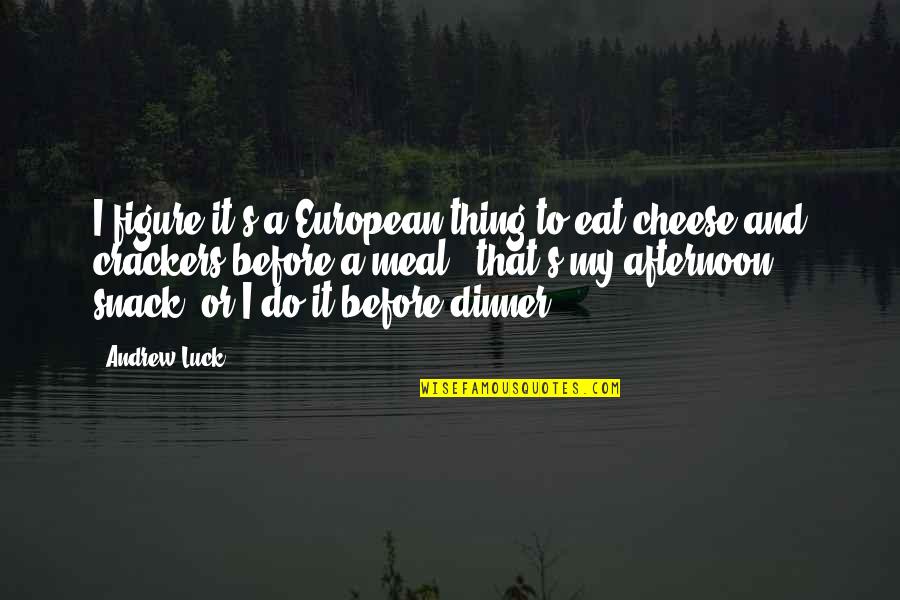 I figure it's a European thing to eat cheese and crackers before a meal - that's my afternoon snack, or I do it before dinner. —
Andrew Luck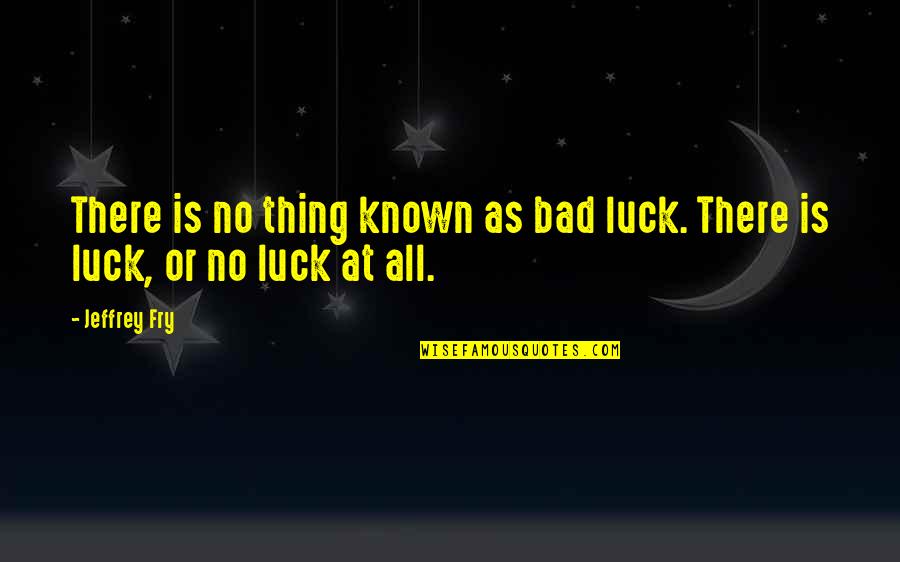 There is no thing known as bad luck. There is luck, or no luck at all. —
Jeffrey Fry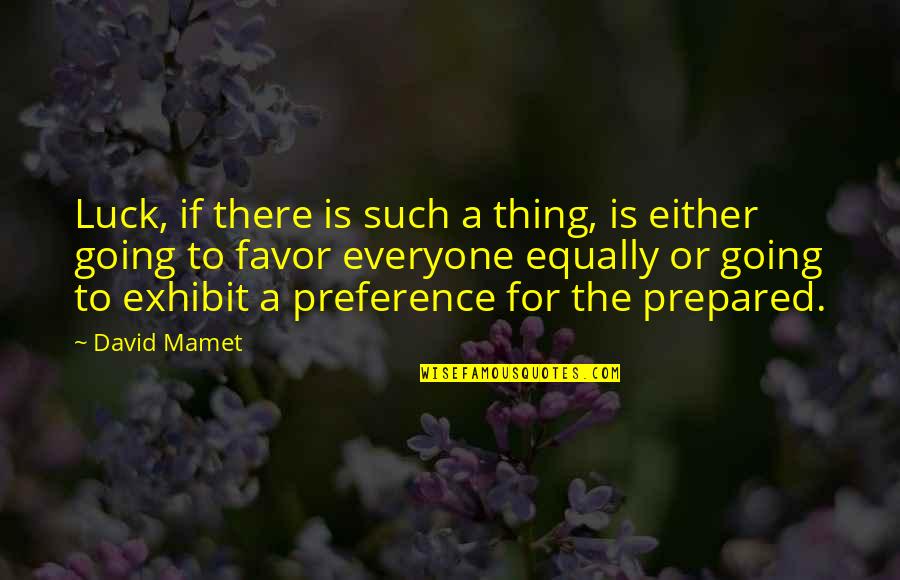 Luck, if there is such a thing, is either going to favor everyone equally or going to exhibit a preference for the prepared. —
David Mamet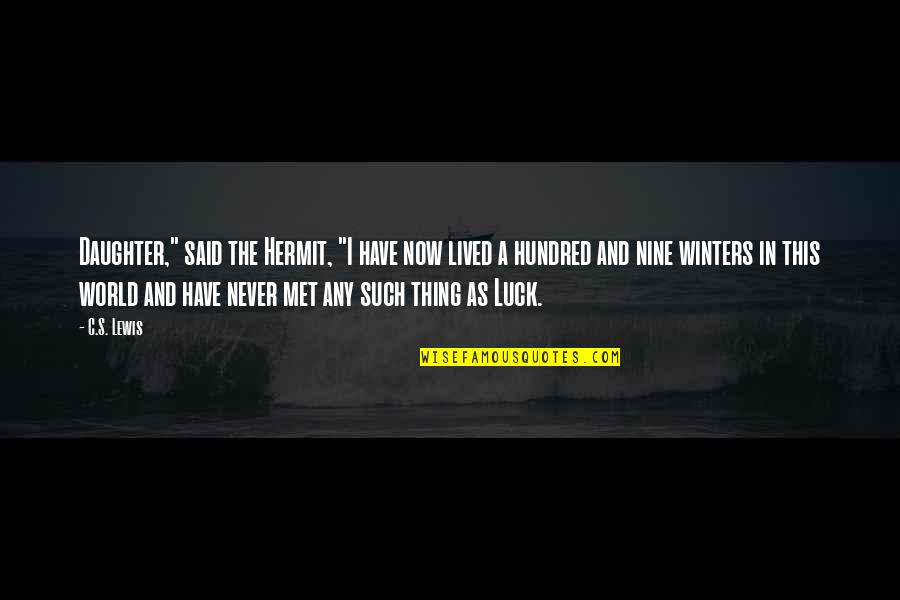 Daughter," said the Hermit, "I have now lived a hundred and nine winters in this world and have never met any such thing as Luck. —
C.S. Lewis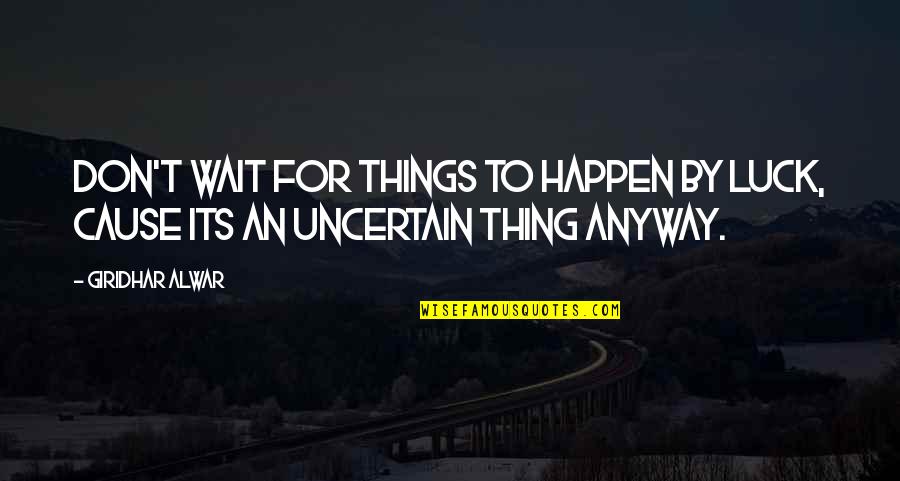 Don't wait for things to happen by luck, cause its an uncertain thing anyway. —
Giridhar Alwar
I feel I'd like to share my luck and my life. Being in love is the best thing in the world. —
Susannah York