Nice Friends Quotes
Collection of top 51 famous quotes about Nice Friends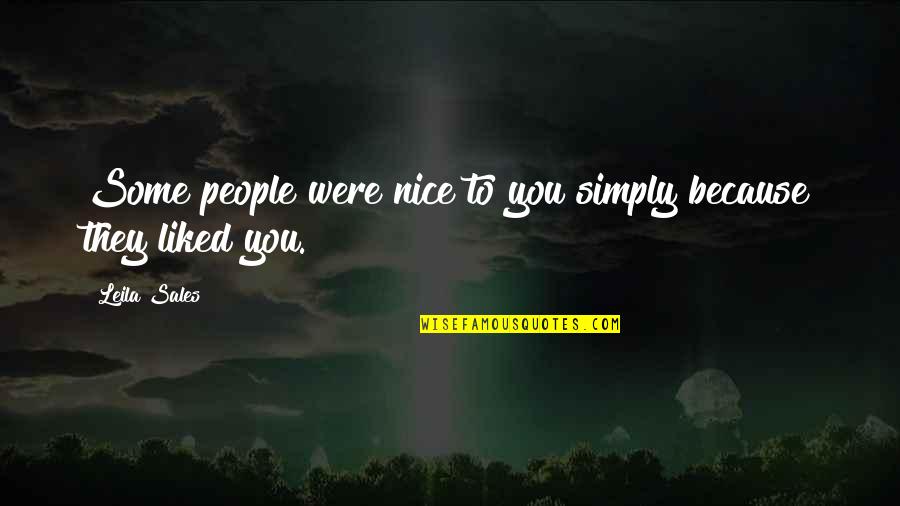 Some people were nice to you simply because they liked you.
—
Leila Sales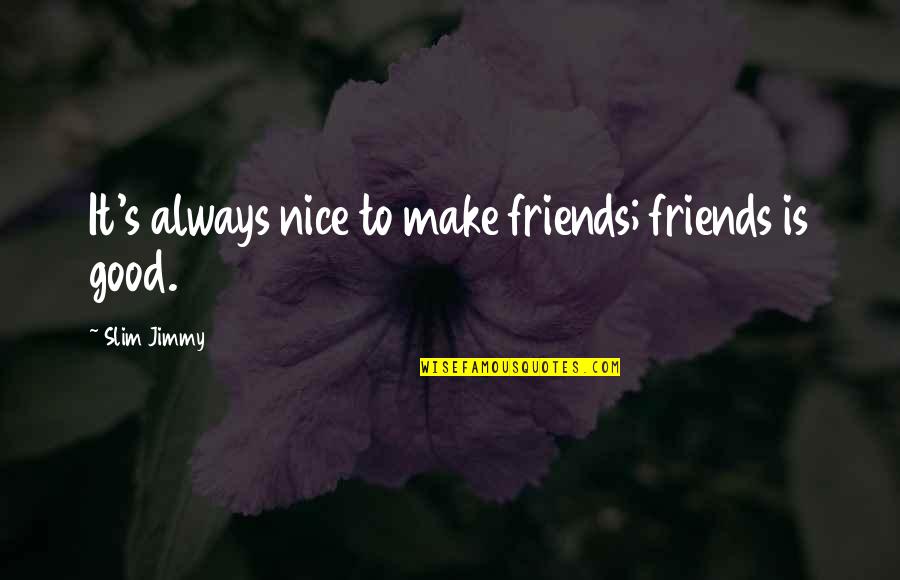 It's always nice to make friends; friends is good.
—
Slim Jimmy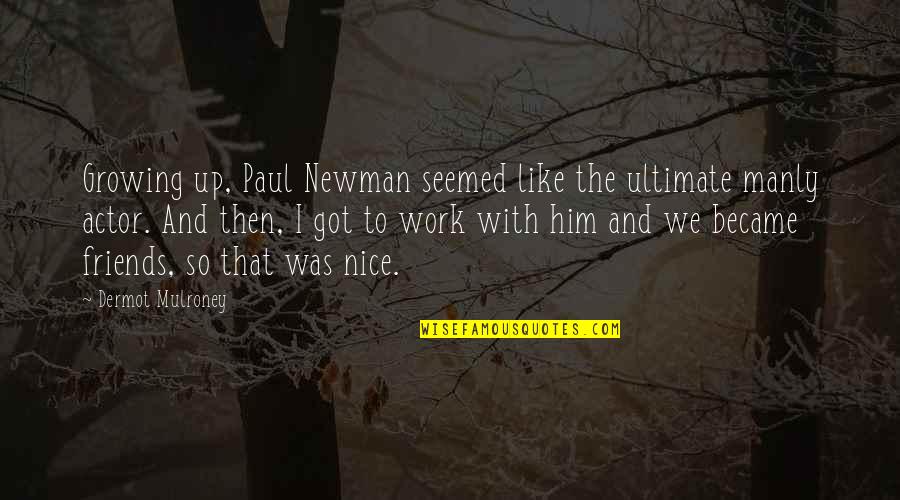 Growing up, Paul Newman seemed like the ultimate manly actor. And then, I got to work with him and we became friends, so that was nice.
—
Dermot Mulroney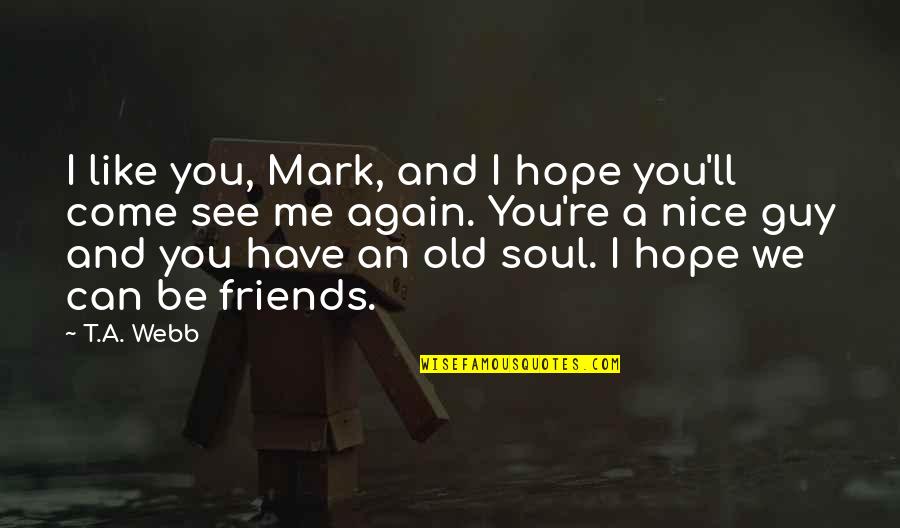 I like you, Mark, and I hope you'll come see me again. You're a nice guy and you have an old soul. I hope we can be friends.
—
T.A. Webb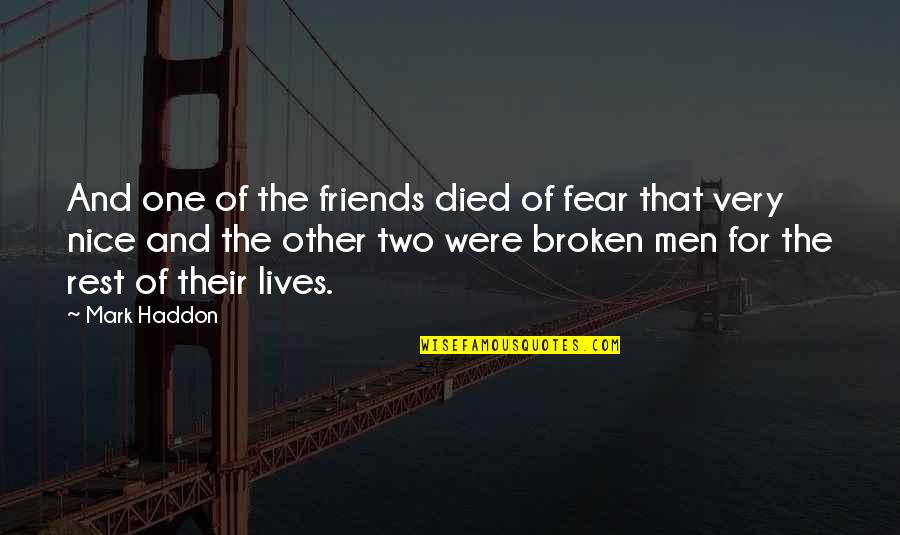 And one of the friends died of fear that very nice and the other two were broken men for the rest of their lives.
—
Mark Haddon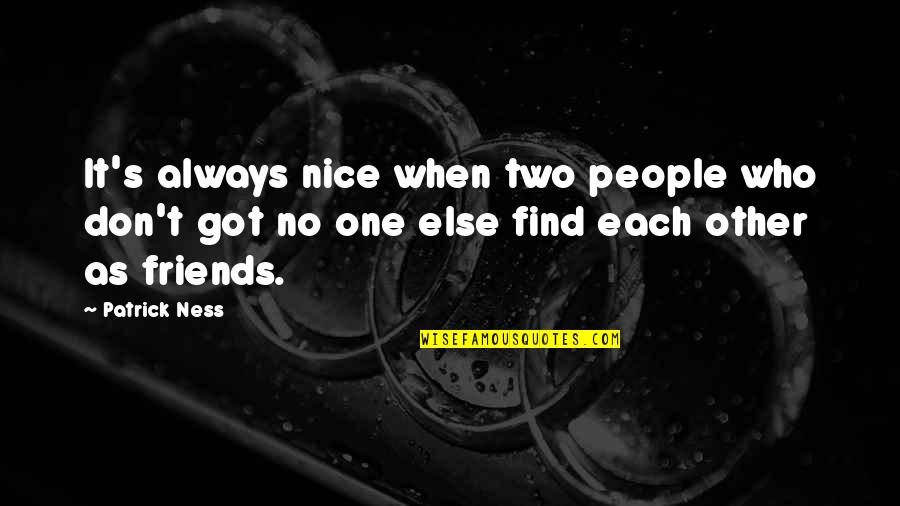 It's always nice when two people who don't got no one else find each other as friends.
—
Patrick Ness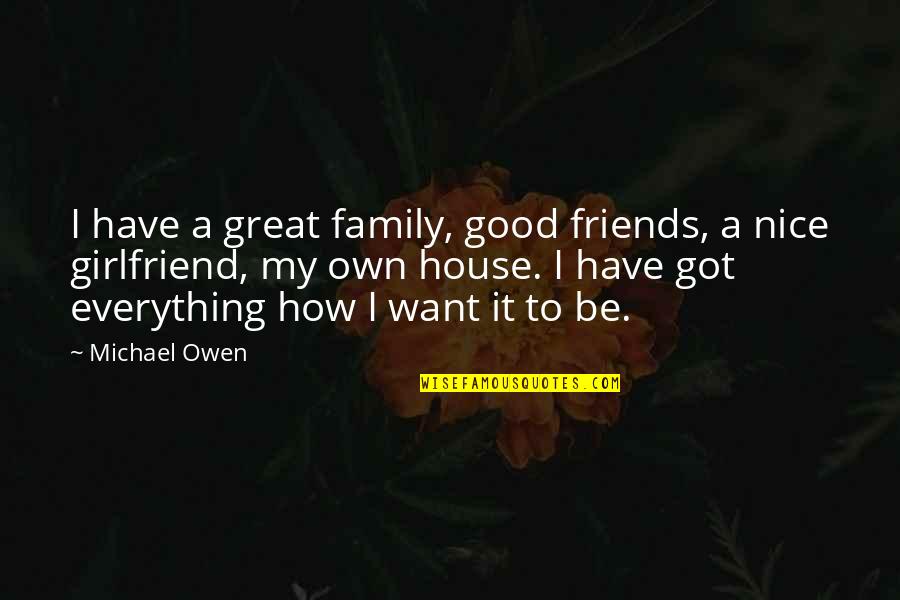 I have a great family, good friends, a nice girlfriend, my own house. I have got everything how I want it to be.
—
Michael Owen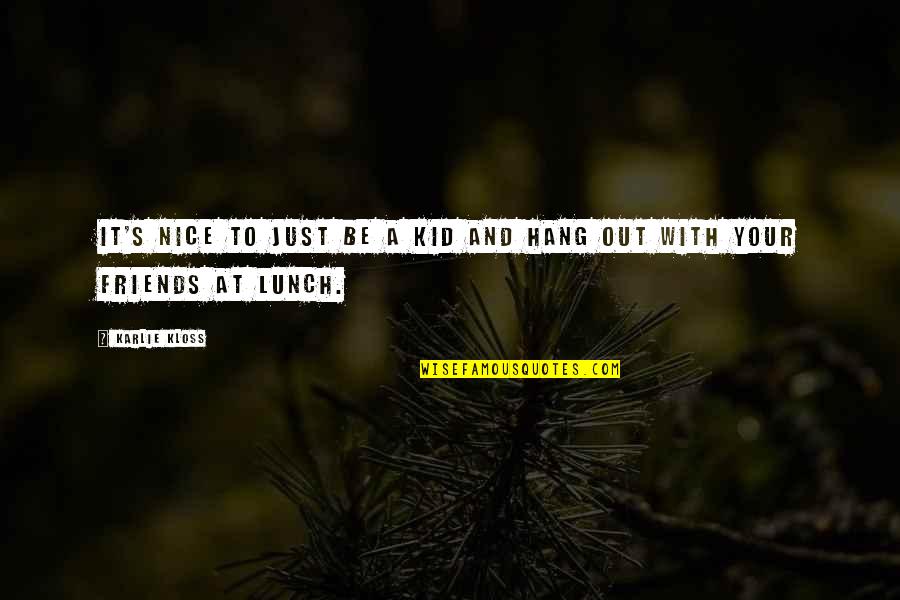 It's nice to just be a kid and hang out with your friends at lunch.
—
Karlie Kloss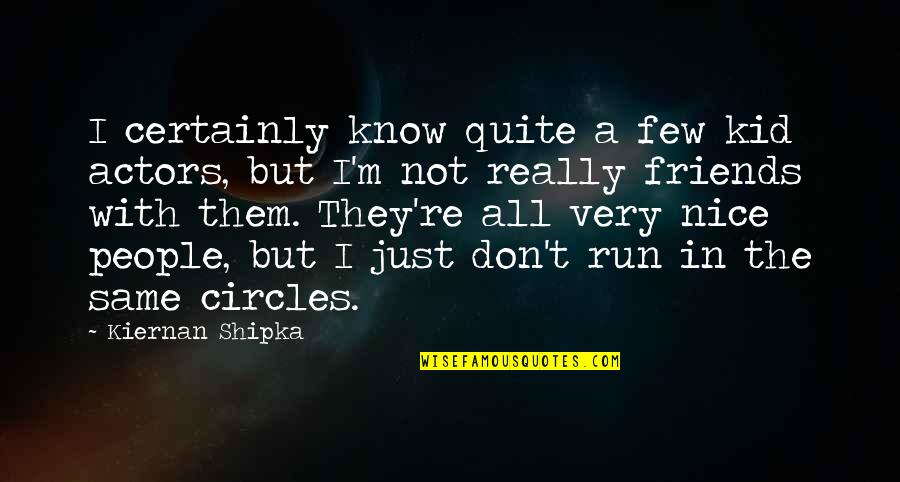 I certainly know quite a few kid actors, but I'm not really friends with them. They're all very nice people, but I just don't run in the same circles.
—
Kiernan Shipka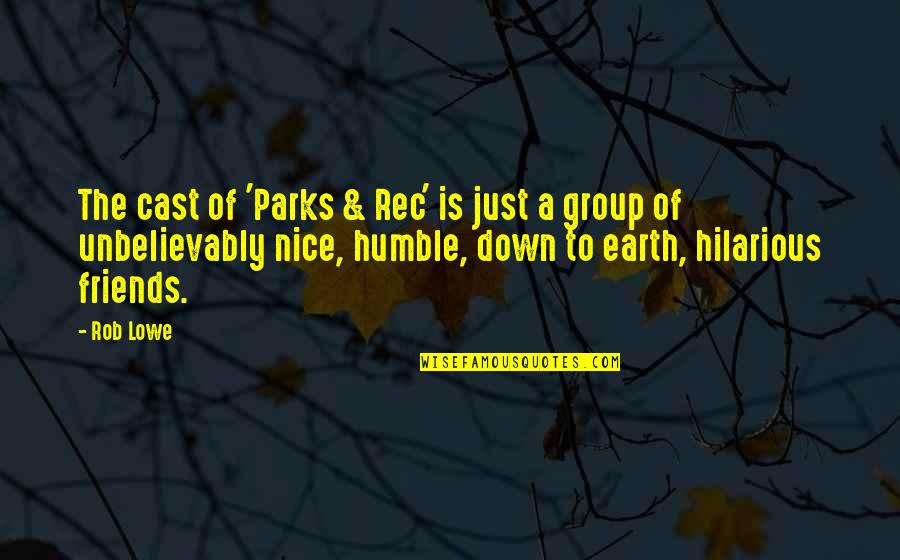 The cast of 'Parks & Rec' is just a group of unbelievably nice, humble, down to earth, hilarious friends.
—
Rob Lowe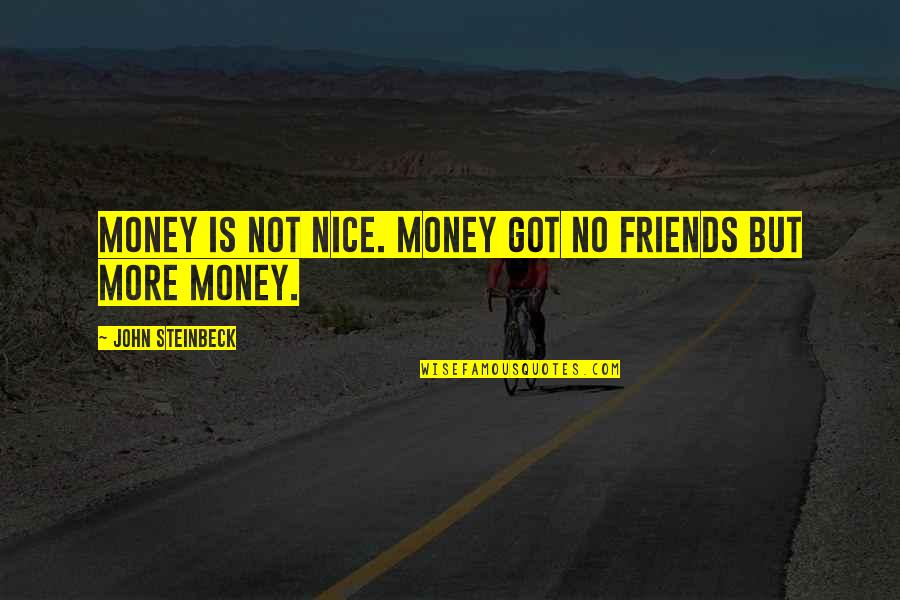 Money is not nice. Money got no friends but more money.
—
John Steinbeck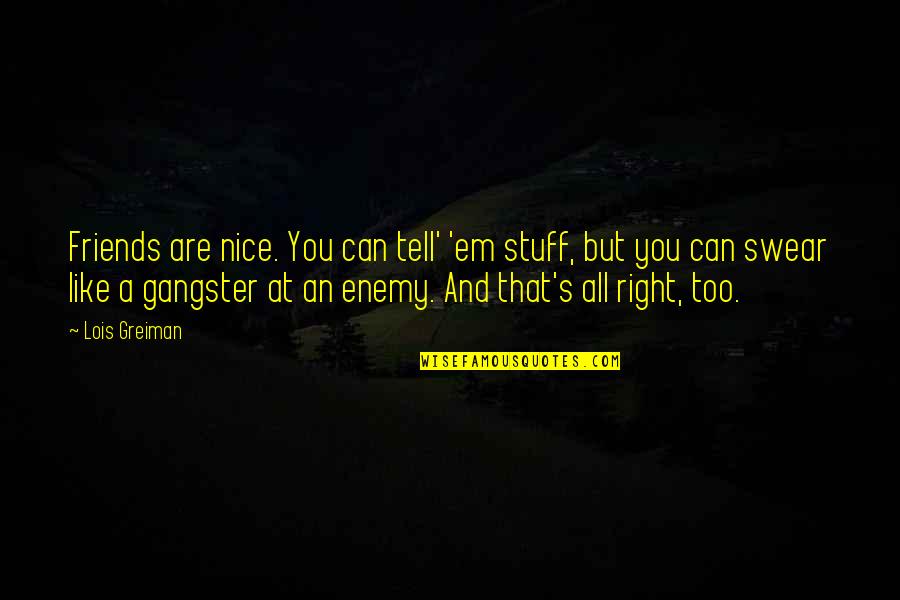 Friends are nice. You can tell' 'em stuff, but you can swear like a gangster at an enemy. And that's all right, too.
—
Lois Greiman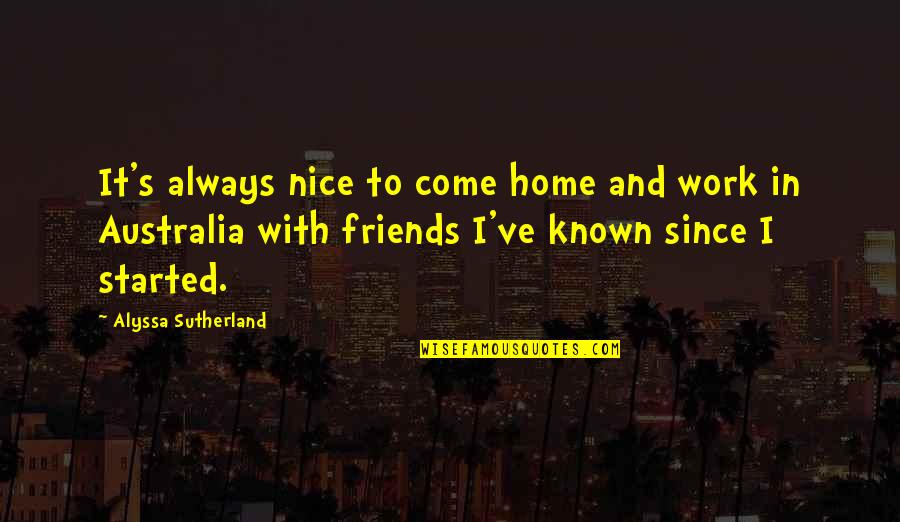 It's always nice to come home and work in Australia with friends I've known since I started.
—
Alyssa Sutherland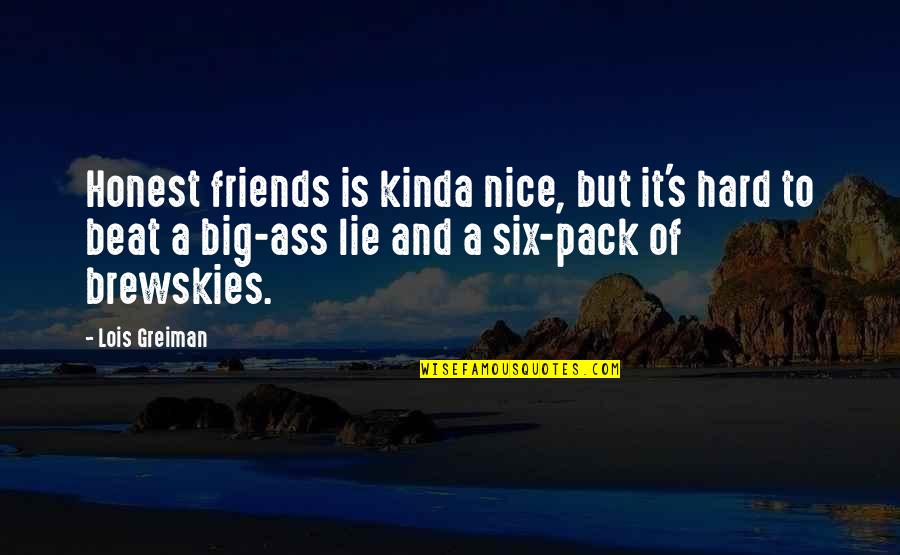 Honest friends is kinda nice, but it's hard to beat a big-ass lie and a six-pack of brewskies.
—
Lois Greiman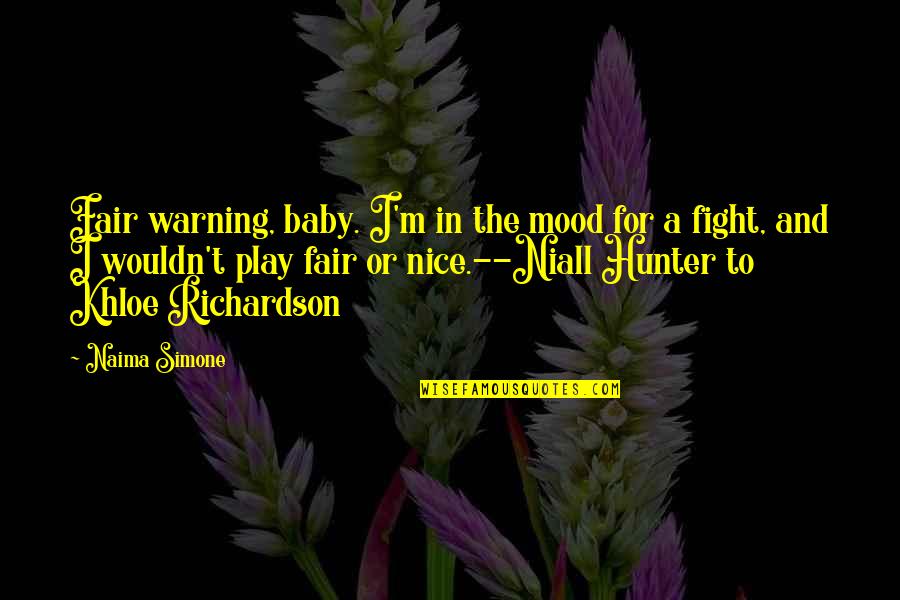 Fair warning, baby. I'm in the mood for a fight, and I wouldn't play fair or nice.--Niall Hunter to Khloe Richardson —
Naima Simone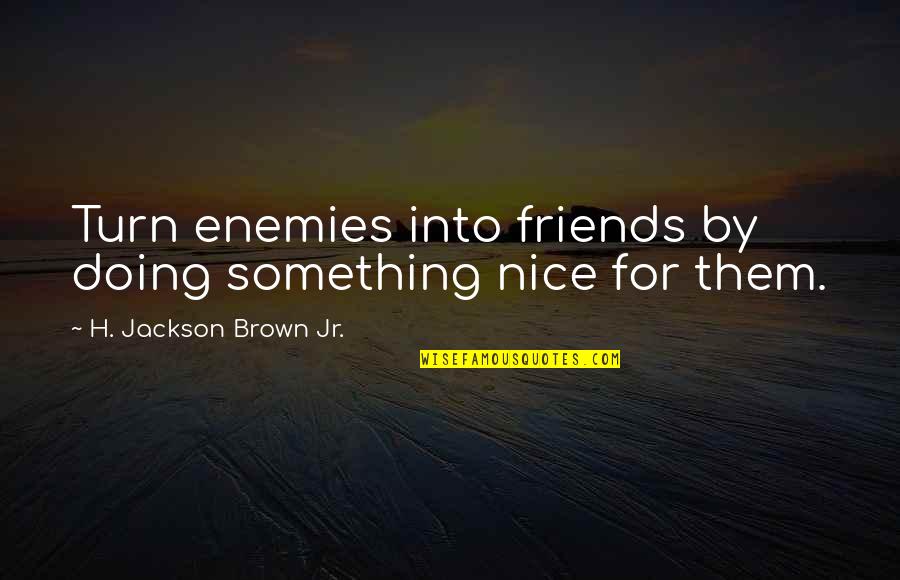 Turn enemies into friends by doing something nice for them. —
H. Jackson Brown Jr.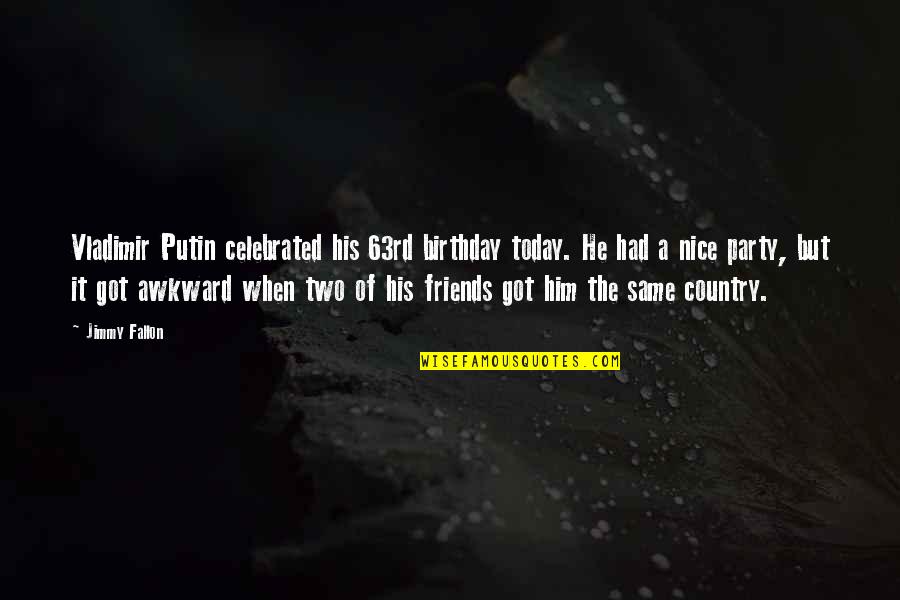 Vladimir Putin celebrated his 63rd birthday today. He had a nice party, but it got awkward when two of his friends got him the same country. —
Jimmy Fallon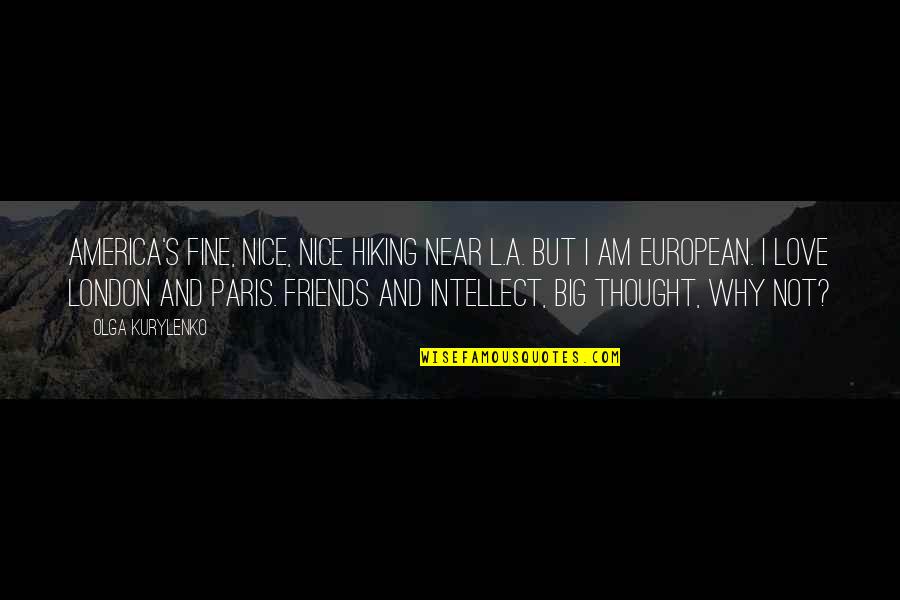 America's fine, nice, nice hiking near L.A. But I am European. I love London and Paris. Friends and intellect, big thought, why not? —
Olga Kurylenko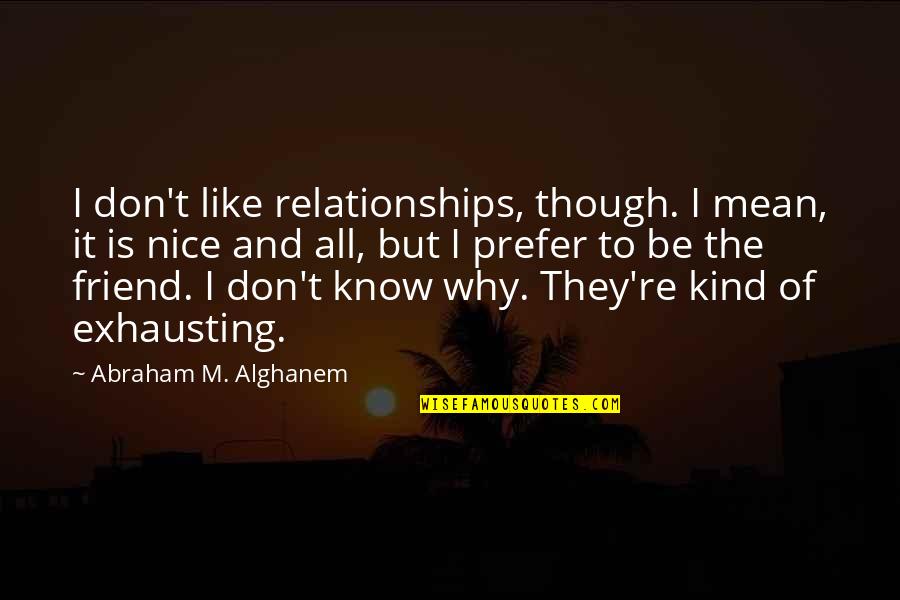 I don't like relationships, though. I mean, it is nice and all, but I prefer to be the friend. I don't know why. They're kind of exhausting. —
Abraham M. Alghanem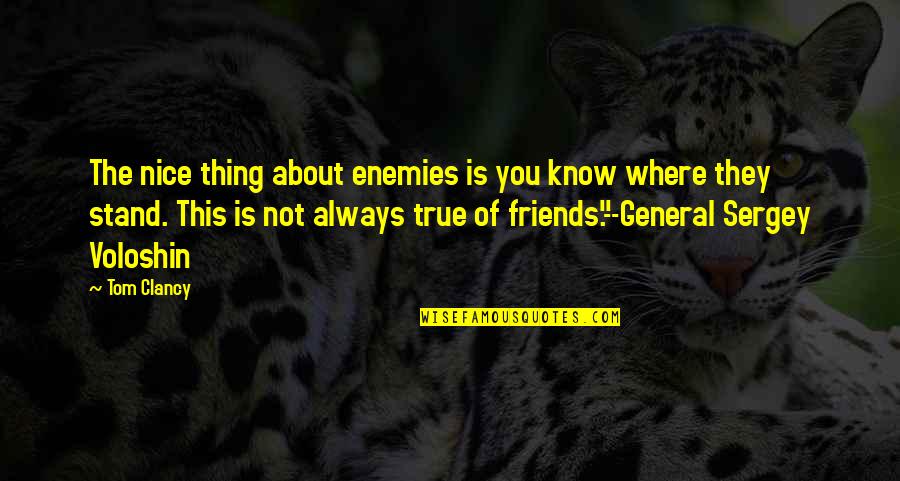 The nice thing about enemies is you know where they stand. This is not always true of friends."
--General Sergey Voloshin —
Tom Clancy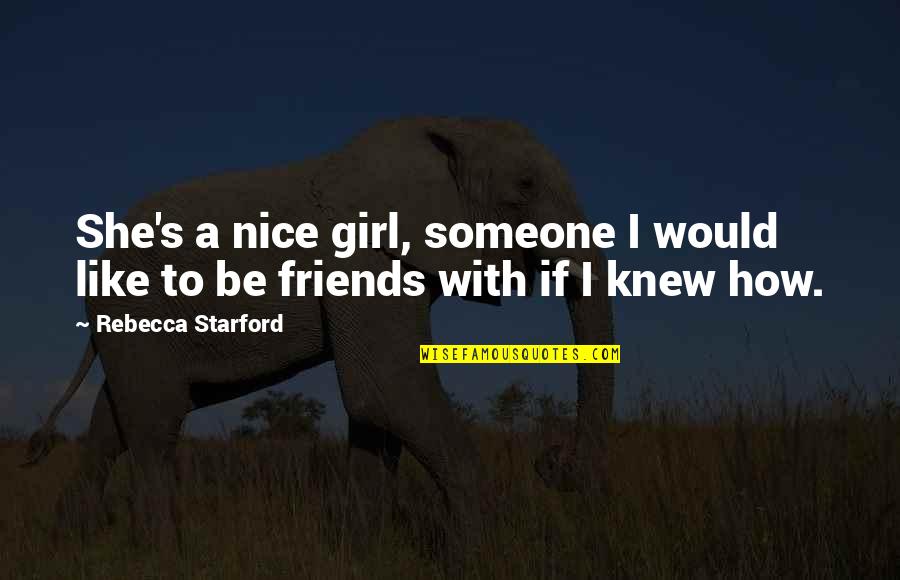 She's a nice girl, someone I would like to be friends with if I knew how. —
Rebecca Starford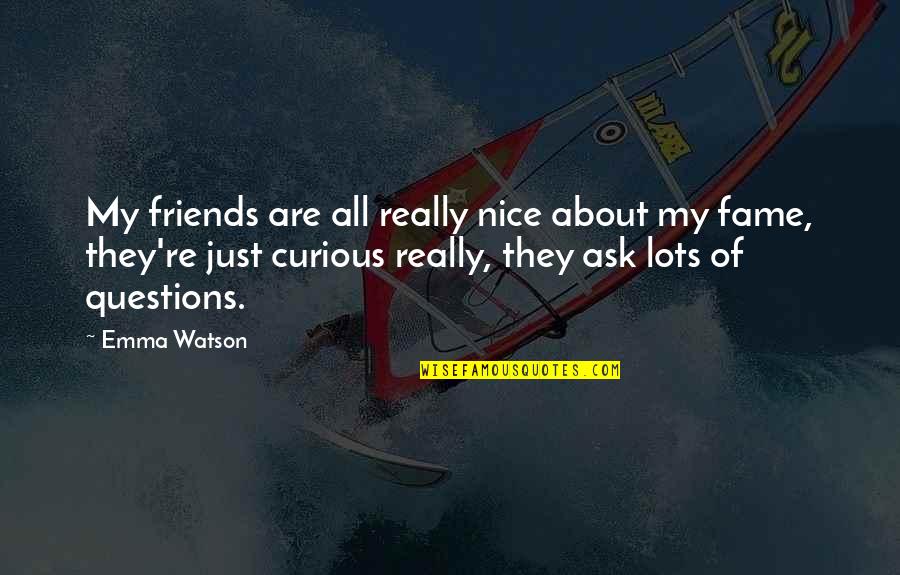 My friends are all really nice about my fame, they're just curious really, they ask lots of questions. —
Emma Watson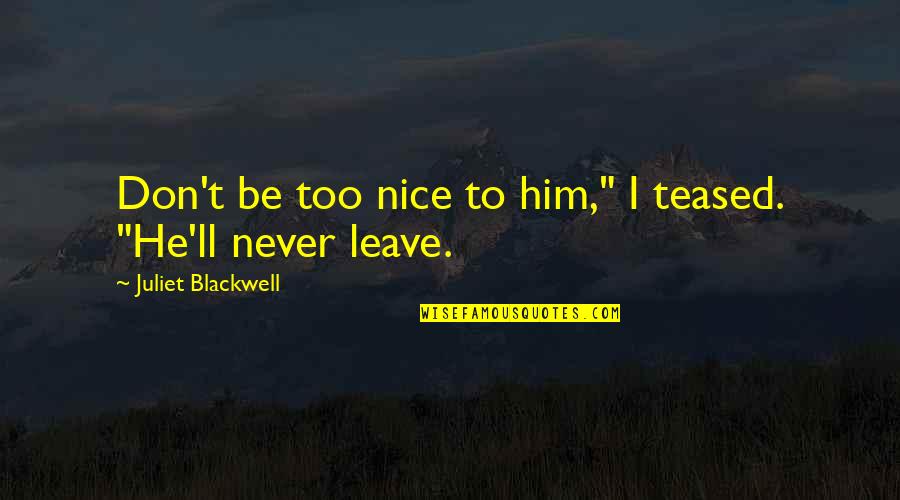 Don't be too nice to him," I teased. "He'll never leave. —
Juliet Blackwell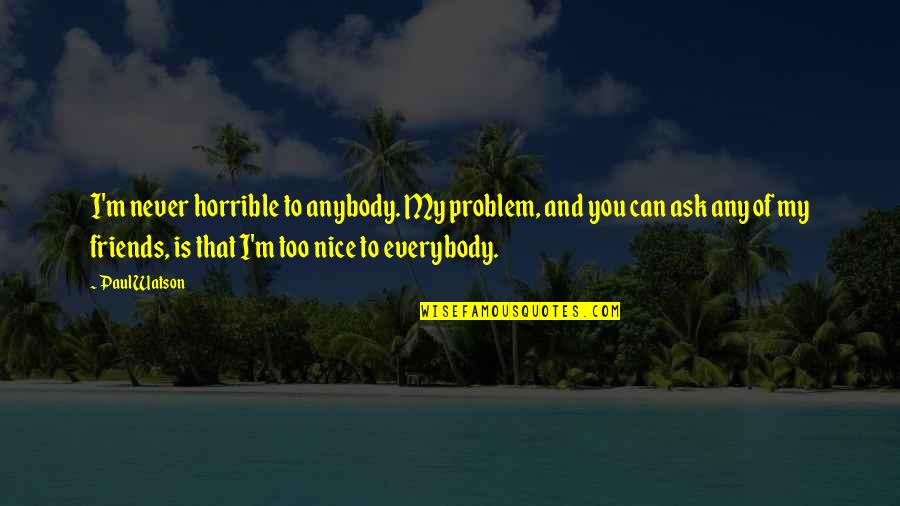 I'm never horrible to anybody. My problem, and you can ask any of my friends, is that I'm too nice to everybody. —
Paul Watson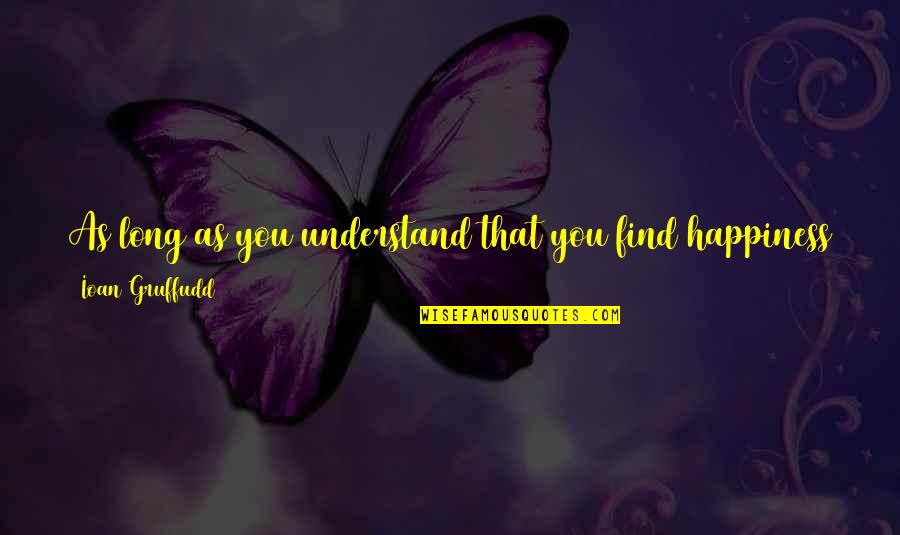 As long as you understand that you find happiness through family, friends and love, then money is just a nice bonus. —
Ioan Gruffudd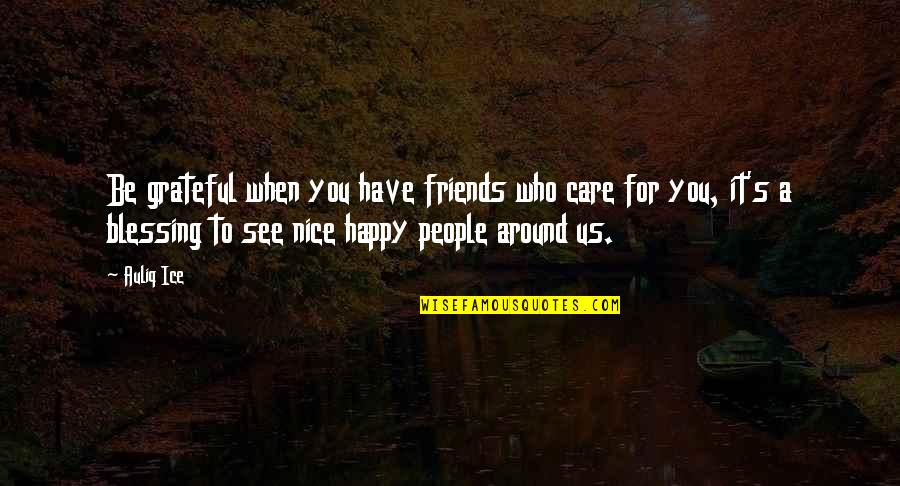 Be grateful when you have friends who care for you, it's a blessing to see nice happy people around us. —
Auliq Ice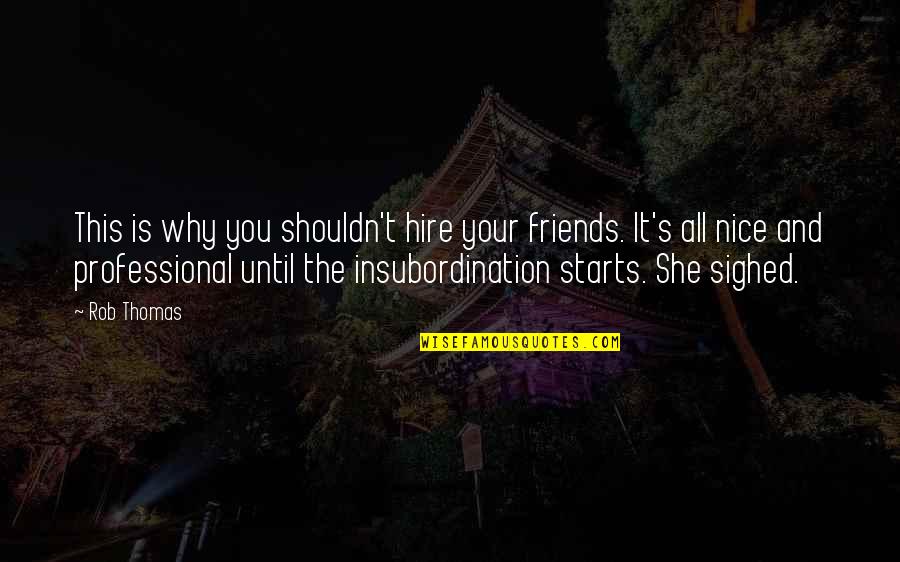 This is why you shouldn't hire your friends. It's all nice and professional until the insubordination starts. She sighed. —
Rob Thomas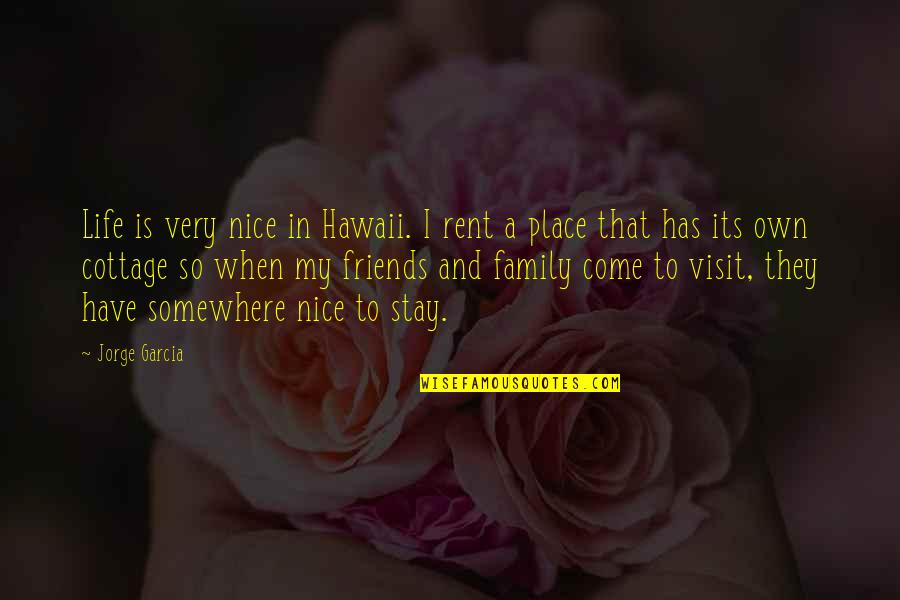 Life is very nice in Hawaii. I rent a place that has its own cottage so when my friends and family come to visit, they have somewhere nice to stay. —
Jorge Garcia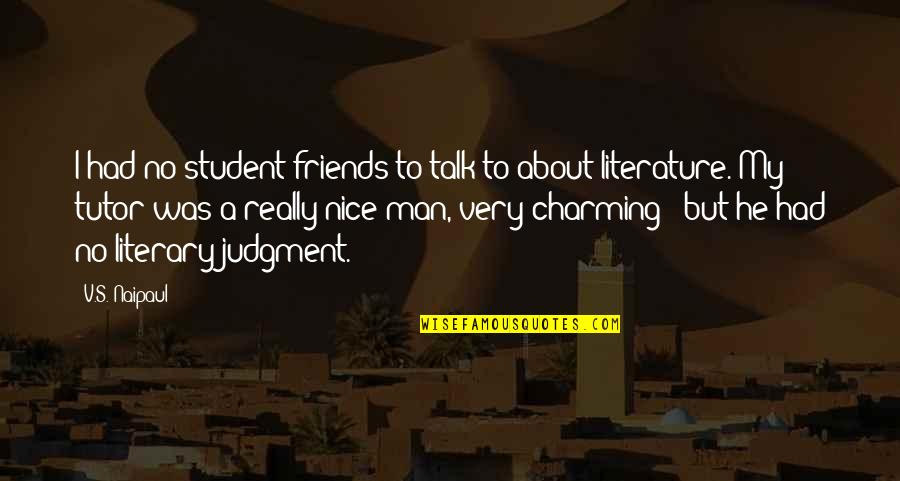 I had no student friends to talk to about literature. My tutor was a really nice man, very charming - but he had no literary judgment. —
V.S. Naipaul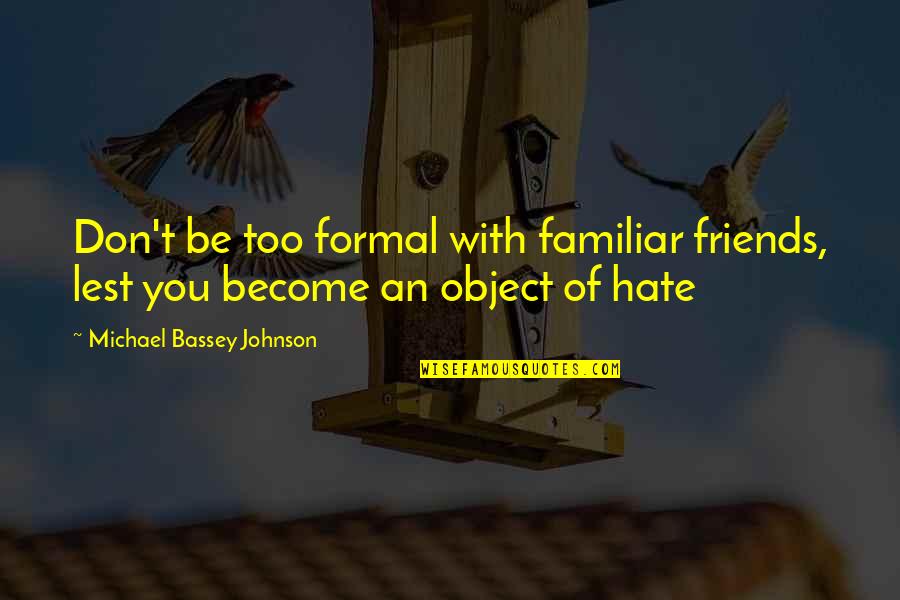 Don't be too formal with familiar friends, lest you become an object of hate —
Michael Bassey Johnson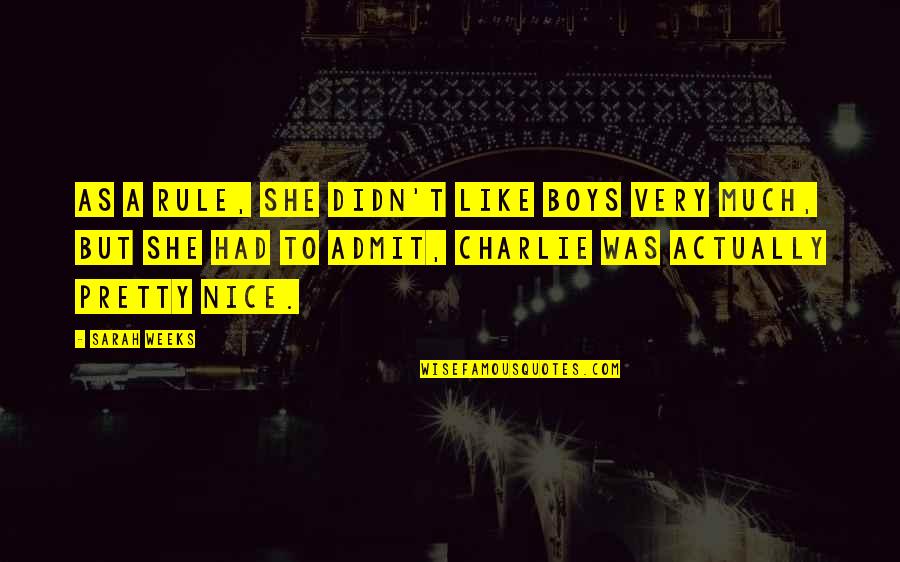 As a rule, she didn't like boys very much, but she had to admit, Charlie was actually pretty nice. —
Sarah Weeks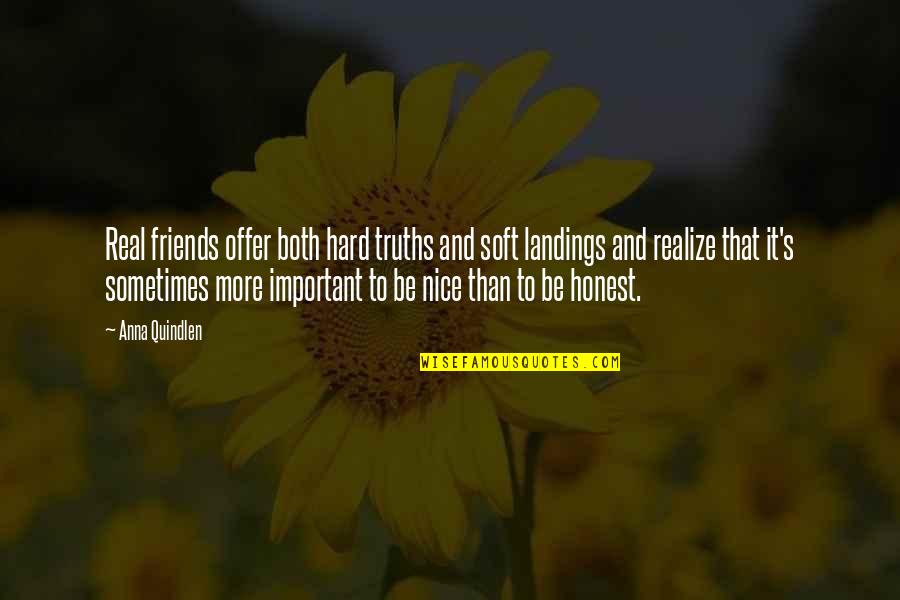 Real friends offer both hard truths and soft landings and realize that it's sometimes more important to be nice than to be honest. —
Anna Quindlen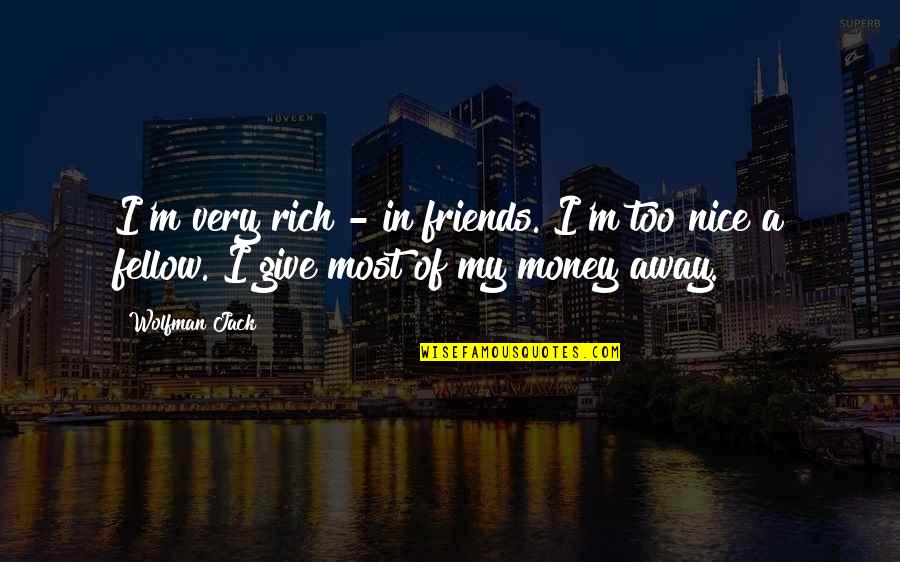 I'm very rich - in friends. I'm too nice a fellow. I give most of my money away. —
Wolfman Jack
I do like nice things; we do live in a great house, but I don't choose my friends by how much money they have or what labels they're wearing. —
Heather Dubrow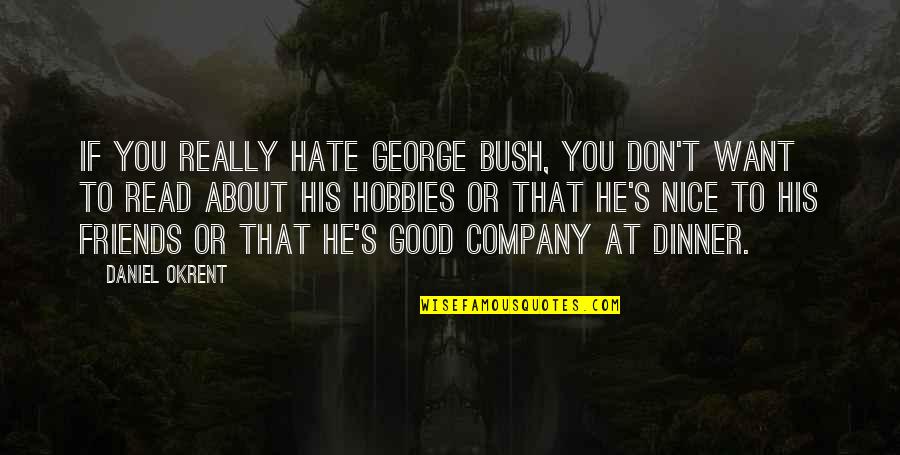 If you really hate George Bush, you don't want to read about his hobbies or that he's nice to his friends or that he's good company at dinner. —
Daniel Okrent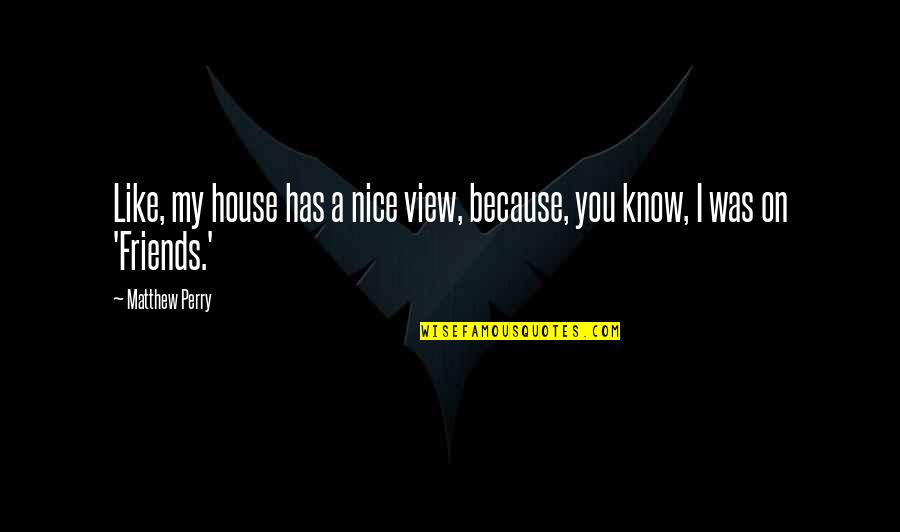 Like, my house has a nice view, because, you know, I was on 'Friends.' —
Matthew Perry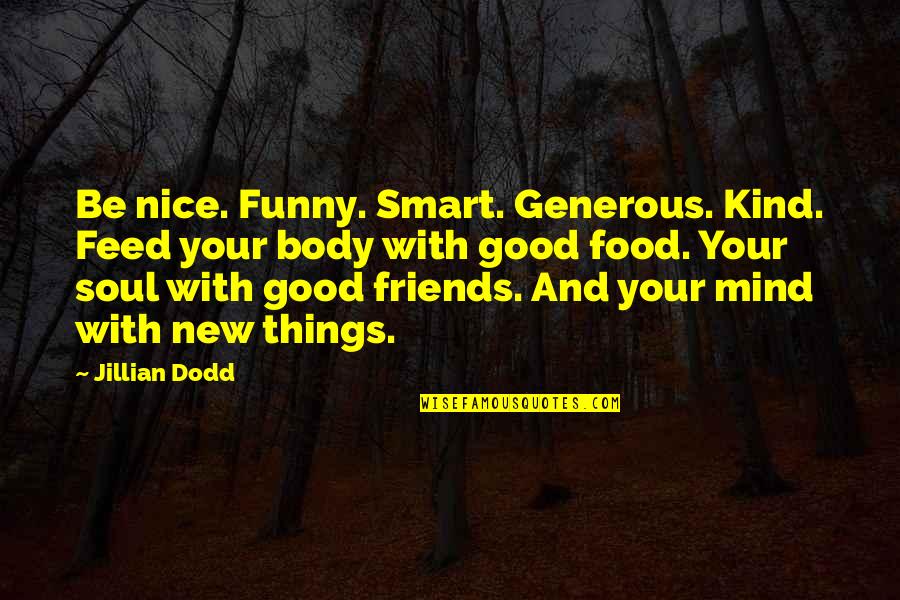 Be nice. Funny. Smart. Generous. Kind. Feed your body with good food. Your soul with good friends. And your mind with new things. —
Jillian Dodd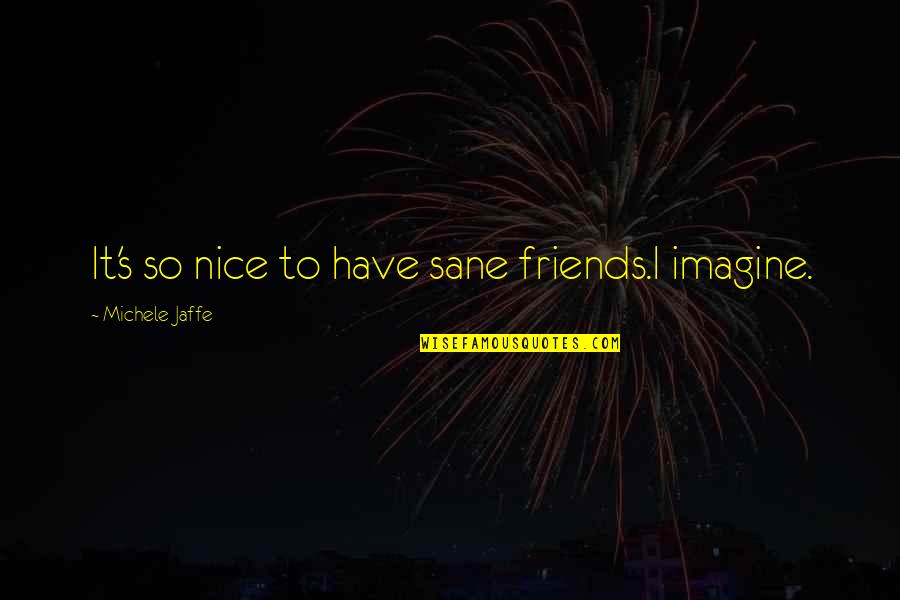 It's so nice to have sane friends.
I imagine. —
Michele Jaffe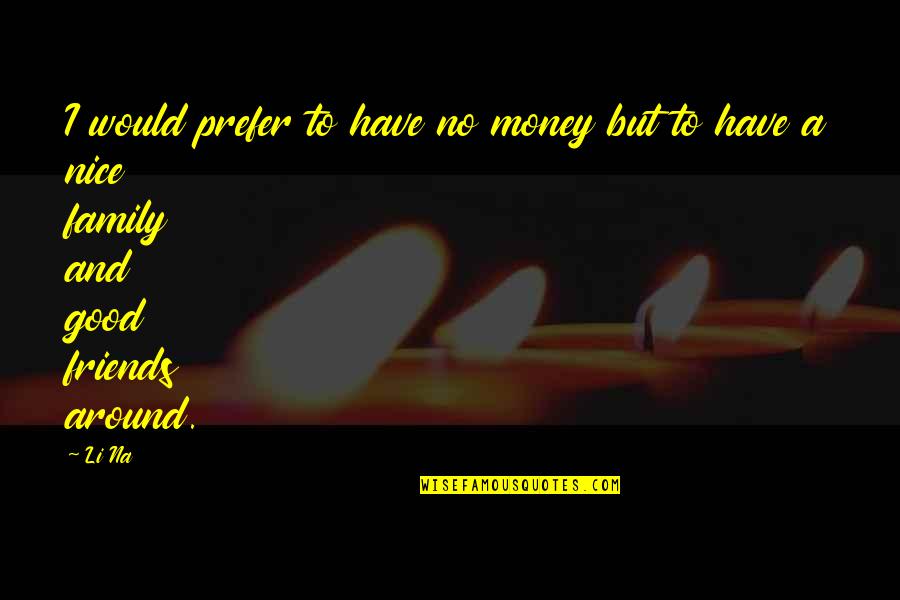 I would prefer to have no money but to have a nice family and good friends around. —
Li Na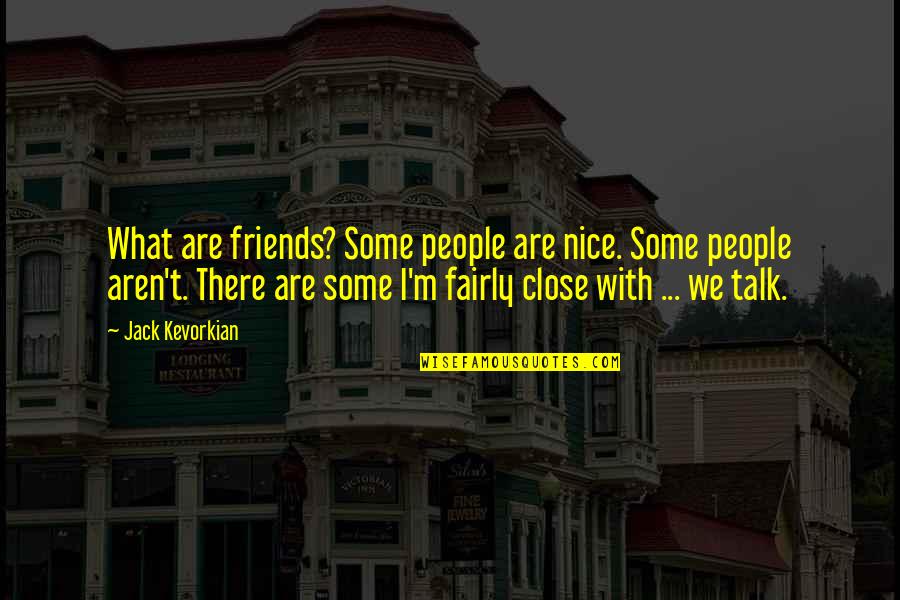 What are friends? Some people are nice. Some people aren't. There are some I'm fairly close with ... we talk. —
Jack Kevorkian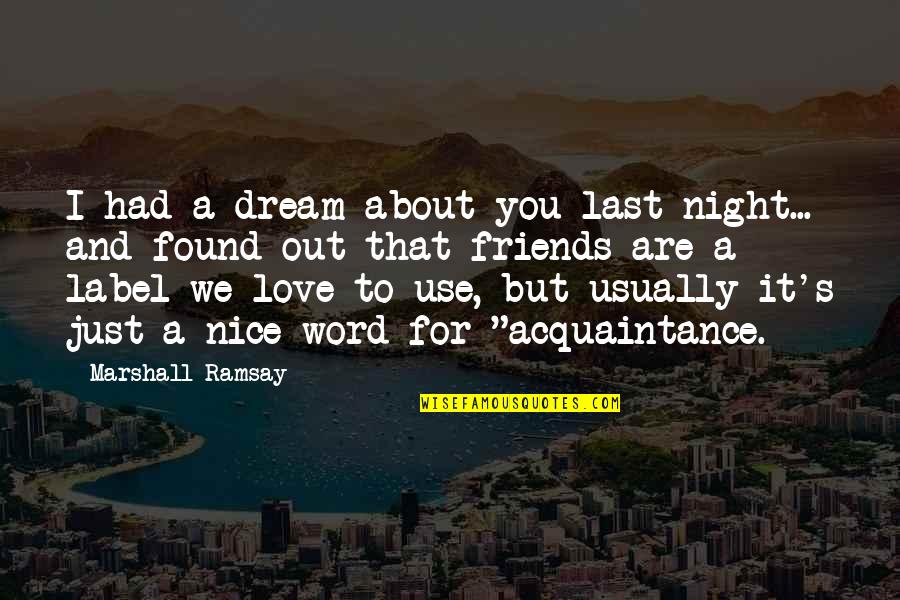 I had a dream about you last night... and found out that friends are a label we love to use, but usually it's just a nice word for "acquaintance. —
Marshall Ramsay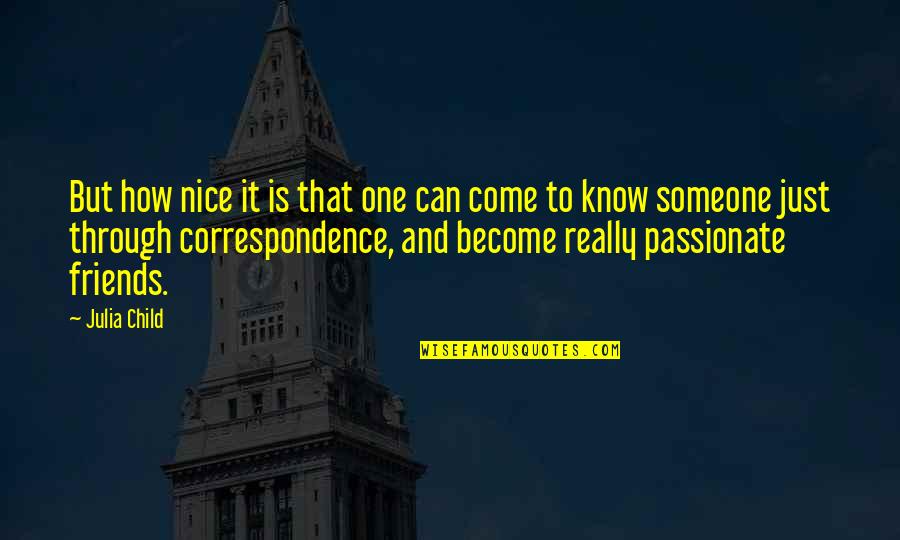 But how nice it is that one can come to know someone just through correspondence, and become really passionate friends. —
Julia Child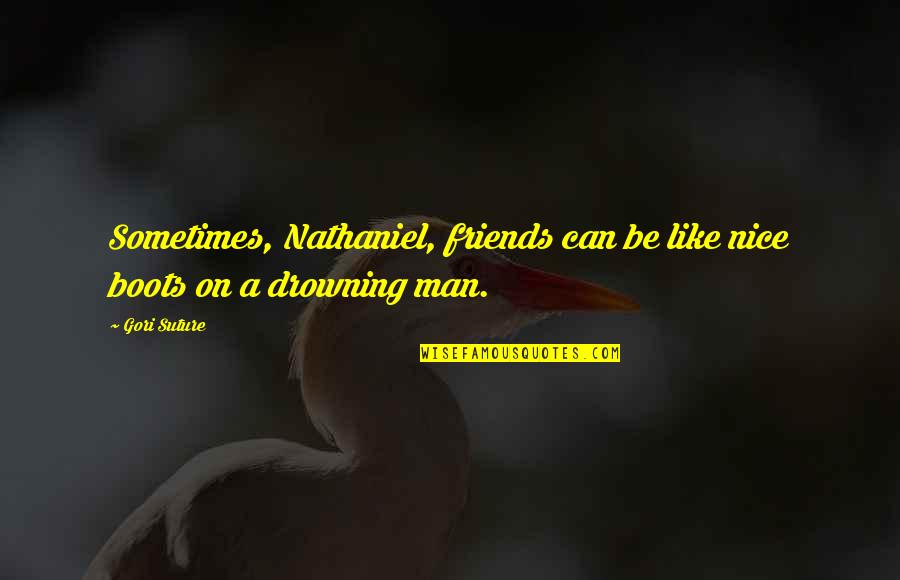 Sometimes, Nathaniel, friends can be like nice boots on a drowning man. —
Gori Suture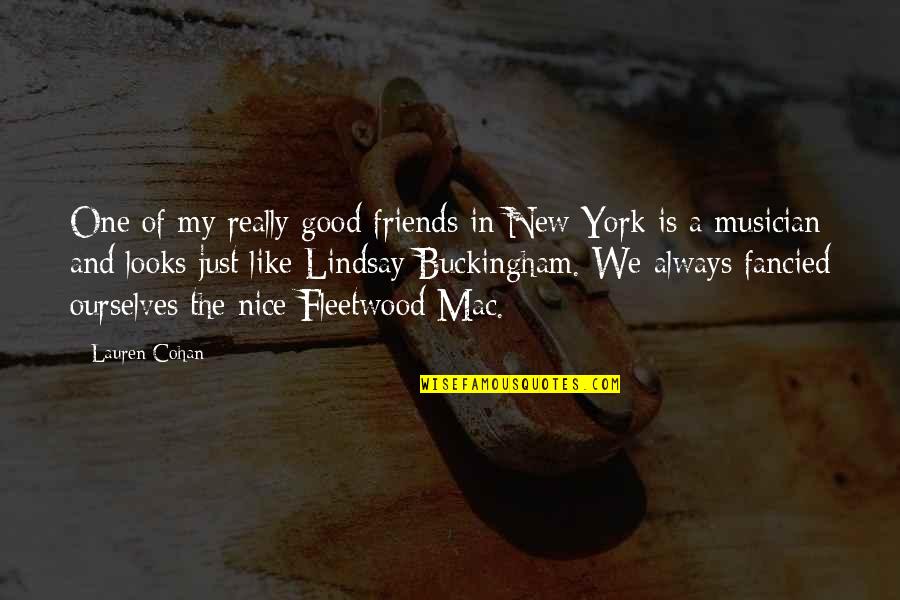 One of my really good friends in New York is a musician and looks just like Lindsay Buckingham. We always fancied ourselves the nice Fleetwood Mac. —
Lauren Cohan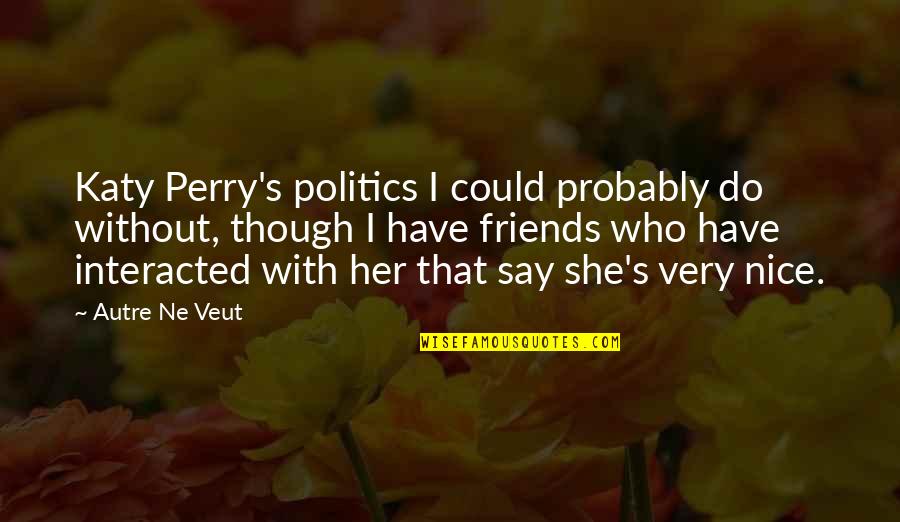 Katy Perry's politics I could probably do without, though I have friends who have interacted with her that say she's very nice. —
Autre Ne Veut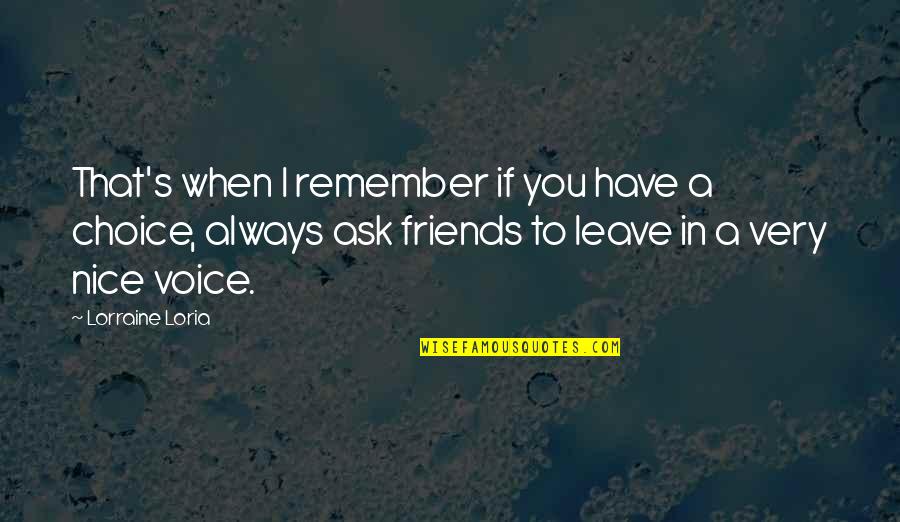 That's when I remember if you have a choice, always ask friends to leave in a very nice voice. —
Lorraine Loria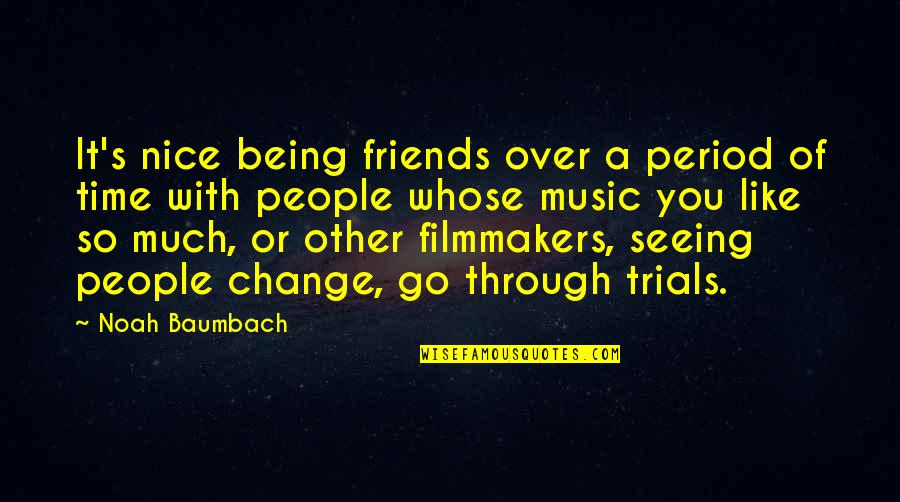 It's nice being friends over a period of time with people whose music you like so much, or other filmmakers, seeing people change, go through trials. —
Noah Baumbach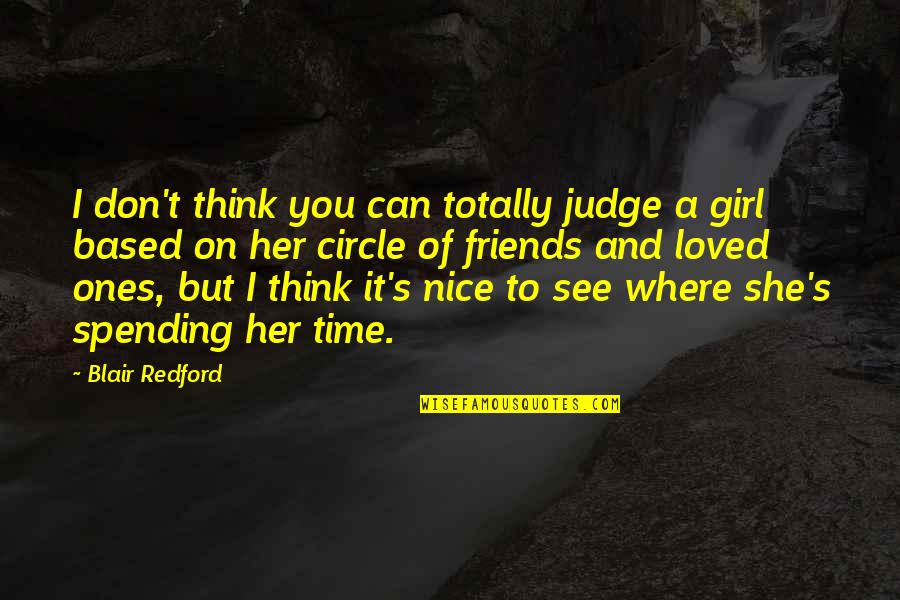 I don't think you can totally judge a girl based on her circle of friends and loved ones, but I think it's nice to see where she's spending her time. —
Blair Redford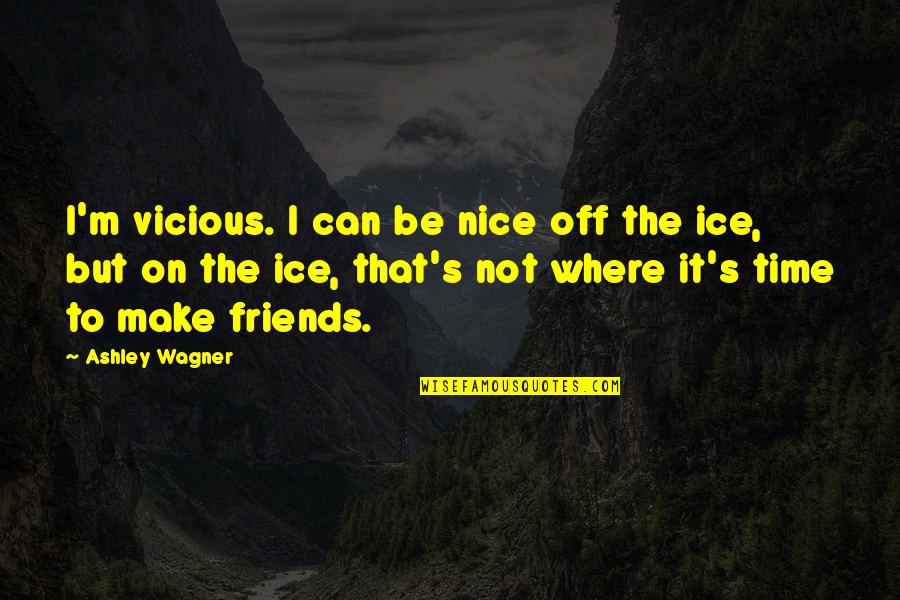 I'm vicious. I can be nice off the ice, but on the ice, that's not where it's time to make friends. —
Ashley Wagner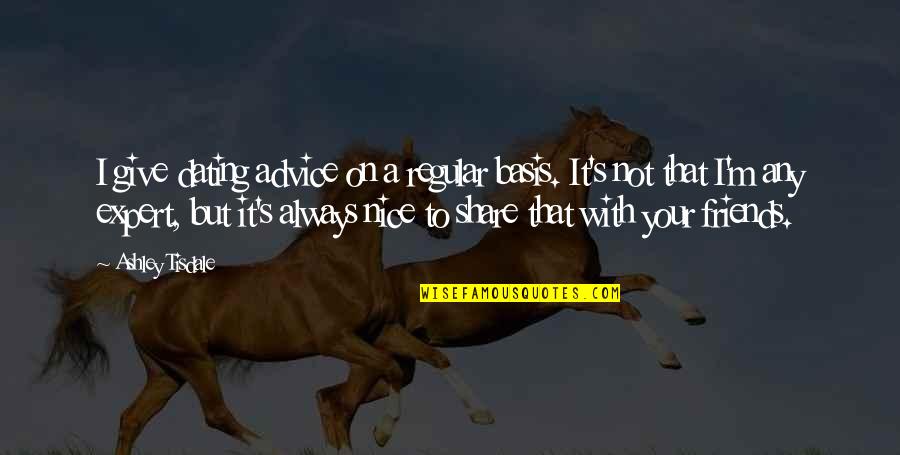 I give dating advice on a regular basis. It's not that I'm any expert, but it's always nice to share that with your friends. —
Ashley Tisdale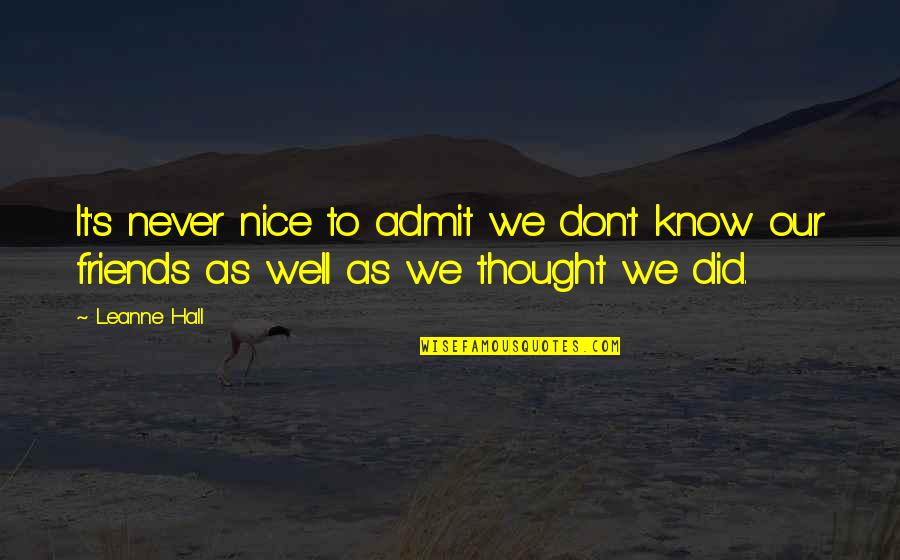 It's never nice to admit we don't know our friends as well as we thought we did. —
Leanne Hall