Mundane Life Quotes
Collection of top 46 famous quotes about Mundane Life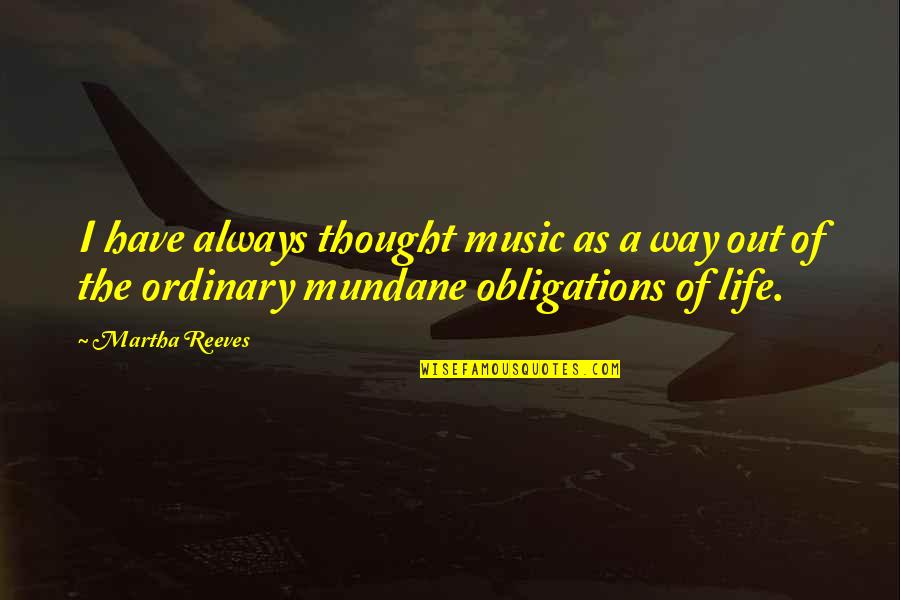 I have always thought music as a way out of the ordinary mundane obligations of life.
—
Martha Reeves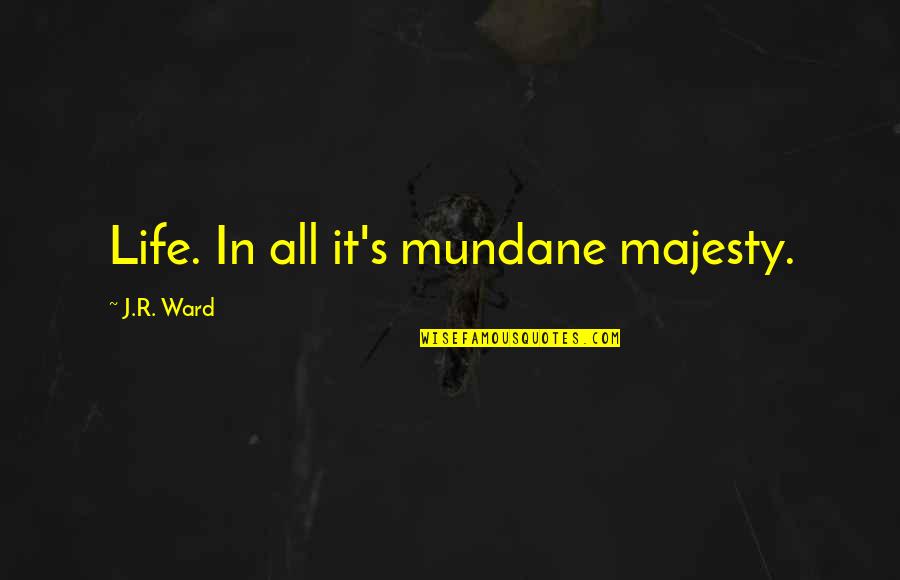 Life. In all it's mundane majesty.
—
J.R. Ward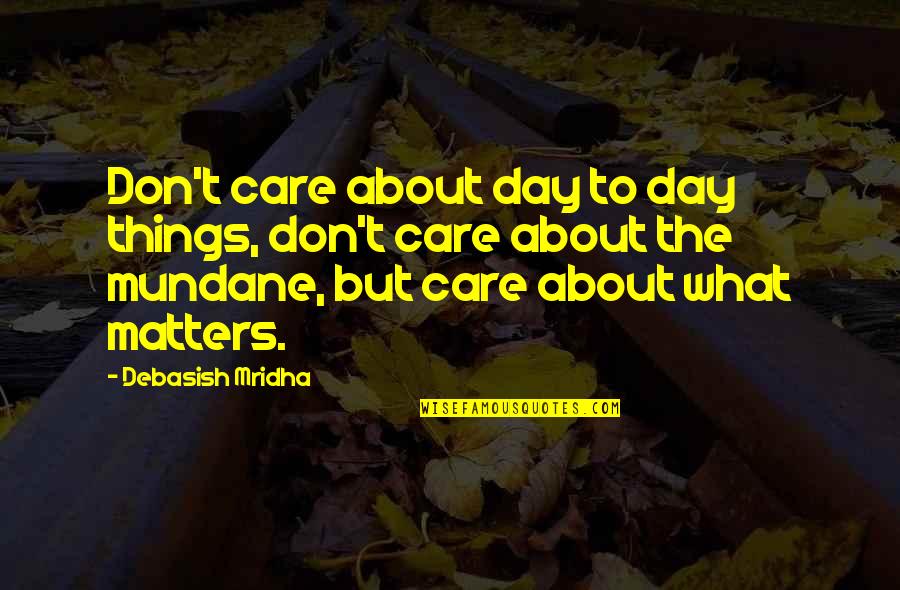 Don't care about day to day things, don't care about the mundane, but care about what matters.
—
Debasish Mridha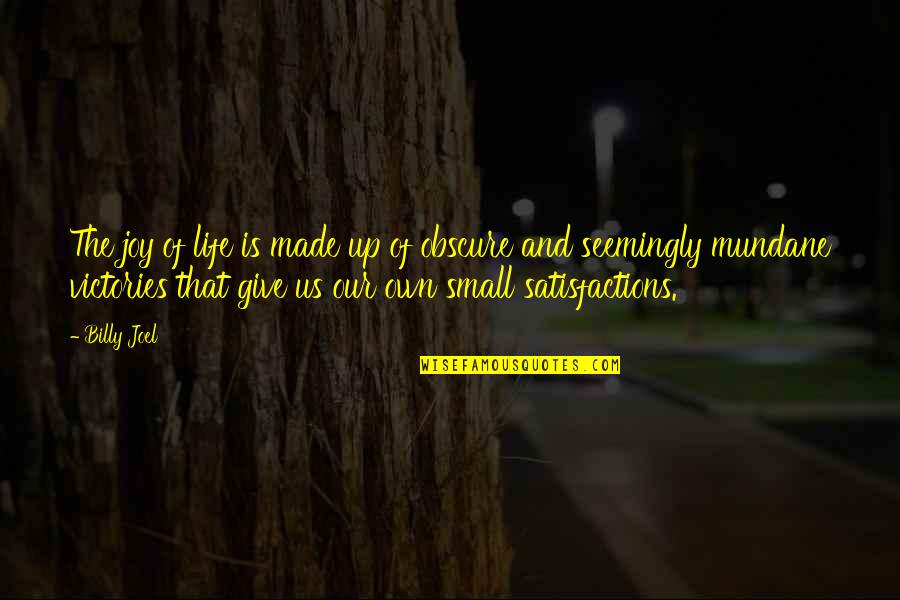 The joy of life is made up of obscure and seemingly mundane victories that give us our own small satisfactions.
—
Billy Joel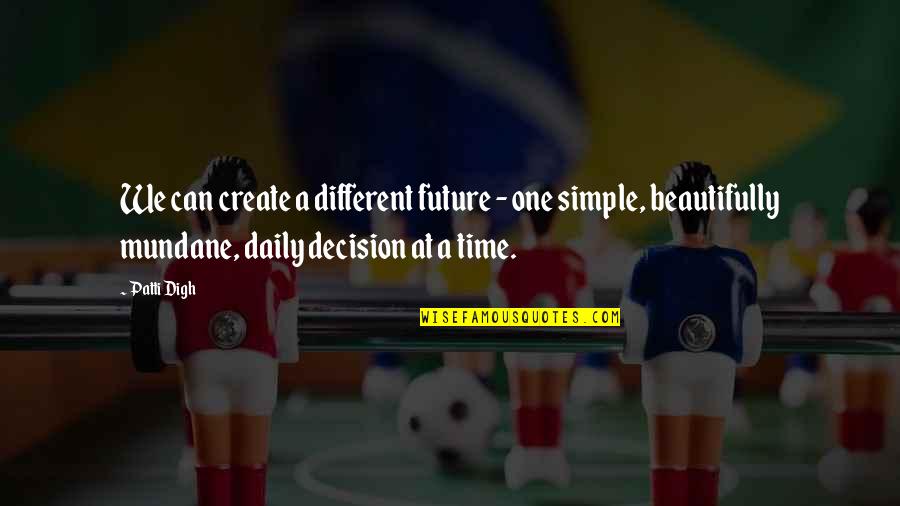 We can create a different future - one simple, beautifully mundane, daily decision at a time.
—
Patti Digh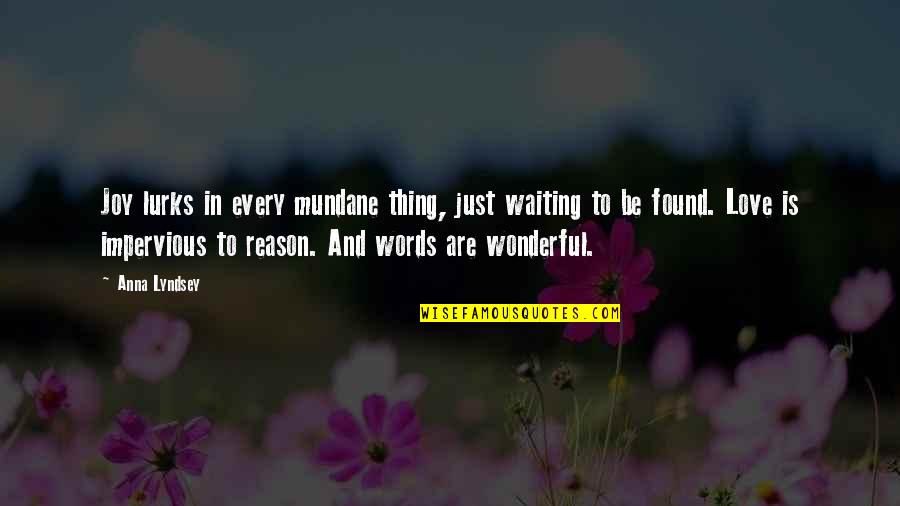 Joy lurks in every mundane thing, just waiting to be found. Love is impervious to reason. And words are wonderful.
—
Anna Lyndsey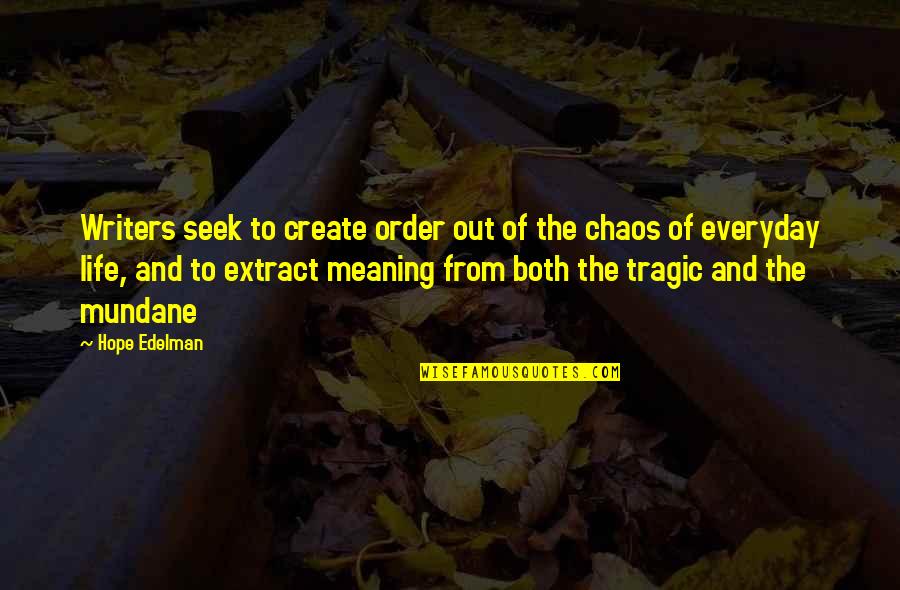 Writers seek to create order out of the chaos of everyday life, and to extract meaning from both the tragic and the mundane
—
Hope Edelman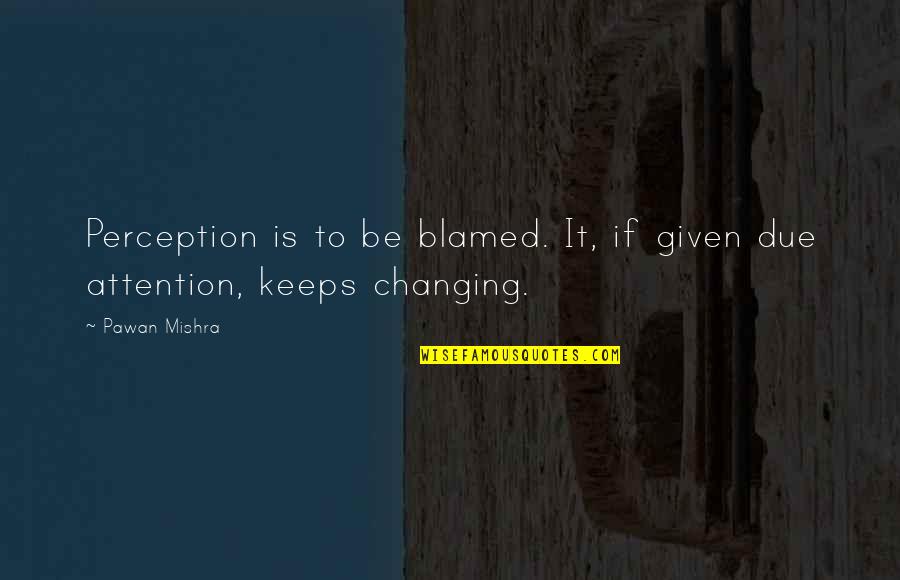 Perception is to be blamed. It, if given due attention, keeps changing. —
Pawan Mishra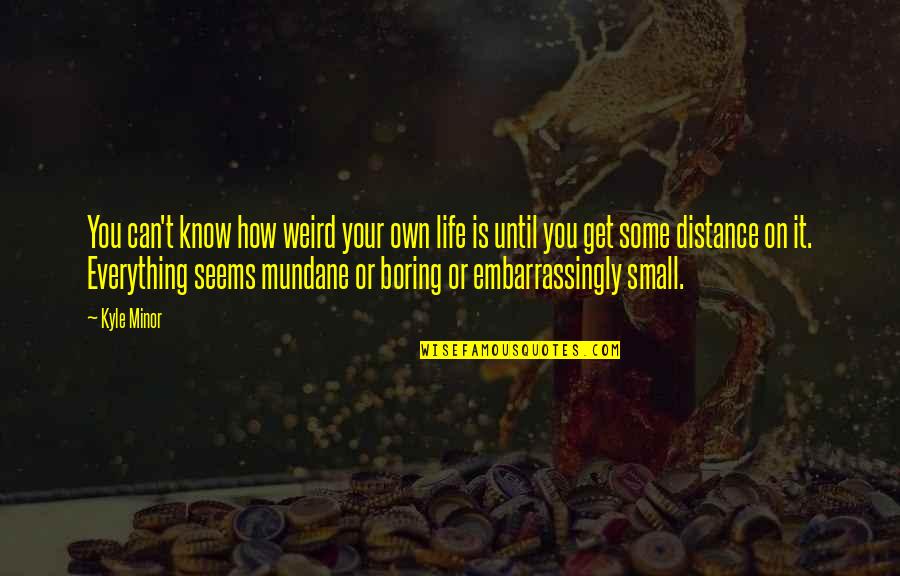 You can't know how weird your own life is until you get some distance on it. Everything seems mundane or boring or embarrassingly small. —
Kyle Minor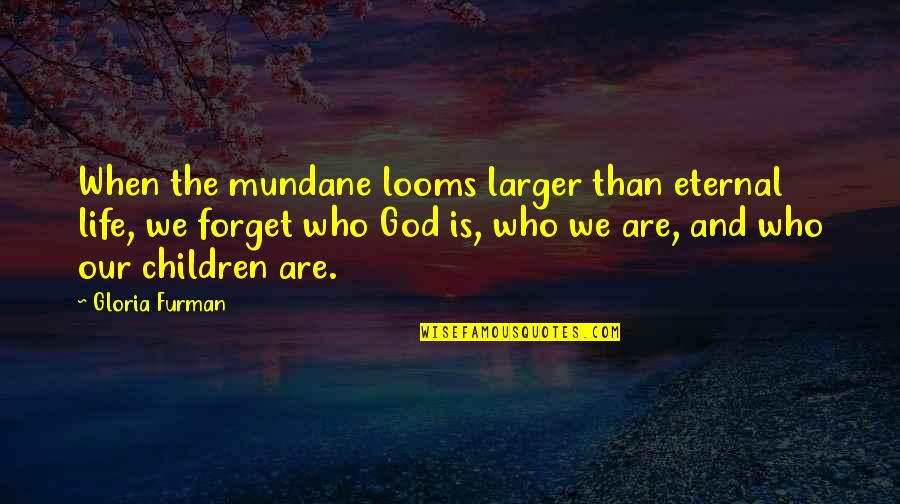 When the mundane looms larger than eternal life, we forget who God is, who we are, and who our children are. —
Gloria Furman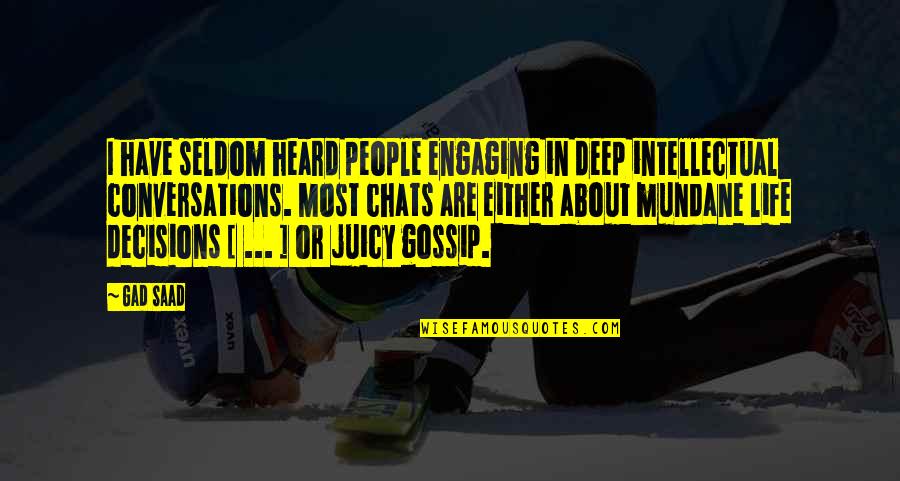 I have seldom heard people engaging in deep intellectual conversations. Most chats are either about
mundane life
decisions [ ... ] or juicy gossip. —
Gad Saad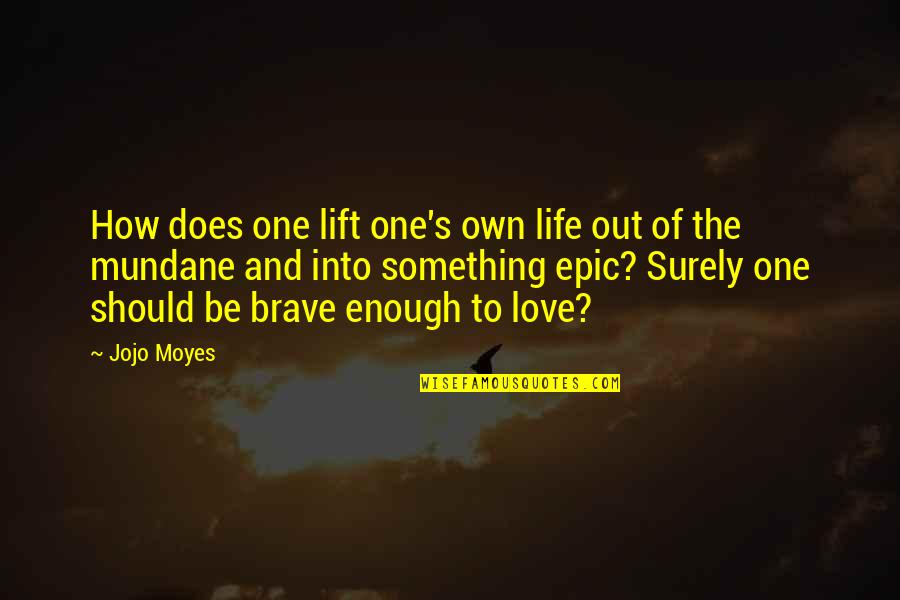 How does one lift one's own life out of the mundane and into something epic? Surely one should be brave enough to love? —
Jojo Moyes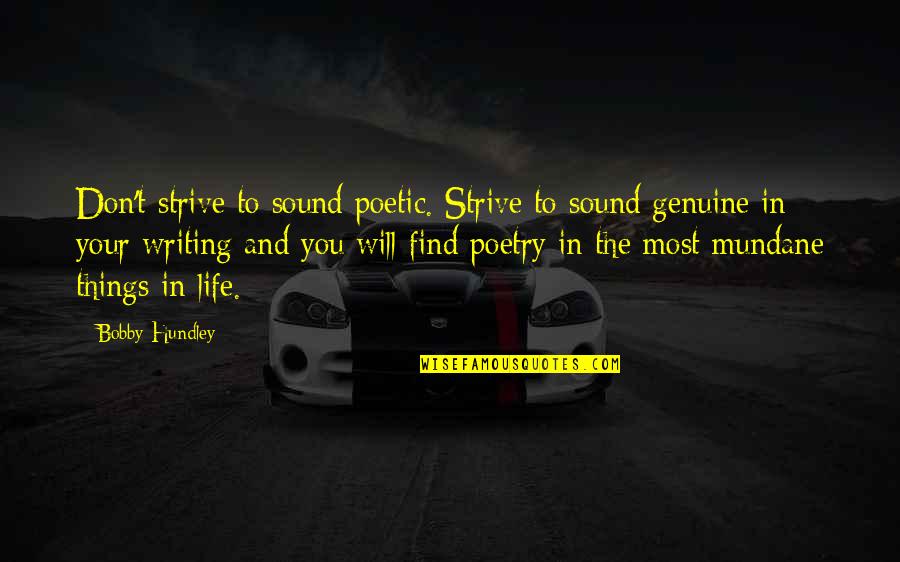 Don't strive to sound poetic. Strive to sound genuine in your writing and you will find poetry in the most mundane things in life. —
Bobby Hundley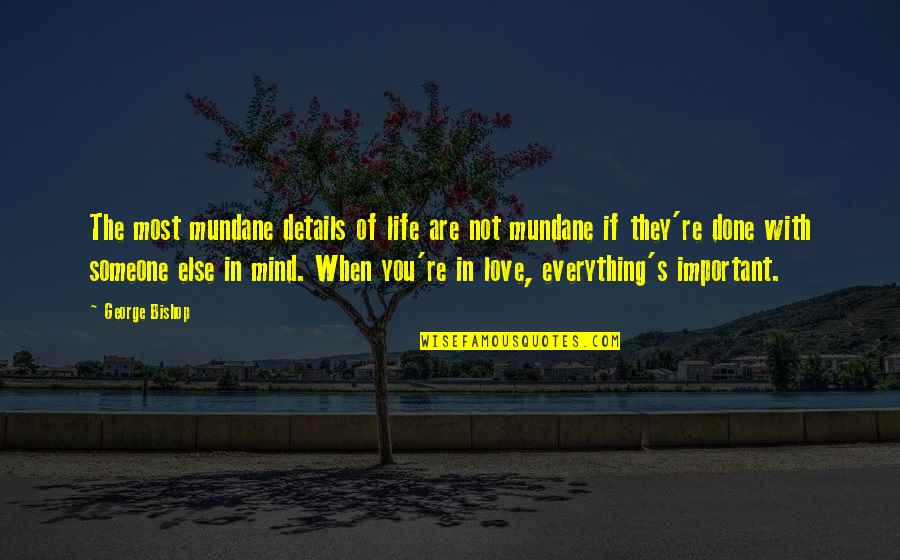 The most mundane details of life are not mundane if they're done with someone else in mind. When you're in love, everything's important. —
George Bishop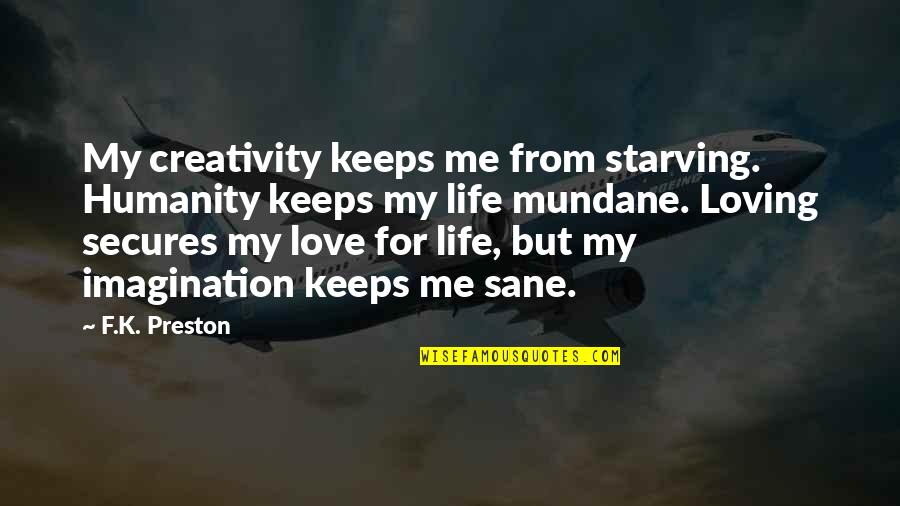 My creativity keeps me from starving. Humanity keeps my life mundane. Loving secures my love for life, but my imagination keeps me sane. —
F.K. Preston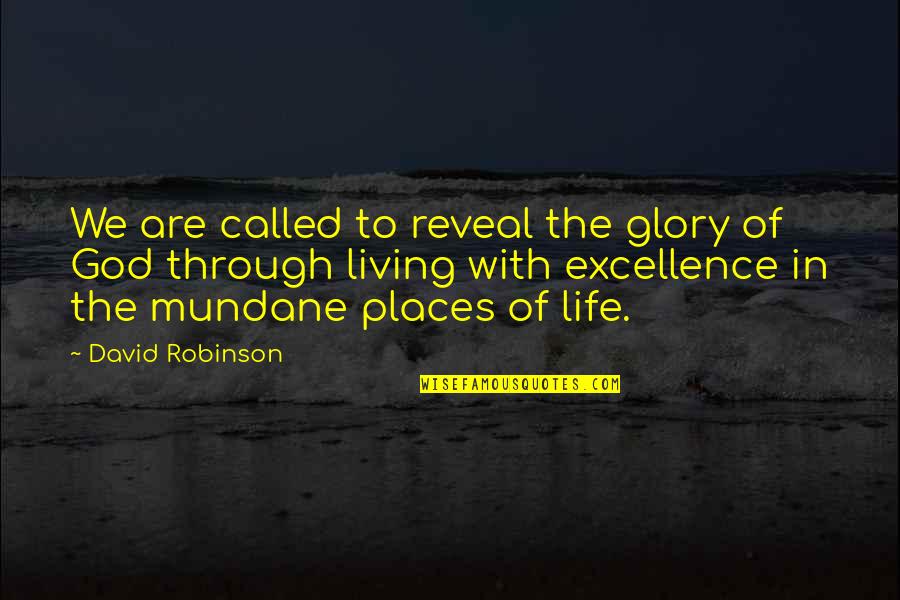 We are called to reveal the glory of God through living with excellence in the mundane places of life. —
David Robinson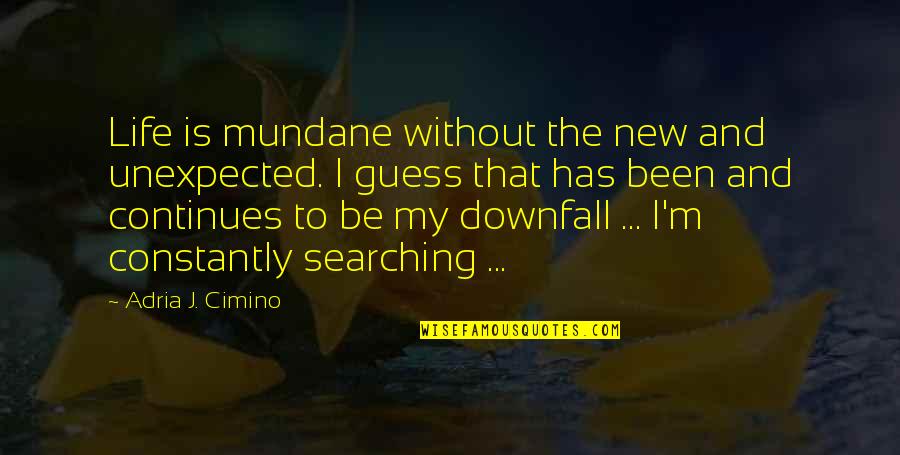 Life is mundane without the new and unexpected. I guess that has been and continues to be my downfall ... I'm constantly searching ... —
Adria J. Cimino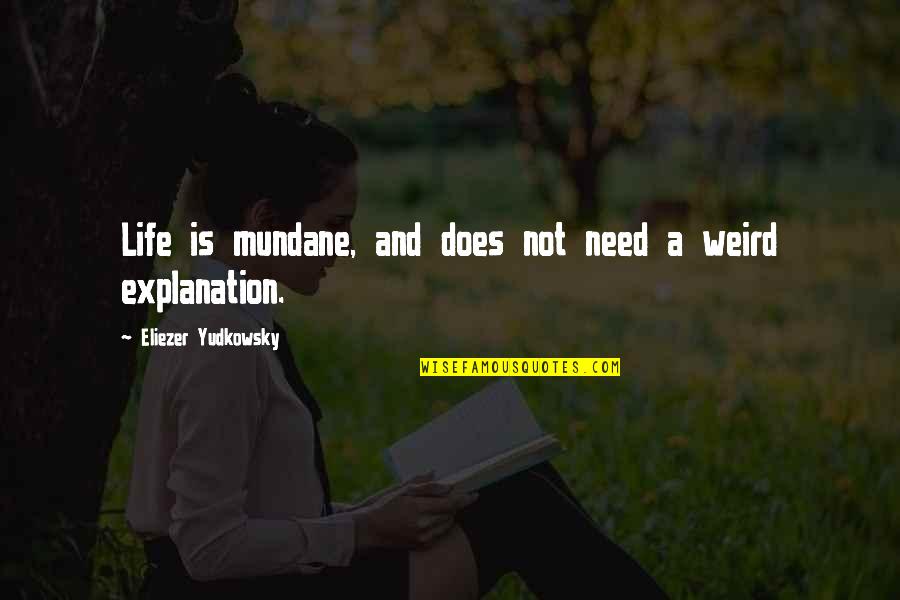 Life is mundane, and does not need a weird explanation. —
Eliezer Yudkowsky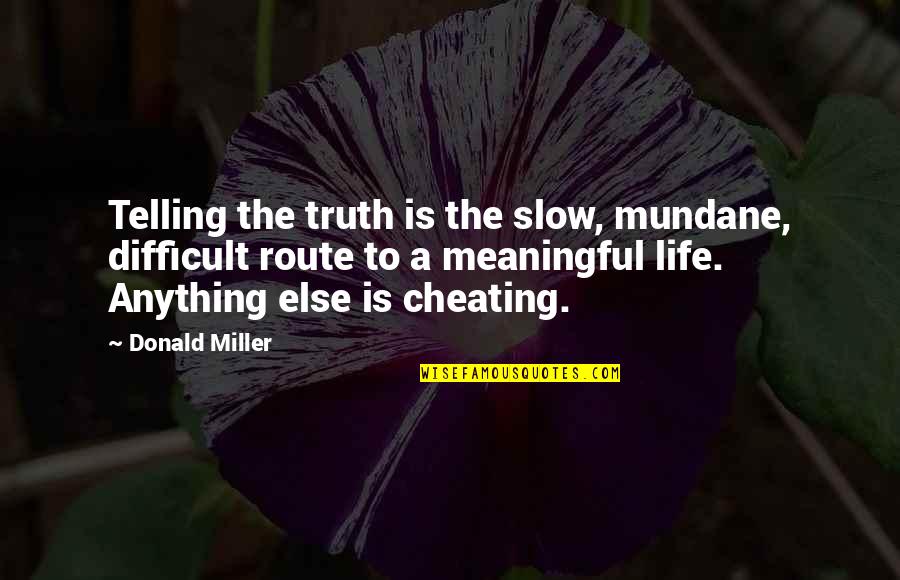 Telling the truth is the slow, mundane, difficult route to a meaningful life. Anything else is cheating. —
Donald Miller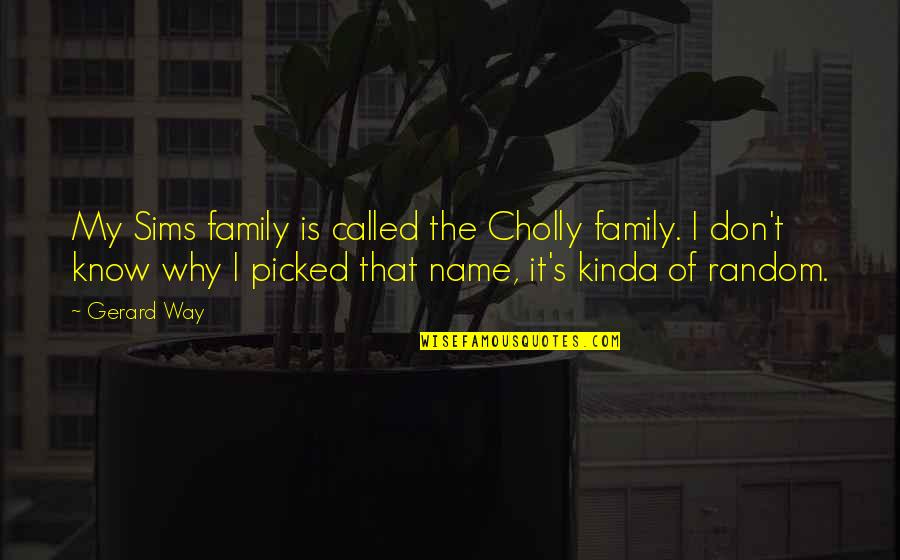 My Sims family is called the Cholly family. I don't know why I picked that name, it's kinda of random. —
Gerard Way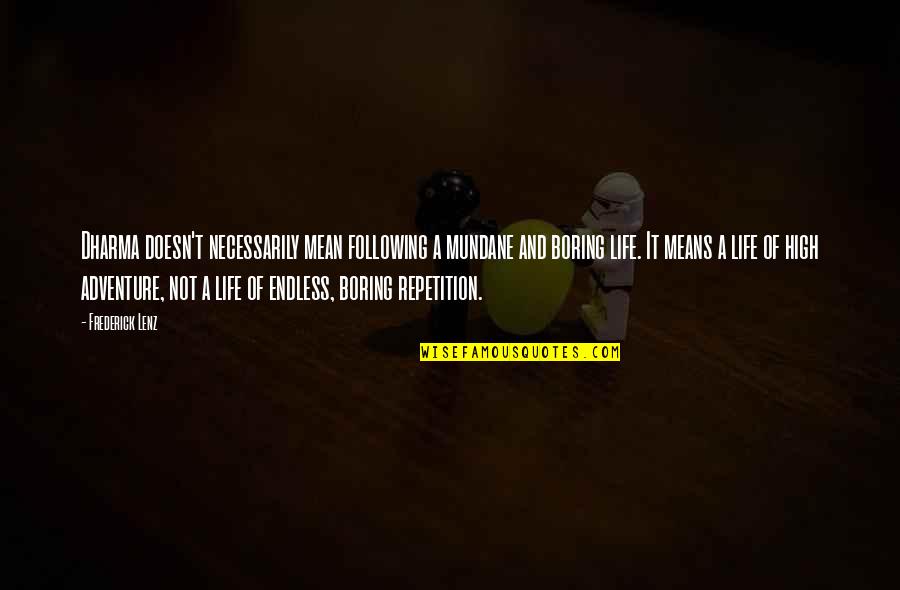 Dharma doesn't necessarily mean following a mundane and boring life. It means a life of high adventure, not a life of endless, boring repetition. —
Frederick Lenz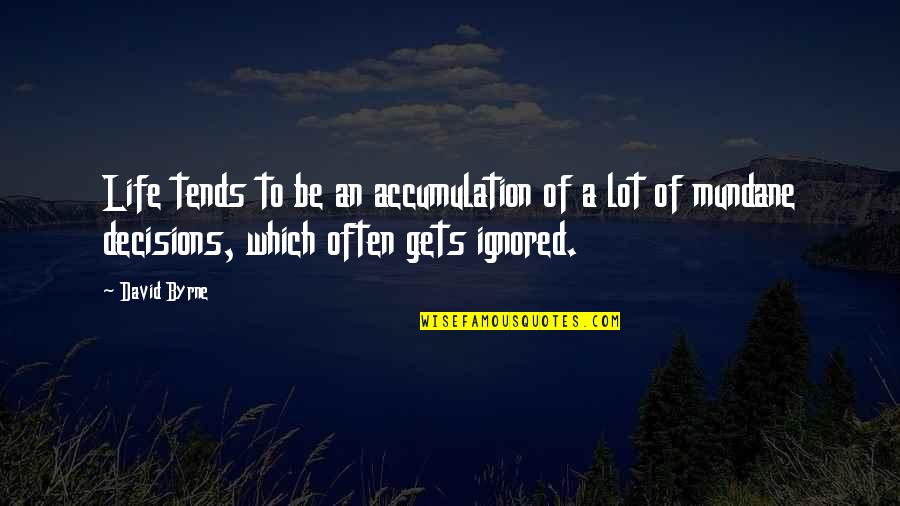 Life tends to be an accumulation of a lot of mundane decisions, which often gets ignored. —
David Byrne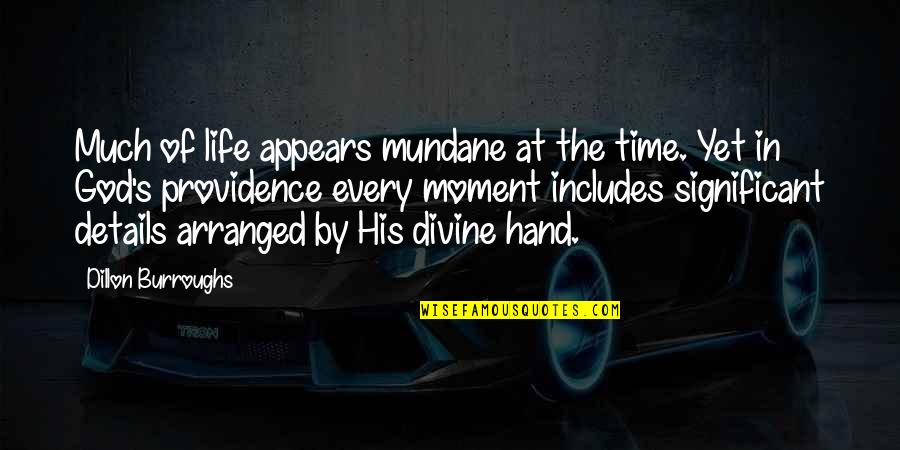 Much of life appears mundane at the time. Yet in God's providence every moment includes significant details arranged by His divine hand. —
Dillon Burroughs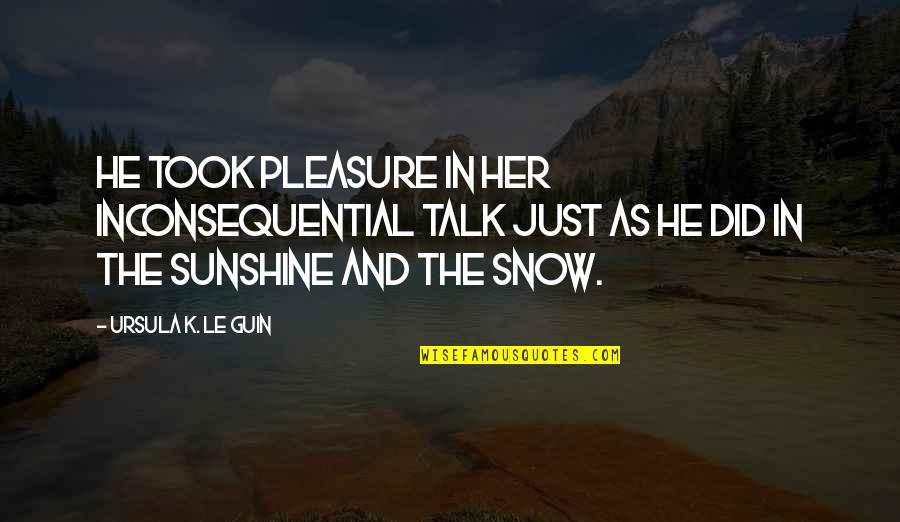 He took pleasure in her inconsequential talk just as he did in the sunshine and the snow. —
Ursula K. Le Guin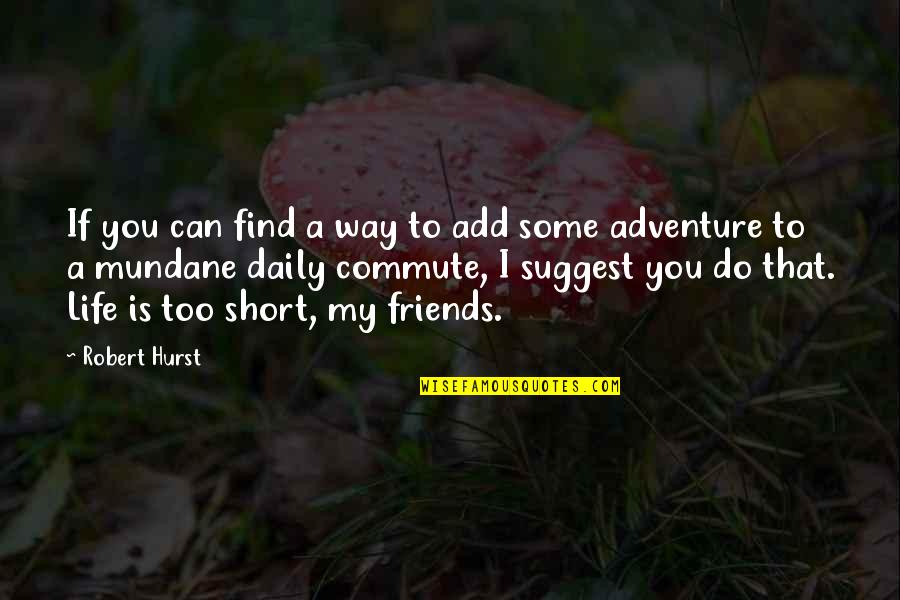 If you can find a way to add some adventure to a mundane daily commute, I suggest you do that. Life is too short, my friends. —
Robert Hurst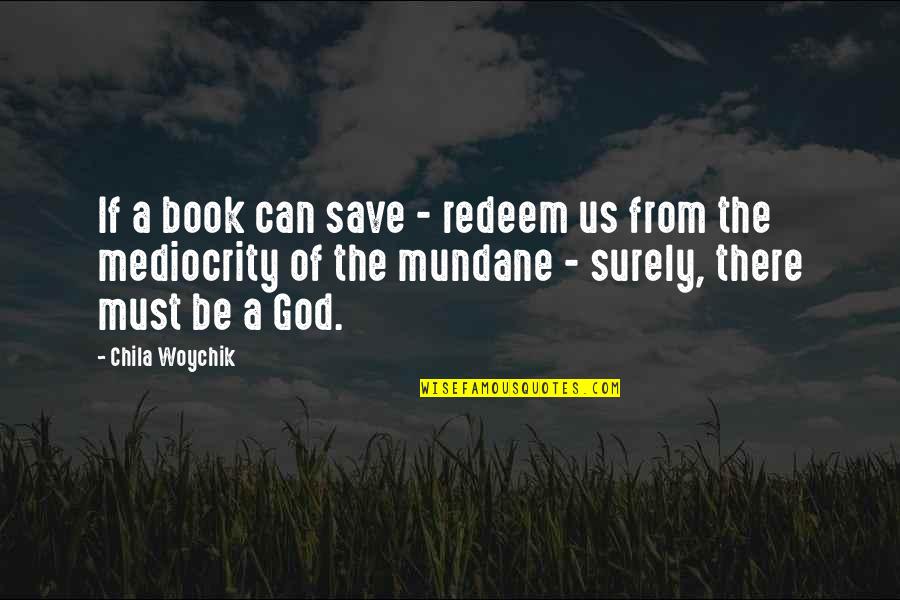 If a book can save - redeem us from the mediocrity of the mundane - surely, there must be a God. —
Chila Woychik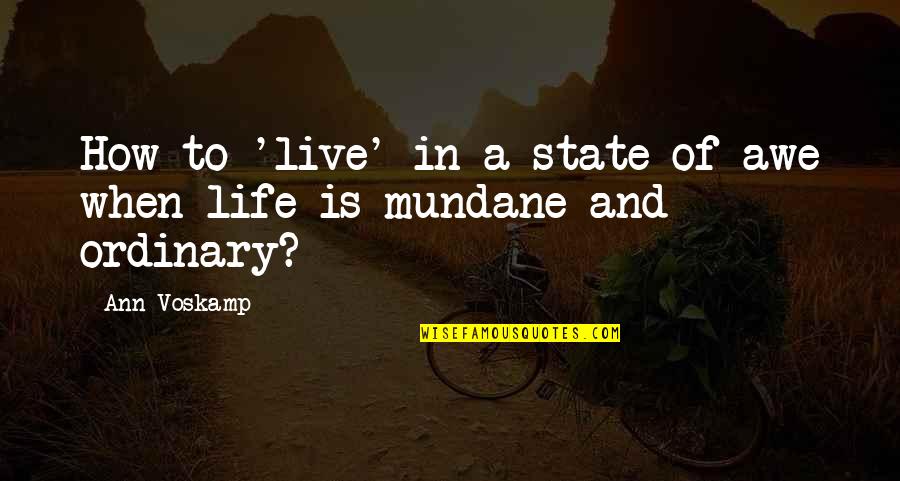 How to 'live' in a state of awe when life is mundane and ordinary? —
Ann Voskamp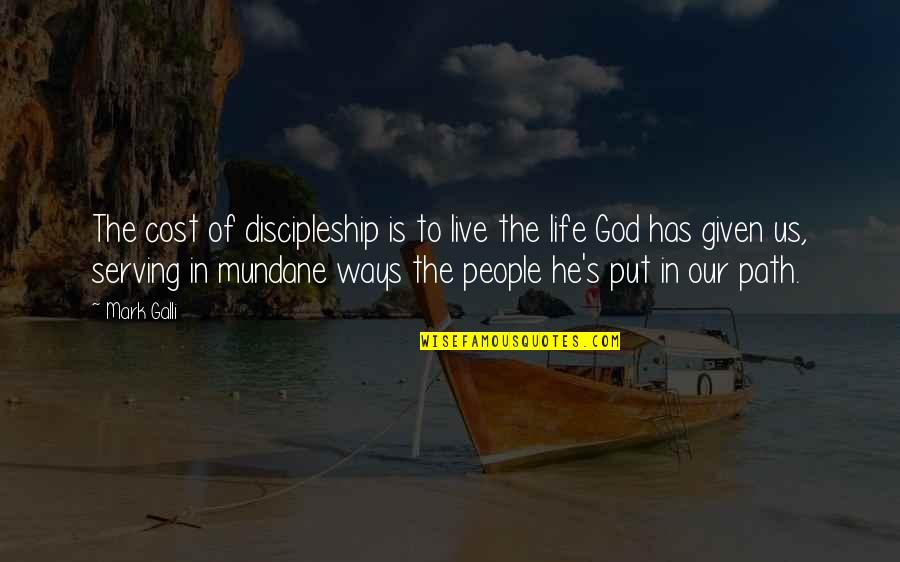 The cost of discipleship is to live the life God has given us, serving in mundane ways the people he's put in our path. —
Mark Galli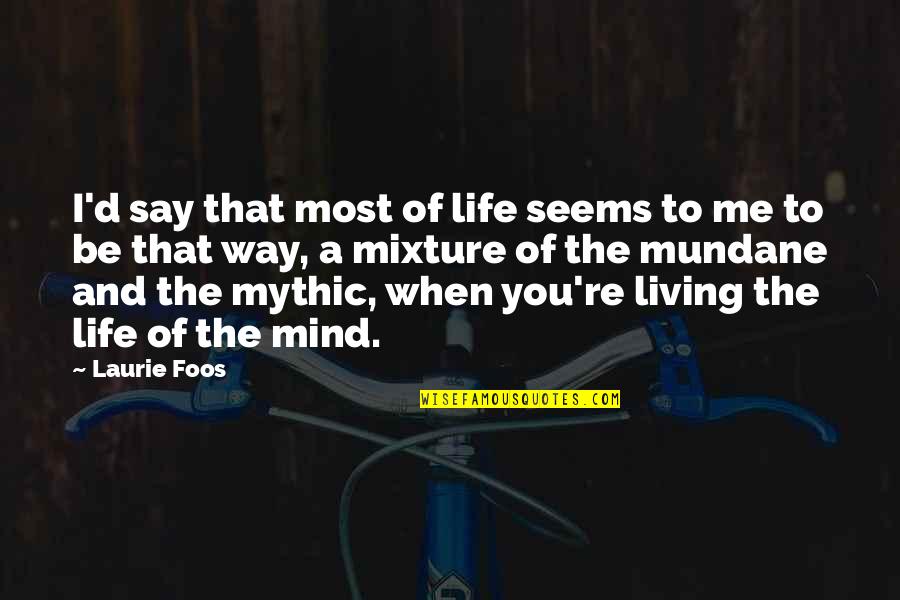 I'd say that most of life seems to me to be that way, a mixture of the mundane and the mythic, when you're living the life of the mind. —
Laurie Foos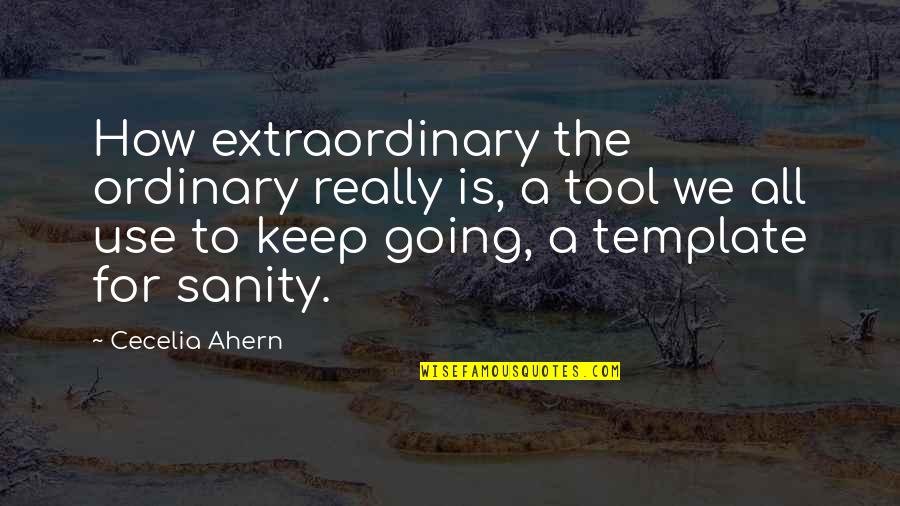 How extraordinary the ordinary really is, a tool we all use to keep going, a template for sanity. —
Cecelia Ahern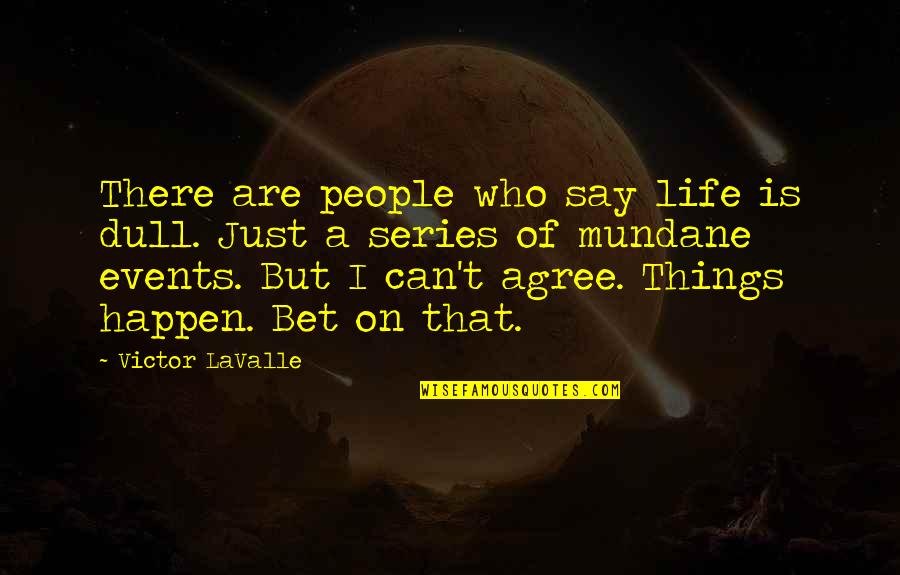 There are people who say life is dull. Just a series of mundane events. But I can't agree. Things happen. Bet on that. —
Victor LaValle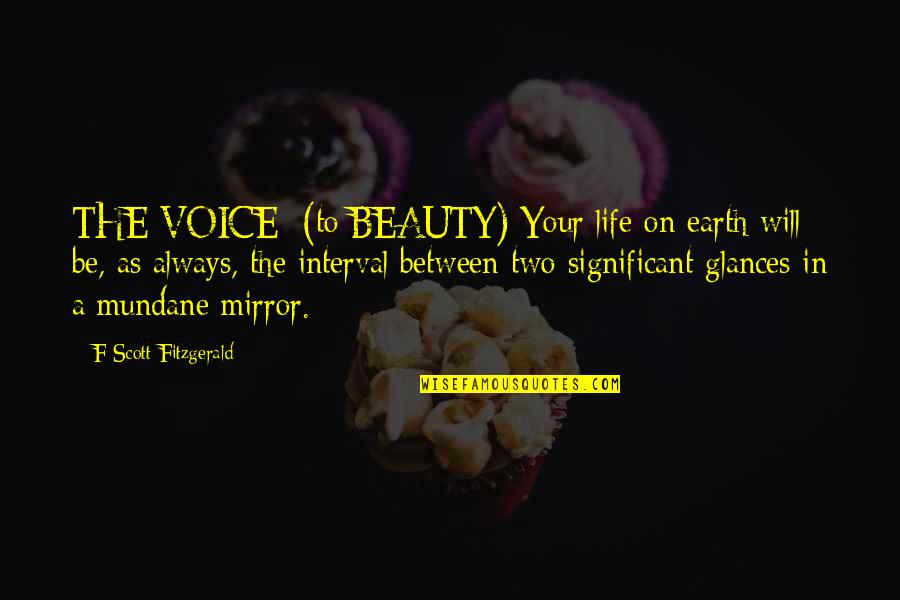 THE VOICE: (to BEAUTY) Your life on earth will be, as always, the interval between two significant glances in a mundane mirror. —
F Scott Fitzgerald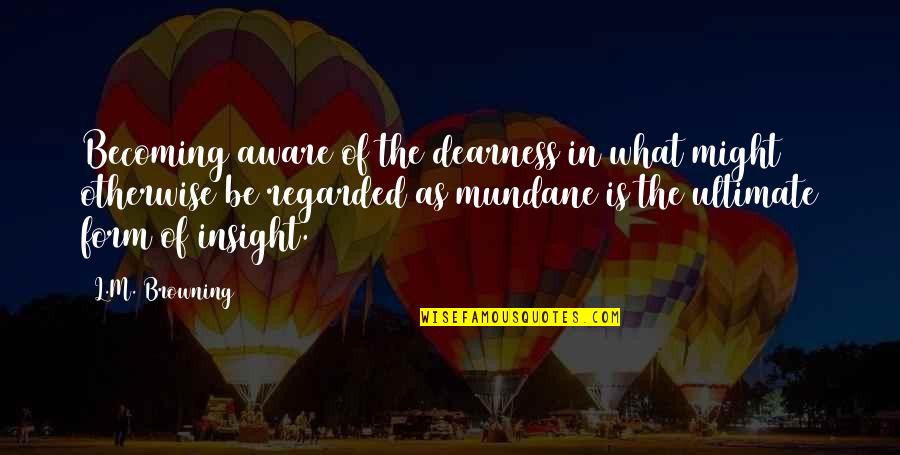 Becoming aware of the dearness in what might otherwise be regarded as mundane is the ultimate form of insight. —
L.M. Browning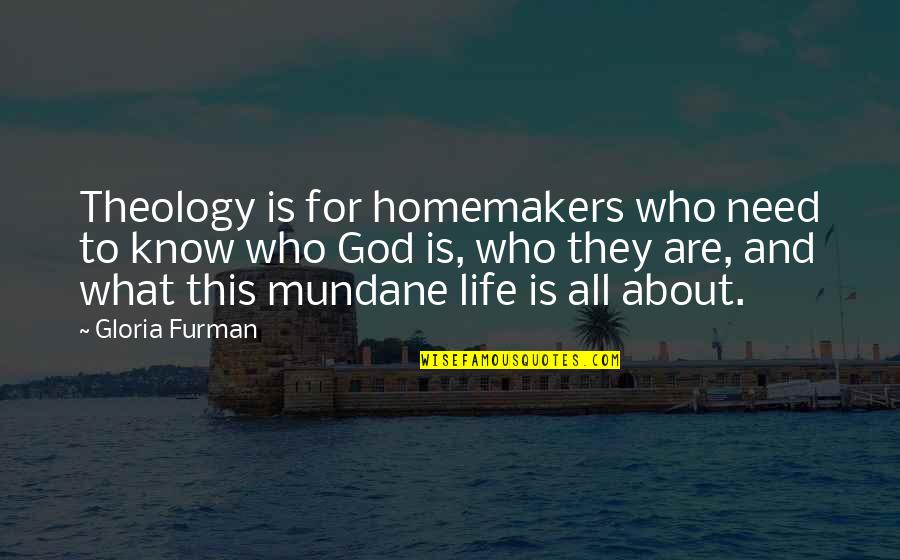 Theology is for homemakers who need to know who God is, who they are, and what this
mundane life
is all about. —
Gloria Furman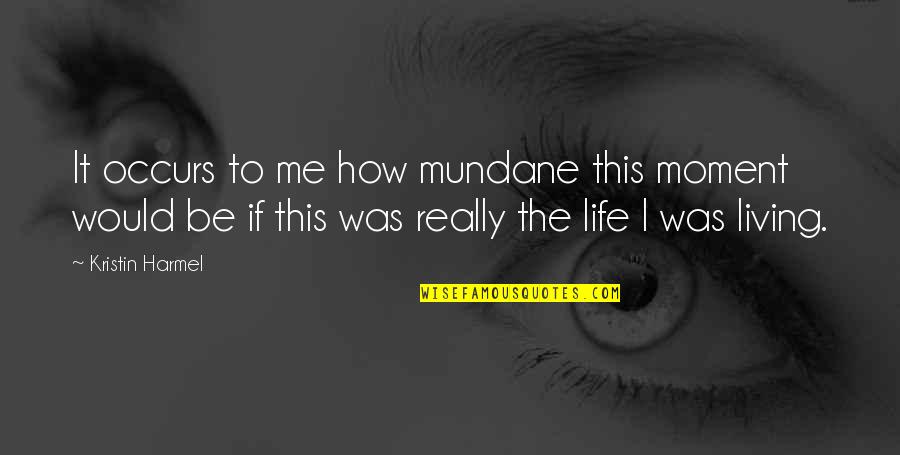 It occurs to me how mundane this moment would be if this was really the life I was living. —
Kristin Harmel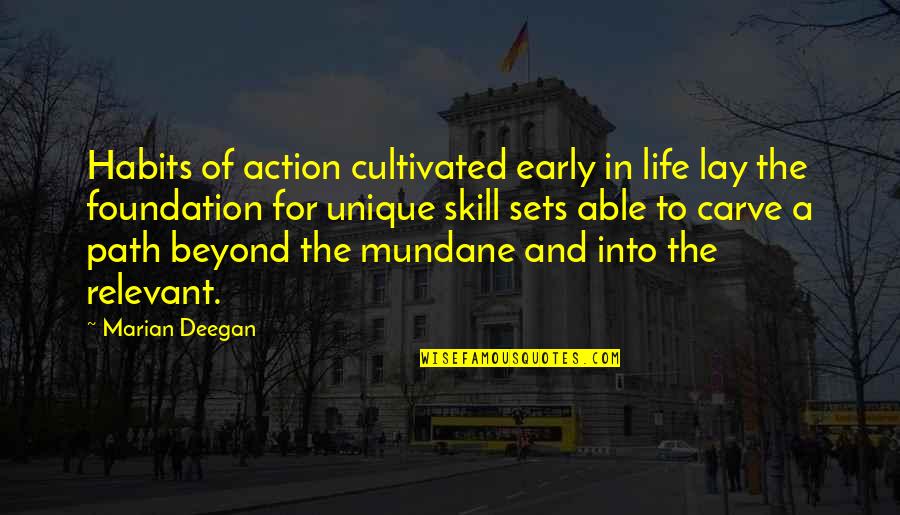 Habits of action cultivated early in life lay the foundation for unique skill sets able to carve a path beyond the mundane and into the relevant. —
Marian Deegan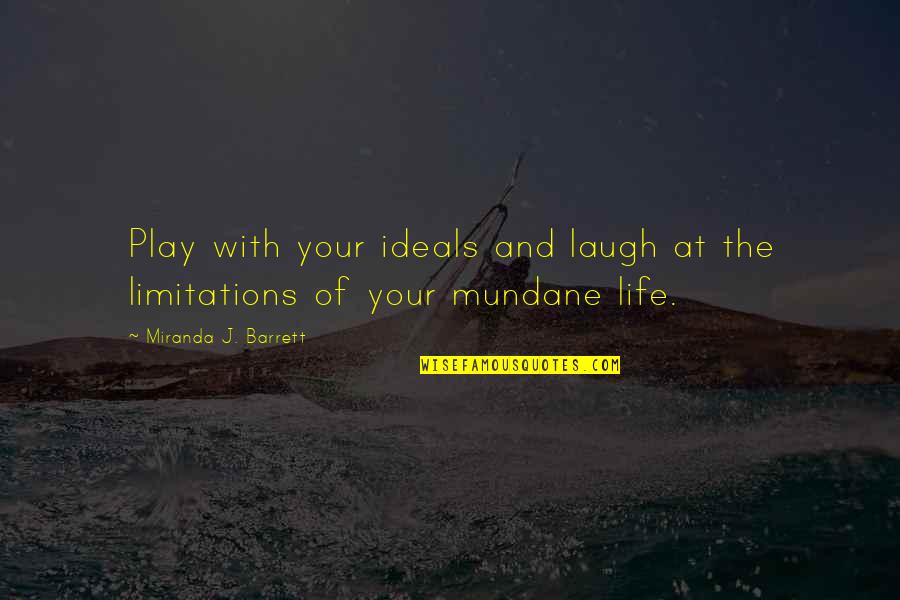 Play with your ideals and laugh at the limitations of your
mundane life
. —
Miranda J. Barrett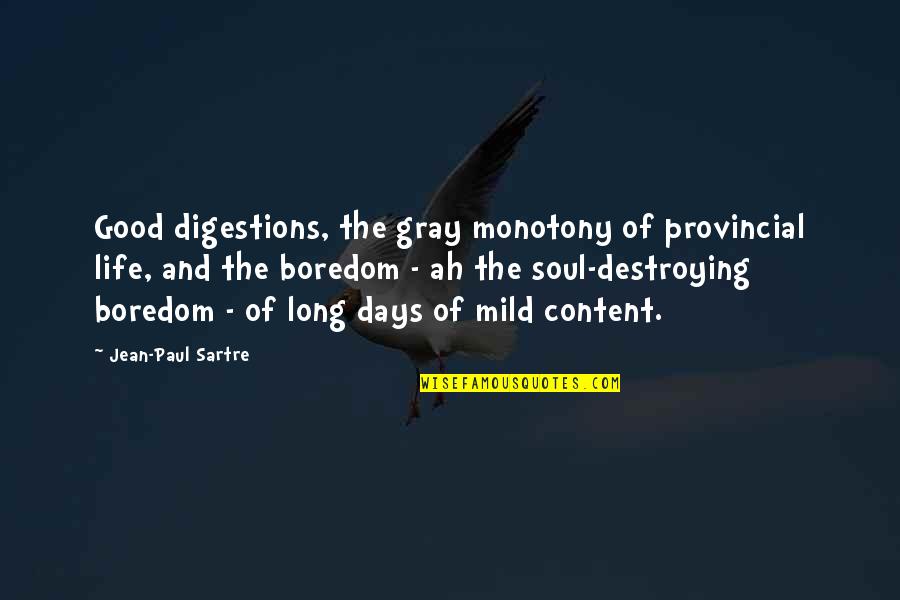 Good digestions, the gray monotony of provincial life, and the boredom - ah the soul-destroying boredom - of long days of mild content. —
Jean-Paul Sartre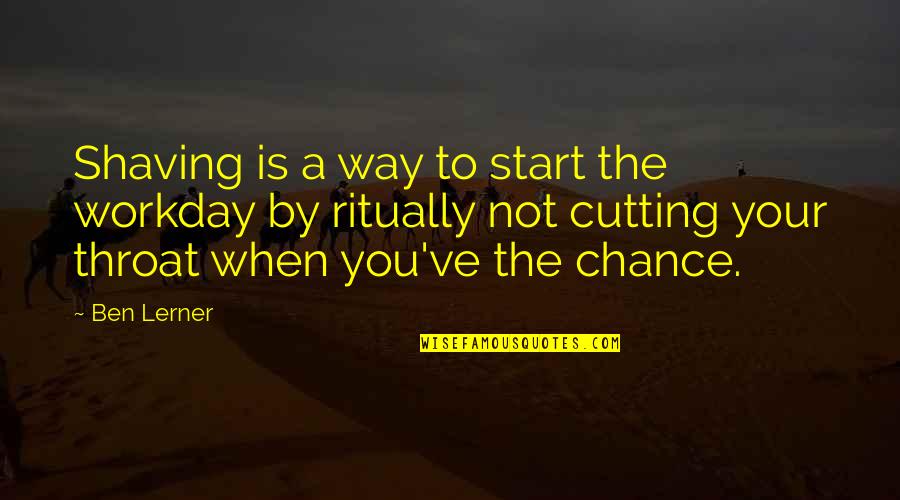 Shaving is a way to start the workday by ritually not cutting your throat when you've the chance. —
Ben Lerner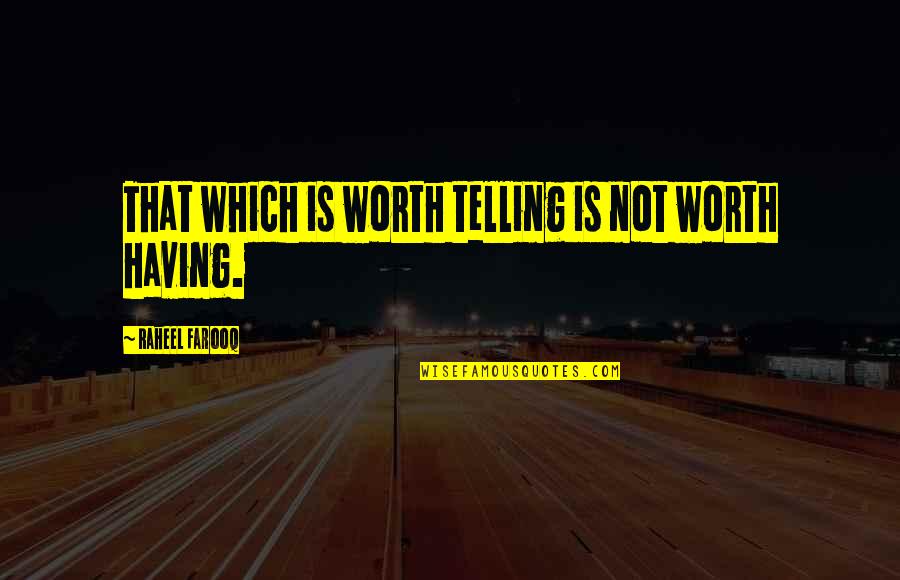 That which is worth telling is not worth having. —
Raheel Farooq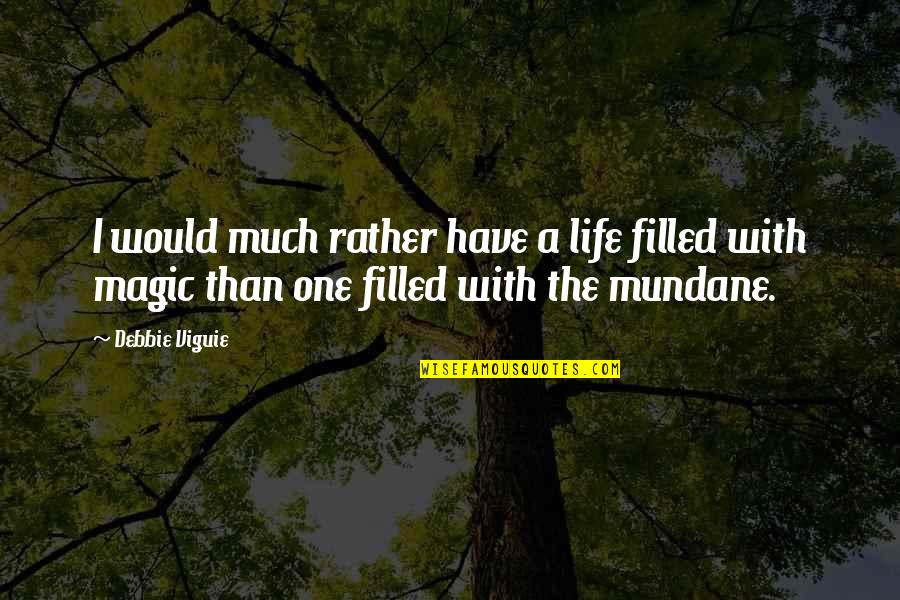 I would much rather have a life filled with magic than one filled with the mundane. —
Debbie Viguie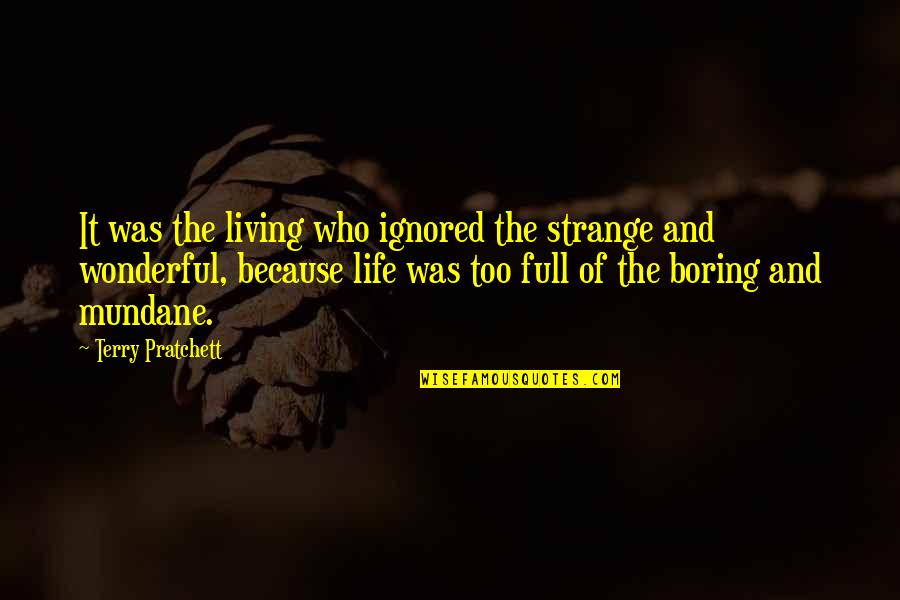 It was the living who ignored the strange and wonderful, because life was too full of the boring and mundane. —
Terry Pratchett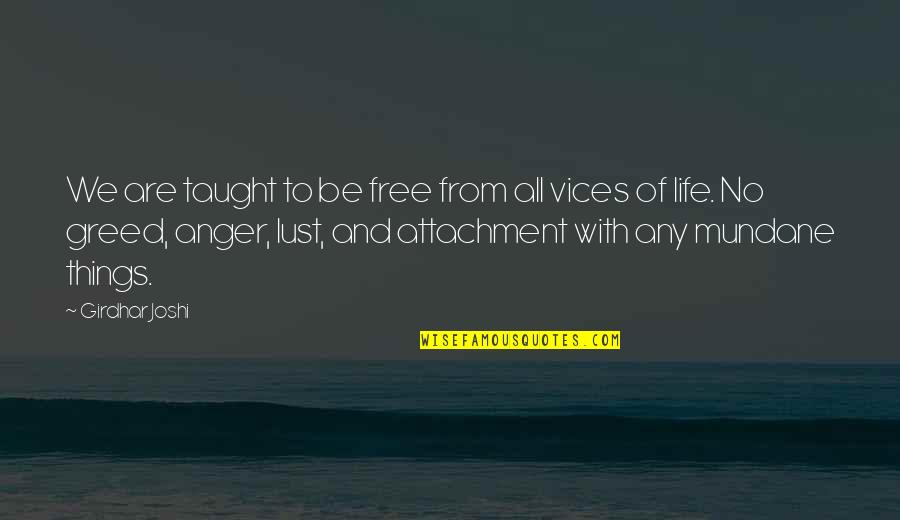 We are taught to be free from all vices of life. No greed, anger, lust, and attachment with any mundane things. —
Girdhar Joshi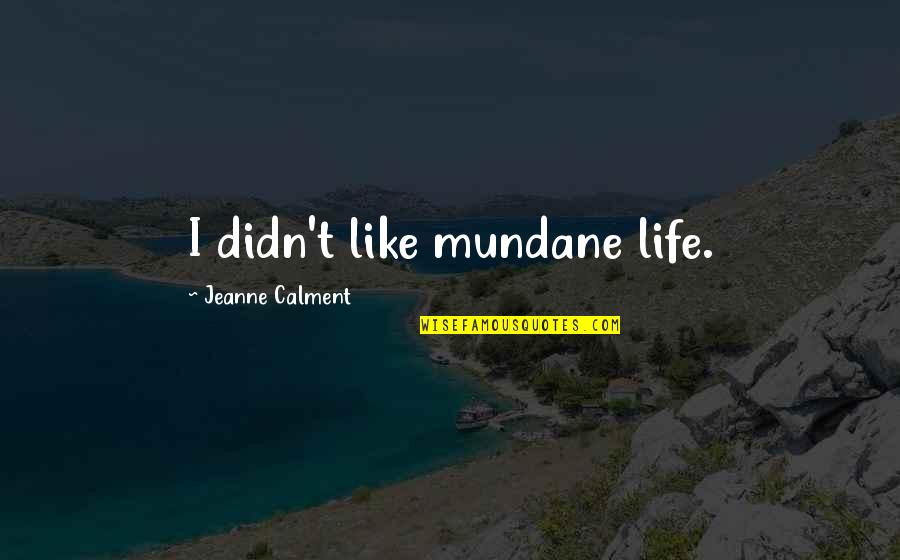 I didn't like
mundane life
. —
Jeanne Calment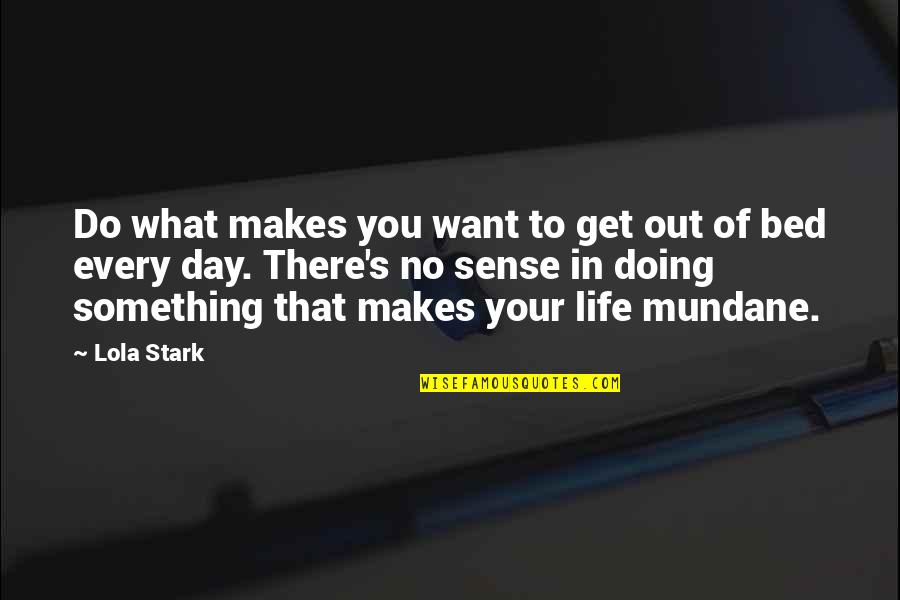 Do what makes you want to get out of bed every day. There's no sense in doing something that makes your life mundane. —
Lola Stark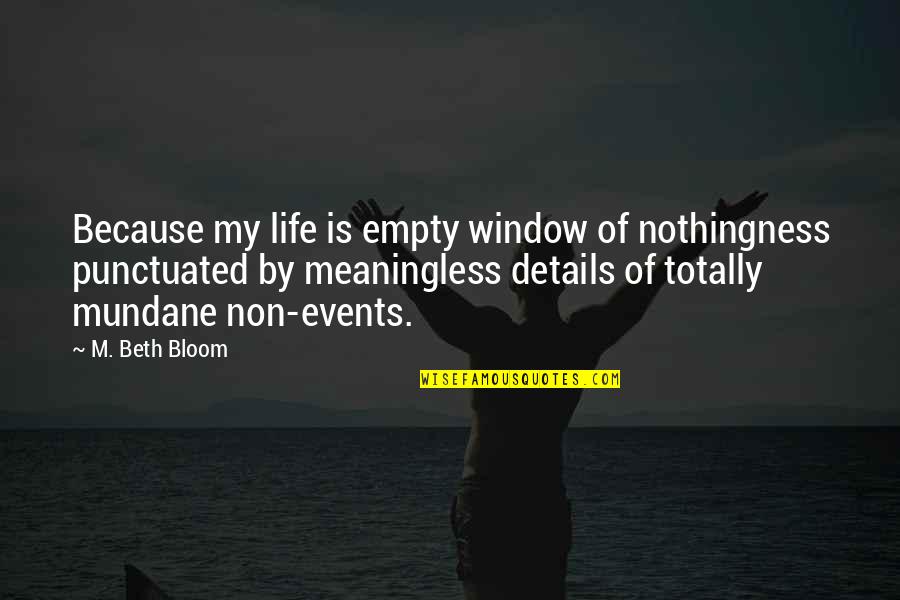 Because my life is empty window of nothingness punctuated by meaningless details of totally mundane non-events. —
M. Beth Bloom