Mark Steyn Quotes
Collection of top 61 famous quotes about Mark Steyn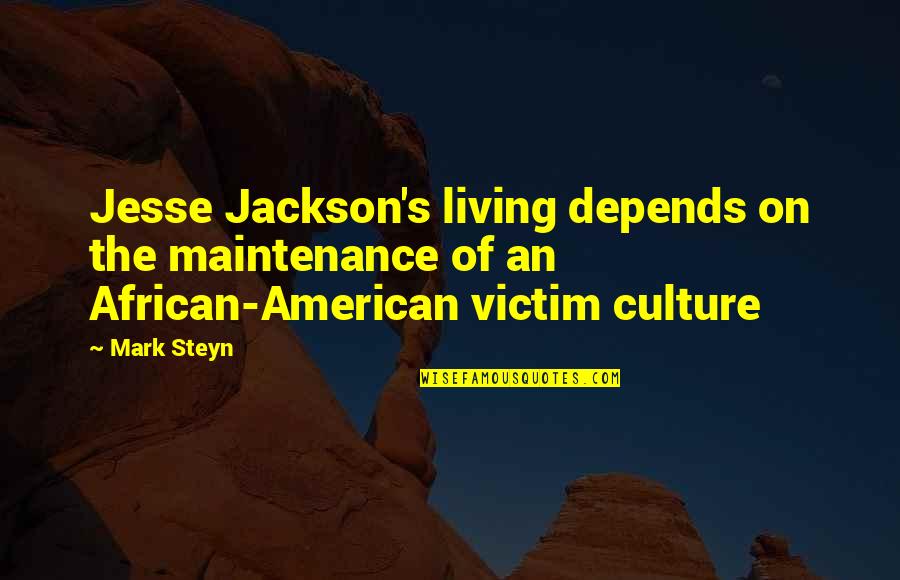 Jesse Jackson's living depends on the maintenance of an African-American victim culture
—
Mark Steyn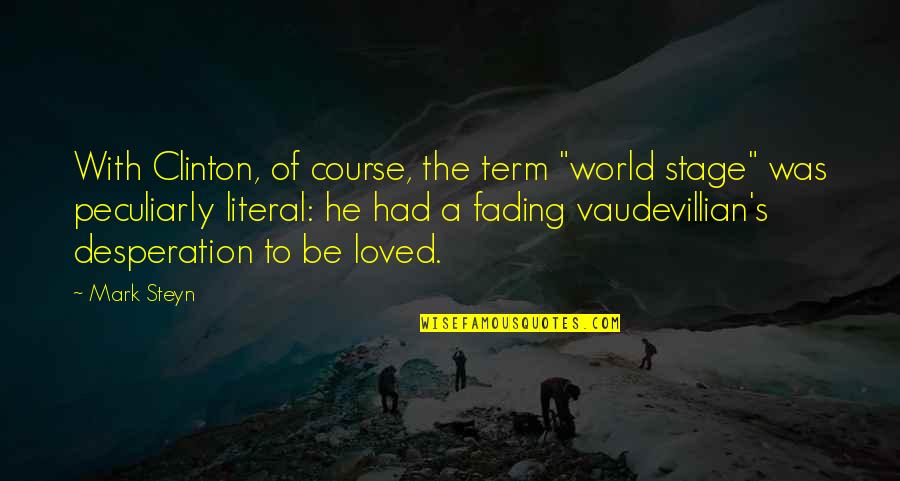 With Clinton, of course, the term "world stage" was peculiarly literal: he had a fading vaudevillian's desperation to be loved.
—
Mark Steyn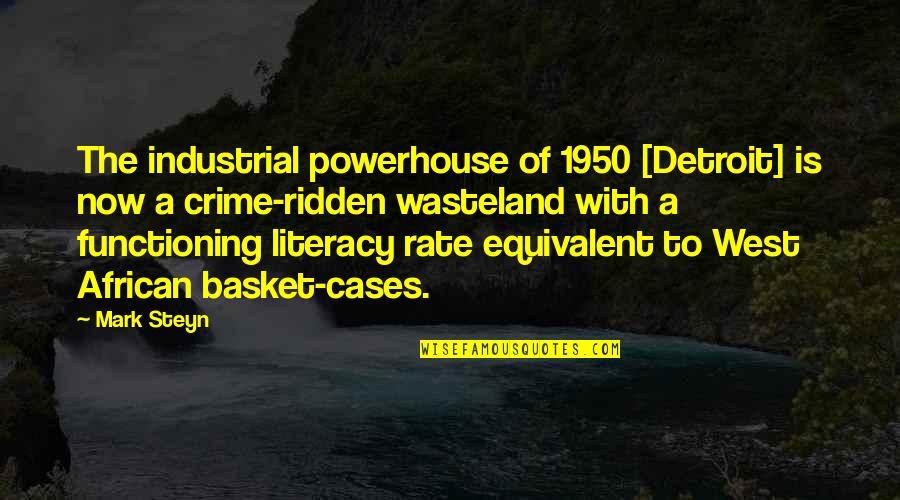 The industrial powerhouse of 1950 [Detroit] is now a crime-ridden wasteland with a functioning literacy rate equivalent to West African basket-cases.
—
Mark Steyn
On the Continent and elsewhere in the West, native populations are aging and fading and being supplanted remorselessly by a young Muslim demographic.
—
Mark Steyn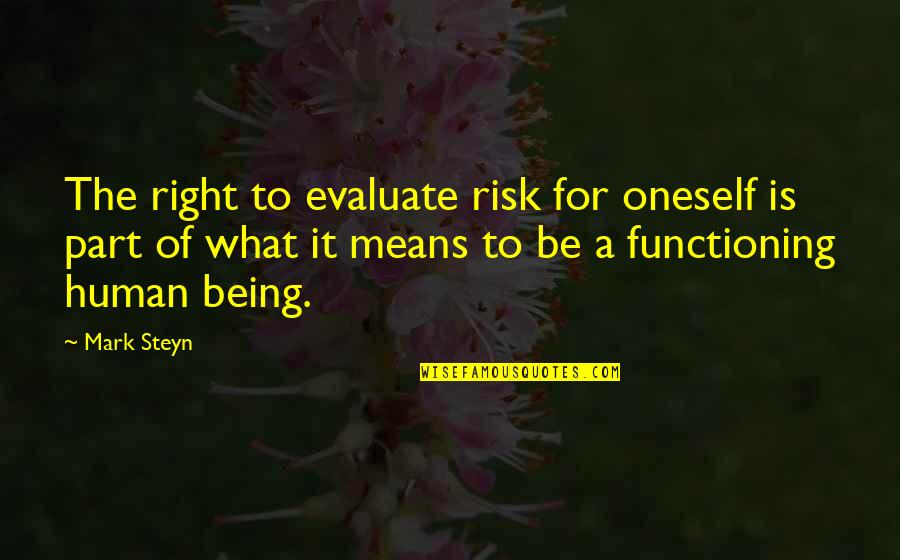 The right to evaluate risk for oneself is part of what it means to be a functioning human being.
—
Mark Steyn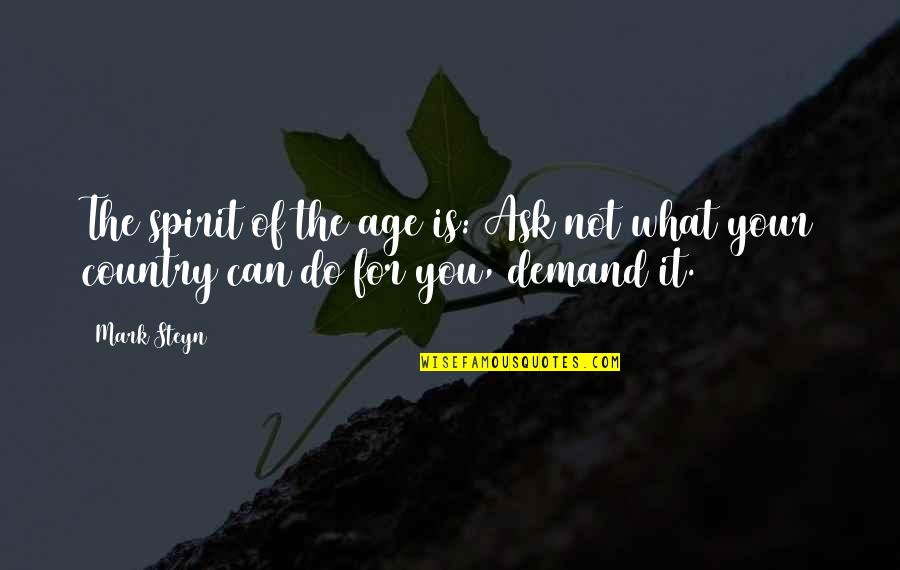 The spirit of the age is: Ask not what your country can do for you, demand it.
—
Mark Steyn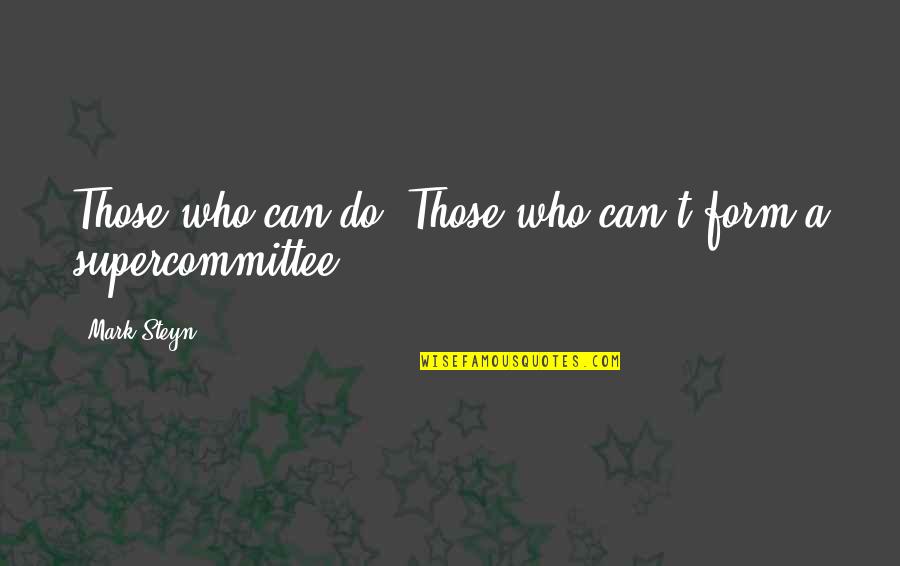 Those who can do. Those who can't form a supercommittee.
—
Mark Steyn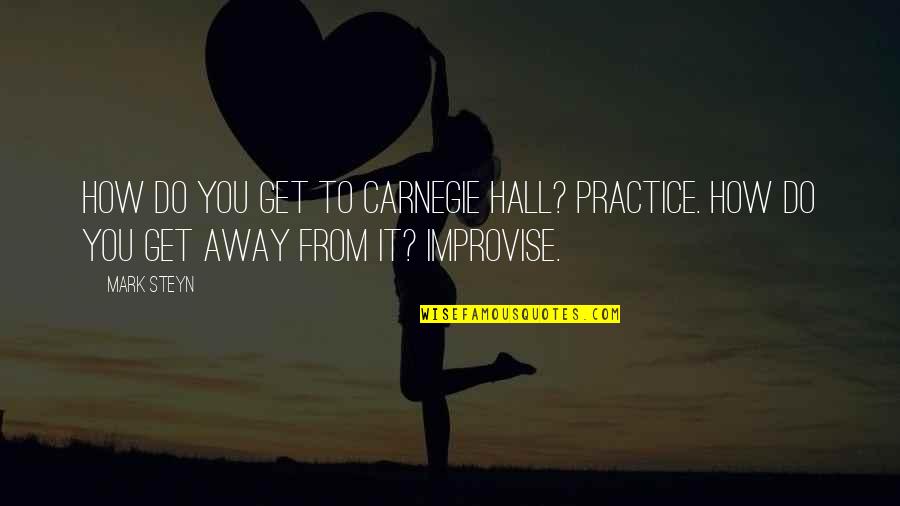 How do you get to Carnegie Hall? Practice. How do you get away from it? Improvise.
—
Mark Steyn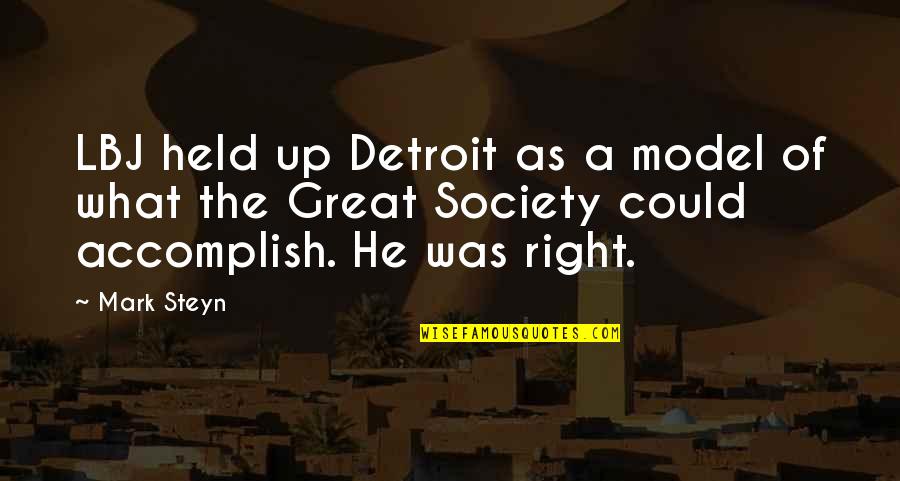 LBJ held up Detroit as a model of what the Great Society could accomplish. He was right.
—
Mark Steyn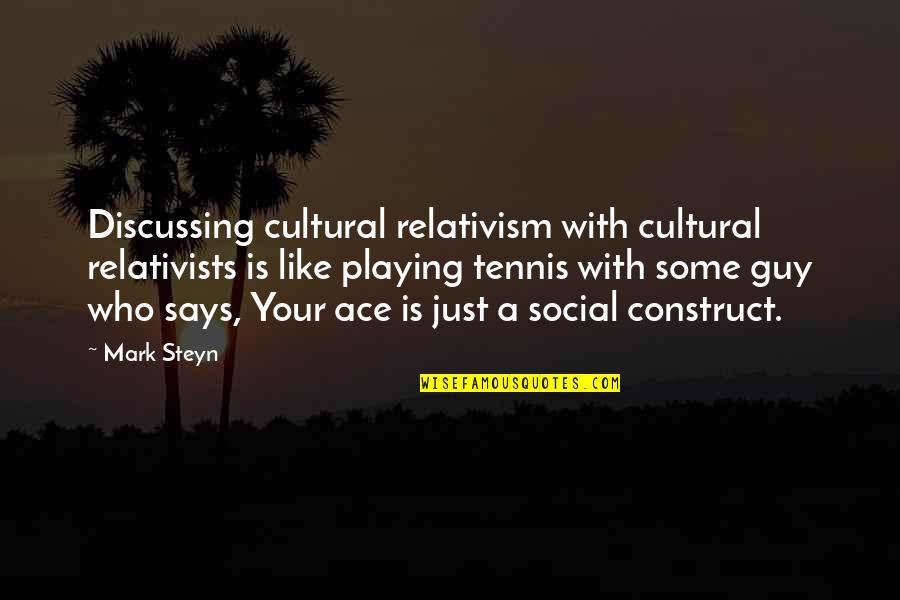 Discussing cultural relativism with cultural relativists is like playing tennis with some guy who says, Your ace is just a social construct. —
Mark Steyn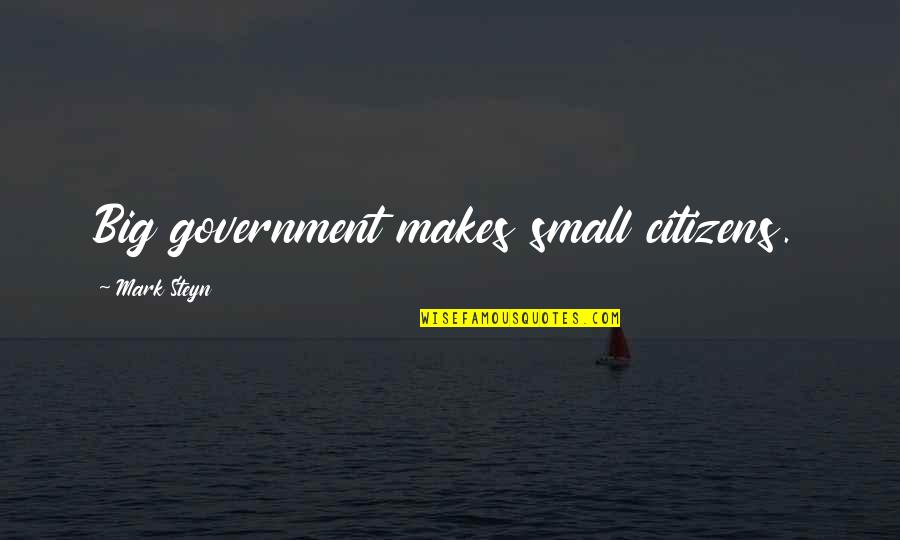 Big government makes small citizens. —
Mark Steyn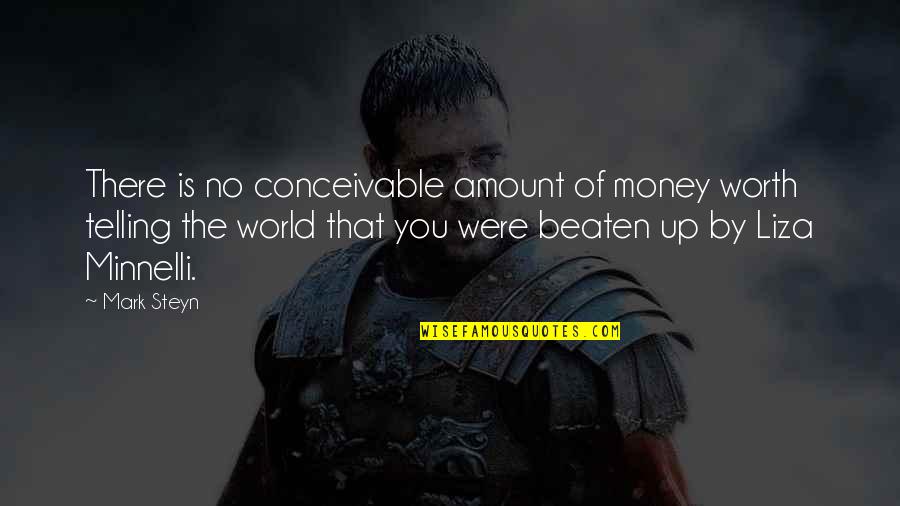 There is no conceivable amount of money worth telling the world that you were beaten up by Liza Minnelli. —
Mark Steyn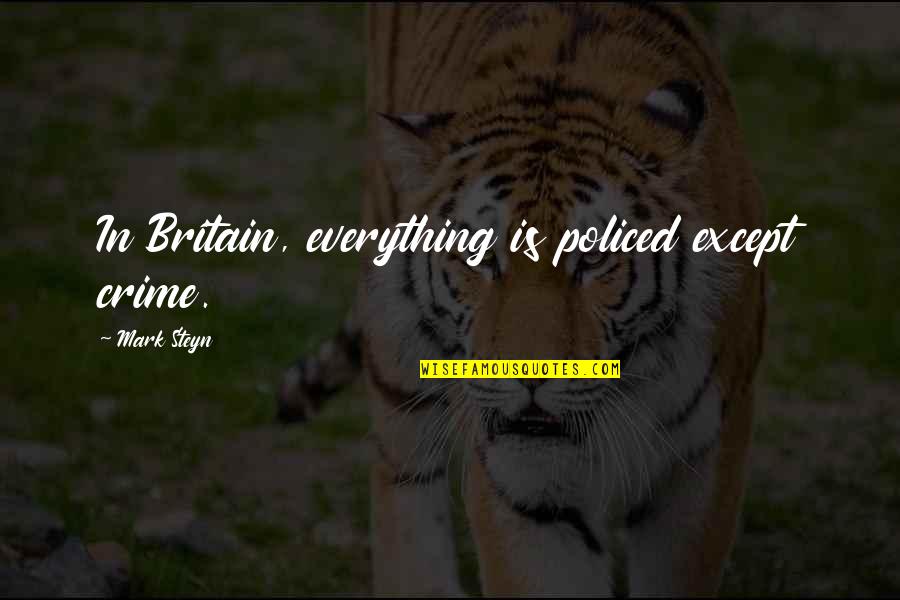 In Britain, everything is policed except crime. —
Mark Steyn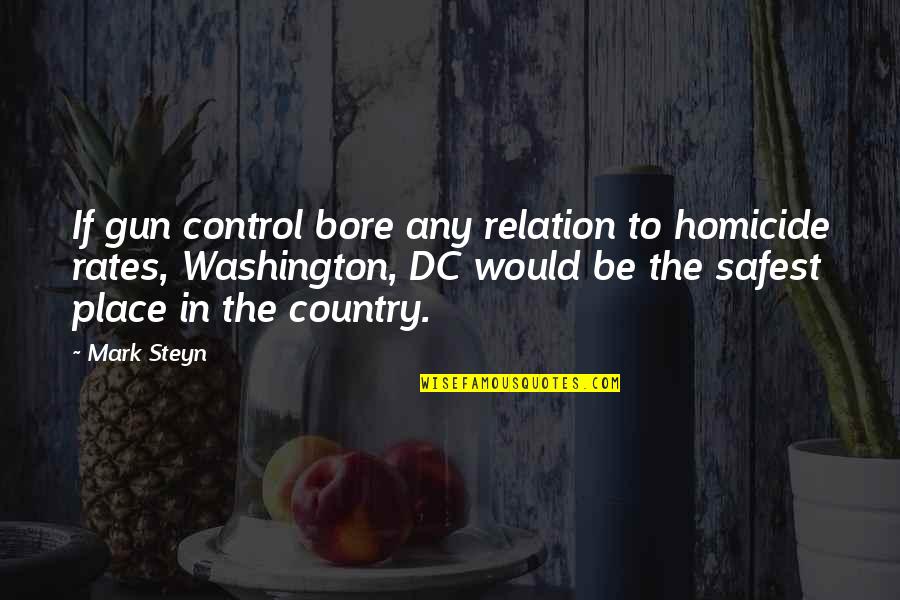 If gun control bore any relation to homicide rates, Washington, DC would be the safest place in the country. —
Mark Steyn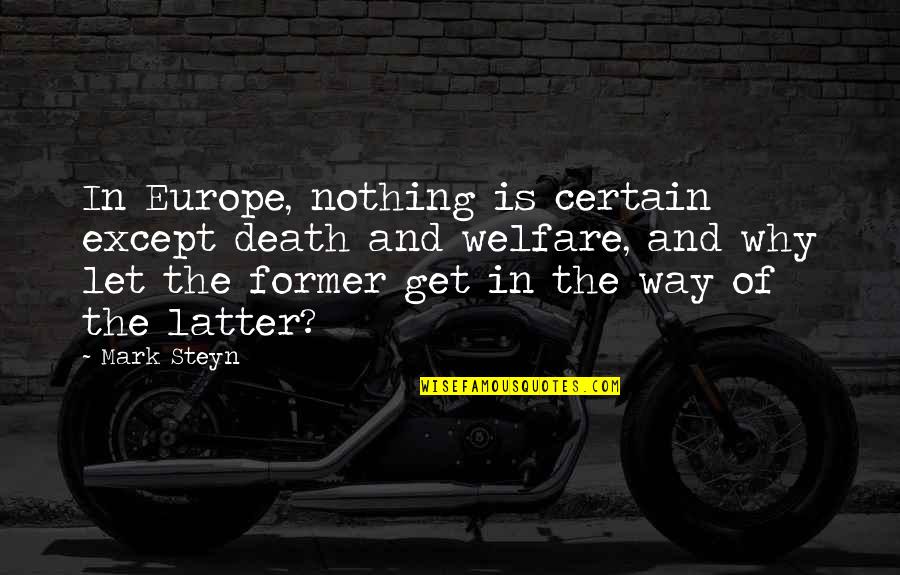 In Europe, nothing is certain except death and welfare, and why let the former get in the way of the latter? —
Mark Steyn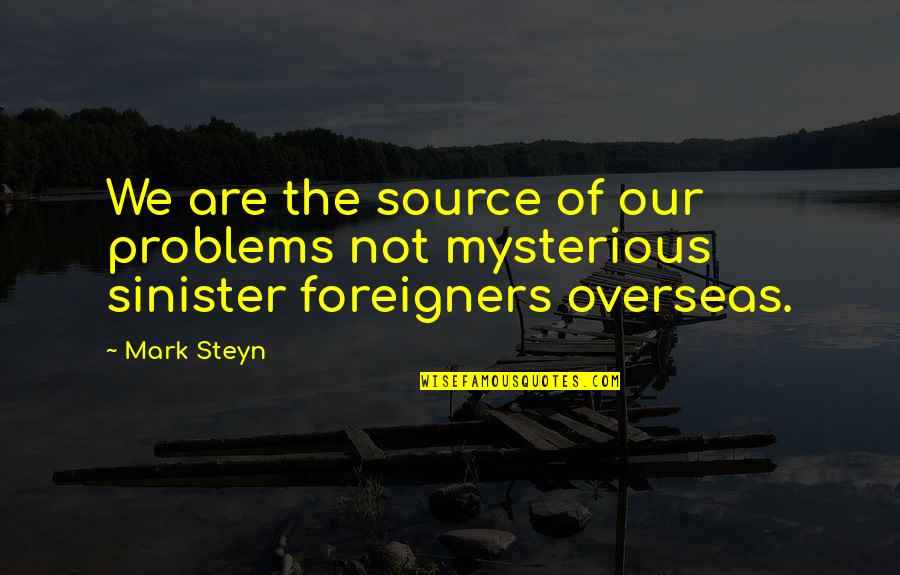 We are the source of our problems not mysterious sinister foreigners overseas. —
Mark Steyn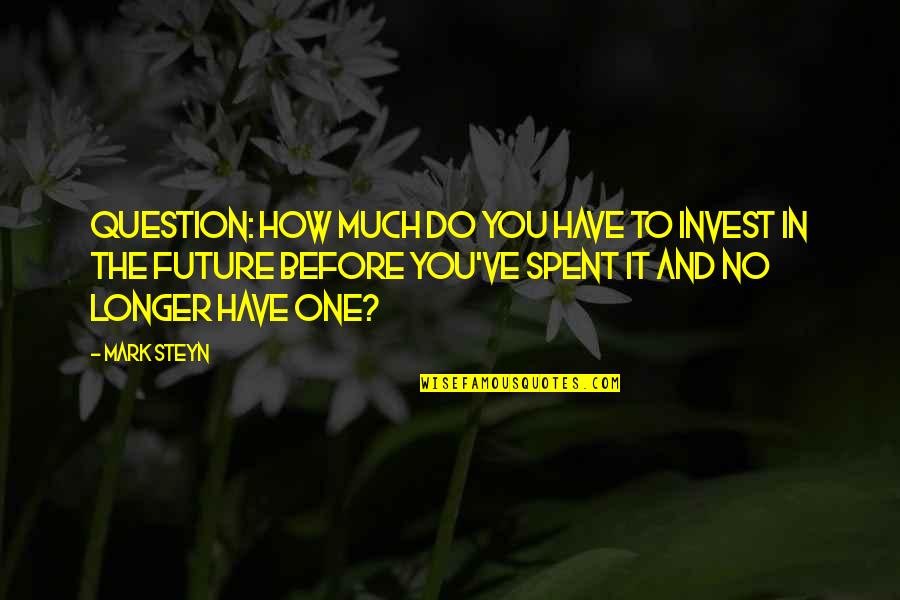 Question: How much do you have to invest in the future before you've spent it and no longer have one? —
Mark Steyn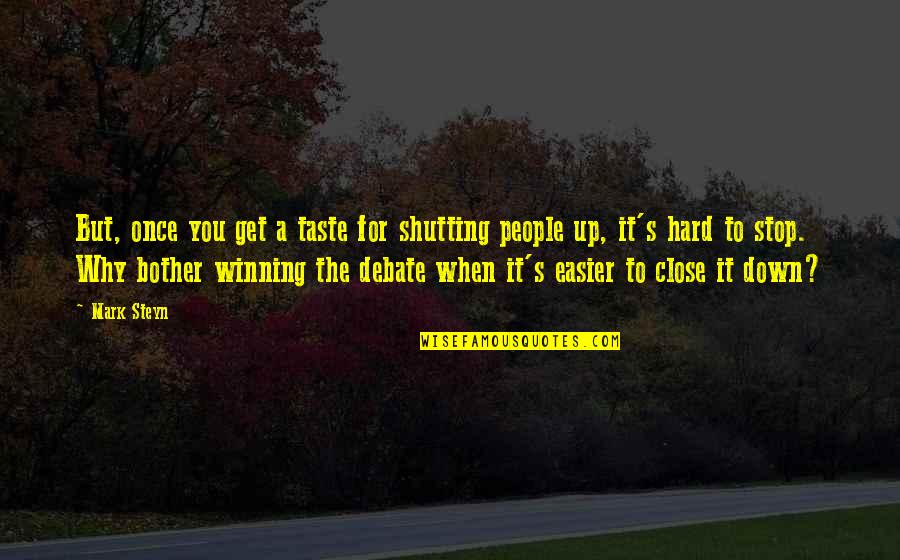 But, once you get a taste for shutting people up, it's hard to stop. Why bother winning the debate when it's easier to close it down? —
Mark Steyn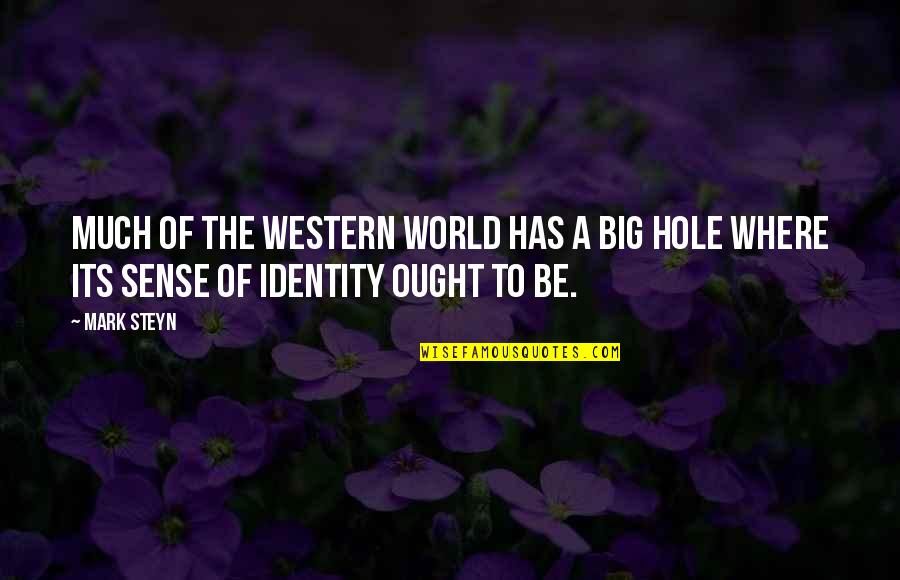 much of the western world has a big hole where its sense of identity ought to be. —
Mark Steyn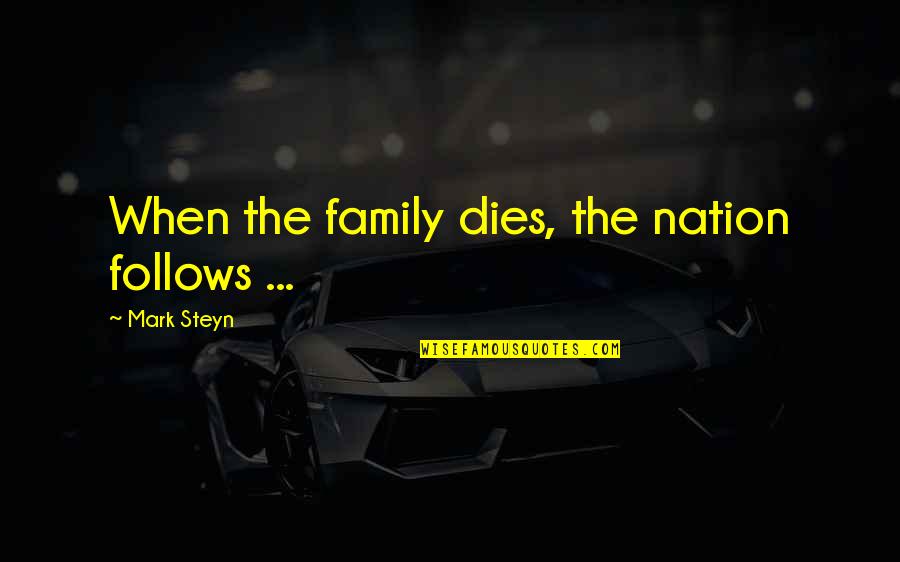 When the family dies, the nation follows ... —
Mark Steyn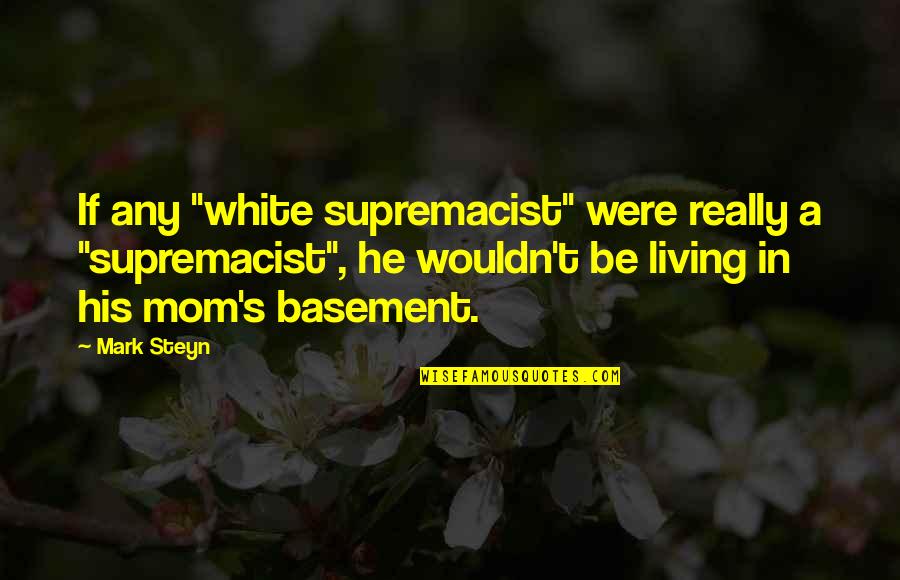 If any "white supremacist" were really a "supremacist", he wouldn't be living in his mom's basement. —
Mark Steyn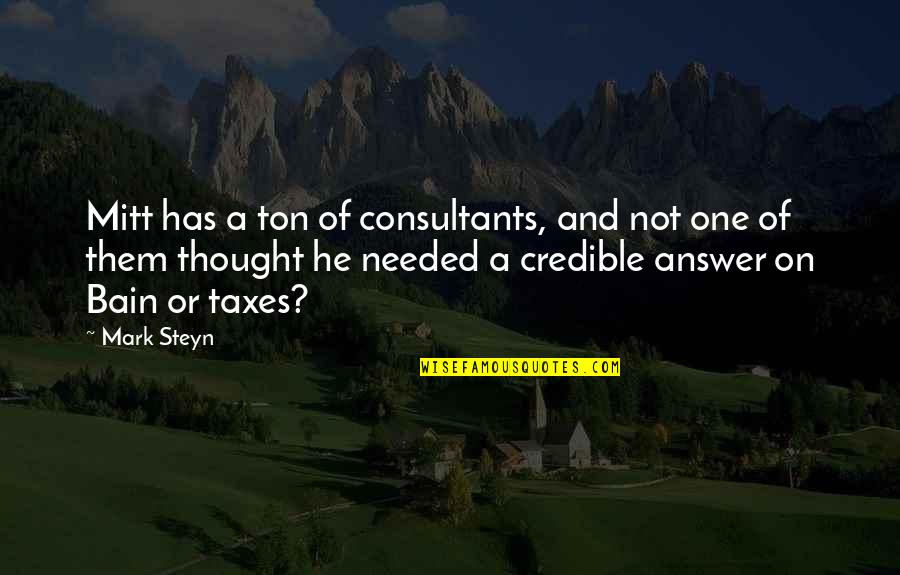 Mitt has a ton of consultants, and not one of them thought he needed a credible answer on Bain or taxes? —
Mark Steyn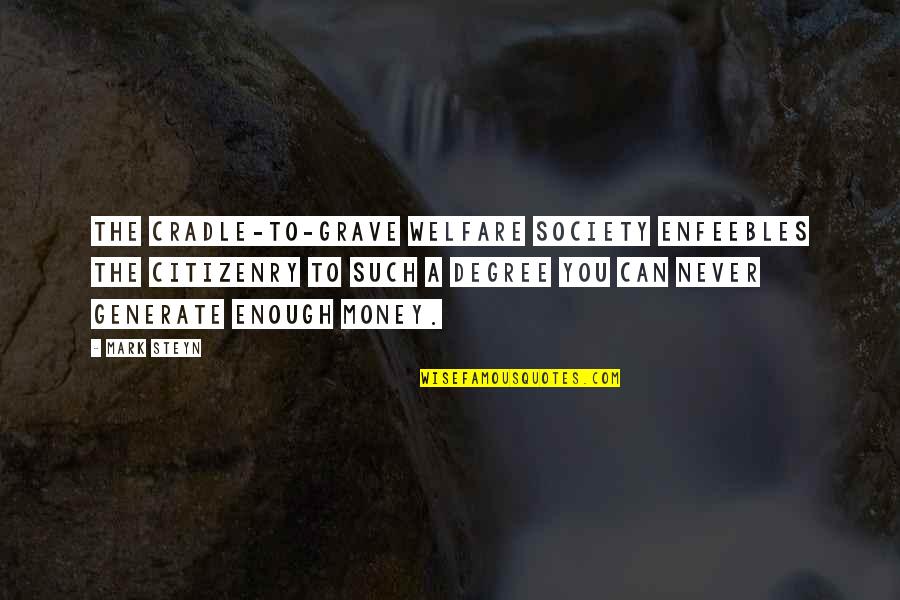 The cradle-to-grave welfare society enfeebles the citizenry to such a degree you can never generate enough money. —
Mark Steyn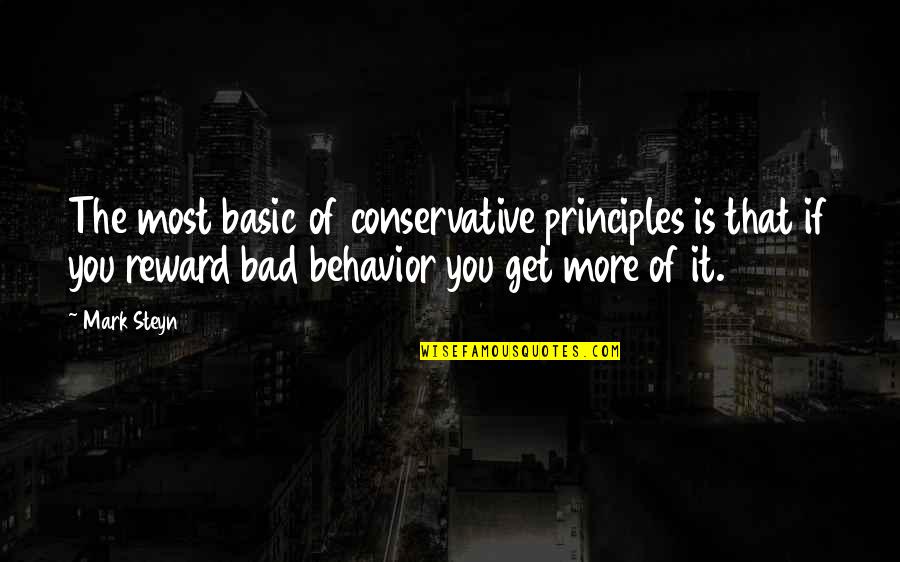 The most basic of conservative principles is that if you reward bad behavior you get more of it. —
Mark Steyn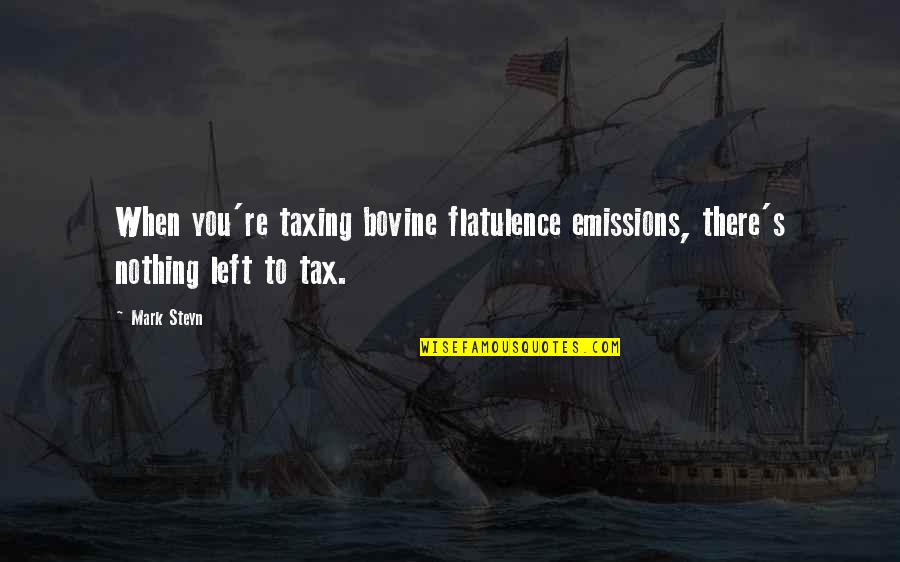 When you're taxing bovine flatulence emissions, there's nothing left to tax. —
Mark Steyn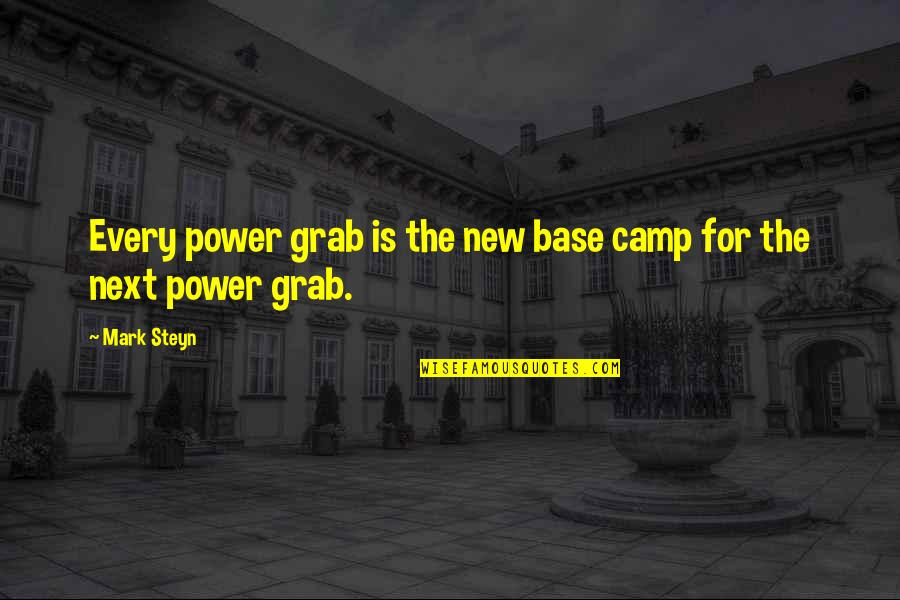 Every power grab is the new base camp for the next power grab. —
Mark Steyn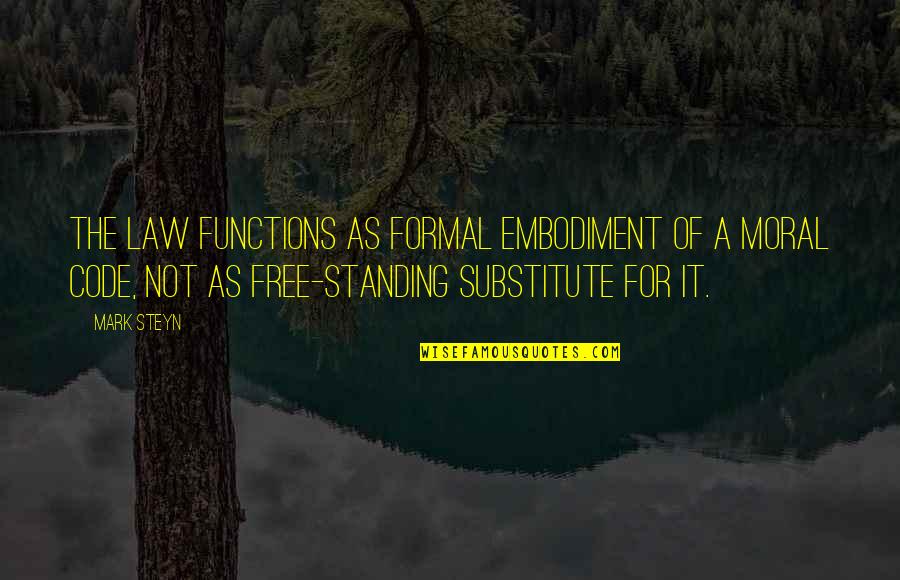 The law functions as formal embodiment of a moral code, not as free-standing substitute for it. —
Mark Steyn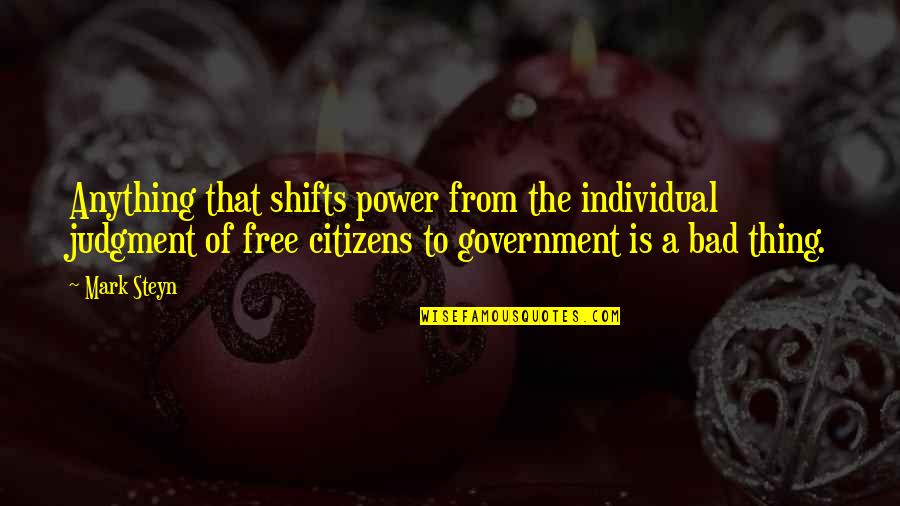 Anything that shifts power from the individual judgment of free citizens to government is a bad thing. —
Mark Steyn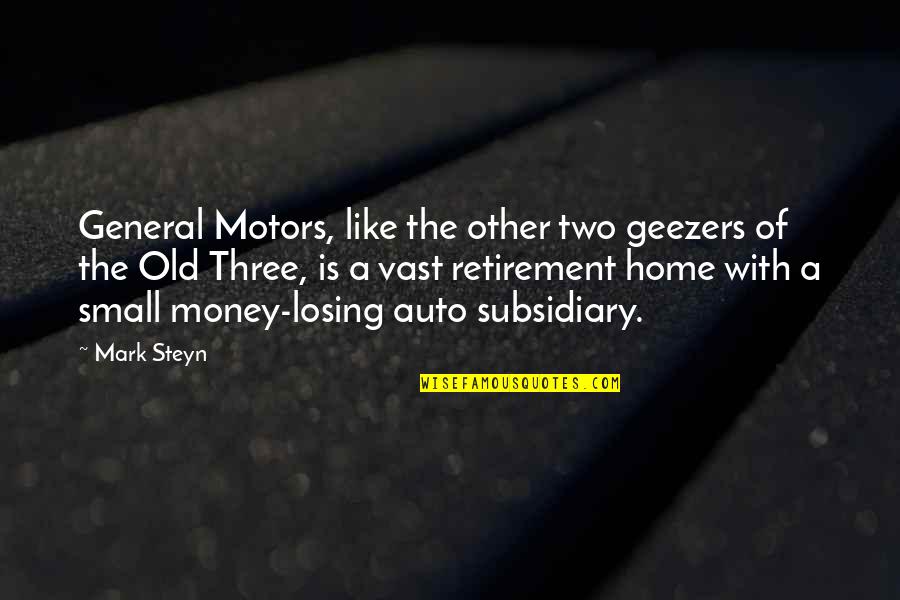 General Motors, like the other two geezers of the Old Three, is a vast retirement home with a small money-losing auto subsidiary. —
Mark Steyn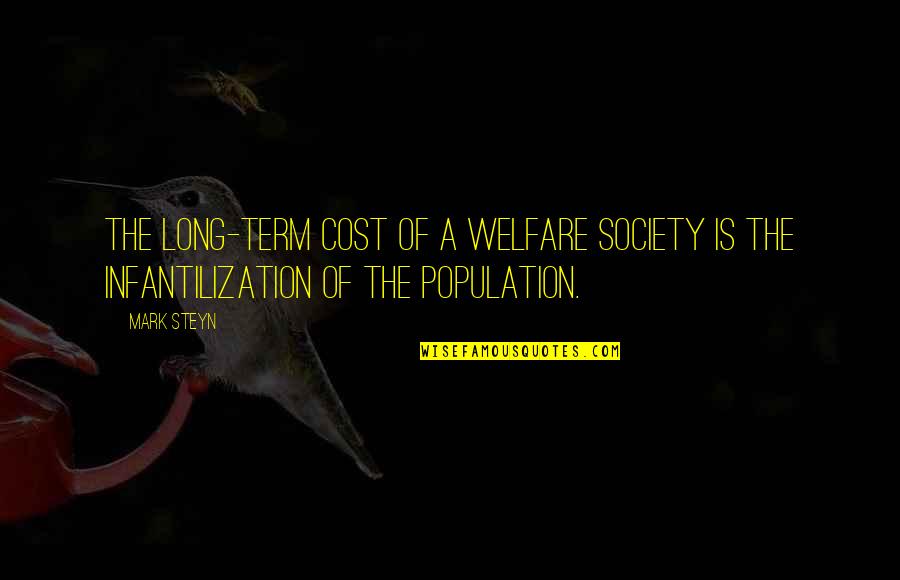 The long-term cost of a welfare society is the infantilization of the population. —
Mark Steyn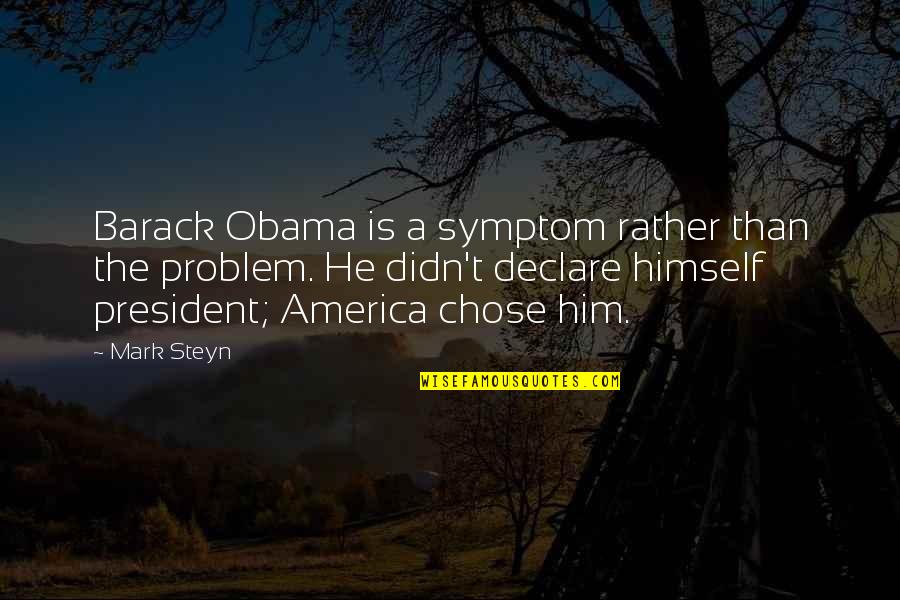 Barack Obama is a symptom rather than the problem. He didn't declare himself president; America chose him. —
Mark Steyn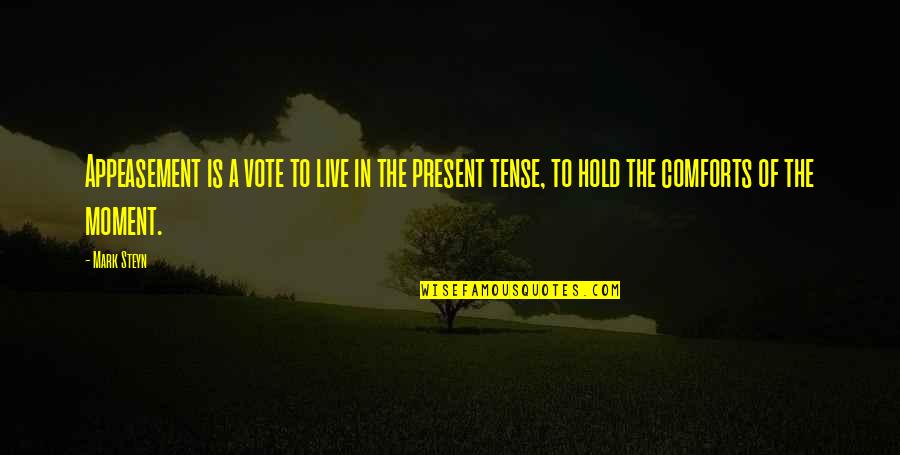 Appeasement is a vote to live in the present tense, to hold the comforts of the moment. —
Mark Steyn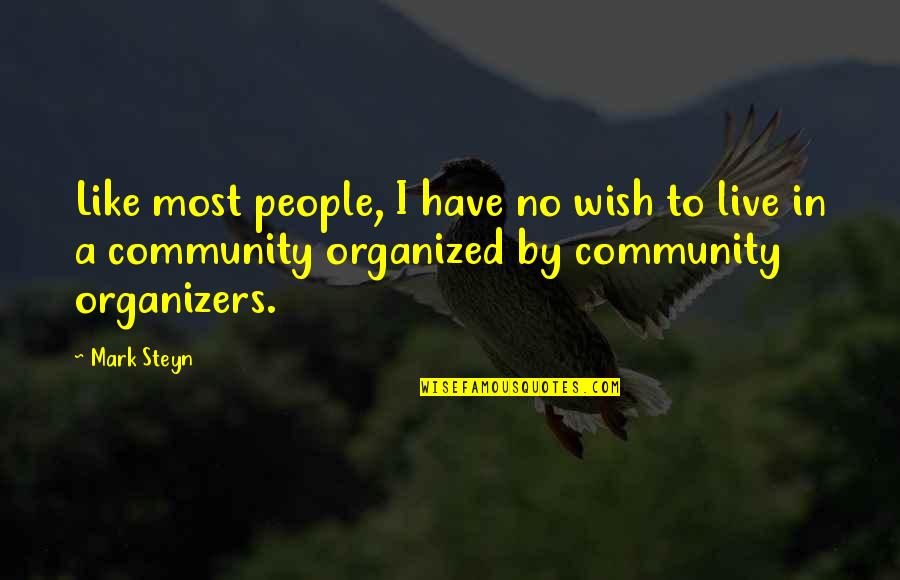 Like most people, I have no wish to live in a community organized by community organizers. —
Mark Steyn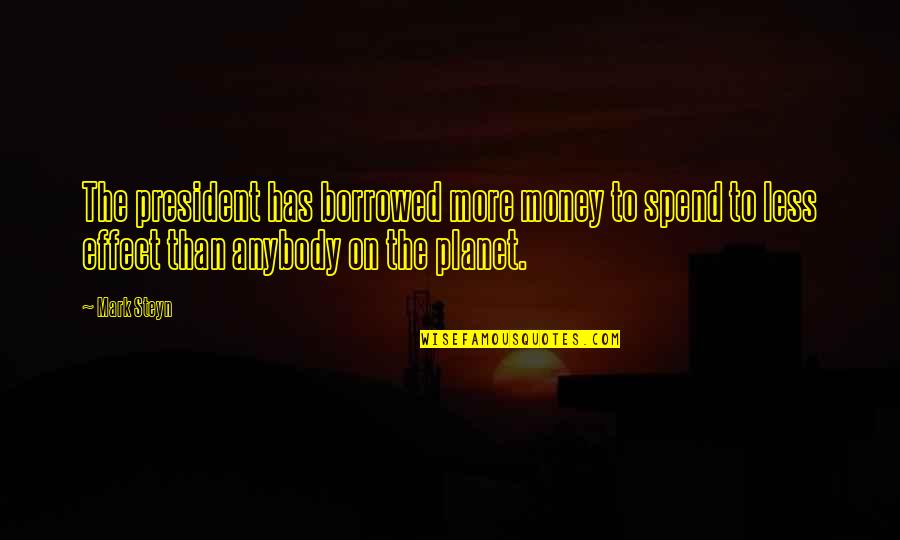 The president has borrowed more money to spend to less effect than anybody on the planet. —
Mark Steyn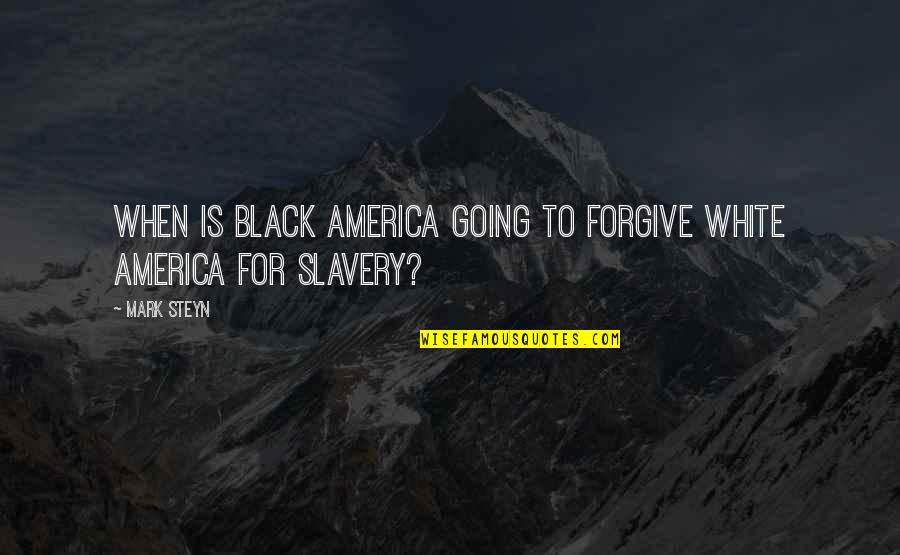 When is black America going to forgive white America for slavery? —
Mark Steyn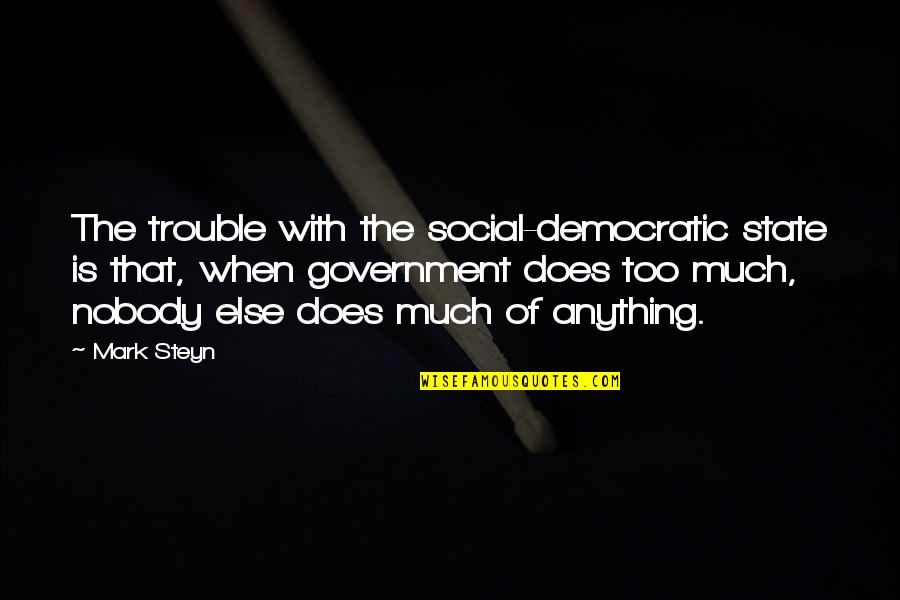 The trouble with the social-democratic state is that, when government does too much, nobody else does much of anything. —
Mark Steyn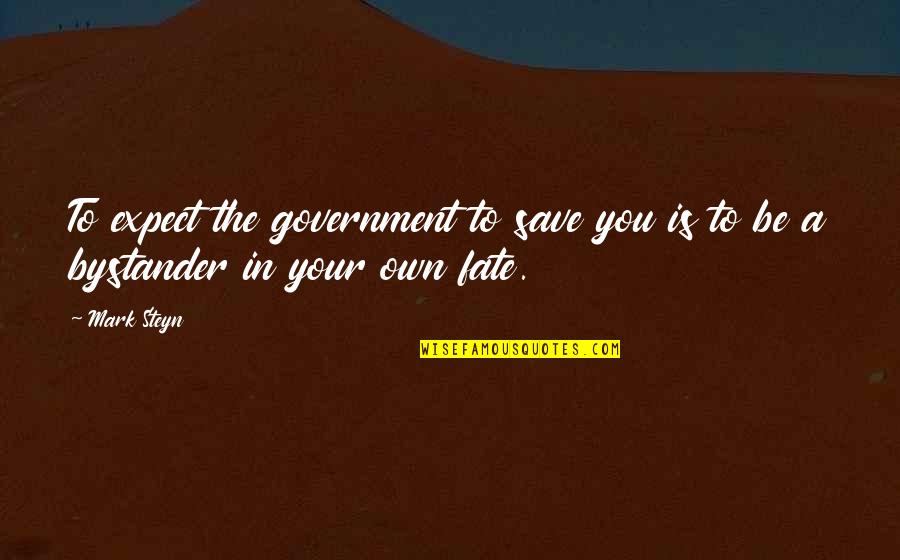 To expect the government to save you is to be a bystander in your own fate. —
Mark Steyn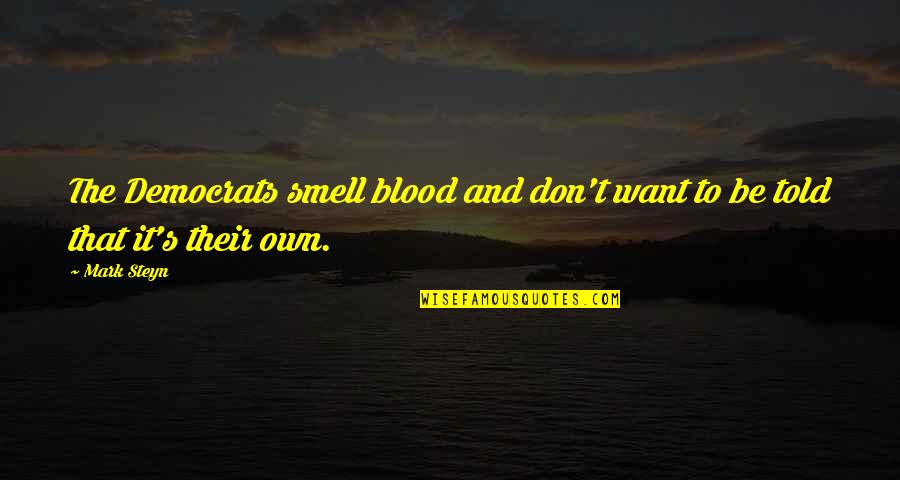 The Democrats smell blood and don't want to be told that it's their own. —
Mark Steyn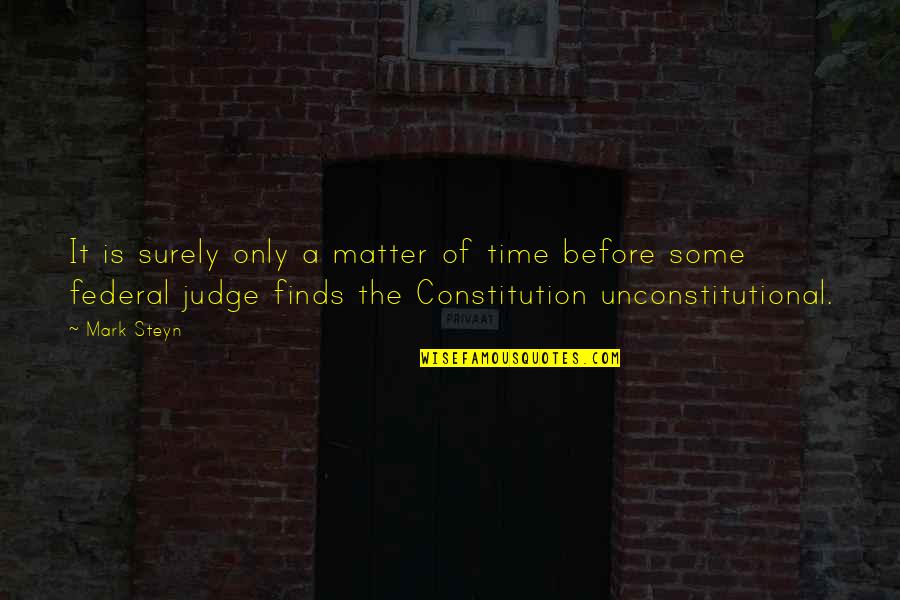 It is surely only a matter of time before some federal judge finds the Constitution unconstitutional. —
Mark Steyn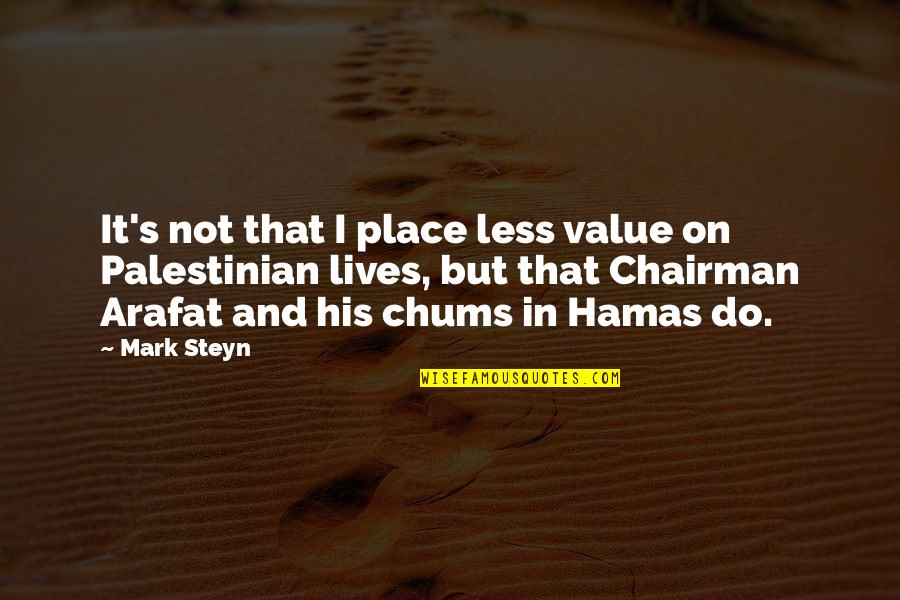 It's not that I place less value on Palestinian lives, but that Chairman Arafat and his chums in Hamas do. —
Mark Steyn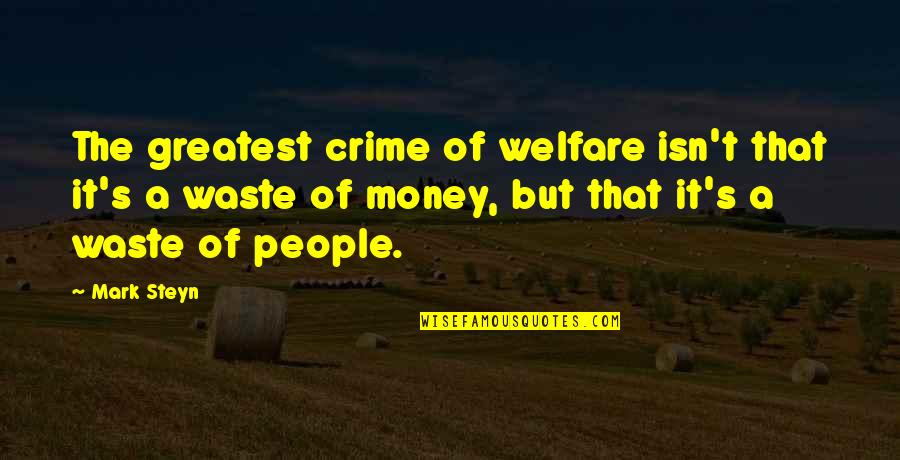 The greatest crime of welfare isn't that it's a waste of money, but that it's a waste of people. —
Mark Steyn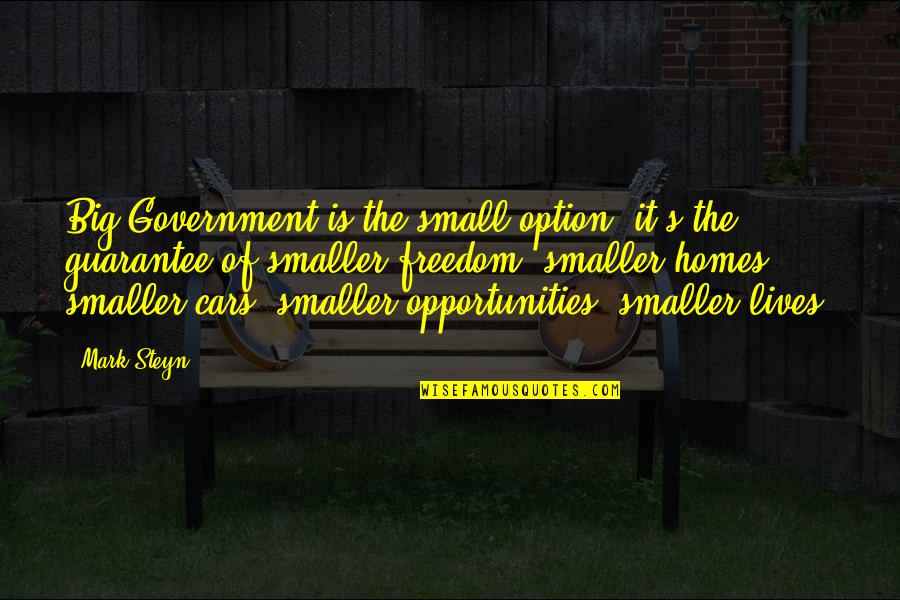 Big Government is the small option: it's the guarantee of smaller freedom, smaller homes, smaller cars, smaller opportunities, smaller lives. —
Mark Steyn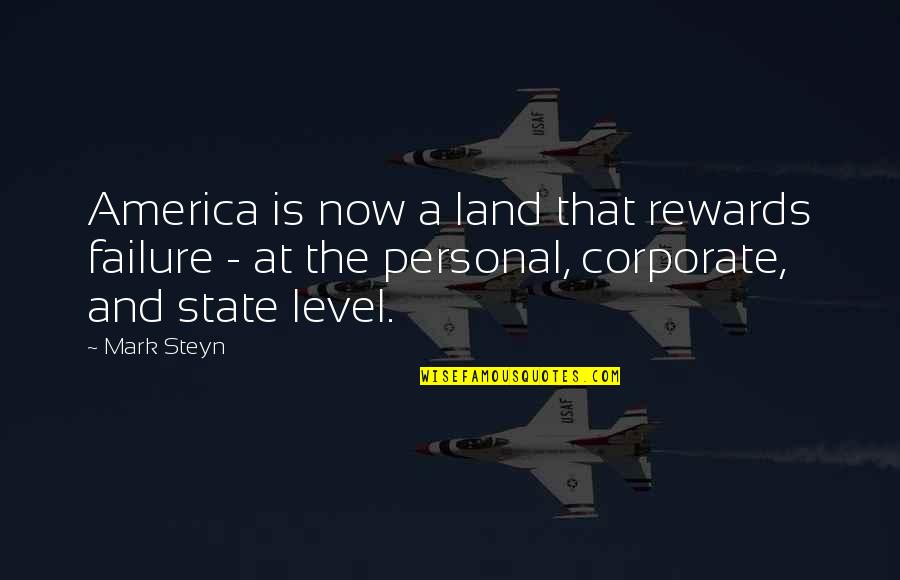 America is now a land that rewards failure - at the personal, corporate, and state level. —
Mark Steyn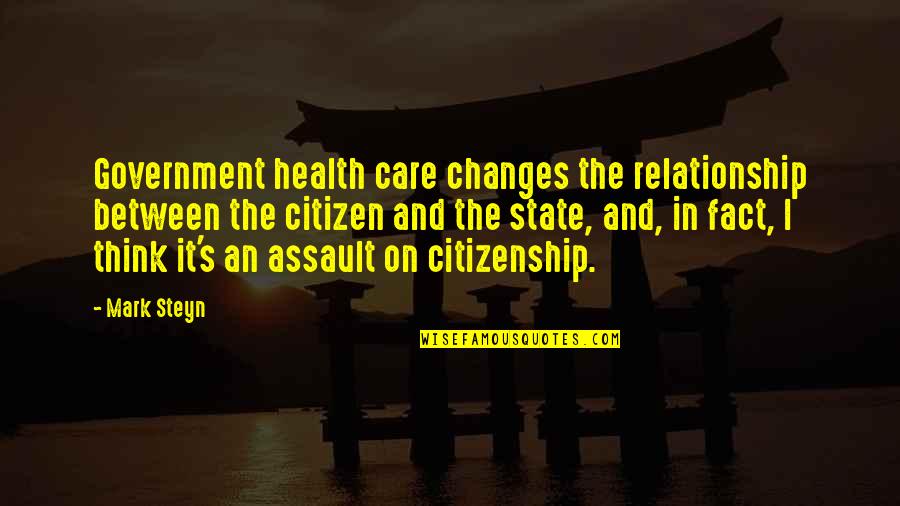 Government health care changes the relationship between the citizen and the state, and, in fact, I think it's an assault on citizenship. —
Mark Steyn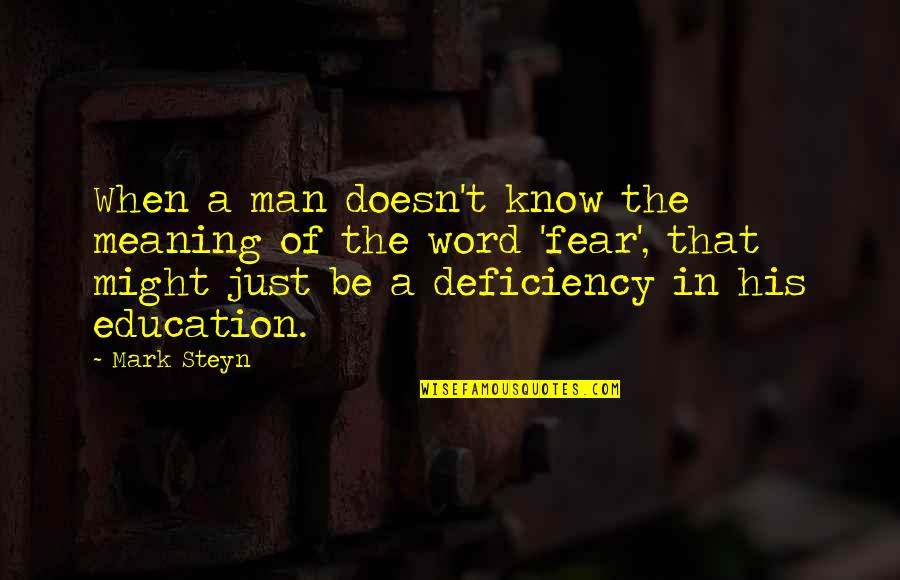 When a man doesn't know the meaning of the word 'fear', that might just be a deficiency in his education. —
Mark Steyn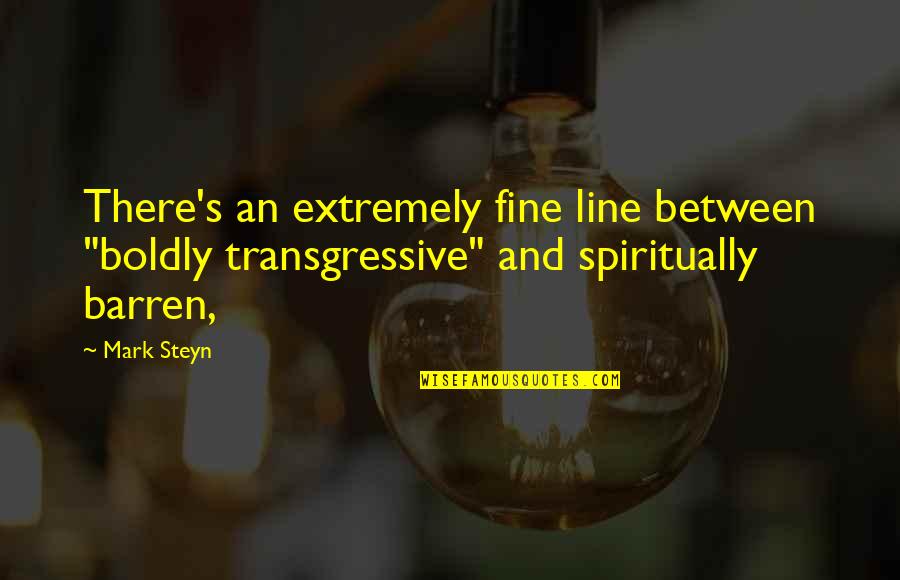 There's an extremely fine line between "boldly transgressive" and spiritually barren, —
Mark Steyn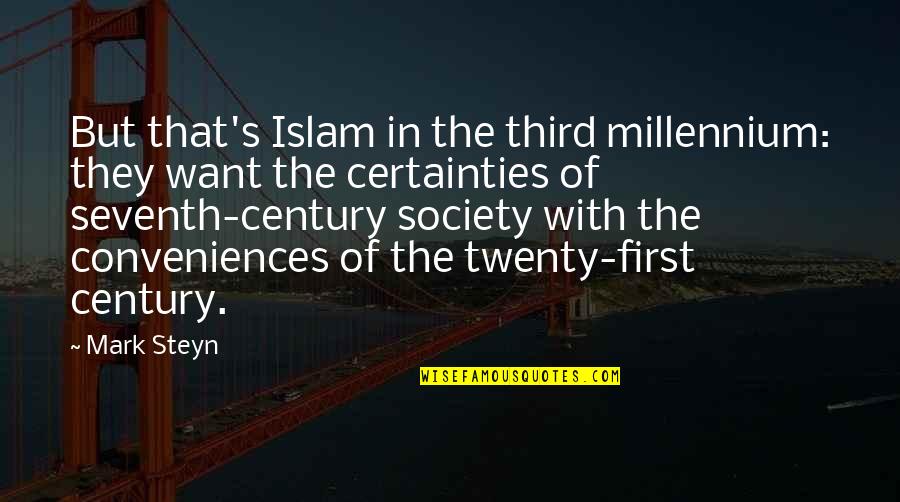 But that's Islam in the third millennium: they want the certainties of seventh-century society with the conveniences of the twenty-first century. —
Mark Steyn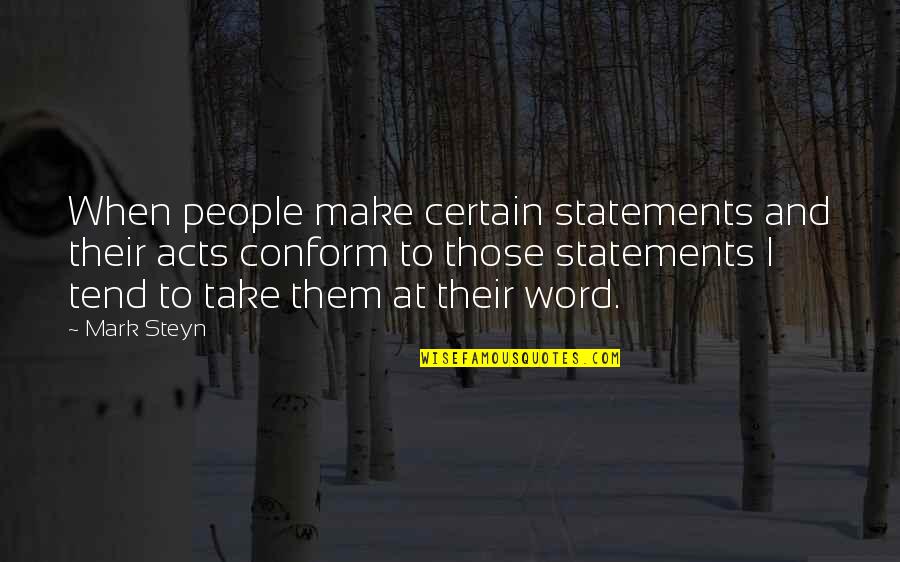 When people make certain statements and their acts conform to those statements I tend to take them at their word. —
Mark Steyn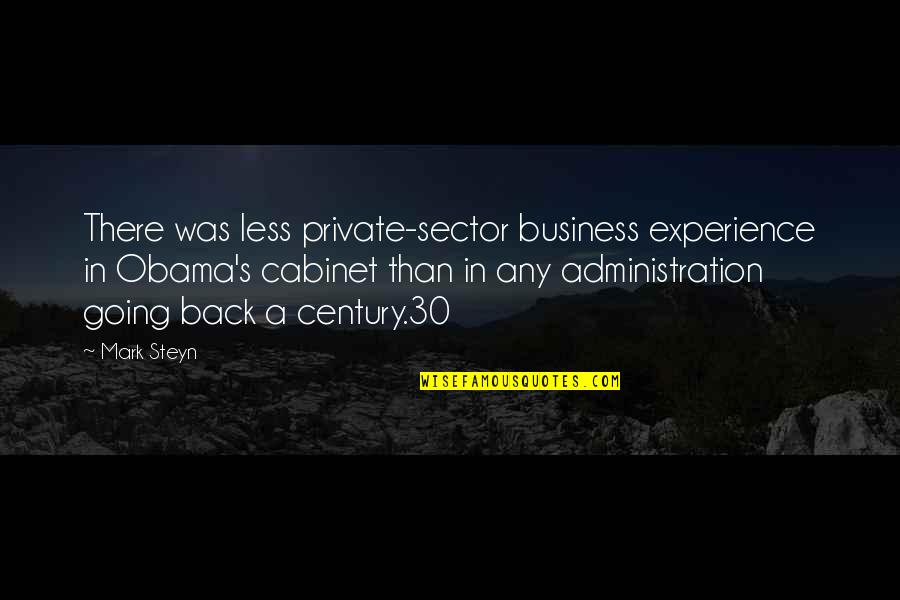 There was less private-sector business experience in Obama's cabinet than in any administration going back a century.30 —
Mark Steyn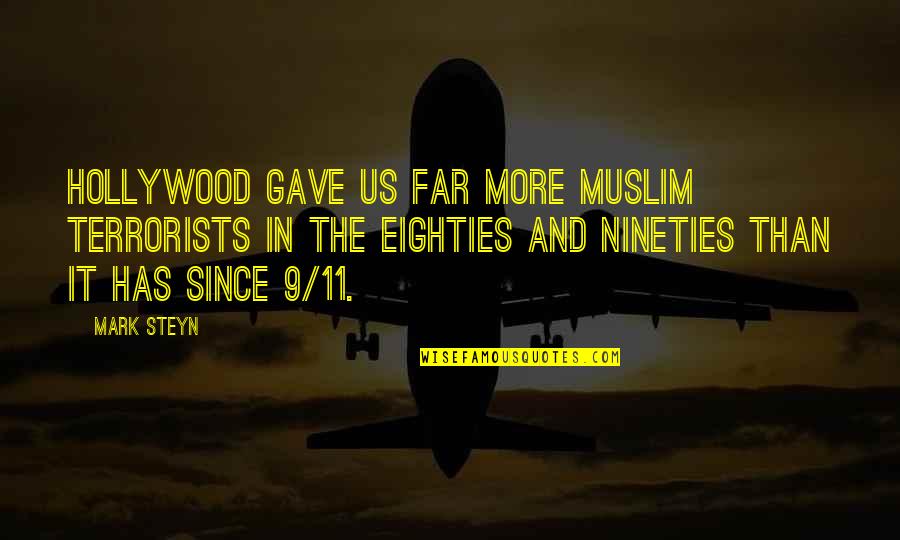 Hollywood gave us far more Muslim terrorists in the Eighties and Nineties than it has since 9/11. —
Mark Steyn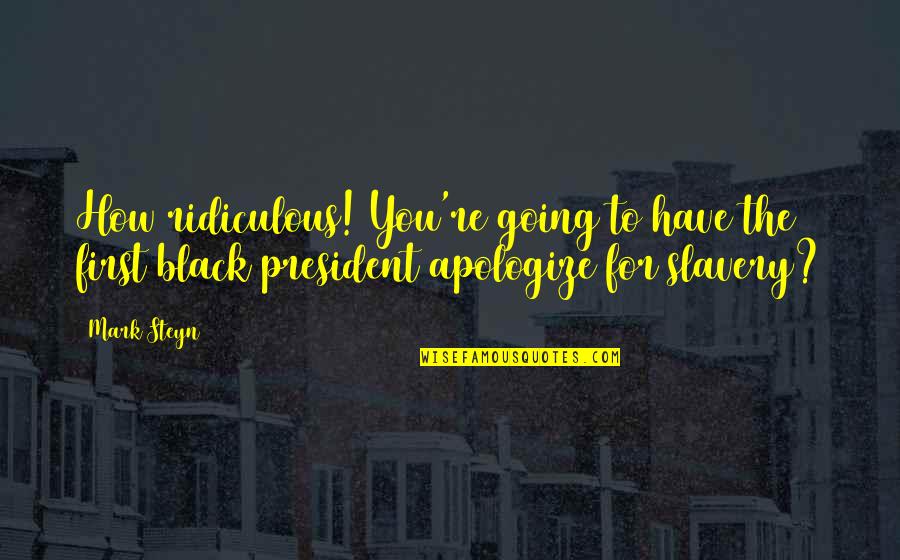 How ridiculous! You're going to have the first black president apologize for slavery? —
Mark Steyn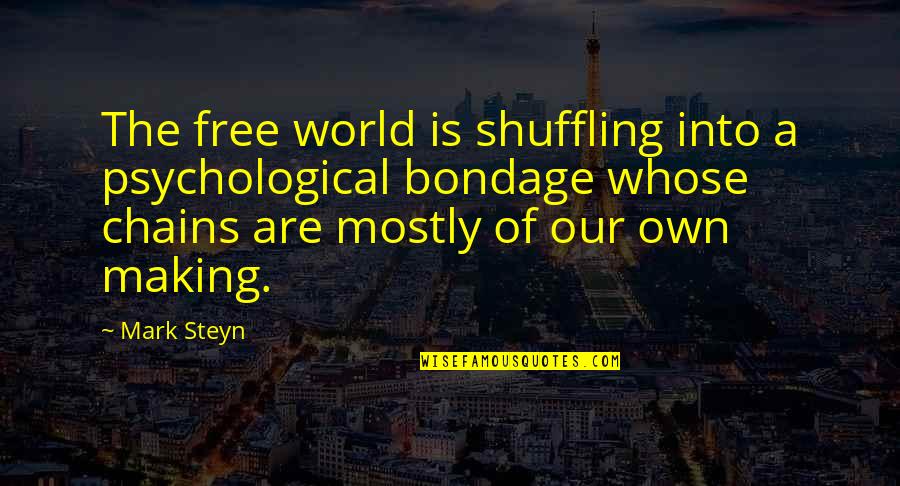 The free world is shuffling into a psychological bondage whose chains are mostly of our own making. —
Mark Steyn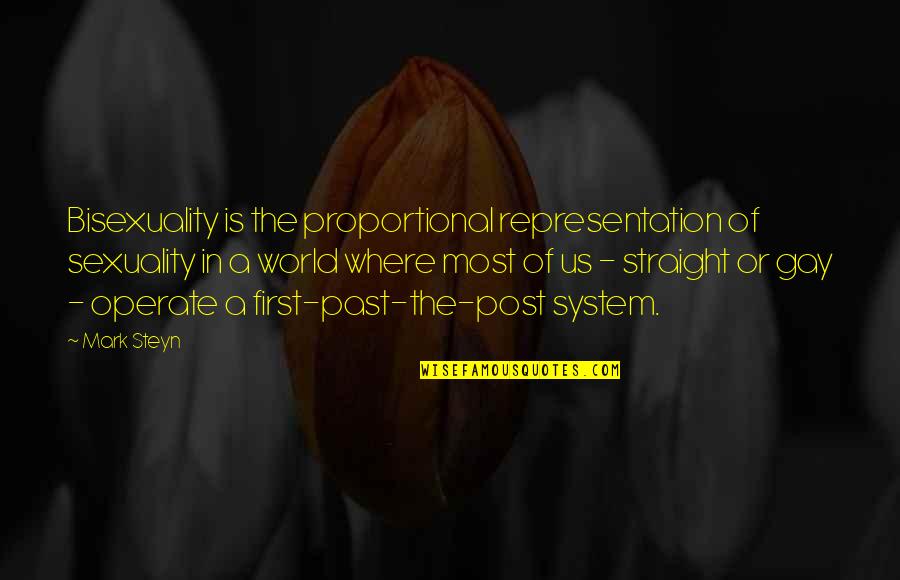 Bisexuality is the proportional representation of sexuality in a world where most of us - straight or gay - operate a first-past-the-post system. —
Mark Steyn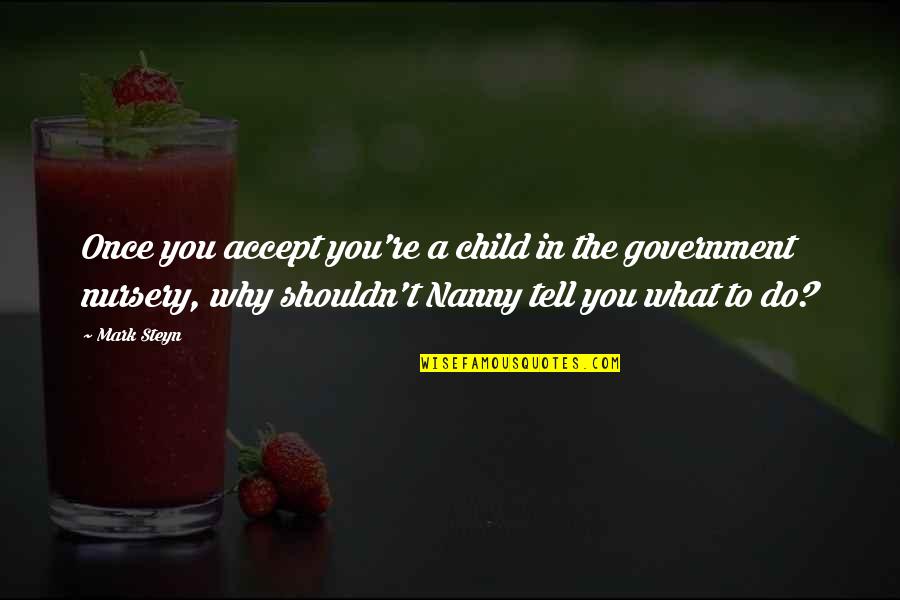 Once you accept you're a child in the government nursery, why shouldn't Nanny tell you what to do? —
Mark Steyn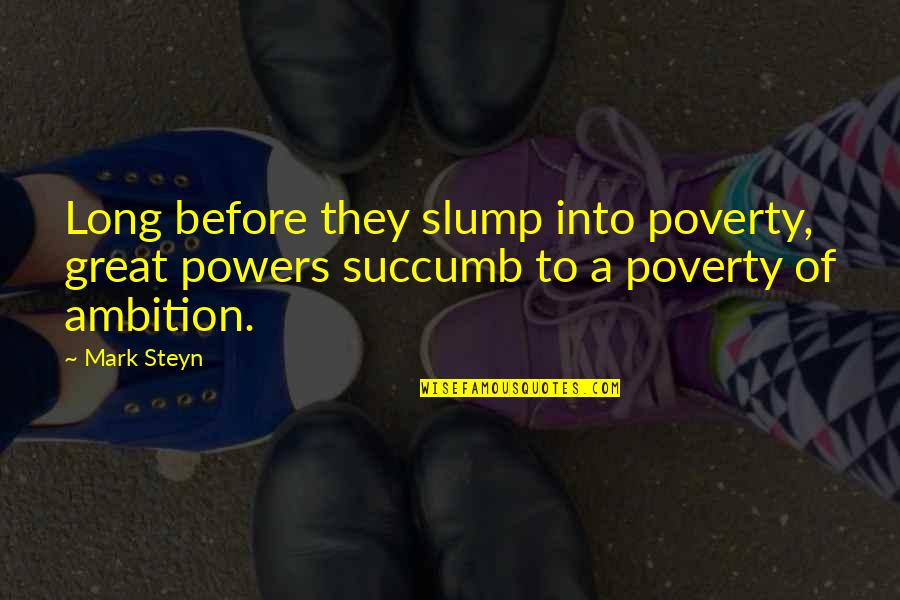 Long before they slump into poverty, great powers succumb to a poverty of ambition. —
Mark Steyn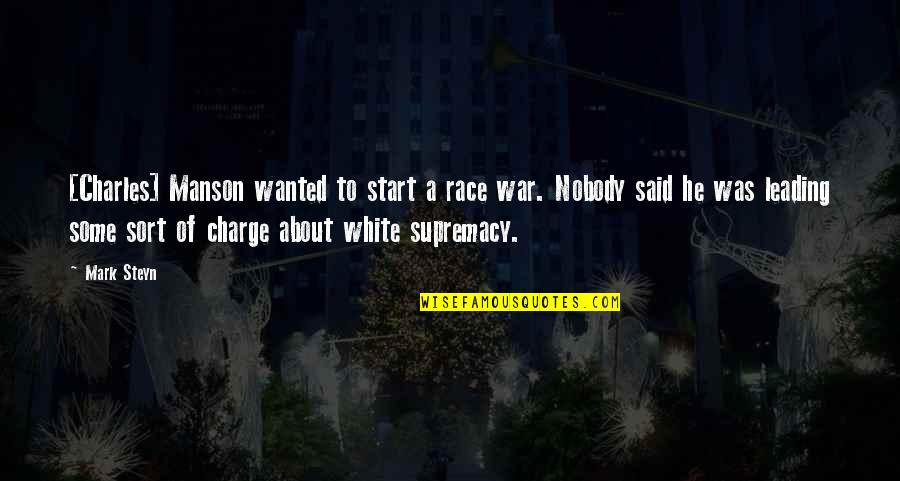 [Charles] Manson wanted to start a race war. Nobody said he was leading some sort of charge about white supremacy. —
Mark Steyn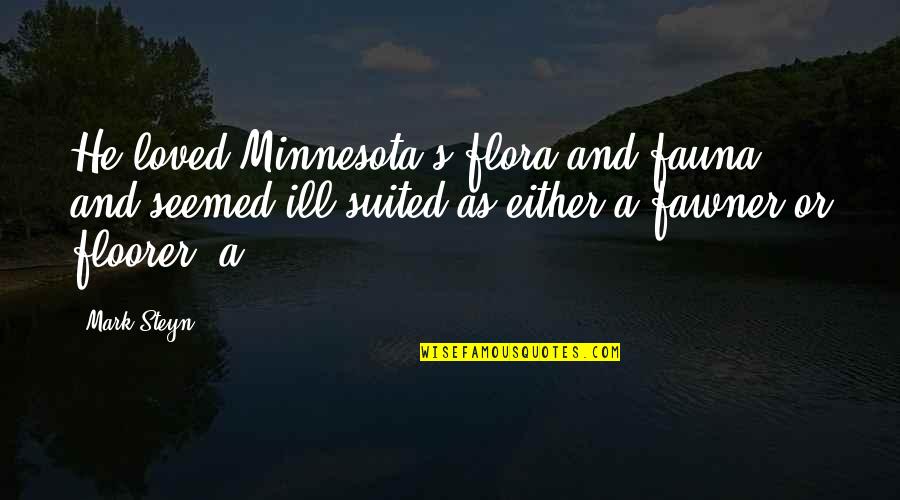 He loved Minnesota's flora and fauna and seemed ill-suited as either a fawner or floorer, a —
Mark Steyn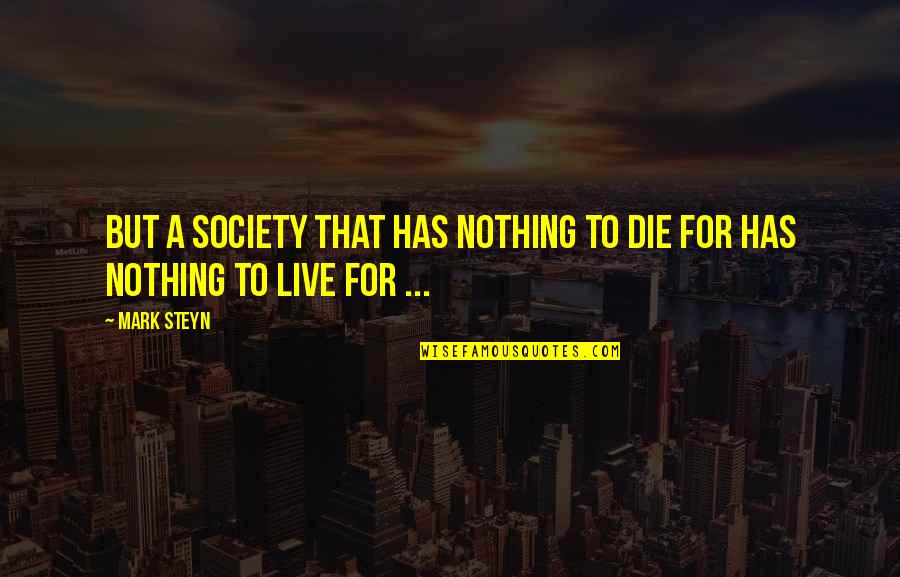 But a society that has nothing to die for has nothing to live for ... —
Mark Steyn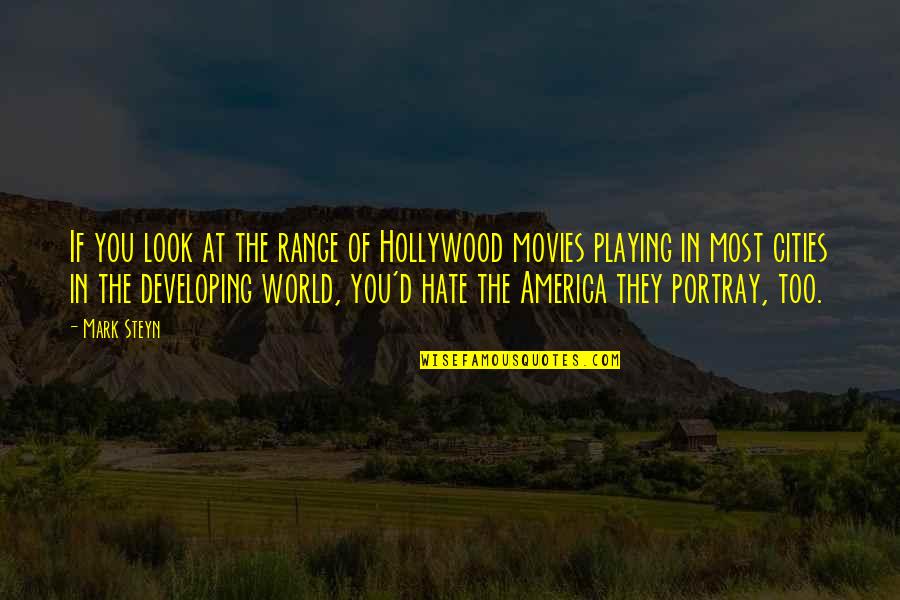 If you look at the range of Hollywood movies playing in most cities in the developing world, you'd hate the America they portray, too. —
Mark Steyn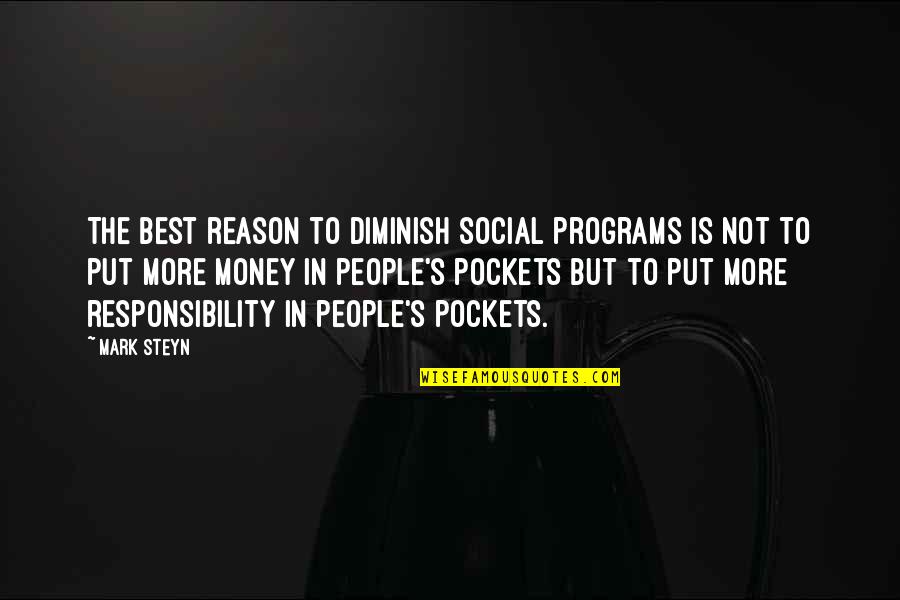 The best reason to diminish social programs is not to put more money in people's pockets but to put more responsibility in people's pockets. —
Mark Steyn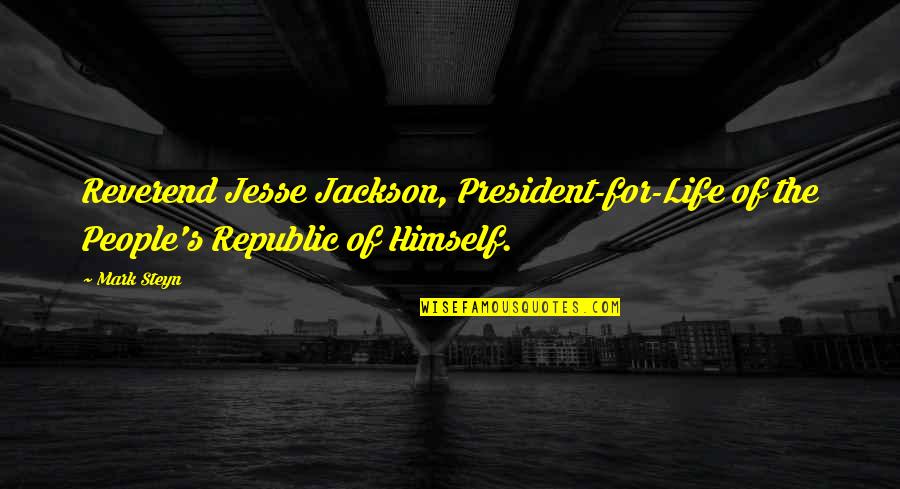 Reverend Jesse Jackson, President-for-Life of the People's Republic of Himself. —
Mark Steyn