Inside Voice Quotes
Collection of top 71 famous quotes about Inside Voice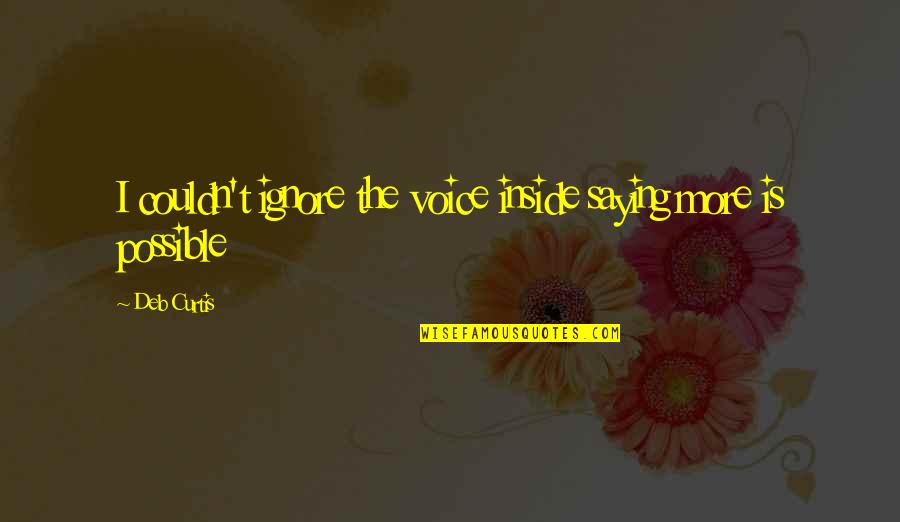 I couldn't ignore the voice inside saying more is possible
—
Deb Curtis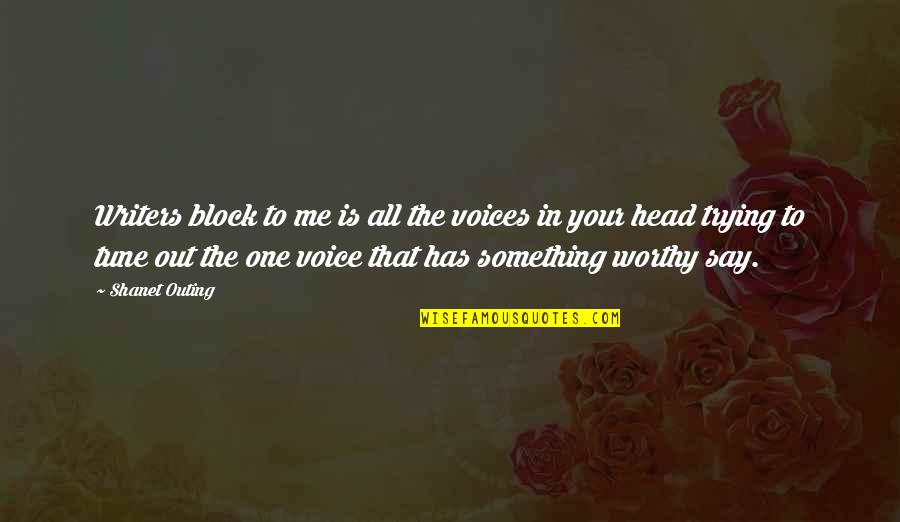 Writers block to me is all the voices in your head trying to tune out the one voice that has something worthy say.
—
Shanet Outing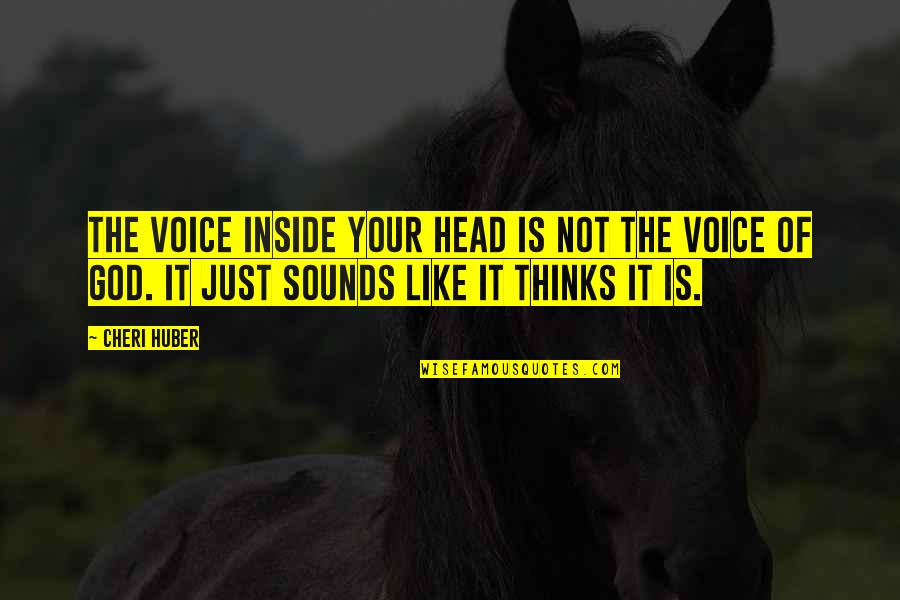 The voice inside your head is not the voice of god. It just sounds like it thinks it is.
—
Cheri Huber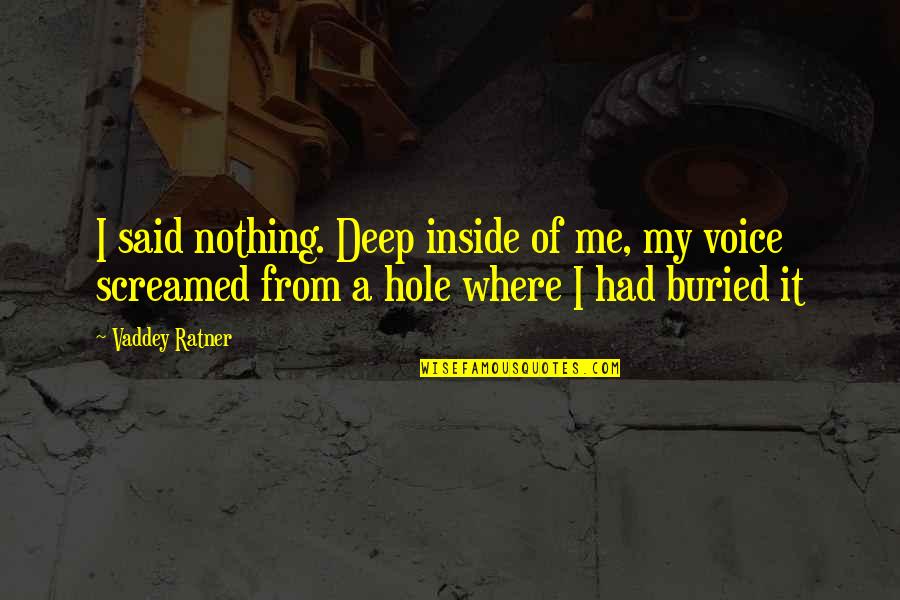 I said nothing. Deep inside of me, my voice screamed from a hole where I had buried it
—
Vaddey Ratner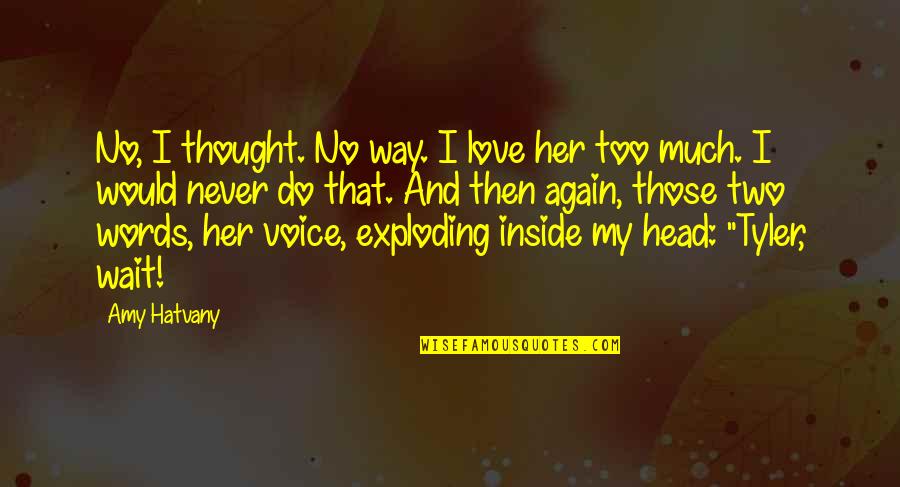 No, I thought. No way. I love her too much. I would never do that. And then again, those two words, her voice, exploding inside my head: "Tyler, wait!
—
Amy Hatvany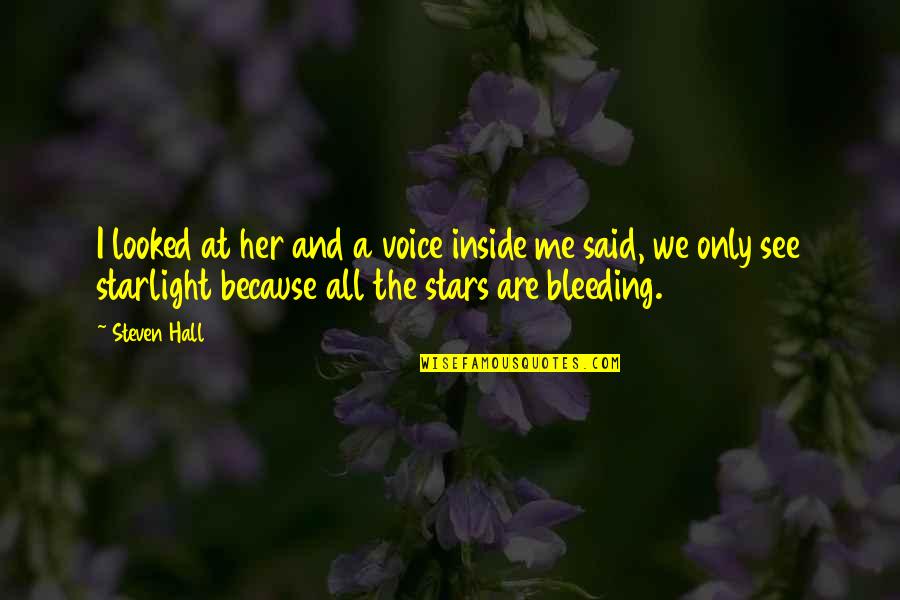 I looked at her and a voice inside me said, we only see starlight because all the stars are bleeding.
—
Steven Hall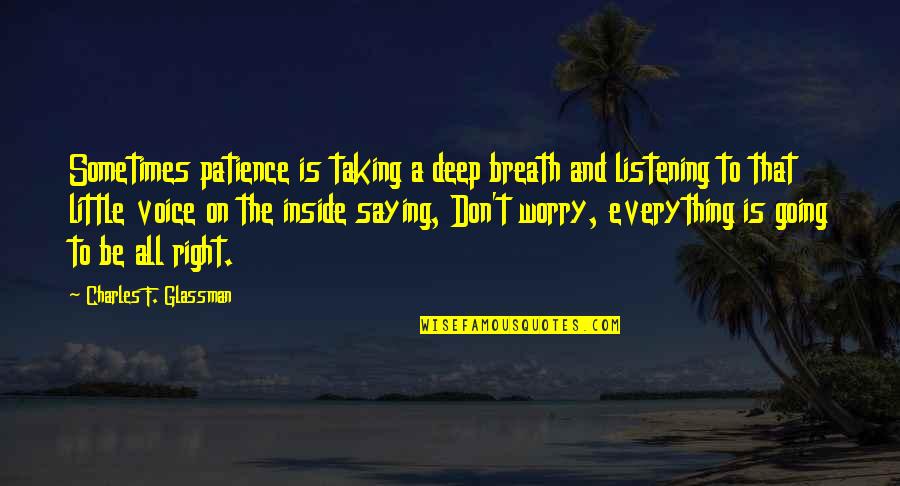 Sometimes patience is taking a deep breath and listening to that little voice on the inside saying, Don't worry, everything is going to be all right.
—
Charles F. Glassman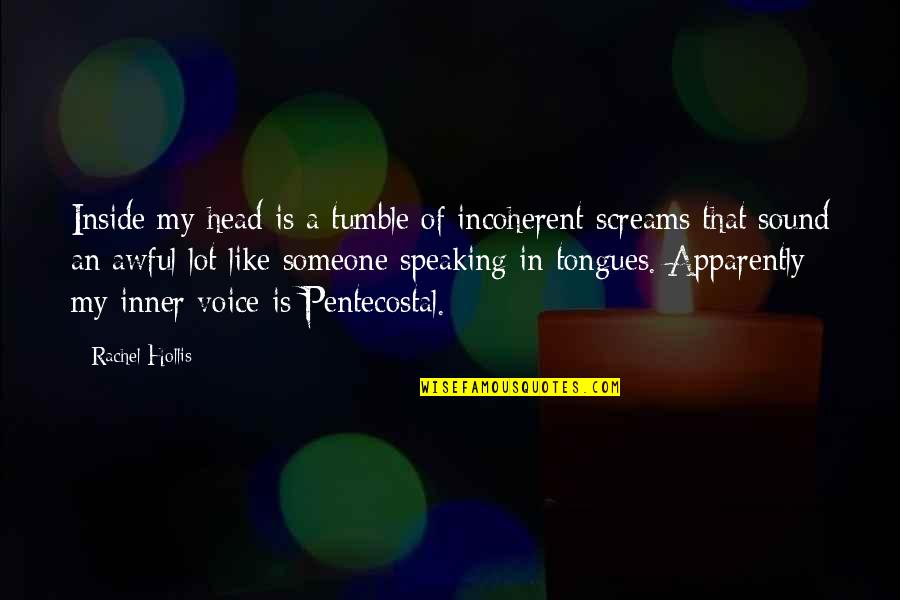 Inside my head is a tumble of incoherent screams that sound an awful lot like someone speaking in tongues. Apparently my inner voice is Pentecostal.
—
Rachel Hollis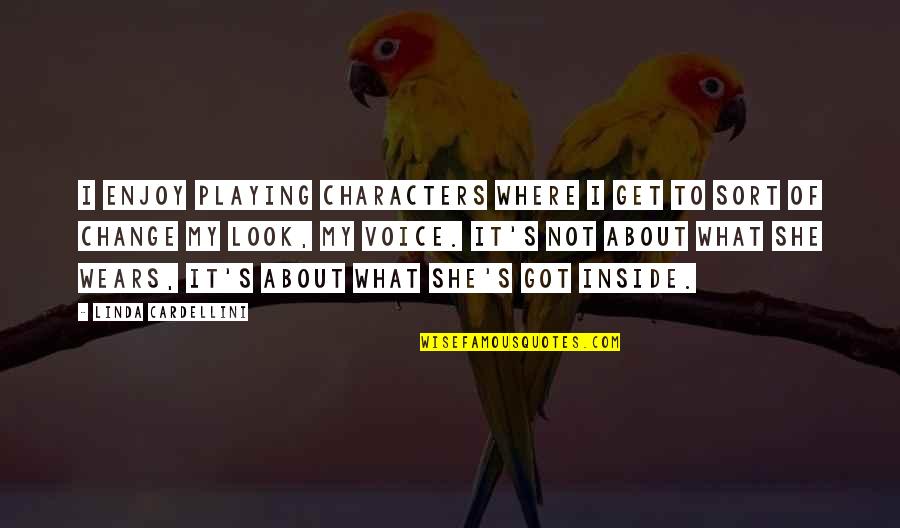 I enjoy playing characters where I get to sort of change my look, my voice. It's not about what she wears, it's about what she's got inside.
—
Linda Cardellini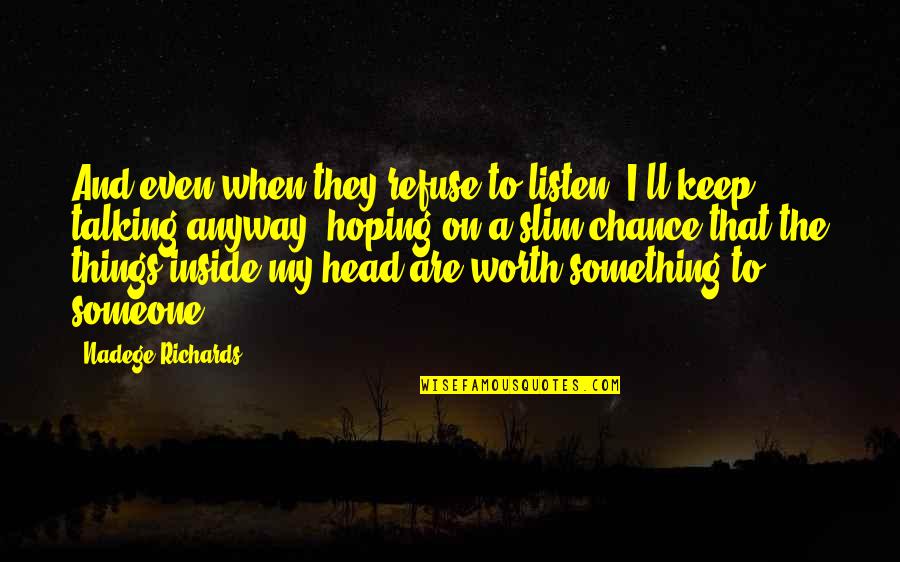 And even when they refuse to listen, I'll keep talking anyway, hoping on a slim chance that the things inside my head are worth something to someone.
—
Nadege Richards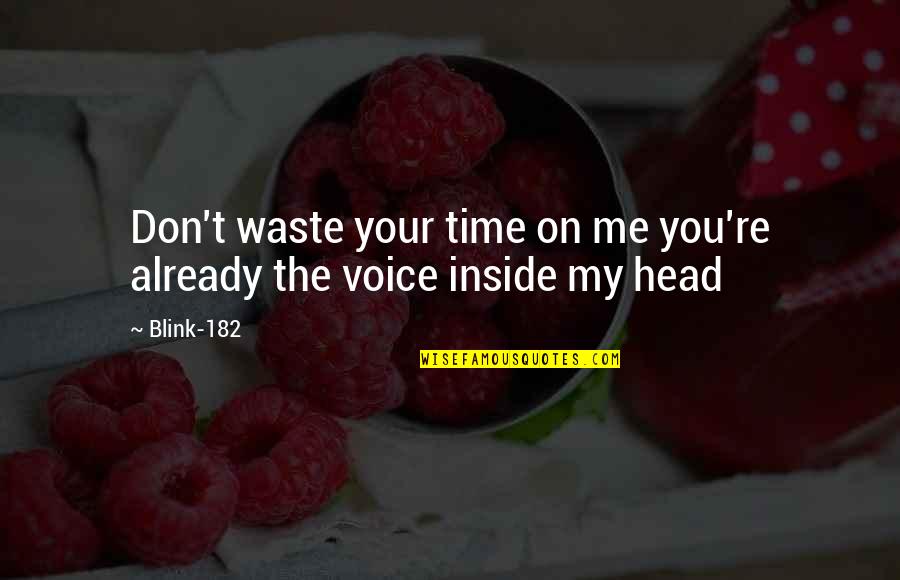 Don't waste your time on me you're already the voice inside my head
—
Blink-182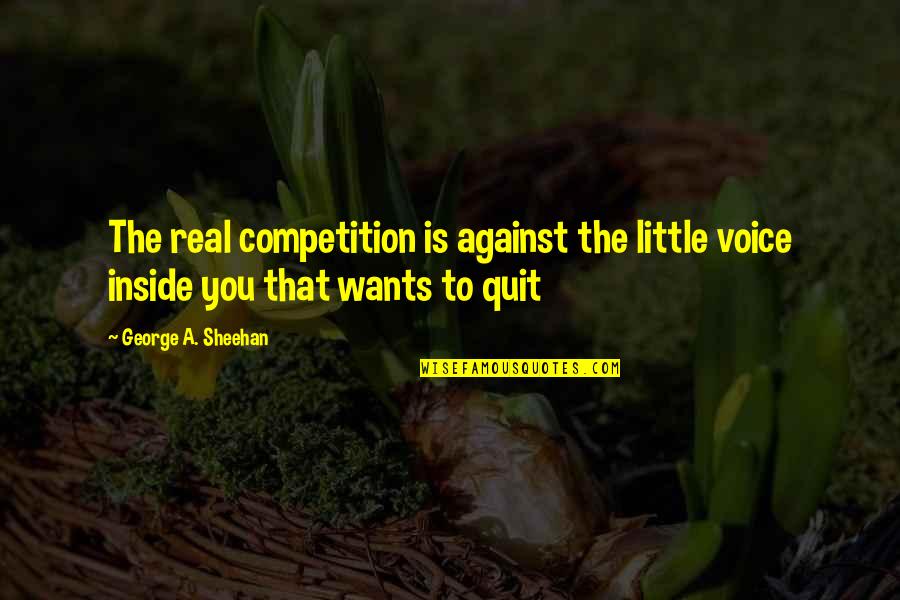 The real competition is against the little voice inside you that wants to quit
—
George A. Sheehan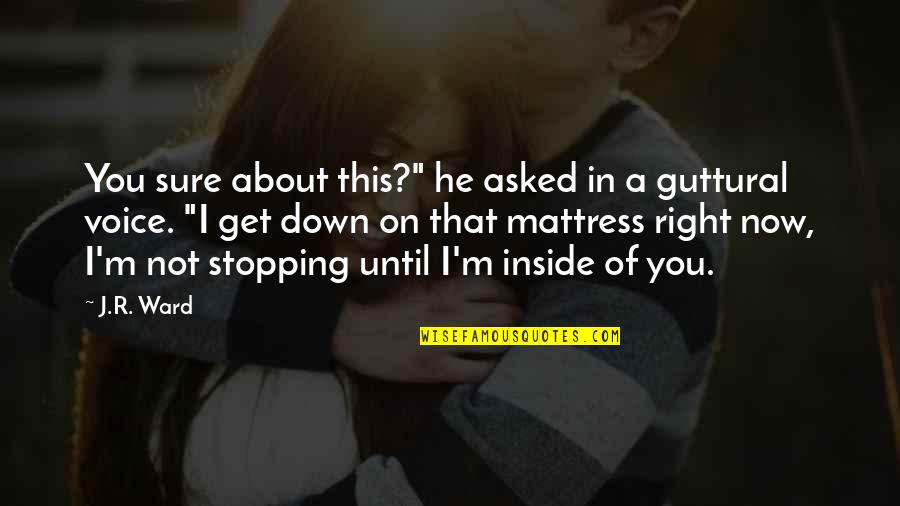 You sure about this?" he asked in a guttural voice. "I get down on that mattress right now, I'm not stopping until I'm inside of you.
—
J.R. Ward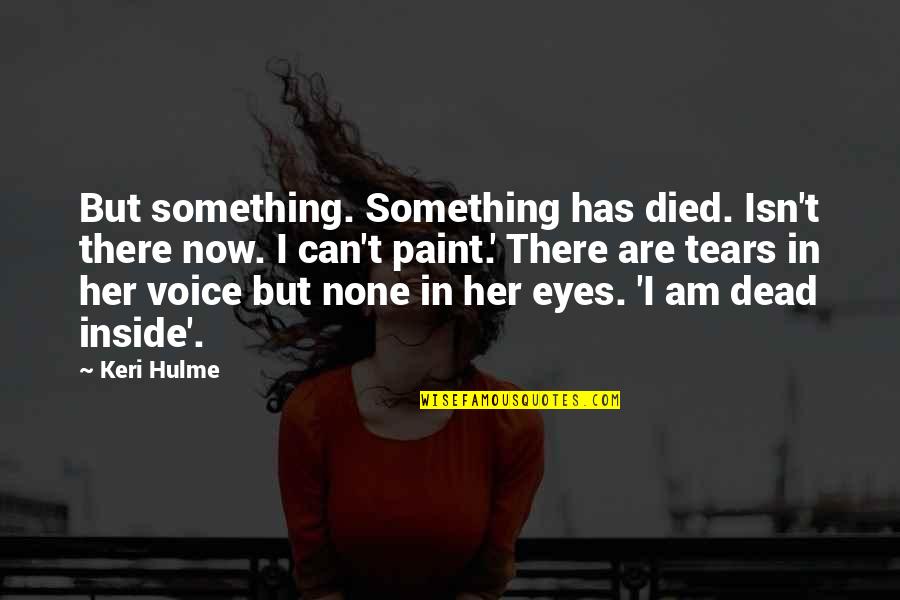 But something. Something has died. Isn't there now. I can't paint.' There are tears in her voice but none in her eyes. 'I am dead inside'.
—
Keri Hulme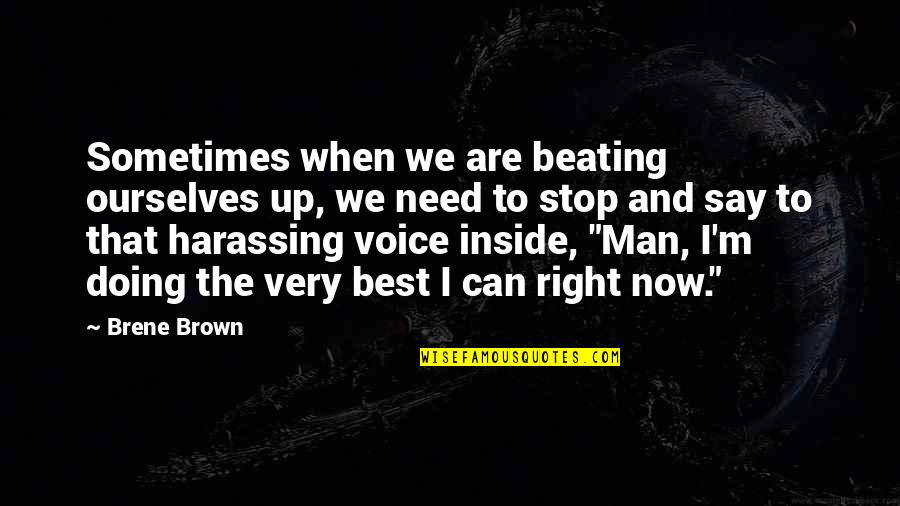 Sometimes when we are beating ourselves up, we need to stop and say to that harassing voice inside, "Man, I'm doing the very best I can right now."
—
Brene Brown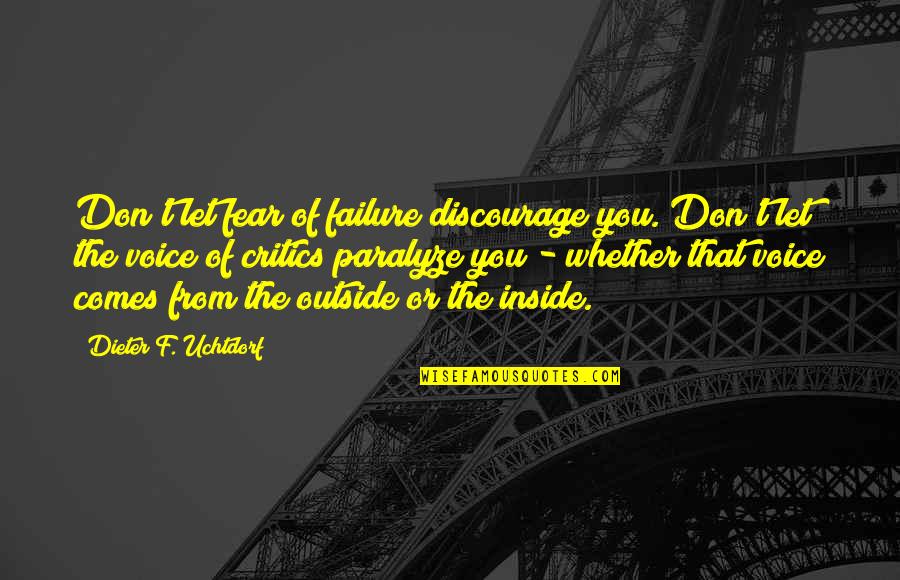 Don't let fear of failure discourage you. Don't let the voice of critics paralyze you - whether that voice comes from the outside or the inside. —
Dieter F. Uchtdorf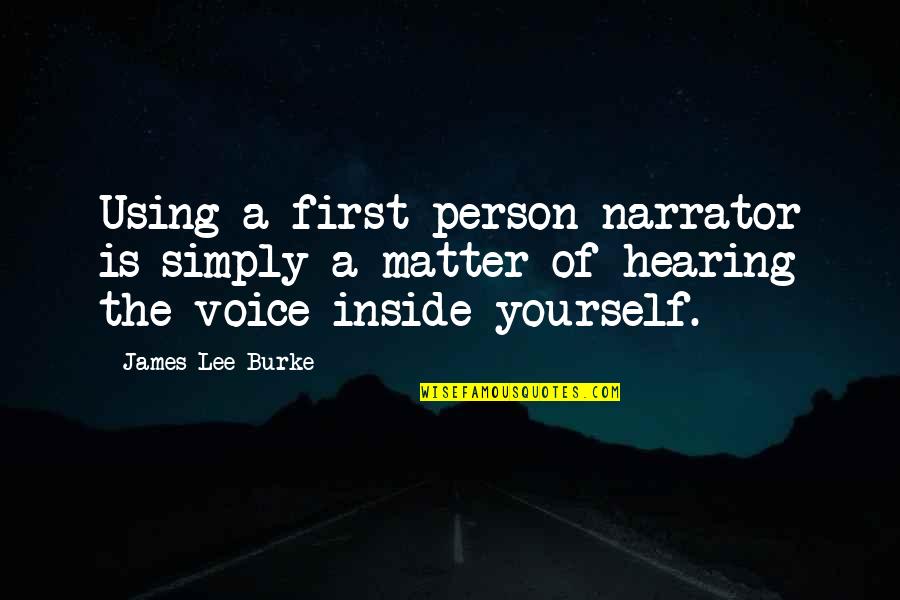 Using a first-person narrator is simply a matter of hearing the voice inside yourself. —
James Lee Burke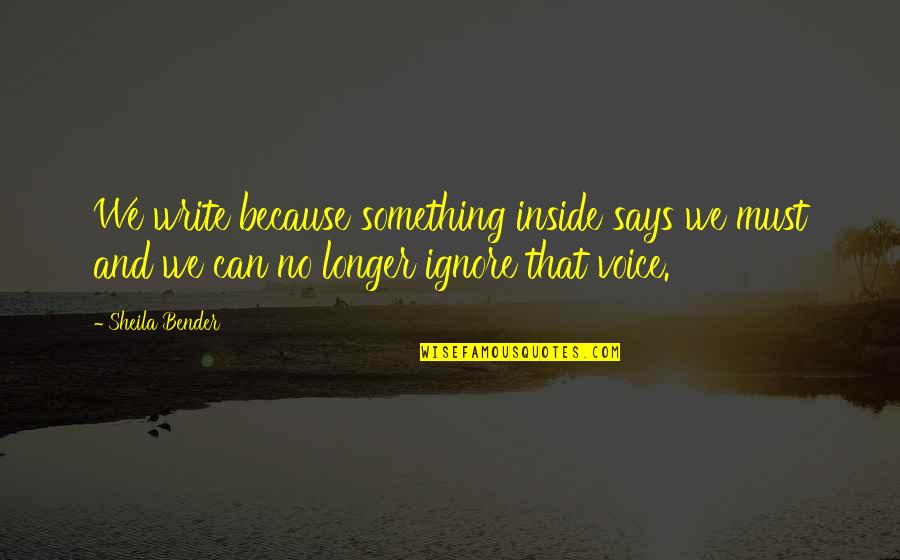 We write because something inside says we must and we can no longer ignore that voice. —
Sheila Bender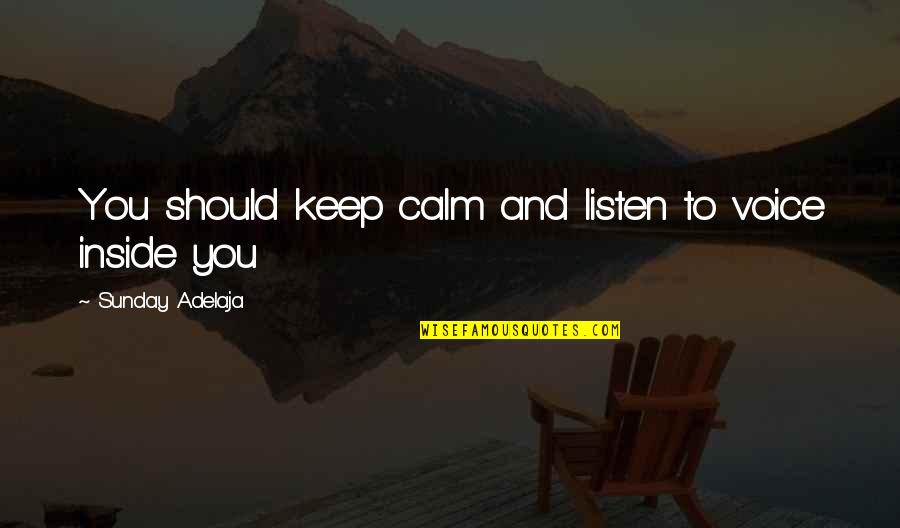 You should keep calm and listen to voice inside you —
Sunday Adelaja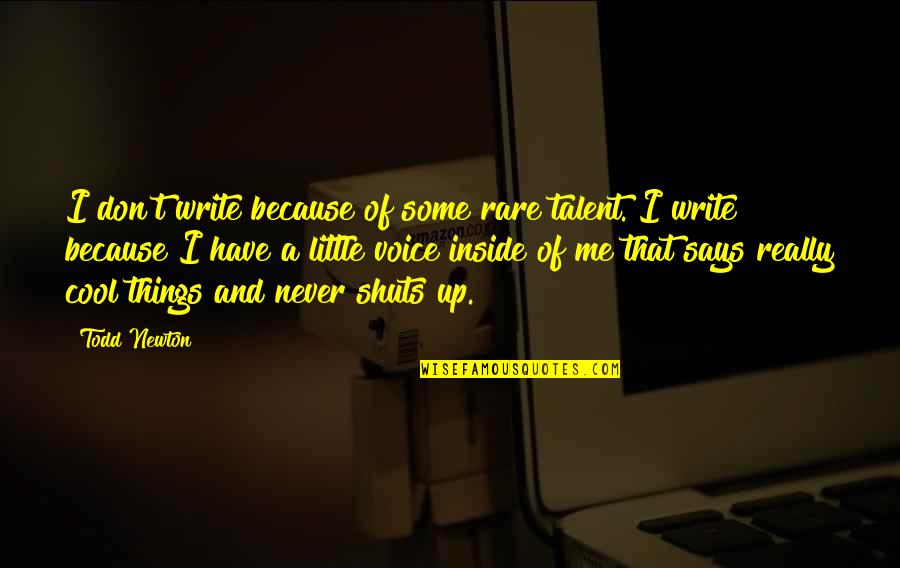 I don't write because of some rare talent. I write because I have a little voice inside of me that says really cool things and never shuts up. —
Todd Newton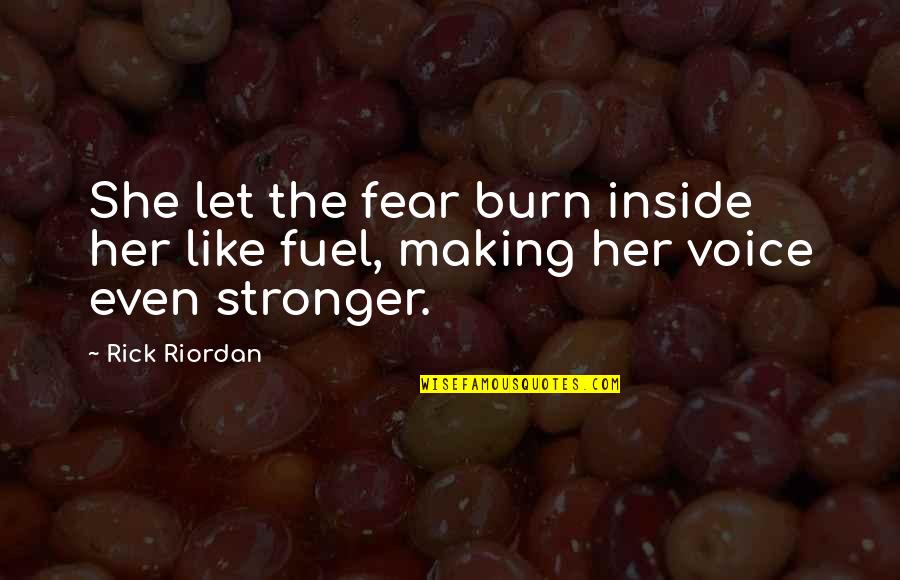 She let the fear burn inside her like fuel, making her voice even stronger. —
Rick Riordan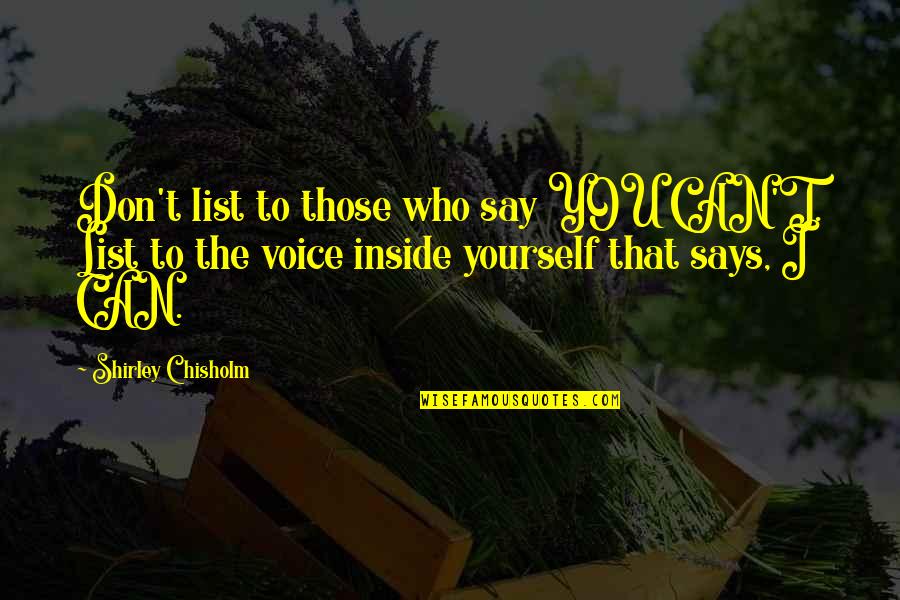 Don't list to those who say YOU CAN'T. List to the voice inside yourself that says, I CAN. —
Shirley Chisholm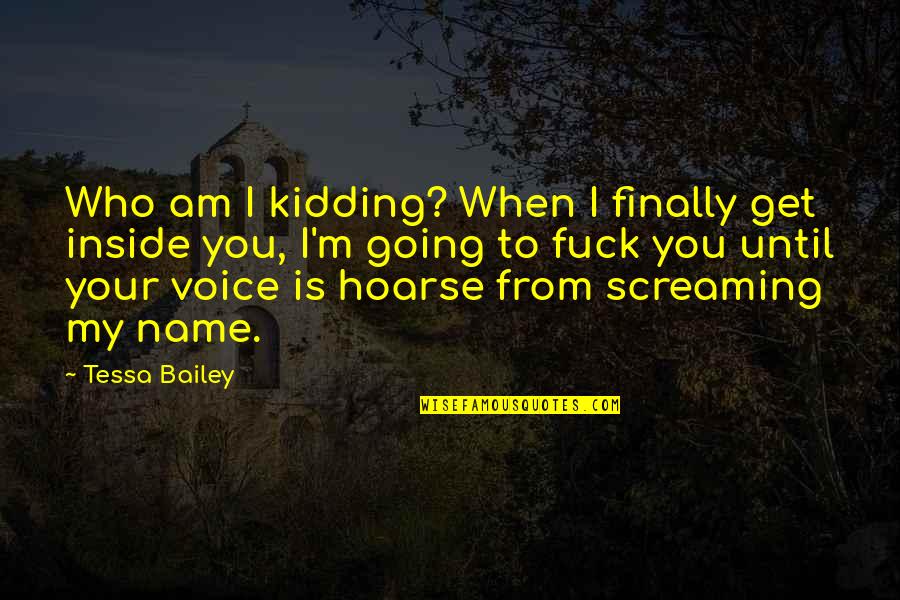 Who am I kidding? When I finally get inside you, I'm going to fuck you until your voice is hoarse from screaming my name. —
Tessa Bailey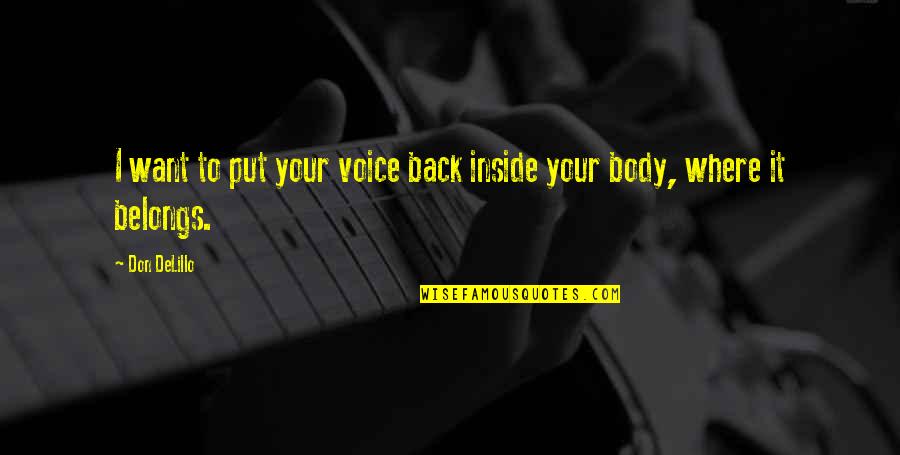 I want to put your voice back inside your body, where it belongs. —
Don DeLillo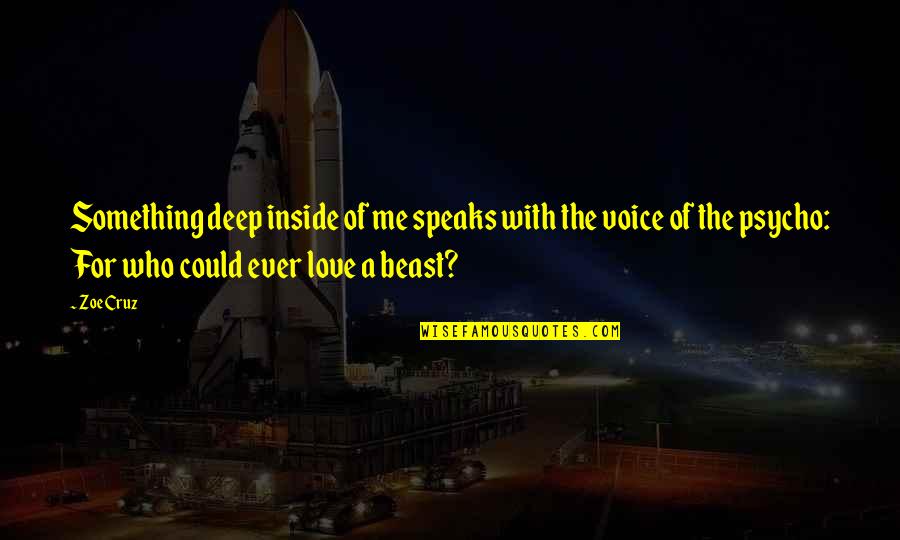 Something deep inside of me speaks with the voice of the psycho: For who could ever love a beast? —
Zoe Cruz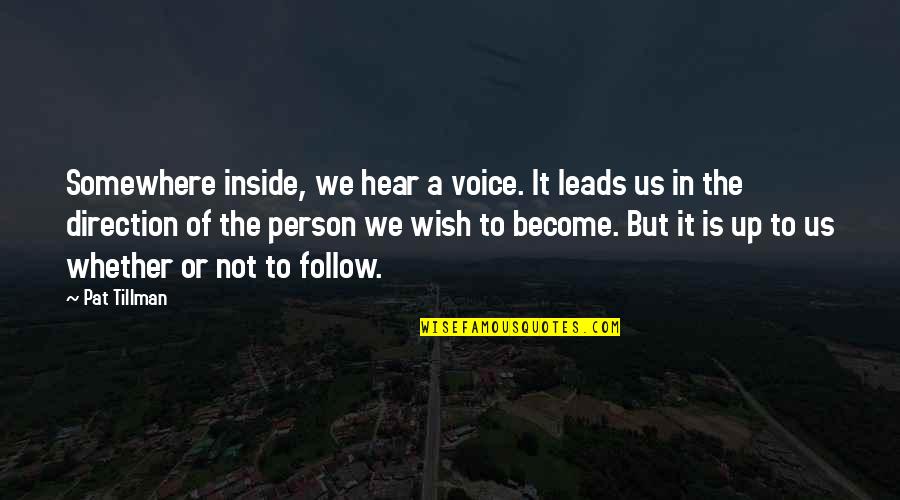 Somewhere inside, we hear a voice. It leads us in the direction of the person we wish to become. But it is up to us whether or not to follow. —
Pat Tillman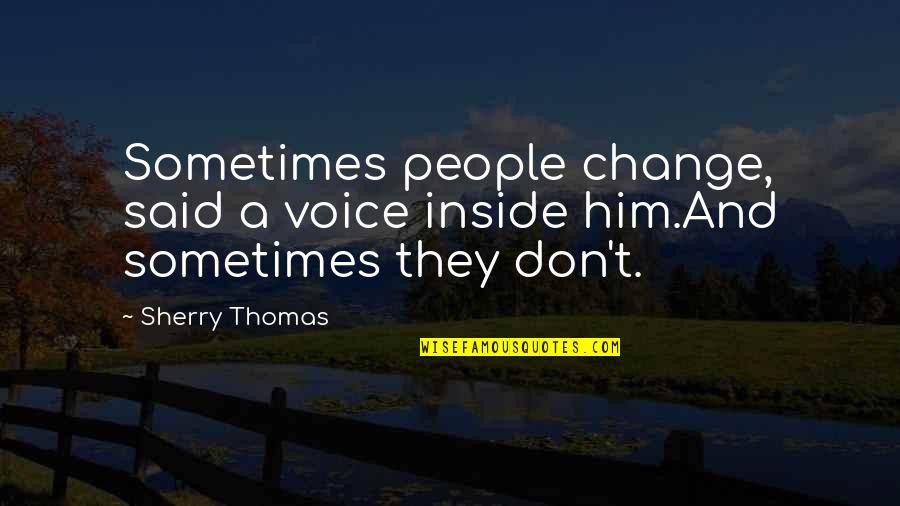 Sometimes people change, said a voice inside him.
And sometimes they don't. —
Sherry Thomas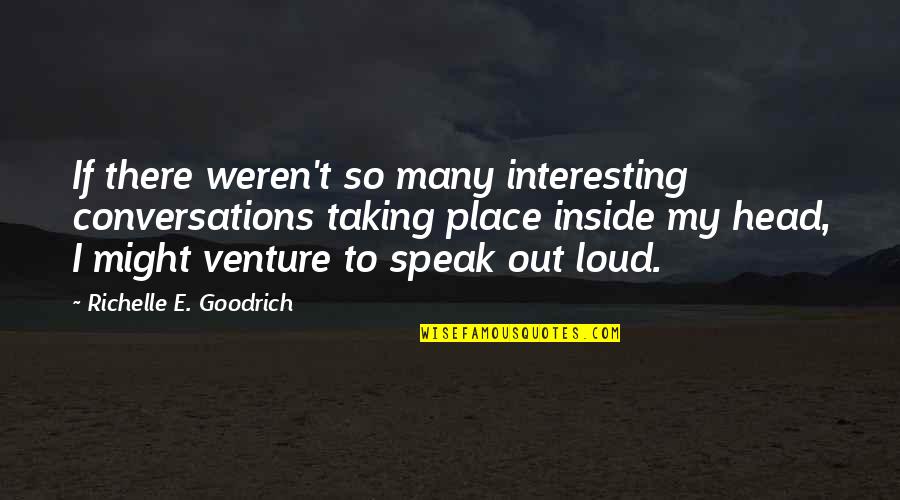 If there weren't so many interesting conversations taking place inside my head, I might venture to speak out loud. —
Richelle E. Goodrich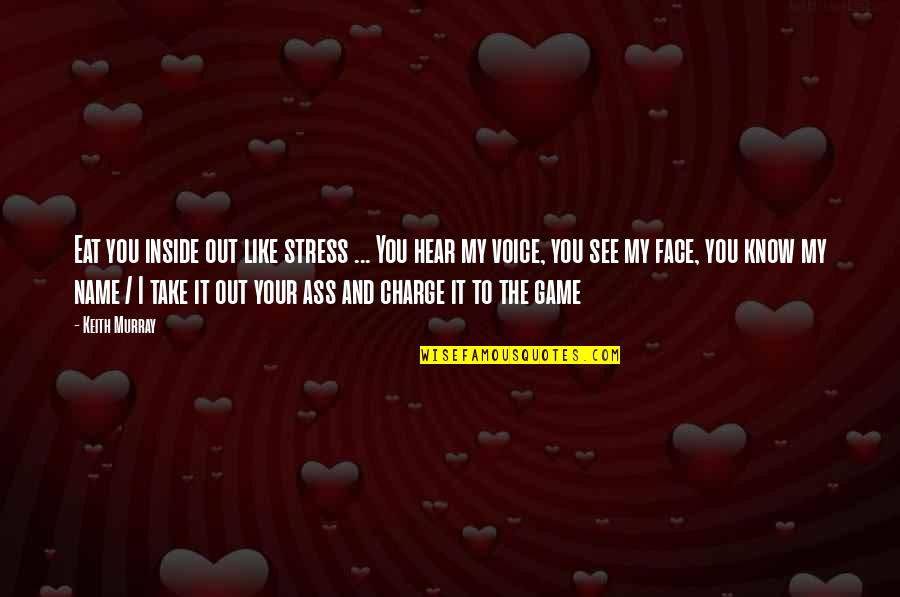 Eat you inside out like stress ... You hear my voice, you see my face, you know my name / I take it out your ass and charge it to the game —
Keith Murray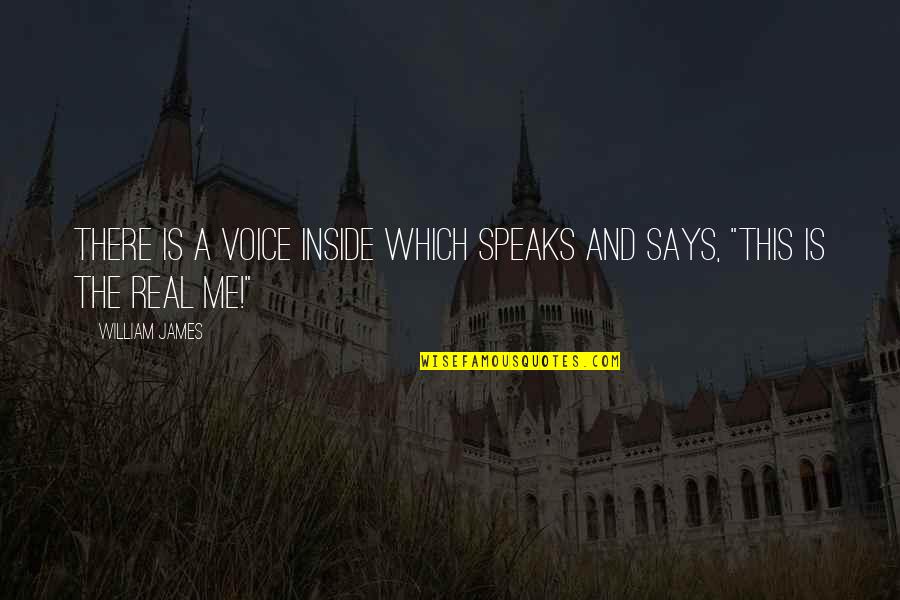 There is a voice inside which speaks and says, "This is the real me!" —
William James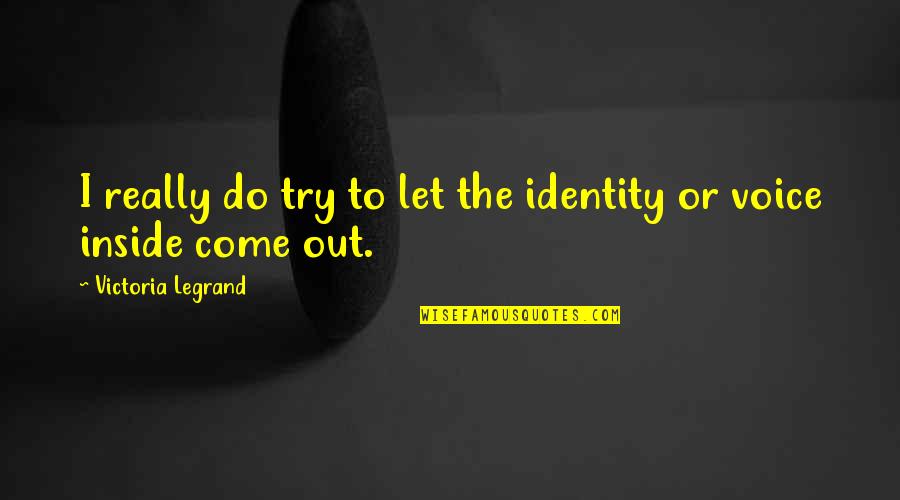 I really do try to let the identity or voice inside come out. —
Victoria Legrand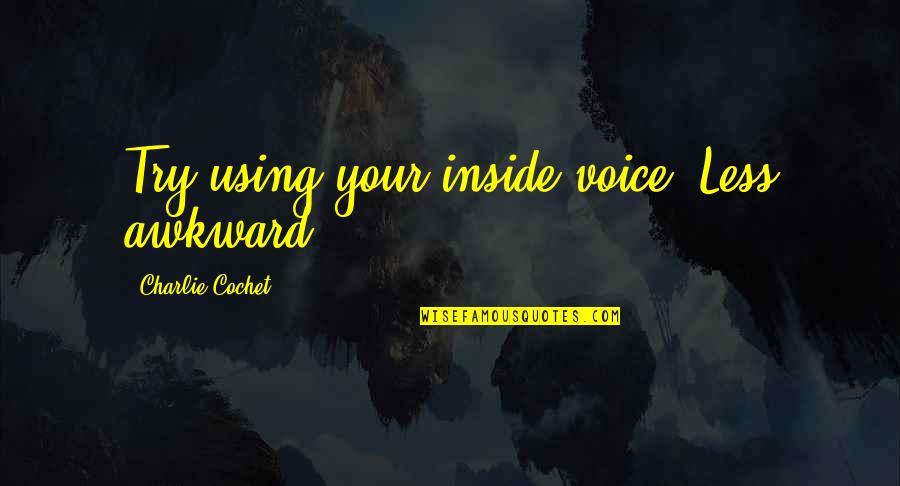 Try using your
inside voice
. Less awkward. —
Charlie Cochet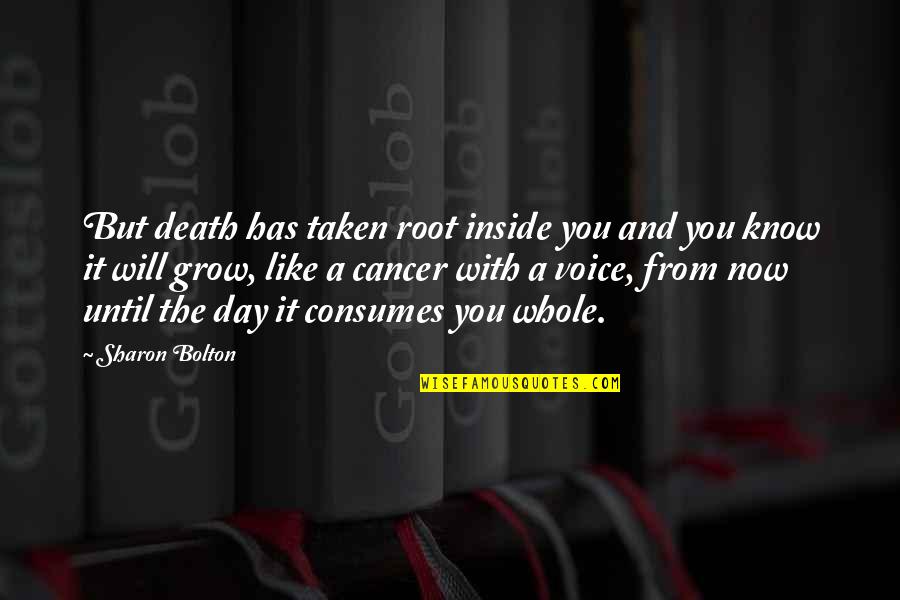 But death has taken root inside you and you know it will grow, like a cancer with a voice, from now until the day it consumes you whole. —
Sharon Bolton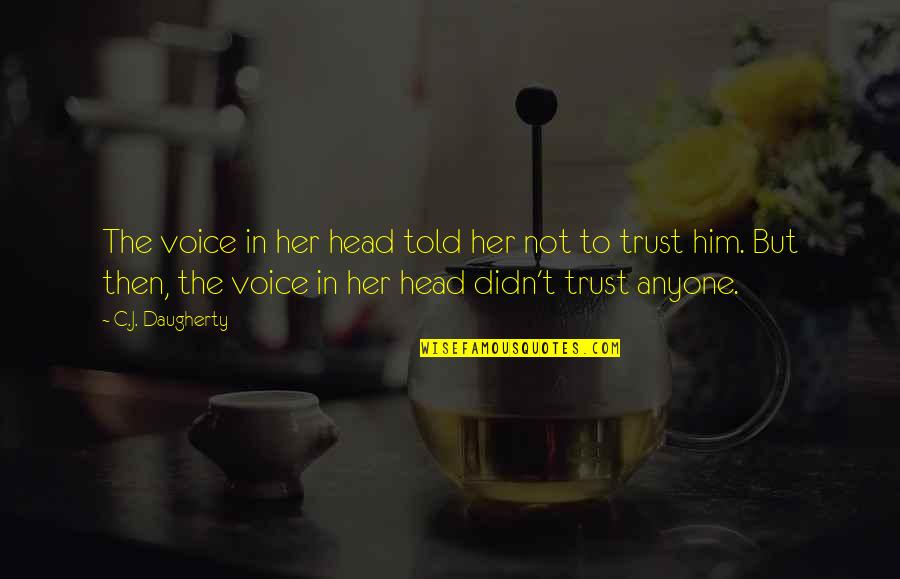 The voice in her head told her not to trust him. But then, the voice in her head didn't trust anyone. —
C.J. Daugherty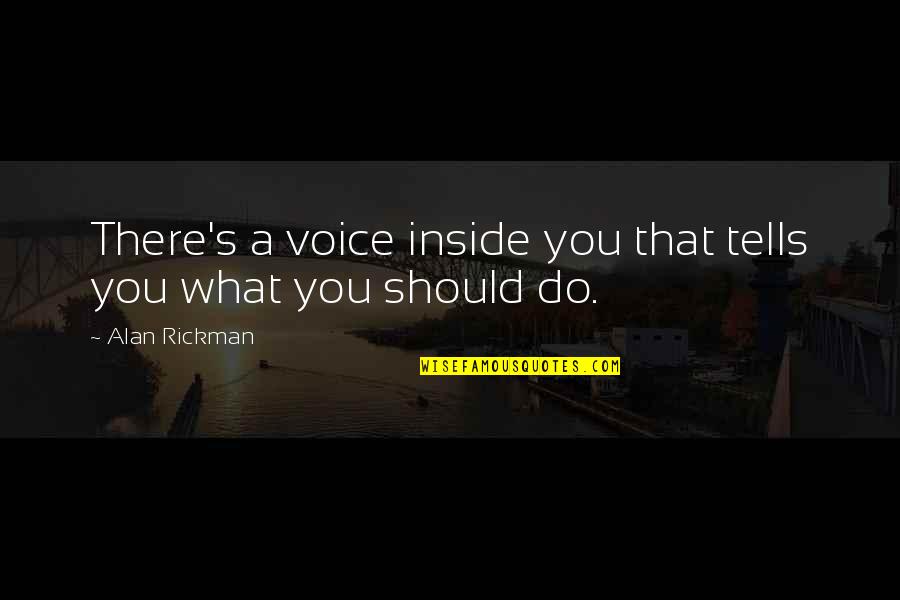 There's a voice inside you that tells you what you should do. —
Alan Rickman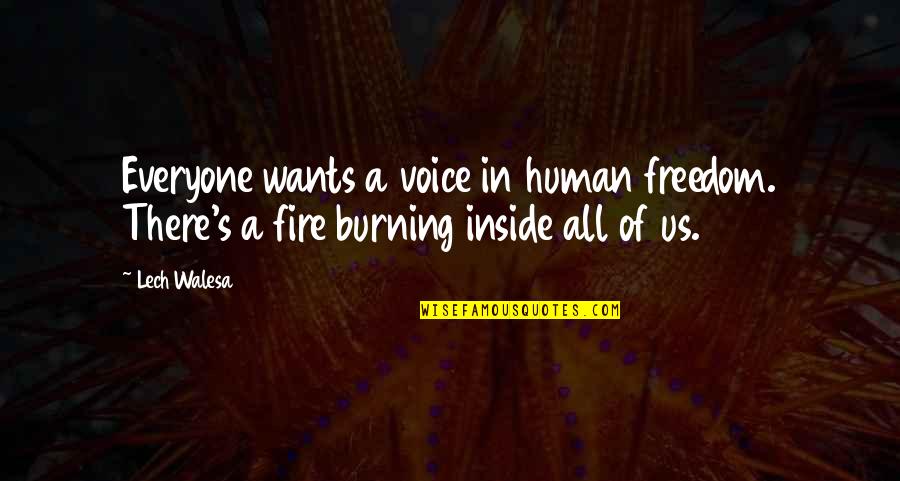 Everyone wants a voice in human freedom. There's a fire burning inside all of us. —
Lech Walesa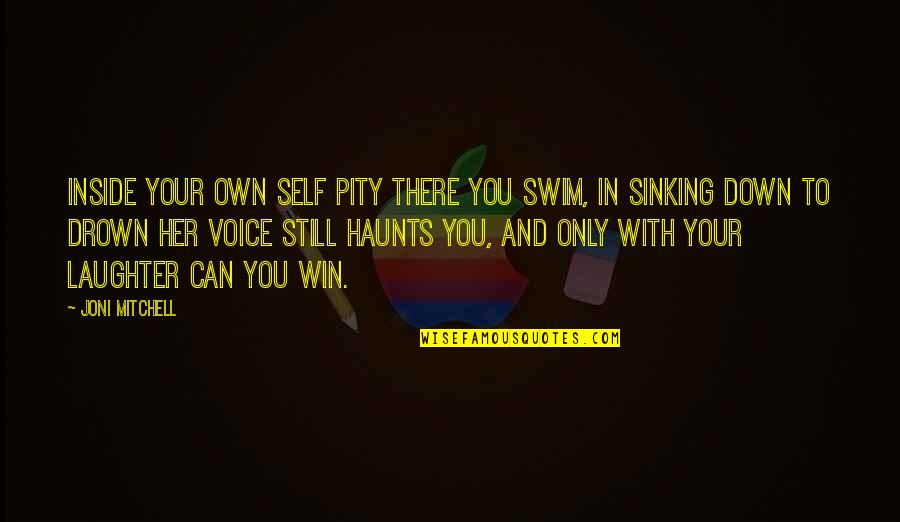 Inside your own self pity there you swim, in sinking down to drown her voice still haunts you, and only with your laughter can you win. —
Joni Mitchell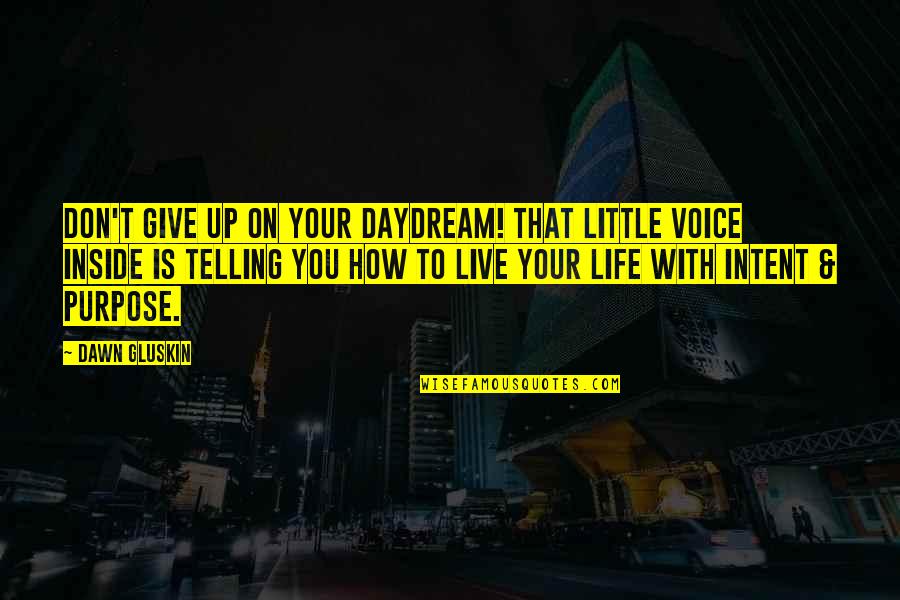 Don't give up on your daydream! That little voice inside is telling you how to live your life with intent & purpose. —
Dawn Gluskin
I believe we all have the Voice of Reason inside us ... to gently lead us out of our own self-created hells ... —
Bill Hicks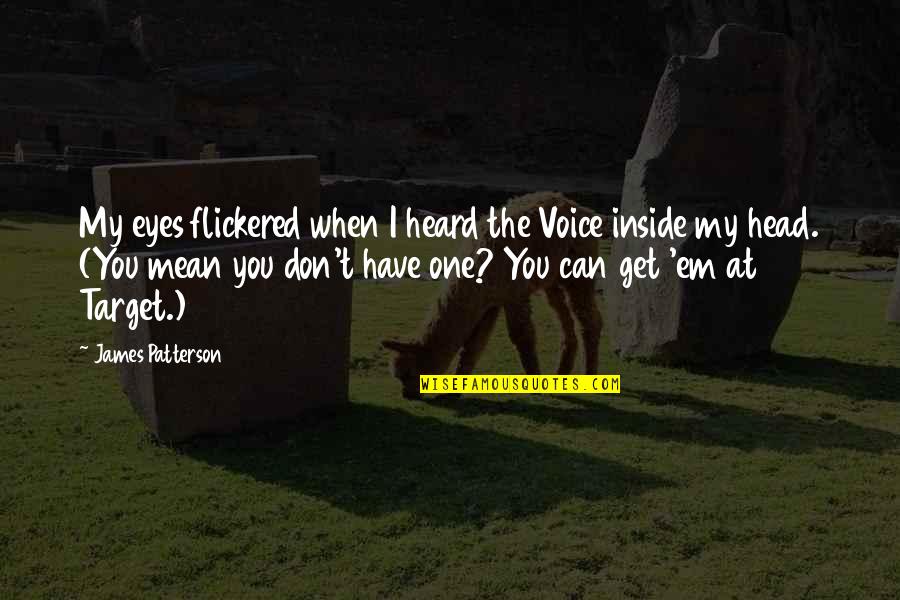 My eyes flickered when I heard the Voice inside my head. (You mean you don't have one? You can get 'em at Target.) —
James Patterson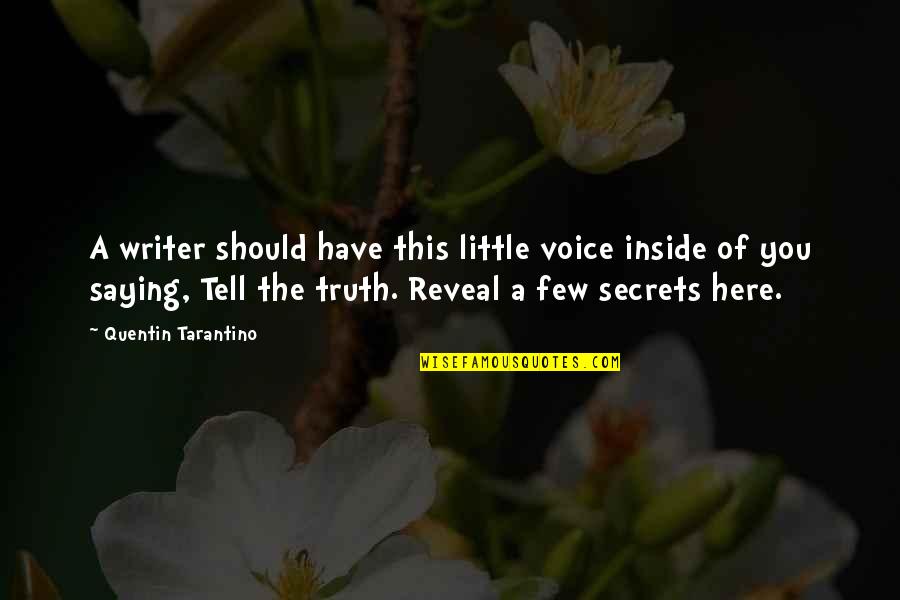 A writer should have this little voice inside of you saying, Tell the truth. Reveal a few secrets here. —
Quentin Tarantino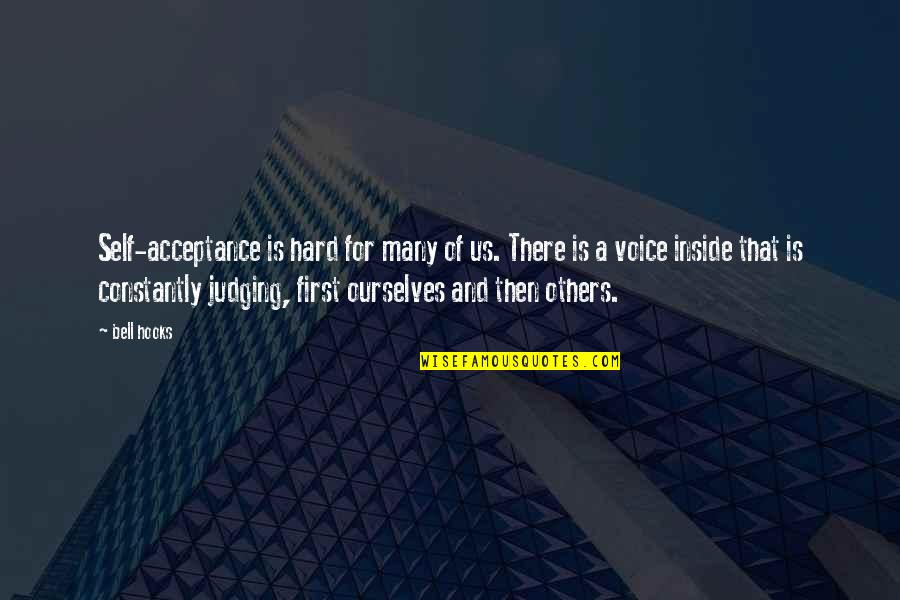 Self-acceptance is hard for many of us. There is a voice inside that is constantly judging, first ourselves and then others. —
Bell Hooks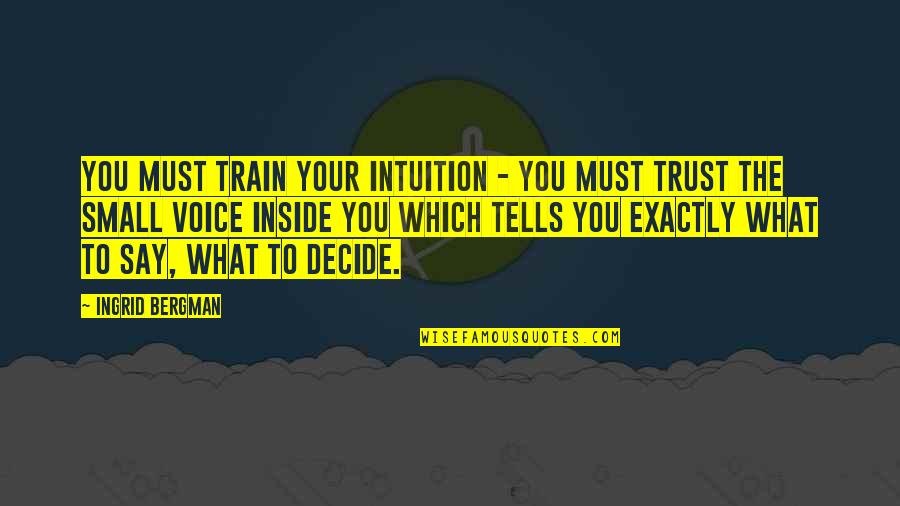 You must train your intuition - you must trust the small voice inside you which tells you exactly what to say, what to decide. —
Ingrid Bergman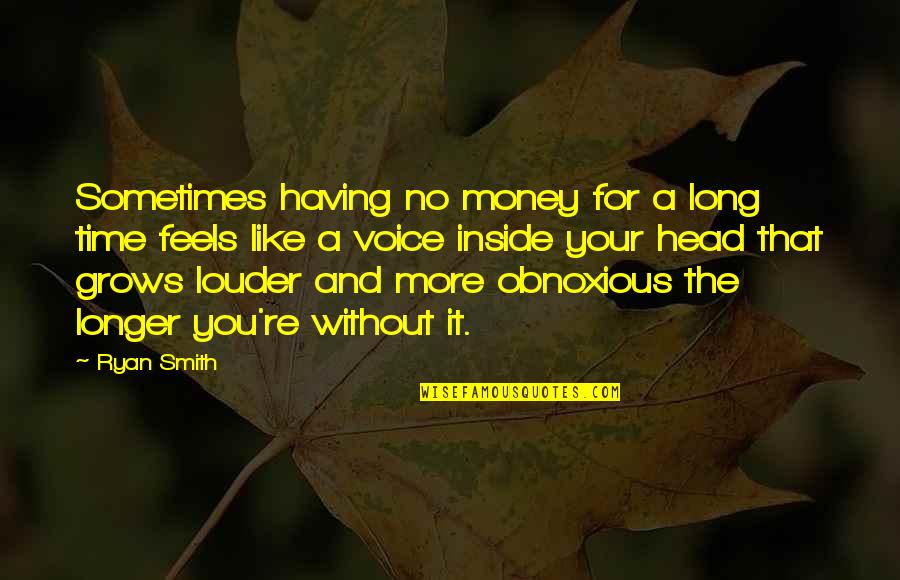 Sometimes having no money for a long time feels like a voice inside your head that grows louder and more obnoxious the longer you're without it. —
Ryan Smith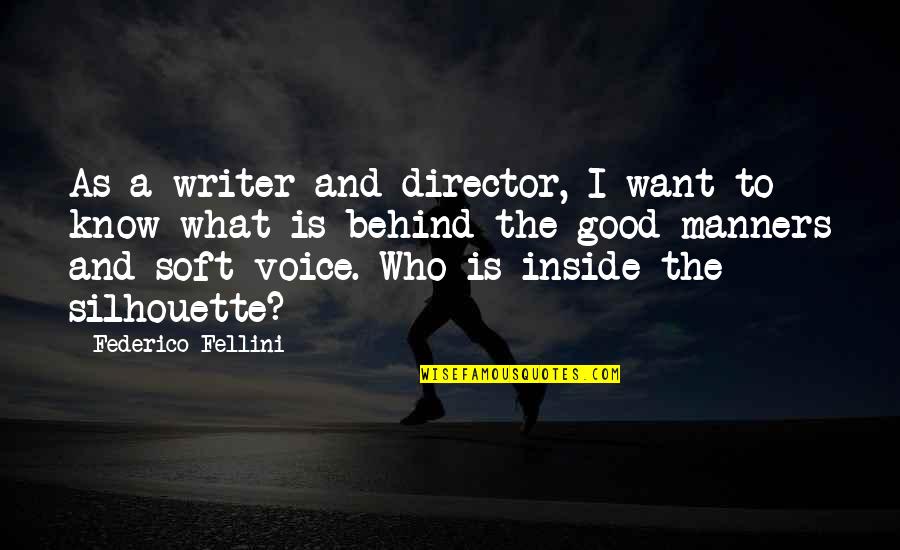 As a writer and director, I want to know what is behind the good manners and soft voice. Who is inside the silhouette? —
Federico Fellini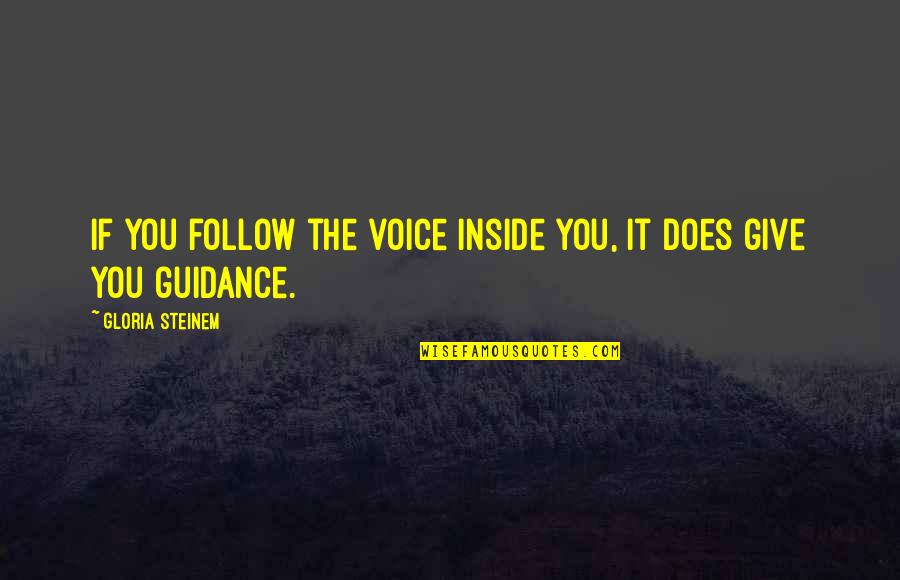 If you follow the voice inside you, it does give you guidance. —
Gloria Steinem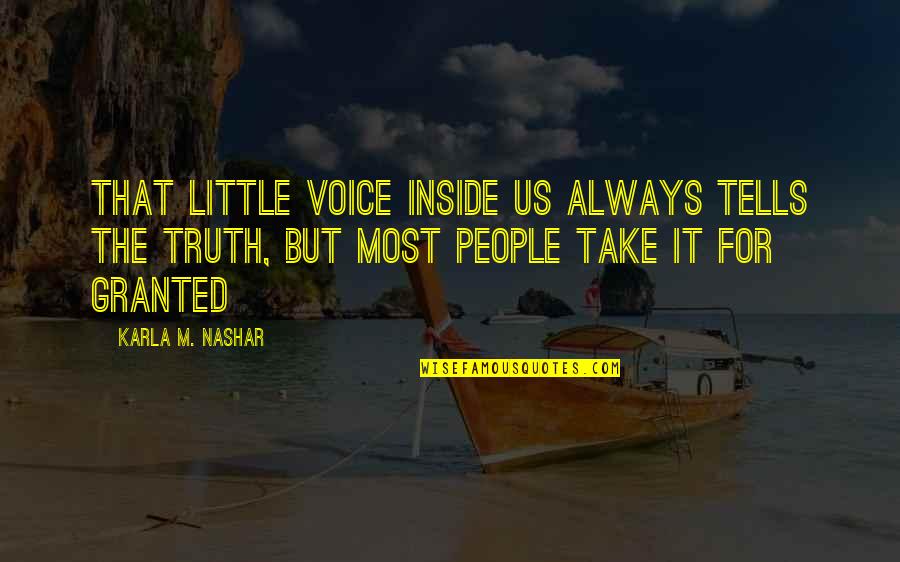 That little voice inside us always tells the truth, but most people take it for granted —
Karla M. Nashar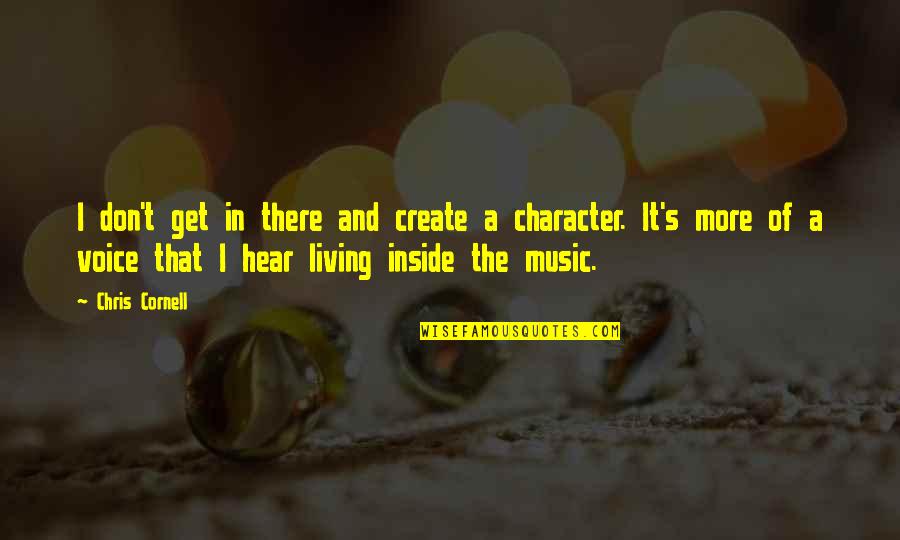 I don't get in there and create a character. It's more of a voice that I hear living inside the music. —
Chris Cornell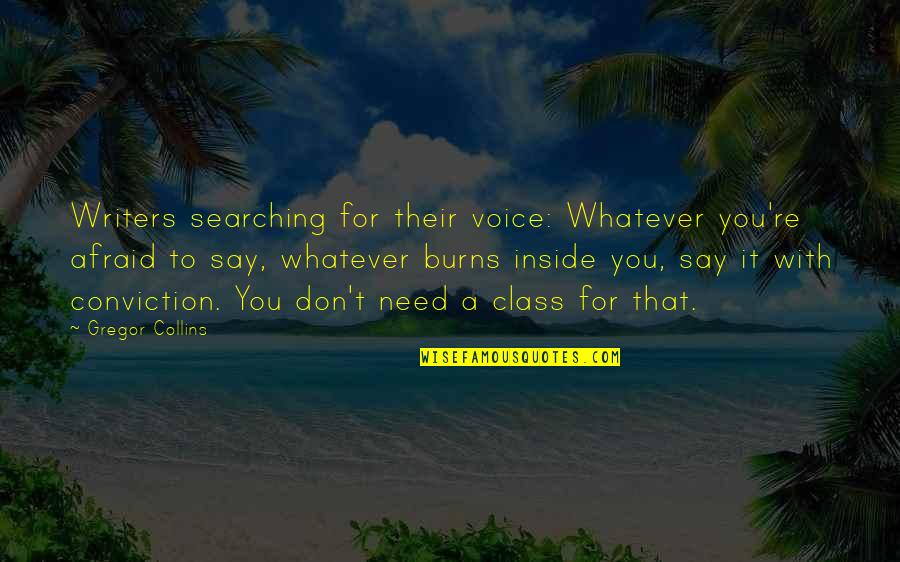 Writers searching for their voice: Whatever you're afraid to say, whatever burns inside you, say it with conviction. You don't need a class for that. —
Gregor Collins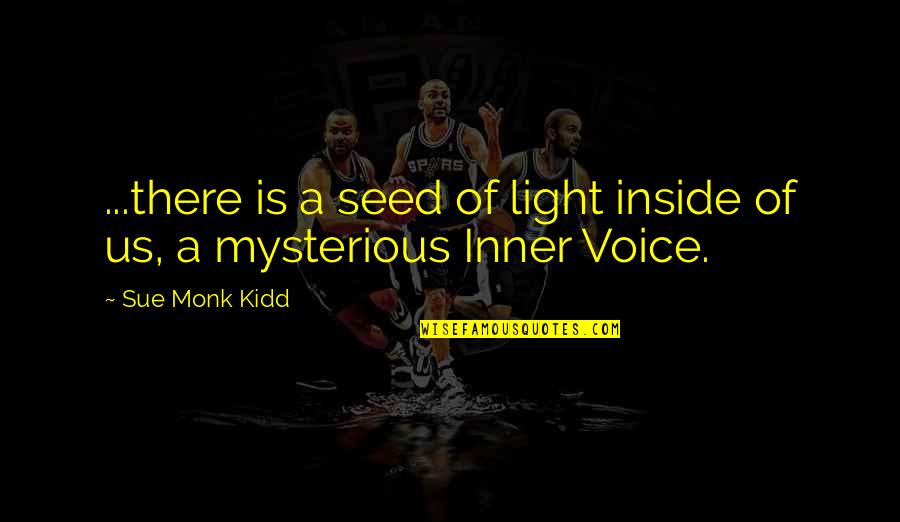 ...there is a seed of light inside of us, a mysterious Inner Voice. —
Sue Monk Kidd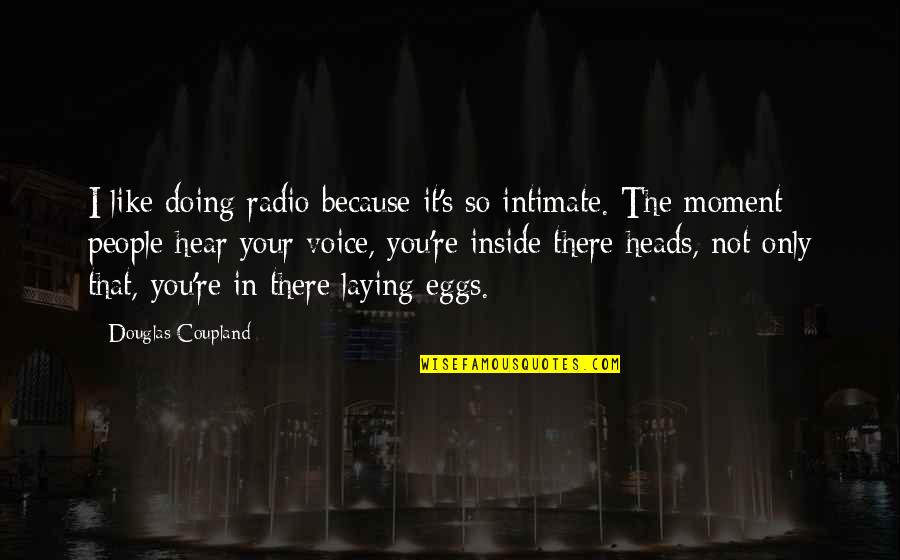 I like doing radio because it's so intimate. The moment people hear your voice, you're inside there heads, not only that, you're in there laying eggs. —
Douglas Coupland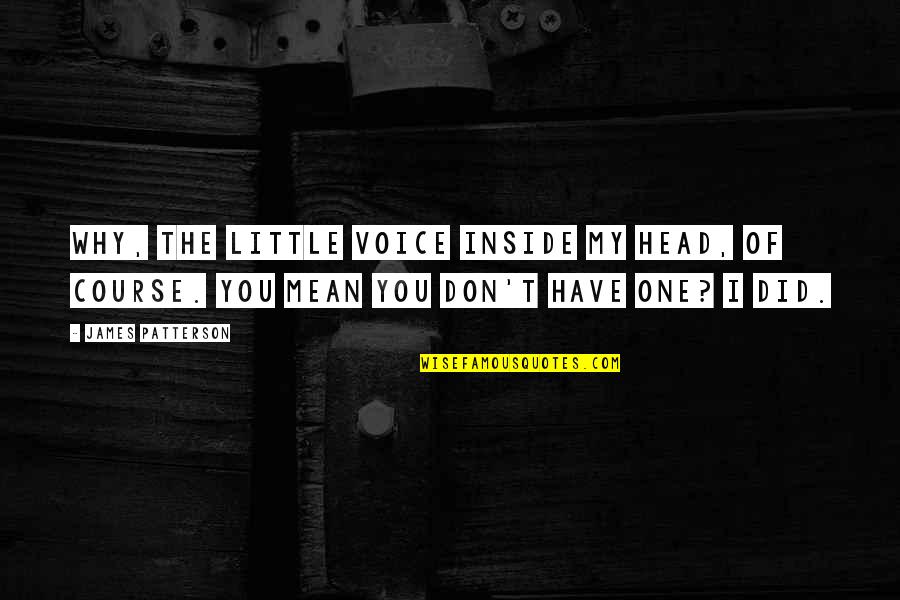 Why, the little Voice inside my head, of course. You mean you don't have one? I did. —
James Patterson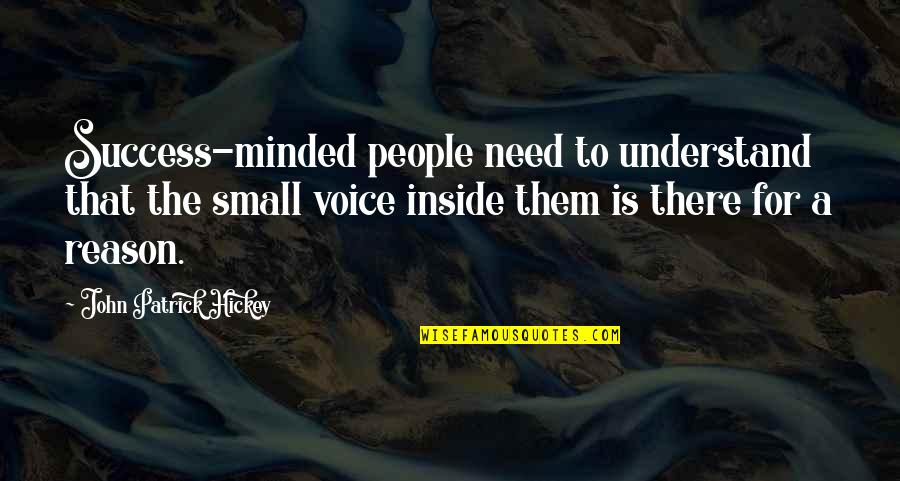 Success-minded people need to understand that the small voice inside them is there for a reason. —
John Patrick Hickey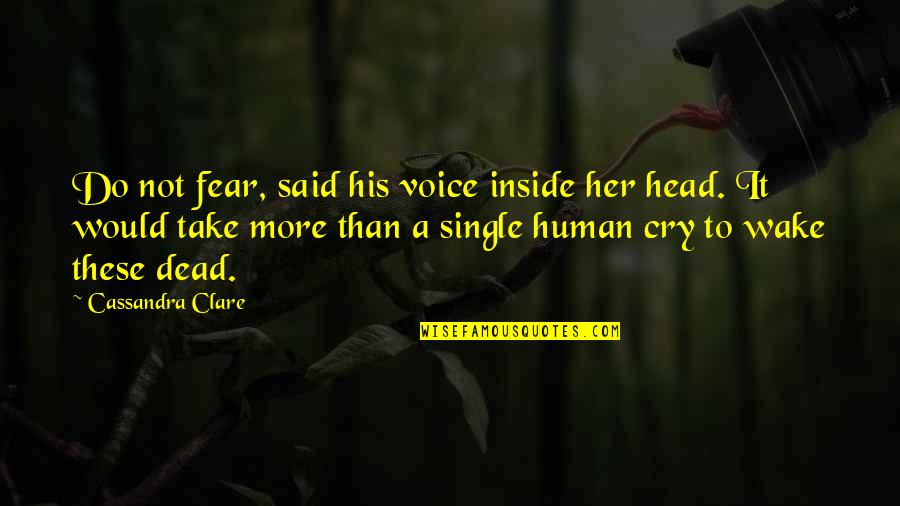 Do not fear, said his voice inside her head. It would take more than a single human cry to wake these dead. —
Cassandra Clare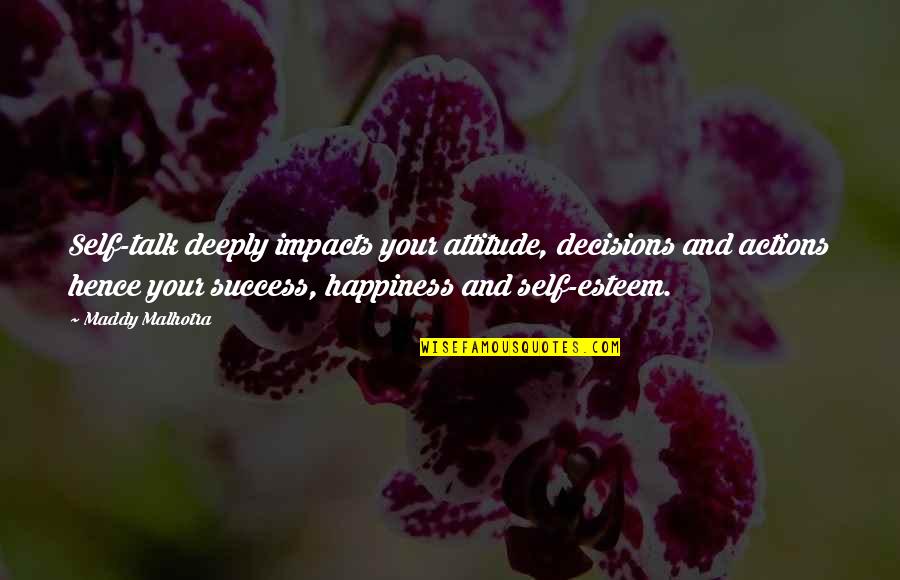 Self-talk deeply impacts your attitude, decisions and actions hence your success, happiness and self-esteem. —
Maddy Malhotra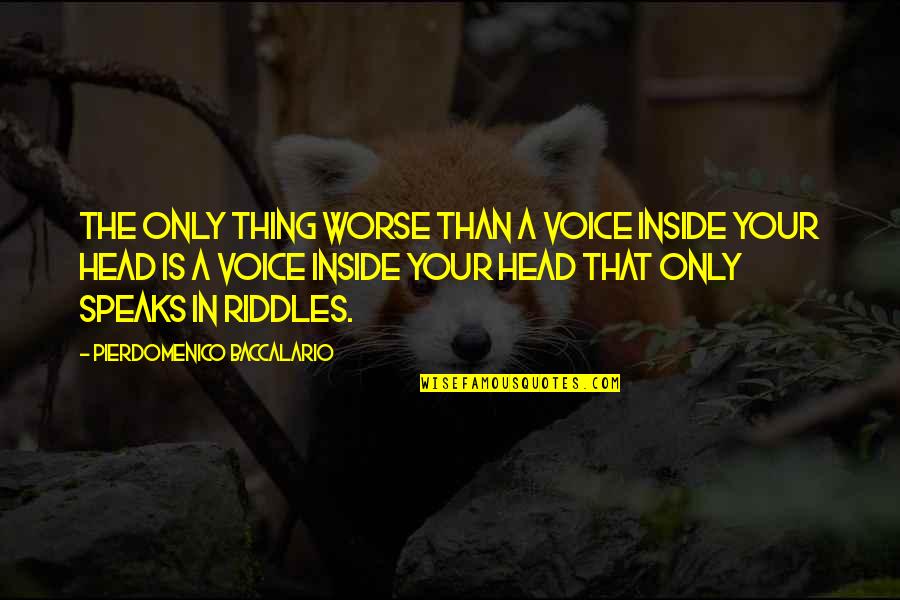 The only thing worse than a voice inside your head is a voice inside your head that only speaks in riddles. —
Pierdomenico Baccalario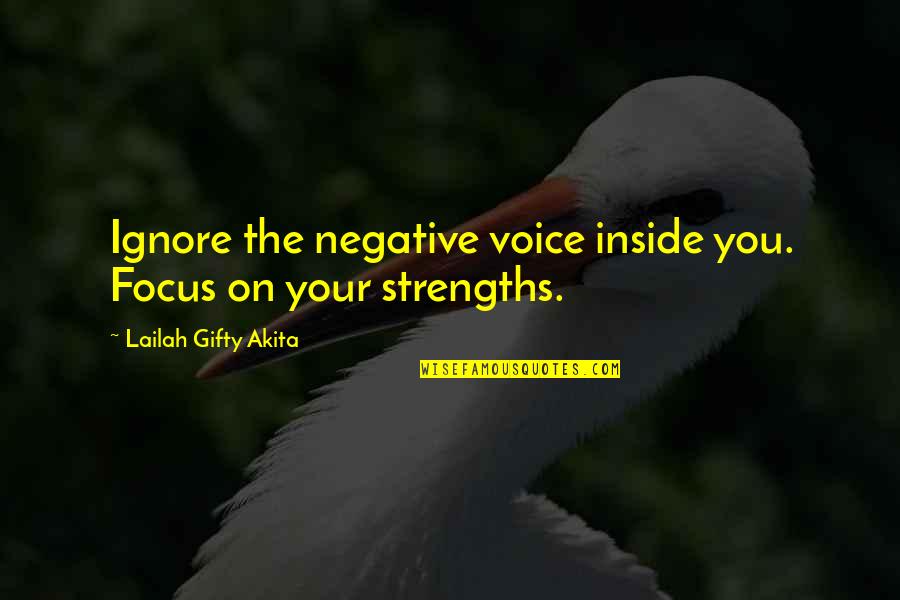 Ignore the negative voice inside you. Focus on your strengths. —
Lailah Gifty Akita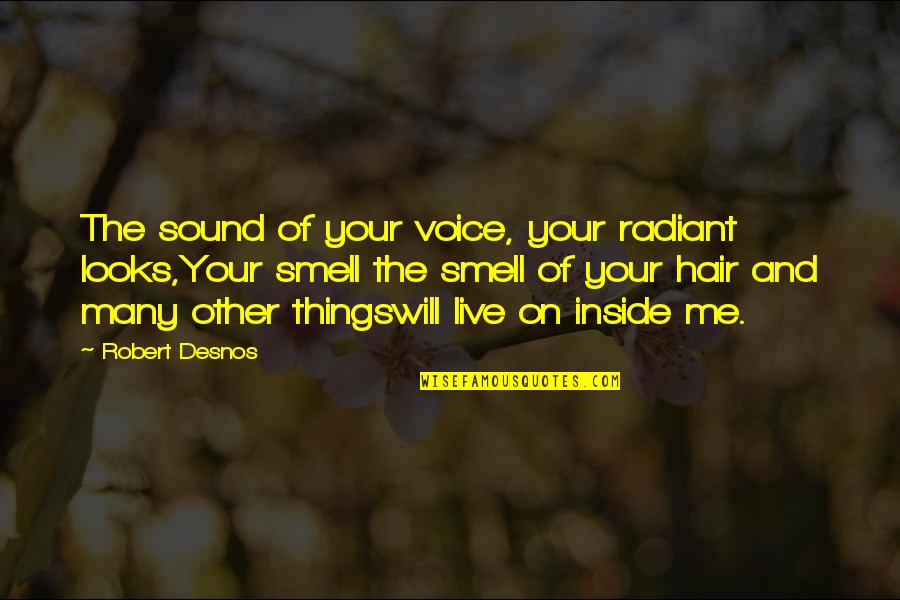 The sound of your voice, your radiant looks,
Your smell the smell of your hair and many other things
will live on inside me. —
Robert Desnos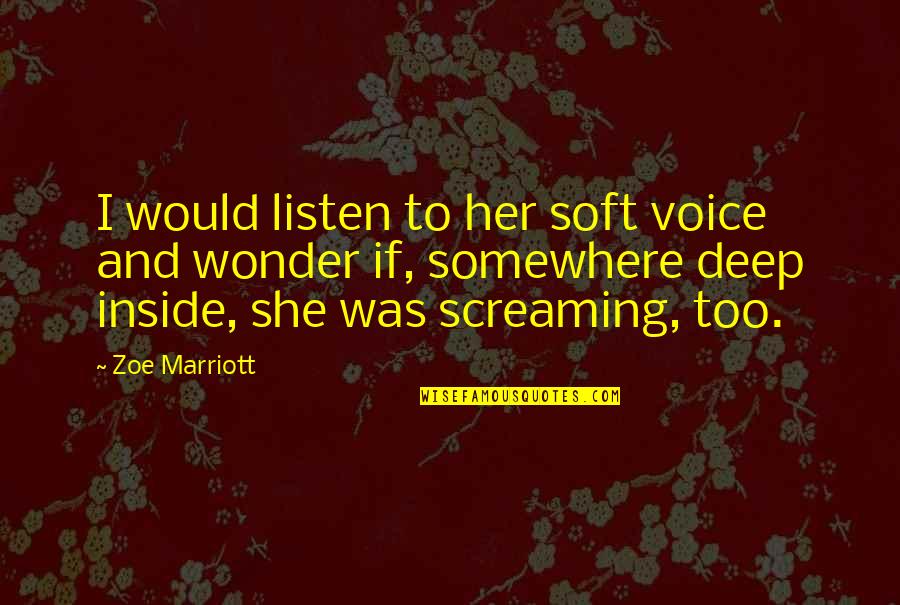 I would listen to her soft voice and wonder if, somewhere deep inside, she was screaming, too. —
Zoe Marriott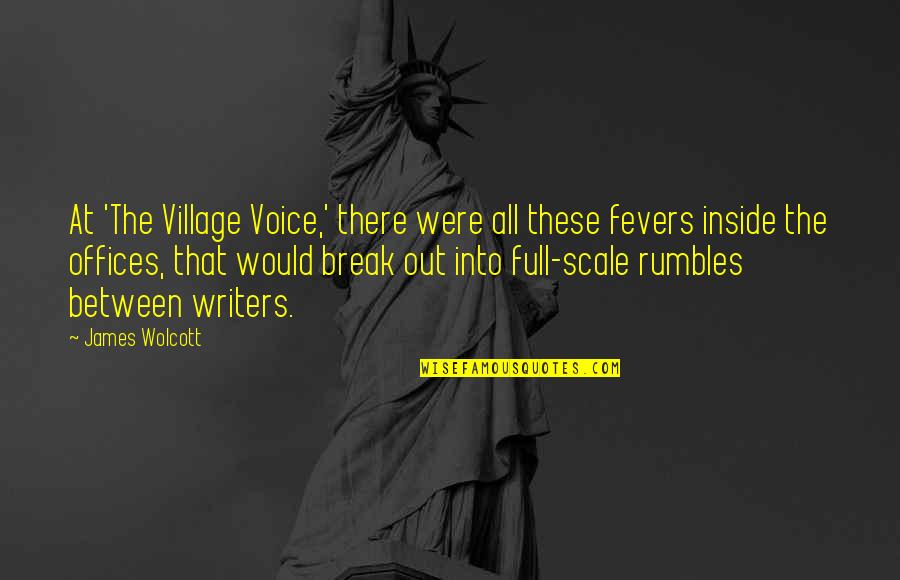 At 'The Village Voice,' there were all these fevers inside the offices, that would break out into full-scale rumbles between writers. —
James Wolcott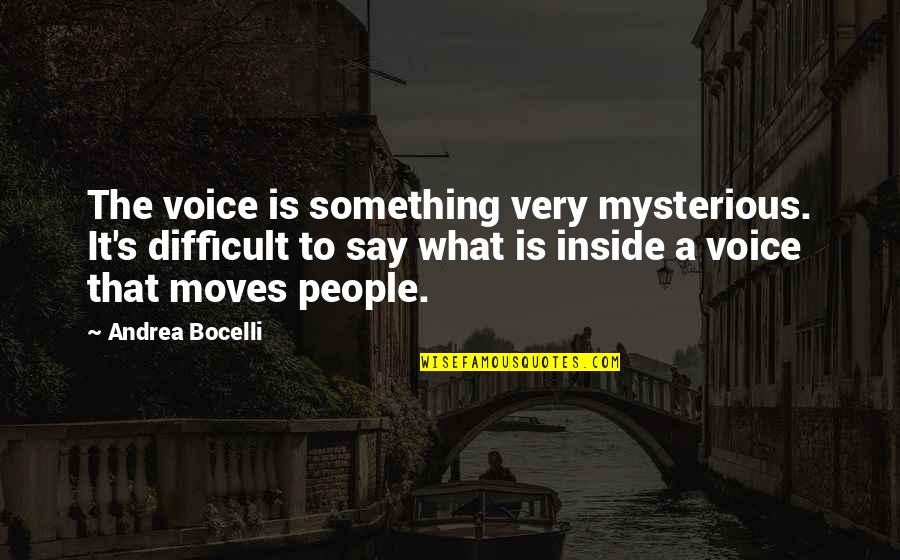 The voice is something very mysterious. It's difficult to say what is inside a voice that moves people. —
Andrea Bocelli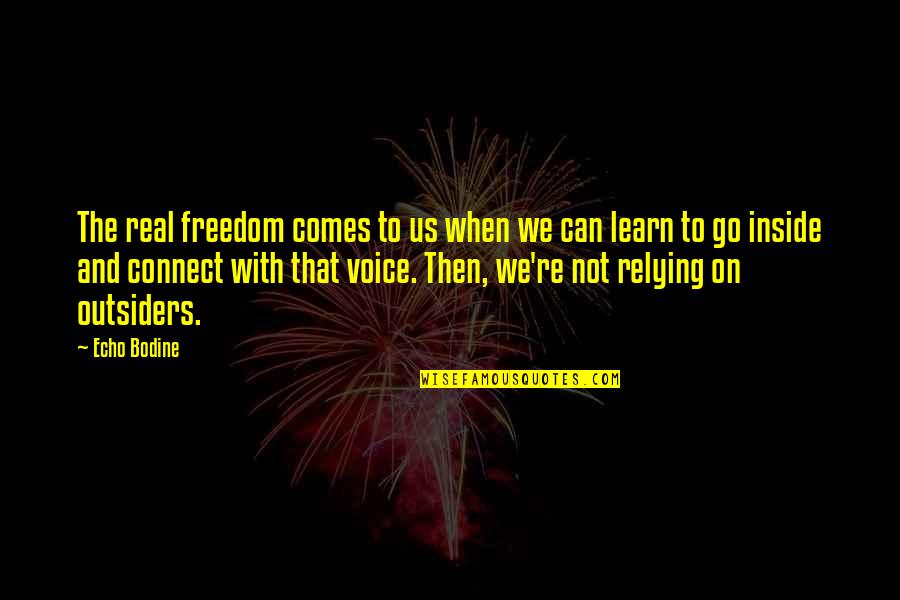 The real freedom comes to us when we can learn to go inside and connect with that voice. Then, we're not relying on outsiders. —
Echo Bodine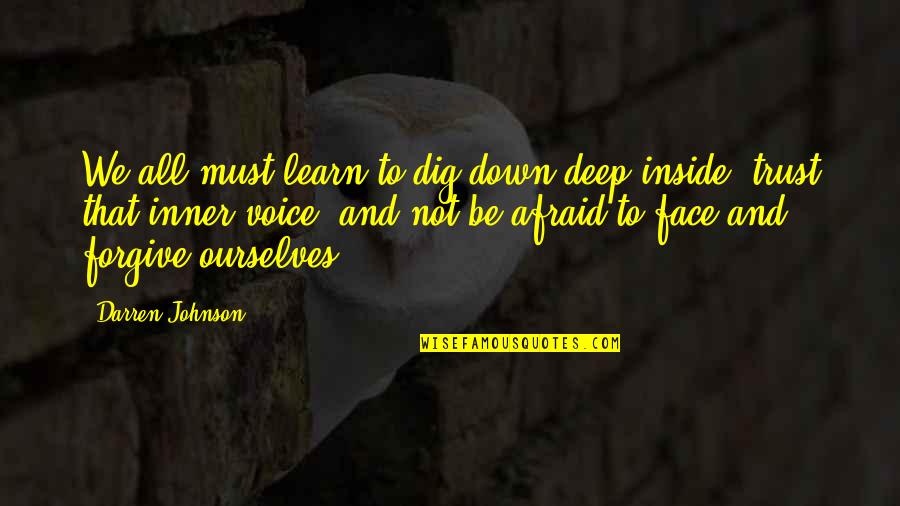 We all must learn to dig down deep inside, trust that inner voice, and not be afraid to face and forgive ourselves. —
Darren Johnson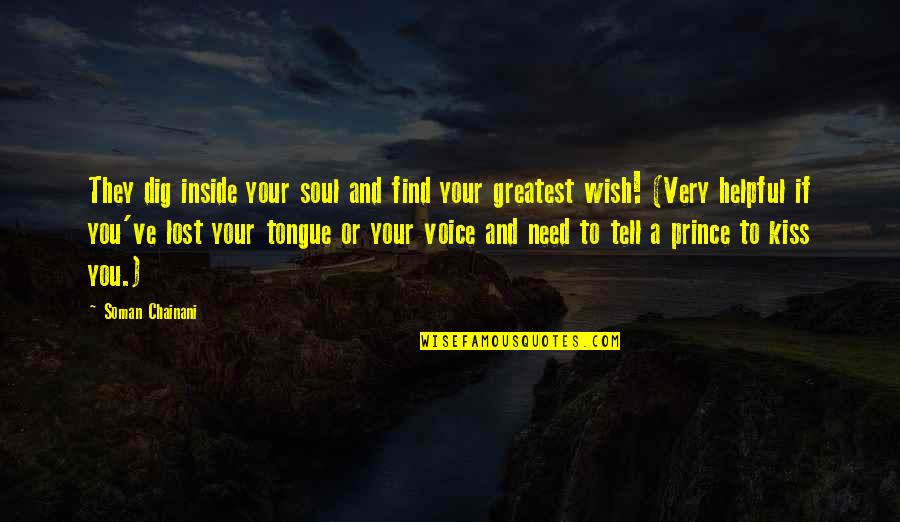 They dig inside your soul and find your greatest wish! (Very helpful if you've lost your tongue or your voice and need to tell a prince to kiss you.) —
Soman Chainani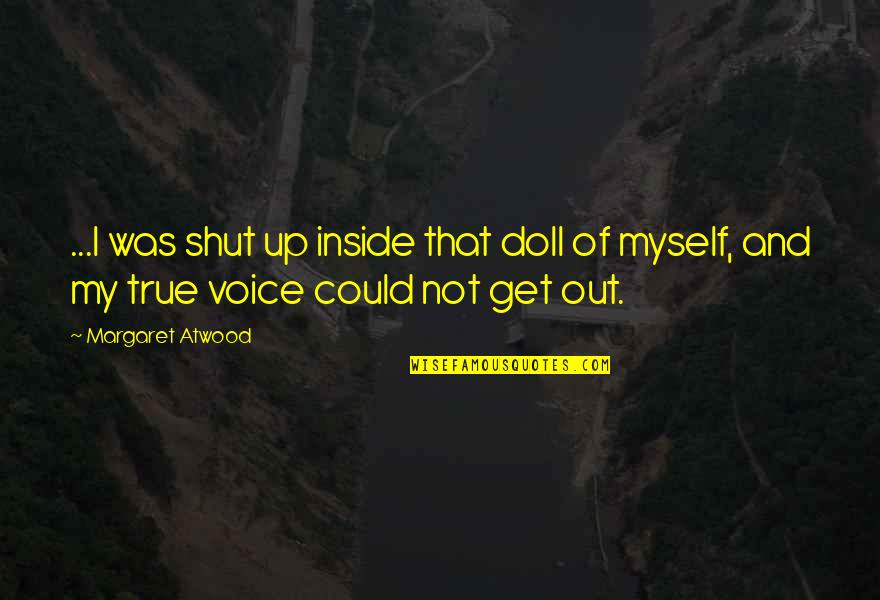 ...I was shut up inside that doll of myself, and my true voice could not get out. —
Margaret Atwood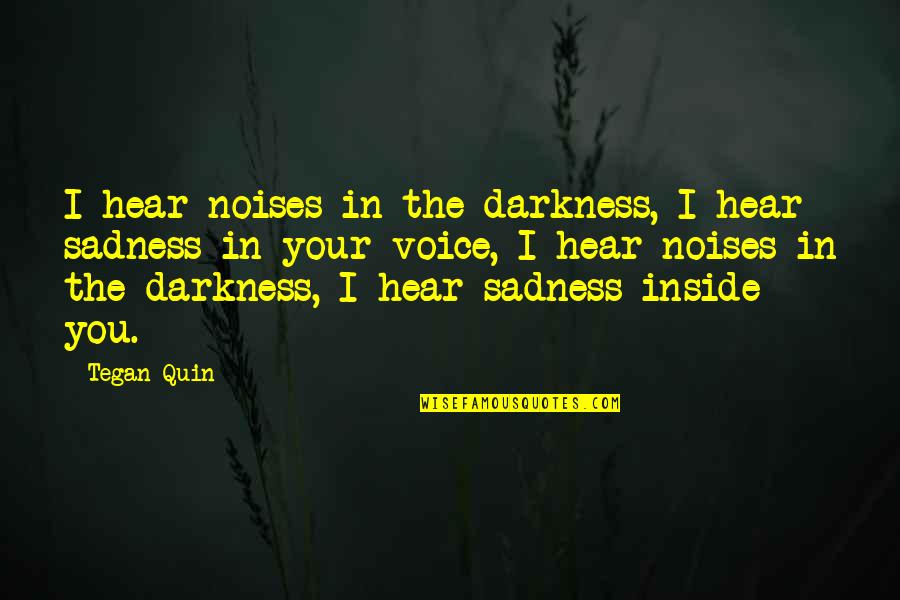 I hear noises in the darkness, I hear sadness in your voice, I hear noises in the darkness, I hear sadness inside you. —
Tegan Quin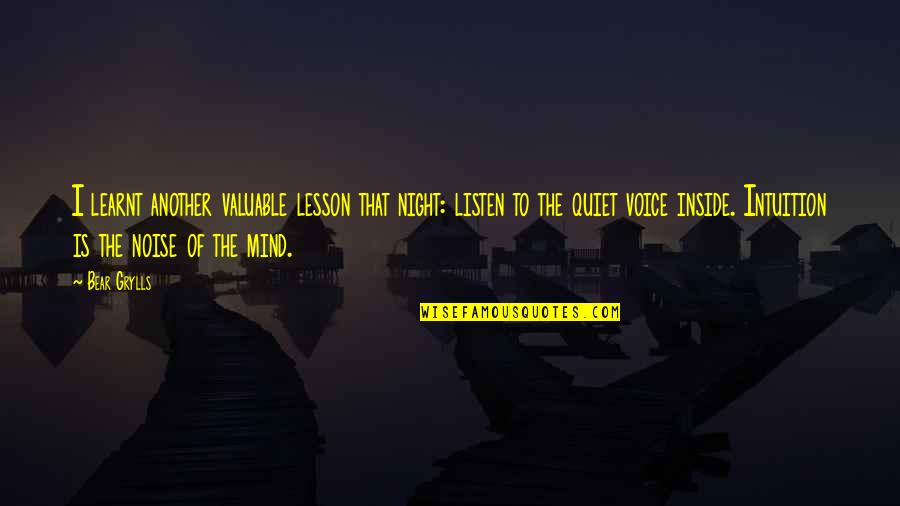 I learnt another valuable lesson that night: listen to the quiet voice inside. Intuition is the noise of the mind. —
Bear Grylls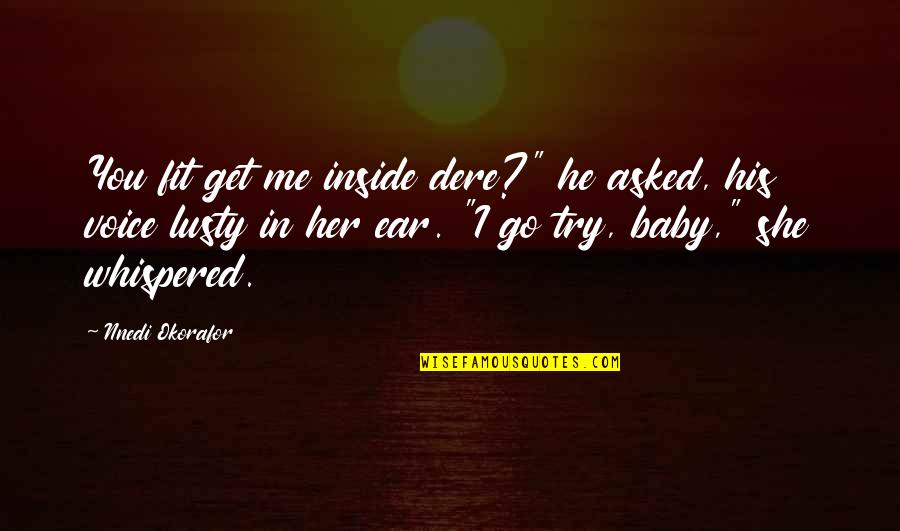 You fit get me inside dere?" he asked, his voice lusty in her ear. "I go try, baby," she whispered. —
Nnedi Okorafor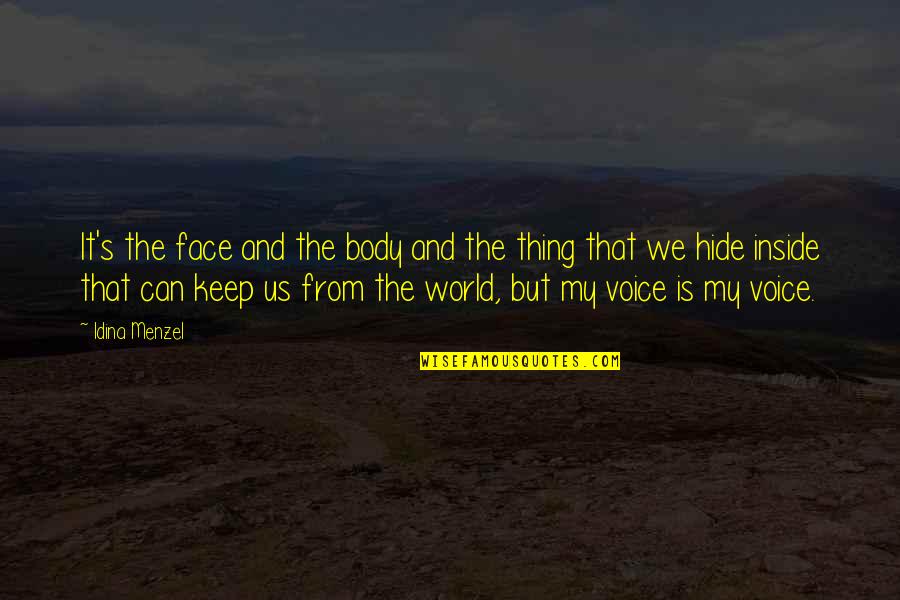 It's the face and the body and the thing that we hide inside that can keep us from the world, but my voice is my voice. —
Idina Menzel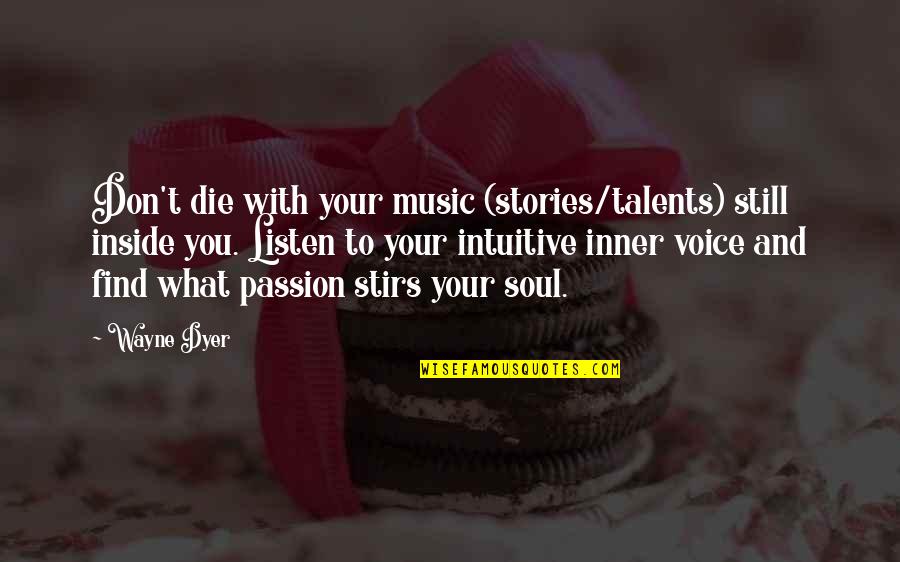 Don't die with your music (stories/talents) still inside you. Listen to your intuitive inner voice and find what passion stirs your soul. —
Wayne Dyer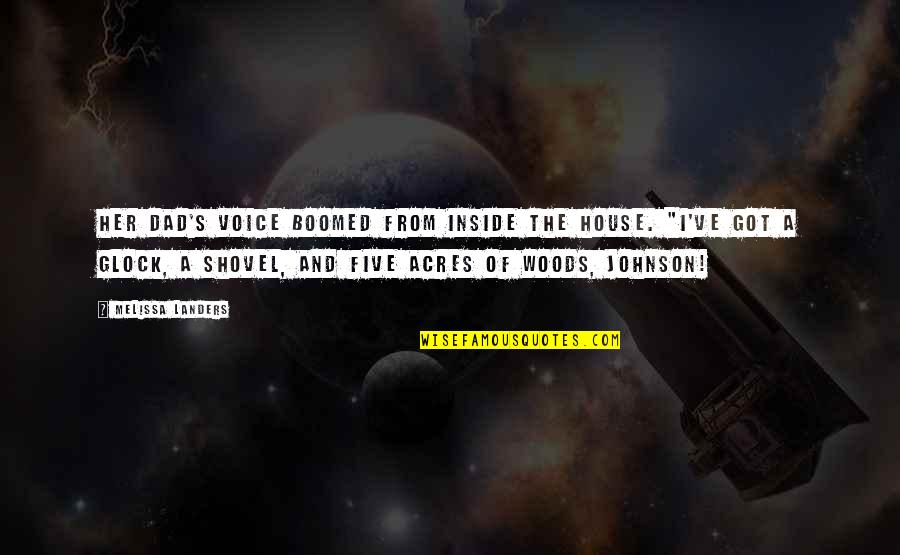 Her dad's voice boomed from inside the house. "I've got a Glock, a shovel, and five acres of woods, Johnson! —
Melissa Landers