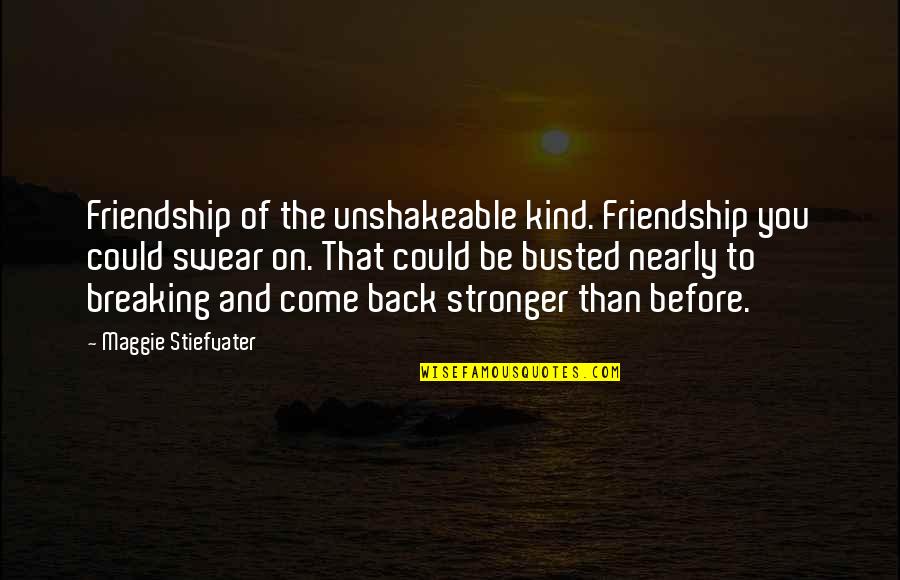 Friendship of the unshakeable kind. Friendship you could swear on. That could be busted nearly to breaking and come back stronger than before.
—
Maggie Stiefvater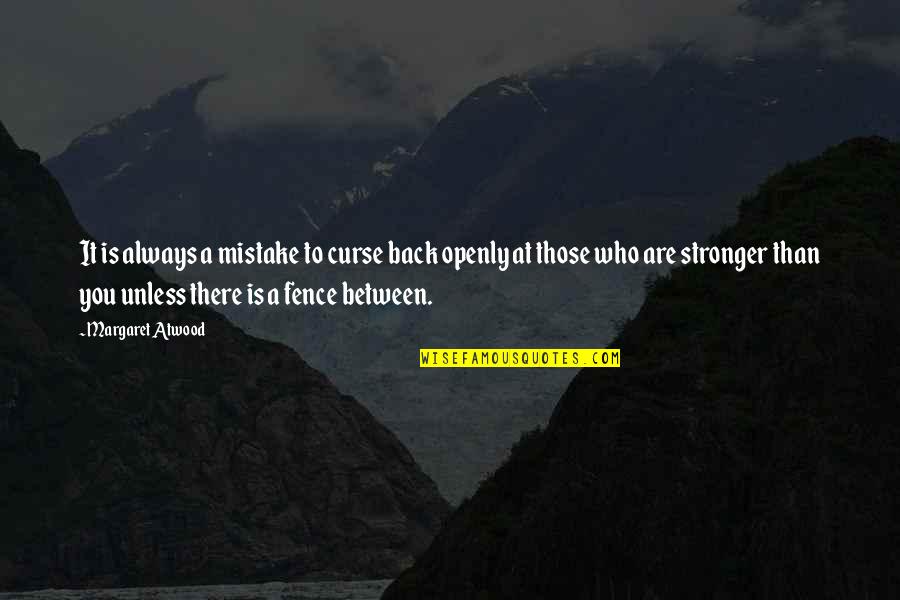 It is always a mistake to curse back openly at those who are stronger than you unless there is a fence between.
—
Margaret Atwood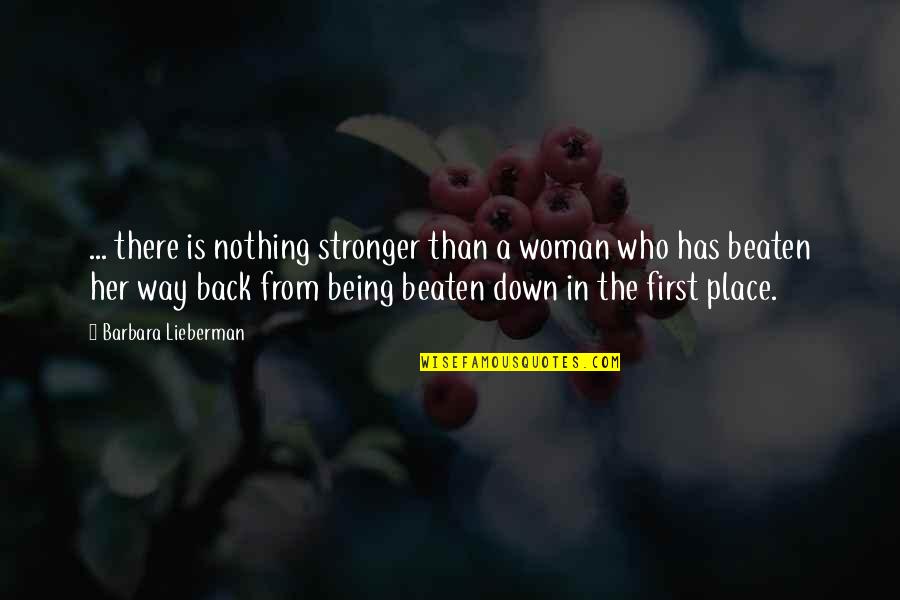 ... there is nothing stronger than a woman who has beaten her way back from being beaten down in the first place.
—
Barbara Lieberman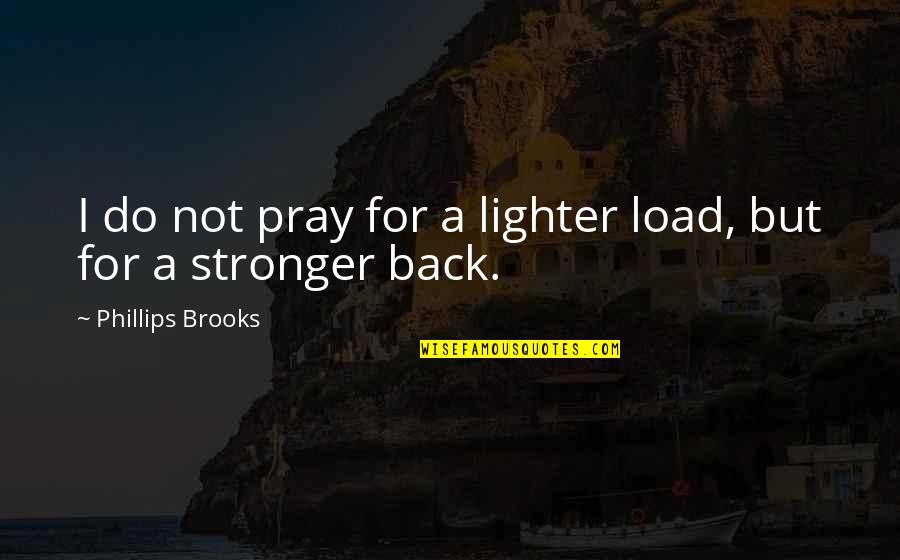 I do not pray for a lighter load, but for a stronger back.
—
Phillips Brooks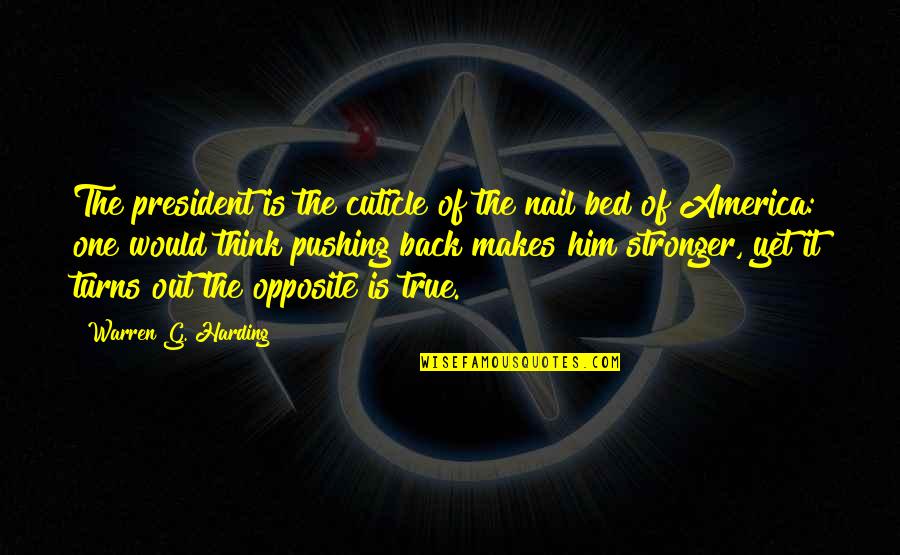 The president is the cuticle of the nail bed of America: one would think pushing back makes him stronger, yet it turns out the opposite is true.
—
Warren G. Harding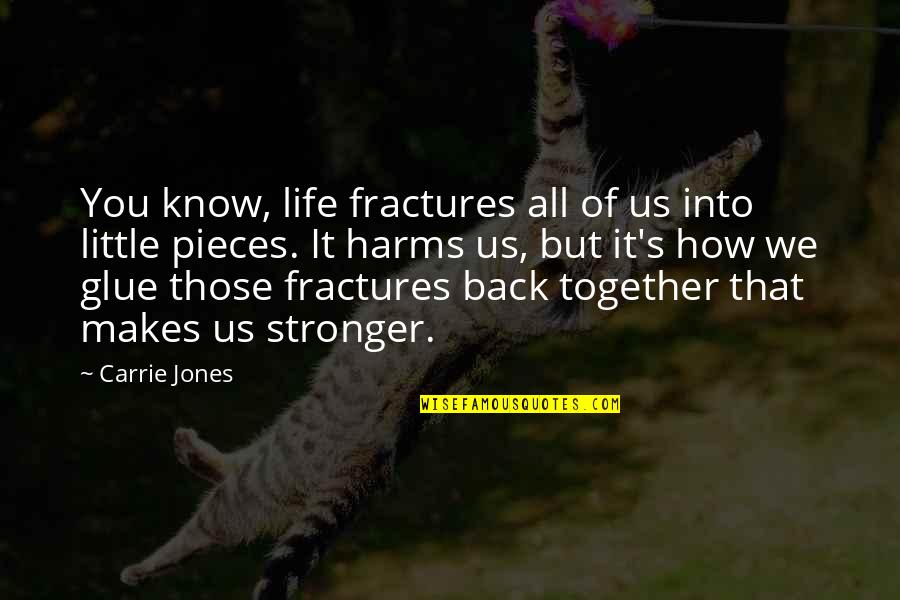 You know, life fractures all of us into little pieces. It harms us, but it's how we glue those fractures back together that makes us stronger.
—
Carrie Jones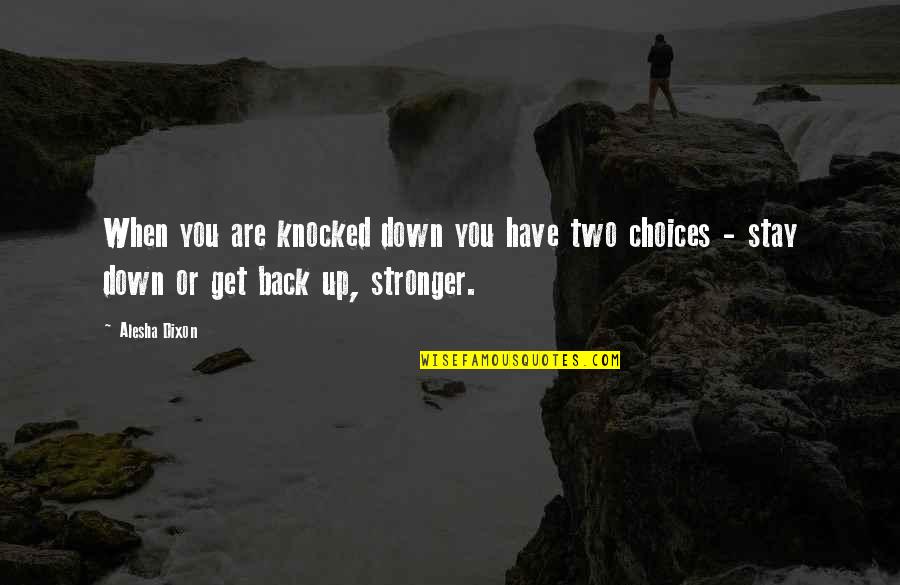 When you are knocked down you have two choices - stay down or get back up, stronger. —
Alesha Dixon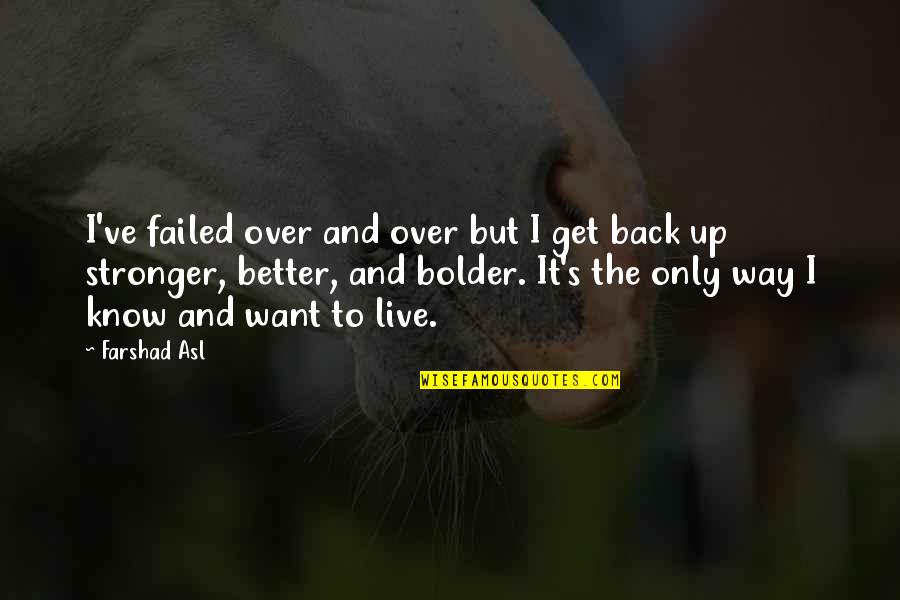 I've failed over and over but I get back up stronger, better, and bolder. It's the only way I know and want to live. —
Farshad Asl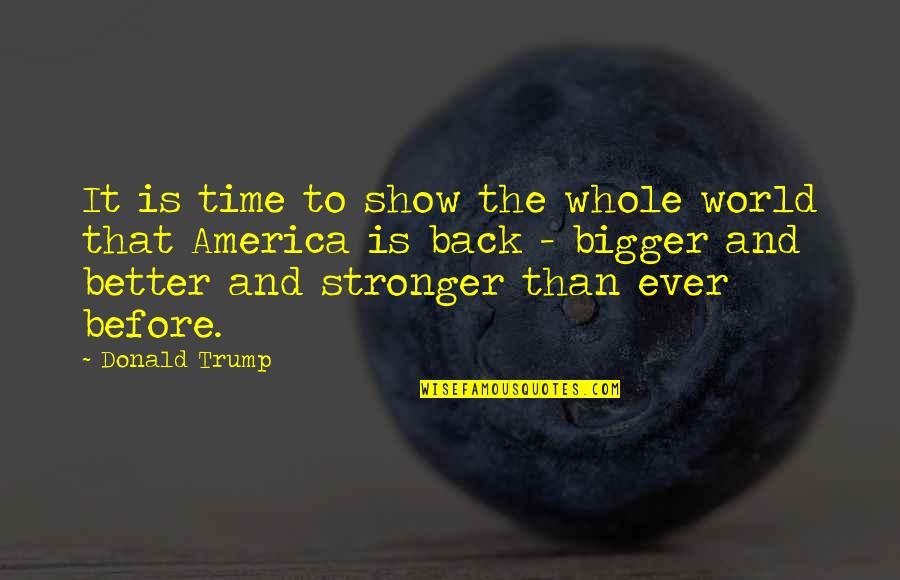 It is time to show the whole world that America is back - bigger and better and stronger than ever before. —
Donald Trump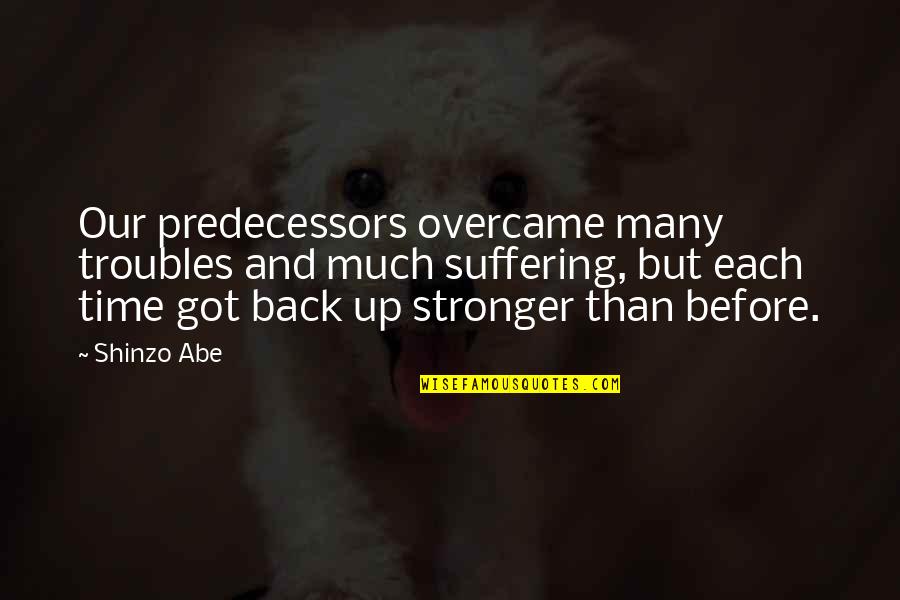 Our predecessors overcame many troubles and much suffering, but each time got back up stronger than before. —
Shinzo Abe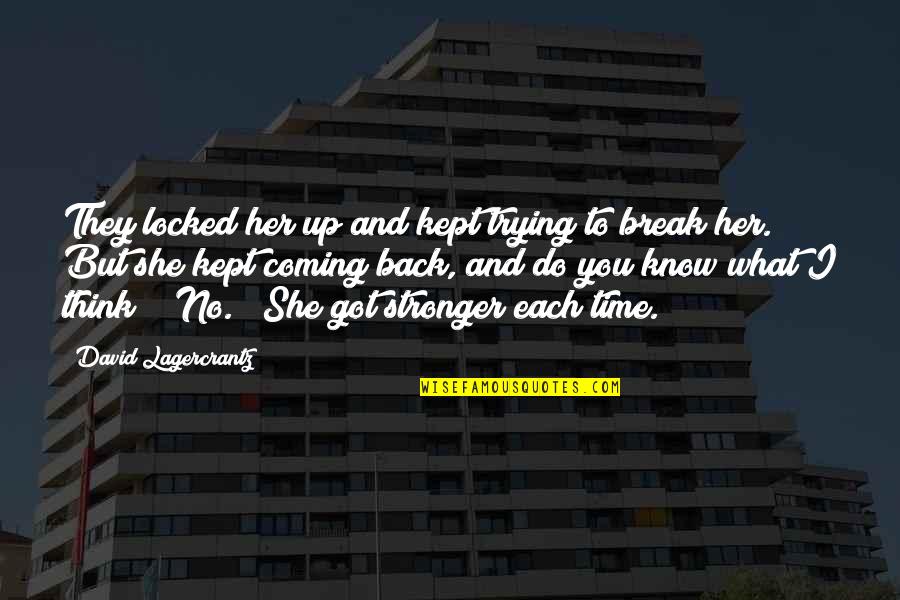 They locked her up and kept trying to break her. But she kept coming back, and do you know what I think?" "No." "She got stronger each time. —
David Lagercrantz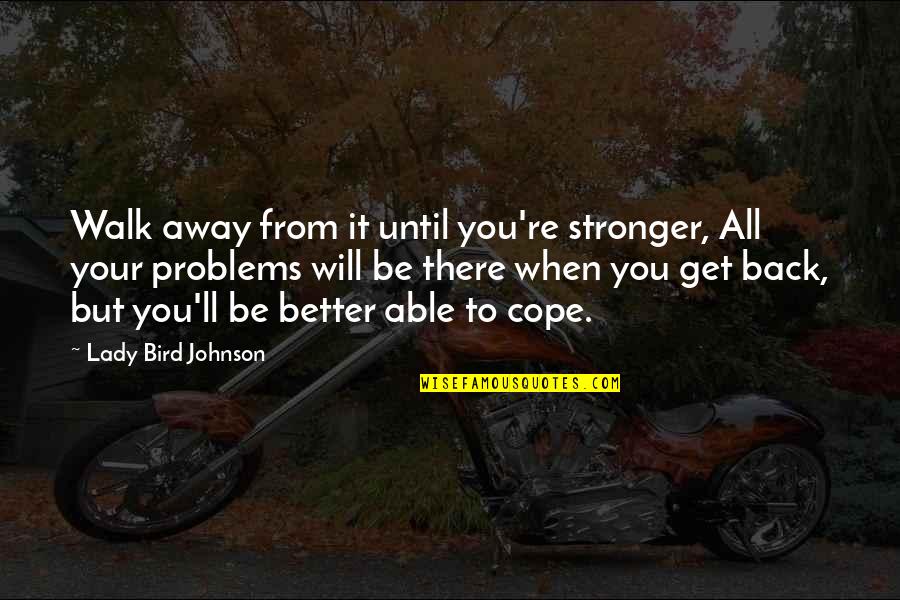 Walk away from it until you're stronger, All your problems will be there when you get back, but you'll be better able to cope. —
Lady Bird Johnson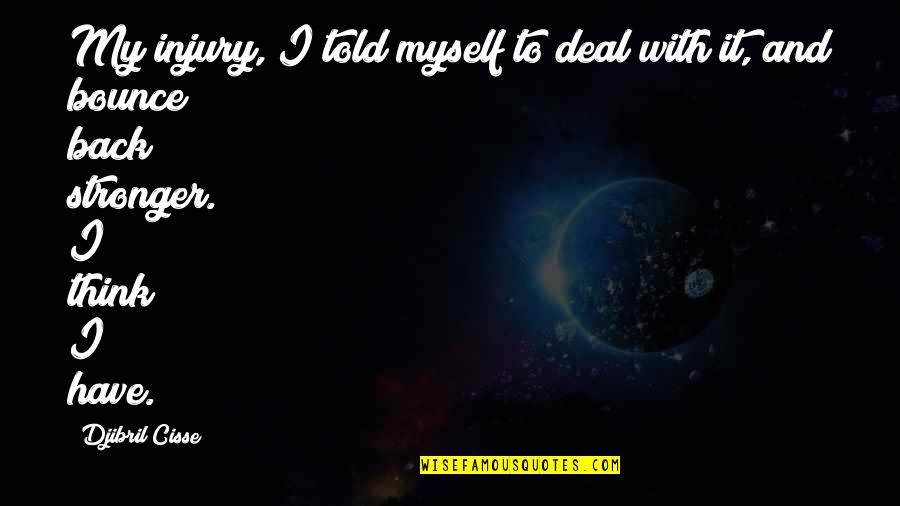 My injury, I told myself to deal with it, and bounce back stronger. I think I have. —
Djibril Cisse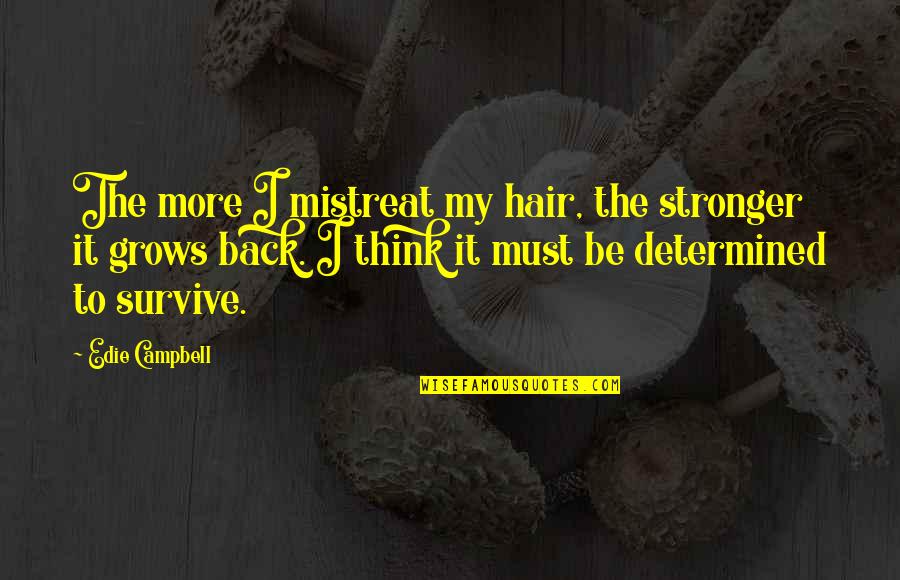 The more I mistreat my hair, the stronger it grows back. I think it must be determined to survive. —
Edie Campbell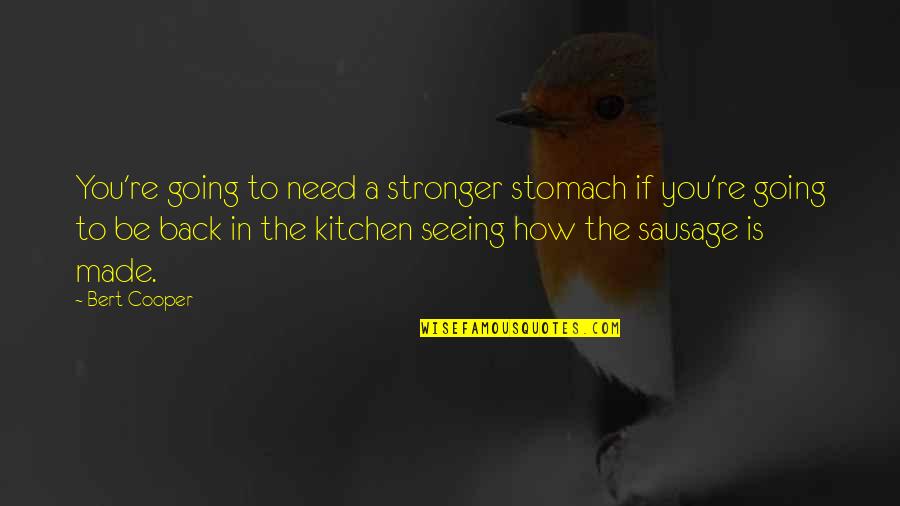 You're going to need a stronger stomach if you're going to be back in the kitchen seeing how the sausage is made. —
Bert Cooper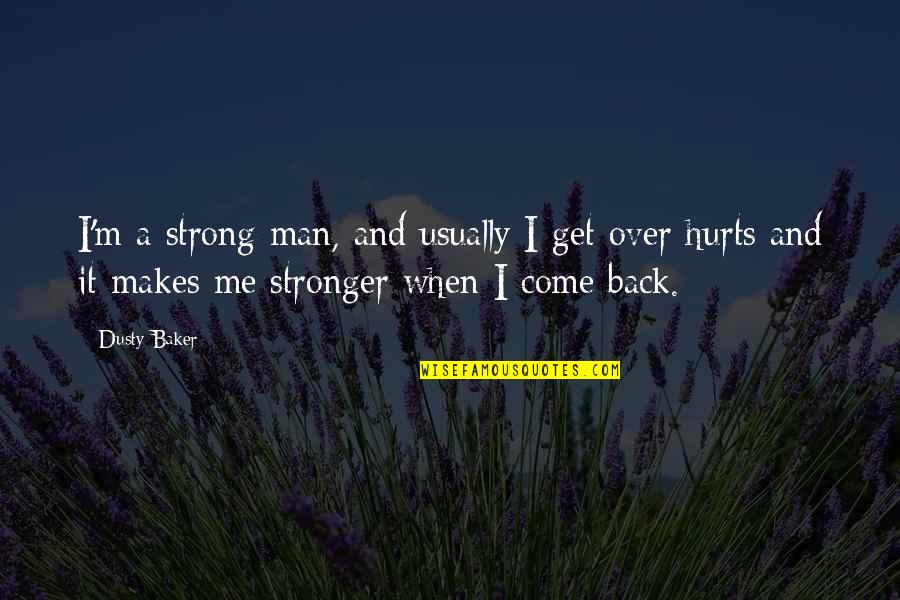 I'm a strong man, and usually I get over hurts and it makes me stronger when I come back. —
Dusty Baker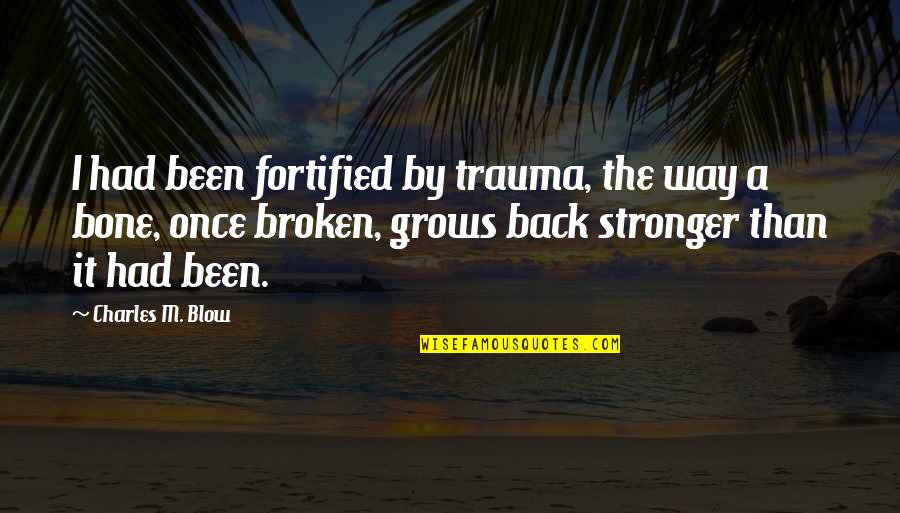 I had been fortified by trauma, the way a bone, once broken, grows back stronger than it had been. —
Charles M. Blow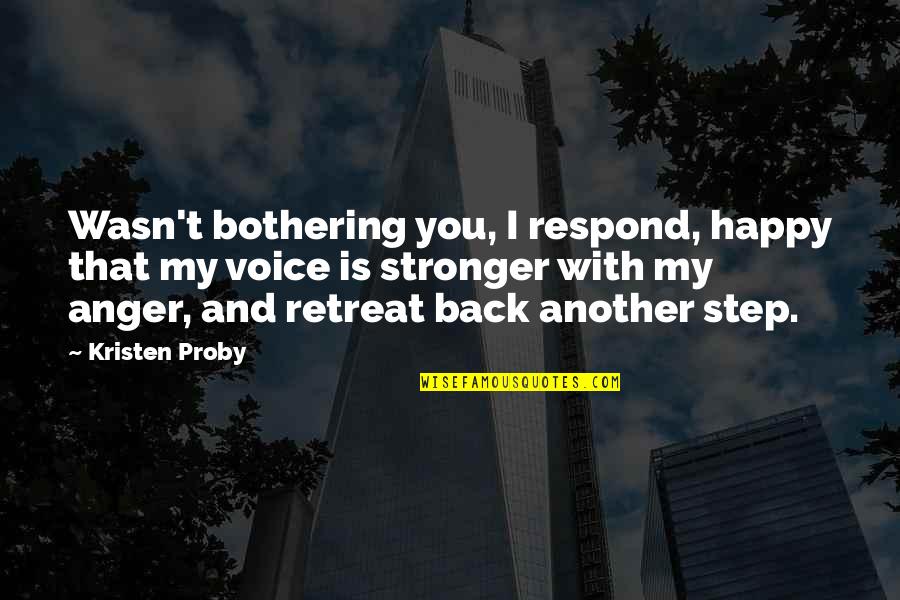 Wasn't bothering you, I respond, happy that my voice is stronger with my anger, and retreat back another step. —
Kristen Proby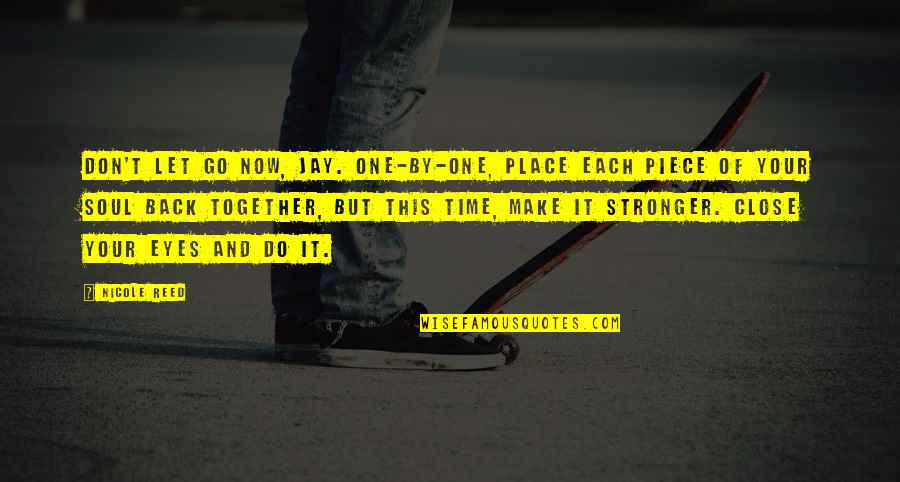 Don't let go now, Jay. One-by-one, place each piece of your soul back together, but this time, make it stronger. Close your eyes and do it. —
Nicole Reed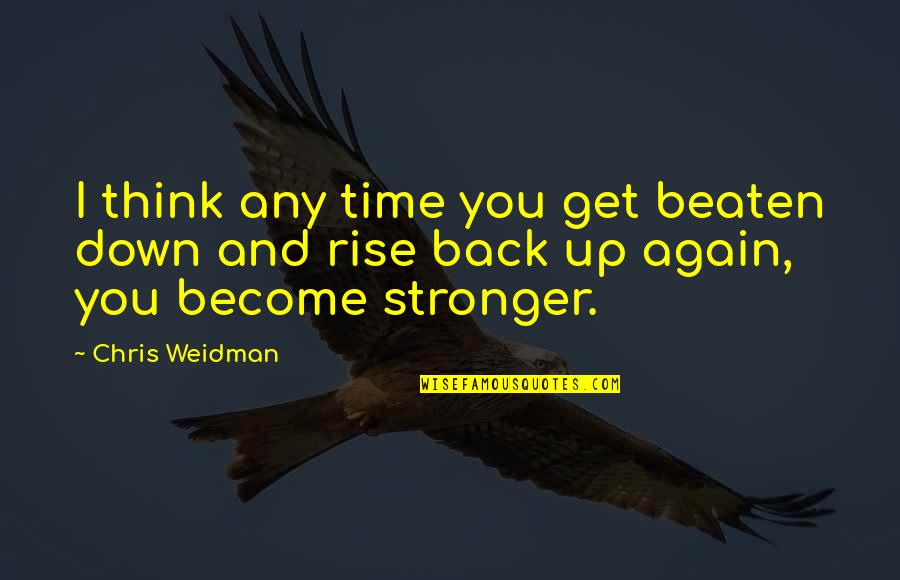 I think any time you get beaten down and rise back up again, you become stronger. —
Chris Weidman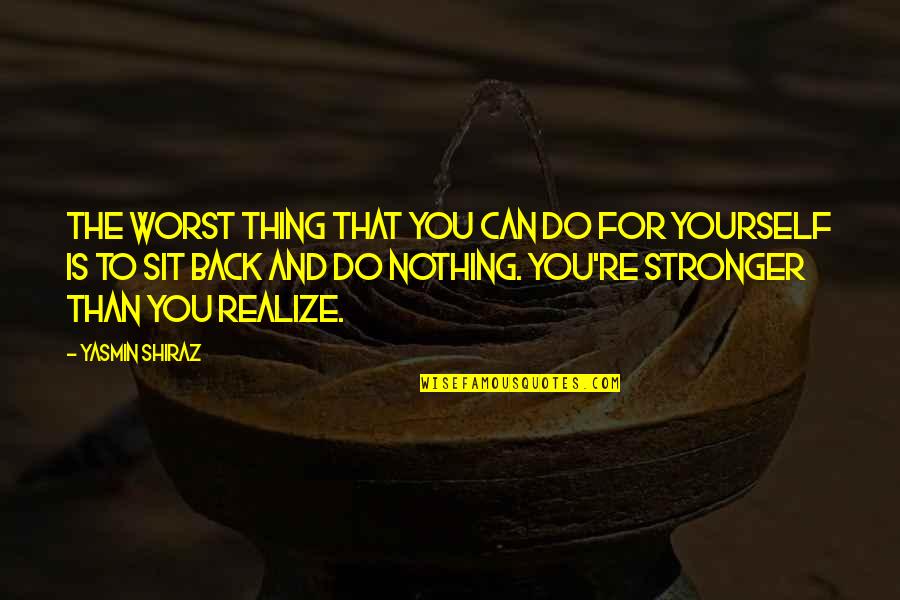 The worst thing that you can do for yourself is to sit back and do nothing. You're stronger than you realize. —
Yasmin Shiraz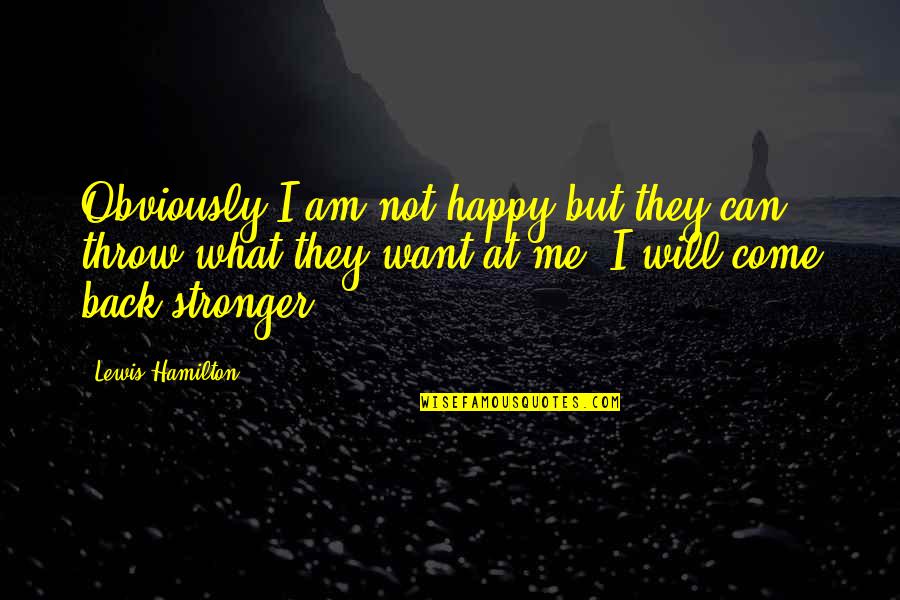 Obviously I am not happy but they can throw what they want at me, I will come back stronger. —
Lewis Hamilton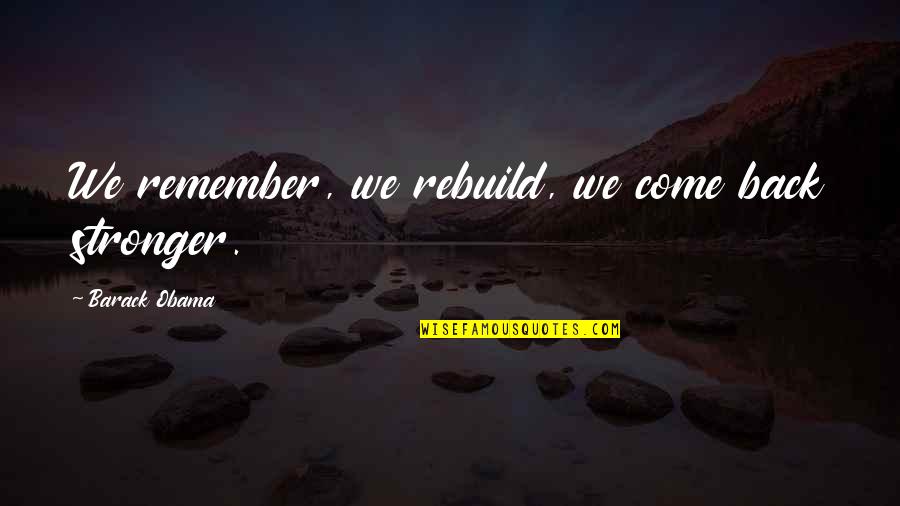 We remember, we rebuild, we come back stronger. —
Barack Obama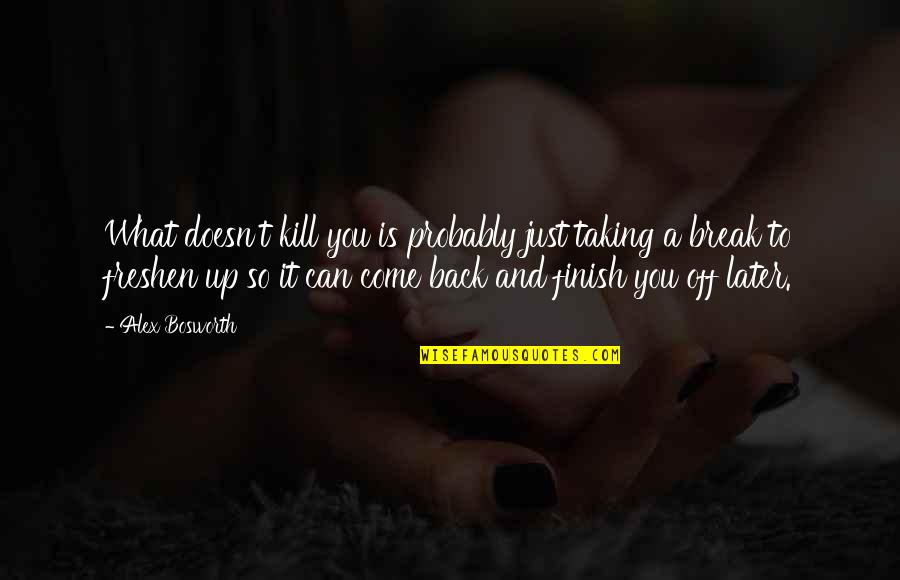 What doesn't kill you is probably just taking a break to freshen up so it can come back and finish you off later. —
Alex Bosworth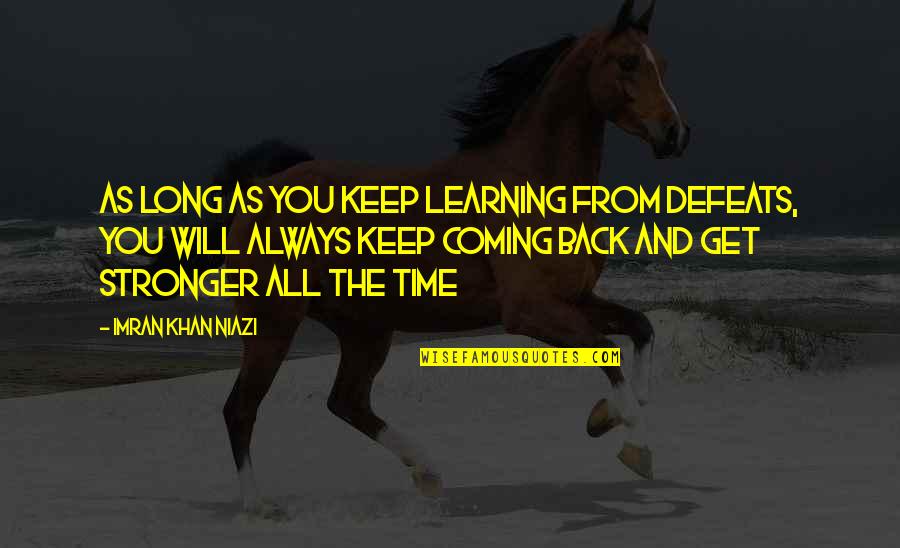 As long as you keep learning from defeats, you will always keep coming back and get stronger all the time —
Imran Khan Niazi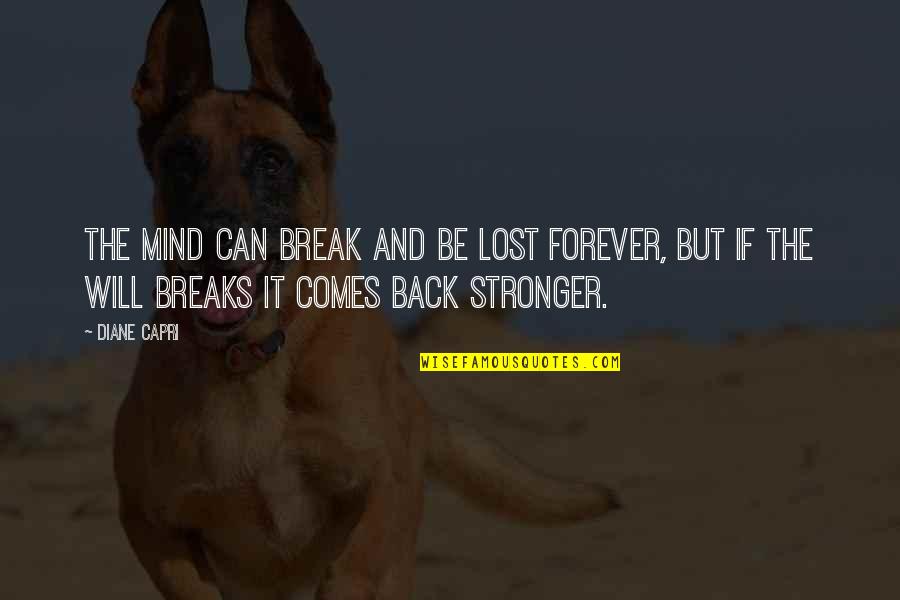 The mind can break and be lost forever, but if the will breaks it comes back stronger. —
Diane Capri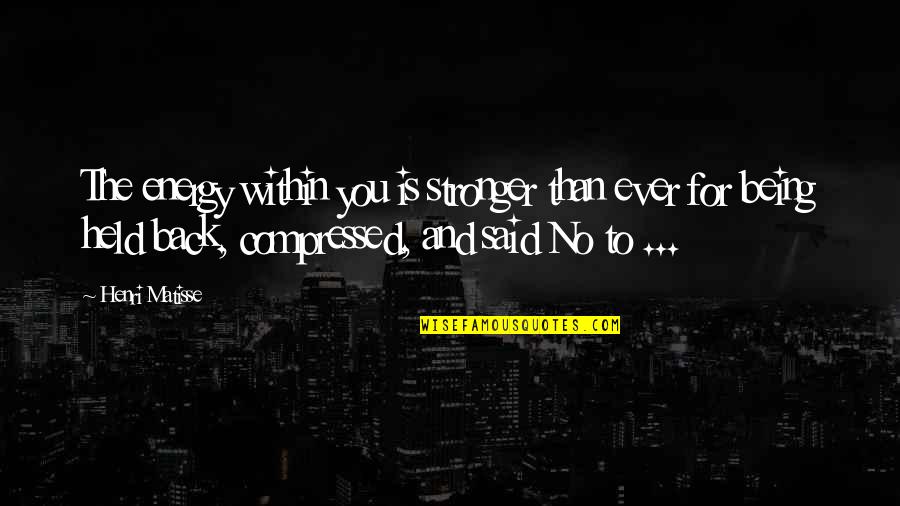 The energy within you is stronger than ever for being held back, compressed, and said No to ... —
Henri Matisse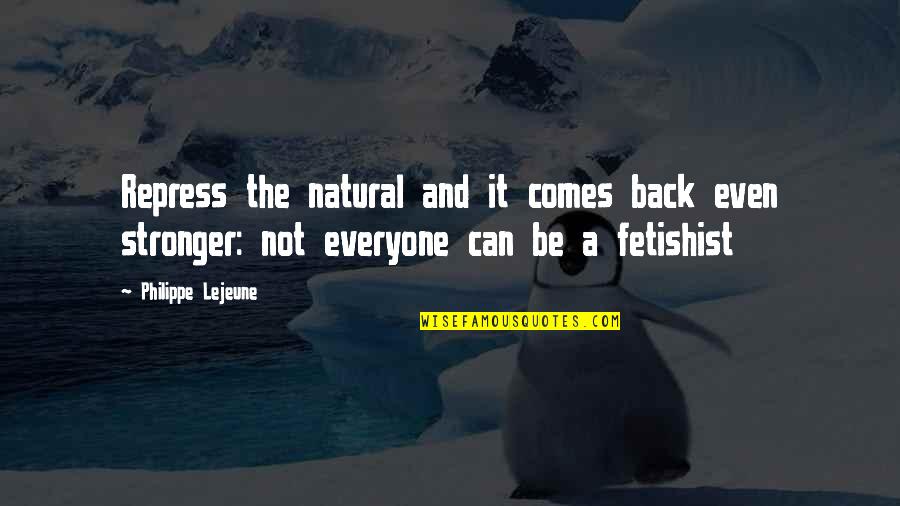 Repress the natural and it comes back even stronger: not everyone can be a fetishist —
Philippe Lejeune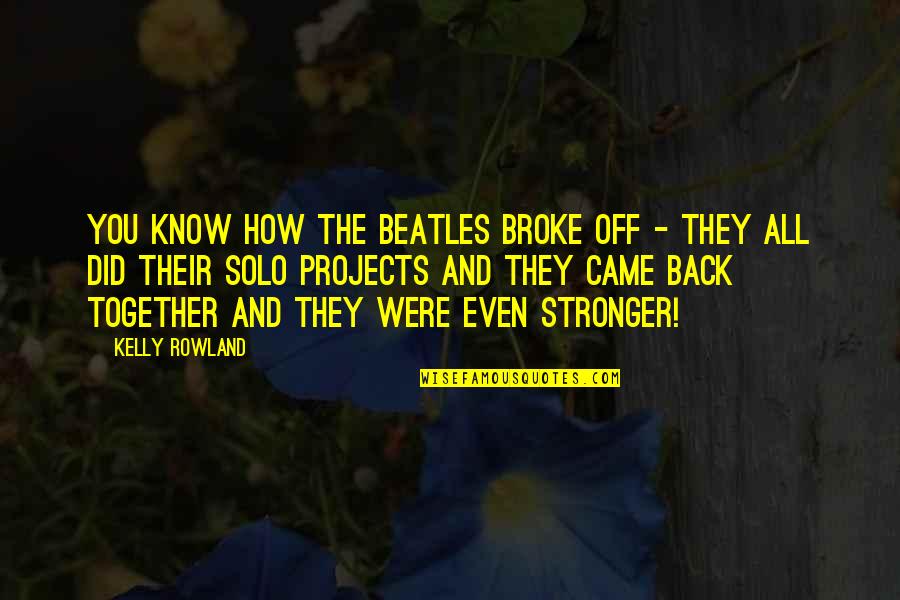 You know how the Beatles broke off - they all did their solo projects and they came back together and they were even stronger! —
Kelly Rowland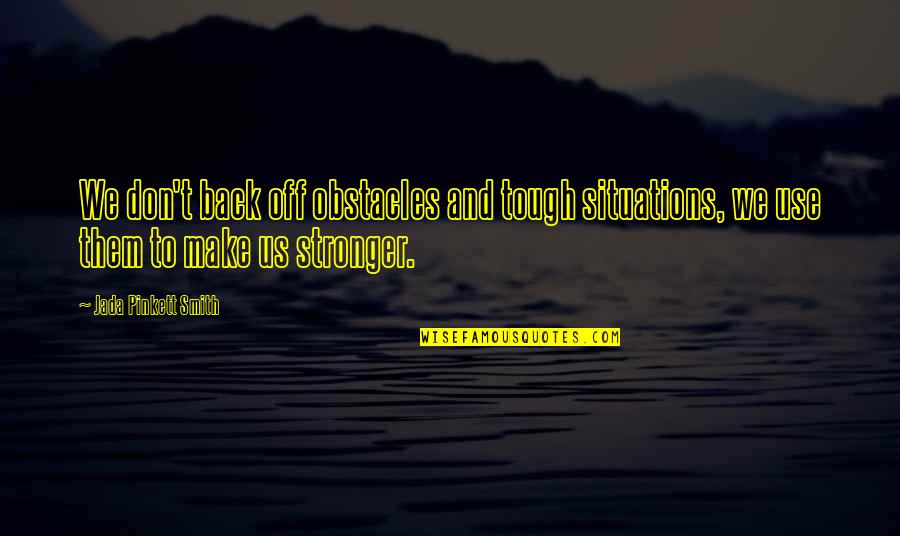 We don't back off obstacles and tough situations, we use them to make us stronger. —
Jada Pinkett Smith