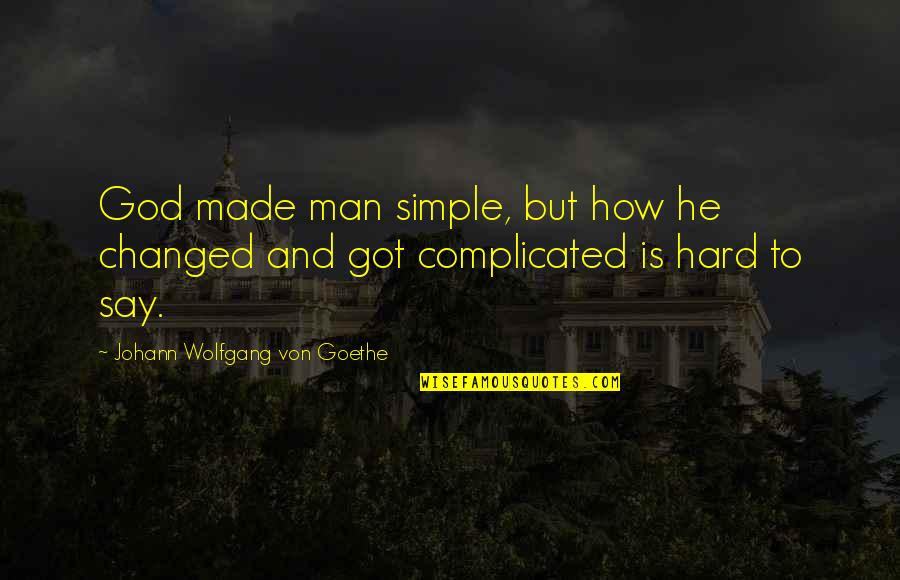 God made man simple, but how he changed and got complicated is hard to say.
—
Johann Wolfgang Von Goethe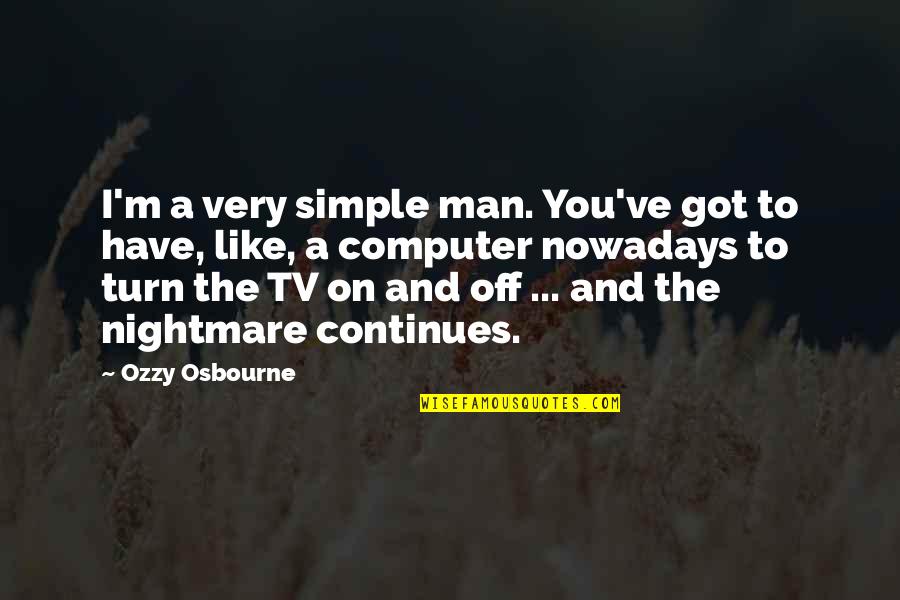 I'm a very simple man. You've got to have, like, a computer nowadays to turn the TV on and off ... and the nightmare continues.
—
Ozzy Osbourne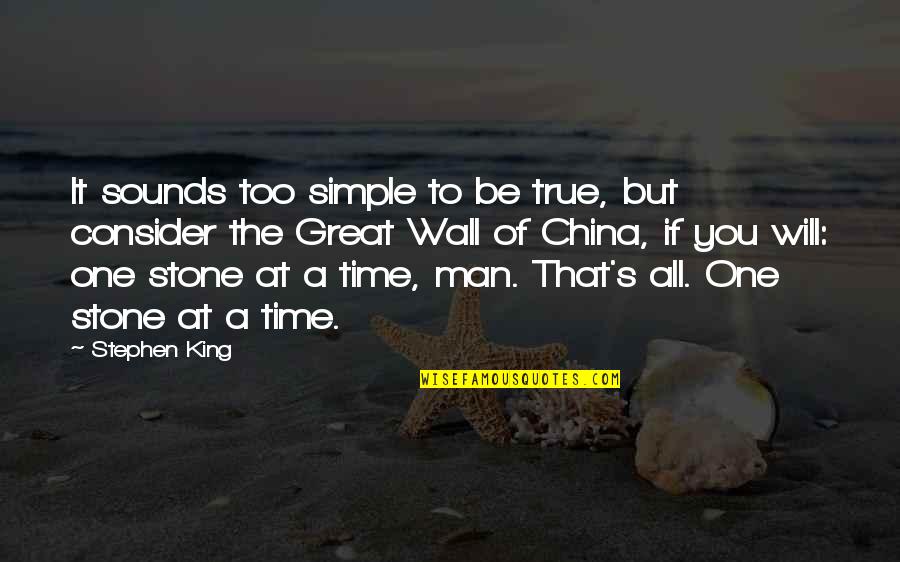 It sounds too simple to be true, but consider the Great Wall of China, if you will: one stone at a time, man. That's all. One stone at a time.
—
Stephen King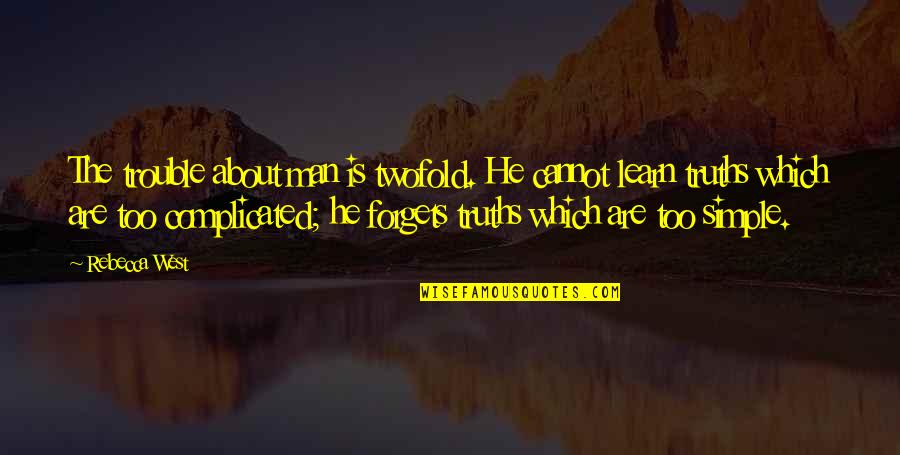 The trouble about man is twofold. He cannot learn truths which are too complicated; he forgets truths which are too simple.
—
Rebecca West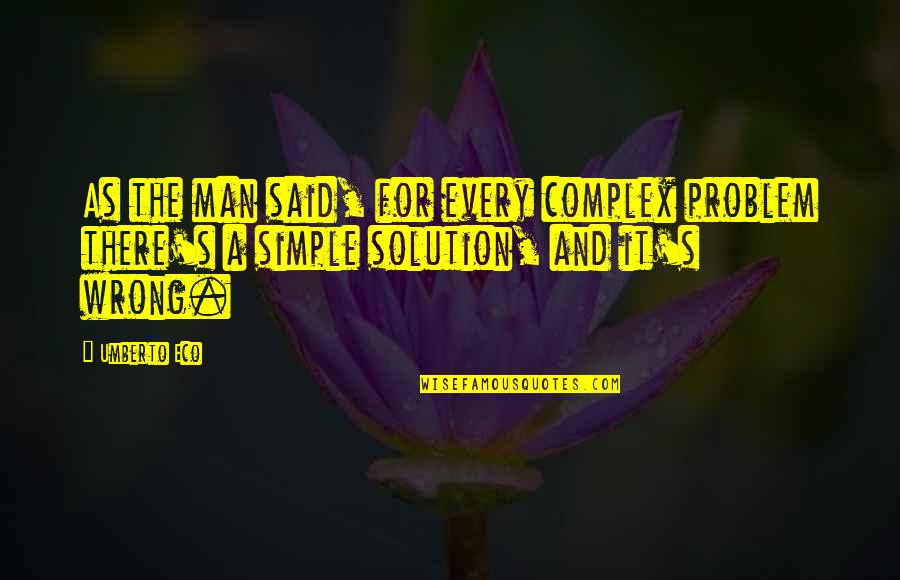 As the man said, for every complex problem there's a simple solution, and it's wrong.
—
Umberto Eco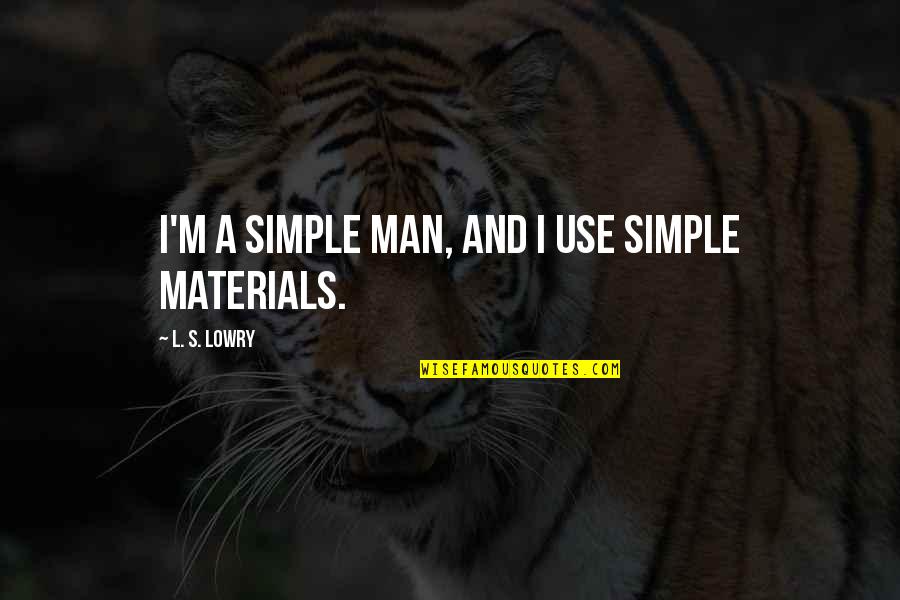 I'm a simple man, and I use simple materials.
—
L. S. Lowry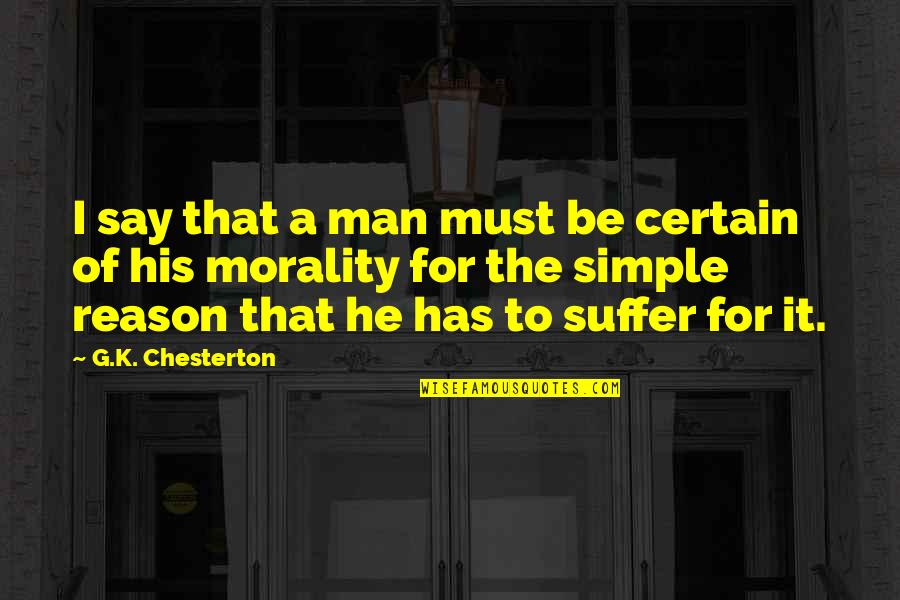 I say that a man must be certain of his morality for the simple reason that he has to suffer for it.
—
G.K. Chesterton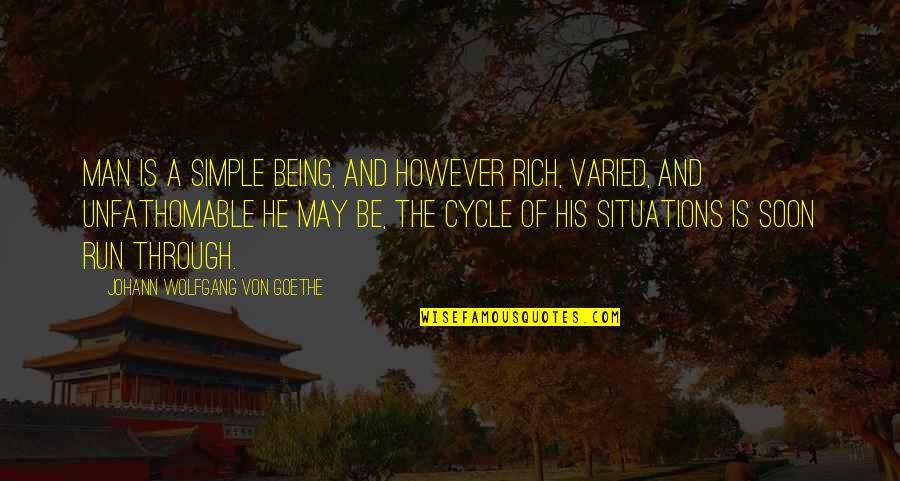 Man is a simple being, and however rich, varied, and unfathomable he may be, the cycle of his situations is soon run through.
—
Johann Wolfgang Von Goethe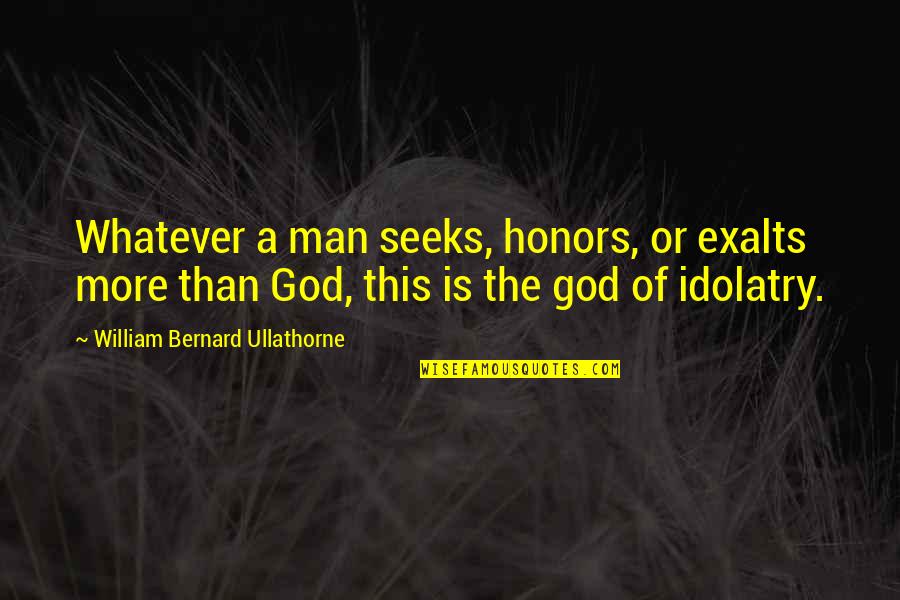 Whatever a man seeks, honors, or exalts more than God, this is the god of idolatry.
—
William Bernard Ullathorne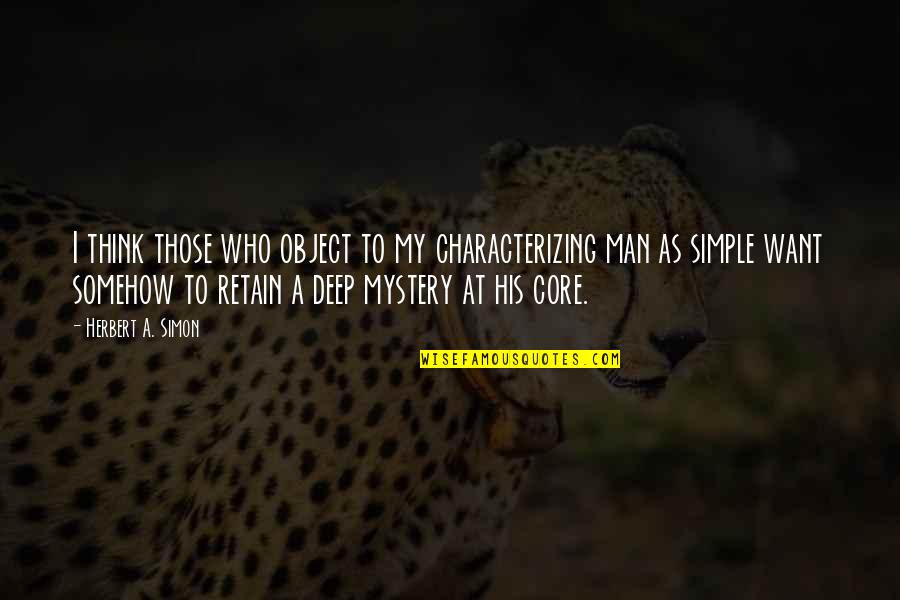 I think those who object to my characterizing man as simple want somehow to retain a deep mystery at his core.
—
Herbert A. Simon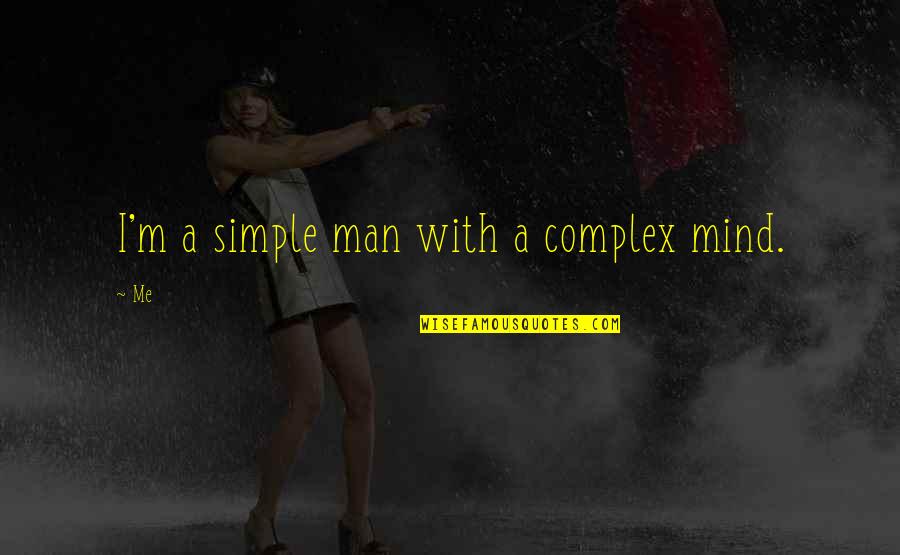 I'm a simple man with a complex mind.
—
Me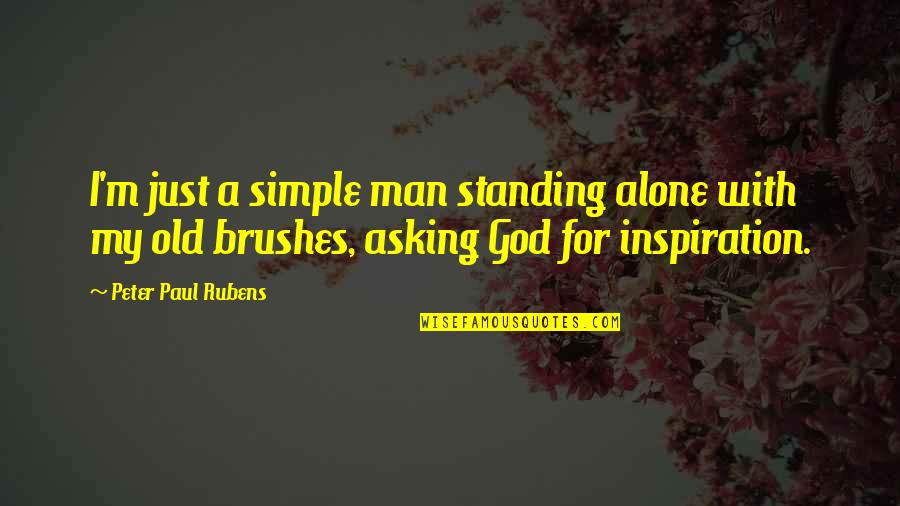 I'm just a simple man standing alone with my old brushes, asking God for inspiration.
—
Peter Paul Rubens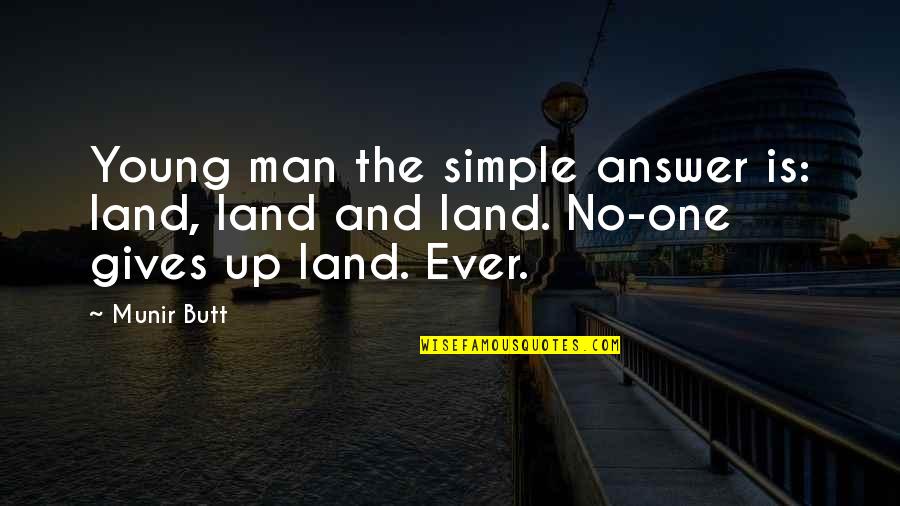 Young man the simple answer is: land, land and land. No-one gives up land. Ever.
—
Munir Butt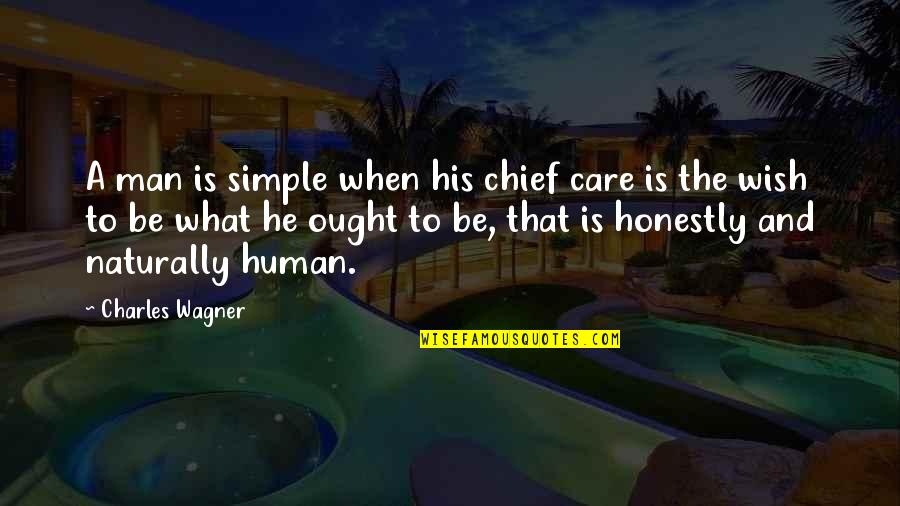 A man is simple when his chief care is the wish to be what he ought to be, that is honestly and naturally human. —
Charles Wagner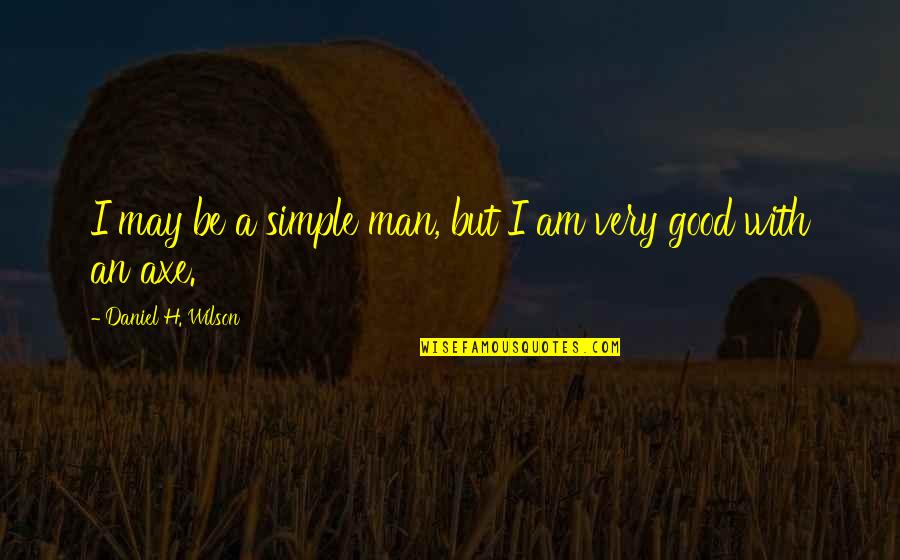 I may be a simple man, but I am very good with an axe. —
Daniel H. Wilson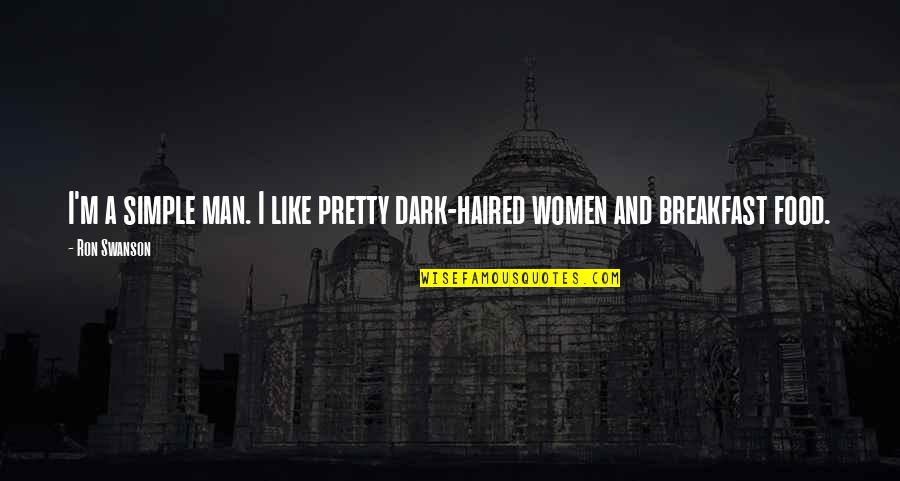 I'm a simple man. I like pretty dark-haired women and breakfast food. —
Ron Swanson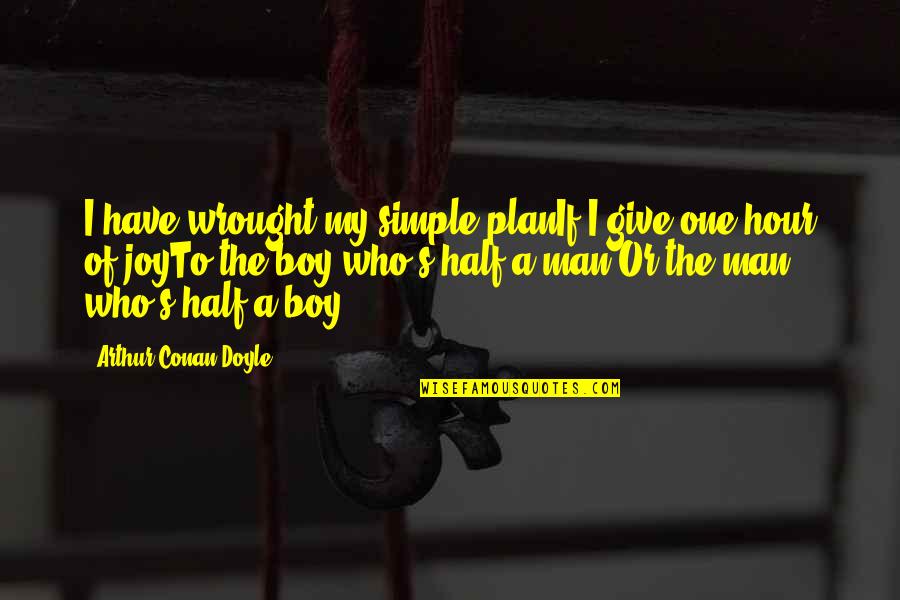 I have wrought my simple plan
If I give one hour of joy
To the boy who's half a man,
Or the man who's half a boy. —
Arthur Conan Doyle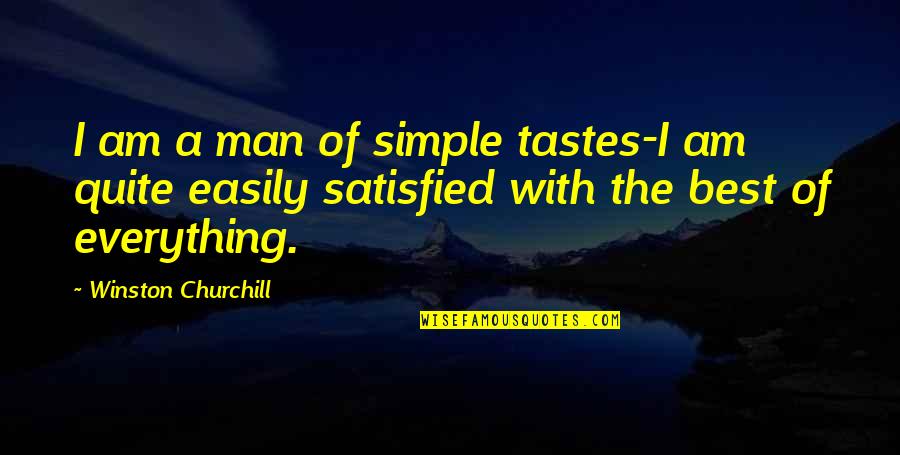 I am a man of simple tastes-I am quite easily satisfied with the best of everything. —
Winston Churchill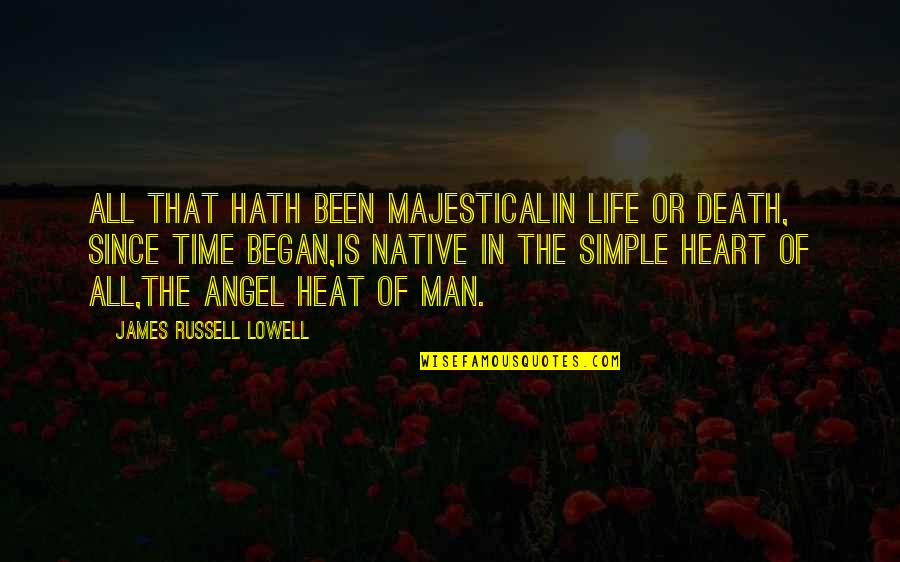 All that hath been majestical
In life or death, since time began,
Is native in the simple heart of all,
The angel heat of man. —
James Russell Lowell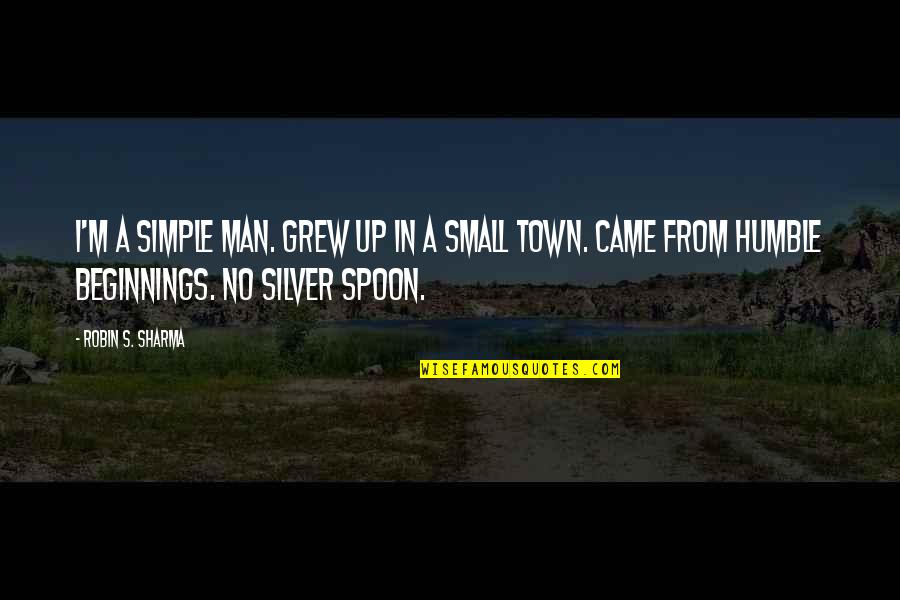 I'm a simple man. Grew up in a small town. Came from humble beginnings. No silver spoon. —
Robin S. Sharma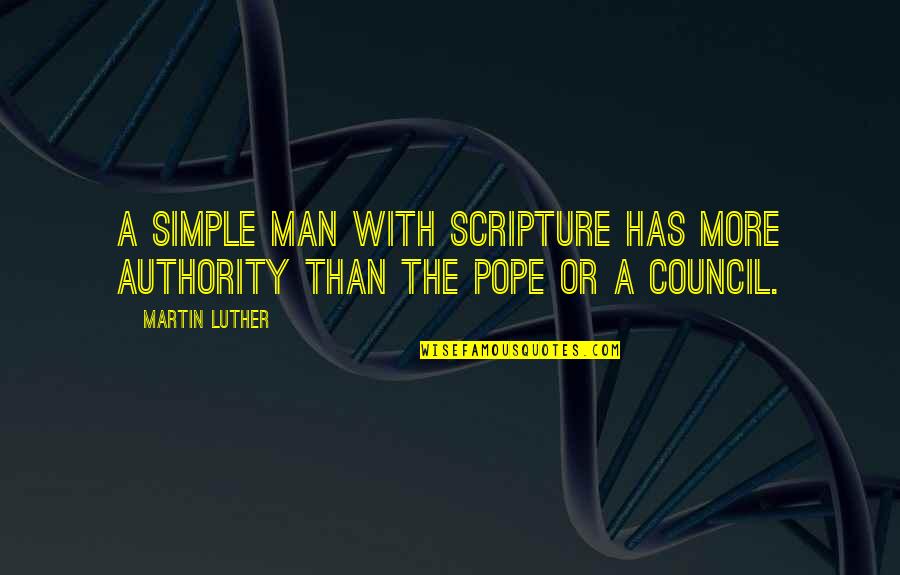 A simple man with Scripture has more authority than the Pope or a council. —
Martin Luther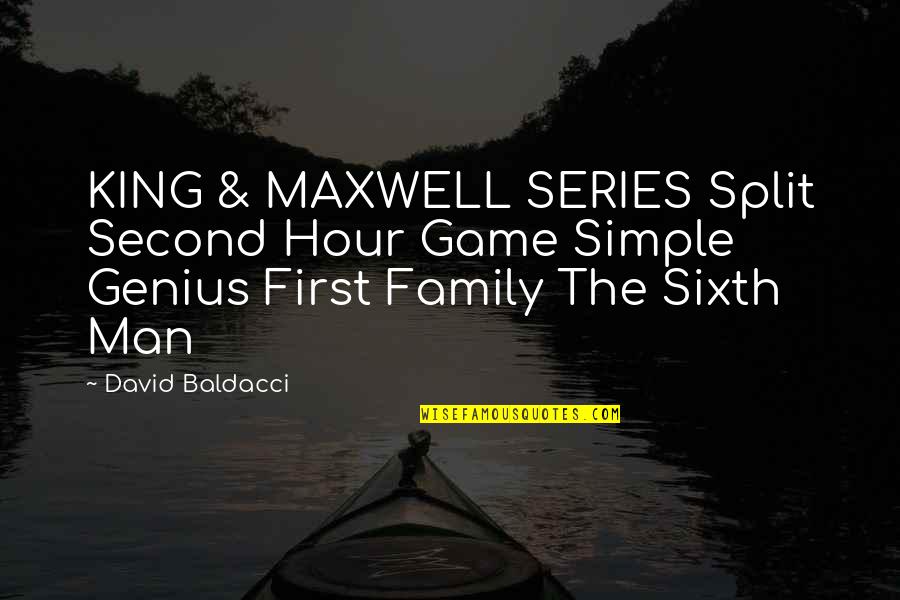 KING & MAXWELL SERIES Split Second Hour Game Simple Genius First Family The Sixth Man —
David Baldacci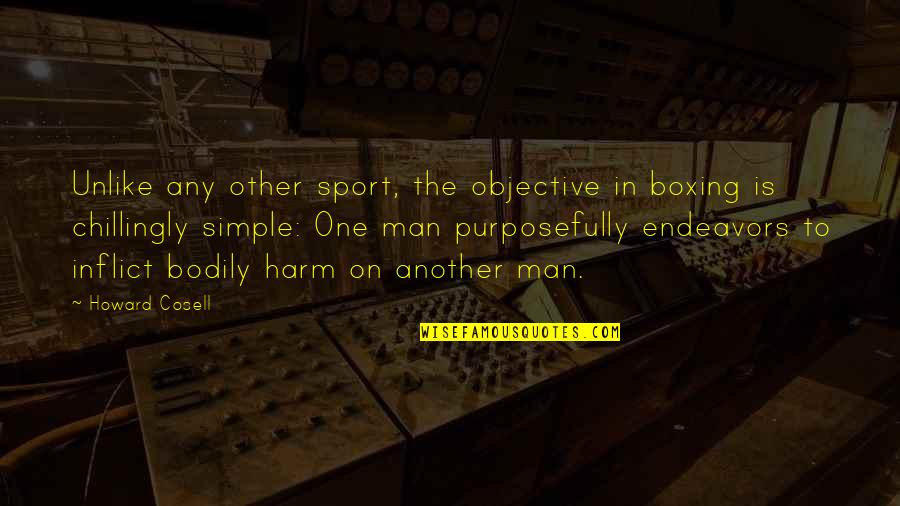 Unlike any other sport, the objective in boxing is chillingly simple: One man purposefully endeavors to inflict bodily harm on another man. —
Howard Cosell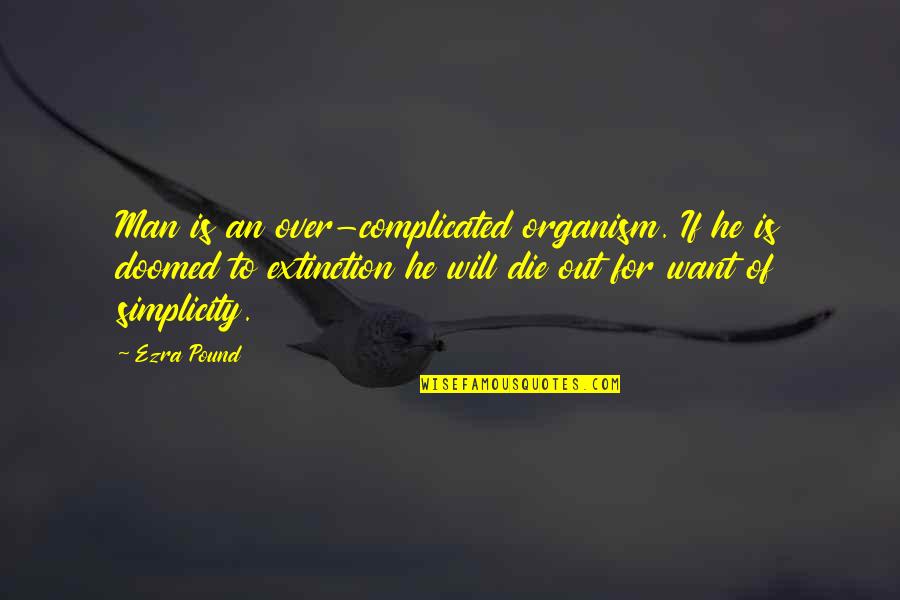 Man is an over-complicated organism. If he is doomed to extinction he will die out for want of simplicity. —
Ezra Pound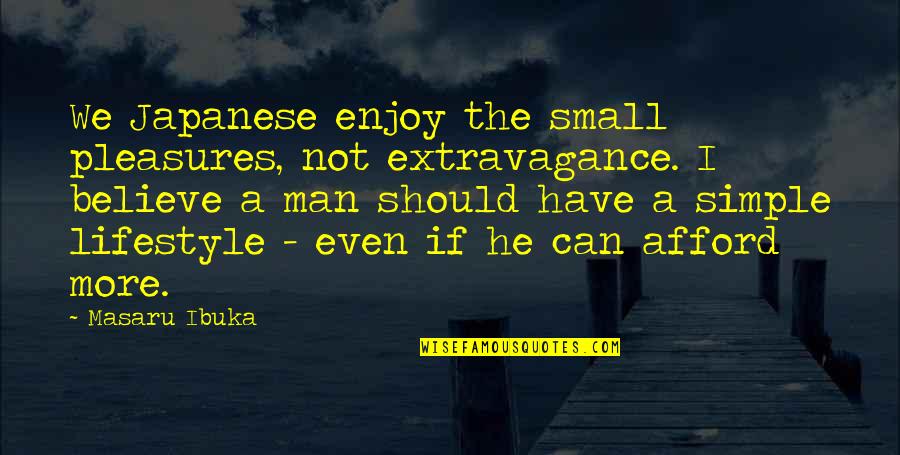 We Japanese enjoy the small pleasures, not extravagance. I believe a man should have a simple lifestyle - even if he can afford more. —
Masaru Ibuka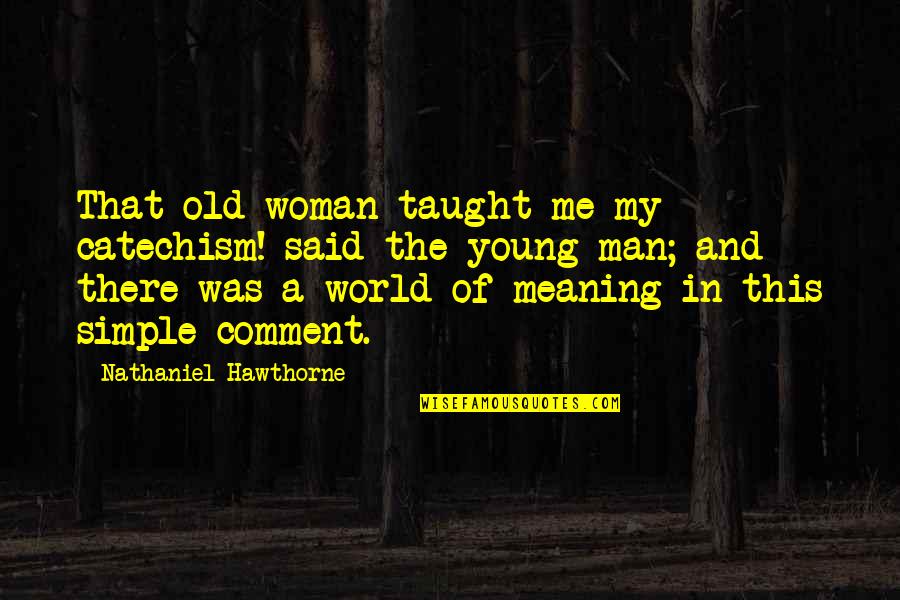 That old woman taught me my catechism! said the young man; and there was a world of meaning in this simple comment. —
Nathaniel Hawthorne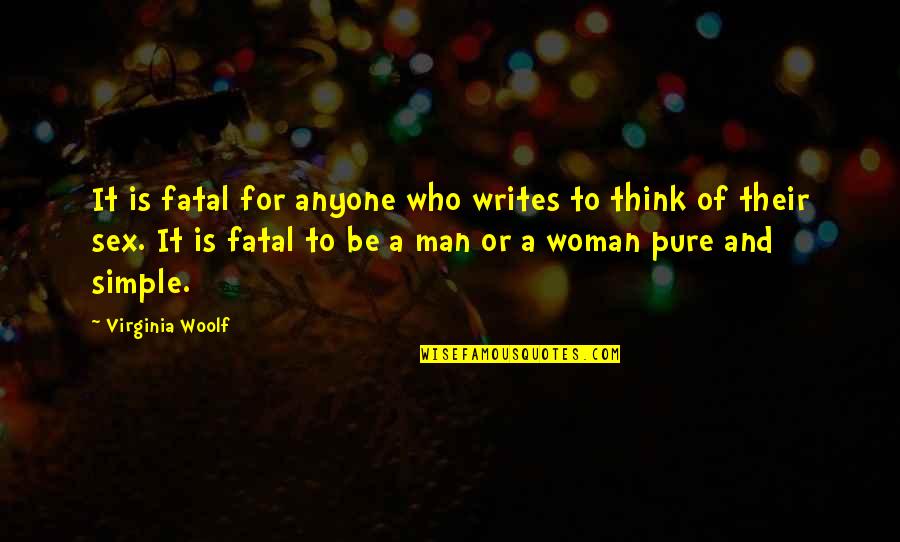 It is fatal for anyone who writes to think of their sex. It is fatal to be a man or a woman pure and simple. —
Virginia Woolf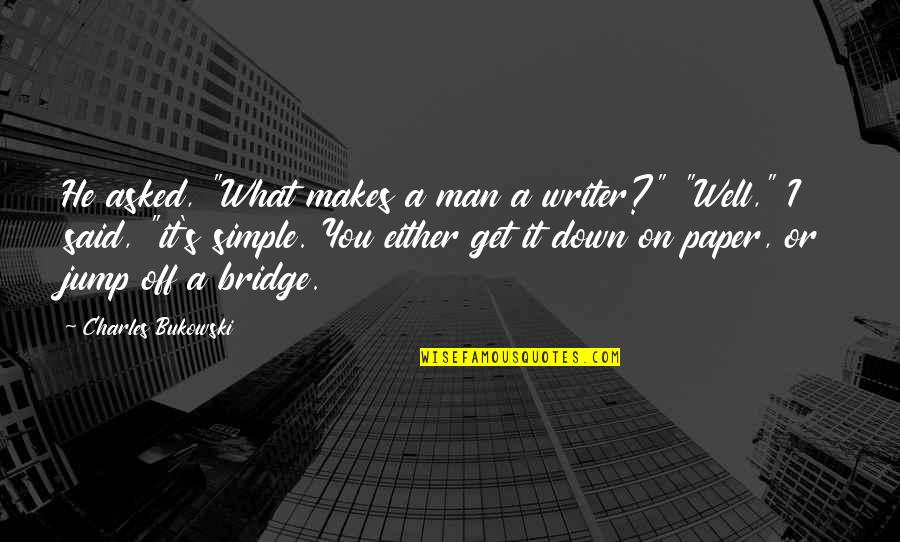 He asked, "What makes a man a writer?" "Well," I said, "it's simple. You either get it down on paper, or jump off a bridge. —
Charles Bukowski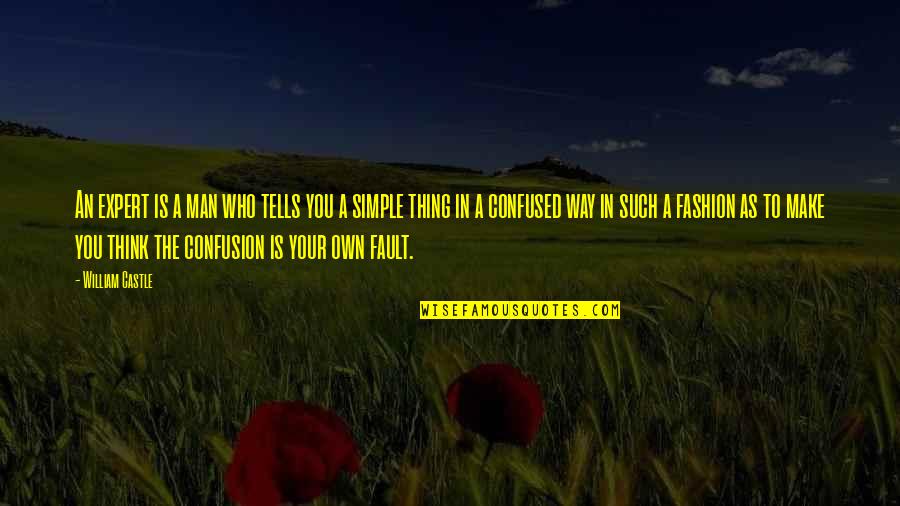 An expert is a man who tells you a simple thing in a confused way in such a fashion as to make you think the confusion is your own fault. —
William Castle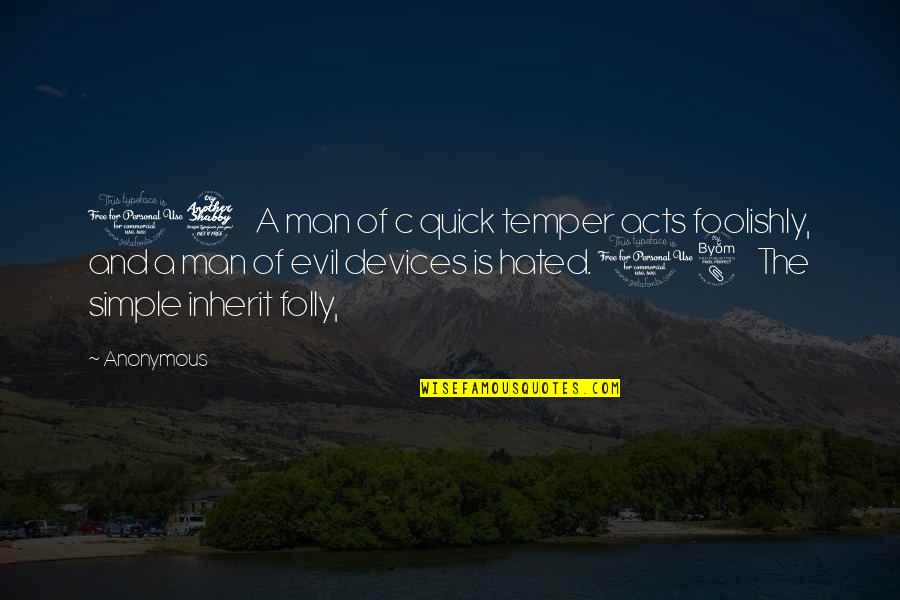 17 A man of c quick temper acts foolishly, and a man of evil devices is hated. 18 The simple inherit folly, —
Anonymous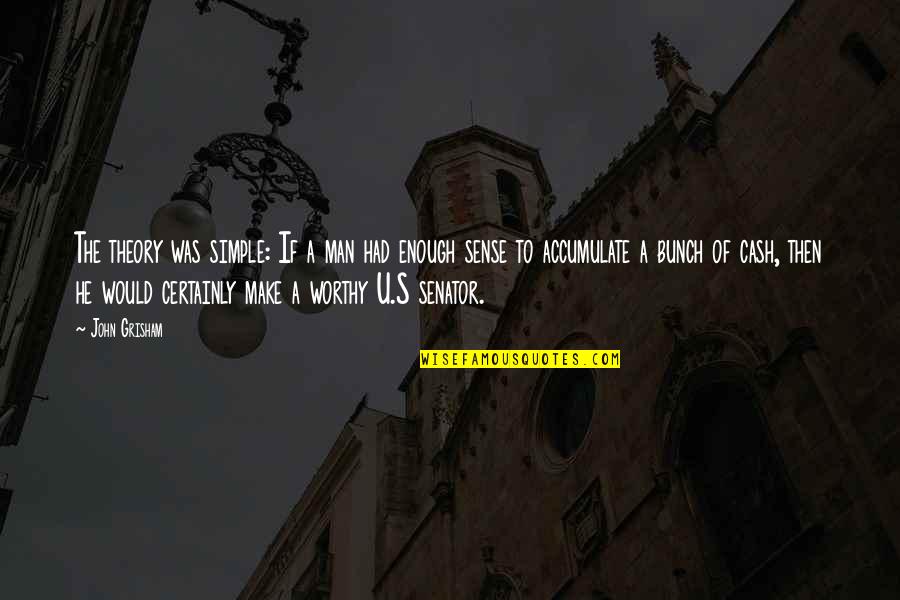 The theory was simple: If a man had enough sense to accumulate a bunch of cash, then he would certainly make a worthy U.S senator. —
John Grisham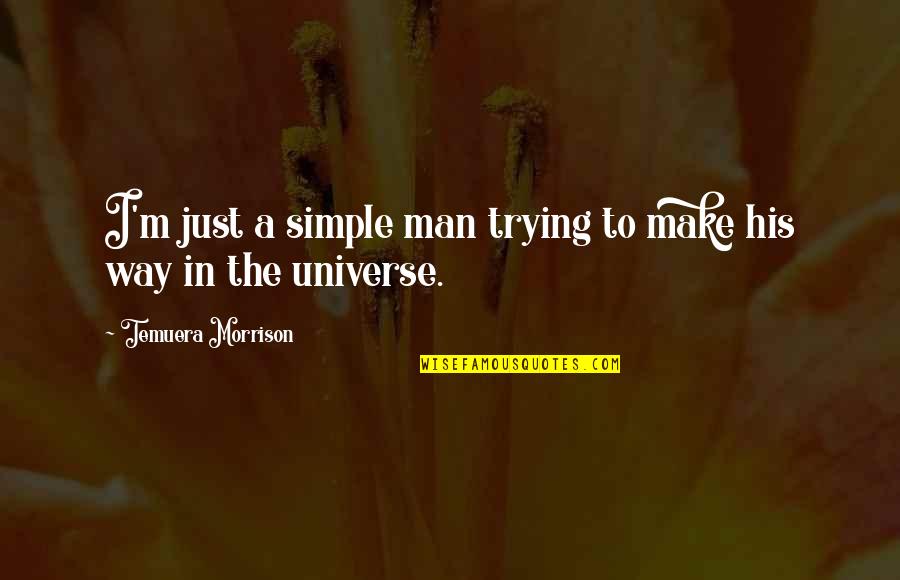 I'm just a simple man trying to make his way in the universe. —
Temuera Morrison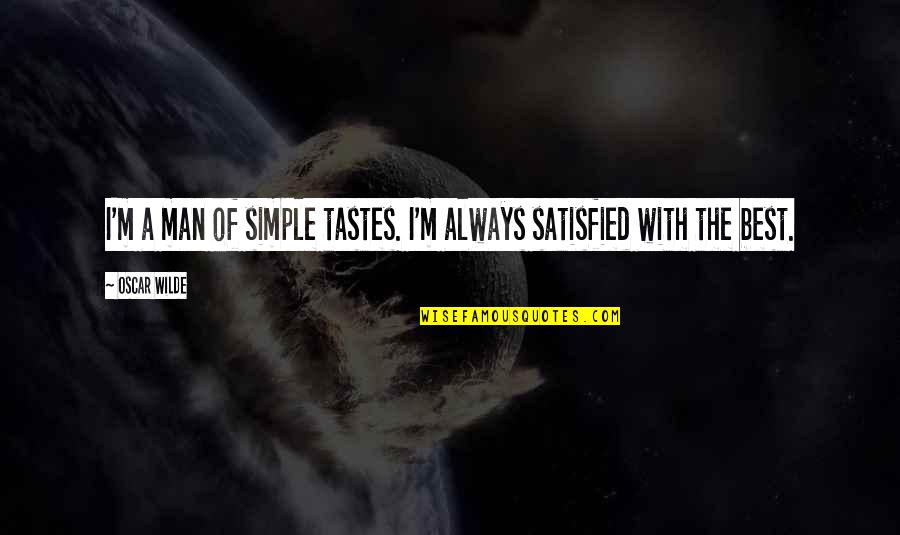 I'm a man of simple tastes. I'm always satisfied with the best. —
Oscar Wilde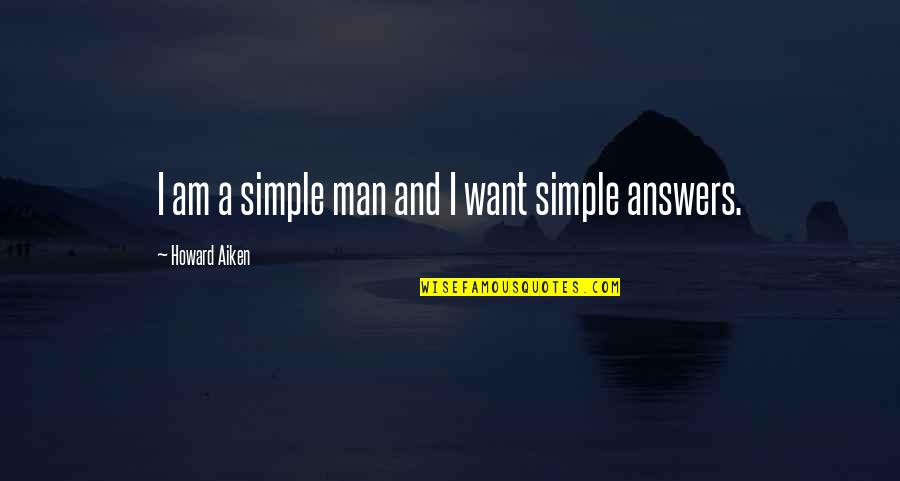 I am a simple man and I want simple answers. —
Howard Aiken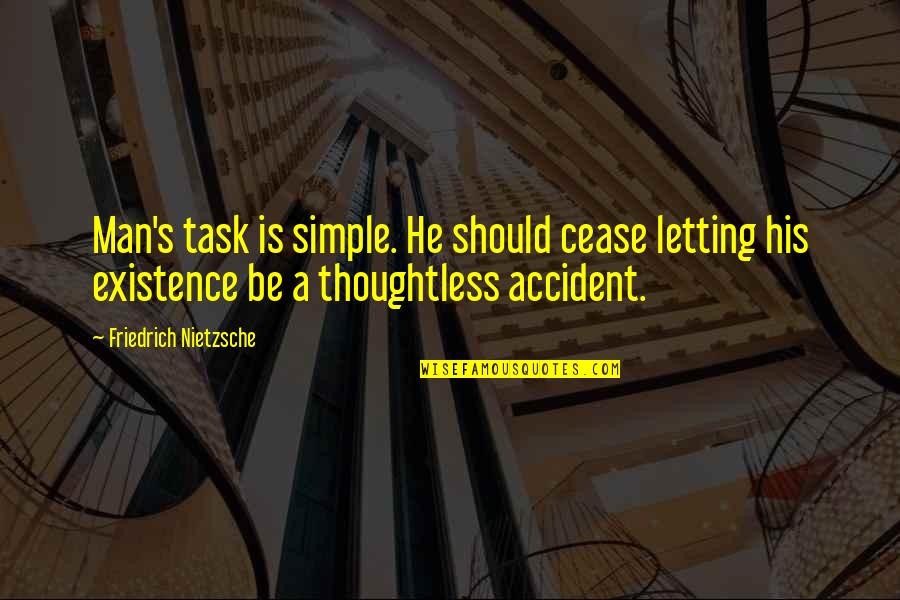 Man's task is simple. He should cease letting his existence be a thoughtless accident. —
Friedrich Nietzsche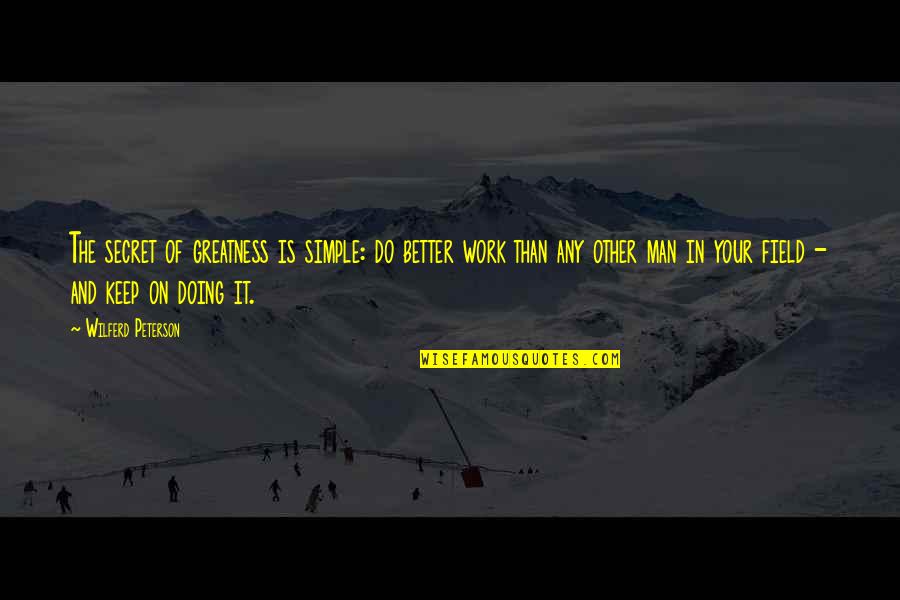 The secret of greatness is simple: do better work than any other man in your field - and keep on doing it.
—
Wilferd Peterson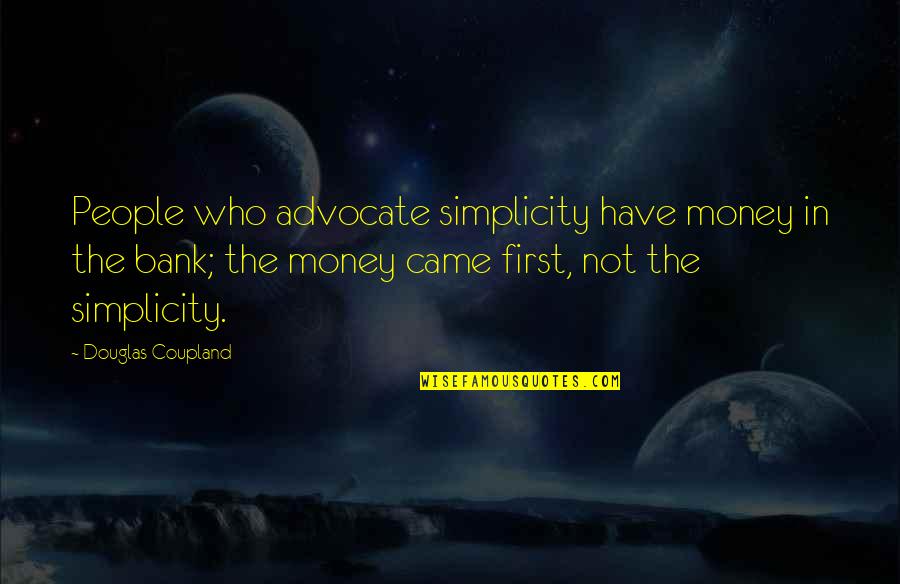 People who advocate simplicity have money in the bank; the money came first, not the simplicity. —
Douglas Coupland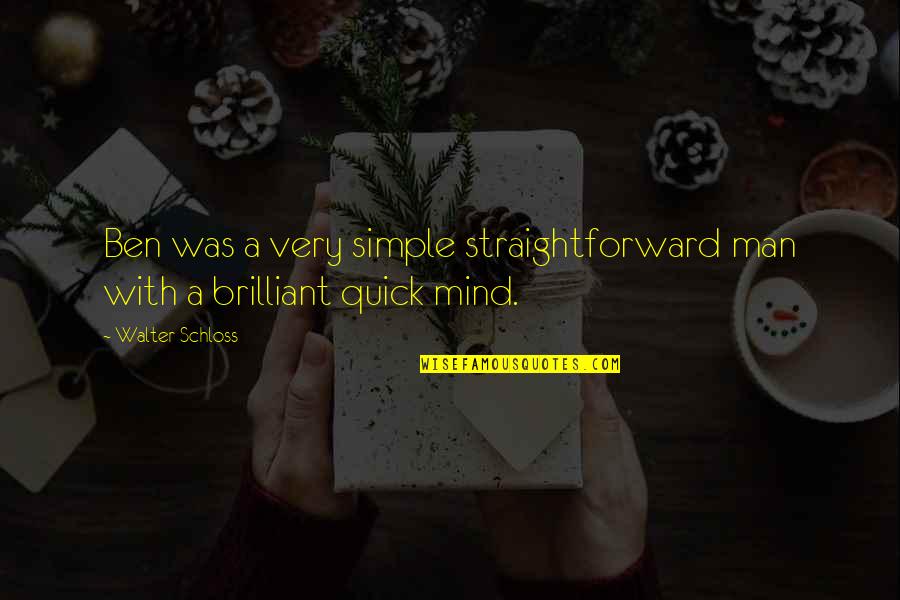 Ben was a very simple straightforward man with a brilliant quick mind. —
Walter Schloss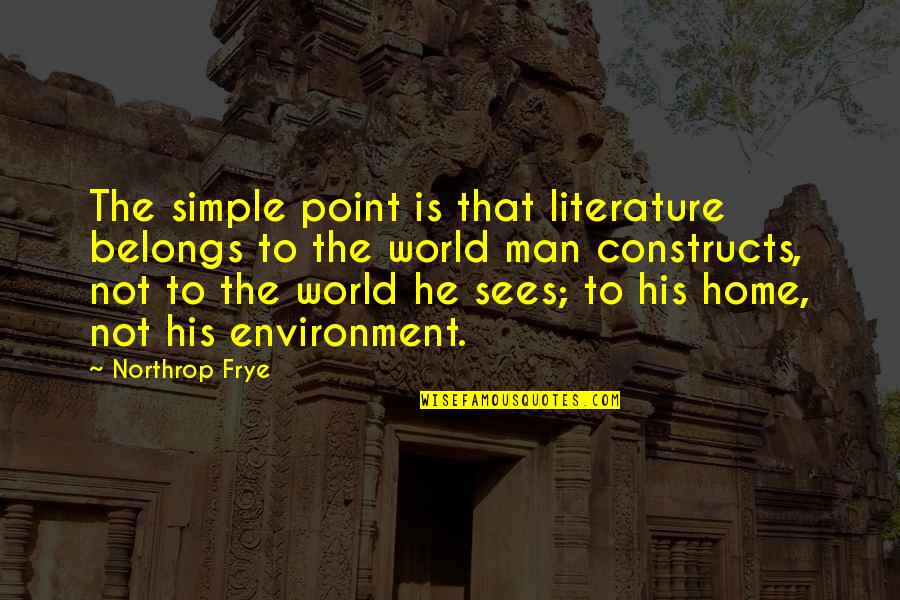 The simple point is that literature belongs to the world man constructs, not to the world he sees; to his home, not his environment. —
Northrop Frye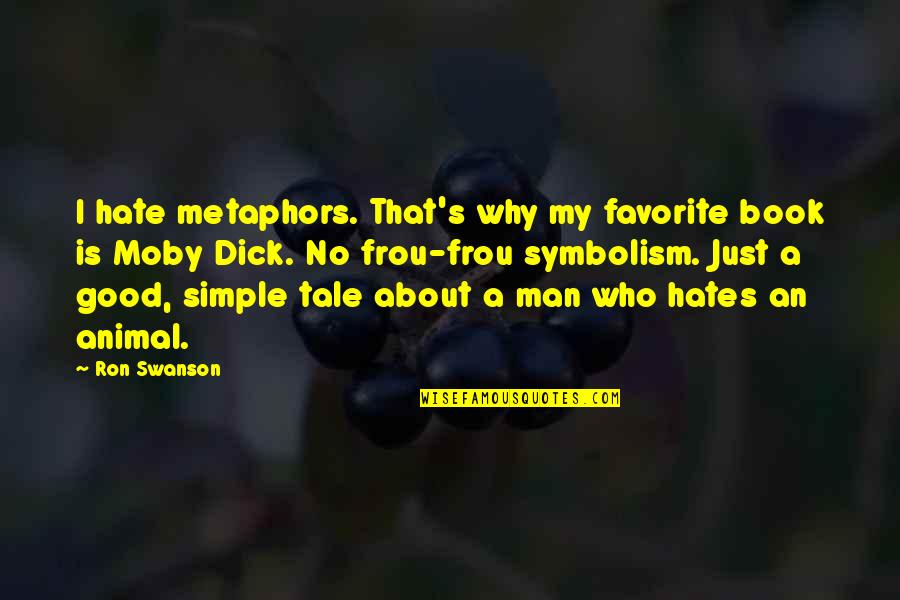 I hate metaphors. That's why my favorite book is Moby Dick. No frou-frou symbolism. Just a good, simple tale about a man who hates an animal. —
Ron Swanson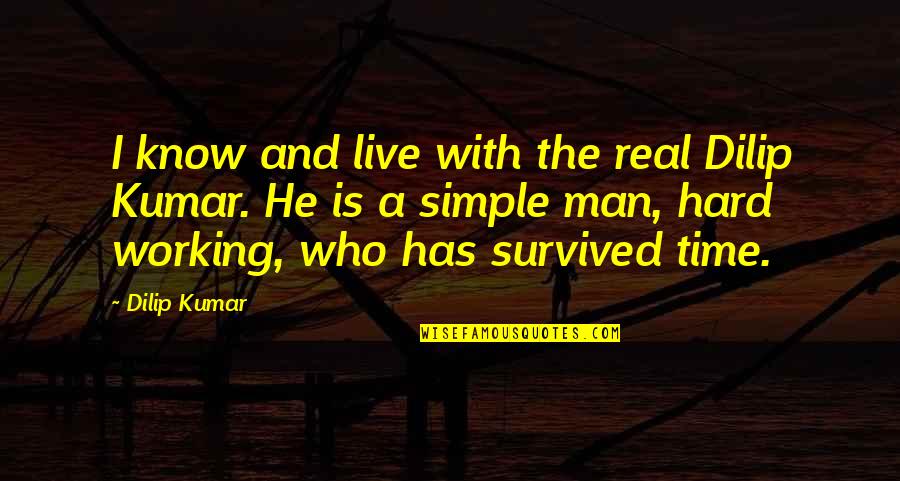 I know and live with the real Dilip Kumar. He is a simple man, hard working, who has survived time. —
Dilip Kumar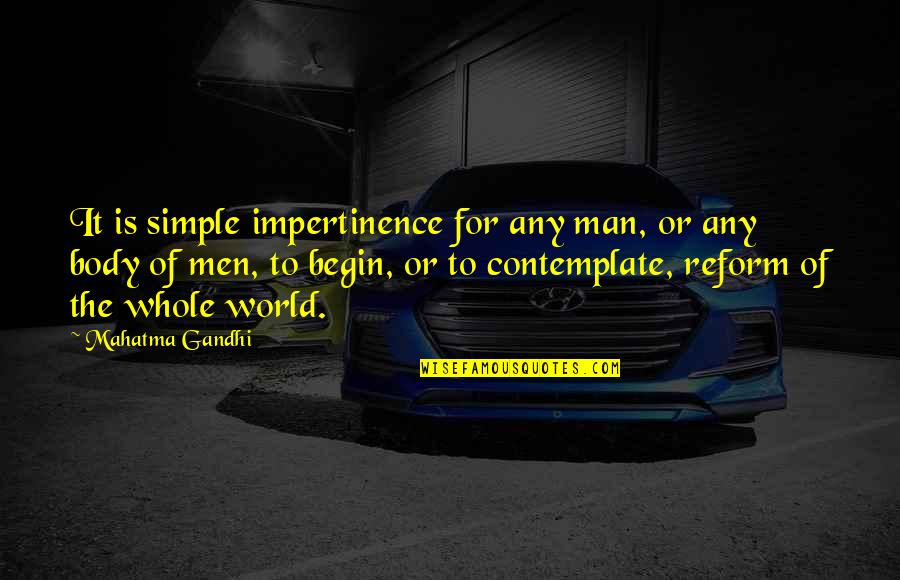 It is simple impertinence for any man, or any body of men, to begin, or to contemplate, reform of the whole world. —
Mahatma Gandhi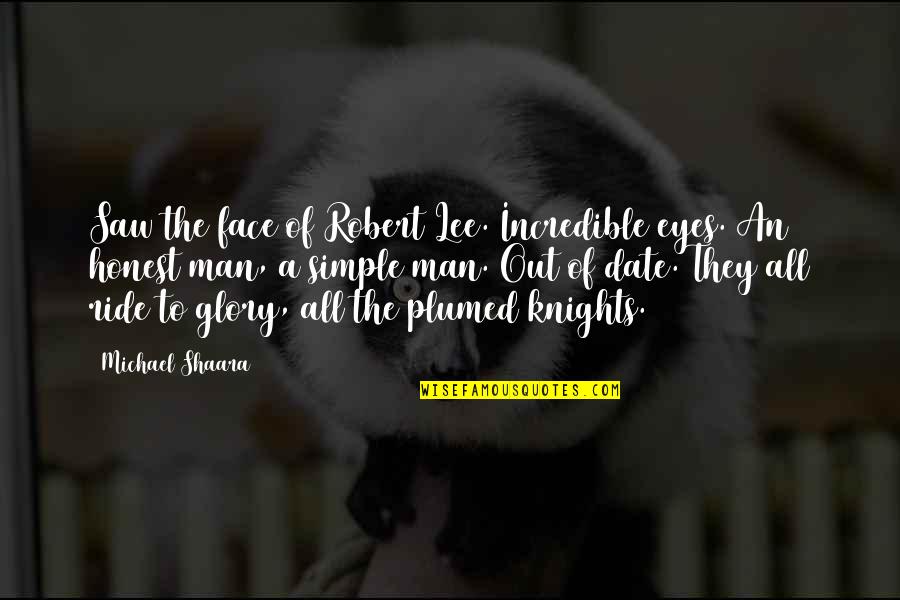 Saw the face of Robert Lee. Incredible eyes. An honest man, a simple man. Out of date. They all ride to glory, all the plumed knights. —
Michael Shaara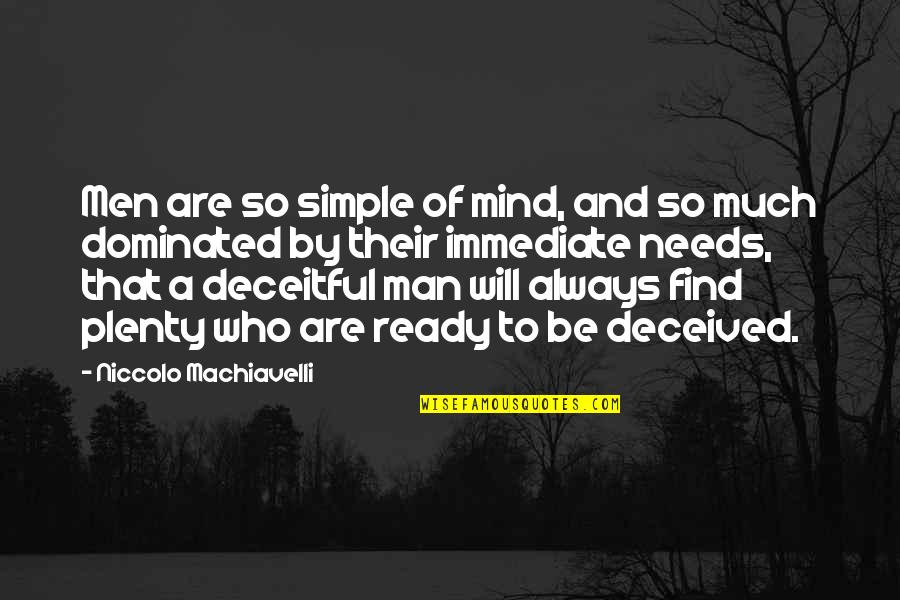 Men are so simple of mind, and so much dominated by their immediate needs, that a deceitful man will always find plenty who are ready to be deceived. —
Niccolo Machiavelli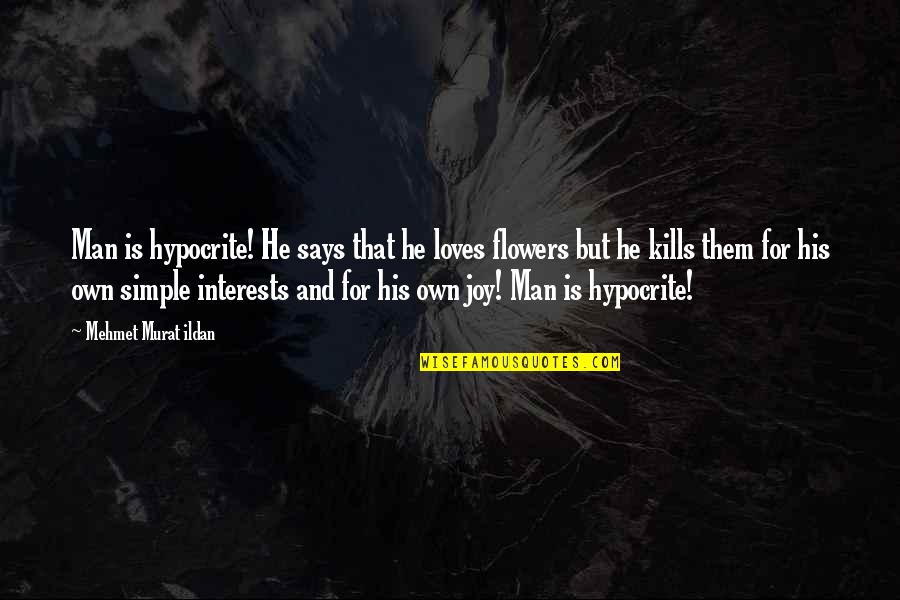 Man is hypocrite! He says that he loves flowers but he kills them for his own simple interests and for his own joy! Man is hypocrite! —
Mehmet Murat Ildan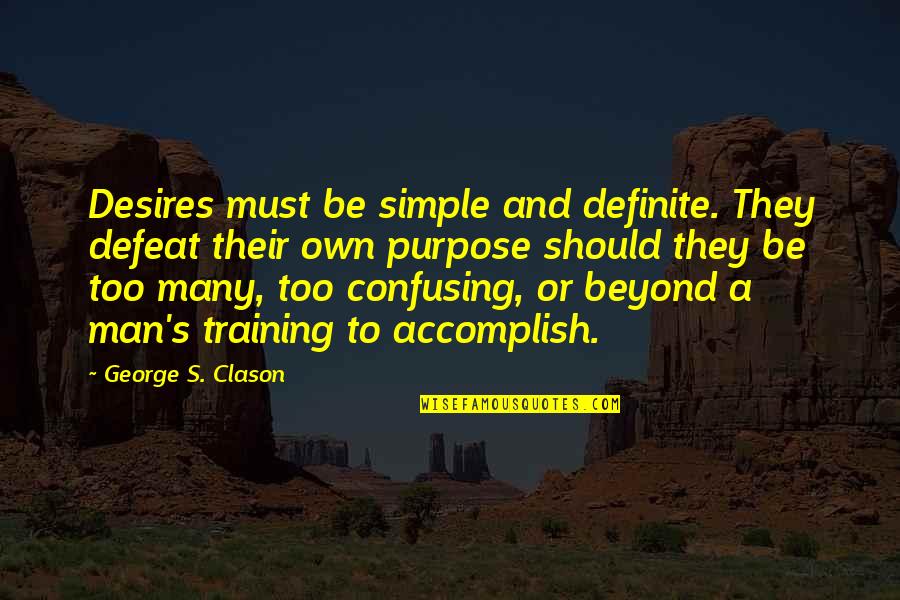 Desires must be simple and definite. They defeat their own purpose should they be too many, too confusing, or beyond a man's training to accomplish. —
George S. Clason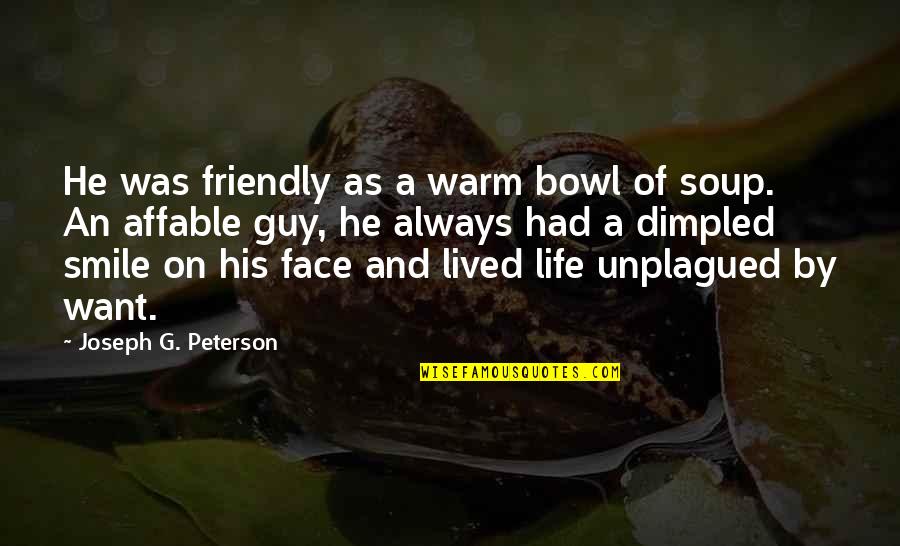 He was friendly as a warm bowl of soup. An affable guy, he always had a dimpled smile on his face and lived life unplagued by want. —
Joseph G. Peterson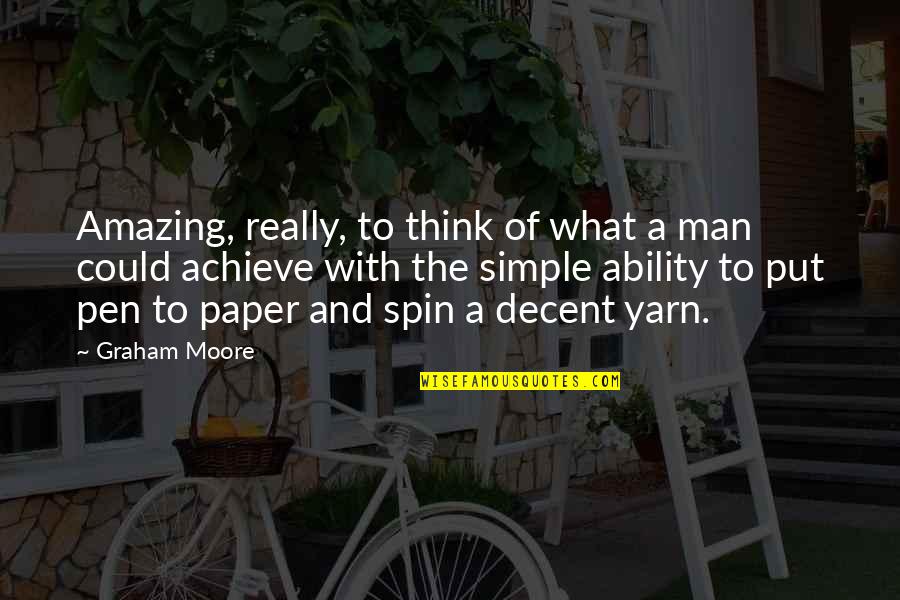 Amazing, really, to think of what a man could achieve with the simple ability to put pen to paper and spin a decent yarn. —
Graham Moore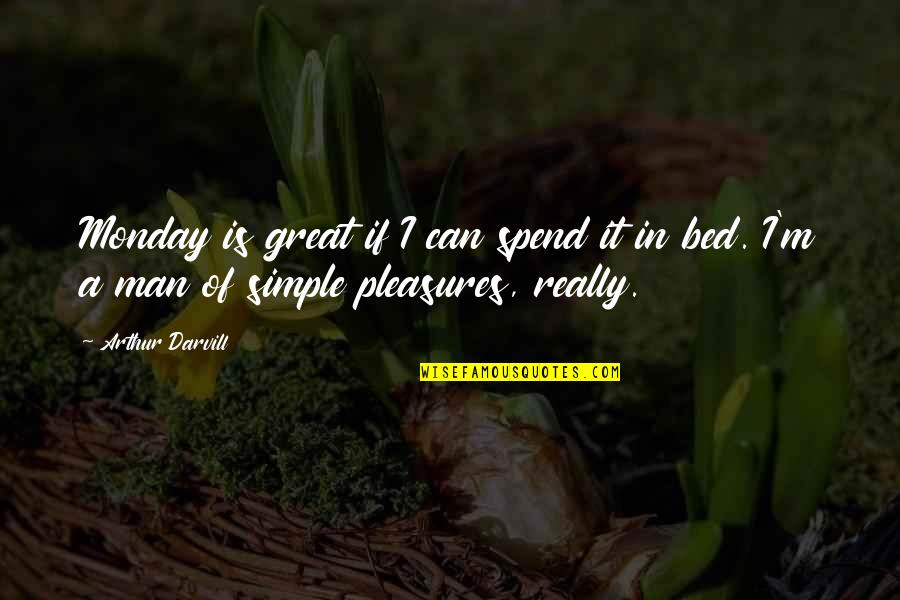 Monday is great if I can spend it in bed. I'm a man of simple pleasures, really. —
Arthur Darvill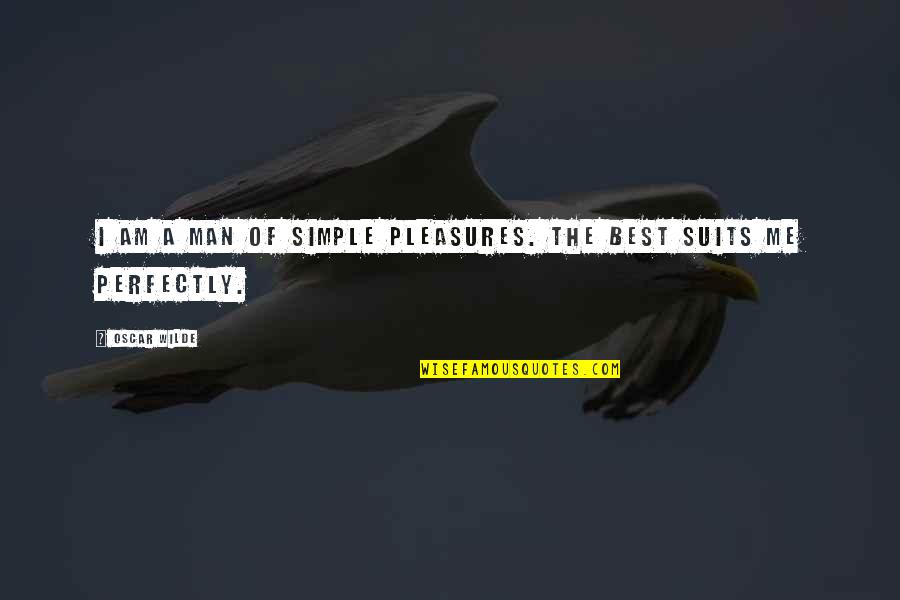 I am a man of simple pleasures. The best suits me perfectly. —
Oscar Wilde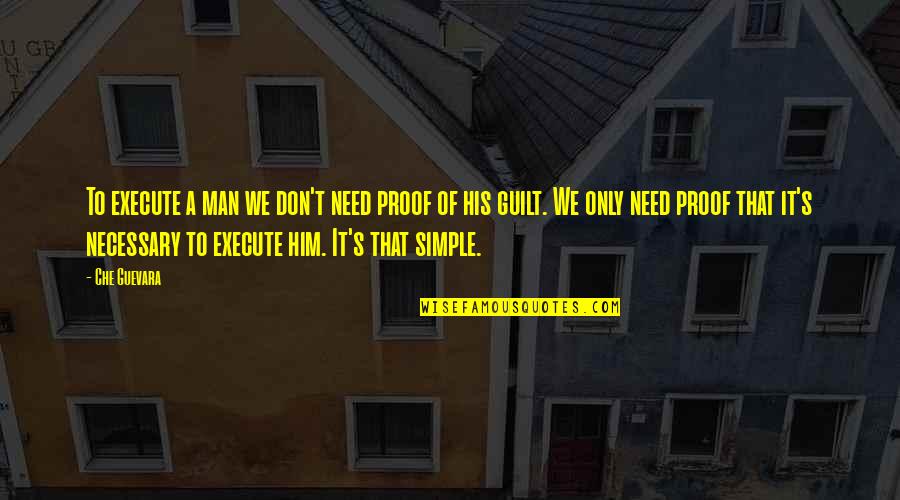 To execute a man we don't need proof of his guilt. We only need proof that it's necessary to execute him. It's that simple. —
Che Guevara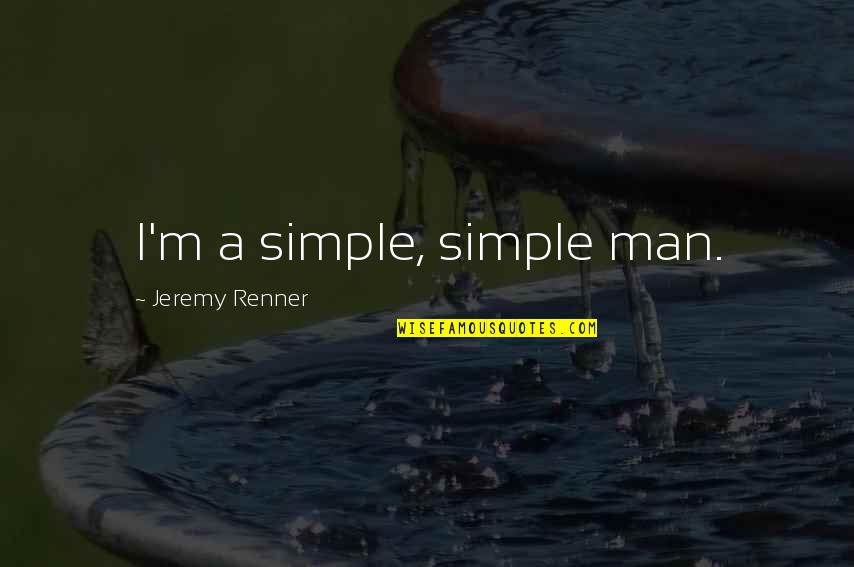 I'm a simple, simple man. —
Jeremy Renner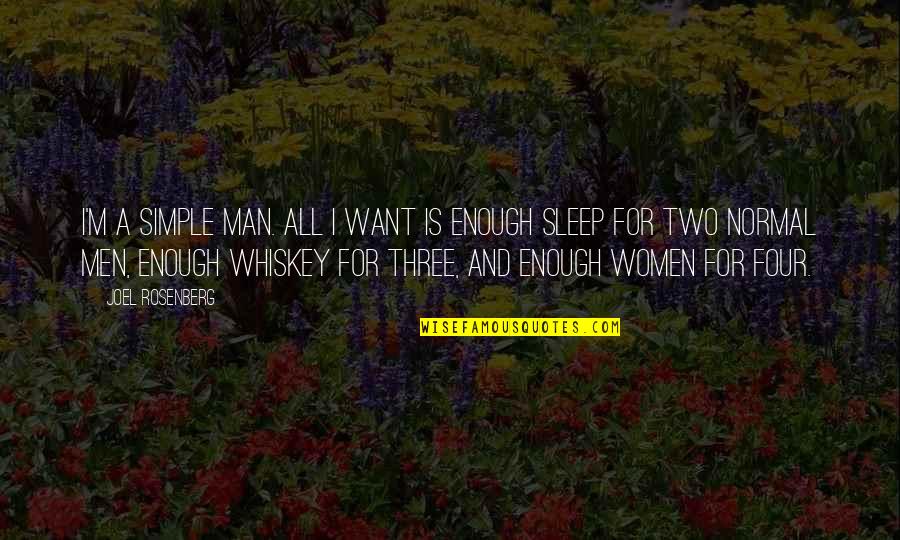 I'm a simple man. All I want is enough sleep for two normal men, enough whiskey for three, and enough women for four. —
Joel Rosenberg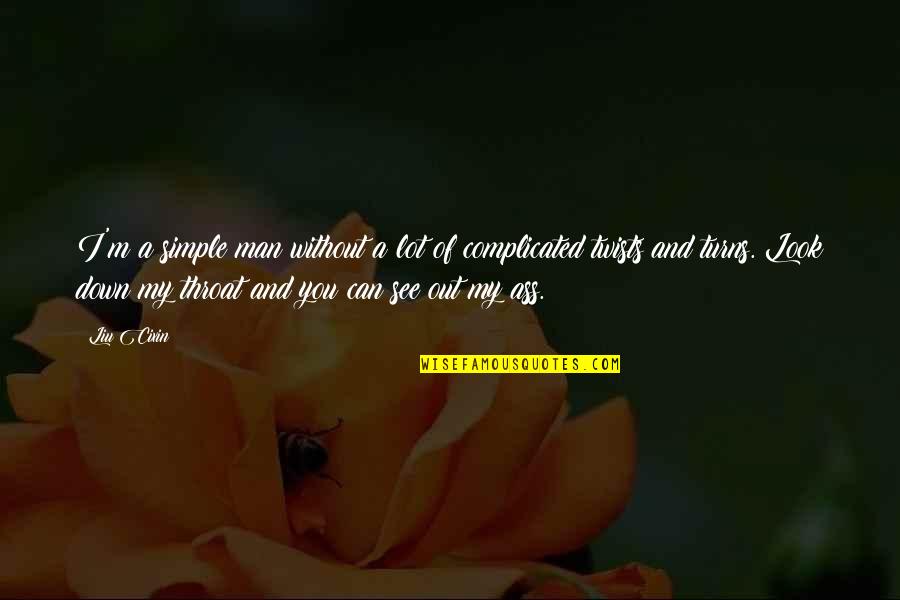 I'm a simple man without a lot of complicated twists and turns. Look down my throat and you can see out my ass. —
Liu Cixin