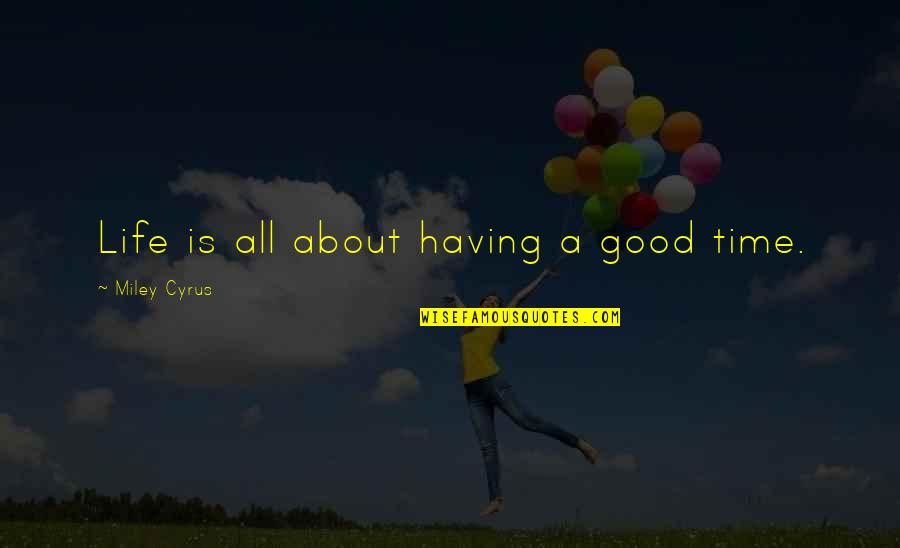 Life is all about having a good time.
—
Miley Cyrus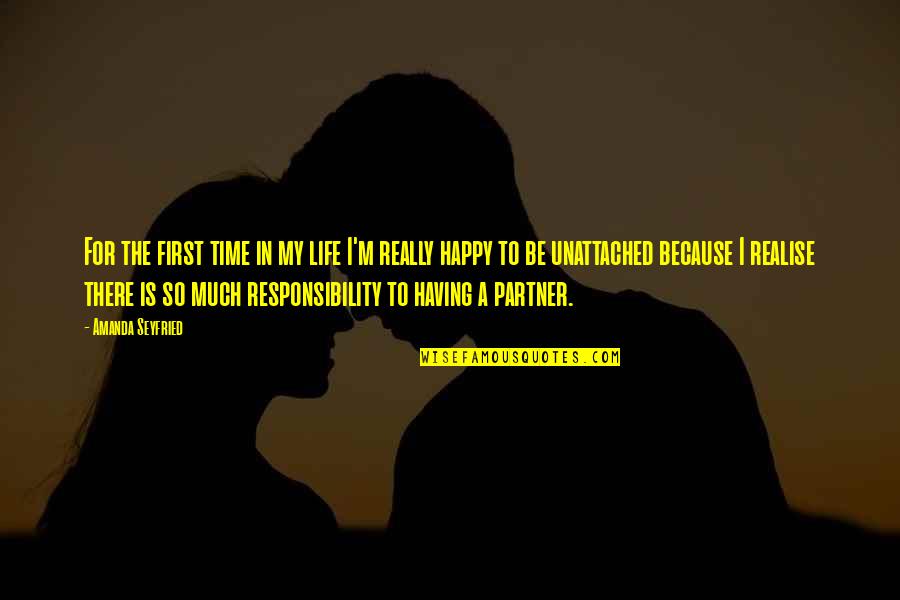 For the first time in my life I'm really happy to be unattached because I realise there is so much responsibility to having a partner.
—
Amanda Seyfried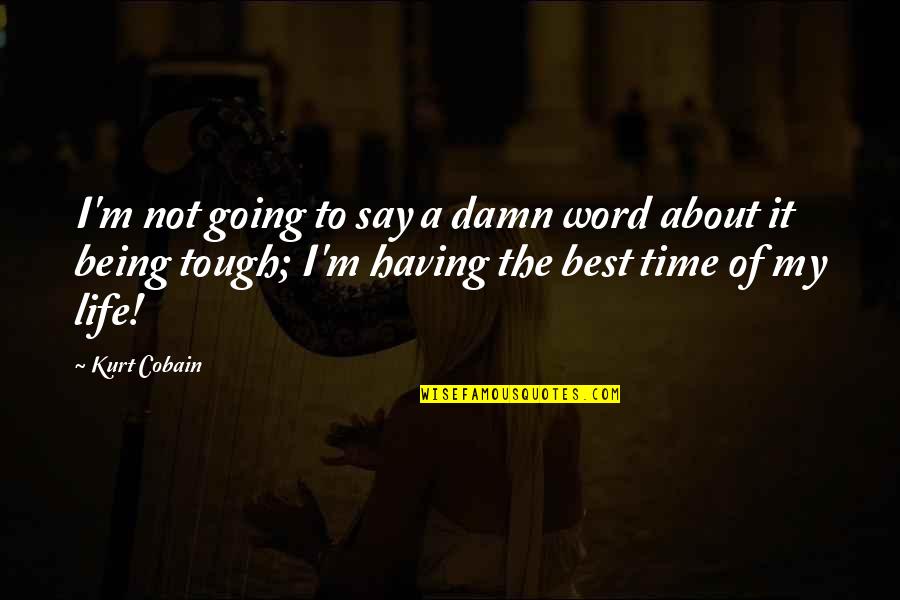 I'm not going to say a damn word about it being tough; I'm having the best time of my life!
—
Kurt Cobain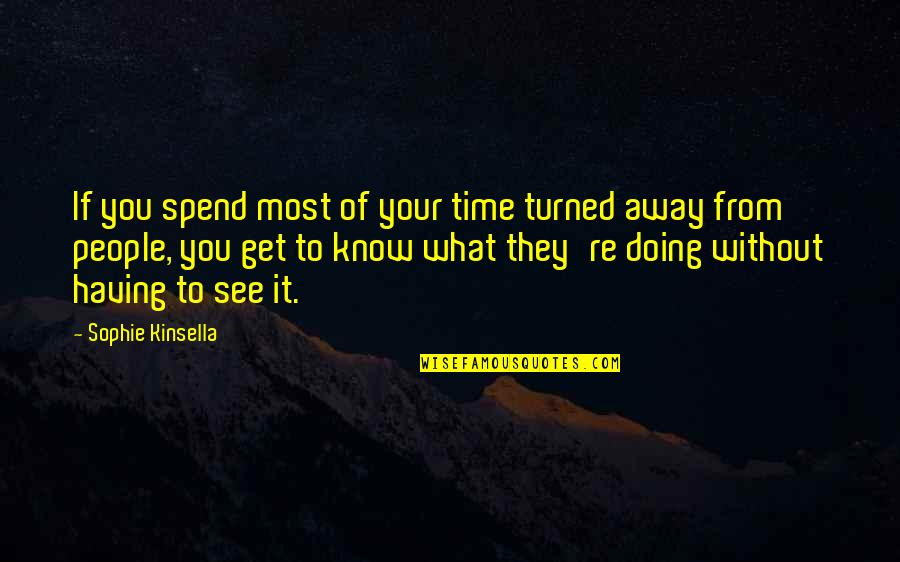 If you spend most of your time turned away from people, you get to know what they're doing without having to see it.
—
Sophie Kinsella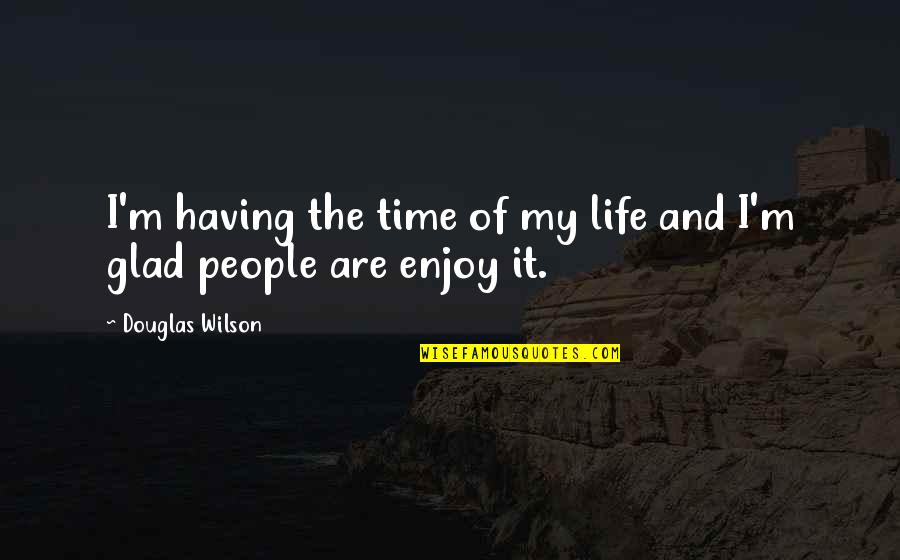 I'm having the time of my life and I'm glad people are enjoy it.
—
Douglas Wilson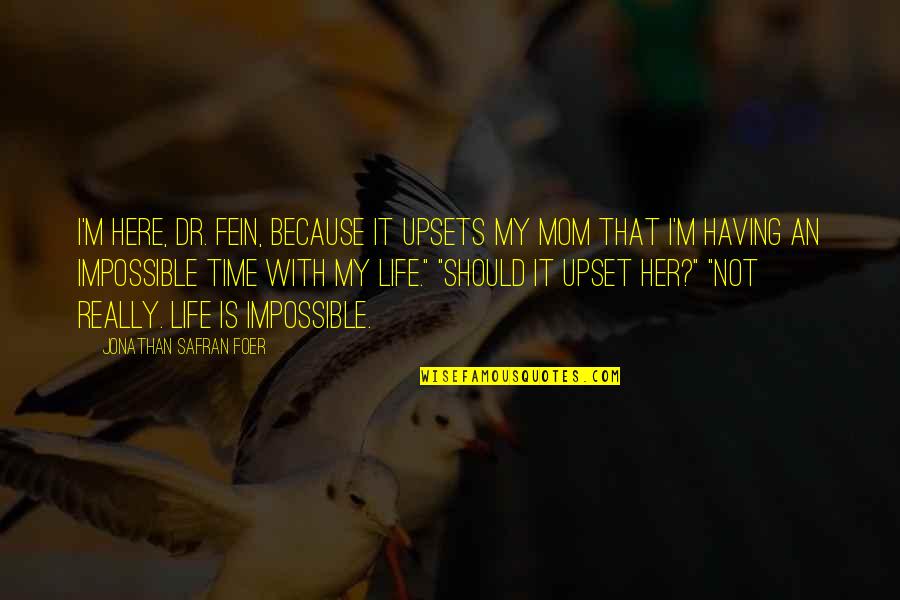 I'm here, Dr. Fein, because it upsets my mom that I'm having an impossible time with my life." "Should it upset her?" "Not really. Life is impossible.
—
Jonathan Safran Foer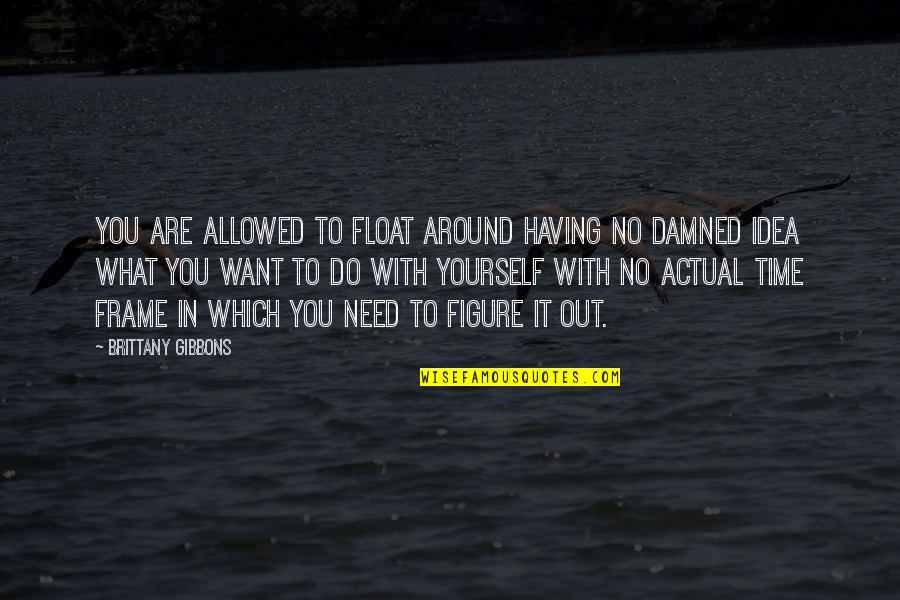 You are allowed to float around having no damned idea what you want to do with yourself with no actual time frame in which you need to figure it out.
—
Brittany Gibbons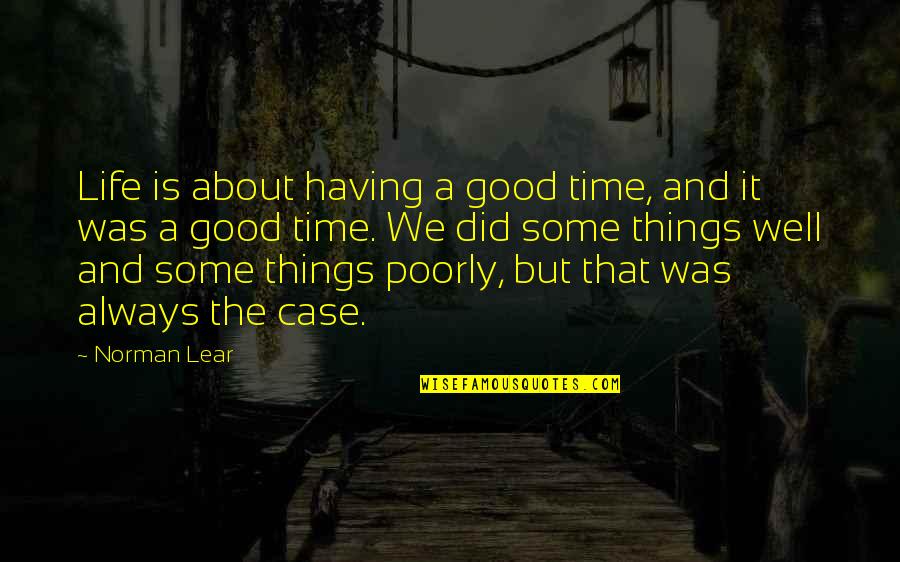 Life is about having a good time, and it was a good time. We did some things well and some things poorly, but that was always the case.
—
Norman Lear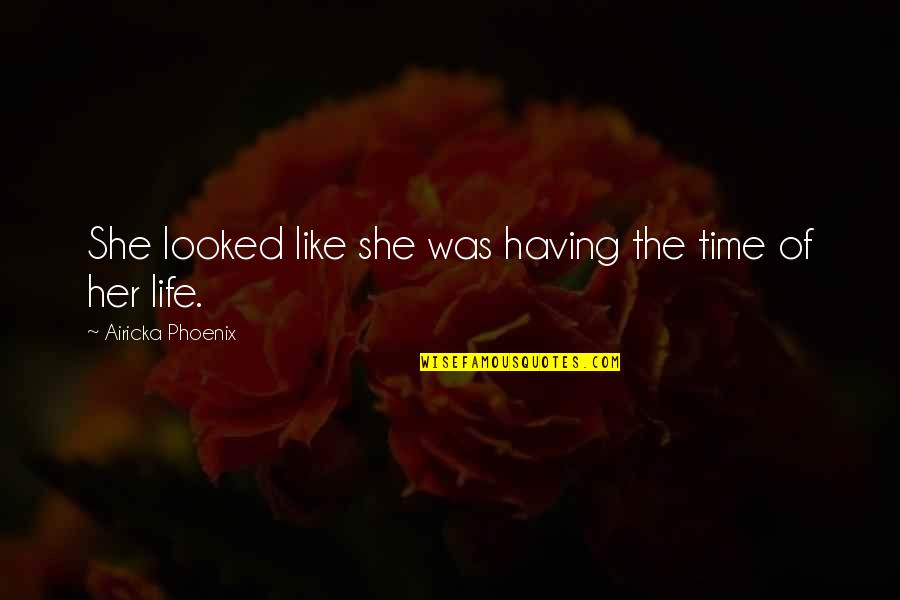 She looked like she was having the time of her life.
—
Airicka Phoenix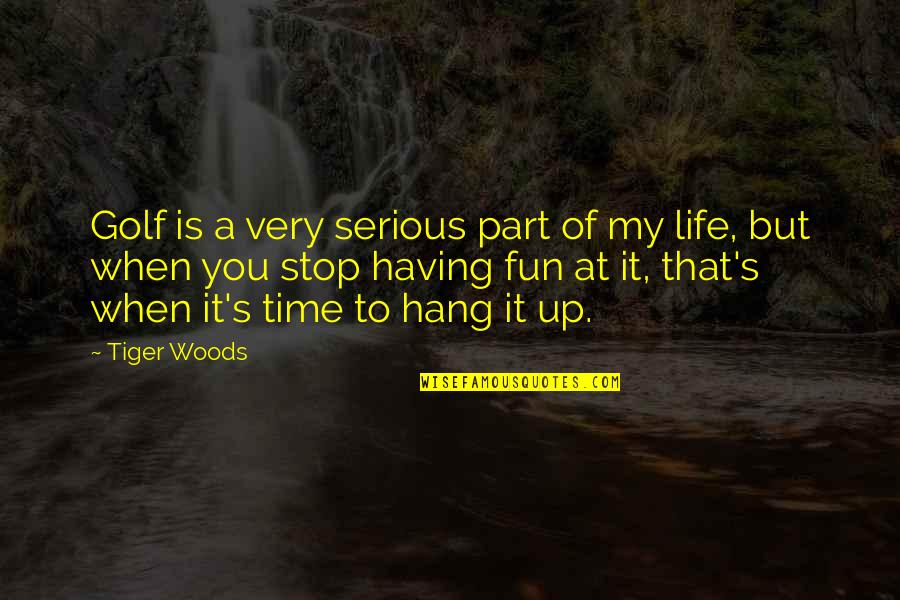 Golf is a very serious part of my life, but when you stop having fun at it, that's when it's time to hang it up.
—
Tiger Woods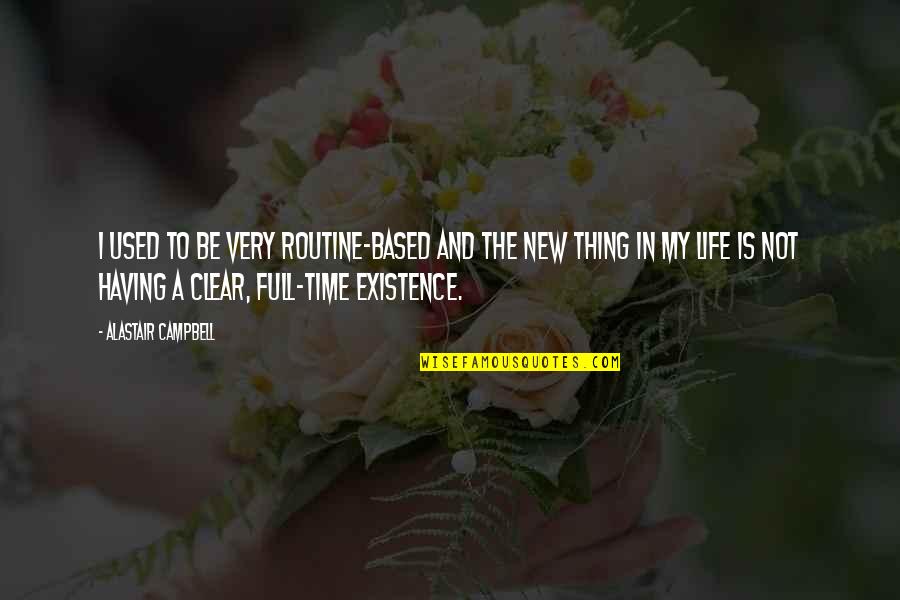 I used to be very routine-based and the new thing in my life is not having a clear, full-time existence.
—
Alastair Campbell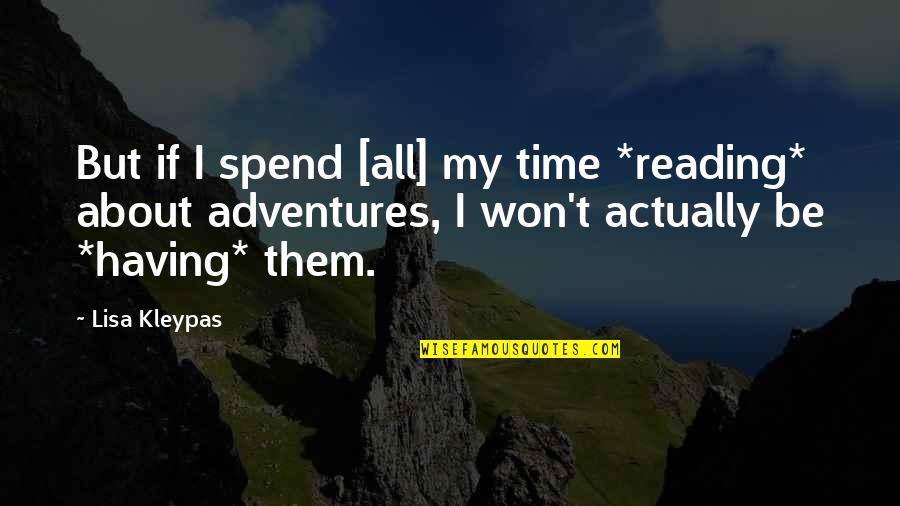 But if I spend [all] my time *reading* about adventures, I won't actually be *having* them.
—
Lisa Kleypas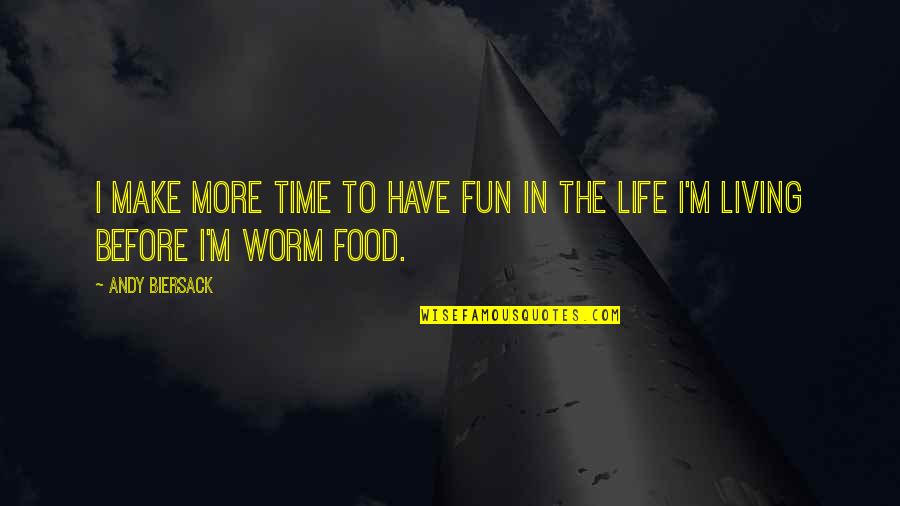 I make more time to have fun in the life I'm living before I'm worm food.
—
Andy Biersack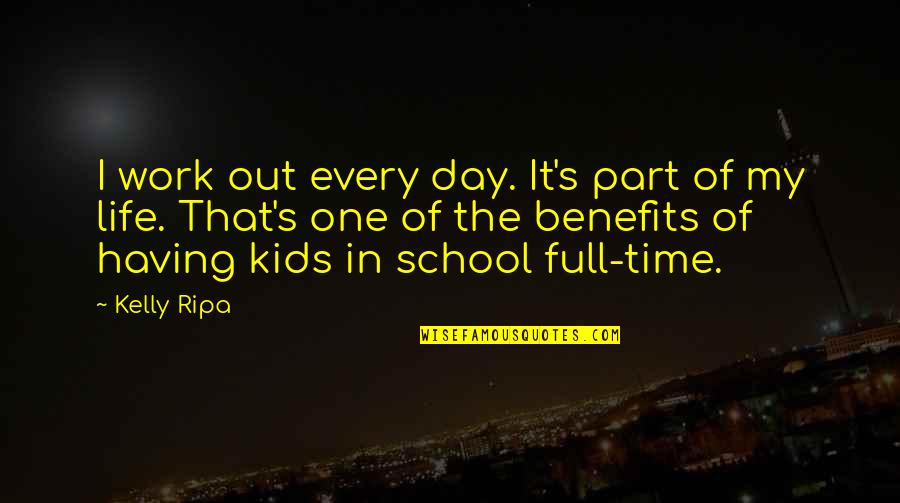 I work out every day. It's part of my life. That's one of the benefits of having kids in school full-time. —
Kelly Ripa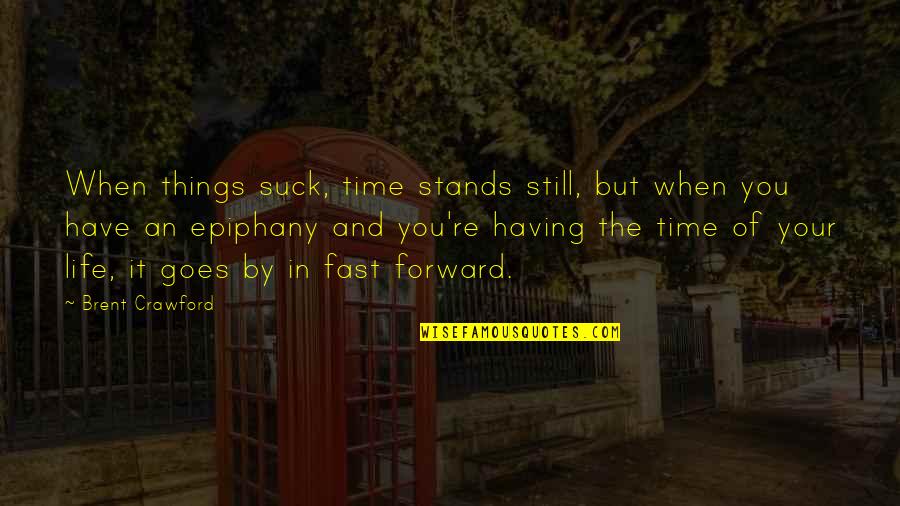 When things suck, time stands still, but when you have an epiphany and you're having the time of your life, it goes by in fast forward. —
Brent Crawford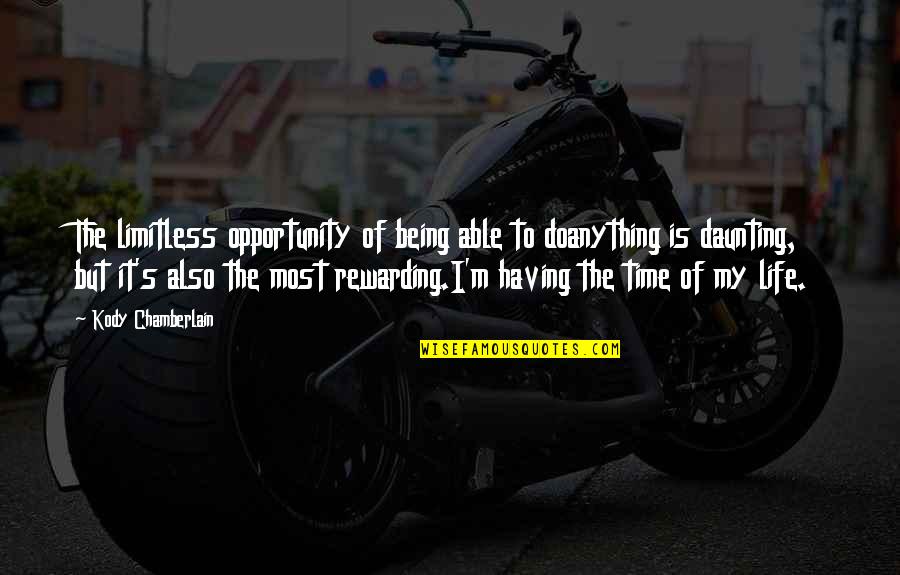 The limitless opportunity of being able to do
anything is daunting, but it's also the most rewarding.
I'm
having the time of my life
. —
Kody Chamberlain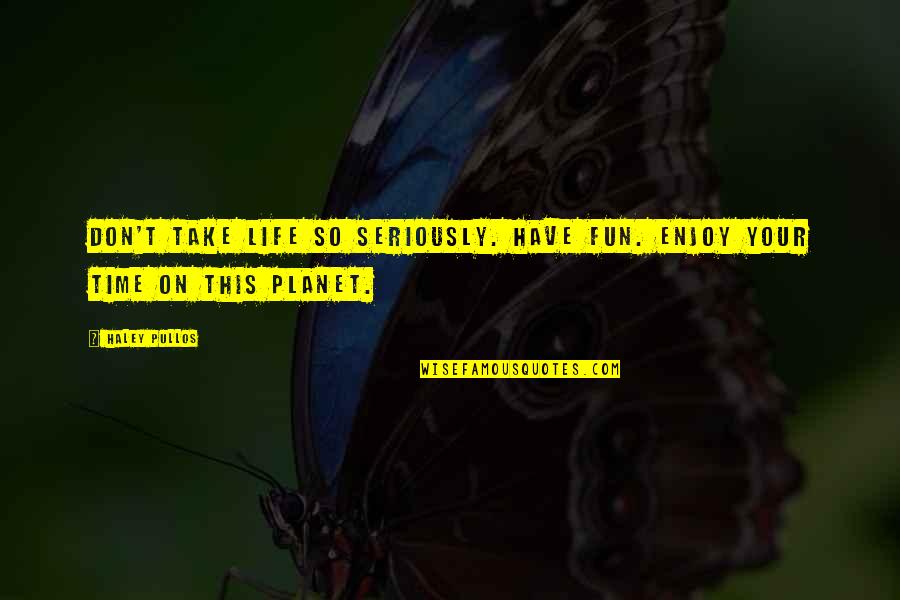 Don't take life so seriously. Have fun. Enjoy your time on this planet. —
Haley Pullos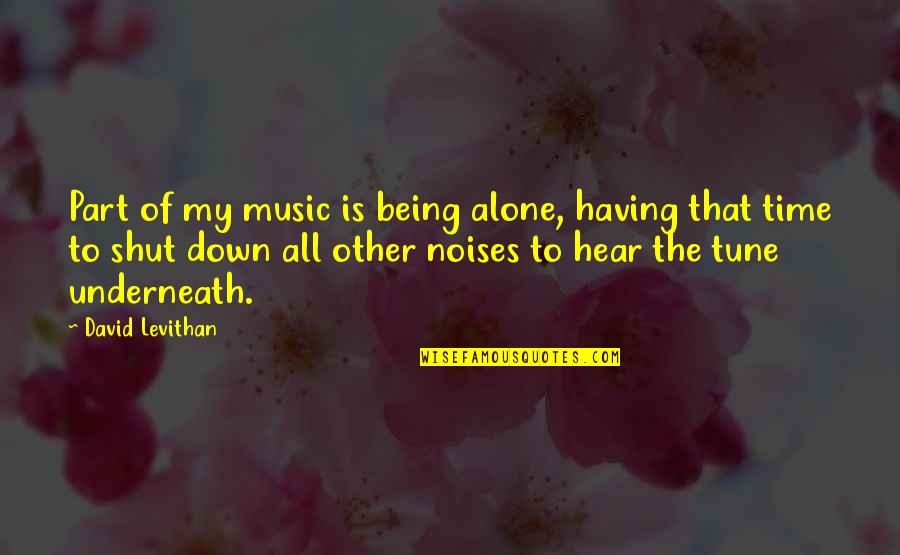 Part of my music is being alone, having that time to shut down all other noises to hear the tune underneath. —
David Levithan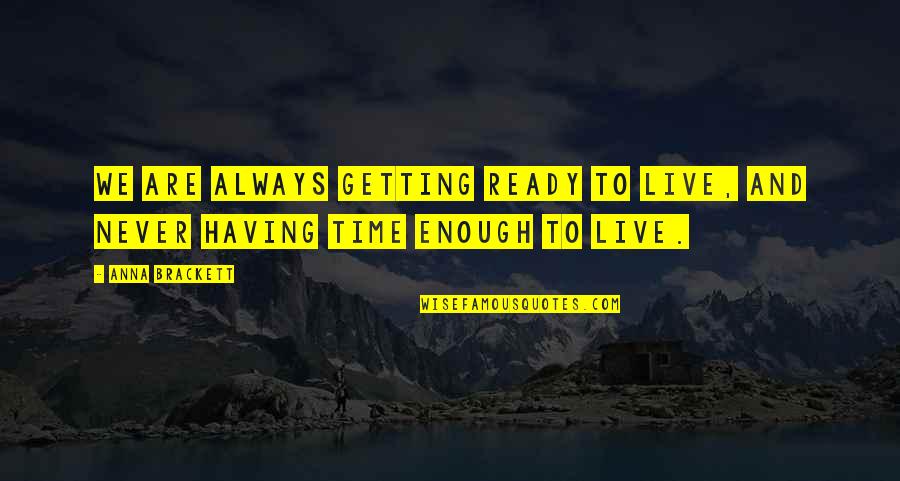 We are always getting ready to live, and never having time enough to live. —
Anna Brackett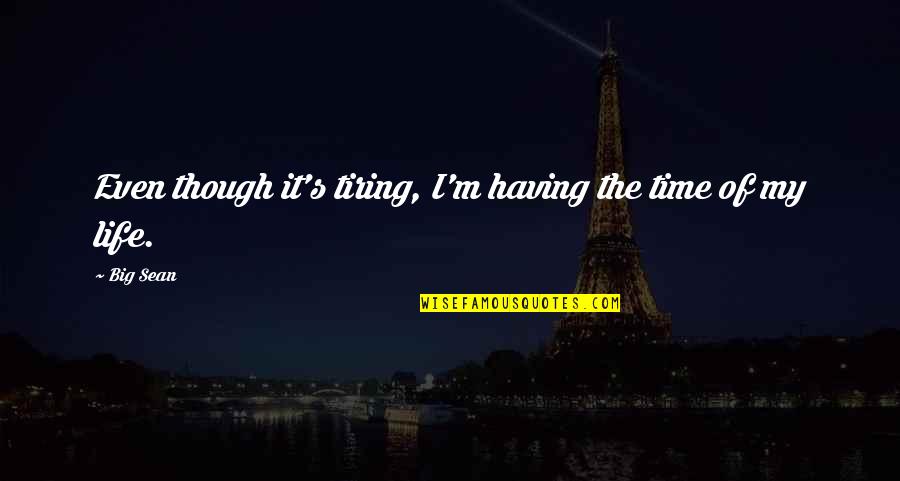 Even though it's tiring, I'm
having the time of my life
. —
Big Sean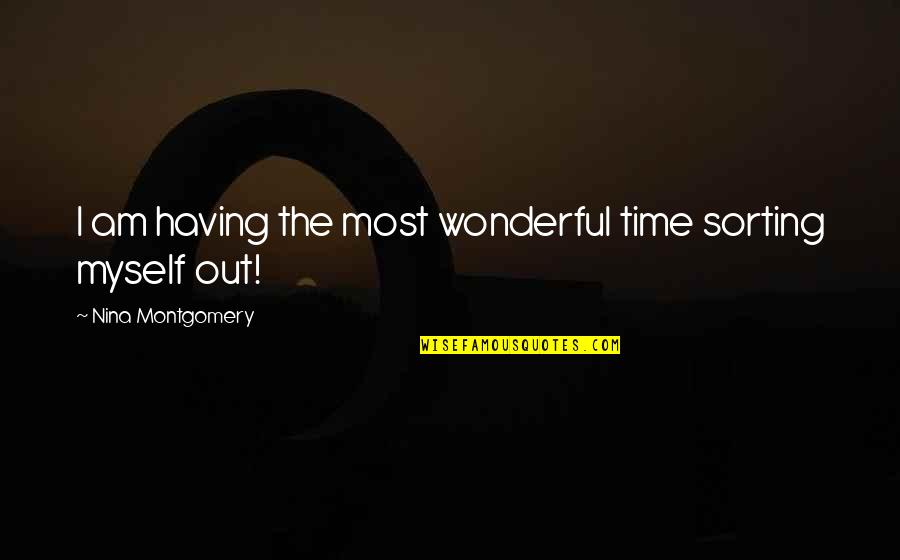 I am having the most wonderful time sorting myself out! —
Nina Montgomery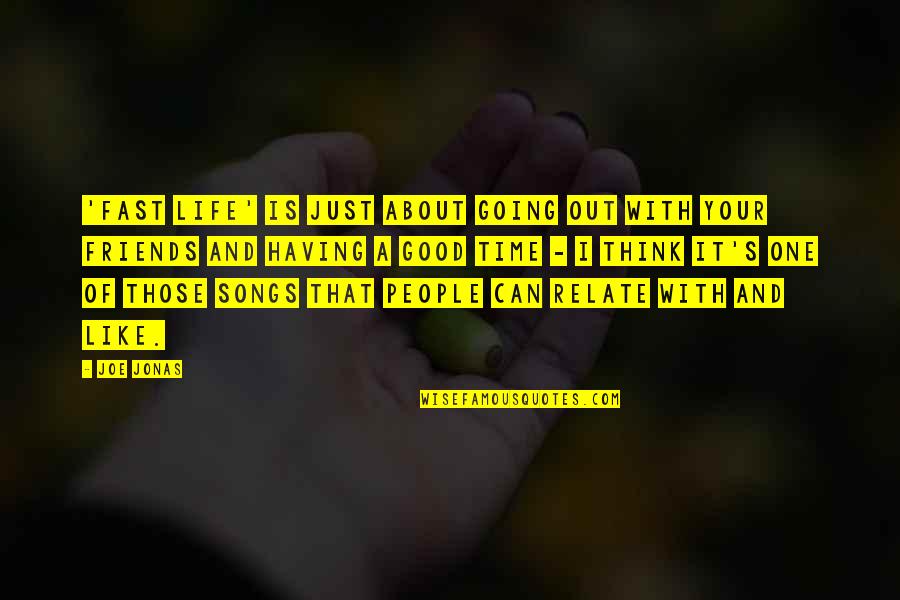 'Fast Life' is just about going out with your friends and having a good time - I think it's one of those songs that people can relate with and like. —
Joe Jonas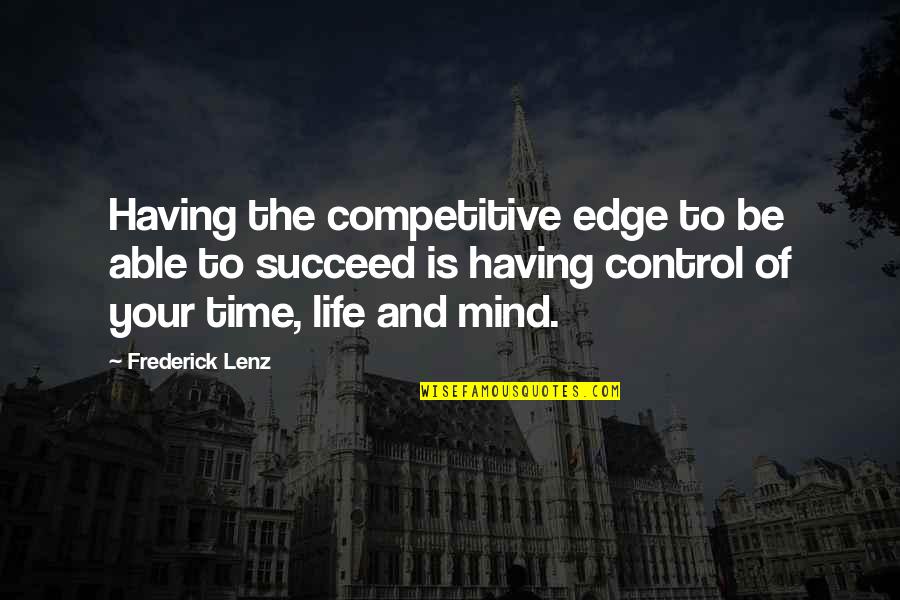 Having the competitive edge to be able to succeed is having control of your time, life and mind. —
Frederick Lenz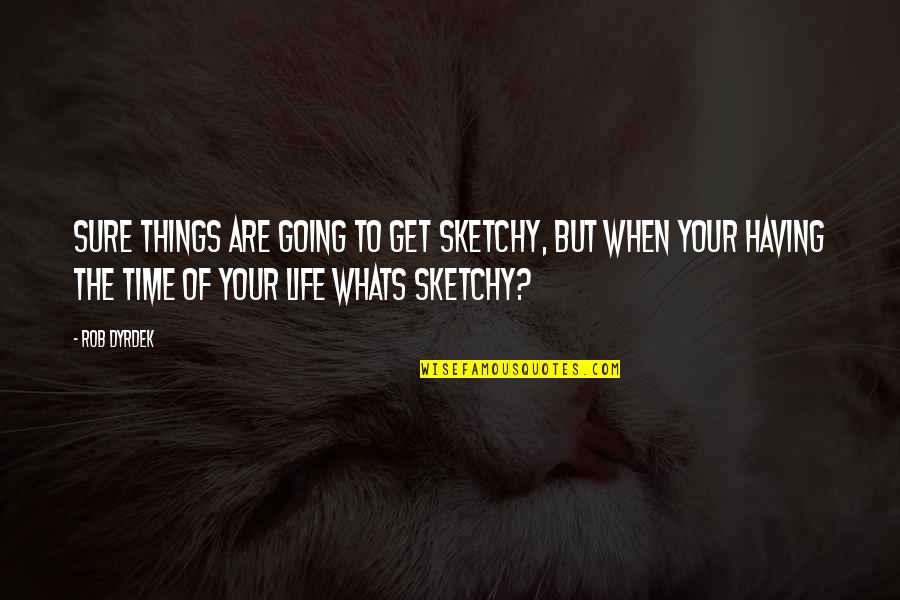 Sure things are going to get sketchy, but when your having the time of your life whats sketchy? —
Rob Dyrdek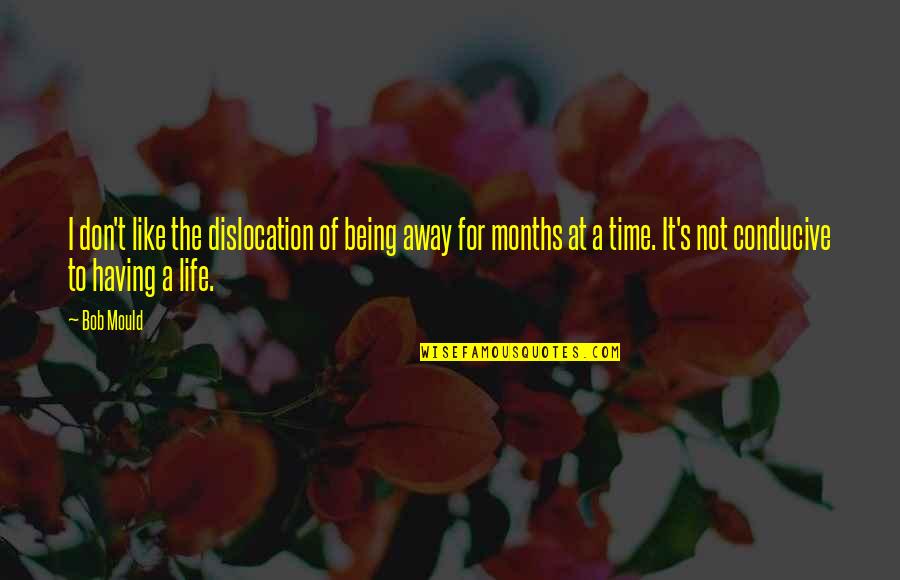 I don't like the dislocation of being away for months at a time. It's not conducive to having a life. —
Bob Mould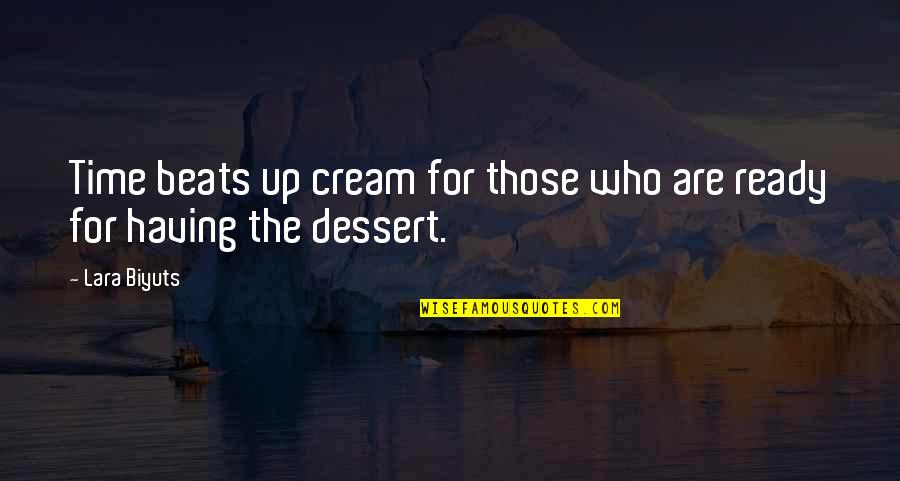 Time beats up cream for those who are ready for having the dessert. —
Lara Biyuts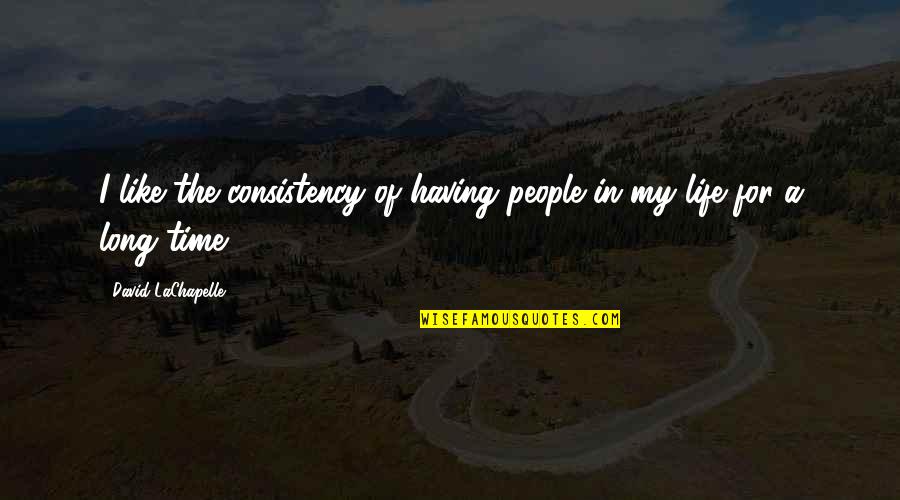 I like the consistency of having people in my life for a long time. —
David LaChapelle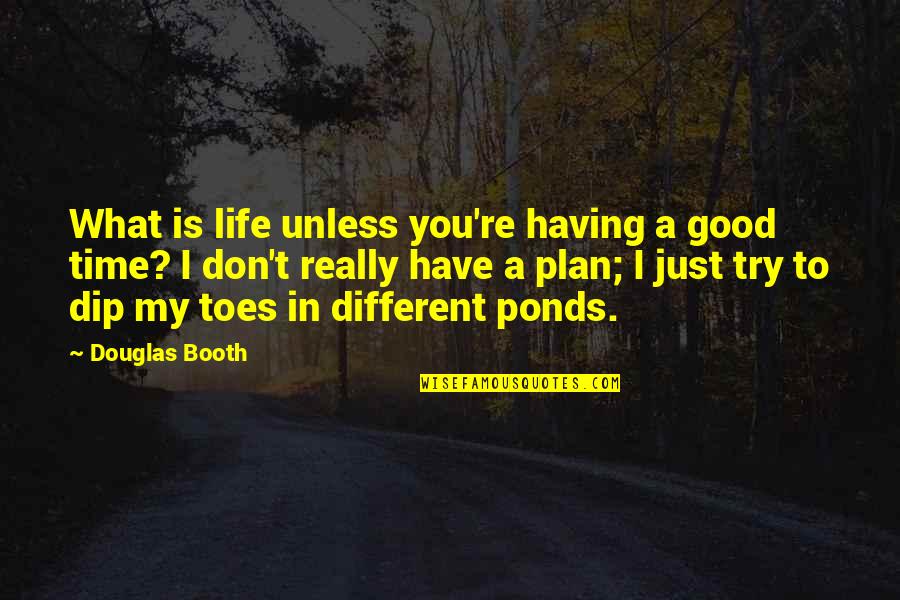 What is life unless you're having a good time? I don't really have a plan; I just try to dip my toes in different ponds. —
Douglas Booth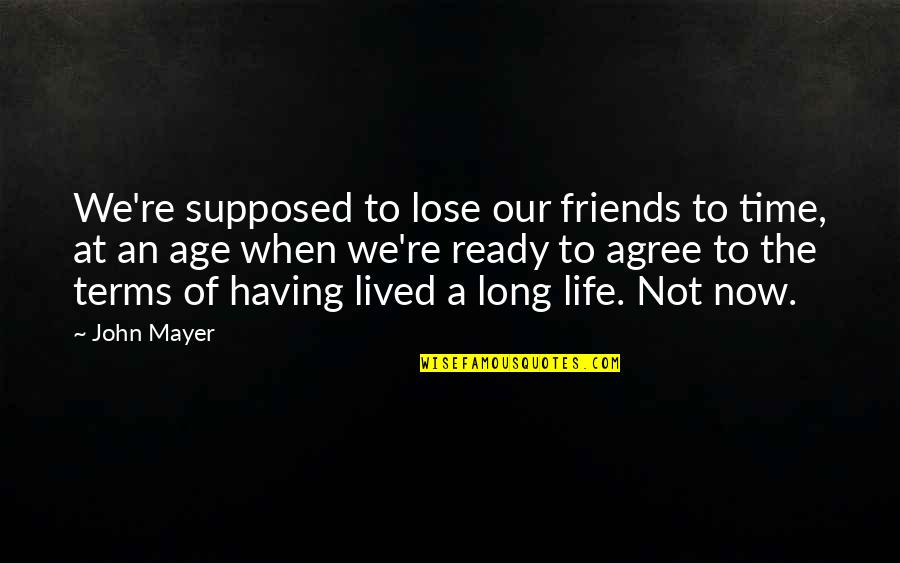 We're supposed to lose our friends to time, at an age when we're ready to agree to the terms of having lived a long life. Not now. —
John Mayer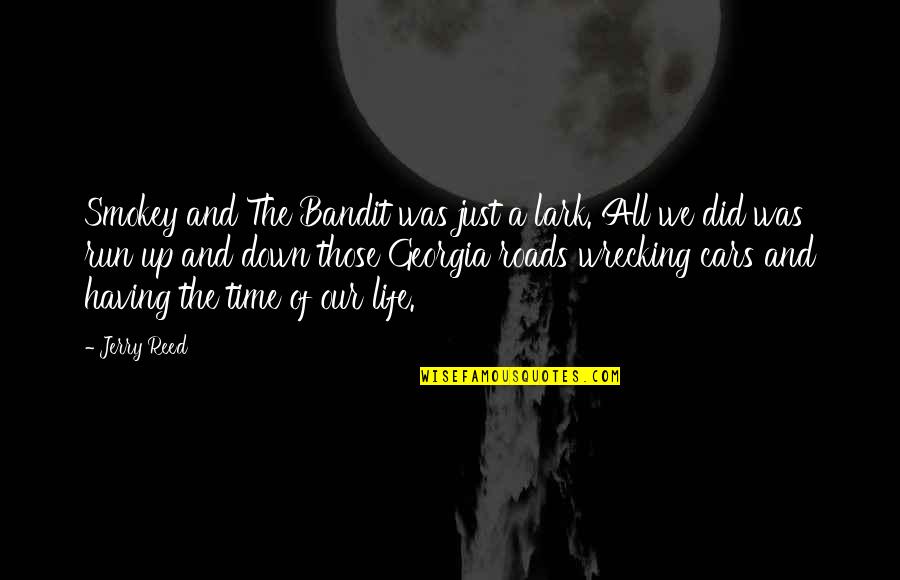 Smokey and The Bandit was just a lark. All we did was run up and down those Georgia roads wrecking cars and having the time of our life. —
Jerry Reed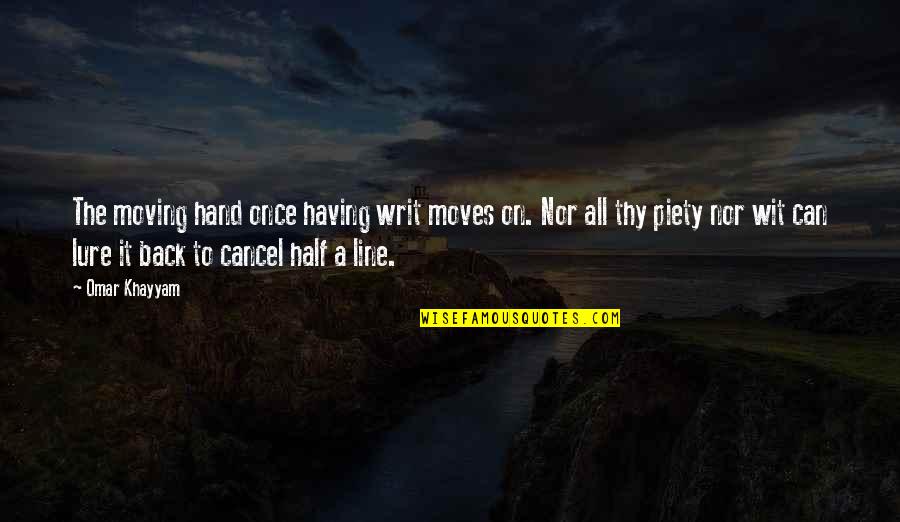 The moving hand once having writ moves on. Nor all thy piety nor wit can lure it back to cancel half a line. —
Omar Khayyam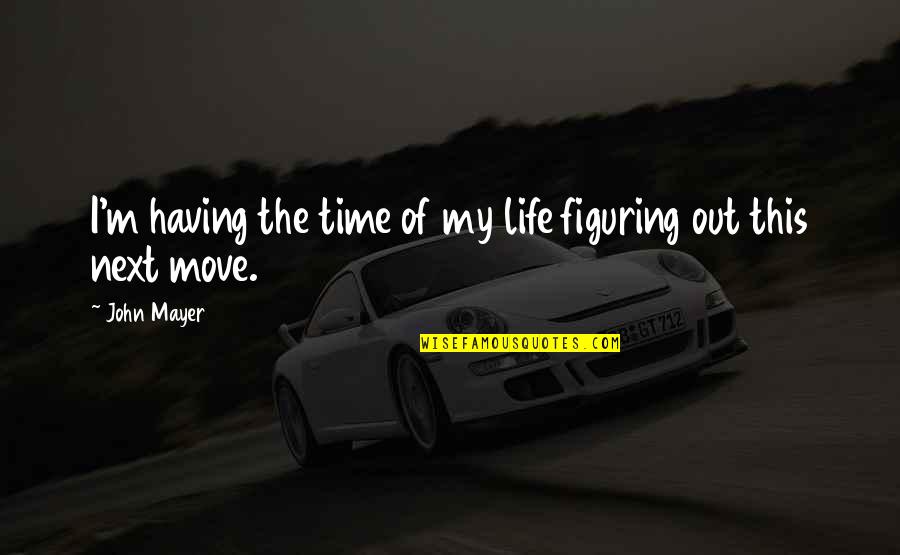 I'm
having the time of my life
figuring out this next move. —
John Mayer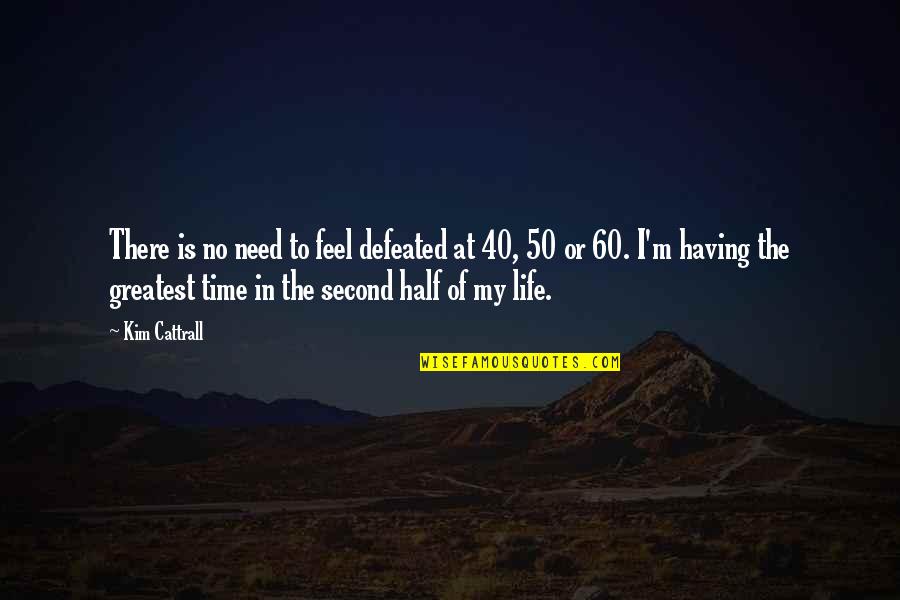 There is no need to feel defeated at 40, 50 or 60. I'm having the greatest time in the second half of my life. —
Kim Cattrall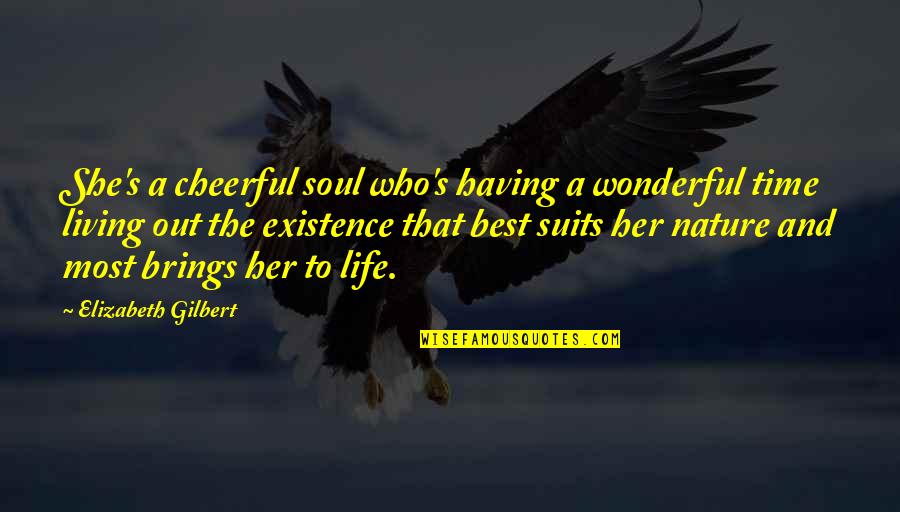 She's a cheerful soul who's having a wonderful time living out the existence that best suits her nature and most brings her to life. —
Elizabeth Gilbert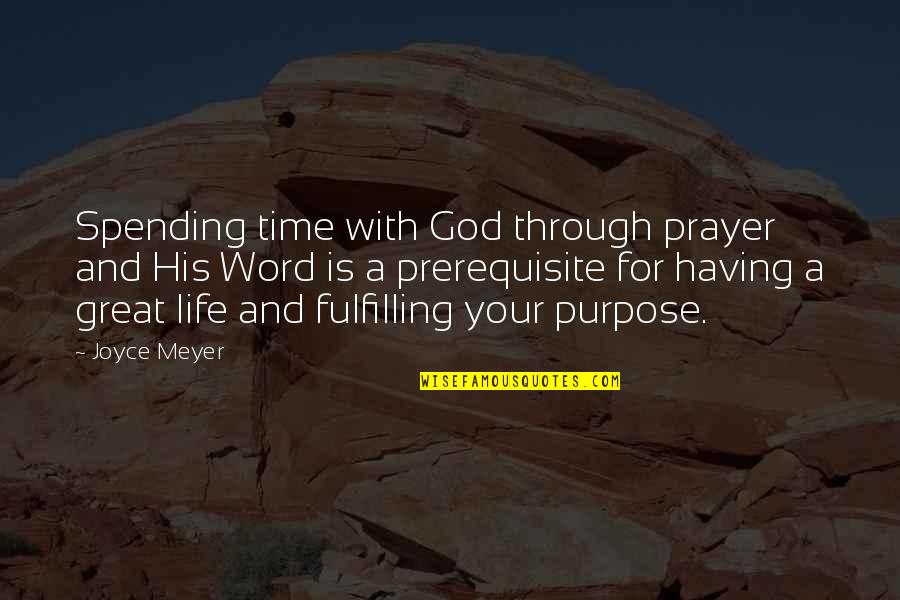 Spending time with God through prayer and His Word is a prerequisite for having a great life and fulfilling your purpose. —
Joyce Meyer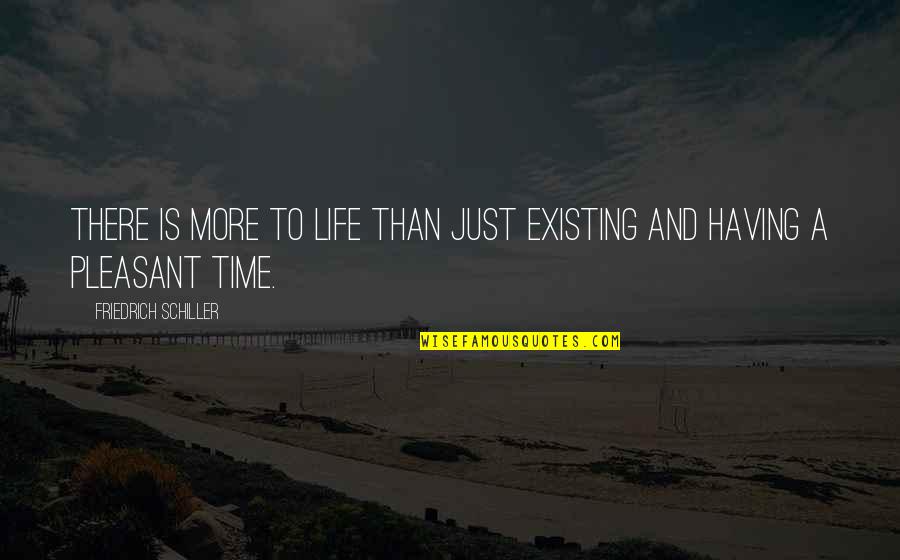 There is more to life than just existing and having a pleasant time. —
Friedrich Schiller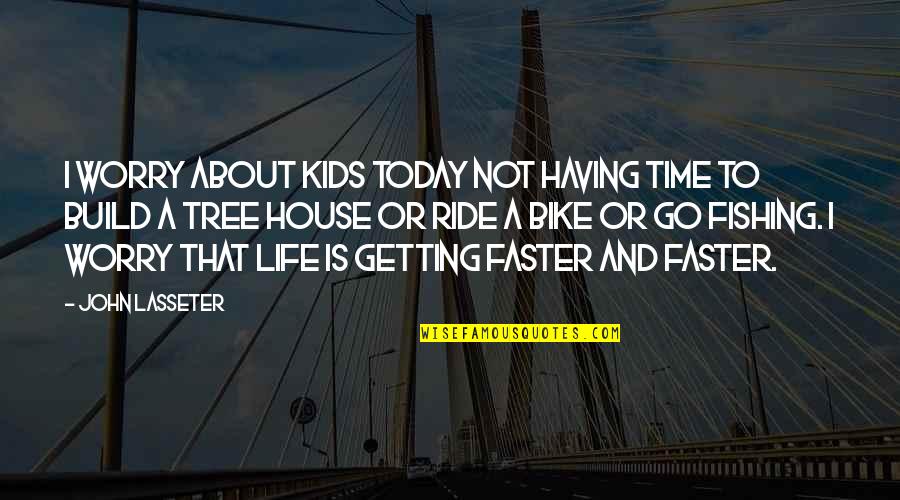 I worry about kids today not having time to build a tree house or ride a bike or go fishing. I worry that life is getting faster and faster. —
John Lasseter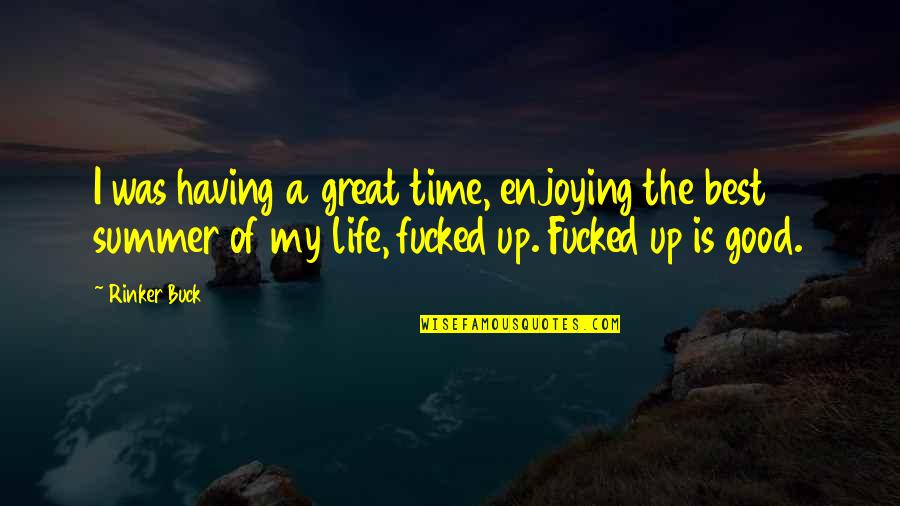 I was having a great time, enjoying the best summer of my life, fucked up. Fucked up is good. —
Rinker Buck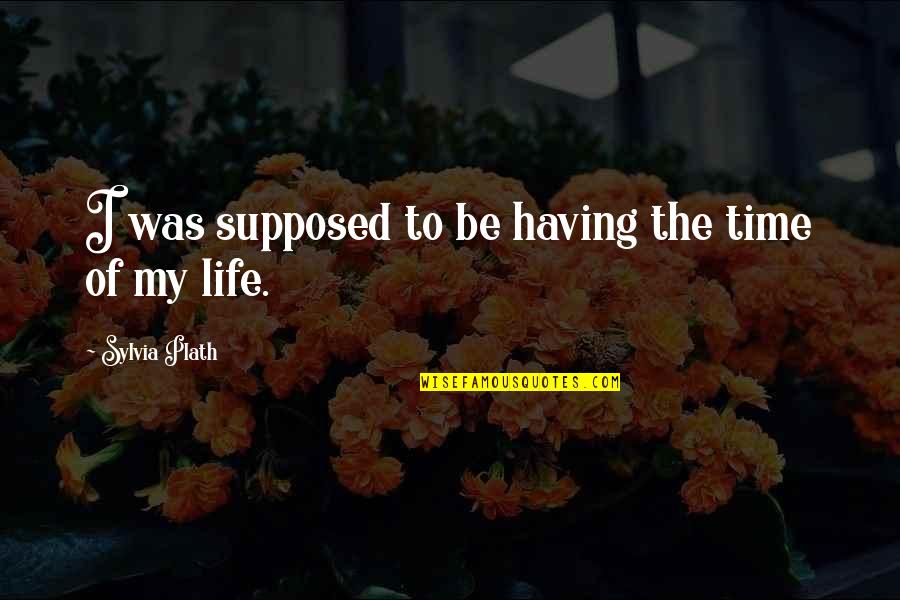 I was supposed to be
having the time of my life
. —
Sylvia Plath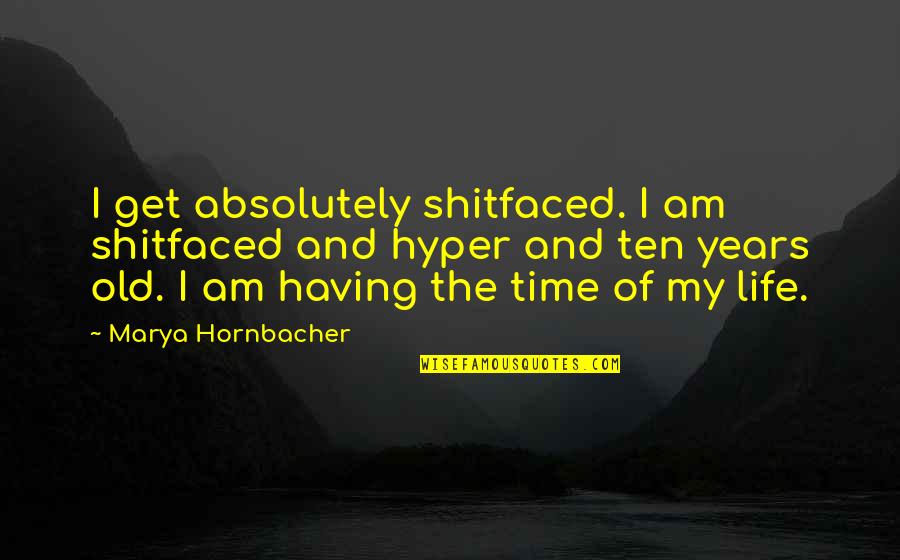 I get absolutely shitfaced. I am shitfaced and hyper and ten years old. I am
having the time of my life
. —
Marya Hornbacher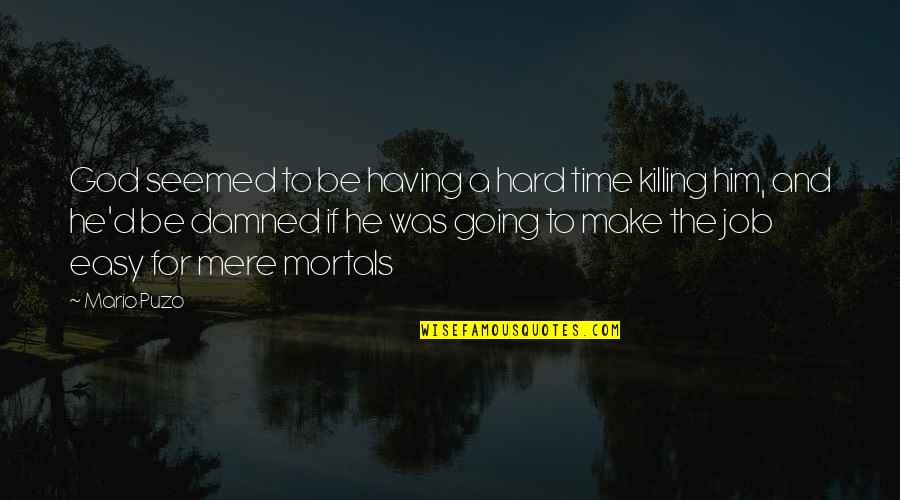 God seemed to be having a hard time killing him, and he'd be damned if he was going to make the job easy for mere mortals —
Mario Puzo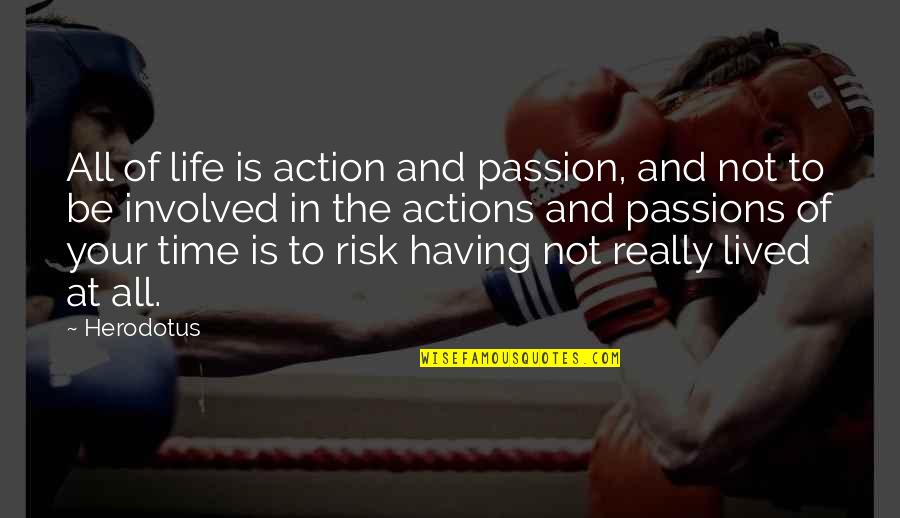 All of life is action and passion, and not to be involved in the actions and passions of your time is to risk having not really lived at all. —
Herodotus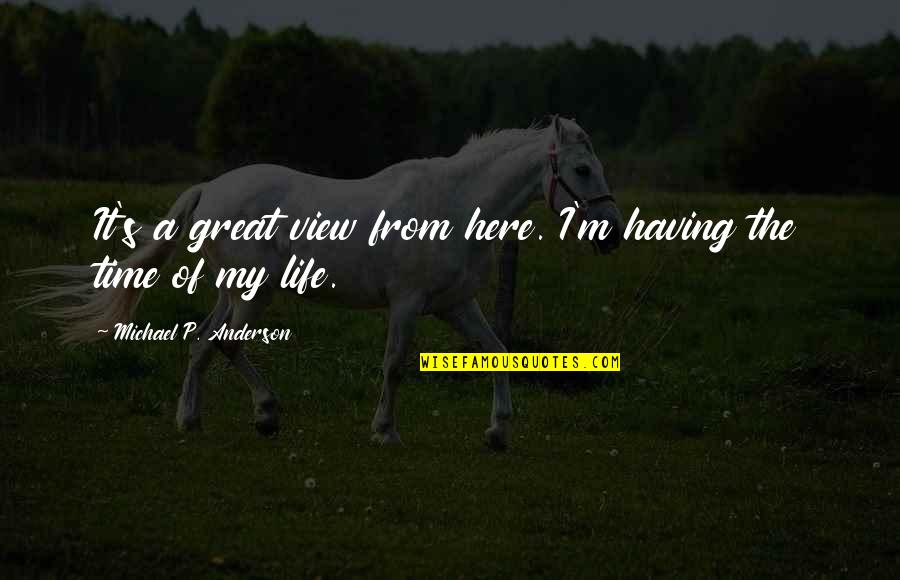 It's a great view from here. I'm
having the time of my life
. —
Michael P. Anderson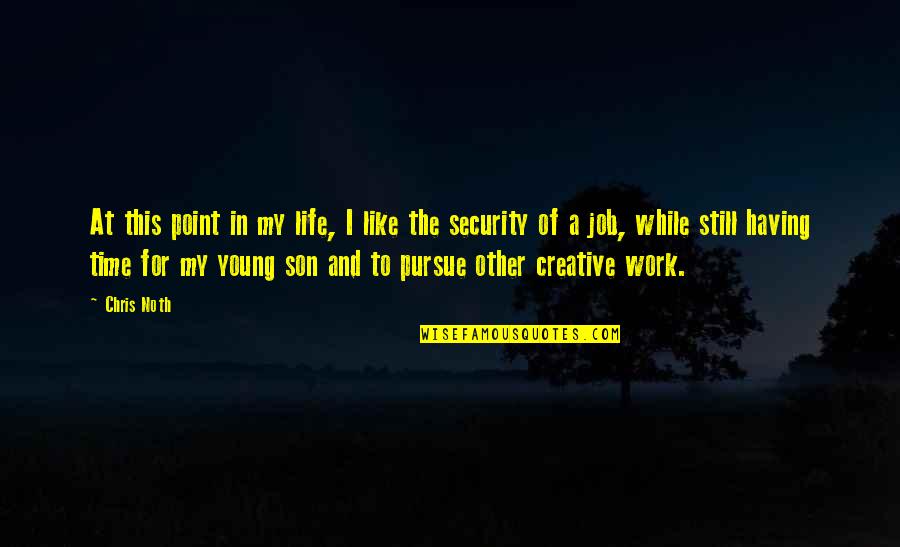 At this point in my life, I like the security of a job, while still having time for my young son and to pursue other creative work. —
Chris Noth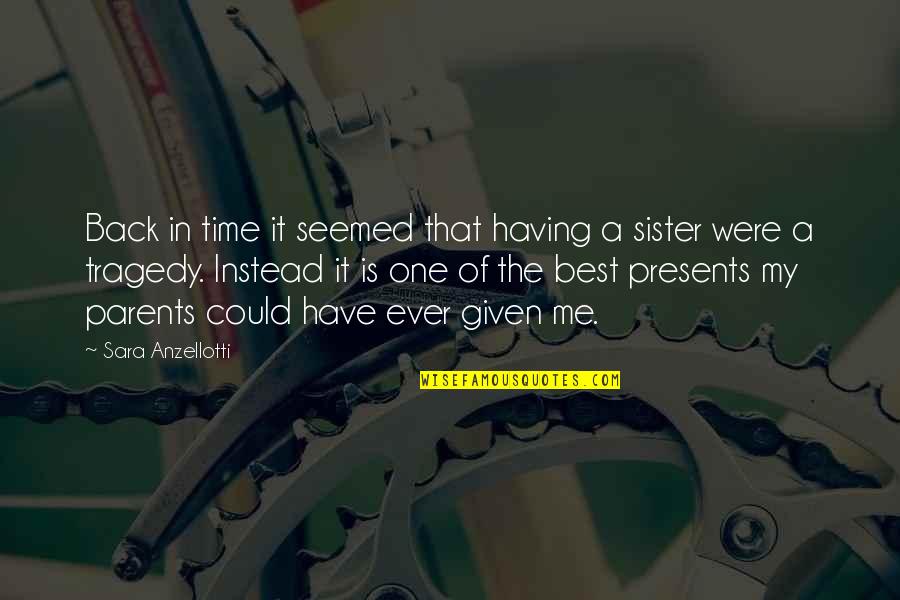 Back in time it seemed that having a sister were a tragedy.
Instead it is one of the best presents my parents could have ever given me. —
Sara Anzellotti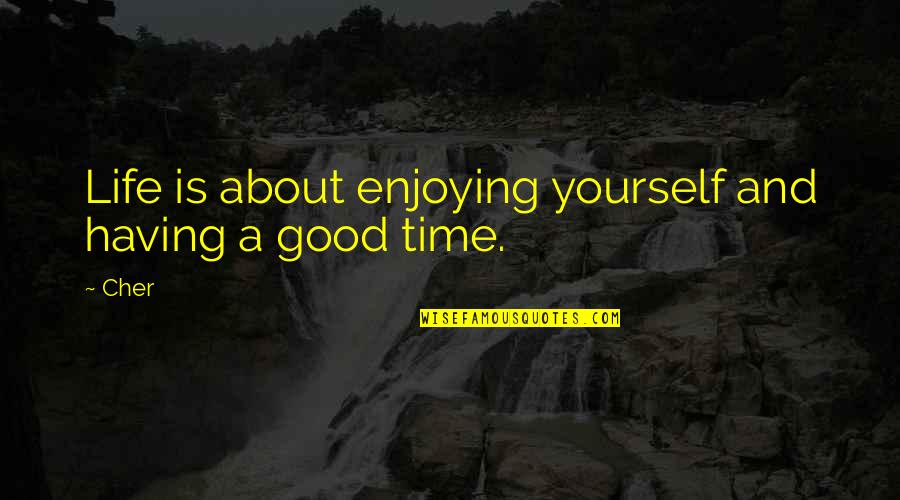 Life is about enjoying yourself and having a good time. —
Cher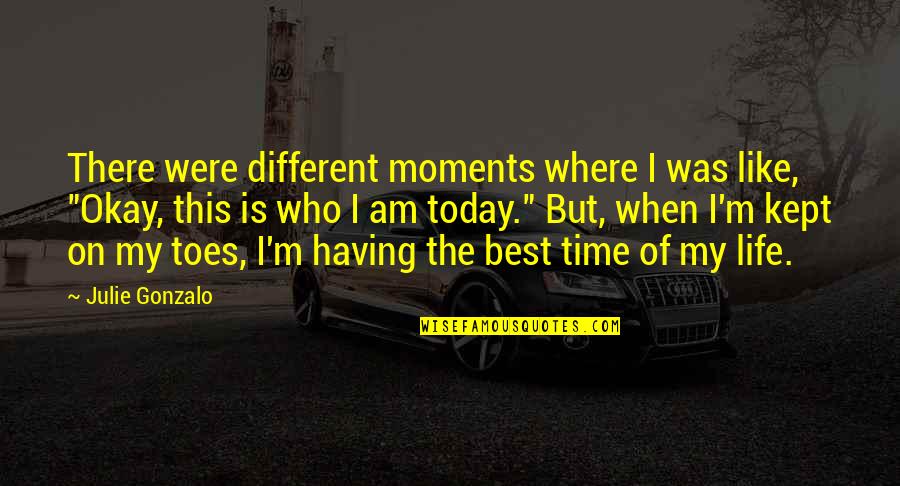 There were different moments where I was like, "Okay, this is who I am today." But, when I'm kept on my toes, I'm having the best time of my life. —
Julie Gonzalo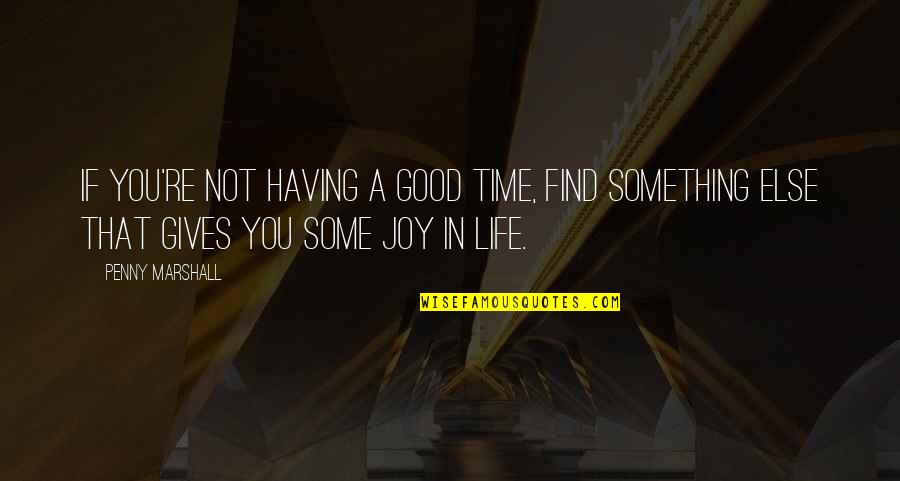 If you're not having a good time, find something else that gives you some joy in life. —
Penny Marshall