Happiness Then Sadness Quotes
Collection of top 50 famous quotes about Happiness Then Sadness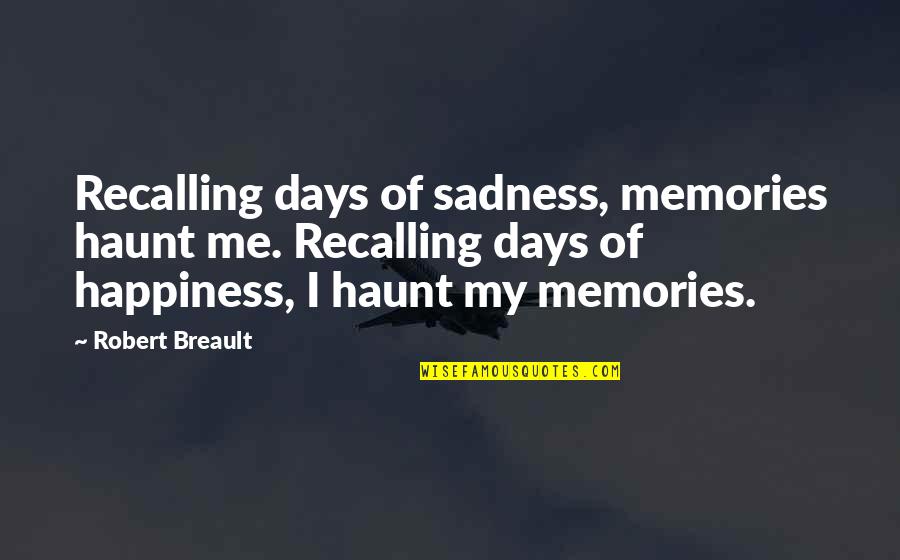 Recalling days of sadness, memories haunt me. Recalling days of happiness, I haunt my memories.
—
Robert Breault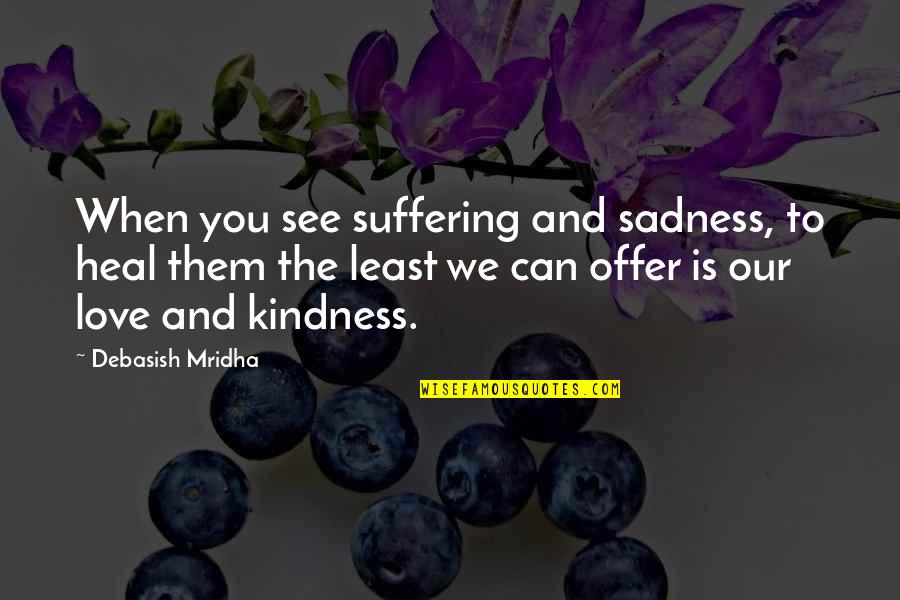 When you see suffering and sadness, to heal them the least we can offer is our love and kindness.
—
Debasish Mridha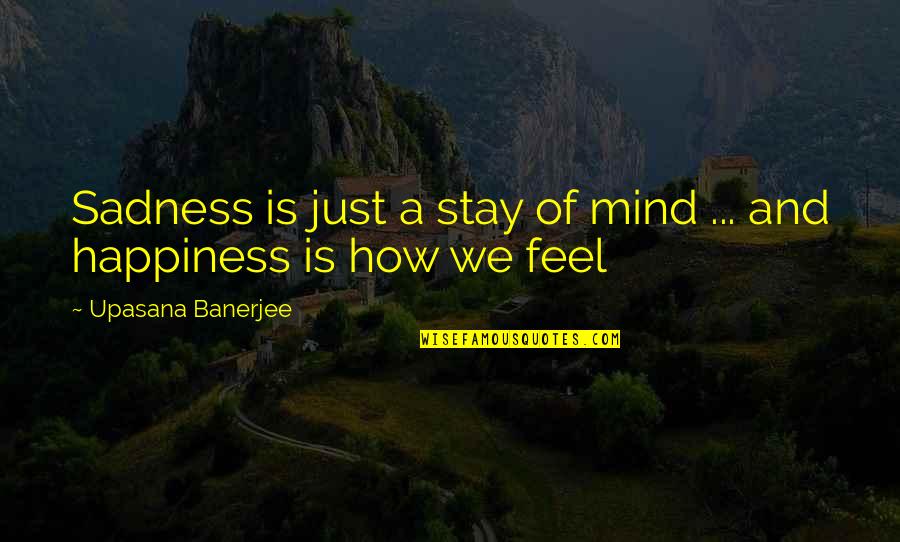 Sadness is just a stay of mind ... and happiness is how we feel
—
Upasana Banerjee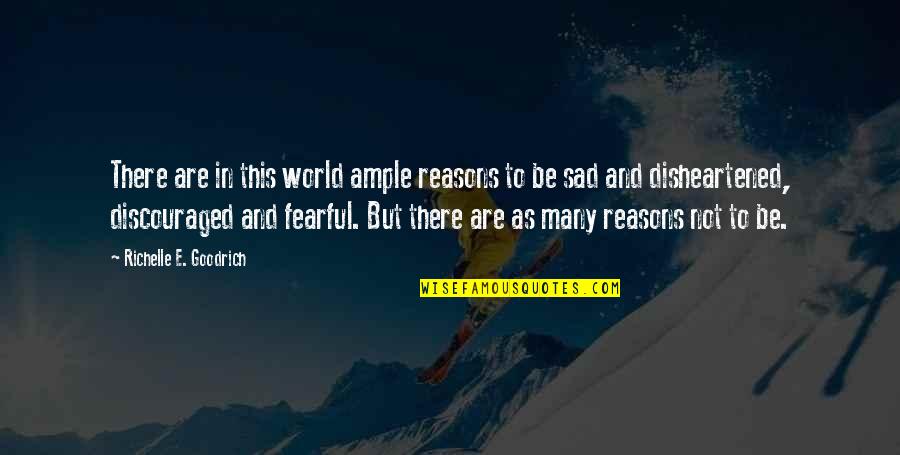 There are in this world ample reasons to be sad and disheartened, discouraged and fearful. But there are as many reasons not to be.
—
Richelle E. Goodrich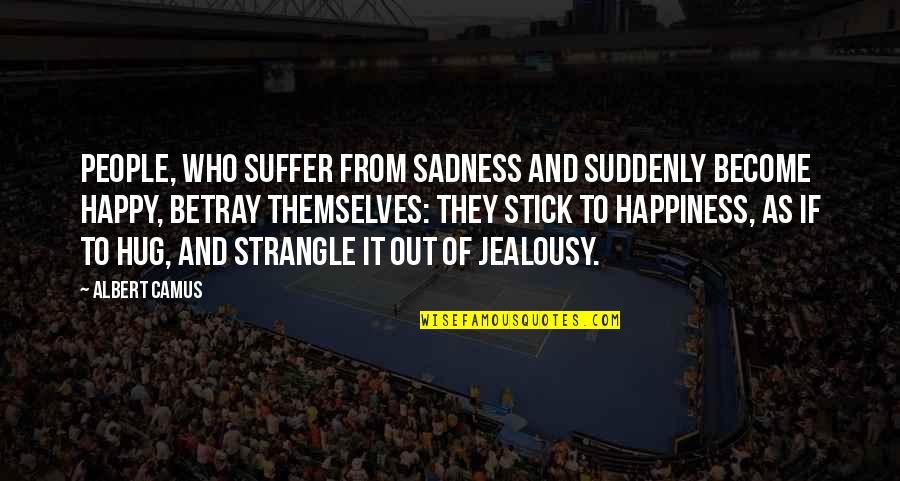 People, who suffer from sadness and suddenly become happy, betray themselves: they stick to happiness, as if to hug, and strangle it out of jealousy.
—
Albert Camus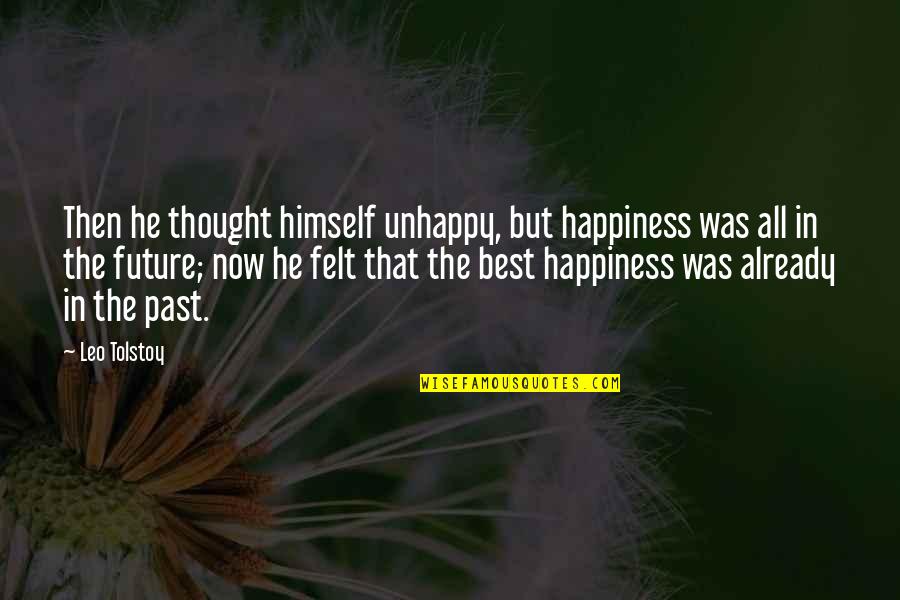 Then he thought himself unhappy, but happiness was all in the future; now he felt that the best happiness was already in the past.
—
Leo Tolstoy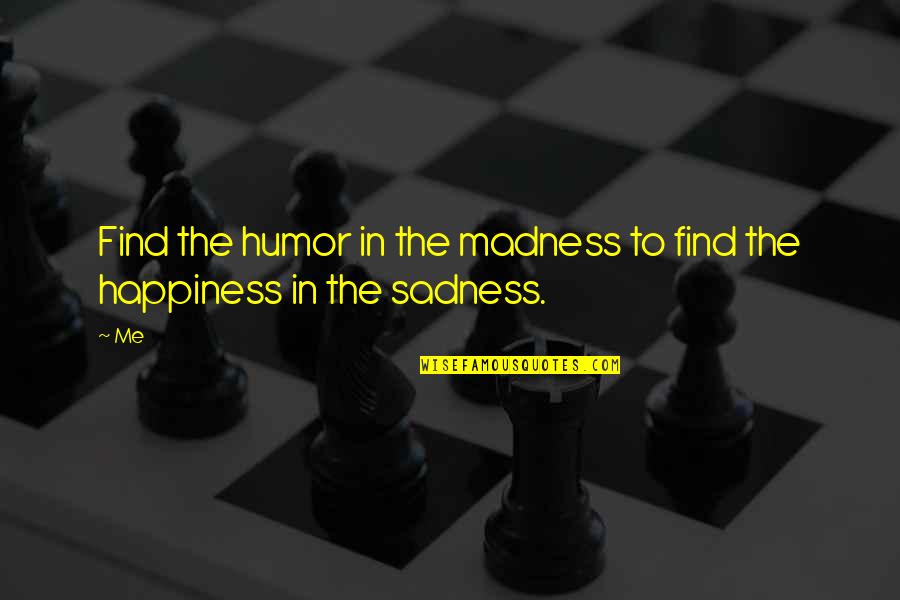 Find the humor in the madness to find the happiness in the sadness.
—
Me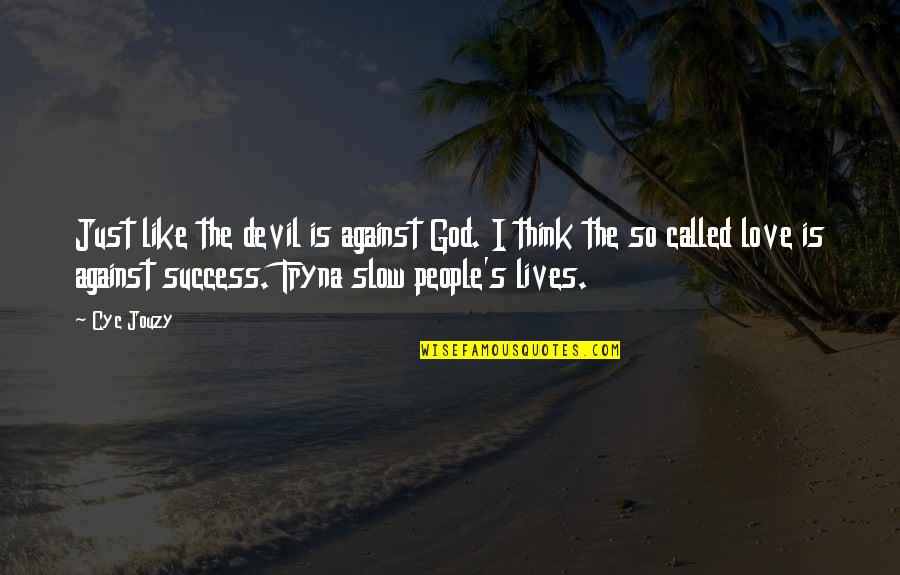 Just like the devil is against God. I think the so called love is against success. Tryna slow people's lives.
—
Cyc Jouzy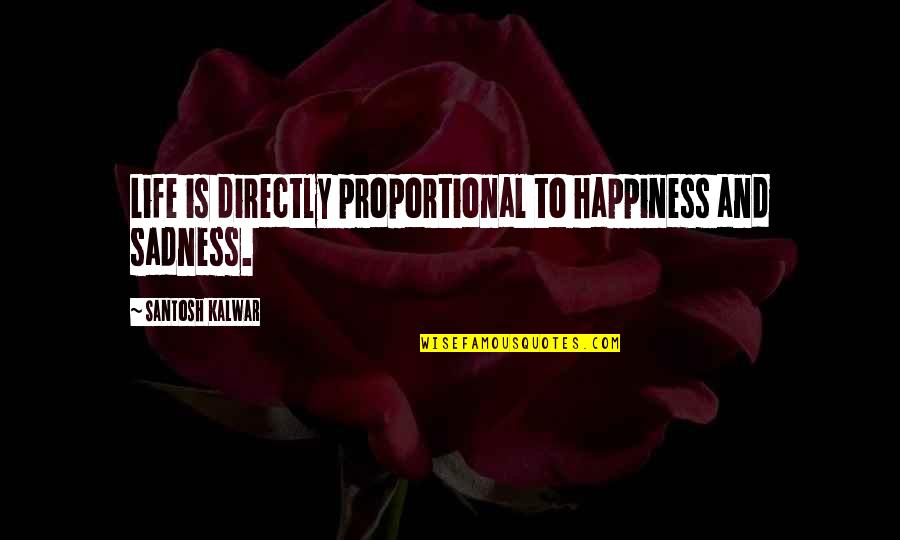 Life is directly proportional to happiness and sadness.
—
Santosh Kalwar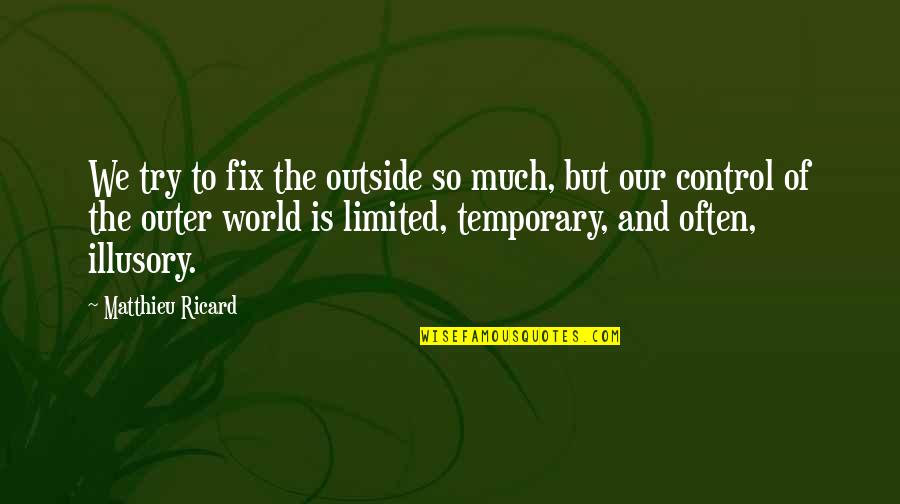 We try to fix the outside so much, but our control of the outer world is limited, temporary, and often, illusory. —
Matthieu Ricard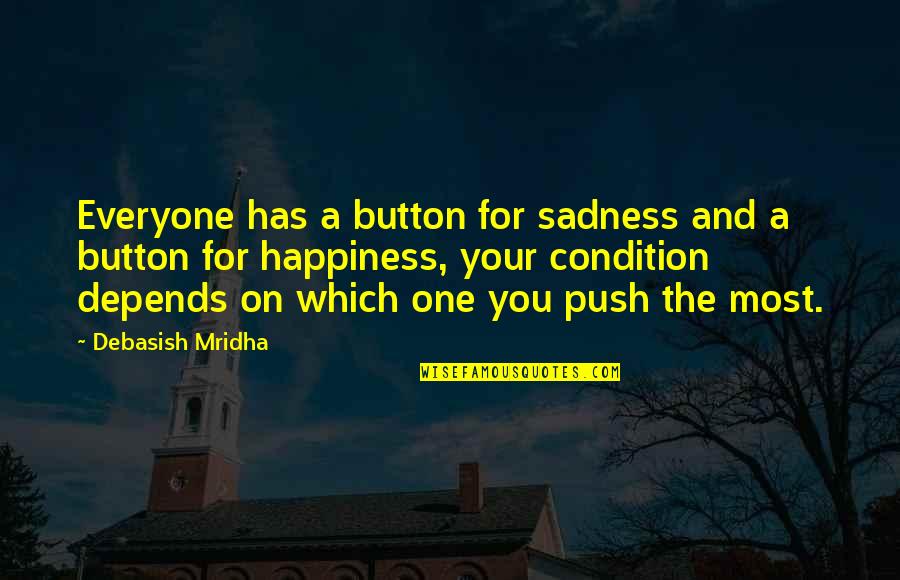 Everyone has a button for sadness and a button for happiness, your condition depends on which one you push the most. —
Debasish Mridha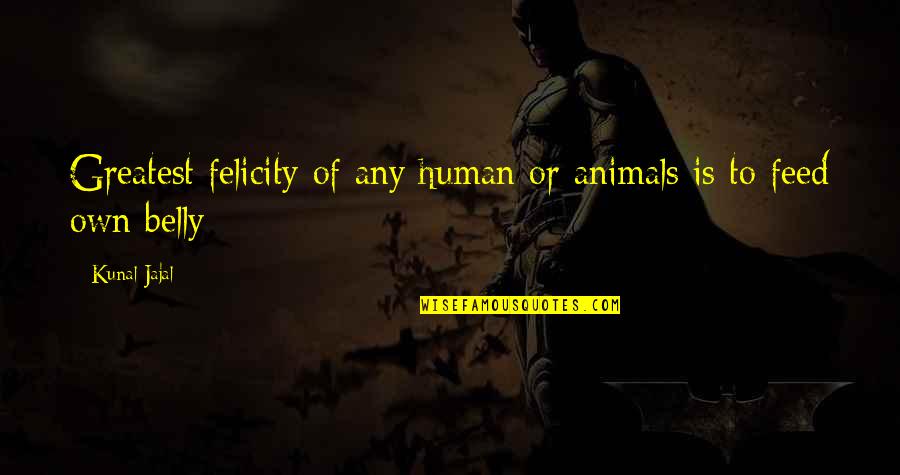 Greatest felicity of any human or animals is to feed own belly —
Kunal Jajal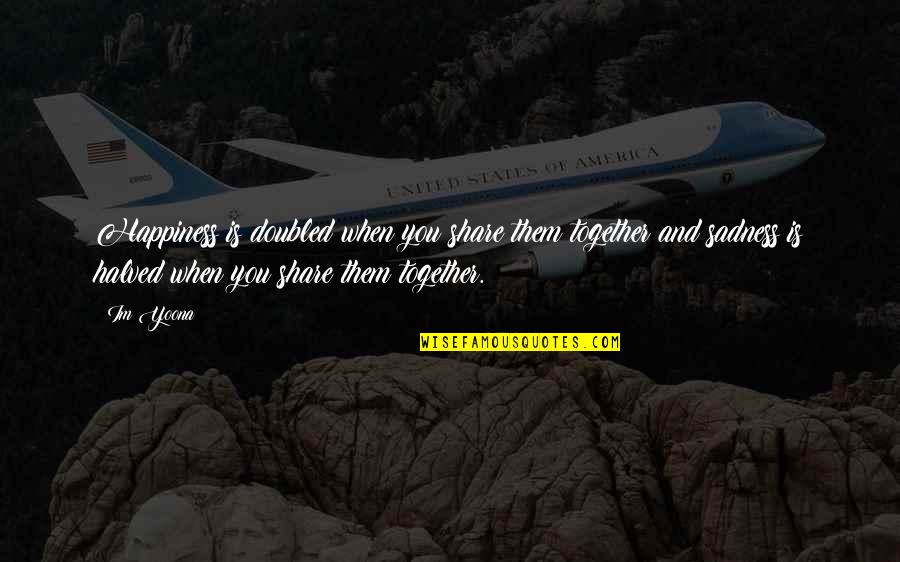 Happiness is doubled when you share them together and sadness is halved when you share them together. —
Im Yoona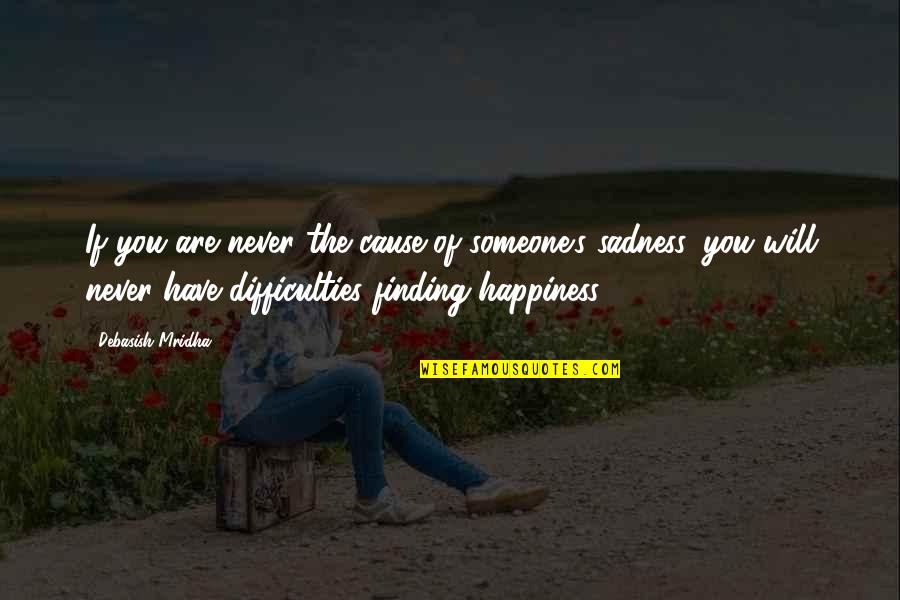 If you are never the cause of someone's sadness, you will never have difficulties finding happiness. —
Debasish Mridha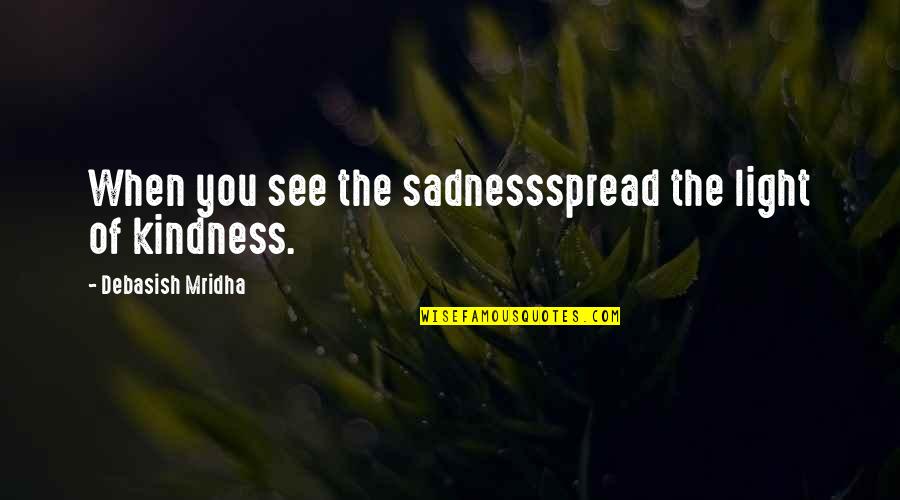 When you see the sadness
spread the light of kindness. —
Debasish Mridha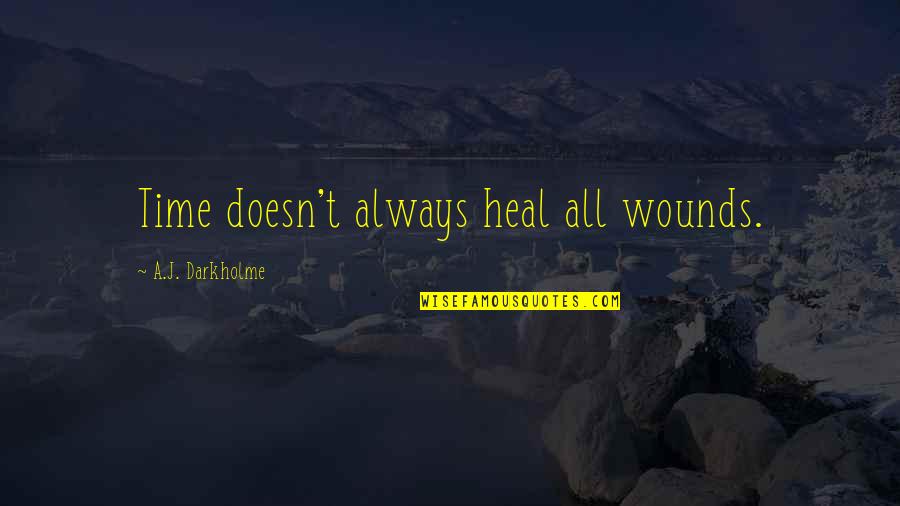 Time doesn't always heal all wounds. —
A.J. Darkholme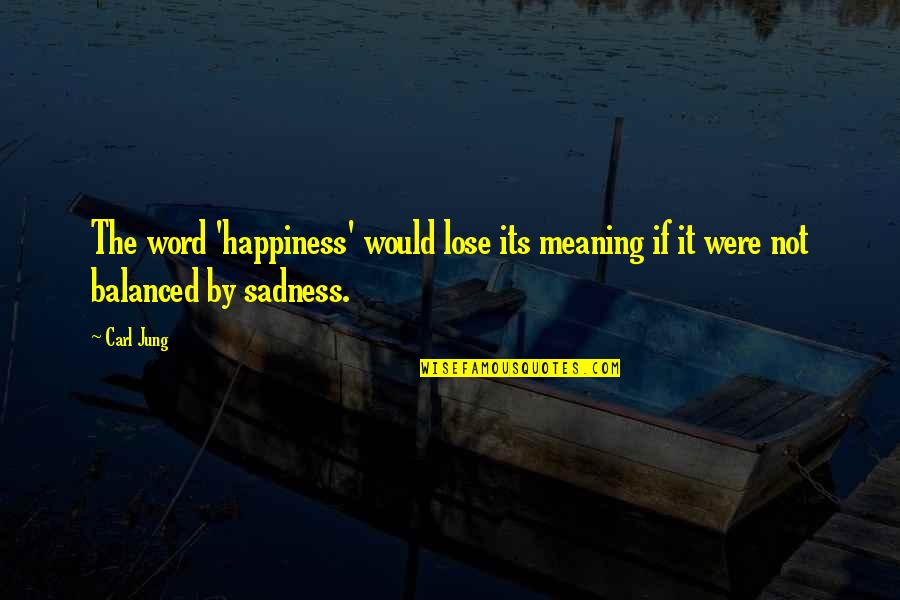 The word 'happiness' would lose its meaning if it were not balanced by sadness. —
Carl Jung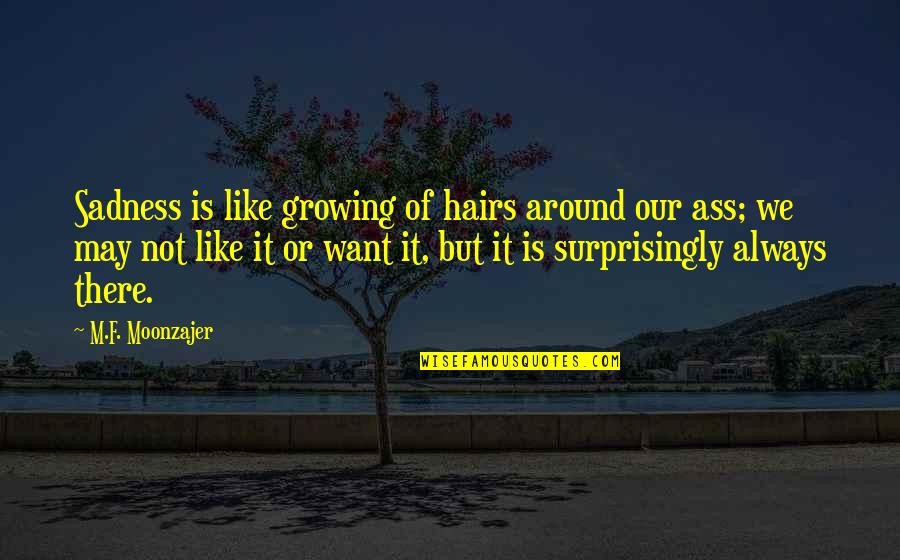 Sadness is like growing of hairs around our ass; we may not like it or want it, but it is surprisingly always there. —
M.F. Moonzajer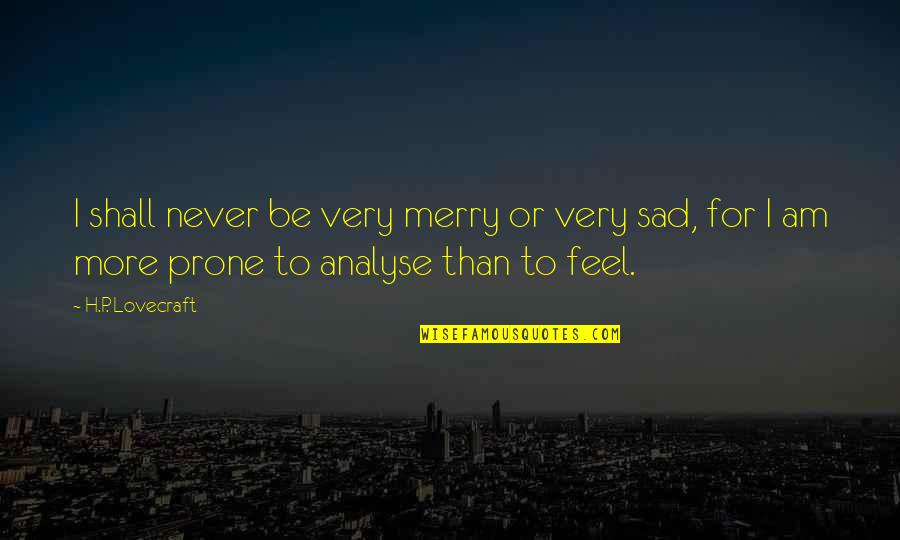 I shall never be very merry or very sad, for I am more prone to analyse than to feel. —
H.P. Lovecraft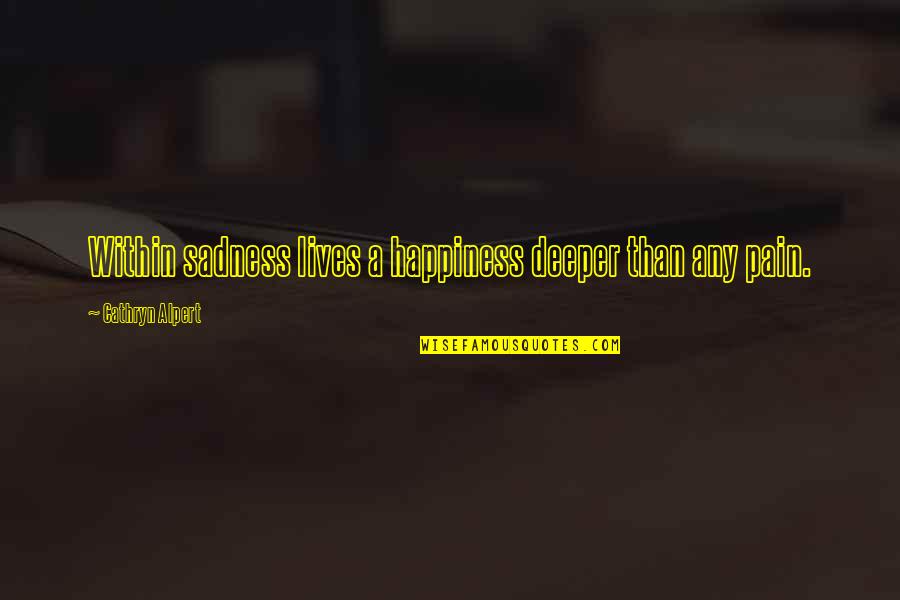 Within sadness lives a happiness deeper than any pain. —
Cathryn Alpert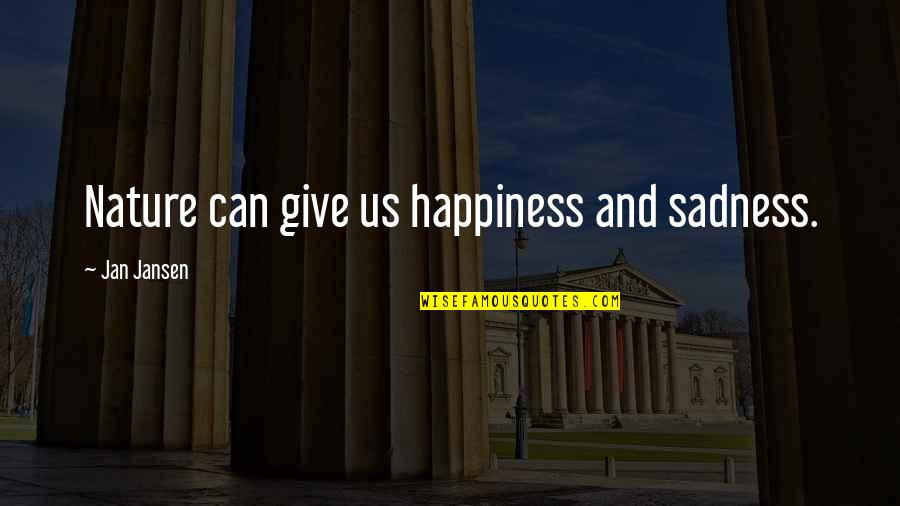 Nature can give us happiness and sadness. —
Jan Jansen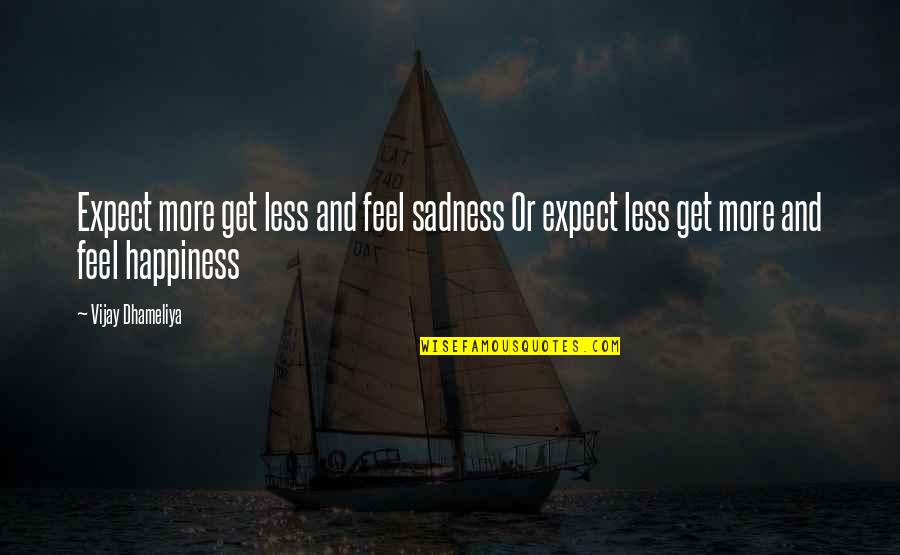 Expect more get less and feel sadness Or expect less get more and feel happiness —
Vijay Dhameliya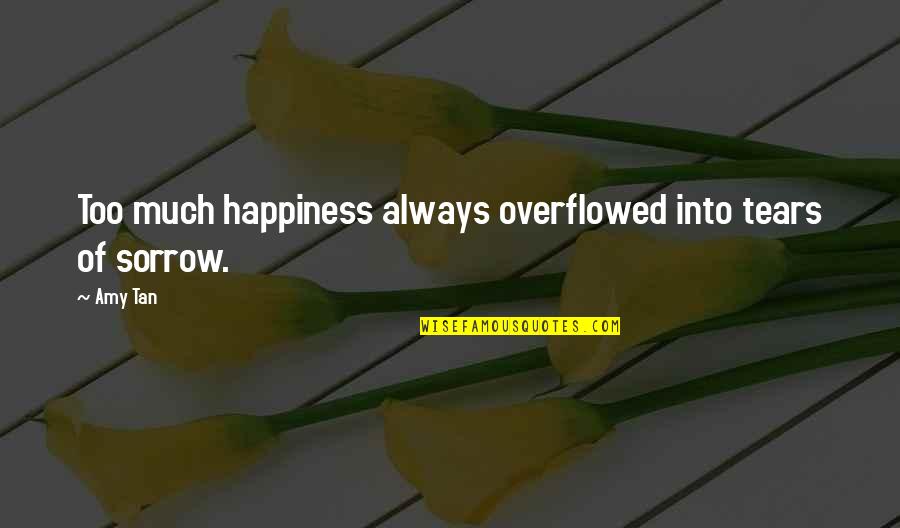 Too much happiness always overflowed into tears of sorrow. —
Amy Tan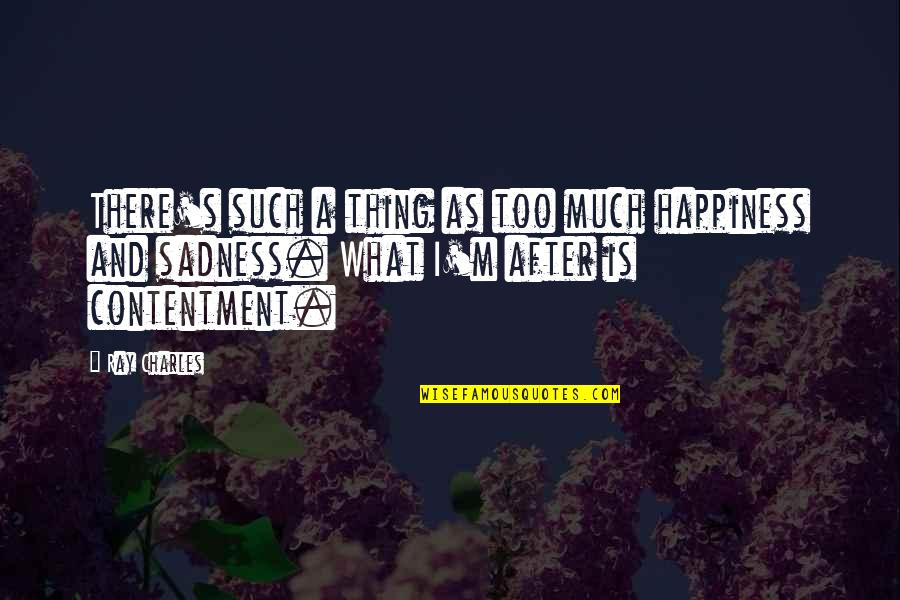 There's such a thing as too much happiness and sadness. What I'm after is contentment. —
Ray Charles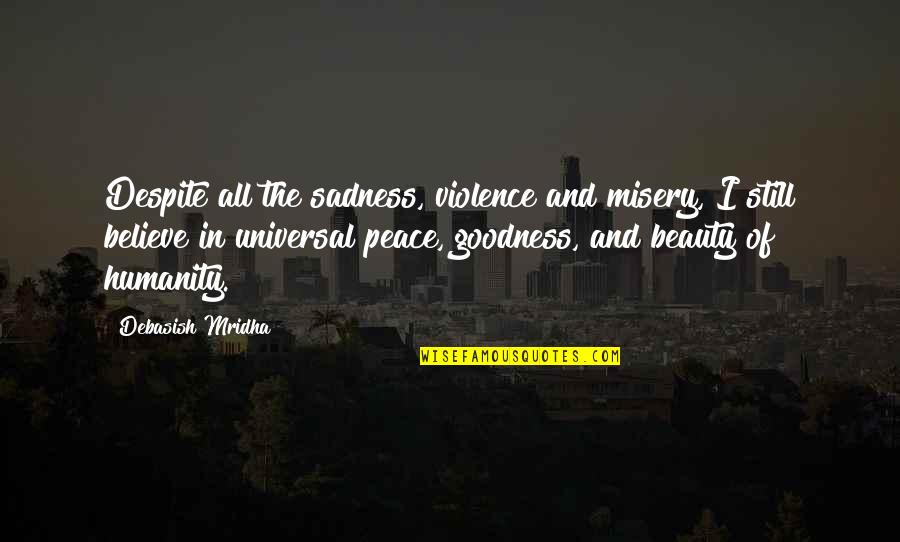 Despite all the sadness, violence and misery, I still believe in universal peace, goodness, and beauty of humanity. —
Debasish Mridha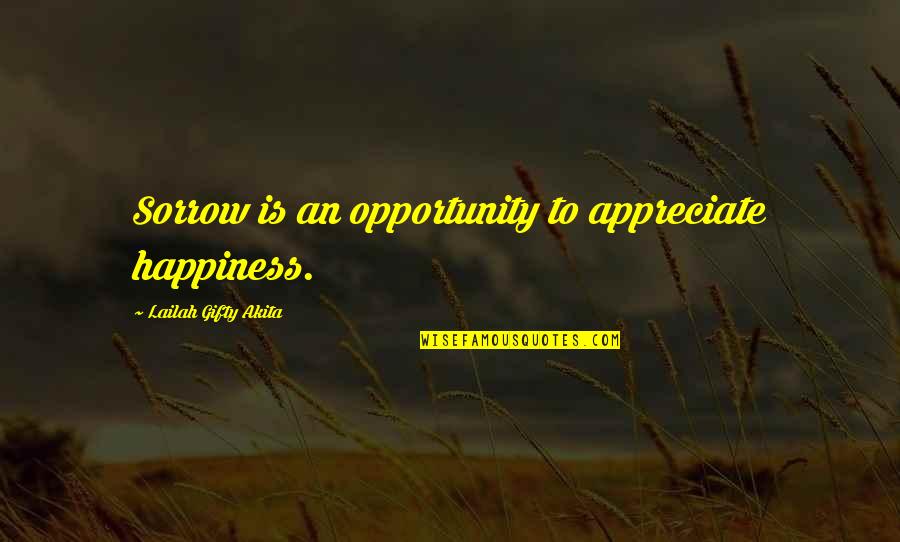 Sorrow is an opportunity to appreciate happiness. —
Lailah Gifty Akita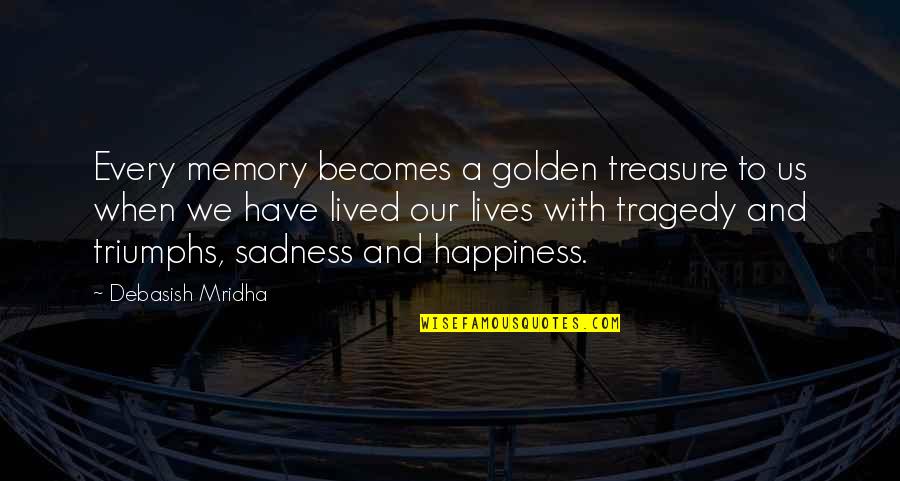 Every memory becomes a golden treasure to us when we have lived our lives with tragedy and triumphs, sadness and happiness. —
Debasish Mridha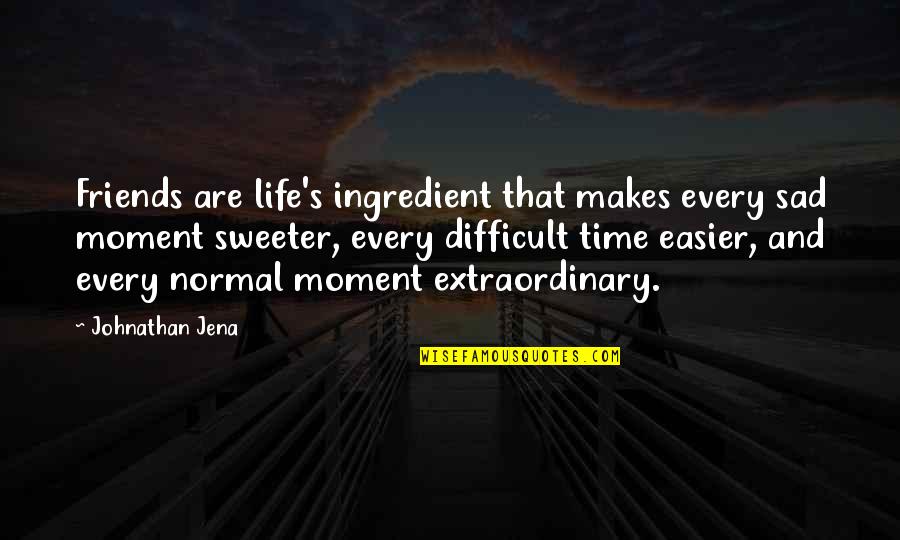 Friends are life's ingredient that makes every sad moment sweeter, every difficult time easier, and every normal moment extraordinary. —
Johnathan Jena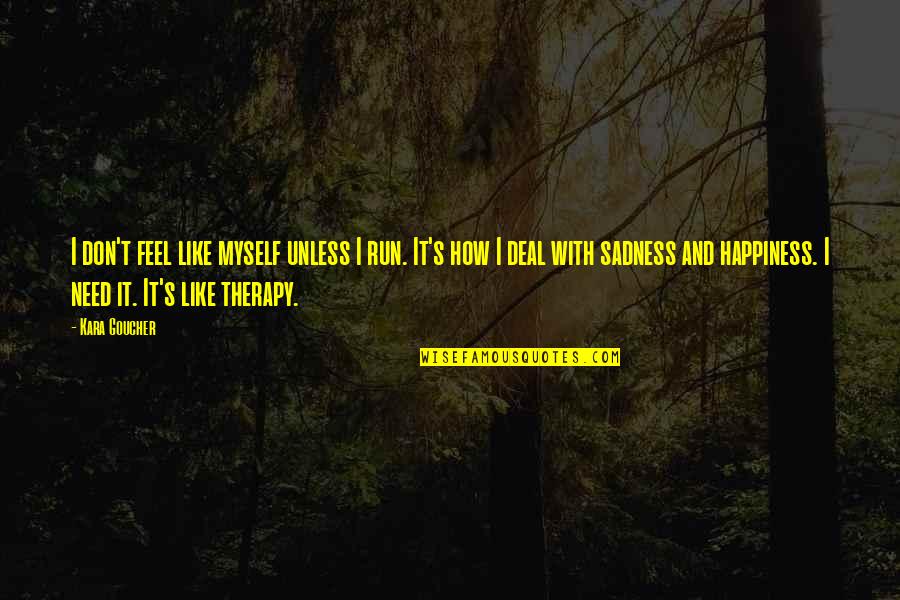 I don't feel like myself unless I run. It's how I deal with sadness and happiness. I need it. It's like therapy. —
Kara Goucher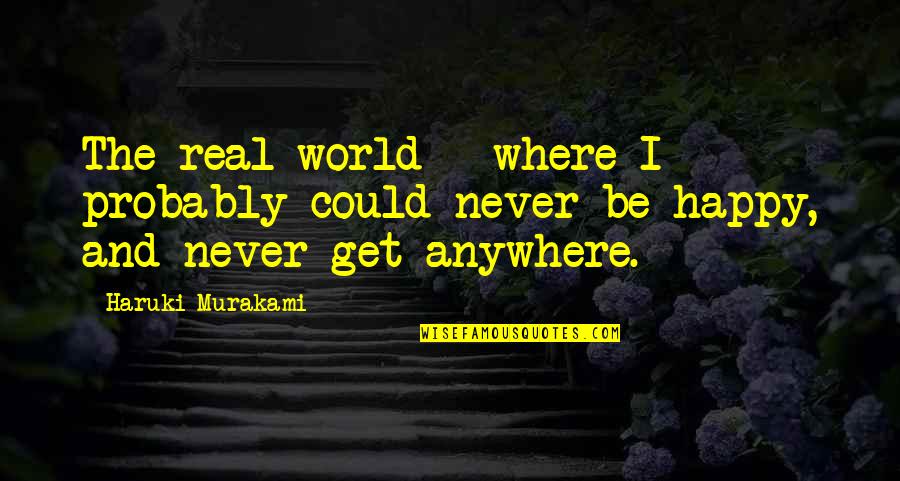 The real world - where I probably could never be happy, and never get anywhere. —
Haruki Murakami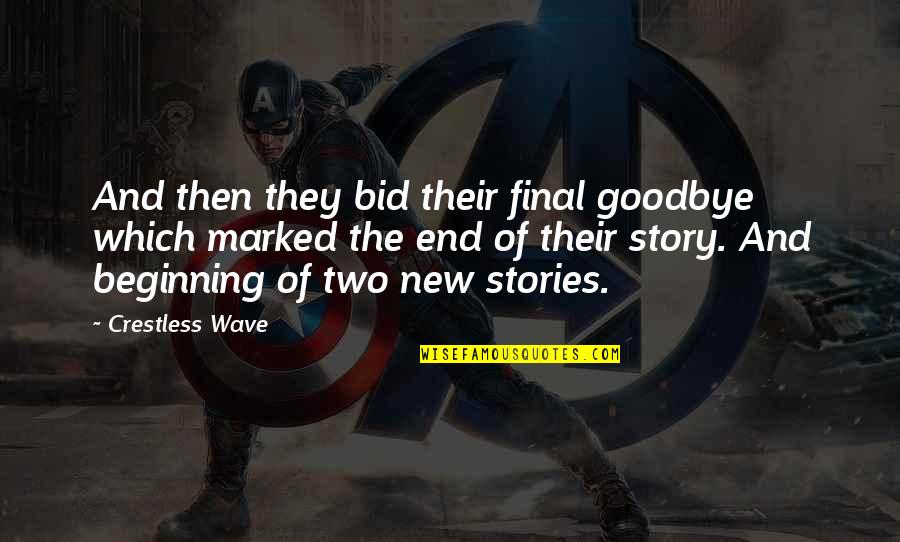 And then they bid their final goodbye which marked the end of their story. And beginning of two new stories. —
Crestless Wave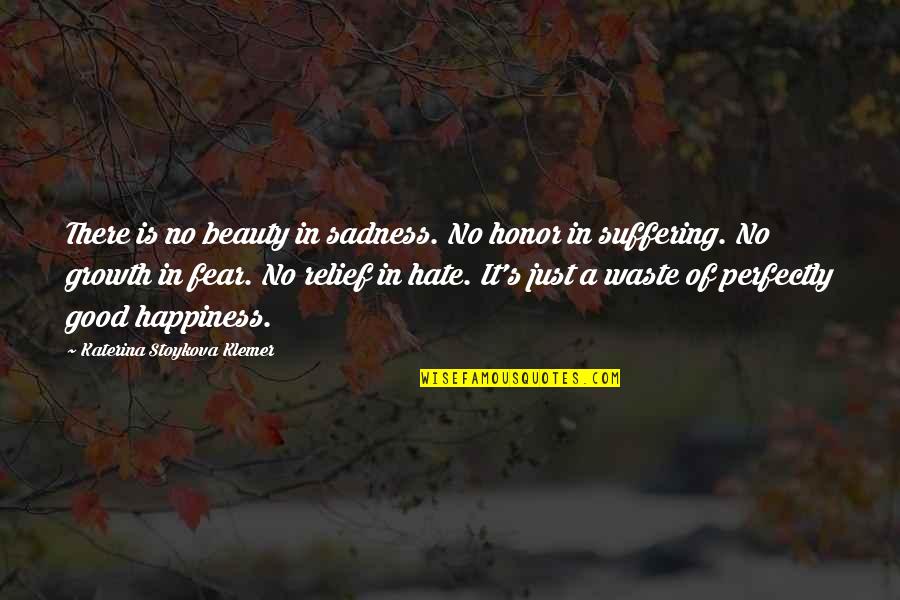 There is no beauty in sadness. No honor in suffering. No growth in fear. No relief in hate. It's just a waste of perfectly good happiness. —
Katerina Stoykova Klemer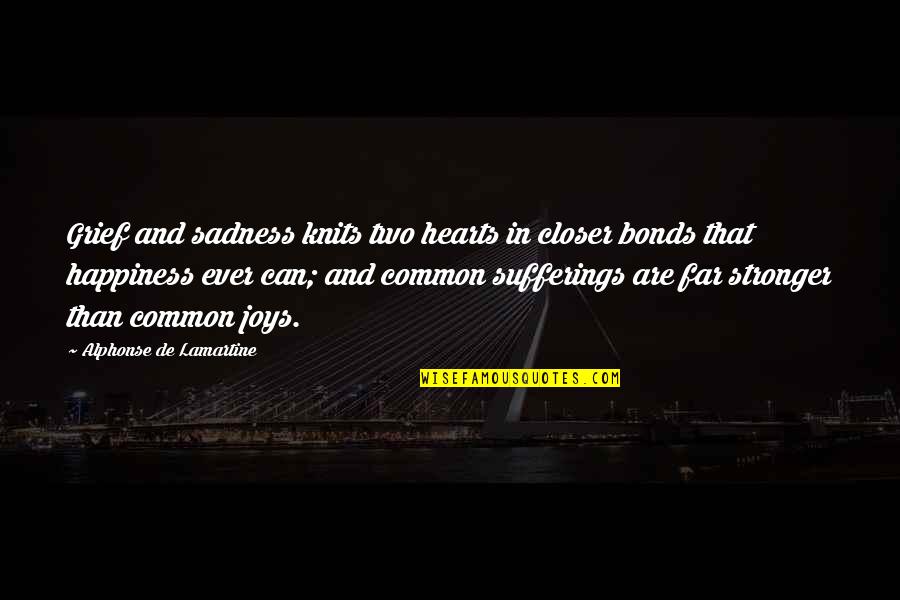 Grief and sadness knits two hearts in closer bonds that happiness ever can; and common sufferings are far stronger than common joys. —
Alphonse De Lamartine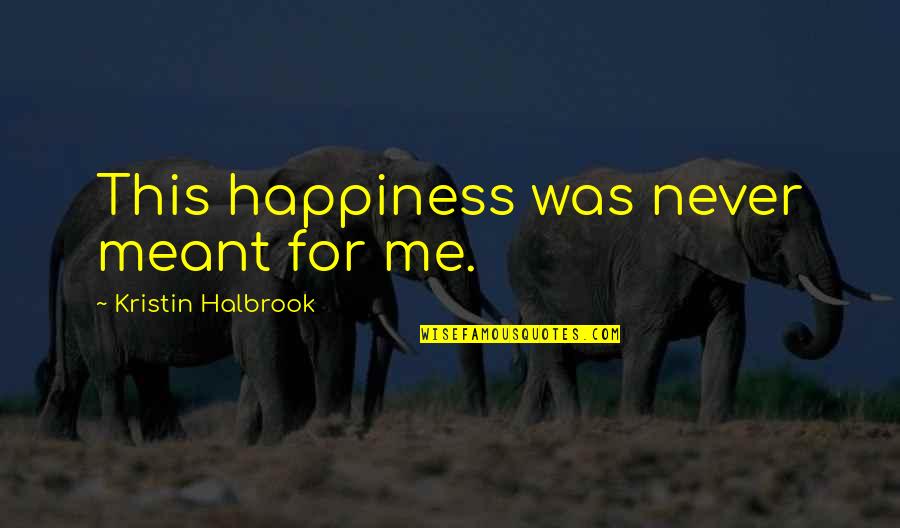 This happiness was never meant for me. —
Kristin Halbrook
I wanted to say all these things about how you just have to hold on to the things you love and let go of all the rest. —
Charlotte Eriksson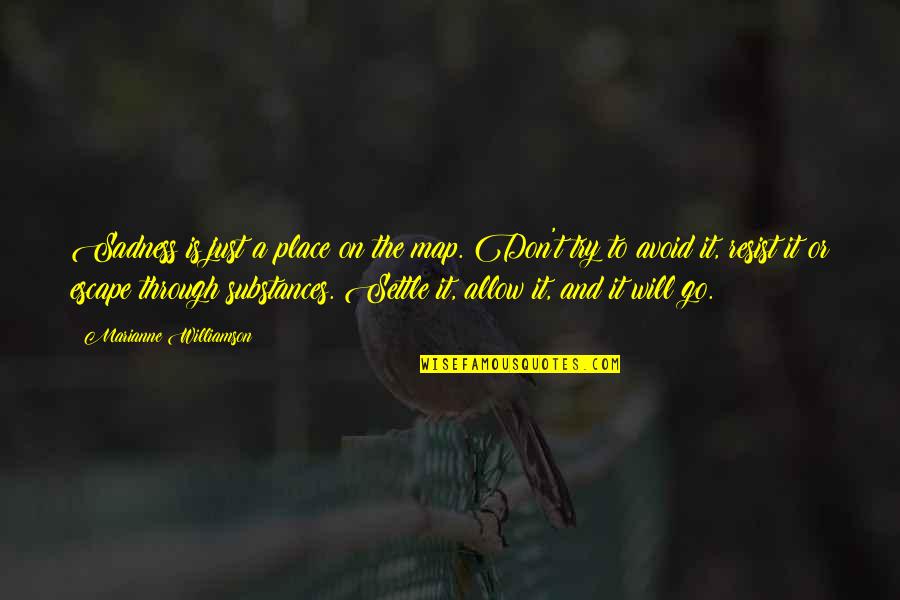 Sadness is just a place on the map. Don't try to avoid it, resist it or escape through substances. Settle it, allow it, and it will go. —
Marianne Williamson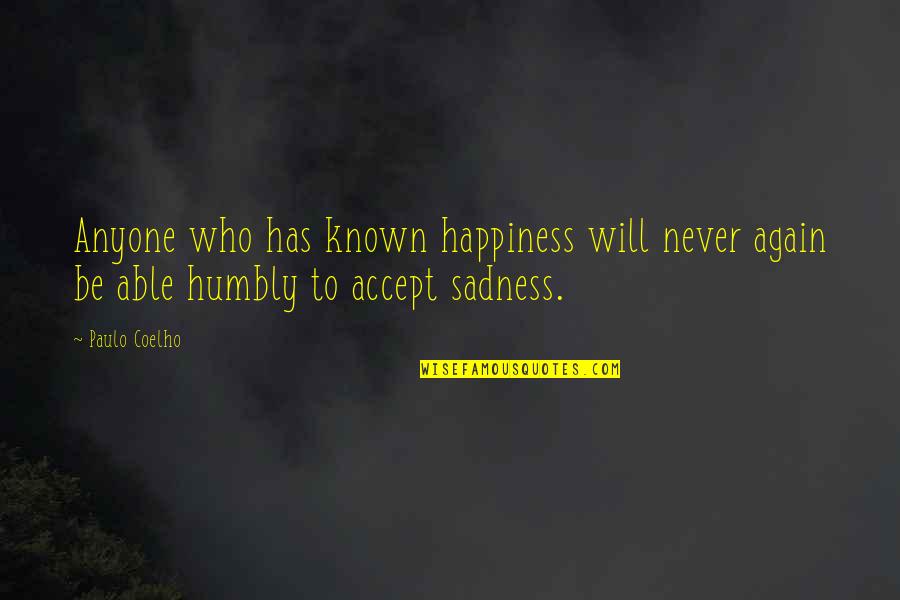 Anyone who has known happiness will never again be able humbly to accept sadness. —
Paulo Coelho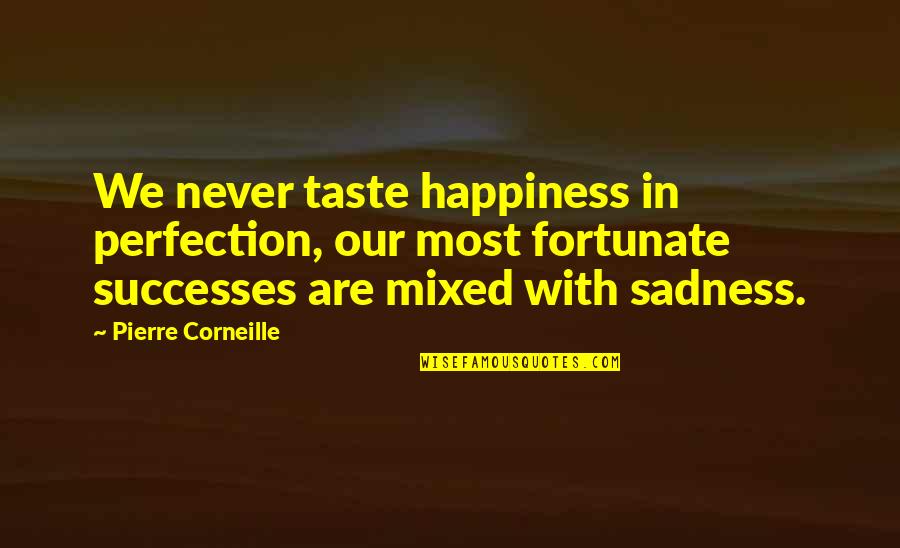 We never taste happiness in perfection, our most fortunate successes are mixed with sadness. —
Pierre Corneille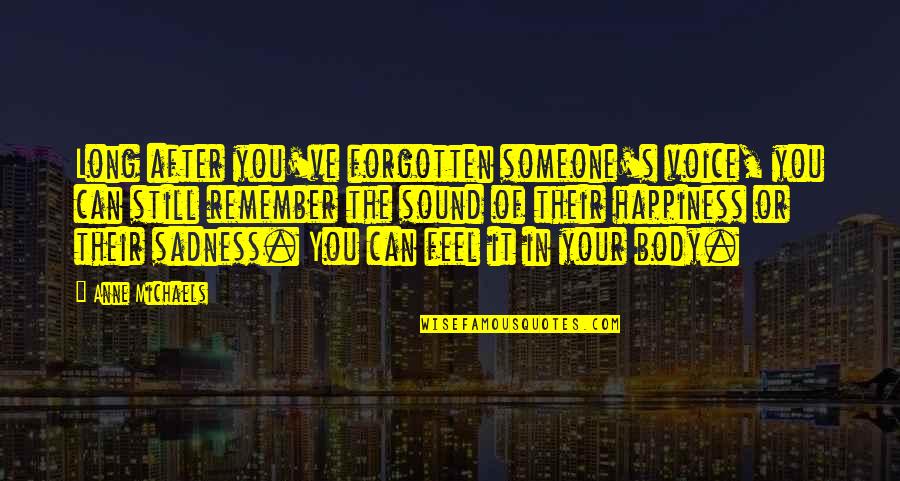 Long after you've forgotten someone's voice, you can still remember the sound of their happiness or their sadness. You can feel it in your body. —
Anne Michaels
I do believe that if you haven't learnt about sadness, you cannot appreciate happiness. —
Nana Mouskouri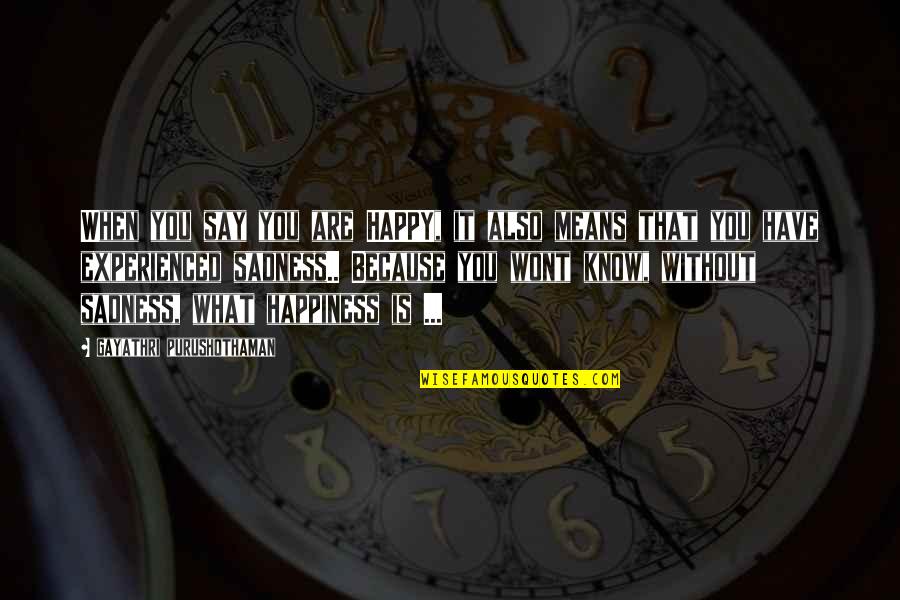 When you say you are HAPPY, it also means that you have experienced sadness.. Because you wont know, without sadness, what happiness is ... —
Gayathri Purushothaman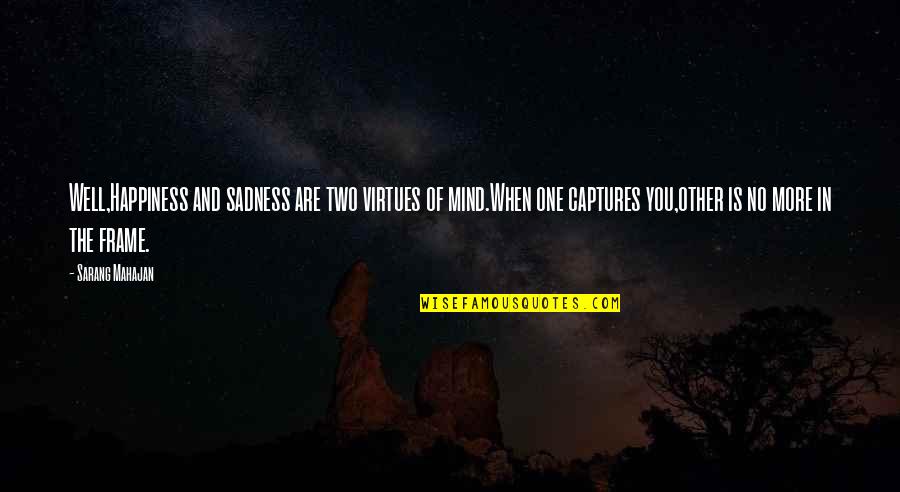 Well,Happiness and sadness are two virtues of mind.When one captures you,other is no more in the frame. —
Sarang Mahajan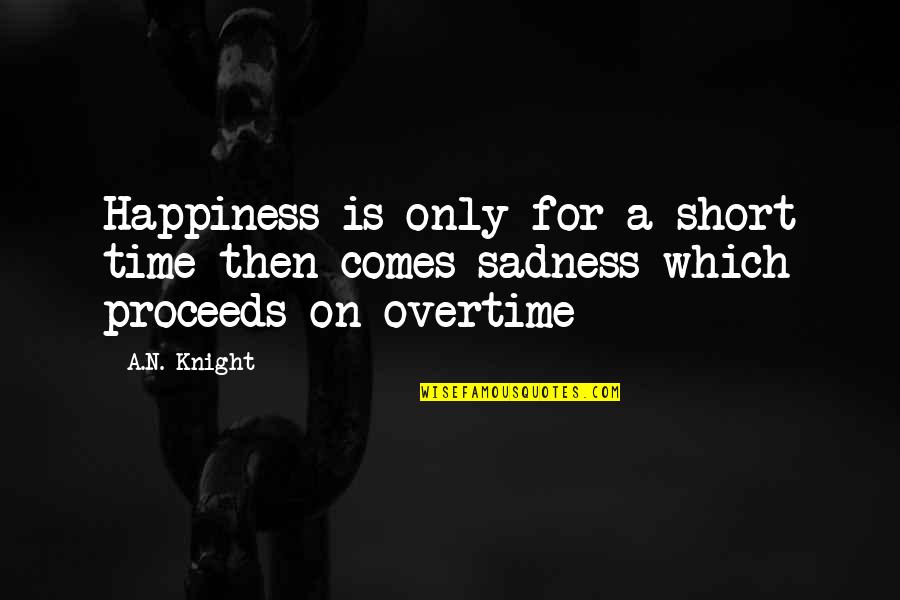 Happiness is only for a short time then comes sadness which proceeds on overtime —
A.N. Knight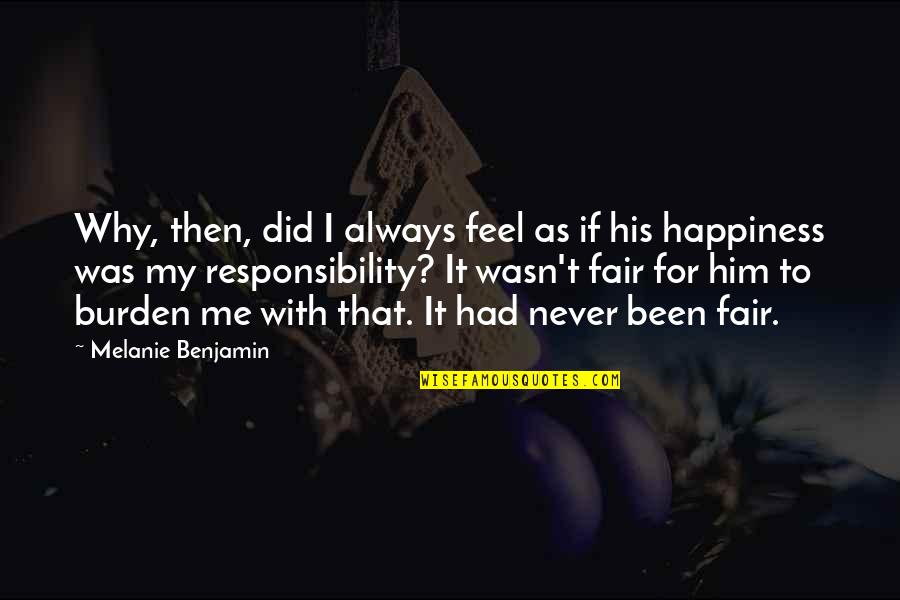 Why, then, did I always feel as if his happiness was my responsibility? It wasn't fair for him to burden me with that. It had never been fair. —
Melanie Benjamin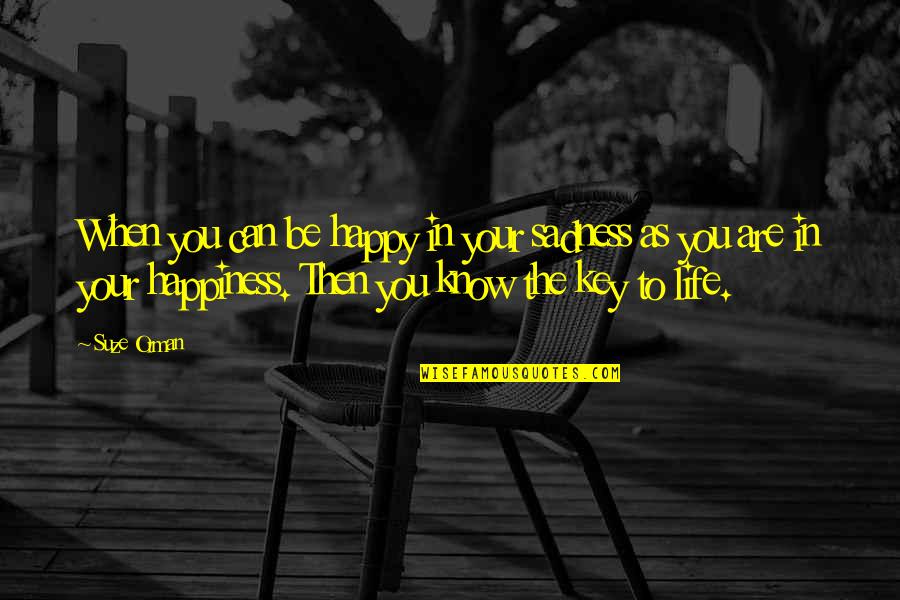 When you can be happy in your sadness as you are in your happiness. Then you know the key to life. —
Suze Orman
When perception will change then today's sadness could be tomorrow's happiness. —
Debasish Mridha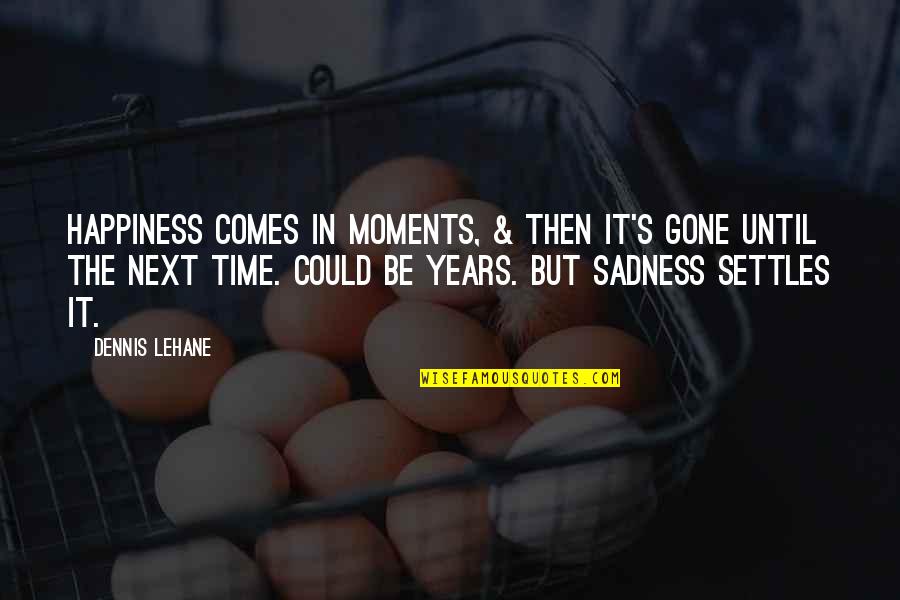 Happiness comes in moments, & then it's gone until the next time. Could be years. But sadness settles it. —
Dennis Lehane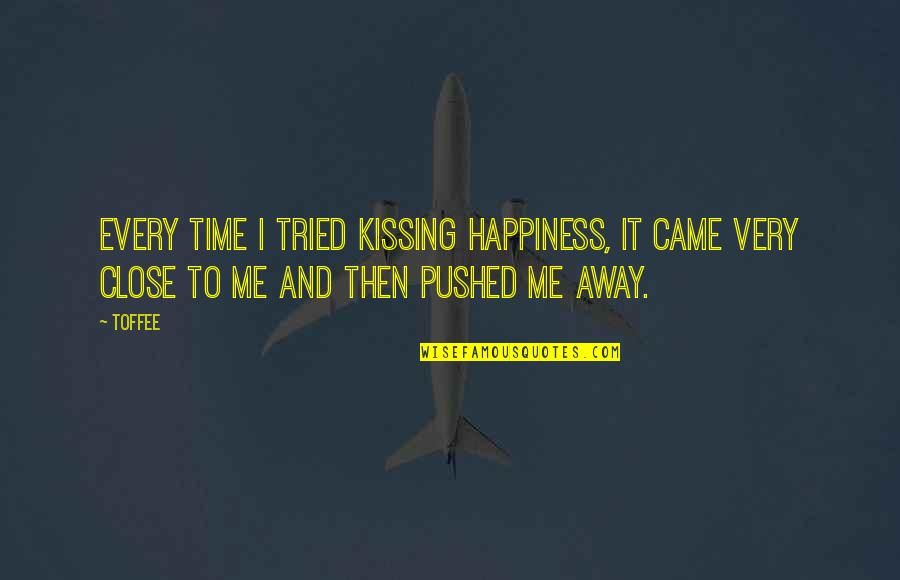 Every time I tried kissing happiness, it came very close to me and then pushed me away. —
Toffee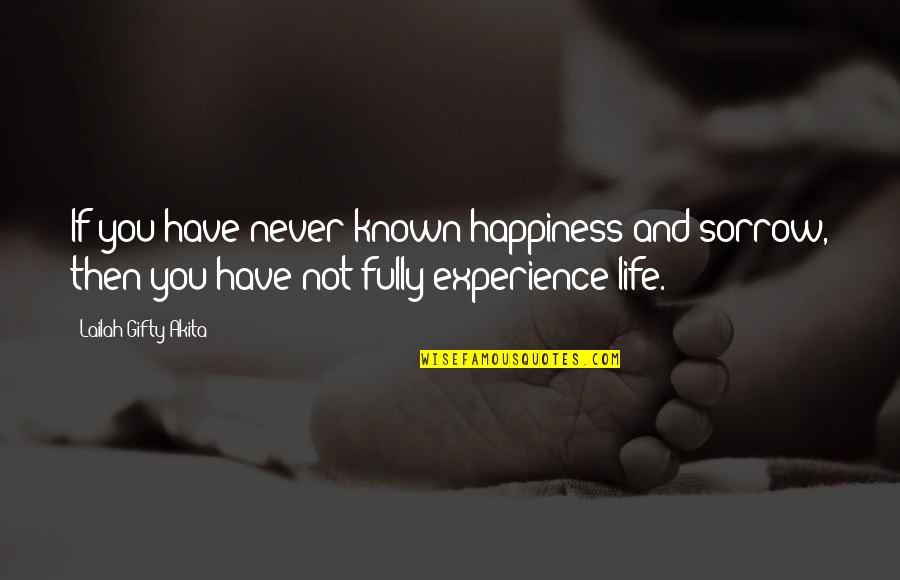 If you have never known happiness and sorrow, then you have not fully experience life. —
Lailah Gifty Akita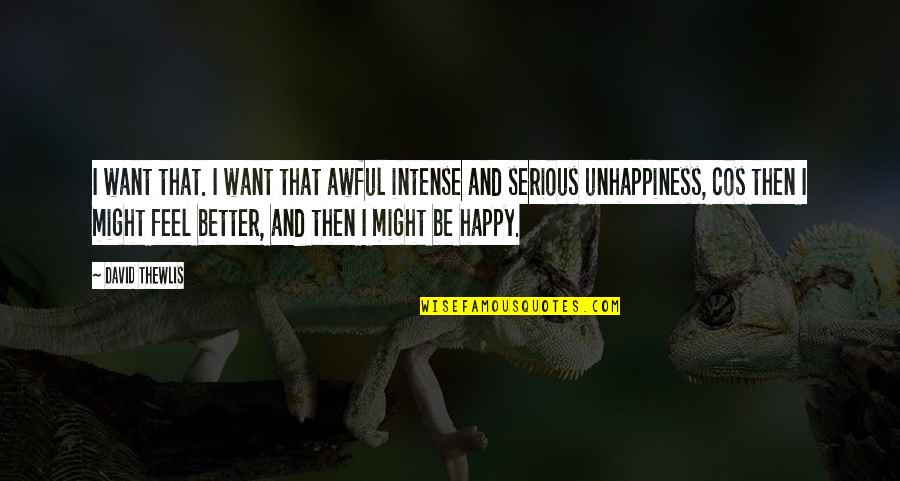 I want that. I want that awful intense and serious unhappiness, cos then I might feel better, and then I might be happy. —
David Thewlis