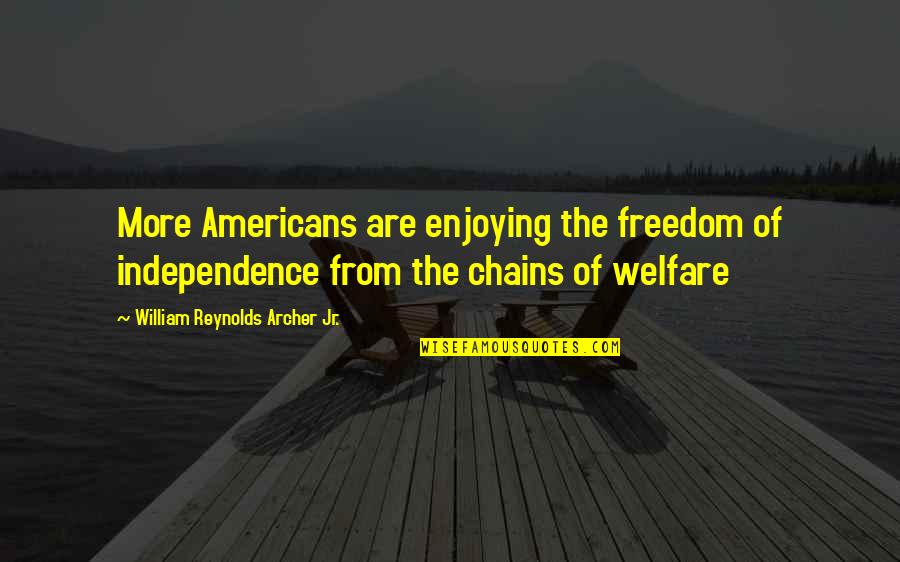 More Americans are enjoying the freedom of independence from the chains of welfare
—
William Reynolds Archer Jr.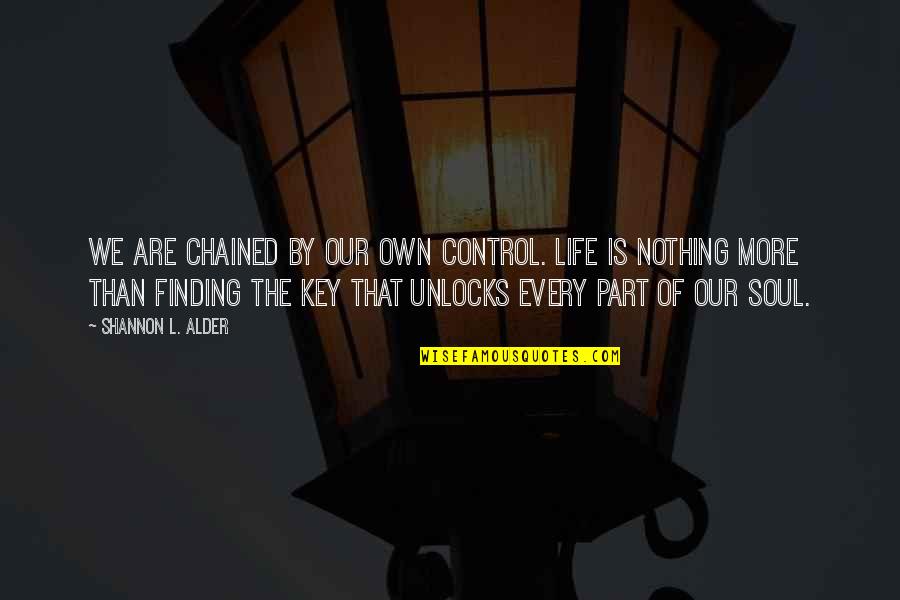 We are chained by our own control. Life is nothing more than finding the key that unlocks every part of our soul.
—
Shannon L. Alder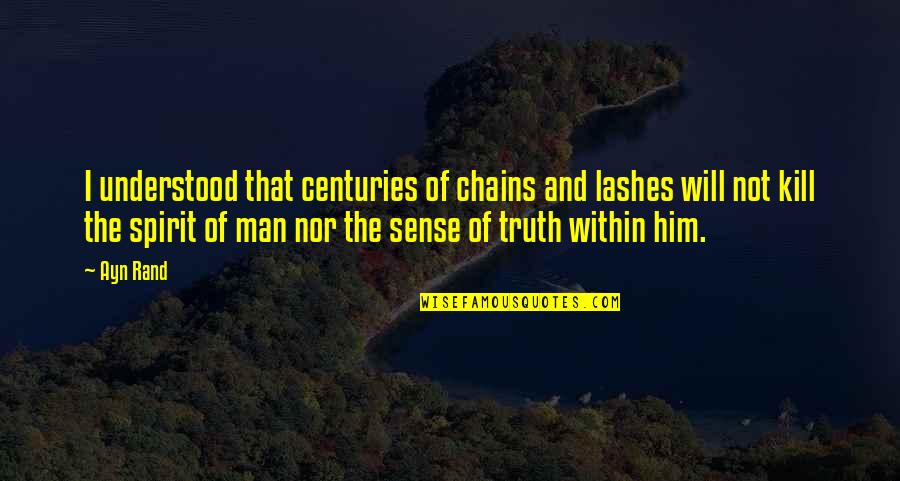 I understood that centuries of chains and lashes will not kill the spirit of man nor the sense of truth within him.
—
Ayn Rand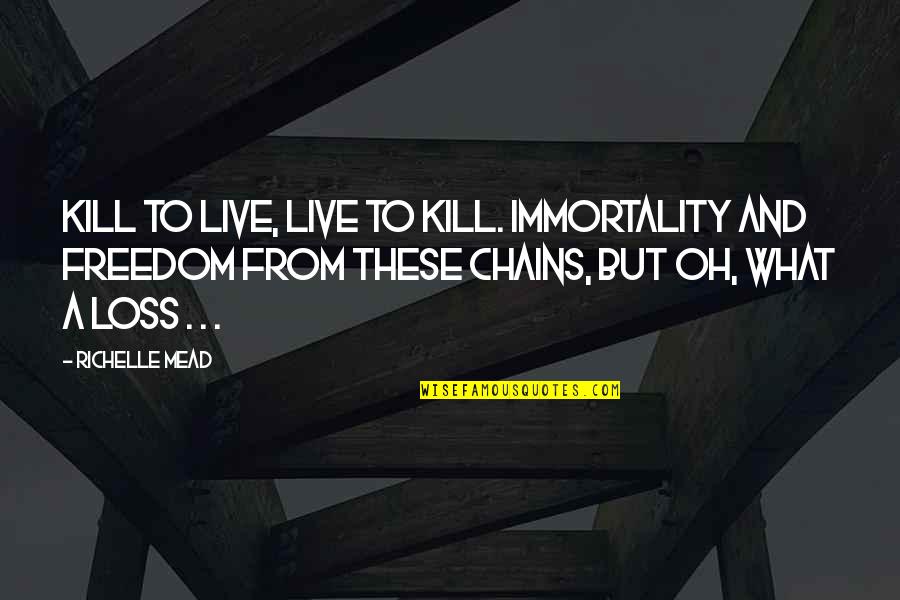 kill to live, live to kill. Immortality and freedom from these chains, but oh, what a loss . . .
—
Richelle Mead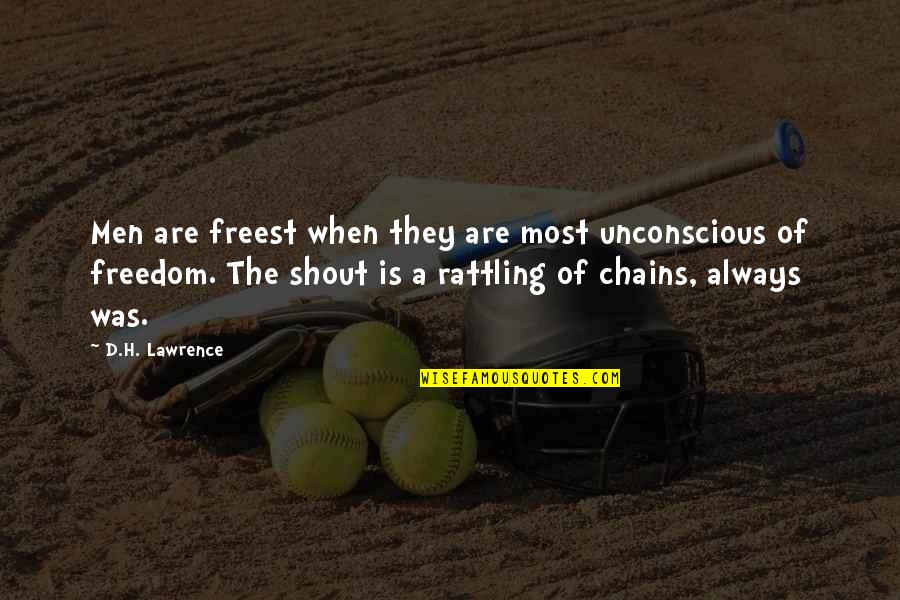 Men are freest when they are most unconscious of freedom. The shout is a rattling of chains, always was.
—
D.H. Lawrence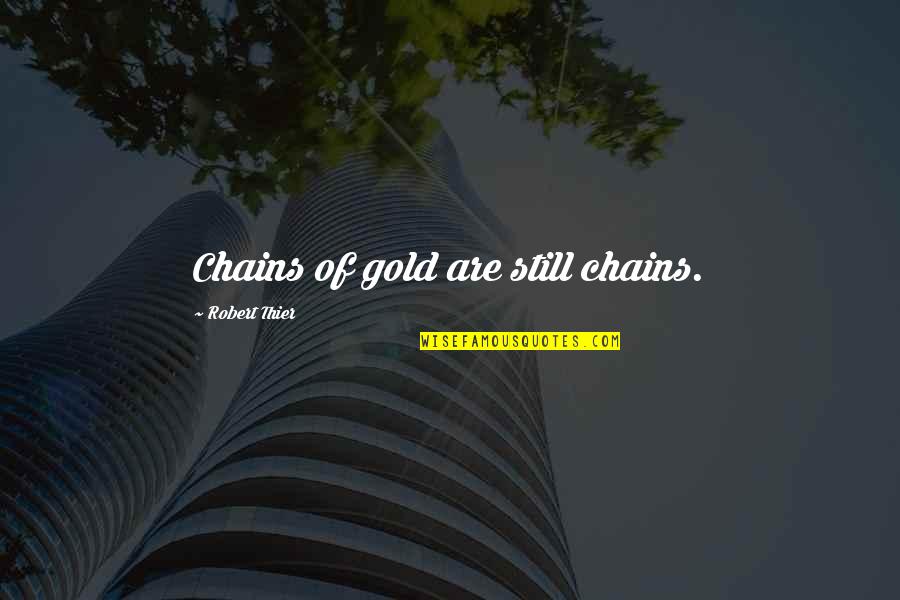 Chains of gold are still chains.
—
Robert Thier
Start with a style and you are in chains, start with an idea and you are free.
—
Richard Avedon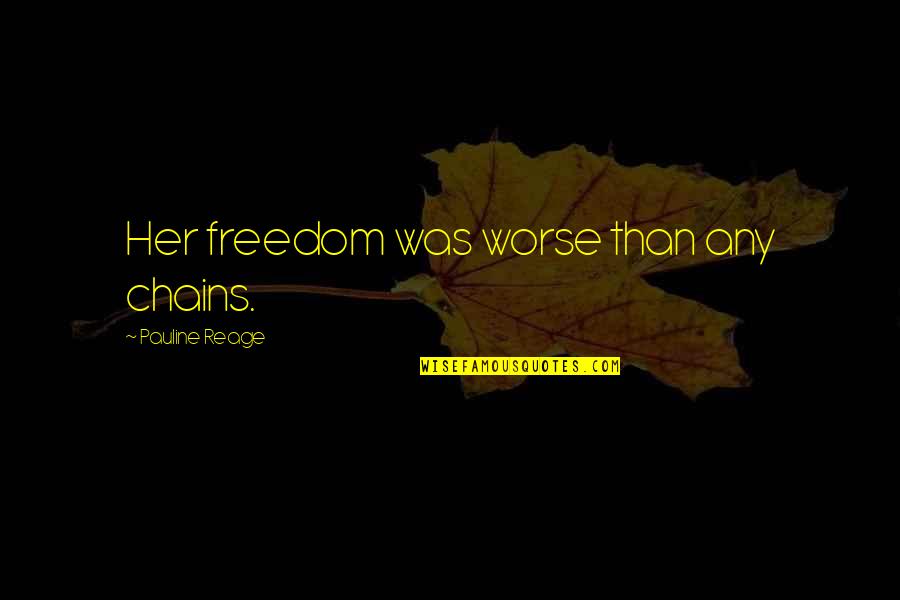 Her freedom was worse than any chains.
—
Pauline Reage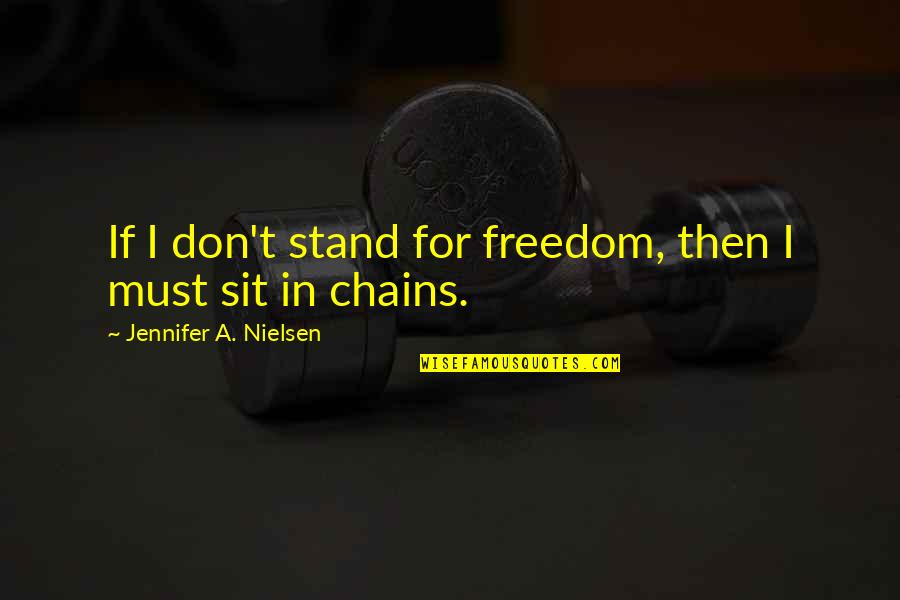 If I don't stand for freedom, then I must sit in chains.
—
Jennifer A. Nielsen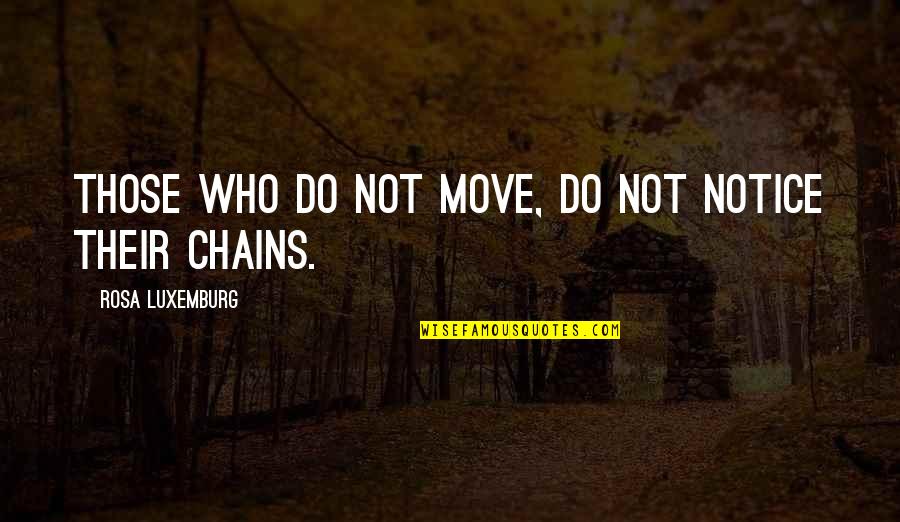 Those who do not move, do not notice their chains.
—
Rosa Luxemburg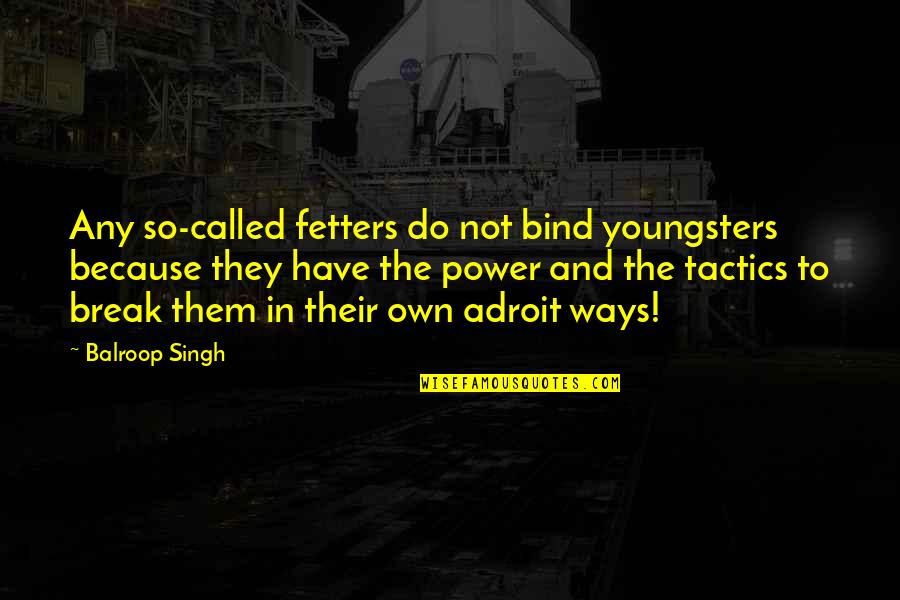 Any so-called fetters do not bind youngsters because they have the power and the tactics to break them in their own adroit ways!
—
Balroop Singh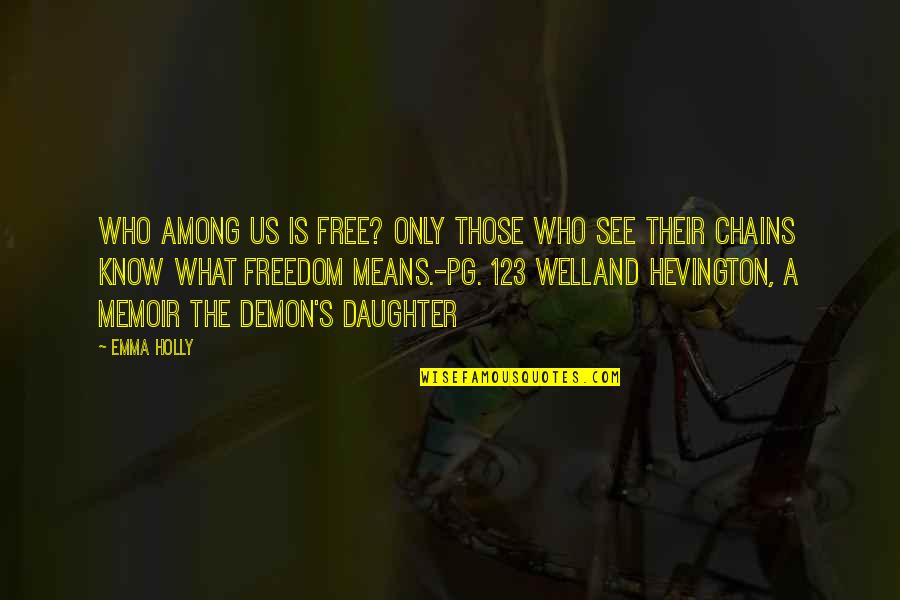 Who among us is free? Only those who see their chains know what freedom means.-pg. 123 Welland Hevington, A Memoir The Demon's Daughter
—
Emma Holly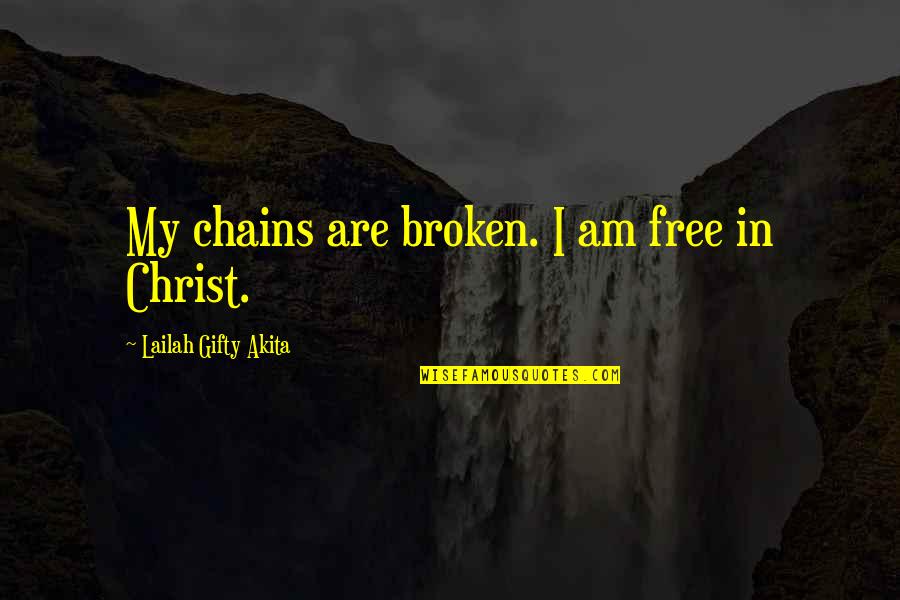 My chains are broken. I am free in Christ. —
Lailah Gifty Akita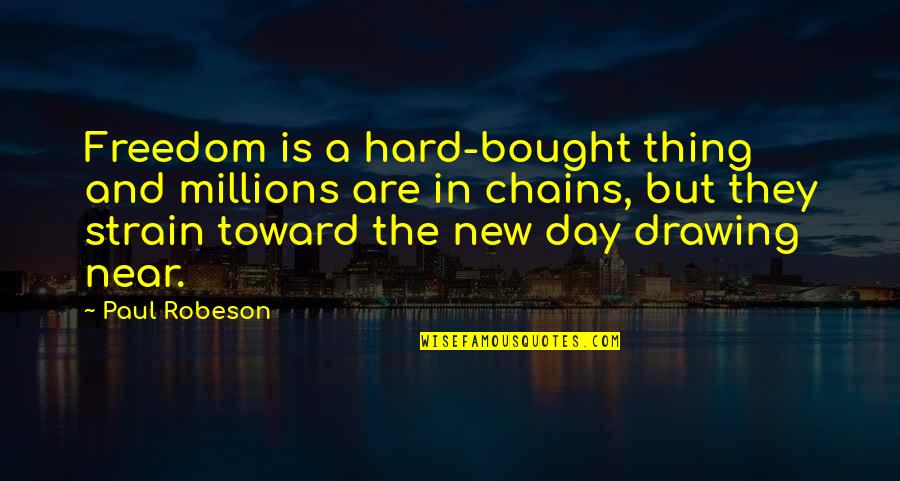 Freedom is a hard-bought thing and millions are in chains, but they strain toward the new day drawing near. —
Paul Robeson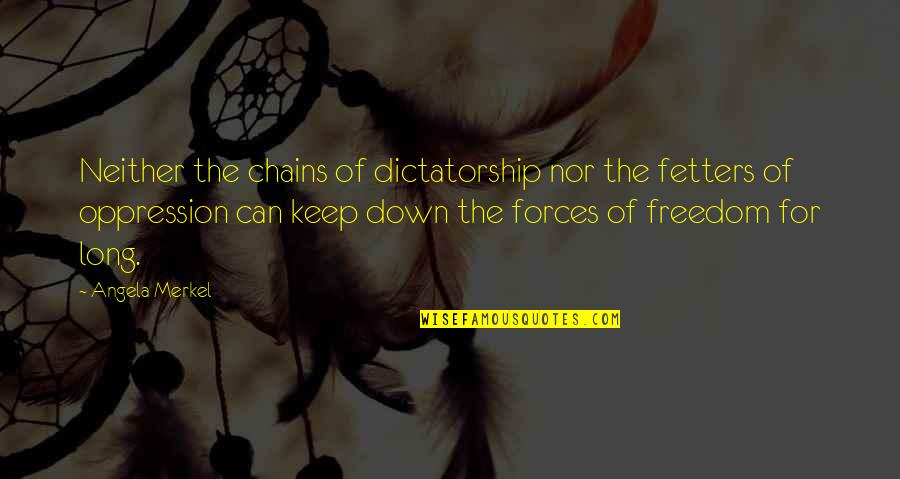 Neither the chains of dictatorship nor the fetters of oppression can keep down the forces of freedom for long. —
Angela Merkel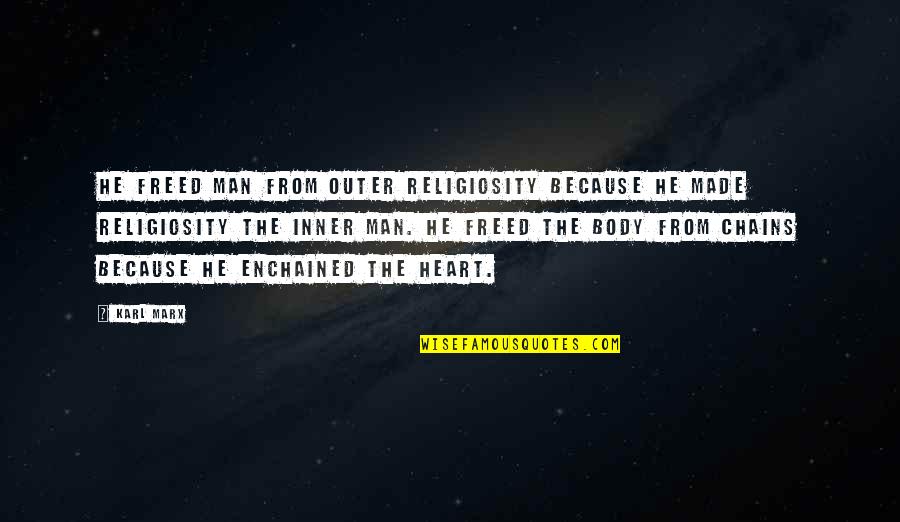 He freed man from outer religiosity because he made religiosity the inner man. He freed the body from chains because he enchained the heart. —
Karl Marx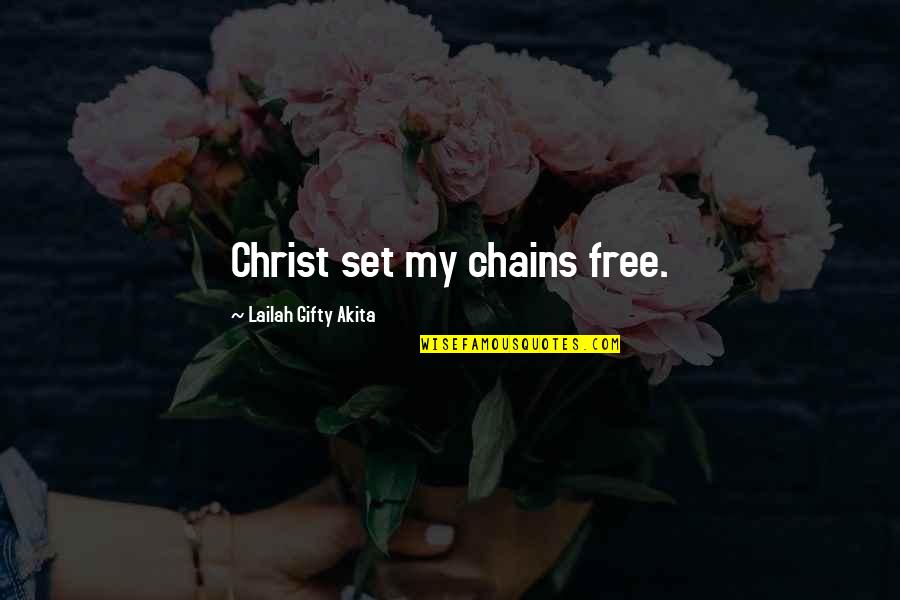 Christ set my chains free. —
Lailah Gifty Akita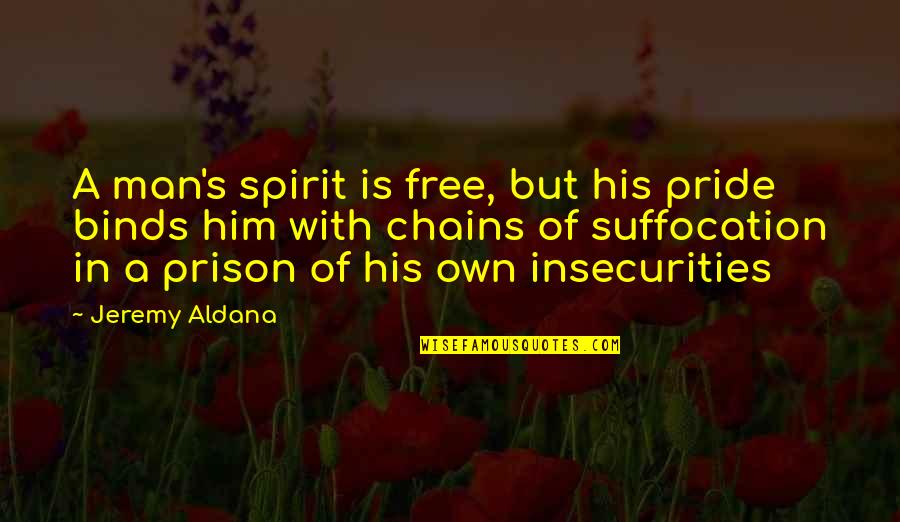 A man's spirit is free, but his pride binds him with chains of suffocation in a prison of his own insecurities —
Jeremy Aldana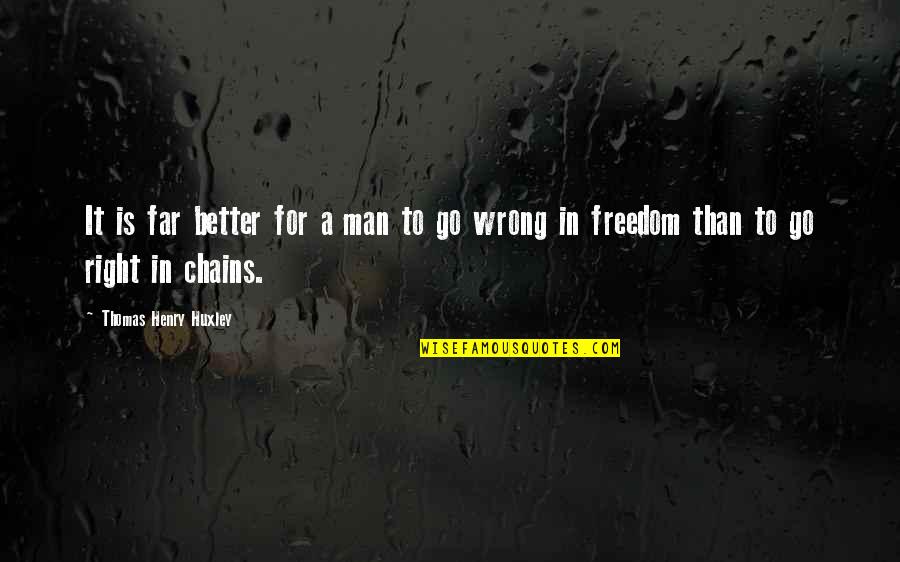 It is far better for a man to go wrong in freedom than to go right in chains. —
Thomas Henry Huxley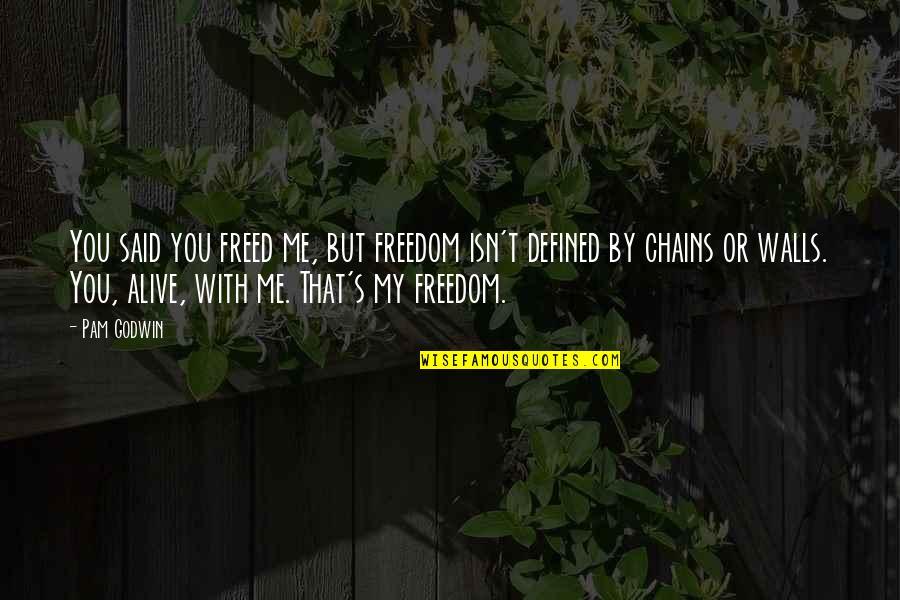 You said you freed me, but freedom isn't defined by chains or walls. You, alive, with me. That's my freedom. —
Pam Godwin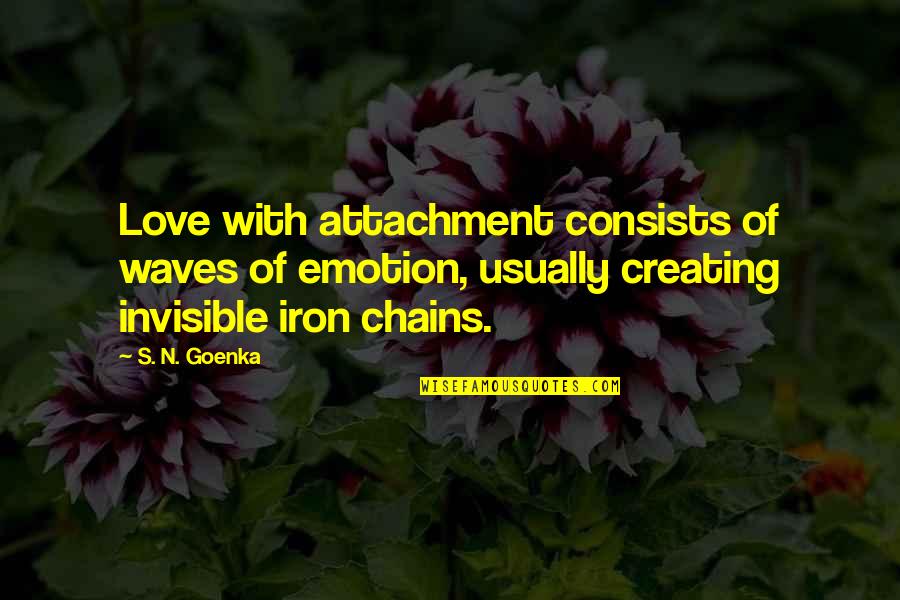 Love with attachment consists of waves of emotion, usually creating invisible iron chains. —
S. N. Goenka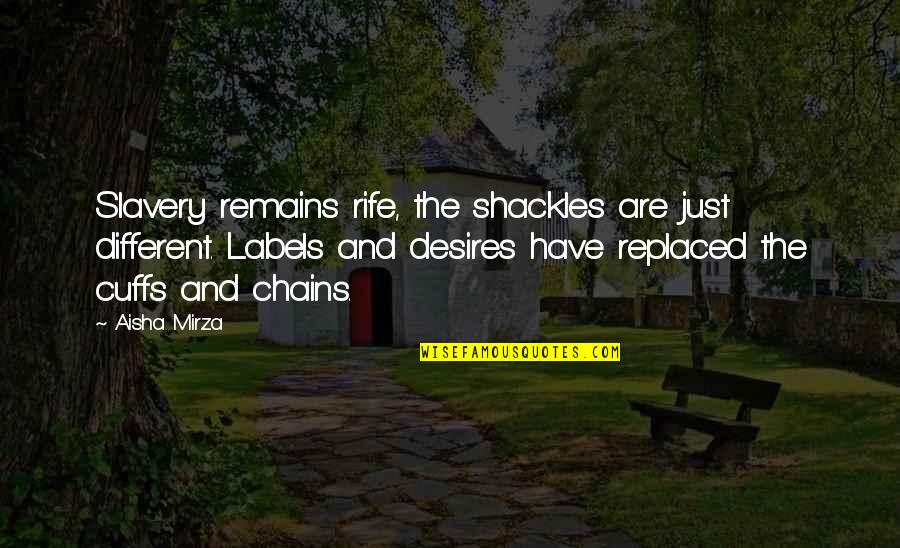 Slavery remains rife, the shackles are just different. Labels and desires have replaced the cuffs and chains. —
Aisha Mirza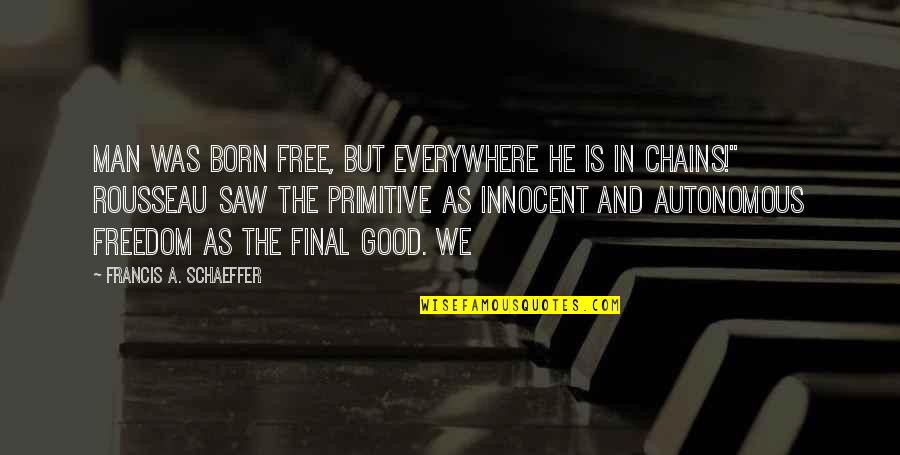 Man was born free, but everywhere he is in chains!" Rousseau saw the primitive as innocent and autonomous freedom as the final good. We —
Francis A. Schaeffer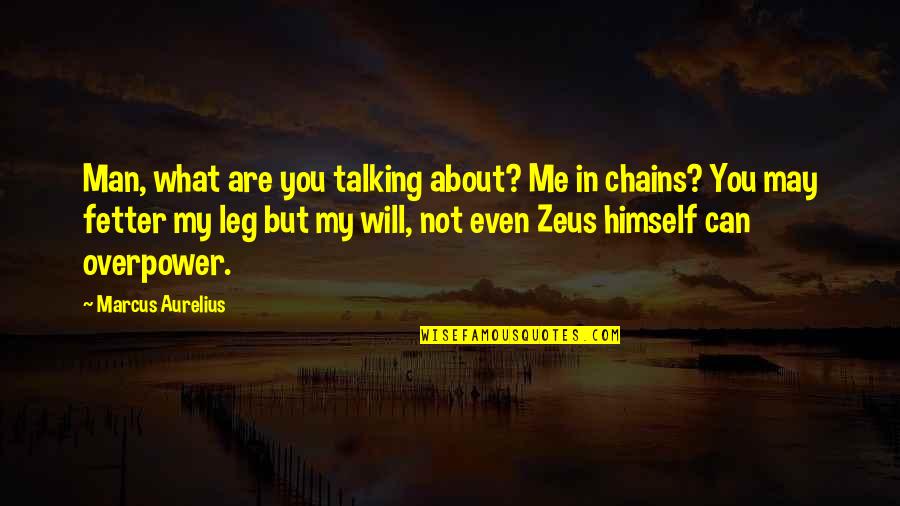 Man, what are you talking about? Me in chains? You may fetter my leg but my will, not even Zeus himself can overpower. —
Marcus Aurelius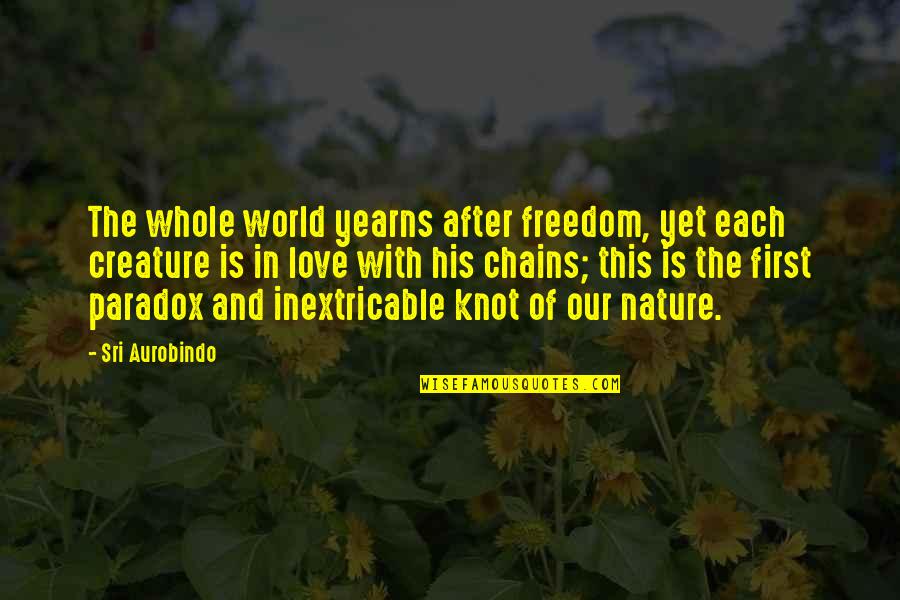 The whole world yearns after freedom, yet each creature is in love with his chains; this is the first paradox and inextricable knot of our nature. —
Sri Aurobindo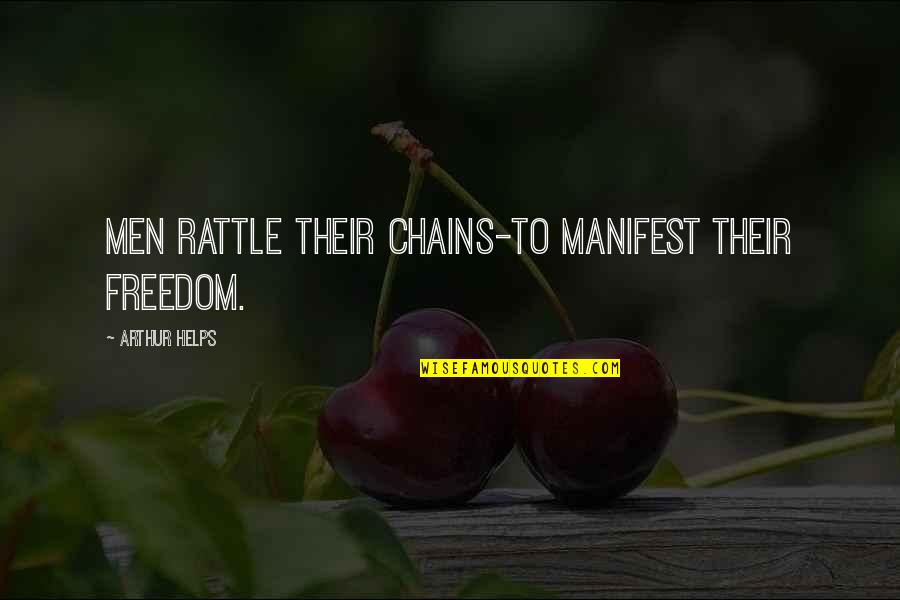 Men rattle their chains-to manifest their freedom. —
Arthur Helps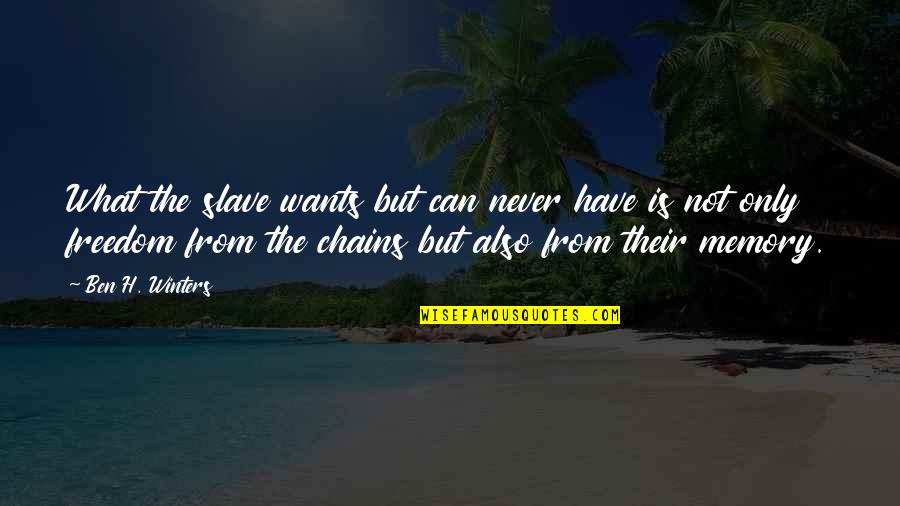 What the slave wants but can never have is not only freedom from the chains but also from their memory. —
Ben H. Winters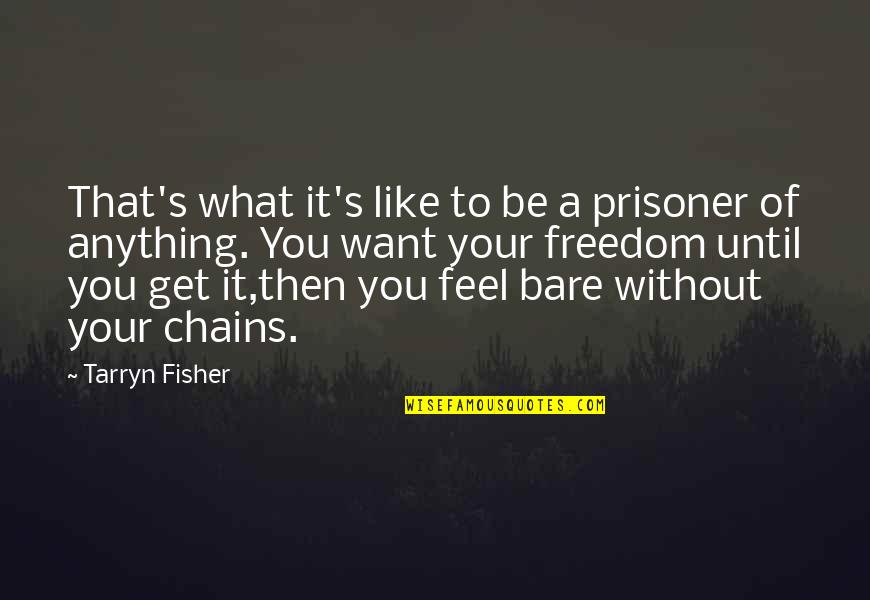 That's what it's like to be a prisoner of anything. You want your freedom until you get it,
then you feel bare without your chains. —
Tarryn Fisher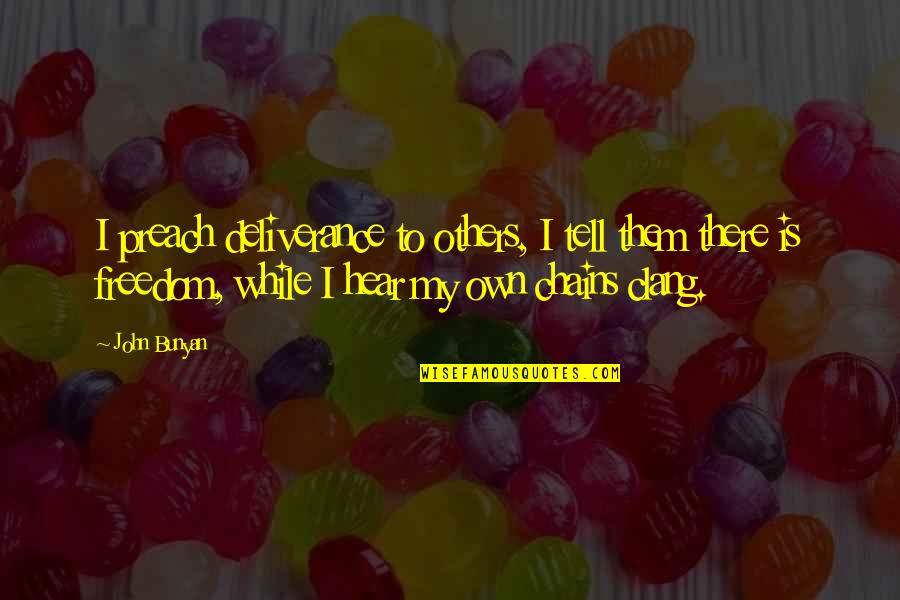 I preach deliverance to others, I tell them there is freedom, while I hear my own chains clang. —
John Bunyan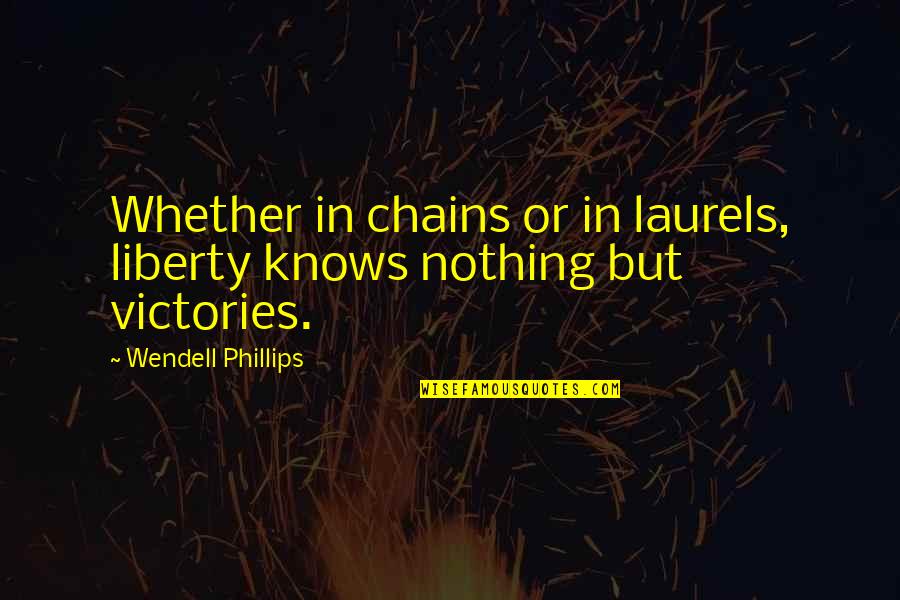 Whether in chains or in laurels, liberty knows nothing but victories. —
Wendell Phillips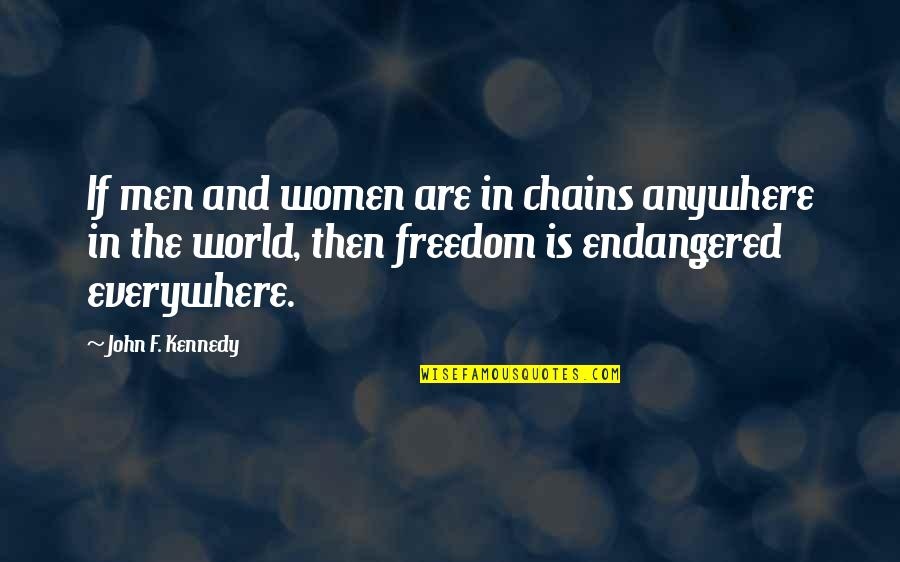 If men and women are in chains anywhere in the world, then freedom is endangered everywhere. —
John F. Kennedy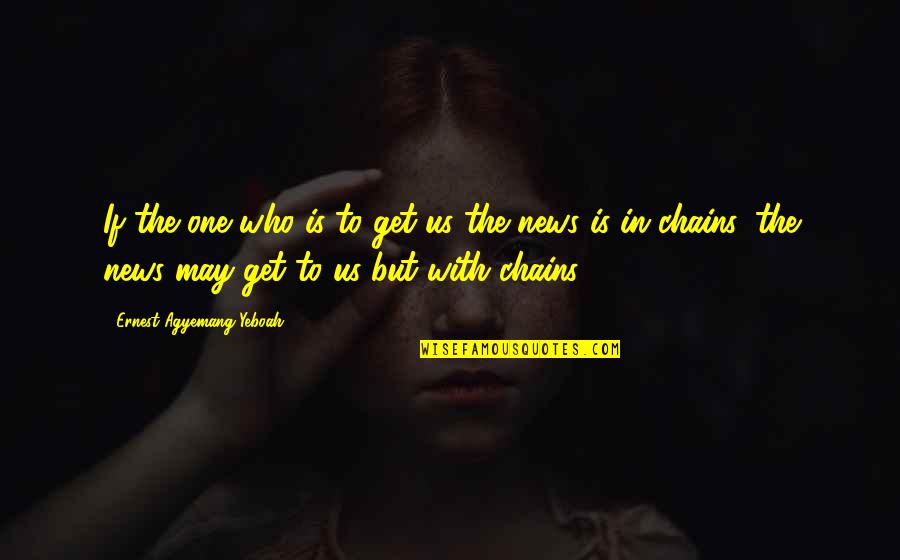 If the one who is to get us the news is in chains, the news may get to us but with chains! —
Ernest Agyemang Yeboah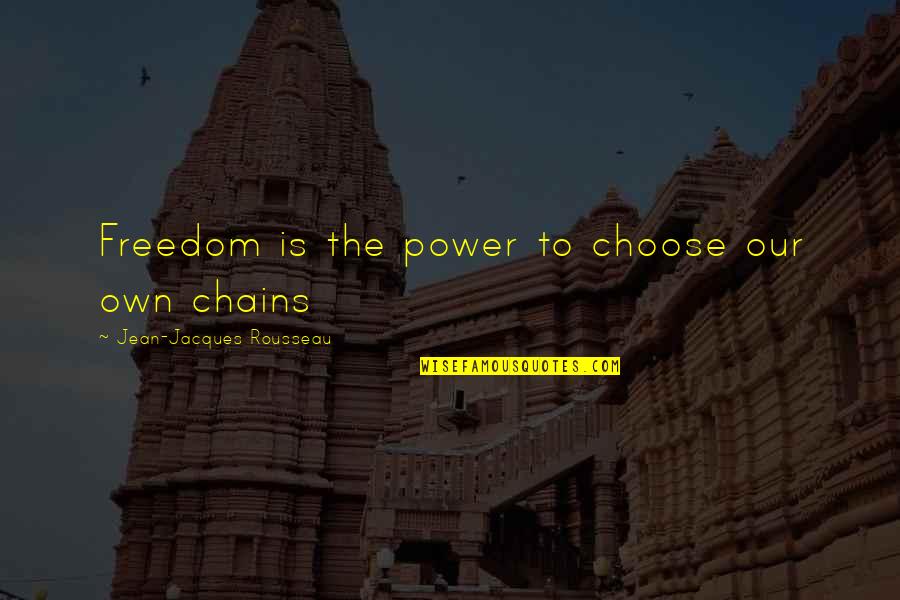 Freedom is the power to choose our own chains —
Jean-Jacques Rousseau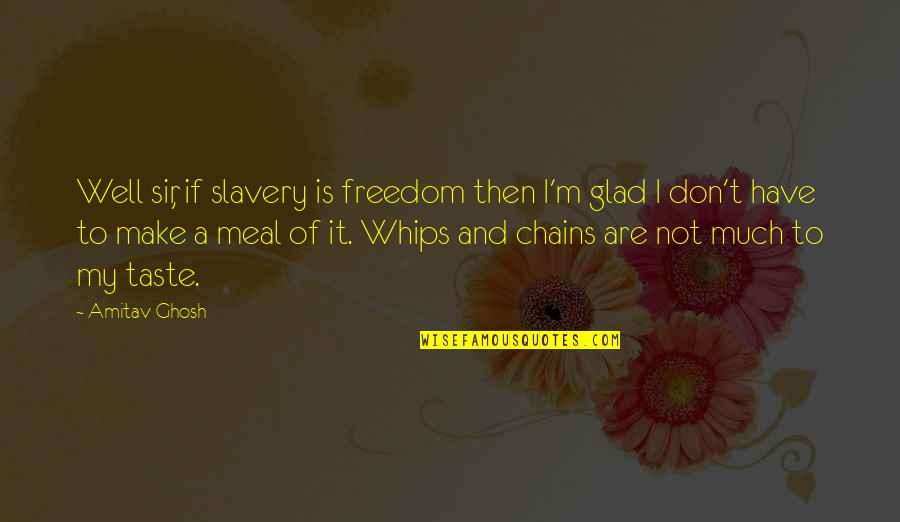 Well sir, if slavery is freedom then I'm glad I don't have to make a meal of it. Whips and chains are not much to my taste. —
Amitav Ghosh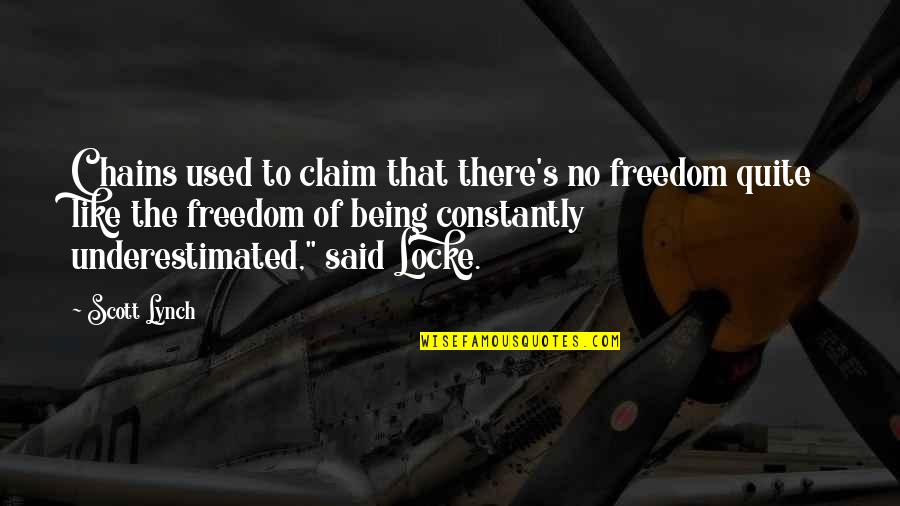 Chains used to claim that there's no freedom quite like the freedom of being constantly underestimated," said Locke. —
Scott Lynch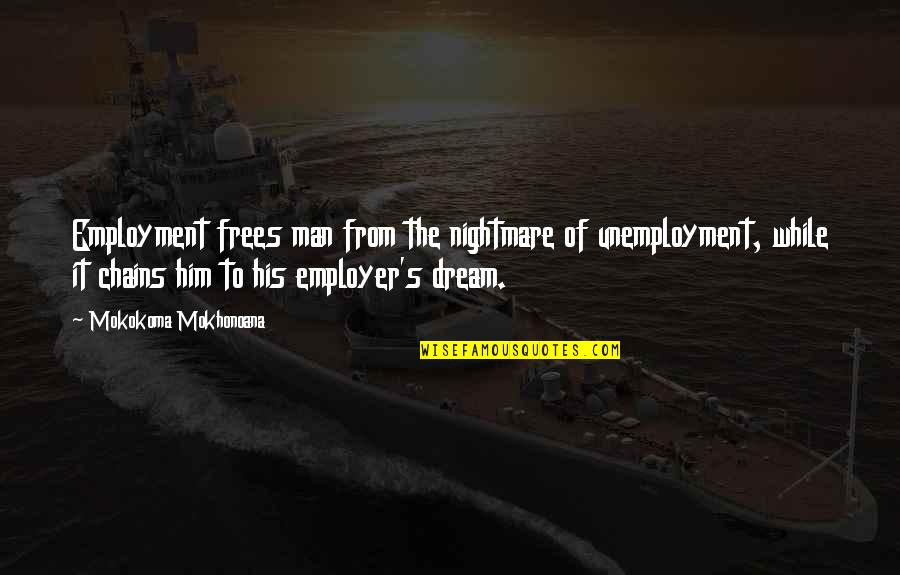 Employment frees man from the nightmare of unemployment, while it chains him to his employer's dream. —
Mokokoma Mokhonoana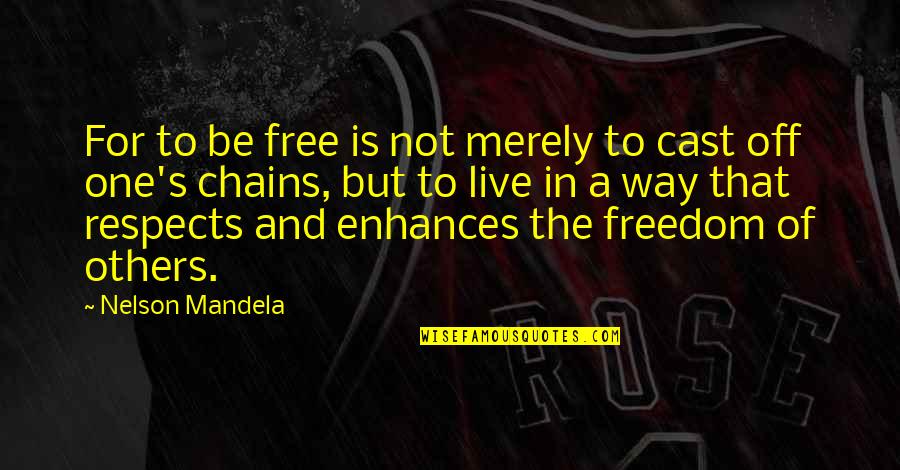 For to be free is not merely to cast off one's chains, but to live in a way that respects and enhances the freedom of others. —
Nelson Mandela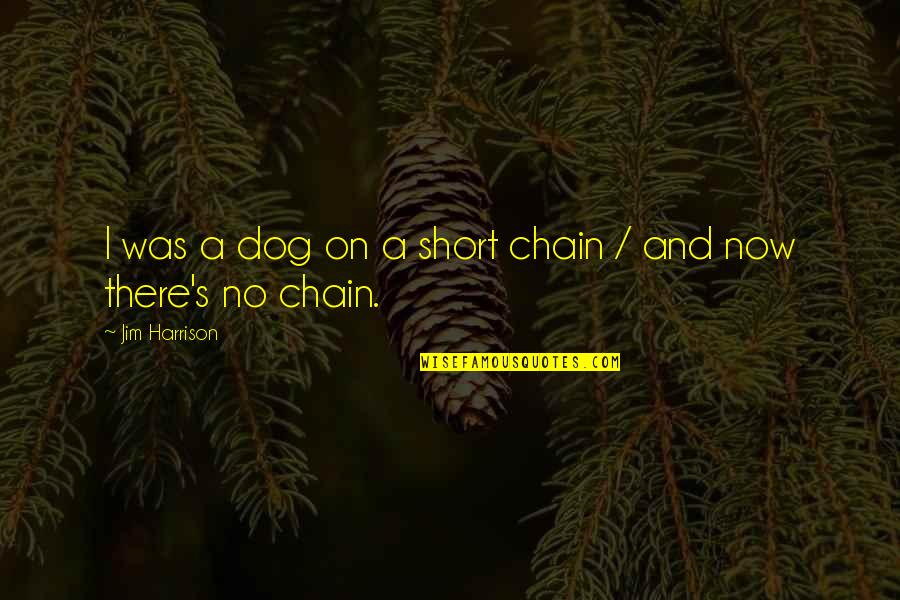 I was a dog on a short chain / and now there's no chain. —
Jim Harrison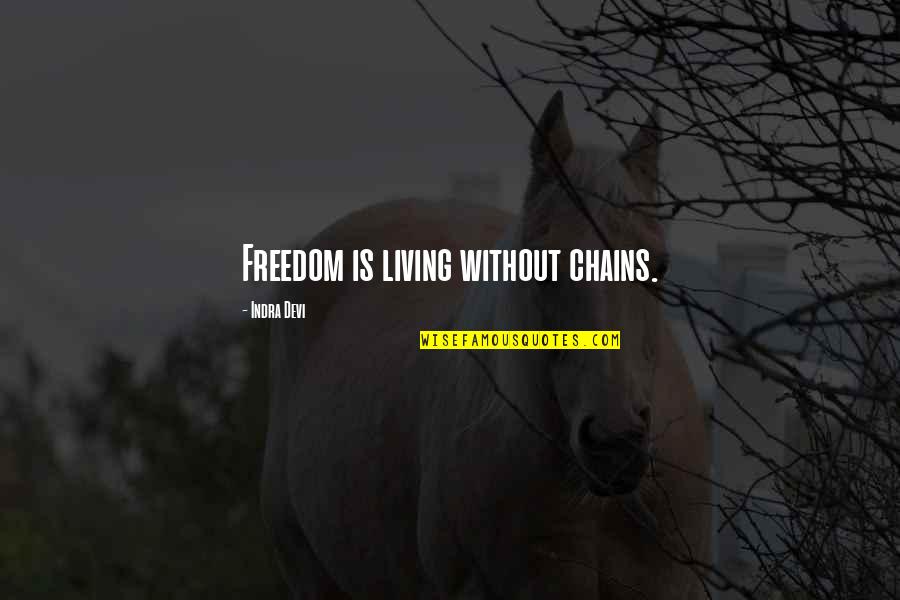 Freedom is living without chains. —
Indra Devi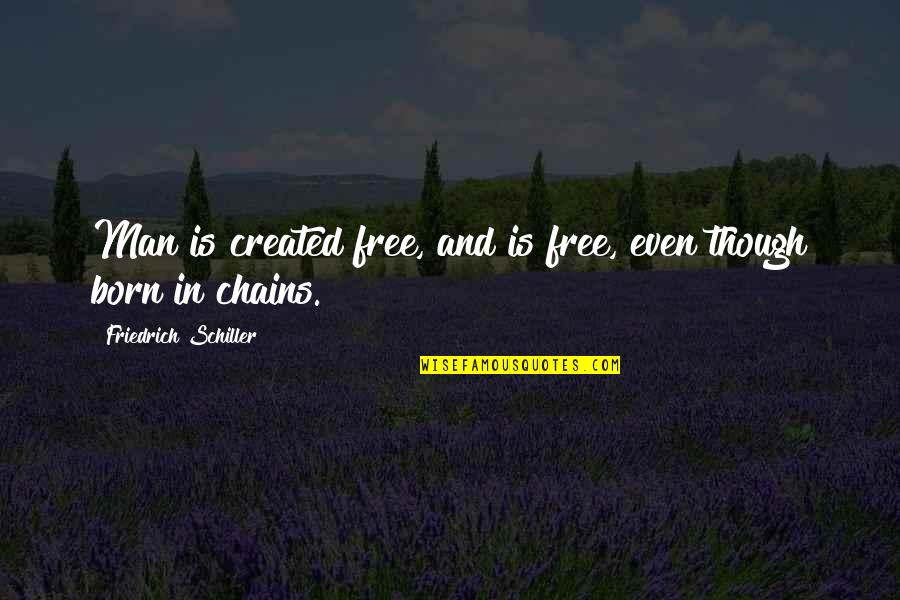 Man is created free, and is free, even though born in chains. —
Friedrich Schiller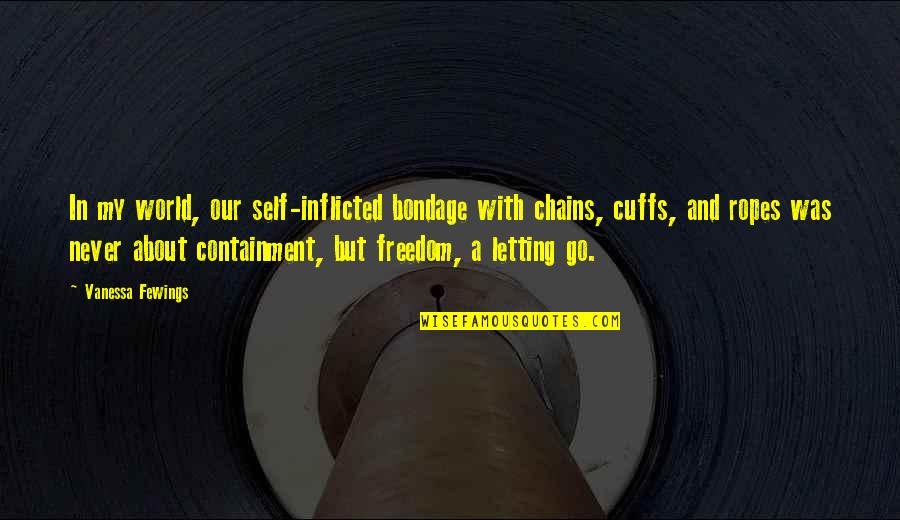 In my world, our self-inflicted bondage with chains, cuffs, and ropes was never about containment, but freedom, a letting go. —
Vanessa Fewings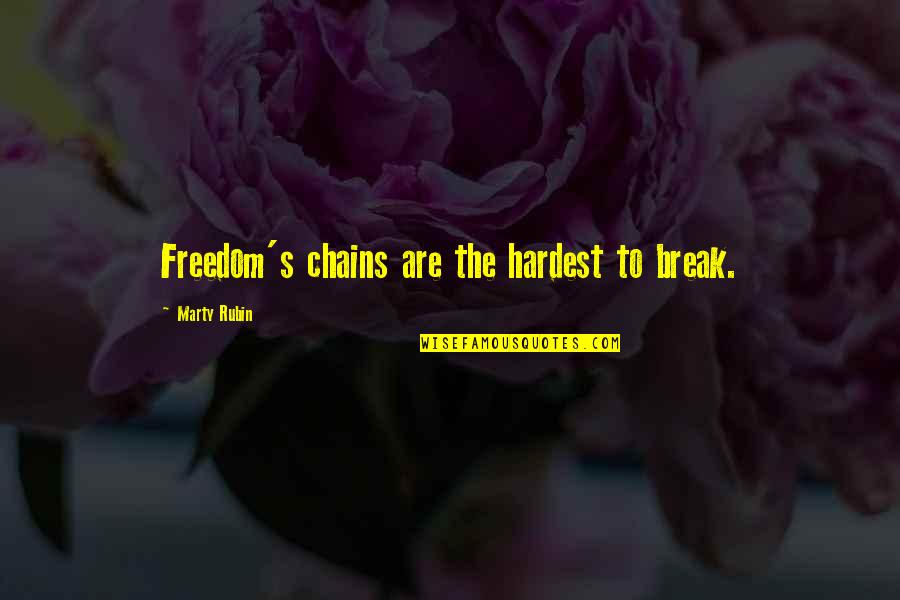 Freedom's chains are the hardest to break. —
Marty Rubin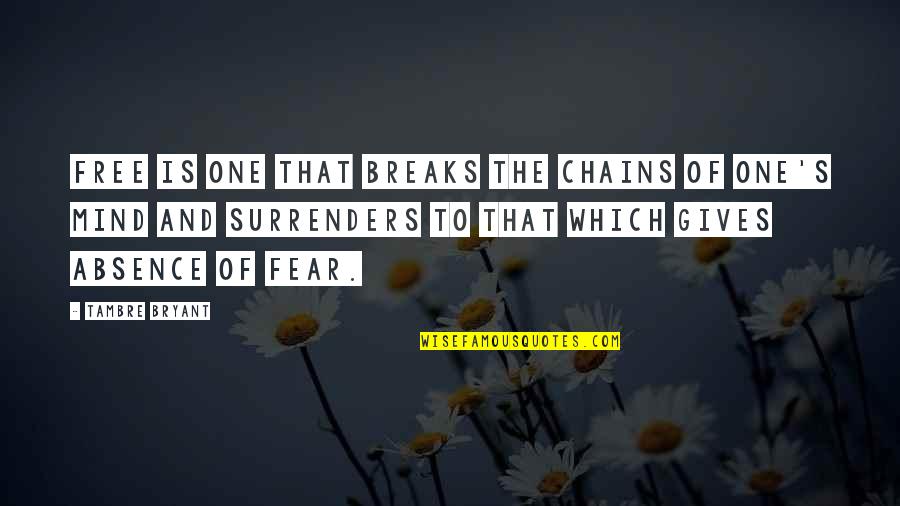 Free is one that breaks the chains of one's mind and surrenders to that which gives absence of fear. —
Tambre Bryant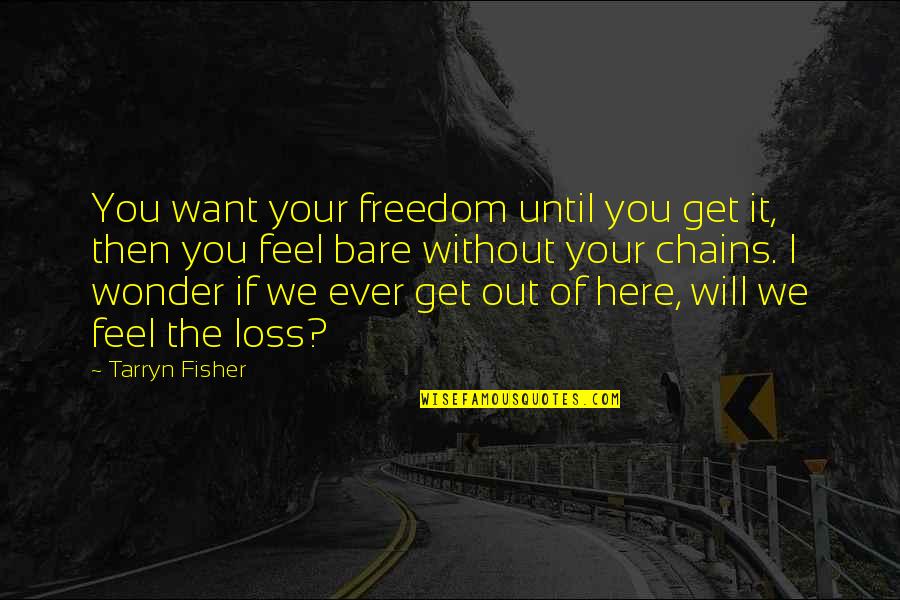 You want your freedom until you get it, then you feel bare without your chains. I wonder if we ever get out of here, will we feel the loss? —
Tarryn Fisher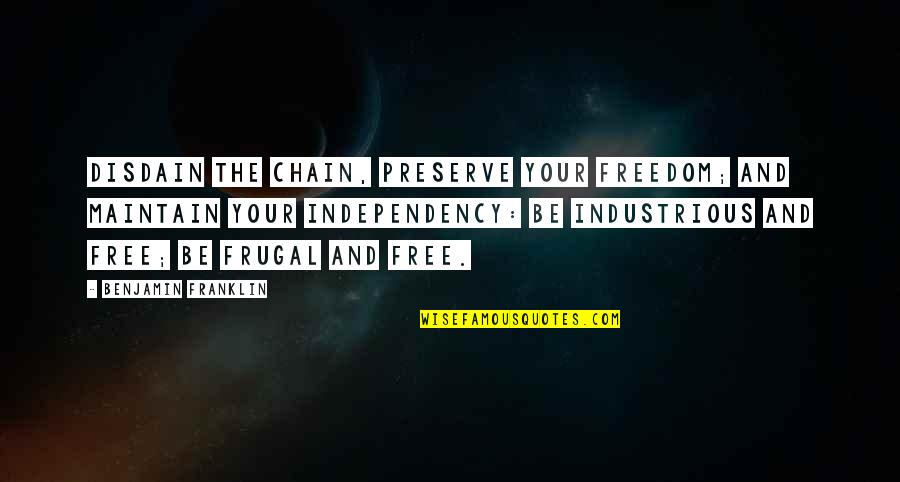 Disdain the chain, preserve your freedom; and maintain your independency: be industrious and free; be frugal and free. —
Benjamin Franklin
Freedom is indivisible; the chains on any one of my people were the chains on all of them, the chains on all of my people were the chains on me. —
Nelson Mandela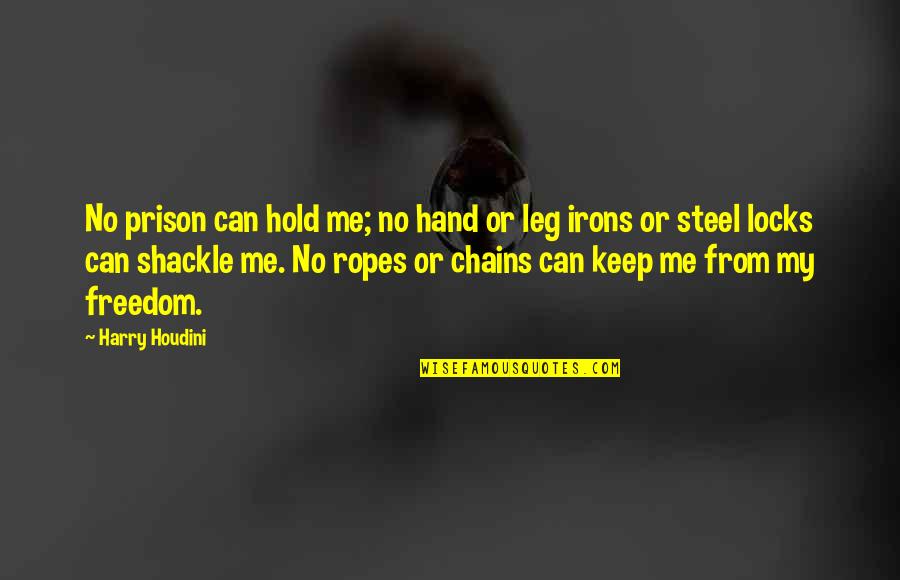 No prison can hold me; no hand or leg irons or steel locks can shackle me. No ropes or chains can keep me from my freedom. —
Harry Houdini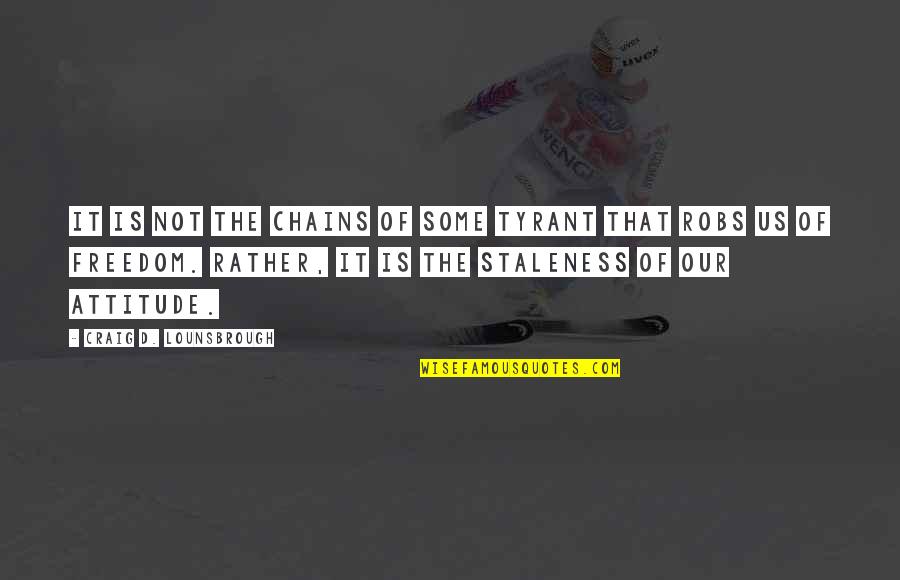 It is not the chains of some tyrant that robs us of freedom. Rather, it is the staleness of our attitude. —
Craig D. Lounsbrough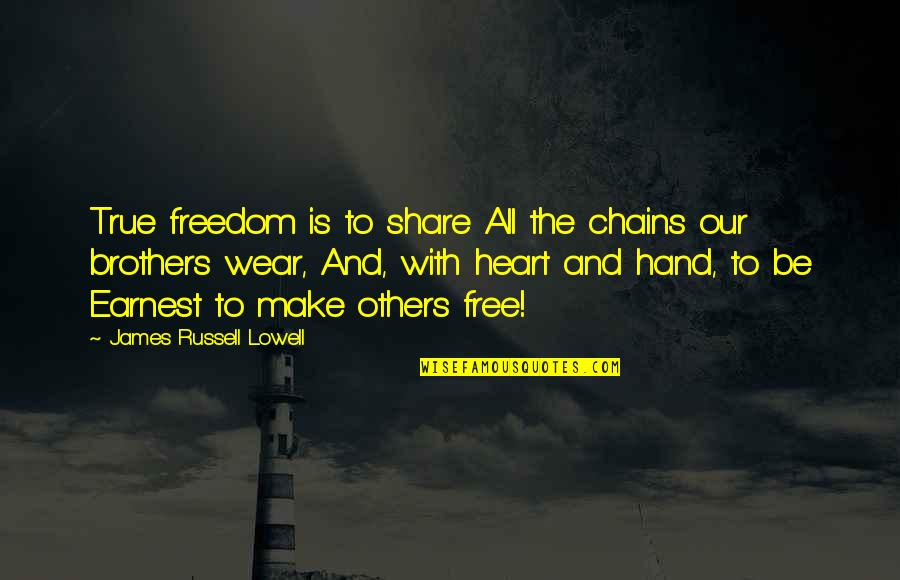 True freedom is to share All the chains our brothers wear, And, with heart and hand, to be Earnest to make others free! —
James Russell Lowell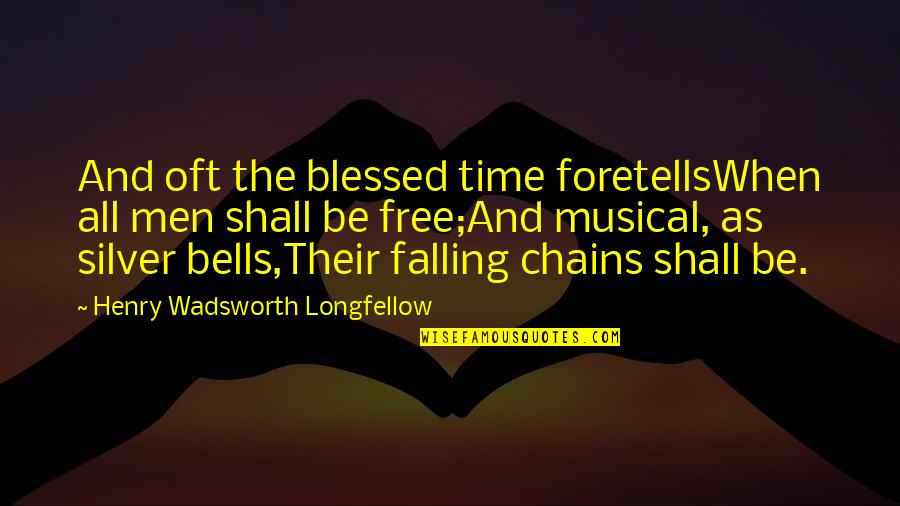 And oft the blessed time foretells
When all men shall be free;
And musical, as silver bells,
Their falling chains shall be. —
Henry Wadsworth Longfellow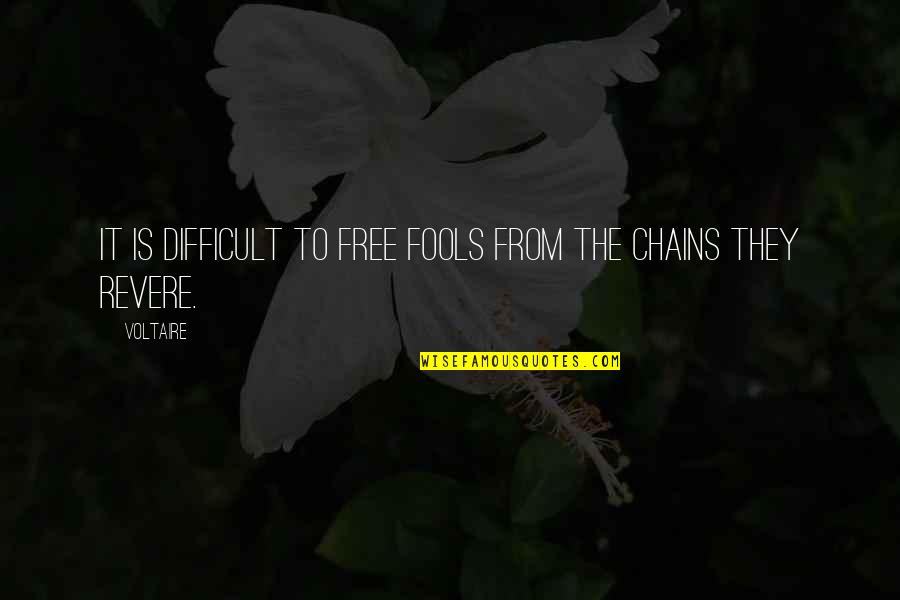 It is difficult to free fools from the chains they revere. —
Voltaire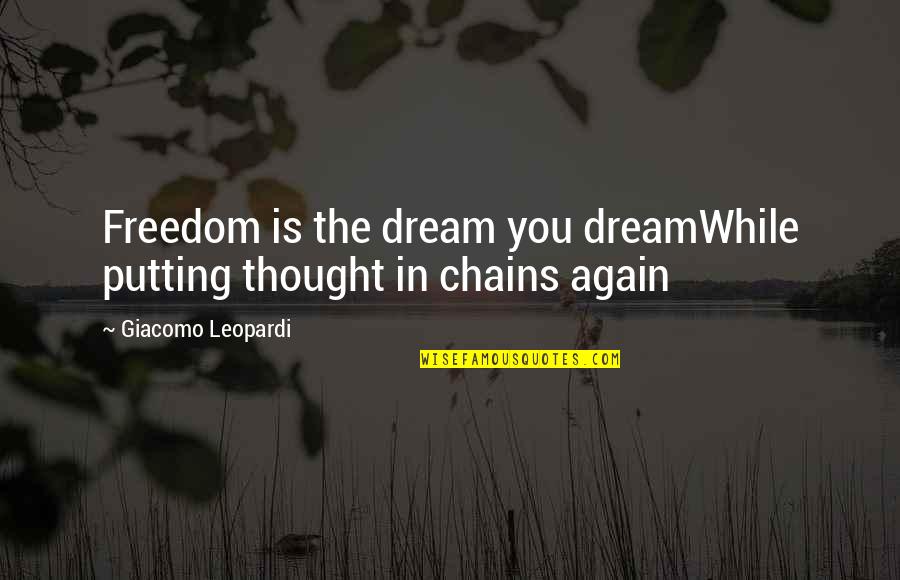 Freedom is the dream you dream
While putting thought in chains again
—
Giacomo Leopardi