Chains And Freedom Quotes
Collection of top 52 famous quotes about Chains And Freedom
Chains And Freedom Quotes & Sayings
Happy to read and share the best inspirational Chains And Freedom quotes, sayings and quotations on Wise Famous Quotes.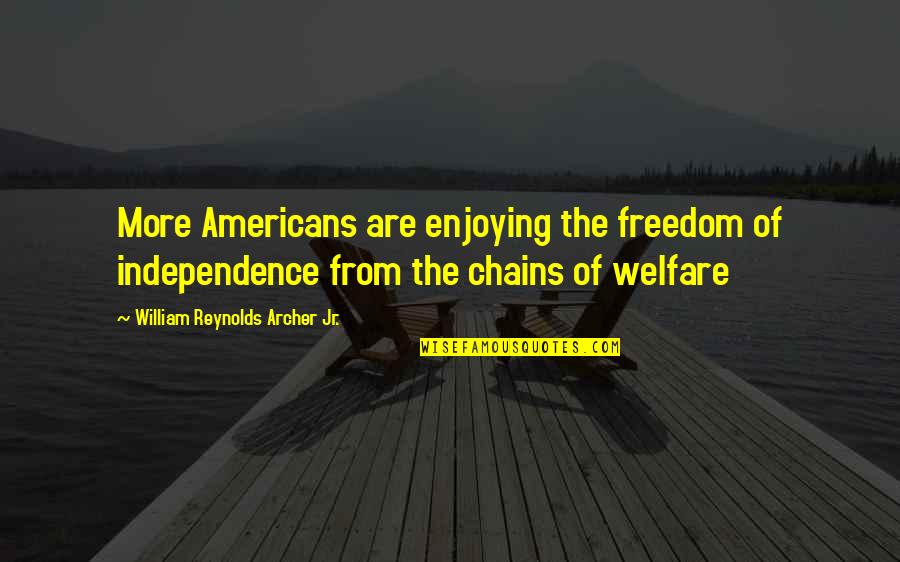 More Americans are enjoying the freedom of independence from the chains of welfare
—
William Reynolds Archer Jr.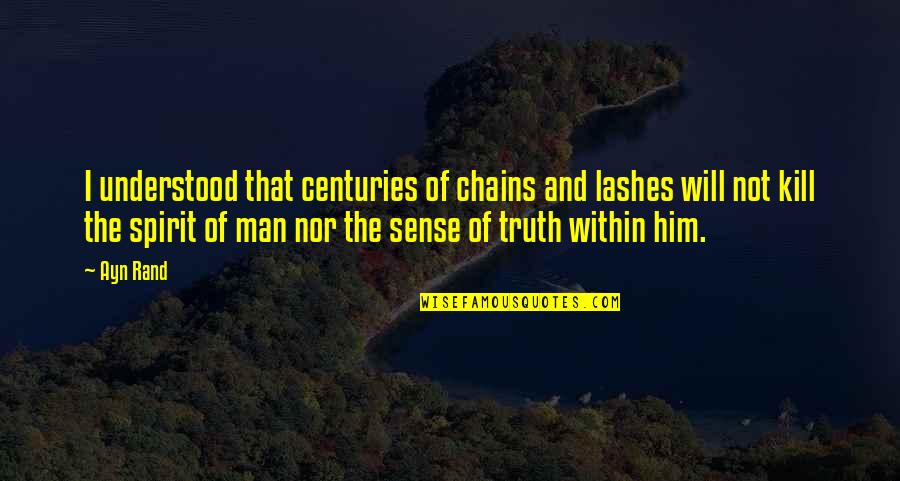 I understood that centuries of chains and lashes will not kill the spirit of man nor the sense of truth within him.
—
Ayn Rand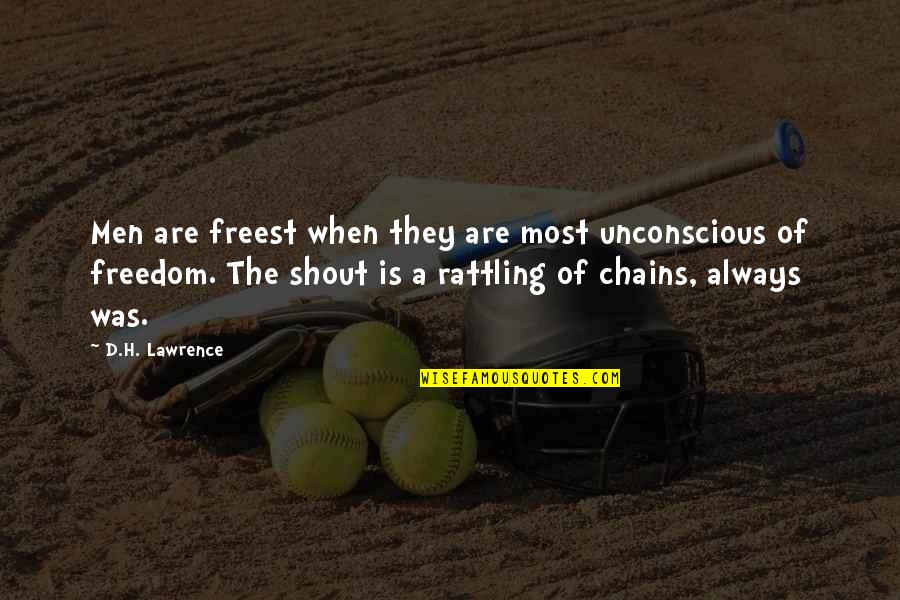 Men are freest when they are most unconscious of freedom. The shout is a rattling of chains, always was.
—
D.H. Lawrence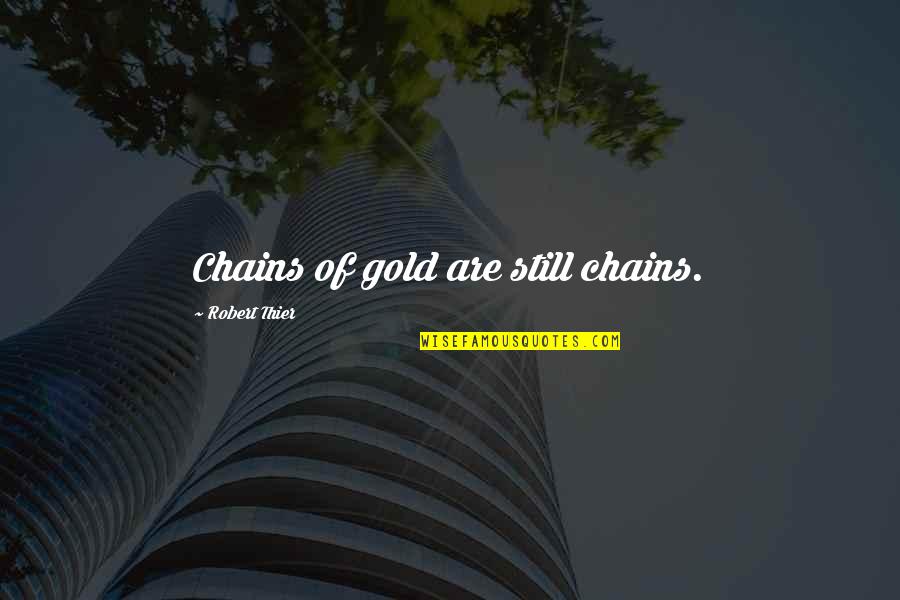 Chains of gold are still chains.
—
Robert Thier
Start with a style and you are in chains, start with an idea and you are free.
—
Richard Avedon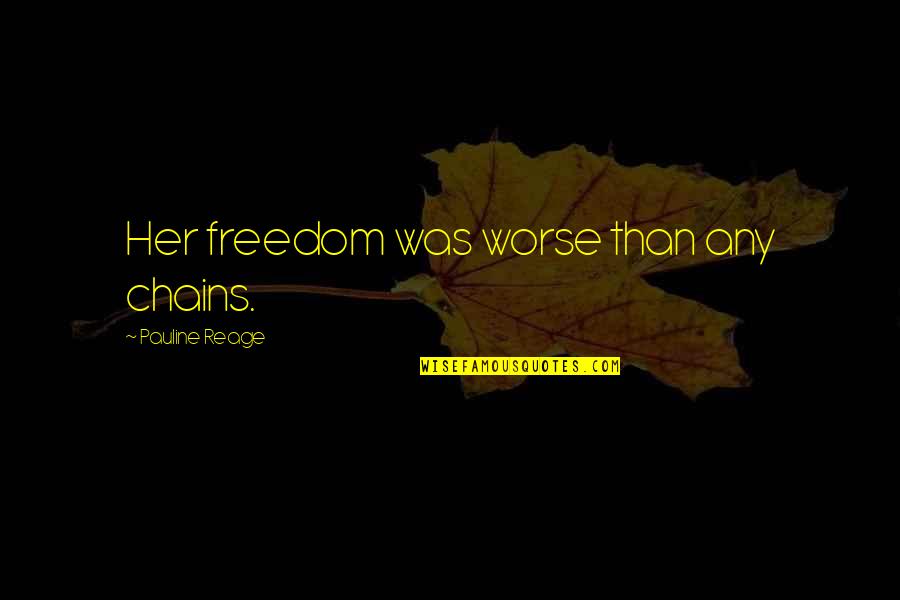 Her freedom was worse than any chains.
—
Pauline Reage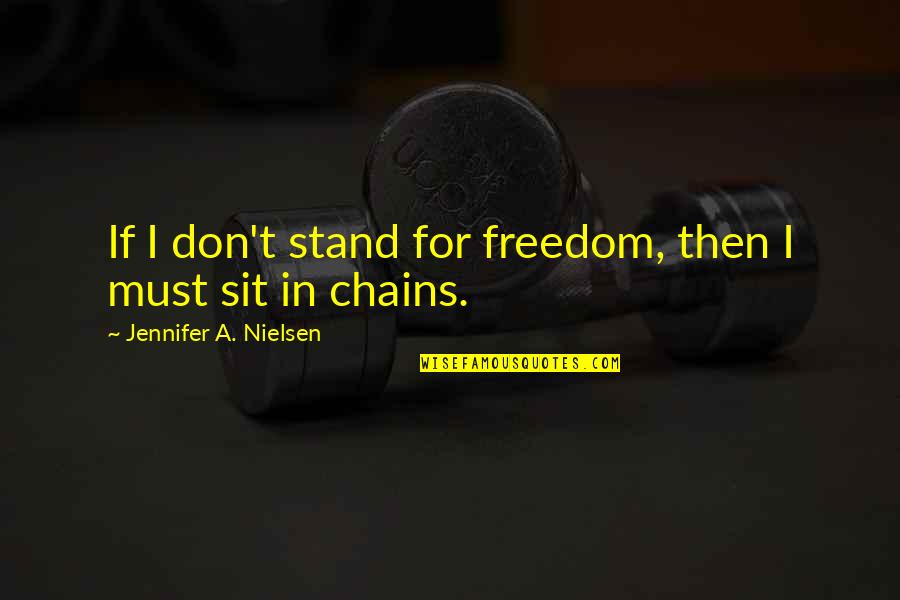 If I don't stand for freedom, then I must sit in chains.
—
Jennifer A. Nielsen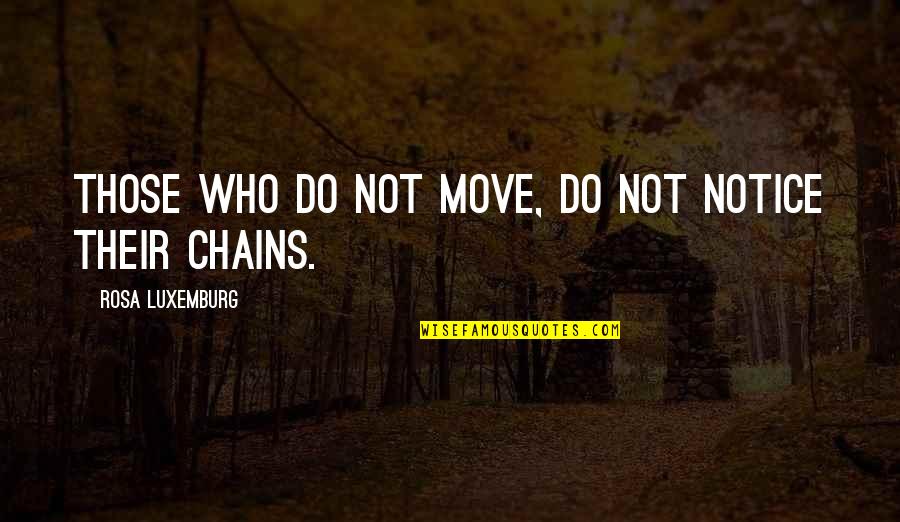 Those who do not move, do not notice their chains.
—
Rosa Luxemburg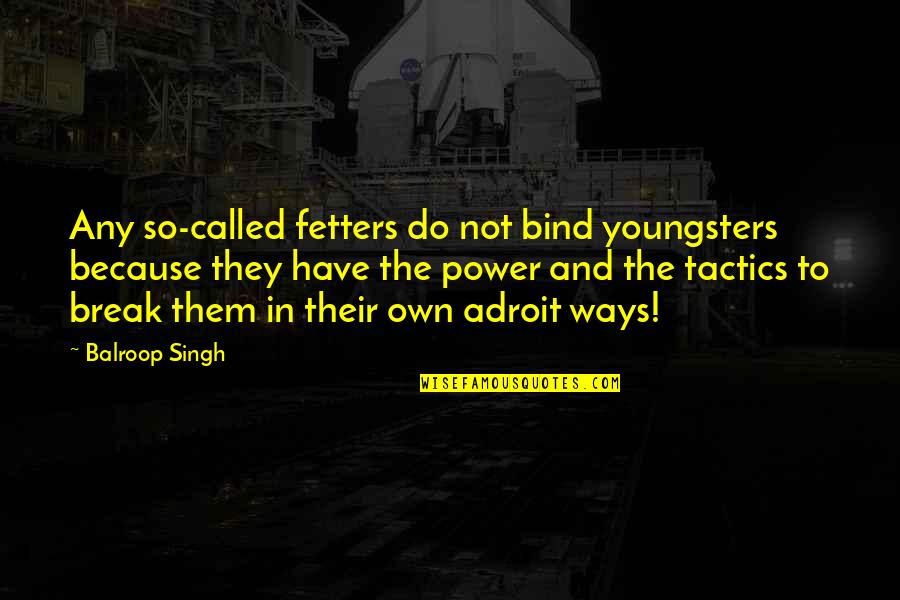 Any so-called fetters do not bind youngsters because they have the power and the tactics to break them in their own adroit ways!
—
Balroop Singh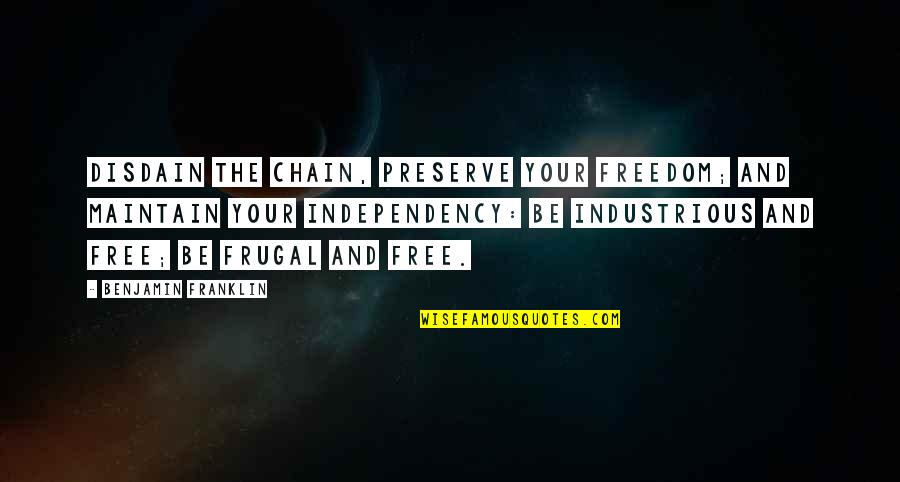 Disdain the chain, preserve your freedom; and maintain your independency: be industrious and free; be frugal and free. —
Benjamin Franklin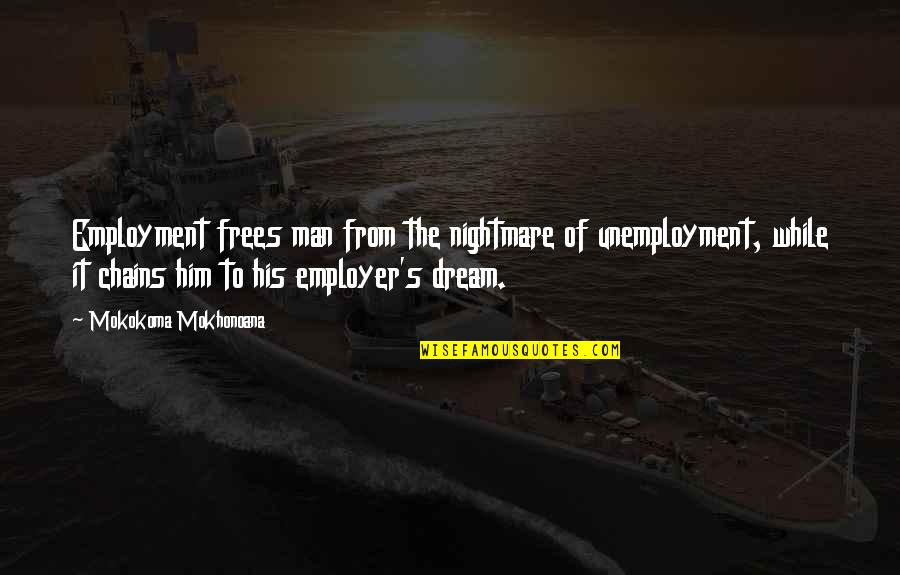 Employment frees man from the nightmare of unemployment, while it chains him to his employer's dream. —
Mokokoma Mokhonoana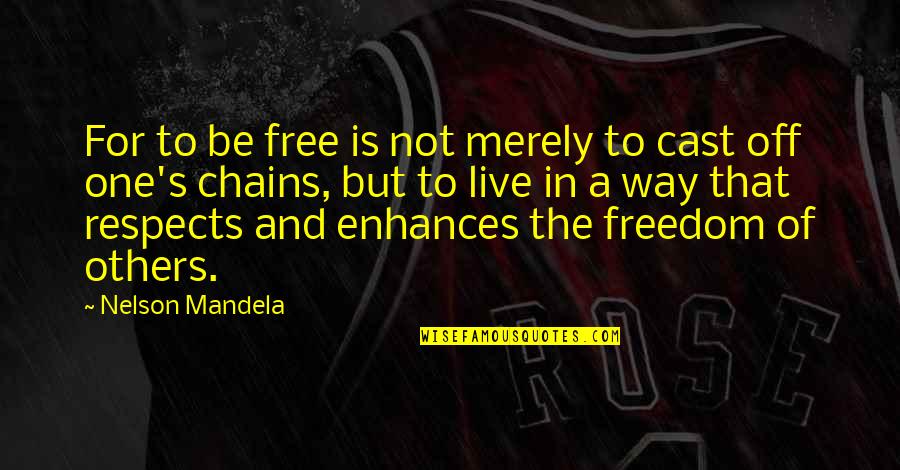 For to be free is not merely to cast off one's chains, but to live in a way that respects and enhances the freedom of others. —
Nelson Mandela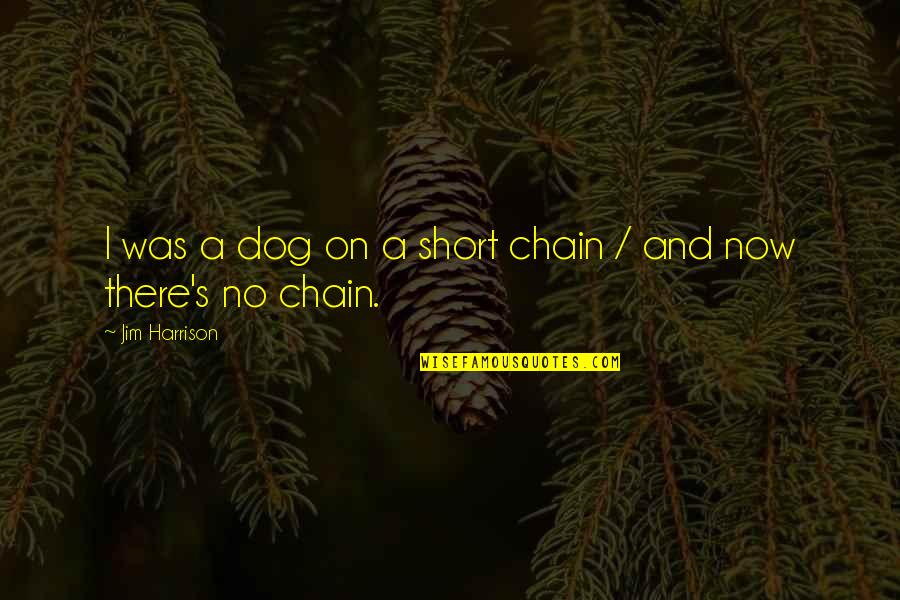 I was a dog on a short chain / and now there's no chain. —
Jim Harrison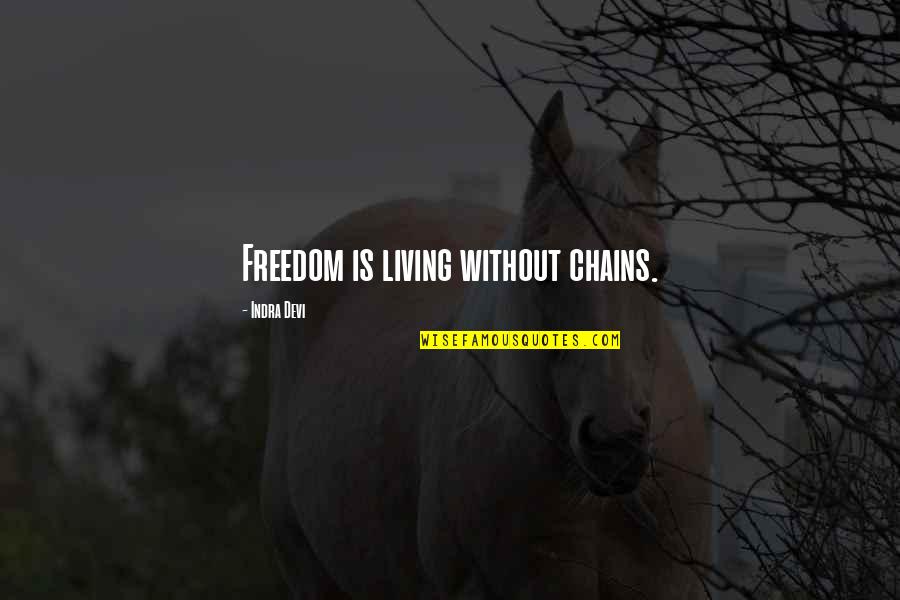 Freedom is living without chains. —
Indra Devi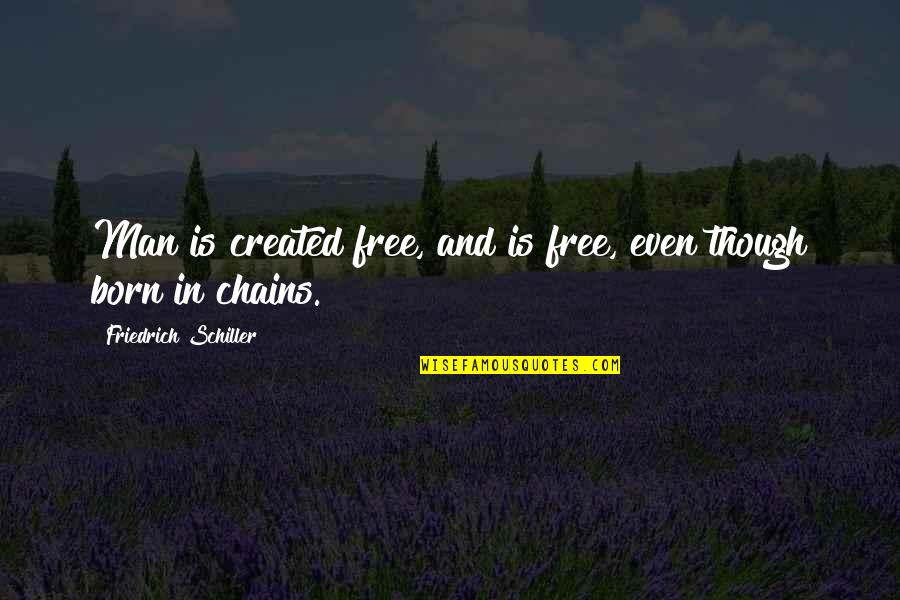 Man is created free, and is free, even though born in chains. —
Friedrich Schiller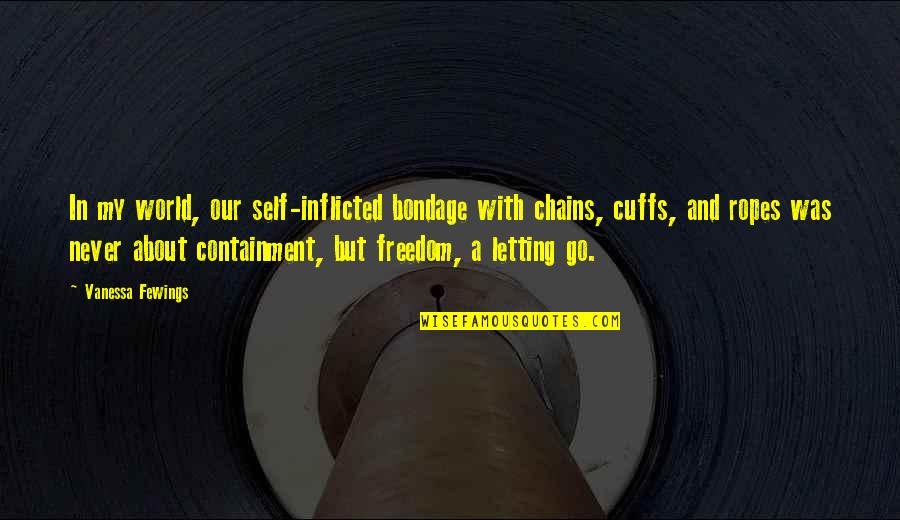 In my world, our self-inflicted bondage with chains, cuffs, and ropes was never about containment, but freedom, a letting go. —
Vanessa Fewings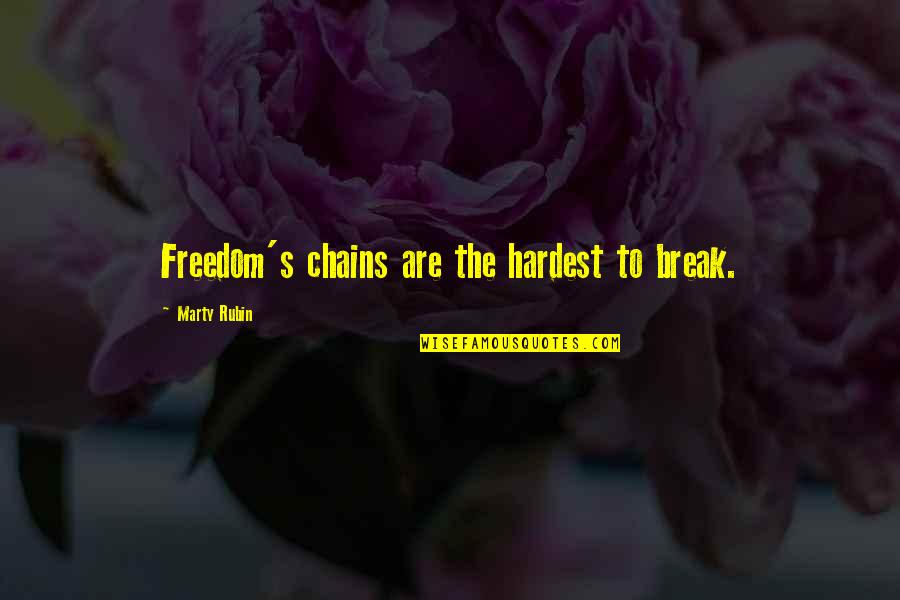 Freedom's chains are the hardest to break. —
Marty Rubin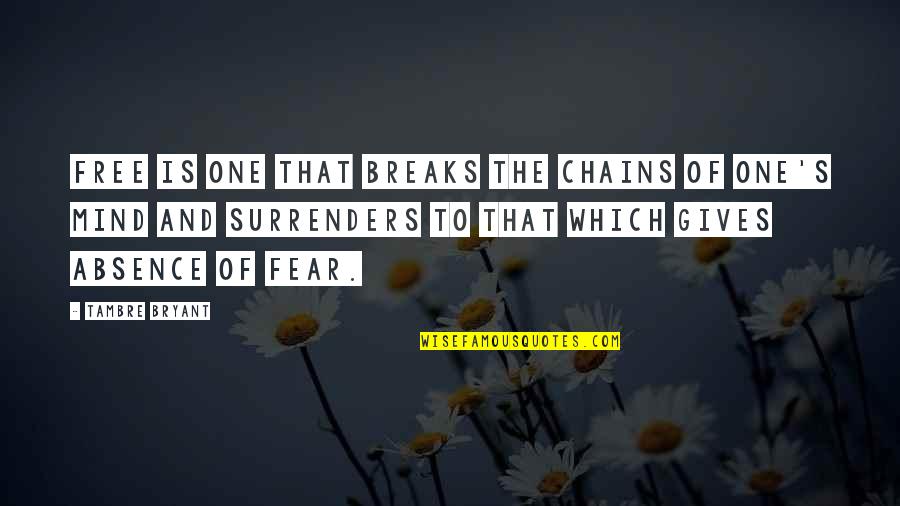 Free is one that breaks the chains of one's mind and surrenders to that which gives absence of fear. —
Tambre Bryant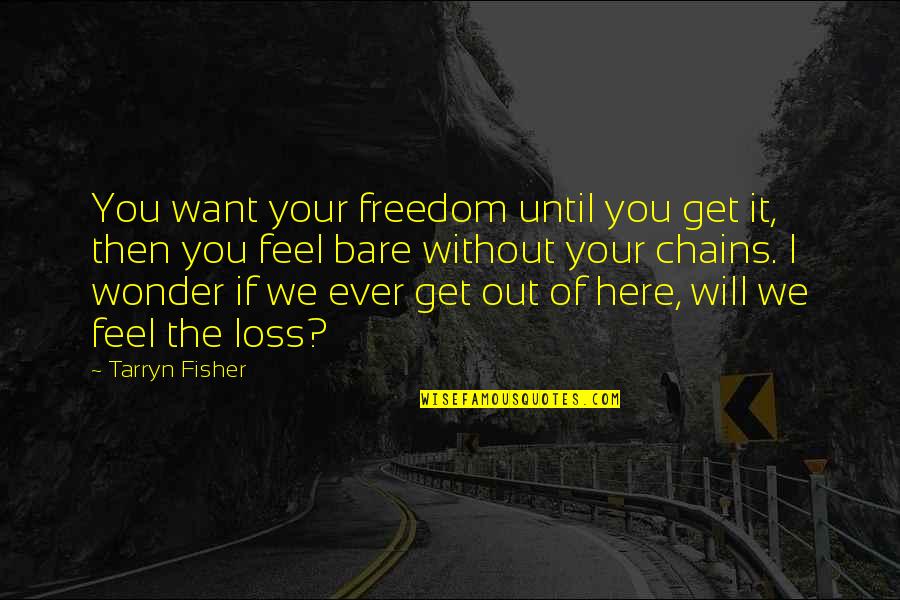 You want your freedom until you get it, then you feel bare without your chains. I wonder if we ever get out of here, will we feel the loss? —
Tarryn Fisher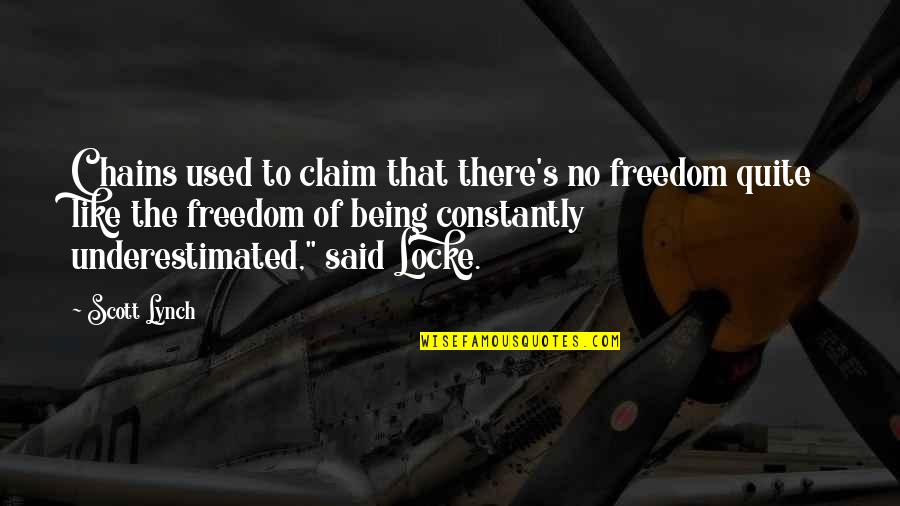 Chains used to claim that there's no freedom quite like the freedom of being constantly underestimated," said Locke. —
Scott Lynch
Freedom is indivisible; the chains on any one of my people were the chains on all of them, the chains on all of my people were the chains on me. —
Nelson Mandela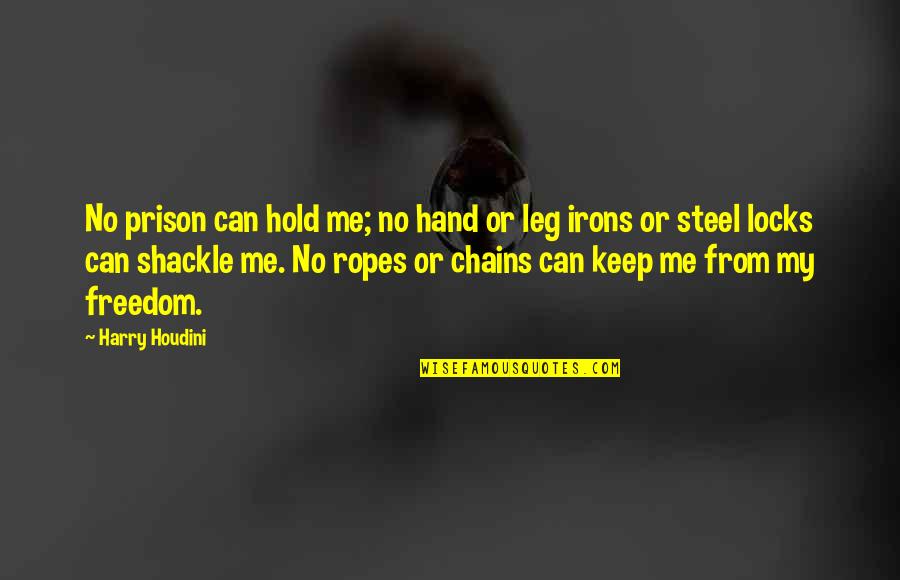 No prison can hold me; no hand or leg irons or steel locks can shackle me. No ropes or chains can keep me from my freedom. —
Harry Houdini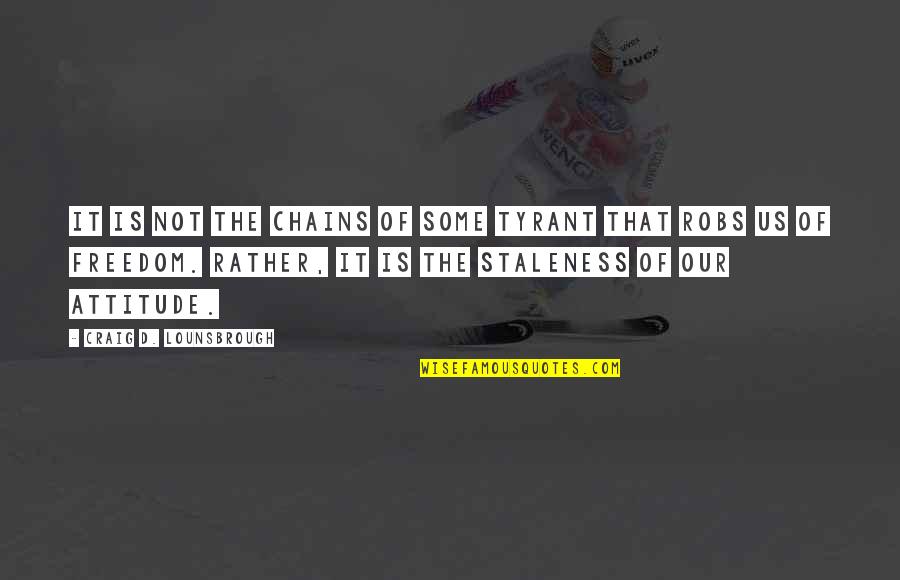 It is not the chains of some tyrant that robs us of freedom. Rather, it is the staleness of our attitude. —
Craig D. Lounsbrough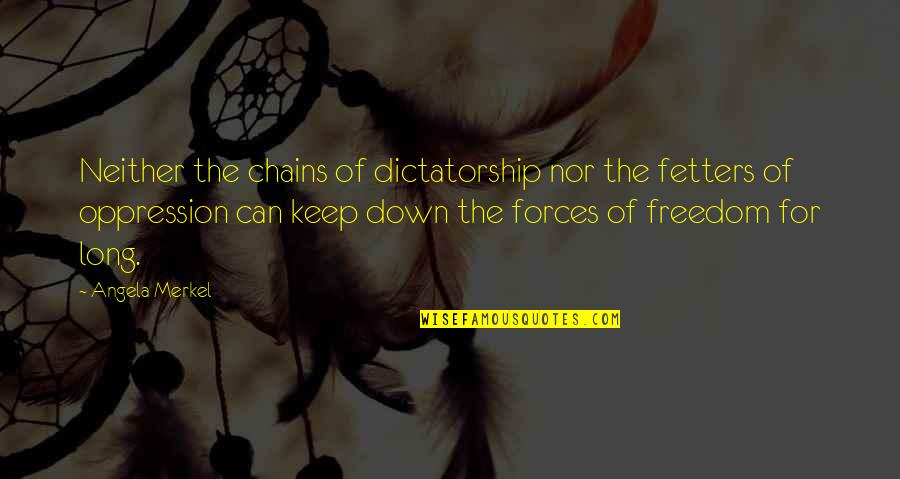 Neither the chains of dictatorship nor the fetters of oppression can keep down the forces of freedom for long. —
Angela Merkel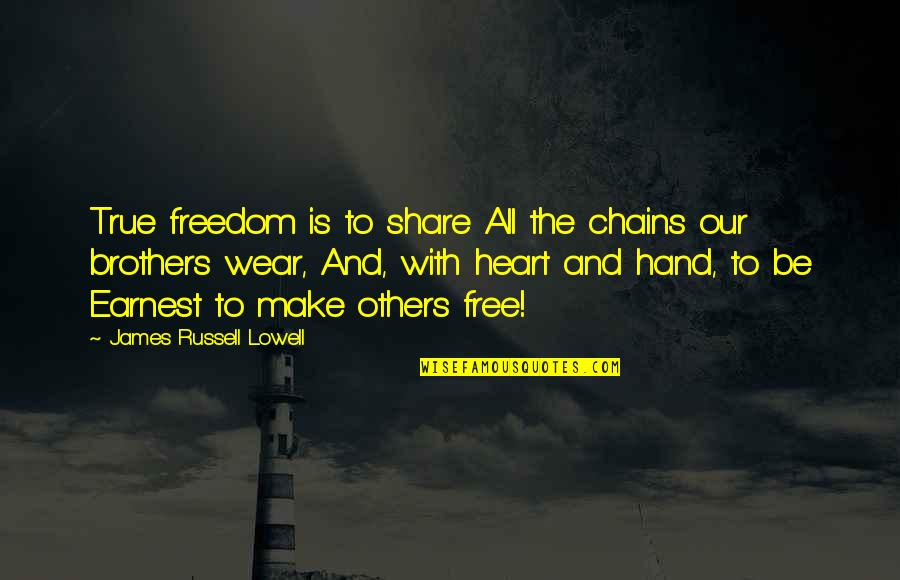 True freedom is to share All the chains our brothers wear, And, with heart and hand, to be Earnest to make others free! —
James Russell Lowell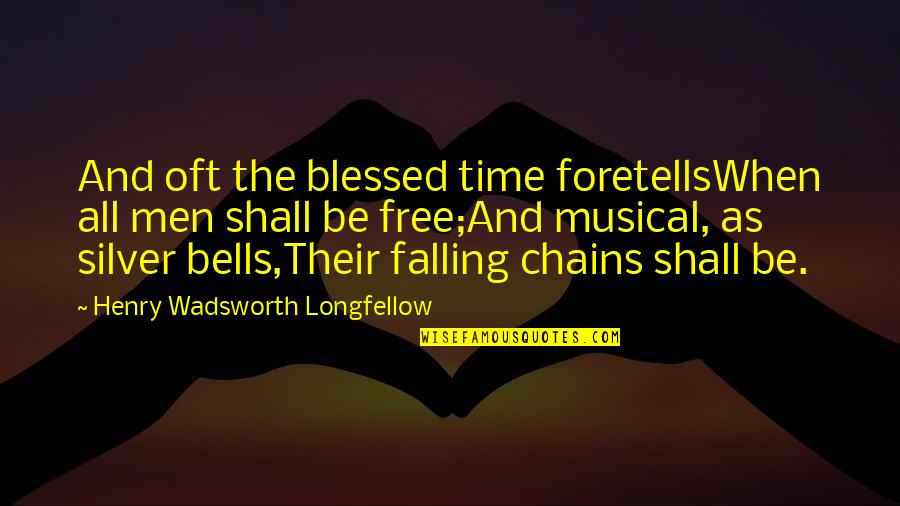 And oft the blessed time foretells
When all men shall be free;
And musical, as silver bells,
Their falling chains shall be. —
Henry Wadsworth Longfellow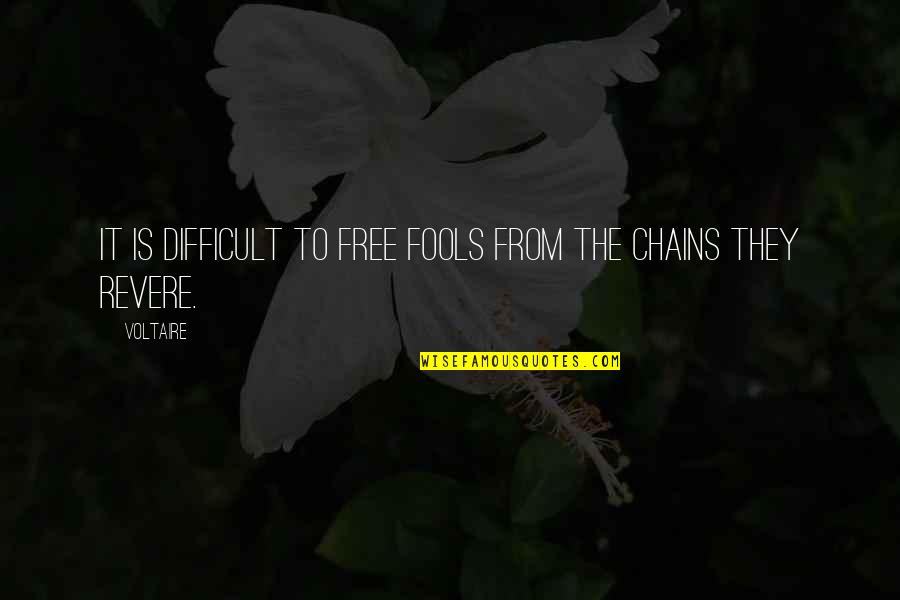 It is difficult to free fools from the chains they revere. —
Voltaire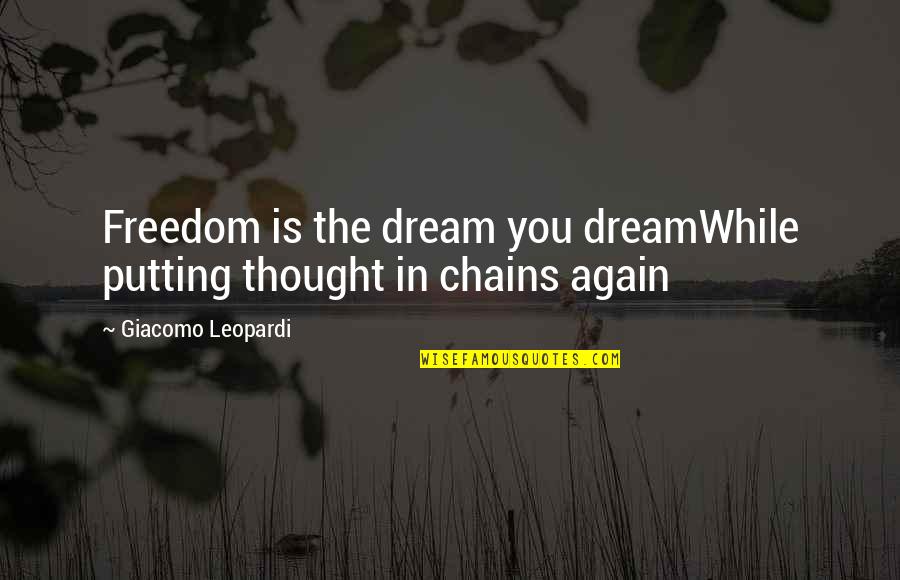 Freedom is the dream you dream
While putting thought in chains again
—
Giacomo Leopardi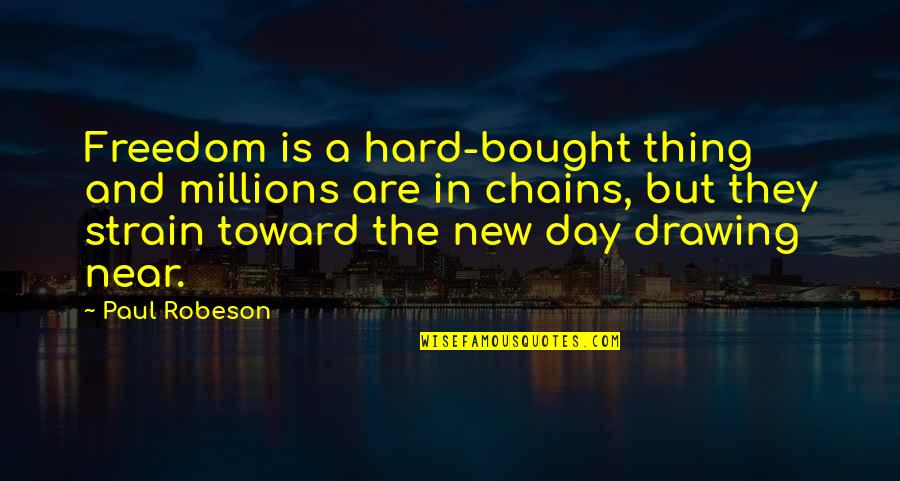 Freedom is a hard-bought thing and millions are in chains, but they strain toward the new day drawing near. —
Paul Robeson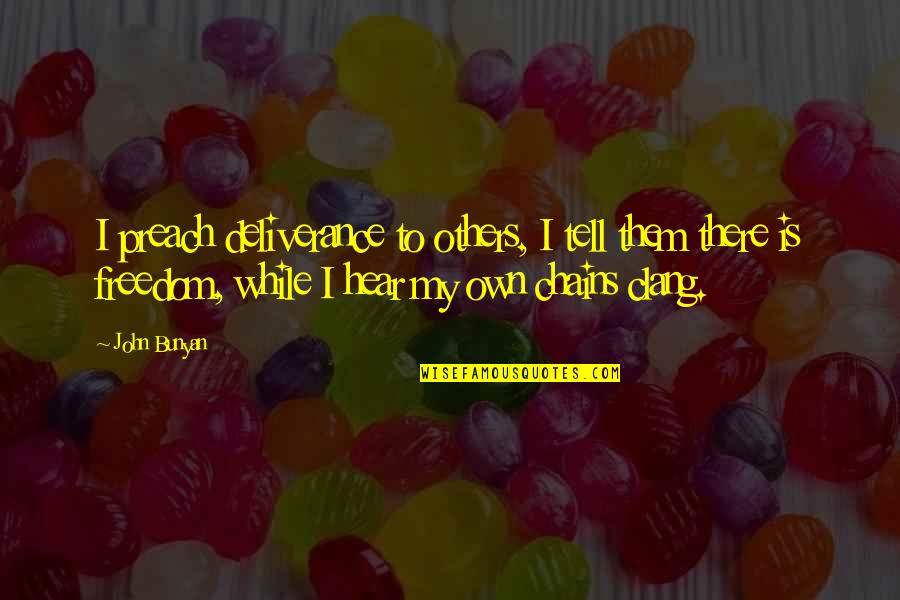 I preach deliverance to others, I tell them there is freedom, while I hear my own chains clang. —
John Bunyan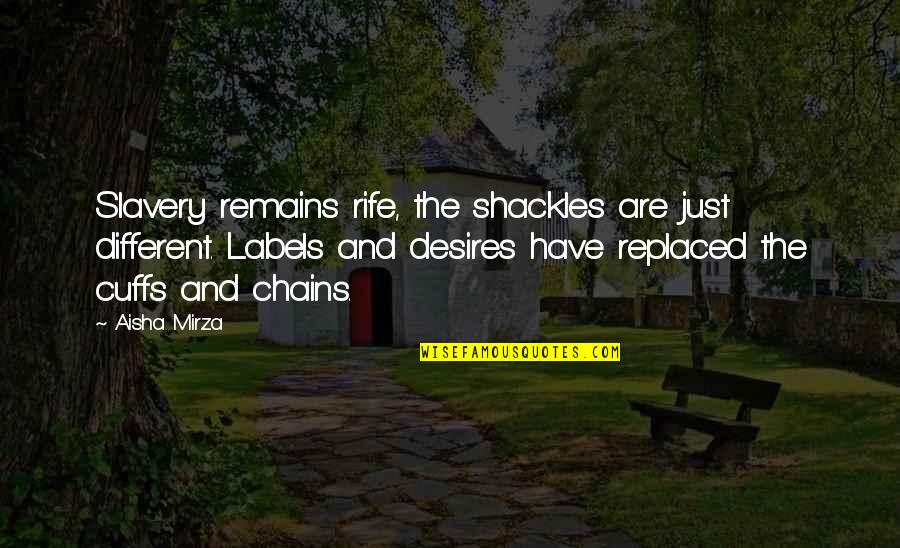 Slavery remains rife, the shackles are just different. Labels and desires have replaced the cuffs and chains. —
Aisha Mirza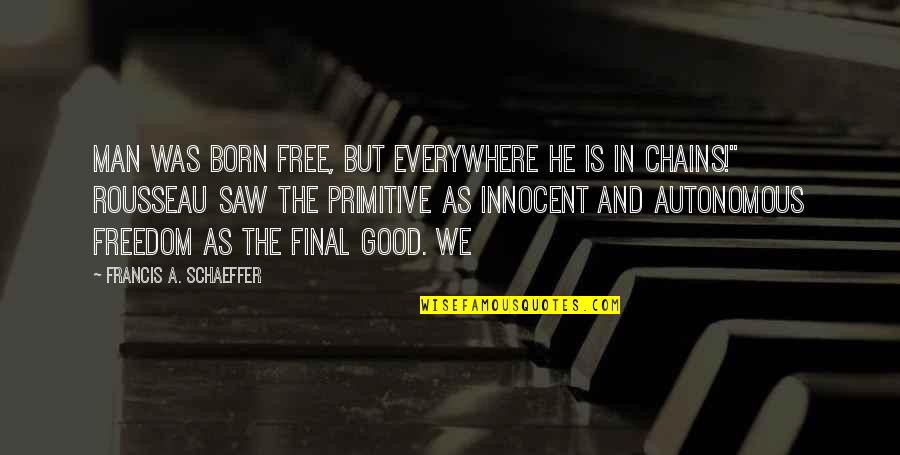 Man was born free, but everywhere he is in chains!" Rousseau saw the primitive as innocent and autonomous freedom as the final good. We —
Francis A. Schaeffer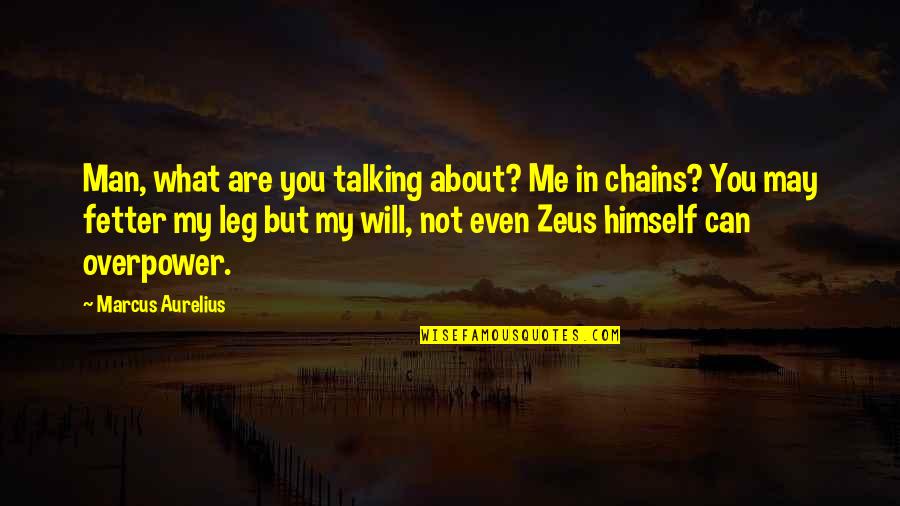 Man, what are you talking about? Me in chains? You may fetter my leg but my will, not even Zeus himself can overpower. —
Marcus Aurelius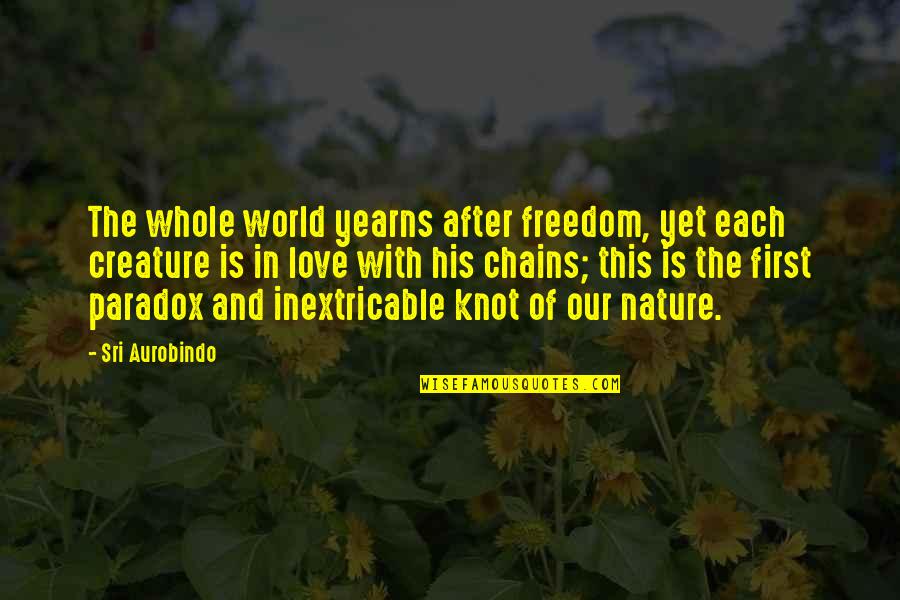 The whole world yearns after freedom, yet each creature is in love with his chains; this is the first paradox and inextricable knot of our nature. —
Sri Aurobindo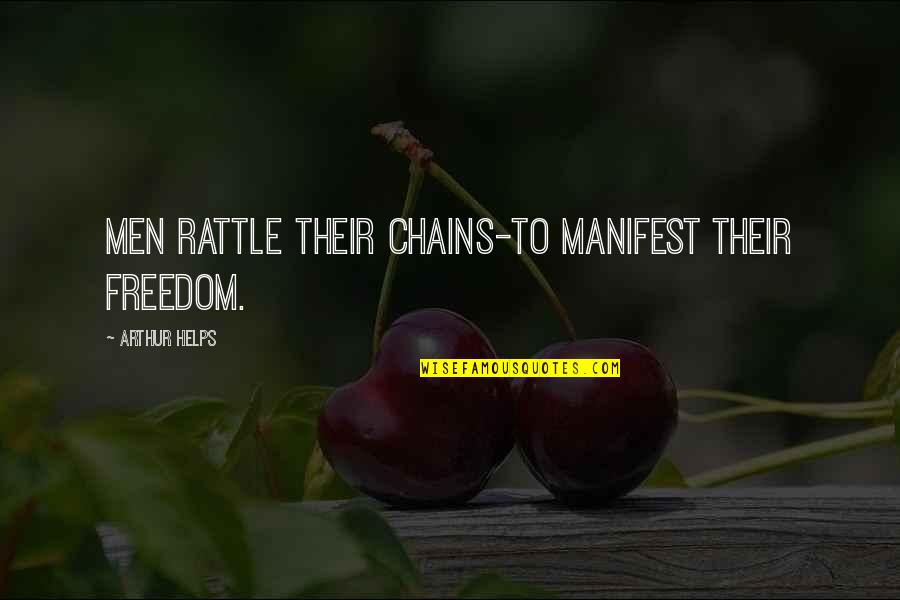 Men rattle their chains-to manifest their freedom. —
Arthur Helps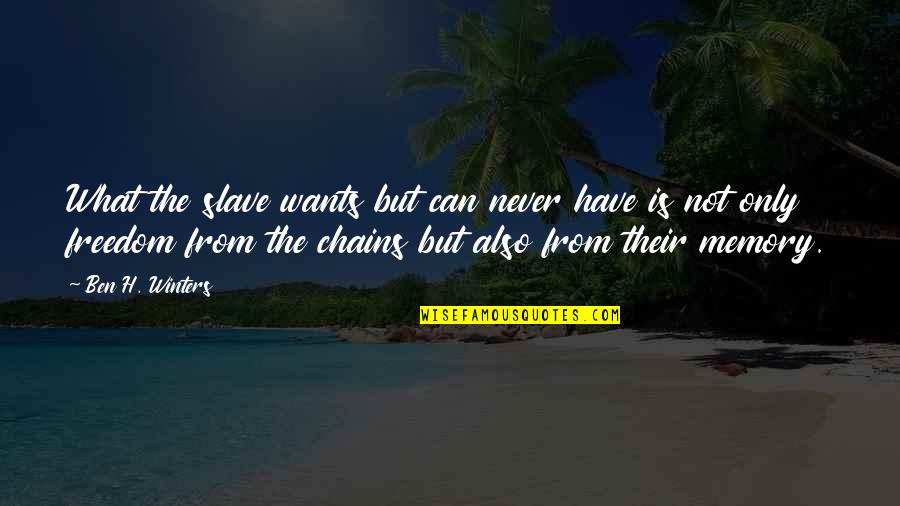 What the slave wants but can never have is not only freedom from the chains but also from their memory. —
Ben H. Winters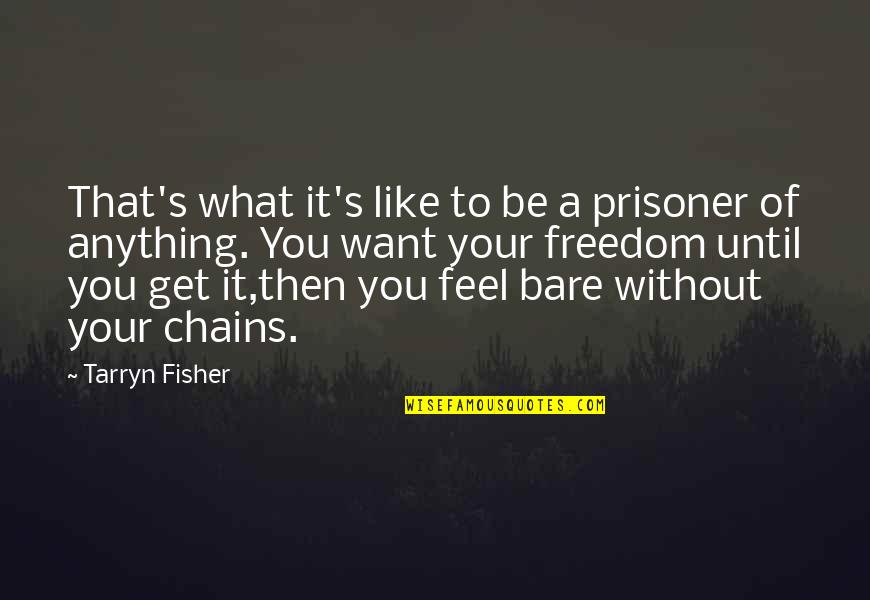 That's what it's like to be a prisoner of anything. You want your freedom until you get it,
then you feel bare without your chains. —
Tarryn Fisher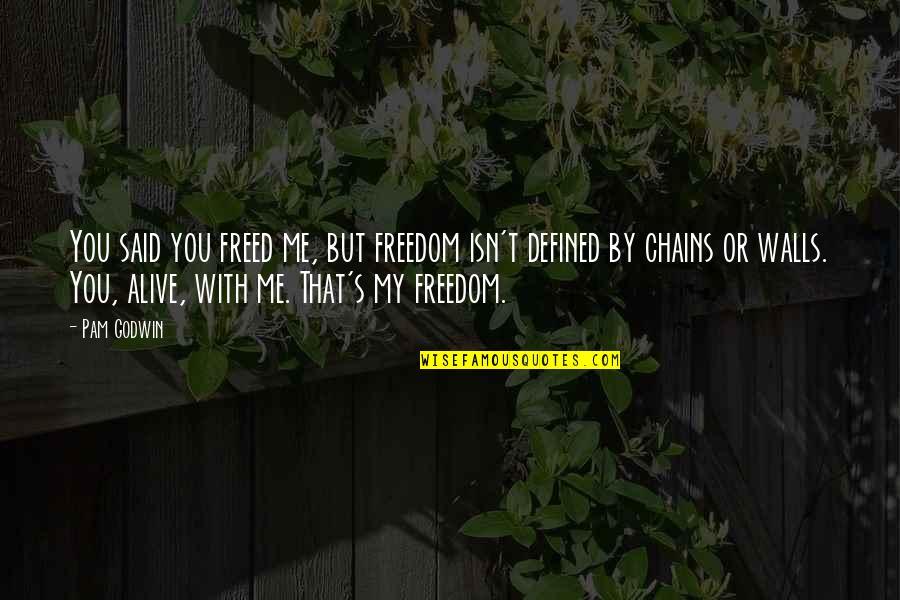 You said you freed me, but freedom isn't defined by chains or walls. You, alive, with me. That's my freedom. —
Pam Godwin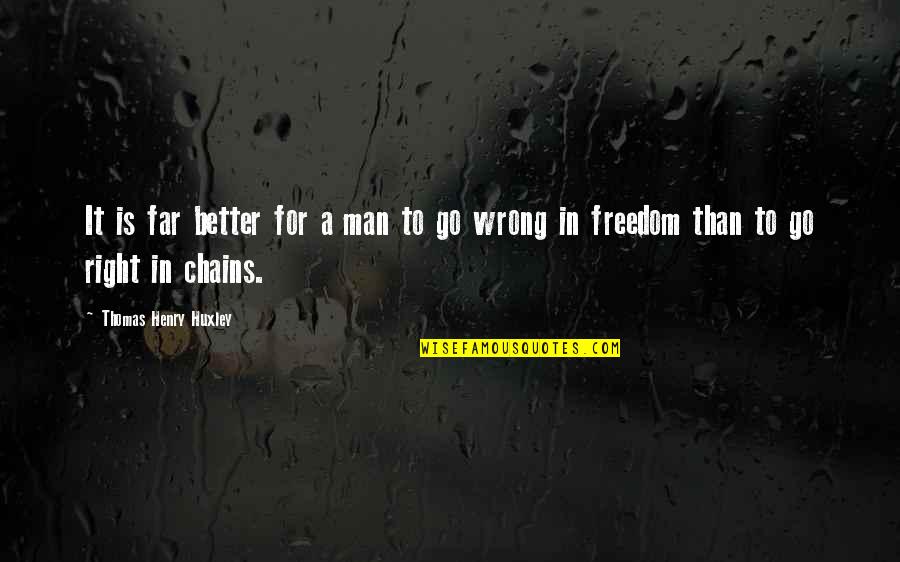 It is far better for a man to go wrong in freedom than to go right in chains. —
Thomas Henry Huxley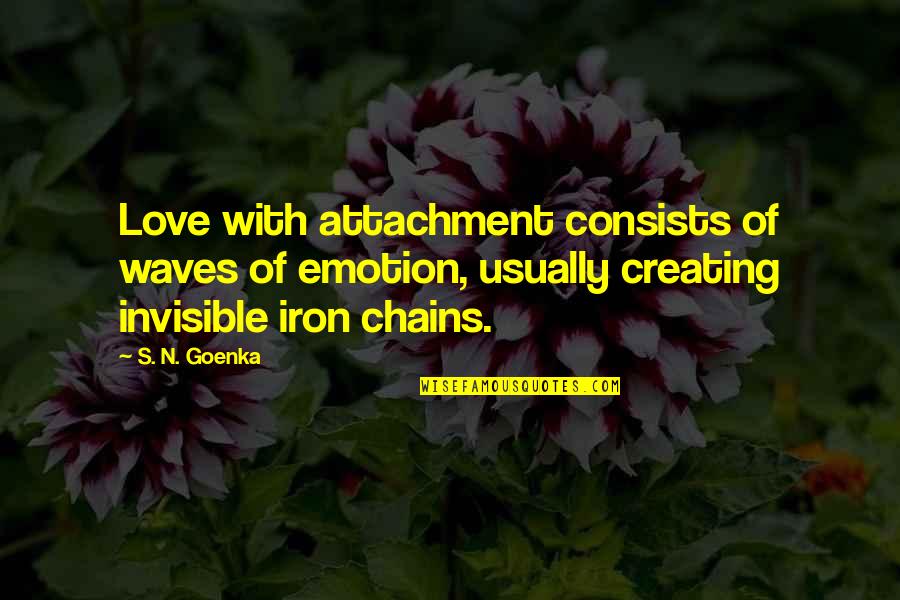 Love with attachment consists of waves of emotion, usually creating invisible iron chains. —
S. N. Goenka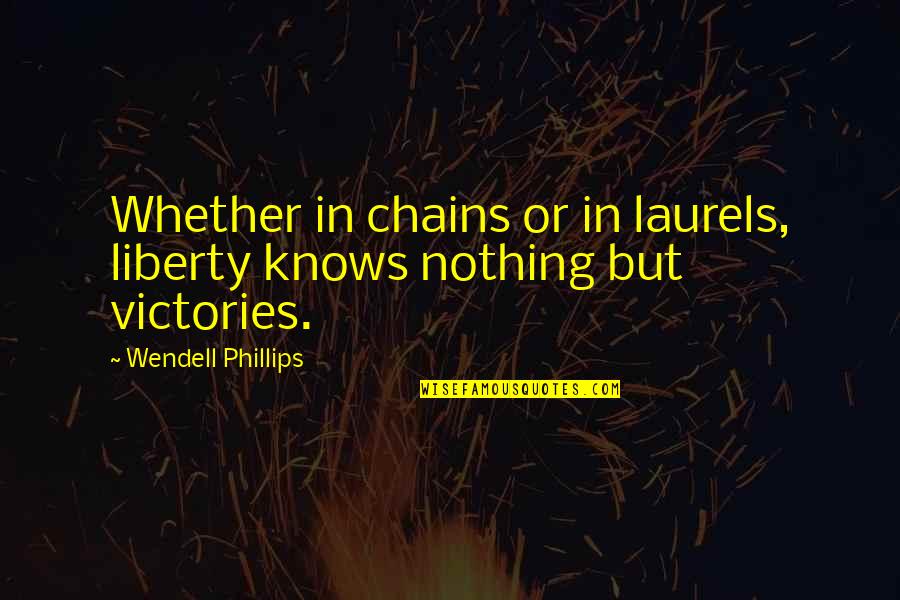 Whether in chains or in laurels, liberty knows nothing but victories. —
Wendell Phillips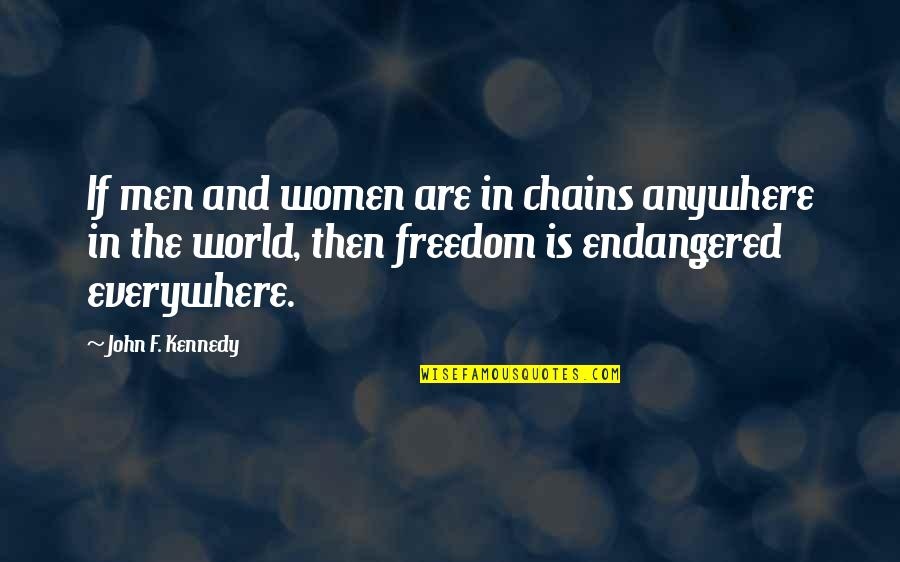 If men and women are in chains anywhere in the world, then freedom is endangered everywhere. —
John F. Kennedy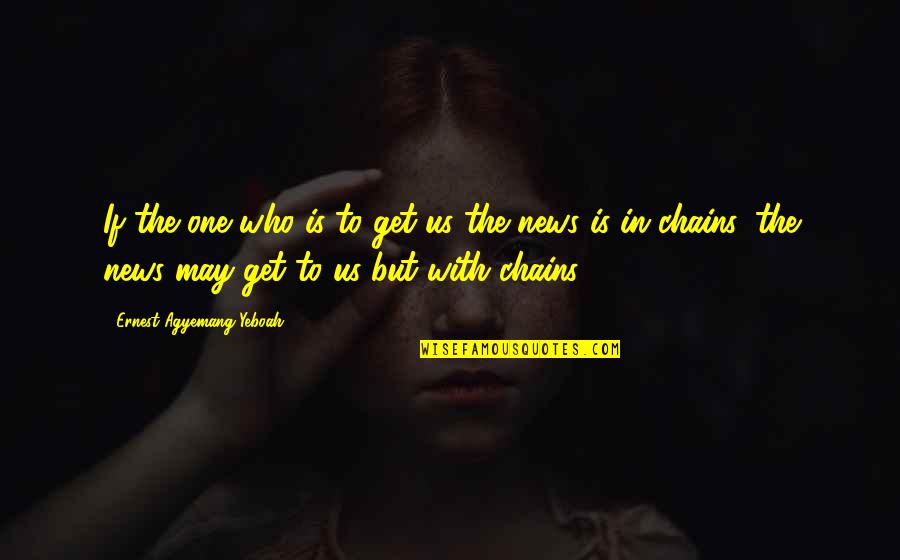 If the one who is to get us the news is in chains, the news may get to us but with chains! —
Ernest Agyemang Yeboah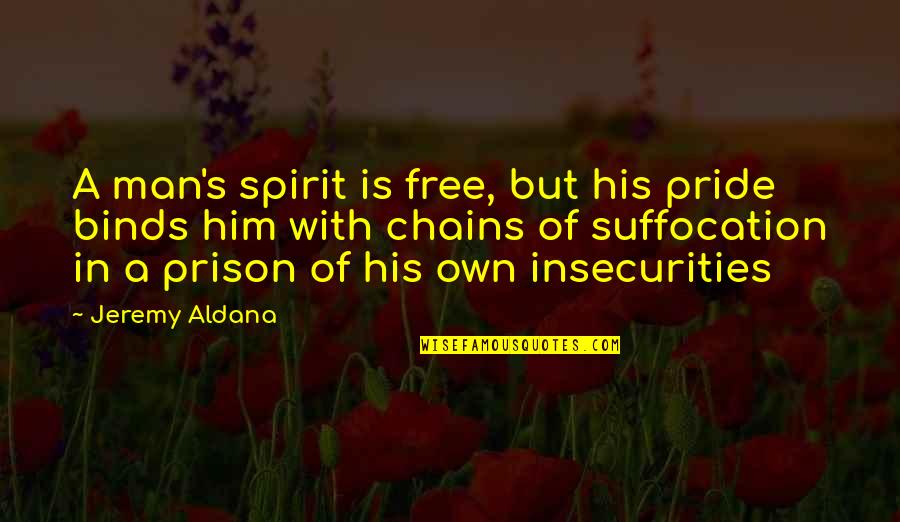 A man's spirit is free, but his pride binds him with chains of suffocation in a prison of his own insecurities —
Jeremy Aldana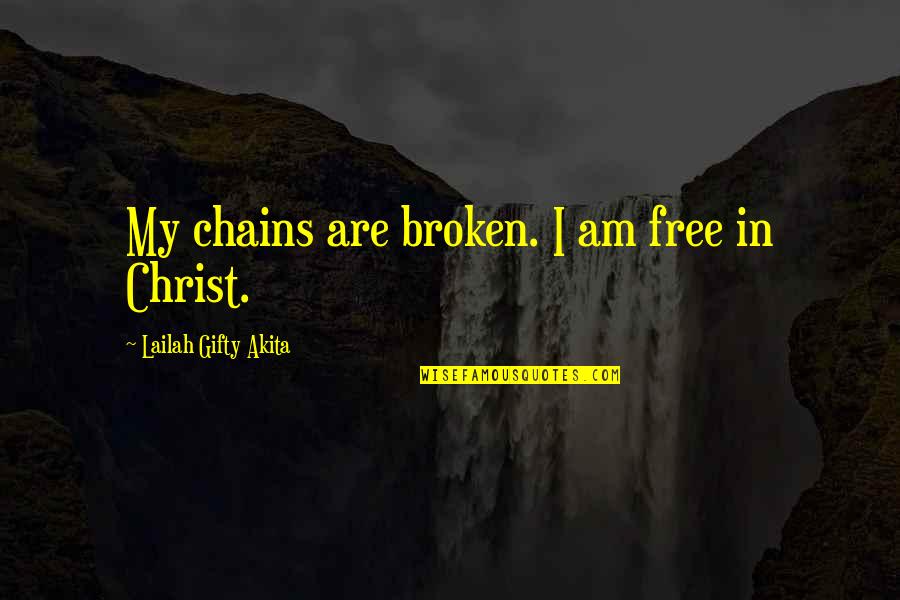 My chains are broken. I am free in Christ. —
Lailah Gifty Akita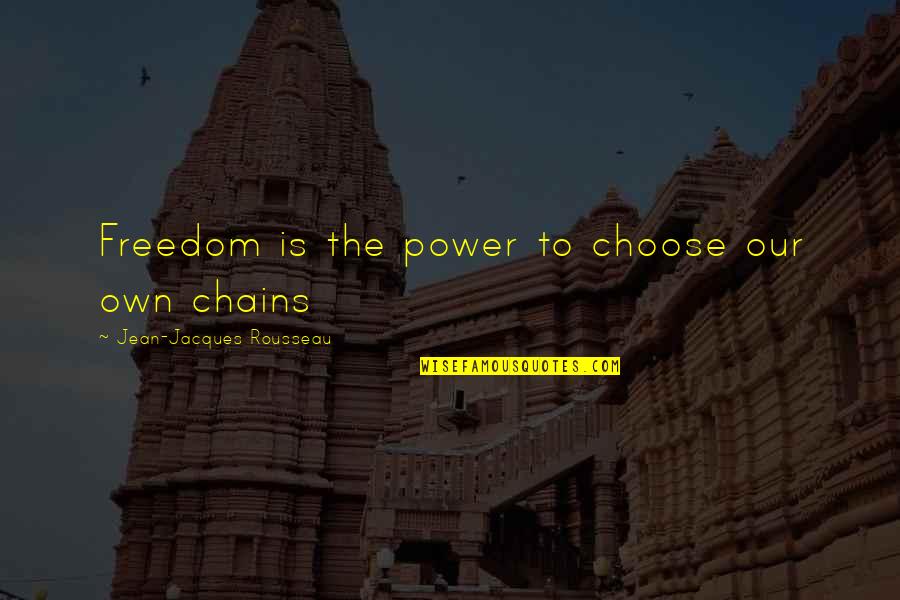 Freedom is the power to choose our own chains —
Jean-Jacques Rousseau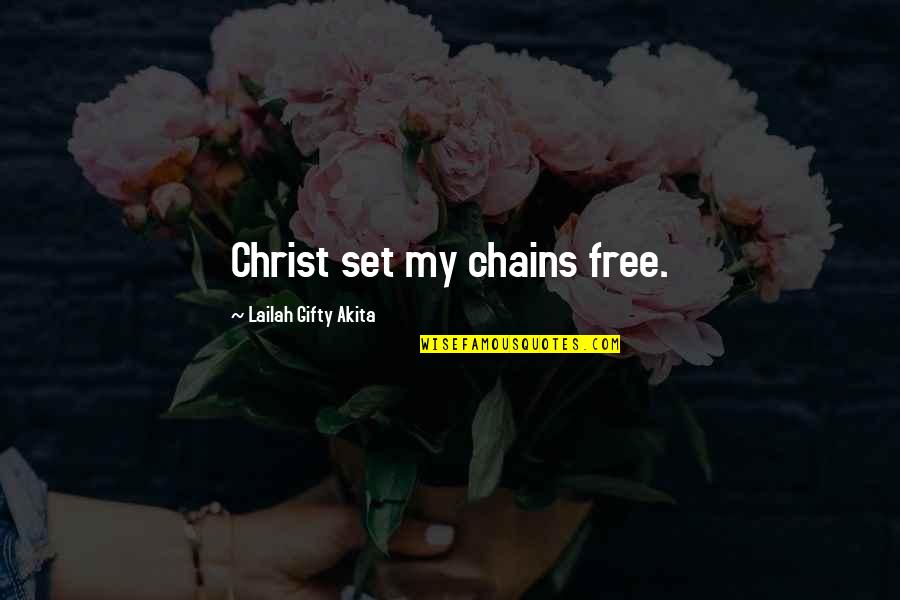 Christ set my chains free. —
Lailah Gifty Akita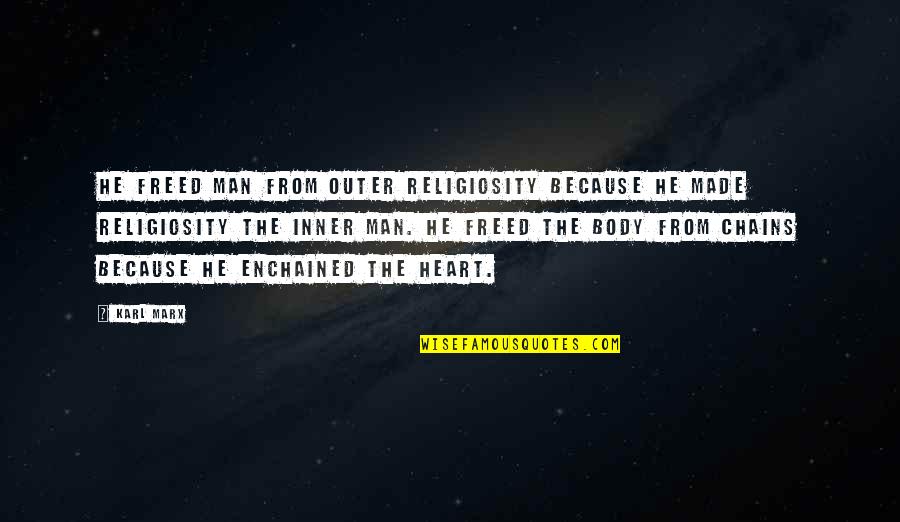 He freed man from outer religiosity because he made religiosity the inner man. He freed the body from chains because he enchained the heart. —
Karl Marx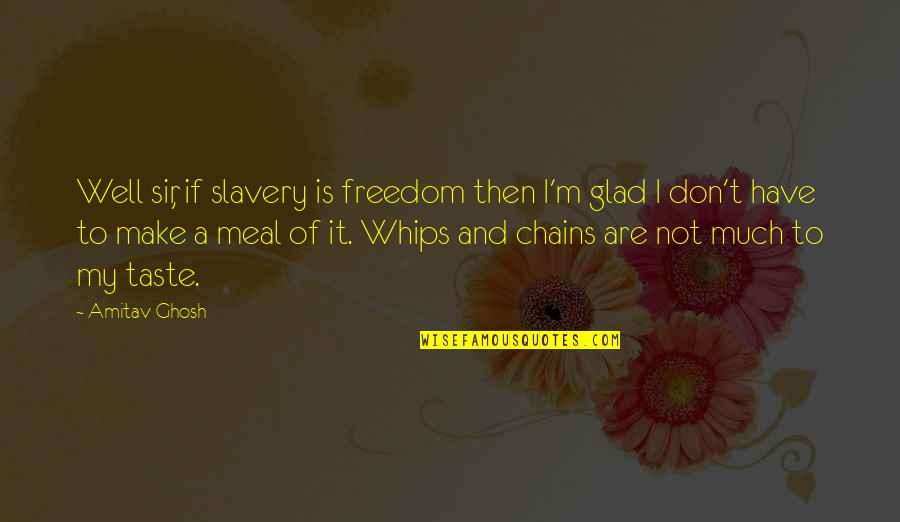 Well sir, if slavery is freedom then I'm glad I don't have to make a meal of it. Whips and chains are not much to my taste. —
Amitav Ghosh