Cesar Chavez Quotes
Collection of top 72 famous quotes about Cesar Chavez
Cesar Chavez Quotes & Sayings
Happy to read and share the best inspirational Cesar Chavez quotes, sayings and quotations on Wise Famous Quotes.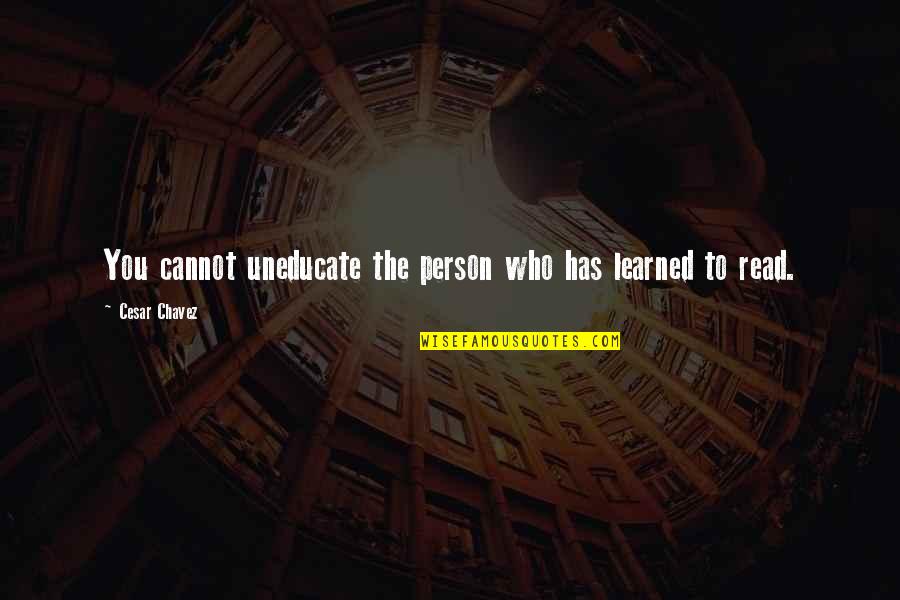 You cannot uneducate the person who has learned to read.
—
Cesar Chavez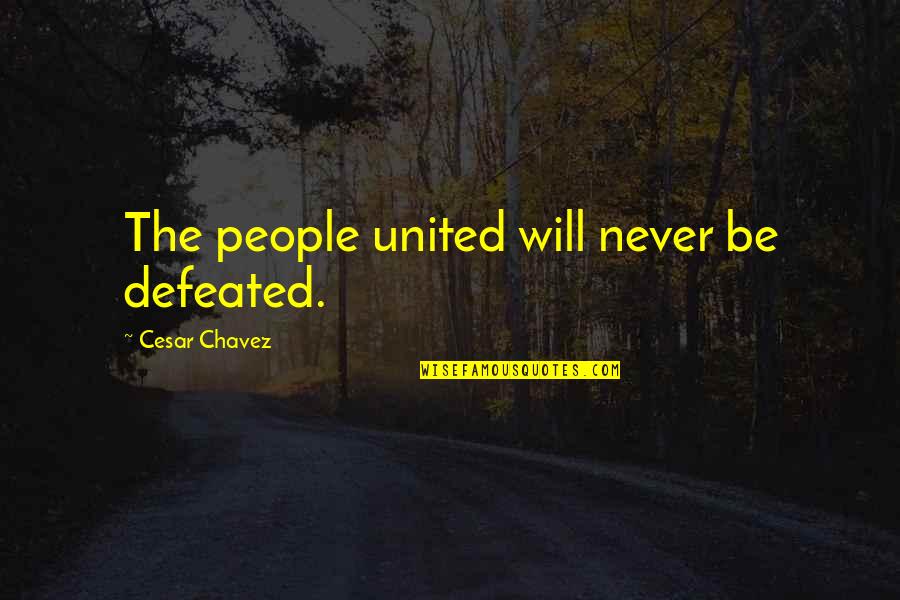 The people united will never be defeated.
—
Cesar Chavez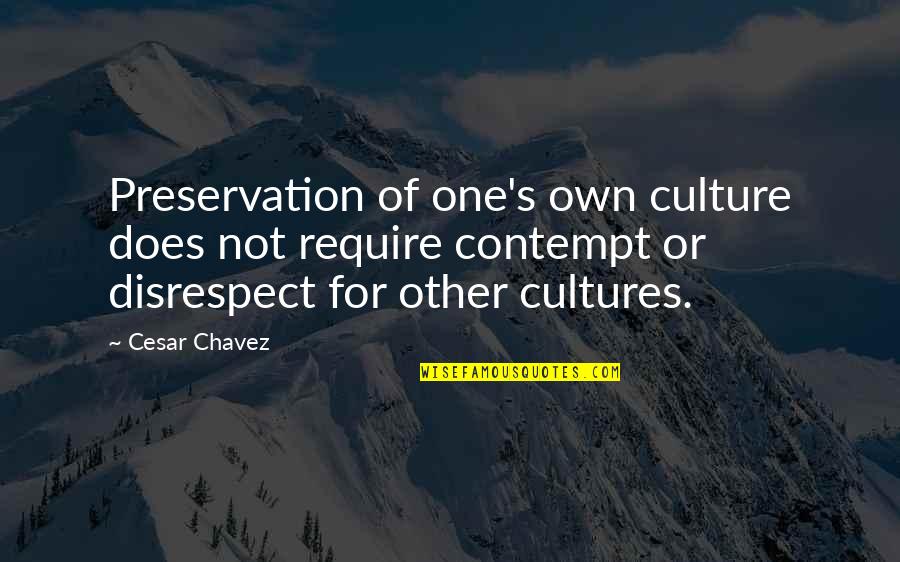 Preservation of one's own culture does not require contempt or disrespect for other cultures.
—
Cesar Chavez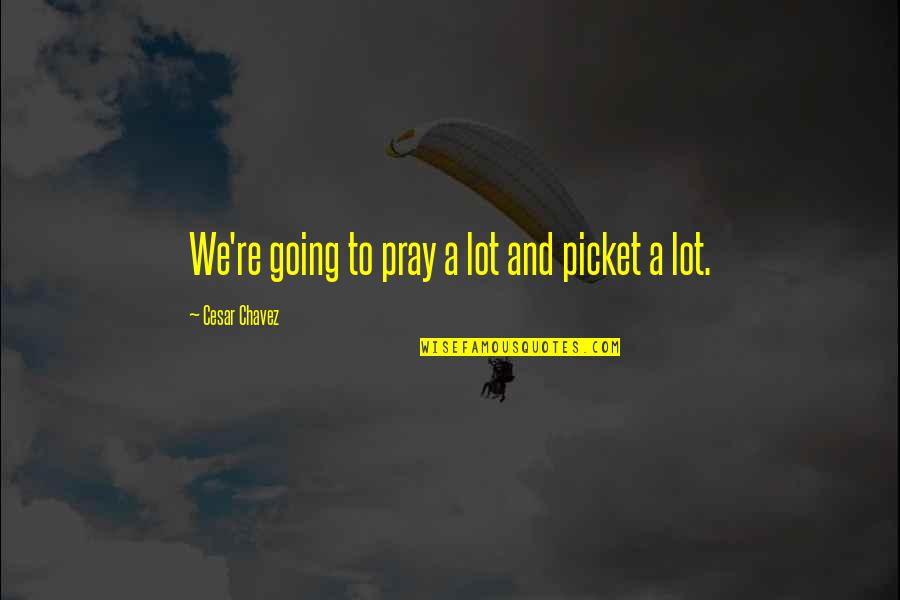 We're going to pray a lot and picket a lot.
—
Cesar Chavez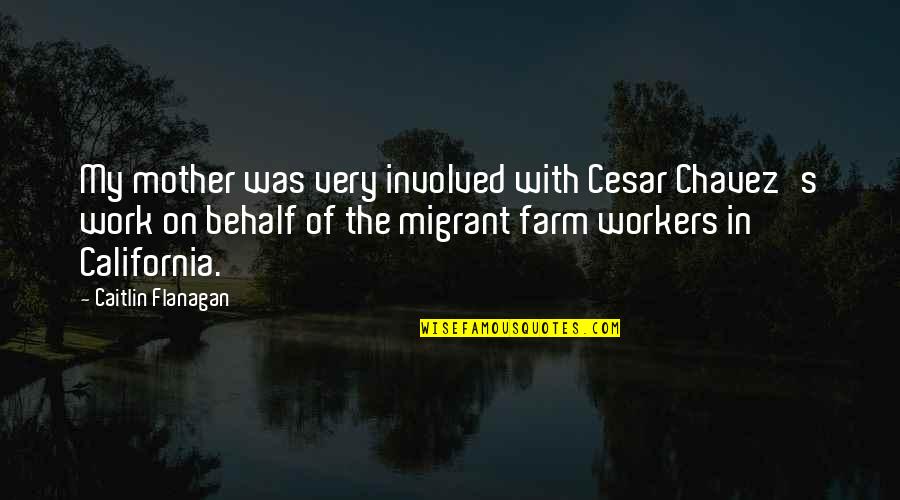 My mother was very involved with Cesar Chavez's work on behalf of the migrant farm workers in California.
—
Caitlin Flanagan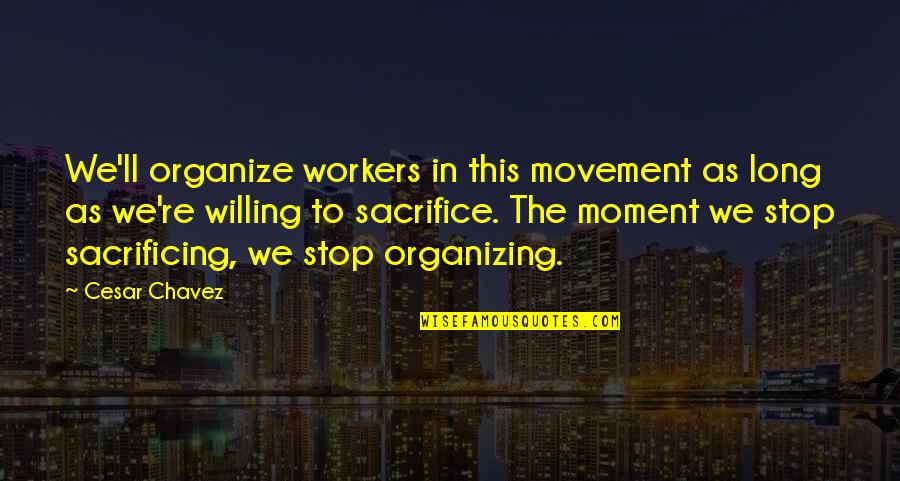 We'll organize workers in this movement as long as we're willing to sacrifice. The moment we stop sacrificing, we stop organizing. —
Cesar Chavez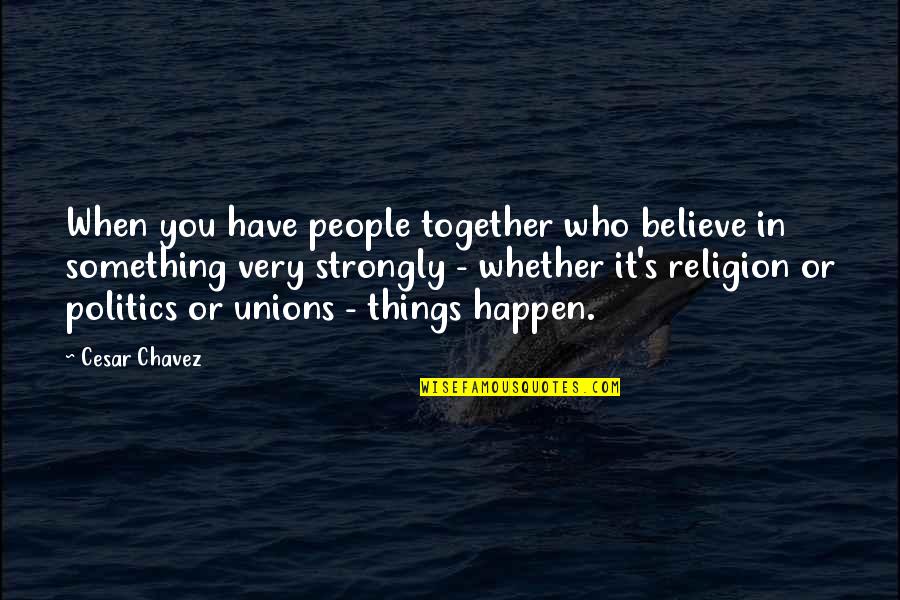 When you have people together who believe in something very strongly - whether it's religion or politics or unions - things happen. —
Cesar Chavez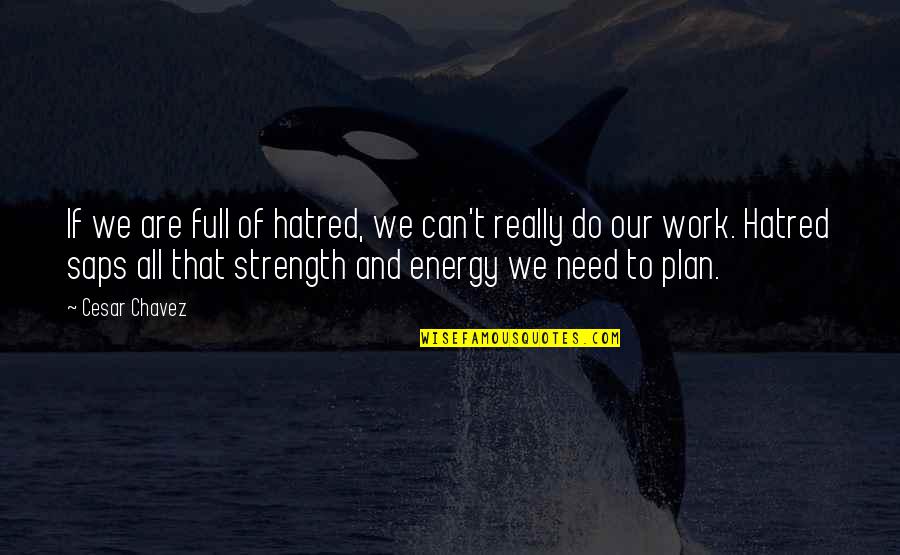 If we are full of hatred, we can't really do our work. Hatred saps all that strength and energy we need to plan. —
Cesar Chavez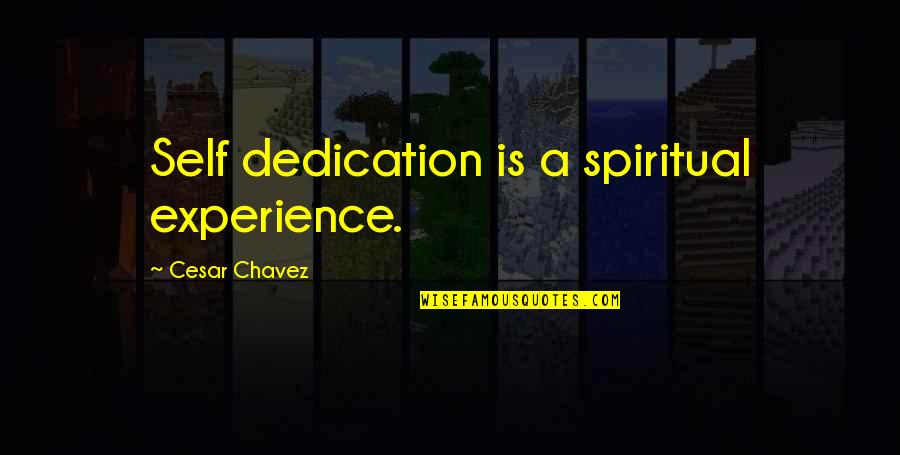 Self dedication is a spiritual experience. —
Cesar Chavez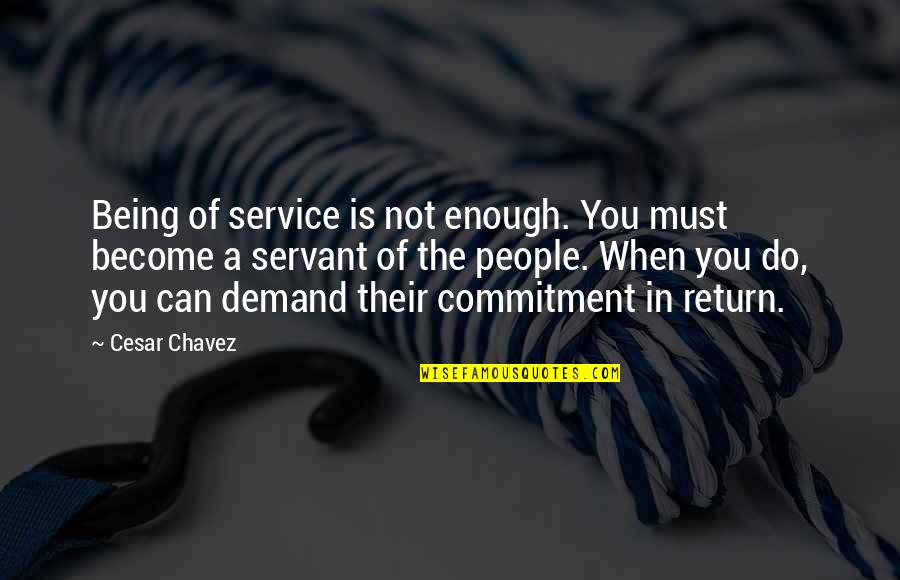 Being of service is not enough. You must become a servant of the people. When you do, you can demand their commitment in return. —
Cesar Chavez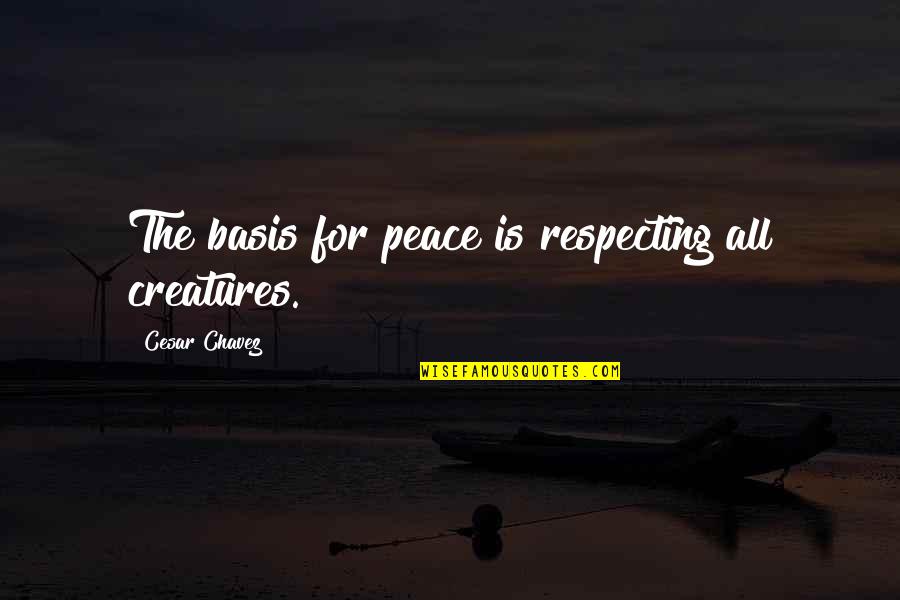 The basis for peace is respecting all creatures. —
Cesar Chavez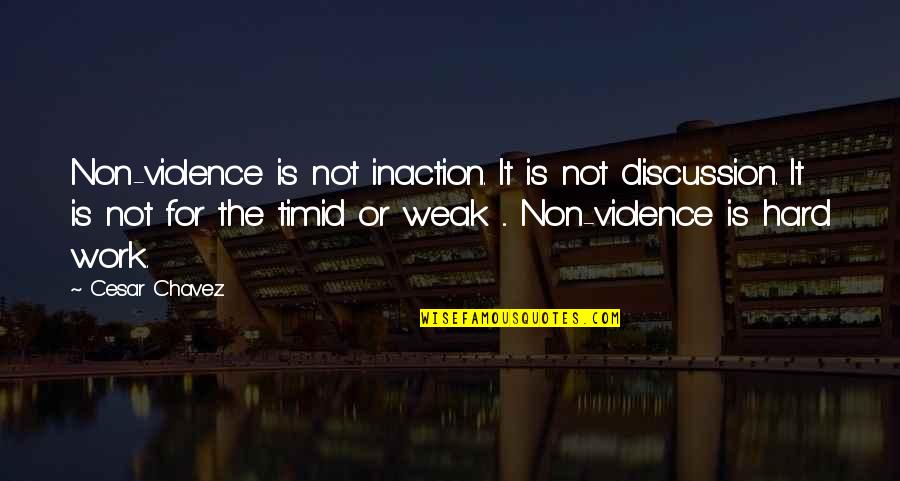 Non-violence is not inaction. It is not discussion. It is not for the timid or weak ... Non-violence is hard work. —
Cesar Chavez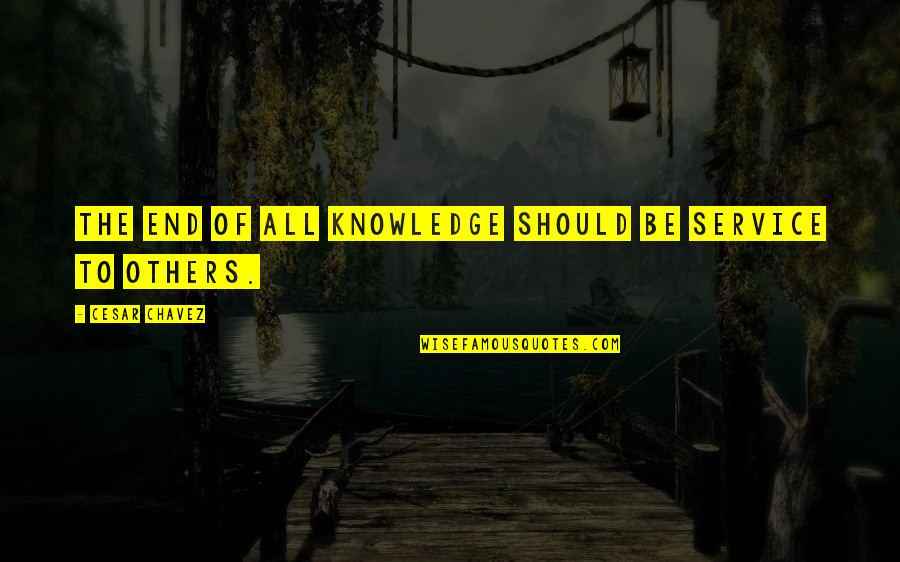 The end of all knowledge should be service to others. —
Cesar Chavez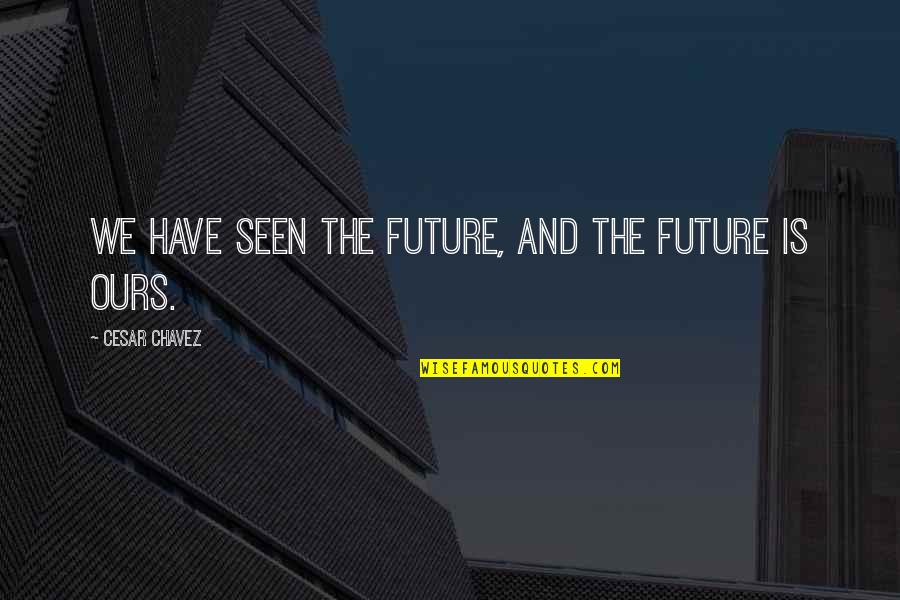 We have seen the future, and the future is ours. —
Cesar Chavez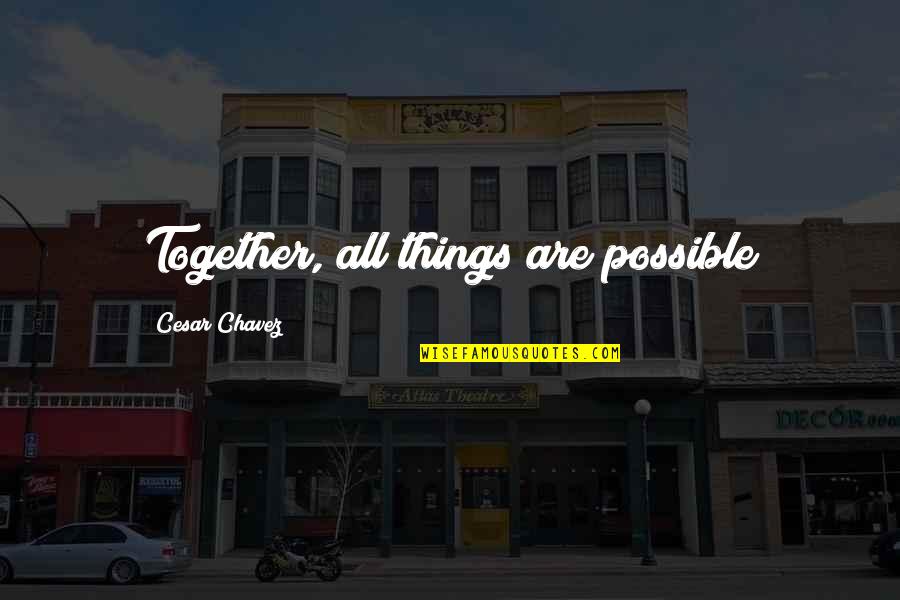 Together, all things are possible —
Cesar Chavez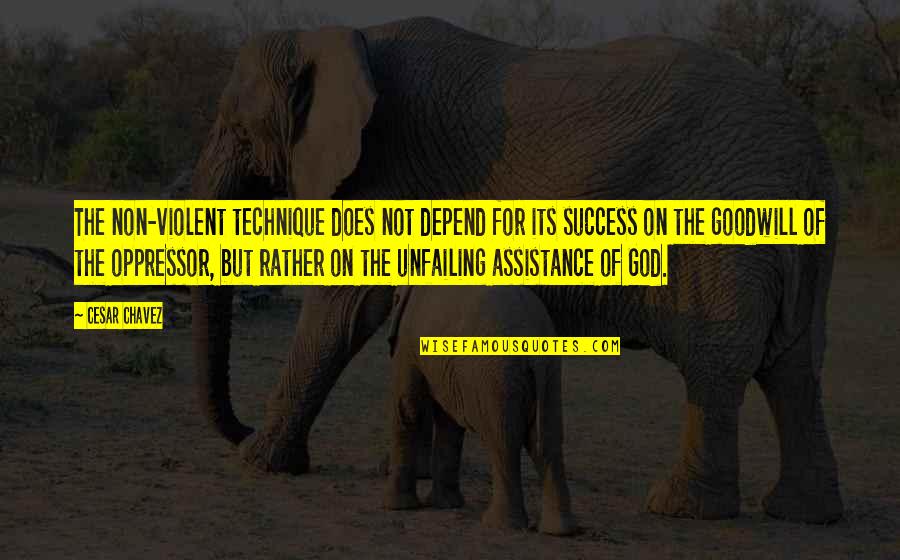 The non-violent technique does not depend for its success on the goodwill of the oppressor, but rather on the unfailing assistance of God. —
Cesar Chavez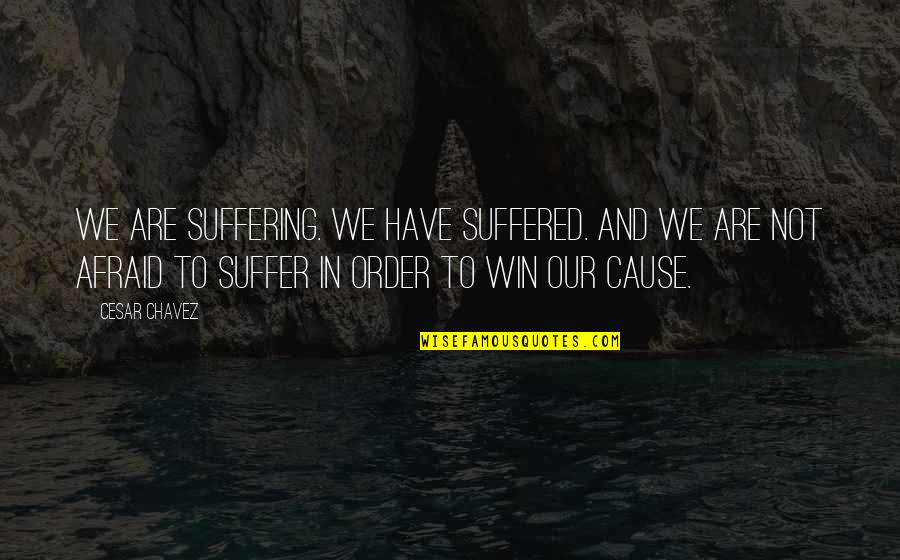 We are suffering. We have suffered. And we are not afraid to suffer in order to win our cause. —
Cesar Chavez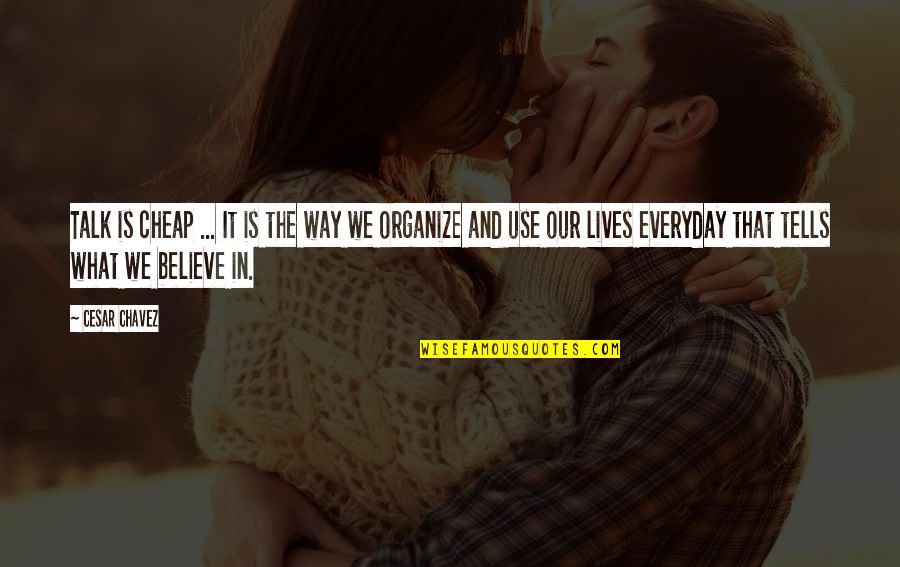 Talk is cheap ... It is the way we organize and use our lives everyday that tells what we believe in. —
Cesar Chavez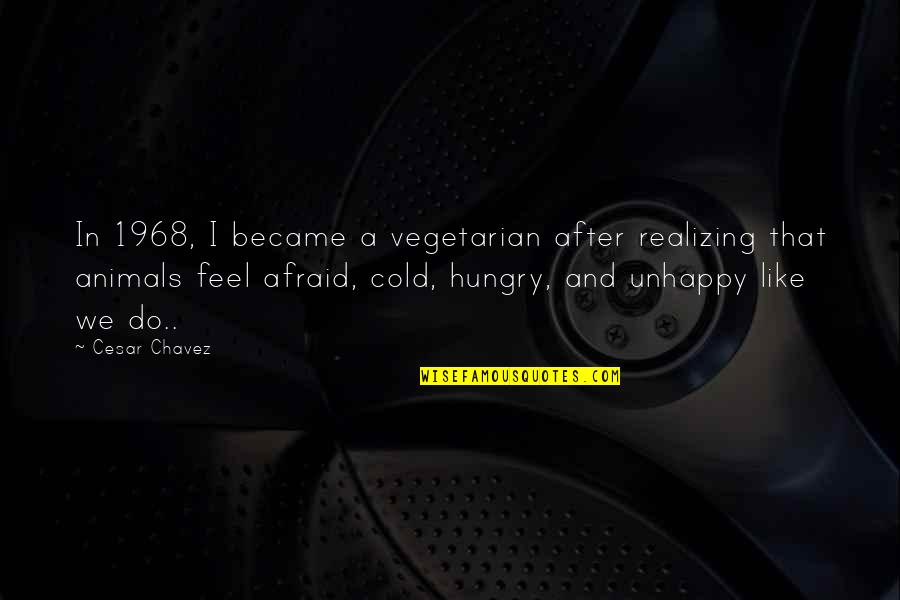 In 1968, I became a vegetarian after realizing that animals feel afraid, cold, hungry, and unhappy like we do.. —
Cesar Chavez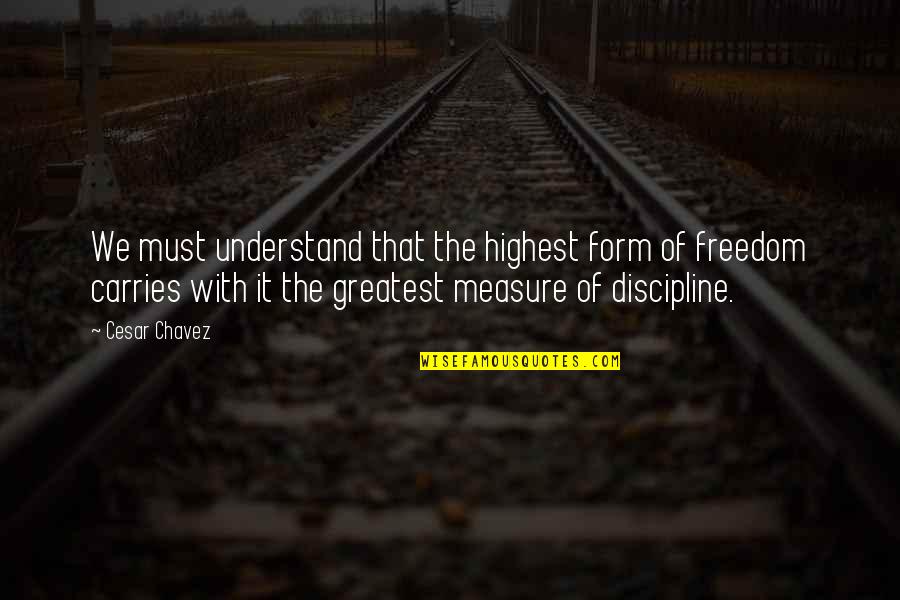 We must understand that the highest form of freedom carries with it the greatest measure of discipline. —
Cesar Chavez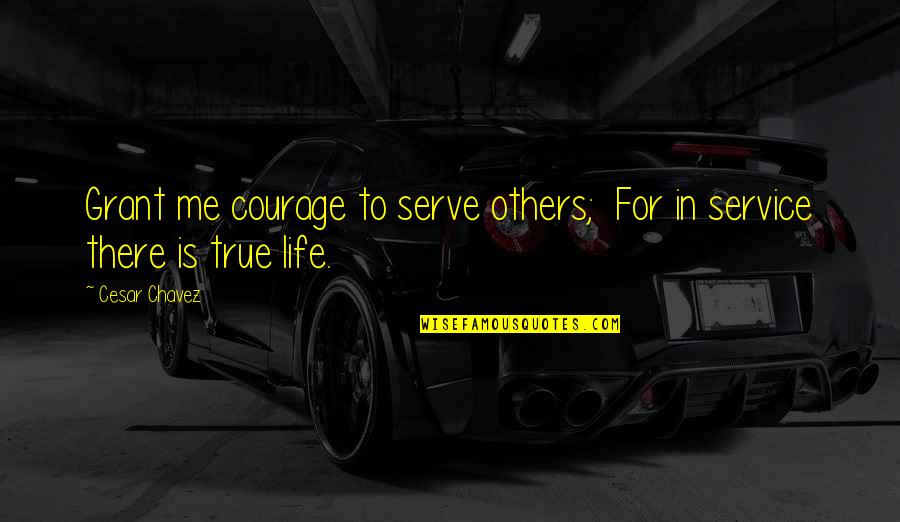 Grant me courage to serve others;
For in service there is true life. —
Cesar Chavez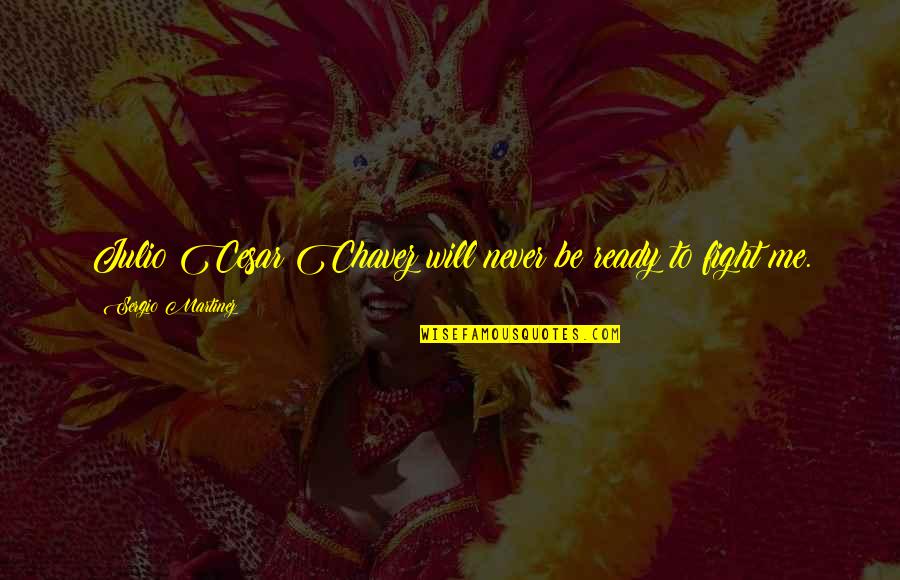 Julio Cesar Chavez will never be ready to fight me. —
Sergio Martinez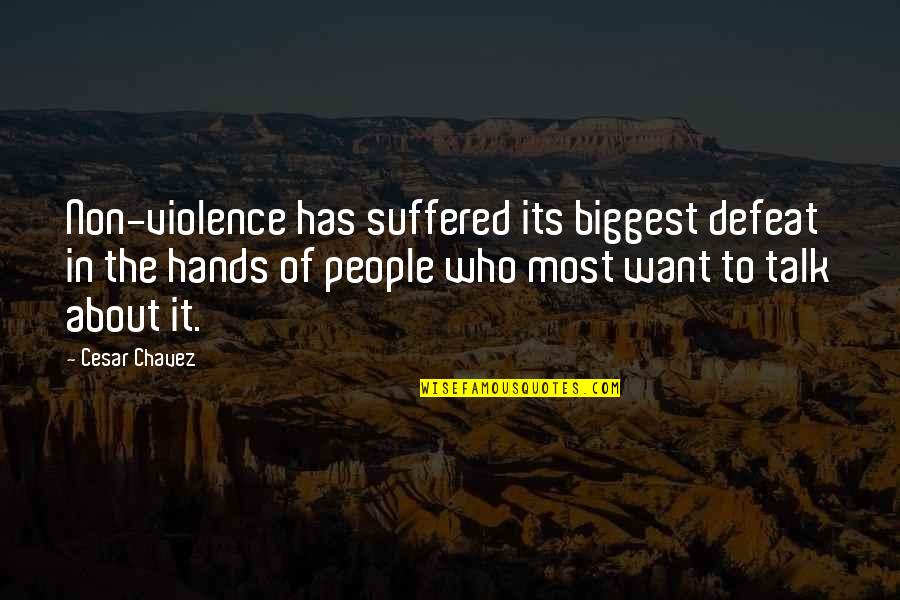 Non-violence has suffered its biggest defeat in the hands of people who most want to talk about it. —
Cesar Chavez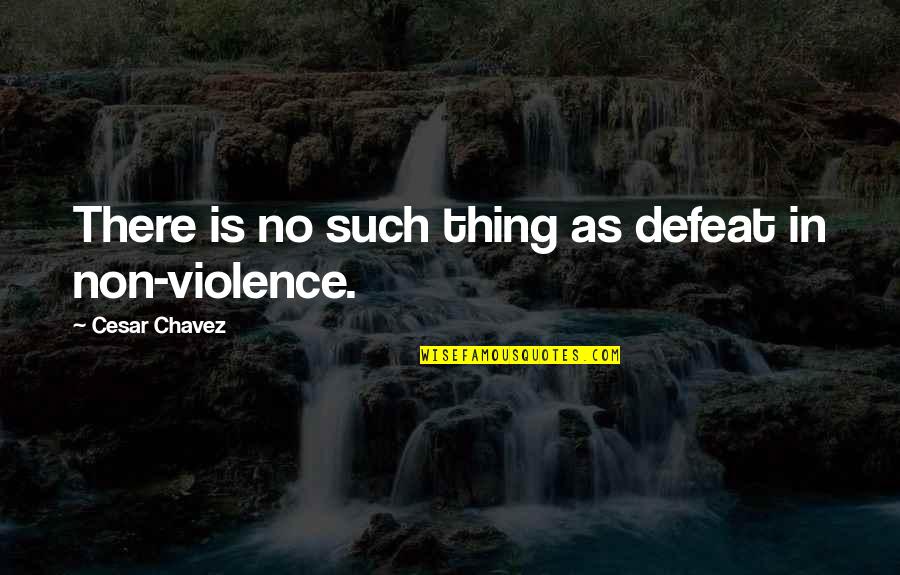 There is no such thing as defeat in non-violence. —
Cesar Chavez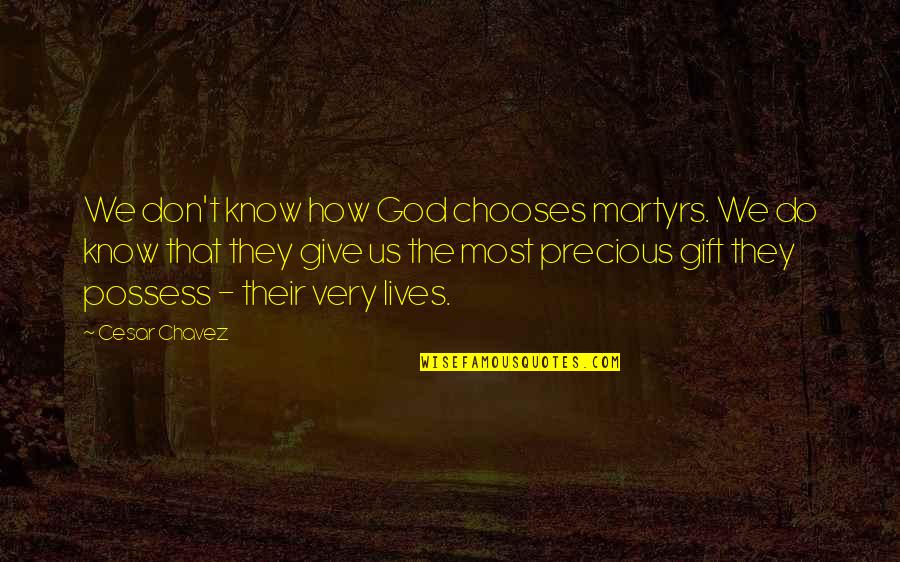 We don't know how God chooses martyrs. We do know that they give us the most precious gift they possess - their very lives. —
Cesar Chavez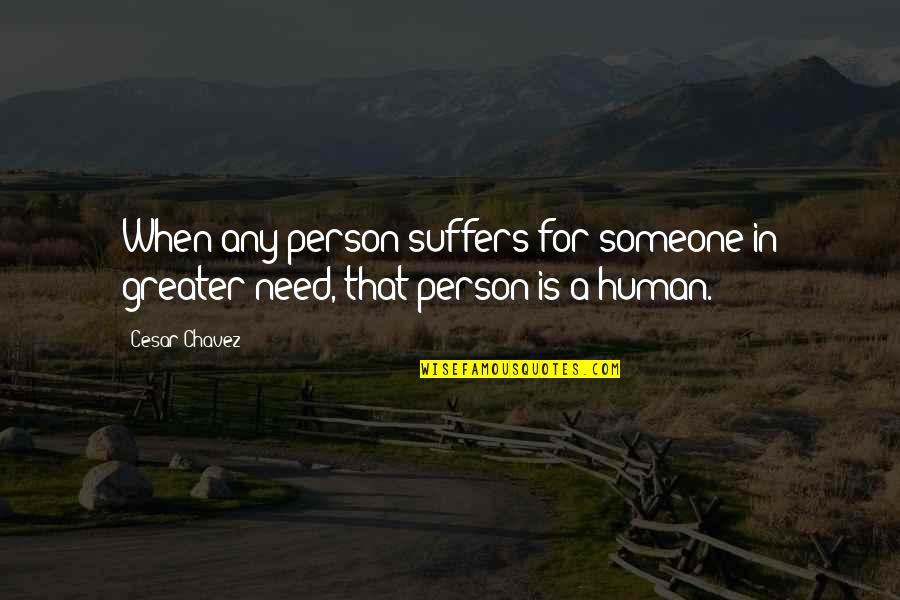 When any person suffers for someone in greater need, that person is a human. —
Cesar Chavez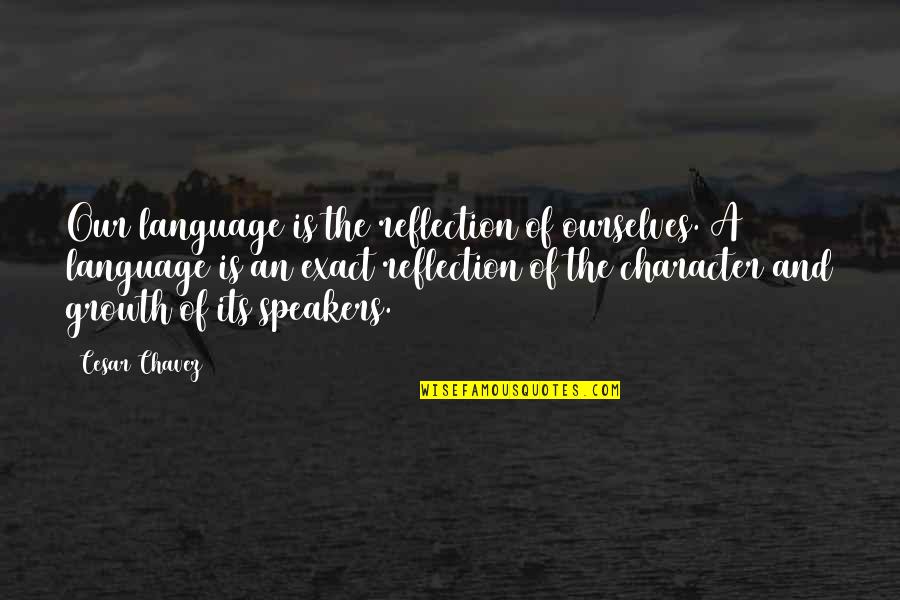 Our language is the reflection of ourselves. A language is an exact reflection of the character and growth of its speakers. —
Cesar Chavez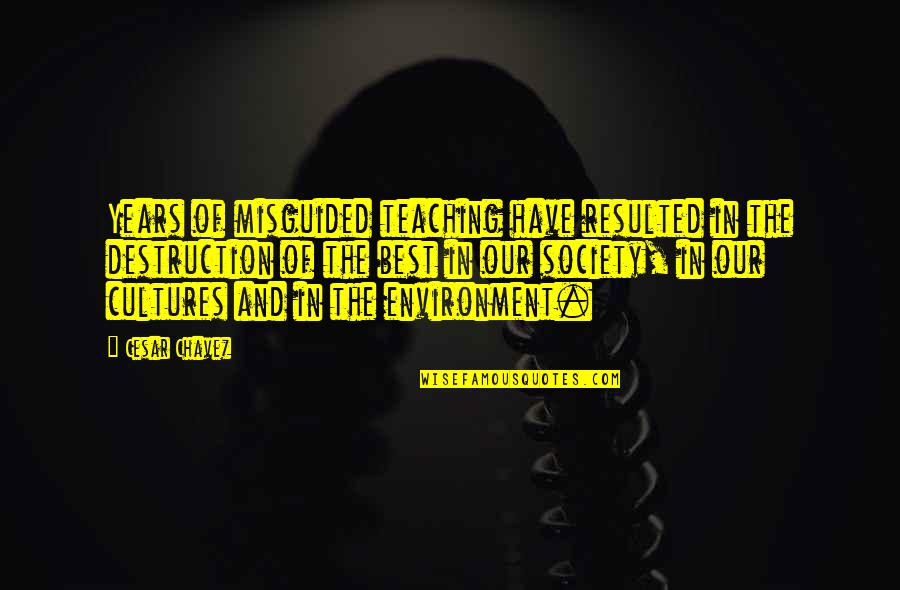 Years of misguided teaching have resulted in the destruction of the best in our society, in our cultures and in the environment. —
Cesar Chavez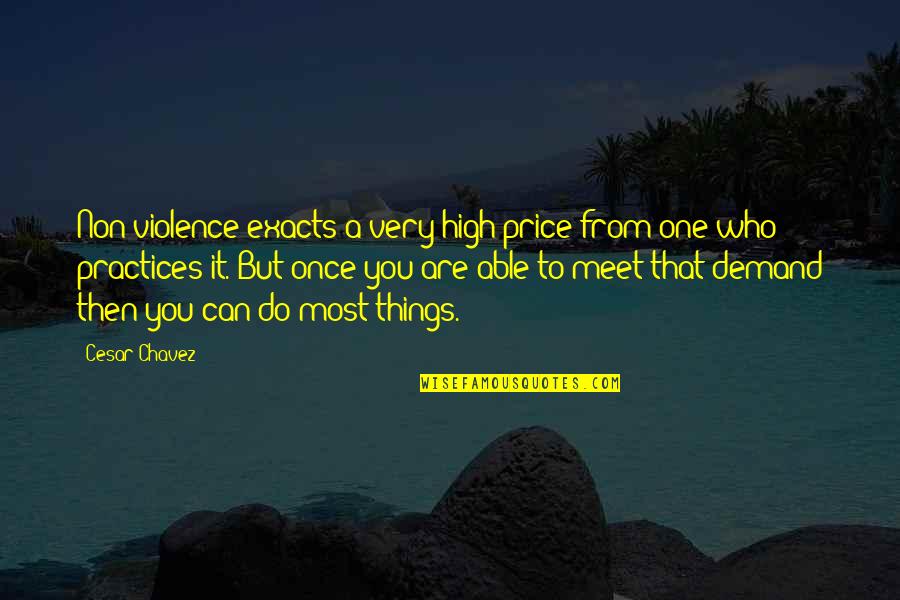 Non-violence exacts a very high price from one who practices it. But once you are able to meet that demand then you can do most things. —
Cesar Chavez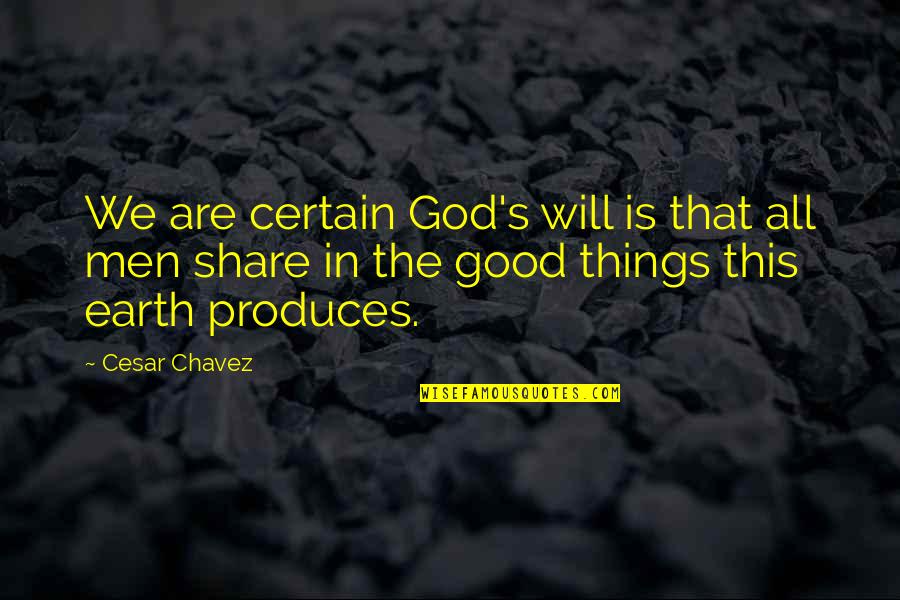 We are certain God's will is that all men share in the good things this earth produces. —
Cesar Chavez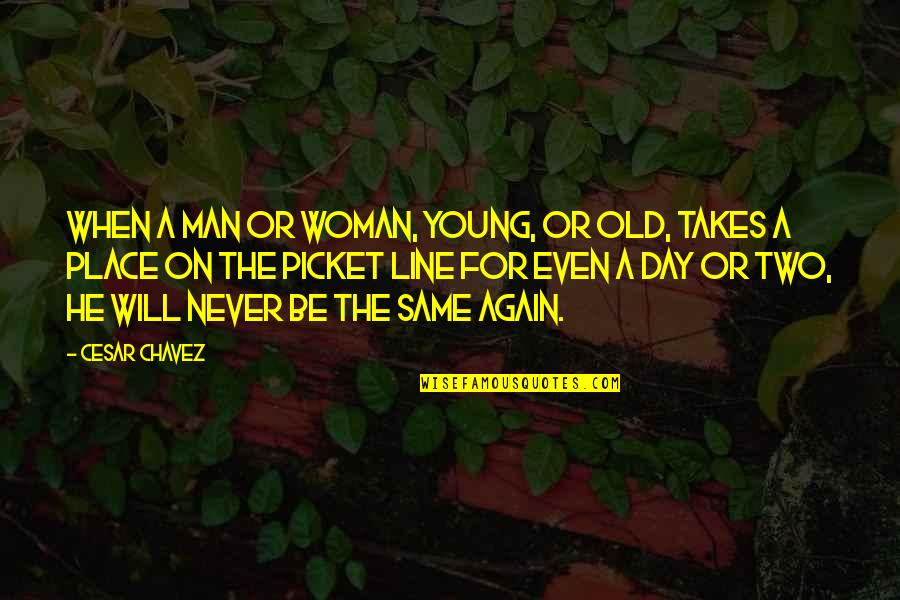 When a man or woman, young, or old, takes a place on the picket line for even a day or two, he will never be the same again. —
Cesar Chavez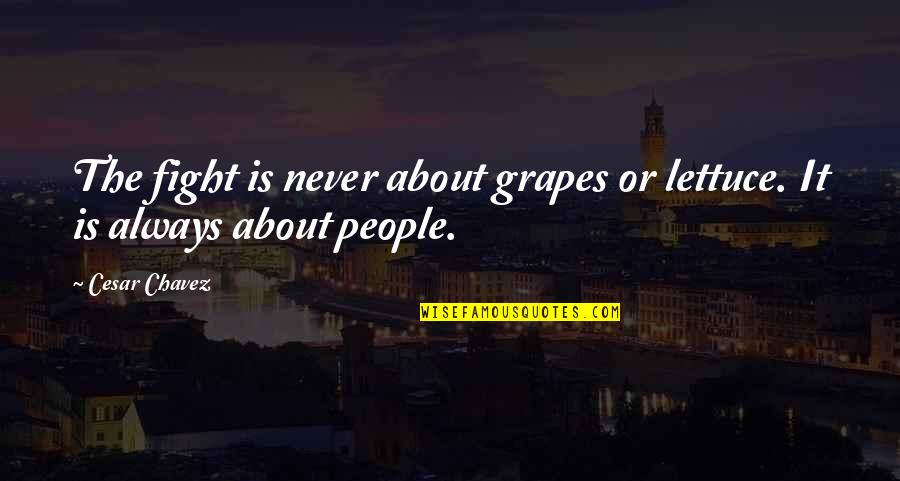 The fight is never about grapes or lettuce. It is always about people. —
Cesar Chavez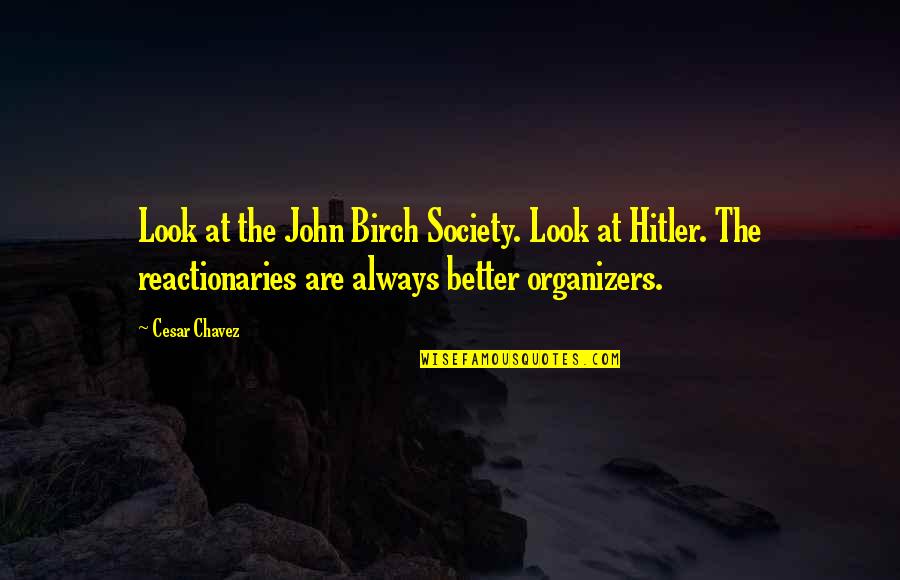 Look at the John Birch Society. Look at Hitler. The reactionaries are always better organizers. —
Cesar Chavez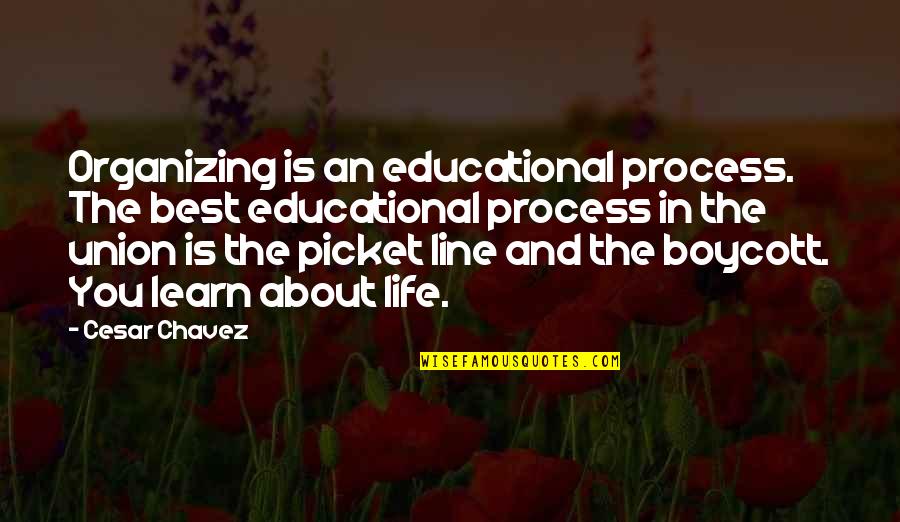 Organizing is an educational process. The best educational process in the union is the picket line and the boycott. You learn about life. —
Cesar Chavez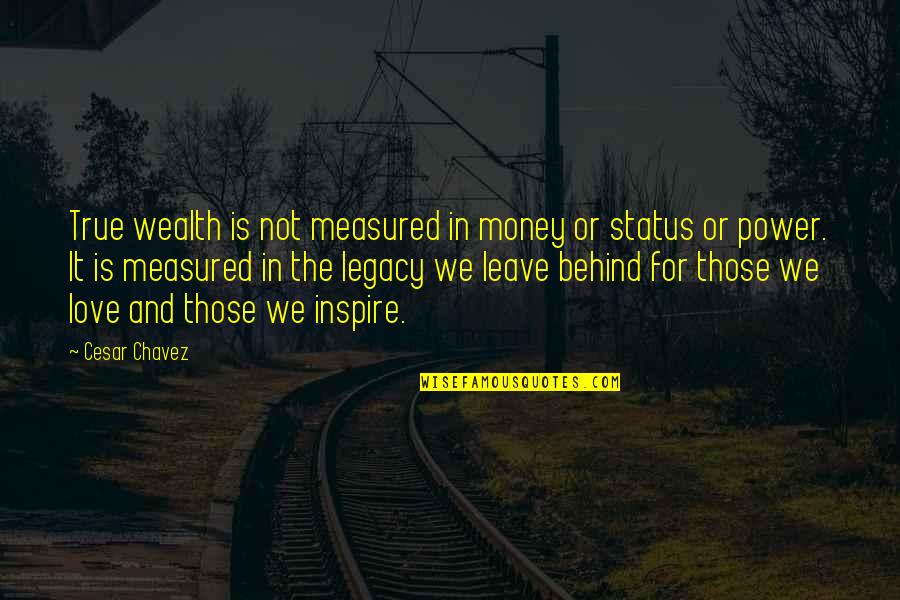 True wealth is not measured in money or status or power. It is measured in the legacy we leave behind for those we love and those we inspire. —
Cesar Chavez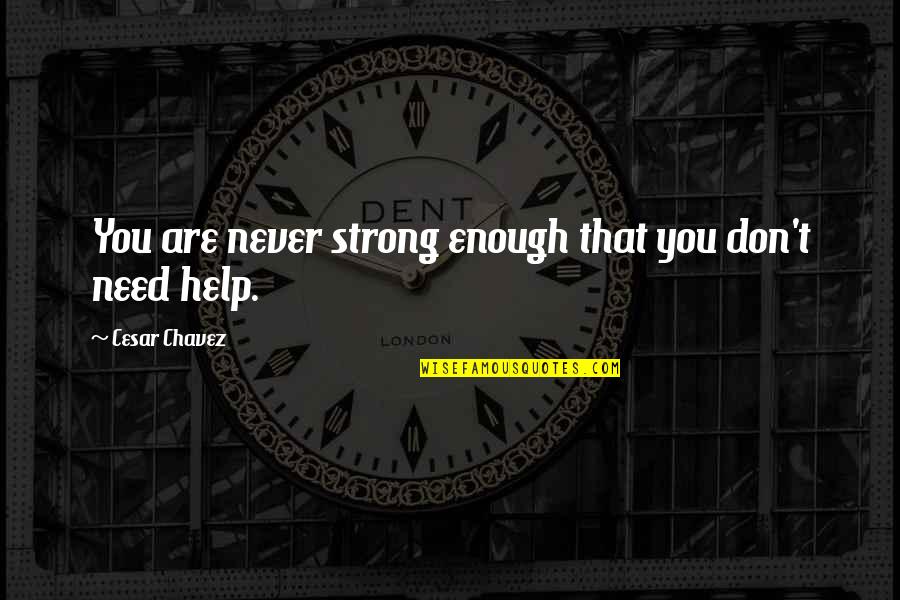 You are never strong enough that you don't need help. —
Cesar Chavez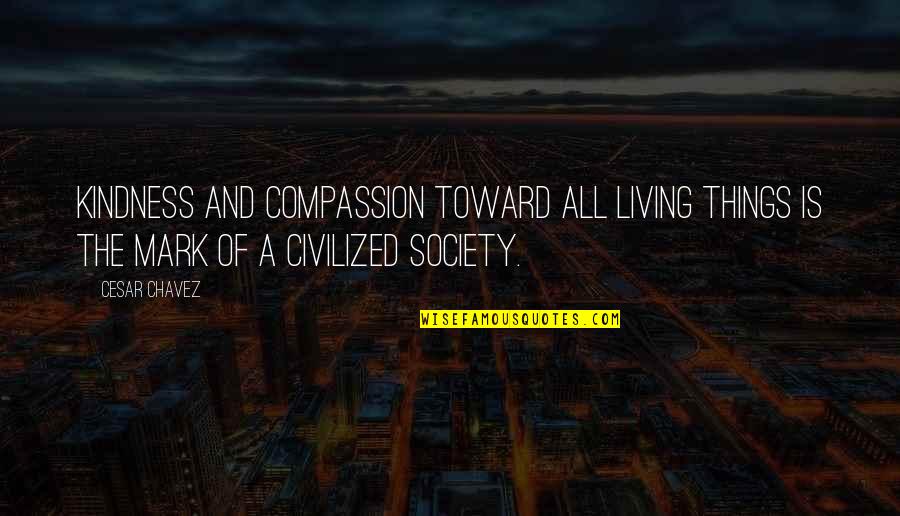 Kindness and compassion toward all living things is the mark of a civilized society. —
Cesar Chavez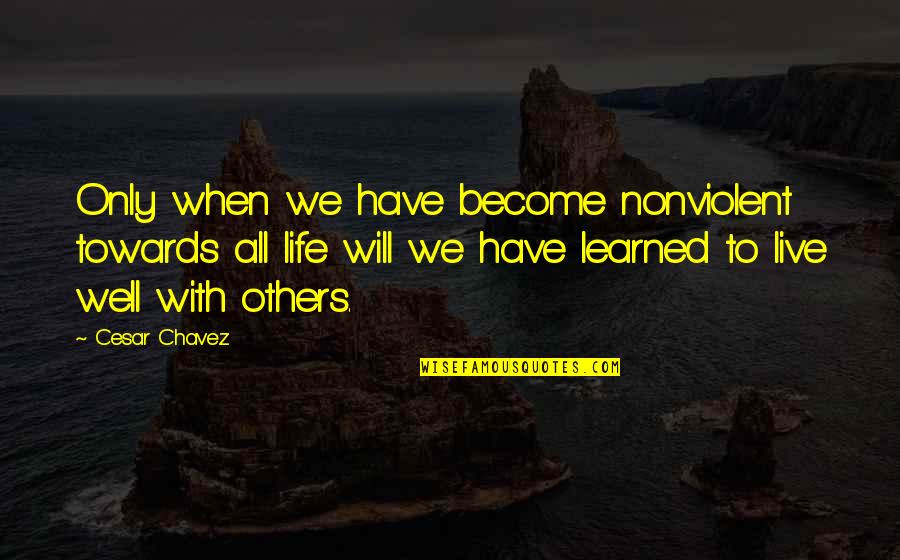 Only when we have become nonviolent towards all life will we have learned to live well with others. —
Cesar Chavez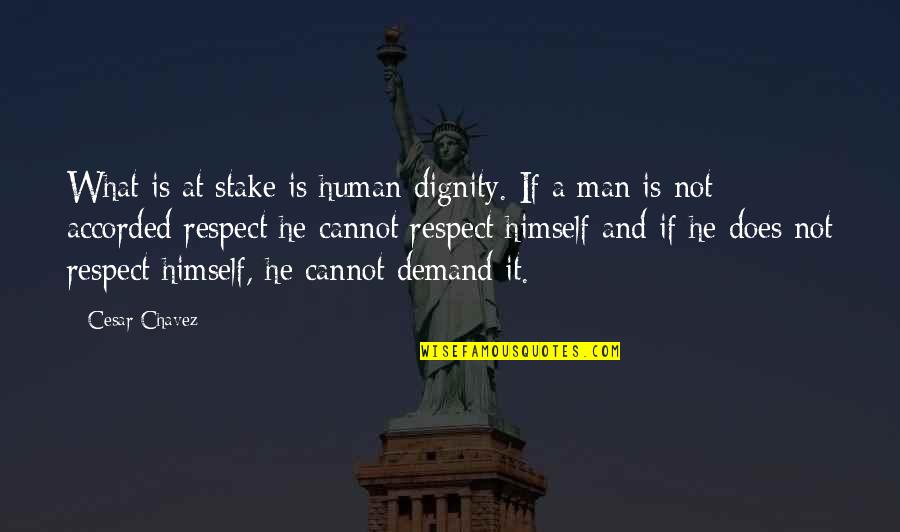 What is at stake is human dignity. If a man is not accorded respect he cannot respect himself and if he does not respect himself, he cannot demand it. —
Cesar Chavez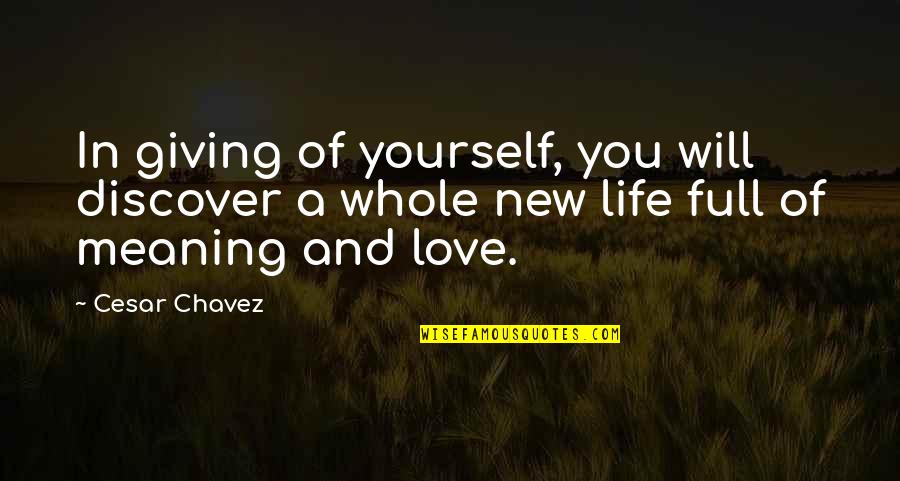 In giving of yourself, you will discover a whole new life full of meaning and love. —
Cesar Chavez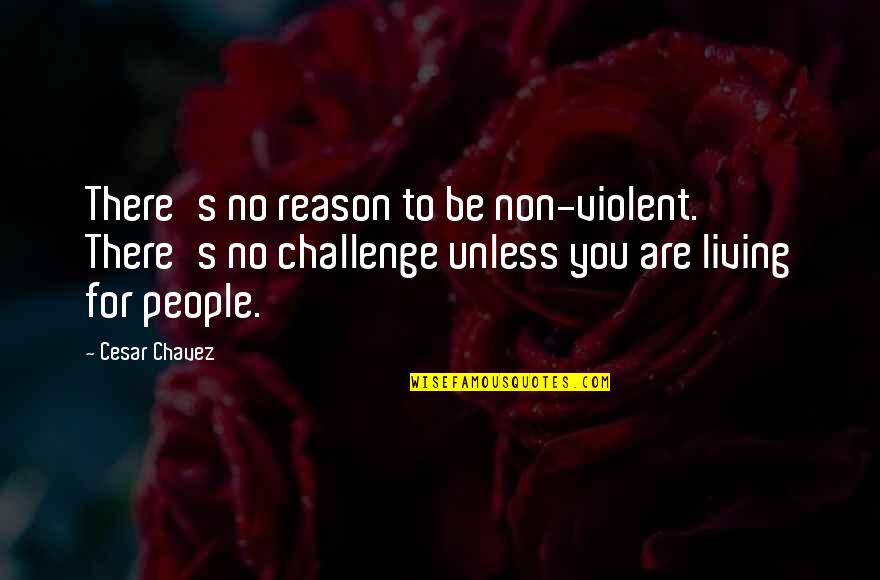 There's no reason to be non-violent. There's no challenge unless you are living for people. —
Cesar Chavez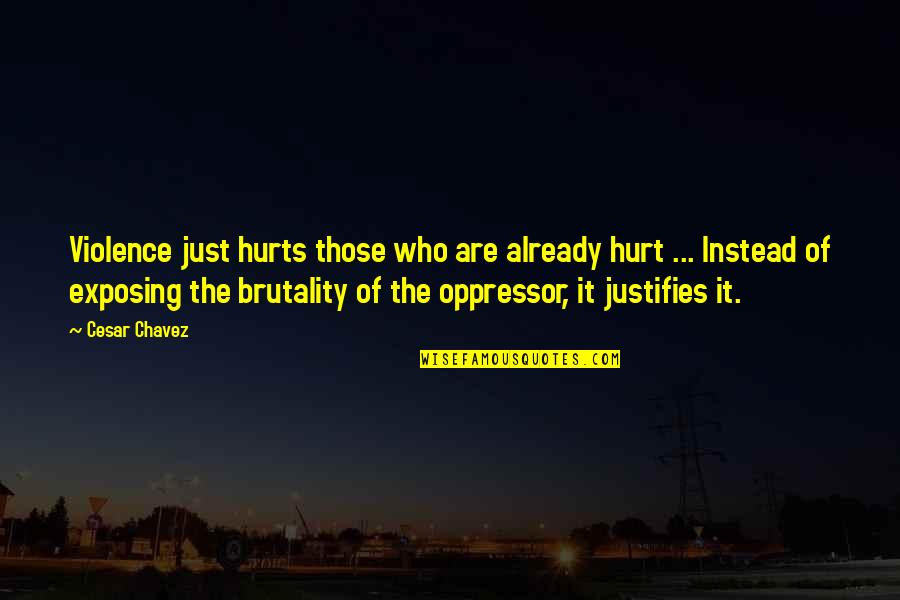 Violence just hurts those who are already hurt ... Instead of exposing the brutality of the oppressor, it justifies it. —
Cesar Chavez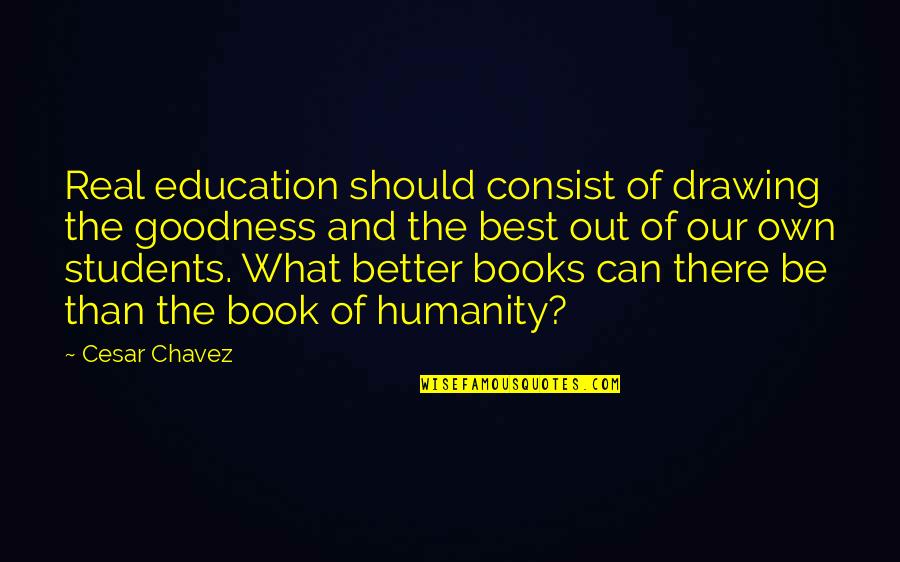 Real education should consist of drawing the goodness and the best out of our own students. What better books can there be than the book of humanity? —
Cesar Chavez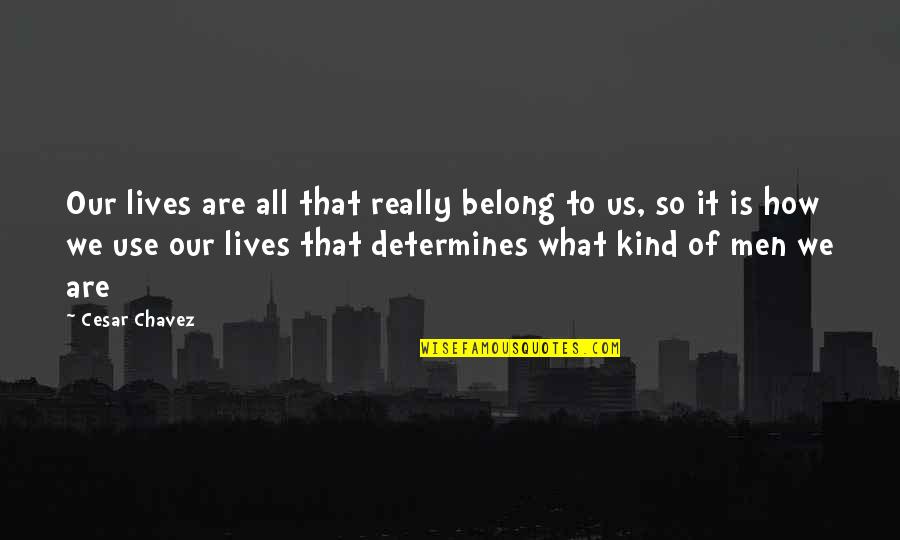 Our lives are all that really belong to us, so it is how we use our lives that determines what kind of men we are —
Cesar Chavez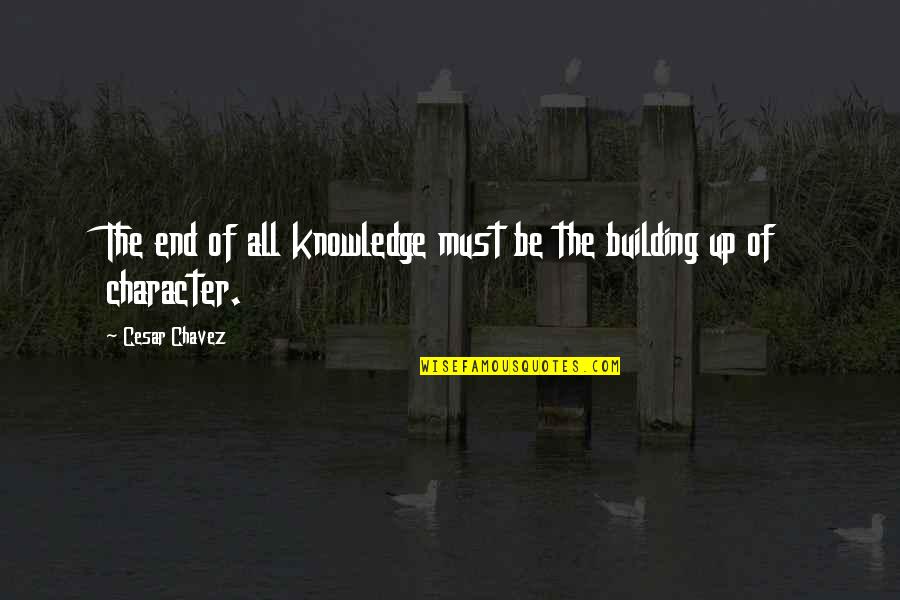 The end of all knowledge must be the building up of character. —
Cesar Chavez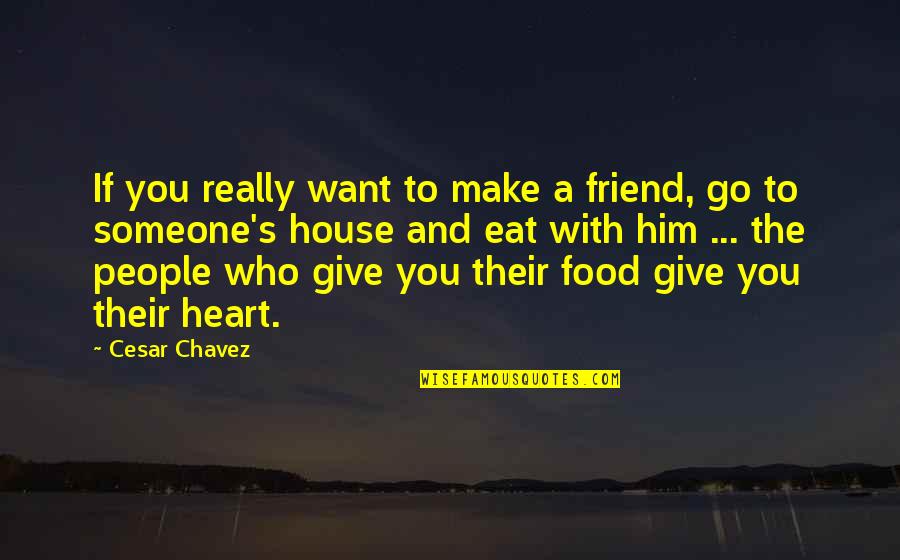 If you really want to make a friend, go to someone's house and eat with him ... the people who give you their food give you their heart. —
Cesar Chavez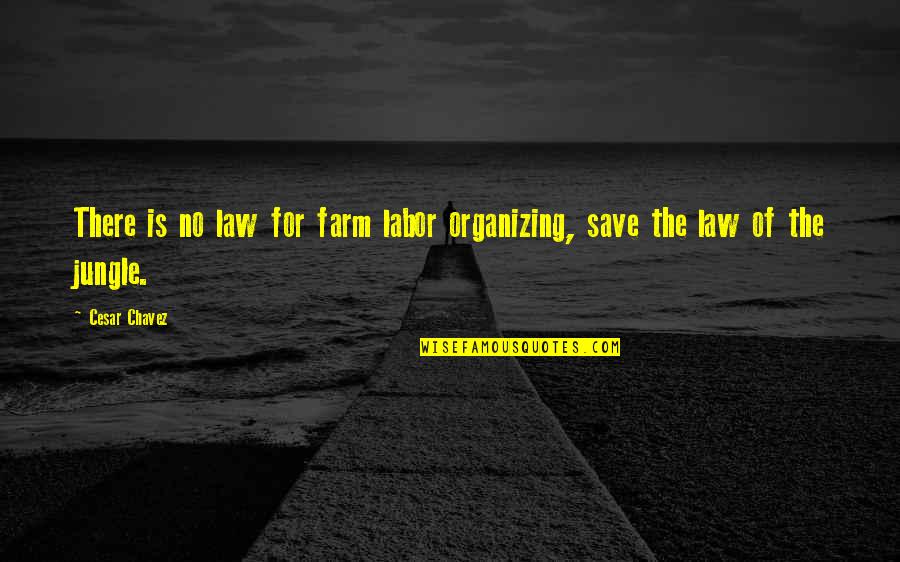 There is no law for farm labor organizing, save the law of the jungle. —
Cesar Chavez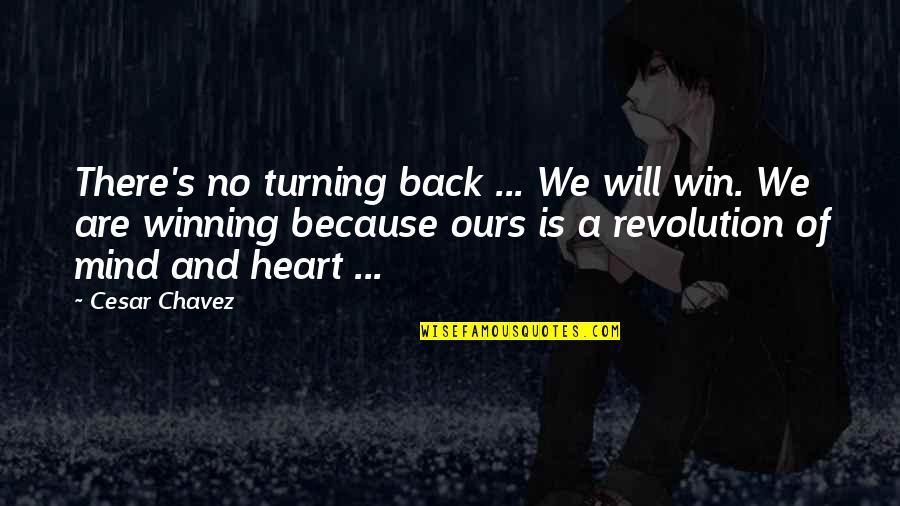 There's no turning back ... We will win. We are winning because ours is a revolution of mind and heart ... —
Cesar Chavez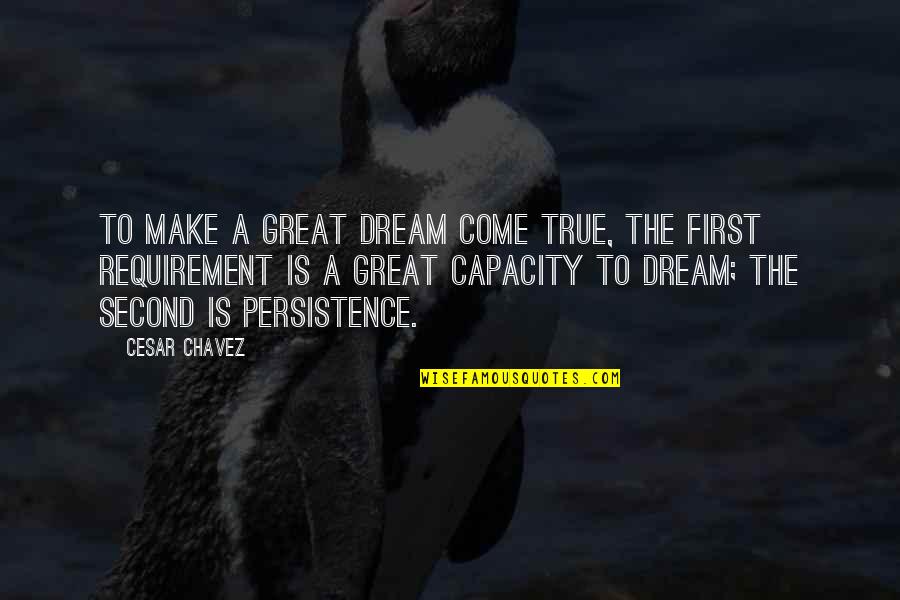 To make a great dream come true, the first requirement is a great capacity to dream; the second is persistence. —
Cesar Chavez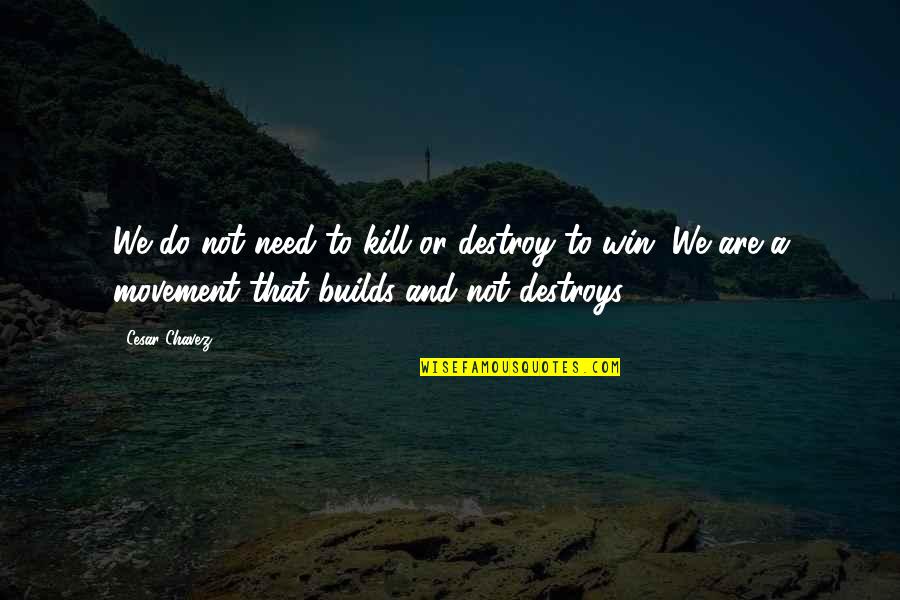 We do not need to kill or destroy to win. We are a movement that builds and not destroys. —
Cesar Chavez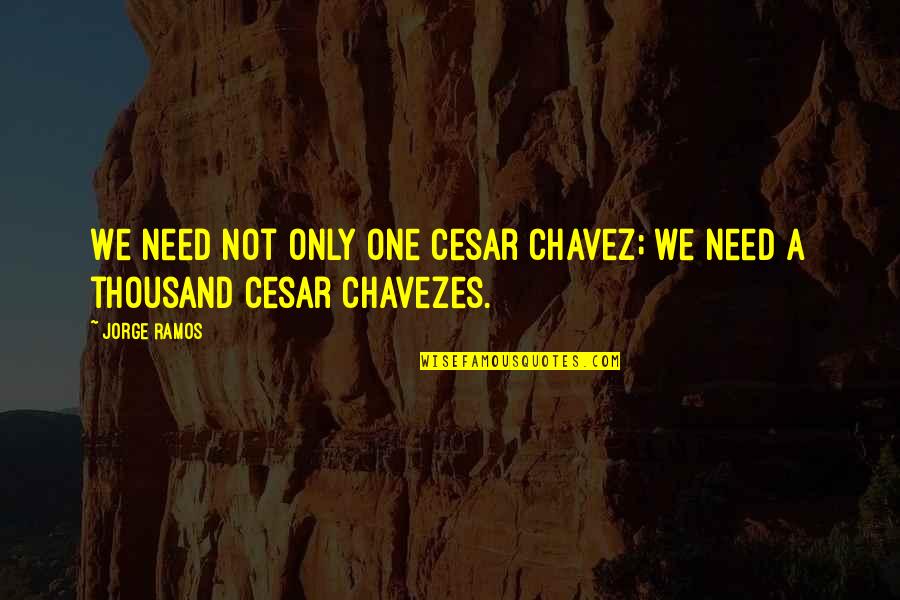 We need not only one Cesar Chavez; we need a thousand Cesar Chavezes. —
Jorge Ramos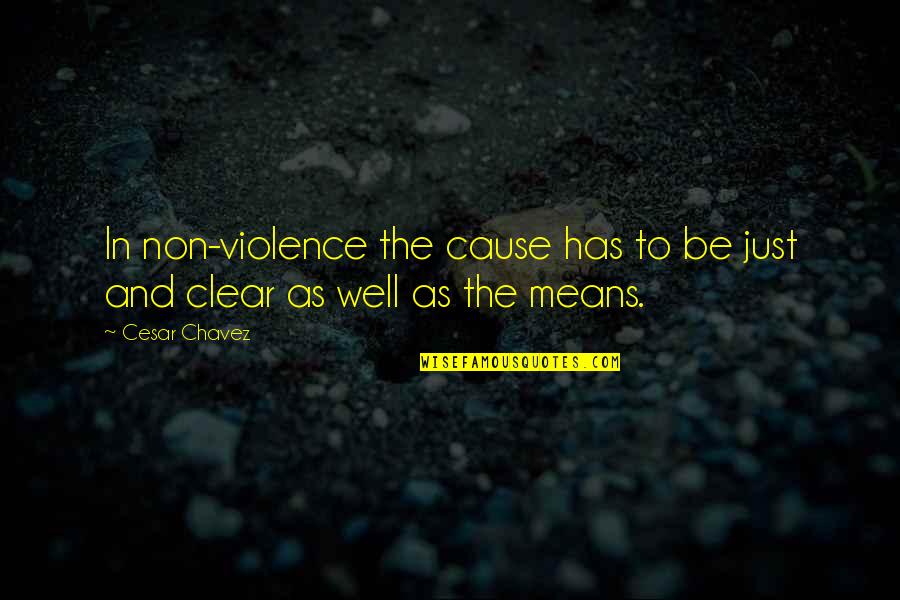 In non-violence the cause has to be just and clear as well as the means. —
Cesar Chavez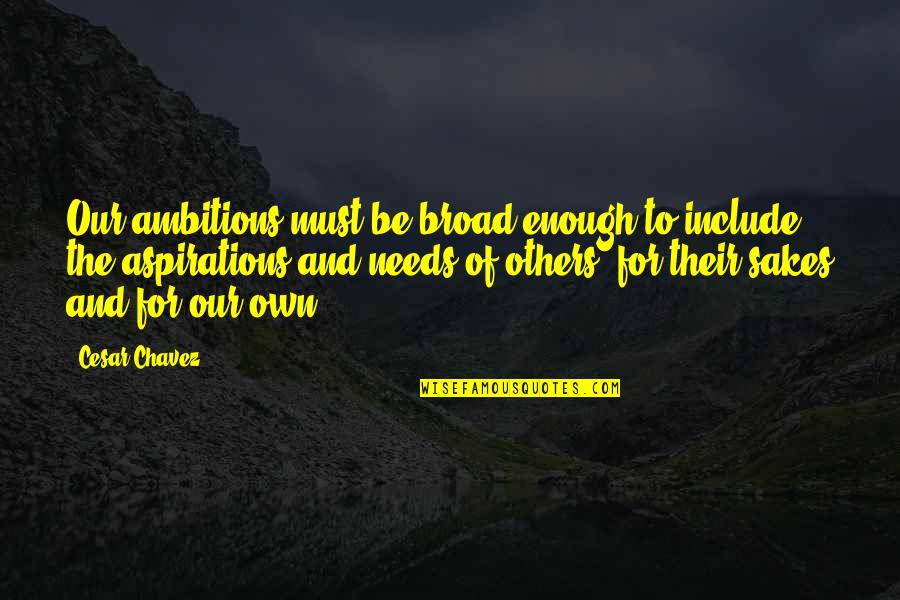 Our ambitions must be broad enough to include the aspirations and needs of others, for their sakes and for our own. —
Cesar Chavez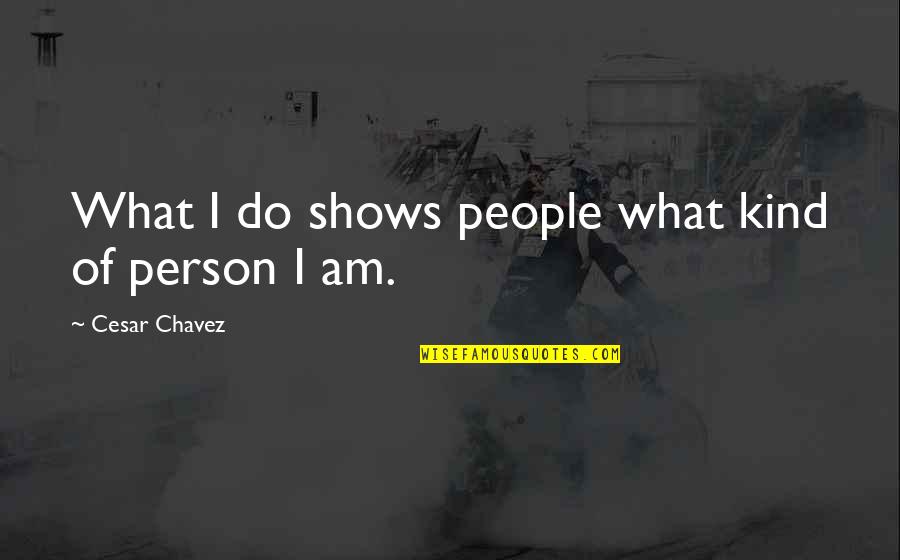 What I do shows people what kind of person I am. —
Cesar Chavez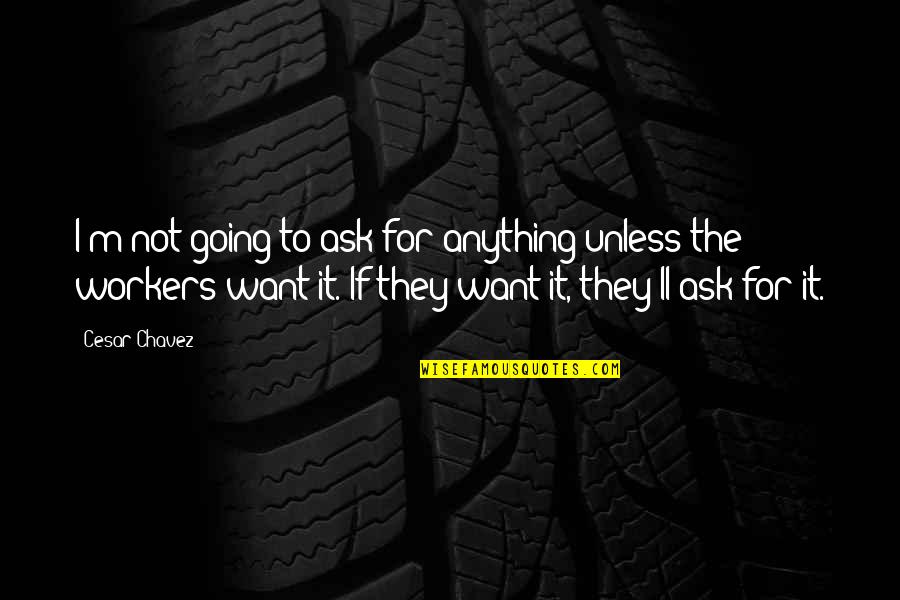 I'm not going to ask for anything unless the workers want it. If they want it, they'll ask for it. —
Cesar Chavez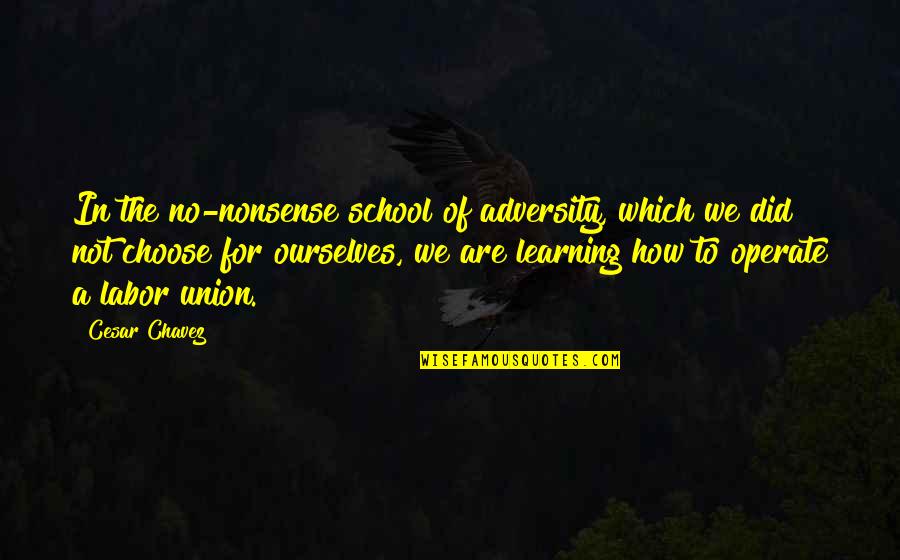 In the no-nonsense school of adversity, which we did not choose for ourselves, we are learning how to operate a labor union. —
Cesar Chavez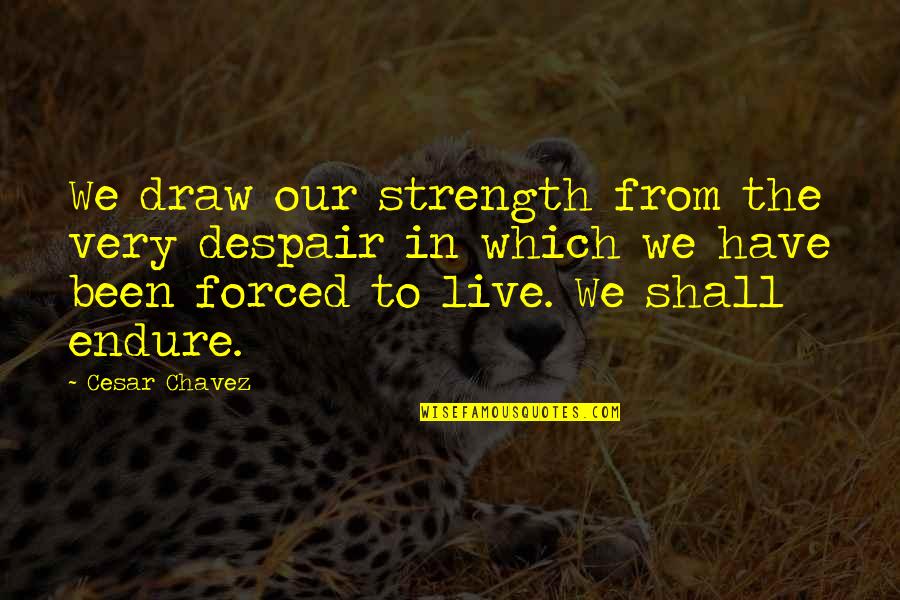 We draw our strength from the very despair in which we have been forced to live. We shall endure. —
Cesar Chavez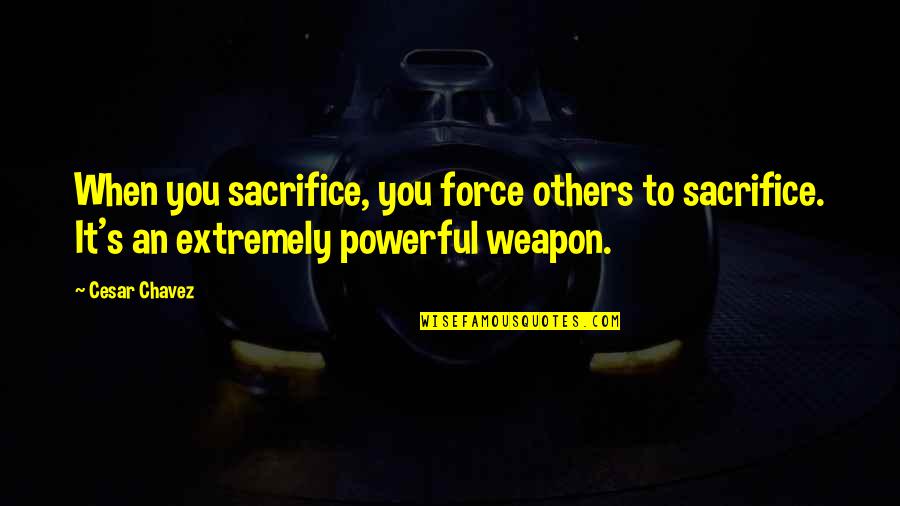 When you sacrifice, you force others to sacrifice. It's an extremely powerful weapon. —
Cesar Chavez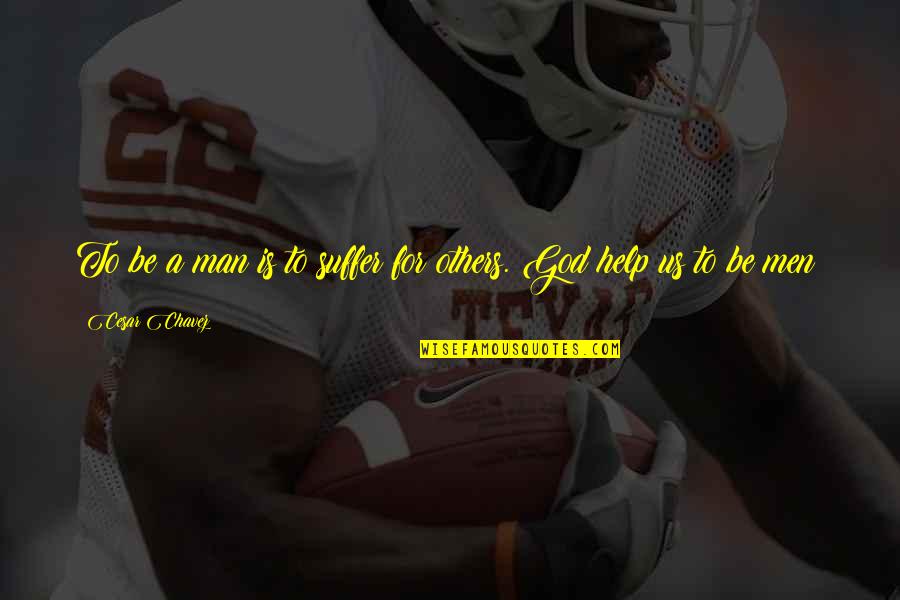 To be a man is to suffer for others. God help us to be men! —
Cesar Chavez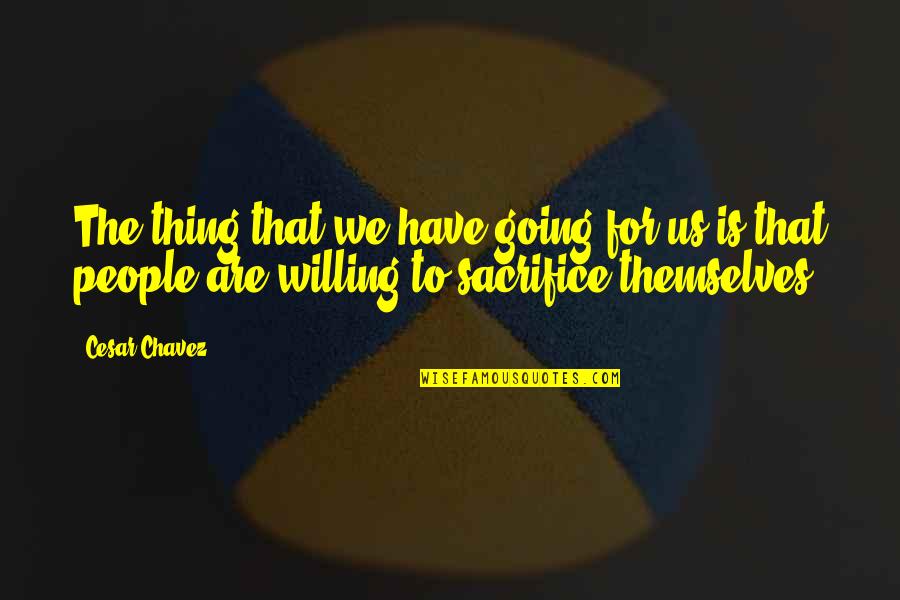 The thing that we have going for us is that people are willing to sacrifice themselves. —
Cesar Chavez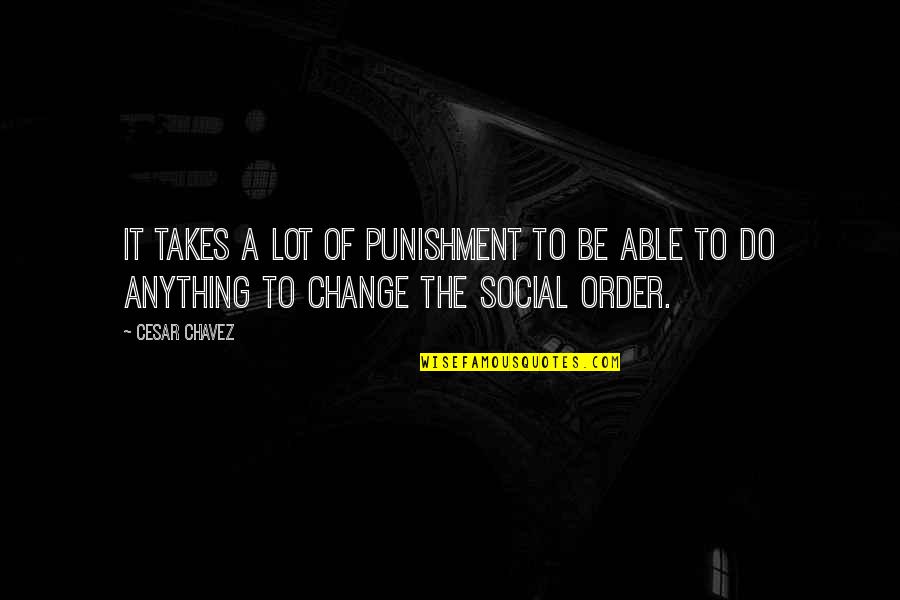 It takes a lot of punishment to be able to do anything to change the social order. —
Cesar Chavez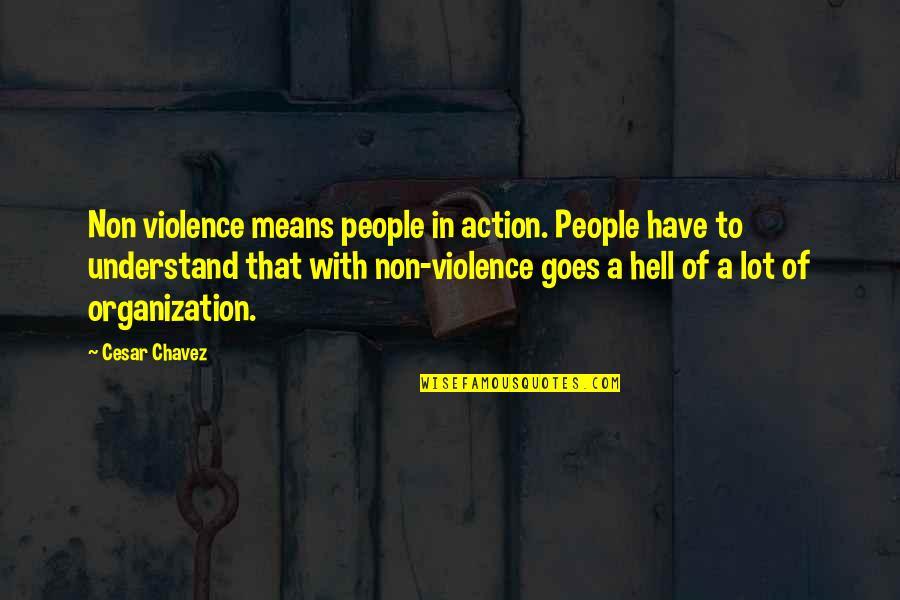 Non violence means people in action. People have to understand that with non-violence goes a hell of a lot of organization. —
Cesar Chavez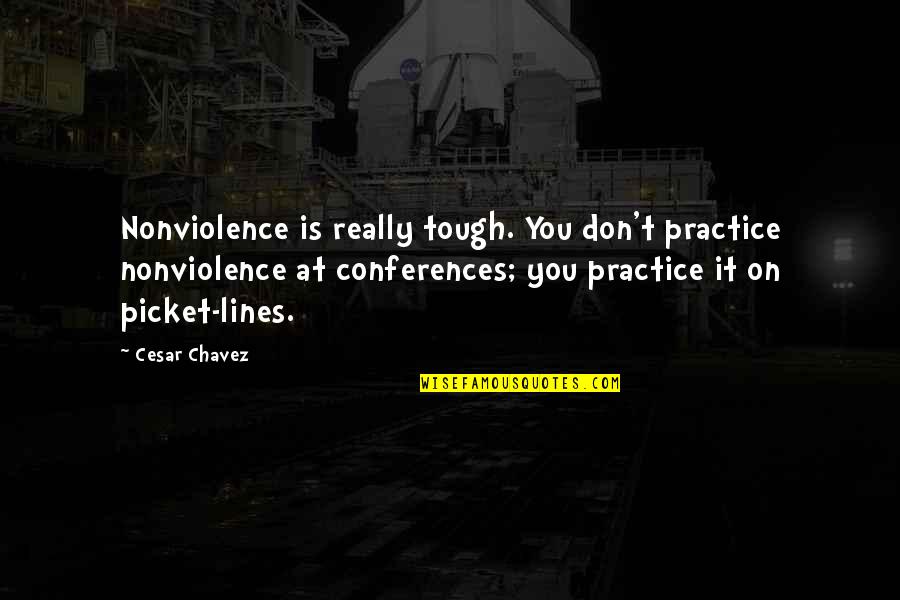 Nonviolence is really tough. You don't practice nonviolence at conferences; you practice it on picket-lines. —
Cesar Chavez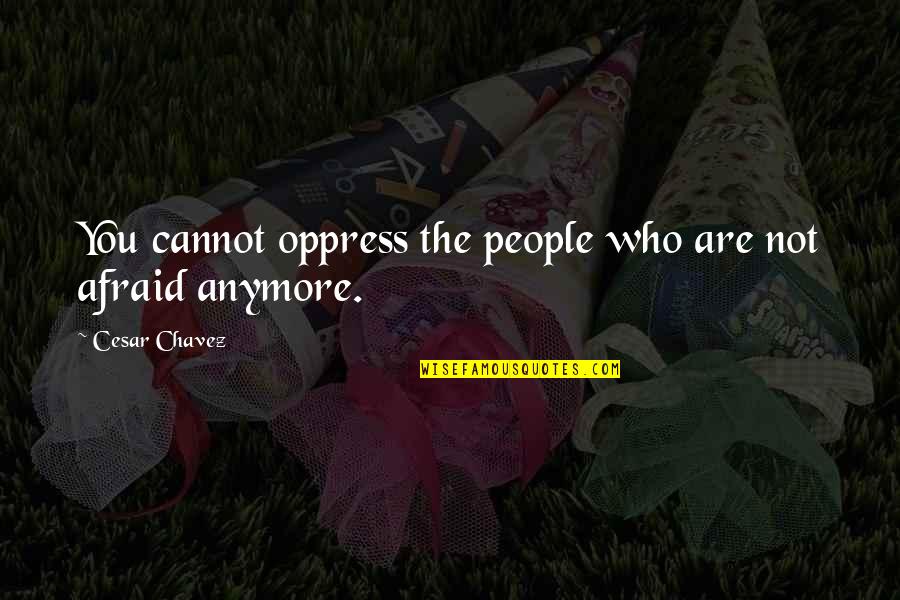 You cannot oppress the people who are not afraid anymore. —
Cesar Chavez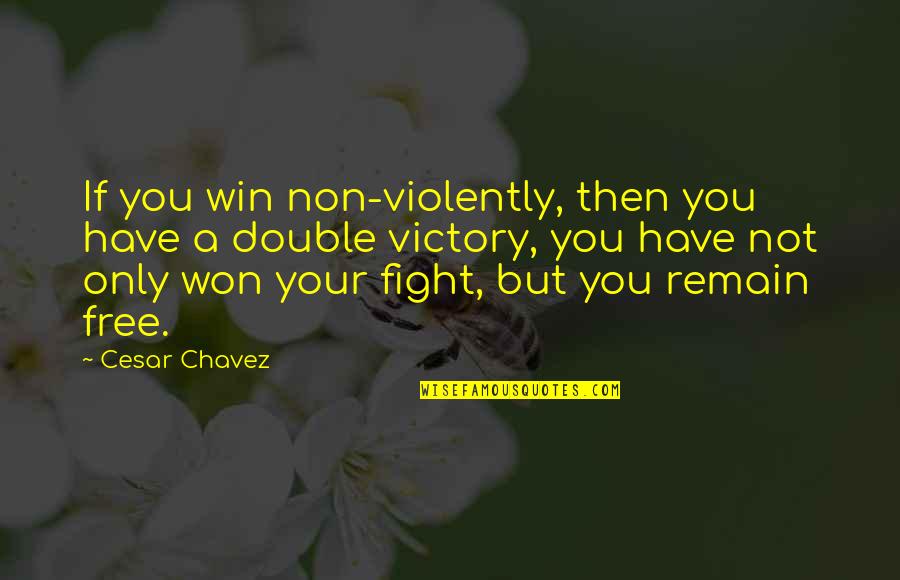 If you win non-violently, then you have a double victory, you have not only won your fight, but you remain free. —
Cesar Chavez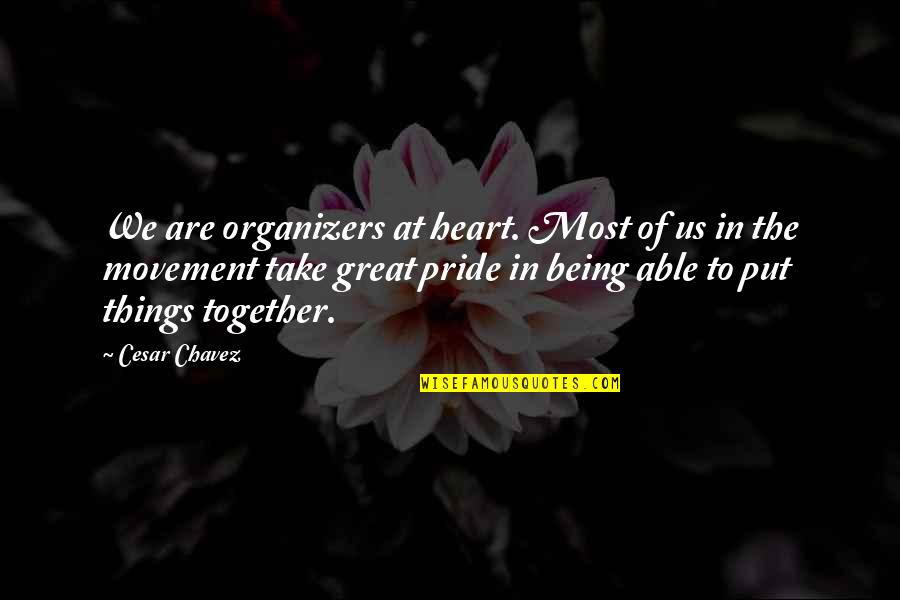 We are organizers at heart. Most of us in the movement take great pride in being able to put things together. —
Cesar Chavez